Teddy bears and high school uniforms for Uncontrollably Fond
Aw, don't they look like sweet kidlets in the first stages of puppy love. Here are Uncontrollably Fond stars Suzy (Gu Family Book) and Kim Woo-bin (Heirs) dressed in school uniform, looking so young that for once the "high school phase" of the romance backstory doesn't even really feel like too much of a leap backward, does it?
The drama features Kim Woo-bin as a cocky top star and Suzy as the documentary producer assigned to filming him, who were once youthful sweethearts until they were separated by "a heartbreaking twist of fate." We see them as teenagers in these stills that were taken back in January (Uncontrollably Fond will be entirely pre-produced), though they've only been officially released now.
The two characters meet as adults in a reunion that's both emotional and prickly, probably because of the unresolved issues that split them up in the first place. I know this kind of childhood-separation storyline is de rigueur in dramaland, but I have to say I'm particularly looking forward to it this time because I'm putting a lot of trust in writer Lee Kyung-hee. She's probably better-known these days for the romance melo Nice Guy, as well as early-Hallyu classics like I'm Sorry, I Love You and A Love to Kill, but my favorite show of hers was actually the lesser-watched Will It Snow For Christmas. That had a really lovely teenage segment, and my pressing desire — no, need — to see them reuniting kept me going through so much.
And if the teasers are any indication, this show will have a lighter, more humorous touch than Lee's previous shows, which suits me just fine. All the better to showcase Kim Woo-bin's trademark god-I-wish-I-could-smack-that-smirk-off-your-face-if-only-you-weren't-so-damned-charming appeal. It's like his signature. He should patent that.
Uncontrollably Fond premieres in July 6.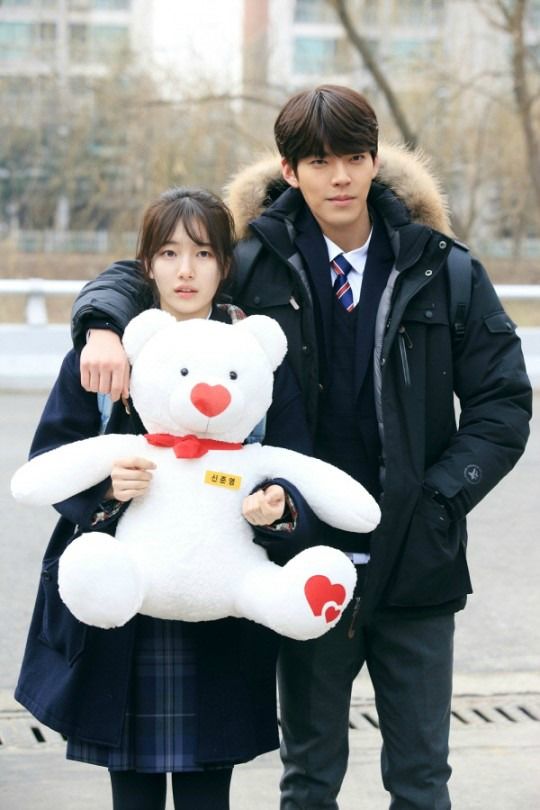 Via My Daily
RELATED POSTS
Tags: Kim Woo-bin, Suzy, Uncontrollably Fond