tvN celebrates tenth birthday with award ceremony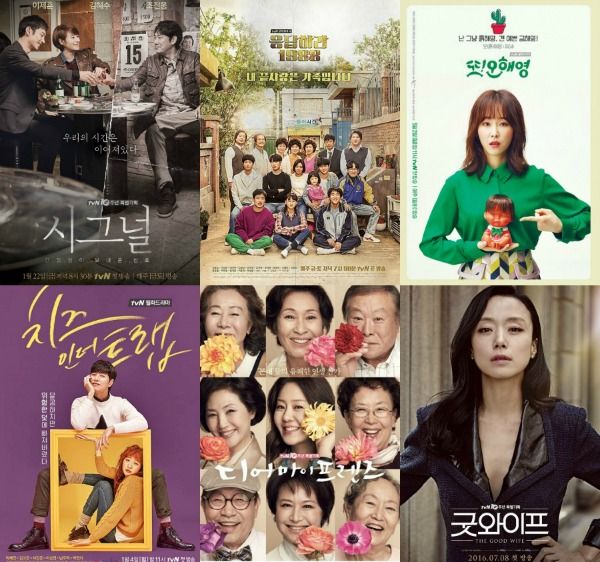 It's tvN's tenth anniversary year, and the cable station has confirmed that it will be celebrating the occasion on its birthdate, October 9, with an anniversary festival, which includes an award ceremony to honor its shows. Hurrah! It's about time all those actors and producers got a chance to take home shiny trophies too — it always struck me as perverse when some actors' best performances got bypassed in the awards circuit, while much lesser works got honored.
The award ceremony was first announced two years ago, though it was then postponed. It's a good year for tvN to launch its inaugural award ceremony, with so many shows worth recognizing of late (Signal, Answer Me 1988, Oh Hae-young Again, Dear My Friends, Three Meals a day, SNL Korea, Home-Cooking Teacher Baek…). Although really, any year would be a good year, since the cable station has put out a steady stream of shows that have drawn buzz, fan fervor, and critical acclaim. It has managed to build itself up from fledgling station to solid competitor to the Big 3 broadcast networks (KBS, MBC, SBS) in a very short period of time, with ratings that have even beat the Big 3 on occasion.
True, it isn't like tvN has been without its shares of flops or disappointments, but I'd say it has a higher batting average than the terrestrial broadcasters, and I've been a fan of the way it has taken risks, allowed producers creative freedom, and generally been more willing to go out on a limb for the sake of its content. I think its greatest asset has been attracting talent in the PD and writer ranks and taking chances on lesser-known actors — and by putting out great content, now it's in a position to draw top-shelf stars as well. That's what I call a win-win.
Now, the big dilemma: How to choose whom to honor? Will it be Jo Jin-woong (so deserving in Signal) or will it be Lee Sung-min for Memory, when he didn't have a chance to win something for Misaeng? Ryu Joon-yeol or Park Bo-gum for Answer Me 1988, or Lee Je-hoon (Signal)? Seo Hyun-jin (Oh Hae-young Again) or Go Hyun-jung (Dear My Friends) or Kim Go-eun (Cheese in the Trap)? And which of Na PD's variety hits will get singled out over all of the others (Youths Over Flowers in Iceland, Youths Over Flowers in Africa, New Journey to the West 2, Three Meals a Day)? Will you give out a five-way split Daesang rather than pick only one? For once, I might not even mind.
Via Sports Chosun
RELATED POSTS
Tags: awards, cable programs