Vampire Detective: Episode 12 (Final)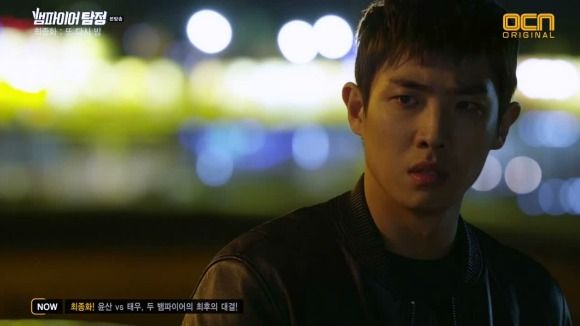 Keeping loved ones in the dark will prove to be difficult in this final chapter because everyone will be on the move to procure and secure what's theirs. As Tae-woo launches a search for a missing vampire, San will need to make a difficult decision between friendship and love which will all lead up to one fight in the darkness. And while all that may sound exciting, you'll likely feel more like Gyeo-wool chasing after a story with hardly any leads.

FINAL EPISODE: "Night Again…"
Cold open: On a dark night, San rips up and crumples the school records on Tae-woo and Yoo-jin. He tosses the pieces into the river, which takes them away. Wouldn't… a shredder be more efficient here?
He stuffs the picture of the three of them in his pocket though, as Yoo-jin walks towards him. She wonders if anyone will remember them after they die, since they'll disappear without a trace. San tells her: "I'm going to remember you," then embraces her.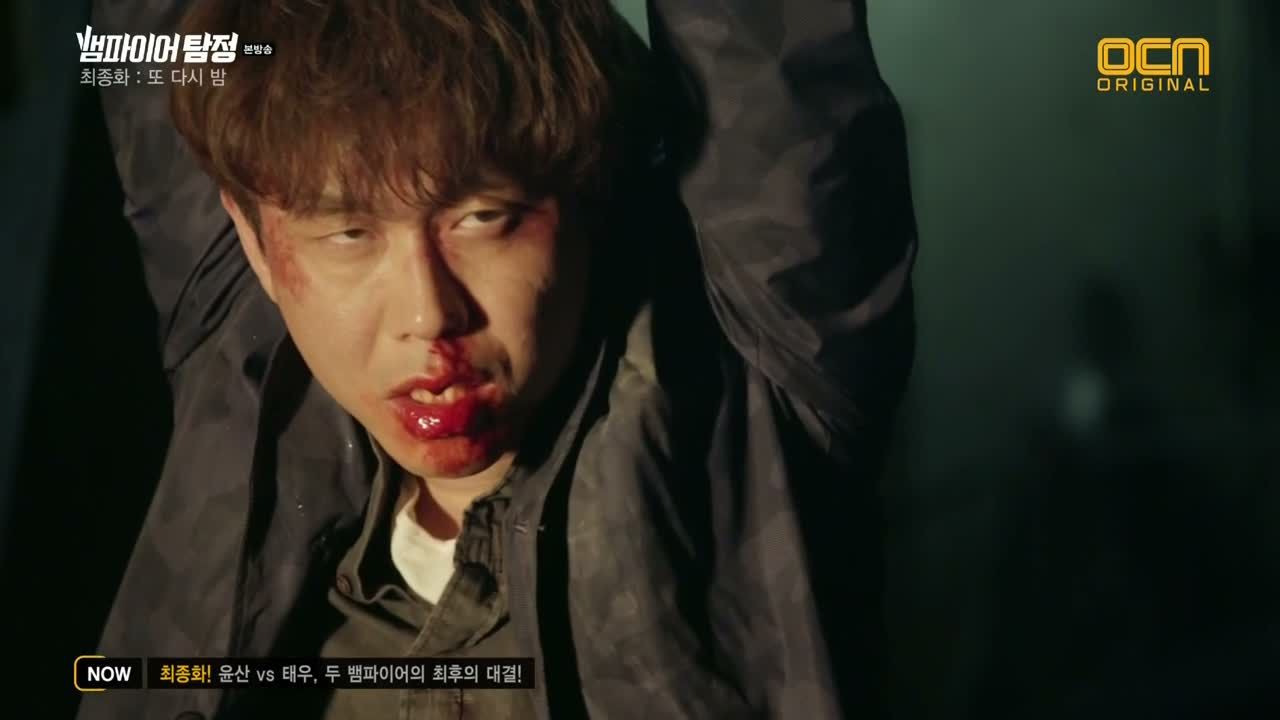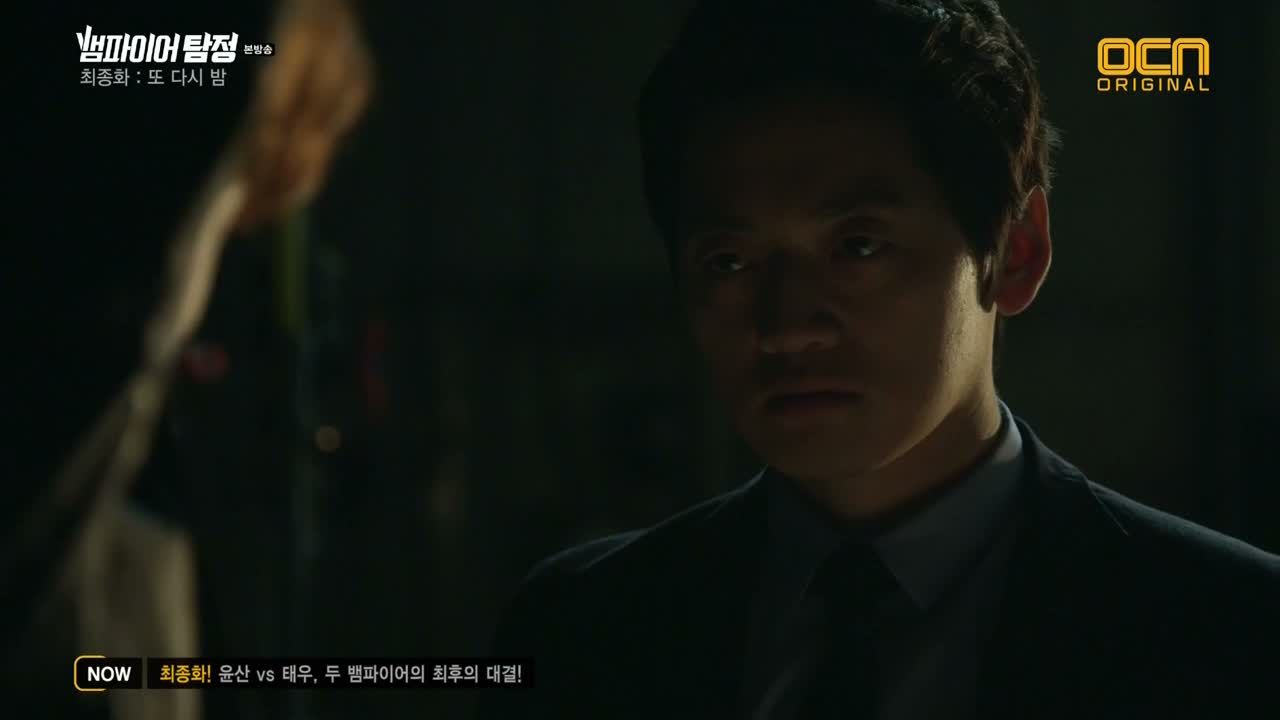 As San boards up the windows for Yoo-jin, Tae-woo couldn't care less as to what his lackey thinks they should do now. He heads down to meet Gu-hyung, who is bloodied, battered, and hanging from the ceiling.
Since there's no time to waste, he asks where San is, and tenses at Gu-hyung's reference that he and San are "friends." Still, Gu-hyung picks up on Tae-woo's inferiority complex when it comes to San, and wonders if he's still obsessed with Yoo-jin.
Gu-hyung earns a hard punch to the jaw for those words, and Tae-woo tells him that he'll soon see San's downfall.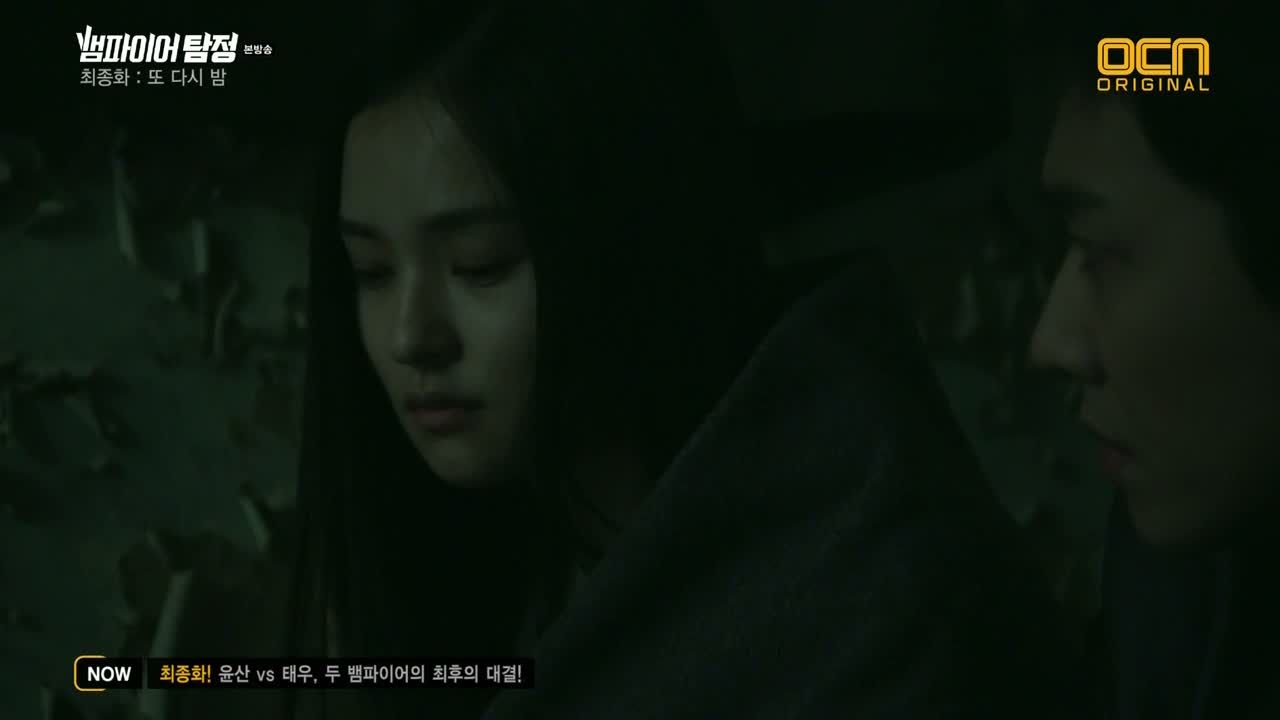 San speaks with Sun-young once the sun is up. Though she can hardly believe that Yoo-jin is still alive, she understands that San can't provide a deeper explanation. She promises to create new identification for Yoo-jin, but sighs once she hangs up.
Speaking of whom, Yoo-jin can only gaze at the sunlight that peeks in until San joins her. She's glad to hear everyone is doing fine, then hints how San can walk in sunlight. San says he doesn't quite understand either (and neither do we).
It reminds Yoo-jin of how much she misses from her former human experience: the feeling of the warm sunlight on her skin, eating delicious food, and meeting up with her friends.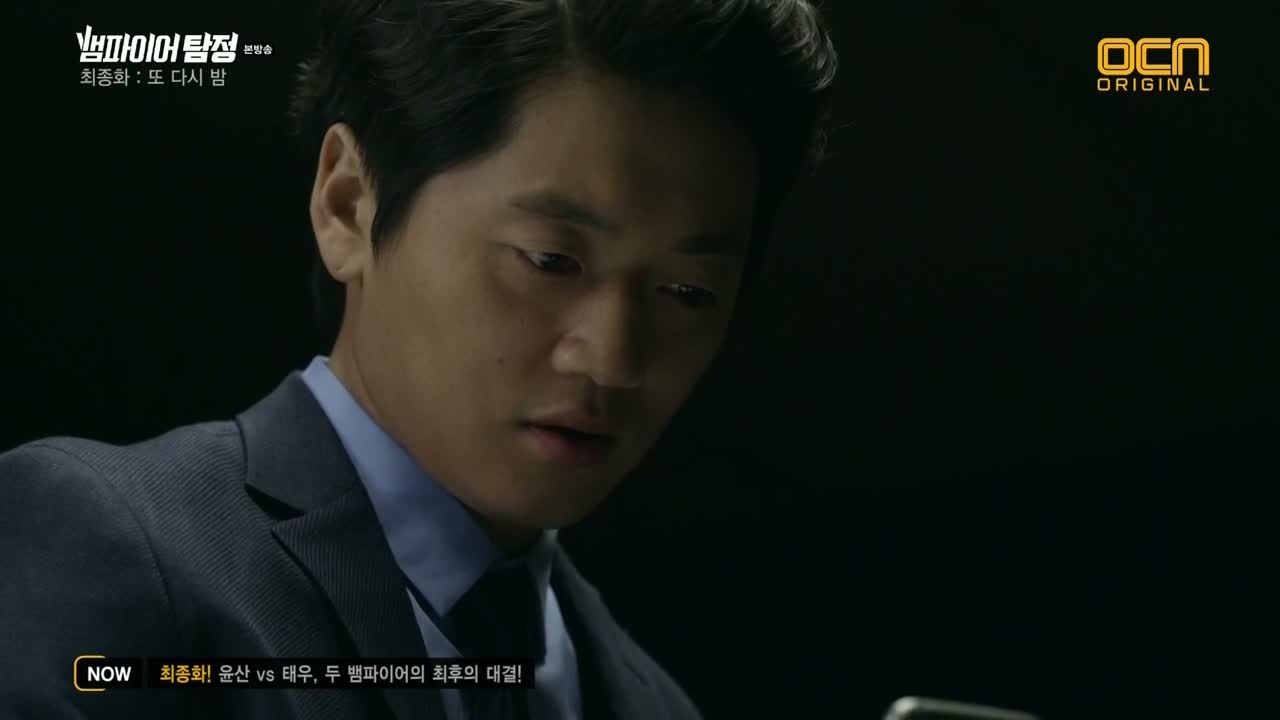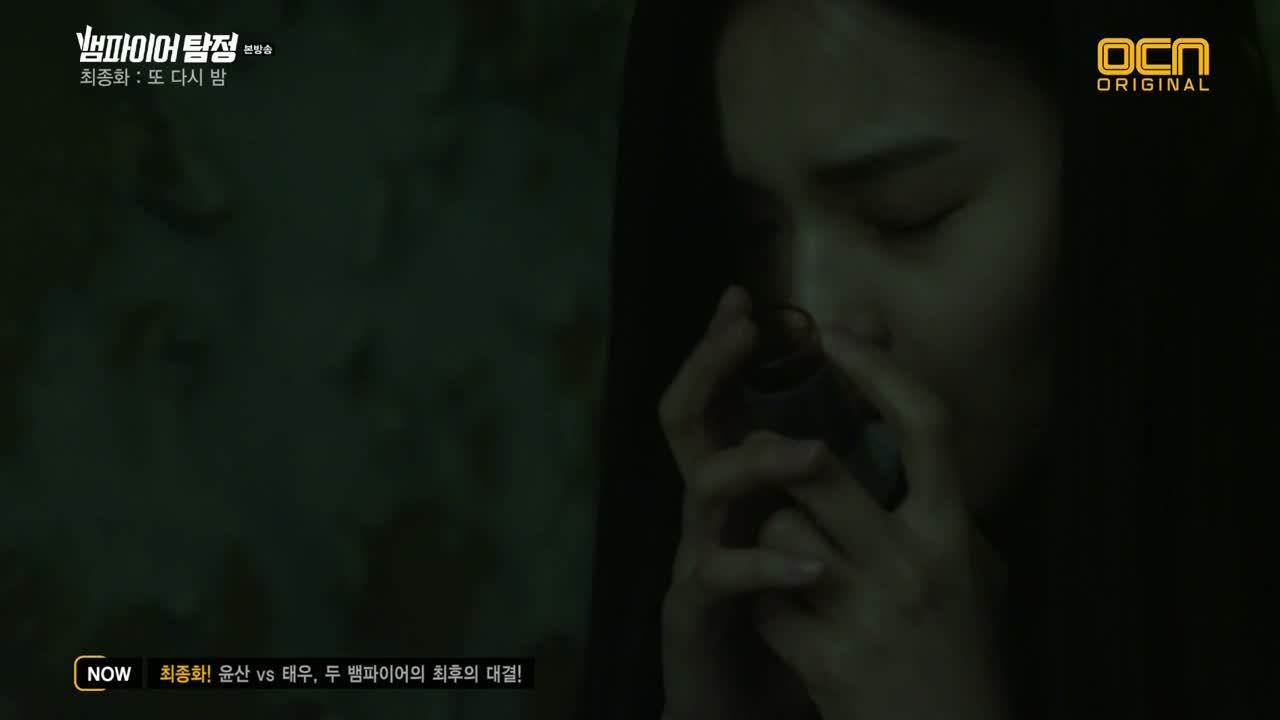 Tae-woo can't believe his luck when he sees a concerned text from Sun-young on Gu-hyung's phone that lists San's exact location. Now we find out that Tae-woo was speaking with his lackey when he ordered that San and Yoo-jin be brought back.
Yoo-jin grows weaker as the day passes, so San sets down his blood-filled inhaler by her side. She grabs onto him when he's about to step out, and he promises her that he'll be back soon.
She thinks back to the moment when Tae-woo turned her into a vamp, then takes the inhaler. Turns out that San is waiting just around the corner, hoping to give her some privacy.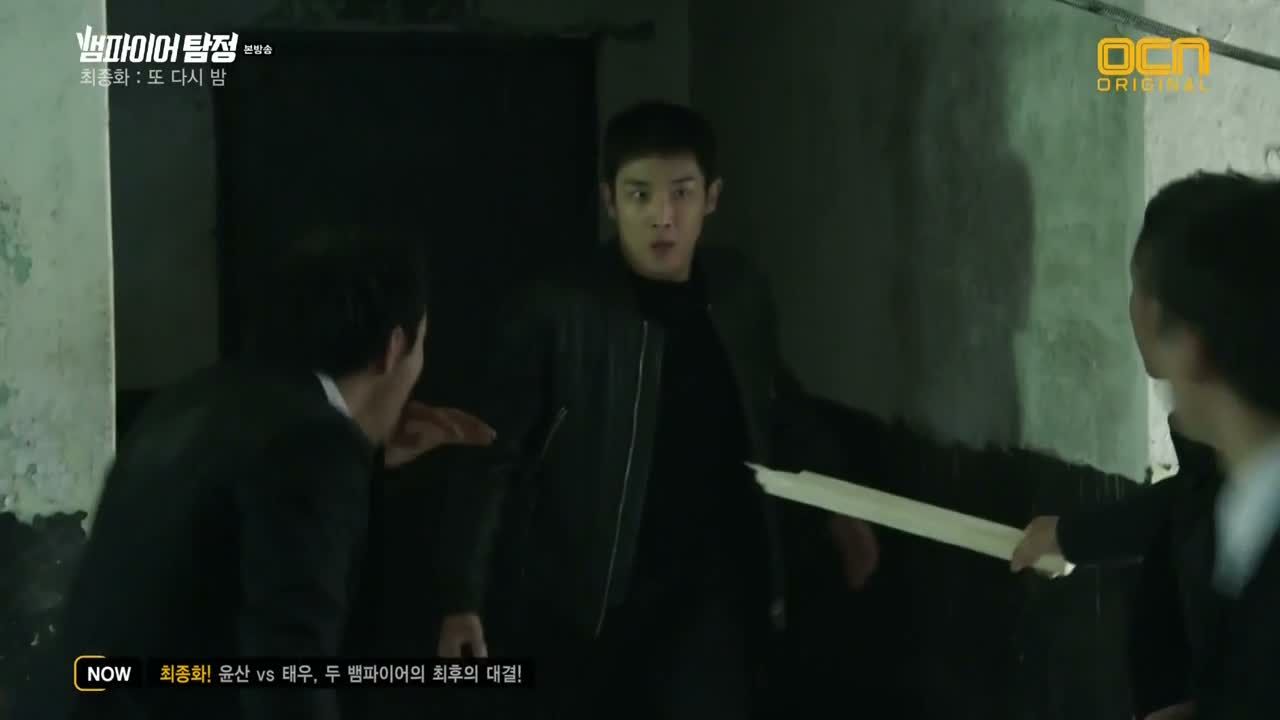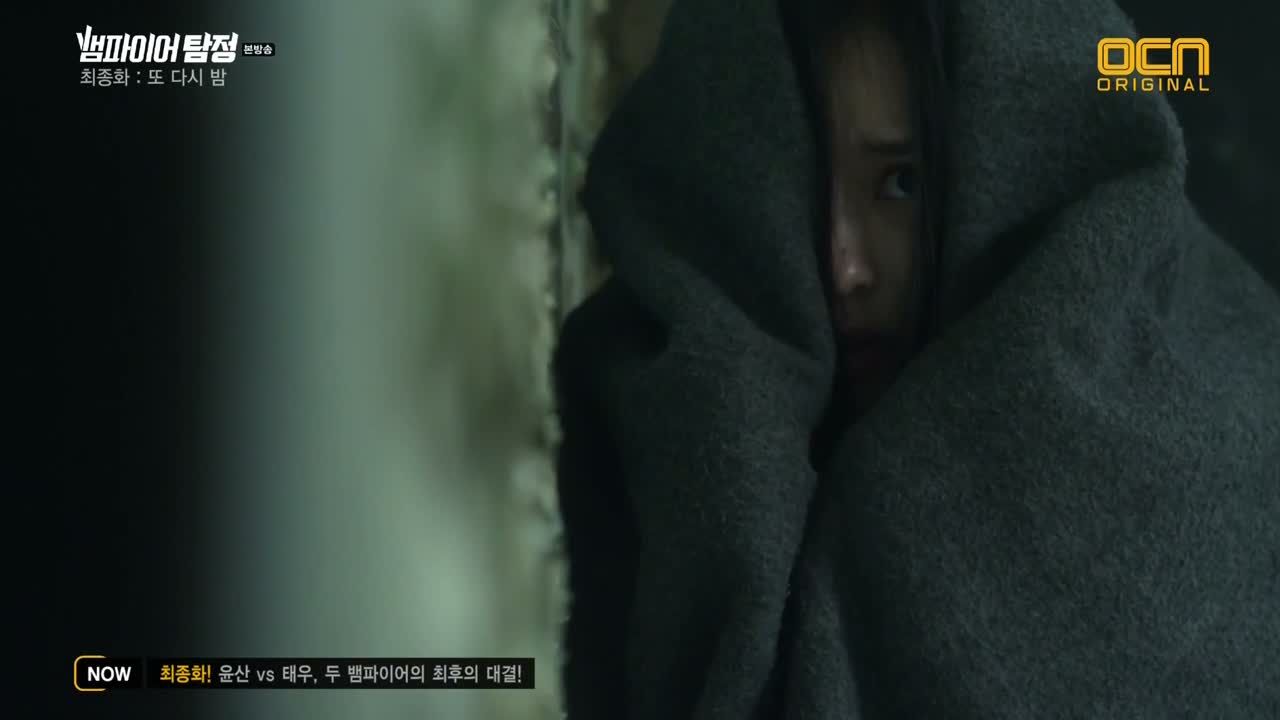 It isn't long before a group of suits show up and start breaking down the windows. San tries fighting them off as Yoo-jin screams inside, huddled in her blanket. He scoops her up and asks her to trust him before running into the daylight.
Sun-young arrives long after the dust has settled, while Gyeo-wool isn't able to reach either Gu-hyung or San. Just then, Yo-na bursts in the house with her men, demanding to know where the Helper list is.
Pouring out a healthy portion of wine onto the rug to illustrate that they have no time to lose, Yo-na says everyone will die if they don't succeed. Gyeo-wool is more interested in where her brother is, and flies into a rage when Yo-na replies there's no time for that right now.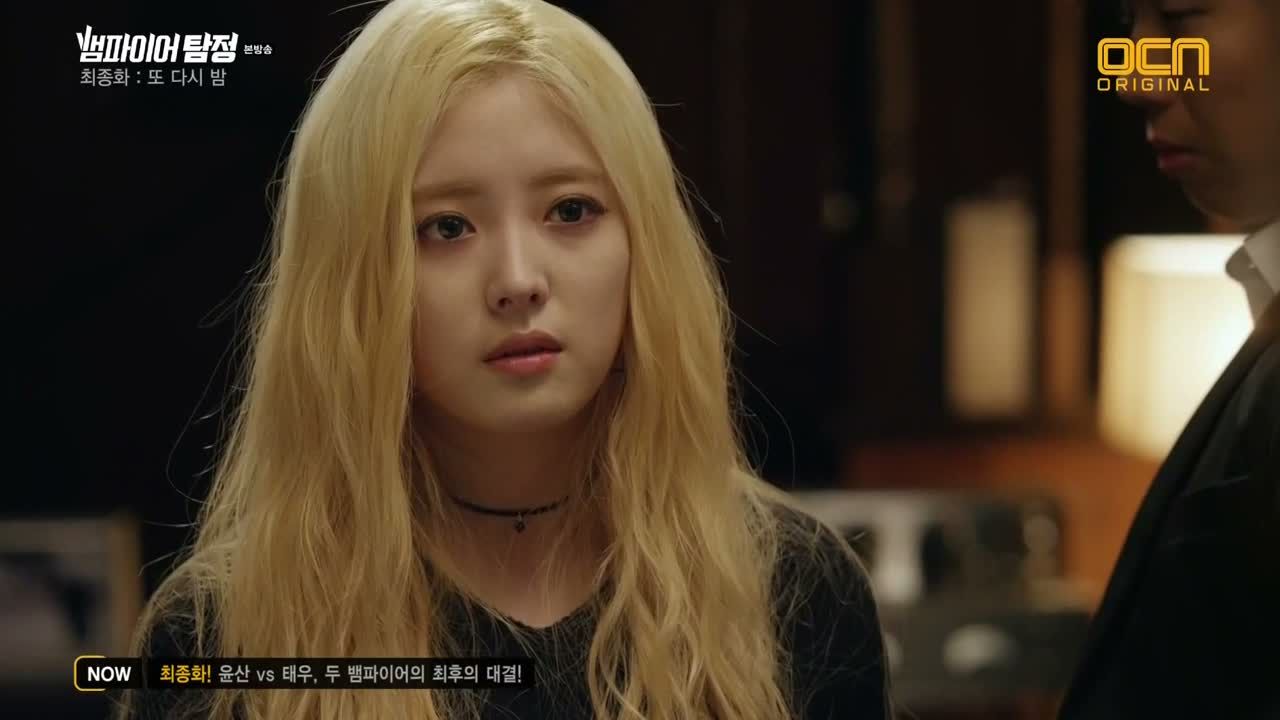 Gyeo-wool is confused when Yo-na tells her that finding San is a more urgent matter. She looks to the computer, and Yo-na follows her line of sight.
Elsewhere, San reassures Yoo-jin that it feels nice to have her around. But Yoo-jin knows it won't ever be easy even if they manage to leave the country. He repeats the same words she spoke to him when they were at school—never give up.
After a long silence, he tells her to close her eyes. She does, and he paints her a word picture of a beautiful day out. He fastens the sun pendant around her neck and tells her not to lose it again. Aw.
Tae-woo is pleased to hear that his men has found Yoo-jin and has Gu-hyung untied from his holding cell. Young-kwang is still there, tied to a chair and barely conscious.
Yo-na is less than thrilled to find out that Gyeo-wool was tracking the fake USB. When she demands that Gyeo-wool hand over the real one, Gyeo-wool asks that she come with them, adding that she doesn't want to lose more people who are dear to her heart.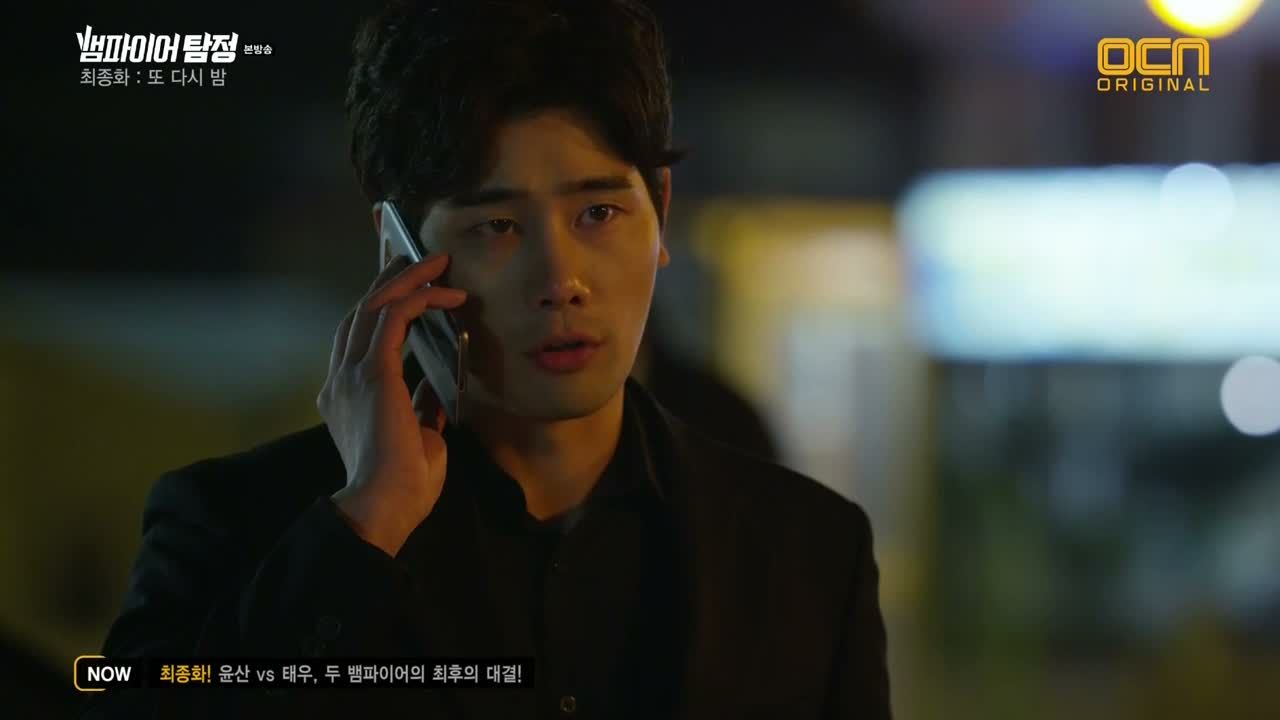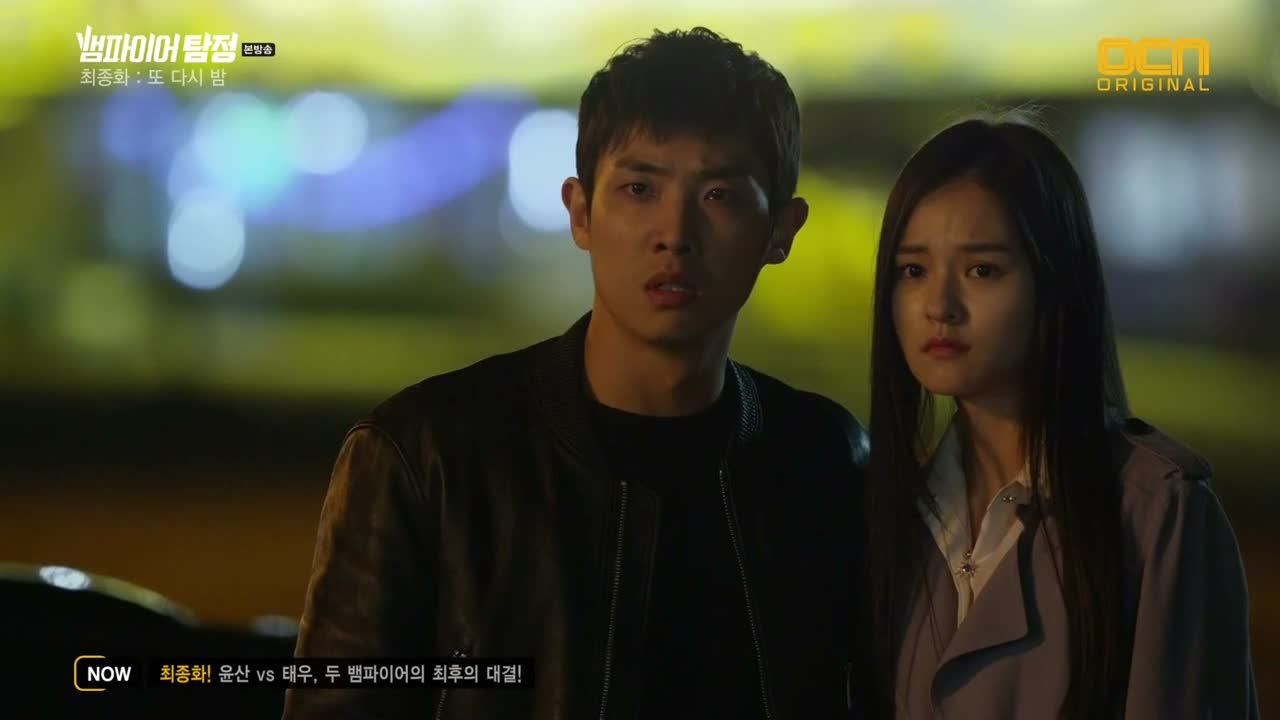 San and Yoo-jin take a stroll by the seashore when Tae-woo's men drive up. They flash Gu-hyung's face at him as bait, and Tae-woo's lackey advises them to follow unless they wish to see Gu-hyung dead.
He calls the van that has Gu-hyung hostage, ordering that they can kill when either he tells them to or if this calls hangs up. Then he looks to San and instructs him to follow them.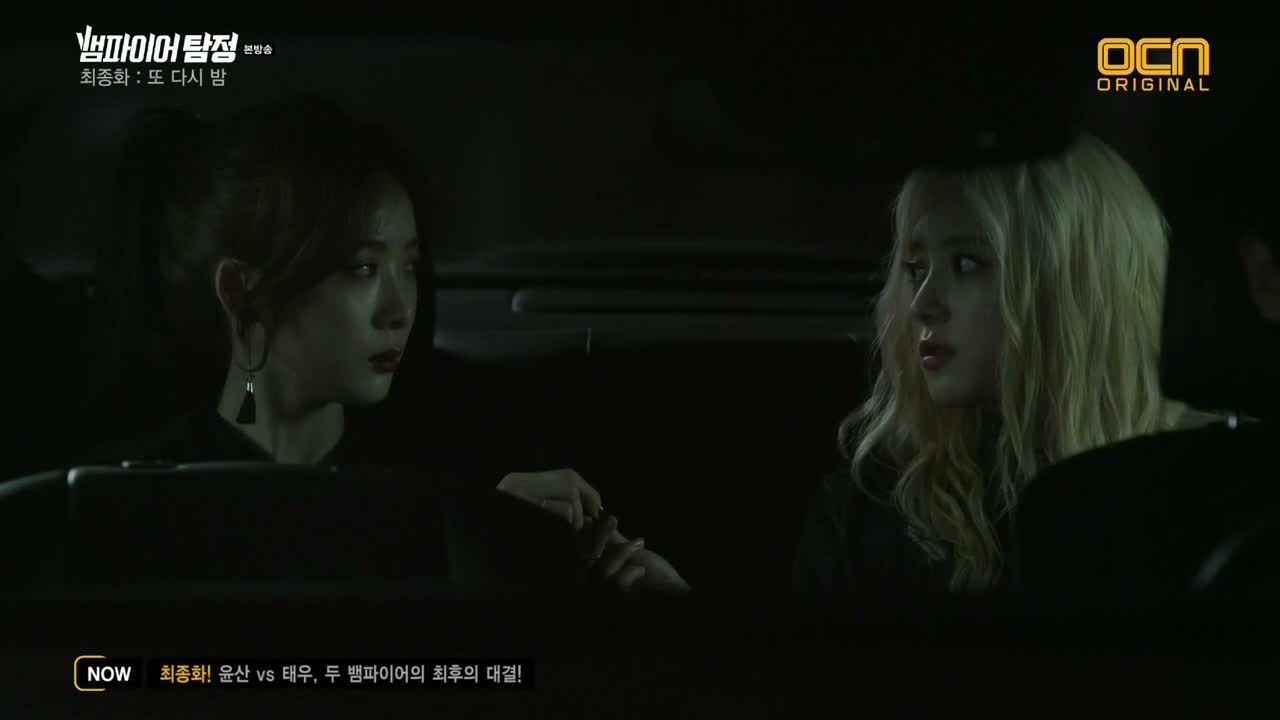 Yo-na drops Gyeo-wool off at the police station, saying that they need all the help they can get. They're in the same boat, Yo-na explains—neither of them want to lose people who are dear to them.
With that, Gyeo-wool hands over the USB with the warning that if anything goes wrong, she'll kill Yo-na herself.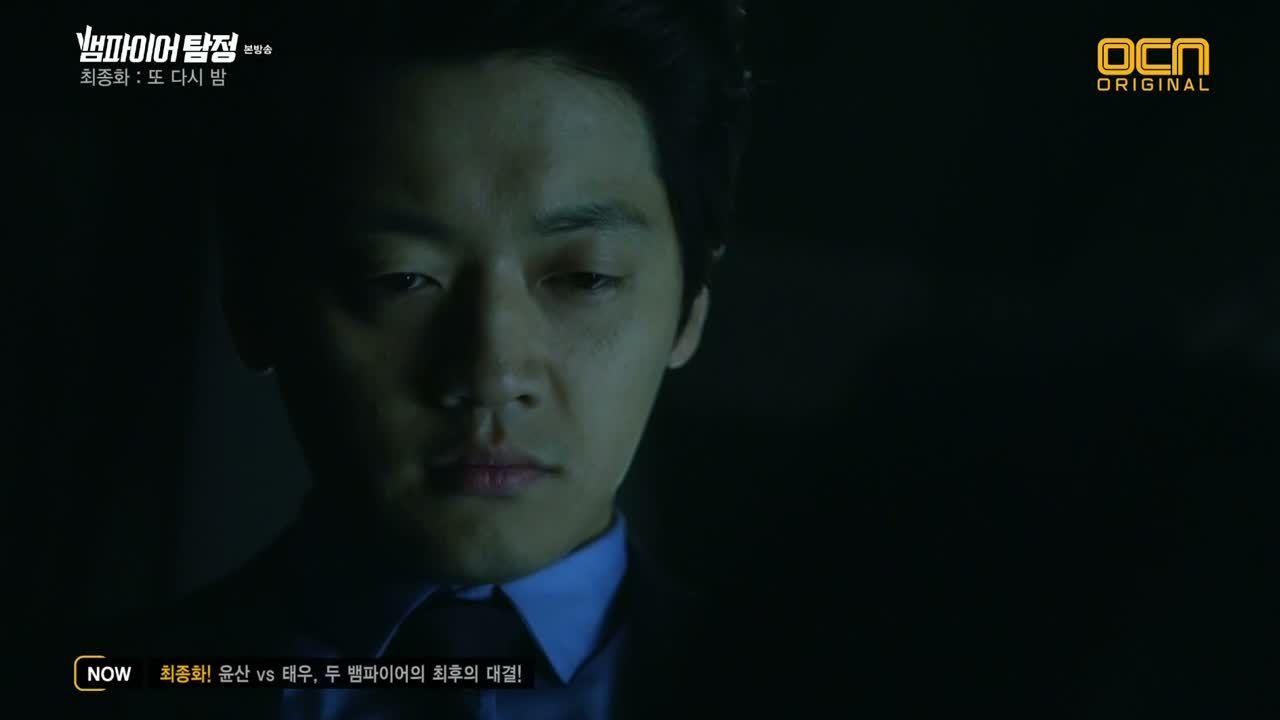 Back at the seaside standoff, Yoo-jin reminds San that Gu-hyung is important to him. She'll leave with Tae-woo's men now and they can meet "there" later. With that, Yoo-jin gives herself up and San watches as the car drives away.
Yoo-jin is tied down with chains when Tae-woo takes off her blindfold. He tells her: "I'll show you the consequences of breaking your promise."
Yo-na marches up to Tae-woo's men while Gyeo-wool pulls Detective Park away from his food. Detective Park tries to crack a joke, saying that he's got a good feeling about tonight, but Gyeo-wool is too worried about San and Gu-hyung.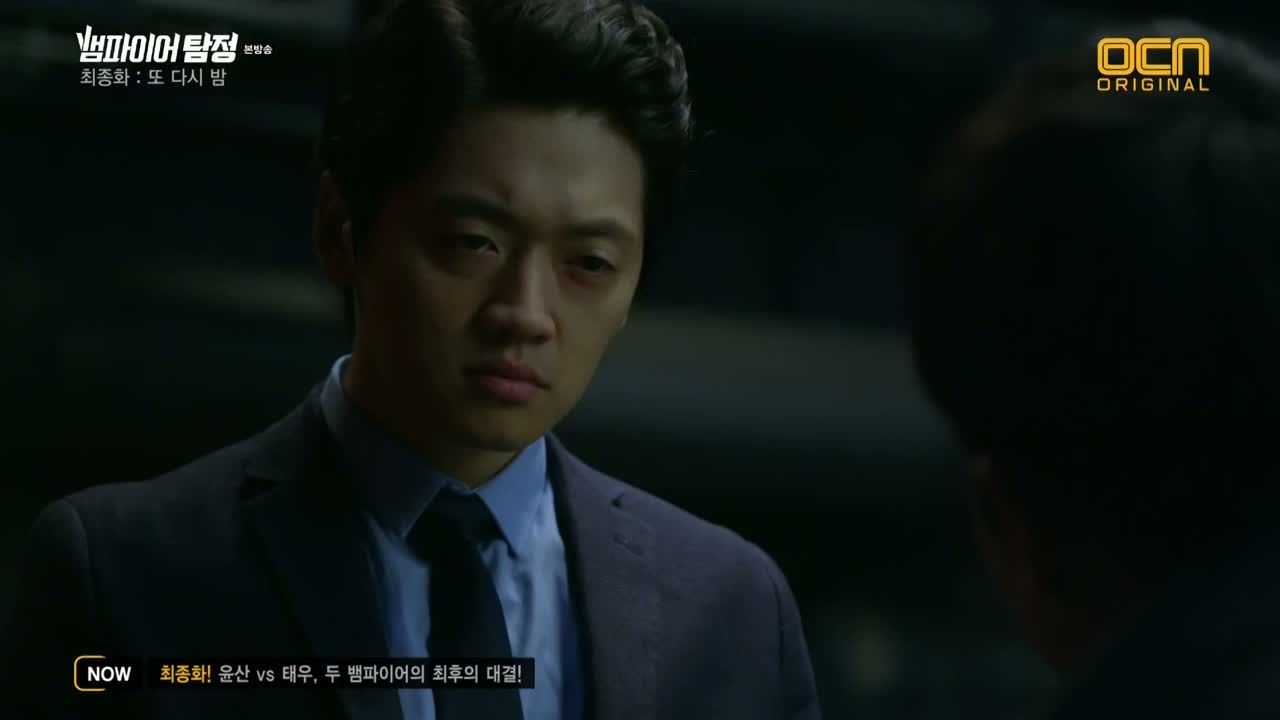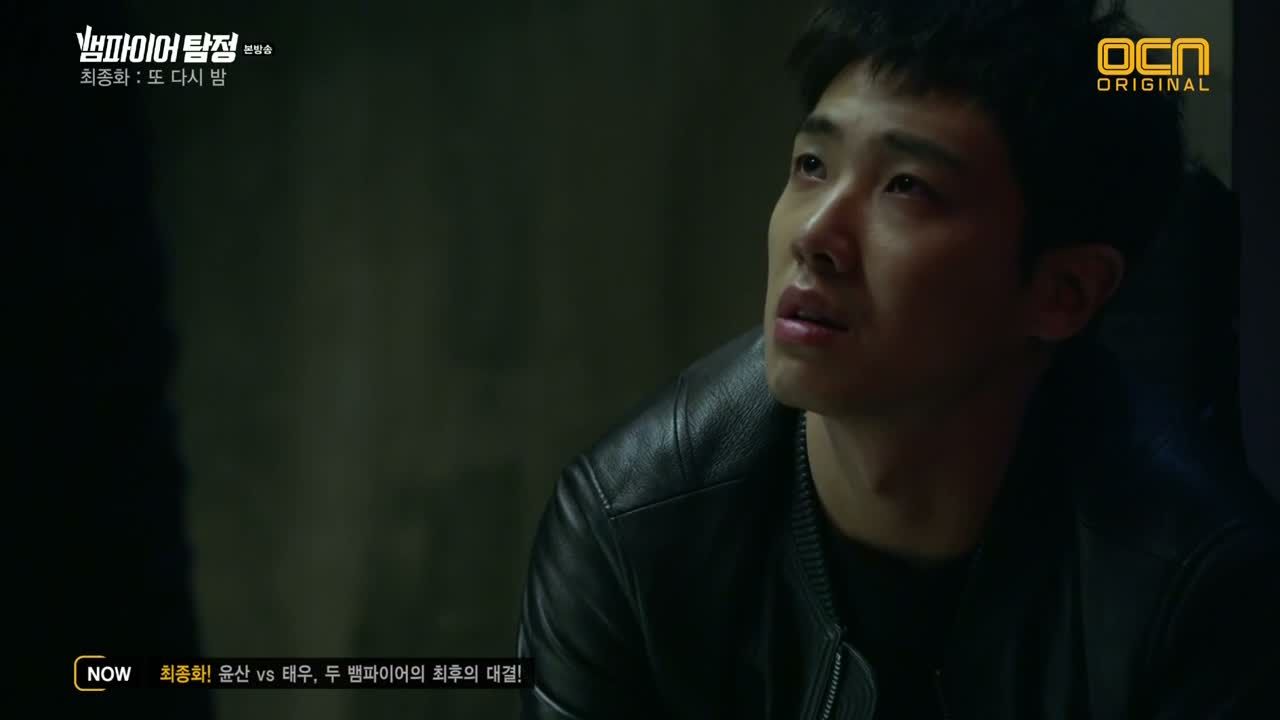 Tae-woo walks up to San tied up in chains around a pillar. He's amused when San can't pinpoint where Gu-hyung and Yoo-jin are, and he's dead set on proving San wrong today. Tears fill San's eyes as he pleads: "Tae-woo, I was in the wrong. Let's not do this."
That's a response Tae-woo didn't expect, and he punches San, asking what he did wrong. He lights up an area where two seated figures were hidden in the shadows. He'll give San a gun with one bullet, and San will shoot one of two chairs which is either Young-kwang or Gu-hyung.
But there's more: Tae-woo reveals Yoo-jin tied down at the other end, then commands his lackey to turn on the UV lights. San starts gasping as the lamps turn off again, and Tae-woo describes how the tables have turned: "Now I'm the one giving out orders and you're the one who'll listen!"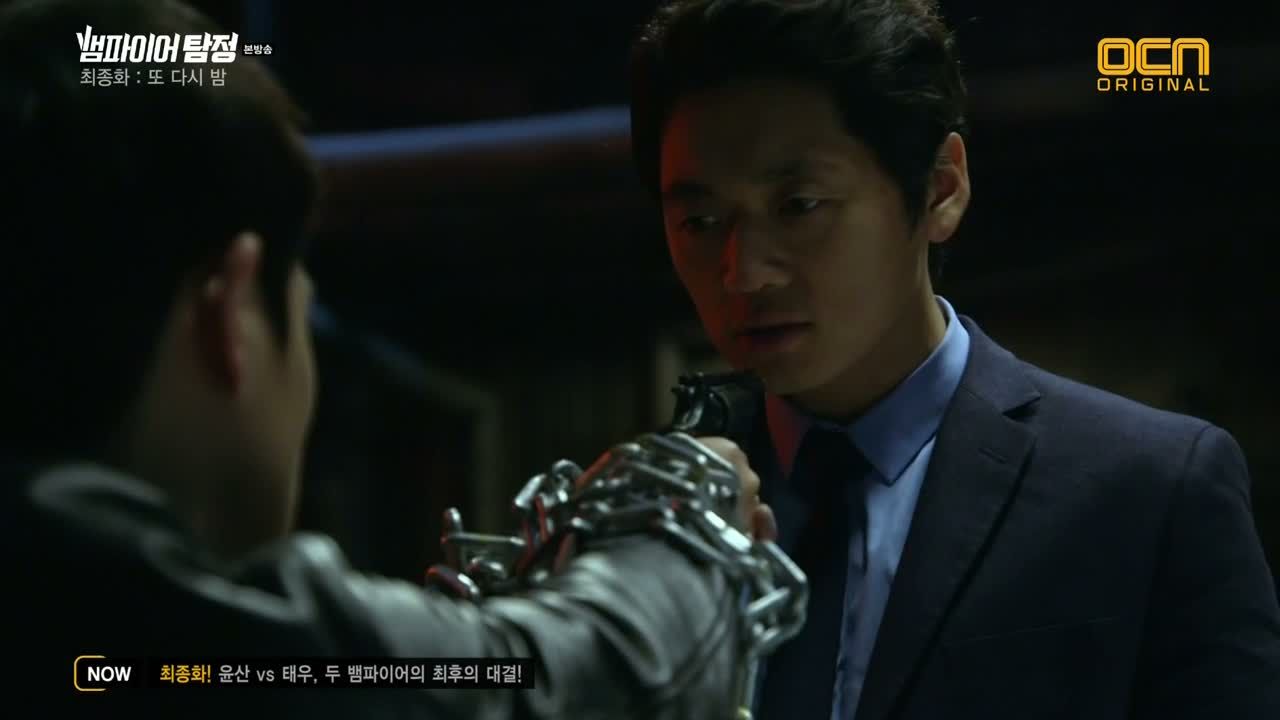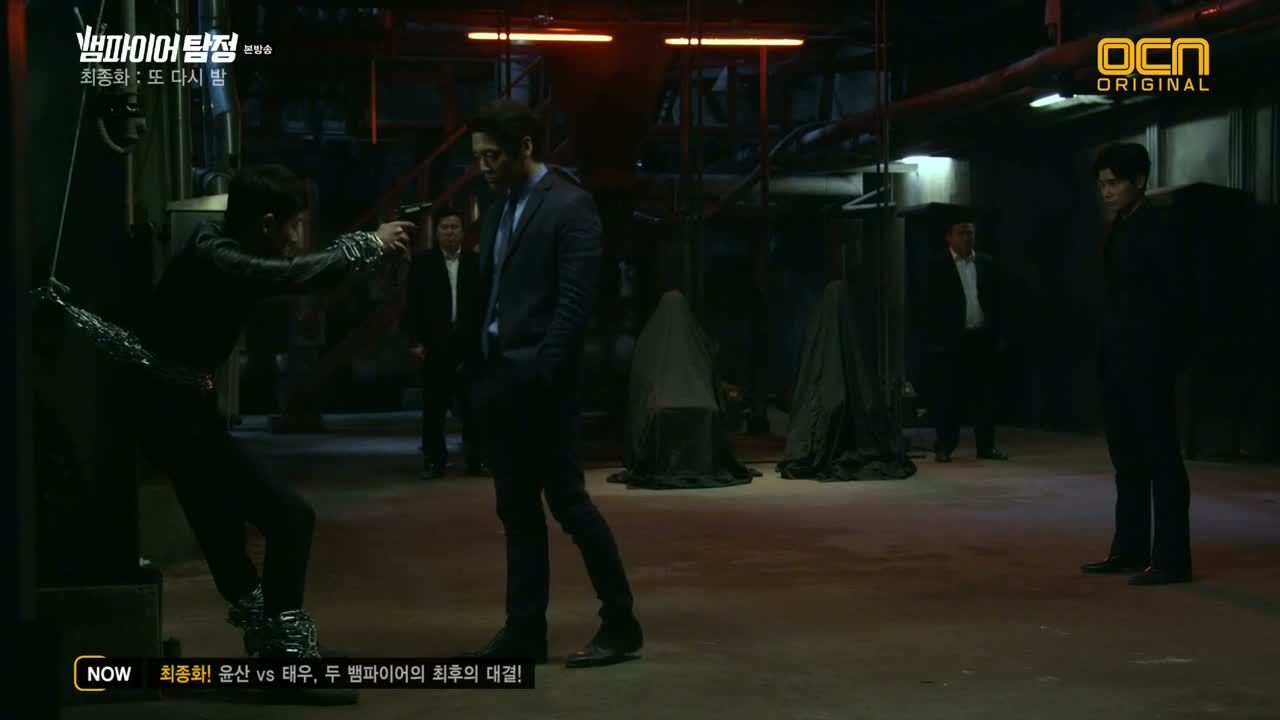 This is a win-win situation for Tae-woo: If San shoots Gu-hyung, he'll revel in the guilt San will feel; if he shoot Young-kwang, Tae-woo will obtain Young-kwang's entire gangster organization.
Tae-woo steps back to watch the spectacle, and San raises the gun at him. Tae-woo doesn't even flinch, walking back towards San and reminding him that bullets are useless against them because they are both vampires.
San has ten seconds to make a decision or else Yoo-jin will die, Tae-woo reminds him. He starts the countdown, and the happy memories spent with Gu-hyung flash through San's mind. 5… 4… 3… 2…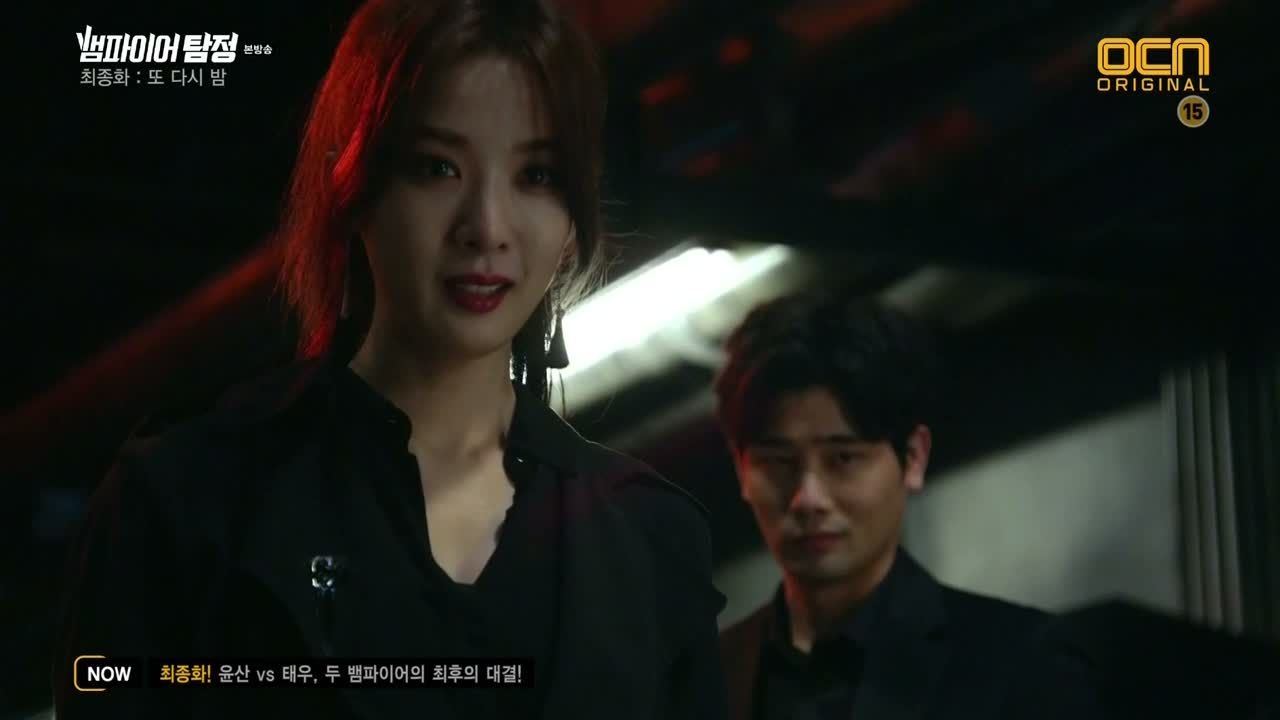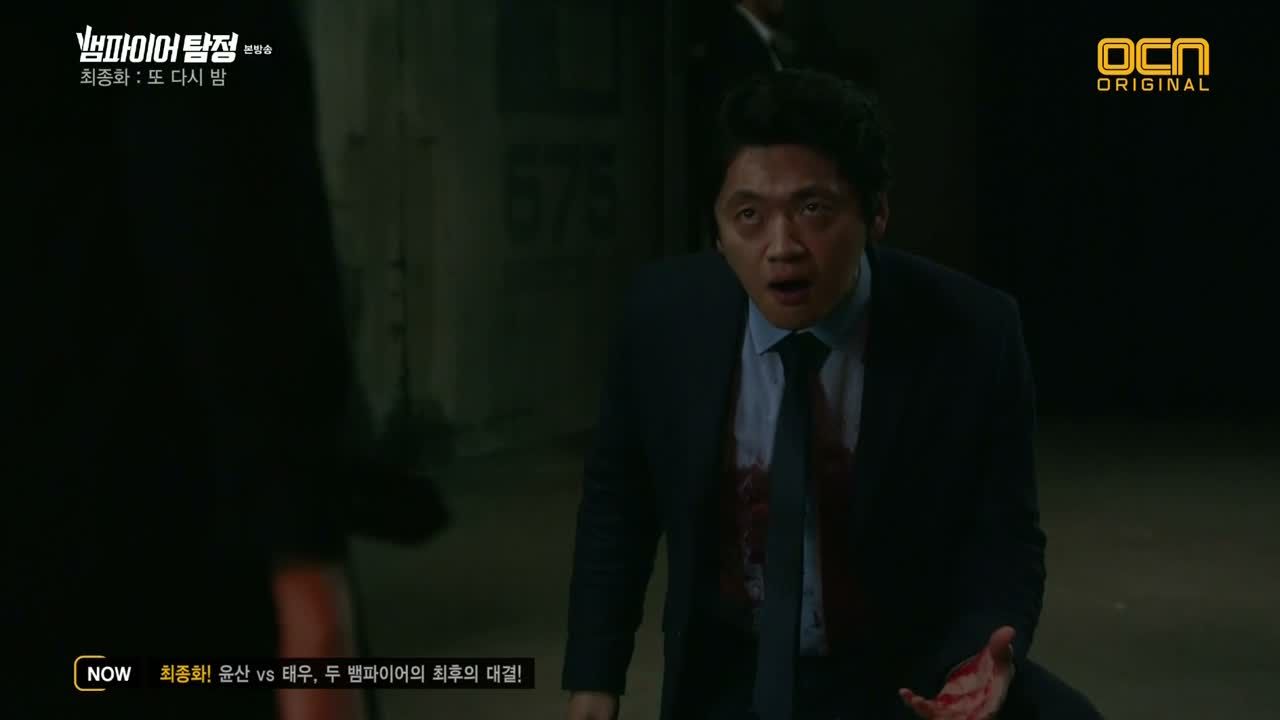 … and at 1, San shoots the figure to his far right. Even Tae-woo is surprised that he would shoot, and his lackey pulls back the sheet to reveal Yo-na. She admits the bullet wound hurts a little before rising and shooting Tae-woo over and over again.
As Tae-woo drops to his knees, Yo-na says he should've done a better job at taking care of his right-hand man. In flashback, we learn that Yo-na had taken down all of Tae-woo's men and showed the lackey the real USB, telling him that he better fall in line with the right boss.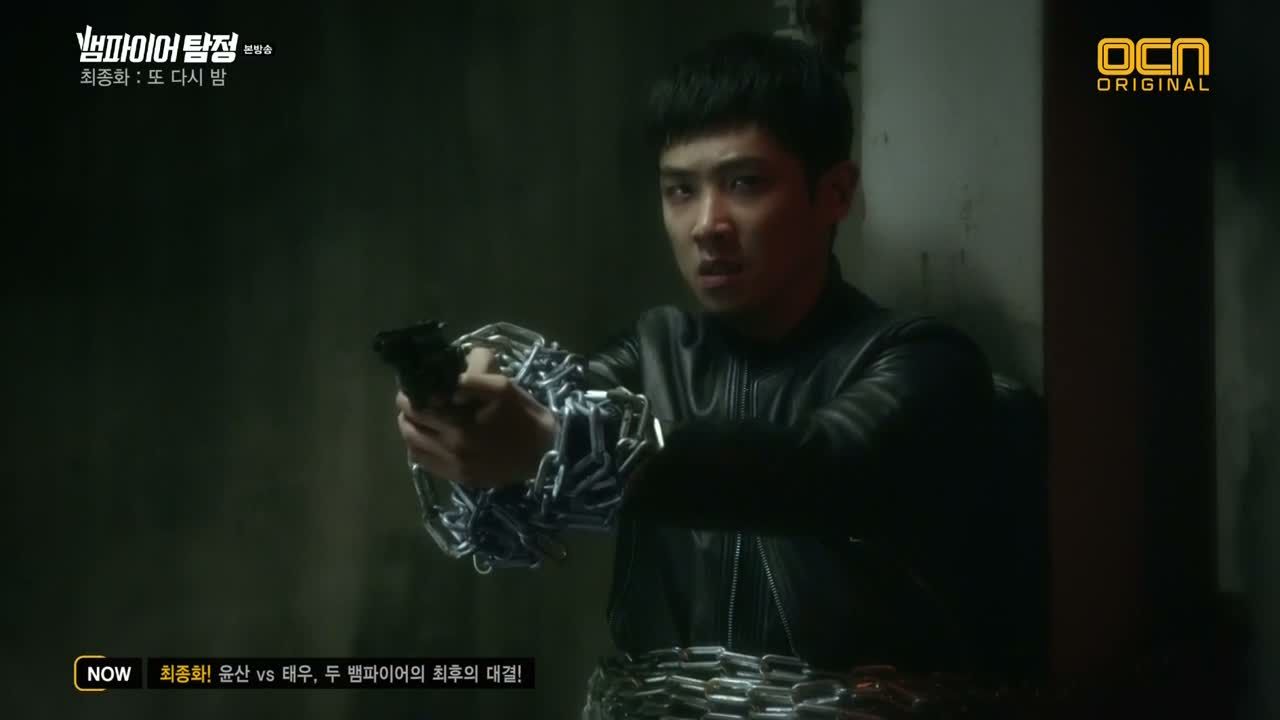 So when the lackey handed San the gun, he advised him to make the "right" decision as the hunting dog. That reminded San of how Yo-na always referred to him as such, and we know the rest from there.
She unties Gu-hyung from the other chair, who runs to free San. As for Tae-woo's former lackey, he lines up a few more shots… but then Tae-woo uses one of the other men as a human shield.
The lackey stares at the gun in dumb amazement as Tae-woo rips himself free and chomps down on his neck. He grabs San and chucks him into the wall, then San charges at him.
Eventually Tae-woo grabs him in a chokehold as San's head lobs forward. He figures San hasn't consumed his fill of blood in a while, but that's when San's eyes glow yellow and he wrestles out of Tae-woo's grasp.
Each of them get a few punches in and flip each other in the air and onto the ground. Yo-na heads down to the room where Young-kwang is held and checks to see if he's still breathing.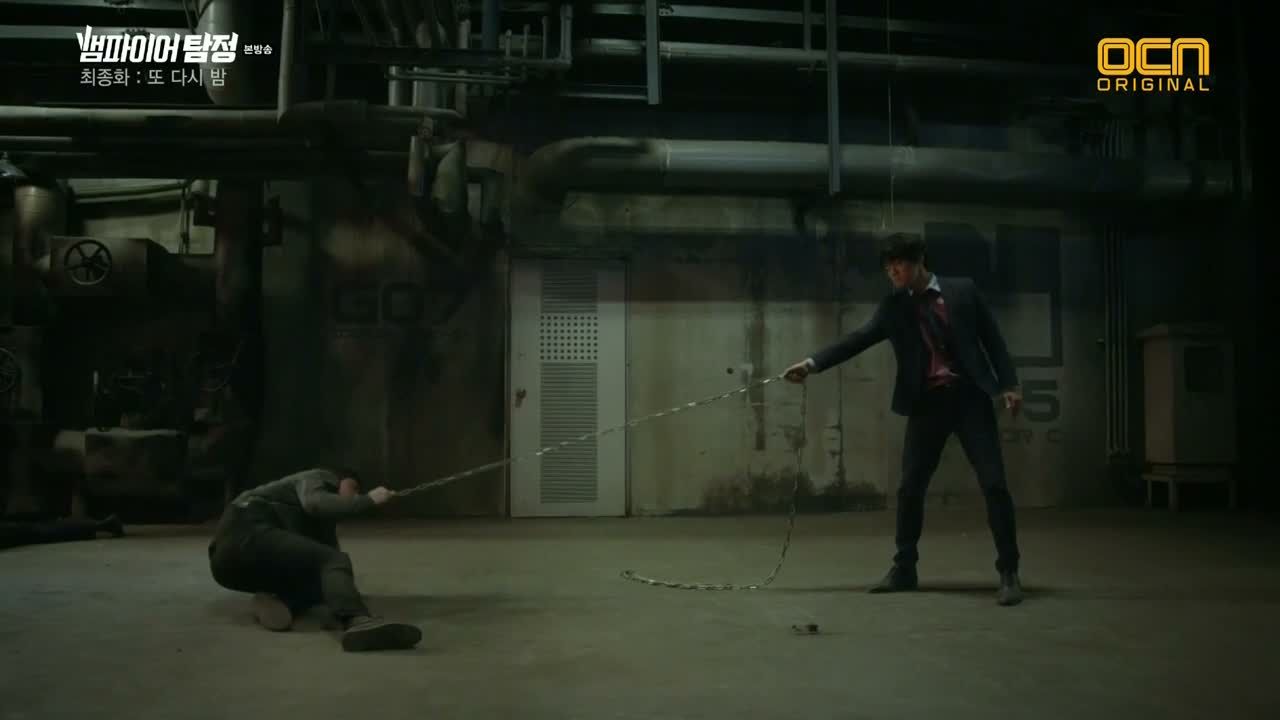 Gu-hyung is still trying to break through Yoo-jin's chains while Tae-woo chokes San with a chain. He whips San back, flips him over and over again, and holds on tight as if the chain were a leash. He tugs, and then the chain breaks.
Yo-na helps Young-kwang outside and sees the sun peeking above the buildings. Young-kwang calls her by her former name, Eun-hae. He turns into his younger self before her eyes, and through shallowed breaths, he tells her that he's killed so many people over the years.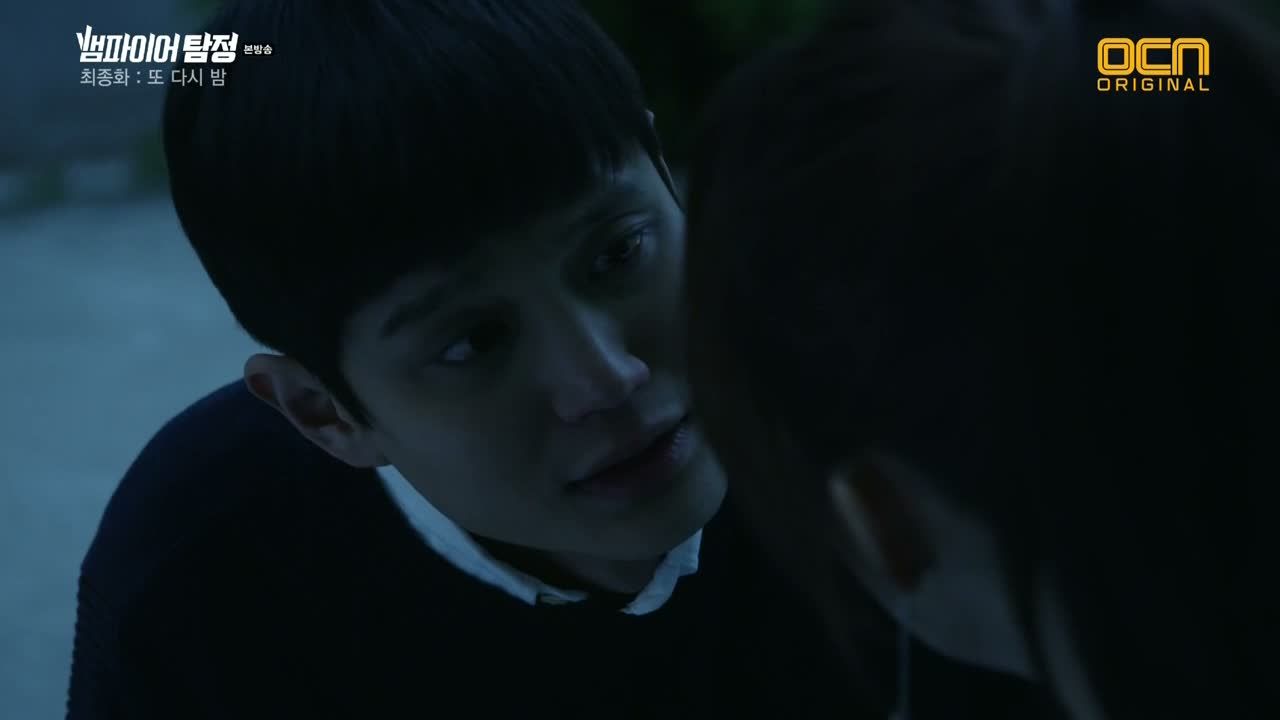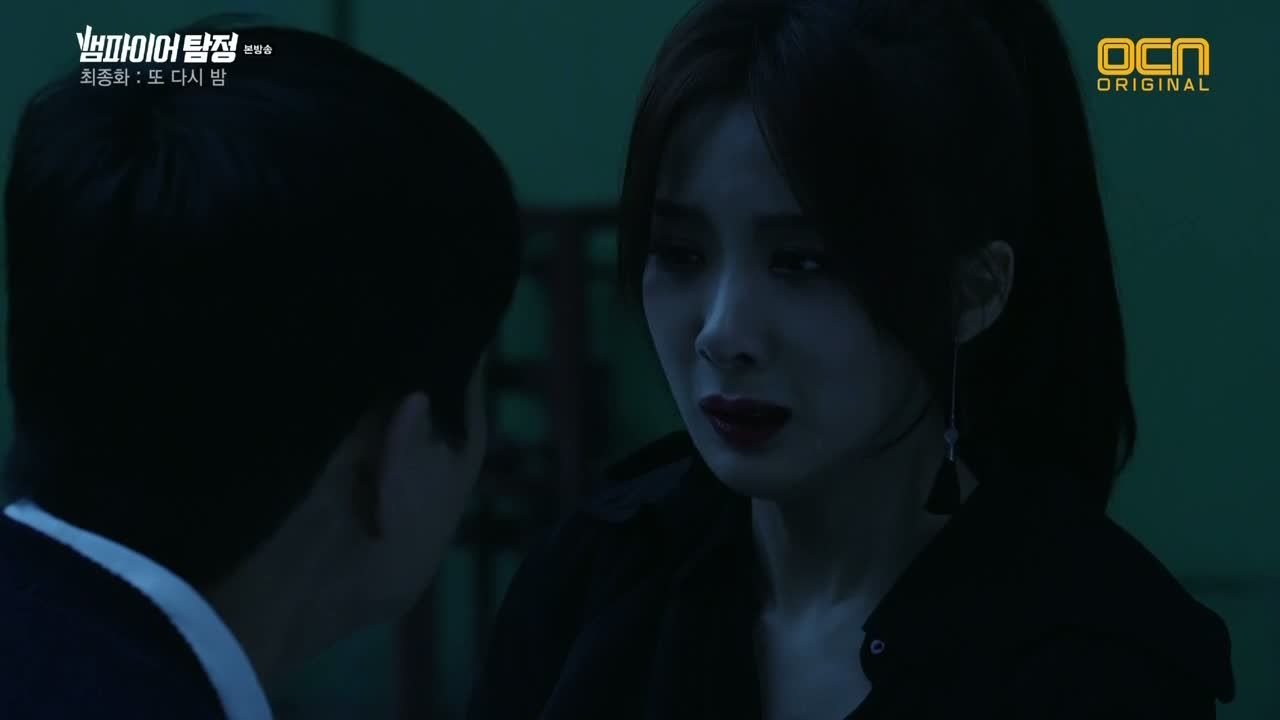 He admits that he was so scared and hardly slept and ate back then. Living a life where he had to act unaffected to his reality frightened him, along with the idea of continuing to live his life this way. Lastly, he hoped he would be able to die looking at her face.
Yo-na extends her hand to softly touch his cheek, but she refuses to let things end this way. She promises to help him and is about to cut into her palm again when Young-kwang stops her.
"Everything has an end," Young-kwang tells her. "Let's go to those people and beg for forgiveness."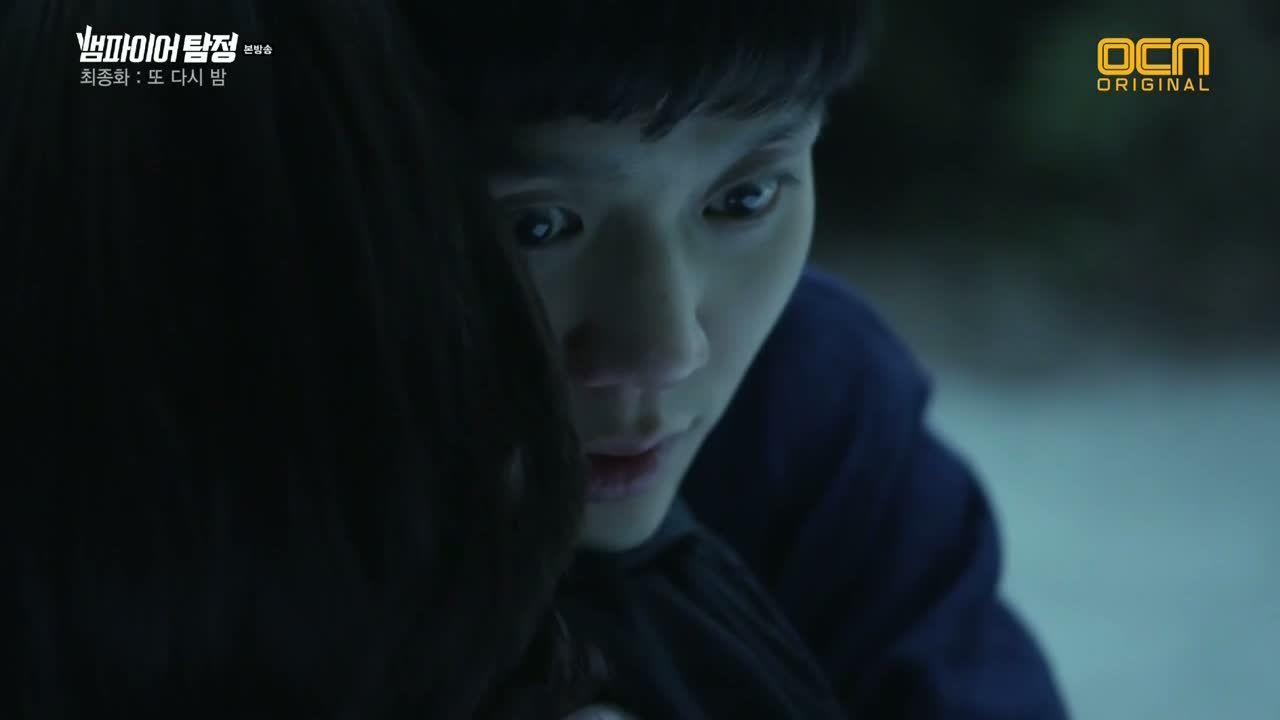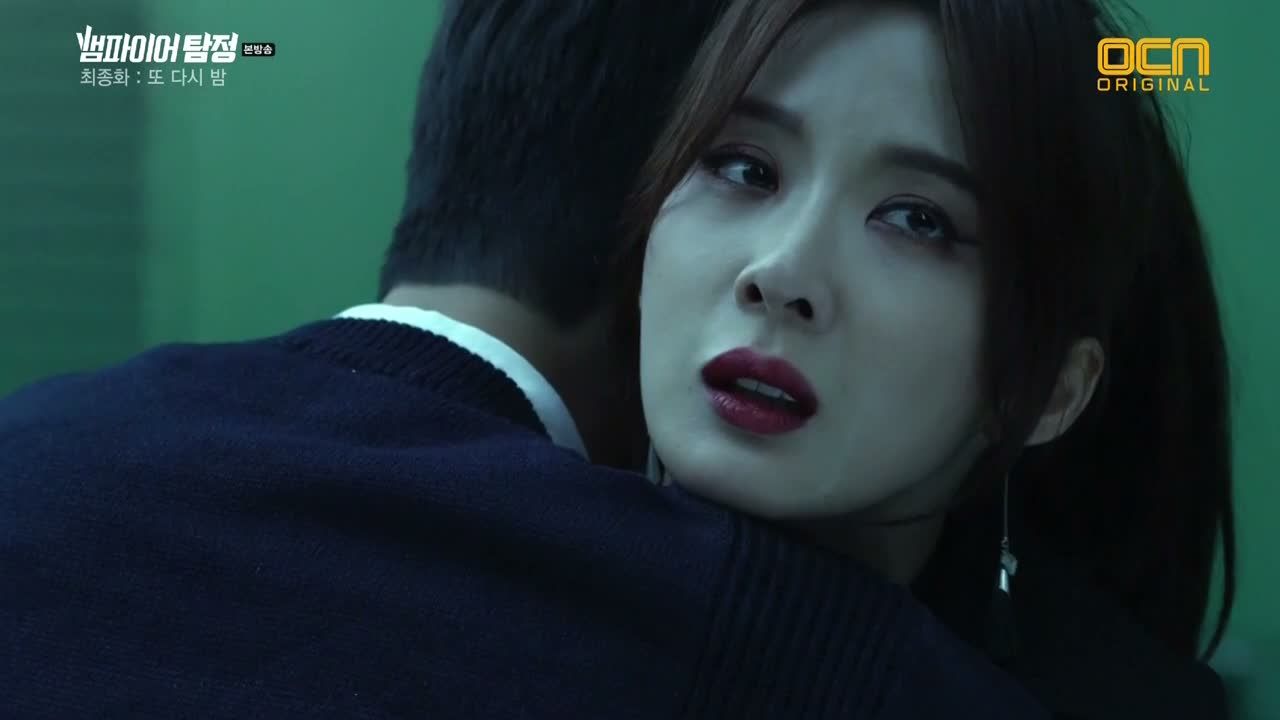 But Yo-na shakes her head no: "I don't want to." As the sunlight approaches, Young-kwang embraces her and says, "I'll protect you. Don't be scared."
Inside, Yoo-jin stops Gu-hyung from pulling at her chains. She tells him to go get help while she'll try to stop San and Tae-woo.
Not too far away, San flips over Tae-woo and breaks an arm with his knee. Tae-woo recovers in no time and soon repays the favor. Eventually Tae-woo pins San to the ground, and Yoo-jin calls out, "Stop."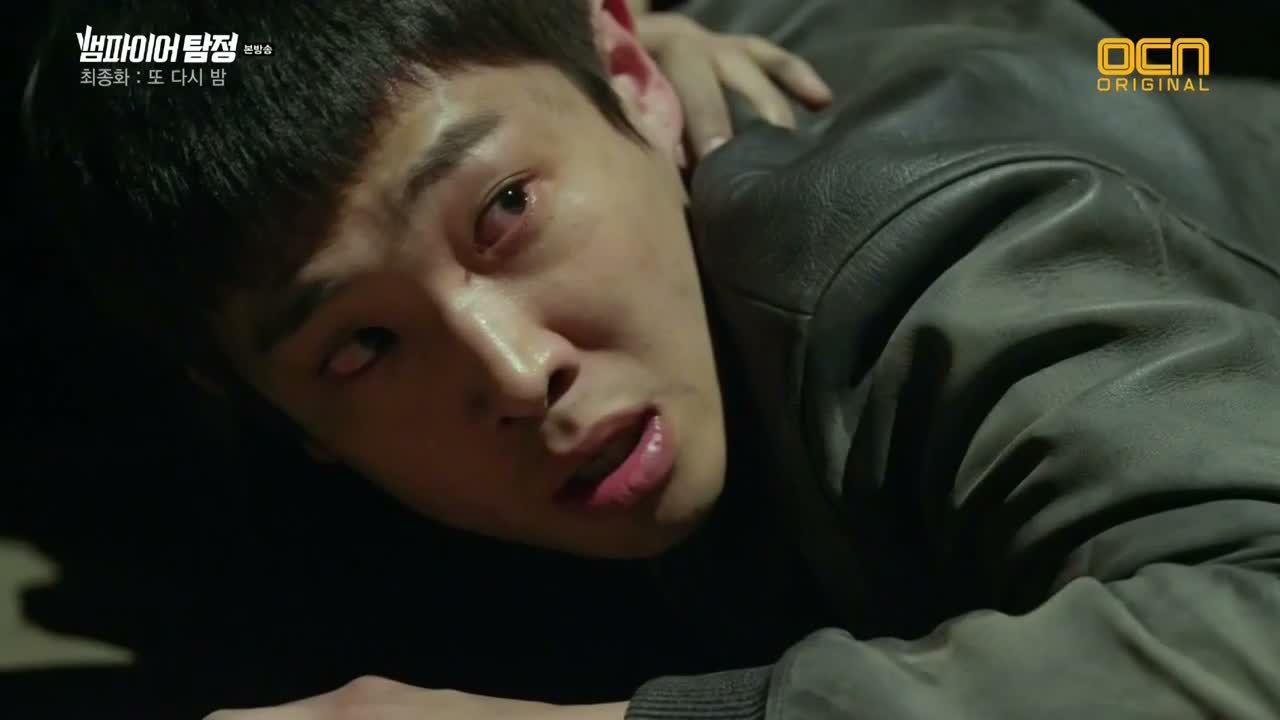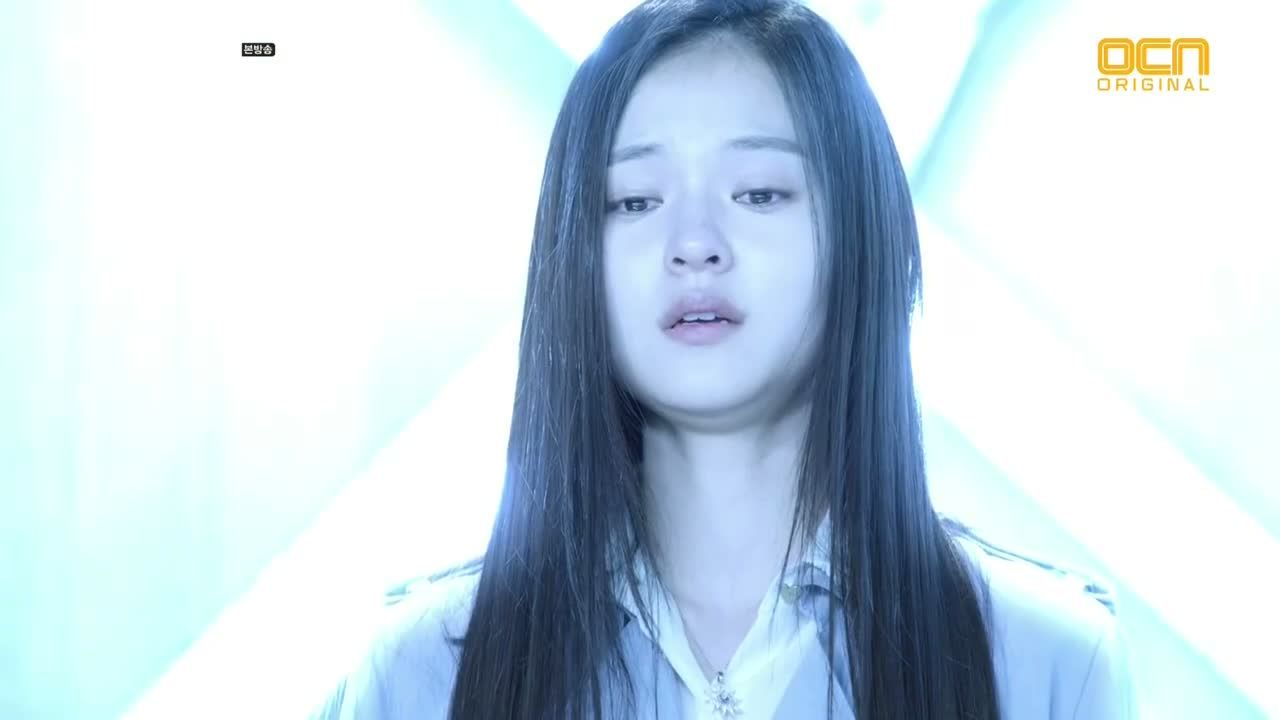 Detective Park and Gyeo-wool finally make it to the building as Gu-hyung rushes out into the hallway. Back inside, Yoo-jin has the remote to the UV light in her hand and tells San: "I'm sorry. Take care."
She presses the button and the bright lights consume her. A lone tear runs down her cheek as San screams. The screen fades to white, then Yoo-jin imagines being able to stand on a beach with San in the daytime.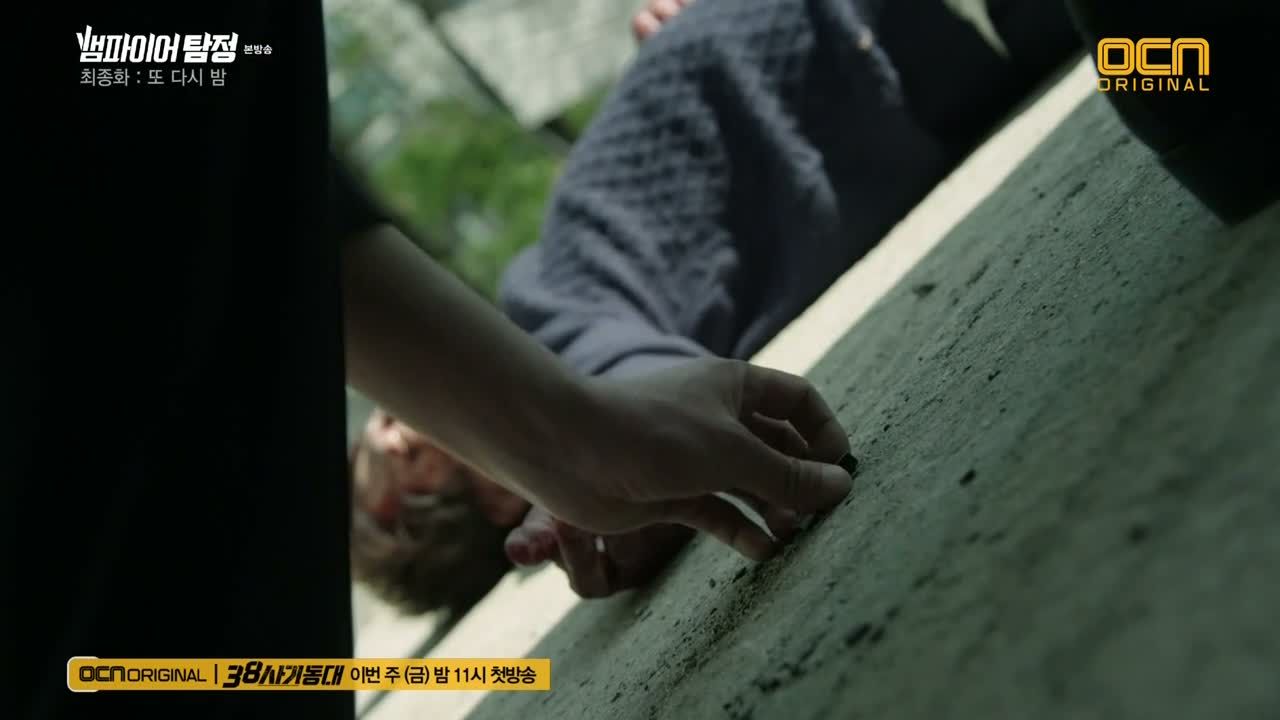 When the camera cuts back to San again, he sits alone with the sun pendant.
Young-kwang lays out in the sun, as someone picks up the USB drive. We cut back to when he and Gu-hyung were tied up in the same room as Gu-hyung kept telling him to stay awake. Young-kwang had kept talking, describing a group who was out for him.
Gu-hyung is too late when he returns to the room with Detective Park and Gyeo-wool in tow. The room is empty.
One year later. Gu-hyung hands out flyers with San's face on it to anyone who will take a copy. Doctor Hwang and Se-ra help out too, and Detective Park shows up to tell the trio that someone has filed a complaint against them again.
Apparently Gu-hyung has hung around the same area because a witness claimed to have spotted San. He asks if Detective Park has tracked down Yo-na, only to be told that no one of that name (nor Young-kwang for that matter) exists.
He plans on opening up the private investigative agency when San shows up again. He whacks Detective Park on the head for suggesting that they should work together, then gets a call from Gyeo-wool.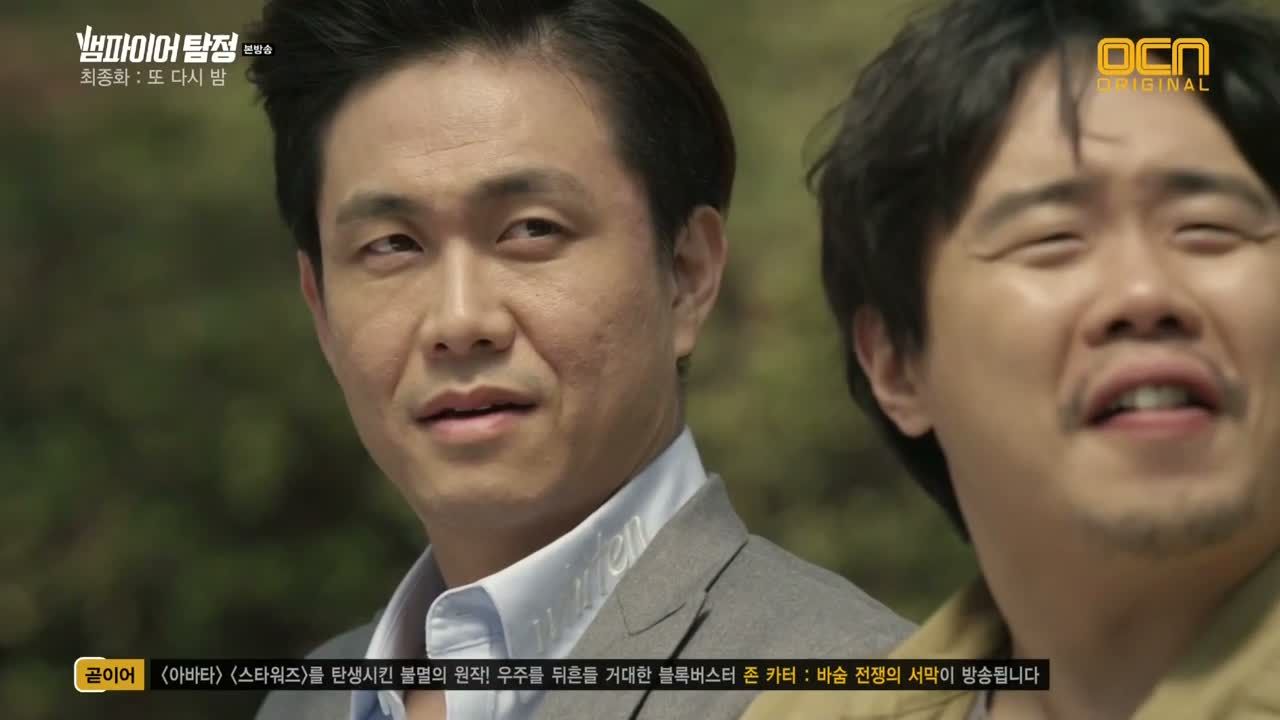 She's heard that Gu-hyung has been kicked out of that grand house, and he asks where she's been. She reminds him that she'll return once she finds San, which prompts him to ask if she's tracked him down.
With that she walks right up to them and makes a request: "Do you want to go and bring San back together?"
She opens up her arms for a hug… and Gu-hyung kicks her in the shins. Ha. And so the team heads out to find San, together.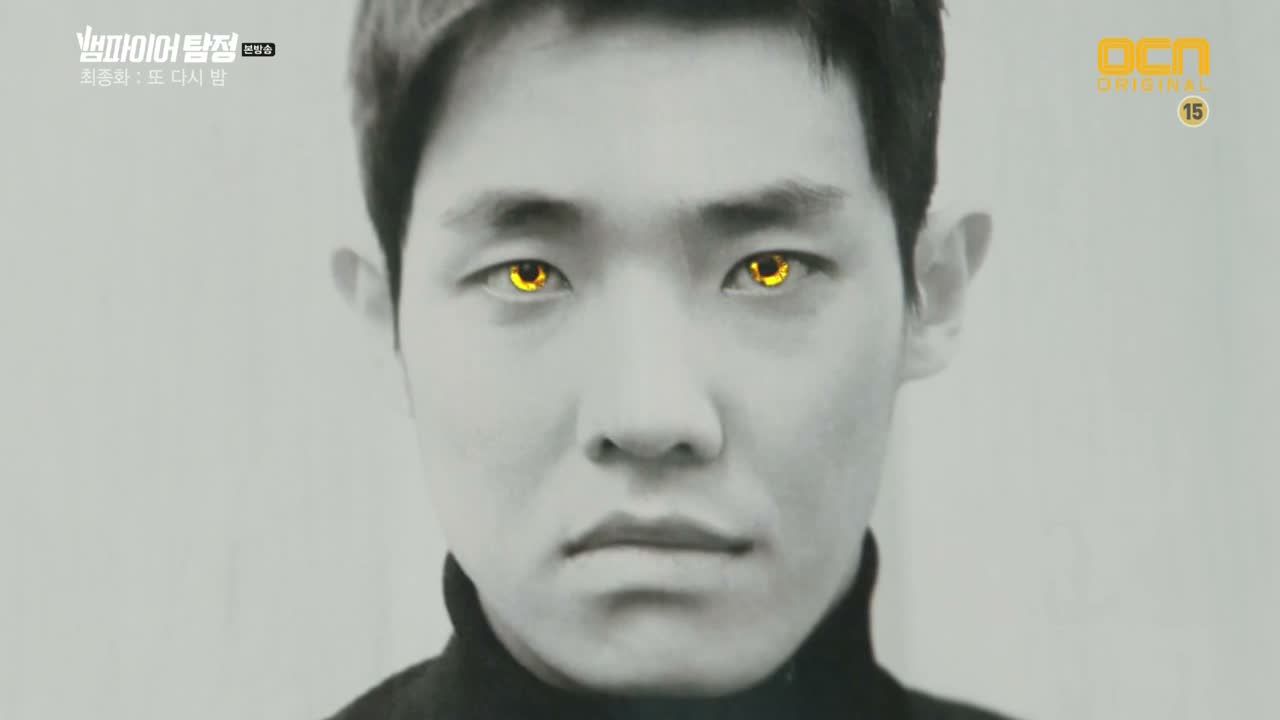 COMMENTS
Like so many of its crime procedural predecessors at OCN, Vampire Detective leaves us with an open ending that sets up for another potential season. But unlike the other shows, I'm left uninterested in where our crew goes next because if San has stayed under the radar for a year, I can only assume that he's sulking somewhere over Yoo-jin (again), possibly suffering (or not because who really knows) from his vampiric condition.
Pair that perspective with ratings falling from week to week, and the show was dragging its fangs to the finish line. Watching that trajectory was almost tragic too, since Vampire Detective offered such a promising premiere. But between all the repetitive cliffhangers followed by often confusing cold opens, to important conversations that were assumed between the characters but were unshown to the viewers, to abandoned plot points revived at the eleventh hour, and worse yet—a practically invisible vampire angle—it should come as no surprise that disinterest and frustration would grow with each passing episode.
A part of me does think that the one-episode-a-week format worked to the show's disadvantage because weeks or months would pass before we had to care about a character or an item no one really remembered. Take for instance, Sun-young, whose re-appearance in the finale was more a hindrance than anything else. She easily could've tried to call Gu-hyung rather than text San's exact location (especially if San couldn't divulge more details), but of course that information makes it awfully convenient for Tae-woo to send his men down to exactly where San was. Not only that, it was only this episode where Tae-woo's lackey's disgruntlement towards his boss came into play, which took the oomph out of his betrayal. (I will, of course, find endless amusement in the lackey's amazement at how a bullet cannot stop a goddamn vampire.)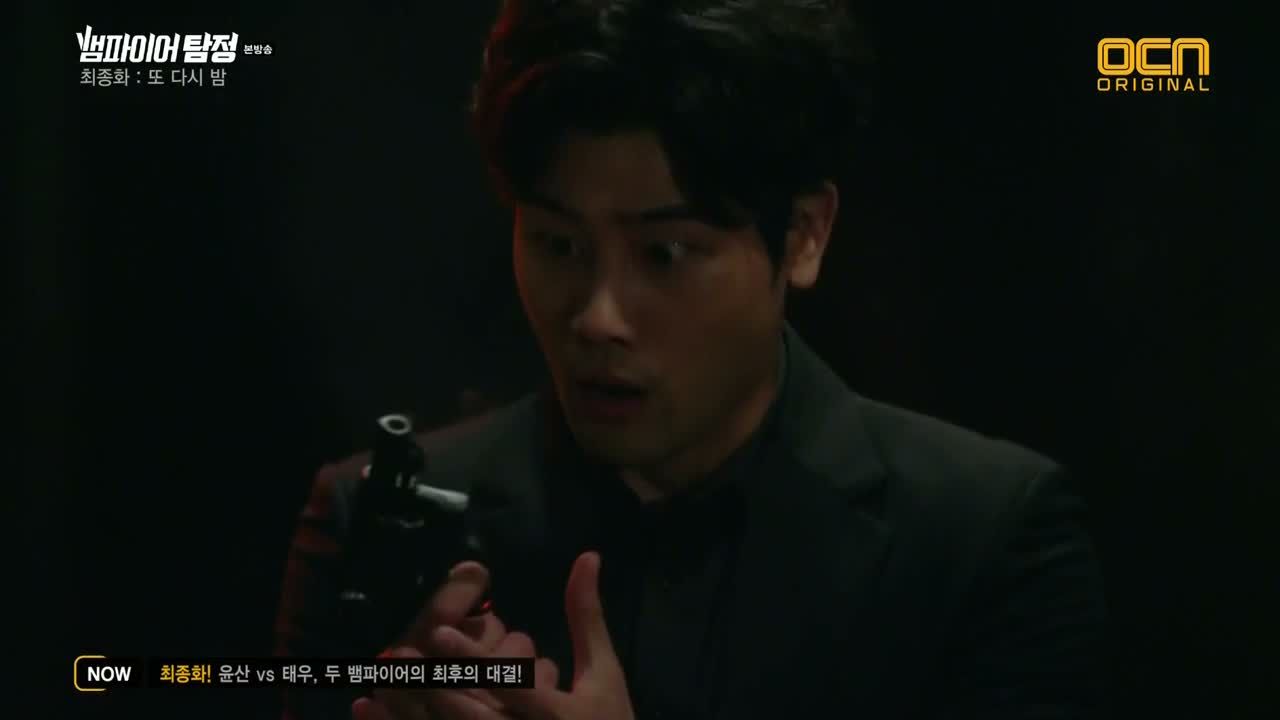 These are only a few of the many things the show picked up and had our characters care about at will. I was almost surprised to find that Gyeo-wool was still in the dark about her brother, whose mysterious disappearance was the entire reason why she joined the team. One year later, her focus is on finding a different missing person without finding any emotional closure for her own family.
This all goes to say that I wish the show used expository when it actually counted, applied to our main characters and the overarching narrative. Instead, the show spent time describing the minute in a complicated way (see: the pyramid scheme) and skimming over the interactions of our trio, who in spite of everything, I still very much adore. I have Oh Jung-se to thank for my deep admiration of Gu-hyung and his unwavering loyalty, and Lee Joon for his earnestness in his acting when the writing cared so little about San.
Suffice it to say that San's lingering affection and unwavering understanding for Yoo-jin was a plot point I cared little about, if at all. Her character was no more than a damsel in distress to drive San from place to place, so seeing her demise meant a graceful exit to an otherwise uninteresting character. Yet if there's one thing I do hope for out of all of this, is that Gu-hyung does find San because he ain't gonna find anyone better than him.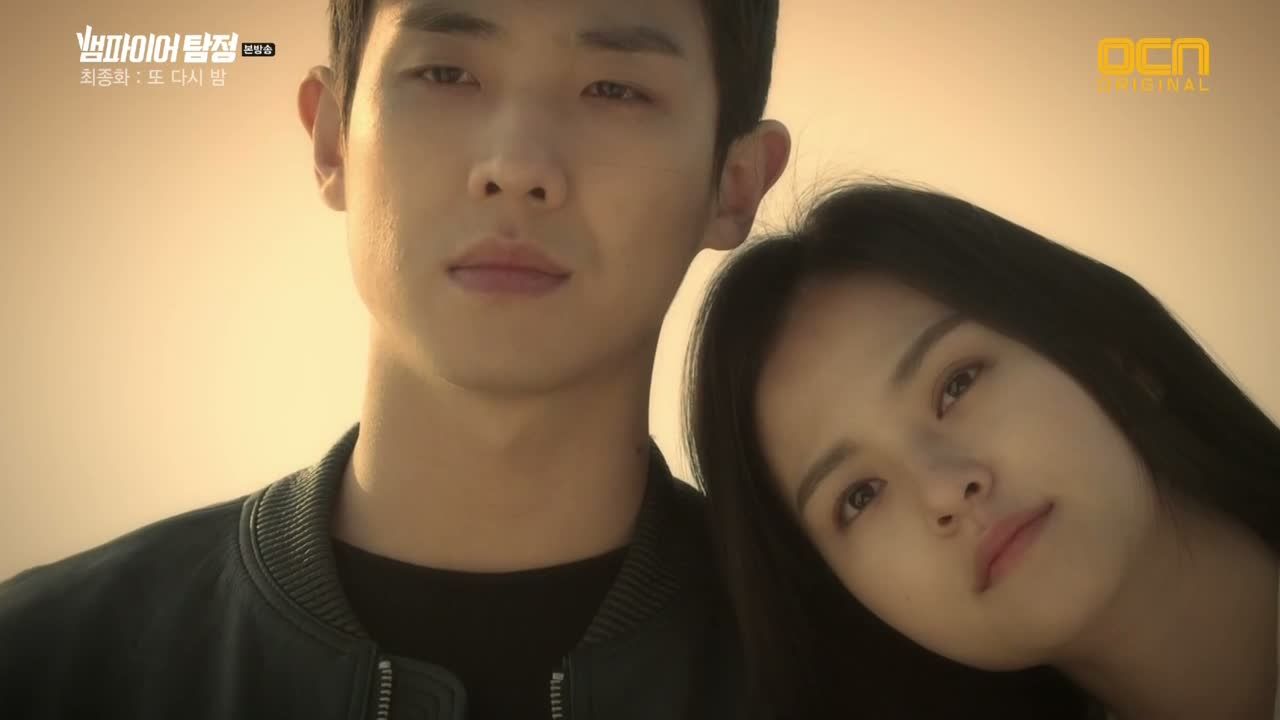 RELATED POSTS
Tags: Episode 12, featured, Lee Joon, Lee Se-young, Oh Jung-se, Vampire Detective