Age of Youth: Episode 1
I've been looking forward to JTBC's newest drama Age of Youth since it was announced, as I'm particularly fond of stories that feature strong female friendships, especially if they're more than just vehicles to discuss the love lives of our protagonists. Though the premiere wasn't as upbeat as I expected from the promos, it does its job in introducing us to our five roommates, taking us through those uncertain, anxious first days of college as seen through the eyes of the newest and youngest addition to the house. It's a scary world out there as a newly minted young adult out on your own — but it can also be a time for growth and discovery, setting you on a path to a newer, and perhaps better, version of yourself.
EPISODE 1: "Fear of Takeoff #slipper"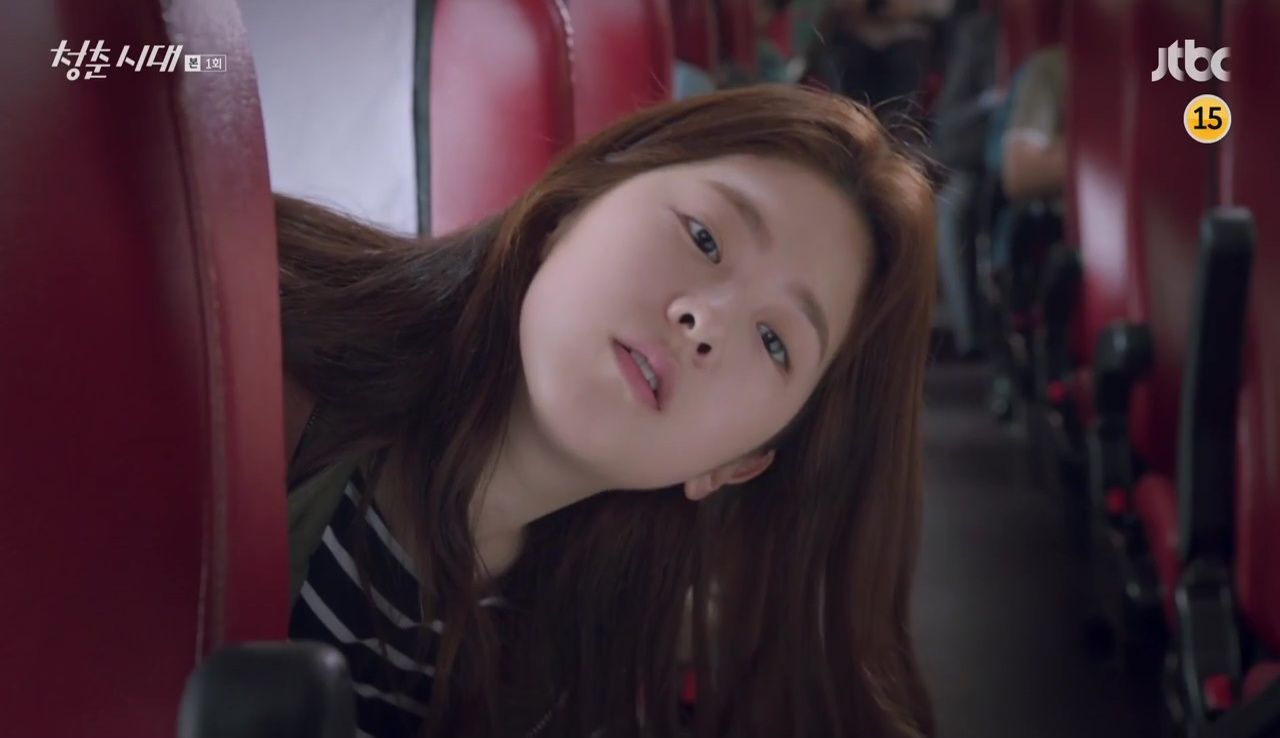 A young woman, passed out on the bus, is startled awake by a loud honk. She looks out the window to get a glimpse of the city as the bus crosses into Seoul.
A radio host narrates that it's March 1, the start of a new school year and new beginnings. Her advice to students is to remember the most important back to school essential — self-confidence — and that instead of stressing out about what lies ahead, they should confidently face the future.
Now off the bus, the young woman navigates her way to a sharehouse called the Belle Epoque. She climbs up the stairs to the front door; a chic grandmotherly woman follows behind her and asks her who she is.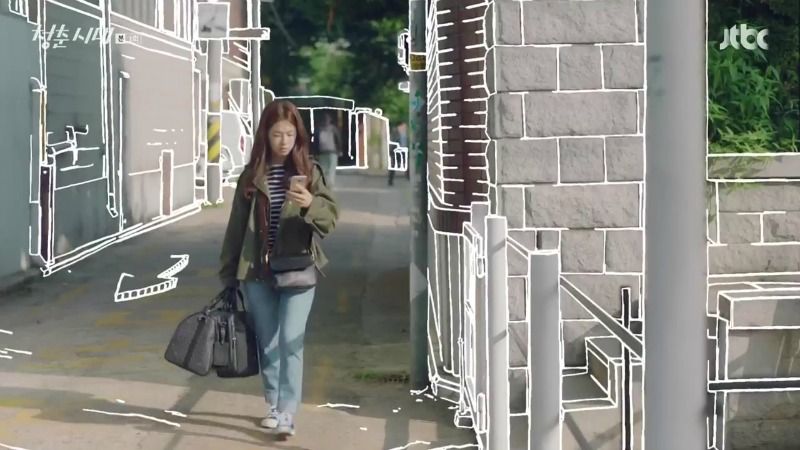 Bowing awkwardly, the young woman quietly introduces herself: She's YOO EUN-JAE (Park Hye-soo) and she's moving in today.
Once inside, Eun-jae heads up the stairs when the grandmother calls after her, telling her she might have a tough time. Well, that's comforting.
Eun-jae says in a voiceover: "A new grade. A new school year. A new start. Each time I face these things, I have nightmares. I don't think of new things as something to look forward to, but something to fear."
Eun-jae finds her apartment and closes her eyes, taking a deep breath before ringing the doorbell.
Inside, one of her soon-to-be housemates is in bed with her boyfriend, and her eyes pop open when she hears the bell. She's JUNG YE-EUN (Han Seung-yeon), and she rushes out of her room, straightening up her clothes. Her boyfriend peeks over from around the corner, and the two peer into the intercom screen until Ye-eun gets a phone call from Eun-jae.
Meanwhile, the grandmother finds Eun-jae outside the apartment. Ye-eun hears the grandmother's voice and freaks out, quickly pushing her boyfriend back into her room. As the grandmother enters the passcode to the door, Ye-eun calls out that she's coming, and successfully hides her boyfriend's shoes under her skirt just as the door opens.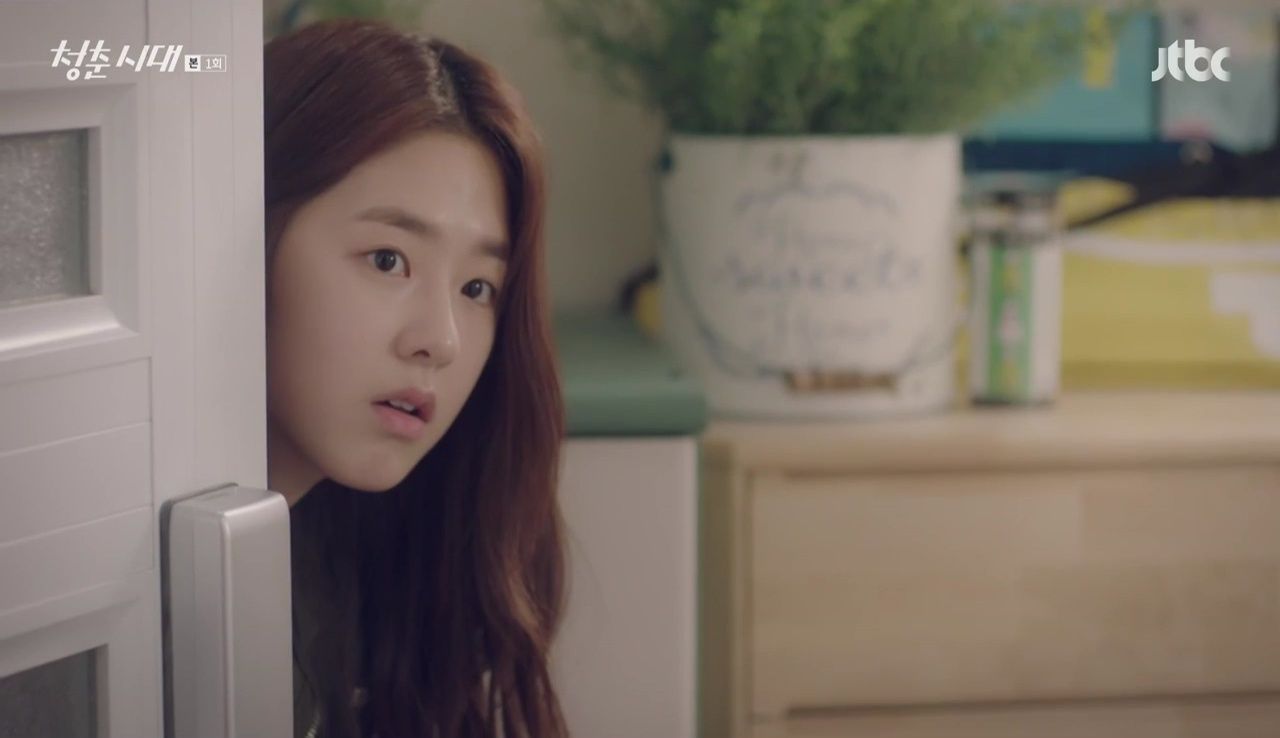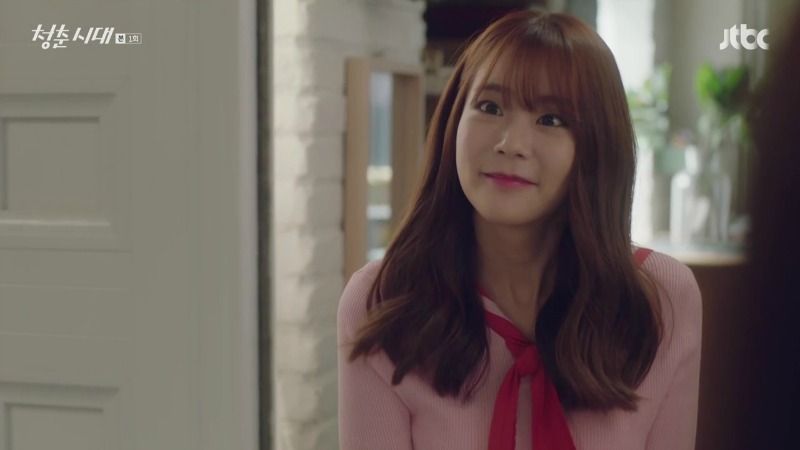 Ye-eun forcibly smiles through her conversation with the grandmother and invites Eun-jae into the apartment. Worried about her boyfriend being discovered, she hurriedly leads Eun-jae into her new room and shuts the door.
She gives Eun-jae a quick rundown of her housemates, who include Eun-jae's actual roommate, a "really old" business major in her fourth year; Ye-eun herself, a third-year studying nutrition; and Ye-eun's roommate, a communications major who's away doing volunteer work. The final housemate is another business major who Ye-eun says is somewhat of an exhibitionist.
As Ye-eun nervously prattles on, glancing at the door every so often, her boyfriend quietly tip-toes out of the apartment. When he texts that he's out safely, she snaps out of tour guide mode and leaves Eun-jae on her own.
Eun-jae sits down at her new desk and finds a box underneath, which she opens. Inside, she finds a photo of a ballet dancer.
She explores her new place, noting the multiples of coffee cups, toiletries, and slippers in the shared spaces of the apartment. In the living room, a chalkboard lists three house rules: no boys, no boyfriends, and no boys who are friends. Also, rule-breakers will be kicked out.
Eun-jae puts her shoes in an empty space on the shoe rack, then opens up the storage cabinet below. Inside, she finds a pair of pointe shoes that likely belonged to the dancer in the photo she found earlier, and examines them curiously.
Eun-jae's washing her hair in the bathroom when the exhibitionist housemate, KANG YI-NA (Ryu Hwa-young), walks right in and sits down to pee. Eun-jae's obviously uncomfortable, but Yi-na just launches into conversation while she's taking care of business, then leaves the door wide open as she heads back outside.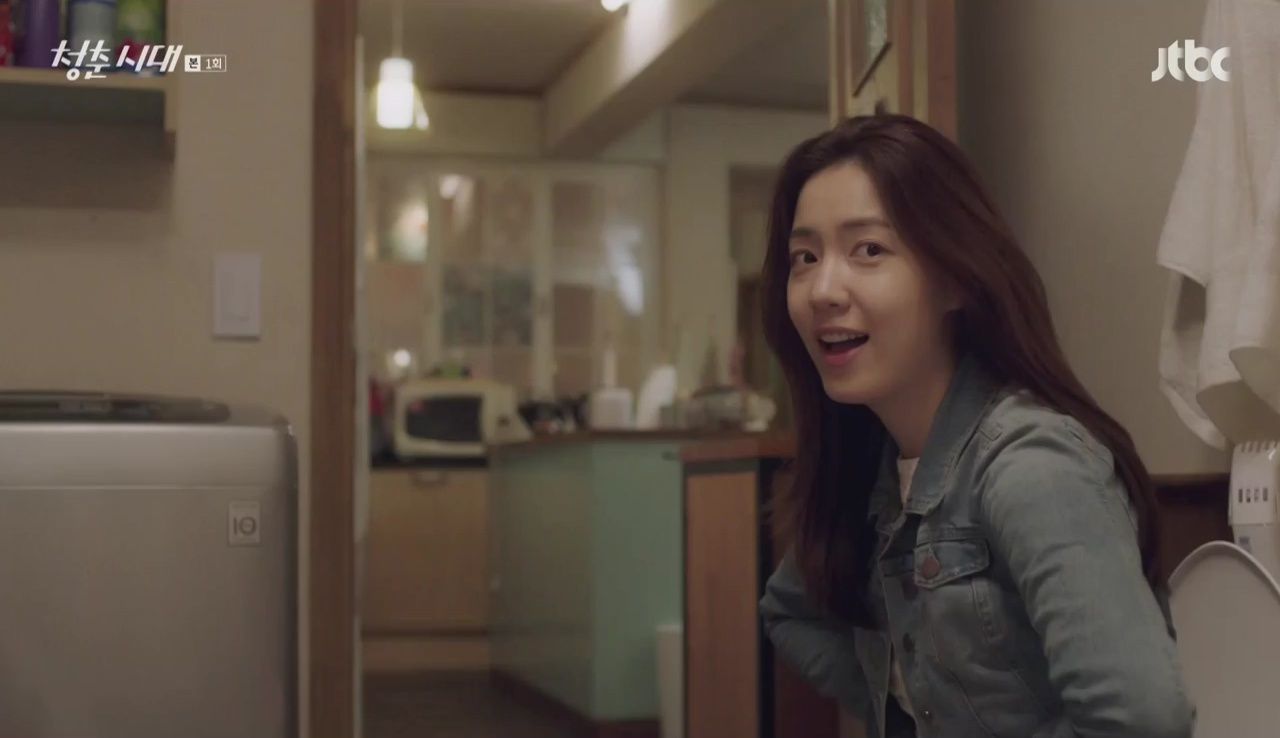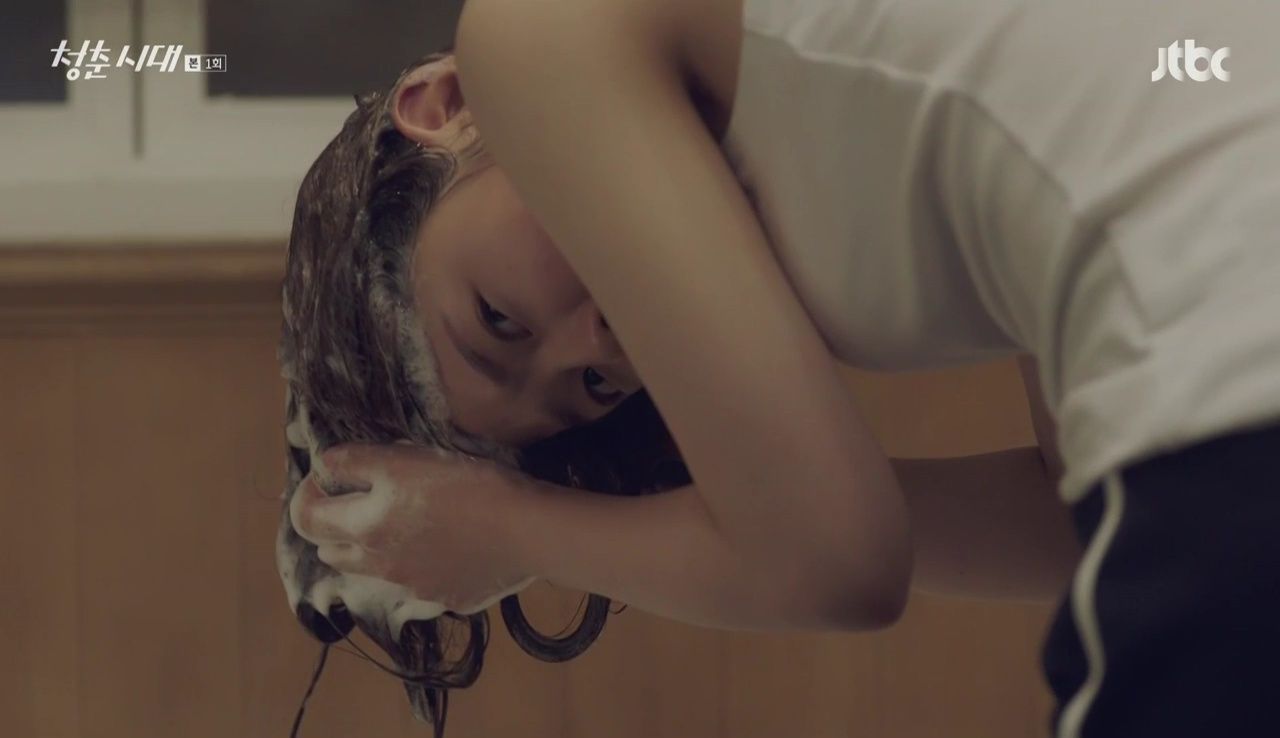 At the end of the day, Eun-jae turns off the light and crawls into bed. After a few moments, she looks up at her roommate's empty bed and turns the light back on, and tries to fall asleep.
In a fuzzy dreamlike sequence, a young girl wanders inside a school as the sounds of children laughing echo eerily in the background. A random montage of shots follows: a girl outside in a field, Eun-jae reaching for the ballet shoes, the picture of the ballet dancer, a goldfish flopping on the ground. Numbers flash through the scenes. Uh, this is weird.
Eun-jae awakens from her nightmare when the lights in her room turn off. It's just her roommate, who climbs into bed.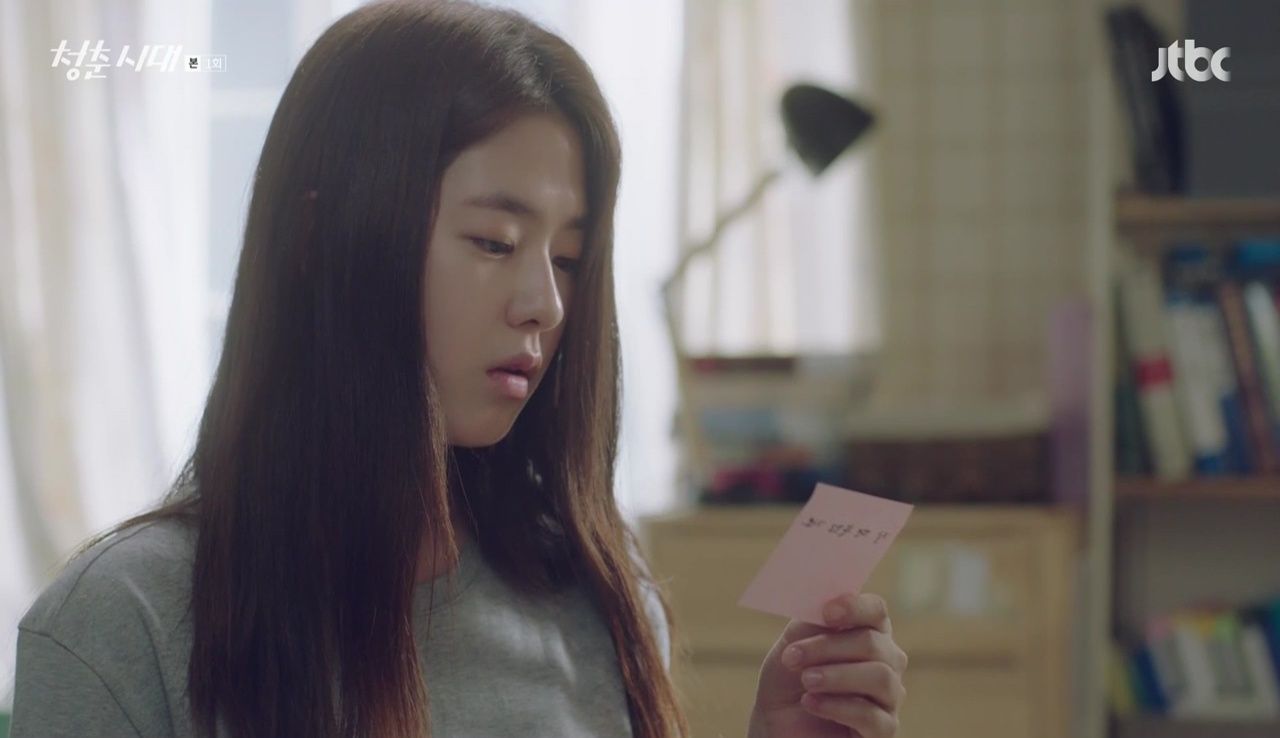 The next morning, Eun-jae wakes up alone in her room. She's taken aback to find a post-it note from her roommate that asks her to turn off the lights before going to bed, as she thought she was being considerate by leaving them on.
Ye-eun finds Eun-jae in the kitchen and eyes Eun-jae's toast hungrily. Ha, Eun-jae ends up surrendering her toast to Ye-eun, who raves about Eun-jae's mother's homemade jam and helps herself to more. Yi-na joins them in the kitchen in just a towel, and poor Eun-jae — she's too embarrassed to even look at Yi-na.
As the three settle into breakfast, Eun-jae asks Ye-eun who the dance major is, telling her about the photo she found. Ye-eun and Yi-na exchanges glances, and Ye-eun vaguely says that the dancer was a former housemate who lived in Eun-jae's room.
Eun-jae starts unpacking boxes in her room, but then is startled to find that her roommate is in bed, under the covers. Eun-jae stammers out an apology for bothering her when her phone rings loudly. She takes the call from her mom outside on the roof, and is forced to say hello to an ajusshi (maybe her stepfather). When she comes back downstairs, she just misses seeing her roommate, who's already out the door.
Back in her room, Eun-jae finds another post-it note, this one asking her to text instead of talking on the phone, and to put her phone on vibrate.
As Eun-jae starts her new life in college, it's clear that she's a loner who has trouble speaking up. She doesn't say anything when the guy standing next to her on the bus keeps hitting her with his bag, giving up her seat instead. She tells Ye-eun she didn't go to orientation. In her psychology class, a guy sitting next to her borrows her pen, but she can only watch when he leaves with the pen at the end of class.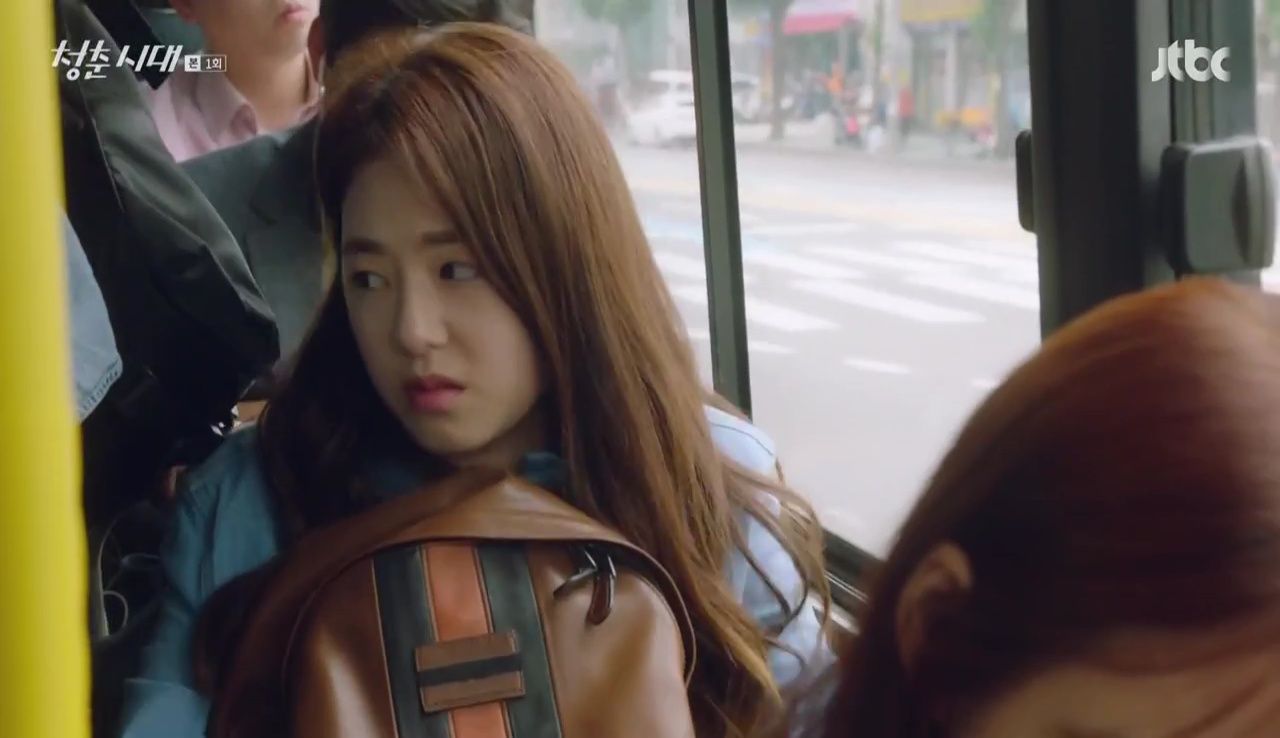 Eun-jae eats lunch at home with the TV on, then runs out to get some tangerines from a passing vendor. When she returns, she finally meets her roommate, YOON JIN-MYUNG (Han Ye-ri), face-to-face — but Jin-myung does not look pleased at all.
Speaking formally to Eun-jae, Jin-myung's first words to her are to turn off the TV when leaving the house. She then asks her to keep communal areas clean, and unplug appliances that aren't in use.
Eun-jae bows to Jin-myung and says hello. Jin-myung looks a bit taken aback by that; she gives a little bow in return. Eun-jae pulls out some tangerines to give to Jin-myung, but Jin-myung's out the door again without a word. Disappointed, Eun-jae sighs and says to herself that she wants to go home. Seriously, I'd feel the same way too.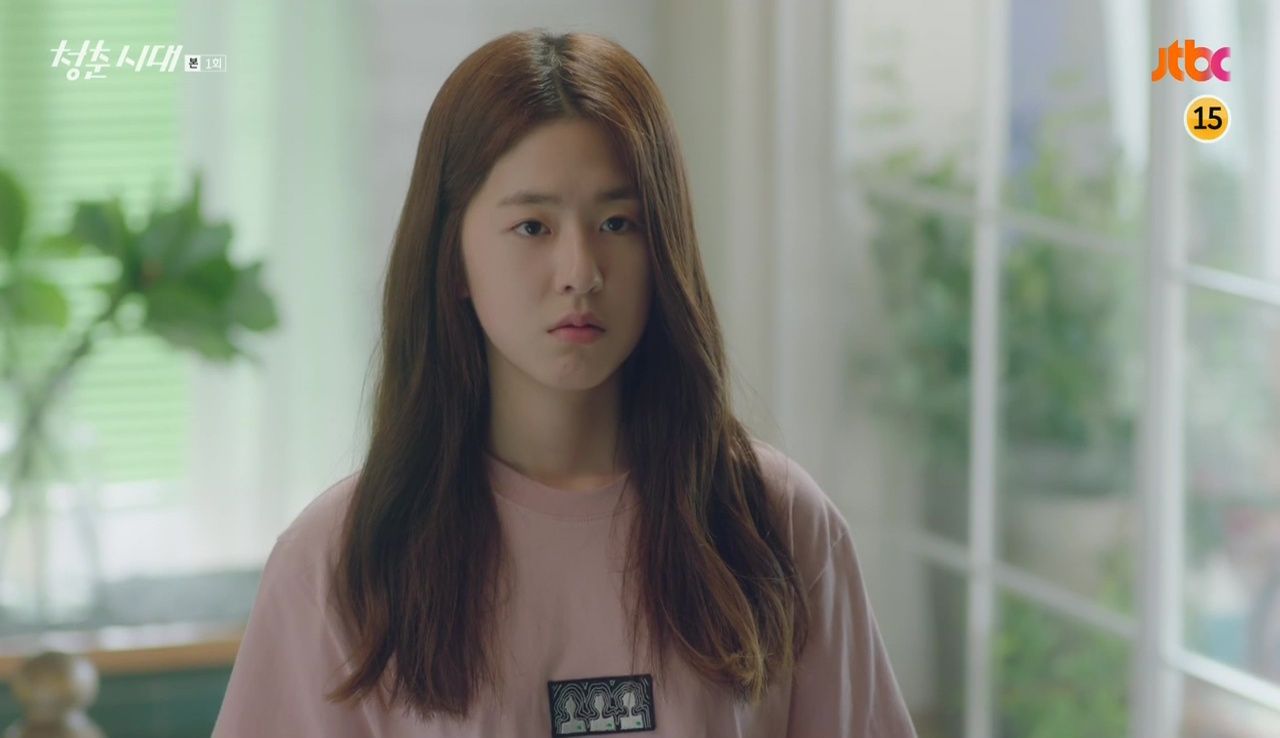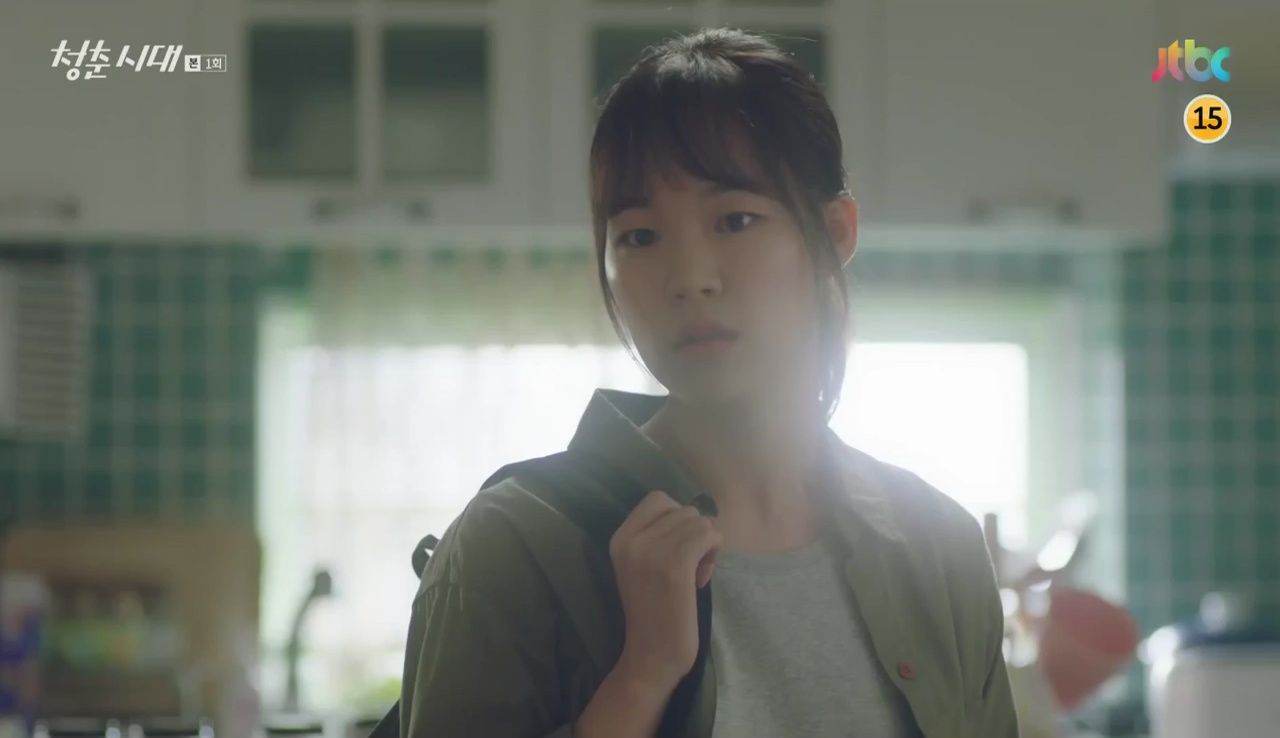 It doesn't get any easier for Eun-jae in the days that follow. Ye-eun eats Eun-jae's jam – a lot of it — straight from the jar. Jin-myung keeps leaving passive-aggressive post-it notes. Yi-na steps on Eun-jae's shoes and pushes her out of the way to use the bathroom first. Ye-eun throws her laundry in with Eun-jae's load in the washer, promising to hang the clothes up to dry. Of course, she doesn't, and Eun-jae's stuck doing it (after Yi-na yells at her for not taking her stuff out of the washer first).
Stewing with frustration, Eun-jae sits down to write her own post-it note, but then is lured into the living room by the sounds of Yi-na and Ye-eun arguing over a piece of clothing. Eun-jae ends up unknowingly outing Ye-eun for wearing Yi-na's top, and the next thing she knows, Ye-eun and Yi-na are in an all-out fight. Ye-eun bites Yi-na, and Eun-jae takes a kick to the head when she tries to intervene.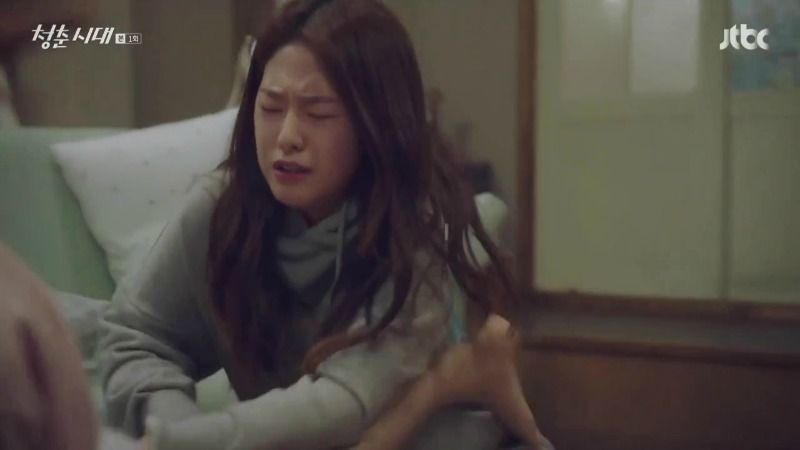 The next morning, Ye-eun stomps around; Yi-na's pissed that Ye-eun's pissed; and Jin-myung offers Eun-jae more unwanted advice, telling her to watch what she says.
Ye-eun complains to her boyfriend about what a psycho Yi-na is, and shows him her bruises from the fight. Meanwhile, Yi-na complains to a guy over lunch that Ye-eun's the psycho one: She has a bite mark to prove it. It's not clear if Yi-na is in a relationship with this guy — when he freaks out over Yi-na splattering soup on his pants, she jokingly asks which noona bought him that outfit. But when he moves to go clean up in the restroom, Yi-na gets mad and storms out.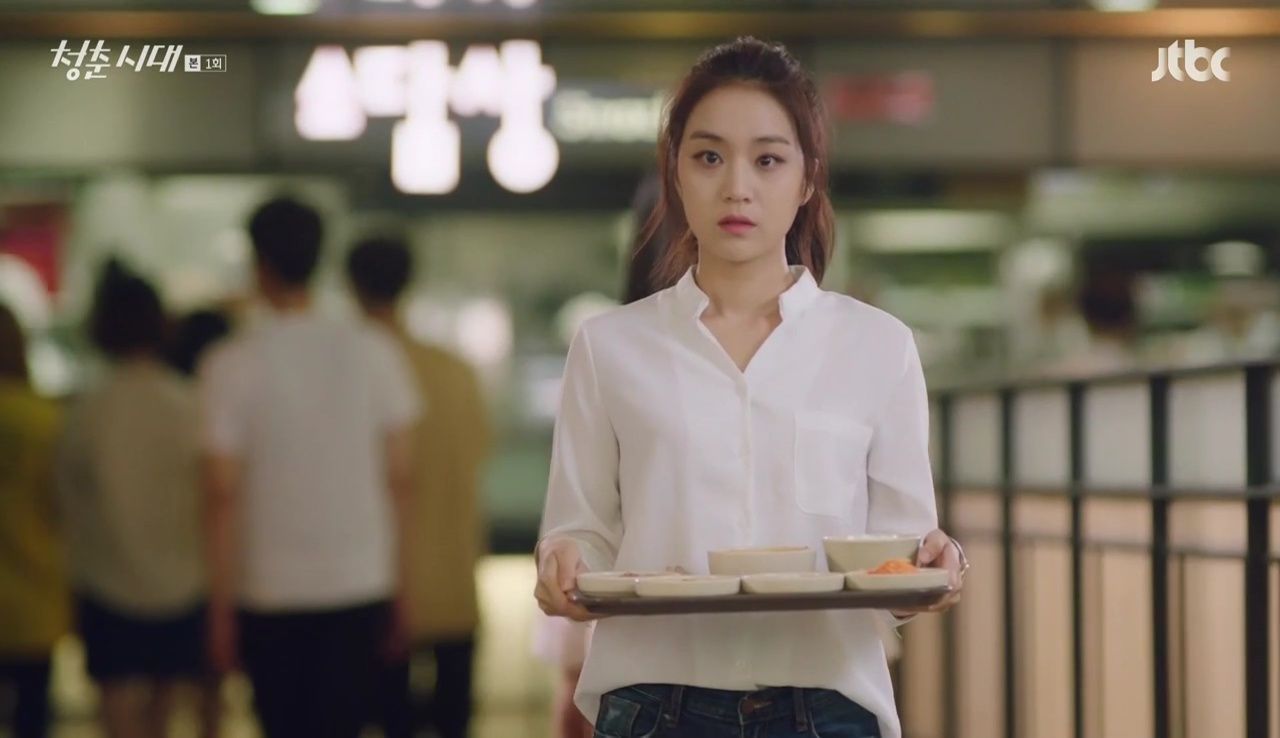 Jin-myung is eating lunch in the cafeteria when she sees the dancer who used to be her roommate. The girl stops in her tracks when she sees Jin-myung, eyes wide, but Jin-myung looks down and doesn't acknowledge her.
Eun-jae's back in class, and she's startled to see that another student has the same yellow pen she let her classmate borrow last time. When Eun-jae asks about it, the student says she found it on the ground. Annoyed, Eun-jae looks back at the guy that borrowed the pen, whose name is YOON JONG-YEOL (Shin Hyun-soo); she quickly looks down when he catches her looking at him.
Today's psychology lecture is on the concept of "positioning," or how people use words to place themselves and others in relation to each other. Eun-jae finds herself applying this idea to her housemates: Jin-myung is cold, Yi-na's an exhibitionist, and Ye-eun is whiny — but they're all scary. She wonders how she can find her position in the house.
She thinks to herself that even if it's hard, she needs to stand up for herself. She imagines doing just that and delivering snappy comebacks to her roommates, and I like this version of Eun-jae way better. She resolves that from now on, she'll say what she needs to say, and not be afraid to look at other people in the eye.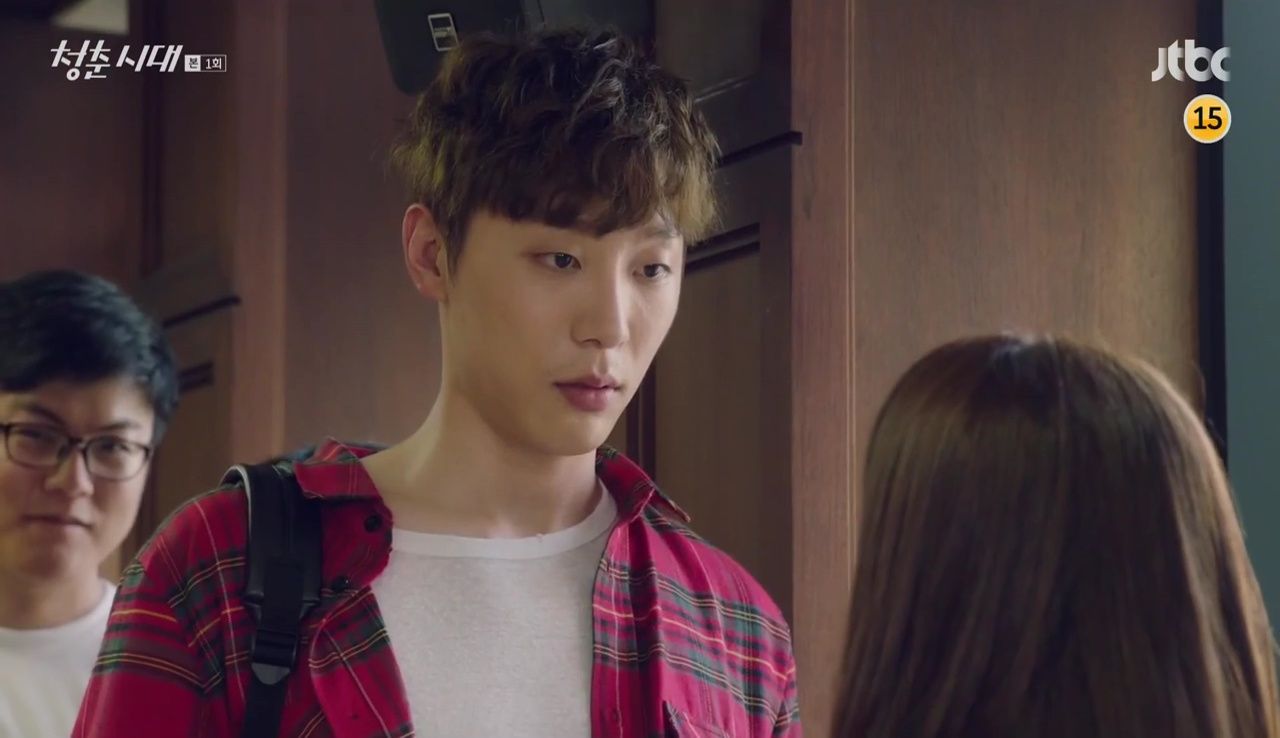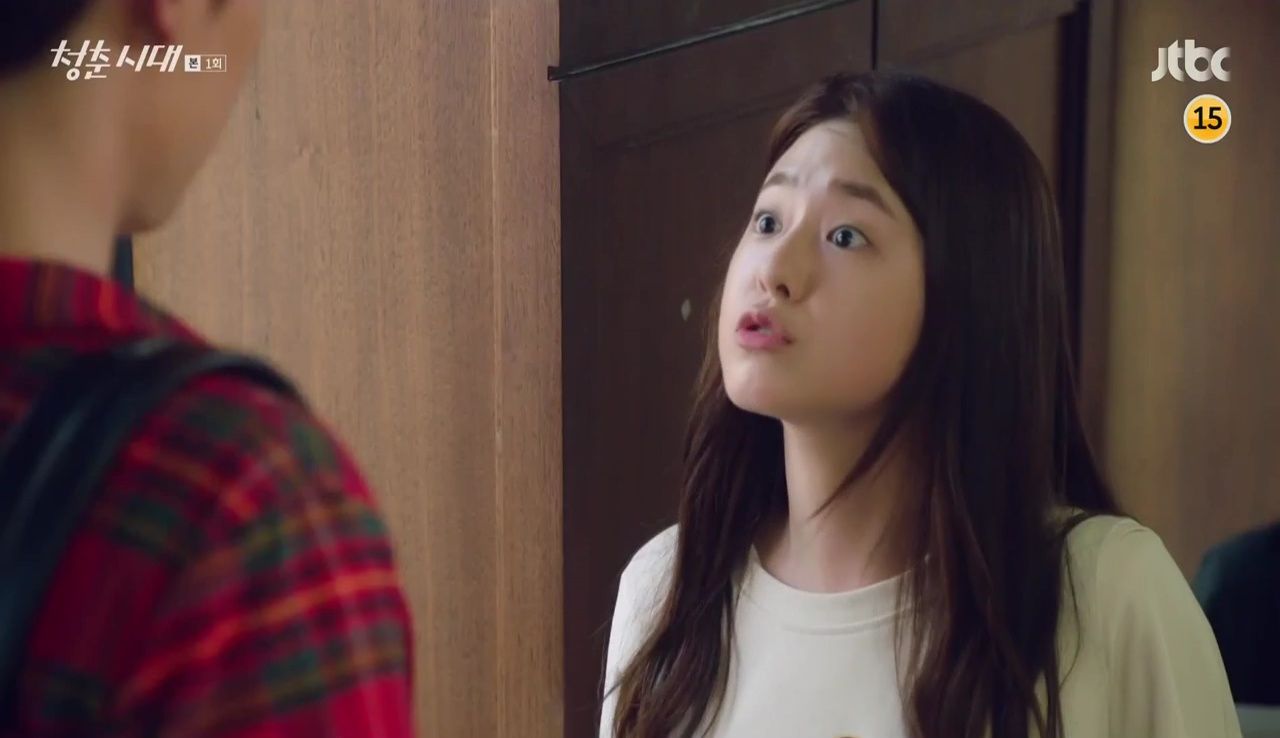 After class, she heads over to Jong-yeol and demands that he return her pen. He blinks back at her, unsure of what to say, then stammers out an apology. That's enough to satisfy Eun-jae, who walks out smiling.
Eun-jae returns home and finds her housemates amicably hanging out at the kitchen table, as if the fight the night before never happened. Eun-jae heads to the refrigerator and is not happy to find her jar of jam almost empty.
She recalls the resolutions she made in class, and finally says something: Who ate her jam, and why would they do it without asking? Her housemates think she's making a big deal over nothing, and Eun-jae pretty much gets steamrolled — by the end of the conversation, she's back to looking at the ground and mumbling.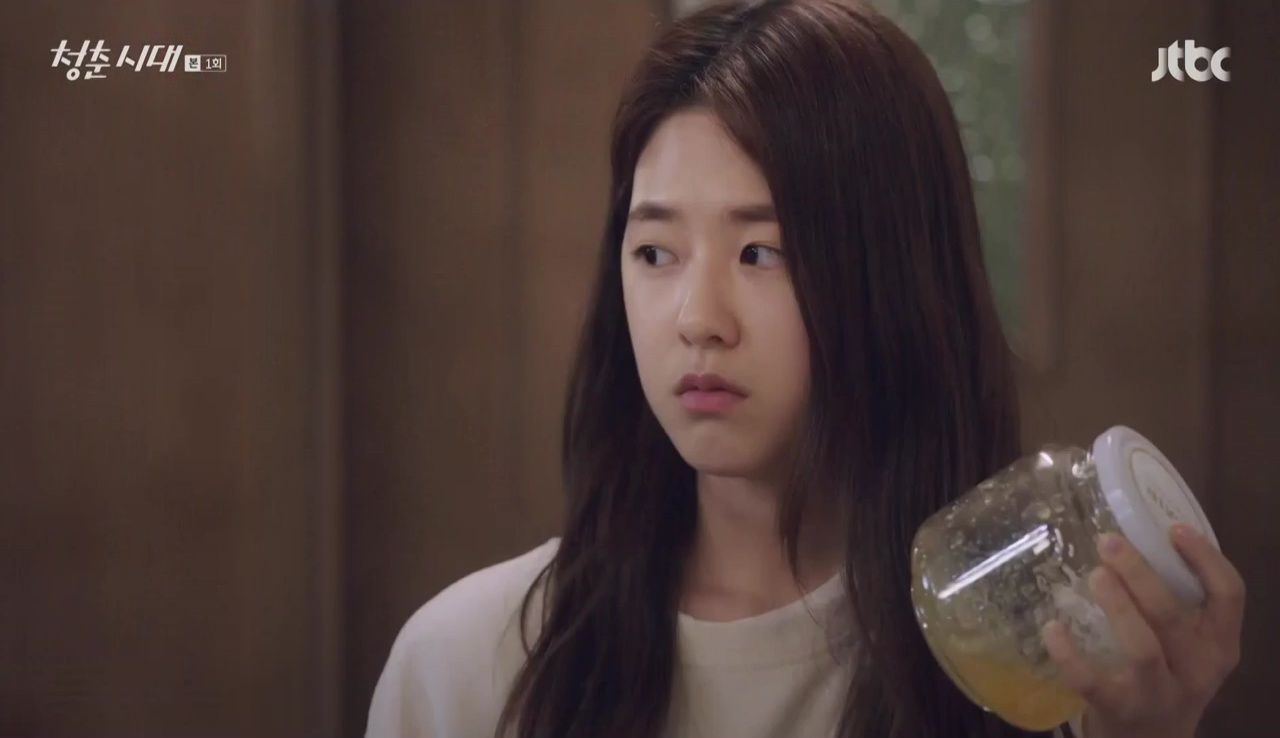 Eun-jae has another nightmare with several new scenes: The same young girl we saw before stands in a classroom, but no one acknowledges her. Someone peeks out from behind a door, and a cup of milk splatters on the floor. Eun-jae wakes up with a start, breathing hard and drenched in sweat.
It's a new day, but nothing much has changed for Eun-jae. She gets hit by someone's bag on the bus. At the end of class, Eun-jae leaves in the middle of an announcement from a fellow student about a get-together for the psychology department. Jong-yeol's in the same class again — he must be a psychology major, along with Eun-jae — and watches Eun-jae leave with interest.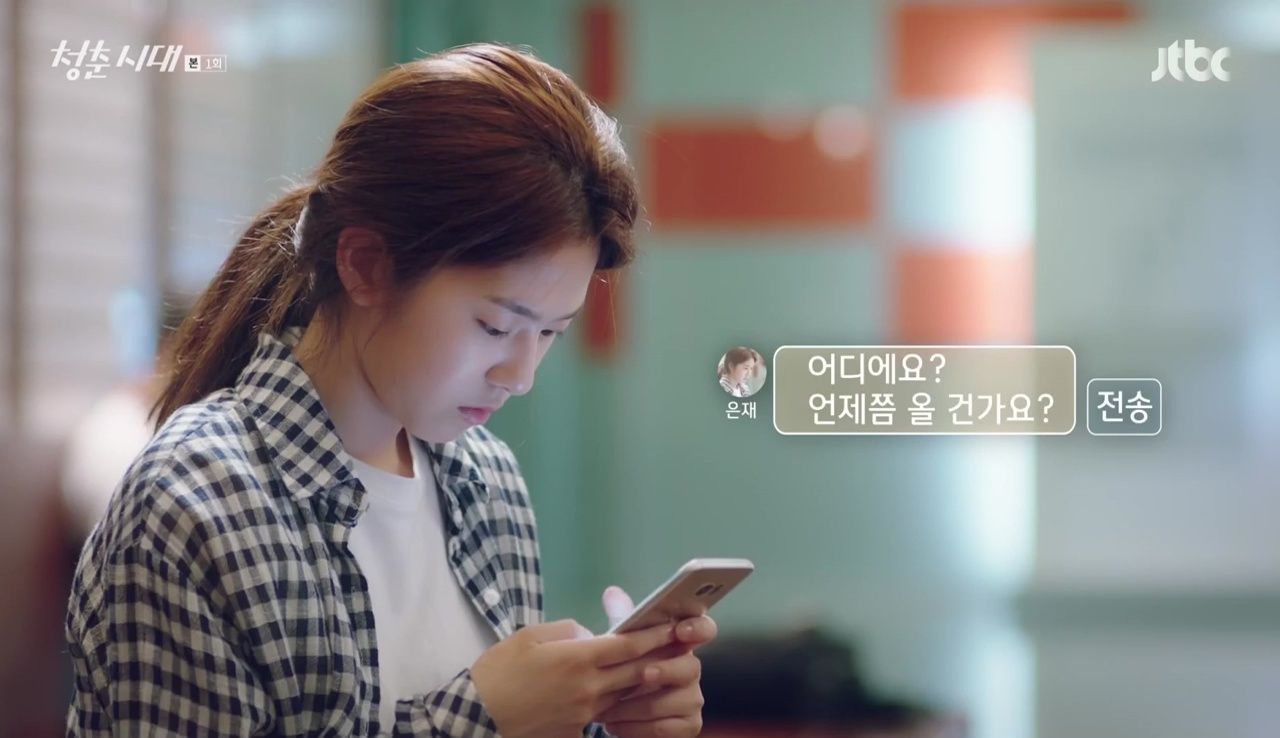 Eun-jae runs in to Ye-eun on her way to the library, but Ye-eun gets distracted by a text from her boyfriend. She dumps her stuff onto Eun-jae, asking her to save her a seat at the library. Eun-jae does just that, but she's nervous about it, as saving seats is against library rules.
She finally sends Ye-eun a text, asking when she's planning on coming by, then rubs her stomach like she's not feeling well. Ye-eun doesn't even read Eun-jae's text as she and her boyfriend hang out at a café.
With no response from Ye-eun, Eun-jae returns to her seat and finds a student hovering over Ye-eun's empty spot. The student ends up taking Ye-eun's stuff to the front desk to complain about the saved seat, shooting annoyed looks at Eun-jae the whole time.
Eun-jae throws up in the bathroom, and when she comes out, she sees the dancer who used to live in her room at the next sink. Eun-jae doesn't waste any time, telling her that she recently moved into her old room at the Belle Epoque, then asking her why she moved out — was there a problem in the house?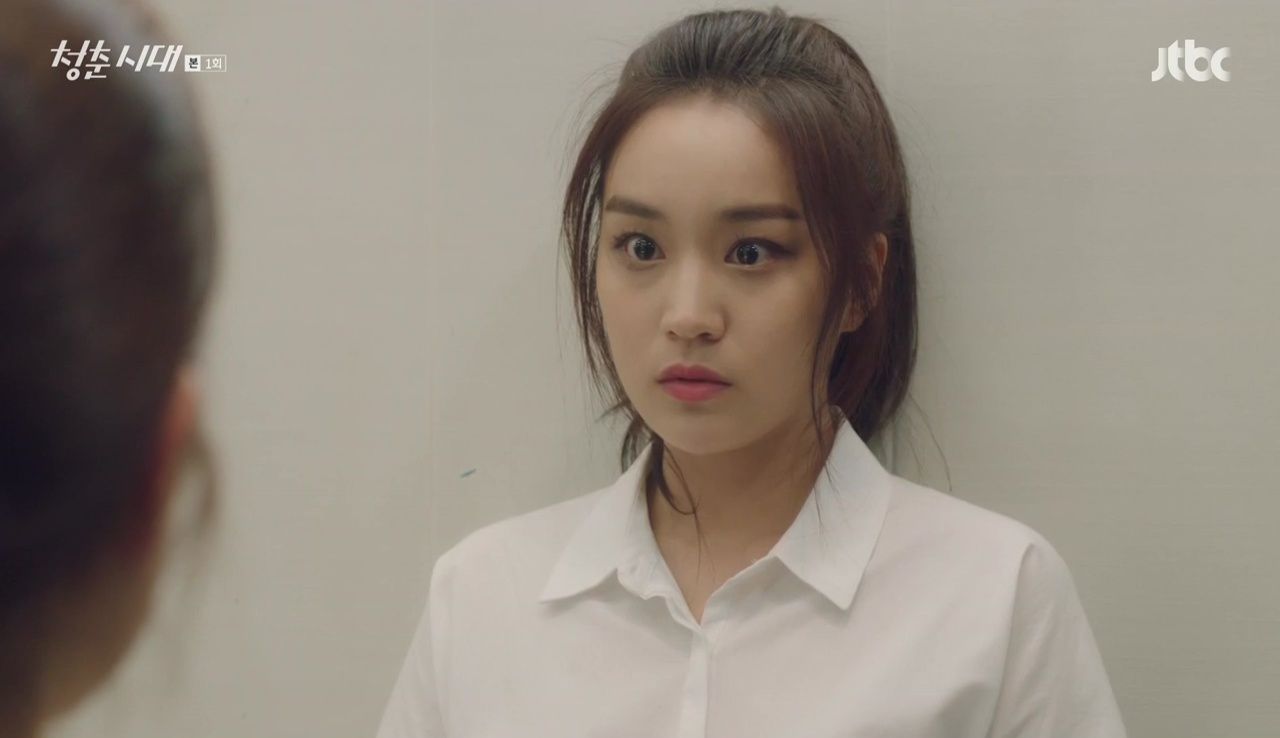 The girl's eyes are wide and she's visibly freaked out, but all she says is that there was no problem, before leaving the bathroom in a hurry.
Eun-jae stops by to pick up Ye-eun's things at the front desk and gets chewed out by a library staffer. To add insult to injury, she has to lug all of Ye-eun's stuff home on the crowded bus, where she gets yelled at when she bumps into someone.
Ye-eun's already back at home, chatting it up with Yi-na and Jin-myung. She wonders why Eun-jae's not home yet, and Yi-na calls her out for taking advantage of Eun-jae, who she calls "Eun-soon" — a play on Eun-jae's name using the word for "unsophisticated." Yi-na and Ye-eun gossip about Eun-jae's naivety, wondering if all girls from outside the city are like her.
Ye-eun decides to call Eun-jae, and of course, it turns out Eun-jae's been standing right at the entryway this whole time. Ye-eun smiles nervously and apologizes for not showing up at the library. Without a word, Eun-jae angrily drops Ye-eun's books on the floor, then actually throws her purse out the window.
Dropping her speech to banmal, Eun-jae asks Ye-eun if she thinks Eun-jae's a joke. She addresses the group next: "Even if I don't know anything, even if I seem like an idiot… you don't need to be like this. You don't have to be so mean! You don't have to laugh at me!" Tears well up in her eyes as she continues: "You could be at least a little kind. Not everyone's used to living here like you guys. For me, it's so hard I could die!"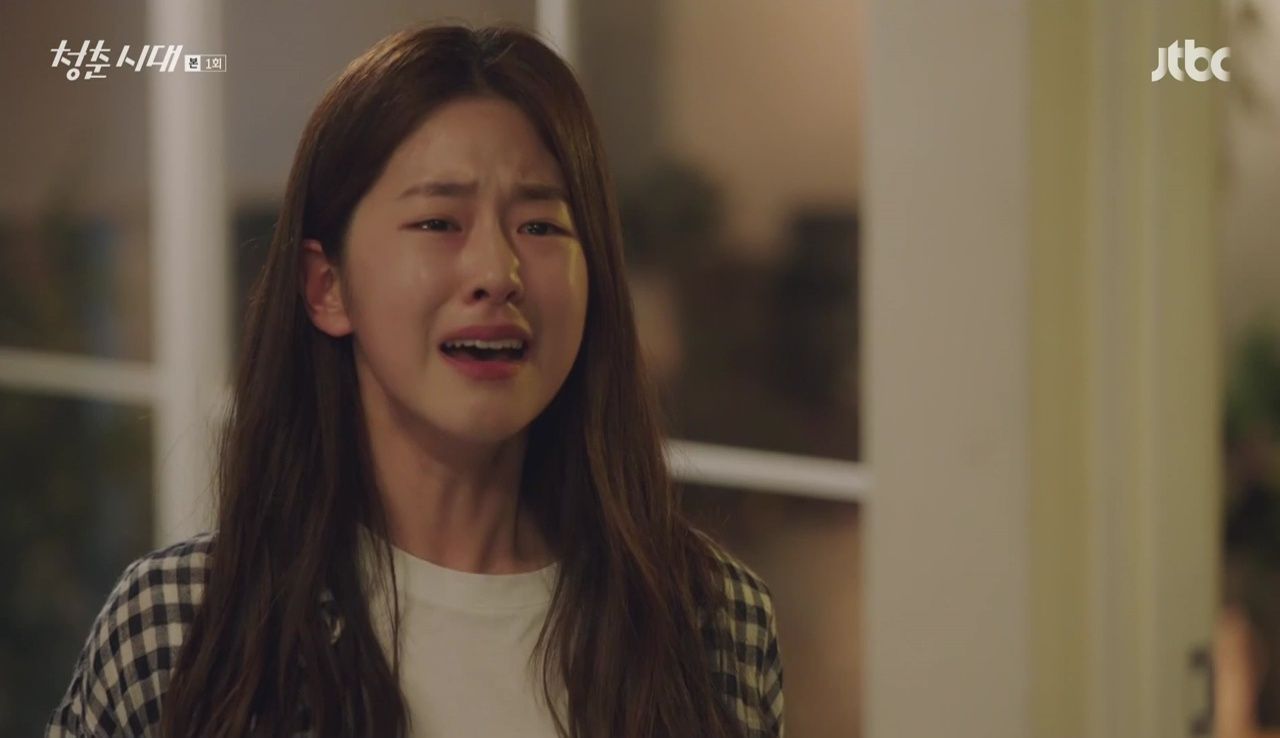 No one says anything, though the three housemates do look a little bit chastised. Eun-jae stomps into her room, throwing herself on her bed and sobbing loudly enough for the other girls to hear. But the other three are truly clueless, each wondering what's going on with Eun-jae.
In her room, Eun-jae continues to cry and calls out for her mom, saying she wants to go home — not that there's a home she could go back to.
Cut to Yi-na's face appearing contorted as she peers down on Eun-jae, who's now sick in bed. In her feverish haze, Eun-jae sees her housemates each check in on her, their visits interspersed with a blur of more nightmare-y scenes.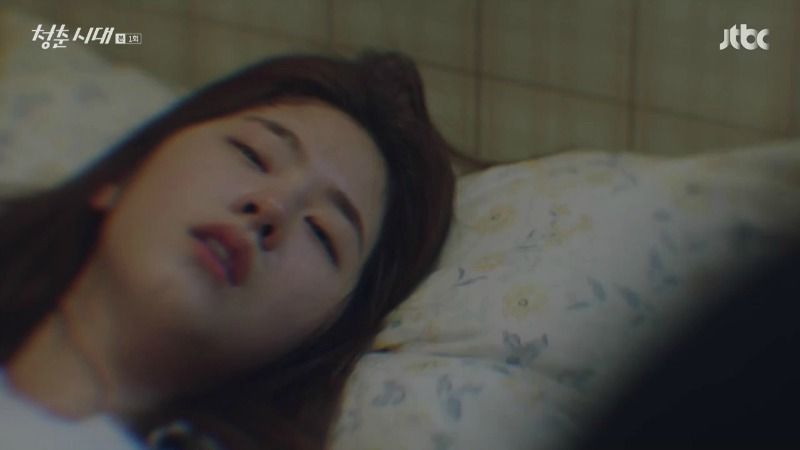 The next morning, Ye-eun, Yi-na, and Jin-myung clean the apartment. Eun-jae seems to be feeling better, but she doesn't come out of her room until she absolutely has to use to the bathroom.
Her housemates seem glad to see Eun-jae up and about, and they exchange friendly greetings before she hurries to relieve herself. Noting that Eun-jae must have waited a really long time to go, Ye-eun jokes that it must be a hobby of hers to hold things in until she explodes, heh.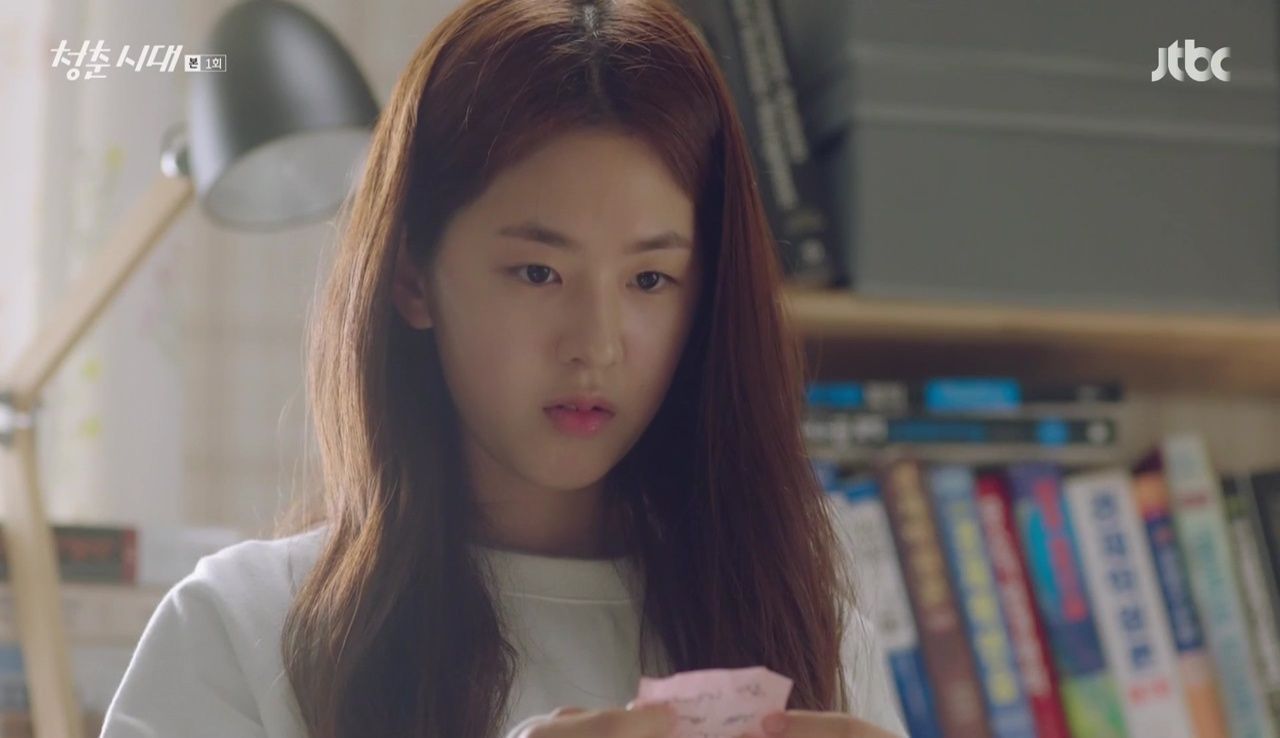 Eun-jae empties the trash from her room, and she spots some crumpled post-it notes and opens them up. They're discarded drafts of the notes that Jin-myung has been leaving her, with words crossed out and everything. Eun-jae realizes that Jin-myung had actually put time and concern into these notes.
When Eun-jae joins the girls at the kitchen table, Ye-eun prepares her some instant porridge and tells her to take medicine after she eats. Grateful, Eun-jae meekly apologizes to Ye-eun for the day before, but Ye-eun just tells her to take her anger out on the sinner, not the bag, ha. She sets the porridge in front of Eun-jae, and the three roommates watch as she takes a bite.
For the first time, Jin-myung speaks in banmal to Eun-jae, telling her to speak up and not bottle things up inside. She says that sure, they'll need to learn to live with some things, but they should also speak up if something is really bothersome.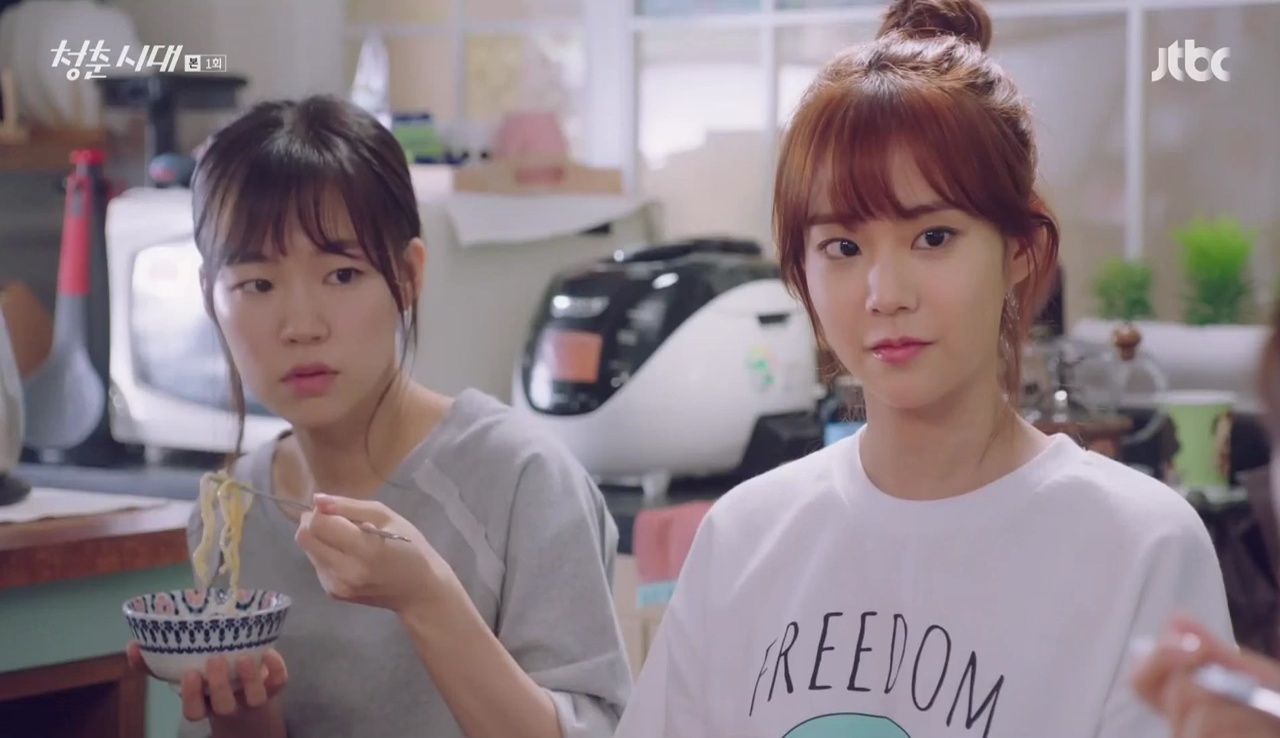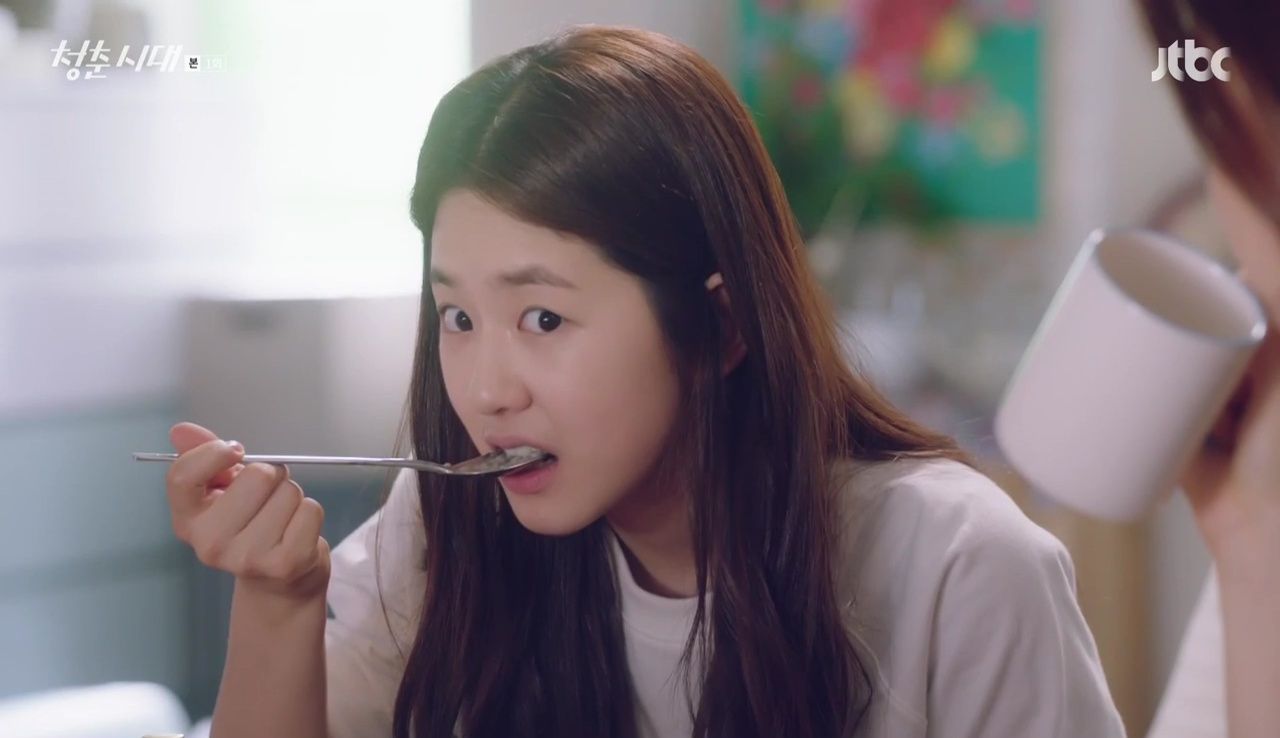 Yi-na tells Eun-jae to start now, but Eun-jae can't bring herself to say anything. So Ye-eun kicks it off, telling Eun-jae that she types too loudly — she can hear it from her room.
Eun-jae says she'll be more careful, then tells Ye-eun that she can hear all of Ye-eun's conversations with her boyfriend. Mortified, Ye-eun looks around the table to confirm, and instead of answering outright, Jin-myung does a hilarious impression of Ye-eun's baby talk. They each take turns asking each other to stop doing certain things, laughing and sharing a newfound comfort with one another.
On the bus to school, Eun-jae narrates that she thought it was just her who was holding back; just her who was uncomfortable; just her walking on eggshells.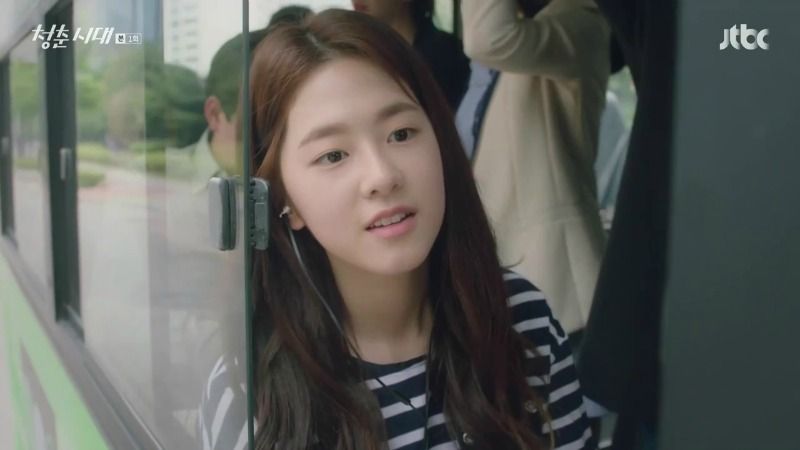 But then we see things from the housemates' point of view. Ye-eun put on headphones when Eun-jae's typing got too loud. Yi-na squirmed while waiting for Eun-jae to get out of the bathroom. Jin-myung pondered over the words to use in her post-it notes, scribbling out phrases and starting over.
Eun-jae continues: "I thought it wouldn't matter if I said anything. I was afraid I'd be hated if I said anything. I felt like they'd laugh at me. In that way, I thought that the others were different from me. More disrespectful. More reckless. I thought they didn't care. I was arrogant."
On the bus, Eun-jae gets hit by a bag again. She thinks to herself that everyone's human, just like her, and they're just as anxious, and as kind, as she is. She closes her eyes for a moment, then finally speaks up, telling the guy next to her that his bag is hitting her. He apologizes profusely, and Eun-jae smiles.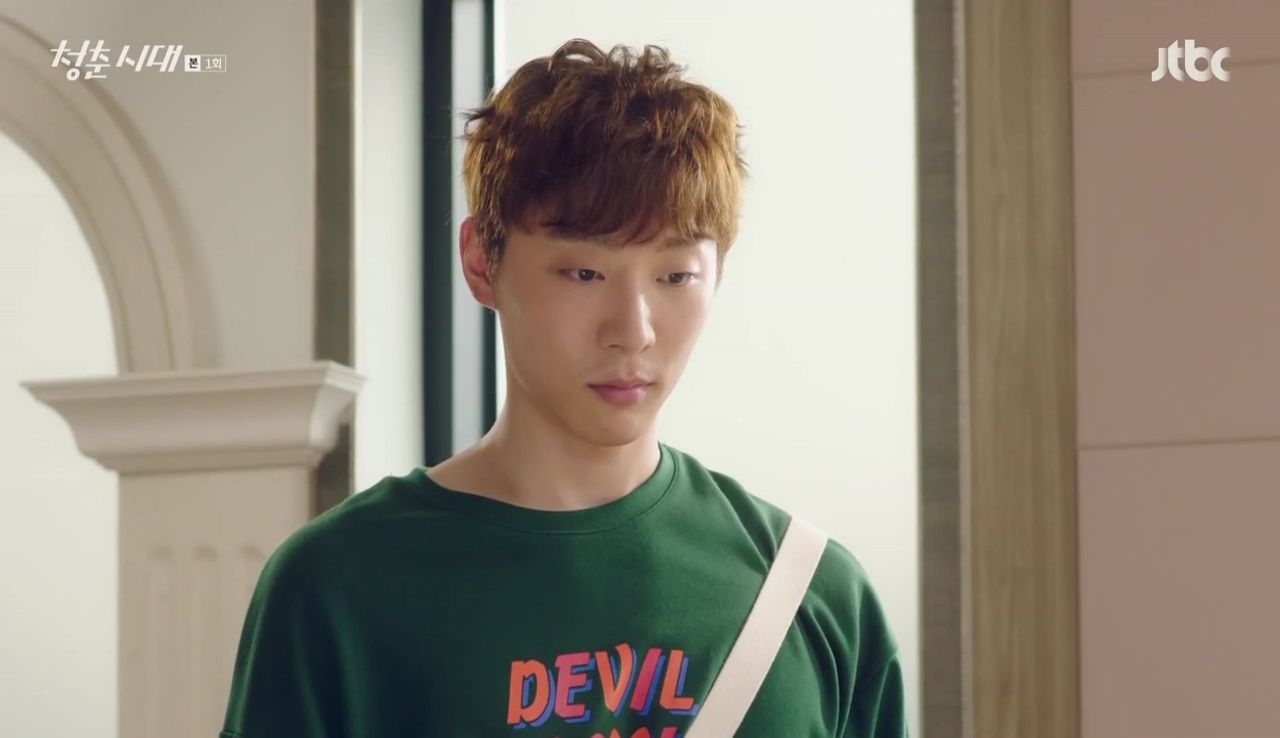 In class, Jong-yeol comes over to Eun-jae and returns her yellow pen. He takes a seat in front of her; after a beat, he turns back around and asks Eun-jae her name.
After picking up a pair of house slippers, Eun-jae returns home to the sounds of laughter. The last and final roommate, SONG JI-WON (Park Eun-bin) has arrived, and Eun-jae joins the group (minus Jin-myung) for a beer.
Ji-won is warm and friendly, telling Eun-jae that the first order of business for the housemates should have been to have drinks with her and to learn more about her. For instance, she asks, does Eun-jae have an older brother? If not, an uncle? HAHA. Eun-jae says her youngest uncle is in his forties, and Ji-won's horrified, telling Eun-jae to get out. I kind of love her.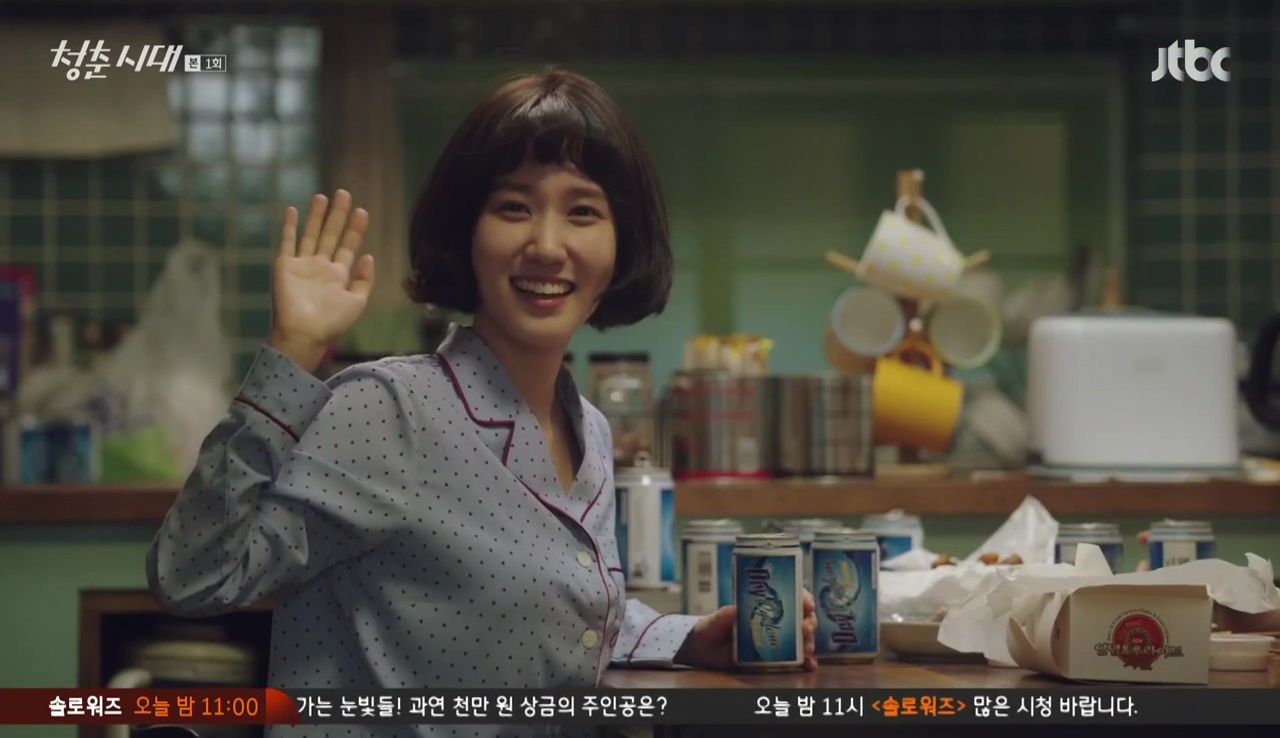 Eun-jae takes a long swig of her beer, then takes the opportunity to ask Ji-won about their last housemate and why she left. Boy, Eun-jae's really set on getting an answer to this question, isn't she?
The mood at the table shifts, as the three older housemates hem and haw. Finally, Ji-won says it's not a big deal: the housemate left because she got pregnant. Eun-jae's jaw drops (haha, Ji-won tells Eun-jae to use protection), but Yi-na and Ye-eun's reactions seem… fishy. Like there's more to the story.
Yi-na wonders if Eun-jae thought the dancer left because the housemates had bullied her, and despite Eun-jae's denial, it's clear that's exactly what she thought. Ji-won suggests that they take this opportunity to get friendlier with one another by telling each other their secrets.
By the time Jin-myung gets home, the girls are pretty drunk, and we see a shot of all five pairs of feet clad in slippers. Ye-eun asks Jin-myung get in on the secret-telling game, but Jin-myung just says she wishes she had time to do something worth keeping secret. Eun-jae recaps what's been spilled so far: Yi-na's seeing two different guys, and she's had work done on her eyes but not her chest. Ye-eun once weighed 63 kilos (almost 139 pounds). Ji-won's never gotten past the first date.
In a voiceover, Eun-jae says there are two kinds of secrets: ones you can tell, and ones you can't. And she has a secret that she can never tell anyone about. Out loud, Eun-jae tells her housemates her secret is that she started drinking as a high school freshman.
Ji-won drunkenly says that she has a real secret: she can see ghosts. Eun-jae narrates that her real secret is that she's killed someone. Wait, what?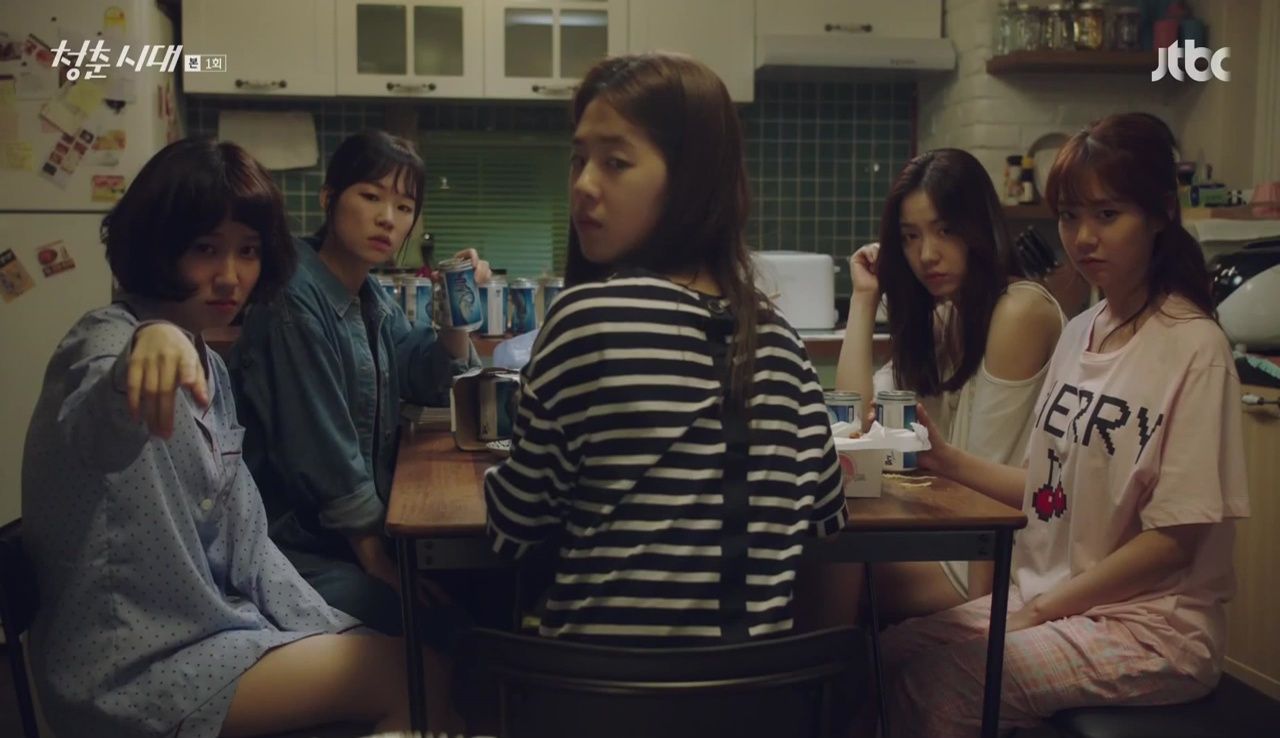 Ji-won claims there's a ghost with them in the room and points to the cabinet under the shoe rack, but none of the girls seem particularly shocked. Instead, Yi-na says something curious: "So, I guess I did kill them then." And Jin-myung says there's a person she wishes would die. Eun-jae looks at them in shock.
The party winds down as the girls stumble to get ready for bed (or, in Ji-won's case, pass out at the table). Eun-jae looks around and thinks to herself that her housemates are really weird people.
A final montage of dream/nightmare scenes flash by, but this time including scenes of Yi-na and Jin-myung. The scenes begin and end with a shot of the cabinet, where the Ji-won's ghost supposedly resides.

COMMENTS
Well, that's not quite what I was expecting. Considering the premise of the show — the everyday trials and tribulations of five roommates navigating college life — I was looking forward to something more on the cheery, funny side, but instead, I was surprised at how melancholy the first episode felt as a whole.
Overall, the look and feel of the show, from the lighting and camera angles to the sparse background music, are pretty understated, matching the more thoughtful and pensive tone of the story. But the show then took things in a whole other direction with its jarring dream sequences, and the storylines on their former housemate, Eun-jae's past, and Ji-won's ghost-seeing ability. In those moments, I was confused about what show I was watching — is this supposed to be a mystery/thriller/horror story or a slice of life drama? Not that it would necessarily be a terrible thing to go the route of a mystery-infused show, but I was thrown off because it seemed to come out of left field.
On the bright side, I like our five heroines and the actors who portray them. The characters are interesting, sometimes frustrating and unlikeable, but in a way that makes them realistic human beings. My favorite parts of this hour were the interactions between our housemates, whether they were screaming at each other, laughing at one another, or just hanging in the kitchen. I love that a down-and-out fight like the one between Ye-eun and Yi-na could be over in a day (after some bitching to their respective boyfriends), and that the roommates would each check in with worry on a sick Eun-jae after she pitched a fit at them the night before. By the way, my favorite housemate might just be Ji-won, who totally lit up the screen in her five minutes of screen time at the end — her warm, funny personality is just what this group needs to loosen up and let their guards down.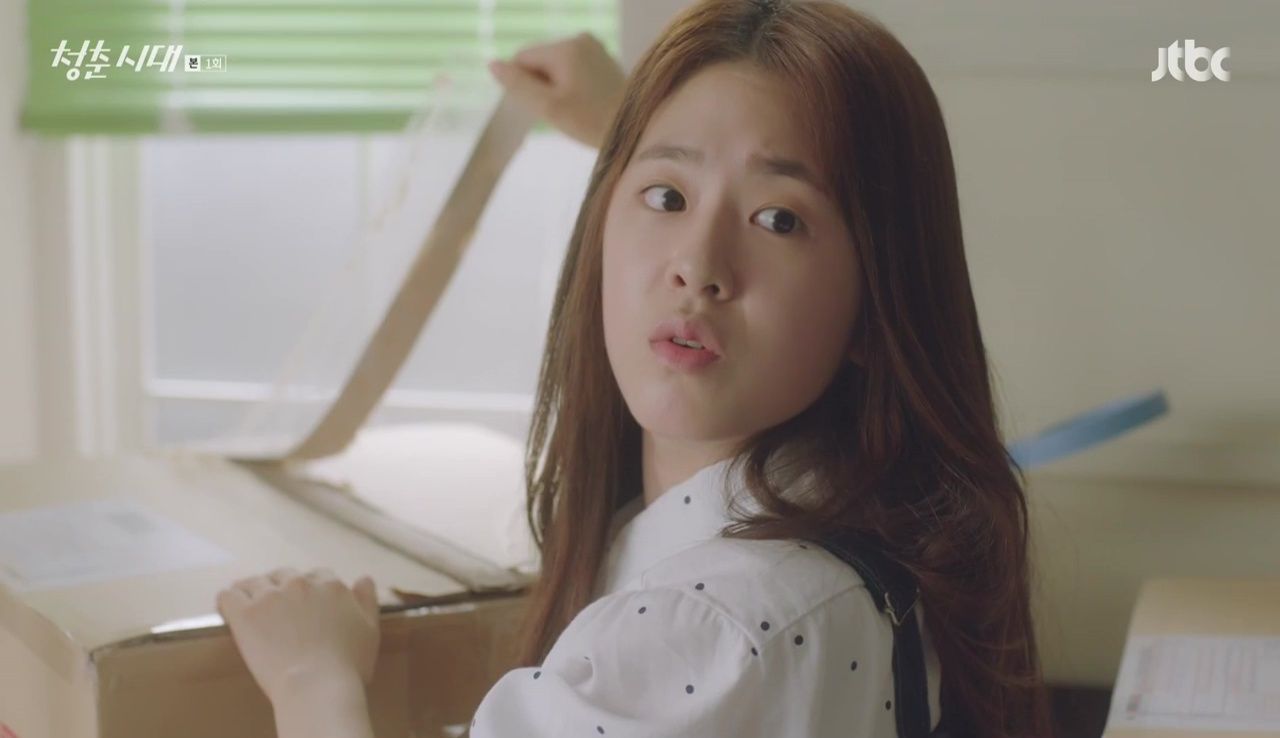 Of course, this first episode was all about Eun-jae, and Park Hye-soo did a solid job conveying the ups and downs of her character. Her arc is one we've seen before — a country girl new to the big city, discovering her voice — but I liked the way the show handled the realization that she'd been seeing her housemates through a pretty narrow lens herself all along. Because we were pretty much only shown things from Eun-jae's perspective, we were on the journey with her, thinking that Ye-un, Yi-na, and Jin-myung are the worst. It was fun to discover with Eun-jae that actually, her housemates aren't as bad as they first seemed. I also do appreciate that Eun-jae's not as wide-eyed and innocent as she first came off, as it makes her more interesting as a character — but I don't think we need to go down the path of making her an actual murderer… right?
With just twelve episodes in its run, the show doesn't have a ton amount of time to move the storylines for each of our girls forward, plus develop their friendships with one another. I saw enough good things in the first episode to remain optimistic and trust the show will find its footing. This is my hope for the episodes to come: more of our housemates telling mundane, real-life stories of what it's like living in a house with five girls and trying to figure out school and life along the way, and a little less of the scary murder mystery vibes.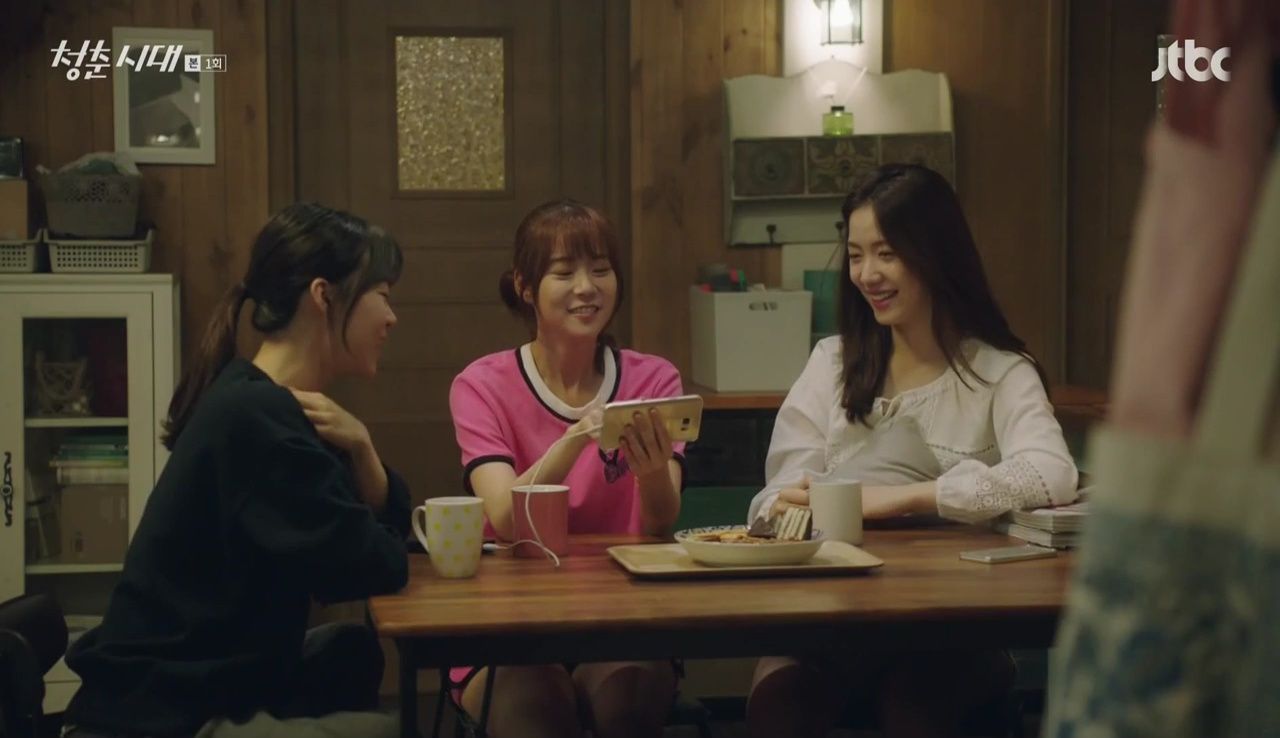 RELATED POSTS
Tags: Age of Youth, featured, first episodes, Han Seung-yeon, Han Ye-ri, Park Eun-bin, Park Hye-soo, Ryu Hwa-young