Age of Youth: Episode 2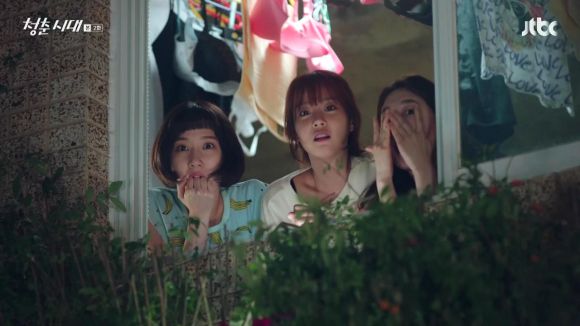 The mystery train continues to chug along as we delve deeper into the lives of our five very unique heroines. We get a bit more explanation on the surprise supernatural aspect, but what I really care about is the everyday challenges these college girls have to face. The boy trouble, the school trouble, the whole shebang. And the more we get to know them, the more I want them to thrive.

EPISODE 2: "Is this underwear yours? #lies and naked faces"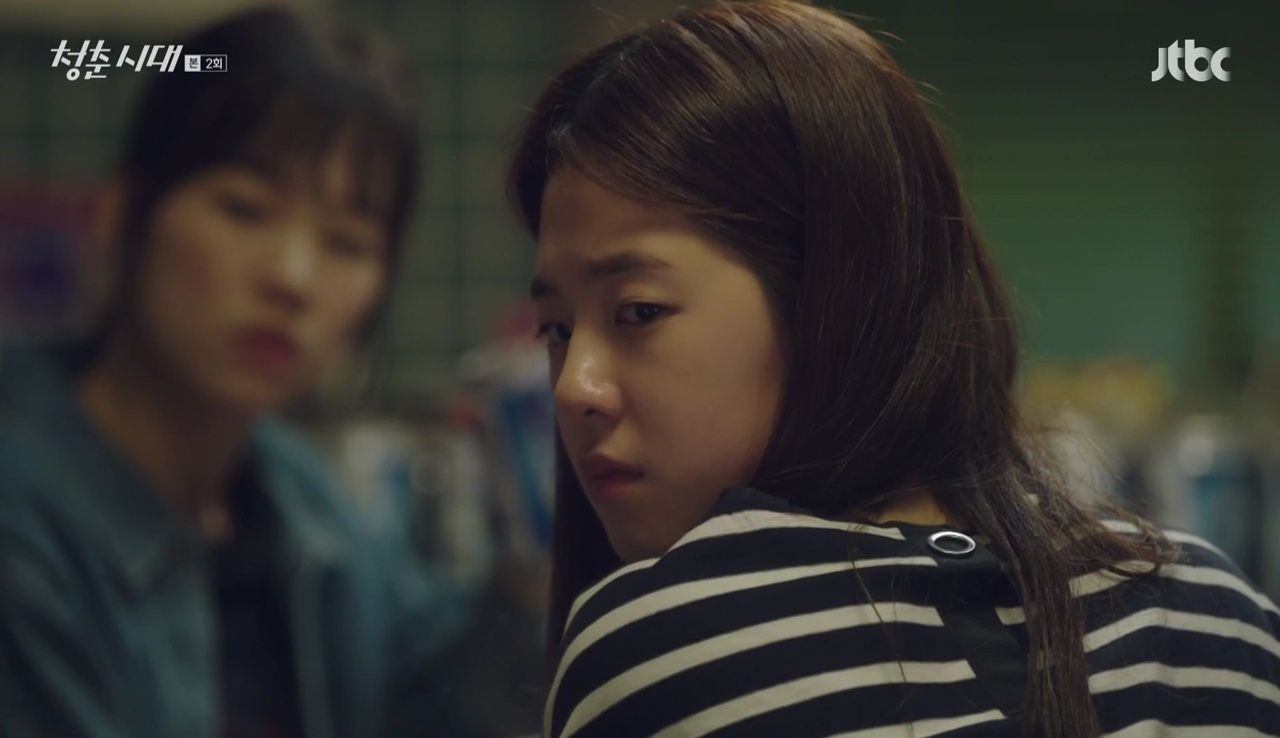 After the five girls share some harmless secrets, bubbly third-year Ji-won drunkenly drops the bomb that she can see ghosts. Sexy Yi-na wonders if that means she killed someone, while eldest Jin-myung mutters that there's someone she wishes were dead.
It's Ye-eun who can't shake Ji-won's confession out of her head. She tosses and turns in bed that night until she convinces herself that Ji-won is a total liar. "She might as well tell me Song Joong-ki is her cousin!" Ye-eun thinks. Heh.
Ye-eun wills herself to sleep when Ji-won, who'd been snoring like a bear this entire time, suddenly goes silent and opens her eyes.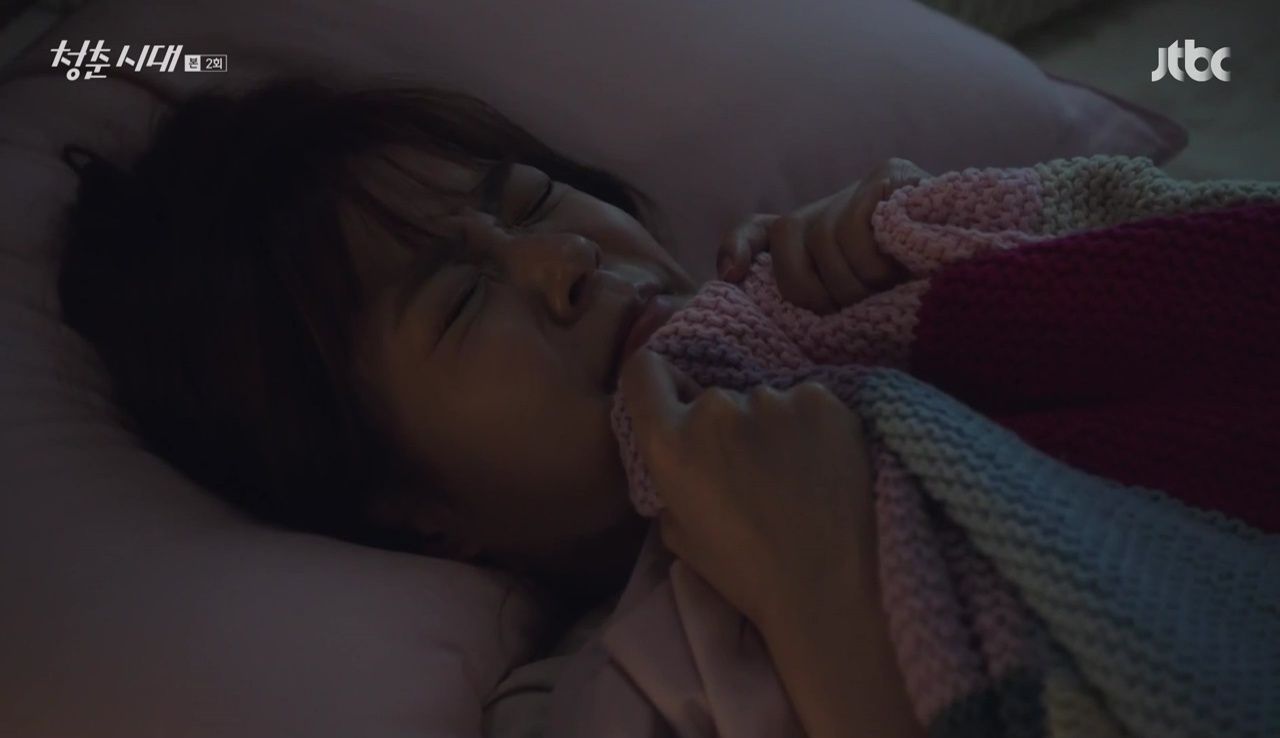 Ye-eun freeeaks out, keeping her eyes shut tight as her thoughts run wild: "Why isn't she breathing? What is she doing? What was that sound? Is she moving? Why?! Where?!" Her inner freak-out session just about has me on the floor.
But then a hand shoots out and grips her ankle. Ack! Ye-eun screams and sits up to come face-to-face with Ji-won, hanging upside down on her bed. Ye-eun doesn't find her tricks funny and tries to calm down with some snacks. Ji-won asks for some, only to be told to come down and get them herself.
With a rather eerie expression, Ji-won opens her mouth wide… and then her neck stretches out like a snake and weaves her head down to Ye-eun.
Ye-eun bolts up, waking up from her nightmare. Jeez, girl, that scared ME.
Now that it's morning, she can finally relax. She goes out to the balcony to take down her laundry, mindlessly grabbing onto a pair of boxers.
"What the hell?!" Ye-eun drops the underwear as if it were on fire. Ji-won calls out from the kitchen to ask what's wrong, but Ye-eun lies that she saw a cockroach and frantically stashes the boxers into her purse.
Ye-eun goes straight to her boyfriend's place and shakes him awake. She scolds GO DOO-YOUNG (Ji Il-joo) for leaving his underwear at the house, but he insists it's not his. That puzzles her: Then whose could it be? Who else could've brought a guy into the house?
Doo-young must be awake now because he motions her over with a sly glint in his eye. Ye-eun says she can't—she's on her period. "Then why did you come over?" he asks, annoyed. Well, damn.
That angers Ye-eun, so Doo-young immediately returns to his playful demeanor and has them giggling in bed in no time.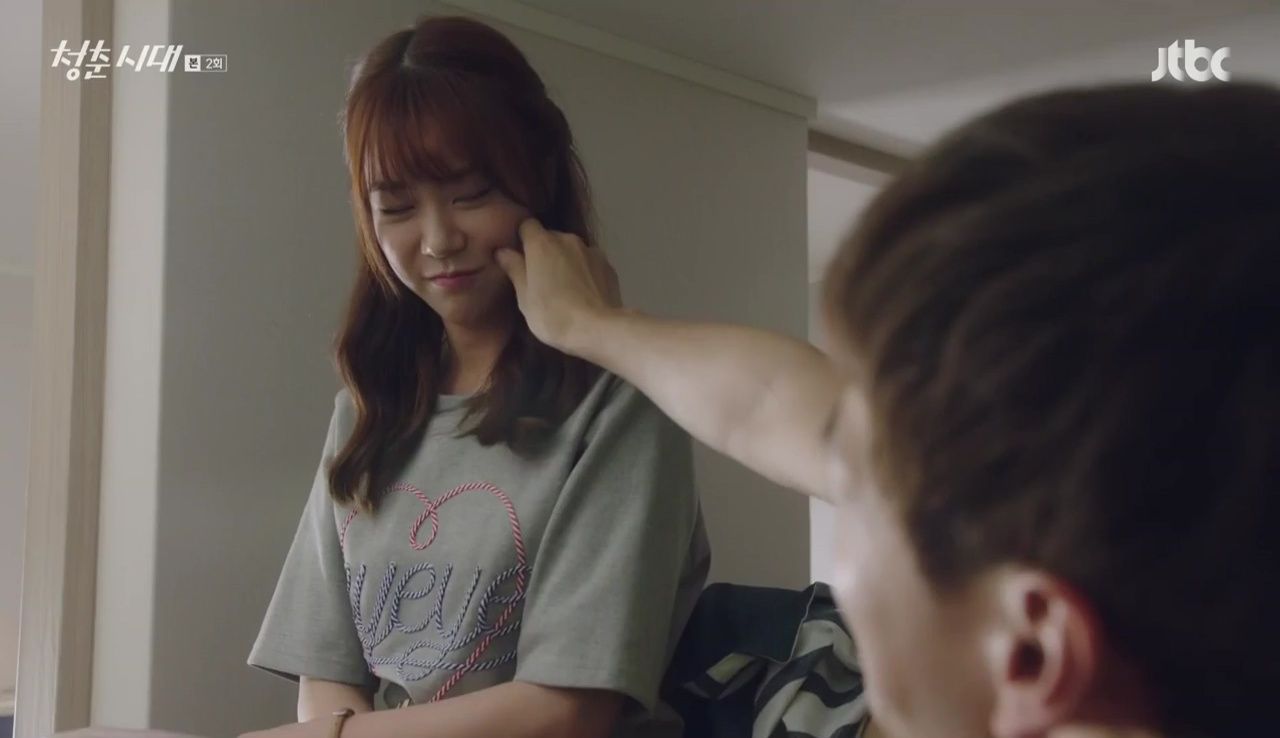 Ye-eun skips back home, only to stop in her tracks when she sees a strange boy looking up at the girls' window. When the boy finally notices her, he runs off. Ye-eun doesn't think too much of it and heads inside.
Timid freshman Eun-jae eyes the cupboard suspiciously, remembering Ji-won's claim that a ghost resided inside. She tries to get a closer look, but Ye-eun bursts in, pulling them both to the couch. Ye-eun whips out the boxers, positive that one of them must've had a one-night stand at the house.
Innocent Eun-jae doesn't even know what a one-night stand is and needs Ye-eun to explain it to her. Ye-eun also explains that it's only logical the culprit is Yi-na, who admitted herself that she dated many men.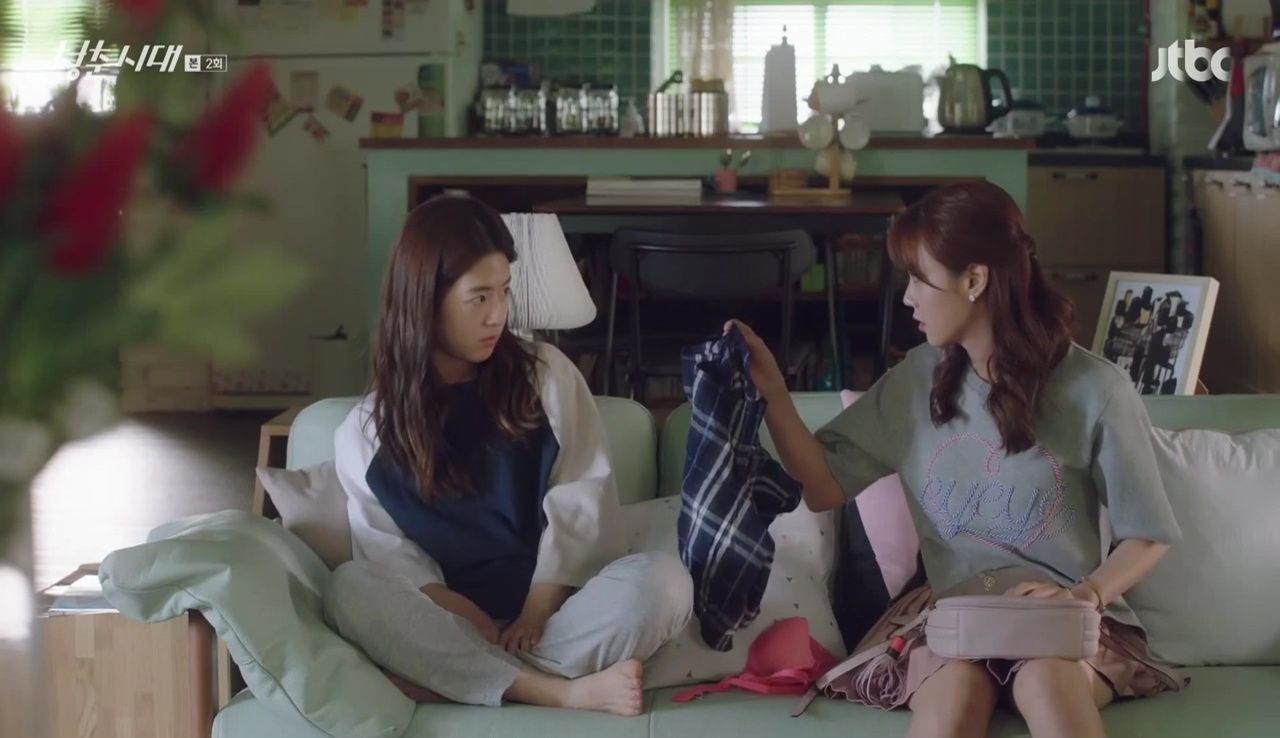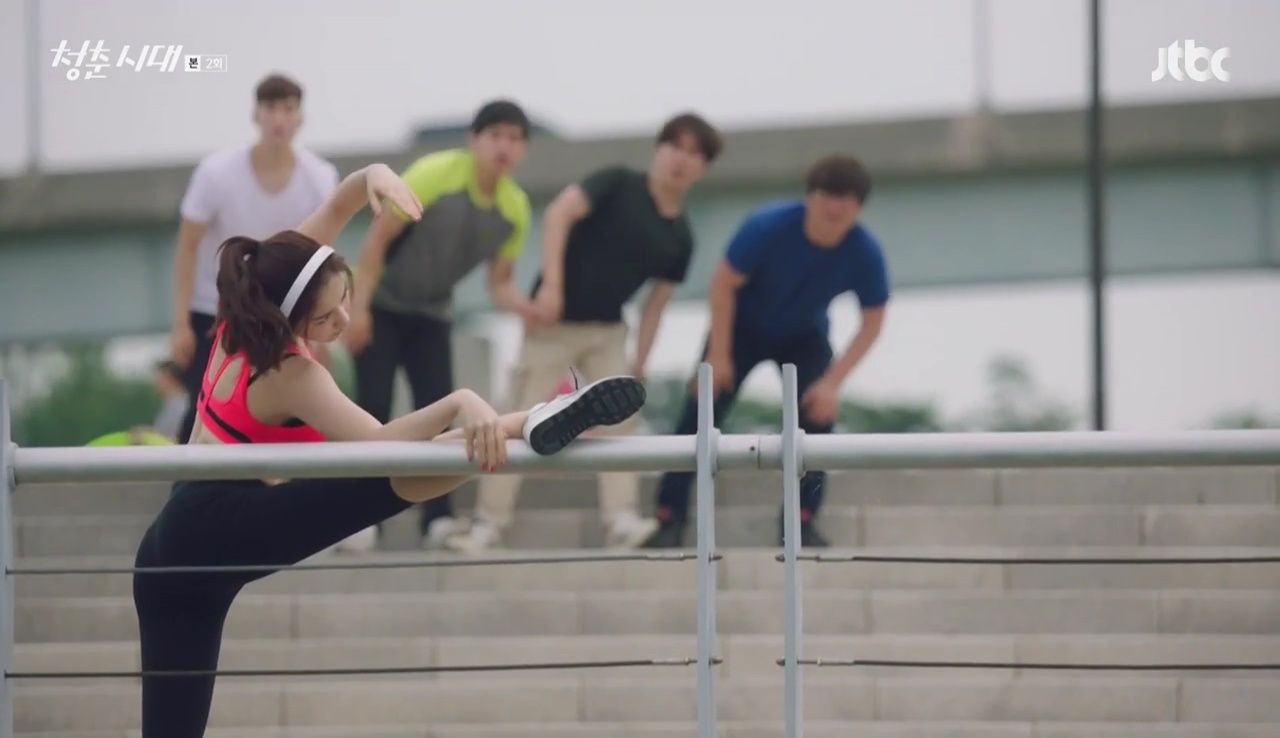 Intent on finding proper evidence, Ye-eun leads them to Yi-na's door. They press their ears against the wood, and their jaws drop at the faint sound of a man's voice on the other side.
LOL, which is right when Yi-na's head eases down next to Ye-eun. Yi-na asks what they're doing, scaring the bejesus out of them. Ye-eun composes herself and shoots a question right back, asking why there's a man in her room.
Yi-na has no idea what Ye-eun's talking about and opens the door. All three of them lurch forward to find… anime playing on Yi-na's laptop.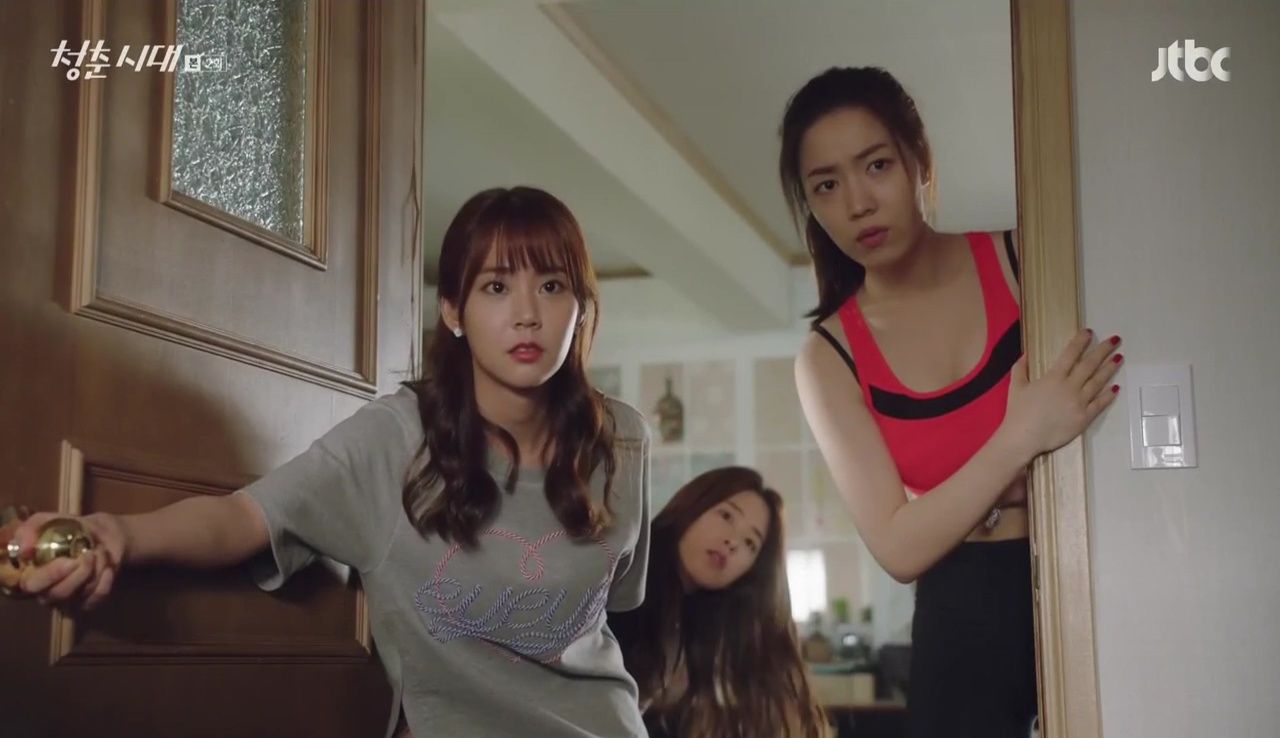 Now out of the clear, the girls get Yi-na in on the Grand Underwear Mystery and show her the still-ownerless boxers. Yi-na scoffs, offended they would ever think it was hers. "The men I see wouldn't wear cheap things like this!" Yi-na storms out, muttering she does that kind of stuff at motels anyway.
The girls consider their next suspect, and Ye-eun instantly throws out the idea of it being Jin-myung. After all, their oldest housemate doesn't even have the time to date. And with Jin-myung's lackluster appearance, Ye-eun adds, how would any man feel attracted to her?
Eun-jae counters back that psychologically speaking, there are men who are interested in girls like Jin-myung.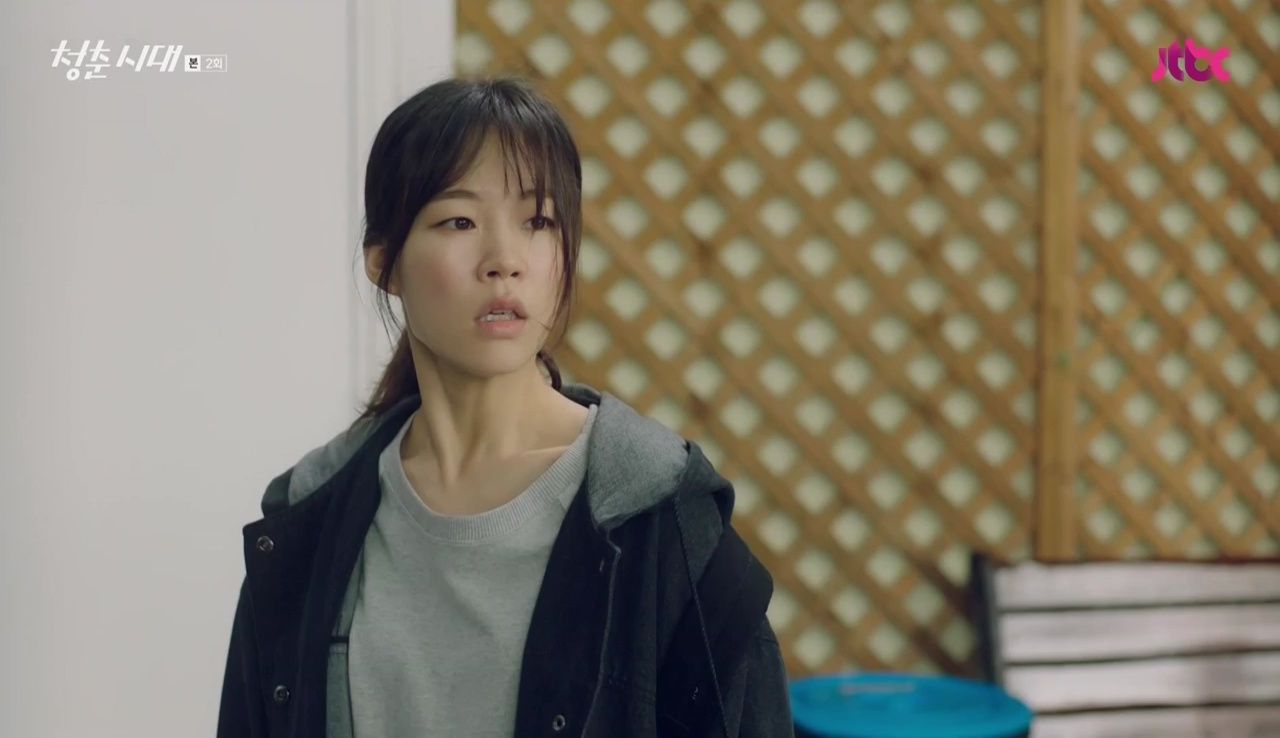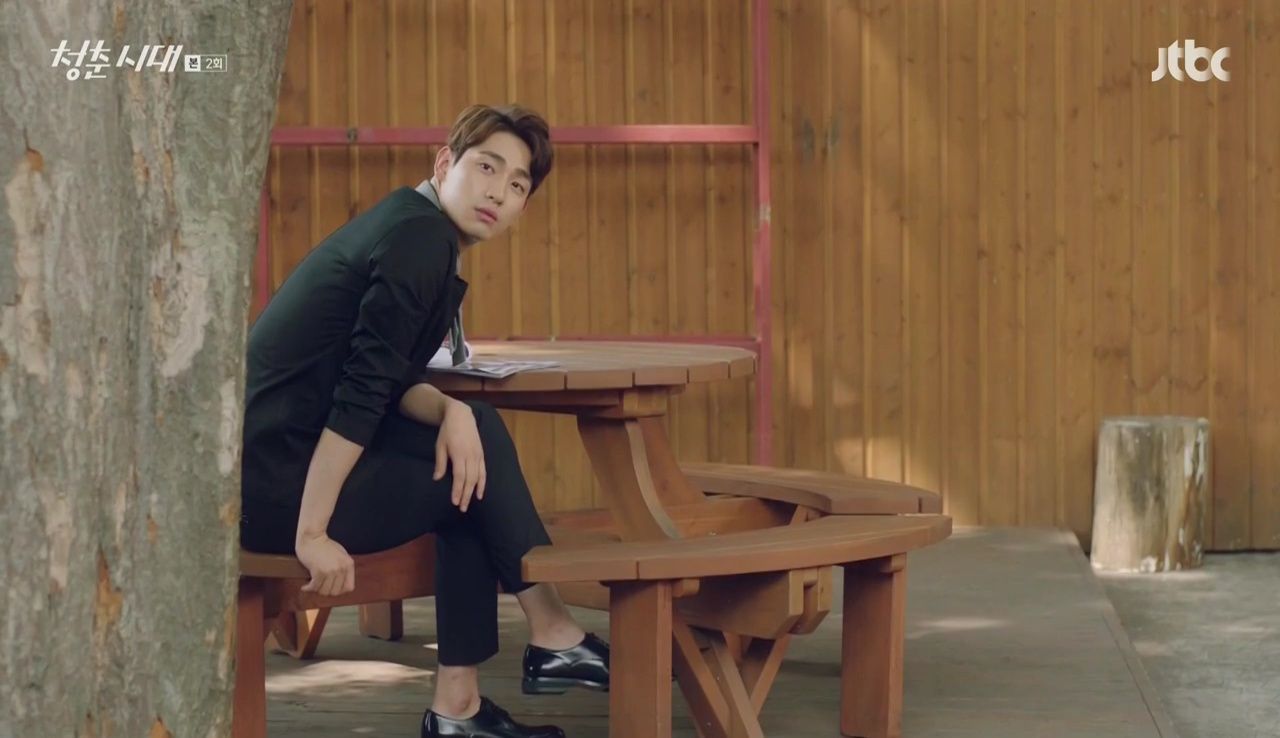 A young man (Yoon Park) sits outside a restaurant, clearly waiting for someone. His face lights up as he sees Jin-myung running toward the doors. He calls out that she's not late for work and urges her to sit and rest, gesturing to a glass of water. She looks a little unsure as he heads inside, but she downs the water anyway.
The restaurant is soon bustling with customers, and the two are now hard at work—the man as a chef and Jin-myung as a waitress. Curiously, the man watches her on the monitor as she works, a hint of a smile on his face.
Back at the house, Ye-eun officially crosses Jin-myung off the suspect list. The next best person would have to be Ji-won since she's always going on group blind dates.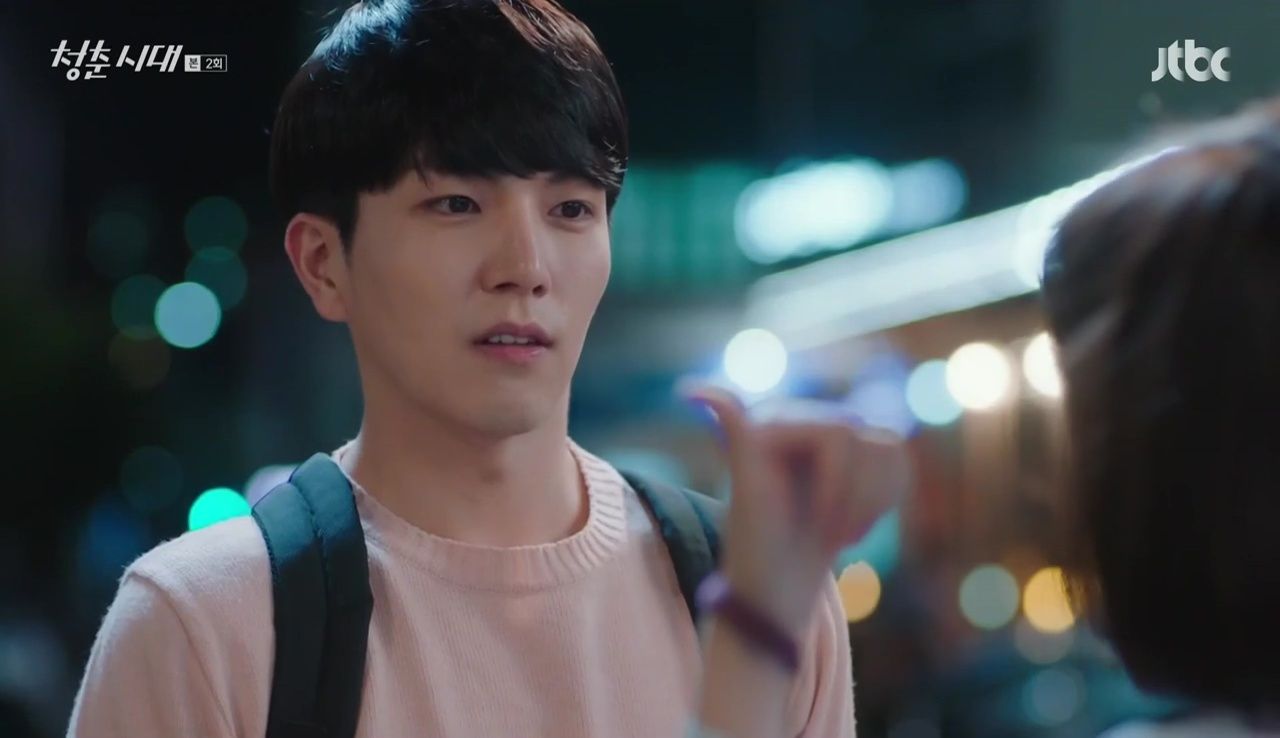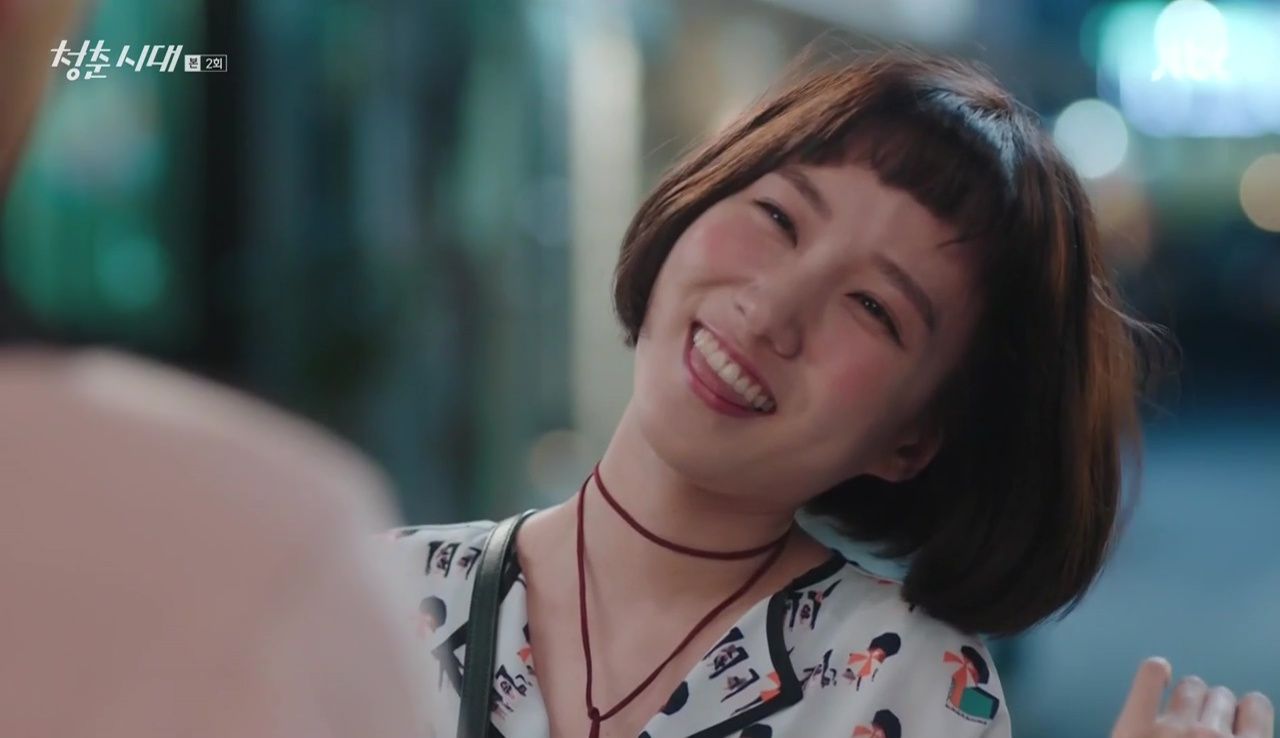 Ji-won is on one of those dates as they speak, and she's pretty much the life of the party, kicking things off with, of course, alcohol.
Later that night, one of the boys walks Ji-won out of the bar and asks how she's getting home. She puts on her best aegyo and says she's taking the bus. "Oh, really?" the guy says, "I'm going that way. Bye!" And he high-tails it out of there, grabbing the first taxi he sees. Ouch.
As soon as Ji-won gets home, Ye-eun tosses the boxers her way and hammers her with questions—Ji-won finally got a man, didn't she? She did it in the house, didn't she? Ji-won angrily balls the boxers up and flings it right into Ye-eun's face, telling her to stop spewing nonsense.
Ji-won turns her back to Ye-eun, hiding her hurt expression. Ji-won just doesn't understand… She had fun with the guy. He laughed at everything she said and even talked to her the whole night. But in the end, it never works out for her. She curses under her breath and stumbles into her room.
And that leaves only one suspect. Ye-eun slowly turns to Eun-jae, positive the mystery is now solved. Ye-eun gets right to teasing, though the annoyed Eun-jae protests it wasn't her either and she's tired of everyone having to tease her at least once a day. Ye-eun wonders who "everyone" is.
Flashback to psychology classmate Jong-yeol pestering Eun-jae at lunch. Ha, why do I already find this pair adorable?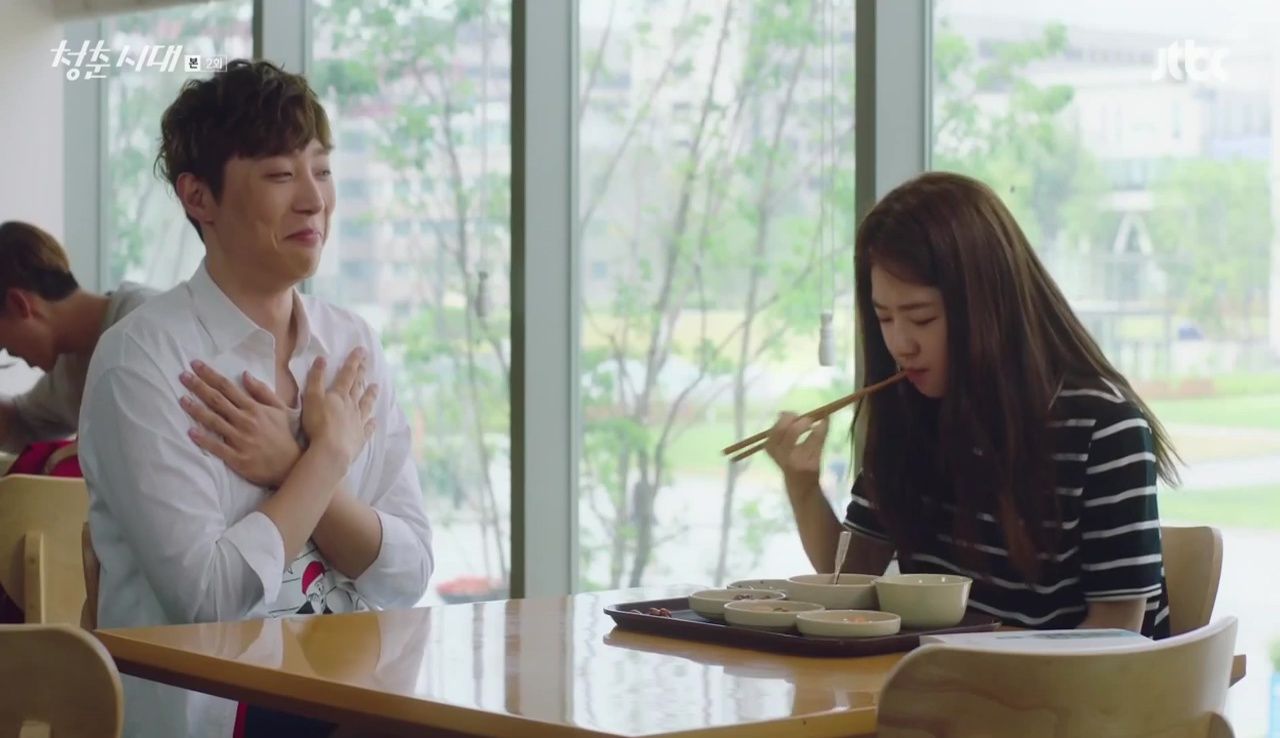 While talking, Jong-yeol had dropped a peanut on his lap, causing Eun-jae's gaze to wander on down there. Jong-yeol acted horrified and violated, but as soon as Eun-jae looked away, he smiled like a complete fool.
Back in the present, Ji-won comes back out of her room, and Ye-eun suggests she ask the ghosts who brought a guy to the house. Ji-won says she can't talk to the ghosts, only see them. However, she does know who the liar among them is. Suddenly nervous, Eun-jae averts her eyes.
Ji-won explains that she can see people's auras. And Yi-na's aura in particular appears darker, signifying lies. Ye-eun laughs, totally dubious, while Eun-jae silently takes it all in.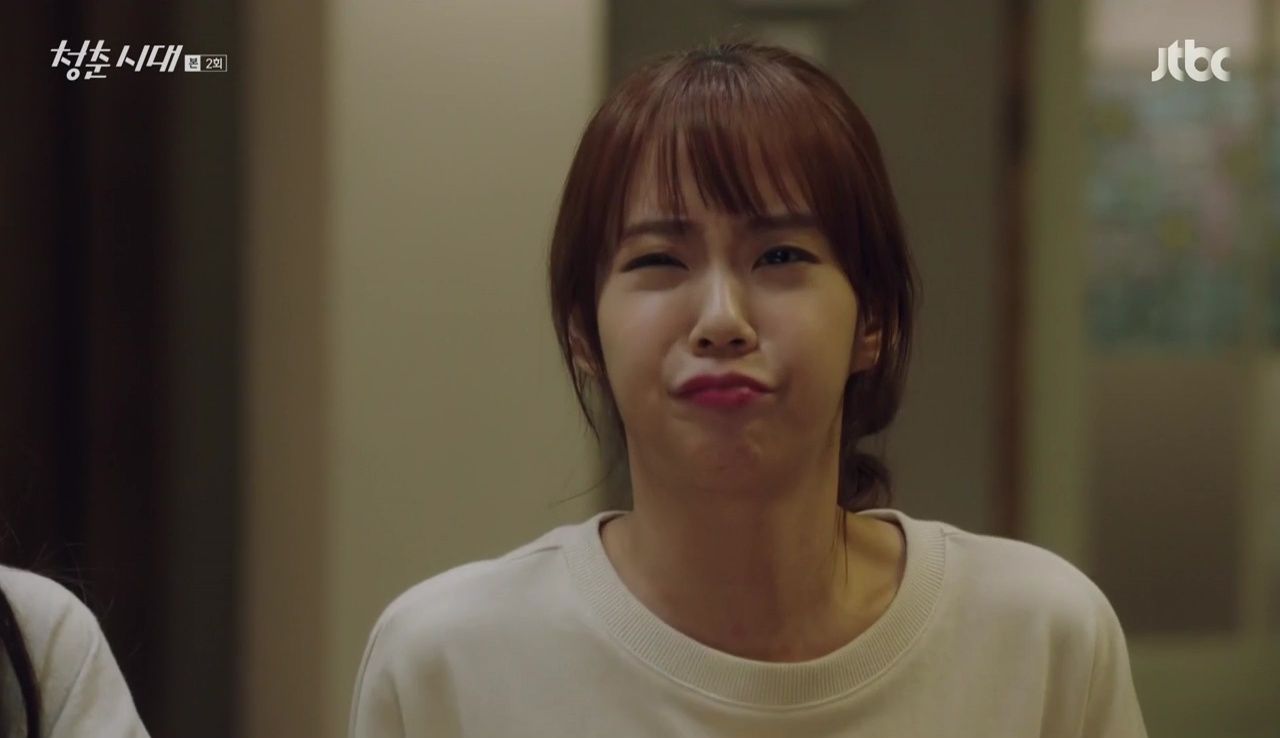 Later, as Ye-eun hangs her laundry out on the balcony, she spots Yi-na step out of an older, well-dressed man's car. She quickly rounds up Eun-jae and Ji-won, and they all huddle together to get a good look.
From where they are, they have the perfect view of Yi-na leaning in to the driver's window and giving the man a long, deep kiss.
Gasps all around. Ye-eun flails about with muted squeals, though the other two are frozen with shock.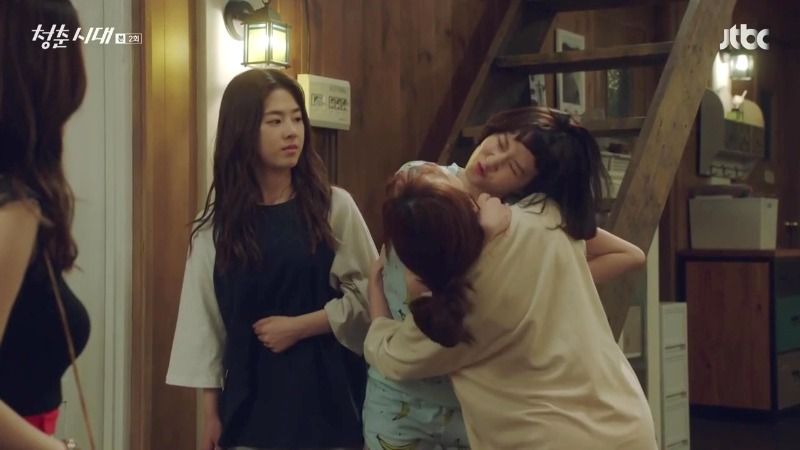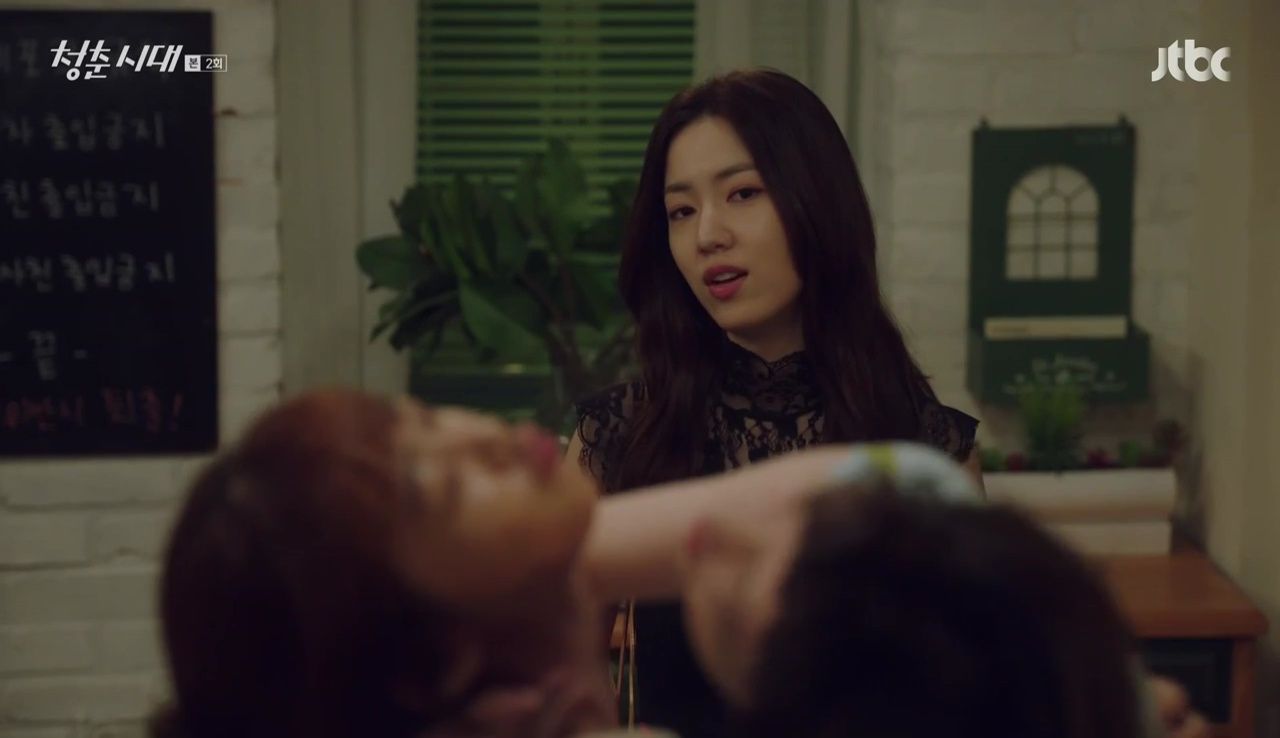 Yi-na walks in to find the three waiting by the front door like eager puppies. Ye-eun and Ji-won then mimic the make out session with exaggerated smooches. "You saw?" Yi-na sighs.
She tries to escape, but the three pups surround her, craving every single detail. Tired of their prying, she replies in a monotone voice that the man is a dentist, perhaps 38 or 39 years old. And he's married.
That shuts them up. Yi-na retreats to her room, leaving the girls confused. After that blunt remark, Eun-jae isn't so sure Yi-na is the lying type.
Yi-na's gets a call as she removes her makeup, but she gives the number an annoyed look and tosses the phone aside. Mere seconds later, a text pops up, begging her to pick up so they can tell her something. Yi-na ignores this too, and runs a frustrated hand through her hair. Hm.
The next morning, the girls go about their daily activities, all different, but pulling the same exhausted yawn out of all of them. All except Eun-jae. Ye-eun calls her lucky for not having to worry about her career just yet.
But the real lucky one, Ye-eun determines, is Yi-na. Since her father owns a factory and her family is filthy rich, she doesn't have to worry about money or a job.
Jin-myung doesn't get back to the house until late, and when she does, she notices the same strange boy Ye-eun had seen earlier. Ah, is this who called Yi-na? Does she have a stalker?
Another day, and it seems to be an important one for Ye-eun. She takes a little longer in the morning to get herself all dolled up, no doubt for the boyfriend. And all the while, Ji-won just sits in the background, laughing at a variety show on her phone. God, I love her.
Ye-eun prances off to a nice, fancy restaurant, ready for a perfect date with her oppa. She gets a text from him, which causes her cheerful smile to disappear: He just woke up and he'll be at least thirty minutes late. Crushed, she turns away from the restaurant and replies that she was going to be late too anyway. Aw.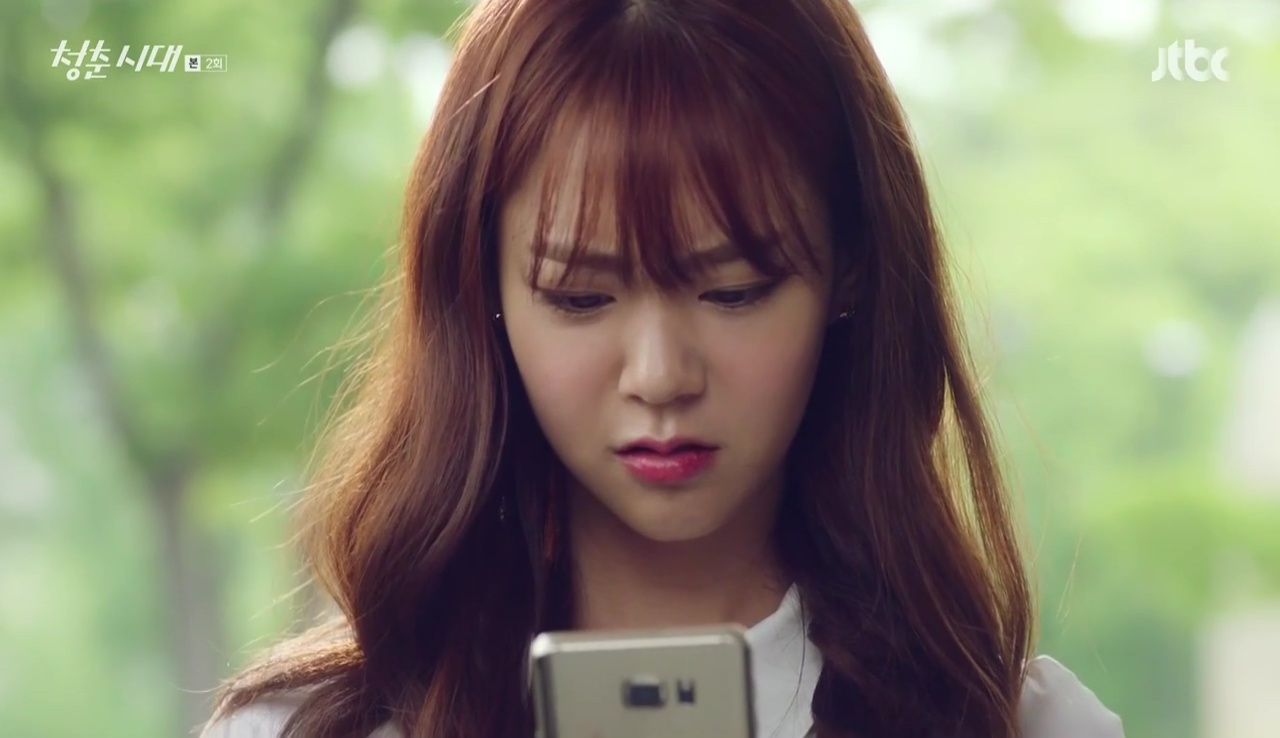 She kills some time outside a convenience store, disappointed that she ended up lying again. In fact, she's had to make this lie a good number of times already. Pretending she didn't miss him when she really did. Pretending she didn't put any effort in her makeup when she really did.
Feeling like an idiot, she imagines what her housemates would do if they were in her shoes: One glance at the text and Yi-na would just stand the guy up. Jin-myung would be firm and give him exactly ten minutes to show. Ji-won would throw a fit and force him to pay. And Eun-jae would be her usual kind self and tell him she'd wait. Ye-eun wonders if she's the only weird one of the group.
Doo-young finally shows up and plops himself down next to her, asking if she just got there. You'd think she'd be mad or irritated, but instead, Ye-eun welcomes him with the most loving smile.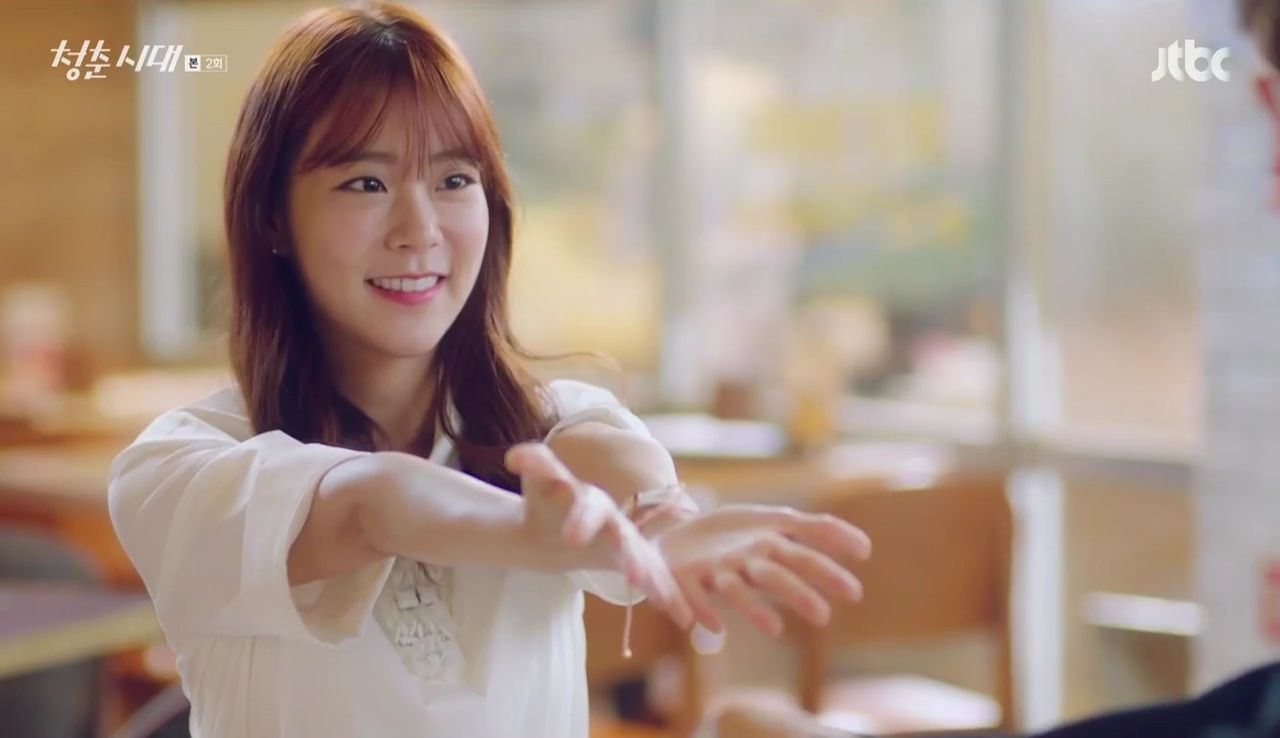 He notices the gift bag by her side and you can practically hear the wheels turning in his head as it clicks for him. "You don't know what day today is, do you?" she asks sadly. He swears that he does know and that he bought her something too.
Doo-young is ecstatic with his present, oohing and aahing at the expensive jacket. Ye-eun holds out her hands expectantly for her own present, making Doo-young fidget in his seat. After pretending to search his bag, he claims he left it at home.
They finish their meal and then head back to Doo-young's place. He hands her a small box, and her face falls before even opening it. They're little bottles of perfume—wait, are those perfume samples? He reads her weak smile and asks indignantly if she's upset that it wasn't expensive, and she hastily assures him that she likes it.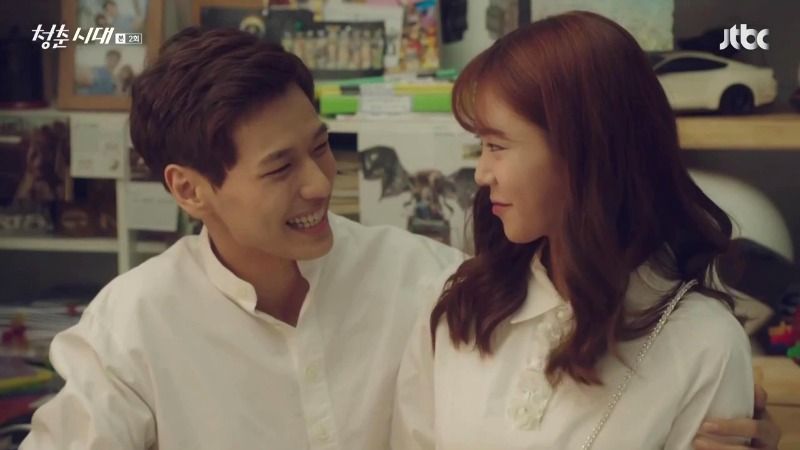 He promises to buy her something better next time and they have a sweet kiss. But then he starts kissing her neck, wanting more. Poor Ye-eun looks like she just might burst into tears.
She makes her way back home, seeing Yi-na's stalker boy for the second time, now carrying flowers. The image is just another knife among many in her wounded heart.
Once she's back in her bedroom, Ye-eun eyes another box on her desk—the exact same bottles of perfume. She remembers back when Ji-won had given them to her, having gotten them as a freebie from a makeup store. Exasperated, she shoves the box Doo-young gave her in her drawer.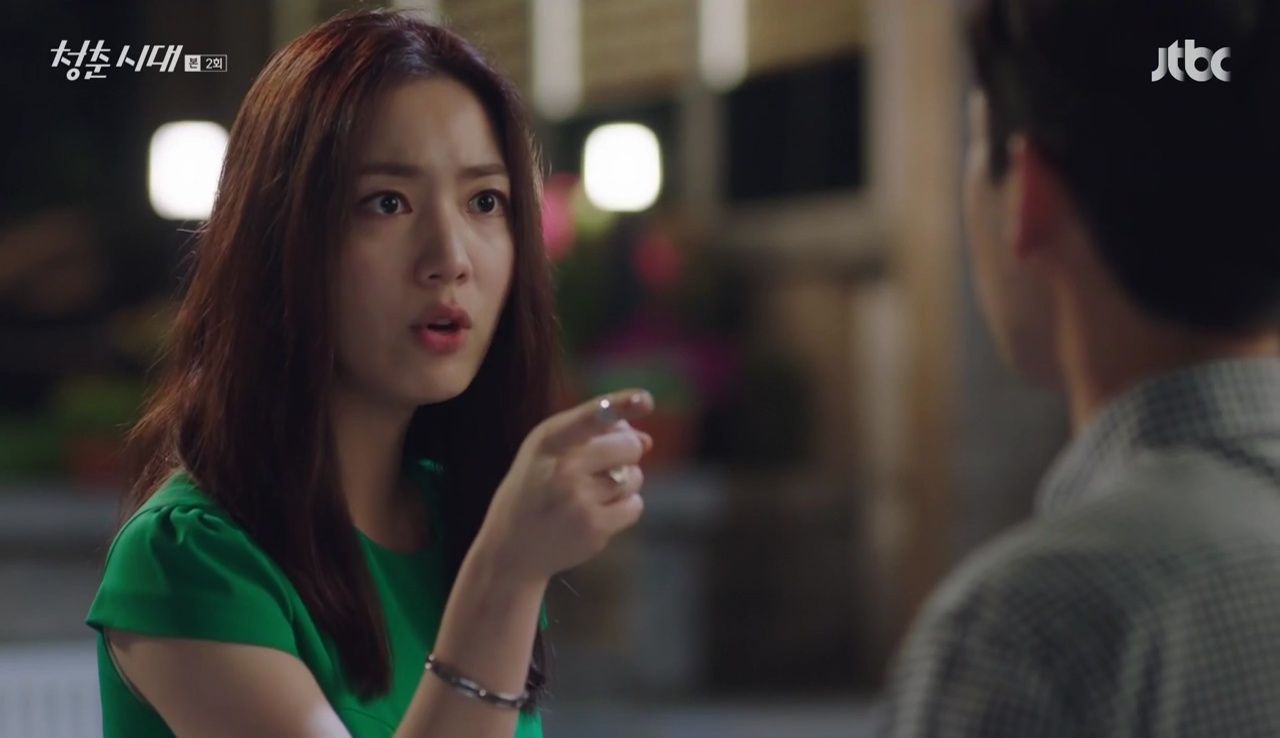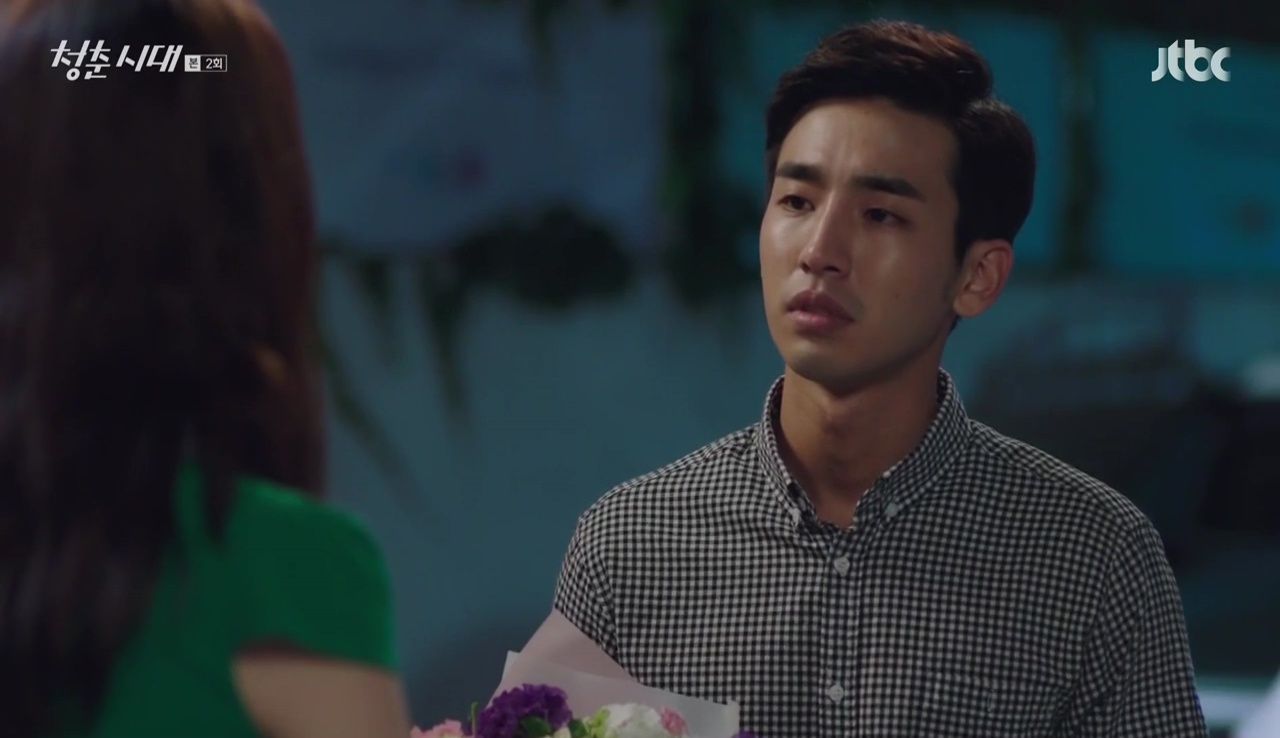 Outside, Stalker Boy is finally greeted by Yi-na, but she wants nothing to do with him. They don't even know each other all that well, so she doesn't understand why he likes her. Her voice firm, she demands he stop calling her and she walks away.
Ji-won and Ye-eun get comfy on the couch, but the air grows tense when Ji-won excitedly asks what Doo-young bought for their one-year anniversary.
She playfully pokes Ye-eun's shoulder and asks to see the gift. Ye-eun's prickly attitude makes it clear. "He forgot, didn't he?" Ji-won exclaims. Ye-eun yells that that's not it—rather than a gift, he planned a trip to Chuncheon for the two of them.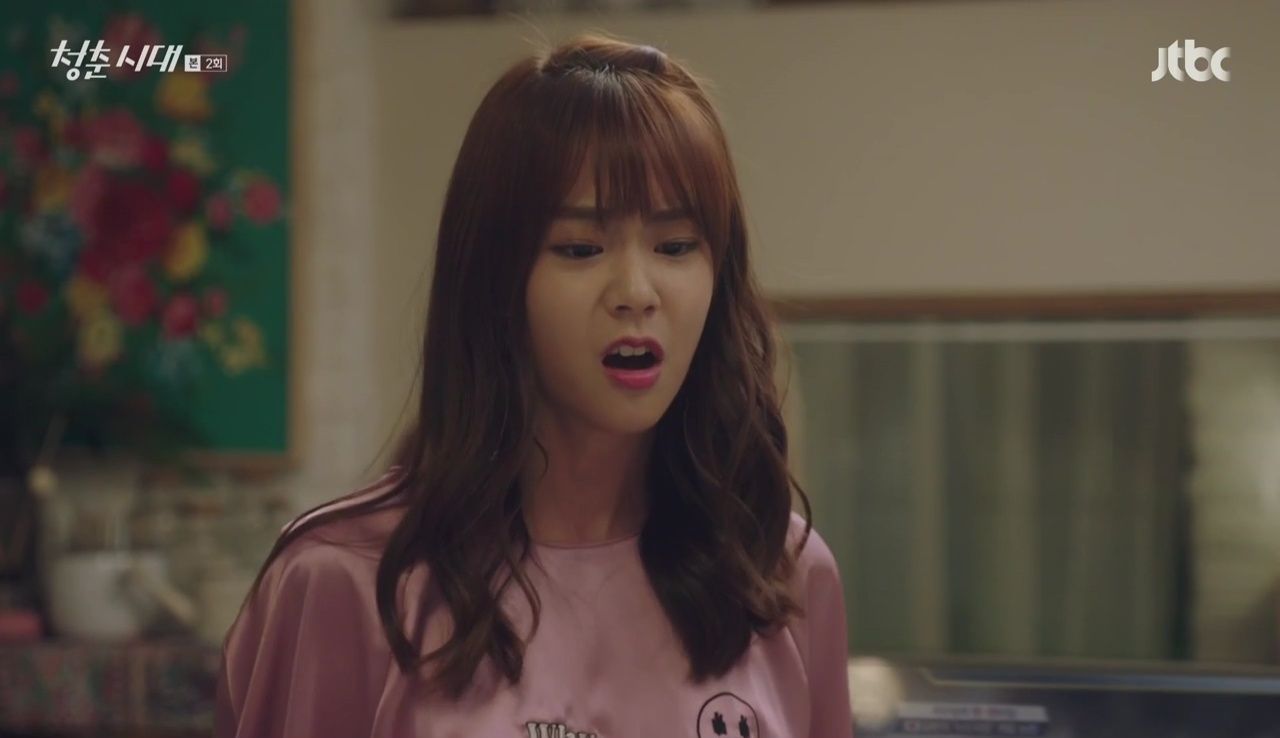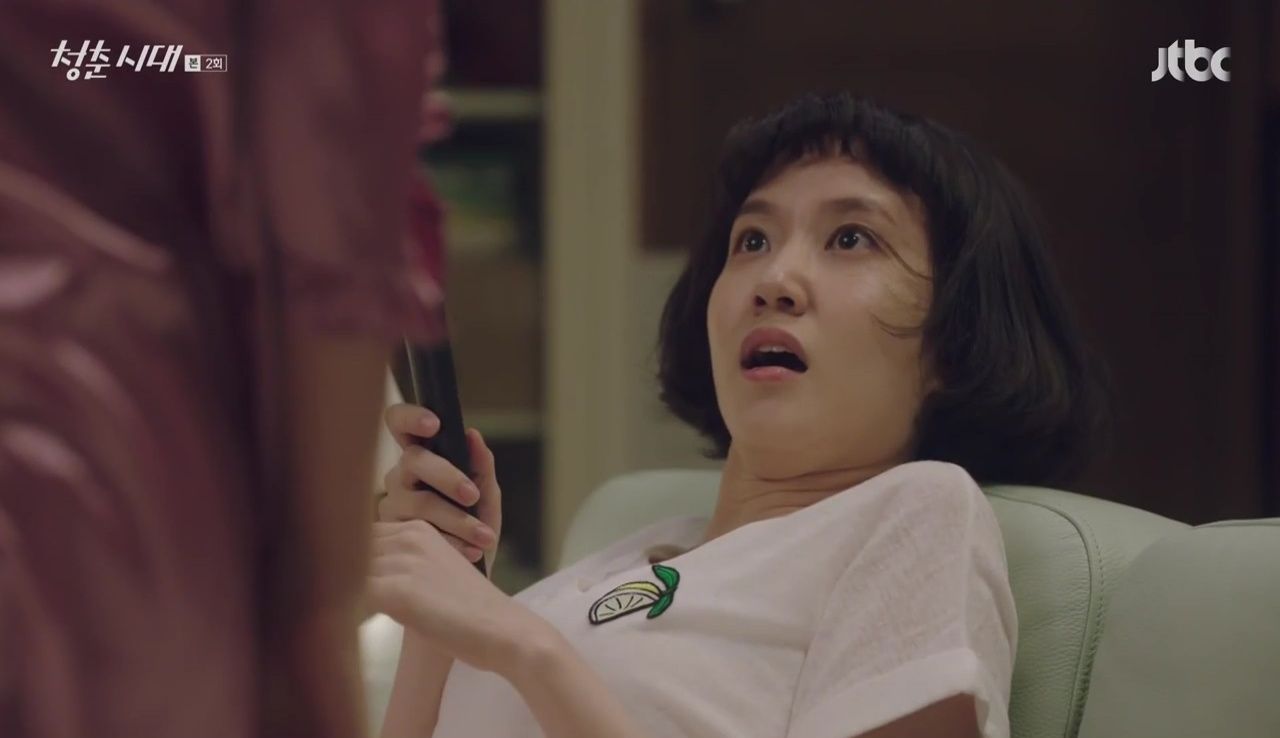 More giggles escape Ji-won's lips, and she asks if they'll do a little bit of this and that while on the trip. Ye-eun shoves Ji-won aside, and all the emotions she'd been bottling up that day come pouring out. "What's wrong with you?! All you ever talk about is sex!"
Ji-won shrinks back and says it was just a joke. Whether it was a joke or not, Ye-eun wants Ji-won to stop blabbering without thinking, like her talk about Yi-na carrying a liar's aura. With that final blow, Ye-eun stalks off to her room. Yi-na, who'd walked in moments before, follows suit, and mutters how amazed she is—how did Ji-won know she was lying?
Things seem to simmer down as everyone goes to bed. Ye-eun wakes up to a text from Ji-won, apologizing for going too far. Ye-eun is finally able to smile again and texts back that she's sorry as well. They continue to go back and forth like this, even though they're only a few feet away from each other, and it's absolutely adorable.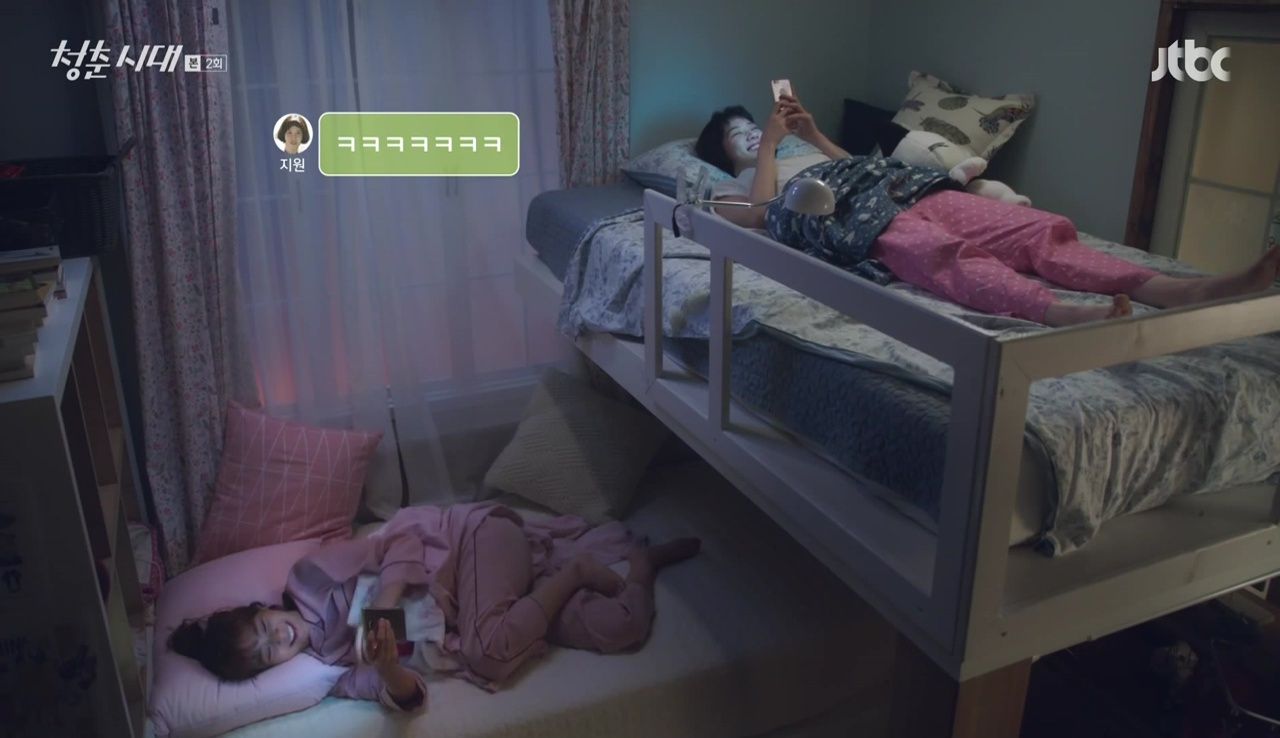 The next day, all the girls give Ye-eun a good send-off for her (fake) romantic weekend trip. Ji-won makes sure to pump Ye-eun up with a passionate "Fighting!" and waves her hands goodbye until Ye-eun is out the door. But as soon as she's gone, Ji-won's face falls.
With a suitcase to her right and no boyfriend to her left, Ye-eun takes in a deep breath and sets out to kill time while she's supposedly on her trip. Her first stop is the movie theater, where she joins the other happy couples, with only her suitcase to cuddle with.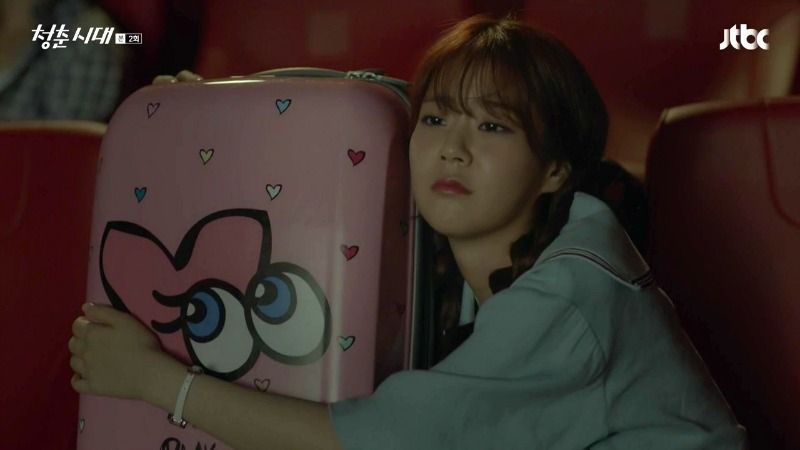 In a hotel, Yi-na lies in bed with another one of her suitors. The young man leaves her to take a shower, reminding her not to spend too much of his money. She apologizes, saying she had a friend in the hospital this month. He still tells her to limit herself to two million won. She agrees out loud, but her face shows she's not too happy about it.
Later, Yi-na goes down to the hotel bar for some wine. She asks the bartender if it's obvious she's a liar. He looks her up and down and simply chuckles. Yi-na sighs, "Figures. Living life itself is a lie."
Cut to: Ye-eun living out her own lie by staying at a jjimjilbang. She tries to get some sleep, but is forced to move thanks to a handsy old man. She moves over to a more open area and, unsure of what else to do, she calls Doo-young.
He answers and Ye-eun's ears are flooded with the sound of clinking glasses. As he continues drinking with his buddies, he asks her where she is. She admits she's at the jjimjilbang, but lies that she's with her friends too. Doo-young tells her to have fun and hangs up, leaving her alone all over again.
Back at the house, Ji-won and Eun-jae have trouble studying—Ji-won because of her endless dirty thoughts and Eun-jae because of her fixation on the cupboard.
Eun-jae builds up the courage to ask about the ghost in the cupboard, and she's surprised to hear that Jin-myung and Yi-na have asked Ji-won about it too. "I guess all of you have a ghost that comes to mind," Ji-won says.
As if wanting to confirm something, Eun-jae asks if the ghost is a boy or a girl. However, Ji-won can't answer that herself. She explains that ghosts don't have any human features like the legends have always said. They're more like smoke compacted into an orb.
But Ji-won loses Eun-jae's interest when she changes the subject back to her dirty fantasies, ha.
In her room, Yi-na puts away some of jewelry, her hand stopping at the bottom drawer. Inside is a fluorescent bracelet that seems to trigger a strange vision of a pair of eyes underwater. She gasps at the sudden sound of her phone, and the vision fades. It's Stalker Boy again, and Yi-na threatens to paste his number all over the internet if he doesn't stop calling.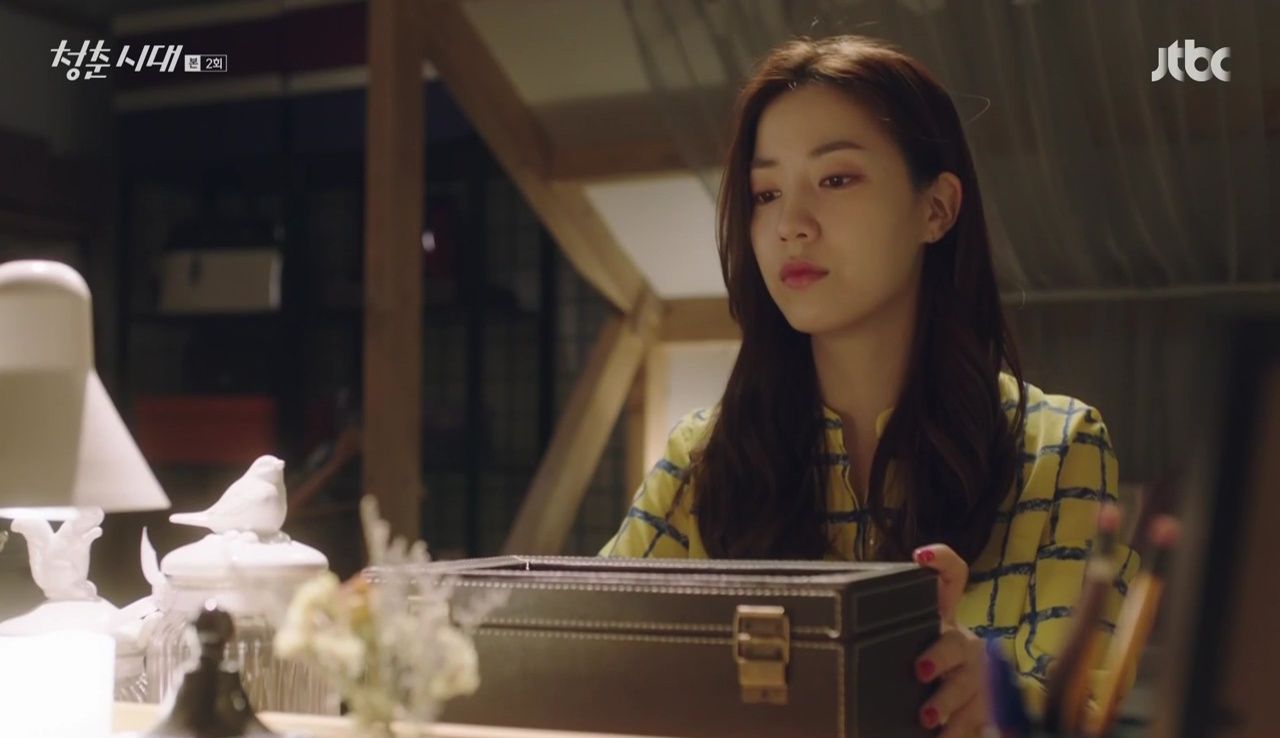 The next day, Ye-eun heads out of the jjimjilbang to return home. She makes a quick bathroom trip, but stops at the sight of the woman next to her applying makeup. She takes in her own bare skin, coming to a realization.
Ye-eun: "Lies may be similar to makeup. Just like one puts on makeup to hide their naked face, people lie when they're afraid of the truth being exposed. My makeup gets thicker, and I keep lying. Since when did I start feeling embarrassed of my bare face? Since when did I become so ashamed of the truth?"
Ye-eun walks up to the house, and sure enough, Stalker Boy is sitting in his usual spot. She continues her train of thought, thinking that the truth is pathetic and pitiful just like that boy. She'd rather bury her true feelings with lies than let her earnestness get rejected. Because that rejection is the most painful.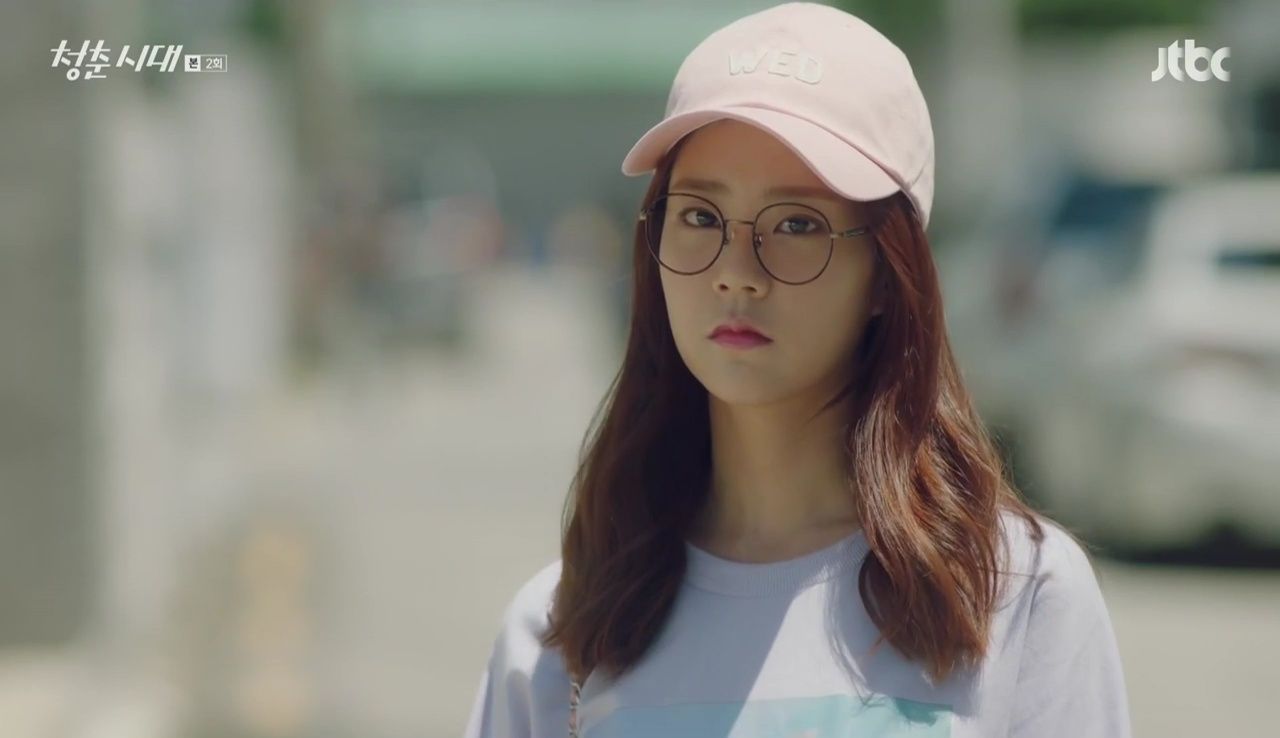 Ye-eun surprises Ji-won and Eun-jae in the kitchen with her early arrival, but easily lies that it's because she has school tomorrow and she's pretty worn out.
Jin-myung joins them, but gets a sudden nosebleed. She wipes her nose with a tissue and leans into the trash can to throw it out when she notices something and pulls it out. She wonders why her boxers are in the trash. Eh??
But it's not what everyone thinks. Jin-myung immediately puts the one-night stand theory to rest and explains that the landlord gave them to her to hang on the balcony; there's a strange man who's been lurking around the neighborhood, and it's to suggest that a man lives here instead of just girls.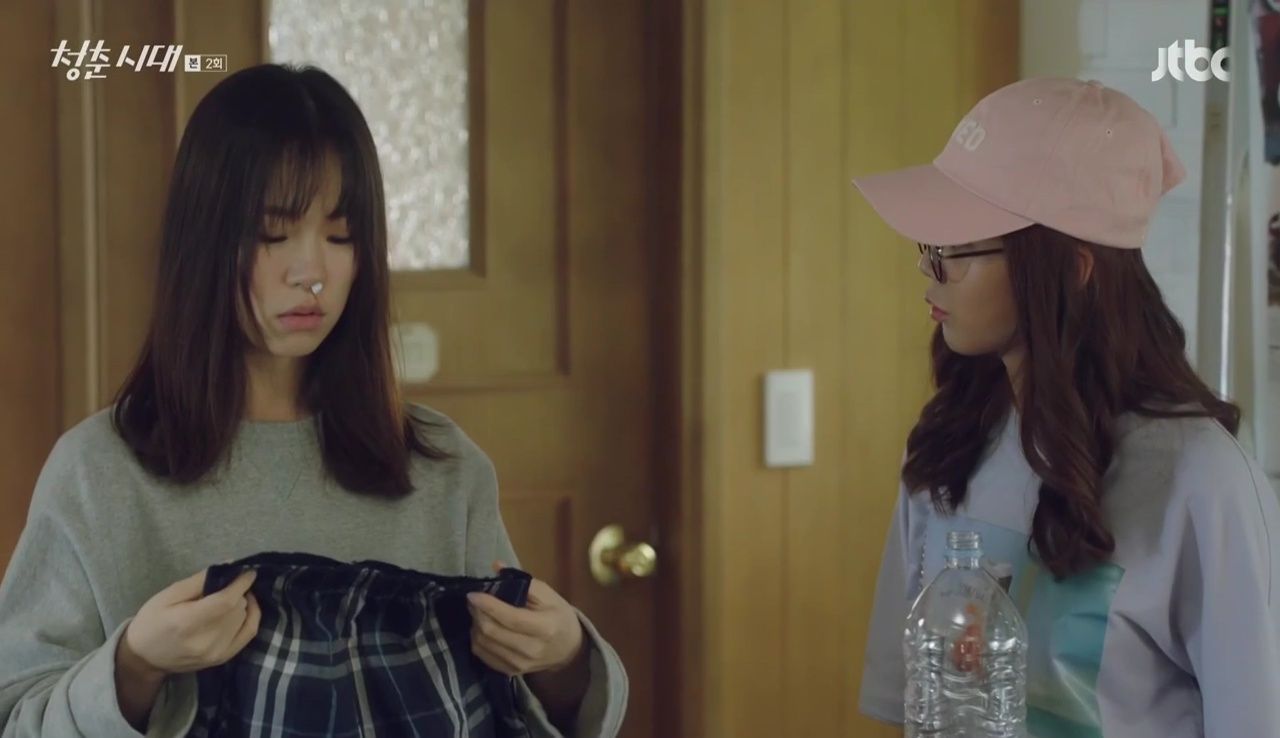 Ye-eun bursts out that Ji-won was wrong about the boxers belonging to Yi-na. Ji-won argues she never said that—she just said Yi-na was lying about something. Ye-eun mumbles that it's the same thing and stomps over to her room to take a nap.
Night has already fallen by the time Ye-eun wakes up. Hearing Yi-na's cries coming from outside, she looks out the balcony and sees Stalker Boy aggressively grabbing Yi-na's wrists.
Ye-eun yells for Ji-won and Eun-jae and hurries them out the door, saying there's big trouble.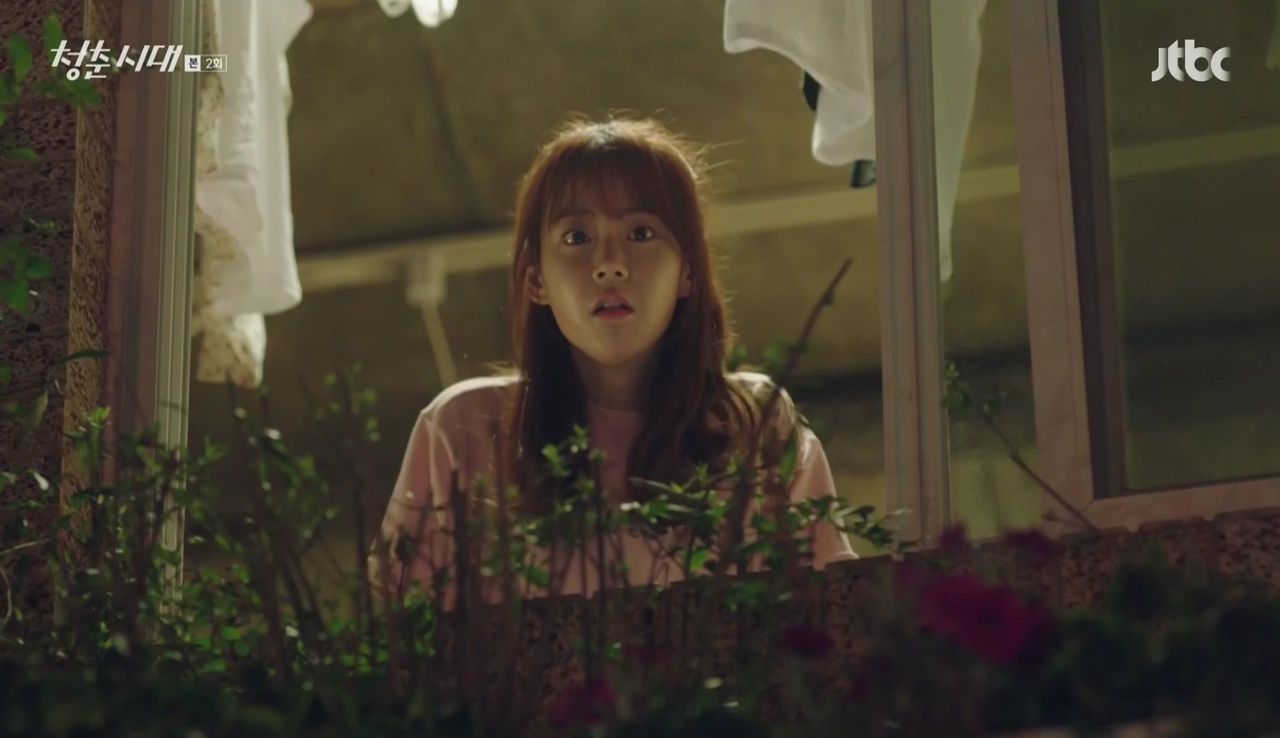 On the street, Yi-na stares Stalker Boy down, telling him if he's smart, he should understand that she doesn't like him. He only promises he'll like her more to compensate for that.
Stalker Boy grows more desperate and urges her to see that she's ruining herself. He just wants to save her. Yi-na doesn't want to be saved and she doesn't want to tell him again. Next time, she's calling the cops.
The girls make it outside and rush over to Yi-na, asking if she's okay. Yi-na tries to get them back inside when Stalker Boy blurts out, "What you're doing right now is prostitution!" Whoa. Holy crap.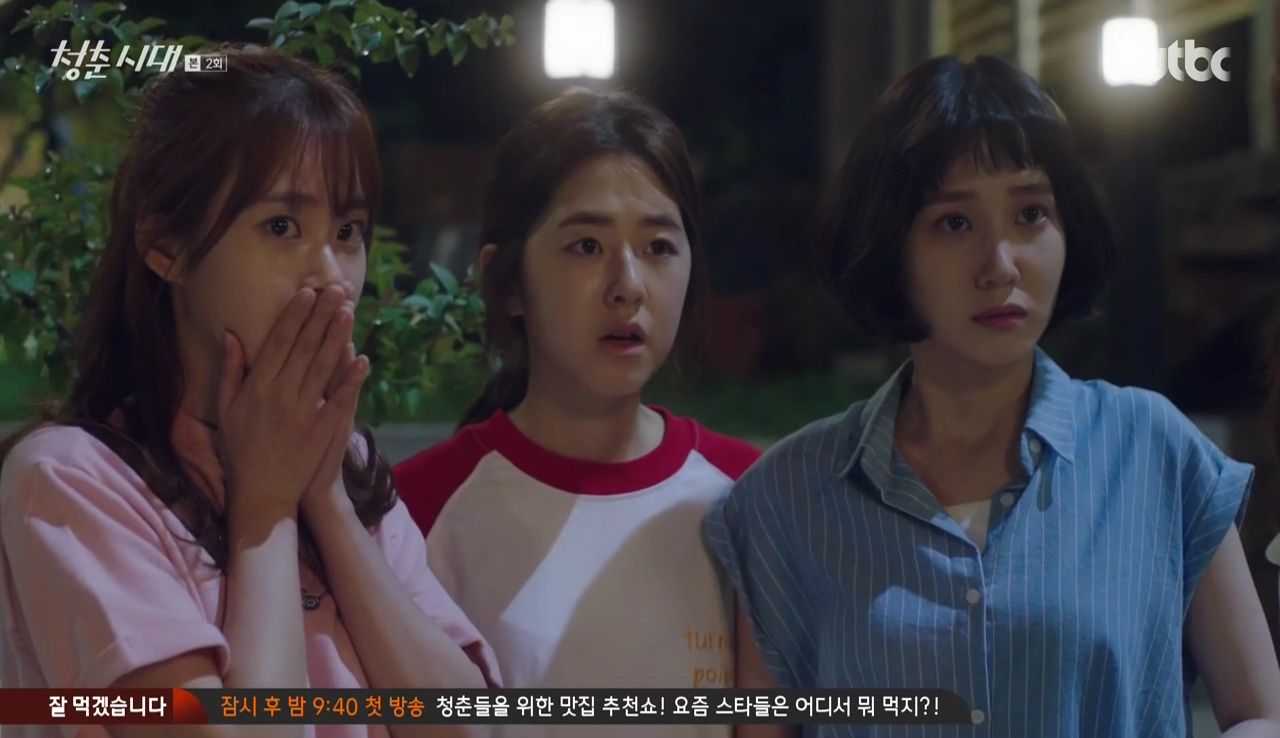 He goes on to say that a beautiful person like her shouldn't be selling her body like that. He doesn't know about her past, but he feels the need to help her.
The girls are all wide-eyed, blown away by his words. It takes a second for Yi-na to snap out of it, but she's soon hitting him with her purse and pulling at his hair, screaming that she's the one who decided to sell her body and that he has no right to tell her how to live.
The girls try to pry her off him, but it's someone else that stops Yi-na in her tracks: Jin-myung. Yi-na catches Jin-myung's gaze, and a new emotion sets into her face. Shame? They keep their eyes on each other as the police arrive.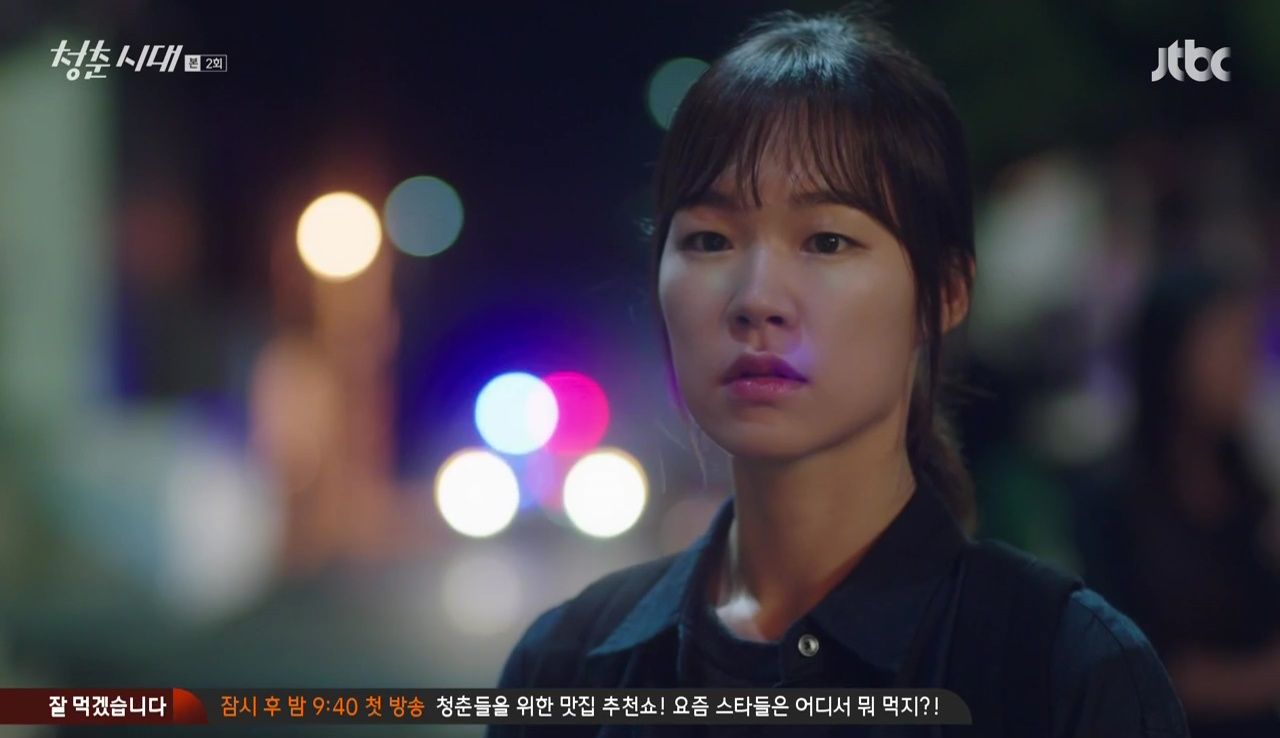 Yi-na gets taken to the station to be interrogated, giving the rest of the girls a chance to let it all sink in. Ye-eun figures Yi-na completely made up that her family was rich. If she was rich, she wouldn't need to see all those men. Jin-myung calmly defends Yi-na, bringing up the fact that a lot of girls get financial help from men like that.
But Ye-eun just sees it as accepting money for sex, which she thinks makes Yi-na a hooker. The other girls try to shush her, gesturing behind her. Gah, Yi-na sure does walk in at the worst times.
Yi-na doesn't say anything and numbly walks back to her room. Once inside, she leans against the door, breathing out "hooker" as if she's just now feeling the weight of the word.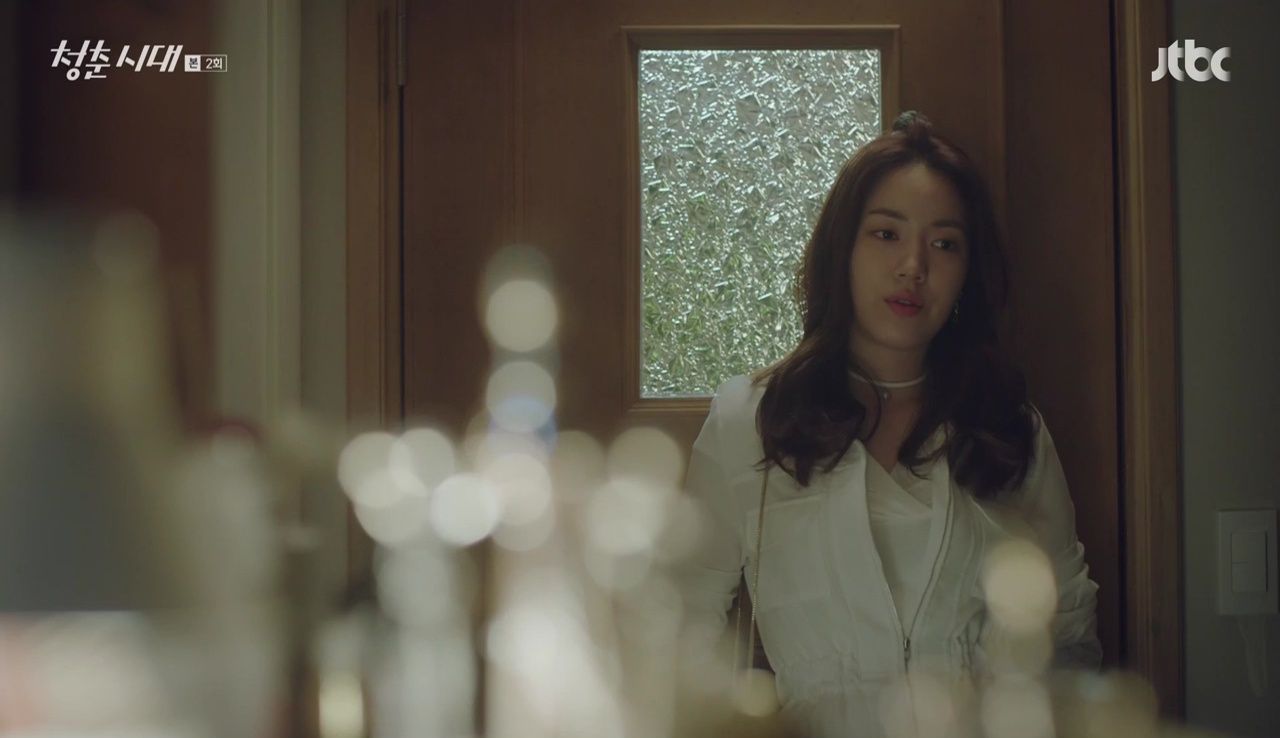 Ji-myung wordlessly leaves the room, though Ye-eun doesn't feel like she said anything wrong. After all, it was Yi-na who lied this entire time.
The thought leads Ye-eun to remember Ji-won's confession of seeing people's auras. So, Ji-won was right. And if that was true, then…
"So you really do see ghosts!" Ye-eun gasps. And the camera fixes on the cupboard, where the ghost supposedly is.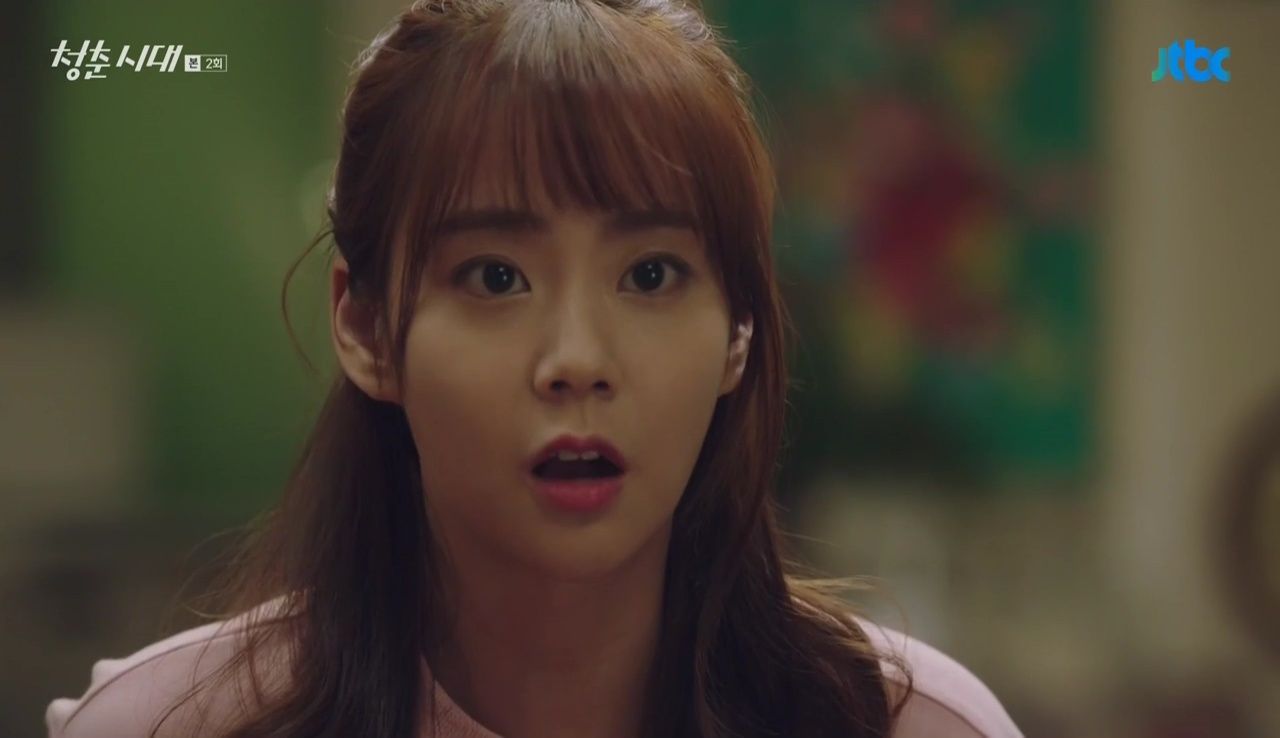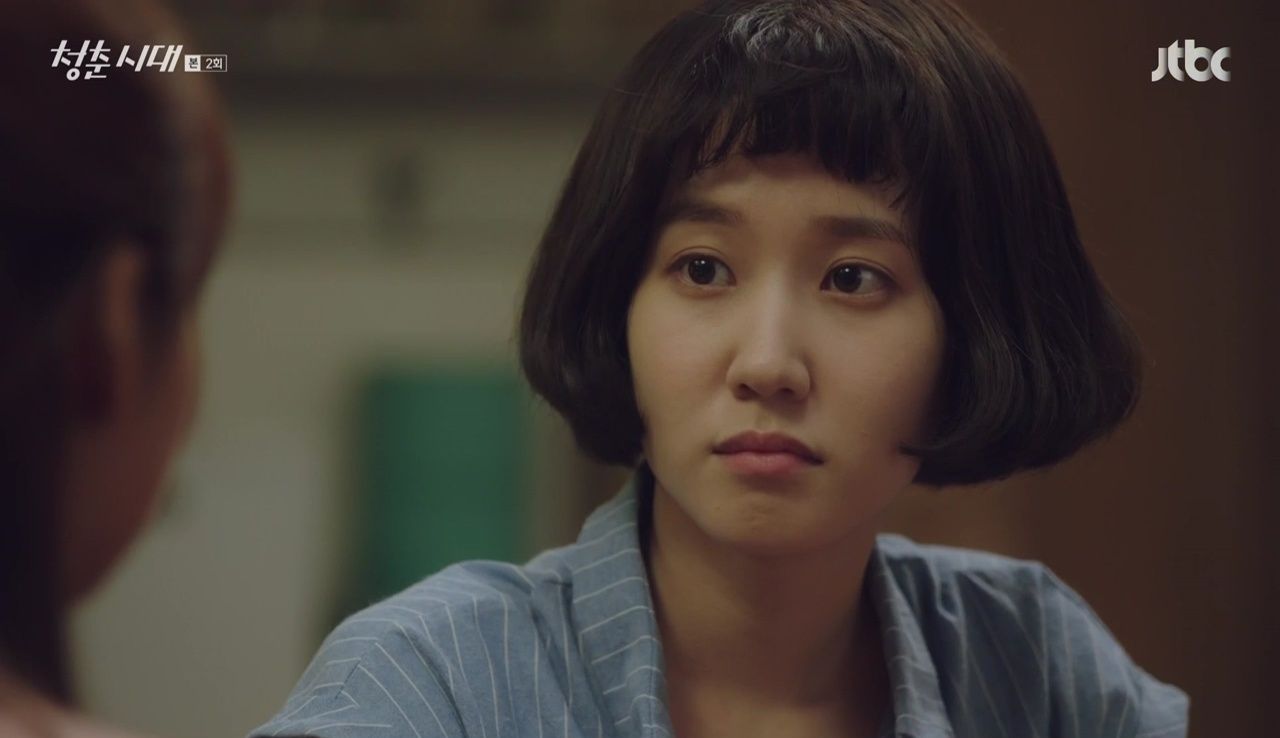 COMMENTS
Ah, so there might be a sixth person living in the house after all. I'm actually very interested in this aspect of the drama, especially since it seems like everyone is concerned about this ghost. So who do they think the ghost is? Who did Eun-jae end up killing? Who does Jin-Myung wish was dead? And then, most importantly, how can Ji-won see ghosts in the first place?
And though I'm dying to find out the answers to all these questions, I also think these questions are weighing down on an already heavy drama. The first two episodes alone had so much meat within the story, so adding a murder mystery (or multiple murder mysteries, I guess) on top of that feels a bit excessive. In that way, the drama isn't the smoothest watch.
What makes it so enjoyable though is the fantastic way the main characters are handled. I absolutely love that we were plopped into this drama's world in the same way Eun-jae was plopped into the house in Episode 1. I don't know if it's because I'm a college student myself, but it was incredibly easy to fall into the story and imagine myself right there with Eun-jae. Or as Eun-jae. At first, I only connected with her, but this was the episode that made me realize I could connect with all of the girls.
For instance, Ye-eun annoyed the hell out of me in Episode 1, but after today's episode peeled most of her layers back, I could see myself as her as well. Then as the episode went on, I connected with Ji-won and even connected with Yi-na a little bit. I definitely don't fit within any of their archetypes, but they all had that aching human quality of pure vulnerability. We're obviously all different, just as the five heroines in Age of Youth are all drastically different, but sometimes it's just nice to know that despite the differences, we all go through the same kinds of pain.
If Ye-eun was in any other drama, playing her same archetype and only that archetype, I'm not sure if I would feel for her at all. But she seemed so amazingly real here that it physically hurt to watch her jerkface boyfriend take advantage of her. It almost makes me mad that I wasn't able to reach through the screen and console her when she was all alone. Similarly with Yi-na, I wished I could shake her and convince her to get help. But if any of these girls want help, they're going to have to open up.
Hopefully, as the drama goes on, the girls can learn to look past whatever scary secrets they have and just bond as roommates and as friends.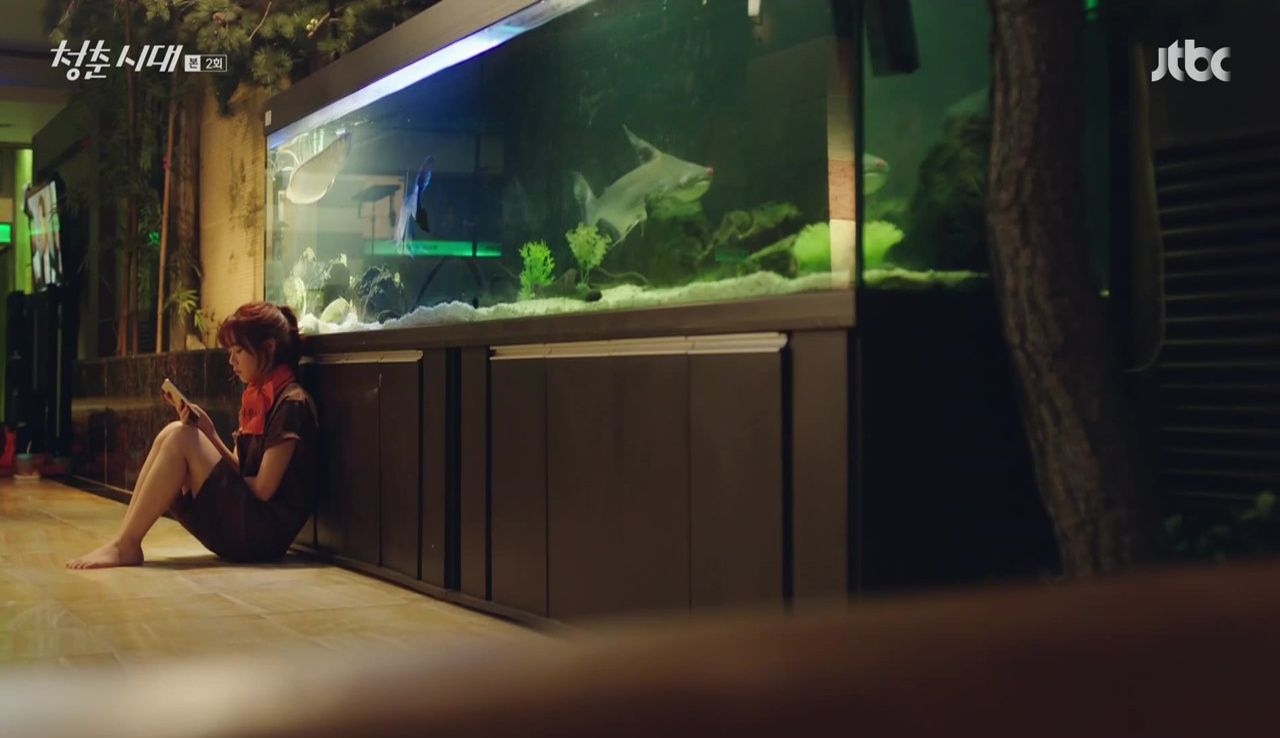 RELATED POSTS
Tags: Age of Youth, featured, Han Seung-yeon, Han Ye-ri, Park Eun-bin, Park Hye-soo, Ryu Hwa-young