Beans of Wisdom: Cons and lies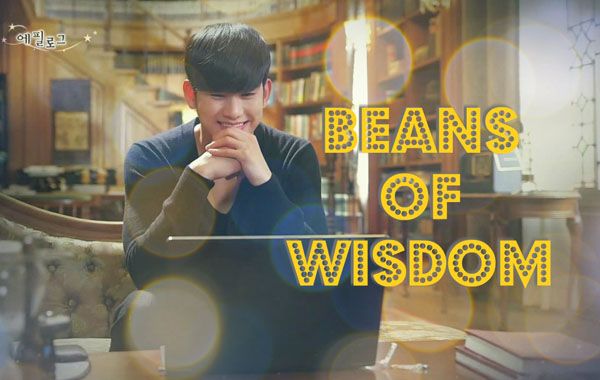 This week in Beans of Wisdom…
In last week's "Team Dramabeans: What We're Watching," Is 38 my new favorite number? says in comment 2.3.2:
Watching 38 made me realize something about drama watching.
1. You don't need a shower scene to make me squeal.
2. You don't need a kiss scene to make me excited.
3. You don't need an entire flower cast for me to fangirl.
4. You don't even need dramatic crying scenes to feel pain.
5. And you certainly don't need amnesia or terminal illness to make plot twists and cliffhangers.
In "Wanted: Episode 9," Eynay writes in comment #2:
I have a feeling that mastermind from all of this is that PD Joon Goo. PD Shin is his accomplice. Actually I suspect everyone in Production team including Beon Yeo. ?
To which Miranda replies:
I still think it's a Subway footlong.
mango:
I agree.
The women was pushed off the building by an angry subway sandwich.
Andee adds:
Which footlong though? I'm suspecting the roast beef, but then again, the tuna does seem a little fishy…

I'msorryifI'mcarryingthistoofarIlovetheSubwaycommentshere
In the same post, TM points out in comment #5:
What is incredible is that even if the show becomes bloodier and bloodier, the ratings of the show will still be quite high. Because people actually enjoy watching this kind of show, just like a lot of people love watching reality tv show. I wonder if in real life this kind of show could actually be aired (don't they have a legal institution that regulates what can and cannot be aired?!). And would people really watch it? Are we that curious of other people's lives?
Sorry I think I was a bit disturbed over all the murders currently occurring and Bo Yeon's kidnapping.
francoise agrees:
honestly, even with are current culture climate today. i still think that people would actually watch a show like this if it was actually real. it's a sad fact but it's true.
Callie writes in "Beans of Wisdom: Save the sea lions" comment #5:
Love the positivity from last week's beans of wisdom! ❤️

Honestly life is so much better when you stop worrying about the stuff you like being objectively "good" and just enjoy the things you enjoy. Not every drama needs to be groundbreaking in order to be relatable or really get you in the heart. There's beauty in simplicity, and there's beauty in complexity as well. We don't need to disparage anyone for preferring one over the other.
Andee adds in comment #19:
And I am glad that some of the comments posted in the OP were there. I've seen quite a bit of shaming for my preferred dramas and, while I'm fine with criticism in a way, it's a little too much when it results to name-calling. Scratch the "little", actually, there's a difference between criticism and hate. Fortunately some of the recappers and commenters are mature regarding this~

One tiny thing about the Gong Shim comment – you should never trust traffic if you're in a kdrama. If you're on the road it's Game Over for you or another person. Heck, chances are the driver also spotted the Pikachu, lol
mystique noticed something in "Cinderella is determined to turn her knights into a happy family" comment #11:
Oh man is this the season of multiple guys crushing on the same girls. Looks like Park So Dam's character takes the baton from Park Shin hye's character in Doctors, only to pass it on later to IU's character in Scarlet heart.

And i am still single *humph*
sunshine adds:
Looks like Scarlet Heart's gonna be passing the baton to Hwarang: The Beginning. From flower boys in Goryeo dynasty to flower boys in Silla empire!
mary writes in "Kang Haneul, Hyeri up for deserted-island adventure romance Picnic" comment #7:
I bet that deserted island has a Subway branch hidden in the jungle.
Which sparks another thread of sandwich jokes. Like bips99's:
No, you anti-subway fans.

They packed a basket of subways which survived the crash. And feeds them for weeks and weeks showing the superior quality of subway food that does not rot. When the hero is going mad with delusions because of low sugar, the heroine lovingly offers him, her last subway hence sealing ever lasting love

pfft … and hence the name "picnic"
Or YY:
They keep themselves warm by draping subway wrappers all over themselves at night. They wear the remaining wrappers like how Tarzan wore his loincloth during the day. All their clothes got ripped off during the crash landing, see.
risa:
I'm pretty sure that for deserted islands, Subway delivers via sub.
You should check out the other comments for gems such as "coconuts of doom" and killer banana peels.
In "Age of Youth: Episode 1" comment #4, Dexterinthelaboratory writes:
It is unbelievable how Immensely I enjoyed the premiere. The sharing of living space between college going women is so on point and the characters so well drawn out, I am in love.

I loved the scene where The timid one, confronts her seniors expecting them to lie about eating her jam and they all just accept leaving her flabbergasted as if thinking "now what?" This is quite apt because in our head we keep imagining people to have wronged us not realising that they probably had reasons and did not really mean to.
Lord Cobol asks in "Bring It On, Ghost: Episode 6" comment #16:
How deep is that pond anyway? It seemed no more than waist deep when they were playing around earlier — only in Korea can you sink 20 feet in 3 feet of water.
Niyati replies:
well if ghosts can drown, I suppose ponds can be psychic and/or elastic.
'Adjusting depth for drama purposes since 1861' 😛
anabear confesses in "Two more promo crumbs from buzz sageuk Saimdang, Light's Diary" comment #8:
I've already given up on sageuks, even the ones with best plots, because there's this guilty feeling whenever I learn a lot about other country's history than my own. however, there seems to be something universal and timeless about Dae Jang Geum that its nostalgia is enough to cajole me into watching this next project. moreover, if this show will attempt to question and challenge the inherent sexism of women in the past and present, then it's something I should welcome.
Mindy replies:
I'm sorry that you feel guilty for learning of other country's histories. I think that's unfortunate, because learning about the history and culture of other countries helps people to feel a connection to people that aren't like themselves, and each country and civilization's history is so rich and captivating.

Of course it's great to be well-versed in your own country's history, but limiting yourself to just your country seems unnecessarily nationalistic and could limit your world view. Also, in many world conflicts today, the history of the respective countries plays a large part, so it's important to be knowledgeable of a country's history to fully understand their modern-day conflicts.
And Sancheezy reassures her in a roundabout way with:
I am sorry to said this but I don't think you need to feel guilty

Most Saeguk doesn't really true to history, they may get the name and the title right but for the actual event, it wasn't a reliable source, you don't need to feel so bad.

except for taiga drama (japanese historical accurary weekend drama) which more accuracy but it is obviously a history lesson on tv played by actor, so the drama part is less than a usual drama should be.

so we do learn more about perspective but that also happen in many asian country ruling and the time line for each drama doesn't really corroborate with each other, not to mention the character portrayal such as Lady Jang in Dongyi and Jang Ok Jung can be different.

For me, Saeguk is telling a story from old Korean's life perceived by it's writer, take it as fiction with historical background.

but this is just my perspective
Wag_a_Muffin has a good point in "Yoo Seung-ho out, Su Ae in for KBS's The Man Living in Our House" comment #10:
I think the premise sounds interesting. And also, whenever you try to distill a creative work in one sentence it usually sounds bad.

For example, one of my favorite books can be described with the sentence, "a short, barefoot guy finds a piece of jewelry in his house. The book follows his adventures as he goes with a friend to throw it into a volcano."

Sounds boring, huh?

But I loved Lord of the Ring.

I think the premise, a girl who comes home to find a younger guy who claims to be her step dad could be a good K-Drama, depending on the writing. And I liked Bottom of the 9th.
Oshi warns us in "Police Unit 38: Episode 12" at #3.1:
The whole show is scam! Just like the moon landing!
The only real things are MDS and SIG!
pogo:
lol this really seems to be 'question the truth' season on dramaland.

First this, then W – they've been spinning us around so thoroughly I'm half surprised I even remember my own name!
In a different comment thread (5.2.3), Oshi repeats:
It's all a lie. Don't drink the koolaid!
Peach:
But they've tricked me so much already! I'm worried they're tricking me into thinking that they've tricking me, when they haven't tricked me, thus tricking me again!
Eerinmide Go Go has a wish in "Uncontrollably Fond: Episode 8" comment #5:
I HATE when dramas pull some sudden miracle at the end of a drama and then the terminally ill patient suddenly gets a 'miracle' or love suddenly heals all…

But I will accept anything at this point. A miraculous touch from a shaman. The tumor suddenly packing up its luggage and leaving. Just let him live :'(
Erratic shares an interesting tidbit about "W–Two Worlds: Episode 3." In comment #12:
Lol. I saw a BTS from MBC showing how Lee Jong Suk's pulse spiked when he grabbed Han Hyo Joo. Funny how that counters Kang Chul's iron-ckad pulse control.
Good beanie maknaee replies:
this one, right?

I love how flustered Lee Jongsuk was when PD pointed out that his pulse exceeds 100 when he grabbed Hyo-joo's wrist ? then Hyo-joo and the whole staffs start teasing him hahahaha
His pulse control is a lie! Kang-chul is affected! 계속!
In "W–Two Worlds: Episode 4," unitedred writes in comment #1.1.2:
Kang Chul really reminds me of the male lead from Queen Inhyun's Man. They're both intelligent and consider all possibilities despite being on the brink of impossible.
Miranda replies:
I feel like Kim Boong Do is someone you could travel with to 2590 or 841 – he's the Swiss Army knife of time travel companions, in that he already contains all of the pieces you'll need for survival no matter where/when you end up.

Park Sun Woo is both a bit of an ass and a little cavalier with his incense stick usage, but better than your average time-traveling companion. Though I'd almost want to travel with his younger self instead? Also, Park Sun Woo had to deal with a much more complicated and rolling time-travel structure that consistently screwed him over no matter how carefully he planned, so there's that.

No one should travel with the lady from Faith. She can help you if you get stabbed, but is also highly likely to get you stabbed in the first place. No one should travel with ANY of the Rooftop Prince guys. The girl from Splish Splash Love should be okay, though not very useful. And obviously anyone from Dr Jin should be murdered on sight.
deathbychocolate is a tech victim in comment #7.4.1.1:
And if I may add, that exactly was the reason Kang Children emphasized on just being friends than being his secretary during their talk. She was clearly undermining his authority.
*Kang Chul. Autocorrect. Shhhhh.
Which Miranda saves with:
That's episode 15.

…ha, that would actually be incredibly mean, if Dad drew in a bunch of romantic obstacles like Kang Chul having a mistress and secret children and a hidden wife and a pregnant girlfriend, all just to screw with him. If Dad suddenly sketched in a four year old who calls Kang Chul "Daddy", will Kang Chul retroactively know the kid? Will he be able to ditch a child that's "his"?

I don't think the drama will go in this direction, it would just be entertainingly petty of Dad. "If I can't kill you, I'll cover you in children! Now know the pain of being destroyed by your own creation!"
Lastly, erratic has this health advisory in comment #2.4.1.2.4:
I followed Police Unit 38, dropped it for some reason before the first case ended. I should pick it up again soon. But man, Signal's intense. My gut's clenched the entire time while watching.
Awesome core workout. Watch Signal. lol.
Thanks, erratic! We'll keep that in mind. Just like how we eat our veggies, get lots of sleep, and read the Dramabeans Commenting Policy, right? *wink*
RELATED POSTS
Tags: Beans of Wisdom