Beautiful Gong Shim: Episode 15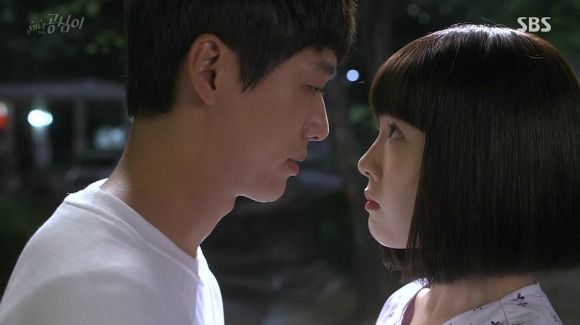 A perfectly fine date can unexpectedly take a turn for the worse. Or for the better, depending on how you look at it. Try as you might to not embarrass yourself in front of the person you care about, there's simply no way to control everything, especially the heart. And… nature. Sometimes you just have to let it go, and the response may pleasantly surprise you.

EPISODE 15 RECAP
The elevator doors open, and Jun-su looks up to see Dan-tae inside. The two stare at each other with steely gazes before Jun-su enters. The atmosphere is tense inside the elevator, but the two engage in disengaged yet civil small talk. Jun-su steps out on his floor, and Dan-tae calls after him, but Jun-su doesn't hear.
Later, Dan-tae brings up the idea of dropping the search for his kidnapper to his grandmother and asks her what she'd think if he did. She wonders if he's had a change of heart, but Dan-tae retracts and explains that it was merely a hypothetical notion.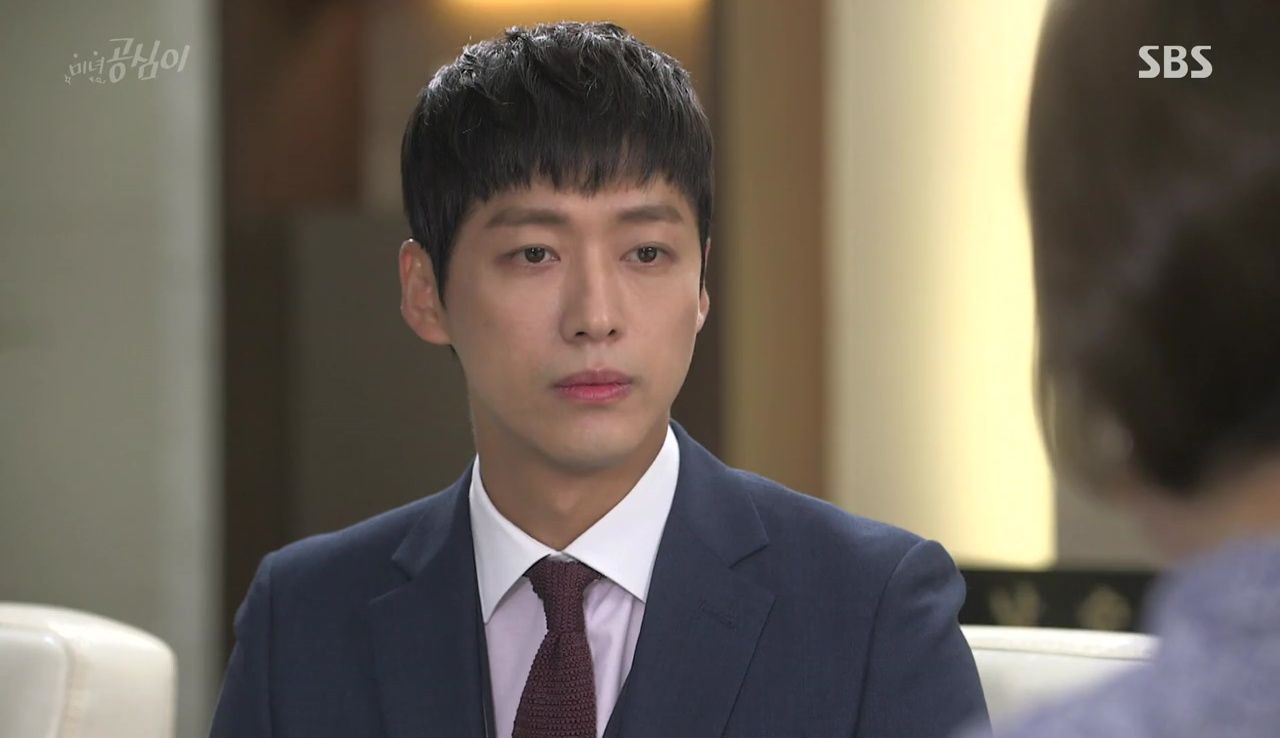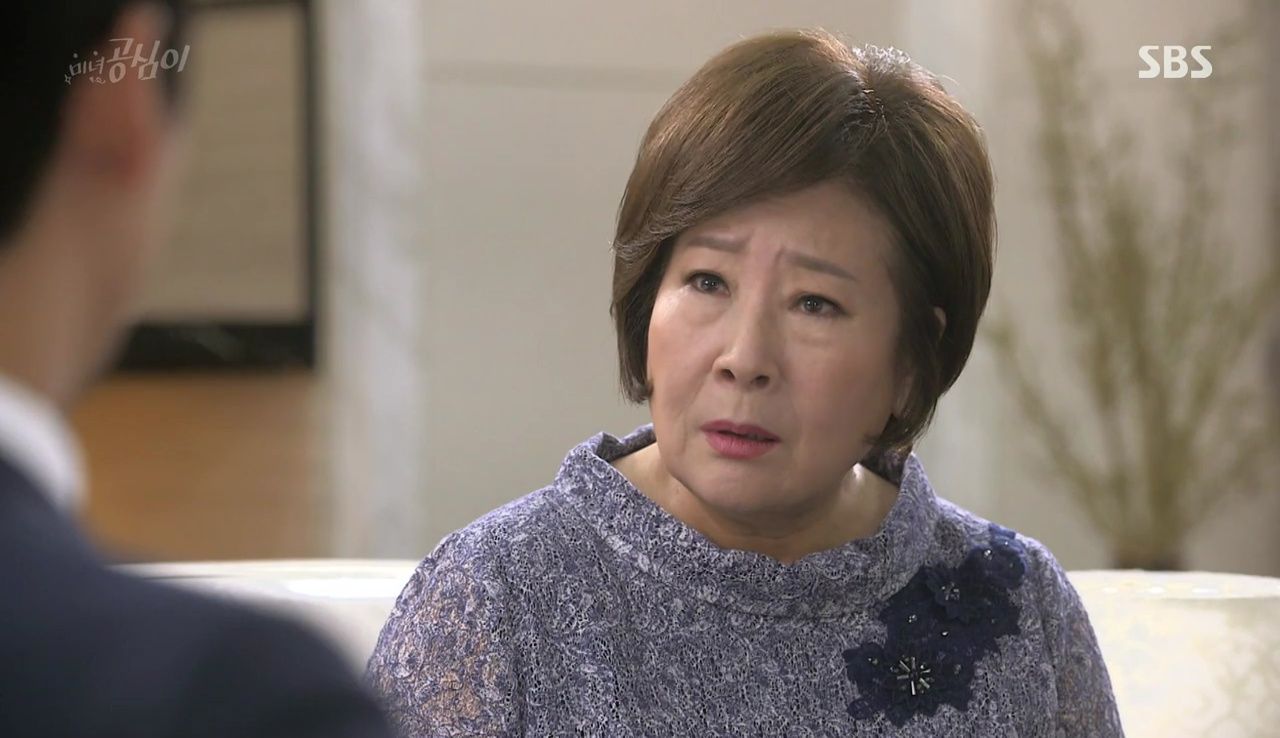 Grandmother senses that his lonely struggle must be taking a toll on him and reminds him that he can choose to end this search whenever he wishes.
With a grave expression, Jun-su urges his uncle to listen carefully to what he's about to say. He divulges his belief that Dan-tae is actually Jun-pyo, which throws Uncle for a loop; a DNA test is underway, the results of which will confirm what Jun-su believes to be true.
Jun-su: "If the results of the DNA test prove that Dan-tae is Jun-pyo, you [Uncle], Mother, and I have to relinquish all our assets and this company. We have to leave this household empty-handed… We have to get on our knees and beg Jun-pyo for forgiveness."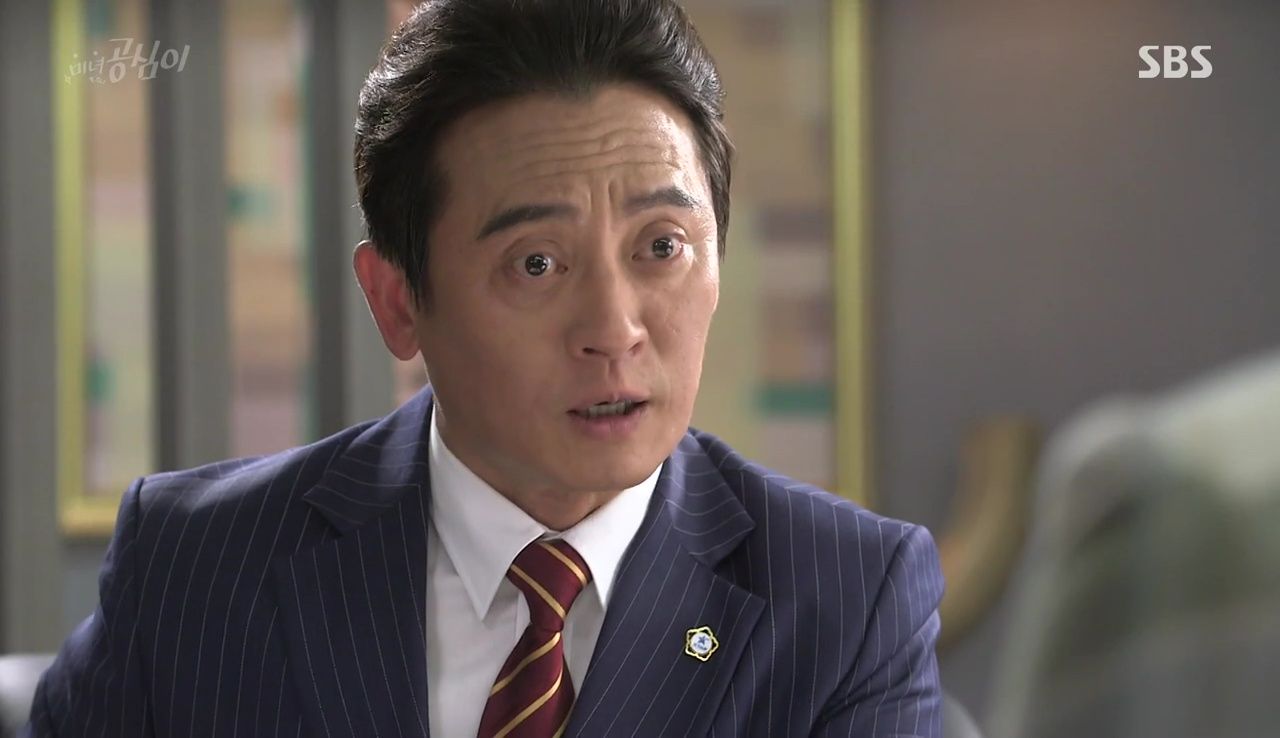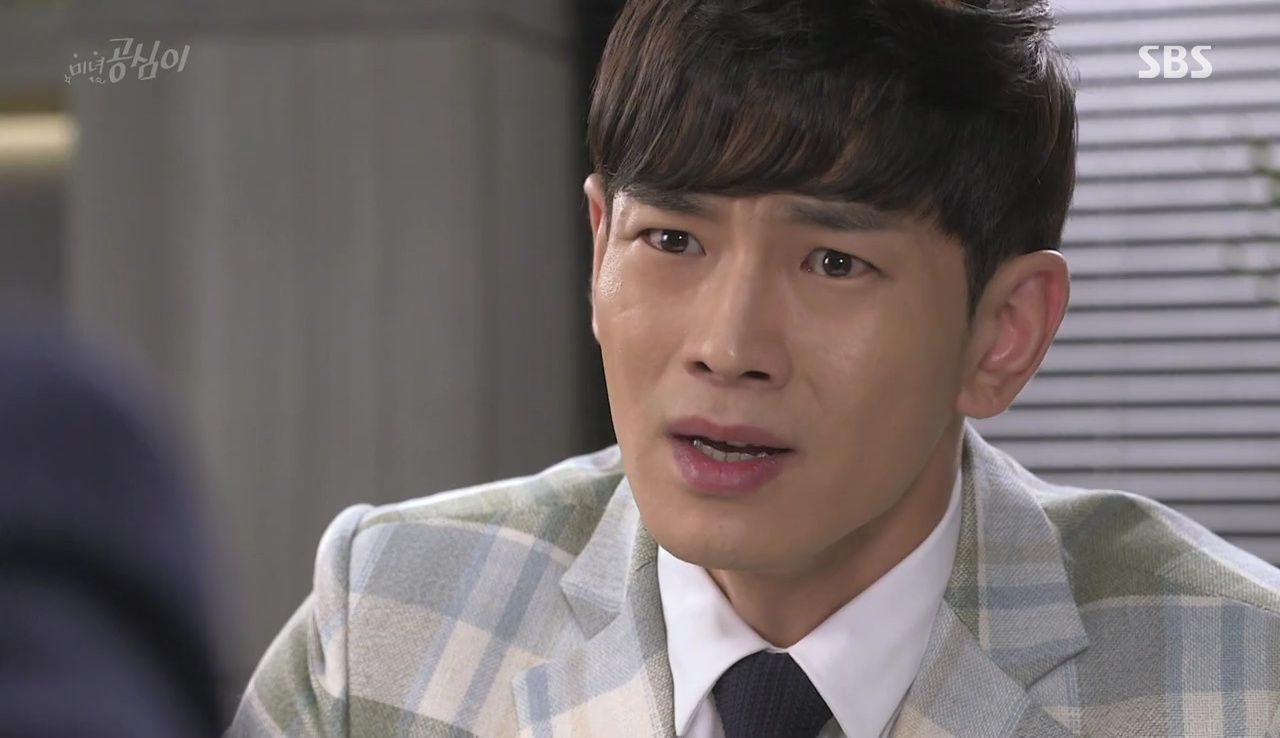 In utter disbelief, Uncle figures there's a chance that Dan-tae isn't Jun-pyo and that they can do away with Dan-tae's meddling. But Jun-su's had enough with Uncle's useless reasoning and angrily reminds him of ruining not only Jun-pyo's life, but those of Jun-pyo's parents and grandmother. He warns Uncle to stay quiet and out of trouble until they find out the DNA results.
Moments later, Jun-su waits around Gong Shim's neighborhood to apologize for his behavior involving the art exhibit. He expresses how sorry he feels toward her and Dan-tae; he genuinely likes both of them and doesn't want to lose their friendship to the point that they no longer speak to each other. He wants the three of them to return to how they were before, and says he'll do better.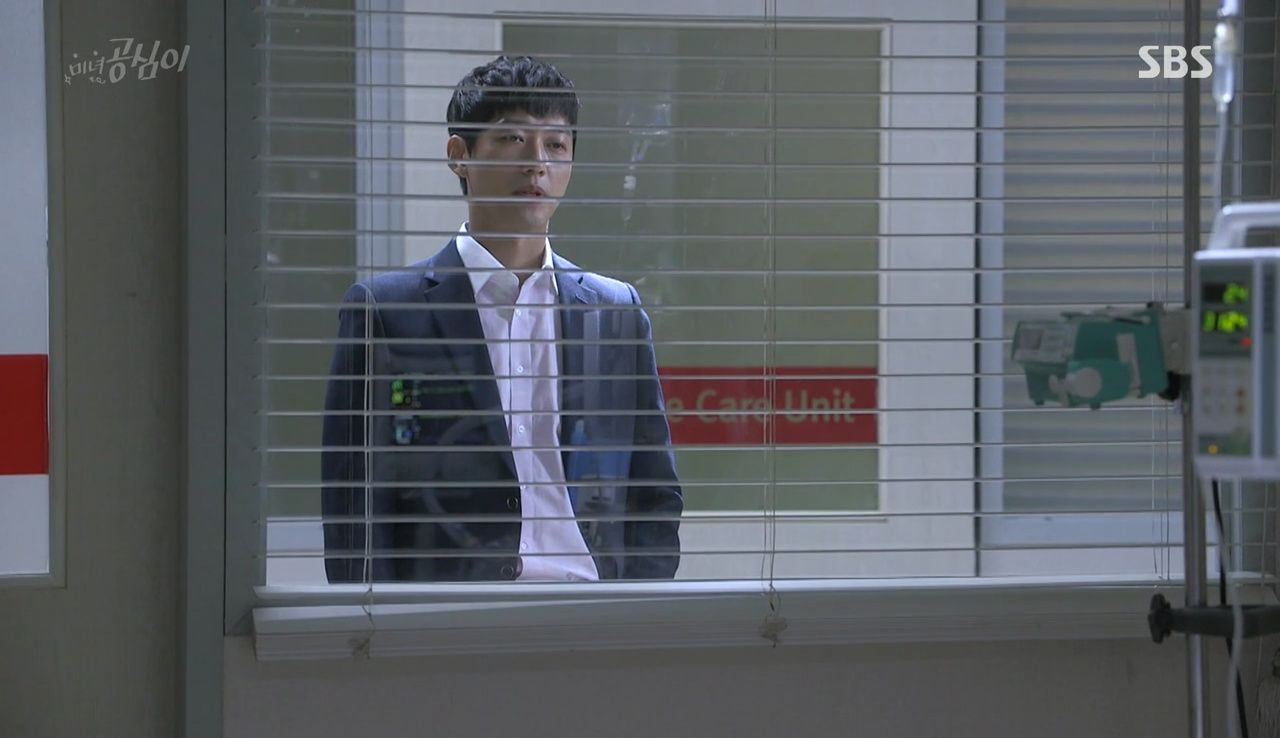 That night, Jun-su heads home and crawls onto his bed. Tears fall as he reminisces on his friendship with Dan-tae, which eventually soured into one of mistrust and secrets.
Dan-tae's up late mulling over their friendship as well, reflecting on how Jun-su's changed. He visits his still-unconscious father at the hospital and opens up: He's so close to finding the culprit, but his heart is less at ease because of what this means for Jun-su.
Dan-tae expresses concern for his cousin, who'll suffer because he has to protect his mother; he wonders aloud if telling Jun-su everything is the right choice. On his way out, Dan-tae calls Jun-su and asks to meet tomorrow; he needs to talk to Jun-su in person. Jun-su replies that he also has something to share, but he's leaving for a business trip to China tomorrow. They agree to meet in three days when Jun-su returns.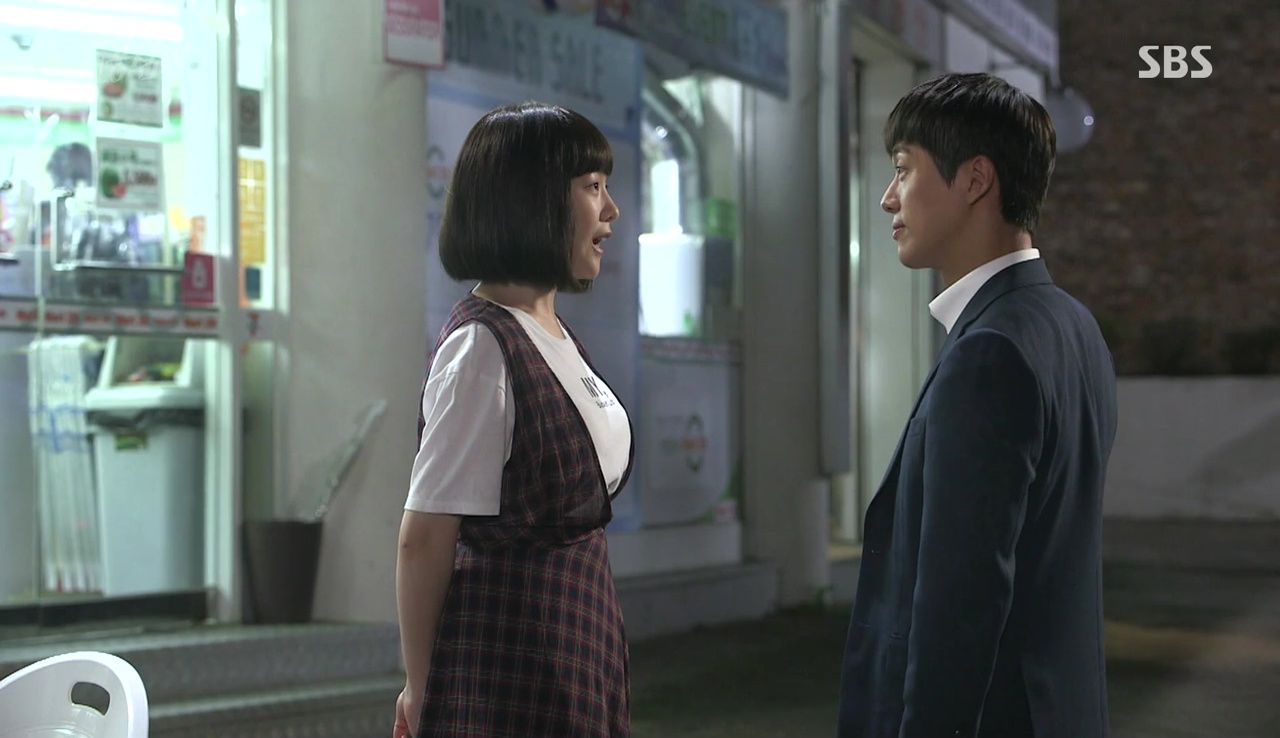 Gong Shim waits for Dan-tae outside the convenience store, swatting at unrelenting mosquitoes. When he arrives, she asks if he's free tomorrow to go to the amusement park with her, but Dan-tae has a reunion to attend. She expected as much, figuring he'd have some kind of excuse, but remains unfazed. She asks when his next availability is, but Dan-tae surprises her by suggesting they go tomorrow. He rings up his colleague to cancel his attendance, and Gong Shim is pleased.
Out of nowhere, Gong Shim slaps Dan-tae HARD in the face on account of a mosquito, ha. He reminds her to strike while he's looking so he can dodge the blow and remarks on how powerful her hand is.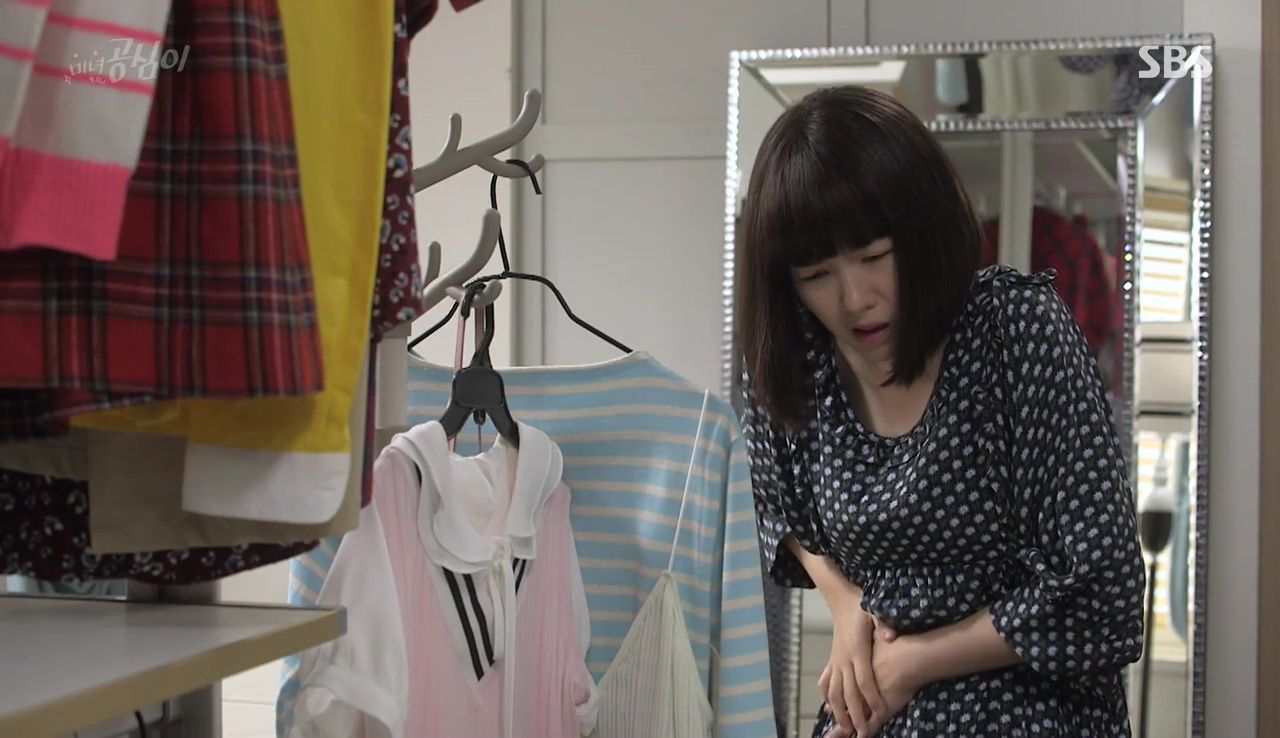 At the airport the next morning, Jun-su's disappointed to hear the DNA results won't be ready for a while. Meanwhile, Gong Shim's hard at work, making rolls and rolls of kimbap for the amusement park trip. A sudden pain in her stomach causes her to grimace, but she ignores it and finally decides on an outfit: a bright turquoise striped tee under a white dress.
Dan-tae goes through a couple outfits before deciding on… a tee identical to Gong Shim's, heh. He meets Gong Shim outside, and they're shocked by their matching shirts. They both volunteer to change into something different so they're not mistaken as a couple, but as they're going back and forth, Dan-tae notices Gong Shim looking rather unwell. He suggests rescheduling so she can rest, but Gong Shim insists she's fine and chalks it up to lack of sleep from mosquitoes.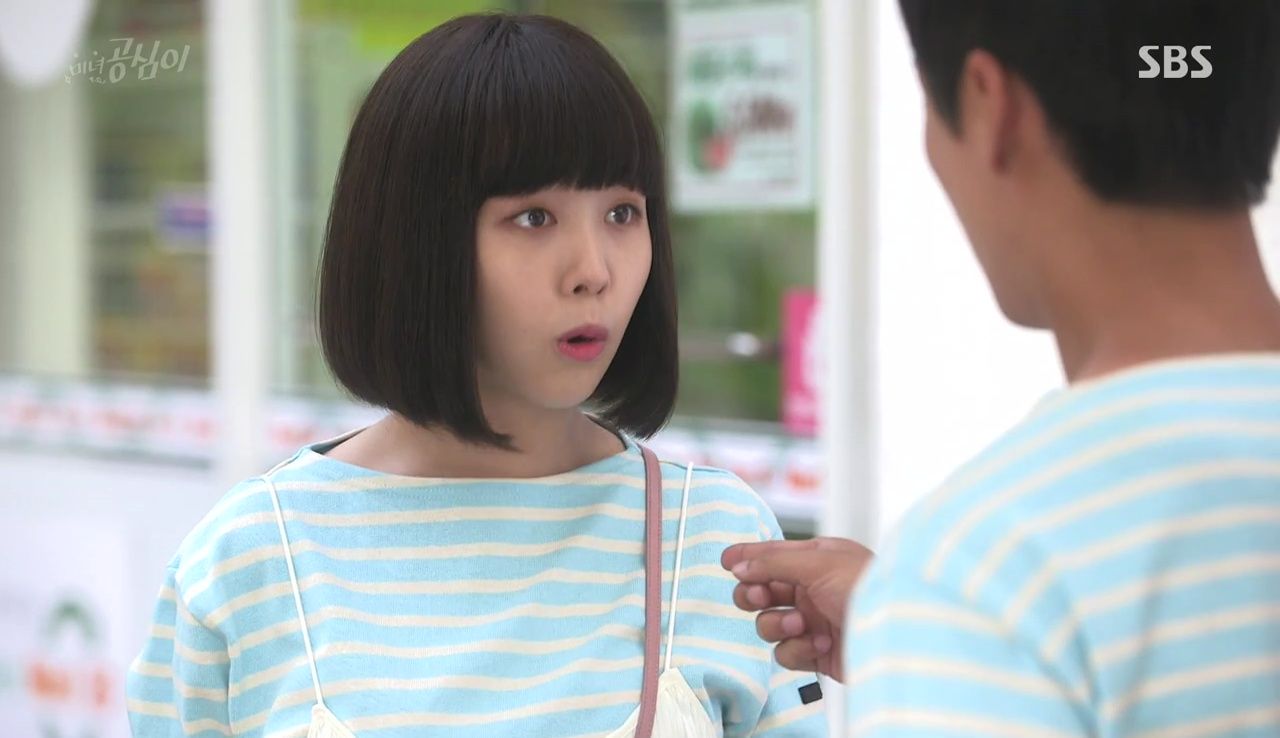 Meanwhile, Gong Mi and her mother are on a shopping date. While her mother is trying on a dress, Jun-su's mother enters the same store, causing Gong Mi to panic.
Gong-mi's mother overhears their conversation from the dressing room, and finds herself in a bind. Jun-su's mother exclaims that she'd always wanted to meet Gong Mi's mother, but little does she know, they've already met and… wrestled. Gong Mi's mother lingers in the dressing room for as long as she's able before bursting out of there, holding a dress in front of her face to stay hidden. Gong Mi's mortified by her mother's odd exit, and excuses herself to follow her.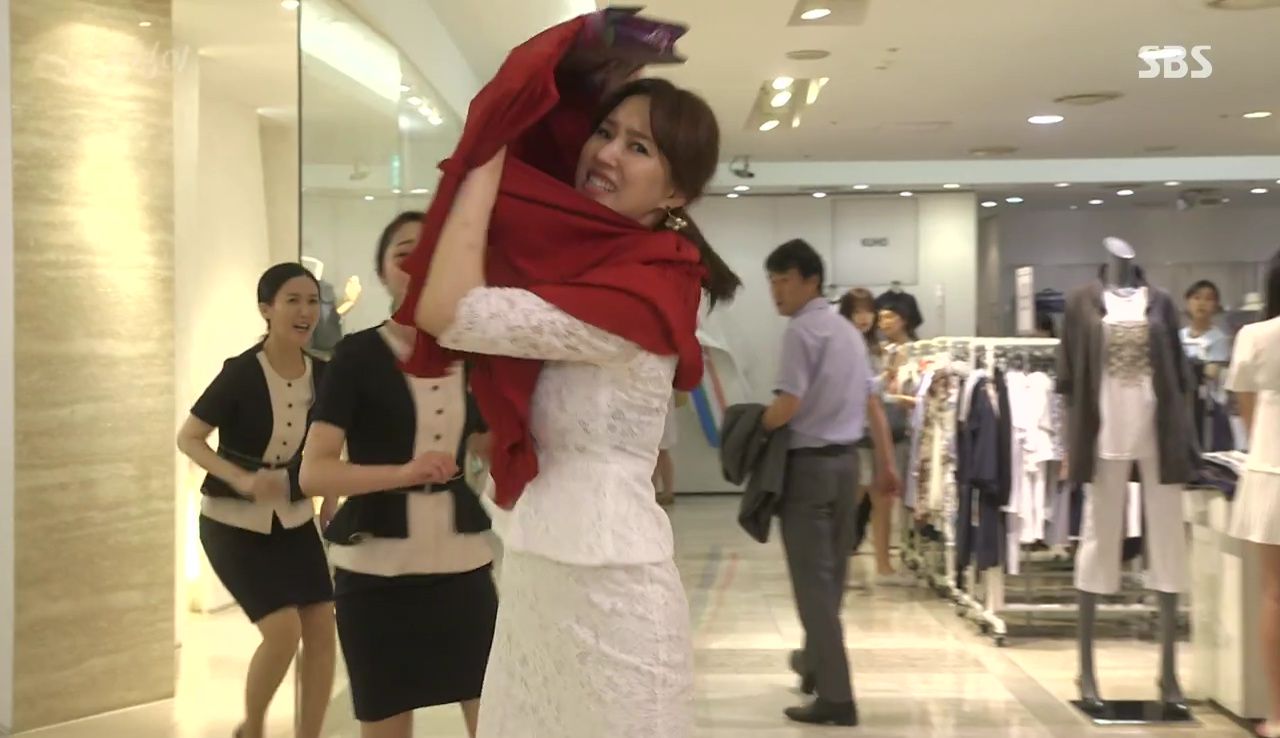 Gong Mi's mother flees to the bathroom and expresses relief to have escaped without getting caught by Jun-su's mother. She's going on about how her first instinct was to run, when Gong Mi's face falls. Jun-su's mother arrives, and of course, she heard everything.
She puts two and two together and deduces that Gong Mi and Gong Shim are sisters. Gong Mi's mother tries to explain, but Jun-su's mother is not having any of it. She wants to speak to Gong Mi alone.
Gong Mi looks petrified as Jun-su's mother accuses her of toying with her family. She asks Gong Mi whether she knew her son was the Star Group heir when she met him for the first time. Gong Mi's hesitation confirms her suspicions: There's no way Gong Mi didn't know, since Gong Shim was working as secretary at Star Group at the time.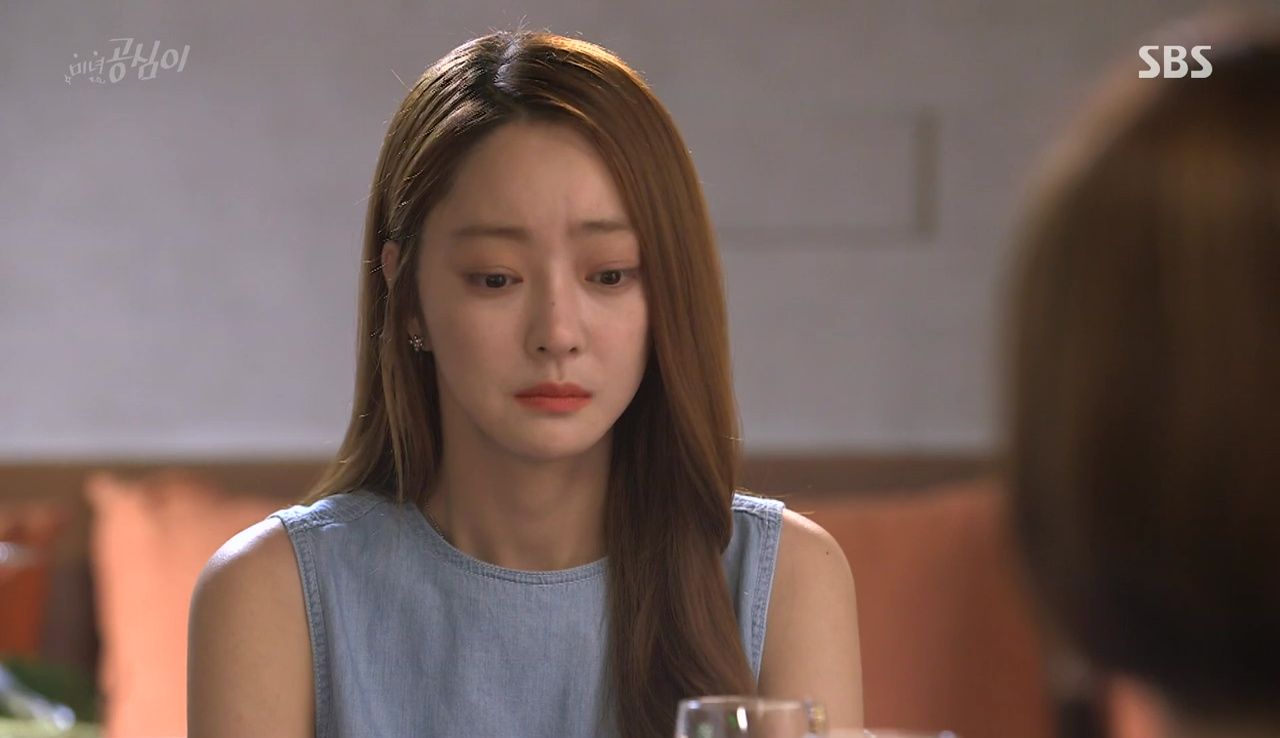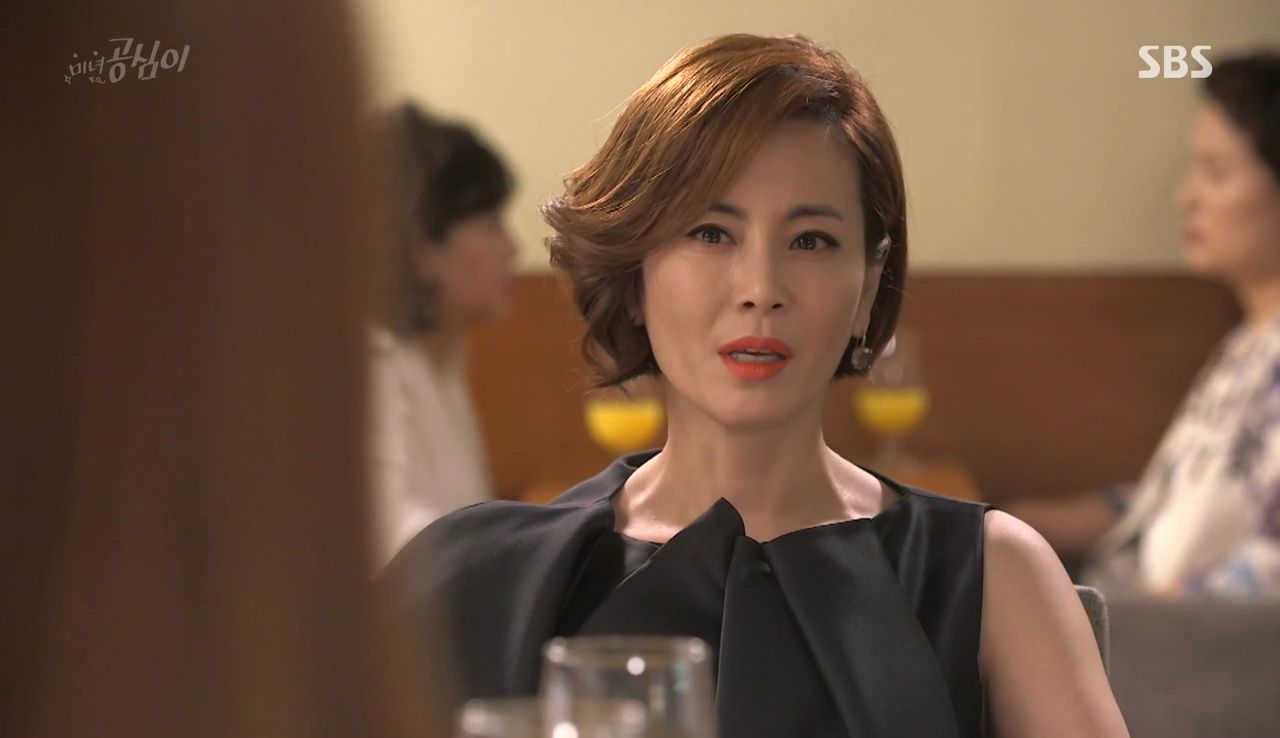 Gong Mi's only able to sputter an apology. She tries to defend herself by saying that she kept Jun-su's status a secret because she thought that was what he wanted, but Jun-su's mother refuses to believe anything coming out of her mouth. She criticizes Gong Mi for taking after her mother and deceiving her all this time.
Gong Mi cries in her room, utterly humiliated. Her mother apologizes, but Gong Mi interjects and says the whole thing is Gong Shim's fault. Welp, looks like Gong Meanie's back. She says if Gong Shim hadn't "acted strangely" and gotten herself fired, then Mother wouldn't have fought with Jun-su's mother. Psh. She unleashes her fury by hurling books across her room.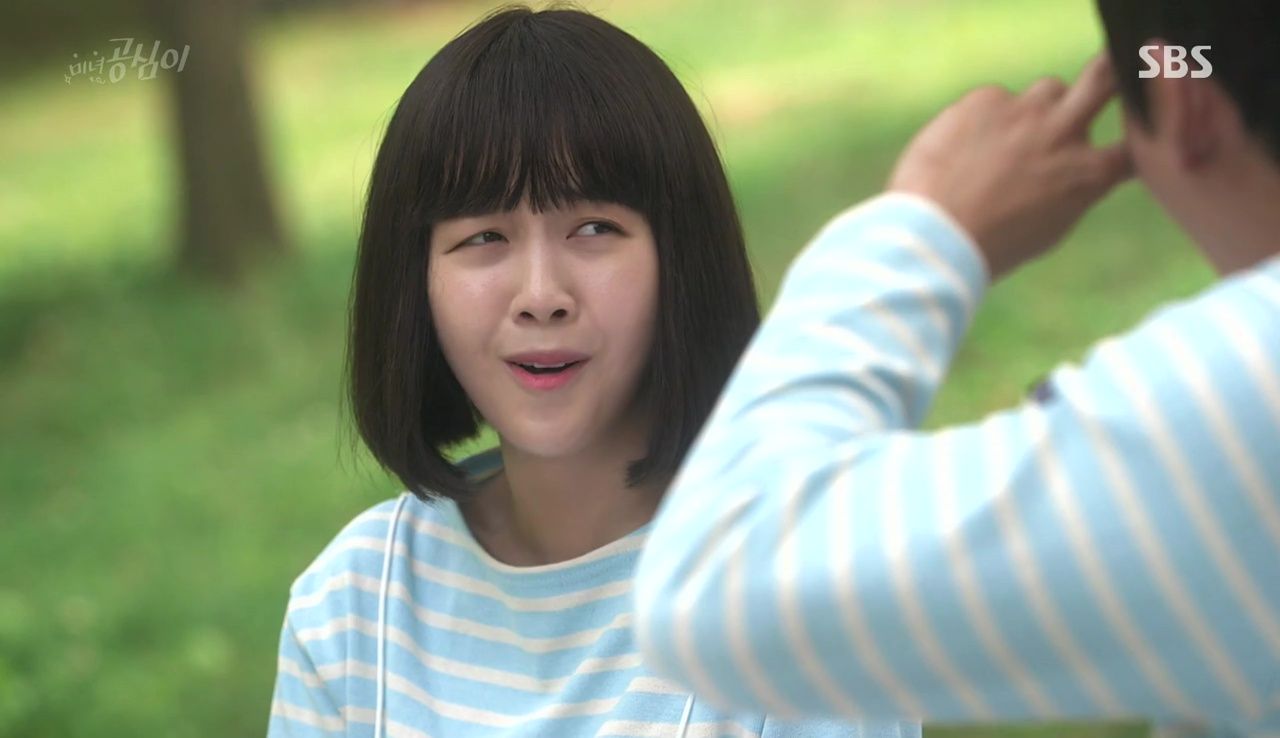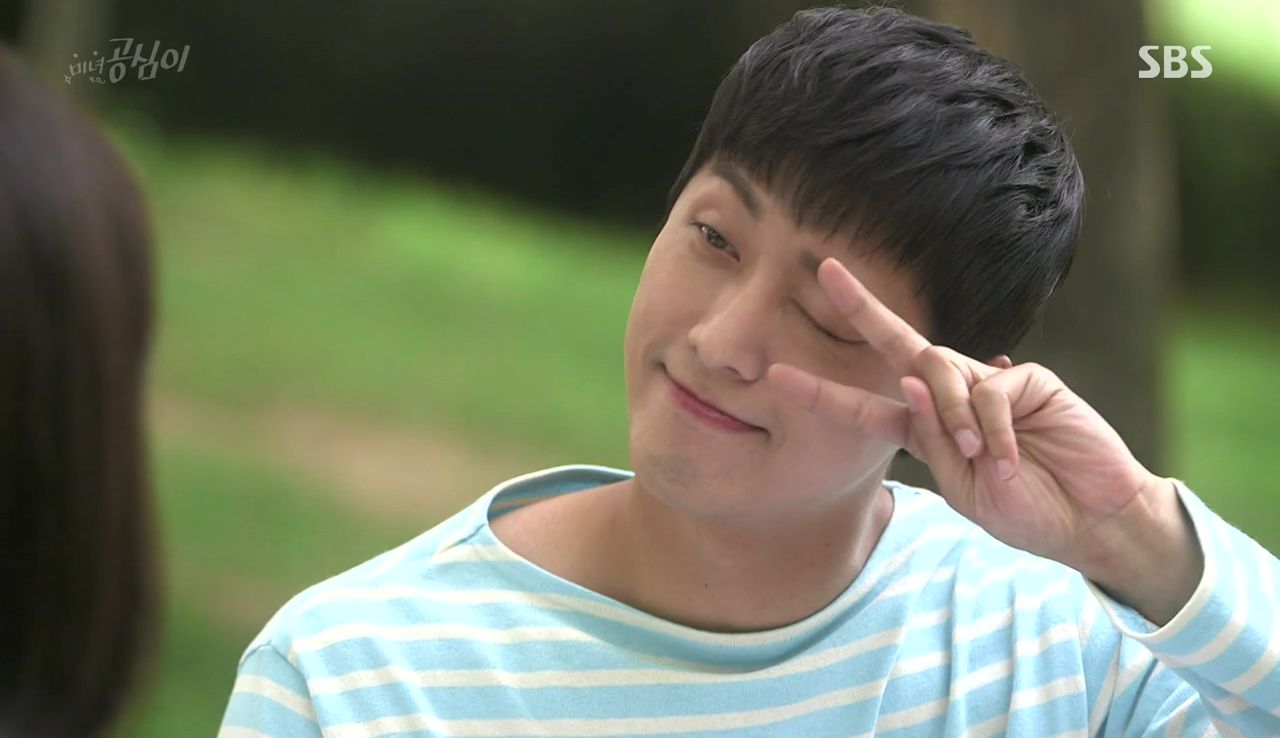 Things are less stormy with Dan-tae and Gong Shim, who are having a peaceful picnic. Dan-tae's so impressed by all the delicious food she packed. He's about to dig into the kimbap, but is disappointed to find that there's egg in it. He's peeved that she forget about his allergy already, but she opens another container, revealing more kimbap sans egg!
He's touched by her gesture and gazes at her intently, but Gong Shim turns away, stating that this look is the reason why she calls him cheesy. He proceeds to amuse her with varying "cute" expressions. Dan-tae's the only one devouring the food, however, and he notices Gong Shim breaking into a cold sweat. She attributes it to her wig — "like wearing a furry hat in the summer" — and assures him that she's fine.
But as the two pedal along on an amusement ride, Gong Shim clutches at her side and winces in pain. Suddenly, she loses consciousness and falls limply against Dan-tae. He shrieks and quickly carries her off the ride, frantically shouting her name to keep her conscious.
At the hospital, Gong Shim is wheeled to a room, and Dan-tae's there with her, reassuring her that everything will be okay and he won't be going anywhere. The doctor informs Dan-tae that her appendix has burst, so she'll need surgery ASAP. Post-surgery, Gong Shim's disappointed by Dan-tae's tardiness in tending to her, and is disheartened to hear that she's not allowed to eat or drink until she passes gas.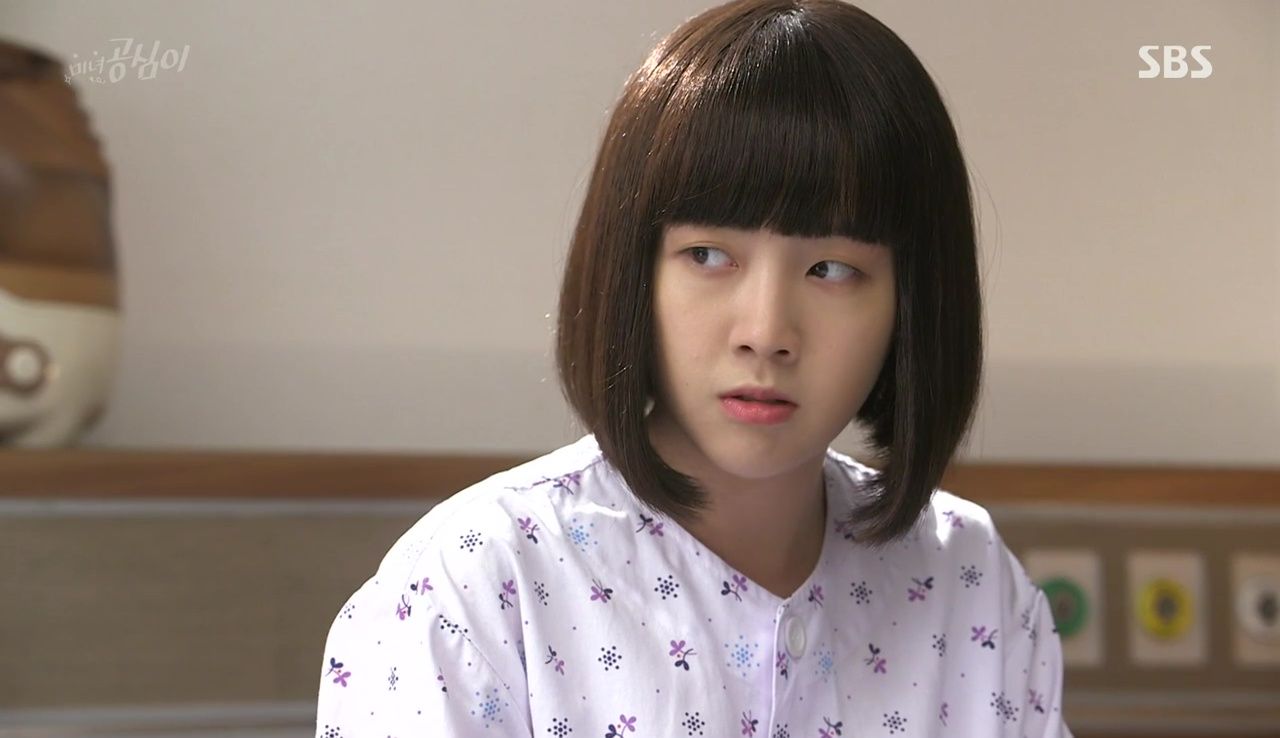 She urges Dan-tae to grab a bite, but he decides to fast with her, which makes her smile. He's scolding her for staying quiet about her pain when he receives a call from someone saved to his contacts as "Star Goddess." Dan-tae leaves to take the call and Gong Shim immediately becomes jealous, assuming Star Goddess is a female Star Group employee he's smitten with.
Star Goddess turns out to be Dan-tae's grandmother, heh, who called to see why he wasn't picking up his phone. He updates her on "the girl he likes," and she advises him to take good care of her. Dan-tae returns to Gong Shim's room, and offers to help her with whatever she needs, but there's only one thing she wants: answers. She asks if Star Goddess is a company employee, and Dan-tae replies that she is, but doesn't say more.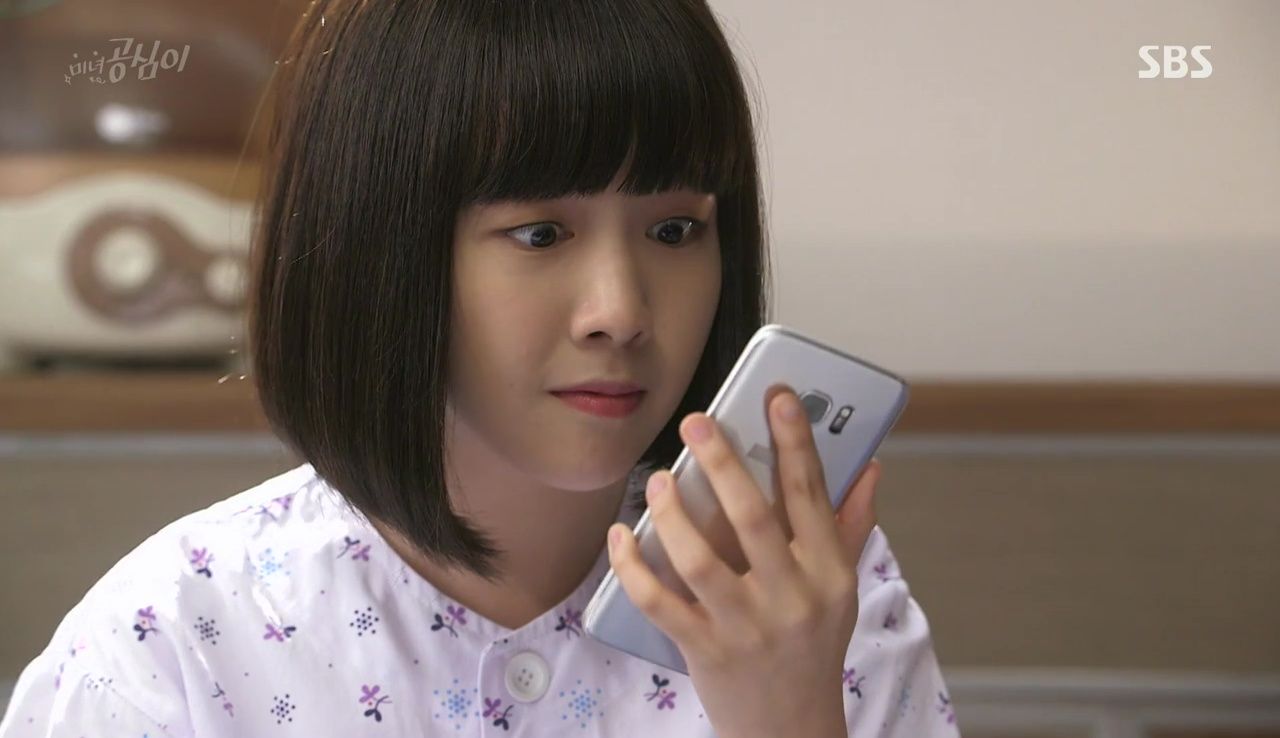 While he's out to grab some essentials, Dan-tae's phone rings again, and Gong Shim notices it's another call from Star Goddess. She answers it by declaring that she's Dan-tae's girlfriend, but Grandmother merely smiles on the other end and remarks that she'll be hanging up. The elderly voice confuses Gong Shim, but eases her jealousy.
Dan-tae returns and encourages her to remove her wig so she can rest comfortably, but Gong Shim doesn't want her bald spot and unwashed hair to be exposed. He ignores her protests and decides to wash her hair with shampoo that doesn't require water. He massages and lathers her hair, and even applies ointment to the bald spot, wishing for it to heal soon so Gong Shim can be free of the wig.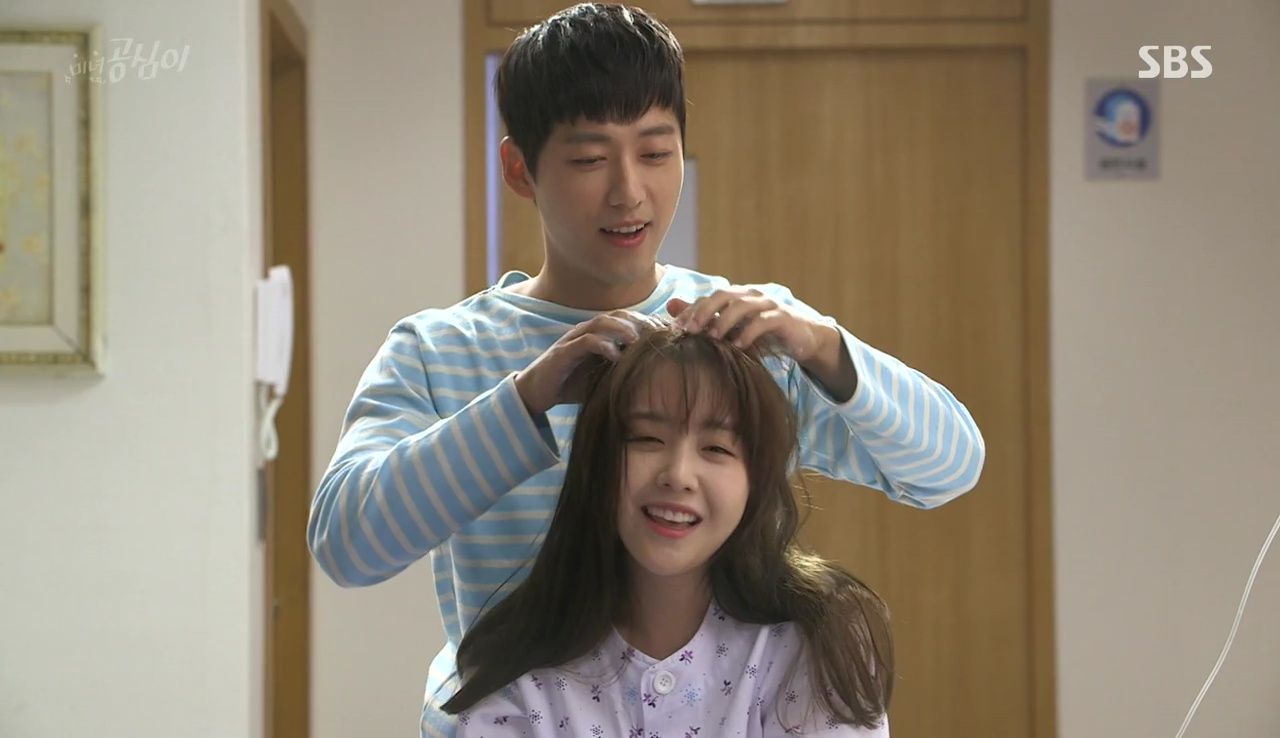 Then, he sweetly tucks her into bed. Dan-tae spends the night in the hospital room, sleeping on the floor next to her bed. Gong Shim beams at him and lovingly pokes his cheek. The next morning, Dan-tae dresses for work and Gong Shim happily adjusts his necktie. She hasn't passed gas yet so she's stuck at the hospital until then and laments the fact that once she does, she'll have to leave, which is the last thing she wants since the Dan-tae treatment has been swell.
Uncle runs into Dan-tae in the bathroom, and is feeling significantly more uneasy with his presence, since it's likely that he's Jun-pyo. He recalls that 26 years ago he'd convinced young Jun-pyo to hand over his identifying necklace by swapping it with his military ring. He realizes that if Dan-tae still has the ring, all the blame will fall on him.
Meanwhile, Dan-tae heads to the custodians' quarters, where he's stored a bag. He opens his wooden chest containing various paraphernalia from when he was kidnapped, which includes Uncle's military ring, and now gives it a closer look.
A colleague gives Uncle the number for Dan-tae's aunt, and he's able to identify her at the hospital where Dan-tae's father is. He assigns a guy to spy on her and report back any updates.
Jun-su's father is surprised to hear from his wife that Gong Mi and Gong Shim are sisters since they don't look alike, but his wife explains that he's missing the point: Gong Mi hid that fact from them.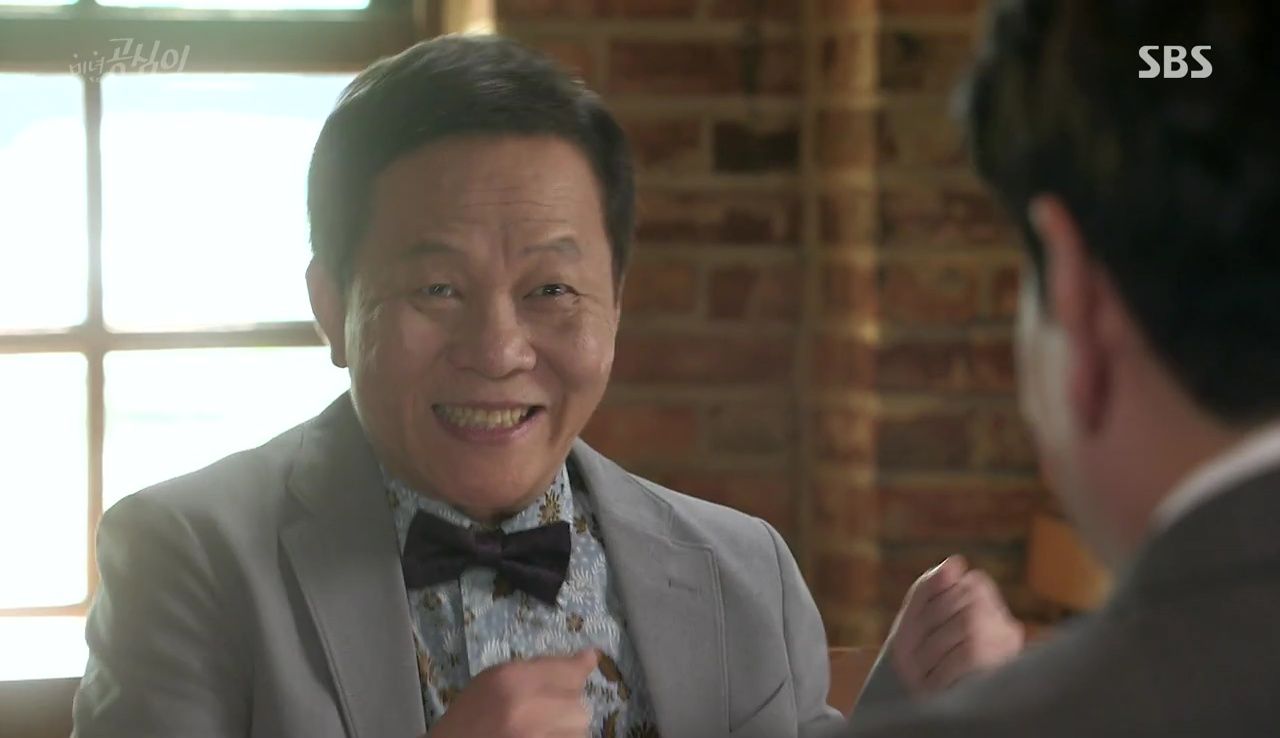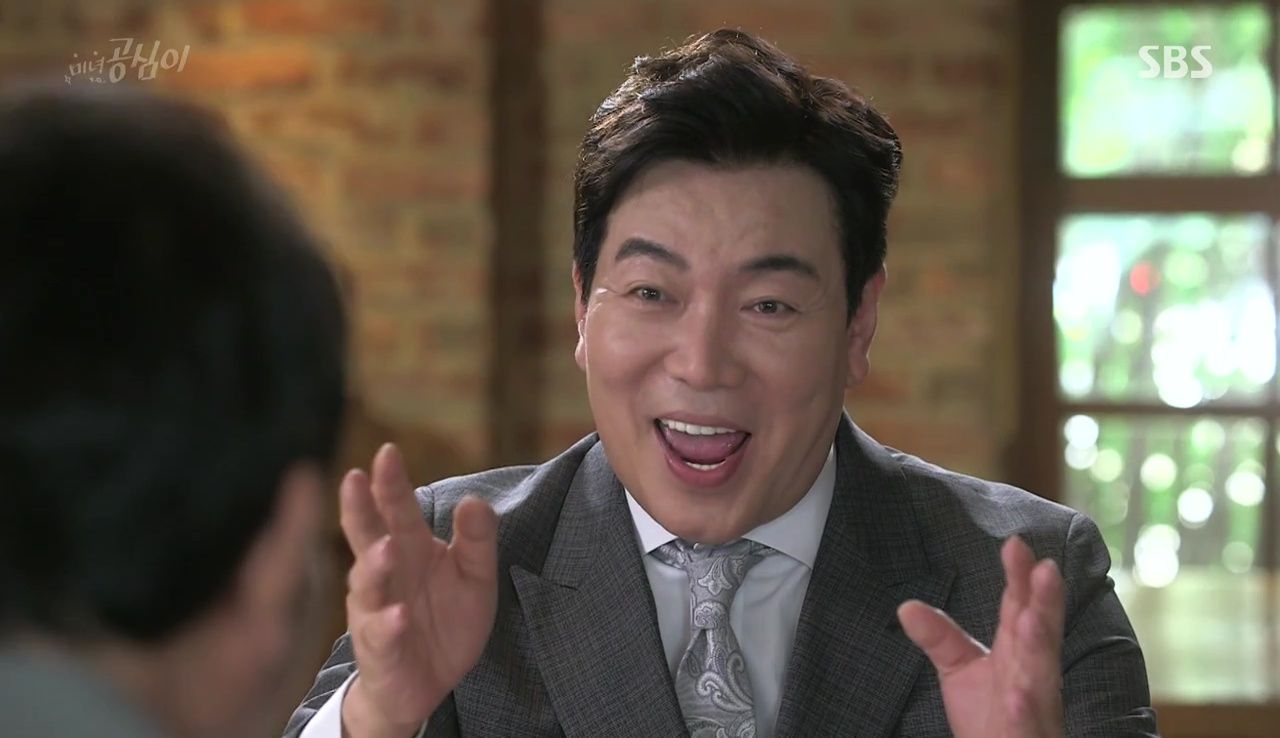 He's alarmed to hear that his wife was beat up by Jae-boon/Gong Mi's mother in front of all her beauty pageant friends. Meanwhile, Jae-boon tries to call Jun-su's mother, but her calls go ignored. Her husband doesn't like the way she's being treated and asks her to hand over the phone so he can give them a piece of his mind, but Jun-su's father picks up and he falters, ha.
Jun-su's father and Gong Mi's father meet at a cafe and duke it out with words. The former threatens to sue for hurting his wife, and the latter threatens to protest his daughter's unfair dismissal. But their enmity disappears as soon as an old summer tune transports them back to their golden days of youth, when they were at the concert of their favorite chanteuse. Turns out both of them were early members of her fan club, and they bond over their mutual taste in music.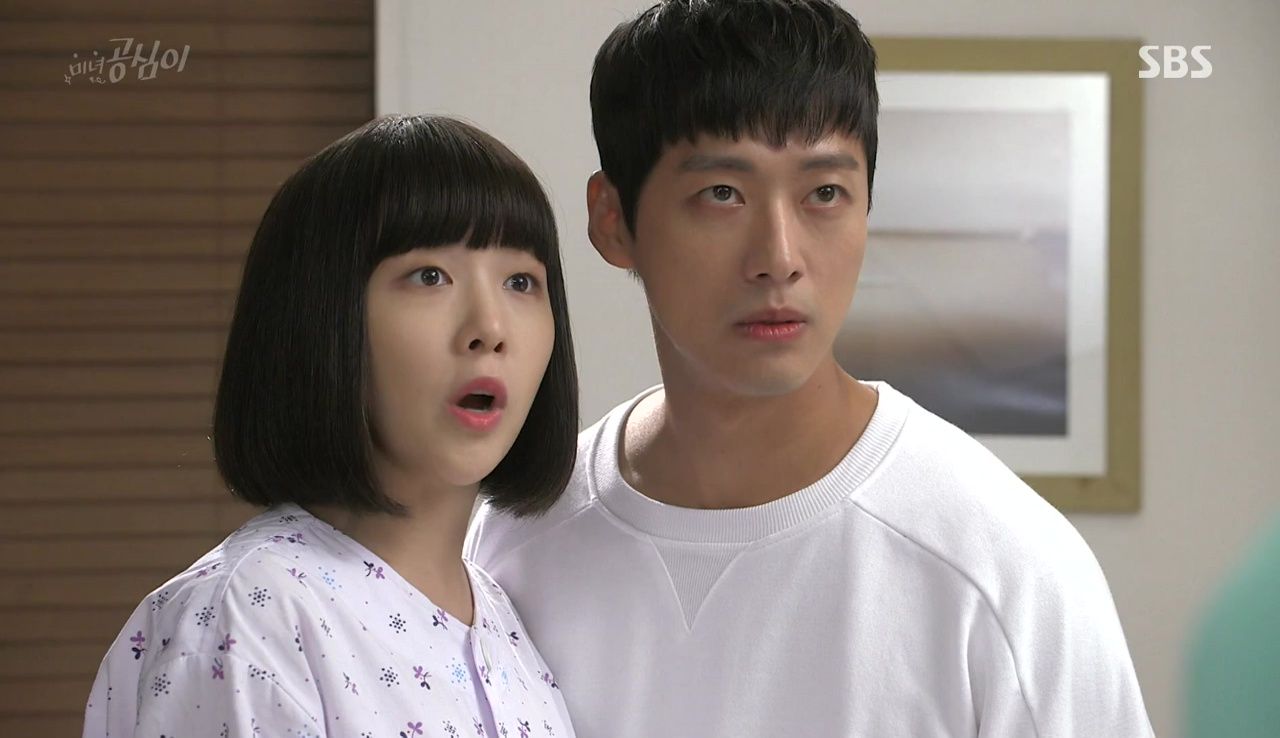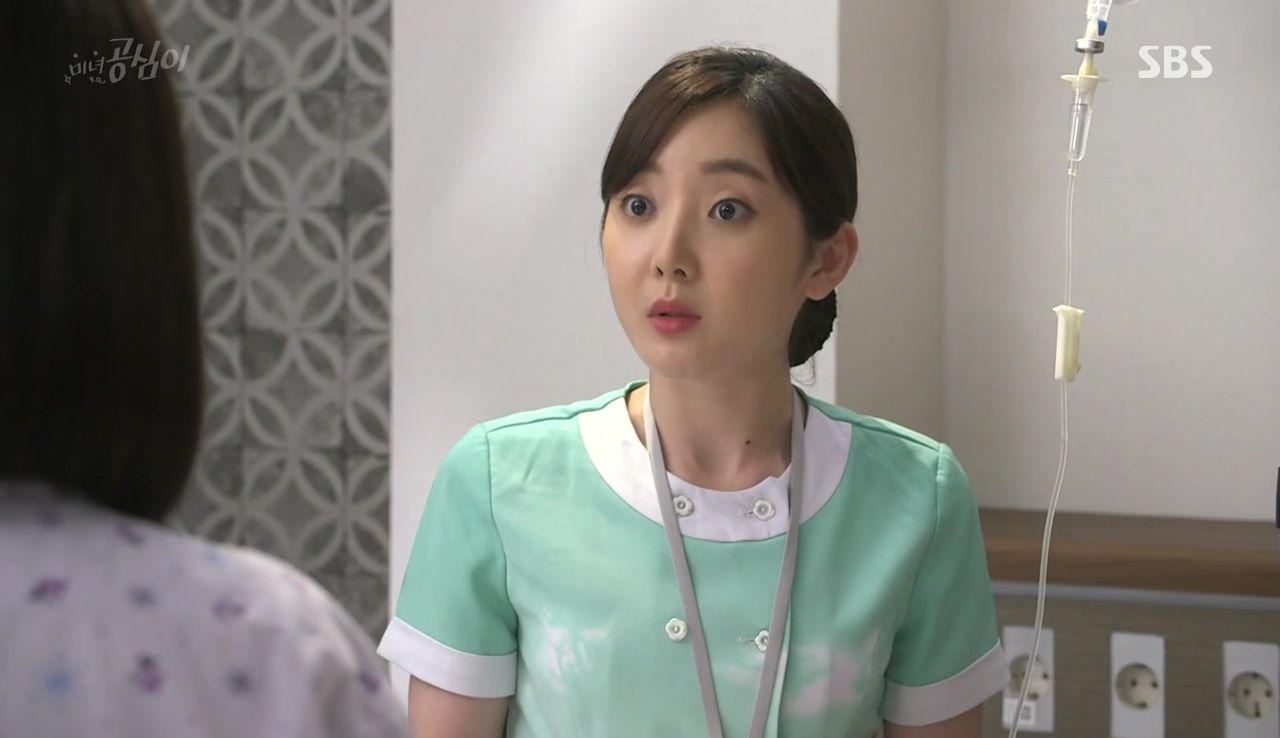 And then they both report to their wives that they settled the matter and made the other man repent… which didn't actually happen, heh.
Dan-tae pays Gong Shim another visit at the hospital, and Gong Shim excitedly stands up to greet him, but in doing so, the sound of flatulence escapes, haha. They both heard it, but Gong Shim says her slippers must've squeaked and Dan-tae plays along, adding that he heard nothing.
They both lie to the nurse that Gong Shim hasn't passed gas yet so they can stay an extra night at the hospital and decide to take a walk outside for some fresh air. Dan-tae says that he enjoys Gong Shim's company and blames himself for her ailment because she overexerted herself because of him, and became ill because he failed to make her feel comfortable.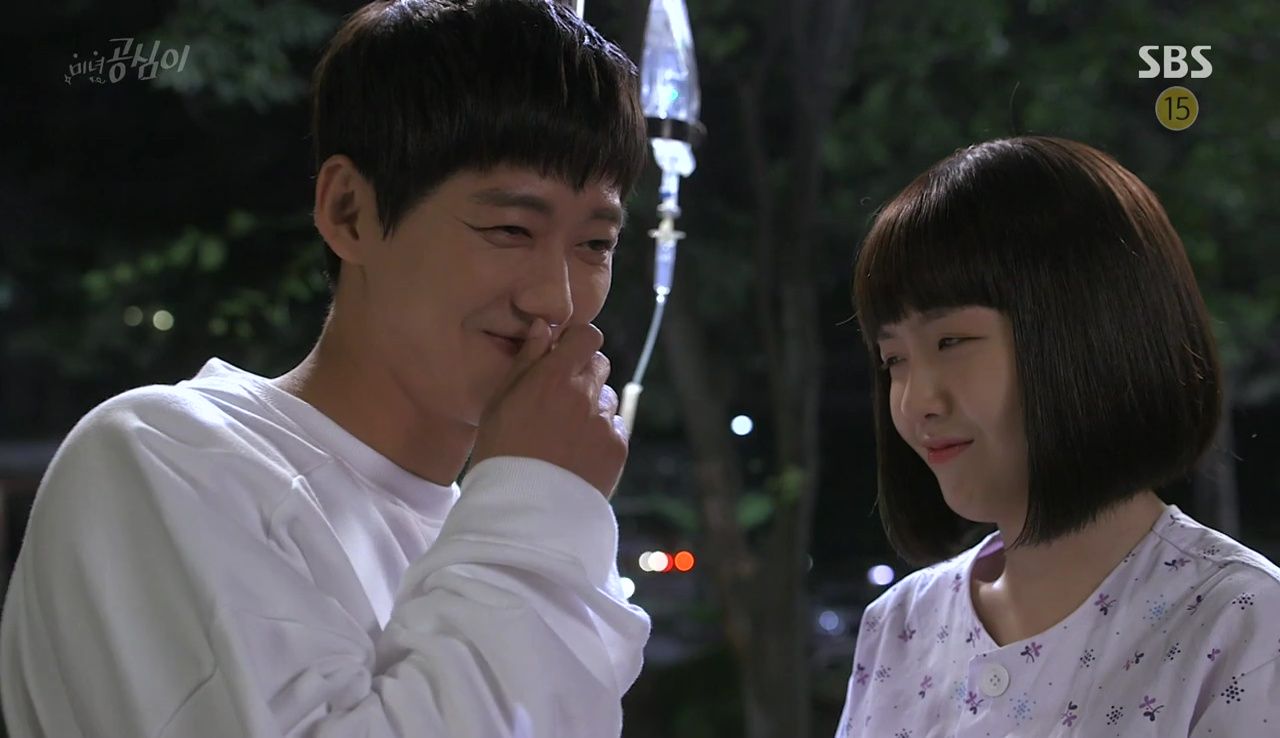 He inches closer and solemnly states that he has a confession to make. Gong Shim gulps and stares at his lips as he confesses… that he actually heard her fart earlier, hahahaaa. Then, she farts again and his hand flies to his nostrils. There's no denying the gas this time around! Her stomach growls, and now that she's able to eat, they decide to get some PPL sandwiches.
Back in the hospital room, Dan-tae shows her the picture that was taken while they were on the amusement ride. It captured Dan-tae shouting at the top of his lungs, clutching frail Gong Shim with her eyes rolled back a la The Exorcist.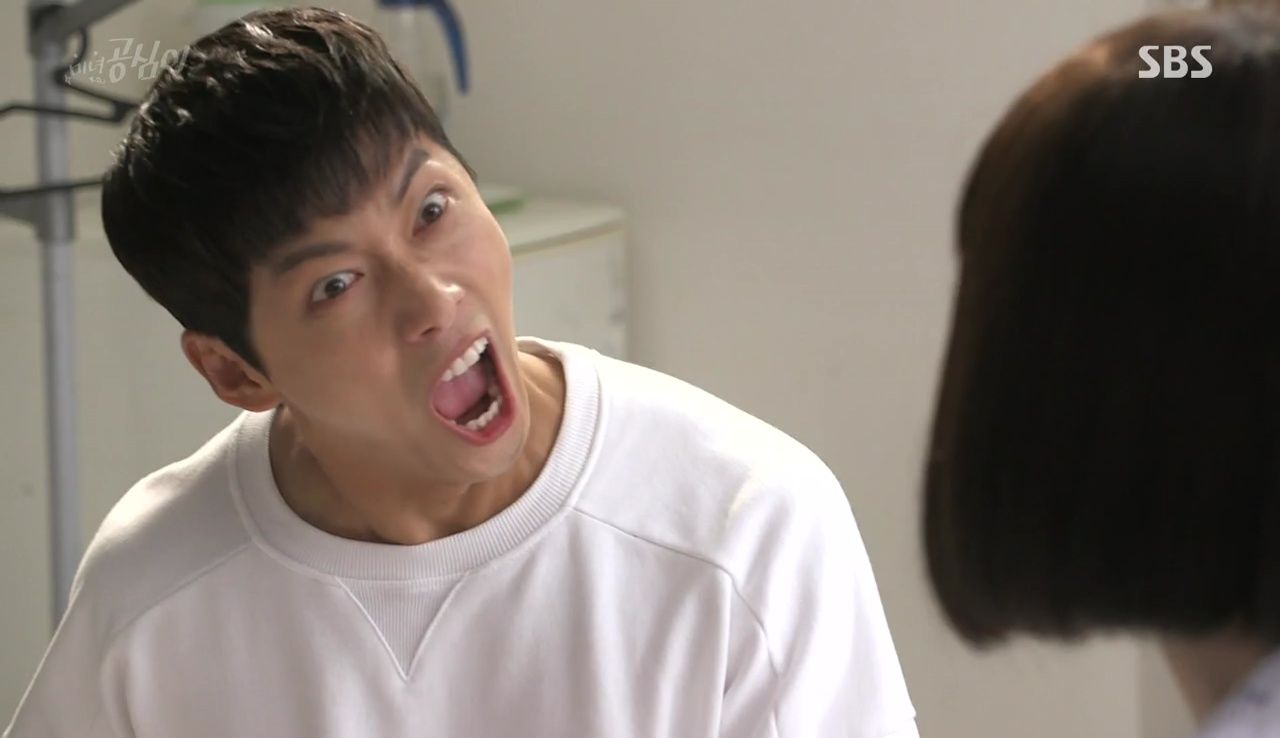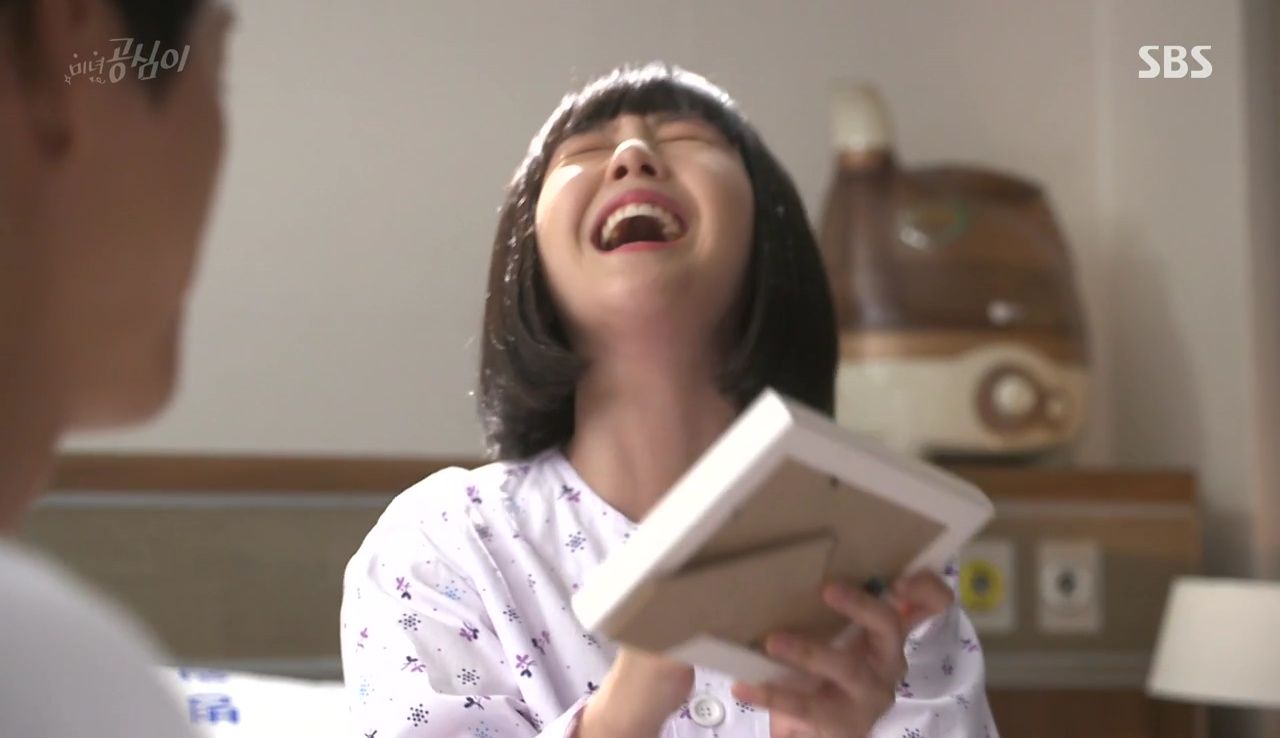 Dan-tae thinks she looks hilarious with the whites of her eyes showing, but she finds his panicked face even funnier. She asks if he was that concerned for her, and he says he was worried, just a smidge. Mhmm sure. He reenacts the face for her, and she breaks into a giggle fit.
The next morning, the two finally leave the hospital together, and Dan-tae regrets that they couldn't stay longer because she passed gas so soon.
Jun-su's back from his business trip and learns that the DNA results are just about ready. He calls for a Seok family meeting and gathers them in the living room, while they wait and wonder what the deal is. Uncle's looking particularly apprehensive.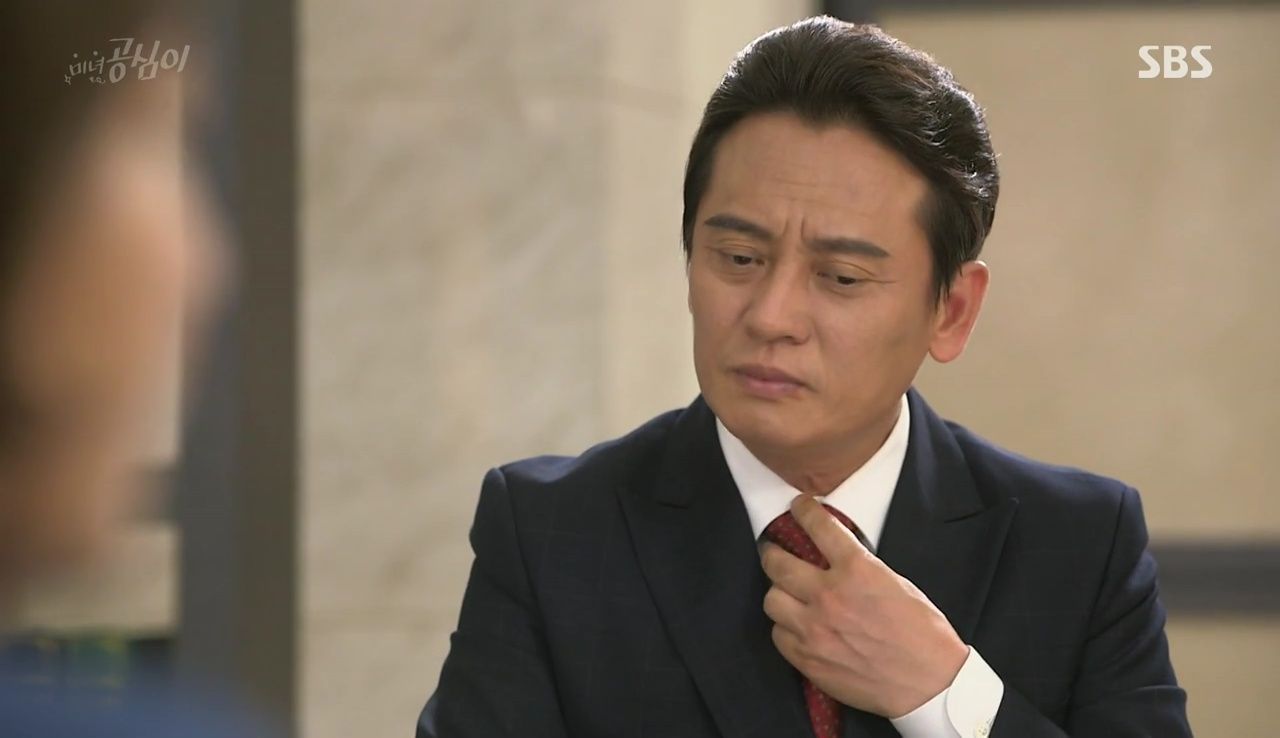 On his way home, Jun-su calls Dan-tae, letting him know that he's back and available to meet, as promised. They decide to meet tonight at Jun-su's home.
Jun-su arrives at home and informs his family that he'll be making an announcement shortly. He finally receives the DNA results and looks through them with disconcerted eyes. Meanwhile, Dan-tae holds up his missing child poster and resolves to tell Jun-su everything when they meet tonight.
Dan-tae: "I'll tell him that I'm Jun-pyo and that his mother is the suspect. That'll bring an end to everything. Jun-su won't have to commit crimes for his mother. I think that will be the best way."
He turns away, looking determined.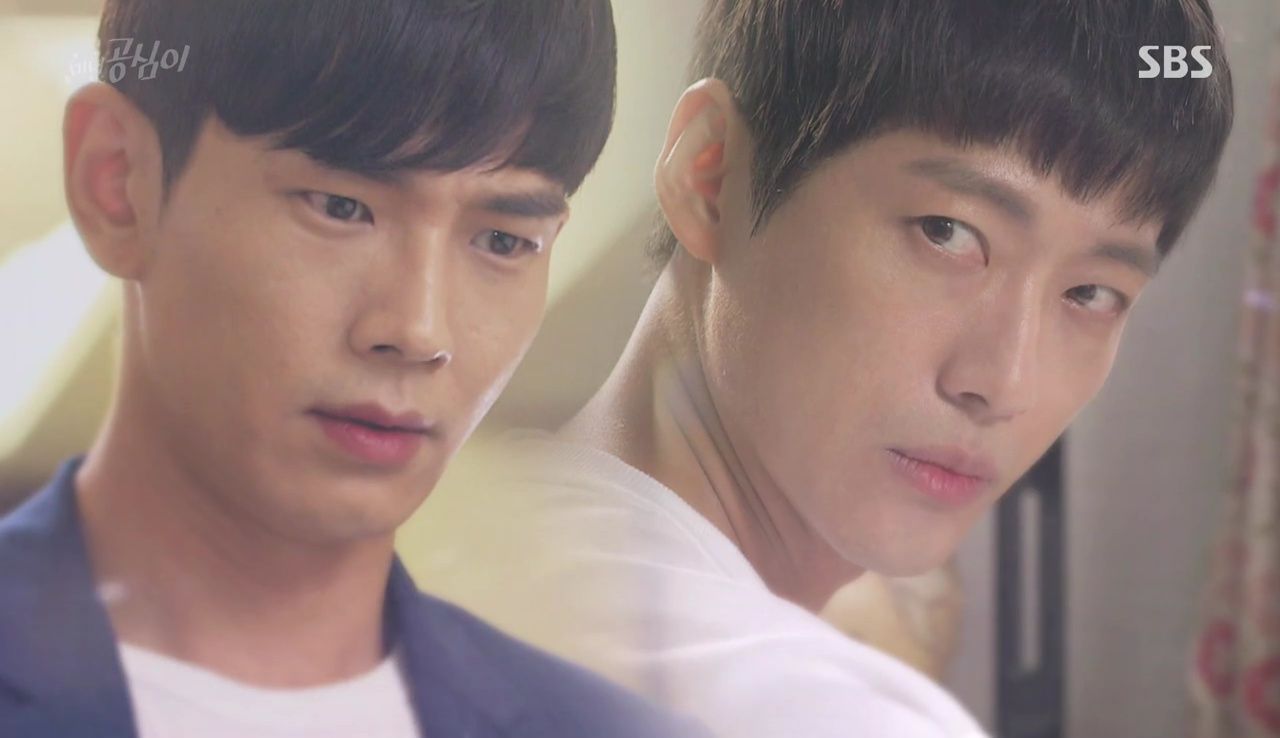 COMMENTS
A date, late night ER bonding sessions, and farts galore! This was another fun episode that delivered on the cute and humorous front, while also bringing Dan-tae and Gong Shim closer together. It was about time Dan-tae took Gong Shim up on her offer, instead of rebuffing and giving her another excuse to avoid hanging out with her. For once, he's allowing himself to enjoy her company, live a little, and laugh a lot! And lucky for him, Gong Shim's making it real easy for him. She's an amazing cook, she's giving, and she's thoughtful. Oh, and let's not forget the fact that she passed gas in front of him. That pretty much seals the deal, right? Passing gas in front of your crush/significant other is the key to a great relationship. Isn't that how it goes? Gong Shim may have been embarrassed by her flatulence, but the fact that they can laugh about it together? That smells like true love.
I feel like Jun-su's three-day business trip served no purpose except to prolong the birth secret reveal and allow for some playtime for Dan-tae and Gong Shim, which is… fine, but I feel like there could've been more for Jun-su to do than to just pop in at the beginning and the very end; he was very underutilized. Maybe there just isn't much left to mine for in the birth secret storyline, and this was one way to save the crux for later episodes. I do like Jun-su as a character, and the glimpses of his darker side and tormented soul were always an interesting watch because he hasn't veered into villainous territory yet. I hope he never does, but we shall see.
Gong Mi was perched on the back-burner for quite some time until this episode wherein the "worst" possible thing that could happen to her actually happened, and naturally, she blamed Gong Shim for it. Typical Gong Meanie behavior. While I'm glad the silly-secret-that-didn't-need-to-be-a-secret is out, I definitely disagreed with the way Jun-su's mother ascribed Gong Mi's deceit to a trait she inherited from her mother. She's always relied on the Us vs. Them mentality to make a point that she/her family is superior in every way (i.e. why Jun-su shouldn't associate with Gong Shim), and that the Gong family is the inherent problem. Bottom line: Jun-su's mother is an elitist snob, and Gong Mi deserved the karma — but not the "you people" criticism — and still has a very long way to go.
Butterfly Tattoo Uncle's ring detail didn't strike me as very significant initially, but now that I think about it, the ring is a very important puzzle piece. As of now, the only person Dan-tae suspects is Jun-su's mother because he witnessed her at the arboretum. But the ring, which is in his possession, directly links Uncle to the kidnapping. Uncle's fears about getting blamed for all of it because of that one ring are actually valid. Once Dan-tae deduces that the ring belongs to him, it's over.
Now that we're approaching the end of this series, I'm looking forward to the birth secret fallout. The birth secret was always less interesting than the Dan-tae/Gong Shim antics, but because it's tied to the plot, I'm ready for some more developments, however predictable they may be. I'm still waiting for Gong Shim to be Dan-tae's sidekick and help him solve his kidnapping mystery, and I'm hoping that Gong Shim's strong vulnerability will compel Dan-tae to open up to her as well. And if passing gas in front of the person you care about is the best way to expedite the relationship, then by all means!

RELATED POSTS
Tags: Beautiful Gong Shim, Episode 15, featured, Minah, Namgoong Min, Ohn Joo-wan