Beautiful Gong Shim: Episode 16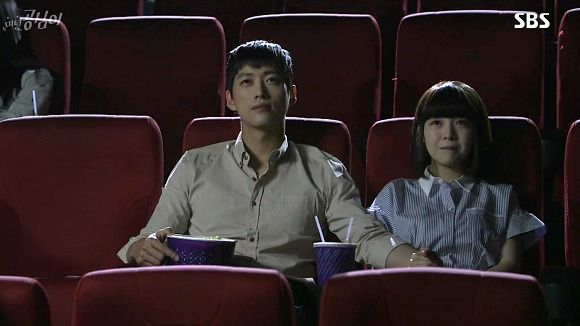 As Dan-tae grows closer to Gong Shim, he and Jun-su pull further and further apart. When trust is already thin, the slightest misunderstanding can snowball into something unforgivable. Jun-su is trying so hard to protect everyone, but it might be too late before he realizes that he also needs protection.
Blood may be thicker than water, but you can still drown in either one.

EPISODE 16 RECAP
Jun-su and Dan-tae agree to meet later that day to talk, each planning to unveil their own truth to the other. Dan-tae looks through his box of clues and thinks that today he'll reveal everything, lifting the guilt from Jun-su so he won't go down trying to protect his mother.
Interrupted from his reverie by a knock on his door, Dan-tae finds Gong Shim outside with a drink and a favor to ask. He invites her in, stashing his secret box out of the way.
Dan-tae enjoys the drink Gong Shim brought for him and thanks her in a baby voice (essentially saying, "tank you berry berry much"). The childish voice alarms Gong Shim and when he explains that he's been so serious lately and wanted to lighten the mood, she forbids him from ever using that voice again. Heh.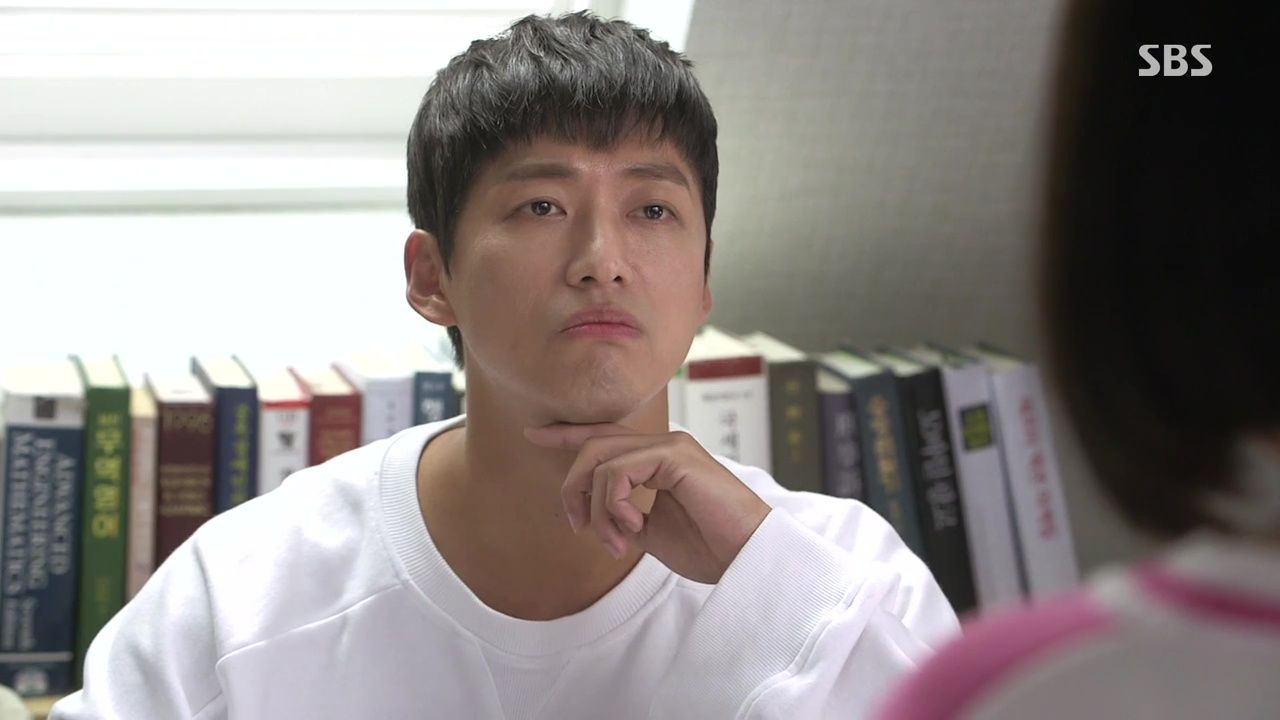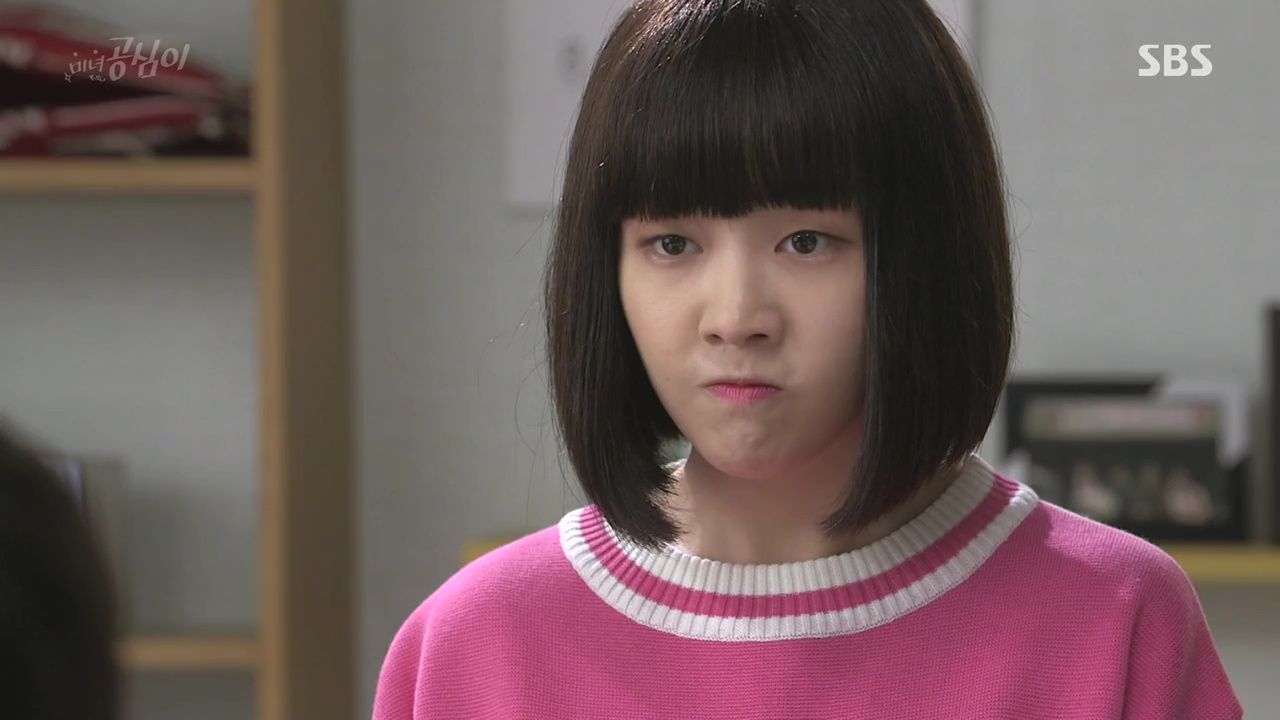 Gong Shim tells Dan-tae that she applied to a company and made it through to the interview round. She asks him to mock-interview her so she can prepare her questions. Dan-tae agrees readily, but gives her a warning that interviewers these days ask very tough questions so he'll be sure to do the same.
The interview commences and Dan-tae proceeds to knock down every one of Gong Shim's answers, picking at her lack of education and poor job experience. She tries to contain her growing fury but finally snaps and Dan-tae find himself being strangled by an irate Gong Shim.
As Dan-tae's face reaches the shade of a tomato, Gong Shim snaps out of her rage and apologizes to the shell-shocked lawyer. Dan-tae asks if he can see her later tonight and the two make plans to meet after Dan-tae's meeting with Jun-su.
In the Seok Manor, Jun-su opens the envelope from the lab and stares at the page, disbelieving that the results show no genetic match; Dan-tae is not Jun-pyo.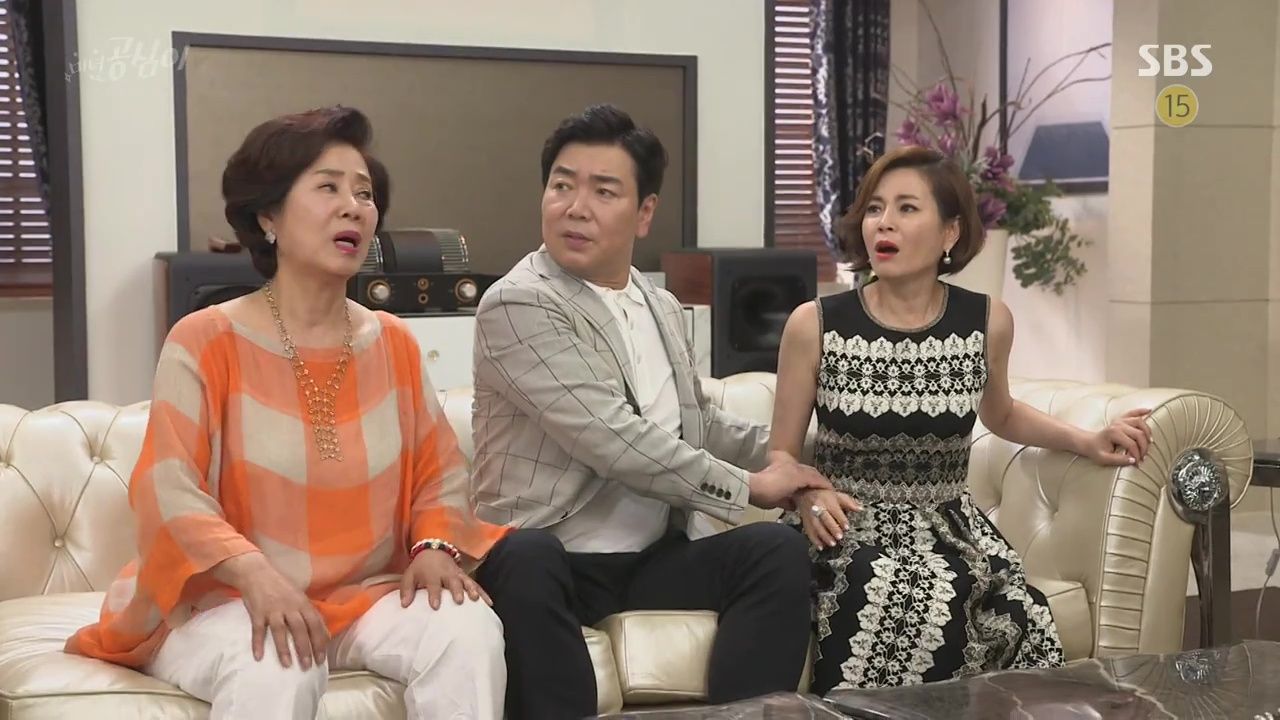 Still gathered in the main room, Jun-su's family grows curious as he remains out in the hallway. Uncle in particular is looking uncomfortable, no doubt worrying that Jun-su is about to reveal everything concerning Jun-pyo's kidnapping.
Jun-su comes back and announces to the family that he will resign later this week from his position at Star Group. He explains that he wants to succeed on his own merits and plans to start his own company.
Everyone is in shock — Jun-su's mom especially — but Jun-su proceeds up to his room where he takes out the results again, still reeling that his hunch was wrong.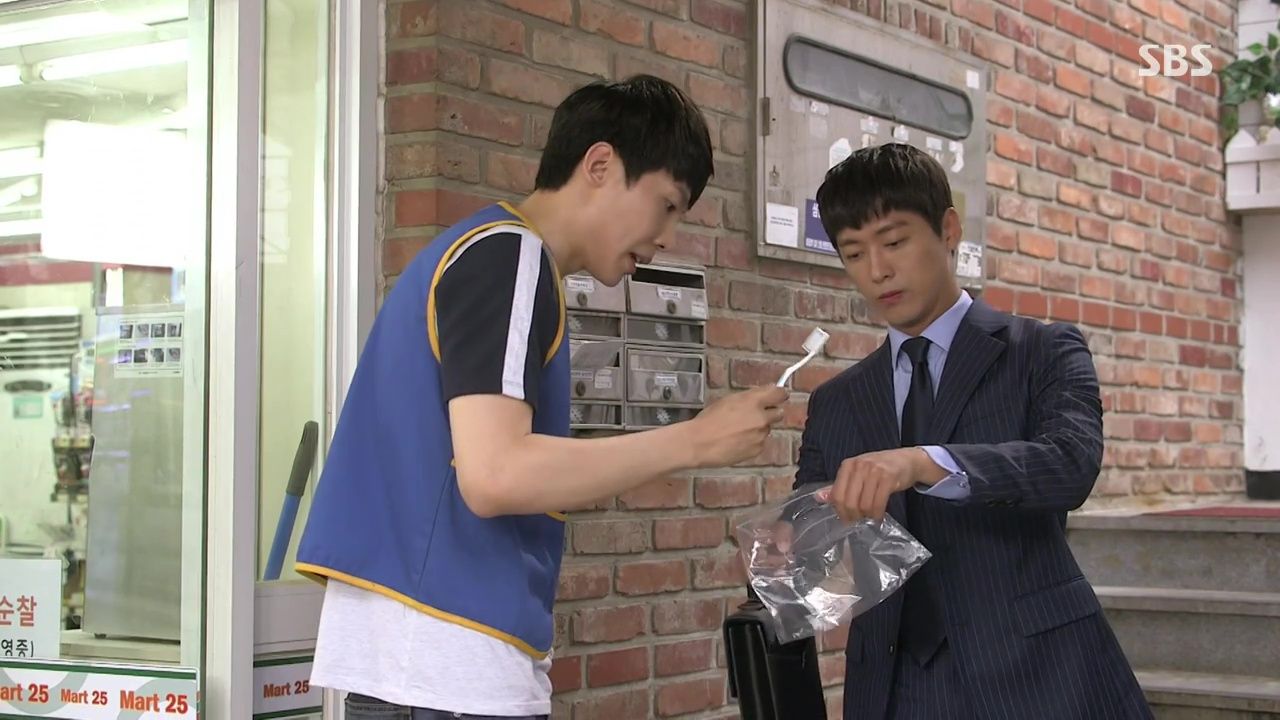 Back in the rooftop room, Dan-tae does some reflection of his own. A flashback shows us that Dan-tae had seen Jun-su's interest in his toothbrush that day in his bathroom. He'd baited him with the location of the one he kept at his desk.
Dan-tae had then switched his own brush with Gu-nam's (both were the same brand). So the toothbrush that Jun-su ran the DNA check on actually belonged to our favorite convenience store clerk. Clever, clever, Mr. Dan-tae.
Later, Jun-su overhears his mom and uncle talking about Dan-tae's father being in a coma at the hospital. Uncle reminds Jun-su's mom that she was the one who had told him 26 years ago to not bother looking for the boy. He warns her not to leave him hanging since she is a part of this too.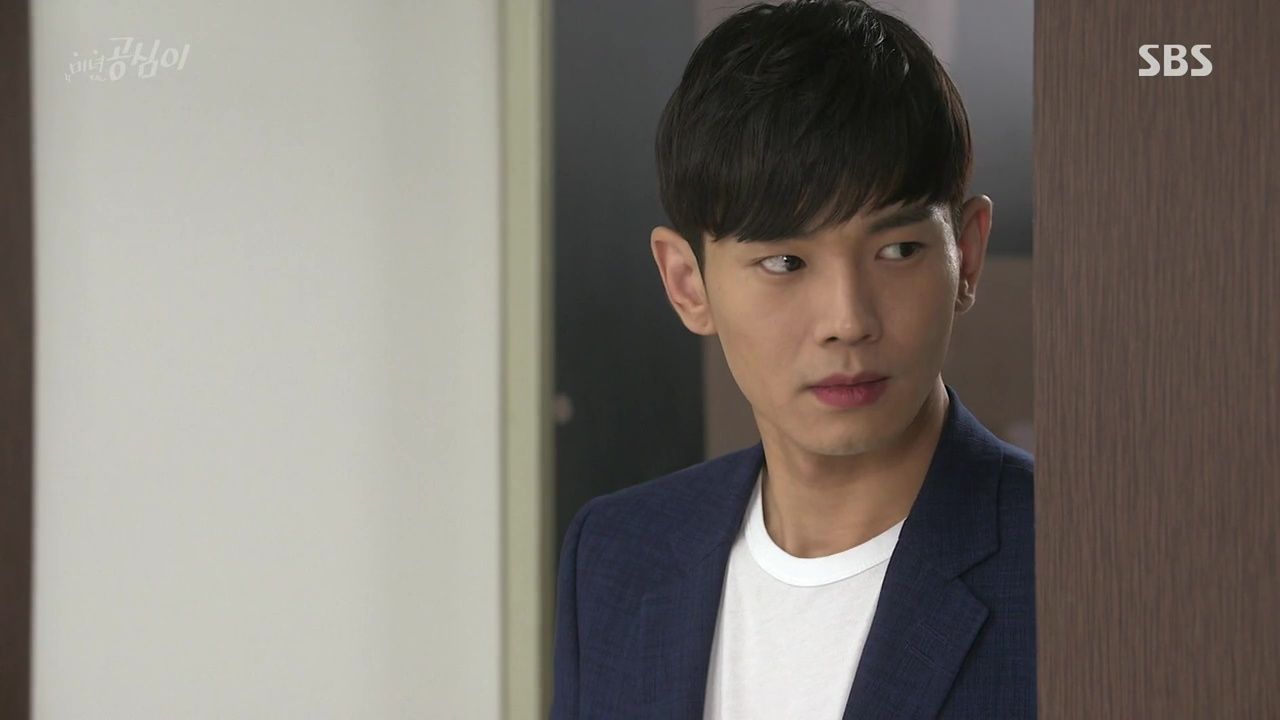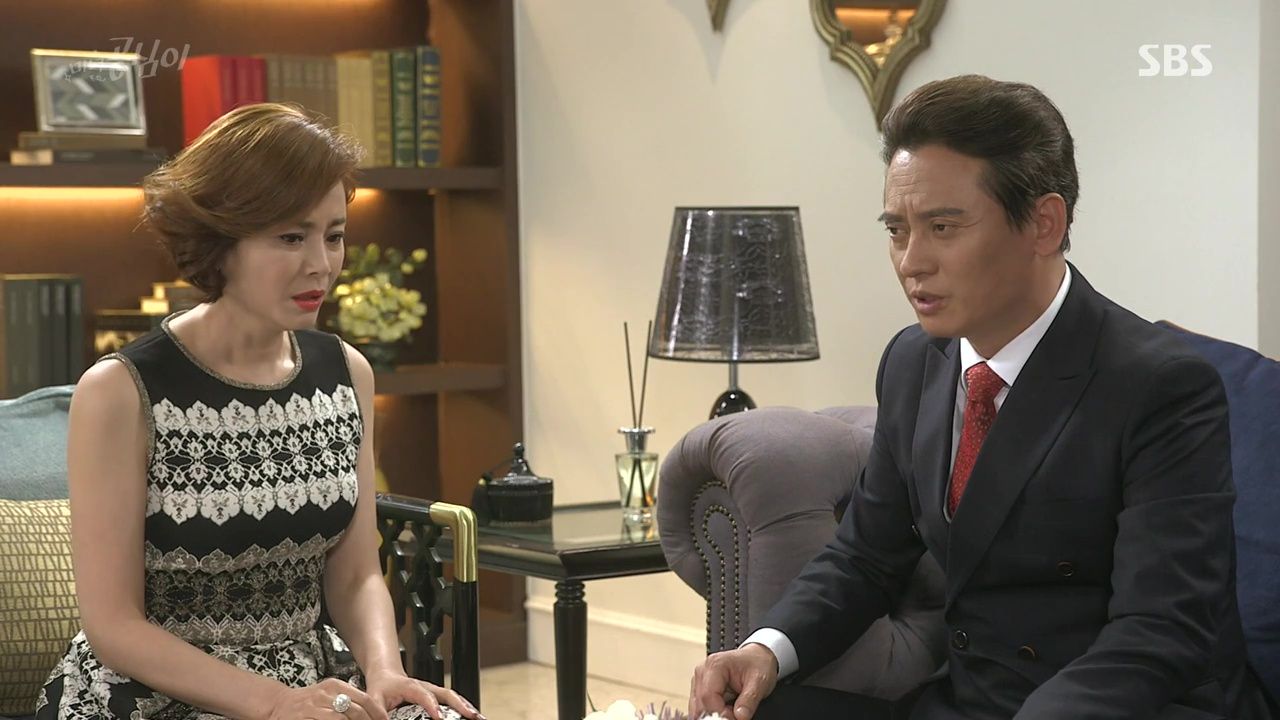 They both worry that Dan-tae's father could cause trouble by bringing up Jun-pyo. Uncle tells Jun-su's mom that if he should awaken, it's the end for them.
Jun-su barely makes it back to his room before he collapses, devastated to learn that his mother abandoned his cousin and how cruelly his own family just discussed another man's life.
Dan-tae's aunt visits his father in the hospital again. Amazingly, he opens his eyes, leading her to run for the nurse. In her surprise, she doesn't notice the man Uncle has stationed at the hospital.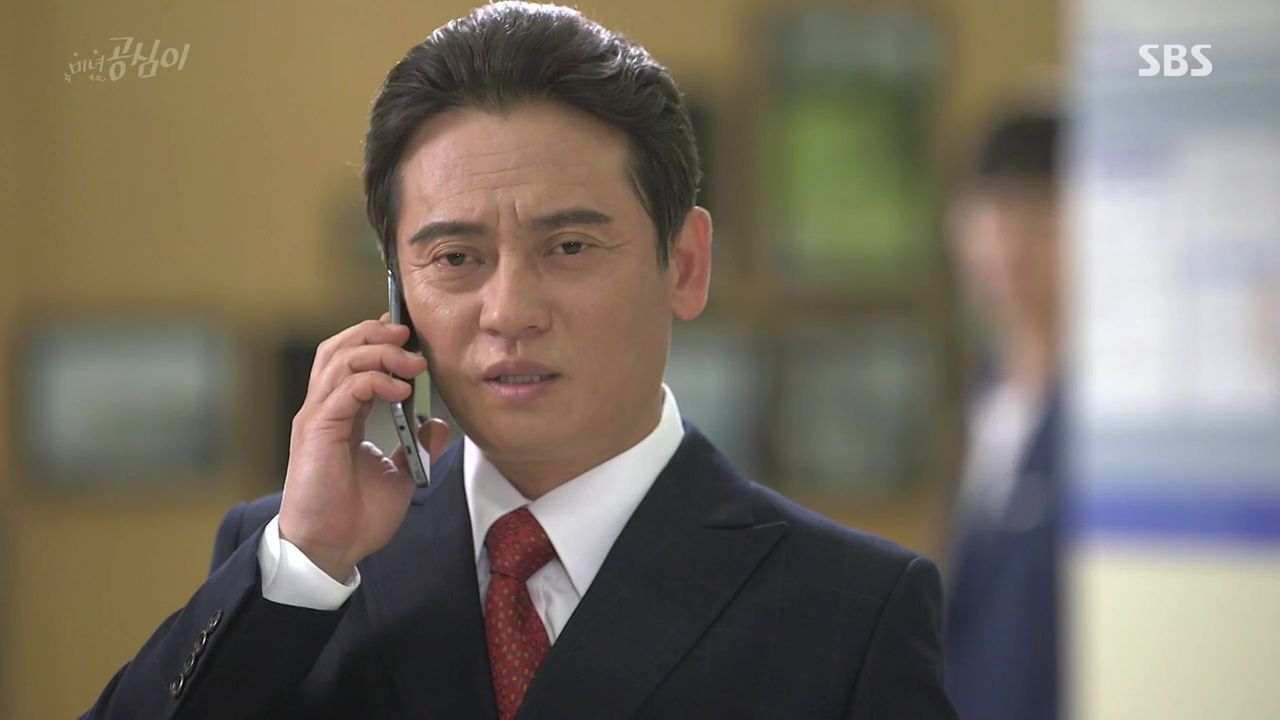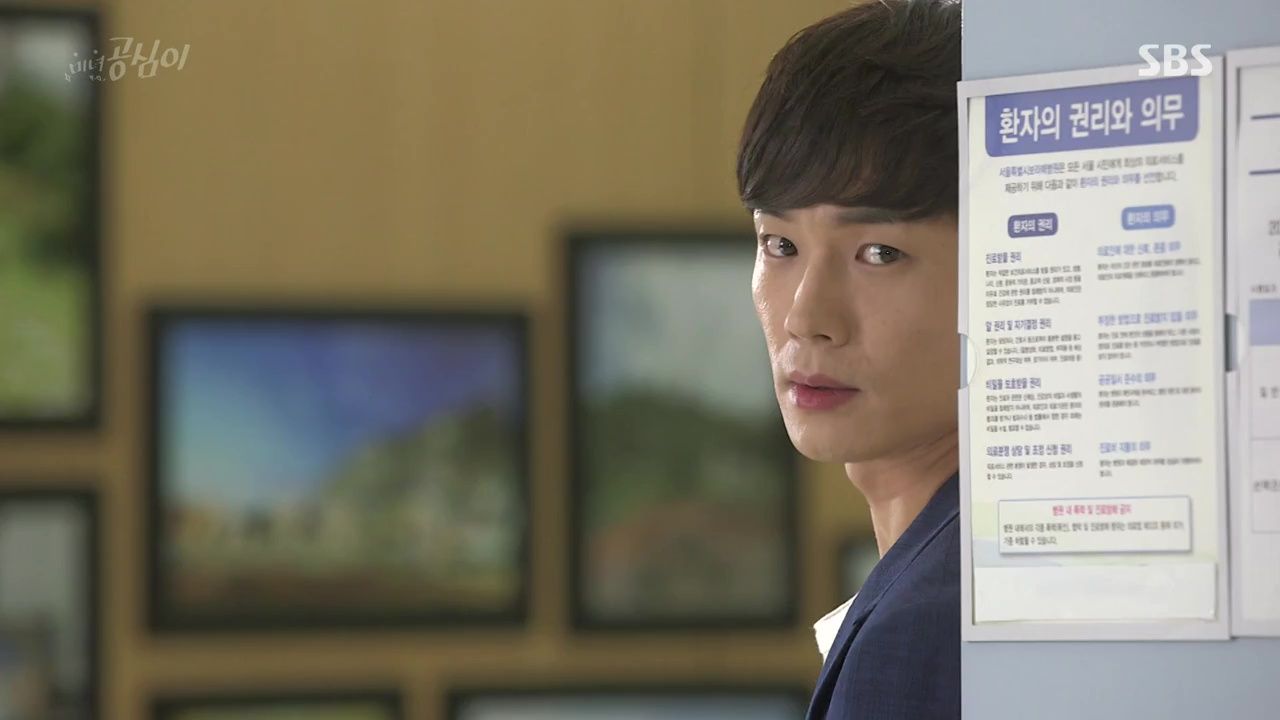 The man calls Uncle and reports that Dan-tae's father has awakened. Uncle instructs him to wait there and heads to the hospital, needing to confirm it with his own eyes. As he leaves, Jun-su notices his hasty exit. Spidey senses tingling, he follows.
Aunt calls Dan-tae with the good news and he rushes over to the hospital, thinking that since his father has woken up and he plans to tell Jun-su the truth later, everything has turned out all right. Those sound like some famous last words.
Uncle arrives at the hospital first with Jun-su hot on his heels. He calls Dan-tae's aunt, identifying himself as the army friend that called before and asks her to come down to the lobby since he's here with the gifts he promised last time. Jun-su listens to all of this and follows Uncle as he boards the elevator up to the ICU.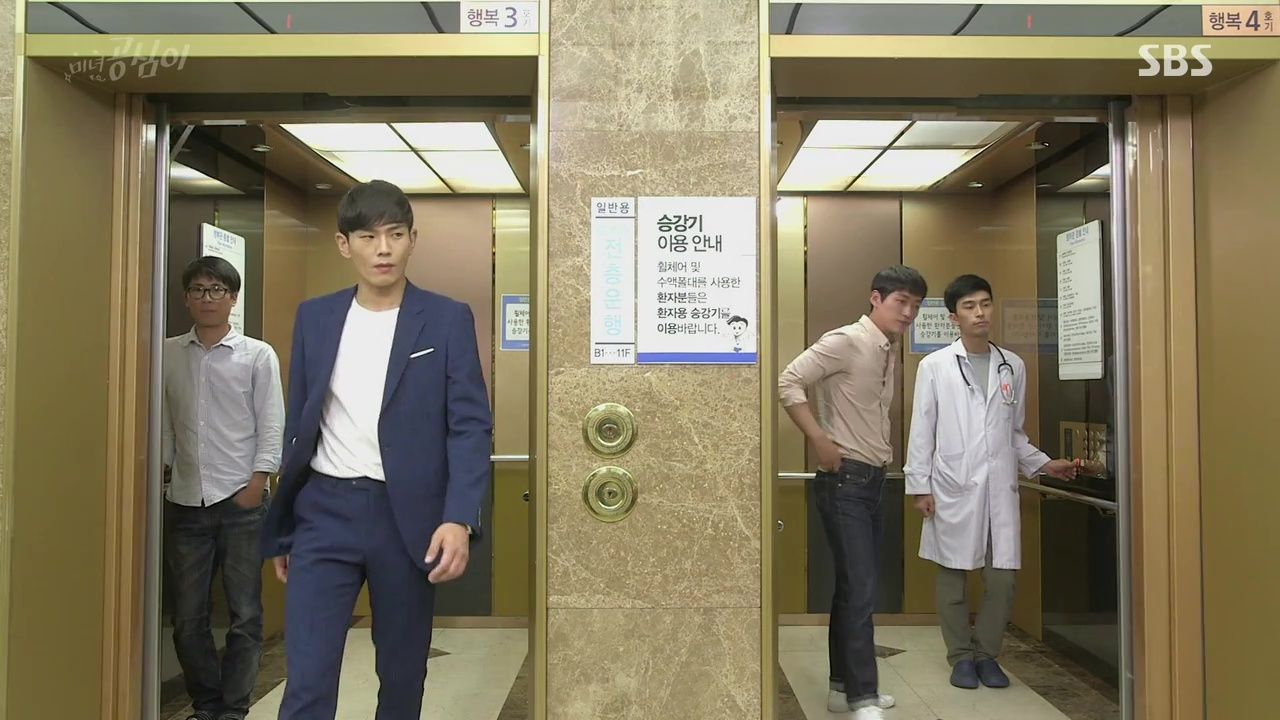 Uncle checks in on Dan-tae's father, confirming that he is in fact awake. When he leaves, Jun-su emerges and looks in as well, recognizing Dan-tae's father from that night on the rooftop when Dan-tae had greeted him as "father."
Uncle meets the hulking friend he'd put on hospital watch and gives him a sinister nod before departing.
Dan-tae meets his aunt in the hallway, both of them excited at his father's recovery. Aunt wants to wait for Dad's "army friend" a bit longer so Dan-tae heads up on his own. He boards one of the elevators but just as the doors start to close, he sees Jun-su exiting from the other elevator. Jun-su walks right past without noticing him and Dan-tae is left wondering why he was there.
Meanwhile, Dan-tae's fully conscious father can only watch as Uncle's minion mercilessly rips his breathing tube out of the machine, leaving him to suffocate.
Dan-tae arrives at his father's room just as a group of doctors/nurses rush by with a crash cart. He wails helplessly through the window as the doctors try to save his father. Aunt rushes over and Dan-tae breaks down in tears, whimpering, "I think Father is going to die."
Ignorant of what is going on in the hospital, Jun-su arrives at the meeting spot. His mother and Uncle's threats to Dan-tae's father ring in his ears, the memory making him physically sick.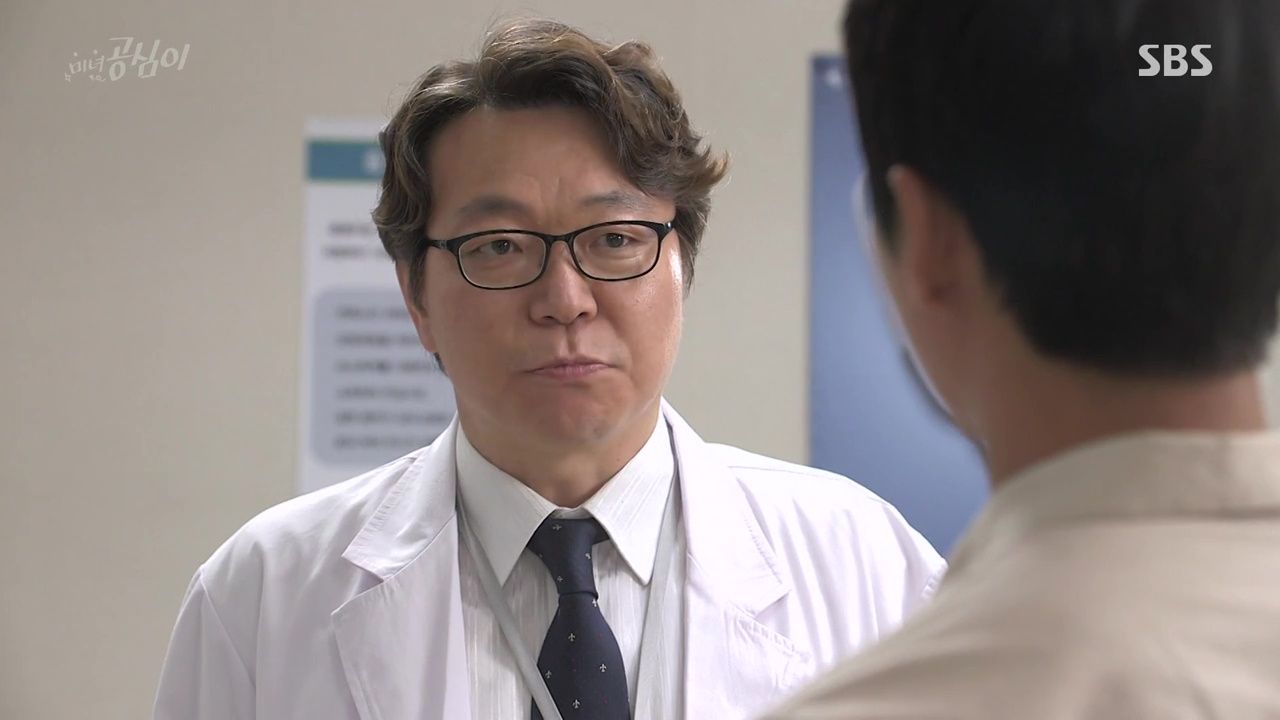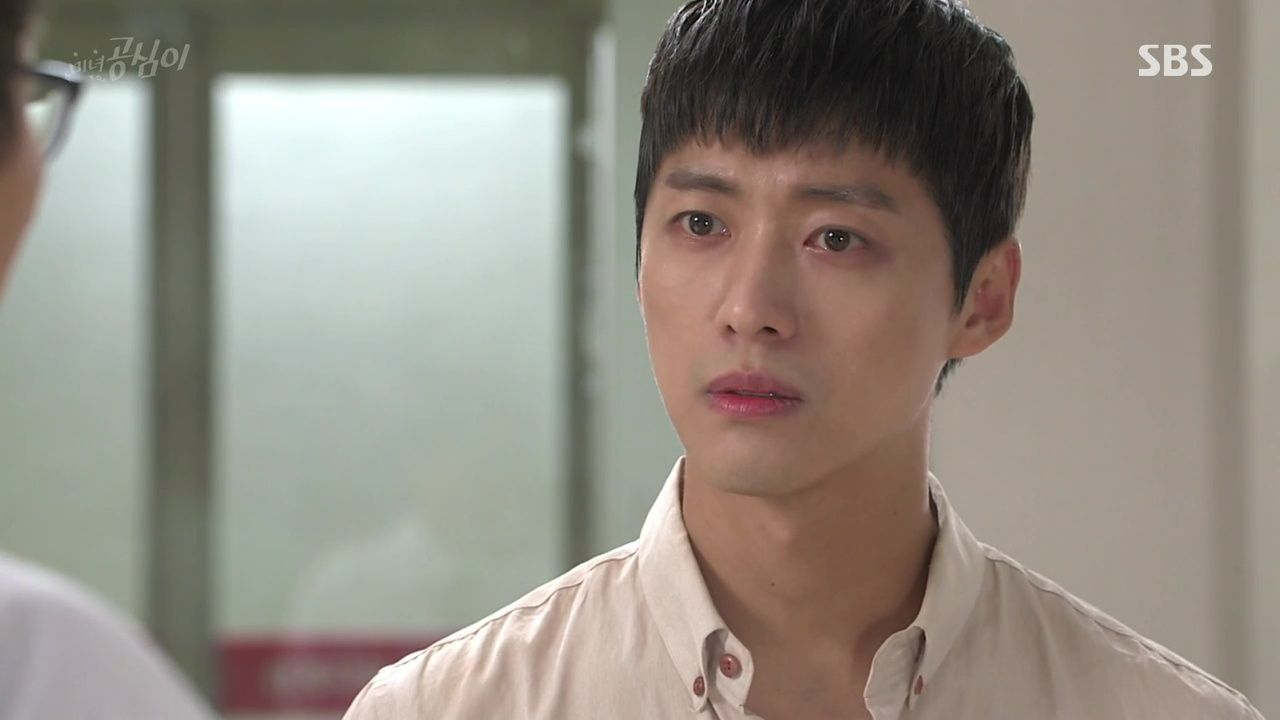 Apparently miracles do happen as Dan-tae's father was saved; he's back in a coma, but at least he's on this side of the grave.
The doctor informs Dan-tae that it appears there was foul play involved in his father's relapse: Someone deliberately disconnected the machines keeping him breathing.
Dan-tae listens in shock as the doctor confirms that it wasn't an accident and someone tried to murder his father. His face hardens as he remembers the glimpse he had of Jun-su exciting the elevator earlier. Curses! Knew that one would come back to bite us.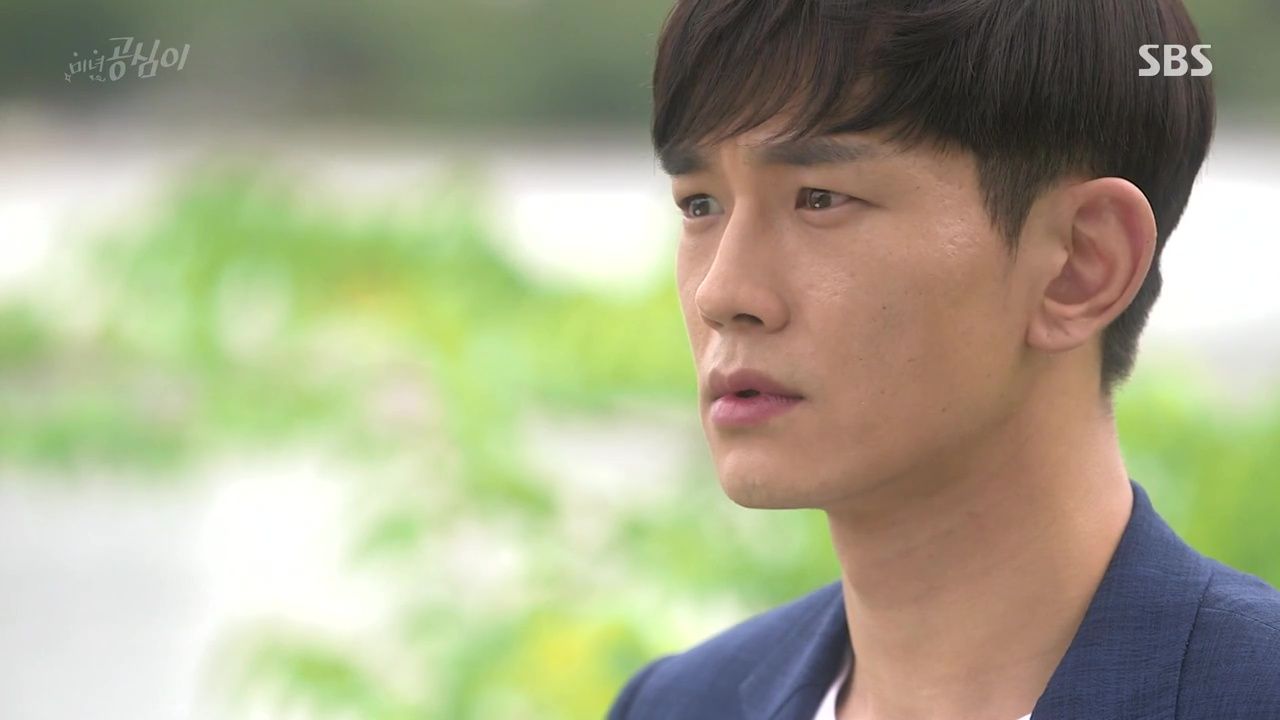 With his angry face firmly in place, Dan-tae keeps his appointment with Jun-su, both men greeting each other in chilly tones.
Jun-su says he brought Dan-tae here to tell him that from this moment on, he should stop looking for Jun-pyo. Dan-tae answers that that was what he had wanted to say to Jun-su as well; that he'd give up the search for his cousin. However, now he's changed his mind.
Dan-tae swears that he will find the culprit who took Jun-pyo, and bring him to Jun-su. With a final glare, Dan-tae leaves and Jun-su stares after him, panicking.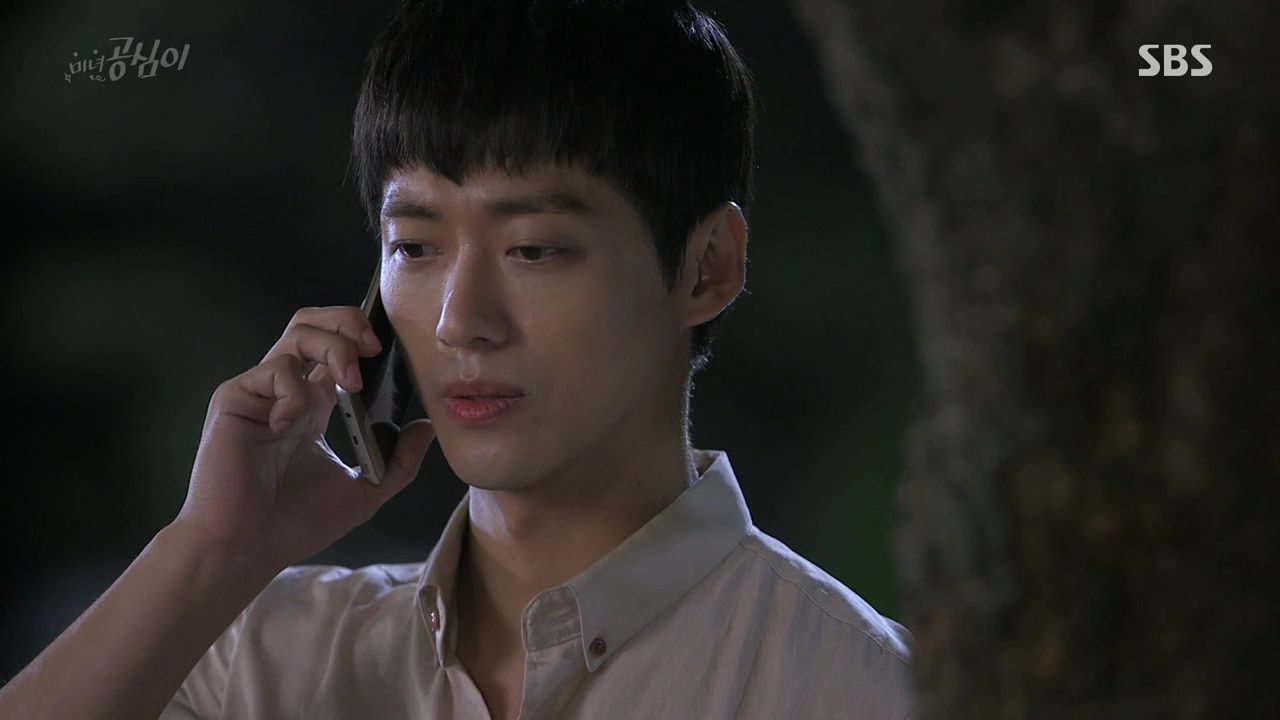 Gong Shim waits for Dan-tae that night, wearing a pretty dress and pacing. Dan-tae sees her from a distance but, still downcast from his confrontation with Jun-su, he calls her phone and apologizes, saying he can't keep their promise to meet.
Gong Shim brushes it off with a cheerful voice, fibbing that she wasn't up for it either and hasn't even left the house yet. She tells him not to worry and hangs up, sitting down to rest her tired legs.
Gong Shim returns home and Dan-tae trudges up to his rooftop. He collapses on his couch but keeps remembering the image of Gong Shim waiting for him.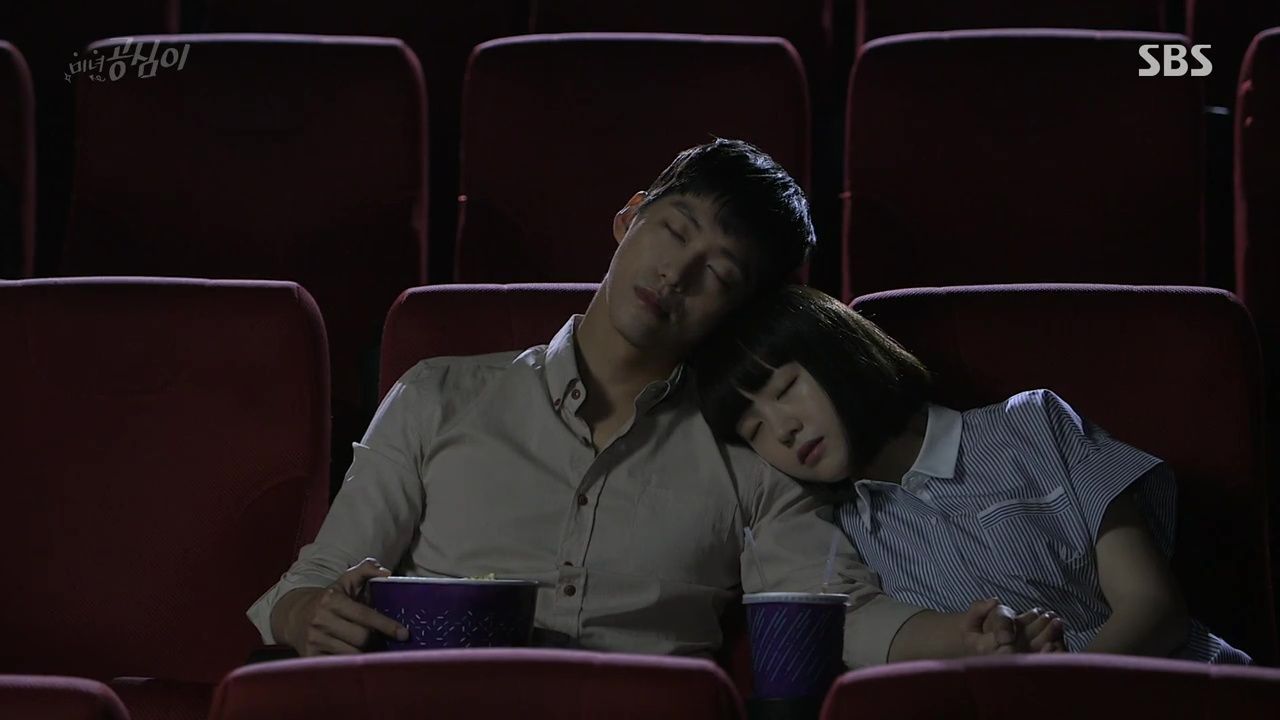 Gong Shim perks up to get a call from Dan-tae, who tells her he just got home and was wondering if she could still meet tonight. Barely containing her excitement, Gong Shim pretty much runs down to meet Dan-tae on the street.
The two go to see a late night movie. Gong Shim admits that it's her first time seeing a show this late and as the film starts to roll, Dan-tae reaches over and grasps her hand in his. She grins and squeezes his hand back.
Soon the two of them have passed out in the theater, resting their heads on each other's shoulders. All together now: Awwww…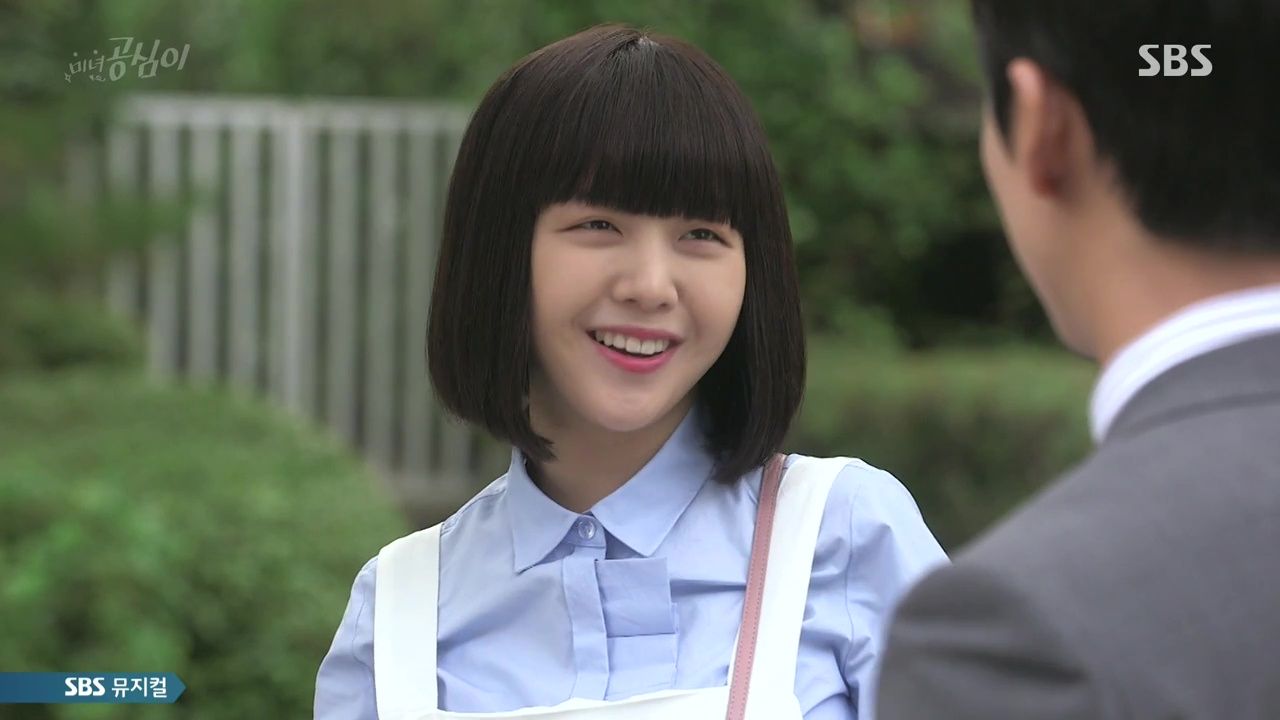 In the morning Gong Shim heads to her interview. She's busy rehearsing her answers when Dan-tae joins her. He tells her that he had a really good dream (which are considered good luck) and he offers to sell it to her in return for her buying him a meal after her interview.
Gong Shim agrees to dinner and she continues to her meeting, Dan-tae right on her heels, nudging her along.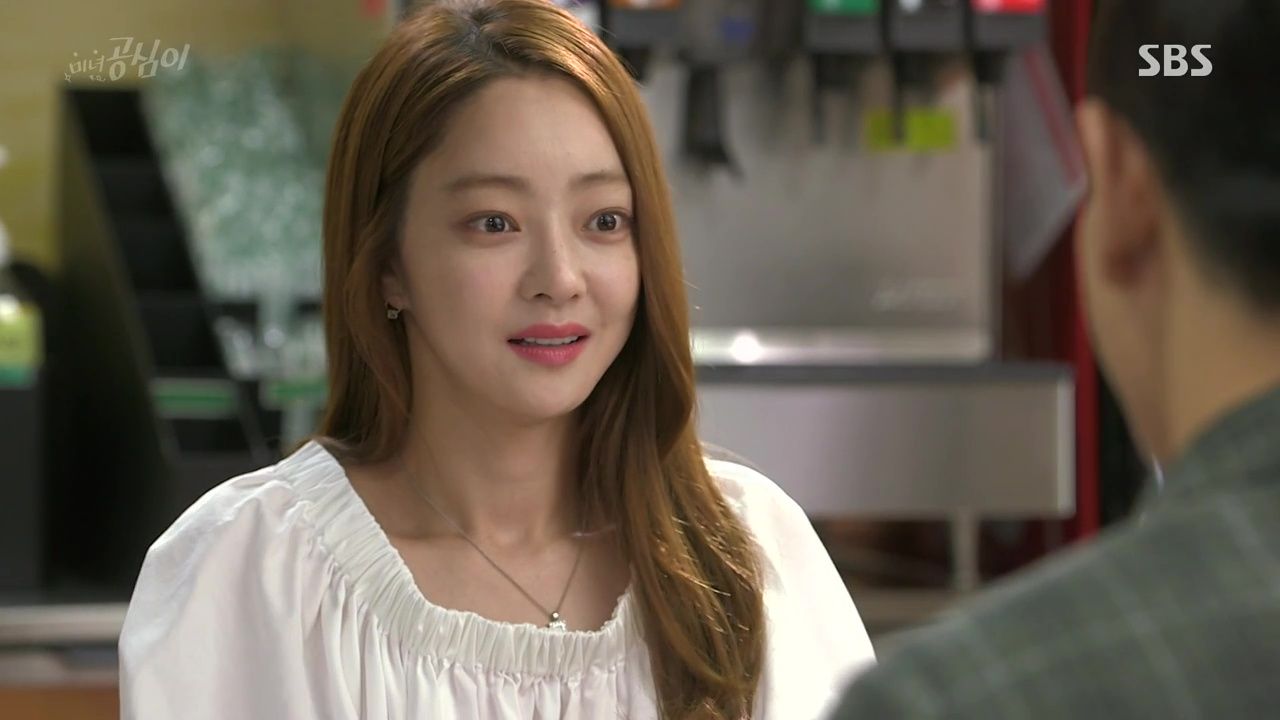 Still employed at Star Group thanks to her father's interference/fanboy connections with President Seok, Gong Mi gets a surprise visit from Jun-su. He invites her out to lunch to discuss something and she nervously remembers Jun-su's mom's words when she'd discovered Gong Mi's naive act.
We get another Subway PPL as Gong Mi and Jun-su share a couple of foot-longs. Jun-su brings up that his mother told him about Gong Mi's deception, but he admits it doesn't really bother him. He asked her here instead for a favor.
Jun-su confides that he's starting his own business and asks Gong Mi to join his company as head of the company's legal team. Ugh, Gong Mi meekly says she's not sure if she's good enough and asks for some time to consider, but the moment she's back in her office she grins to herself.
Gong Shim's interview goes very well, the interviewers commending the unique and warm feelings behind her sketches. Gong Shim even breaks out her Italian language skills to show how dedicated she was to following her dream to draw.
Leaving her interview, Gong Shim runs into Jun-su outside the building. He grins to hear about her interview and apologizes for not being able to take her out to celebrate as he has an appointment. Gong Shim departs and Jun-su heads into the building she just exited.
Turns out, the appointment Jun-su has is with the people that Gong Shim just interviewed with. Fate seems to have intervened, as the company that Gong Shim applied to is the same one that Jun-su is starting up. He smiles to see Gong Shim's application, but he doesn't say anything, telling the interviewers that he's sure they'll pick the right person.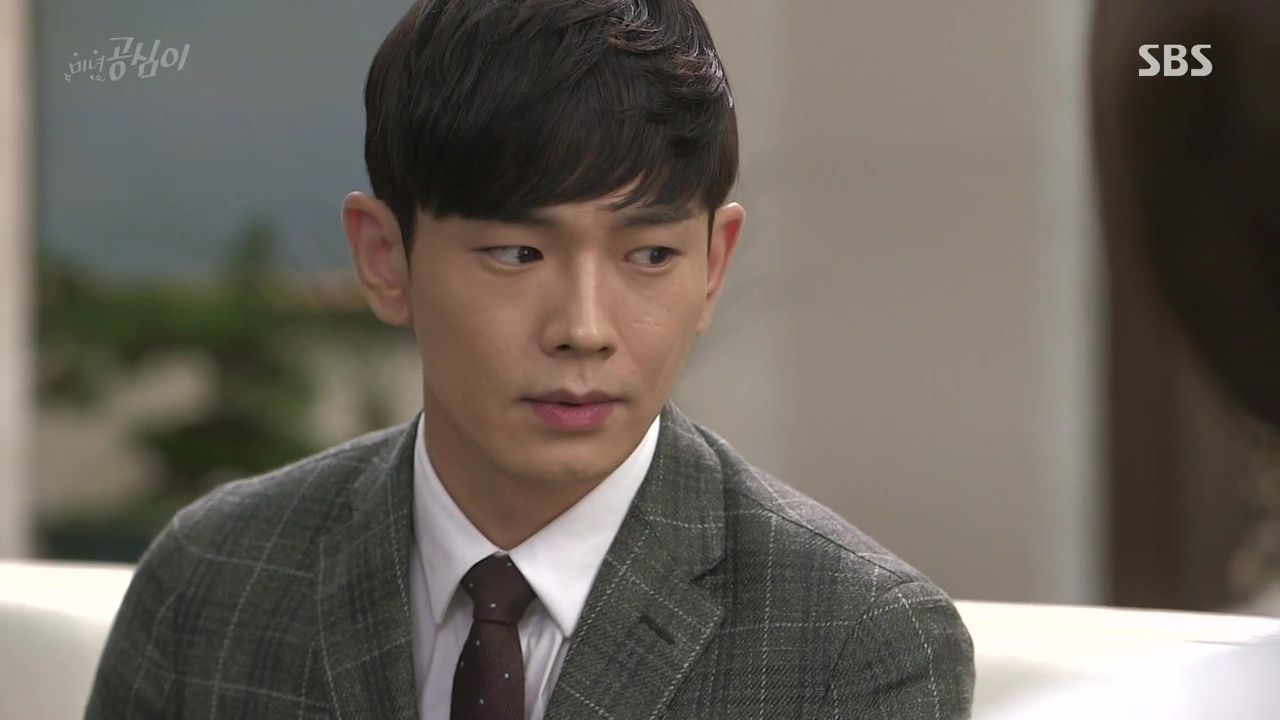 Grandma calls Jun-su to the office and asks him to go on an errand for her in Yeoju. She had ordered some ceramics from a professor there and he'd asked after Jun-su, wanting to see him again. Jun-su agrees just as Dan-tae enters the office.
Gandma asks Dan-tae to go with Jun-su since the professor has moved residences and Dan-tae knows the location from having driven there before.
Commence awkward car ride as the two head to Yeoju. Jun-su notices that Dan-tae isn't driving in the correct direction and he says that he has a small errand to run first.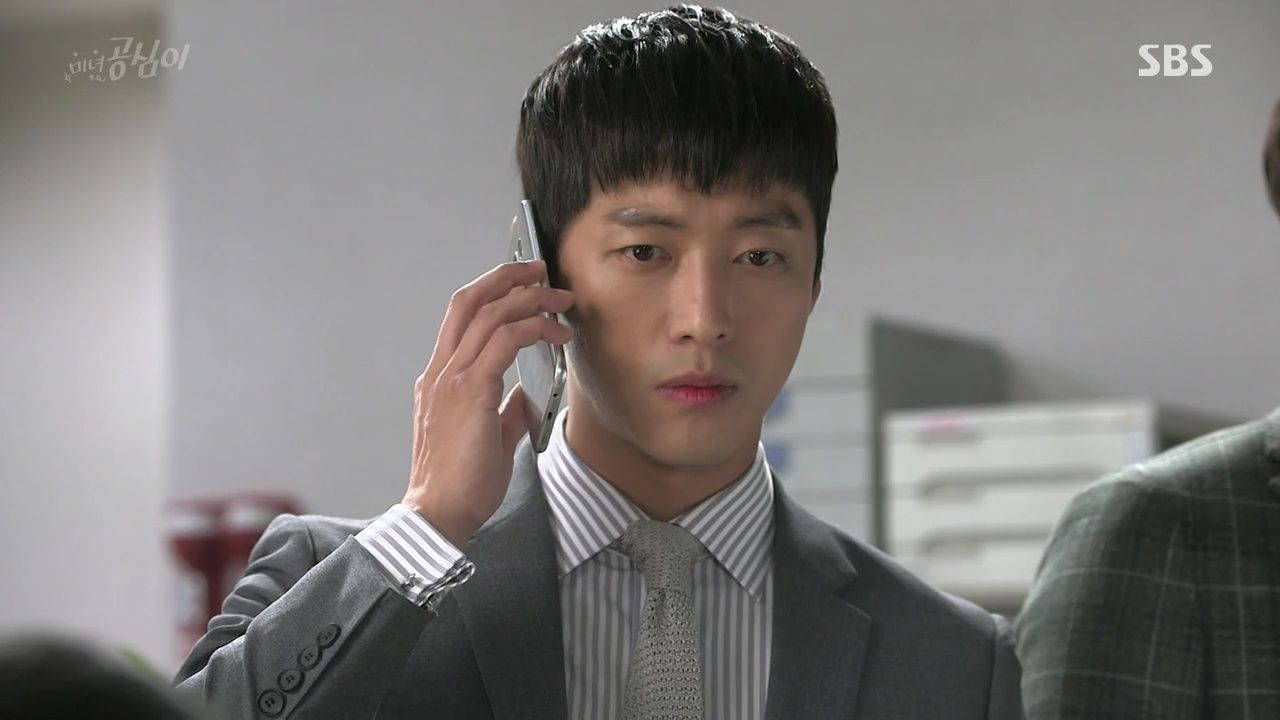 The small errand is at none other than the Yangpyeong Arboretum, which visibly discomfits Jun-su. Dan-tae ignores it and asks Jun-su to join him inside since he has to pick up something heavy and needs help to carry it, and Jun-su reluctantly agrees.
In the office, Dan-tae asks after the gardener who had identified Jun-su's picture to Dan-tae before. Curiously, as of today, the man no longer works at the gardens. Dan-tae gets his contact information but when he calls him, the phone has been turned off.
Elsewhere, the missing gardener is being treated to lunch by Uncle. Uncle is all smiles as he reassures the man that he'll buy him a new phone and find a nice job for him somewhere close to his home. All the man has to do is forget he ever saw Jun-su and his mother in the gardens that day. The gardener eagerly agrees to the deal, happily accepting an envelope of money.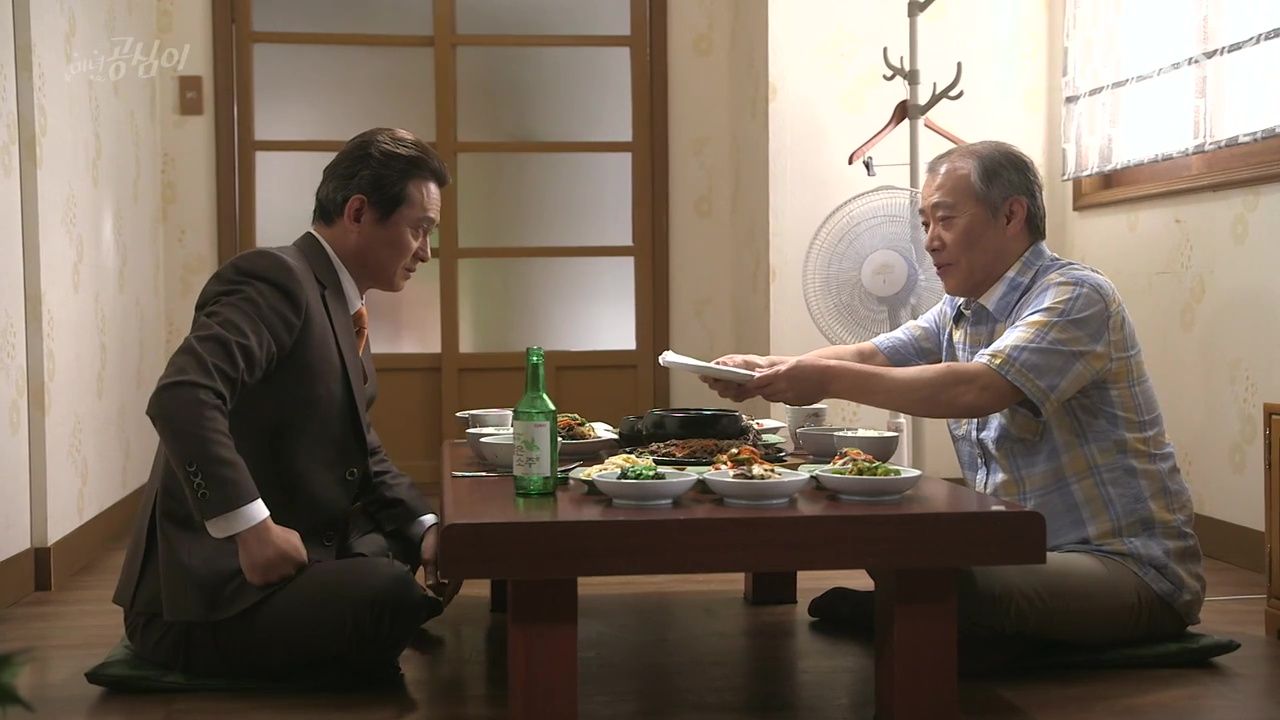 Uncle flashes back to when he'd picked up the gardener earlier. Just before driving off, Uncle had seen Dan-tae and Jun-su arrive at the arboretum. Back at the lunch table, he wonders what the two of them were doing there. He reminds the gardener that he must change his phone and can never contact the arboretum again.
In the company garage, Uncle has just parked when Dan-tae and Jun-su drive up. He listens as Jun-su confronts Dan-tae, telling him he knows that Dan-tae took him to arboretum on purpose. Jun-su demands to know if this has something to do with finding Jun-pyo, angry that Dan-tae would continue searching after he told him to stop.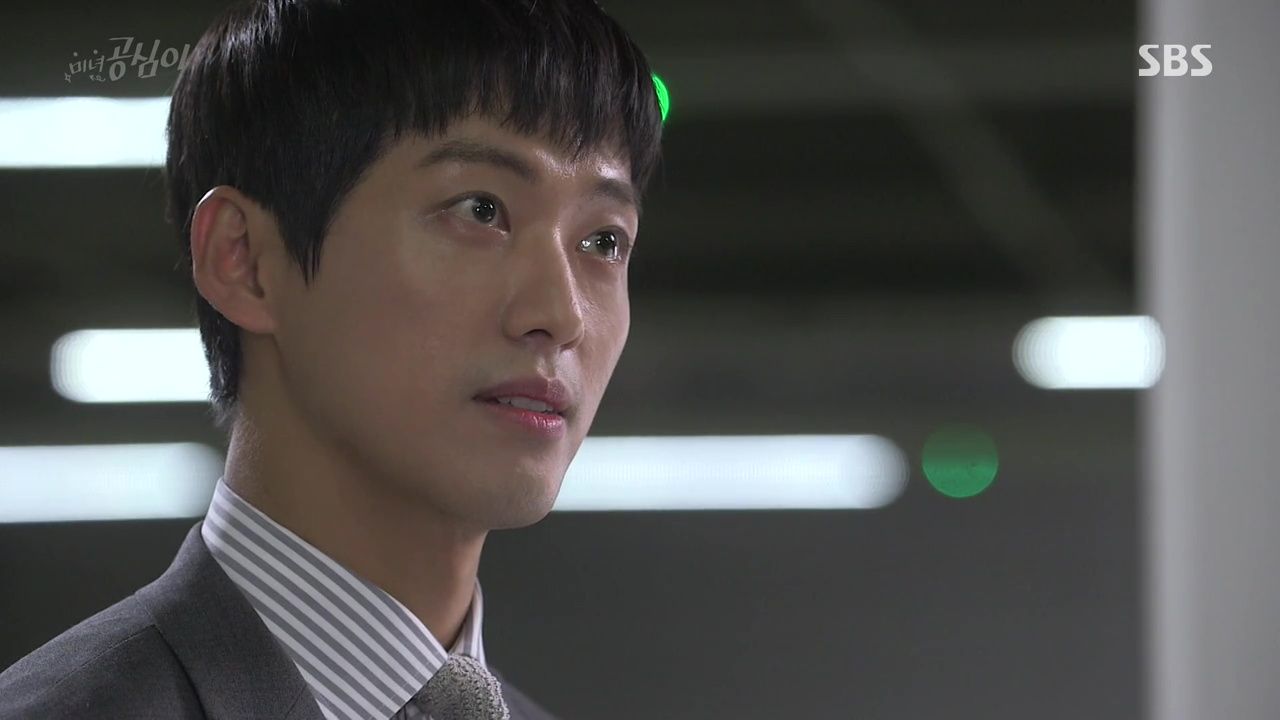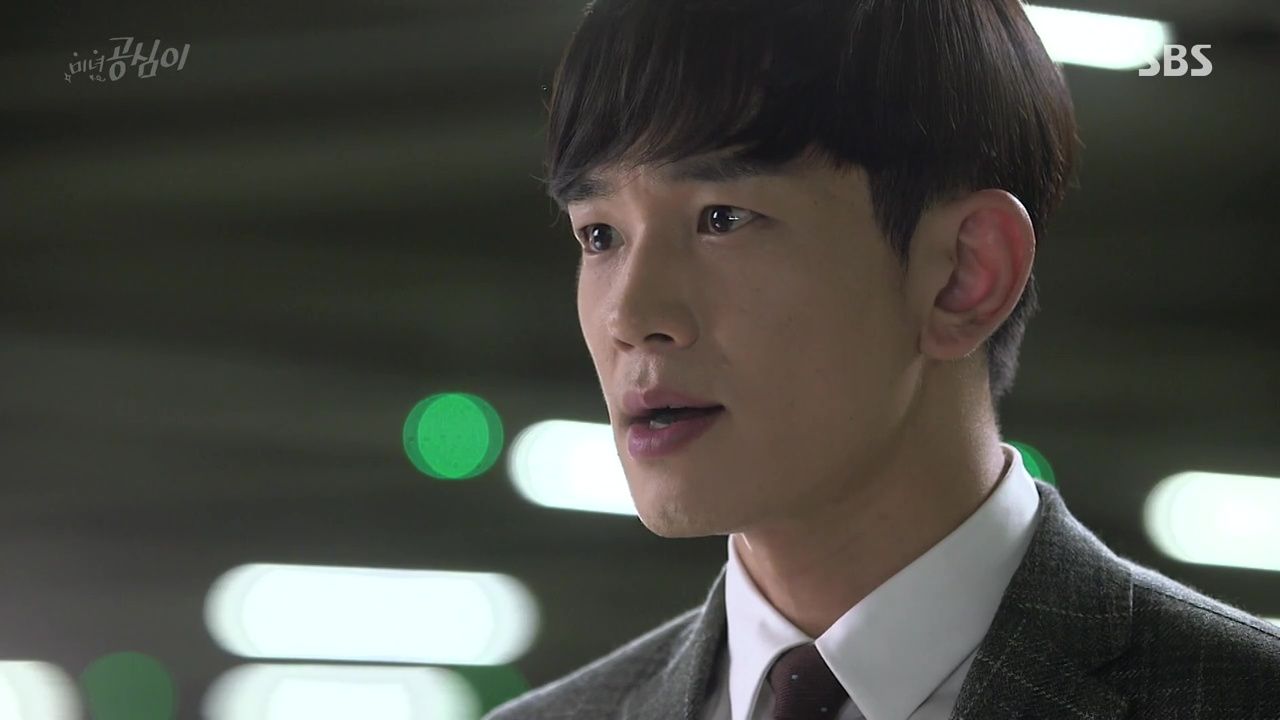 Jun-su warns Dan-tae again not to look for Jun-pyo, but Dan-tae asks why he has to stop looking. Jun-su scoffs that Dan-tae can't see the effect his search is having, using the gardener as an example. If the man suddenly went missing then it means Dan-tae should stop looking.
Dan-tae then calmly accuses Jun-su of hiding away the gardener. He continues over Jun-su's protests that he knows Jun-su was at the Yangpyeong Arboreutm the day of the meeting, and he's covering for whoever he found there. Dan-tae says doesn't care that Jun-su is lying, but he still intends to find whoever and whatever he's hiding.
Uncle returns to his office and laughs to himself that Dan-tae suspects Jun-su. He grins as he muses that things are turning out very interesting.
Dan-tae visits his father and notices that his aunt is looking rather haggard, and she admits that she feels at fault for leaving his father alone. She tells him that the security has been updated and the police checked the CCTVs, but conveniently the monitors were broken so there's no record of that time.
Dan-tae asks his aunt to recount that day to him again and when she mentions the army friend who called her away, he asks for the man's number.
Dan-tae calls the number and, back in his office, Uncle's spare cell phone rings. He doesn't recognize the number so he lets it ring, suspicious of who it could be. He calls building security to get Dan-tae's phone number and then reels to see that it's the very number that just called his secret cell phone.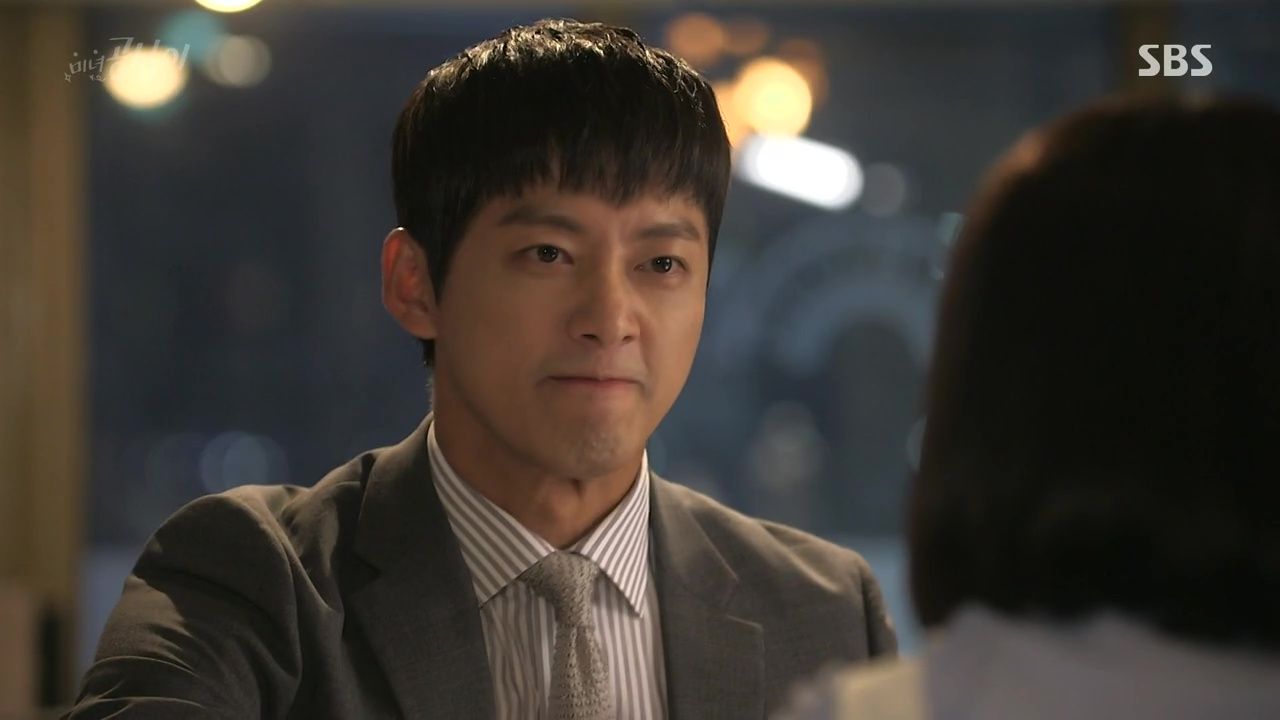 Dan-tae takes Gong Shim out for her post-interview dinner, and she thanks him for helping her to practice her answers. Gong Shim reaches for a napkin and Dan-tae also reaches out, grabbing her hand. He asks to stay like this for just three spoonfuls of food. The two adorably bicker about the length of time and Dan-tae makes a face when she finally pulls her hand back.
Afterwards, Dan-tae and Gong Shim walk through a street fair where they stop at a henna tattoo stand. As Dan-tae looks at the designs, Gong Shim grabs his hand. She asks to stay like that for two blocks. Dan-tae agrees in his baby voice, grinning from ear to ear.
Dan-tae returns to his room that night and smiles to remember their hand-holding. Suddenly, he thinks about the henna stand where he'd seen a girl get a butterfly design. Recalling the details of his kidnapping, Dan-tae figures out that the culprit must have had a butterfly tattoo.
The next day Gong Shim anxiously stares at her phone, waiting for the call about her interview results. Just as she resorts to full-on praying, the phone rings.
Out in the family room, Gong Mi tells her parents about Jun-su's offer for her to work at his new company. She's going to start working there next week and Mom and Dad praise Jun-su for taking the initiative to succeed on his own (Mom gets in a few snarky comments about how the son is nothing like his mother).
Gong Shim comes running in, screaming that she got the job. Mom, Dad, and Gong Mi all congratulate her and the family celebrates having both daughters employed. Gong Shim calls Dan-tae to tell him that she was accepted and he offers to take her out to eat this afternoon.
Gong Shim starts her first day at work, busily greeting her fellow employees. Her boss congratulates her, then calls out a greeting to "President Seok." Gong shim spins around to see Jun-su.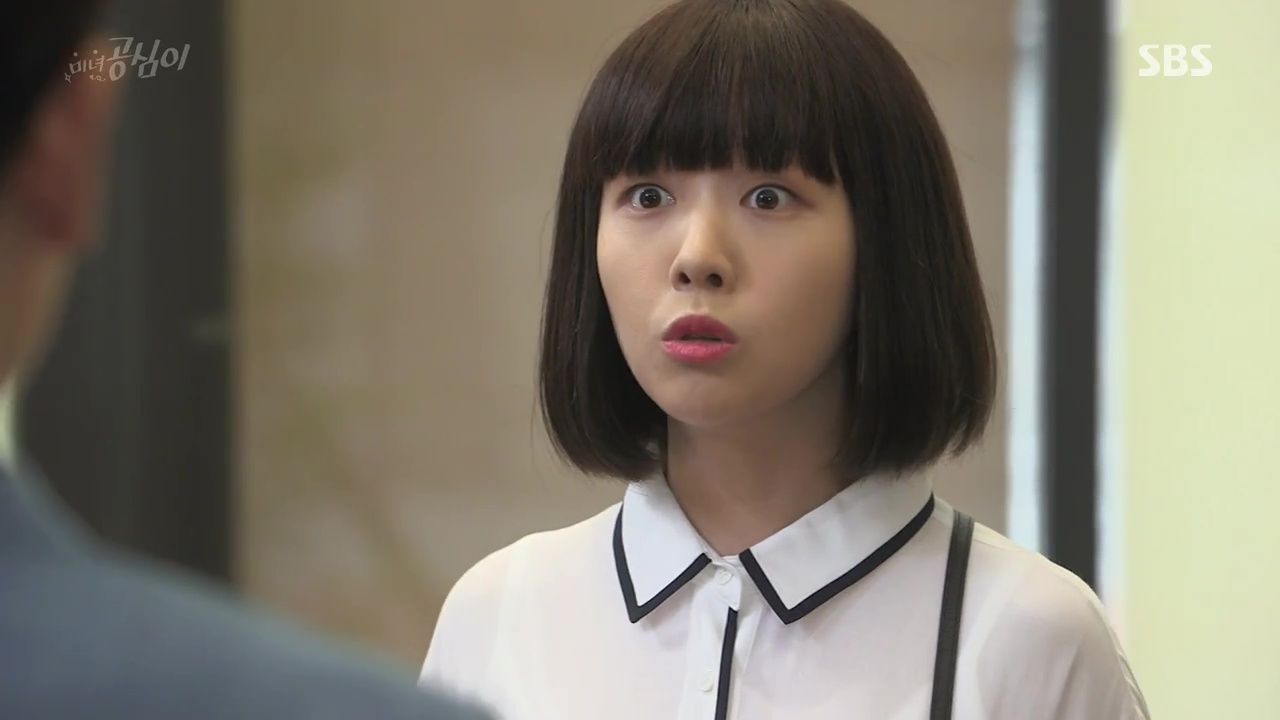 Jun-su is thrilled to see that she got accepted, but it takes Gong Shim another minute to figure out that this is the company that Jun-su told her about wanting to start. Her face falls as she asks if he had something to do with her getting hired, but Jun-su quickly reassures her that he didn't interfere.
Dan-tae arrives outside Gong Shim's building to meet her for their lunch plans. He gets a call from his aunt who received a phone call from an unknown number that hung up when she answered. She's nervous and asks if he had any luck with calling his father's army friend. Dan-tae says he'll try again.
Jun-su walks Gong Shim out and she invites him to eat lunch with her and Dan-tae. He looks a little uncomfortable, but doesn't say no. Just as Gong Shim and Jun-su get outside, Dan-tae tries calling Uncle's phone again… and a ringing starts coming from Jun-su. Oh noes.
Jun-su checks his phone but realizes the ringing is coming from inside his bag. He pulls out a strange phone and stares at it in confusion. Dan-tae, still calling the number, hears the ringing and pinpoints it to the phone now in Jun-su's hand.
Gong Shim sees Dan-tae and calls out to him, causing Jun-su to look up and see him on the phone. Dan-tae ends the call and the phone in Jun-su's hand stops ringing at the same time. Jun-su locks eyes with Dan-tae, who stares back with murder in his eyes.

COMMENTS
Uncle, you sneaky bastard. I knew he was low, but I honestly didn't think he'd stoop so low as to frame his own flesh and blood. Kidnapping Jun-pyo was one thing since he wasn't even related to the boy — not that that justifies his actions in any way, shape, or form — but I had thought he was the type to protect his family given how he and his sister seem to stick together. Obviously I was wrong as not only did he sacrifice his own nephew, he didn't even feel remorse for his actions. The moment he realized that Jun-su was being targeted by Dan-tae, he never hesitated to use that to his own advantage, laughing as he saw an opportunity to save his own skin.
Nasty, scheming Uncle aside, Jun-su is trying so hard to protect everyone. I think the real reason he's being a bit of a douche to Dan-tae right now is he's trying to save him from harm. When he thought Dan-tae was his cousin that was different since there's no escaping family, but now that he has "proof" that they're unrelated, Jun-su just wants to get him clear of this whole mess. After hearing his mother and uncle pretty much plot Dan-tae's father's demise, he's scared that his friend will get hurt from his involvement. Unfortunately, the fact that Dan-tae isn't family means that Jun-su won't tell him the truth, which of course is leading to more and more misunderstandings. This week reached a tipping point as we saw that in spite of his best efforts to do the right thing, the phrase "guilty by association" is not without merit.
I don't think that Dan-tae truly suspects Jun-su of harming his father. As he said in the garage and the beginning of this episode, he knows that Jun-su is just trying to protect his someone (his mother). It was obvious from his expression that Jun-su had no idea where the phone came from, so I don't believe Dan-tae will accuse him of hurting his dad. It does, however, further cement his belief that Jun-su is close to the culprit and covering for them. Dan-tae's interest has now shifted from trying to protect Jun-su to seeing him as an obstacle in the way of him uncovering the truth. It looks like the attack on his father was just enough to push Dan-tae into taking off the kid gloves when dealing with his cousin.
It's really too bad because, now that his Uncle has shown his true colors, there really isn't anyone other than Dan-tae who could stand by Jun-su. His mother cares more for her son's position than his feelings, and President Seok is a bit of a flake. I'm glad that his friendship with Gong Shim is still intact since the only times we still see that million-watt smile is when she's around. I just hope he doesn't grab onto that relationship too tightly since it's obvious that she's head-over-heels for Dan-tae. If Jun-su loses that last person in his life, it might be too much for him. He better not turn to Gong Mi for consolation — that girl is fifty shades of crazy and has plenty of her own twisted issues to work out before she can help anyone else.
I'm glad that they're bringing Gong Shim's story line back since I was starting to wonder why she was still in this drama (ironic, given the show's title). I couldn't figure out what it was that she brought to the table, but it seems her main purpose it to bring our boys back from the edge. Jun-su's smile only re-emerges in her presence, and every time Dan-tae reached a new hurtle, Gong Shim was there to make him laugh again — even if he had to force himself not to shut her out. I loved that moment in the movie theater where you could tell that Dan-tae was still upset, but just holding Gong Shim's hand was enough to calm him down.
Still, as important as a she is to bring angry men back to their happy places, I'm hoping for a bit more from Gong Shim. Her character's strength comes from her blunt honesty and general acceptance of others, something all our other characters could use right now. The more these boys circle around each other in misunderstanding, the more I continue to rant at my computer screen. I'd really rather not finish yet another episode with Dan-tae and Jun-su glaring at each other.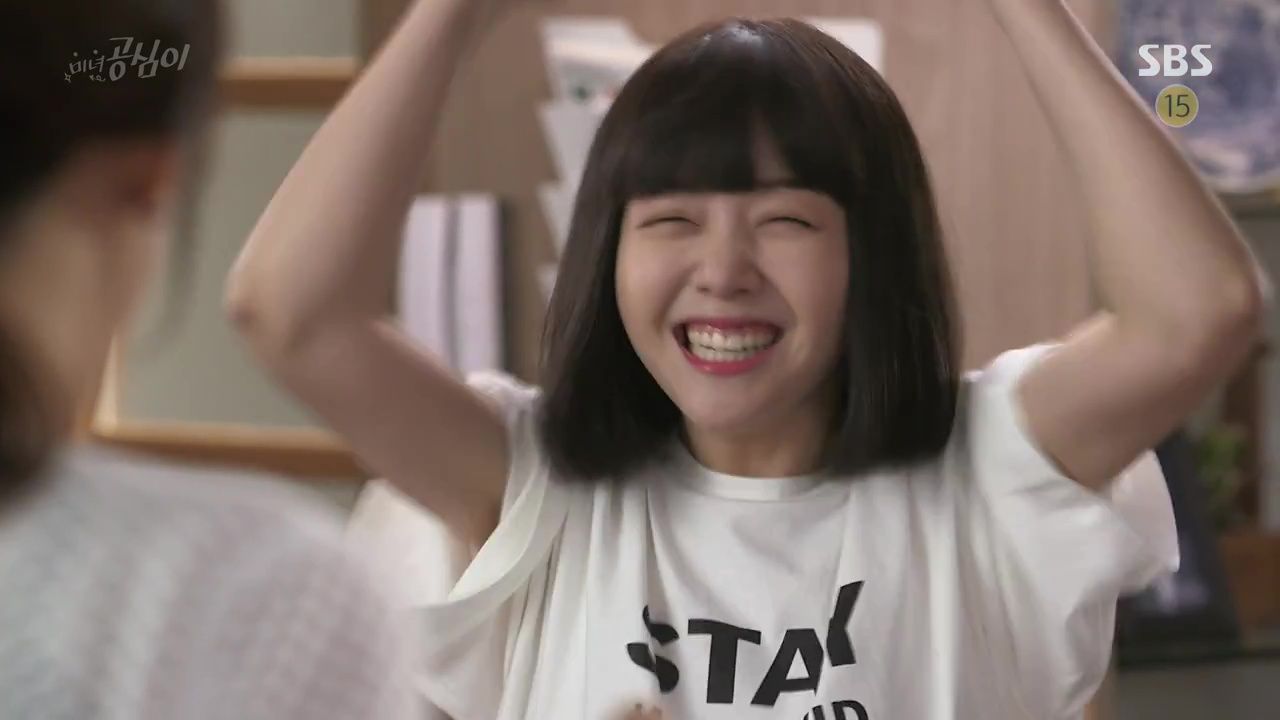 RELATED POSTS
Tags: Beautiful Gong Shim, Episode 16, featured, Minah, Namgoong Min, Ohn Joo-wan