Beautiful Gong Shim: Episode 18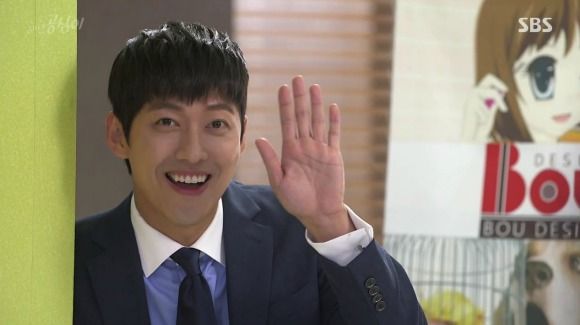 Well, it took us 18 episodes, but it looks like we might finally be closing in on our bad guy. Good thing too because with only one week left, our two lovebirds are going to need some time to sort out their happy every after.
It can be difficult to accept the love of another person, but sometimes it's even harder to believe that you're good enough to love them back; and having faith in one's self is just as tricky as having faith in another.

EPISODE 18 RECAP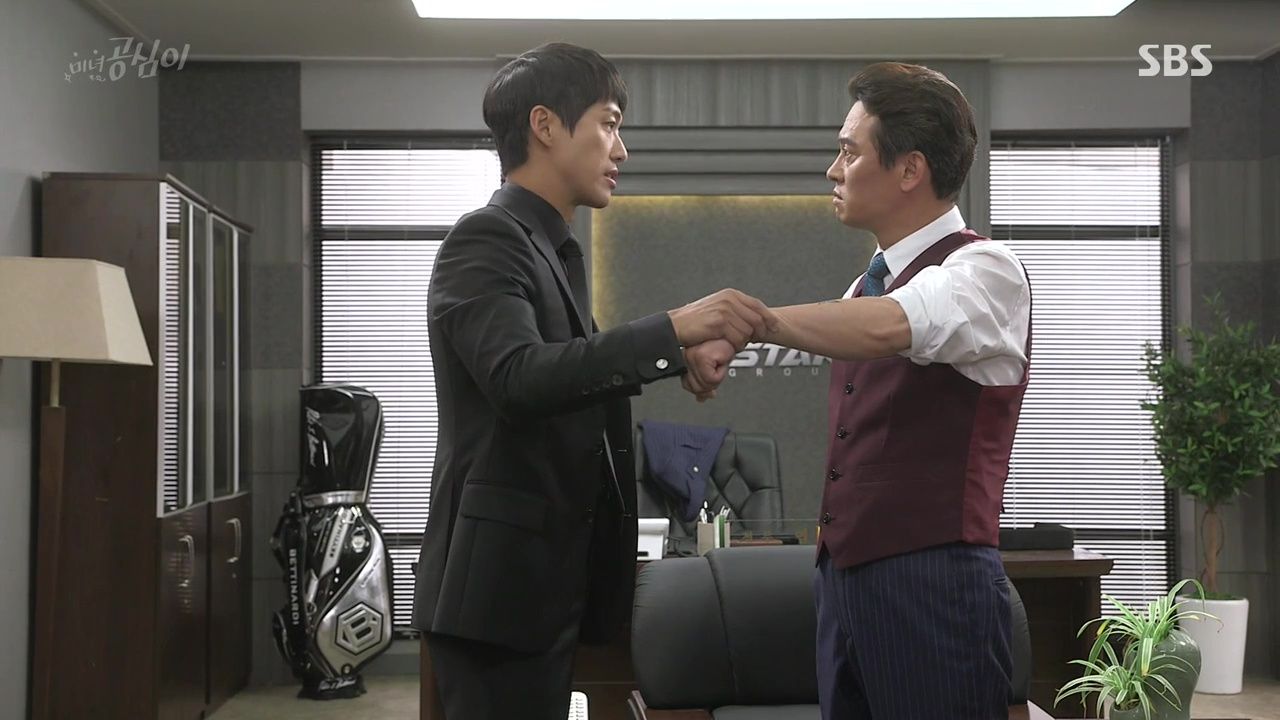 Having finally put the pieces together, Dan-tae barges into Uncle's office to confront him. Ignoring Uncle's indignation, Dan-tae rolls the sleeve of the other man's shirt up to expose the butterfly tattoo. With the proof in front of his eyes, Dan-tae accuses Uncle of kidnapping Jun-pyo and trying to kill his father in the hospital.
Keeping his composure, Uncle calls Dan-tae crazy and warns that even the chairwoman can't protect him after accusing Uncle without evidence. Dan-tae grabs Uncle's tattooed arm, saying it's evidence enough since Jun-pyo's mother labeled her son's abductor as having a butterfly tattoo. Uncle just scoffs that lots of people have butterfly tattoos so he'll have to do better than that.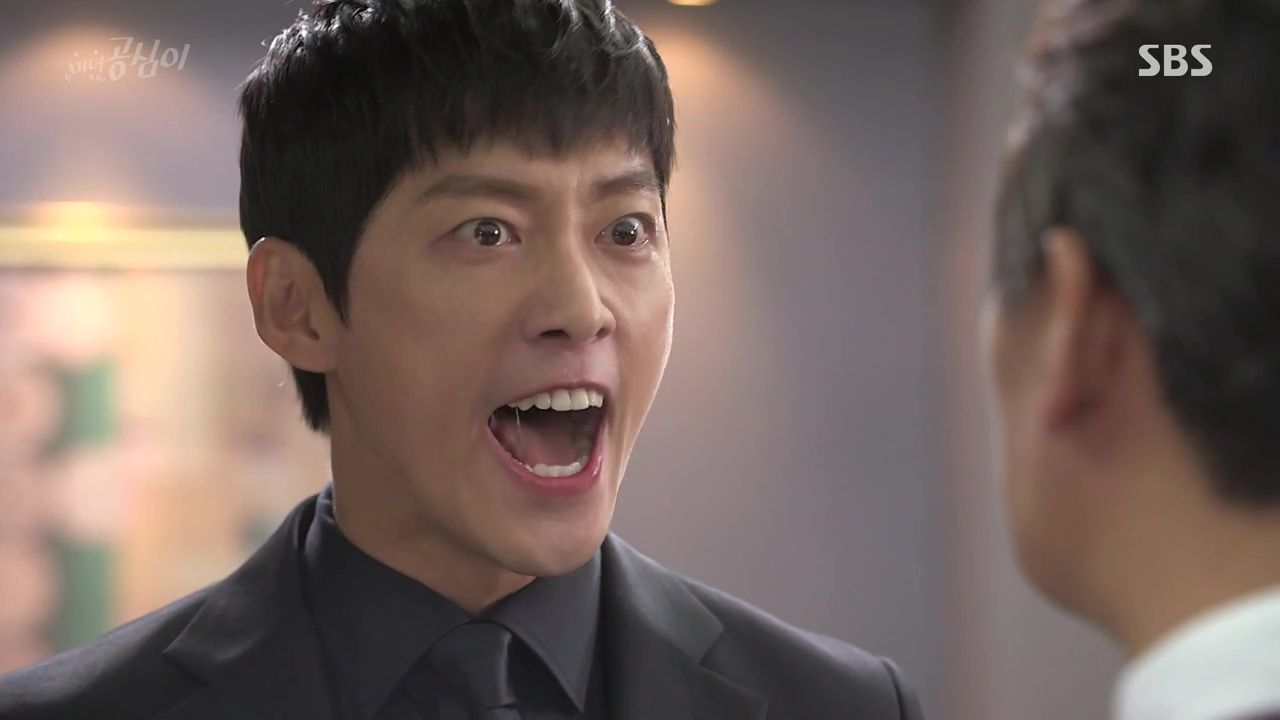 Fire in his eyes, Dan-tae asks how Uncle knew that his father was in the ICU when he never told anyone that. He brings out the printed CCTV picture showing Uncle in the hospital at the time of the attack and yells that Uncle tried to murder his dad. Undaunted, Uncle merely asks what's so wrong with visiting a patient in the hospital; this, too, is not enough proof.
Uncle finally raises his voice for Dan-tae to get out of his office before he has him thrown out. Dan-tae is nearly shaking with anger as he replies that it's over for Uncle and next time he'll see to it that he can't make these kinds of excuses.
Leaving Uncle's office, Dan-tae marches straight over to the market where Uncle had hidden away the arboretum gardener. Dan-tae finds the man and shows him Uncle's picture, demanding to know if this was the man that made him quit. The gardener looks startled by the picture but insists that he doesn't know him.
Dan-tae begs him to tell the truth, revealing that his father is in the hospital because of Uncle. The news alarms the gardener but he still maintains that he doesn't know anything and brushes off Dan-tae's repeated pleas.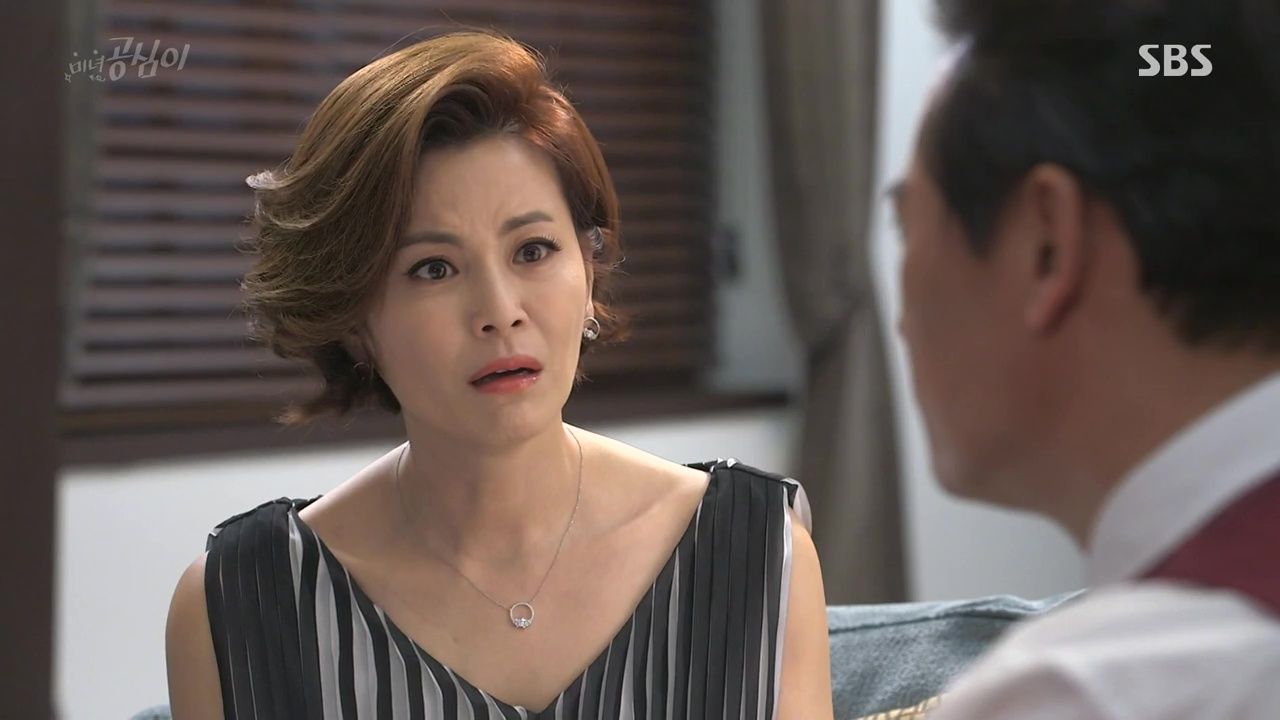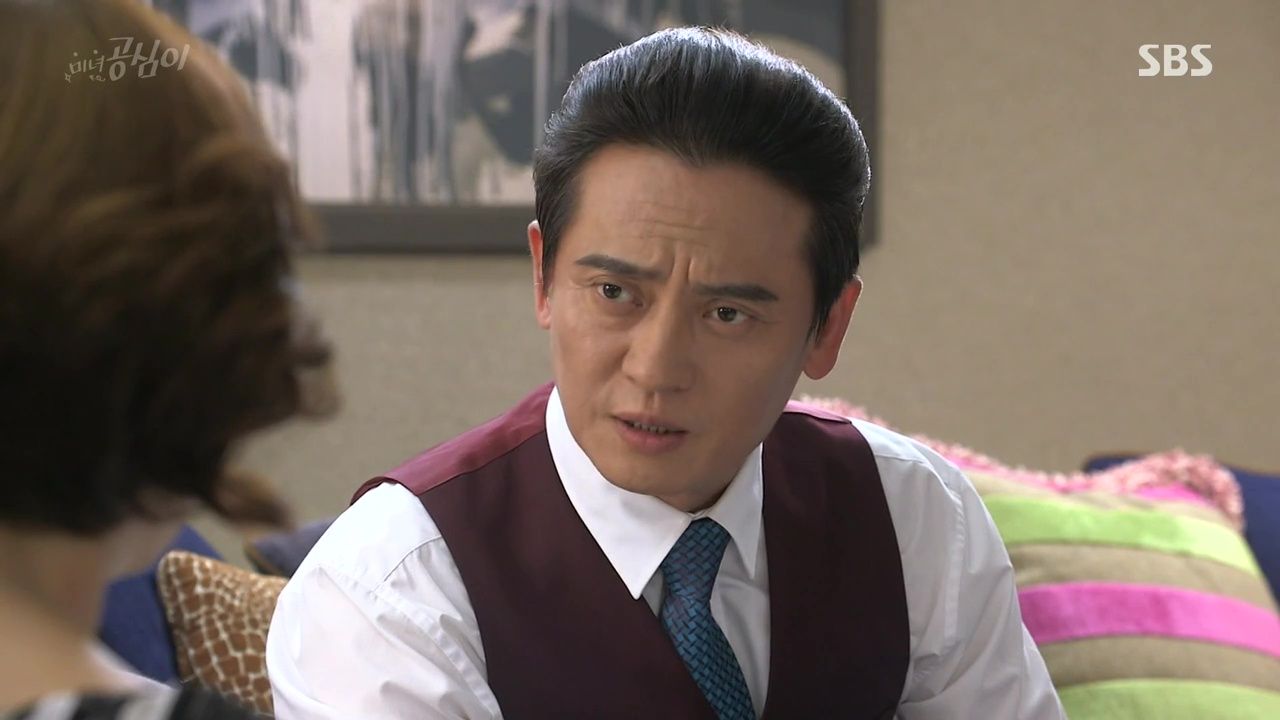 Jun-su's mom and Uncle meet in their usual corner of evil to talk about Dan-tae's father. Ahhhh, it seems Uncle hasn't been honest with his sister as she believes that Dan-tae's father is still awake and demanding money in order to keep silent. Uncle smoothly lies that he already paid him some, but he wants an additional $10 million.
Jun-su's mom reluctantly agrees to get the money together and Uncle asks if she knows where Jun-su has disappeared to.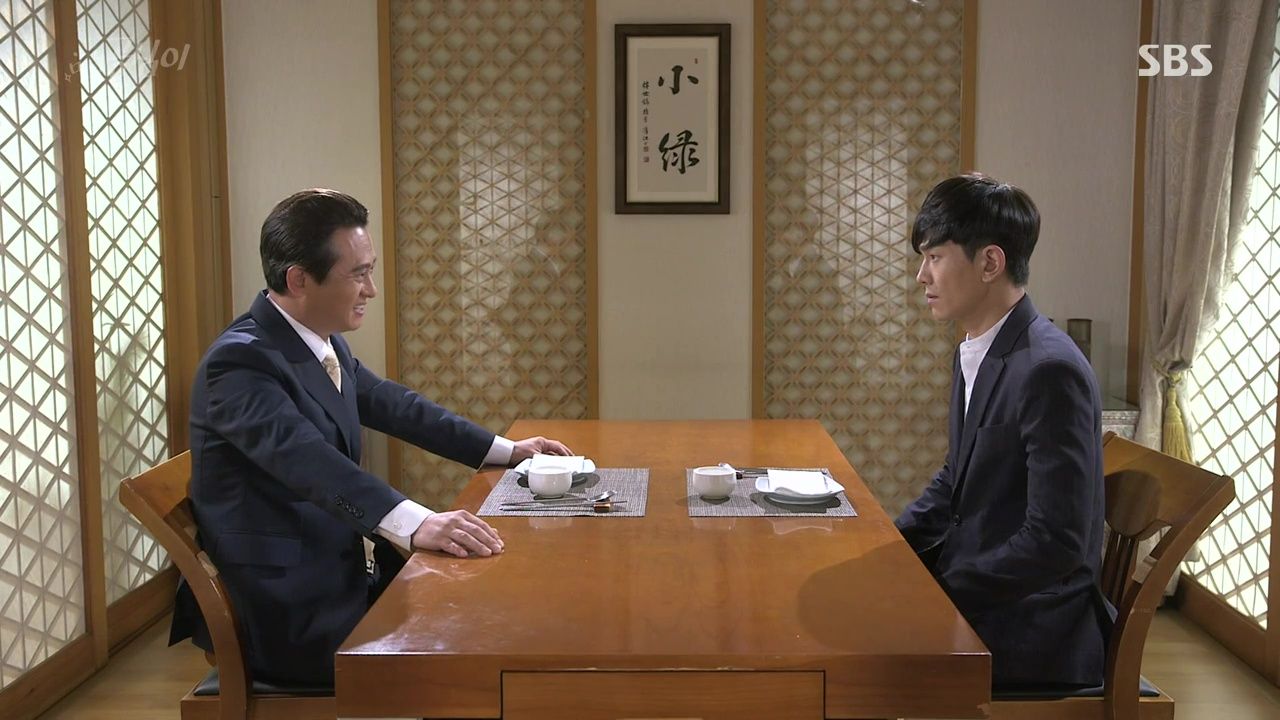 Speaking of, Jun-su is spending his vacation running away from his problems (though he won't get far as he's on a treadmill). After his run of guilt, Jun-su makes a call to someone, distractedly knocking down a magazine when he picks up his phone.
It appears Jun-su called Uncle and the two meet at a restaurant. Uncle chides Jun-su for worrying his family and asks what he wanted to meet about. Without hesitating, Jun-su says he's decided to work with Uncle to cover up everything that's happened, returning things to the way they were before Dan-tae came into their lives.
Uncle practically cackles with glee, agreeing that this is the best thing for everyone, especially Jun-su's mother. Putting on a concerned face, Uncle says that Dan-tae is still a problem and instructs Jun-su to get rid of Dan-tae from the company. He assures Jun-su that this will make everything better.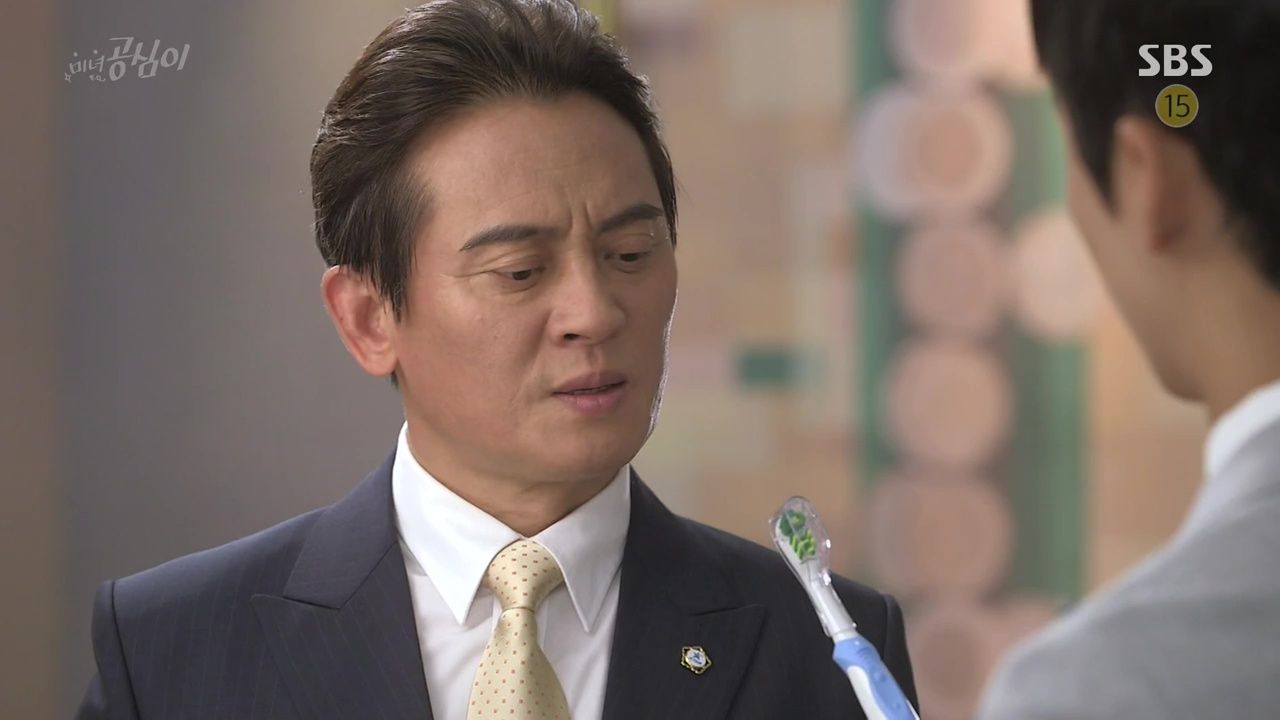 After doing some thinking with his box of clues, Dan-tae raids Uncle's office desk to take his toothbrush. Uncle catches him mid-pilfer but Dan-tae just calmly asks if he can borrow the brush for a bit. He informs Uncle that he has Jun-pyo's clothes from the day the boy was kidnapped and intends to use Uncle's DNA (taken from the toothbrush) to match it to any remaining DNA found on the child's clothes, proving that Uncle was the abductor.
Uncle snarls that that's not possible and yells for Dan-tae to get out, but Dan-tae cheekily replies that if Uncle feels so insecure about the results, then he should just take the toothbrush back, right? Unable to admit any potential misgivings/guilt, Uncle can do nothing as Dan-tae strolls out the office with his toothbrush. The minute he's left, Uncle calls Jun-su in a panic.
Oh look, Gong Shim is in this show! I'd forgotten. Jun-su meets with Gong Shim to ask her if she has the passcode to Dan-tae's rooftop room. He lies that he'd forgotten something there and can't get a hold of the wayward lawyer. Our trusting Gong Shim believes him and leans up to whisper the passcode in his ear, not seeing the dark look flash across his face.
Jun-su lets himself in to Dan-tae's room and immediately starts trashing the place. He ransacks the whole apartment and eventually finds Dan-tae box of clues. He steals the whole box and beats a hasty retreat down the stairs, not knowing that Dan-tae is just now returning home.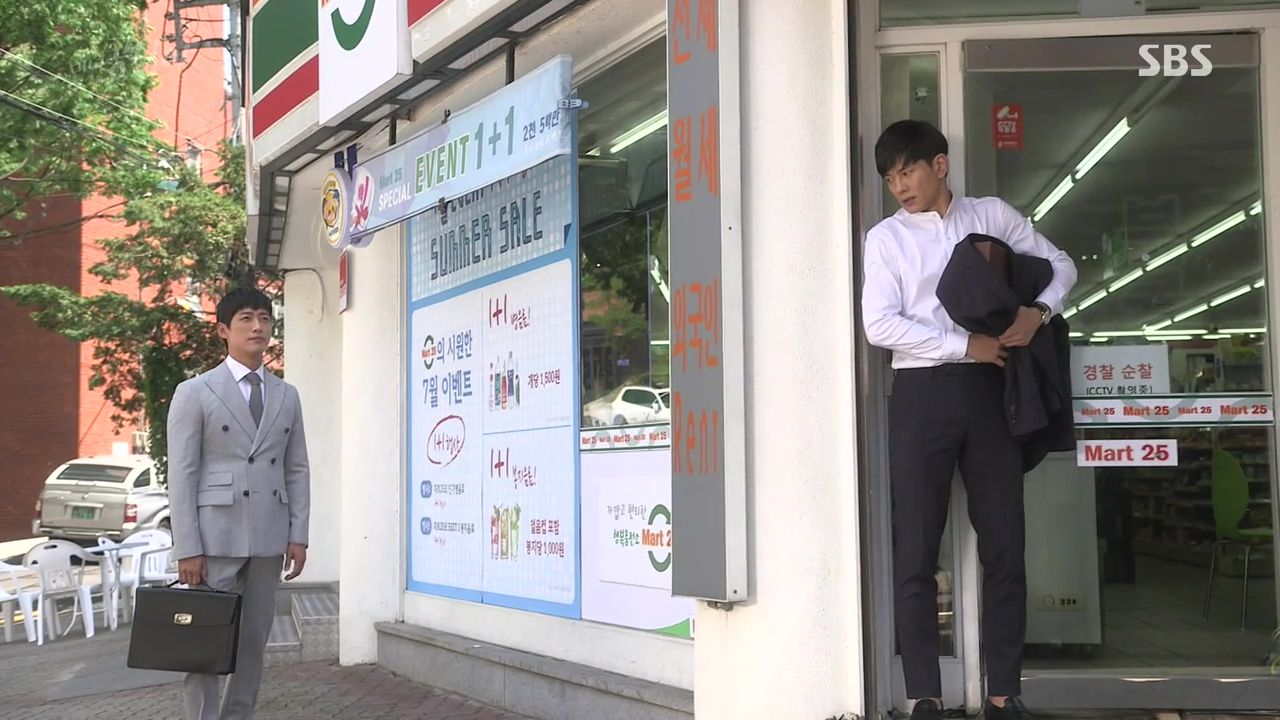 Jun-su makes it to street level but quickly ducks behind a corner when he sees Dan-tae heading straight for him. As Dan-tae gets closer, Gu-nam chooses that moment to emerge from the convenience store to talk to Dan-tae, though that doesn't delay him for long.
Jun-su hides nervously as Dan-tae continues his walk towards the stairs and Jun-su's hiding place, but luckily (or unluckily? Not sure who to root for here) Gu-nam's greeting has reminded Dan-tae of his first love: microwave dinners. Jun-su lets out a breath as Dan-tae turns on a dime and heads into the store. As Dan-tae buys his dinner, Jun-su slips by unnoticed, the box tucked under his arm.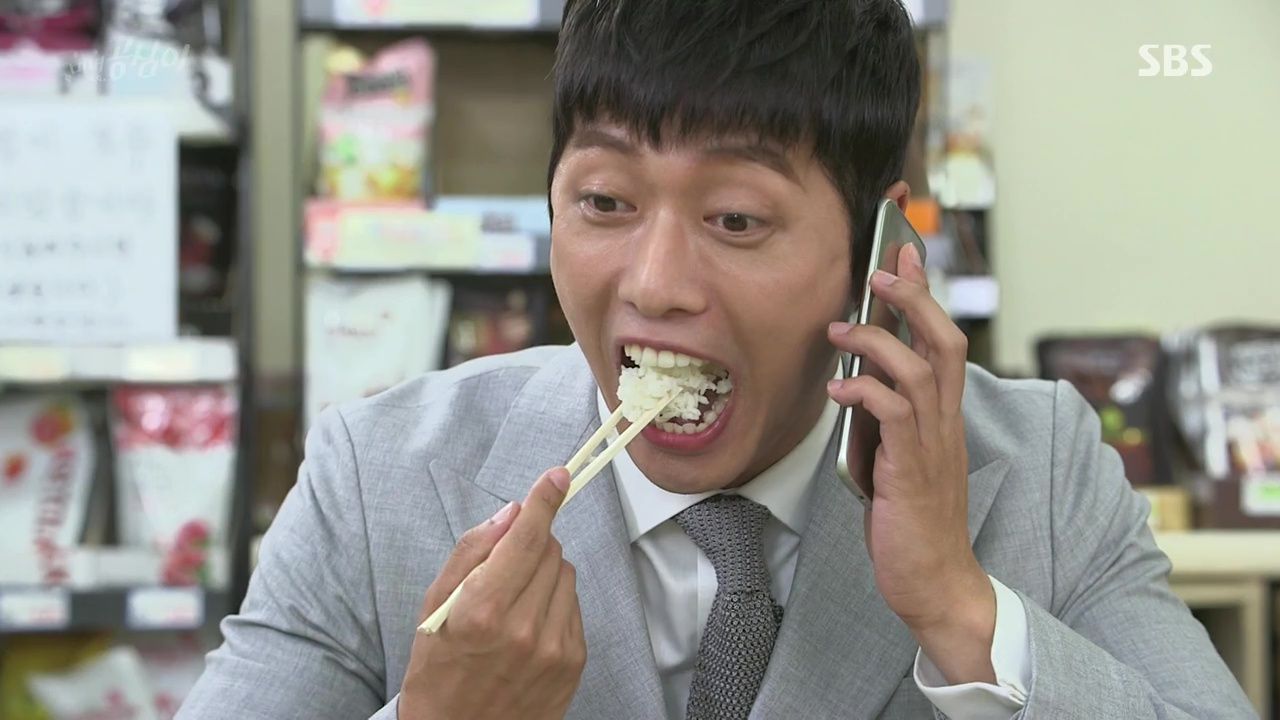 Dan-tae has just sat down with his favorite meal when he receives a call from Gong Shim. She asks if he's eaten yet and he stops literally mid-bite. Slowly retracting the food from his mouth, he answers that he hasn't and the two make plans for dinner together.
Jun-su meets with his Uncle at an outdoor fireplace. He hands over the stolen clothes and Uncle reassures him that this is all for Jun-su's mother's sake. Ugh.
Uncle tosses the clothes onto the fire and Jun-su watches them burn, a conflicted look on his face.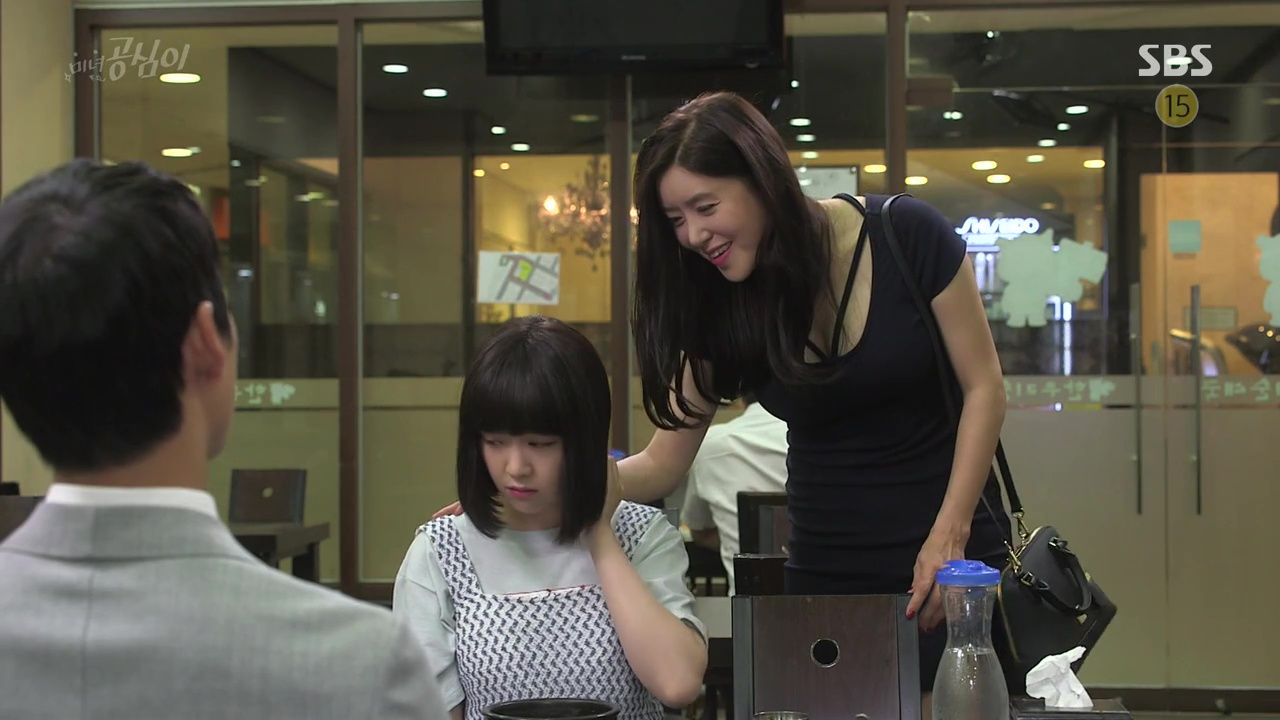 Dan-tae and Gong Shim enjoy a meal together. Using food comparisons, Gong Shim asks if they go together as well as certain classic food combinations. The metaphor goes completely over Dan-tae's head and Gong Shim sighs that she'll have to put this in simpler terms. She asks straightforwardly, "Why do you like me?"
Before Dan-tae can answer, they're interrupted by a woman who is an old colleague of Dan-tae's. She gives Gong Shim a once-over and asks if he's still tutoring students, reaching out to actually pet Gong Shim's hair/wig. Ouch.
The woman asks if Dan-tae still doesn't have a girlfriend and then invites herself to their table, sighing that she hasn't had a drink in a while. She sits right next to Dan-tae and links her arm through his, flippantly asking Gong Shim if she can home by herself. Wow, I kind of want to put her and Gong Mi in a room together and see who makes it out alive.
Dan-tae, bless his heart, pulls his arm out of the woman's clutches and proclaims that he has a girlfriend: she's sitting right here. Gong Shim grins as Dan-tae tells the woman that he prefers cute people, just like Gong Shim.
Looking like the cat that got the cream, Gong Shim grins at the woman and tells her she's welcome to join them for wine at their place, since she knows how much the woman enjoys a drink. Dan-tae's colleague squirms at the hint that the two of them live together and she gracelessly skedaddles, leaving the lovebirds to return to their dinner.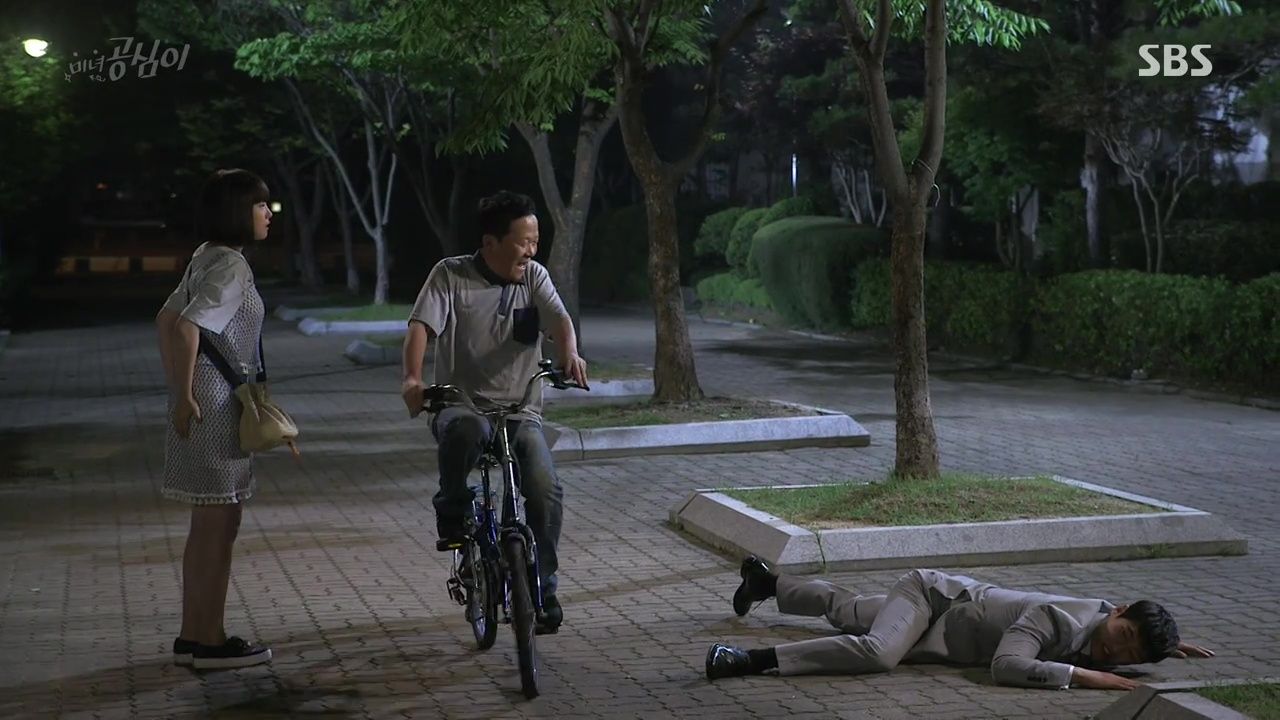 Gong Shim and Dan-tae walk home afterwards, hand-in-hand. Gong Shim is once again fishing for compliments and Dan-tae reassures her that he prefers cute over glamorous. Pulling her towards him, Dan-tae asks Gong Shim what it is that she likes about him. They're both adorably smiley as he waits for her answer.
Just then, Gong Shim spies her father on a bicycle heading in their direction. Panicking, she shoves Dan-tae away from her, the force actually flinging him face first into the ground. Hah, cus that's not suspicious at all.
Dad stops by the pair and asks what Dan-tae is doing on the ground. Dan-tae awkwardly gets to his feet and laughs that he fell down. Dad advises him to get stronger legs and pedals off.
Dan-tae does NOT have his happy face on as he confronts Gong Shim, asking if she's embarrassed of him. Gong Shim apologizes and says she just got flustered seeing her dad. Dan-tae sulks a bit, but he still reaches out to take her hand back and the two quickly return to their previous smiles and the question of why Gong Shim likes Dan-tae.
But before Gong Shim can answer, she yet again spies her father as he bikes back the way he came… and poor Dan-tae goes sprawling once more. HAHA! Dad rides right between the two, giggling as he yells out that he saw the whole thing since the beginning (meaning them holding hands). Dad continues on and Gong Shim can only pout at Dan-tae who glares.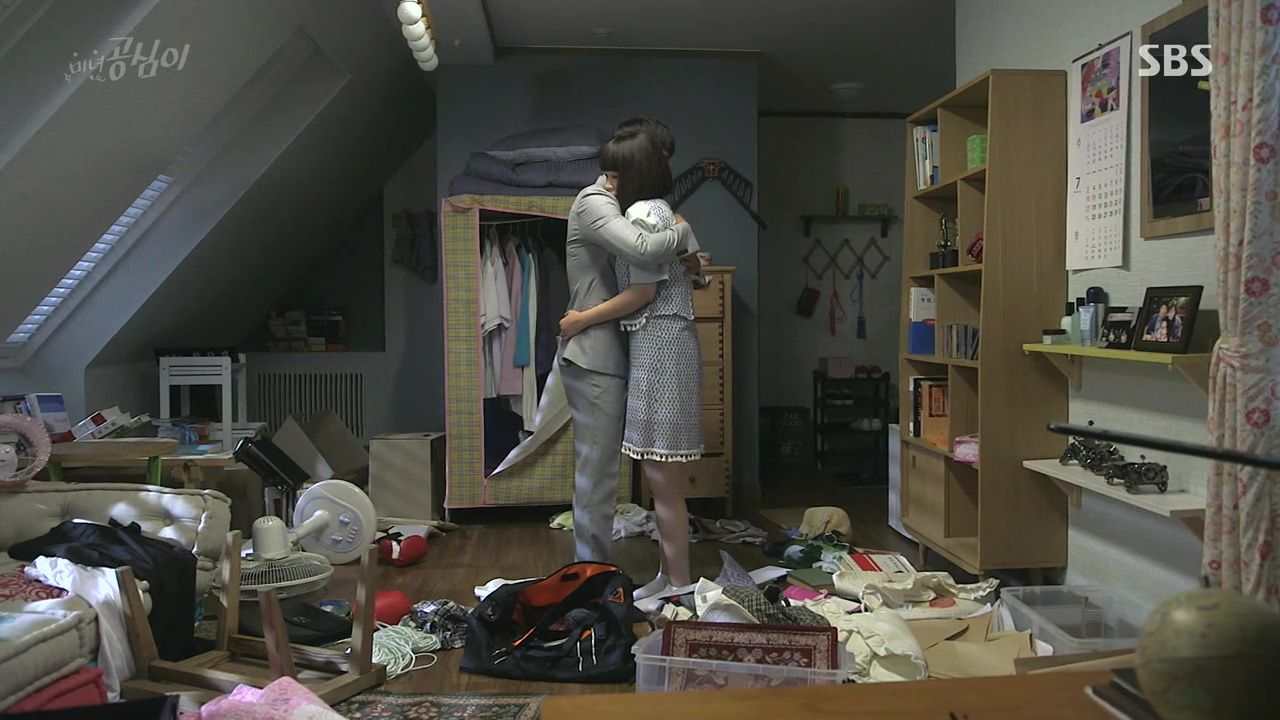 Dan-tae and Gong Shim are still bickering when they return to his room to find it ransacked. The two stare in shock at the damage and Gong Shim remembers telling Jun-su the password that day. She tells Dan-tae about it, assuming that Jun-su didn't lock the door correctly when he left and a thief broke in.
At Jun-su's name, Dan-tae immediately checks the bag where he kept his box of clues and grimaces to see that it's gone. Gong Shim pushes to call the police but Dan-tae says not to bother as it doesn't look like anything was taken. She starts cleaning up the room and Dan-tae has to physically stop her, his face growing tender as he sees how worried she is. He pulls Gong Shim into a hug, holding her close.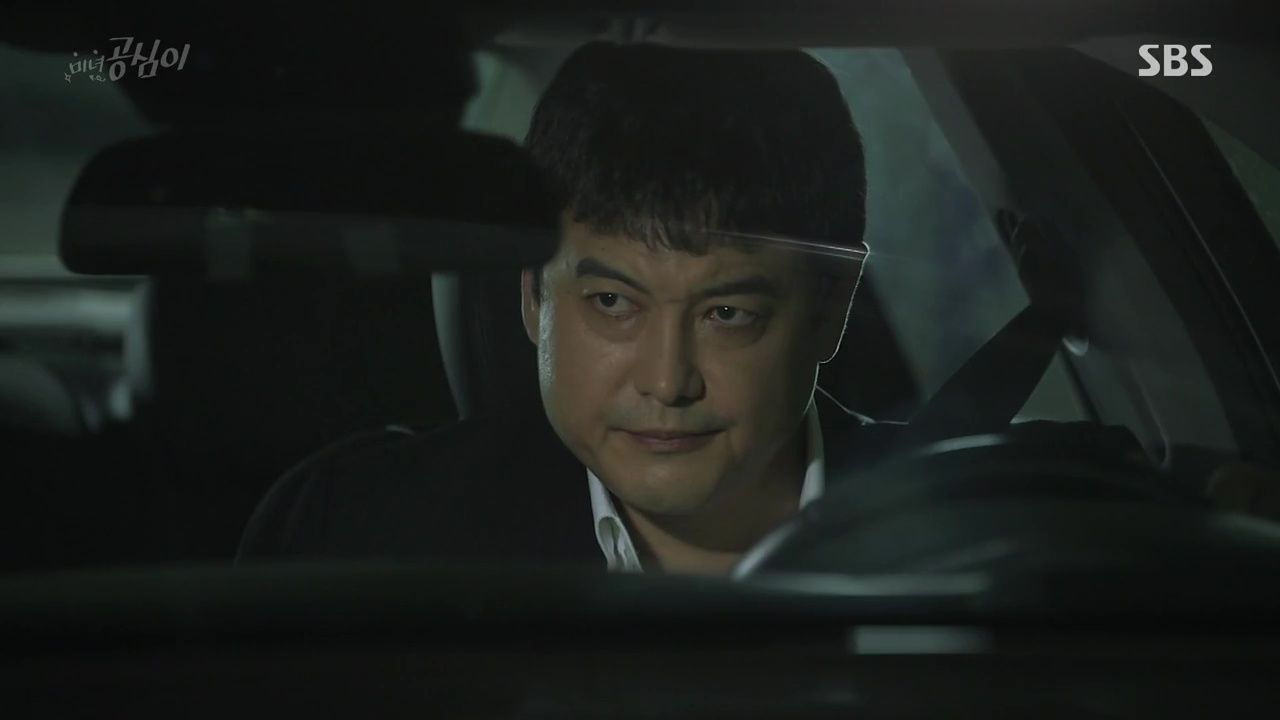 Uncle has brought back his hulking minion (the man behind the attack on Dan-tae's father at the hospital). The two are talking over the phone while they sit in separate cars parked next to each other in the company garage. I'm sure this is supposed to be creepy, but honestly they just look silly. They both watch Dan-tae as he heads to his car.
Uncle instructs the minion to makes sure that Dan-tae spends some long, relaxing time in the hospital for the next few months. Minion agrees and peels out, tailing Dan-tae.
Arriving in a different garage, Dan-tae exits his car and answers his phone, not seeing the hulking minion creeping up behind him, a long metal pipe in hand. Ack!
The minion raises the pipe and just as he's about to swing it down on Dan-tae's skull, someone sneaks up behind him and whacks him on the head with a fire extinguisher. IT'S JUN-SU!! Yay! He saved Dan-tae! Wait… what?
Dan-tae whirls around to stare at Jun-su who's clutching the extinguisher like it's his teddy bear. Jun-su snaps out of his adrenaline rush and immediately asks if Dan-tae is all right. When Dan-tae asks what happened, Jun-su says he thinks it was his uncle's doing.
Jun-su asks timidly if the minion is still alive. Dan-tae confirms that he is, then lets out a little laugh at Jun-su's condition, marveling that after living in luxury all his live, he's been having to do all kinds of strange things lately. Jun-su agrees and suddenly it's flashback time.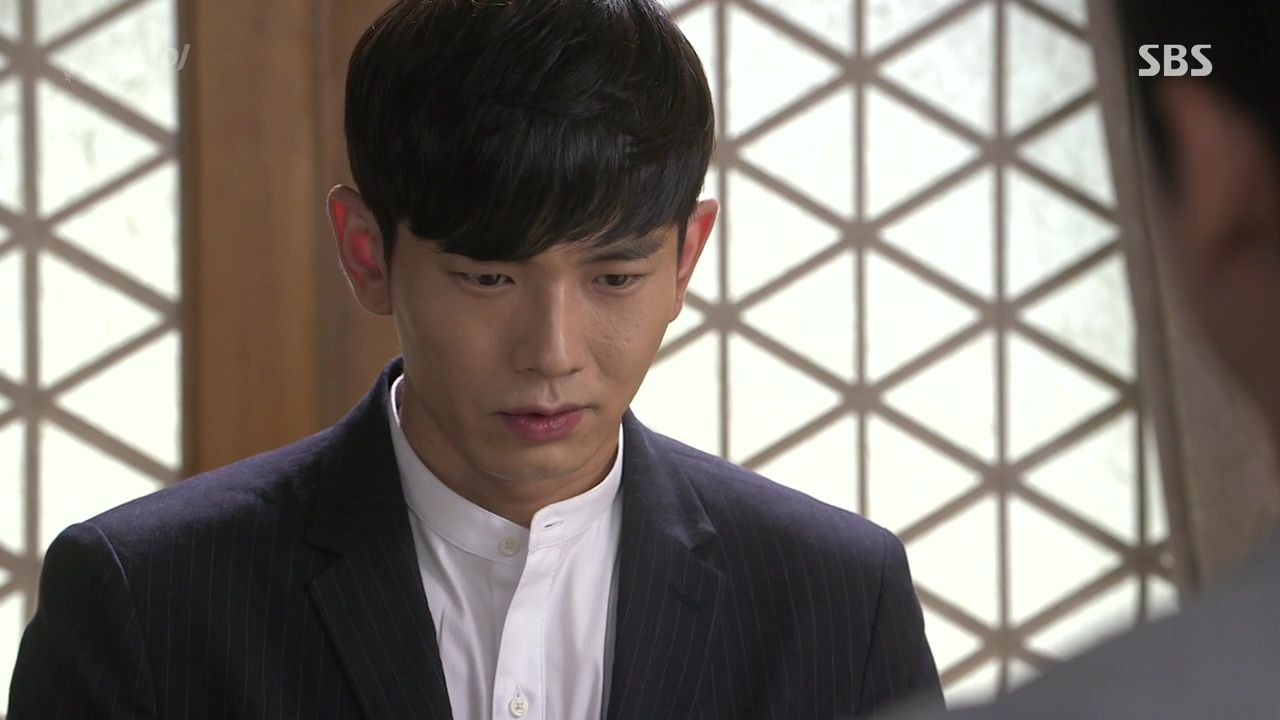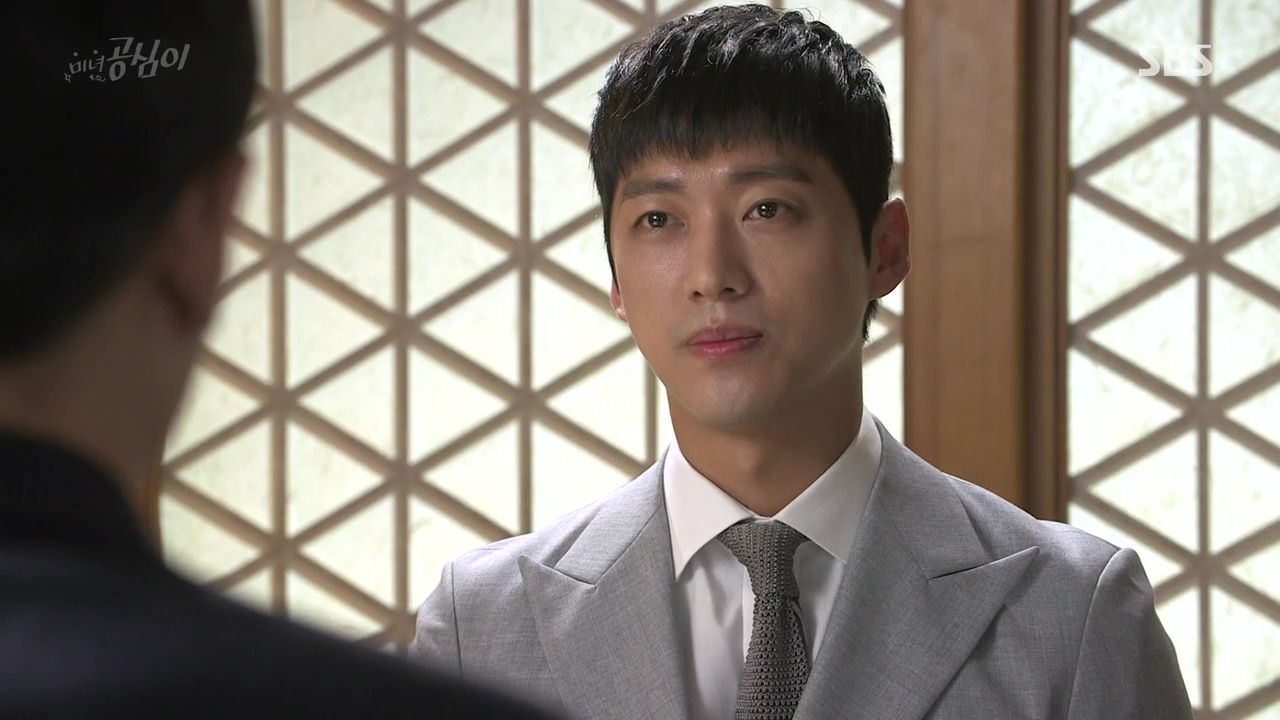 Back during Jun-su's self-exile, the phone call he'd made when he dropped the magazine was not to Uncle, but to Dan-tae. Before Jun-su had met with Uncle, he and Dan-tae had met at the same restaurant.
Jun-su can barely look Dan-tae in the eyes as he apologizes, admitting to trying to cover everything up to save his mother, but after Uncle tried to kill Dan-tae's father, he knew it had to stop. He asks for Dan-tae's forgiveness and promises that from now on, he will try to atone for his actions. Dan-tae lets out a small smile and murmurs that he's glad to see the old Jun-su return. You and me both.
Dan-tae warns Jun-su that if they do bring justice to Jun-pyo and Dan-tae's father, then Jun-su's mother and uncle will face punishment; he asks if Jun-su is okay with that. Jun-su answers that the price must be paid for the crime committed.
The bromance is back on as Jun-su takes Dan-tae to his new office. Dan-tae comments that it's so clean… compared to the mess that Jun-su left in his room. Heh. Jun-su just grins like a little kid, saying he went a bit overboard since he was worried that his uncle might check the room too. He tells Dan-tae that Uncle burned the clothes, but Dan-tae smugly reassures him that he hid the real clothes elsewhere.
Uh-oh, Uncle has chosen today of all days to pay his nephew a visit in his new building and heads up to Jun-su's office. The boys are currently listening to the recording that Jun-su made of his meeting with Uncle (the one at the restaurant where Uncle instructed him to chase Dan-tae out of the company).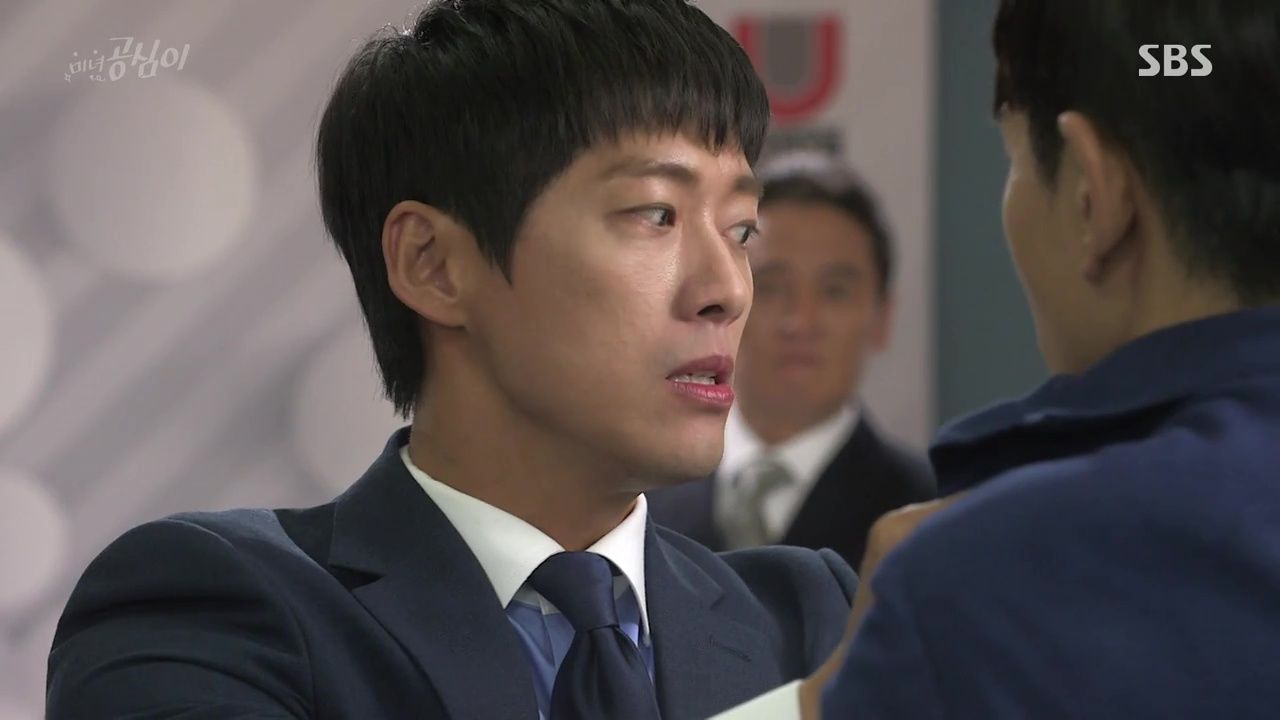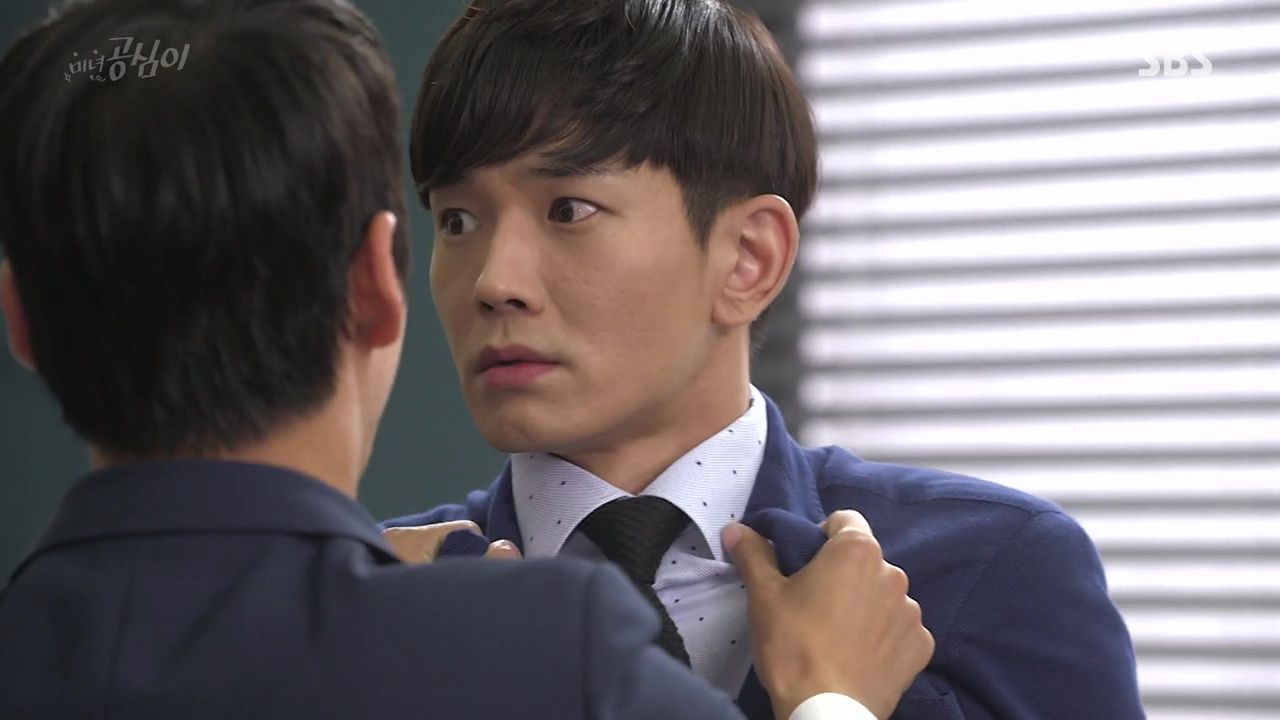 Uncle gets closer and closer as Dan-tae listens to the recording. Thankfully, Dan-tae spies Uncles shadow through the glass door and does some quick thinking. Throwing the phone at the wall he spins around and grabs the shocked Jun-su by his lapels, demanding to know what he took from his house.
Jun-su is baffled, until he sees Uncle's arrival and Dan-tae's over-the-shoulder glances. Uncle yells at Dan-tae to let Jun-su go and both boys play their roles beautifully. Dan-tae accuses Uncle of sending his minion after him and exits with a sneer.
On his way out, Dan-tae stops by to see Gong Shim at her work. He watches as she happily runs around the office and receives praise from her all her co-workers. Dan-tae catches her eye and the two step into the hallway for a moment full of straight up adorable.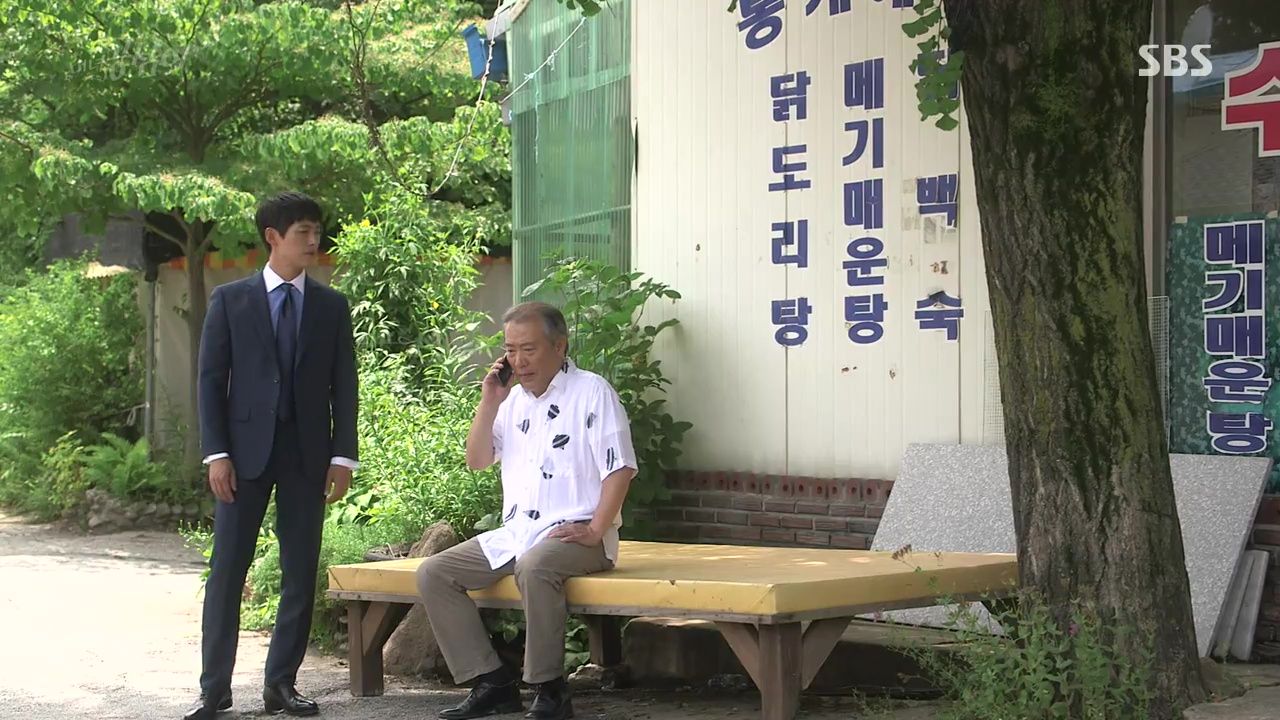 Uncle gets a call from the gardener he hid away. The man voices to Uncle that Dan-tae came to see him and told him how his father was injured by Uncle. He tells him that he doesn't want his money if it's to cover that up, saying he's going to tell the truth about who he saw at the garden.
Uncle panics and asks to meet face-to-face, and then we see that Dan-tae has been standing next to the gardener this whole time. The man hangs up and Uncle actually growls Dan-tae's name in frustration.
After the gardener leaves, Dan-tae receives a call from his aunt and runs off to the hospital.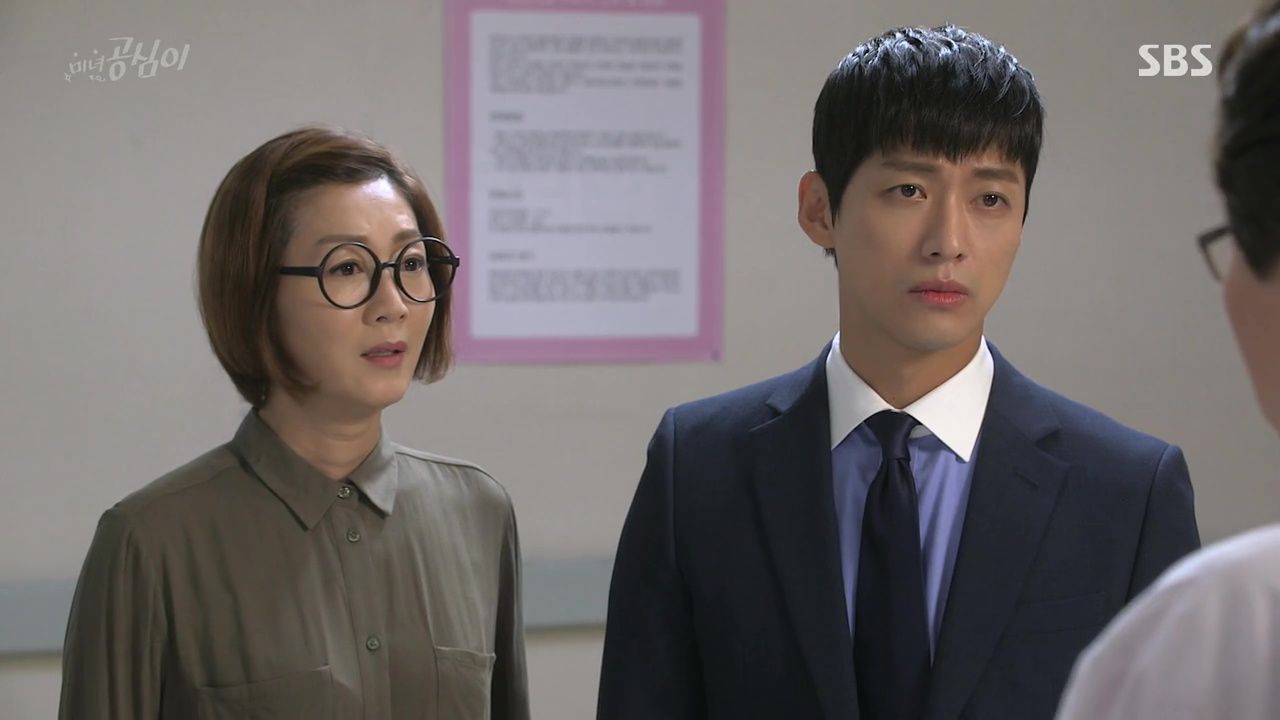 Oh dear, it looks like Dan-tae's father has taken a bad turn and the doctors advise Dan-tae and his aunt to be prepared for the worst.
Gong Shim is watering her plants when Aunt arrives at Dan-tae's room, bearing side dishes for her nephew. The two greet each other warmly and Aunt heads into the apartment. Gong Shim runs down to her house and soon returns with a cool drink for Aunt to enjoy as she cleans up Dan-tae's place.
Dan-tae meets with Grandma and when she asks after his father, he can't hide that there's something wrong. He confesses that his father is in critical condition and the doctors don't think he will survive much longer. Grandma admonishes him for keeping such a heavy burden to himself and wants to go to the hospital immediately to visit.
Meanwhile, Gong Shim finds a hospital visitor's pass on Dan-tae's doorstop. She realizes that Aunt must have left it and sees that it's for the ICU.
Grandma and Dan-tae look in on his father and Grandma can barely contain her emotions. Through the window, she thanks Dan-tae's father for taking care of her grandson, promising that she feels nothing but gratitude towards him for raising her Jun-pyo so well. She breaks down in tears, telling him to wake up so they can meet properly.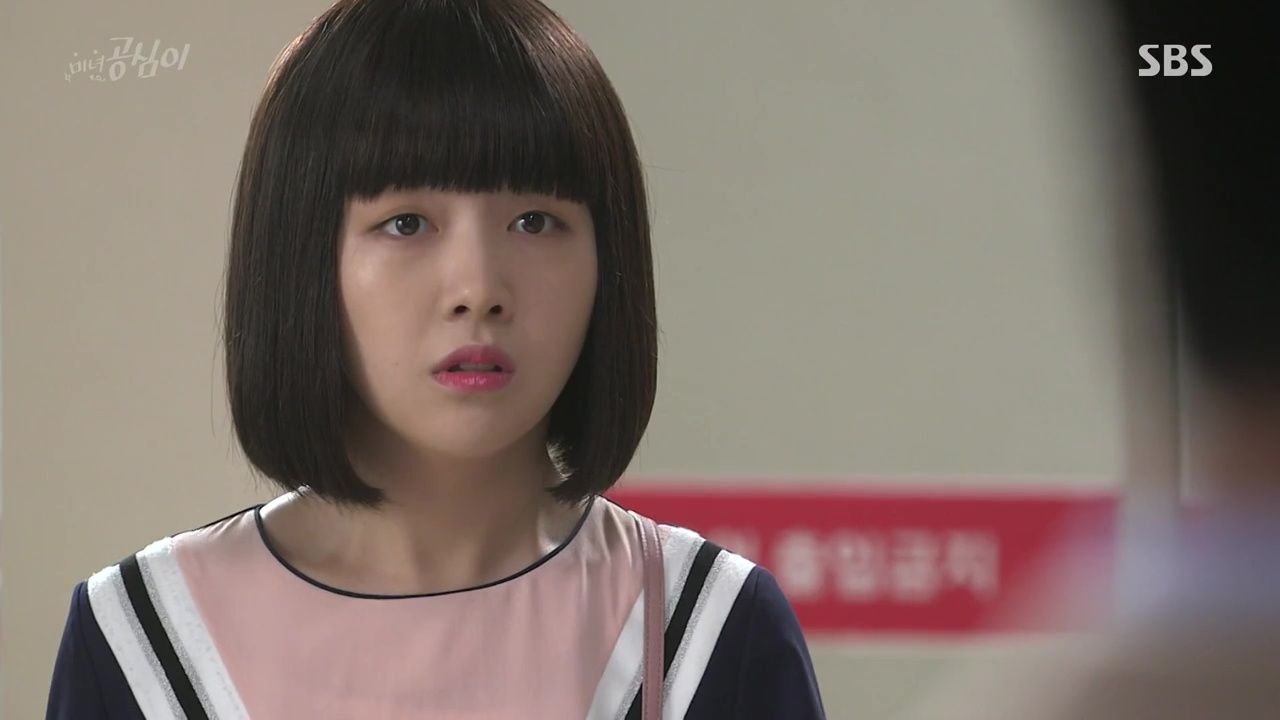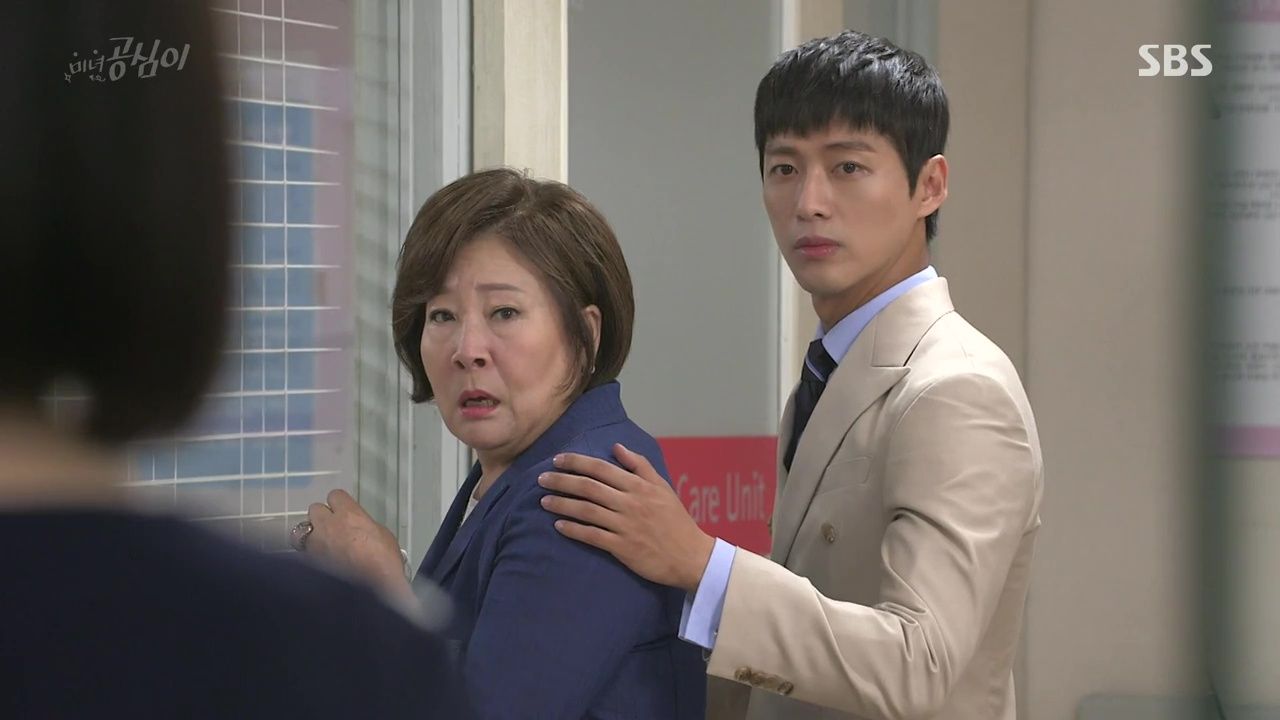 Dan-tae holds her in a comforting hug, but they're both startled out of their grief when Gong Shim drops the visitor's badge in the doorway, having heard the whole exchange. There's a moment of all around staring and Gong Shim stutters out that she just wanted to return the badge to Aunt. Dan-tae tells her he'll explain everything, but when she shakes her head, Grandma asks to talk with her privately.
Grandma takes Gong Shim aside and explains that Dan-tae is her only biological grandson. She tells her how 26 years ago he was kidnapped at the age of four, and they've only just now reunited.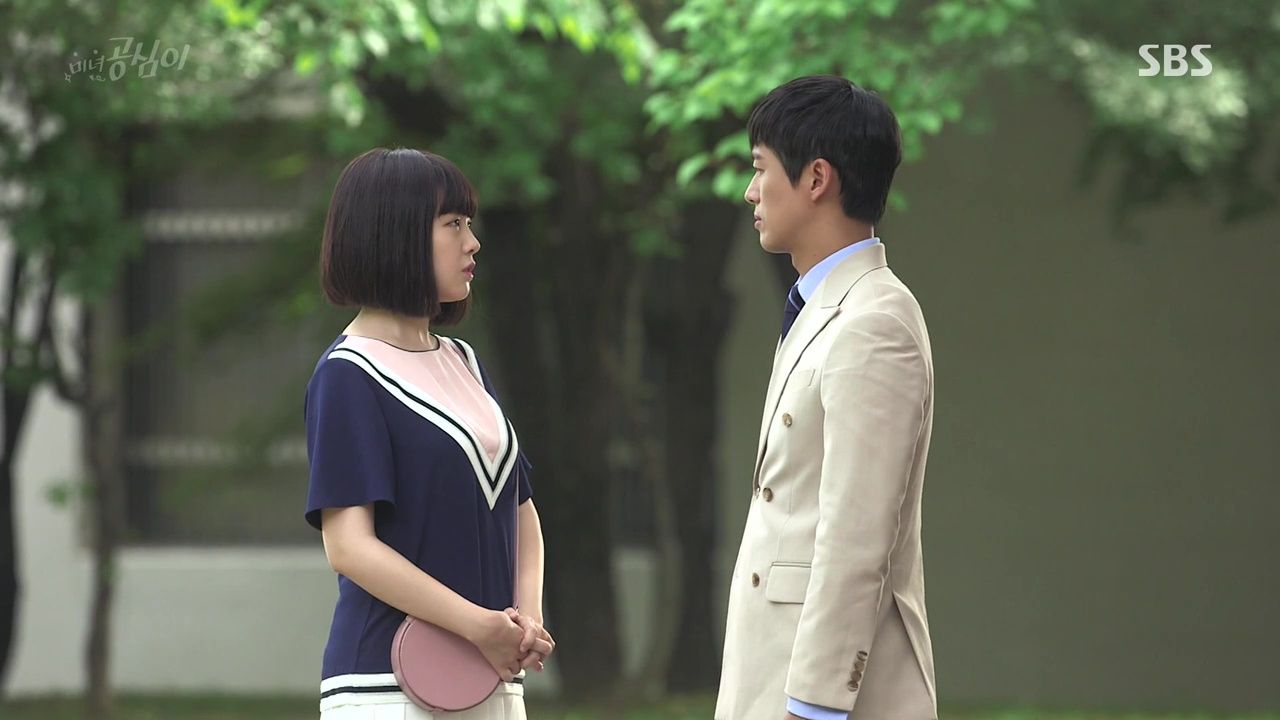 Gong Shim meets Dan-tae outside and he apologizes for not telling her sooner. She is slowly putting all the pieces together, realizing that the month he went missing was when he discovered his identity. Grandma just told her he was working to uncover the culprit so she understands why he had to hide the truth from her. She asks him if, once he finds his kidnappers, he will become Seok Jun-pyo. Dan-tae doesn't have an answer for her so she asks to go inside to greet his father.
Afterwards, Gong Shim tells Dan-tae to go on ahead without her; she wants to stay for a bit longer. Dan-tae gives her some privacy and a heart-broken Gong Shim sits by herself.
Dan-tae lies on his floor at home, thinking about Gong Shim's question of if he'll become Seok Jun-pyo when this is all over. His heavy thoughts are interrupted by Dad who invites Dan-tae down for dinner and to talk.
Dan-tae comes down to find a full dinner spread laid out. Dad pours him a drink and they all share a cheers before Mom launches right in with the questions: How long has he been seeing Gong Shim? Is he sick at all? How much money does he have saved? He does pretty well with the answers until the money question when admits that he doesn't have any savings, and Mom's face falls.
Dan-tae is kind of saved by the arrival of Gong Shim, except her parents snag her too and now it's both of them being questioned. Gong Shim finally puts an end to the inquisition when her mom asks about Dan-tae's parents. She yanks Dan-tae out of the house and her parents are left to discuss her new man.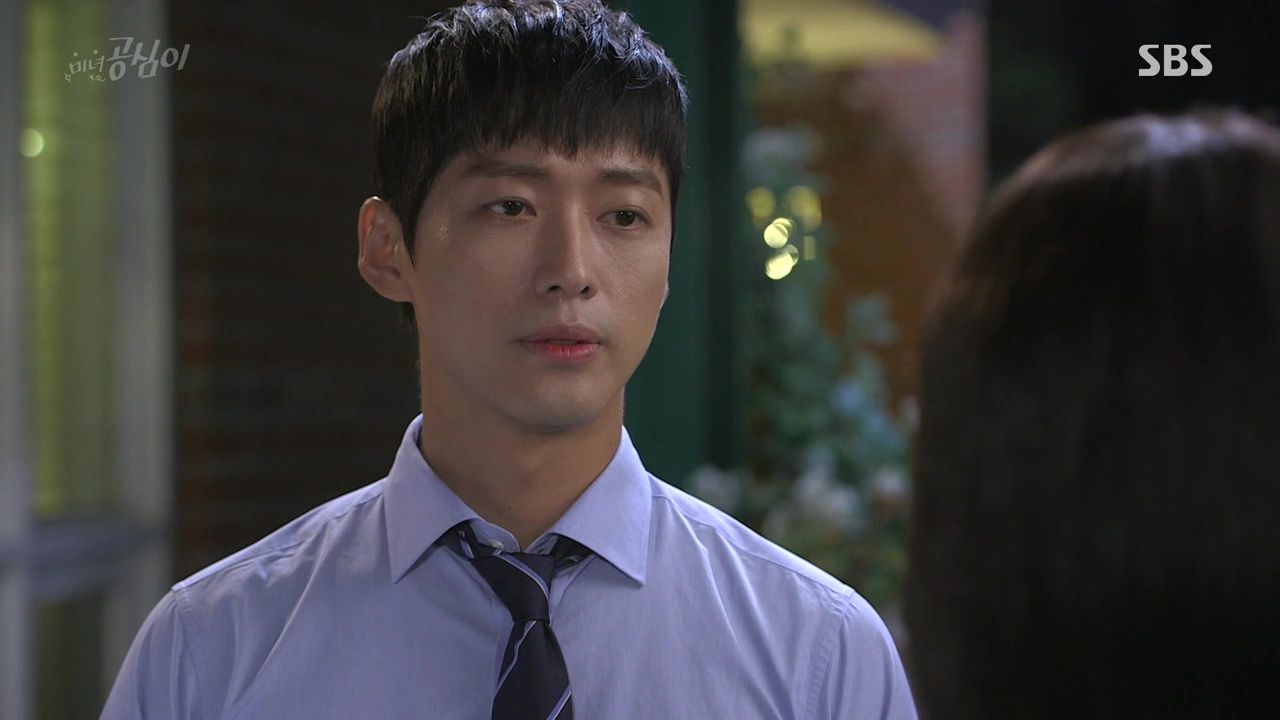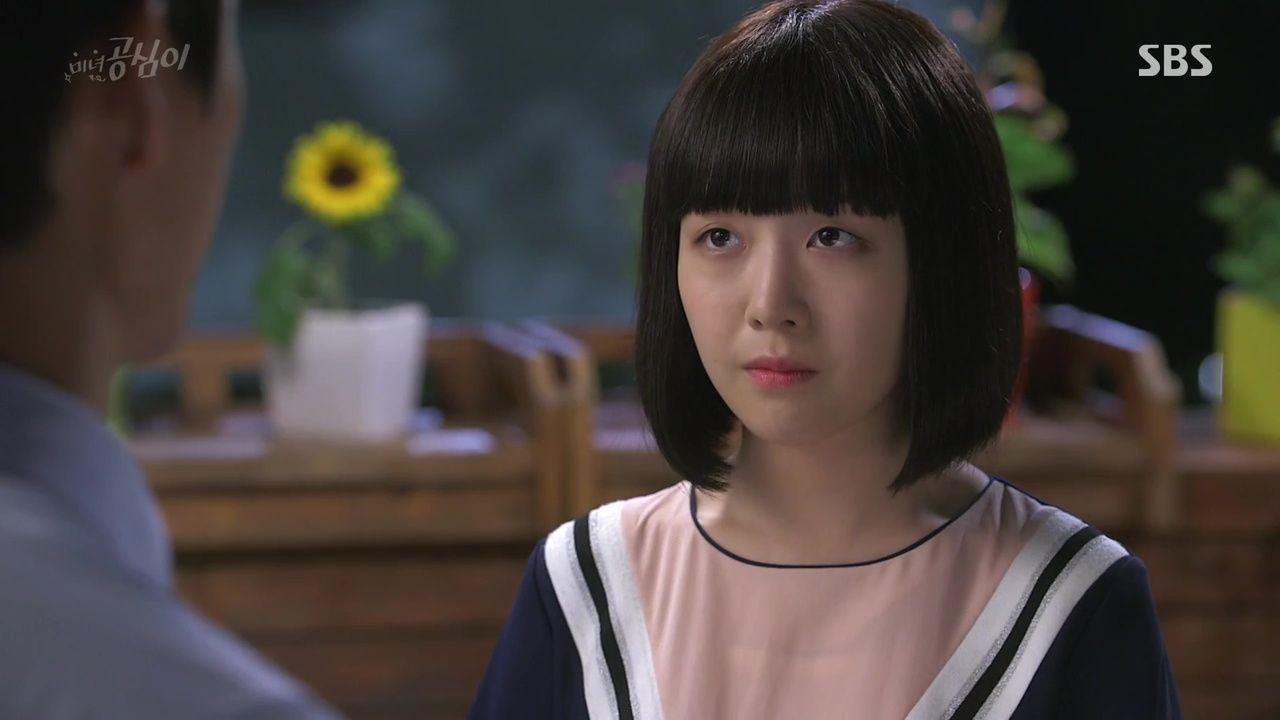 Gong Mi arrives in her sister's absence and her parents eagerly spill the beans that Gong Shim and Dan-tae are dating. Gong Mi can't believe it, but thinks that the two look good together, clearly happy to have gotten rid of any competition for Jun-su.
Up on the roof, Gong Shim apologizes for her parent's behavior, though Dan-tae says he's the one who should be sorry. He asks what Gong Shim had needed time to think about earlier and Gong Shim admits that she wishes he had told her the truth from the beginning. Dan-tae agrees, but says that even with the truth, he's still the same person.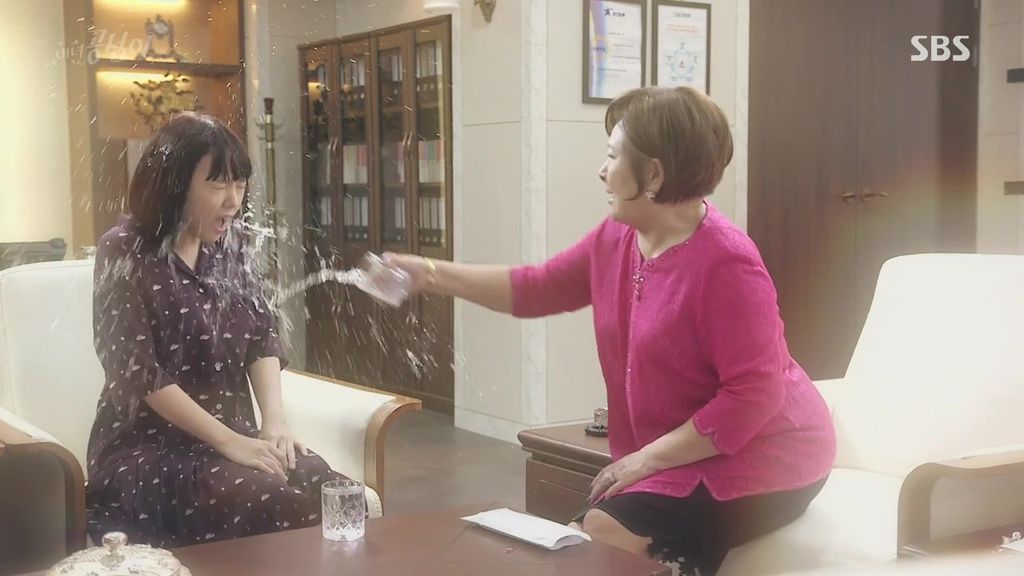 In her room, Gong Shim remembers Grandma's words that Dan-tae is her only true grandchild. Letting her imagination run away, she day dreams a scenario straight out of a melodrama where Grandma forbids her from seeing Dan-tae again, complete with water throwing and an envelope of money.
Gong Shim shakes off the dream… only to plunge right into another where Dan-tae exits a giant limo (to the tune of Heirs) and completely ignores her desperate pleas. Gong Shim is finally tossed to the ground by Dan-tae's many bodyguards where she wails after him. Someone has definitely been watching too much TV.
The next morning Gong Shim wistfully looks at Dan-tae as he eats his convenience store ramyun. He spies her and asks to head to work together when he finishes, but she tells him to take his time and leaves with a sad smile.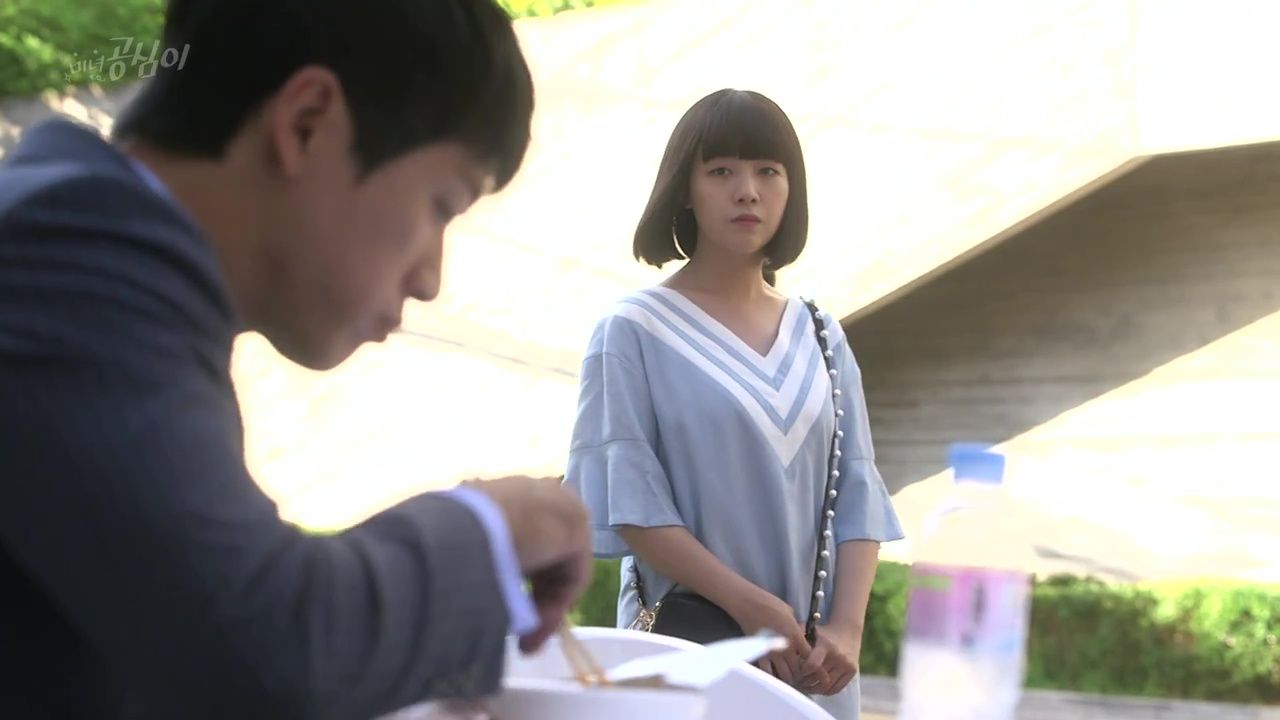 Jun-su visits the ever-catty Gong Mi and she wastes no time in telling him that Gong Shim and Dan-tae are dating. She grins to herself and completely ignores the hurt that she just caused the man she supposedly likes. Typical.
Uncle returns to his office and finds a bag on his desk with Jun-pyo's clothes inside, the same one he burned. Dan-tae calls at that exact moment and taunts him, revealing that he kept the real clothes somewhere safe and they're currently being analyzed for a DNA match.
Dan-tae's introduces Jun-su to his friend who sent the spam text, and the man's uncle (the man who played Dan-tae's father's look-alike in the blackmail video). Together they set up in a hospital room, rigging it with cameras and putting Dan-tae's father's look-alike in a hospital gown and bed.
Jun-su calls his uncle and tells him that Dan-tae's father has woken up again. Uncle is shocked as Jun-su lies that Dan-tae's father is being sent to another hospital and asks what he should do. Uncle says he'll handle it.
Dan-tae witnesses the call and checks to see if Jun-su is sure he can handle this. Jun-su gives him a small nod and Dan-tae's friends finish with the room. The stage set, everyone retreats to the room next door, Dan-tae's father's look-alike lying innocently in the bed.
Wearing dark clothes and a face mask, Uncle sneaks his way into the room where Dan-tae's father supposedly lies. Jun-su and Dan-tae watch closely on a computer monitor as Uncle approaches the bed grasps the air tube to pull it out once again.

COMMENTS
Wow, a cliff hanger that DOESN'T involve Dan-tae and Jun-su glaring at each other! Whoo!
I admit, I really wasn't sure what direction Jun'su-s character was taking, especially after Uncle made it seem like Jun-su's mother was in on the attempted murder of Dan-tae's father. He could conceivably have fallen into the typical villain mindset of "I've come this far so there's no going back, now." It takes a very strong character to realize not only where the line is, but to refuse to cross it, even when it means he'll have to face the consequences for what he's done up till now. I see that as one of the many differences between Jun-su and his Uncle: Uncle will not stop because that means owning up to his past actions, something he'll never do as long as he can find another way out.
It looks like Uncle's current plan is to grab the $10 million his sister is preparing and just split. He probably recognizes that too many people know the truth and his best option now is to cut and run. It's beyond cruel that he's twisted his sister up in all this the way he has, lying about Dan-tae's father's condition and leading Jun-su to believe that his own mother is capable of planning murder. If this wasn't the 18th episode in a show that should have been 16, then I'd be interested in a deeper backstory for how Uncle turned into such a cold bastard. As it stands now, I just want him to get his creepy self the hell away from my Jun-su puppy so nothing ever dims his beautiful smiles ever again — they make my heart melt, and must therefore be protected!
I really can't believe it took this long, but at least Gong Shim has finally uncovered the truth. I really wish Dan-tae had put on his big boy pants and told her himself, but beggars can't be choosers I suppose. I did like that she was the one to pose the question that Dan-tae hadn't thought to ask himself yet: When this is all over, will he stay Ahn Dan-tae, or become Seok Jun-pyo? Not that he has to completely shed one identity to take on the other, but there are choices he's going to have to face now that it looks like he's cornering the bad guys. He's got some more bumps to smooth out before he can ride off into the sunset with the girl, specifically convincing the girl not to run away from him.
Truthfully, I completely understand Gong Shim's reaction to Dan-tae's secret — it would have been weird if she'd completely accepted everything without doubts. She's spent all this time getting to know Dan-tae as the crazy lawyer who lived above her and now she has to confront the fact that not only does he have a new identity, but he's a chaebol heir. Gong Shim spent most of her life being told that she wasn't good enough and that no one would look at her when her sister is around. She does have a resilient spirit as we saw when she stood up to the gas station lady and Jun-su's mother, but that was when she was fighting for basic human rights, not the right to date someone in a social circle miles above her own. Unlike Dan-tae, she has an awareness of classes, staying friends with Jun-su but still recognizing the differences between them. It can be difficult, even heartbreaking, to follow someone into a world so unlike your own, so it's understandable that she needs some time to figure things out. I just hope that Gong Shim gives Dan-tae a chance before she pushes him away.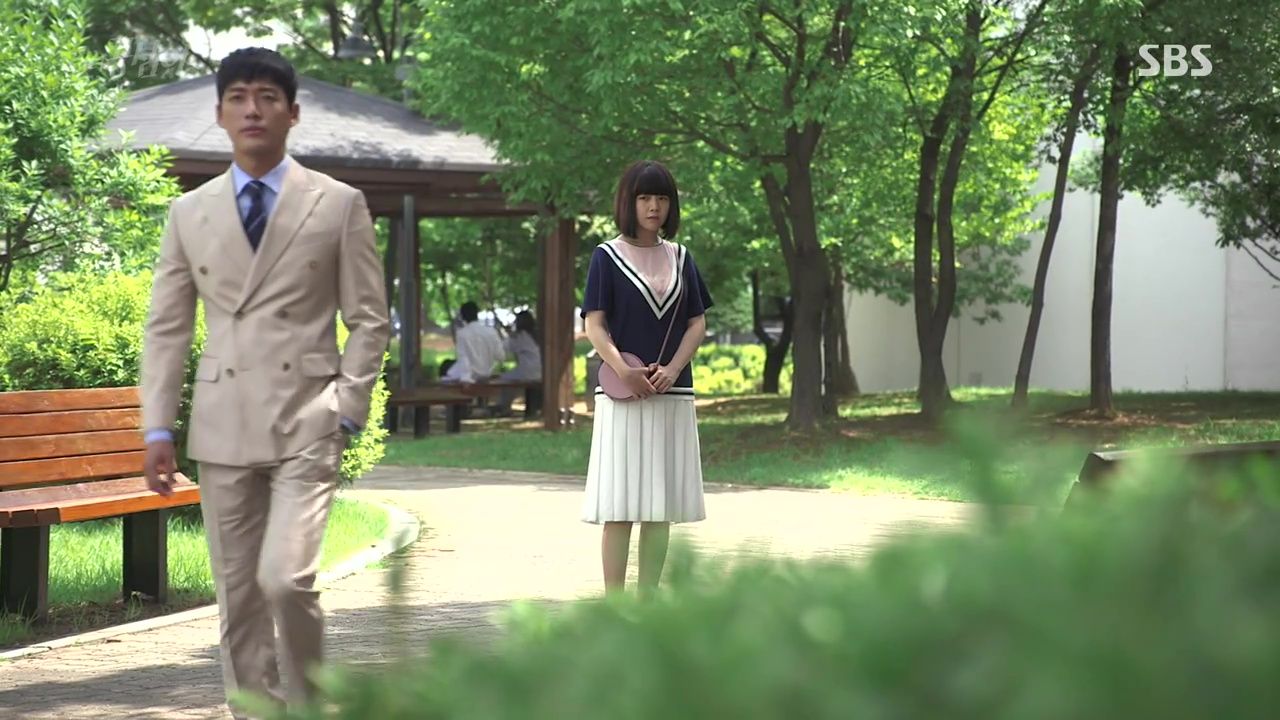 RELATED POSTS
Tags: Beautiful Gong Shim, Episode 18, featured, Minah, Namgoong Min, Ohn Joo-wan