Beautiful Gong Shim: Episode 19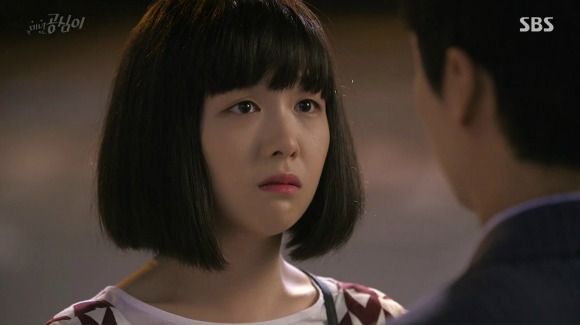 The end is near, and the truth finally becomes known to all, but not everyone emerges unscathed. Harboring a dark secret for far too long inflicts immeasurable pain, and old feelings die hard. Sometimes it's too late for forgiveness, but for the corrupt and greedy-minded, there's no time like the present to exact revenge when it's least expected.

EPISODE 19 RECAP
With their decoy in place, Dan-tae and Jun-su watch the monitor intently as Uncle enters the hospital room of Dan-tae's comatose father. Little does he know, lying in the bed acting as Dan-tae's father is actually the lookalike uncle of Dan-tae's friend, Ho-joong.
Uncle ominously declares that Dan-tae's father should've heeded him at the arboretum. He proceeds to yank the air tubes, causing "Dan-tae's father" to convulse before becoming still. He answers a call from his sister, and they decide to meet since she has the money ready.
Once Uncle exits the room, the lookalike gets up, perfectly alive and well. Dan-tae and Jun-su hop into Ho-joong's car and follow Uncle's taxi from behind. Ho-joong wonders why they didn't nab Uncle in the hospital room, and Dan-tae replies that while Uncle confessed to the attempted murder of his father, there's still no evidence linking him to Jun-pyo's abduction, so they'll have to tail him for now.
Jun-su inquires about the status of Jun-pyo's DNA analysis, but Dan-tae responds that it was merely a lie to frighten Uncle; Uncle's DNA wasn't detected on Jun-pyo's old clothes, and without a bloodstain, a match would prove difficult.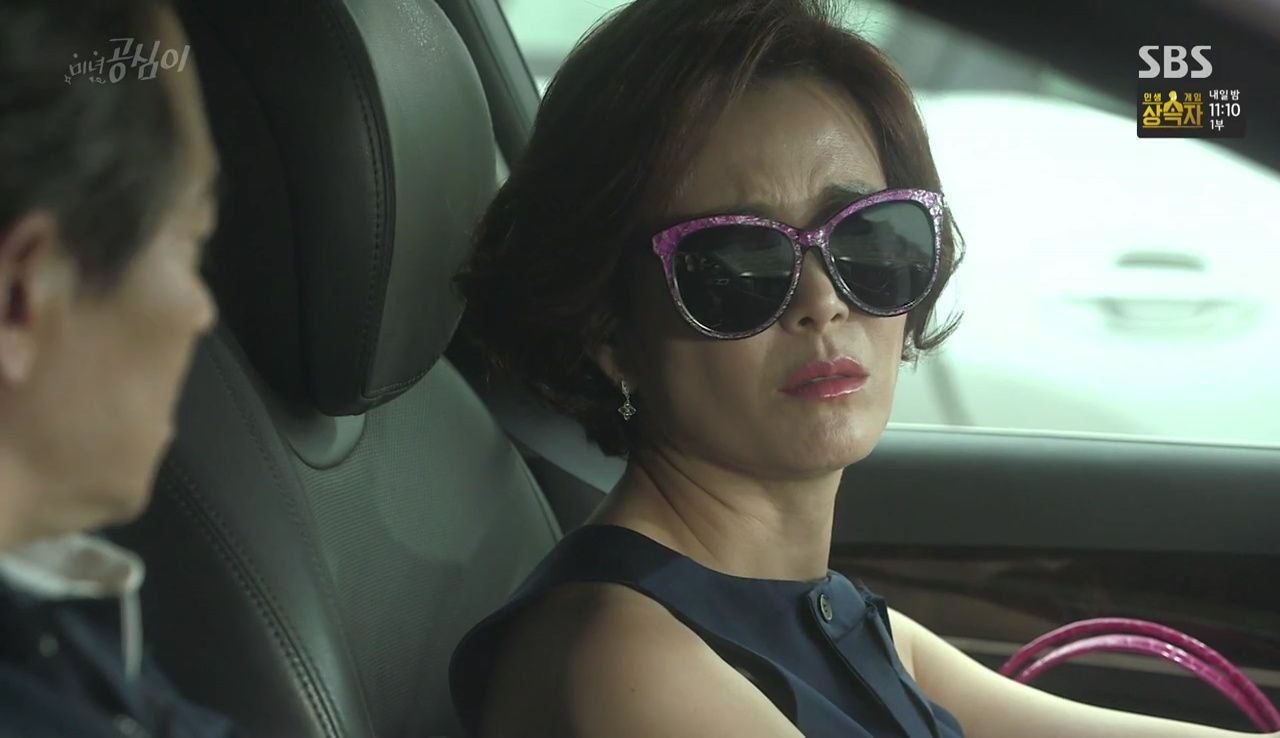 In her car, Jun-su's mother waits anxiously for her brother to arrive. Uncle pulls in shortly after and enters from the passenger side of his sister's car. He unzips her bag and finds bundles of cash; Jun-su's mother confirms that there's 1 billion won in there (roughly 1 million dollars), per his request, and asks if Dan-tae's father will finally move abroad and leave them alone after this payment. Uncle assures her that he will.
Dan-tae & Co. are parked right across from them and keeping watch. Jun-su says he'll bring the black box from his mother's car later, which will have recorded her conversation with Uncle.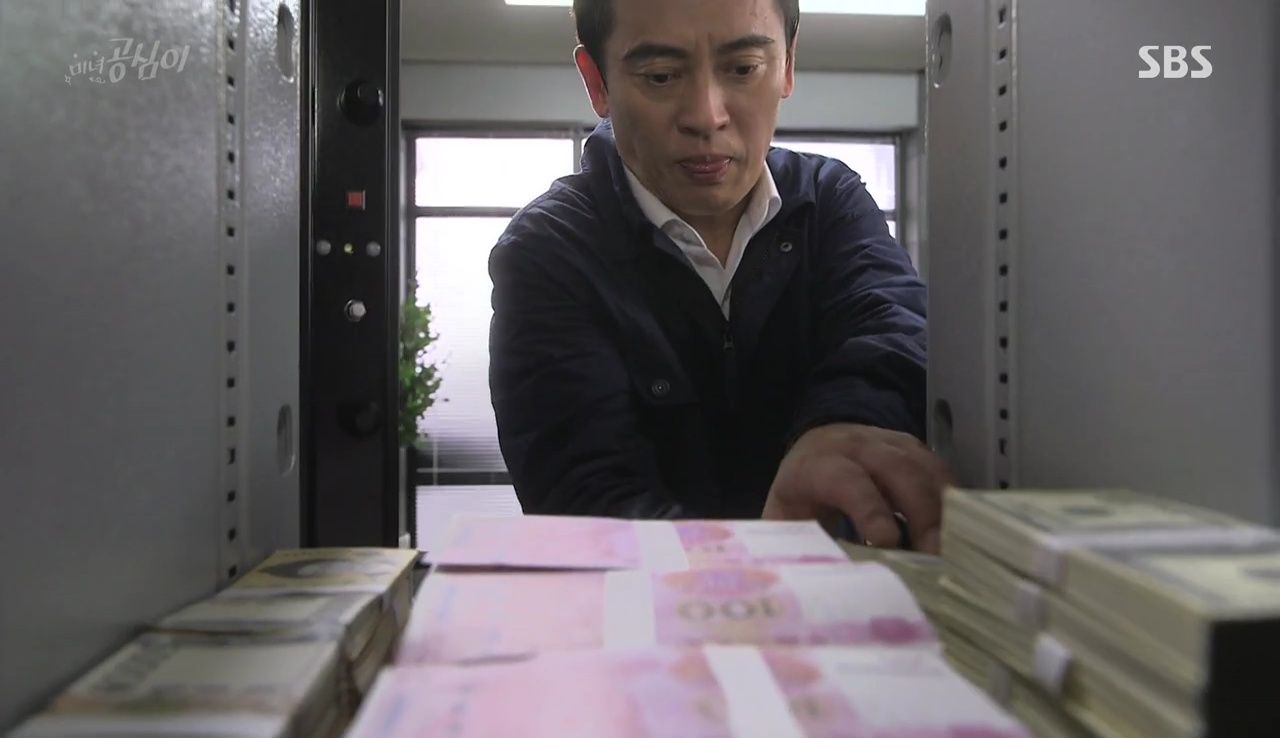 Jun-su's mother regrets fleeing and not stopping Uncle from kidnapping Jun-pyo. At the time, she thought having Jun-pyo out of the picture was ideal, but now, the last thing she wants to deal with is this fiasco. Uncle admonishes her for having second thoughts and promises that after he hands Dan-tae's father the money, this will all be over.
Dan-tae's guesses are correct. Uncle heads to his office to collect his embezzled funds right before his flight. As he's stowing his suitcase o' cash in his car, Dan-tae ambushes him and threatens to kill him after what he did to his father. Uncle's shoved up against the wall until Jun-su arrives onto the scene.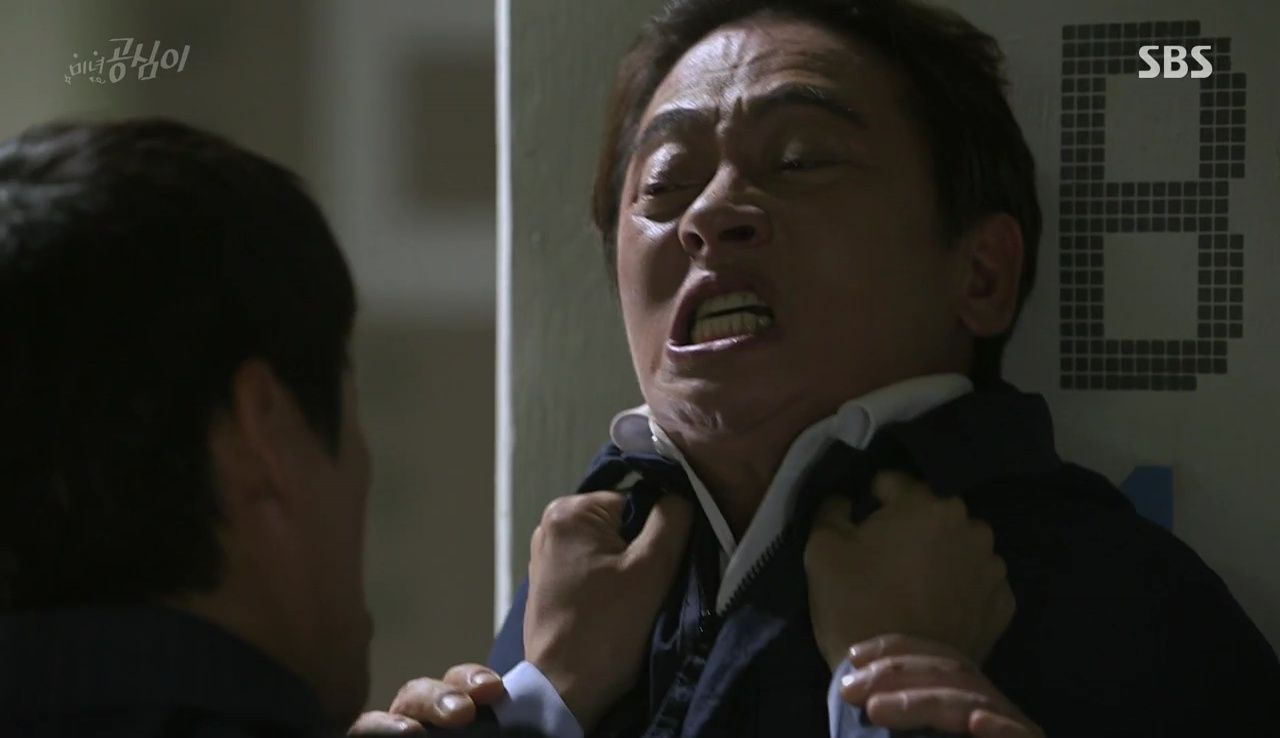 Jun-su socks Dan-tae in the face, allowing Uncle to hop into Jun-su's car and escape. Police sirens blare, but it's merely Ho-joong's car, heh, with a siren perched on top. Dan-tae remarks that it sounded like the real deal and thanks Ho-joong for his great work. Uncle's suitcase and money bag filled with cash are now in Dan-tae's hands.
During the car ride, Uncle expresses relief that Jun-su saved him in the nick of time, but laments that his plane ticket and money were left behind. Jun-su offers to retrieve the money for him later and advises Uncle to hide himself for the time being since he won't be able to fly out today.
He's got just the place for Uncle: a small, isolated shed that his friend's father uses on the weekends to garden. Jun-su warns Uncle not to step foot outside this space and to keep his phone off. Now that the airport is out of the question, Jun-su says he'll look into boat trips and get back to him, much to Uncle's relief.
Once out of earshot, Jun-su calls Dan-tae and updates him on Uncle. He'll bring over his mother's black box footage next and sets off to do that. Meanwhile, Dan-tae sits at home with Uncle's cash stash on the floor.
Jun-su's mother is lost in thought until her son arrives. She sweetly offers to make him a healthy smoothie and steps into the kitchen. While she's away, Jun-su takes her key fob to obtain the black box footage from her car.
Jun-su hands the footage over to Dan-tae and waits outside while Dan-tae takes a look. Dan-tae steps out and suggests Jun-su examine the footage as well; there's something more important than evidence in there.
Jun-su listens to his mother's conversation with Uncle from earlier and learns that she had no part in the attempted murder of Dan-tae's father; she merely wanted to silence him and send him off with money. It's clear to him now that she witnessed Jun-pyo's kidnapping, but didn't say or do anything about it afterwards.
Jun-su's mother opens the door to find the gardener who slipped her the note at the arboretum standing outside her home. He shows her a picture of Jun-su and states that he was the one who asked him to hand the note to her. This sends her into a tearful panic, suddenly realizing that Jun-su knew everything all along.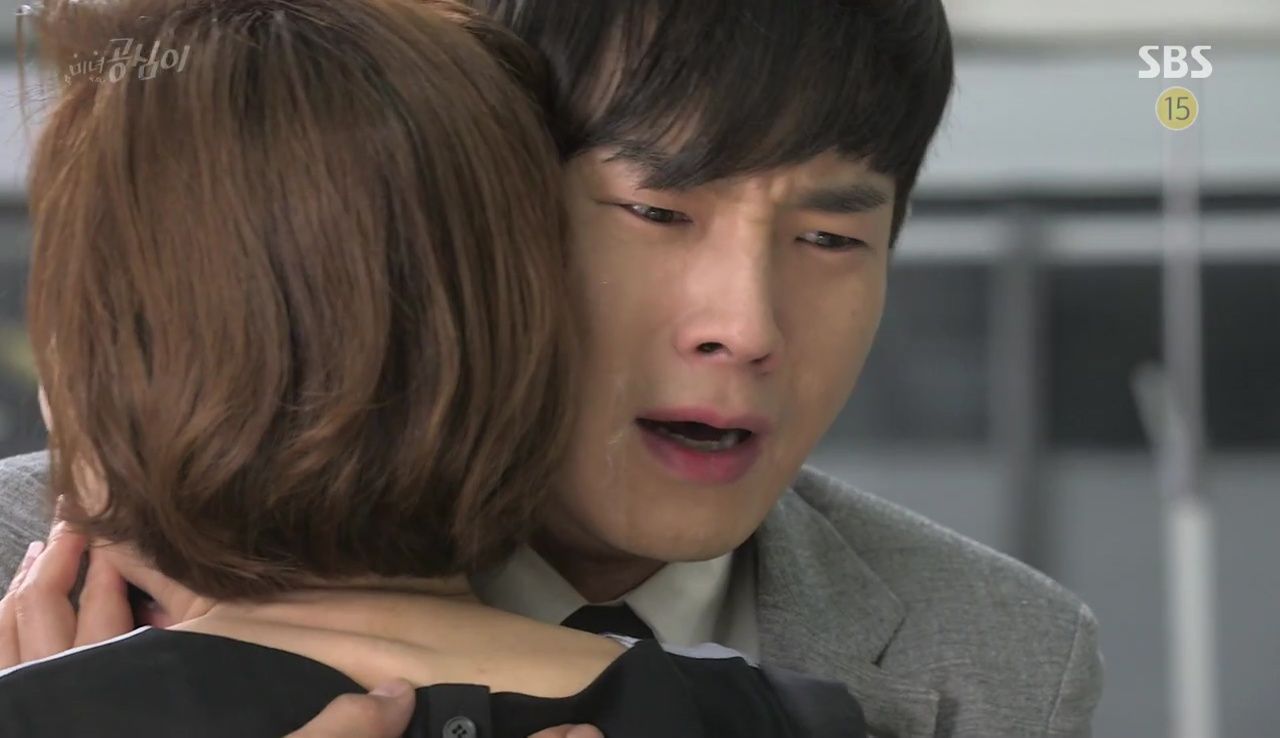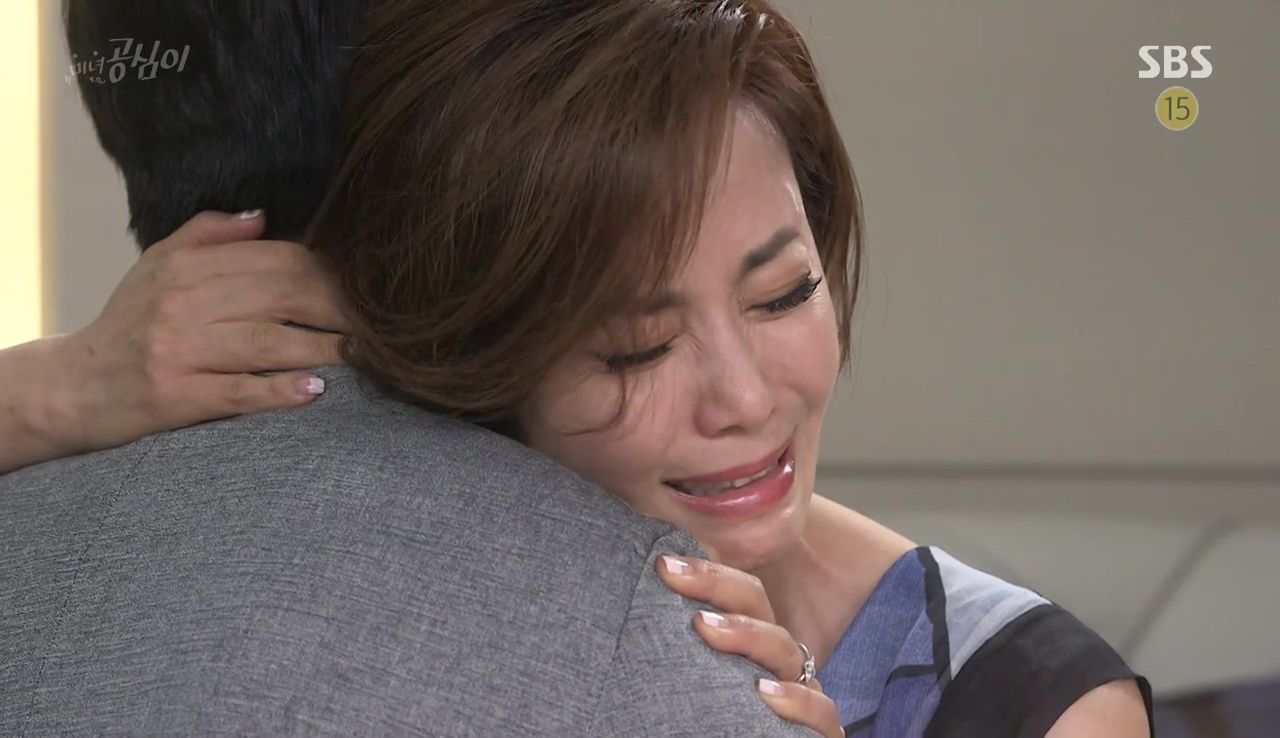 Dan-tae watches the encounter unfold from behind a shrub and thanks the gardener for his help. Meanwhile, Jun-su approaches his inconsolable mother. She can't bear to look at him as she apologizes profusely and acknowledges her reprehensible deeds. A tearful Jun-su embraces her, relieved to know that his mother's gravest mistake was failure to act and not attempted murder.
Dan-tae reflects on Gong Shim's statement about needing an extra day to figure out where she stands regarding his identity. Gong Shim's at the office, offering to stay late and take on more work even though nothing's urgent. Seems like someone doesn't want to go home and face Dan-tae!
Dan-tae decides to give her a call and because she's still at work, he tells her to simply listen to what he has to say.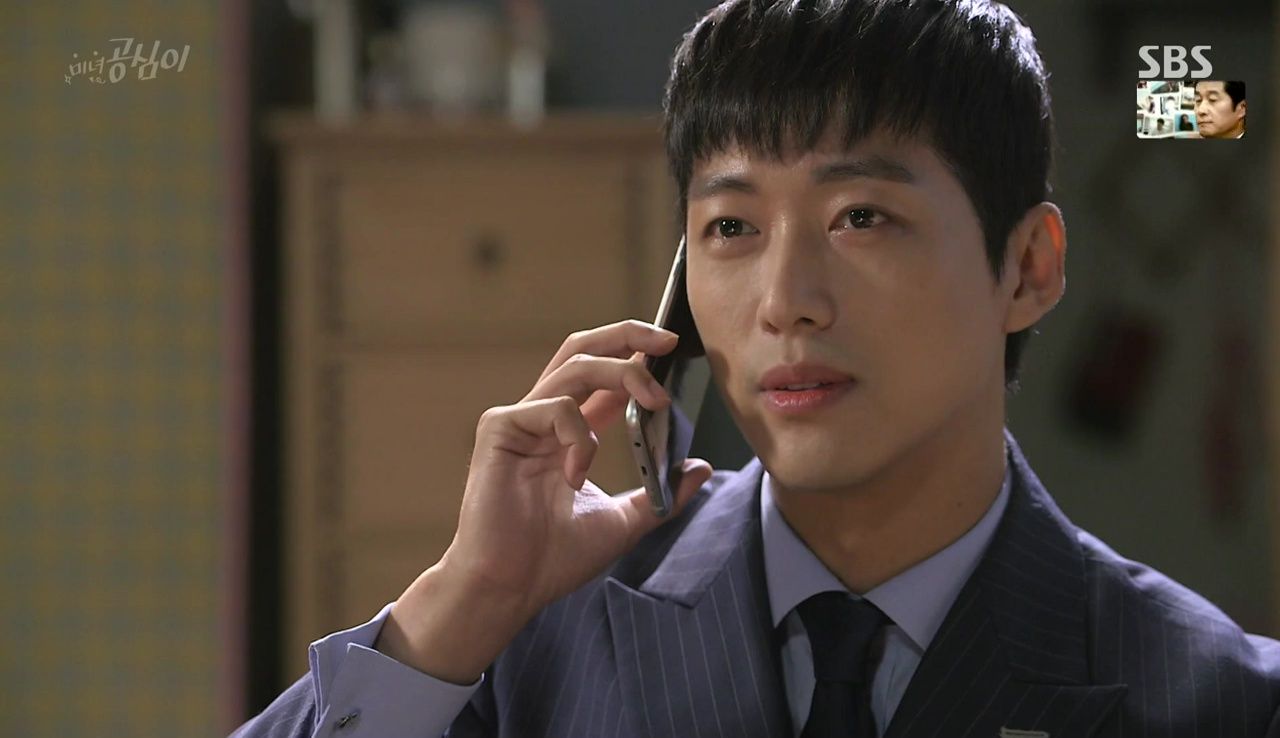 Dan-tae: "From now on, I don't know how my world will change, and I'm a bit frightened by that. Even if I become Seok Jun-pyo, I'm still going to be Ahn Dan-tae to you. I'll continue to be there as Ahn Dan-tae. I'm still going to pick things up from the ground and eat it within three seconds. I'm still going to do my cheesy winks. I won't change… I will continue only liking you. Even if you say everything in the world changes, my feelings for you, Gong Shim, will not change."
His words warm Gong Shim's heart, and when he adds that he wants to see her now, she shirks the work she was so adamant on completing and bolts out of the office, leaving early, heh. Forget work, Dan-tae's waiting!
As she's heading to their meeting place, she spots Dan-tae across the street. She calls out to him and excitedly dashes toward him. Now, now. Let's look both ways before crossing…
Dan-tae's superhuman eyesight catches a truck fast approaching Gong Shim, who's standing in the middle of the road. Girl, why?! He sprints to her and places himself between her and the truck, which luckily screeches to a halt. No impact, all good.
Dan-tae's clutching Gong Shim, who's still reeling from the close call. But Dan-tae appears shaken as well. Memories from twenty-six years ago flood back to him. He remembers witnessing his mother get hit by a truck while Uncle was leading him away. The moment Uncle handed him off to his father also comes back to him. Dan-tae tearfully informs Gong Shim that he now remembers everything from his past.
That night, Gong Shim holds his hand and sits by his side as he tries to sleep. He pulls her next to him and warns her not to run into the streets again. As soon as he's asleep, Gong Shim gingerly removes her hand from his grasp and tiptoes out.
She runs into her father at the convenience store downstairs. When asked where she came from, Gong Shim fibs that she was in her room the whole time, but her father knows better; he saw her coming downstairs from the rooftop and pokes fun at her for getting caught.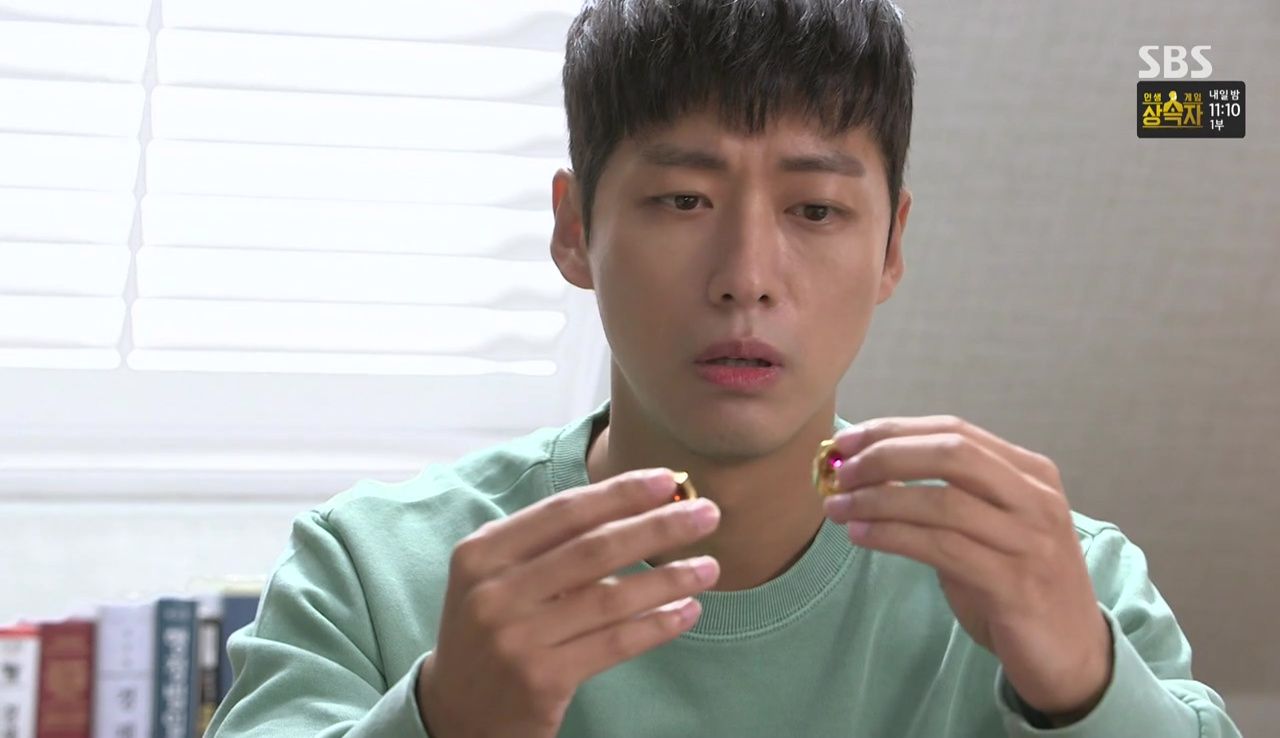 The next day, Dan-tae receives a package from the Philippines containing his father's belongings. As he's digging through photos and other items, he finds a golden Special Forces ring with a red gem on it, identical to the one found in his chest containing Jun-pyo paraphernalia. He wonders why his father has another one of these rings, but when he compares them, he notices that the numbers engraved on them are different: twenty and twenty-one.
He recognizes one of them as his father's since he was in the twenty-first class while serving in the army, which means the other ring belongs to Uncle. Dan-tae recalls Uncle asking to see his lost child necklace in exchange for the army ring twenty-six years ago; Dan-tae had marveled at the red gem and thought it was a laser.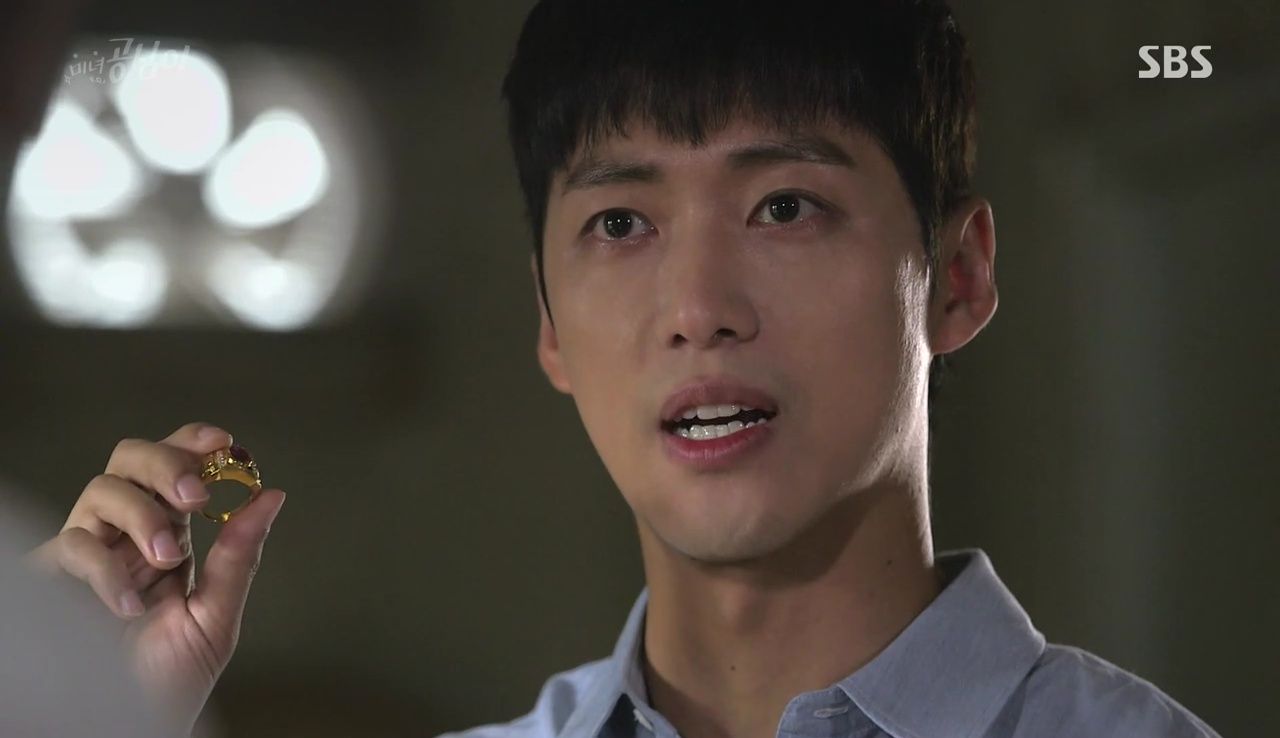 Uncle is feeling hot and stuffy, hiding in the shed and wondering when Jun-su will come. Just then, Dan-tae barges in, taking Uncle by surprise. Dan-tae calls for an end and proposes that Uncle turn himself in and confess to his crimes. He holds up Uncle's Special Forces ring, but Uncle doesn't believe it's sufficient evidence.
Dan-tae bellows that he is the evidence.
Dan-tae: "I am Seok Jun-pyo! The Seok Jun-pyo you kidnapped twenty-six years ago is me. I remember everything about your abduction of me."
He recounts how Uncle used the phone number engraved on Jun-pyo's lost child necklace to call the house and demand money while Jun-pyo was playing with Uncle's "laser" ring. Dan-tae states that if he weren't Jun-pyo, he wouldn't have been able to distinctly remember such specific details.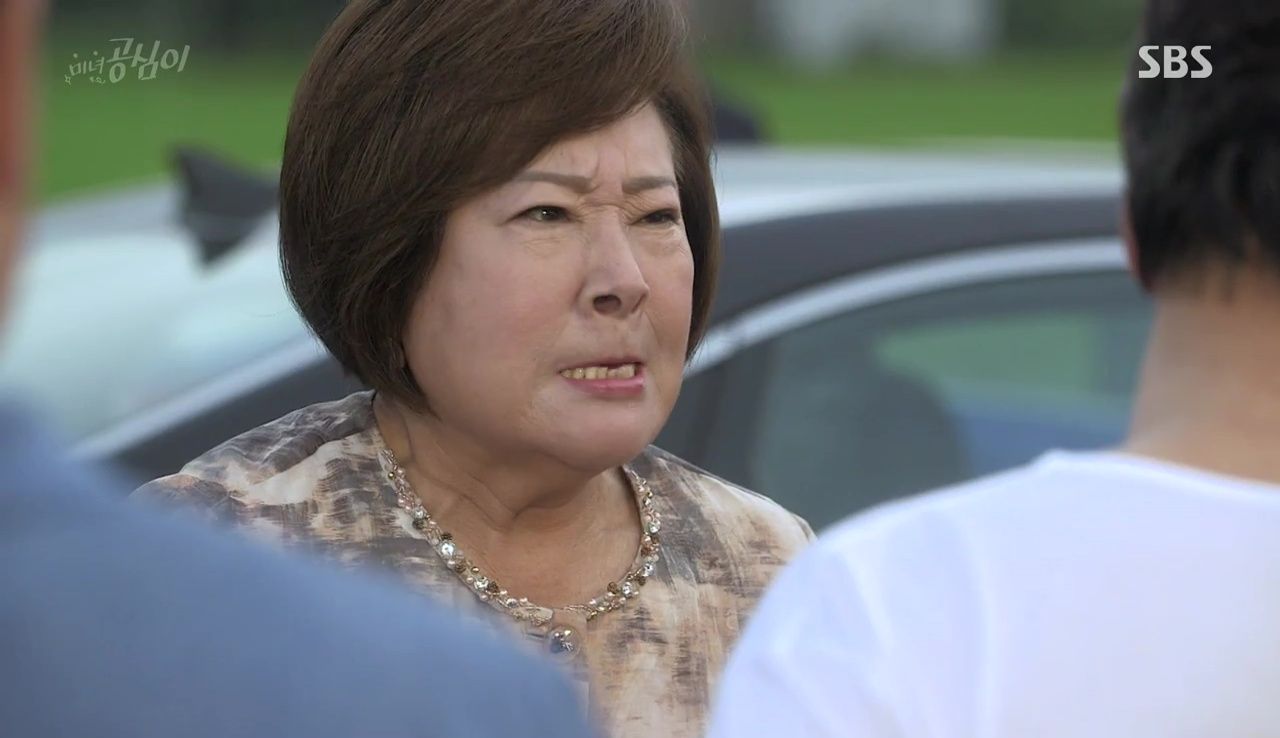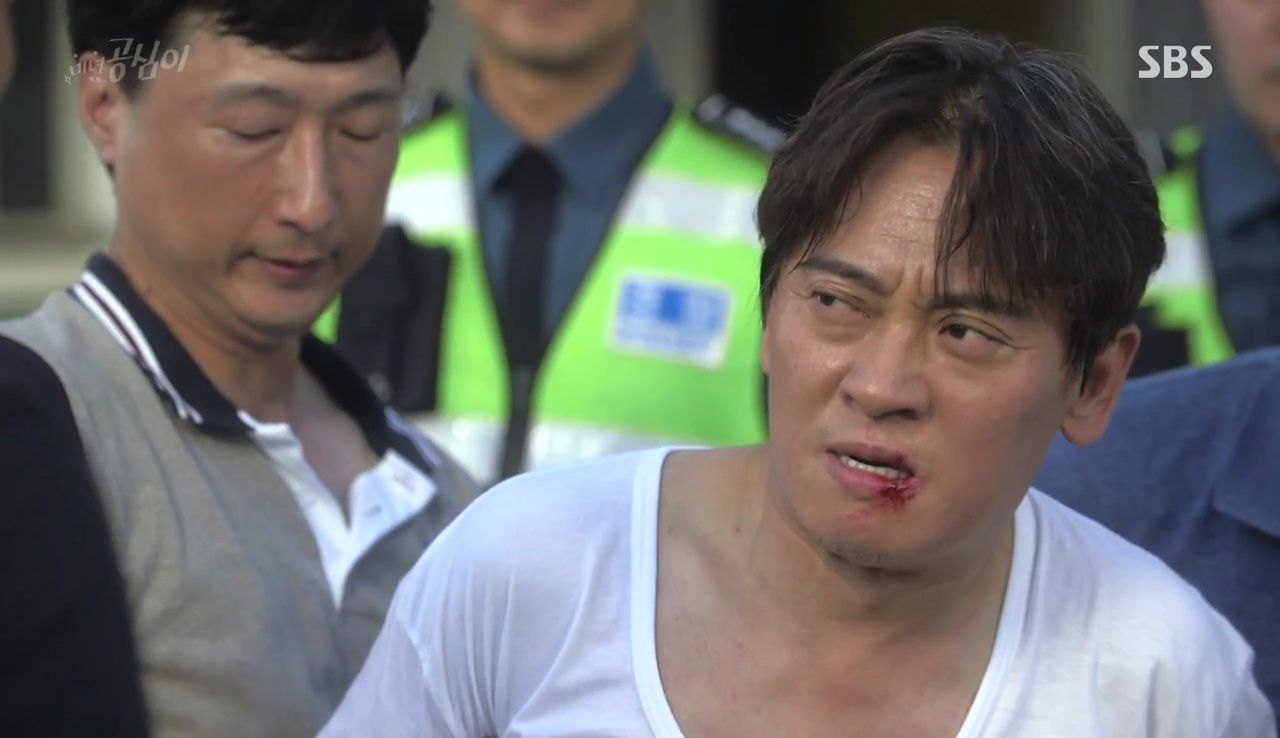 Uncle grabs a knife and swipes at Dan-tae, but he misses. He tries to skedaddle only to find police officers, Grandmother, and Jun-su all waiting outside. Uncle gets arrested immediately for the attempted murder of Dan-tae's father and the abduction of Jun-pyo. Grandmother furiously strikes him in the face before collapsing into Jun-su's arms.
Uncle yells at a grim-faced Jun-su for betraying him and defiantly maintains his innocence even as he's pushed into the police car. Dan-tae emerges and Grandmother affirms that it's finally over. He assures Jun-su that he'll explain the rest at home and hops inside Grandmother's car. Jun-su's the only one remaining at the scene, numb with shock as he processes the fact that Dan-tae was Jun-pyo all this time.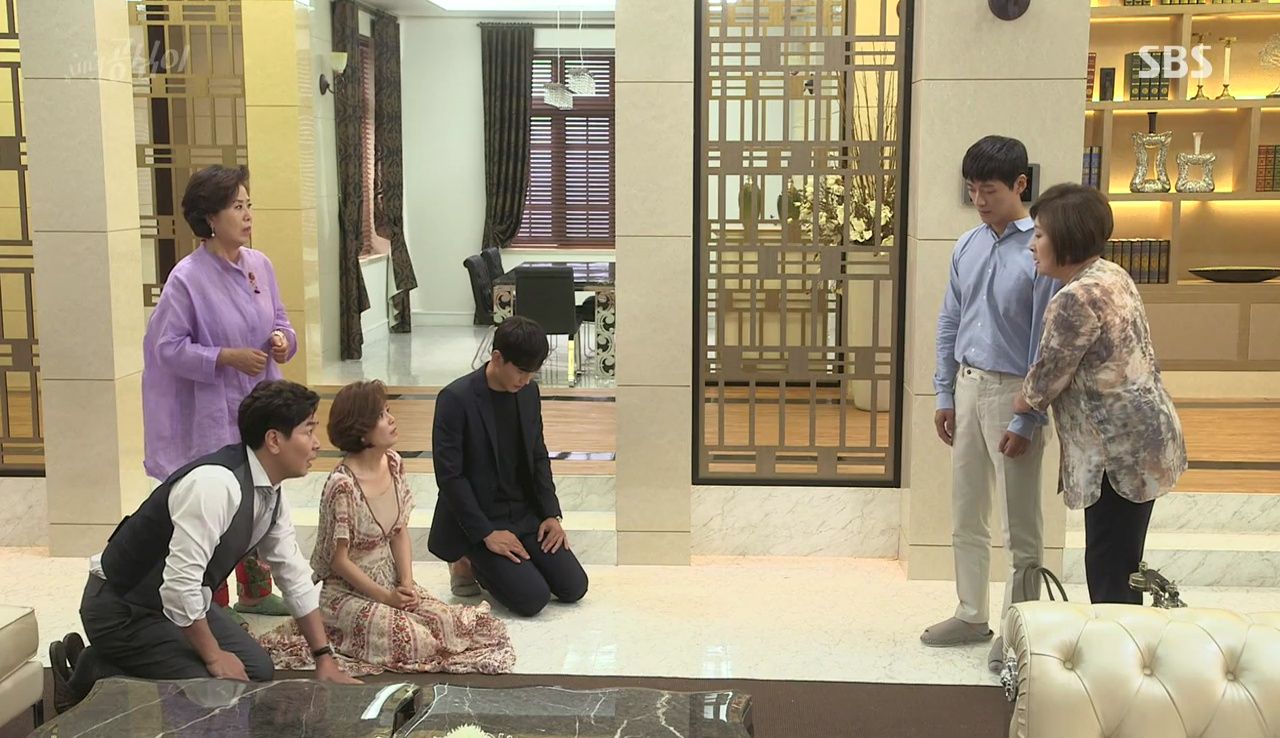 At the Seok family home, Jun-su's parents get on their knees before Grandmother and beg for forgiveness. Jun-su walks over and joins his parents on the floor, eyes brimming with tears. Jun-su's mother sobs as she acknowledges her fault in staying silent about Jun-pyo, but Grandmother is unmoved by their repentance.
Grandmother wonders how Jun-su's mother lived in this house for twenty-six years and had the audacity to tell her to discontinue searching for her grandson when Jun-pyo was right by her side all this time. Jun-su's parents look up to see Dan-tae standing next to Grandmother and are stunned by this revelation.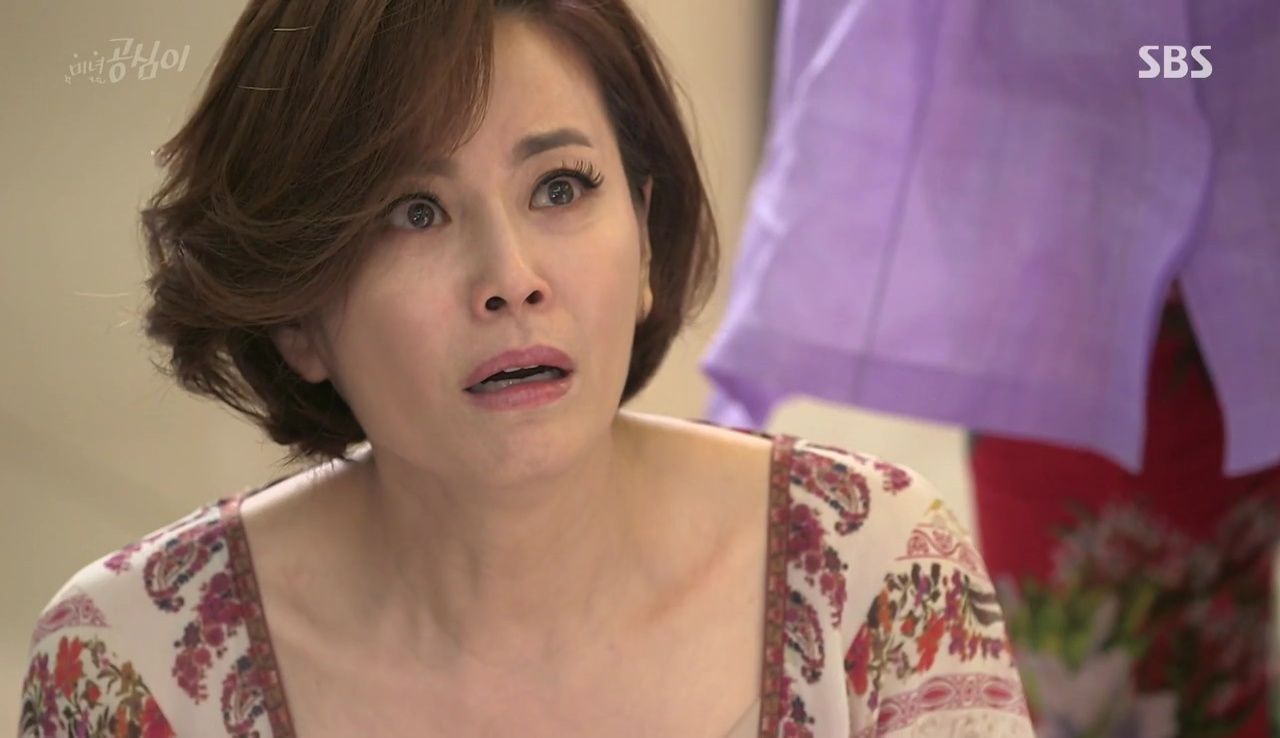 In a room to themselves, Dan-tae apologizes to Jun-su for keeping his identity a secret from him for so long. He explains that in order to find the culprit, he couldn't tell anyone. Jun-su cries and can barely look Dan-tae in the face as he apologizes. He doesn't expect Dan-tae to forgive his mother, but Dan-tae replies that it's not up to him to forgive them; the truly regretful will ultimately be forgiven.
Jun-su states that he and his family will be living quietly and perpetually repenting, but that's not what Dan-tae wants. Dan-tae wants for them to get along as well as they did in the past. Jun-su says that his request seems too meager in comparison to their crimes, but Dan-tae urges him to try.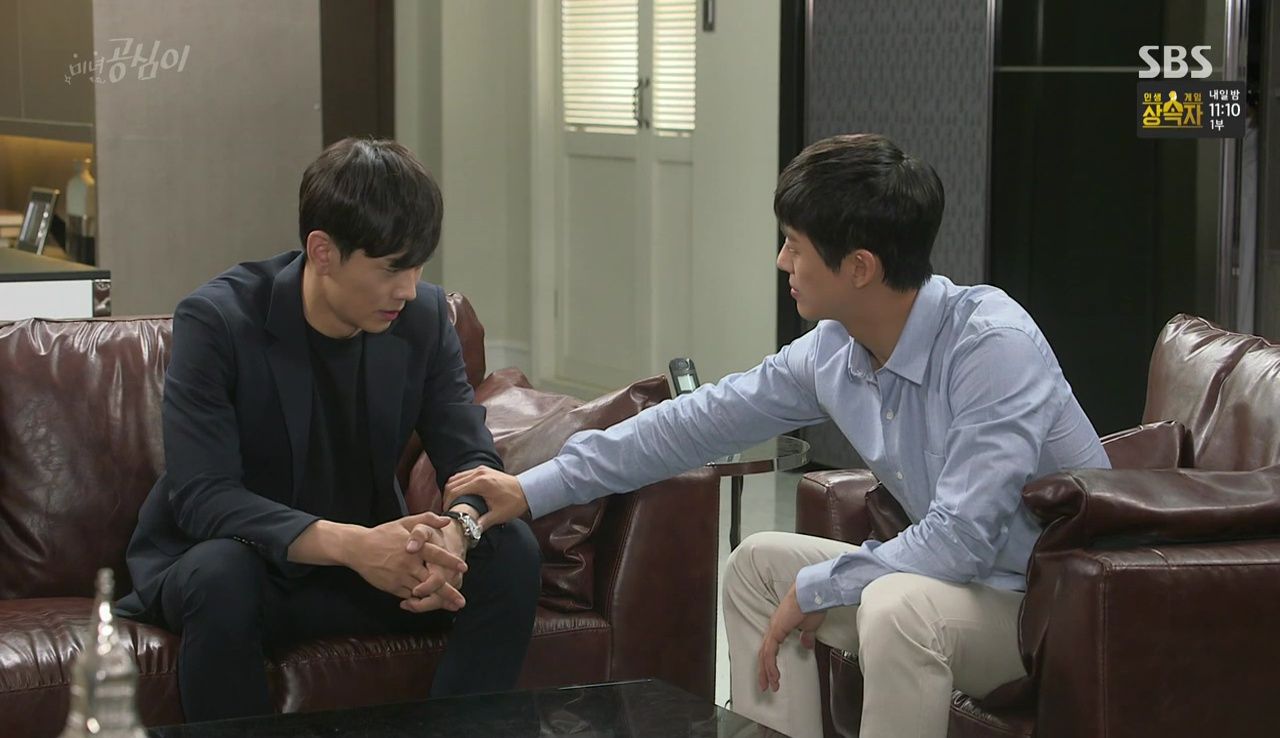 Dan-tae's aunt announces to her still-comatose brother-in-law that Dan-tae has finally found his family on his own. She urges him to wake up soon so he can tell Dan-tae how proud he is and greet Grandmother.
Dan-tae returns to the Seok home and calls Gong Shim, only to realize that she had lost her phone when they nearly got run over. Grandmother stumbles out of her bedroom and encourages Dan-tae to pack up his belongings and move into her home soon; she's been waiting far too long to live with him. Dan-tae guarantees that he'll do so.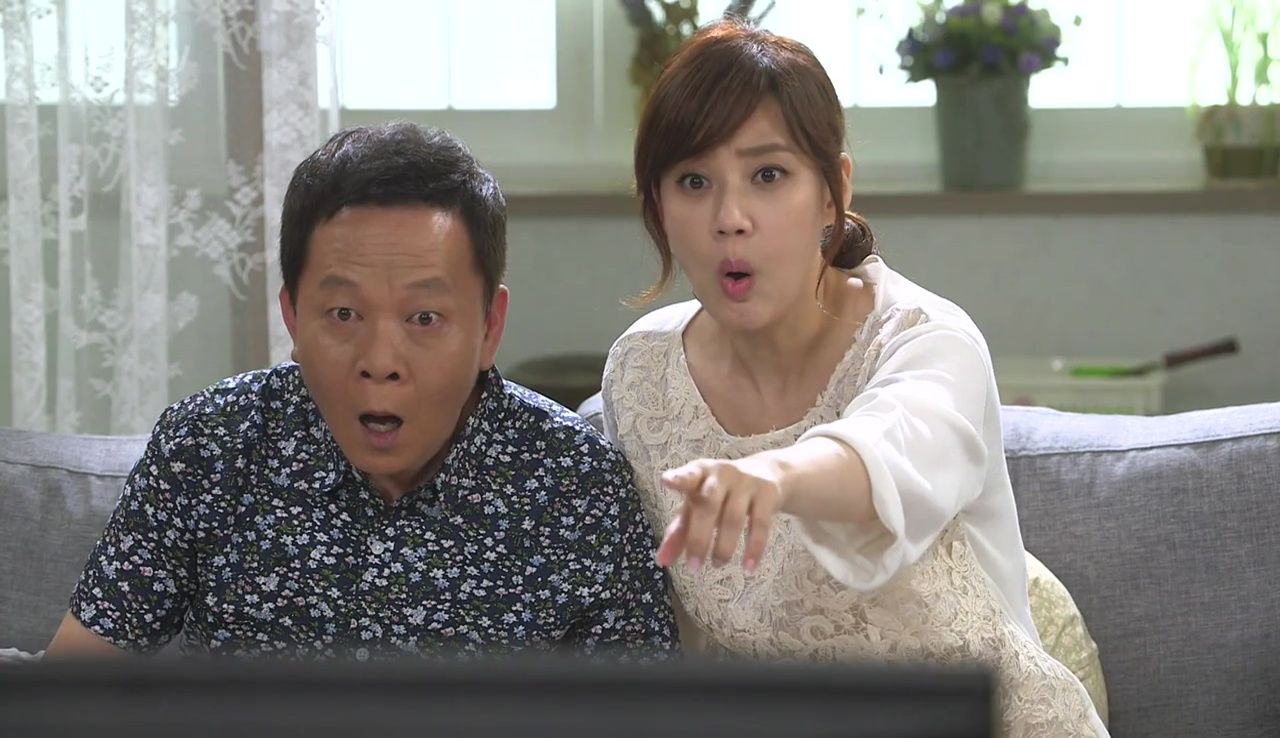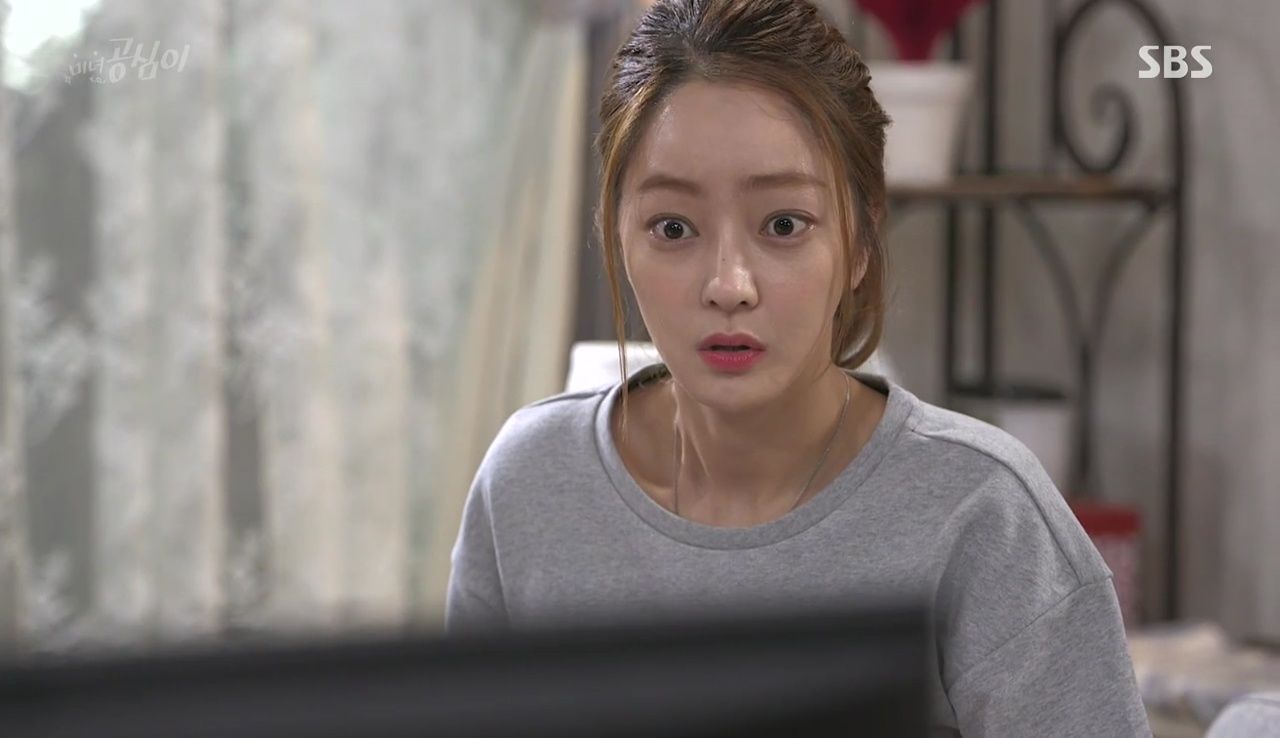 The next day, swarms of reporters surround Dan-tae's home as breaking news reports of Dan-tae as the long-lost grandson of the Star Group fortune spread like wildfire. Gong Shim's parents are shocked to hear that the peculiar man living above them turned out to be the Star Group heir. Gong Mi can't believe it either.
Gong Shim tries to go up and see Dan-tae, but the barrage of inquisitive reporters outside her door forces her to head back inside. Gu-nam obliges a few reporters and comments that he and Dan-tae are quite close.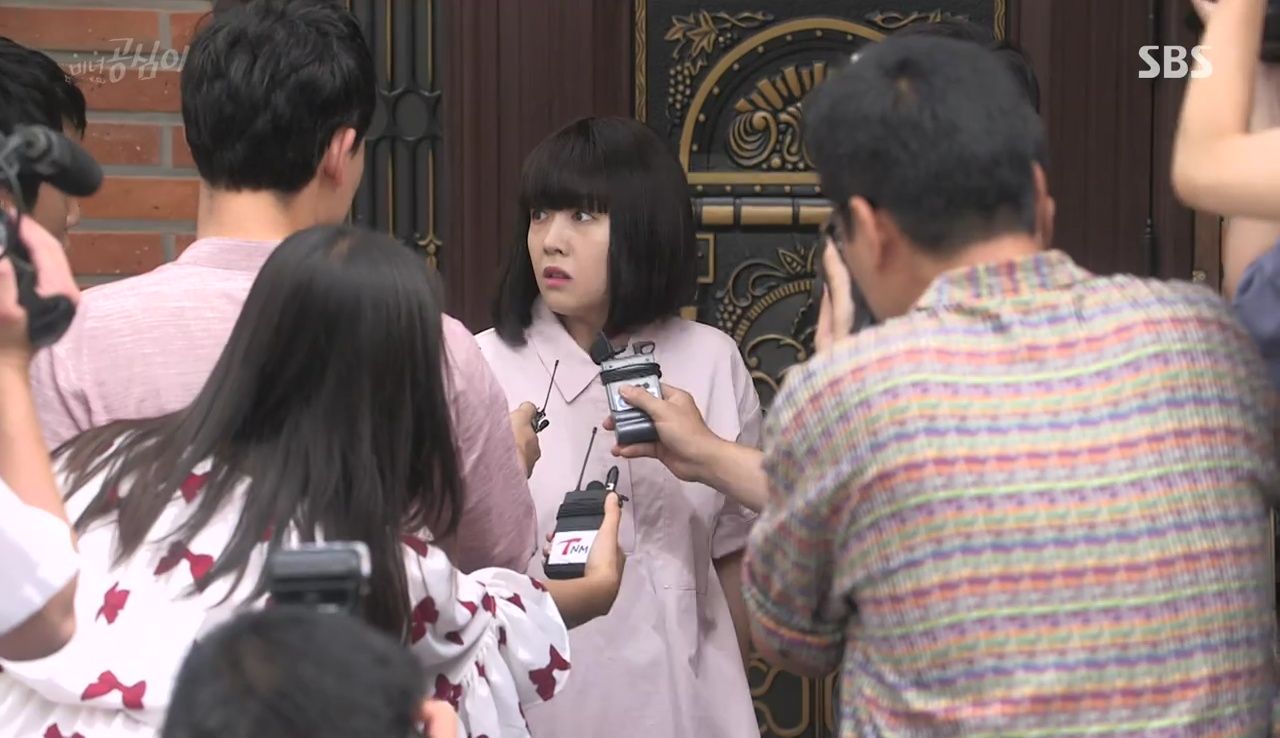 Grandmother is not pleased to hear that Uncle can't be convicted for Jun-pyo's kidnapping due to the statute of limitations, nor can Jun-su's mother be held responsible for her part. However, Dan-tae tells her he plans on conducting a thorough investigation into Uncle's attempted murder of his father so he can be properly condemned.
A maid informs Grandmother that Jun-su and his family are waiting downstairs, but she refuses to see them off. They leave quietly with suitcases in tow, their swanky abode no longer home.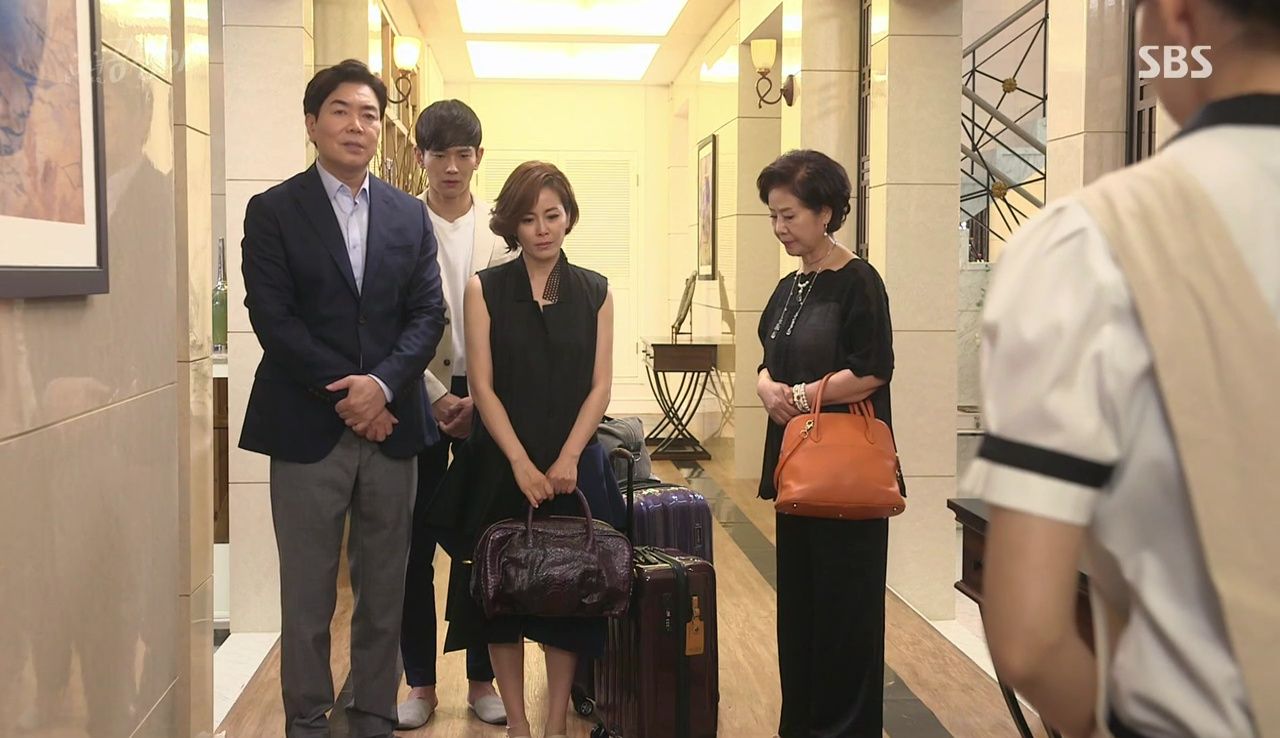 Jun-su's parents and grandmother are at the airport to catch a flight to Sydney where they'll start anew. Jun-su won't be joining them as he has his own business to tend to in Korea. He puts on a brave smile and bids his family farewell.
Concerned by the news reports, Gong Mi tries to call Jun-su, but to no avail. The media's still abuzz with the story of the third generation chaebol who lived in a rooftop home, in addition to what this means for Star Group and the Seok family.
Dan-tae and Gong Shim worry about each other since the media blitz has kept them apart and cooped up in their respective homes.
A food delivery man in sandals, wearing a motorcycle helmet — Hi Dan-tae, I see you! — steps off his bike, makes it past the media crowd and arrives right outside Gong Shim's door. Gong Shim's parents are puzzled by the door banging since they didn't order any food, but the delivery man insists that they did, barges in, and whips off his helmet.
Gong Shim's parents are pleasantly surprised by Dan-tae's sudden appearance and yell for Gong Shim to come see him. Inside Gong Shim's room, the two lovebirds hug and express how much they missed each other. Desperate to hear her voice more often, Dan-tae gifts Gong Shim with a brand new phone. He laments that he'll be frequenting the rooftop less now that Grandmother is alone at her house.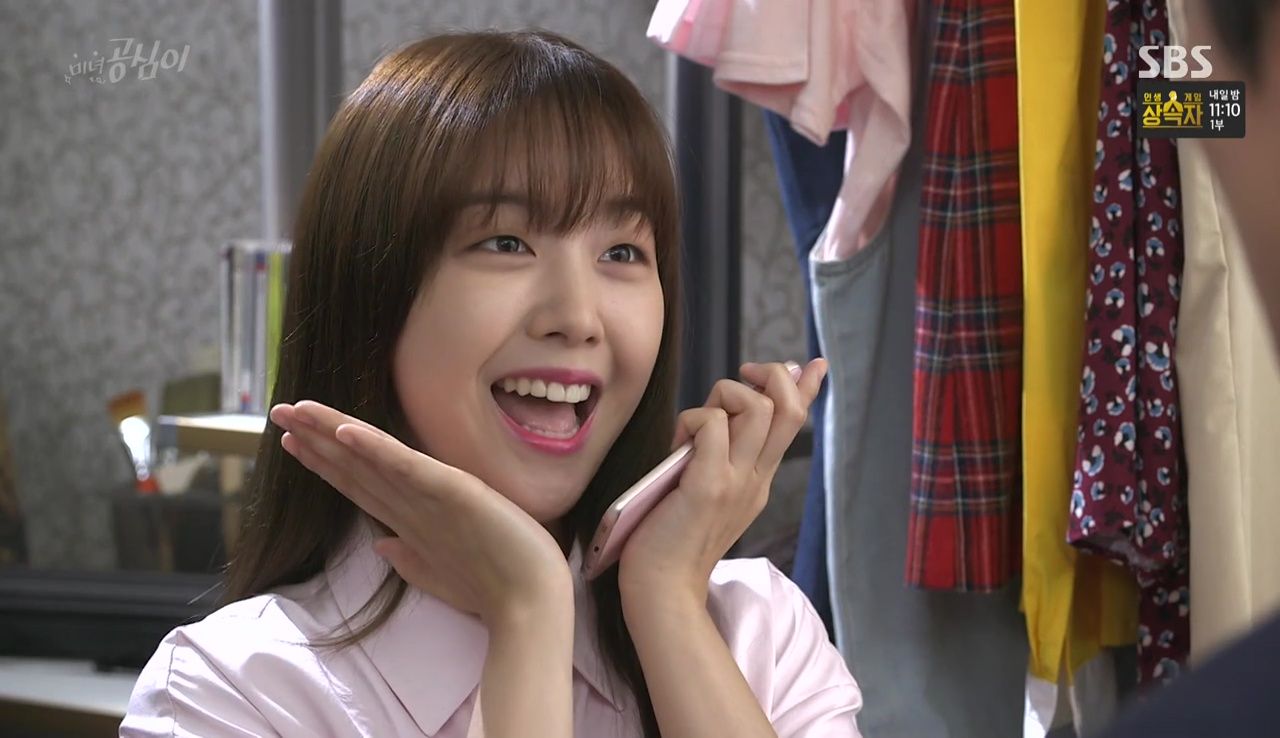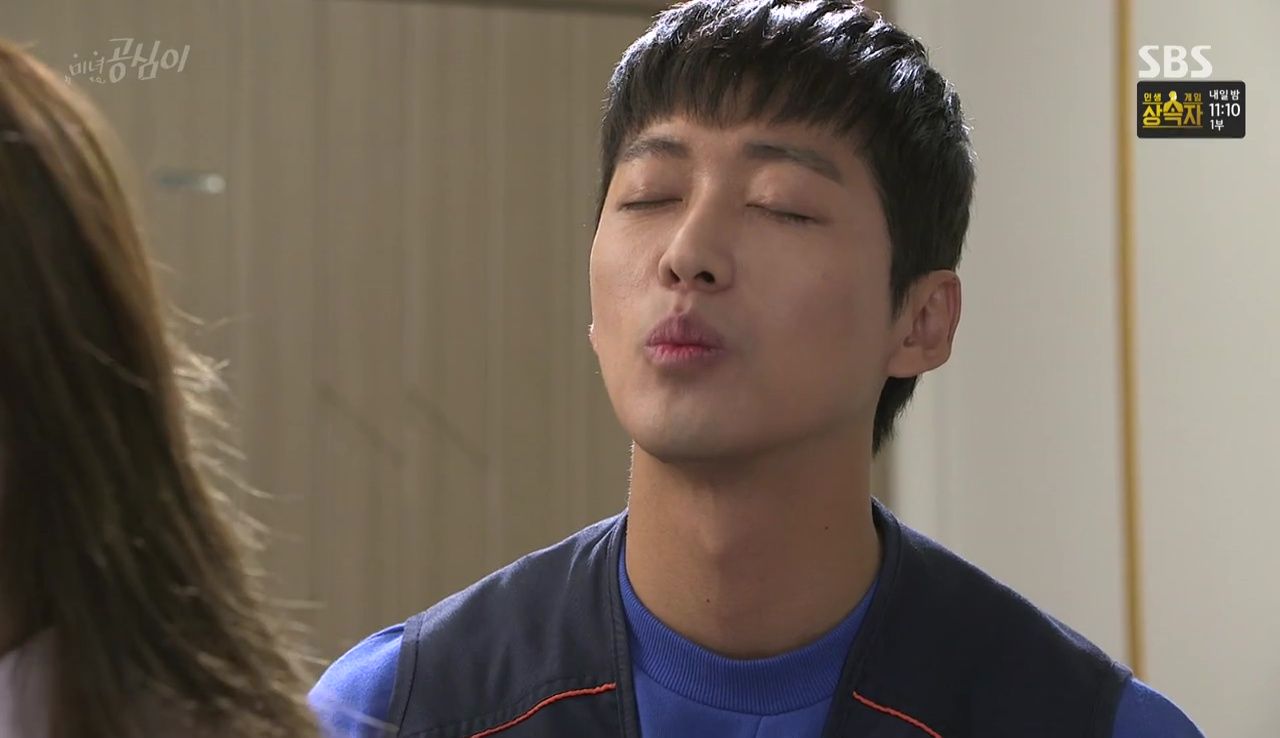 Gong Shim tells him to close his eyes, and he does with a goofy smile. Thinking he's getting kisses, he puckers up. But Gong Shim surprises him by removing her wig and revealing her natural hair sans bald spot! He congratulates her and gives her a quick peck on the lips. He tries to snag another kiss, but Gong Shim rushes him out so the reporters outside don't get suspicious.
Uncle sits in jail, wearing a brown jumpsuit, and reads the paper. The top story is of Dan-tae's romantic relationship with Gong Shim, featuring large photos of both of them. "Did you think I'd stay still?" Uncle wonders aloud, his tone menacing.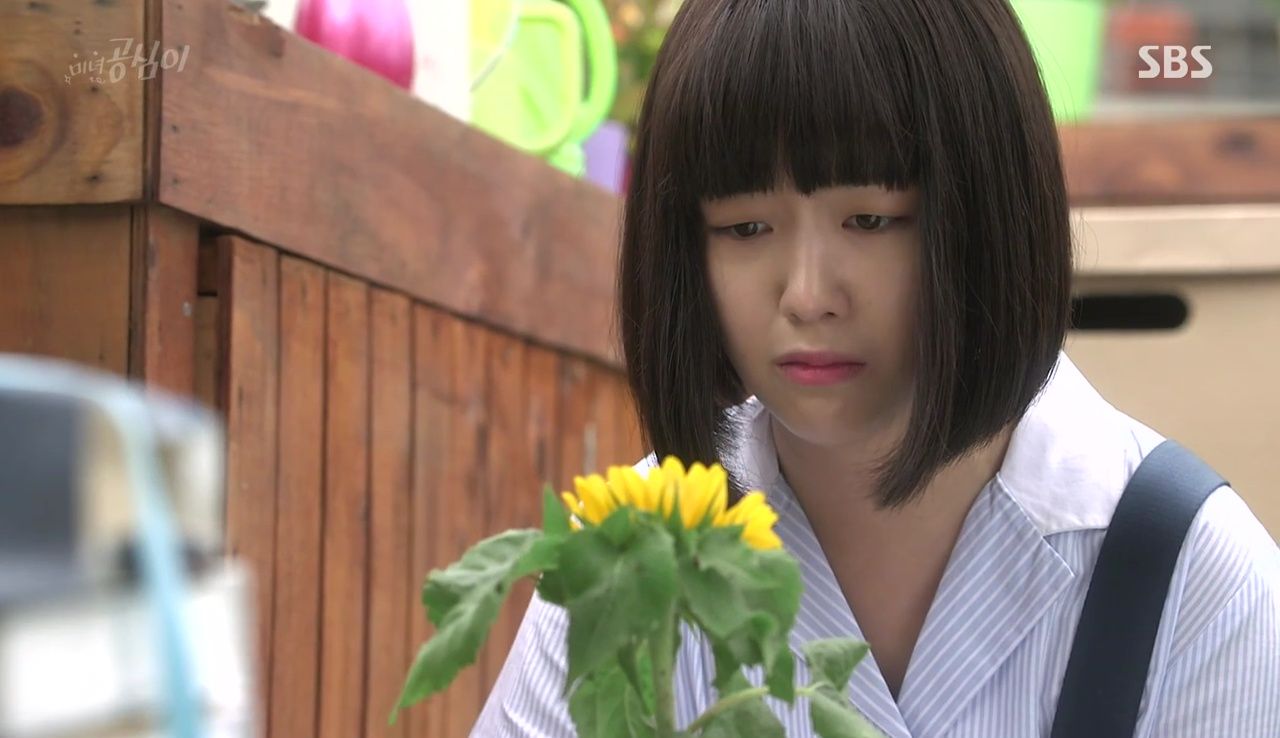 Gong Shim is alarmed by the movers lugging boxes from the rooftop. Turns out Grandmother had sent people to move Dan-tae's stuff. Dan-tae apologizes for not letting her know in advance; he only just found out, too. Gong Shim goes upstairs and a mover accidentally knocks over her beloved sunflower plant, shattering the pot. Ooh, foreshadowing?
At the prison, Uncle's go-to minion pays him a visit. Holding up the newspaper featuring Dan-tae and Gong Shim, Uncle smirks as he expresses interest in the next top stories, making sure to point to Gong Shim's picture, and getting a nod of understanding in return. Uh-oh.
Grandmother holds a board meeting at Star Group and apologizes for the family fracas. She introduces Dan-tae as her long-lost grandson Jun-pyo, and reassures the board members that there will be no handouts for him. She announces that Jun-pyo will be studying business management in the U.S. before returning, but based on the look on Dan-tae's face, it seems he never got the memo.
He inquires about the study abroad plan, and Grandmother suggests that Gong Shim travel with him, too; while he studies business, she can concentrate on art. Dan-tae decides to discuss further with Gong Shim.
Dan-tae happily shops for couple rings and confirms a dinner reservation for two. He texts Gong Shim to let her know that he'll be waiting for her outside her office. Jun-su speaks to his father briefly over the phone and expresses concern for his mother.
Gong Shim eagerly waits outside for Dan-tae, but several feet away from her, Uncle's minion sits behind the wheel of a black sedan, looking straight at her. Uh-oh. She looks up from her phone upon hearing screeching tires. Gong Shim is the target, and the black car is speeding straight towards her.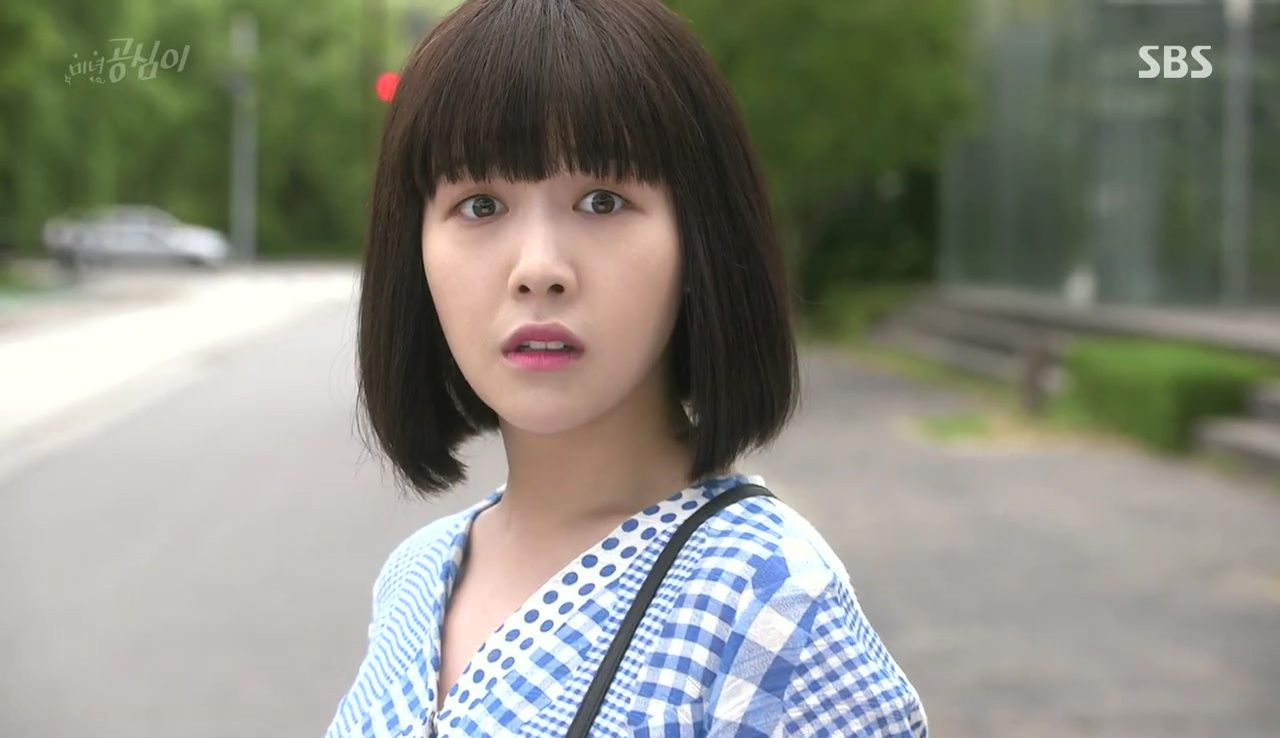 COMMENTS
Dear Gong Shim! Sidewalks exist for a reason so please use them. Rose-tinted glasses can obscure vision and affect common sense, but if you want to live happily ever after with Dan-tae, it's a good idea to stay alive. Just a thought.
We are so close to the end, but it wouldn't be a K-drama if the road to a happy ending were nicely paved and unobstructed. The show threw in some curveballs — which we saw from a mile away! — in the form of near vehicular collisions and a ruthless uncle. While stationary damsels and oncoming vehicles are nothing new, I did appreciate how the common trope was used to bring back all of Dan-tae's lost memories. Gong Shim's close call with the truck triggered the painful recollection of the moment Dan-tae's mother perished before Dan-tae's eyes twenty-six years ago.
This wouldn't be Beautiful Gong Shim if the titular character died so I'm not at all worried that we're going to lose our female protagonist. I have a feeling Jun-su will pull a Dan-tae and save her from the minion's car since he's nearby. He'll most likely get hurt, but I doubt the injuries will be life-threatening. Fingers crossed. Poor Jun-su has suffered enough already, and we all could use a flash of his megawatt smile.
I'm happy to report that I enjoyed this episode. It was well-paced from start to finish — except for that scene in the parking garage in which Dan-tae has Uncle pinned against the wall for what seems like an unnaturally long and dialogue-free beat before Jun-su arrives — and there was a good balance of drama and levity. It reminded me of earlier episodes that were an easy, breezy, and fun watch because they weren't bogged down by birth secret technicalities. The fallout of Dan-tae's birth secret was a long time coming, and the repercussions were for the most part expected, but totally conceivable, which I liked. I was, however, surprised by the swift exit of Jun-su's family, along with Grandmother's lack of mercy toward them, although I do understand her sentiment. I'm not sure why Jun-su's family relocated to Sydney of all places, but I hope the exotic fauna and dingo puppies will delight Jun-su's father. It just occurred to me that he and Gong Shim's father are now long distance, and I'm so bummed!
Jun-su has been one of my favorite characters — who doesn't love a chaebol with a heart of gold? — because he's been consistently good even though he could've easily turned villainous. He and Dan-tae made a great crime-solving team (Ho-joong was an invaluable member, too!). His tearful moments with his mother were surprisingly touching, and it hurt to see him suffer as a result of his mother's mistakes. When he found out his mother had nothing to do with the attempted murder of Dan-tae's father, the relief that washed over him was satisfying to see because the mother he loved wasn't as evil as he feared she'd be. Jun-su and his mother were always quite close, which made their farewell at the airport that much more bittersweet.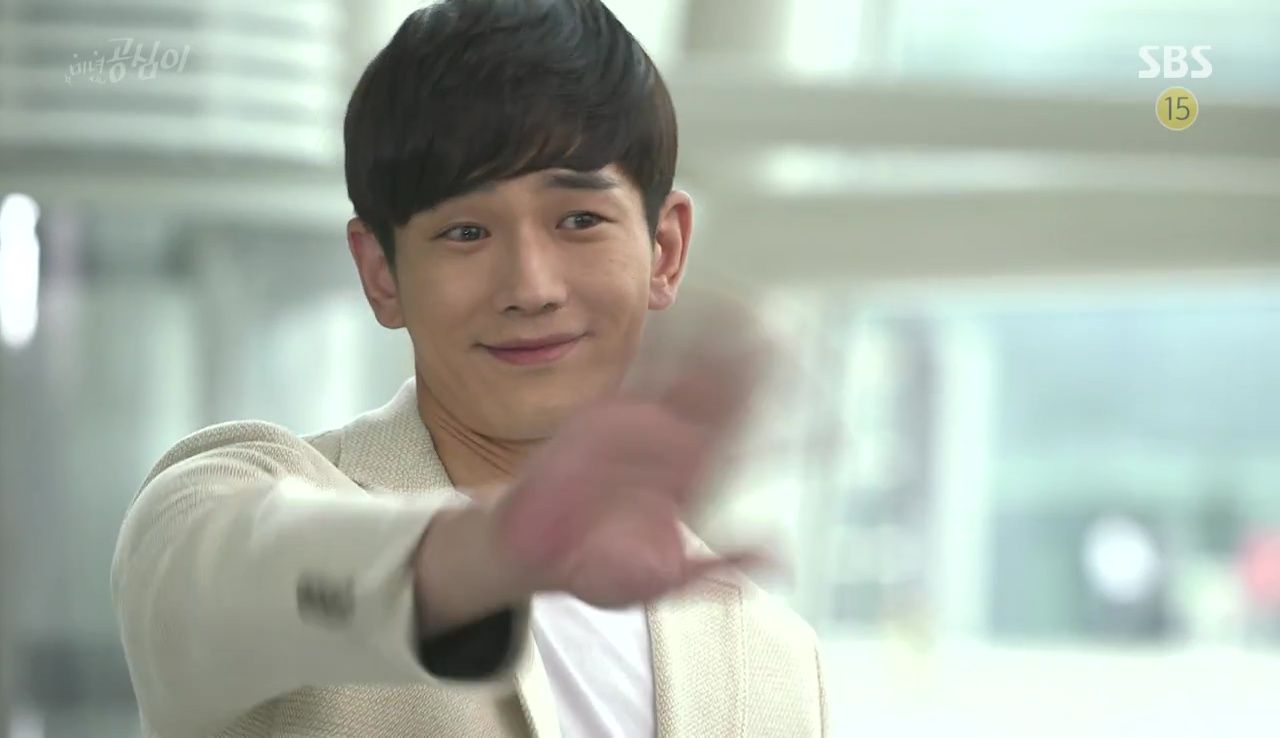 One of the major beefs I've had with this show was Dan-tae not opening up to Gong Shim sooner about the Jun-pyo business, but I actually found his phone conversation with Gong Shim to be sufficiently gratifying. He wasted no time in admitting that he was scared of how his world might change, but that his feelings for Gong Shim remain fixed. He also used the same line Gong Shim used on him — "I only have feelings for you" — which was a nice way to echo her sentiment. Instead of waiting for Gong Shim's reaction to his identity crisis, he took initiative and called her first. Oh, and then afterwards, he saved her from getting hit by a truck. Dan-tae is definitely shaping up to be solid boyfriend/husband (?) material.
Uncle has been anything, but a wily villain. He's not very complex, definitely not the sharpest crayon in the box, but he is very reckless with his "act now, deal with it later" attitude that's never actually helped him. Given the fact that he's not the least bit contrite, and he ordered his minion to kill Gong Shim from prison, it seems like he's itching for revenge no matter how bad it already looks for him; I guess he's got little else to lose. Again, he's a two-dimensional, one-trick pony who's already in prison, which means Dan-tae will have no problem making sure Uncle gets the appropriate punishment.
Since we're just one episode away from the end, I do regret that my wish to see Gong Shim act as the Watson to Dan-tae's Sherlock will never be fulfilled. Had she been more of a sidekick to him throughout the show, we would've seen more of their amazing chemistry as well as their physical comedy chops. Dan-tae's and Gong Shim's storylines rarely crossed, and when each character was left to their own devices, it wasn't nearly as fun to watch as when they were together. Oh well.
I'm glad Gong Shim's bald spot is growing some hairs, but I've grown fond of the wig and felt like Gong Shim wasn't completely Gong Shim without it. I guess when you've got a perfectly fine head of hair, there comes a point when the wig just needs to go, and if that's the case, I'll begrudgingly support the tossing of the wig since it's a metaphor for discarding insecurities and becoming comfortable with who you are.
I hope Dan-tae's father wakes up, that Gong Meanie never ends up with Jun-su (because that just doesn't make any sense), and that my favorite friendship trio can enjoy a good laugh together and make up on the basketball court. Like old times. With Gong Shim's father and Jun-su's father crooning in the background.

RELATED POSTS
Tags: Beautiful Gong Shim, Episode 19, featured, Minah, Namgoong Min, Ohn Joo-wan