Beautiful Gong Shim: Episode 20 (Final)
Buckle up, folks! It may be the last episode, but there's a lot of ground left to cover before we can send our characters off into that k-drama sunset.
After locking up his enemies and revealing himself to the world, Dan-tae has a whole new life beckoning. With Gong Shim also starting a new chapter in her life, our leads will need to decide: Will they start these new lives together, or has the time come to part ways?

FINAL EPISODE RECAP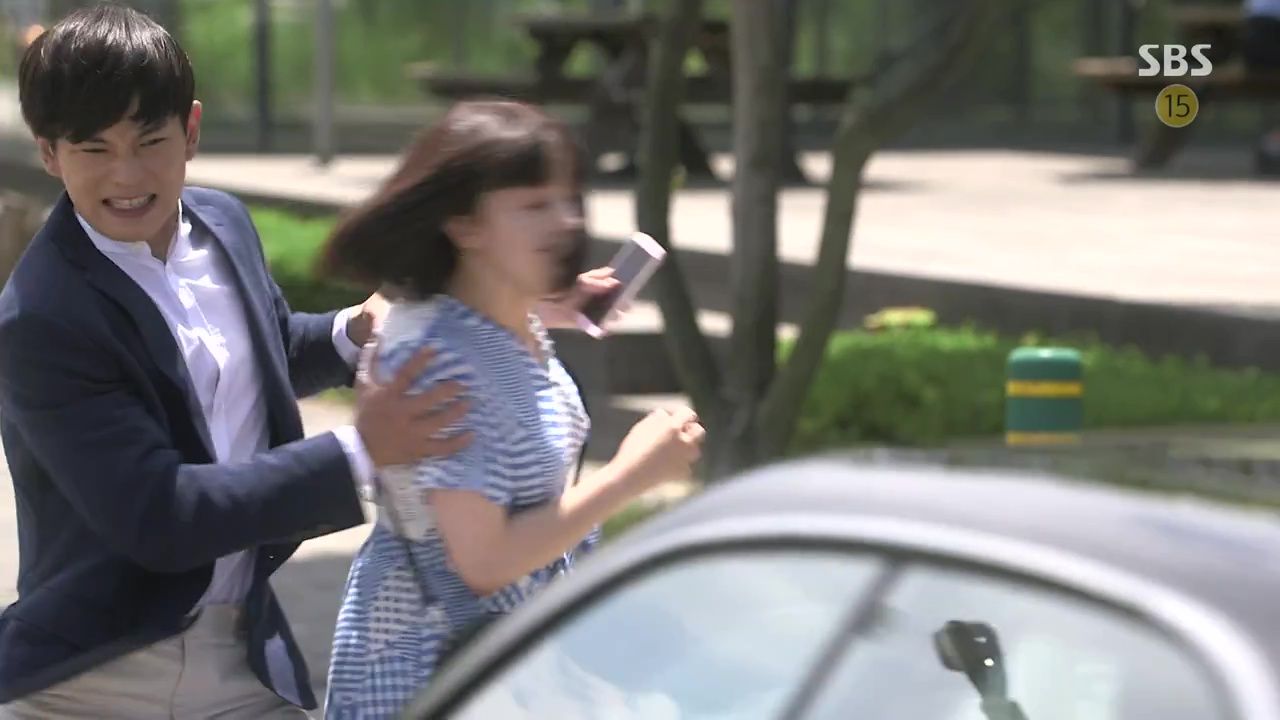 The brilliant Gong Shim steps off the sidewalk and watches as a car comes speeding towards her. Moments before impact, Jun-su leaps in front of the car and whips Gong Shim out of the way before being hit full-on by the vehicle. He goes flying back and the unharmed Gong Shim runs over to where he's curled on the ground, crying out his name.
Dan-tae arrives just as the car drives by, his super slow-mo senses kicking in to allow him to ID the driver as the giant minion that Uncle sent after him in the parking garage. Dan-tae rushes over to where a crowd has gathered around the injured Jun-su and holds his cousin as Gong Shim sobs.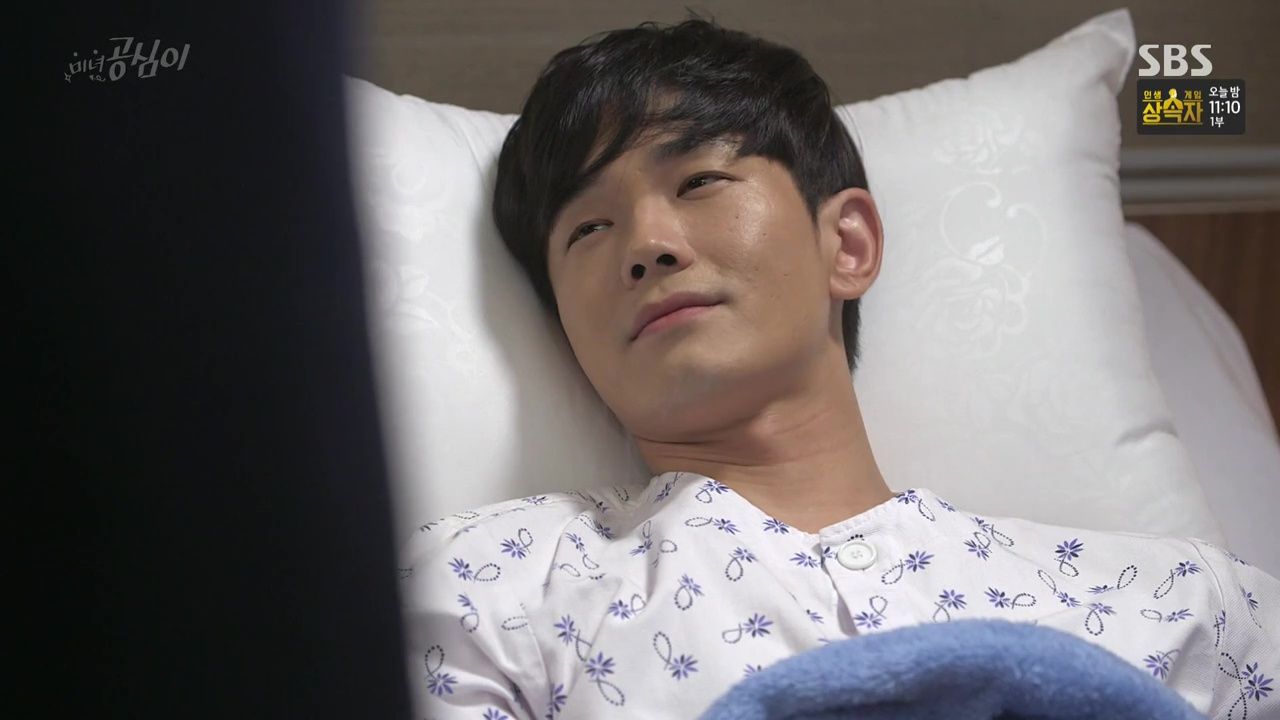 Thankfully Jun-su only has a broken leg and some sore ribs. Gong Shim and Dan-tae visit him at the hospital; Gong Shim apologizes that he got hurt because of her, while Dan-tae thanks him for saving Gong Shim's life. His thanks resonates with Jun-su and as the pair leave him to rest, he stares after them, realizing that Gong Shim made her choice.
Dan-tae and Gong Shim share a coffee and he subtly asks if it's still Gong Shim's dream to go abroad and study art. She confirms that it is and that she plans to go one day, but when he asks if she would leave right now if she had the chance, she answers no. Gong Shim smiles as she describes how much she enjoys her work and wants to do well at her company for now. Dan-tae forces a smile, hiding his disappointment.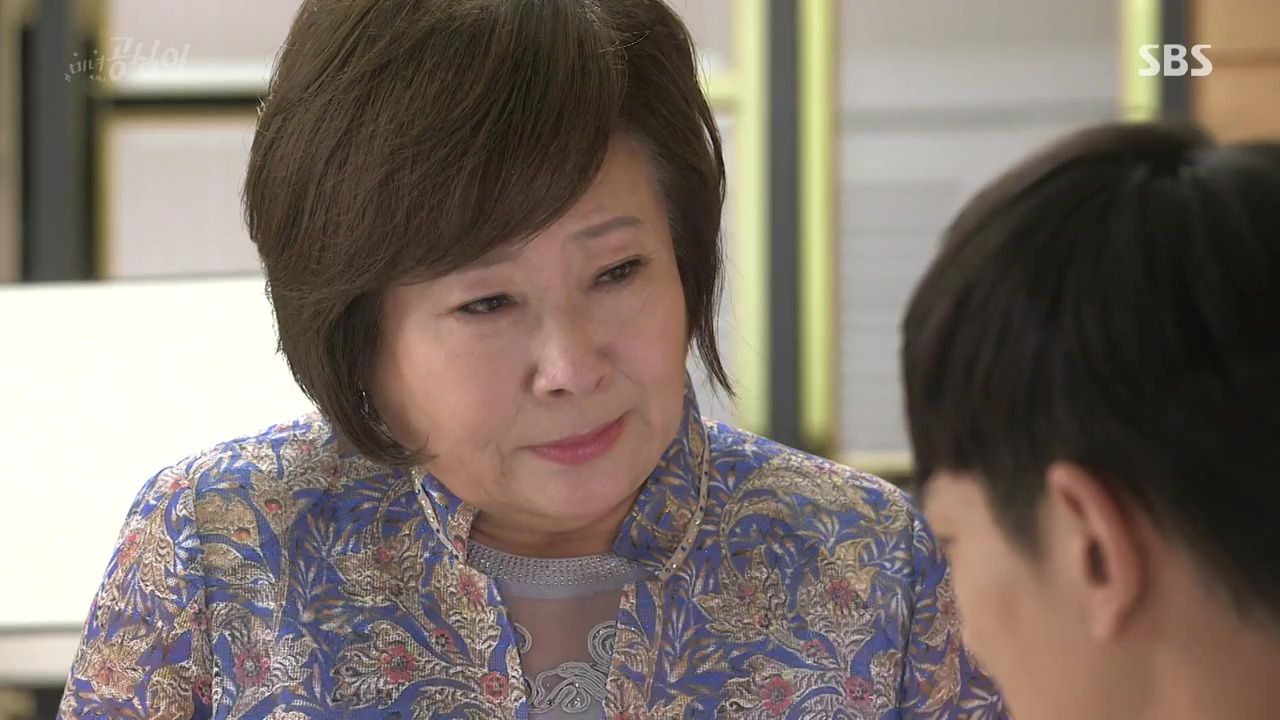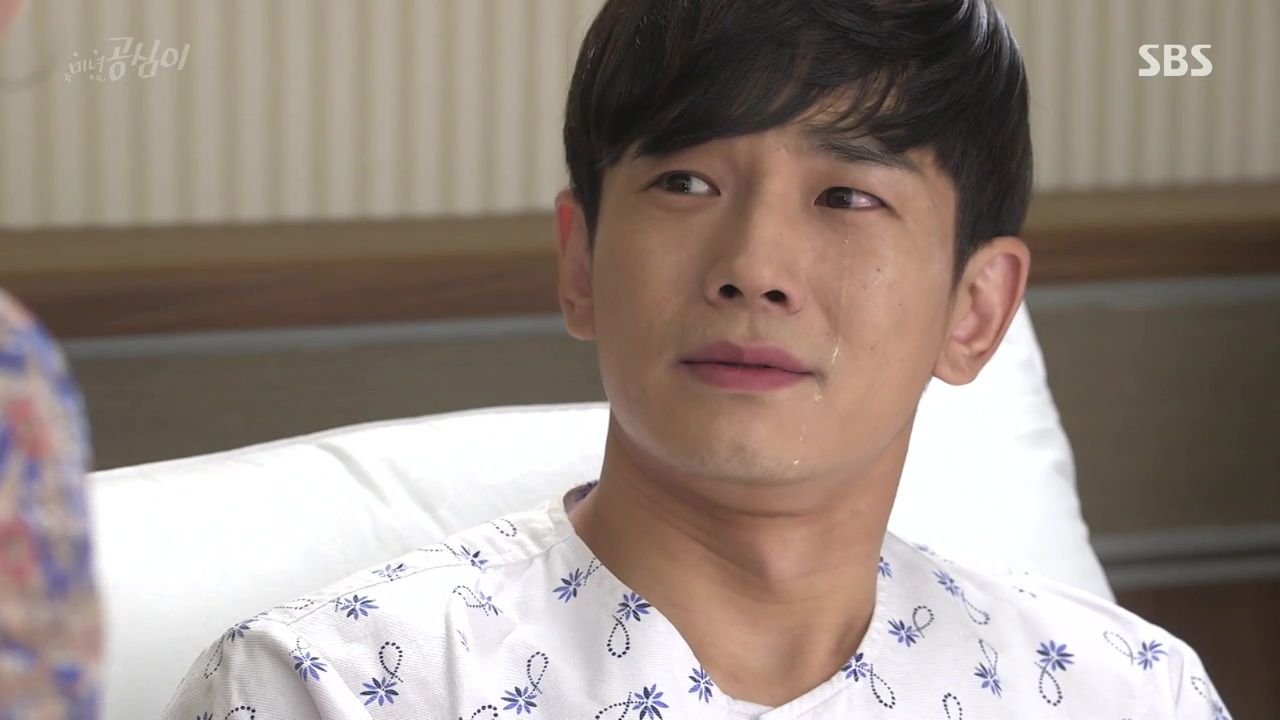 Jun-su gets a surprise visit from Grandma. It's clear that she's worried about him and she asks Jun-su if he's been upset with her for a while. She knows it's been hard for him and admits that she never treated him fairly, punishing him for something that was never his fault. Both of them are crying as she apologizes for being so cold to him his whole life.
Grandma tells Jun-su about Dan-tae going to the U.S. soon and asks Jun-su to come back home and live with her. Jun-su smiles happily, his grandmother lovingly wiping away his tears.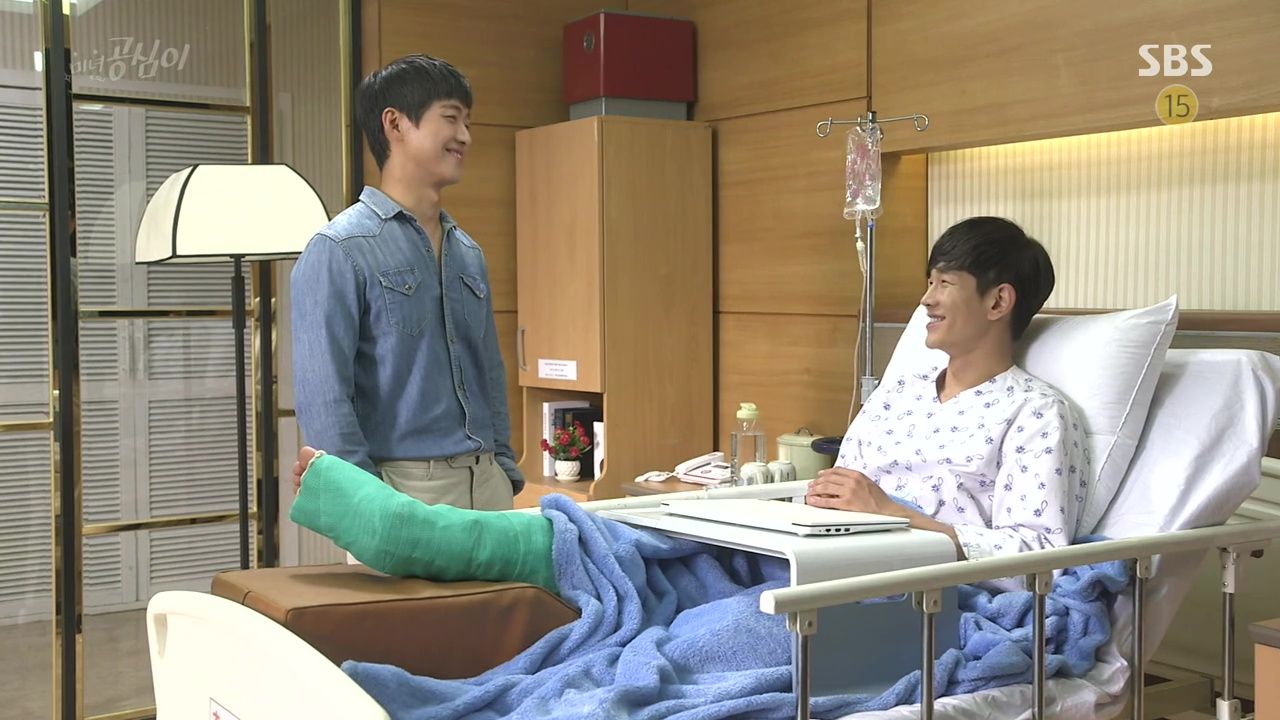 After sending Grandma off, Dan-tae goes in to see Jun-su. Still reeling from Grandma's visit, Jun-su stares at Dan-tae for a moment, then softly utters, "Hyung. I can call you that now, right? Jun-pyo hyung." Dan-tae gets this embarrassed happy expression on his face and agrees, calling him Jun-su-ya in return. Oof, I need a minute. So many feels!
Dan-tae and Jun-su joke about how they'll soon be living together at the house. Jun-su brings up Dan-tae's upcoming trip to America and Dan-tae hesitantly says that he's going to ask Gong Shim to go with him. He looks awkward, but Jun-su smiles and says that he's been thinking about Gong Shim a lot lately and feels like he can move on now, believing that he can finally be just her friend.
Talk turns serious when Dan-tae mentions that they arrested the driver of the car. Jun-su slowly asks if it was the man that Uncle sent last time and Dan-tae nods.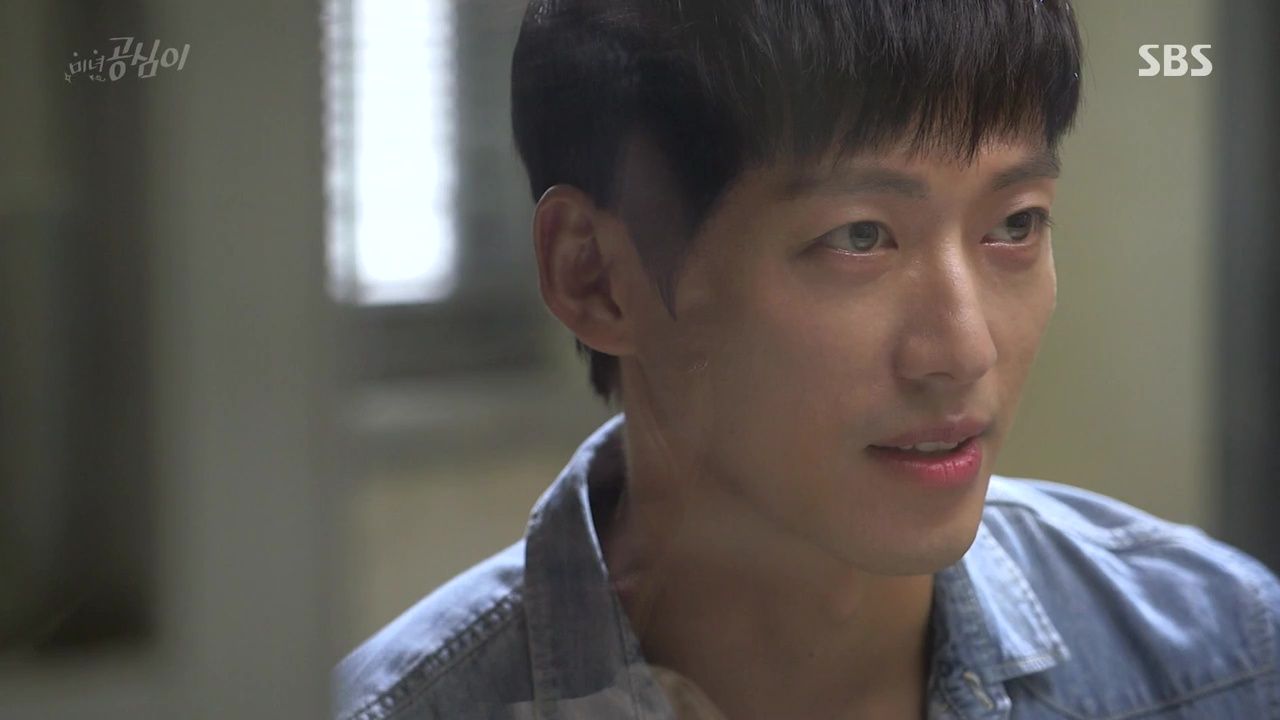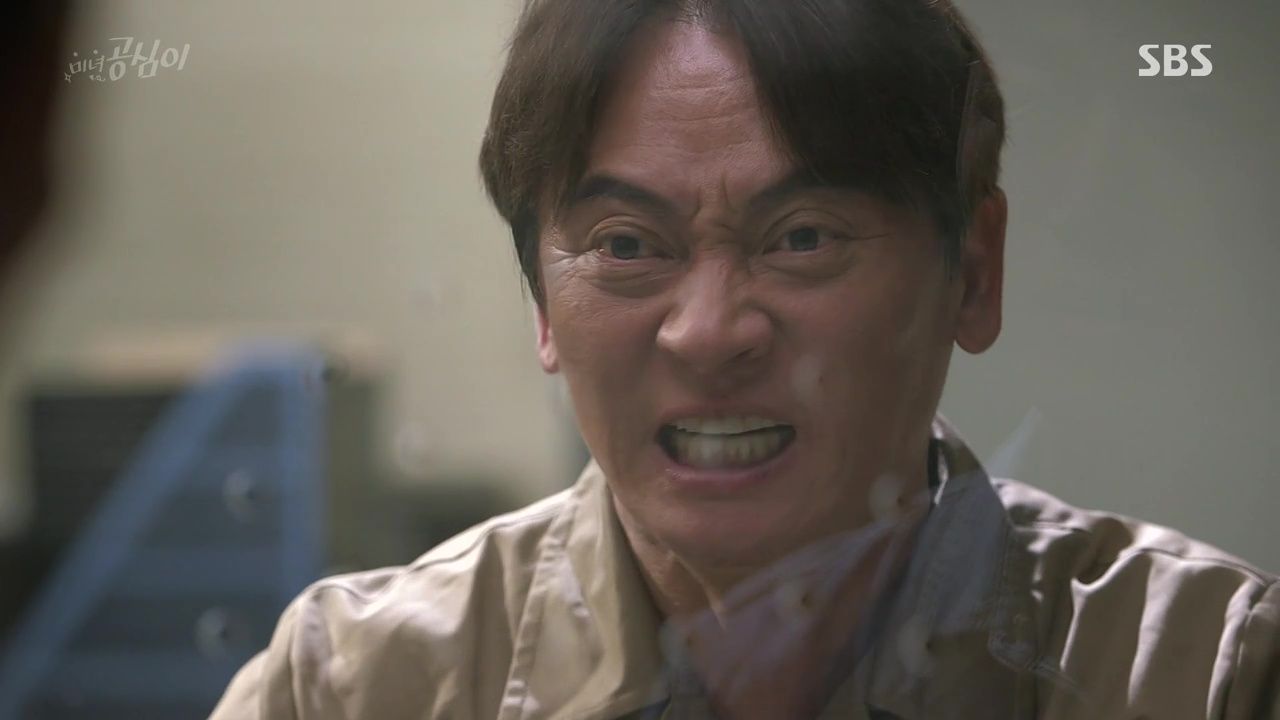 Dan-tae pays a visit to Uncle, who grins as he inquires after Gong Shim's health, laughing that surely she can't be dead. Not rising to the bait, Dan-tae muses that since Uncle has been in prison, he hasn't heard the news yet: Uncle's minion hit Jun-su instead of Gong Shim. Uncle's face falls while Dan-tae tells him that his man was arrested and confessed to Uncle ordering the vehicular manslaughter attempt.
Dan-tae smiles grimly, telling Uncle that there will be a police investigation soon and promises that Uncle will stay in jail for the rest of his life.
Dan-tae: "You don't have to feel remorse or reflect while you're in there. Just stay in pain and suffer every day. That fits you best."
Uncle is screaming through the partition by this point and Dan-tae watches grimly as he's dragged away by the guards, raging that he didn't do anything wrong — denying his responsibility to the end.
Gong Shim and her co-workers visit their recuperating boss and present him with their new product design: a house-shaped snack box. Jun-su approves of the design and everyone is quick to praise Gong Shim as the artist behind it. He congratulates her and she bows in thanks, not noticing that her wig has gotten caught on Jun-su's IV stand. The sudden motion yanks it off and everyone laughs good-naturedly as she tries to untangle her beloved wig.
Jun-su and Gong Shim retreat outside to talk in private and Jun-su spills the beans about Dan-tae going abroad, thinking she already knew. He reveals that Dan-tae is going to ask her to go with him and encourages her to do it, telling her to think of it as a study abroad and promising that they'll hold her position at the company for her. Jun-su also mentions that if she's worried about him at all, then she shouldn't be: He's gotten over his crush. He teases her when she looks uncomfortable and proclaims them true friends now.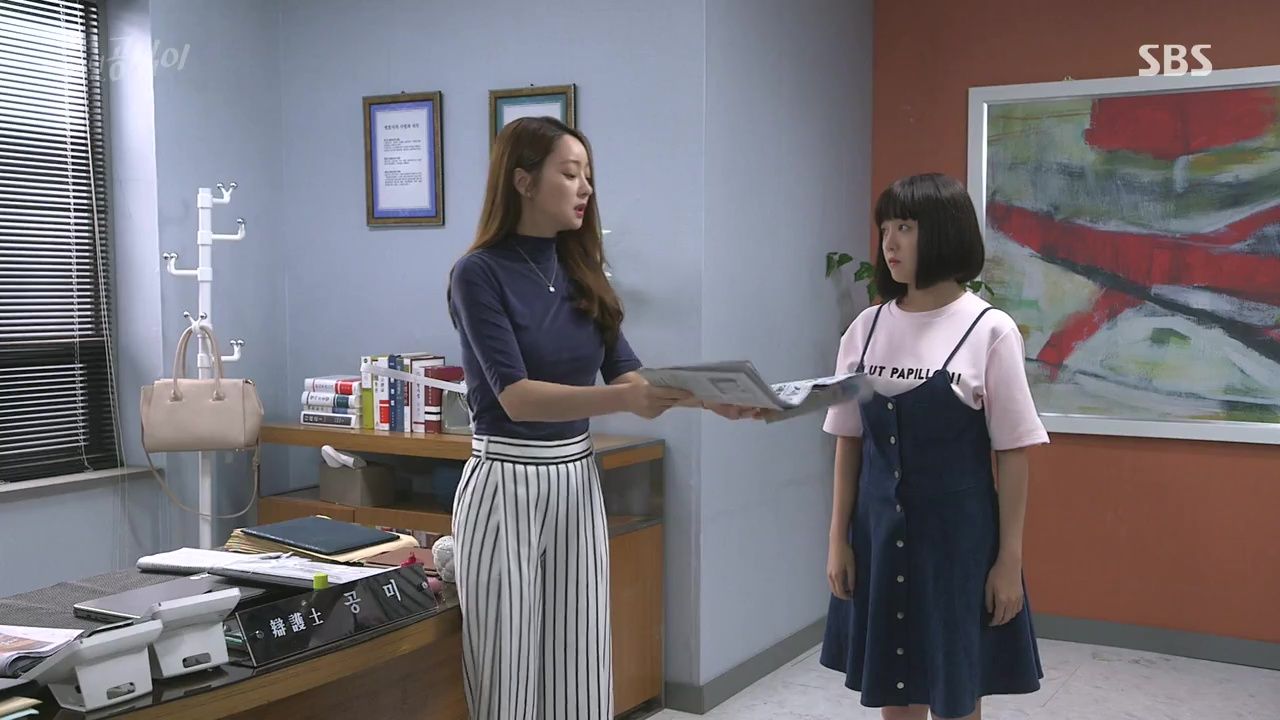 At work, Gong Shim reads a series of news articles posted about Dan-tae and herself, saying that the new Star Group heir has denied rumors of dating a Cinderella. Gong Mi finds her sister and shoves the article in her face, telling her to stop hoping for a happy ending: Dan-tae isn't a rooftop anymore, but a penthouse. …Are we forgetting how you've been shamelessly pursuing your own Jun-su Penthouse for the past few months?
Gong Mi warns Gong Shim that she needs to stop the relationship before she ends up with a broken heart. Gong Shim tells her to mind her own business and trudges out.
Dan-tae calls Gong Shim out to a café and immediately apologizes for the article, saying that the public relations department gave the statement without his approval to prevent rumors. Gong Shim grouches that it seems that Ahn Dan-tae has truly become Seok Jun-pyo. Dan-tae says the rumors will die down soon and apologizes again.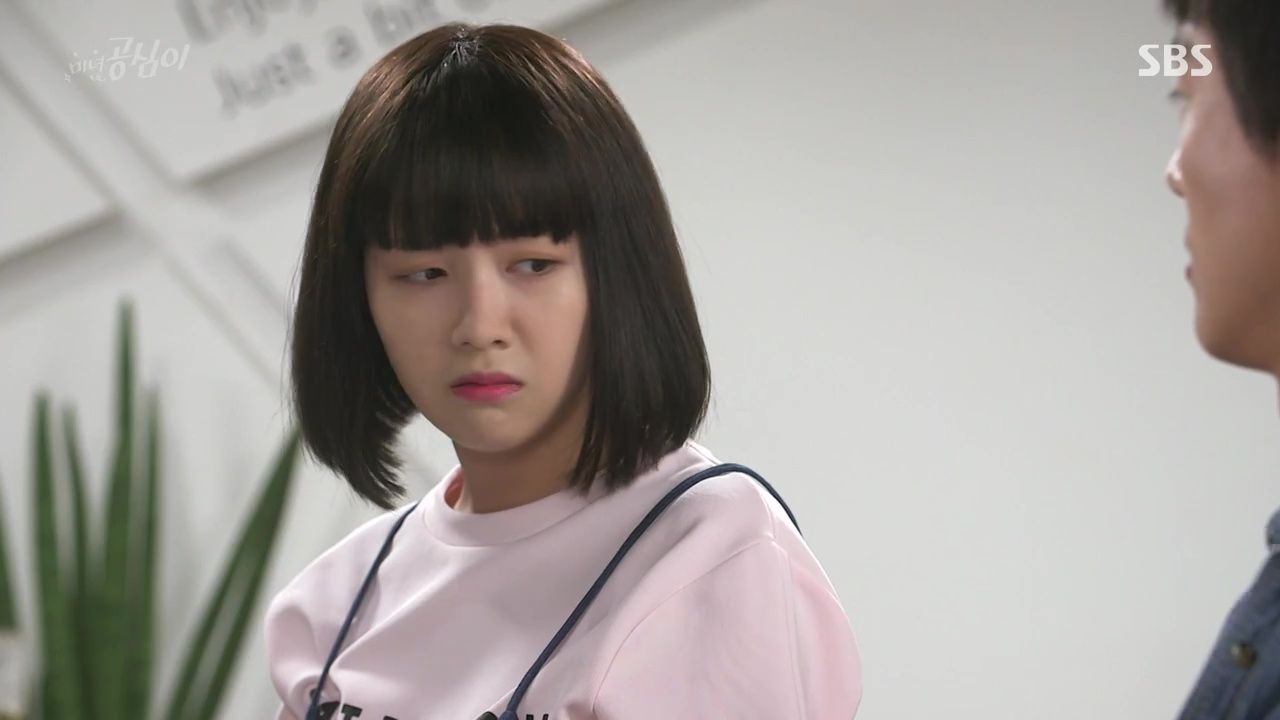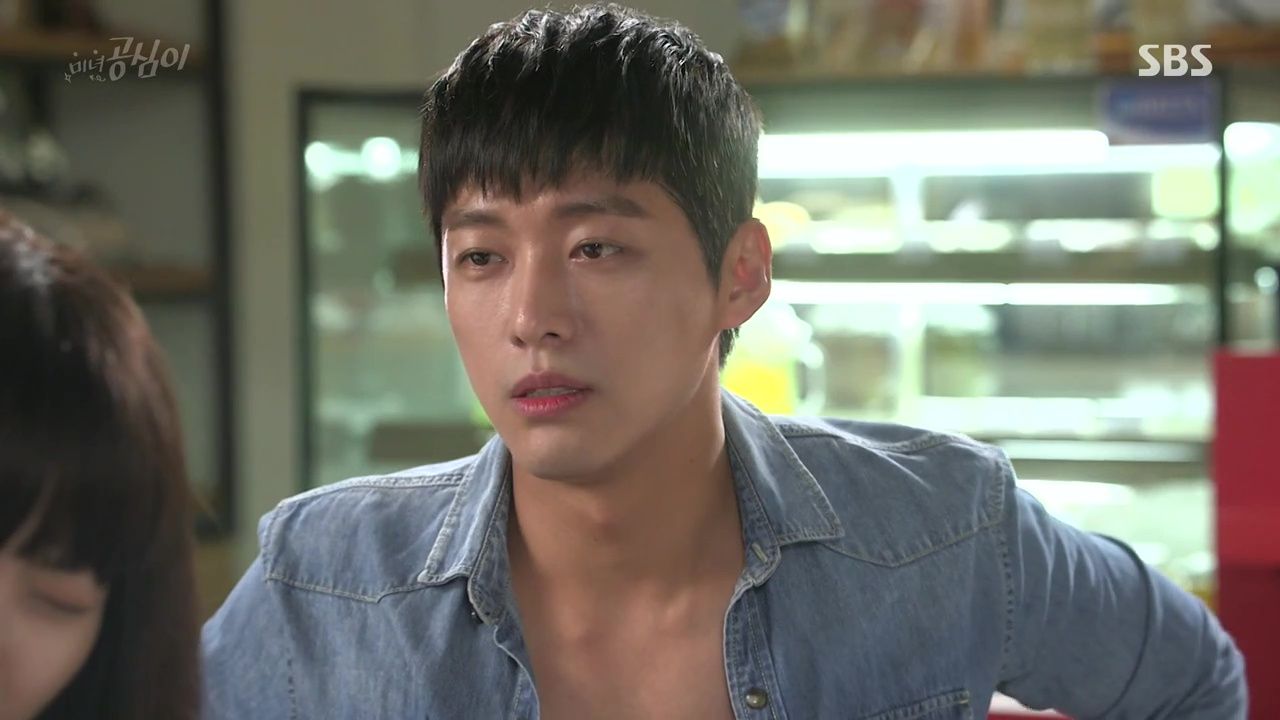 Gong Shim shakes off her gloomy mood and asks Dan-tae to buy her something, since he has so much money now. Dan-tae puts a serious look on his face and suddenly flexes his shoulders, causing one of the snaps on his shirt to pop open and reveal his chest. Oooh, yummy.
In a macho voice, Dan-tae asks Gong Shim how much she needs, leaning in closer and causing yet another button to unsnap. Gong Shim squirms at the display and whisper-yells at him to stop, though she definitely steals a few glances. PFFFT, Dan-tae actually re-buttons one of the snaps just so he can pop it open again. I can't decide if this is hot or hilarious. Guess I'll just have to watch it again… and again… and maybe once more…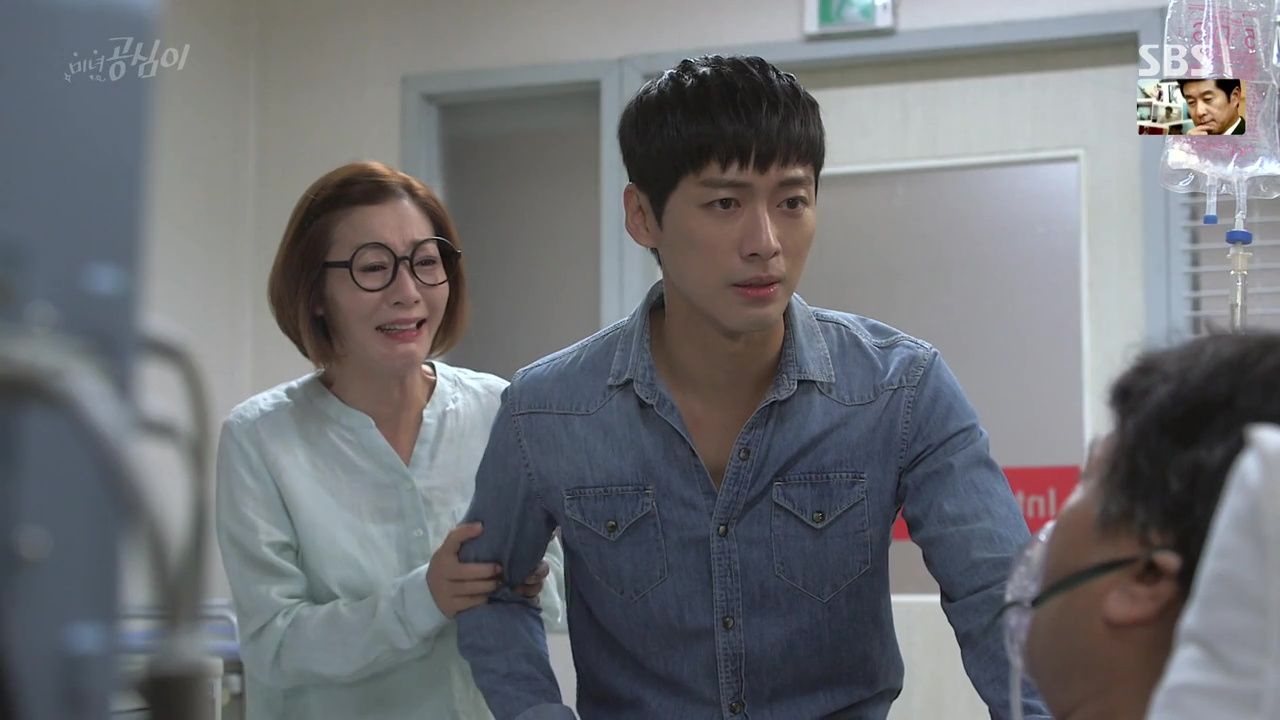 Gong Shim takes the re-clothed Dan-tae to the convenience store to buy her the "something" she requested. She stops next to the display of her company's new lunchboxes and Dan-tae is thrilled to recognize Gong Shim's artwork. Gong Shim's joy is written all over her face as she describes how she helped design the box and is already looking forward to doing even better on her next project.
Dan-tae receives good news from the hospital and rushes over to find that his father has woken up. Both Dan-tae and Aunt cry with happiness to see that he recognizes them.
After hearing the happy news, Grandma recommends that Dan-tae push the date for his trip to the States forward so that he can accompany his father to the U.S. for surgery ('cause he still has that pesky brain tumor to deal with). She wants to know if he asked Gong Shim to go with him yet and Dan-tae admits that he hasn't been able to tell her. He knows that she's finally settling into her work and is truly happy at the company, so how can he ask her to leave that all behind?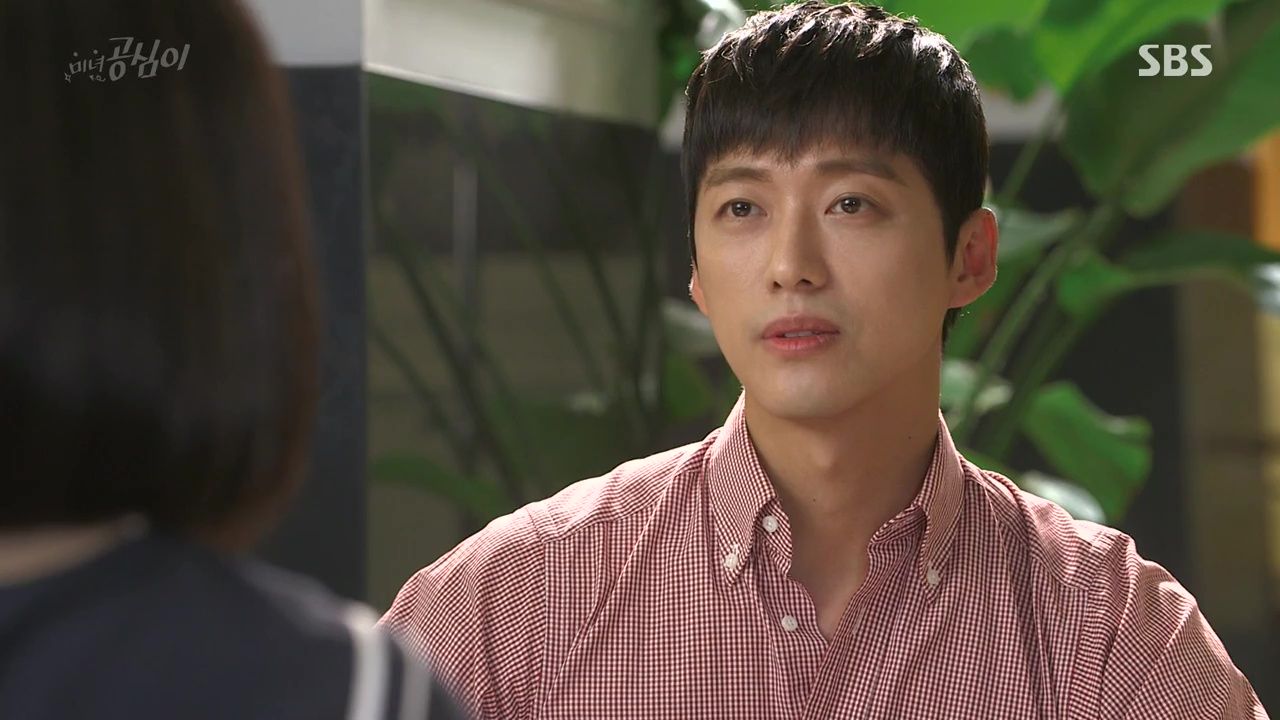 Gong Shim sits at home admiring her boxes when she remembers Jun-su telling her that Dan-tae will ask her to go to the U.S. with him. She doesn't seem completely against the idea and when Dan-tae calls her to meet, she looks more thoughtful than resigned.
Dan-tae and Gong Shim meet at a café and he quickly brings up the subject of him going to the U.S. Gong Shim feigns ignorance and asks when he'll be leaving. He reveals that he has to leave in a week due to his father's surgery, then he plans to stay there afterwards to study, so he's not sure when he'll return.
Gong Shim looks up eagerly when Dan-tae addresses her again, waiting for him to ask her to go with him. Instead, Dan-tae says that he believes Gong Shim has so much to do here and that he'd like for her to succeed while he's gone, becoming an even more amazing person than she already is. Gong Shim struggles to look happy with his decision, but when she gets home she crawls into bed, hiding her pain beneath the covers.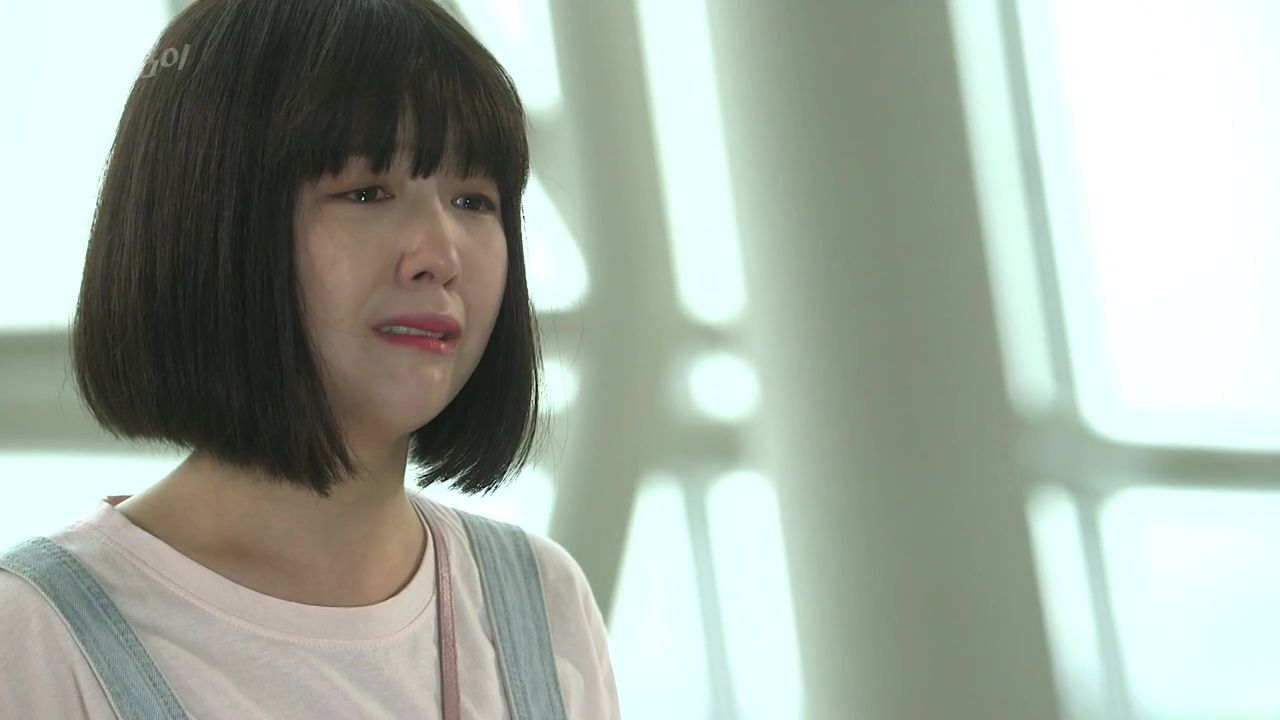 A few days later Dan-tae rushes to the airport, accompanying his aunt and father (who's on a stretcher). Apparently the surgery was unexpectedly moved up and Dan-tae has to leave immediately. He calls Gong Shim, who is frantically bussing her way to the airport to meet him before he leaves.
Dan-tae assures her he'll wait for her, but by the time she arrives, he's already left. Gong Shim breaks down in anguished sobs when she realizes he's gone.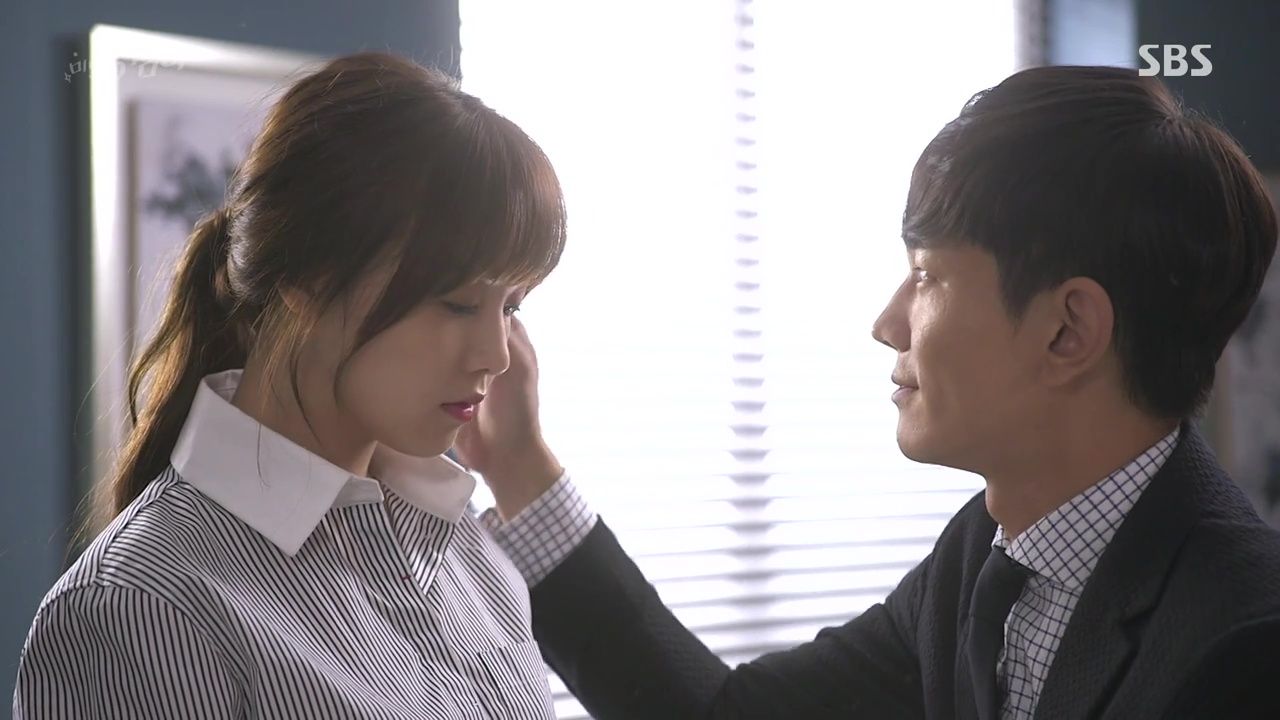 One Year Later.
A wig-less and sophisticated Gong Shim poses sleeps in an office chair. Her slumber is disturbed by a smiling Jun-su who brings her coffee and asks why she always chooses his chair to sleep in. Hah, apparently it's a recurring theme and Gong Shim jokes that his is the most comfortable seat in the whole office. The two confirm their plans to meet later with their parents and Gong Shim confesses that she's nervous about it.
They're warm and comfortable with each other and when Gong Shim starts to get up, Jun-su stops her. Reaching out, he softly fixes her hair while she stands close to him. Well, if these actors ever do another show together, at least we know they have chemistry.
It wouldn't be the last episode without a farewell from Subway. Gong Shim and Gu-nam have lunch over a foot-long and he asks if she's heard from Dan-tae at all, griping how he hasn't contacted her the entire year he's been away (WHAT?!?). Gu-nam muses that people really do change when they become chaebols, and Gong Shim looks ready to shove her sandwich in his mouth just to get him to shaddup.
Speak of the devil, Dan-tae wanders through the international arrivals terminal at the airport, back in his beloved capris and flip flops. He stops when a cookie rolls into his foot. Dan-tae picks up the cookie and, staring straight at the boy who dropped it, shoves the whole thing in his mouth and walks away, grinning. Heh, some things never change.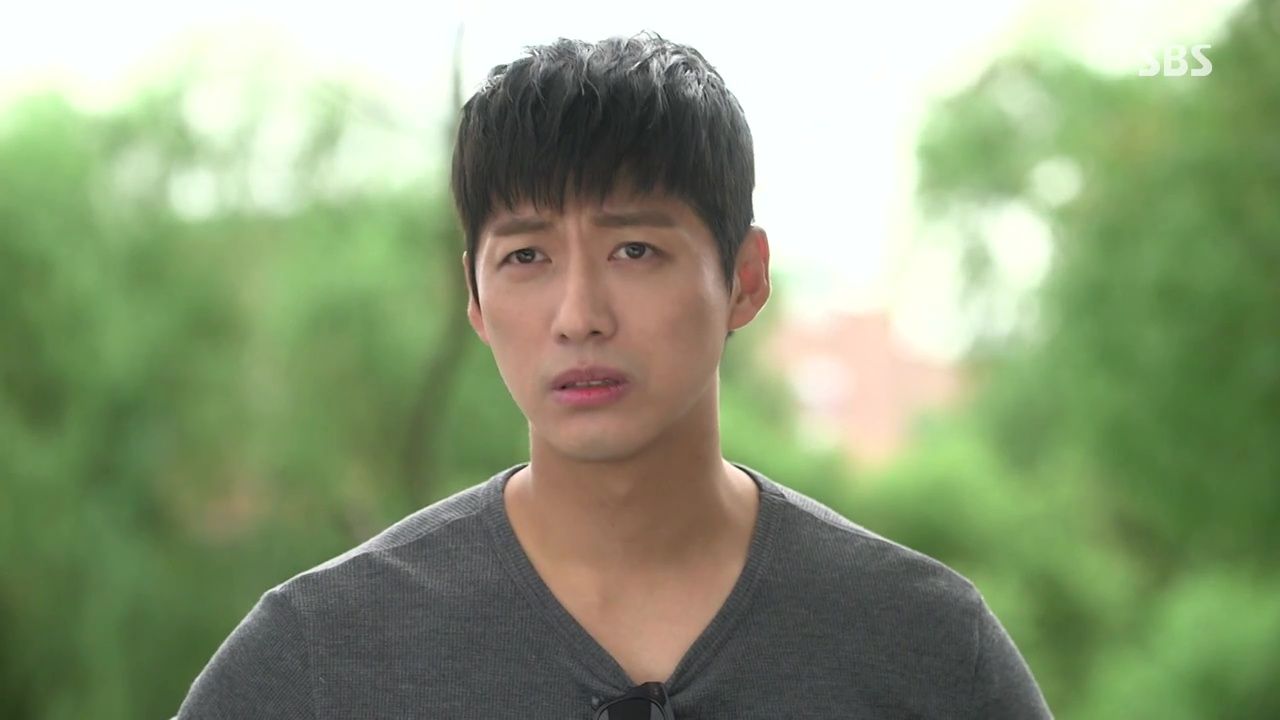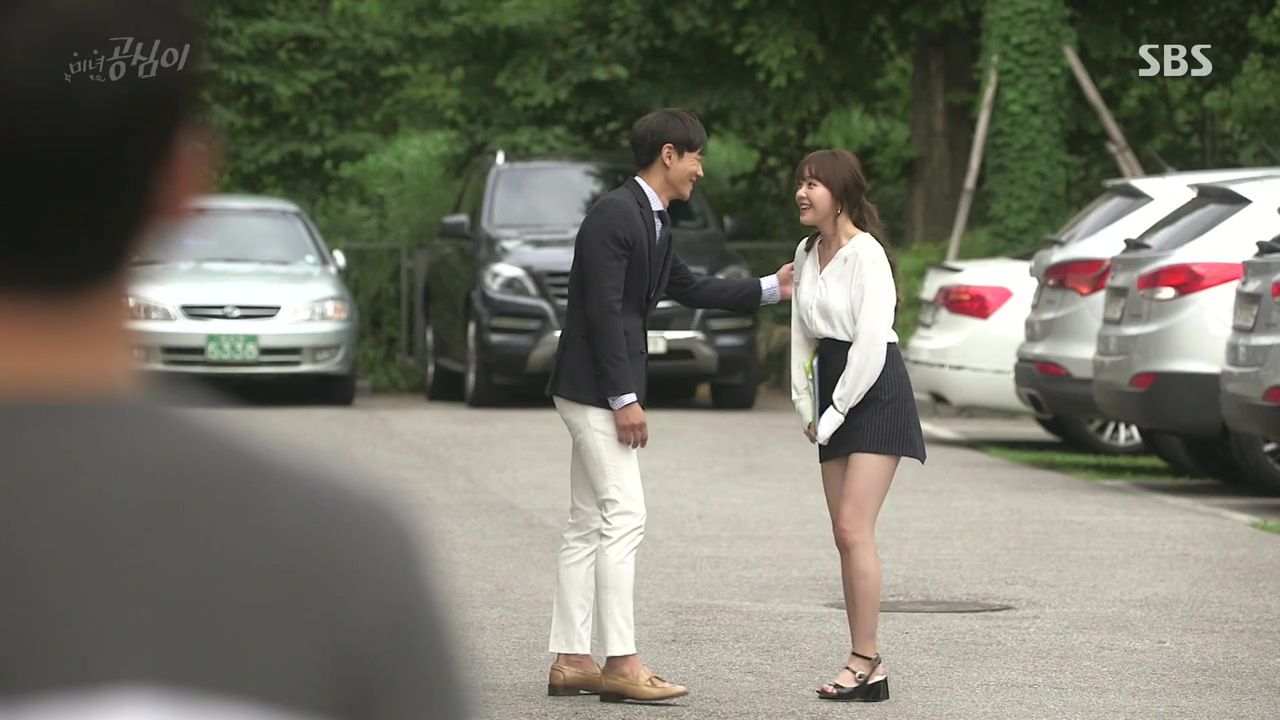 Dan-tae heads straight for Gong Shim's office and arrives to see her standing outside, dressed in her pretty new clothes and natural long hair. Before he can approach her, she's joined by Jun-su and their friendly banter makes him pause. He overhears their plans to meet their parents and clocks the easy skinship between the two.
Dan-tae hides his face as Gong Shim and Dan-tae drive away, then follows them to the restaurant where he sees them meeting with President Seok. Jun-su's dad greets Gong Shim warmly and leads them both away, leaving Dan-tae wondering if they're having a pre-marriage meeting with their parents.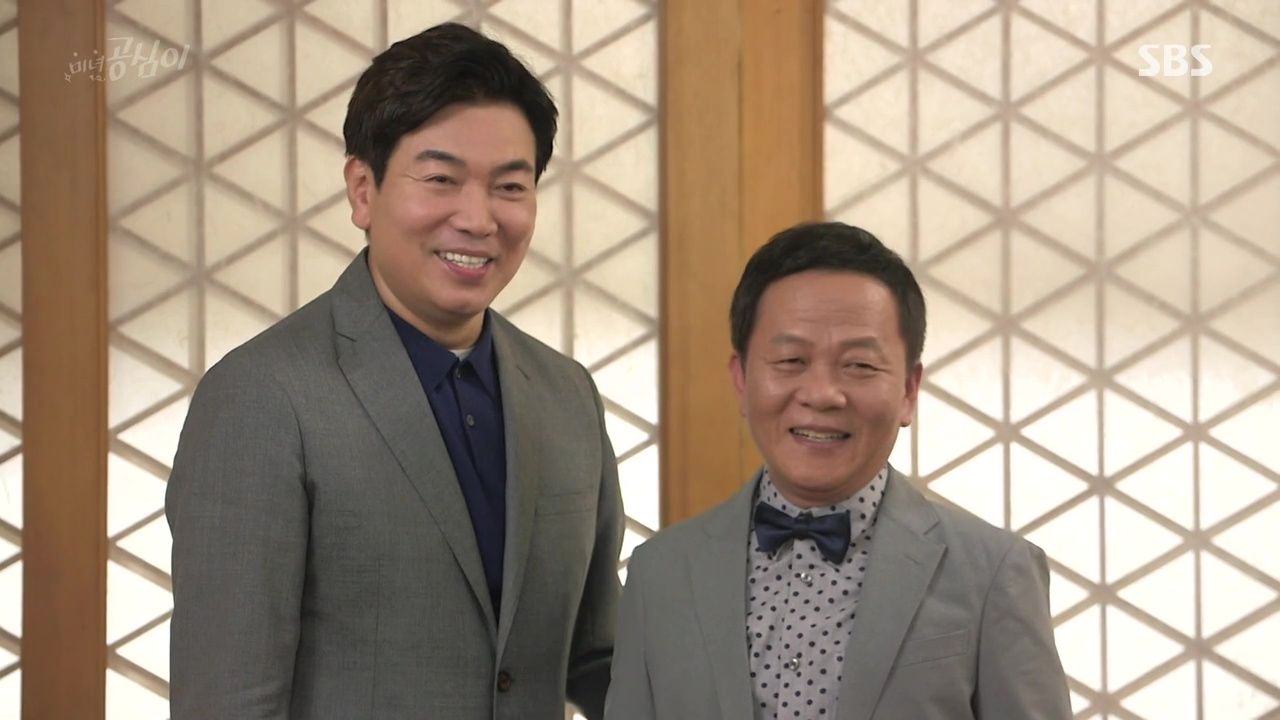 Unbeknownst to Dan-tae, the whole get-together has been planned by President Seok and Gong Shim's dad. Both wives sit in adjacent rooms with their husbands, thinking they're meeting their son/daughter for dinner. As they wait, Jun-su enters into the room Gong Shim's parents are sitting in, saying he heard they were here and just wanted to greet them.
Gong Shim's mom (Jae-boon) asks after Jun-su's mom (Tae-hee). Jae-boon admits that she treated Tae-hee badly and regrets it now, asking Jun-su to tell his mom that she misses her. Right next door, Tae-hee listens to the whole exchange and smiles at her friend's words.
Gong Shim takes that moment to quietly enter into Jun-su's parents room and then she and Jun-su both pull back the divider, revealing the moms to each other. Both women apologize and hug, then look over to see their star-crossed husbands, happily reunited. Awww.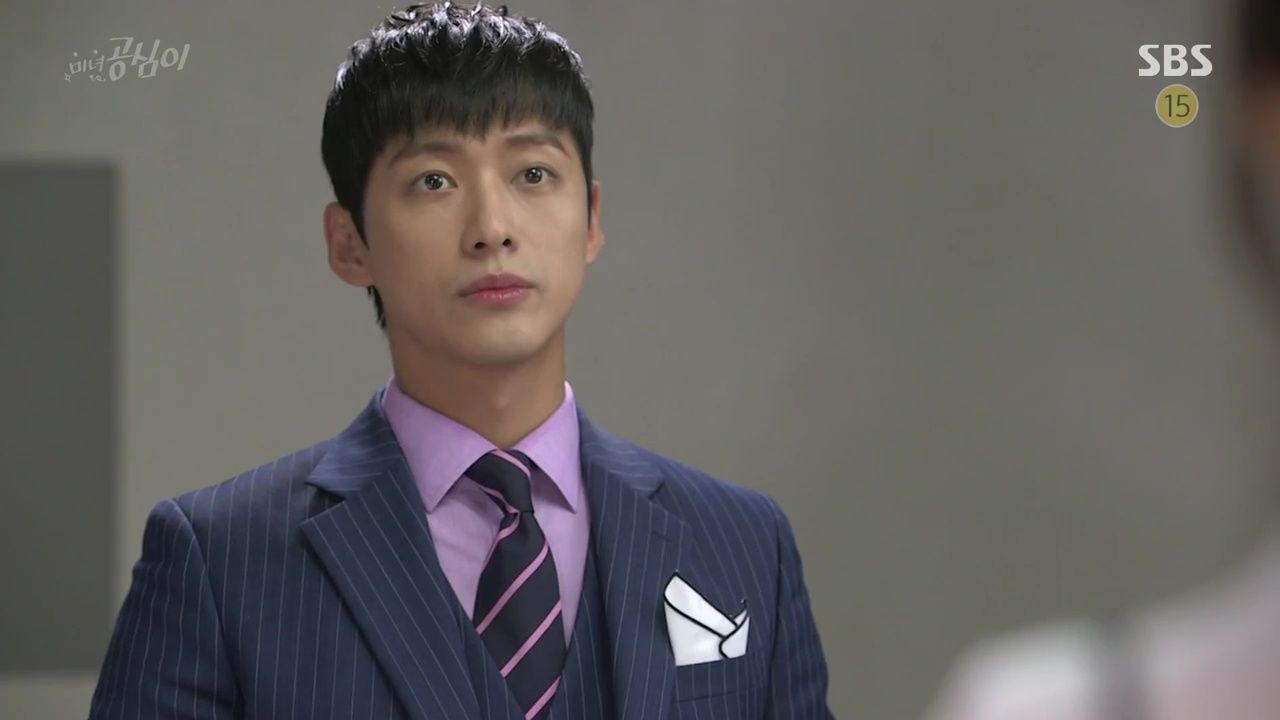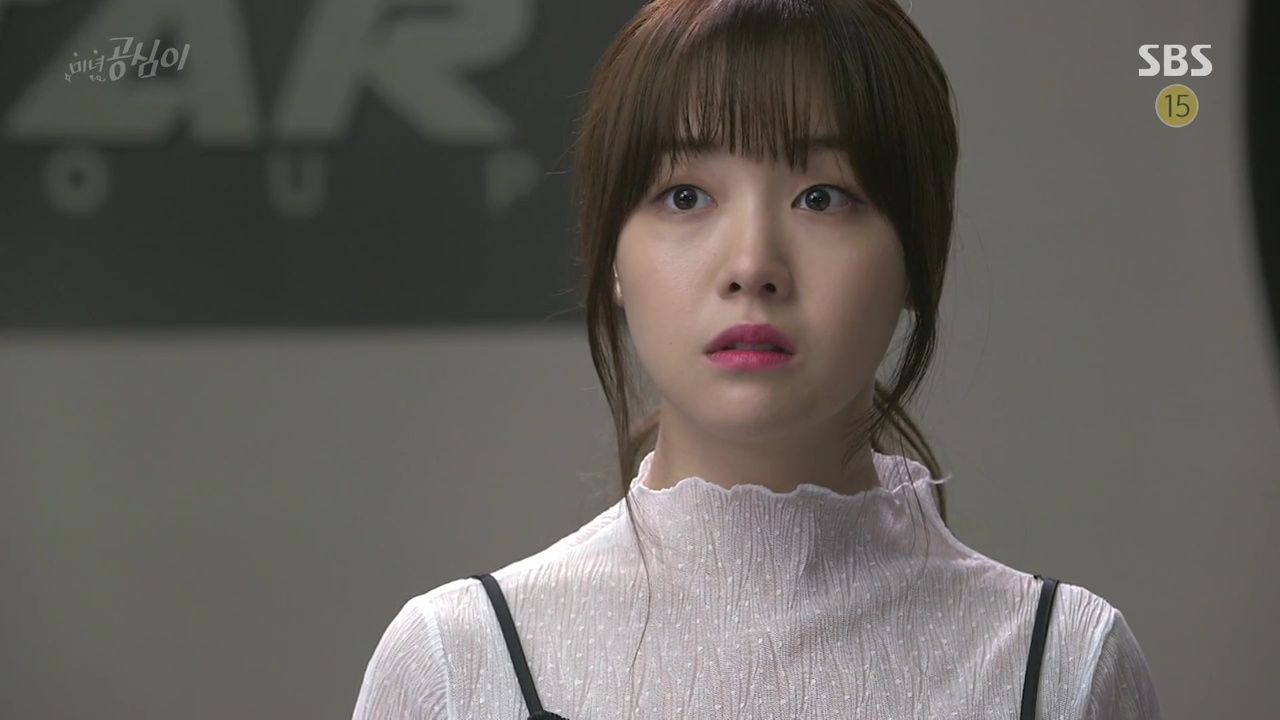 The presentation that Gong Shim stayed up late to prepare for is with none other than Star Group. At the meeting, she and her colleague wait for the Star Group representative to arrive, when in walks Dan-tae, looking every inch the cold and uncaring chaebol.
Dan-tae treats Gong Shim like a complete stranger, insulting the designs and instructing her to do them over again. When Gong Shim's colleague leaves to take a call, Dan-tae finally acknowledges her, but just accuses Gong Shim of changing since he saw her last. Gong Shim asks just what he's trying to do after not contacting her for a year, but Dan-tae responds that she doesn't have the right to ask him that.
Gong Shim reports to Jun-su that Dan-tae has returned and instructed her to redo the design. Jun-su advises her to do the edits for now while he gets to the bottom of things.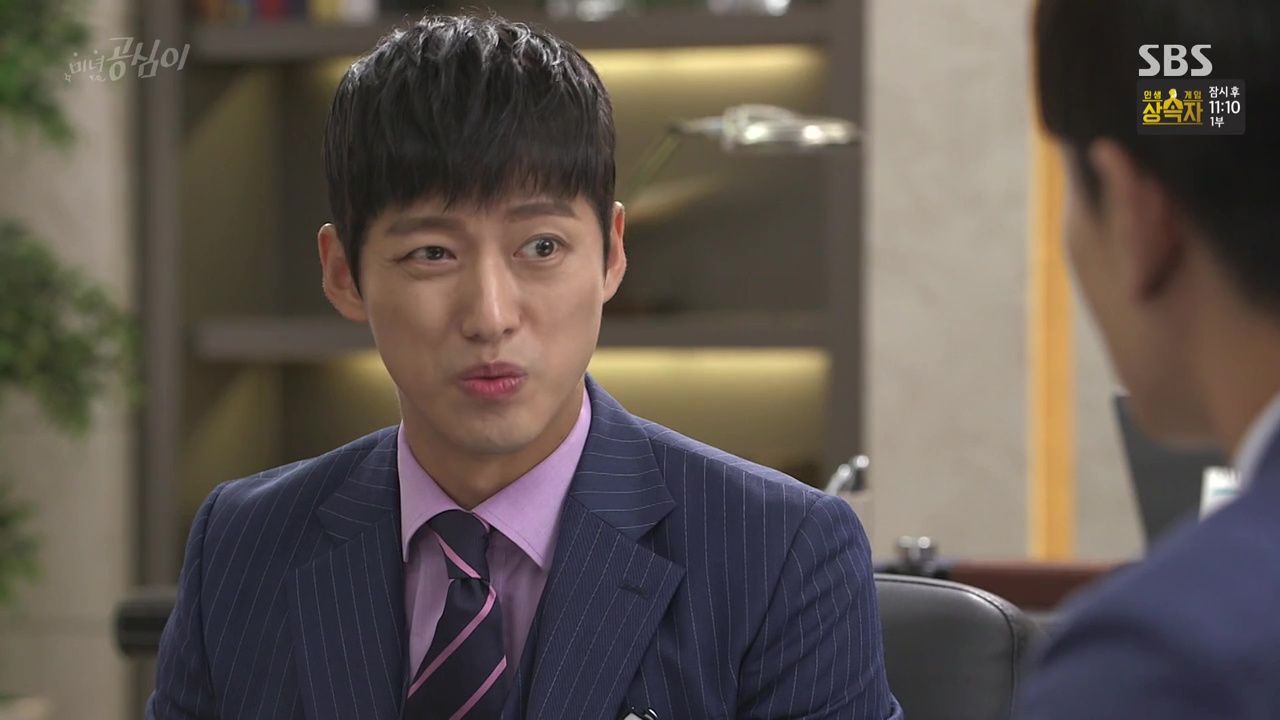 Jun-su heads over to Star Group and greets a chilly Dan-tae with a smile. Dan-tae cuts right through the pleasantries, saying that he saw the two of them go to a premarital meeting with their parents the day before. Jun-su understands immediately and starts laughing, explaining the meeting and reminding Dan-tae that he already cleared his feelings for Gong Shim a year ago.
Dan-tae's "oh shit" face as he realizes he screwed up is priceless. Jun-su starts reprimanding him for not contacting Gong Ghim for a year, asking if he knows how hard it was for her the whole time. Looking properly chastised, Dan-tae admits he just messed things up and asks Jun-su for help. Jun-su can only hold out against Dan-tae's pleas for so long before he grins back at him. Oh, you two.
Gong Shim meets Dan-tae at a restaurant, bringing the design edits with her. Dan-tae is back in his cold chaebol demeanor, insisting on eating before checking the edits. She tries to refuse but he insists.
Gong Shim starts to eat but stops when Dan-tae remarks that she's gotten prettier. Unable to stomach the food, Gong Shim grabs her designs and tells him to do as he pleases before leaving the table. Dan-tae mutters a quick "Yeah, this isn't the right method," before chasing after her. No shit, Sherlock.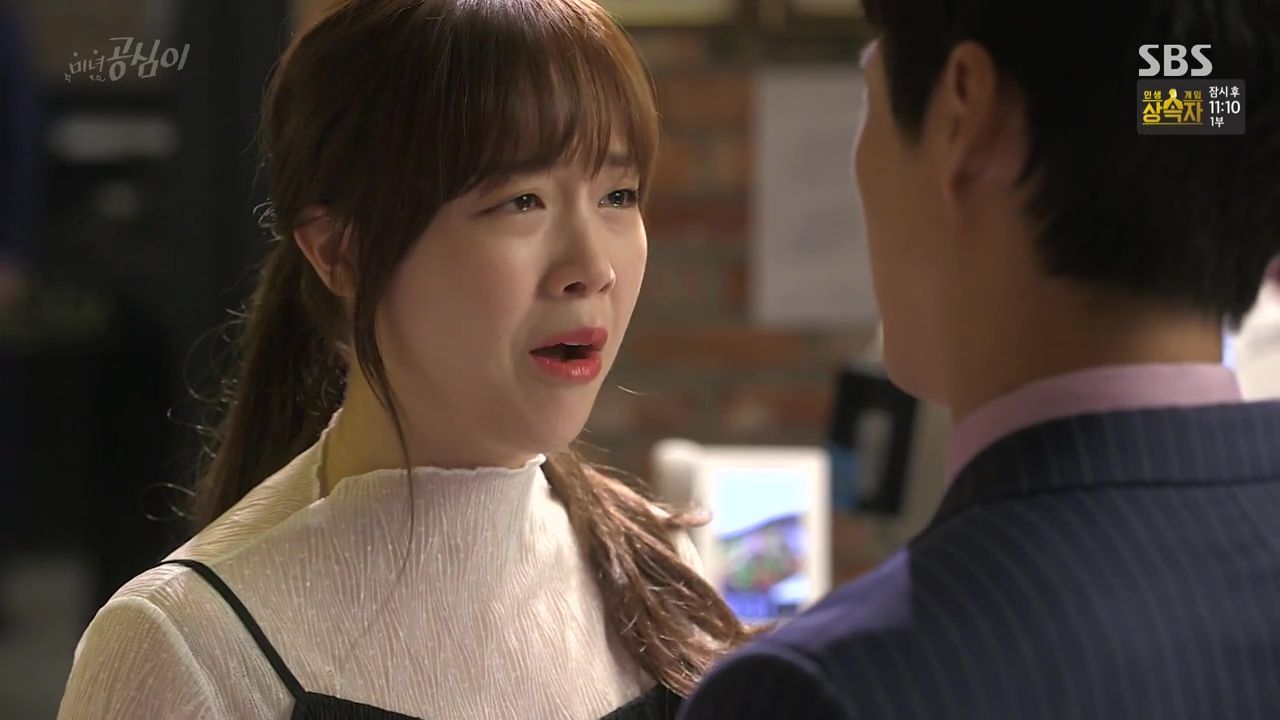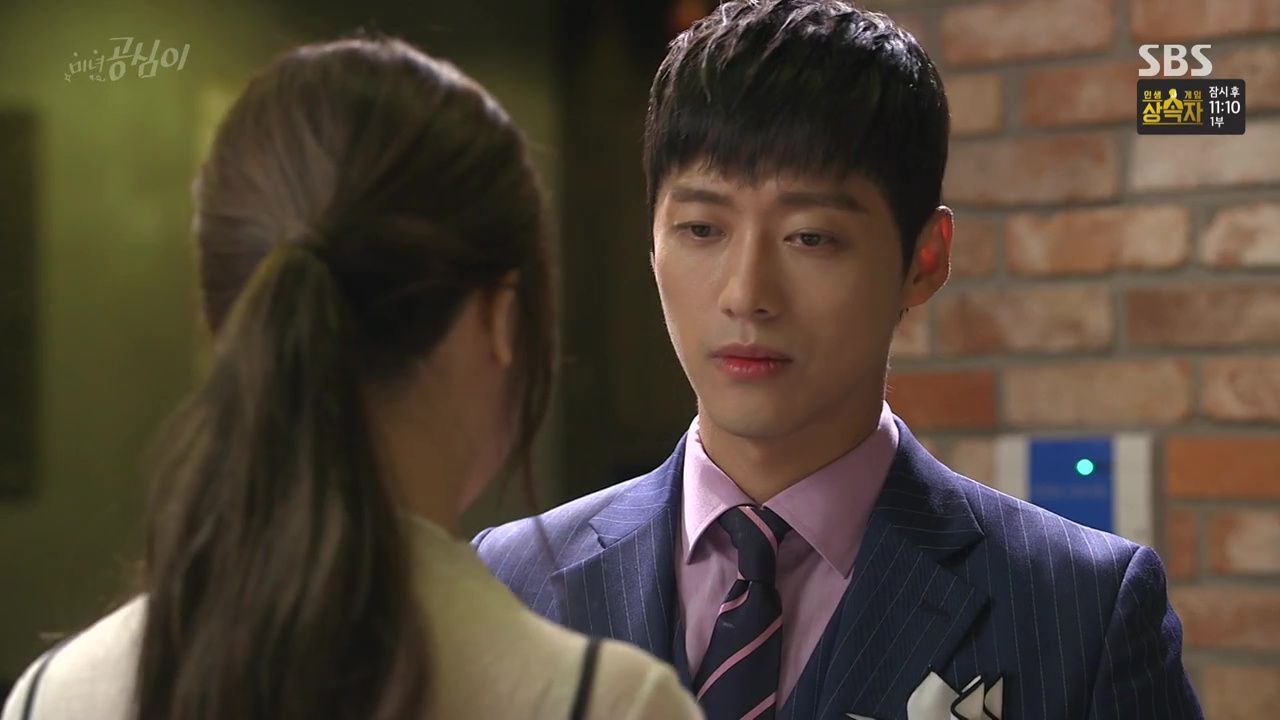 He grabs Gong Shim's wrist and asks to talk, but Gong Shim has had enough. Throwing off his hand, she asks what exactly he's doing, messing with her like this. She yells that she was so worried about him, not knowing if he was hurt or dead, and now after a year of no contact he shows up like this. She smacks his chest over and over, demanding to know how he can do this to her, before breaking down in tears.
Dan-tae hugs her to him and apologizes. He murmurs that it wasn't that he didn't contact her but he couldn't, saying his father was in such critical condition and he had to care for him. …Seriously? For the entire year?
Gong Shim asks if his father is okay now and Dan-tae says he is, though he was critical for the first six months. Gong Shim voices what we're all wondering: Then why didn't he contact her when his father was well again?
Dan-tae answers that because he missed Gong Shim so much, he studied like crazy so he could come back to her quickly, which is why he couldn't contact her because he was so busy. …Yes, 'cause that makes sense. You miss her so much that you can't take five minutes to call and say you were alive. Hell, I can text that in under five seconds.
Gong Shim calls him stupid and Dan-tae gets offended, saying he thought she'd be proud of him for coming back so quickly. Thinking they're all patched up now, Dan-tae gives her a loving, "I missed you…" and Gong Shim kicks him solidly in the shins. Heh, Dan-tae reacts like she just drop-kicked his family jewels and Gong Shim marches out while he writhes on the ground.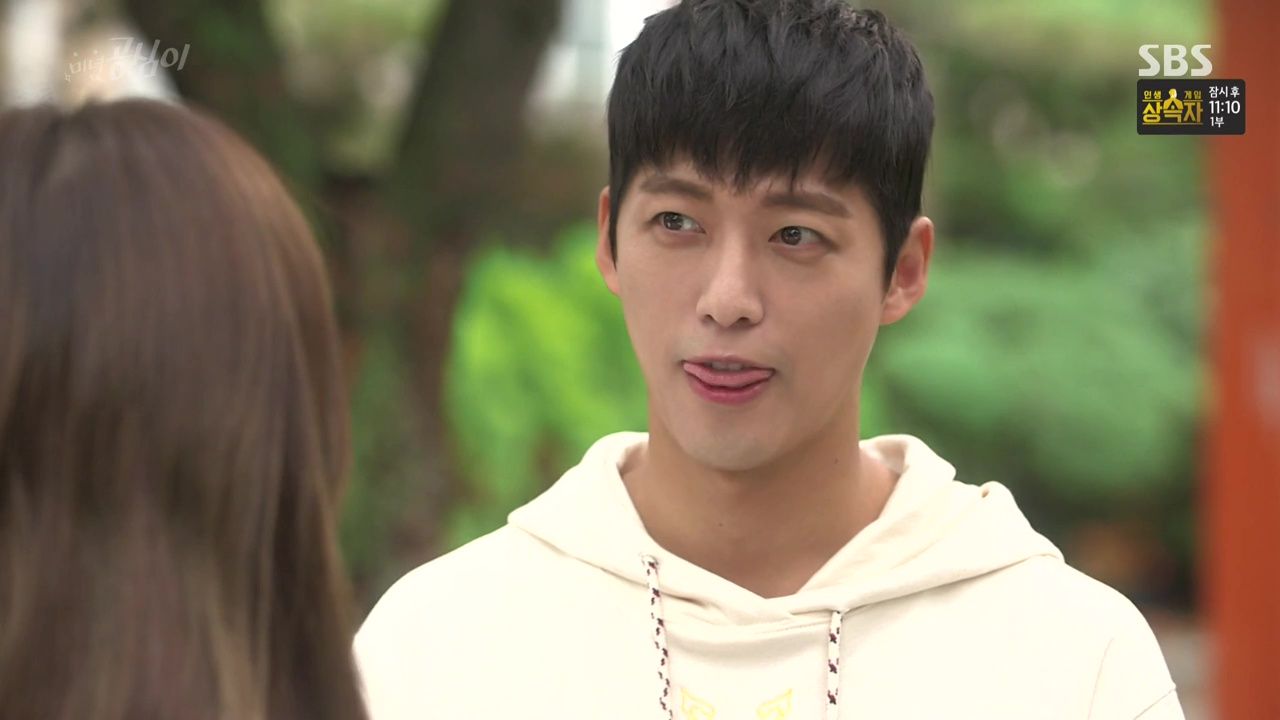 The next day, Dan-tae is waiting for Gong Shim when she returns from work. He tries small-talk and makes some funny faces, but nothing breaks her understandably icy demeanor. As she brushes past him, he asks if anyone else moved into the rooftop apartment, giving her pause.
She turns as he asks if it's the same as he left it. When she says it must be, he realizes that she never went up there since he left. He grabs her wrist and says he needs to show her something, dragging her along.
Dan-tae brings Gong Shim up to the apartment, which is completely cleaned out, save for a flower pot filled with soil and a note. Dan-tae crouches down and mutters that no one watered it for a year so the seed never sprouted. Pouting, he leaves the room.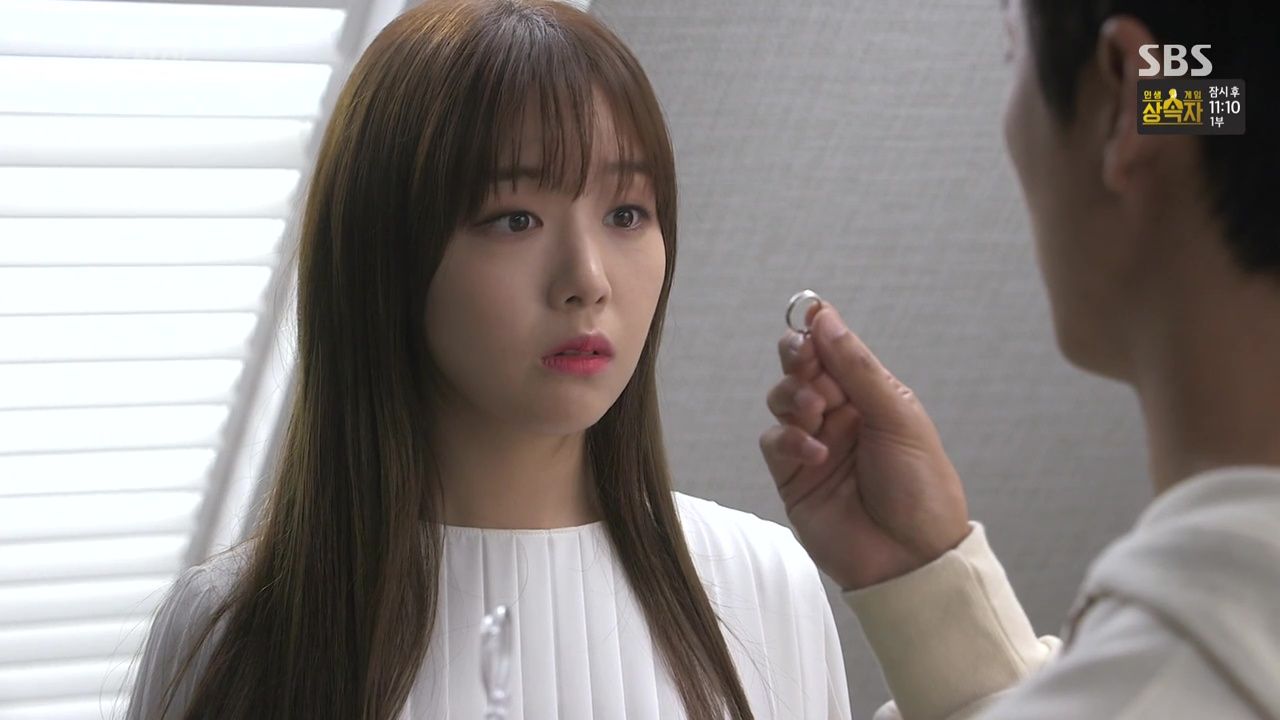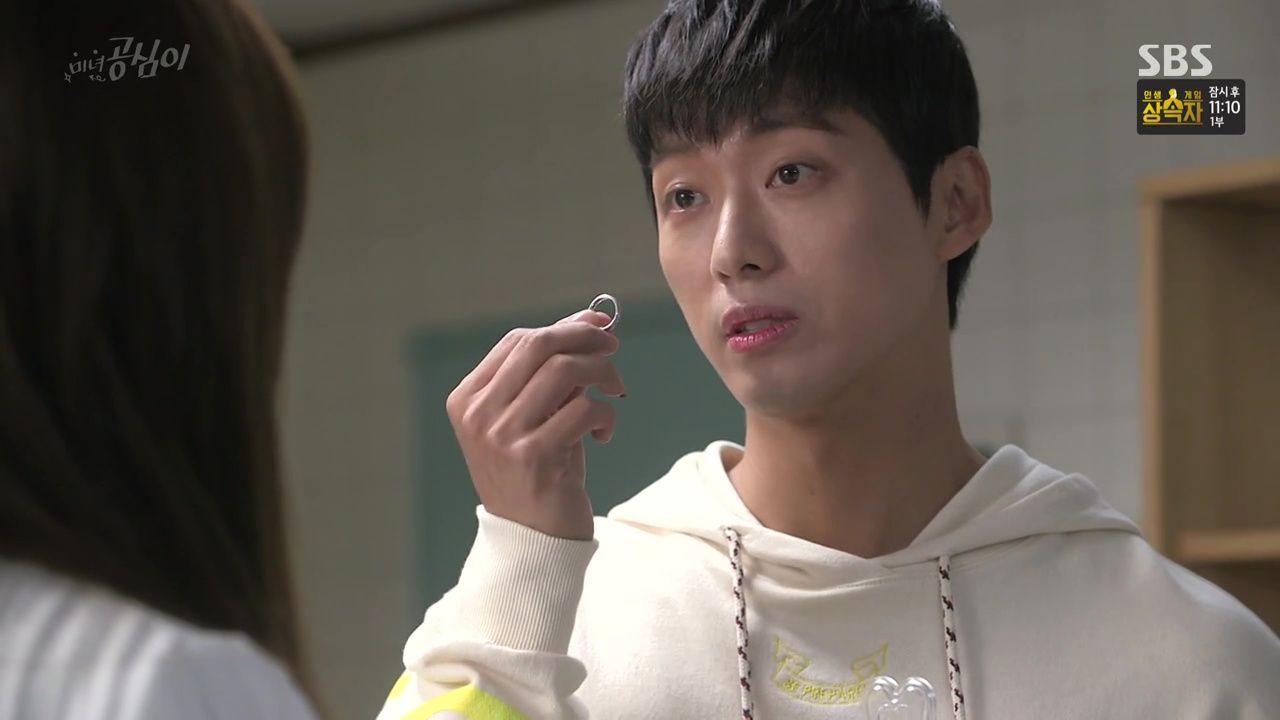 Gong Shim opens the card and reads the note Dan-tae left a year ago. In it, Dan-tae asks her to water the pot while he's away and if she takes good care of it, his heart will come up with the flower.
Dan-tae comes back in and Gong Shim asks what the note means. Frustrated, Dan-tae grabs the pot and plucks out of the soil… a ring. Aw, that's actually a pretty clever proposal if the flower did indeed lift up the ring as it grew. Oddly perfect for Gong Shim.
Gong Shim stares at the ring as Dan-tae grumps that he spent so much time planning this and it all went to waste. Gong Shim asks why he didn't just give it to her in person, then? As an answer, Dan-tae swoops in and kisses her.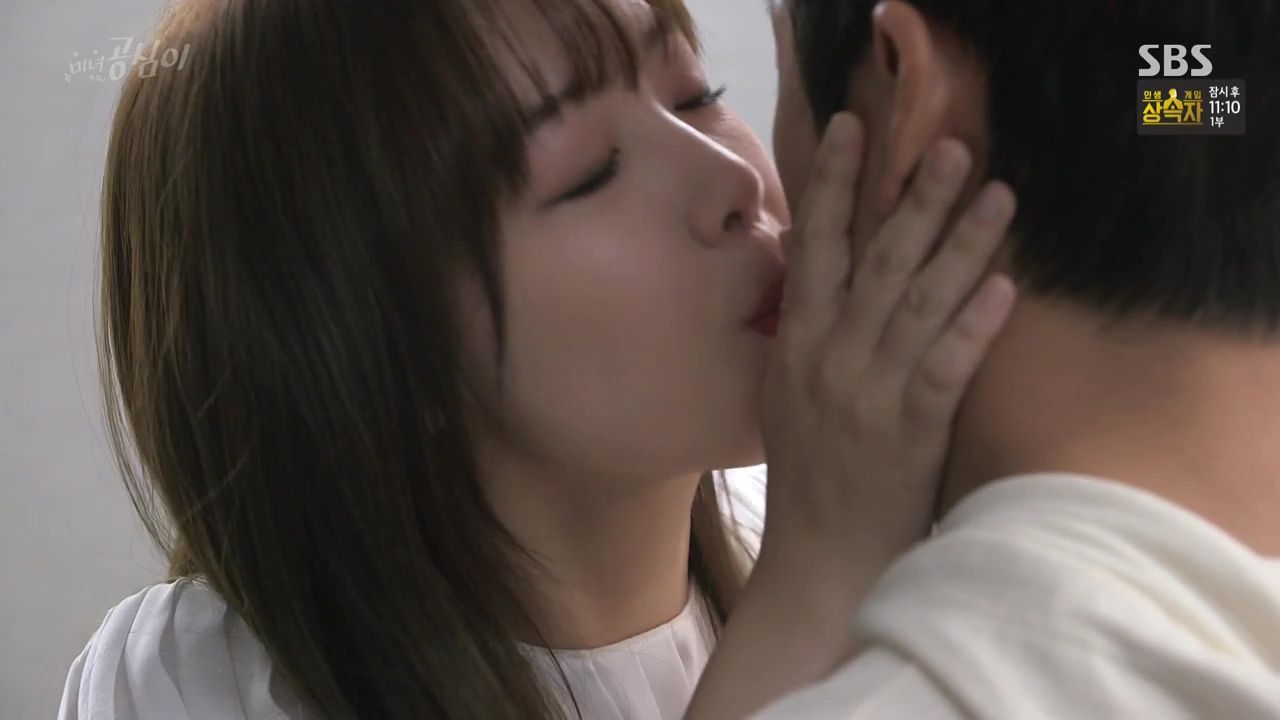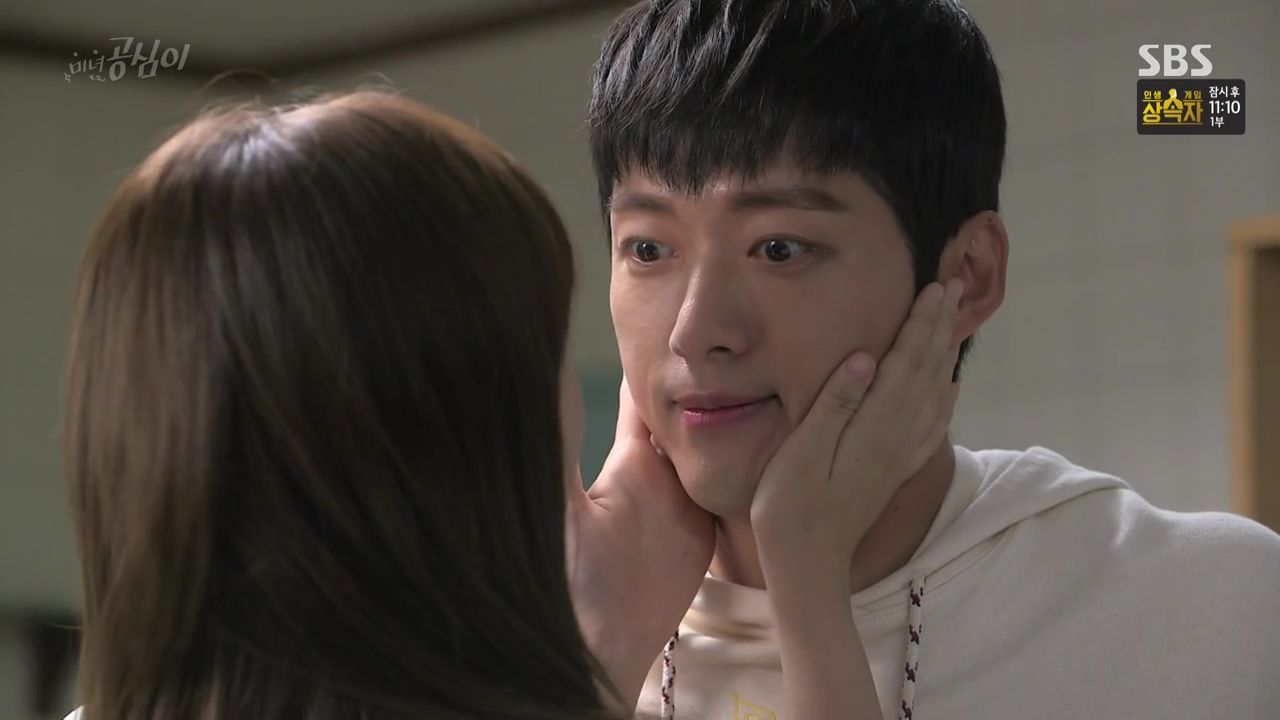 Dan-tae says if he'd given it to Gong Shim in person, then he never could have left for America. He calls her a fool and the two bicker about who is more foolish: the one who never went up to the apartment, or the one who buried a ring in the dirt.
Dan-tae slips the ring on Gong Shim's finger, asking her to marry him. She smiles and reaches up to hold his face, planting a flurry of little kisses all over the stunned Dan-tae. He thanks her in his baby voice and the two hug.
Still working at Jun-su's company, Gong Mi stops in to see Jun-su and asks him out for a drink. No! You can't have my Jun-su puppy! Go away! Do exorcisms work on evil sisters? Be gone, thou bitchy one!
Over beer, Gong Mi is honest with Jun-su for the first time, admitting that when she first met him, she was attracted to his title. She even tells him about stealing the furniture workshop spot from Gong Shim and saving him in the restaurant after her sister told her to go there. Gong Mi apologizes and says that in spite of the past, she likes him now as a person, not a position, and regrets her previous motivations.
Jun-su asks why she's telling him this now, and Gong Mi answers that she wanted to start fresh with him. She says that he can slowly take his time thinking about it, referencing when they first had dinner together and she asked him to date. Jun-su grins and agrees to think about it. Ugh.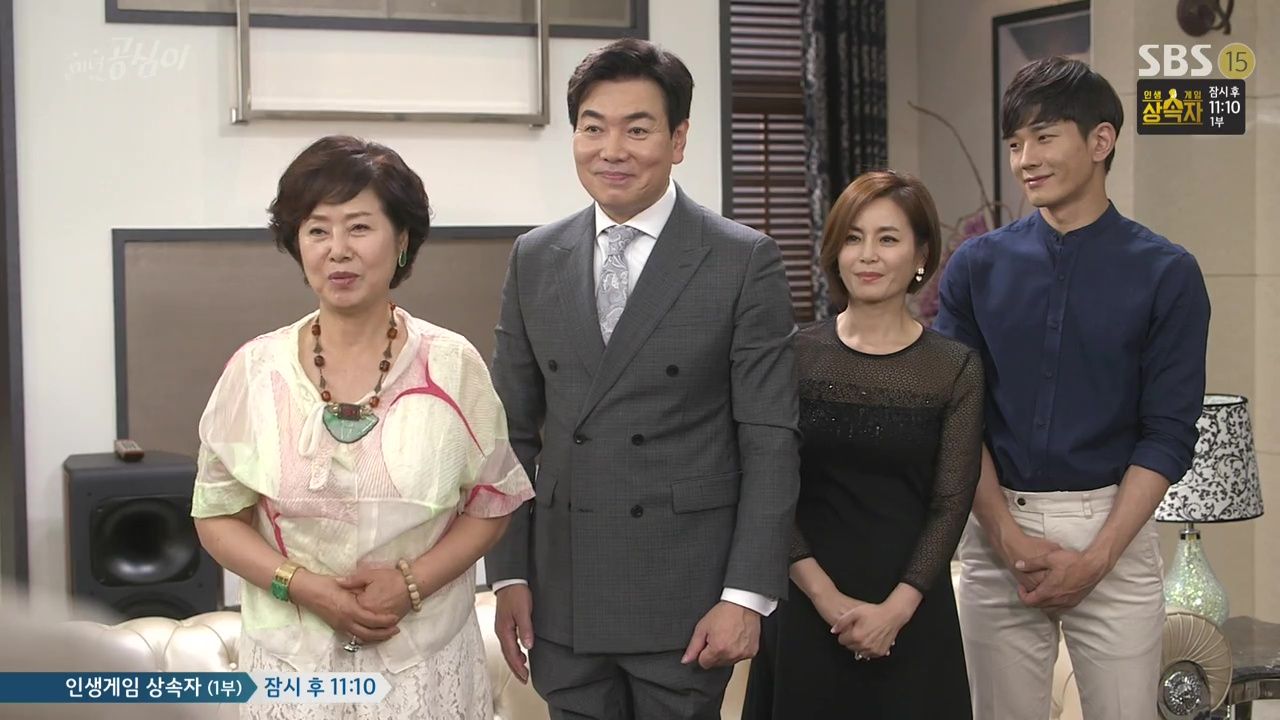 President Seok has returned to his original position and gets teary-eyed as he polishes his old nameplate. He answers his wife's call, saying he'll be home soon and promises not to stop at the pet center or playground. As he leaves, his new secretary comes in and asks what kind of tea he'd like. President Seok gets a glint to his eye and makes one of his trademark bad puns before exiting the office, cackling to himself. You big goof.
Dan-tae brings his newly healthy father and his aunt to the Seok mansion where he introduces them to his relatives: his grandma, younger grandma, aunt and uncle, and his cousin. Awww. Everyone smiles happily as one big family.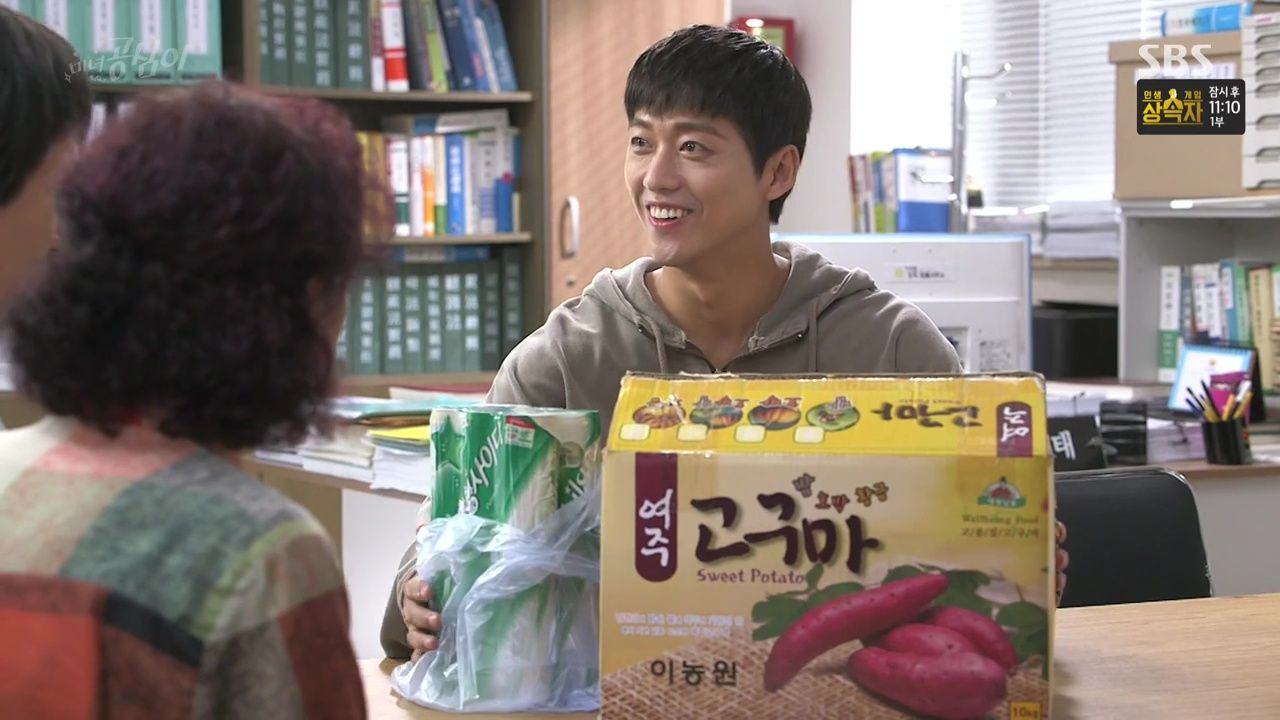 Looks like Dan-tae is still running his pro-bono law office. He interviews some new clients, and the man and woman are nervous about payment, but Aunt rattles off that all services are free. In gratitude, the couple gives Dan-tae a box of sweet potatoes and some cider. It's a cute meta reference to a recent slang that's become popular: Plots that are frustrating and hard to choke down are sweet potatoes, while ones that are refreshing are called cider.
So basically they're making fun of the fact that the storyline for this drama has been both frustrating and refreshing at times. (All credit for the reference goes to the lovely Javabeans — she shared some of her infinite wisdom with me.)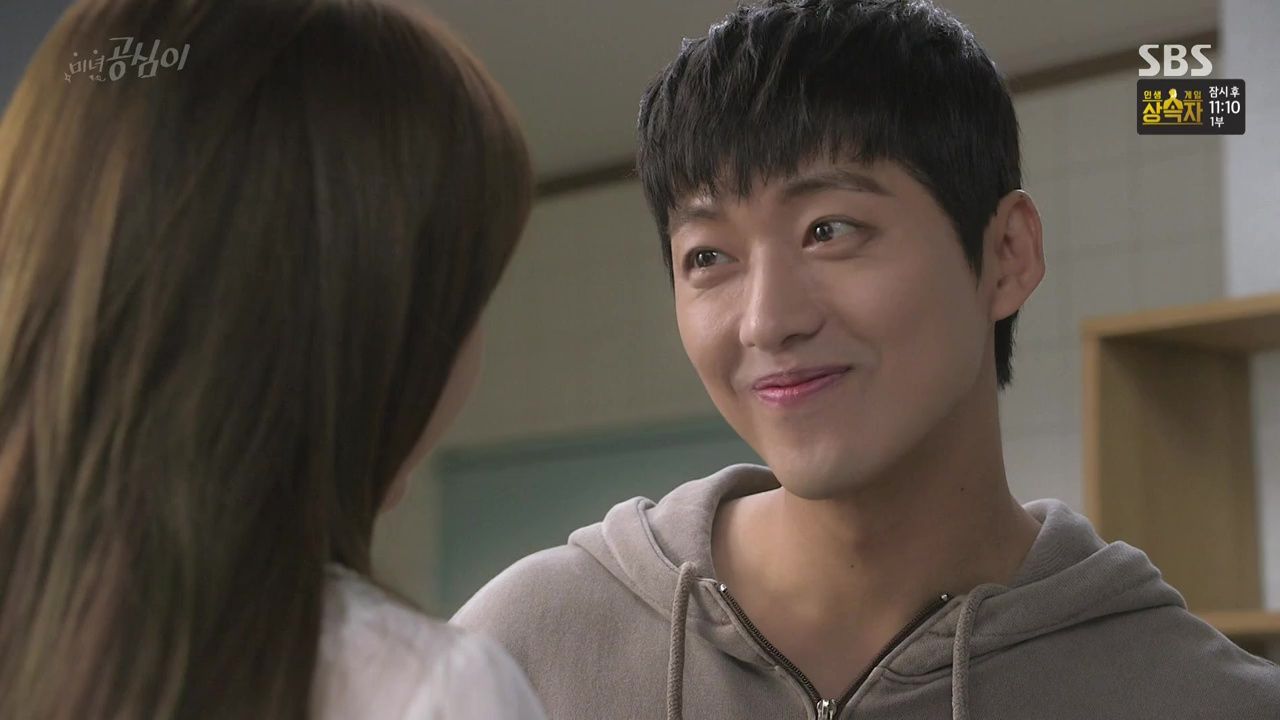 Gong Shim waits in the rooftop room, looking at the pretty rows of flowers that they've moved in there. She fondly remembers her first few encounters with Dan-tae, from his dodging the falling flower pot to when they woke up in the same bed and she'd called him a pervert.
Dan-tae arrives in the room and Gong Shim tells him about her reminiscing. Dan-tae admits that truthfully, he liked her from the first moment he met her. Gong Shim answers that she reeeaaally… disliked him. He makes a face and the two laugh together.
Gong Shim and Dan-tae share a hug before pulling back to confess their love for each other. Smiling, they embrace again, standing next to Gong Shim's flowers in the rooftop room that first brought them together.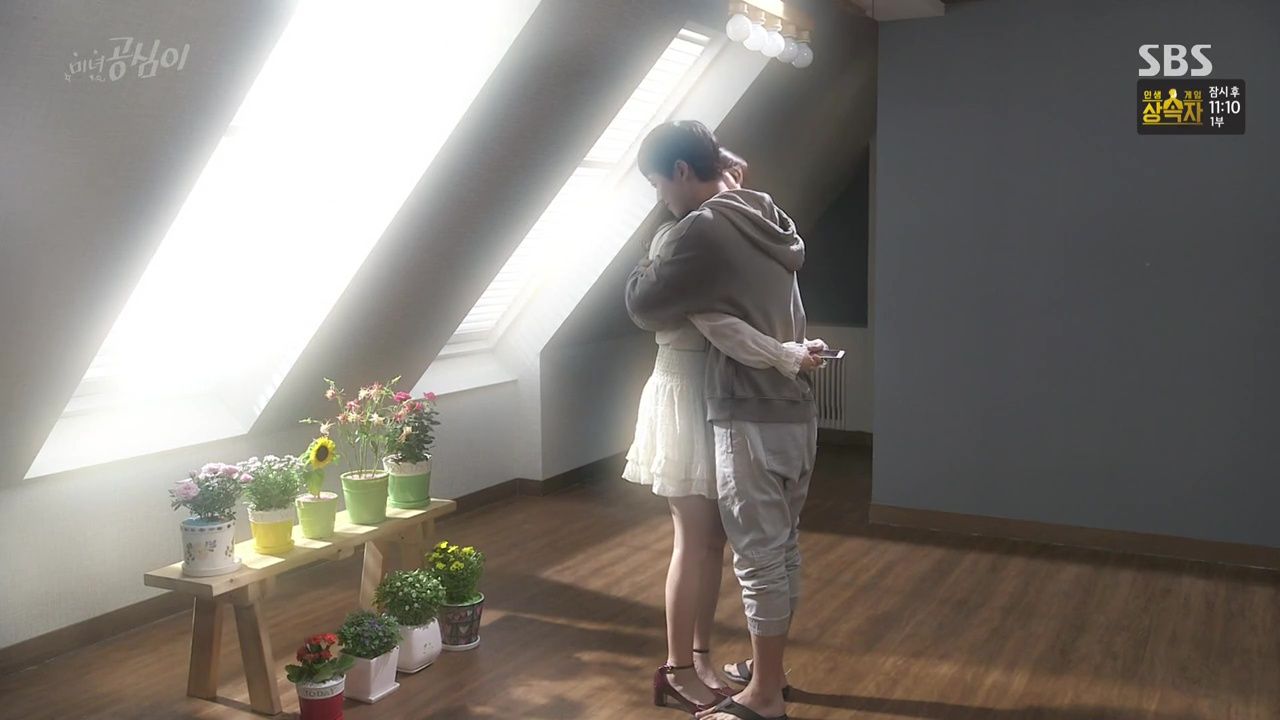 COMMENTS
A cute ending to a cute show. All the storylines are tied up (even if sometimes a little too conveniently), and our main characters got their happy ending.
I went into this finale of Beautiful Gong Shim with one main question: Wig she, or wig she not? Personally, I was very satisfied that her wig did end up coming off. I know we all loved the short bob, but to Gong Shim, it represented all of her insecurities and acted as a safety blanket to hide her from the world. To me, it wasn't a matter of whether she was beautiful with or without the wig, but rather the reason behind her wearing it. The show did lay it on a little thick with her new clothing style and everything, but the point was not that she took the wig off to look pretty, but rather that she felt confident enough in herself to come out from under the wig. Besides, the only person to whom her looks really matter is Dan-tae, and he's always found her beautiful, no matter the hairstyle.
But dear god, man, what was with the not contacting Gong Shim for an entire YEAR?!? I mean, Dan-tae just spent a chunk of Episode 18 apologizing to Gong Shim for keeping her out of the loop, and then he goes and breaks off all communication? Obviously the lesson didn't sink in. I will never claim to be an expert on the subject of love, but I think every Hallmark card in the world would agree that love means standing by someone when they need you. Dan-tae denied Gong Shim her right to not only be a part of his life, but to support him when he needed her. Cutting someone out and dealing with it on your own isn't showing your love, it's keeping them from loving you. You have a responsibility not only to care for the person, but to let them care for you as well; to lean on them as they lean on you. And what about all the worry he caused her from not knowing if he were even still alive? It was foolish and cruel and I need to stop thinking about it before I rant even more.
Dan-tae's failure to communicate may have put me in a vindictive mood, but I really wasn't satisfied with how Jun-su's mother was forgiven so easily. It seemed like just because she didn't directly kidnap Jun-pyo, she was automatically relieved of guilt. Even if Uncle had pressured her, she shouldn't have been so harsh to Grandma about giving up the search. And let's not forget, she's quite the petty lady herself, especially given how she'd treated Gong Shim early on. She may not be as evil as her brother, but the sibling similarities are fairly obvious. For Jun-su's sake, I'm glad that the family was able to reconcile, but it still felt a little forced.
I found that I'm rather disappointed with Gong Meanie's storyline, but not in the way I thought I'd be. She started out as someone I'd really have loved to hate, and then just faded into the background as an indefinite threat to trot out whenever the kidnapping storyline lulled. There were so many things that they could have done with her. For example, when she'd said everything was Gong Shim's fault, I was really hoping they'd go a bit deeper down the sister complex route (if for no other reason than the abduction mystery-that-wasn't-that-mysterious was dragging everything down). We didn't even see her reaction when Gong Shim reclaimed her room, and I know a bunch of us were disappointed about that. She had the potential to be an even more engaging villain than Uncle, but instead she spent her time vaguely circling around Jun-su which, ugh. At least the show didn't definitively pair Gong Mi up with Jun-su and left it slightly open-ended. I'm holding out hope that there's a third truck/car of doom with Gong Meanie's name on it.
My take-away from this show is that it seemed to always stop just shy of becoming more. The villains were almost engaging, but never went that extra step. The plot was almost interesting, until it stopped moving forward and just went in circles. Even our main characters were all great by themselves, but if they had just worked together, then that team would have been so much more interesting than the individuals. I keep thinking back to the first eight episodes and wondering, what happened to all these plotlines and characters I was excited about? It was like everything stayed right on the cute level without rising to its awesome potential.
BUT, all my complaints aside, I cannot deny the fact that this show had me smiling all the way through to the end. The plot may have had a few holes, and the villains might have caused some regrets, but the characters were indeed beautiful, and I will miss them.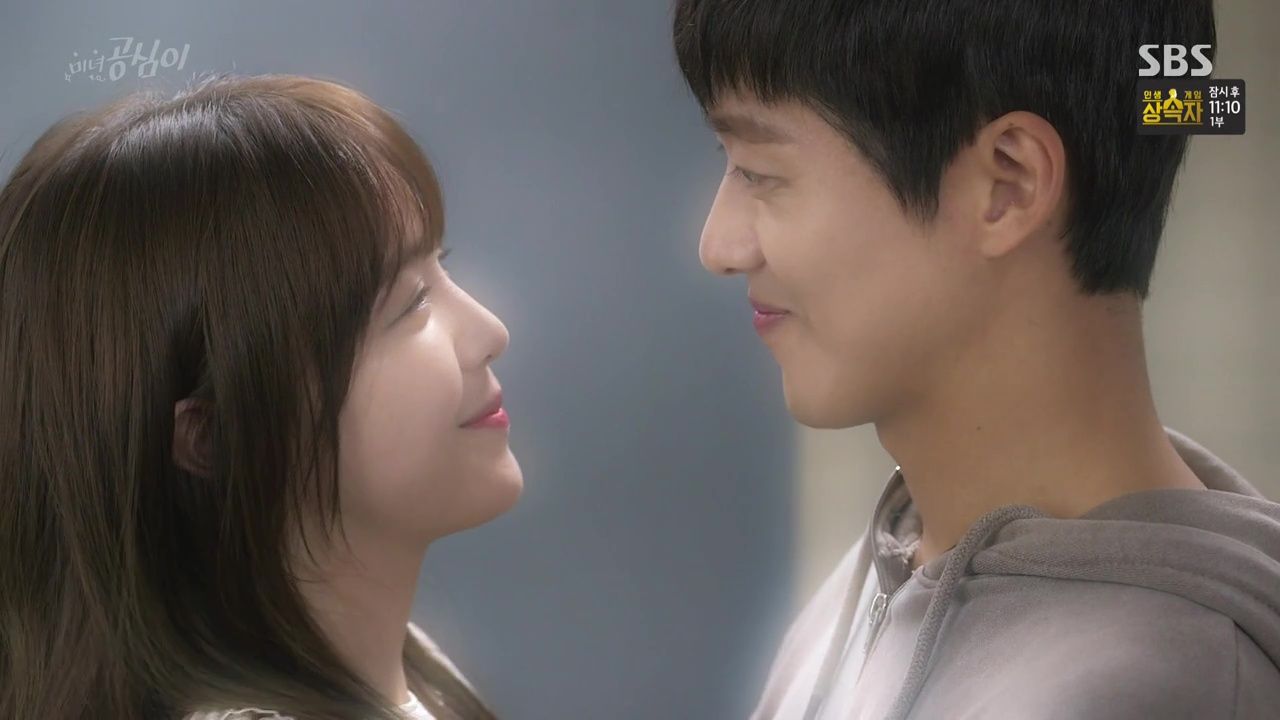 RELATED POSTS
Tags: Beautiful Gong Shim, Episode 20, featured, Minah, Namgoong Min, Ohn Joo-wan