Beautiful Mind: Episode 4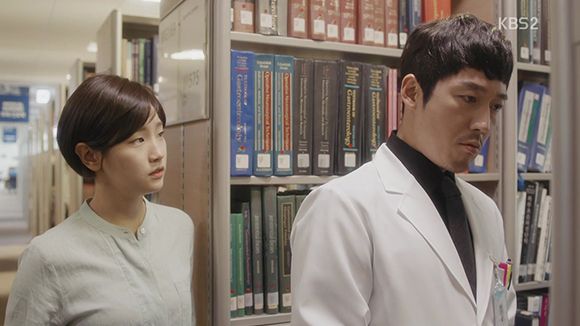 It's hard to say that Young-oh doesn't care about his practice, but as he works to find out who our main villain is, and what might've motivated the murders, he continues to astonish with his lack of empathy. Jin-sung is also similarly dedicated to her profession, but we see that determination alone isn't enough to solve a case.

EPISODE 4 RECAP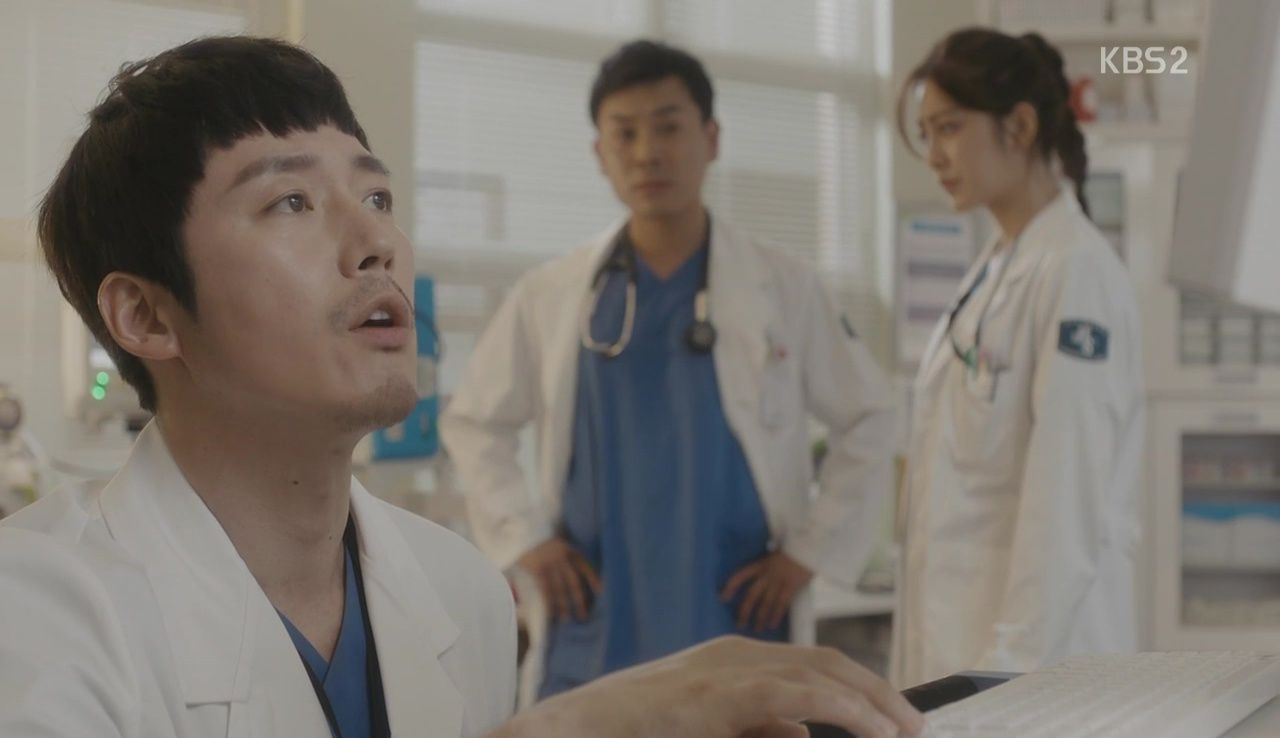 We open with another scene from the past, where a senior doctor berates Young-oh's future fianceé Min-jae as Young-oh attends to a patient. The senior doctor takes a jab at Min-jae's humble educational background, and comments that the least she could do is show some earnestness.
He mutters that this is why he didn't want to accept interns from low-tier universities, and embarrassed, Min-jae can only keep her head bowed. Young-oh says nonchalantly that of course doctors ought to be earnest… and ones from top-tier universities are no exception.
Young-oh points out that considering the patient's medical history, the senior doctor ordered Min-jae to insert the wrong tube to begin with. That seems to thoroughly chasten the doctor, while Min-jae tries to hold back her laughter.
Later, as Min-jae is attending to another patient, she nervously asks Young-oh if he's hungry, commenting that she's suuuuper hungry. When he curtly says he is, she mentions a chicken place nearby, telling him that the portions are too big, and she doesn't have anyone to go with her. Hint, hint.
Ignoring Min-jae's talk about lunch, Young-oh describes the proper way to pat the patient's back. He grabs her hand to demonstrate, and though Min-jae is startled by their close distance, Young-oh is totally oblivious to it.
Young-oh asks Min-jae if she's really that hungry and she earnestly nods yes. Young-oh comments, that's great then, because now she can finish those large portions of chicken herself. He sends her off to eat, and tells her not to worry about the patient, because he'll be here to keep watch.
After lunch, Min-jae angrily marches into Young-oh's office. He unobservantly asks her if she's had her fill of chicken, and it's not until she furiously kicks a chair at him that he realizes she's upset.
On the verge of tears, Min-jae demands to know if Young-oh rejected her request for a date so coldly because she graduated from a low-tier university. Confused, Young-oh asks her what date request she's talking about.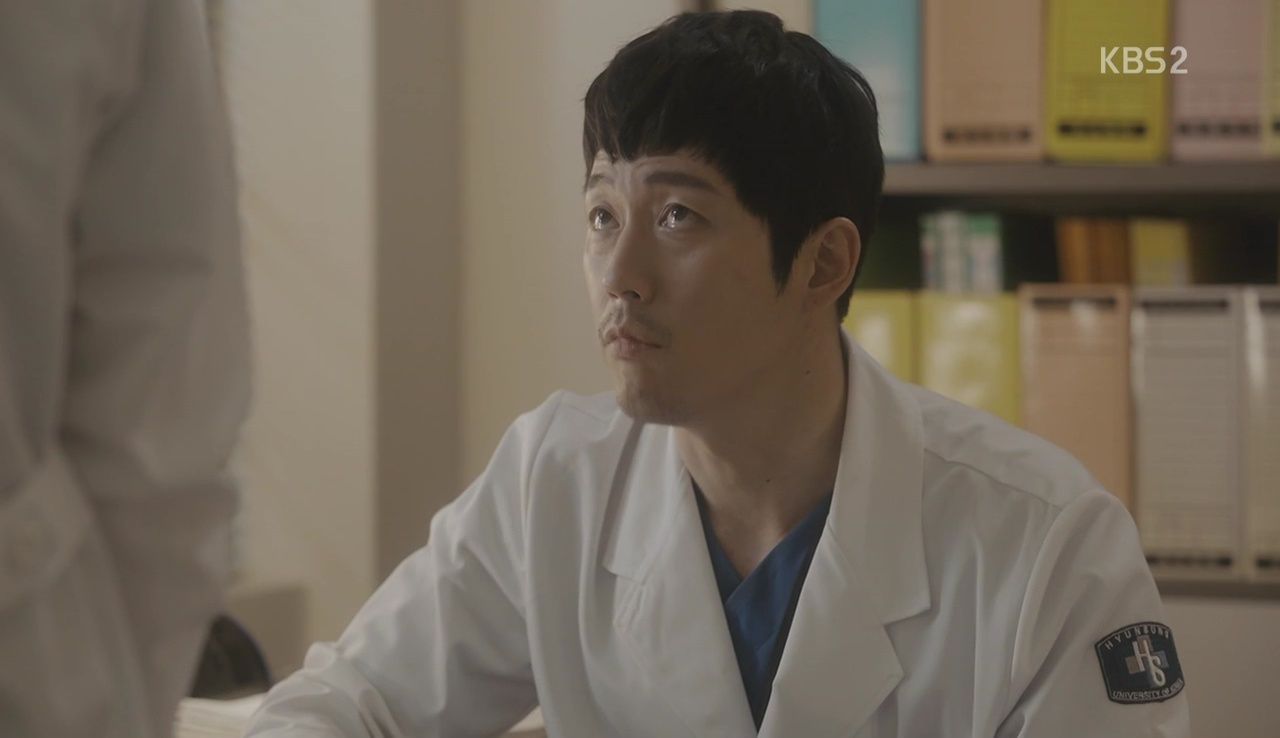 Min-jae exasperatedly points out that she asked him to eat chicken with her, and Young-oh's puzzled expression just further upsets her. Thinking that he's playing dumb, Min-jae starts to cry and grabs the toilet paper on his desk to wipe her tears away.
She notices that the toilet paper is lined with careful stitches, and looking around, she's startled to realize that everything in Young-oh's office is lined with stitches — from his cabinet doors, to his couches, to his post-it notes.
Min-jae asks if he enjoys being a neurosurgeon that much, and Young-oh states that he has a responsibility to save the patients before him. To him, the most important thing is to keep a patient's vital signs going strong — that way, no one will have a problem with him.
Explaining that it doesn't matter what educational background Min-jae comes from or what kind of person Young-oh really is, Young-oh points out that the hospital is the perfect place to hide. Min-jae interprets that as Young-oh telling her to become a skilled doctor and she blinks back her tears.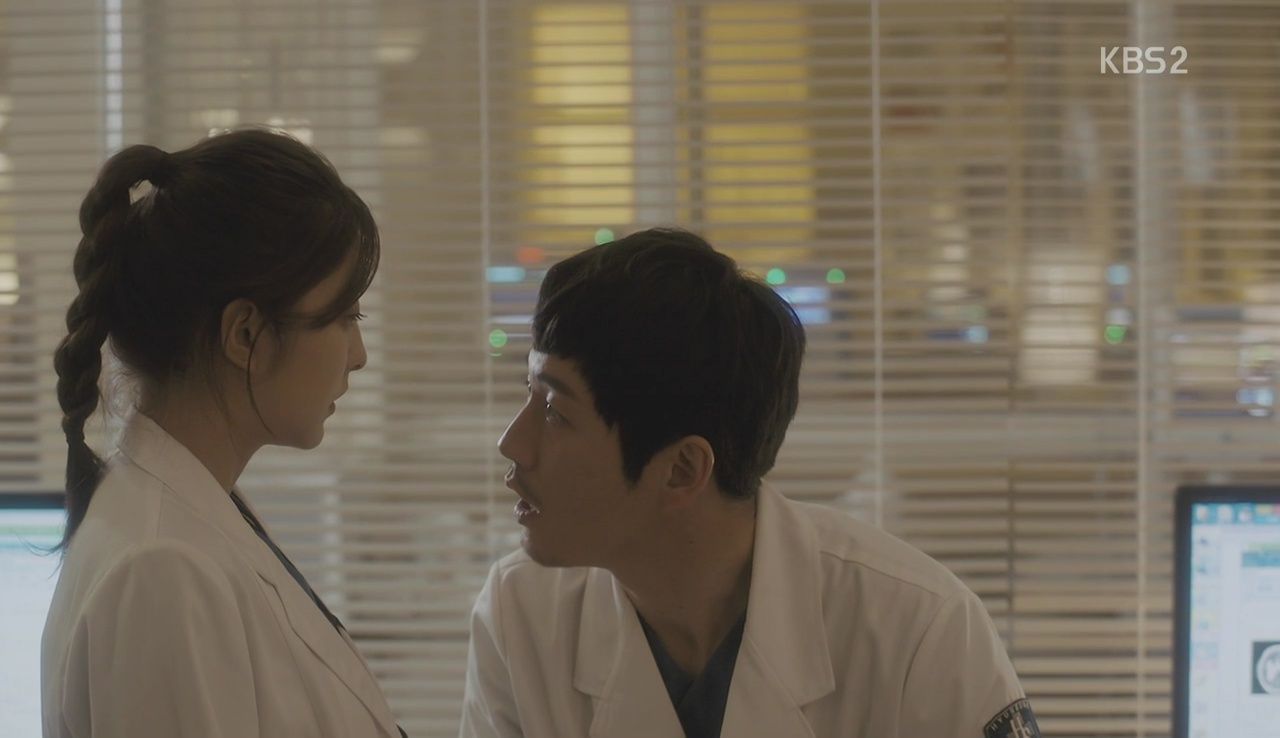 Young-oh moves closer to Min-jae and cups her face in one hand, wiping away her tears. He tells her softly that, when it comes to asking for a date, she should look him in the eyes to ask — that way, he'd be able to read her.
In the present, Director Kang and his two assistants arrive at Young-oh's office to discuss the death of Chief Director Shin.
Meanwhile, the other doctors are discussing the murder as well, and Dr. Hwang double-checks the story: someone prescribed a lethal dose of pseudoephedrine to Chief Director Shin, a known diabetic. Another doctor points out that the murderer could've solicited a staff member, and everyone wonders if Young-oh knows who the real murderer is.
That's exactly what Director Kang asks Young-oh, and Young-oh explains that he'll corner the murderer at the mortality conference, determined to prove that nothing went wrong during the surgery. Director Kang assures Young-oh that if he's worried about his reputation, his record will be kept clean.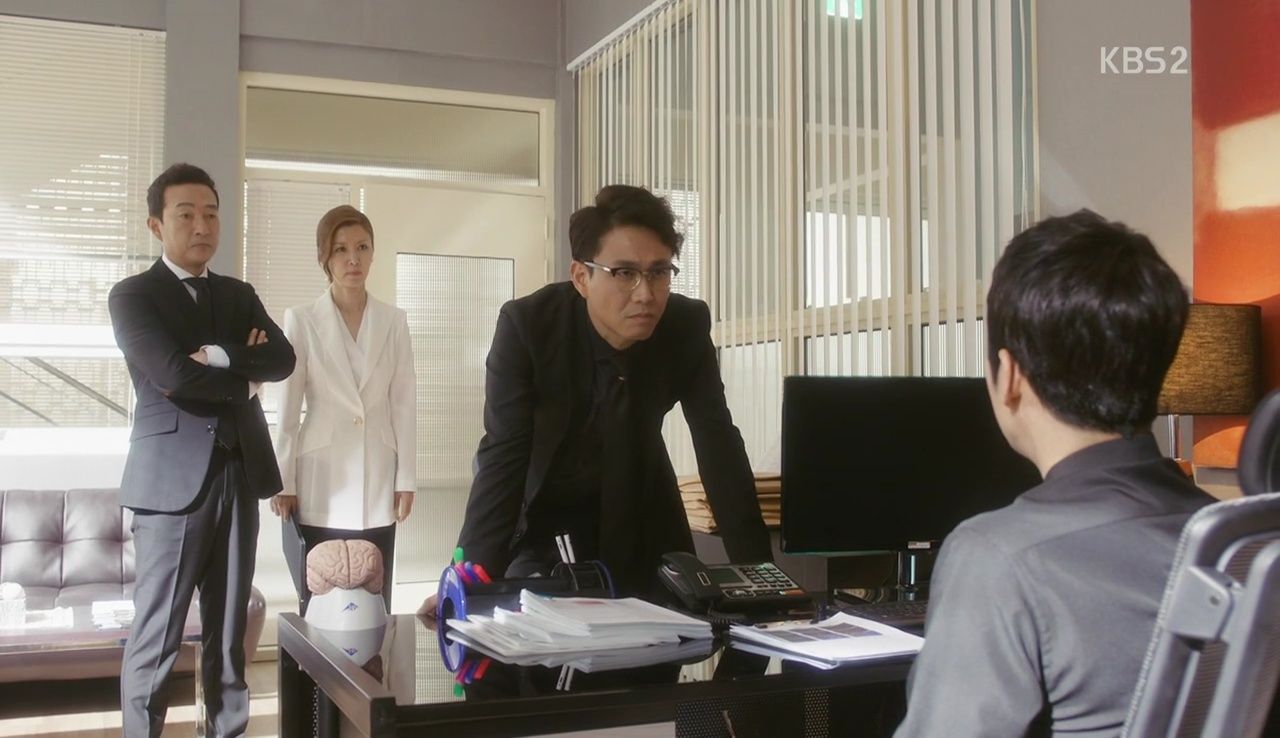 The Joint Commission International, or JCI, an international committee that sets global standards for healthcare will be coming to evaluate Hyunsung next week and Director Kang doesn't want them hearing about this supposed murder. Young-oh deduces that Director Kang's afraid that this scandal would scare off foreign patients, the hospital's biggest source of revenue.
Young-oh tries to point out that if they find the murderer and show that Hyunsung has a system of weeding out unethical doctors, it'll prove that it's a safe hospital. He guarantees that it won't hurt business, but Director Kang just tells him that scandals are scary; people only remember the initial shock because the conclusions are never interesting enough.
As Director Kang walks through the hospital, he's approached by a reporter who's clearly digging for information on the death of Chief Director Shin. Director Kang threatens to withdraw all of Hyunsung's advertisements from the newspaper, but the reporter isn't scared.
Commenting that he doesn't live off Hyunsung's sponsorship, the reporter points to the scores of patients on their smartphones who are starving for new gossip, and Director Kang marches back to Young-oh's office.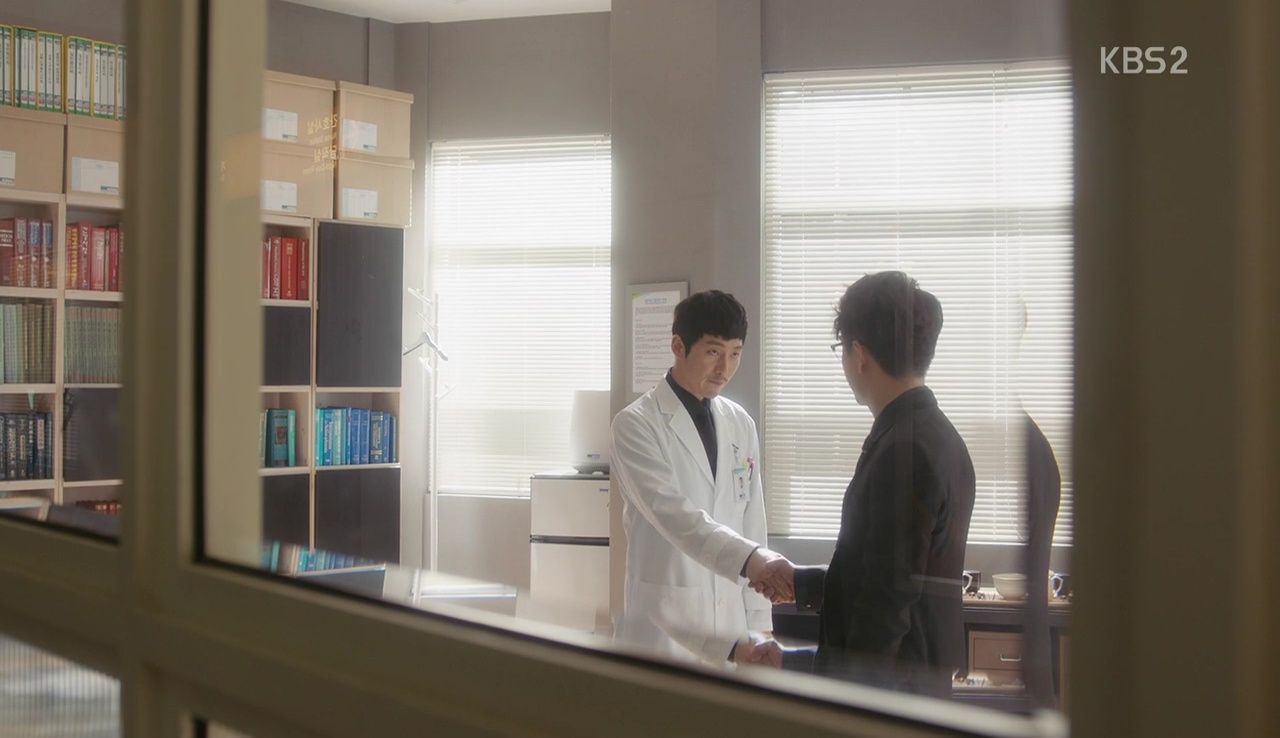 Director Kang gives Young-oh one week to find out who the murderer is before the JCI visits. Not wanting the media to have a field day with this scandal, Director Kang would just rather deal with everything internally.
In the hospital auditorium, the other doctors are discussing the case of a child with a cerebral aneurysm. She's Suk-joo's patient but she's also the daughter of Dr. KIM YOON-KYUNG, an anesthesiologist at Hyunsung.
Dr. Kim's daughter had already previously received surgery for a heart defect, and now, the blood clot in her brain is also getting worse. Dr. Kim wants her daughter to have another surgery but the other Hyunsung doctors reject the idea, thinking that it's likely the child will die during surgery.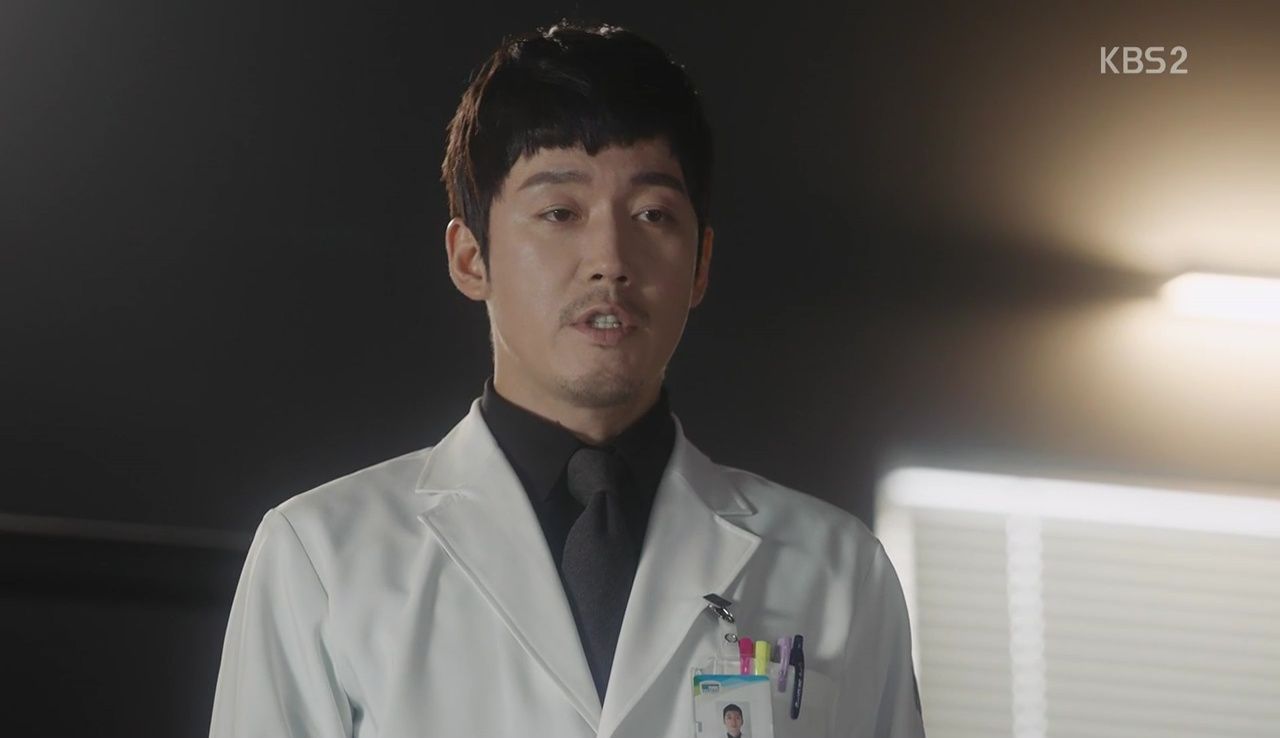 Suddenly, Dr. Lee comes into the auditorium, and confirms that Young-oh plans on cornering the murderer at the mortality conference, and subsequently declares that everyone who was at Chief Director Shin's surgery cannot operate on any surgeries until the murderer is found. Dr. Lee points out that there won't be any successful surgeries if the staff and surgeons don't trust each other.
In a hospital room with Dr. Kim's daughter, her mother asks Suk-joo if he's telling her to just give up and watch her daughter die when he tells her the operation isn't possible. She confesses tearfully to Suk-joo that this must be her punishment — she's prayed every day for her daughter to get a heart donor, even hoping that another child's accident would save her daughter.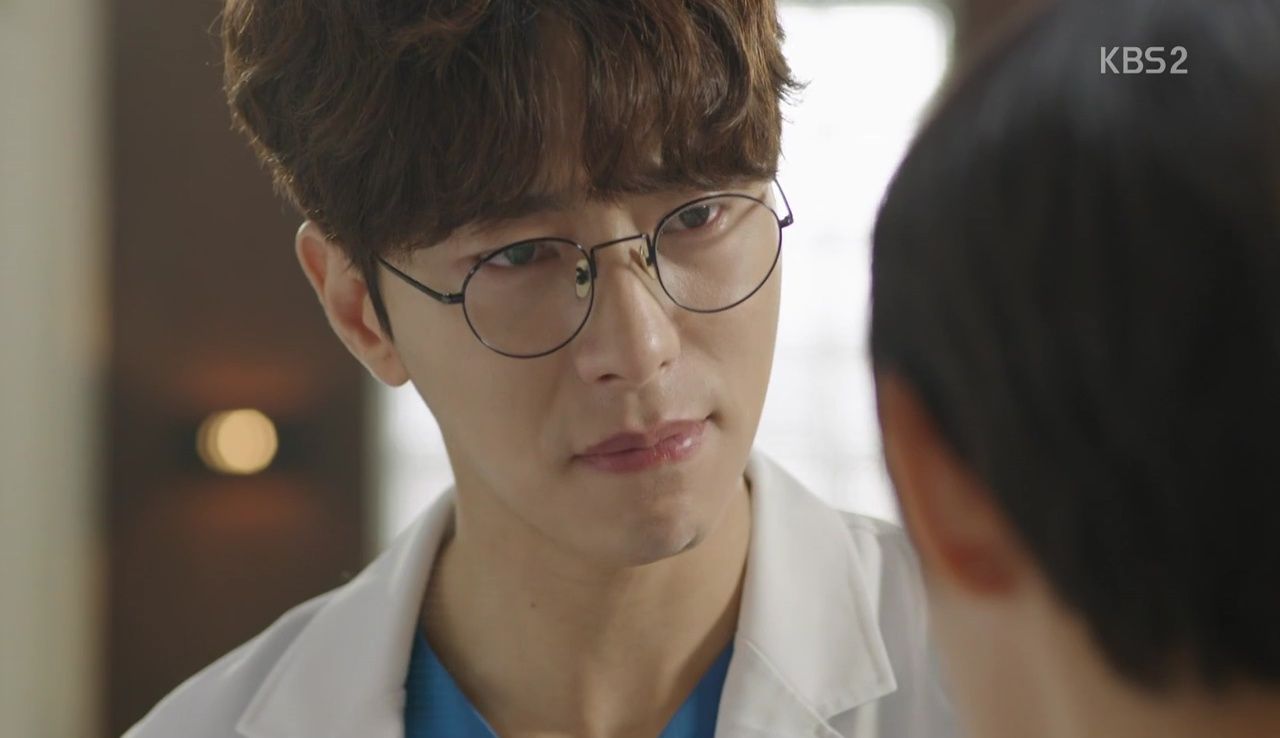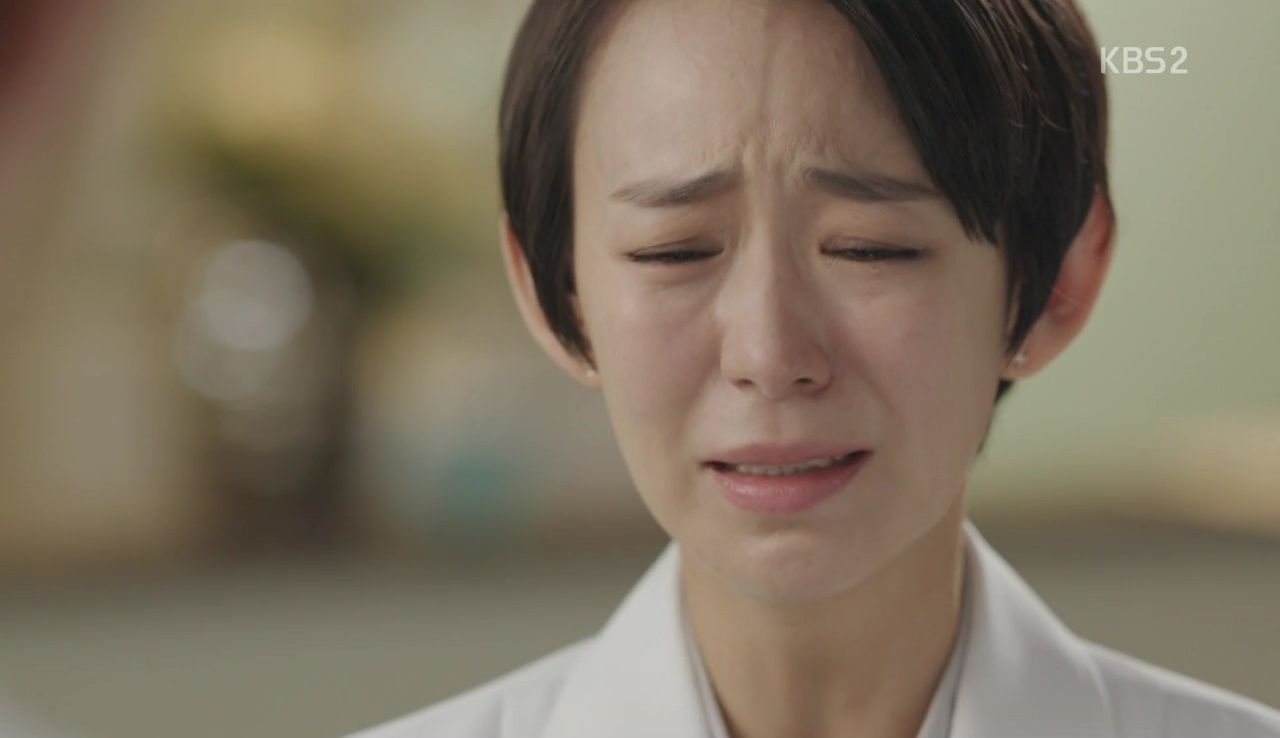 Jin-sung finds Young-oh at the hospital library and asks if he's looking for clues that will lead him to Chief Director Shin's murderer. Young-oh tells her that he already has plenty of clues — the culprit was close enough to Director Shin to know that he had diabetes, prescribed a lethal dose of pseudoephedrine to him without raising any suspicions, and wanted to prevent him from finding out that the motorcyclist's heart had gone missing.
Jin-sung asks Young-oh if he's talking about Suk-joo, and Young-oh responds that he never said that Suk-joo was the murderer — it's she who suspects him. Young-oh reminds Jin-sung that only the two of them believe that Chief Director Shin was murdered, which makes them one team from today onwards.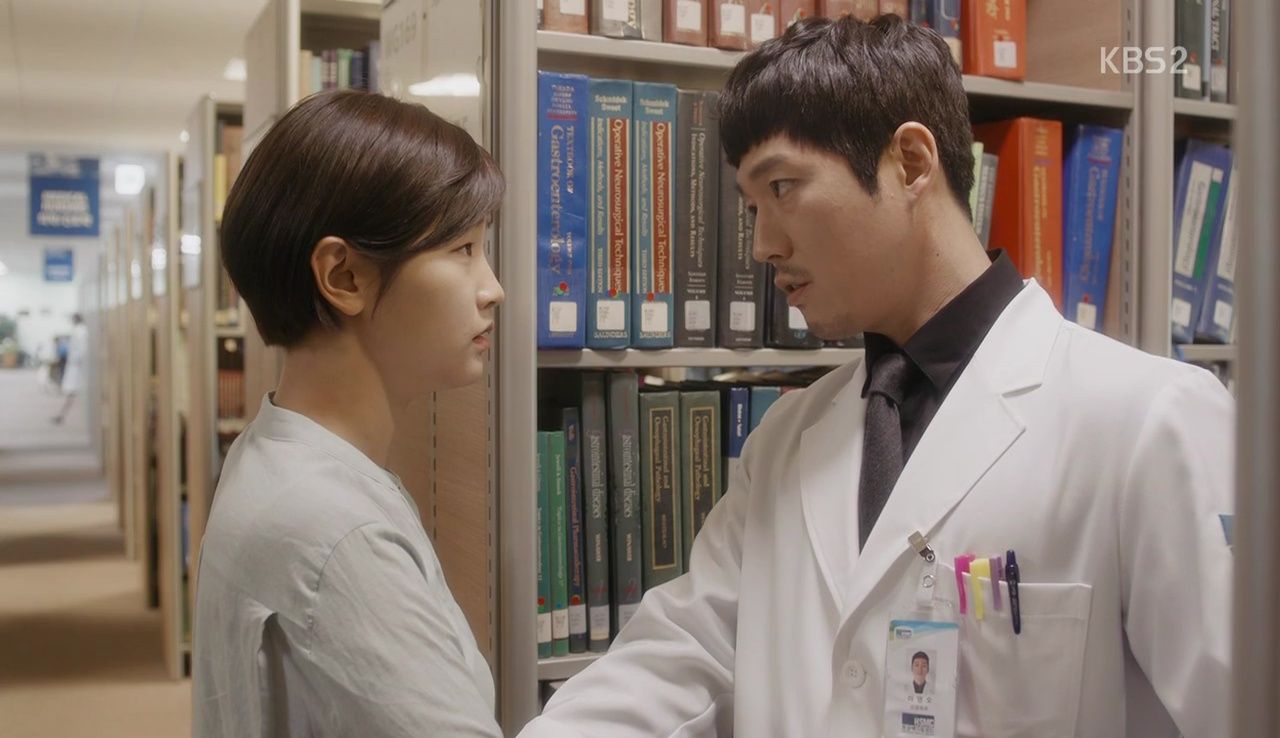 Jin-sung starts to walk away, but Young-oh pulls her back. He declares that she won't be able to find the murderer without his help, so she needs to help him find proof to pin down the murderer at the mortality conference.
Listening to Young-oh's directions, Jin-sung checks the security footage to retrace Suk-joo's steps to see if he met with Chief Director Shin that night. Young-oh tells her that there must be a record of someone who secured a lethal dose of pseudoephedrine, and reminds her that Suk-joo wouldn't have gotten it under his own name.
At the hospital cafeteria, Jin-sung sits down at a table with the surgical staff from Director Shin's surgery. A flashback shows that Young-oh had asked Jin-sung to question the staff about Suk-joo, to see if anyone had been solicited by him, even if it meant that everyone would then suspect Suk-joo of being the murderer. Jin-sung worries, but Young-oh just tells her to pick one role: she can either be a lovesick little girl or a police officer, but not both.
In the present, Jin-sung points out to the staff that Suk-joo was at the scene of both the motorcyclist's surgery and Director Shin's surgery. She starts to ask them for more information, when suddenly, a stream of water is poured down her face, leaving her dripping wet.
It's Suk-joo's doctor friend, Lee Shi-hyun, who poured the water, and she admonishes Jin-sung for doing this to Suk-joo when Jin-sung is so close to him. Shi-hyun asks the other doctors how they would feel if the patient they worked so hard to save accused them of murder.
Jin-sung defends herself, saying that she's just doing her job, but Shi-hyun retorts that she should do her job properly then. Shi-hyun tells her that Young-oh is the most suspicious person in this case — to her, it seems like he's just trying to shove the responsibility of his mistake during surgery onto someone else.
Later, the doctors gossip over Suk-joo being a suspect, and right on cue, Suk-joo walks by. Ignoring the rumors, Suk-joo asks where Young-oh is.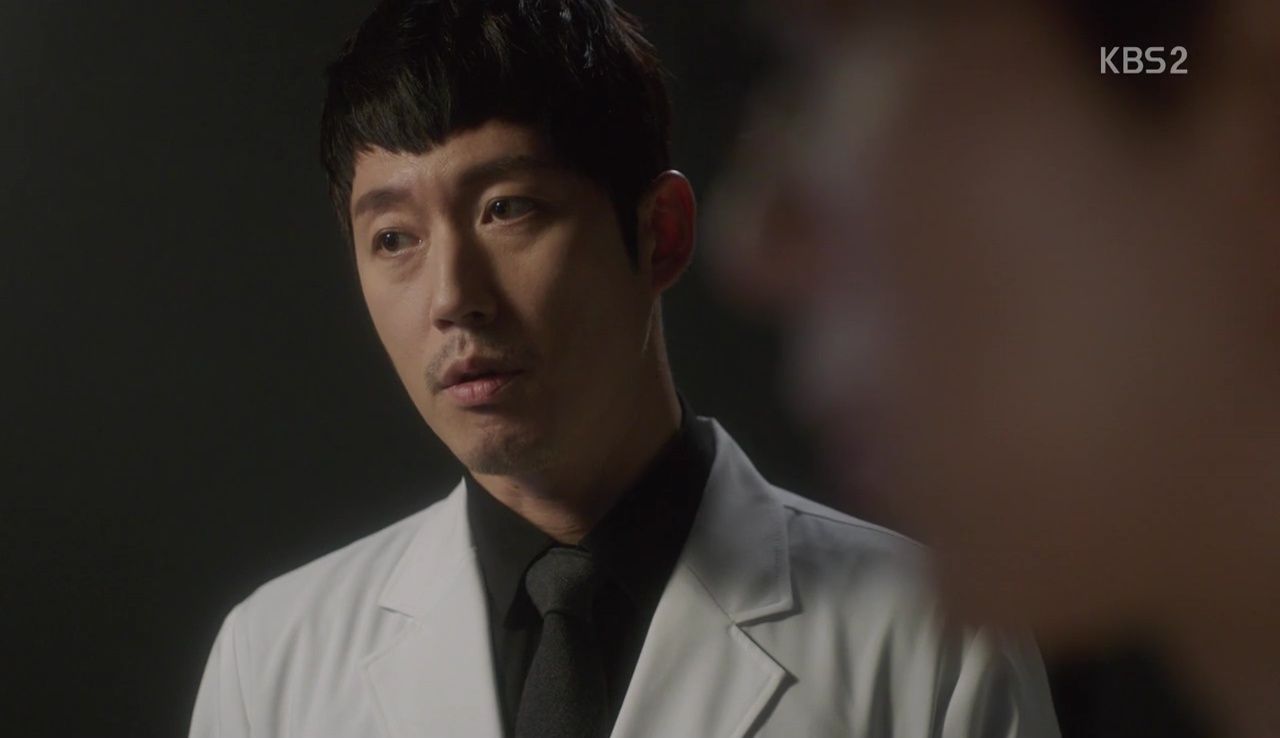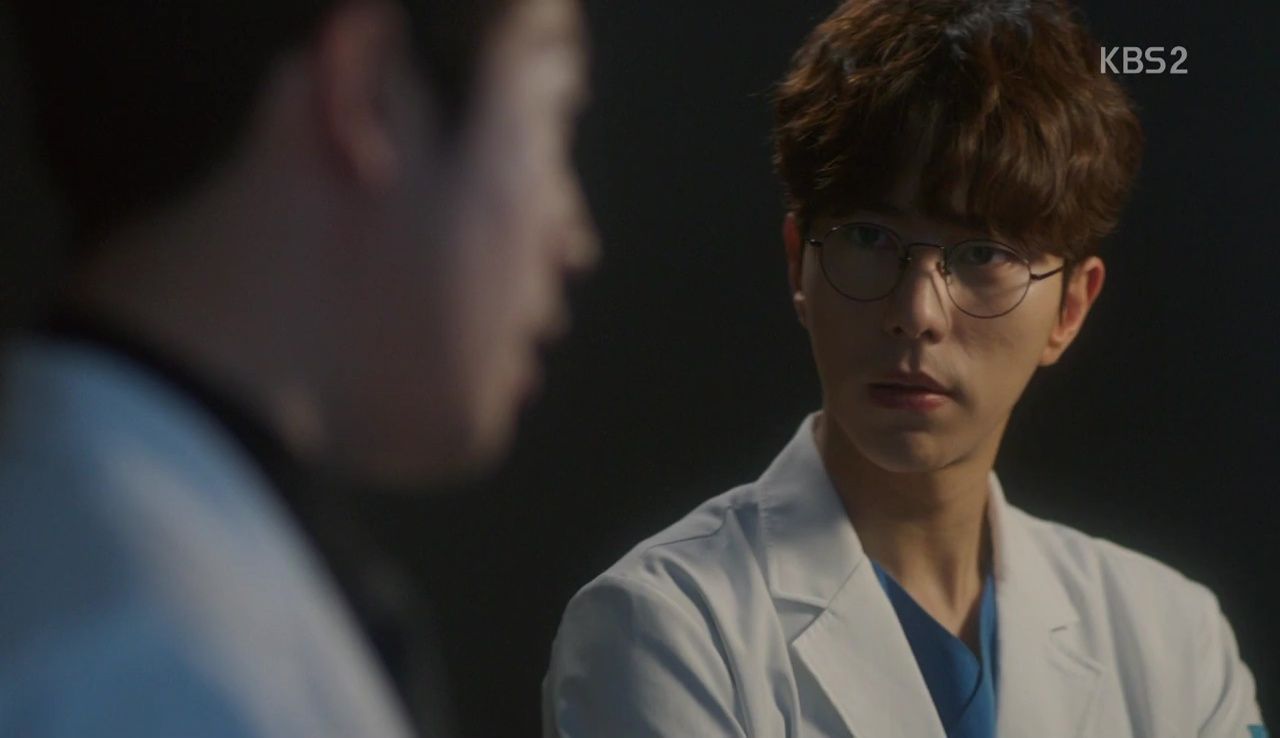 Young-oh is currently telling Jin-sung to gather circumstantial and physical evidence, while he gathers medical clues. He plans on inviting Suk-joo to a place that Young-oh finds the most comfortable, and the scene cuts to Suk-joo and Young-oh looking at a CT scan of Dr. Kim's daughter.
Noting that there will be a lot of complications in this surgery, Young-oh wants Suk-joo, specifically, to be the cardiothoracic surgeon working with him.
Young-oh meets with Dr. Kim and tells her that he plans to stop her daughter's heart during surgery to keep it from rupturing. Dr. Kim asks Young-oh to promise her that her daughter will live, but Young-oh simply says that the one who decides the result of this surgery is not him, but Dr. Kim.
Later, as Dr. Lee walks through the hospital, Dr. Kim begs for him to let Young-oh operate. She argues that Young-oh's the only surgeon willing to operate on her daughter. She hurriedly drops to her knees and begs for Dr. Lee to allow the surgery, telling him that he can't do this to her, and that there's nothing she wouldn't do right now to save her daughter.
With that, the surgery is given the green light, and everyone preps for it. Young-oh spots his father in front of the surgery room and gives him a small bow before going inside.
Meanwhile, Shi-hyun worries over how Young-oh specifically called for Suk-joo to do such a dangerous surgery with him, and suspects that this might be a trap. Suk-joo simply says that Dr. Kim's daughter is his patient — he doesn't need another reason to operate.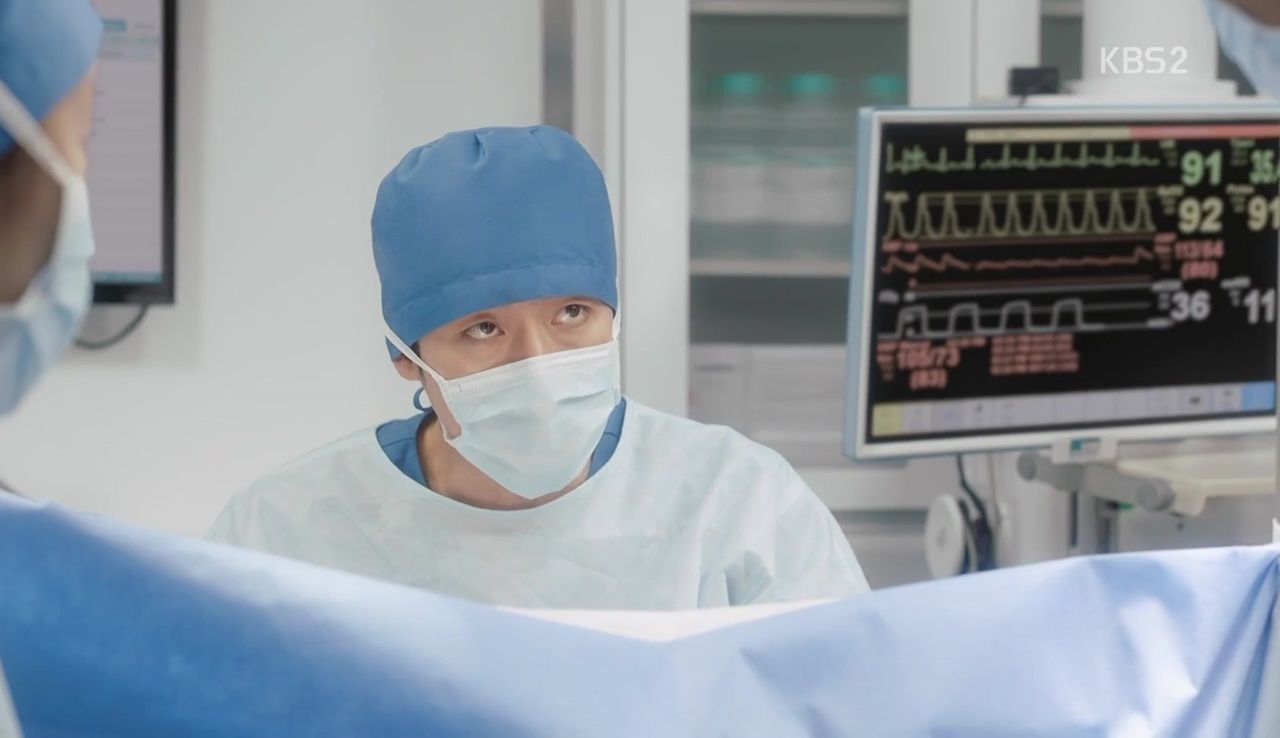 As planned, Suk-joo stops the child's heart and Dr. Kim sets the timer for thirty minutes. All of a sudden, Young-oh demands that they set a new timer for four minutes — he can't find the source of the aneurysm, and if they continue like this, the heart may rupture.
Young-oh explains that he'll clip the artery and start over from the beginning. Suk-joo and the other doctors voice some doubt about that plan, but Young-oh just insists that he can finish within four minutes. Dr. Kim resets the timer and looks on, fearing the worst for her child.
The surgery team is thrown in a frenzy as the seconds dwindle away and everyone can only hope that Young-oh succeeds. With thirty seconds left to spare, Young-oh announces that he's clipped the artery and Dr. Kim breathes a sigh of relief. Now it's just up to Suk-joo and Shi-hyun to finish up the surgery.
Outside the surgery room, Dr. Kim earnestly thanks Young-oh for not giving up on her daughter. He smiles, telling her that the one who truly didn't give up on her daughter was Dr. Kim herself.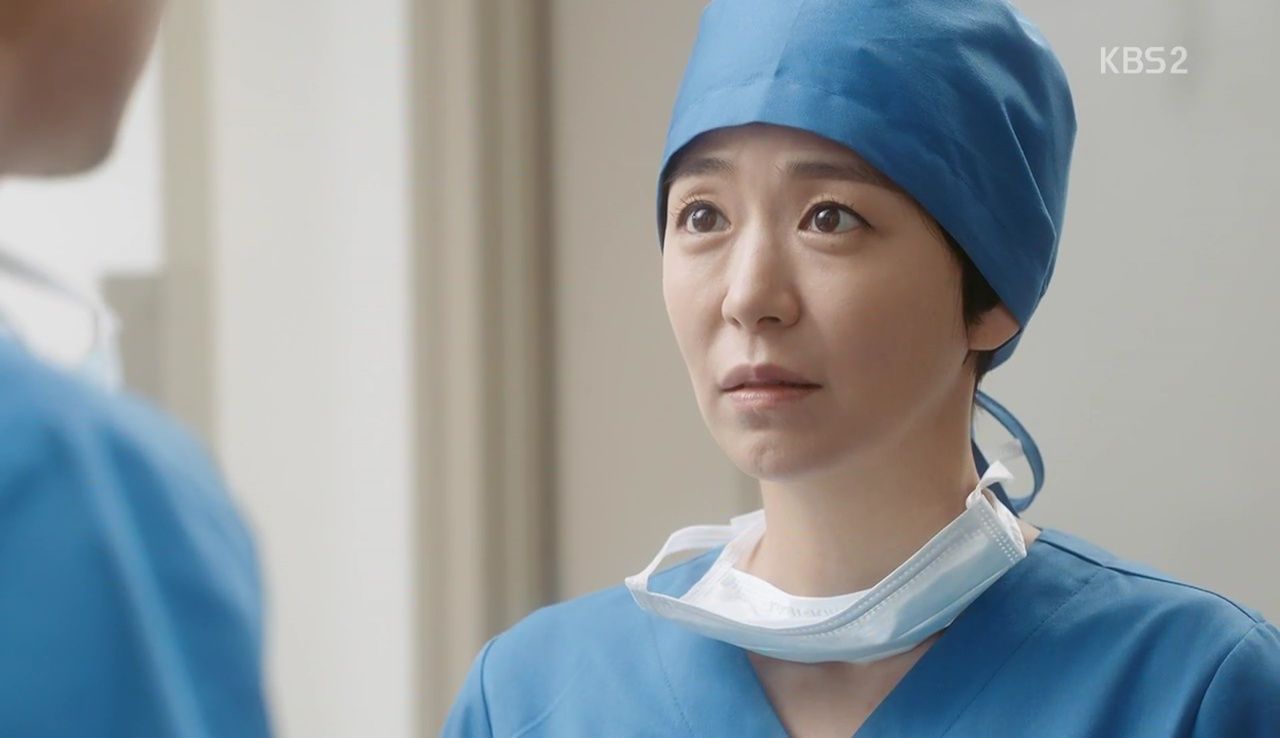 Suddenly remembering something, Young-oh asks Dr. Kim if Suk-joo had been the doctor who attended to her daughter's treatments this whole time. Dr. Kim hesitates a bit before answering yes, and with that, Young-oh takes his leave.
As Young-oh walks away, he analyzes Dr. Kim's reaction — her pursed lips, forced eye contact, and clasped hands are all signs of lying.
As Suk-joo changes in the locker room, Young-oh remarks that he's confirmed his suspicions — Suk-joo is not Director Shin's murderer. Young-oh clarifies that Dr. Kim's daughter had a lesion that was the same rare lesion as the motorcyclist's.
Suk-joo looks at Young-oh in alarm, and a smirking Young-oh continues, saying that the four-minute operation was a test. The fact that Suk-joo didn't recognize the lesion shows that he wasn't the one who stole the motorcyclist's heart, and if Suk-joo didn't steal the heart, then he would have had no reason to murder Chief Director Shin.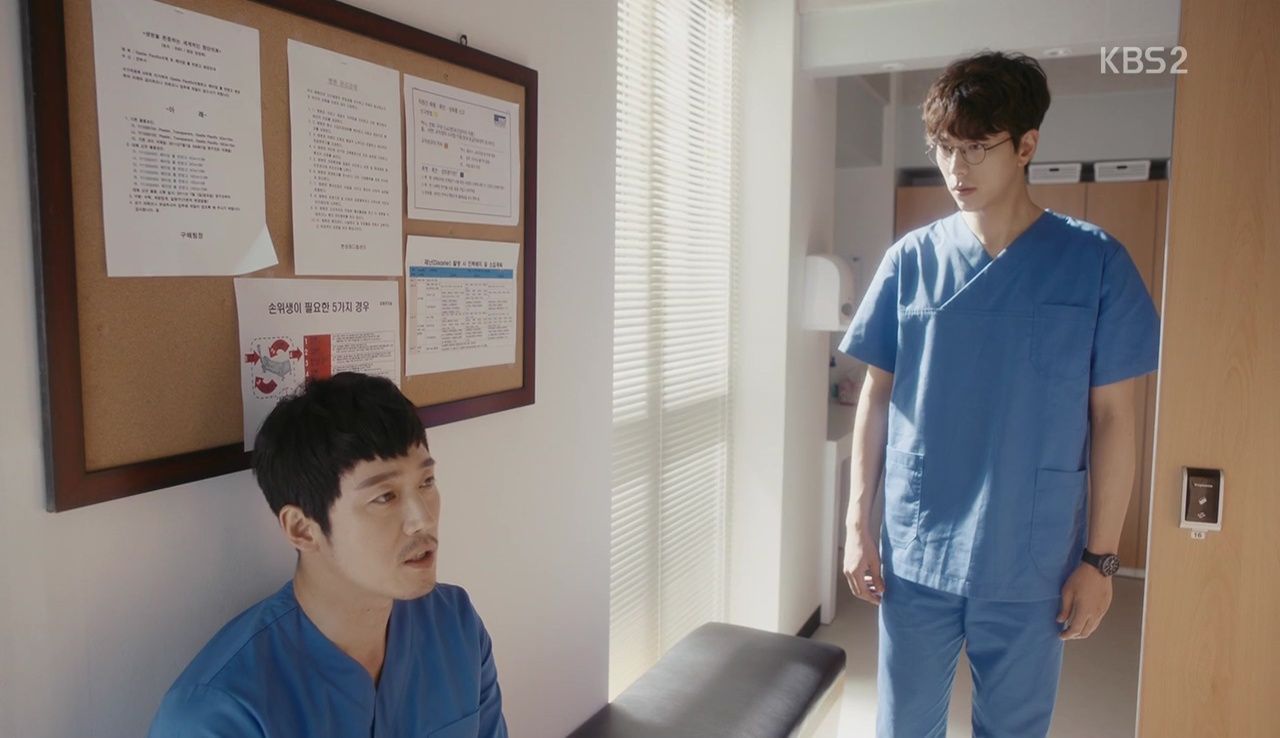 Angered, Suk-joo asks if he fooled everyone in the operation room just for this test, and Young-oh simply responds that the clipping had been finished before the four-minute operation — the child was never in danger, and it's a happy ending for everyone.
As Suk-joo stalks out, Young-oh remarks that if Suk-joo had no idea that the patient had a rare lesion, he must not be that great of a doctor. Suk-joo stews in silence, and Young-oh walks out of the room.
Meanwhile, Dr. Kim nervously makes her way to a room within the hospital and reports to someone wearing bloodied surgical gloves that Young-oh was very curious about her daughter's treatment. She tells the person that she doesn't know how long she can keep the secret and the person angrily pulls off the surgical gloves before throwing them to the floor.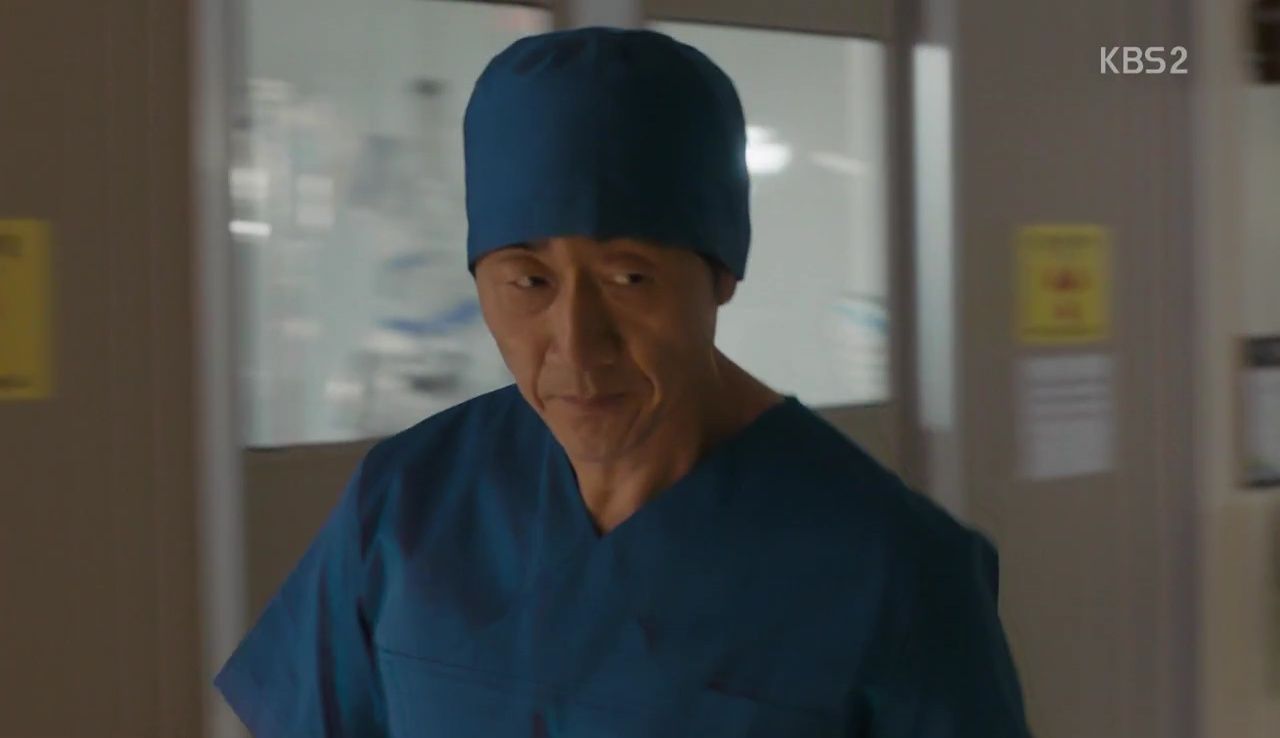 It turns out that Young-oh had followed Dr. Kim, and right after he sees Dr. Kim leaving the room, he sees a man walk out as well. The man rips off his surgical mask, and it's revealed to be his father, Dr. Lee.
While Suk-joo makes his way to the morgue, Young-oh visits Dr. Shim of the pathology department and asks her to look into a sample of the motorcyclist's lesion. He observes the brand-name accessories and the trophies lying around Dr. Shim's office and tries to appeal to her vanity.
He tells her that he's doing this for her — if she manages to be the one who discovers the cause behind this lesion, she'll be famous. Baited and hooked, Dr. Shim agrees to look into the lesion for Young-oh and promises to get back to him in a day.
In the research lab, a worried Suk-joo asks his assistant to confirm that their research is going well. The assistant responds that after their research is patented, they'll probably be the best hospital in all of Asia, and Suk-joo sends the assistant off.
Dr. Lee comes up behind Suk-joo and asks him what he's really curious about. Suk-joo explains that he's worried because the treatment of the test subjects is looking too good. Dr. Lee tells Suk-joo that this regenerative medicine research is equivalent to the deceased Chief Director Shin's life, and there cannot be any problems, even if there are problems.
As Young-oh leaves his office, he calls Min-jae and suggests that they formally meet with his father.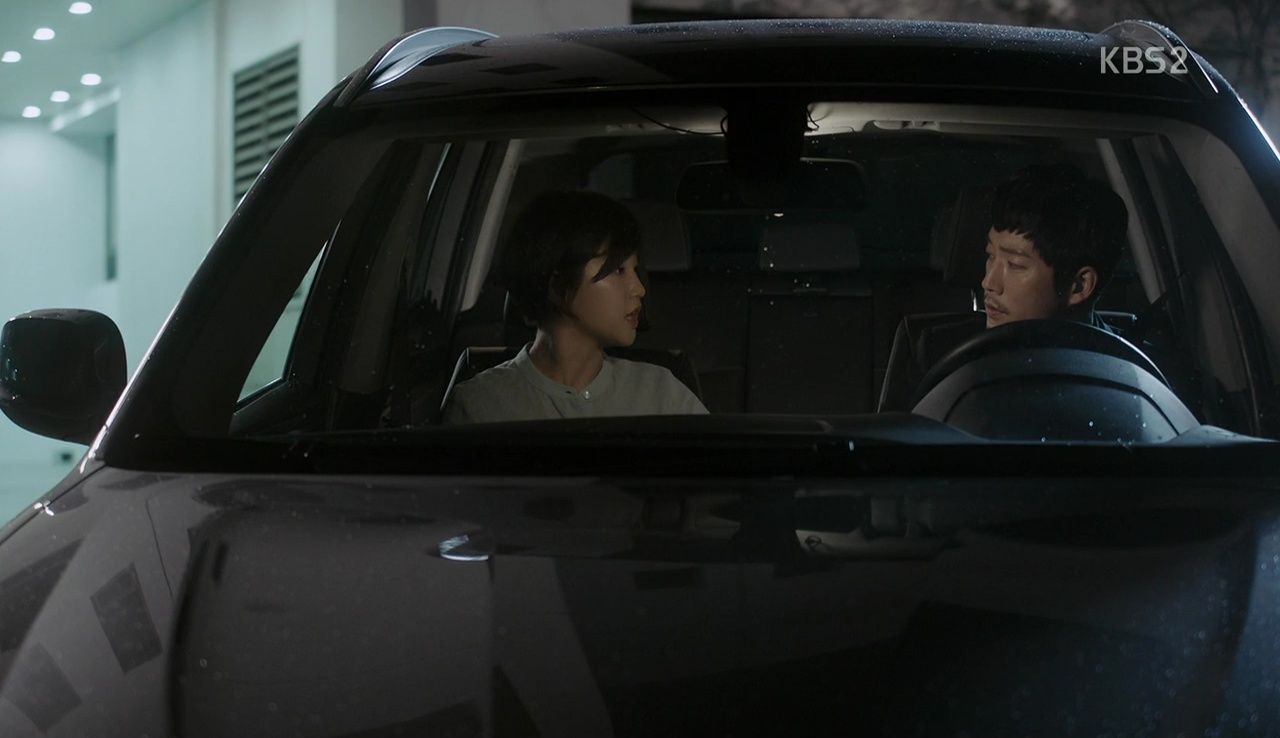 Driving out of the hospital, Young-oh almost runs over Jin-sung when she jumps in front of his car. She rushes inside his car to show him the records of the doctors who prescribed pseudoephedrine, and asks him to look it over to see if there's any proof that Suk-joo was the one who prescribed the lethal dosage.
Young-oh asks Jin-sung if she's been following his orders just to prove that Suk-joo is the culprit, but Jin-sung tells him with determination that she's doing this to prove that Suk-joo isn't guilty. She recalls how she checked the security footage and call records and nothing points to Suk-joo meeting with Chief Director Shin that night.
Jin-sung suggests that Young-oh look at a different culprit, noting that Suk-joo is too good of a person to do something like that. Young-oh can only laugh at her naiveté and tells her that there are only two kinds of people in this world: those who have failed to hide their true selves, and those who are still hiding their true selves.
Young-oh tells Jin-sung that he knew from the very beginning that Suk-joo wasn't the culprit. Jin-sung looks at Young-oh and demands to know why he let her, and the entire hospital, think that Suk-joo was the murderer.
Young-oh explains that he just wanted the murderer to think he was off the hook, but before Young-oh can finish his sentence, Jin-sung throws her papers in his face. Something cuts Young-oh's neck, but Jin-sung is completely unconcerned.
She asks if he's ever given his whole heart to someone, or if he's ever accepted someone's whole heart, and runs out of the car. Her words give Young-oh something to think about as he watches her leave.
Young-oh recalls how, back in the locker room, he had asked Suk-joo why he didn't defend himself from the accusations. Suk-joo responded that if he had, then everyone in the surgery department would be suspecting each other, and chaos would reign.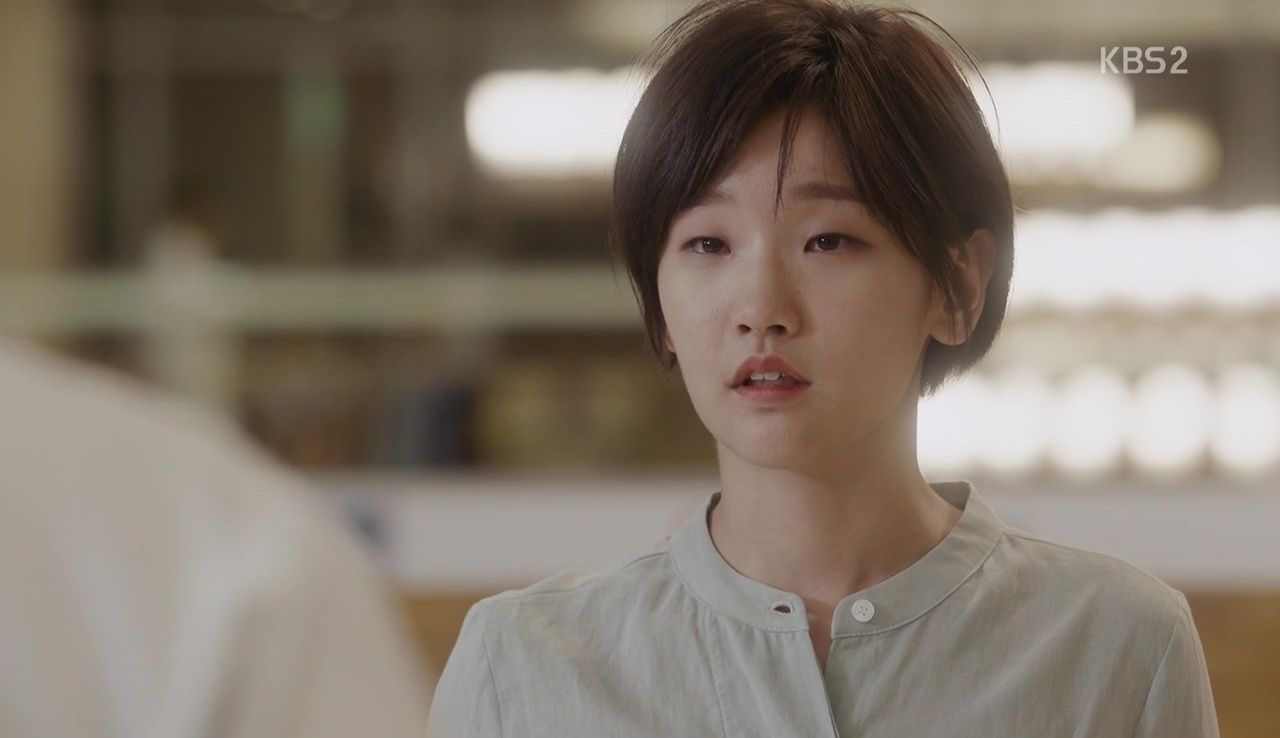 Rushing into the hospital to see Suk-joo, Jin-sung stumbles over her words as she apologizes for suspecting him. She tells him that he can hate her for the rest of his life if he wants to.
Stone-faced, Suk-joo asks if she thinks he'd keep her around for the rest of his life, and Jin-sung's face falls. Suk-joo breaks out into a small laugh and suggests that they go grab dinner. Jin-sung, however, breaks down into tears seeing how easily she's been forgiven and Suk-joo consoles her, telling her it's alright.
At the family dinner, Young-oh abruptly tells his father that he and Min-jae are planning on getting married. Dr. Lee comments that it's unexpected, and asks Min-jae how well she knows Young-oh. Min-jae responds that she could probably write a PhD thesis on Young-oh.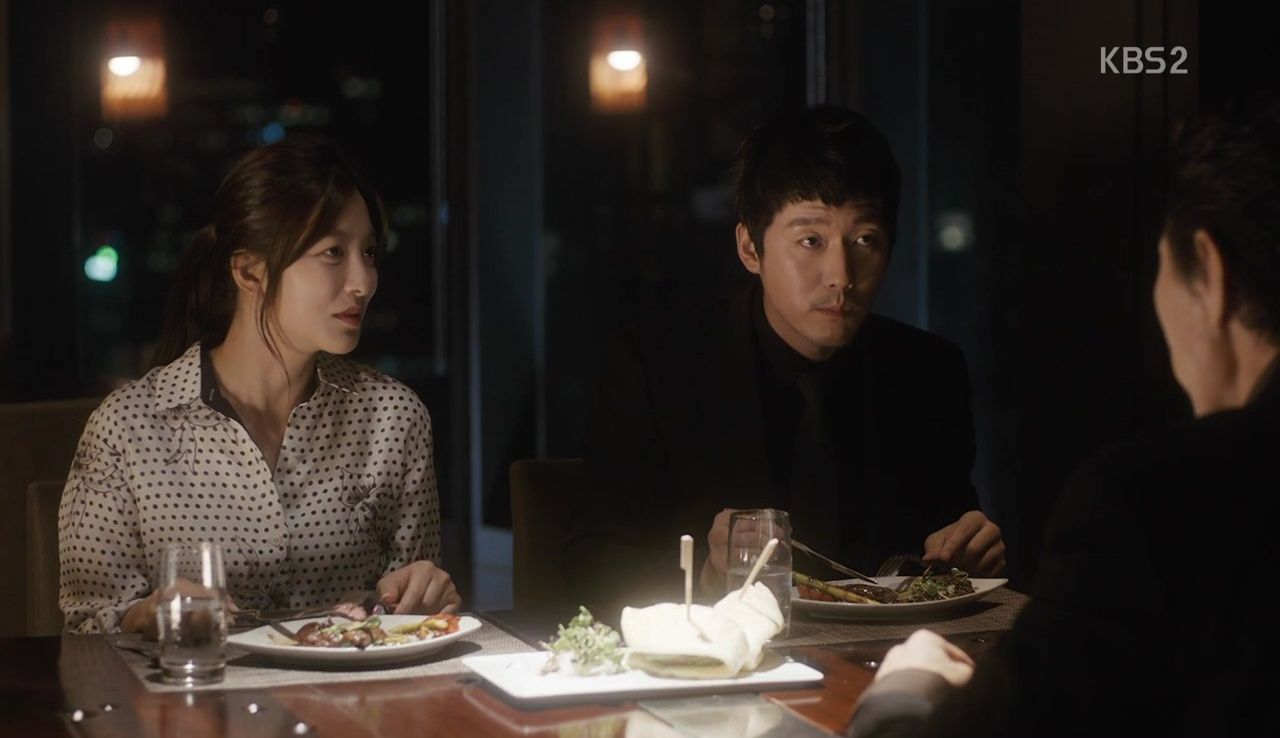 Young-oh chuckles to hear that, and tells his father not to ask such difficult questions. After all, he says, Min-jae must be terribly nervous already, when her future father-in-law is such a respectable and moral doctor like Dr. Lee.
Everyone continues to eat merrily, but after Min-jae excuses herself, Dr. Lee's smile immediately drops. He tells Young-oh that it's too risky to live with Min-jae, but Young-oh disagrees. He says he'll do his best to make Min-jae happy for the rest of her life, and then people will think that he's normal, just as his father wants.
Dr. Lee asks Young-oh if he's made any progress on the mortality conference, and Young-oh responds that the case is getting more and more interesting. Dr. Lee reprimands him for referring to someone's death as "interesting," but Young-oh asks him what exactly is so grand and powerful about death.
To Young-oh, death is like losing — doctors lose to disease, the elderly lose to old age, and people like Chief Director Shin lose to traitorous friends. Young-oh reminds Dr. Lee of his own words, that doctors should dedicate their lives to saving as many lives as possible. Young-oh wonders if Dr. Lee has changed his outlook, but states that he plans to follow those words.
Young-oh tells his father that he'll definitely catch the person who dared to corrupt his operation room by poisoning Chief Director Shin, and gets up to leave. As Young-oh walks away, he calls the hospital and asks to move the mortality conference to tomorrow.
All the doctors receive the message that the mortality conference has been moved, including Dr. Lee. The camera pans down to his brown leather watch meaningfully.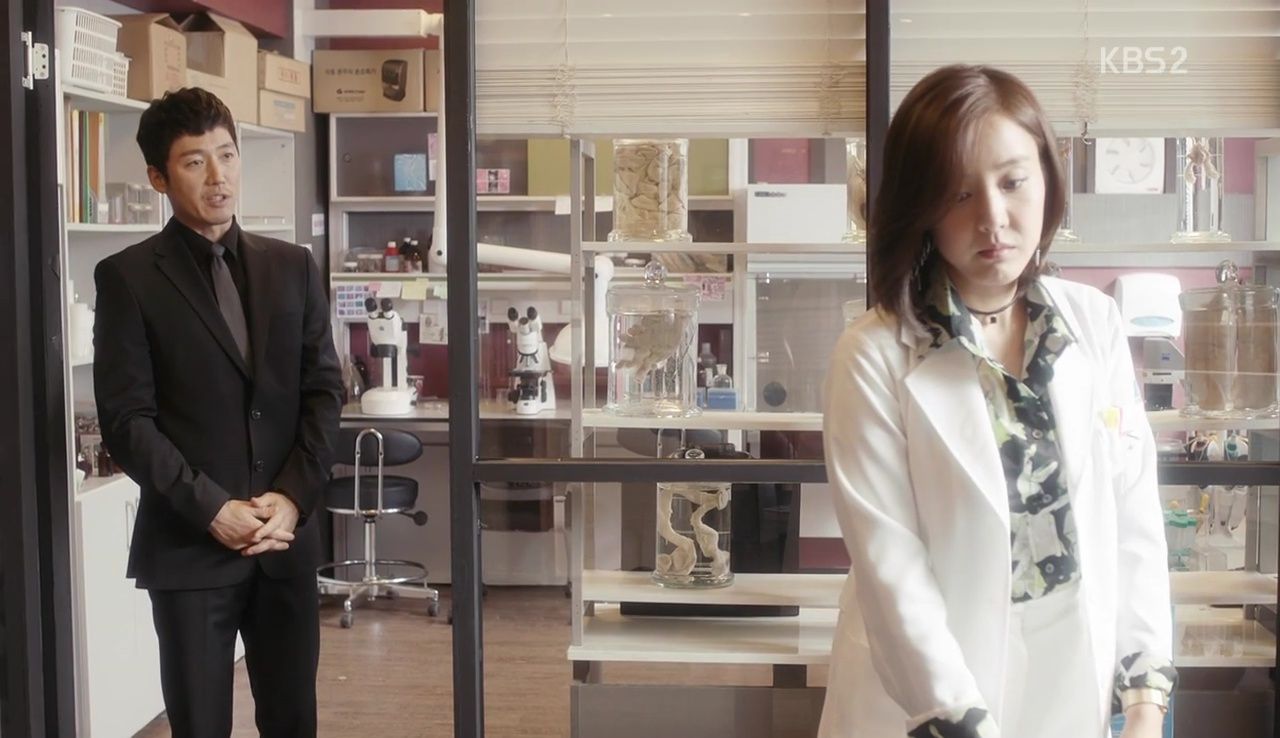 The next morning, Dr. Shim tells Young-oh that she couldn't determine what caused the lesion, and he notices that her body language shows that she's lying. Young-oh reminds her that both the motorcyclist and Chief Director Shin died because they found out the truth about the lesion. Knowing that Dr. Shim did find the cause of the lesion, he warns that she'll be next if she doesn't reveal the truth at the mortality conference.
Having heard that the mortality conference is today, Jin-sung finds Young-oh and demands that he hand over all his evidence to her. She's determined to arrest the killer. She also asks him if he's seen her soju-bottle cap ring, but Young-oh simply responds that he hasn't. Inside his office, however, he takes the cap ring out of his bag and puts it in his desk.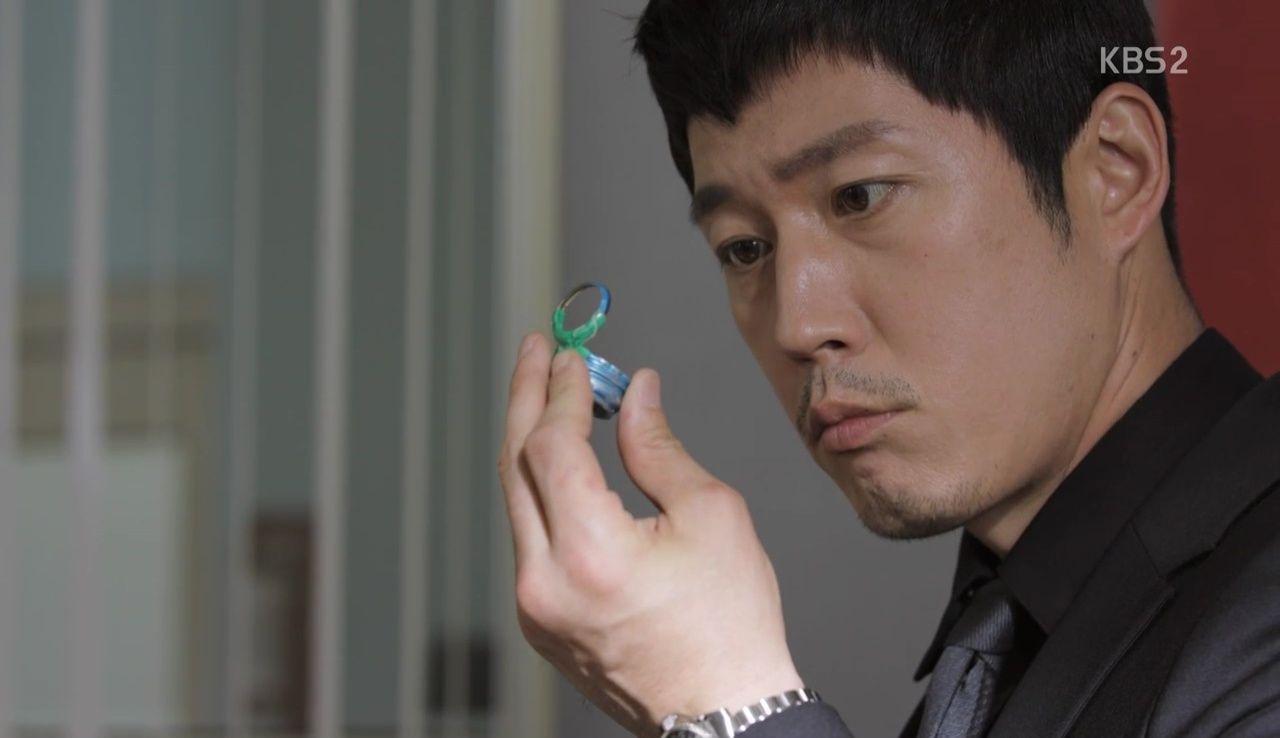 While Young-oh grows concerned that Dr. Shim isn't in her office, we see her meet with a man in her car as she says that she thought it would be proper for her to at least let him know if a twenty-year research project on regenerative medicine is about to go down the drain because of her research. Notably, that man is wearing the same watch that Dr. Lee wore to dinner the previous night.
In the hospital, Young-oh receives a call from Dr. Shim. There's no response from her, and we see her cellphone falling from a building as Dr. Shim's body follows. Young-oh realizes that there's something terribly wrong, and the other doctors rush out to save Dr. Shim.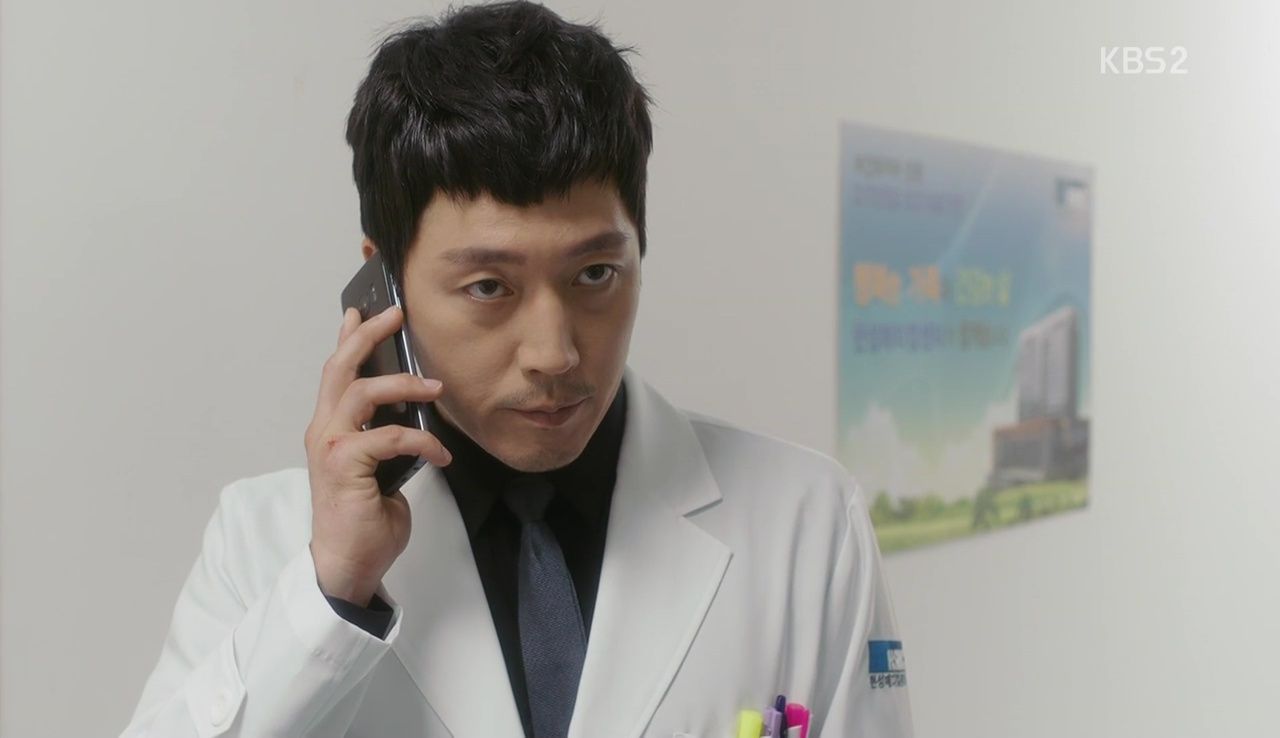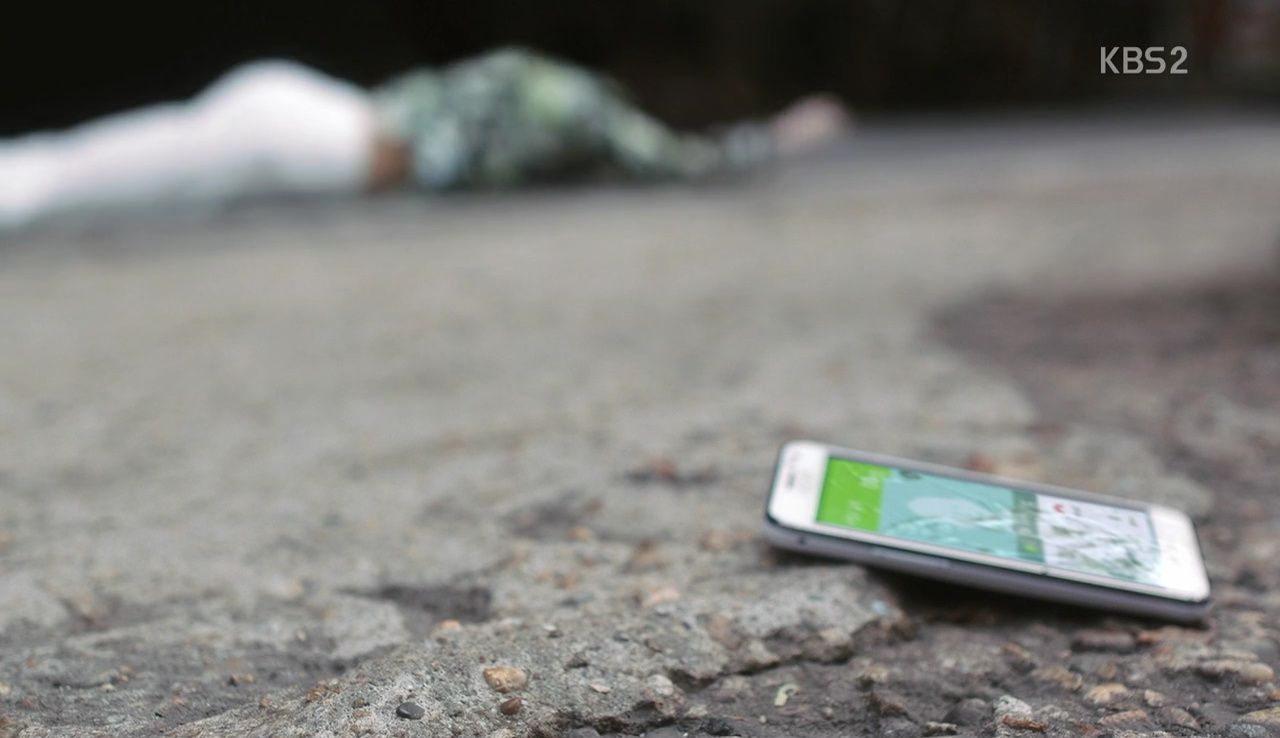 Young-oh prepares to operate on Dr. Shim, and as Jin-sung looks on at the chaos, Dr. Lee comes up behind her and asks for her.
Inside the surgery room, Young-oh replaces his surgical staff with a new group. The initial group of doctors is insulted that he would think one of them is the murderer, but Young-oh ignores them, choosing to start the surgery.
In Dr. Lee's office, Dr. Lee asks Jin-sung to arrest Young-oh and offers her a master card so she can do it without a warrant. Jin-sung contemplates what to do and notices the picture of Dr. Lee and Young-oh on the shelf.
During the surgery, Young-oh's new team seems pretty green to the operation room, and he takes a short break, leaving for the locker room.
As Jin-sung makes her way inside the locker room, there's a constant ringing noise. Just as she's about to open Young-oh's locker, he comes in and she hides. She watches him open his locker (which stops the ringing) and inject his medicine.
Jin-sung jumps out and tells him she's arresting him. Young-oh ignores her and tries to get back to Dr. Shim who's still on the operating table, but Jin-sung handcuffs him and lets him know that she's arresting him for the serial murders at Hyunsung Medical Center.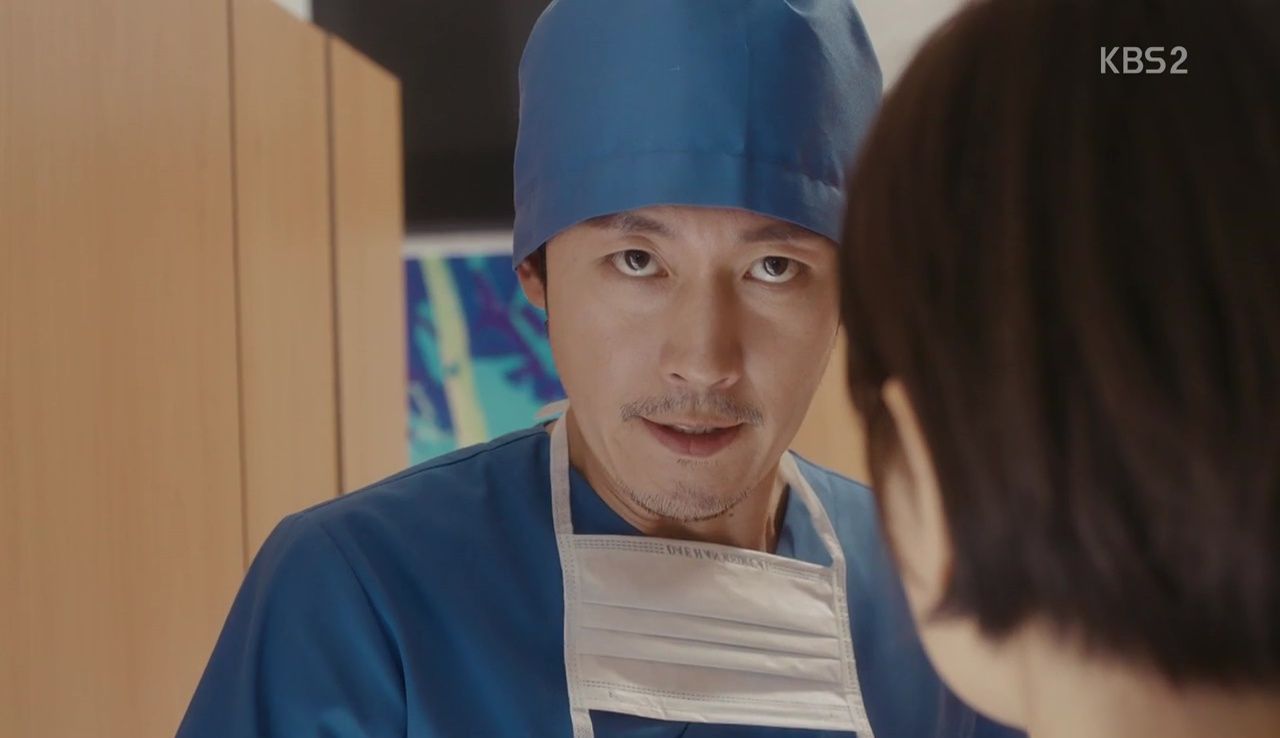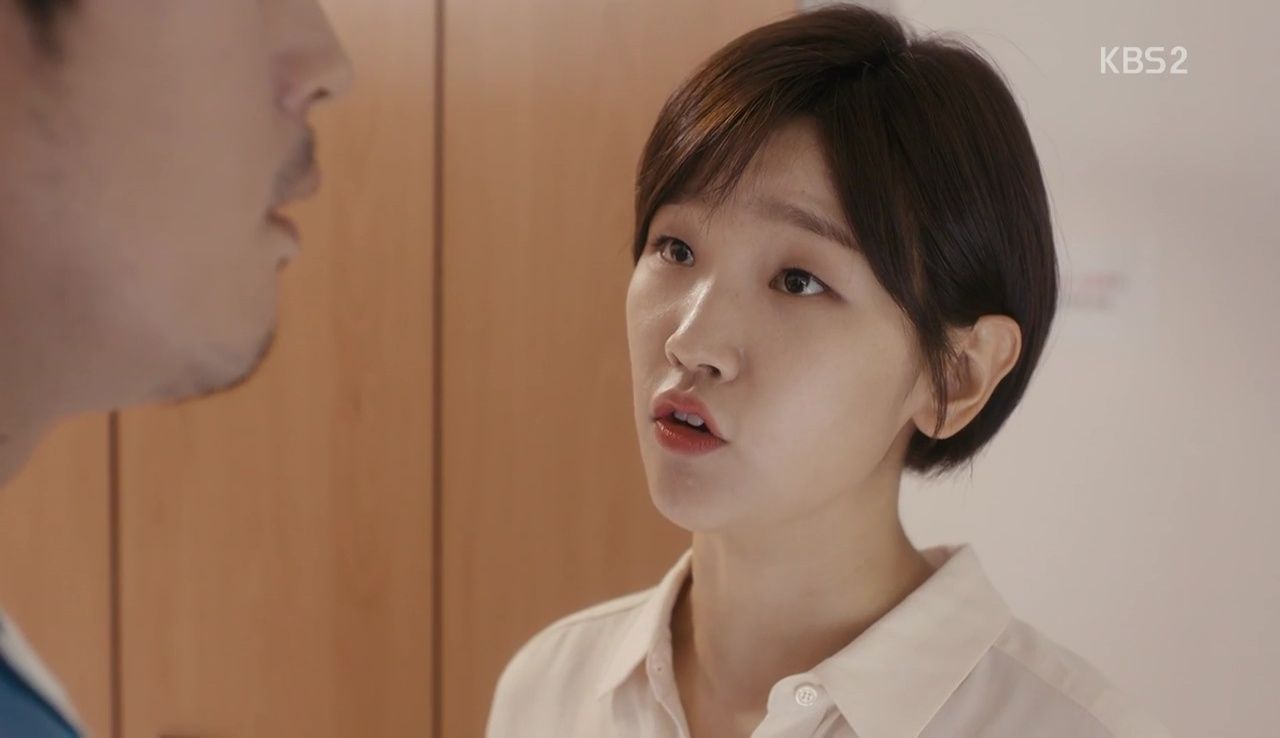 COMMENTS
Jin-sung is so frustrating sometimes that even I'm tempted to dump a cup of water over her head. I like that she's determined and strong-willed, but that doesn't make up for just listening to someone tell her how to conduct an investigation, especially if that person isn't a police officer.
Shi-hyun was right when she told Jin-sung to do her job properly, and I can't believe Jin-sung wasn't the least bit suspicious towards Young-oh when she was looking for clues that pointed to Suk-joo. I also think the writing is a little sloppy in connecting Jin-sung's actions and her words — she says that she she's doing this investigation to clear Suk-joo's name because she believes in Suk-joo, but she's angry that Young-oh tricked her into thinking that Suk-joo was the murderer. If she got tricked, then doesn't that mean her faith in Suk-joo wasn't as steadfast as she claims?
Of course I think it's quite problematic that Young-oh is manipulating her and the hospital staff to find the murderer, but I don't think Jin-sung really has the right to say anything about Young-oh's ethics. She knowingly helped spread the gossip that Suk-joo was the murderer without any substantial evidence that he was the murderer, no wonder no one wants to let her on the violent crimes unit!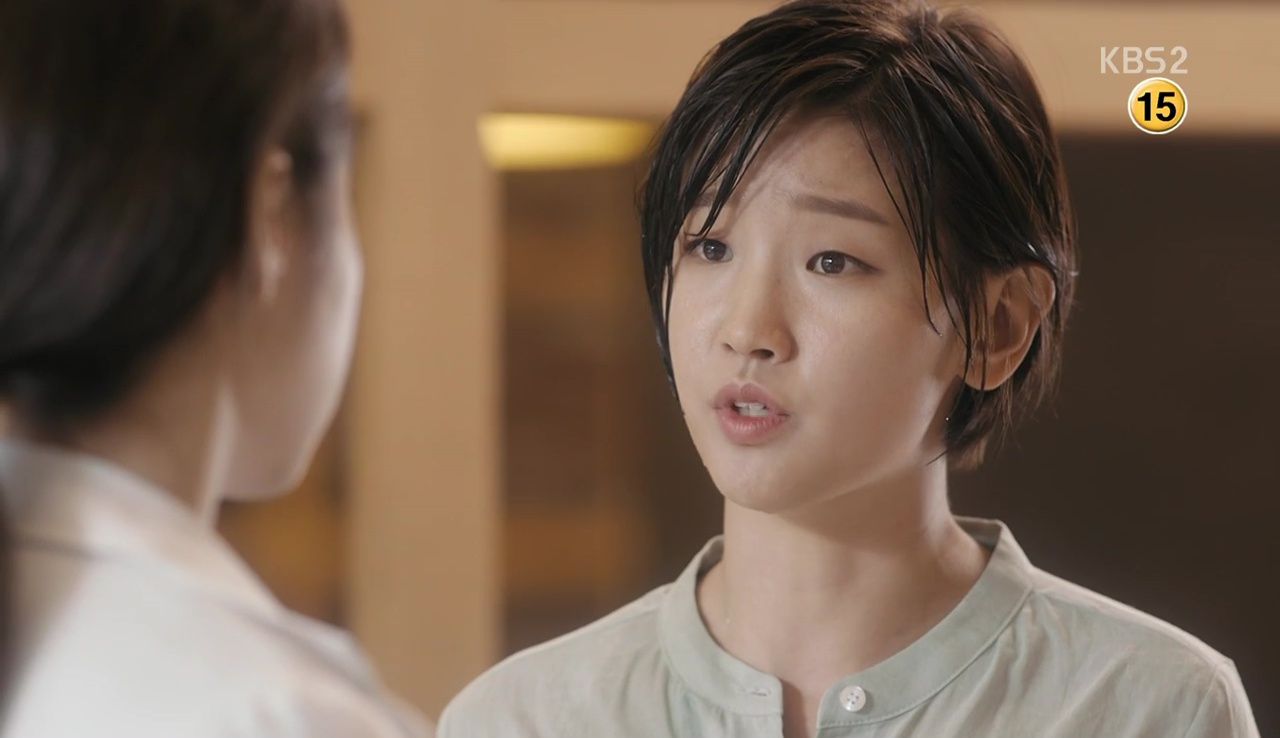 Now, she's about to interrupt Young-oh when he's in the middle of a crucial operation. She'd better have a good reason for arresting Young-oh, not just some information she's hearing from Dr. Lee, or otherwise, she really deserves to be fired.
Young-oh, on the other hand, is at least fairly interesting in how little he cares for others' feelings, from the way he manipulated the hospital staff into thinking that Suk-joo was the culprit, to the way he manipulated the surgical staff into thinking that Dr. Kim's daughter was in critical danger.
I'm glad that this lack of empathy gives him the ability to coldly deduce that his father is seemingly behind these murders, but at the same time, it's shocking how unconflicted he feels about pursuing his father. The hidden barbed comments during dinner really seem to show that Young-oh isn't too upset about his father potentially being the murderer. It's a little ironic that someone who's so talented at physically healing people can also be so nonchalant about emotionally hurting people.
RELATED POSTS
Tags: Beautiful Mind, Episode 4, featured, Jang Hyuk, Park Se-young, Park So-dam, Yoon Hyun-min