Beautiful Mind: Episode 7
After the powerful ending last week left us with, Young-oh gets a much needed break from the hostility and scrutiny of the hospital, and discovers that while he has plenty more to learn about human emotions, he is still a very good doctor. Suk-joo faces a crisis of conviction, as his honesty wars with his desire to alleviate the suffering of patients around him.

EPISODE 7 RECAP
A teenaged Young-oh watches a couple in a hospital meet their baby after delivery. His face is blank but his gaze is fascinated. His father comes up to stand by him and explains that when a man and a woman meet, bear a child and raise them to send out to the world, they're called a family. Someday, Dr. Lee says, Young-oh has to live like that so people can be convinced that he's normal.
Young-oh asks his father if he'll someday be able to feel for real; not by imitation, but like normal people. There's something like yearning in his voice, but Dr. Lee doesn't answer him. As they're walking away, Young-oh turns one last time to look at the new family.
In the present, Director Kang watches a news report that his father, Chairman Kang, will be stepping down next month so the next generation can take over the running of Hyunsung Group. He tells his assistant to set up a meeting with Assemblyman Kim immediately.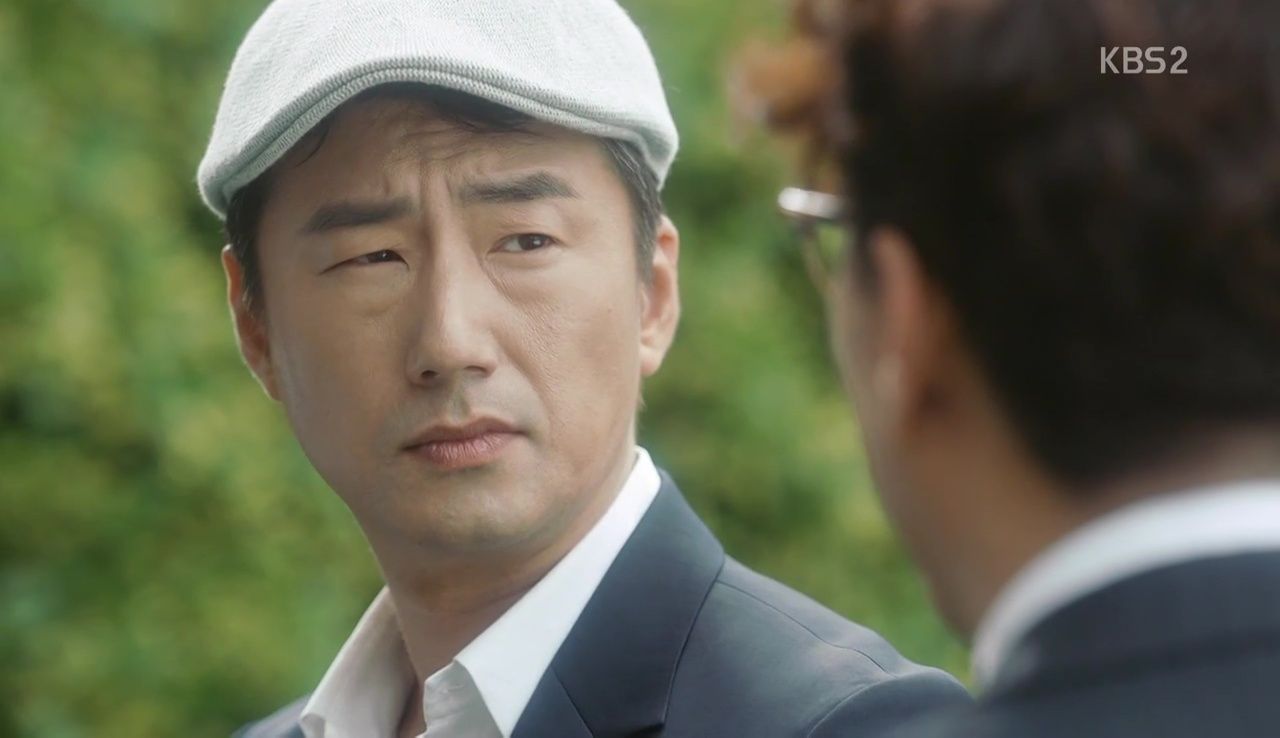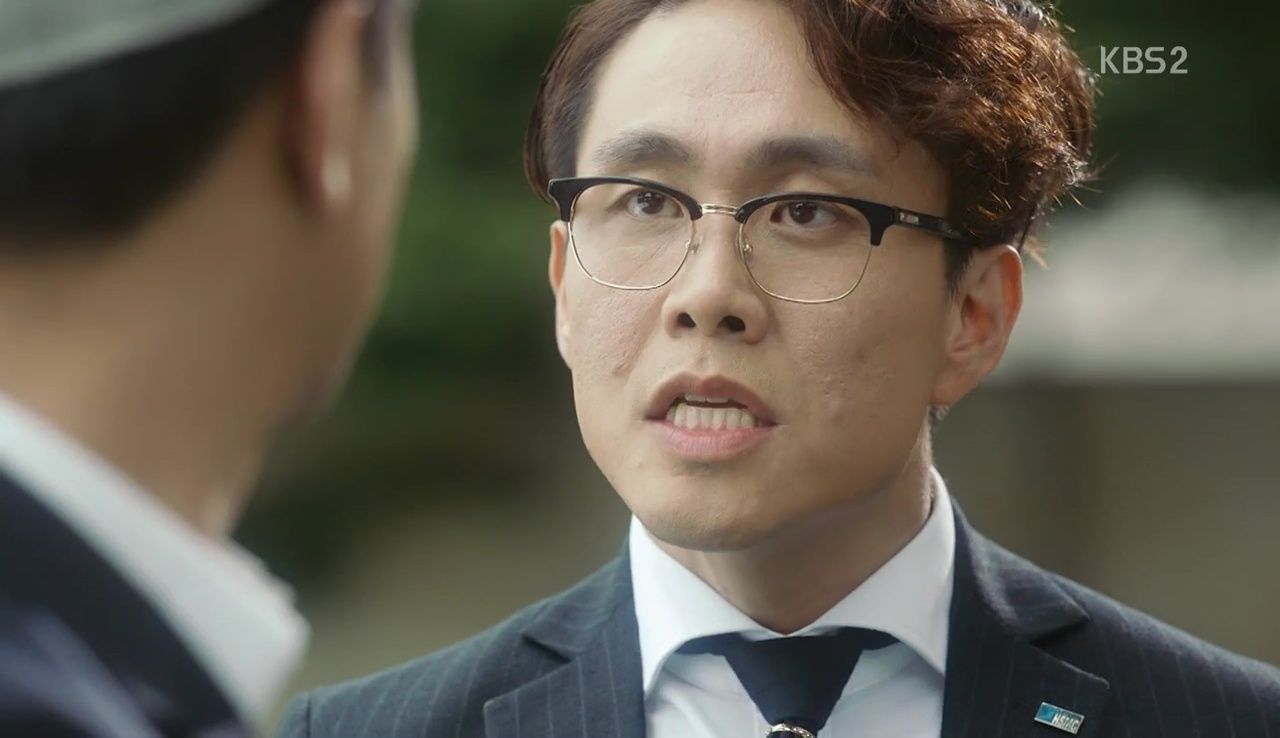 They meet on the hospital rooftop and Director Kang asks the assemblyman to expedite the FDA approval for their new stem cell research. Assemblyman Kim is understandably suspicious at this sudden hurry, and asks for an explanation, pointing out that this is a matter of national health and a potential boon or a curse for his presidential candidacy.
Director Kang counters that health is good, but since every other Hyungsung property makes his family trillions, he needs the new regenerative medicine to make him much, much more so he can be in the running for succession in his father's eyes. And since he only has a month until Chairman Kang retires, he needs to get their technology into the market quickly. Assemblyman Kim offers to get the approval in one week.
Suk-joo looks through research files and records while a colleague asks him worriedly if he really thinks something is wrong with their research. Suk-joo asks him what he would think of an odd lesion on cardiac muscle tissues and of necrotic tissue turning into a tumor in patients who've had their treatment during the drug trials. Suk-joo answers his own question: It's a side-effect of the stem cell treatment medicine.
His colleague, SONG GI-HO, denies that anything like that could be possible, but hides an envelope from Suk-joo. Suk-joo wrestles it from him and is startled to find a divorce petition. Gi-ho explains that he spent far too much time in the lab and far too little with his wife. His eyes are intense as he says that that's the reason why he would feel very wronged if their research was a failure.
Assistant Manager Chae watches Gi-ho walk away and tells Suk-joo to keep his suspicions to himself. He's amicable as he explains that the trials went perfectly up to the second stage, and they just finished the trials for the third stage. He points out that Suk-joo would never be able to prove that something was wrong without proof all on his own.
Suk-joo remembers his confrontation with Young-oh, where Young-oh revealed that Assemblyman Kim had the same rare lesion in his heart that the motorcyclist did. Realizing that Suk-joo didn't know about the lesion, Young-oh had asked him if he really was a good doctor.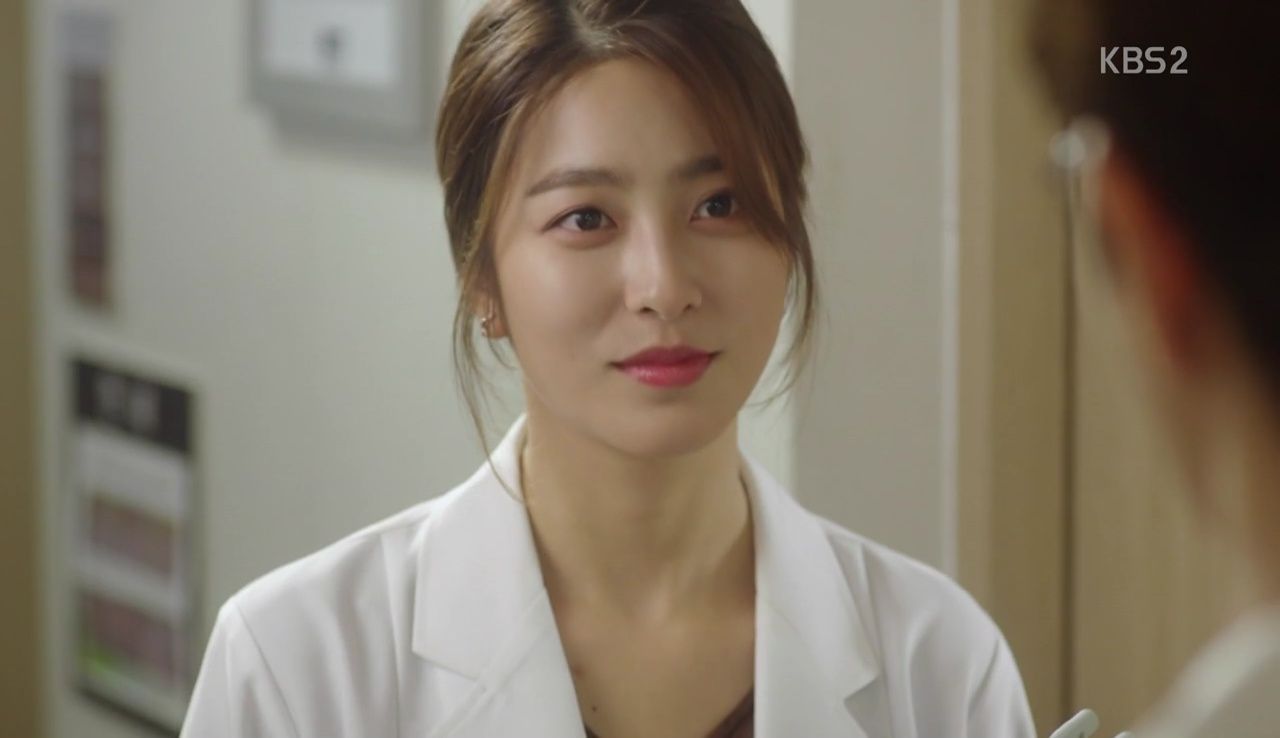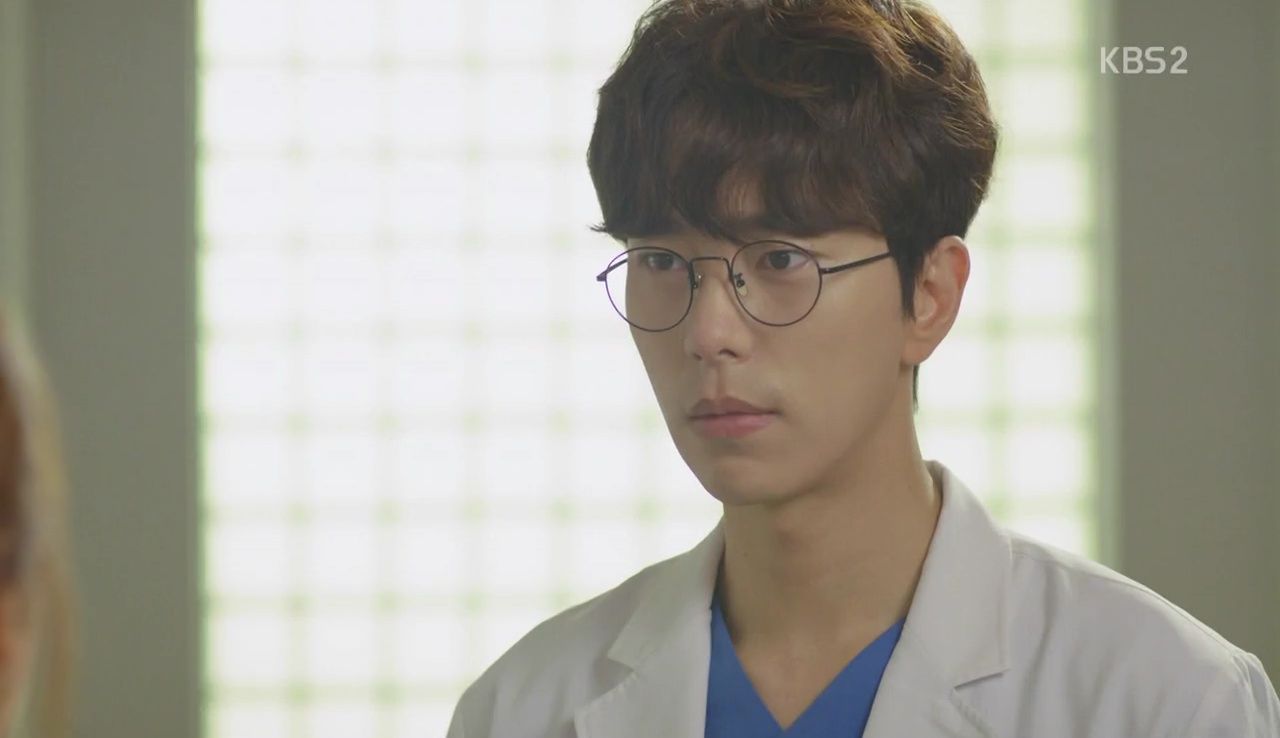 Now, Suk-joo approaches the nurses station to get Young-oh's contact information. Min-jae hears the request and tells Suk-joo that there's no point in contacting him, since Young-oh will never treat a patient again. She coldly says that Young-oh's absolute belief in his skills has been shattered, and that he will never recover from it. She leaves and the nurse comments that despite dating Young-oh for so long, Min-jae is pretty cruel to him.
Young-oh wakes up overheated under a blanket in a strange room. Outside, we see Jin-sung's brother and mother discussing the man she brought home with her the night before.
Jin-sung's brother wonders if his sister is dating a doctor, and when Jin-sung denies it's like that, he tells her to at least mess around with the man. Jin-sung seems to think that "messing around" involves cutting school and getting phone calls from the principal, and her brother laughs that she has no experience with kissing or even holding hands.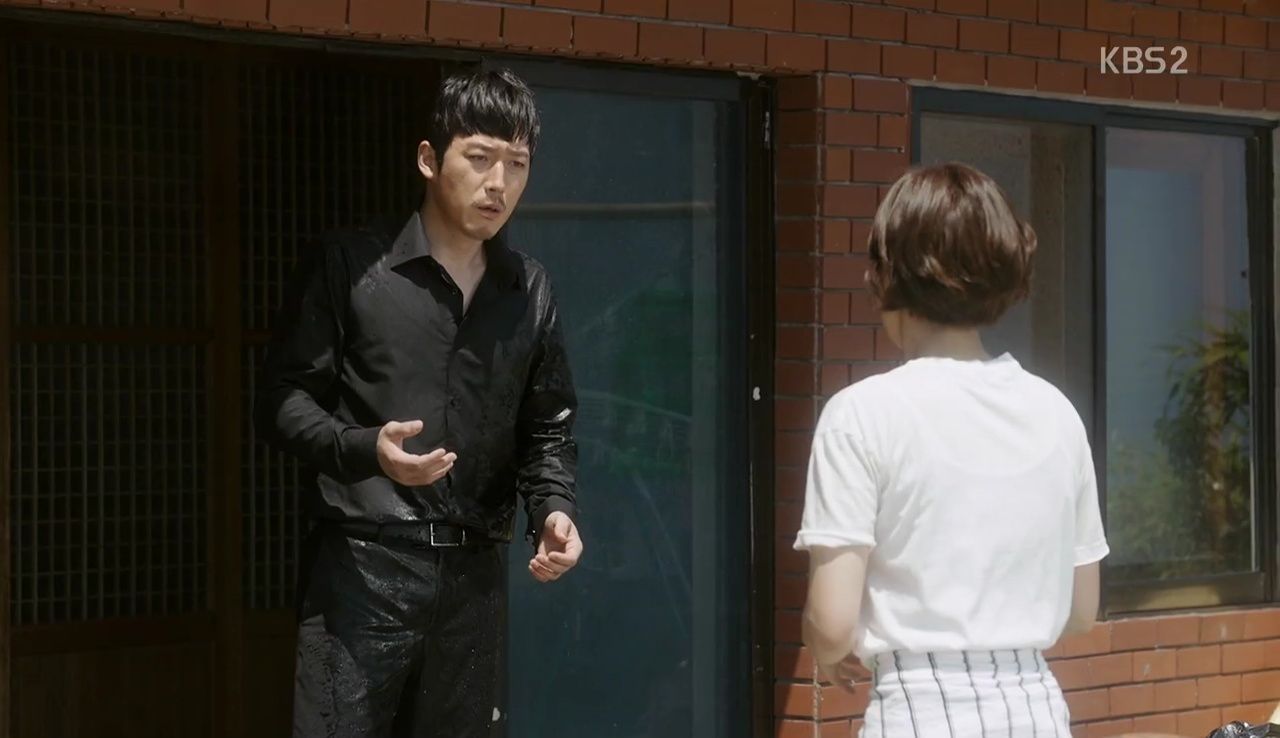 Jin-sung chases him around with a hose and ends up accidentally dousing Young-oh in the process. She grabs a towel and tries to pat Young-oh's drenched clothes dry, but he snatches it away. He observes that he isn't sure if she wrapped him in that stifling blanket to kill him or heal him.
Jin-sung tries to explain to her mother in private that she's not dating the doctor she brought home, but her mother tells Jin-sung (loud enough for Young-oh to hear) that though she may live in the country, she's with the times. She says she understands that when men and women like each other, they will do that. Jin-sung shouldn't fear the world's disapproval, she adds. After all, they can just get married.
Jin-sung's brother walks down to the pier and notices a woman in a wheelchair left unattended in the middle of the road. He recognizes her as their neighbor's paralyzed daughter-in-law and brings her up to their home to have Young-oh examine her.
The family talks about how the woman's crabby old mother-in-law picks on her, accusing her of having killed her son. Both Jin-sung's mother and brother look earnestly at the "big city doctor" and ask him to take a look at the woman.
Jin-sung tries to stop them, but her mother hushes her and explains that the daughter-in-law hasn't been able to speak or move her limbs for almost a year now. Young-oh looks at the woman, his gaze habitually seeking out the physical tells that he uses to give such accurate diagnoses, but then his father's voice intervenes, asking if he thinks he's superior to other doctors while calling him a monster.
Young-oh walks past them in a daze, leaving the family confused. Jin-sung promises to explain his behavior later and runs after him. The granny comes looking for her daughter-in-law and quarrels with Jin-sung's family for bringing her up to their house.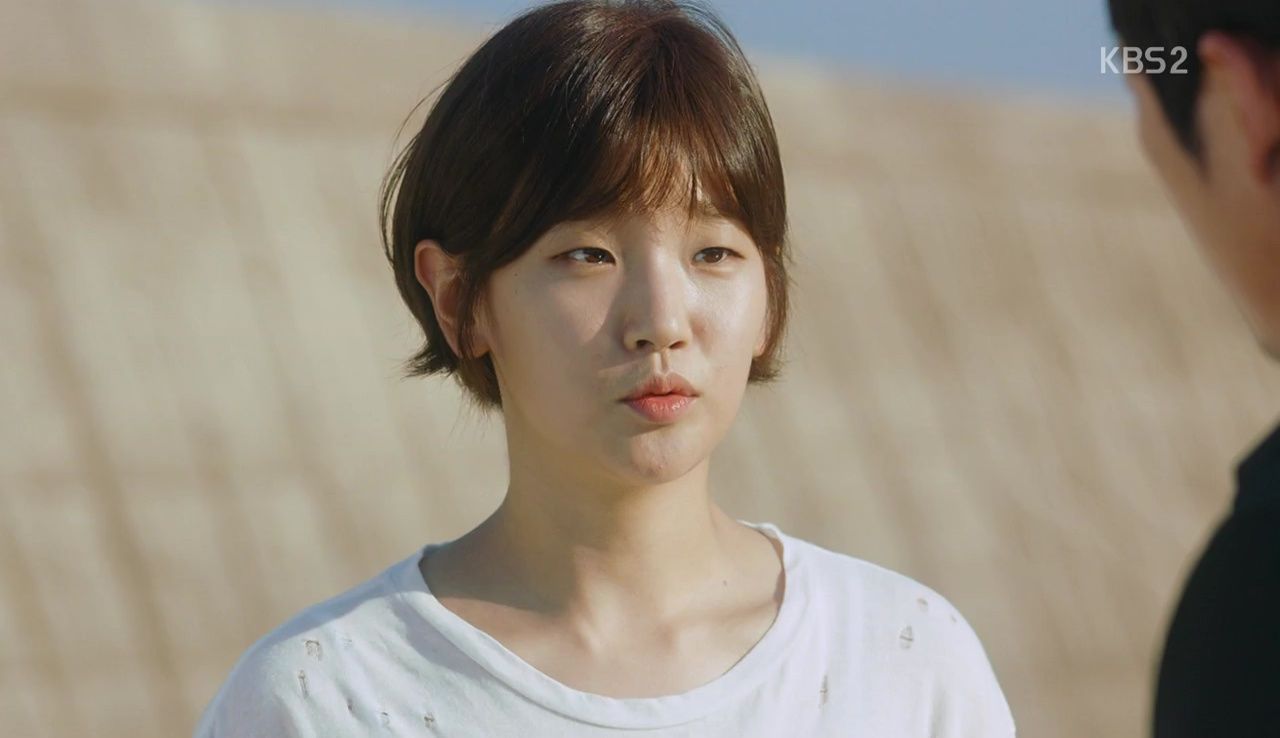 The brother tells the granny to treat her daughter-in-law better or he'll call the cops. The granny curses him and kicks over their table before taking her daughter-in-law away. Jin-sung's mother is more sympathetic to the old lady than her son, saying that it must be hard looking after a sick person who's not even your own blood.
Jin-sung follows Young-oh down to the shore and apologizes for her brother putting him on the spot. She says that he just really wanted to help the daughter-in-law and that in villages like hers, families live close together and freely interfere in each other's affairs. Young-oh asks if that's why she brought him here: to treat his rotted heart with the love and closeness of this village by the sea.
Jin-sung answers that she wanted to let him rest in a place where people didn't look at him oddly. She wanted to help, just like her brother wanted to help the ill daughter-in-law. Young-oh disagrees. He says she brought him here to show him that she's happier than he is, that she can help him, and is therefore better off than he is.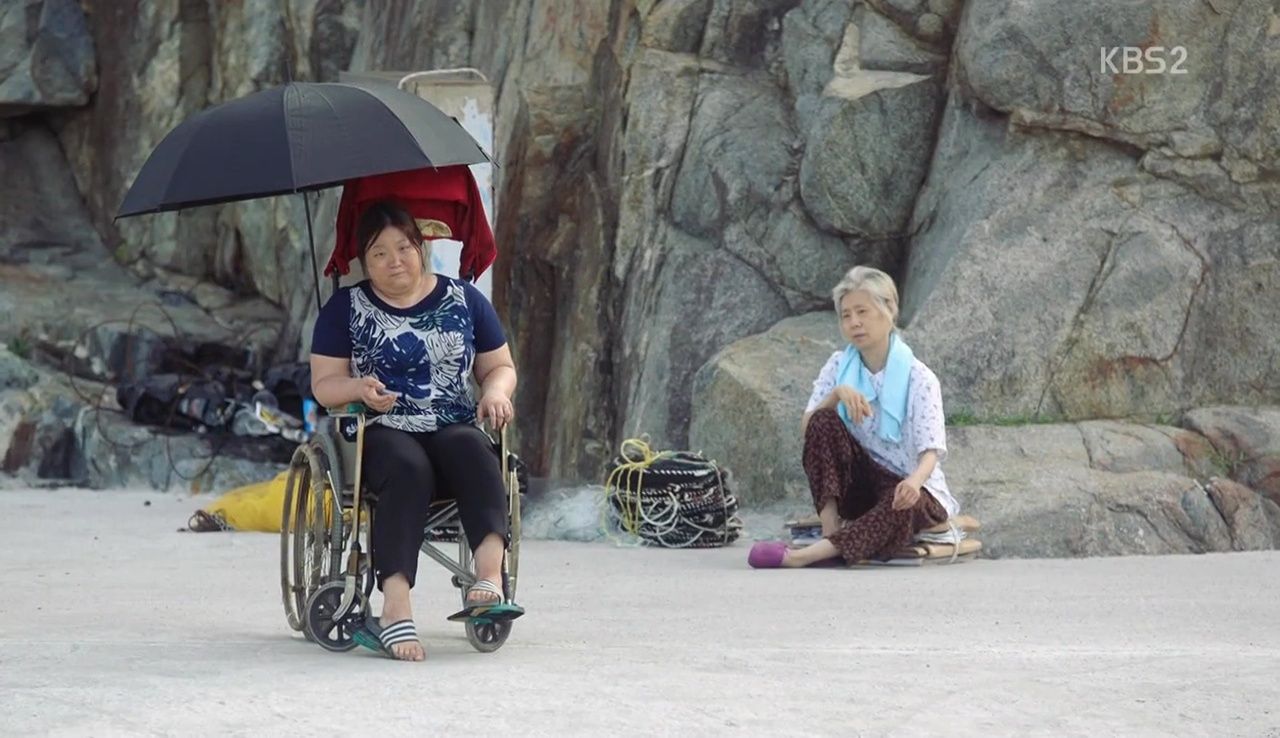 He tells her with contempt that people who feel emotions use friendship, love, and sympathy as disguises for their true intent, which is to seek reassurance that they are better off than the other person. Jin-sung listens to his rant quietly, then asks if he's this angry with himself because he ran away from a patient, and if he's afraid he'll keep running.
Young-oh looks in the distance at the old lady and her daughter-in-law sitting by the water and laughs cynically. He tells her that this is why people can't help others. Someone's weakness becomes a sore spot they want to attack, or a burden they want to get rid of.
Young-oh tells Jin-sung that he takes back what he said about asking her for help, even as they hear the sounds of wheels rolling uncontrollably forward. There's a loud splash, and Jin-sung looks around to find that the paralyzed daughter-in-law has fallen into the water. Young-oh coldly remarks that the old lady made the choice to get rid of her burden whether any one saw her or not, but Jin-sung asks "Do you want to make a bet?" and jumps into the water.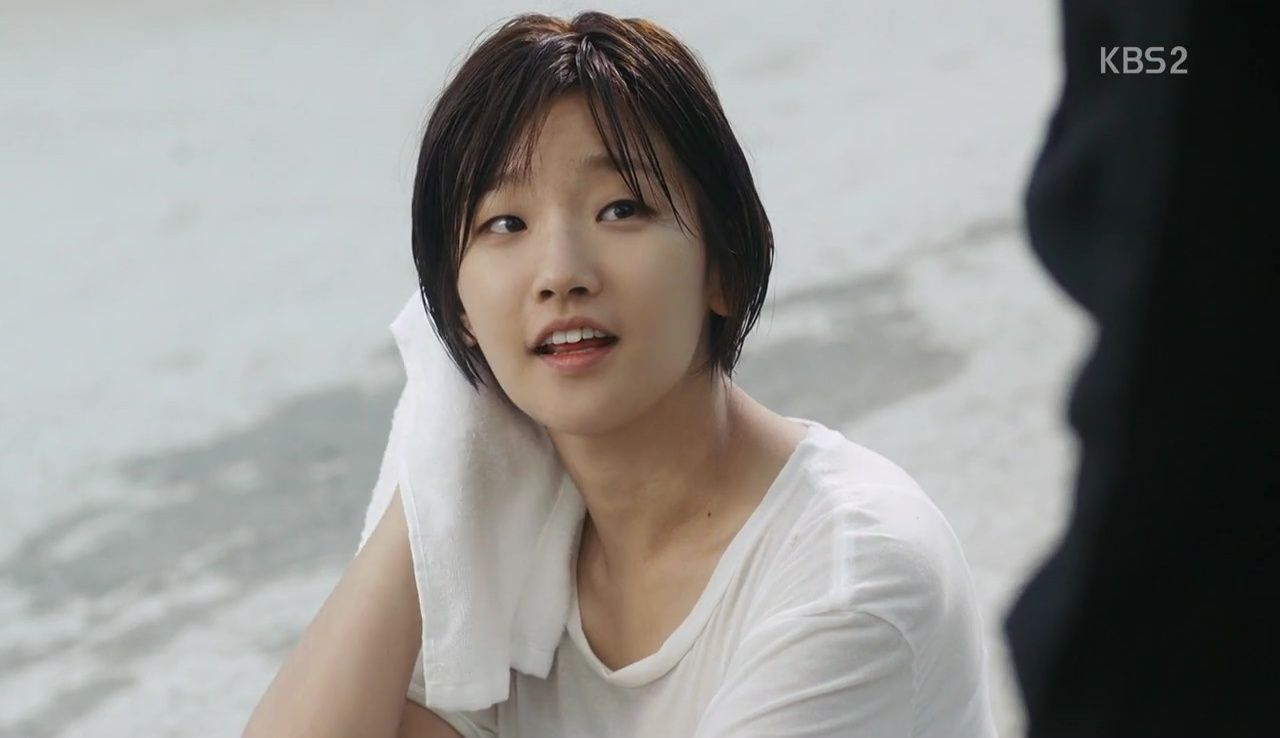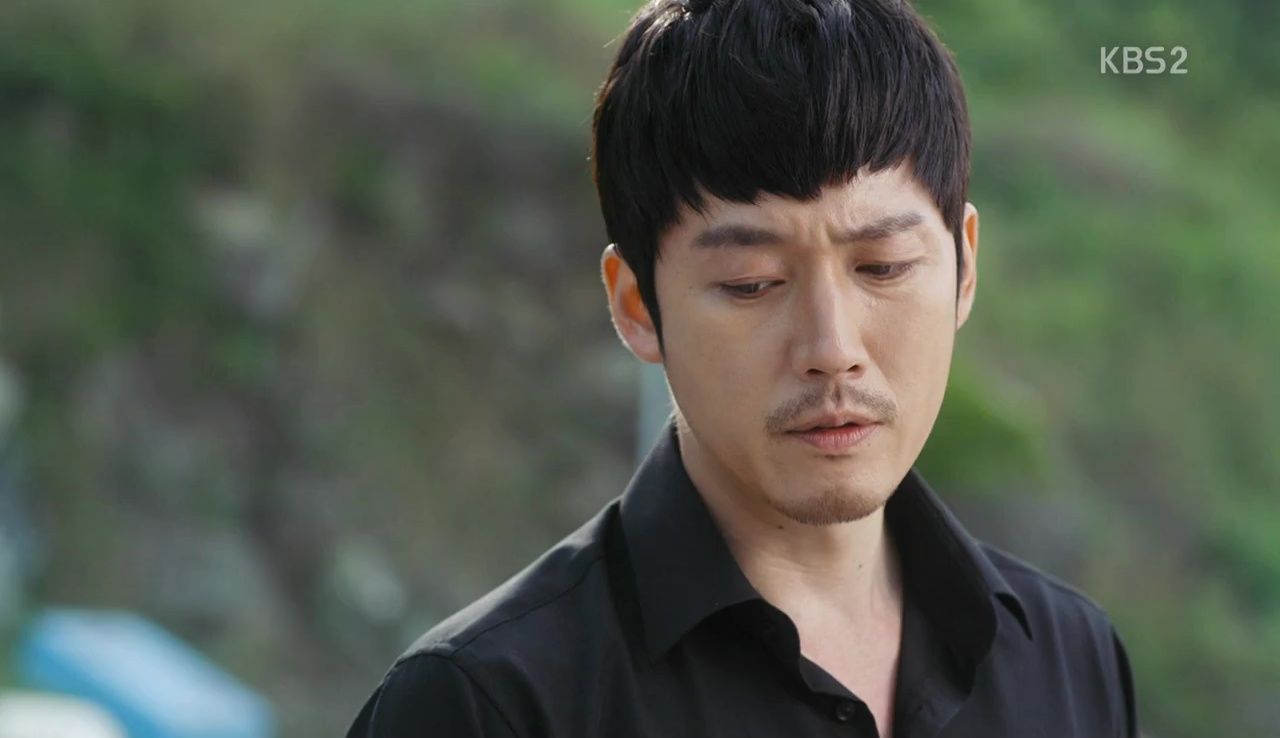 After pulling the woman out of the sea and sending her to the hospital, Jin-sung sits by the shore. Young-oh brings her a towel and asks her why she risked her life. Jin-sung tells him that she wants to make a bet with him.
Jin-sung says that in the world she knows, Granny isn't such a bad person that she would try to kill her own daughter-in-law. She places a challenge before him: if he isn't afraid of treating patients, then he should prove it by trying to treat the daughter-in-law. If he can bring her speech back, then they would know for sure which one of them was right about Granny.
Back in Seoul, a young woman is being readied for a heart transplant surgery. The extraction team dispatched by the hospital to bring back the fresh organ is stuck in traffic. Initially, the resident plays games on his phone while his senior panics that the heart will be useless unless they can get it to the patient within half an hour. But as soon as the resident hears that the transplant is doctor Lee Shi-hyun's first surgery, he leaps out of the van and runs all the way back to the hospital, making it in good time.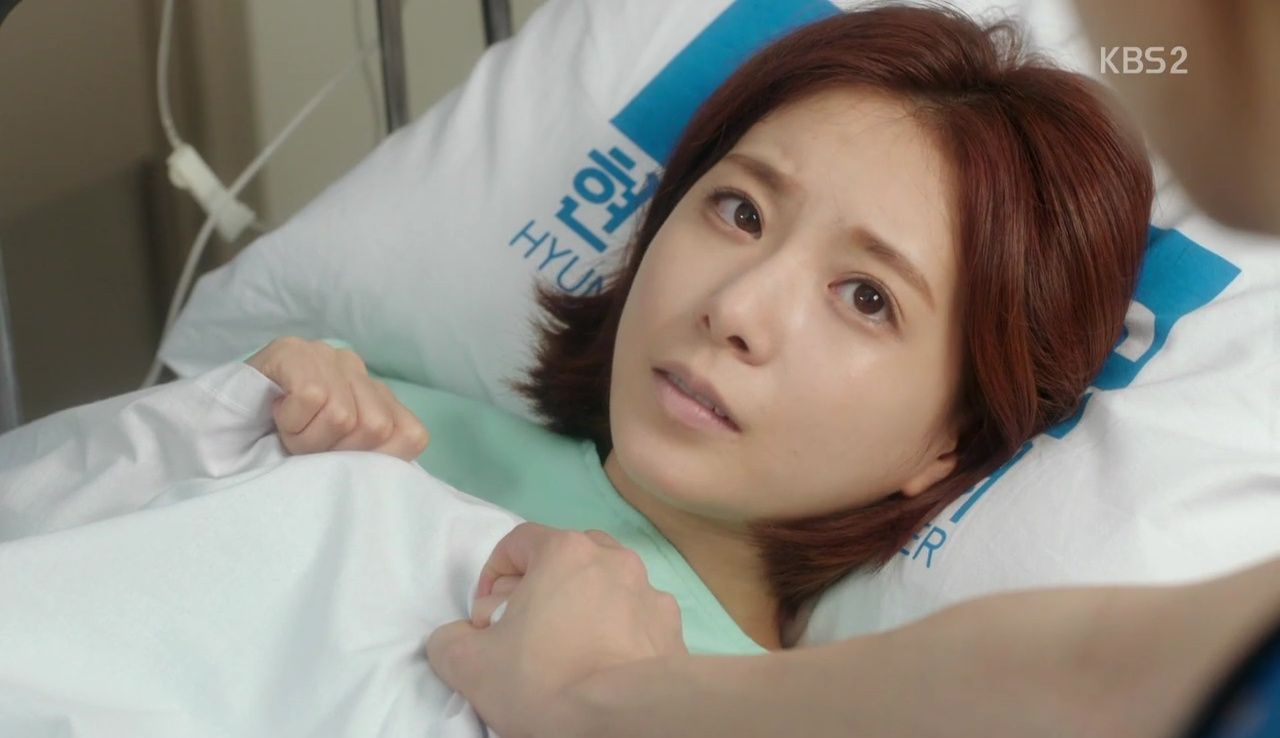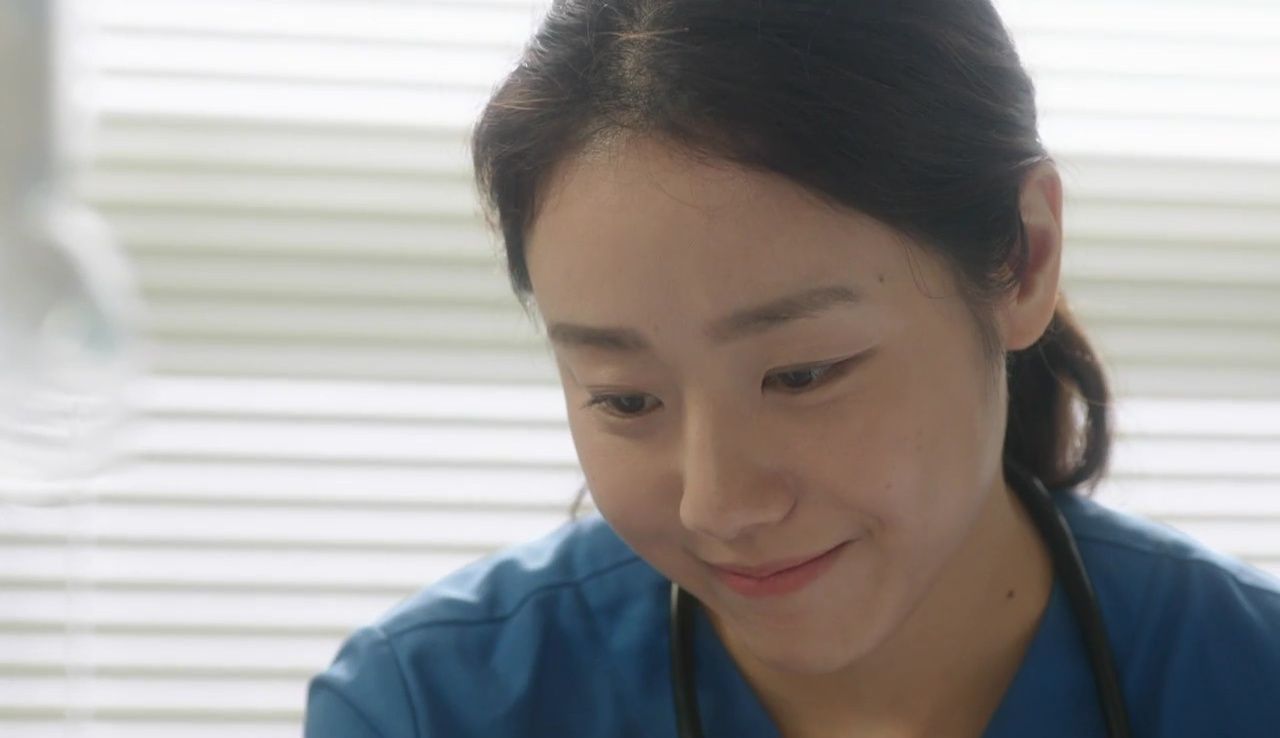 Lee Shi-hyun takes the patient up for surgery and a nurse asks the woman what she plans to do after she gets her heart. The patient says that for years she has only had one dream, and it was for this wait to stop. As her name rose from 173 to 1 on the heart transplant list, she held her breath every time the phone rang.
But with the operation today, she says, her wait will come to an end, and her one dream will come true. Lee Shi-hyun reassures her that a transplant surgery is so simple that it isn't even considered a surgery. She tells the woman that it won't look pretty, but her new heart will be strong.
Suk-joo asks Dr. Lee how to contact Young-oh. Dr. Lee asks him if Young-oh wronged Suk-joo somehow, but Suk-joo just says that Young-oh was the first person to make him feel ashamed. Dr. Lee is surprised, but guesses that something happened between them that has to do with the hospital. Suk-joo tells him that only Young-oh can answer his questions.
Dr. Lee tells him that he's looking for his son as well and will tell him to contact Suk-joo when he's back. He asks if he seems like a bad parent. Suk-joo in turn asks him if he doesn't regret throwing out his son to favor his own principles. Dr. Lee observes that Suk-joo must really be concerned. Realizing he's crossed a line, Suk-joo takes his leave.
Young-oh decides to visit the daughter-in-law in the hospital. The attending resident thinks Young-oh is her guardian and tells him that she has a mild fever and suffered a stroke. Young-oh seems conflicted as he stands in the doorway, but after listening to the resident's faulty diagnosis, he's compelled to examine the woman.
Meanwhile, the villagers speculate that the granny must have pushed her daughter-in-law into the sea. Jin-sung goes to Granny's house and looks around the rooms. She finds a shoe box full of rolled up money and a brochure for an advanced wheel chair.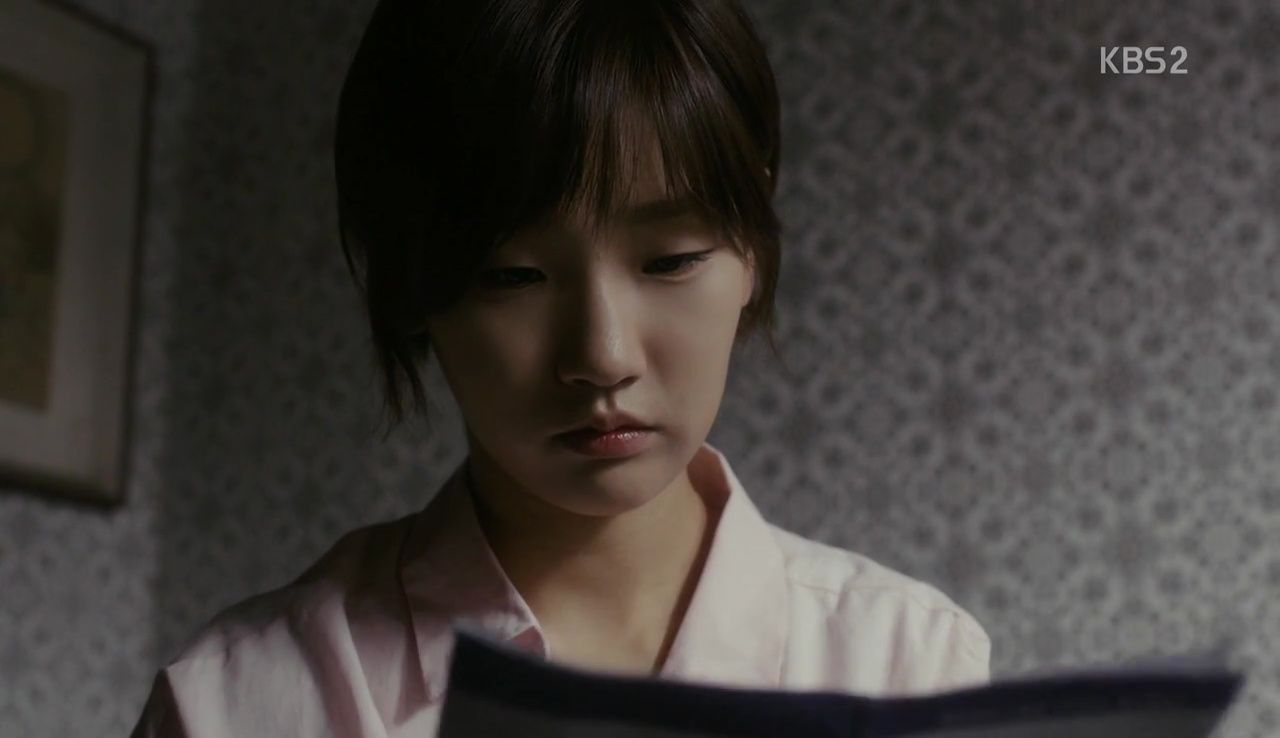 Young-oh realizes the daughter-in-law has gained weight recently, and that she suffers from long-term paralysis and loss of mobility. As she wakes and looks around her, Young-oh leans forward and asks her if her mother-in-law was the one to push her into the sea. Her eyes widen, and Young-oh starts to read her body signals to determine her response.
Suddenly, Min-jae's face comes to mind, and he can only recall what she said about him reading her emotions from her body. He turns to leave, but Jin-sung stands in his way. She gets a call from her mother telling her that Granny has surrendered herself to the police for pushing her daughter-in-law into the sea.
She relays this to Young-oh, who laughs to realize that he's won their bet and that his interpretation of the situation was right to begin with. The resident comes in and prepares to give the daughter-in-law saline before she's transferred to a bigger hospital, while a cheerful Young-oh takes the medical chart from him and begins to read it.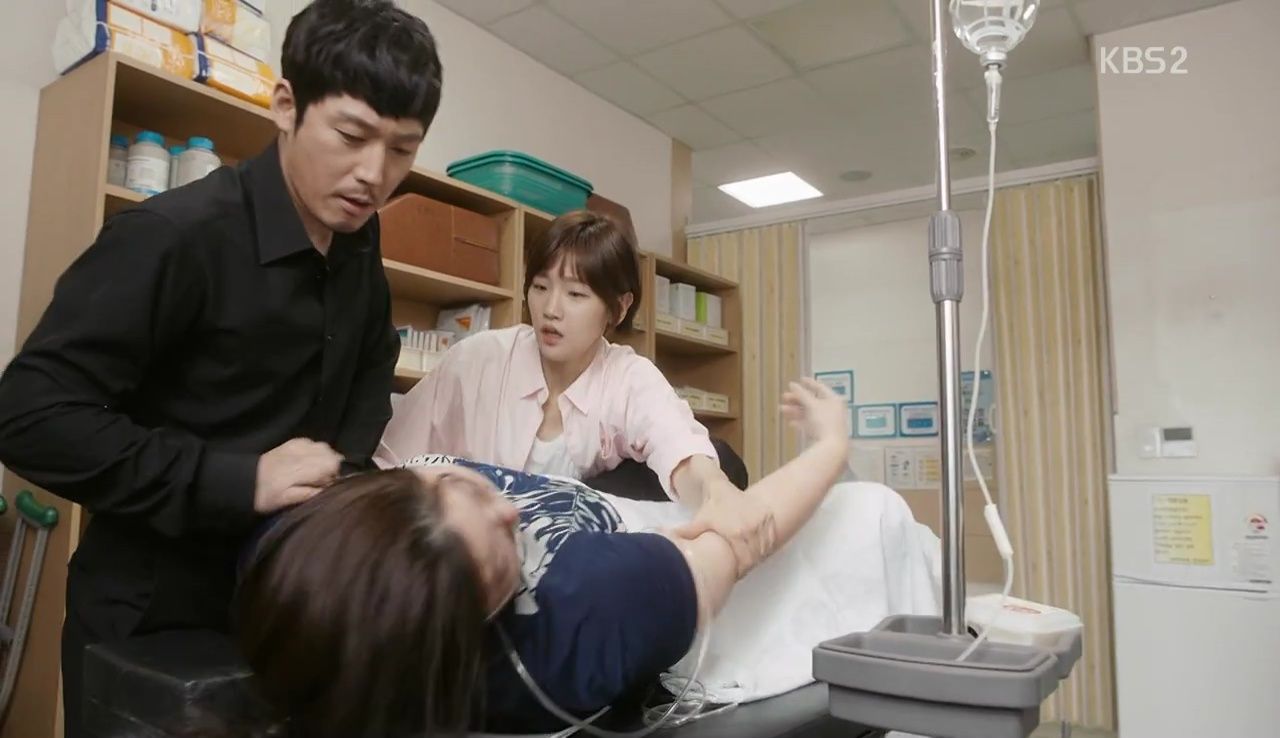 Young-oh tells the resident that the woman didn't have a stroke, but suffers from Hashimoto's disease. She'll have to be given a hormone treatment and will recover very slowly. But then the daughter-in-law begins to suddenly convulse on the table.
Both the resident and Young-oh are startled, and Jin-sung yells at them to do something. The resident panics and rushes out to look for an ambulance, while Young-oh grapples with the idea that though his diagnosis was right, he still must have missed something.
In Seoul, Lee Shi-hyun performs the heart transplant surgery with Suk-joo's assistance. Just as Lee Shi-hyun's about to take the patient's heart out, Suk-joo stops her. He examines the new heart closely and tells her that it has started developing an infection and cannot be used.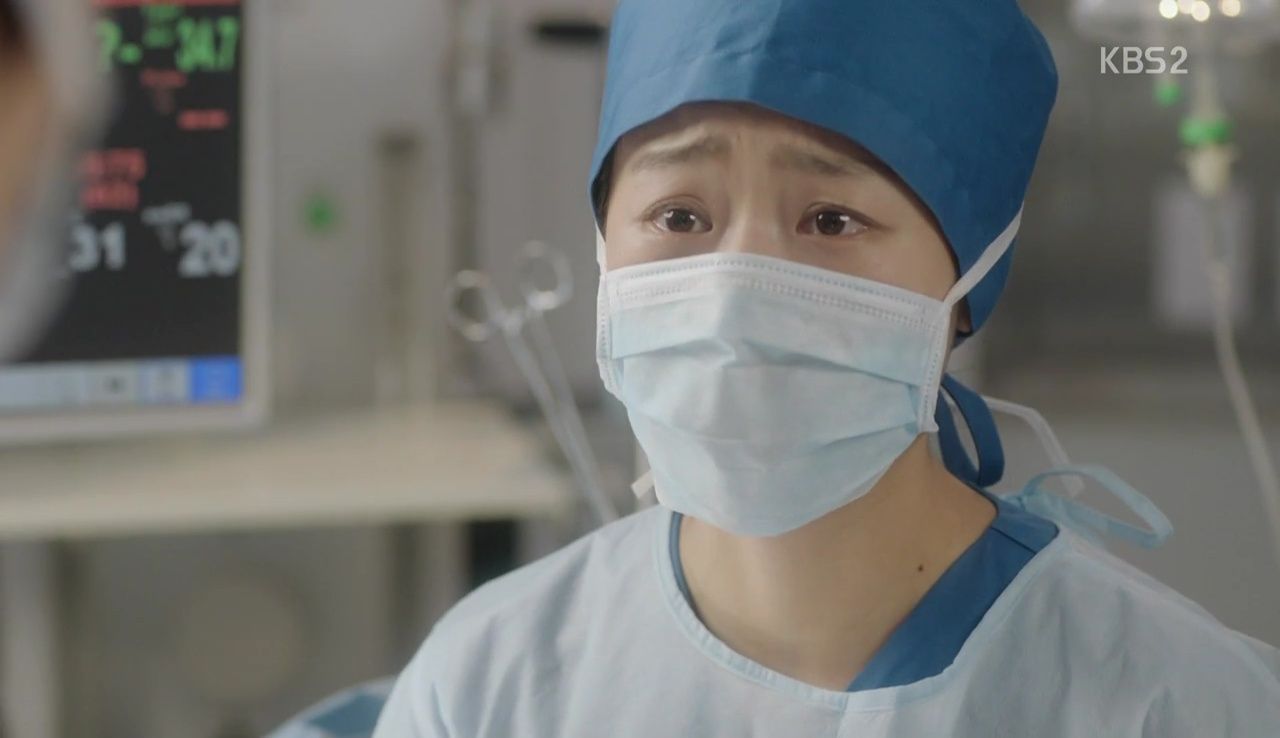 Lee Shi-hyun thinks of the patient's unending wait for the heart and tells Suk-joo that they can treat the infection after the transplant. Suk-joo cuts through her words and tells her that though the patient might die waiting for another heart, transplanting an infected one right now could result in her immediate death. Unable to deny his reasoning and feeling wretched, Lee Shi-hyun closes up the patient's chest again.
Later, she cries in an empty corridor and Suk-joo comes up to comfort her. She asks how long she'll have to fight this battle, and Suk-joo tells her that he would choose to fight this battle every day until the end.
Suk-joo visits Dr. Kim's little daughter and finds the head anesthesiologist who had just been promoted to Dr. Kim's position sitting with the child. He tells Suk-joo that he wishes he could shout, curse and denounce Dr. Kim and then let it go, but he hasn't been able to do so. Suk-joo and the anesthesiologist both miss Dr. Kim despite her having done something horrible.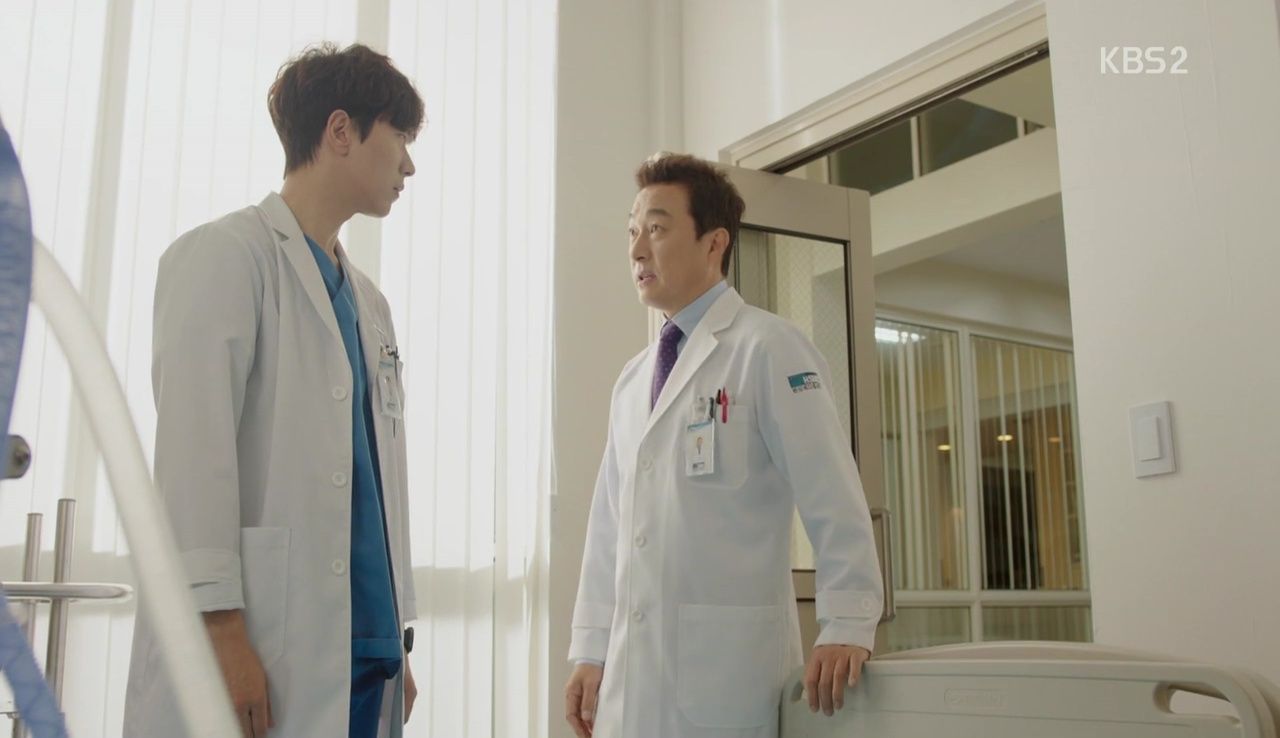 Later, Suk-joo sits quietly beside the little girl and remembers Dr. Kim's desperation to find a heart for her daughter. She had asked Suk-joo to promise that his research would be successful so her daughter would have a chance to live. In the present, Suk-joo hangs his head in defeat under the burden of guilt and hopelessness.
Assistant Manager Chae chooses that moment to come and commiserate about the aborted surgery. He blames the "Creator" for being cruel and points out that if their regenerative medicine came out to the market, no one would have to suffer as Dr. Kim did. Suk-joo tells Assistant Manager Chae that he can tell the "Creator" that he's a bastard.
Young-oh stands at the pier, looking out to sea. Jin-sung asks him if he's all right and he says that he lost their bet. He failed at diagnosing the daughter-in-law properly because he couldn't read her mind properly. He asks if Jin-sung is satisfied now. Jin-sung asks in turn what happens if she was right about Granny after all.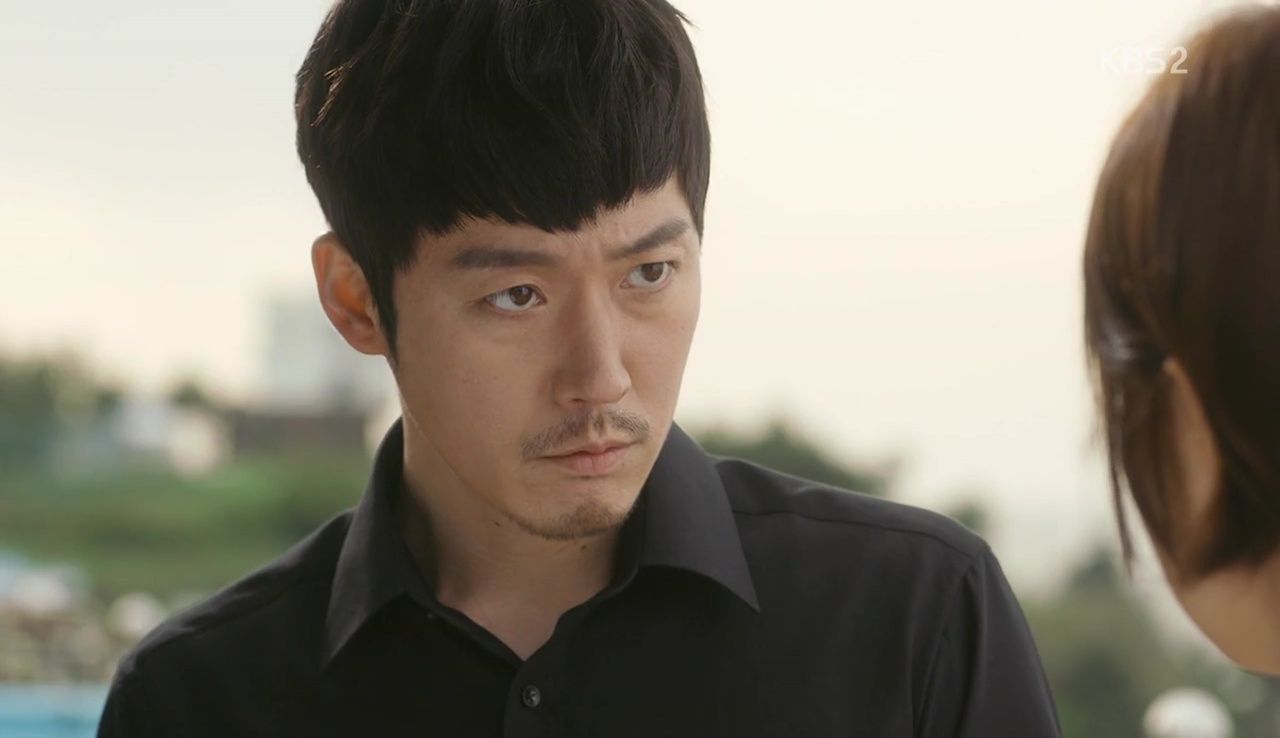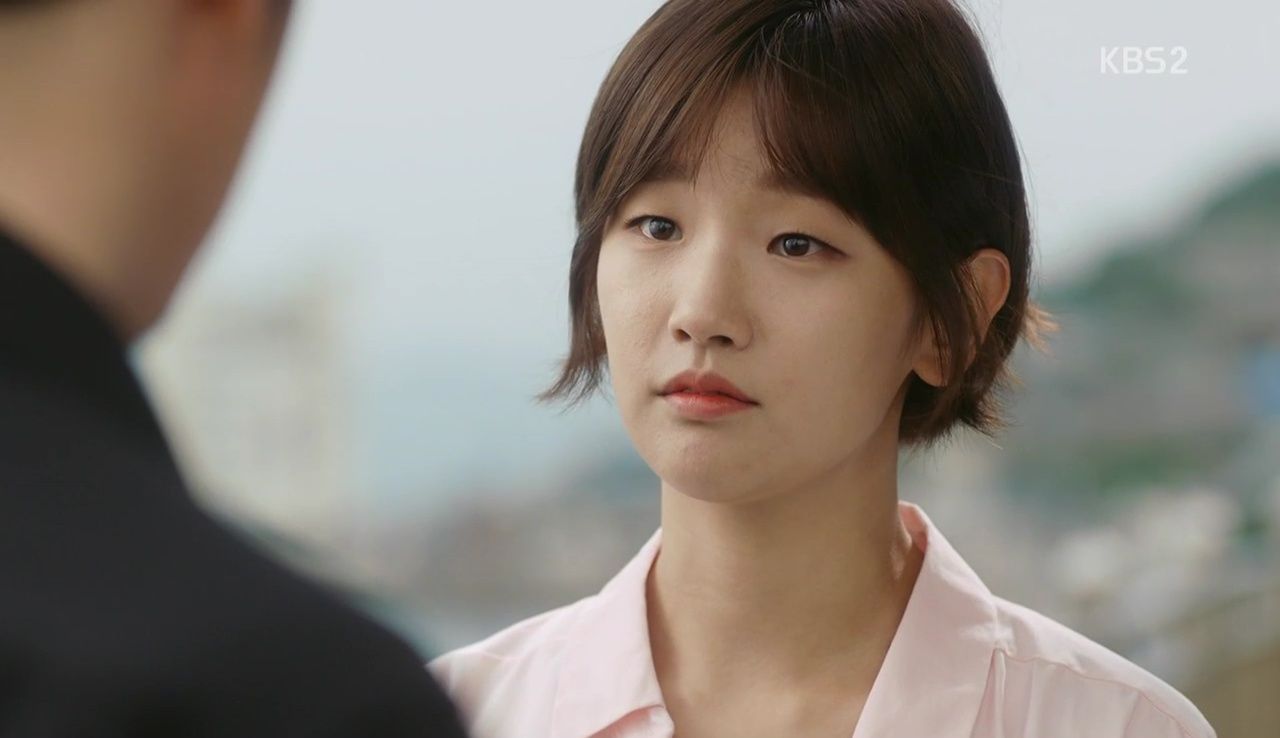 Young-oh looks at her curiously as she brings out the brochure of the electronic wheelchair. She explains that this is the reason Granny was bad-tempered all the time and worked so hard to earn money. Granny's daughter-in-law wasn't a burden to be thrown away but her hope for the future. Jin-sung asks Young-oh if he never had a moment when he desperately needed someone, even when he knew they would be of no help to him.
Her words spark something in him and he goes back to the village hospital again. A new doctor is examining the daughter-in-law now and prepares to transfer her to a bigger hospital. The doctor tells Young-oh that she's likely suffering from a cerebral hemorrhage and needs immediate surgery. Young-oh disagrees.
He says that what the daughter-in-law needs more than surgery are immunosuppressants. The new doctor is less than pleased to have a random person challenging his diagnosis and says that all her symptoms, triggered by the fall into the sea, indicate that she had a stroke.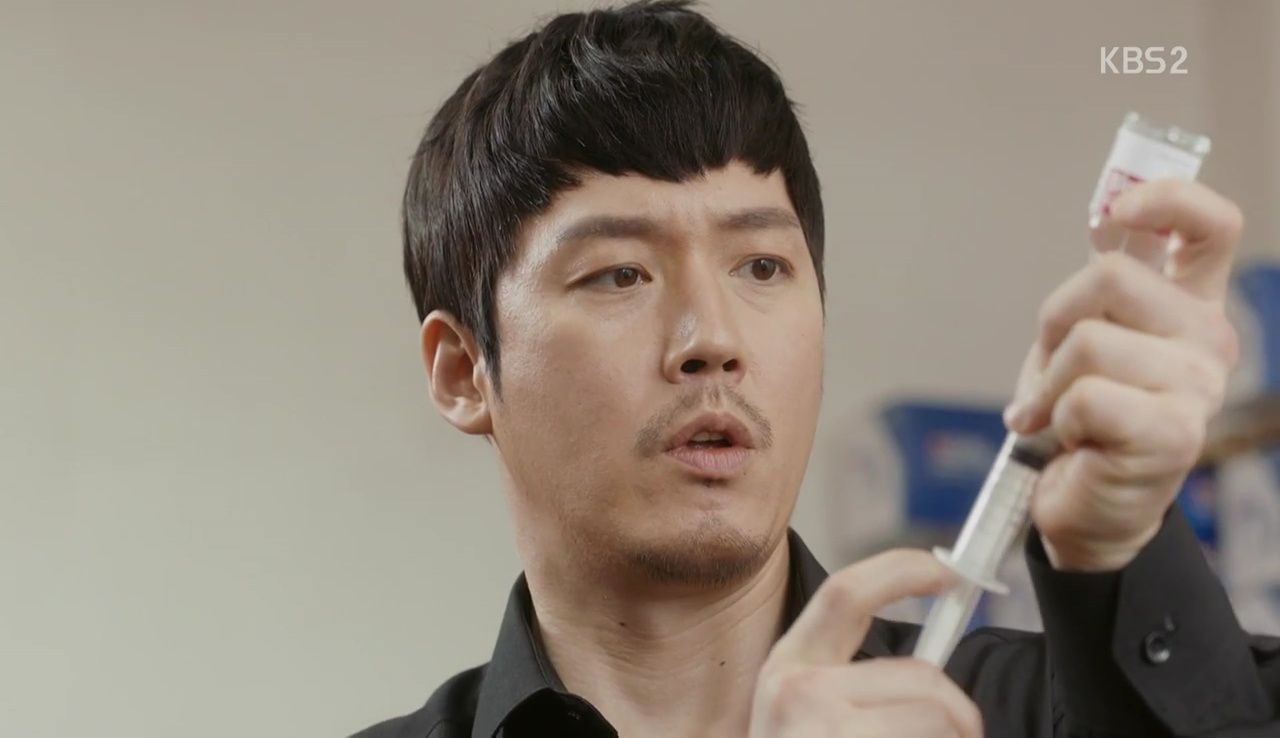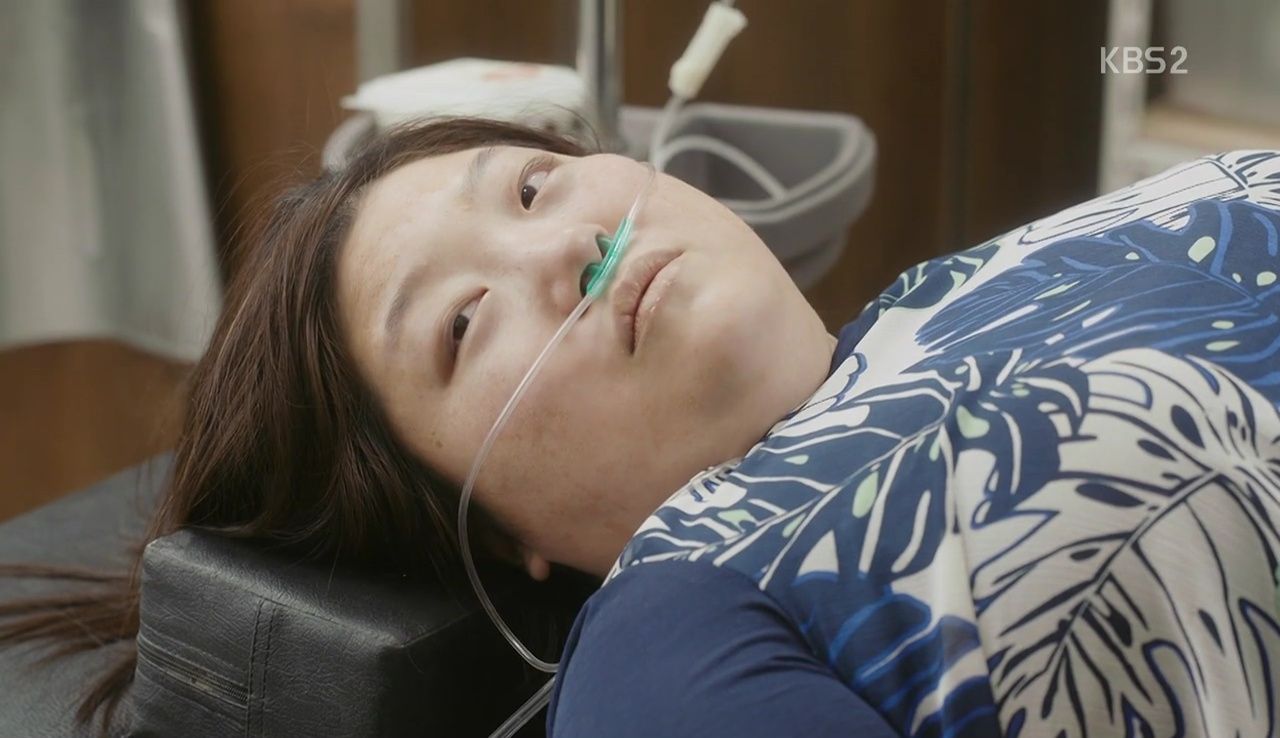 Young-oh counters that because she fell into the sea, he knows this isn't a stroke or a cerebral hemorrhage. He reveals her bleeding, scraped toes to prove that the woman had painfully pulled herself forward and jumped into the sea.
It makes no sense to the doctor and the resident. They ask why she would do that, and Young-oh tells them that she often had hot flashes and was hallucinating that she was on fire. She jumped into the water to survive.
The new doctor scoffs that there's no way he could know that when the patient can't even talk. Young-oh tells him that this wasn't a medical diagnosis but a reading of the patient's mind. For the first time, he read the patient by seeing her as a human being.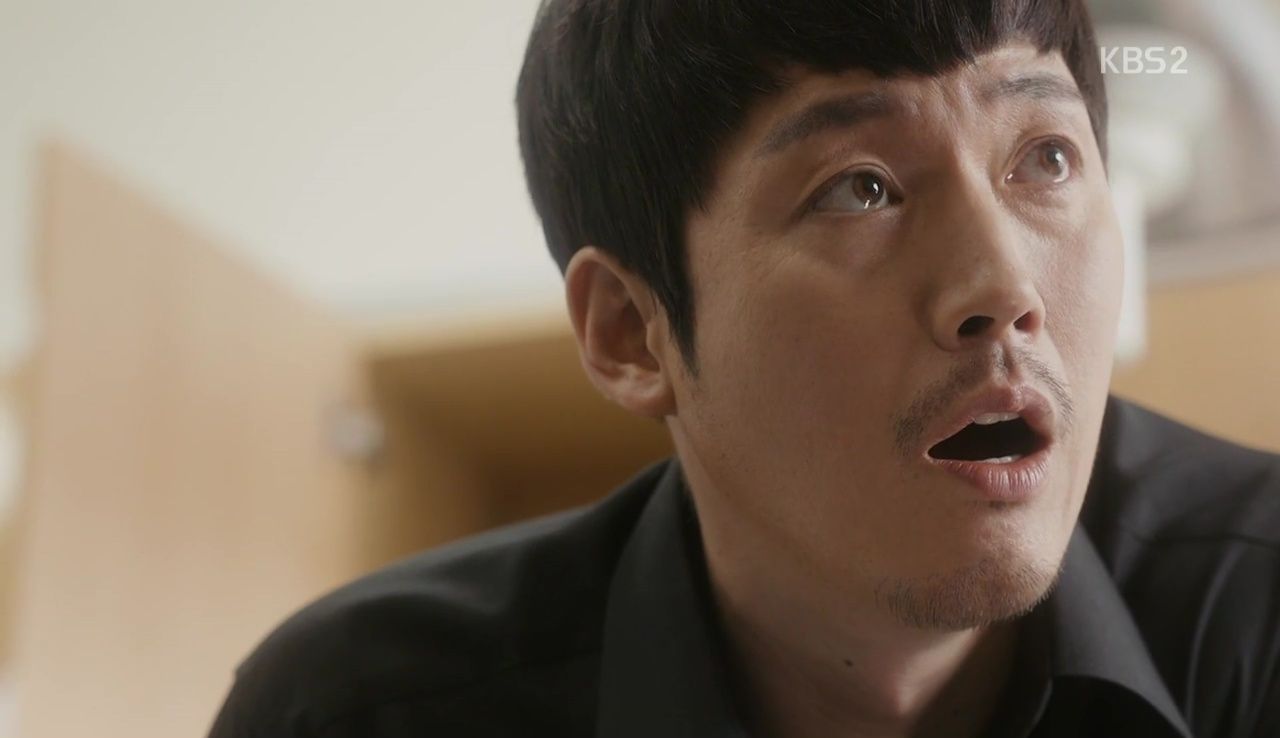 Young-oh diagnoses her with autoimmune encephalitis accompanied by Hashimoto's disease. But the new doctor isn't convinced. He insists that she has to be sent to the bigger hospital for surgery. Young-oh asks the resident where the immunosuppressants are kept.
The new doctor threatens to send the resident to military camp if he complies, but Jin-sung flashes her police ID, quotes a medical emergency law, and declares that no one should stop Young-oh. He finds the immunosuppressants, and even as the new doctor tries to hold him back, Young-oh injects it into the patient. Within moments her convulsions subside and the first thing she asks for is her mother-in-law. With relief and satisfaction, Young-oh says that he was right.
Jin-sung's mother tells Granny about her daughter-in-law's recovery and the old woman admits she was scared that her daughter-in-law jumped in the water to escape living with someone as ill-tempered as her. She had turned herself in to the police, hoping that the state would be able to give her daughter-in-law better medical care than she could.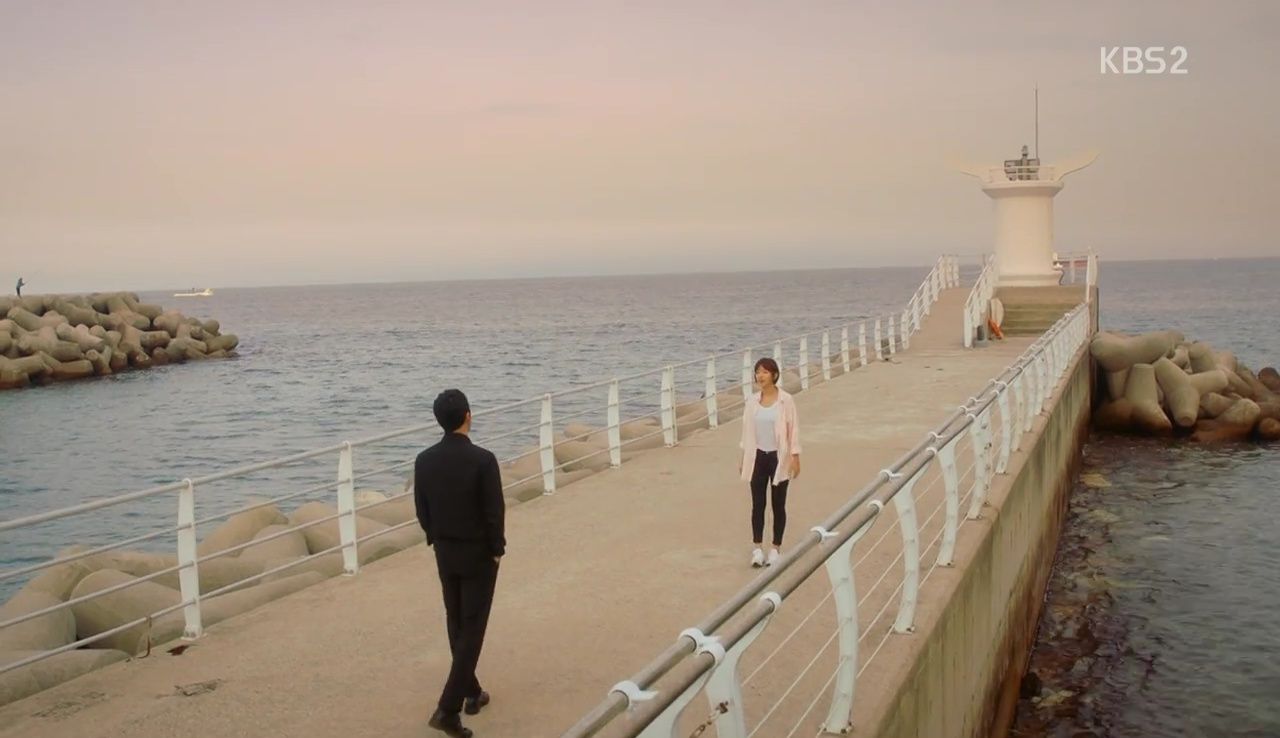 As Granny meets her daughter-in-law in the hospital and shares a sweetly emotional moment with her, Young-oh and Jin-sung walk by the sea again. Jin-sung declares that she won the bet. She tells him that just like her, he must have believed in Granny's sincerity for his diagnosis to be accurate. But Young-oh says that in his world, pollutants like emotions and sincerity don't exist. The world is a perfectly logical place, and that's why he still loves medicine.
Jin-sung smiles and says, "Still?" Young-oh reminds her that she had asked if he ever needed someone desperately even if they wouldn't be of help. He admits that he did. Looking at her, he adds that it wasn't as bad as he had expected.
The resident from the hospital comes running to say that the patient wants to see him. Looking very much like a star-struck fan, the resident asks, "You're a real doctor, right?"
"I'm Lee Young-oh," he says slowly. He looks back at Jin-sung and adds more firmly, "I'm a doctor. Dr. Lee Young-oh." Jin-sung grins.

COMMENTS
Young-oh made a really big mistake last episode, and I'm very, very glad that instead of brushing it aside or turning this into yet another case where Young-oh was right after all, they allowed him to step back and learn from it. Just like the glioblastoma patient, Young-oh faced yet another situation where surface emotions and behavior hid a well of deep feelings that he had never been taught to read.
When Dr. Lee dismissed him from the hospital on ethical grounds, I couldn't see anything wrong with the decision. What Young-oh had done flew in the face of his own analytical, law-abiding character. It was clear he was under tremendous pressure to prove his worth to himself as well as the hospital, which thought he was less of a doctor because of his disorder. In short, he had acted emotionally. So, I particularly looked forward to this episode, hoping that they would carry that thread forward and introduce Young-oh to his own feelings. Fortunately, they seem to be heading in that direction with the story now.
I was really glad to see that Suk-joo had a stronger presence in the story in this episode. Without Young-oh present to grab everyone's attention, Suk-joo's silent battle with his conscience and his genuine concern for his colleagues and patients came to the forefront. I really like that his conundrum doesn't have an easy answer. Does he silence the voices of Dr. Kim and every patient who fails to get an organ in time, or does he ignore the flaws in research that might someday help save countless lives?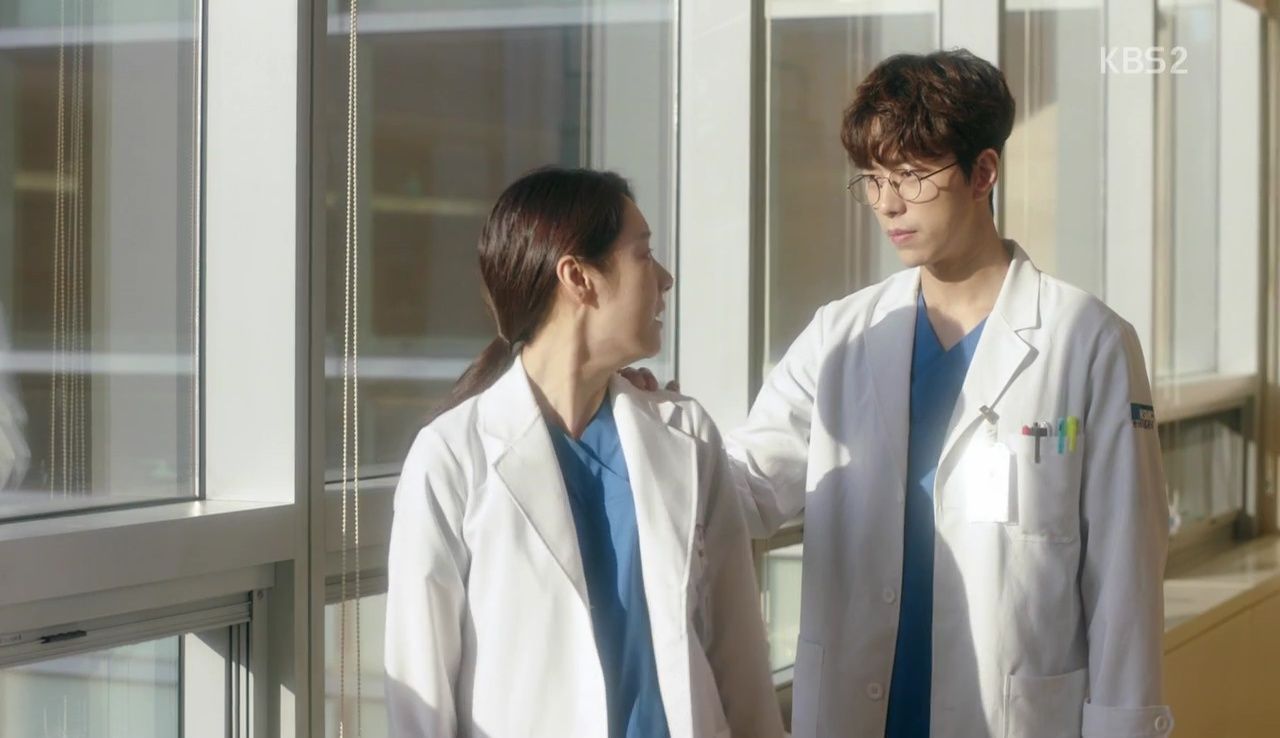 It hit me like a punch to the gut to realize that Min-jae knew exactly how that last patient would affect Young-oh, coming so soon after her own confrontation with him. Her words had stripped him bare, and it's almost scary how carefully she must have watched him to know how to hurt him this well. I have a lot of sympathy for Min-jae, both for the betrayal she felt when she realized that Young-oh didn't love her and was only using her to seem normal, and also for the long-held bitterness that she had nursed for over five years. That kind of hatred does terrible harm to the heart that holds it in. It also doesn't allow pure objectivity in researching a subject. She has demonized and dehumanized Young-oh in her mind to forgive herself for betraying him as she did. To Min-jae, Young-oh can never come back from the point where he lost all his confidence because he isn't human enough to change.
Thankfully, Jin-sung doesn't know any better. She helps Young-oh because she can, blanketing him with her concern, her insight, and the gift of a reprieve. I am ridiculously happy that I can like Jin-sung again. This was the side of her that I had instantly taken to in the first episode, the Jin-sung who heedlessly jumps into the sea to save a neighbor and turns herself in for speeding after chasing down another speeding vehicle while on duty. That Jin-sung knows and rattles off laws and butts into situations that are beyond her scope. It makes her human and underlines her youth and idealism. But the thing that I appreciate most about this Jin-sung, when she's in any scene with Young-oh, is how she never loses her cool. This makes me think that she's particularly well suited to someone as mercurial as him. When Young-oh becomes prone to high drama and cynicism, she cuts through it with her perceptiveness.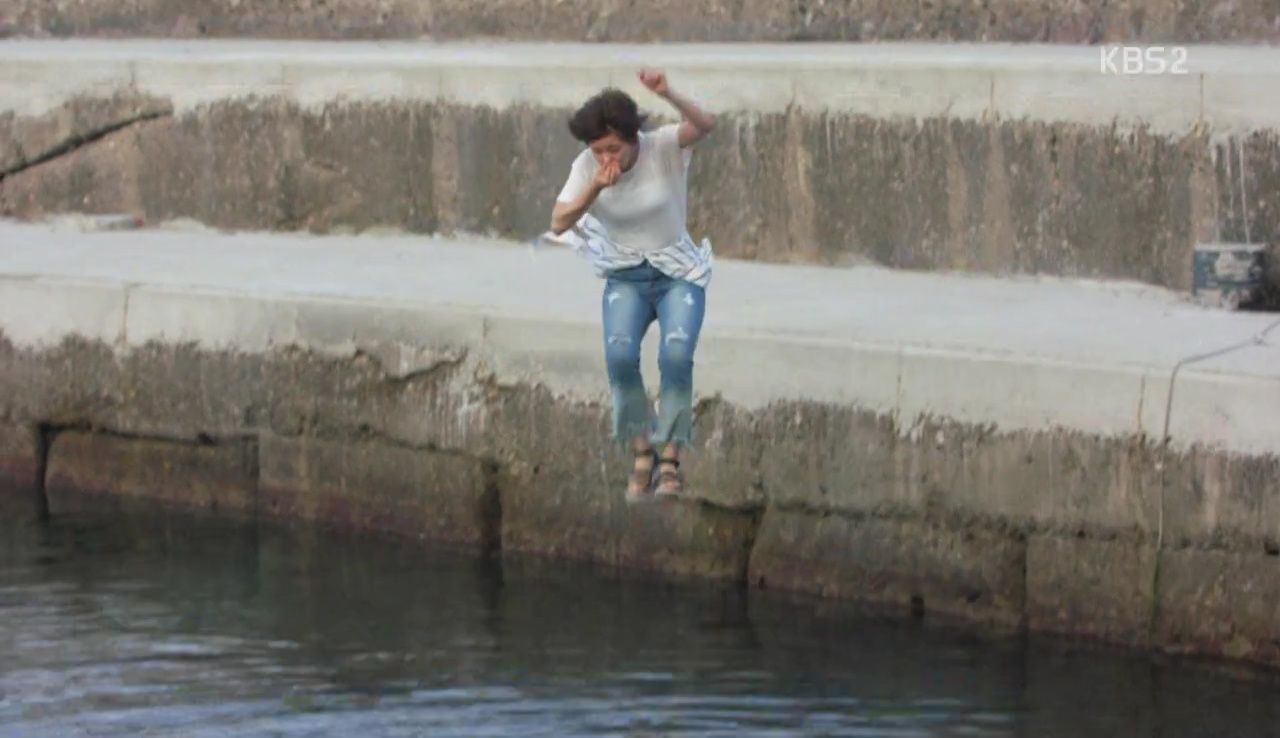 RELATED POSTS
Tags: Beautiful Mind, Episode 7, featured, Jang Hyuk, Park Se-young, Park So-dam, Yoon Hyun-min