Beautiful Mind: Episode 8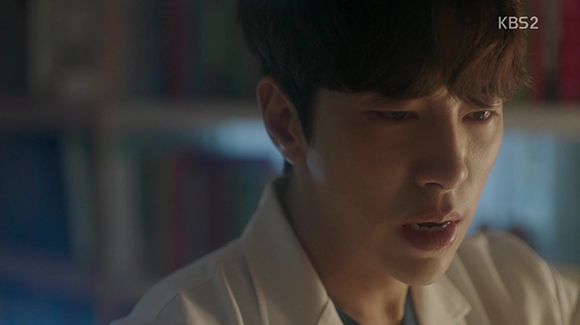 Things really get cooking this episode as the stakes rise and the good guys go on the offensive, nabbing up the opportunities presented to them. Some face hard decisions, and others face hard truths, but slowly everyone begins putting something on the line. Unfortunately, not everyone is prepared to lose much more than they ever bargained for.

EPISODE 8 RECAP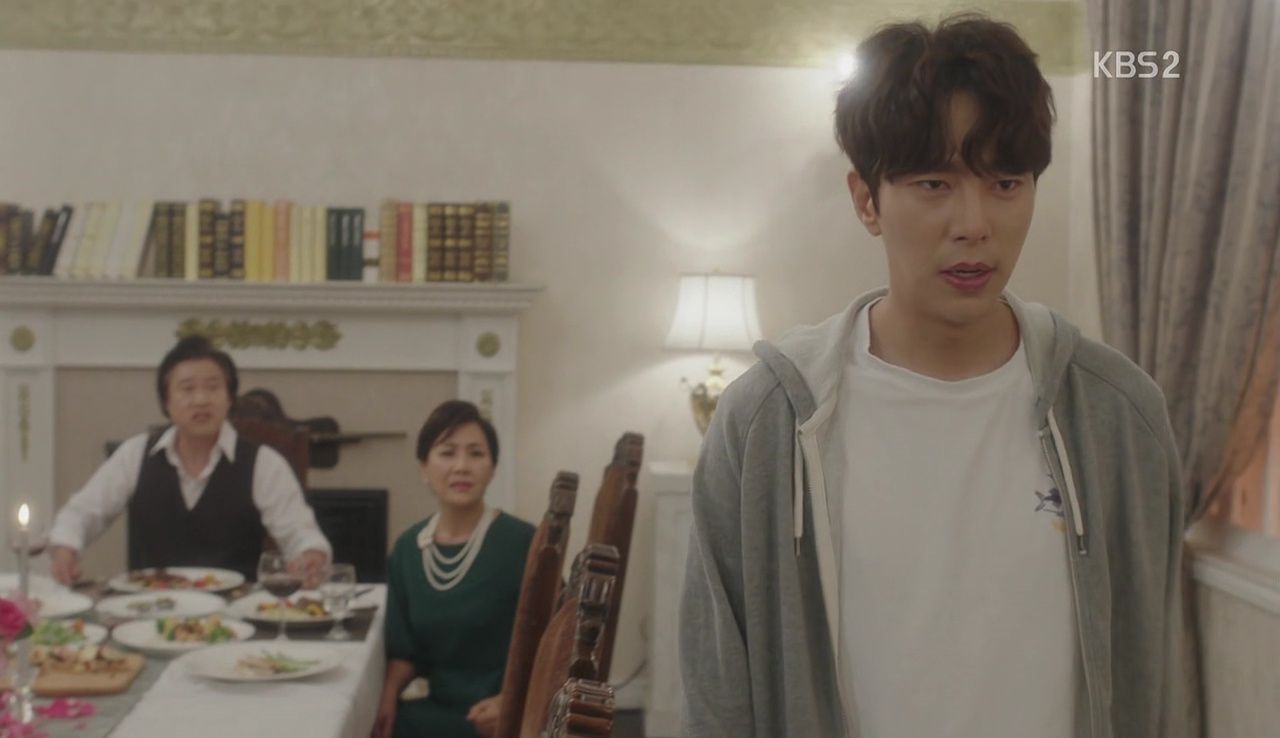 Today we start in Suk-joo's past as he plays a rousing game of basketball with a friend. They banter lightly, when suddenly his friend crumples over and his eyes roll back in pain.
We cut to Suk-joo storming into his parent's dining room, demanding that his father compensate his friend for the poor conditions in the factory where his friend works. In an effort to minimize production cost they used methanol instead of ethanol, which caused his friend to lose his eyesight and collapse. His father dismisses his son's accusation, stating that he has done nothing wrong. In fact, if his son's friend were to take his condition to the media, his father will not hesitate to file a lawsuit against him, citing his negligence.
Disgusted by his father's behavior, Suk-joo declares that he will never eat at his parent's their table again. His father reminds him that everything he's accomplished in life is a result of his privilege, and though he may not like it, he will use that power as he wants, just like him.
Suk-joo disagrees and vows to live his life more righteously than his family at all costs.
In the present, Chairman Kang of Hyunsung Group is rushed into the operating room after fainting without warning. Director Kang rushes over to be by his father's side.
Elsewhere, Young-oh picks up a fallen towel and hands it back to an attractive young woman on the treadmill next to his. He asks her how long she's been a member of the gym. She smiles coquettishly and proposes a bet: if he wins he gets to treat her to a meal, and if he loses, she'll answer him.
Instead of engaging, Young-oh just walks away, uninterested. When she confronts him for leaving her hanging, he merely states that he already finished his workout and doesn't want to waste any calories on her.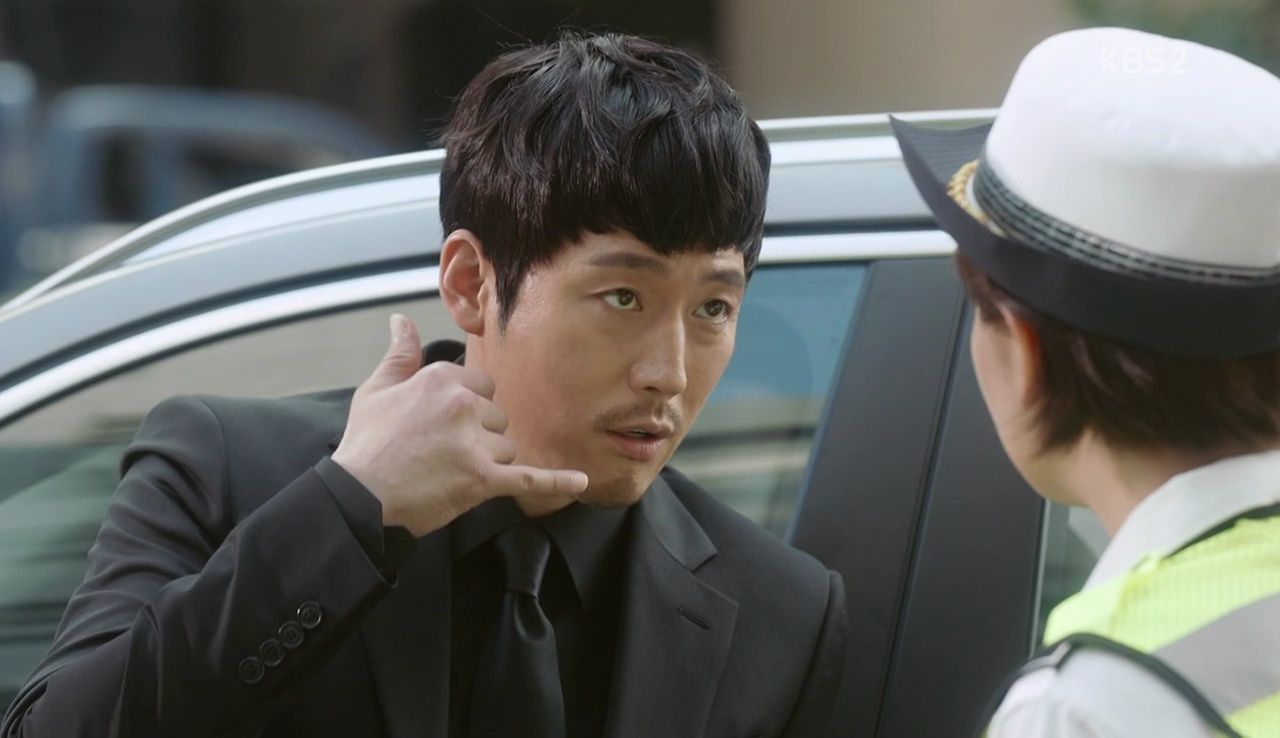 Evidently, he's saving up his calories for someone else. He later makes a conspicuously illegal turn onto a one-way road. Jin-sung, who is on traffic duty, chases him down. He slides out of the driver's seat with a somewhat impish expression when she knocks on his window.
She blinks, surprised to see him, thinking how strange his behavior is. He says that she couldn't possibly think that he purposely violated the traffic rules in her precinct expressly to see her, huh? She flatly refutes him and says that actually, she thought he'd be doing everything he could to get back to Hyunsung.
He denies it and tells her he won't do something as petty as making an effort to go back to Hyunsung. Next time, if she is ever curious about him, instead of making wrong assumptions, she should call him. That's exactly what she does once he gets back into the car, and from the window, he asks if she's eaten.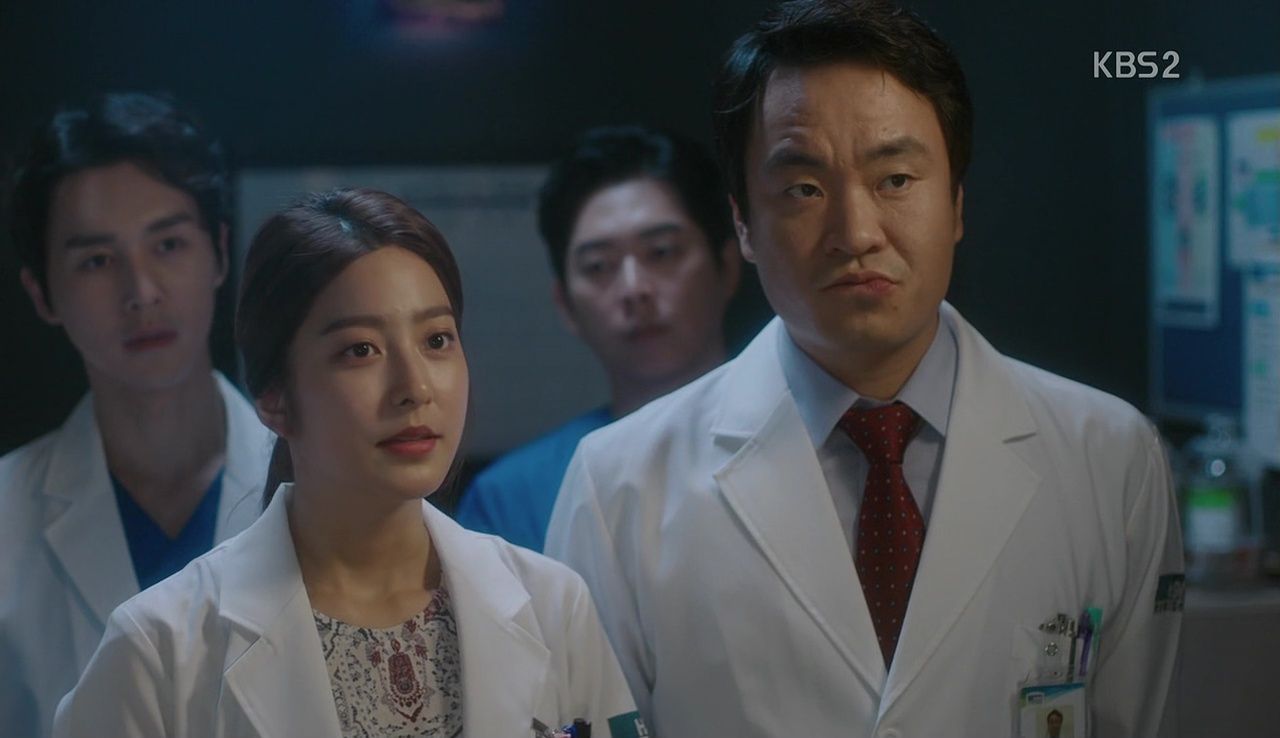 Back at Hyunsung, Assistant Manager Chae confers with a group of Hyunsung doctors to identify the elusive cause of Chairman Kang's sudden condition. His symptoms include paralysis of the limbs and loss of consciousness.
Min-jae starts to offer her two cents, but is immediately cut off by her boss, the professor that previously insulted her, DR. YOO JANG-BAE, who offers his own diagnosis. He believes the paralysis will be temporary and is a product of the chairman's pre-existing conditions: high blood pressure and diabetes. This is what is known as a TIA or a "transient ischemic attack." He proposes that the chairman will be fine after they administer medication to treat those conditions.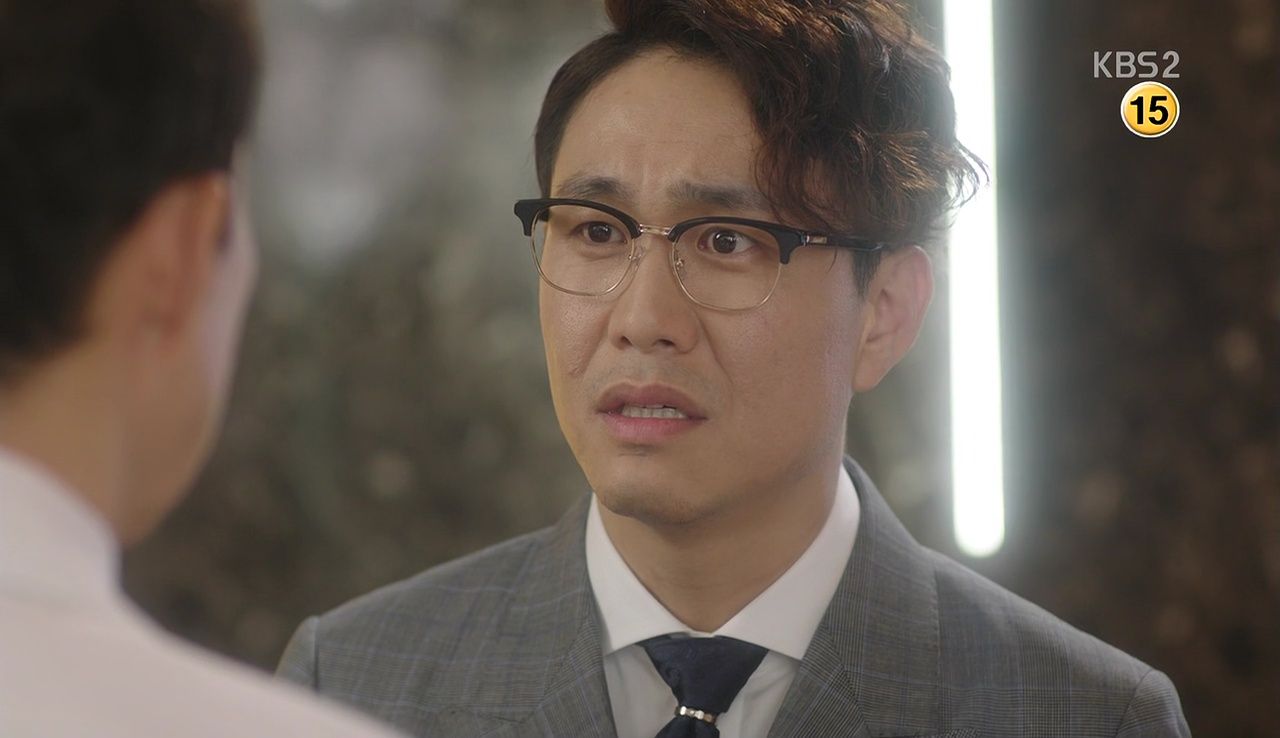 Assistant Manager Chae relays the advice to a distraught Director Kang. He assures Director Kang that his father will be up and yelling at him again in no time.
Director Kang chuckles at the joke, his laugh becoming increasingly maniacal. He jeers at how nice it is that Assistant Manager Chae can joke at a time like this. In essence, if his father doesn't wake up and declare Director Kang the heir to Hyunsung Hospital, then all the work they've done on their regenerative cell research will be for naught.
Ominously, he adds that he's really worried about Assistant Manager Chae, because if this plan doesn't happen, then he winds up being nothing but a homicidal murderer.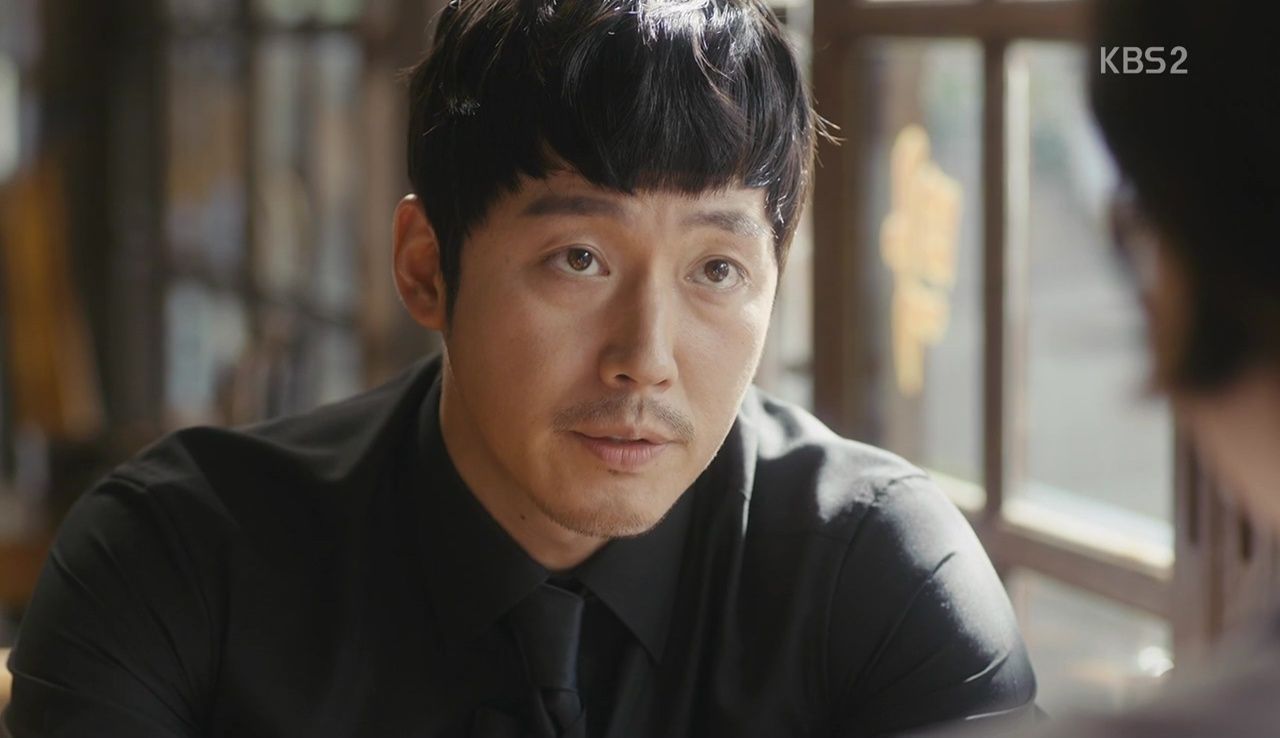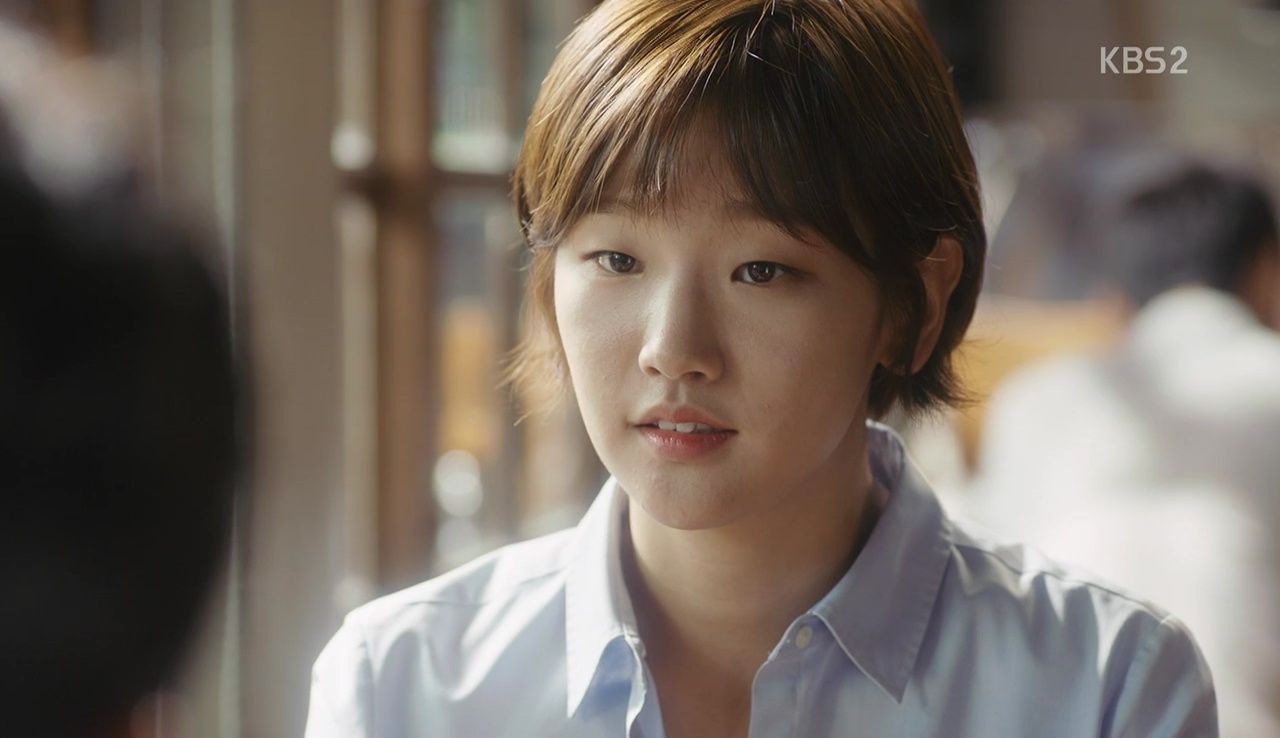 While Jin-sung and Young-oh wait for their food, all Jin-sung can talk about is the unknown culprit in the motorcyclist's murder. Not letting on what he knows, Young-oh levels with her and asks if she thinks a low-ranking traffic officer is going to win against a large and powerful institution like Hyunsung, who will do anything to keep this incident hidden. Remembering everything he has lost trying to do the same thing, he recommends she cut her losses and give up.
With her pure ideals tempered by experience but not extinguished, she solemnly explains that Chief Director Shin promised to have a drink with her after the truth is uncovered. She swallows hard and says she really wants a proper drink. But if she doesn't figure out the truth of Chief Director Shin's death, then she'll never be able to enjoy soju again.
Young-oh argues that the world isn't interested in the truth. She smiles mildly and says she's going to give the world another chance. She then uncaps the soju and puts the cap down on the table in front of him. He flashes back to Jin-sung's soju cap ring he kept in his possession, but says nothing.
Having made up his mind, Young-oh asks Jin-sung if she wants to make a bet. He holds up a flash drive, explaining that it contains everything she needs to know about Chief Director Shin's death. Now that she has evidence, the bet, he explains, is to see if it's enough to bring justice.
He pulls the flash drive back right as she reaches for it and adds that there's no way she can decipher all the medical jargon, so she'll need a medical expert to help her. But it can't be anyone, because she may need to call them everyday and meet up with them frequently. She doesn't seem to catch his drift and grumbles when he playfully (in his subdued way) continues to evade her grasp.
She grins and tells him again how amazed she is that he doesn't want to go back to Hyunsung. He corrects her—he never said he wouldn't go back, he just said that there is no reason for him to beg for his job back. He answers in his usual knowing way that Hyunsung will definitely call him, but then glances up at her, and for a second looks unsure.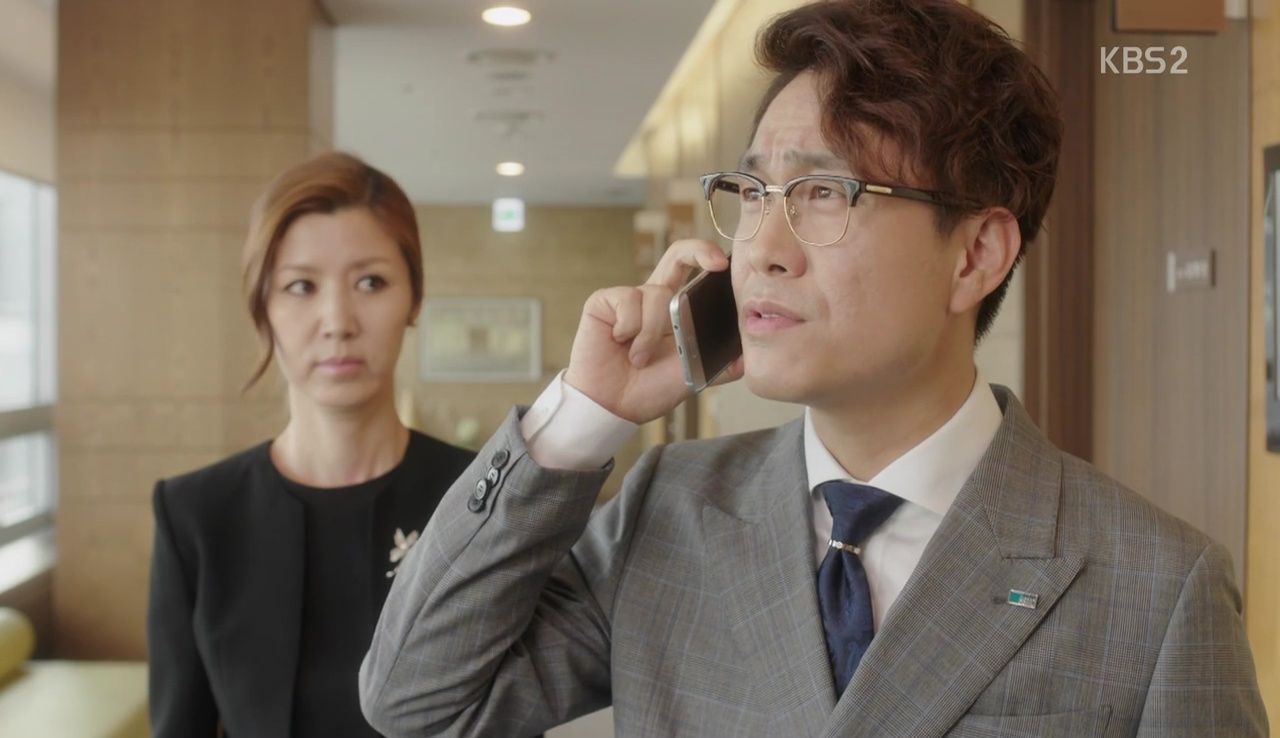 Meanwhile, Chairman Kang's treatment is not going well under Dr. Yoo's guidance. Min-jae hisses that the chairman needs to be tested again, and it isn't too late for Dr. Yoo to admit his mistake. She says the Chairman's hormone levels are high, which likely means he has a tumor somewhere. She threatens to tell Assistant Manager Chae if Dr. Yoo continues to ignore her advice, which sets him off and he asks if she trying to jump rank and become the chairman's physician now. Alarms wail as another physician tells Dr. Yoo that the chairman is experiencing insulin shock.
On the phone, Director Kang tries to reassure his older brother that they are doing everything they can to take care of their father. In response, his brother screams at him unintelligibly through the phone, and Director Kang's attitude swiftly shifts:
"Isn't it you who wants that old man's life to end? All because you want to become the owner of Hyunsung. Isn't it great to not have to appease that filthy temper? Listen carefully, the person that wants him alive most is me. Why? So that I can take Hyunsung for myself, but I need time."
His concerned assistant calls out to him , but Director Kang shrugs and tells her his brother actually hung up a while ago.
Min-jae seeks out Suk-joo for advice regarding Chairman Kang's treatment, but he's a little stunned to be asked since there are probably a dozen other doctors already on the case. Min-jae pointedly asks if Director Kang's treatment should only be a matter of interest to social climbers like her, and he looks back at her, embarrassed.
"You seem like such a good person to everyone," she notes. "But in my eyes, why do you look like you're struggling all the time, like me? Being ignored, discriminated against, excluded… I'm struggling against those things. But what are you—…" Before she can finish, Suk-joo brings her back to the task at hand, and she asks him to help treat the chairman.
Assistant Manager Chae lambasts a penitent Dr. Yoo in front of a room full of the hospital's doctors. Assistant Manager Chae shouts at the rest of the doctors in the room and asks what they are doing. Dr. Hwang speaks up and explains that given the unreliable test results and the high stakes at hand, it's almost impossible to give the right diagnosis. Seeing an opportunity, Min-jae pipes up, offering lung cancer as a likely cause. Moreover, the tumor could be hidden under the lung nodules, which would explain why it didn't appear on the CT scan.
Assistant Manager Chae wants to know what happens if those tumors wind up being benign—are they going to put an eighty-year-old man through a major surgery for nothing? Suk-joo enters and says he will perform the surgery without opening the thorax to minimize the risks. It will still be dangerous, but right now it's their best option. Assistant Manager Chae is hesitant about the procedure, but in agreement. He green-lights the surgery.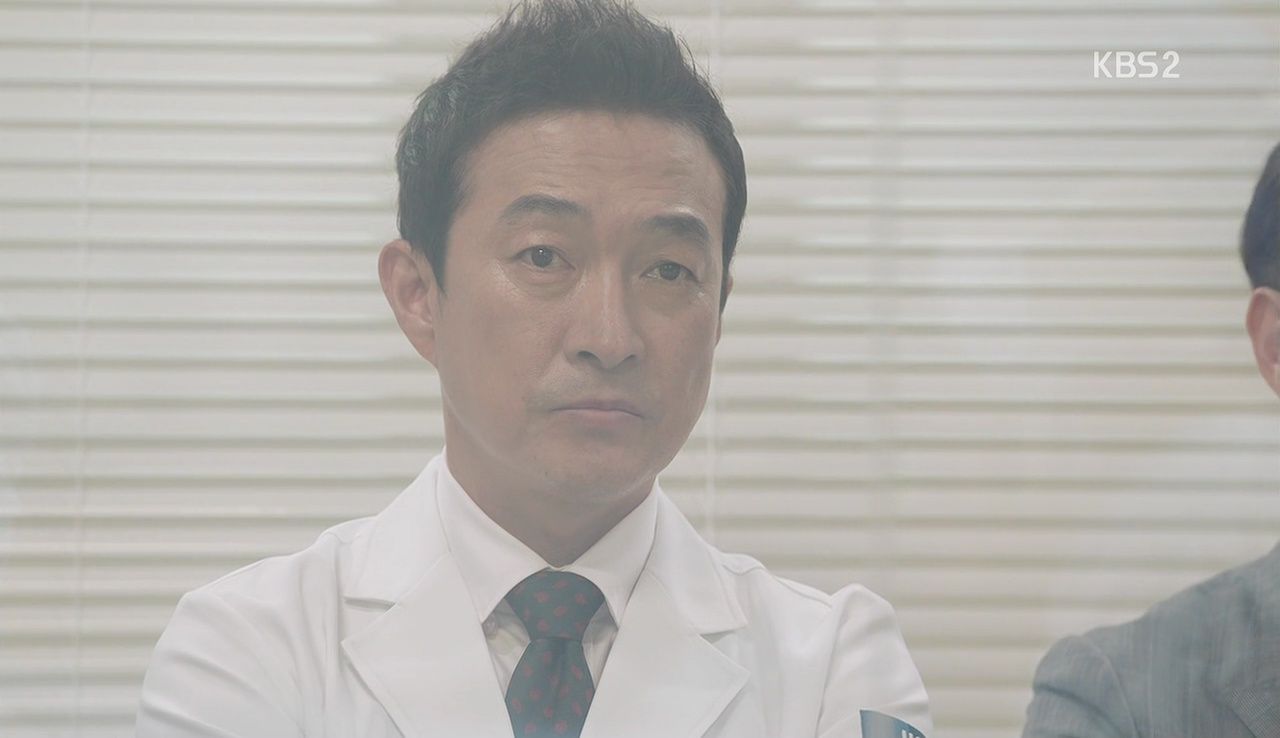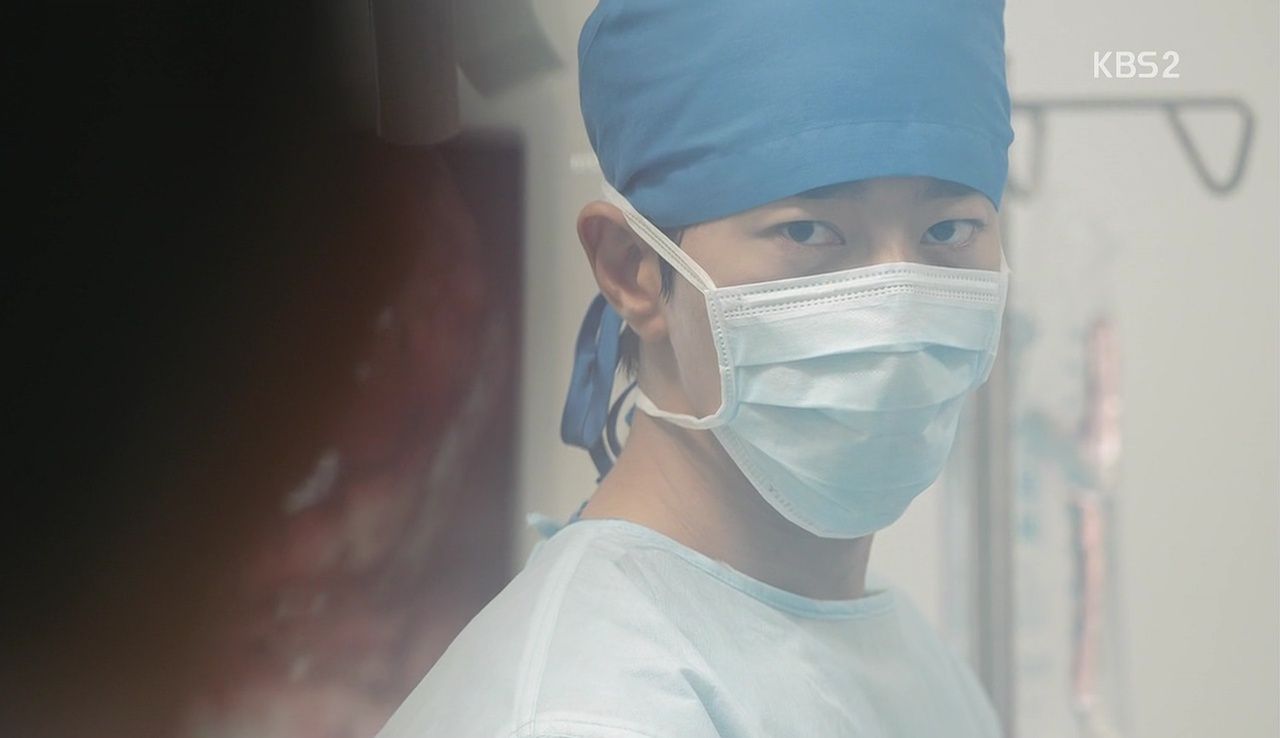 Suk-joo's less invasive method involves video guidance, and Dr. Lee comments on how difficult this procedure is. Director Kang prays for positive results, while Assistant Manager Chae watches on tensely.
Assistant Manager Chae recalls an earlier exchange with Suk-joo, where he expressed his surprise that Suk-joo stepped up to participate in the chairman's treatment. Suk-joo had merely asked, "Why do you think that is?" Suk-joo had also added that the patient's life was the most important thing to him. In the surgery, Suk-joo and Assistant Manager Chae exchange loaded glances.
But after one close call, the tumor is successfully removed.
In a luxury menswear store, Young-oh meets with a tailor who brags about all the well-off sons that shop at this store. He advertises his custom suits that fit the wearer perfectly. But Young-oh isn't interested in a custom suit—he wants to buy the fame of the rich and famous men who come here regularly.
Assistant Manager Chae congratulates Suk-joo on the successful surgery. He says everything from the diagnosis to the surgery was perfect. Suk-joo looks at him blank-faced and rephrases for him: the removal of the tumor was successful, that's it.
Director Kang visits his now conscious father, who, upon seeing his son demands to know when he can go home. Pleasant as always, his father cringes, wondering aloud how long Director Kang will take credit for saving his life. He wouldn't try and use his father's near-death experience as an opportunity to seize power, would he? His father warns him not to even dream about it, and Director Kang feigns innocence, averting his gaze.
When his father tries to move off the bed, suddenly he collapses and falls unconscious again.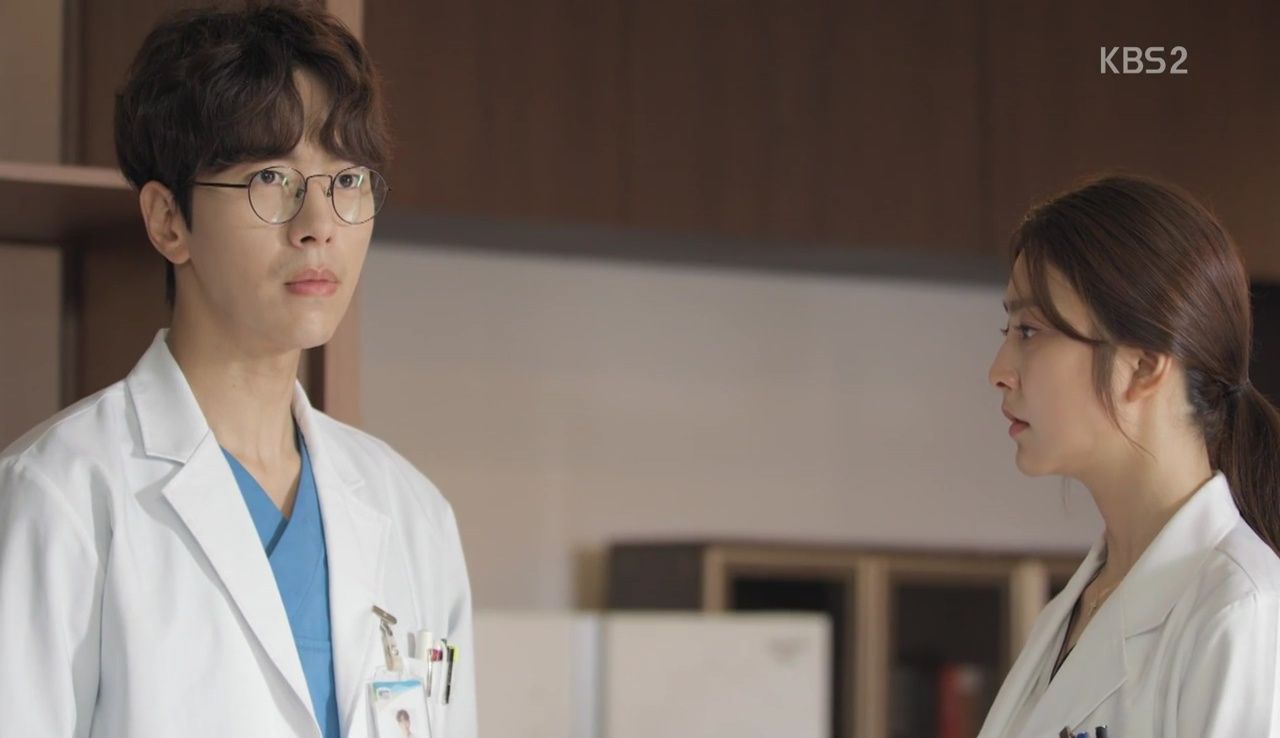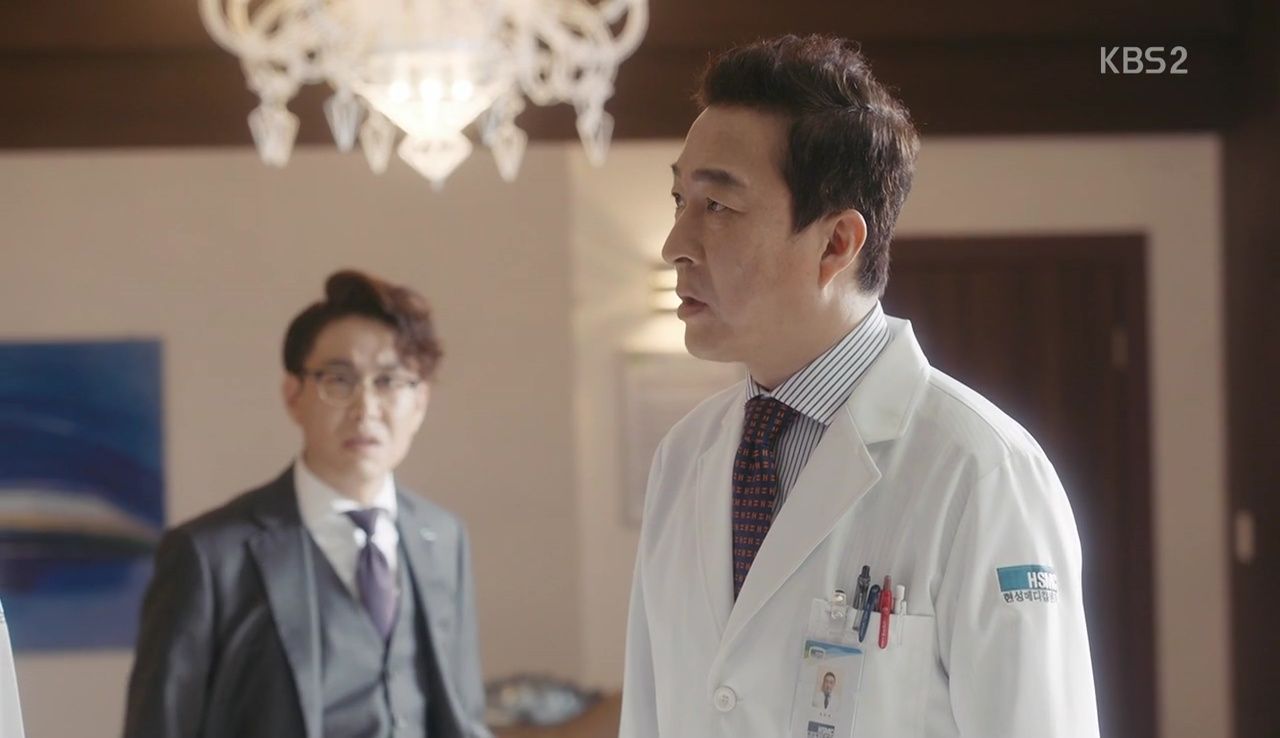 While Assistant Manager Chae and Director Kang panic, a composed Suk-joo explains that removing the tumor was only part of the problem—the chairman is far from healed. Seemingly out of nowhere, Suk-joo recommends asking Young-oh for his help. He fully believes Young-oh will approach this problem in a way no one else has come up with thus far. Since they are out of ideas, he claims that they need him.
No one is impressed with the suggestion. Director Kang in particular scoffs at the idea of letting a psychopath treat his esteemed father. He then freaks out as the Chairman's blood pressure beeps out of control. Left with no other viable options, Director Kang is pushed into an unwanted decision.
It's time for Young-oh to make his comeback. A familiar figure walks down the hospital clad in an all-black suit.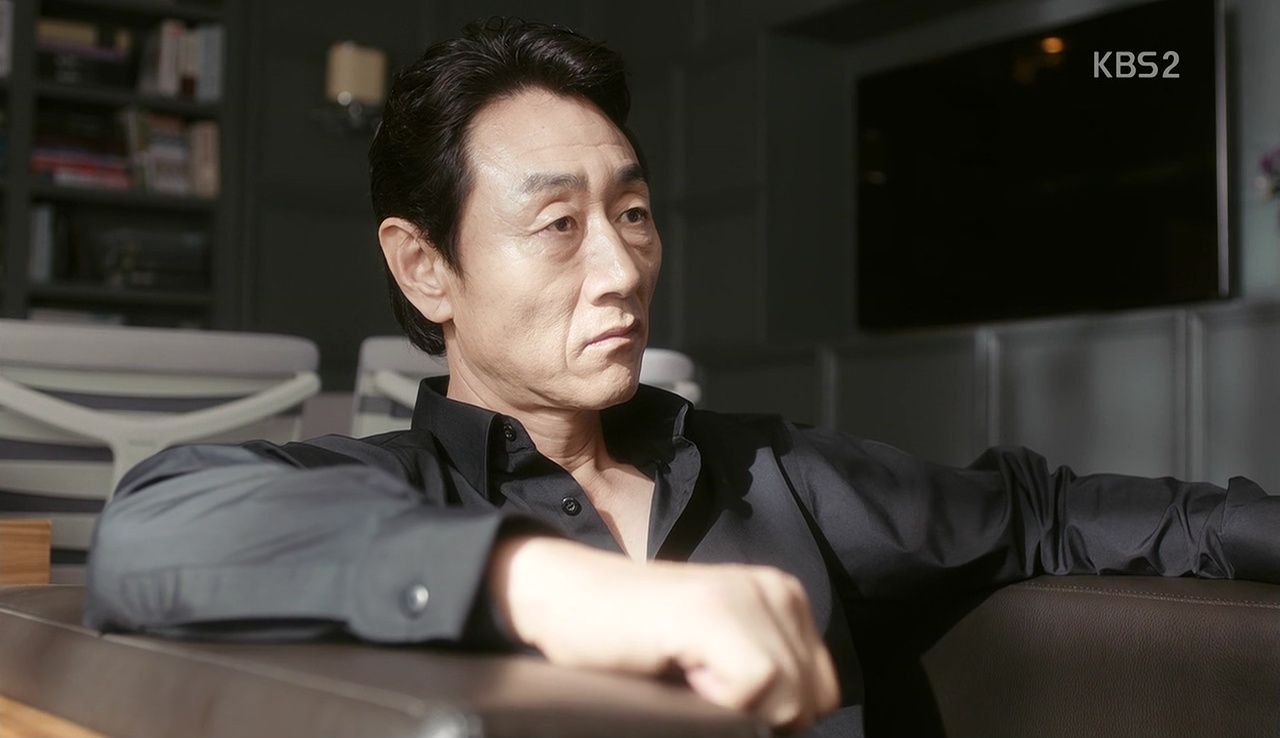 Dr. Lee sits in his office as his son makes his triumphant return. He remembers a peculiar exchange with Young-oh, in which the latter declared that he will return to Hyunsung even if his father opposes, because they "will need me."
Before meeting with the patient, Young-oh goes to have another face-off with Director Kang, the very man who betrayed him and forced him out of the hospital, and one that now needs his help. Right away, Director Kang asks what he wants. Young-oh corrects him—he requested to see Director Kang and his older brother, who is currently on his way to the hospital. Young-oh takes notice of a medical essay on Director Kang's desk entitled "Gender Trouble."
Director Kang's brother arrives, and Young-oh begins his discourse. Right out of the gate he identifies the two brothers as the cause of the chairman's declining health. Even now, they are killing their father. What he means is that there's a hereditary disease in their bloodline. He says their refusal to disclose this disease to the doctors, and consequently the public, is inhibiting their father's recovery. He prompts them to confess their illness now.
Both take a turn trying to get the other to disclose their symptoms first. Young-oh literally claps at them to hurry up, or their father is a goner. Tic tock. Tic tock. Do they want their father to die while protecting their secret in his hospital of all places?
Instead, the older brother abruptly announces he will take his father to the U.S. for treatment if Young-oh really doesn't know what to do. Surely the medical options are much more advanced there. Before leaving, he adds that if gossip regarding a hereditary disease gets out their stock will be in jeopardy.
Young-oh isn't done. He keeps working Director Kang, who would have much more to lose if their father dies. Young-oh points out that his brother is basically giving their father a death sentence because to him he's going to get everything anyway, so why should he confess to something damaging if it isn't going to change his situation? However, Director Kang is different. He could potentially lose everything.
Young-oh gives him five seconds to answer and begins to count down with his fingers.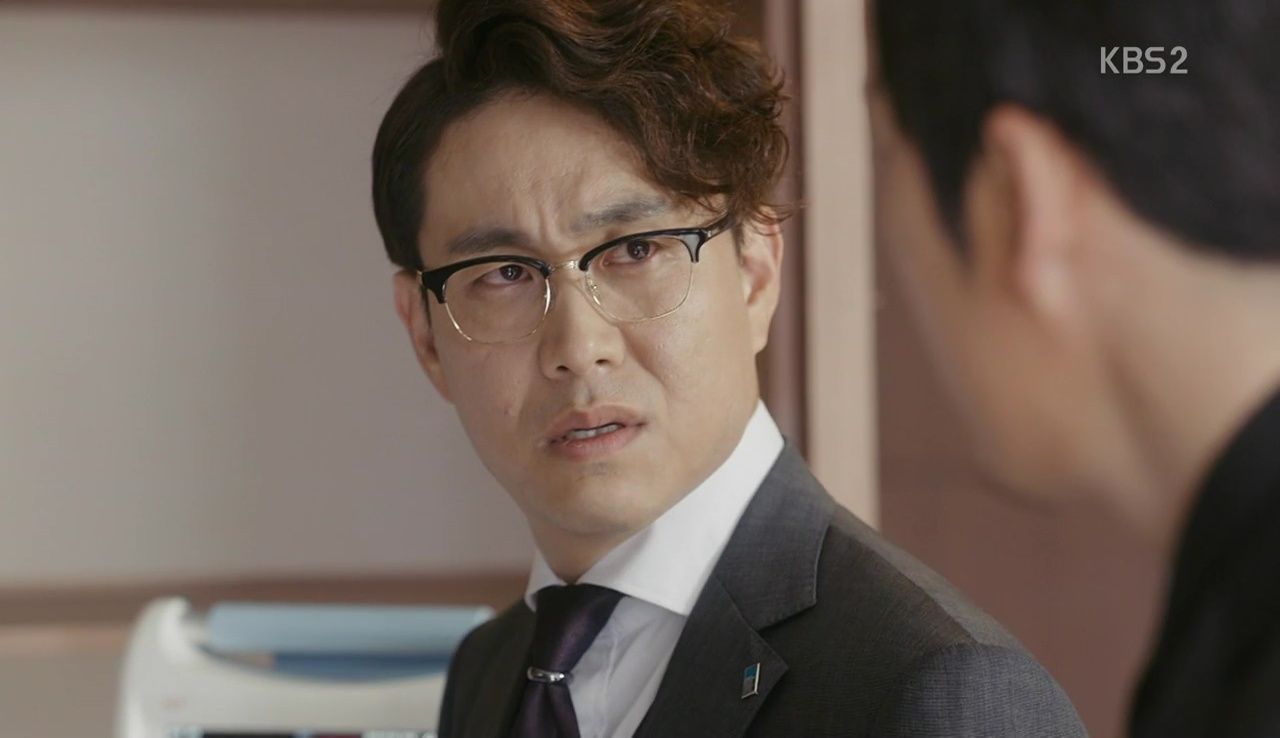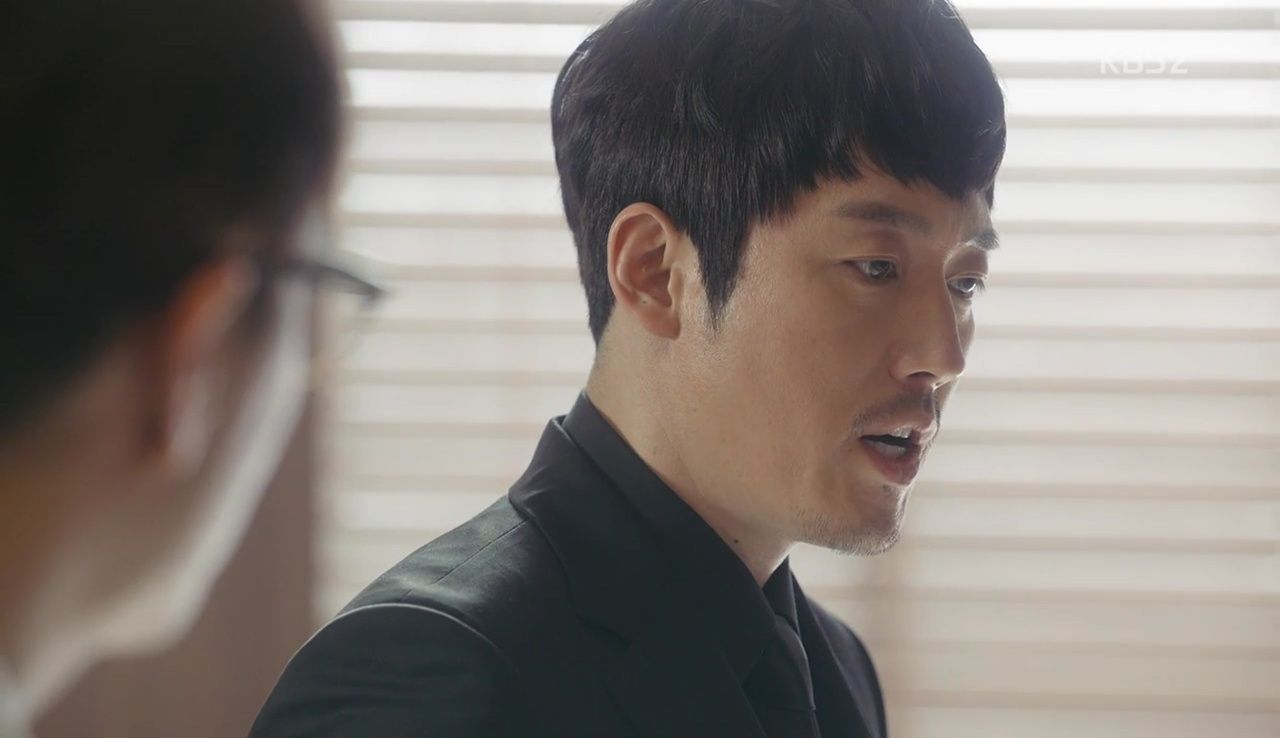 Director Kang refuses to play his game, but Young-oh says he already confirmed his answer by not looking at Young-oh's fingers. Shockingly, he states that Director Kang is turning into a woman. Initially, Director Kang denies his claims, but his eyes grow red as Young-oh explains that his father will die without knowing the truth of his condition. And Director Kang will become a woman and die as a woman.
Young-oh walks off after saying his piece and Director Kang caves, begging Young-oh to save him.
Young-oh asks for his original position back at the hospital, which Director Kang says will only happen if he saves his father. Young-oh smirks, "The fact that I decided to treat this patient means he'll live."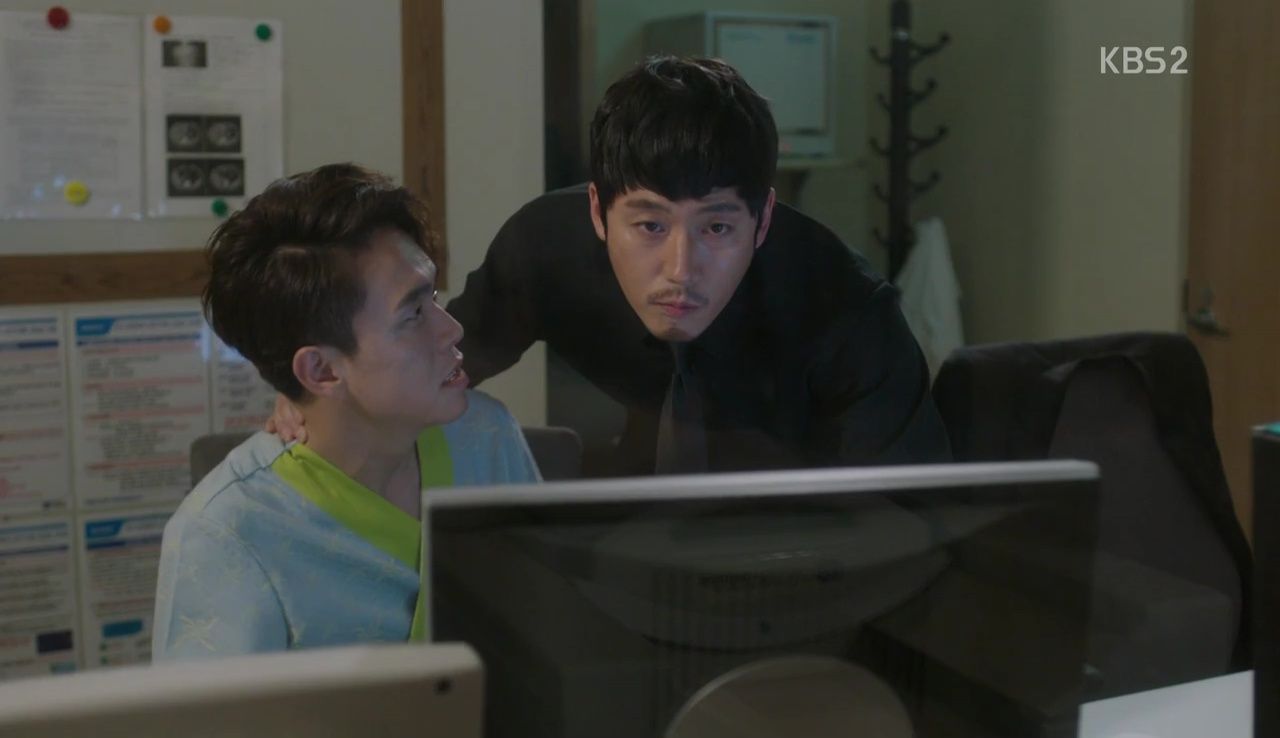 Young-oh begins running tests on Director Kang and diagnoses him with a hereditary genetic disorder called FIPA (Familial Isolated Pituitary Adenoma). Young-oh explains that the condition is very hard to detect. To that, Director Kang asks how Young-oh figured it out.
It seems Young-oh was hard at work during his time off, keenly aware of everything, and has been slowly trying to deconstruct Chairman Kang's medical mystery. First, he went to the gym Director Kang is a member of, and discovered that he never showers there. Second, from the tailor that makes Director Kang's custom suits, he saw that the measurements of his chest continually increased. And lastly, his diminishing peripheral vision, confirmed by the finger counting.
Young-oh offers to resolve both the Director and his father's pituitary gland problem. Relieved but overwhelmed, Director Kang inquires about what will happen to his older brother. Young-oh shrugs and says his brother doesn't have the condition. But knowing that, Young-oh used the older brother and Director Kang's ambition and bet on him coming clean, effectively playing him like a fiddle.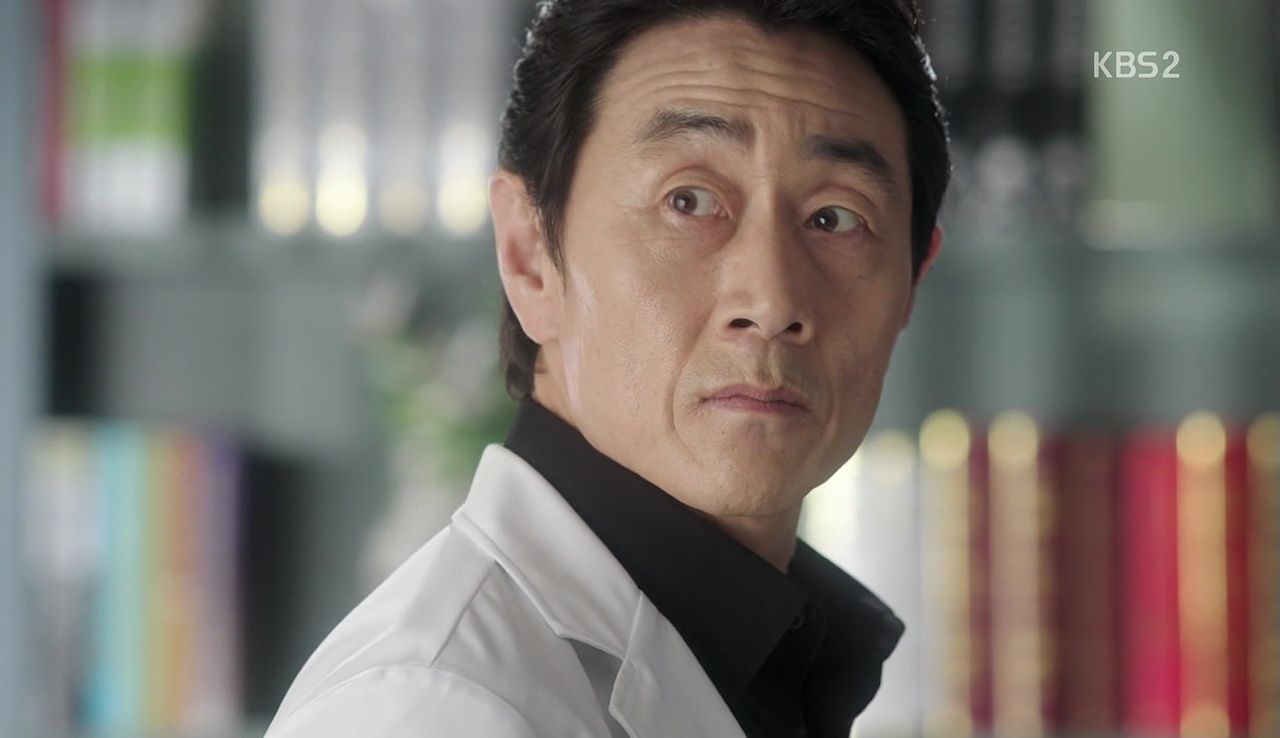 Director Kang is rightfully incensed, and asks how Young-oh could dare do such a thing to him. Young-oh coolly reminds the director that he's a psychopath—he will do anything and use anyone to get what he wants because he can't sympathize with other people's emotions.
Young-oh goes to Dr. Lee to ask him to do the surgery on Chairman Kang. His father reminds him that the Ethics Committee has not permitted him back at their hospital, but Young-oh explains that it's best for his father do it. This way it won't look like Dr. Lee is abusing his power and letting his son who was previously dismissed return, and it'll look instead like he did it solely in the interest of saving a patient.
He reminds his father that he told him he would return to Hyunsung even if his father opposed it.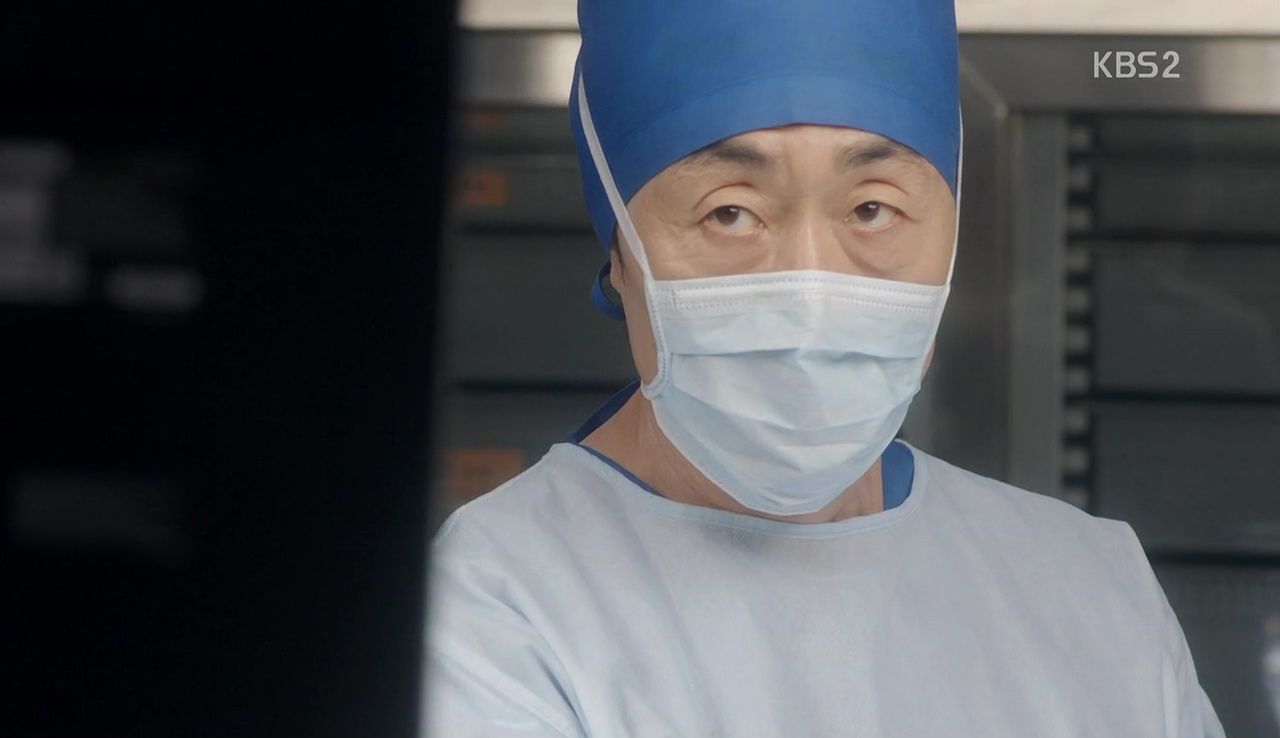 Surgery time. Dr. Lee performs the Chairman's surgery, while Young-oh simultaneously operates on Director Kang. Everything goes as planned with no complications.
Dr. Lee admits to his son after their surgeries that he was right about needing to do the procedure to save the patient's life, but he warns him if he ever uses a patient for personal gain again, he will not let it go.
Chairman Kang and his son have their post-surgery rest in side-by-side beds. The father is notably more subdued and says he has heard about their disease. Chairman Kang acknowledges that thanks to his son, he was able to be diagnosed correctly and treated. He beckons his son closer, and Director Kang takes his father's hand. He motions his son close and whispers into his ear, "This is why I'll never approve of you."
He believes that Director Kang simply doesn't have the business acumen to bring the family any success. Chairman Kang says this was a business opportunity, and he should call his brother to start a genetic database business. Director Kang backs away as it begins to dawn on him that his father will never give him what he wants.
Jin-sung meets up with Suk-joo to report on the evidence in the flash drive. With this, she intends to reopen the case. Suk-joo shakes his head, stating that it isn't enough to convict anyone. He suggests leaking it to the media and thus forcing the hospital's hand. The public platform will then give her an opening to investigate the case. She agrees and hands over the flash drive.
We follow Suk-joo back to the hospital where two important things occur: first, the most recent research trials are showing small amounts of cell regeneration. Even if it isn't a large amount, all they need now is approval and they can begin to use it in treatments. Suk-joo half-smiles, keeping his thoughts to himself. Second, Dr. Kim's daughter's vital signs begin to fail, and though the staff tries to save her, she flatlines. Suk-joo desperately tries to resuscitate her but, tragically, she dies.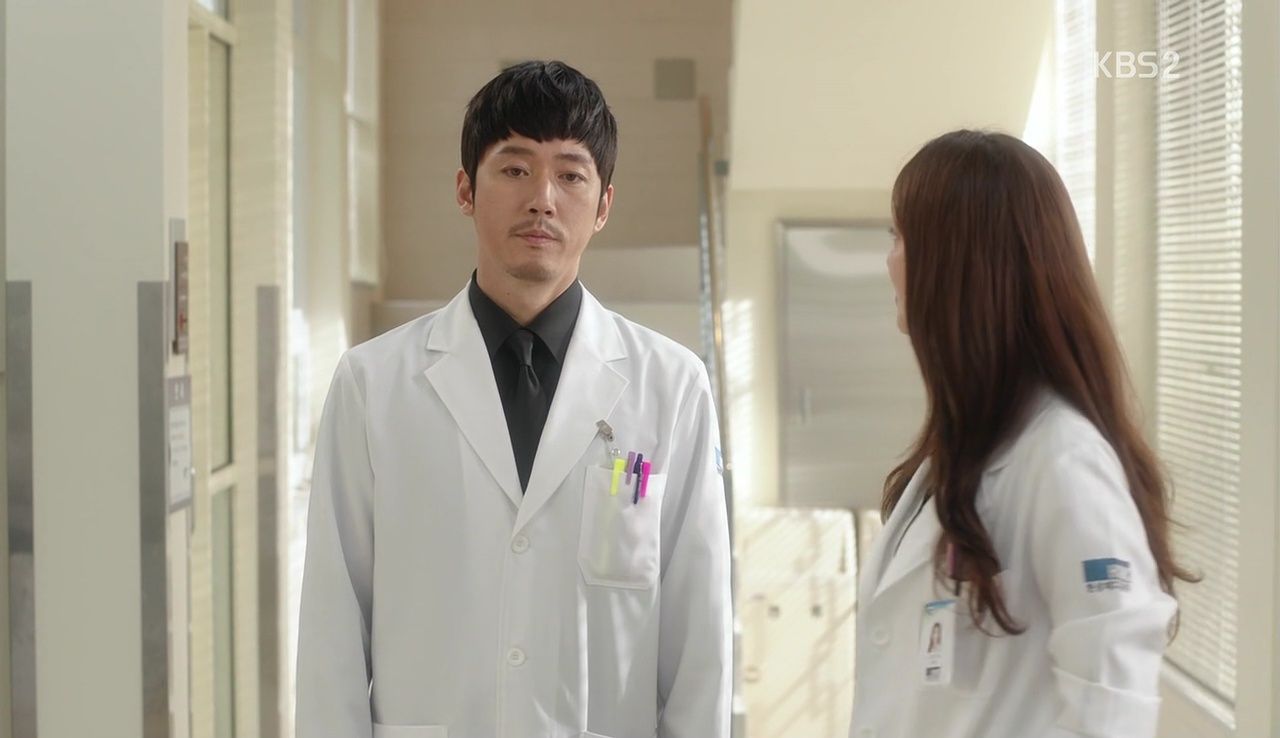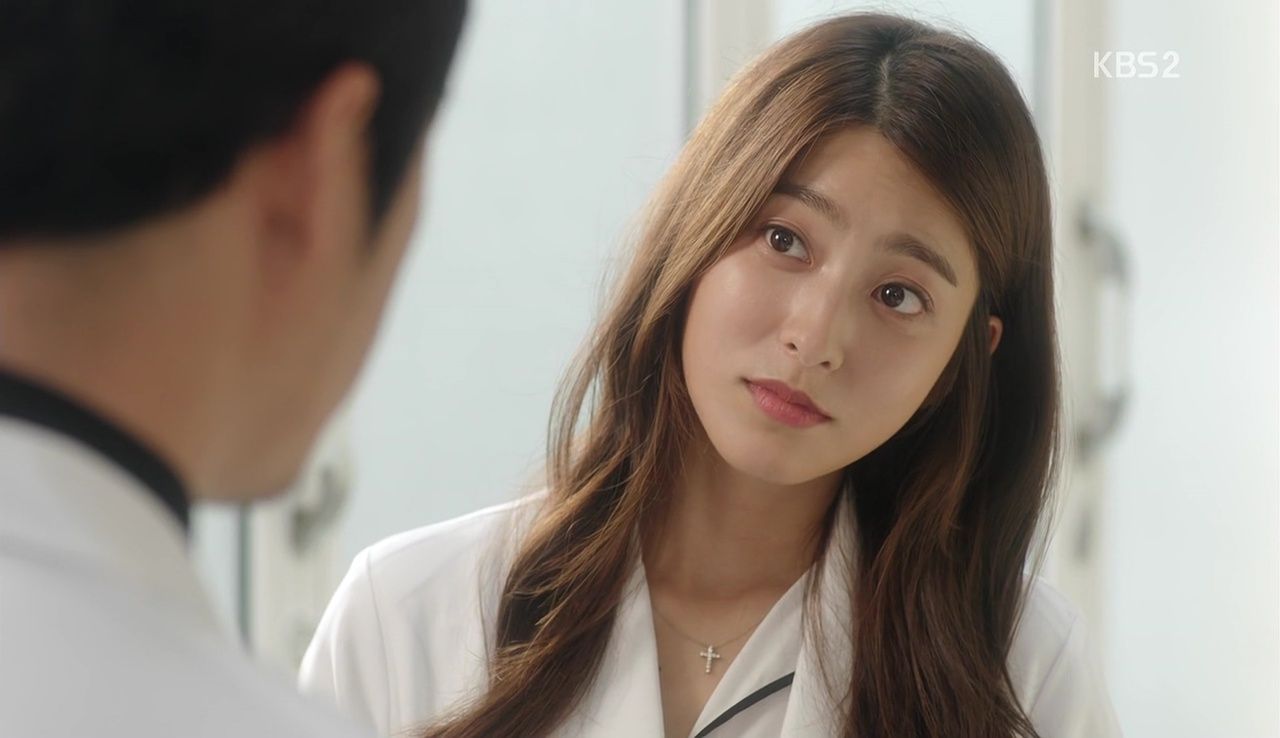 Another (albeit dysfunctional) love-line reunites, as Min-jae greets a reinstated Young-oh. She says she was certain his days as a doctor were numbered, at least based on her understanding of him. She wonders aloud what changed for him, but he only replies by extending his hand for her to shake. When she doesn't, he walks away.
As he leaves, Jin-sung calls him to thank him for the information on the flash drive. With his help, it seems like the case can be reopened. Her hope is to show him that truth has a place in the world regardless of powerful institutions and special interests. Young-oh concurs and he too hopes she wins the bet this time.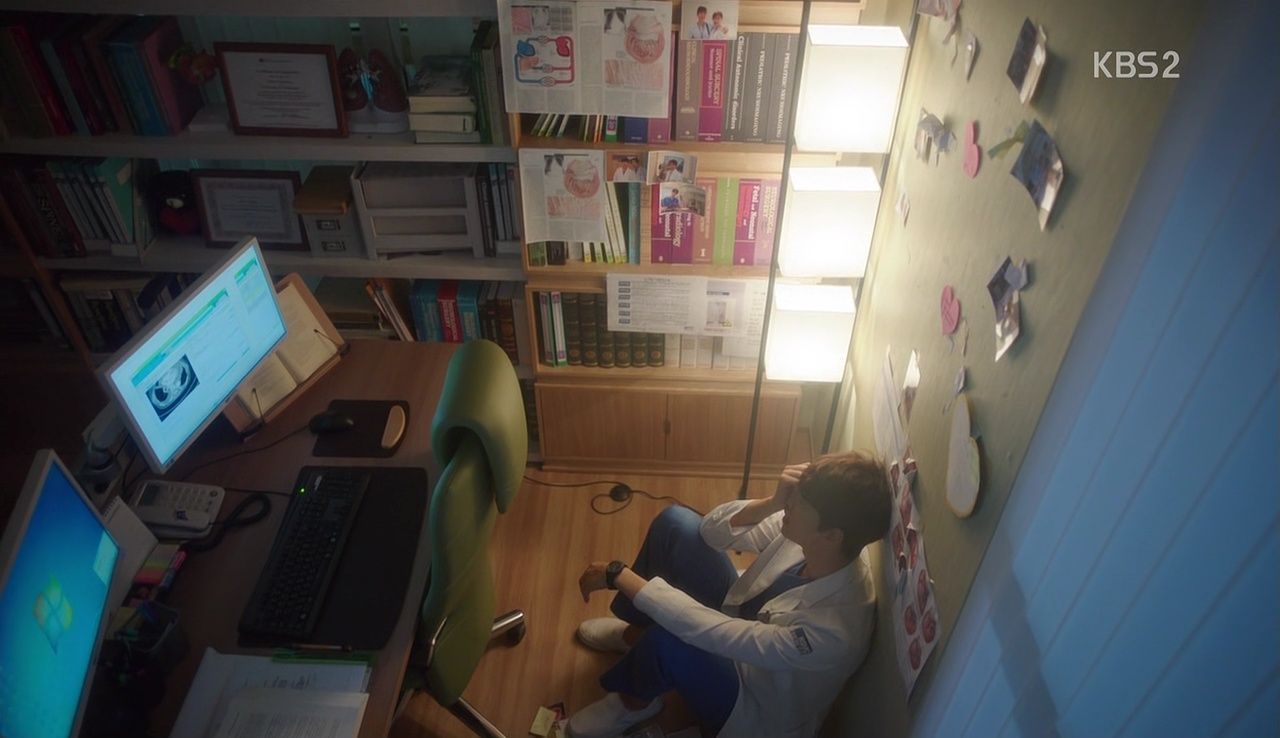 Inconsolable, Suk-joo retreats to his office and cries over a picture of Dr. Kim and her daughter, feeling helpless for not being able to save his patient or her mother. He recalls Dr. Kim's words, telling him off for being self-righteous when he couldn't even save her daughter. On this night, those words hit harder.
He comes across an old picture of Chief Director Shin and a younger Jin-sung, which prompts a sweet memory. In it, Jin-sung sneak-attacks Suk-joo from behind with a hug and promises to remember how great a person Suk-joo is, so long as her heart continues to beat.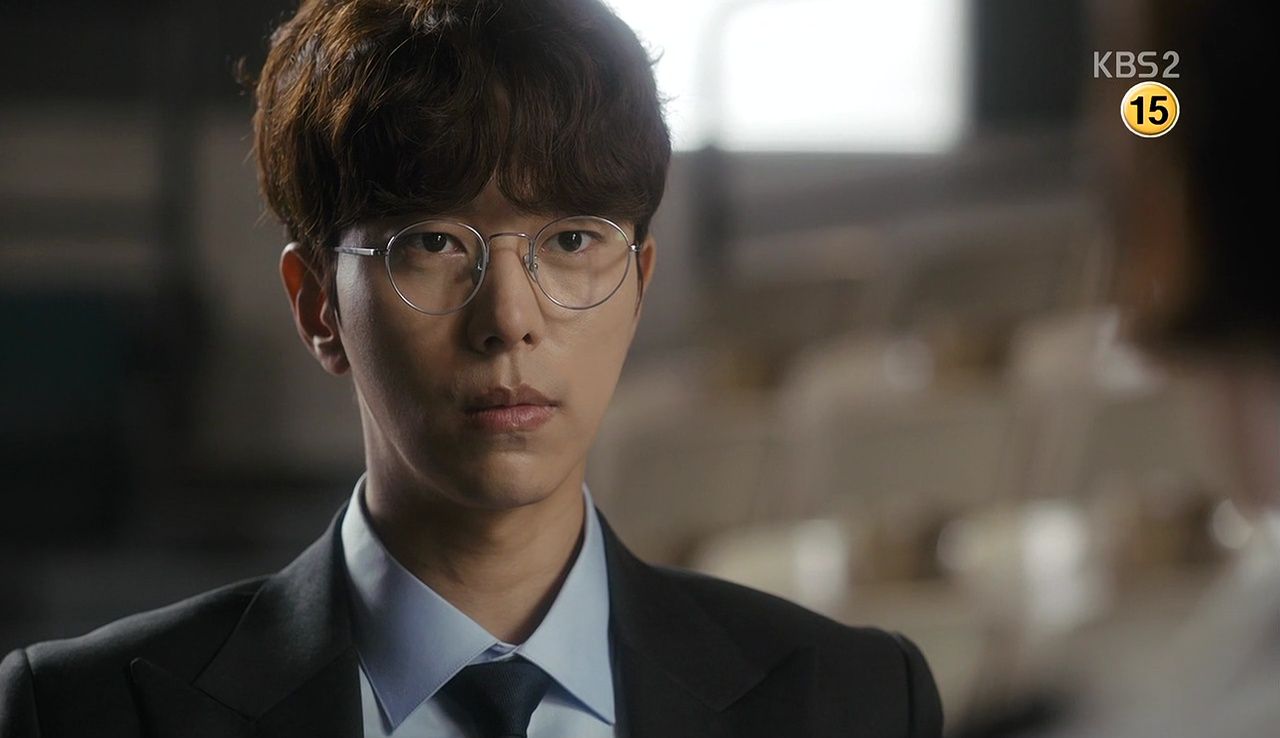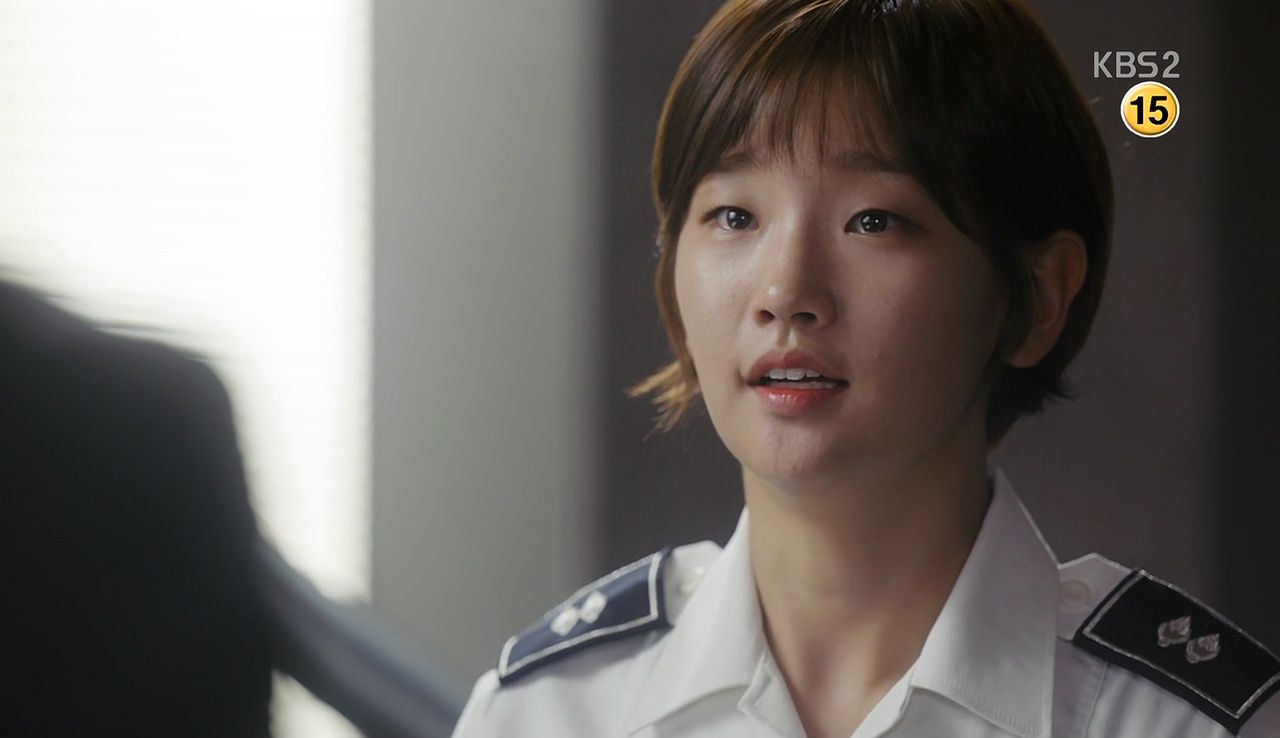 Sometime later, Suk-joo leads a press conference announcing the successful clinical trials of their regenerative cell research to the public for the first time. Jin-sung sees the news and rushes over to confront Suk-joo, where Young-oh joins them. She tells Suk-joo that Young-oh was going to help with the investigation and they were so close, but Suk-joo dismisses her and says Chief Director Shin's death was just an accident caused by a drug-addicted Dr. Kim. All the strange events that happened in the hospital recently were because of her.
Once Suk-joo leaves, Young-oh begins applauding Jin-sung, but doesn't say anything at first. He lets her struggle over her words for a second, until she admits that he won the bet. He spins her around by the arm and says he has no interest in what she is thinking or how she feels. And while he can't empathize with her, he can become an invisible presence in the room.
With that in mind, he adds, she can cry as much as she wants in front of him. And so, having lost much more than a bet, Jin-sung cries and cries.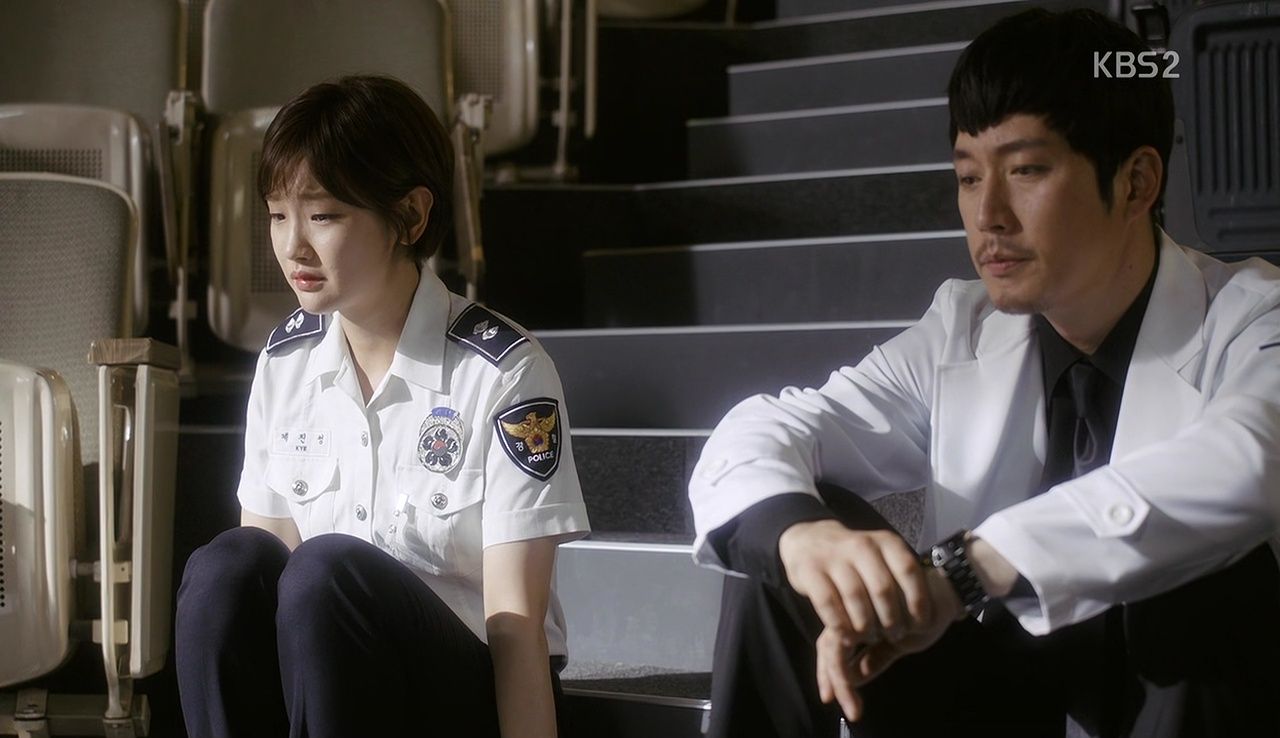 COMMENTS
Who would've thought that Young-oh and Jin-sung would end up bringing out the best in each other? Such a pleasant development. These two are appropriately becoming the strongest relationship in the entire show. It's almost like they dealt with (most of) their problems with each other in the beginning and are now creating something solid and increasingly essential to each other. I love how the writer is allowing small moments to bind them closer together instead of basing their development only on crazy twists that throw them on the same side, and/or exploiting shared feelings of inadequacy and betrayal.
I'm really looking forward to seeing more Suk-joo flashbacks and delving deeper into his character like how we did with Min-jae. At this point, while we can understand the factors that drove him to make the choice he did in the end, the character himself needs more fleshing out. Right now, he feels to me like a jumble of personality traits, rather than a real, lived-in person. More concept than human. I can't wait to see what else there is to explore.
On the topic of Min-jae, I'm curious to see how they keep her relevant, because now that her big reversal is done she's almost been regulated to a hospital side character. Even her struggle with Dr. Yoo was basically resolved in her favor. Her first post-break-up/backstabbing meeting with Young-oh was kind of lackluster. Maybe it's because he's stoic, but he seems to have accepted that their relationship was a lie. Maybe she'll have her comeuppance, but would that mean her story is over?
This show does a great job of keeping things interesting and fresh, because there are so many familiar elements, like Young-oh's deal-making with Director Kang, Jin-sung's endless attempts to solve this case, and Suk-joo's struggle with doing the right thing. But each episode builds on those elements and simultaneously takes us a little further away from what we once knew, making it impossible to turn back. On another note, I'm pleased to see Dr. Lee take a back seat today (he'll become essential again soon, once he starts campaigning for the Chief Director position) to allow some of the other storylines to change. His exchanges with his son are packed with so much tension I would hate for it to get old.
I think another major point of the whole chairman thing was to push Dr. Lee into the Chief Director position. This way the Director Kang and Assistant Manager Chae alliance is forever disrupted by Dr. Lee's rigid morals, which make things harder for them and forces them to do some crazy stuff that they otherwise wouldn't have to do.
Some of those scenes with Director Kang and Young-oh were so powerful. Thrilling and unexpected, definitely, but also surprisingly poignant and heartbreaking. I liked seeing Director Kang dressed like a patient, because it made him so vulnerable. That coupled with all the loaded family drama really rounded out Director Kang's character so well.
Overall, I feel this this drama is really the full package. Yes, some characters did/do weird things, but they had to learn and grow from them as a result, it wasn't just like temporary insanity or anything. They are flawed people and have to face their failures with courage, compassion, and sometimes, a little bit of heartbreak.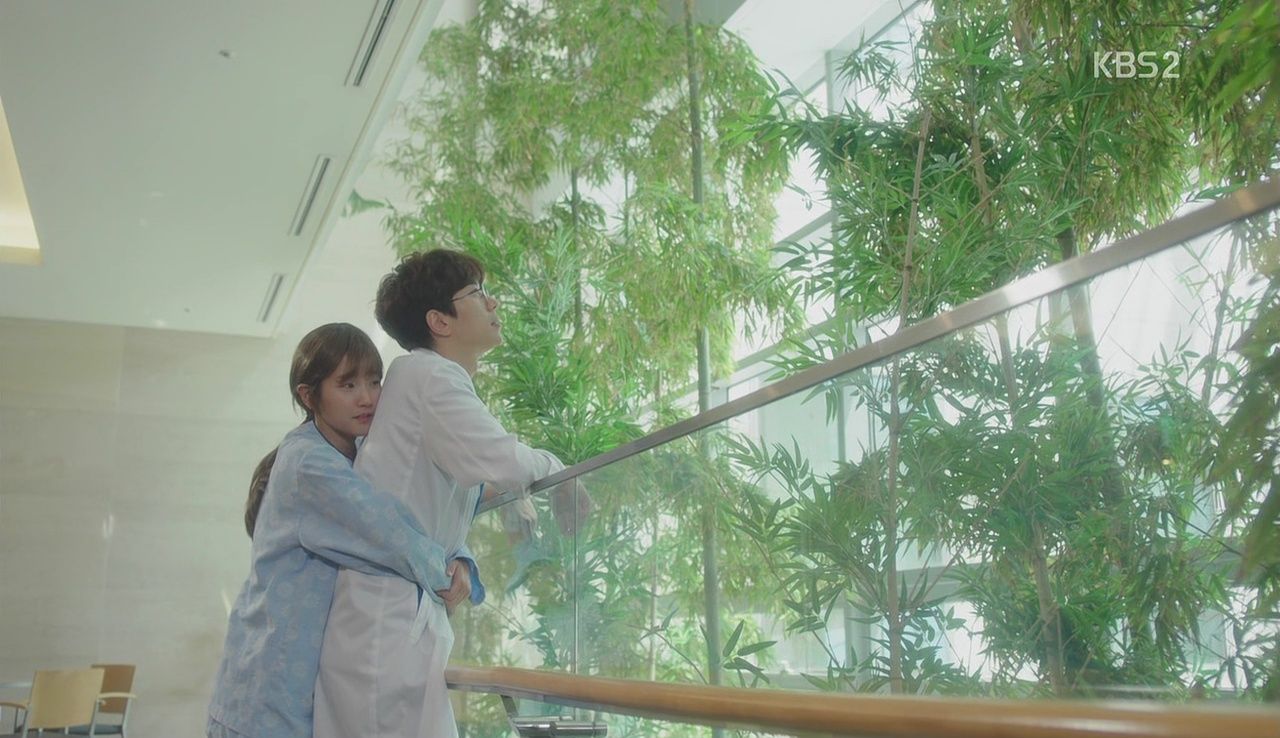 RELATED POSTS
Tags: Beautiful Mind, Episode 8, featured, Jang Hyuk, Park Se-young, Park So-dam, Yoon Hyun-min