Beautiful Mind: Episode 9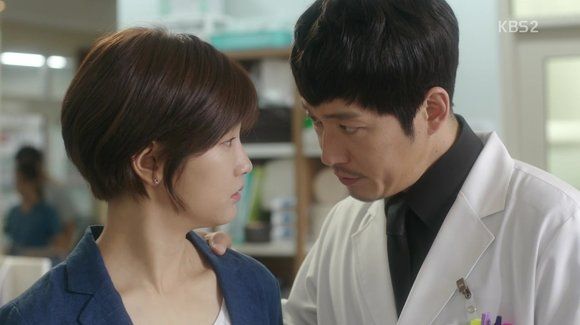 Having realized the value of emotions in medicine, our hero characteristically works hard to acquire what he lacks. But some things can't be earned through honest effort. What we don't know can hurt us. As Young-oh begins to comprehend the worth of what his disorder took from him, he becomes desperately vulnerable to getting hurt.

EPISODE 9 RECAP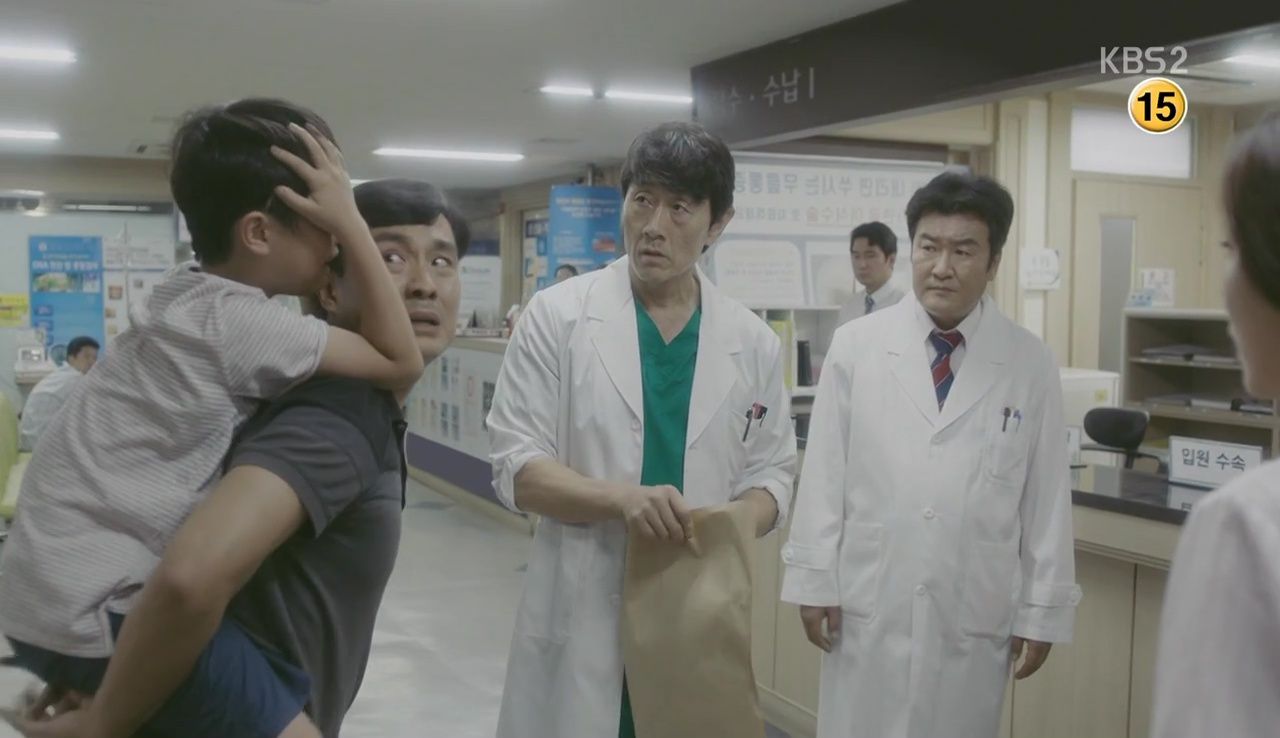 It's 1988, and Dr. Lee walks into the lobby of one of Hyunsung's country hospitals where a man carrying a child on his back pleads with the receptionist to let him admit the boy.
Hospital policy requires that he pay his old bills before he can use their facilities, but the child, crying with a splitting headache, clearly cannot wait until the man finds the money. Dr. Lee, more concerned about the patient than hospital policies, asks to see the boy's reports, which his guardian hands over gratefully.
Dr. Lee and a colleague look over the reports, and the colleague notes with surprise that the child has the same illness that Dr. Lee's son suffers from. A stunned Dr. Lee asks the child's name and the guardian replies: "Lee Young-oh… He's the 205th child at Grace Home Orphanage. Lee Young-oh." (His name is derived from that number, with "Lee" meaning two, "Young" meaning zero, and "Oh" meaning five.) He tells the doctors that the child's parents abandoned him because of his illness, so he grew up in their center.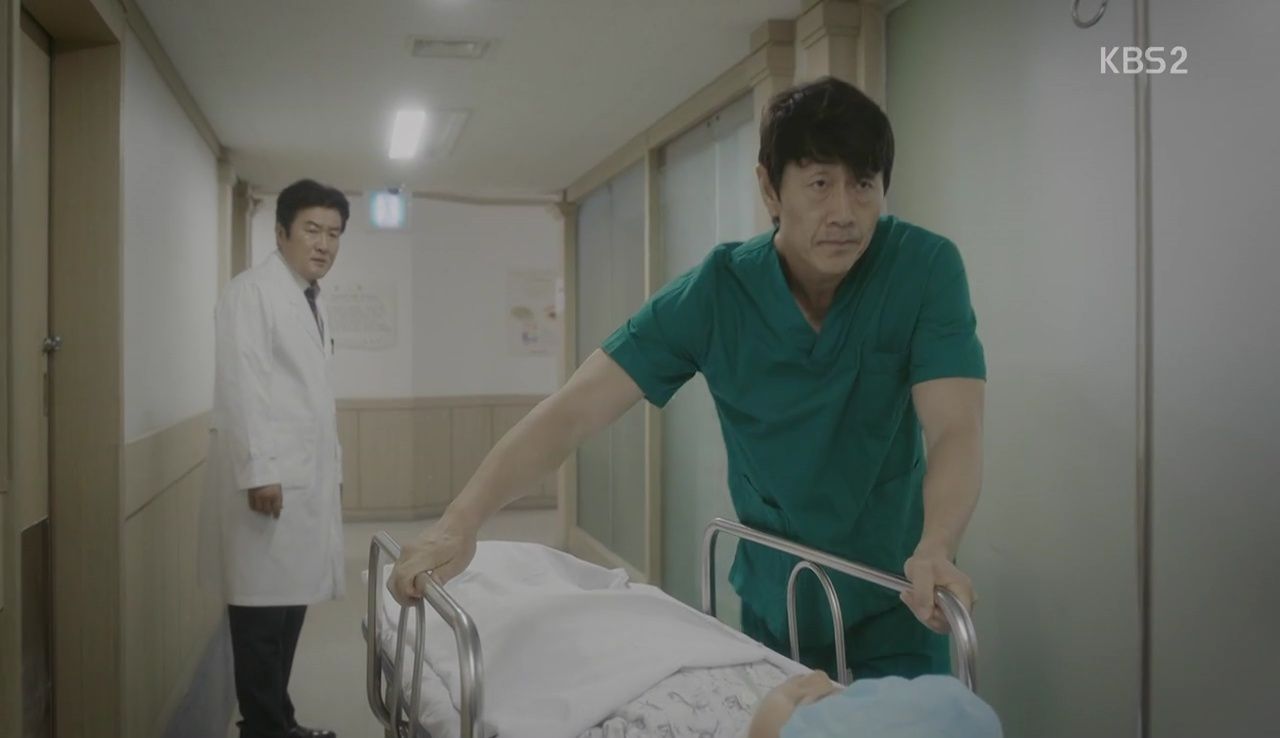 Dr. Lee asks for an OR despite the receptionists' protests, stating that he will take full responsibility for what happens. As he wheels the boy into surgery, his colleague stops him. He warns Dr. Lee not to perform such a dangerous operation on the child in an effort to save his own.
Dr. Lee retorts that the child has been abandoned by his parents, but he will not give up on this child or his own. He promises to save the boy's life. His colleague watches him take the child into the OR with concern.
Some hours later, when Dr. Lee comes out after successfully finishing the surgery, he sees his wife watch the boy being wheeled out. He greets her happily, convinced that he's found the way to save their son, but she's in no state to listen. While he was operating on the boy to test out the procedure, his own boy passed away.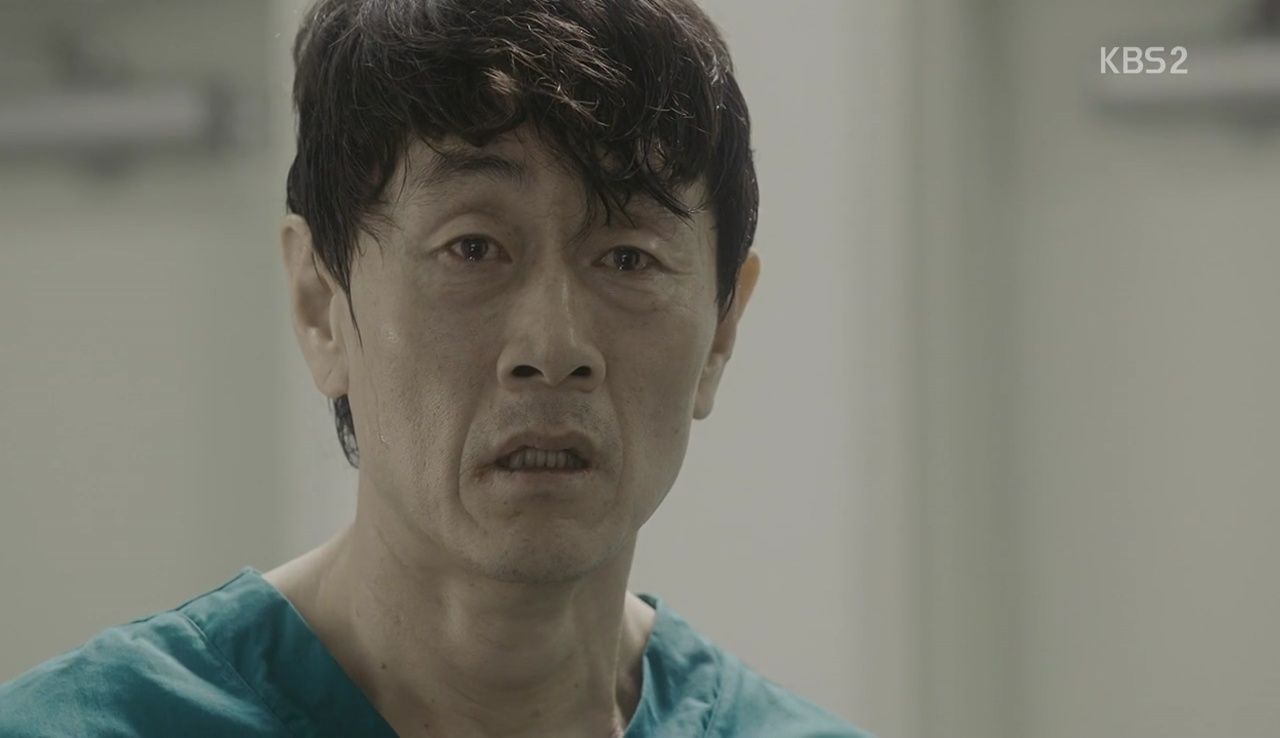 Reeling from the loss, Dr. Lee walks the hospital corridors in a daze. His colleague finds him and tells him that he's made a mistake during the surgery. He must have accidentally touched Young-oh's frontal lobe, says the colleague, and because of that, the boy will always be emotionally disabled.
The colleague wants to inform the boy's guardian from the orphanage, but Dr. Lee stops him. He's the boy's guardian now, he says. He tells his colleague that he traded the life of his own son for the life of this abandoned boy, which is why he'll devote his whole life to helping Young-oh live like a normal person.
In the present day, Suk-joo announces the successful completion of stages two and three of their regenerative medicine tests. When someone from the press asks him if they really succeeded in regenerating stem cells, which has been impossible up until now, Suk-joo thinks back to the moments after the death of Dr. Kim's little daughter.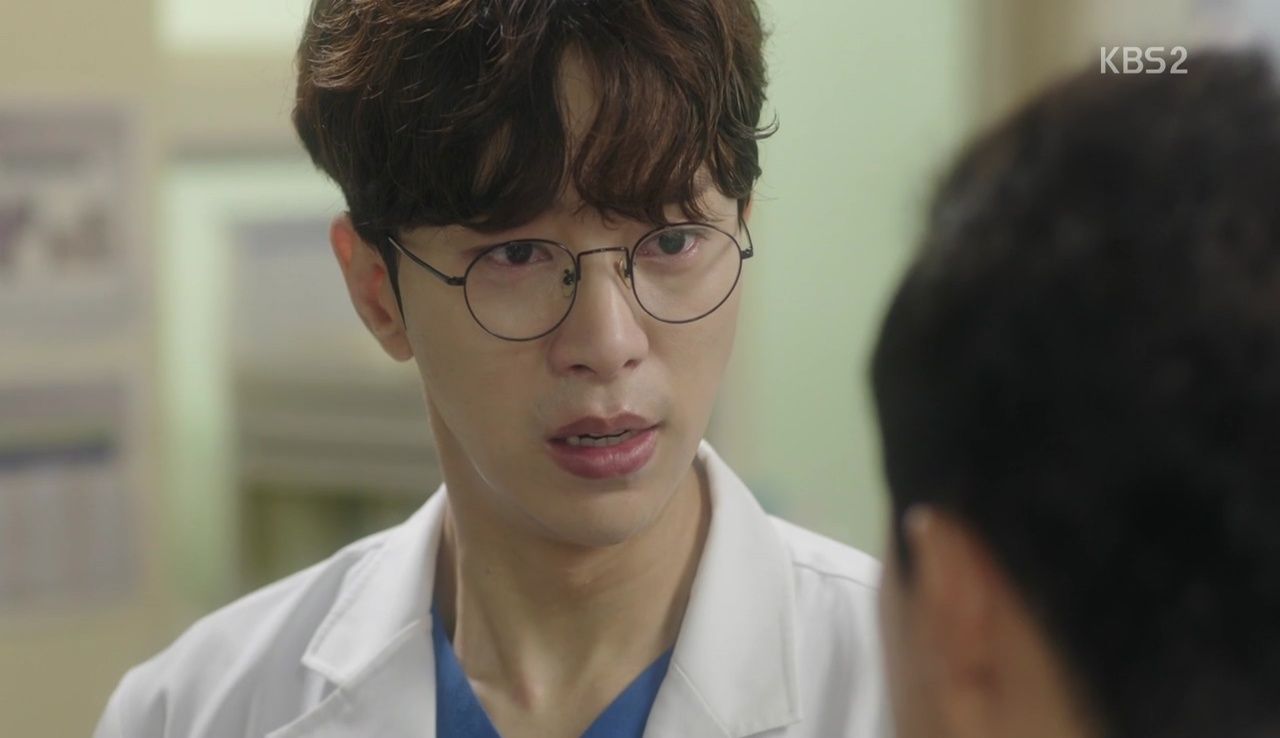 Assistant Manager Chae had swooped down on him like a vulture waiting for weak prey, and told him to make his decision. When there were countless little children in the world their research could save, he asked, was being a good person more important to Suk-joo than being a good doctor?
Decision made, Suk-joo stands before the press and firmly says that both the test stages showed positive results in all the patients, and their research has already earned FDA approval. Even though his conscience may smite him, Suk-joo's made his bed.
The senior doctors and Nurse JANG MOON-KYUNG sit in the break room sharing snacks and gossip when Young-oh walks in on them, startling Nurse Jang into standing up and handing him someone else's coffee from the table. But he only wants to know about his outpatient schedule, and leaves. Just as they all start moaning about how awkward that was, Young-oh returns to the room.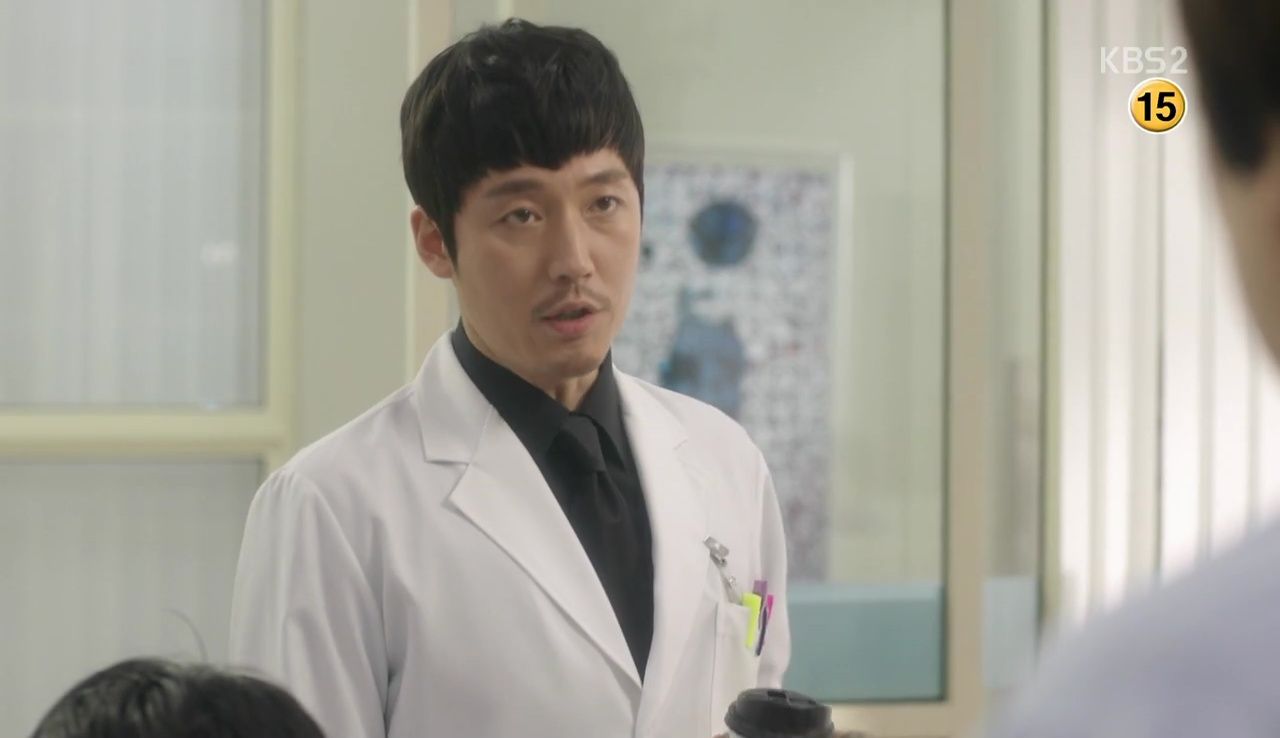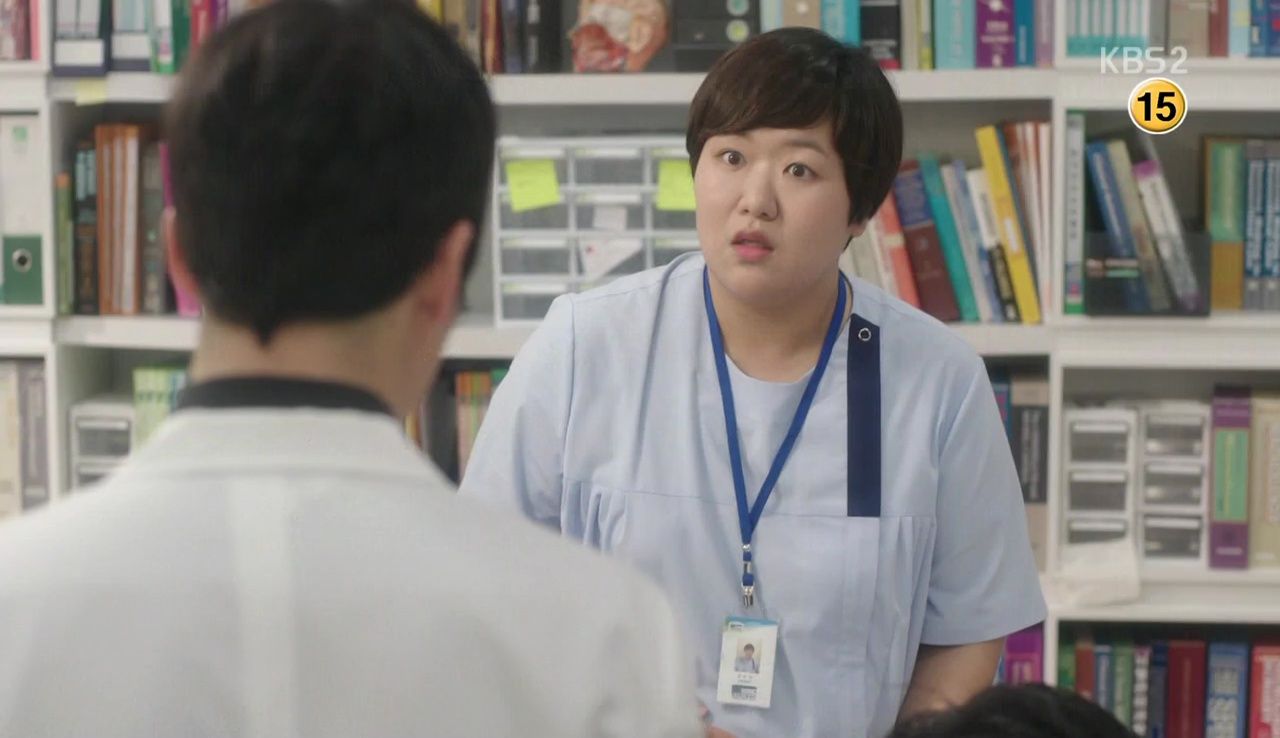 Nurse Jang leaps up again, and this time Young-oh takes a snack from the table, saying that he knew they would all welcome him back. Pfft. Did he think the spread on the table was for him?
While the hospital board votes for a new chief director, the two primary candidates face off in person. Dr. Lee asks Assistant Manager Chae if it was really necessary to announce their research to the world. The assistant manager tells Dr. Lee to focus on the research, and to leave fulfilling Chief Director Shin's dreams to him. Dr. Lee returns that Chief Director Shin's dream was to make surgeons redundant in the world, not to claim the fame of being the first to succeed in regenerative medicine.
Then, Dr. Lee leans forward and asks Assistant Manager Chae if he knew about Chief Director Shin's diabetes, since Shin was so secretive about it. Assistant Manager Chae just says that it was already proven that Dr. Kim was responsible for Shin's death. Dr. Lee smiles and says that he was just confirming that the assistant manager wasn't really close enough to Chief Director Shin to claim to have the same goals about their research.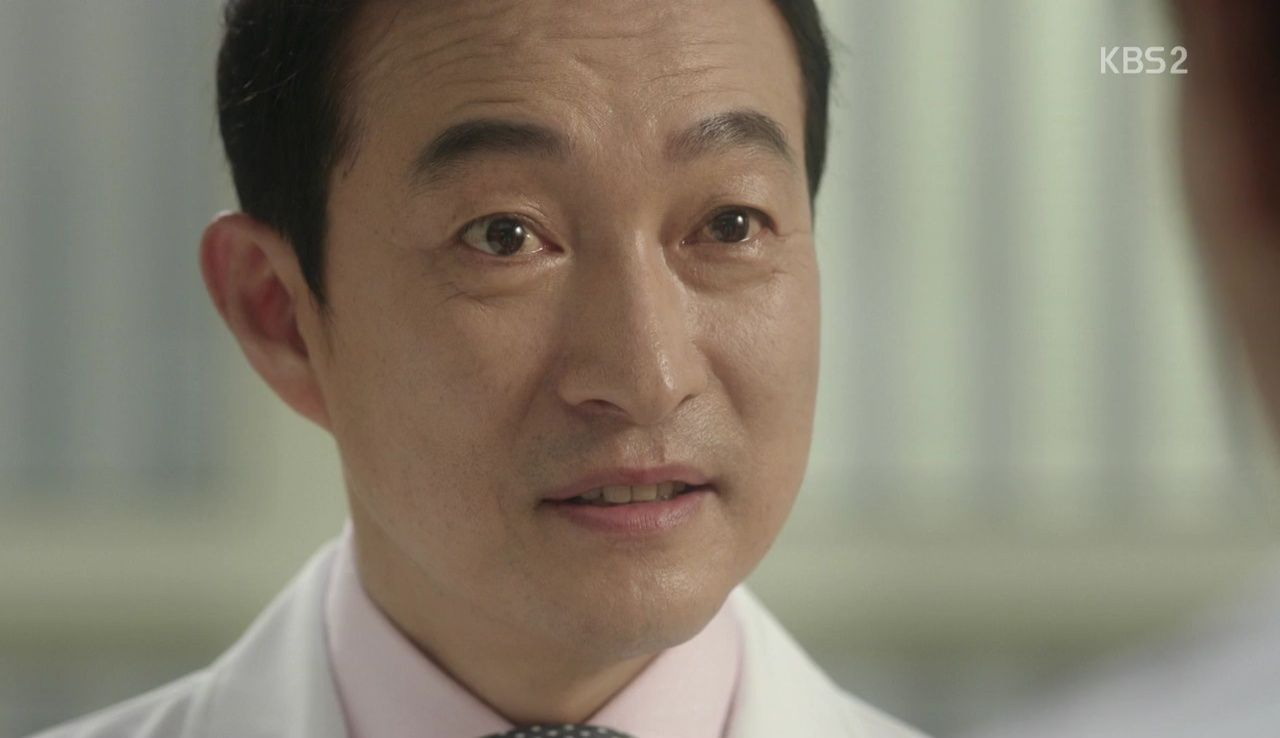 The results of the vote come in, and Director Kang congratulates Dr. Lee on his new position as chief director of the hospital. Later, Assistant Manager Chae asks Director Kang whether this was his decision or his father's. Director Kang tells him bluntly that Dr. Lee is paranoid about the hospital's reputation and would keep Young-oh in line. The assistant manager smirks that Dr. Lee wouldn't be able to do much when patients finally find out that they have a psychopath for a doctor in this hospital.
Young-oh reads the advice of a card that champions empathy as the first medicine. He decides to try out the steps outlined on it as he attends to his patients that day, along with a bewildered Nurse Jang. When a man who's recovering from surgery comes in complaining about shaky eyes and bad headaches, Young-oh guesses that he must still be struggling with alcoholism.
The man denies it, but instead of his usual brash approach, Young-oh tries following the steps on the card to deal with this patient. Look into the patient's eyes and greet him warmly, it says. Young-oh leans over the table and smiles at the startled patient, asking if it's hard for him to come to the hospital.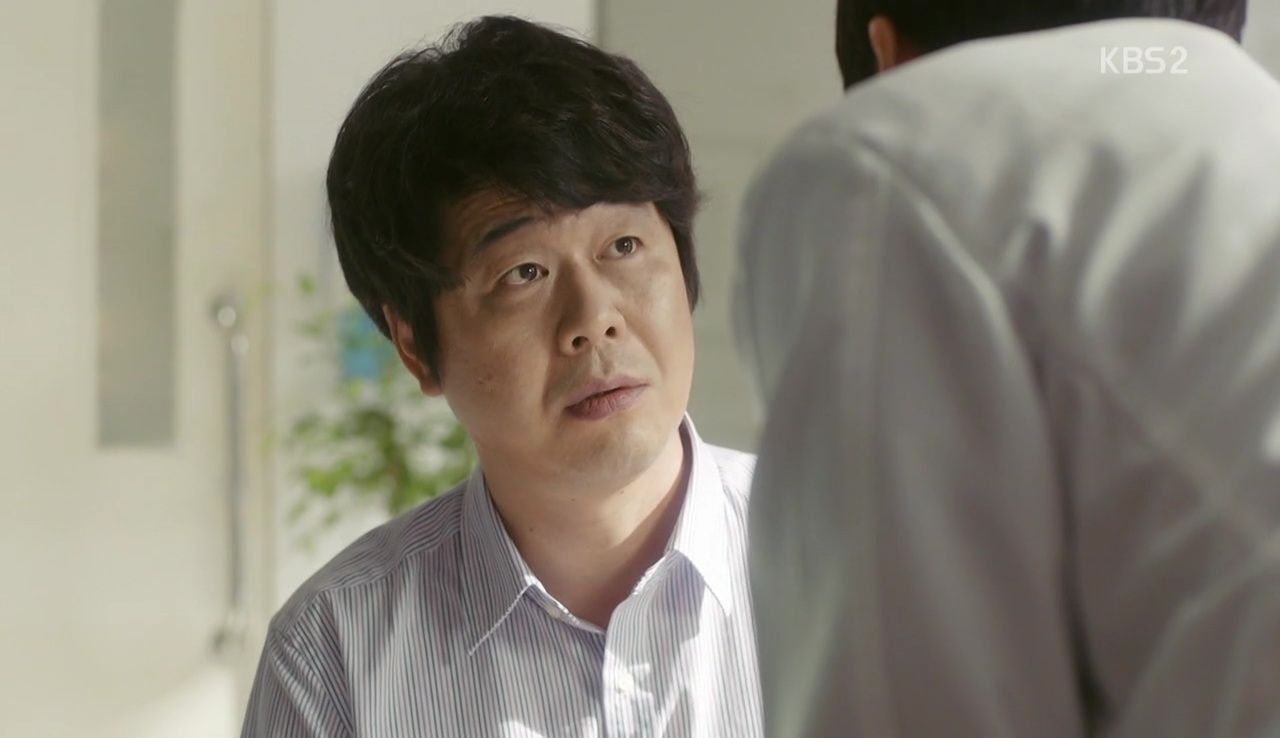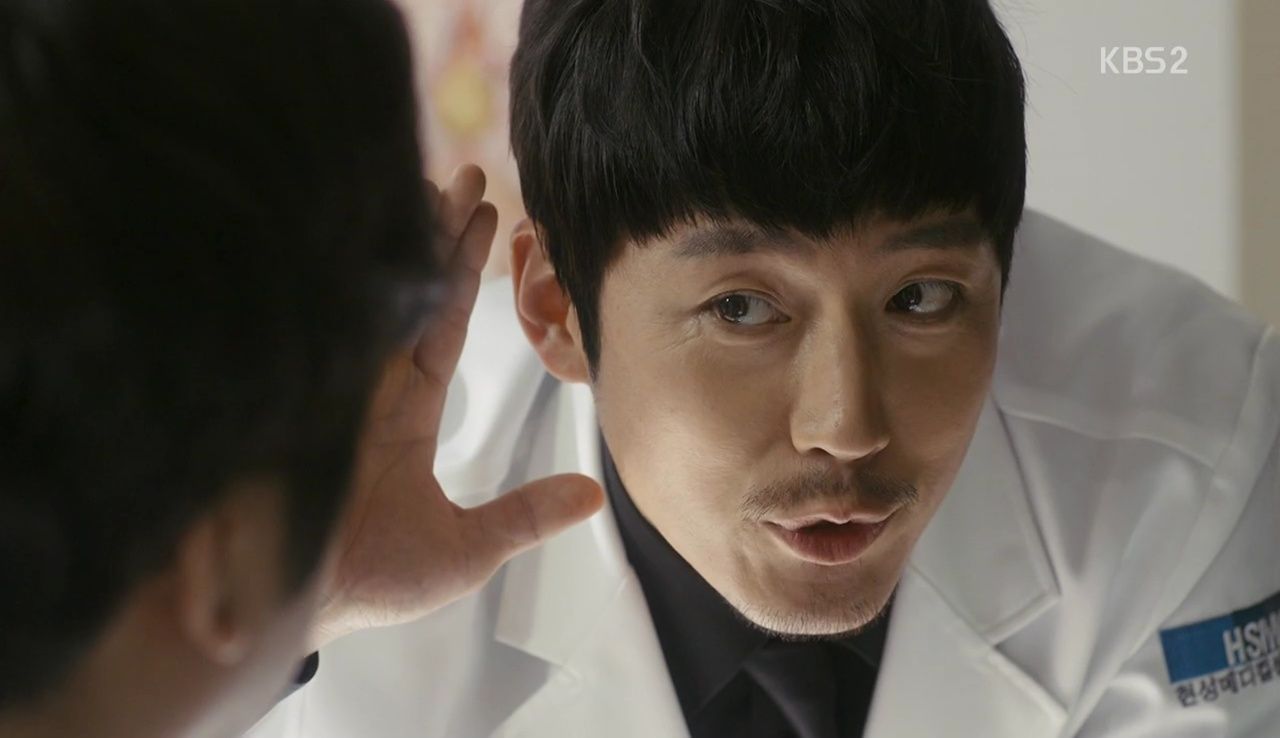 Be courteous and listen to the patient, it says. Young-oh (still leaning uncomfortably close to the patient, ha) says that he's the man's doctor, and is ready to listen to anything he has to say. Young-oh asks him gently again if he's still drinking.
The man just gets more belligerent, and demands that Young-oh write him a prescription for his medicine so he doesn't have to keep coming to the hospital. Think from the patient's perspective, says the card, but Young-oh has had enough. He tells the card that there's nothing to think about, and finally straightens up.
Back to his old form, he asks the patient if he doesn't know how harmful alcohol is for someone recovering from brain surgery. Pulling the man forward, Young-oh says that he doesn't want to be a doll who smiles at his patients, or a priest who listens to their confessions. He says that he's a doctor, and he'll decide what's good for his patients.
He tells the man to come weekly to the hospital until he can really give up alcohol. If the patient doesn't follow his directions, Young-oh tells him, the only doctor he'll be seeing is a mortician. Chastised, the patient leaves, and Nurse Jang smiles in relief as she says that Young-oh now seems like himself again. Young-oh scoffs at the empathy card and tosses it into the trash.
Jin-sung has been transferred to the Violent Crimes Unit and is greeted with comical dismay by her new colleagues. They complain to Team Leader NOH SEUNG-CHAN that she's unpredictable and works too hard. When the team leader praises her for finding the suspect as she'd promised, they tell Team Leader Noh that he can mentor her, and quickly leave before he can protest.
The team leader tells Jin-sung that she should focus on learning to be a detective first, and reopen the Hyunsung case later. Jin-sung looks at him in surprise, and wonders if he also suspects that the case has not yet been resolved. Before he can answer, they hear a dispatch about an armed robbery in progress, and take off to deal with it.
They park in front of the jewelry shop and watch the robber threaten the staff with a knife. Team Leader Noh observes that this is the man's first offense from the nervous way he holds himself. They confront him, and the robber puts the knife down. Then he looks up, and Jin-sung recognizes him as LEE SANG JOON (Seo Joon-young), the suicidal patient who'd attacked Young-oh in the hospital. He smiles at them before suddenly losing consciousness.
They take him to Hyunsung, where Young-oh examines him. He correctly guesses that the young man has an illness, and that he tried to kill himself before because his disease had progressed to an intolerable degree. Patient Lee violently refuses any treatment, asking only to be allowed to leave the hospital.
Young-oh looks at his CT scans and tells Jin-sung later that there really is no problem. Confused, Jin-sung asks what he means, and Young-oh says that the patient has stage four lung cancer, which has spread to his brain. The patient has also developed tolerance to chemotherapy. So, Young-oh says, since the patient refuses treatment and the hospital has no treatment for him, there is no problem.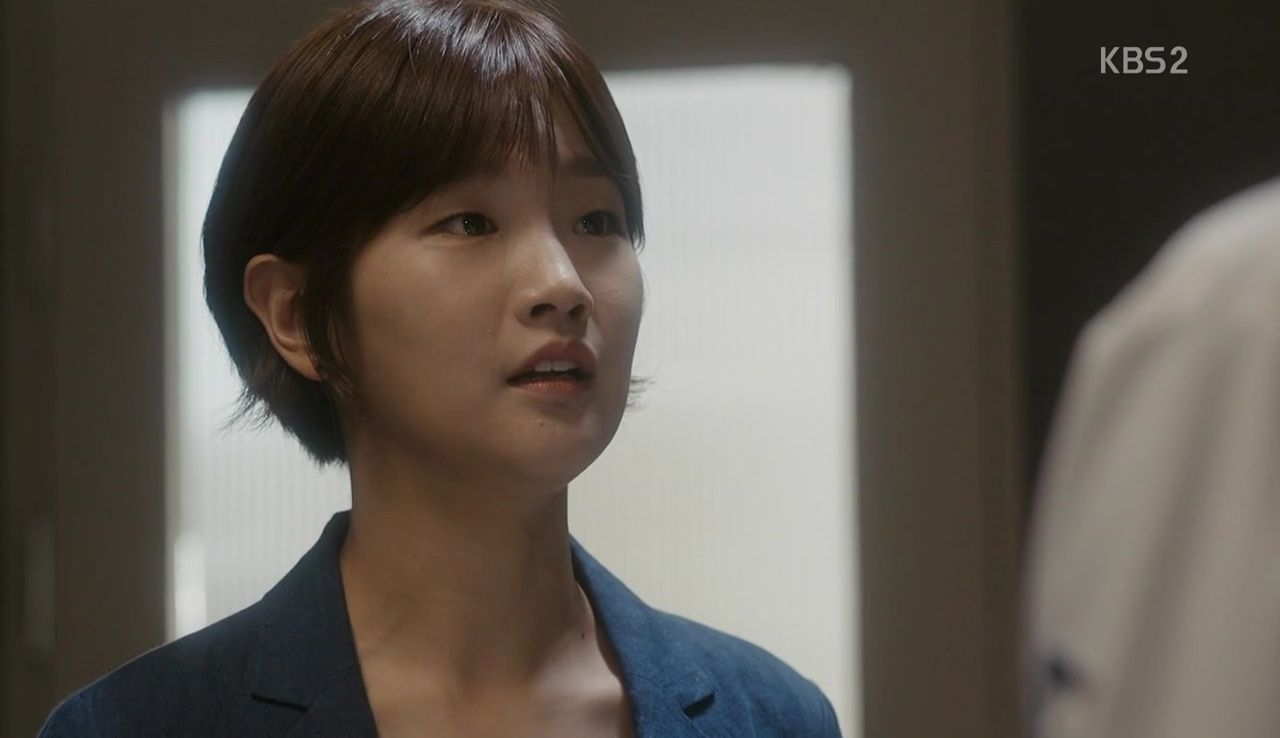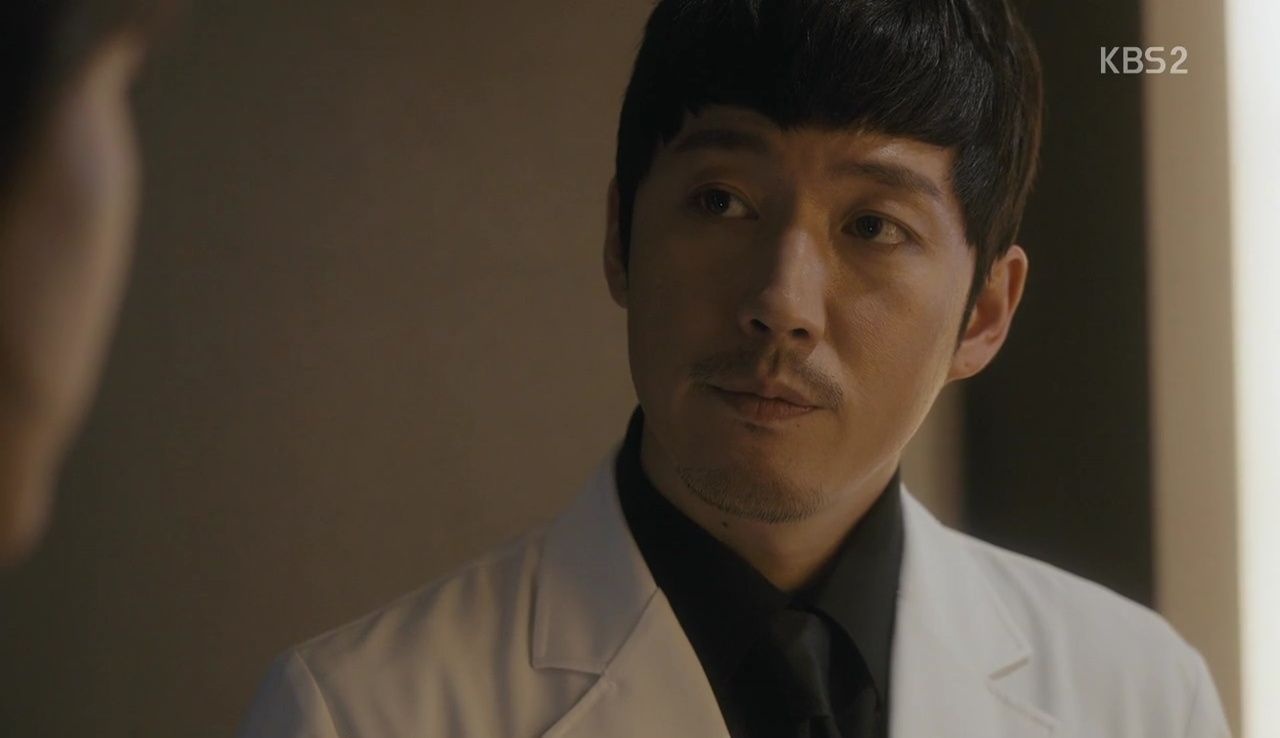 Jin-sung controls herself with effort, and only says that Young-oh has a habit of saying things that sound right initially, but which end up being completely wrong when someone pauses to think about it. Drawing from her own experience with a fatal illness and her determination not to burden her family, she tells him that everyone wants to be treated.
Nurse Jang attends a VIP patient, YOO OK-KYUNG, who seems to get her kicks in life by insulting and demeaning the people around her. Dr. Oh comes in with her test reports, and Patient Yoo refuses treatment from him because he isn't from an impressive university. But as soon as a frustrated Dr. Oh leaves, the woman gets a headache and faints.
Suk-joo is Patient Yoo's attending doctor, and he asks for a neurosurgeon to examine her. Young-oh replaces Dr. Oh and listens to her case history. She has lung cancer and the targeted treatment caused a tumor to form in her brain. Suk-joo recommends gamma knife radiosurgery to remove the tumor, but Young-oh disagrees.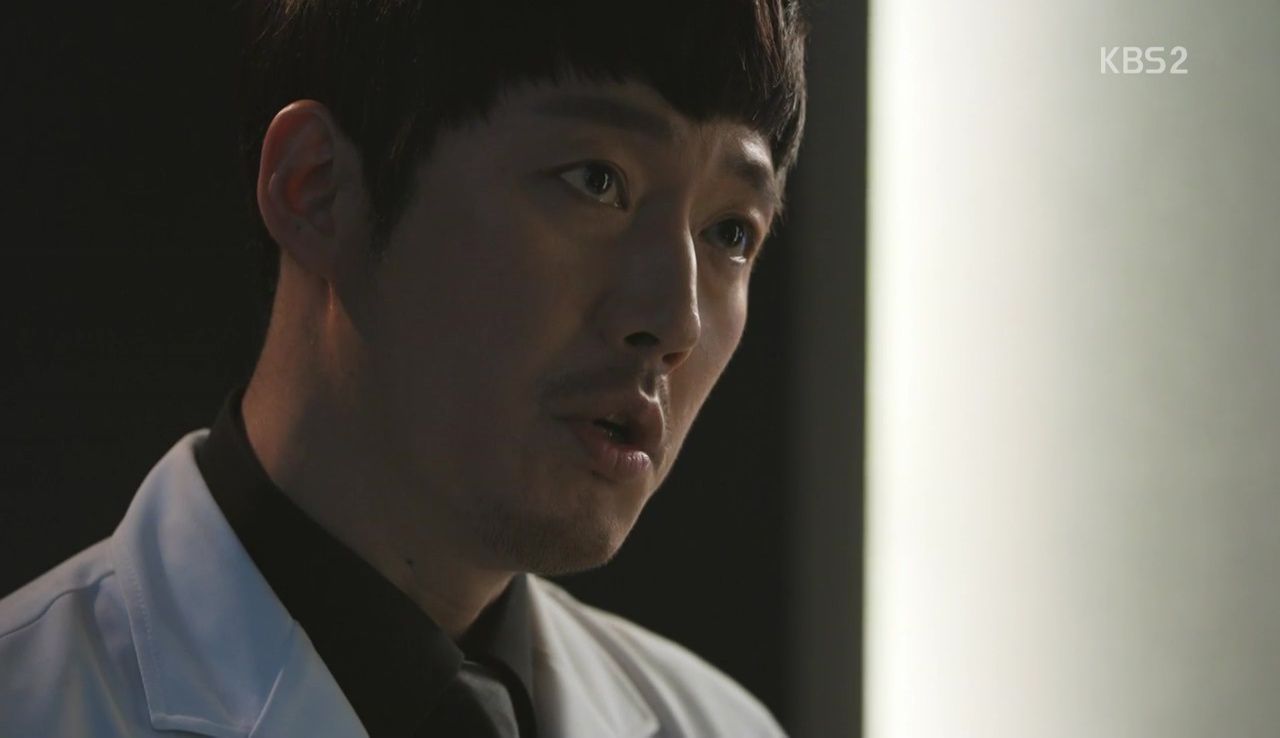 Young-oh notices the similarities in this case with Patient Lee's, down to their acquired tolerance to chemotherapy. Suk-joo asks Young-oh if there is no treatment then, and Young-oh says that there is one, but it is both expensive and illegal. Suk-joo immediately knows that he's talking about the experimental drug osimertinib, and is against using it. Young-oh argues that the drug is not illegal due to safety concerns, but because it's expensive.
Suk-joo states that health care should not discriminate between classes, but Young-oh counters by asking why equality only applies to the sick. He points out that the medicine exists, and even though money is not an issue for Patient Yoo, she must die because it's illegal. Young-oh asks why he must follow such a law.
Suk-joo forbids Young-oh from administering an illegal drug to his patient, and switches Patient Yoo's neurosurgeon back to Dr. Oh. But surprisingly, even Dr. Oh points out that using osimertinib is the only chance the patient has to live.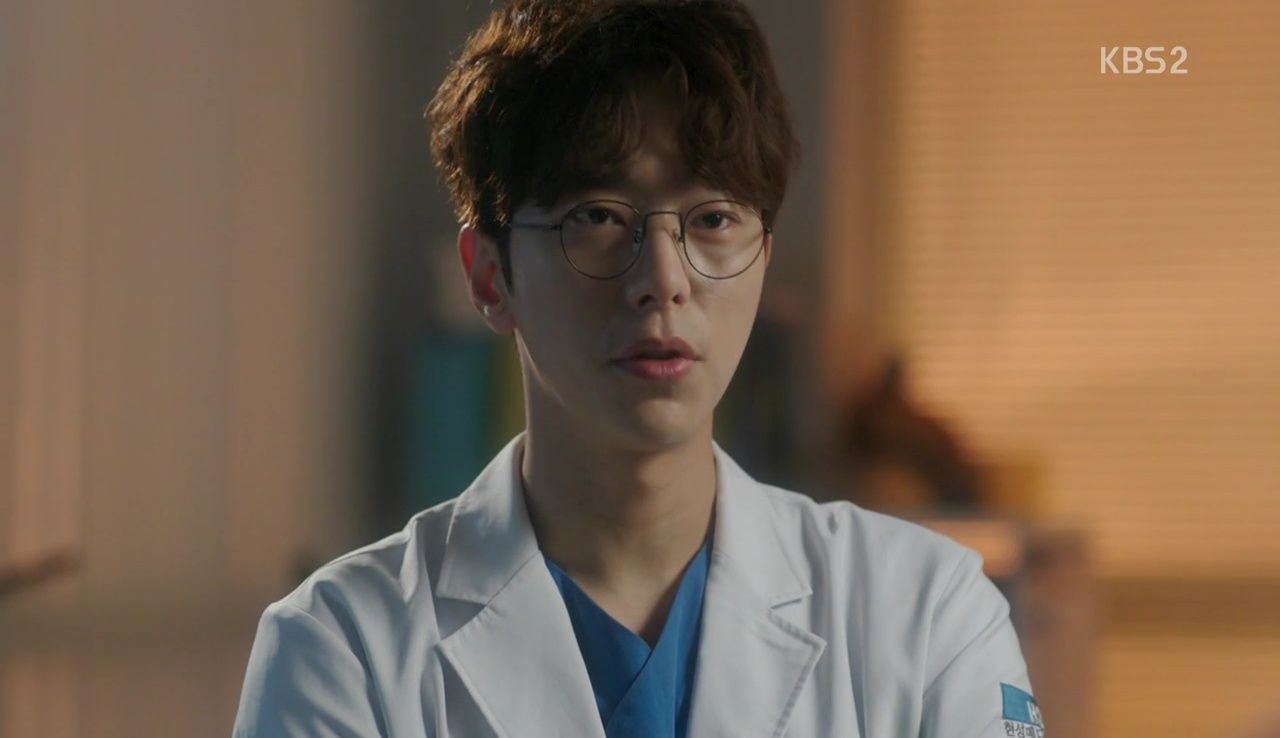 Suk-joo says again that it is illegal, and the penalty for using that drug will fall on the hospital. He explains further to Dr. Oh that if the hospital becomes mired in such things, then their research into regenerative medicine will suffer. Making his priorities clear, Suk-joo says again that he's against it.
Jin-sung stops Young-oh on his way to his office to ask a question, and he asks her if she is just living in the hospital now. Jin-sung asks him what he would do if Patient Lee wanted to be treated. She brings out some lottery tickets she found in Patient Lee's clothes and explains to Young-oh that this shows the young man is holding onto hope.
Young-oh takes the lottery tickets and tells her that it may represent hope to ordinary people, but he doesn't see it that way. As he turns around, Jin-sung says that if Young-oh's not willing to help, then Patient Lee really has no chance.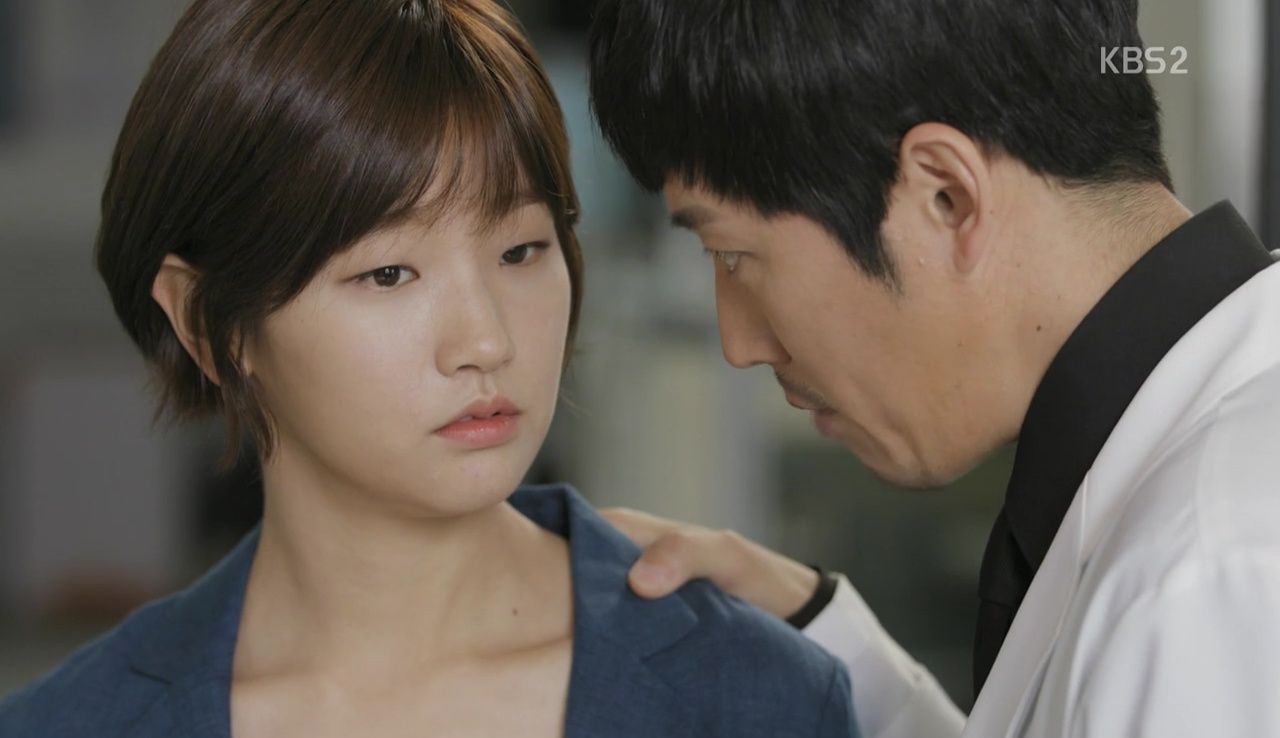 Young-oh pauses, and then says that there is another option. Even as Jin-sung suppresses a triumphant smile, he drags her close and says that the option is costly, dangerous, and highly illegal. He adds that the detective in charge would have to meet the doctor in charge very often. Aww. Is he trying that line again?
As Young-oh asks Jin-sung if she understands what he means, Min-jae watches them from a distance. She walks away looking like she's holding back tears when she bumps into a resident. He helps her pick up the contents of her spilled purse while she quickly hides the ring Young-oh had given her behind her back.
Young-oh thinks on Jin-sung's words about the hope of ordinary people and visits Patient Yoo late in the night. When she begins to bluster about him disturbing her sleep, he gets her attention by telling her that her tumor will help her sleep for a very long time.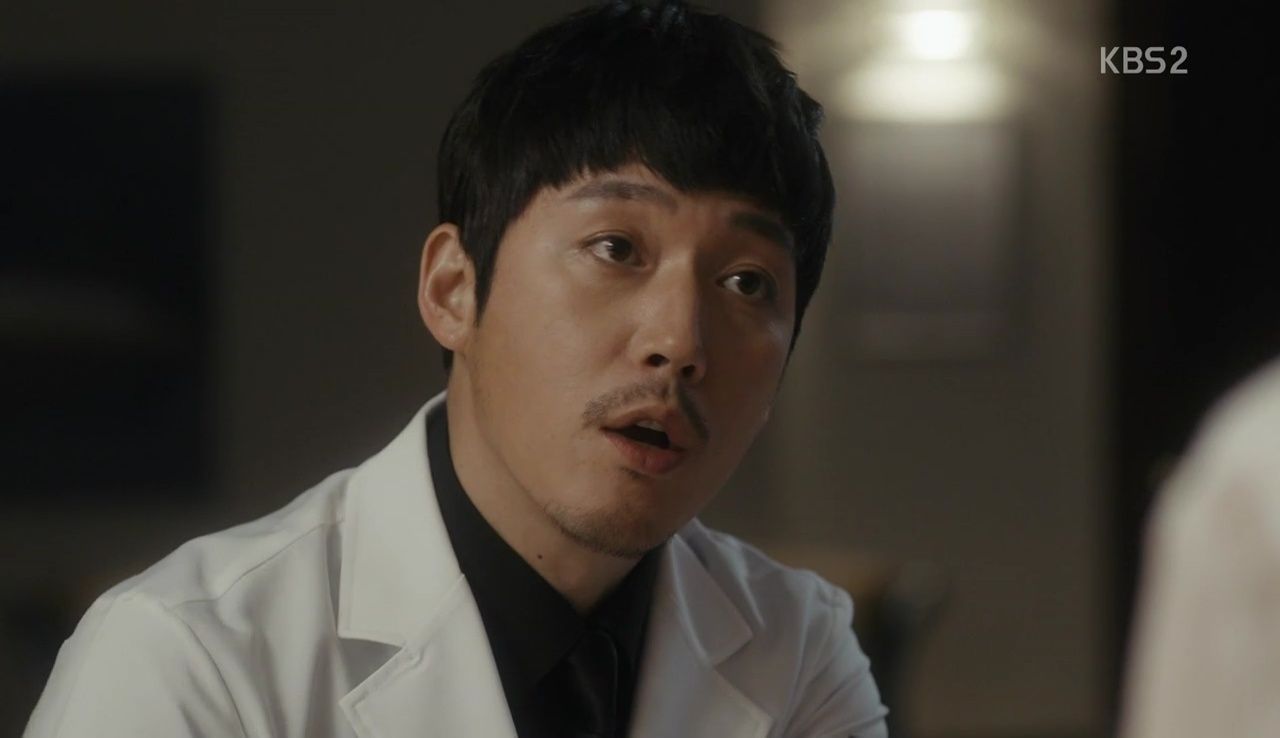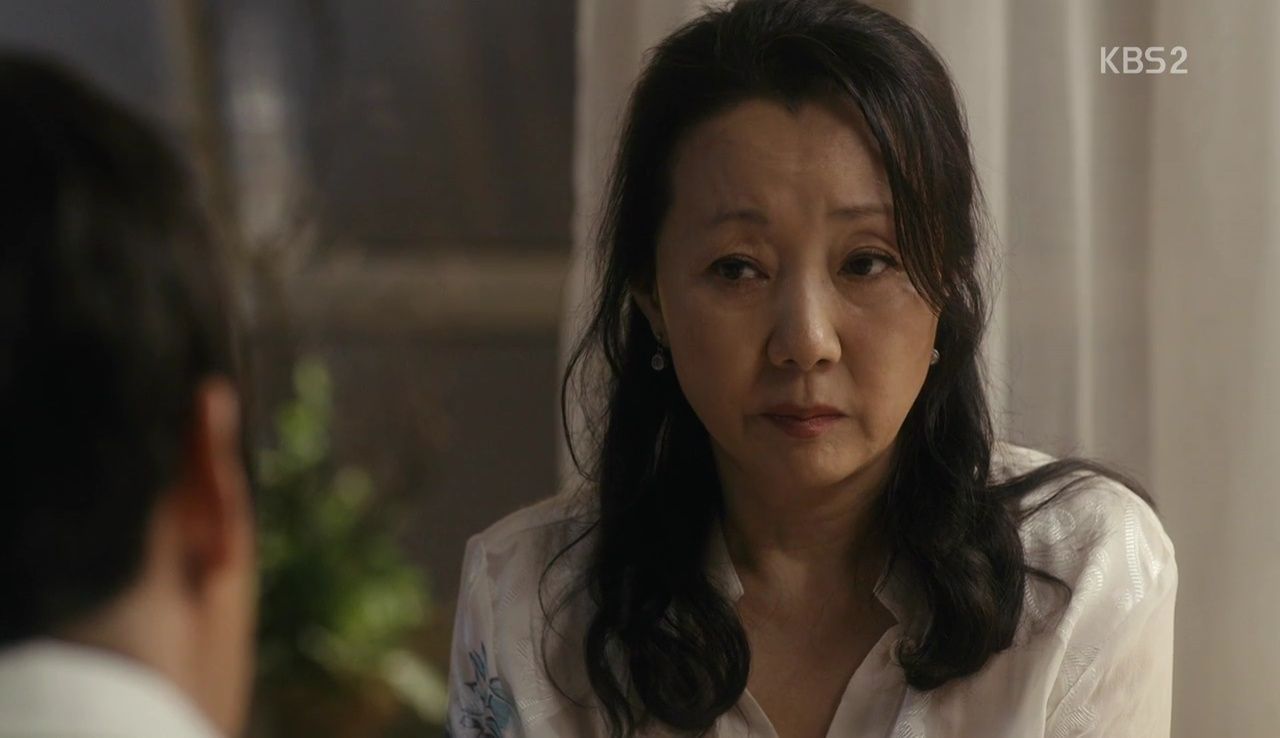 Thus silenced, she listens as he explains how dire her situation is, and that there's only one treatment that can help her. When she learns that it's illegal, she asks if she'll be punished for breaking the law, but Young-oh assures her that the hospital will take responsibility.
According to Suk-joo's wishes, Dr. Oh prepares to perform a biopsy on Patient Yoo. When he gets to her room though, he finds Young-oh waiting. Young-oh points out the risks of a biopsy, and Dr. Oh sends out the staff to immediately prepare the OR, saying that he'll never allow Young-oh to take the patient into surgery.
But when Dr. Oh wheels Patient Yoo into surgery, Young-oh is waiting inside. Young-oh says, "Shall we begin?" Dr. Oh nods, having made his decision. During the operation, Dr. Oh explains why he changed his mind. He confides to a surprised Young-oh that his wife had died of a brain tumor in a similar situation.
Back then, a biopsy had been his only choice, and he deeply regrets not going against hospital regulations to administer the life-saving drug to his wife. Together, the two doctors work to insert a small tube and deliver osimertinib directly into the cerebrospinal fluid.
Much later, Director Kang gets a phone call that tells him how much he'll have to pay as penalty for using an illegal drug. He calls Young-oh to his office and bans him from treating patients. Director Kang spells out to him that he needs a doctor who'll help him earn money, and not one that puts a patient's health first.
Patient Yoo is wheeled into the office in the middle of this tirade, and observes that if that is the case, then the director will have to let Young-oh keep seeing patients. She explains that because of Young-oh, she'll be donating an amount far above the cost of the penalty.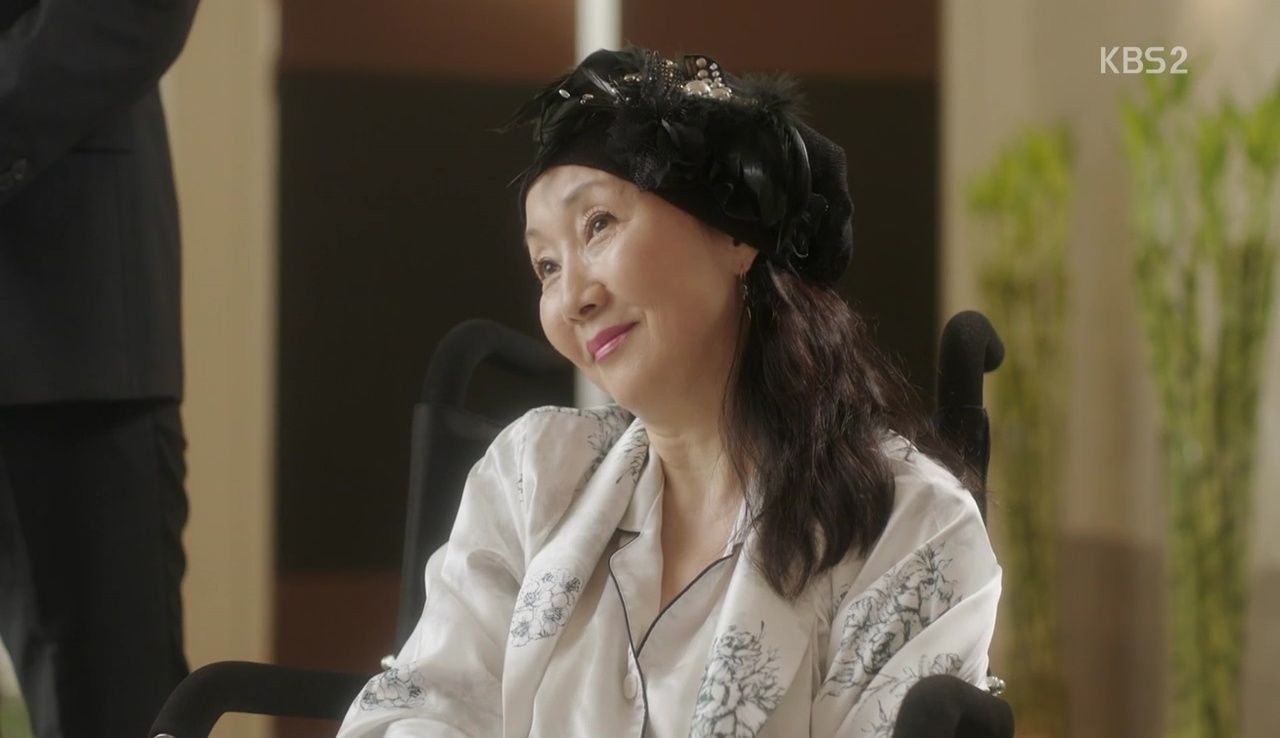 As Young-oh winks conspiratorially at Patient Yoo and walks away from the stunned Director Kang, the director asks if Patient Yoo understands how much money they're talking about. She nods, thinking back to the night before, when Young-oh visited her.
He asked her if she would like to gain what she never had before — honor and respect — because she's spent her life demeaning others. He warned her that it'd be prohibitively expensive, but she just shrugged and said that the more something costs, the more valuable it is.
Patient Lee suffers a collapse and Jin-sung calls Young-oh to ask him if his offer of an alternate treatment was still open. Young-oh speaks to Patient Lee alone and asks if he's really given up on treatment. Young-oh coldly sums up his dire reality, adding that even if Patient Lee wanted treatment and got surgery, he would still have to fight to keep living.
Young-oh asks one more time if Patient Lee has made peace with this truth before getting up to leave. Behind him, the patient quietly sobs, and says that he wants to live. With tears in his eyes, he adds that he could never afford the treatment, but he still wants to live.
Young-oh leans over him and reads the truth on his face. Then he tells the patient that they've found a benefactor for him before walking away. Patient Lee lies in his bed weeping from relief and newborn hope.
After Patient Lee's operation, Jin-sung visits Young-oh in his office to say that the detective in charge has come to see the doctor in charge. She cheerfully reports that the police have reached a settlement and Patient Lee won't have to go to prison. She thanks him and puts a lottery ticket on his desk. She says Patient Lee had gotten it for him, since meeting Young-oh was like winning the lottery for him. But she adds that if Young-oh wins, they need to split the money evenly.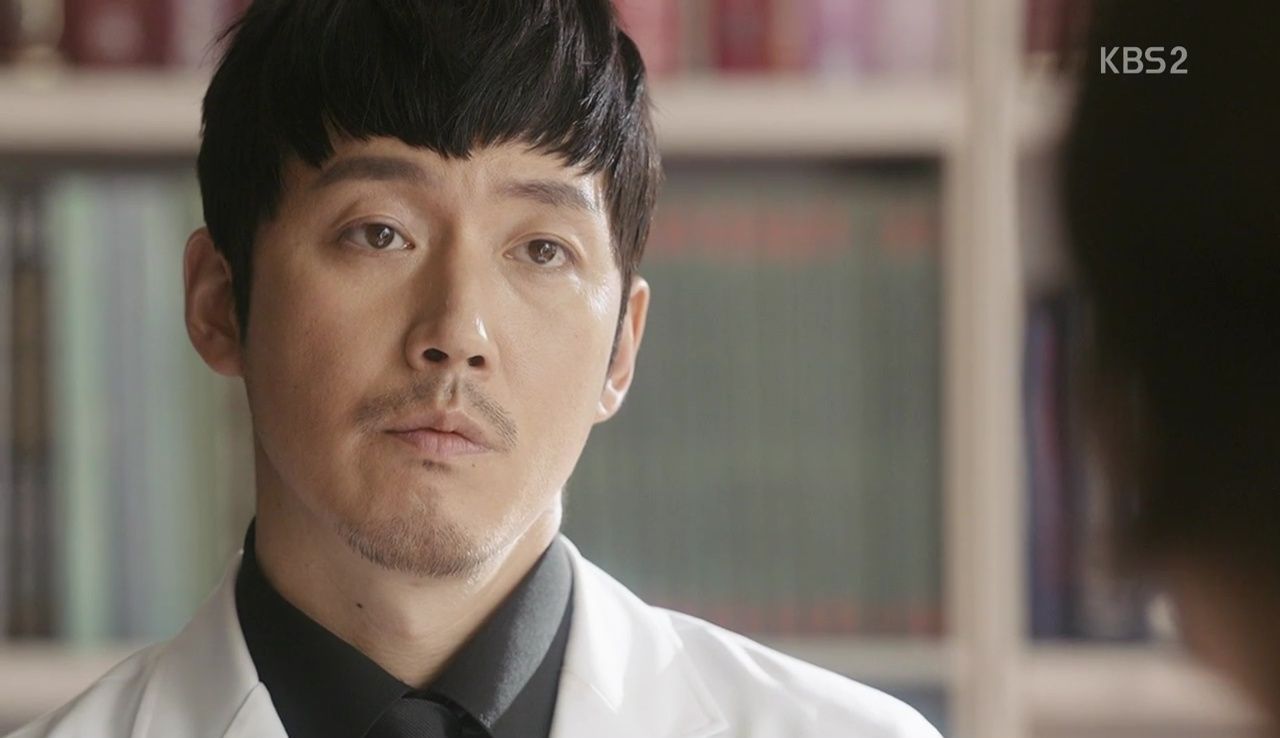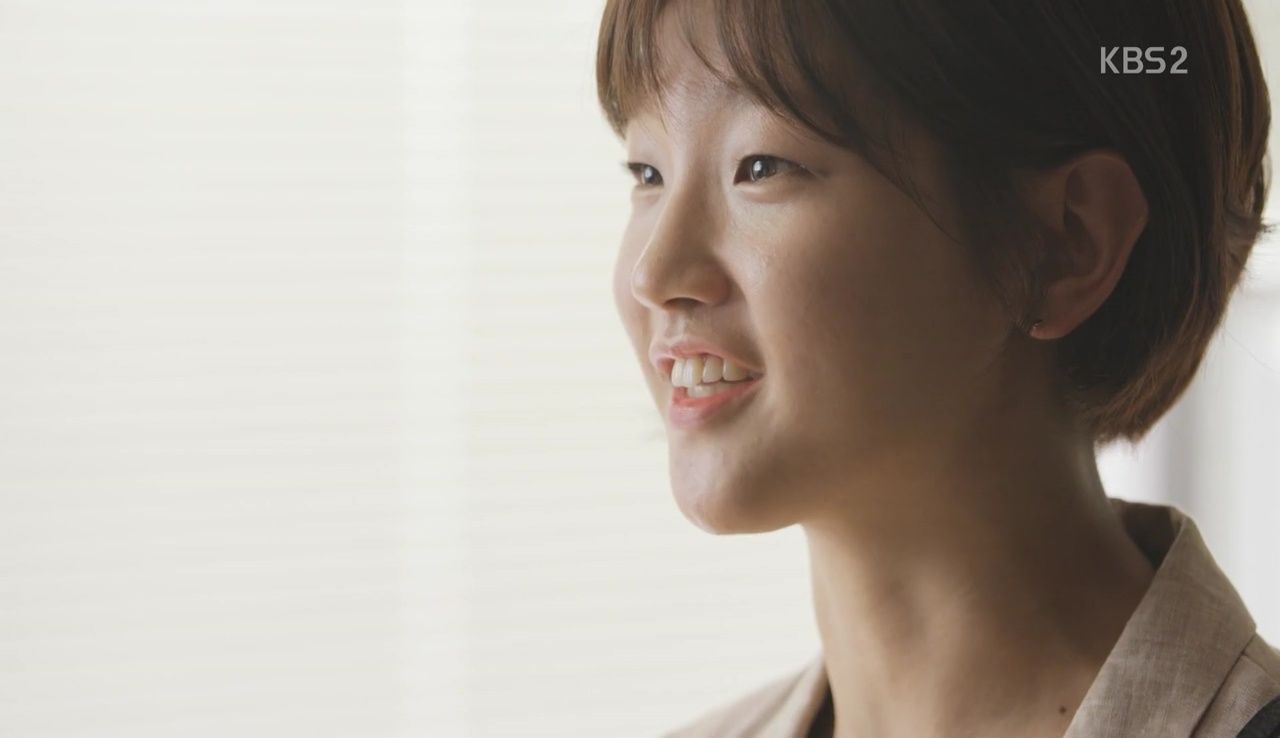 Young-oh opens his drawer to put the ticket in and notices Jin-sung's bottle cap ring sitting there. He looks up and asks if she really thinks that a lottery ticket can represent hope. Jin-sung thinks about it and says: "Anticipating that tomorrow will be different. That is what hope is to me. In that sense, you are the most hopeful person I know. You are different every time I see you."
She tells him to call her if he wins the lottery and leaves. Young-oh repeats her words — "Call me!" — to himself and smiles. Then he thinks of what she said before, about him being different every time she met him.
Suddenly, the smile leaves his face and he runs out after her. He stumbles almost blindly down several flights of escalators and grabs her before she can reach the hospital entrance. He pulls her into his arms and hugs her desperately. Jin-sung goes still in confusion.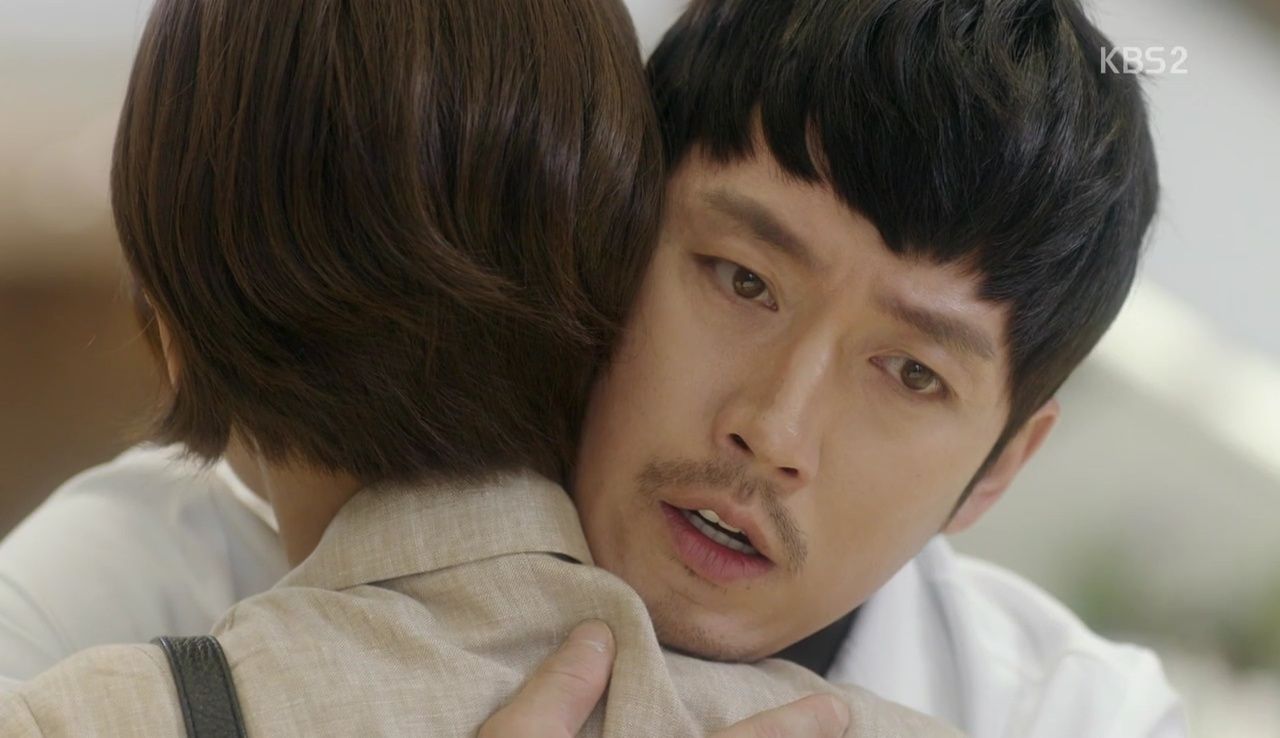 As she belatedly begins to ask what is going on, Young-oh lets her go. He checks his pulse in dawning disappointment and states that he felt nothing. He observes with resignation that she was wrong. Just as he'd thought, he says, he's incapable of changing. He promises to call if he wins the lottery and slowly walks back to his office, leaving a stunned Jin-sung staring after him.
Assistant Manager Chae and Dr. Lee's old colleague from his previous hospital watch Young-oh come up the stairs. The colleague says Young-oh has grown up better than he'd expected. Assistant Manager Chae just says that Young-oh seems dangerous to him. The colleague wonders with genuine worry on his face about how Young-oh would react if he ever found out what his father did to him.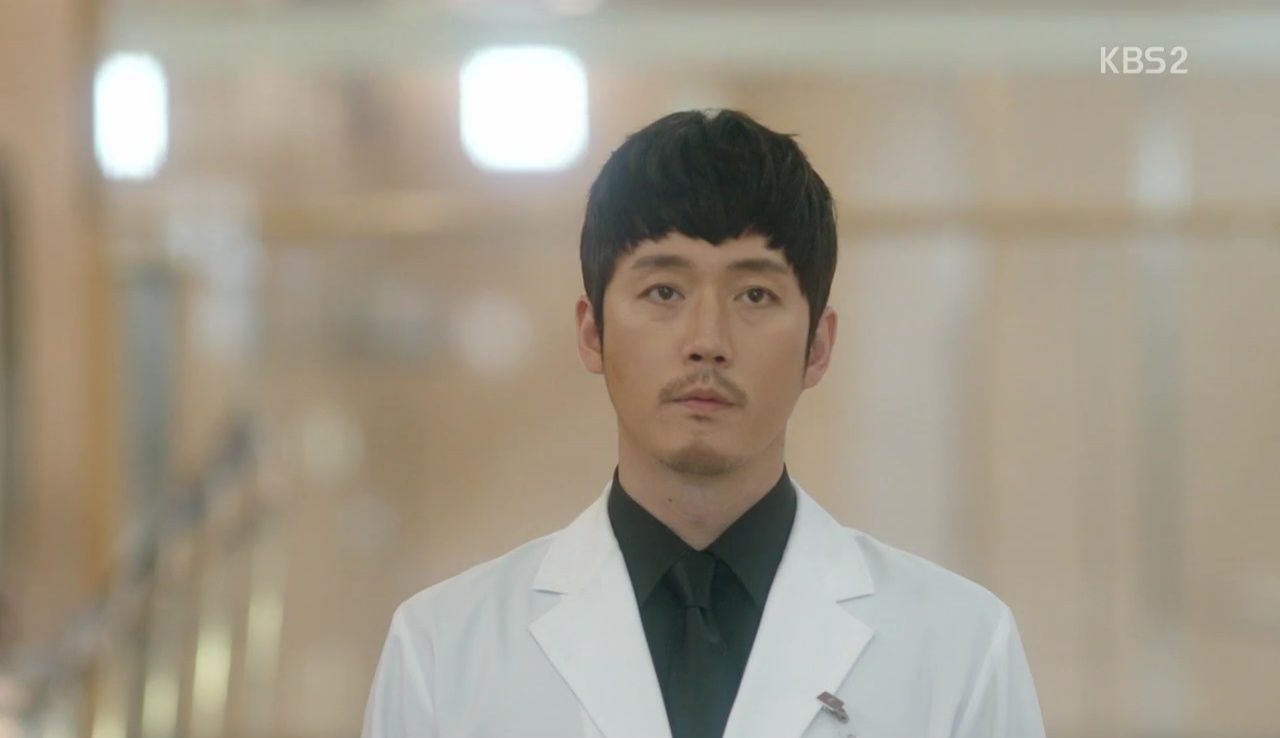 COMMENTS
Young-oh had insulated himself in the belief that his unemotional brain was superior to those clouded by feelings. But the more time he spends with Jin-sung, the more he begins to value those same emotions. His fierce pride and determination to never become the monster his father dubbed him as had kept him from seeing just how much his disorder deprived him of. But now that the realization is dawning on him, it's probably the worst time for him to find out that he has his adoptive father to blame for his condition.
This episode revealed so much of what drives Dr. Lee. He lost his son while testing out an operation that could cure him, and then found out that he'd damaged his guinea pig in a clear case of malpractice. I can't say I have much sympathy for him, but I can see how such a tragedy would push a man of his resolve to fixate on Young-oh's "normality" as penance for what he's done. I believe he both hates and loves Young-oh — the child he both harmed and saved while his own boy died.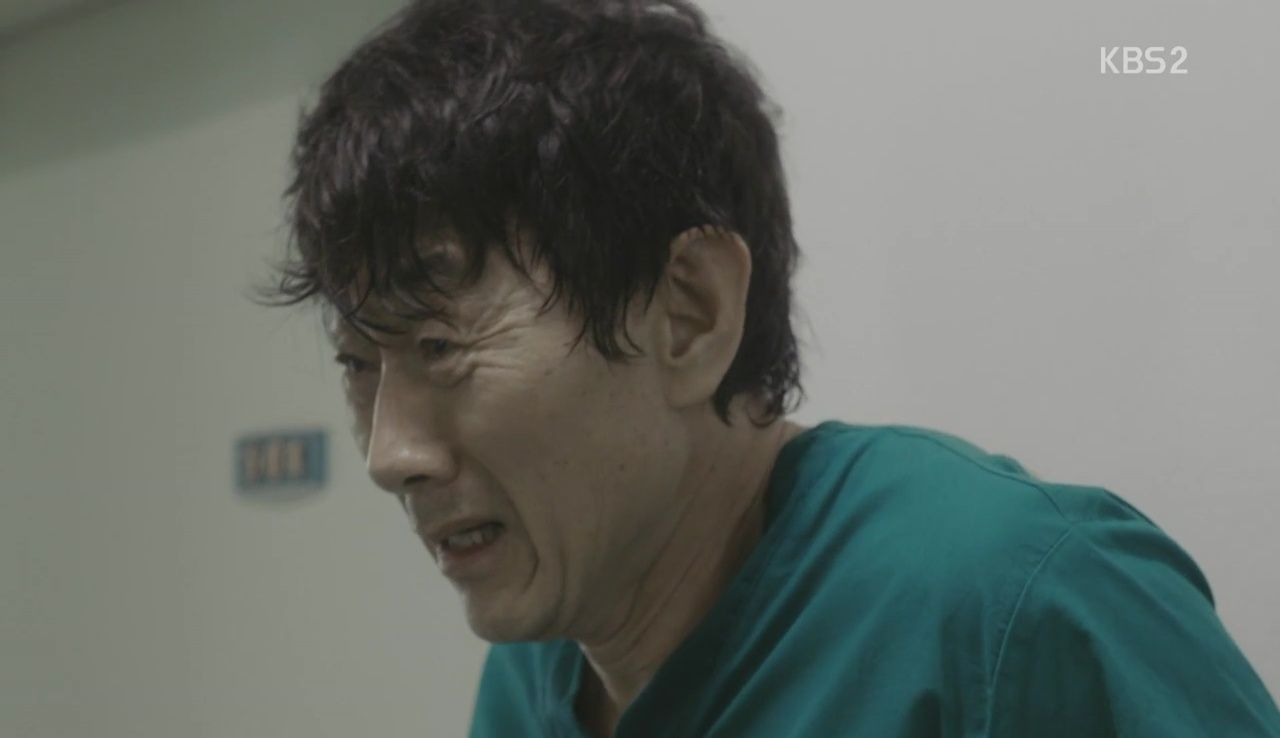 Suk-joo has clearly turned to the dark side. He made a bargain with the devil in Assistant Manager Chae's guise, and despite the lingering uncertainty we see in his eyes, he's consciously chosen to go down a path that leads away from all that is good and right — every principle he held dear before this. We saw him transform in this episode from one of the most empathetic doctors to one who will go to any length to forward the cause of the stem cell research. He's in a terrible state of mind right now, and if Jin-sung manages to prove the corruption behind the research and bring it to a justifiable halt, Suk-joo would be stripped of the only thing that's keeping him going right now.
Did anyone else feel a smile of satisfaction spreading over their face when Min-jae observed Young-oh with Jin-sung? I have said previously that I understand her motives, but I also feel strongly that she took the easy way out. She held on to a grudge for years and got her revenge, but she never tried to help Young-oh the way Jin-sung is doing, even without the deeper emotions that Min-jae had felt at the time.
And while I'm uncertain about the ethics of what Young-oh pulled off in this episode, I can't help but admire his efficiency. Now that Young-oh knows that a deeper look into the patient's psyche makes him an even better doctor, he uses his coldly analytical brain to judge how much Patient Lee wants to be cured and then pulls the threads together to make it happen. While I laughed at his attempts to mimic empathy by memorizing steps, it just pushed home for me again how badly he wants to feel the emotions that he sees glinting out of Jin-sung's eyes whenever she feels something deeply. Even as I clapped in happiness that they finally hugged, I felt his hurt when he realized that no matter how much he wills it, his mind blocks the emotions he desperately wishes he could feel for Jin-sung.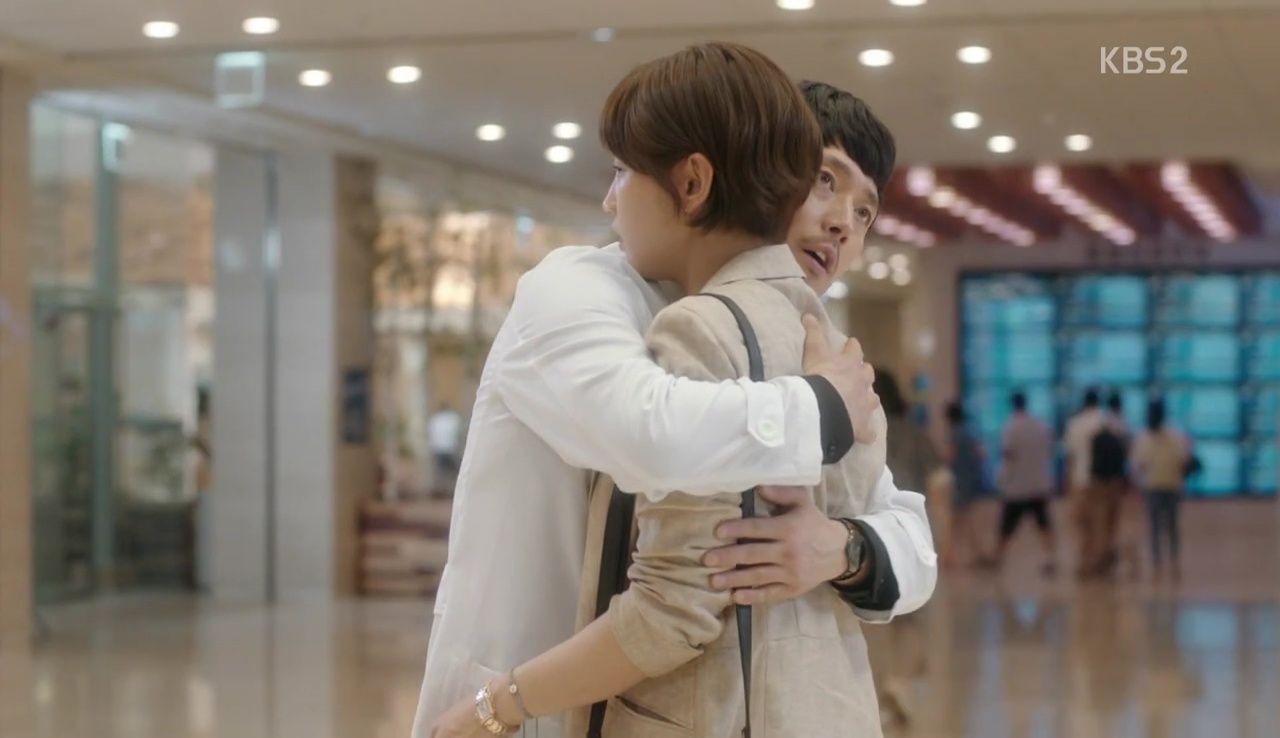 RELATED POSTS
Tags: Beautiful Mind, Episode 9, featured, Jang Hyuk, Park Se-young, Park So-dam, Yoon Hyun-min