Bring It On, Ghost: Episode 3
Now that Hyun-ji's shown her usefulness in ghost-fighting, Bong-pal has a valid excuse to keep her around beyond "gosh, she's cute." It's a good thing, because she doesn't seem inclined to go anywhere any time soon. And he'll need her help, especially her ability to see malevolent ghosts' weaknesses, as it doesn't look like there will be any shortage of ghosts for this new dynamic duo to take down.

EPISODE 3 RECAP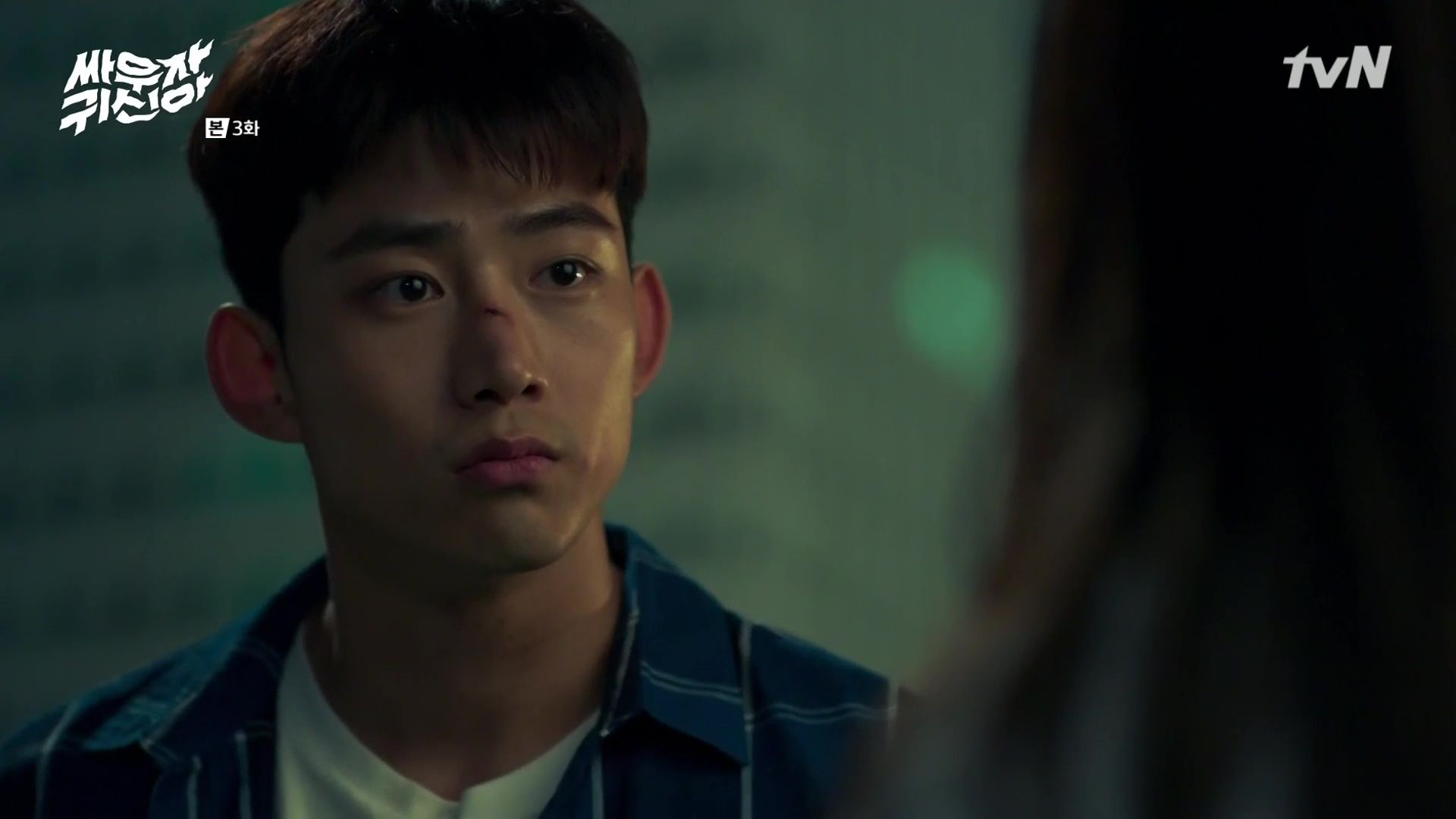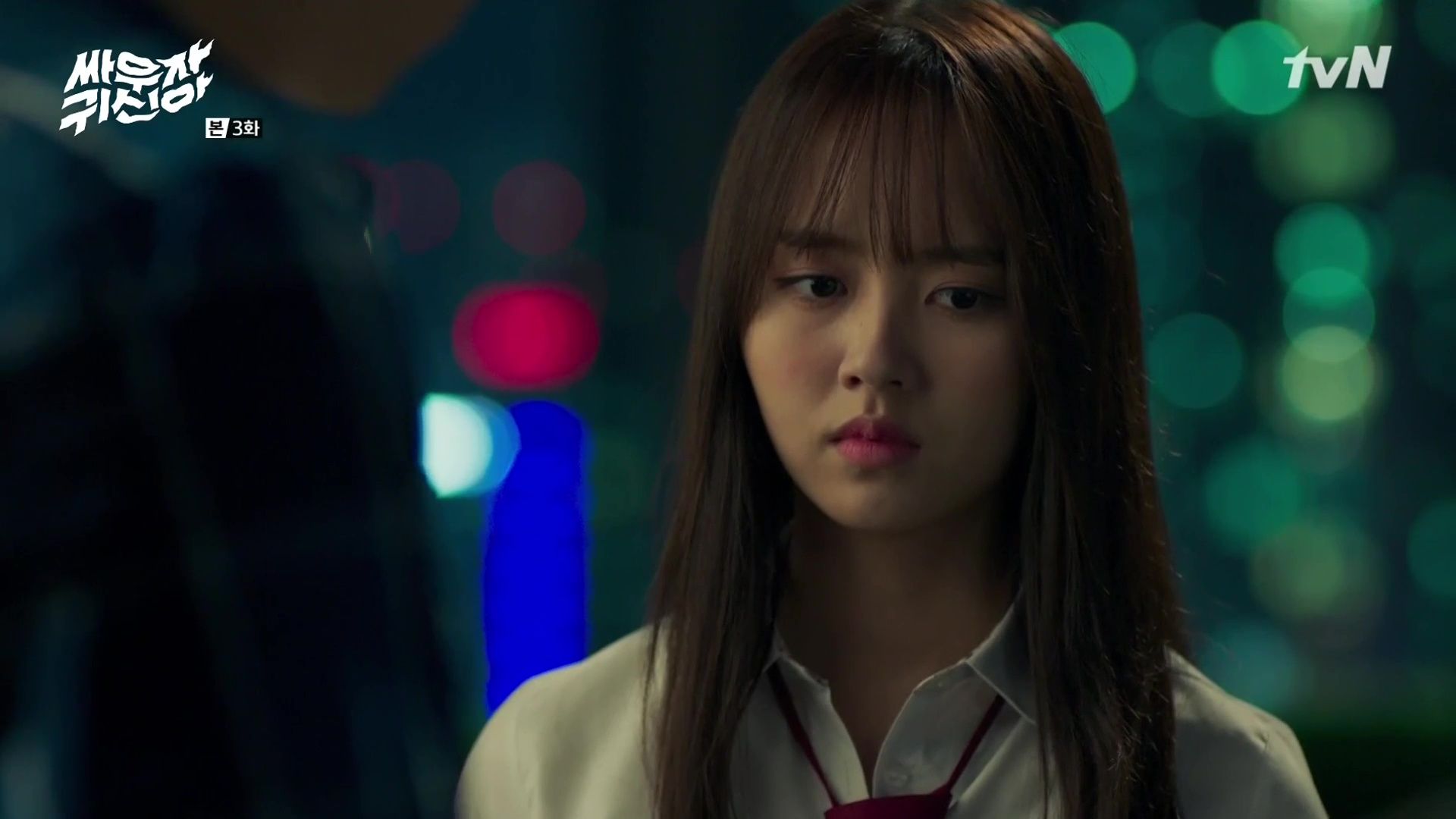 On his apartment roof, Bong-pal listens to Hyun-ji stammer about their kiss, then leans in and kisses her again. He backs up and asks if it triggered any memories like last time, but awww, Hyun-ji is a little stunned. Bong-pal asks her for a favor in return for the one he just did her, helping him like she did today
He notices that she's spacing out, but he clarifies that if she'll help him with some exorcisms, he'll let her off the hook for the money she promised him for the pervert ghost. Aaaand… she's off in lala-land again, hee. This time she poofs away, probably not having heard a word he said, and Bong-pal wonders if she was telling the truth about her memories.
Elsewhere in the city, a beautiful woman primps in front of a mirror while hateful comments pop up about her online at an alarming rate. She stands in the living room for a minute looking at a large photo of herself, then in the photo's glass, we see the reflection of her hanging body.
The next morning, Bong-pal can't get that kiss out of his mind, or Hyun-ji's confused reaction. He complains that this isn't even the first time a virgin ghost has played him, HAHA. He makes his lunch (I love how he's such a good cook) and wonders where monk Myung-chul went, and in the corner Myung-chul's scimitar gleams ominously.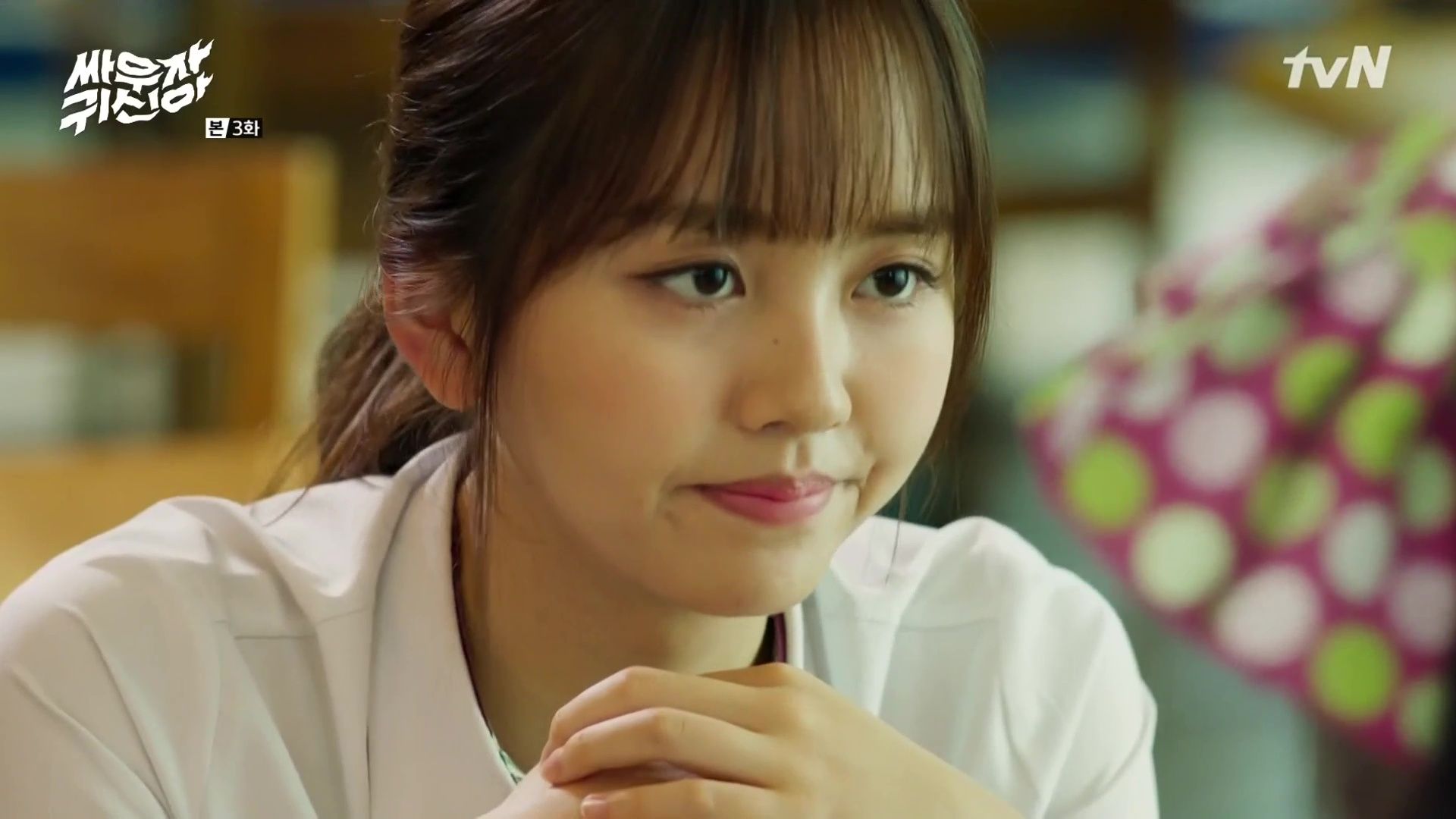 Hyun-ji's ghost friend Kyung-ja searches for veterinarian Hye-sung all over campus, then finds Hyun-ji stewing in a cafe. She swears that this is the man of her dreams, not all those other men-of-her-dreams she's followed, and finally notices that something's off with Hyun-ji.
Hyun-ji tells her that it was kissing Bong-pal that triggered her memories, but the second time he kissed her, nothing happened. Hyun-ji pops back to Bong-pal, this time making him nervous with her closeness, but by now he's worked himself into a good snit over being "tricked" by her. He stomps off, so Hyun-ji decides to take Kyung-ja's advice and just stick to him like glue.
Pretty coed Seo-yeon notices that the puppy is still in the vet clinic window, so she finds Hye-sung, to ask if she can foster it while he looks for a new owner. Hye-sung readily agrees, and tells her to come by the clinic after class.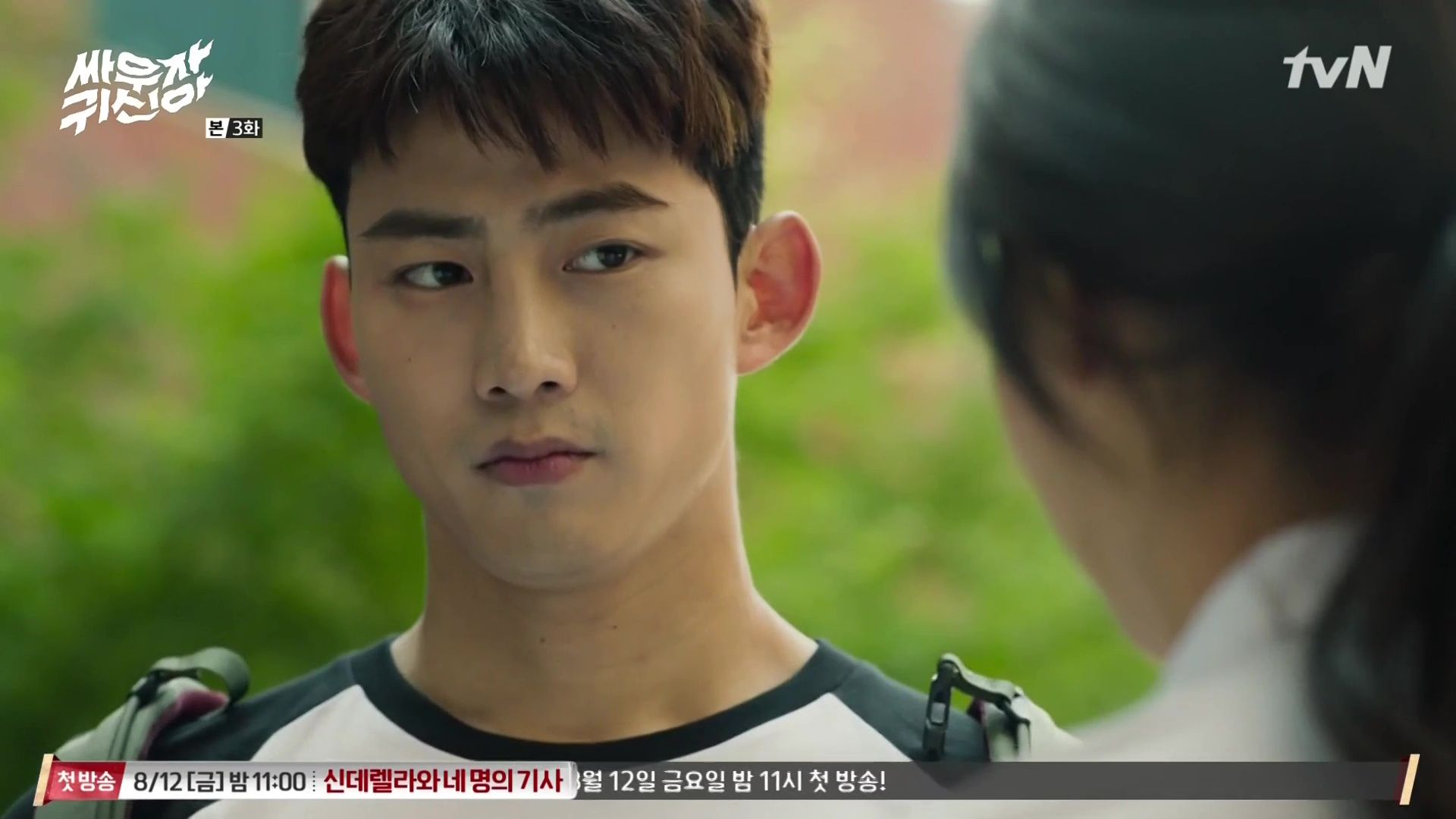 Bong-pal does his best to ignore Hyun-ji, even when she offers to help him like he suggested. She grabs a book from his hand in the library, and when he tries to grab it back, he notices all the students staring at him. Whoops.
He finally says that he won't trust her again, that he knows she's lying about her memories. Hyun-ji whines that she's not lying, but she admits that she didn't see any new memories when he kissed her, so he's mistrustful. Hyun-ji turns those big eyes on Bong-pal, and he asks, if her memories didn't return, why is she offering to help him?
Reaching for any excuse, Hyun-ji asks him to help her study for her college entrance exams. She tells Bong-pal that she can't cross over because she never took them, so she thinks that if she does well on the test, she can move on. The force of her formidable aegyo, and her promise to help him fight ghosts in the meantime, eventually convinces Bong-pal to agree.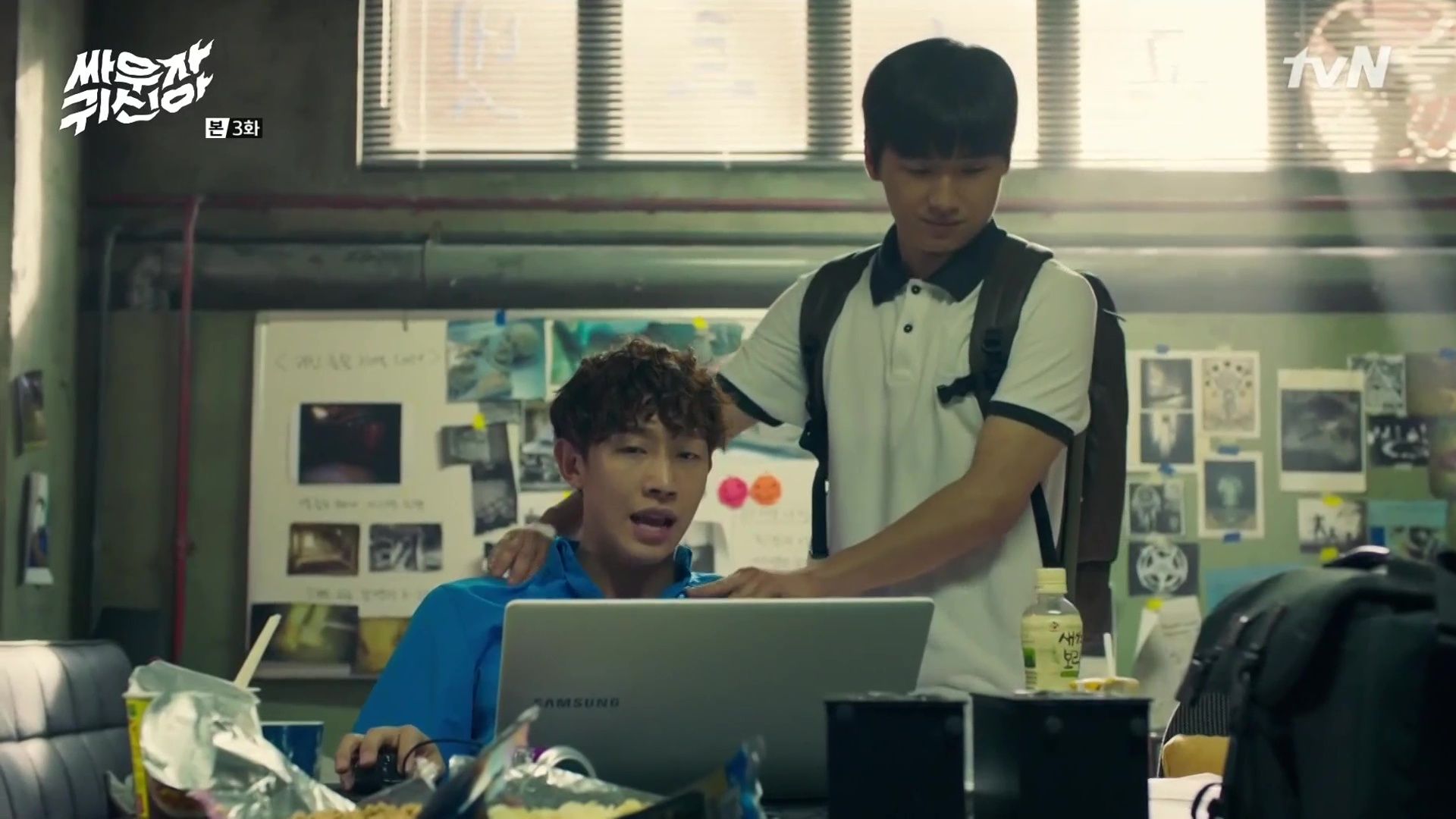 Whoever this Sadako person is that was posting hateful comments on Chun-sang and In-rang's website, he's apparently not stopping at online attacks. He's somehow cleaned out Chun-sang's bank account, and now he's stalking him on a video game. In-sang urges Chun-sang to leave the game, but Chun-sang is obsessed.
Bong-pal balks when it becomes clear that Hyun-ji intends to live with him while they hunt ghosts together, but she argues that as a team they should stick together — and besides, she has nowhere to go. He finally agrees, if she pays rent in even more ghost hunts, and he even cracks a tiny smile when they reach an agreement.
Hyun-ji tags along while Bong-pal shops for groceries, tossing meat in his cart despite his protests, hee. Poor Bong-pal has to give her her way or risk being seen arguing with himself.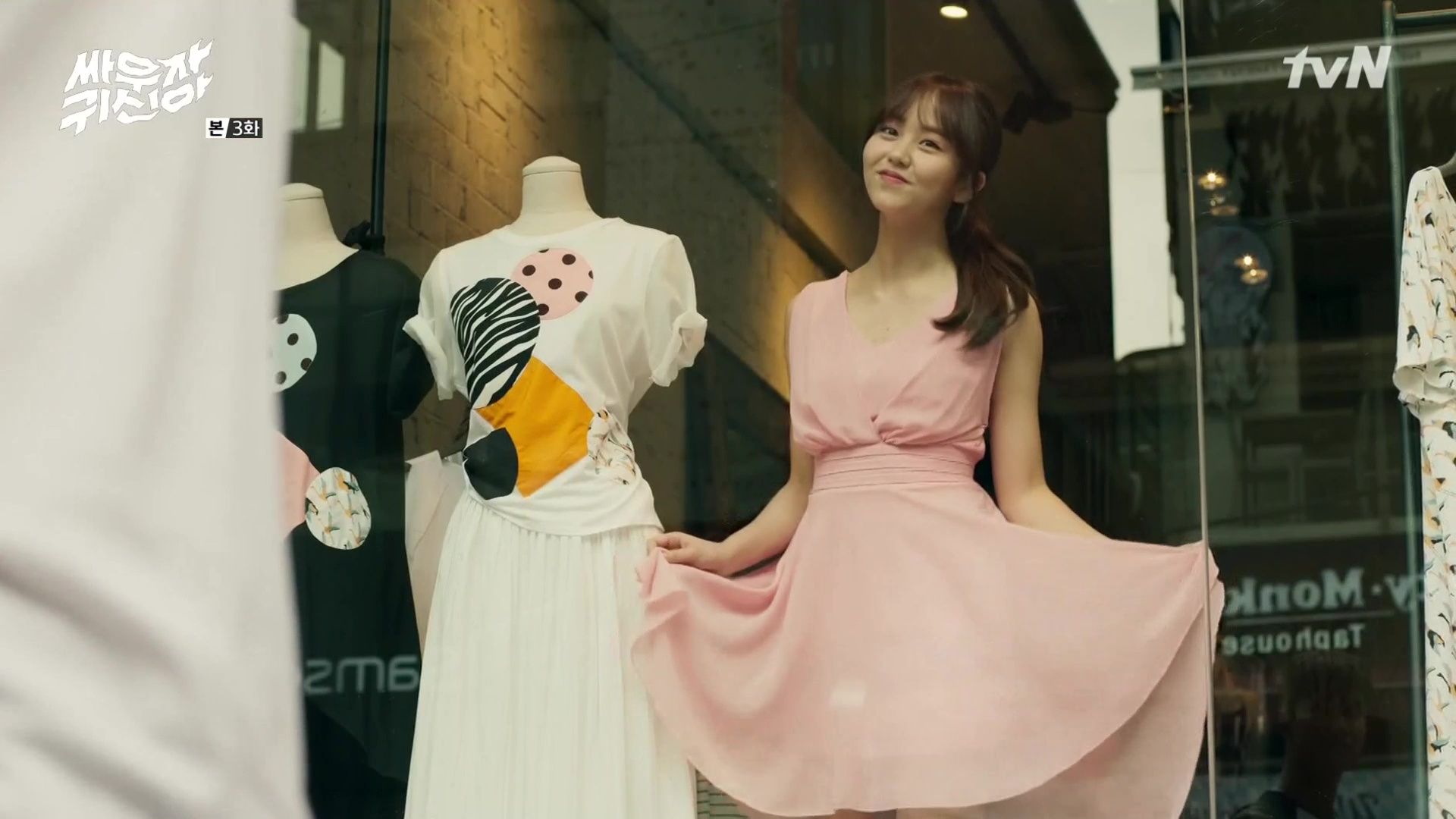 Hyun-ji isn't done spending Bong-pal's money — on the walk home she begs him to buy her a dress she sees in a store window. Bong-pal grouchily says he doesn't think it would look pretty on her, so she pops into the window to stand behind the manikin and show him. She looks adorable, but Bong-pal just shakes his head and walks on.
Hye-sung hands over the puppy to Seo-yeon with medicine and instructions. There's an odd moment when Hye-sun'gs pen falls off his desk and Seo-yeon picks it up, noticing that it's monogrammed with his name.
Chun-sang finally succumbs to Sadako's video game attacks, and Sadako taunts him until he's in a rage. Sadako invites Chun-sang to come find him in person if he dares.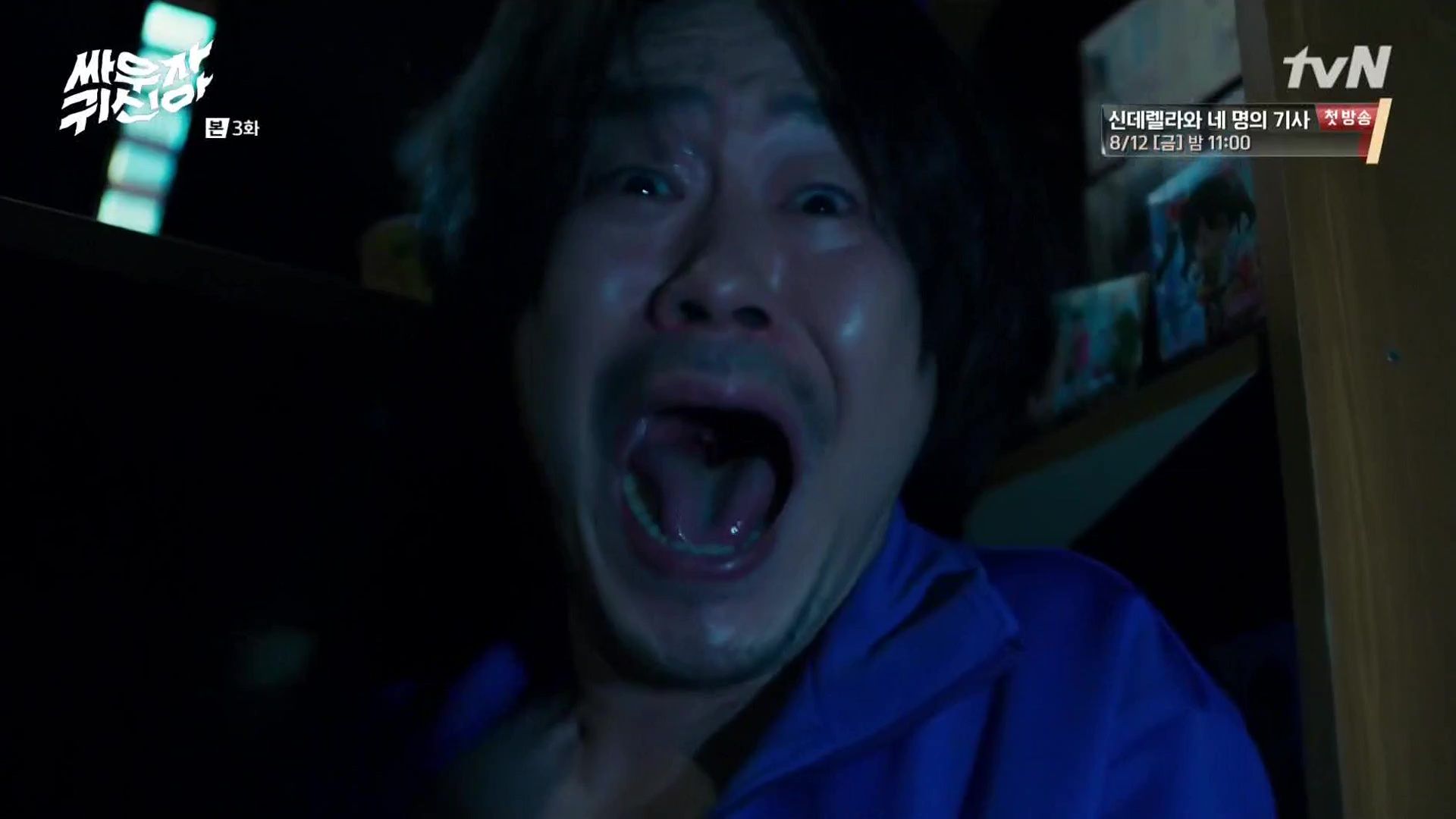 The woman who killed herself turns out to be a famous singer, Miz, who left behind a video of her suicide. In a dim little room, Chun-sang's tormentor Sadako's computer blinks out, then his phone rings, displaying the video of the singer Miz's death.
He tosses his phone away, but then his television lights up with a video of her walking in a white dress. Suddenly her broken and angry spirit crawls out from under his bed and attacks him.
Hyun-ji is still whining about the dress when they get back to Bong-pal's apartment, sick and tired of wearing her school uniform for the past five years. She explains that all he has to do is buy the dress and burn it so that she can wear it, and Bong-pal balks at the idea of burning brand-new, expensive clothes.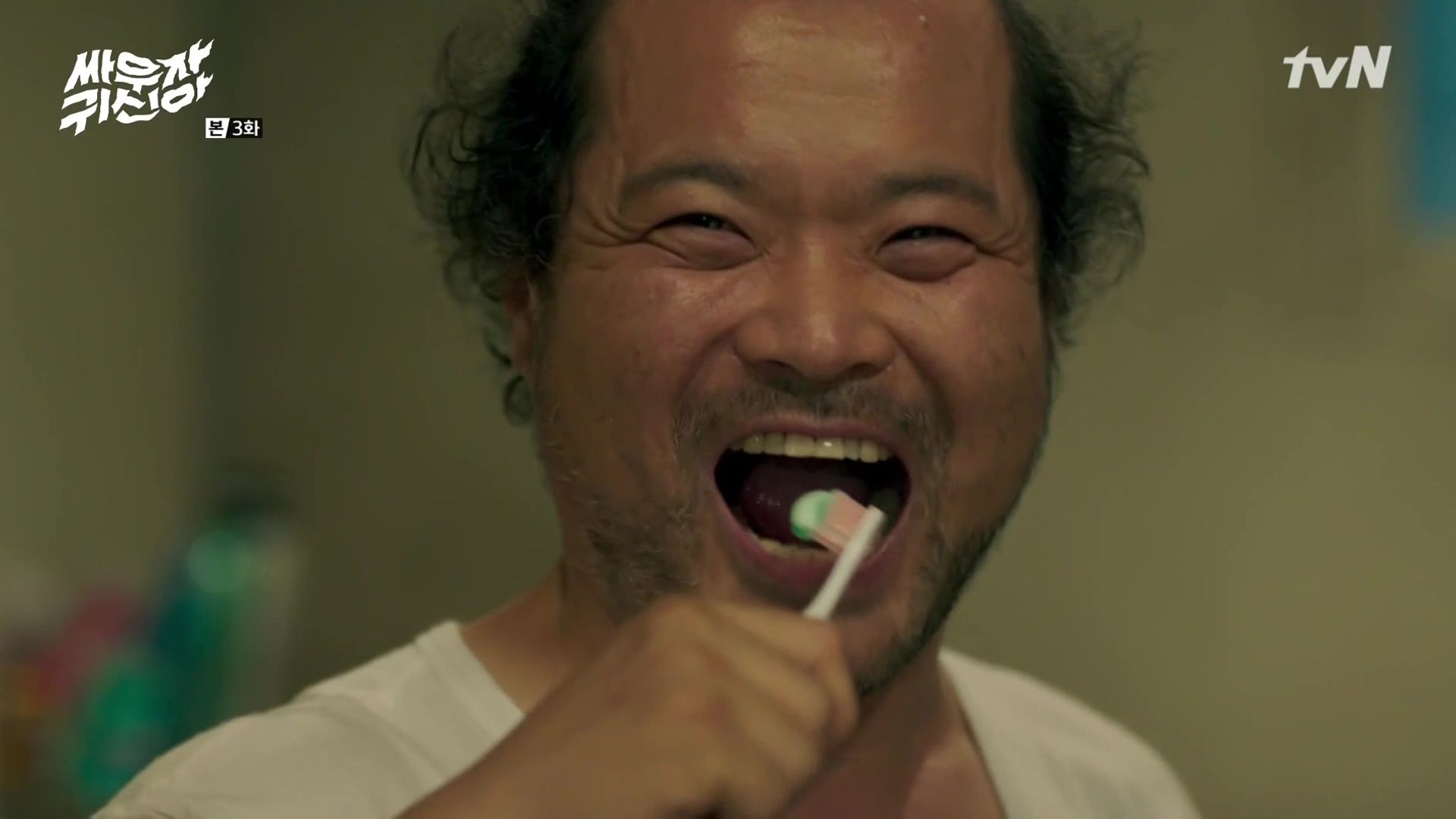 Hyun-ji is happy to see her new pink cup and toothbrush next to Bong-pal's, since it's been five years since anyone gave her a present, and even Bong-pal has to smile at that. He teases her that it's been five years since she brushed her teeth — ha, one point to Bong-pal.
Hyun-ji reluctantly hides when Myung-chul shows up, and he immediately sees his scimitar and asks how it got here. Bong-pal lies that it's been here all along, and luckily Myung-chul goes along with him. Poor Hyun-ji has to watch as Myung-chul gobbles up all of her meat, then assumes that her new toothbrush is for him. Ewww.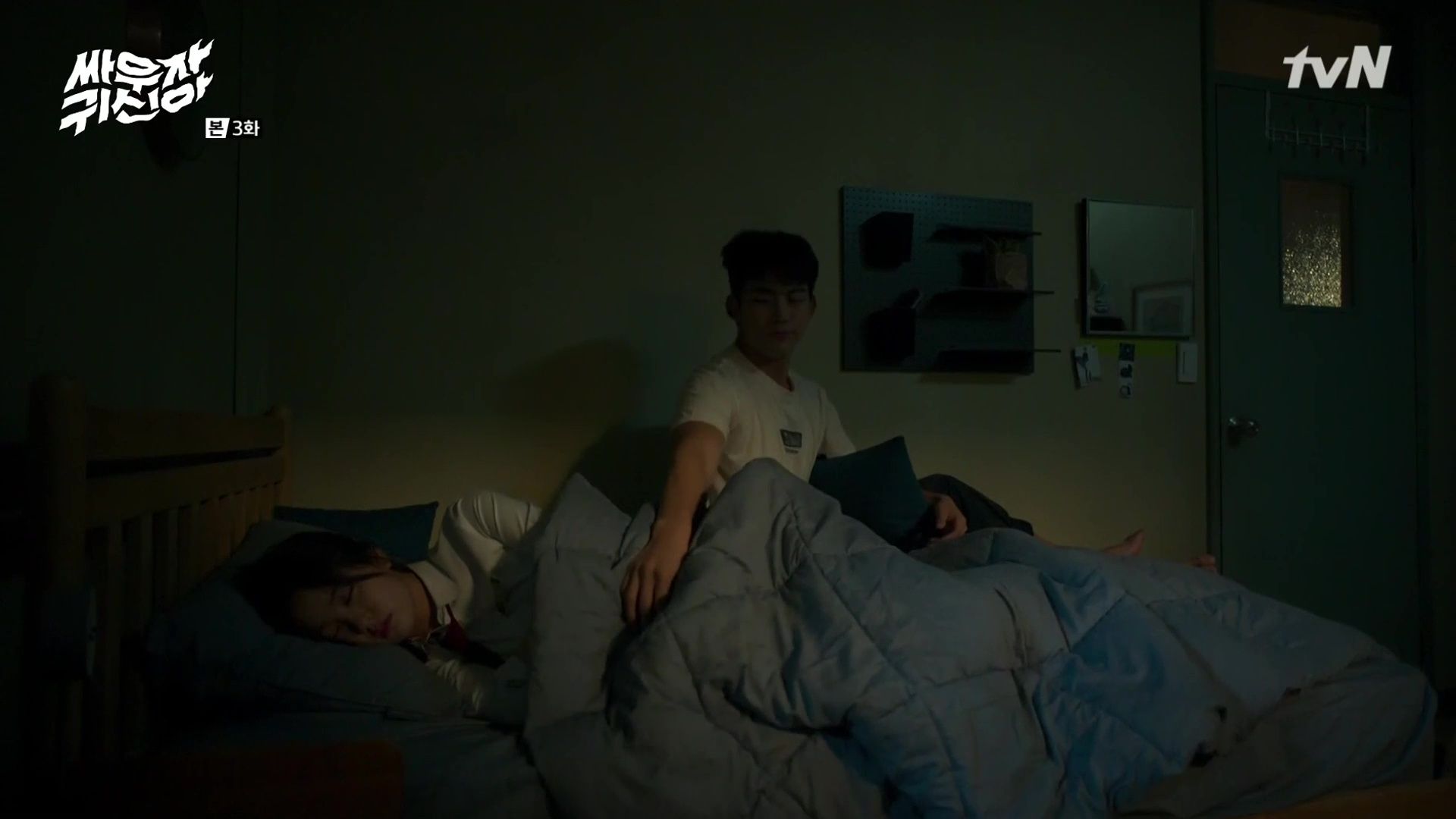 With Myung-chul there appropriating the couch, Hyun-ji looks for a place to sleep and ends up in Bong-pal's room. She notices that he always sleeps wadded up against the wall, and she carefully lies down in the empty spot next to him. He turns in his sleep and ends up with his nose an inch from hers, which reminds her of that kiss on the rooftop.
She eventually falls asleep, but some time later Bong-pal wakes up and finds her there. He's annoyed, but he lets her sleep, and even covers her with his blanket before going out to the living room. Awww, he's such a gentleman even though she's a ghost.
Bong-pal lays down on the floor next to the couch, but Myung-chul rolls over in his sleep and lands right next to him. Bong-pal just takes his place on the couch, hee. In the morning, Bong-pal lies that he slept on the couch because it was hot in his room.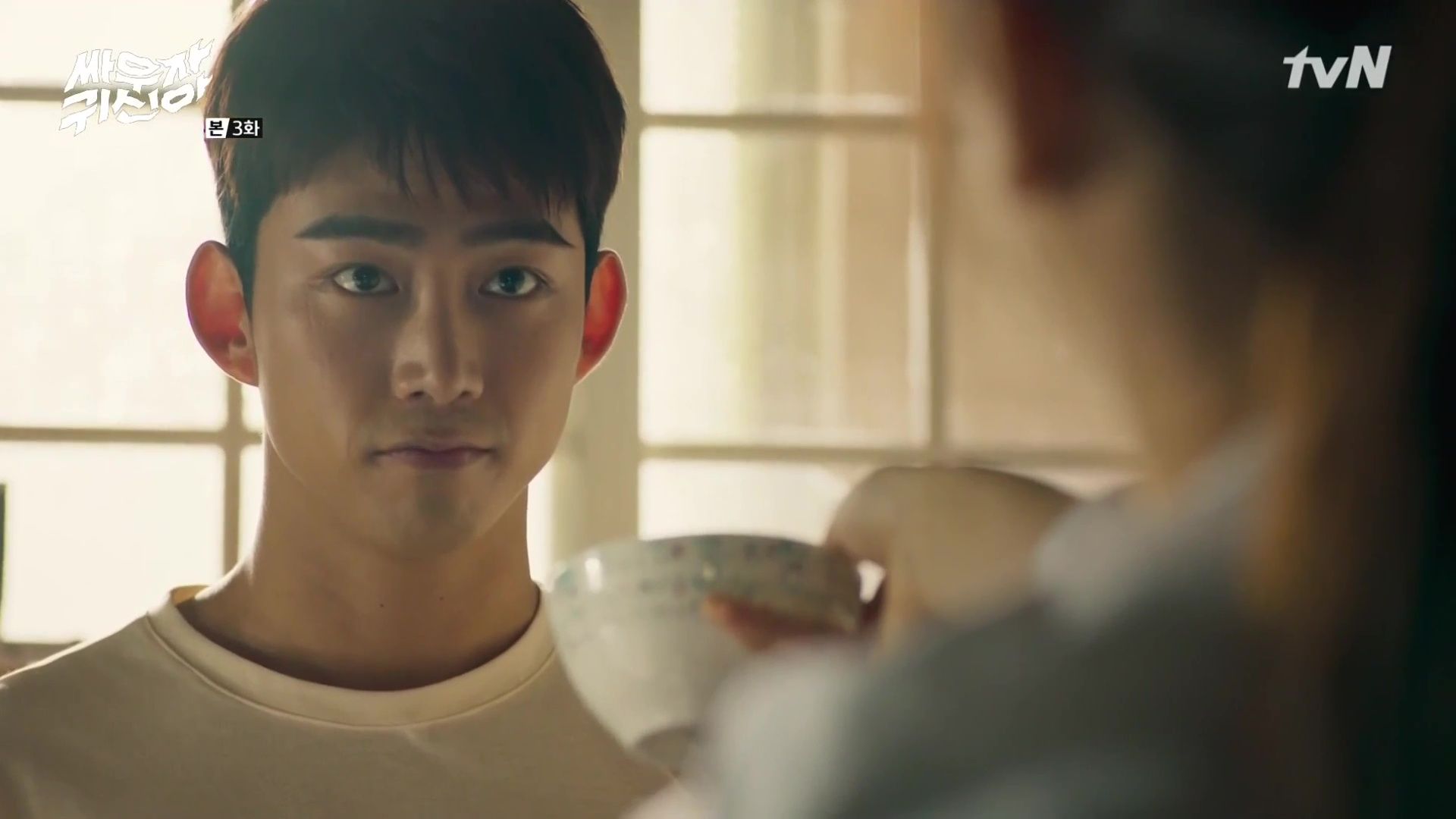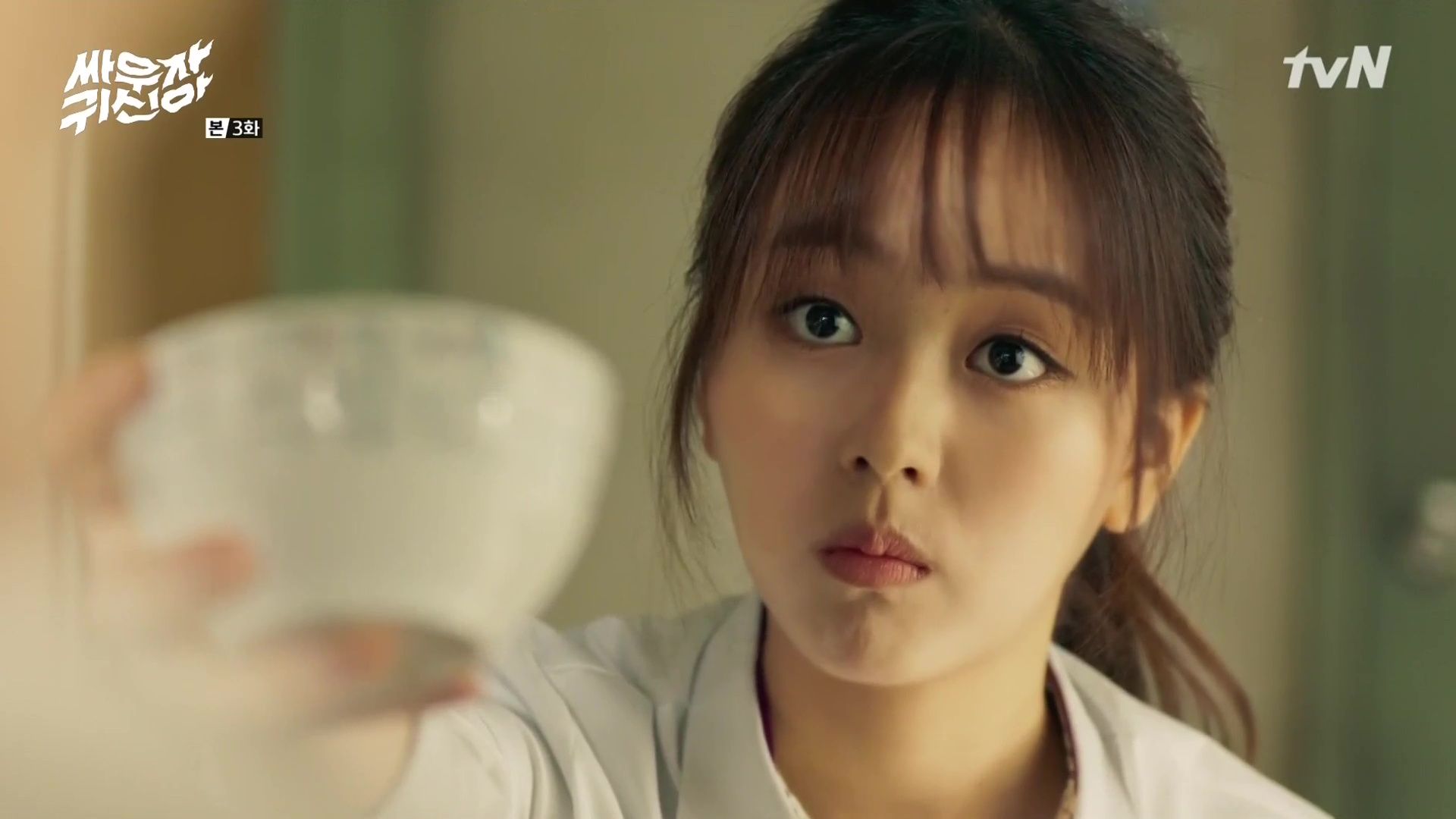 Myung-chul heads out early on some business, promising to see Bong-pal on his mother's memorial day. He reminds Bong-pal not to exorcise any ghosts while he's gone,and to avoid virgin ghosts in particular. Hyun-ji gets all up in his face to glare at him, which Myung-chul can vaguely feel, but Bong-pal says that he doesn't see anything.
Once he's gone, Hyun-ji complains to Bong-pal about him, then asks for breakfast. She eats with gusto, and Bong-pal sighs and requests they rework their agreement now that he knows how much she can pack away. Hyun-ji is forced to agree, but she gets back at Bong-pal by demanding more food, ha.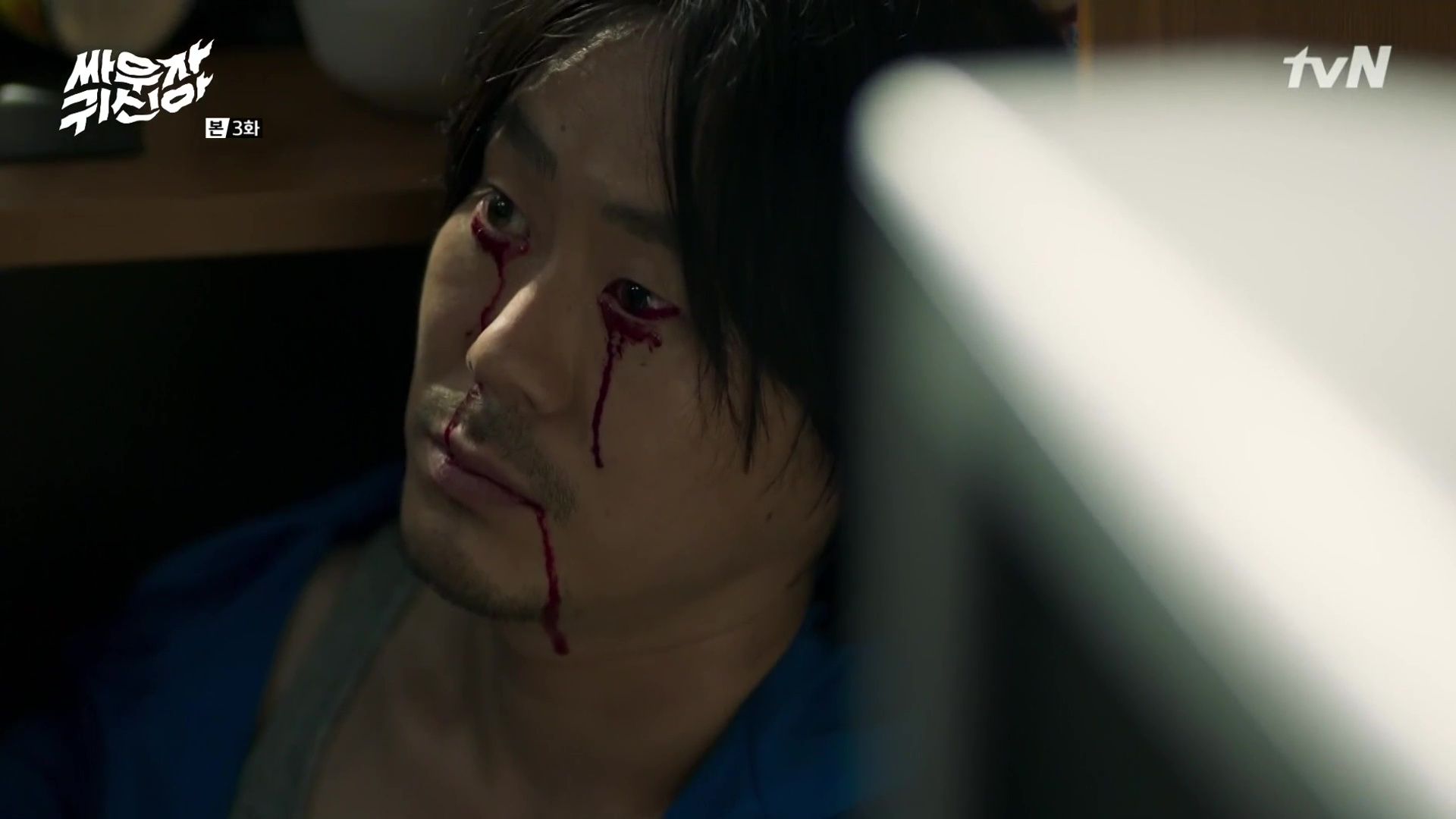 Uber-hacker In-rang locates Sadako's home, and Chun-sang goes storming over prepared to confront him. He's worked himself into an impressive lather, but when he doesn't answer, they burst into Sadako's room then scream to find his mutilated body on the floor.
The cops exposit that Sadako was known for making malicious comments online and had been sued a lot, even by the famous idol Miz. They take Chun-sang and In-rang in to question them, and the boys swear that he was dead when they found him. Luckily, CCTV evidence supports their claim.
The boys overhear the cops talking about all the malicious comments made about Miz that probably pushed her to kill herself. Sadako was the worst offender, but the second worst, the leader of Miz's anti-fan group, has also been found dead with all the bones in his hand broken, same as Sadako's.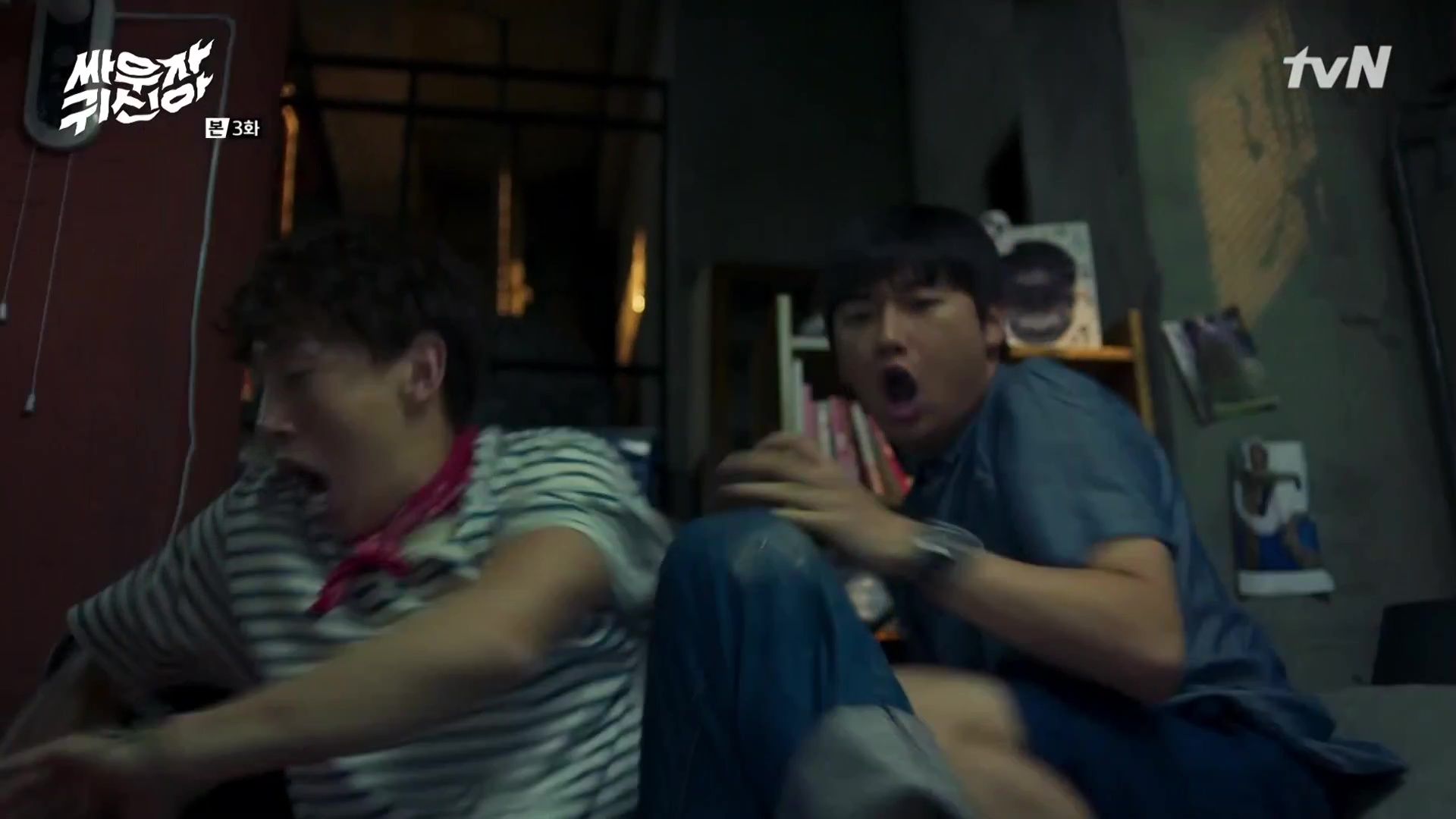 Chun-sang grows anxious when they talk about the third-worst online attacker, Black Star Angel, which is his online handle. But he swears that it wasn't him — Sadako hacked his account and used it to make those comments.
Chun-sang is a nervous wreck, and gets worse when they find Miz's anti-fan website, where everyone is talking about a curse on anyone who wrote nasty comments about the idol. Suddenly a photo of Miz on the site comes to life and their power flickers out, scaring Chun-sang and In-rang, and they run for it.
Another critic of Miz's, a woman this time, finds herself alone in an elevator when the video of Miz's death pops up on her phone. A black mist surrounds her and Miz appears, looking furious, and the woman screams. By the time the elevator door opens, the woman is dead.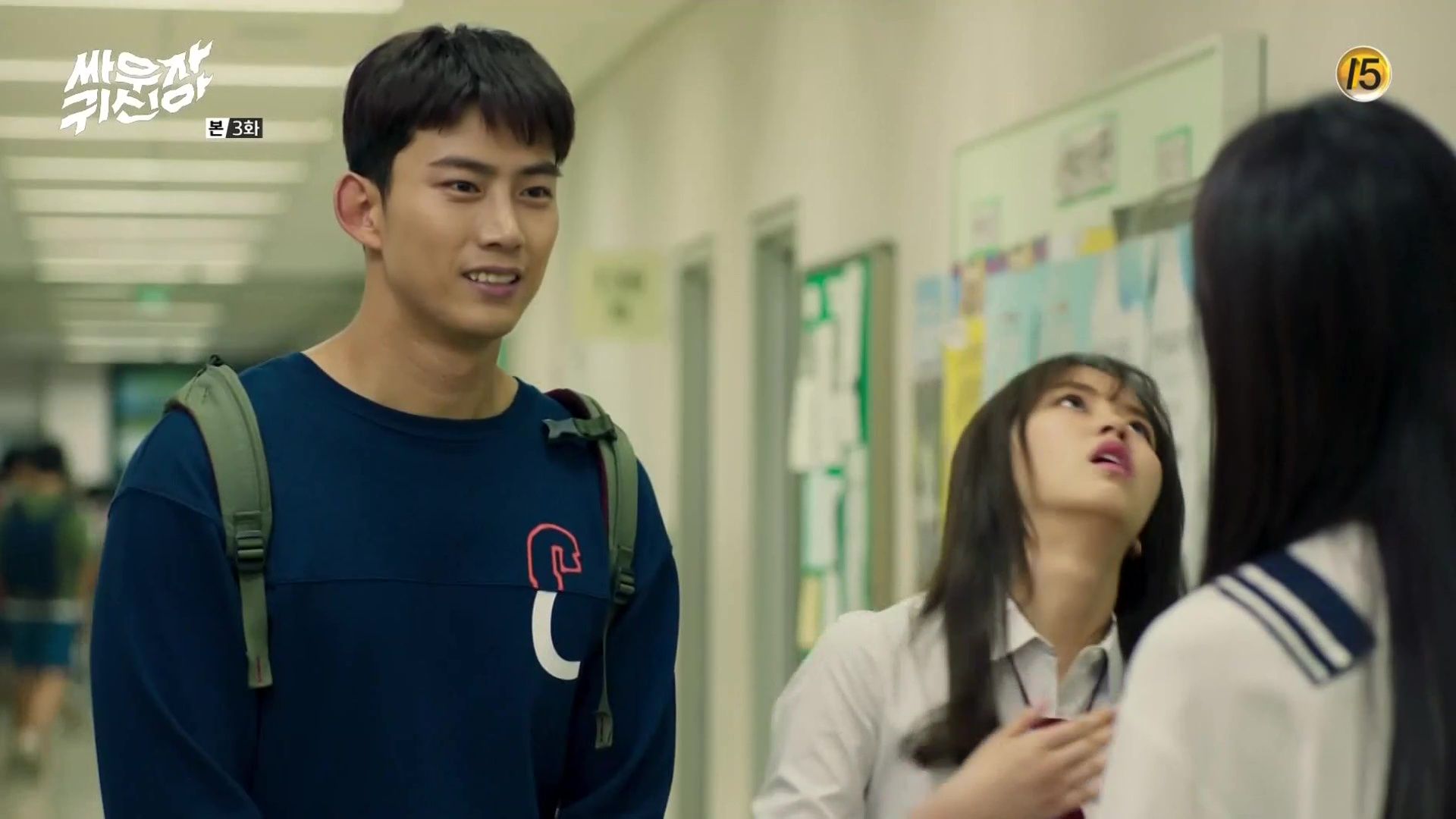 Bong-pal and Hyun-ji bicker as usual when she follows him to school, and after class they spot Seo-yeon in the hall. Hyun-ji laughs when Bong-pal freezes up, and when he tries to escape, she pinches him and makes him yelp, drawing Seo-yeon's attention. Awww, he looks terrified.
With Hyun-ji encouraging him, Bong-pal starts to ask Seo-yeon to lunch, but she sees Hye-sung behind him and he obvious distraction makes him chicken out. He turns his annoyance on Hyun-ji ("Do you wanna die?" I'm already dead!" Hee) and she stomps off in a huff.
Seo-yeon reports to Hye-sung that the little dog isn't eating much, so they arrange for her to bring him into the clinic the next day. He moves on and sees a girl feeding a stray cat, and strikes up a conversation with her. He gently fusses at her for feeding a stray on school grounds, but just tells her to feed it in a different place next time.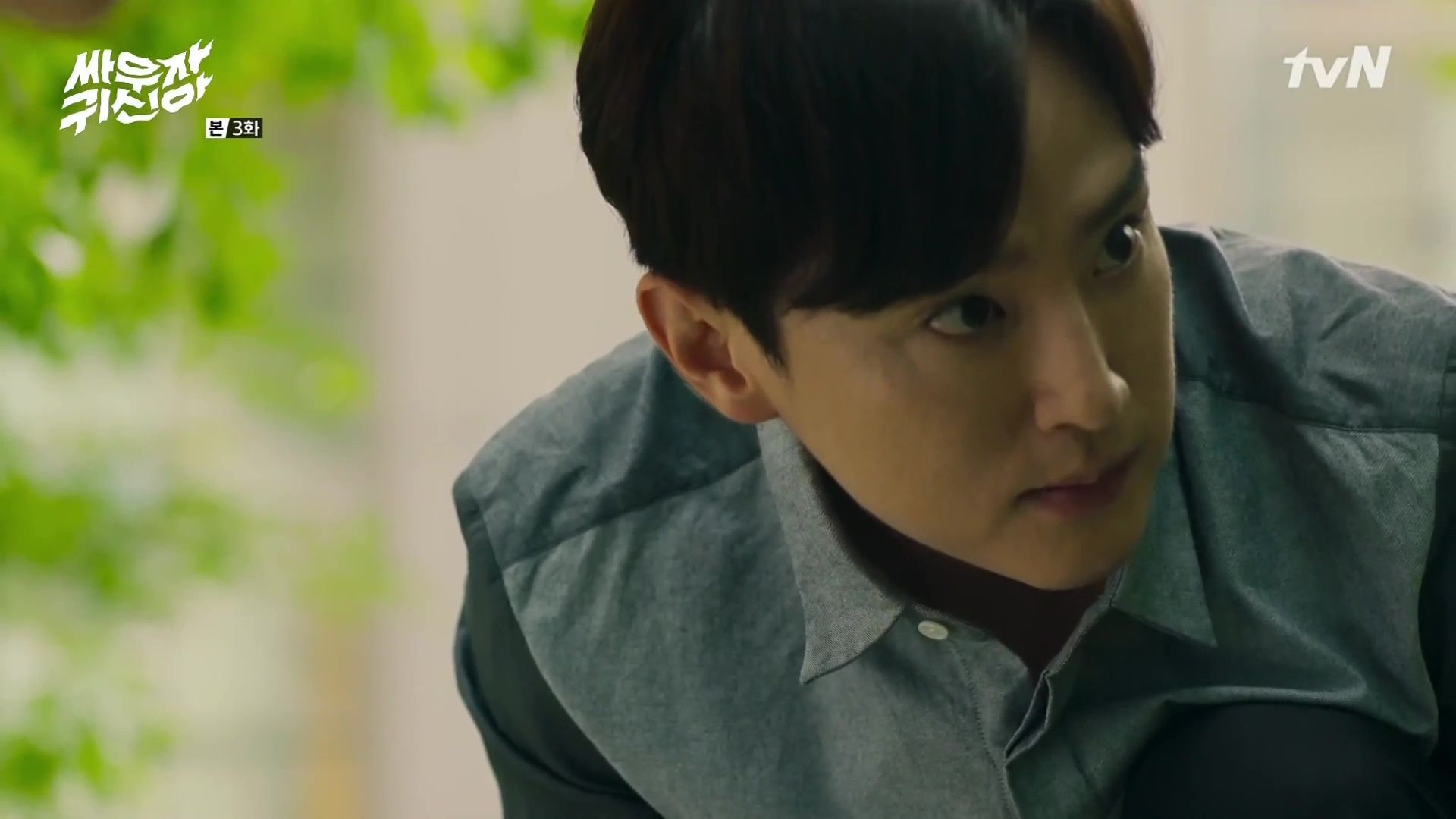 He notices that the cat seems to be feeding kittens, and gives the girl suggestions for what to feed it. He tries to examine the cat but she scratches him and runs, and his eyes go hard and black for a moment before he shakes it off. ~shudder~
Myung-chul records his chants on his phone, and plays the recording at the funeral he's working rather than chant out loud. He gets a phone call and pretends it's part of the ceremony, HA, but he answers when the phone rings a second time. It's a colleague, who he asks for a favor — to check on Bong-pal's father, who he can't manage to contact lately.
In-rang finds Bong-pal on campus and begs him to help Chun-sang, who by now is refusing to go out, and living on anti-anxiety meds. In-rang badly explains the situation, and when Chun-sang calls him, their connection is scarily crackly. Suddenly Miz's death video pops up on Chun-sang's phone, and In-rang knows something is wrong and drags Bong-pal to save Chun-sang.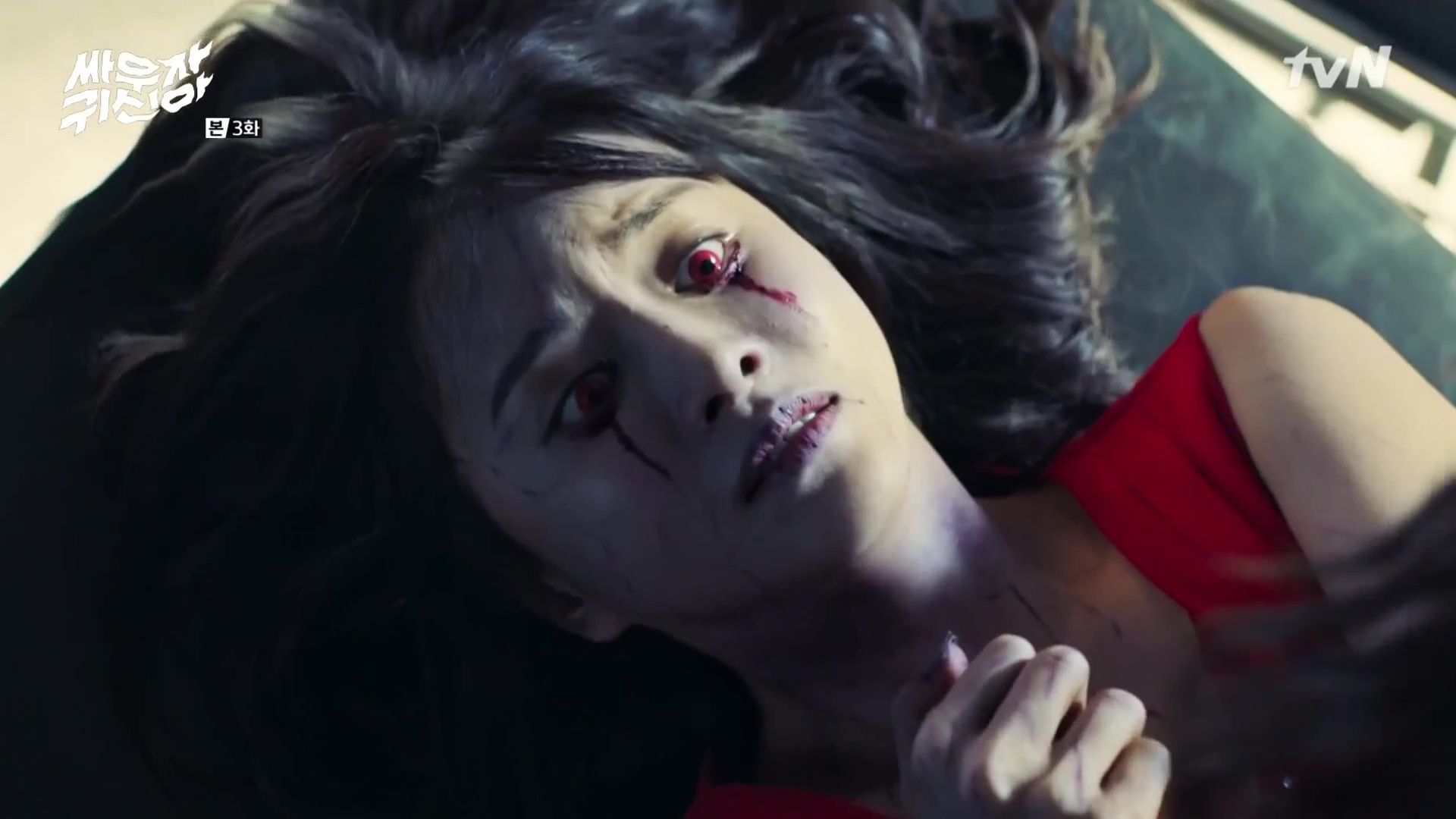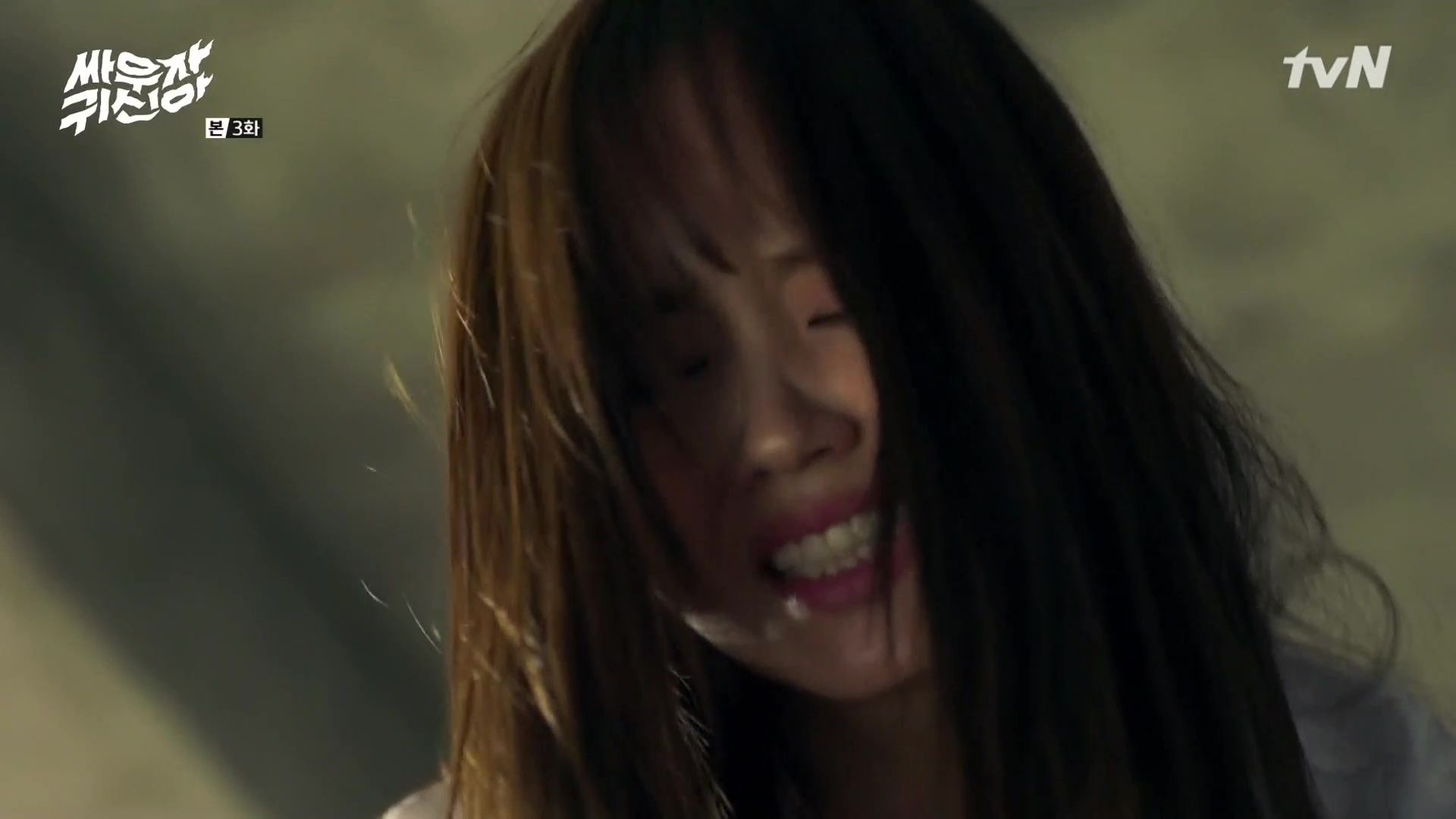 Meanwhile Chun-sang finds himself face-to-face with Miz's ghost, and though he tries to hide from her, she finds him and attacks. He passes out and she grabs his hand to break his bones, but Hyun-ji pops up right next to them and shouts for her to stop.
The two female ghosts fight, and Hyun-ji begs Miz to quit doing this — killing people won't change anything. Miz attacks again, yelling that all she wanted was compliments, "But why did they hate me so much?!"
Bong-pal bursts in and shoves Miz off of Hyun-ji, and she disappears then appears behind him and punches him, hard. She punches Hyun-ji too, and Hyun-ji sweeps her feet out from under her, then grabs her hands and tells her that she was the one who hated herself the most. That seems to strike a chord, and Miz stops fighting.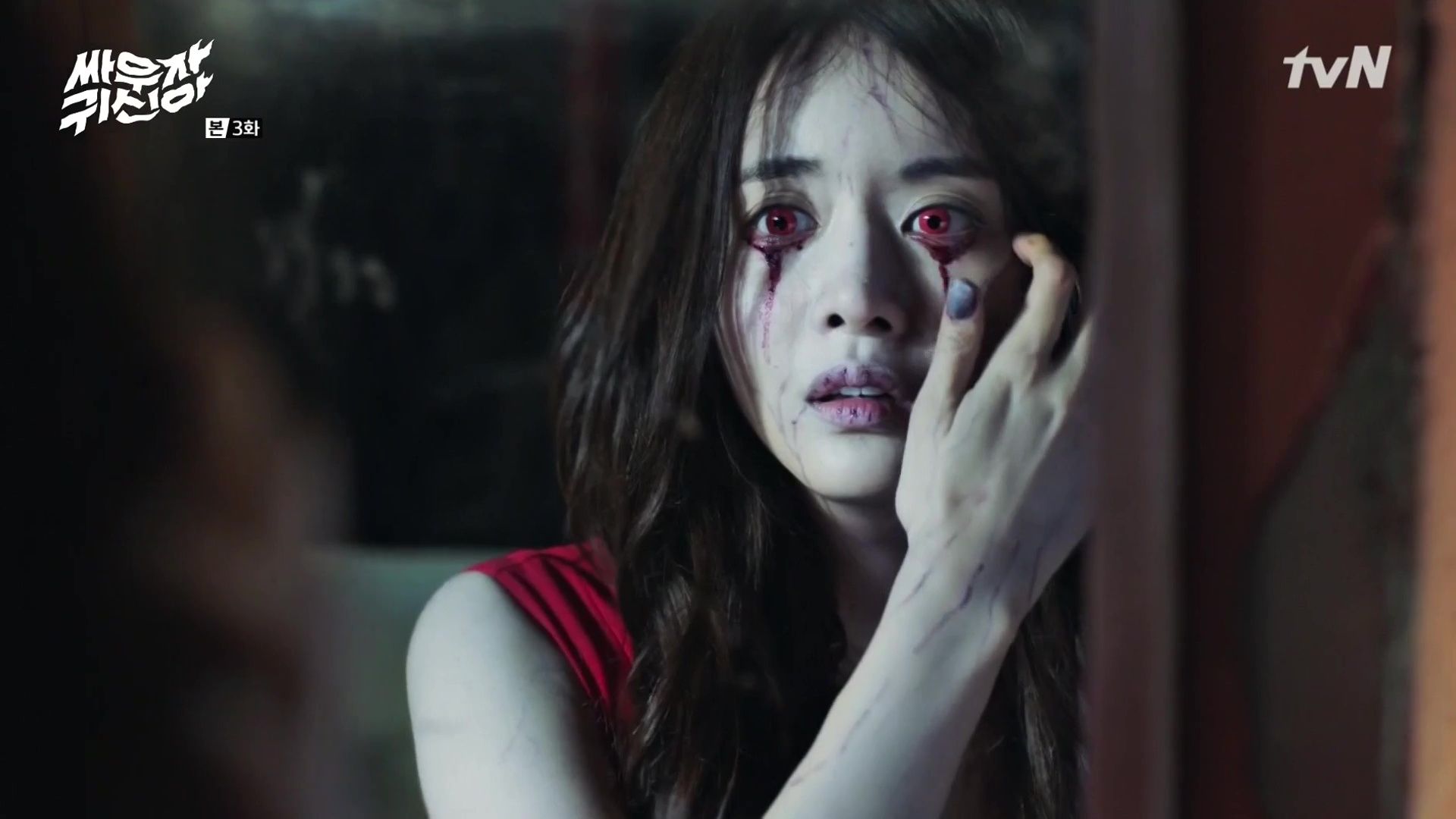 Hyun-ji says again that killing people won't do any good, and Miz finds her anger again and starts to choke Hyun-ji. She screams in frustration, and the sound stirs Bong-pal, and he runs over to throw her off of Hyun-ji.
Miz seems hurt, and when she stands again, she finds herself looking into a mirror. Hyun-ji's words that she hates herself echo in her head, and as she realizes what she's done and the truth of Hyun-ji's statement, she starts to slowly burn away. Once again, Hyun-ji found the ghost's weak spot and used it to banish her.
Too late, In-rang comes screaming into the room armed with several baseball bats, ha. He wails over Chun-sang's prone body — aww, their bromance is so cute.
Hyun-ji tires of walking home after Bong-pal, and offers to meet him there. She pops away, and Bong-pal smiles, saying that it's the first time he's been jealous of a ghost. But she pops right back, too tired to even teleport herself, and a second attempt fails as well.
As she whines, Bong-pal notices again that her uniform is ragged from being worn for five years, and he says that she did a good job today. Hyun-ji agrees and begs for meat, since she didn't get any last time, and this time Bong-pal easily agrees and sends her home while he goes to buy some.
But when he gets back, she's conked out on the couch, exhausted from the fight. Bong-pal goes to the roof and lights a small fire, and downstairs, Hyun-ji wakes to find her school uniform fading away, leaving her in the pretty peach dress. Awww, why does that choke me up so much?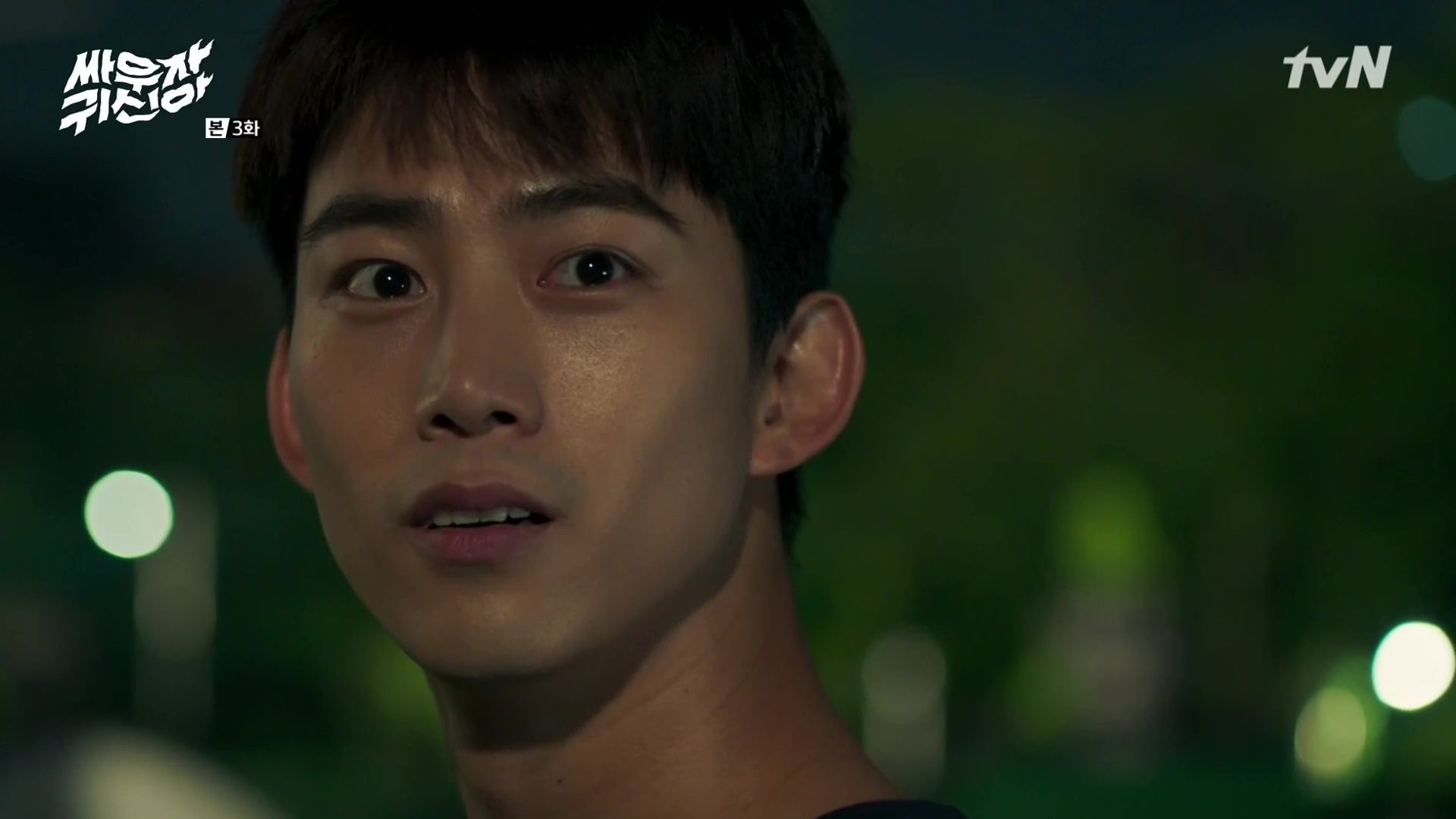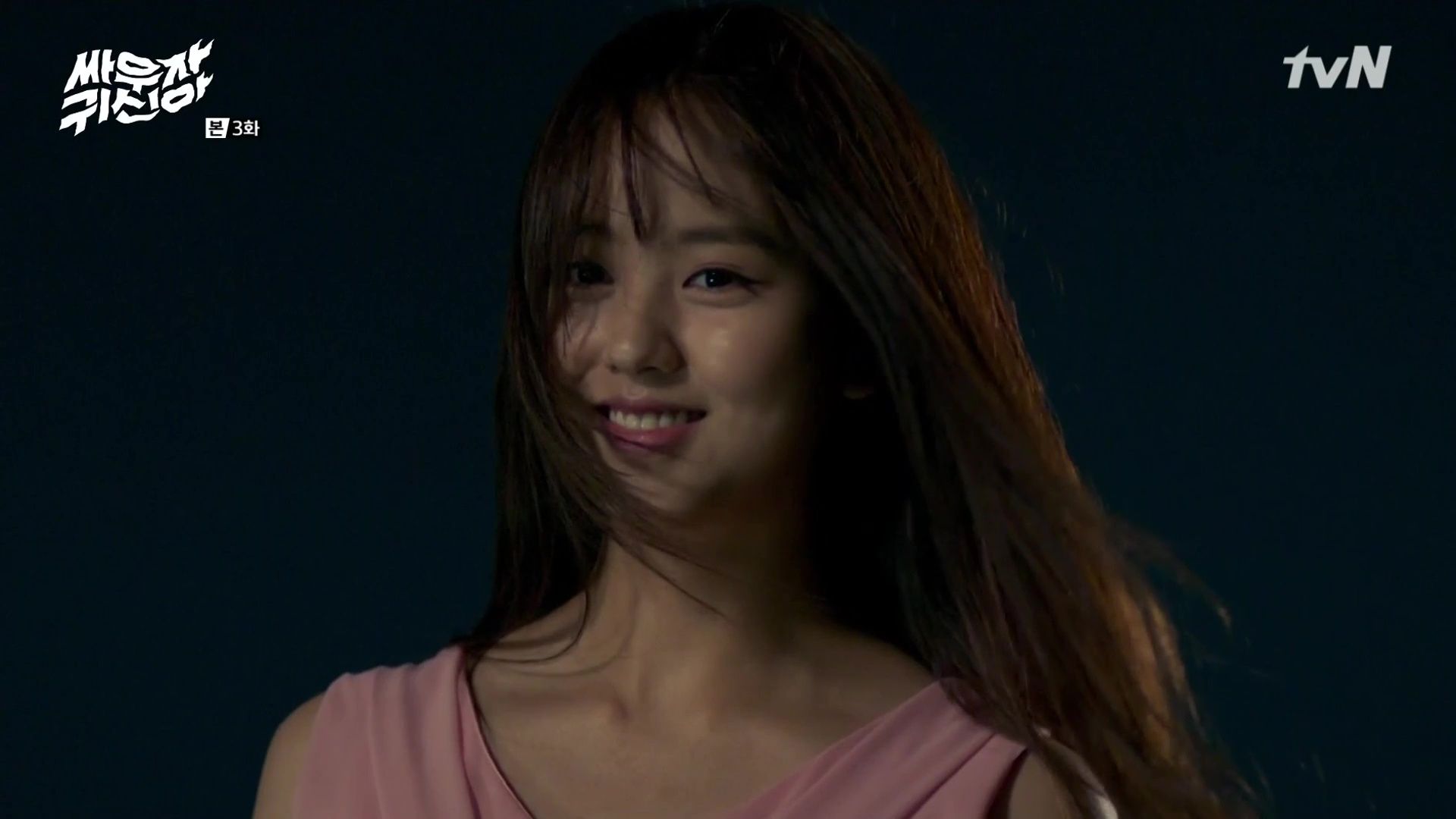 Hyun-ji moves up to the roof, now wearing the dress Bong-pal just burned for her. She twirls for him, smiling happily, and Bong-pal goes slack-jawed at the pretty.
Back on campus, In-rang tends to Chun-sang, and both of them burst into tears when he wakes up and discovers he's still alive with no broken bones.
Hye-sung's nurse notices the scratch on his hand from the stray cat, though he makes light of it. When he takes off his lab coat, we see his arm covered in more scratches. His eyes go blank again, and over on campus, the student looks for the cat to feed her again, and finds her kittens next to the cat's dead body.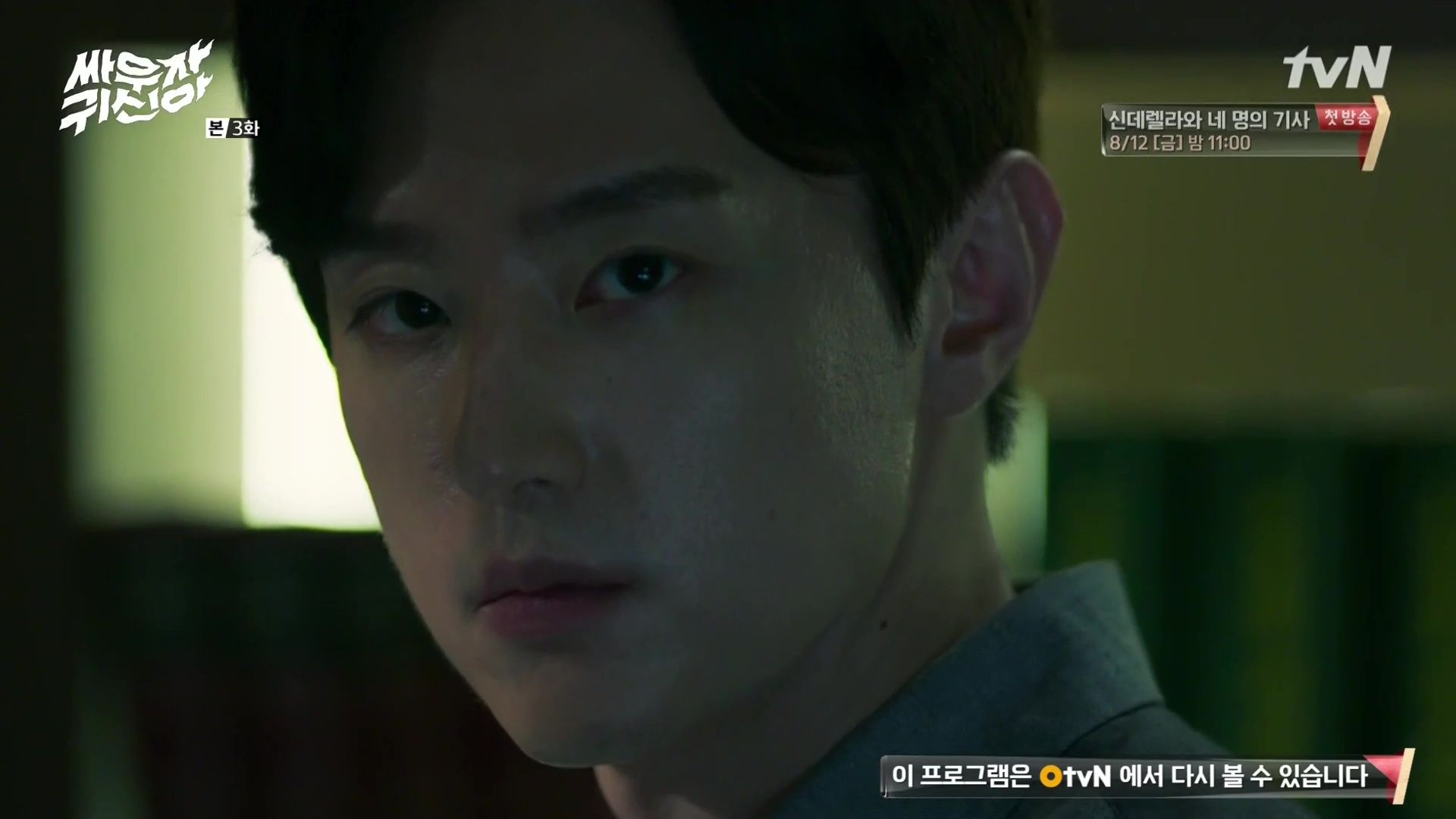 COMMENTS
Okay, Bong-pal buying Hyun-ji that dress is the sweetest thing ever. He really is a marshmallow underneath that prickly exterior. I love his grumpiness, but I also love when he softens towards Hyun-ji and gives in to her demands. He doesn't do it for no reason, she always earns it in some way (in his mind), but it's still sweet when he caves and gives her the very thing he just swore he'd never give her.
I just love the whole dynamic between Bong-pal and Hyun-ji — they're perfect bookends for each other. She's bubbly and bright, he's brooding and grumpy, and watching her annoy the heck out of him is endlessly entertaining. It's so cute how he holds strong until she bats her huge eyes at him, then he just crumples like tissue paper. As I said, she does earn the things he gives her, and he always manages to convince himself that whatever she wants was his idea anyway, but let's be honest — Hyun-ji is playing Bong-pal like a fiddle. Lucky for her, he's already so enchanted with her (though he won't admit it), I think that by the time he realizes how much she's been running the show, allowing him to think he's in charge, he won't even care anymore.
I like the way the cohabitation between Bong-pal and Hyun-ji is set up, too, because it makes logical sense and doesn't seem contrived as a flimsy way to get the two characters in close quarters. She gets to stay at his place and gets fed, and pays him in ghost-fighting. It's a good setup because it's mutually beneficial — Hyun-ji gets a home base, and gets to stay near Bong-pal and discover if he can help her recover any memories, and he gets an awesome fighting partner. The way they took down that murderer ghost in the motel was amazing, they just worked together like a well-oiled machine. And with Hyun-ji being able to see the ghosts' weaknesses (and I love that not all of the weaknesses are physical — some, like in Miz's case, are emotional), she'll be an invaluable asset. I'm curious to see her reaction when she finds out why Bong-pal needs such a large amount of money.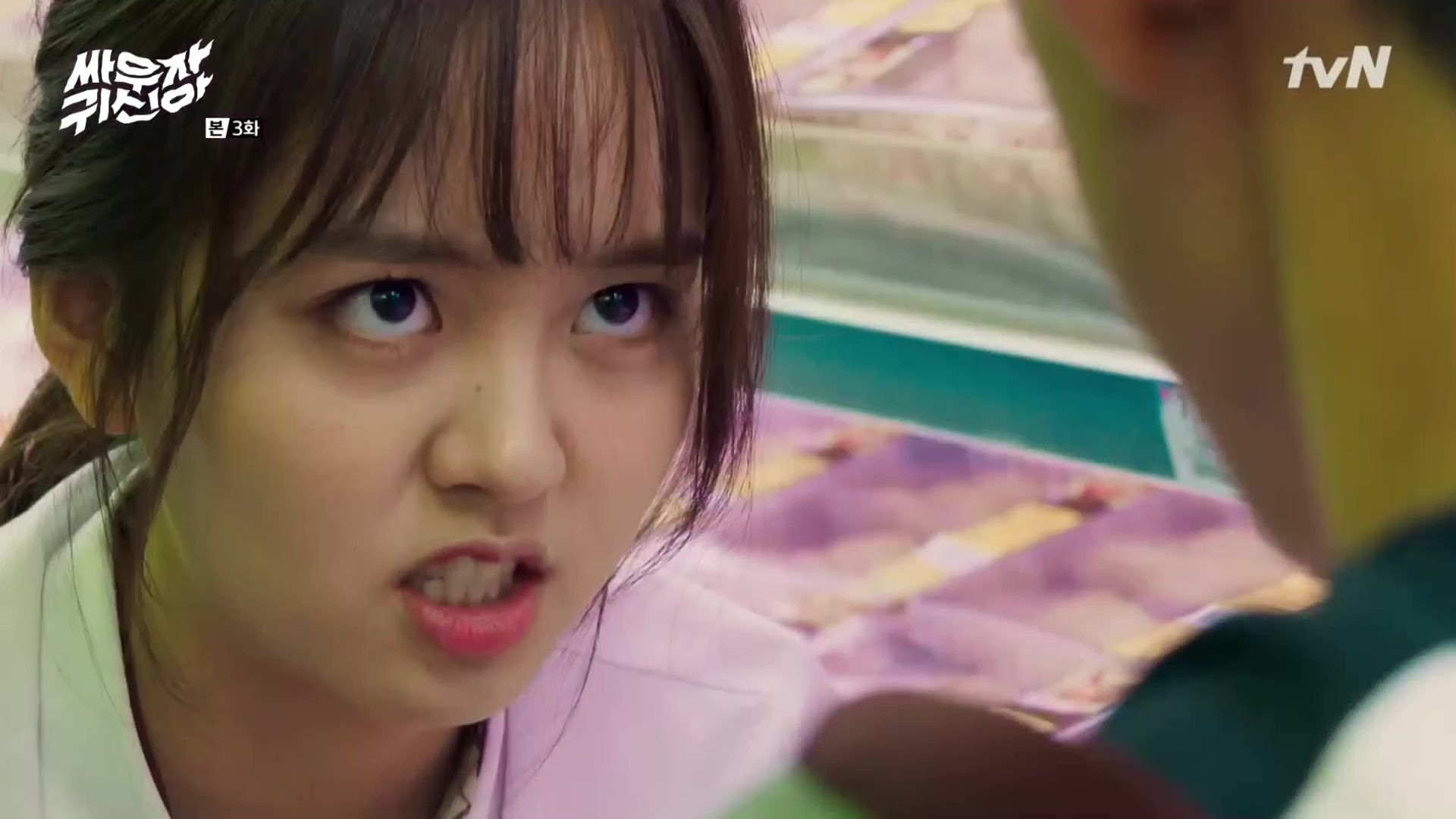 The complication of Myung-chul showing up and taking Hyun-ji's meat and toothbrush is a fun addition to the cohabitation hijinks, and I like Chun-sang and In-rang for their odd comedic addition to the show. But I'll admit that a large part of me really wants to see all of these ghost hunters get together and form an awesome and hilarious ghost-fighting team, because at this point the different groups of people are starting to feel a tiny bit disjointed. That's not a complaint — I love all of the quirky characters in this show. I just think they'd be even better together, and seeing Bong-pal with even more annoyances to roll his eyes at would be so much fun. His grumpy, sarcastic, cynical attitude never gets old.
I'm getting more and more worried about our vet Hye-sung, because he's way too perfect and yet also creepy as hell. I'm a little confused why a cat scratch would infuriate him so much — as a veterinarian, he'd be getting bitten and scratched by animals all day long. It makes me that much more curious to find out what his deal is, and what his eerie tattoo is about, and how — or if — he's connected with Bong-pal. There's definitely something otherwordly going on with him, and I'm anxious to know what it is.
Normally I'm not big on the "villain of the week" format, but in this case I find it fits into the over-arcing story well. Bong-pal and Hyun-ji have an agreement that she gets to live with him in return for helping him fight ghosts, so naturally they need to fight a lot of ghosts for her to work off her side of the deal. Not to mention, at least so far, the ghost's backstories seem interesting and it's fun to watch Hyun-ji find their weakness and exploit it to send them on. In the meantime, Bong-pal can help her recover her memories and figure out how to move on herself, though they're so cute together I sort of dread Hyun-ji departing and leaving Bong-pal alone. Hopefully she'll help him figure out how to connect with real people along the way, so if and when she does leave, he'll have more of a happy life to live. Though if I have my wish, can we not, and just let them fight ghosts and bicker over meat forever?

RELATED POSTS
Tags: Bring It On Ghost, featured, Kim So-hyun, Kwon Yul, Taecyeon