Dear My Friends: Episode 15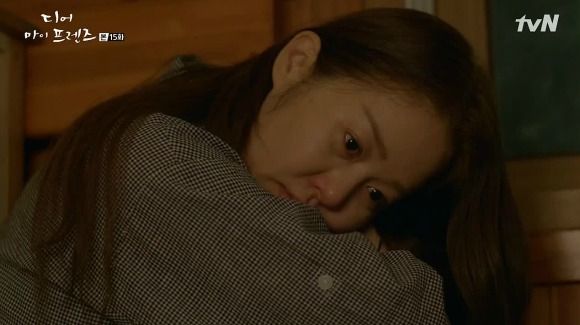 Wahhh, is it really the final week for this amazing show? I'm not ready! Normally I'm not a fan of the "tvN bloat" where they sneakily add more minutes to their episodes until, instead of the usual hour-long episode, it's somehow ended up gradually becoming an hour and twenty-two minutes (like this episode), but right now I'll take as many minutes as possible to spend with Wan and the aunties before I have to finally say goodbye.
EPISODE 15: "When did we ever look at you for this long?"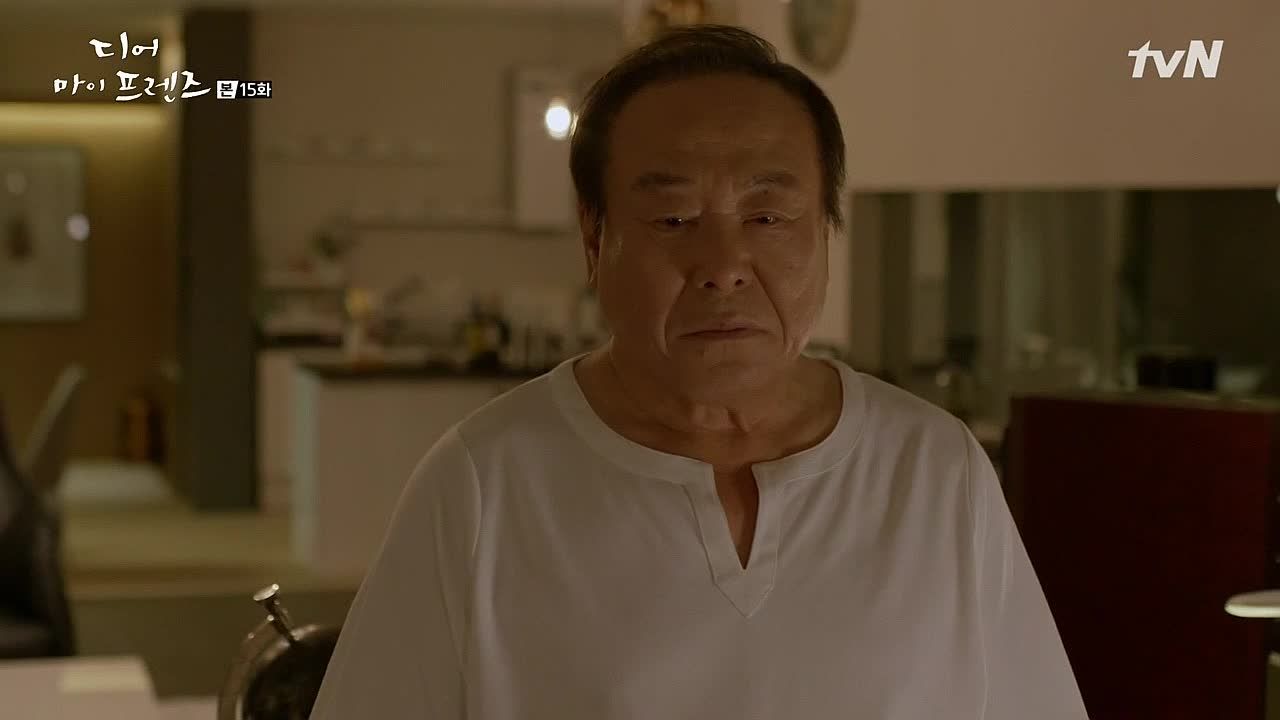 In the evening, Wan thinks about Yun-ha and her promise to return, and Seung-jae thinks about his recent reconnection with Hee-ja. Jung-ah also can't stop thinking about Hee-ja and her angry accusation that Jung-ah wasn't there for her when her son died.
Suk-gyun prepares bedding for Jung-ah — and Choong-nam, who's staying the night (and is annoyed that he's setting out the bedding all in the same room — she doesn't want to sleep next to some stinky boy!). While Jung-ah stares unseeing out the window, lost in her thoughts about Hee-ja, Choong-nam quietly sits down next to her and tells her that Nan-hee has cancer. That gets her attention. The poor aunties just can't catch a break tonight.
Wan calls Min-ho, who's sitting in his mother's home, watching her sleep. He's also heard about Nan-hee's cancer, and they encourage each other to endure their mother's hardships, wishing there was an easier way to comfort each other.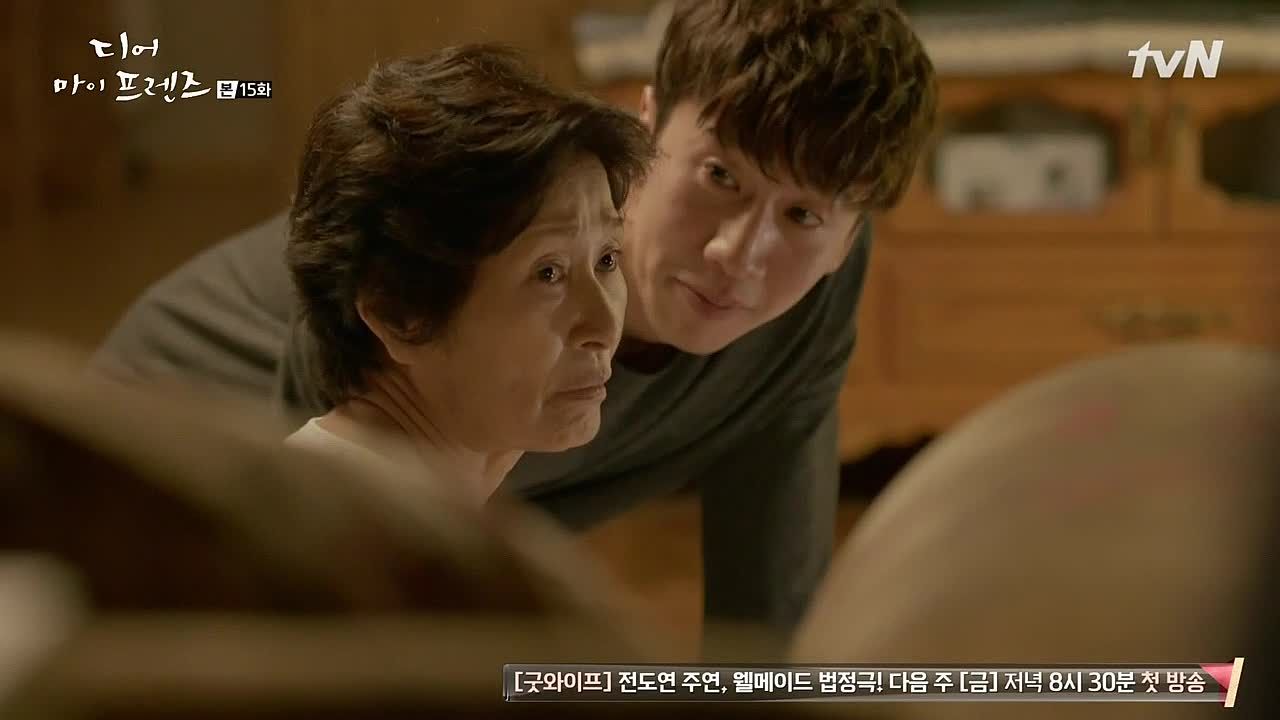 Hee-ja wakes up just then, and stares at the door. She wants to go outside, but Min-ho gently tells her that she shouldn't. She then glares at the CCTV camera, and Min-ho helpfully turns it around so it's facing the other way. Then she stomps off to the bathroom and Min-ho gently teases her in song.
Unable to take her eyes off her mother, Wan watches her sleep.
In the morning, Granny makes a broth for Nan-hee while Young-won tries to convince Granny to eat something herself. Suk-gyun also makes breakfast, surprisingly enough, although it's more like setting out rice and leftovers. He happily tells Jung-ah that he finally had a good night's sleep thanks to her staying over, but she grumbles that she sleeps better at her own house.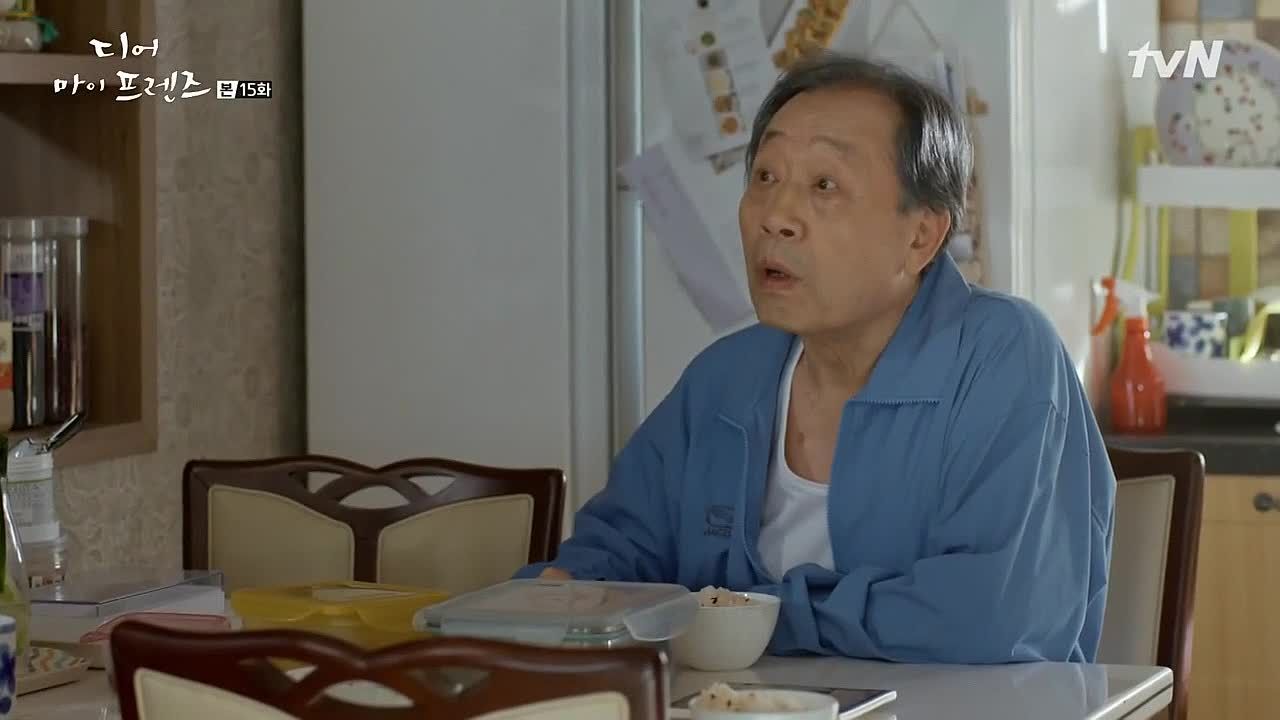 He's heard about Nan-hee, and says he's glad that Jung-ah is healthy. She just tells him to be quiet and leaves without eating. Choong-nam, following after her, tells him that he needs to get a clue — it's clear that Jung-ah is having a hard time. Right after she found out about Nan-hee's cancer, she got a text from Hee-ja, asking to never see her again.
But Suk-gyun doesn't care about the other aunties as much as he cares about Jung-ah, and when he grumbles about having to eat all this breakfast himself, Choong-nam reluctantly sits down. She tells him that he needs to learn how to shut up first, and he actually writes that down on his "10 Commandments of Being a Good Husband" list (so I guess it's now 11 commandments?).
Min-ho arrives back at his mother's house in the morning to take her to the hospital. She says she's fine going by herself so he can stay with his very pregnant wife, but when he asks if she remembered to wear underwear, she scurries off to change.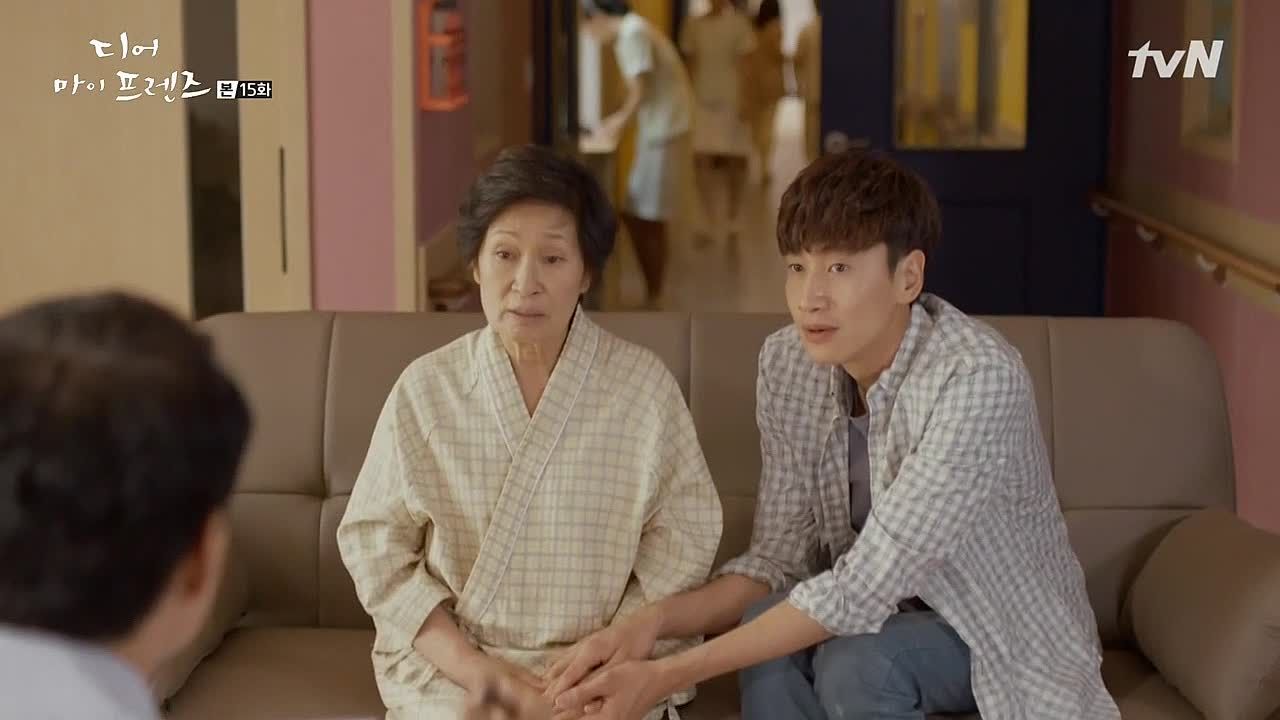 At the hospital, the doctor performs simple memory tests. Hee-ja confidently recites her date of birth, but hesitates when asked Min-ho's birthday. She can remember her oldest son's birthday and her dead son's birthday, but not Min-ho's. He holds her hands encouragingly as she struggles to even remember the hospital's name, but happily declares she remembers that she took an MRI scan.
Jung-ah arrives at Hee-ja's house and sets about cleaning up the mess, asking where she is. Hee-ja at first tells her to go away, but then says that the doctor told her she has a certain level of dementia and she has to remain calm because getting angry makes it worse, which only makes her more angry. Pfft.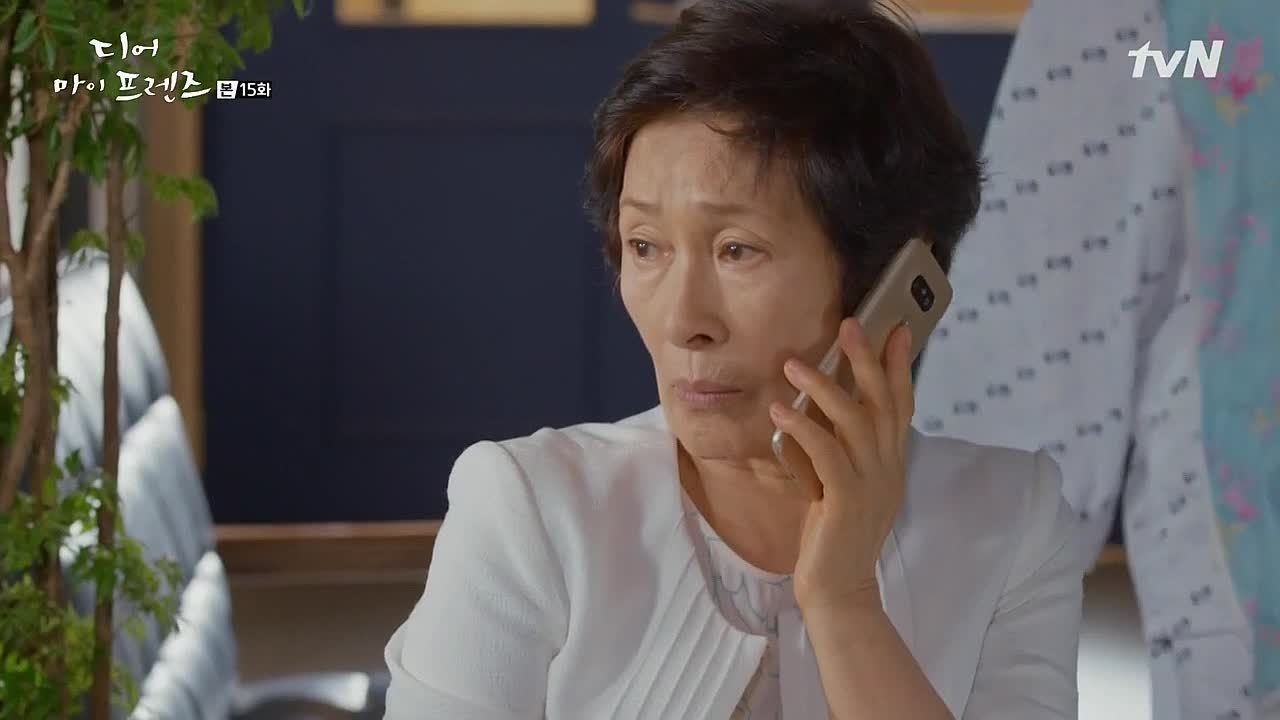 Jung-ah tells her to call her again later. She respects that Hee-ja doesn't want to see her right now, but still tells Hee-ja that she misses her.
Seung-jae is at the hospital, too. Aw, it's cute how he says he and Min-ho are friends now. He encourages Hee-ja to get treatment, telling her he'll be with her all the way. But she folds her arms when he tries to hold her hand, and he folds his arms in kind, respecting her space. She tells him he shouldn't like her, but he tells her that's not her decision to make.
As she watches Min-ho get information about long-term care for patients with dementia, Hee-ja sighs that she has to listen to her son even though she doesn't want to. She needs to convince him that she's still capable of living alone so she won't be a burden for anyone.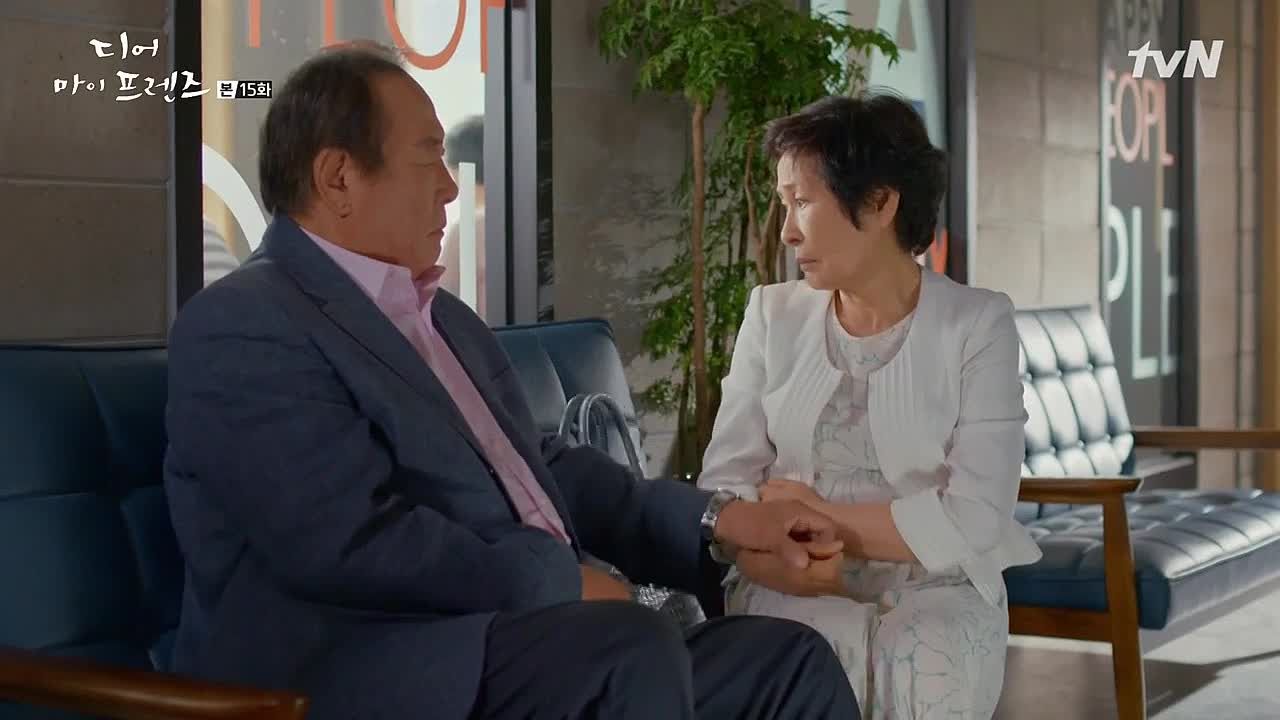 When Seung-jae tells her that he has faith in her, she says that she knows everyone is agreeing with her because she's sick. This time she reluctantly allows him to take her hand.
Nan-hee gets a text from her "guitar guy," asking her out on a movie date next Friday. But what's the point in going to a movie when she might die on the operating table next week?
Jung-ah calls her, but both aunties are silent on the phone at first. They both know what's going on in their lives, and words seem useless. Nan-hee simply tells Jung-ah that she better be at the hospital, and Jung-ah promises to be there.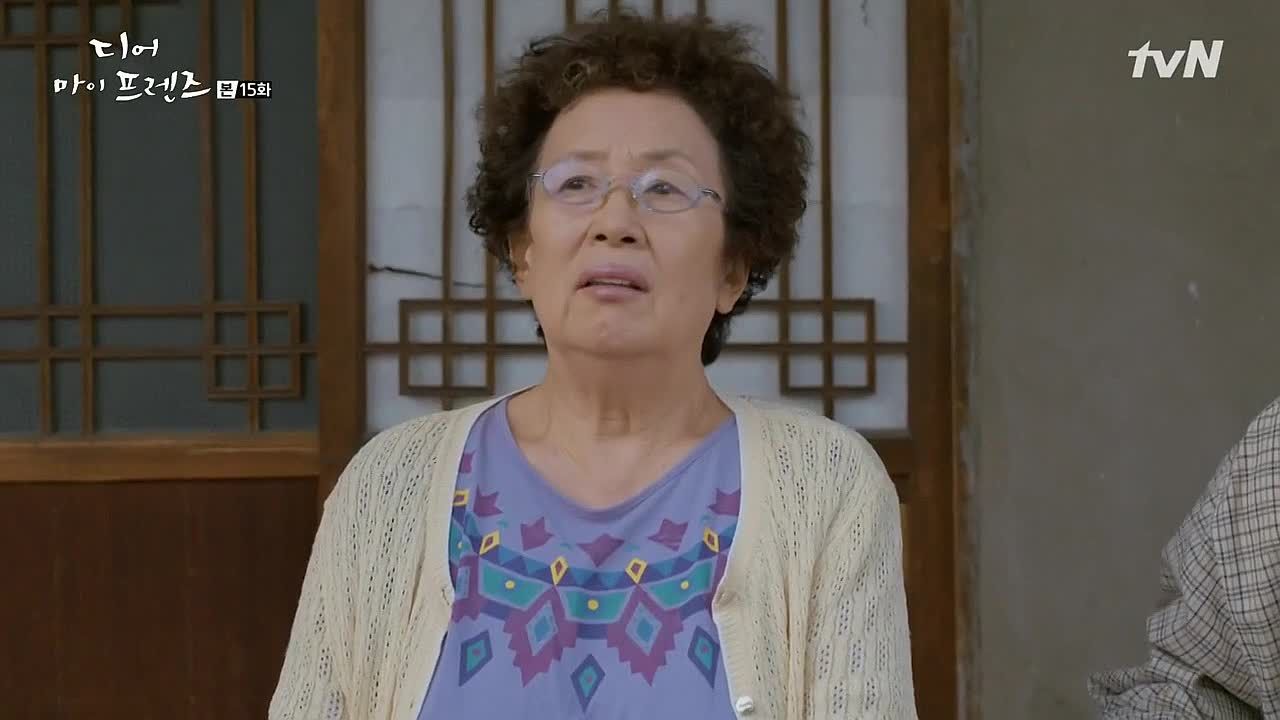 Suk-gyun's driven her back home, but he also stops to get her a bottle of her favorite beer. She's surprised by his kindness as he hands it to her, telling her that if she wants to see Hee-ja, to call him and he'll drive her over. Aw, she tells him to stay for a moment since he drove all the way out here, and sitting side-by-side, they quietly drink their beer.
Also unable to talk to Nan-hee is Choong-nam, who's on the phone but, just like Jung-ah previously, is silent. Teasing, Nan-hee tells her she might as well hang-up, and Choong-nam finally tells her that she got a 68 on her practice exam, which is better than she's done before. Fighting the urge to cry, Choong-nam tells her that she's going to get her GED and go to college to study English and literature.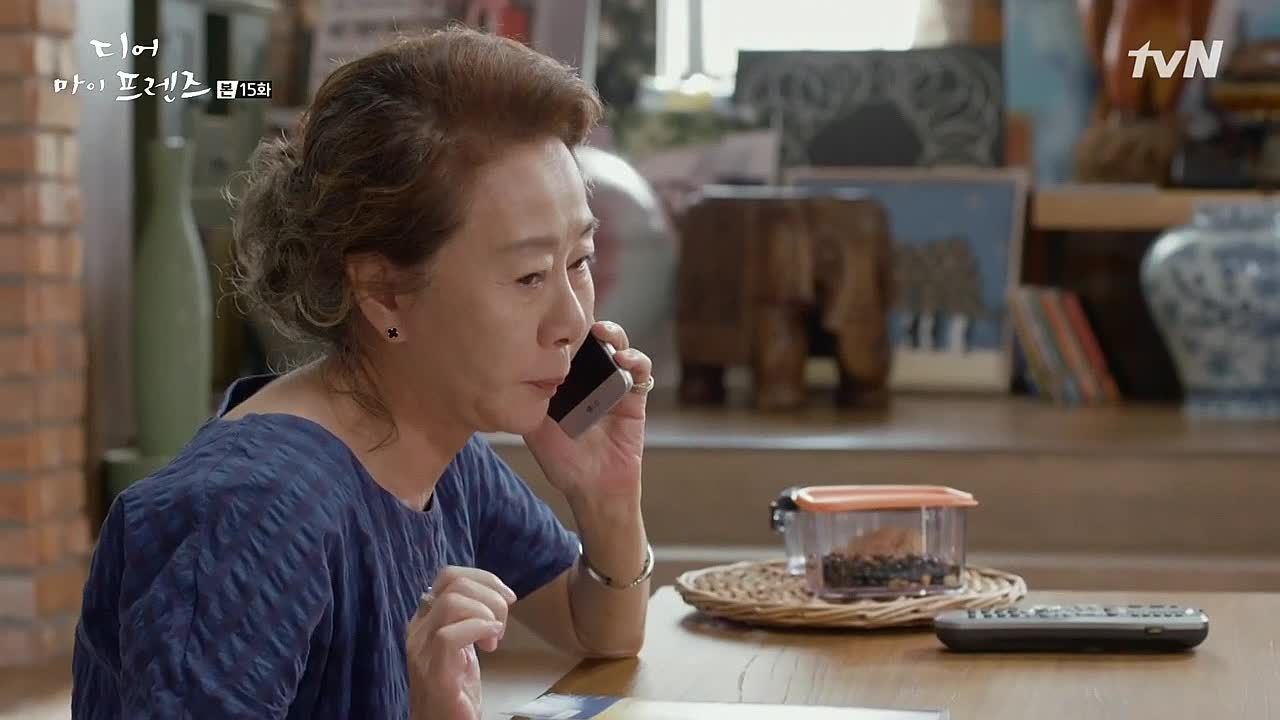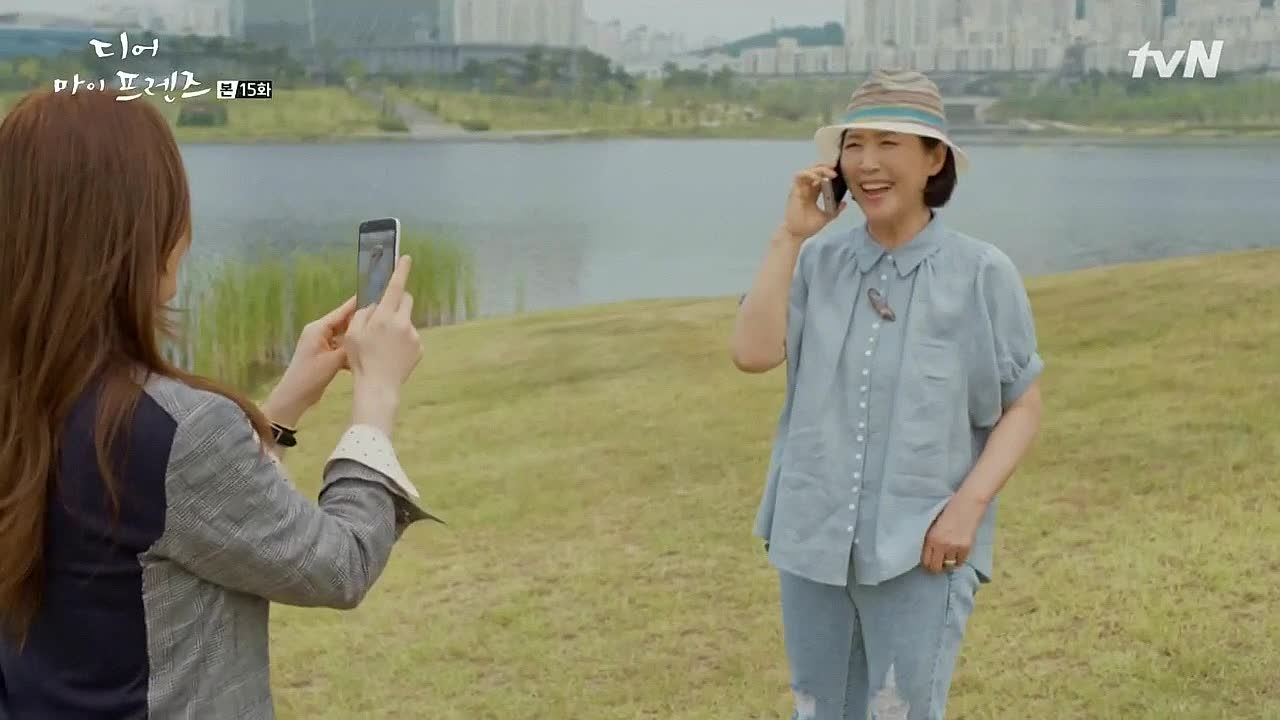 While Wan takes pictures of her mother, Nan-hee laughs at Chong-nam's stubborn declaration that she'll take Nan-hee to Paris with her once she learns English. After she hangs up, Young-won, lying wearily on the floor, informs her that English won't help in Paris — she'll have to study French instead.
Doesn't matter to Choong-nam, who declares that she'll study French first and then English — then dance and music. Young-won tells her to use all her knowledge before she dies, adding that she's happy Choong-nam isn't sick. Choong-nam points out that Nan-hee can fight the cancer like Young-won has. Except, as she starts to cry, Young-won says that they caught her cancer in its early stages — Nan-hee's is in its final stages. Meaning there might not be much "fighting it" will do at this point.
While Wan packs up the car, Nan-hee marvels at the fact that this is the first time they've traveled like this. When Wan asks if she ever went to a pension with her father, Nan-hee muses that he probably went with Sook-hee, the woman he had an affair with. Of course.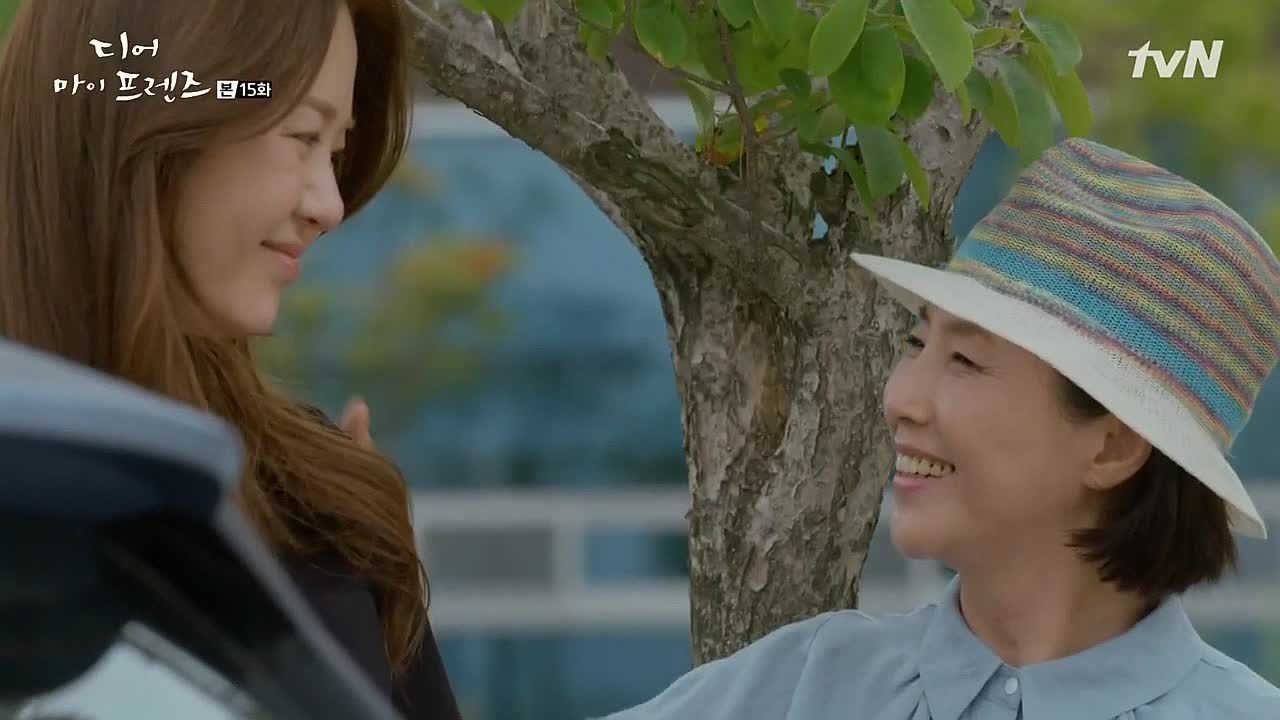 Wan uses the restroom before they hit the road, leaving her bag behind. When Wan's phone rings, Nan-hee goes to answer it. It's Yun-ha calling, which gives her pause, and she goes to put the phone back down she sees the photos Wan took of her a few minutes ago. She smiles as looks through them and other pictures of the aunties, but then she sees photos of Wan and Yun-ha, and how happy they were together.
Her smile fades, and when she sees Wan coming back, she carefully puts the phone back where she found it. The women drive back home, and Nan-hee sighs that being with her daughter for the full day isn't as fun as she thought it would be. Wan cheekily tells her to call her guitar guy, instead.
Suddenly, Nan-hee asks why Yun-ha isn't dating. Do women find him unattractive because of his legs? Is it that he's waiting for Wan to return to him? But Wan simply says she doesn't know.
They stop in at Granny's, and while Wan marvels at her grandfather's improvement in his ability to write, Granny makes Nan-hee lunch — it's quite the spread, especially for Granny, and mother and daughter share their feast.
Later, Nan-hee massages Il=bong's leg, asking if their parents know about her cancer. He tells her they just know there's something wrong with her liver and a small piece needs to be removed.
She promises that she'll be fine — she can't leave Il-bong to deal with their parents alone. She also tries to encourage him, in her Nan-hee way, telling him that when he's feeling low, to remind himself that there are some people who can't use either of their legs.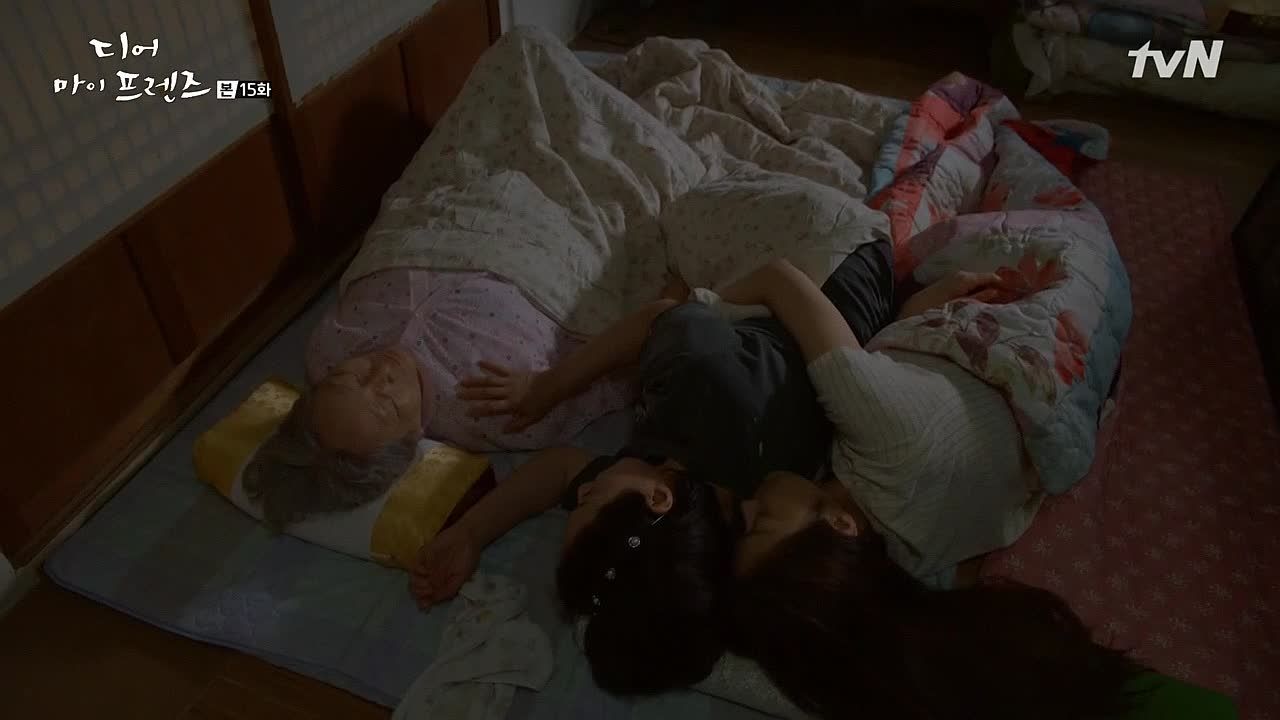 The three generations of women sleep side-by-side, snuggled up together. Wan tells us that they say there's nothing like a parent's love — that a parent loves their children more than the children love the parent. But it's not that children love their parents less — it's that they foolishly believe their parents will somehow live forever and always be there.
In the morning, as Nan-hee prepares to leave, she tells Granny not to visit her in the hospital, promising to come see her after she's discharged. It will make her too sad to see Granny worriedly waiting at the hospital. She asks for chicken stew when she comes back, and Granny immediately goes off to kill a chicken. Aw, these tough women and their awkward way of showing how much they care.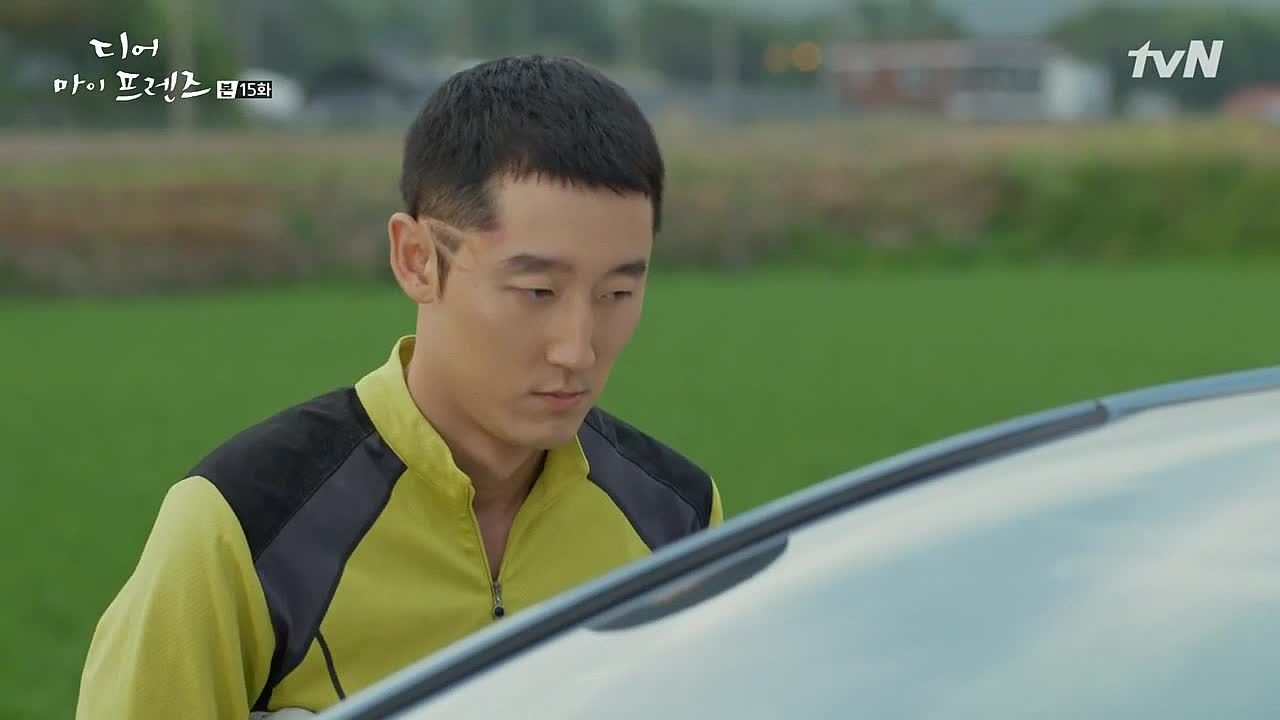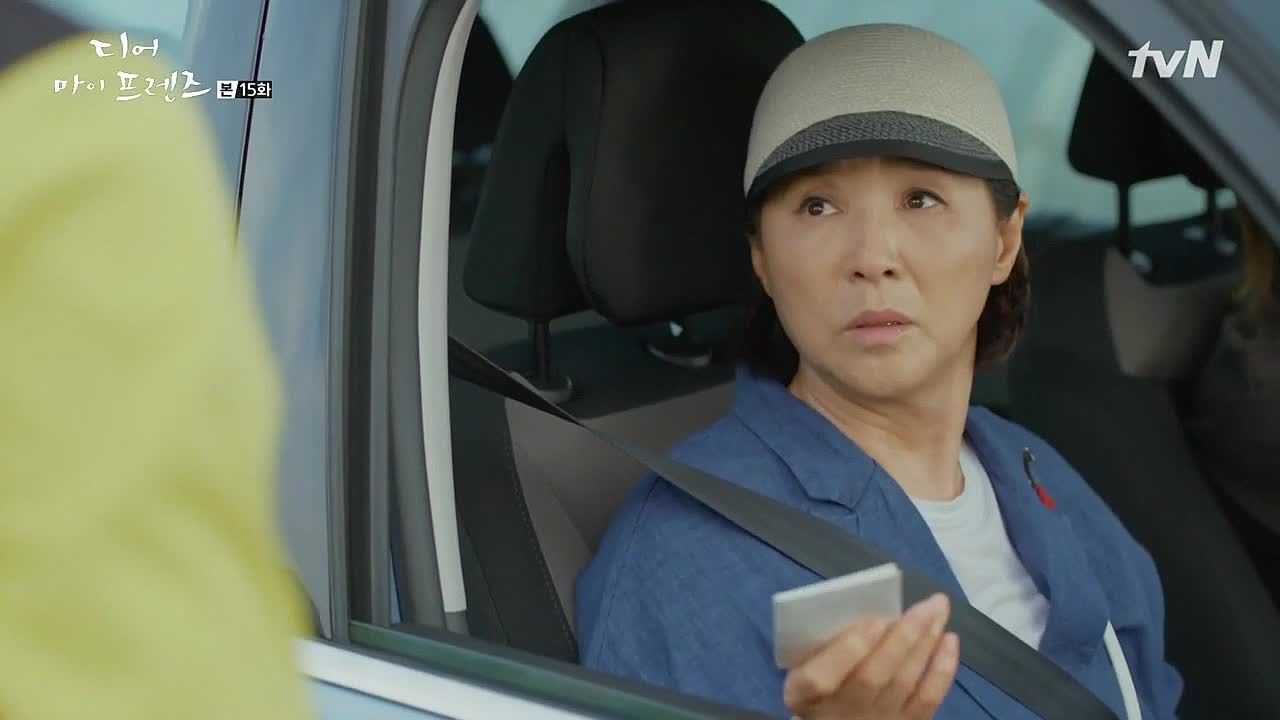 Il-bong is waiting down the road and he wordlessly hands Nan-hee a note. She opens it to reveal, written in her father's awkward, childlike handwriting, "Oh Ssang-boon's daughter, Jang Nan-hee; Jang Ho-jin's daughter, Jang Nan-hee." Sniffle, sniffle.
Redirecting her emotions, Nan-hee grumbles that all the aunties know about her condition, but Hee-ja is the only auntie who hasn't called her. But Wan gently tells her that no one has told Hee-ja, who has her own illness to deal with right now.
Once they arrive at Nan-hee's home, Wan rushes around to tidy up and make dinner for her mother. But Nan-hee flops down on the sofa, telling her she'll take care of it later after she visits Hee-ja. Wan offers to take her to Hee-ja's, putting off her writing until later, and Nan-hee just mumbles that she doesn't know if she'll have a later.
That puts a mild damper on things, but Wan gamely tries stay patient in the midst of her mother's hot-and-cold reactions, promising to go home and write like her mother wants her to. But once at home, she cleans every inch of her apartment before finally sitting down at the computer.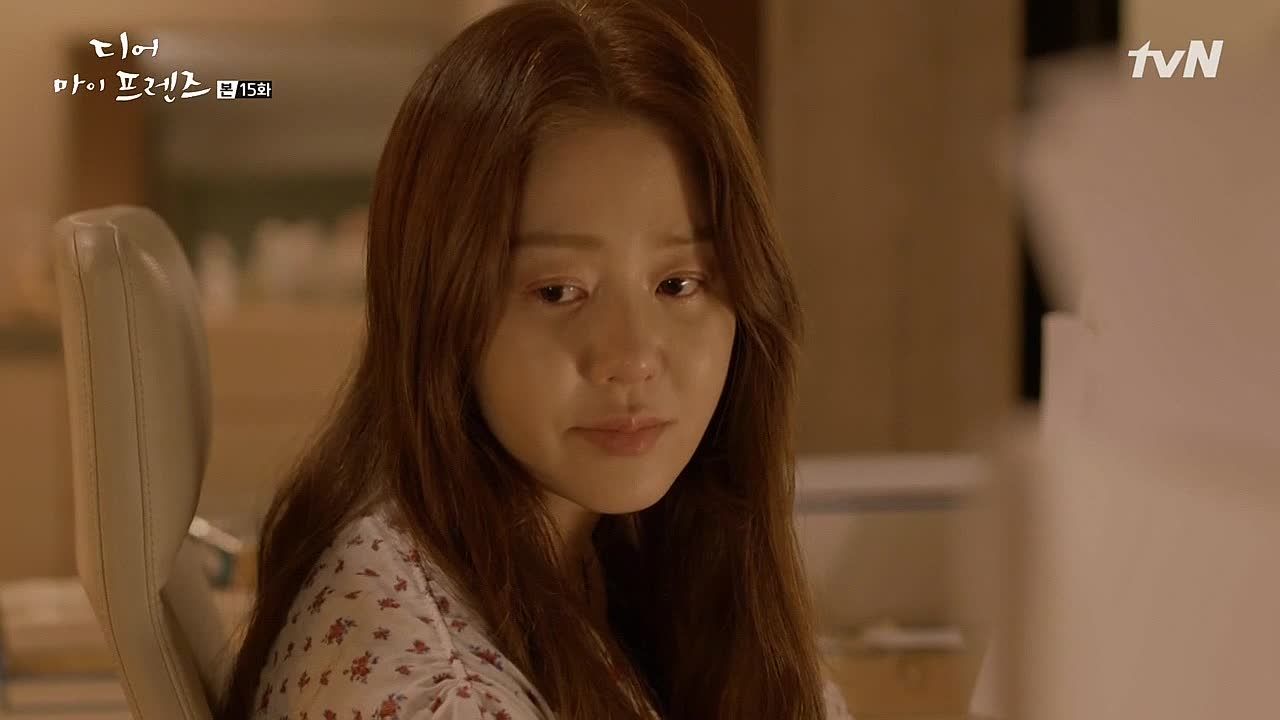 She studies of the photos of her and Yun-ha, which usually bring her joy, but her smile doesn't last very long.
Nan-hee sits with Hee-ja in her bedroom, teasing her that Hee-ja must like her the most since she ignores a phone call from Jung-ah. But as Hee-ja continues to ignore her, too, she wonders if Hee-ja only let her in because Min-ho opened the door. She musingly asks Hee-ja to pretend that they're the only two people that matter.
Hee-ja grumpily tells her that Min-ho won't leave her alone. He's installed safety devices in the windows and on the oven, and keeps her locked in. He treats her as if she's an idiot. Nan-hee quietly tells her that she has cancer and that she's going to the hospital tomorrow.
Shocked, Hee-ja pulls her into a hug, starting to cry as Nan-hee tells her that she can at least believe she's in a better situation than Nan-hee, and Nan-hee will believe the opposite. The women cling to each other, comforted by the presence of someone else who's sick.
In a video chat with Yun-ha, Wan hesitatingly tries to explain that she won't be able to keep her promise to return. But Yun-ha says he understands — if his mother had cancer, he wouldn't be able to leave her, either. Shaking off the urge to cry, she tells him he should go ahead and date the pretty Nikita.
He asks if he should cry for her instead, and then reaches out to her, showing off his couple's ring. After Wan shuts off the video feed, she takes off her own ring.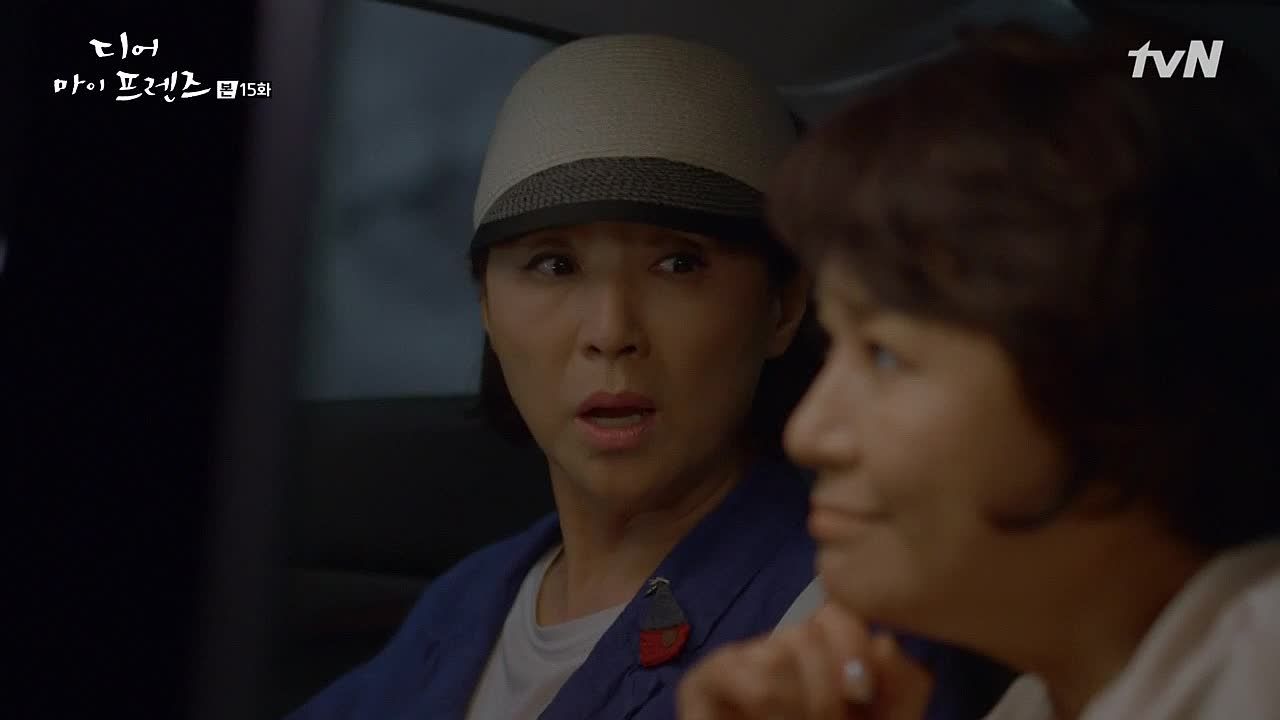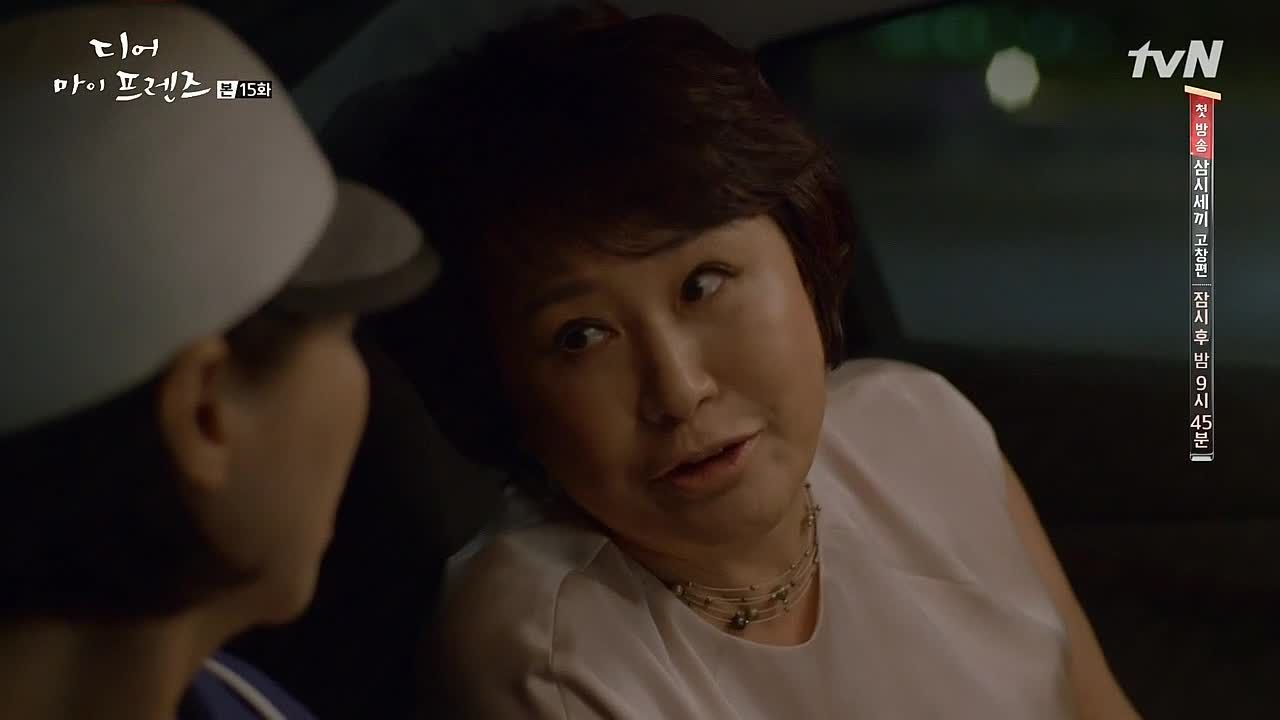 Young-won sets Nan-hee up with her guitar guy Il-woo. Dropping her off at a fancy hotel, she tells the surprised Nan-hee that she should sleep with him tonight. Pffft, oh Young-won, I lub you.
Nan-hee is, of course, horrified, but Young-won is just like "go get 'em, tiger" and Nan-hee reluctantly goes into the hotel. It's an awkward ride up the elevator and Il-woo just mysteriously smiles when she nervously asks where they're going. They reach the top floor, and she wonders if Il-woo is going to push her off the roof, but instead is surprised to see it's an elegant restaurant.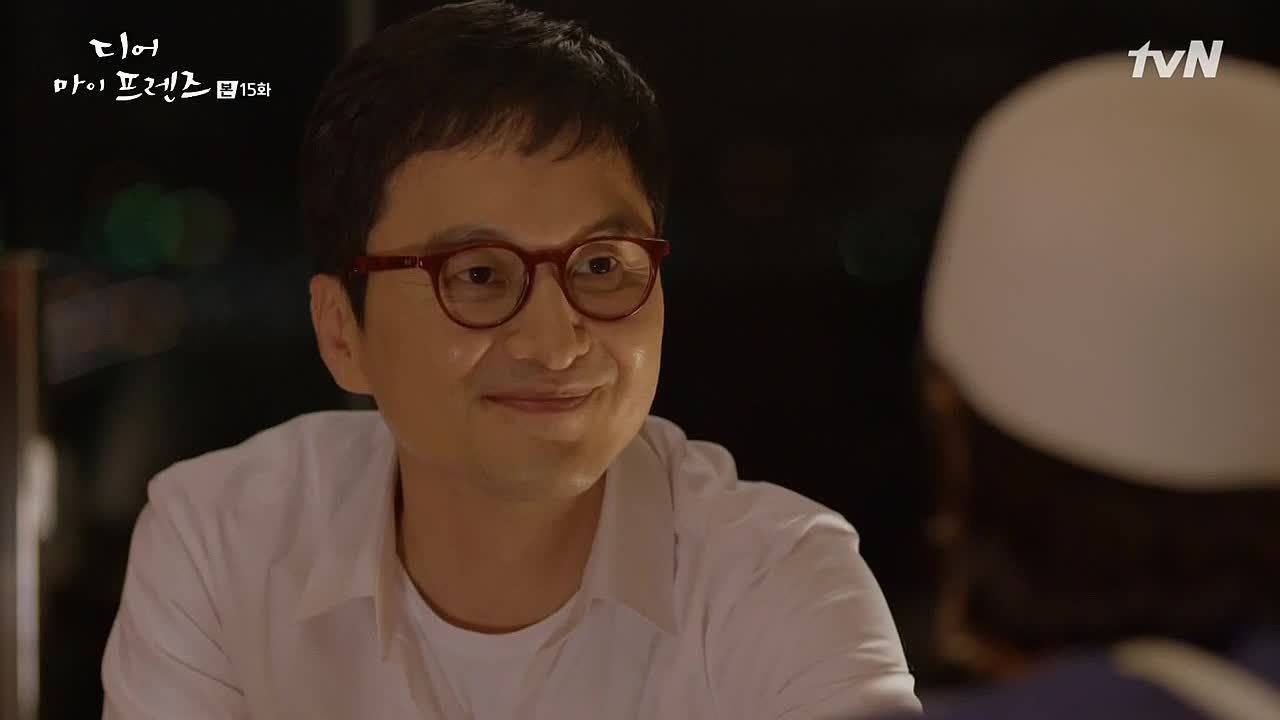 She marvels at the beautiful night view of Seoul, and Il-woo admits that it's his first time in such a place, too. He asks if he can hold Nan-hee's hand — he wants to cheer her on so that he can see her again after the surgery. Aw, despite her gruff demeanor, she's totally touched by his sweet "good luck." Fighting!
He walks her home, telling her that he'll be waiting for her call after she's discharged. Then he walks backwards so he can still look at her for as long as possible. They are so cute, and Wan agrees with me because she's been waiting for her mother to come home and saw the whole interaction. She teases her mother about her new boyfriend, and it's just nice to see them acting like their old selves.
Yun-ha sits on his balcony, staring unseeing out at the landscape while he fiddles with his ring. Wan also stares out from her mother's window, lost in thought as she waits for her mother to get ready to go the hospital.
An ambulance rushes by, but it's not for Nan-hee — it's for Min-ho's wife, who's in labor. She desperately tries to reach Min-ho, who then calls Seung-jae to come over to watch his mother so he can go to the hospital.
But Hee-ja snatches the phone from his hand, telling Seung-jae not to bother. She orders Min-ho to go to his wife, refusing to have someone stay with her. As he agonizes over whether he should get Seung-jae or Jung-ah to come over, she yells at him to go, promising not to move until he comes back.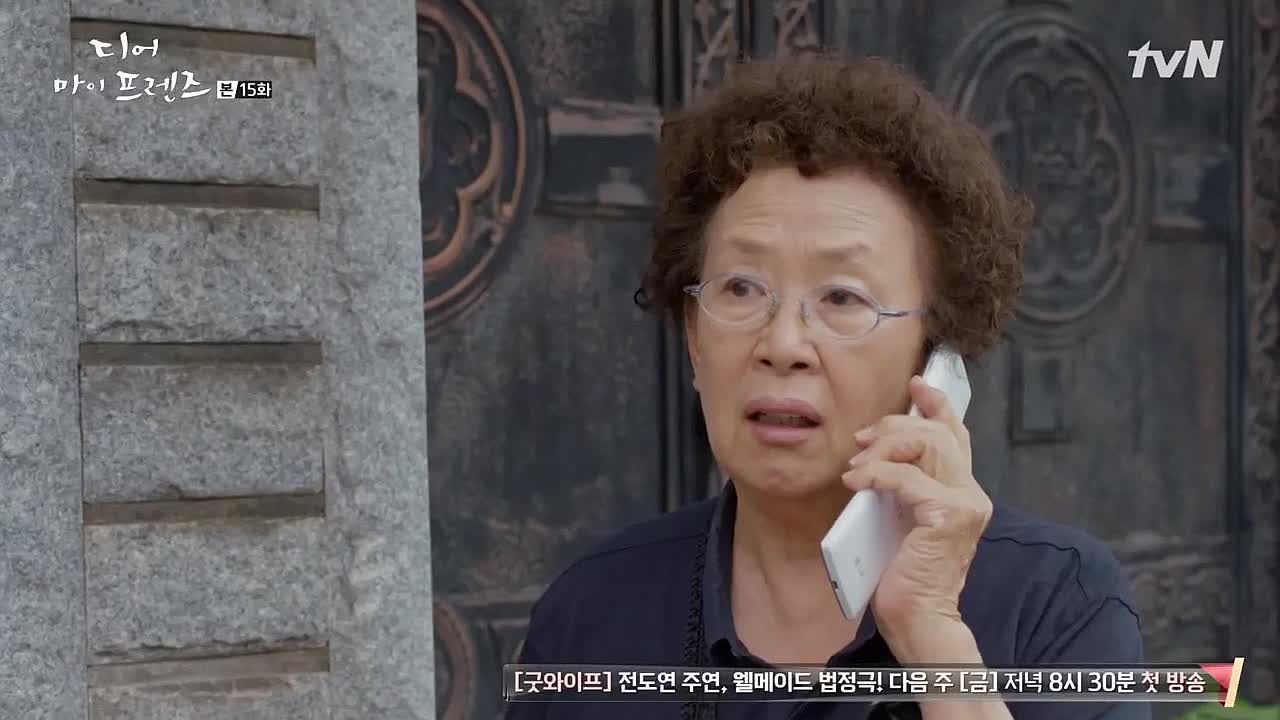 Jung-ah arrives at Hee-ja's, but she doesn't come when Jung-ah rings the doorbell, and the spare key is missing. When Jung-ah calls, Hee-ja shortly tells her that she's at home, and if Jung-ah doesn't believe her, she can check the CCTV. Ha, she even goes to fix the camera so it's focused on the living room where she's sitting.
Nan-hee marvels that Wan sprung for an expensive private room at the hospital, but Wan just joke that she spent some of her inheritance. Settling into bed with her daughter, Nan-hee wonders why the other aunties didn't visit her today. Wan explaines that she selfishly told them to stay away so she could have her mother all to herself.
Slowly rolling along the streets of the deserted town at night, Yun-ha thinks about Wan. He suddenly makes a decision, asking his sister to help him.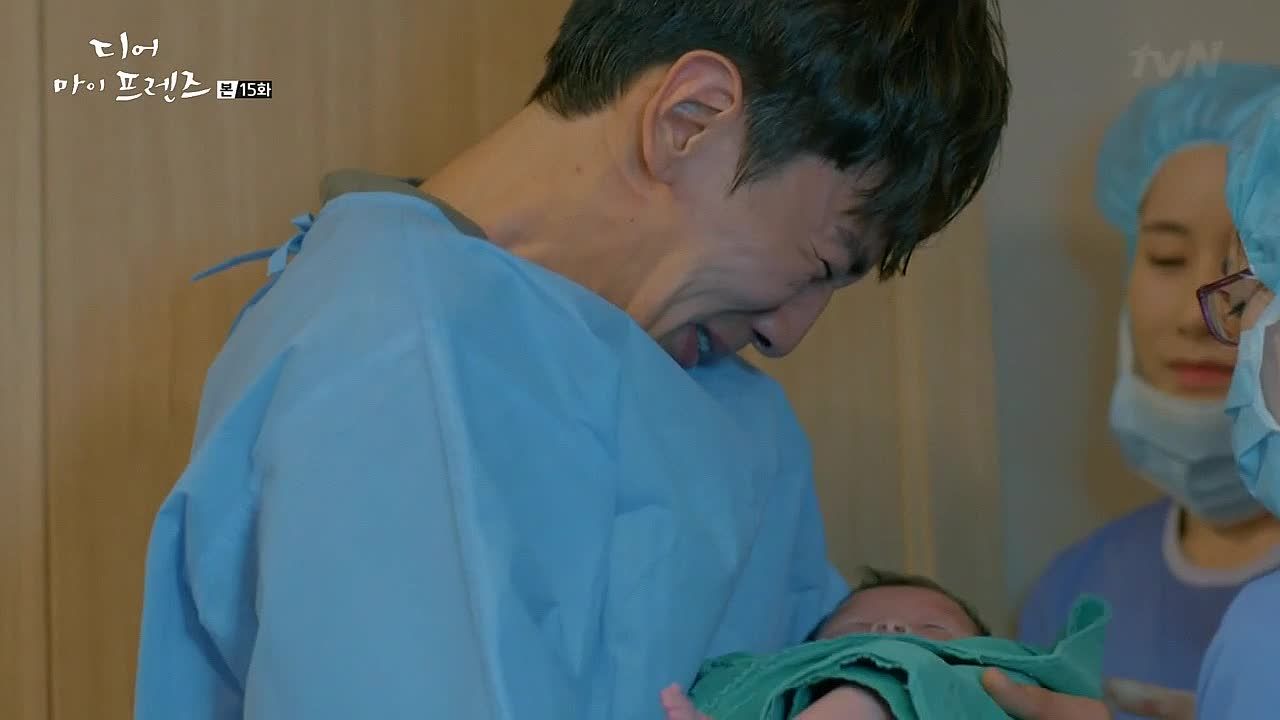 Min-ho nervously waits until a nurse calls him in to meet his newborn child. He weeps as he holds his baby, his exhausted wife proudly looking on.
Stubborn, Hee-ja continues to stay put on the sofa, refusing to move. But she really, really needs to go to the bathroom and struggles to hold it in. Sitting in a car outside, Jung-ah and Seung-jae watch her as she sits, unmoving.
Min-ho pulls up in a taxi and flies into the house, so Jung-ah follows. But Seung-jae respectfully stays put until Hee-ja invites him in. Min-ho is knocking on the bathroom door, asking Hee-ja to let him in. She had to pee so badly that she left a trail to the bathroom, which he cleans up per Jung-ah's orders while she goes to Hee-ja with a fresh set of clothing.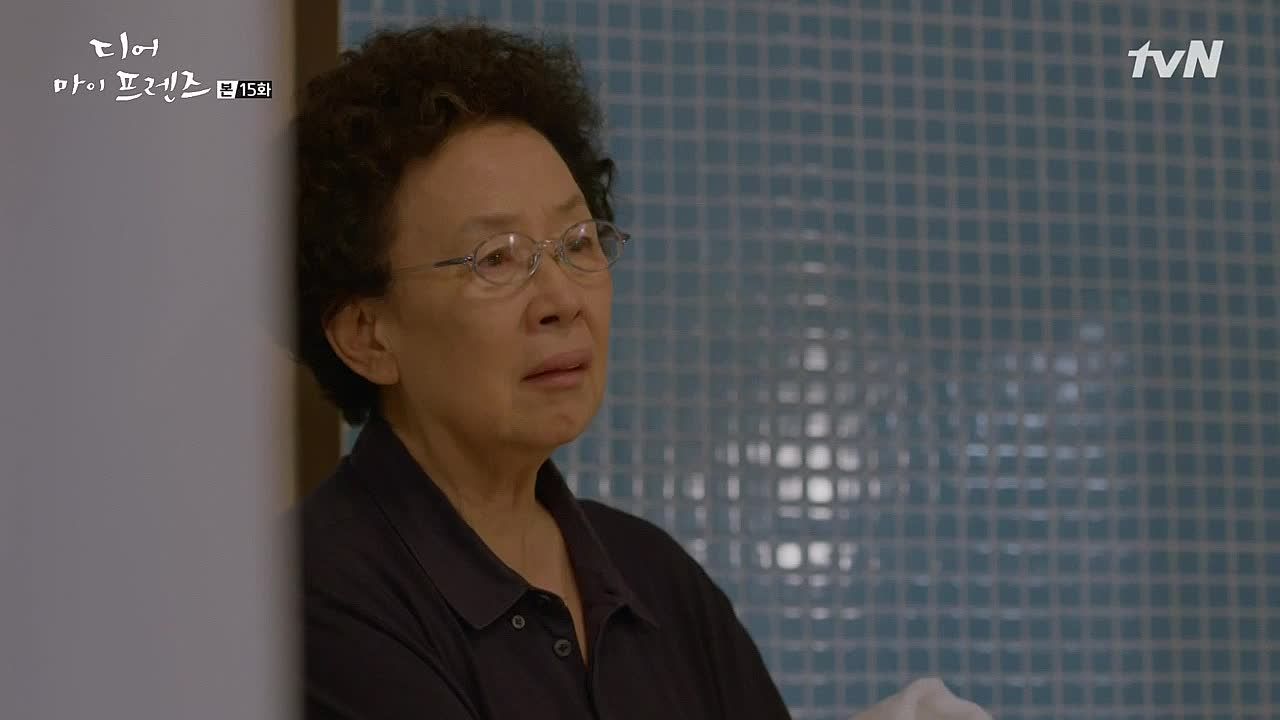 Jung-ah maintains her unflappable, capable demeanor as she asks the poor Hee-ja, who stands trembling in her urine and feces stained nightdress, if she's upset. Hee-ja says that "Min-ho's father" told her to sit still and not go anywhere. She didn't want to worry him.
Cautiously, Jung-ah aks if she's really talking about her husband, but Hee-ja slowly says that her husband is dead. Then she asks if Hee-ja knows who she is, and as Hee-ja stares at her in confusion for a moment. She knows that she's not Young-won, Choong-nam, or Nan-hee. Then realization hits: "Jung-ah!" Oh, my tears.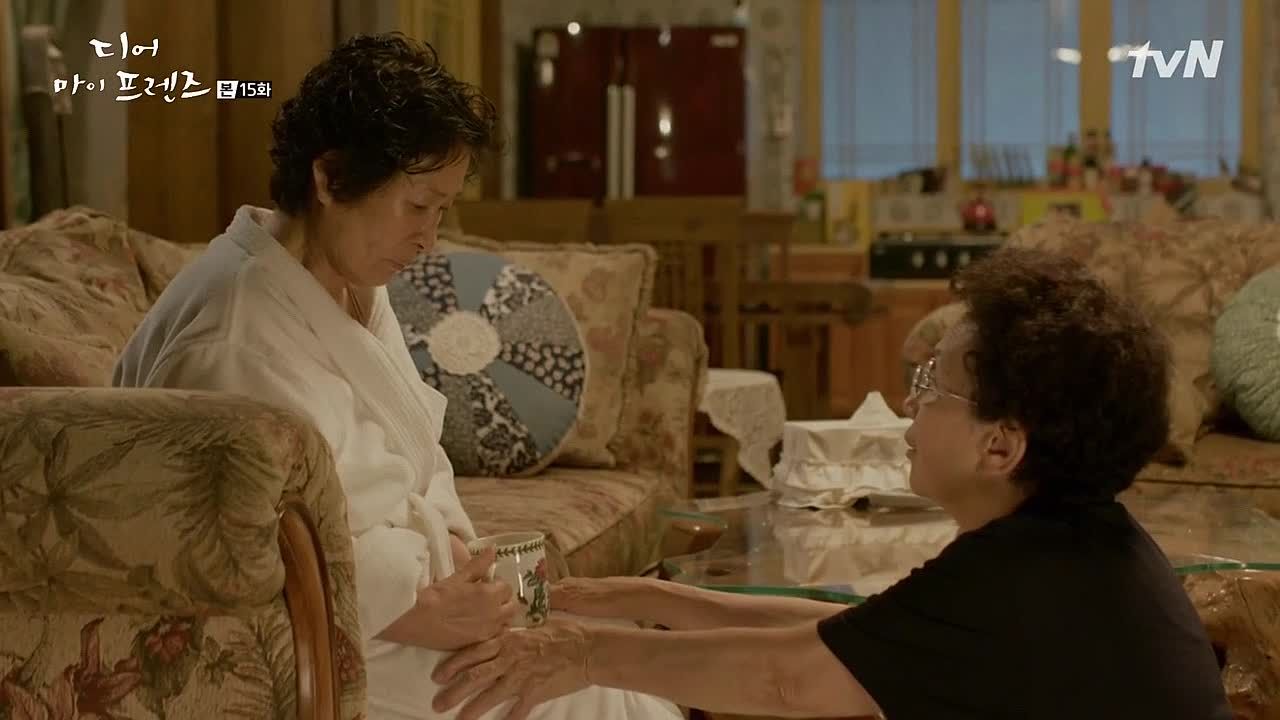 After Hee-ja gets cleaned up, Jung-ah hands her a warming cup of tea and unbolts the windows Min-ho had locked, letting in a fresh breeze. She sits down at Hee-ja's feet, asking if the reason Hee-ja can't look at her right now is because of the names she called her earlier. Hee-ja just sadly nods.
Jung-ah asks her why she went to the church every night — what did she pray for? Hee-ja confesses that she asked for forgiveness for not taking proper care of her baby — she was too young and didn't know what she was doing.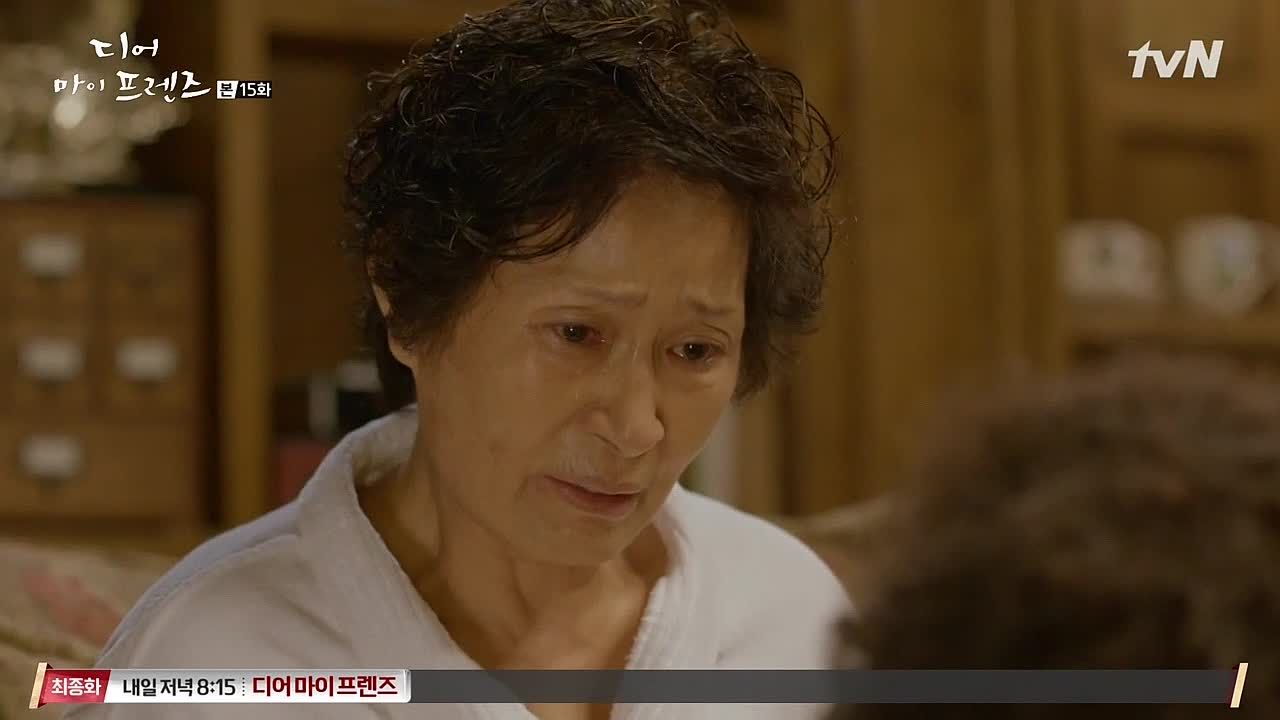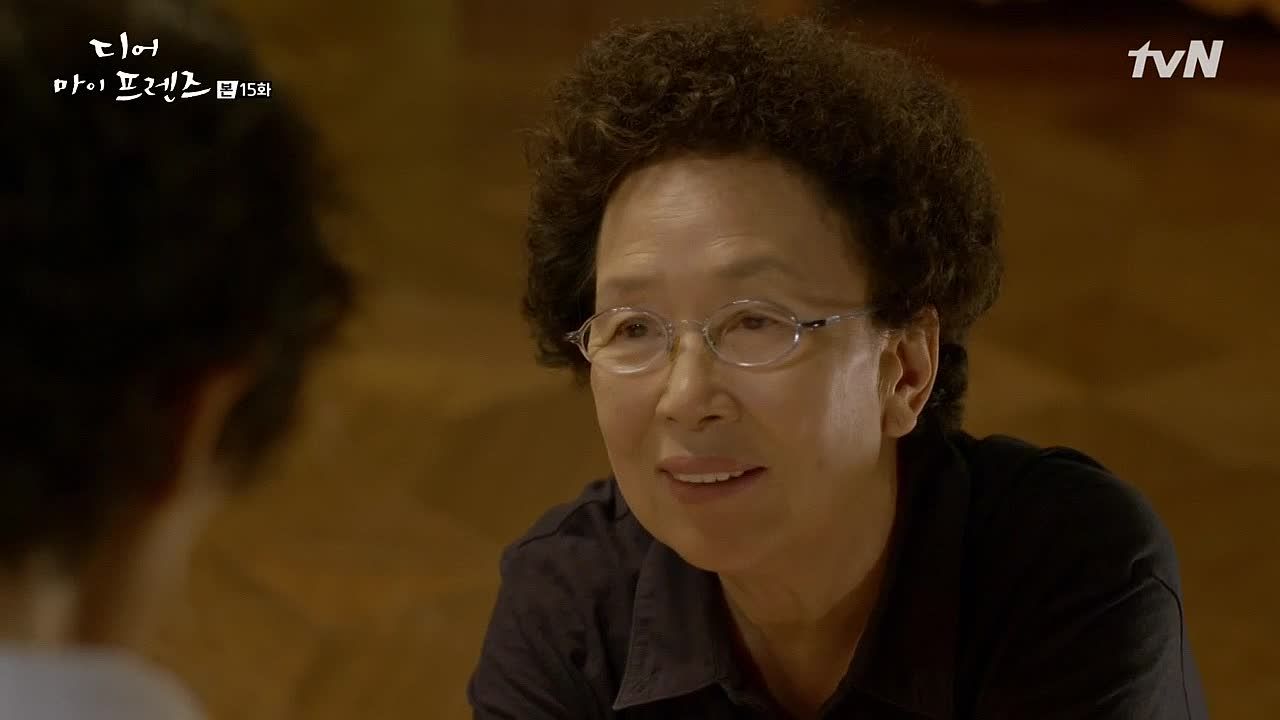 She also prayed for Jung-ah, who was going through a hard time, too, and asked forgiveness for her not coming when Hee-ja needed her most. Jung-ah quietly tells her that, during that time, she also lost a baby through her miscarriage. She apologizes to Hee-ja, but Hee-ja says the world should apologize to them instead. No kidding.
Hee-ja is happy about Min-ho's baby, though, and begs Jung-ah to convince him to go home. She can take care of herself. But Jung-ah points out that she used to be able to take care of herself and she used to be able to live alone, but not anymore. Hee-ja breaks down weeping and Jung-ah gently holds her as she sobs.
Nan-hee's reading a humor book about growing older, laughing at some of cartoons. She paraphrases one of the book's points, telling Wan that she knows what Wan, her parents, and her bother want. Most importantly, she knows what she wants. She is exactly where she should be — next to Wan.
Becoming serious for a moment, Nan-hee starts to bring up what if something happens during the surgery, but Wan cuts her off, hugging her and asking her to hold in anything she wants to say right now. They'll talk when the surgery is over.
In fact, they'll talk for hours after the surgery — so don't act like this is their last time seeing each other. Nan-hee agrees — and then tells Wan to stop hugging her so tightly because she's choking her.
Morning arrives all too soon, and Wan walks alongside Nan-hee's hospital bed as the nurses transport her to the operating room. With a smile on her face, she wishes her mother good luck, and then waits with Young-won and Choong-nam.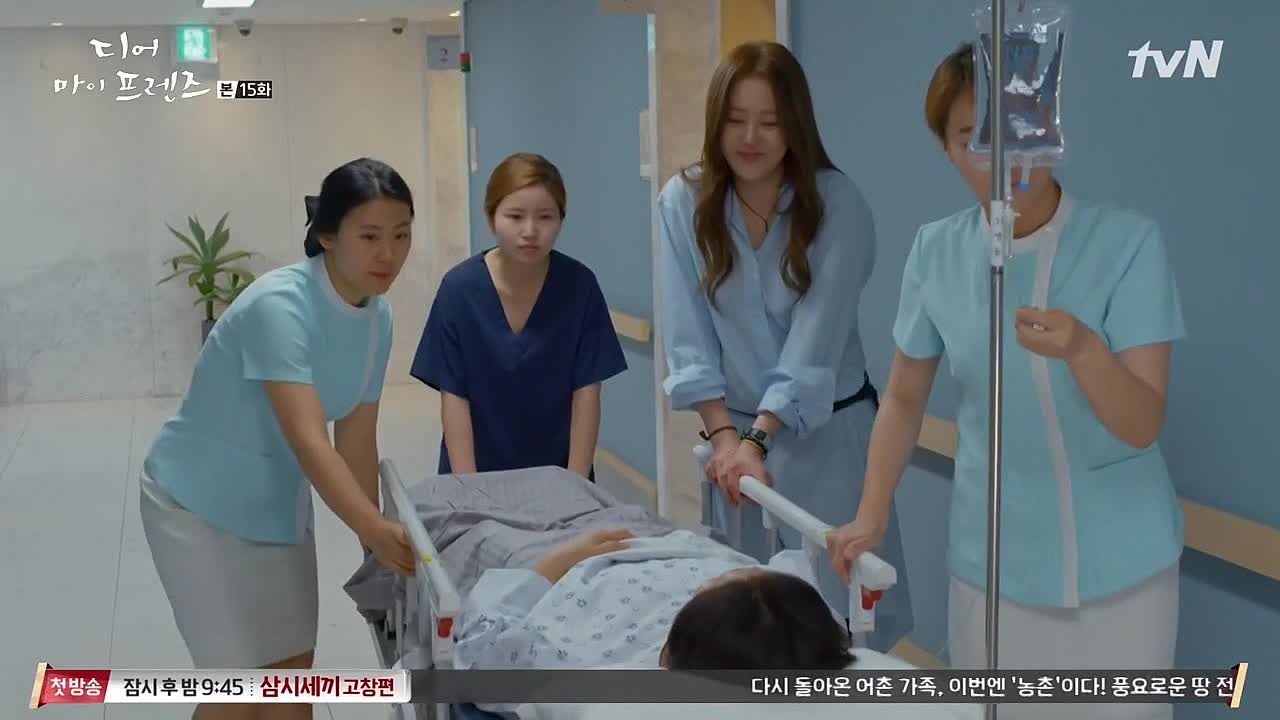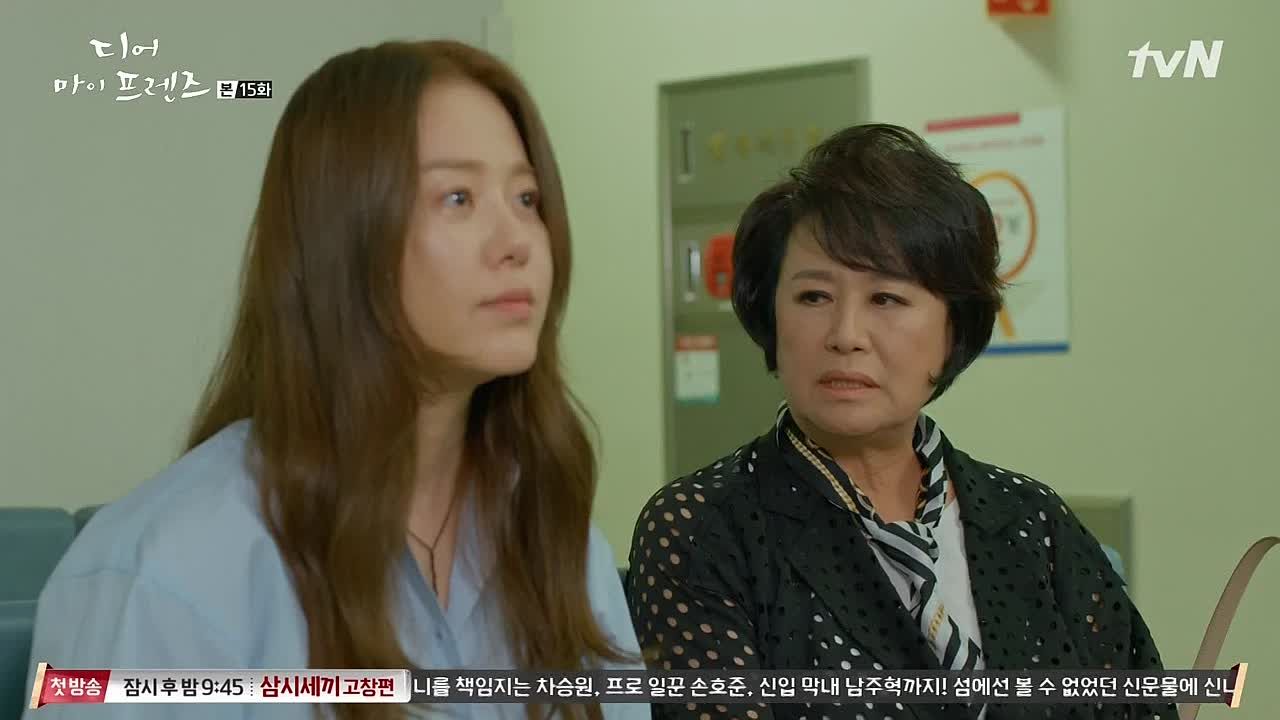 Wan can't take her eyes off the screen that says that her mother is still in surgery, even though it's been five hours already. The aunties leave to get a cup of coffee just as the screen switches to say that the surgery is completed. Wan runs downstairs, and OMG, there's Yun-ha!
She's stops in stunned surprise to see him at the hospital, and smiles briefly, but just behind him is the operating room. Yun-ha smiles thinking she's running towards him, but she's made her decision as she she runs past him to the OR.
COMMENTS
I can't believe that we're so close to the end of this show. How has it just been eight weeks? It feels like these aunties have been a part of my life since, well, forever. No matter how much I convince myself we're in the final week, I'm still not ready to say goodbye — but I can at least hope that everything will go well for them. There's no such thing as being too old for a happy ending, is there?
Perhaps one of the reasons the aunties seem like a natural part of my life is because they are. Not literally, of course. Even though my life looks nothing like Wan's, I still have my own set of "aunties," even if they are actually grandparents or cousins or uncles or my very own parents. Noh Hee-kyung has breathed such a realness into her characters that I can only assume she's spent plenty of time around an older generation to capture not only the painful details of what it's like to be around someone who's body and mind begins to fail them, but also that there still lives on this inner spirit of youth, no matter what age you are.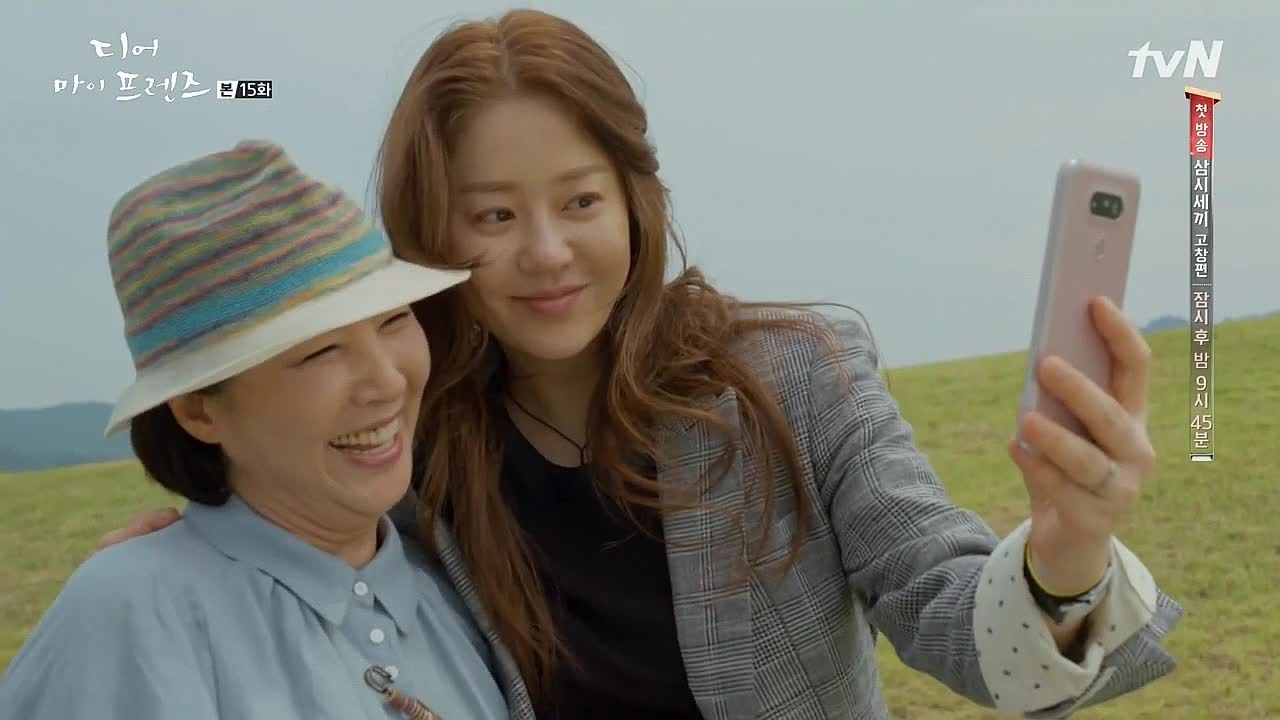 When I first started watching this show, there was this huge urge to explain that I really love it despite not being the intended audience. Because it's a show about old people, therefore it must be primarily for old people, right? Except that's such a facile and incorrect assumption, although one so easily made in an industry that seeks after the new fresh young thing every month. Just because the cast isn't made up of young twenty-somethings, and romance between two leads isn't the main goal, there is somehow that instinctive urge to dismiss it as a niche drama that could have found a greater viewership by being repurpose as one of those super-long weekend dramas.
But the reality is that I am the intended audience, just like someone half my age is the intended audience, or someone twice my age (or even three or four times my age!). The intended audience is anyone who's ever lived and breathed and been born in this world. Even if I am not at the aunties' age yet, I hope one day I will be — and will have the friends to support me just as I did in my youth. There's no guarantee that someone's life will be untouched by loss or heartache, yet life somehow goes on. What this drama has taught me is that it's a million times better, no matter what you're going through, when you have your friends supporting you. Spouses will die or divorce you; children will disappoint and forget you; careers will fail or become too difficult to achieve.
But your friends? They will be with you until the end. Just like my aunties will be, even if the end is only one more episode away.
RELATED POSTS
Tags: Dear My Friends, featured, Go Du-shim, Go Hyun-jung, Kim Hye-ja, Na Mun-hee, Shin Gu, Yoon Yeo-jung