Doctors: Episode 12
For some problems, time is the best cure. Stepping back from a relationship or an event can allow people to reflect and analyze. Other times, a bit of separation can help solidify feelings and encourage people to muster up courage to take a step forward. Whether time helps a person reflect or gather him/herself, in the end, there still needs to be an action taken for a solution to arise.

EPISODE 12 RECAP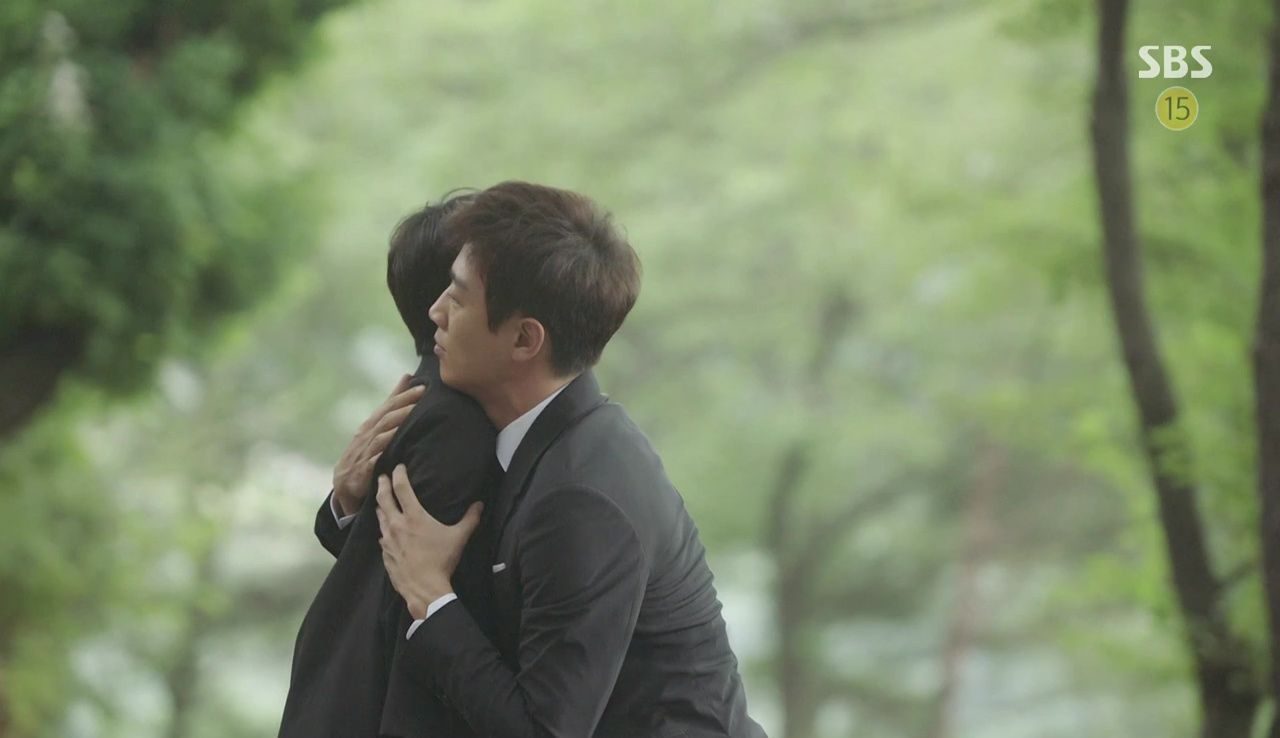 Little Ji-hong cries while on a forest path, apologizing to his father. Adult Ji-hong places a hand on his shoulder, and hugs his younger self. Hand in hand, they make their way to a columbarium, and Little Ji-hong disappears.
Standing in front of a picture of himself and Director Hong, Ji-hong narrates, "The cells that make up a human are always in a state of instability. To live is to be unstable. In the end, the essence of life is change. Father always said this, 'Deciding things on your own, taking responsibility by yourself is the life of a man.' Now it's starting again."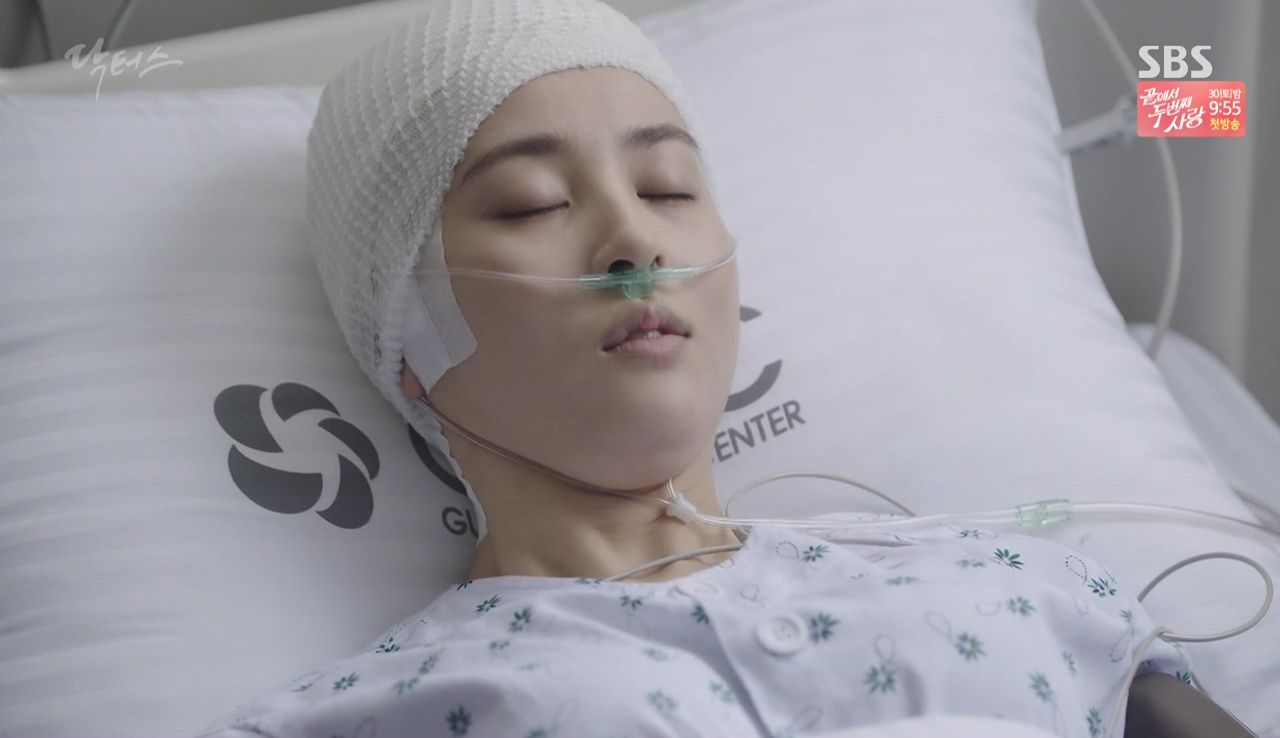 Three Weeks Later.
Psycho Husband sings a song as he wipes his wife's hands and feet. He says, "I love you," but she closes her eyes in response. Knowing that she's avoiding him, Psycho Husband orders her to look at him, but when she continues to refuse, he chucks the towel at her.
Seconds later, Yoon-do and a couple of doctors, including Hye-jung, enter the room to check on the wife. Psycho Husband returns to his act and asks about his wife's recent inability to open her eyes. Yoon-do does the routine checks of her mobility, and Hye-jung notices the husband's disinterested expression in the background.
After checking on the wife, Yoon-do complains to Hye-jung about Ji-hong's absence since he's in the U.S. to sort out Director Hong's will. When he asks about Ji-hong, Hye-jung admits that she hasn't contacted him all these weeks because she thought he'd like to be alone, and Yoon-do shakes his head. He tells her that this is the perfect time for her to enter Ji-hong's life, and Hye-jung stares at Yoon-do with expectant eyes. She asks him out to lunch for more love advice, but he realizes how foolish it would be for him to help her out with Ji-hong and declines.
Ji-hong arrives in Korea, and Pa-ran picks him up the airport. Today's also the day of Director Jin's inauguration at the hospital, but Ji-hong refuses to attend since he didn't even go when his father was appointed. At the hospital, Tae-ho attends the inauguration, which starts off with a video remembering Director Hong's contributions. Director Jin then takes the podium: The beginning of a new reign.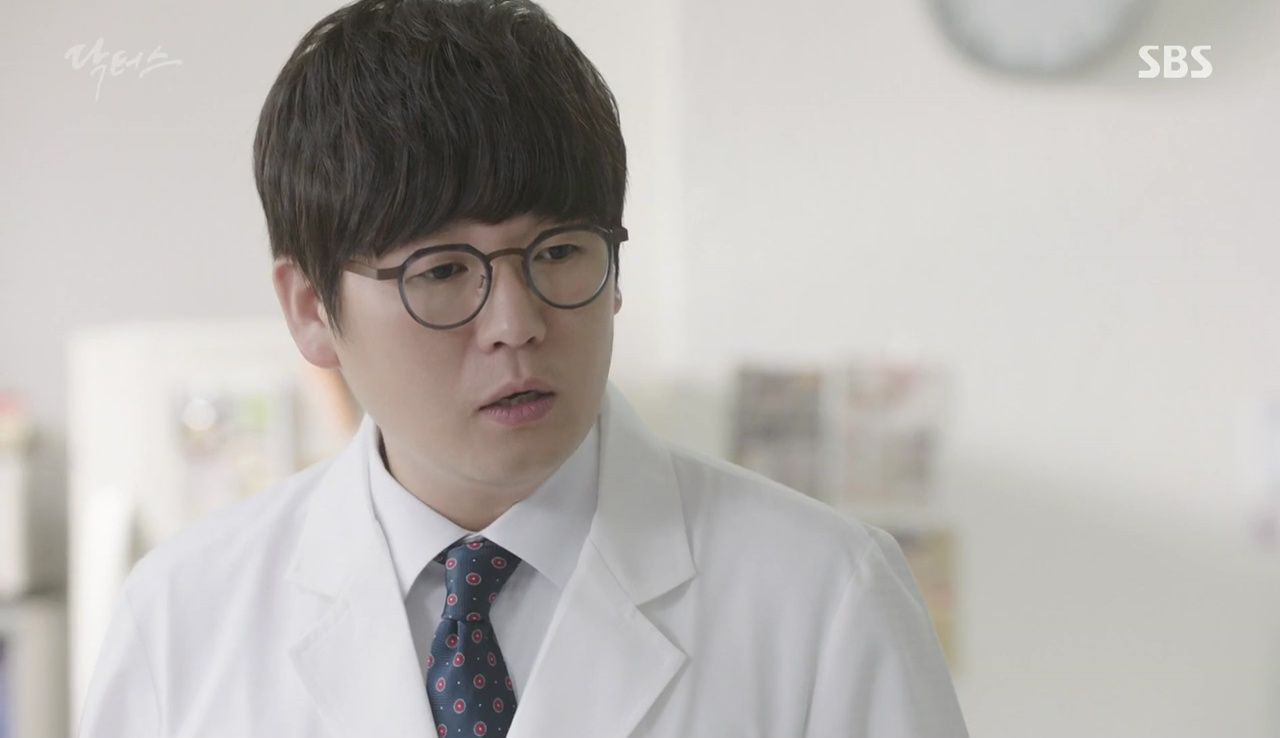 In the residents' office, Nurse Su-jin brings a stack of rice cakes and commemorative towels. Kyung-joon arrives just as Joong-dae opens a box of rice cakes, and the former berates the latter for always eating. However, once Kyung-joon's alone, he steals a stack of rice cakes and towels for himself.
Psycho Husband presents snacks to the nurses and doctors for taking care of his wife, and the nurses swoon over him. Kang-soo and Joong-dae don't share in their sentiment, and Young-kook arrives, asking what all the ruckus is about. The nurse next to Nurse Su-jin turns a bright shade of red at the sight of Young-kook and quickly runs away, which Seo-woo notices. So that's who she has a crush on!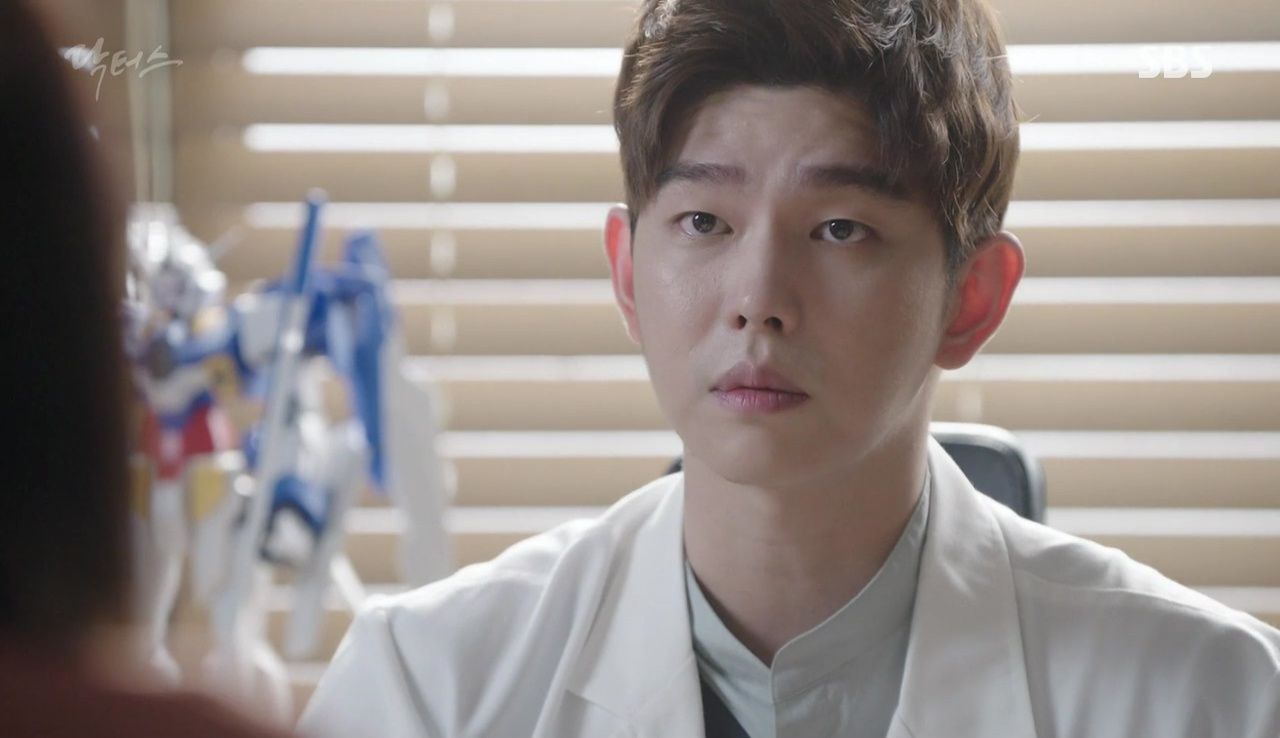 Seo-woo's mother visits Yoon-do in his office, and directly confronts him about Seo-woo. Yoon-do tells her that it's over between them, and he'll deal with his family by himself. Seo-woo's mother advises Yoon-do to reconsider, but her words fail to sway him. She sighs since she just wants Seo-woo to have a happy life as a woman rather than inherit the hospital, which she thinks will only cause more stress.
In Myung-hoon's office, Director Jin asks his son what he'll do with Tae-ho, but Myung-hoon prefers having capable men like Tae-ho and Ji-hong working underneath him. The thought of being their boss makes him feel like he's on cloud nine.
Their meeting is interrupted by Chief Kim, and Myung-hoon doesn't hide his displeasure. Chief Kim grovels to Myung-hoon, but when flattery fails, he attempts veiled threats instead. Chief Kim hints that he kept Grandma's anesthesia records, but Myung-hoon warns him to protect his current position.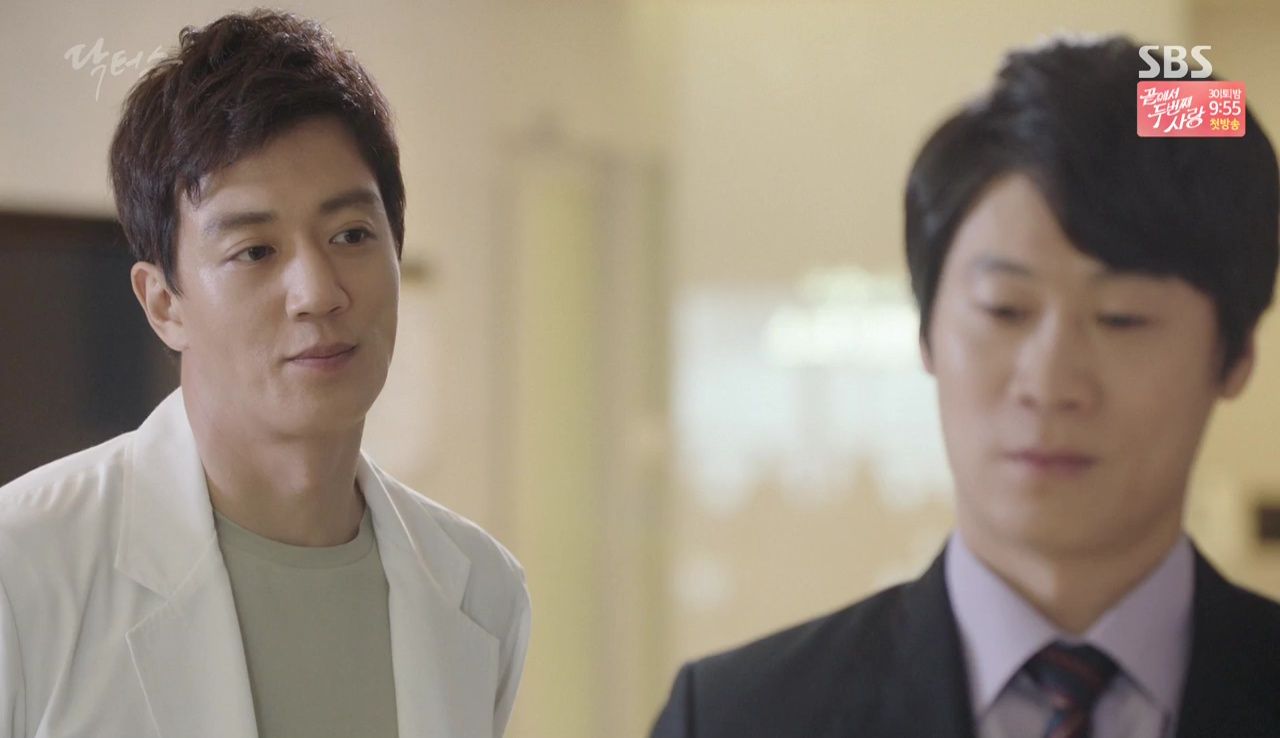 Hye-jung looks over her messages with Ji-hong, and replays the dog emoticon he sent. She thinks back to his words that he makes decisions alone, but decides to call him anyways. Unfortunately, her call goes unanswered since his phone was left behind in his office. Meanwhile, the reason for her stress is in the hospital lobby, and serendipitously bumps into Chief Kim.
Chief Kim tries to ignore the elephant in the room, but Ji-hong asks him directly if he remembers Grandma's surgery now. Chief Kim tells Ji-hong that his memories are fueled by kindness. Ji-hong replies back that negotiations are still open, and adds, "I'm normally a kind person."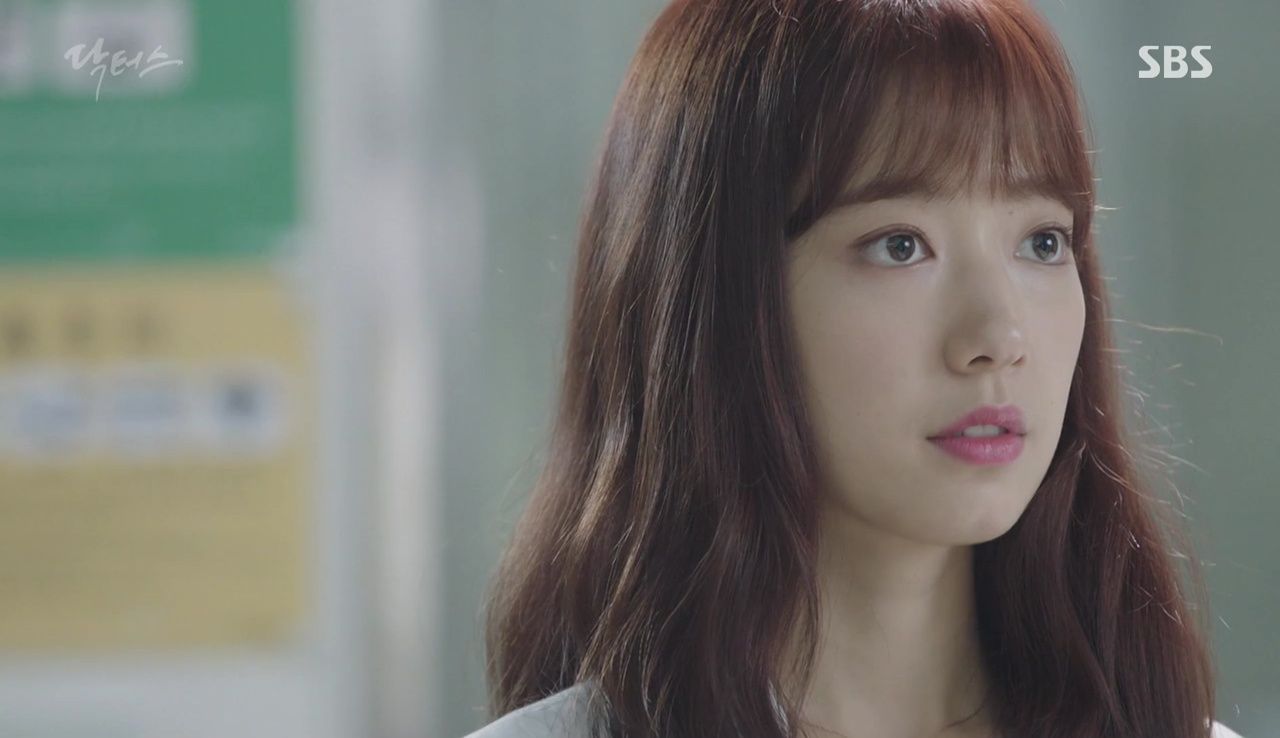 Hye-jung receives a call from Kang-soo who tells her that Ji-hong is here. She goes to meet him, but Ji-hong doesn't say anything to her. Nurse Su-jin meets the wife, and Psycho Husband excuses himself for a moment. Once she sees him leaving, the wife moves her finger, but Nurse Su-jin doesn't hear her internal plea: "He's not my husband." Spit-take, what!?
Ji-hong makes his rounds and visits the wife. He goes through the usual tests, and makes eye-contact with her. She blinks at Ji-hong, as if to send a message, and he stares at her, feeling that something's not right. Psycho Husband returns, and Ji-hong tells him the good news: His wife is slowly regaining her motor skills.
In the hallway, the husband asks Ji-hong if she'll make a full recovery, and Ji-hong tells him that he can't be sure. Ji-hong notices the husband's peculiar reaction, almost as if he's glad she can't move. Once the husband leaves, Ji-hong asks Hye-jung about the patient's behavior, but she hasn't noted anything unusual.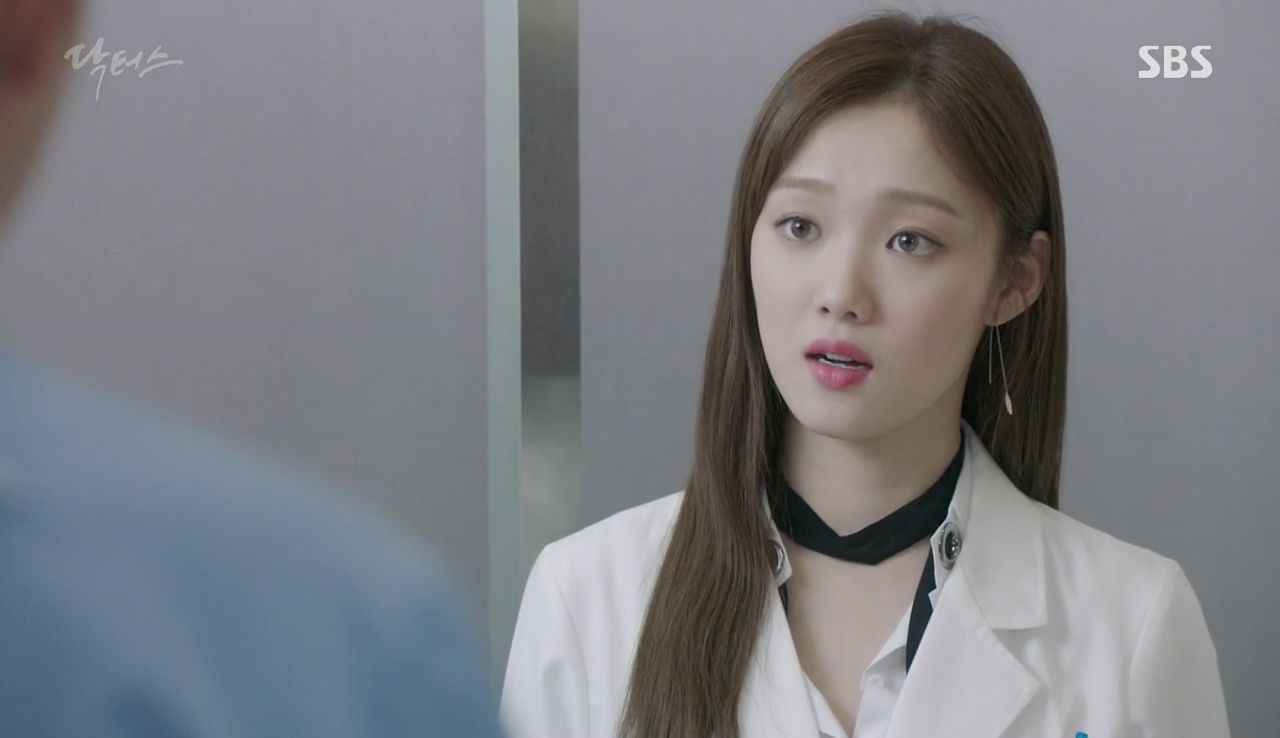 Kyung-joon meets Seo-woo, and tells her that she's been called to assist Yoon-do in his emergency surgery. She's shocked, and waits for Yoon-do outside the operating room to verify in person. She wonders why he's not calling Hye-jung while Ji-hong is away, and Yoon-do says that he won't play that dirty. Besides, Ji-hong is already here.
Yoon-do is washing his hands before Seo-woo, and chides her for coming later than the staff doctor. He reminds her that she's not an eighteen-year-old girl anymore, so she doesn't have to live up to her father's expectations. Yoon-do teases Seo-woo some more, trying to lighten her mood.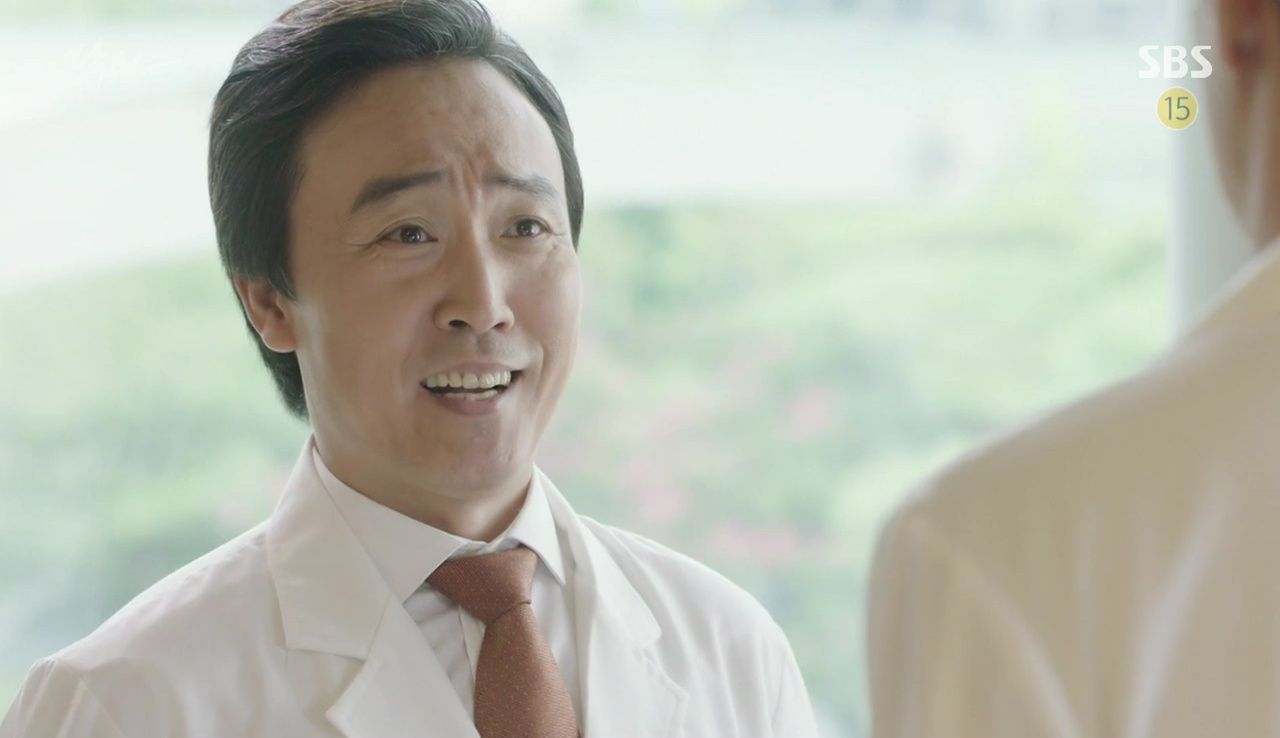 Myung-hoon is walking around the hospital with his entourage, and Tae-ho watches from above with Ji-hong. Tae-ho states that it's the new "Jin" era, and Myung-hoon waves at them from below. However, his face falls, and he tells his secretary to call Ji-hong.
Ji-hong meets Myung-hoon in a hallway, and Myung-hoon asks why he's digging into his past. Ji-hong asks if he even remembers Grandma's surgery, and Myung-hoon smiles: "I only remember things that make me happy." He tries to bridge the gap between them, citing that he loves smart people, but Ji-hong just laughs along.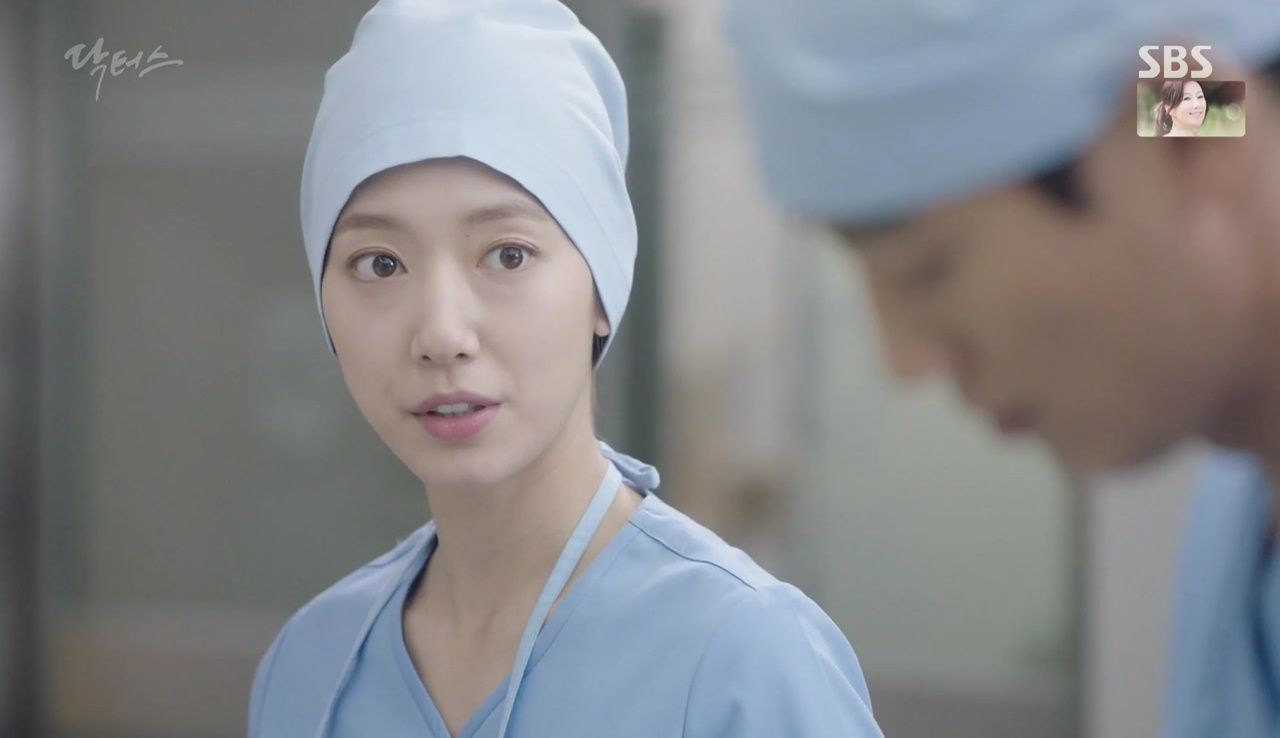 Kang-soo tells Hye-jung of a new traffic accident patient, and Ji-hong is called in to operate. When he stops by to examine the patient, he avoids eye-contact with Hye-jung and merely tells her to prepare for surgery.
As they're washing their hands, Hye-jung breaks the silence and asks how he's doing since she was worried about him. Ji-hong gives her a hollow response, and during the surgery, Ji-hong continues to avoid eye-contact. Afterwards, he leaves without a word, and Hye-jung watches him go, though she obviously wants to say something to him.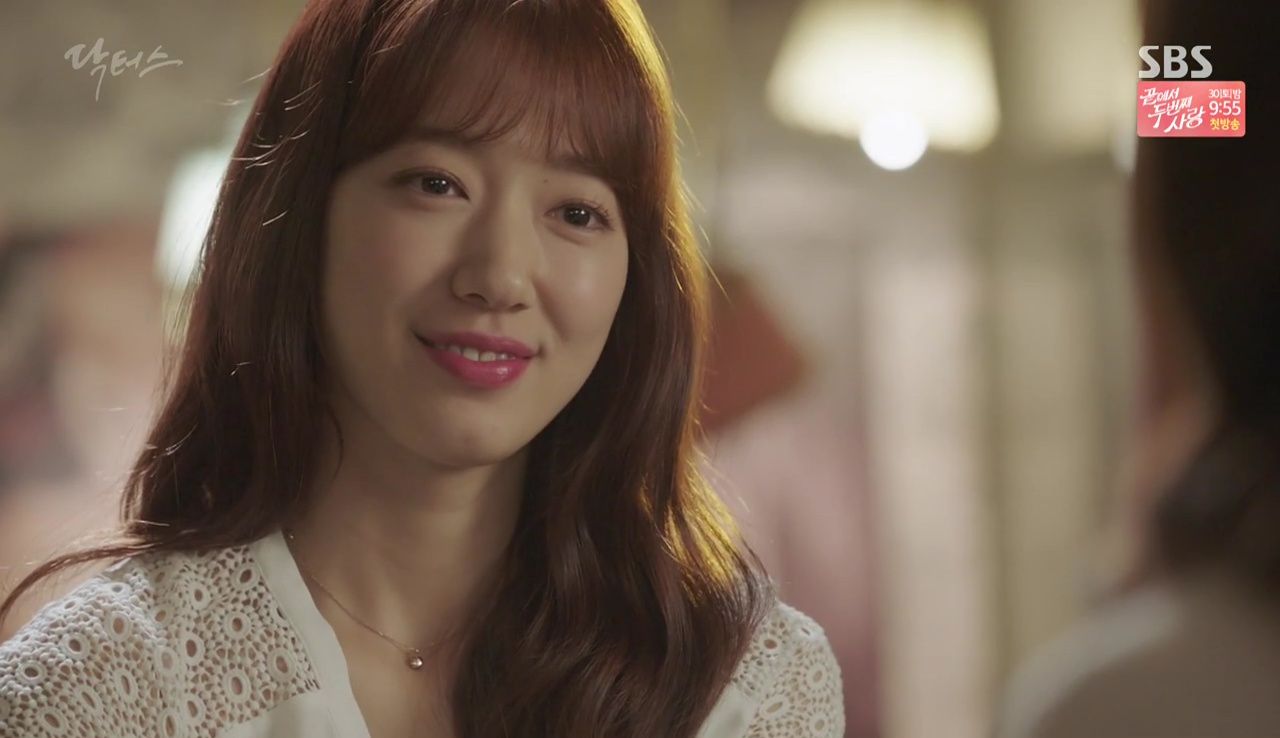 Hye-jung hesitates outside Ji-hong's office, and In-joo arrives. She wonders why Hye-jung doesn't go in, but Hye-jung tries to excuse herself since In-joo must have an appointment. In-joo tells Hye-jung that she doesn't have an appointment, and explains that Ji-hong is just a male friend. Thus, at this moment, if she were to choose meeting with Ji-hong or Hye-jung, she would want to meet Hye-jung.
Hye-jung and In-joo share a drink together, and In-joo confesses that she wanted to meet Hye-jung but didn't want to contact her. Hye-jung wonders why she didn't want to call, and In-joo admits that she was afraid to confront her childish past.
She apologizes to Hye-jung for her past behavior when she'd pushed her to distance herself from Ji-hong, and Hye-jung teases In-joo, asking if she should forgive her. In-joo says that she feels like she's in a mental stupor, and the two of them laugh together—water under the bridge.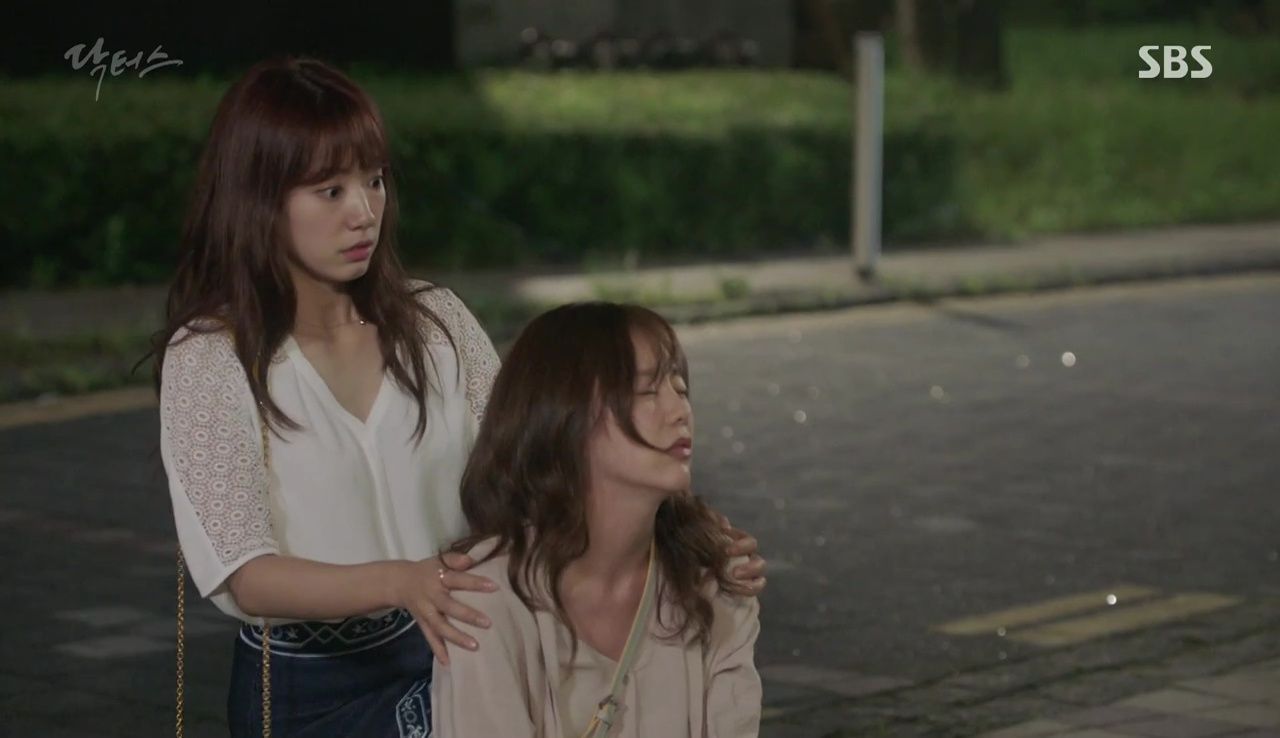 Ji-hong gets a text message from Yoon-do asking about that promised dinner, and Ji-hong calls him, asking where he is, then. Ji-hong arrives at Yoon-do's apartment where Pa-ran is already making himself at home. Yoon-do offers making ramyun, and Ji-hong and Pa-ran give out picky instructions for their instant noodles. Pa-ran tells Ji-hong that In-joo is coming later, and Ji-hong complains that Yoon-do's apartment is bigger than his.
In-joo arrives at the apartment complex drunk, and Hye-jung tries to pick her up from the ground. Drunk In-joo bellows into the night for Ji-hong and Pa-ran, and Hye-jung stares at her like she's some crazy lady (which I guess she is). The boys come running out, and Yoon-do notices Hye-jung while she notices Ji-hong. Yoon-do smiles like a goof, saying hi to Hye-jung, but Pa-ran orders his nephew to help him with In-joo since she's now yanking out his hair for calling her a wench.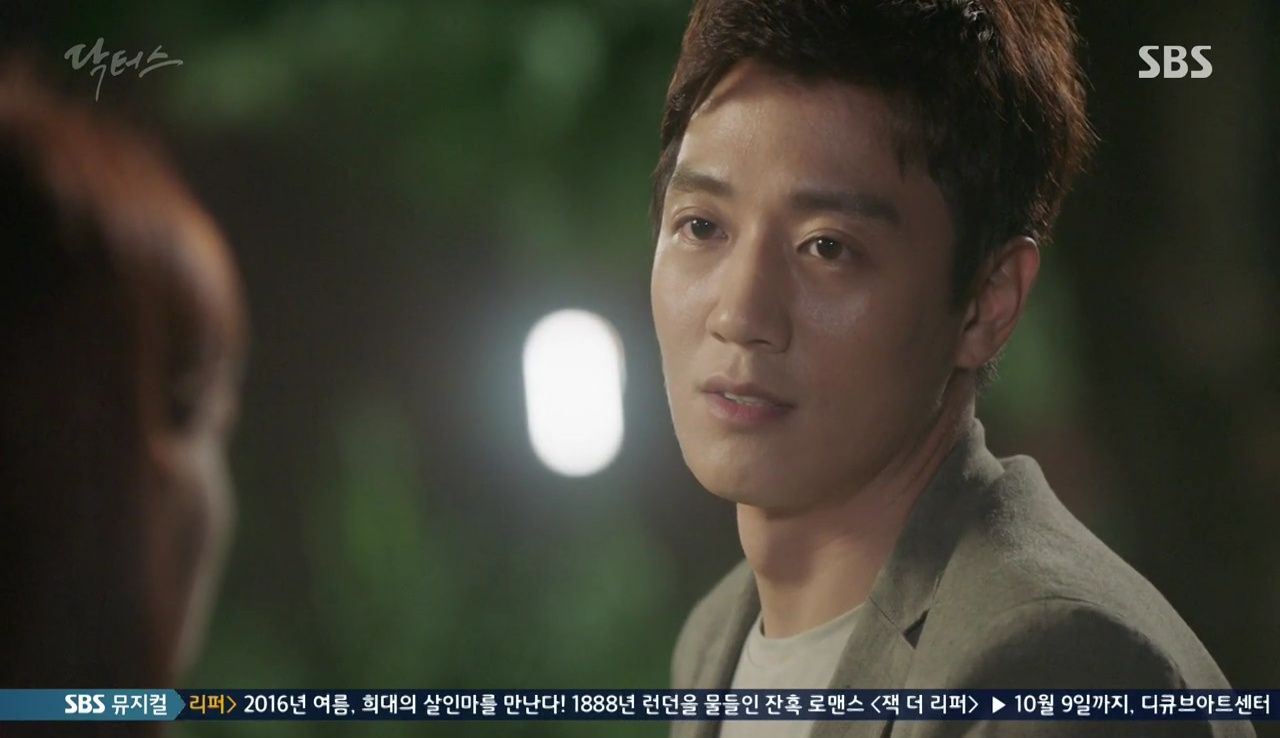 Hye-jung is left alone with Ji-hong, and he asks if she wants to stay. She says that she'll leave, and when Ji-hong simply says all right then, Hye-jung bursts out in indignation: "All right then?!" She storms away, but Ji-hong grabs her hand to stop her.
Twirling her around, he asks if she actually wants to talk with him, and they go into his apartment. Hye-jung notices the claw machine (it is hard to miss), and Ji-hong makes tea for them. Sitting at his dining table, Hye-jung says that she's sorry because she doesn't know how to comfort people in grief.
Ji-hong blurts out, "I missed you," and Hye-jung stares at him in shock. He continues and says that he kept thinking of her, but he waited for her to contact him first. In the past, he always acted first if he wanted something, but meeting Hye-jung has taught him that sometimes waiting can be the best direct action.
Relieved, Hye-jung apologizes to Ji-hong, too. She wanted to stay the same, yet she pressured him to change. She asks if she can enter his life, and says that he doesn't have to change because she just wants to be by his side. He says yes.
With the discussion over, Hye-jung gets up to leave, but Ji-hong wonders aloud if it's all right for him to stop her. Hye-jung is still angry at him for scaring her and not answering her calls all day, and Ji-hong apologizes since he was genuinely unaware that he missed her calls. He asks if she didn't want to play the claw machine, and Hye-jung shyly smiles, admitting that she does.
Hye-jung plays with the claw machine, and Ji-hong offers to help her, holding her hand in the process. Suddenly aware of their closeness, they awkwardly break apart. Hye-jung sits on top of the claw machine and gingerly touches a strand of Ji-hong's hair. After minutes of staring, Ji-hong finally swoops in and kisses Hye-jung. They kiss, and they kiss, and then the screen fades to black, omo!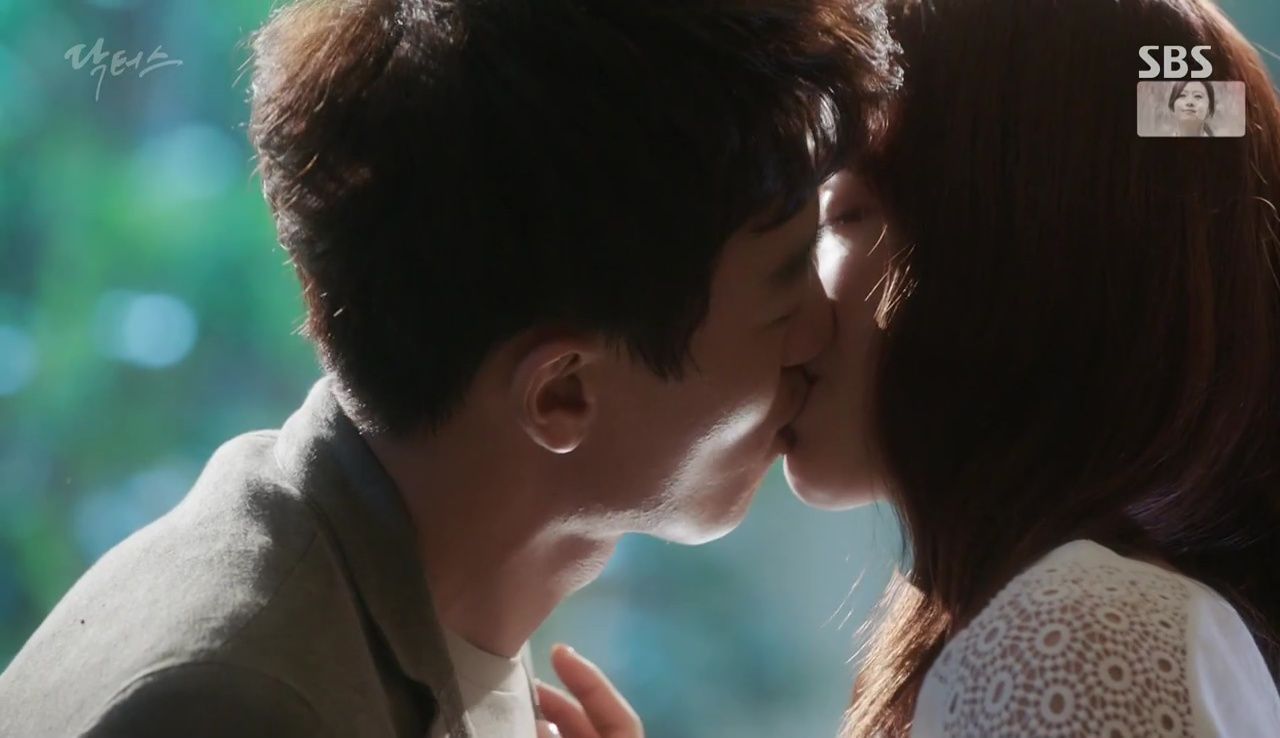 All dressed for work, Yoon-do steps into his living room and stares aghast at Pa-ran passed out on the floor and In-joo sleeping on his couch. He yells at his uncle to get up for work, and addresses In-joo as "Aunt," telling her that it's already 6:50.
In-joo groggily wakes up and gives Yoon-do the side-eye for calling her "Aunt," which he argues is accurate since she's his uncle's friend. She says he's bigger than her and old-looking, and calls him rude. She gets up and declares that she's taking a shower so Yoon-do should squeeze some fresh orange juice for her. Yoon-do's jaw is on the floor (while I'm on the floor laughing), and Uncle Pa-ran gets up to ask for orange juice, too.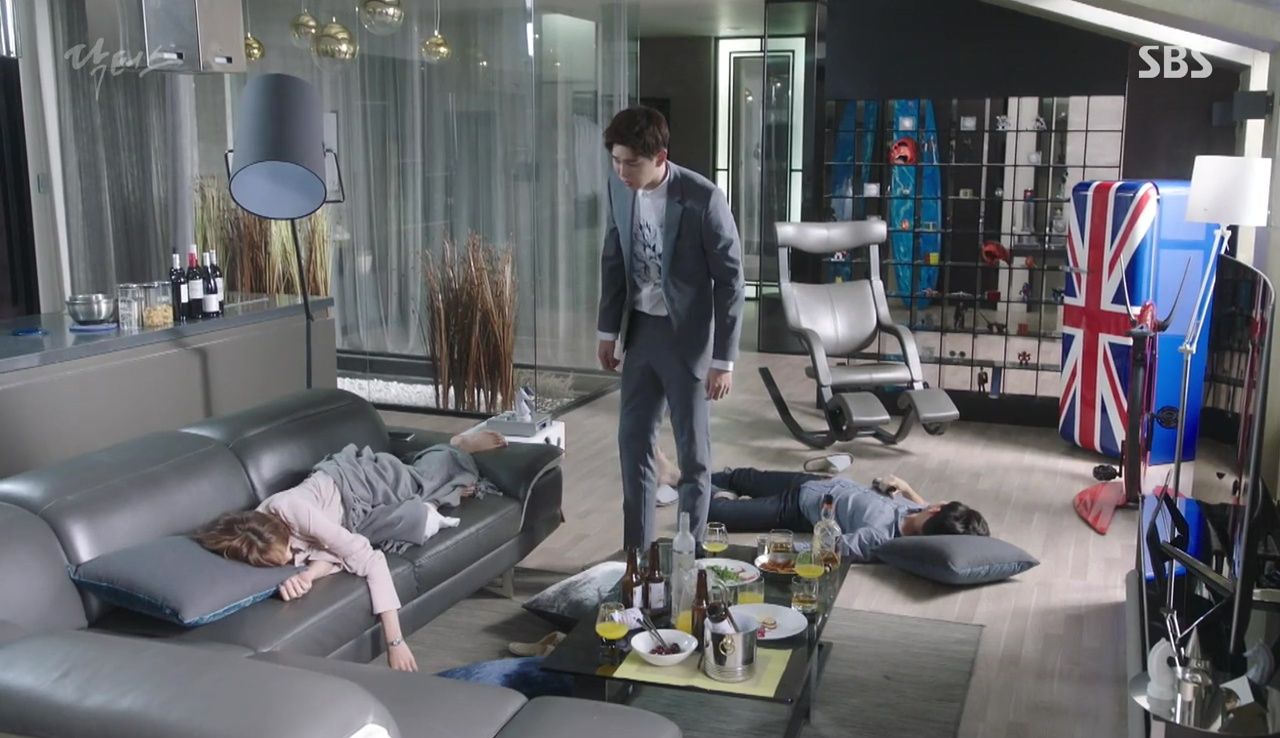 Psycho Husband is on his laptop, trading stocks, and after finishing, goes over to his wife, asking if he looks cool today (never has psycho been such an apt nickname). The doctors visit, and Ji-hong notices the patient crying (seriously, she's been stuck with this crazy man for over three weeks!). Once outside, he asks Kyung-joon if the guardian can be separated from the patient, and Kyung-joon says that it can be arranged.
Next thing you know, Kyung-joon and Kang-soo visit the husband and ask about buying stocks. They drag the husband out of the room, and as soon as they leave, Ji-hong and Hye-jung enter. While Hye-jung stands guard, Ji-hong tells the wife to blink once for yes and twice for no. He asks if she's uncomfortable, and once she answers yes, he asks if it has to do with her husband. She blinks once.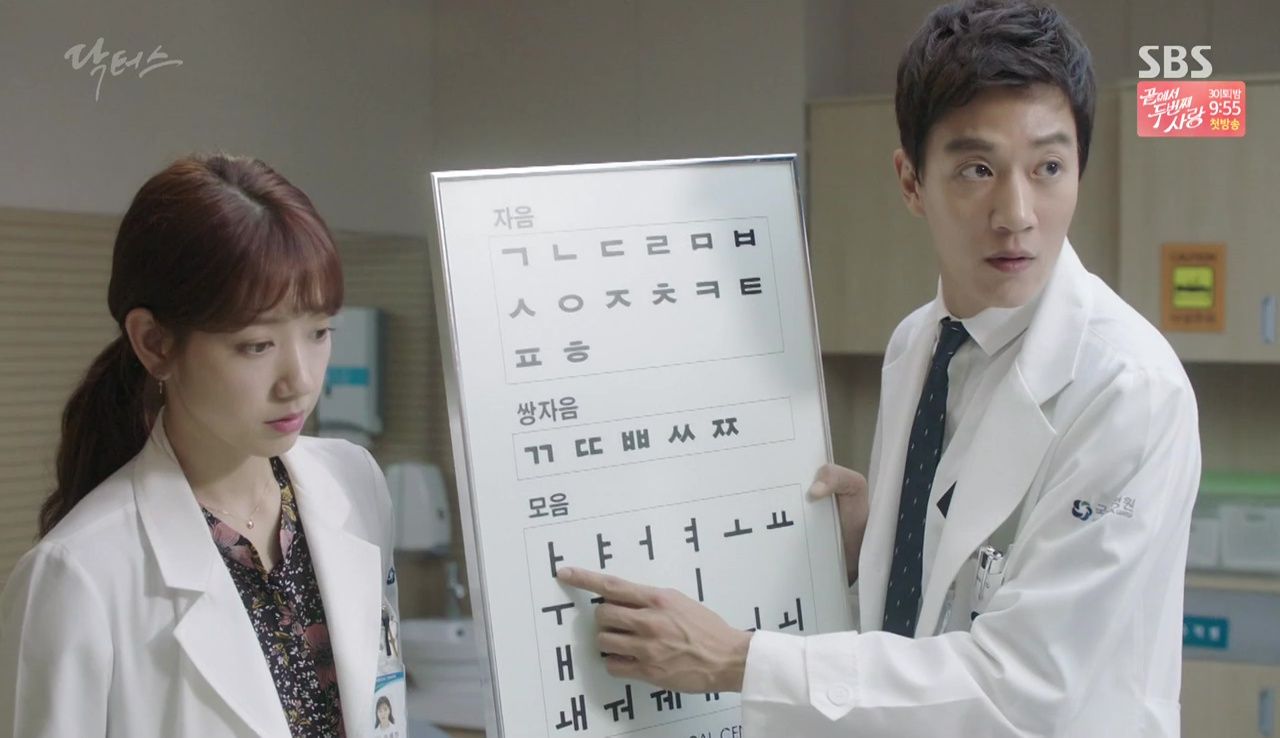 Hye-jung alerts Ji-hong that the husband is returning, and Ji-hong takes off her pulse oximeter. Psycho Husband is surprised to see them, and Ji-hong pretends they came because of her alarm. He tells the husband that the patient needs CT scans, and they successfully bring her to a separate room.
Using a Hangul board and their blinking communication system, the wife spells out "attacker." They return her to her room, and Hye-jung tells Ji-hong that she notified the police. Curiously, the patient is actually filed as a missing person, and they wonder why her parents declared her missing when she was with her husband. (He's a kidnapper, too!?)
Psycho Husband stares at the wife, and asks if she remembers the first time they met. In flashback, Psycho Husband waited for her outside of her workplace, and visibly discomforted by his actions, she told him to stop. Instead, he got on his knees with a bouquet of flowers and declared his undying love for her.
Back in the hospital room, Psycho Husband asks if she remembers the time they registered their marriage since that was the best day of his life, and the wife narrates, "Why didn't I know back then that a man who puts everything on the line for me was disastrous."
The police arrive to apprehend Psycho Husband, and they explain that the husband secretly registered their marriage. Apparently, the two dated for a couple of months, but she broke up with him because of his obsessive behavior.
Hye-jung offers to bring the husband out since he won't be suspicious of her, but Ji-hong says that he'll do it instead. Instinctively, Hye-jung tries to object, but then tells herself to practice accepting protection and allows Ji-hong to go instead.
Ji-hong brings out the husband using the excuse that he has to explain the test results, but Psycho Husband recognizes the wife's parents at the front desk. He runs away from Ji-hong, and though Ji-hong attempts to chase him, the husband manages to escape in a taxi because the cops from before are apparently on a coffee break (like seriously, where are they?).
The police officers get the husband's information from the front desk as Kyung-joon and Joong-dae bicker with each other. Ji-hong stops by to ask if the criminal was caught, and Kyung-joon says that they haven't caught him yet.
Yoon-do drinks alone at Soon-hee's café, and Soon-hee drops off some complimentary food. She notes that his companion is late, and Yoon-do tells her that he's alone. She stares at him with pity, pats his back, and mumbles loud enough to hear him, "And he looks so normal." Hahaha.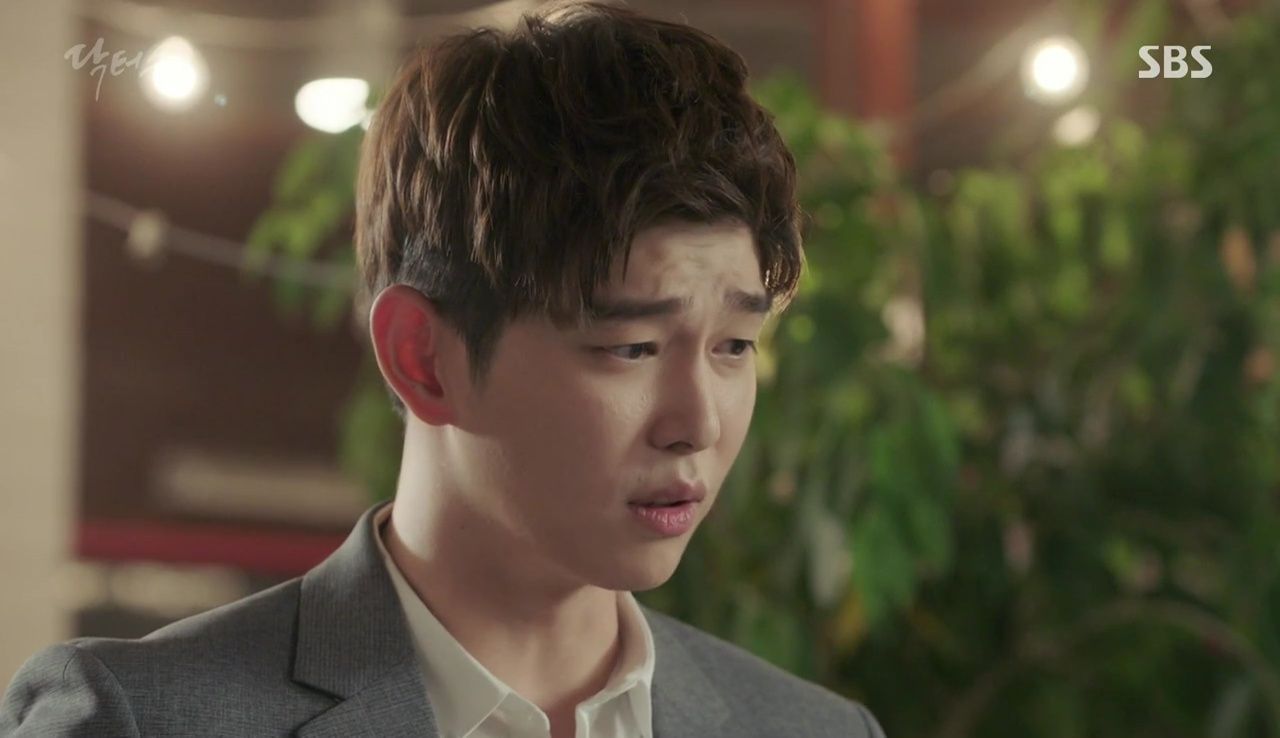 Seo-woo arrives by herself, too, and when Soon-hee greets her, Seo-woo acts aloof, saying that she only came because it was the closest bar to the hospital. She notices Yoon-do, and sits behind him, back to back.
He's surprised that she came to drink all by herself, and Seo-woo lies that she's waiting for Young-kook. Yoon-do mentions all the times Seo-woo comforted him after his breakups, and Seo-woo notes that he must regret it, now. Yoon-do admits that he does, and Seo-woo says that she won't do that again. Yoon-do thinks that's a good thing and advises her not to act like a fool for him.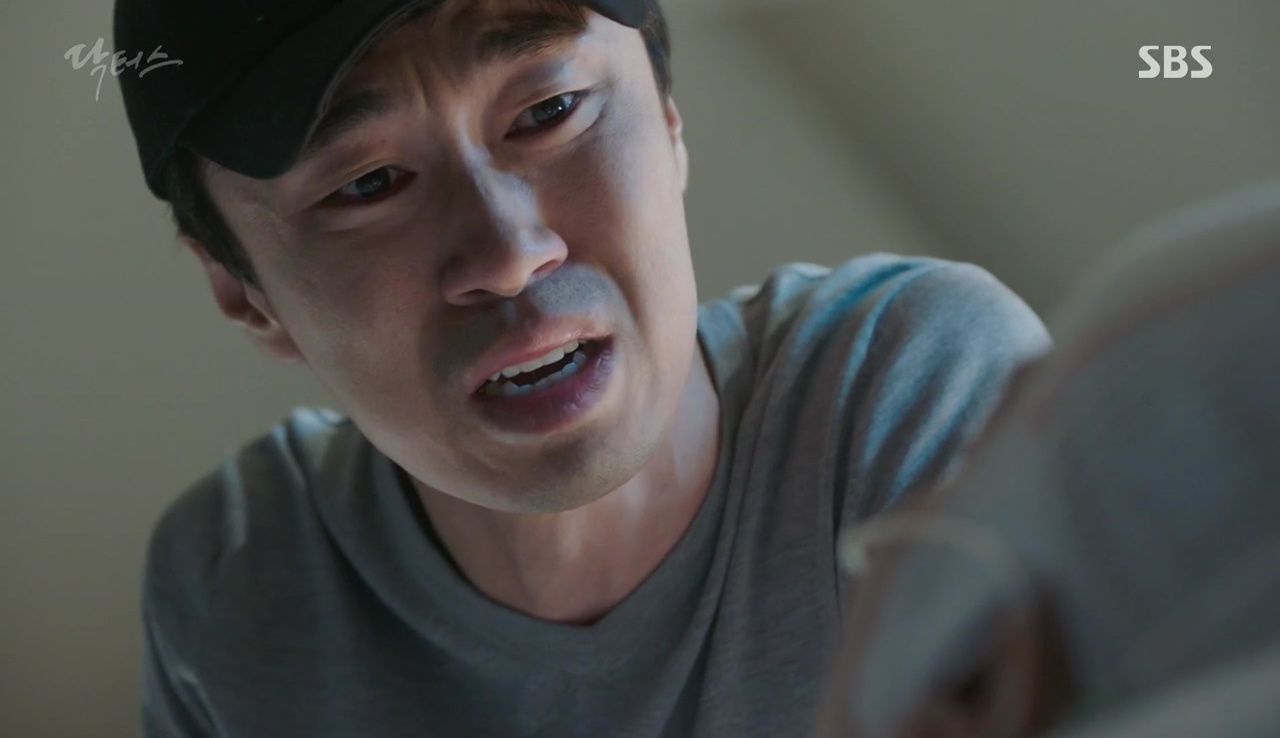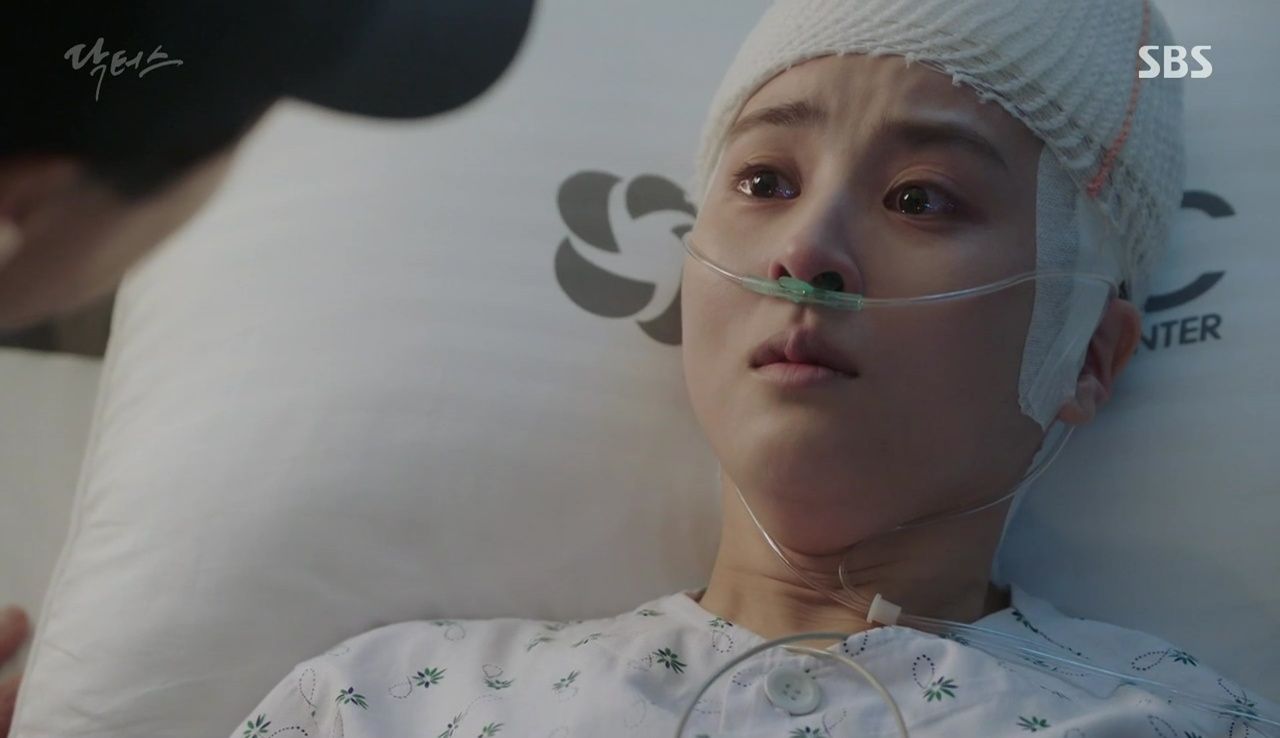 Psycho Husband returns to the hospital wearing a cap, and if you squint hard enough, he's almost unrecognizable. At the neurosurgical front desk, Kang-soo is surprised that Hye-jung is still here, and she says that she's going to check on the wife one more time.
The wife is with her mother, who leaves the room to get more water. The wife closes her eyes, her guard down, when the door slides open. Psycho Husband is back, and the sight of him makes her panic. He whispers that she can't escape, and came to the conclusion that if he couldn't have her, no one should. He asks her if it's all right to kill her, and then proceeds to choke her with his hands.
Out in the front desk, the wife's alarm rings, and Hye-jung runs ahead of the group to check on the patient. Psycho Husband opens the door just as Hye-jung arrives, and she immediately apprehends him. She yells at Kang-soo to check on the patient, and she flips Psycho Husband onto the floor.
Ji-hong receives a call from Hye-jung, informing him that the patient is in a semi-coma. Ji-hong arrives at the hospital, and Hye-jung expresses her strong desire to save the patient. During the surgery, Ji-hong reassures Hye-jung that there isn't much bleeding, and the surgery ends without any major issues.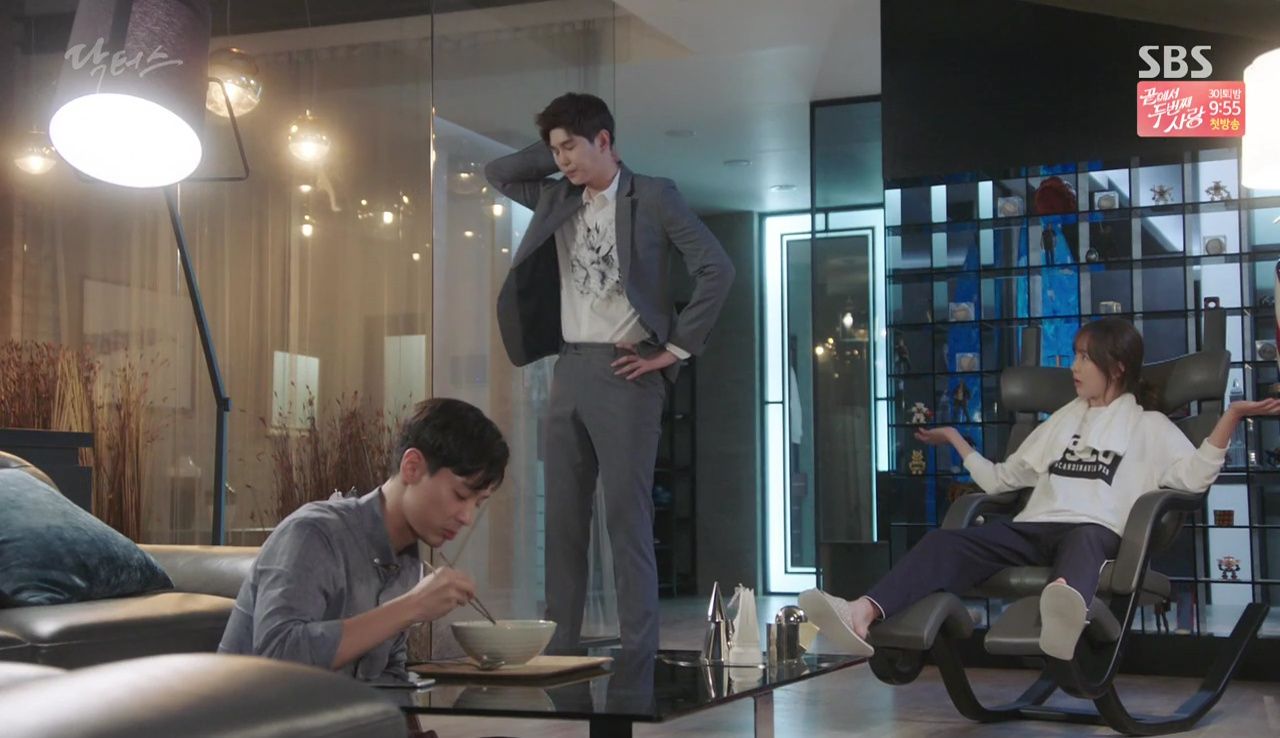 Pa-ran makes himself dinner at Yoon-do's apartment, and Yoon-do is flabbergasted once he comes home. He whines about the mess Pa-ran made, but Pa-ran says his ex-girlfriend is still at his place—plus, Yoon-do's apartment is closer to the hospital.
Yoon-do calls him the "General Surgery Department's loser," but out of nowhere, In-joo arrives and says that they're no match in terms of paranoia for a "neurosurgeon psycho." Pa-ran cheers for In-joo in the background, and In-joo orders Yoon-do to buy some ramyun. He calls her aunt again, and In-joo bargains that she'll let him call her aunt if he makes her ramyun. Yoon-do closes his eyes and chants that it's all a dream, but once he opens them again, he whines, "It's not a dream!"
The wife is in the ICU after a successful surgery, and she lifts up her hand. Hye-jung puts out her palm, and the wife traces a heart to show her gratitude. Smiling, Hye-jung returns the gesture, and Ji-hong can't help but smile himself.
As they head out to finally go home after a long day, Hye-jung asks if Ji-hong will take her home. He's more than happy to do so, and the two of them walk together in the peaceful night. Hye-jung tells Ji-hong to leave first, and they sweetly wave goodbye before he goes.
Hye-jung watches him leave, but then runs after him. She throws her arms around his waist, and envelops him in a back-hug. They steal glances at each other and break out into huge grins. Ji-hong narrates, "Back-hugs can be moving. A feeling that someone is enduring behind you and guiding you through life. This feeling is the biggest happiness lovers can give to each other."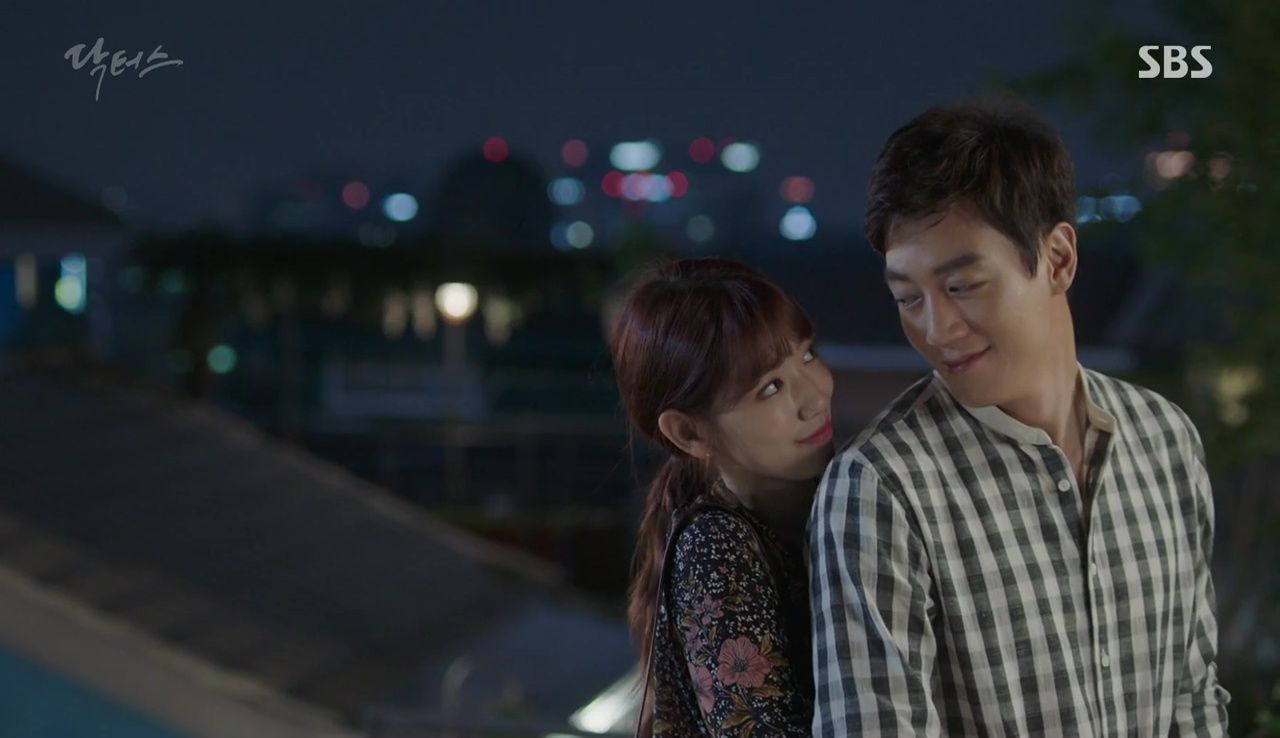 COMMENTS
Now that's what I'm talking about! I much prefer the back-hugs, the giggles, the kisses, and the silly side glances than the angst, angst, and more angst. To be honest, I thought the entire first half of the episode with the separation and awkwardness between the two leads was poorly done. While I liked Ji-hong's words and self-reflection to wait and slow down, I didn't think it translated well in his actions. Waiting for Hye-jung because he was speeding up the relationship isn't the same as not contacting her for three weeks after having a spat. I can understand why both of them didn't contact the other first, but even when he came back, I didn't really see Ji-hong's actions as someone patiently waiting. He did seem like he was avoiding her and keeping her at a distance, and I completely understand why Hye-jung was scared in the beginning. Even if missing her calls was a mistake, his behavior all day was a conscious choice. At least it gave them time to both reflect, and I enjoyed the conclusion even if the journey was a bit tiresome. It's true how both of them wanted the other to change without really wanting to change themselves, so I'm glad Hye-jung admitted that and came to the conclusion that she wants to stay by his side, regardless.
The kiss this episode was much better than the previous one, which caused some finger-pointing (with some undue blame on Park Shin-hye, in my opinion). While I did find the buildup to the kiss tedious (Was two minutes of staring necessary?), I was satisfied with the overall scene. It helps that Park Shin-hye and Kim Rae-won are both ridiculously attractive. And I actually liked the clichéd fade-to-black in the scene, because my mind immediately went to a raunchy conclusion. Anyways, I'm just glad they're happy now because they're adorable together.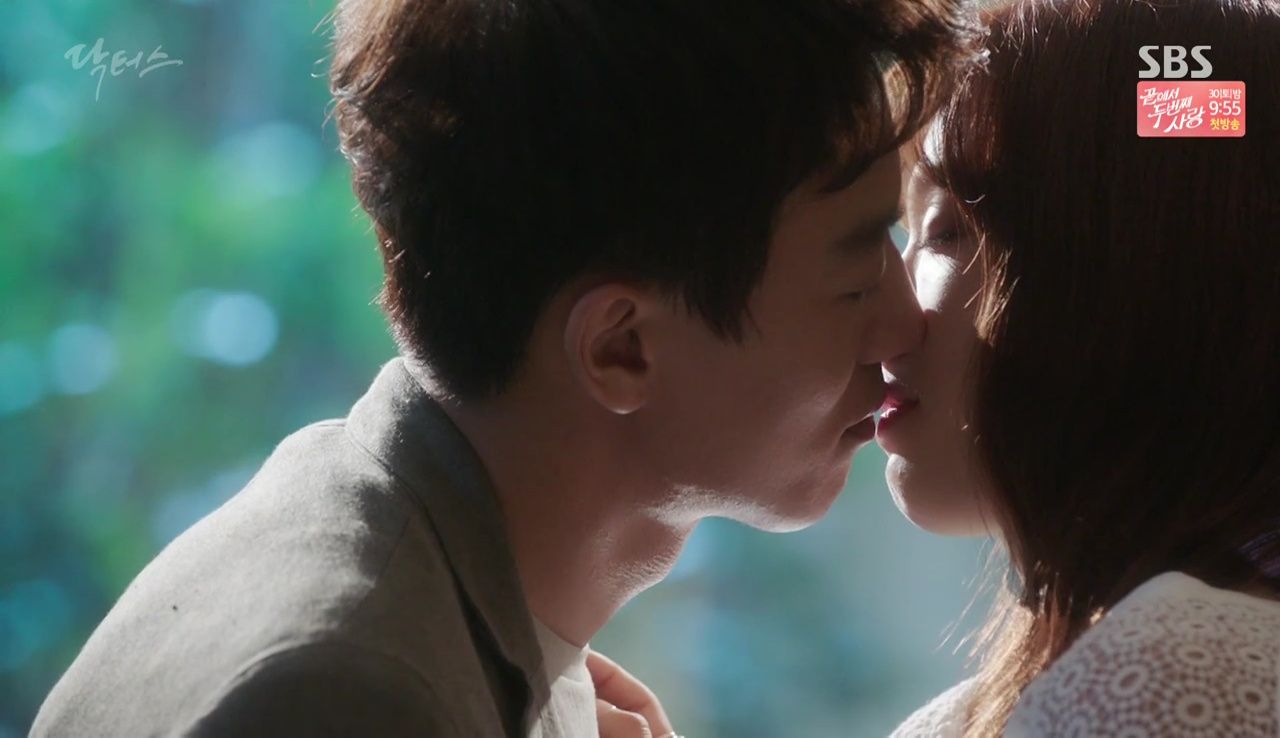 I know I said it last episode, but Jo Dal-hwan is awesome. He was super creepy as Psycho Husband, and felt like a bona fide psycho when he asked his "wife" if it was all right to kill her. I must admit that I didn't see the whole stalker and kidnapper scenario; I just assumed he was an abusive and obsessive husband. Admittedly, it's a bizarre storyline, but at least it shook things up and was entertaining. Sure, I might still be scratching my head over how Psycho Husband even managed to get into her room without being caught, but it's not the only time the writer used convenient plot mechanisms to fuel her story. I've learned to roll with the punches because sometimes asking for logic or understanding the minor details and mechanics of a scene takes out the fun. If Psycho Husband didn't show up, we wouldn't have gotten to seen Hye-jung flip him over, and Ji-hong wouldn't have walked Hye-jung home. In exchange for logic, I get entertainment: That's not such a bad trade sometimes.
I'm still really glad In-joo is back. She's a fun addition, and I loved all the scenes she was in (besides that one second when she was used as a transition). I thought drunk In-joo was hilarious, and loved Hye-jung's expression when In-joo started yelling. You could see the regret etched on Hye-jung's face, and In-joo was such an adorable and annoying drunk. That scene was also great because of Yoon-do, who completely ignored the drunk screaming lady and only saw Hye-jung. I don't know why, but I found it so funny that he greeted Hye-jung. He reminds me of a little kid so much despite being the biggest person around. Talking about Yoon-do, while I do feel bad for laughing at his expense, it's still hilarious how he's bossed around like a little boy by his uncle and his friends. I loved the whole bit with Yoon-do calling In-joo his aunt because that's exactly the reverse of how Yoon-do complained to Ji-hong about being called his nephew. Either the writer is running out of ideas and recycling lines, or she likes to poke fun at her own characters. Regardless, may the cohabitation hijinks continue!
RELATED POSTS
Tags: Doctors, Episode 12, featured, Kim Rae-won, Lee Sung-kyung, Park Shin-hye, Yoon Kyun-sang