Doctors: Episode 9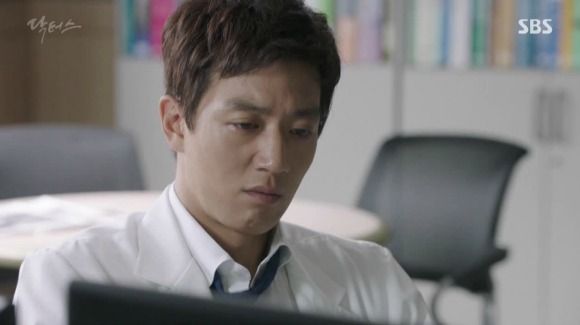 Doctors are doctors, but with loved ones, it's difficult to maintain neutrality. Family is the one exception in the safe emotional distance protocol, and while the rational doctor may reason with logic, the personal human will react with instinctive emotion. For Hye-jung and Ji-hong, family is everything, and they both show their dedication to their one person who warmly embraced them in their loneliest hours.

EPISODE 9 RECAP
Exhausted from running around the field, Hye-jung takes a break and lies on the ground. Ji-hong joins her and points to the stars. They look up to the night sky, and Ji-hong interrupts their silent wonder by extending his arm. He makes a cheesy comment about how long his arm is and offers it for Hye-jung to borrow. She uses his arm pillow and snuggles closer to him as she closes her eyes. Ji-hong gently touches her hair and smiles to himself.
Hye-jung narrates: "Revenge pacifies the anger of being the victim. Revenge calms you and gives you the strength to move forward. I won't rest until I reach my destination, but with this man, I can fall asleep."
At Soon-hee's empty café, Young-kook takes a beer bottle away from Seo-woo, who's at the point of slurring drunk. Soon-hee complains about her coming late to the party and causing another scene, but Seo-woo blames everything on Soon-hee. She claims that her life took a turn for the worst because Soon-hee introduced her to Hye-jung.
Young-kook escorts a stumbling Seo-woo out, but Soon-hee gets surprised by Joong-dae, who jumps awake on the bench. He wonders why everyone left without him, and just as he's about to leave, he turns back around to ask for some ramyun to satisfy his munchies. Ha.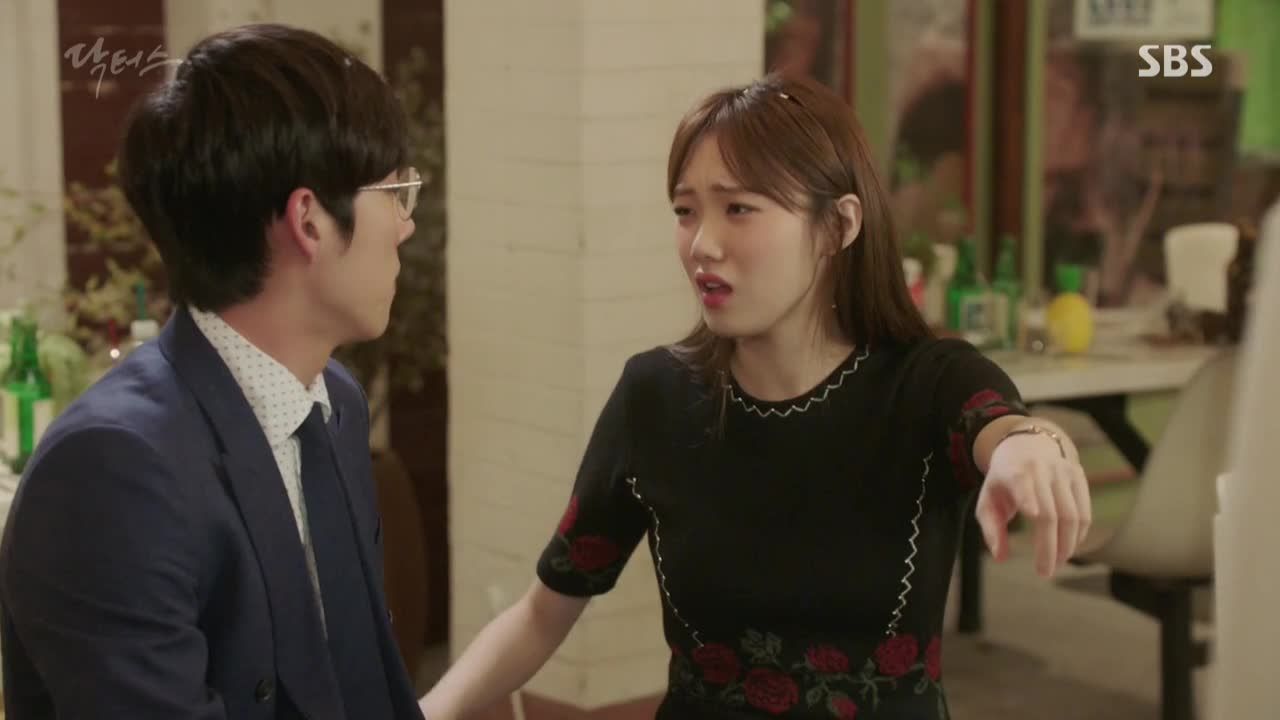 Kang-soo wakes up in the hospital connected to an IV and asks Kyung-joon what happened. He obviously fainted from the excessive alcohol and decides to take advantage of his bed-ridden state to sleep. Cranky Kyung-joon is surprisingly merciful and lets the first-year rest.
Ji-hong walks Hye-jung home, and they're greeted by Soon-hee, who scolds Hye-jung for coming home so late. She talks about some crazy people who were dancing in the rain the other night (ha, it was them) and warns Hye-jung to watch out for the crazies. That's Ji-hong's cue to leave, and they rush their goodbyes to end the conversation.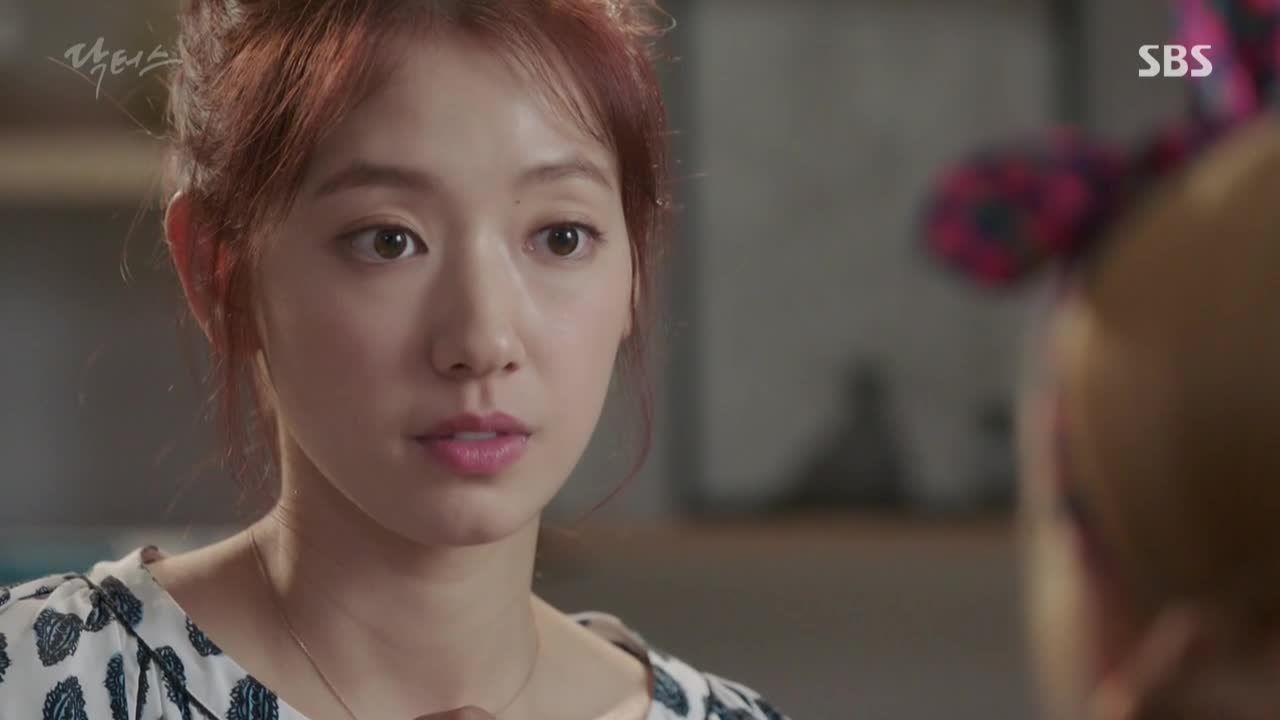 Hye-jung asks why Soon-hee came home late as well, and she explains that drunk Seo-woo caused another scene. She says that tall and handsome Young-kook took care of Seo-woo, and Hye-jung can tell that she's enamored with him. Soon-hee also mentions the tall guy who looks like a Siberian Husky — Yoon-do — and says that he kept looking at Hye-jung and Ji-hong. She bets that he likes Hye-jung, to which Hye-jung awkwardly laughs.
Siberian Husky Yoon-do returns from a late-night run, and he's greeted by Ji-hong, who's just returned home as well. Yoon-do confronts Ji-hong about liking Hye-jung and says that he's going to interfere in their relationship. He reasons that his meddling is appropriate because Ji-hong and Hye-jung have just started dating. Since they're not married, Yoon-do points out that he's still playing a fair game.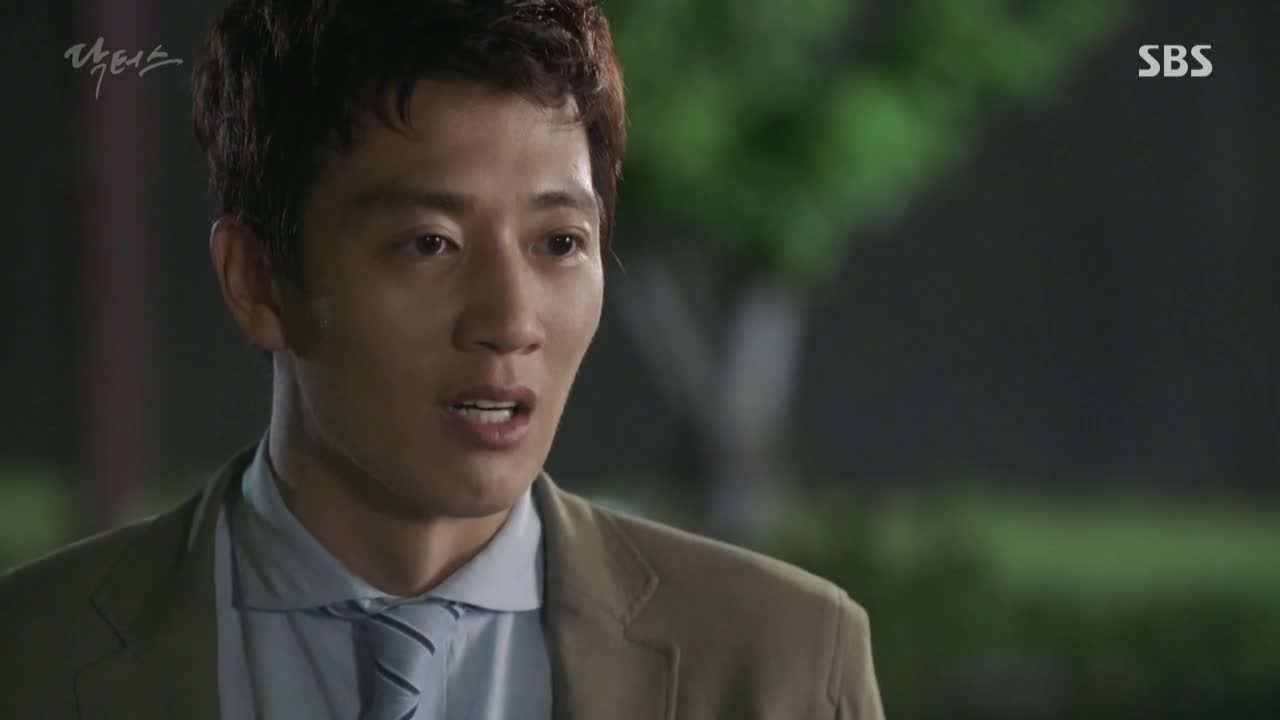 Yoon-do says he's being upfront because he doesn't want to be a backstabber when he tries to win over Hye-jung, but Ji-hong doesn't plan on letting that happen. Ji-hong says that he's never once lost what he's wanted and even thanks Yoon-do, since he'll prove to Hye-jung how popular she is with men. He wishes his opponent the best of luck and heads in for the night, leaving Yoon-do bewildered by the feeling that he's lost even before he's gotten started.
Ji-hong texts Hye-jung a cute puppy-in-love emoticon to initiate conversation, and they go back and forth to set a time for a date. After deciding on a time, Ji-hong goes back to his claw machine and Hye-jung looks over Grandma's medical records again.
The next morning, Hye-jung heads to the Namyangju Hospital, where Grandma received surgery. But she's unable to access the anesthesia records because the hospital discards medical records after ten years. She's too late.
Hye-jung reviews Grandma's records again and searches for then-resident Kim Chi-hyun, who was the assistant in the surgery. Thirteen years later, he's now Chief Kim at Namyangju Hospital, and Hye-jung goes to meet him.
She easily enters Chief Kim's office, smoothly talking her way through the nurses posing as a friendly hoobae. Once in his office, Hye-jung confirms with Chief Kim that he was a resident at the hospital thirteen years ago and shows him the medical records. When he recognizes the surgery, he suddenly becomes agitated and criticizes Hye-jung for bothering him without an appointment. Hye-jung argues right back that he wouldn't meet with her if she'd asked.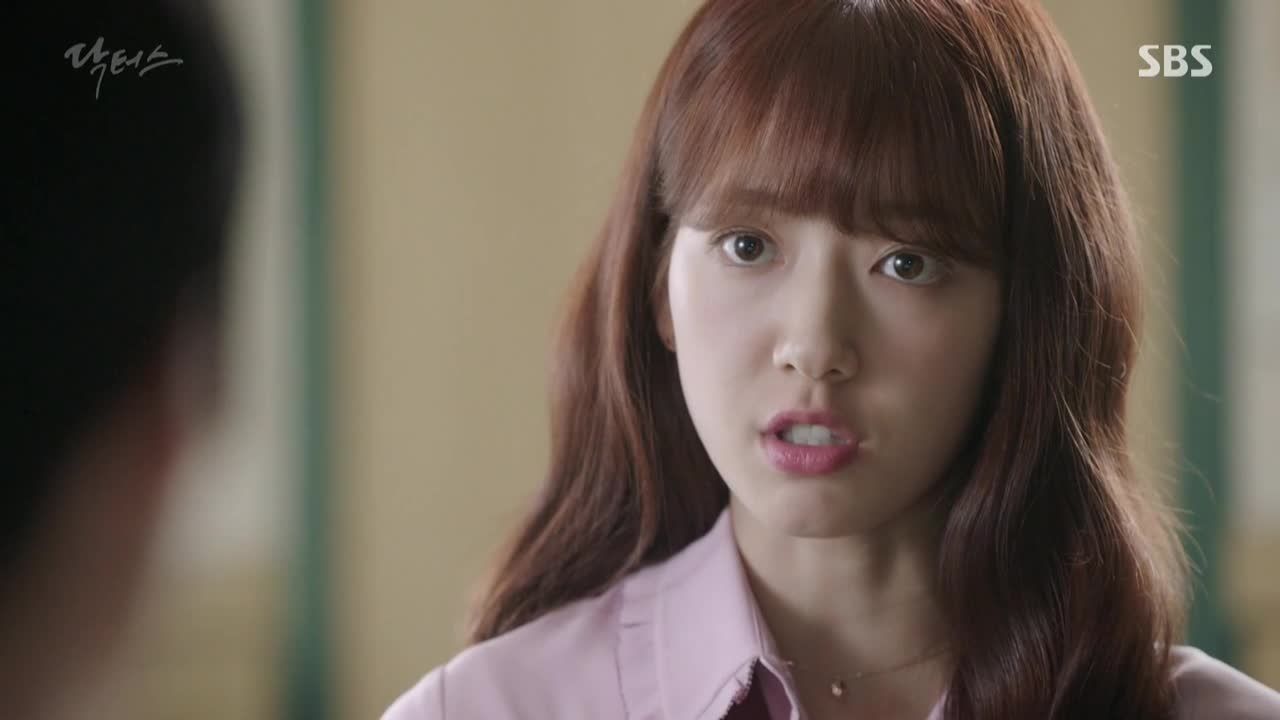 Chief Kim tries to free himself of responsibility by saying that he wasn't the surgeon and claims that he can't remember what happened thirteen years ago. But Hye-jung demands that he make himself remember because while this may have been an insignificant surgery for him, there's a person who has thought of that surgery every day since then. Chief Kim clarifies that Hye-jung can't sue even if the truth is revealed, since it's past the statute of limitations. Hye-jung knows this, but she also knows that punishment doesn't have to be through the law.
Chief Kim asks what she wants, and she responds, "An apology, the truth, and payback. These are the rules to be followed in a healthy society." He still claims to have no responsibility, so Hye-jung leaves her number and tells him to give her a call if he changes his mind.
Hye-jung enters a make-up store and asks a worker to recommend a good lip color for her. She says that she's looking nice for her grandma, and the worker offers her a bunch of samples to share, unaware that Grandma has passed.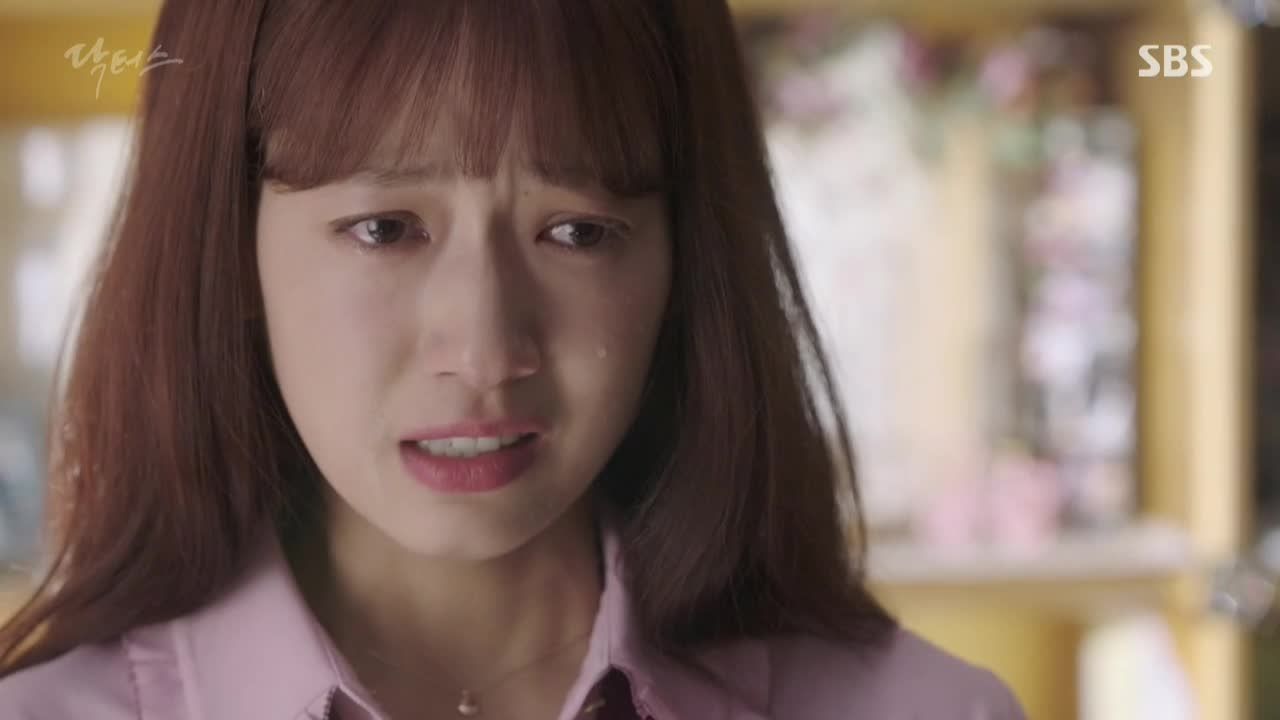 Hye-jung walks into the columbarium with a small and pretty bouquet of flowers, just how Grandma likes things. Crying, Hye-jung vows to remember the life that Grandma cherished so dearly. She misses Grandma a little extra today and can't stop the tears.
In the car, Myung-hoon advises Seo-woo to pretend to wait for Yoon-do to come around, since men are weak to those who patiently wait for them. He says that business requires some pretending to move people's hearts, though Seo-woo claims that she's just a doctor, not a businesswoman.
Ji-hong greets Hye-jung at her house for their morning date, and they drive off to go fishing — a boring chore with his father, but possibly a fun date with Hye-jung along. At the fishing site, Ji-hong backs up into the parking spot, and Hye-jung notices his excellent parking posture (oh dear lord, why is reverse-parking glorified?).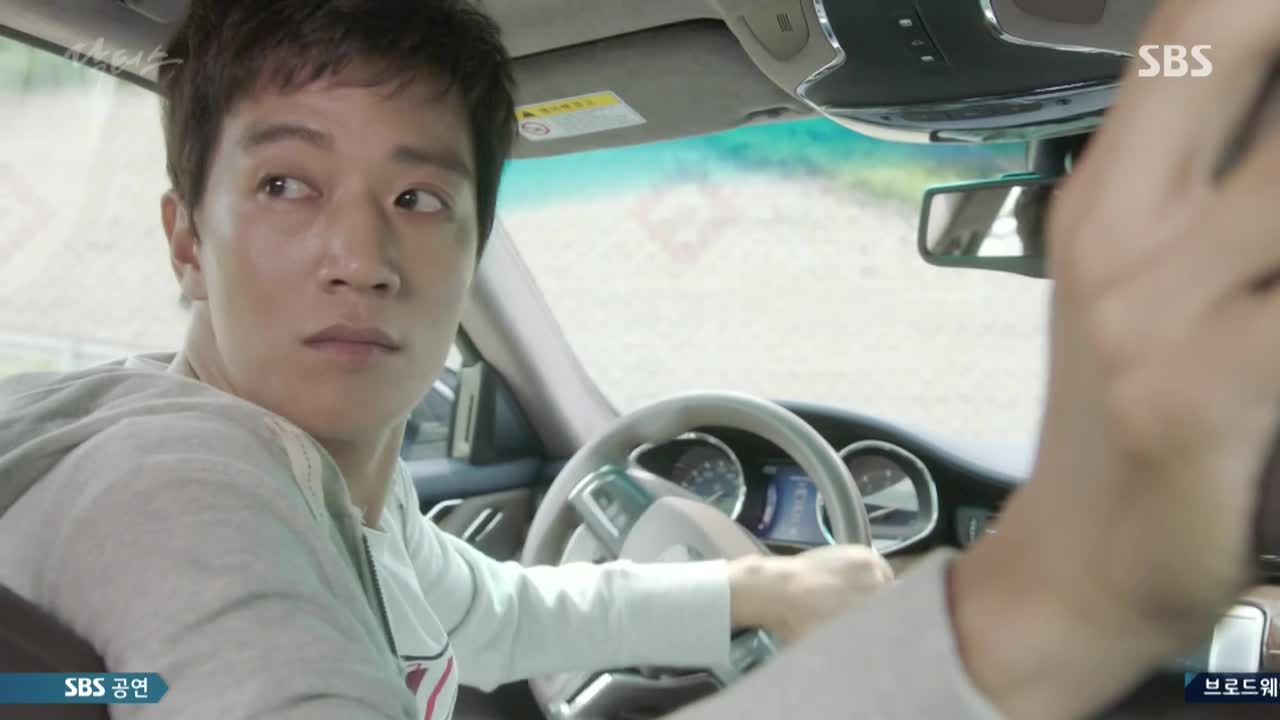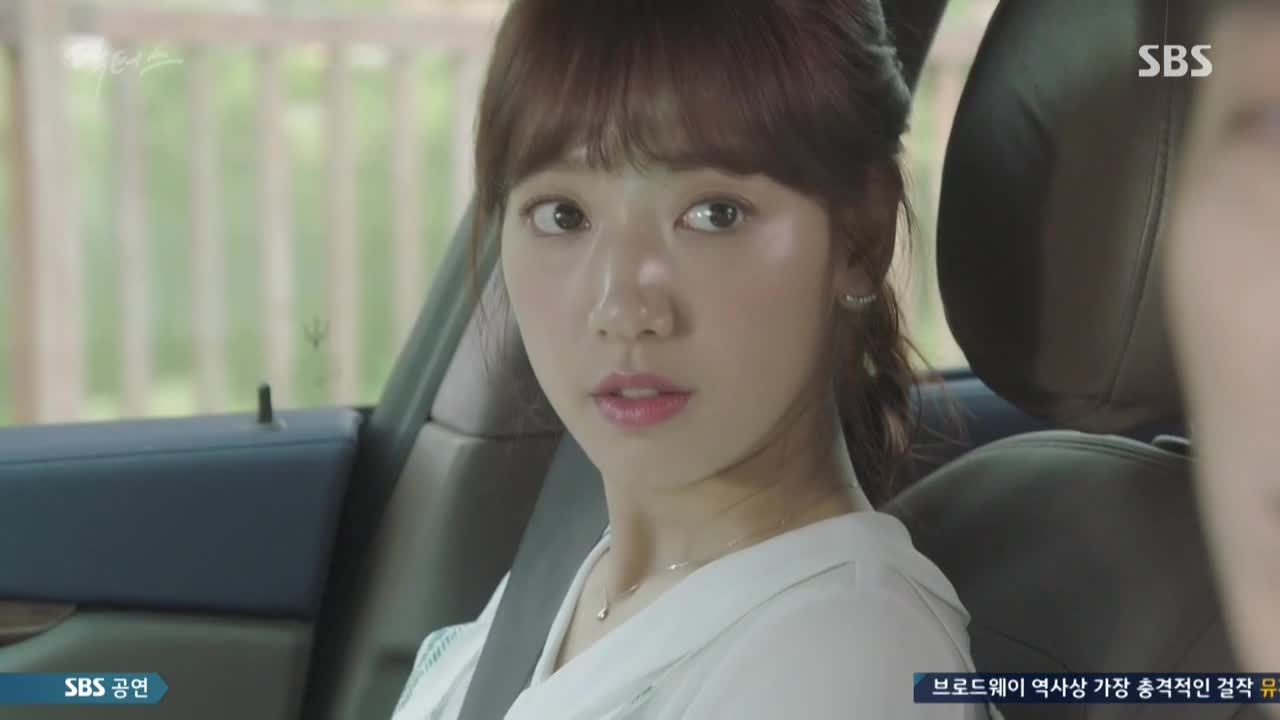 Ji-hong introduces Hye-jung to his father as his hoobae, and Director Hong seems to recognize her name from when Ji-hong picked up her call and sounded so different with her. As they walk, Director Hong asks Hye-jung what she likes so much about Ji-hong. Hee, another straight shooter.
Myung-hoon and Seo-woo meet up with Director Jin at the site of their dreams for the Gukil Stock Corporation. Seo-woo promises to live for the three of them from now on, though she doesn't look excited about the commitment. Director Jin looks to Myung-hoon and asks if today's the day. Myung-hoon nods and says he's headed back to the hospital to watch the events unfold.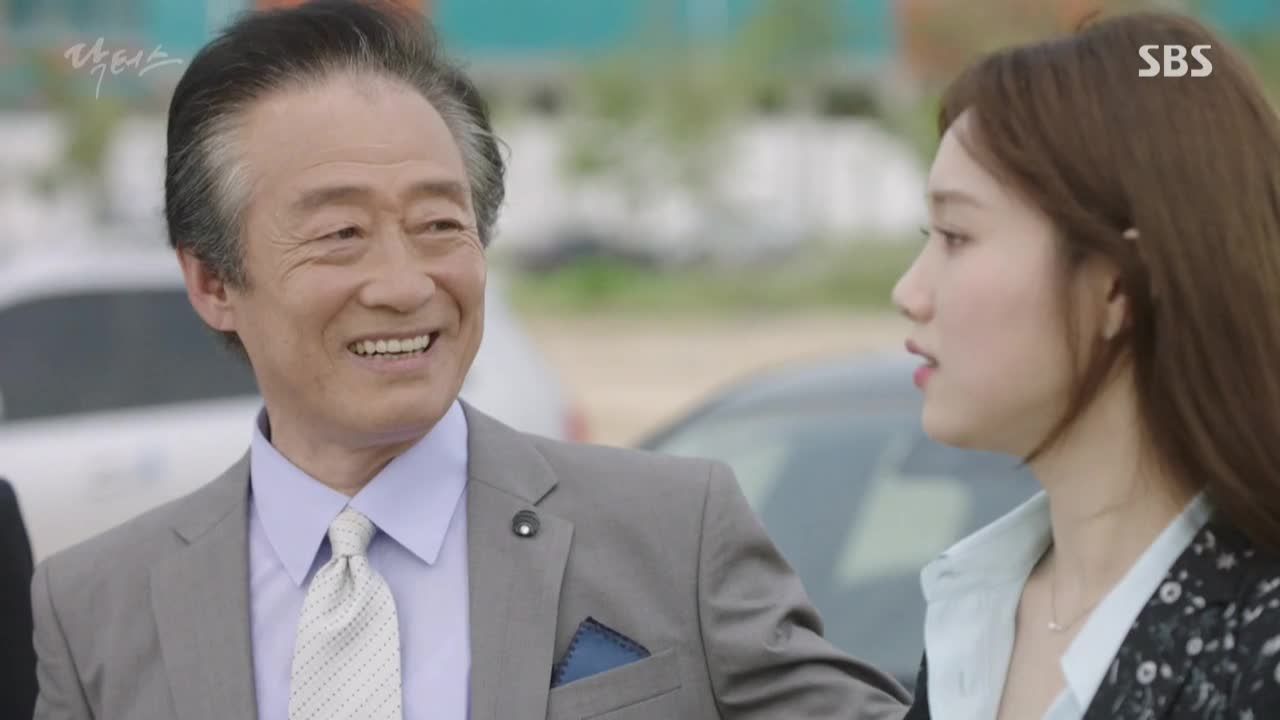 It's D-day in the hospital, and a line of auditors arrive to confiscate Director Hong's records. Myung-hoon watches with a satisfied grin, saying that it's the end of Director Hong.
Unaware of the audit, Director Hong relaxes at the fishing site and asks Hye-jung if her parents are alive. She says that her mother passed away, and Director Hong says he only asks because he's closer in age to his own death now. Ji-hong interrupts the conversation with a freshly brewed stew, and both father and son insist that Hye-jung just sit and enjoy.
Ji-hong receives a call for Tae-ho, who updates him on the audit at the hospital. Since Ji-hong is with his father now, he decides to address the issue later out of earshot.
It's Seo-woo's turn at the make-up store, and she asks for a tough smokey eye look. She looks pretty apathetic, and surely this is just another PPL scene.
As Ji-hong sends Hye-jung home ahead of him, she wonders if she should ask him what's happening. He acts like nothing is wrong, so she decides that she'll let it be. Once she leaves, Ji-hong talks to his father about the unfair audit. He knows this was plotted, but Director Hong seems set on resigning for the sake of the hospital.
Kang-soo and Young-kook steal some food from Joong-dae's feast, and they wonder if the hospital will close down because of the audit. Having studied economics, Joong-dae shakes his head and says that the government rarely audits hospitals, so he figures that the audit precipitated from the power struggle between Director Jin and Director Hong. Young-kook says that this is Joong-dae's most intelligent moment.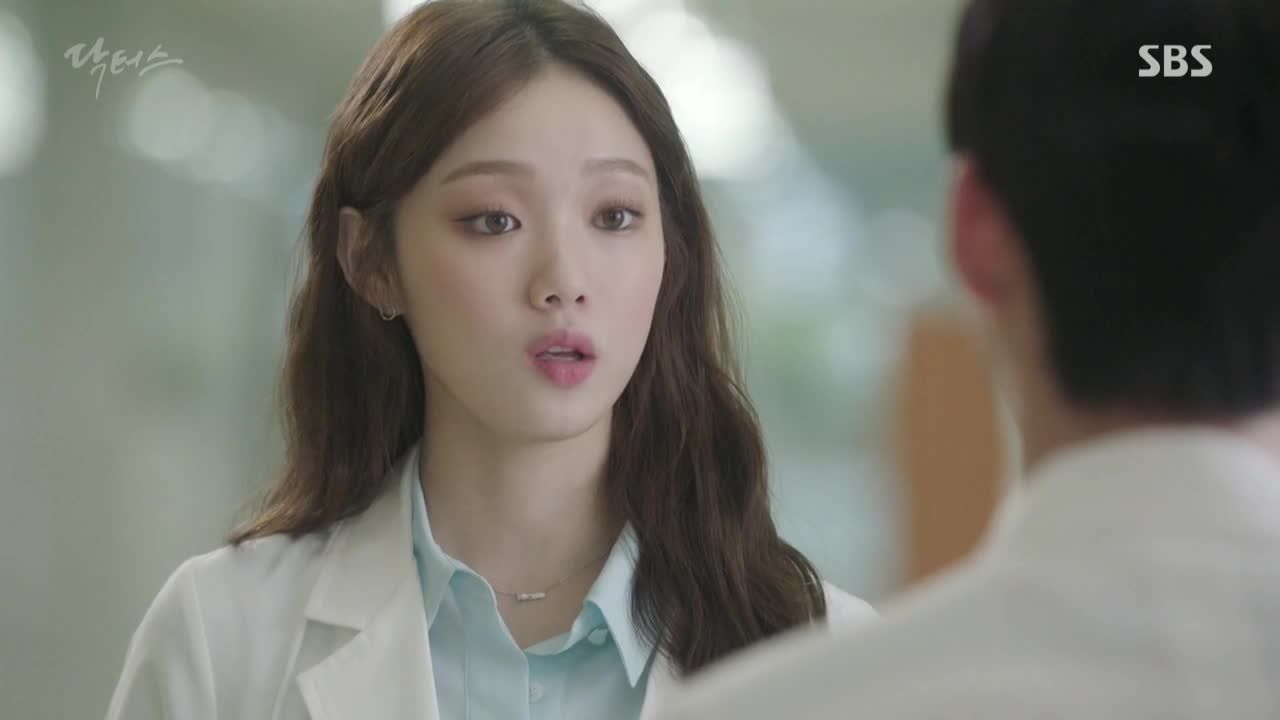 Seo-woo walks though the hospital halls in shorts and gets looks from other doctors. Young-kook says that her outfit is inappropriate and unprofessional for a doctor, but she says that she's going to live her life defiantly, since kindness got her nothing in return.
Hye-jung walks by and pauses briefly without a word before going on her way. Young-kook tells Seo-woo that he's on her side, since he's her friend, and she seems unmoved by his obvious statement.
In the fellows' office, Seo-woo confronts Hye-jung about their tense relationship. She accuses Hye-jung of avoiding her at previous conferences and plotting to come to this hospital to take everything from her, as if Ji-hong weren't enough. Though Hye-jung acknowledges that she avoided Seo-woo on purpose, she says she only did so because they mutually hurt each other in the past and she needed time to prepare before facing Seo-woo again. She's not at the hospital to take anything from Seo-woo, but she can't tell her why she's here. Seo-woo interprets the secret as a rejection to make amends, and Hye-jung silently confirms.
Boss is finally released from the hospital, and he asks Hye-jung if she still thinks he's trash. She responds with a request not to retaliate against the person who attacked him, since the person already suffered. Boss pretends that he doesn't know who she's talking about, and Hye-jung smiles with gratitude at his willingness to move on. She also requests that he doesn't return to the hospital hurt, and Boss drives off with his gang.
Then Hye-jung gets summoned to the parking lot, where a decorated convertible car is waiting for her. Boss's right-hand man gives her a card and keys, and leaves with a suave "adios." Hye-jung opens the card, and it reads: "I will listen to women more often. Thank you." Yesss.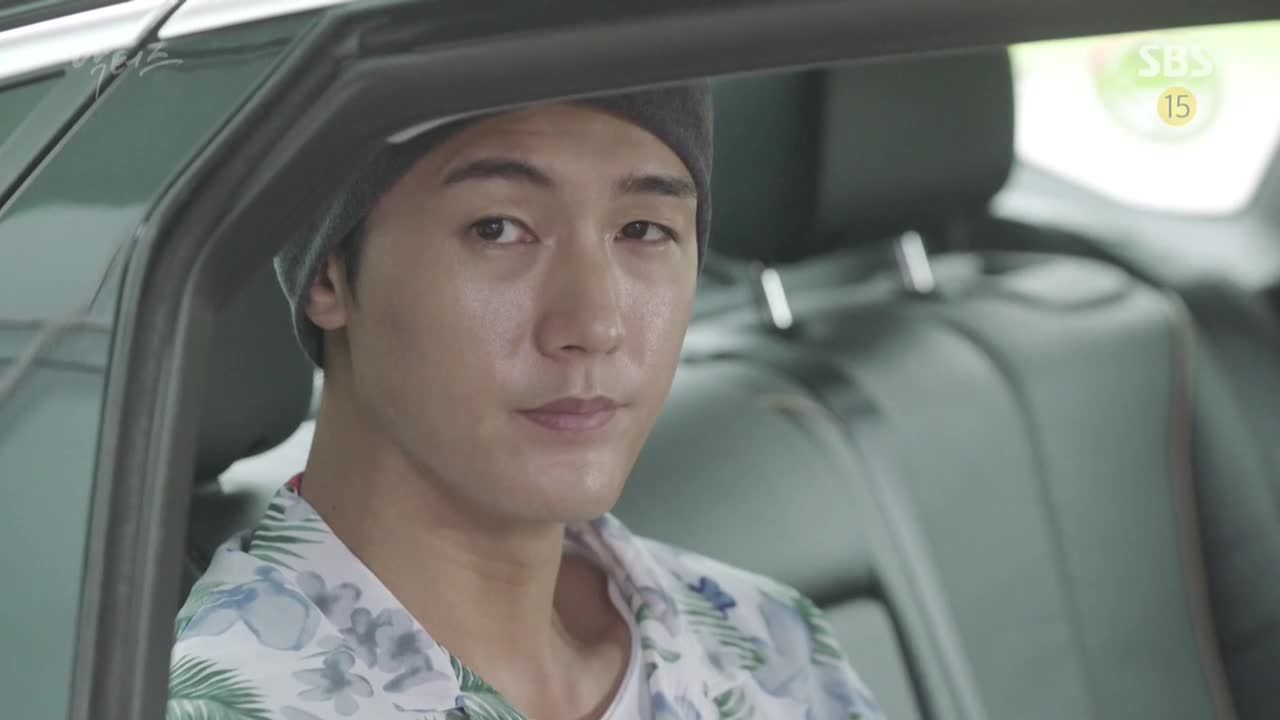 Unwilling to accept the gift, Hye-jung asks the nurse for Boss's contact information, but it seems that they wrote down false numbers to leave without a trace. The neurosurgery staff seems thoroughly amused by the turn of events, but their excitement is cut short by a terse Seo-woo, who asks for Yoon-do.
Yoon-do arrives and checks on Hye-jung's preparation for surgery. He then asks about their lunch date at the cafeteria, but Hye-jung says she needs to take care of other matters. Still hurt, Seo-woo approaches Yoon-do and suggests that they take it outside to talk.
Seo-woo lets her actions do the talking and slaps Yoon-do across the face. She tries a second time, but he catches her wrist. Once he lets go, she slaps him again (ouch). She accuses him of leading her on, and he acknowledges that he was attracted to her briefly, but it wasn't like she only had eyes for him.
Seo-woo says that she doesn't mind being insulted because she's the one who loves him, but she can't stand him affronting her family. He says that they're even now, since she slapped him twice, but Seo-woo says that her love isn't that trivial to be resolved like this. She knows that he's attracted to girls with harsh backstories and says that she'll fix his complex by living defiantly. In fact, Seo-woo claims that the world is so wrong in favoring Hye-jung that she has to live defiantly to survive.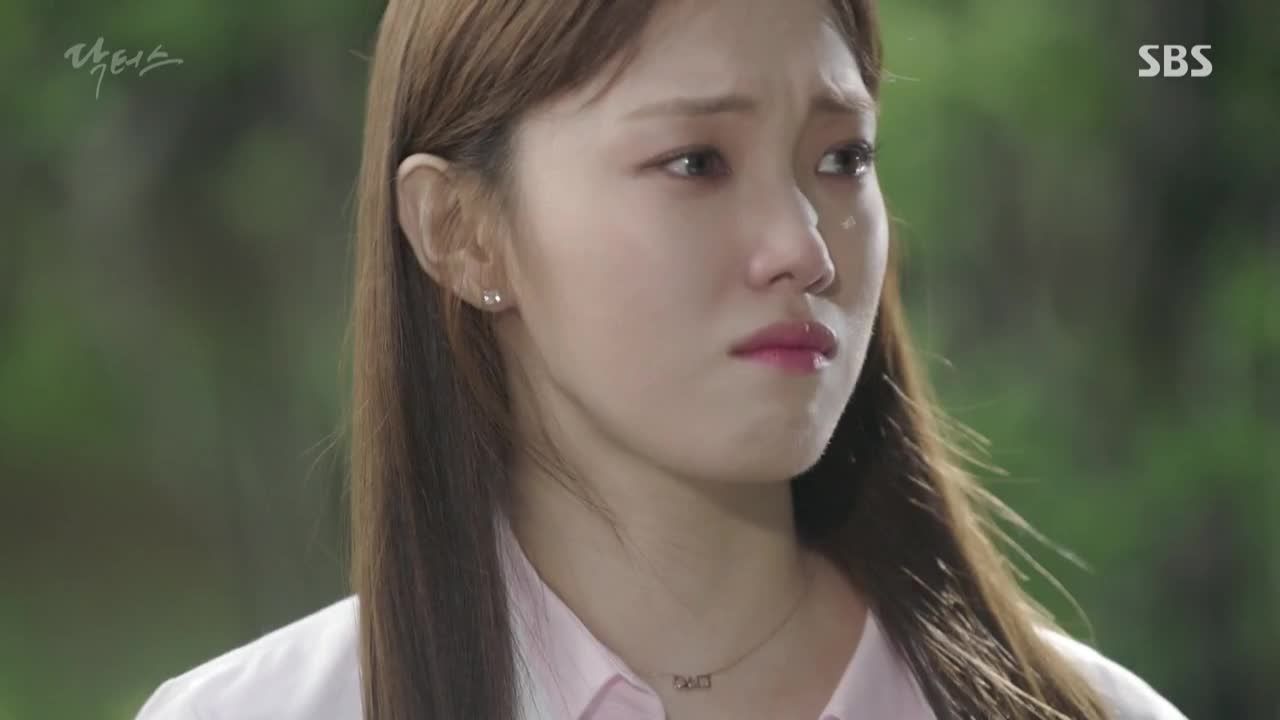 Yoon-do responds with the accusation that she needs to fix her inferiority complex to Hye-jung. Seo-woo is always so calculating, but Hye-jung is able to achieve it all. He adds, "And on top of that she's pretty. Prettier than you." He says this to drive her mad because he knows her well and knows how to hurt her. He admits that while he doesn't have a romantic attraction to her, he does still have a sibling affection for her and is willing to accept all her resentment, just not in the form of a face-slap. He walks off, leaving Seo-woo crying.
Kang-soo and the neurosurgery nurse persuade Hye-jung to let them go for a ride in the swanky car before getting rid of it, and Hye-jung obliges. As she walks out arm in arm with the nurse, Chief Kim from Namyangju spots her at the hospital.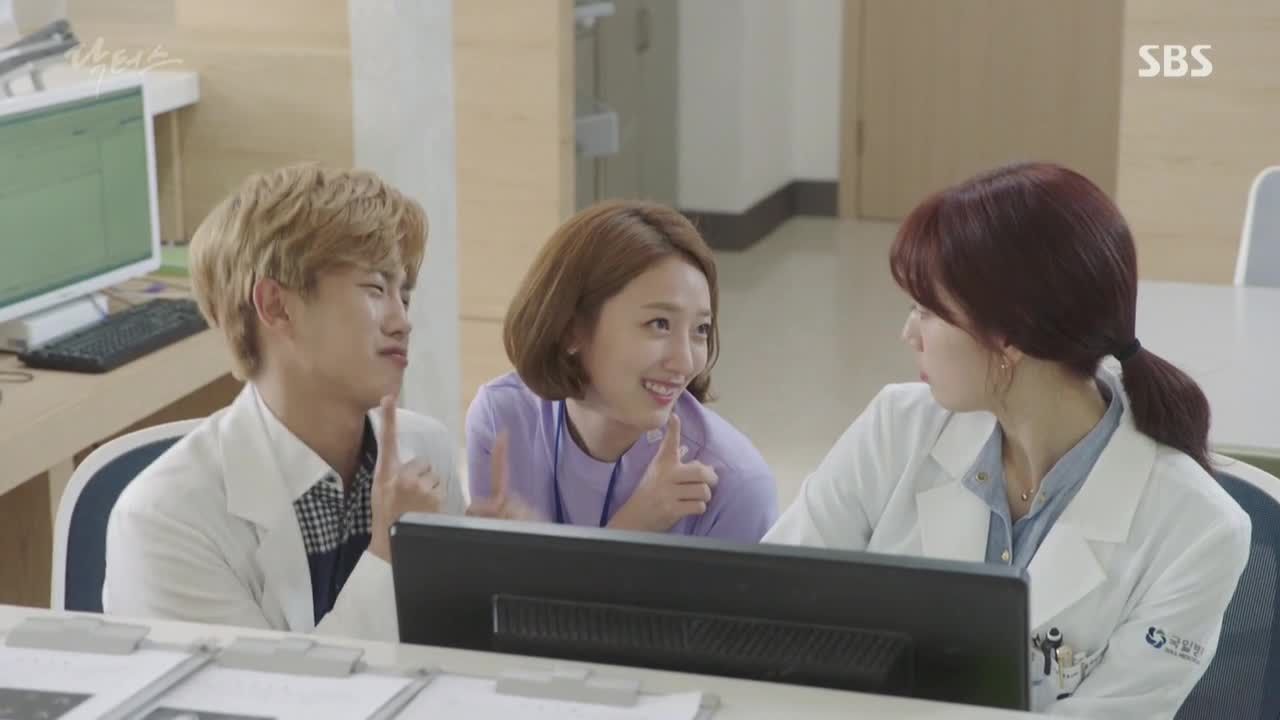 Chief Kim meets with Myung-hoon and shows him the medical records that Hye-jung brought him. Myung-hoon seems to know that something went wrong in Grandma's surgery and makes the same claims about the statute of limitations guarding him from legal retribution. Though Chief Kim seems to suspect greater retaliation, Myung-hoon is all business and seems convinced that the accuser just wants money.
After Chief Kim leaves, Myung-hoon remembers younger Hye-jung's accusatory voice and contemplates the possibilities. He tells his assistant to find out who leaked these medical records, just as Director Jin enters his office to notify him that Director Hong's anticipated resignation is about to begin.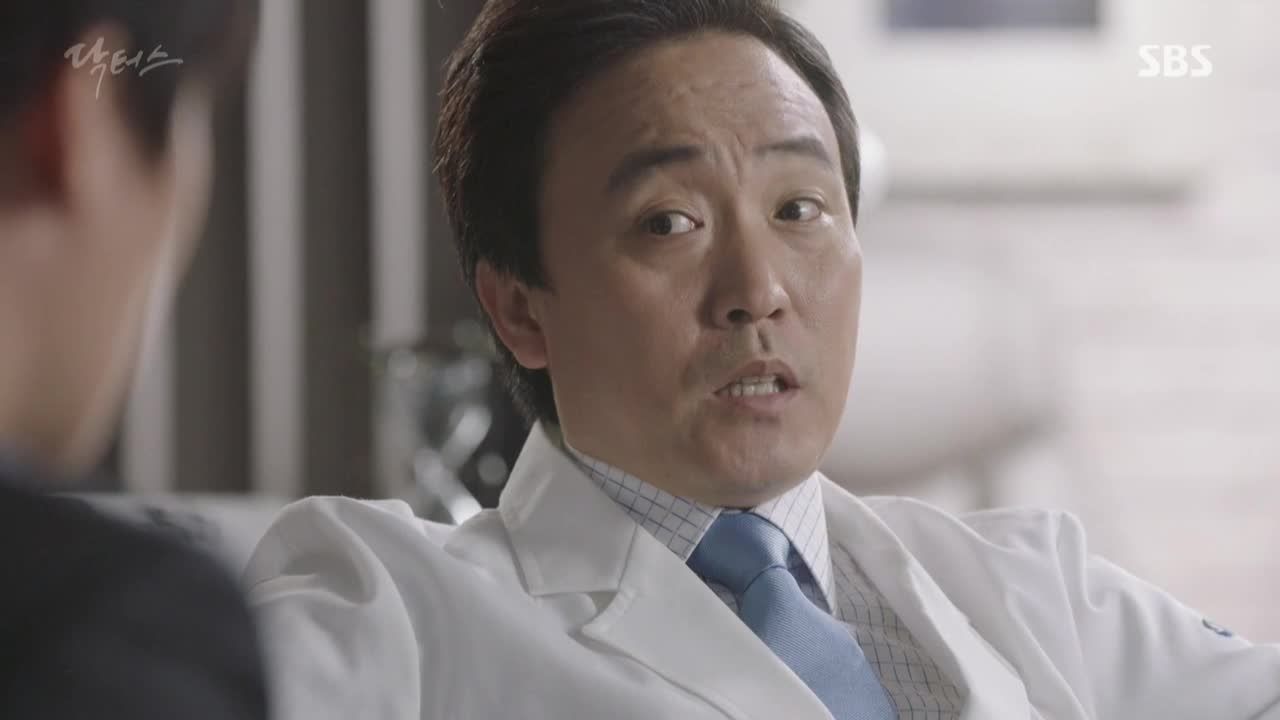 Director Hong speaks to the board and insists on his innocence, despite the accusations against him. As he speaks, he experiences facial twitches that interrupt his speech, but not enough for suspicion. He says that he will take responsibility and resolve this false accusation. No resignation.
After Director Hong's address, Director Jin approaches him and notes that he's changed. Director Jin thought that Director Hong would resign after this incident and accuses him of being greedy. He wonders why he's acting out of character — is it for Ji-hong, who isn't even his real son? That strikes a nerve, and Director Hong gets up and punches him. He warns Director Jin not to speak of Ji-hong that way and vows to find the real culprit behind this stock scandal.
Ji-hong follows his father out, and they ride down the elevator together. Director Hong tells Ji-hong not to take Director Jin's targeted comments to heart, and Ji-hong holds his father's hand. He assures his father that he's past those comments now and scolds his father for throwing his fist like some adolescent.
Director Hong exits the elevator, and Ji-hong notices his lopsided posture. Then, Director Hong loses his balance and falls over. Ji-hong rushes to his side and asks his father if he's been to regular check-ups after his vestibular schwannoma surgery. His father says that the check-ups are unnecessary, but Ji-hong fears that he's relapsed, especially after observing his facial numbness during his address and the ataxia in his gait. Ji-hong urges his father to undergo an examination, even though it may make him more vulnerable in the volatile hospital politics.
Myung-hoon checks his father's blood pressure after that punch, and they discuss their plans going forward. With Director Hong standing firm, Director Jin fears that his secret funds may be disclosed, but Myung-hoon assures him that they'll be safe.
Ji-hong and Tae-ho are devastated by Director Hong's brain scans, which show the growth of the tumor to the point where surgery would be extremely difficult. They blame themselves for failing to complete proper check-ups, and neither can risk performing the surgery due to their personal connection with Director Hong. Tae-ho recommends that Director Hong step down from his position and receive surgery from Yoon-do, but Ji-hong insists that everything must remain unknown until his father makes his decision.
Flashback to young Ji-hong getting heavily beaten up by bullies for being too smart in school. The main bully taunts young Ji-hong for living a lowly life, but Ji-hong stands up for himself and says that he's only taking the beating because he's an orphan. He grabs the bully's arm before getting hit and says that's enough for today. He says that it's not worth their energy, since he's not an equal competitor anyway.
Younger Director Hong approaches the boys and asks what's going on. The bullies wrap it up for today, and Director Hong approaches Ji-hong to assess his wounds. Director Hong asks why he doesn't fight back, and Ji-hong responds that it's not realistic for him to act without considering the consequences. Then Director Hong proposes that they live together. Ji-hong initially rejects his proposal, saying that he's going to marry a girl, but Director Hong clarifies that they should live together as father and son.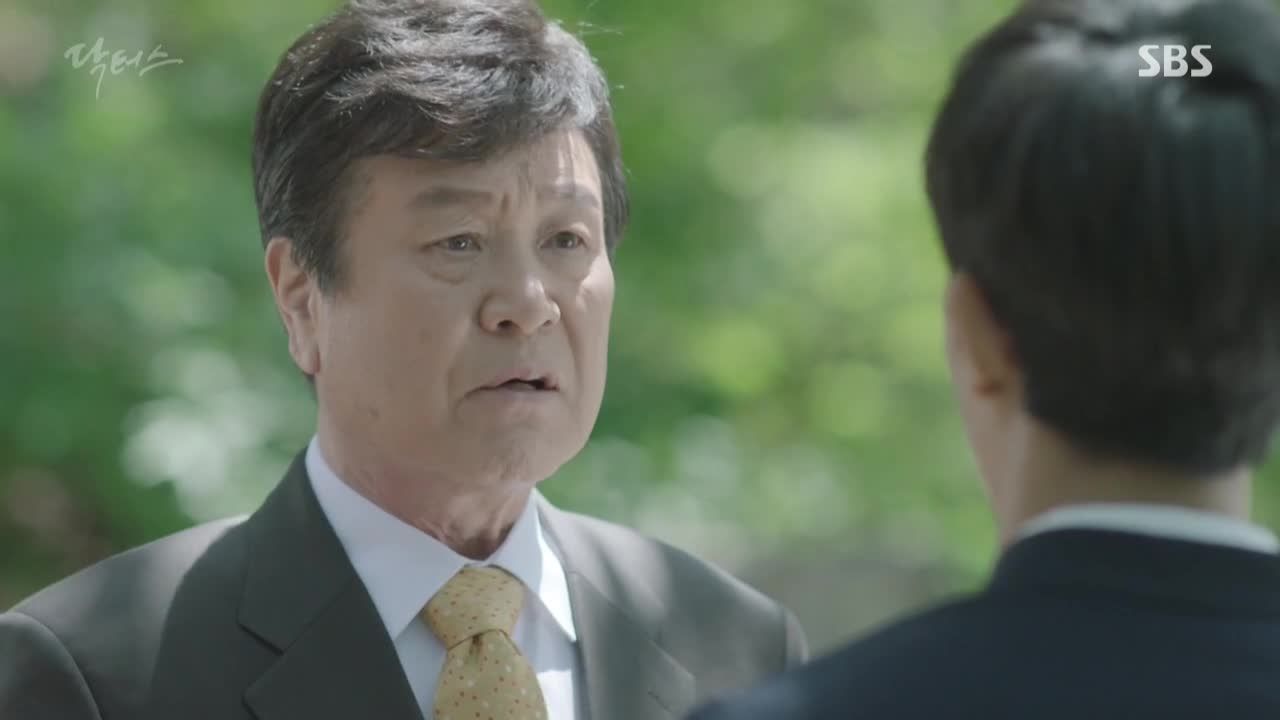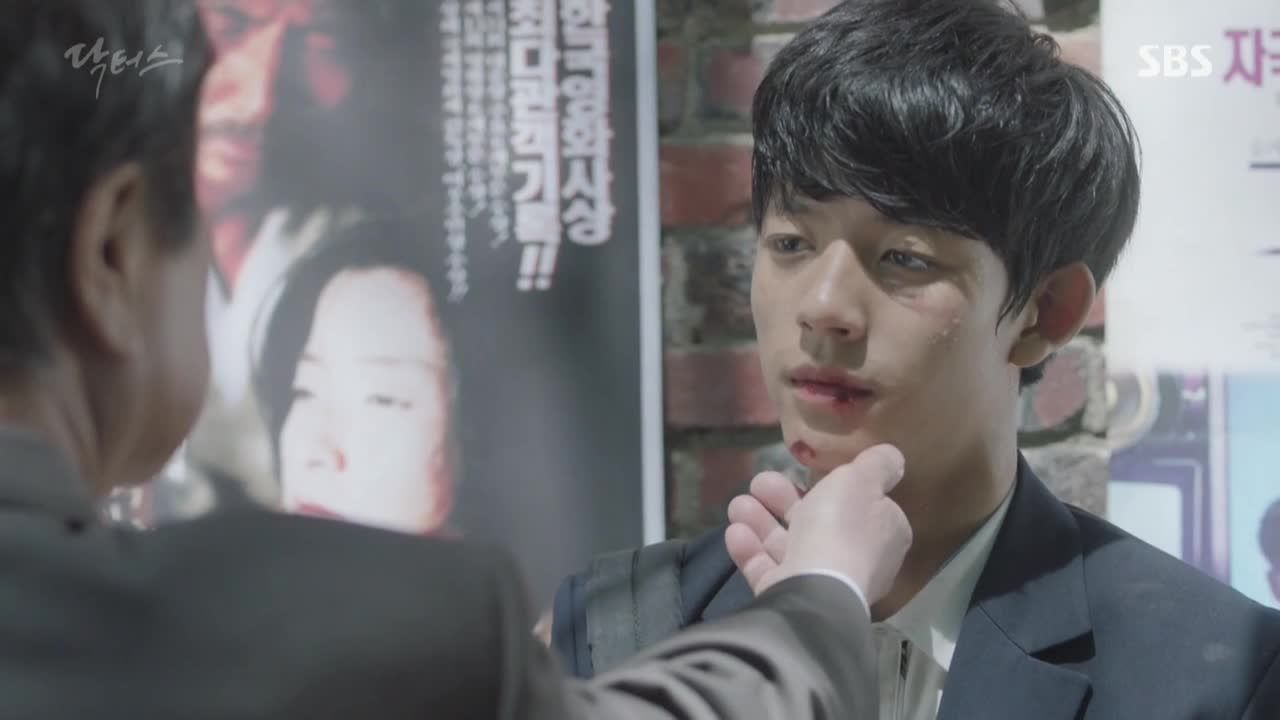 Back in the present, Director Hong enters the room and looks over his own scans. He notes how the cancer cells are fighting to live, just like him. Ji-hong insists that he needs surgery, but Director Hong refuses to receive surgery while the hospital is in this mess. Ji-hong pleads, saying that he doesn't want to lose another loved one.
Kang-soo and Nurse Su-jin check out Hye-jung's fancy car, and Nurse Su-jin gets excited to act like a rich heiress for the day. She suggests that they go to a hotel, and Kang-soo immediately shuts down the idea. She meant for the hotel pizza, and Kang-soo gets sheepish. Once in the car, he suggests only driving one loop around the parking lot because he never got around to getting his license. Nurse Su-jin throws a fuss that her rich heiress dreams have been crushed, which distracts Kang-soo momentarily and causes him to swerve into a sign while avoiding a car. Uh-oh.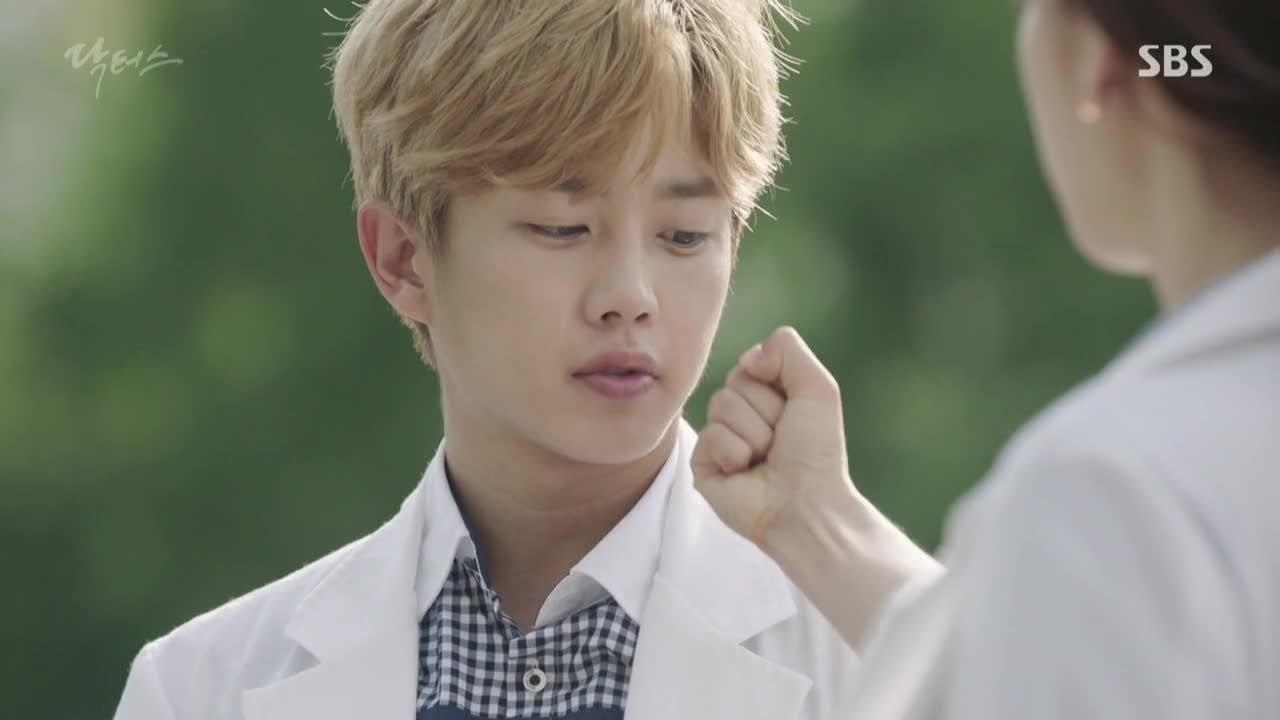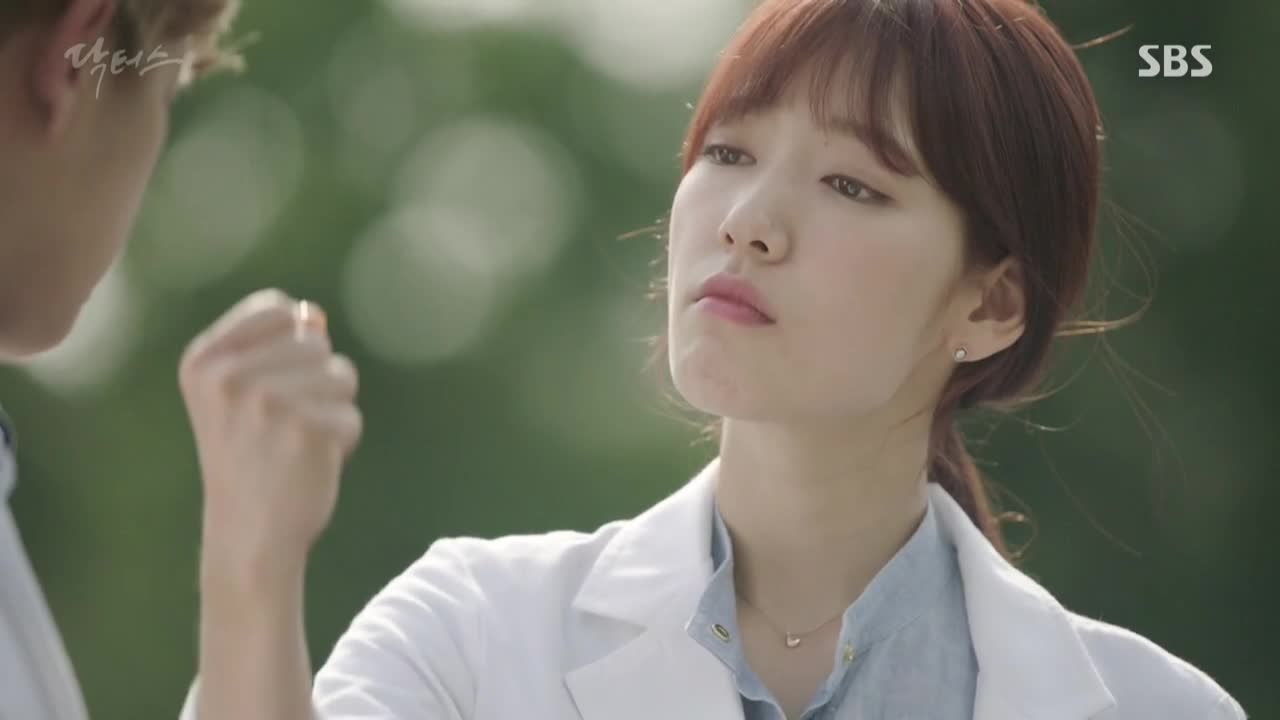 Kang-soo knows he's in deep trouble and channels his anxiety into a cartoon drawing of Hye-jung. When she enters the resident room, he rushes under the table, scared for his life. Hye-jung asks for her car keys, and Kang-soo takes her out to see the state of the car. She's not too harsh with him and tells him to get it fixed, though she does threaten him with her fist when he's surprised by her mercy.
Tae-ho summons Yoon-do and Hye-jung into his office to assign them to Director Hong's surgery. Yoon-do initially refuses because he doesn't want the pressure or attention, but Tae-ho assures him that this surgery will be kept secret. Tae-ho suggests a safe and modest method to reduce the tumor, but Yoon-do wants to take a riskier approach in completely removing the tumor. He works in an all-or-nothing manner and claims that this is the best option, despite Tae-ho's caution and fear. Then he asks, "If a surgeon is afraid, it's done for. Are you trying to instill fear in me even before the surgery?"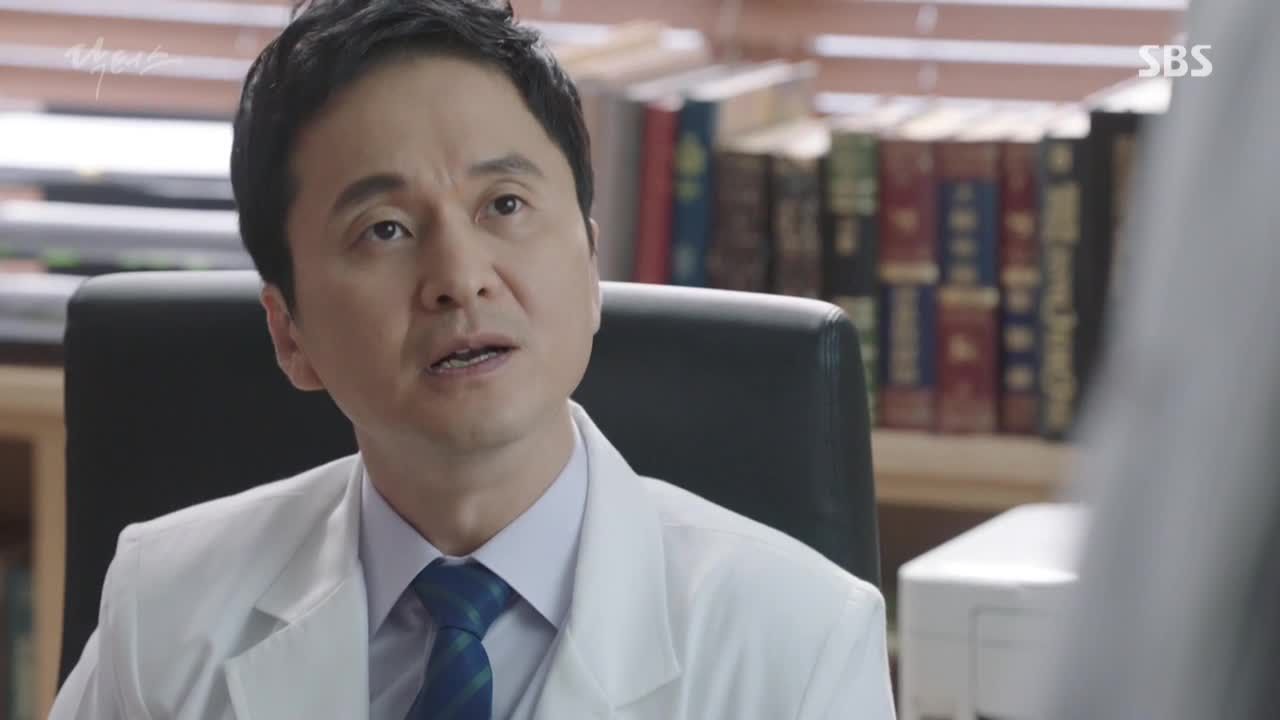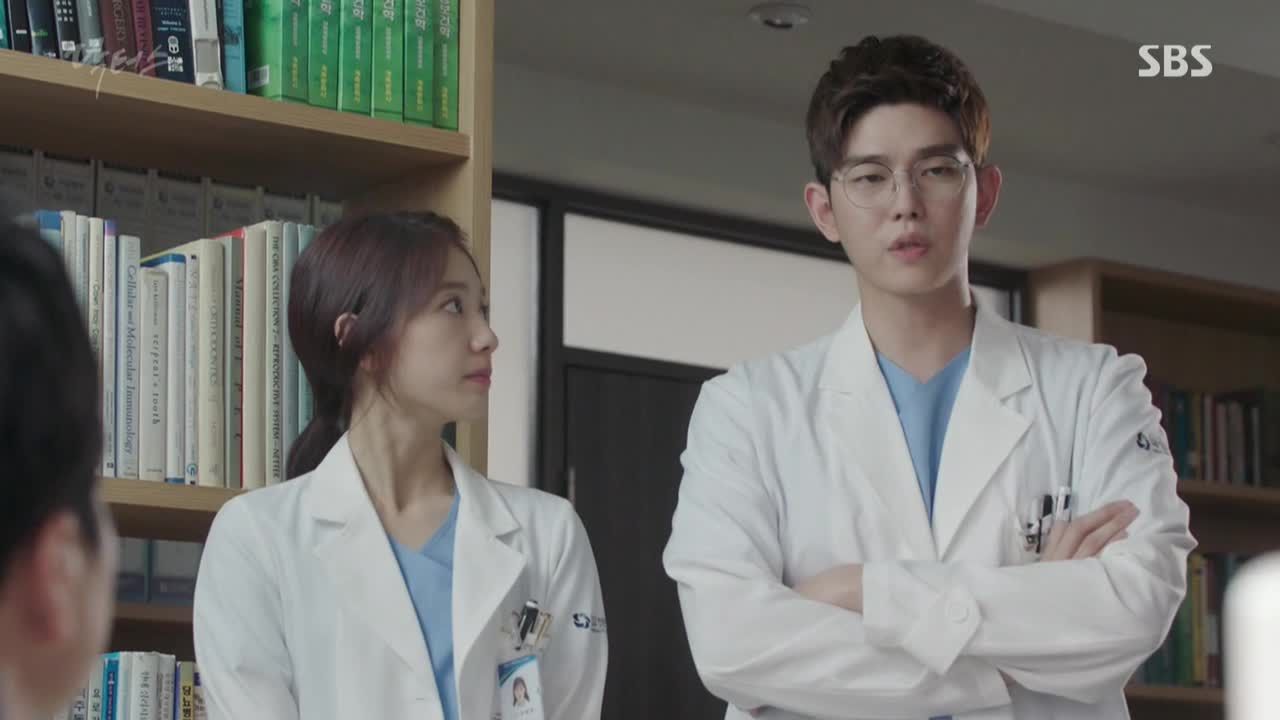 Yoon-do and Hye-jung prepare for another surgery, and Ji-hong joins them to clarify Yoon-do's plan for his father's surgery. He asks that Yoon-do go the safe route in removing the tumor, but Yoon-do seems bothered that he's not trusted. Yoon-do asks Ji-hong if he trusts him, but he's met with silence. He offers to step back from Director Hong's surgery and enters the OR for another surgery. Hye-jung silently watches the interaction and looks at nervous Ji-hong.
In the surgery, Hye-jung tells Yoon-do that Ji-hong is doubtful and Yoon-do is bluffing out of fear. Yoon-do denies being afraid, but Hye-jung tells him not to be afraid since she'll be supporting him in the surgery. He comments on her confidence, and she explains that the confidence from her rough youth helps her grow even today.
Ji-hong waits for Yoon-do to finish his surgery and approaches him. He says that he looked up Yoon-do's resume and acknowledges his skills. As a doctor, Ji-hong trusts him, but as the patient's guardian, he can't trust him. In an almost pleading tone, he warns Yoon-do, "If this surgery goes badly, you're dead."
Hye-jung watches the two from afar and narrates: "When doctors become guardians, they too are merely impotent humans."

COMMENTS
I love that last narration from Hye-jung. It's a reminder that we're all imperfectly human, no matter what masks we wear. When things get deeply personal, rationality goes out the window and emotions take over. It's a perfectly human response.
I like the focus on Ji-hong in this episode, and though it was a bit overdue, I was glad we could finally dig into his past. We already knew he was an orphan before being adopted, but bringing the context of his past into the present day made his connection with his father even more poignant. We see that young and jaded Ji-hong has come a long way to become the joyful spirit he is now, and it's probably that younger self he saw in Hye-jung. He wants to open doors for her happiness and give her opportunities to grow. While the relationship still has a teacher-student dynamic, I'm more open to it because of Hye-jung's emotional growth through her interactions with Ji-hong.
Hye-jung is officially back to being awesome, and though she wasn't the one emotional center to this episode, she was the one I really cared about. Her confidence and determination to do Grandma's life justice is inspiring, and so far, she's had a reliable moral compass in her practice. I'm a little nervous about what sort of retaliation she's seeking, but if her influence on Boss showed me anything, it's that she values fairness and choices that move people forward. Speaking of Boss, his last words were so validating and quite telling of Hye-jung's ultimate impression on the people she impacts. She abolishes all the prejudices associated with her past and her gender, and her ability to do so charms everyone around her. Park Shin-hye is doing great with the kickass elements as well as the emotional beats. I really hope she's like Hye-jung in real life more than any other character she's done.
Everyone is so brutally honest in this show, and it's great because there's less unnecessary brooding and more communication! Yoon-do is the best example of this, especially in telling his crush and his crush's crush about his own crush. He's an open book, and I love how simple and honest he is. That being said, I would hate to be in Seo-woo's shoes because again, he's blunt and honest. Yes, those slaps must have hurt, but I think his words stung more. He knew which biting words would provoke insecure Seo-woo, and it was hurtful. Even though she's actually a frustrating ball of misdirected anger, I feel bad for her because she's never learned to value herself. She's grown up seeking approval from others rather than herself, and that toxic environment further exacerbated her inferiority complex. Hopefully she'll come around sooner than later.
Doctors is reaching impressive numbers in ratings, and there are a lot of different elements that make this show so popular: the leads, the romance, the doctor ensemble, the lip colors… There are many different reasons to watch this show, but for me, the cast really completes the missing elements in the story. I think the individual characters outshine the main romance and romantic conflicts. The romance isn't as compelling on paper and sometimes the clichés just don't translate as well no matter how great the actors are. Like how do you accentuate the excellence in reverse parking any more than just regular reverse parking? Despite the romantic storytelling pitfalls and the obvious lip gloss PPL, I do think we have a reliable cast that's able to make the most intelligent, irritating, and stubborn doctors feel intimately human.
RELATED POSTS
Tags: Doctors, Episode 9, featured, Kim Rae-won, Lee Sung-kyung, Park Shin-hye, Yoon Kyun-sang