Odds and Ends: Meat in the city
HeadsNo2: So, KCON. That was a thing we went to.
javabeans: It happened. It'll happen again.
gummimochi: And next time, we won't stay at the skeevy apartment.
HeadsNo2: You know how Airbnb says "Don't go there, live there?" Well, we lived there. We definitely got a taste of what living in Newark was like.
gummimochi: Also Newark =/= New York.
girlfriday: But KCON NY was fun, and our panels went well, despite the fact that one of them was advertised as being at the wrong time. Thankfully, people still came!
javabeans: That time snafu was unfortunate. We had people come up to us afterward asking when we would be on, and we'd just finished.
HeadsNo2: Wamp wamp waaaamp.
javabeans: But still, we were very happy to talk to you guys in person and to have the turnout. And to get a chance to meet our minions in person, like chickachunga, whom we immediately put to work as our photographer. She's adorable, by the way.
girlfriday: Yes! We plan to take her everywhere we go. Like a mascot, but way more useful.
javabeans: Our first panel was early on Friday, and it was our romance panel ("Boy Meets Girl Meets Fate"), which we thought was a good topic since it covers 99 percent of K-dramas.
girlfriday: We talked about tropes like wrist-grabbing and the evolution of character archetypes like the Candy, and evil forces of Fate like mothers-in-law, and how happily-ever-afters always need Fate's approval.
javabeans: The topics were fun to talk about, inasmuch as romance is the bread and butter of dramaland and there's just a lot of examples of people in love in interesting ways. Okay, some less interesting ways too.
HeadsNo2: But seriously, what is with the wrist-grabbing?
gummimochi: WHY IS IT ROMANTIC?
javabeans: Come to KCON LA to hear our answer!
HeadsNo2: Good plug.
girlfriday: Our second panel on Saturday afternoon was about fandoms and meta dramaland, and the production stuff behind the scenes.
HeadsNo2: That was a really fun topic to pick javabeans and girlfriday's brains about.
gummimochi: We also had a good number of people during the Q&A session, asking really insightful questions about the future of the industry. Actually, there were so many that we had to ask them to pull javabeans and girlfriday aside afterward. Then there was the lightning round…
javabeans: And Heads and gummimochi always pull out the fun lightning rounds. I loved the one where they asked girlfriday to describe Scholar Who Walks the Night in 5 seconds and her answer was, "Lee Jun-ki…. is really pretty…!"
HeadsNo2: *Ding!*
girlfriday: Did I really say that?
HeadsNo2: No one will ever know! Except for all the people who recorded it. I swear, as soon as we announced the lightning round, all these phones came up.
girlfriday: javabeans described the hypothetical Blood sequel, Blood 2: The Bloodletting, as "Vampire doctor loses control and starts drinking his patients."
HeadsNo2: That would make it watchable.
javabeans: Would it, though? I might just prefer Scholar 2: Lee Jun-ki is Still Pretty.
HeadsNo2: Overall though, KCON went pretty darn well. The feedback from the fans was super fun.
gummimochi: But really, we were most concerned about javabeans being able to walk around Newark.
HeadsNo2: We were actually worried that she wouldn't even make it. And she wouldn't even update us. We didn't know until she got on the flight.
javabeans: I DID update you! Was it my fault that my answer was, "I don't know yet! I'm still in pain"?
girlfriday: To be fair, we went to the doctor's office EVERY SINGLE DAY the week of KCON, just to get approval (and shots) to get her on that flight. And we still didn't know until that morning whether she would be able to get on the plane. It was that down to the wire.
javabeans: She came into my room that morning and asked, "Can you walk? Can you get on the plane?" And I was lying there carefully, saying, "I'm not sure yet. I'll try."
HeadsNo2: All I kept saying was, "Get a cortisone shot! GET A CORTISONE SHOT."
girlfriday: On the upside, javabeans being on crutches got us to the front of the security line at the airport. These are the perks.
javabeans: You're digging real deep there for a silver lining.
girlfriday: It's what I do.
gummimochi: Thankfully everyone made it in (eventually), though Heads and I were waiting for our Airbnb host for a good 30 minutes while he was "coming downstairs."
HeadsNo2: The Airbnb from HELL.
javabeans: Please don't ask any more questions about that place, I don't want to know the answer to any of them..
HeadsNo2: You mean like, why did we have to buy sheets from the dollar store?
gummimochi: And how well we slept that night when we finally got clean linens?!
HeadsNo2: I've never been more excited about sheets. Or 99 cent towels. All the 99 cent towels.
javabeans: I pinky-promise we'll have clean sheets for you in LA. They might even be the same sheets.
HeadsNo2: I don't even care about the sheets. I care about the meat.
girlfriday: OKAY. Can we talk about the meat? And the ridiculously small portions of it?
HeadsNo2: And how there was just not enough meat in all of New York to feed us??!
gummimochi: *hangs head in shame* I have nothing to say in justification for the morsel-sized portions.
javabeans: Is this a thing in New York, where you pay $35 for an adult portion of beef and get a tiny child-size morsel instead? Because there is no way we're just supposed to order nine full orders of beef to feed five regular people. Also I left hungry.
HeadsNo2: I left hungry too, but I didn't want to say anything. It was NINE PORTIONS after all.
girlfriday: Is everyone a model in New York? Because in LA, one portion will feed one person. It's kind of the definition of A PORTION.
javabeans: The Korean term literally means "one person amount"!
HeadsNo2: Now that you guys have talked so highly about LA portions, we'll be expecting delivery on these promises. Just sayin'.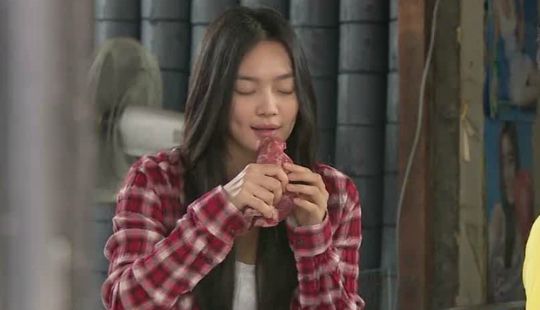 javabeans: Oh, this is not hard to promise, because here in LA, we eat like normal people. You order dinner, and you don't need a second dinner.
gummimochi: I'm pretty sure I ordered a 1:1 ratio last time, and the server asked me if I was sure. Answer: "Yes."
javabeans: Did you leave hungry? Also did you get a burger on the way home?
HeadsNo2: I left hungry for you.
gummimochi: There was a Shake Shack nearby. That's why there's one on every corner. It's like Starbucks, but for meat.
girlfriday: This is no way to live.
HeadsNo2: Starbucks for meat? YES.
javabeans: Hilariously, girlfriday had just muttered to me, "Starbucks for meat? Ew!"
HeadsNo2: But KCON. That was a thing we went to.
javabeans: It happened. And it'll happen again.

RELATED POSTS
Tags: conversation post, Odds and Ends