Police Unit 38: Episode 11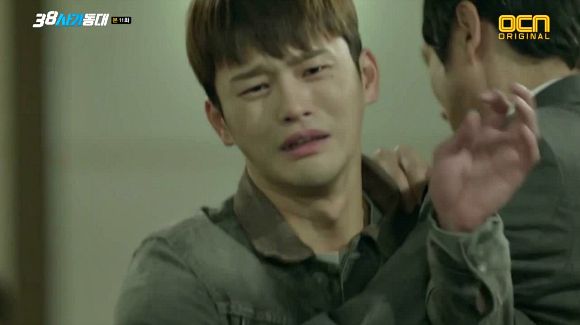 It's an episode of unravelling truths and dealing with betrayals on several fronts, for all of our characters. And it's been a long time coming, but we finally learn what drives our hero and why he double-crossed his friends. While revenge is served up on a satisfactory platter, Jung-do has to now decide if it was worth alienating everyone who cared about him.

EPISODE 11 RECAP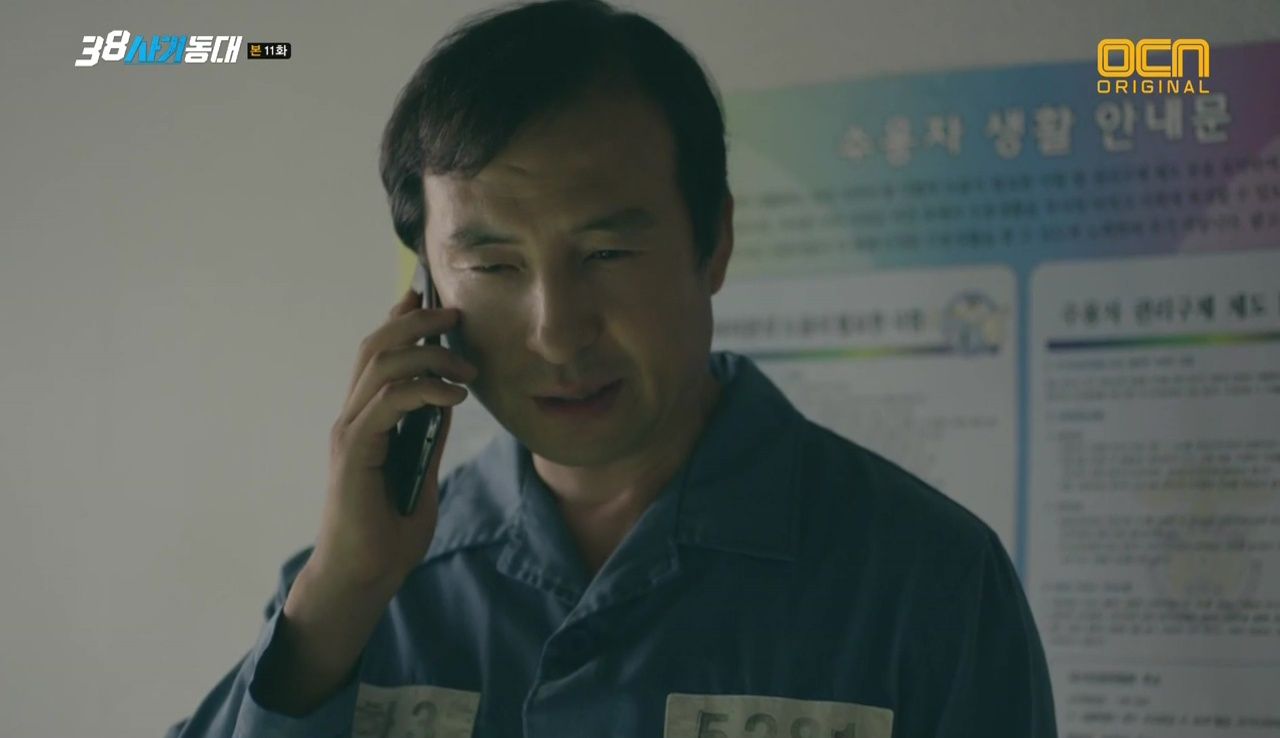 We rewind to the moment in the diner after Sung-il and Jung-do get out of lockup. Sung-il walks off to meet Bang Min-ah and Jung-do says he'll go visit Bang Ho-seok. Instead, Jung-do calls up Mr. Kim in prison, asking for his call to be transferred to the common room, and Mr. Kim comments to Chairman Wang that Jung-do seems to be starting in earnest now.
Mayor Chun and Commissioner Ahn head into a lunch meeting with President Bang. The mayor wonders why he wants to meet, and Commissioner Ahn speculates that it could be because of a favor he did President Bang a few days ago. It seems that Section Chief Baek of Division One is friends with a certain prosecutor, and President Bang had asked Commissioner Ahn to use this connection to get Detective Jae-sung out of prison.
But when Commissioner Ahn opens the door to the restaurant's private dining room, Mayor Chun freezes at the doorway to see Chairman Choi sitting at the table with President Bang. After an uncomfortable meal, Chairman Choi dismisses President Bang from the dining room, and a humiliated President Bang goes outside to join Commissioner Ahn.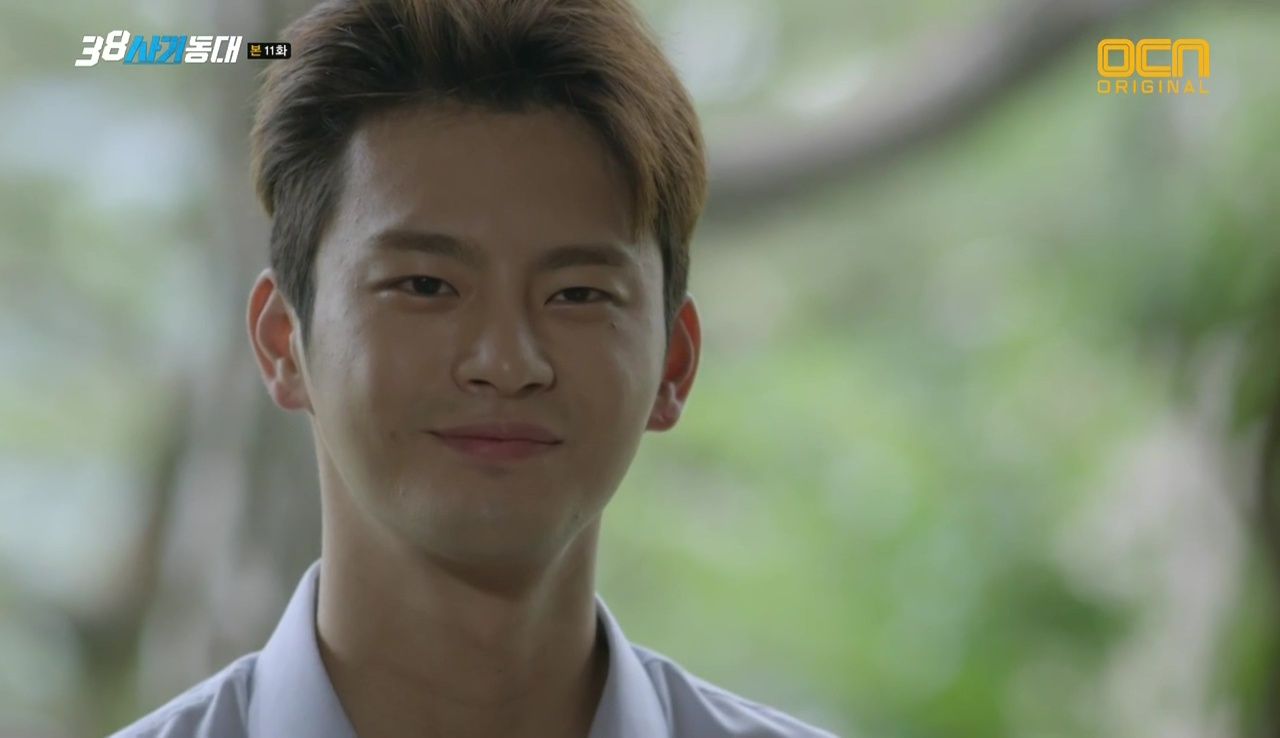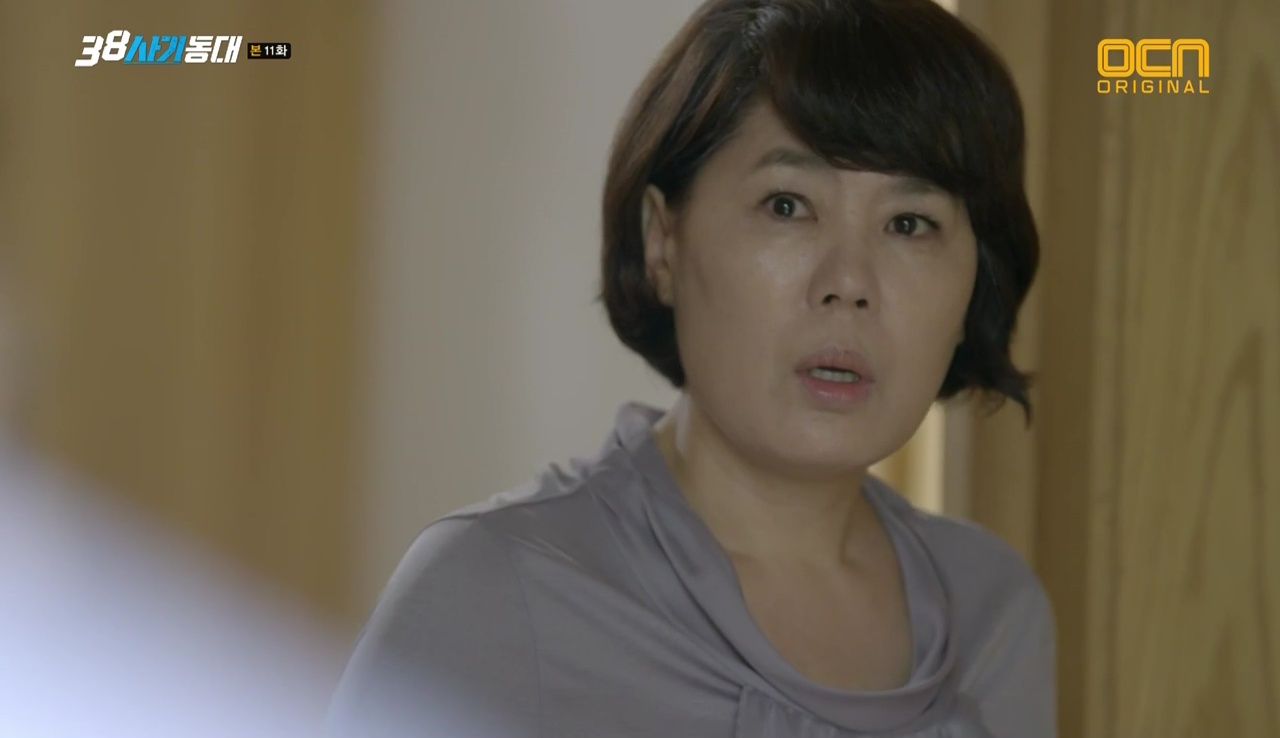 Jung-do gets dropped off at President Bang's house by his mysterious associate. The man (whose face we don't see) pats his shoulder in support, and Jung-do smiles and thanks him before getting out of the car. Jung-do rings the doorbell and introduces himself to the startled wife of President Bang as the son of Director Kim Kyung-ae.
Commissioner Ahn asks President Bang if he told the chairman about the scam. Bang says he decided that Ahn was right and there was nothing to be gained by telling him. Then President Bang gets a call from his wife that startles him, and he abruptly decides to head home.
Inside the dining room, Chairman Choi asks the mayor why he didn't tell the chairman about his employee conning people for taxes. He asks if it's because Mayor Chun was trying to protect his daughter. The mayor looks nervous at the mention of a daughter, then we cut to Sung-hee back at the office, unable to concentrate on her work because she's worried about Sung-il. Chairman Choi makes it clear that he sees this as a betrayal and emphasizes that the mayor is easily replaceable.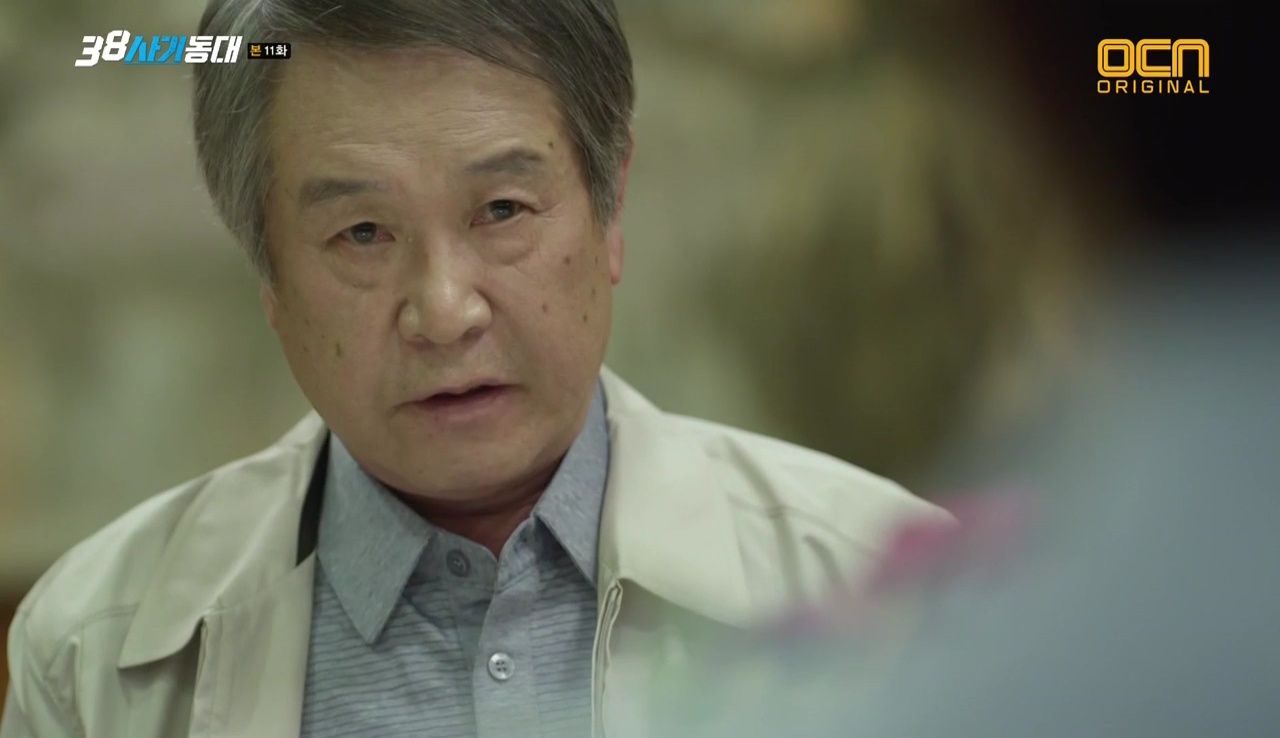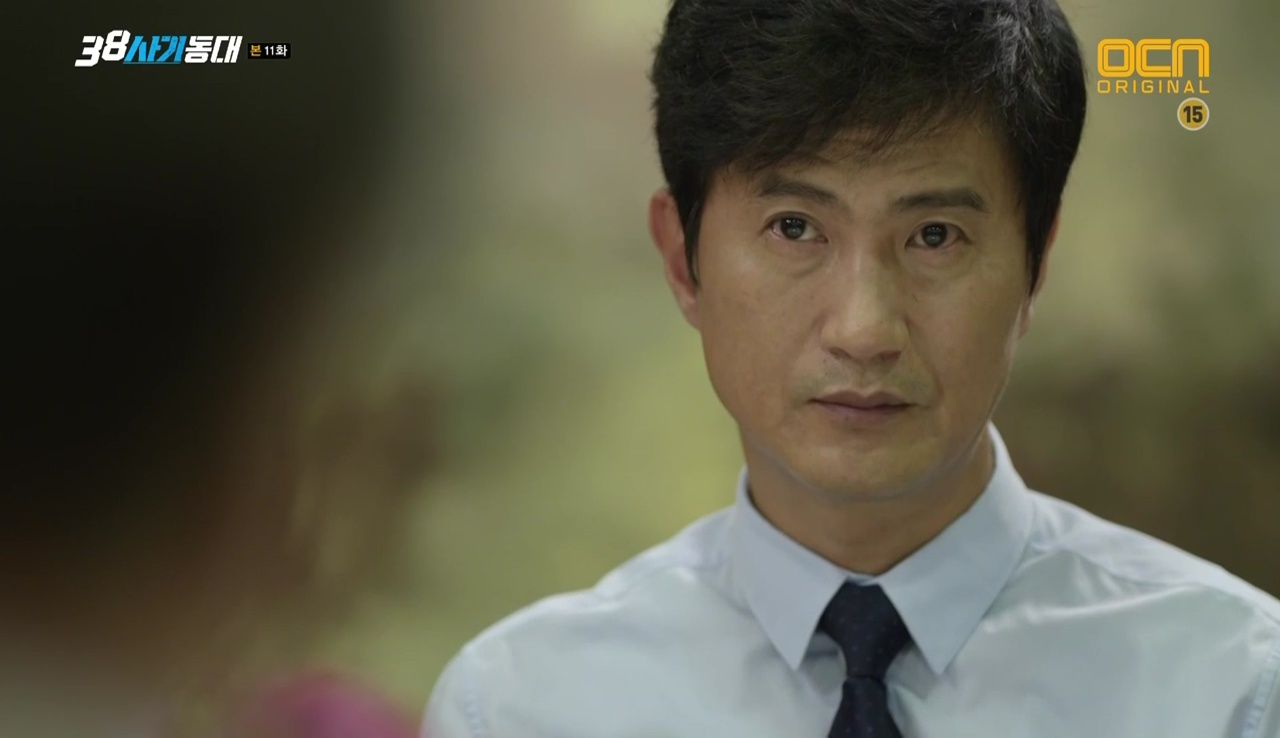 The two go out to find Commissioner Ahn waiting for them alone. Ahn explains that President Bang left in a hurry, but even Mayor Chun seems surprised that he would leave without saying goodbye to the chairman. Chairman Choi directs a lackey to check on President Bang to ensure he's not in trouble.
President Bang arrives home to find Jung-do waiting for him. He laughs to realize that Jung-do is the son of an old employee, Director Kim, whom he used as a scapegoat when his illegal pyramid scheme business was investigated. Bang had set her up to get arrested to avoid a jail sentence himself. He asks, amused, if Jung-do tried to scam him in an effort to avenge his mother.
Not just his mother, answers Jung-do, but also his father, Detective Yang, whom President Bang had imprisoned on false charges of bribery. But they shouldn't dwell on the past, Jung-do says, and reveals the last act of their scam on the Bang family. He tells President Bang that all the ceramic antiques collected by his daughter had already been sold off while he was busy trying to bring charges against Jung-do and Sung-il at the precinct.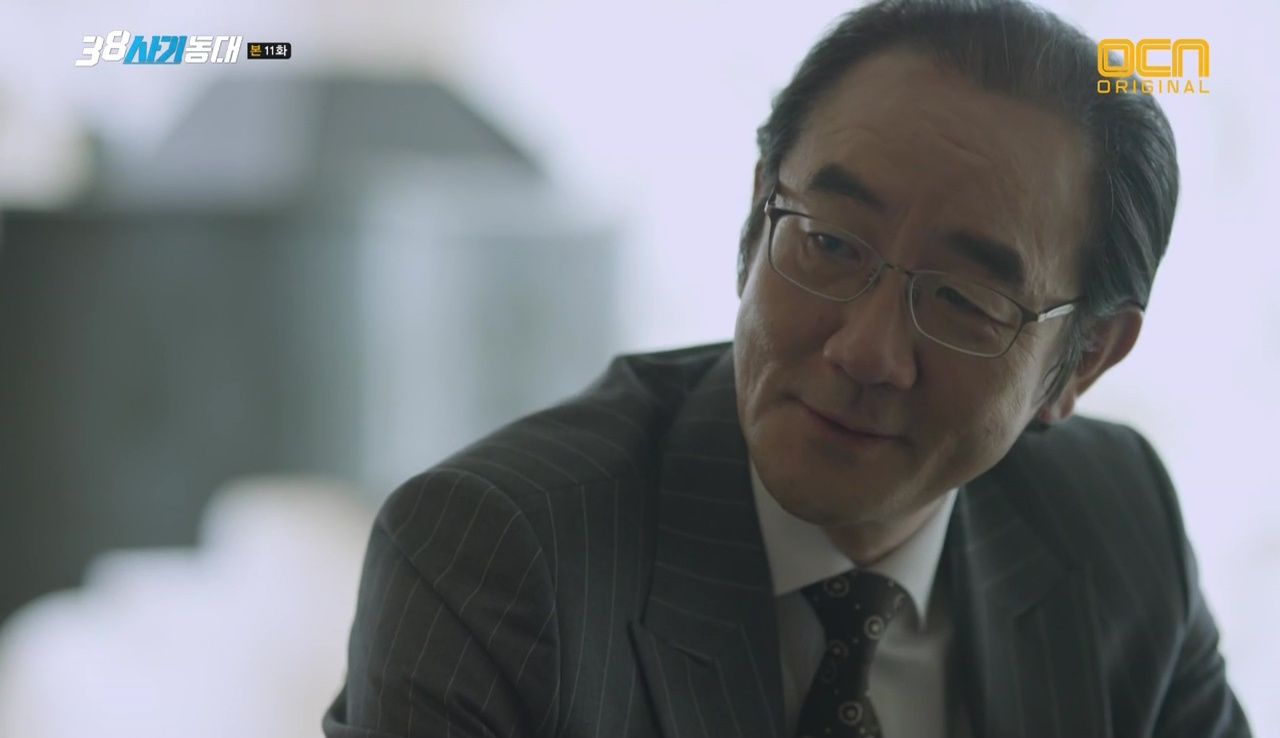 At exactly this point, his panicked daughter calls him and hands the phone over to Sung-il. Standing in the empty basement with Bang Min-ah, Sung-il pronounces that President Bang's $50 million in tax debt has now been paid off in full. President Bang turns to Jung-do, and says with a laugh that he's smarter than his parents, but what he doesn't realize is that Bang is close with the mayor and will just get his money back again.
Jung-do looks like he expected this but was hoping to avoid what he has to do next. Looking resigned, he calls up Sung-il and breaks the man's heart with a few well-chosen words. "I'll just use the money, all right? I did all the work anyway." Hanging up on a furious Sung-il, Jung-do asks President Bang what he intends to do, now that his close friend can't get him a refund.
President Bang has no answer, but Jung-do gives him an option. "Apologize," he says, "and it'll all be over." President Bang gets worked up over being threatened and Jung-do asks if he is willing to lose $50 million when an apology will get him the money back. In a panic, Sung-il calls up Hak-joo, who remembers that Jung-do doesn't have the money — Madam Noh does.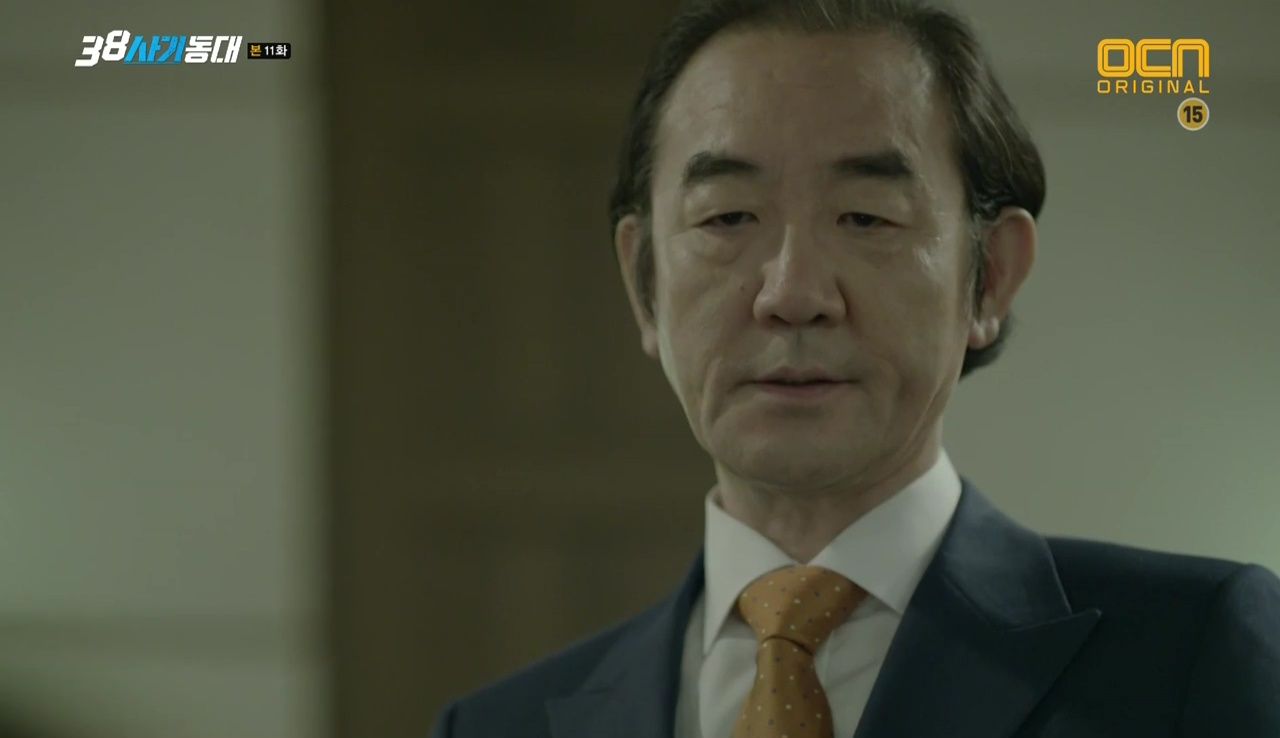 President Bang swears at Jung-do, who calls up Madam Noh and tells her to go ahead as planned. Madam Noh says it'll take her five minutes and Jung-do explains to President Bang that if he doesn't apologize he'll lose $10 million every minute. President Bang keeps blustering and Jung-do starts walking away. Suddenly, all bravado gone, Bang curtly says sorry. Jung-do tells him to say it respectfully in jondaemal.
Through gritted teeth, his face grim, President Bang apologizes again. He uses correct honorifics and admits to everything he did to Jung-do's parents. But Jung-do doesn't think it's sincere enough. His face hard, he asks President Bang if he remembers what he said right after his father was sentenced and separated from him without a chance to say goodbye.
In flashback, as Jung-do's father received his sentence, he tried to run to his son one last time. Father and son broke down in sobs in the courtroom, and guards had to carry his father away while Jung-do was held back by Detective Jae-sung. In the present, Jung-do repeats word-for-word what President Bang had said to an inconsolable younger Jung-do: "Don't let it get to you. That is life. We have to bear it."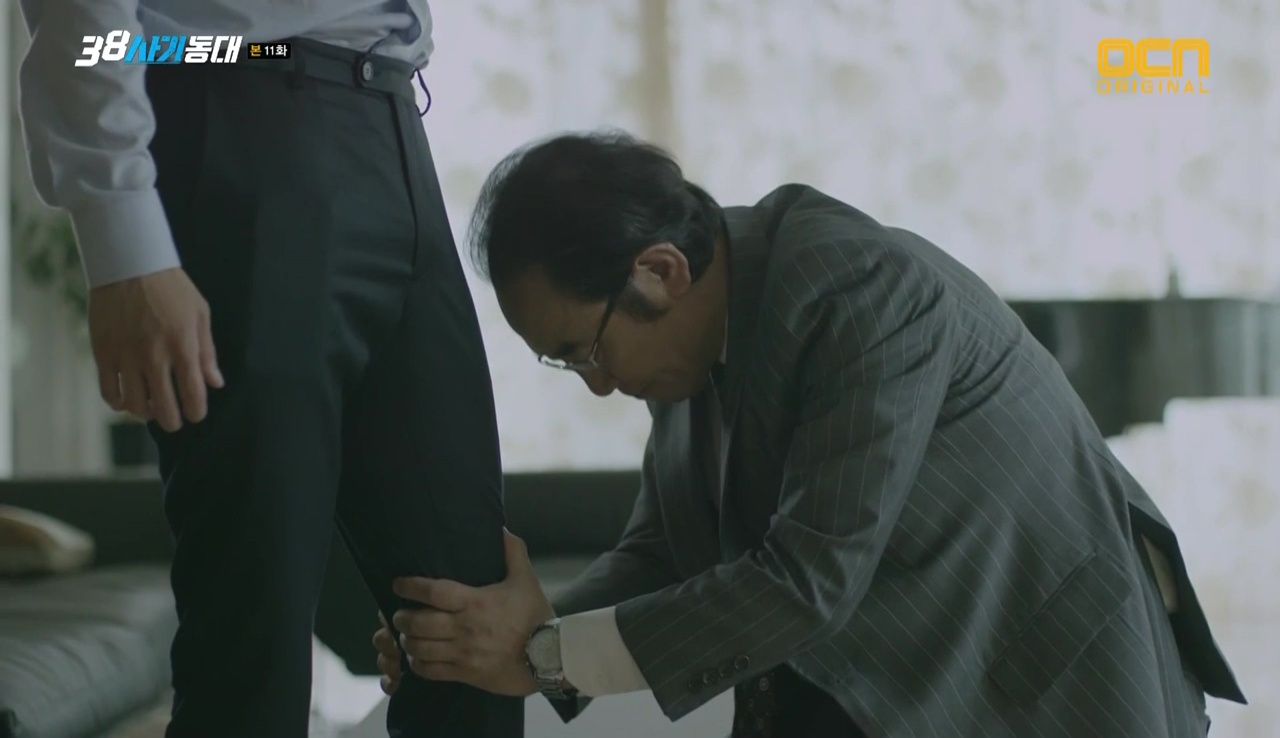 President Bang falls to his knees at Jung-do's feet and apologizes repeatedly. Jung-do looks down at him, his eyes unreadable, when Madam Noh calls from the top of a skyscraper with boxes of money stacked at her feet. She asks what he wants to do and Jung-do tells her to dump the lot. President Bang erupts in anger and tries to strangle Jung-do.
Madam Noh gives the go-ahead and henchmen parked on top of dozens of high-rises upturn boxes of money on the pedestrians below. Jung-do says that the money is going where it belongs and walks out. President Bang screams like a madman and collapses in hysterics, while people on the streets gather his precious black money by the armful.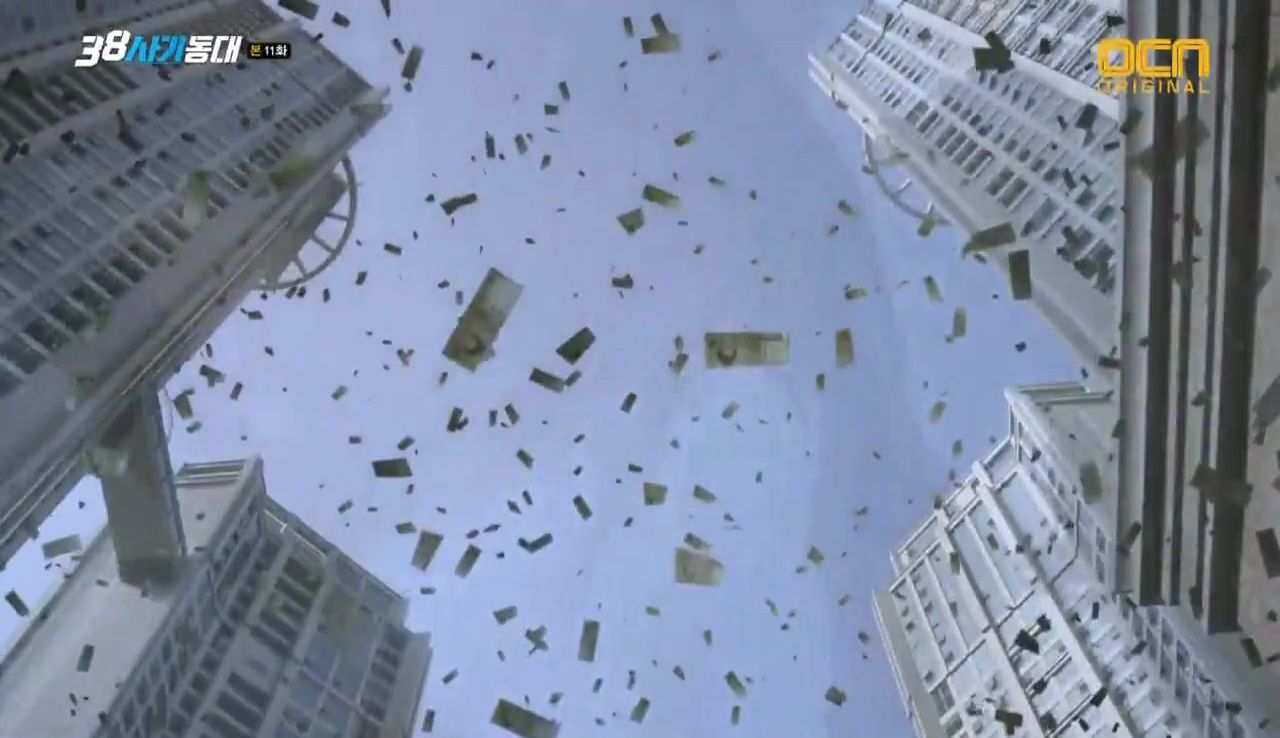 Sung-il reaches the Freezer and asks the shocked crew where Jung-do is. Detective Deok-bae and Sung-hee watch the news in their respective offices, covering the story of money raining from the sky amounting to about $50 million dollars.
Jung-do thanks Madam Noh for her help over the phone, and she asks if Sung-il will ever recover from what happened. Jung-do pauses for a moment and says that it can't be helped. Madam Noh tells him that she followed his directions because that's what Chairman Wang asked of her, but that she won't help him again. Jung-do promises to never call her till he dies.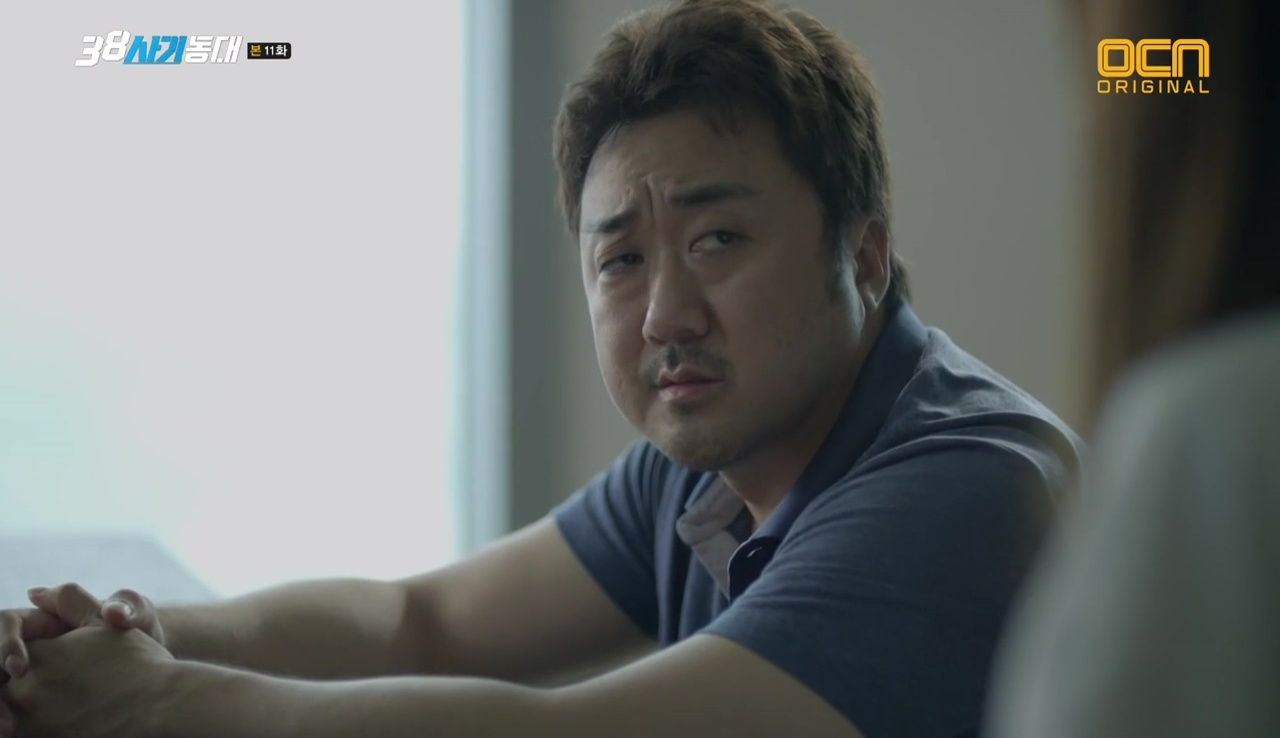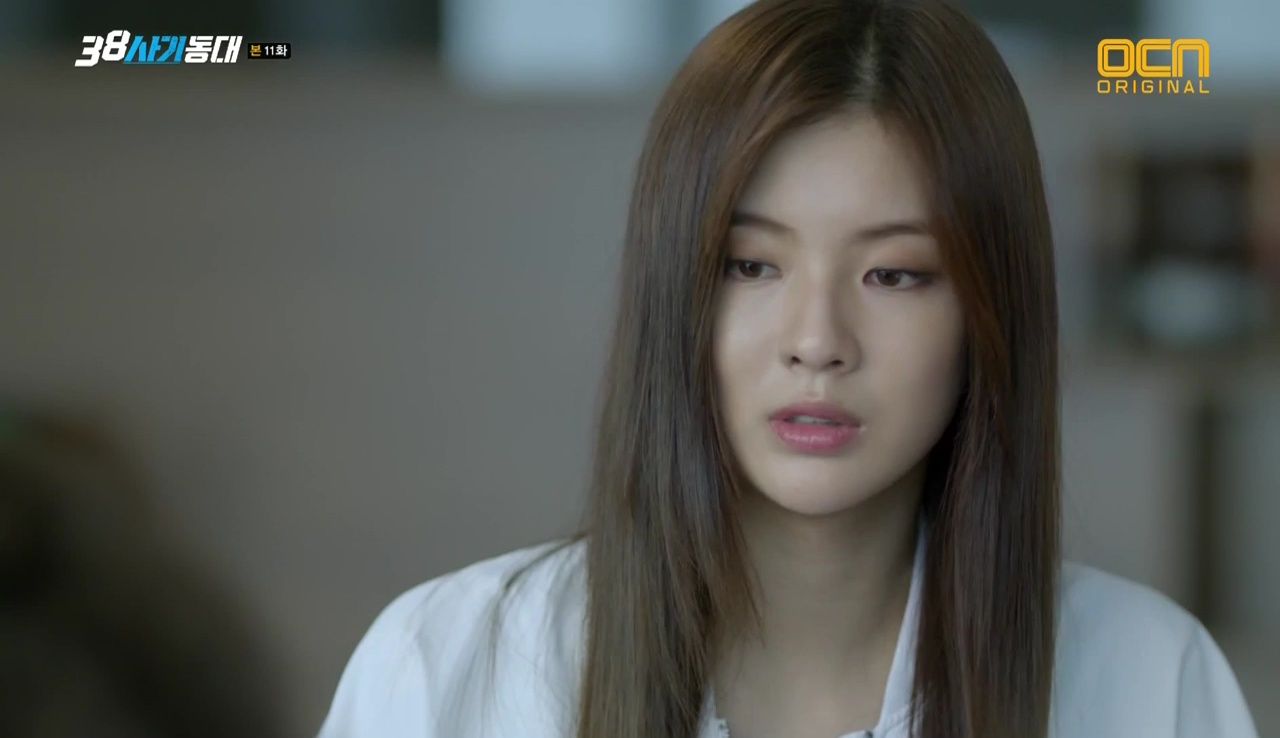 Sung-il sits drinking in Jung-do's apartment and Mi-joo cleans up the counter. She tells him that she'll be going on the run after today. She conned Jae-sung for Jung-do's sake, she says, and now Jung-do's backstabbed her and the cops are after her.
Sung-il says bitterly that Jung-do ruined everything, and that Sung-il will never be able to face the people he was trying to avenge. Mi-joo points out quietly that Jung-do didn't keep the money for himself. She advises him to think of it as the money going directly to the people, instead of through the government.
Chairman Choi sees the news and decides to pay the mayor a visit. The chairman asks Mayor Chun what he intends to do now and suggests that they cut off their tails. A proper investigation into that money will eventually lead to himself, he says.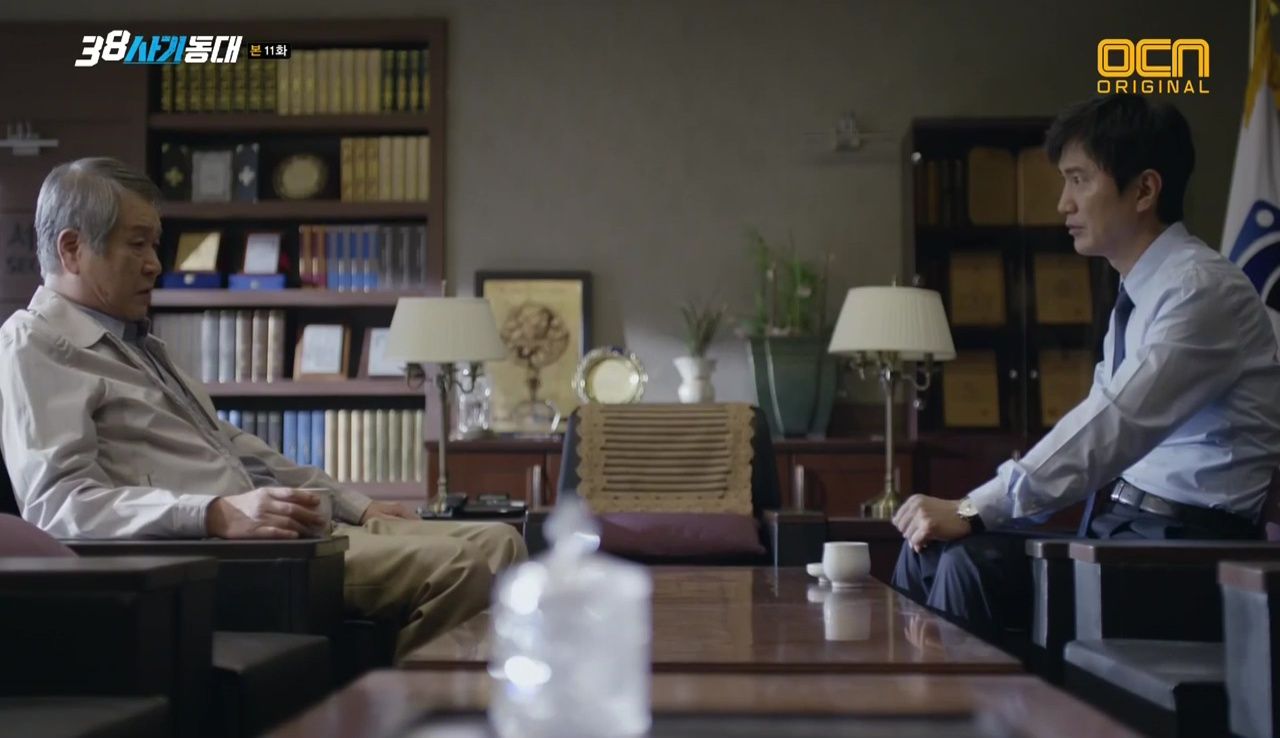 Thus, he begins by shedding President Bang, who he estimates will get a long prison sentence for UN Communications, his family's illegal pyramid scheme business. Chairman Choi throws in the Bang siblings too, saying that it would look better to the public if the whole family went to prison, and his own connection with their business will end for good.
Having gotten rid of his own liabilities, Chairman Choi turns his attention to the mayor's tails. Both Section Chief Baek and Commissioner Ahn can be arrested for trying to use their connection with a prosecutor to get Jae-sung released. After them, there's just Sung-il and the Division Three team to take care of.
The mayor promises to handle Sung-il himself but balks at the chairman's suggestion to close down the tax-collecting bureau altogether. He points out that the public likes this department, but the chairman isn't really requesting — he's giving an order. Chairman Choi admits to owing $100 million in taxes but believes what he contributes to society is worth more than that, and doesn't want tax collectors bothering him. He tells Mayor Chun to disband the department by the end of the year.
And just as the chairman prophesied, everything falls into place. The Bang family is investigated and arrested, while Ahn and Section Chief Baek are escorted from their offices in full view of all the tax department employees. As Commissioner Ahn is dragged down the hall by the detectives, Sung-il stops on his way to the office and asks what's going on.
Commissioner Ahn struggles to get at Sung-il and accuses him of having orchestrated this. Sung-il's incomprehension is obvious, but as he's drawn away, Ahn promises to reveal everything about Sung-il's activities to the police. Sometime later, Sung-il sits on a bench outside his department and Sung-hee calls him to ask if he's all right. Sung-il promises to come to the office the next day and Sung-hee watches the raining money on TV with something like a smile in her eyes.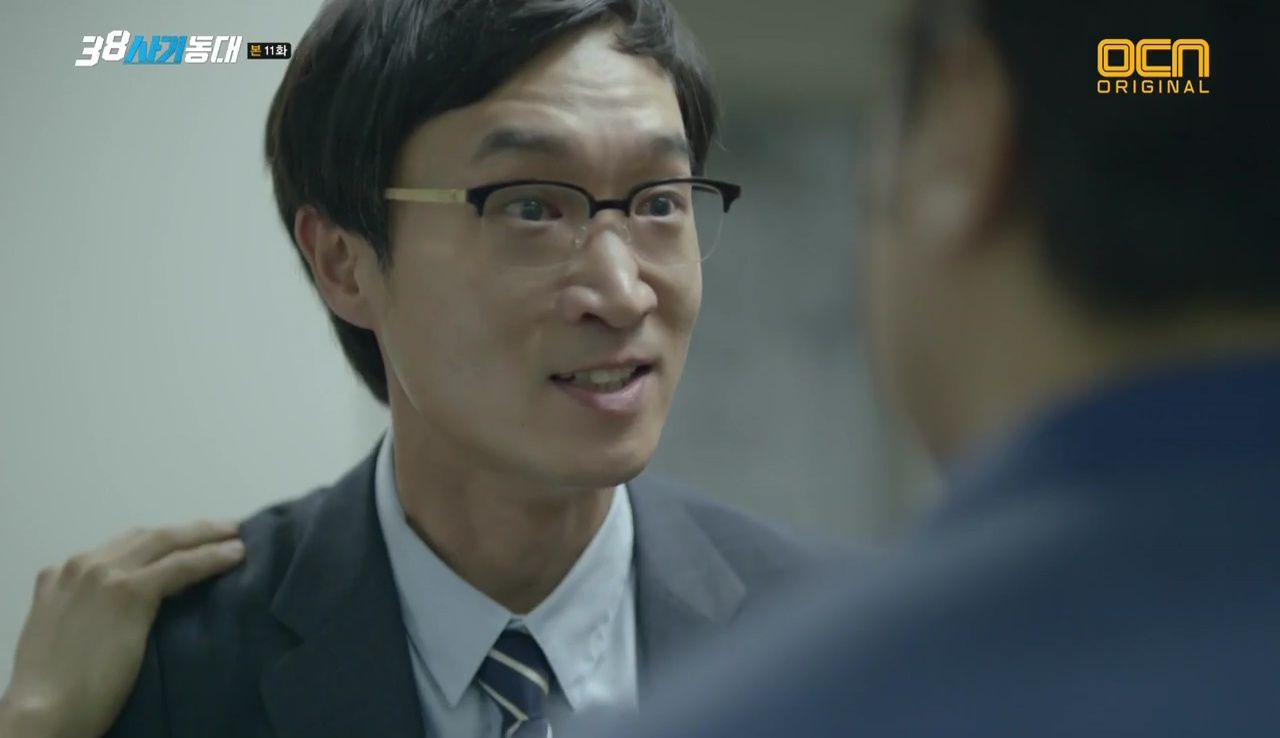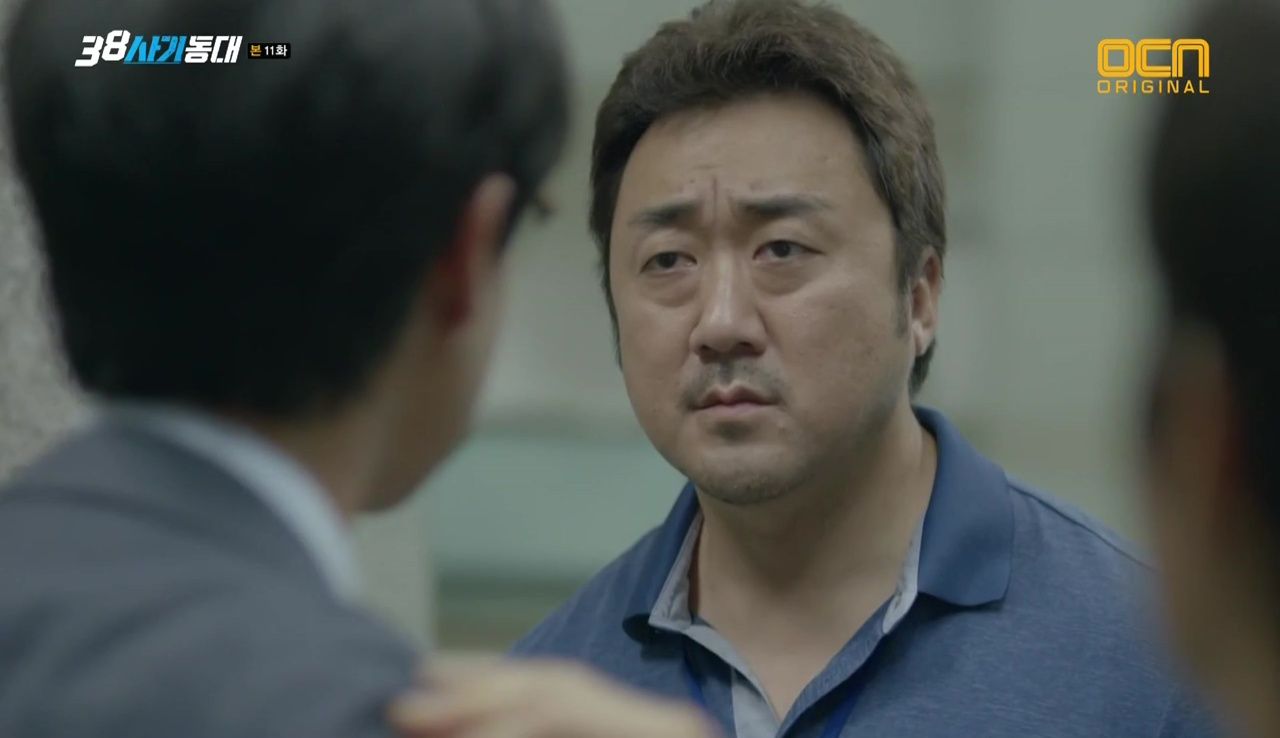 Hak-joo waits outside Madam Noh's office building with his goons and Ja-wang. He calls Sung-il when he spots Madam Noh and Ji-yeon entering the building, and Sung-il heads out to meet them. Hak-joo and his men walk into the foyer carrying bats and rods (and a pig's leg for Ja-wang), but they're stopped by Ji-yeon and a dozen of Madam Noh's men, who give them the option of turning back.
Hak-joo and his men laugh but Ja-wang decides to bolt, nearly breaking into tears as he runs out. The two gangs fight and Sung-il reaches to find Hak-joo and his goons sitting in a line with their arms in the air. Ji-yeon tells her men to let them go and invites Sung-il up to meet Madam Noh. Hak-joo looks a little miffed that Sung-il didn't have to fight to get there.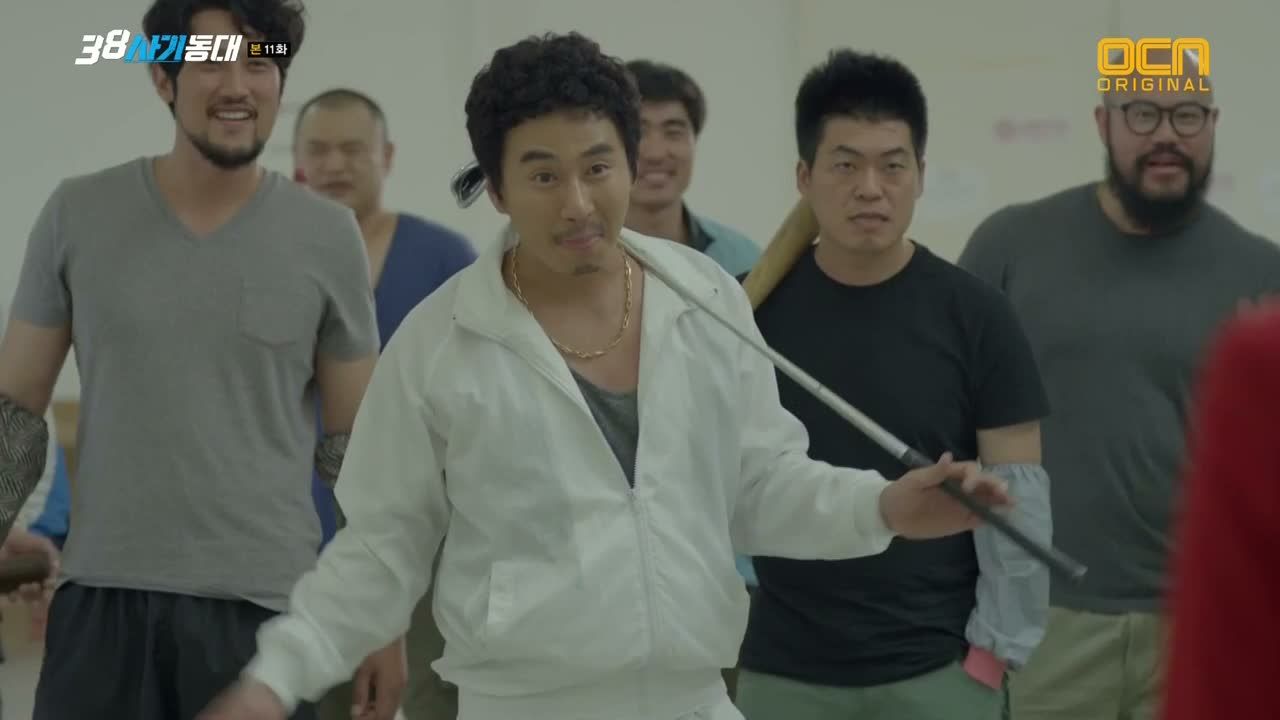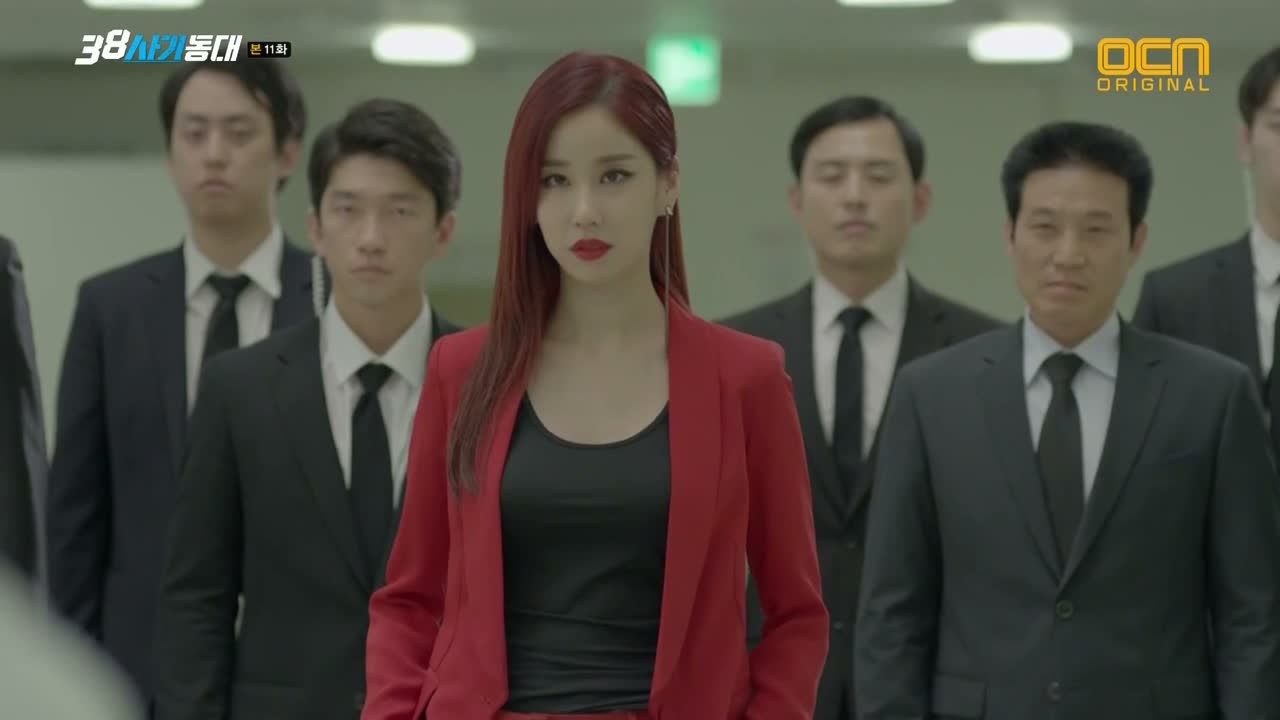 Sung-il asks Madam Noh where Jung-do is, but she says she doesn't know. He asks her why she betrayed them and Madam Noh takes exception to the word. She was following the direction of her chairman all this time, so she really hadn't betrayed anyone. Madam Noh then tells Sung-il that though she doesn't know where Jung-do is, there is someone who may.
She explains that when Jae-sung had imprisoned the crew and cornered Jung-do, a man had called to ask her to help. She tells Sung-il that her chairman is on Jung-do's side but she is on Sung-il's side because he is a good man. She turns on a recording and leaves the office. Sung-il listens, stunned, as Detective Deok-bae's voice asks Madam Noh to help Jung-do. He's Jung-do's mysterious associate!
Sung-il arrives at Deok-bae's police station and asks him if he remembers the file Deok-bae showed him with names of all of Jung-do's targets. Sung-il says he looked into it and the hoobae whom Deok-bae had credited with unearthing that file didn't exist.
Deok-bae looks completely guilty as Sung-il asks him what his relationship is with Jung-do. Deok-bae tries to take the conversation outside the station but Sung-il is too worked up. He shouts that Deok-bae is supposed to be his friend, not Jung-do's, and punches Deok-bae in the face in front a room full of cops.
After the furor at the police station, the two old friends drink soju together. Deok-bae explains that Jung-do is the son of his mentor, Detective Yang. The two of them, along with Jae-sung, had once made a very good team. Then one day, Detective Yang told his teammates that he was afraid his wife was entangled in a pyramid scheme.
They began to investigate and uncovered a fraud worth millions with thousands of victims. But then President Bang put the blame on Detective Yang's wife, and Jae-sung, the turncoat, falsely implicated his friend and partner in a bribery case.
A few months after that, Jae-sung caught Jung-do in the act of setting up a con that targeted Chairman Choi's Woohyang Group. Deok-bae sounds almost admiring as he recalls how Jung-do adapted to the situation. Jung-do knew that if Jae-sung suspected that he had been trying to get revenge for his parents, Jae-sung would ensure he was put away for a very long time.
So instead, Jung-do pretended to be dense. When interrogated, he confessed targeting Woohyang because it was a rich mark, asking Jae-sung what other reason he could possibly have, and if making up one would shorten his sentence.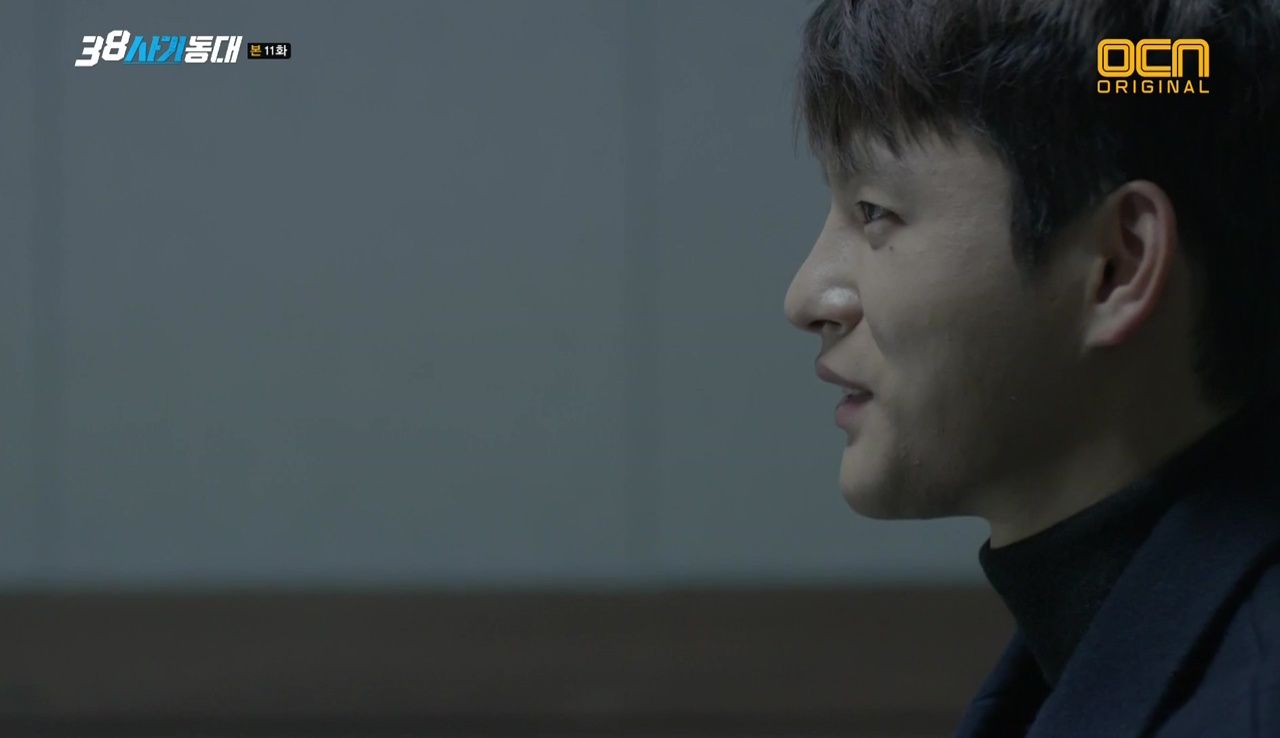 Sung-il speculates that Jung-do must have spent a lot of time planning his revenge in jail. He realizes that Jung-do didn't mistake him for Section Chief Baek, but targeted him from the very beginning. He thinks back on the way Jung-do first approached him and how Deok-bae pushed Sung-il to accept to Jung-do's offer to catch Ma Jin-seok. Sung-il surmises that Deok-bae delivered Sung-il straight into Jung-do's lap, to help him with his revenge.
Deok-bae protests that while he did connect Sung-il to Jung-do, he did it to help them both. He points out that Sung-il had a grudge against President Bang too, and would often get drunk and plot ways to avenge Kim Min-sik's death. But they all sound like excuses to Sung-il. He looks at Deok-bae with disappointment, and says that he shouldn't have done this to him when they had been friends for so long. He promises Deok-bae that he'll catch Jung-do no matter where he is.
A car drops Chairman Choi home. As he walks up the road, he senses something and his steps falter. But then he dismisses it and walks on. Parked close by, Jung-do tracks the movements of his next prey from the dark interiors of a car.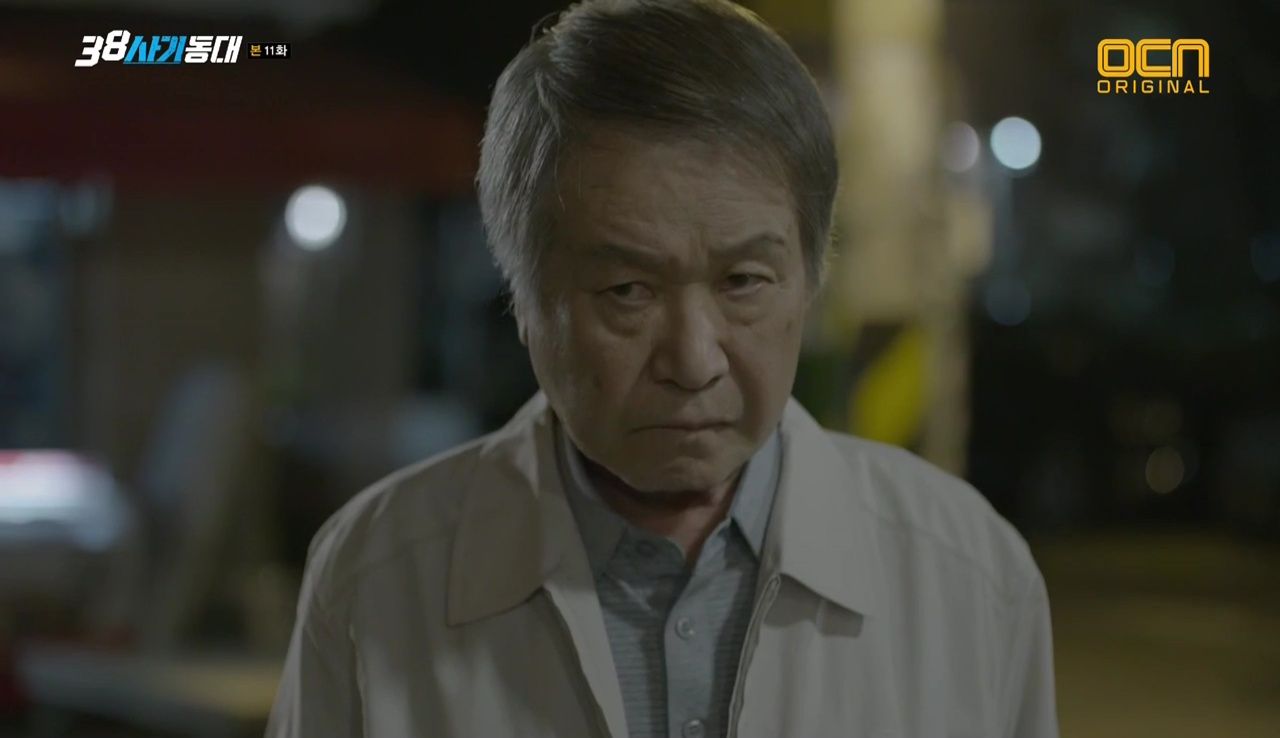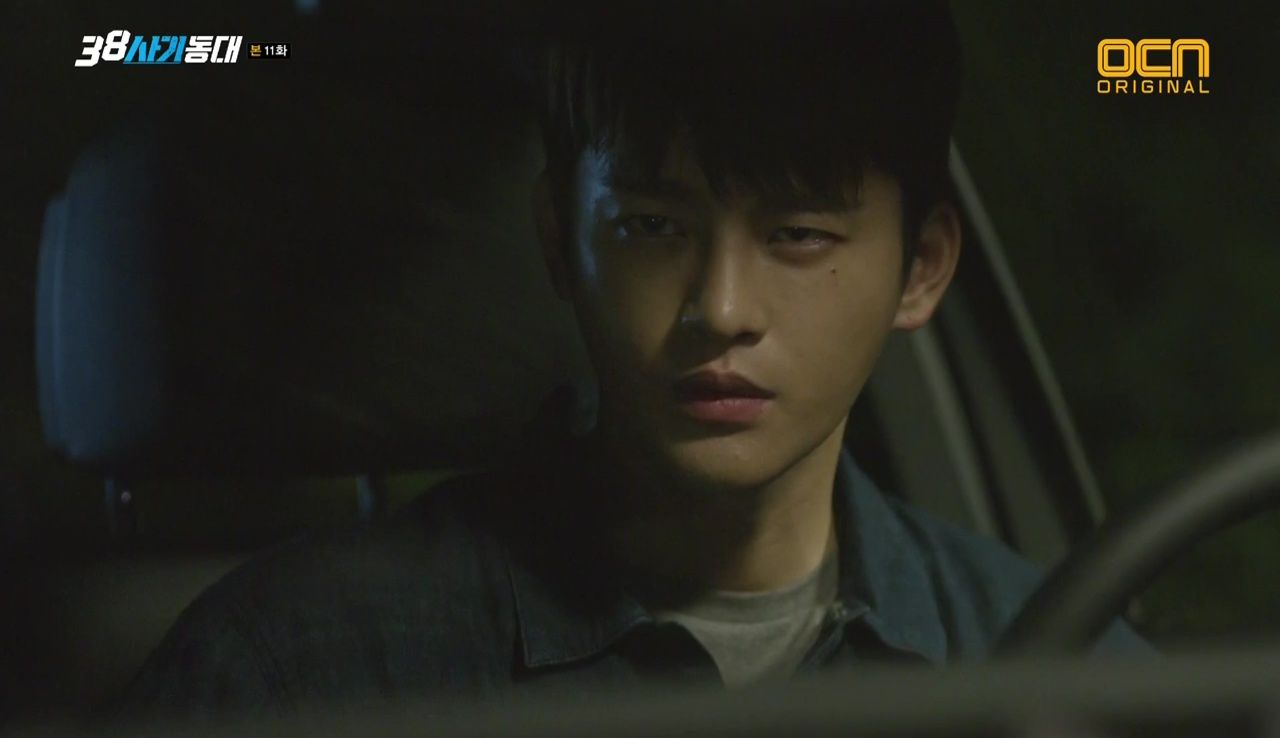 COMMENTS
We had already surmised that Jung-do was out to avenge his father; we just didn't know the details. His story, though, is more heartbreaking than I had assumed. He lost his entire family to the machinations of a few greedy people and it understandably consumed Jung-do to the point where the trust of a man like Sung-il became collateral damage to his quest for vengeance. And I must say, I really enjoyed that vengeance when President Bang was forced to kneel and beg for his mercy. Hadn't Bang called himself a dragon or something when it was Ma Jin-seok begging at his feet? Thought he was untouchable, eh? I loved it. I loved that Jung-do used money — the motivation behind President Bang's every greedy action — and humiliated the man who carelessly threw away his parents' lives to save his own skin. And then, knowing perfectly well that his groveling was insincere, Jung-do gave the order to dump $50 million on the streets of Seowon. I am not ashamed to say that I whooped a little.
Ah, poor Jung-do. To lose his parents and then to lose Sung-hee soon after. It seems likely that the office Sung-hee had walked into for a temp job the day they first met, had been set up by Jung-do to bring down Chairman Choi and President Bang in one massive swindle. I'm unsure about whether that was his first con, or if scamming people for small amounts had been something he did for fun before his world was upended. I can see how watching his innocent parents being dragged to jail would be the death knell of any moral compunctions he had before that day. And then to meet Sung-hee — someone who seemed so good and incorruptible — must have been quite a shake-up for his reality. It says a lot that Jung-do tried to shield her from that part of his life, and tried to have a normal relationship with her. I think at that point he still thought it was possible for him to have a future with Sung-hee once he proved his parents' innocence and brought the real culprits to justice.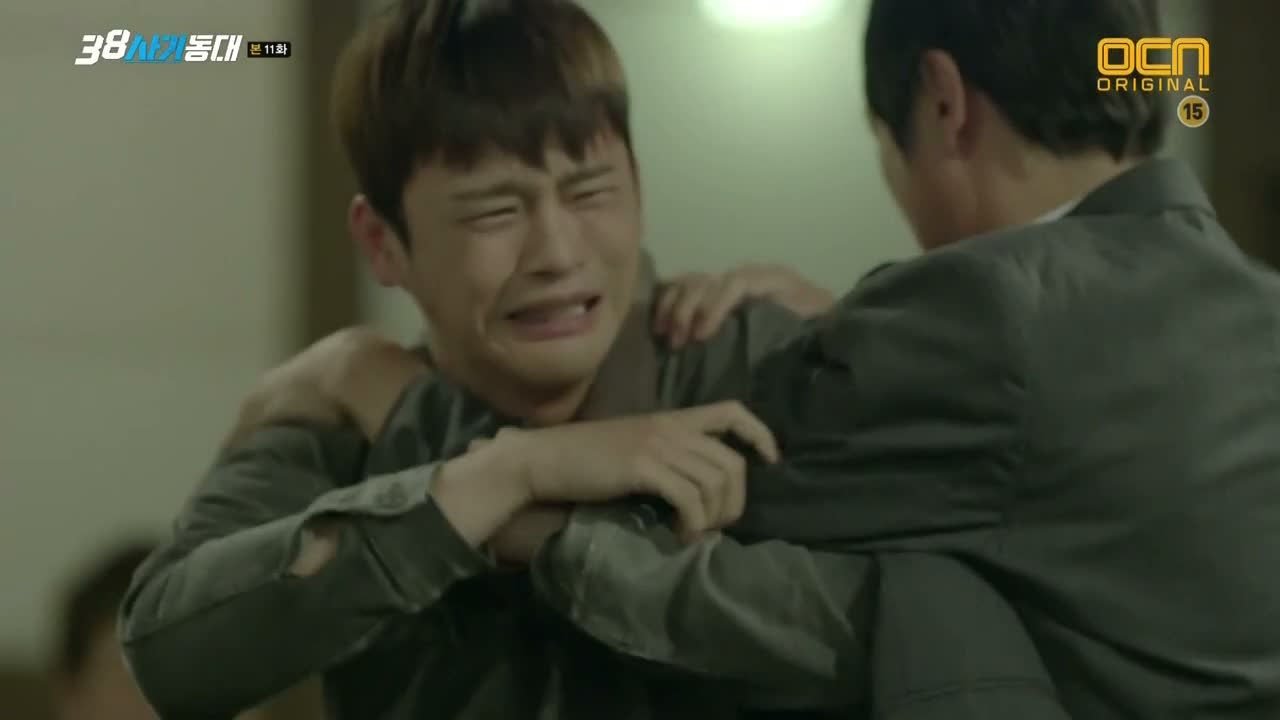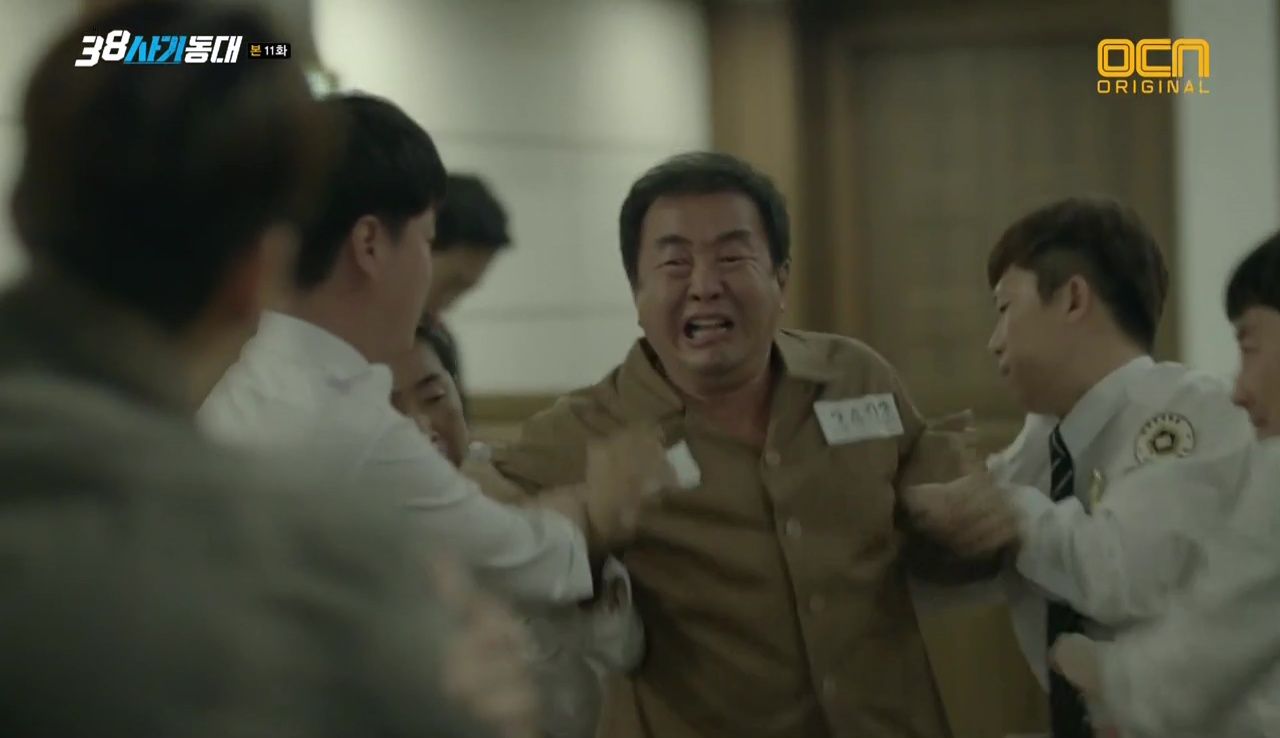 But then Jae-sung caught wind of his activities and locked him up. From Jung-do's perspective there was no point in pretending that he could be normal and honest — everything he must have thought Sung-hee wanted. He was going off to jail for years, and had every intention of exacting his revenge once he got out. While I'm usually all for honesty in a relationship, it seems that Jung-do and Sung-hee had only recently begun dating, and I can see how Jung-do didn't want to drag her into years of waiting till his plans could be put in motion. Because once he got out, it must have been clear to him that he would be risking everything to bring President Bang and Chairman Choi down. His innocence had died early.
As much as I weep for the rift between Jung-do and Sung-il, I think Deok-bae's defection hurt Sung-il the worst. When a lifelong friend treats you like a disposable cog in someone else's machine, it leaves a deep wound. All of Deok-bae and Jung-do's justifiable reasons can't excuse the fact that they used Sung-il. What makes me particularly angry on Sung-il's behalf is that Deok-bae seemed to have assumed that Sung-il would never figure it out. Or not as quickly as he did. Despite Sung-il's rage at President Bang for his brother-in-law's death, he would never have willingly signed up to work outside the system. And no matter that this experience has helped him grow, it all started with lies from a friend. Which means that if Sung-il is to reclaim his agency in this story, he has to be a full partner to Jung-do and not a tool to be used at his convenience.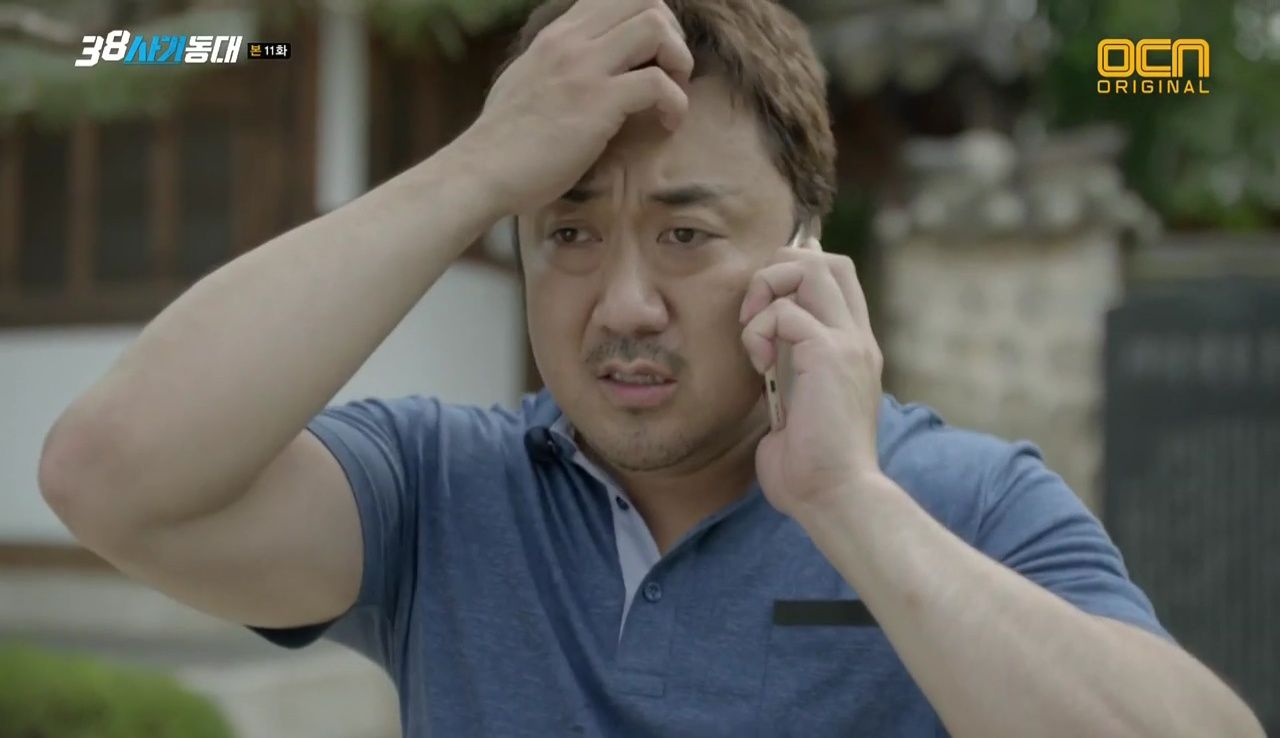 Sung-hee's expression when she watched the money raining down on the TV stuck with me. Here's a girl who's most likely tread the moral path all her life. She's obstinate in her determination to bring the villains down by using the force of the law, but I have yet to see her be judgmental about what Jung-do and Sung-il do. It has seemed to me for several episodes now that Sung-hee has a dry sense of humor that appreciates the cleverness of Jung-do's cons. It's the damage he could leave behind that she seems to really fear. Much like her own heartbreak, she worries that Sung-il will be left scarred by his friendship with Jung-do. And she's right. Except that I think Jung-do has hurt himself just as much by betraying Sung-il and the crew.
He's all alone now. Madam Noh has refused further help, Mi-joo is on the run, Hak-joo is out for his blood, and Ja-wang probably wants nothing to do with him anymore. Jung-do knew this would happen when he made that call to Sung-il and put his betrayal in motion. No matter his motive, he broke faith with his crew, and broke Mi-joo and Sung-il's hearts. It seems to me that to bring President Bang down, Jung-do has left himself utterly vulnerable. His strength was the seamless teamwork of his friends. At this point, Jung-do could be spiraling into the worst phase of self-destructiveness by trying to go it alone.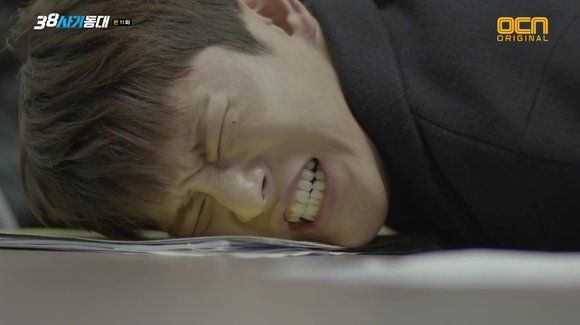 RELATED POSTS
Tags: featured, Ma Dong-seok, Police Unit 38, Seo In-gook, Sooyoung