Police Unit 38: Episode 12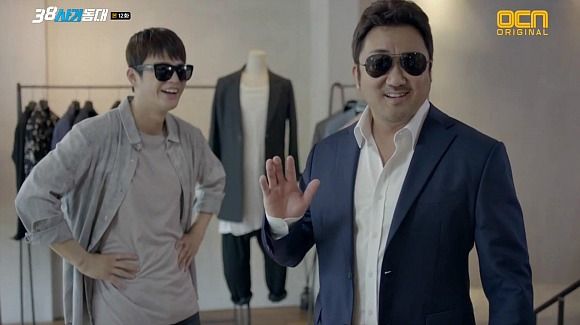 This has been such an episode of reversals and reversals of reversals that I'm at a point where I've lost any ability to be coherent. That whirring you hear? It's my brain spinning like a top trying to figure out everyone's endgame, and whether my bears can live happily ever after or not. I'll admit it, the show has me wrapped around its little finger, and damn if I don't love every minute of it.

EPISODE 12 RECAP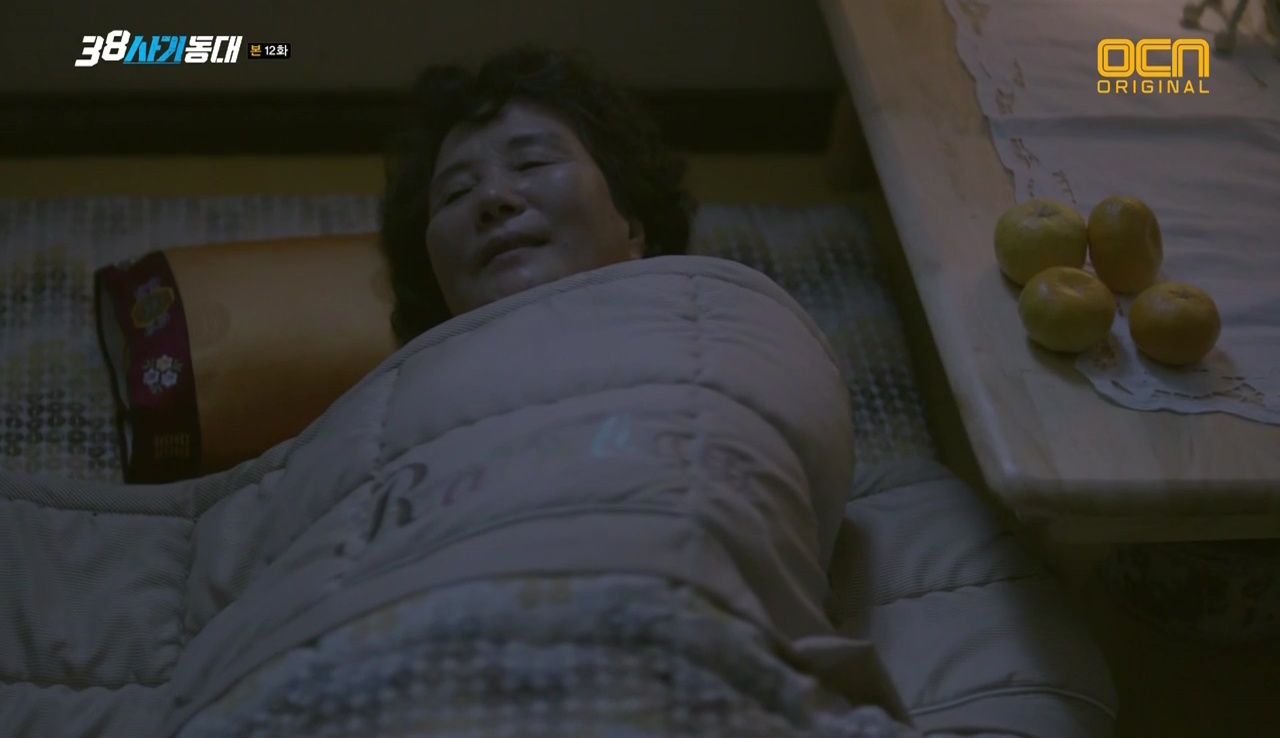 Sung-il comes home at night and leaves tangerines by his sleeping mother. She wakes up, worried about him, but he tells her everything is fine as long as she's well. Aw.
He's brought out again by a phone call, which takes him back to the memory of Min-shik's funeral and his wife's inconsolable sobbing. Commissioner Ahn and Mayor Chun come to pay their respects but when they approach, Sung-il tells the mayor not to say a word.
They turn away, and Sung-il watches Chun a while before going to the condolence book and scrawling a resignation letter. But before he can deliver it, his wife catches him. She urges him not to do it—they still have to live, after all. She tugs it out of his clenched hand, while he struggles against tears. He ignores Ahn's invitation to join them and strides out.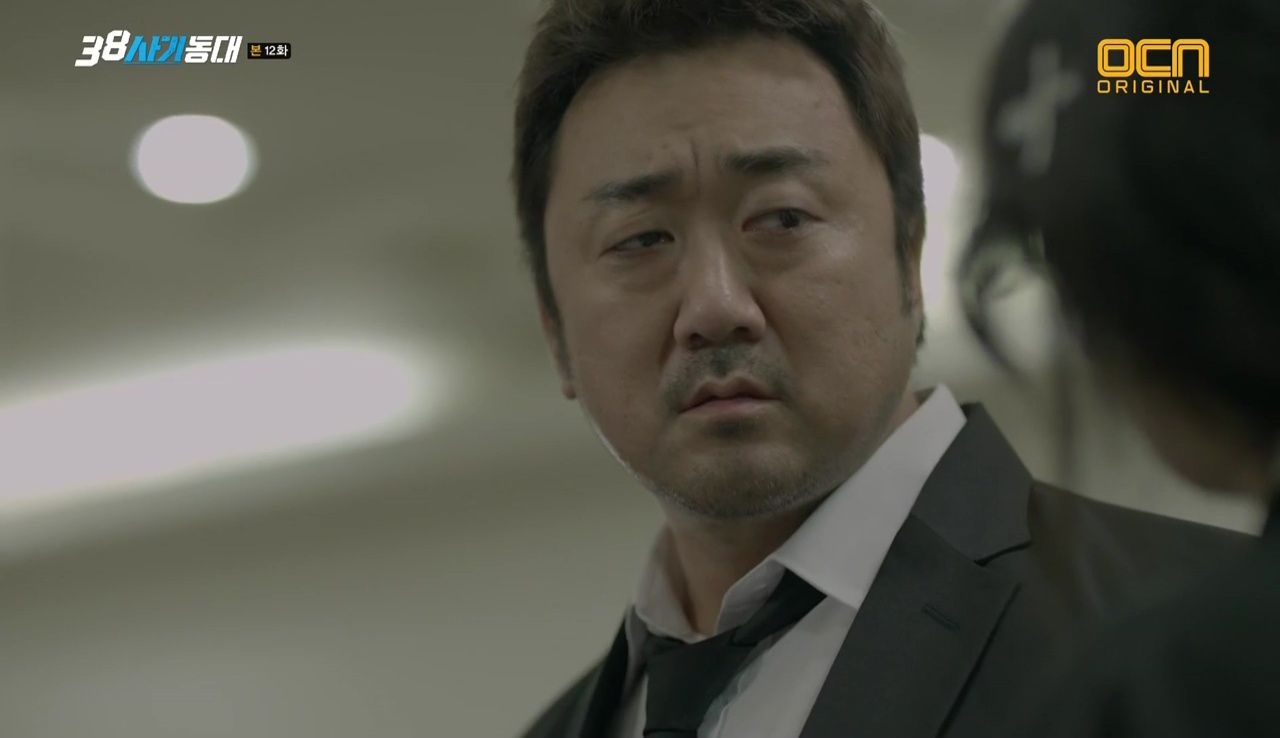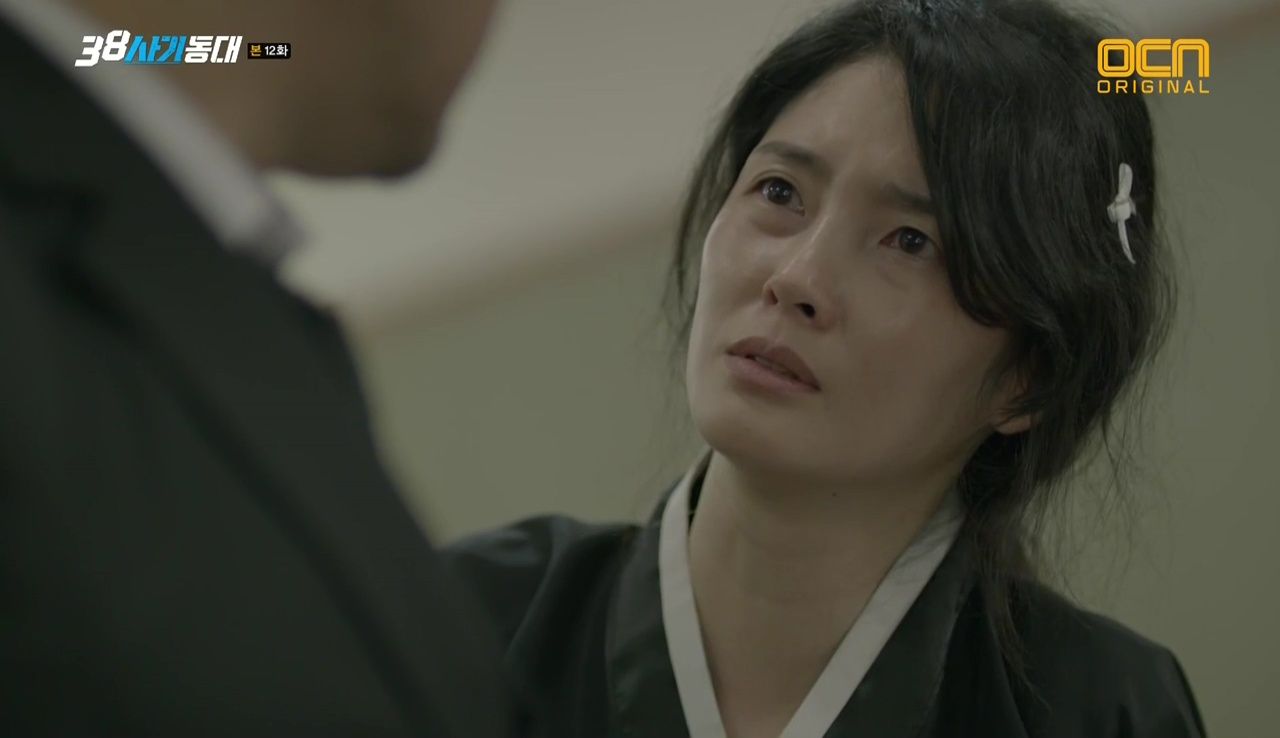 Returning to the present, Mayor Chun pours Sung-il a drink and regrets that they didn't do this sooner. To Sung-il's surprise, he knows about his secret activities and asks if he had meant to go as far as Chairman Choi, to do what Min-shik couldn't. Sung-il replies that he'll continue his work in the belief that everyone should pay their taxes. But Chun doesn't believe getting rich people to cough up changes anything, because Sung-il's fight isn't against people who owe taxes, but money itself.
"Until money disappears from this world, that fight won't end," the mayor says. He's just begun to build the city he envisions, where the people are happy. He says that people are more concerned when the few hundred in their pockets are threatened, not the millions and billions that they'll never lay a finger on. So he'll focus his fight there, rather than get tangled in a futile, endless war with the mega-rich.
Sung-il explains that it's all stealing, whether you do it wearing a jumper or a necktie. Chun sighs. He says Sung-il can't go the way of Min-shik. To surivive, he has to go back to the way he used to be. Sung-il sighs now, and says that someone on his team also said that to him, and he'll give the mayor the same reply: He won't go that low just to survive. With that, he leaves.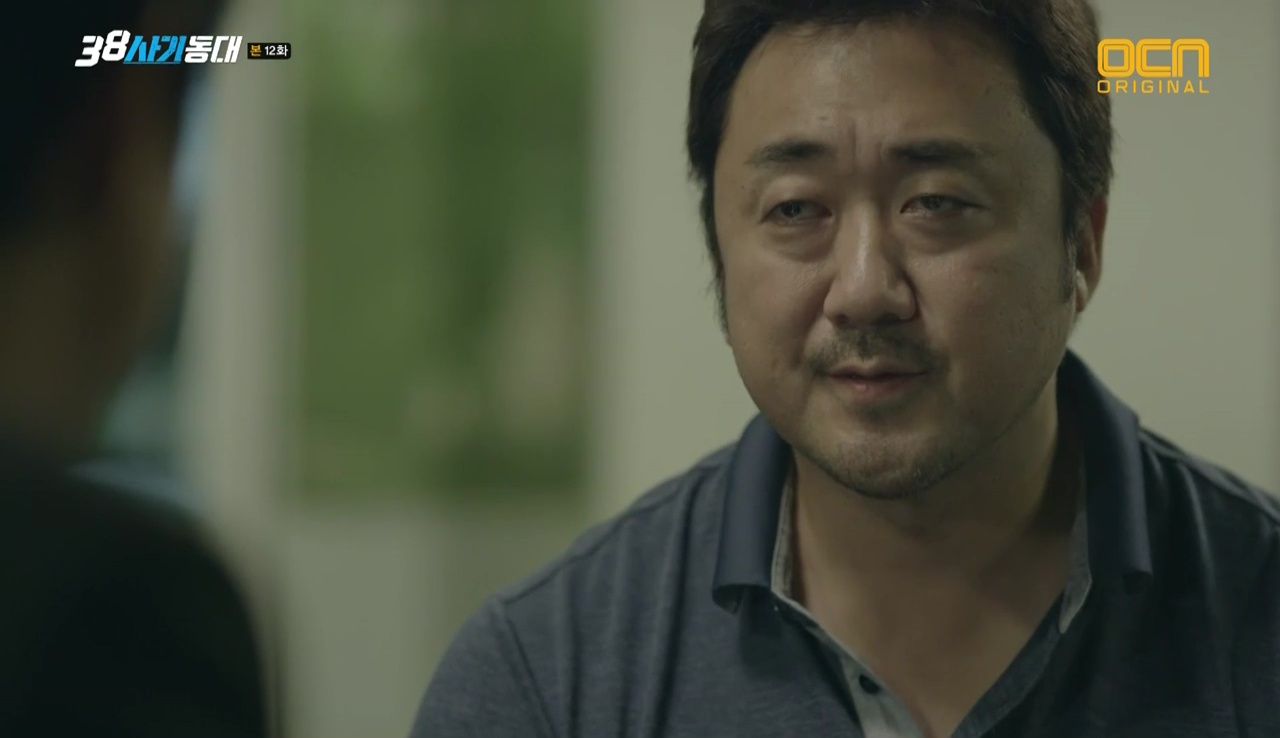 Commissioner Ahn is released from the police station while elsewhere Deok-bae meets with a Prosecutor Park to ask for the file on Chairman Choi Chul-woo. The prosecutor doesn't know what to make of his plan to catch him, and Deok-bae tells him just to think of it as removing the pus from a wound.
Sitting across from Mi-joo, Sung-hee asks her why she wanted to meet. "I thought you should know," Mi-joo says, and tells her how Jung-do got arrested and went to prison right after breaking up with her. He truly liked Sung-hee and it wasn't a scam, like he'd said then.
Sung-hee swallows down her emotion to ask why she's telling her this. Because oppa won't, Mi-joo replies, and she doesn't want Sung-hee to misunderstand, when they liked each other so much. "Although it was a little uncomfortable for me to see," she finishes, with a self-deprecating smile.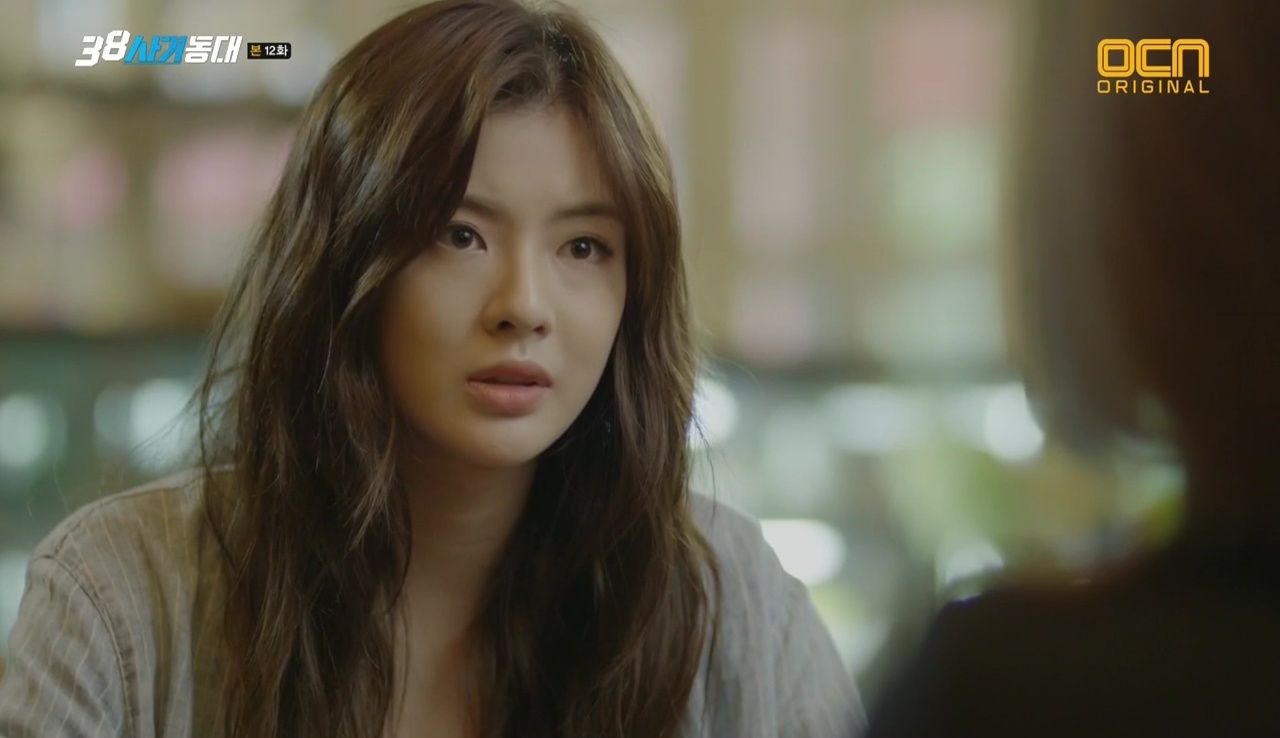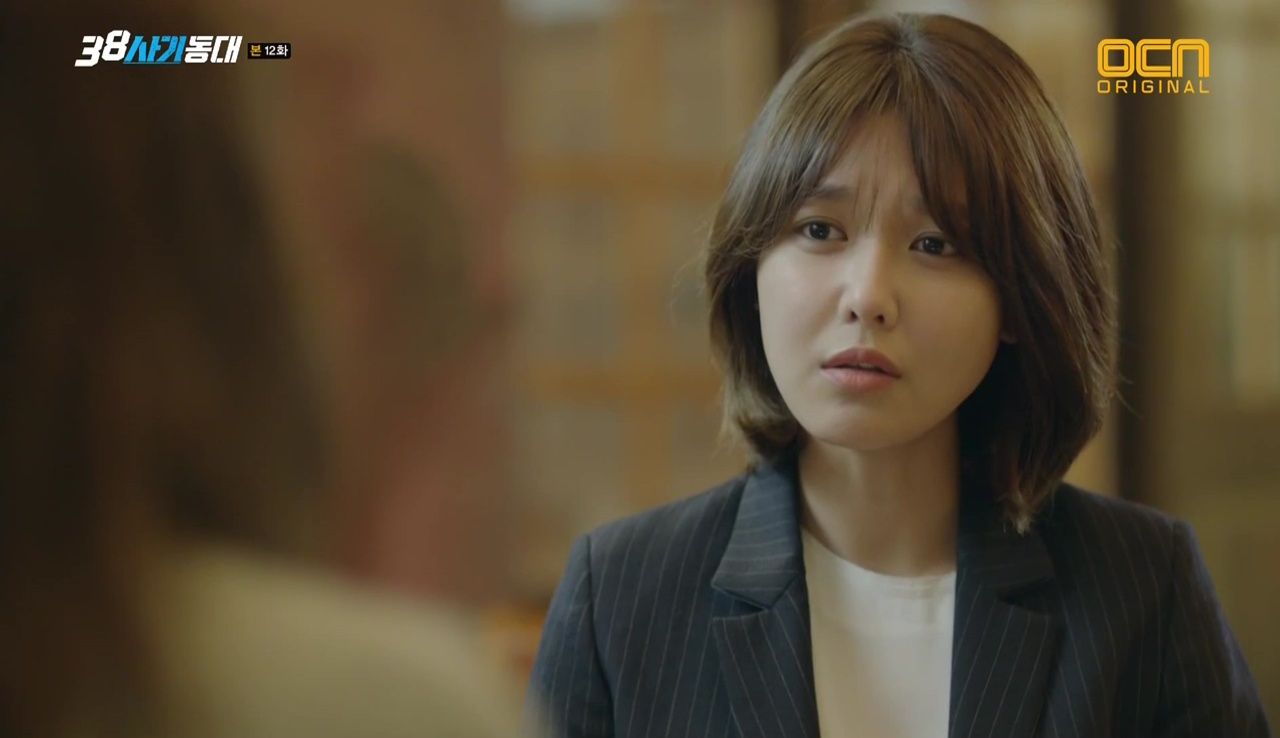 Sung-hee suddenly realizes that Mi-joo liked him, too. "Still like," Mi-joo corrects, although adding that she's ready to put her feelings behind her—pining isn't her style. Damn straight. Before Mi-joo leaves, Sung-hee asks her if something happened between Sung-il and Jung-do, but she doesn't answer.
Jung-do visits his father in prison and tells him that there's just Chairman Choi left to take down. Dad glances at him and then away. "I'm sorry, son," he says. Jung-do struggles to master his feelings, and in a voice thick with emotion, he tells Dad to carry on speaking. Dad did everything he could, and his mother's in a better place now. When he's left alone, Dad cries in earnest.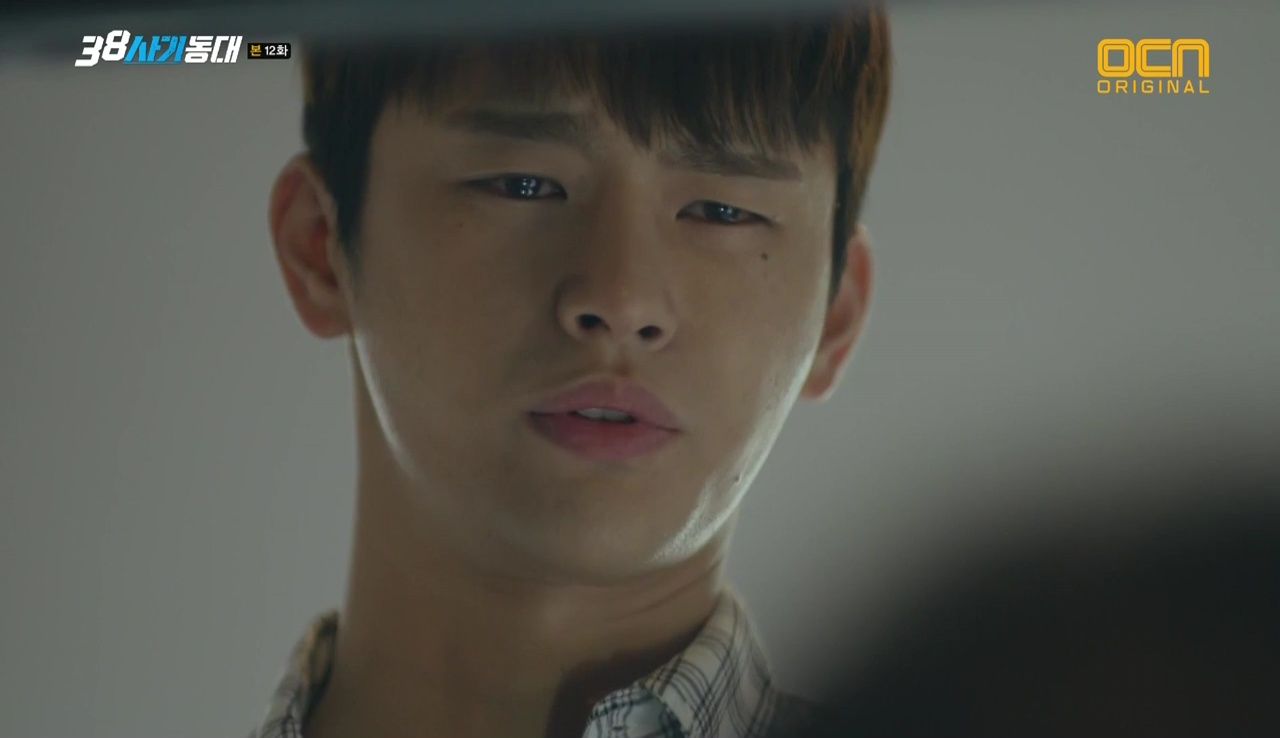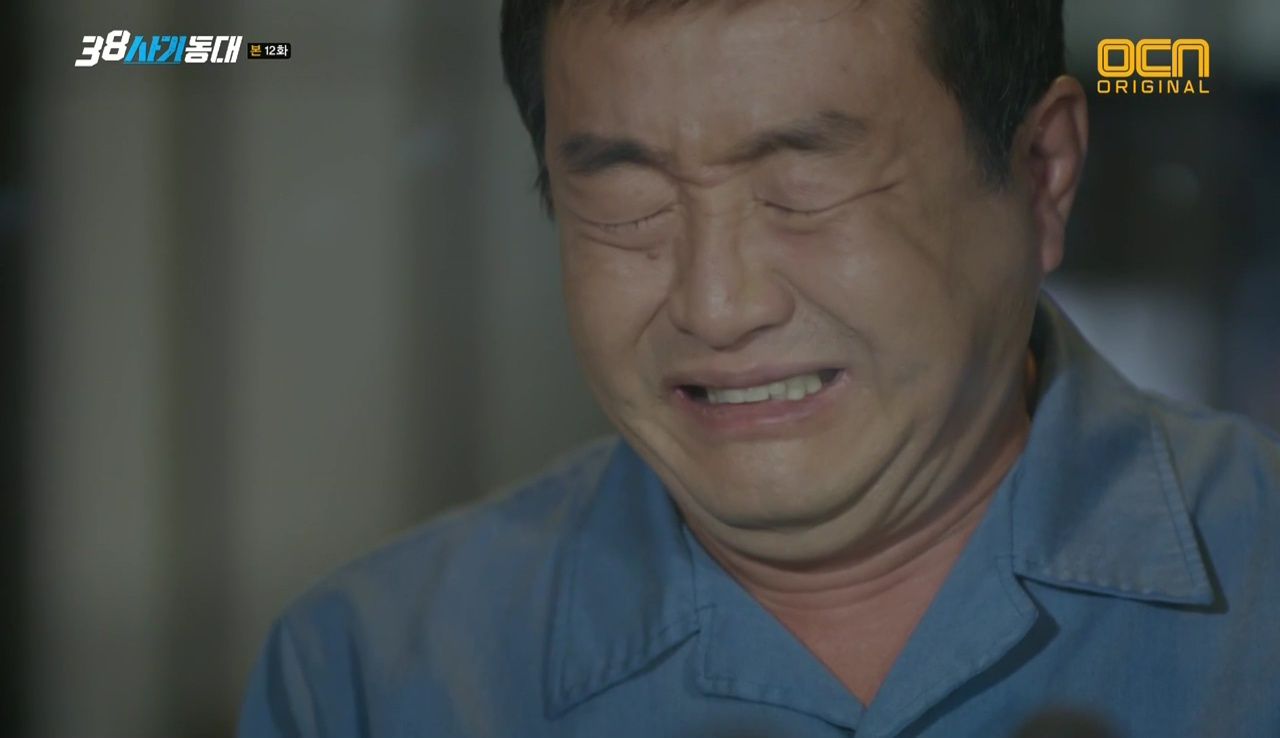 Deok-bae joins Jung-do in his car and hands over the file on Chairman Choi. He reveals that Sung-il found out he was helping him and asks Jung-do if he really meant to get him in trouble, at which he at least has the grace to look ashamed. Remorseful over betraying his friend of thirty years, Deok-bae tells Jung-do that he doesn't mean to see him anymore, after they finish this job. Jung-do accepts all this in uneasy silence.
Sung-il visits President Bang in custody, and asks him how he's finding life behind bars. Finding him unrepentant, Sung-il tells him that he should apologize to the people he's wronged. But his words have no effect at all on Bang, who rather thinks that Sung-il feels something lacking in his victory since Jung-do betrayed him.
He, on the other hand, totally understands why Chairman Choi cut him off, Bang says. So he'll lose some money now but he'll come out again and make twice that, while the little people struggle on, thinking they got "justice." And struggle on they must, so that he and his cronies can keep skimming the cream from them, he says, brimming with smug satisfaction.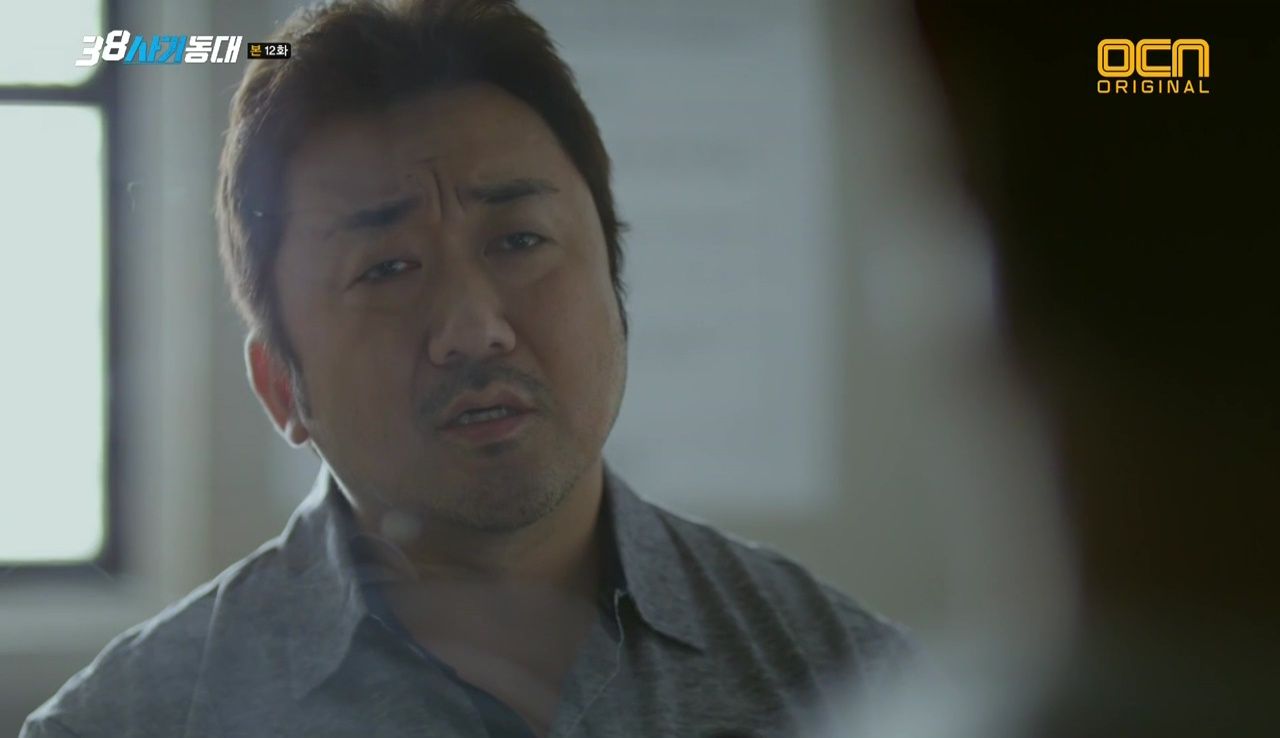 "You really are trash," says Sung-il, but he guesses that the president's verbosity is no more than grandstanding. He points out that six years ago, they couldn't touch him, but now he's likely to spend a good six years inside. And who's to say how the world will change in that time?
About to leave, he advises Bang not to use his "I'll remember that name" line on the guards, unless he wants a beating. Chuckling deeply to himself, President Bang says, "I'll remember those words," his laughter bordering on helpless.
Sung-il returns to his office, where the big news is that Commissioner Ahn got fired. A defeated-looking Ahn calls Sung-il to his room. While he packs up his desk, he dully remarks that it took ten years to rise to this position, but a mere day to come crashing down. Heaving a sigh, he says he did it just to live: His kid's growing up and they're expecting another.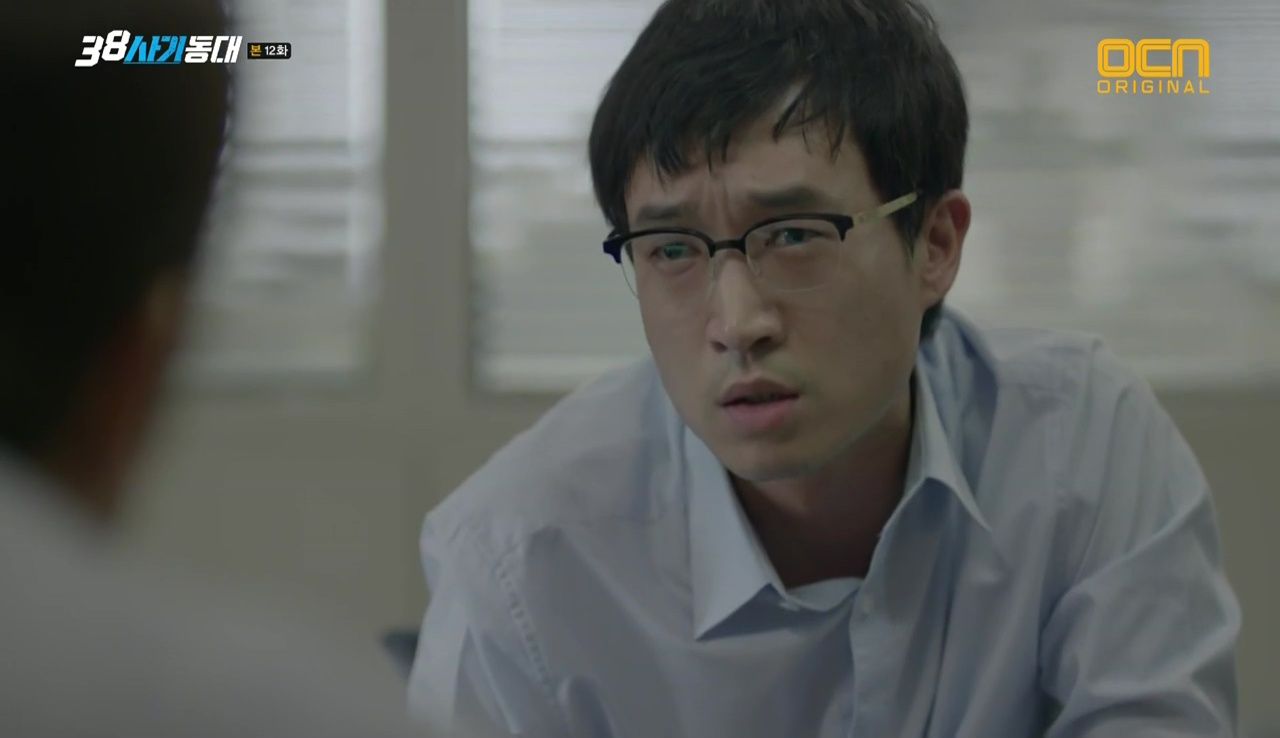 He thought Sung-il was the one who brought him down, but notes bitterly that it was Chairman Choi after all, cutting them off to save his own skin. Choi's next target, to Sung-il's shock, is the tax bureau itself, which will be disbanded within the year. Ahn's distress grows as he confesses how he did so many unsavory things, but they were all in an effort to protect this bureau.
He urges Sung-il to get Chairman Choi's tax money, even if by trickery. Only by severing the link between Choi and the mayor can they save their department, he pleads. Sung-il looks troubled.
Jung-do stakes out Chairman Choi's son, while examining the file. He calls up Deok-bae to find out what prosecutors had investigated the son for. Then Jung-do comes across a bank book under his paper, and his expression sobers.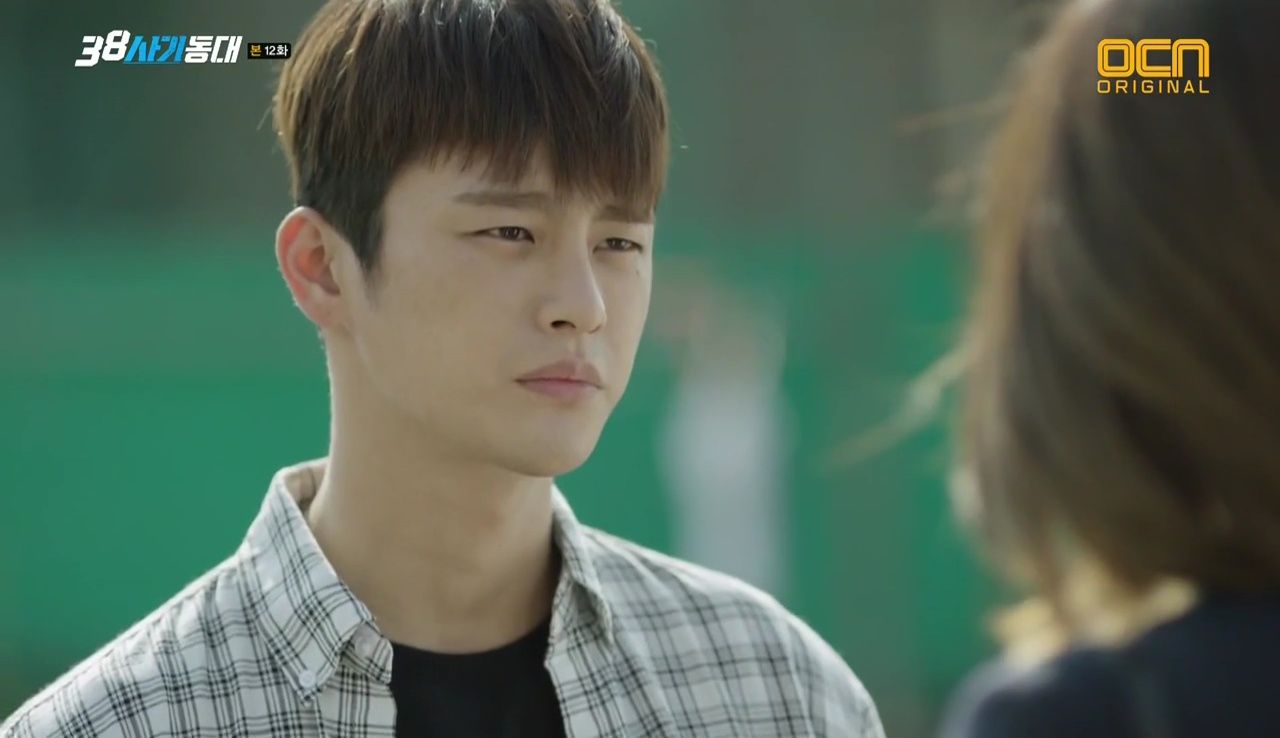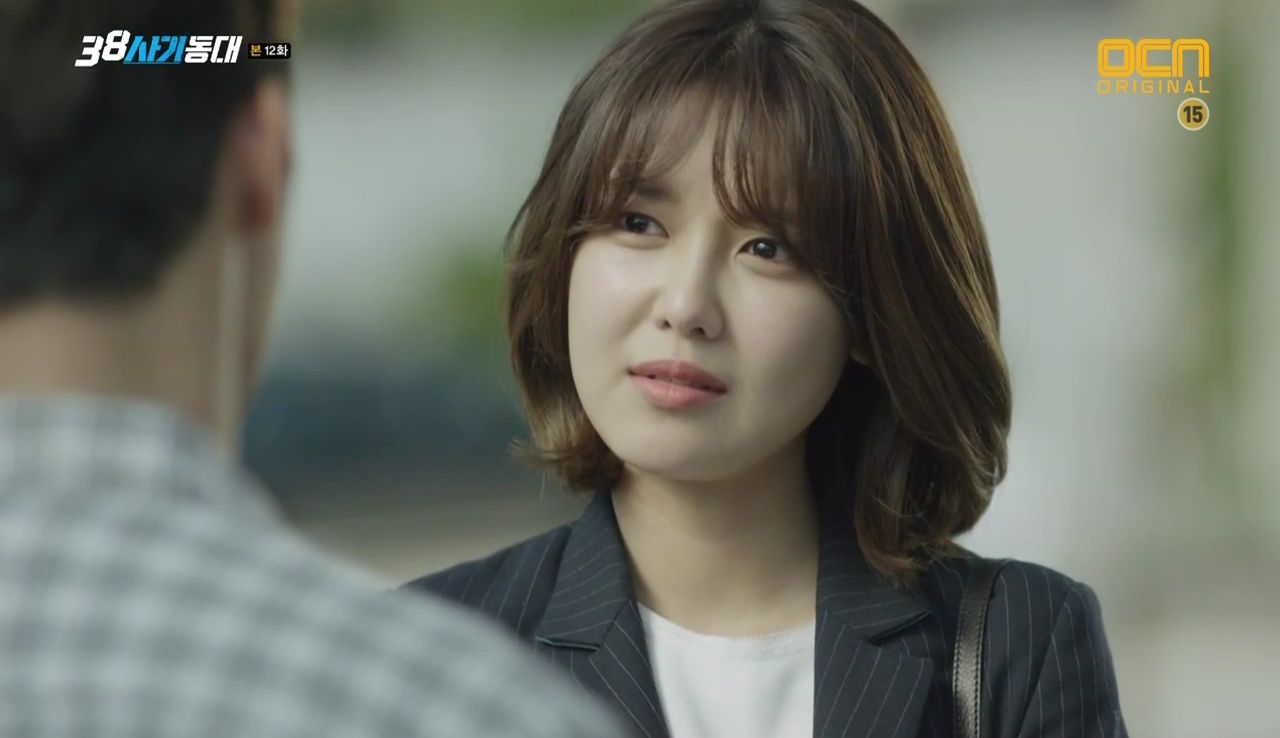 He waits for Sung-hee at her house again. Handing over the bank book, he tells her that it's President Bang's unpaid local tax. He asks her to give it to Sung-il for him, which makes her wonder what's up.
Giving him a keen look, she tells him about meeting Mi-joo, and what she'd said about him going to prison, and how he'd lied so as not to hurt her. Voice catching, she asks why, of all times, she had to to hear that now, after he betrayed Sung-il. He has this totally devastated expression and can't even meet her eyes.
"Even if you play people with everything else, Jung-do-ya, a person's heart isn't a thing to play around with," she tells him, eyes kind, "Not only does that hurt the other person, but it makes him lonely, too." Shamefaced, he confesses that he once more has nothing to say to her. She tells him to give the book to Sung-il himself: "I think that's the right thing to do." He watches her go.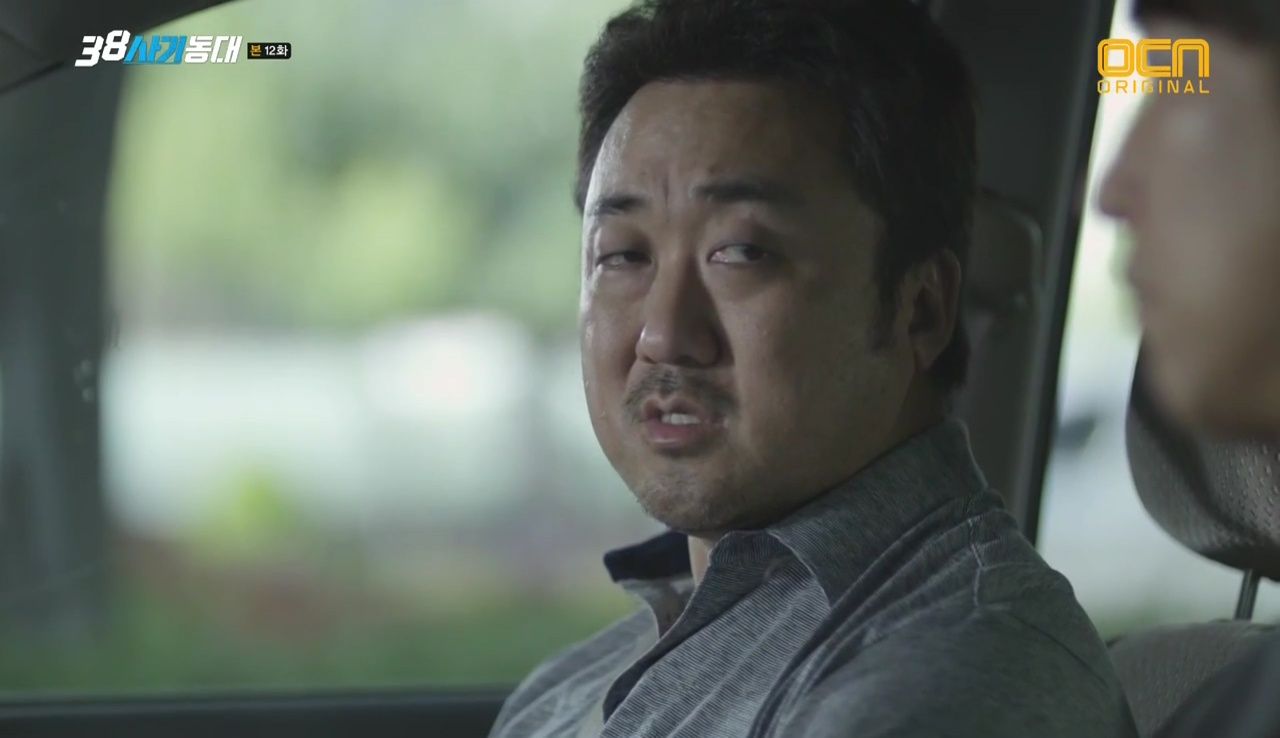 At work, Sung-il is haunted by the thought of the bureau being closed down. He looks around, taking in the sight of his hard-at-work colleagues, and the empty spots left by Chang-ho, Chief Kim, and even Sang-ho. On his way out, Deok-bae calls to tell him that he's meeting Jung-do at a playground later—he should come.
Waiting with Deok-bae in his car, Sung-il asks if he's doing this because he feels sorry towards him. Sighing, Deok-bae observes that Sung-il's been the happiest he's ever seen him since he started scamming people for taxes. Even if he's disappointed in Deok-bae and Jung-do, he shouldn't be hard on himself. The world is made up of more than just good and bad guys, he says, and people could be a bit of both, like them. Sung-il immediately retorts that Deok-bae is repulsively bad, lying to him like that. Haha.
Luckily for Deok-bae, that's when Jung-do shows up. He asks Sung-il not to be too hard on the kid—both of them have their own hard situations that can't be helped.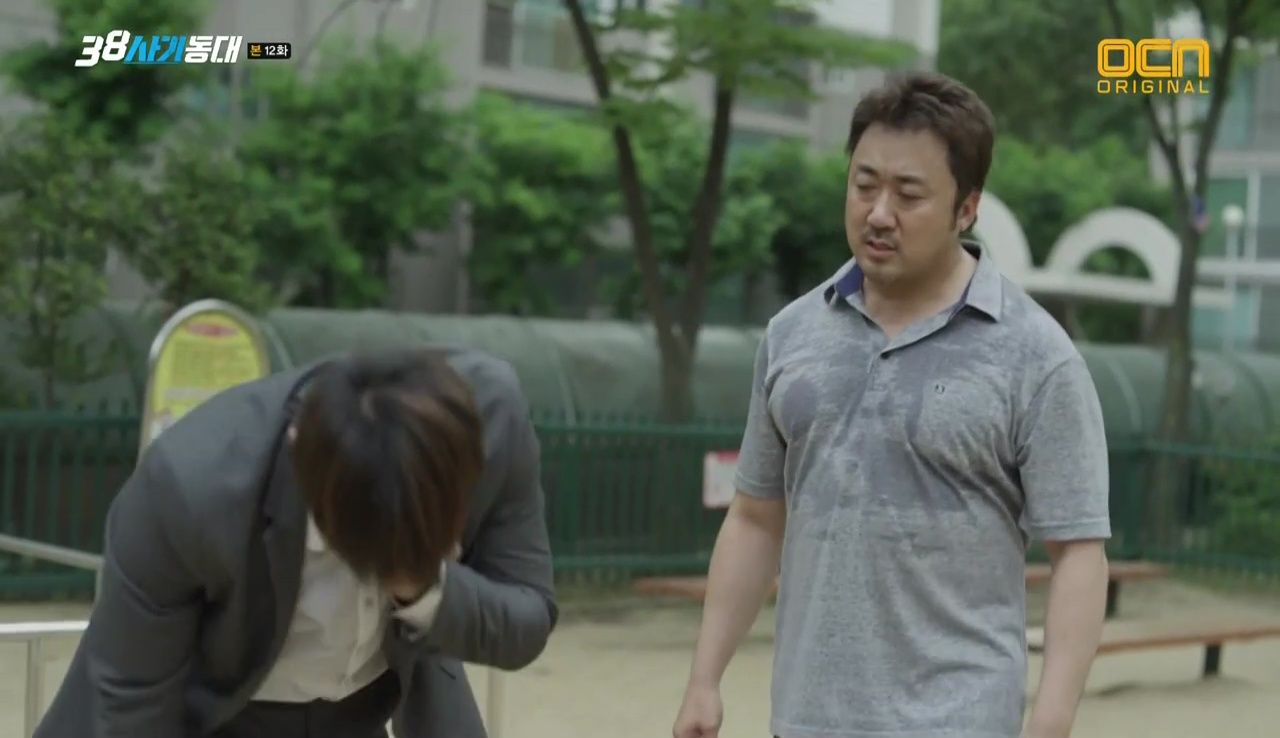 Jung-do gets to his feet when he sees Sung-il, who marches up to him and delivers a fierce blow that nearly knocks him down. Howling in pain, Jung-do tries to get a word in, but Sung-il pummels him, implacable. Whining pitifully, Jung-do throws a handful of sand in his eyes, and that's done it: It's an all-out, no-holds-barred tussle now, as Sung-il vents his feelings through his fists.
Sung-il fights with deadly seriousness, but Jung-do's techniques are just hilarious. This is so funny and emotional at the same time. Sung-il's trousers split from the force of his kicking! Jung-do clutches his ear—while Sung-il clutches his rear—and both men breathe hard while a crowd gathers and the police are called.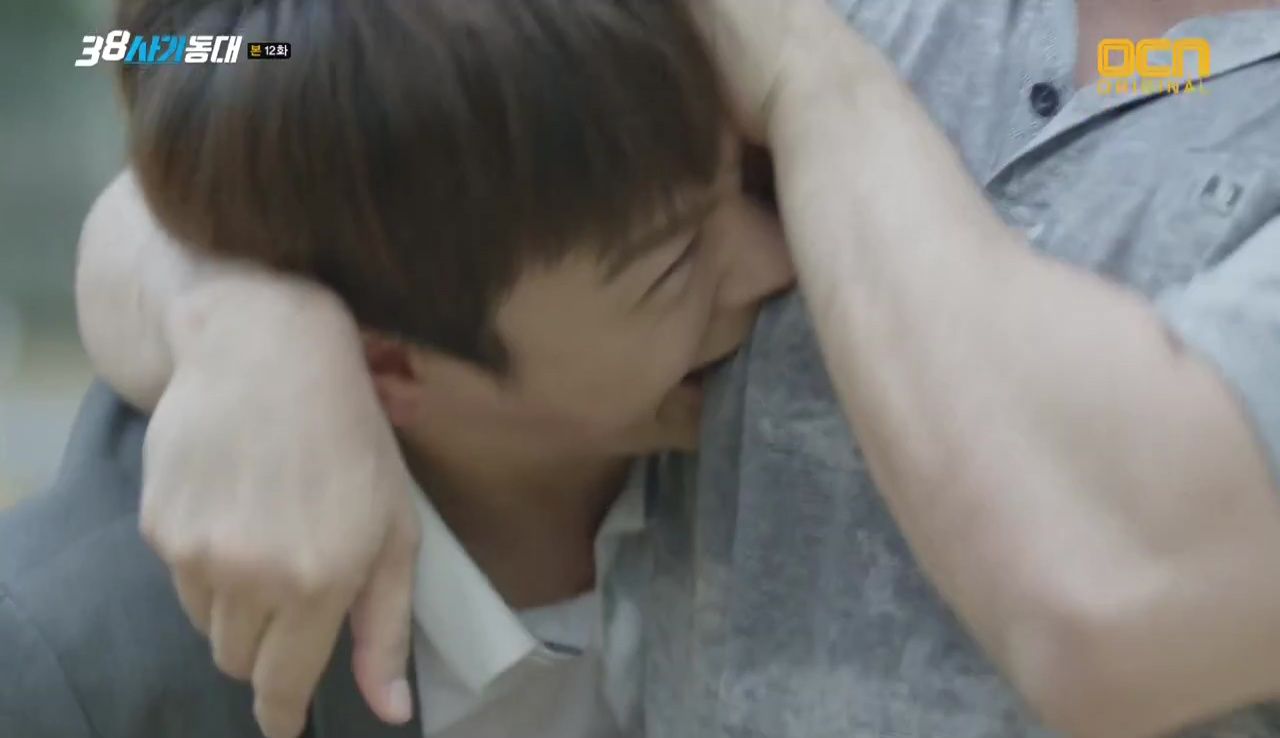 But trousers or no trousers, Sung-il goes after Jung-do again. A now-limping Jung-do keeps shouting apologies, entreating Sung-il to hear him out. At last, Sung-il agrees and proffers his hand, only to grab him in a headlock…noo, oh nooo! Jung-do bites him on the nipple and Sung-il screams. Throwing the young man off, he writhes on the sand, clutching his violated chest.
They roll on their backs like big babies, spitting resentfully at each other. Ohhh god, this is lolarious. Mid-flail, Jung-do shrugs off his jacket and throws it at Sung-il, presumably to protect his dignity (aw), and we hear the sound of approaching sirens.
At the police station, the men are locked up in the same cell where they continue their shouting match. Jung-do yells that he's said sorry but Sung-il refuses to believe a word he says. They squabble loudly until an officer yells at them to shush.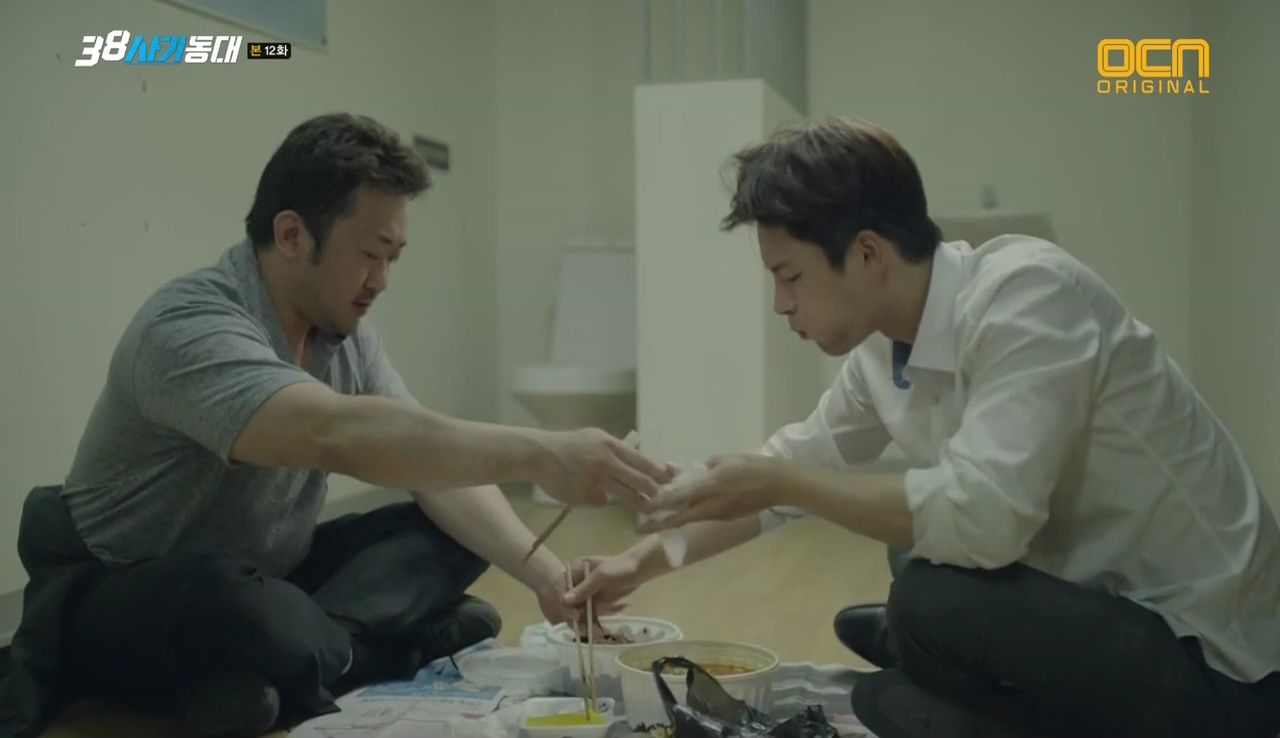 Later, they slump on the floor, tired and hungry. Jung-do tells Sung-il that they can order takeout, which has ajusshi adorably excited, and I half-think he's making it up until the food arrives. They share the meal, picking companionably from each other's plates, ill feelings seemingly forgotten.
That night, they sleep sharing a single blanket, which Sung-il keeps tugging to himself. Exasperated, Jung-do gets another and loudly extols its softness. Sung-il confides hopefully that his is a bit smelly, until Jung-do shifts half of the new one over. Sung-il sighs happily, and both of them settle in at last.
Eyes closed and facing away, Jung-do offers Sung-il the bank book over his shoulder. He couldn't bring himself to dispose of it like the rest, and says Sung-il should pay it in himself. Sitting up, Sung-il reflects ruefully that using him had been Jung-do's real plan after all. Jung-do reassures him that Deok-bae never knew that part, but toootally denies that he felt bad about it. Uh-huh.
Sung-il wonders how he knew that he'd go after President Bang, but Jung-do says he didn't, and is actually amused that Sung-il thought he managed to engineer that much. Eyes still closed, he tells him that a con's success is all about adapting to the flow of events.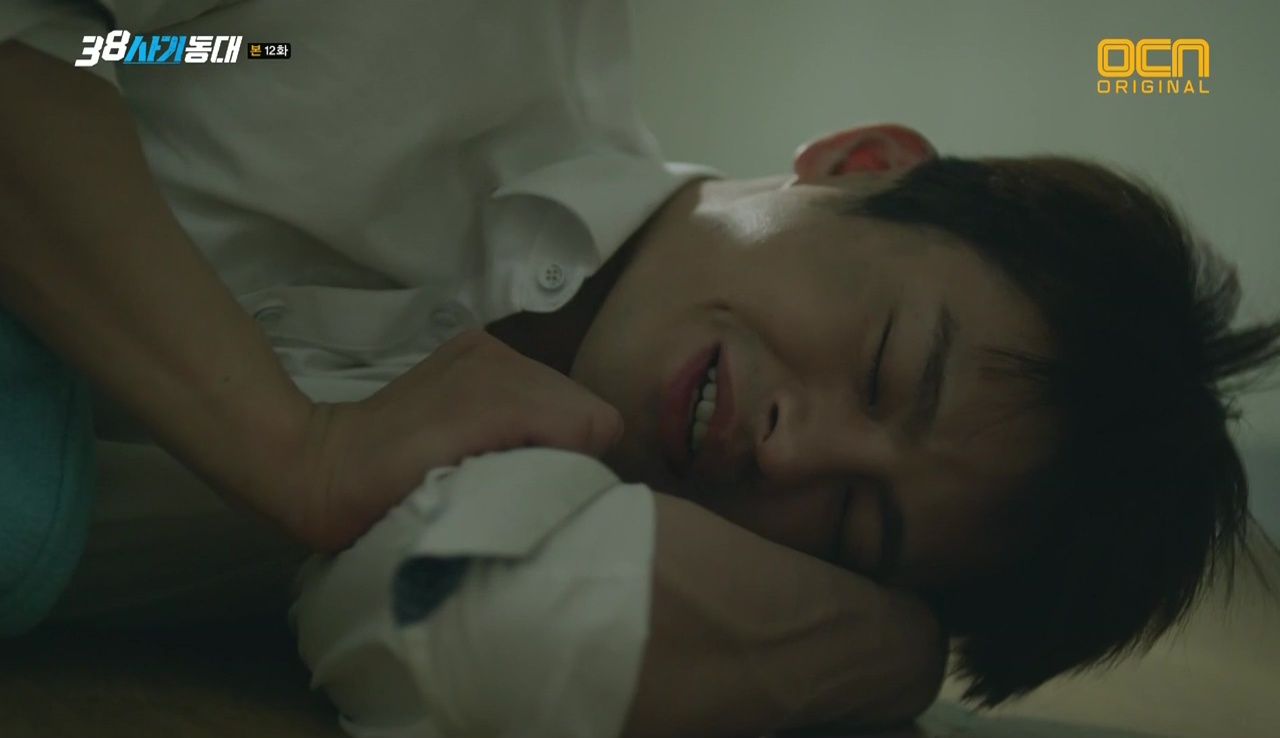 He now admits that President Bang had told him he'd simply retrieve his lost money through the mayor, had it been paid in in taxes, and so he had to find a way to take it away from him completely. He grumps about the pointlessness of their hard work, but reveals he's going after Chairman Choi's son.
Sung-il confides in return that the tax bureau is about to be dismantled. To protect it, he also wants to cut Chairman Choi off once and for all. "This time, let's trust each other for real and go for it one more time. Let's scam Chairman Choi," he proposes, earnest.
Jung-do balks at the idea of getting such a huge amount as a hundred million dollars in a week or two, and then grins that it's high time they got out of here. "How about it?" he asks, holding out a hand. Sung-il grips it. "Call," he replies, and both men beam. Anyone else's heart bursting? Jung-do waves their joined hands at the duty officer, proudly proclaiming that they've made up.
Their mission begins by staking out Chairman Choi's son CHOI SANG-JOON. Choi's money comes from armaments, and his company, Samjin Industries, is up to renew a contract with an American company called General Martin. It'll be a triangular scam, Jung-do grins, just like Sung-il when he tried to buy that car. They'll get in between Samjin and General Martin to take control of the contract, eventually funneling the money away for themselves.
But first, Jung-do takes Sung-il shopping for fancy clothes. He has to become General Martin's Martin Kim, a newly-appointed agent responsible for brokering the deal. Jung-do coaches him on appearing sophisticated, and they cheer when he nails it.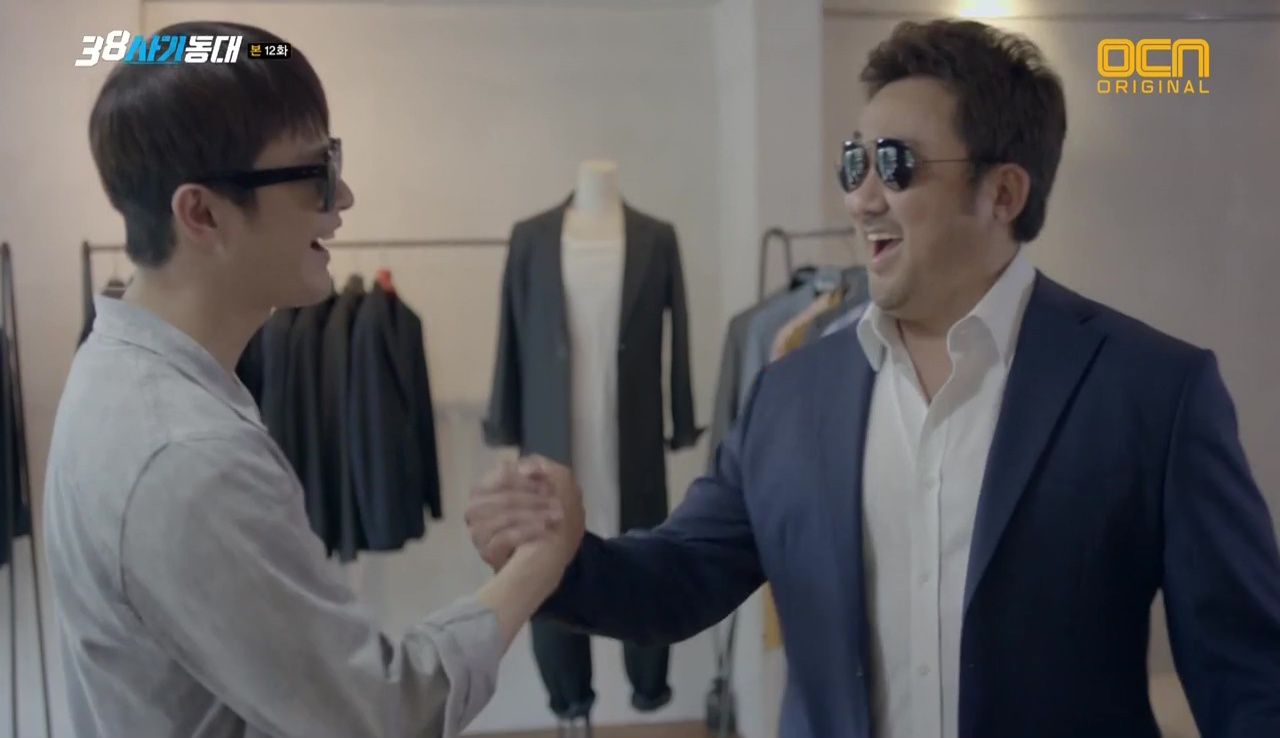 Looking snappy as "Martin Kim," Sung-il meets Choi Sang-joon. He's not sure about renewing the contract, he says, but if Samjin throws in a little extra for each of their directors (totaling ninety million), he'll do it. Cutting back to their strategy brief, Jung-do explains that Sang-joon's got far more to lose if he can't get the contract, but they'll squeeze him a bit more to make him bite…
Police interrupt the meeting right then and take Sang-joon away on suspicion of drug use, while Sung-il looks on. Jung-do explains that he's got a prior record that his dad got him off for, but since they made it up this time, Sang-joon will be out quickly enough.
Sung-il goes to see Sang-joon at the police station. Looking disappointed, he tells Sang-joon that if he accedes the extras he asked, he'll overlook this little jaunt. Under pressure, Sang-joon agrees.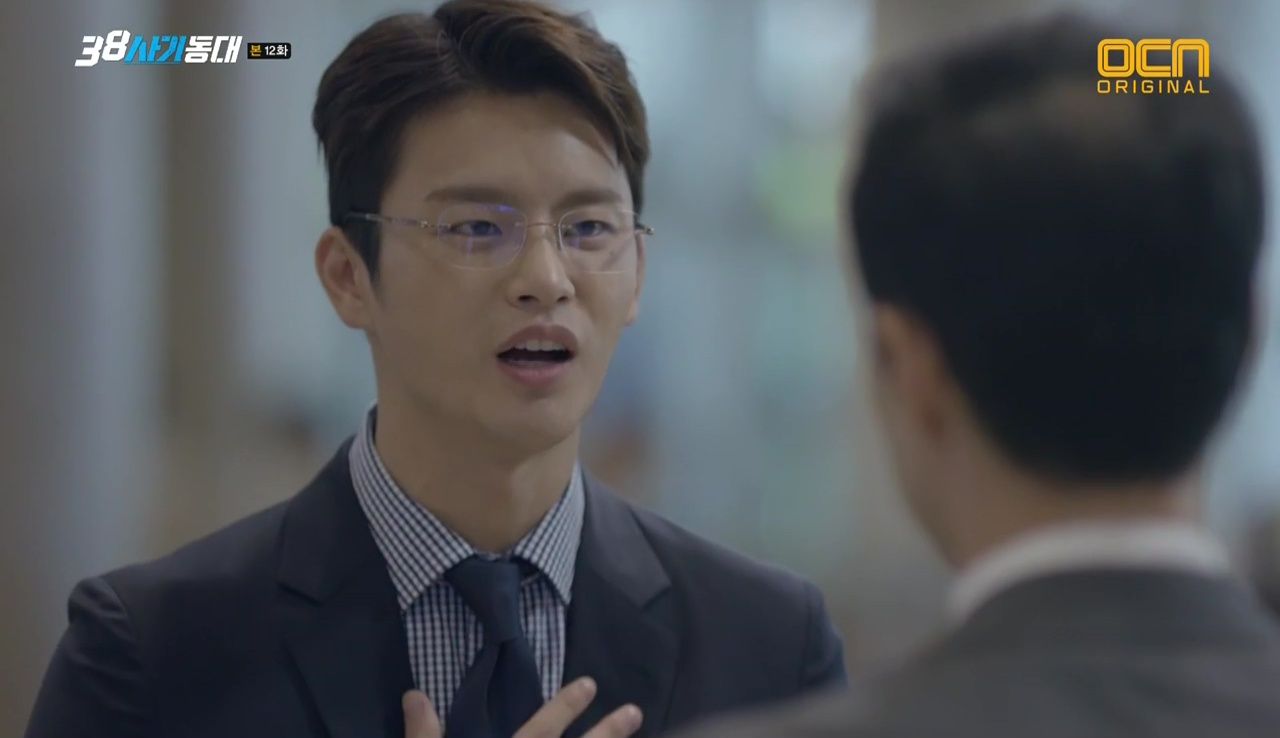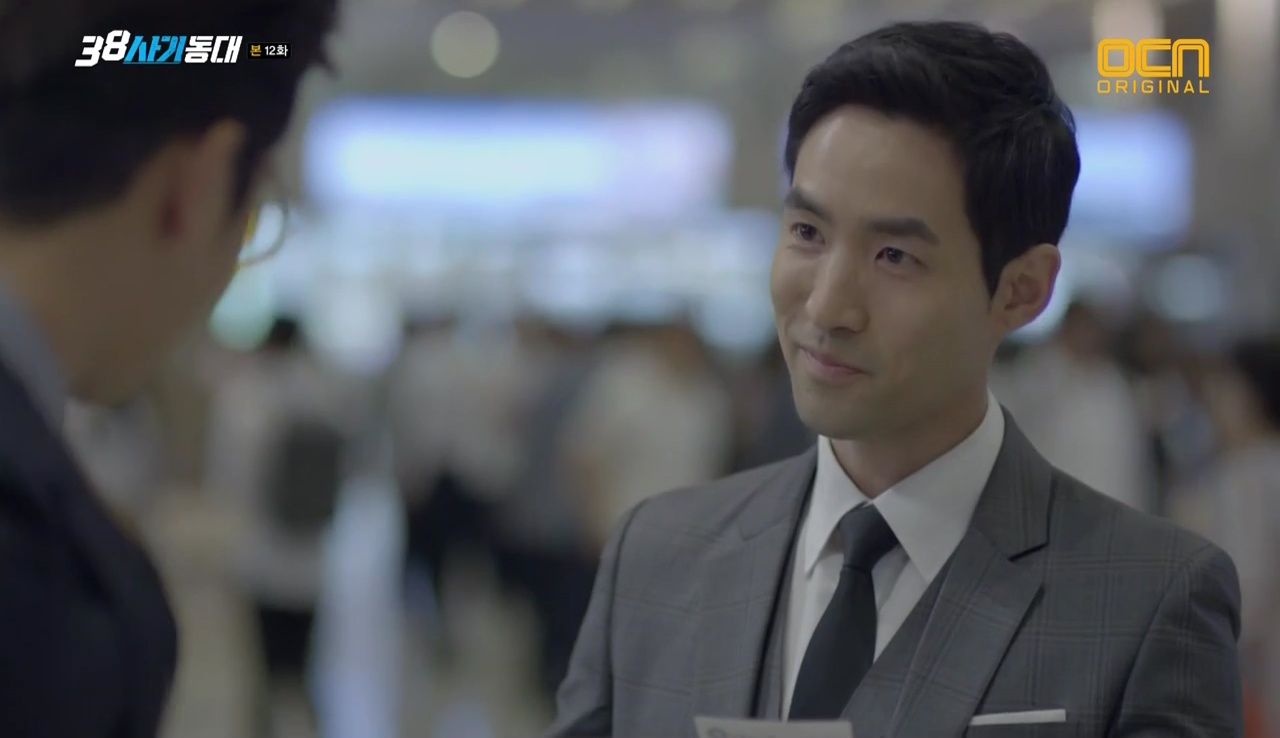 Meanwhile, Jung-do accosts the real Martin Kim at the airport. He explains that Sang-joon is away at the moment and so he'll be handling the contract.
Between Sung-il and Jung-do, neither mark ever meets the other. That, Jung-do says with a grin, is how you do a con. The following days see them working intensively on their respective prey. They barely have time to exchange more than a few words, so busy are they passing papers back and forth between them as they hammer out the contract—until finally, everything is signed and sealed.
We cut briefly to Chairman Choi now, who gives his son an approving pat.
At work the next morning, Sung-il gets called to Mayor Chun's office. On the way, Sang-joon calls him to confirm that the ninety million has been transferred. Sung-il in turn wakes Jung-do up to tell him. Mission complete, but what is this strange feeling?
In his office, the mayor asks Sung-il if he enjoyed toying with Chairman Choi's son.
At the same time, Deok-bae finds a throng of investigators swarming over his entire workstation. Prosecutor Park rises with a smirk: He heard Deok-bae had filched a file and handed it over to a swindler, he says. Shocked, Deok-bae is taken away.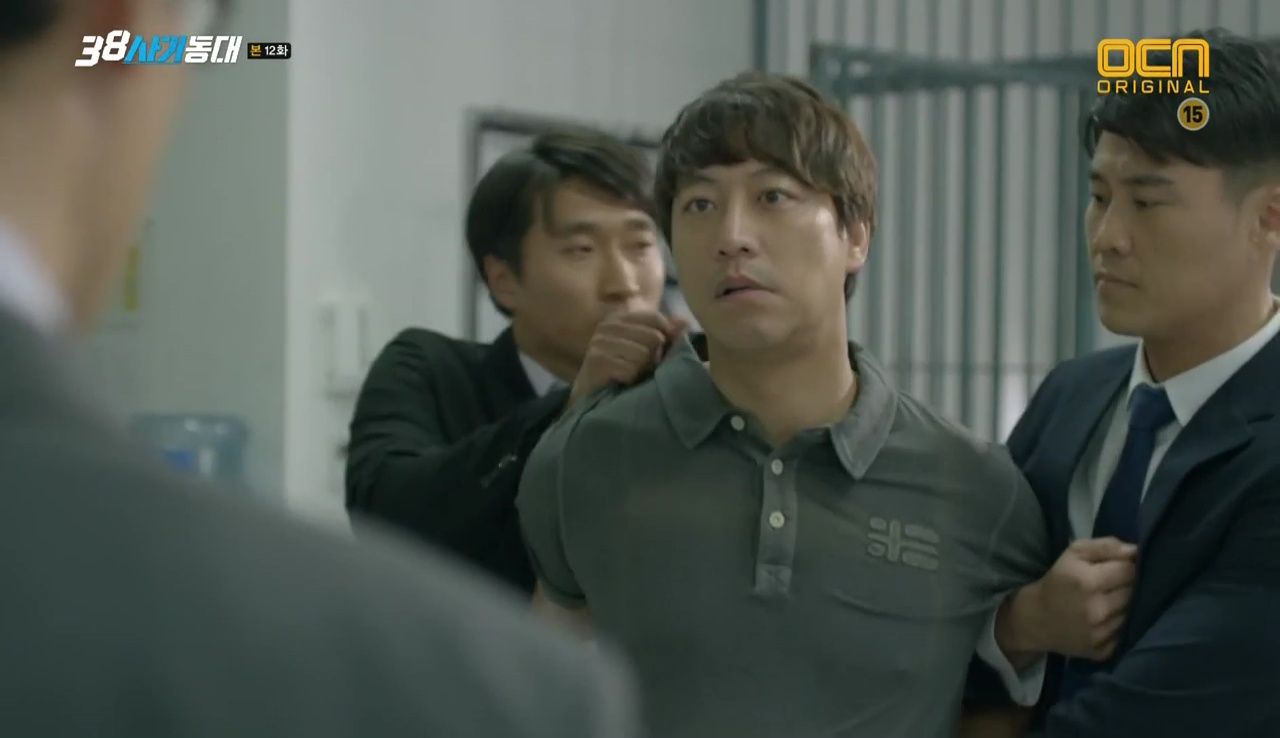 Chairman Choi enjoys a game of baduk and observes to his secretary that people's downfalls come from the things they care about most, be it their school, their province, or their children.
"Chairman Choi…has no children," Mayor Chun tells Sung-il. Sung-il's eyes widen, and Chun reveals the whole thing was a trap to catch them. "That's why you should have stopped when I told you," he chides.
Jung-do waits for the elevator outside his apartment when he notices that he's being watched. So as not to give himself away, he pretends a casual phone call while keeping his eye on their reflections. Suddenly, he breaks for it, hurling himself down the stairs while his trackers pursue. He even whips out his belt to tie the door shut, but more men are in the lobby, and they run him down. He fights back desperately, to no avail.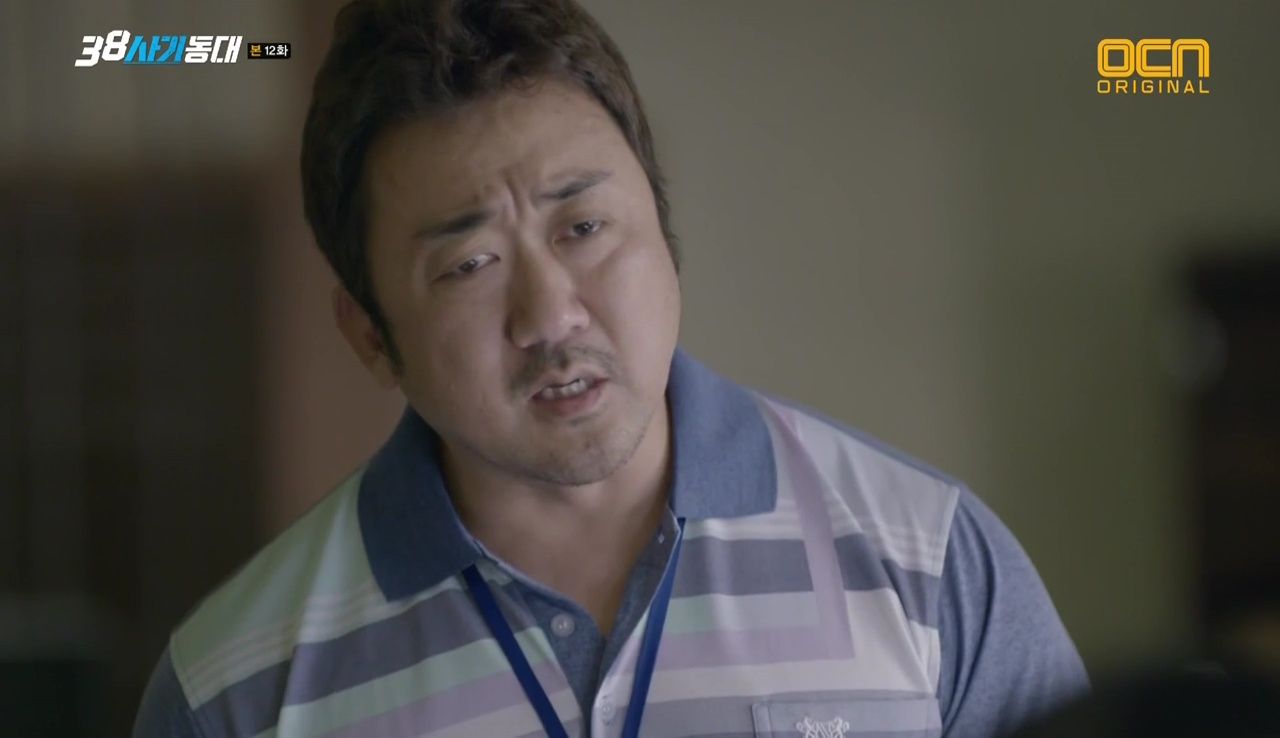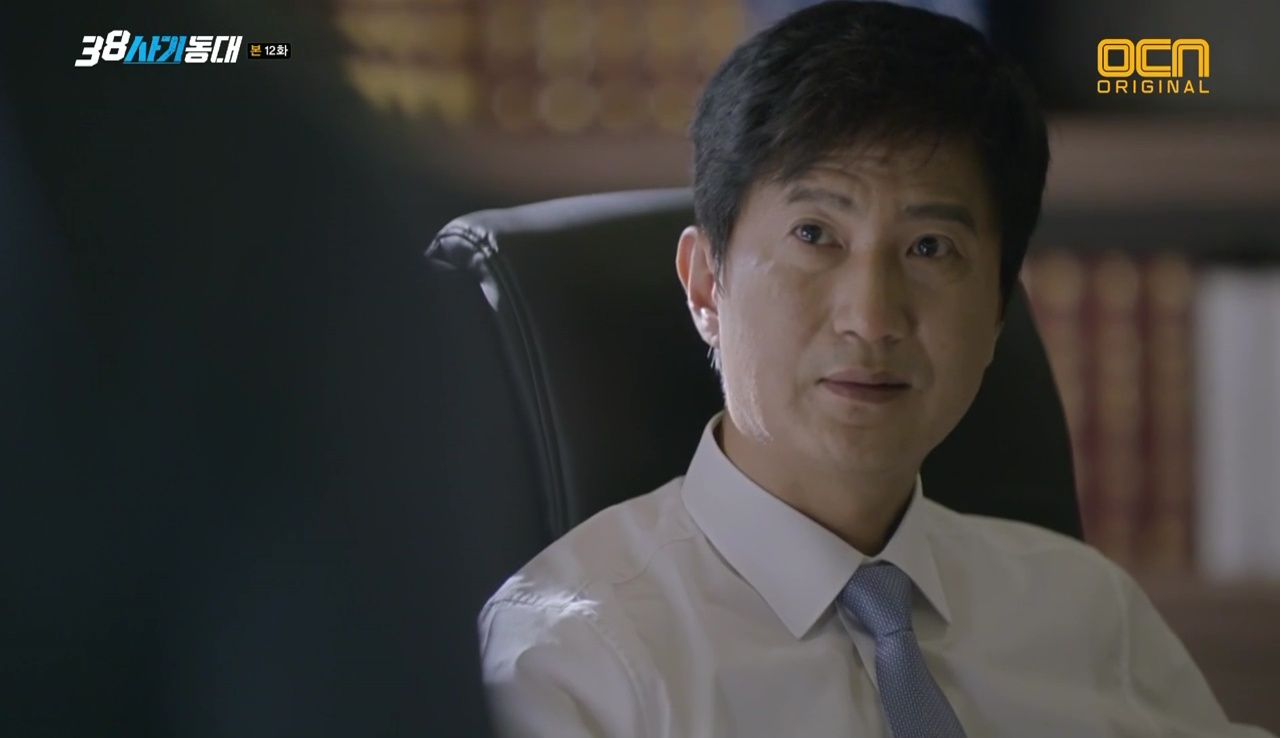 At City Hall, Sung-il moves to go, but the mayor tells him it's already too late. Elsewhere, Commissioner Ahn receives an envelope from someone. Et tu, Ahn?! Chun reminds Sung-il that his fight against money is futile as long as money exists. Does he understand now, who he's trying to fight?
As if to prove the point, we now witness Chairman Choi receive a report from Prosecutor Park, whom he clearly has in his pocket. The old jackal hangs up the phone, and looking straight into the camera, he smiles.
Sung-il tries to excuse himself to go to Jung-do, but Chun tells him to testify against him in court instead—it's the only way he can survive. Sung-il argues but Chun snarls that he said he didn't want to lose any more of his people. Lowering his voice, he tells him again to testify, and go back to the way things were before. Sung-il's agitation grows, and Chun tells him Jung-do's already in custody, believing Sung-il betrayed him.
At that, Sung-il bolts straight to the police station, where he finds Jung-do, rumpled and cuffed. Jung-do gives him a sardonic smile, "Ajusshi, I heard you sold me out." Before Sung-il can reply, Jung-do flies at him, screaming in fury and devastation: "You said let's not betray each other!" Several officers leap in to drag him off, and they take him away, still screaming.
After a stiff drink, Sung-il goes back to Mayor Chun. He finds out that Ahn was in on the plot, too. Chun explains that he had to make Sung-il act, so that he could step on him. Sung-il asks why he wants to save him now, then. "Since you've been stepped on once, you won't rise up a second time," Chun says. His casual tone really freezes my marrow.
Pained, Sung-il considers this a long moment. Hanging his head, he agrees: He'll testify against Jung-do and live as Chun says. But in exchange, he asks him for the tax bureau to be spared.
On the day of his trial, Jung-do is led into the courthouse in a prison jumpsuit. Sung-il also arrives, suited up and expression heavy. Jung-do stares at him in the stand while he takes the oath, but Sung-il doesn't look at him.
Prosecutor Park questions him about Jung-do's activities, and Sung-il's every answer is damning. He finally meets Jung-do's eyes when he's asked if Jung-do deliberately approached him. "Yes, that's right," he says. Sob. Why are you doing this, papa bear? Jung-do, too, stares in disbelief.
"The defendant, Yang Jung-do, is sentenced to ten years in prison," declares the judge, lowering his gavel. After the officials file out, Jung-do looks over at Sung-il, raw with betrayal, as the guards take him away.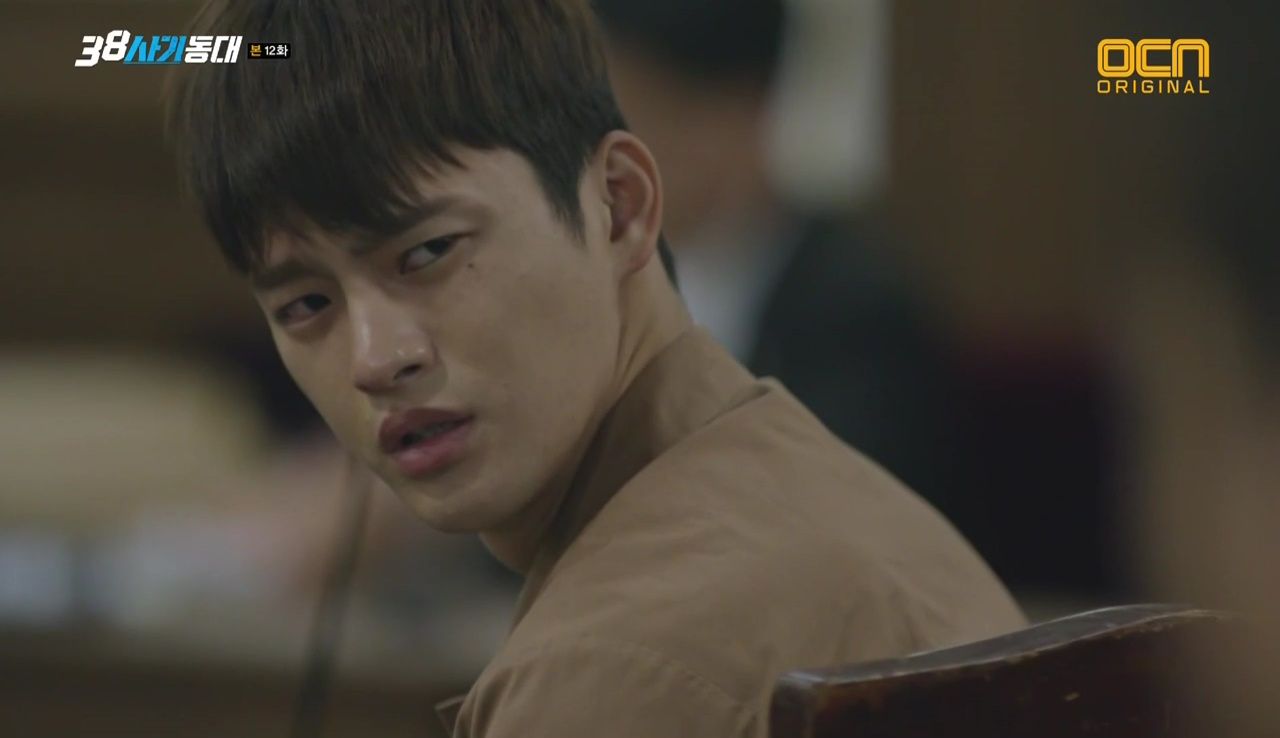 COMMENTS
I have to believe Sung-il is playing a longer game, otherwise this betrayal flies in the face of everything we've come to know and love about him…I think? Because as much as he's said that he wouldn't go so low to save his own skin, my worry is that he might be seeing it as a question of the greater good, to save everyone in his department at baby bear's expense.
But could Jung-do be pulling the biggest scam of all? The way this episode deliberately deconstructed the image of Jung-do as an omnipotent string-puller makes me think we were being primed to see him as fallible, but whether that's to set us up for an epic fakeout or ready us for his failure is anybody's guess. I should have known by now that a soaring high only comes before a dashing low, but even knowing the pattern, I can't say that I feel manipulated. These characters are just that real. I've got to hand it to you, show. As much as I hate you hurting my bears, I love it. Then I remember that this is Episode 12, and therefore the requisite crisis point. This is as bad as it gets, right?
Although it's hard to rewind from this terrible bromantic schism, of course there's much more to this episode. I was totally blindsided by the revelation that Chairman Choi has no son. What a ruse. Even if I'd had an inkling that he was onto them, that's not what I'd have imagined. It's a stroke of writing genius that perfectly communicates the totally different level on which Choi operates, the biggest of big fish. Go back and watch that whole segment again now—it's a wholly different experience. The quantity of sly smiles alone should have tipped us off.
On a slightly different note, I am dying to know if Sung-il's trousers were meant to rip (surely not!) or if that was just a fantastic bit of ad-libbing after the fact. But this is where the meta meets the drama and the awesome multiplies, because I think what Jung-do said—about the essence of succeeding at a con being in adapting to the flow of circumstance—that's exactly how Seo In-gook treats his acting. I think the cast as a whole has consistently nailed it, though. Vitally, Ma Dong-seok and Sooyoung both bring a really natural and intuitive chemistry of their own, and combined with Seo, everything about their interactions just come so alive.
What I love about the Sung-il/Jung-do relationship is how it exists on so many levels and is so mutual: as student and mentor, father and son, friends and brothers. It's why the betrayal, if it is a betrayal, would cut so deep. Jung-do, who doesn't trust anyone, trusts papa bear. That's another reason I'm holding out for this to be intentional. He can't so easily believe Sung-il would betray him when it goes against everything he knows about him. Maybe Jung-do needs to return to jail for a reason, and all this plays into the next stage of his plan. After all, we know from Jae-sung that Jung-do is capable of playing a role for a long, long time.
The show has measured out its villains by degrees, in a way in which I find really fascinating. The idea that money is the root of all evil is nothing new, but its sheer amorality and power as an entity makes a serious comment on the way society operates. The show opened, back with Ma Jin-seok, with his statement that money makes people do anything, and we watch it happen, over and over, like an inescapable truth. But between Chairman Choi and Mayor Chun, Chun frightens me more, the way Peter Pettigrew characters always do. You always know where you are with ordinary evil, even of the extraordinary kind, which you never quite do with someone like Chun.
Mayor Chun presents an even more interesting picture for several reasons. I think he's been played as a cipher quite deliberately, but at the same time, he revealed a degree of morality in trying to stand up to President Bang a few episodes ago. He's clearly an unwilling accomplice and he wants to be good, but the problem is that he took a bite of the apple, and this is an apple you can't spit out. He's one of many enablers that prop up people like Choi, and so he's trapped by his own mistakes and weaknesses. It creates a level of cognitive dissonance that the mind refuses to tolerate, leading him to his present fanatical state and self-defeating methods for saving his people (where "saving" means "breaking"). It's no small irony that he proves Chairman Choi's words: If not for Sung-hee, Chun might have gone to war. It's also ironic that to protect her, he sacrifices a person she would sacrifice herself to protect.
Sung-hee's role is not actually a large one, but she certainly makes it count. Neither a set piece nor a plot device, she's a character with her own will, and important for her own sake. Everything about her is genuine and transparent, making her a lot like Sung-il that way. There's a reason lurking in there for why they're perfect matches for Jung-do, with an equal argument for why he's perfect for them. But it's evident in every word of her interactions with Jung-do now that she's not hung up on him. It makes her refreshingly unclichéd, and I love what this says about her character—she's mature and practical, but also emotionally strong and compassionate. All I've got to wish for now is a bit more Mi-joo, because she's awesome, too—tough, smart, and loyal.
Although the runtime fluctuates episode to episode, I can only appreciate that the show gives itself room to breathe and fills its small moments with meaning. And rare is the show whose small moments build a cohesive, complex, and deeply moving whole. It doesn't watch the clock, and neither do we.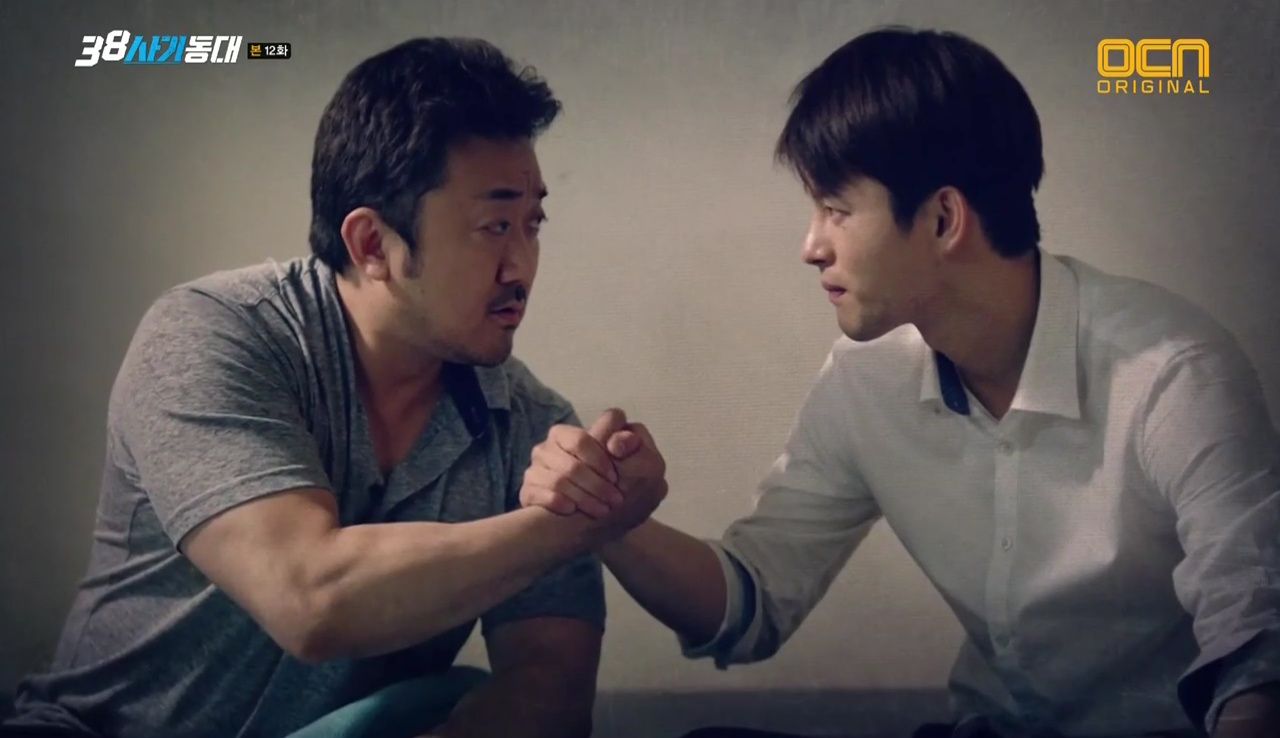 RELATED POSTS
Tags: featured, Ma Dong-seok, Police Unit 38, Seo In-gook, Sooyoung