Police Unit 38: Episode 5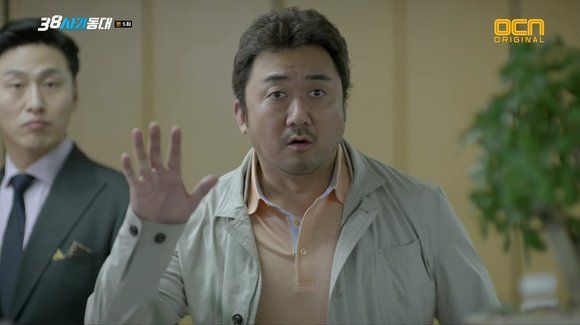 It's an episode of clearing hurdles for our tax-collecting con artists. While the team's first major con nears its climax, it becomes increasingly apparent that there's more at stake here for Jung-do than simply money. And as Sung-il proves himself a resourceful student of the scamming arts, we see that Sung-hee is fast running out of strictly legal means to save her boss.

EPISODE 5 RECAP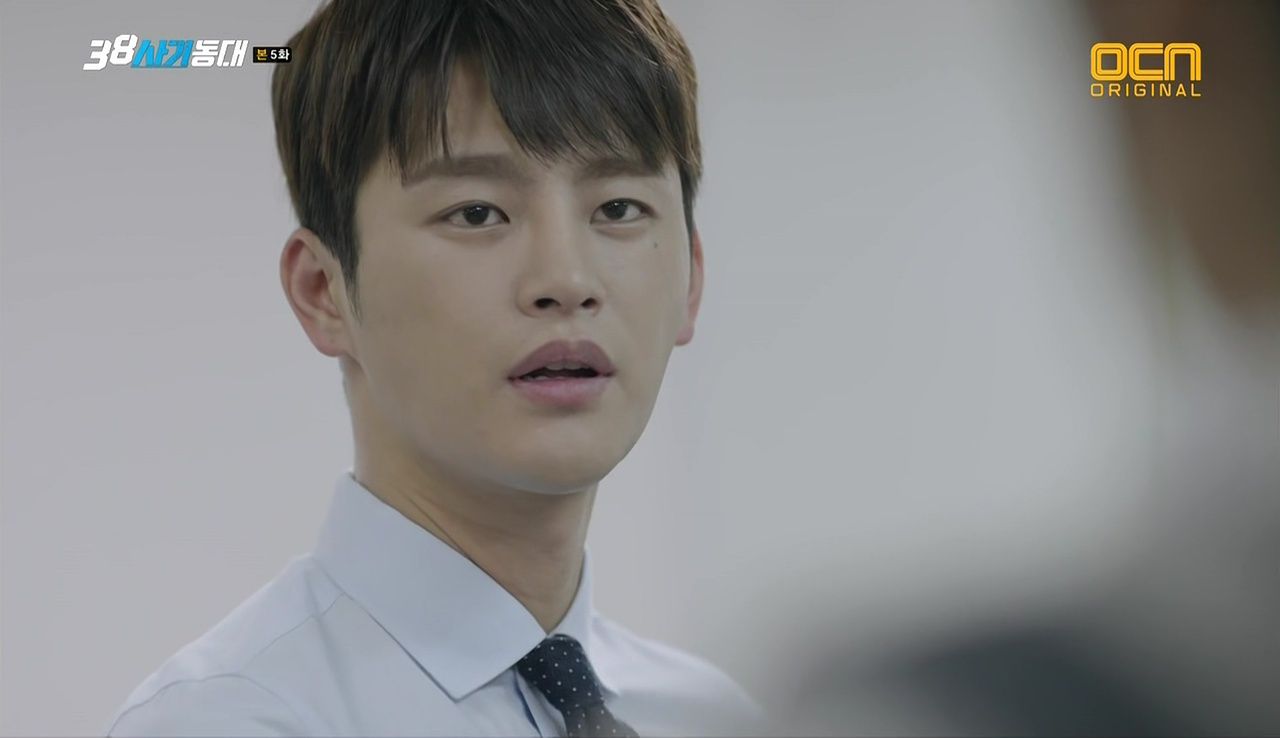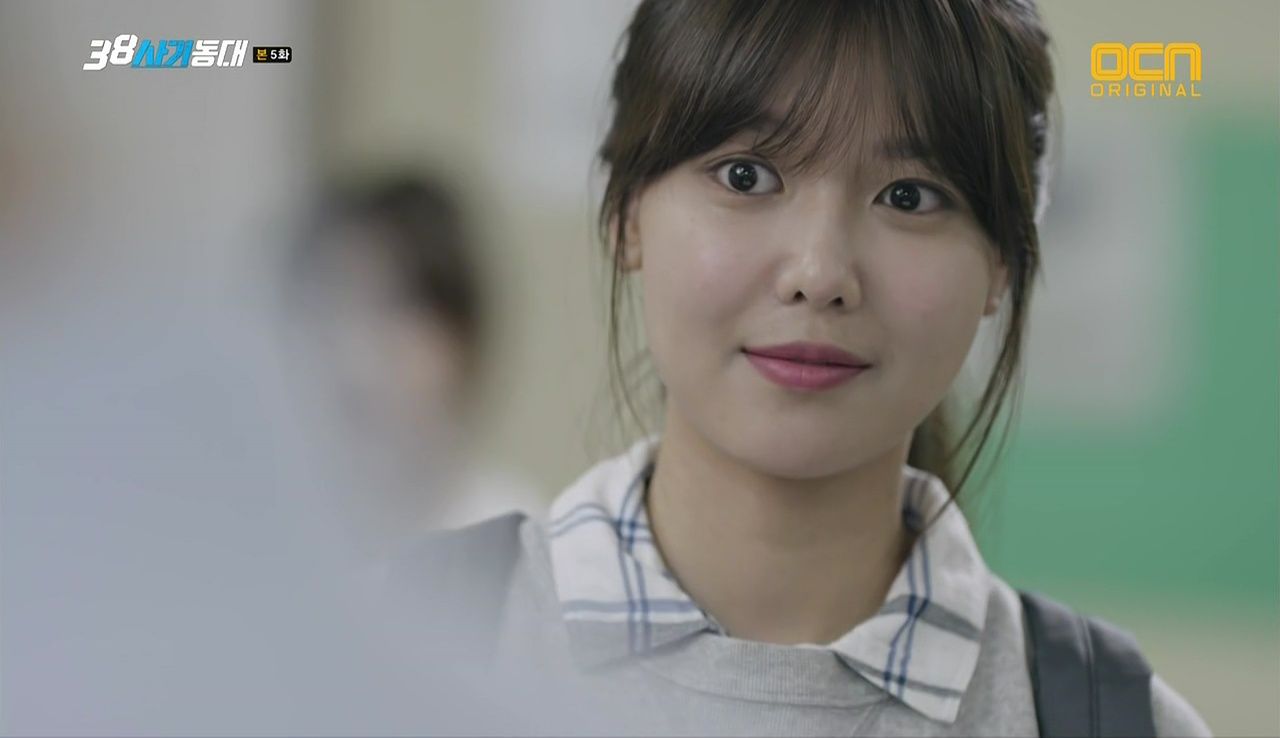 While Jung-do races to reach the Hwaseong city council building before Sung-il and Ma Jin-seok show up, blowing their whole con, a semi-truck collides with the side of Jung-do's car and brings him to a stop. Jung-do painfully raises his bloodied head and his thoughts flash back to the first time he saw Sung-hee.
She had come to inquire about a part-time job at an office, and Jung-do had been struck dumb at the sight of her. Mi-joo had eased the awkward silence by handing Sung-hee forms to fill, while Jung-do had just sat there looking at her. It seemed like there was some con in progress, because Jung-do looked conflicted and uncomfortable as Mi-joo made small talk with Sung-hee.
Suddenly, making up his mind, Jung-do got rid of Mi-joo and told Sung-hee not to work there. He vaguely suggested that while the pay was good, the work was not, and he would be leaving soon himself. He even offered to find her a different part-time job and Sung-hee agreed.
A crowd has gathered at the accident site and an ambulance has been called. Jung-do gets out of the car, limping and doubling over in pain. He tells a concerned bystander to take care of the truck driver, who is also hurt, and leaves after grabbing a second set of car keys. He gets into another car, which must have been stashed nearby, and resumes his race against time.
Sung-hee finds out in the office that the disciplinary hearing date for Sung-il has been set. She tries calling him, but Sung-il ignores it. He observes unhappily to Jin-seok that the route which is usually clogged is surprisingly free of cars today. Jin-seok smirks and says that they will likely reach Hwaseong within the hour.
On the other hand, Jung-do seems to be facing every traffic hurdle to ever plague mankind on his way to Hwaseong. He texts Sung-il and asks him to stall for a little while so he can catch up.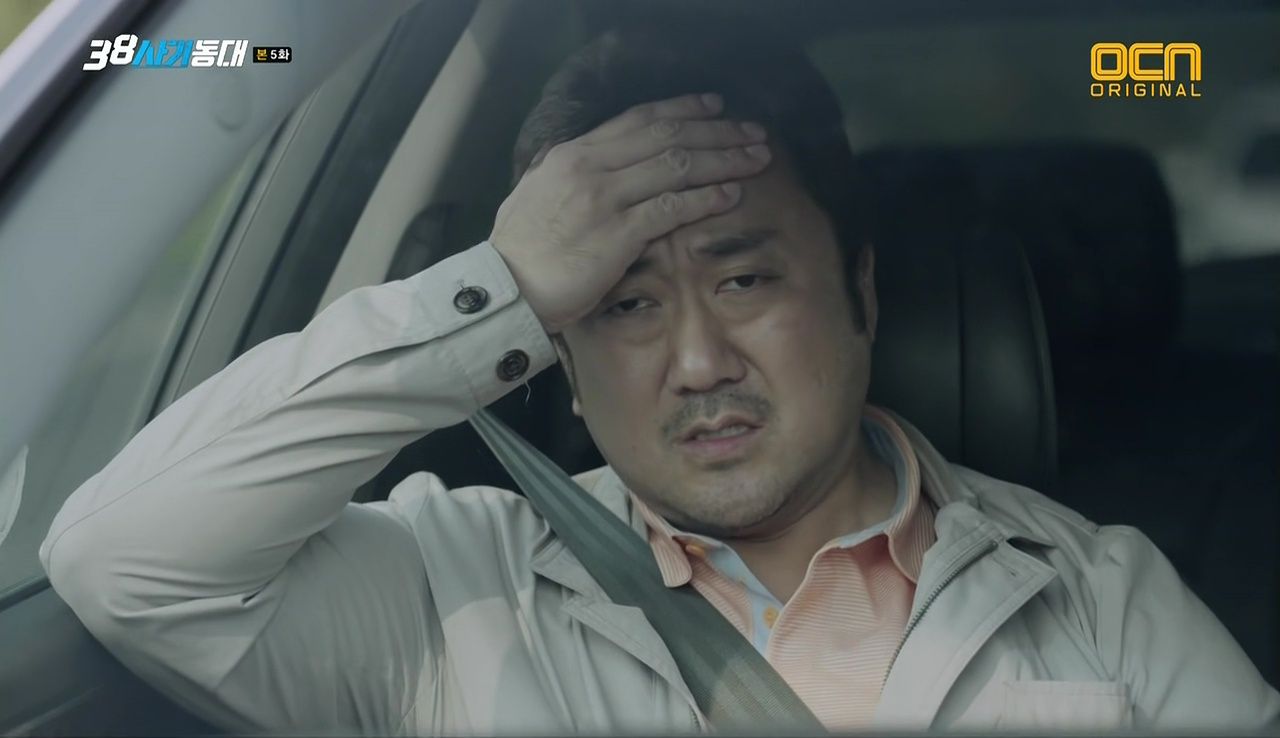 Sung-il uses the bathroom excuse to get Jin-seok to stop for a few moments, but then paces worriedly before the stalls because this won't buy Jung-do enough time. Then an idea occurs to him and he calls up his detective pal, Deok-bae.
Back in the car, Jin-seok asks if Sung-il is trying to stall. Sung-il mutters a nervous denial and Jin-seok makes it clear that if he's being lied to, he won't let Sung-il off the hook. Meanwhile, Deok-bae has put out a police call on Jin-seok's car. Cursing his friend under his breath, Deok-bae orders all traffic cops on the expressway to look out for and stop the "stolen" car. Haha. Brilliant!
A traffic cop pulls Jin-seok over, and he's characteristically arrogant and rude, making the procedure of checking his driver's license take longer than normal. Finally, Deok-bae's car pulls up beside them. Sung-il keeps an eye out and once Jung-do passes them on the road, Deok-bae makes a fake call to the traffic control room. He "discovers" that there was a mix-up with the license plate reported. He affably apologizes to Jin-seok, who manages to threaten and patronize the cops with equal aplomb before driving off again.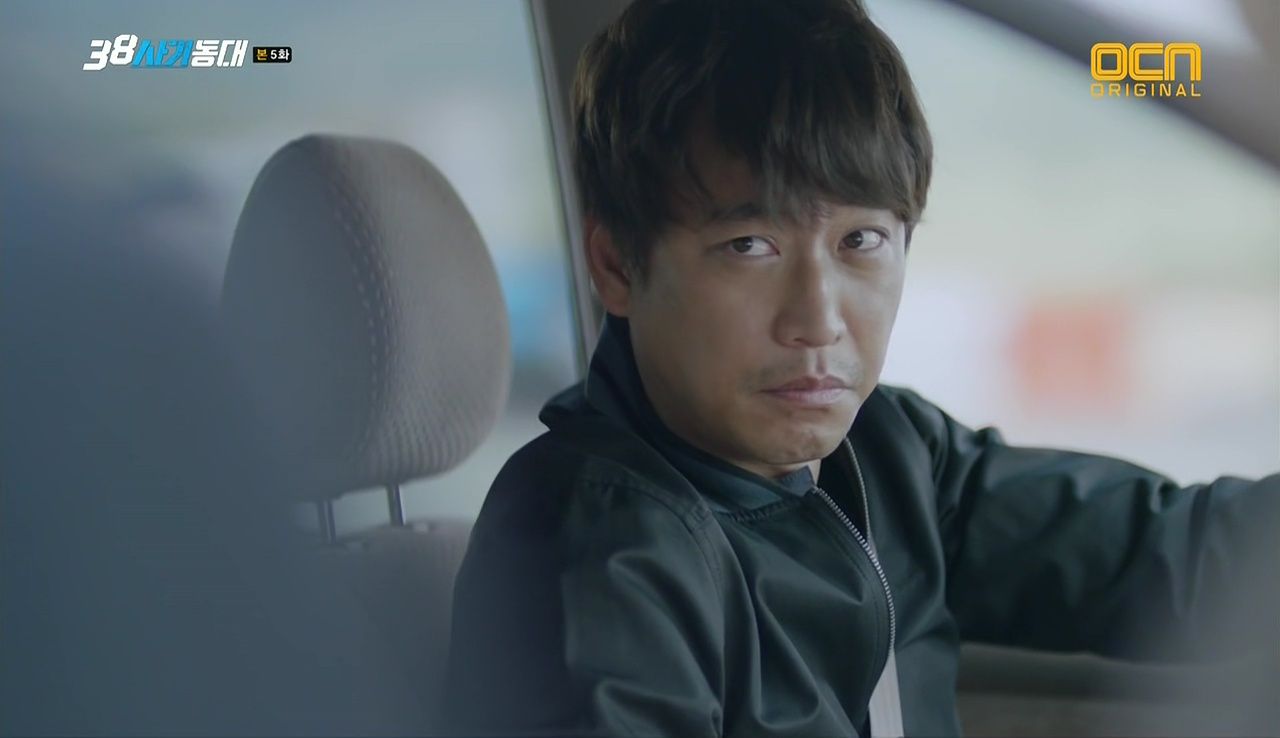 Meanwhile, Wallet goes to the prison to update Chairman Wang's right-hand man, Mr. Kim, about a business matter. He comments that she has changed a lot to ignore the chairman's order to help Jung-do because she's afraid of the police. She asks him if Jung-do really did save the chairman and Mr. Kim answers yes, Jung-do saved his life twice.
Jung-do walks through the Hwaseong city council building and calls Sung-il to tell him he's arrived. A relieved Sung-il updates Jin-seok that the very busy "Section Chief Kim" is asking where they are. Jung-do washes off the blood at his temple, puts on a pair of glasses, a tie, and a stolen suit, before walking out of the washroom in his new Section Chief avatar.
He pauses by an office board identifying employees, memorizes the real Section Chief Kim's phone number, finds the car with that phone number in the windshield, and calls him down to move his car. Jung-do then parks his car right in front of Section Chief Kim's, effectively blocking him in. As the real section chief goes down to handle the parking problem, Jung-do walks into his office.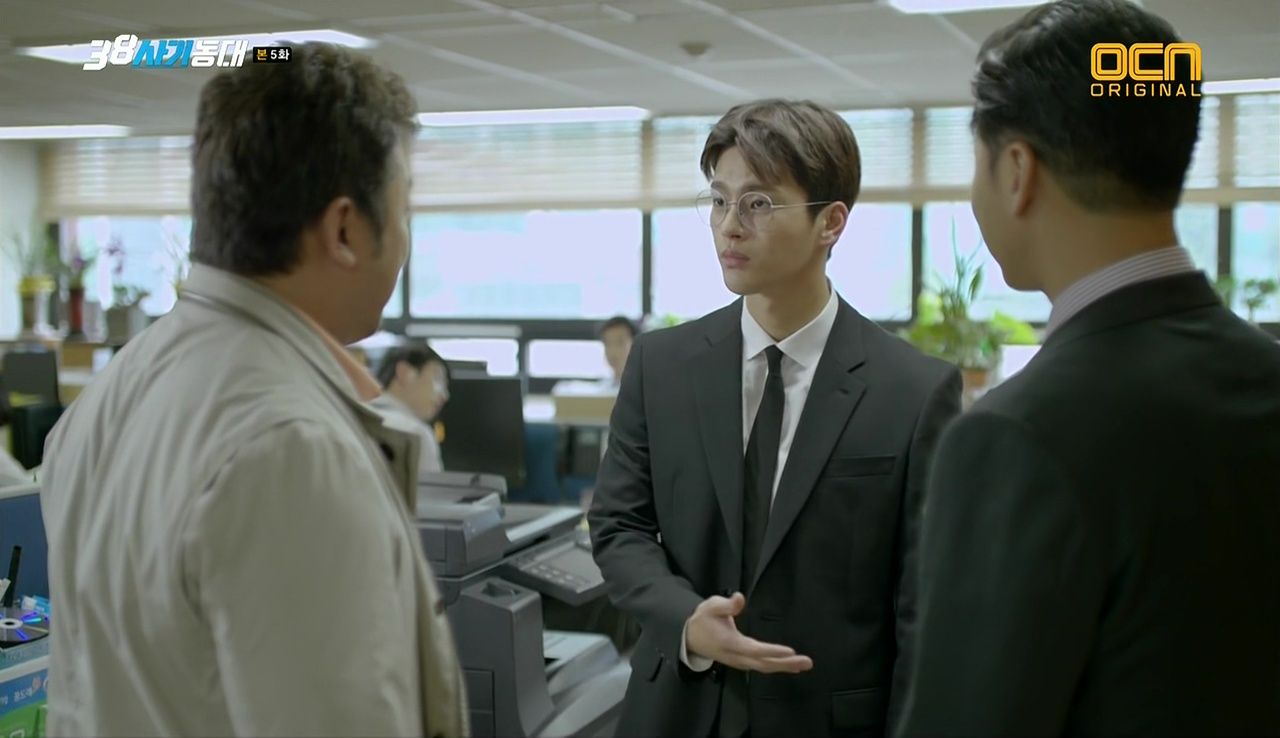 Jung-do confidently walks by the cubicles of the team under the section chief, noting names and the items on their desks. He stops behind Section Chief Kim's desk and looks around the startled group. Before they can ask who he is, he begins to address them like a supervisor.
Having noted the wedding invitations on Ms. Jang's desk, he calls her out on making wedding preparations during work hours, and having seen the hangover cure on Mr. Kim's desk, he notes that the man is still drinking during lunch breaks. The team is discomfited enough by his accuracy to stay silent while he rebukes them for lacking discipline.
This is when Jin-seok and Sung-il walk in through the department door. Sung-il's face breaks into a relieved smile when he sees Jung-do standing behind the section chief's desk, talking to the team like he belongs there. Jung-do walks forward and greets them, looking annoyed at their unscheduled visit. They decide to speak about their deal away from prying eyes and part ways to meet outside.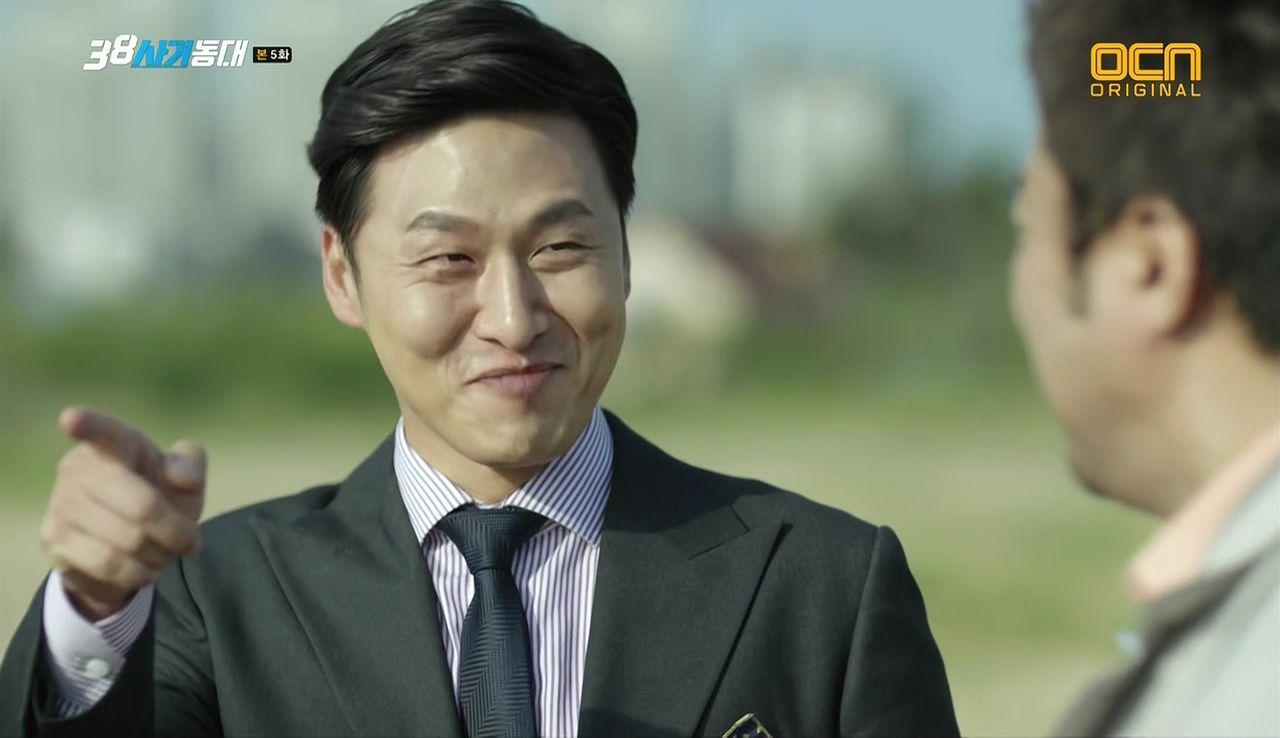 Ma Jin-seok comments that the section chief is younger than he had thought, and Sung-il hilariously says he just looks young but is really quite old. Jung-do escorts them to the site of the new development, and explains to Jin-seok which sections would be under his own supervision. Jin-seok listens but is more interested in whether Jung-do can guarantee him the five times profit that Jin-seok has been promised.
Jung-do asks Sung-il how much his cut would be, and when Sung-il says five percent, Jung-do says he'll find an investor who'll give him ten if he agrees not to work with Jin-seok. Jung-do acts out the part of the over-worked, annoyed civil servant who has no time for hesitant investors, while Sung-il plays to his strong suit, and tries to calm his "junior" down so he doesn't alienate Ma Jin-seok.
Just when Sung-il starts to think that Jin-seok will really leave at Jung-do's rudeness, Jin-seok laughs and says he likes that Jung-do is hot-tempered and decisive. He asks how much he should invest and Jung-do says about $4 million, which will turn into $20 million. Jin-seok agrees with Sung-il that it sounds good and Jung-do turns away and grins.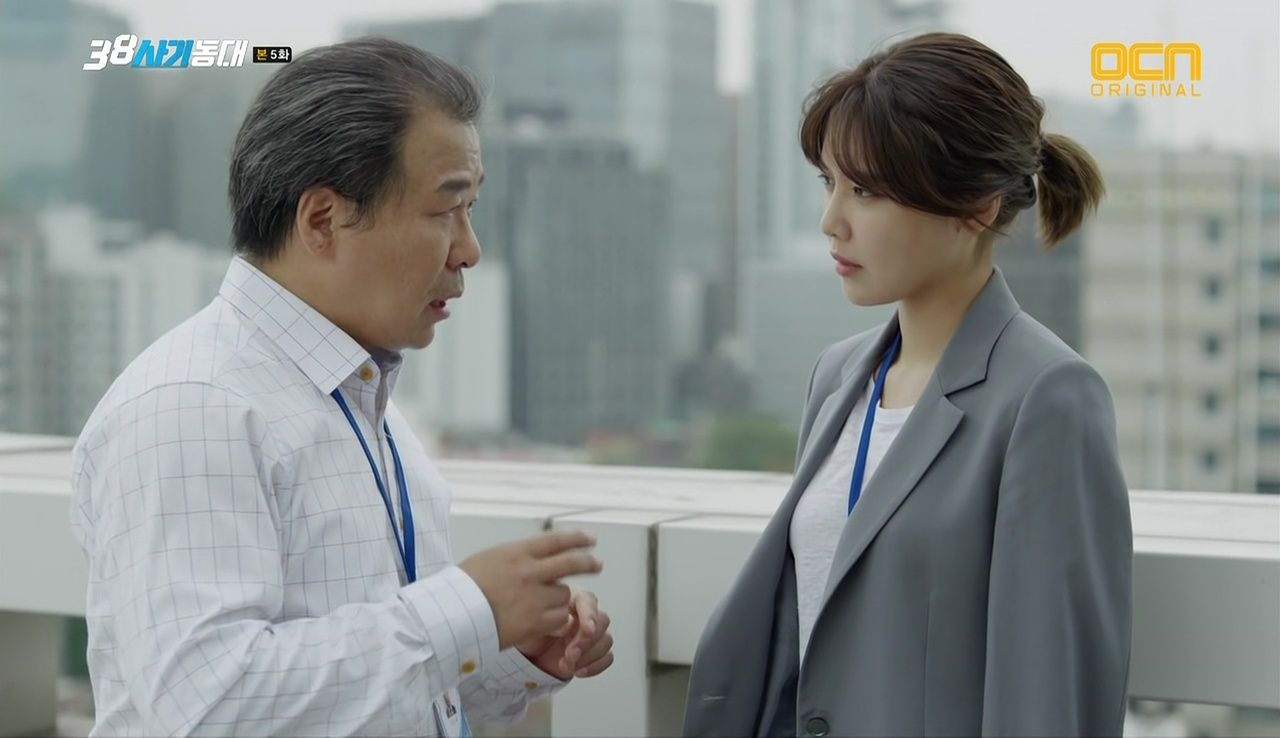 Sung-hee goes to Commissioner Ahn and says she'll cover up Ma Jin-seok's tax evasion. He asks if she really believes that Ma Jin-seok made the bribery call, but Sung-hee just says that she knows Sung-il would never take a bribe. This seems to annoy him immensely and he refuses her offer, saying that the disciplinary hearing will be held and Sung-il will be fired.
Section Chief Kang catches up to Sung-hee and tells her that there's a way to save Sung-il. Jin-seok's case used to be under his division and he has papers that connect Jin-seok to two bigger players who owe the government in taxes many times over what Jin-seok does. Kang points out that if they catch even one of them, then Sung-il can't be fired. Sung-hee asks if there's really a way, and the section chief smiles and says that nothing is impossible in this nation.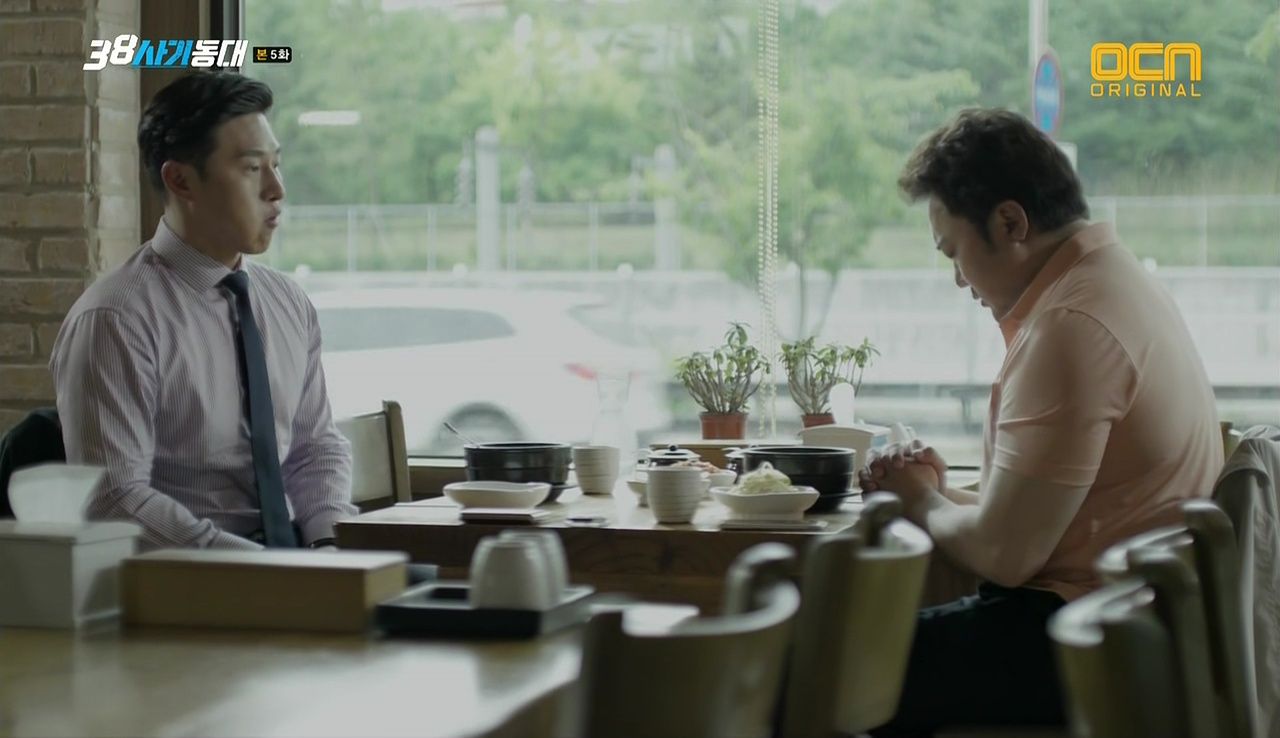 Back at Hwaseong's city council building, Jung-do asks Sung-il for a moment alone. He quickly explains that Jin-seok will now head home to check the land he just showed them on a real estate website. Sung-il can't see the problem since the land they're selling is legitimate, but Jung-do tells him that the site he just showed Jin-seok is not the land procured by Wallet.
Jung-do knows that Jin-seok is a real estate expert, and needed to see land that is really well situated. This is why Jung-do needed the two days to prepare everything. He has none of his customary cool as he snaps at Sung-il for messing up the timeline.
Jung-do tells Sung-il to figure out a way to stall Jin-seok again, so that Keyboard and Mi-joo have time to get to his home and office to plant a fake website on his computers. So Sung-il gets back in the car and asks Jin-seok if they can eat lunch before getting back to the city. Jin-seok is in a really good mood, so he agrees.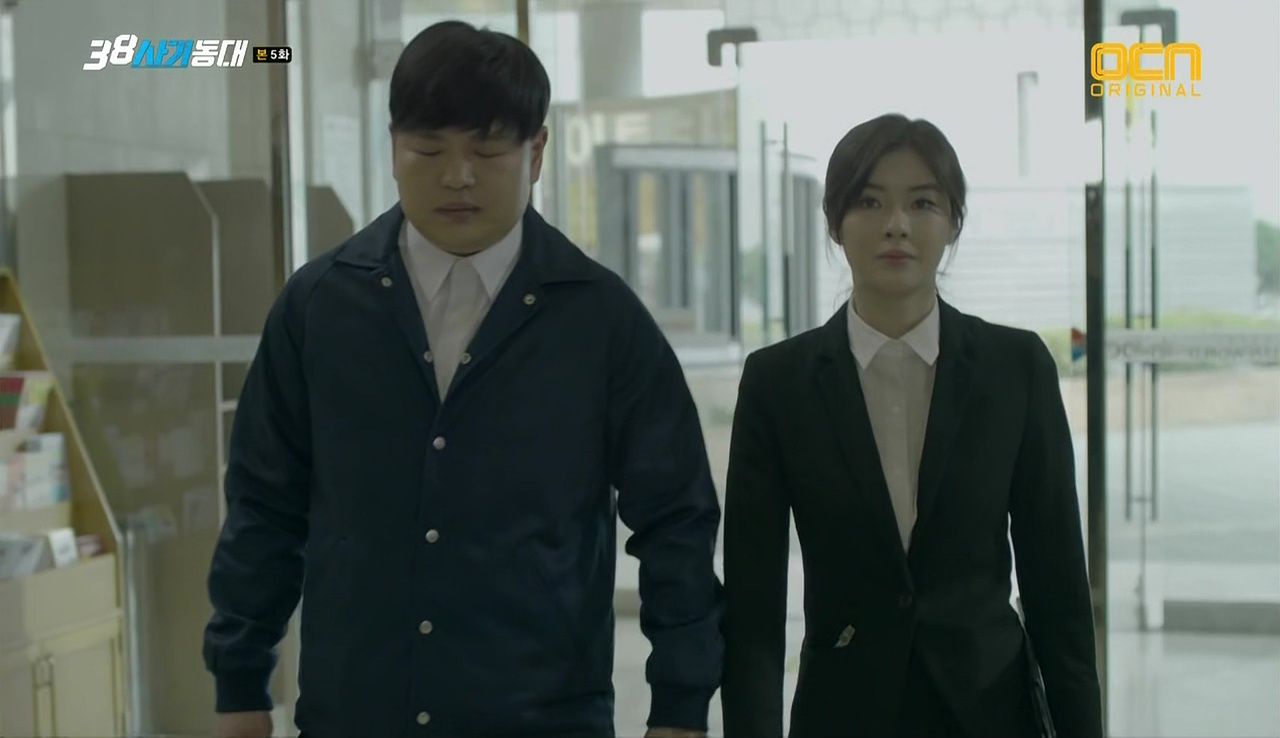 The team mobilizes to get the fake website planted in time at Jin-seok's home and office. Jung-do rings Jin-seok's wife with a fake delivery call to ascertain that she's out of the house, and Burner smoothly breaks into their home and replaces the original bookmarked site with the fake. But when Mi-joo and Keyboard arrive at Jin-seok's office to do the same thing, they face an obstacle. They're playing the part of property inspectors but Jin-seok's office building had already been inspected a week earlier.
Jung-do calls Sung-il to ask for more time, though he's not sure how to get anyone into the building. Unexpectedly, Sung-il tells Jung-do that he'll handle it. He hangs up on a sputtering Jung-do and calls a contact at the National Tax Service department. He tips them off about Jin-seok's millions in arrears and soon there's a team of tax collectors fighting the guards at the door to get in. Ha.
Jung-do uses the distraction to slip in wearing a tax collector's jacket, pilfered from their van, and gets into Jin-seok's private office. Here, he faces another stumbling block: the password. Fortunately, Burner has seen Jin-seok type it in during his initial surveillance, and struggles to recall what it was.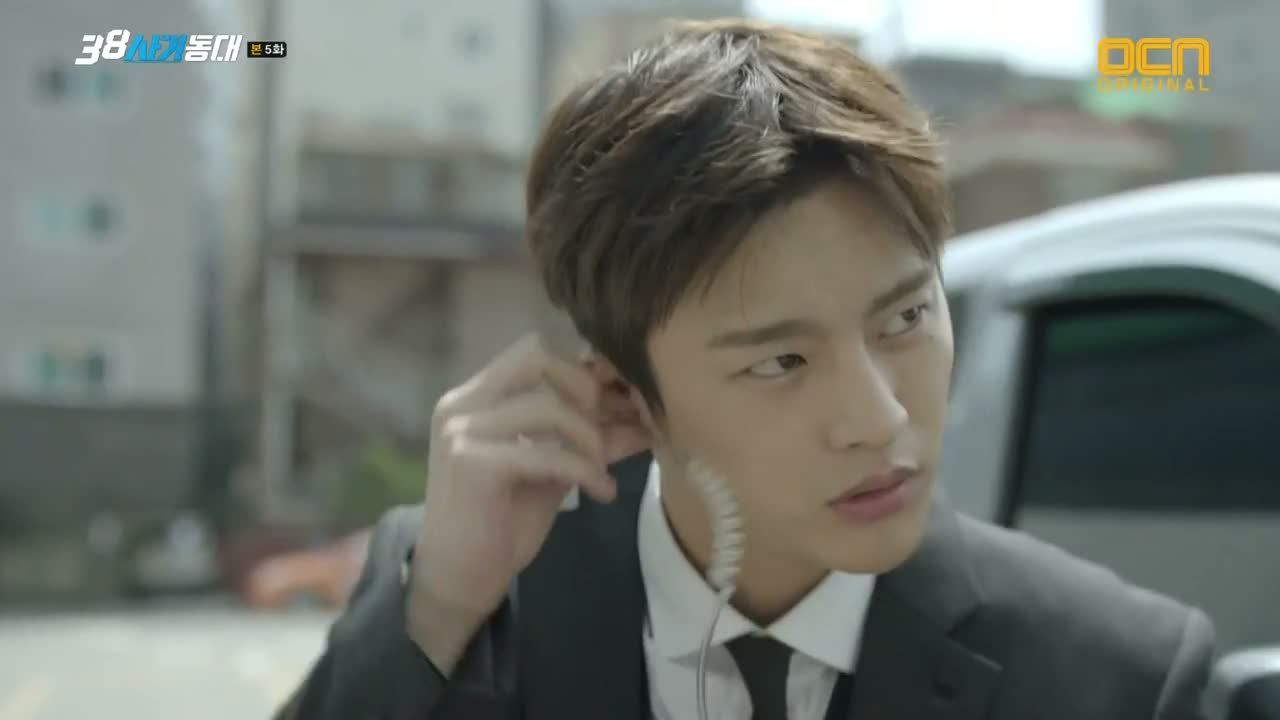 Burner tells him the password and Jung-do is skeptical as he types in 0000. After the day they had, it seems much too simple. But then the screen unlocks and Jung-do laughs as he makes the site switch. Job done, Jung-do leaves just as Jin-seok arrives to get rid of the tax collectors. Jin-seok goes up to his office and checks the real estate site to verify the location of the land, and smiles widely to find everything in order.
Sung-il's been left in the middle of the road by an irate Jin-seok, forever plagued by tax collectors, so Jung-do goes to pick him up with Mi-joo and Keyboard. Jung-do gets out of the car and just looks at Sung-il, an impressed smile spreading over his face. Sung-il is adorably embarrassed and they share a laugh before getting in.
Some distance away, detective Jae-sung sits in a car beside another cop who takes pictures of the two. It's obvious they're following Jung-do, and Jae-sung says with relish that it looks like Jung-do will be going back to jail.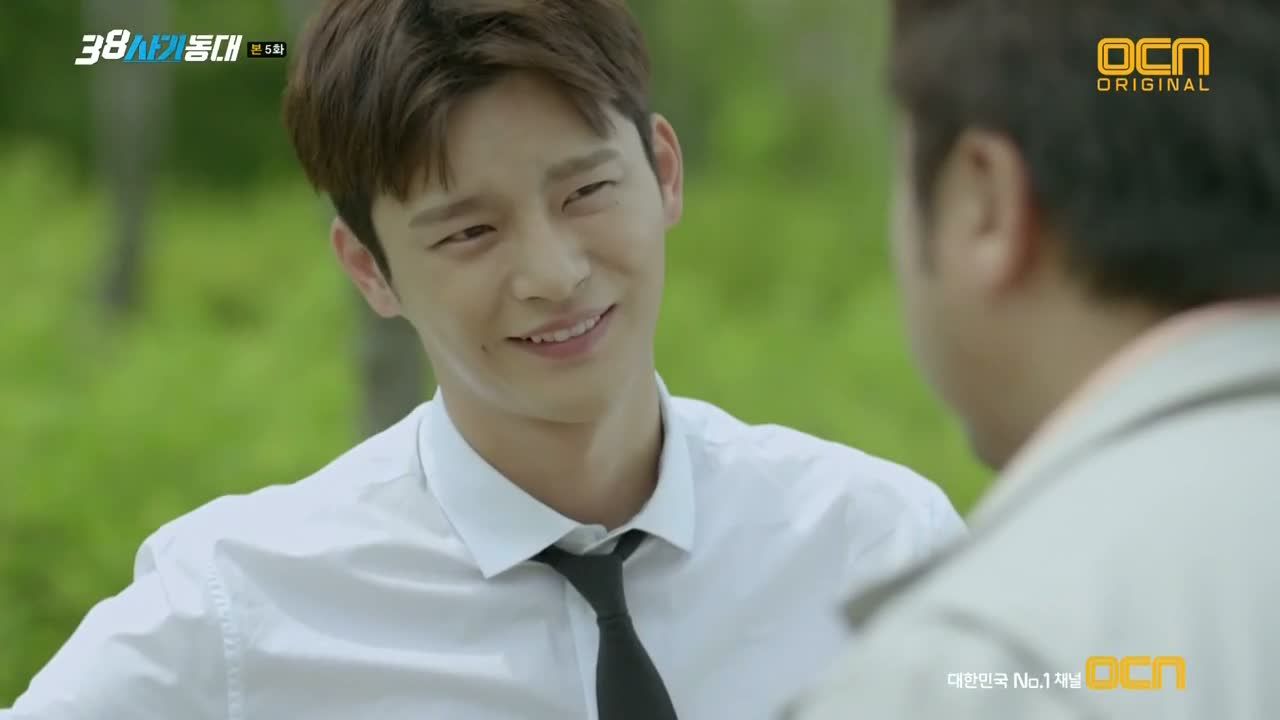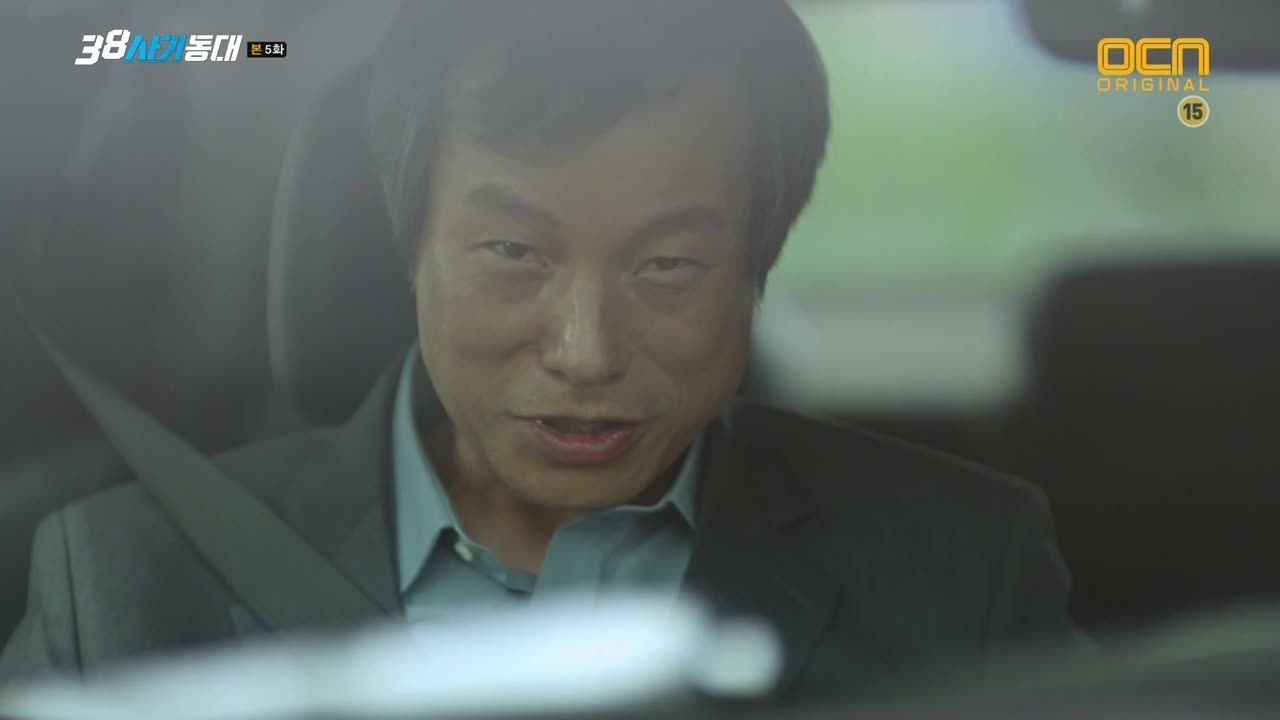 The con artist team sits around a game of poker and plans the next stage of their con. Burner is to play the real estate agent, "Mr. Park," whom Section Chief Kim will use to buy the land for Jin-seok. Mi-joo's job is to find some amazing actors to play the part of the landowners.
Then we see how the plan plays out. Jung-do introduces Jin-seok to Mr. Park, who then holds meetings with each fake landowner and offers to buy their land. They are all initially reluctant until Mr. Park offers them $20 per unit higher than market price. Everyone shakes hands and Jin-seok is happy.
But just as Jin-seok thinks the land is secured, Jung-do smiles evilly and manufactures a problem. Sung-il calls up Jin-seok and tells him that the landowners found out about the development project and are now all refusing to sell. He calms a furious Jin-seok and suggests they offer the men more money. He points out that there's not much difference between $4 and $6 million, and they should focus on the end goal of $20 million. Jung-do claps at Sung-il's smooth performance, like a proud father.
So then Mr. Park holds more meetings with the stubborn, fake landowners, raising their buying price incrementally. Jin-seok chases them down in their homes and out on farm fields, quoting bigger and bigger sums. The $20 per unit increases to a $120-per-unit profit for each landowner when Jin-seok finally reaches his limit. An amused Burner gives the signal and the landowners graciously agree to finally sell again.
The poker game over which they plan this comes to a head. Burner has really good cards and decides to call. Sung-il looks hesitantly around and decides to go all in. The others are surprised but they go all in too. One by one they reveal their cards, and then finally it's Sung-il's turn.
He puts his cards down and asks if they're any good. Jung-do gasps and Mi-joo dryly observes that Sung-il is a good bluffer. As Sung-il grins and pulls all the chips on the table to his corner, Keyboard asks if he'll quit now, but Sung-il's got a taste for the game now. Jung-do laughs.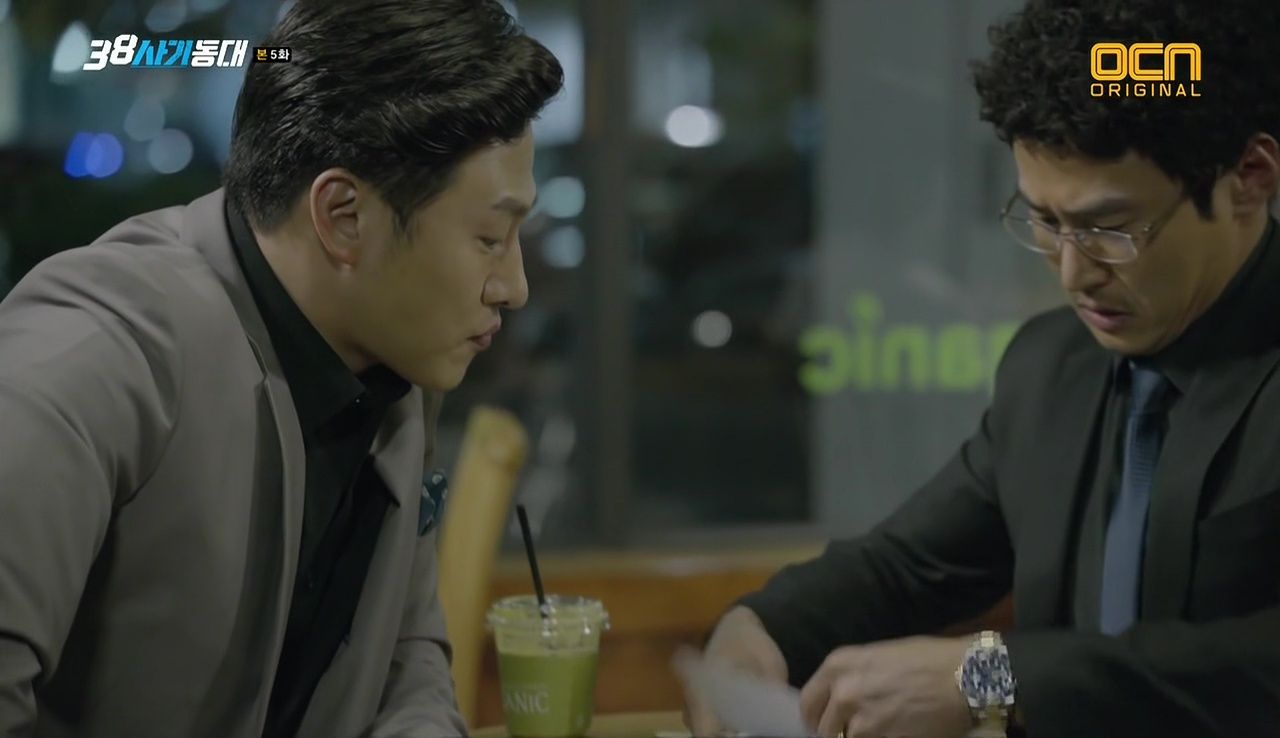 Mr. Park meets Jin-seok at a cafe with the land contract and they go over it. Outside, Jae-sung sits with his cop minion, watching the two, and they discuss that the con is drawing to a close now. It's time to bring them in.
Later, Jung-do and Burner eat at a restaurant where they're served by a grumpy owner. Jung-do notices that the man is sweet to his grandchild. Burner reports that Jin-seok is eager to avoid paying the commission and Jung-do tells him to stay alert. Then, Jung-do asks about a request he'd made at some point. Burner says it's all taken care of. He's even put $200,000 in and tells Jung-do to make good on it later. Jung-do seems pretty worried about this request, whatever it is, since he tells Burner to be sure it's all set.
That's when Sung-il walks in and asks what they're talking about. Jung-do smoothly says they're discussing Jin-seok to ensure nothing goes wrong at this stage. He leaves soon after and Burner asks Sung-il how he knew about this restaurant. Sung-il says Keyboard told him about it. He gets a text and it's an update on his disciplinary hearing.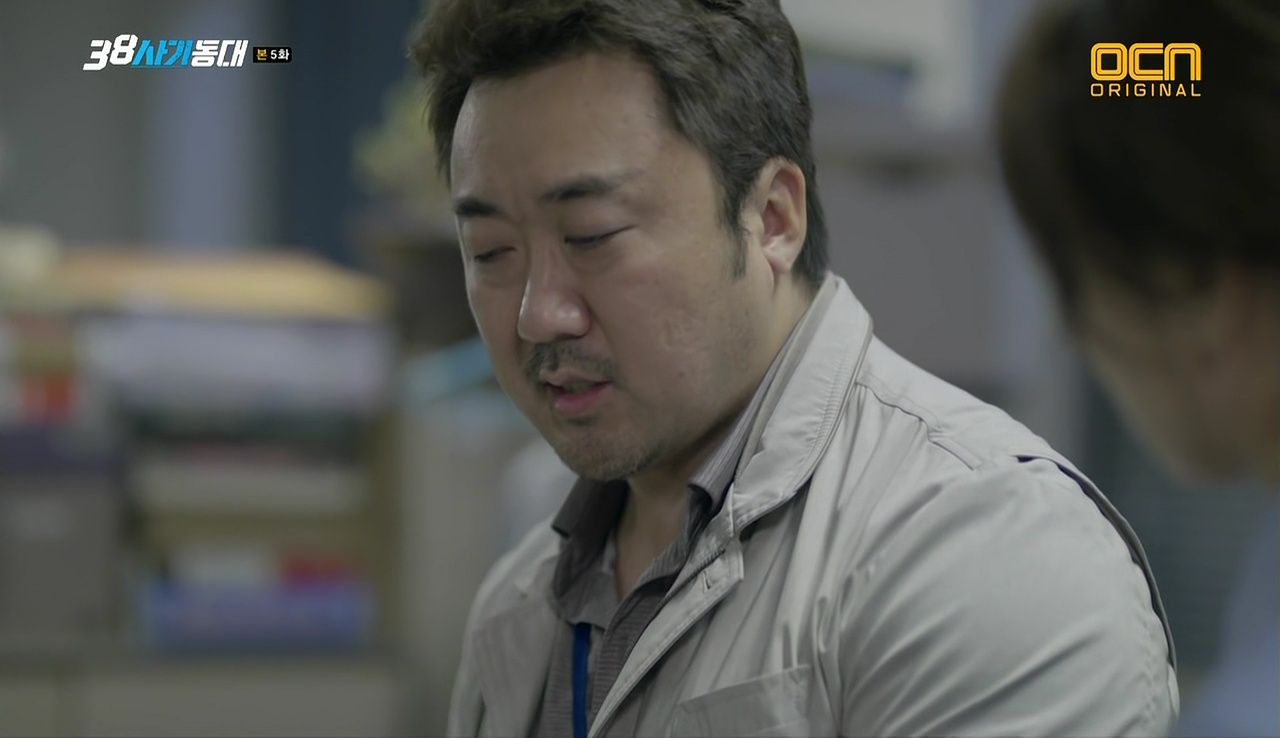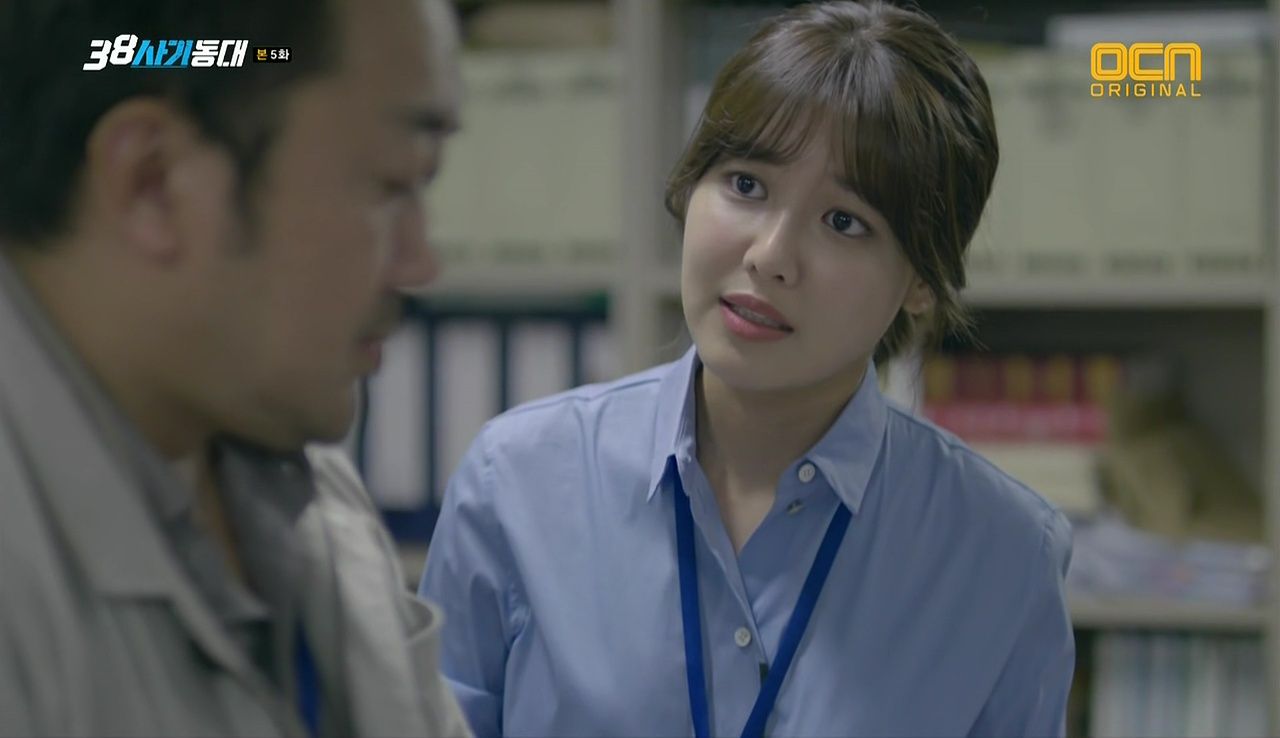 Sung-il goes to his office to pack up and Sung-hee comes over to convince him to fight for his job. Sung-il tells her that he's tired of struggling to survive. No matter the committee's decision, he no longer wants to stoop low just to keep his pension. He says it makes him feel pathetic. Sung-hee watches Sung-il put away all his belongings in a locker in preparation to leave, and rings up Section Chief Kang. She tells him that she's ready to do what he said.
Sung-il goes home that night to find an unexpected guest waiting for him. The next morning, Jae-sung arrives at Jung-do's apartment and tells him to take a seat.
Jae-sung had gone around the night before and arrested Burner, Keyboard, Mi-joo, and even Sung-il. When Burner put up a fight, Jae-sung calmly broke a bottle on his head to subdue him. He found the land contract papers at Burner's and now throws them at Jung-do. Jae-sung tells Jung-do that Ma Jin-seok's real estate consultant Mr. Noh had told him everything about the scam Jung-do was carrying out on Ma Jin-seok.
Cornered, Jung-do doesn't deny it anymore but points out that since no money has exchanged hands, he can't arrest any of them for fraud. Jae-sung interrupts and says that he plans on letting Jung-do's gang go after 48 hours, because he isn't interested in nailing them. He points out with enjoyment that Jung-do will now have to personally go and get the contract signed by Jin-seok. The moment he does it, Jae-sung will arrest him for fraud. He ends the ultimatum with a smile and says, "You're stuck now, aren't you?"
As Jung-do grapples with the trap he feels closing in, Jae-sung gives him an alternative: He can simply give it all up. Jae-sung generously adds that he wouldn't go to these lengths even for his own son.
Jung-do laughs at this and then looks almost furious as he says, "All right. I'll go myself." Jae-sung scoffs, disbelieving. Jung-do stares right back as he says he'll get the signature from Jin-seok himself, and then adds his own challenge: "Try your best to catch me. I'll try my best to run away."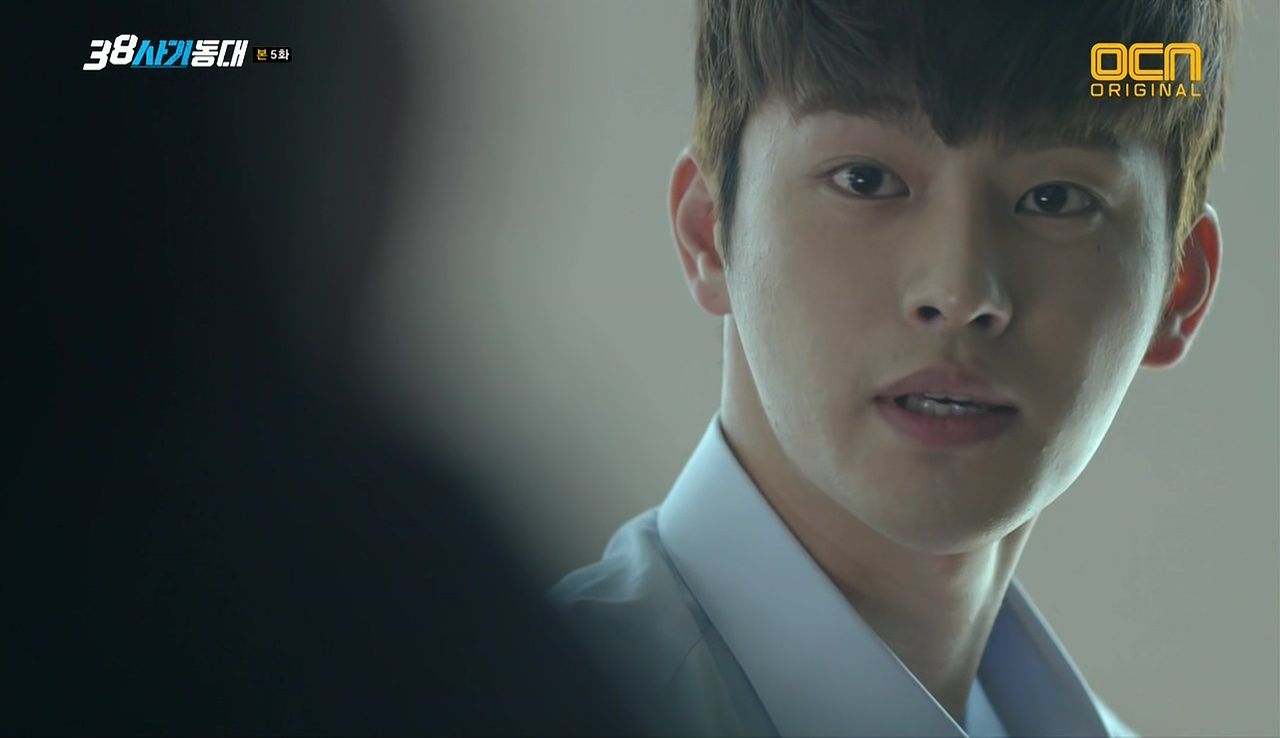 COMMENTS
Sung-il really comes into his own in this episode. In a reversal of their roles, Jung-do is the harassed, worried one for a change, whereas Sung-il is calmly solving one problem after another. Not only has Sung-il's inner conman started making tiny guest appearances now, he manages to convince a law-enforcement officer to do something completely illegal in aid of an ongoing scam.
Now usually that wouldn't make me so happy. In no way is willful misuse of the law appropriate. But in this case, Deok-bae was helping a friend he knows is honest to his core. Sung-il would never involve Deok-bae in anything truly wrong, and as a lifelong friend Deok-bae acts on trust here. But there's also the fact that as a detective, Deok-bae must have seen the worst of human scum getting away from the law because of money and power. He was, after all, the one to encourage Sung-il to accept Jung-do's help. Clearly, his code allows for some bending of the law if it gets the bad guys.
However, the show actually seems to be exploring what happens when a cop takes that code and twists it to justify any and all abuses of authority. Jae-sung epitomizes a cop on a power trip. He clearly thinks that he has the high moral ground. Whether his vocalized concern for Jung-do is genuine or just a way to hit where Jae-sung knows it hurts him, he is not a straight cop. His arrival at Jung-do's apartment to give him a heads-up on what will happen the next day could be seen as the actions of a good man. But the way he enjoys hunting Jung-do, taking particular pleasure in bringing him down, tells us that it's not Jung-do he cares about, but the game they're playing. And there's certainly a game afoot.
Why else would Jung-do be quite this desperate to finish the job? This is the first time I've seen our hero shaken up. The shock after an accident would certainly do that to you, but his frustration and panic seemed to be fueled by something more immediate than the $6 million that he seems to be willing to give away. Jung-do is always so cool-headed. Jae-sung is the only one who seems to bring out a less polished side to him. Well, Jae-sung and, it appears, Sung-hee. How adorable was that flashback? It was so sparing in details, but a perfect look back into their history. I can easily see a silver-tongued Jung-do tripping over himself for Sung-hee, while she looks at him with those half laughing eyes. It's all I needed to champion this OTP.
Which finally brings me to Sung-hee and Section Chief Kang. I think Sung-hee's plan to erase Jin-seok's taxes and save Sung-il may have worked, if Sung-il hadn't thrown Commissioner Ahn's corruption in his face, and Sung-hee hadn't sounded so absolute in her trust in Sung-il. Commissioner Ahn may not have a problem with being dishonest himself, but he'll be damned if he lets the honest folk around him judge him for it.
I'm beginning to really like Section Chief Kang. I hope he gets his $5000 back at some point because so far he's been a really good friend to both Sung-hee and Sung-il. I wonder, however, what got his name on Jung-do's hit list. But more importantly — I wonder what plan the two of them are hatching to take down this new big fish.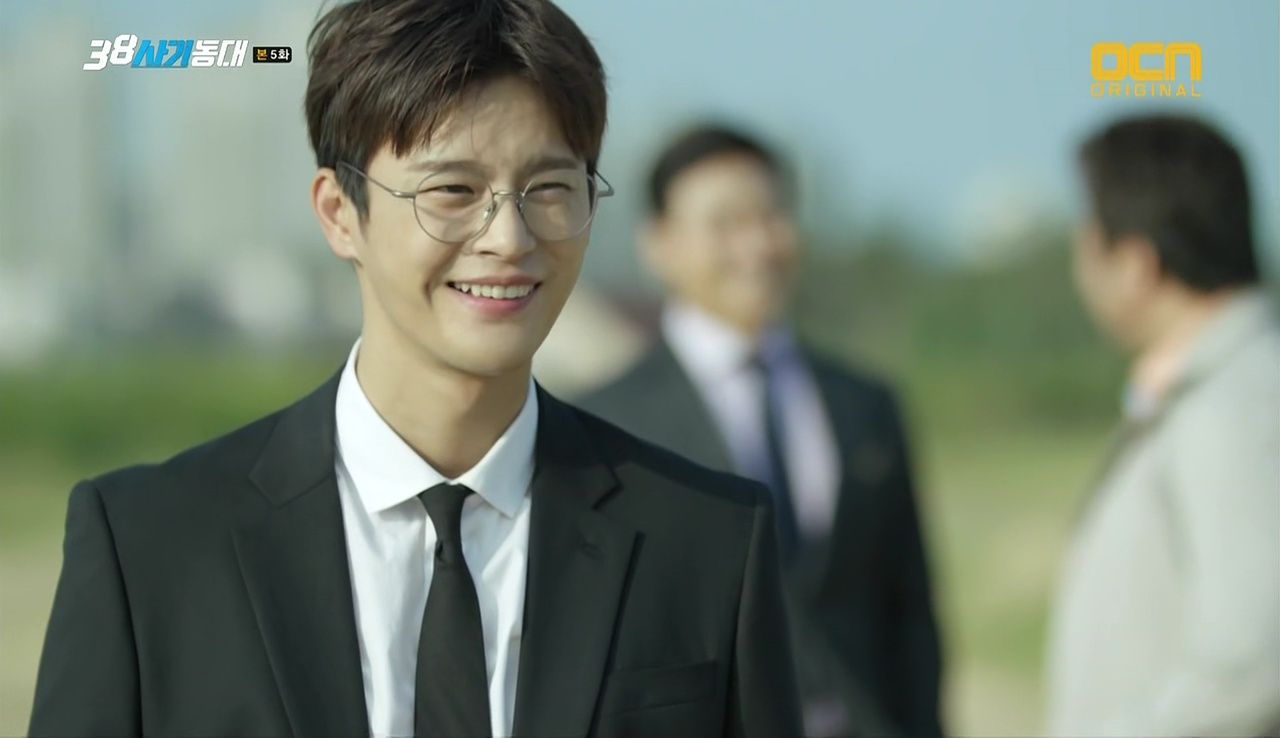 RELATED POSTS
Tags: featured, Ma Dong-seok, Police Unit 38, Seo In-gook, Sooyoung