Police Unit 38: Episode 6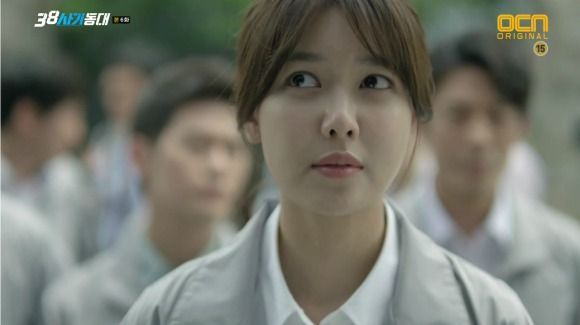 What's really fun about ensemble dramas is not only do you have a lot of personalities around, but they collide with each other in fascinating, messy, and unexpected ways, modulating and changing one another until the personalities you finish with have somehow all become puzzle pieces of each other. It's beginning to happen to our band, and you know, it's pretty damn beautiful.
Note: We reckon the con team has earned the right to be more than nicknames, so we're switching over to real names from now on: Burner is HAK-JOO, Keyboard is JA-WANG, and our elegant Lady Wallet is MADAM NOH.

EPISODE 6 RECAP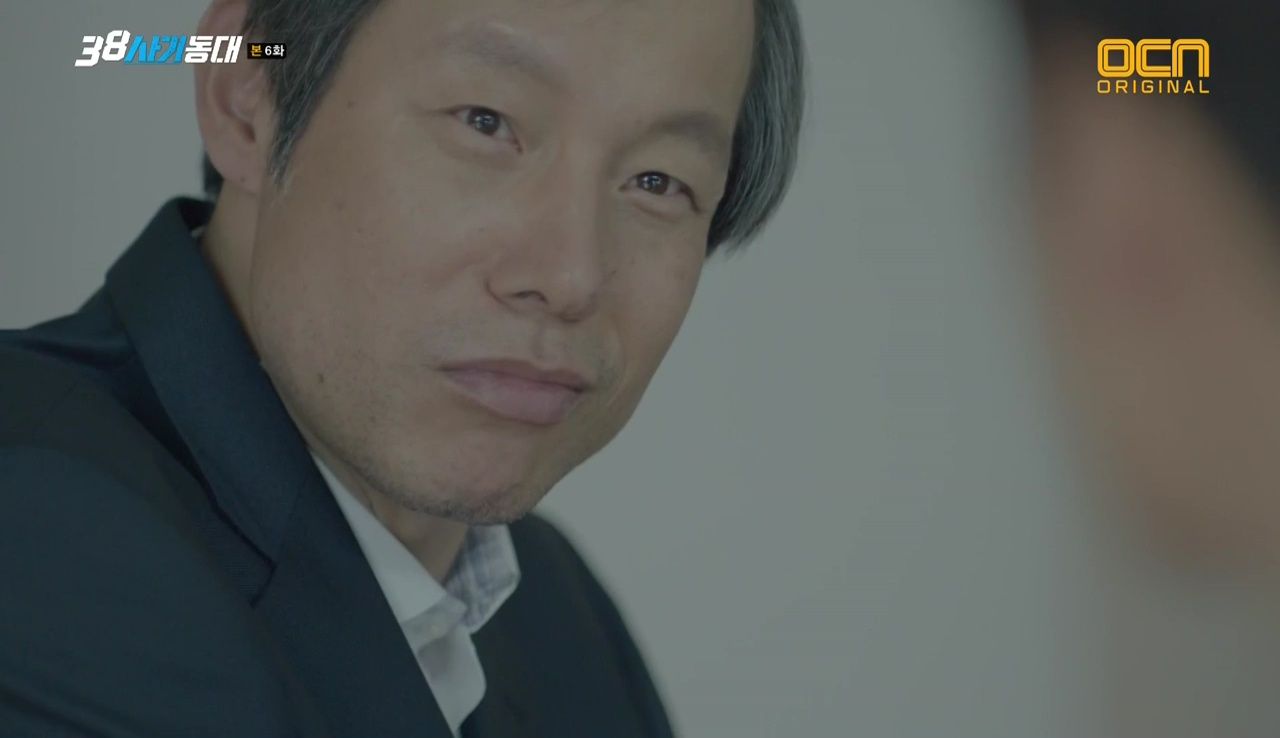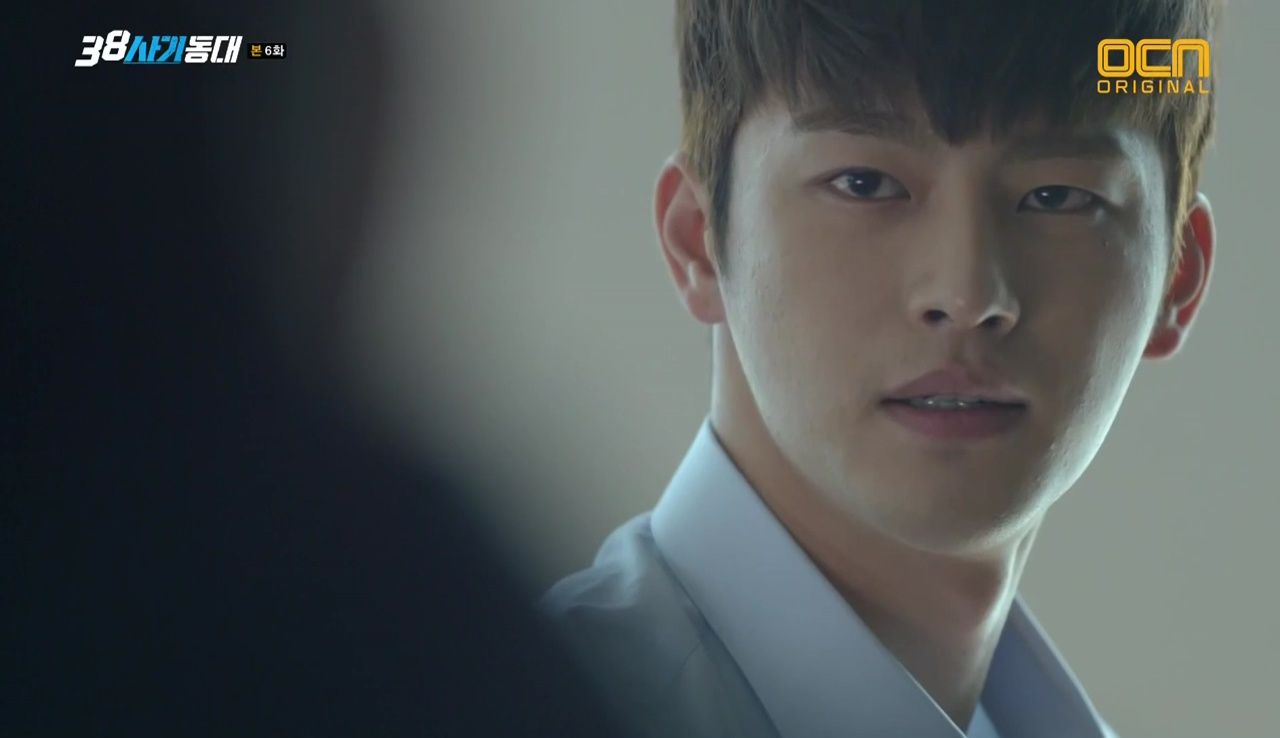 Detective Jae-sung gloats about locking up the con team while Jung-do objects that there hasn't even been a fraud yet. Jae-sung chuckles darkly that he expects him to collect Ma Jin-seok's signature on the con-tract (get it, get it?) tomorrow himself, and that's the moment he'll swoop in to arrest him.
His words have a nasty edge and Jung-do struggles to master himself. He agrees, but challenges Jae-sung to catch him if he can. Before he goes, the cop leaves Jung-do a pair of handcuffs and tells him to do him a favor and cuff himself tomorrow, because he can't be bothered.
As soon as the door beeps shut, Jung-do swears, his agitation spilling out. He calls Jin-seok to rearrange the meeting to today, explaining that something came up for the real estate agent, so Jung-do will be bringing the contracts himself.
Sung-il tries to negotiate with their captors at the police station, but Mi-joo points out to him that the purpose of their wholesale detention is to trap Jung-do into incriminating himself.
In her office, Wallet, aka Madam Noh, thinks back to her meeting with Mr. Kim (Chairman Wang's subordinate in prison) when he told her that Jung-do actually saved the chairman's life twice. She's dismayed to hear news of the team's arrest and grimly asks her daughter (whose name is CHOI JI-YEON) about Jung-do's whereabouts.
Jung-do makes his way out of his building, shadowed all the while by plainclothes police. Jae-sung's anticipated his move and, curb-crawling behind his target, instructs his officers to arrest Jung-do as soon as the contract's signed.
Jung-do knows he's being tailed, although he doesn't break his purposeful stride. He slows to check out what's going on behind him through the reflection on his phone screen. Growling, he breaks into a sudden, wild sprint and the cops give chase.
He screams with frustration as Jae-sung's car catches up. They pull out all the stops in their pursuit until they finally corner him. He doubles over with exhaustion, but just as it seems like it's all over, a black car screeches up and the window rolls down to reveal Madam Noh's dour face. Lighting up, Jung-do leaps into her car and they flee.
Breathing heavily, he gives Madam Noh a grateful thumbs-up. She just snorts at him. Aw, you know you like him despite yourself!
Jae-sung won't give up so easily and orders his team to continue the chase. But they're totally thrown when an identical black car appears right next to Madam Noh's car. And then there's a third! Jae-sung spits fury as the cops are forced to give up at a huge intersection where no less than seven black cars peel away in different directions.
Jae-sung rips into his team for losing them, punctuating his words with vicious kicks. He realizes they can still catch Jung-do if they find Ma Jin-seok, but one detective points out that they've just made a mess in another department's jurisdiction for a crime that hasn't even been committed — they had much better worry about themselves at this point. Innit, though.
While Jae-sung splutters, his fate is sealed when the other detectives simultaneously receive an alert to detain him. The rest of his team arrives, and despite his struggle, Jae-sung is placed under arrest. Good, serves you right.
Madam Noh goes through a car wash with Jung-do, the noise masking their conversation, and she remarks that being able to buy multiple identical cars is one of the perks of wealth. He grins, and wonders how she knew to find him. She got a call, she says, but it seems neither of them knows who it was.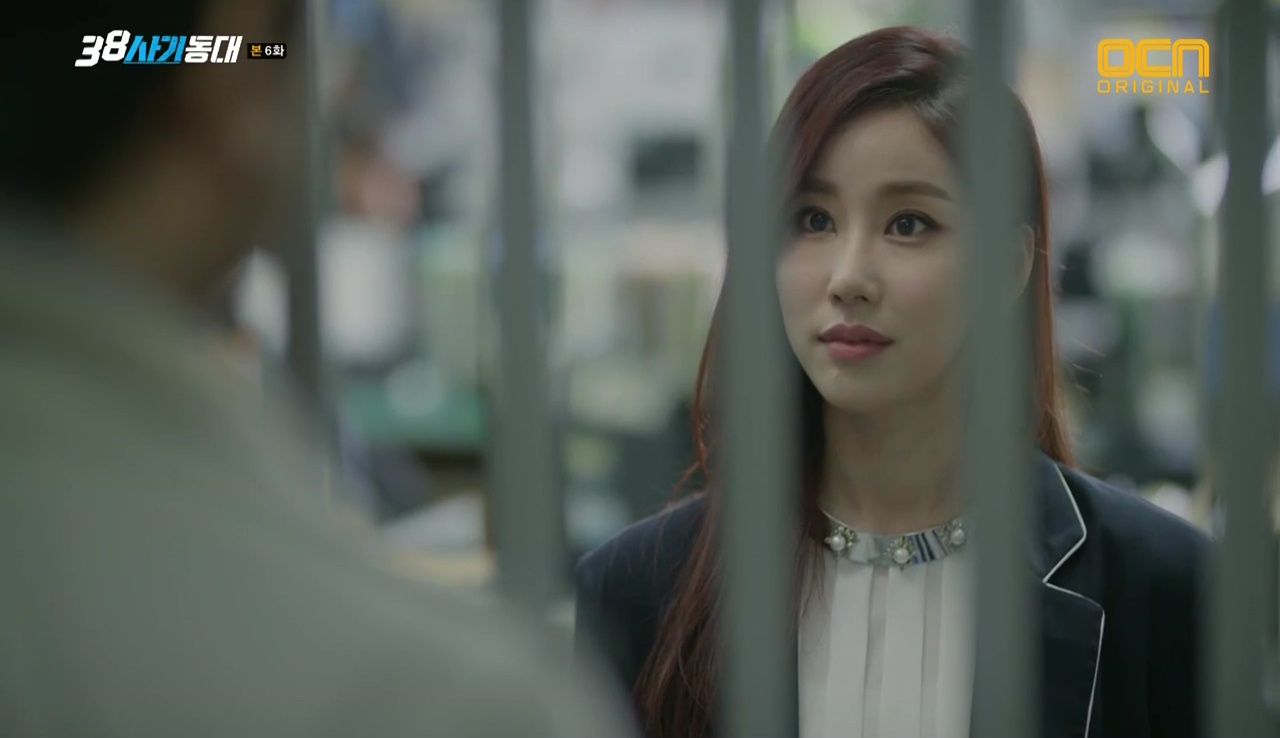 Her daughter Ji-yeon arrives at the police station where the con team is being held, and they crowd eagerly at her appearance. "Shall we go?" she says to them. They've got work to do.
Jung-do, impeccable once again, finally meets with Jin-seok to sign the land contract. With cool efficiency, he reminds Jin-seok to read it through carefully first. Then, Jin-seok lays his seal on it and has the money wired over immediately… and it's done.
Jin-seok can't keep the smile from his face. He leans closer to Jung-do now with a proposal: How about they cut Sung-il out of this? Instead of half of the five percent promised to Sung-il, Jin-seok offers him a straight-up three percent. Jung-do's face right now is a mixture of entertainment and disbelief, and he laughs, which Jin-seok mistakes for agreement.
"You're a lowlife to the end, aren't you?" a voice says. Jung-do gets up and the just-arrived Sung-il takes his place. Addressing him harshly, Sung-il tells Jin-seok that he's just been conned — the plot of land he bought for that exorbitant price is practically worthless and not even developable.
Jin-seok can't compute it and seeks assurance from "Section Chief Kim." Jung-do grins and tells him his last name is Yang, not Kim. He tells Jin-seok all about the fake website where he checked the wrong plot of land, and Jin-seok dives for a nearby customer's laptop. But the real land registry only proves their words true. Jin-seok frantically dials his brother to block the money transfer, but it's all too late — the money's gone.
Sung-il observes his panic impassively (Jung-do, on the other hand, enjoys it all very much), and likens Jin-seok's expression to the water-drinking ajumma's. And that's why he shouldn't play with people with his money, Sung-il says.
Jin-seok now clings to them, kneeling and begging. But his humility lasts for all of twenty seconds before he seizes Sung-il by the shirt-collar, teeth bared and screaming. Hak-joo (Burner) saunters in then, out of disguise, and gives a cheerful greeting. He's quickly followed by the rest of the team: Mi-joo, Ja-wang (Keyboard), and even the ever-unruffled Madam Noh.
As the extent of the deception sinks in, Jin-seok laughs desperately. He pulls out his phone to report the con, but Sung-il takes it from him and sits him down. Formally, he declares Jin-seok's taxes paid off and all his arrears cleared. The whole team radiates satisfaction and Jin-seok closes his eyes in defeat.
Sung-il leaves him with the parting advice that they shouldn't live dishonorably and be an embarrassment to their kids. One by one, the team files out, leaving Jin-seok seething.
At City Hall, the news about Ma Jin-seok paying his taxes spreads until it reaches Commissioner Ahn, who's in a meeting with Mayor Chun. The mayor wonders why Ahn is so troubled over the guy, and Ahn explains that Jin-seok is the lifeline and money source of one BANG PIL-GYU — a bigwig connected to an even bigger wig, CHOI CHUL-WOO, who are basically their secret overlords.
Commissioner Ahn admits that Jin-seok's case had been strategically assigned to Sung-il under the assumption that he wouldn't be able to collect, therefore keeping their web safe. But if either of those three are threatened, Ahn tells the mayor, the sword would then be pointed at the two of them.
At the same time, Sung-hee briefs her task force on their next target, Bang Pil-gyu: He's the former CEO of the now insolvent Woohyang Development, a subsidiary of Woohyang Group owned by Bang's hometown sunbae, Choi Chul-woo, and the whole company is mired in controversy.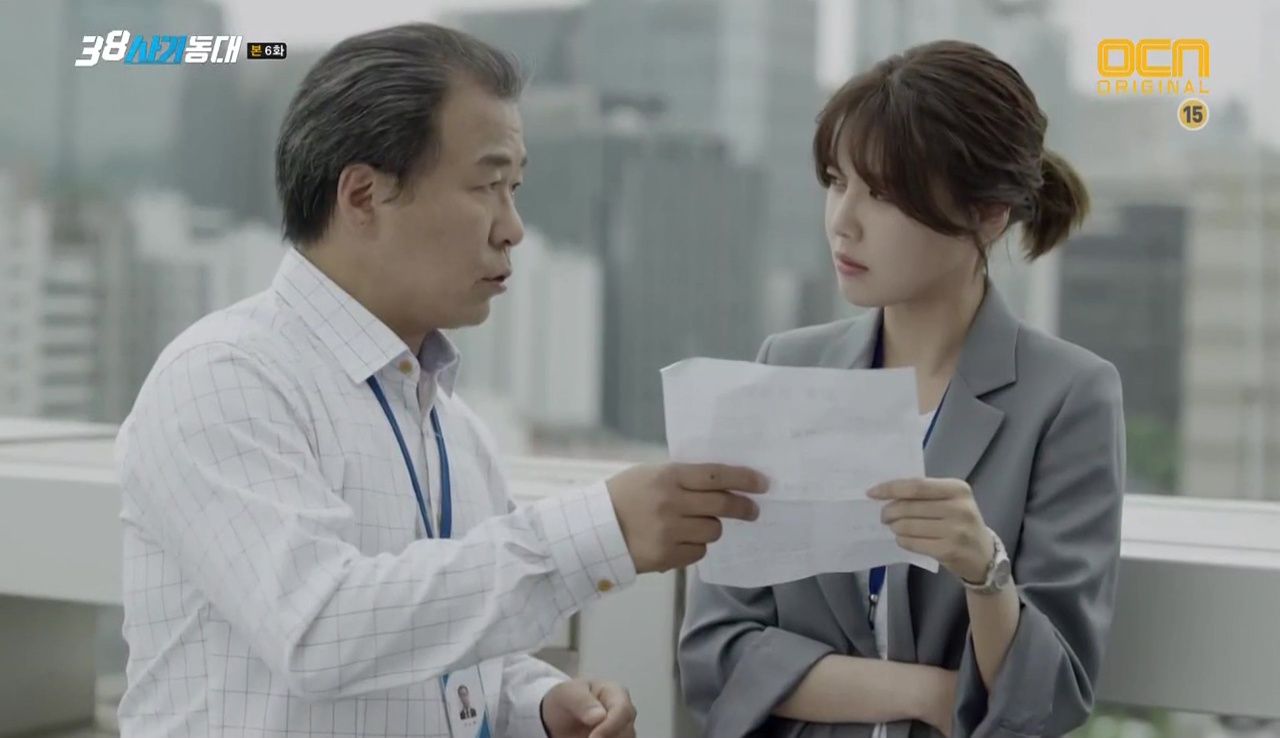 The team asks Sung-hee why they're taking on such a big job. She tells them plainly that it's to save their chief Sung-il, and they fall silent. A quick flashback shows Chief Kang telling Sung-hee that if they expose Bang's tax evasion and lavish lifestyle in front of TV cameras, public sentiment will force the tax bureau to act.
She relays this plan of attack to the team, and they anticipate that exposing Bang will draw out Jin-seok too, thus giving them the leverage to negotiate for Sung-il to be cleared of both the assault and alleged bribery. That's their goal, she notes — saving Sung-il, not getting Jin-seok's money. Ohh they don't know yet that Jin-seok's cleared his taxes! This can't end well.
Sung-hee teases Chief Kang for putting on makeup for the cameras, since they called a bunch of reporters to the scene. He appoints her as the mission leader (which everyone recognizes as a scapegoating tactic), but she takes charge efficiently. They pile into vans and she instructs them to search for a safe locked in a secret room.
She also tells them to play up to the cameras by staging scenarios like going for the wife's luxury goods, so they can get a shot of her fighting with them for her preciouses. A flash-forward shows it all unfolding precisely to plan. But everything depends on them finding the safe and revealing its contents, she emphasizes. That's where they expect to find the big money.
But once they arrive at the property, nobody answers the doorbell. A multitude of cameras are trained on them as Sung-hee calls for a ladder and gets one of the men to scale the wall to let them in. Chief Kang stays busy telling the reporters that this is all Perfectly Normal and Legal.
President Bang (whose face remains obscured from our view), having watched their entrance from a high balcony with a smirk, takes a leisurely shower.
Sung-hee announces herself at the front door, and pounds on it to no avail. She sends for the ladder again, and they're visibly relieved as her right-hand man, INVESTIGATOR PARK confirms there are people inside. They break the lock (still perfectly legal, Kang assures the reporters) and finally gain entry.
Chief Kang stops dead when he sees the man at the table — Bang Pil-gyu. He reels into a memory of encountering him before, where Bang asked his name and told him to stop something. And for all the tease about revealing his face, it's an ordinary one after all. He gives Chief Kang an alligator-smile before greeting him like an old friend. In front of the flashing cameras. Shrewd.
Sung-hee comes forward and President Bang praises their diligence. But before they begin their search, he turns an earnest face to the cameras and explains that the reason he didn't pay these taxes is because he wanted the media to hear his words.
He tells them that he was framed as a swindler and so he lost everything as his company was sacrificed for political ends — all because they refused to engage in bribery. Haha, right. Sung-hee rolls her eyes too, unable to argue in front of the cameras.
Claiming to be racked with guilt, he bows deeply in apology to his thousands of former employees for not protecting their livelihoods. The reporters just lap it up. Speaking of which, I don't know how it's okay for a media circus to be present at a search-and-seizure, but having set his stage, Bang smiles sharkishly at Sung-hee, who has his number and isn't cowed.
And with that, the whole mission is wrong-footed — that flash-forward wasn't a flash-forward at all, just a glorified visualization exercise. Instead of enacting the scene of the wealthy tax-evading woman clutching her expensive handbag, the searchers come off as the bad guys.
They confiscate jewelry, which she tearfully tells them was a gift from her daughter-in-law, and pleads to keep. President Bang nobly tells her to relinquish it, adding in a note of self-reproach for having to now mooch off his son like this by living in his house. The lesson: Never play games with alligators or politicians.
There's still no safe, and the team quietly worries that they're in dire straits. But Sung-hee isn't ready to give up yet. Approaching President Bang, she asks him to unlock the room upstairs. Argh I love how self-possessed she is. He tries to stall her, but eventually opens it — and there it is. The safe. He says it's just personal items inside, but she firmly insists he open it.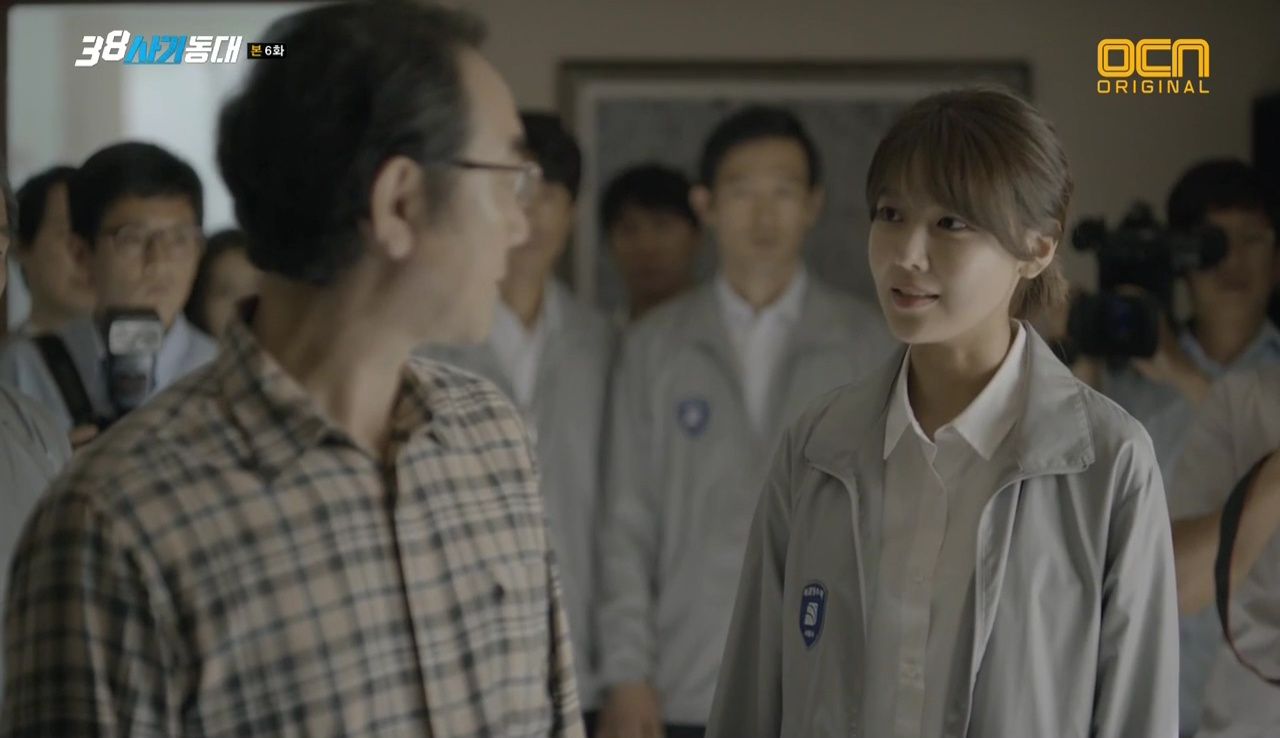 "Must you go this far?" he asks her. "Yes," she replies diffidently, "Going this far is my job." I seriously love her. Before opening it, though, he fixes her with long look and asks her name. You know it makes her a marked woman, but she answers him clearly.
"I'll remember that name," he tells her, menacing in his mildness.
And the doors open to reveal… nothing? No, an envelope with a picture of an old man inside. Sung-hee and Chief Kang exchange wide-eyed looks, knowing they've been outplayed, while Bang performs for the cameras again. It's all he has left of his late father, he tells the reporters. And with a long-suffering sigh, he leaves the officers to deal with the aftermath. Well that backfired spectacularly.
A little later, President Bang calls out to Sung-hee on her way out. He asks her if she came here to put on a show or to actually collect taxes. If it's the latter, she's in for trouble. "I came here to work," she tells him with a level smile. His menacing face abruptly switches to fatherly affection, and he lets her go. Chief Kang's protectiveness of her is sweet, as he ushers her away from danger.
President Bang then receives an urgent call from his son, BANG HO-SEOK, with news about Ma Jin-seok that does not go down well with his father.
Back at City Hall, Sung-hee also finds out that Jin-seok's back-taxes have been cleared, and she's stricken. Leaving the office, phone to her ear, she suddenly encounters Jung-do. Understanding dawns: It was them, wasn't it? They scammed Jin-seok's taxes out of him.
She marvels at how ill-fated she and he are. Thanks to him, they've lost the leverage over Jin-seok that would have given them a shot at saving Sung-il. But Jung-do knows nothing about the impending disciplinary action and is genuinely taken aback. She condemns congratulates him for saving himself from prison — but it was at her chief's expense. She marches away, leaving him troubled.
At home, Sung-il prepares a memorial meal for the co-worker who killed himself. Ohh, not merely a co-worker, but his actual brother-in-law. His wife joins in the rites, while berating her dead oppa: Because of him, she married this good-for-nothing man. Sung-il argues back that she'd called him her ideal type. Haha. In the background, a news report talks about plans to assign special overseers for the biggest tax arrears. The news of Jae-sung's arrest also flashes on the screen, as a detective who'd taken bribes.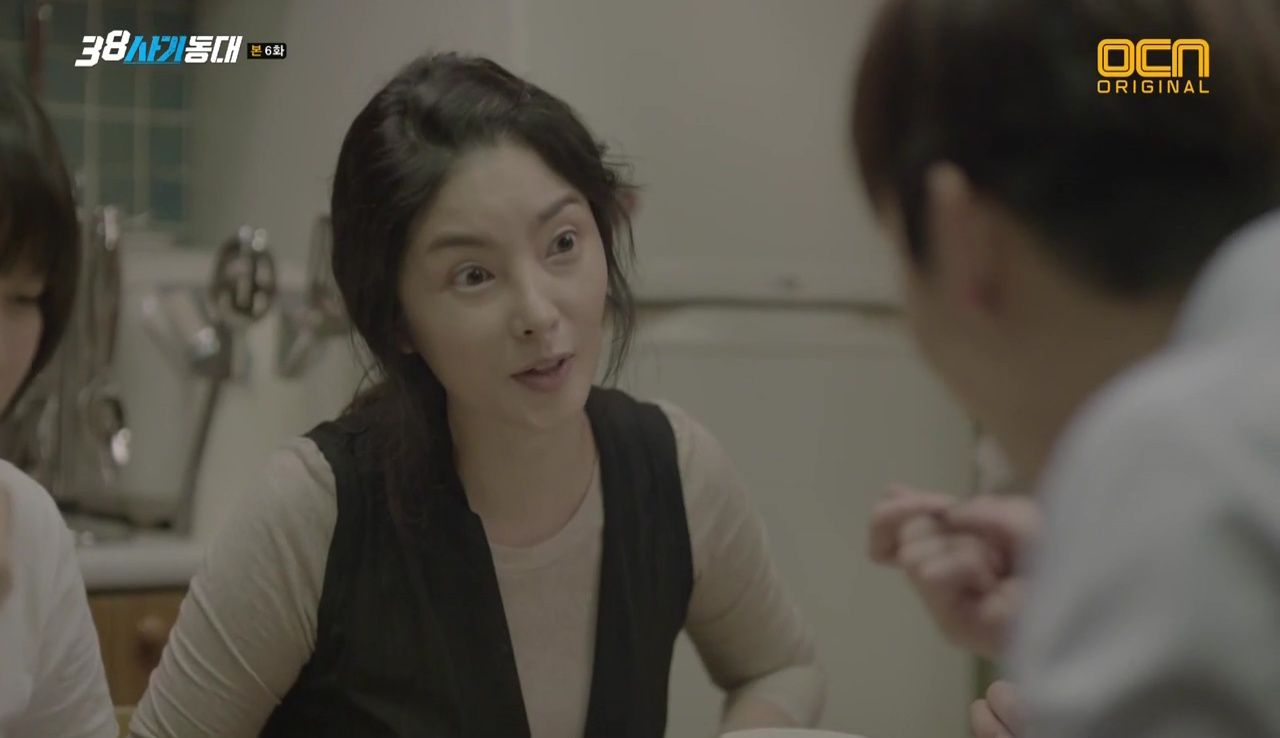 They're surprised when the doorbell rings late, and Sung-il opens it to Jung-do's chipmunky grin. Before you know it, he's happily sharing their meal, while Sung-il's wife tries to recruit him for a blind date before he can even swallow a spoonful. He turns his attention on daughter Ji-eun instead, who tells him to quit trying to ingratiate himself with his boss's daughter ("Ajusshi, you're a swindler, aren't you?"). Hahaha, touché.
Later, the men go out for drinks and Jung-do asks about the person in the funeral portrait. Sung-il tells him about the suicide six years ago, and how his brother-in-law had been slammed with a bribery charge. He's full of regret for not believing in him then, and for his last words to him being about just wanting to make his pension.
Jung-do questions whether it was truly bribery, or was it that he provoked the wrong people? It was Woohyang, Sung-il tells him. They had gone after its president, Choi Chul-woo, because he had the biggest arrears in the district. But they couldn't even get close because someone called Bang Pil-gyu blocked them off so thoroughly, with all his City Hall connections.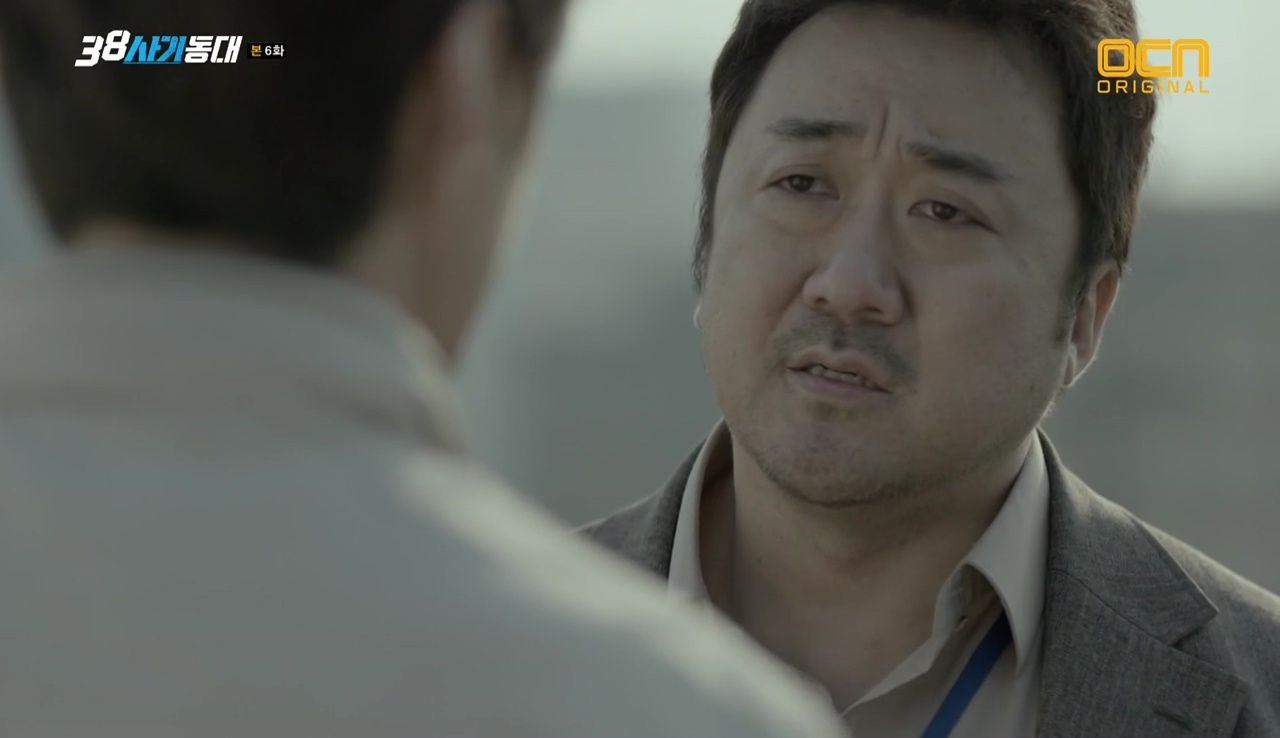 Sung-il says that President Bang had made just one call, and everything was over. One by one, all involved — Commissioner Ahn, the other Baek Sung-il, Chief Kang, and finally Sung-il himself — abandoned his brother-in-law. And then he was gone. Just like that.
Jung-do wonders who had the kind of clout to move City Hall's most authoritative, but Sung-il just confirms that there is someone like that. It seems like he knows who, too. My guess is Mayor Chun, especially given the photo of them together in an earlier episode.
Jung-do lightly confronts Sung-il about the disciplinary hearing, and asks him why he didn't try to cut a deal with Jin-seok. But Sung-il figures that since he never took a bribe, he'll get a demotion at most for the assault, and it'll be fine as long as he makes a good showing.
Jung-do laughs at the unlikeliness of such a showing, and tells Sung-il he has something to give him. Look at him munching that carrot like Bugs Bunny, lol. Sung-il holds out a hand semi-expectantly but Jung-do laughs again — not now, he says. It had better be the money you swindled off him, kiddo.
Elsewhere, Jin-seok shamefacedly admits to President Bang that he got swindled into his paying taxes. President Bang's son, Ho-seok, sneers in contempt. Planting himself before Jin-seok, Ho-seok orders him to hit himself. Vile little monster.
Jin-seok does as he's told, while President Bang looks impassively on. Not satisfied, Ho-seok takes over the task himself, delivering blow after vicious blow. But when he progresses to kicking, Jin-seok grabs his leg and daddy dearest finally calls him off.
Coming to sit by Jin-seok, President Bang calls an end to their relationship. Shocked, Jin-seok pleads: Without President Bang's connections, he'll be ruined. But Bang remains implacable. He tells Jin-seok he must survive his trivial little existence on his own, and be grateful even to have rubbed shoulders with dragons such as himself.
Shortly after, President Bang interrupts Ho-seok's abuse of his driver to check if he did the thing he asked him to. Ho-seok guesses that Dad must be hard-pressed by City Hall to need such a thing done. Dad smiles grimly, "They tried, the louts."
At home, Sung-il mulls over Jung-do's visit. Heading out, he makes for the team hideaway. The others are already assembled there for a secret meeting, where Jung-do has apparently already told them about Sung-il.
Smiling a little, Jung-do admits he feels bad for the ajusshi who got tangled up with them unfairly, but joined hands with them in good faith. And unexpectedly, he tells them, he found a sense of satisfaction in bringing a bad guy to justice. "Wasn't it fun?" he asks. So what if they keep going, and help Sung-il keep his job?
The camera lingers a moment on each face as they consider it, and Sung-il walks into their midst at that very moment. They're surprised to see him, but not as much as he is when he turns to find the wall covered in posters of his division's tax defaulters. What are they planning to do with that, Sung-il asks.
Half-sheepish, half-pleased, Jung-do asks if getting three hundred people to cough up their taxes is enough to save his job. Sung-il's kind face breaks into a tiny, hopeful smile.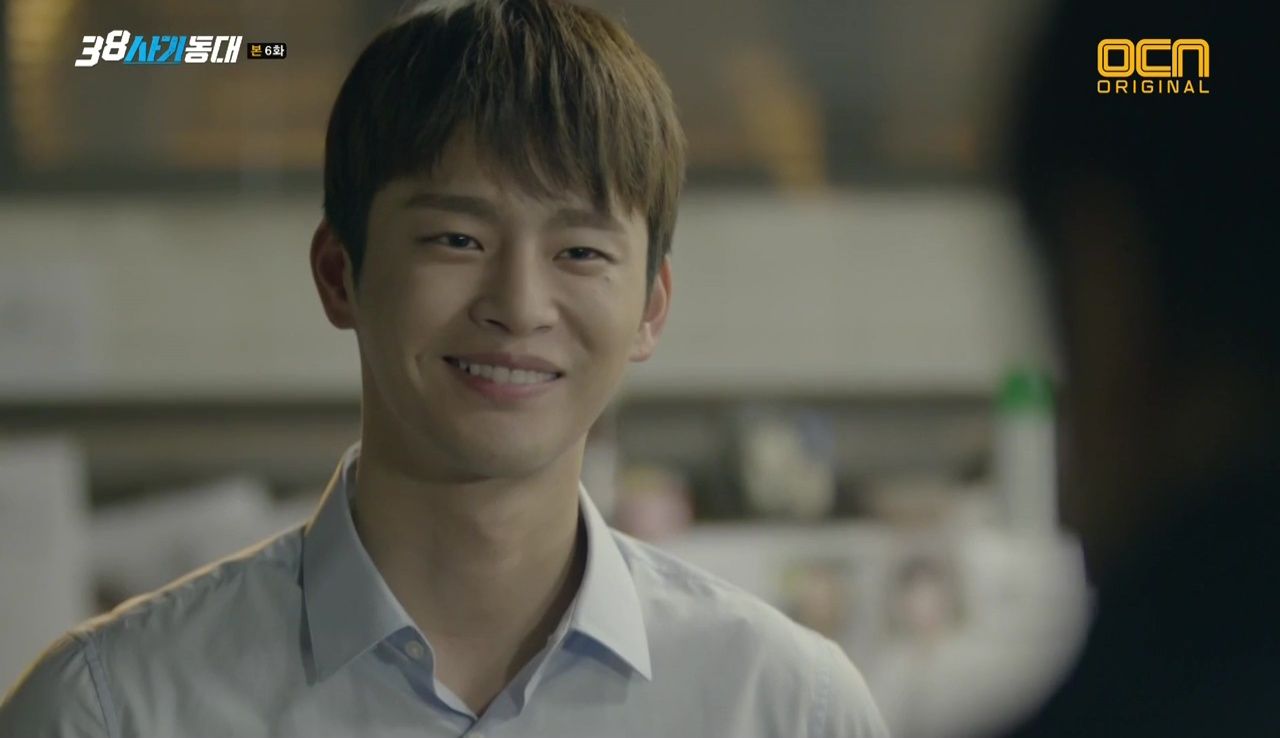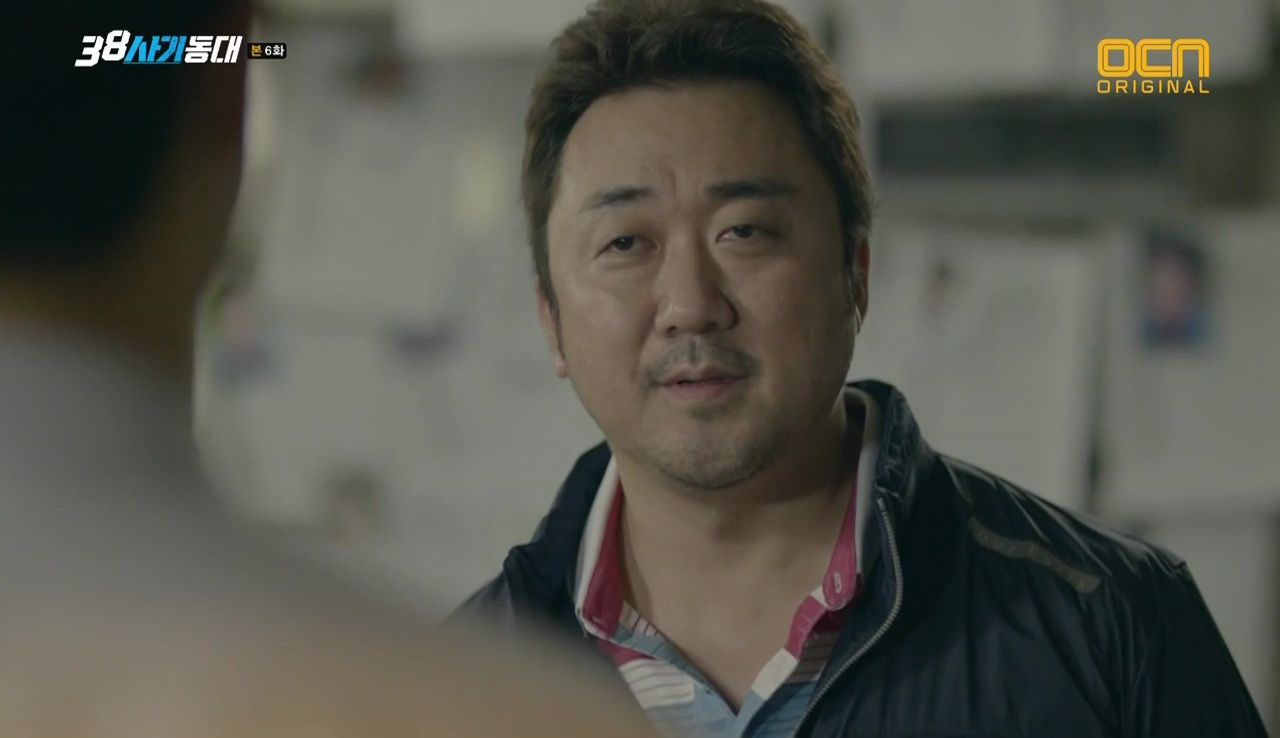 COMMENTS
Aww, Sung-il. What's great about his character is how totally transparent he is — you always know exactly what's going on with him. With Jung-do, on the other hand, I'm left constantly second-guessing. Like is his rousing speech at the end here a sincere product of the moment, or another calculated manipulation, albeit for a good cause? It's why his encounters with Sung-hee become increasingly interesting. It feels like those moments, laden with a subtle tension, are his most honest. Not because he's actually telling the truth (God forbid!), but because he becomes less and less able to hide it, especially from himself (he can barely meet her eyes right now). It's actually really fun to see him shaken as his scam gets away from him.
But my favorite thing this episode was Sung-hee, and there was a slight shift from focusing on Jung-do to highlight her. She's gutsy, competent, and inventive, she is — like Jung-do, but also the opposite of Jung-do, which is fitting because he's the reason she chose to become who she is now. And unlike him, she seeks solutions within the law (or through its loopholes and blindspots, of course), which requires far more ingenuity. Her face-off with President Bang showed she has clear potential to match him, I think, in his maneuvering. Yes, she was outplayed, and yes, their tactics were inadequate… but they won't be next time. She's got the measure of him now. Call this a test game, where the purpose of the first encounter isn't to win, but to gain the knowledge of how your opponent thinks. It's actually pretty exciting to have a smart, strong woman as his arch-nemesis, and I don't doubt her capability for a moment. I only hope she keeps being quietly badass.
We reach a turning point this episode as the show lifts the veil on its real villains, and the deft power-plays are what this hour was all about: turning the situation to your advantage and telling the story better — an important lesson to Sung-hee about taking immediate control of the narrative. The fundamental problem both she and Sung-il have is that they think too honestly. For example, Sung-il is endearingly naïve in the belief that his innocence will save him, which of course, it won't (although it also shows that there's still some idealism left in him). In the shark-infested waters they're now in, they can't afford to be minnows if they want to live. They have to evolve — and perhaps ally with a piranha or five.
Since I watched the last six episodes in marathon, I feel better placed to appreciate the world-building without feeling like it was too slow. There's a quality to it in the earlier episodes which really put me in mind of Misaeng. There's the weary, workaday world and the tired salaryman, there's struggling for trivial victories, there's office politics. There's a stark and grinding misery that underlies Sung-il's daily existence, and all of those elements feed into driving him to break out of the box he crept into after his brother-in-law's death (speaking of which: suicide, or murder?).
But the shame and guilt that drove him inside then are the same shame and guilt that cause him to break out now. It's what makes his parting words to Jin-seok fall more heavily, because it's so evident that he's lived by them himself. He stands out as something of a wild card: His allegiance is to the law. Which should be a given, but in the world he exists in, it's money that moves people. And, he's increasingly learning, the law is allegiant to money, and that's the root of the moral crisis that drove him to join hands with Jung-do at all. Jung-do gives him opportunity, and he gives Jung-do direction.
I find that last a vital point in Jung-do's development. I was discussing this with festerfaster, who felt like it was an uncharacteristic about-face for him to suddenly be all about upholding the law. But I find it a believable progression. Jung-do's been shown as adrift, and I think there's a headiness in doing good that is easy to underestimate. Doing good is implicitly tied with having purpose, both in an everyday way, but also in a wider, existential way. I think his team is (and is meant to be) representative of those at the fringes of society, unable to find a place in the "normal" world, even when they're as affluent and influential as Madam Noh.
Although we don't get Detective Jae-sung's whole deal, wasn't it satisfying to see him lose the upper hand he had over Jung-do? From seeming at first like a benevolent father figure, his recent behavior and frenzied pursuit of Jung-do speaks of another agenda entirely. I was genuinely shocked to learn that he was chasing Jung-do around outside his jurisdiction. Nothing else says "vicious vendetta" more clearly, but whether it's personal or whether he's acting under the orders of someone bigger, we can only wait and see. What's evident, though, is that all the small fry are connected to a web that extends higher and wider than the humble Tax Division could imagine. Pick a scab, unleash a tsunami.

RELATED POSTS
Tags: featured, Ma Dong-seok, Police Unit 38, Seo In-gook, Sooyoung