Police Unit 38: Episode 8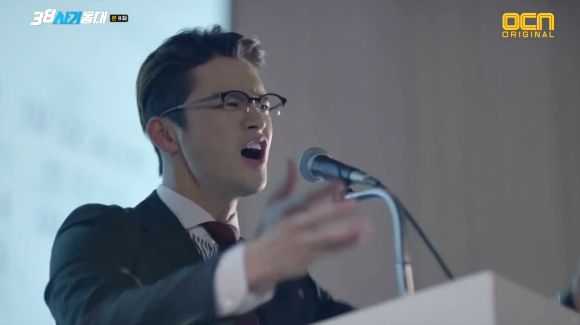 The crew gets together once again to take down an even bigger bad guy than last time, and the stakes are raised higher than ever with a side of personal vengeance. With the law protecting those who do most harm, Sung-hee's faith in the system and the people she works for is shaken beyond repair. While she teeters on the edge of the abyss of lawlessness, someone close to Jung-do tries to pull him back.

EPISODE 8 RECAP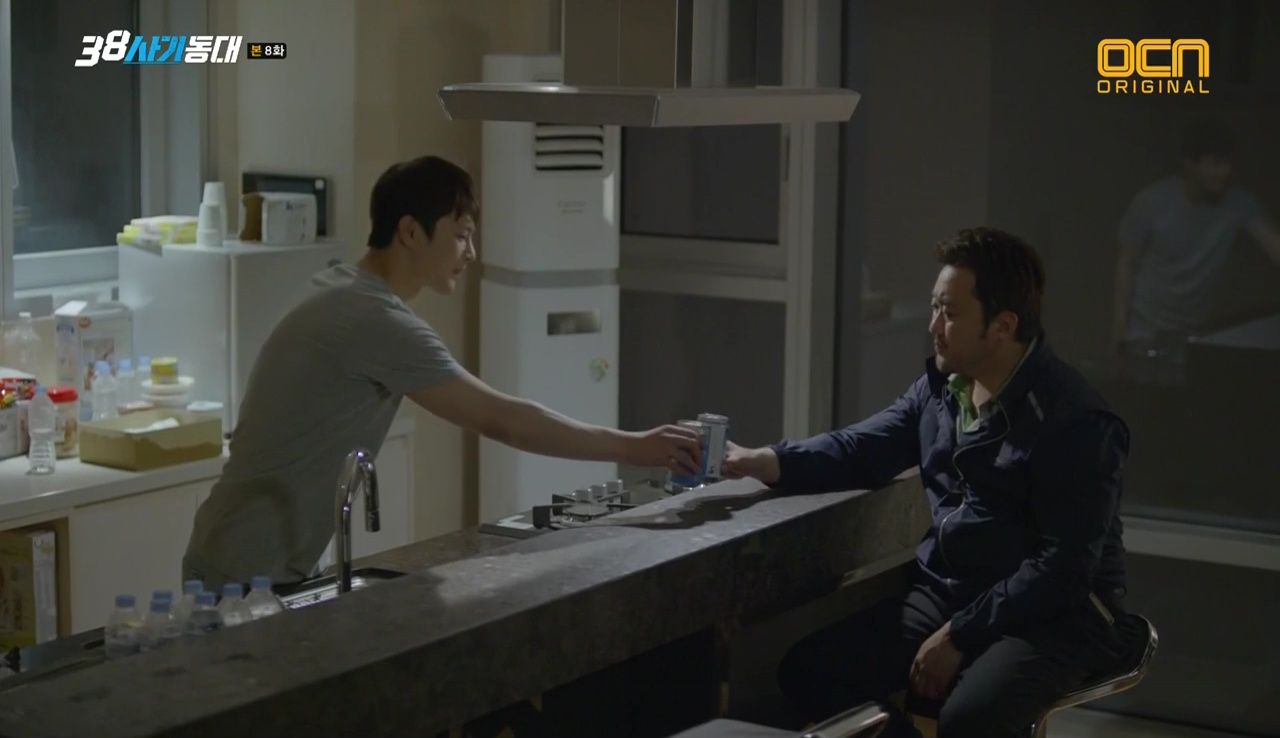 Sung-il stands at Jung-do's doorstep and asks him if money really solves everything. Jung-do realizes that something is very wrong and asks him what happened. Sung-il tells him that what he wants more than anything is to take down the bastards who hurt the people he cares for. He asks Jung-do to work with him one more time.
Jung-do sighs that he really should stay away from civil servants, then asks with a sly smile how much the sting is worth. Sung-il says $50 million and Jung-do laughs a little. He asks if Sung-il can pay him 10% of the total sum, and Sung-il tells him he can have anything he wants.
Jung-do calls up the team and they all beg to be excused because they're so very busy… until Jung-do tells them how much they're going after. Then suddenly everyone's schedule becomes flexible and Jung-do hangs up the phone grinning.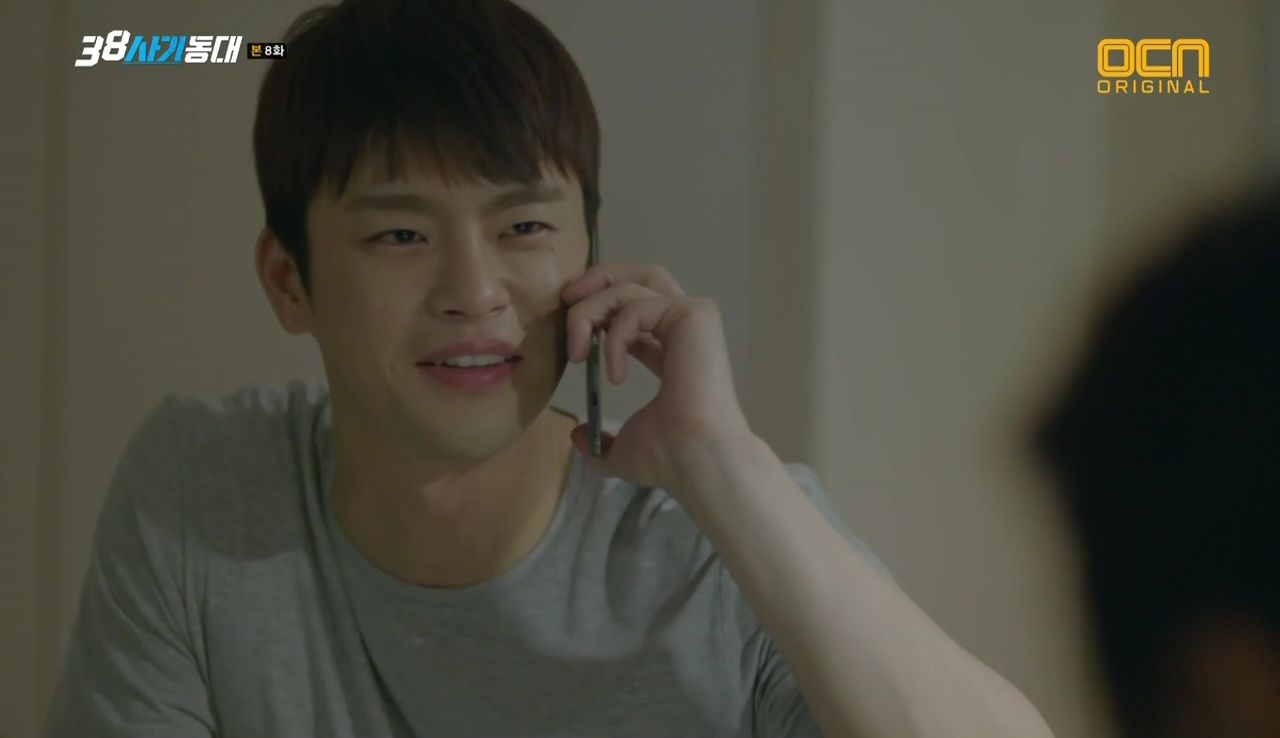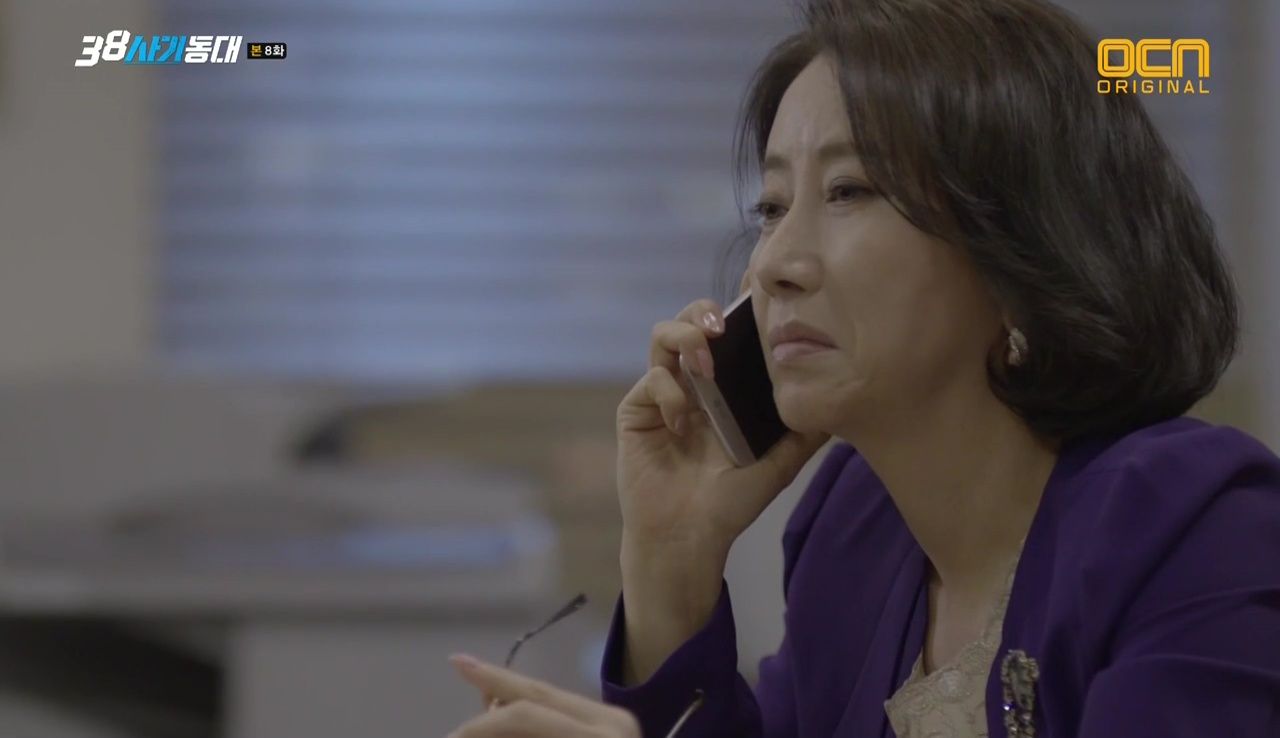 Finally, there's just Madam Noh to convince, who observes wryly that they need her and her "ammunitions" badly, since they're all dirt poor. She agrees to work with them again and asks who this defaulter is who owes $50 million in taxes to the government.
The subject of their conversation, President Bang, is discussing the tax department's raid of his house with Mayor Chun. He says he didn't realize that the mayor was taking care of Sung-hee and Section Chief Kang internally, and self-deprecatingly apologizes for trying to handle it himself. Mayor Chun is not so easily mollified. He tells President Bang that a man died and one of his section chiefs lost his job — a laugh and an apology is not enough.
All mirth leaves President Bang's eyes. He tells Mayor Chun about a pet dog he owned that bit him after six years of being docile. Chairman Choi warned him not to forgive the bite, since the dog would then mistake pity for what he's entitled to. That's why, says President Bang, he had to kill the dog.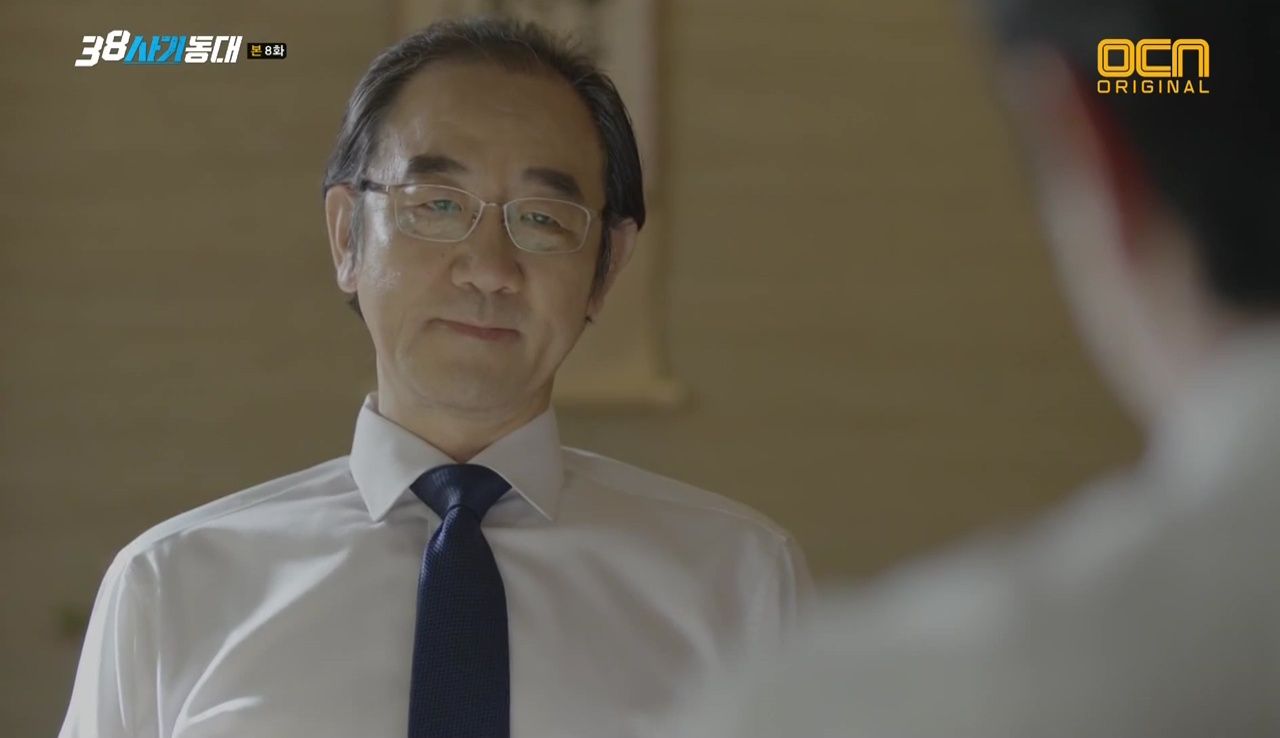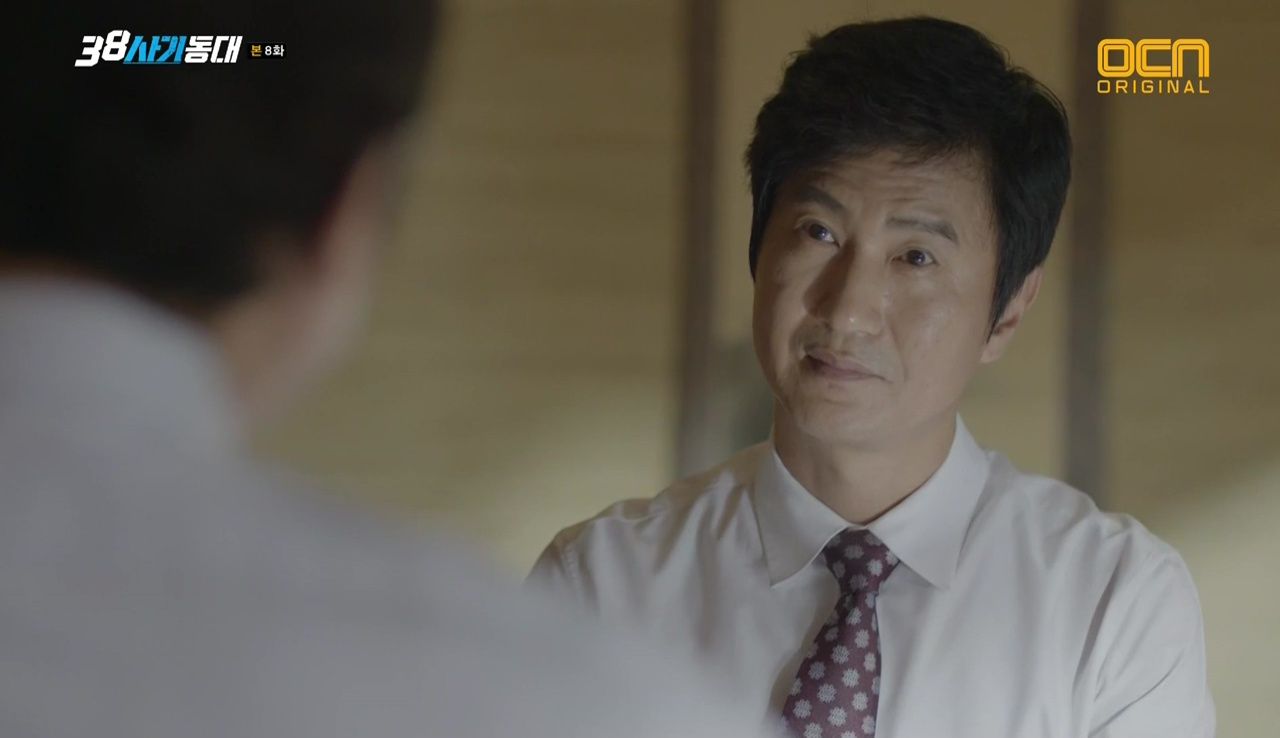 Mayor Chun watches him impassively as President Bang says that one of his employees suddenly paid $6 million in taxes, and then the income tax department raided his own house. He wonders why he feels like he's just been bitten, and asks Mayor Chun if he's started to mistake the pity President Bang has shown him for what he's entitled to.
Mayor Chun remarks that sometimes people forget how much pity they have actually shown; how much they have done for people like him. At that point, says Mayor Chun, they start making unreasonable demands and saying terrible things. He asks President Bang if he's forgotten his place.
President Bang narrows his eyes and asks if the mayor just insulted him and Chairman Choi. Mayor Chun calmly clarifies that no, he just insulted President Bang. He adds that from now on if President Bang wants something from him, he should ask politely instead of threatening. President Bang retorts that he's never asked for anything politely, then brings up the mysterious incident six years ago. Mayor Chun's face stills.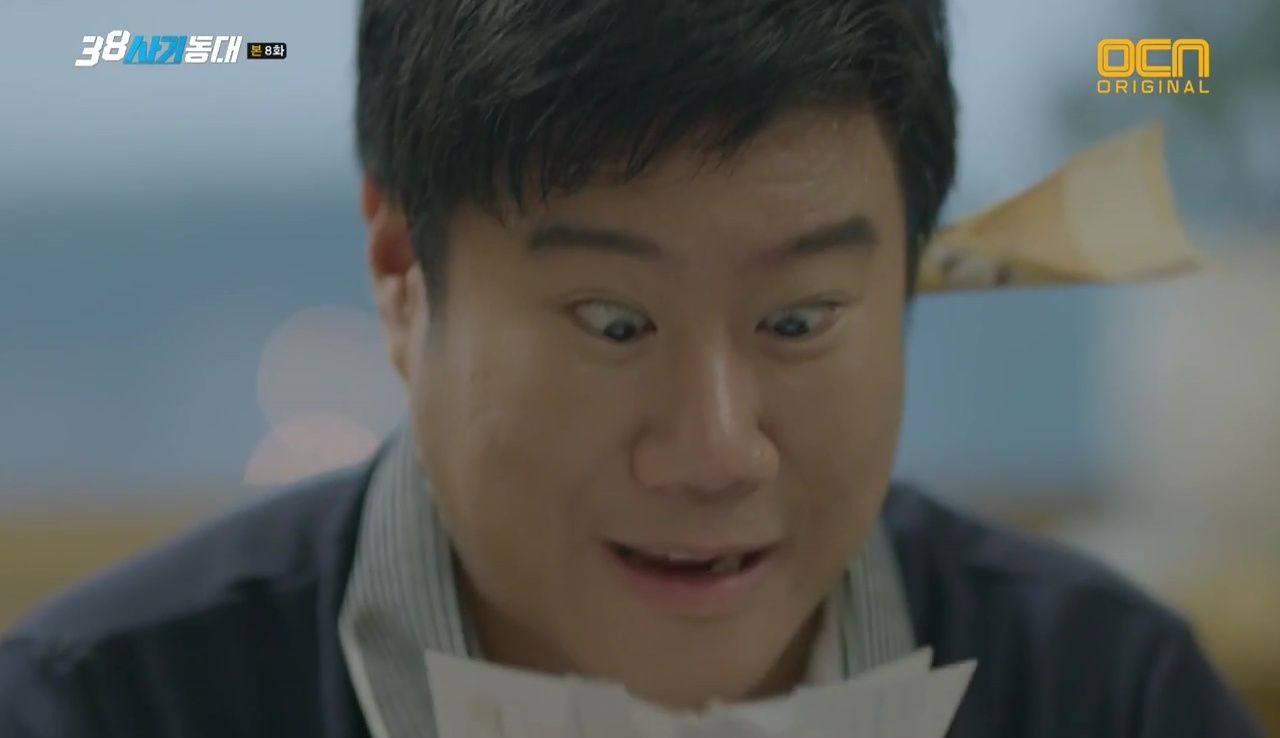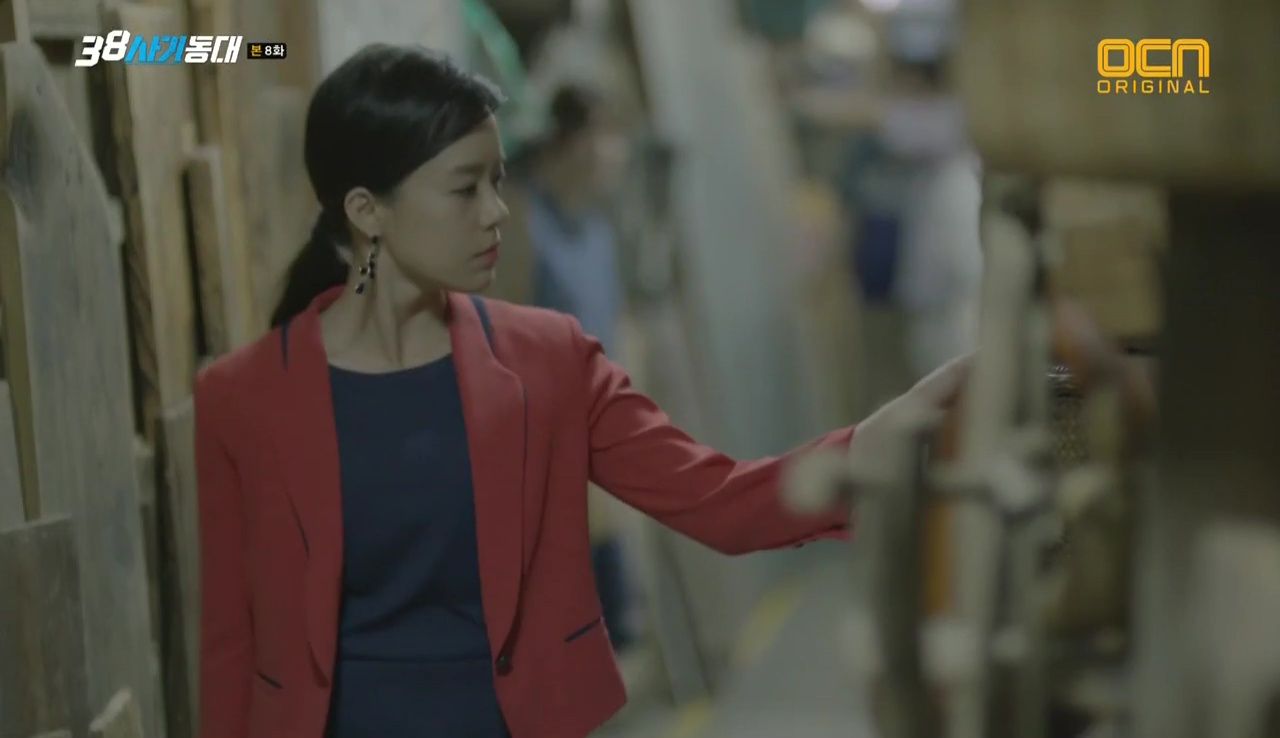 The con team has assembled in the "freezer," their hideout in Hak-joo's butcher shop, to discuss President Bang. Jung-do explains that all they have on their man is his picture. Sung-il elaborates that President Bang has two children. He has transferred all his assets to them and neither seem to ever go to work.
The son, Bang Ho-seok, spends his time playing Monopoly-like board games with his friends, using real money, while the daughter, Bang Min-ah, leaves her home twice a week to look around Insa-dong, where artifacts and antiques are sold, and then heads straight home.
Jung-do wonders why they never leave their homes — do they have something buried there? Ja-wang turns to Sung-il and says he should learn from the Bang siblings and go home sometimes. Sung-il just huffs that he's too busy right now.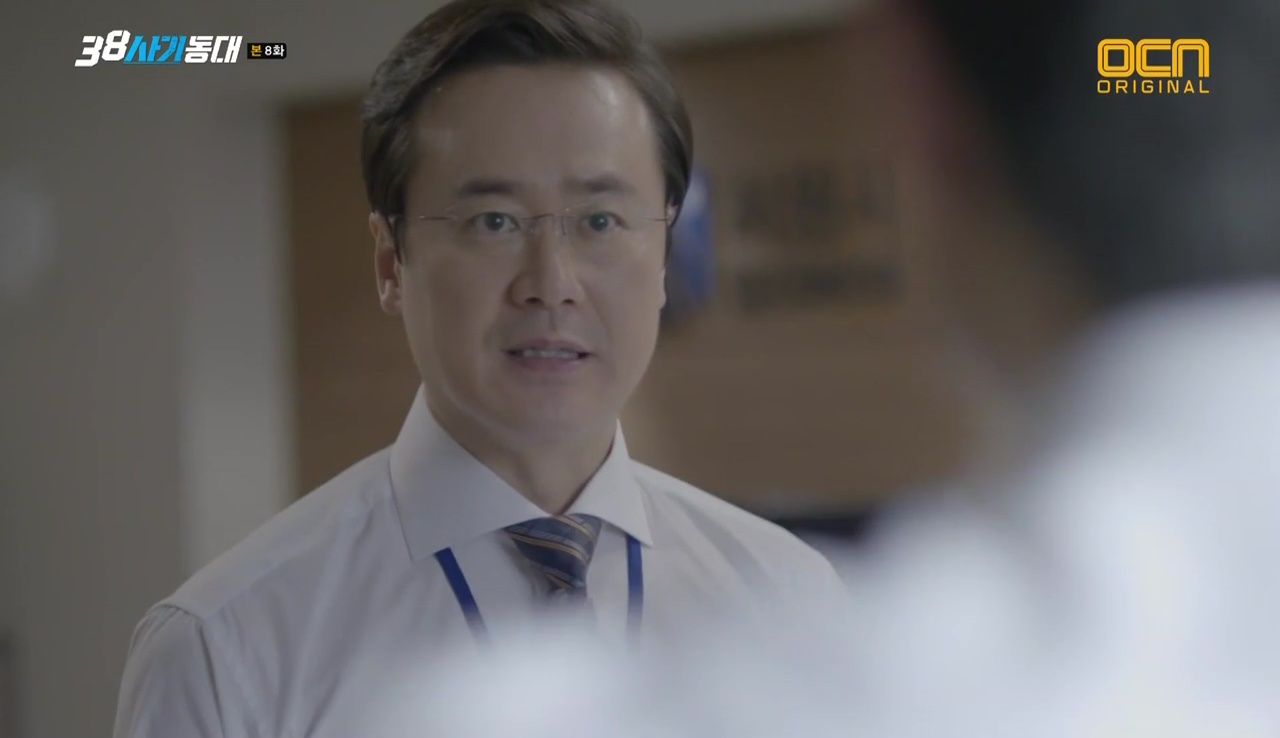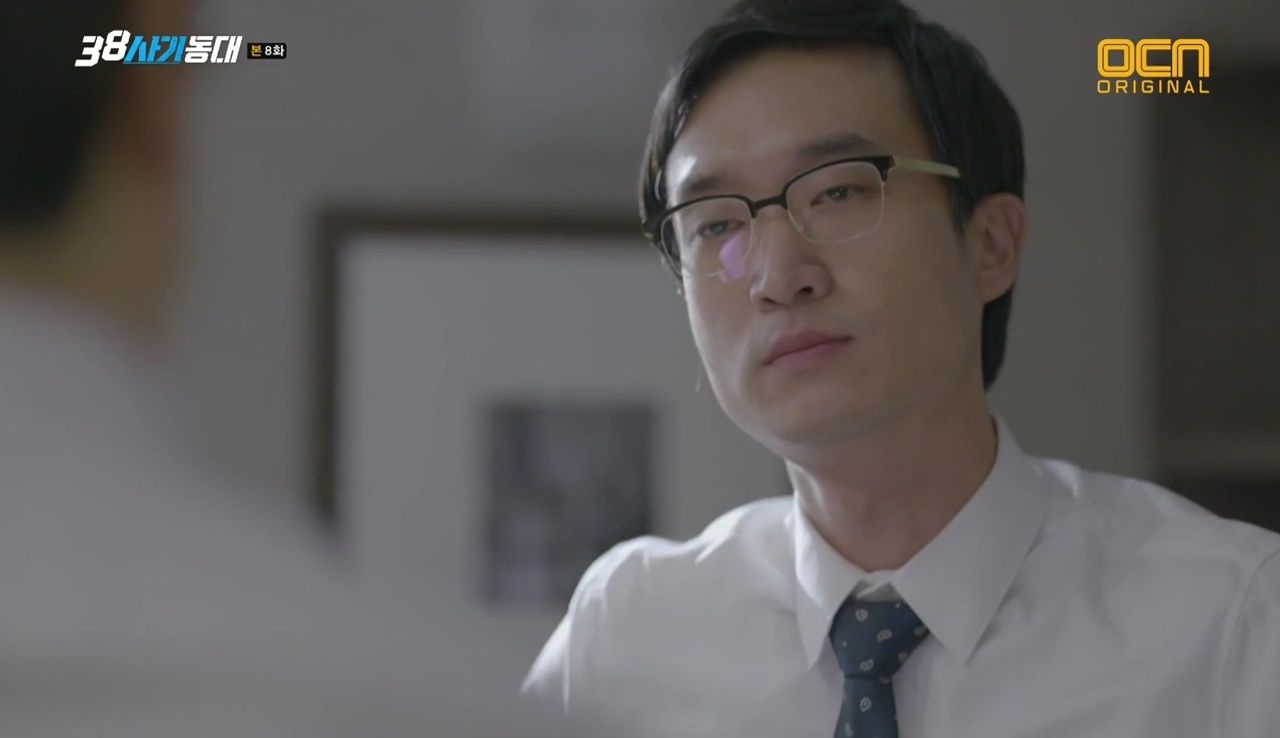 Together, Bang Ho-seok and Bang Min-ah manage an illegal pyramid scheme company called UN Communications, where they rope in victims by making them buy stolen products and then have them recruit friends and family if they can't sell enough units. The employees are then made to take out loans from a company owned by Chairman Choi to buy more units, and then pressured to sell or recruit to get promoted.
Commissioner Ahn hears that it was Mayor Chun who canceled Sung-il's disciplinary hearing and can't quite accept it. Section Chief Baek from Division One reports to him that according to Ma Jin-seok, he was conned into paying the taxes by Division Three's Sung-il.
Slowly realizing that something odd is up, Commissioner Ahn asks for all files on Division Three defaulters who recently paid off their taxes. He calls them up and finds that none of them know their taxes have been settled. Commissioner Ahn puts down the phone and laughs in disbelief.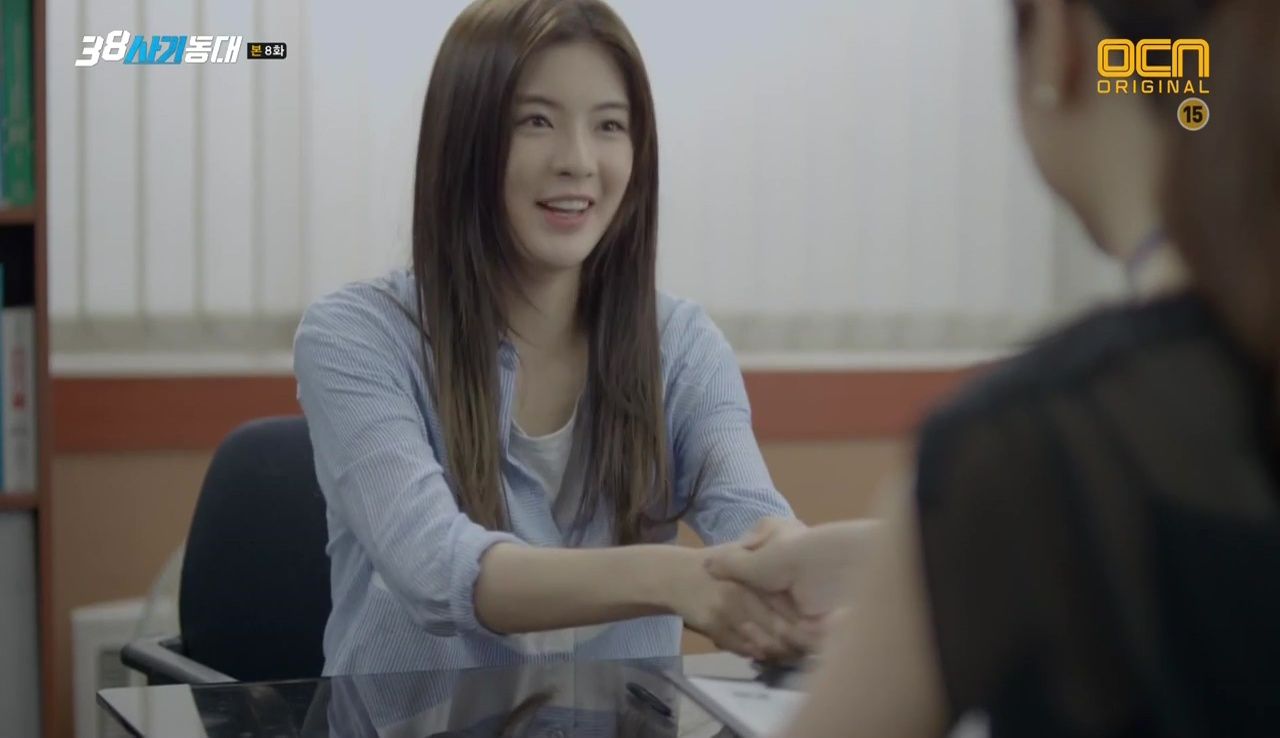 Back in the Freezer, Mi-joo points out that anyone working for their company could meet the siblings, but Sung-il says that is unlikely since they're hardly ever at work. Mi-joo thinks about it and says that she'll get a job there and make the siblings come to her. They ask her how and she says, "By rising to the top."
Mi-joo gets a job with UN Communications and begins her first day by "selling" 30 units, and then 50 the very next day. Her supervisor watches her with astonishment mingled with worry, while the "sold" products pile up in the Freezer. Mi-joo's sale numbers go up daily as she spends Madam Noh's money to buy so many units that finally her supervisor calls Bang Ho-seok, to tell him about the girl who joined a month ago and is already about to reach gold status in the company.
Ho-seok is disbelieving since he can't imagine anyone wanting to actually buy their product, but the supervisor keeps reporting ridiculously high sales numbers until he's forced to come to the office to check out "the weird new girl."
He watches Mi-joo drive away after a workday and calls up his sister Min-ah about the "real diamond" in their office. Next thing we know, Mi-joo's supervisor is sacked and Mi-joo's getting diamond status for having the highest sales in the office that month.
Sung-hee visits Section Chief Kang and finds him in a sad state after losing his job. She asks about his black eye and he hurriedly assures her that his wife didn't beat him, he tripped and fell. Sung-hee says she needed to apologize to him in person, but he brushes it aside. Section Chief Kang observes that even though her teammate Chang-ho is badly injured and Sang-ho is dead, the mayor remains quiet. Kang confesses that he'd thought Mayor Chun was done with President Bang, but it looks like the mayor is still protecting the man.
Sung-hee asks what he means, and Section Chief Kang tells her that Mayor Chun practically works for President Bang. Six years ago, the phone call that derailed the tax department's investigation and ended with Kim Min-sik's death was made by President Bang to the mayor.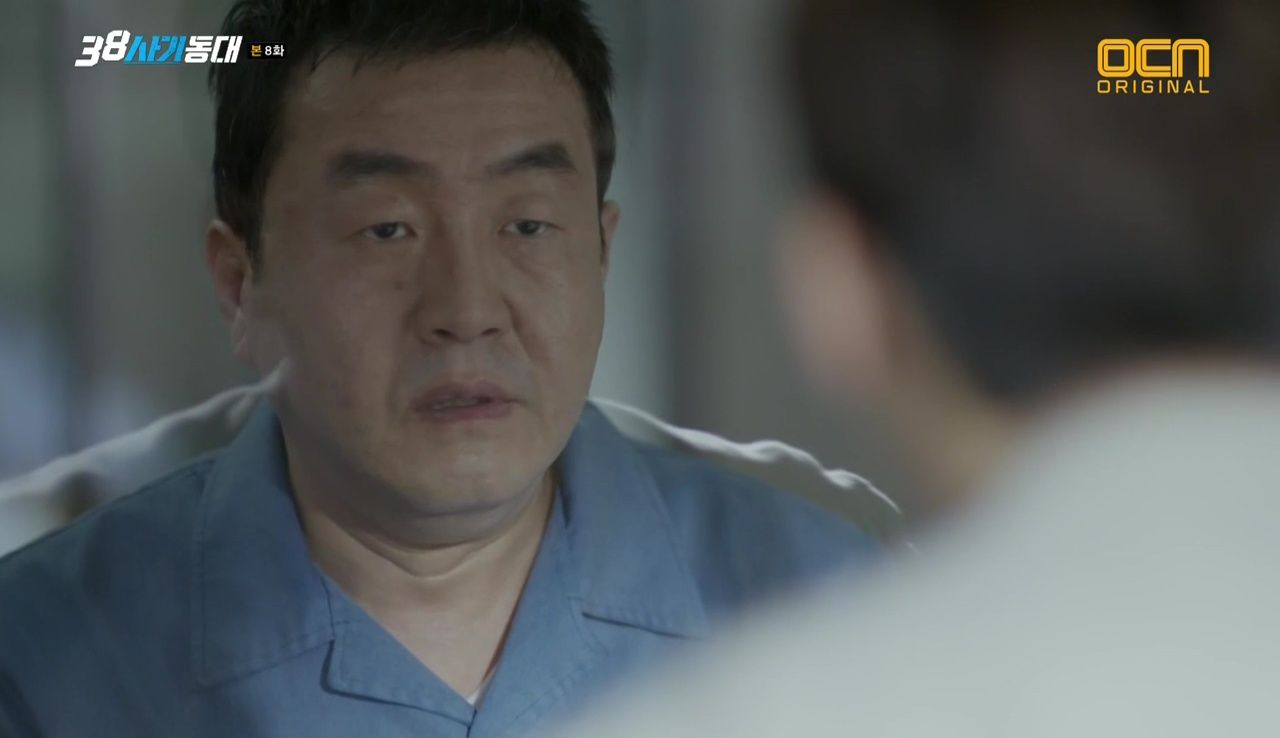 Jung-do visits his father in prison and tells him that he's sent Detective Jae-sung to prison. Not really expecting a response, he tells his father that he'll get the other two as well. Jung-do gets up to leave but suddenly hears his father trying to speak. He immediately leans forward, aching to hear every word.
His father raises his eye with difficulty and says, "Don't. Don't do it, son." The words, coming out with exhausting effort, bring tears to Jung-do's eyes, but he only says, "You've grown so old, Father." He turns and quickly leaves as his father calls out to him again.
Mayor Chun sits in his office and thinks back to the threat President Bang made over lunch. He reminded the mayor of the incident six years ago and asked who he thought would get hurt if that happened again. A man with a pen, Bang said, could never beat a man with a sword. Mayor Chun had asked what he wanted and President Bang said with a smile: "I'm thinking of seeking a public hearing to discuss my unpaid taxes."
The Division Three team hears about the open court and one of the employees starts getting very angry thinking about President Bang getting away after hurting their teammate and getting Section Chief Kang fired. Section Chief Baek pauses by their table and asks what any of that has to do with President Bang, who's only exercising his citizen's rights.
This drives the team member to call Section Chief Baek out on his corruption: "Have you become toilet paper from wiping up after Commissioner Ahn?" Tempers rise and the two are about to get into a fight when Sung-hee gets up and asks them to stop. She tells her colleague to drop it.
She asks what fighting amongst themselves would accomplish when everyone knows that they'll never be able to get the taxes out of someone like President Bang. He'll hire the best lawyers and manipulate the judge into dismissing all his arrears. President Bang will get away and the only one to suffer will be people like them.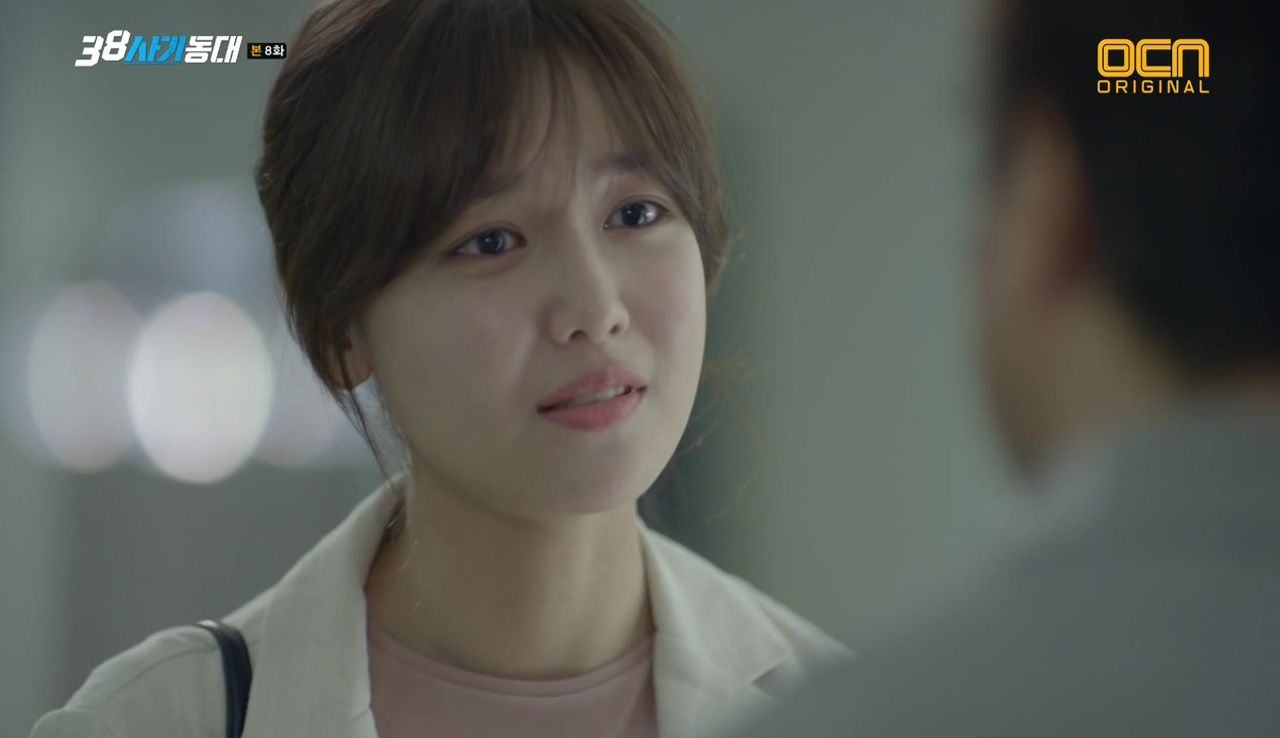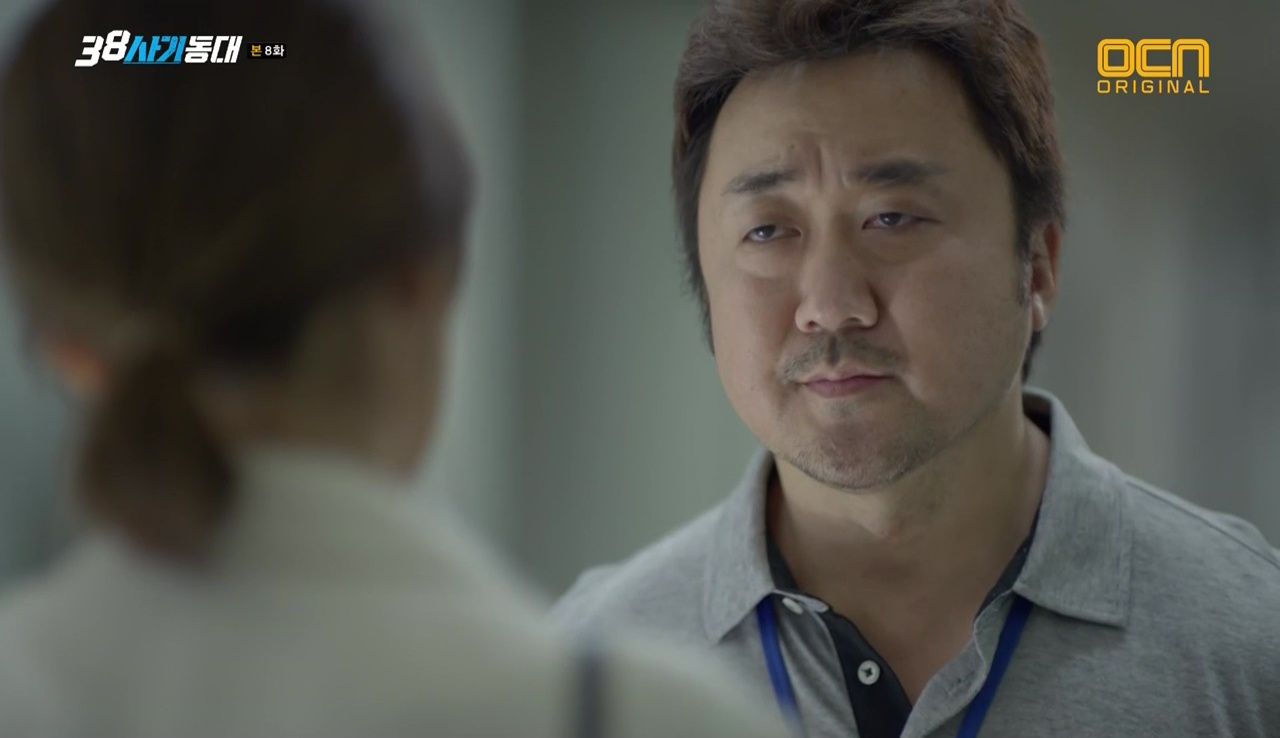 Sung-hee walks out, leaving behind her silent colleagues, her hopelessness like a millstone around her neck. She meets Sung-il in the corridor and tells him about President Bang's hearing. Sung-il already knows about it and says it won't happen. Sung-hee's eyes widen as she realizes that he's involved in another con.
She tells him that Mayor Chun is protecting President Bang, but it's obvious from his face that he knew that too. Defeated, Sung-hee asks him if what he's doing is really the only way. Sung-il pats her shoulder and walks away, leaving a weary Sung-hee standing alone.
After making record sales, Mi-joo is now Deputy Head of UN Communications. Jung-do visits her office after all the employees leave and they discuss their next step. Mi-joo invites Ho-seok out for a meal and kisses up to him. He doesn't seem to respond to her flirtatious compliments like men usually do, and just starts talking about his wife. Mi-joo tries to find out more about his sister from him, but all she gets is that Min-ah is into antiques, and often says that passing down ceramic artifacts to your children means they don't have to pay taxes on them.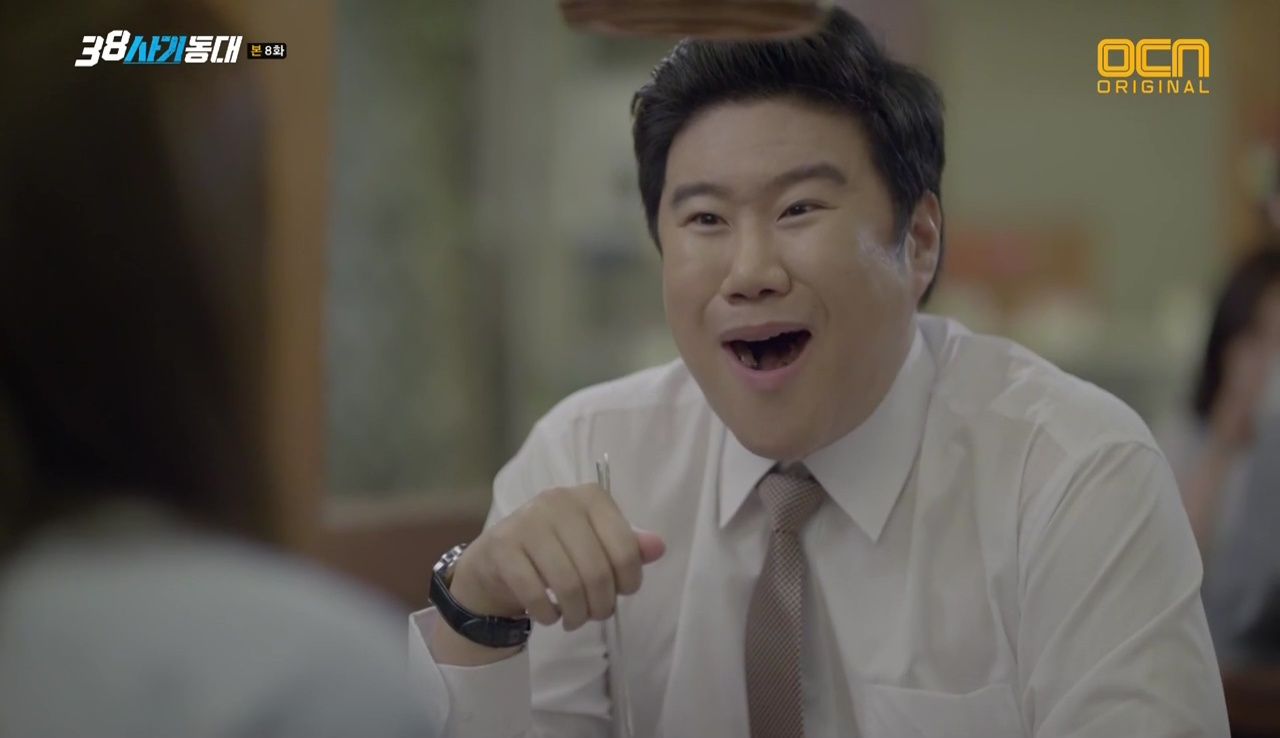 As directed by Jung-do, Mi-joo then tells Bang Ho-seok about the man with a large business in China who helped her gain her diamond status. Ho-seok guesses that he'd been buying all their products, and Mi-joo says that her benefactor will need another large order soon since he's holding a conference. Ho-seok nods and says that he sounds like a really nice guy, then goes back to eating.
Mi-joo had wondered if just mentioning Jung-do's Chinese businessman persona would be enough to snare Ho-seok, but Jung-do had insisted that it would. And so later, just as Jung-do predicted, Ho-seok asks if he can come along when Mi-joo goes to deliver the next product order.
Ho-seok and Mi-joo take a car to the convention, while Hak-joo directs a hall full of hired actors on how to react to Jung-do's speech. Bang Ho-seok gets a call from his father and it's clear that he has kept the Chinese businessman a secret. He apologizes for missing family lunch and hangs up with a "Love you, Daddy!" Mi-joo suppresses a grin but her smile fades when Ho-seok turns to the driver and kicks him for staying under the speed limit.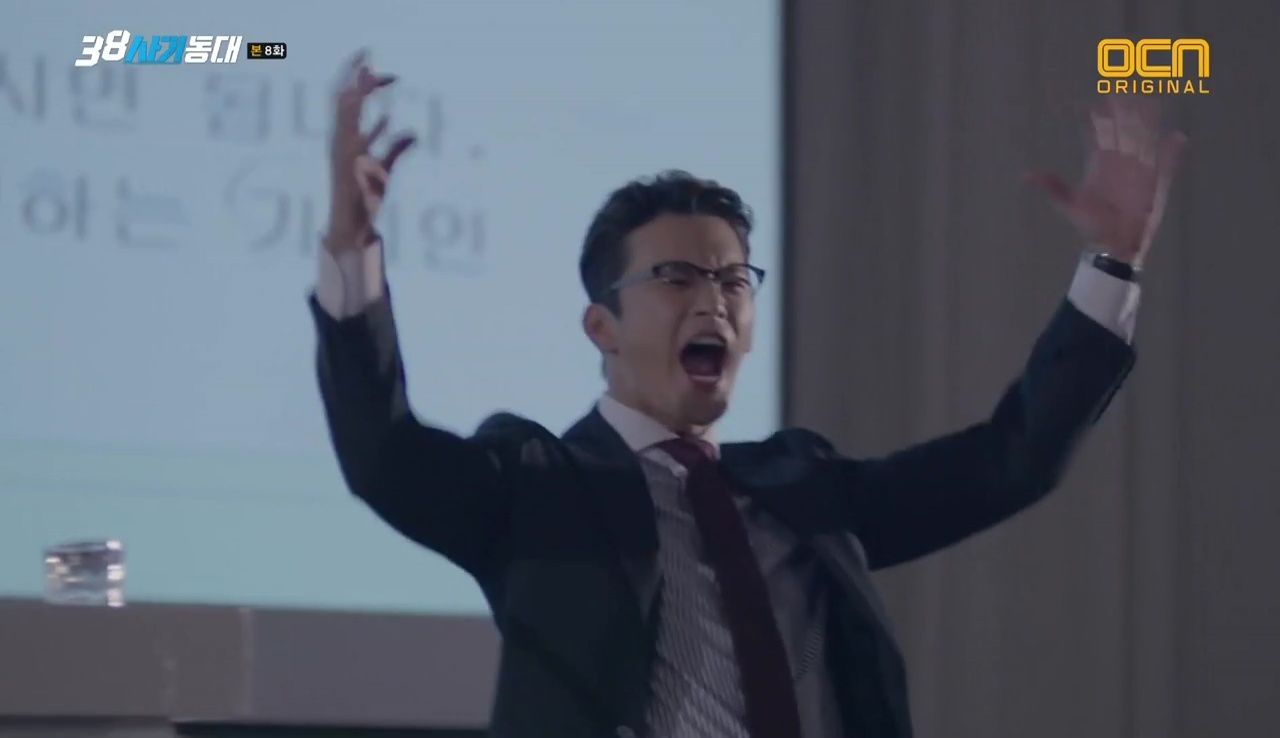 President Bang turns to his daughter and asks if Ho-seok is up to something stupid, and Min-ah answers that Ho-seok is always up to something stupid. Neither pay attention to Ho-seok's wife sitting at the table, unable to swallow a bite. Before entering the conference hall, Ho-seok asks Mi-joo if he looks poor, and Mi-joo assures him that he looks exactly like a Chinese tycoon. They enter a hall full of excited people who clap very hard when Jung-do comes onstage.
Jung-do, playing the rich Chinese businessman "Cho Hee-joon," presents like a demagogue. He speaks with flair and riles up the crowd, until even Ho-seok is lit up with the energy in the room. Jung-do talks about the antiques that get dug up in China every day and how ancient rich people would be buried with their treasures. He promises that investment in his company, which brings such treasures into this country to be traded, will give back twice the amount of investment in just two months, and five times their investment in five months.
With a background score setting a mood of epic opportunity, "Cho Hee-joon," with his broad Chinese-accented Korean and infectious energy, gets the people in the hall roaring their approval as he tells them to join the rich of his country and make their dreams come true. Ho-seok looks properly inspired to invest.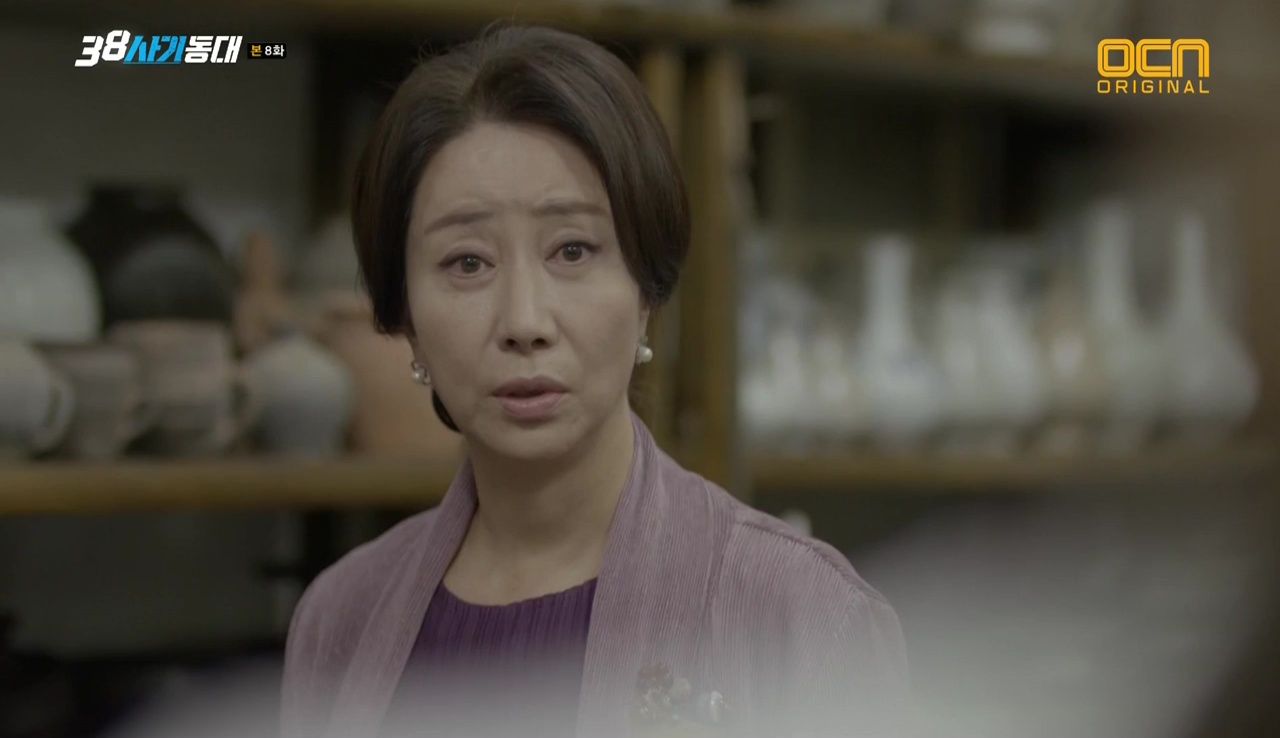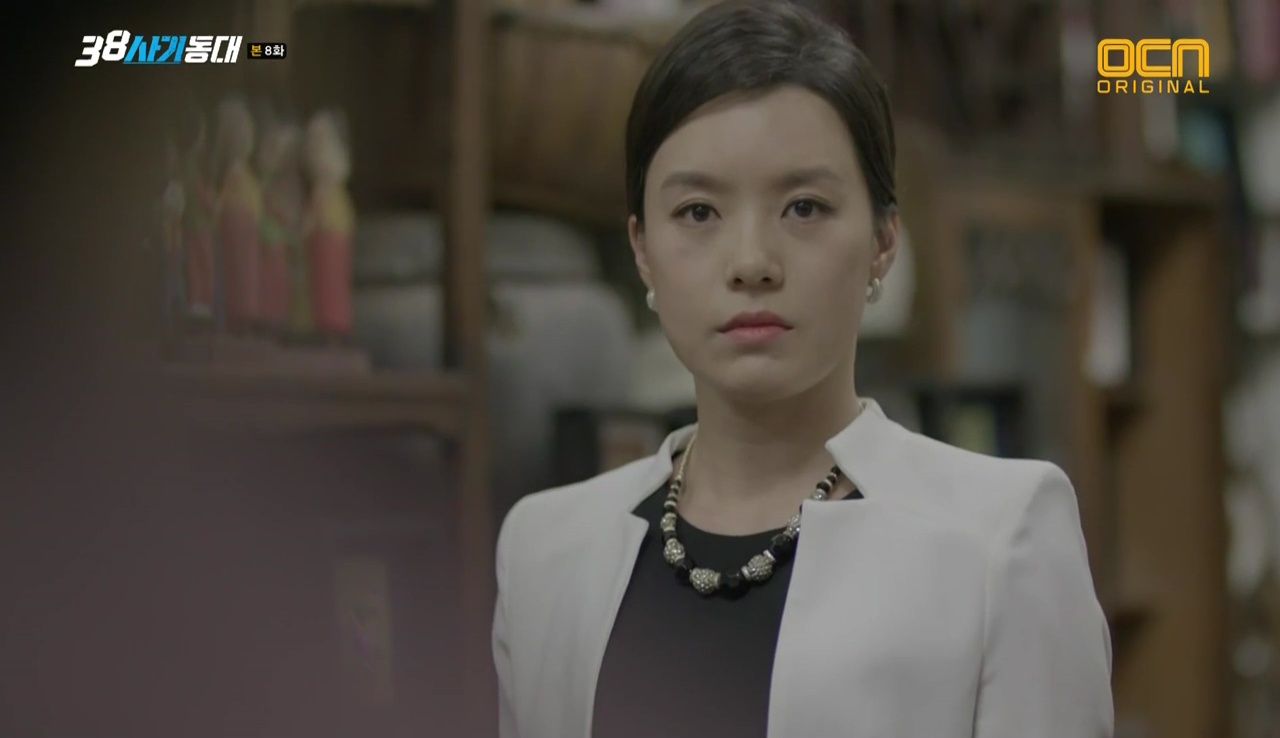 Back in the Freezer, Sung-il, Ja-wang, and Madam Noh have the task of baiting Bang Min-Ah. When Madam Noh asks them if they just intend to sit there all day, Sung-il brings out a notebook with a plan sketched out. He's tentative about it but when Madam Noh reads the pages, she's obviously impressed. Sung-il sketches out the plan:
Since Min-ah's only interest is in antiques, they will first find a store in Insa-dong and rent it. The idea is that if they squat there for a week or so, Min-ah will eventually turn up to check it out. This all happens according to plan and when Min-ah comes into the store, she's greeted by Madam Noh, posing as the ajumma store owner.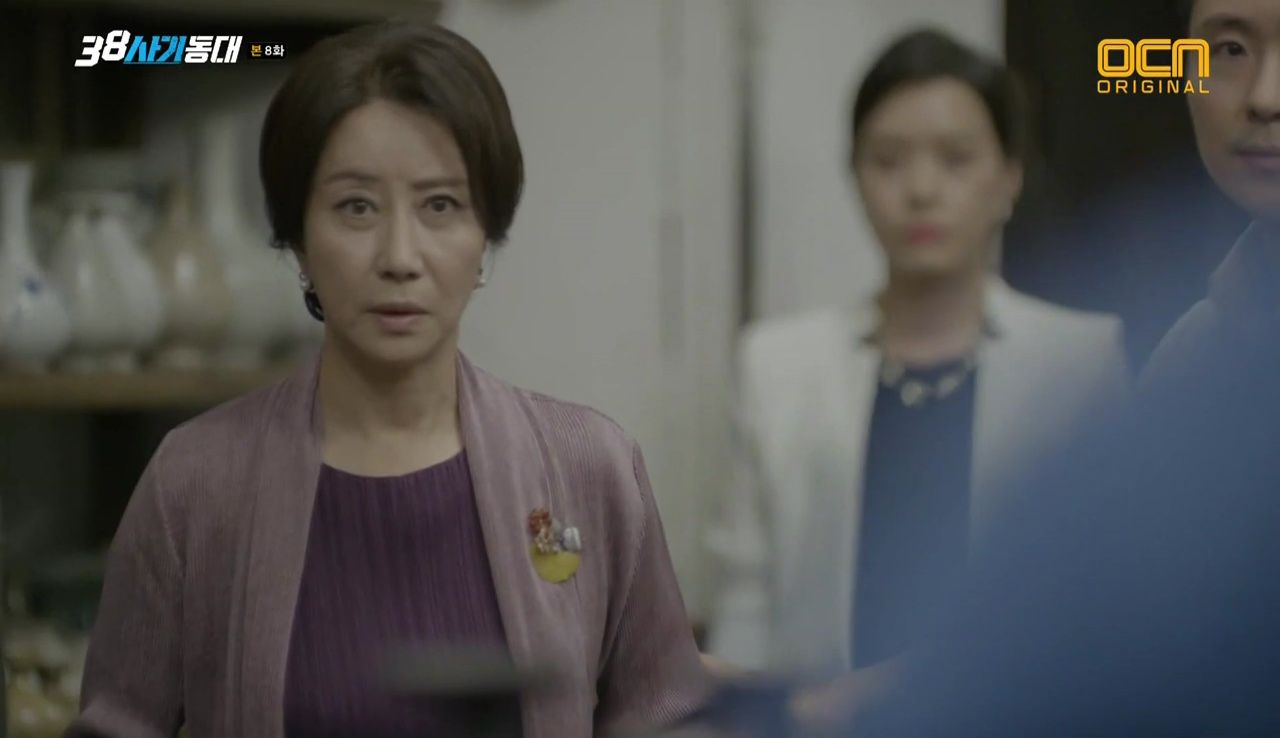 According to Sung-il's plan, Madam Noh shows Min-ah a ceramic vase. She begins to describe the process by which the vase gets its color, but Min-ah finishes her sentence, clearly knowing the process well. Min-ah examines the vase and finds a piece of a price sticker at the bottom, and dryly remarks that this isn't as old as Madam Noh had claimed. But it turns out that selling her the vase is not part of Sung-il's plan.
Moments later, some men come into Madam Noh's shop and claim to be from the Ministry of Culture. They tell her to come with them, but she asks them to tell her the reason first. That's when Sung-il walks in with Ji-yeon and Ja-wang in tow, clearly the team leader. Sung-il greets Madam Noh in front of Min-ah, and according to Sung-il's plan, this is the moment they were building up to — showing their faces to Min-ah. So when Sung-il tells the men to take Madam Noh away, she now leaves with no resistance.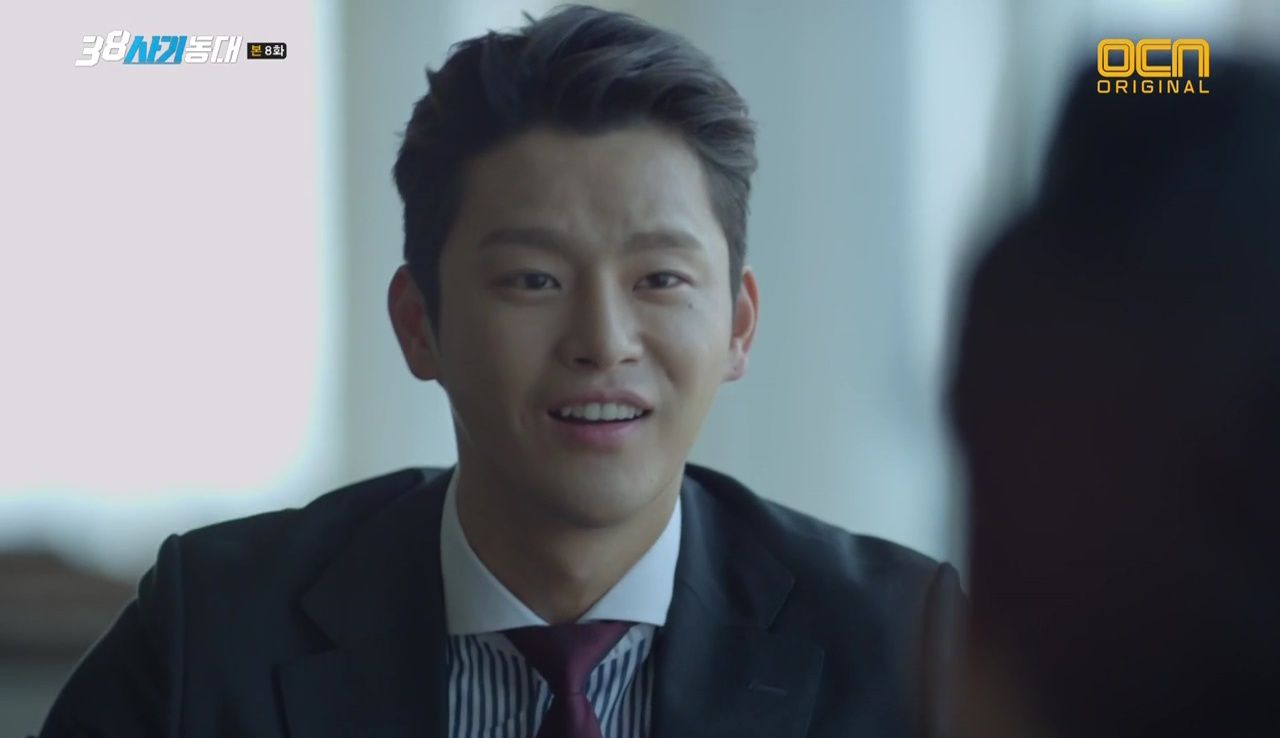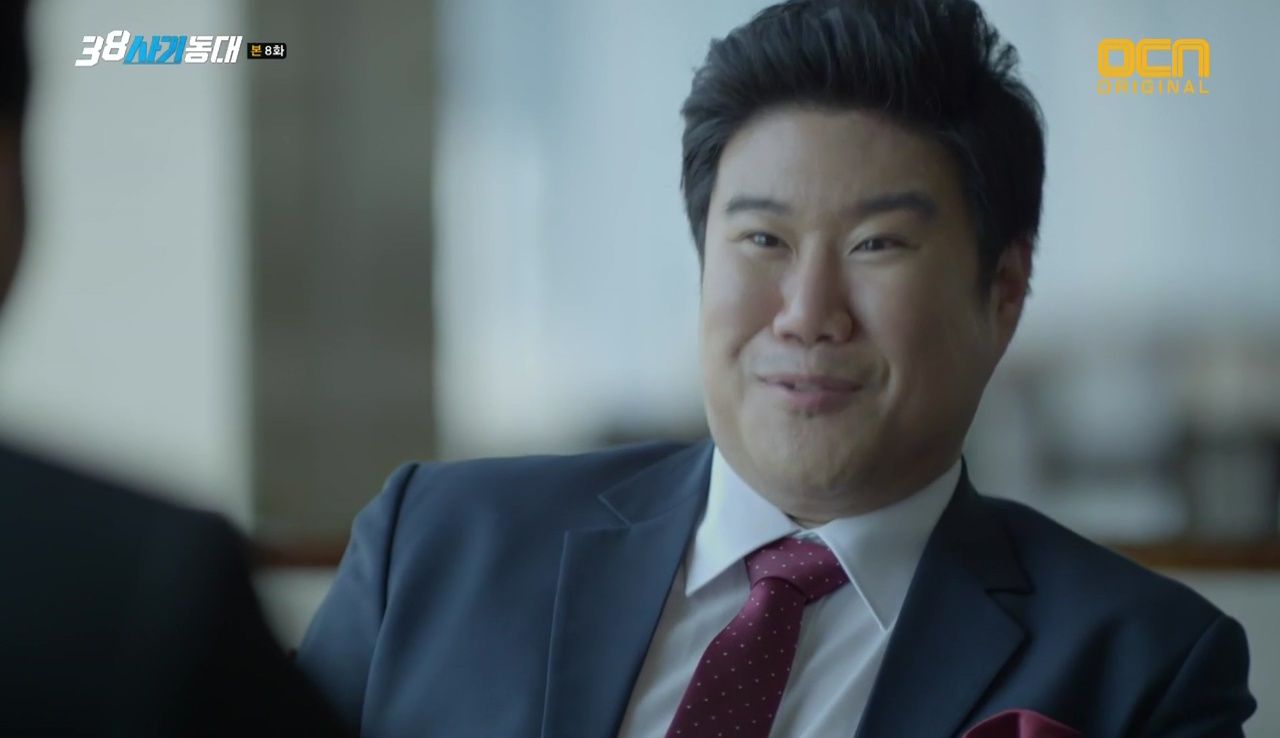 Ho-seok meets "Cho Hee-joon," who explains his business model, and Ho-seok listens with apparent calm as Jung-do claims to return a 1000% profit in one year. If he puts in $10,000, Ho-seok would get $100,000 back. Ho-seok asks him to meet for lunch the next day, and Jung-do calls his assistant, played by Hak-joo, to find a spot in his schedule.
Hak-joo tells him that he has an appointment with a Chinese businessman who's coming to meet him tomorrow and then a dinner with his wife. Jung-do lays it on thick with the loving husband bit and says he has to celebrate his wife's birthday tomorrow. So, they settle on dinner the day after, canceling his meeting with someone who has been promising an investment for some time but isn't committing.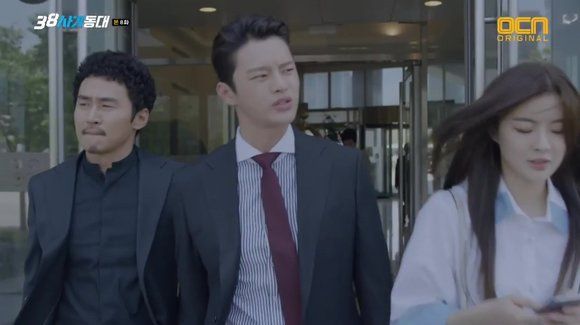 At the end of the day when Hak-joo, Jung-do, and Mi-joo are leaving the hotel where they held the conference, they're tailed by Jae-sung's police minions. In prison, Jae-sung tries to convince President Bang to get him out of jail. He uses his knowledge of Jung-do's activities as leverage to incentivize President Bang to help him, but President Bang is uninterested in any information he might have. He sneers that they were never that close anyway and leaves.
One of Jae-sung's cops asks him why he didn't tell President Bang about the ongoing scam on his son, and Jae-sung snarls that he hopes Bang Pil-gyu gets ripped off. Then channeling his fury into evil thinking, Jae-sung orders his minion to bring Sung-il to him.
When the cop gets Sung-il to the prison to meet Jae-sung, Sung-il is confused about why they needed to meet. Jae-sung looks keenly at Sung-il and asks how much he knows about Yang Jung-do. Sung-il frowns and Jae-sung smiles, confident that what he has to say will have an impact.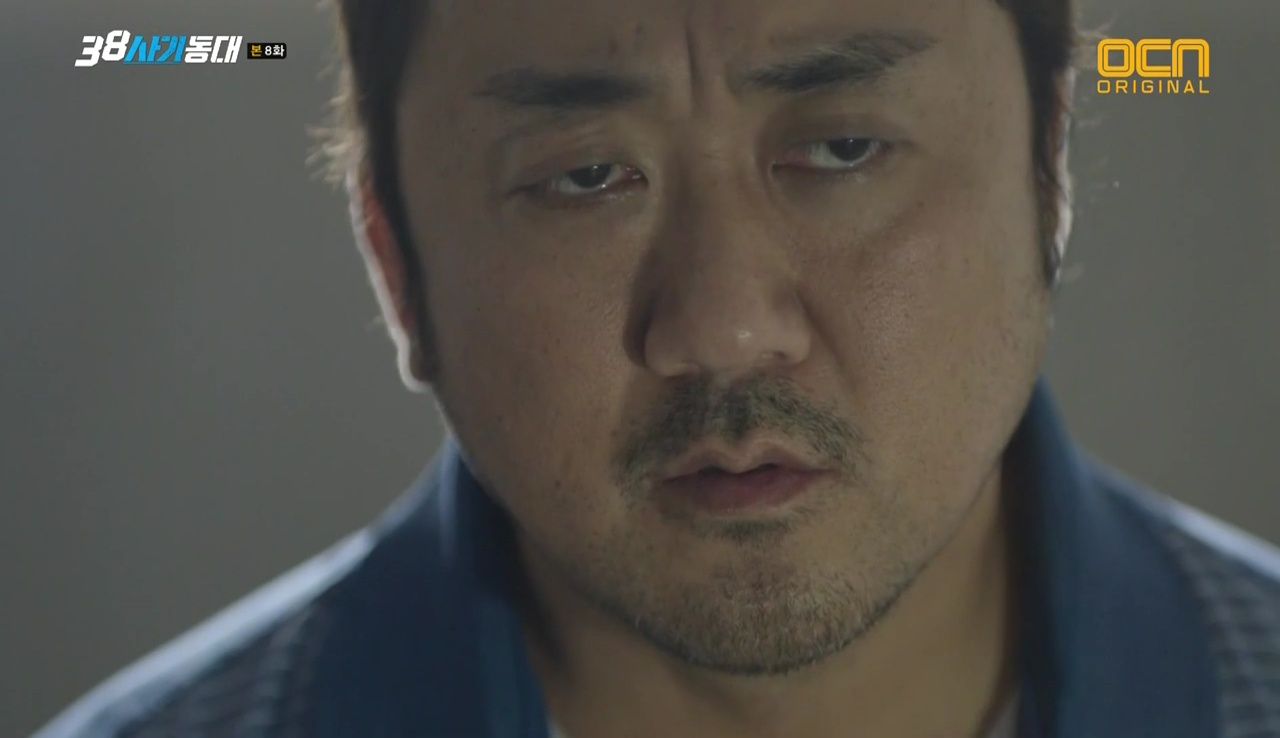 COMMENTS
As Jung-do says in this episode, when the stakes are this high, so are the risks. This story really likes to keep its audience at the edge of their seats. The pace was always fast, the editing tight, but now it feels like we're hurtling forward with no way to pull the breaks. I don't remember the last time I watched a show that followed up foreshadowing this well. I feel like I'm always being given just enough information to keep me hooked but never left to feel adrift.
Sung-hee's heartbreak really got to me this week. The system she trusted so much seemed to keep hurting people she cared about, just to protect the rich and unscrupulous. Her hopelessness in the office scene was so poignant. It was a tipping point for Sung-hee. I had wondered in previous episodes what could possibly convince a straight arrow like Sung-hee to turn to the dark side. The show followed her disillusionment so skillfully that I no longer think this would be out of character. If Sung-hee chooses to help Sung-il and Jung-do, the government has no one to blame but its corrupt gatekeepers for hurting her so badly.
In a way I loved that the anger poured out of Sung-hee's colleague and not her. Her despair is born of rage and hurt and just like Sung-il, she can now see no point in railing against the men who manipulate the law. She's beyond futile outbursts. But is she willing to go outside the law? When she asks Sung-il, "Is this the only way?" Sung-il's silence answers her eloquently. Neither of them want this to be the only way. Neither want to break the law or work with con artists. They just want to do their job.
I suspect that that may be the reason Sung-il no longer wants to go home. Sung-il had once asked Commissioner Ahn how he faces his children, doing the harm he does. To a man like Sung-il, it's important to live with self-respect. And though he may be getting surprisingly good at working outside the law, it isn't his natural instinct and it might make him ashamed to face his own daughter at home.
I loved that Sung-il came up with his own plan in this episode. His diffidence was utterly adorable, especially because it contrasts so beautifully with his confidence during the scam — the bumbling con man who forgets his lines is no more. Also, when Madam Noh came out in her ajumma garb, I nearly died laughing. She's just so brilliant.
They've also developed the relationship between Mi-joo and Jung-do a little bit more and it seems possible that they might be more like siblings than anything else, which would be a huge relief for someone like me, who struggles to watch love triangles. It was also hilarious to have a spoilt, entitled little villain like Ho-seok be a devoted husband, immune to Mi-joo's charms. Never accuse this show of being clichéd.
Speaking of complex villains, it appears that Mayor Chun has a conscience but is either mired too deep in the same mud where President Bang and Chairman Choi play, or has some personal reasons for going along with them. Since I really like the actor playing him, I want a redemptive arc for the mayor. But even if he stays evil, I appreciate the glimpse of uncertainty that even the most corrupt officials feel when their subordinates are hurt on the job and they can't hit back.
Finally, a word on Jung-do. Seo In-gook plays him like he has real life experience conning people. When he was on that stage riling up the fake audience, I would have personally invested in any company he pointed at. The man is criminally attractive, not just in his extreme good looks but in the way he switches from sly to nonchalant to heartbreakingly sad. I desperately want to know how his police officer father ended up behind bars, and how Jung-do became a conman carrying out his personal vengeance one charming scam at a time.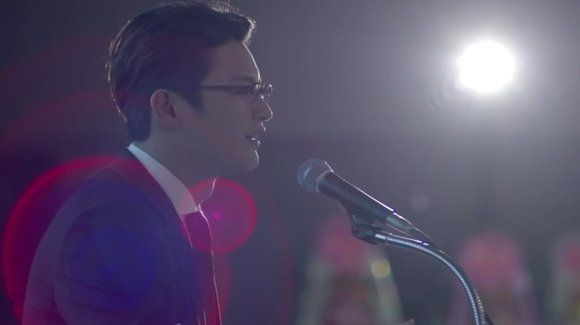 RELATED POSTS
Tags: featured, Ma Dong-seok, Police Unit 38, Seo In-gook, Sooyoung