Police Unit 38: Episode 9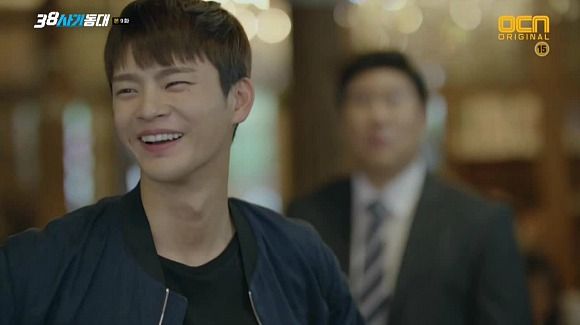 Our swindler has shown us many faces, but the tiny cracks in his facade give us a glimpse of something rawer beneath. The question of what's real and what's not becomes vitally important this hour as the seeds of doubt are planted in Sung-il's mind, and he has to decide whether he can trust his young teacher. But man, I so badly want this…this brojusshimance to be epic. EPIC. So will the real Yang Jung-do please stand up?

EPISODE 9 RECAP
Rewinding a bit, we go back to the performance the con-team put on for the benefit of President Bang's daughter, Minah. Sung-il chides her for being involved with counterfeit goods, but she tells him it's only her first time here. The "enforcers" bundle Madam Noh away, but not before she shouts Sung-il out for skimming off her himself.
Min-ah takes note while Sung-il plays his part to the hilt and tells her that the woman's talking bats. He leaves her with his card, which identifies him as a team leader from the Cultural Heritage Administration. From the van, he watches her tuck it away. Bait taken. Sung-il grins bashfully when Madam Noh compliments him but his mood is soured by Commissioner Ahn summoning him back to City Hall.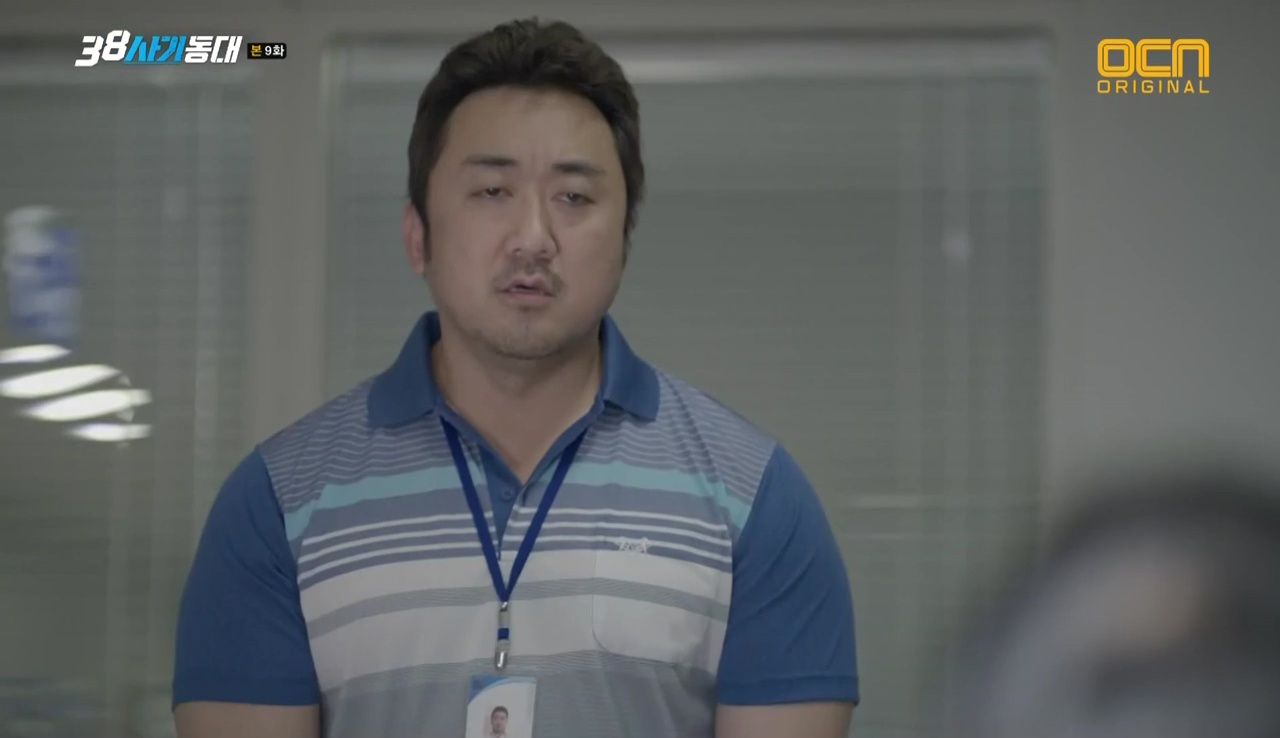 Sung-il arrives to find Ahn chumming it up with a hoobae. He's been newly promoted as Chief Kang's replacement, Ahn says smugly. Sung-il's congratulates him and notes the preferential treatment without a hint of irony. He declines to join them for drinks, and Ahn keeps prodding him about what's got him so busy. Ugh even his voice makes me want to punch him.
Ahn tails Sung-il out of the building. He makes a quick call to a Detective Kim about how he's about to uncover a scam. He doesn't notice passing Sung-hee, who overhears that very snippet. She spots Sung-il getting into his car, and Ahn, eyes locked on Sung-il, getting into his.
But Sung-il's busy on the phone with a call from daughter Ji-eun, and Sung-hee can't get through to him. She tries Ahn instead, stammering that she needs to talk to him urgently. But he just hangs up on her, saying he's busy.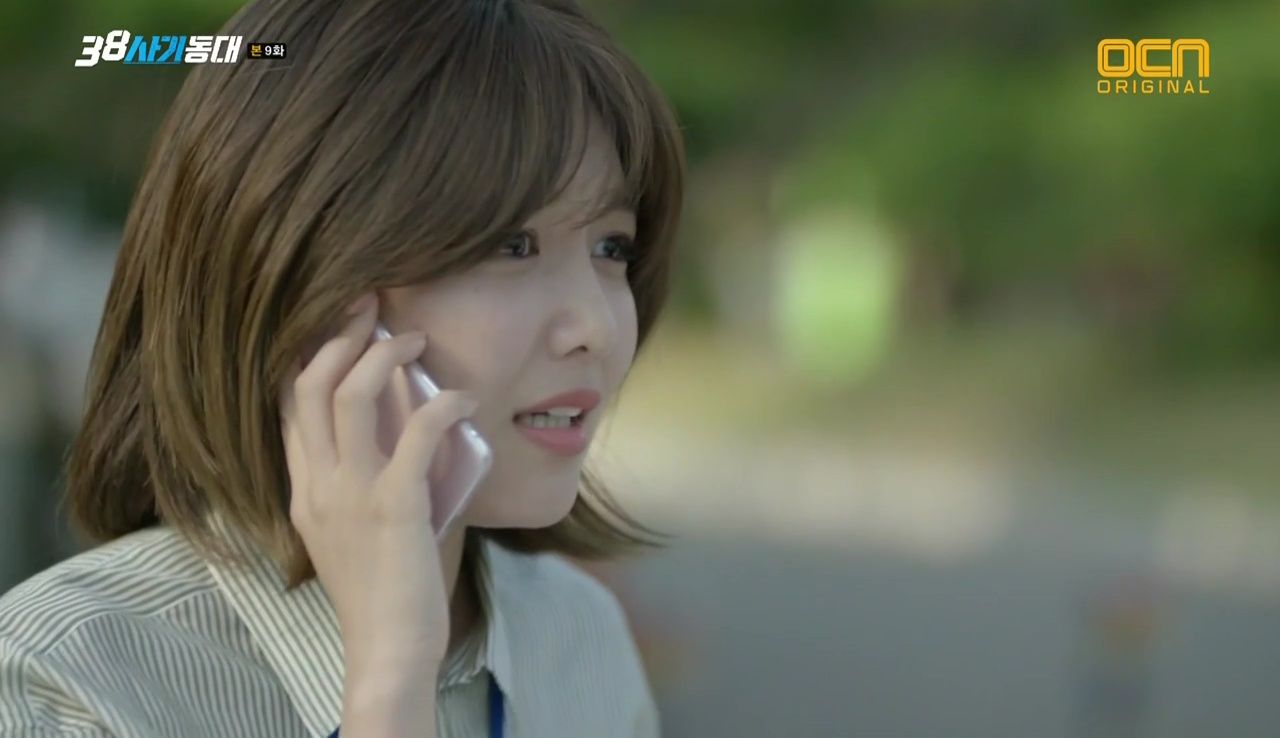 At the Freezer, Mi-joo's phone rings, and she does a double-take to hear Sung-hee's voice. Frantically, Sung-hee tells her that Commissioner Ahn's got wind of them and is following Sung-il to their lair as they speak.
Mi-joo immediately relays this to Jung-do, who stops laughing and plunges into action. Meanwhile, Sung-il enjoys a leisurely conversation with his daughter and then his wife, which at any other time would be totally sweet, but right now has me yelling at him. Ahn stays firmly on his tail, telling his contact gleefully that his scammer's a public official.
Jung-do, Hak-joo and Mi-joo empty filing cabinets and throw all the evidence into boxes and bags. Jung-doo douses everything with paraffin, phone plastered to his ear all the while as he tries to get hold of Sung-il. Hak-joo breaks a vase (antique?), and yells in frustration.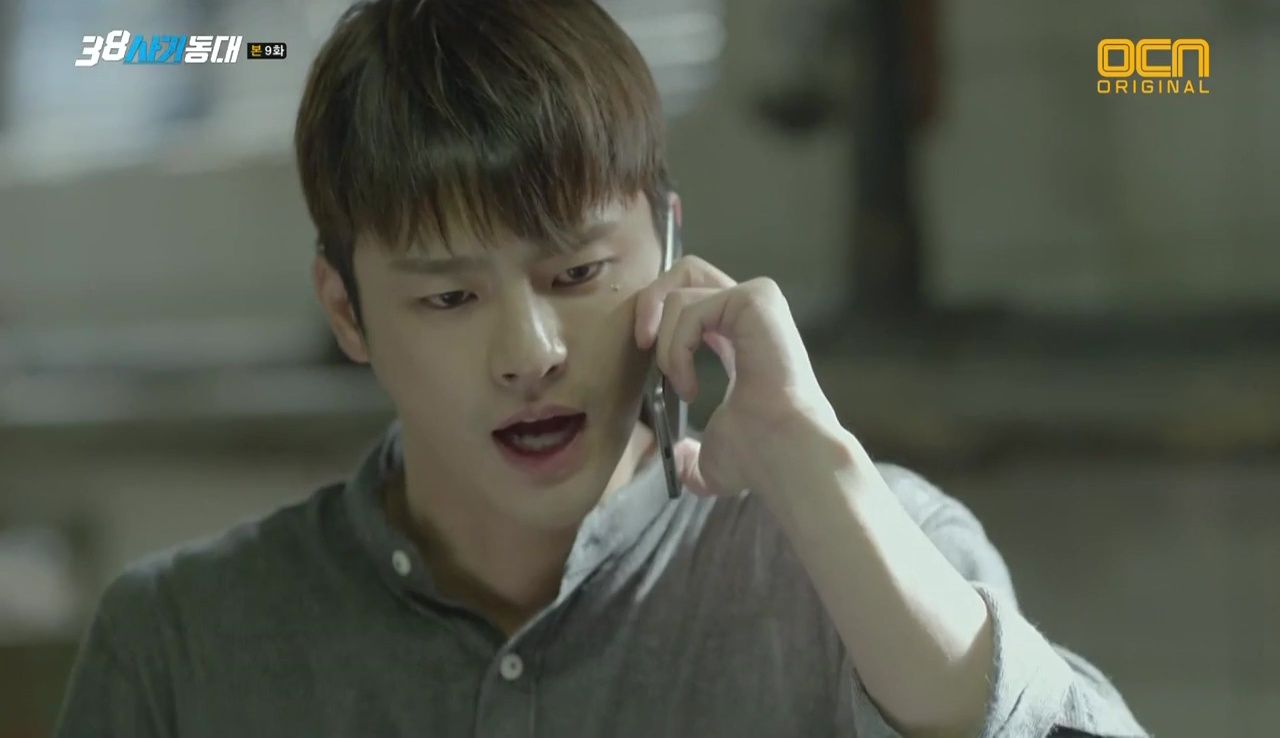 Both cars pull up at the warehouse and Sung-il heads in, where OMG FINALLYYY he finishes his family call and gets Jung-do's. Jung-do urgently tells him not to come—he's got his Commissioner and the cops on his tail. Freezing, Sung-il cuts the call.
Heading back out to scope the scene, he doesn't notice a man coming up behind him. The man tells Sung-il the other car's been following him from City Hall, and introduces himself as one of Jae-sung's detectives. Jae-sung wants to see him, he says, but Sung-il resists until the baby-faced cop threatens to get Hak-joo instead.
Another man intercepts Commissioner Ahn and tells him to go back quietly. Spotting the handcuffs in his jacket, Ahn realizes the guy's a cop—another of Jae-sung's men.
Madam Noh and the others reach the smoke-filled hideaway where a worried Jung-do still can't contact Sung-il. Ja-wang wonders if he got nabbed by someone.
We catch up now to last episode. Through the glass of the meeting room, Jae-sung leans forward and asks Sung-il, "How much do you know about Yang jung-do?" He tells Sung-il to stop getting played by him, "Otherwise you'll end up like me."
After a long pause, Sung-il simply thanks him and tries to leave, but Jae-sung snarls at him to sit and listen. He tells him how Jung-do acted the fool for years just to get him behind bars. He'd set up the supposed bribe by depositing money into the account of a brother Jae-sung hadn't even seen for twenty years.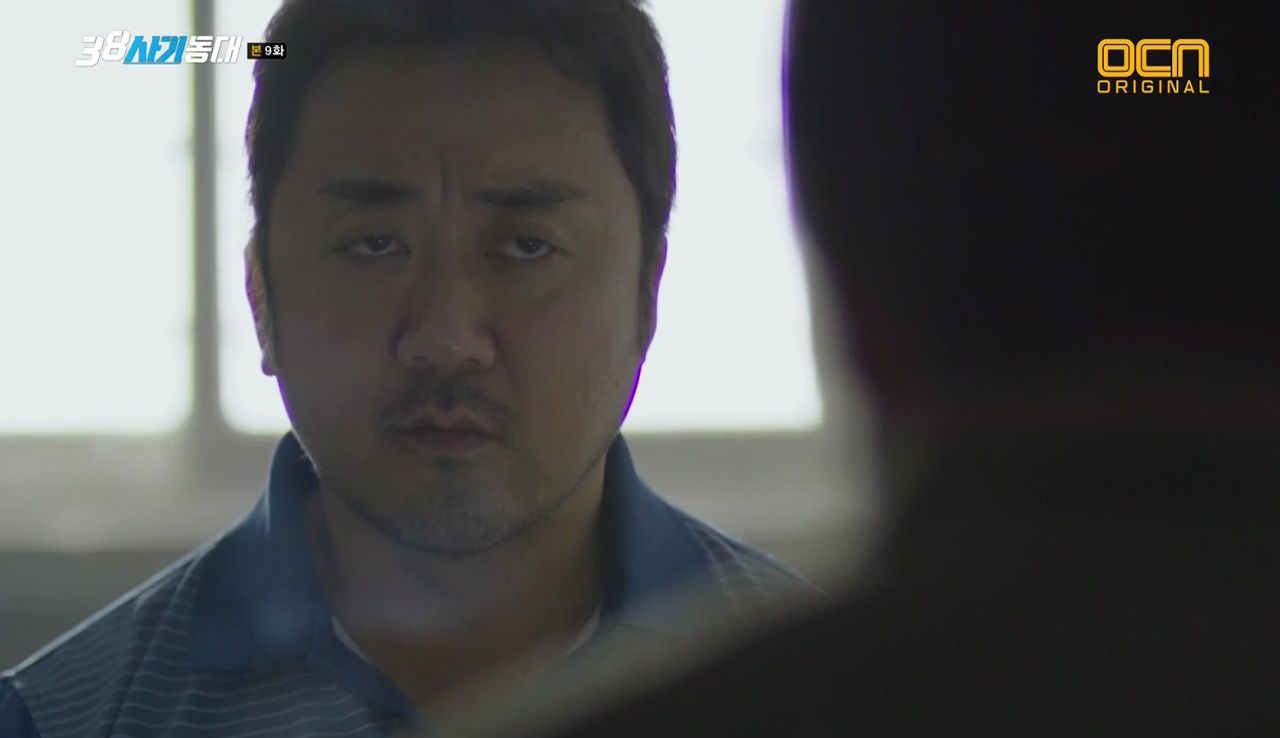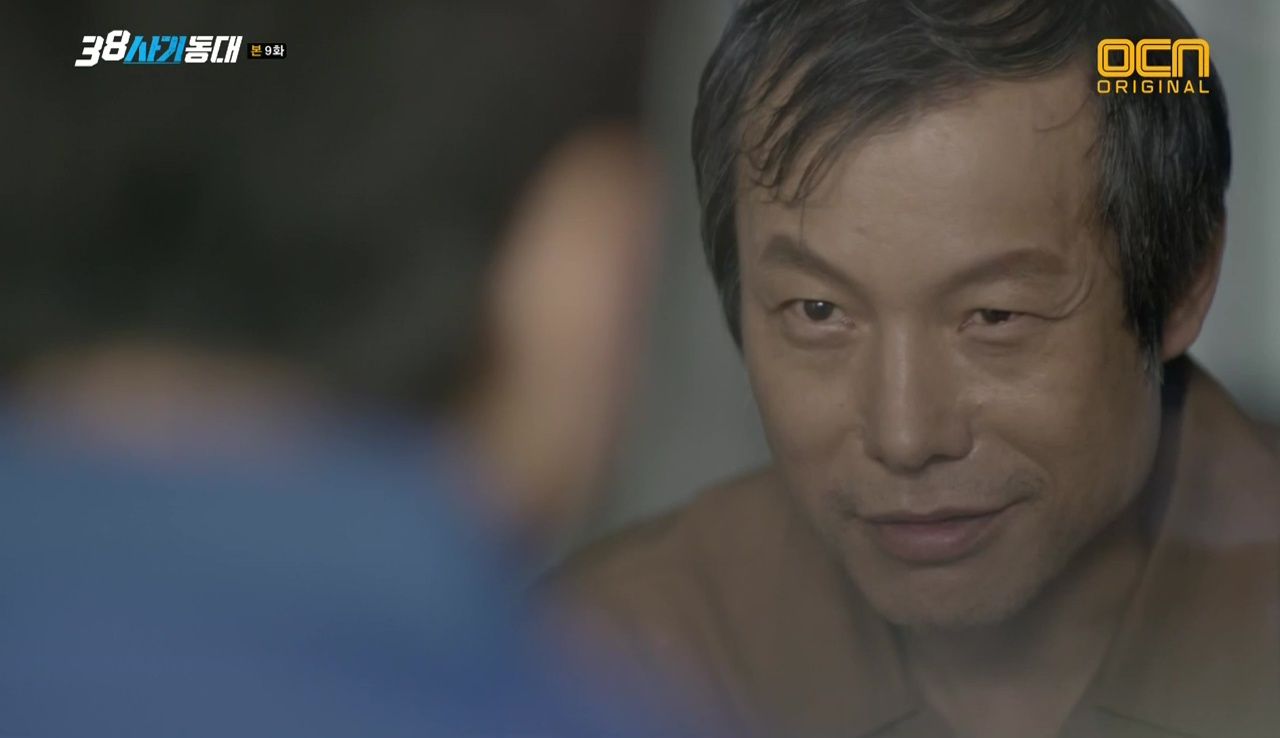 Jae-sung says there's no way Sung-il met Jung-do by chance, and what would make him think of such an unlikely scheme as scamming for taxes in the first place? Sung-il thinks back to their first encounters, and Jung-do's convenient offer to get him Ma Jin-seok. Jae-sung correctly surmises that they must be after President Bang's 50 million dollars this time.
But what does Sung-il plan to do when Jung-do dumps him and runs away with that money, as he inevitably will? "You're not scamming with Jung-do, you're being scammed by him," Jae-sung says. With a hooked smile, he invites Sung-il to switch sides.
Sung-il finally returns to the Freezer, and Jung-do stops in his tracks when he sees him. Both wear solemn expressions, and Jung-do asks why he didn't pick up his calls. Sung-il cites work, but Jung-do sharply snaps back: What work? Did he get caught by the police? Sung-il denies it, and says he'll handle the problem of Commissioner Ahn so as not to compromise the team.
Jung-do, tone still edgy, says that he's worried about Sung-il, not them, and orders him to be careful. "I won't go to prison, and you won't get fired—we have to keep that promise. Alright?" he says. With a heavy sigh, he turns away.
A flashback shows Sung-il receive a recorder from Jae-sung's man. If he brings evidence of Jung-do framing him, Jae-sung promised to put the conman away when he gets out. But Sung-il asked why he should betray Jung-do like that. Scowling, Jae-sung had asked if he'd rather believe that fraudster, then.
Back in the present, Sung-il hasn't moved and Jung-do sighs, sensing something's off. Tone still subdued, he tells him that he's been grateful for Sung-il's help and goodwill, and tells him not to worry too much—they're in this together. He offers a crooked half-smile and returns to his papers.
It's Sung-il's turn to sigh. Lit with trust, his face is almost childlike as he promises Jung-do, "I'll be better." Jung-do looks at him in surprise and says he's already doing fine, but his smile is lighter when he leaves. Sung-il remains troubled, though, and fingers the recorder.
At the office the next day, Sung-hee tries to have a word with Sung-il, but he pre-empts her saying he already knows what she wants to say. But you don't, though! Let her talkkkk! Telling her not to worry because he's got everything in hand, he heads out.
Sung-hee's called to Commissioner Ahn's office. While she makes coffee, he suddenly asks, "How far do you know?" She plays off the question with an innocent face, but he points out her shaking hands. "You knew, didn't you?" he tries again. He tells her the police are onto Sung-il, but if she gives him up, she can save herself. She considers his words, and smiles knowingly. She says she has no idea what he's talking—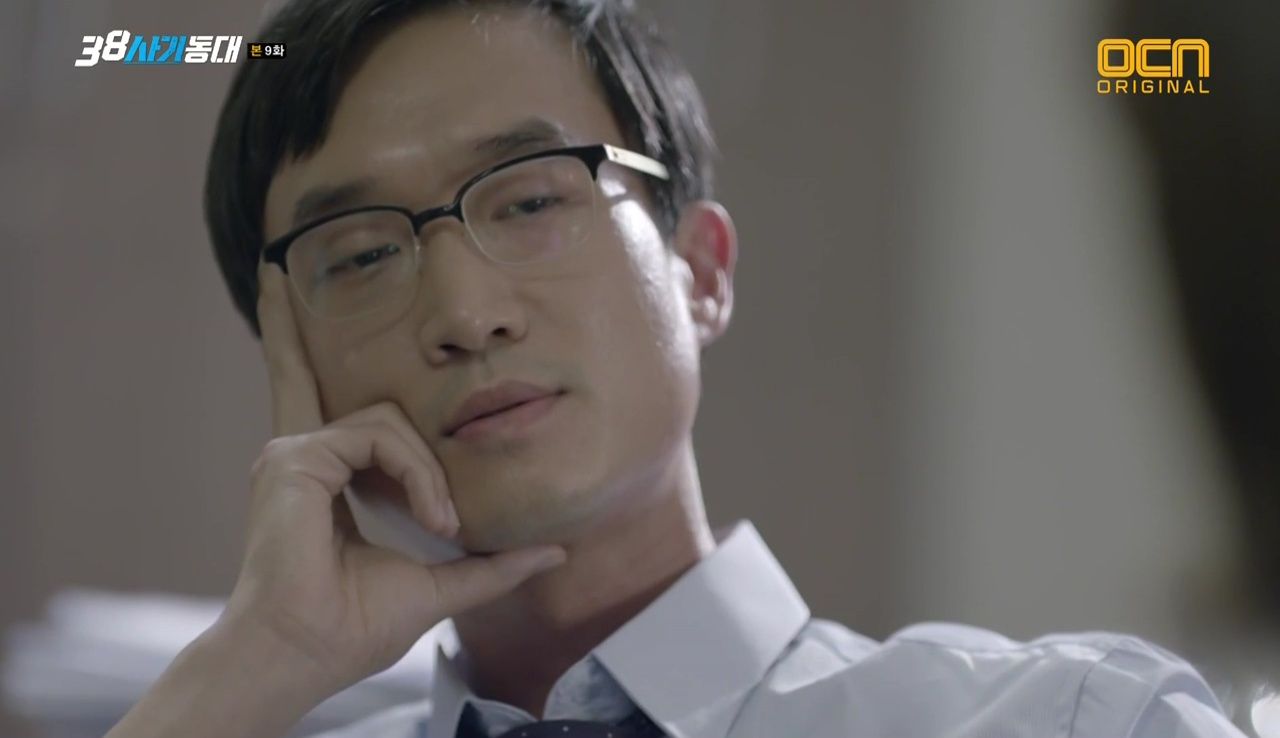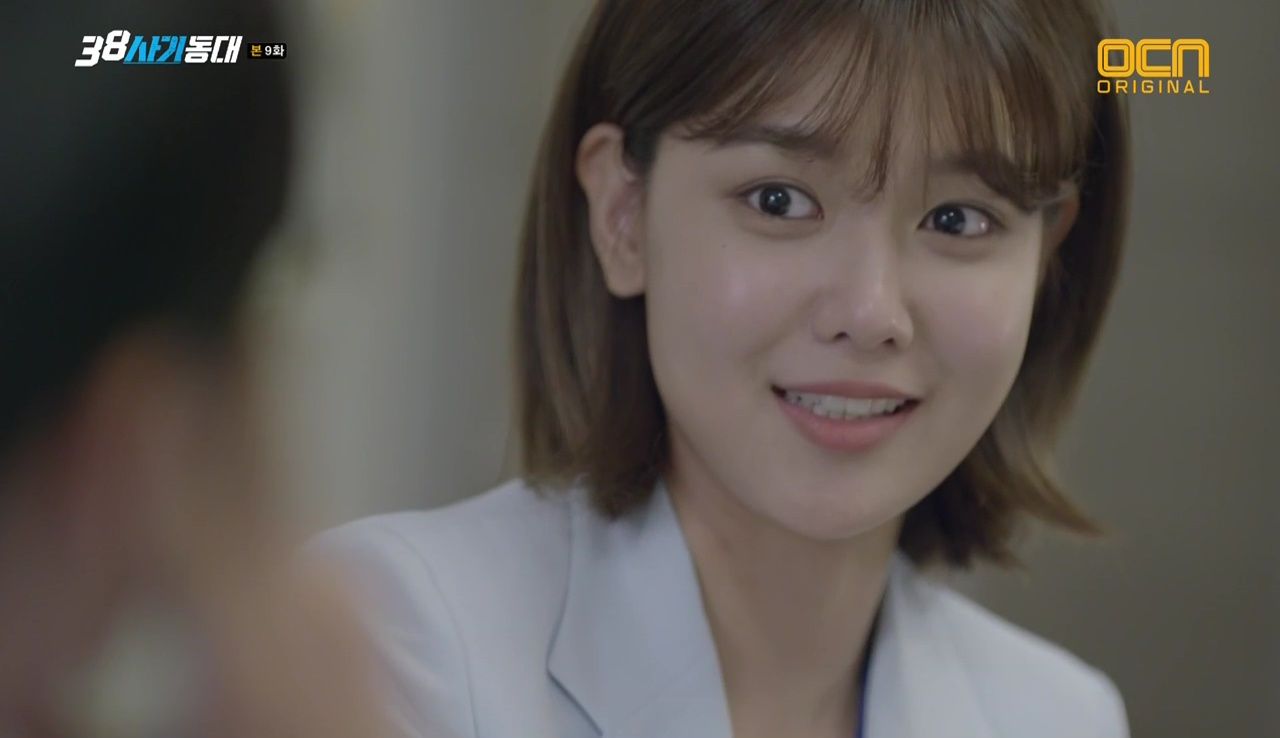 He cuts her off: "You understood." She only smiles. He gives up and dismisses her. Alone, he concludes to himself that they're definitely in it together. "Aigoo, what'll I tell our mayor?" he mutters smugly to himself. Well if that ain't proof…
The tax bureau receives an unwelcome visitor in the form of President Bang. Surveying the office, he comments on all the familiar faces, while the workers look away in barely-veiled antipathy. With a self-satisfied smile, he tells them that he's here for his public hearing.
He catches Sung-hee returning from Ahn's office and greets her especially by name. Her jaw sets but she says nothing. With a jovial chuckle, he lets himself into Ahn's office where the men greet each other with loud laughs. Sung-hee tries to stay close, but Ahn, with a pointed look at her, closes all the blinds.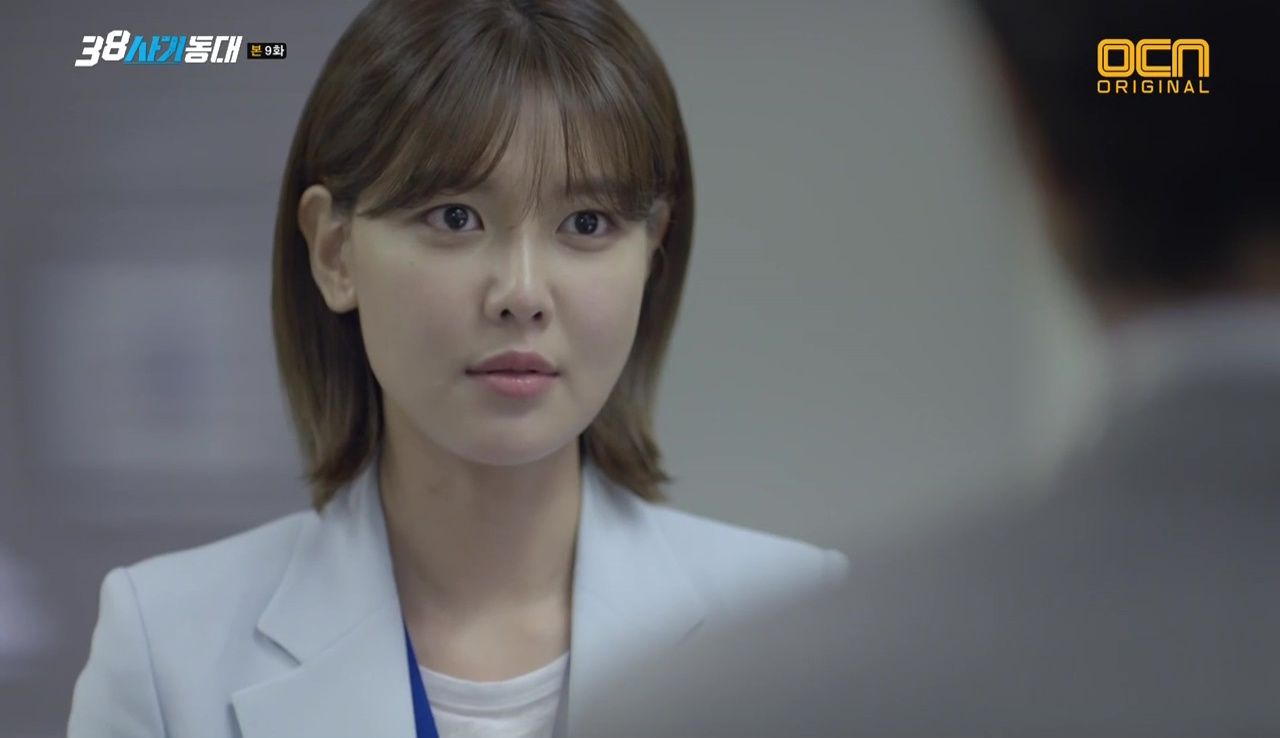 Going into the hallway, she tries to phone Sung-il again, but he rejects the call. Agh why you do dat, papa bear? Sung-hee bites her lip in consternation, and this time tries Mi-joo, who's at the hideaway. Going out of earshot of the others, she answers the call uncertainly, addressing her as "unni".
Unhappily, she passes the phone over to Jung-do, where he sobers on seeing Sung-hee's name. Sung-hee wants to meet with him now. Surprised, he agrees. Mi-joo looks a little devastated as he makes a move right away. Taking refuge in flippancy, she asks why he's listening so well to Sung-hee—he never listens to her. He blinks, and then explains good-naturedly that the situation is different, but she retorts asking if it isn't the situation, but the person. Laughing, he ruffles her hair on his way out.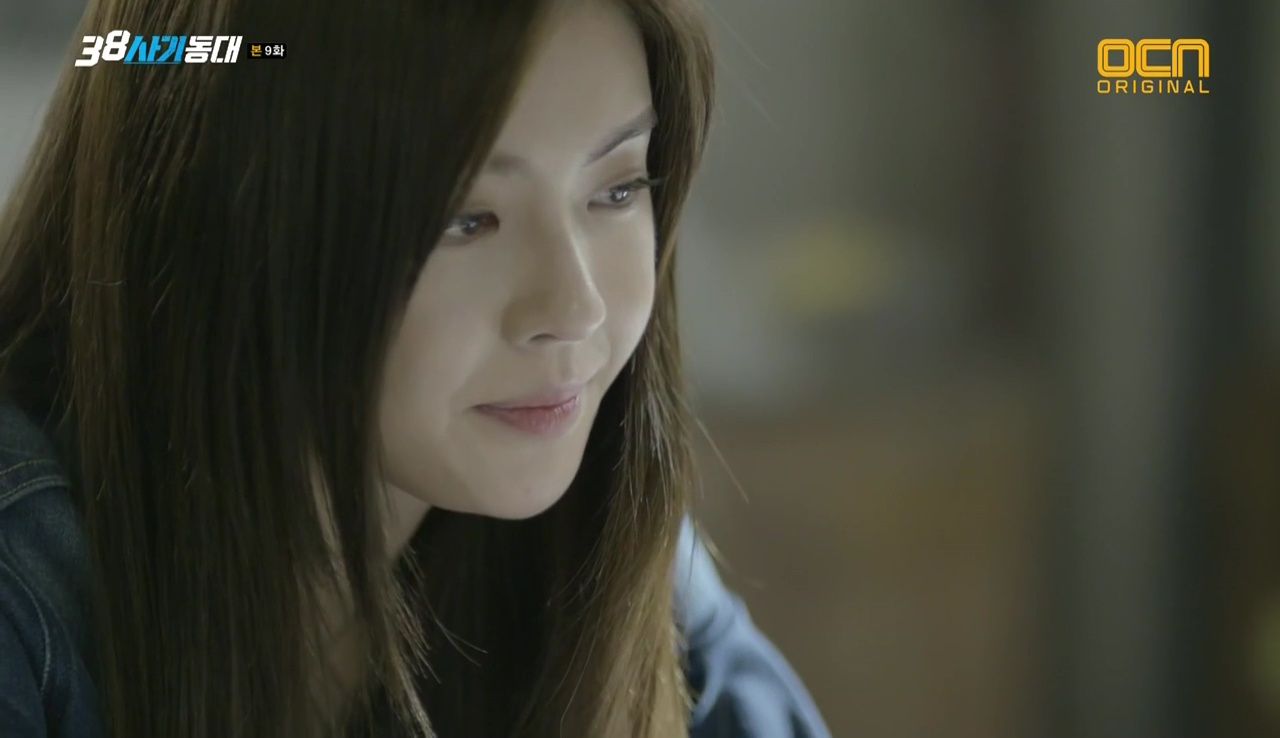 Madam Noh, who's been here all this time, gives Mi-joo a keen look and comments that it must suck to give so much to someone who doesn't even know how she feels. Mi-joo rolls her eyes and Madam Noh tells her that she can like someone as much as she wants, but she mustn't think that that person is obliged to accept her feelings, "Because then you would be really too sad," she finishes, smoothing down Mi-joo's hair with a kind smile before heading out herself.
Jung-do takes a moment in his car, where it looks like he has to psych himself up for his meeting with Sung-hee.
Commissioner Ahn examines President Bang's papers and recommends a specific law firm. Then, Ahn confides that he has something to tell Bang that he hasn't yet reported to the mayor.
Over cold drinks, Jung-do repeats Sung-hee's report back to her: The police are onto their scam, Commissioner Ahn and President Bang are meeting right now, and so Ahn will probably spill the beans to him? She pleads with him to stop before they get caught, but his nonchalance frustrates her. She's concerned that Sung-il will get hurt, but he waves her worries away with far too much confidence.
His words are so glib, she remarks with an ironic smile. She wonders if he feels any sense of responsibility at all. He was like this "that day" as well, "Talk comes too easily to you. Because of that, you hurt the people around you." He finally looks down, her words erasing his casual grin.
She gets up to leave, but he grasps her arm and she turns back. It was never glib, he says—not with her. She stares at his serious face. Shaking off his hand, she says she has just one question. Why did he do that, back then? He could've just broken up with her normally, but why did he have to tell her he was a swindler? Glibness stripped away, he says nothing.
At this most inopportune of inopportune moments, Ho-seok's car pulls up to the same coffee shop. At this point, I totally expect his driver to turn out to be one of Jung-do's people. After dispatching him for coffee seasoned with abuse, Ho-seok's attention is caught by Jung-do inside. Oh noooo.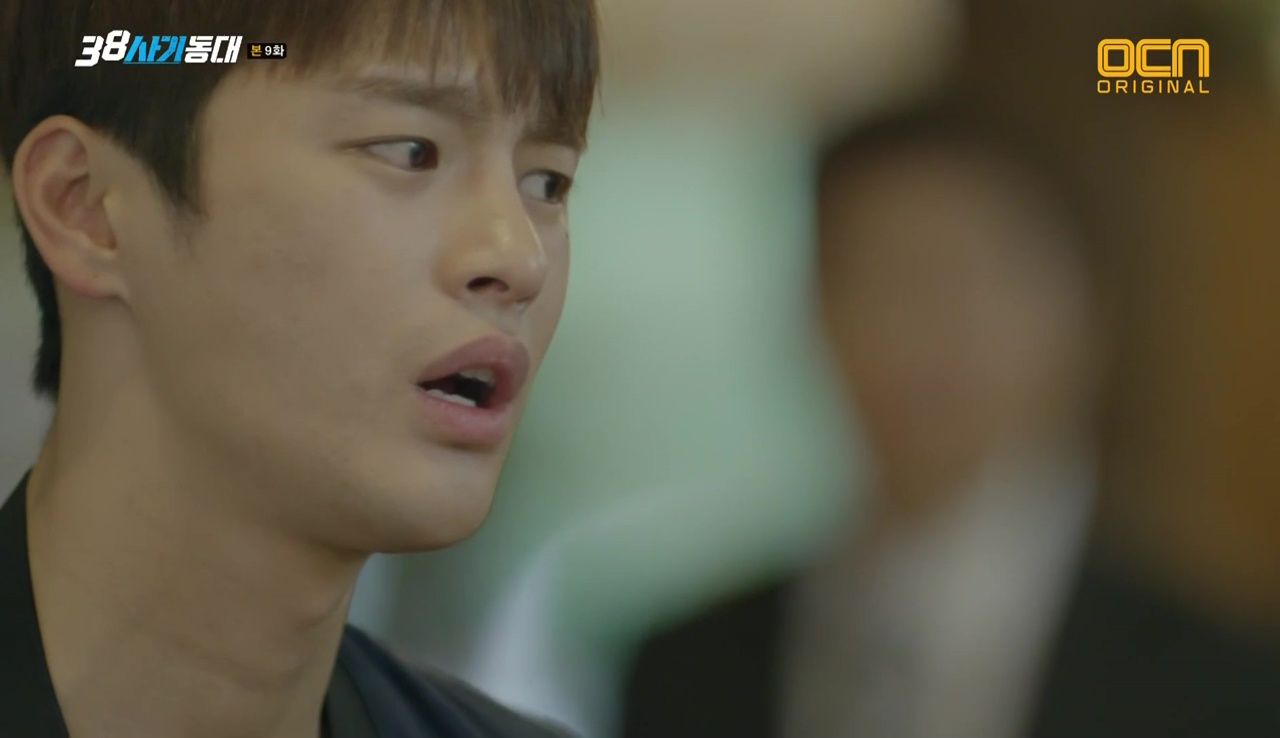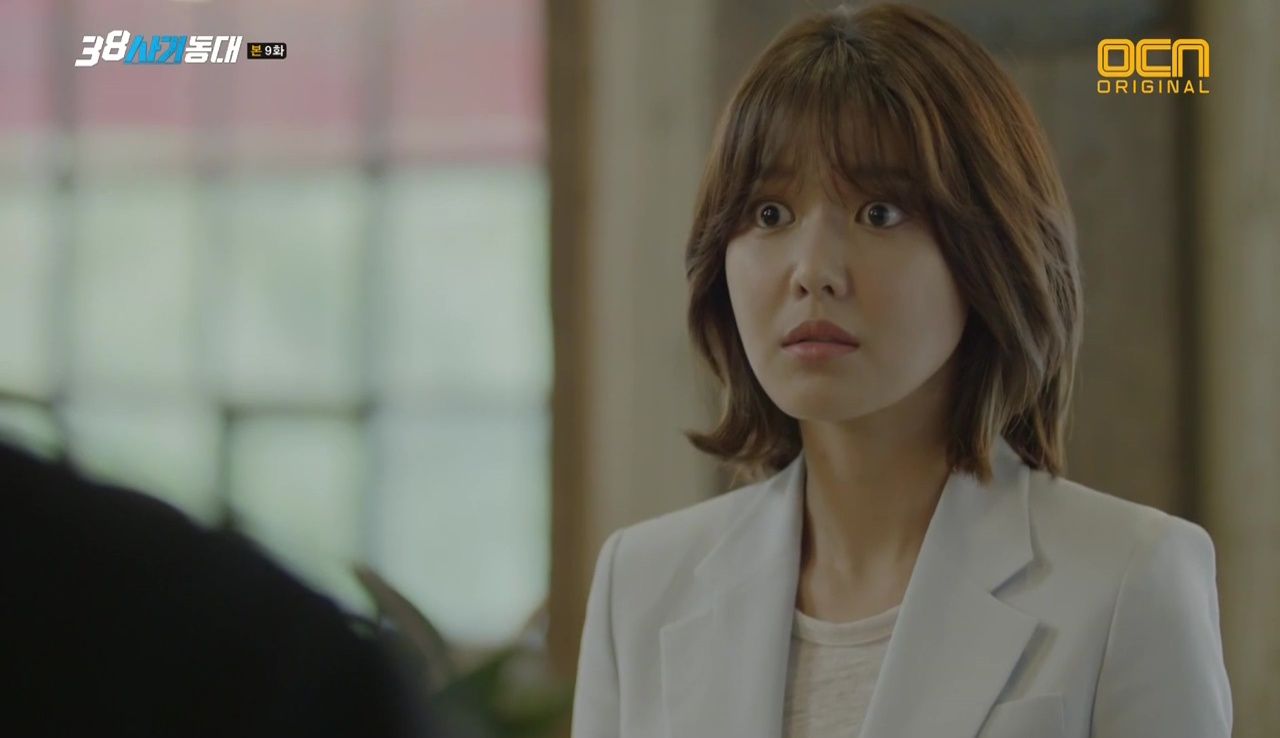 Just as Jung-do is about to speak up, he notices Ho-seok approaching behind Sung-hee. He groans to himself and steps past her. Plastering his face back on, he breaks out his saturi and greets Ho-seok with a hearty bellow. Sung-hee looks on bemused…and even more so when Ho-seok addresses her as Jung-do's—or rather, Cho Hee-joon's—wife.
Jung-do rallies quickly. Laughing for cover, he strolls up close to Sung-hee and tells her to act mad and leave. He sets the scene for her by giving her a loud rebuke, and both Sung-hee and Ho-seok stare. Jung-do pauses his rant expectantly and the silence stretches.
Finally—although not perhaps to his relief—Sung-hee asks hesitantly what happened to his appointment with the Chinese investor. Picking up the ball, he says the guy…rescheduled…or something… He trails off, adding that his word to Ho-seok was more important than a mere 100 million dollar investment.
Ho-seok gapes, and Sung-hee rounds on him. Freezingly polite, she says her husband lost a sure investor because of him. Jung-do's grin stretches from ear to ear in admiration. So Ho-seok had better…buy him a really expensive meal, Sung-hee finishes lamely. Catching herself rambling, she cuts herself off and leaves, cringing. Jung-do nearly breaks his face from grinning.
President Bang thinks about Commissioner Ahn's warning that he could be the swindlers' next target. He calls up Ho-seok to ask if there's been anyone strange around him lately. Ho-seok says no, while nearby, Jung-do gets a coffee. He ends the call with "I love you, daddy" which is, well, a little bit disturbing from someone like him. He tells Jung-do that Dad told him to be careful of being conned. Jung-do chortles.
Ho-seok wants to make it up to him for his lost investor, but Jung-do turns him down. He'd rather keep things friendly, he says. Determined not to miss out, Ho-seok pushes that he actually wants to invest for his own sake, since the returns are so good. But he puts off the rest of the conversation to tomorrow, because right now he's got return to his waiting wife.
On his way out, he suddenly pops his head back in to say that tomorrow's dinner should be a double-date. Ha! He'd be cute if he didn't have impulse control issues.
Sung-hee arrives home that night to find Jung-do waiting for her. He had to talk to her but couldn't get her number, so he just came instead, he explains. He breaks into lols again and asks why she told Ho-seok to buy him something delicious. Embarrassed and defensive, she retorts that she saved his hide, but he just keeps poking at her, enjoying it all far too much. She tells him she's too tired for this so he should just say what he needs to say and go.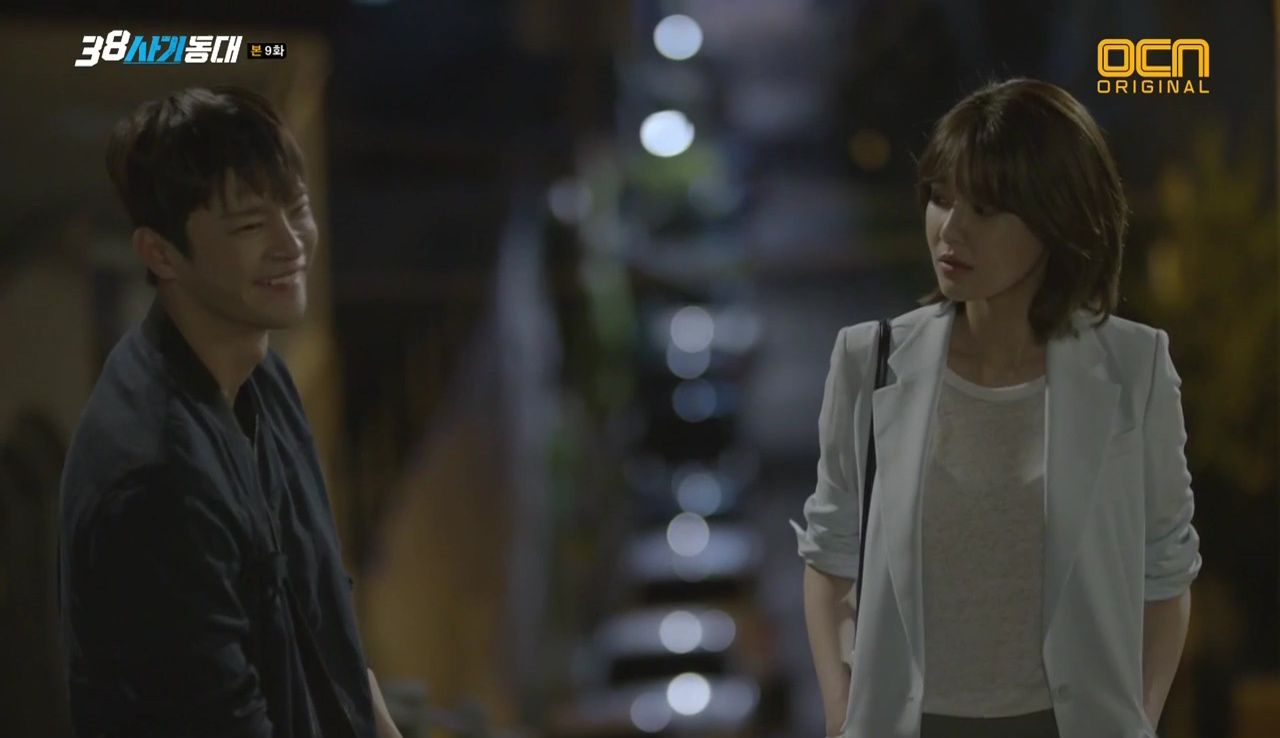 "You're going to have to eat with me," he tells her. She stares at him, horrified, and yells that he should have refused, "Just tell him I died!" He blames her for not leaving like he told her. The immaturity level is epic and hilarious, as he tells her he's said what he had to say so now he's going, kthxbai.
At his offices, Sung-il remains troubled by Jae-sung's words not to get played by Jung-do. He stares at the recorder and finally dumps it in a drawer. Madam Noh calls to say that Min-ah's made a move, so they should too.
At the Freezer, Sung-il tells the gang that they've laid good groundwork so the finish should be relatively straightforward. He instructs Madam Noh to return to their antique shop with a real and valuable antique piece of a specific glaze. Ji-yeon and Ja-wang he instructs to get a bunch of cheap stuff that looks antique.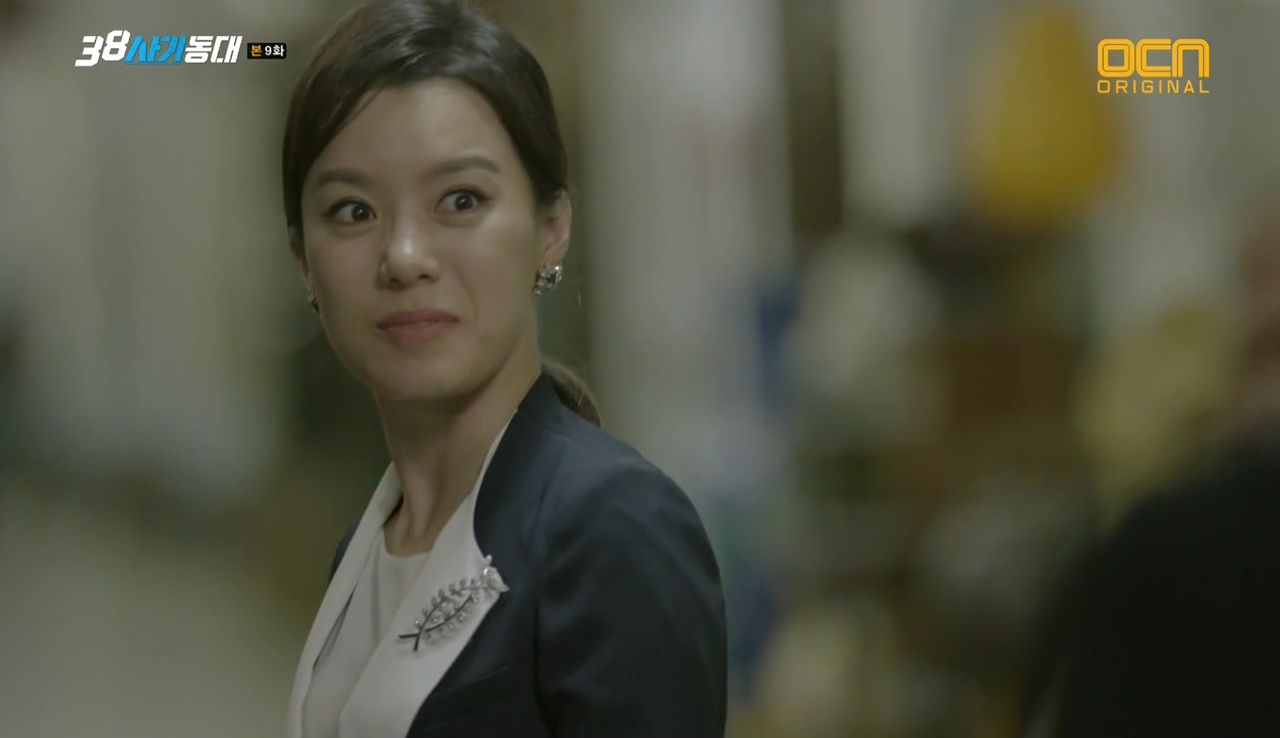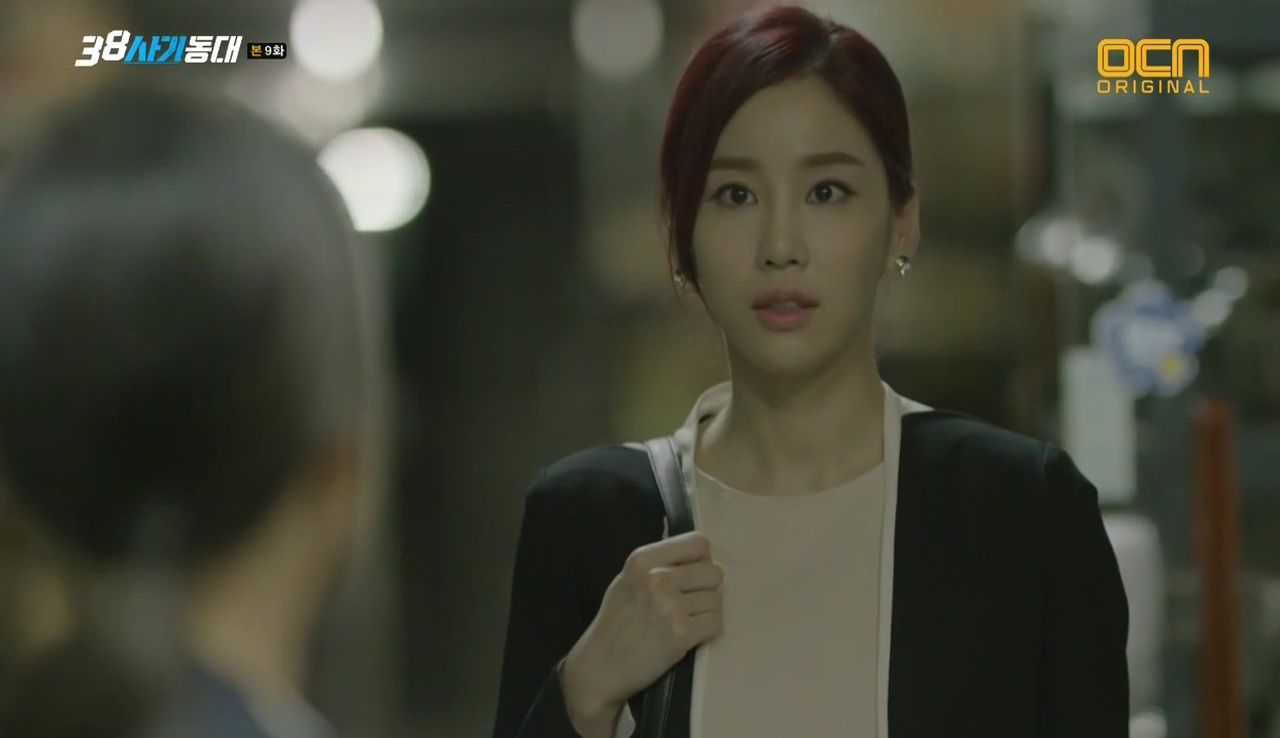 As a woman who collects antiques to avoid paying tax, they need Min-ah to believe they're equally unscrupulous officials. To show her, they embark on a scheme of sneaky back-door dealing, strategically in her sights while making it look like they're hiding it. Thus, in one shop, she sees Ja-wang receive a fat envelope, while Ji-yeon stuffs one into her bag in another.
Red-handed Ji-yeon chases Min-ah down, as if to explain, but she just smiles knowingly and waves her on. We cut back to the meeting earlier, where Madam Noh had asked, after they show her their lack of scruples, what then? "Then we make friends," Sung-il replies.
Now Sung-il emerges, valuable vase in hand. He nods at Ji-yeon and follows behind the other woman. He prepares to cross paths with her, but hesitates when he remembers Jae-sung's warning that Jung-do will throw him away.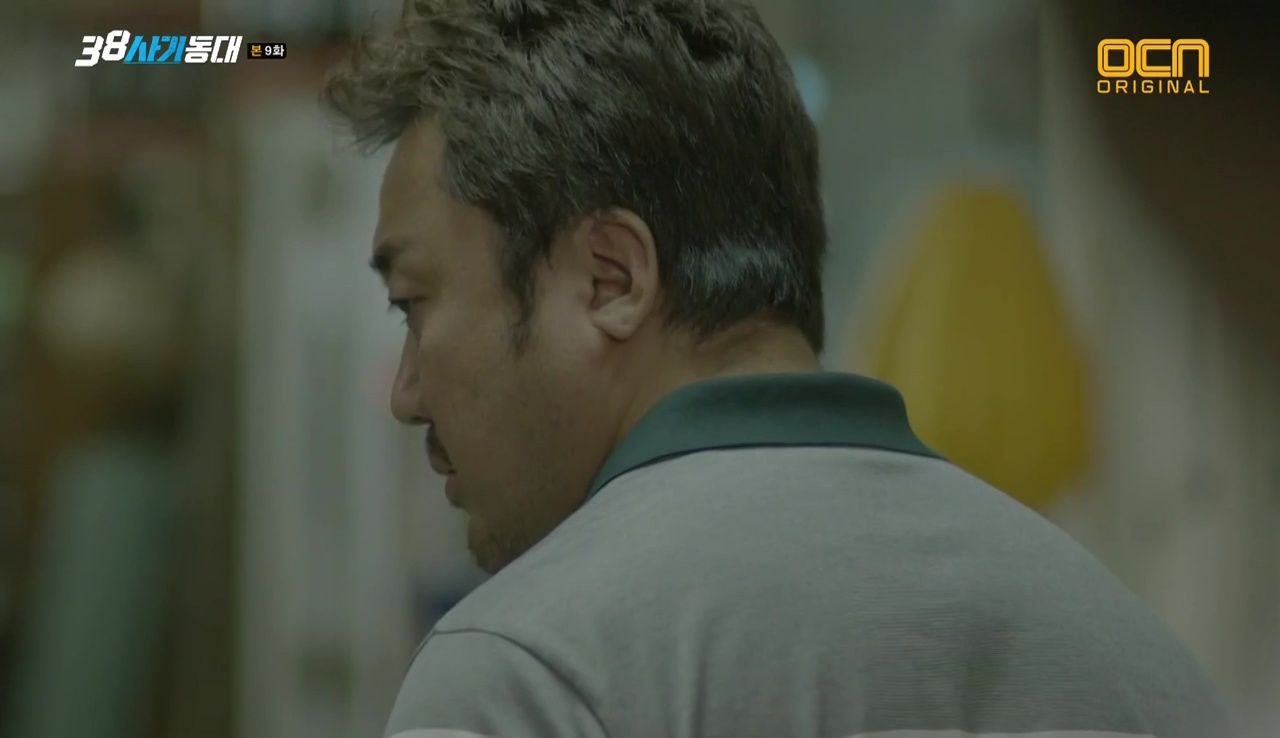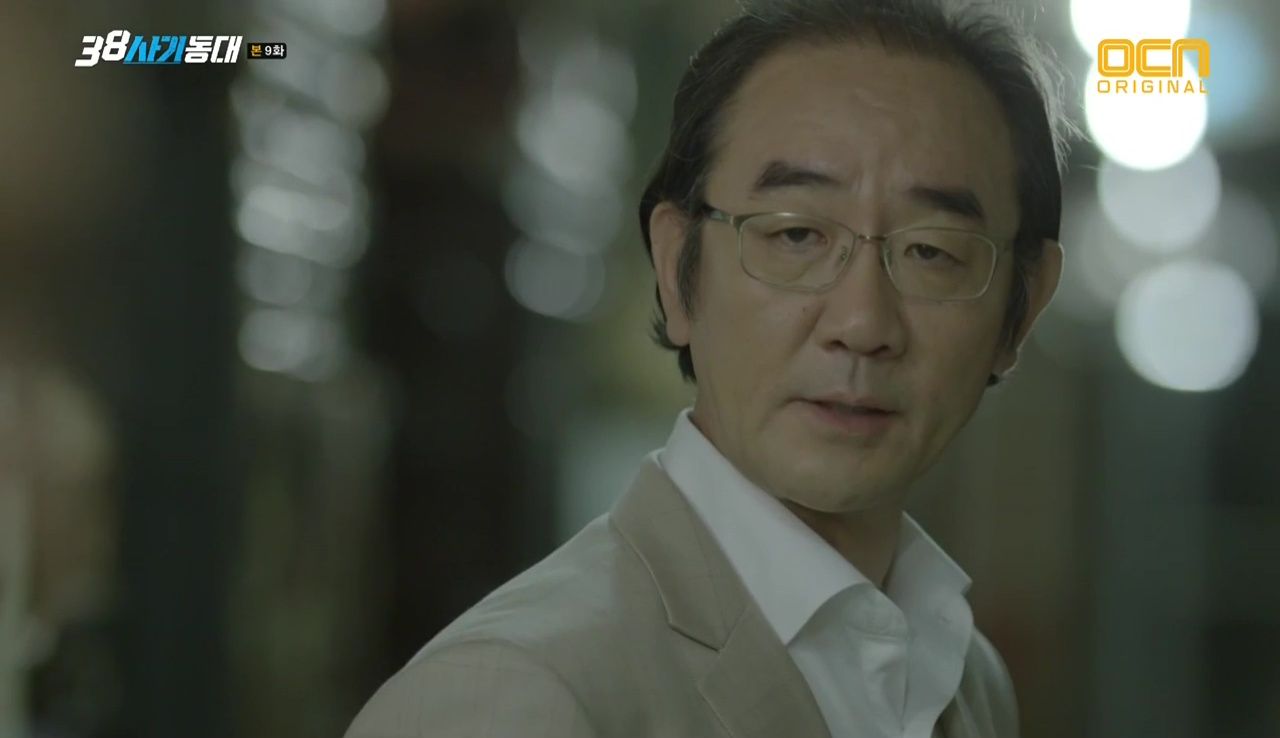 Shaking it off, he picks up speed, but all of a sudden, President Bang appears from a side-alley and joins his daughter. They continue in Sung-il's direction, and he covers his face with an arm for fear that President Bang might recognize him. They knock shoulders by accident as he passes, and Bang calls at him to halt. He should apologize to an elder, he reprimands angrily. Turning very slightly so as not to show his face, Sung-il bows.
Sung-il reaches Ji-yeon and Ja-wang. He calls the operation off, and walks past without stopping. At the other end of the corridor, President Bang asks his daughter the same question about whether there's been anyone odd around her lately, but she also hasn't noticed anything.
Ji-yeon reports their failure to Madam Noh. Madam Noh looks thoughtful, and mentions that she spoke to Mr. Kim (President Wang's guy in prison) earlier. It's time to slowly shift their alliances, she tells Ji-yeon. They are swindlers, after all.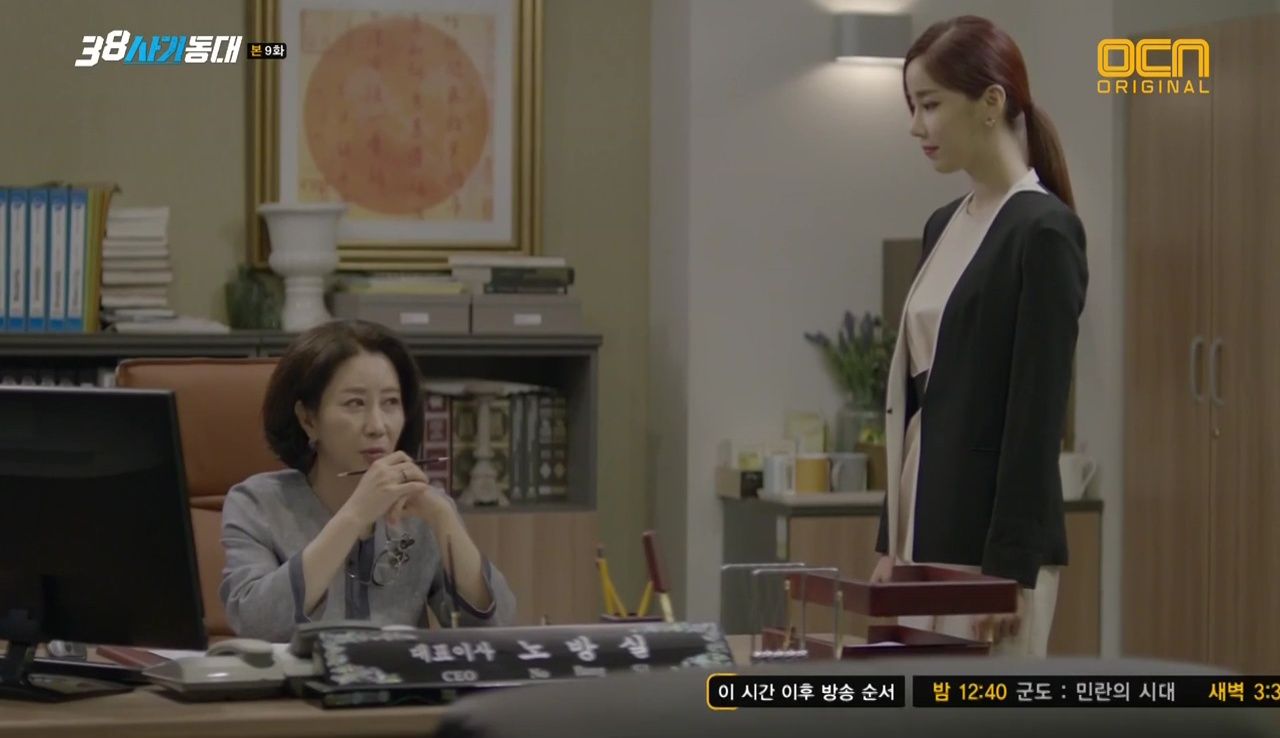 In prison, Jae-sung receives a visitor whose identity is hidden from us. He smiles widely on seeing them, telling them they made the right choice. As a public official, he's more reliable than Jung-do after all.
Jae-sung's warnings continue to make their relentless circuits around Sung-il's head, against Jung-do's reminder that the two of them have to keep their promise to each other. Once again, he finds himself at Jung-do's door and the younger man invites him in with a grin. He asks about President Bang's unexpected appearance, and Sung-il tells him that, luckily, he went unrecognized.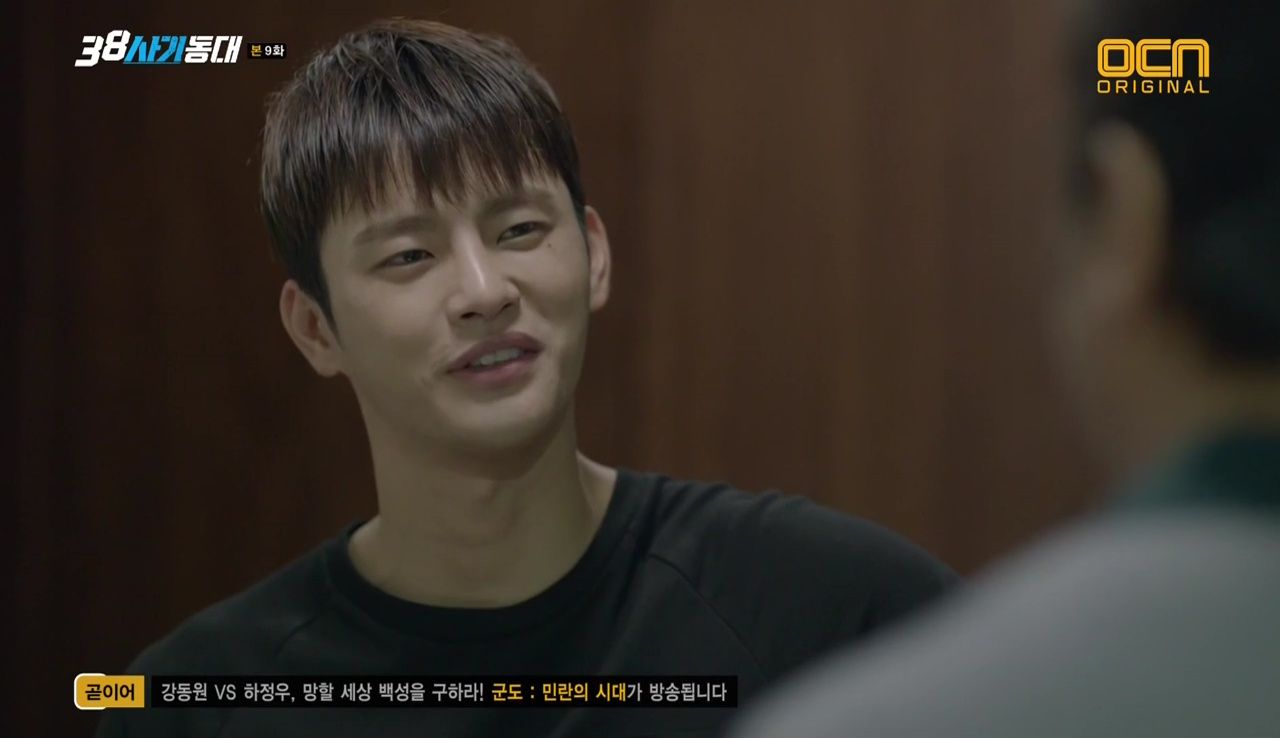 Sung-il asks Jung-do if he remembers the detective Jae-sung. But Jung-do stills when he asks if he knew the detective was in prison for taking bribes. Sung-il brings out the recorder. The detective gave him this, he tells Jung-do, placing it on the counter. He recounts in detail what Jae-sung said to him about Jung-do using him, and that he plans to throw him away. And that he'll take Jung-do down if Sung-il brings him evidence of his frame-job.
Expressionless, Jung-do asks why he's revealing all this. Sung-il, face creased with worry, says he couldn't believe the detective and wanted to hear from Jung-do. Jung-do growls in frustration, but just moments later, he confirms that the detective's got it right.
"I am using you, ajusshi" he says, eyes dark.
COMMENTS
Argh I don't know where to start because I want to say three things at once! One, everything I was going to say about this episode just got swept away by that endingggggg hrgjghjlfj jlflarf! Two, Seo In-gook is very, very good because three, did you see how once again, there was that tiny moment where you can see him deliberately put on his face? For a character we're constantly second-guessing, "The Real Yang Jung-do" is surprisingly easy to discern. There's a pleasing level of meta to it too, because of course, you've got Seo In-gook acting the whole time and on multiple levels. First, he's the actor playing the role of Jung-do. Add to that, Jung-do playing Jung-do-playing-a-role, which we can only discern within the context of his original Jung-do character. Confused, yet? (You're being con-ceptioned, that's what.)
There were three major points this hour where Jung-do was being real and it counted: when he turned serious with Sung-hee, when he told Sung-il they had to keep their promise to each other, and at the end here, this moment just before he lies to Sung-il about using him. Or…it's not quite a lie, but it's not quite the truth, either. It's been clear over the course of the show that Sung-il affects Jung-do, and I think it's worth contrasting him to Jae-sung. What's interesting about the detective is that among all the corrupt officials, he actually isn't guilty of his bribery charge. But he's also a pretty nasty person, at least to Jung-do, which forms the root of the difference between the two men and why Jung-do has opposite feelings about them. Even though Jung-do is using Sung-il, he's come to respect and care about him, so he just might not throw him under the truck…or at the very least, he'll feel bad about doing it. At this point, I think even Jung-do doesn't know what he'll do.
But what I really, really love about this episode are Sung-il's choices. Like when he tells Jung-do that he'll do better, it's a moment where he chooses to stand by him and believe good of him, without asking and without checking. And again at the end, I just LOVE that Sung-il brought his worries straight to the source. Not because I believe in Jung-do, but for what the act of faith towards baby bear tells us about Sung-il. You can teach papa bear to con but you can't make him evil. I love that.
I talked last time about the hole in Jung-do's heart, and I think it shows itself increasingly when he's with Sung-il or Sung-hee. He might be an accomplished trickster, but there's a sensitive little boy lurking inside who can live another way—if only the world were not so cruel. So in a way, he's a product of circumstance. That's not to say he doesn't enjoy the game (because he does, far too much), but that in better circumstances, his energies would have been directed differently. But the implicit trust Sung-il places in him brings the little boy in him out. I actually think Jung-do deliberately sabotages himself. He wants people to think he's a piece of crap precisely because any attachment on his part clearly endangers his whole swindler's persona.
I don't think we needed the love triangle aspect with Mi-joo (sigh), and wish we could scrub that out of the episode and storyline altogether. From Jung-do's face, I'd guess that he knows exactly how she feels but feigns ignorance because it's less cruel, since he doesn't return her feelings. I don't believe he's dense about a woman's interest in him, not when reading people is his most important skill. But these unwilling interactions Sung-hee has with him are just plain delicious, because they're both hilarious and unpredictable, and totally wrongfoot our otherwise eternally-suave Jung-do. He's smitten even if he'll never admit it.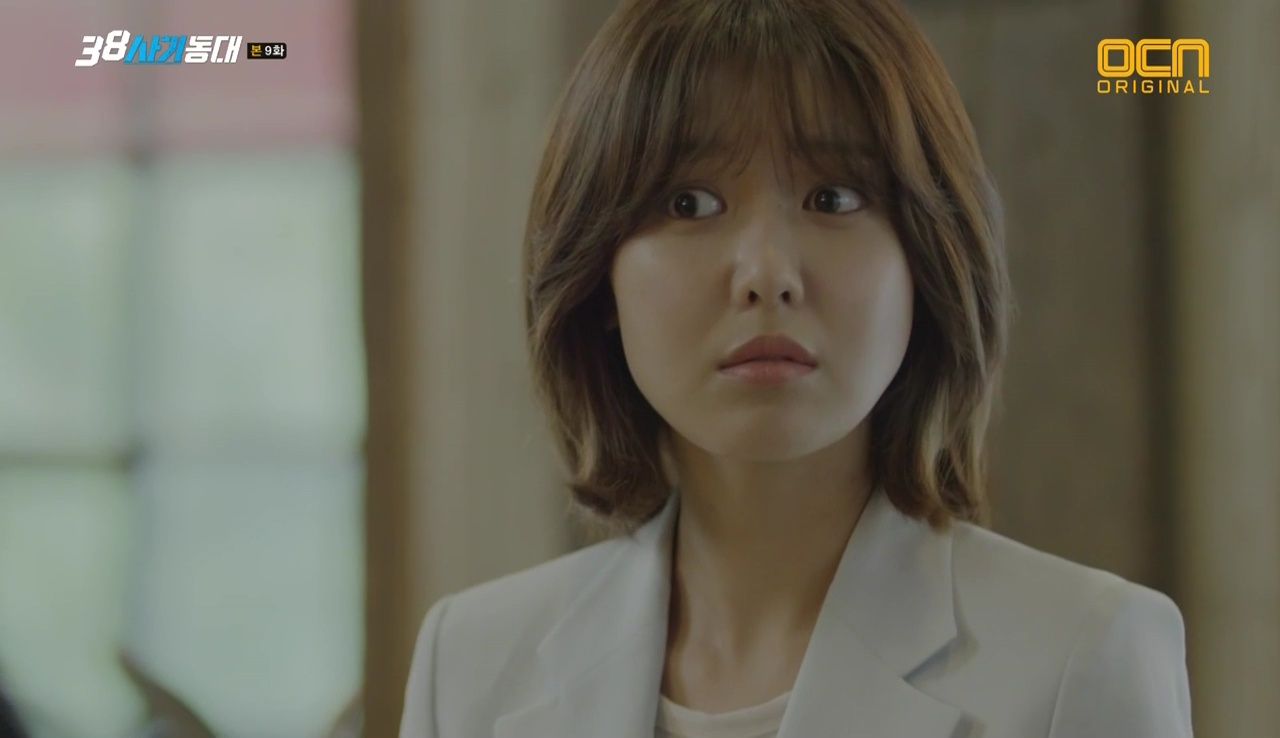 I have to say once again just how much I like Sung-hee. It's those impish little smiles that really get me. They're absolutely uncynical, yet everything about them says, "I've got your number so you can't play me, but I'm going to enjoy watching you try." She's resourceful and focused, although I do think sending a text when you can't get hold of someone on the phone is a thing people need to do in dramaland. I also feel like we got pretty solid confirmation of her relationship to Mayor Chun, but I wonder if Sung-il knows. After all, he's such a surrogate father to her, and clearly he used to be close to the mayor.
Our villains are layered and interesting, too, their personalities suggesting quite specific histories. For example, Commissioner Ahn has these little mannerisms that make me think he was a nerdy outsider who was bullied as a kid, and who now takes pleasure in bullying others. His dogged pursuit of Sung-il, his attempts to nail down Sung-hee, his cozying up to powerful people—all of them point to an insecure man who delights in the idea of his own power. The three Bangs are also quite fascinating (and terrible). It's surprising that someone as shrewd and clever as President Bang doesn't expect more of his children, until you realize his vast narcissism (by which I mean the actual personality disorder) and self-satisfaction make him dangerously short-sighted. In that context, the adult kids having a child-like relationships with their father is actually not surprising at all.
Like festerfaster said, the quality of the foreshadowing in this show is really masterful, playing on the basic brain-trick of creating assumptions despite incomplete information. As much as people get conned by Jung-do in-show, we're getting "conned" by the show itself. And that's pretty cool, because who doesn't love being taken for a mindscrew?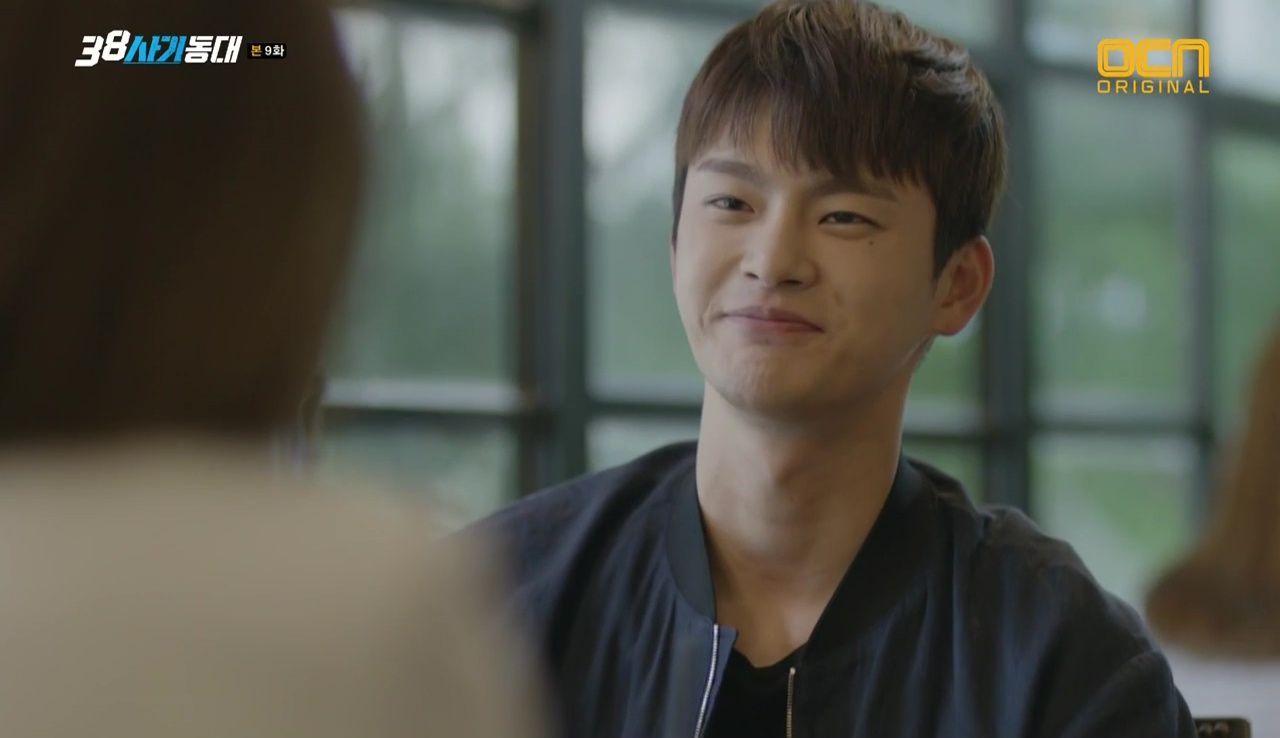 RELATED POSTS
Tags: featured, Ma Dong-seok, Police Unit 38, Seo In-gook, Sooyoung