Running Man: Episode 309
Welcome to the Giraffe Kingdom, where there's strength in numbers, but it only takes one for the whole team to crumble. Our favorite giraffe will get some extra help this week to engage the other animals running around in varietyland. These giraffes will need more than just their long legs to prevent the others from escape, and one young giraffe in particular will need everyone in his herd to stop the entire crew from entering his home.
EPISODE 309. Broadcast on July 24, 2016.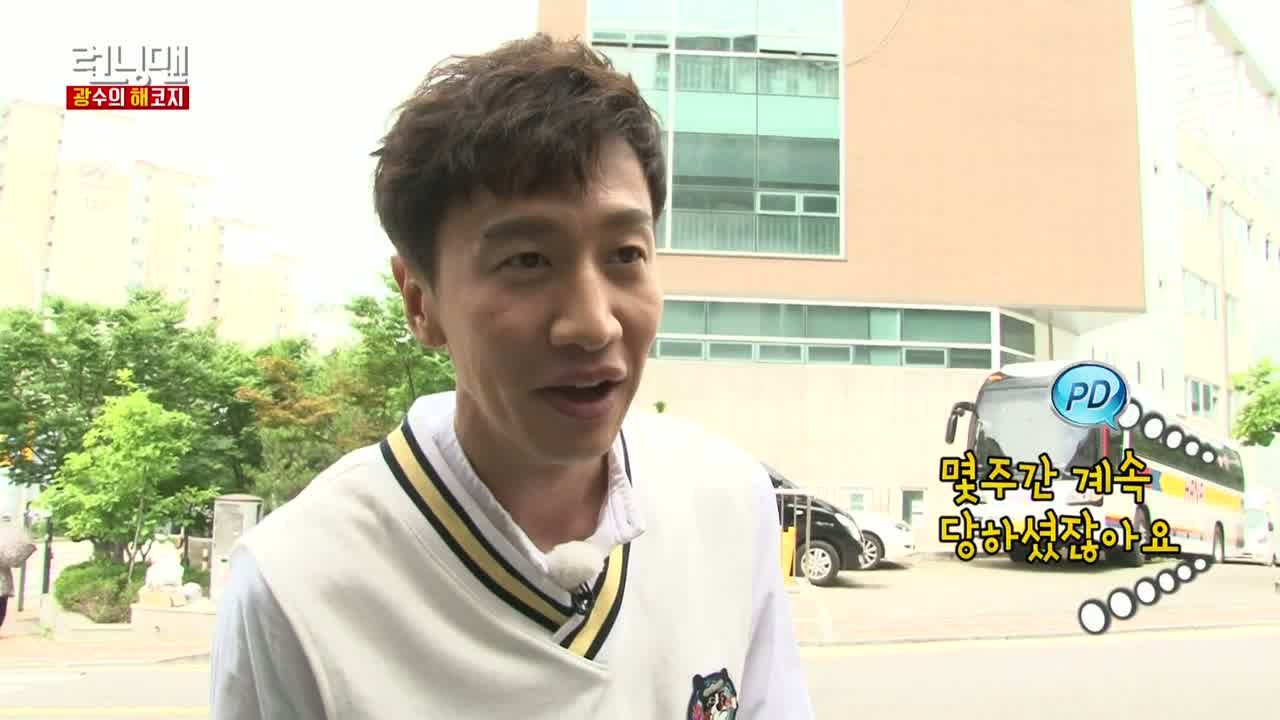 After weeks of bullying on set, the crew has prepared a special surprise for Kwang-soo. Remember when he was the first to call in following the broadcast two weeks ago? He's being rewarded for that today, and he'll be joined by three more guests to help him get back at the other cast members.
We find the six other castmates gathered together in a different room. When Lee PD tosses Jae-suk a mission scroll, Jae-suk… tosses it right back at him. There's no episode to be had if the group declines participating in this challenge, right? Jae-suk jokes, "We'll see you all next week."
Suk-jin literally slaps away the second attempt to toss the scroll at them, but they finally read the thing. Gary tosses out a few possible names that Kwang-soo could have on his team, but the reveal surprises everyone.
Meet some of the tallest people in the industry: retired basketball star Seo Jang-hoon, model-turned-entrepreneur Hong Jin-kyung, and actor Lee Ki-woo who we saw just a few weeks ago.
When Jin-kyung comments on how nice it feels to be sandwiched between such tall men, Haha asks for kimchi (Hong Jin-kyung is the CEO of the kimchi company, The Kimchi).
All three of them are united under Kwang-soo's cause, though when Jin-kyung finally gets a word in, she politely asks everyone to look after her. And although Myuk PD claims that Kwang-soo's team has an advantage that goes beyond their numbers and height, Haha can't help but notice how anxious Ki-woo seems.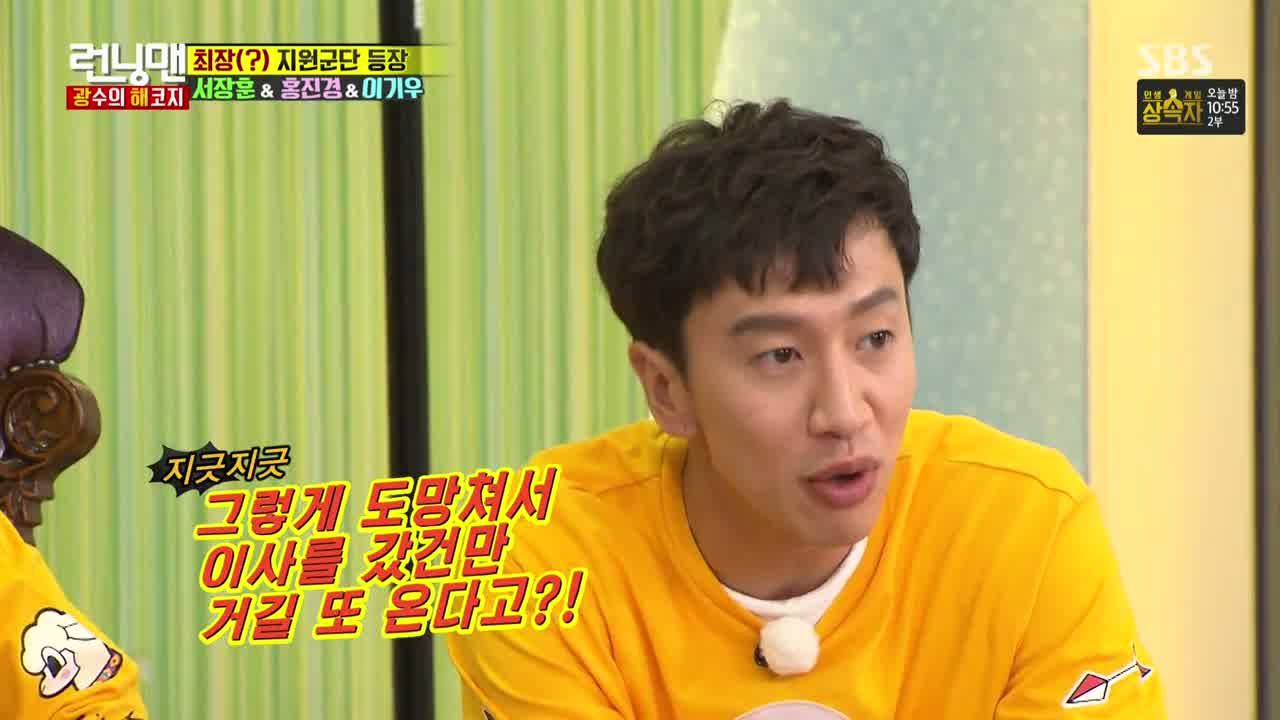 Asked why he was invited, Ki-woo replies that it was for his height. Everyone is given a heads-up that the final mission is an escape mission with dire punishments: the Running Man Team would face a bodypainting session whereas the Giraffe Team would give the Running Man castmates a free pass into Kwang-soo's new place.
Kwang-soo: "You're going to come over AGAIN after I moved to get away from you guys?!" Uh yeah, I guess. And when you've got enough space to have your buddies sleep over, then yes, it's like you WANT to have company.
Their first game is old-fashioned Thumb Wrestling, which will be refereed by VJ Kwon-ryul. Jae-suk asks: "Am I not going to be in this week's episode?"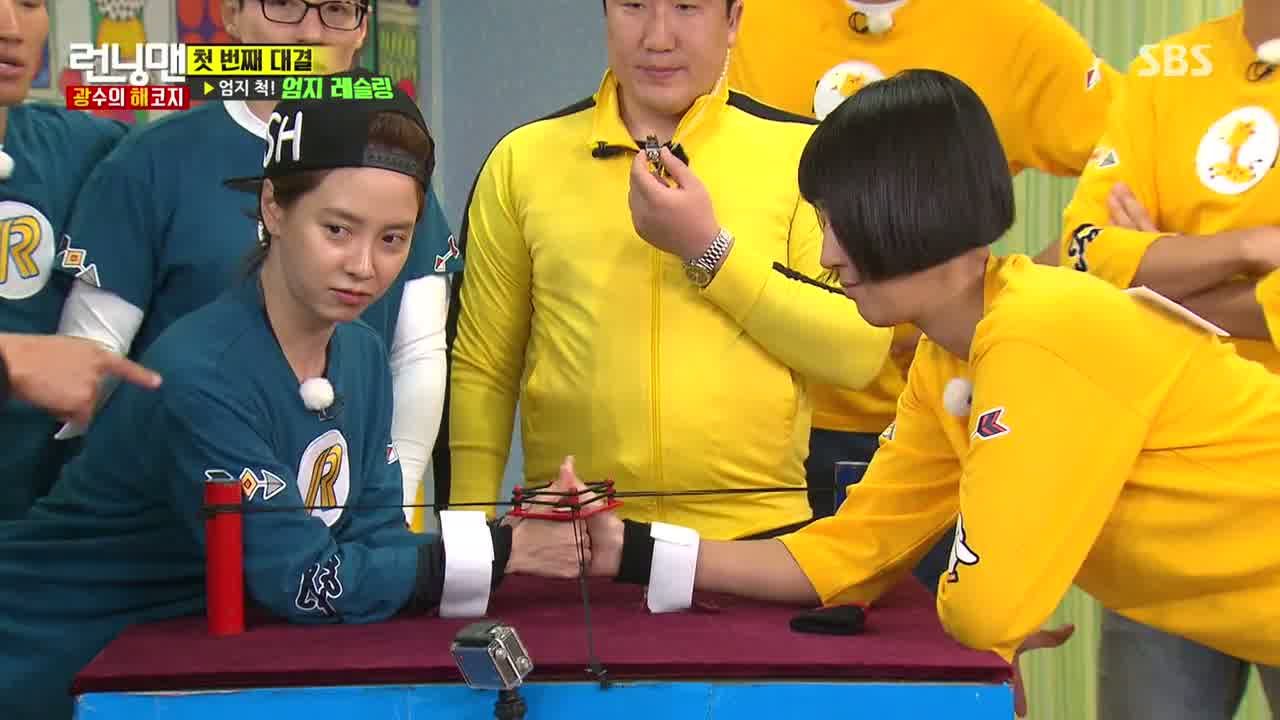 While the Giraffe Team might be outnumbered, the Running Man Team is taken aback by Jin-kyung's long thumb. But when Ji-hyo pins that thumb down and the count begins, Jin-kyung slips her hand out of the ring.
After much arguing, they start over and this time, Ji-kyung presses Ji-hyo's thumb down for the win. Suk-jin takes her down in the next match, then totally intimidated by Ki-woo's longl thumb. Still, he bends Ki-woo's thumb backwards, and everyone including Ki-woo himself, is surprised by how flexible his thumb is.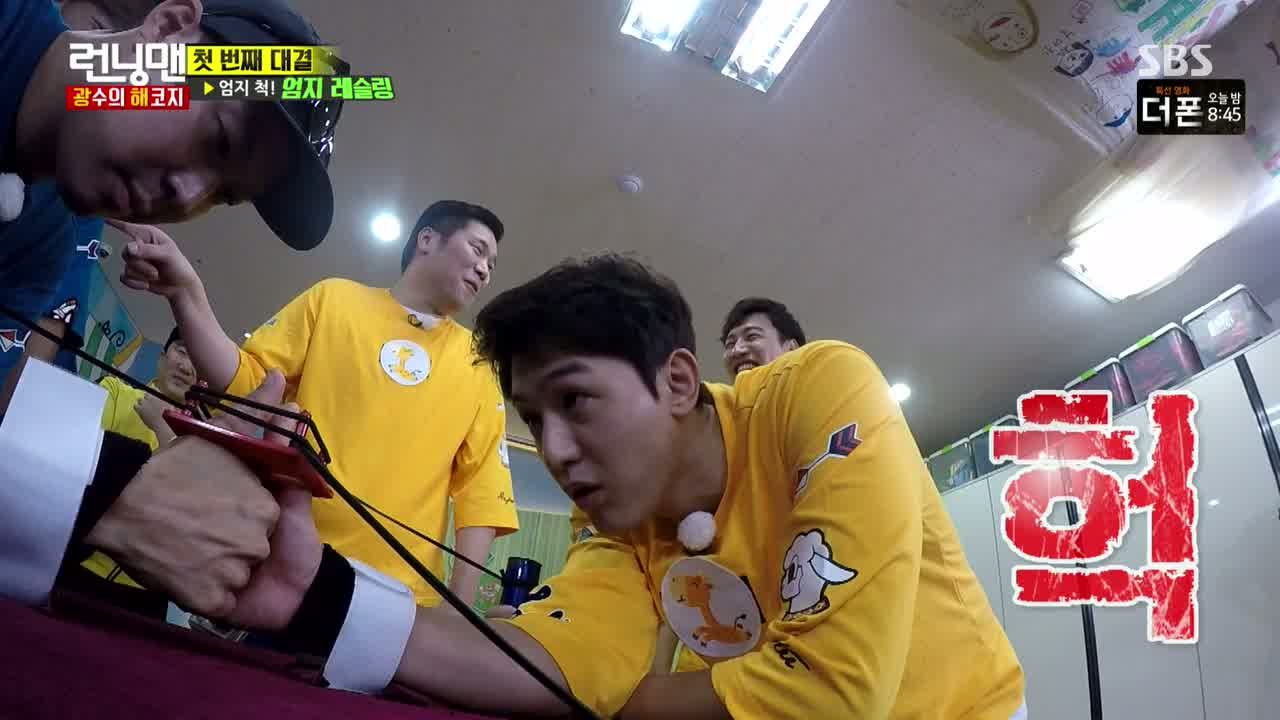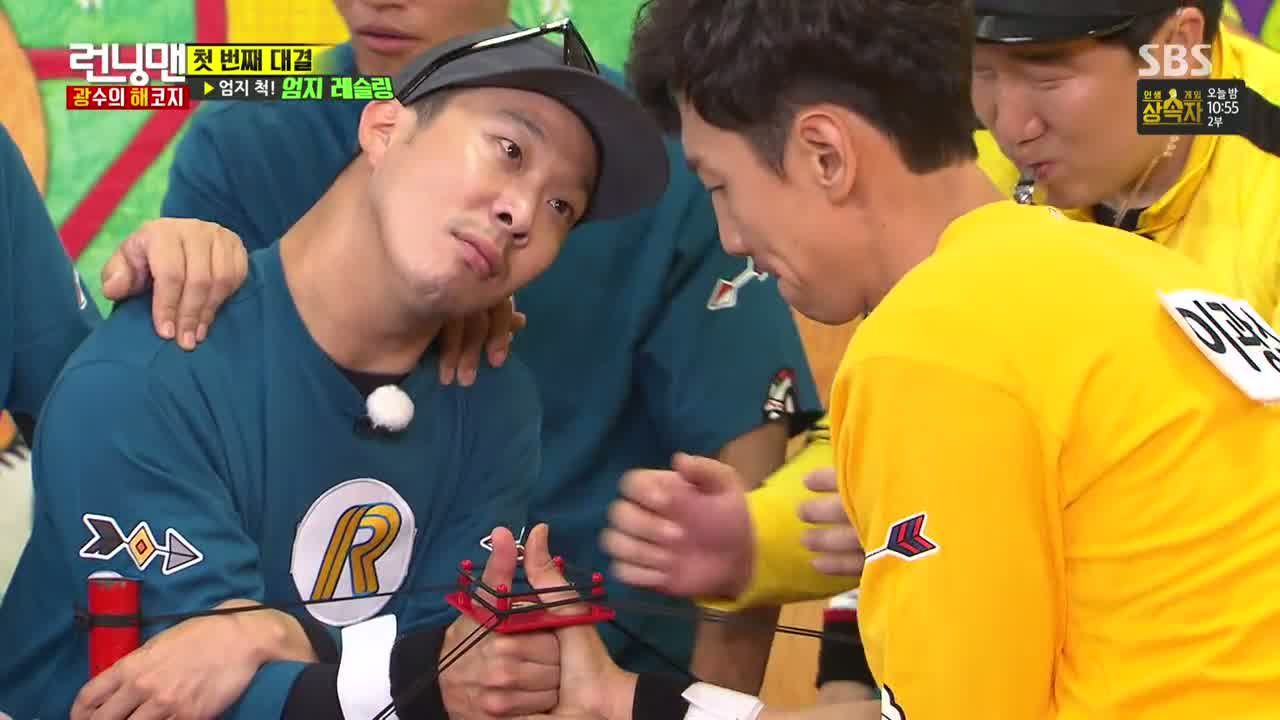 Ki-woo takes both Suk-jin and Jae-suk down, as well as Gary. Haha as a surprisingly big thumb, so Ki-woo opts to tickle it. Heh. Haha retaliates by pinning his thumb down to eliminate him. Haha: "I found something I'm good at."
Now Kwang-soo steps into the ring and takes Haha down. Then it's the final match between Tiger vs. Giraffe—Jong-kook is called out for popping out of the ring, but even then, the rematch is an intense one as Kwang-soo tries to find his angle.
Unfortunately Jong-kook finds a joint and presses down. Hard. So Kwang-soo headbutts him.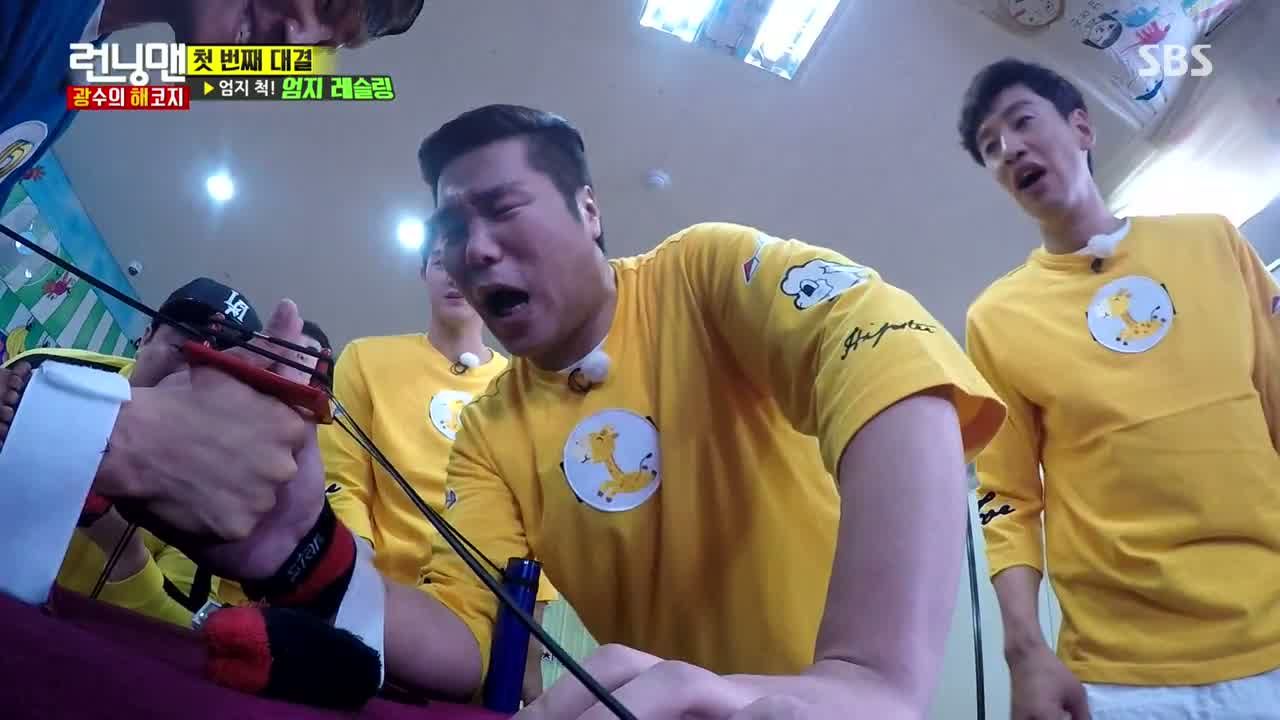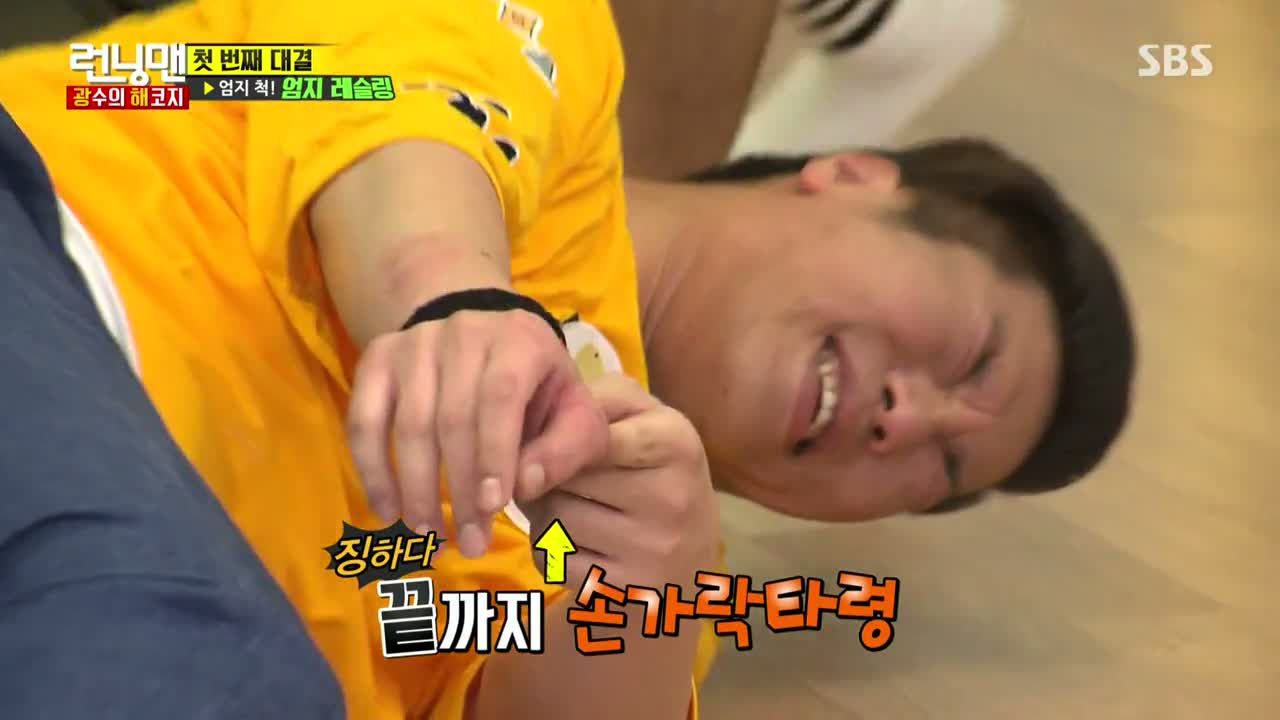 Jong-kook still gets the win, though, so now it's down to Jang-hoon to bring it home… until he complains that the plastic ring is hurting him. He's crying from the pain even before the whistle blows, and later complains that he can't even bend his thumb. Kwang-soo: "That means we lose." Jang-hoon: "I went to the side and it feels like my flesh is going to rip."
His gripes are testing everyone's patience, then he bursts out of the ring to show the damage to the camera. Jae-suk says he can just leave then, but his teammates tell him to bear through it.
Jang-hoon ultimately pulls out of the ring, giving the Running Man Team the win and a hint.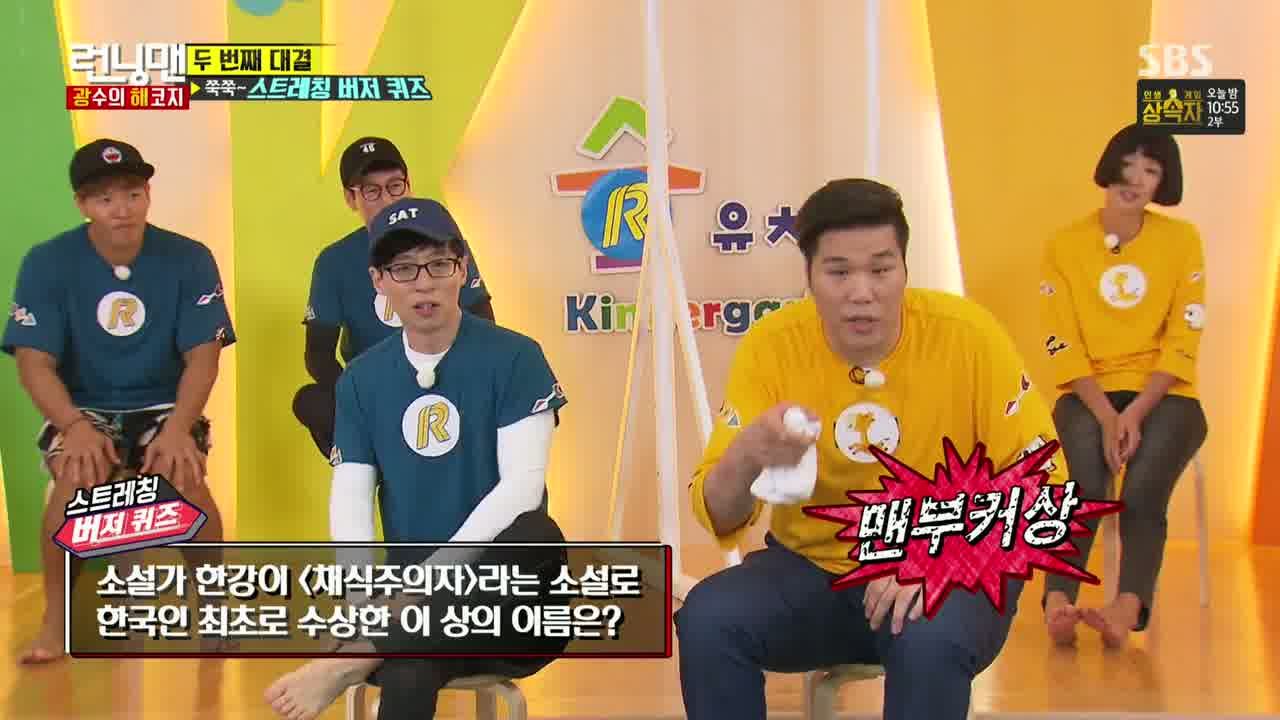 The second game is a general knowledge quiz where the teams will use their legs to reach across the acupuncture mat and answer the question. They'll need to get three correct answers to win a round, and the first to win three rounds, wins. Oh, and any wrong answers result in their teammates getting hit with a tray looming over their heads.
The Giraffe Team's long legs appear to give them an advantage, though all it takes is Jang-hoon to step on the acupuncture mat to cry out in pain. Jang-hoon and his low pain tolerance will be up against Jae-suk, who lunges for the buzzer first.
But it's not long until Jang-hoon literally steps on his foot and the buzzer. Even though he's only heard the author's name, Jang-hoon still gets the correct answer.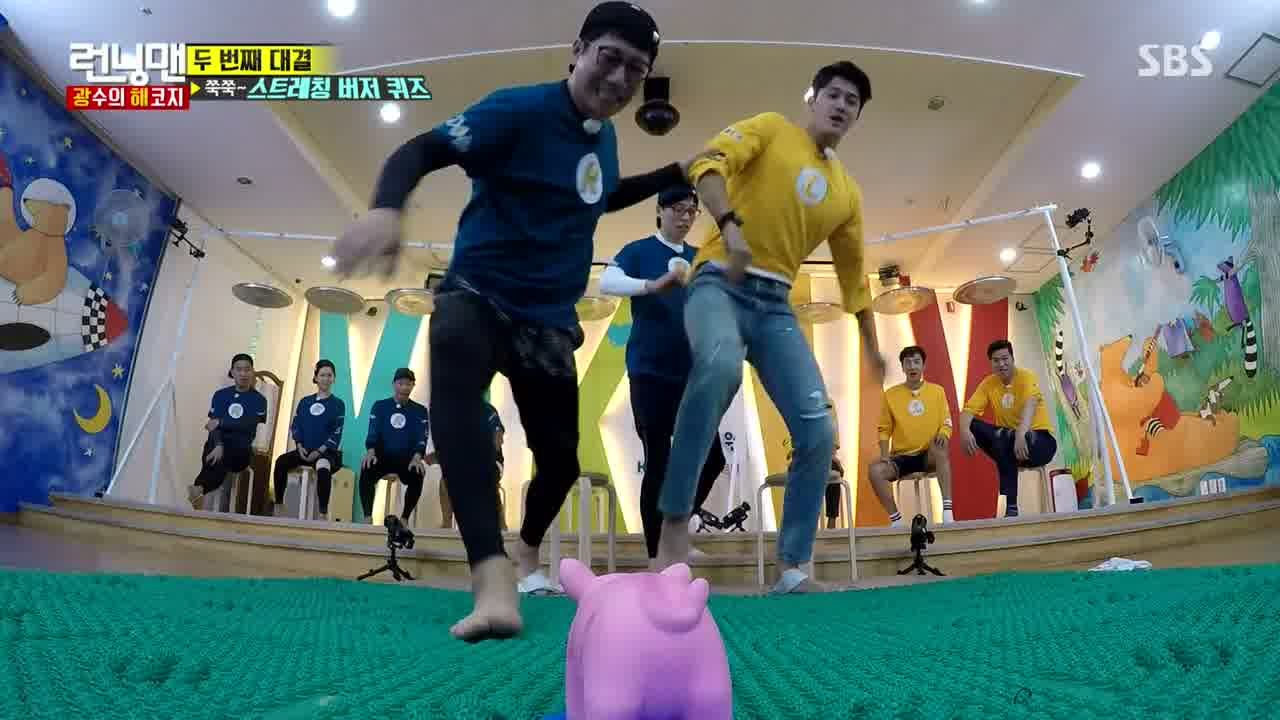 Jae-suk ties up the score by answering the next question, but then Jang-hoon gets the next question (and crushes Jae-suk's ankle). Jae-suk ties the score again, so it's down to this last question. Jae-suk answers it before Myuk PD even finishes the question.
Ki-woo gets a painful taste of the acupuncture mat before the second round, which spurs Kwang-soo to ask the crew why he's stuck with a team like this.
From the very first question, it quickly becomes apparent that neither Suk-jin nor Ki-woo is flexible nor has enough reach for the buzzer. After several more painful lunges, Ki-woo gets the correct answer.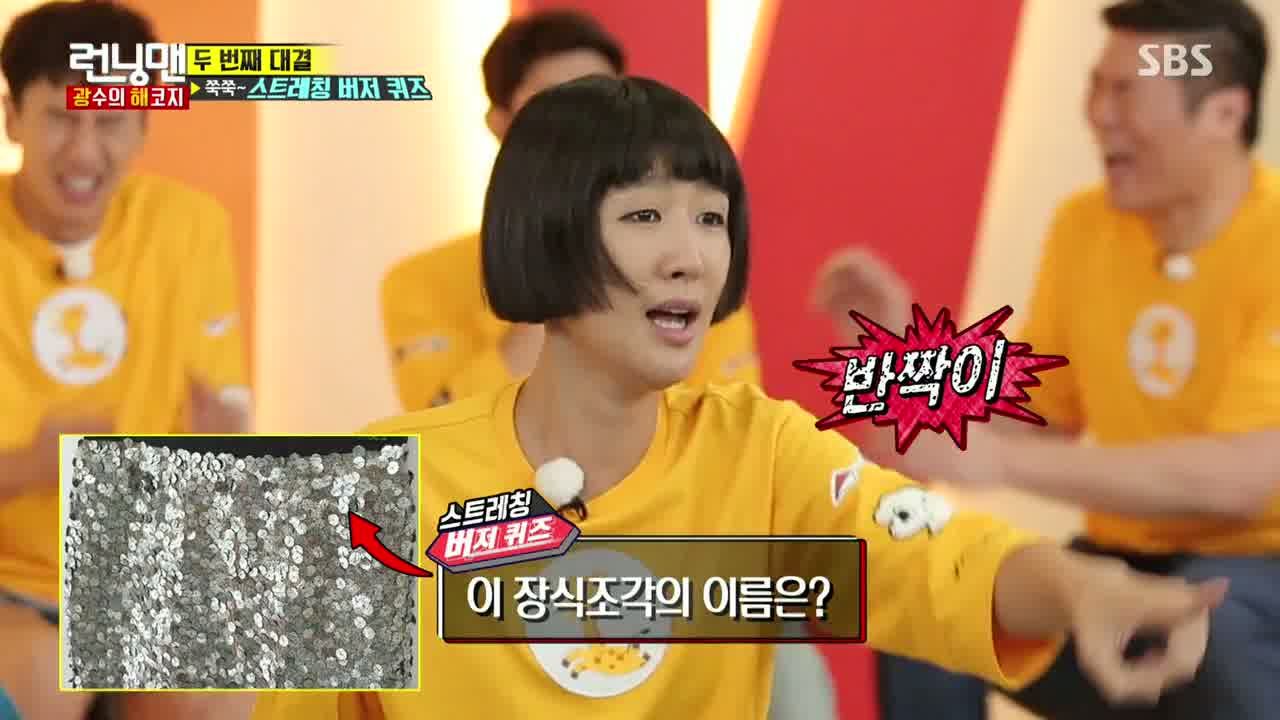 We skip over the next question, and Ki-woo now has a 2:0 lead. He gives us another hilariously painful cry before grabbing the win. The third round is about fashion, so Jin-kyung naturally steps up to the mat.
Ji-hyo is less confident about participating in this round, but she gets some extra help from her teammates. Jang-hoon says that Jin-kyung better not lose on her home turf—she used to be a model, after all—but she might because she answers the next picture of spangles as "sparkles".
We're told that Ji-hyo wins the round and the game for the Running Man Team.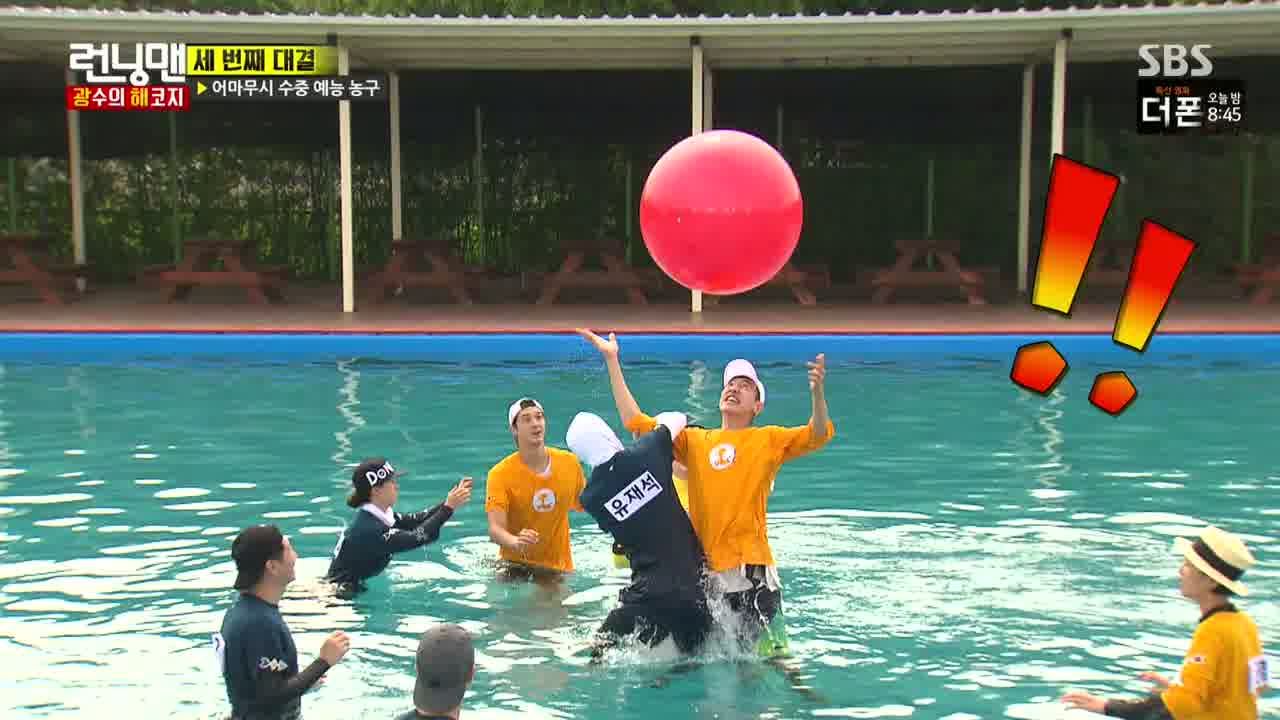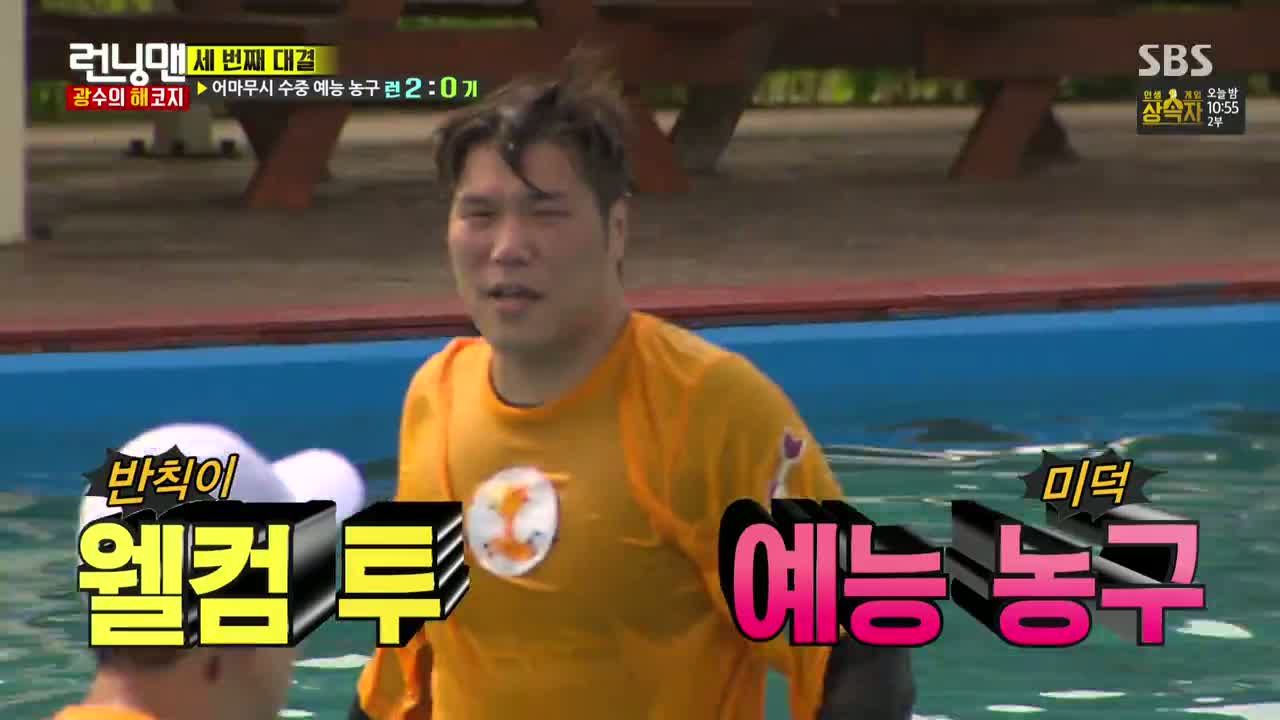 Later it's time to hit the pool for some water basketball where each half will last 10 minutes and every basket is worth 2 points (except for the free throw, which is worth 1 point). Knowing that his team is at a disadvantage when it comes to height, Jae-suk hooks Kwang-soo to keep him from jumping at the jumpball.
There's lots of pushing and shoving and attempts to immobilize Jang-hoon, who loses the ball. Ref Kwon-ryul doesn't make a call, though, even with Haha jumping on Jang-hoon and sinks him underneath the surface.
Jang-hoon returns the favor in kind after Jae-suk gets a basket, then attempts to make a basket himself. Too bad Jae-suk pulls him under again, and Haha runs to score another basket.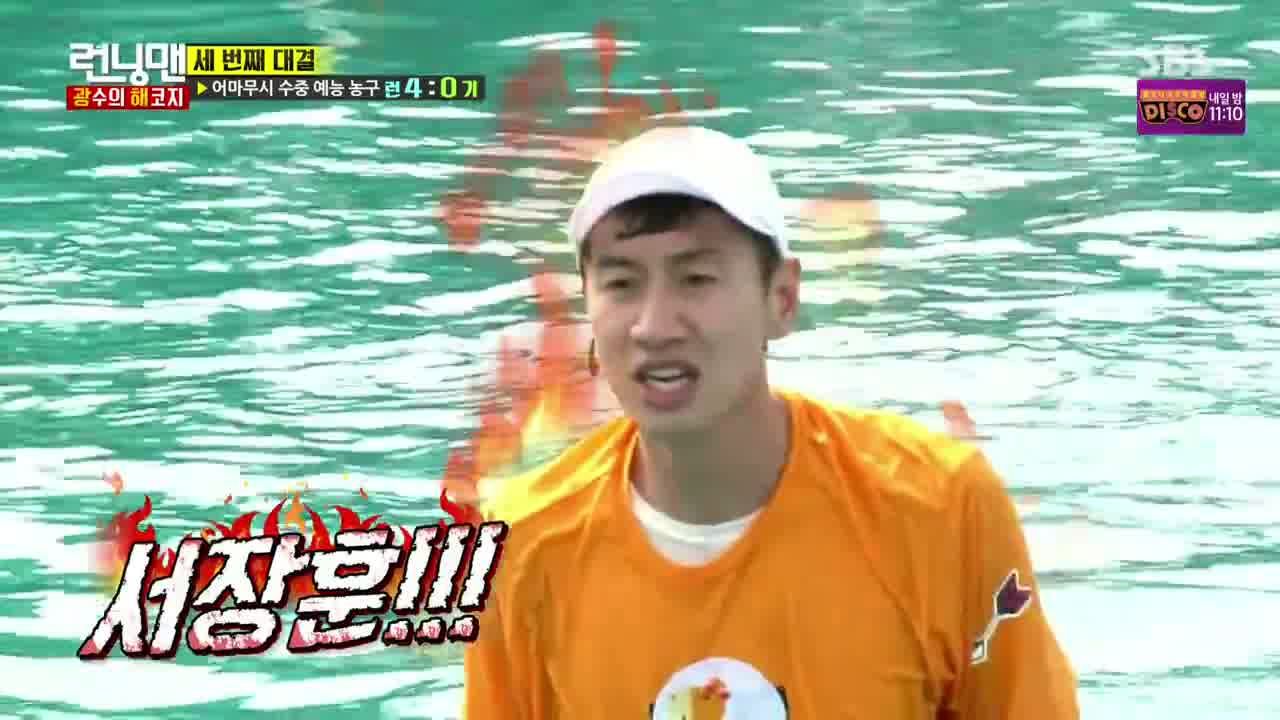 Despite his growing frustration, Kwang-soo still throws the ball to Jang-hoon, who has a clear shot on the basket. He shoots… and it's short. He misses his next shot too, but at least there are some boundaries in place now because when Jae-suk hits him full in the face, the ref calls out a foul.
Jang-hoon is worried about this free throw, and he slips under the surface when the ball hits the rim and bounces out. The second free throw also hits the rim, much to his team's displeasure.
He makes up for it by intercepting the ball when Jae-suk looks to pass it, and when the ball somehow ends up in Jong-kook's hands, Jin-kyung has a firm grip on his shirt. We see she's not the only one she clings onto, as she desperately tries to foil any attempt made by the Running Man Team.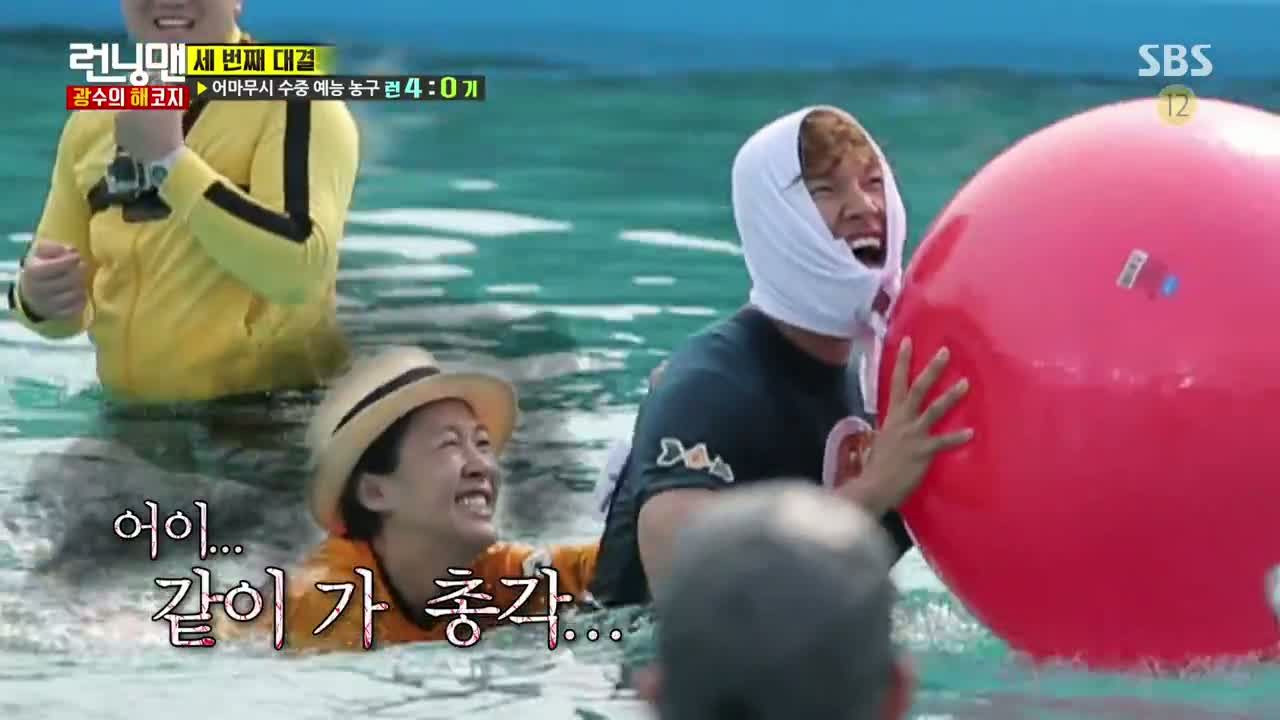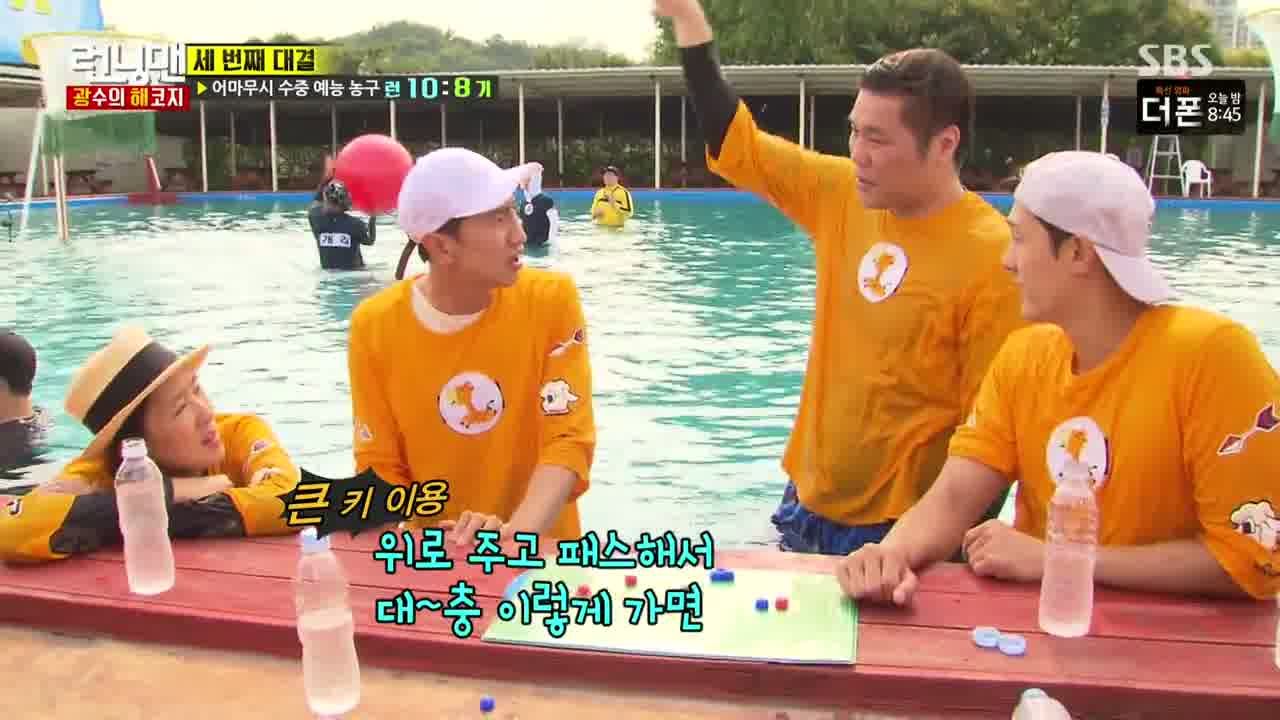 With two minutes left in the first half, the Running Man Team leads 6:4. Haha increases that lead with another basket, and even with Ki-woo's that-should've-been-a-three-pointer basket, the Running Man Team leads 10:8 at the end of the first half.
Jang-hoon talks strategy during halftime, though his suggestions get him nowhere since his teammates can hardly believe that they have a retired national athlete on their team.
The second half kicks off after a brief dance break, and Jae-suk is at it again during the jumpball by pushing Kwang-soo underneath the surface. That's considered a foul and Jang-hoon accidentally rolls himself into the pool while holding onto the ball.
They do a do-over, and when the ball is passed to Jang-hoon, he pushes Haha out of the way. Haha returns the favor in kind by pulling him into the water, and eventually scores another basket.
Jang-hoon shoots the ball, only for it to hit the rim again. His next attempt is short again, so maybe third time's the charm. Or he'll try to bump his way closer to the hoop only to fall into the water again.
When the Running Man Team scores another basket, Kwang-soo instructs his teammates not to pass the ball to Jang-hoon.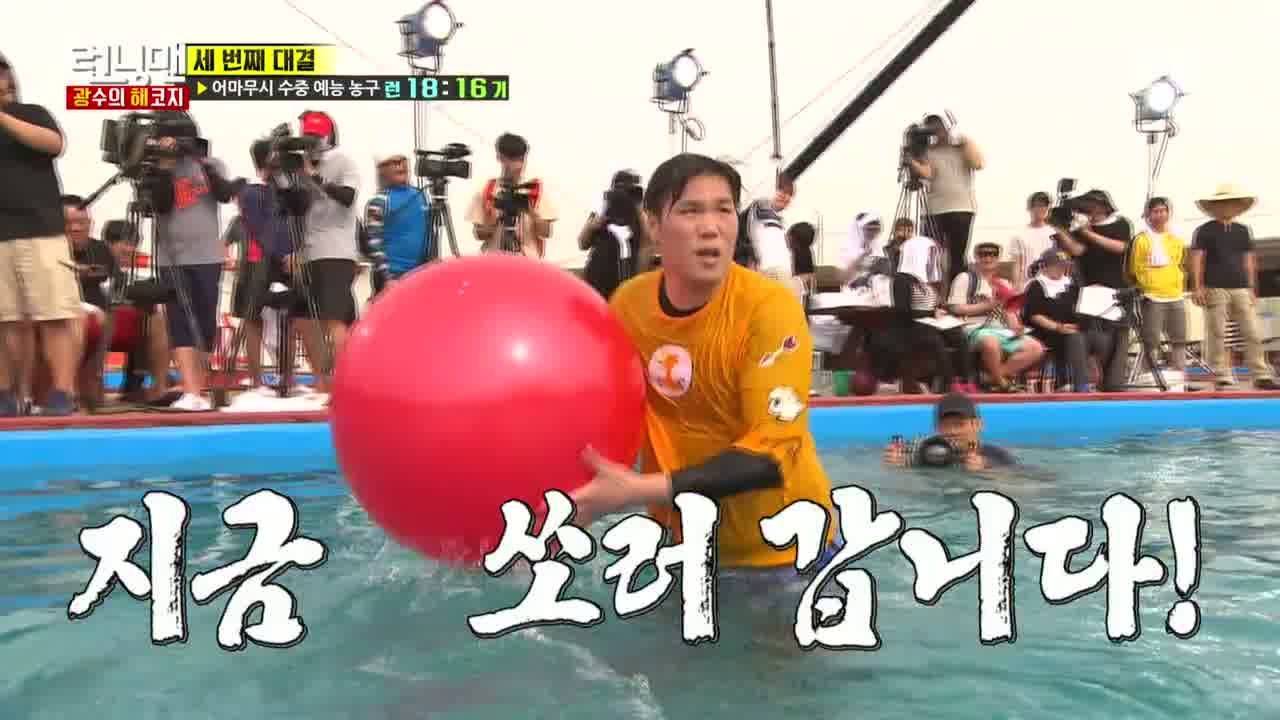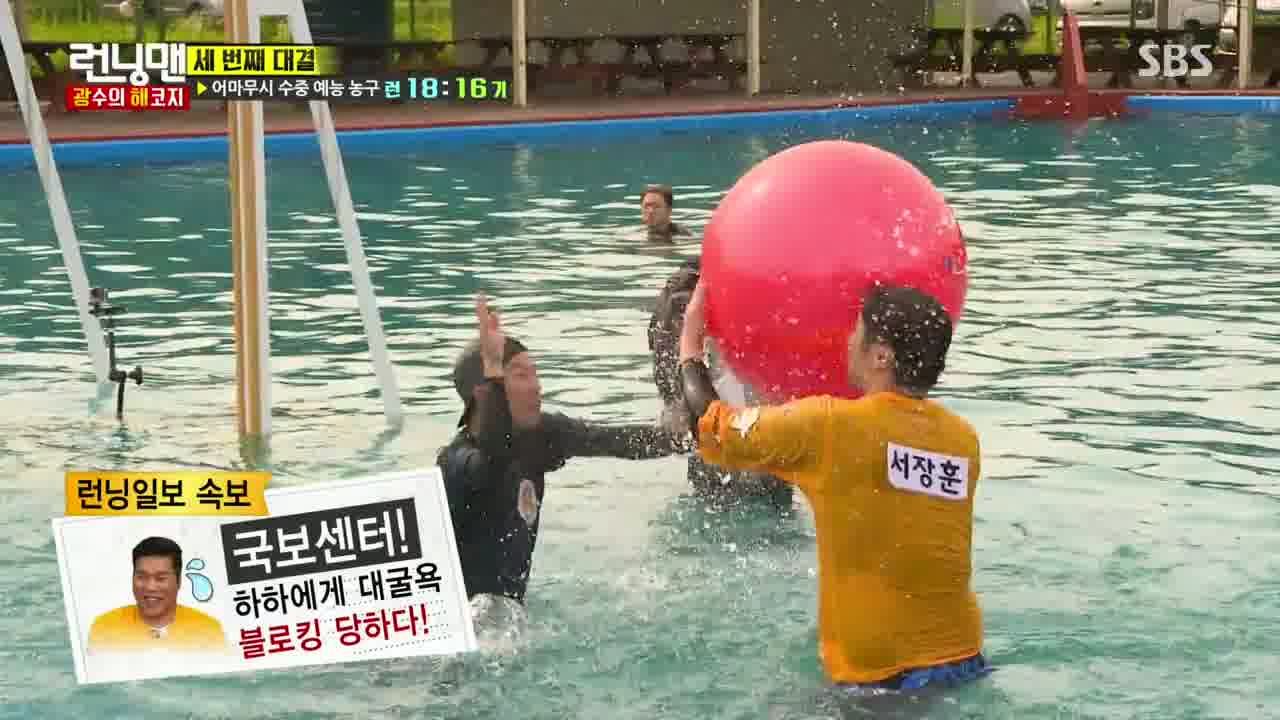 The next time Jang-hoon gains possession of the ball, two people pull him backwards just as he's about to shoot. So the ball hits the rim and he gets a mouthful of chlorine. Jae-suk claims that Jang-hoon is exaggerating his actions, but this time he finally gets the first free throw.
He signals to Kwang-soo before the second shot, so that Kwang-soo can get the rebound and tie up the score 16:16.
After the Running Man Team scores another basket, the ball is passed to Jang-hoon. He gets ready to shoot, but then Haha hits the ball and Jang-hoon crumbles.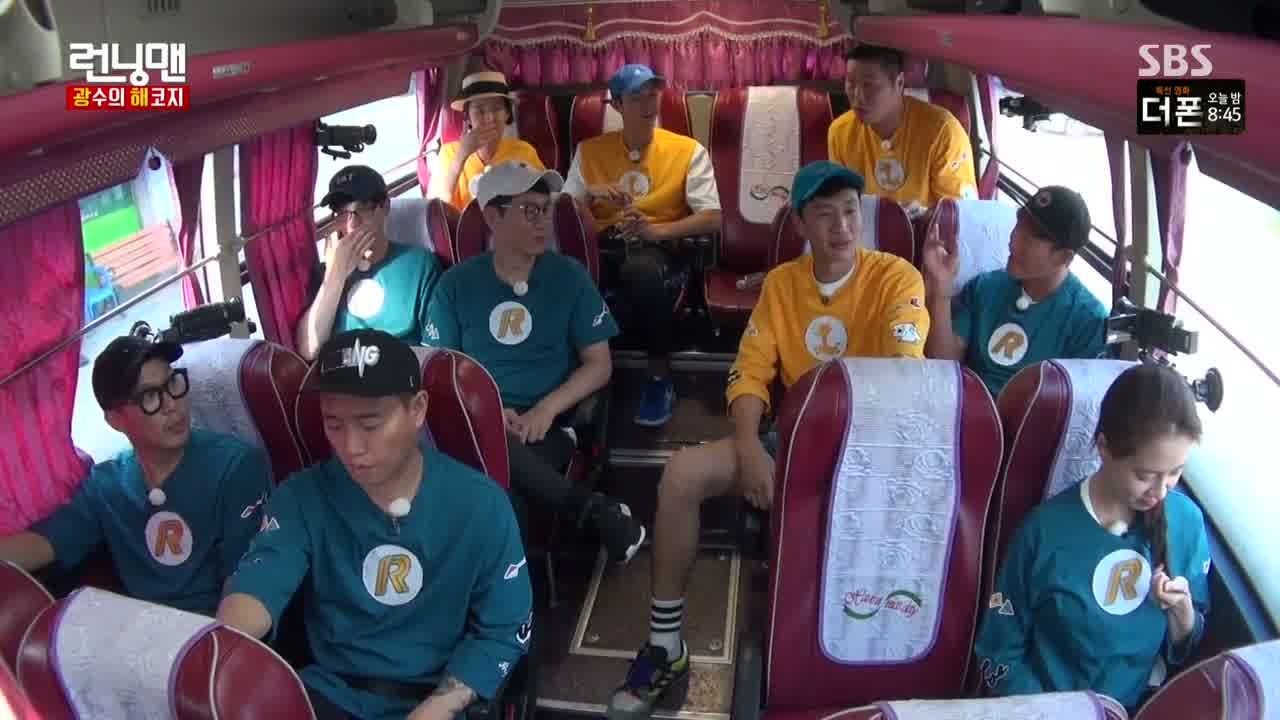 Ki-woo ties up the score 22:22 with just over 90 seconds remaining. Soon after Jae-suk scores a basket, Ki-woo does too. Kwang-soo swims over to the ball to score another basket with just enough time for one last play.
Haha shoots, and the ball rolls around and out of the rim. That means the Giraffe Team wins at water basketball 26:24.
On the bus, Jang-hoon himself is surprised at how rusty his basketball skills have gotten. He's more impressed by the Running Man members, though Kwang-soo still can't believe how Haha, who's a full foot shorter than Jang-hoon, managed to block the shot.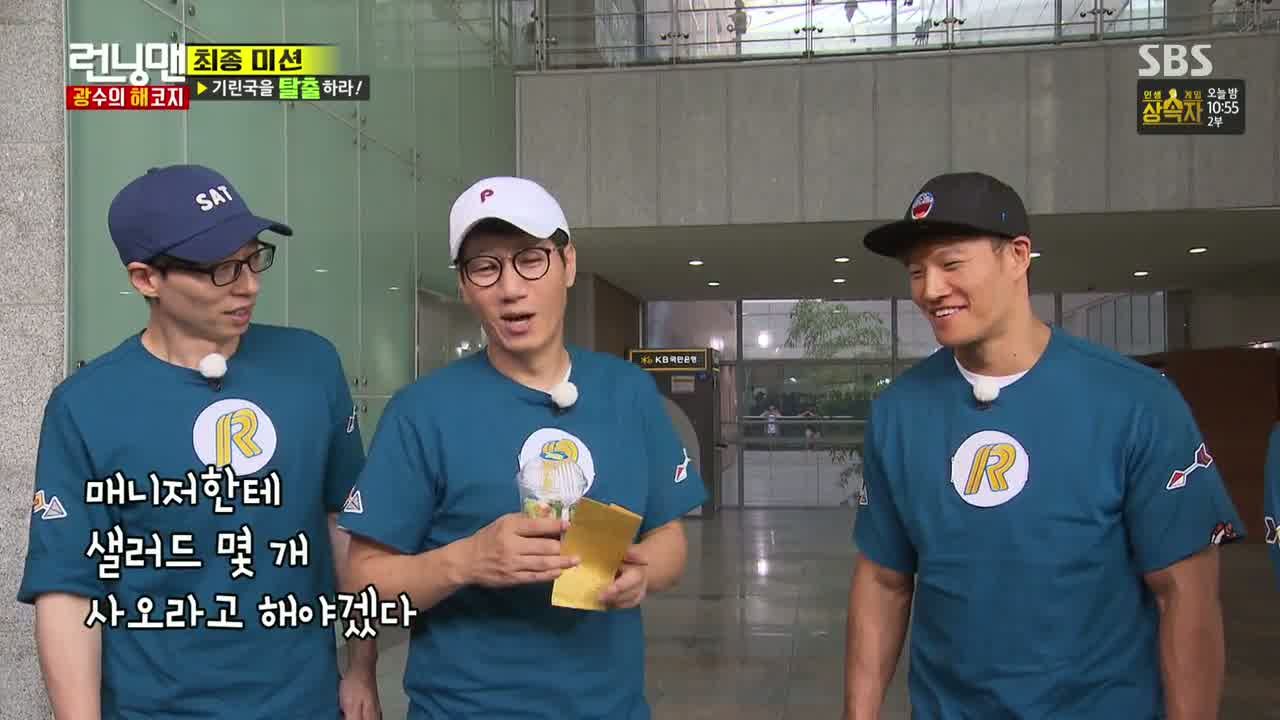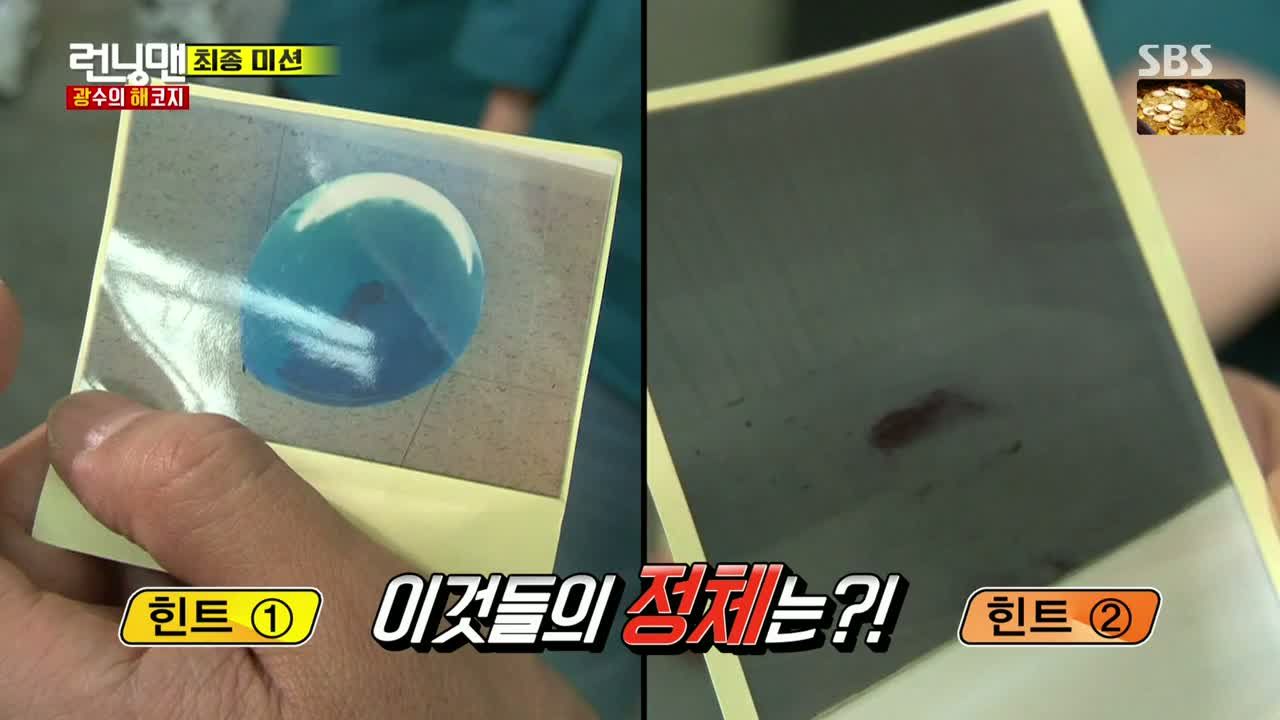 Now it's time for the final mission, and both teams are given their respective hints. The Running Man Team are given pictures of a blue balloon and a block of ice. The goal here is to find six remotes that will open a wheel that drops down escape ladders from the enclosed castle wall. From there, the team will need to press the demolition button to win.
Since the Giraffe Team lost two games, they'll need to travel in pairs as well as eat a salad cup when it's given to them. There will be a music break that sounds every 10 minutes during which the Giraffe Team is unable to move.
The Running Man Team is given a penalty too for losing at water basketball, where one person will need to wear a bell. Suk-jin refuses to wear it, but gets stuck with it anyway when he loses at rock-paper-scissors.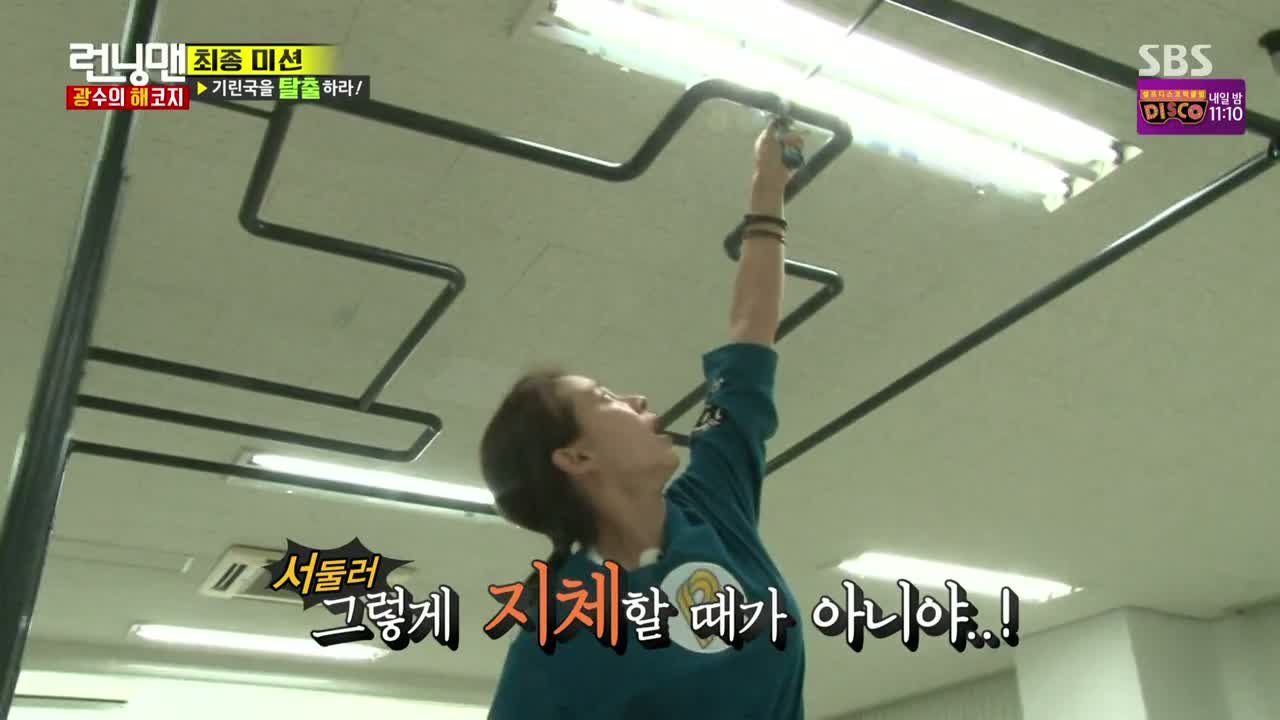 Ji-hyo finds one remote hanging from a set of pipes. She gets some extra help from Gary and Suk-jin, but discovers that she needs to follow the pipes to slide the remote out.
Following the Running Man Team's five-minute head start, the Giraffe Team enters the arena. Jang-hoon interrupts this explanation by asking Kwang-soo if he has change for the vending machine.
Meanwhile, Jae-suk hears the speakers announce that the first remote has been found. He finds Suk-jin in a room filled with balloons and helps him pop the balloons on the ceiling. Just as they're about to pop the last blue balloon (why didn't they pop all the blue ones first?), Kwang-soo and Jin-kyung appear.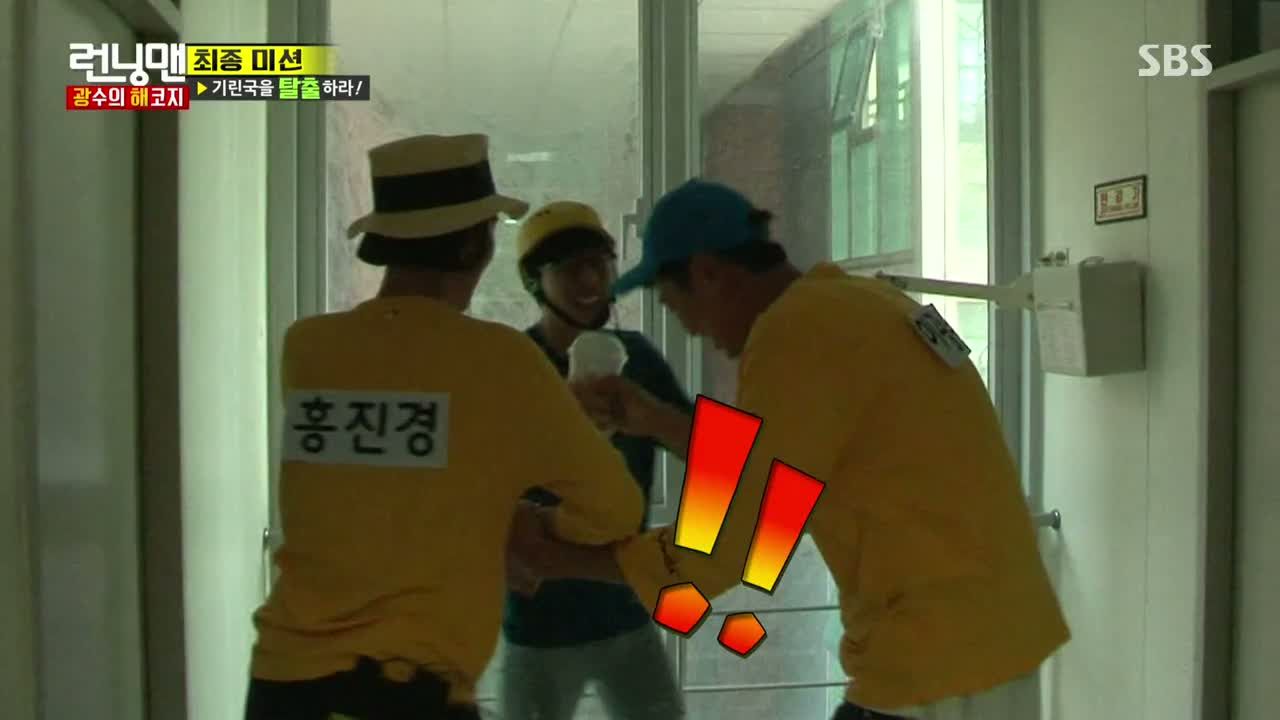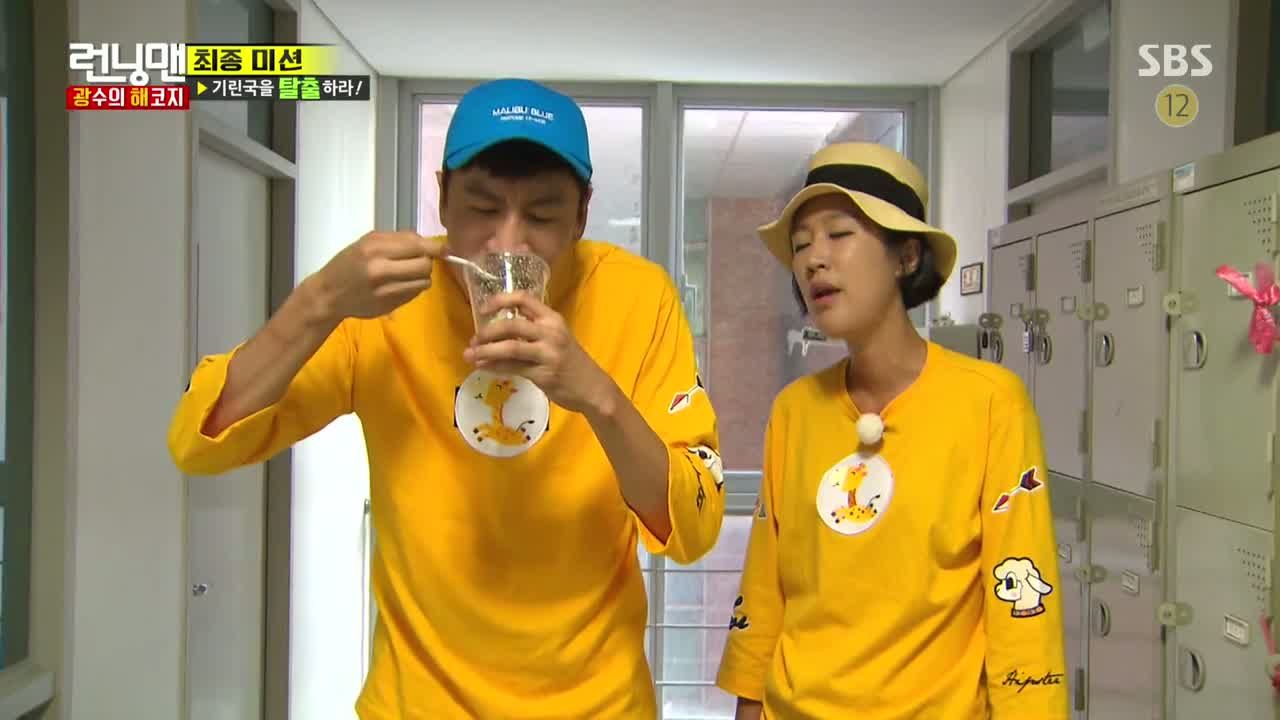 Suk-jin and Jae-suk make a run for it, and when Kwang-soo and Jin-kyung have Jae-suk cornered, that's when he hands them the salad cup. Time to eat!
Gary finds another remote in a block of ice tucked in a freezer. He starts melting the ice with hot water, then collects the remote. Two down, four more to go.
Both pairs spot Haha and give chase, but both Kwang-soo and Ki-woo are slowed down by their partners. And that's when the Lion King soundtrack plays over the speakers.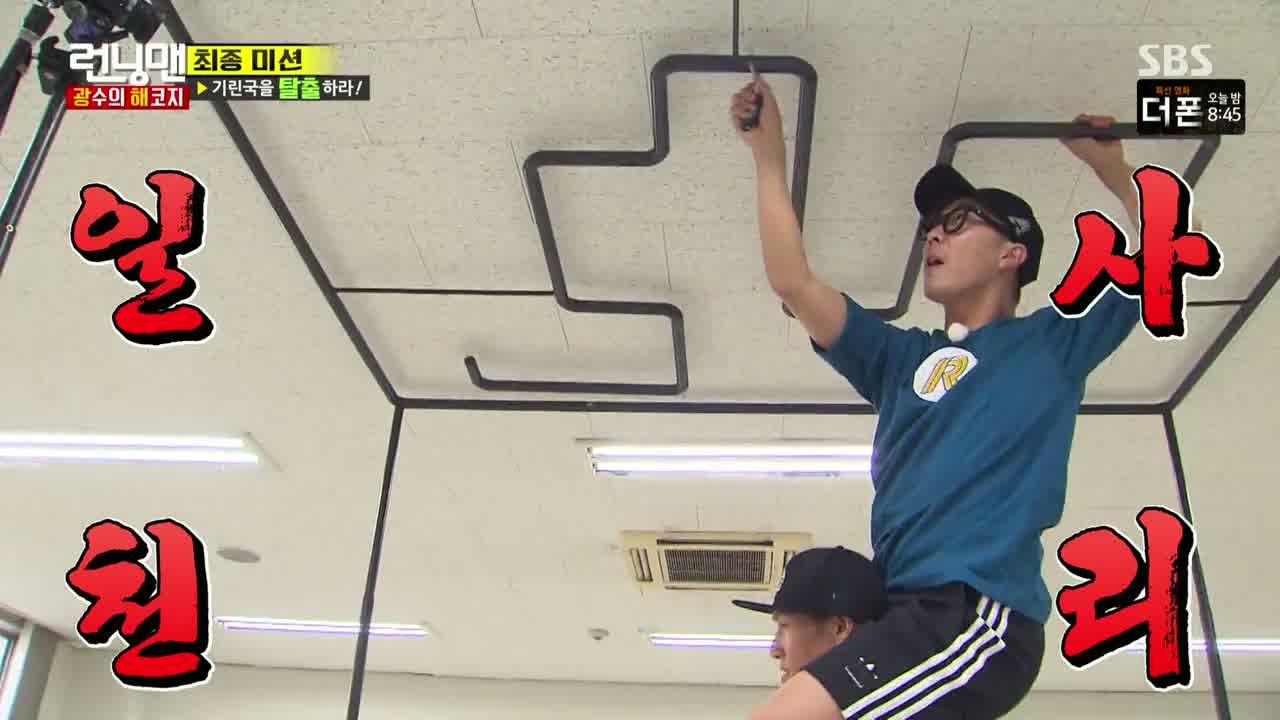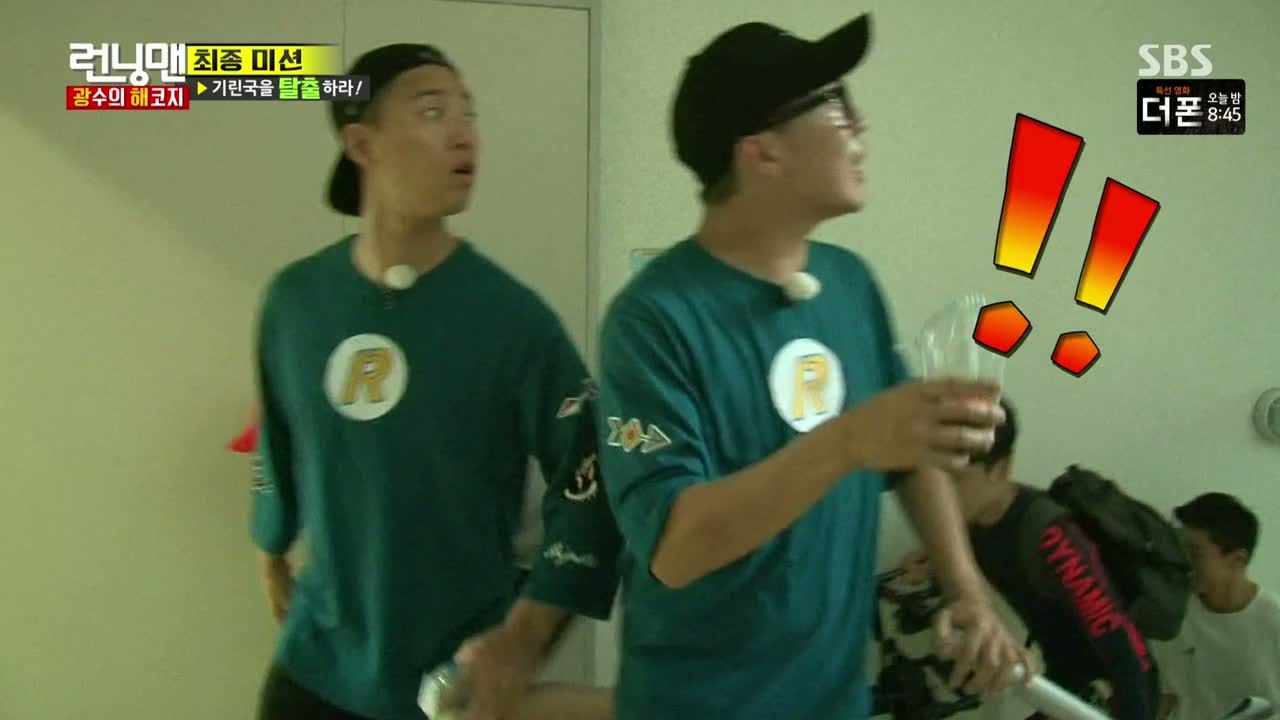 Jong-kook uses that break to find another room that houses a remote in another puzzling set of pipes. He and Haha work swiftly, and when Haha and Gary share stories later, they run right into Kwang-soo and Jin-kyung.
Whereas Gary flees at first, Haha simply offers up his salad cup. While Kwang-soo digs in, Ji-hyo finds another remote. She runs into Kwang-soo and Jin-kyung soon after his meal, so she flies down the stairs.
She motions Jae-suk to run away, but then he runs into Ki-woo and Jang-hoon. Ji-hyo arrives just in time to give up her salad cup.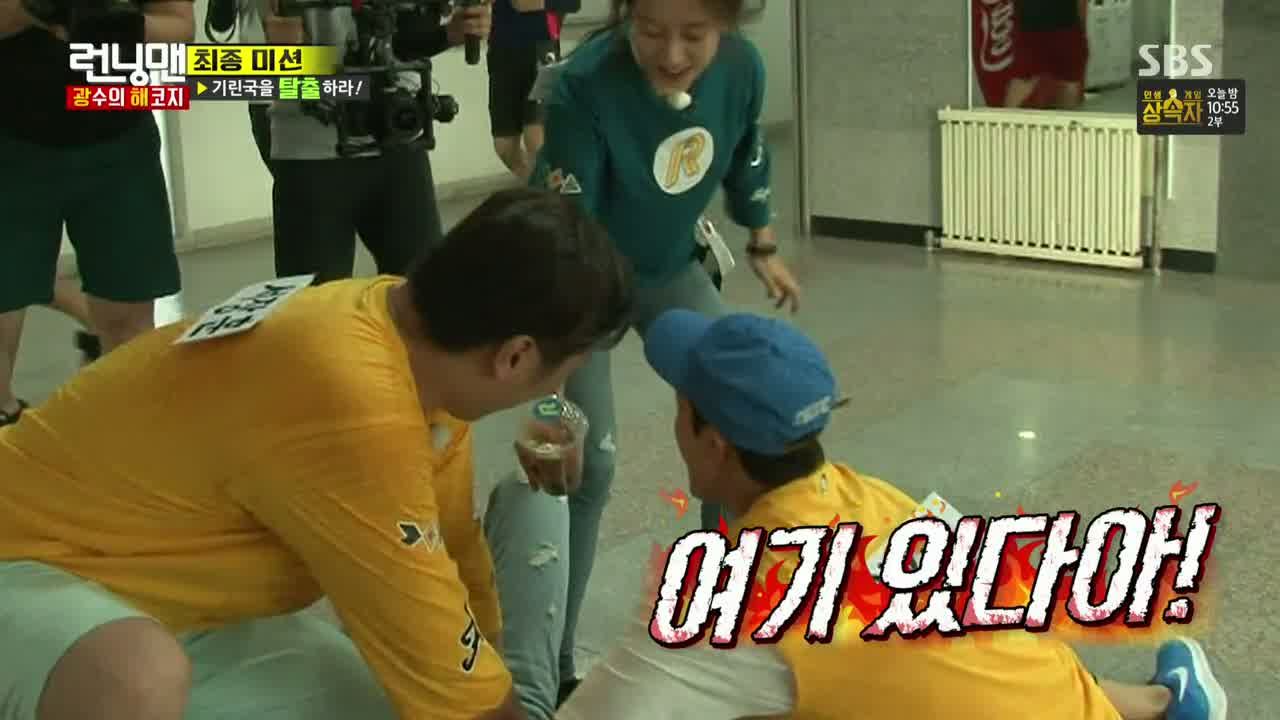 A little later, Kwang-soo and Jin-kyung find Ji-hyo taking a break in a room. They run after her, and Ji-hyo runs up the stairs, even flying past Ki-woo and Jang-hoon on the stairwell. They finally catch up to her in a different stairwell and rip off her nametag.
We learn that Jae-suk finds the fifth nametag before we catch up to Kwang-soo and a weary Jin-kyung who discover Gary. Kwang-soo screams at Jin-kyung to muster some strength, and Gary even manages to lose Ki-woo and Jang-hoon.
Not willing to give up, Kwang-soo asks if they can switch up the pairing, so he and Ki-woo set out together. Jong-kook and Haha are their first targets, and Haha is cornered and eliminated.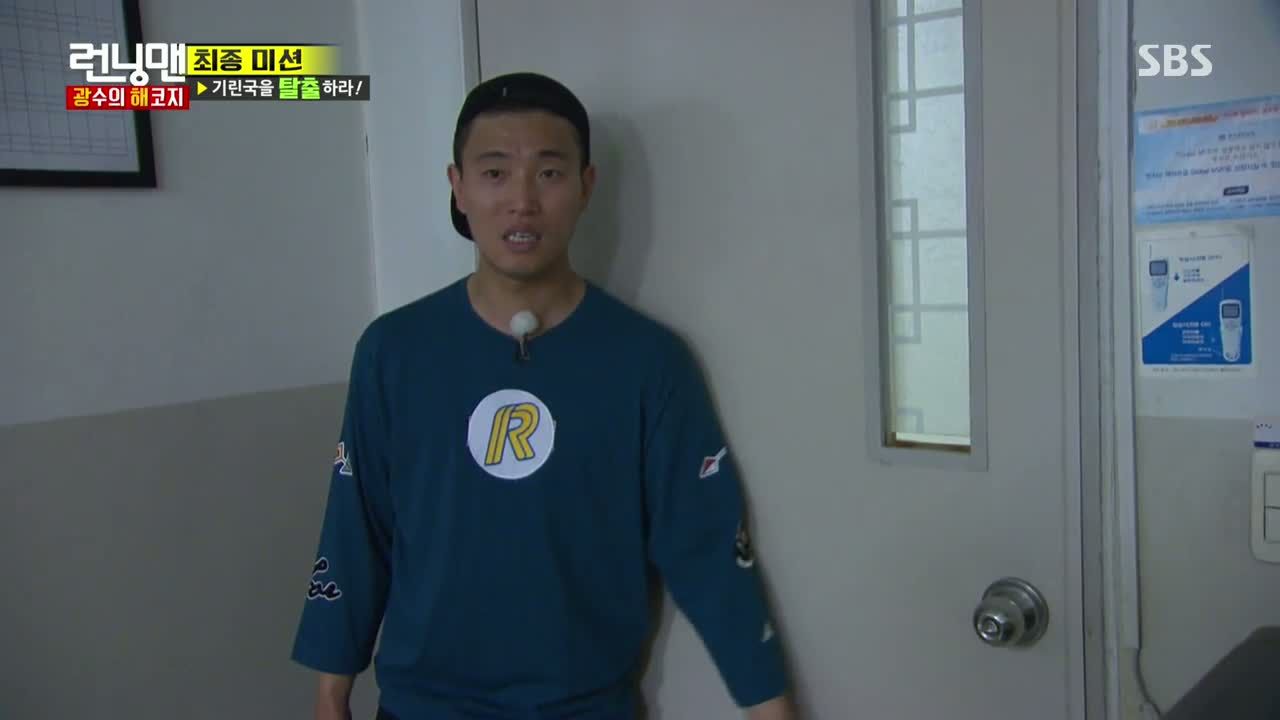 Jae-suk is caught completely off-guard when Kwang-soo grabs hold of him. Jae-suk is eliminated, as well as Suk-jin. Gary hides out while Ki-woo and Kwang-soo are just outside… and then the Lion King soundtrack sounds again.
Gary emerges to collect the block of ice and run past the pair of giraffes. Meanwhile, Jang-hoon and Jin-kyung take a breather.
Gary activates the sixth and final remote, which cues the escape ladders. All he or Jong-kook have to do now is to climb the castle wall. Gary runs when he sees Ki-woo and Kwang-soo on his tail.
He sees the castle wall, but Ki-woo and Kwang-soo rip off his nametag before he can climb over. As Gary spreads out on the mat, Myuk PD announces that the mission is over. Omo, did Jong-kook climb over already?
Answer: Yes, yes he did. Rewind to five minutes earlier when he'd ran from Ki-woo and Kwang-soo. He'd arrived at the third floor and discovered that the box was open. So he had dropped down the escape ladders and crossed over.
So the Running Man Team is victorious today, and look forward to visiting Kwang-soo's new place. But it isn't all bad for our resident Giraffe, who celebrates his birthday with everyone who loves him.
RELATED POSTS
Tags: featured, Haha, Ji Suk-jin, Kang Gary, Kim Jong-kook, Lee Kwang-soo, Running Man, Song Ji-hyo, Yoo Jae-suk