Sequel to blockbuster K-drama classic Sandglass in the works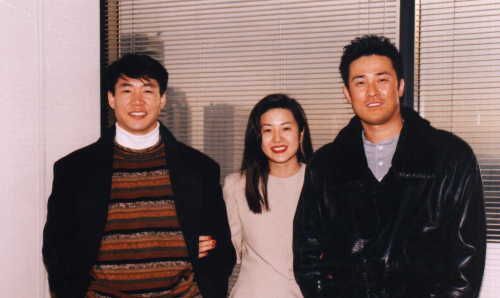 Another sequel is in process. The Dramagods (aka Korean production companies, broadcasting stations, whoever makes the decisions up there) have seen fit to re-create the daebak 1995 hit Sandglass. This political-action melodrama catapulted the careers of then-budding actors Choi Min-soo (Jackpot), Go Hyun-jung (Dear My Friends), and Park Sang-won (My Daughter Geum Sa-wol, Healer), who played out a powerful story of youthful friends growing up into political enemies: a gangster, a mob boss's daughter, and a righteous prosecutor.
Sandglass set the complicated love story between Choi Min-soo, Go Hyun-jung, and Park Sang-won amidst the backdrop of the 1980 Gwangju uprising, when student-demonstrators against President Jeon Doo-hwan's authoritarian martial control were massacred by the state-sponsored military. Hyunmoo Enterprise has contracted the drama's original writer, Song Ji-nah (also writer of Eyes of Dawn, Legend, Faith, and Healer), to create the sequel. It's still in the very early stages of development so no details have been released, and given the popularity of the first Sandglass, people are trying to keep everything hush-hush until the big reveal. 
You know how nowadays, viewership breaking double-digits for a major broadcasting network is seen as pretty good, and for cable dramas, anything surpassing 2% is solid? Well, in 1995, Sandglass recorded an average rating of 50.8%, with its peak episode airing to 75.4% viewership, and the drama itself made a great impact on history. The captivated audience became mobilized by their outrage at the governmental abuses depicted in Sandglass and created a grassroots movement. The emotional retelling of the Gwangju uprising fueled protests that led to former president Jeon Doo-hwan standing trial for his unconstitutional use of military force. He was eventually convicted and incarcerated. While we don't know the details of Sandglass 2 yet, if it is anything like the first one, we'll be in for riveting performances and a powerful message.
Okay so we have four potential remake/sequels/adaptations floating around in Dramaland now: Sandglass, Winter Sonata, 1% of Everything, My Sassy Girl. Please oh please, let them live up to their originals!
Via Osen
RELATED POSTS
Tags: Choi Min-soo, Go Hyun-jung, remakes, Sandglass, sequels