Team Dramabeans: What we're watching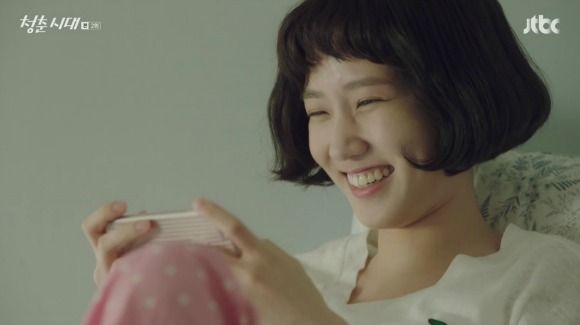 And the dramas just keep rolling on. These days I'm finding that there's an unusually high number of watchable dramas that pile high on my plate—not that all are superlative shows, but there are quite a number of easy and entertaining dramas I want to watch, not ones I feel I ought to follow out of a self-induced sense of obligation. Thanks (?) to my ongoing status as bedridden and bored bonkers, I've got a lot of time with which to catch up all the shows. It's a tough job, but somebody's got to do it. –javabeans

Age of Youth: Things started slower than I liked and Episode 1 was a lot of frustration with the timidity of the main character (necessary, yes, but frustrating to watch), but by the end of the second episode I'd warmed up to the crew of housemates. I'm glad to have this writer back in dramaland (White Christmas, Mixed-up Investigative Agency), but I'm not much digging the directorial style or the low-budget feel to the visuals. Park Eun-bin lights up the screen, though.
The Good Wife: Obviously Jeon Do-yeon is awesome and Yoo Ji-tae has that smolder, but ahhhh, Yoon Kye-sang has my heart right now. My reaction to the end of Episode 6 was "Yessss. Noooo. Wait yes! Ahhh, I don't even know what I want anymore."
After the Show Ends: I know there's a lot of false reality going on here, but it really does look like Ahn Bo-hyun is crushing on Yura in real life, and I don't know if that'll end well for him. The Suk-jin and So-hee loveline feels a little more constructed, though I think there's real attraction mixed in — I'd be more than happy if they made it real, though.
Bring It On, Ghost: I don't feel like Taecyeon is able to carry the emotional backstory, which is a little disappointing for the deepening melo moments. But he and Kim So-hyun are awfully darn cute in the bickery romance moments, which is enough for me.
Doctors: I feel like the goodwill generated by the funny and warm interpersonal moments is almost negated by the growing absurdity of Seo-woo. One day I'll roll my eyes so hard they cause me actual injury. If only there were a doctor in the house.
W: Wow, now that's the stuff: cool, fresh, and gripping. Every minute is jam-packed, and no moment wasted. It's liberating to be able to watch something and just put your faith in the writer to take you somewhere awesome. Wheeee!
Uncontrollably Fond: It's probably a titch too slow to be addicting; I enjoy the slow burn, but I think wistfully that it could have been more. I think the writer has definitely mellowed over the years (from her I'm Sorry, I Love You days), and it shows in her recent shows (Wonderful Season, Fond).
Wanted: In what society, in what country, in what world, would a reality show cause multiple gory deaths to occur and not be shut the hell down immediately? Where is the SWAT team? Where is the national guard? Where is Kim Ah-joong's emoting?

Beautiful Mind: Ten episodes in, and this show is still awesome. It's the small yet significant steps Young-oh takes with his patients, hospital staff, and most importantly Jin-sang, that keeps me hooked week after week. His journey makes me laugh and cry and root for his happiness, so here's to hoping that next week's finale (*tear*) won't rob us of a potentially brighter future.
Uncontrollably Fond: I do wish that the story would get moving, because our hero's heath is a ticking time bomb. I still look forward to the glimpses we get of Pororo the Big Sheepdog, even though it pains me that he's stuck outside in the cold.
W—Two Worlds: Love, love, love. Fast-paced and filled with intriguing characters, just thinking about this show excites me. Oh, and it doesn't hurt that Lee Jong-seok is so very pretty. I love how Kang Chul pushes the boundaries of his own world, and I find endless pleasure in watching Yeon-joo's numerous attempts to making the chapter end. But you won't find me complaining if that equates to more smooches.
Currently recapping: Age of Youth
W—Two Worlds: Is it even possible to love a drama this much this early in the game? It's a little unnerving, but I'm willing to roll with it. I'm even willing to go ahead and pop the biggest W question of all: Will you marry me, Show?
Uncontrollably Fond: Sadly, I've been stuck on the second episode for weeks, watching it over and over, and trying to find the will to move on to the third. Hasn't happened yet. Afraid it never will.
Doctors: I'm so conflicted with this drama. I'm never fully invested, yet I'm always coming back every Monday and Tuesday. My heart doesn't flutter for the main couple, yet I want them together anyway. I just don't know. *bonks head on keyboard*
Five Kids: Augh, this family makes me happy. And unbelievably annoyed… but mostly happy. The main source of the annoyance is definitely Sang-tae's mother-in-law and her silly antics, but she at least makes me laugh while any other crazy drama mama might have me fuming. I just wish our heroine Mi-jung would get more chances to be a mom to her stepkids because she's a pretty freaking awesome mom.

Uncontrollably Fond: Woobz. How I've missed you. Thank you for delivering my much-needed dose of gruff-cute this week. I switched from watching Doctors to Uncontrollably Fond, and I've got to say, I'm actually enjoying Uncontrollably Fond more. To be honest, it might be because the hospital power plays in Doctors began to take up more screen time. In both dramas, the background politicking seems unnecessary. I'd much rather enjoy the careful character development of the main protagonists, than waste time mired in the underhanded plots of one-dimensional pseudo-villains I don't care about. At least the Uncontrollably Fond politics seems centered around Shin Joon-young, and his birth secret.
W-Two Worlds: This is fantastic. I marathoned the first three episodes, because this drama is as addictive as kettlecorn. Of course there are some minor plot holes (like the entire concept of the conveniently placed inter-world time-space portals) and deus ex machina moments, but overall, it's pretty and exciting. The actors are engaging, and the plot, while somewhat oddly paced, moves along quickly.
Yes, That's How It is: Sometimes, I wish Korean drama writers were more like George R.R. Martin: blood-thirsty yet logical. Almost always, the villain or the villainess gets away with their heinous misdeeds until the very end, because the main characters, who have usually already collected sufficient evidence, refuse to accuse them of their crimes for any amount of inane reasons. To every protagonist out there: MAKE COPIES OF THE INCRIMINATING TAPES! In addition, no one dies, who wasn't already supposed to die (except for the notable anomaly of Princess Aurora). In Yes, That's How It Is this week, one of the main characters survived a head-on collision with a huge truck. To kill her off, would have been unthinkable, because of all the loose ends that would result. However, a part of me was rooting for her to become a martyr, and cause her lying, unworthy husband to stew in his guilt and pain forever *cue evil laughter*. Although, seeing the whole family come together in her moment of crisis was heart-warming.
Five Kids: Tae-min, why do you have to be so clueless all the time? You missed Yeon-tae crushing on you for seven years, and now you're missing the entire animosity between your mom and your girlfriend. Please learn to get some noon-chi before the next episode.

Memory: Done! I like the side characters. I like the villains. I like the bad-people-who-are-not-villains. I like the villains-who-are-not-bad-people. I like the ending. I may have disliked this show at first but it sucked me in around the middle and had me caring up until the end. I guess I'd rather have a show that starts weak and ends strong than have one that starts strong and ends up disappointing. (Thanks chickachunga and the beanies who made me stay with this show!)
Police Unit 38: This show sucks. I hate the playground scene. The bromance is dead. Only one of these statements is true.
Thumping Spike: No one warned me about That Kiss! You can't just spring those kind of Song Jae-rim kiss scenes on me! I need time to prepare. Popcorns don't make themselves, y'know?
W: Please don't talk to me. I'm trying to store every precious scene in my long-term memory.

RELATED POSTS
Tags: 1 show to rule them all, After the Show Ends, Age of Youth, Beautiful Mind, Bring It On Ghost, Doctors, Memory, Mirror of the Witch, Police Unit 38, The Good Wife, Uncontrollably Fond, Wanted, What We're Watching, W–Two Worlds