Team Dramabeans: What we're watching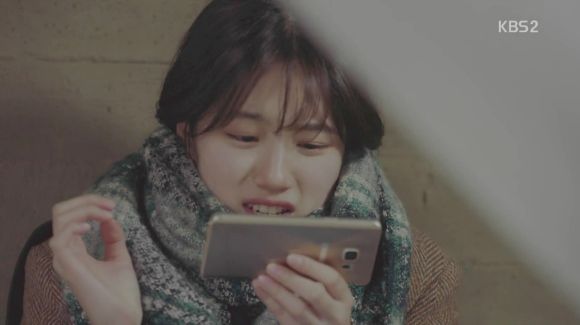 How was your week in dramas? What floated your boat, or sank your ship?
I feel like it's always feast or famine around here; either I'm scrounging for something to watch and dissatisfied by everything, or drowning in so many dramas it's a wrench deciding what to prioritize, or set aside for later. I'd like to say I'll sleep when I'm dead, but let's not tempt fate like that, shall we? —javabeans
Currently recapping: Uncontrollably Fond

Mirror of the Witch: What would it take to get more Yoon Shi-yoon and Kim Sae-ron scenes around here? I love those characters and the actors are great (especially him), and while the villain is an awesome piece of work (in all senses), I'm ready for more development with our two main characters. Aren't there wishes needing fulfilling?
Beautiful Gong Shim: The longer the kidnapping storyline drags on, the easier I find it to completely shut off my brain in all scenes not involving Gong Shim and Dan-tae. I always felt that, but at least tried to care about the kidnapping for the story's sake, but now I don't bother. And did everyone else see Gong Shim without her wig and want to shove it back on her head? Minah's very pretty, but it totally loses the Gong Shim magic to see her looking so… normal.
Wanted: This show makes me bloodthirsty; I want more darkness, more spine-tingling chills, more unearthed skeletons (figurative, I mean, although I suppose literal ones would also fit the bill). I just… want a little more desperation from Mom, more immediacy; she seems very sad that her son's been kidnapped, of course, and also very eager to get him back. It's just, I saw God's Gift and Lee Bo-young was incredible — that mom was badass like a mofo.
Lucky Romance: God I love Ryu Joon-yeol. And Je Su-ho. I'm not sure which I love more. Never make me choose.
Doctors: I continue to watch, finding it breezy and pleasant, and I love the way Kim Rae-won delivers his lines. Such a natural. I'm still meh on the plot, but I find this show reminiscent of Descended From the Sun in that regard; the plot is really just a romance delivery vehicle. The banter and chemistry sell the story, not the other way around.

Beautiful Mind: This drama seems to be flying under the radar when it really, really shouldn't be. Jang Hyuk's performance in this is sublime, and harks back to his Chuno days, where his acting earned him a nomination at the International Emmy Awards. It's the kind of role that could've only been played by him, humanized by him, and subsequently owned by him. Seriously, I don't know how else to convince everyone that they should be watching this show, short of a song and dance number.
Wanted: Each episode keeps me on the edge of my seat, though I admit to being a bit disappointed that the show within the show has lost its guerrilla-style format. So many exciting things happen that aren't filmed for the reality show, which is a shame—if they think they're getting high ratings now (the fictional kind), I wonder what they'd get if they made sure the heroine had a camera crew filming her 24/7. All the material's there, they just need to know how to use it.

Beautiful Mind: I was initially behind on this series, but it's now become the series I look forward to the most every week. Not only is it beautifully directed, the stellar cast makes the already intriguing hospital mystery come alive. Jang Hyuk is absolutely dominating in this role, even bringing me close to tears this week. Don't be deceived by the ratings — this is definitely a show everyone should watch.
Wanted: Much like everyone else, the premise reminds me of a mix between God's Gift—14 Days and Liar Game. I wish the pacing was a bit more suspenseful, but I definitely still like the show. The Uhmforce is strong here, and Ji Hyun-woo makes a good cop.
Police Unit 38: If only I could bend the time-space continuum to 72 hours a day in order to fit more episodes of this show into my schedule. But alas, I remain a casual viewer. The heist (and its obstacles) make for a fun watch, even though it's taking some time to get our core group together. But no matter, since the Ma Dong-seok and Seo In-gook combination is awesome.
Uncontrollably Fond: Kim Woo-bin, need I say more? Sure, I'll say more. The show follows a familiar melodrama formula with a paint-by-numbers backstory, but there's a definite spark in the acting chemistry between Kim Woo-bin and Suzy.
Currently recapping: Dear My Friends

Monster: Things I like about this show: the ladies, rare moments of actual revenge and espionage, Park Ki-woong's flashy suits. Things I don't like about this show: endless boring squabbles about who has more power, all the ridiculous (and unsuccessful) ways they keep trying to keep Ki-tan and Soo-yeon apart (hypnosis!), the fact that it's still 50 episodes.
Police Unit 38: I love it so muuuuuuuuuuuch. When a show captures my ardent devotion within the first episode, I expect the cracktastic sparkly sheen to gradually wear off, but to my delight it continues to be awesome and the show I most look forward to each week.
Beautiful Mind: I didn't intend to give this show more than just a passing glance when I was checking out the slew of premieres a few weeks ago. Medical dramas are not my cup of tea, but every time I had the urge to drop it, something unexpected and fascinating would happen and I'd be reeled back in. Now I'm officially hooked and desperate to know what's really going on in this hospital.
Currently recapping: Beautiful Gong Shim

Dear My Friends: A wonderful, truly exquisite viewing experience from beginning to end. Wouldn't take back any of the tears I shed because my heart was thoroughly warmed by the selfless aunties and uncles who taught me a thing or two about friendship, family, and this fickle thing called life.
Uncontrollably Fond: I came for the Woobz, but I stayed for the… well, Woobz. Happy to see him back on TV. Suz is alright. Pororo is <3. Taekie's dad got a perm and what do you know, still lovable since '88.

Police Unit 38: This show is weird because there are episodes where they just run around setting a lot of things up. Not that watching Bear Sung-il fail at conning isn't fun, I just see why some Beanies think it's slow. But I like it! All that preparation builds the anticipation so that once the trap is set, it gets very intense and you find yourself holding your breath and gritting your teeth with every setback, willing the baddies to "just sssign the contract… ssssiiiiign it… my preciousssss…"
Noble My Love: This show is nothing new when it comes to rom-coms. It's like those french fries your sis asked you to watch while she washes her hands at McDonald's. You don't order it yourself because you know it's just potato and fat and salt and what's special about that? But it's there in front of you and you're bored so you take one fry, just one. Then you realize you miss some good old salty fatty potatoes so you take another. And another. And another… until you end up finishing the whole thing and thinking that salty fatty potatoes, once done right, can be fun. Noble My Love is the french fries that, once eaten, make you Google Sung Hoon and consider watching Five Kids even when you don't have time for 50-episode dramas.
Memory: It reminds me a bit of Punch in that we start with a very unethical, unlikable hero. Then he gets an incurable disease that (presumably) makes him want to fix some things in his life. The thing is, I already watched Punch and I don't see this ending well. I picked this up to get rid of Signal feels but if it hurts more than Signal, what's the point? I might have to drop this or save it for when I'm getting too happy with life. Maybe when I attend a Song Jae-rim fanmeet?

RELATED POSTS
Tags: 1 show to rule them all, Beautiful Gong Shim, Beautiful Mind, Dear My Friends, Doctors, Lucky Romance, Memory, Mirror of the Witch, Monster, Police Unit 38, Uncontrollably Fond, Wanted, What We're Watching