The Good Wife: Episode 1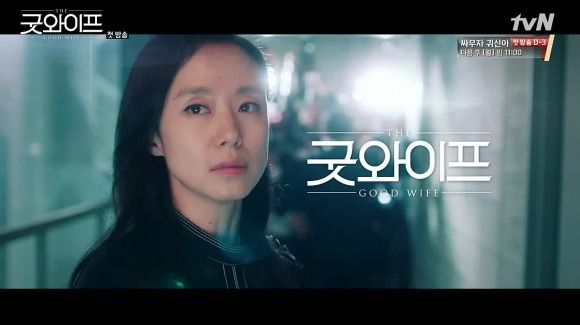 Adaptations are nothing new when it comes to dramas — webtoons, novels, and manhwa have all been popular sources, and every year there seems to be a remake of a Japanese or Taiwanese drama. But American television shows have been notably left off that list, at least until now.
The Good Wife is the first direct Korean remake of an American show — one that was wildly popular and, according to reports, the reason that tvN was able to convince the queen of the silver screen, Jeon Do-yeon, to return to dramaland (although the hefty record-breaking salary they gave her probably didn't hurt, either). As a fan of the American version, I'm eager to see if this one will live up to the hype — and my expectations.

EPISODE 1 RECAP
A man and women hold hands as they walk towards a set of doors that open to reveal a group of reporters, their cameras incessantly flashing as pictures are taken and questions are shouted. At the press conference, LEE TAE-JOON (Yoo Ji-tae) calmly tells the reporters that while he was the chief prosecutor, he never abused his authority by accepting bribes or sexual favors. The so-called scandal is just a personal failing for which he apologizes to his family, but it's nothing political.
Standing next to him, his wife KIM HYE-KYUNG (Jeon Do-yeon) dazedly starts to reach for a piece of string on her husband's jacket, but he grabs her hand as they walk off-stage. Once they're alone, she yanks her hand from his, telling him never to bring her to something like this again.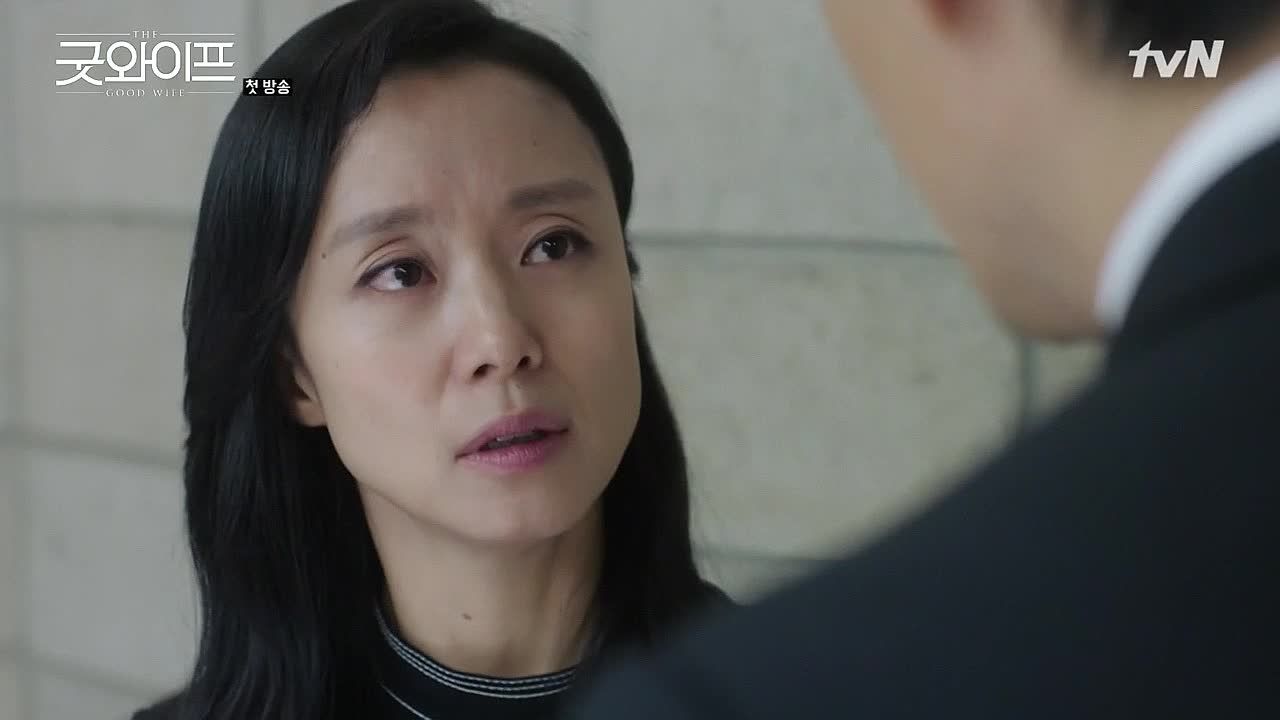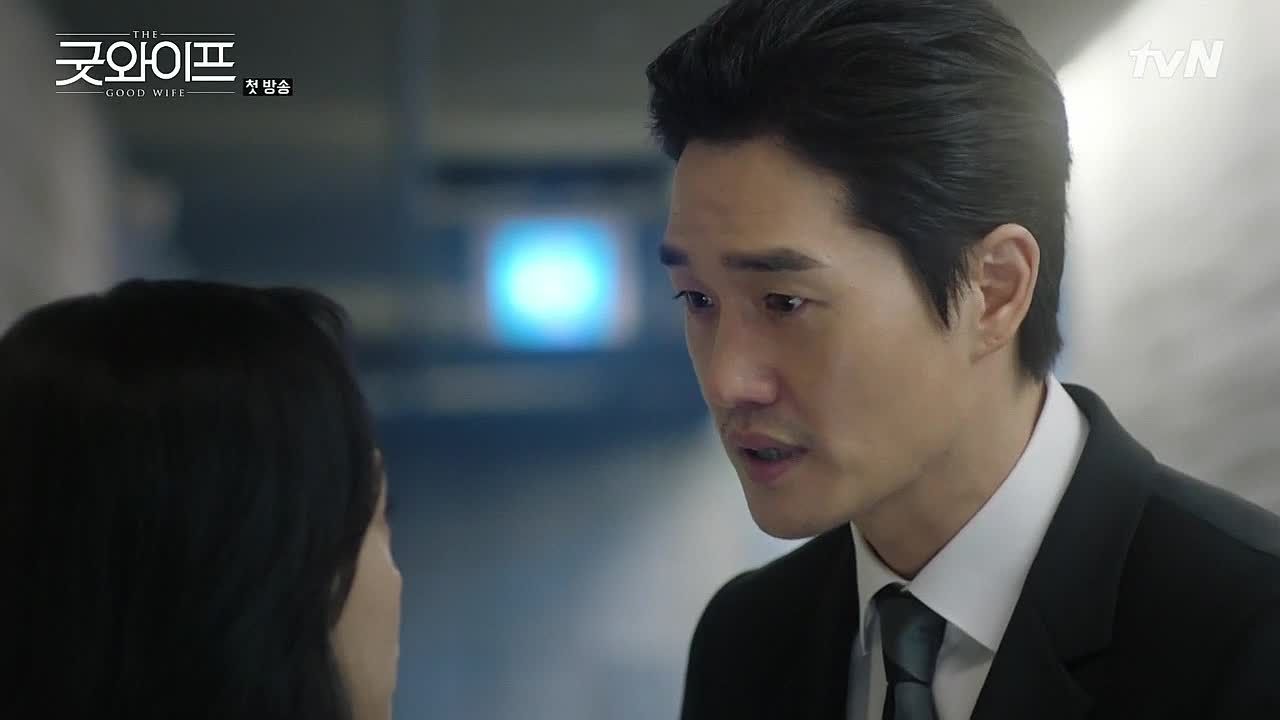 He promises he won't — he just needed her to show that they still have a good relationship. One of the other prosecutors appears and hands Tae-joon a copy of the investigation report, and as Hye-kyung watches him talk on the phone to one of his superiors, she remembers when, three days ago, Tae-joon's scandal first erupted.
She was at home, the happy house-wife getting dinner ready for her family, when a frantic Tae-joon called her, ordering her not to answer the phone or open the door for anyone. As prosecutors pounded on her door, declaring they had a search warrant, she turned on the television to see the video of him in bed with another woman while the news reported on the corrupt prosecutor who accepted sexual favors.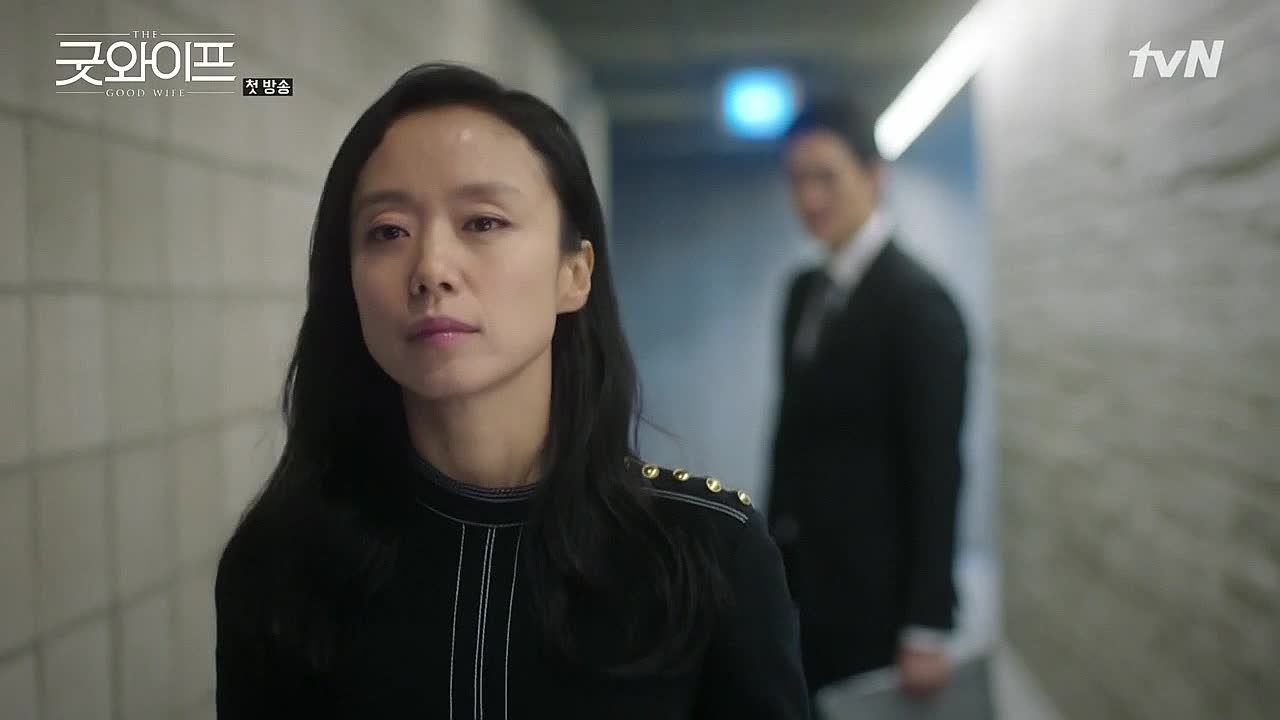 Tae-joon begs Hye-kyung to give him a second chance. He may have made a mistake, but he's not a coward. He asks her to believe in him one more time. Hye-kyung: "Why should I?" She turns on her heel and walks away.
Eight months later. Hye-kyung sits in an empty conference room. She keeps glancing at her watch as she nervously fidgets. Finally she asks the only other person she sees in the office if the staff meeting has been cancelled, but the other women tells her it's upstairs. Panicking, she gathers her things and hurries up the stairs to the main conference room.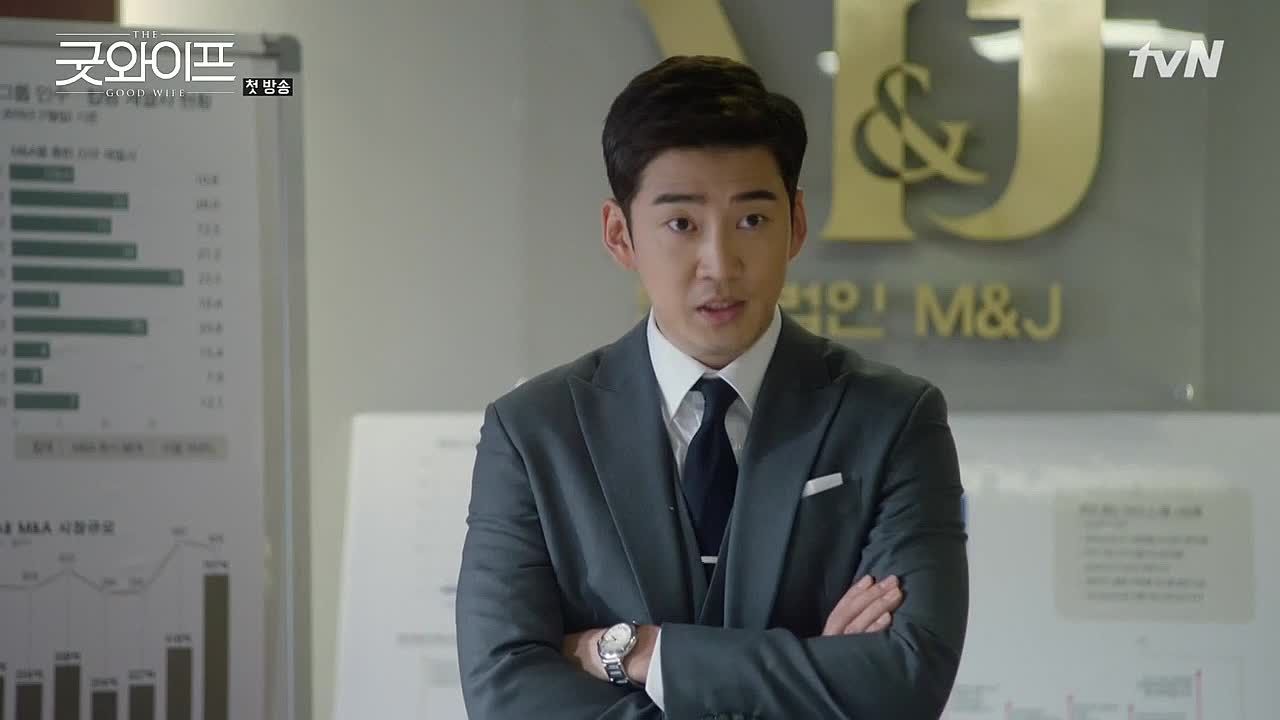 The meeting is well underway, and SEO JOONG-WON (Yoon Kye-sang) tells his staff at the M&J law firm that they've landed a new client and case that will require their utmost devotion, so if anyone thinks they can leave early or arrive late, then they don't belong at this firm. That's the moment Hye-kyung arrives at the conference room, but instead of reprimanding her, Joong-won opens the door for her and quietly tells her to find a spot.
Afterwards, Hye-kyung is apologetic, explaining that she thought the meeting was downstairs. She's grateful, too, that her old friend was willing to hire her despite being out of work for fifteen years. Joong-won is the grateful one, though — it's hard to find good lawyers these days, and he welcomes her back to the legal world with a friendly handshake.
As he walks her through the labyrinth of offices at M&J, he starts to explain the pro bono murder case she's been assigned. Just then Hye-kyung's phone rings — it's the "Jaws" theme, a special ringtone for her mother-in-law. Hee!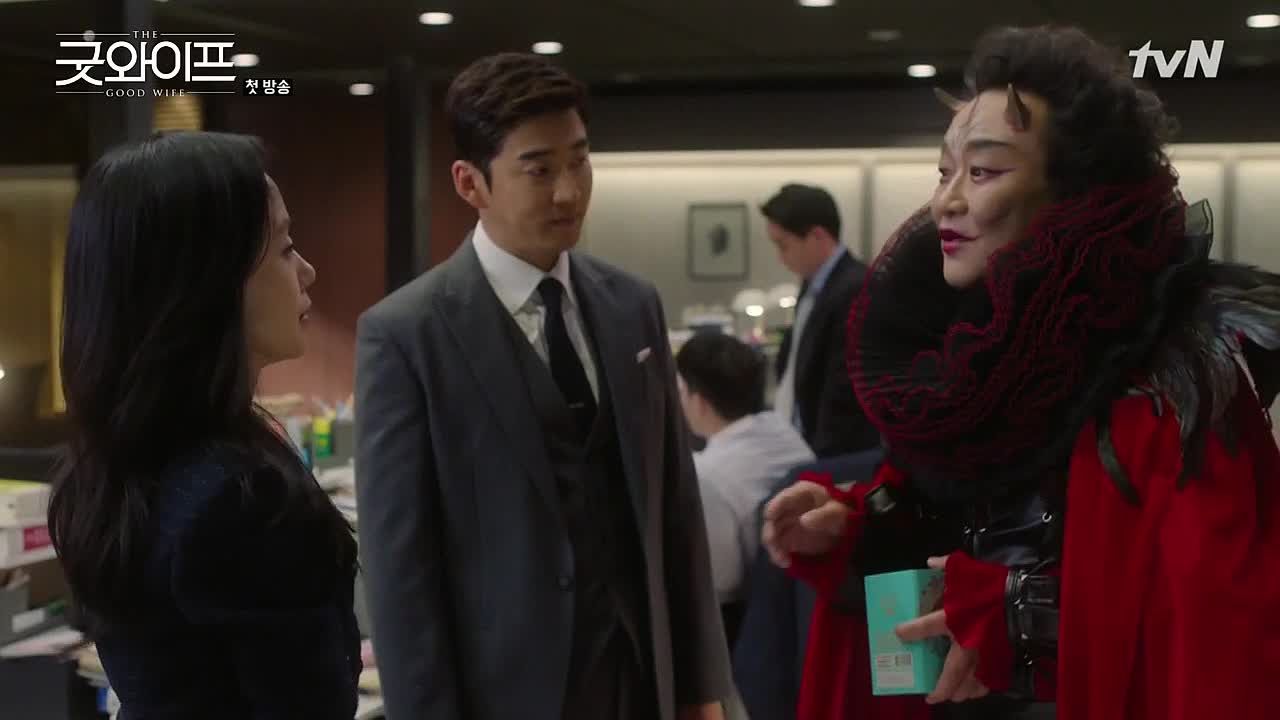 They're further interrupted by the flamboyant arrival of DAVID LEE, their expert lawyer for divorce. He proves his stuff by asking Hye-kyung if she's planning to divorce her husband, wondering how much alimony they could get from Tae-joon and offering her a discount for his services since she's now a coworker.
As they watch him walk away (the outfit is because he's in a community theater production of Faust), Joong-won admits that he wishes he could fire David, but the divorce lawyer brings in the most money to the firm.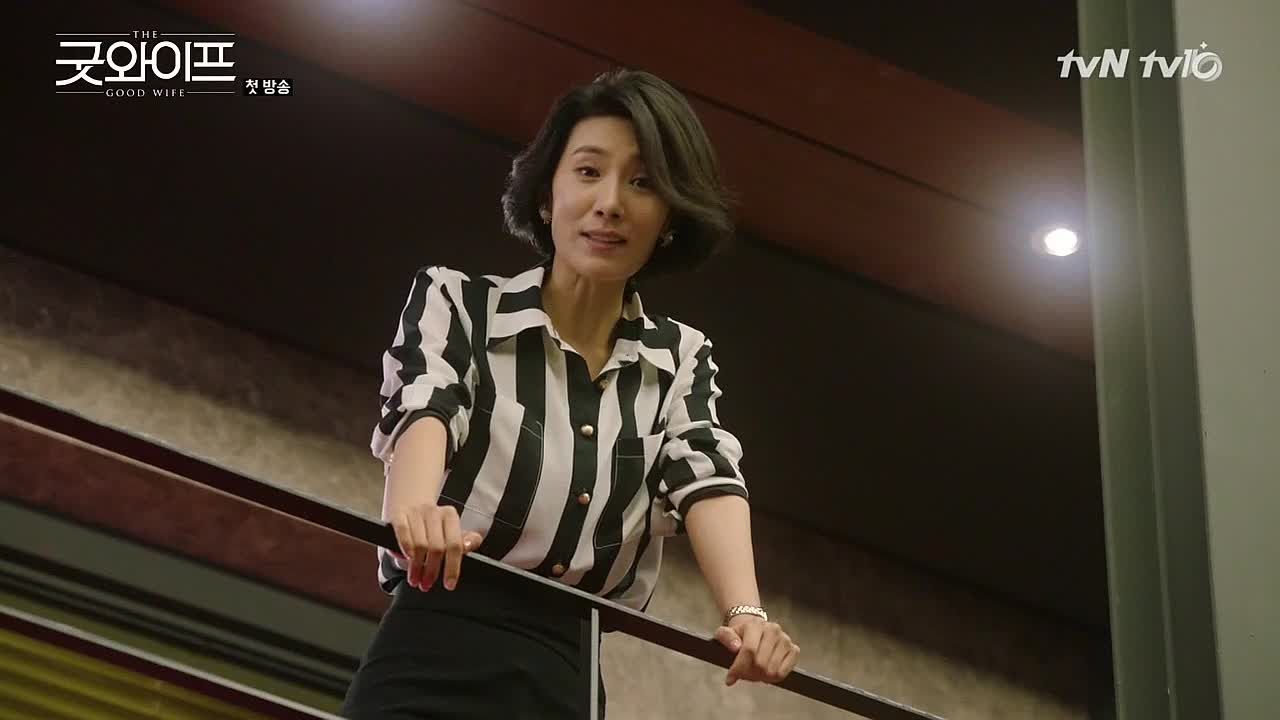 Just then, the other head of the firm (and Joong-won's sister) SEO MYUNG-HEE (Kim Seo-hyung) calls down to Hye-kyung, asking her to stop by so they can discuss the pro bono case. Joong-won gives her the tip to appear confident, knowing Myung-hee is the type to judge by appearance.
Myung-hee wastes no time in telling Hye-kyung that she's too old to have been hired on as a new lawyer, but she only agreed because Joong-won spoke so highly of her. Even so, Hye-kyung hasn't had any work experience after leaving the Judicial Research and Training Institute. Hye-kyung explains that she got married right after she finished her training and thought she should spend her time and energy on being a wife and mother.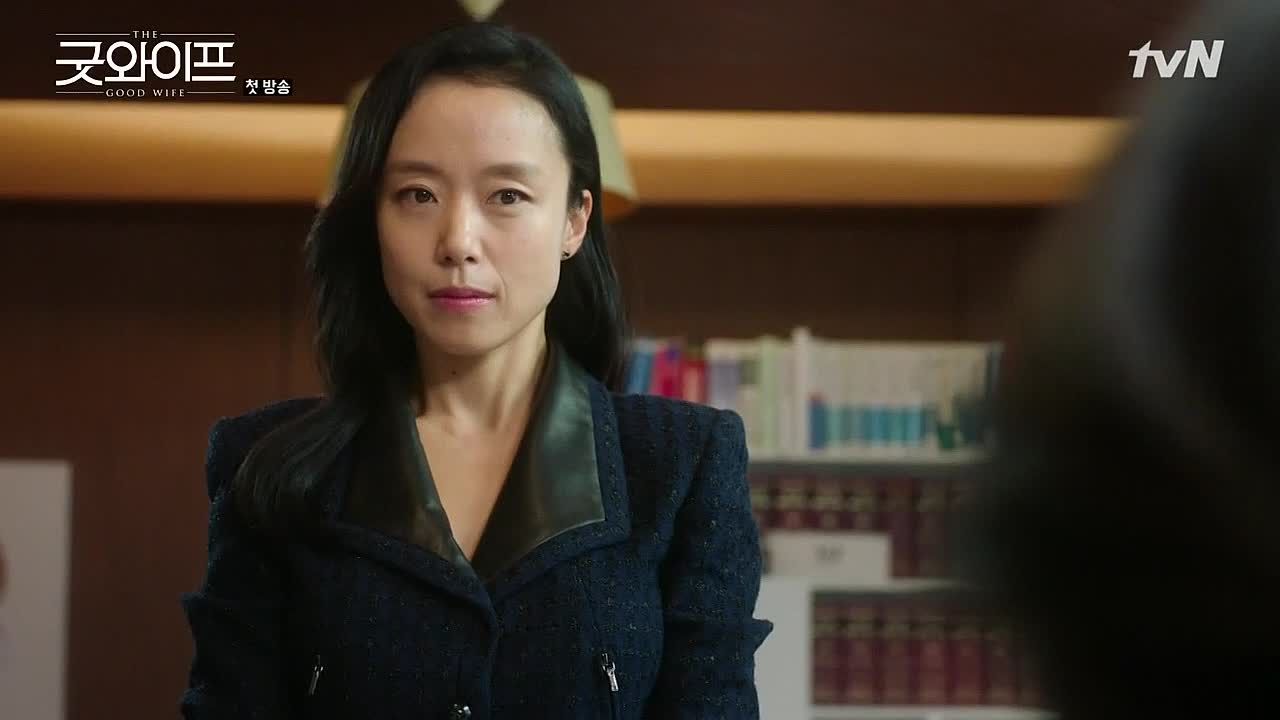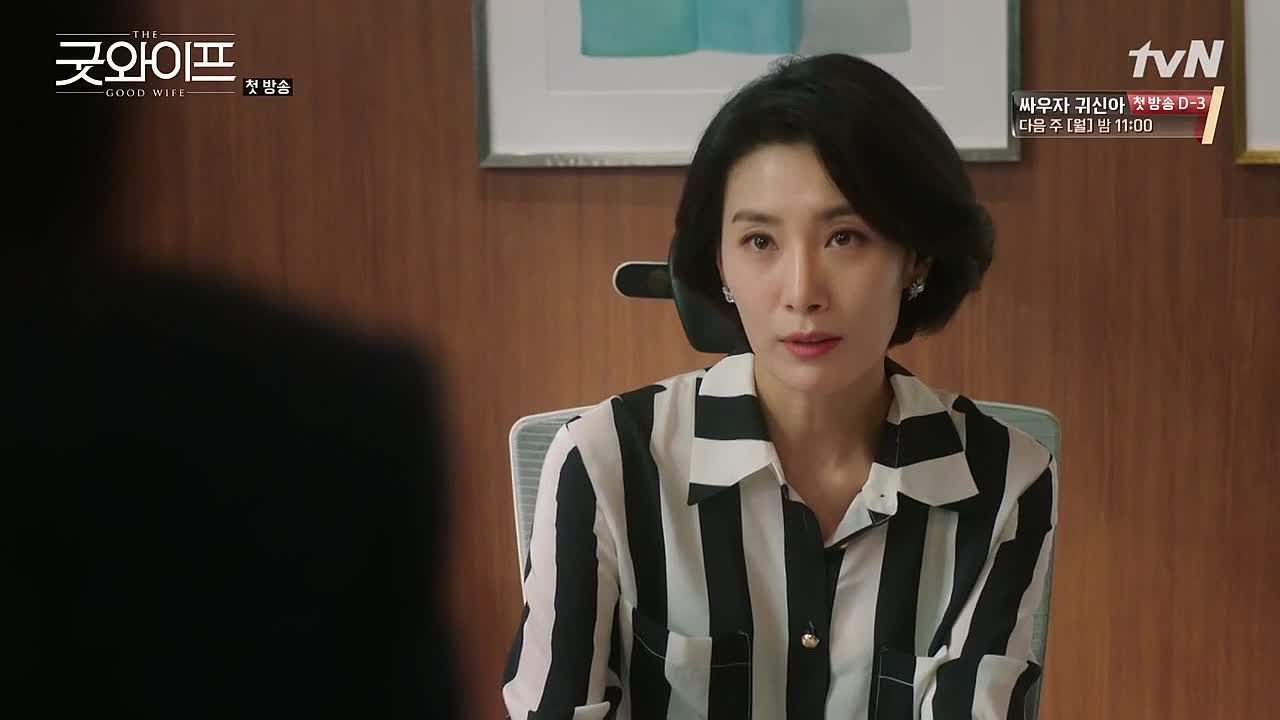 Myung-hee point-blank tells her that she was against Joong-won hiring her, but if Hye-kyung is going to be successful at M&J, then she'll need to work harder than anyone else. Her age, lack of work experience, and her husband's scandal are all hurdles that she'll need to overcome.
But first is the pro bono case, and Myung-hee quickly briefs her on their client who was arrested for killing her husband. Myung-hee tells Hye-kyung to argue for manslaughter, saying their client was acting in defense due to domestic violence. Despite the evidence stacked up against her, their client says she didn't kill anyone, so it's up to Hye-kyung to convince her to accept the manslaughter charge. Oh, and the trial is in just a few hours.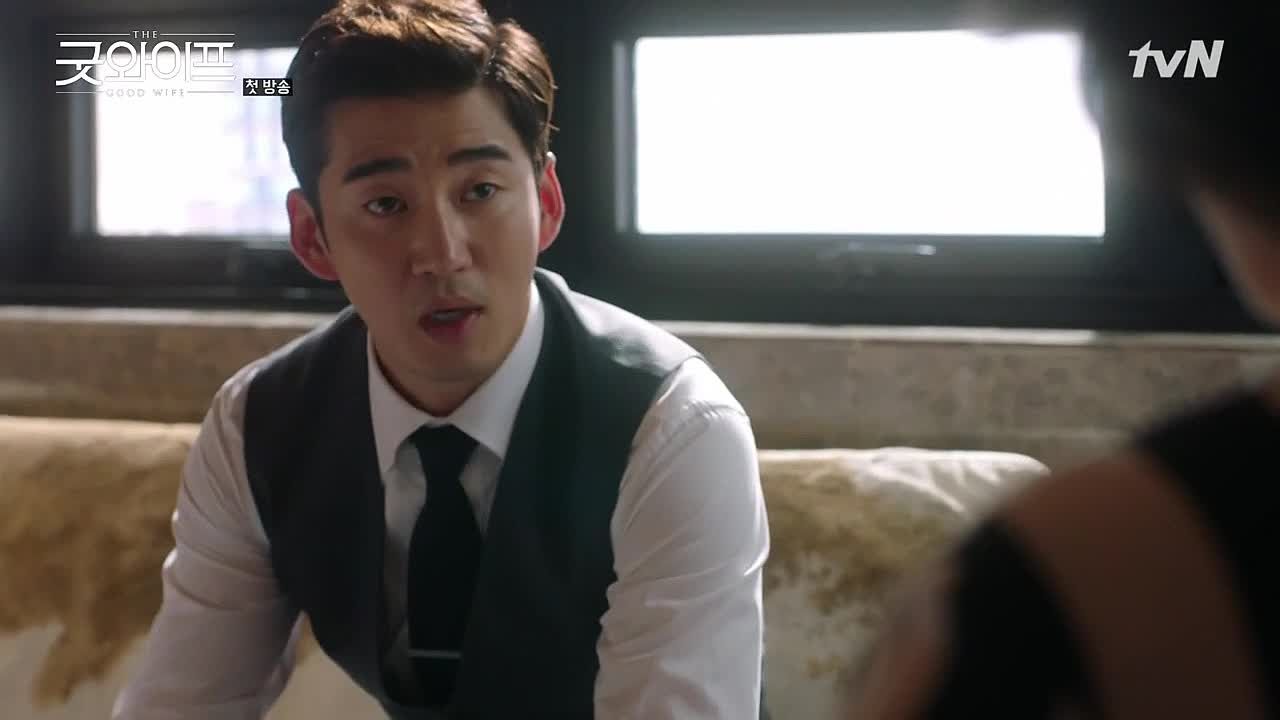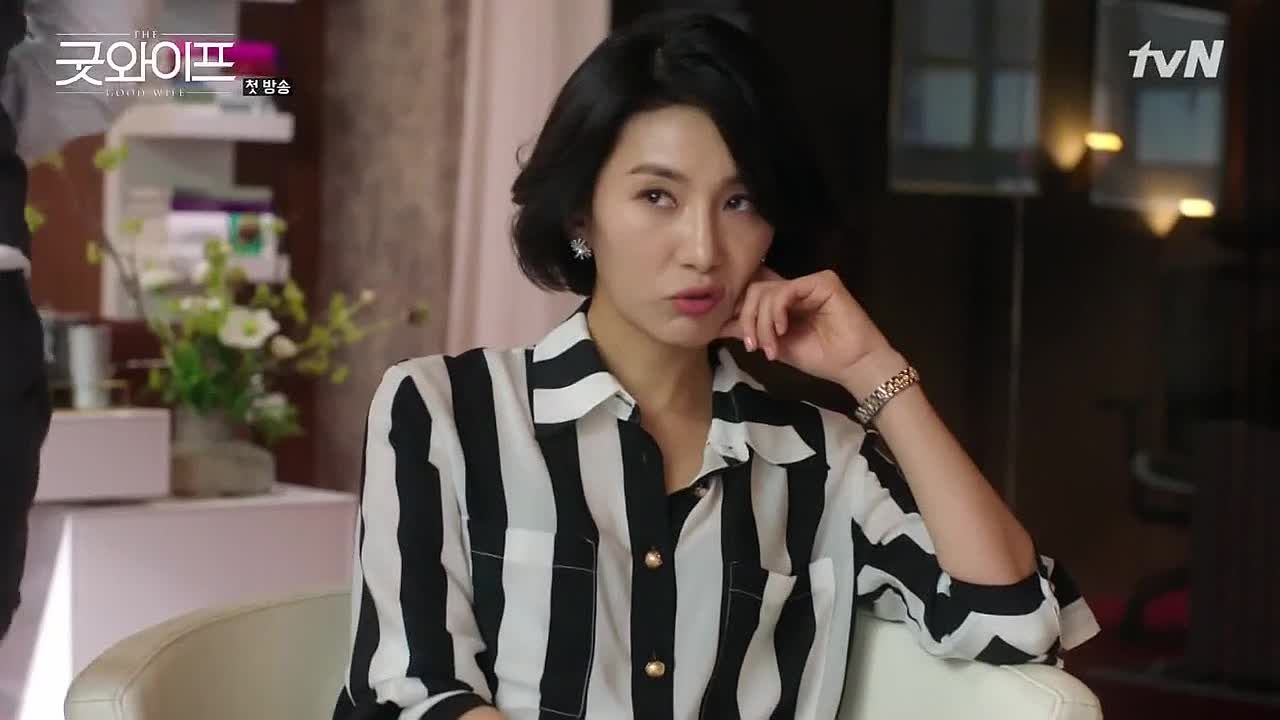 As Hye-kyung leaves to find her office and study up for court, Joong-won and Myung-hee bicker about their choice of new lawyers. When he grumbles that she gave her choice an easy real estate case and his choice, Hye-kyung, a difficult murder case, she defends herself, saying that someone who's starting her career so late needs to go through more difficulties first. Or maybe Joong-won is just being protective of his ex-girlfriend?
He insists that they were just friends at the training institute, and that Hye-kyung was considered a genius back then. At any rate, by the end of six months, they'll have decided which of the two new lawyers will be worth keeping on permanently.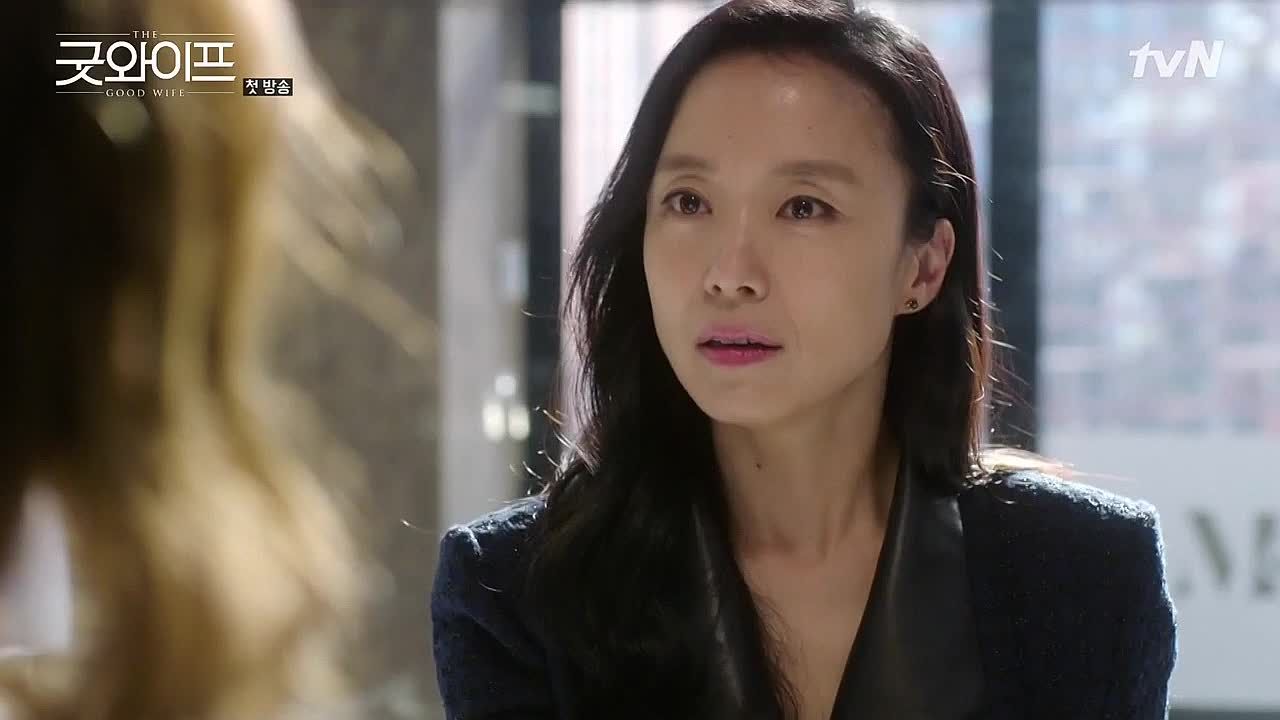 Hye-kyung arrives her office only to find the firm's investigator KIM DAN (Nana) waiting for her. As Hye-kyung introduces herself, Dan says that they've already met at the Prosecutor's Office where she used to work — until she was fired by Hye-kyung's husband. It could be an awkward moment, but Hye-kyung wryly admits she's not on the best terms with her husband, either.
As the women walk into the courthouse, Dan fills Hye-kyung in on the details of the case. Their client is claiming she's innocent and that a thief attacked and murdered her husband, but her fingerprints were found on the murder weapon and she has a motive: her husband cheated on her. He was living with his mistress at the time, and then died the day after he and his wife fought.
Hye-kyung hesitates just before entering the courtroom, feeling nervous since it's been fifteen years since she's finished her training and passed the bar. Dan matter-of-factly remarks that fifteen years ago, she was in elementary school. That's just the wake-up call Hye-kyung needs and she confidently enters the courtroom.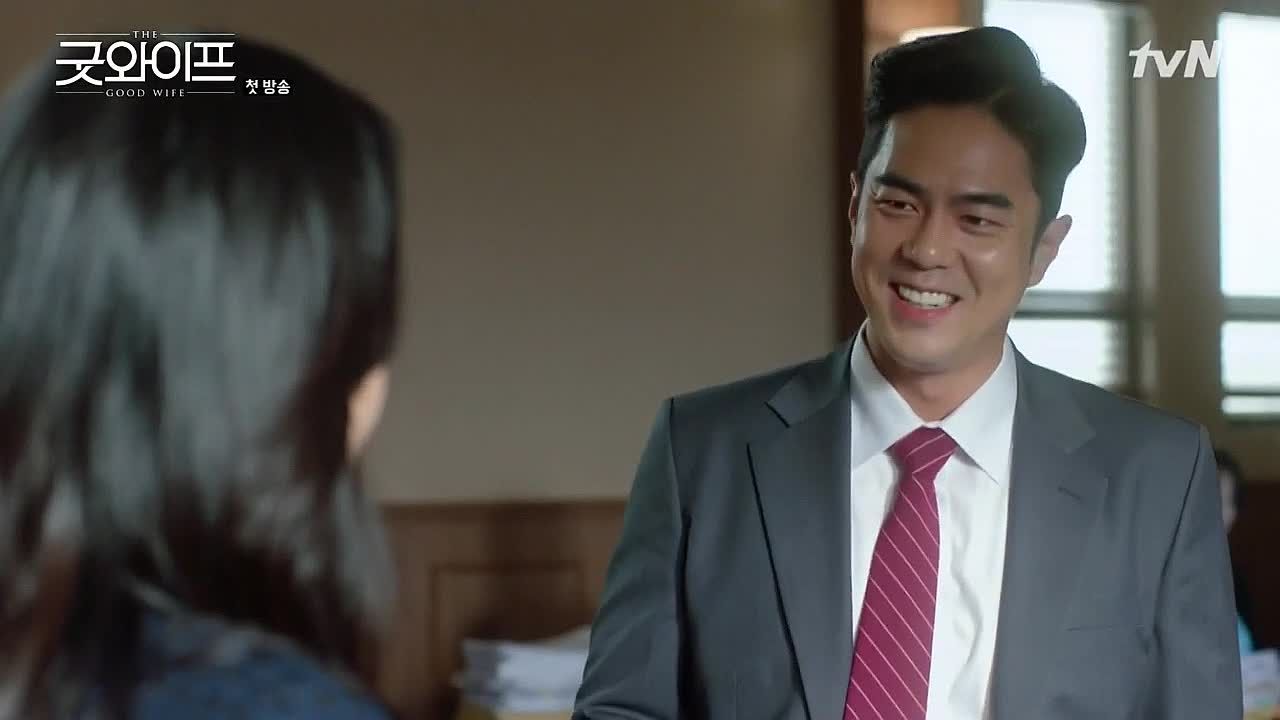 The prosecutor is the same one who met with Tae-joon after the press conference. PARK DO-SUP (Jun Seok-ho) is amused to discover the defense attorney is Tae-joon's wife, and seems to think that this case will be a shoo-in for him. It definitely doesn't help that the judge is the same one who sentenced Tae-joon to prison.
When Hye-kyung's client, Kim In-young, is brought in, Hye-kyung quickly explains that Myung-hee won't be there and she's taking over the case. She asks for an extension so that she can have time to get caught up on the details of the case, but the judge just gripes that she's unnecessarily wasting his time — what is this, her first day in court?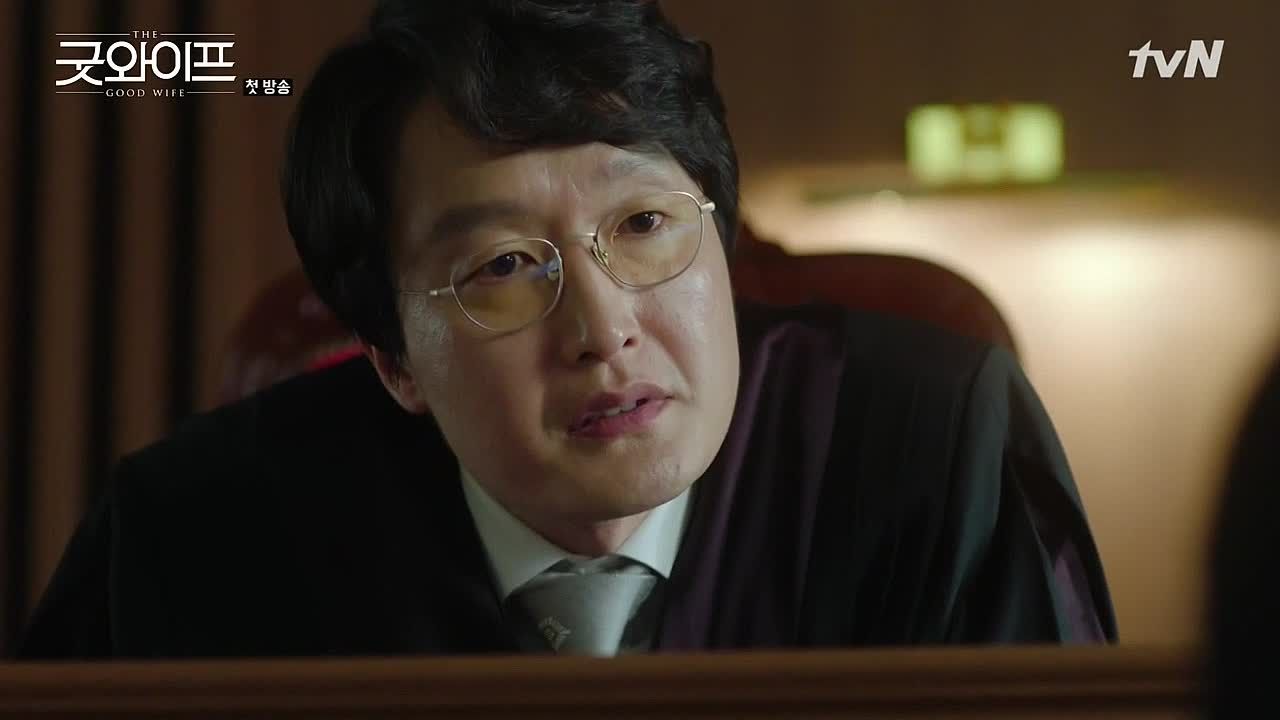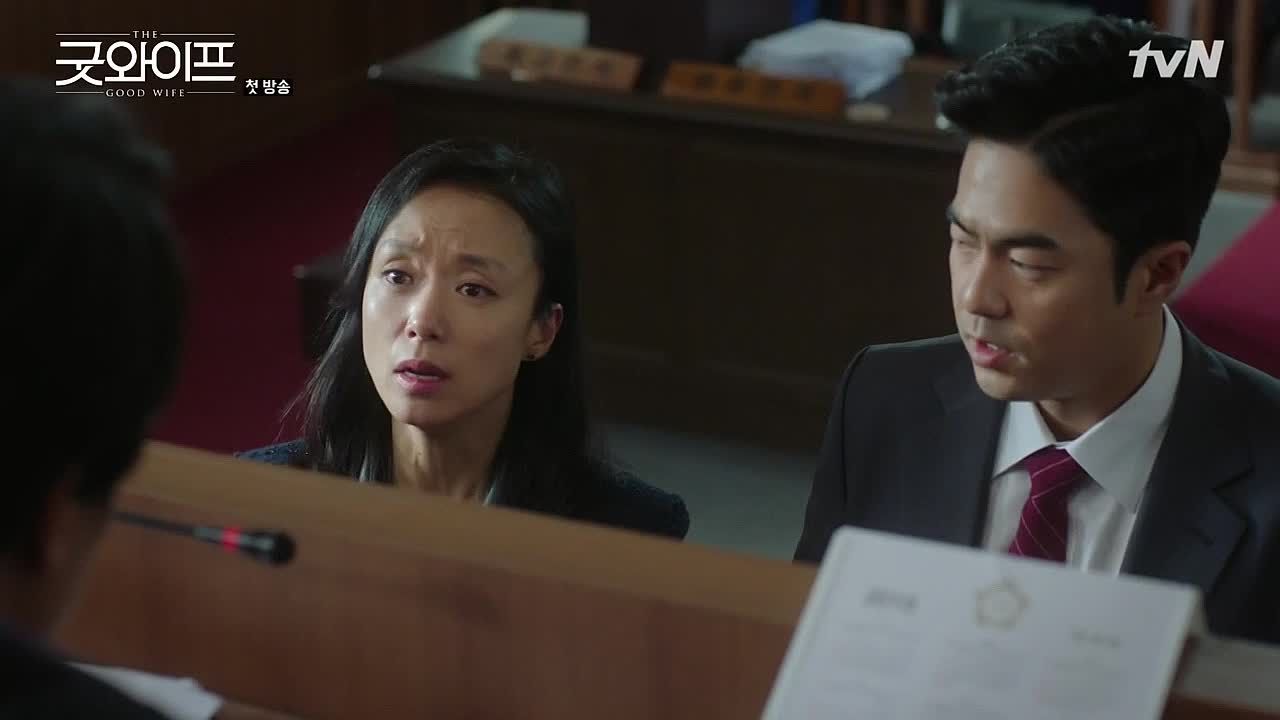 Prosecutor Park leaps up, thrilled to reveal to the judge that, yes, it is her first day, name-dropping Tae-joon. Hye-kyung petitions the court for bail because there's no one available to take care of In-young's daughter. When he asks the two lawyers to step up to the bench, Hye-kyung assumes it's about her case, but the judge points out that while it's true he does have a grudge against Tae-joon, he also found Tae-joon guilty by the letter of the law.
He also informs Prosecutor Park that bringing up Tae-joon's name just to get a rise out of him will not work — he's going to judge this case by the evidence, adding that Hye-kyung is not to change In-young's lawyer again. He finally rules in judgement for In-young's bail, much her and Hye-kyung's relief.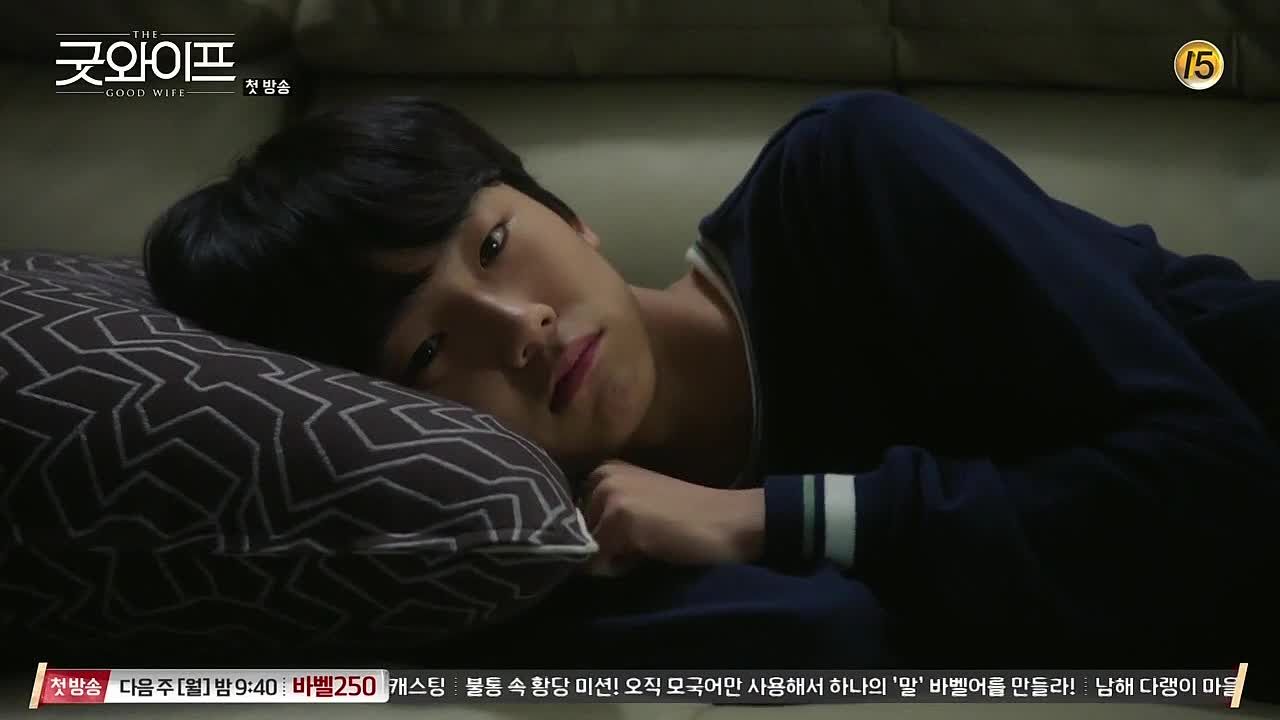 When Hye-kyung arrives home to her recently-moved-into apartment late that night, she finds her teenaged son watching the news, which is all about his father's scandal. Her daughter sadly asks if they can transfer schools again because all her classmates won't stop talking about the scandal. Hye-kyung says that Tae-joon is the one who should be embarrassed about what happened, not them. Easier said than done.
Hye-kyung visits Tae-joon in jail. He jokes that when they told him a lawyer was waiting for him, he thought it was his lawyer, not his wife. She's not there for a pleasant chat, however, and gives him the papers he needs to sign to sell their house. As he flips through them, he sees the divorce papers, which she snatches back.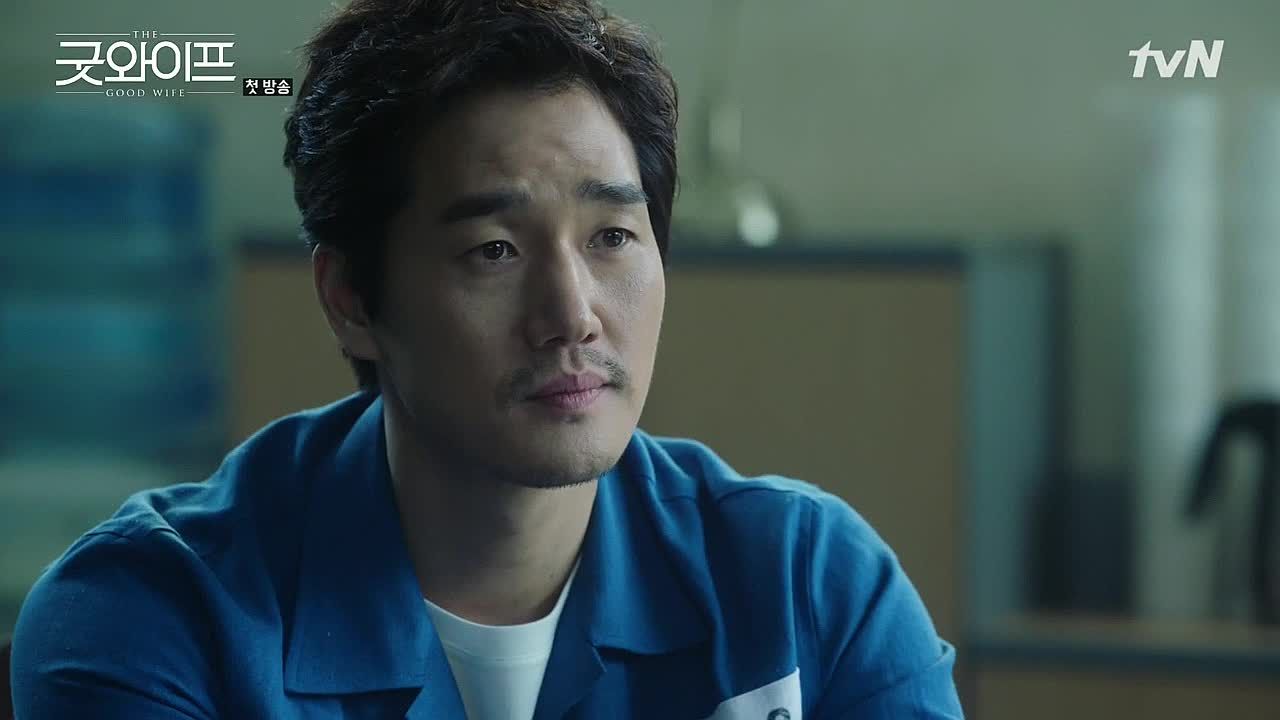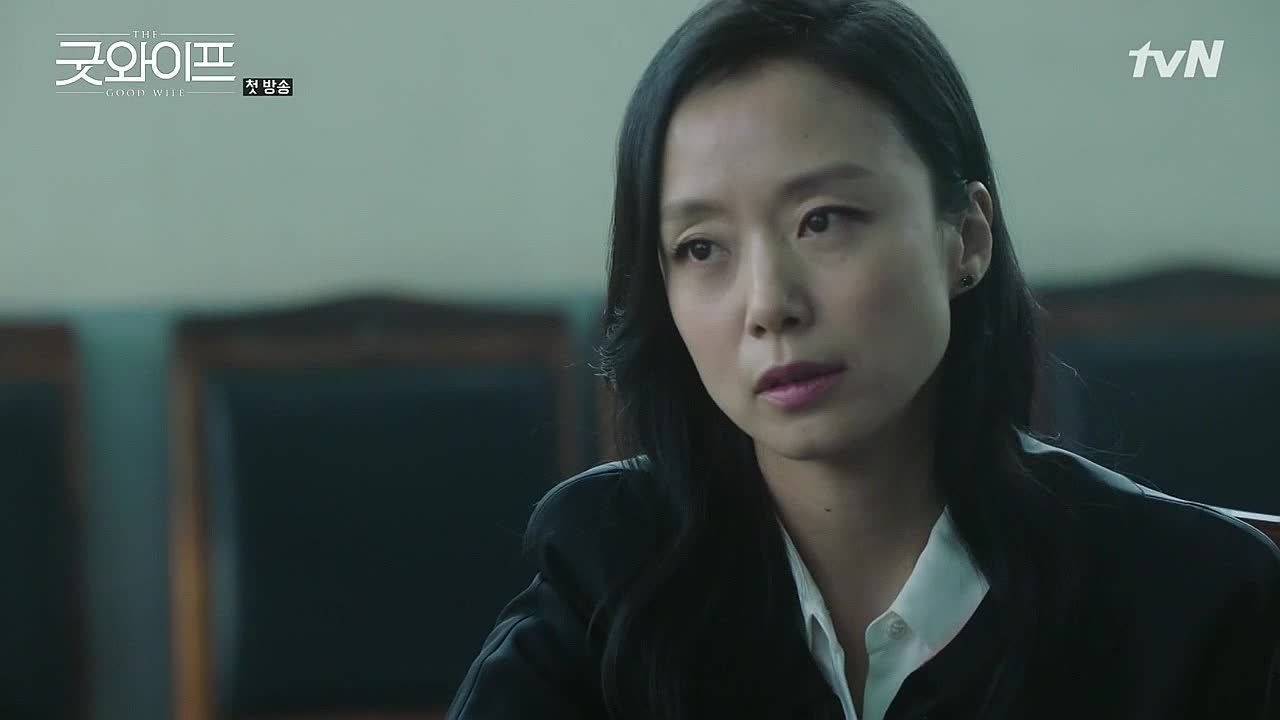 He takes her hands, asking her to hold off on any decisions, promising that they'll turn things around on the appeal. Annoyed, she tells him she doesn't care if the scandal was manufactured or not — he's still a bastard in her eyes.
As she starts to leave, he congratulates her on her first case. He still has friends on the outside who keep him in the loop. Hye-kyung: "Do they perform sexual favors for you, too?"
Instead of reacting to her barb, he tells her that he's heard the case she's working on is a little strange, and rumor has it that the police erased some of the original evidence. Hye-kyung doesn't want his help, though, and tells him, frustrated, that she only came to see him because everything they own is in his name. He still promises that it can go back to the way it was before, but she wearily tells him that will never happen.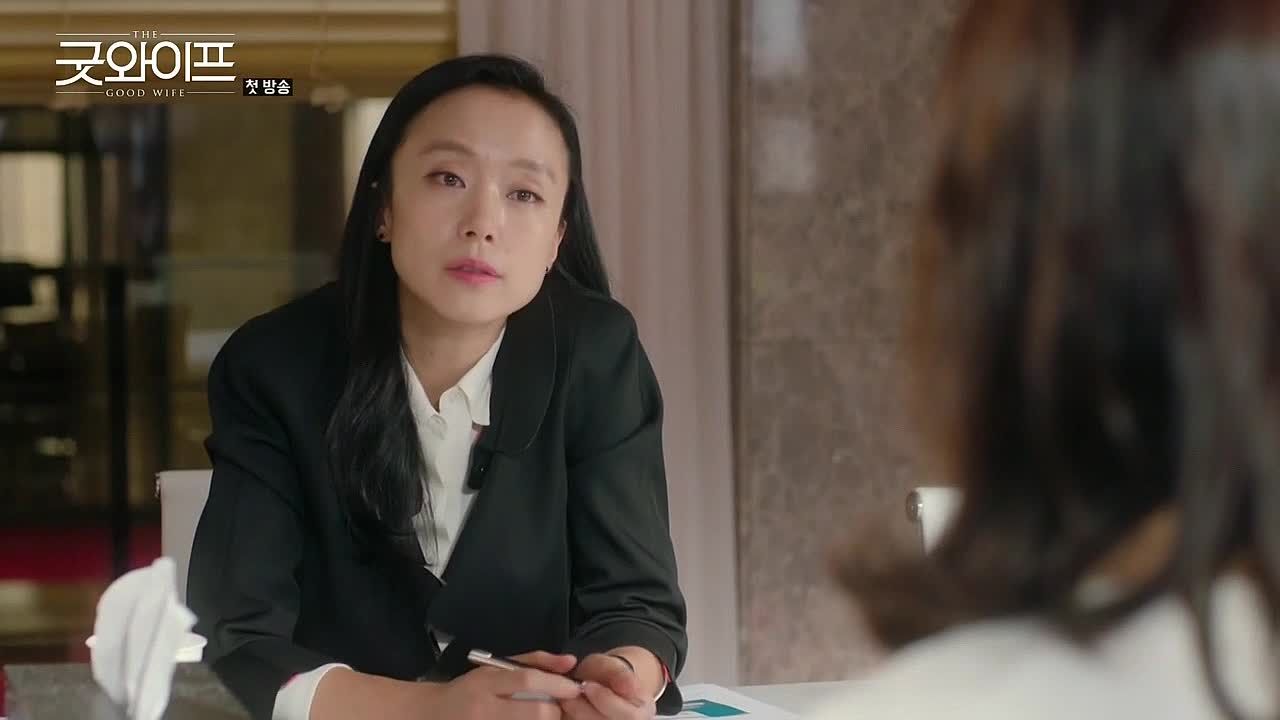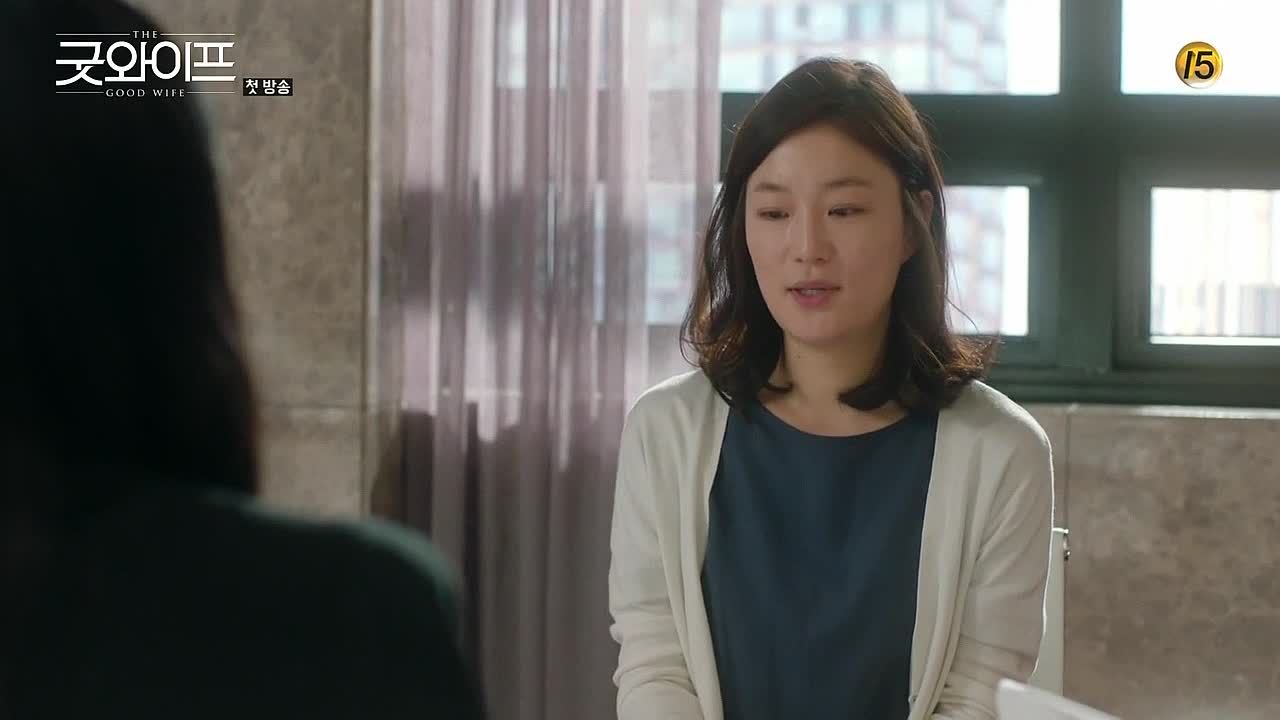 She meets with In-young, who insists that she didn't kill her husband. She did meet with him, and he asked her for forgiveness, wanting to go back to the way things were. That was when the thief suddenly came out from hiding and attacked her husband with a knife. The CCTV doesn't show footage of a thief running the direction she says he did, though.
Hye-kyung studies the evidence for hours, frustrated that she can't find any proof that In-young is telling the truth. But when she remembers her husband's statement that the police erased evidence, she goes through all the copies until she comes to the police report, which is one page — except that the photocopy has the image of a staple in corner, implying there was a second page.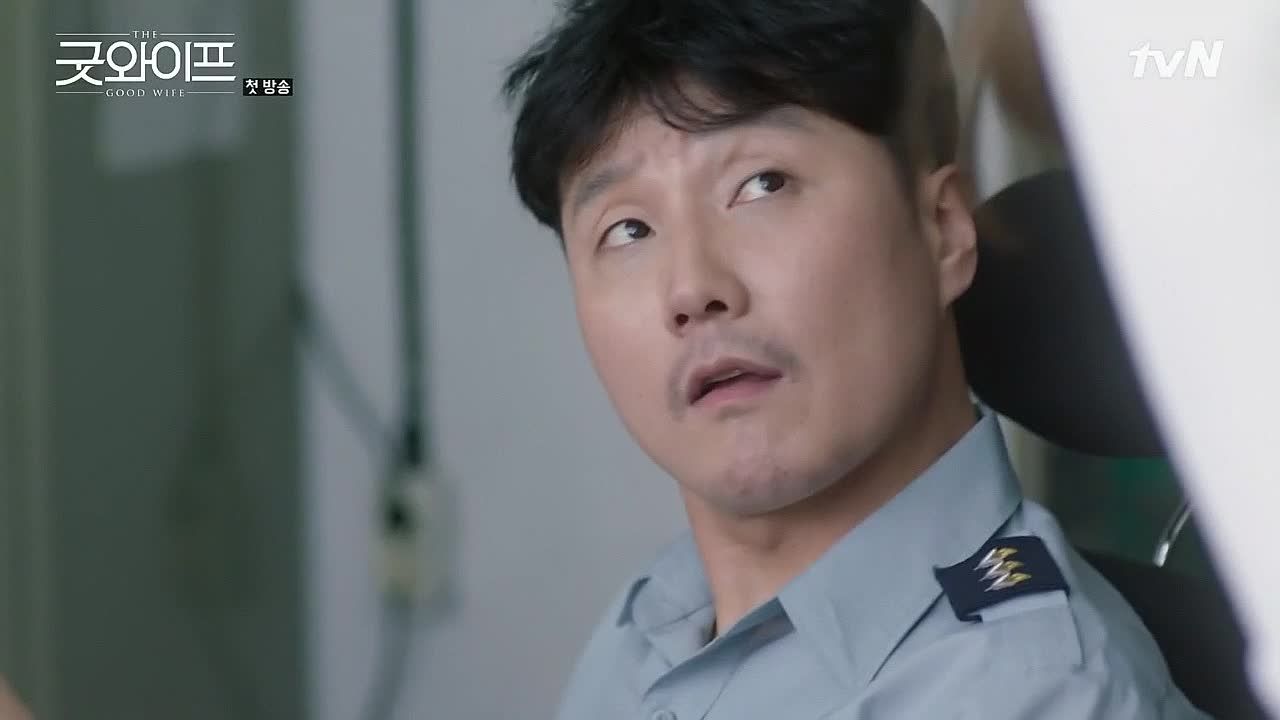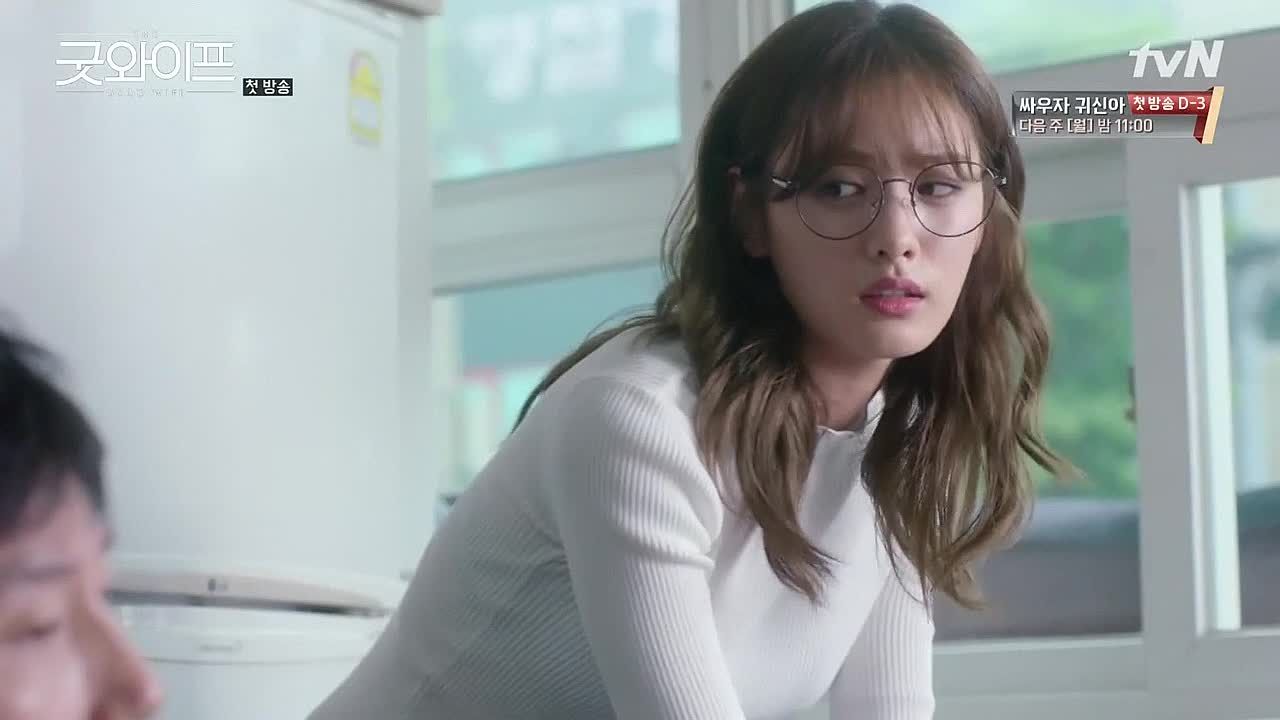 Hye-kyung and Dan go to the scene of the crime where they track down the owner of the CCTV. While Dan works on the security guard, winning him over with her best aegyo, Hye-kyung finds an elderly cleaning woman who's constantly berated by the security guard. She grumbles that he's lazy and normally sleeps or watches porn when he's supposed to be out patrolling.
Hye-kyung stays late, studying the new and boring footage until she finally reaches her limit. Gathering up the box of evidence, she heads out only to find the other new hire, LEE JOON-HO (Lee Won-geun) working late, too. He escorts her to the elevator, pleasantly introducing himself and then sighing that he's jealous of her pro bono case. But they have to take the cases assigned to them, and really, all that matters is who wins in the end.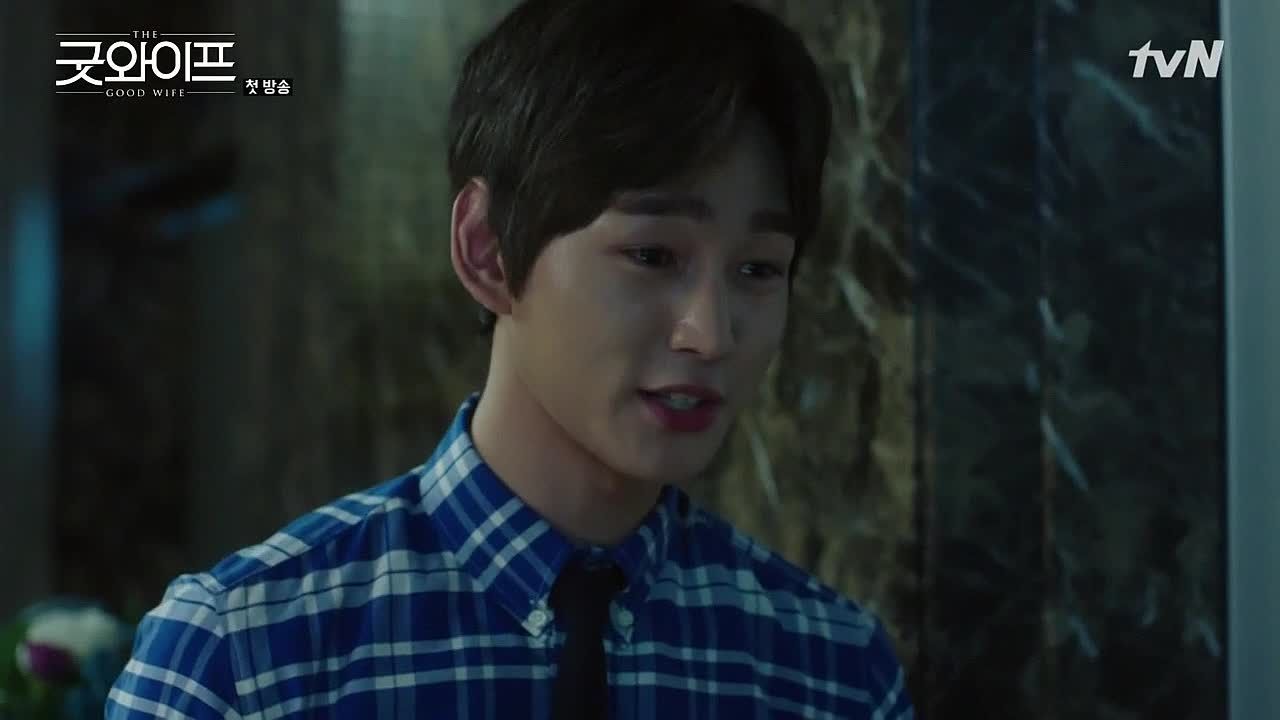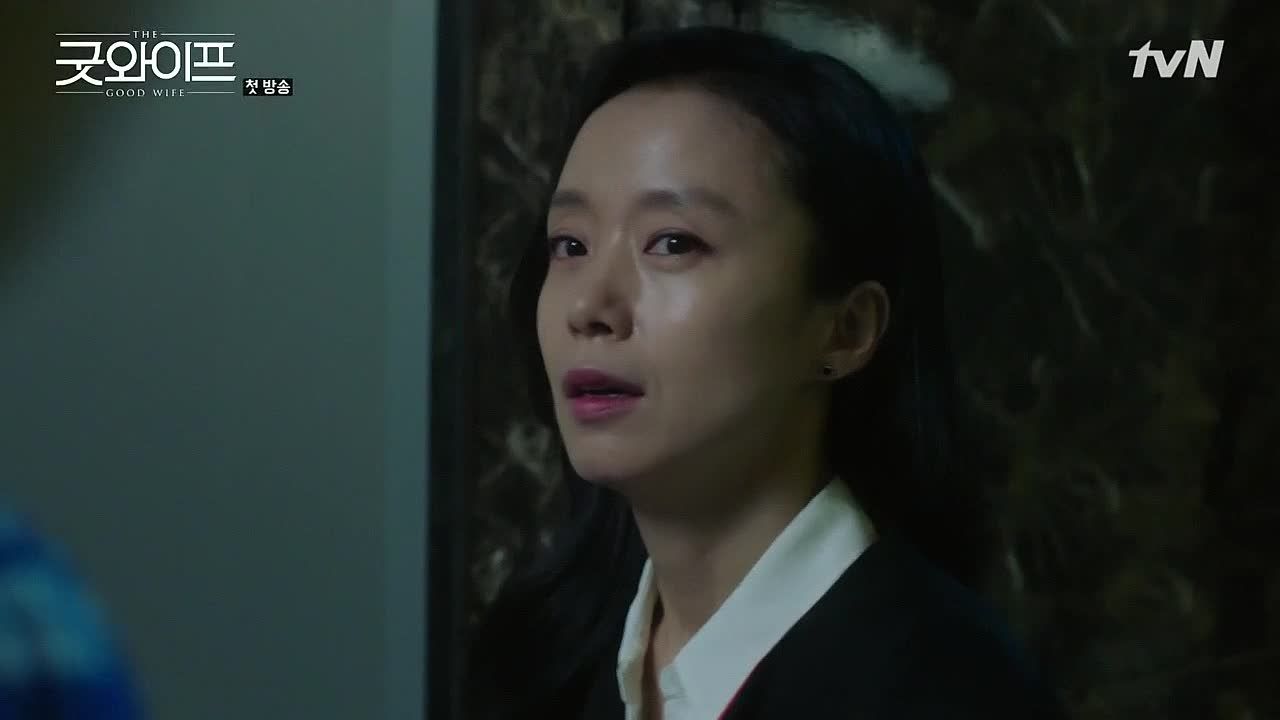 She doesn't know what he's talking about and Joon-ho doesn't enlighten her as he wishes her a good night. As she reaches the parking garage, she runs into Joong-won returning to the office. He tells her to follow Myung-hee's original plan for the case, revealing that she and Joon-ho are currently competing to see who stay at the firm in six months. If she wants to win, she needs to stick with Myung-hee's plan.
But Hye-kyung has played it safe all her life. She doesn't want to live like that any more.
She visits In-young at home, amused that she's embarrassed to be caught reading about Tae-joon's scandal. In-young is worried about what will happen to her daughter if she goes to jail, but Hye-kyung counsels her to only think about what is happening to her right now. She tells her to wear her best clothes and put on makeup — to do whatever it takes to make herself look and feel more confident.
She speaks from experience when she tells the worried In-young that you just get used to wearing a metaphorical mask in public, not caring what anyone else thinks.
That moment of woman-to-woman realness is enough for In-young to trust Hye-kyung to handle the case however she thinks best. At the next court date, Hye-kyung astonishes everyone by declaring that they do not accept the guilty charges, and further points out that there is evidence missing.
Prosecutor Park seems a little unprepared by Hye-kyung's confident attack, and he blames her husband as the one who would hide evidence. But the judge rules in Hye-kyung's favor, giving him forty-eight hours to get the missing page.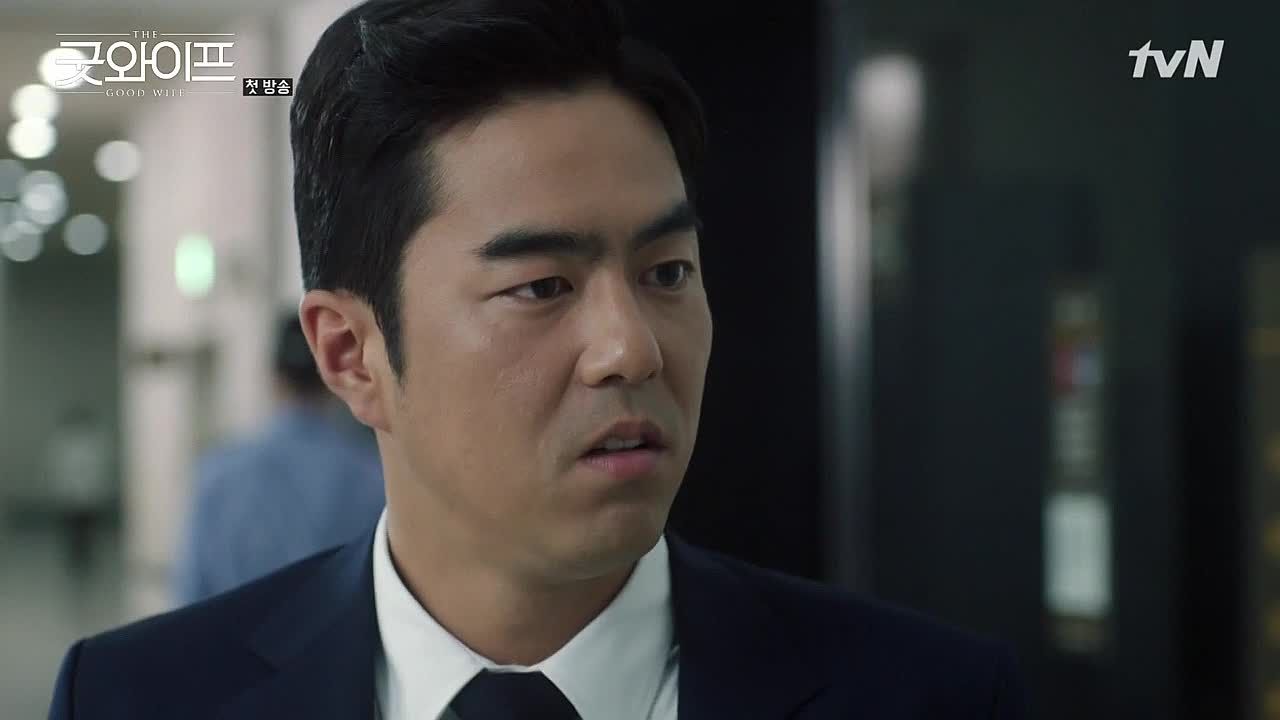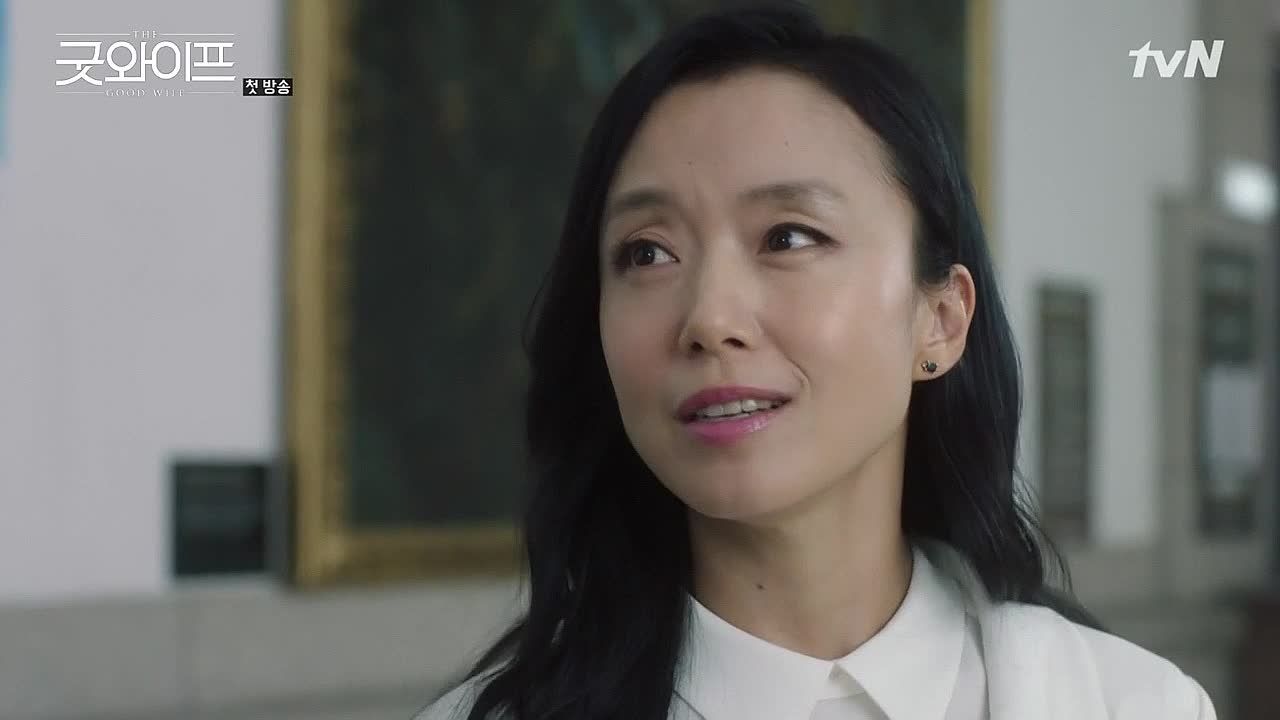 Afterwards, Prosecutor Park warns her that this "newbie" doesn't know who she's messing with, but she simply tells him that she'll win — her client is the only person that matters. With a little jibe about his graduating late from the training institute, she confidently walks away.
Myung-hee is none-too-pleased that Hye-kyung is blatantly ignoring her orders, but Hye-kyung calmly explains that she changed the strategy per her assessment of case. Yes, but she should have at least notified Myung-hee of these changes.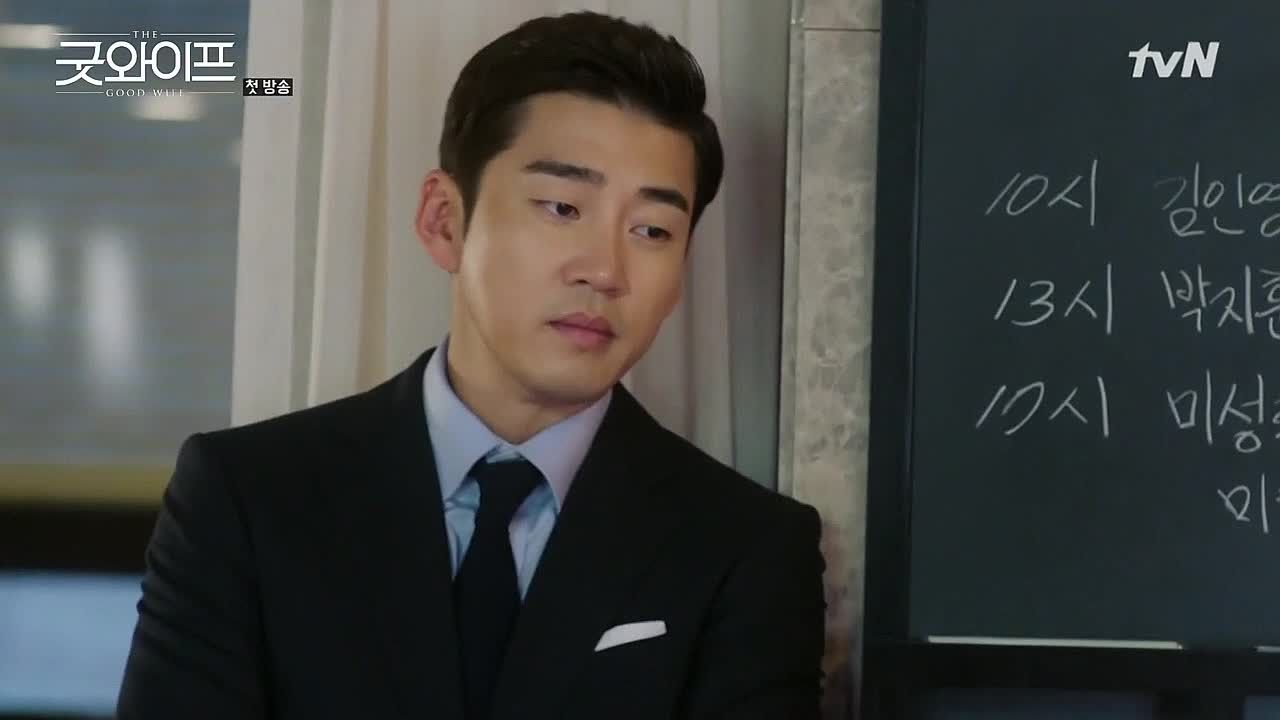 Joong-won defends Hye-kyung, pointing out that she worked hard to find missing evidence, but Myung-hee snarks that she wonders who told Hye-kyung about the evidence in the first place. She knows that it's just going to make the prosecutors their sworn enemies, and it will just be easier to replace Hye-kyung with a lawyer who will follow her orders, aka Joon-ho.
Hye-kyung studies the evidence late into the night when Dan calls her with the proof of what's on the second page — it was dog hair. Seems she called in a favor to get that information, though, as she slips out of a bedroom where another woman sleeps.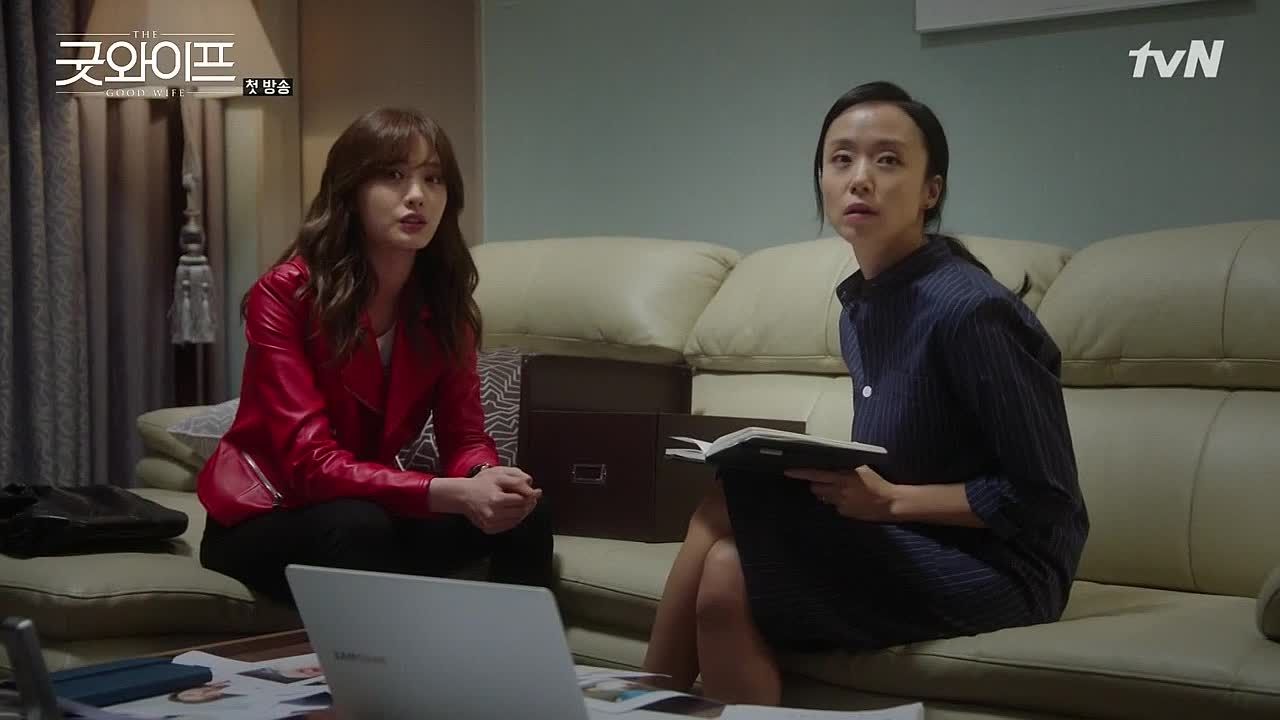 At Hye-kyung's apartment, Dan reveals that the dog hair isn't the same type of dog that the victim owned, and the fur contained a medicated lotion for joint issues. The all-knowing Dan also tells Hye-kyung that she's no longer the lawyer on the case and will only have one more day in court before Joon-ho replaces her.
In preparation for the trial tomorrow, Hye-kyung studies the CCTV footage over and over, and then suddenly realizes she's got the proof she needs.
Prosecutor Park shows the CCTV footage in court, revealing that there wasn't anyone else around at the time. But then Hye-kyung has three monitors brought in, and as she questions the security guard, he affirms that he does the same walk-through each night. She queues up the CCTV footage on the night of the crime to a moment when a plastic bag flies across the video.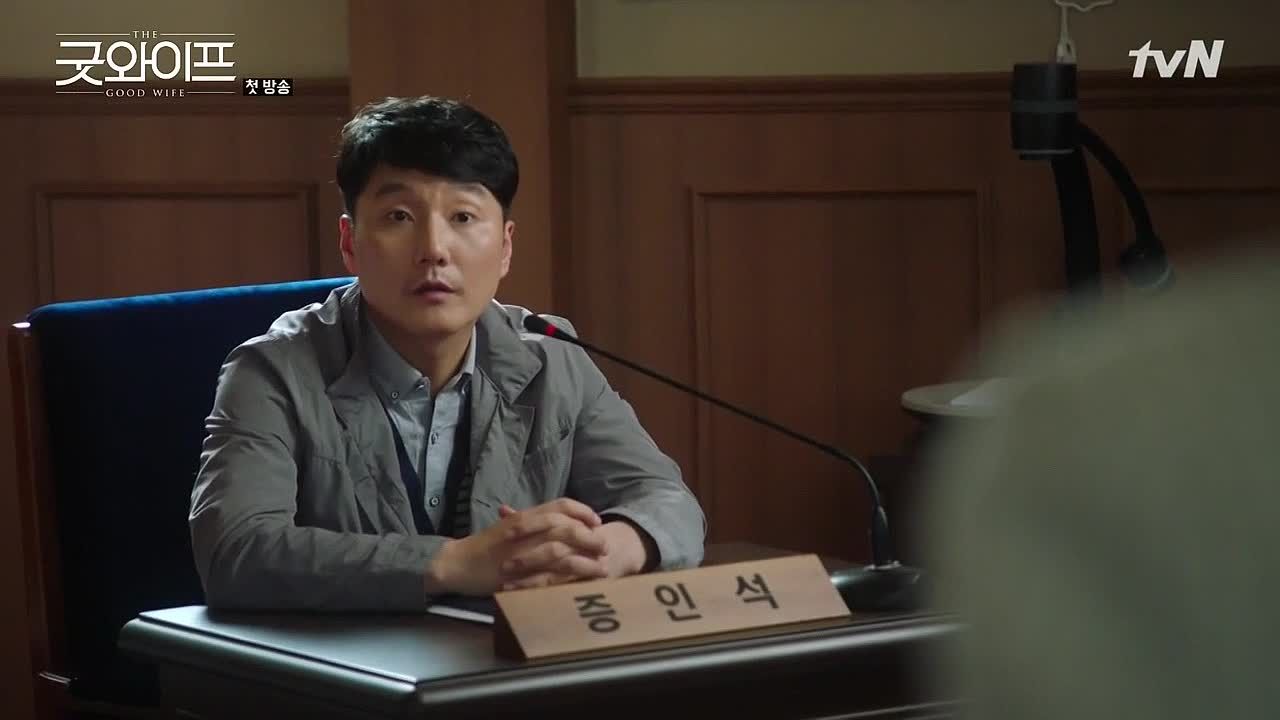 She then plays the exact same time frame on the CCTV recordings of the nights before and after the crime, revealing a plastic bag flying at exactly the same time, in exactly the same pattern. The security guard admits that he copied the CCTV showing him on his rounds when he actually never left his chair. Prosecutor Park is looking mighty worried, but Hye-yung smiles proudly at Joong-won.
Later that night, he tells her that, for better or worse, she's the lawyer assigned to this case. But she still has to refute the fact that In-young's fingerprints are on the murder weapon. He has faith in her, though, having been reminded of all the late nights they spend together at the training facility, working on mock trials. Hye-kyung wonders how the victim's mistress would have reacted to In-young's husband deciding he wanted to reconcile, and Joong-won suggests adding her to the witness list.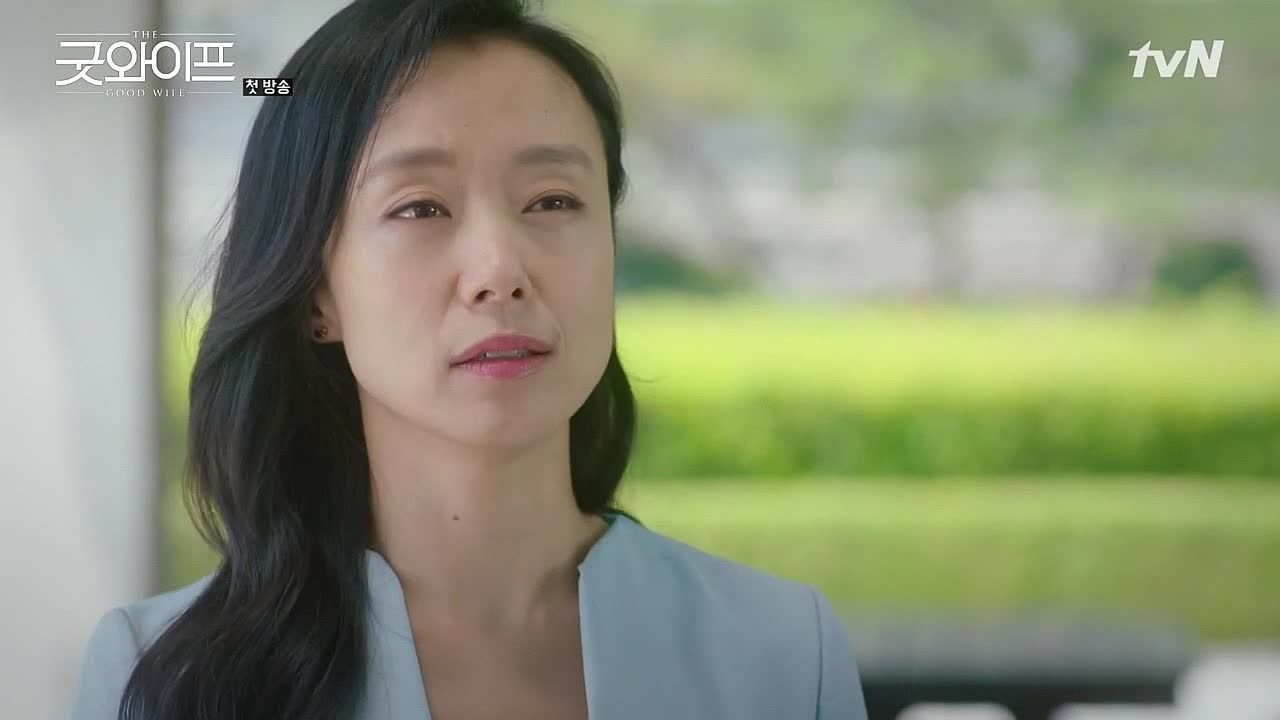 Before the trial, Prosecutor Park tells Hye-jung that Chief Prosecutor CHOI SANG-IL (Kim Tae-woo) wishes to see her. He's the one who took over Tae-joon's position, and it's their first time meeting since Tae-joon's scandal. He offers her a plea bargain — In-young will only get two years in jail if she accepts the charge of manslaughter.
Hye-kyung is surprise by this sudden offer, but Chief Prosecutor Choi tells her that everyone knows she got the information from Tae-joon. He warns her that there are people watching her closely, figuring out where her loyalties lie. After all, it can't be easy providing for her children and worrying about their future. Sounds like a threat.
She informs him that her most difficult day was when her children saw the video he leaked of her husband. He's not the one she should be cursing, though — she should be cursing Tae-joon. Oh, but she does — she's the one going through divorce. Besides, his tactic of bringing up Tae-joon in order to break her makes her assume that he knows nothing about women.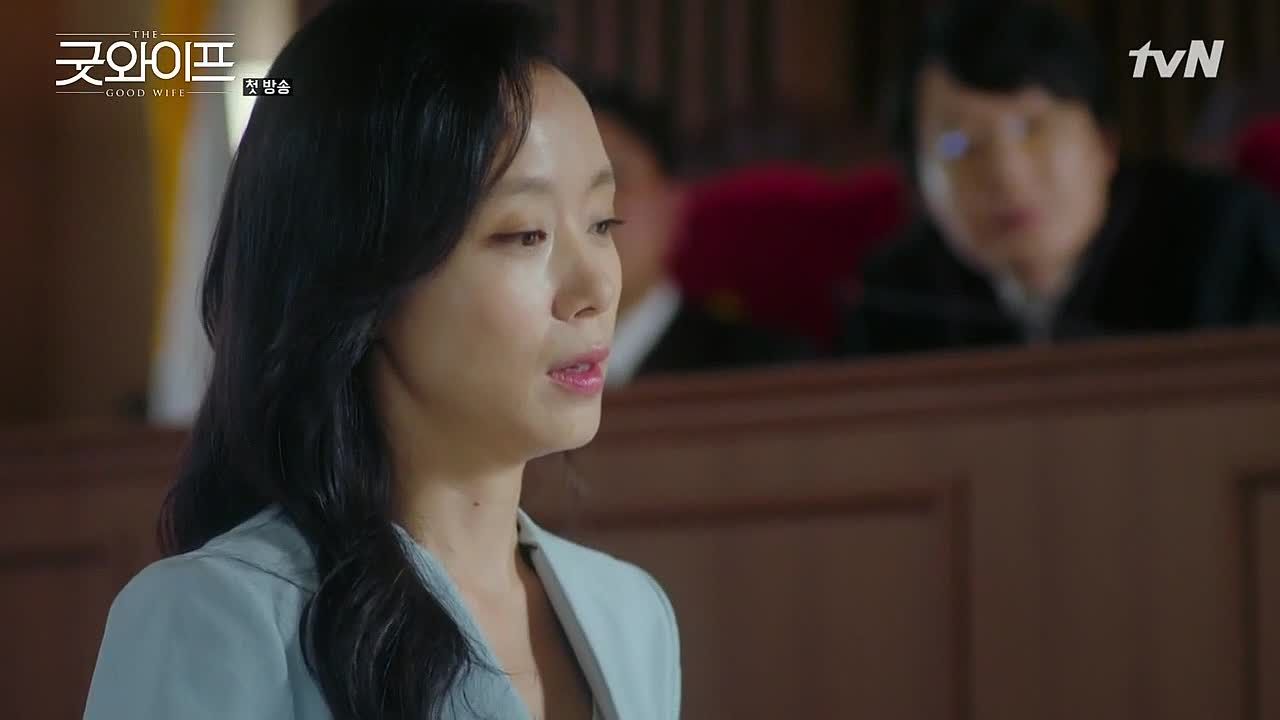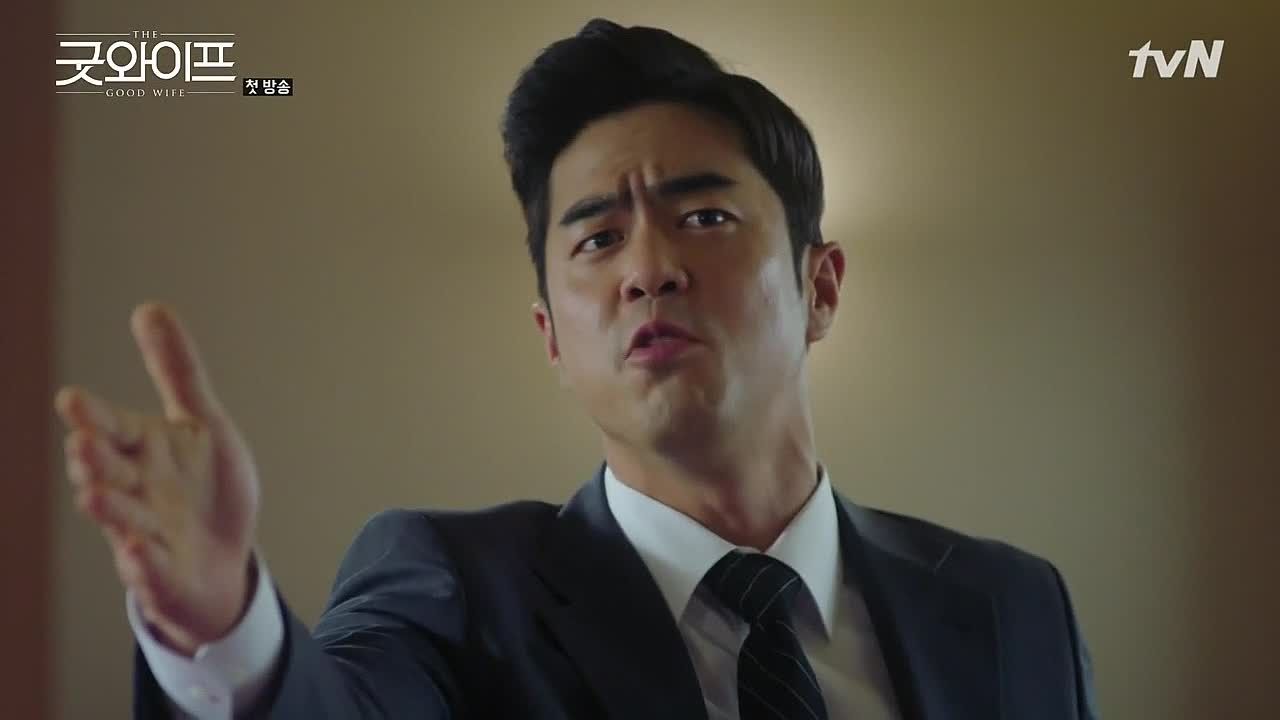 Chief Prosecutor Choi's attack definitely seems to have backfired, as Hye-kyung confidently interrogates the victim's mistress. Prosecutor Park is no longer sitting back and keeps popping up to object every few seconds, but the judge allows Hye-kyung to follow her line of questioning about the dog.
She makes it clear that the greyhound that required a medical lotion was the mistress's brother's dog, and that the victim had put a hefty life insurance sum in her name. The mistress might have had an alibi for that night, but her brother didn't. Prosecutor Park looks defeated.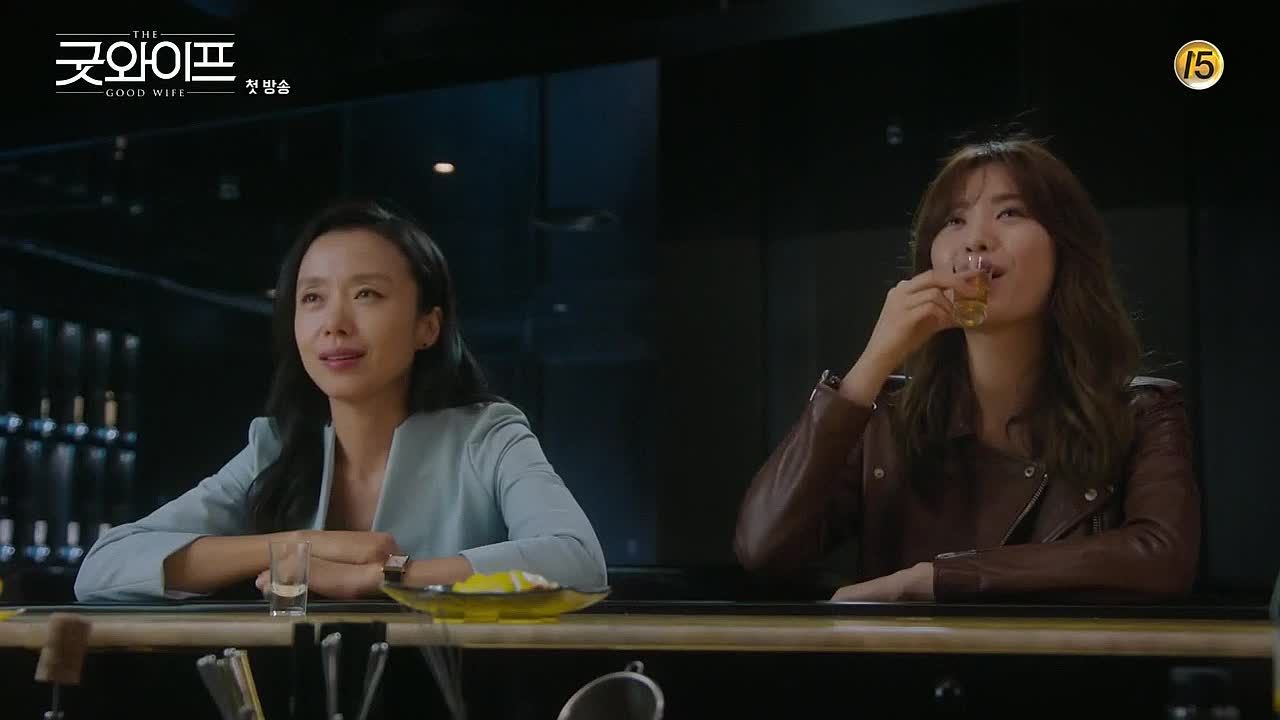 As they wait for the judge to deliberate and declare his verdict, Hye-kyung downs the traditional shot of alcohol that Dan says is to give her good luck in the ruling — and then she laughs at Hye-kyung's gullibility. Dan doesn't understand why Hye-kyung hasn't divorced Tae-joon yet and taken him for all he's got, but she says that her husband actually doesn't have much.
Hye-kyung admits that she thinks about it every day, whether or not she should just cut and run, starting a new life. She knows at least that she wants to begin her life as a lawyer. But first she'll be cautious as she decides if her husband is worth forgiving or not, and then go from there.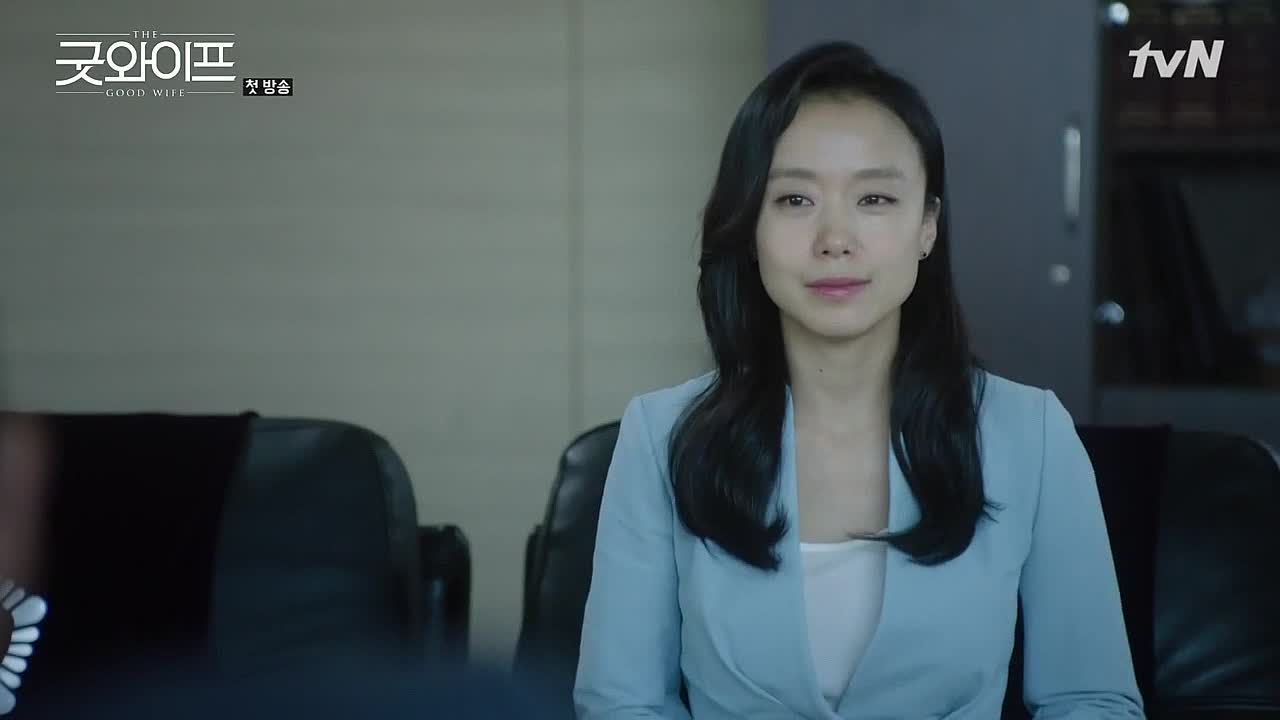 The judge has reached a decision, and based on Prosector Park's acting like he has the worst headache ever, it seems like the judge has ruled in Hye-kyung's favor. Or, rather, due to an investigation revealing that the mistress's brother can be placed at the scene of the crime, the prosecution has decided to drop the case — Il-young is free!
Once Hye-kyung is outside, she does a cute little victory dance. As she tells Il-young the good news, she also watches Chief Prosecutor Choi angrily drag the mistress out of the courthouse.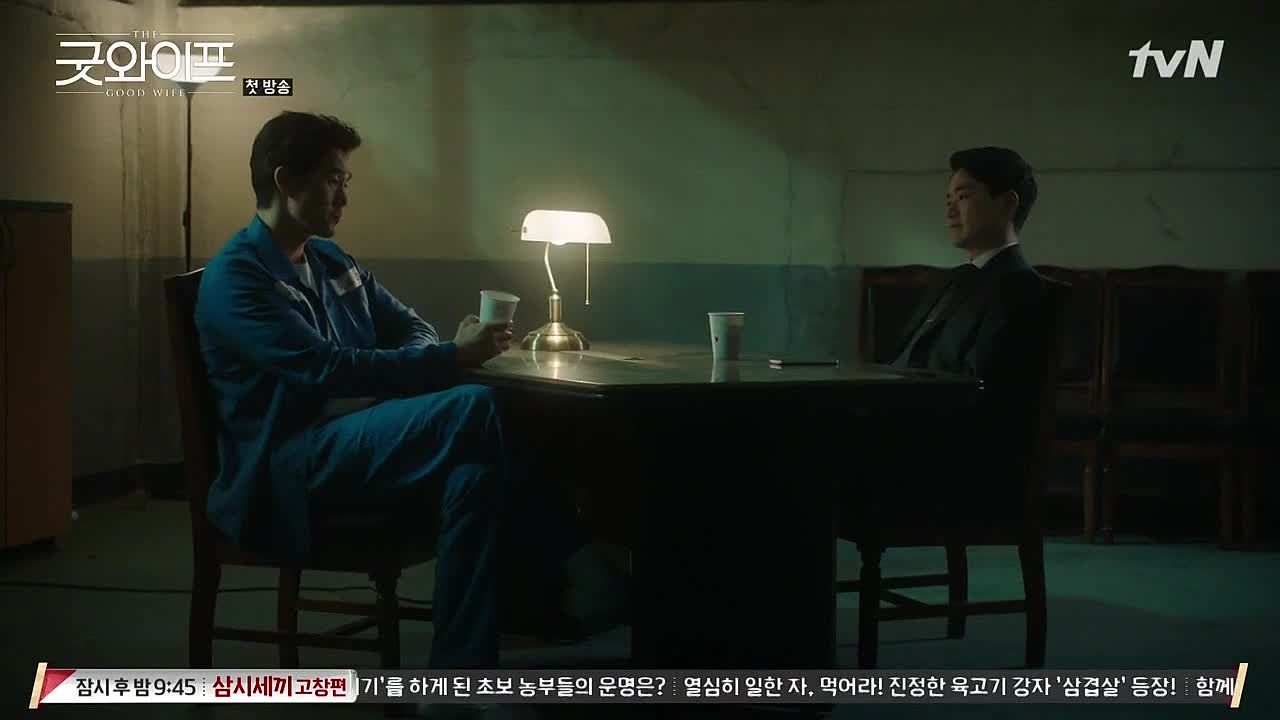 Tae-joon's lawyer visits him in jail, filling him in on Hye-kyung's win and that Chief Prosecutor Choi is determined to find out who told Tae-joon about the missing evidence in the first place. Tae-joon ask him to keep an eye on Joong-won — after all, he should know who his wife works for.
Joong-won finds Hye-kyung working late, wrapping up the case, and presents a bottle of champagne as a way to congratulate her on her first win. They're ready to break into it right then, but her phone rings — she assumes it's her kids calling, so she asks for a rain check. As he leaves, he tells her that she did really great.
Except the phone call isn't from her kids — it's Tae-joon, who informs her that the court date for his appeal has been set, and he's going to fight as hard as he can. The only person he needs to apologize to is her, and by the way, congrats on her win in court. After she hangs up, she pulls out the divorce paperwork and then stuffs it in a drawer as she stares at pictures of her kids, back when they were one big happy family.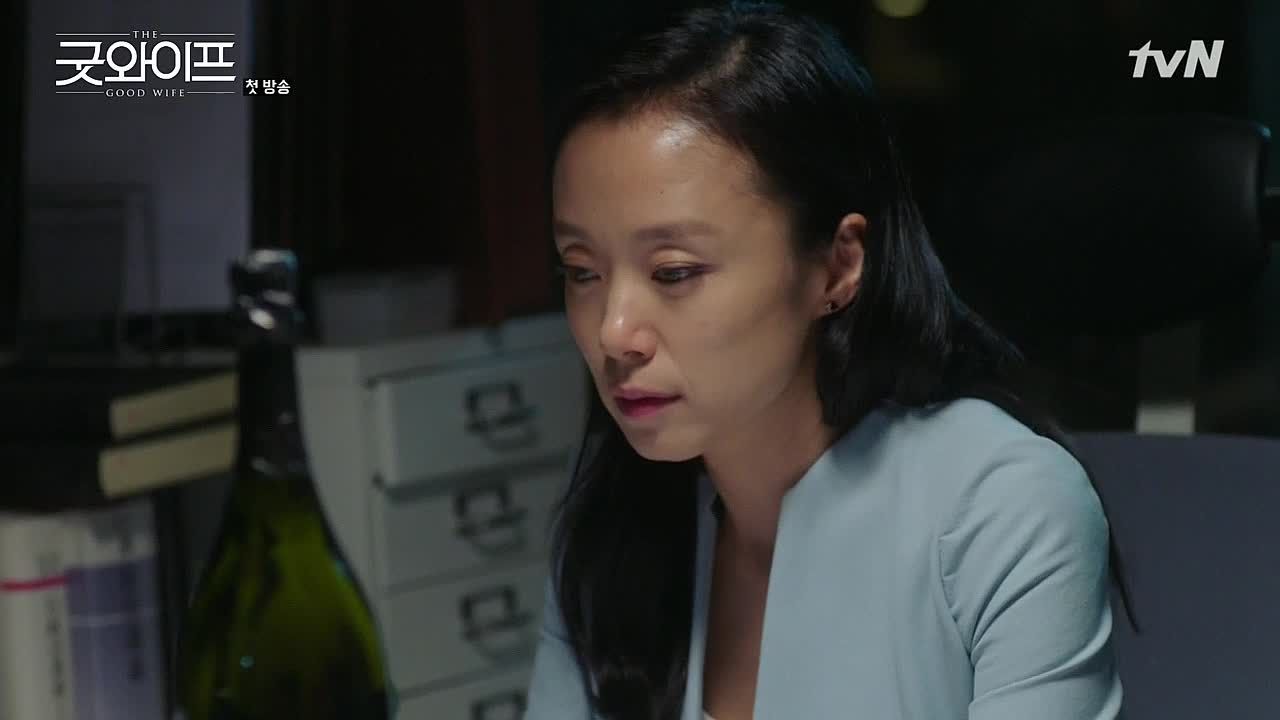 COMMENTS
Ahhhhh, I love it! It's very much like the original (much to my satisfaction), but it has its own flavor that it also seems fresh. This is largely due to Jeon Do-yeon, I believe, who hasn't made me want to compare her to Julianna Marguiles and her portrayal of Alicia Florrick — although now that I stop to think about it, there's something at once both softer and harder about Hye-kyung than there was about Alicia. Hye-kyung seems more sincerely gentle and compassionate than "Saint Alicia" ever did, and yet I loved watching how fiery and stubborn she was with her husband.
How marvelous it is to watch Jeon Do-yeon and Yoo Ji-tae together, though. You'd think that their scenes would be more static since they take place just at the prison table, but there's an incredible chemistry that crackles between them. There's something to be said about a drama filled with actors who typically work in film. Or, uh, almost filled. While Nana is doing better than I thought she would, it's pretty clear she's a rookie and I'm not sure if my inability to figure out where she's going with her character is a conscious choice (since that character is supposed to be mysterious, anyway) or if it's because of her acting skill. I think she'll grow on me — I might just be stubbornly clinging to how much I love the American counterpart, Kalinda.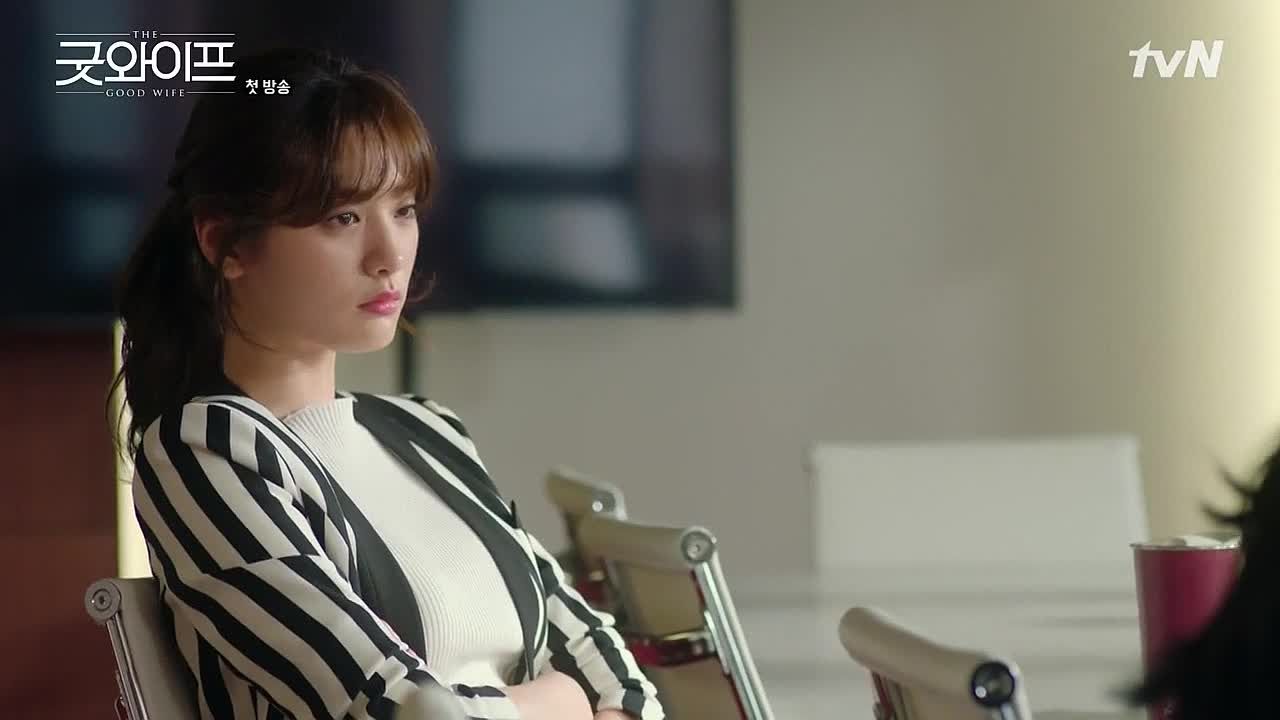 That said, I'm still going to treat the show like it's the first time I've ever watched it. Or at least I'll try to! It helps that it's been some time since I first watched the American version and so I was only recalling details barely before they revealed in an "oh yeah, now I remember this case!" kind of way, but I definitely got a kick out seeing them bring back all the little moments that I loved from the original (like the ringtone for her mother-in-law).
But it is a relief to know that the show is sticking close to the source material, at least so far. Having said that, while it can be fun to speculate, please, please, please keep any comments about the show spoiler-free! Respect those who will be watching it for the first time and will have no basis of comparisons. Discussions about the similarities and differences in each specific episode is fine, but refrain from possibly spoiling someone about the general plot or characters. I'll do my best to do the same (although I know how tempting it will be!).
All in all, it's a very satisfying start and should keep both new viewers and fans of the original happy. Now it's just a matter of seeing how it sustains itself for the rest of the drama.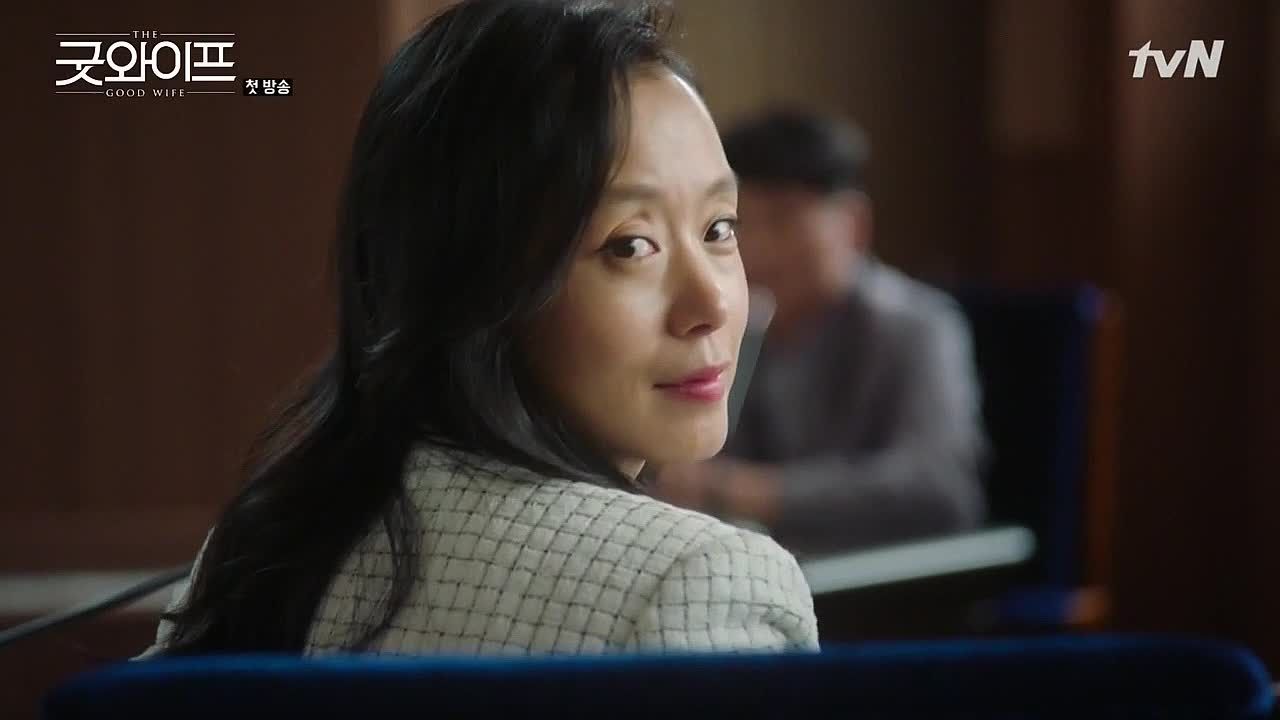 RELATED POSTS
Tags: featured, first episodes, Jeon Do-yeon, Kim Seo-hyung, The Good Wife, Yoo Ji-tae, Yoon Kye-sang