The Good Wife: Episode 3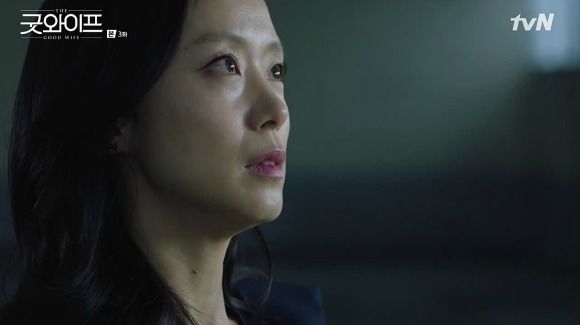 We meet another member of the M&J family as well as a member of the Tae-joon/Hye-kyung family, and let's just say that sometimes families are hard to love. Or at least certain members of the family, whether they're related by blood or legal means, can make life more difficult in various ways (but what goes around, comes around). Even so, no matter how difficult they are, there's still the pull to love them — even if "love" means doing whatever it takes to protect your family, including lying, bribery, or threats of bodily harm.
EPISODE 3 RECAP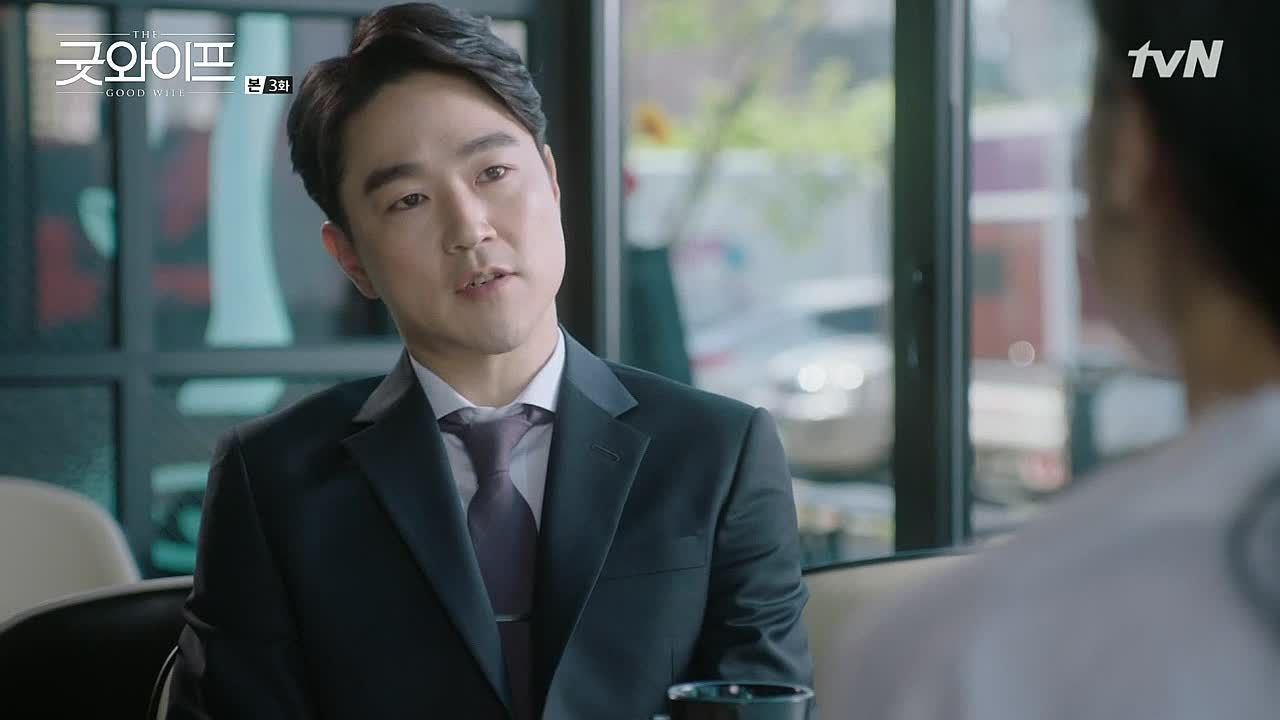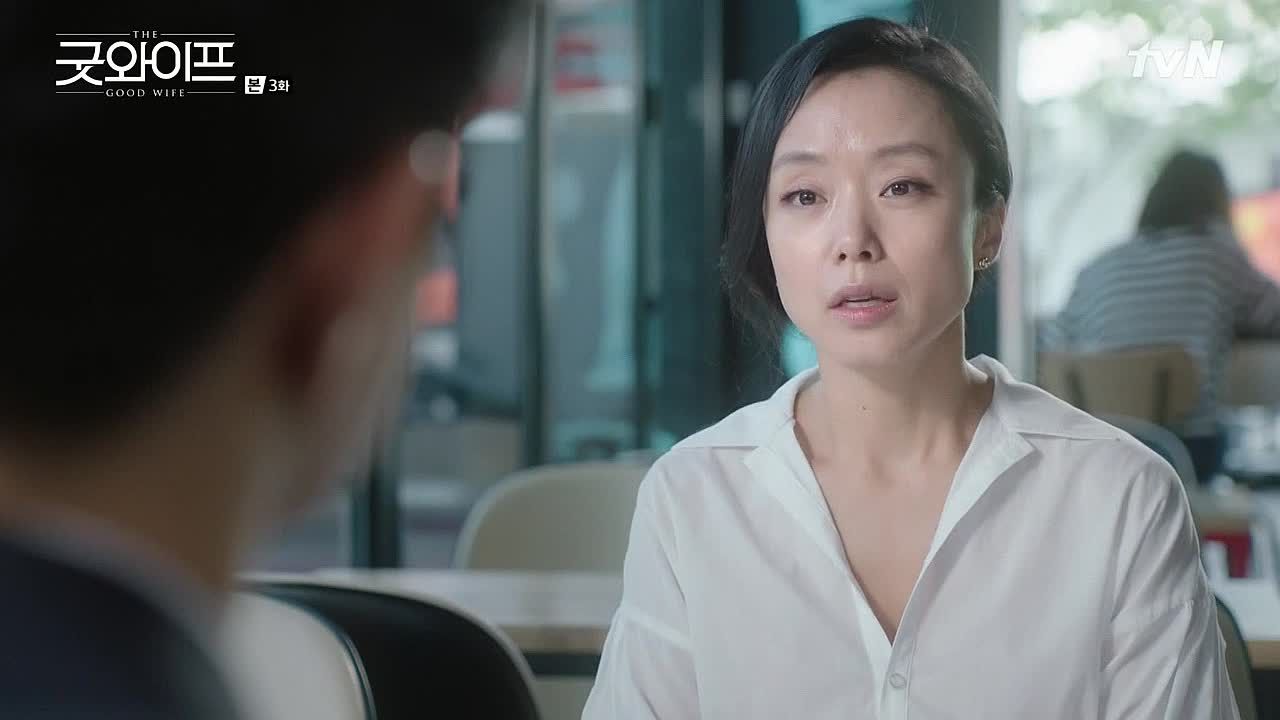 Tae-joon's lawyer meets with Hye-kyung to ask her information regarding her husband's case, all in an effort to win their upcoming appeal in court. They haven't been able to find Amber, the women at the heart of Tae-joon's scandal, but he thinks they can win if they prove Tae-joon didn't accept any bribes. He asks for Hye-kyung's help to find proof that Tae-joon was somewhere else on the date that the prosecution says he was taking bribes.
The next morning, as Hye-kyung digs around in the boxes she hasn't yet unpacked, looking for her daughter's soccer shoes, Tae-joon calls her from jail. He apologizes on behalf of his lawyer, telling her that he won't be bothering her any more. Then he asks about the kids, but Hye-kyung simply tells him they're doing fine. He apparently hasn't talked to them in a long time, and even though Hye-kyung says she'll tell them he called, she doesn't.
Hye-kyung finds what she thinks are her daughter's shoes, but the shoebox actually holds an assortment of old paperwork and memorabilia. One of the items is a flash drive with a home video of Tae-joon and the kids preparing a celebration for Hye-kyung's birthday. The time-stamp on the video is exactly the same date and time that the lawyer is looking for, and she calls him, telling him she has proof that her husband was elsewhere that night.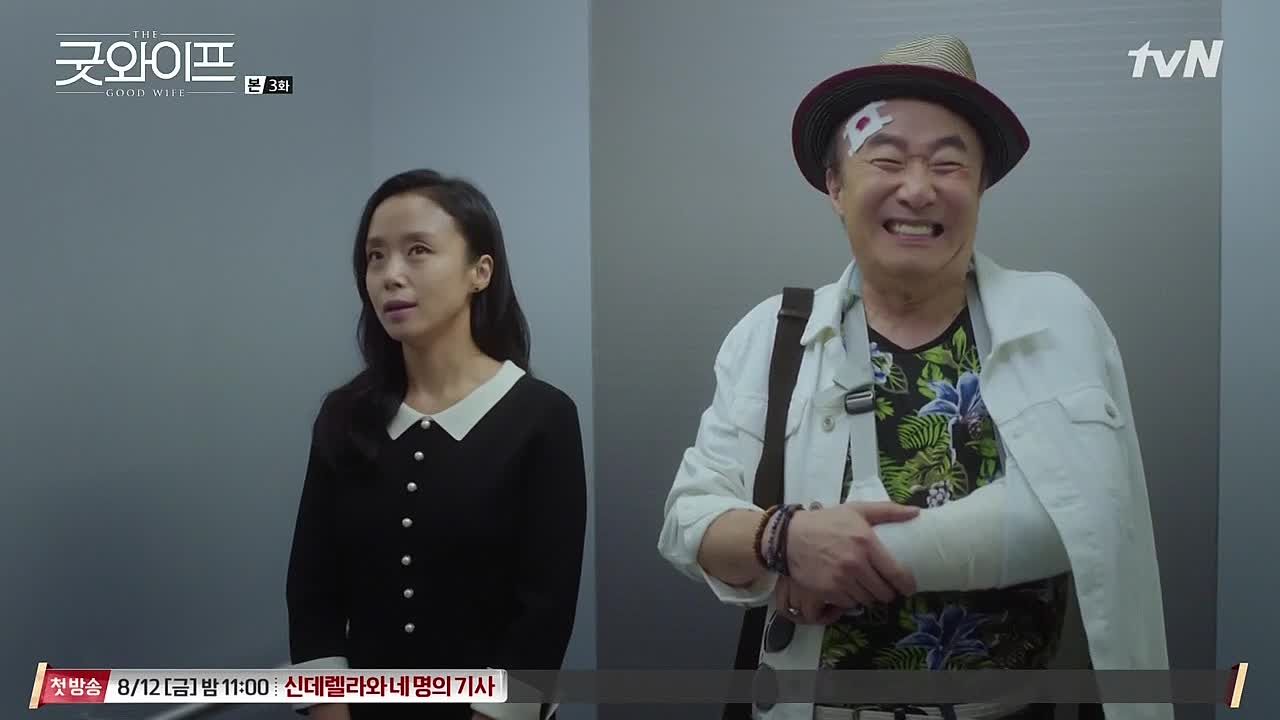 As she arrives at work the next day, an older man with his arm in a sling rushes onto the elevator with her. As they ride up together, he eyes her carefully, recognizing her as Tae-joon's wife. He adds that since she's wearing her wedding ring, she must still be on good terms with her husband. Hye-kyung jokingly asks if he's thinking of hiring her as his lawyer, and he says that's not a bad idea.
She reports to Joong-won that Moo-il Group has decided to meet all their demands (so Eun-joo will get her apology!), but they're both distracted by the elevator man's exuberant greeting to the rest of the law firm staff, who are all delighted to see him. Joong-won goes to meet him with an "I thought I told you stay at the hospital." Hye-kyung whispers to Dan, wondering who the man is, and Dan tells her that's Seo Jae-Moon, the civil rights lawyer who founded M&J law firm — and is the father of Joong-won and Myung-hee. Oooohhh, family drama!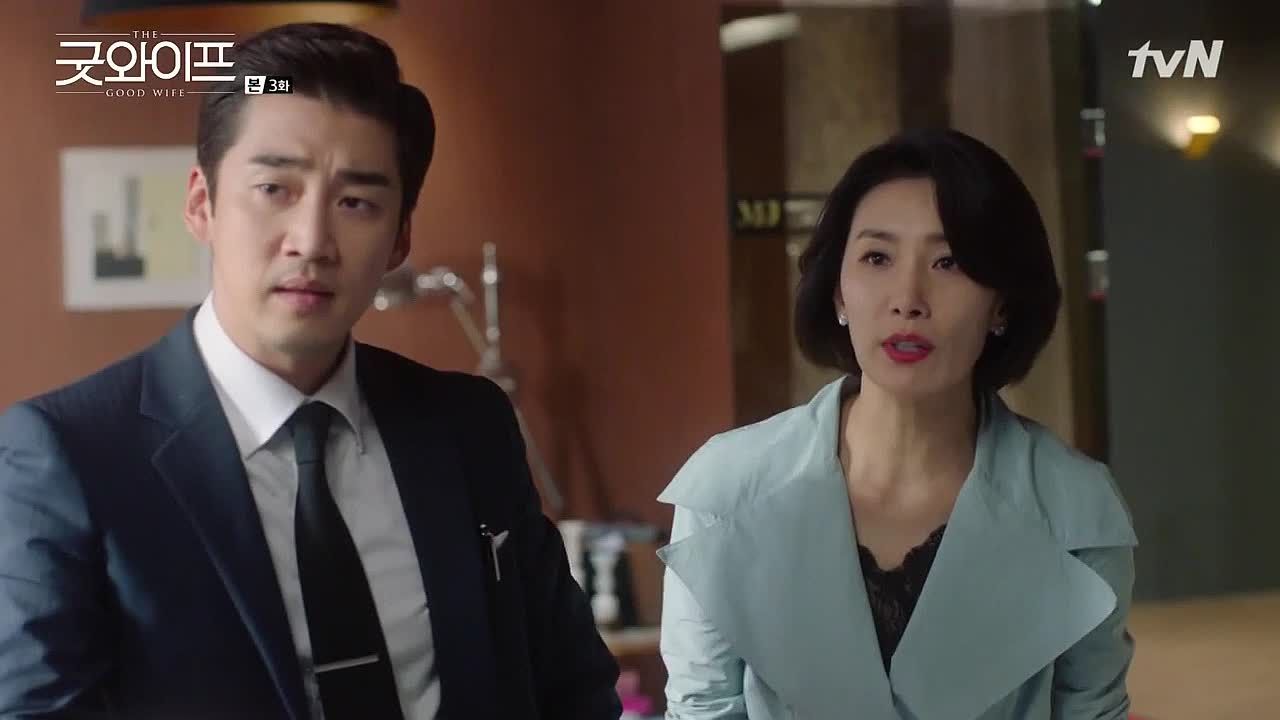 Papa Seo reclaims his office, tossing aside all of Joong-won's papers and personal items. He's especially annoyed with the artwork from an up-and-coming artist, tearing it down to put up the painting that he's been lugging around. The Seo siblings don't seem particularly thrilled to have their father back.
Perhaps their lack of enthusiasm is because he's in the news right now, being accused for drunk driving. Joong-won grumbles that their father's prestige as a lawyer has long faded — even if he founded the firm and brought them their long-term clients, he's causing too much trouble and should be removed from the firm's list of employees. Myung-hee takes a more open-minded approach, telling Joong-won they should just treat him like one of their clients. It's easier if they keep a professional distance.
Papa Seo dances into the office, happily revealing some antique gifts for his children — giant prayer beads for Myung-hee to help her win her cases, and, for the feigning-disinterest Joong-won, an ancient Chinese die to help him make decisions. Myung-hee has to nudge him to take it, and Papa Seo says that Joong-won needs something like that since he seems to make such terrible decisions.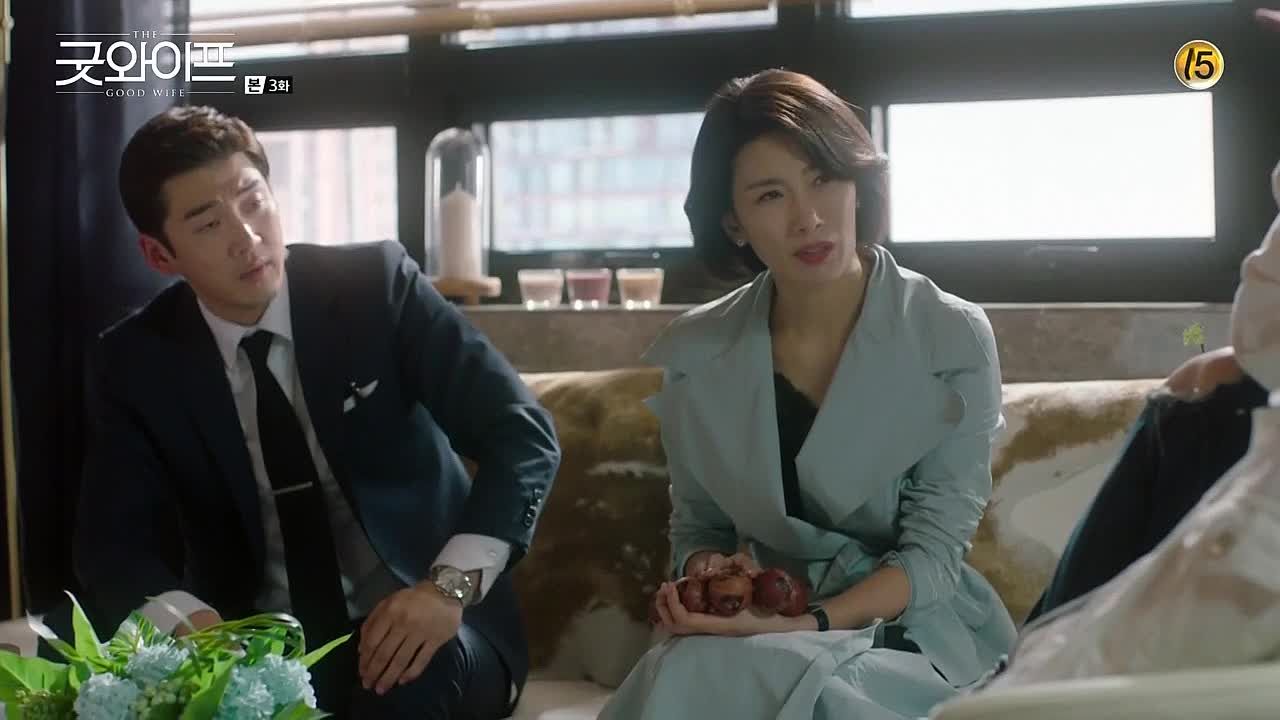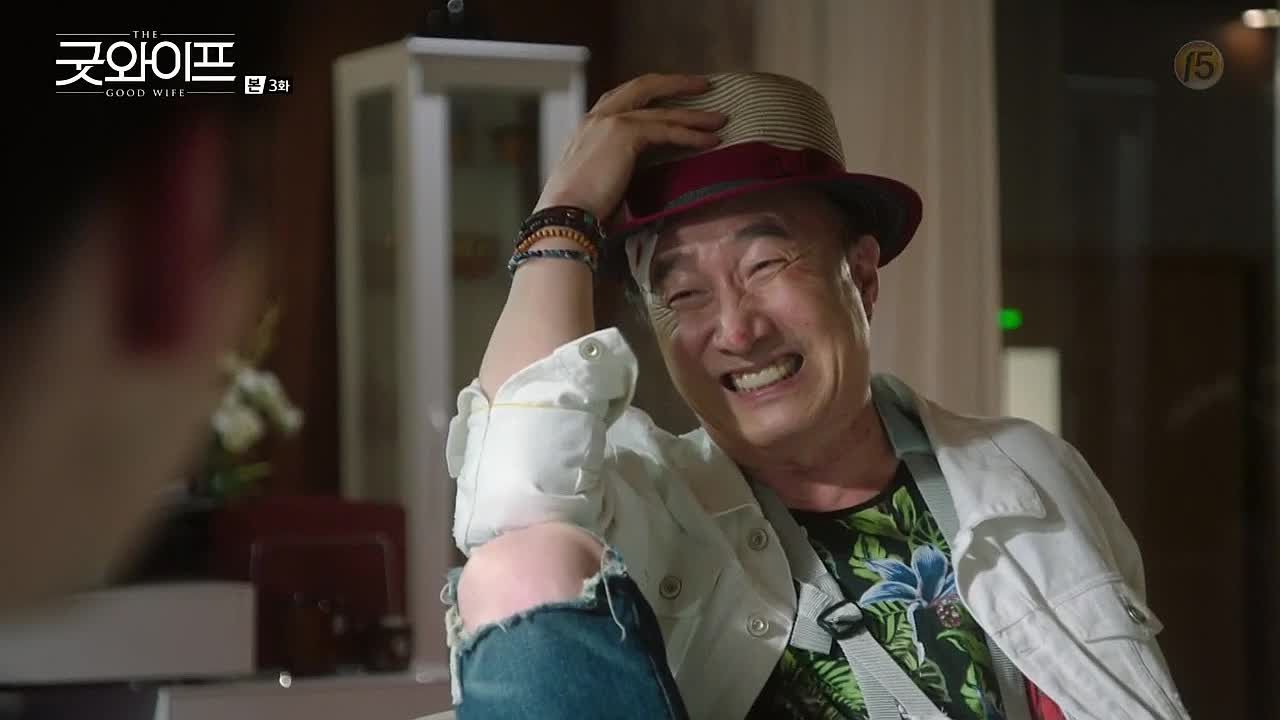 Joong-won is ready to prove that his father isn't the best at making decisions, either, but Myung-hee intervenes to ask what happened during the car accident. Their father insists that he only started drinking after the accident, and so there's no way the police can prove he was drunk before it. The reason there's also assault charges filed is because he resisted what he declares was an unfair arrest and abuse of power (which is also how he hurt his arm).
Even though Joong-won is embarrassed by the publicity of the case, Papa Seo is pleased with the free advertising for their firm. He decides he wants the pretty and arrogant Hye-kyung to represent him in court, but Joong-won protests that they should keep family business within the family. But Papa Seo says that he'll take care of most of the details — all Hye-kyung has to do is just stand there.
During their meeting, Hye-kyung shows him footage Dan has found of the incident. Papa Seo certainly looks drunk as he walks into the traffic, trying to avoid the cops. He's ready to explain away that his blood alcohol level was higher due to nerves and other biological factors. As for the assault charge, he points to his broken arm.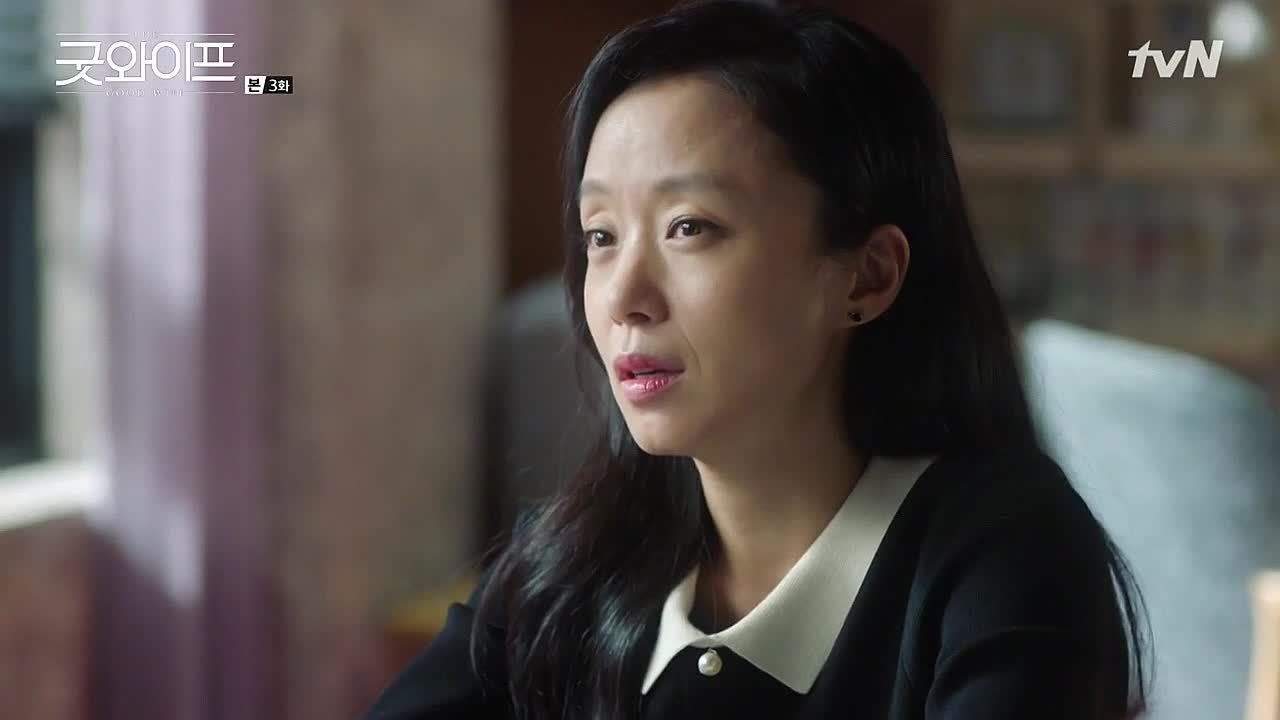 But Hye-kyung points at the video footage, revealing that the arm the officers twisted behind Papa Seo's back was actually his other arm. He's amused by how intelligent she is, but reassures her that he'll be taking care of his own court case — all she has to do is sit there. He promises to tell her his defense strategy if she answers a question he has for her.
Agreeing, Hye-kyung sits back, waiting for Papa Seo's question. He leans forward and very seriously asks her if she's slept with Joong-won. Laughing, she tells him "no." But he doesn't readily believe her, knowing how his son's expression changed when her name was mentioned.
In return, he tells her that his strategy for court is to declare that it was an illegal arrest, since the officers arrested him when he wasn't drinking and driving. As she leaves the office after their meeting, he adds that he saw her husband on the news. He reassures her that a lawyer should always be in the news — it's good for business — and she watches him swallow a couple of pills.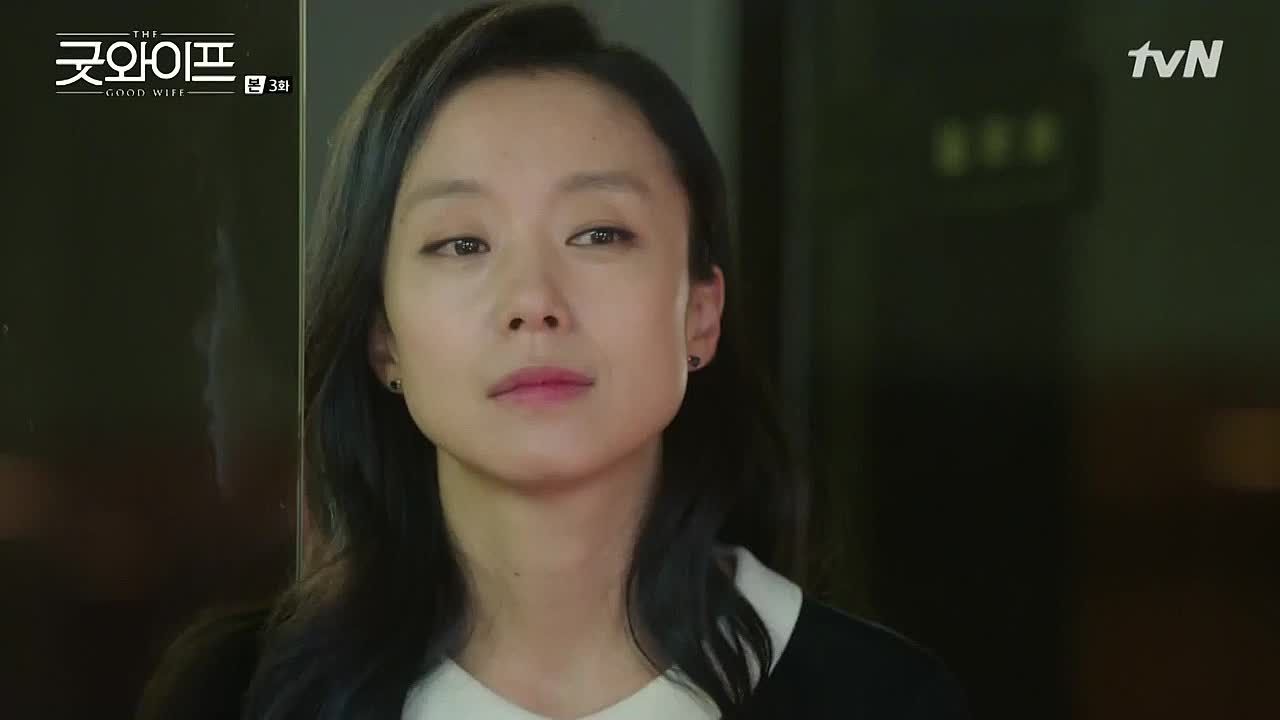 Thanks to his father commandeering his office, Jong-won's now camping out in the conference room. Hye-kyung finds him there, and Joong-won asks how his father treated her. She holds a finger to her lips, reminding him of the attorney-client confidentiality. But Joong-won isn't bound by any confidentiality agreement, frankly confessing that he doesn't like his father and Papa Seo only chose her so he can get more media play.
Tae-joon's lawyer calls Hye-kyung. He's thankful for the home video evidence, but he has a few questions about the necklace shown in the video — the gift that Tae-joon had prepared for her. Does she still have it, and more importantly, can she find the receipt for the necklace. They need to prove that Tae-joon purchased it and it wasn't a bribe.
At home, Hye-kyung digs through all her belongings, hunting down the necklace. Hahaha, the "Jaws" theme plays on her phone — it's her mother-in-law, downstairs with all her luggage. She's ready to move in and help take care of her grandchildren, especially since Hye-kyung is too busy with work.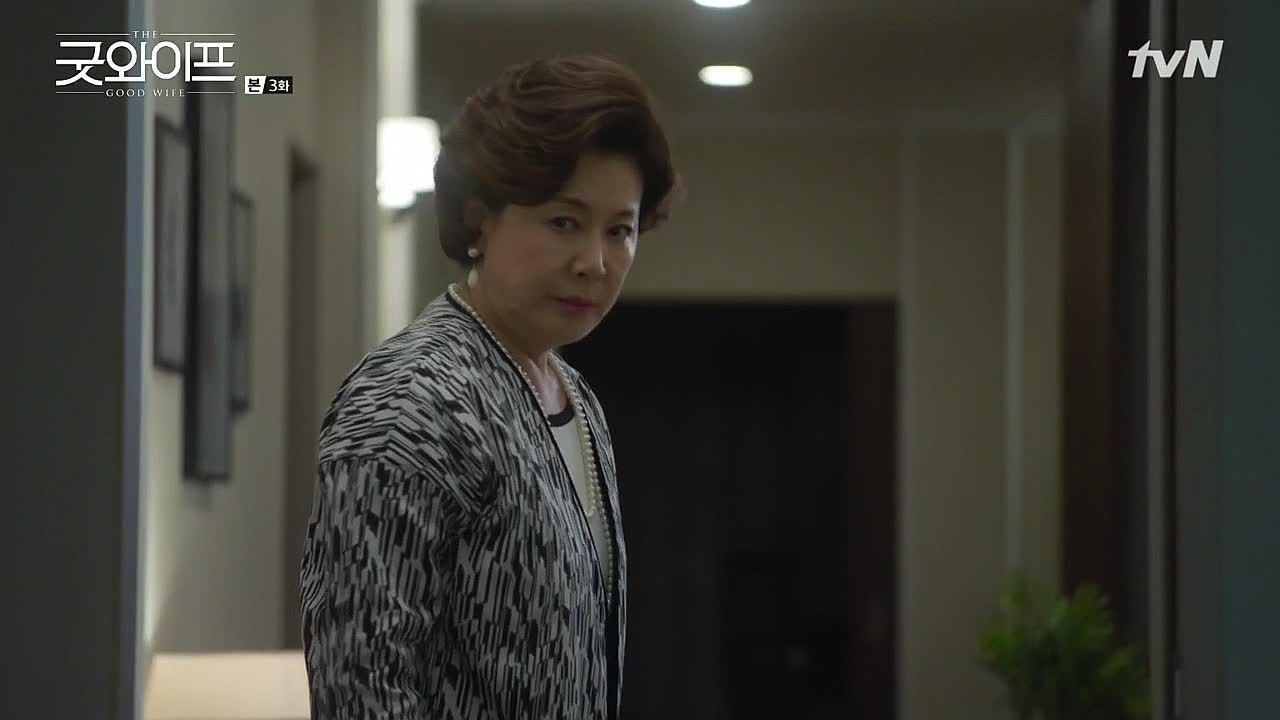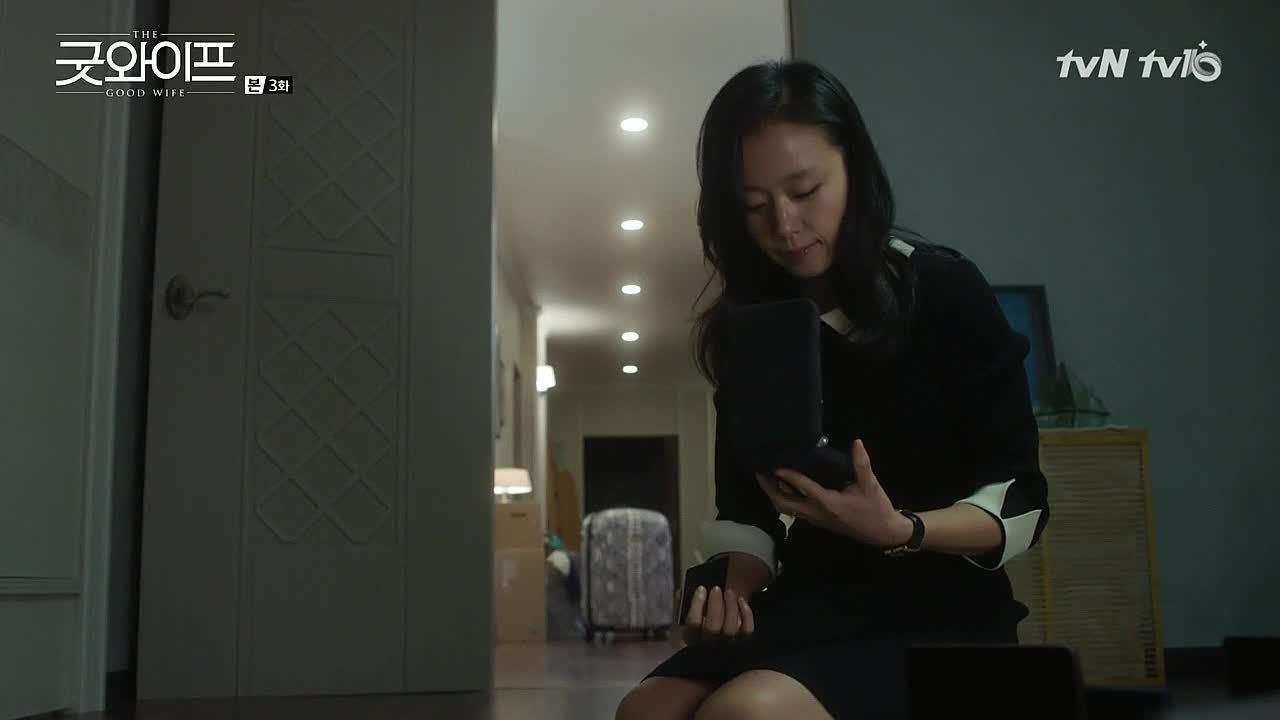 She pointedly looks around the messy apartment, and when her gaze lands on the jewelry that Hye-kyung dumped out as she searched for the necklace, her mother-in-law says that if Hye-kyung is struggling to make ends meet, she can always lend her some money.
Finally, Hye-kyung is able to locate the necklace from the video. She takes it to the store to try and find a copy of the receipt, but there's no record that her husband purchased it. Hesitating, she tries another name — Cho Guk-hyun, the developer from whom the prosecution is claiming Tae-joon received bribes. To some relief, that name isn't on file, either.
Tae-joon's mother is laying on the guilt super thick, sighing that it's a pity her son is locked in jail where he can't see his family or eat a good home-cooked meal, and that she can't visit him as much as Hye-kyung can. It's almost a relief when Amber calls since it means Hye-kyung can avoid her mother-in-law, even if it's only to deal with Amber demanding money if they want her help with Tae-joon's appeal.
Hye-kyung visits Tae-joon in jail, but she doesn't even break stride as she marches up to him and slaps him hard across the face. She's angry that Amber called her, but Tae-joon explains he needs Amber to testify that she tricked him.
She pulls out the necklace, asking who gave it to him. Was it a bribe? Did he even intend to give it to her in the first place? Furious, she demands to know if Tae-joon really thinks life is unfair because he's accepted this necklace as a bribe, along with money and sexual favors. He insists that he only received the necklace, and he knows he shouldn't have accepted it, but he just wanted to give her something special.
Scoffing, Hye-kyung asks if he thought of her when he was sleeping with Amber, then. Tae-joon says that Amber was just a one-time mistake — he's not the horrible person she thinks he is. But she refuses to be treated like a fool.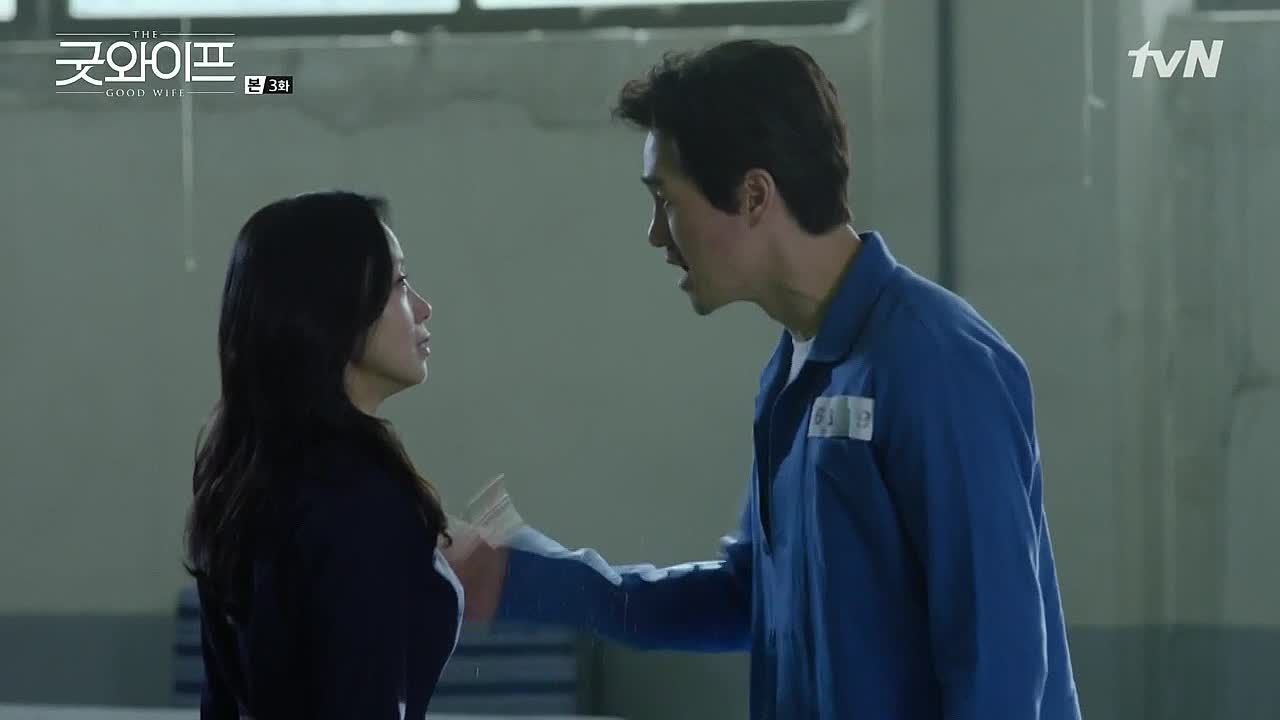 This time it's Tae-joon who gets angry, telling her that there are people out there who believe in him. Hye-kyung: "People like Cho Guk-hyun?" He explains that the kickback he received was just a fraction of the one billion dollar development agreement, reiterating that he never wronged anyone but her.
She's still determined to figure out who bought her the necklace. Tae-joon says that it'll be under her name, since Cho Guk-hyun would have known Tae-joon would be giving it to his wife. But Hye-kyung refuses to take the necklace back — he can give it to Amber.
At the courthouse, Prosecutor Park plays the video footage of Papa Seo resisting the cops. One of the cops in question is on the witness stand, and confirms that Papa Seo was officially drunk per the breathalyzer. Papa Seo keeps telling Hye-kyug how to respond in the case, and even though she does as bidden, her annoyance at being a glorified puppet is evident.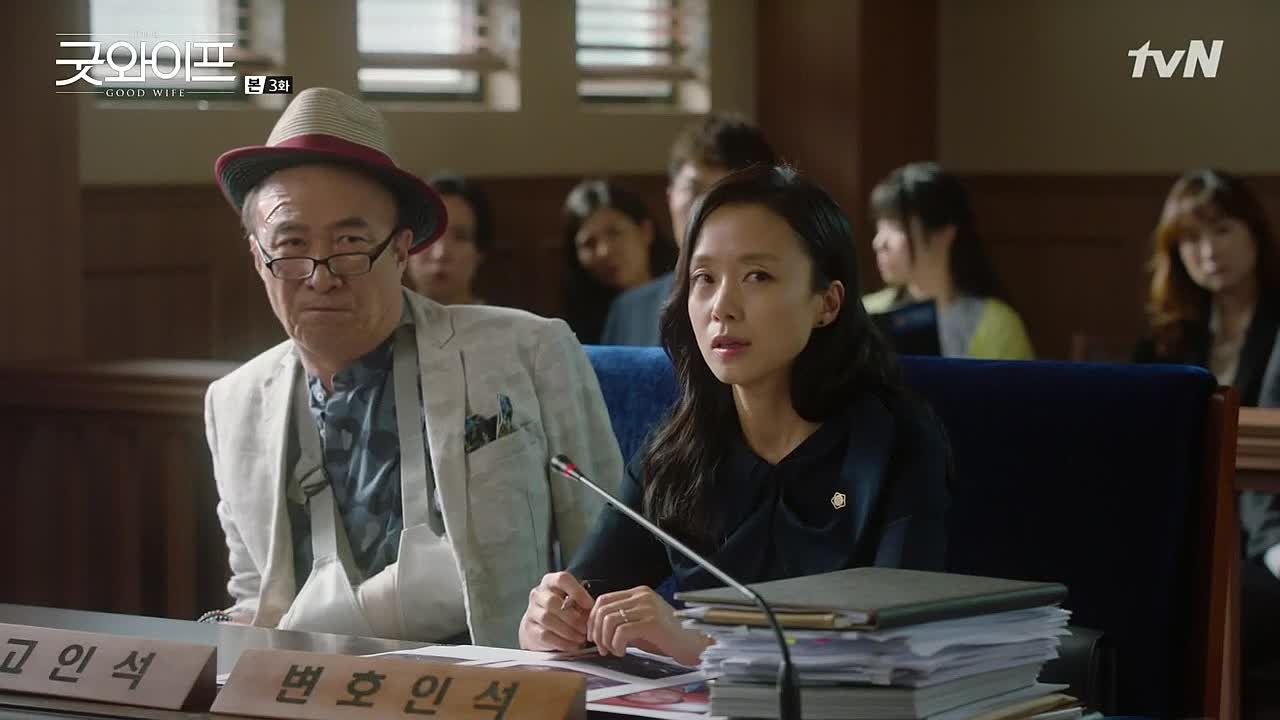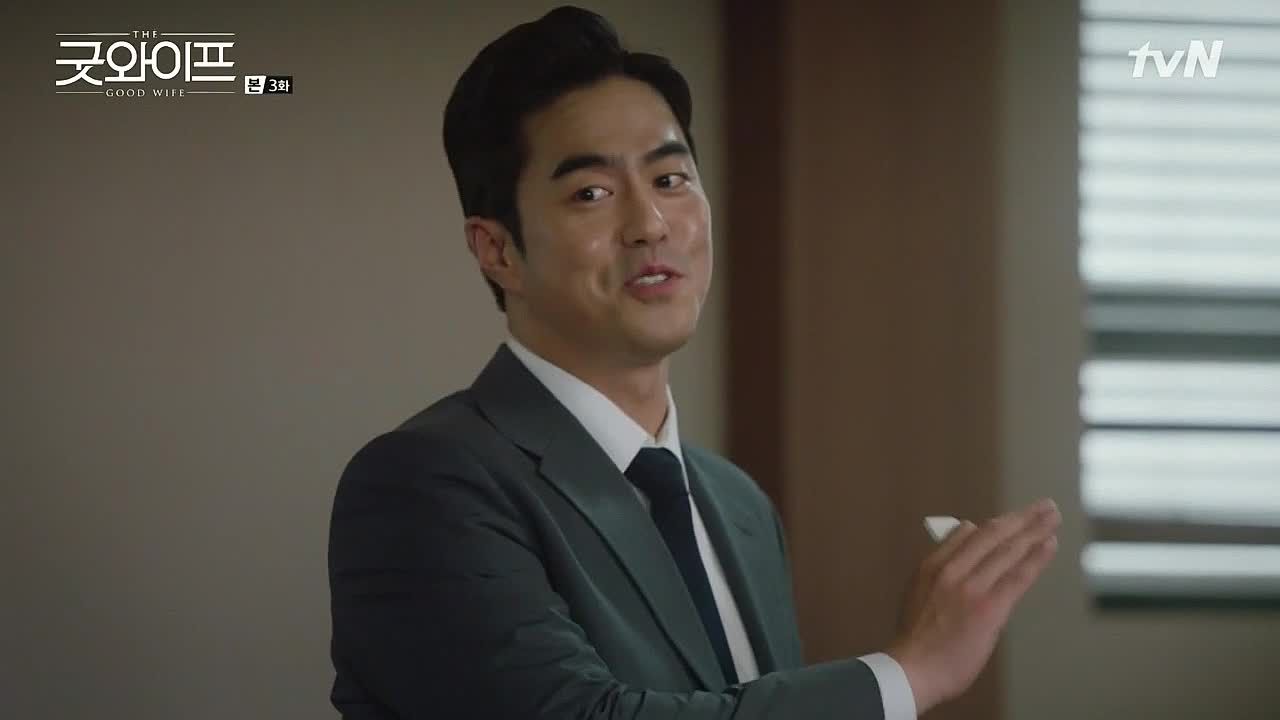 She finally pulls rank as the assigned lawyer, and gets the witness to admit that he arrested the defendant illegally. Then she snaps at Papa Seo to sit down and be quiet as he keeps hopping up to tell her what to do. They'll lose this case if it's left up to him.
Amber calls Tae-joon, telling him that she thought Hye-kyung would cooperate since she seems like the kind of wife that would do anything for her husband. But Tae-joon says he'll take care of it, much to Amber's delight.
Hye-kyung's kids ride up in the elevator to their apartment, and Ji-hoon shows his sister the surveillance camera he's hidden in the potted plant just outside their door. He hopes to catch whomever is leaving them the photos of their father. When they enter the apartment, they find their grandmother passed out on the floor, and they frantically call 911 as they try to get her to regain consciousness.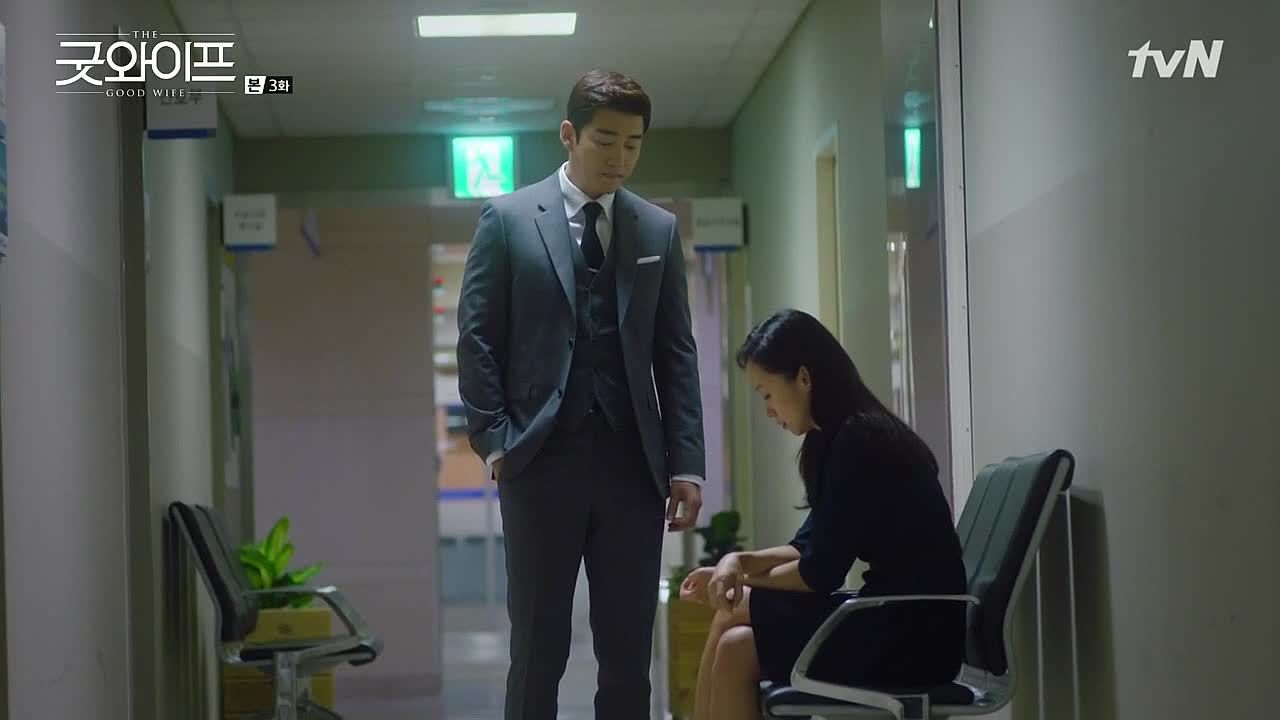 Surprisingly, it's Papa Seo who tells Joong-won that Hye-kyung is at the emergency room, and he watches carefully as his son rushes off to the hospital to be with her. He realizes that his father has tricked him once he discovers Hye-kyung is in the waiting room — it's not Hye-kyung who's the patient, but her mother-in-law who was rushed to the hospital due to her heart condition.
Joong-won fills in on his father's case while Hye-kyung attends to her family, since Tae-joon is released on four days parole to be with his sick mother. Papa Seo sighs, saying that Hye-kyung's absence must be why there aren't as many reporters around today. Myung-hee also shows up to help defend her father, but he says that he'll take care of it himself. He's not worried about the witness the prosecution has brought to the stand — he and the witness are old friends.
But he's ready to spring across the table and strangle him when the witness declares that prior to the accident, Papa Seo was at a gathering where he had at least six shots of whiskey. Back at M&J, Papa Seo sprawls out at his desk while Joong-won grumbles that his father's friend certainly doesn't seem that close after all. Papa Seo suddenly remembers that he accused the man of illegal inheritance, and then orders all the documents on his company so he can sue him for perjury.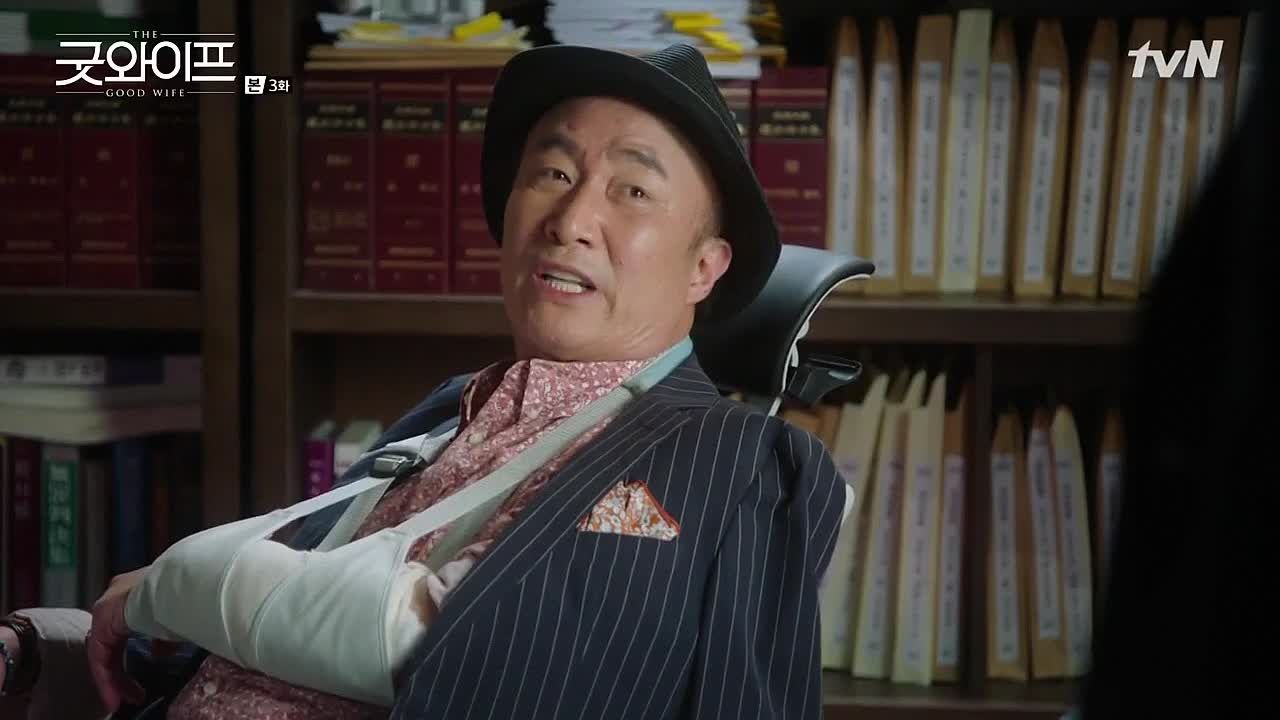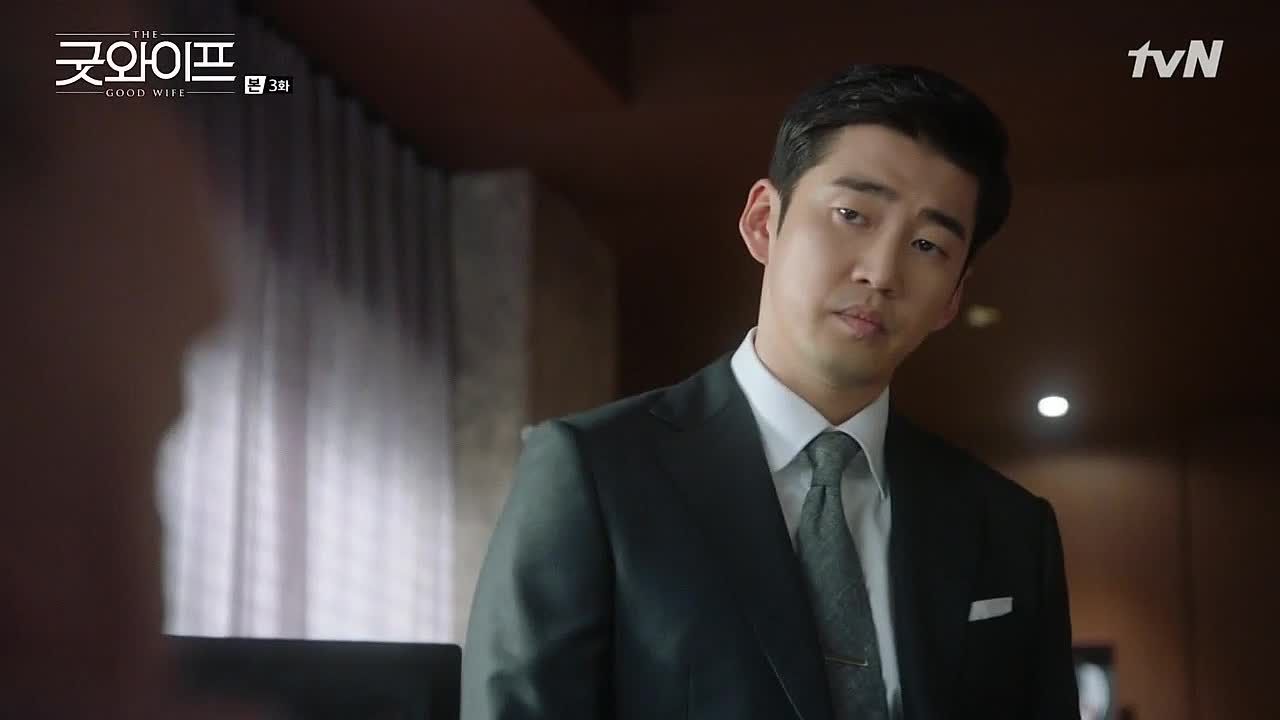 Joong-won eyes him thoughtfully, then asks if his father is sick or has anything else he's hiding. He promises to keep it confidential as his lawyer, not even telling Myung-hee. But Papa Seo insists that he's fine — there's nothing wrong. In return, he asks Joong-won if he only hired Hye-kyung and kept her around because he's in love with her. Joong-won's offended by that assumption and leaves without answering, but considering Papa Seo's amusement at his son's reaction, it would seem he got his answer.
Chief Prosecutor Choi visits Tae-joon's mother, who's flattered by the attention (and the giant bouquet of flowers). She pleads with him to help prove that her son is innocent, and he pleasantly reassures her that's what he came for.
Except it's all a lie, because Chief Prosecutor Choi still holds a grudge against Tae-joon, remembering the time when Tae-joon made him work when his own father was dying — he never even got to say goodbye. He tells Tae-joon that it's all over — he should just give up and cancel the appeal. If he does, Chief Prosecutor Choi will let him out early on parole. But only if he stays away from the prosecutor's office forever.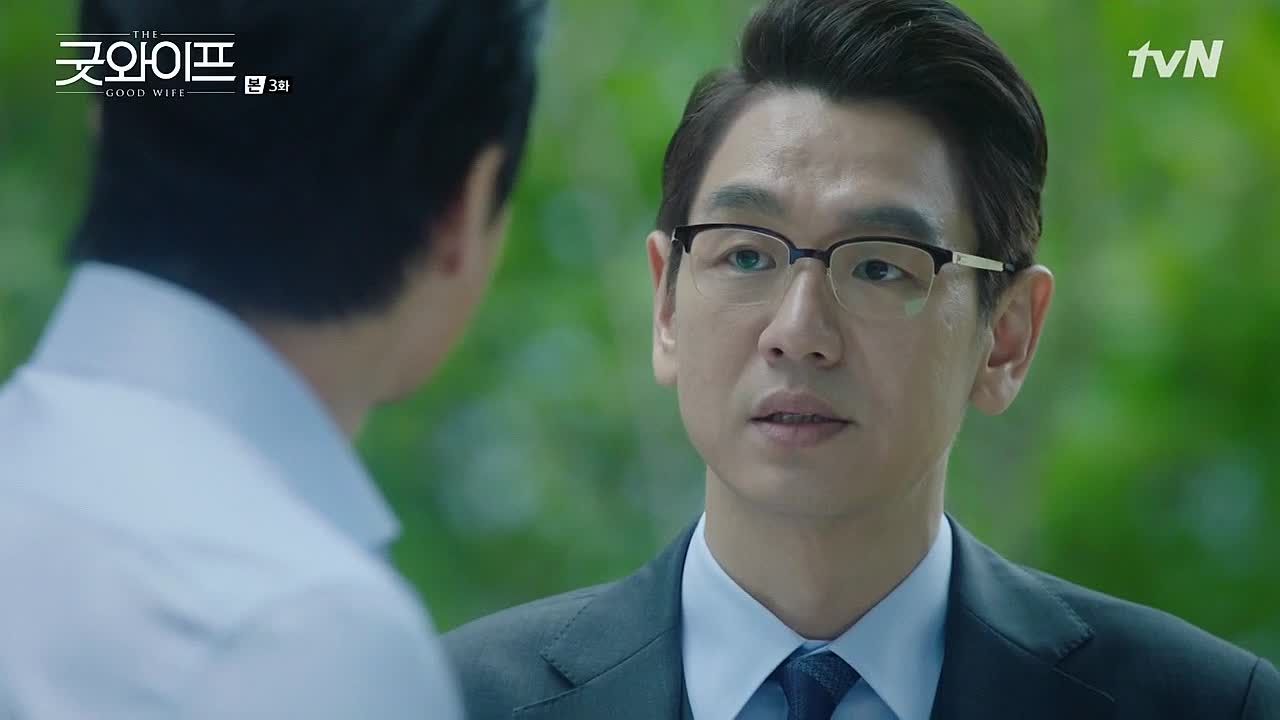 Tae-joon isn't wiling to give in that easily, though, reminding Chief Prosecutor Choi that he once told Tae-joon to rely on evidence, not on the smooth words of a lawyer.
Hye-kyung arrives at the hospital and she passes by Chief Prosecutor Choi. They pointedly ignore each other. She stays with her mother-in-law, falling asleep in the bedside chair only to wake up when her phone rings. She looks for Tae-joon, but he's nowhere to be found.
Amber is at an underground casino, growing more and more frustrated by her bad luck and lack of money. She grumbles about the fact it's taking Tae-joon so long to send her money when she suddenly gets a call from him. She's surprised that he has her number, and hurries to cash in her chips as she rushes out of the illegal casino.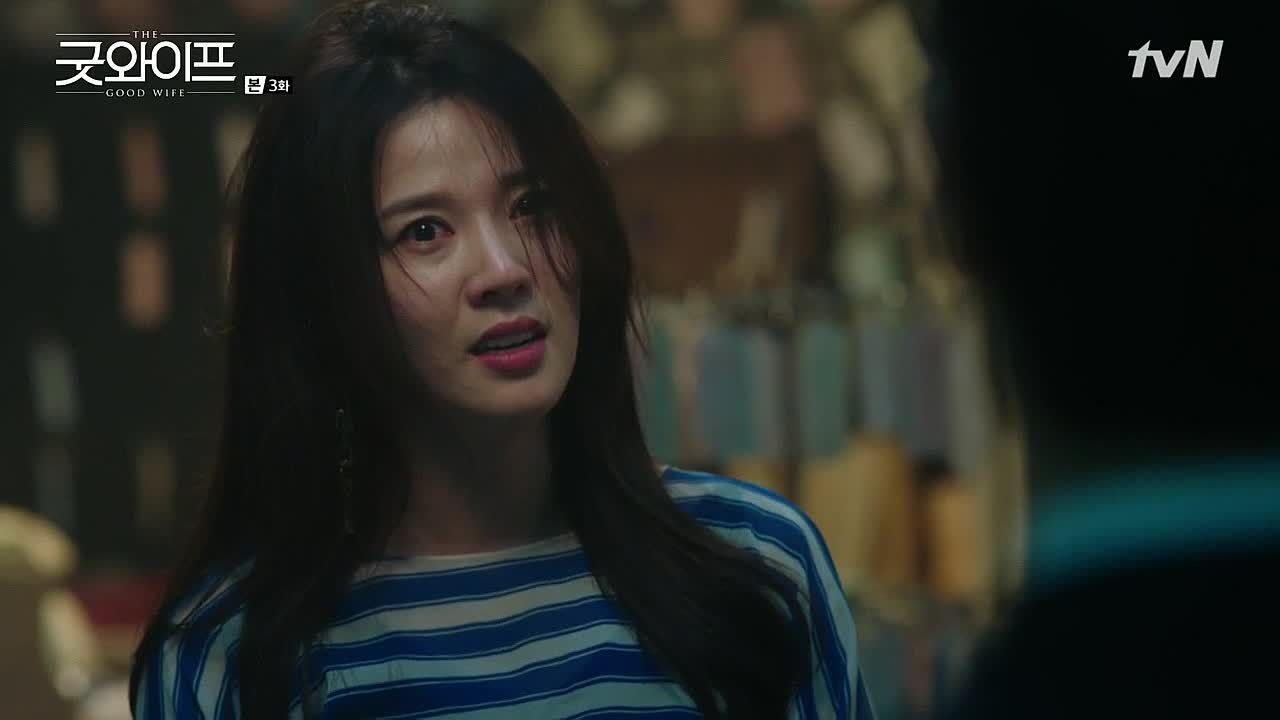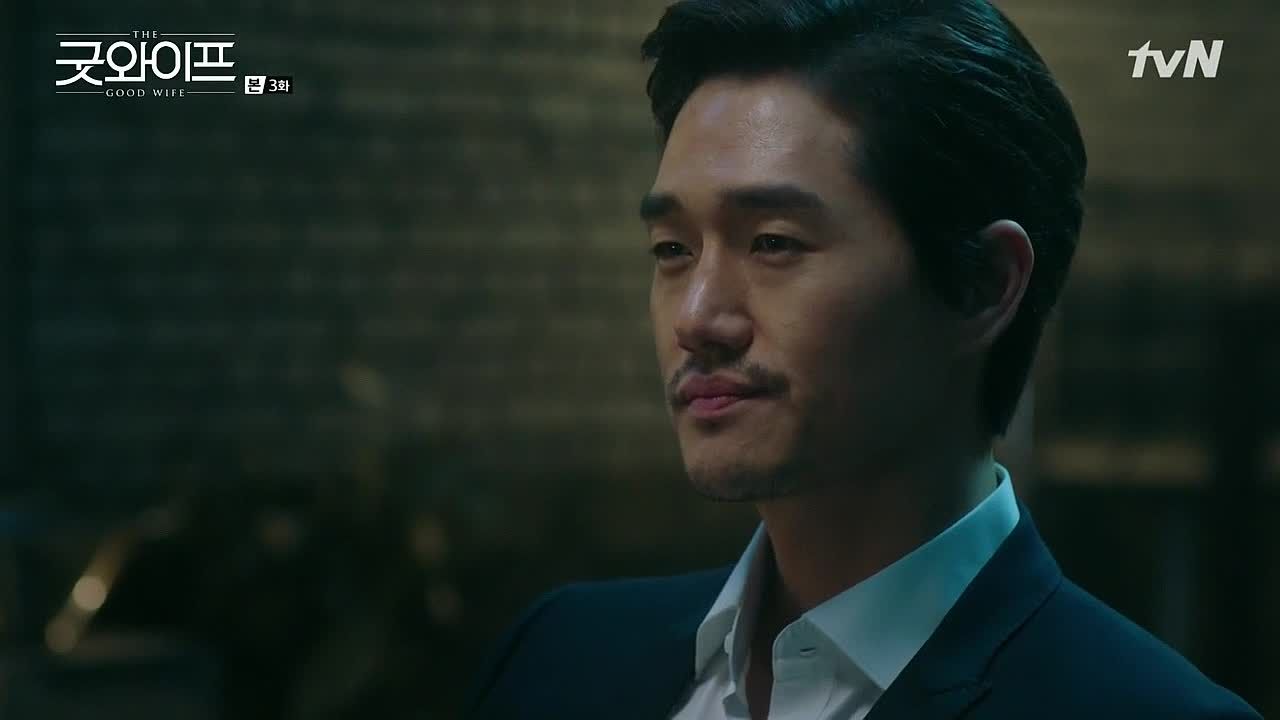 She asks him when he's going to send her money, and he tells her there's no need. She's suddenly taken captive and brought to a secret location where Tae-joon is waiting for her like some gangster boss. He tells her that once he gives her money, she should immediately leave the country and never bother Hye-kyung again. After all, no one knows he's out on temporary parole right now, and if something were to happen to her, no one would ever find out. That sounds like a threat.
At a bar, Joong-won drinks and idly plays with the decision die his father gave him, sighing that he's pathetic because he can't make a decision. Hye-kyung joins him just then, and he marvels at the power of the die — he was just wondering if he should call her.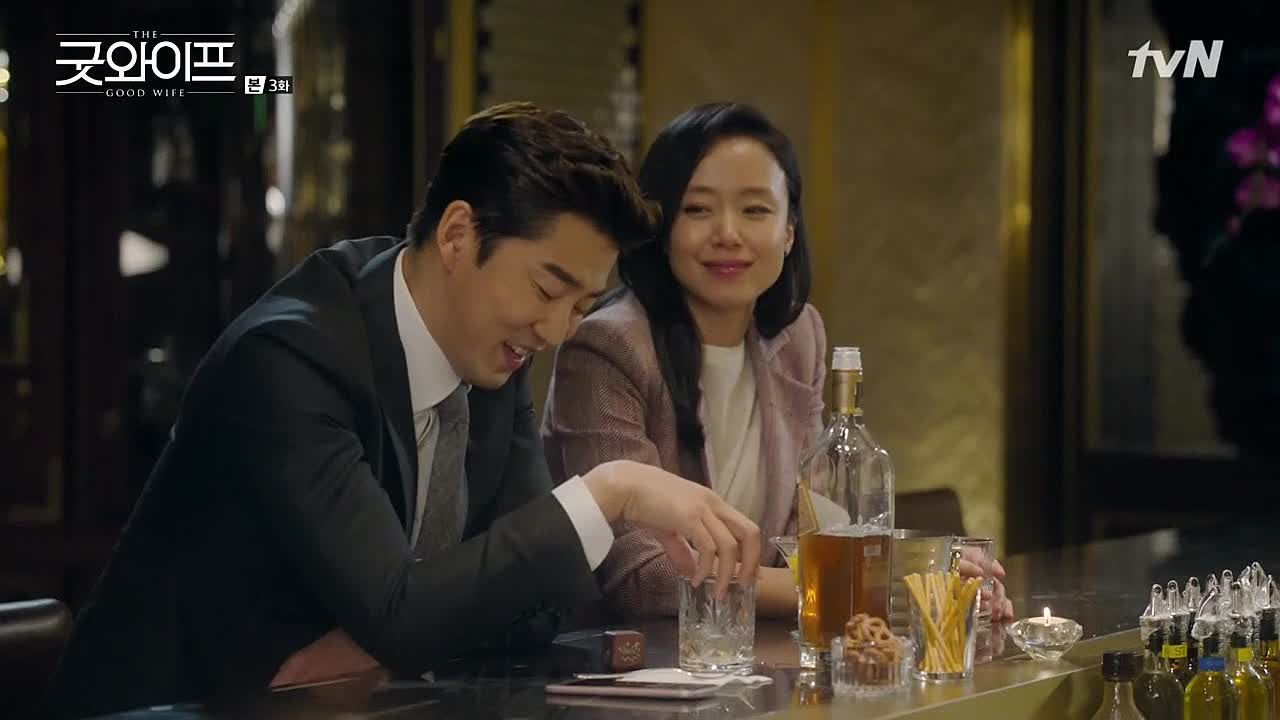 He's been trying to figure out his father — why he's mistreating his family, why he's insisting he wasn't drunk at the time of the accident. He wonders if Hye-kyung knows anything, but she reminds him of the client confidentiality agreement.
In the morning, Hye-kyung apologizes to Papa Seo for not being able to represent him in court yesterday. He swallows a few more pills, and she tells him that she knows he didn't drink like the witness testified, but she also knows that he might not remember what happened. His stumbling around wasn't because of alcohol, as she points out that he's taking medication prescribed to Alzheimer's patients.
Papa Seo growls that she's wrong — he doesn't have Alzheimer's. When Hye-kyung counsels him to stop trying to hide it and tell the truth, he says he doesn't want people pitying him, and orders her to never mention it again.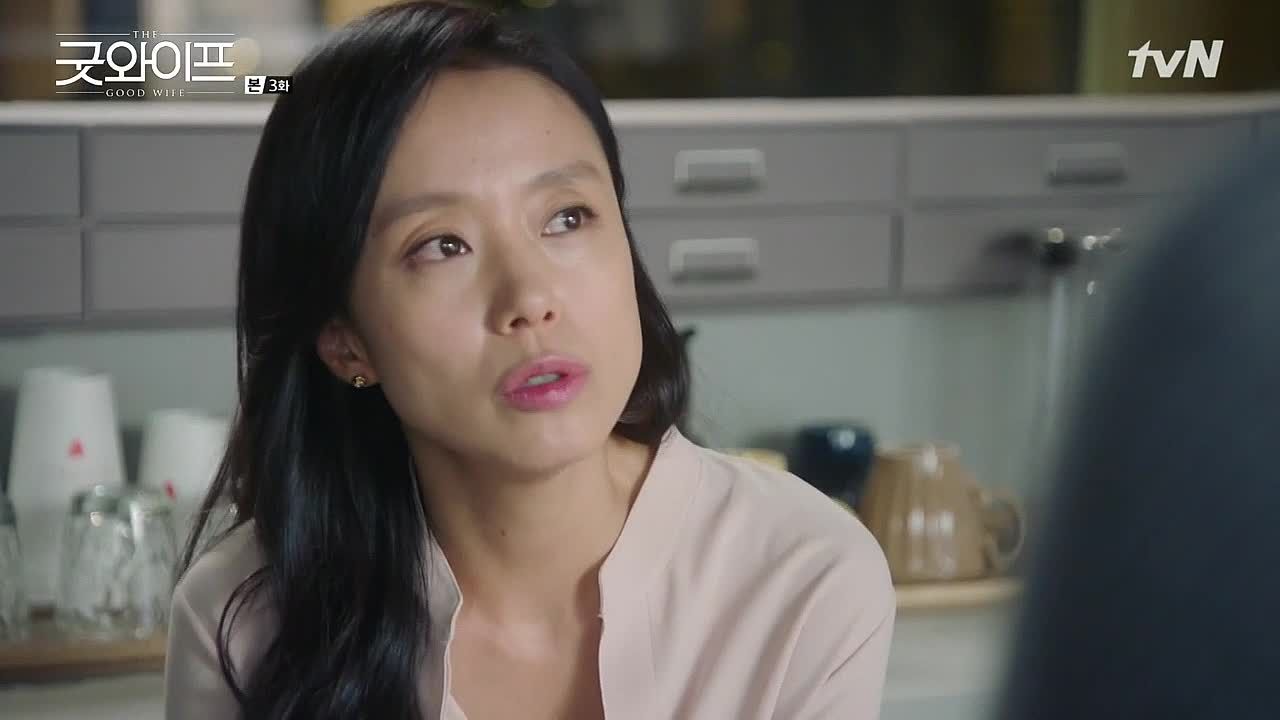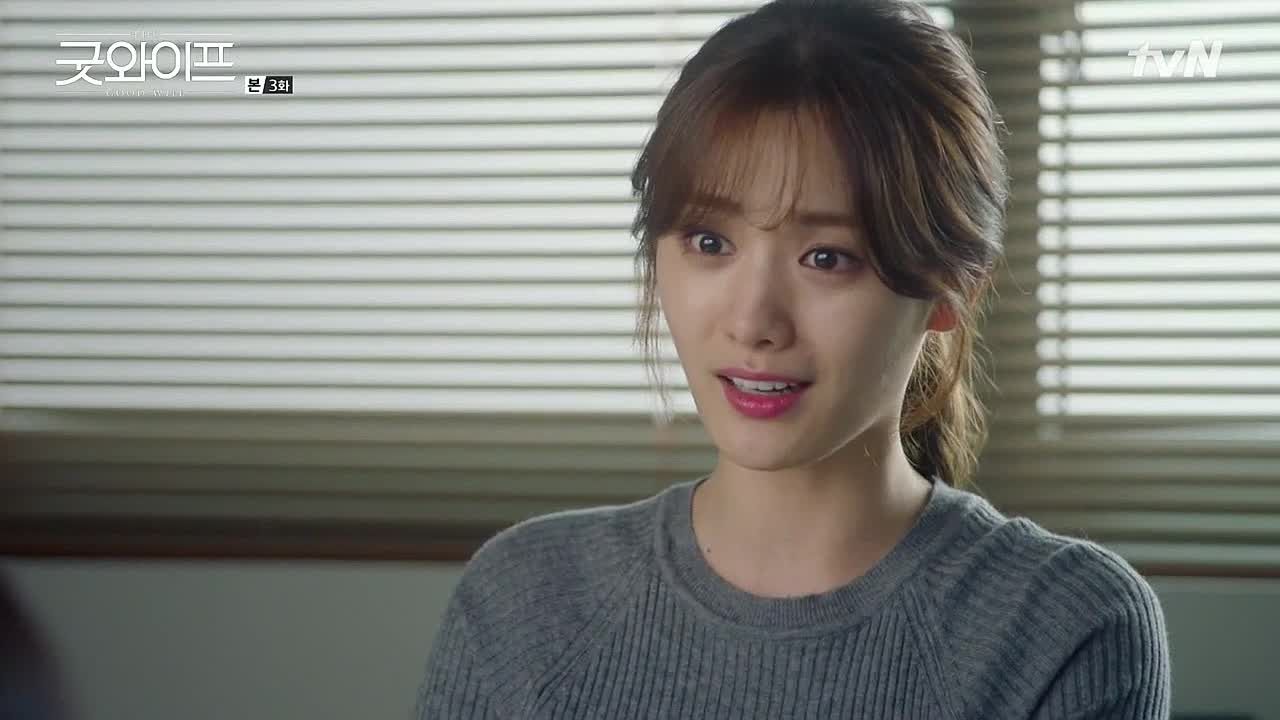 So she immediately tells Dan? Pffft. Dan assumes Papa Seo went to the bar to drink after the accident to make everyone think it was drunk-driving and instead hide his Alzheimer's, but Hye-kyung thinks he doesn't really remember going to the bar at all. She needs Dan's investigative help to prove that Papa Seo wasn't drunk before the accident.
Thanks to Dan's findings, Hye-kyung reveals in court that Papa Seo was stopped prior to the accident to go through a drunk driving checkpoint. The police officer admits it's true, but there was an error with the breathalyzer — it kept showing no alcohol in his system, although Papa Seo's physical appearance made it clear that he was drunk.
But Hye-kyung points out that in between the first breathalyzer, which showed no alcohol in his system, and the second test which was hours later, there was ample time for Papa Seo to go to the bar and drink. Papa Seo is practically glowing at the promise of their win, but Hye-kyung orders him to tell his family about his condition.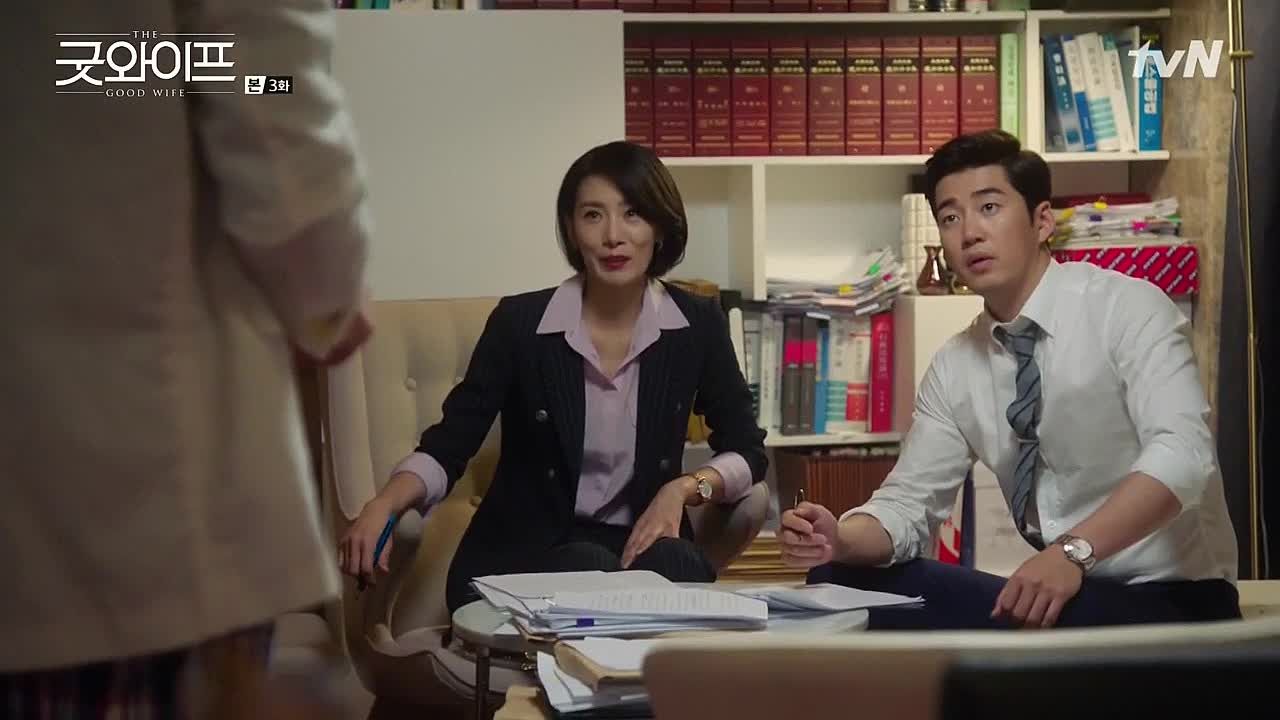 He bounces into the M&J offices, informing his children that he's officially resigning from the firm and handing it over to them. Oh, but he's not retiring — he's opening his own firm, taking all his clients with him. He gloats that he'll retire when he dies and in the meantime, he'll be making loads of money.
Hye-kyung finds him packing up his office, and reminds him that he promised to tell his children the truth. He shouldn't be this proud — what if something more serious than a car accident happens next time? Papa Seo muses that one of the benefits of Alzheimer's is that recent memories are the first to fade. He realizes that he doesn't hate Joong-won now, which means their animosity must have been a recent thing. He reveals that Joong-won is a very cold, heartless lawyer, which she'll find out if she keeps working with him.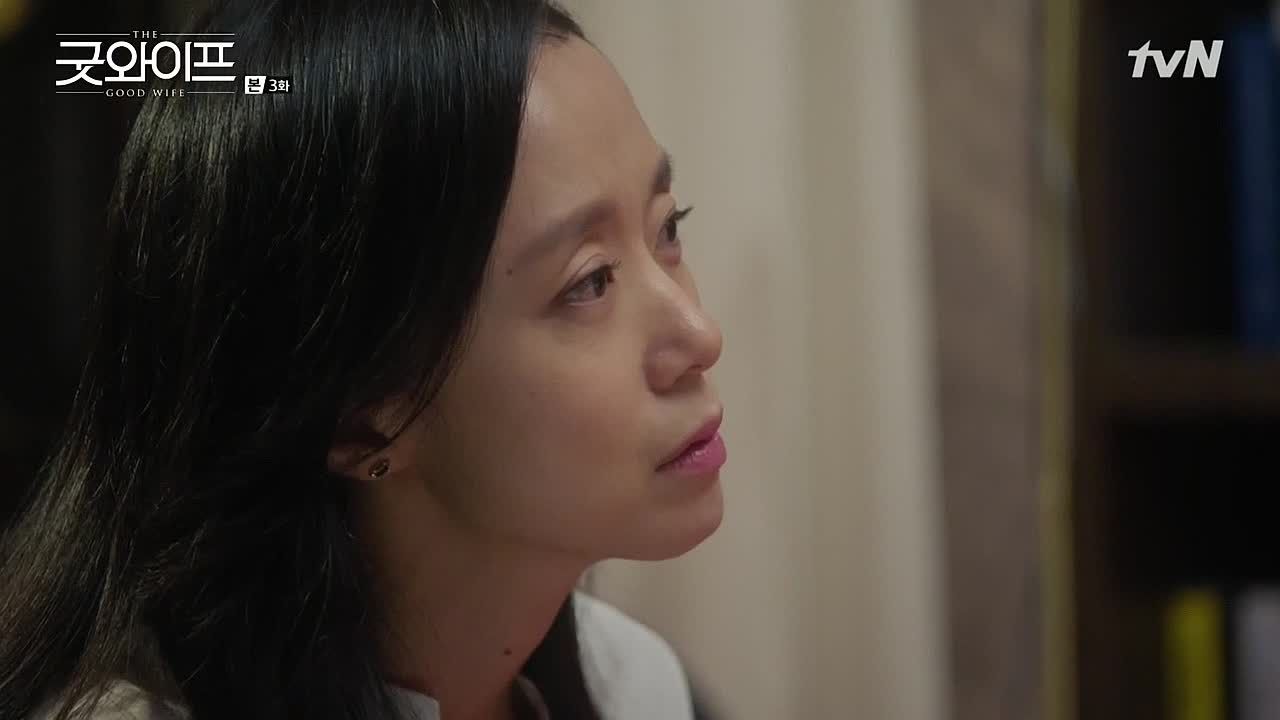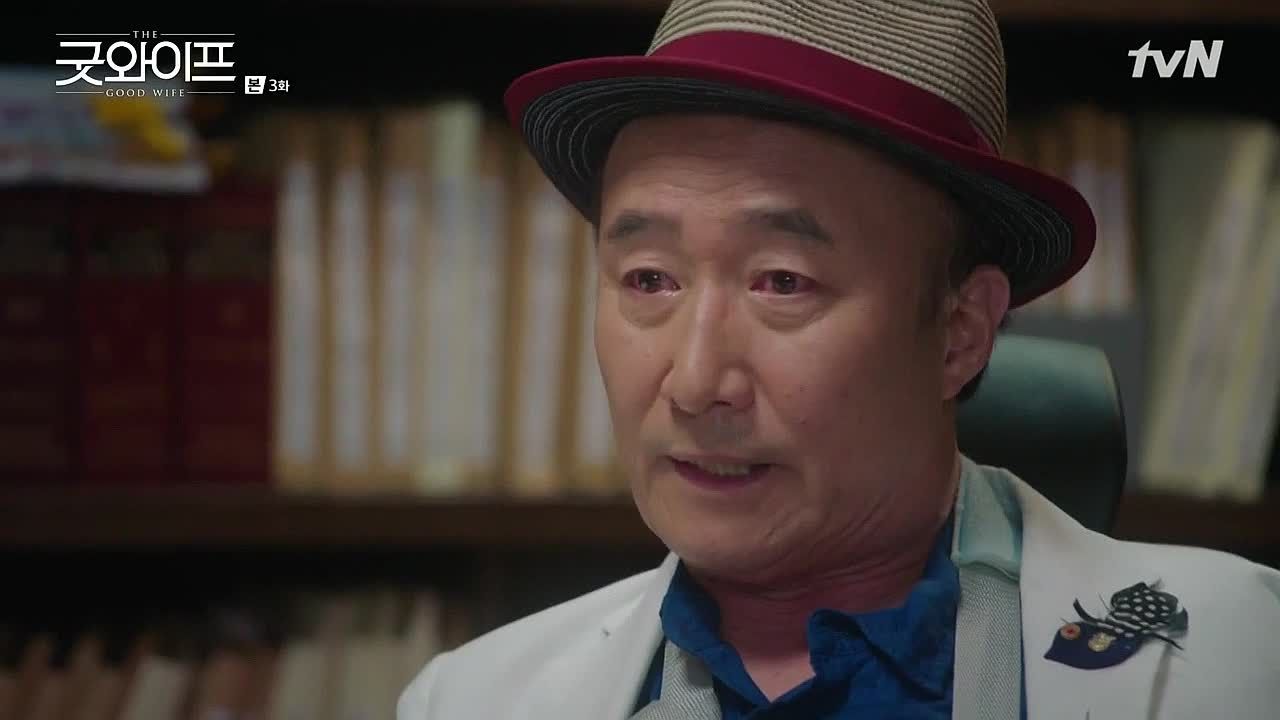 He dabs the tears from his eyes as he admits that nowadays he's reminded of his late wife and a time when the children were younger — the days that he'd neglect them in order to help make the country a better place through his civil rights cases. Nowadays, though, his kids are doing well — he doesn't want to be a burden to them by telling them the truth about his health.
However, he does reveal that Tae-joon was caught in a trap. The sex video is just a distraction from the fact that Tae-joon was betrayed. Papa Seo can't tell her any more than that, but does warn her that she should be more understanding about her husband's failings. When you're trying to protect your family, something is bound to break.
Joong-won stops by Hye-kyung's office, cheerily thanking her for helping him get his office back. He offers to escort her to the hospital, adding that he should properly greet Tae-joon.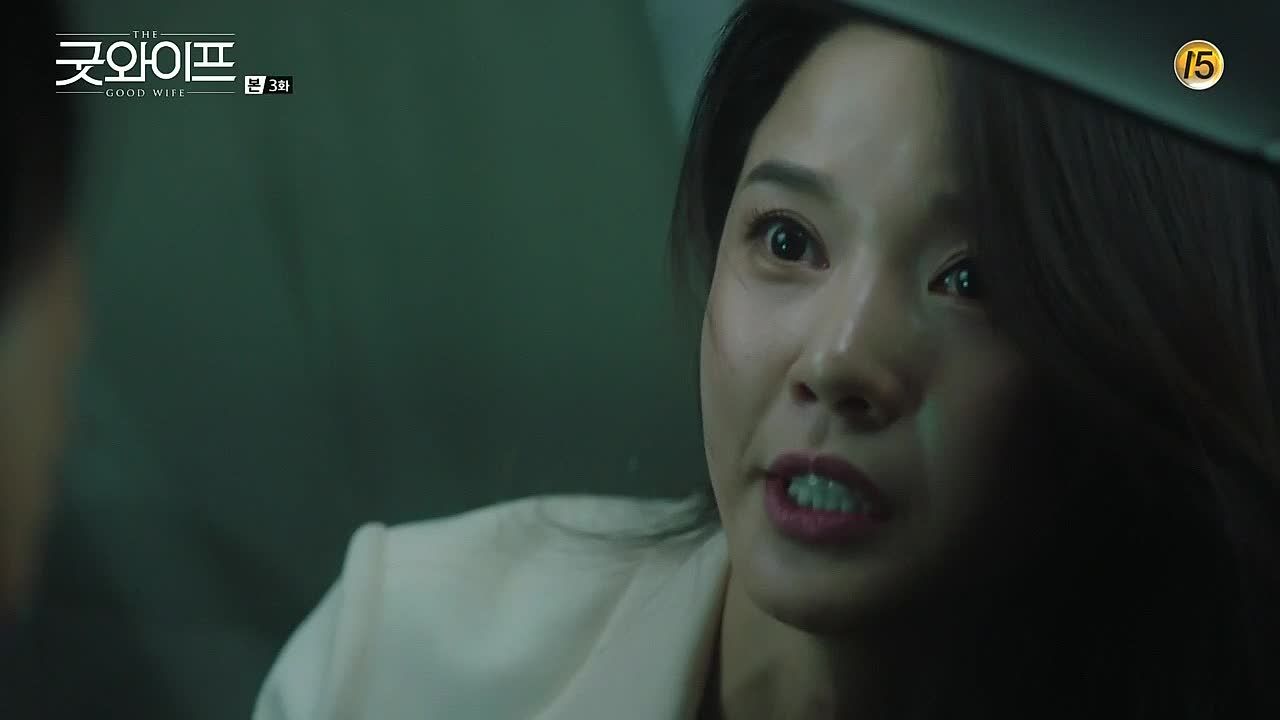 Hye-kyung goes to get her car from the parking garage, and slams on the brakes when Amber steps out in front of her. She immediately locks all the doors as Amber tries to open them. Amber shouts through the window that Tae-joon tried to kill her last night, warning her to never see Hye-kyung again.
But she had to see her to warn her that Hye-kyung is in danger because Tae-joon will do whatever it takes to get what he wants. Hye-kyung just drives off as a frustrated Amber screams after her.
Joong-won and Hye-kyung arrive at the hospital where Tae-joon and the kids are having dinner with her mother-in-law. Tae-joon's smile fades when he sees Joong-won.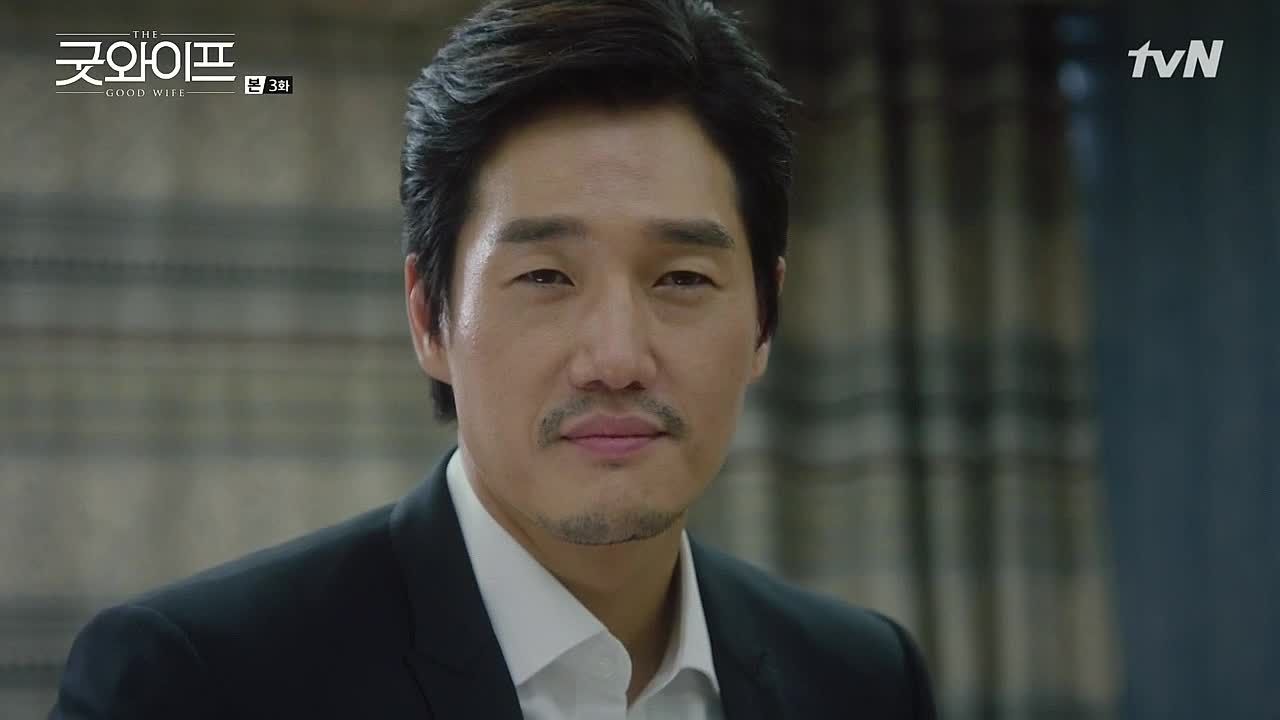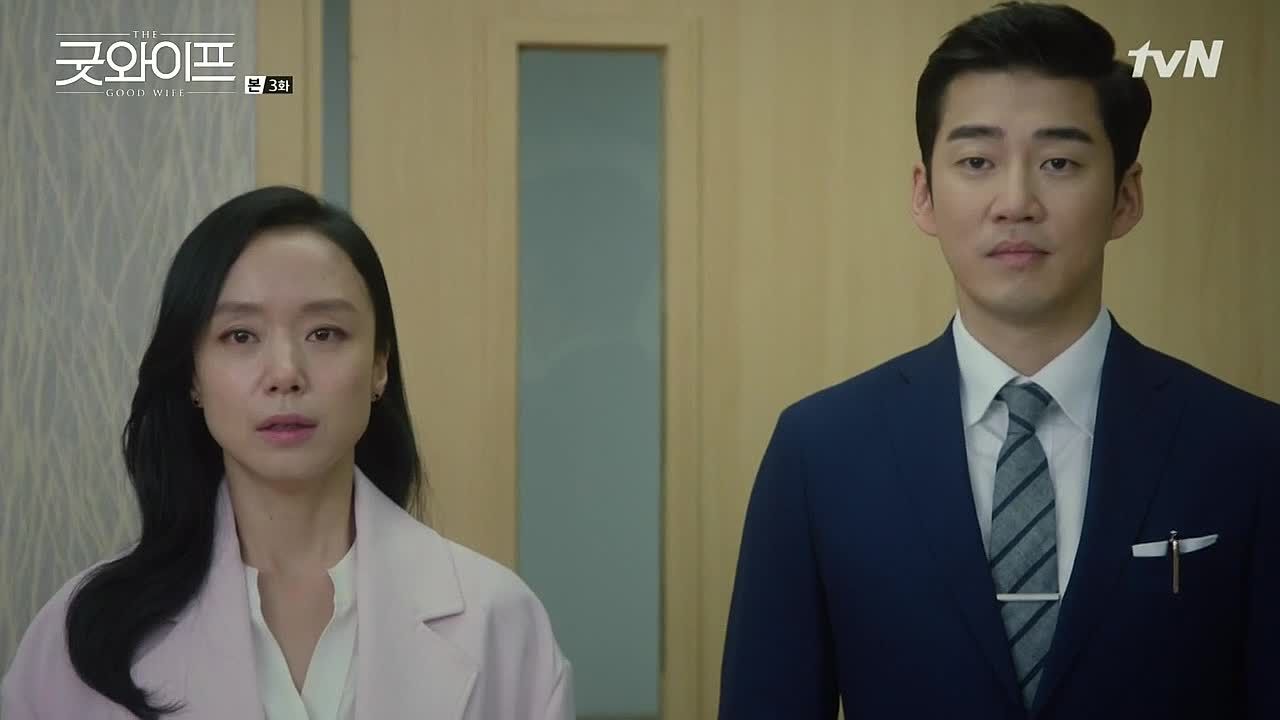 COMMENTS
I know I really ought to dislike Tae-joon — or at least keep him at arm's length as I eye him suspiciously — but all of a sudden I somehow want him to be in full gangster mode all the time. This is likely more due to the intense and oh-so seductive chemistry of Yoo Ji-tae than the character of Tae-joon, but I have to admit I think I can see his side of things. Just a bit. A little bit. If seeing means staring into his beautiful, scruffy face, then yes.
Or, uh, something like that… Yeah…
I was never fond of Peter in the original series, so it's definitely bewildering for me to kind of want to root for Tae-joon, even knowing that he's a deeply corrupt bastard. But… he also loves his family, which is a good thing, right? And wants to make sure this scandal doesn't affect his wife and kids, so maybe a little under-the-table bargaining — or straight up threats — is worth it. Maybe? Ahh, I'm so confused!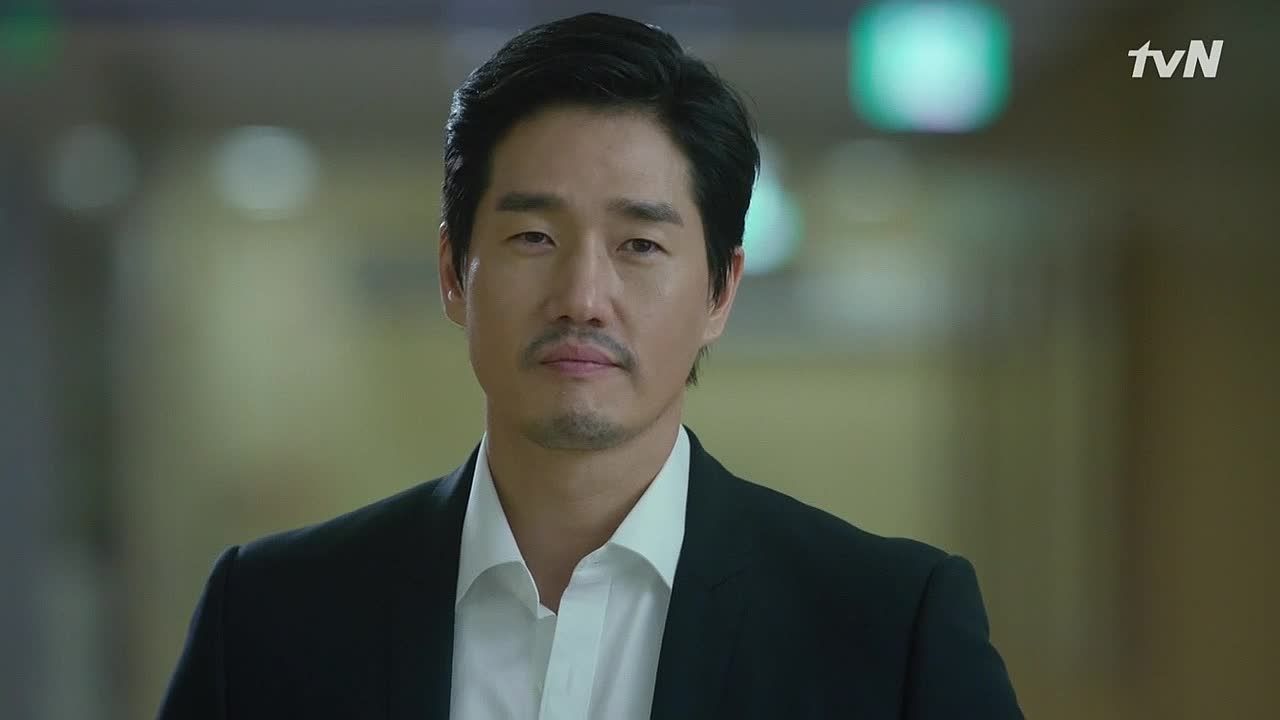 But what I'm not confused about is how much I love every second Jeon Do-yeon is on my screen. We're only three episodes in and I'm already sad that sixteen episodes will seem like not enough in the presence of such a goddess. It's a good thing I love her and her command of the small screen, though, because I'm actually missing the other characters. What's the point in having Lee Won-geun be in all the posters when he's barely had any screentime (or no screentime, as in this episode)? And I'll continue to complain about the waste of the magnificent Kim Seo-hyung until she finally gets an episode centered around her. At least Nana actually got a few seconds this episode.
But we finally got to meet this version's "Jackie!" If there was ever a genre that would be able to perfectly fit in an elitist, judgmental, holier-than-thou mother-in-law who thinks her son is too good for his wife, well, it's definitely a k-drama. I'm a little surprised that they went with her health issues so early on, but I hope it means it's just an excuse to keep her living at Hye-kyung's and being the busy-body who continually butts heads with her daughter-in-law.
I find it interesting how the show is cherry-picking certain cases from the original series and not just taking each episode in order. It helps the show to continue to feel fresh instead of merely a rehash of what's been done before, since it's not an exact, faithful retelling. Yet it still manages to keep the key, critical elements that make me go, "Yep, this is definitely The Good Wife." It's a fine line, and one that I still worry might go too far to one side, but so far I'm impressed by the pacing and the ability to make such familiar elements feel so natural in their new environment. If my only real complaint is that I don't get to see enough of the other characters all the while totally loving the ones who do get the main focus, well, then clearly this show is doing something very, very right.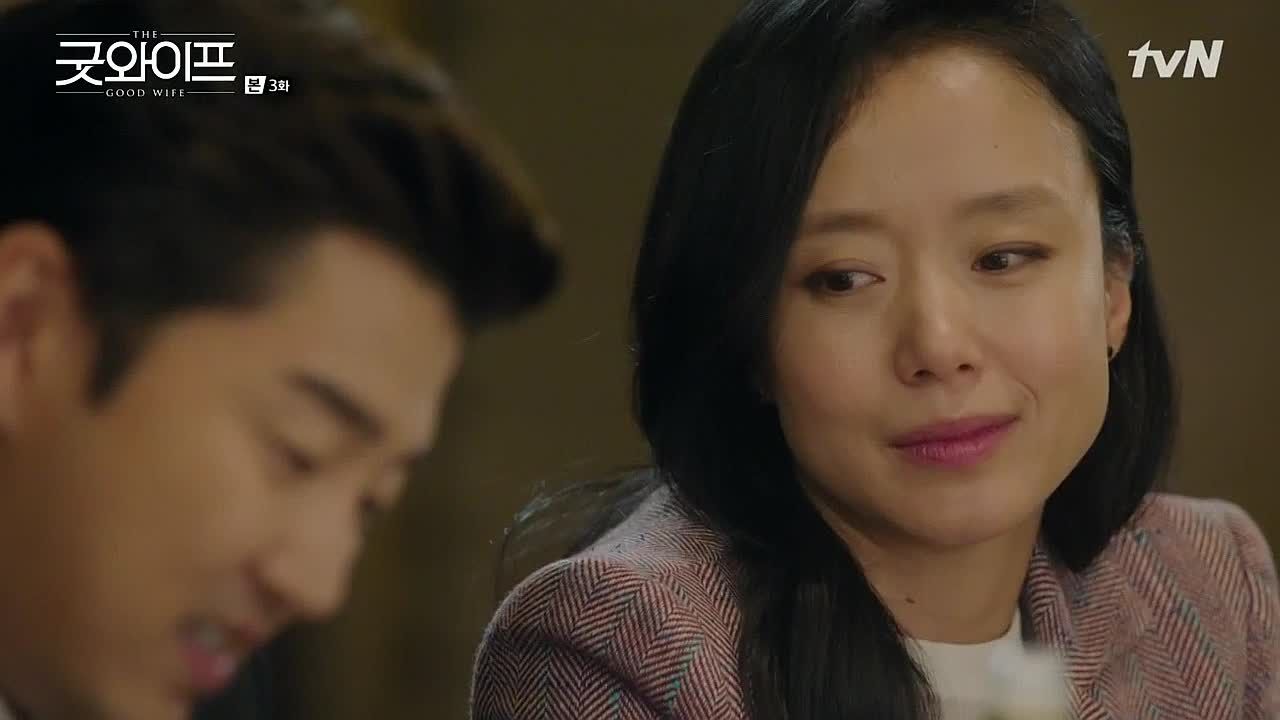 RELATED POSTS
Tags: featured, Jeon Do-yeon, The Good Wife, Yoo Ji-tae, Yoon Kye-sang