The Good Wife: Episode 5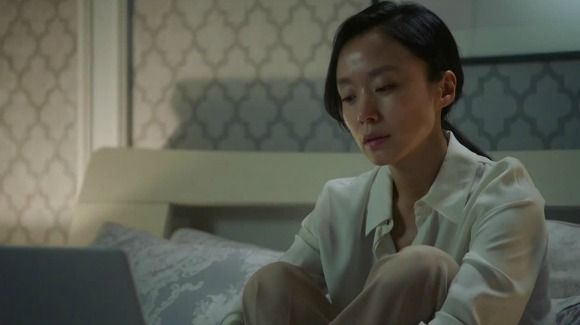 Confronting the ghosts of the past is never easy, especially when you discover those ghosts aren't exactly friendly ones. Hye-kyung realizes just how much her husband's scandal has changed her daily life, while Tae-joon has to make a decision about his future. To everyone's surprise and delight, Joon-ho actually gets to leave the office and do lawyerly things, reminding us that he's not just another pretty face. (Except he totally is.)
EPISODE 5 RECAP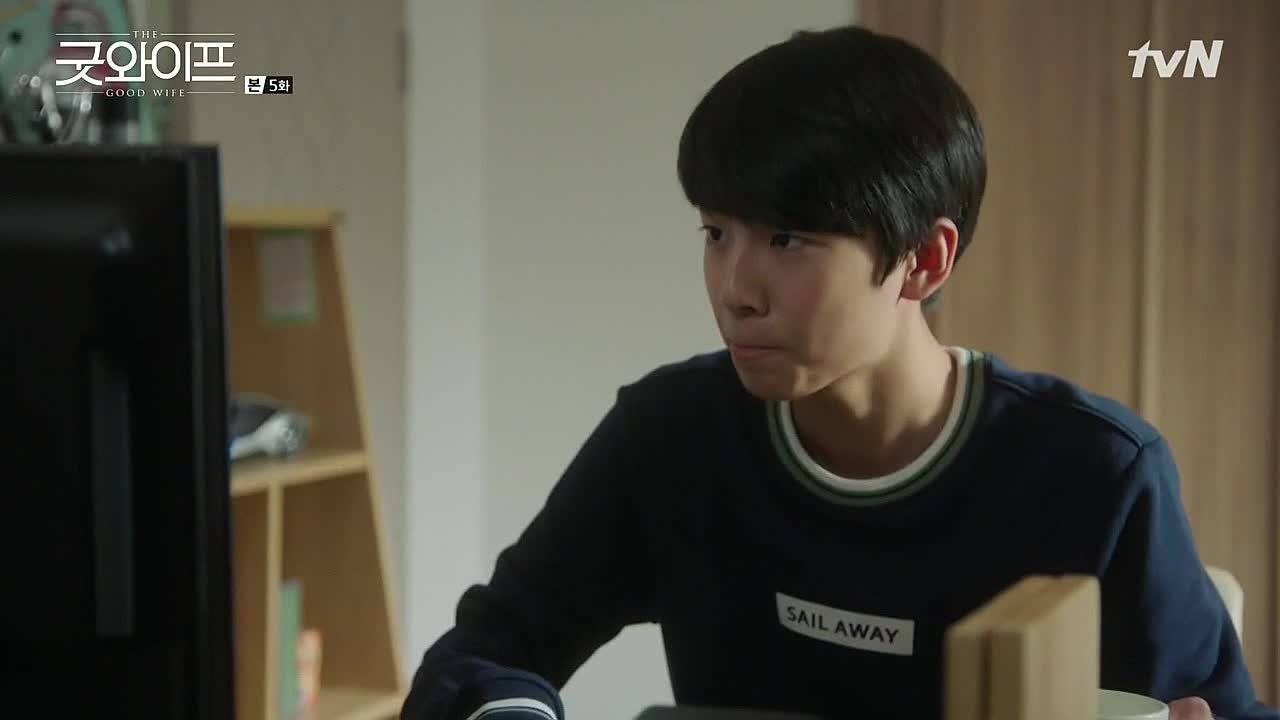 Ji-hoon returns to his room in time to see footage of the mysterious man trying to break into their apartment, but his sister arriving home apparently scared the man off. He saves the video on his phone and gives it to his father, trying to keep it secret from the rest of the family.
Dan delivers information about Tae-joon that Joong-won requested — including some information and photos that aren't exactly available to the general public. He asks her what it was like working for Tae-joon, and she pauses a moment before she explains that he's the smart, loyal type who has a lot of friends.
Joong-won is surprised by her positive impression, but she adds that Tae-joon also has to have anything he wants — be it a person or a case, he has to win it all. Which means that he also has a lot of enemies. Joong-won flips through the documents on Tae-joon, and included are some photos from the hidden camera of Tae-joon meeting with Guk-hyun.
Tae-joon is happy to be home, even if "home" is now a smaller place than even their newlywed apartment. It's also strange for him to be the one to stay home while Hye-kyung goes off to work, and as he washes the breakfast dishes, he tries to casually ask if Chief Prosecutor Choi's ex-wife mentioned anything else about Triton Fields.
Annoyed, Hye-kyung tells him that Chief Prosecutor Choi tapped his phone, and that's all she knows. She warns him to not put his family in harm's way as he investigates further.
At the office, Dan delivers a huge stack of files to Hye-kyung's office. She also advises Hye-kyung to show no mercy now that Tae-joon is back in her life. If she starts to forgive him just because he's her husband and the father of her children, there will only be more tragedy.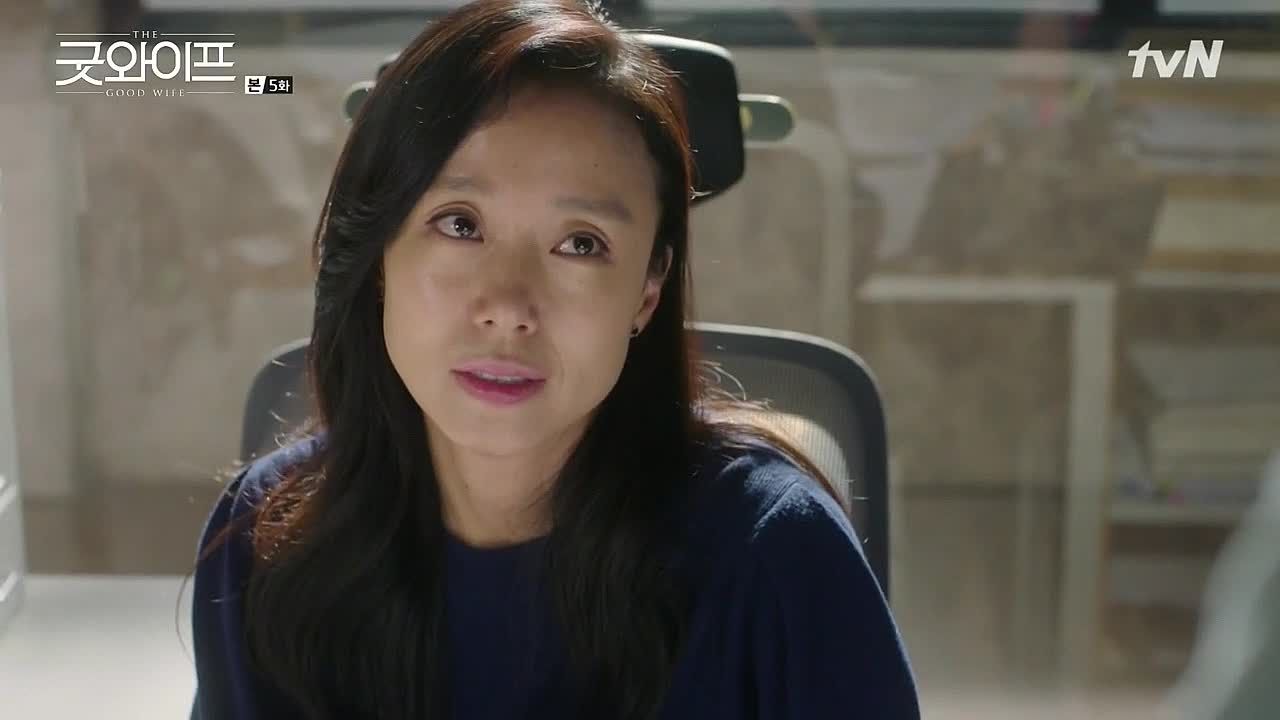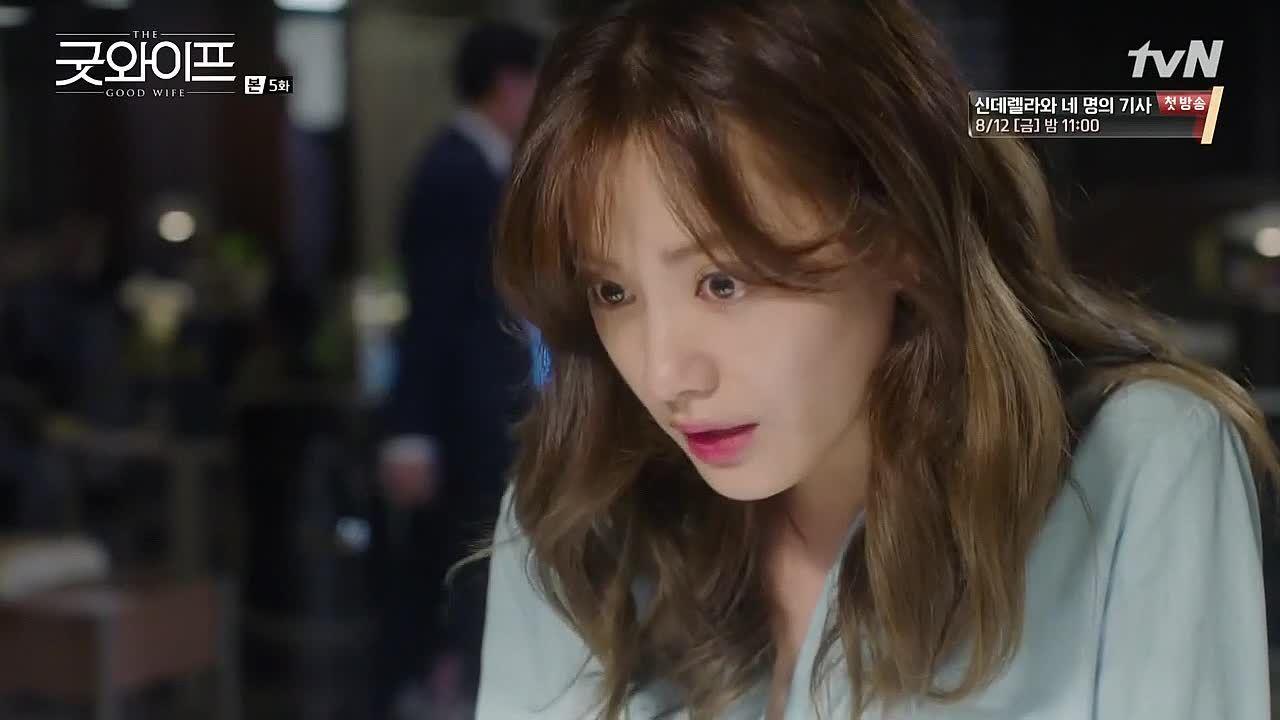 Dan offers to set her up with other men, specifically asking her what she thinks of Joong-won. But Hye-kyung laughingly protests that they're just friends — in fact, he might be the only friend she has left. Joon-ho finds her just then, and says that he thinks her son is waiting for her in the lobby.
Except it's actually one of her son's friends from their old school. Hye-kyung is surprised to see Jae-yeol there, but he tells her that he has a problem, and thought she could help him — as a lawyer.
At home, Tae-joon finishes all the household chores, and then sits down to contemplate the phone his son left him. He starts to watch the video of the man attempting to break into the apartment, and immediately rushes outside — to find Joong-won there, with his hand poised above the doorbell.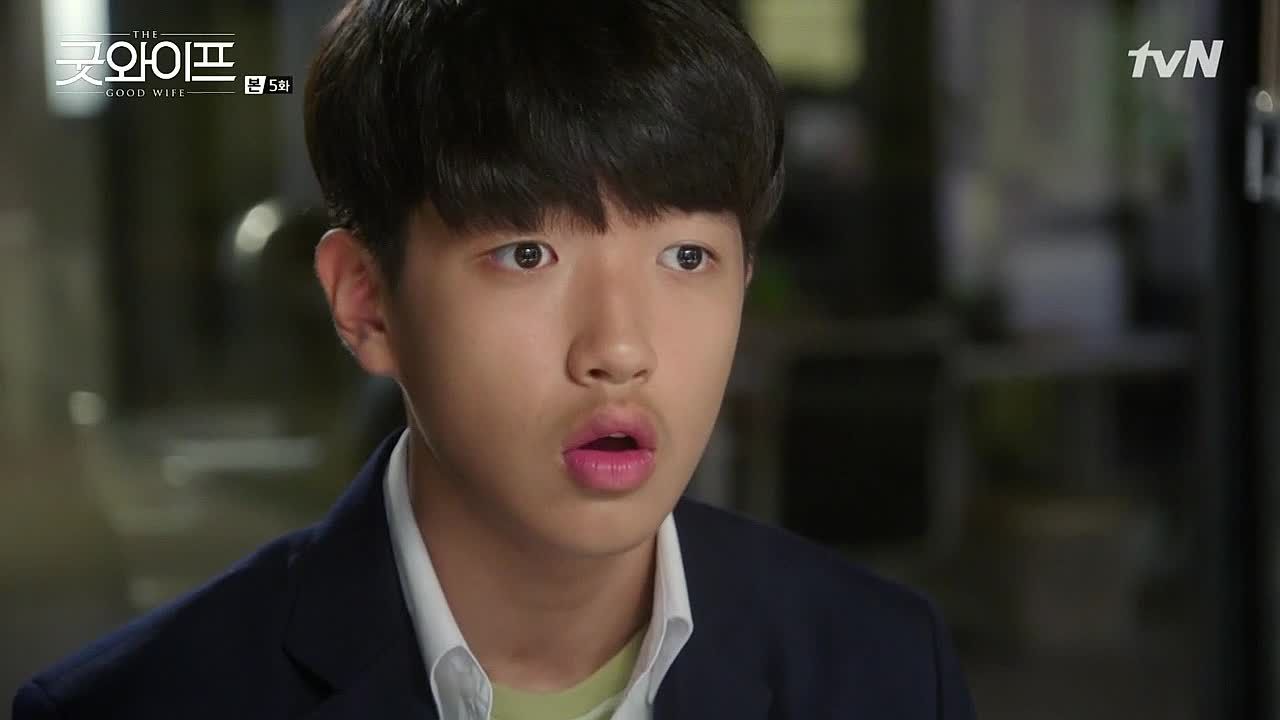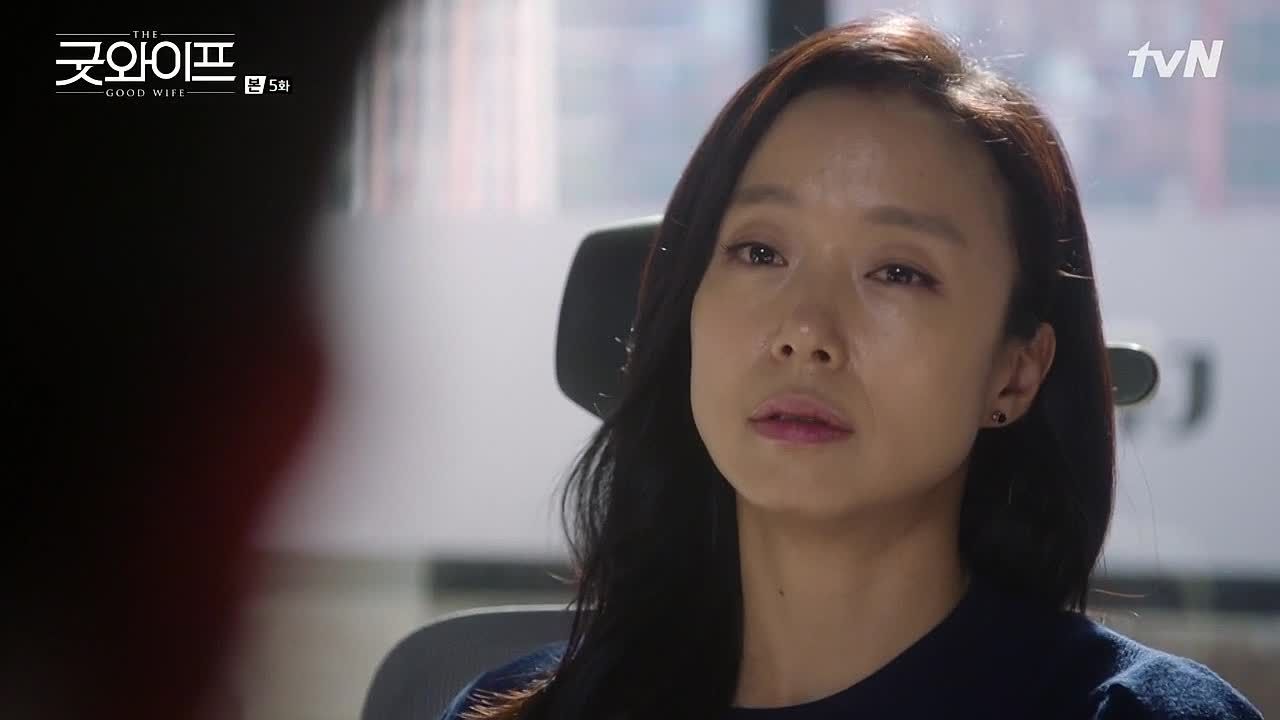 Hye-kyung reassures Jae-yeol that he is, indeed, covered by attorney-client privilege, so anything he says to her will be confidential. Relieved, he starts to tell her about another friend, Dong-hyun, who suggested that they steal test papers from their teacher's office.
But just as they were breaking into the office, Jae-yeol ran away when he saw the security guard arrive. He's worried, though, because the next morning there were police cars at the school and he can't get in touch with Dong-hyun.
Hye-kyung asks Myung-hee if she can give Jae-yul a ride home. She can already predict that Myung-hee isn't happy she's wasting time on personal matters when she should be focusing on her clients, and promises that she'll work harder on her cases. Myung-hee says she can drive the boy home, but Hye-kyung better seriously think about why she became a lawyer in the first place.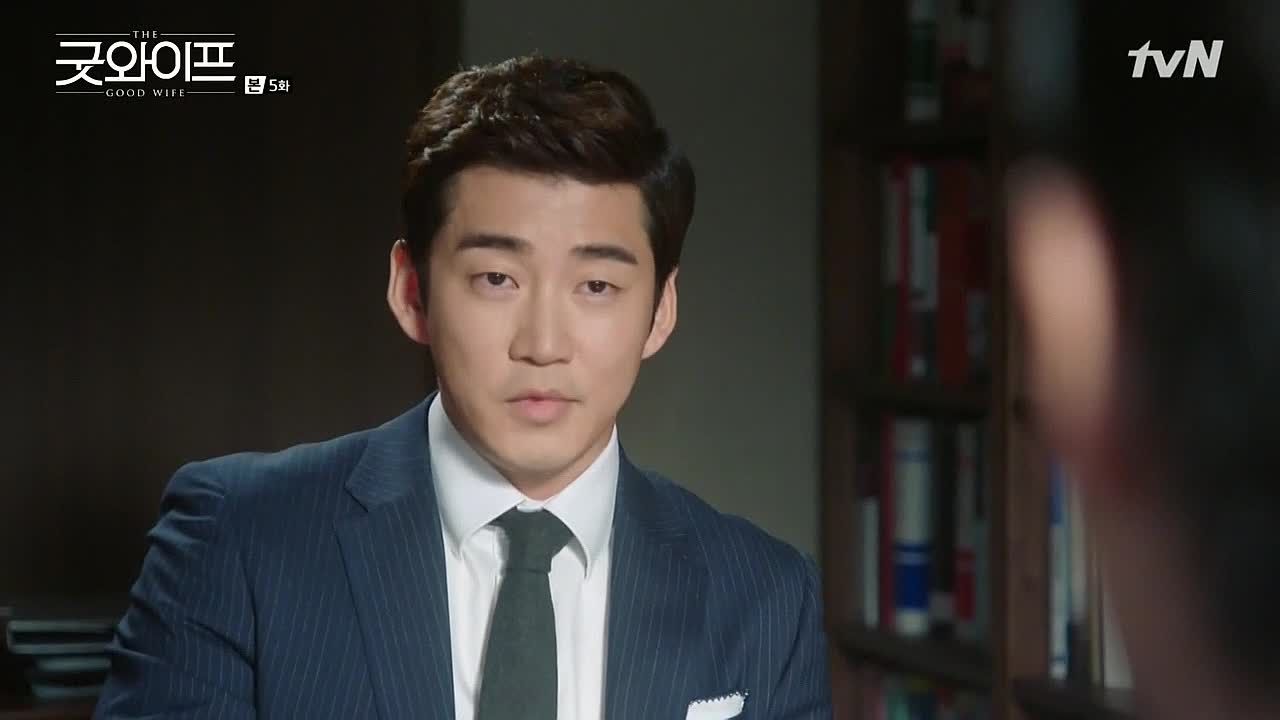 Joong-won and Tae-joon sit down over a cup of coffee, and after the initial pleasantries, Joong-won tells Tae-joon that they're now legal counsel for Guk-hyun, who also just so happens to have been a name frequently mentioned in Tae-joon's bribery case. Yet, somehow, Guk-hyun avoided prosecution. Joong-won knows that it's related to the car accident long ago, adding that if he had been there that day, it would have never happened.
He advises Tae-joon to speak to Guk-hyun — privately, one-on-one. No lawyers around. With thinly veiled politeness, Tae-joon thanks him for coming all the way here just to give him advice, but Joong-won makes it clear he's only there because of his desire to protect Hye-kyung.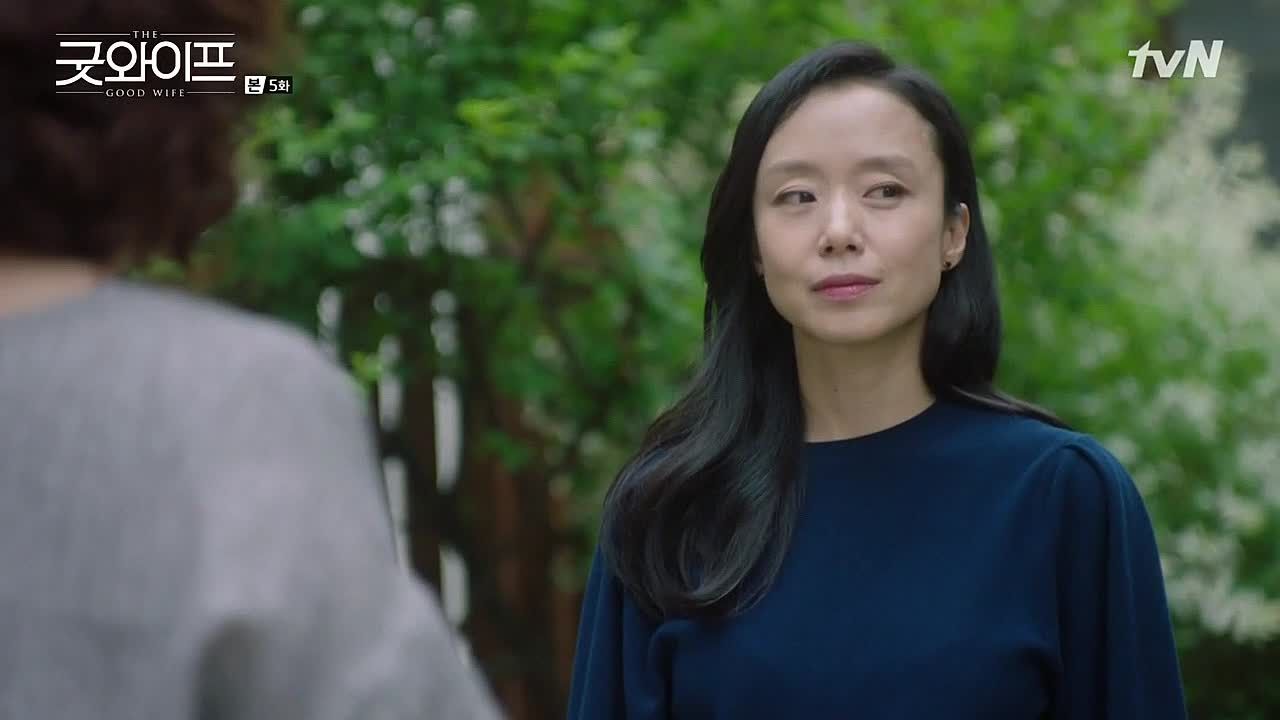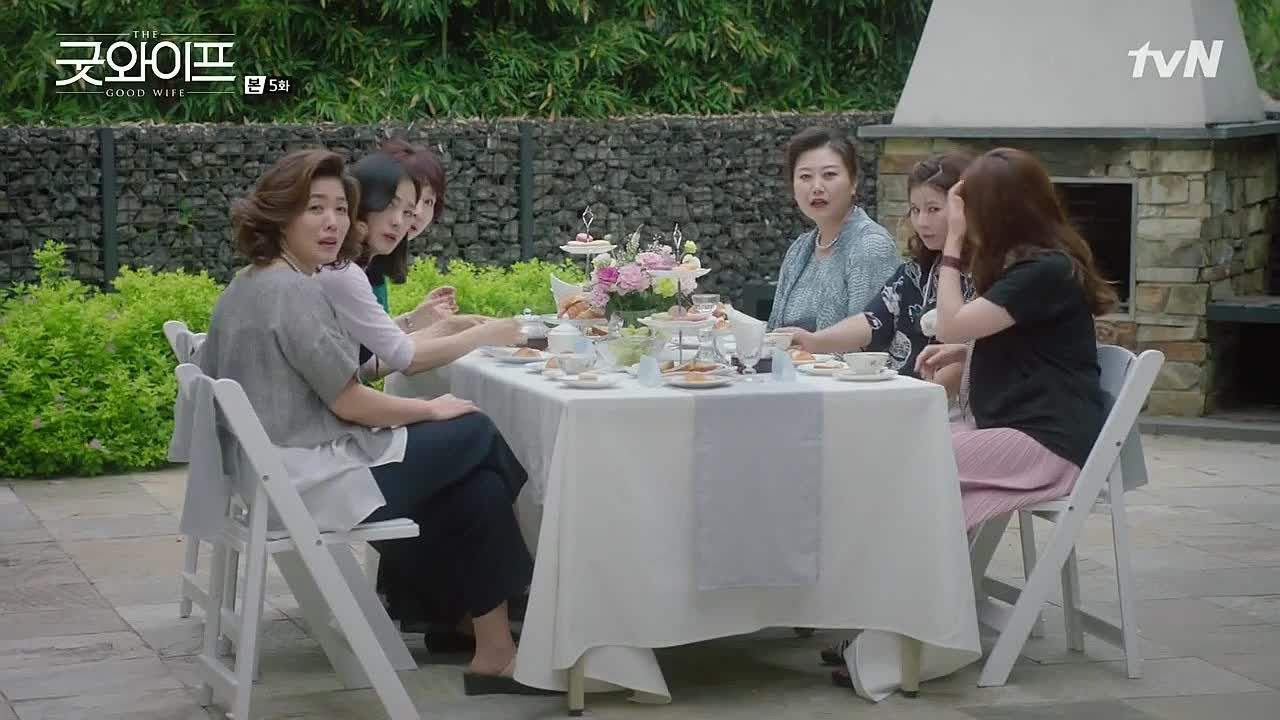 After Hye-kyung drives Jae-yeol home, he asks her to talk to his mother, hoping the mothers' friendship back then will help smooth things over. She recalls luncheons with the other students' mothers (where they would spend quite a bit of time trying to one-up each other). That time, Jae-yeol's mother was still trying to fit in with the new neighborhood ladies, but now Hye-kyung finds her comfortably hosting a luncheon outside.
The women are surprised to see Hye-kyung, but Jae-yeol's mother is able to act like a proper hostess and greet her politely, apologizing that she didn't keep in touch after Hye-kyung moved away. As the other women start to whisper to each other about Tae-joon, Hye-kyung explains that she's not there for a social call.
In private, she explains the situation with Jae-yeol, and his mother frets about her son's sudden change in attitude. Hye-kyung also asks about Dong-hyun's mother, and Jae-yeol's mother scoffs that Dong-hyun's mother now acts like she's the boss of all the mothers. Just then the other guests rush inside to reveal that the cops are taking Jae-yeol away.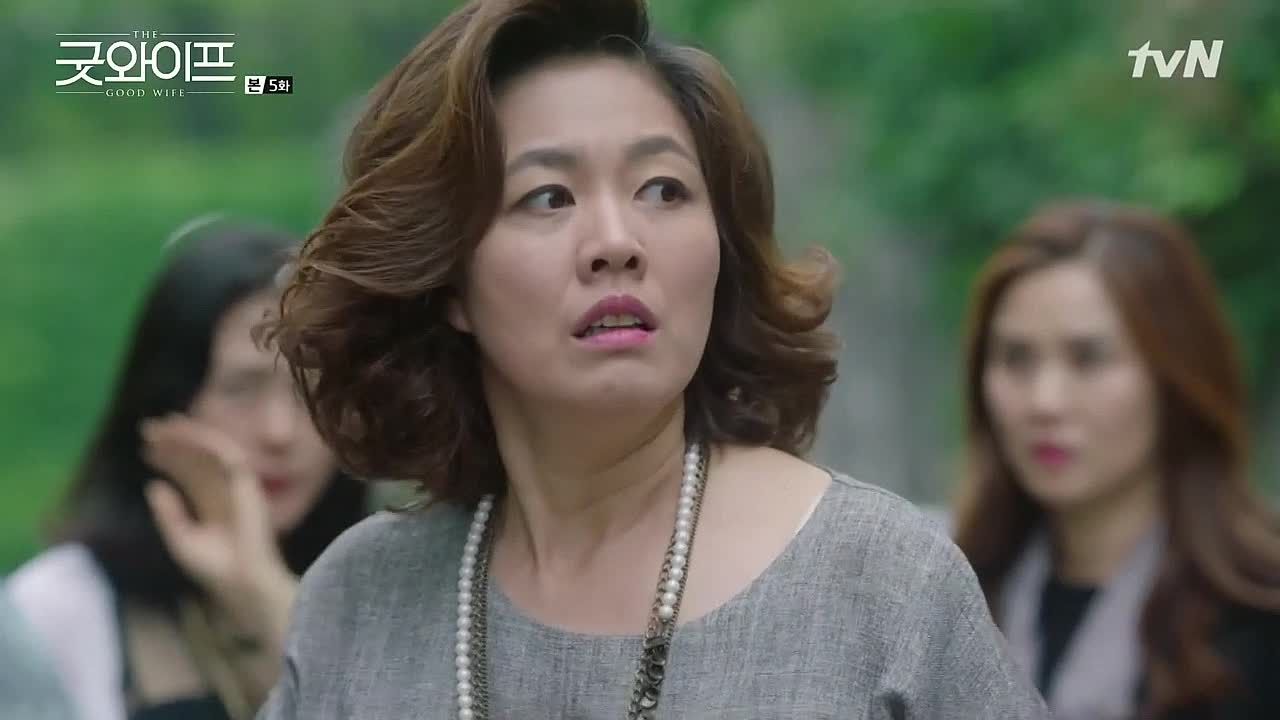 His mother runs outside, demanding to know what's going on. As the whole neighborhood watches, Hye-kyung steps in and declares she's Jae-yeol's lawyer, asking if they have a warrant for arrest. They do — for murder.
Tae-joon asks his lawyer if they can prove that the Prosecutor's Office is behind the attempt to break into the apartment, knowing that it big another big scandal. Not to mention Chief Prosecutor Choi would likely then leak the wiretapped conversations. It would be a messy fight, causing a huge scandal for both sides.
Just then Ji-hoon arrives home, and reveals the other documents the mysterious person has left for them. Tae-joon and his lawyer wonder if the hidden footage of his meeting with Guk-hyun was actually something Guk-hyun was aware of (and perhaps he's responsible for leaving these documents instead of someone at the Prosecutor's Office).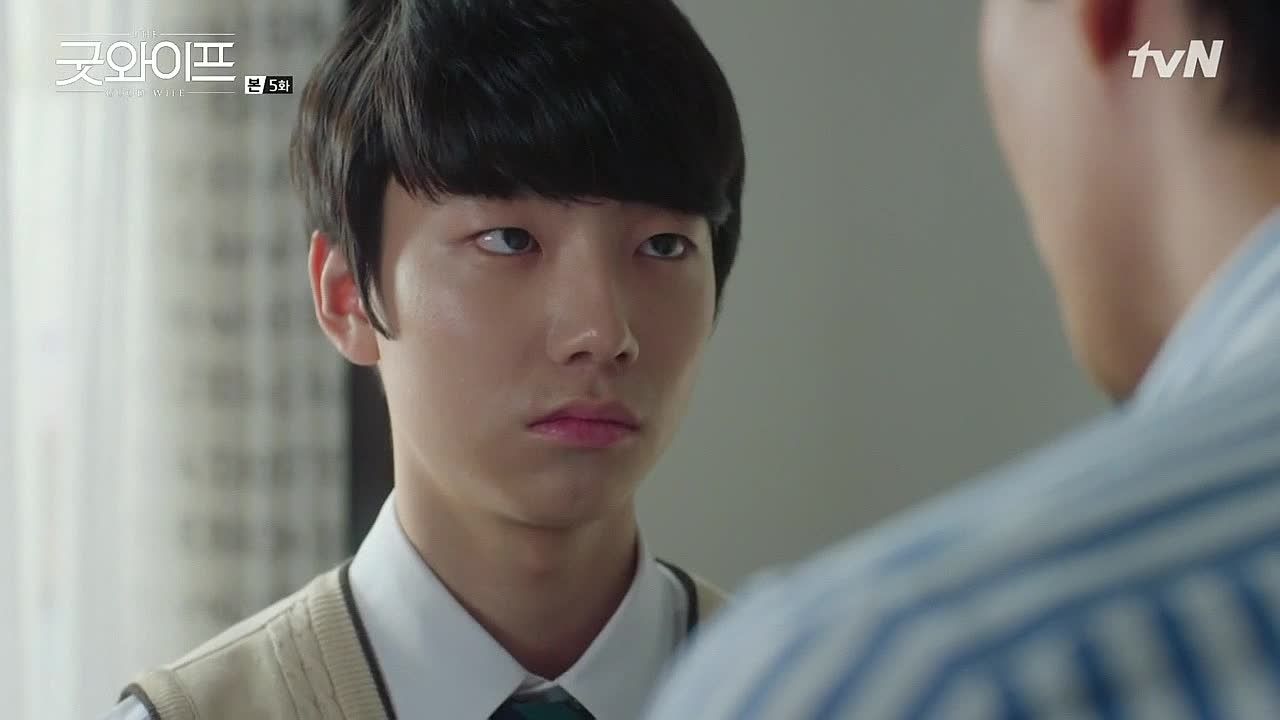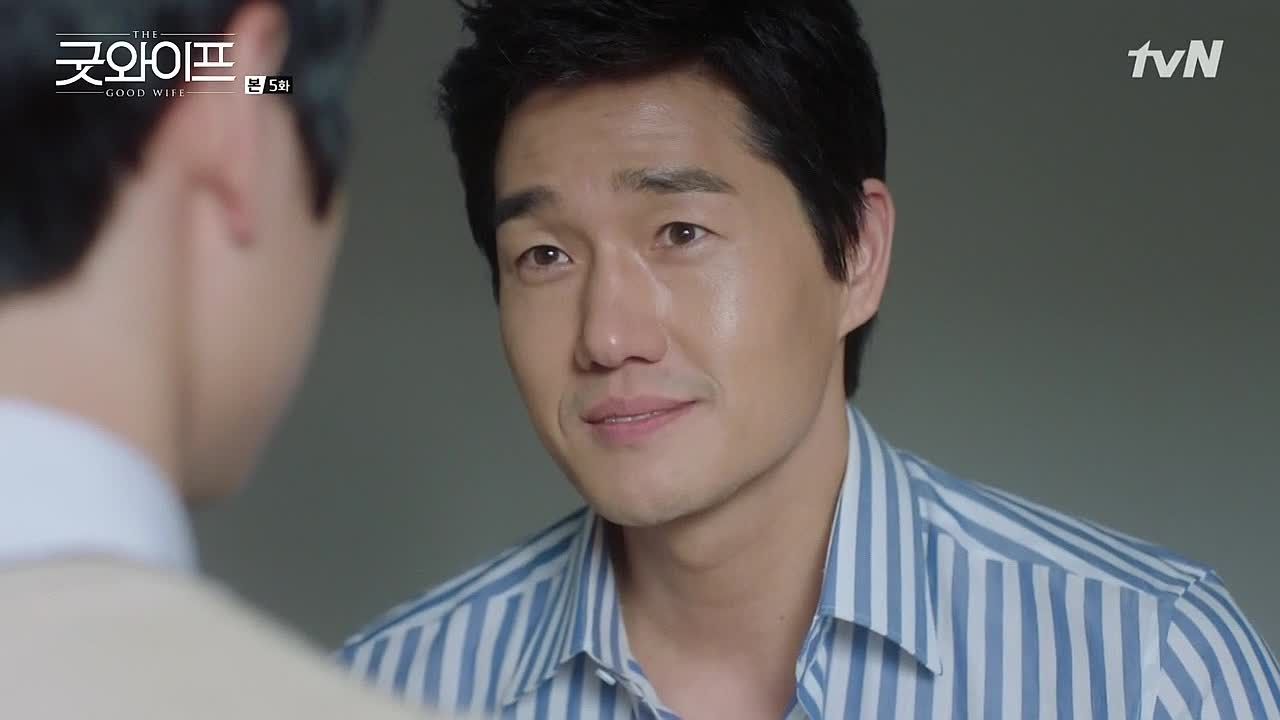 When Ji-hoon hesitantly shows him the photos of his father with Amber, Tae-joon confidently declares that it's not him. He swears they're photoshopped with the sole intent of tearing apart their family, and gets Ji-hoon to promise to keep it a secret from Hye-kyung and Seo-yeon.
Dan's found out more information about what happened the night Dong-hyun and Jae-yeol broke into the teacher's office to steal the test. The murder happened when Jae-yeol pushed the security guard as he was trying to run away, and the man fell down the stairs, fatally hitting his head.
She wonders why Hye-kyung is so invested in this case, and Hye-kyung explains that of the mothers in her neighborhood back then, Jae-yeol's mother was her closest friend. Then again, Jae-yeol's mother was the first one to cut off contact after Hye-kyung moved away due to Tae-joon's scandal. Dan shrugs, pointing out that betrayal is just a part of life.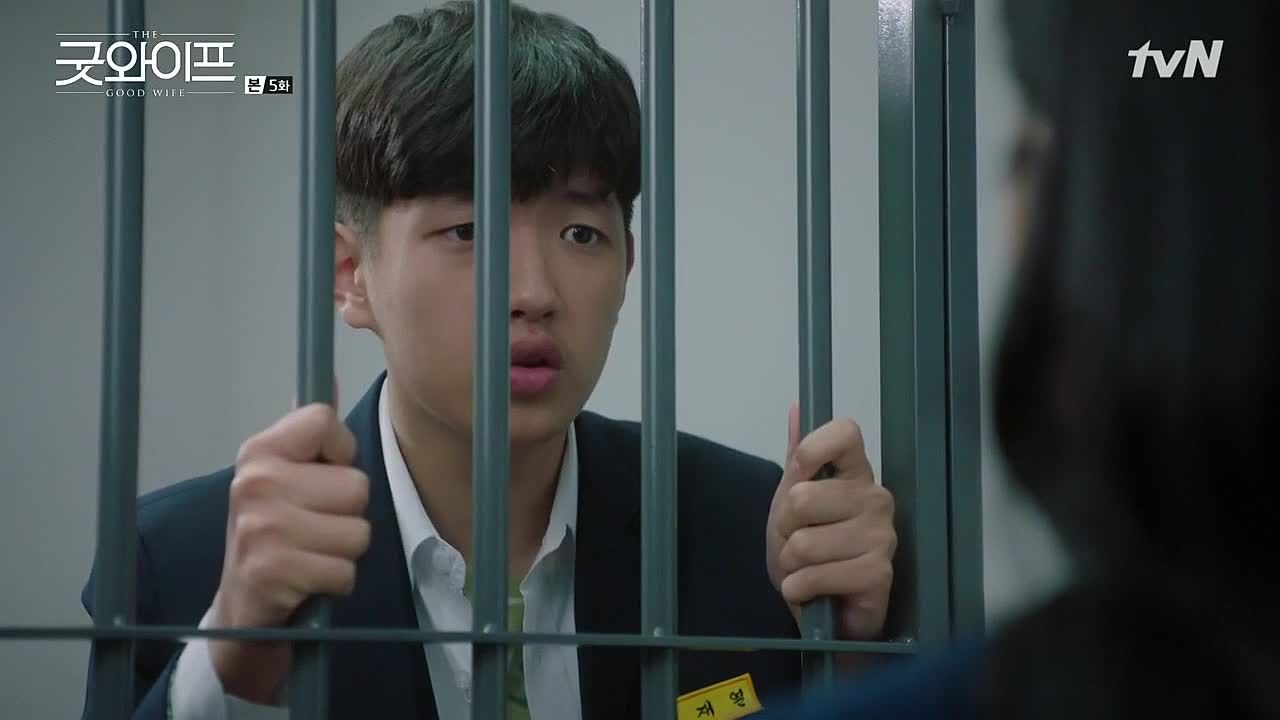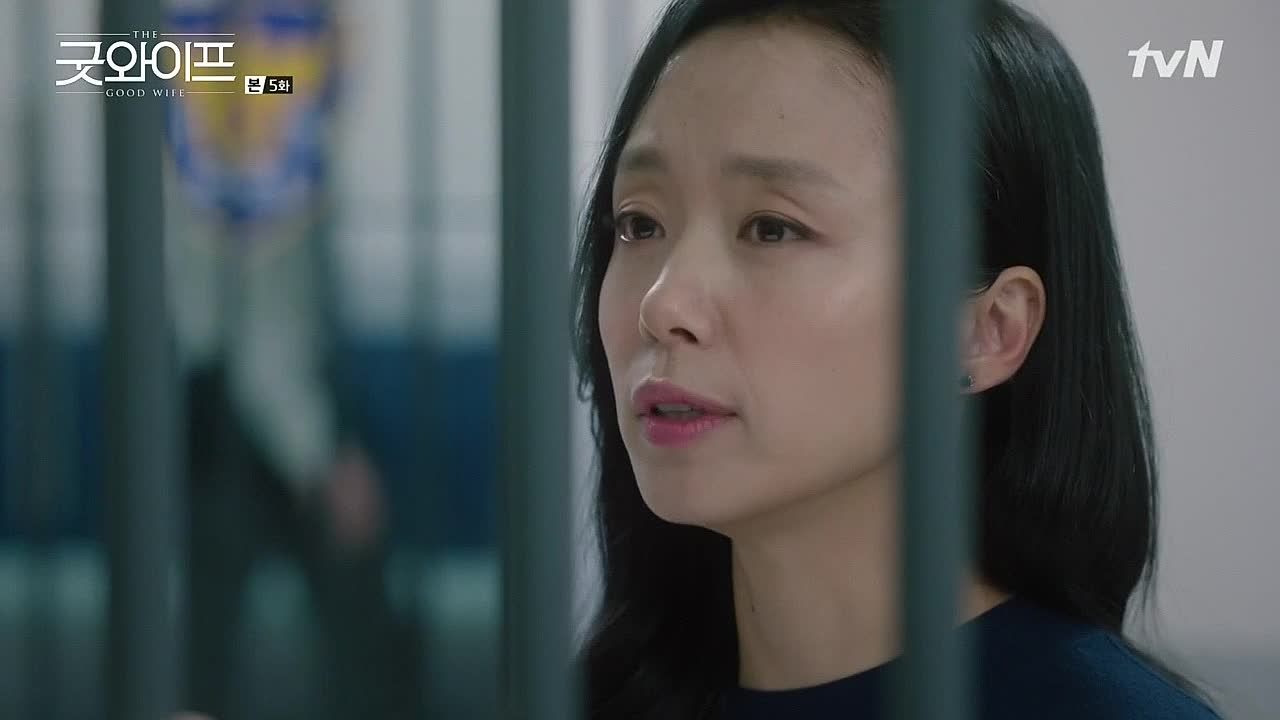 They meet with Jae-yeol at his holding cell, and he pleads with them to get him out. He insists he didn't do anything to the guard — he ran away as soon as he saw the guard coming. He begs her to talk to Dong-hyun who will confirm what he's said is true, but Hye-kyung reveals that it's actually Dong-hyun who's saying Jae-yeol pushed the guard.
Hye-kyung takes the case to the Seo siblings. Joong-won doesn't think it's a clear enough case to win, but Myung-hee is confident that Jae-yeol's rich parents will be able to afford their fees. Hye-kyung knows that her personal relationship with the client might affect the case, and suggests they assign another lawyer to take the lead — which also leaves her more time to deal with Guk-hyun's case.
But Joong-won says that she should just focus on Jae-yeol's case for now. Hye-kyung wonders if she's done something wrong to be taken off Guk-hyun's case, or if it's maybe because of some connection with Tae-joon. He reassures her that he just wants her focused on the murder case right now, promising he'll keep her name listed as one of Guk-hyun's lawyers while he works the case.
That night, when Hye-kyung arrives home, she finds out that the passcode has been changed. Tae-joon answers the door, apologizing that he forgot to tell her, but she just wants to know why it was changed in the first place. It also looks like Seo-yeon has warmed up to her father as she happily plays video games with him.
Alone in her bedroom, Hye-kyung starts to change her clothes when Tae-joon knocks on the door. She hurriedly puts her shirt back on as he enters. It must be odd to return home and then be treated like a stranger.
He's already heard about Jae-yeol's case through their kids (who heard about it from their old friends). He thinks that Hye-kyung is too good for Jae-yeol's family to help them with their case, especially when they completely ignored her after she left the neighborhood.
But Hye-kyung points out that everyone abandoned them after his scandal. He tells her that he's doing everything in his power to prove his innocence so that his family can return to the life they once had. He still has a lot of powerful political connections, and once everything is straightened out, he'll be able to leap up that political ladder, once again gaining influence and respect.
Hye-kyung wearily asks what it is he wants her to do. Tae-joon: "Trust me — like you used to."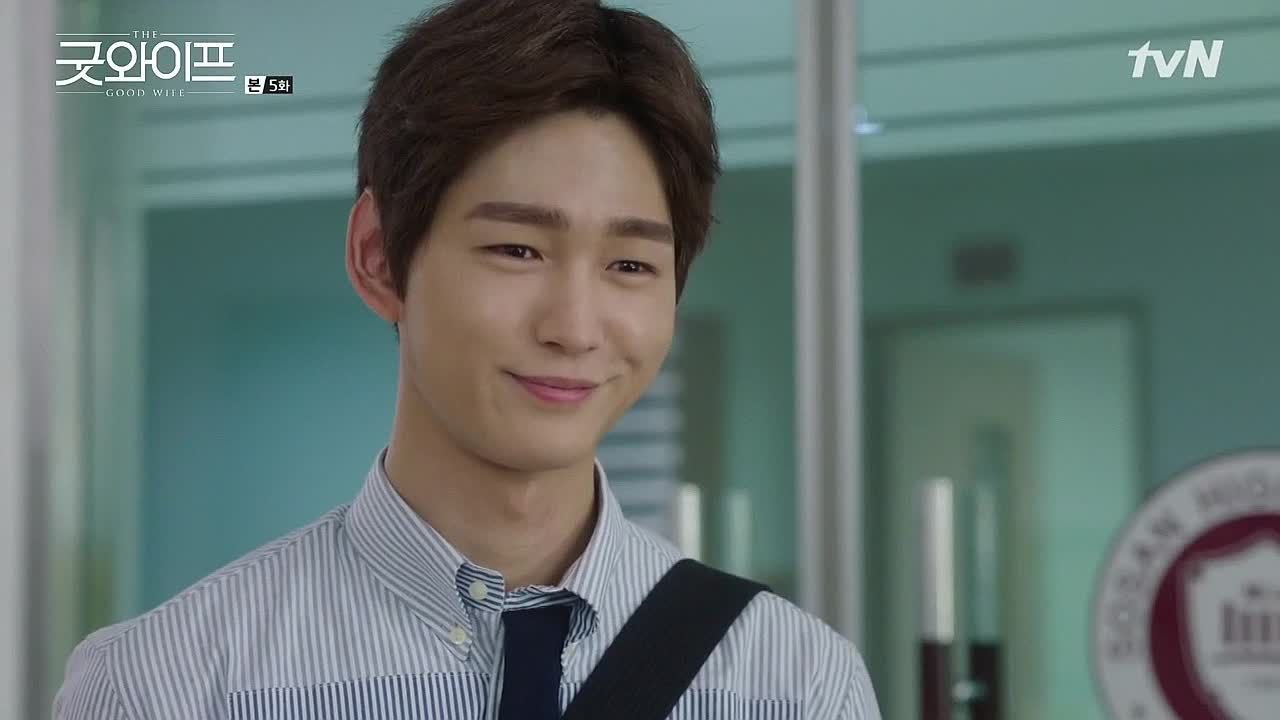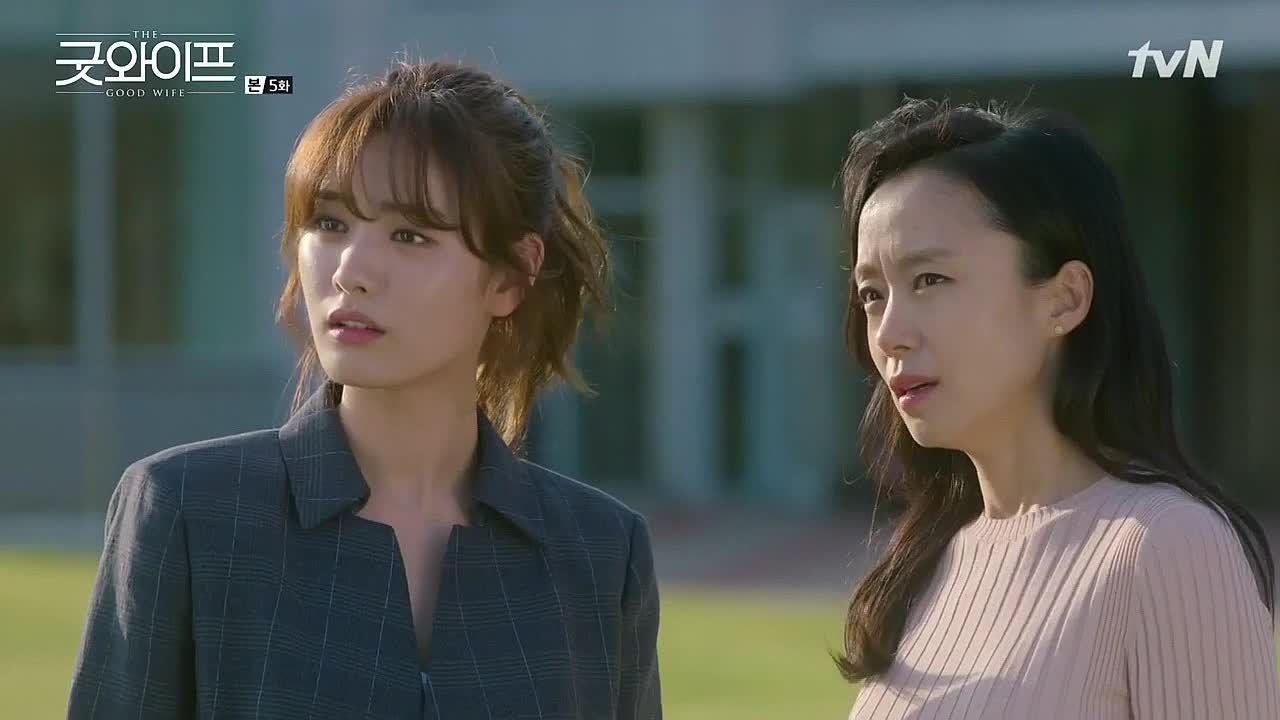 Dan and Hye-kyung visit the school to do some investigating, and Dan is amazed to realize that this kind of fancy school was once a daily part of Hye-kyung's life. They stop in their tracks when they see a familiar face — it's Joon-ho, playing soccer with some of the students. He's the lawyer Joong-won has assigned to take the lead on this case.
He's already done some research of his own, mostly by getting information from the students. Jae-yeol sounds like a good kid, but not necessarily the best student. Even though Dong-hyun was the class president, it seems he's also a bully, and Joon-ho says they should try to pin the blame all on him instead of Jae-yeol.
While he and Dan investigate the scene of the crime, Hye-kyung finds Dong-hyun by his locker. He quickly scrambles to put the lock back on, and as Hye-kyung pleasantly greets him, she's interrupted by his overprotective mother who stands between them.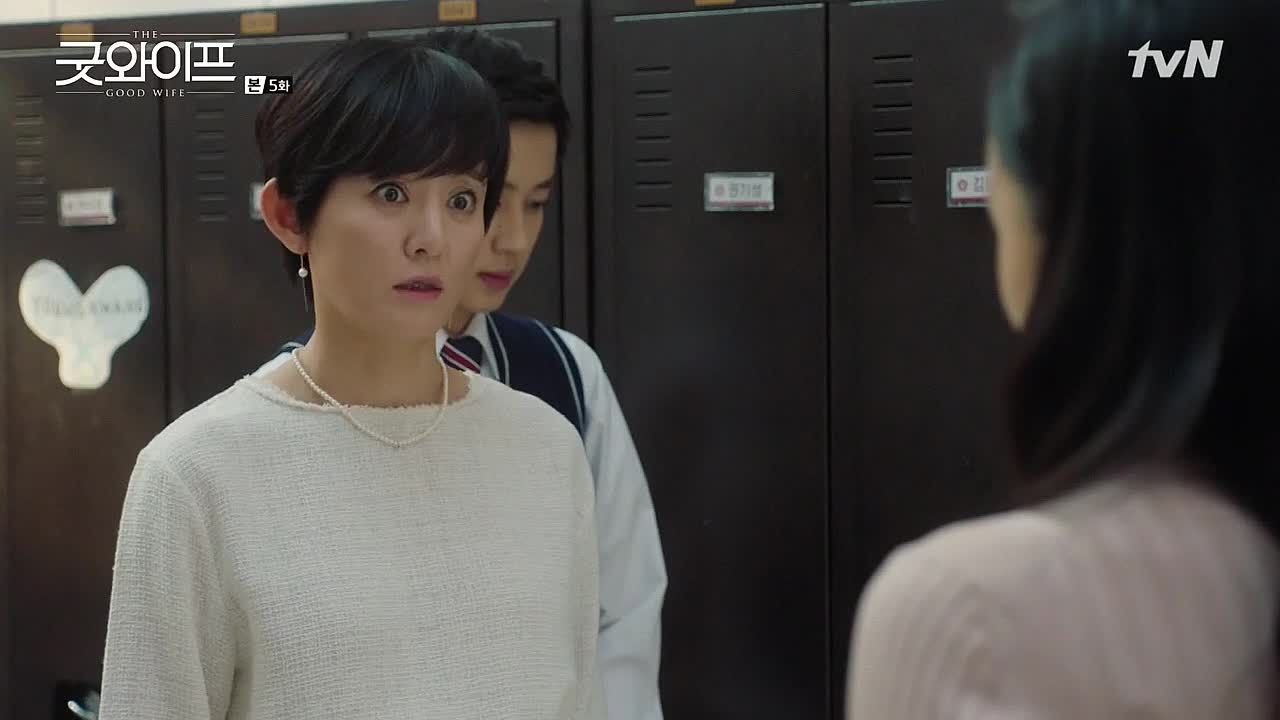 Dong-hyun's mother sneers that this is the first time they're meeting since Tae-joon's scandal, and that Hye-kyung must be really struggling as a lawyer to decide to pick up Jae-yeol's case. She snarks that Hye-kyung should be more focused on taking care of Tae-joon's scandal, and then drags her son away.
At Jae-yeol's trial, the detective reveals that he arrested Dong-hyun at the scene of the crime for admitting that he and Jae-yeol tried to steal the test papers, but it was Jae-yeol who pushed the security guard. The detective declares that, in his years of experience, teenagers typically don't lie about such situations.
When it comes time for Joon-ho to cross-examine the detective, he balks for a second, his mind going blank. He has to go back to the table to look at his notes, then asks the detective why Dong-hyun only said who pushed the guard the morning after his arrest for stealing the test. That gives him plenty of time to come up with a convincing story, right?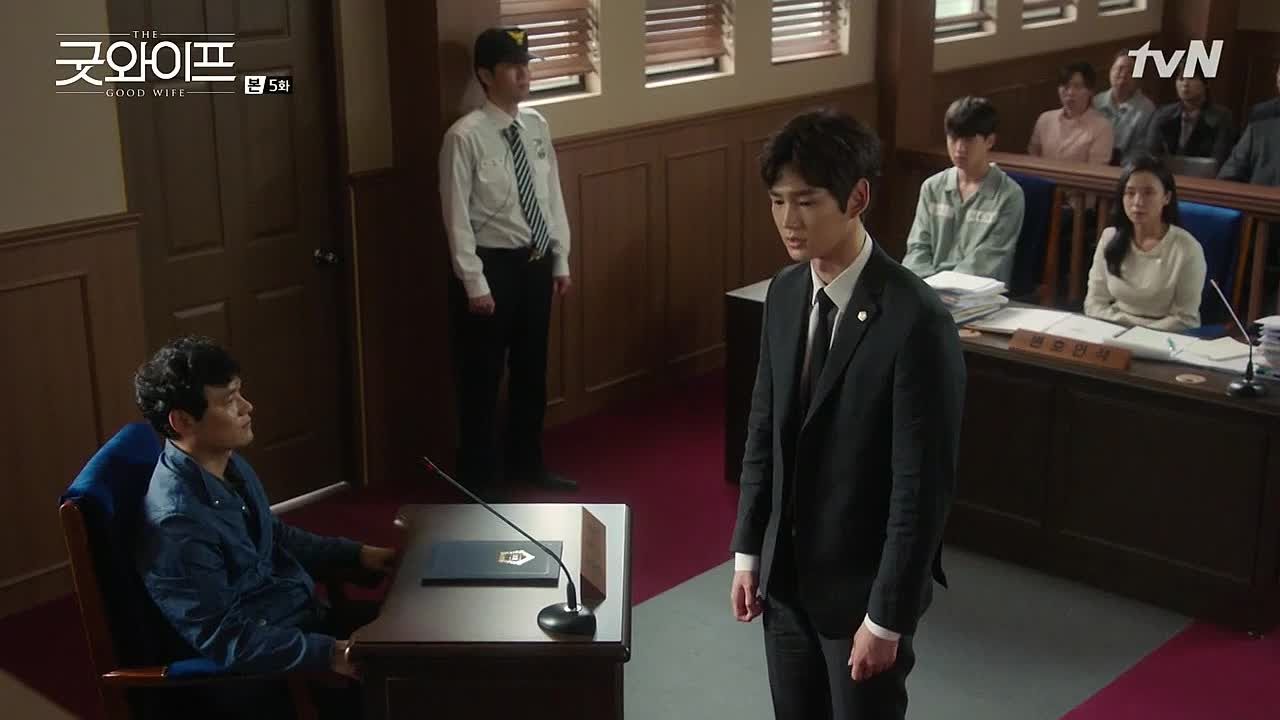 The detective says it's because he originally didn't want to betray his friend, and that takes the wind out of Joon-ho's sails. He has nothing further to say, and sits down at the table, the figure of defeat. Sitting next to him, Hye-kyung tries to encourage him, telling him he's doing well for his first trial, but Joon-ho grumbles that she shouldn't act like she's his superior.
Dong-hyun takes the witness stand, testifying that Jae-yeol just asked to meet him at school that night. He had no idea that Jae-yeol actually wanted to steal the test. Furious, Jae-yeol leaps up and grabs Dong-hyun by the collar, yelling at him for lying.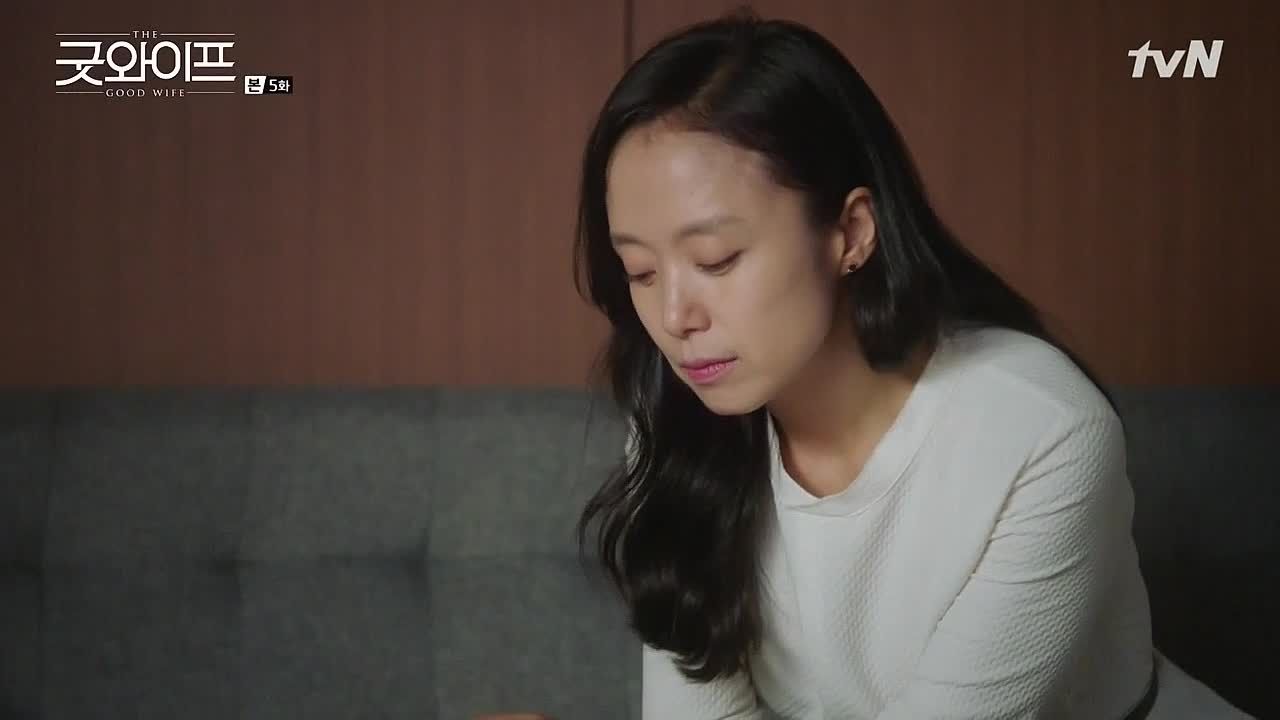 Back at M&J law firm, Joong-won asks Hye-kyung what happened, and she admits it didn't go very well. She knows Joon-ho did his best, considering it was his first trial (all of his other cases were settled out of court), and she did her best to help him. But Joong-won says that he assigned Joon-ho to this case so Hye-kyung could prove that she's better than Joon-ho — she shouldn't be helping him, she should be taking over!
But Hye-kyung doesn't want to bring their office politics into a case that's about defended a teenager from going to jail for murder. Joong-won tells her to stop thinking about others and only look after herself, but she's still determined to try and find the most beneficial way out for everyone — including Joon-ho.
As she leaves Joong-won's office, she's surprised to see Driver Kang waiting there. It's been years but they still remember each other. She genuinely asks after his health, and he says he's doing well. He's just waiting for his boss — who's waiting for Hye-kyung in her office.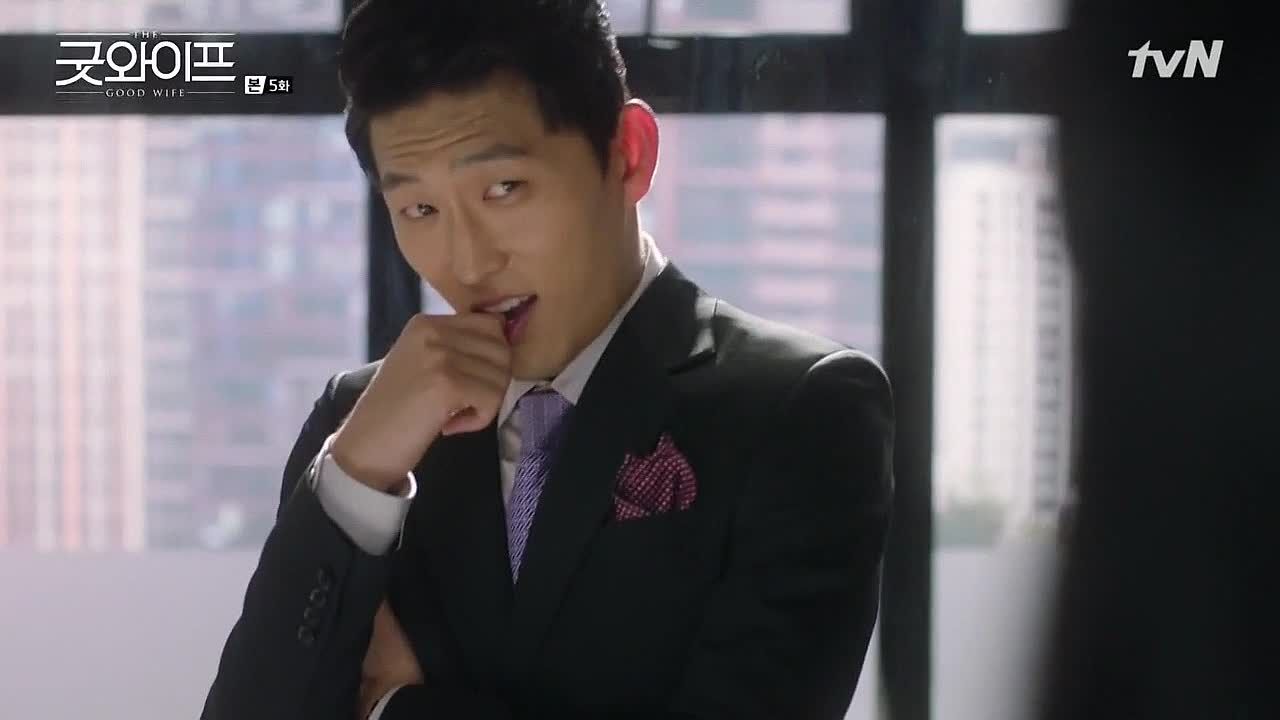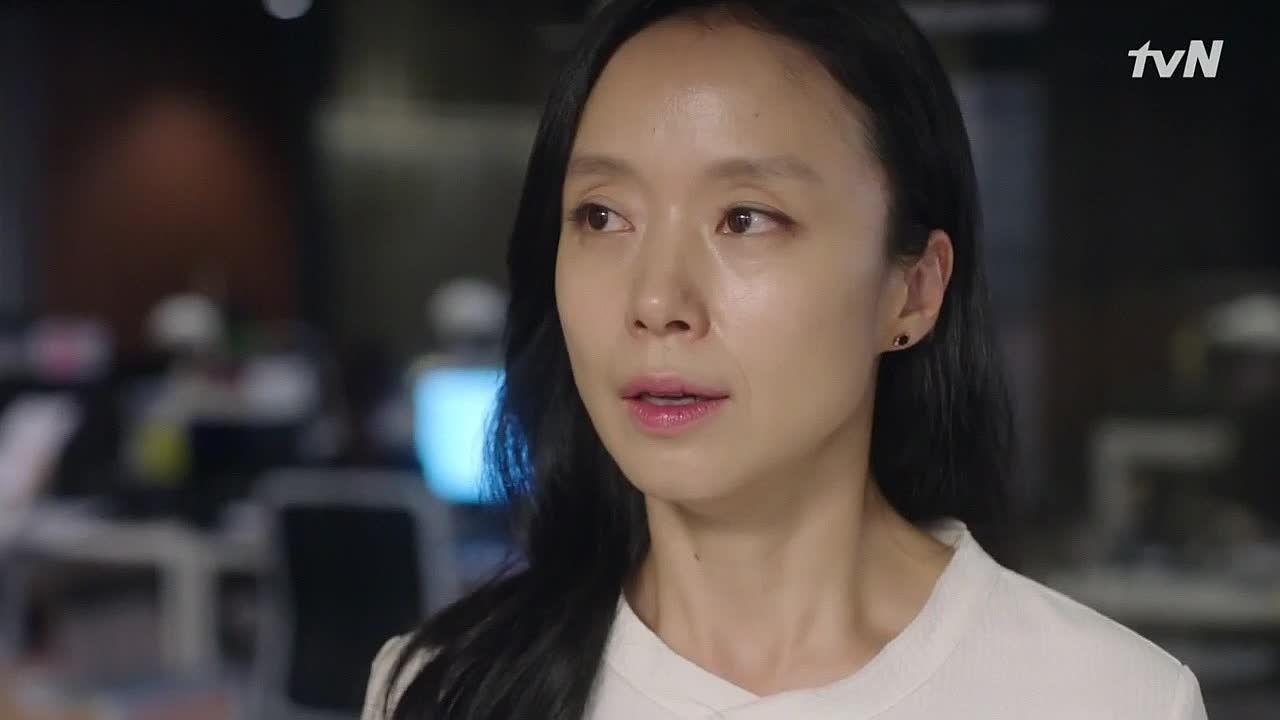 Guk-hyun grins at Hye-kyung, cheekily stating that he's heard she knows his driver. Also he's sad that she missed their meeting today. Hye-kyung, in her best professional voice, informs him that Joong-won was there representing the firm while she took care of some personal business.
He wants to ask for a favor, though — Tae-joon is apparently too busy to meet with him, so he wants her to give him a box of herbal medication. She can tell Tae-joon that it's a gift from Guk-hyun's driver. Oh, and she also better inform her husband that he can't guarantee what will happen if Tae-joon continues to avoid him.
At home, Hye-kyung is lost in thought, remembering the car accident back then. A phone call from Dan breaks her out of her reverie — Dan says that the test papers haven't been found at the scene of the crime, and both Dong-hyun and Jae-yeol insist they didn't take them.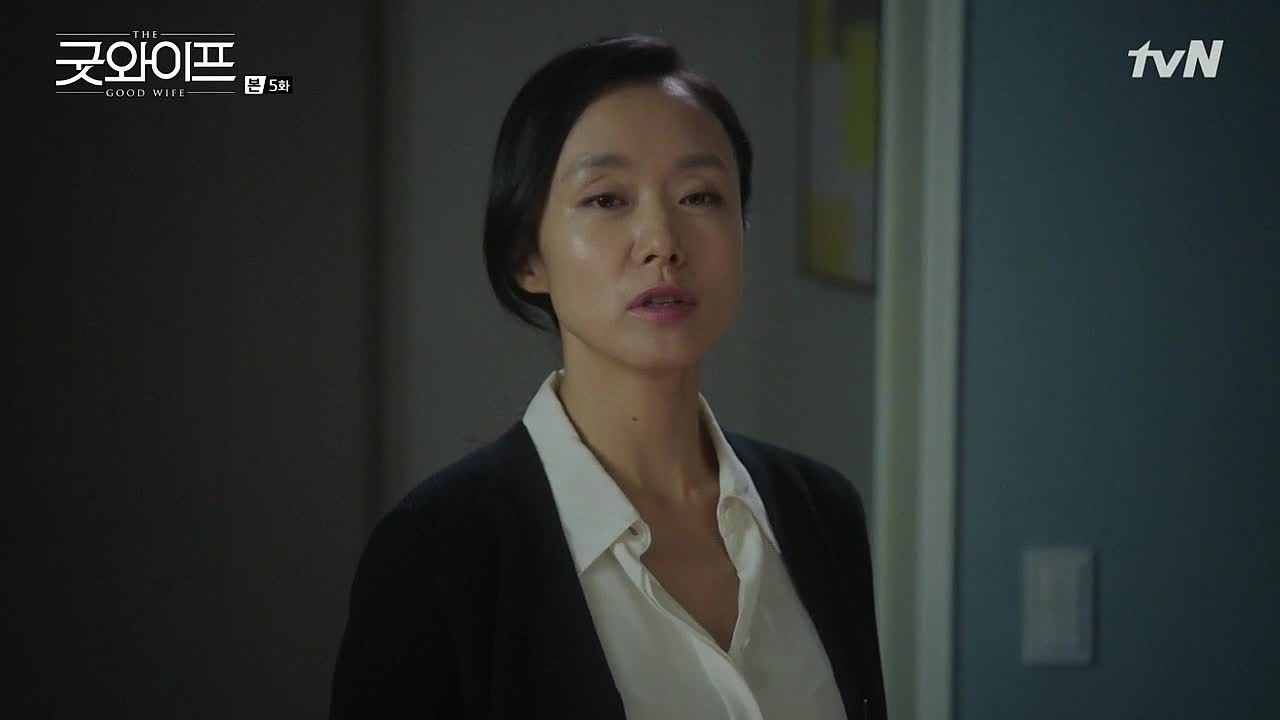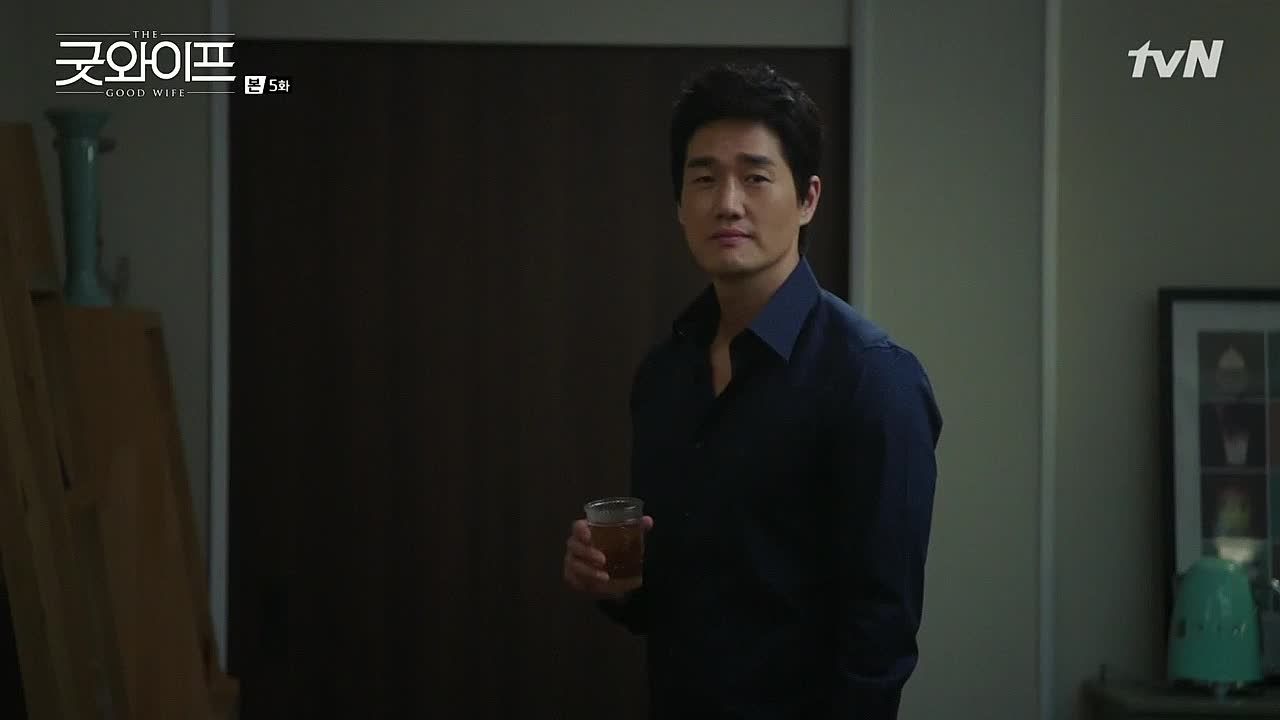 She starts to head out to investigate further, and Tae-joon asks if she wants him to come along. But she reminds him that, per the terms of his bail, he's not really allowed to go anywhere.
Hye-kyung also remembers to tell him about the gift Guk-hyun left for him, adding that Guk-hyun is requesting Tae-joon contact him. As she leaves, Hye-kyung tells him that they should soon have an honest conversation about everything, instead of merely pretending to be happy.
Hye-kyung arrives at Dong-hyun's home, and his mother answers the door. But she has nothing to say to Hye-kyung and is about to slam the door in her face when Hye-kyung tells her that the police will soon investigate the missing test papers. She invites Hye-kyung in, and then makes herself a generous glass of Scotch on the rocks.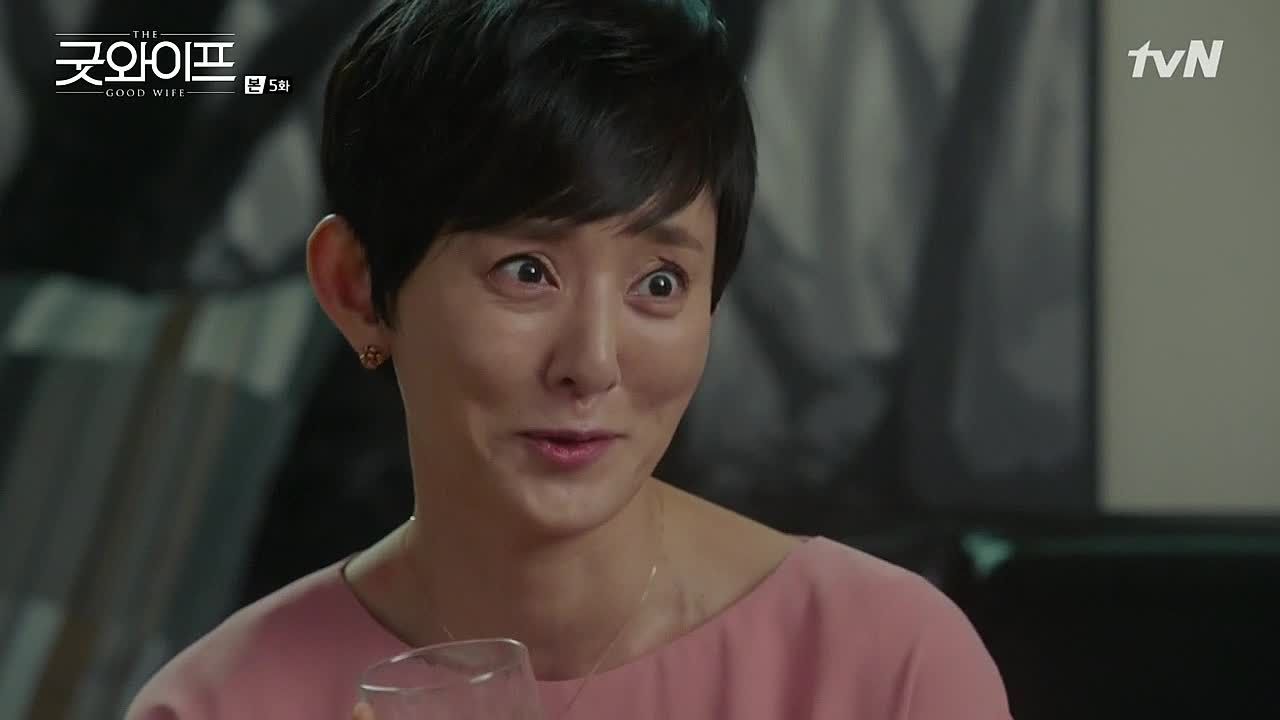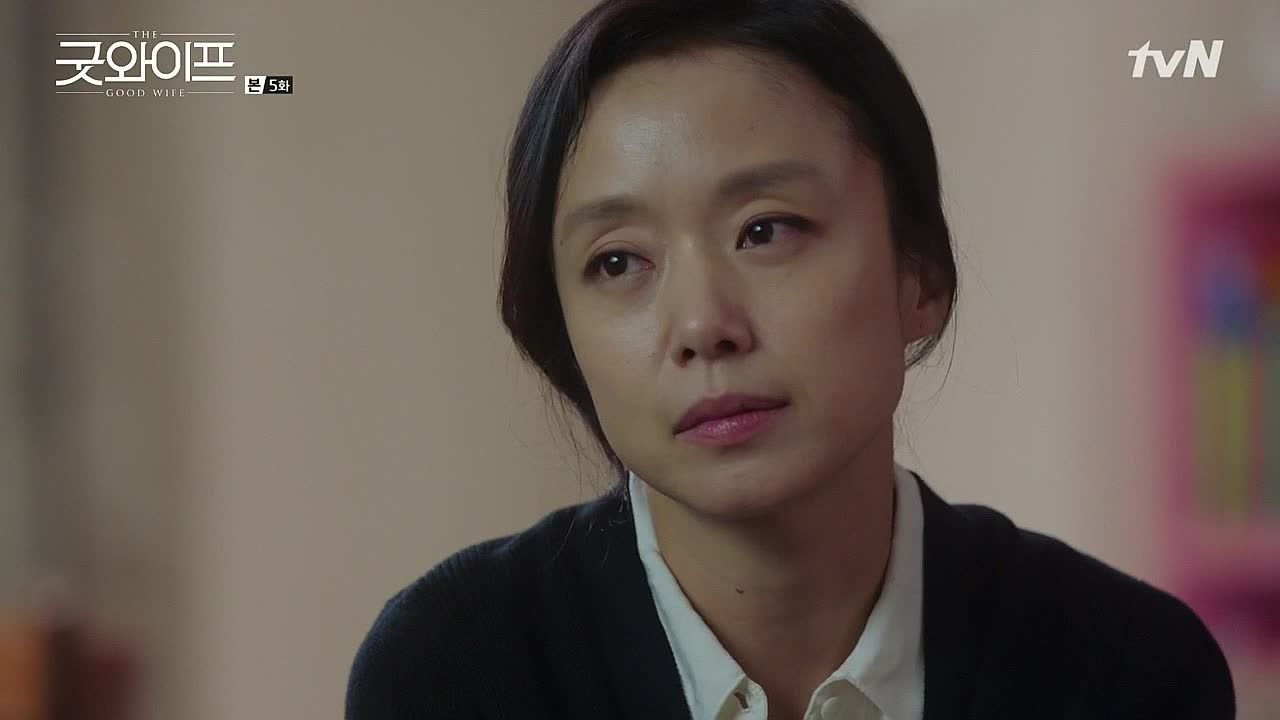 Dong-hyun's mother laughs as she recounts how Hye-kyung's life was ruined by Tae-joon's scandal. She asks if Hye-kyung knows how all their old friends were actually happy to see her and her husband taken down a peg or two, since they all hated how arrogantly Hye-kyung and Tae-joon used to act.
But Hye-kyung calmly ignores the snide little remarks and instead focuses on Dong-hyun, asking if he knew where the key was to the locked cabinet that held the test. His mother just gulps down her whiskey, insisting that Dong-hyun is a model student and perfect son so he wouldn't need to do anything like that.
Speaking from personal experience, Hye-kyung pleads with her to ask her son the truth, since she knows that she's wondering if her son is really guilty. Just like Hye-kyung was filled with doubt about her husband when the scandal broke. But Dong-hyun's mother angrily declares that Tae-joon and her son are nothing alike, and orders Hye-kyung to get out.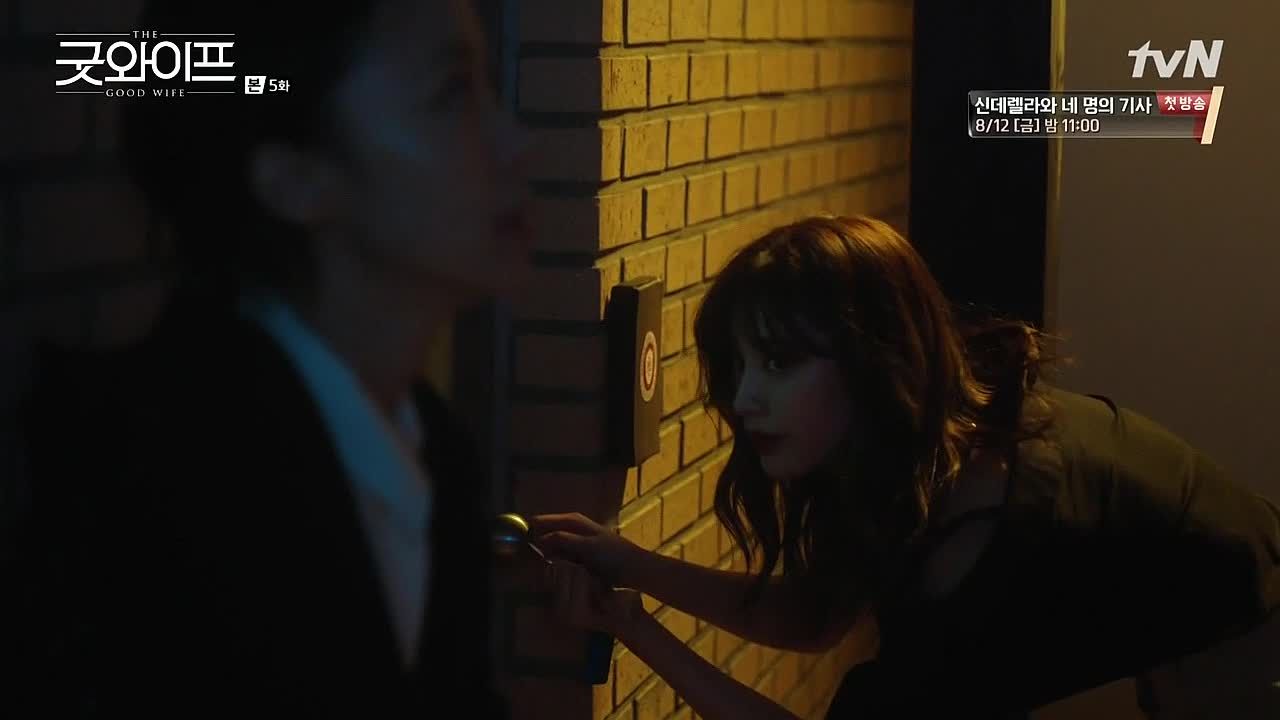 Who needs keys when you know someone who can pick locks? Dan easily gets them access to the school while Hye-kyung marvels at her ability. She asks why Tae-joon fired her from the Prosecutor's Office, and Dan says that she was caught investigating an old case that he had closed, and decided to quit instead of be punished for it. She advises Hye-kyung to leave him while she can.
As the women walk through the darkened hallways of the empty school, Hye-kyung is trying to figure out where the test papers would have been hidden, given the short amount of time between being caught by the security officers and then the police arriving. She's convinced that they must be in Dong-hyun's locker, but as soon as Dan starts to pick that lock, a sound further down the hallway sends them scurrying around the corner to hide.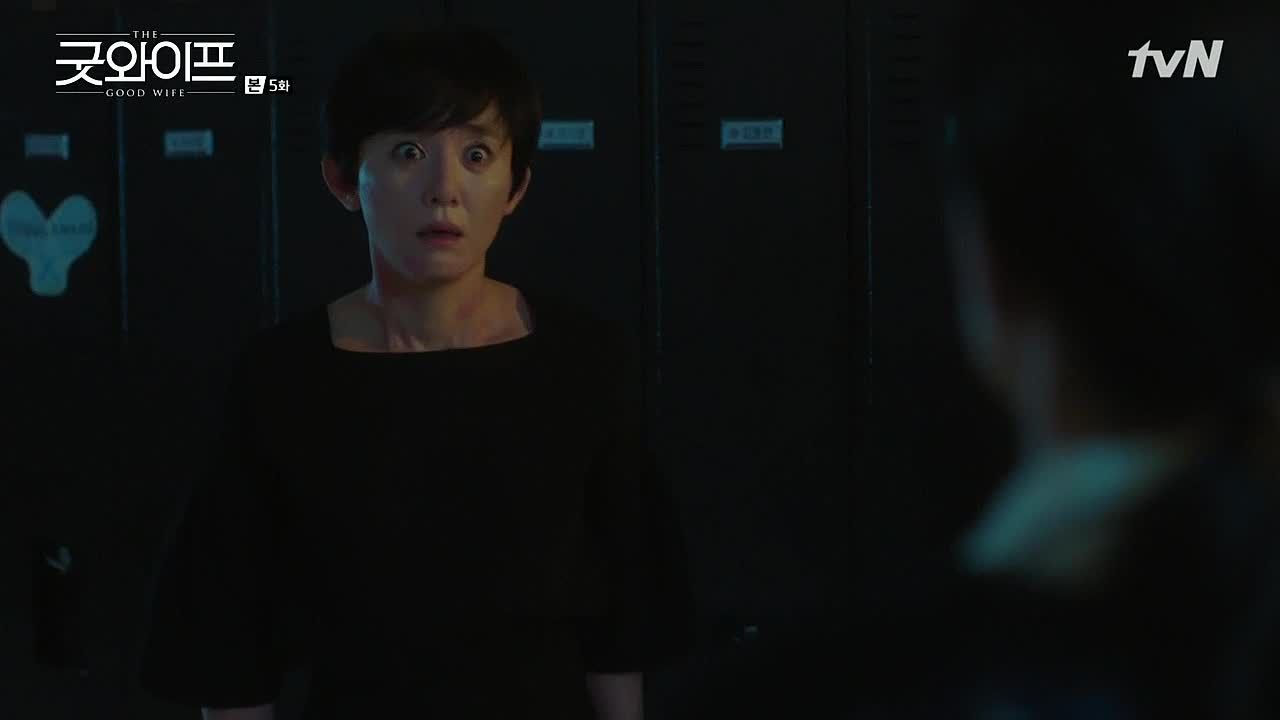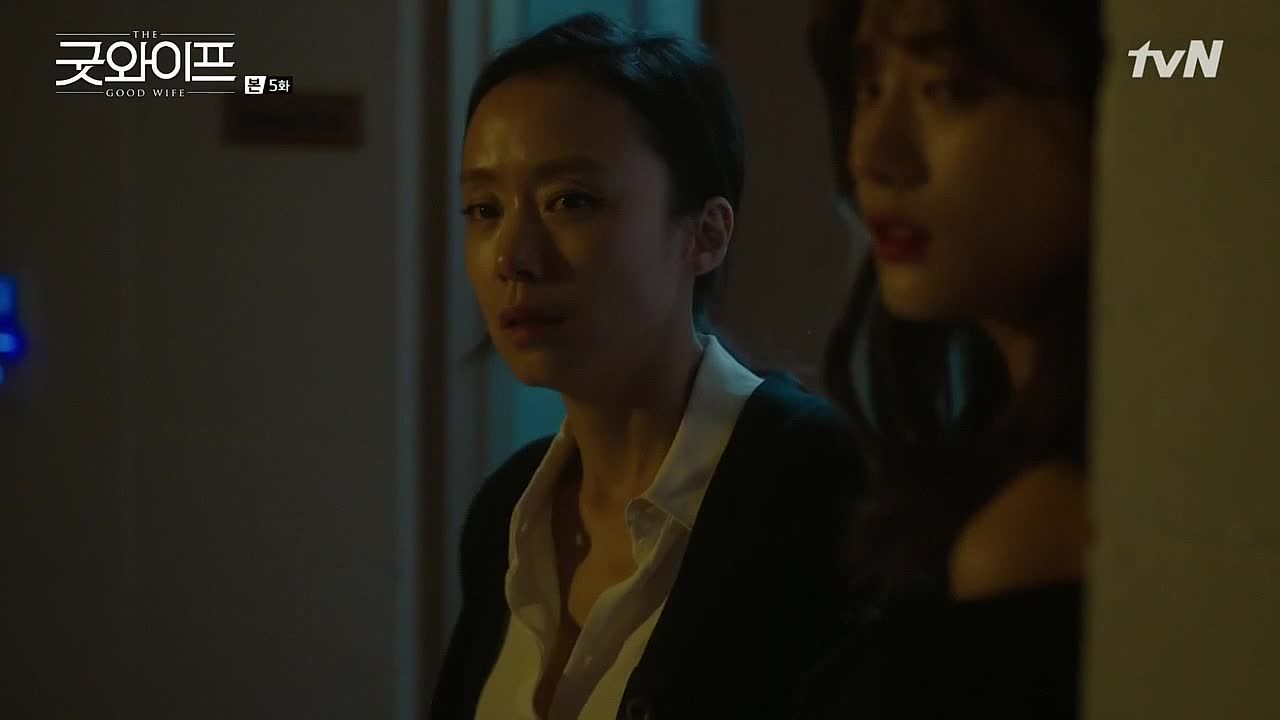 It's Dong-hyun's mother, who heads directly to her son's locker. Hye-kyung steps out to confront her. She reminds her that she won't solve anything by hiding her son's guilt. When she tries to physically push Hye-kyung away, Dan pins her to the lockers so Hye-kyung can open Dong-hyun's locker and reveal the stolen test papers. Dong-hyun's mother breaks down weeping, still unable to accept her son's guilt.
In the morning, Hye-kyung and Joon-ho meet with Jae-yeol's parents outside of the detention center where Jae-yeol is about to be released now that they have proof Dong-hyun was the one who stole the papers and pushed the security guard. Jae-yeol will just have to serve community service for being an accomplice in stealing the test.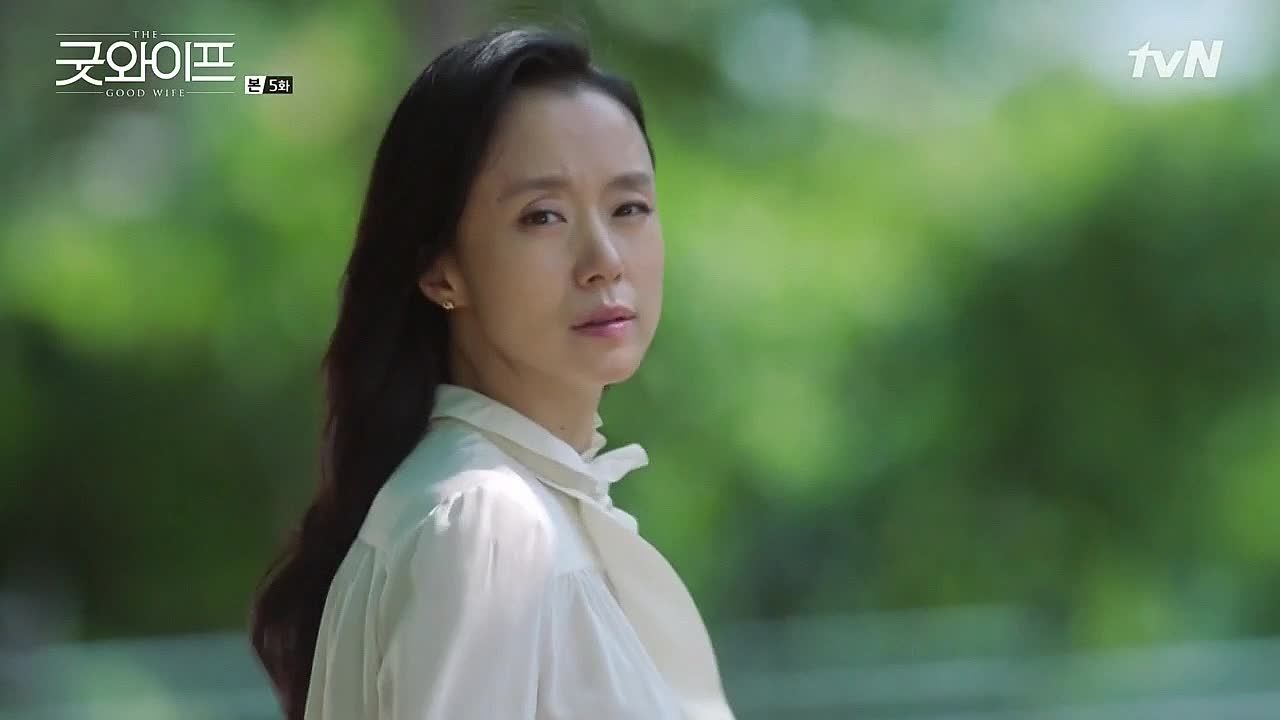 Grateful, Jae-yeol's mother tearfully thanks Hye-kyung, promising that she'll keep in touch. But Hye-kyung knows those are just empty words, although she appreciates the sentiment. Dong-hyun's mother rushes up at that moment, and the power dynamic is reversed as she gets down on her knees to plead with Jae-yeol's mother to save her son.
Hye-kyung celebrates her win over a couple of drinks with Joong-won, although she tipsily confesses that she always thought she was a good person, so it's been a surprise to find out how many of her old "friends" actually seem to have always hated her. Joong-won dismisses them as fair-weather friends, saying it's easy to forget the good times when you're afraid of losing your precariously held social status.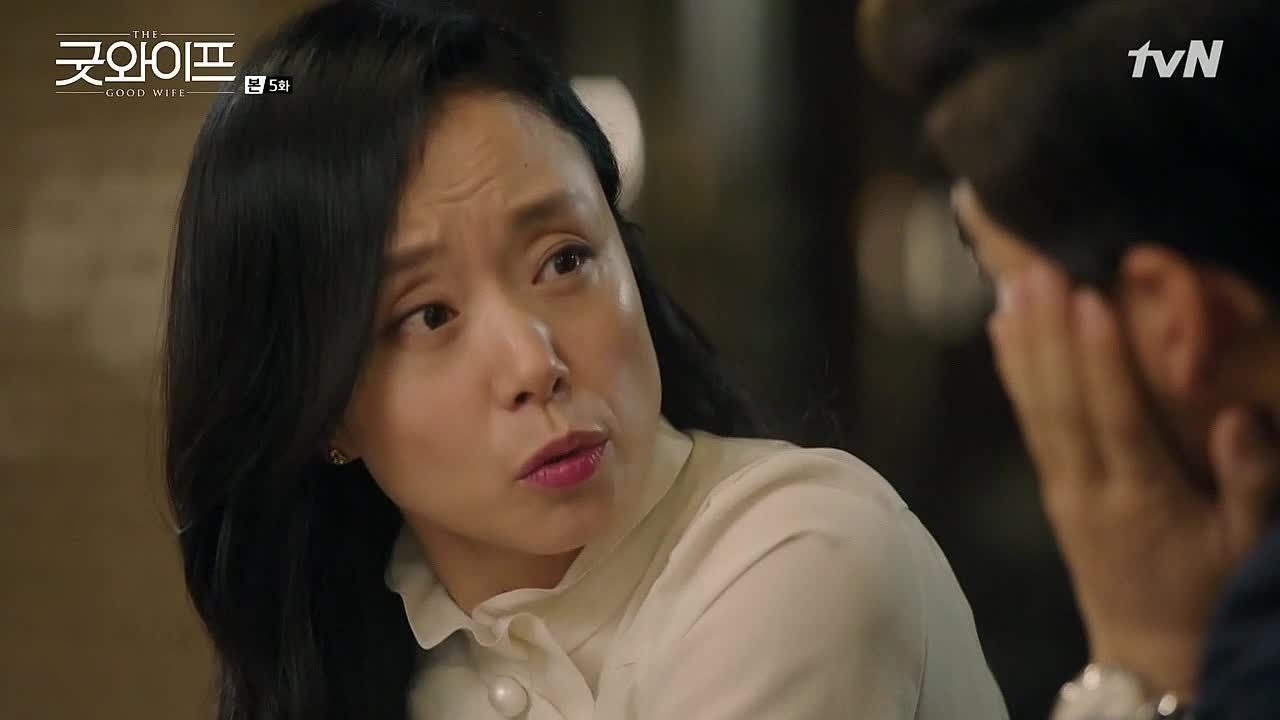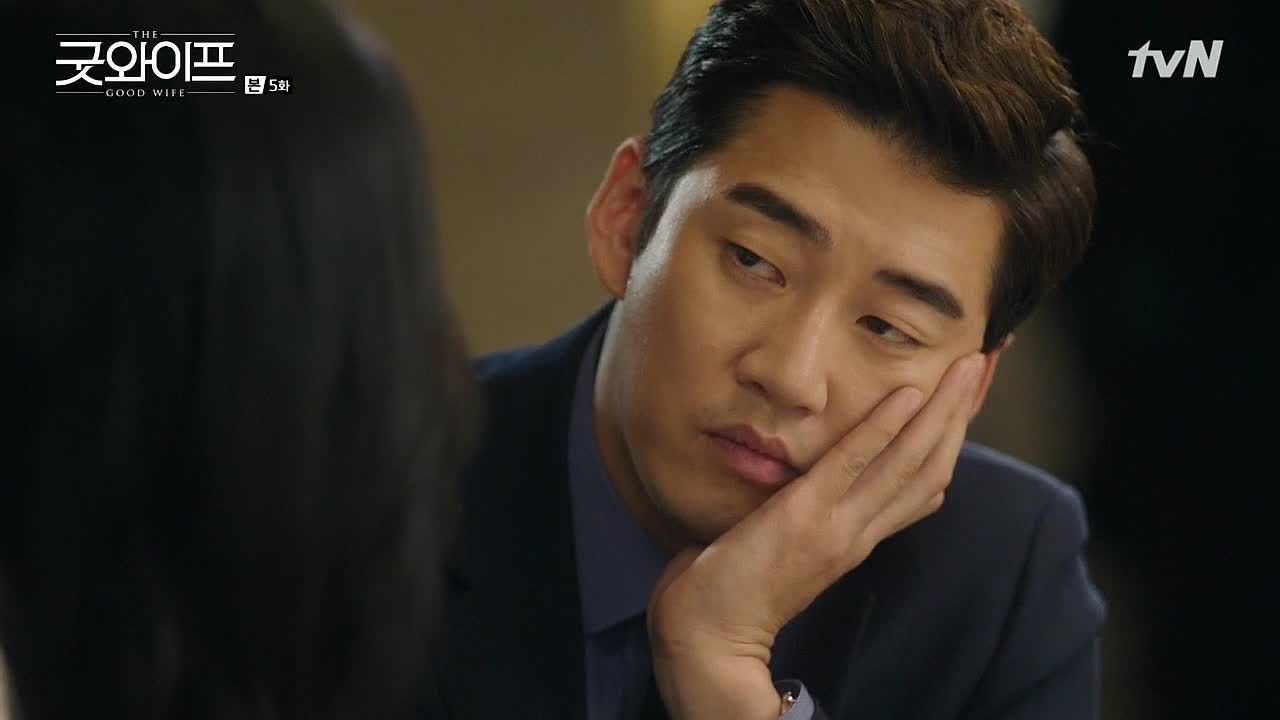 Thanks to a little drunken courage, he reveals that back at the Training Institute, he had a huge crush on her. She's shocked to hear that, because he only ever treated her as a friend while they were classmates, and he admits that near the end of their training he was going to reveal the truth.
Meanwhile, Tae-joon sits at home, studying the box of herbal medicine. He then dumps it out to reveal a phone at the bottom of the box, which he uses to call Guk-hyun. He agrees to talk to Guk-hyun provided he leaves Hye-kyung out of it. Guk-hyun reiterates that they need to stick together to win against Chief Prosecutor Choi, who's really no better than they are.
Back at the bar, Hye-kyung still refuses to believe Joong-won's belated confession, especially since he had lots of different girlfriends while they were at school together. Then she admits that, these days, she'd rather know the truth about everything, even if it's ugly. Joong-won agrees, rendering her speechless when he adds that he especially agrees when it comes to finding out the truth about her.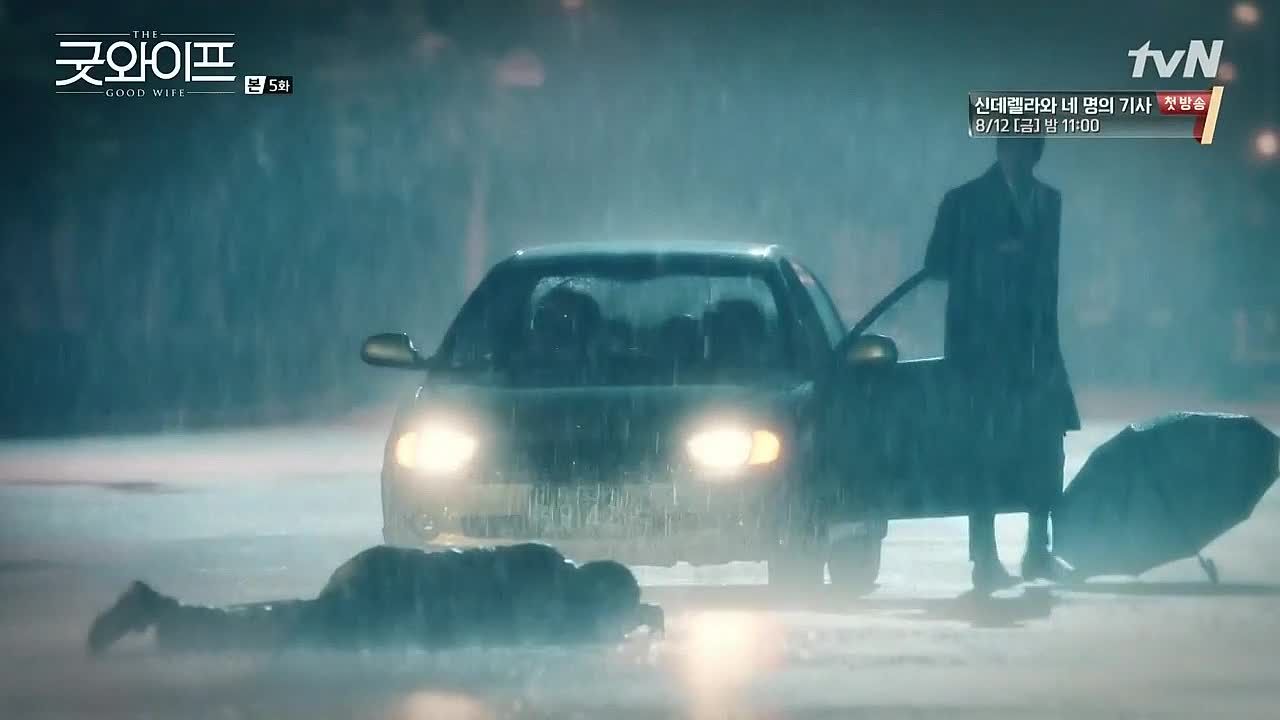 Both Hye-kyung on her way home and Tae-joon sitting alone at home recall the night of the car accident. It was dark and rainy, and Tae-joon was driving as he pulled to a stop at a light. He recognized a gangster he was trying to catch as a prosecutor, and then sped off after him, but the pouring rain made it difficult to see and he crashed into the man we know as Driver Kang.
When they saw the man lying bloody and unconscious in the street. Hye-kyung tried to call 911, but Tae-joon pleaded with her, letting her know his career will be ruined. Only the two of them knew what happened, and so long as they kept a secret, he was confident nothing would happen.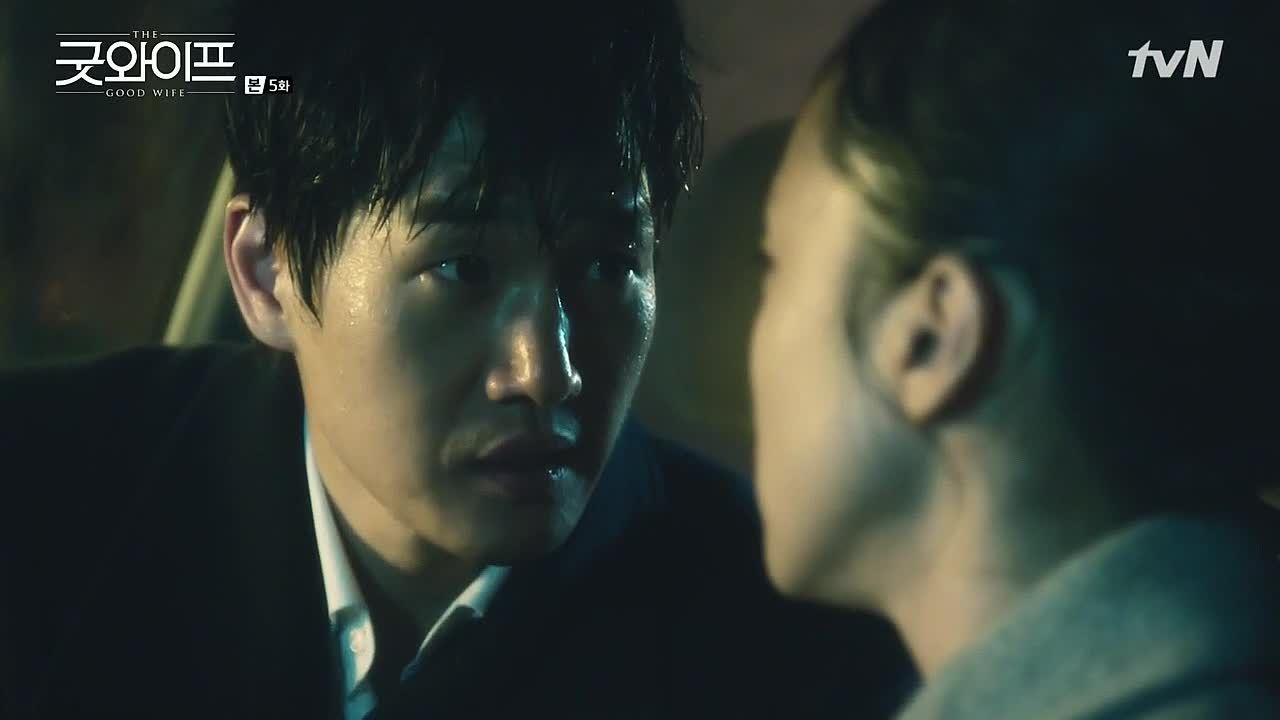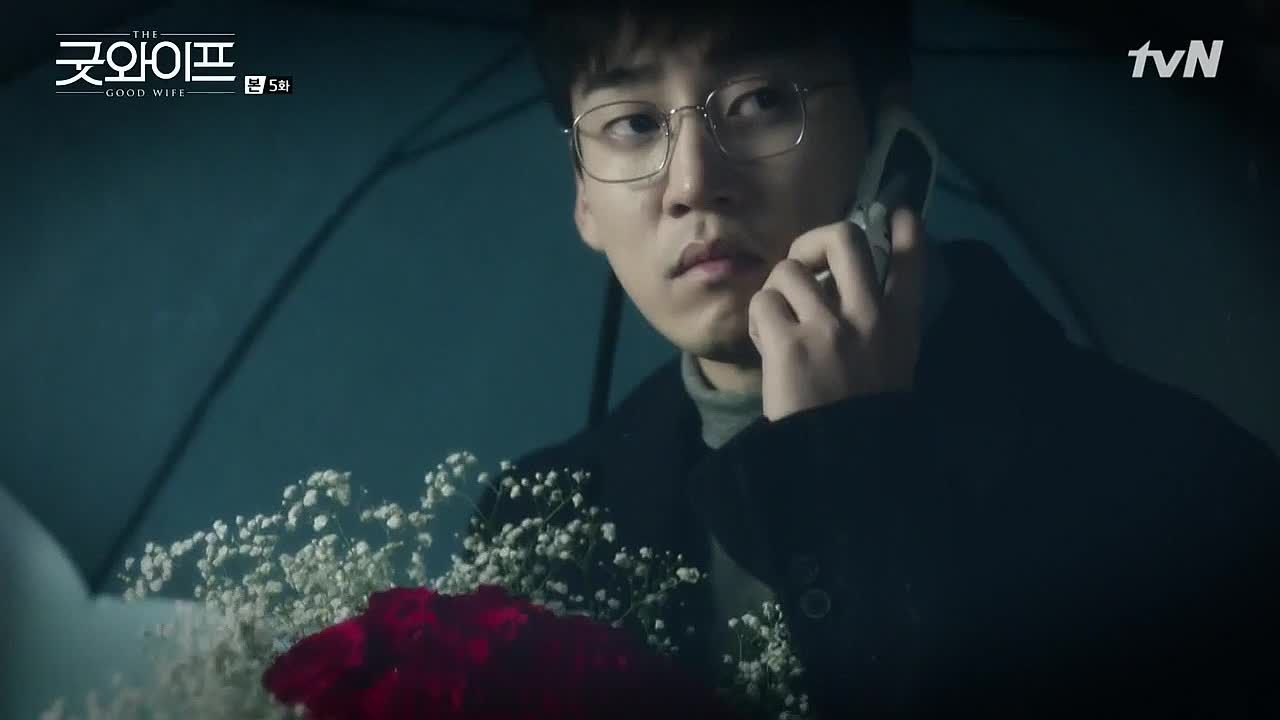 Pausing outside her apartment door, Hye-kyung recalls them switching spots so she was in the driver's seat, and Tae-joon reassuring her that he would make sure everything was taken care of. Her phone rang — it was Joong-won, who was standing in the rain with a giant bouquet of flowers, wondering where she is, but Tae-joon ignored the call.
Hye-kyung reassured Tae-joon that she would do all in her power to help him, and that everything would be fine if they were together. Then she pulled him close for an embrace.
In the present day, Tae-joon and Hye-kyung stand on opposite sides of the apartment door, hesitating until they finally reach for their respective handles.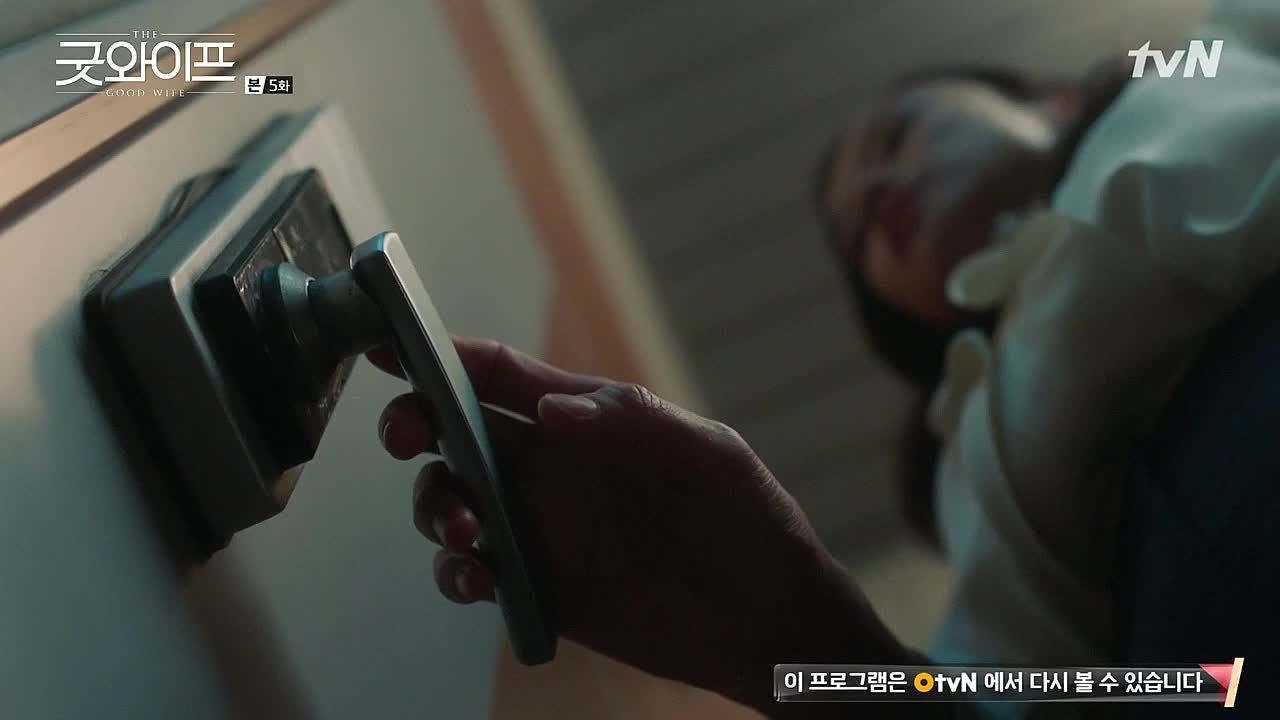 COMMENTS
The car accident sub-plot is definitely intriguing, not the least because it's novel to this adaptation. It also helps ground everything by adding something that's so familiar to Korean dramas, since tragic backstories are nothing new and are almost welcome to help remind me that this is not the American version. I also feel like this potential love triangle (although I hesitate even calling it that, since there are so many layers to this so-called "triangle") has more meaning and depth than I was expecting. While I still don't trust either of the guys, I feel like I can understand the struggle Hye-kyung must eventually go through when she starts to figure out the truth of how she really feels.
I mean, clearly it's easy to go the Dan route and just repeatedly warn to her to leave Tae-joon already because he's totally bad news and only going to make things worse for her. But there's a deep connection they share over that accident, a secret that binds them together, a secret that if revealed could ruin all of their lives. That's dangerously exciting, even if it's probably the worst possible reason to get into a relationship with someone.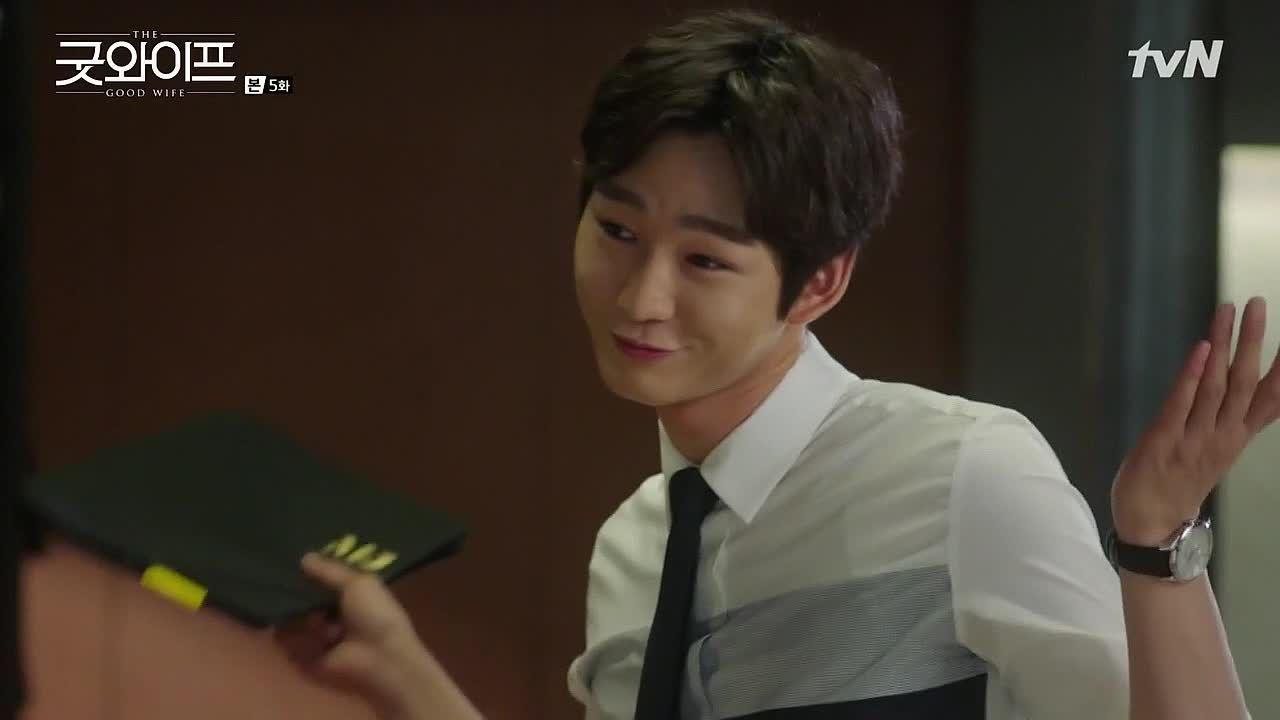 Then again, while Joong-won is slowly winning me over with his understated and (possibly) unrequited love, part of me still thinks he's suspicious for reasons I haven't fully formed yet, but most likely due to his sudden urge to leap on the chance to protect Hye-kyung at this point in her life when he apparently couldn't before. I'm sure she's grateful for the second chance at a career, but she doesn't seem the type who needs to be protected, y'know? She could have probably figured out her life without his continual help, especially when he tries to help her in ways that go against her personal beliefs.
Not to mention that all my years of drama watching have trained me to instinctively accept that the second lead never wins, especially the second leads with unrequited love and terrible timing. But I still kinda want Joong-won to rekindle whatever crush he had on her and fan that flame — if only because I want to see more of my beloved Jeon Do-yeon smiling in each episode.
But I'm also happy that there's the glimmer of promise we'll see more of the ensemble — yay, Joon-ho actually got to do more than just pop into Hye-kyung's office and smirk! Now I'm waiting for Myung-hee to finally have her day in court, too (literally). Until then, I'll be satisfied with more investigations where Dan gets to perform some dubious legal acts alongside the tenacious Hye-kyung. Forget Joong-won or Tae-joon — the only one I really want protecting Hye-kyung is Dan.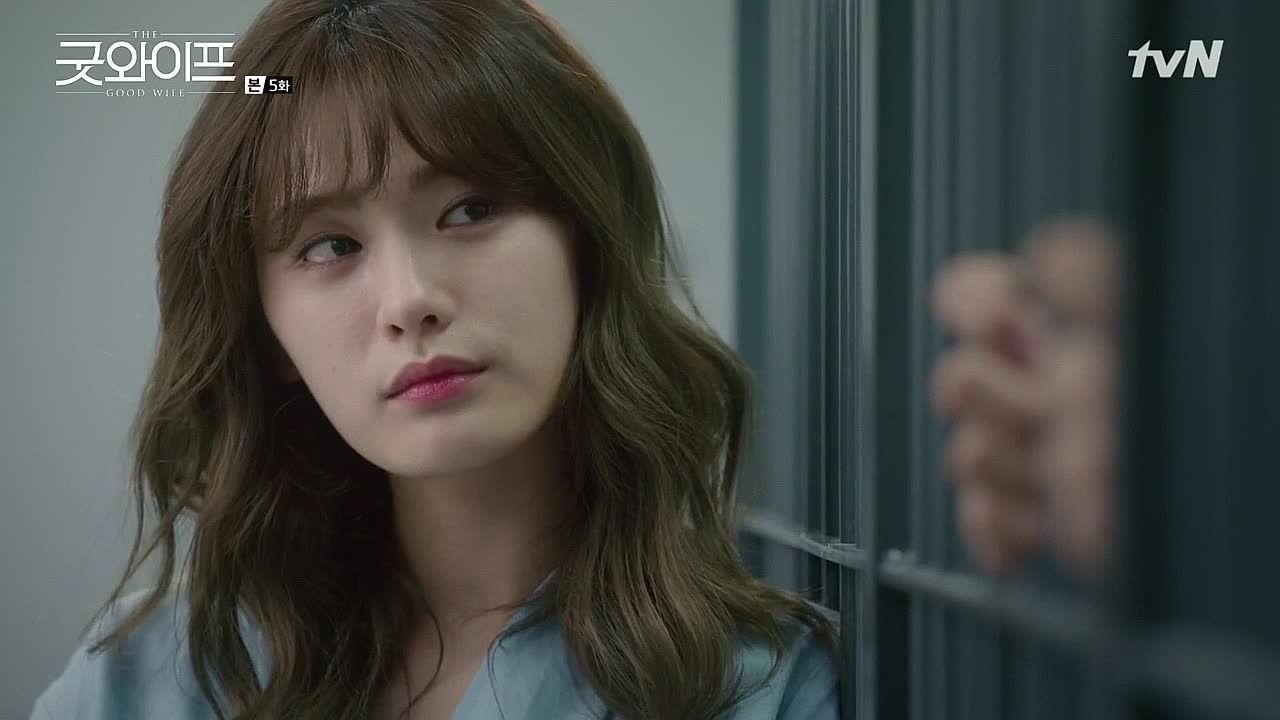 RELATED POSTS
Tags: featured, Jeon Do-yeon, The Good Wife, Yoo Ji-tae, Yoon Kye-sang