The Good Wife: Episode 6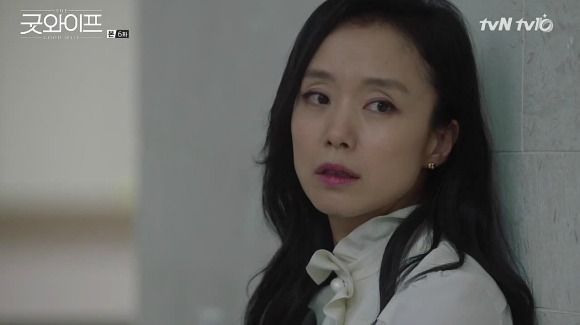 What does it mean to be alive? What does it mean to die? And can the definition of "life and death" truly be settled in a court of law, in just one day? Hye-kyung finds herself in a case that forces her to consider these questions — as well as the importance of love, honesty, hope, and forgiveness.

EPISODE 6 RECAP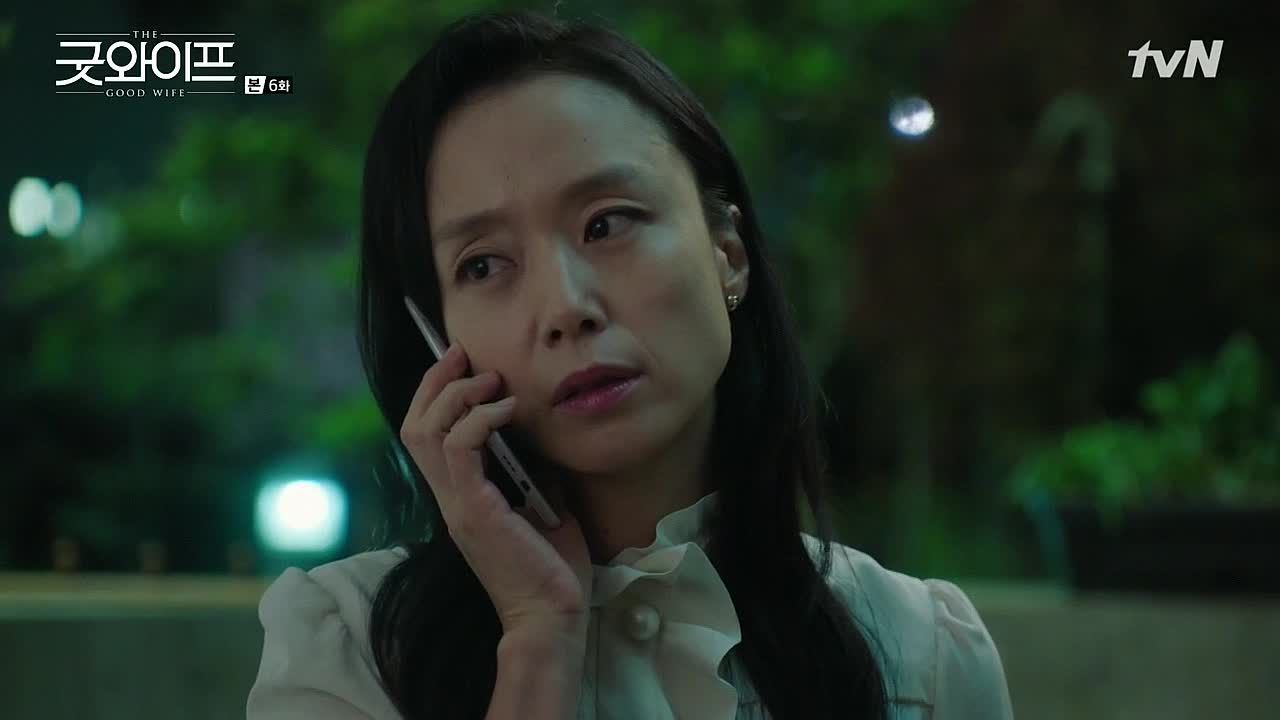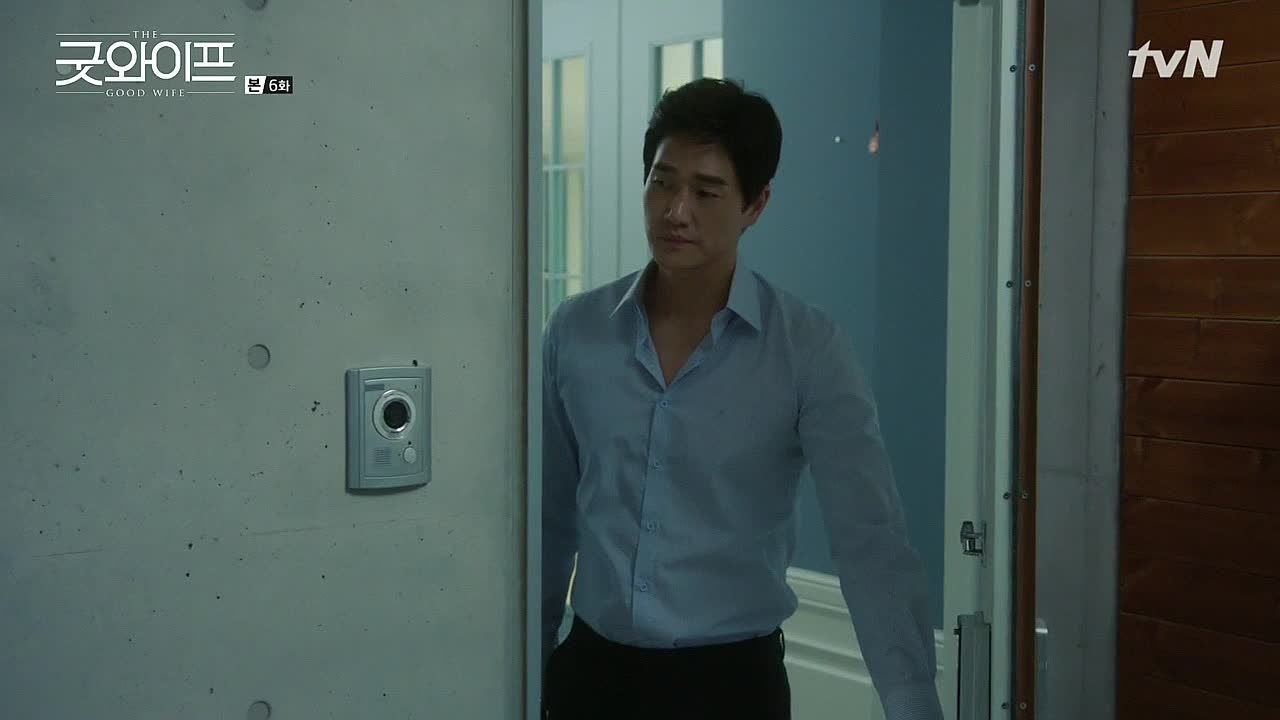 Hye-kyung is just about to open her front door when she gets a call from Papa Seo, asking for her help. By the time Tae-joon opens the door from the inside, she's nowhere to be seen.
Papa Seo has gotten into an accident by randomly walking out into the street, causing a car to swerve and crash to avoid him. He refuses to tell anything to the police officer, insisting that his lawyer will be arriving soon. And so she does, but she sighs when the cop asks her if Papa Seo has been drinking or taking medication, since she knows he doesn't want anyone to know about his Alzheimer's.
One of the doctors at the hospital is an old friend of Joong-won and calls him, giving a heads-up that his father is here with Hye-kyung. Joong-won immediately tries calling her, but she's already on the phone with the man who crashed his car to avoid Papa Seo. They've agreed to settle provided Papa Seo pays for the car repairs and medical bills.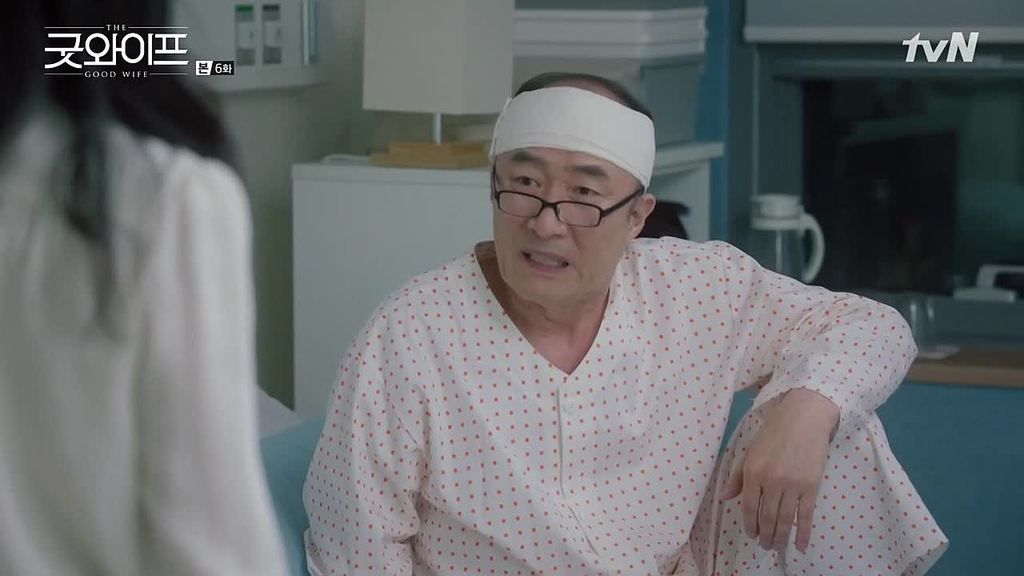 She tells Papa Seo that he really needs to let his children know about the accident, and especially about his condition, but he begs her for a few days more while he figures out how to break the news to them. Showing him the missed call from Joong-won, she points out that his son might already know.
Joong-won arrives at the hospital just as Hye-kyung is preparing to leave. He steps out of the elevator as she turns around the corner of the hallway to answer the phone, letting Tae-joon know that she's been delayed by a client. She spots an angry man further down the hallway, furious that the doctors are going to be taking his wife off life support.
Papa Seo just has some minor injuries, but they're still waiting for the test results to come back to ensure everything is fine. Joong-won sits down by his father's bedside to wait, and his father wakes up from his nap to ask if Joong-won is only interested in money.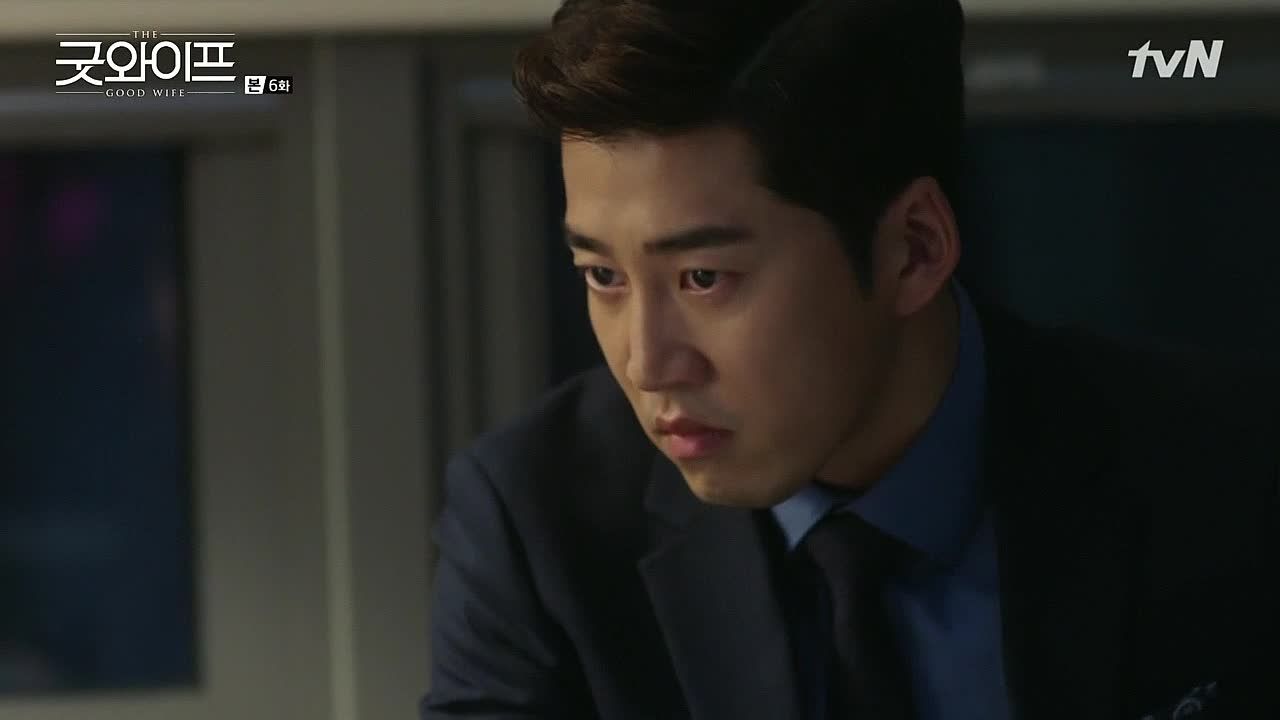 He doesn't seem at his most coherent as he rambles about handing down his law firm to trash like his son, who once won a case by postponing a trial on behalf of a toy company that made toys with lead, causing many children to die of lead poisoning as the trial dragged on and on. Didn't Joong-won learn any ethics in the Training Institute, or was he taught to only be concerned about his client's money?
Joong-won isn't going to sit still for this, and he angrily reminds Papa Seo that even if his father fought for his cases with his conscious, he spent more time at work than caring for his family. But Papa Seo just sadly says that he never thought his son would be so blinded by money — and then he falls asleep.
Stepping outside of the hospital room, Joong-won remembers how triumphant he was when he finally got the last lead-poisoning family to settle, winning the case. But his sister and father were not as enthused.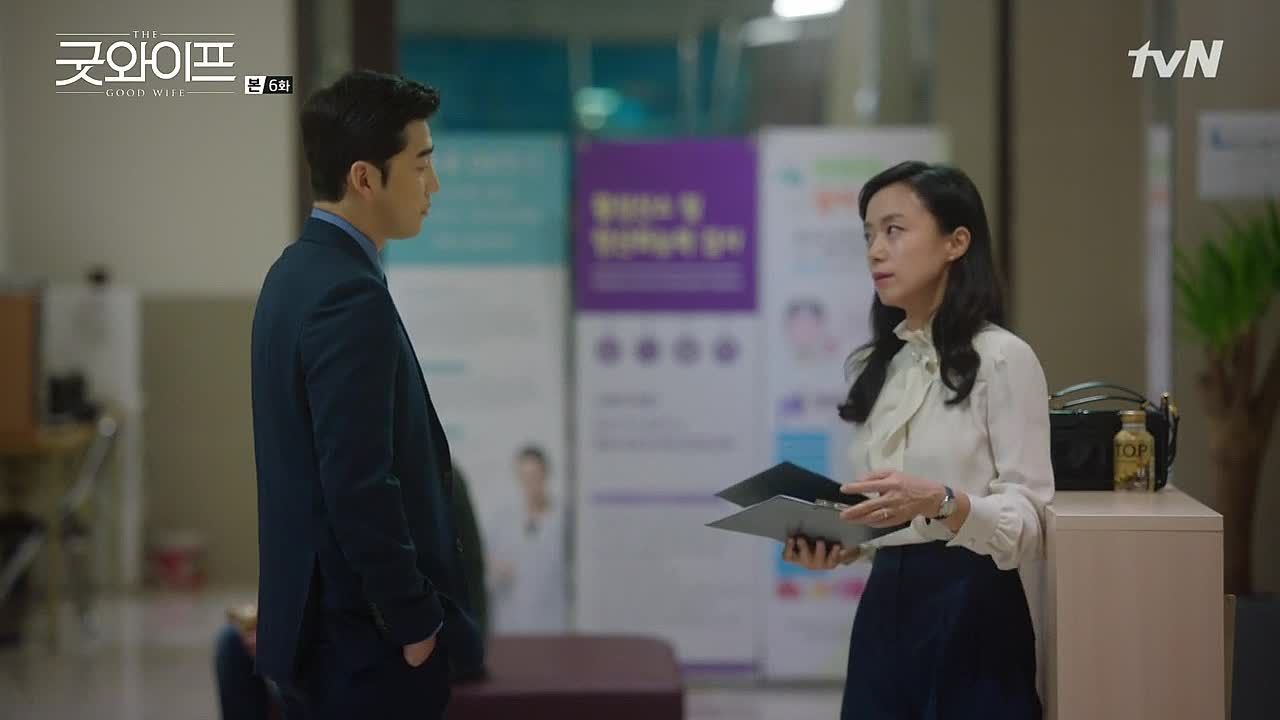 He spots Hye-kyung in the hallway, filling out paperwork. She easily lies that Papa Seo fell in his bathtub and only called because she's the first contact in his speed dial. She then reveals that she's been filling out an injunction for patient Lee Hyo-jin, who's currently in a vegetative state and due to be taken off life support tomorrow.
Joong-won doesn't think the legal order to stop the hospital from removing life support has much merit, considering that it seems she's previously refused life support and her family is in unanimous agreement to take her off it. But Hye-kyung reveals Hyo-jin is also eighteen weeks pregnant — if Hyo-jin is taken off life support, then the baby dies, too. Hye-kyung is convinced that they should take on the case for Hyo-jin's husband, and Joong-won, while doubtful, agrees.
When she finally arrives home, Tae-joon meets her in the doorway. He's been waiting up to tell her something, but Hye-kyung will only agree to talk to him once he finally tells her the truth about everything.
In the morning, Myung-hee demands to know what happened at the hospital that made Joong-won file an impossible-to-win injuction, because Hyo-jin's husband isn't actually her legal husband — they've just been living together, so he has no legal rights in her life. However, Joong-won is still confident, since the man is the father of Hyo-jin's baby.
Myung-hee then chides him for not visiting Papa Seo in the hospital. She's already talked to their father, adding that Papa Seo told her he'd rather Joong-won doesn't visit. Joong-won just rolls with it, not mentioning he was already there, and as soon as Myung-hee leaves, he opens up his laptop to reveal he's been researching Alzheimer's Disease.
Due to the injunction, the Justice Department has set up an emergency courtroom in the hospital. It's Hyo-jin's brother against Hyo-jin's defacto husband Na Joong-ki (and father of the unborn child), and tensions are high between them as her brother blames her boyfriend for her current state.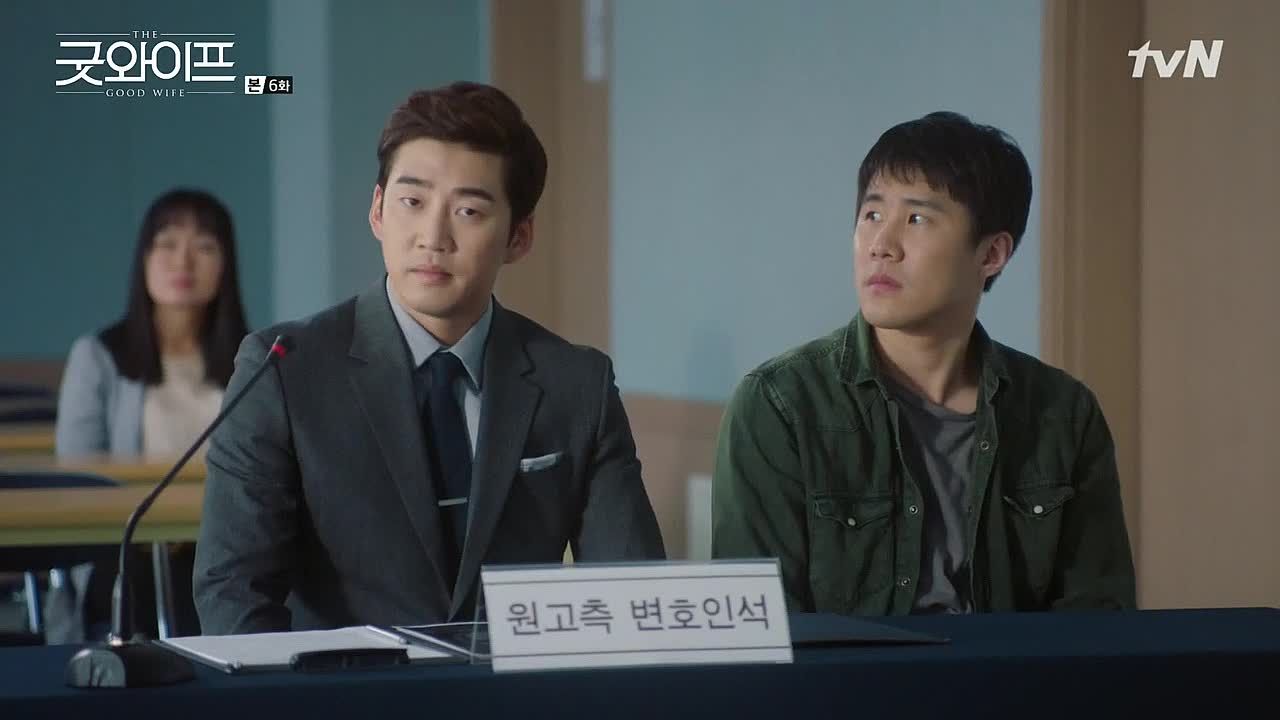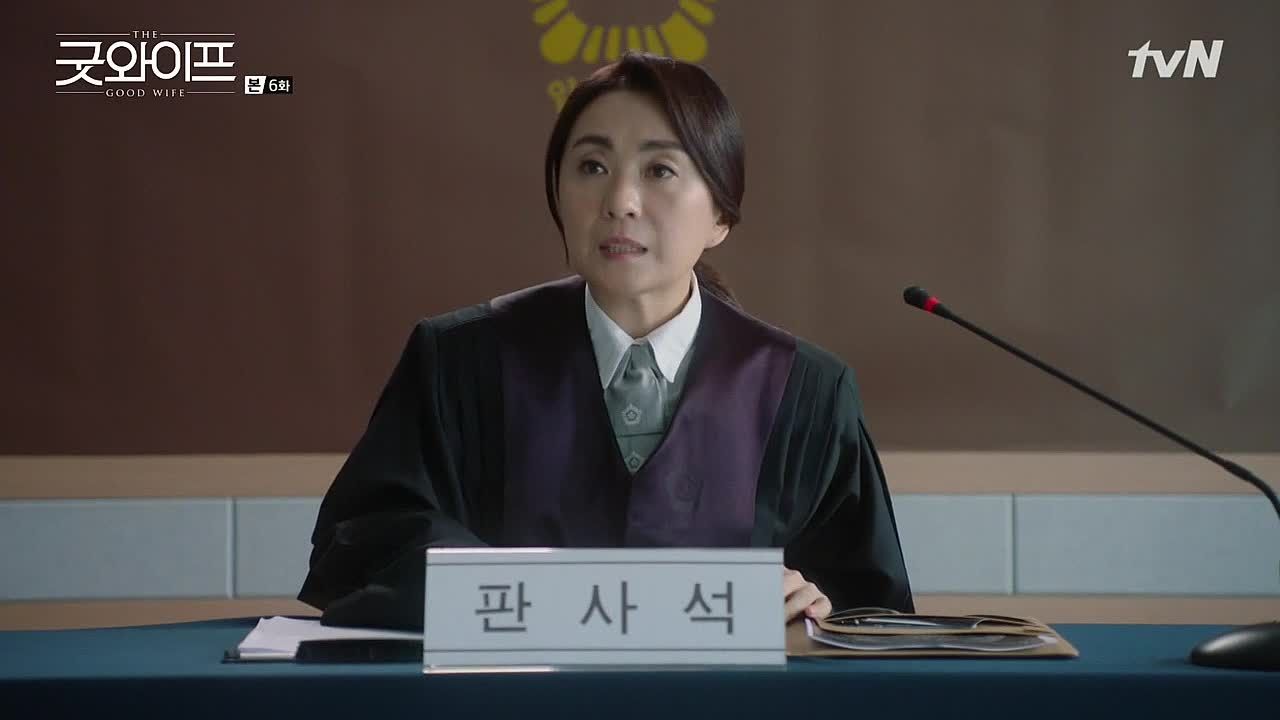 The judge begins the hearing, annoyed that the brother's counsel isn't here yet. She's the kind of judge who keeps to the strict letter of the law, and if his lawyer doesn't arrive soon, then the brother will have to defend the case himself.
As Hyo-jin's brother nervously awaits his lawyer's arrival, Joong-won presents the case: Hyo-jin had a severe head injury nearly two weeks ago and is currently in a vegetative state, but she's also pregnant. The baby is still healthy, but Hyo-jin's family wants to pull the plug, meaning Hyo-jin and the baby will die. Even though Joong-ki never registered the marriage, Joong-won is there to prove that Joong-ki has the legal right to decide what's best for Hyo-jin and the baby.
Hye-kyung is also hurrying to the hospital to join Joong-won at the hearing, but she stops to help an extremely pregnant woman out of her car and carry her belongings into the hospital. It turns out that the pregnant woman is none other than the opposing counsel, Lee Soo-hyun.
Soo-hyun and Hye-kyung arrive at the makeshift courtroom just then, and as Soo-hyun takes back her belongings, she starts right in with her argument that Hyo-jin is already dead, having never regained consciousness since her accident. Plus, her family is in complete agreement to give her the dignity of death by removing life support.
Hye-kyung springs up to object, but Soo-hyun dismisses her claim that Joong-ki is Hyo-jin's closest family member. It doesn't even matter that Hyo-jin is pregnant — there's no real chance that the fetus could survive an attempt give birth.
Joong-won asks an experienced doctor, who reveals that if they keep Hyo-jin on life support, the fetus can grow enough to have a 15-20% chance to survive a cesarian section. When Soo-hyun questions him, she reveals that the other doctors in the hospital only predict about a 3% chance, discrediting the other doctor's skill.
But the doctor refuses to be badgered, and firmly declares that he would be willing to give the baby a chance, confident in his abilities. Then it's time for Joong-won to cross examine Soo-hyun's expert witness doctor, and he steam-rolls the man with rhetorical questions about the value of life and how, even if there's one-in-a-million chance, shouldn't they do all they can to save a life? Worried that the judge is about to decide in favor of Joong-won and his client, Soo-hyun fakes labor pains to buy some time.
Hye-kyung does all but roll her eyes, and when Joong-won points out Soo-hyun's faking it to extend the hearing, Soo-hyun counters with his original argument that all life is valuable. Which he then snarks that, according to her argument, her baby isn't alive yet, since it's just a fetus. At any rate, the judge allows for a recess.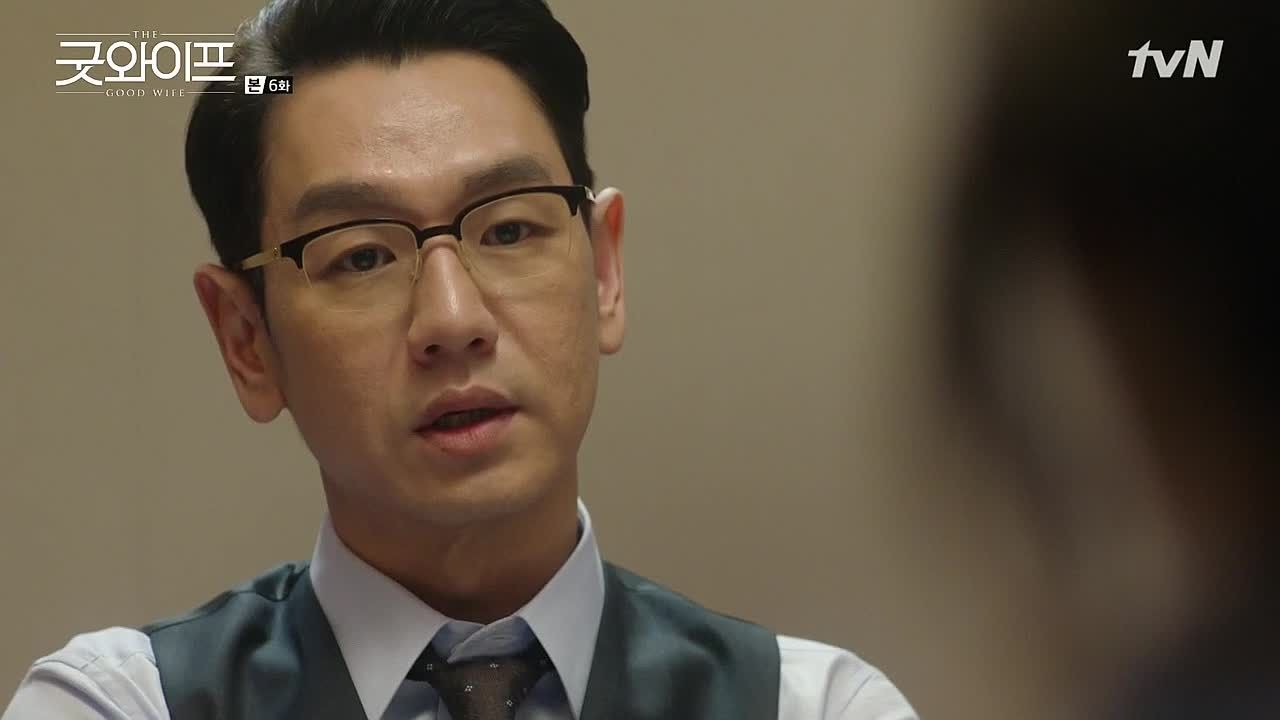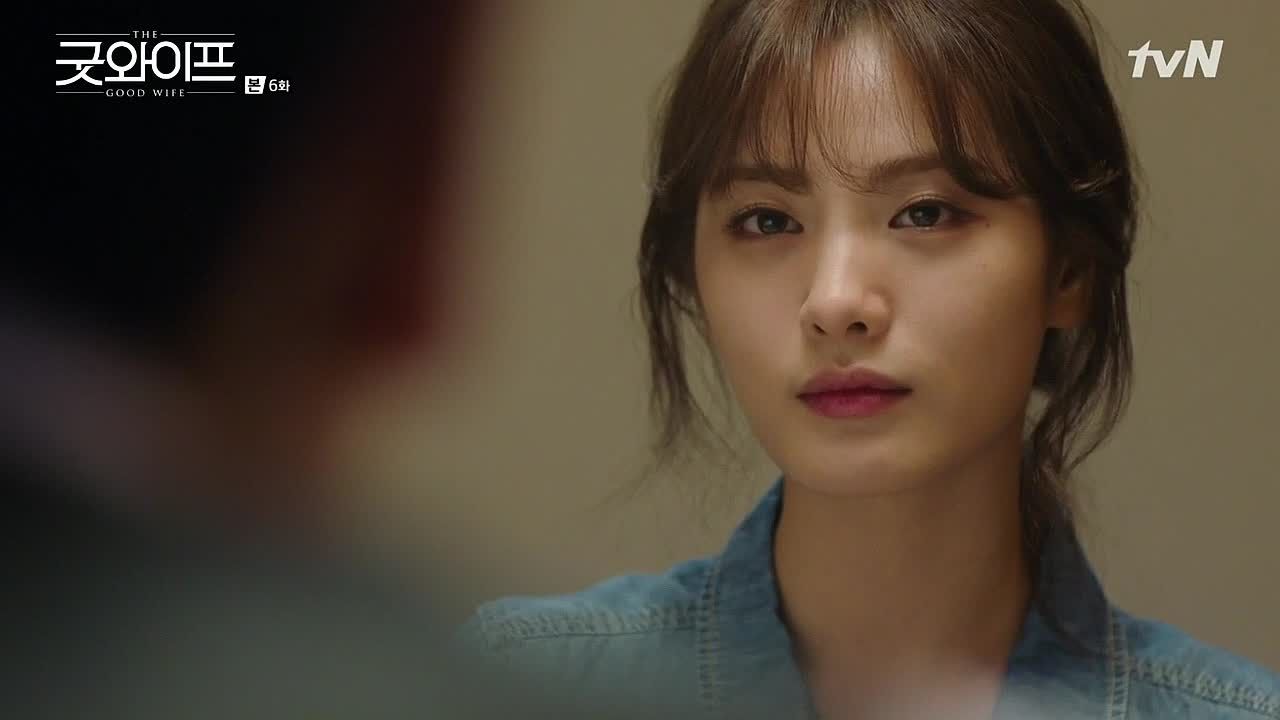 Dan meets with Chief Prosecutor Choi, who offers her the chance to work for him by gathering all the information she can find on Tae-joon. He won't pay her because he can instead blackmail her with his knowledge of what really happened when she worked at the Prosecutor's Office.
Back at the hospital, Hye-kyung asks their medical expert why he believes the odds of survival are more than one-in-a-million. He explains that he used to think there was never a chance for recovery, but then he had one of his vegetative-state clients randomly wake up one day after being in a coma for ten years. Maybe it's simply coincidence, but he believes that it was the power of love, thanks to her family who stayed by her side all that time.
Joong-won sees his father's hospital room, but continues walking past to go visit Hyo-jin. Hye-kyung finds him there, wondering if life support is more for the patient's family than the patient — it gives them hope, after all. Joong-won personally believes they should follow Hyo-jin's original wish to remove life support, but Hye-kyung is the idealist who, as a mother, would be willing to do anything to save the baby.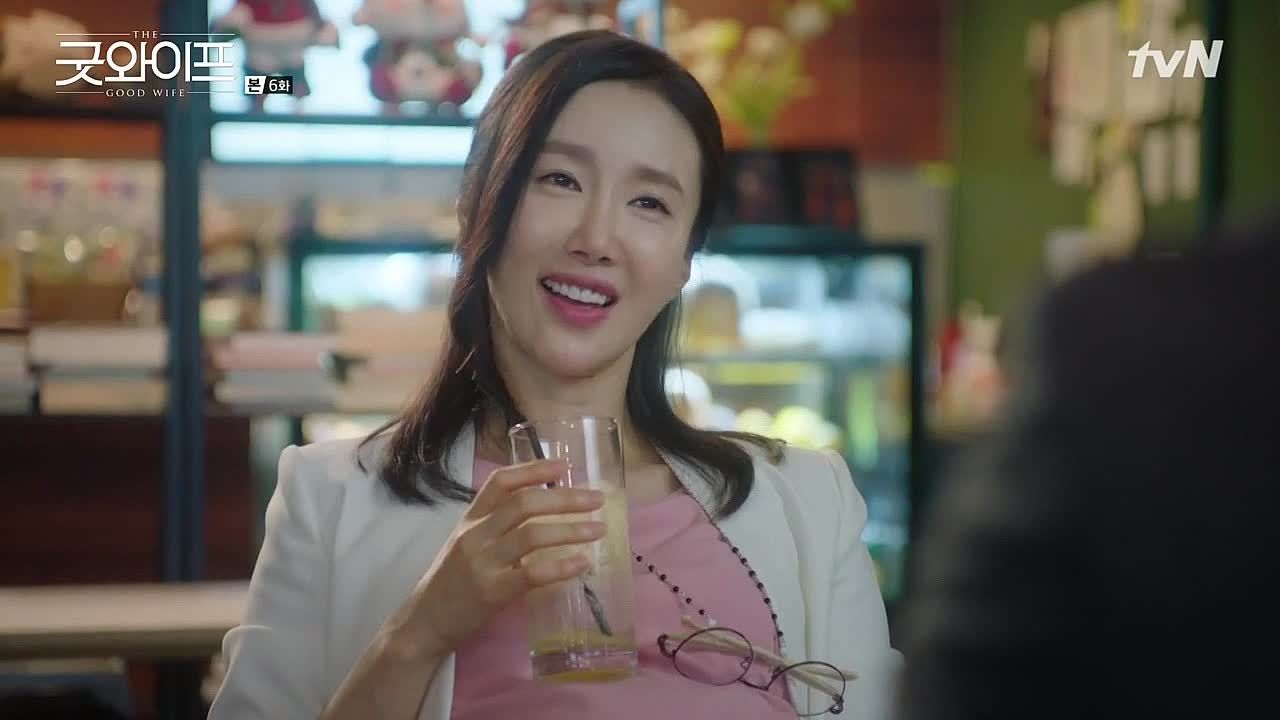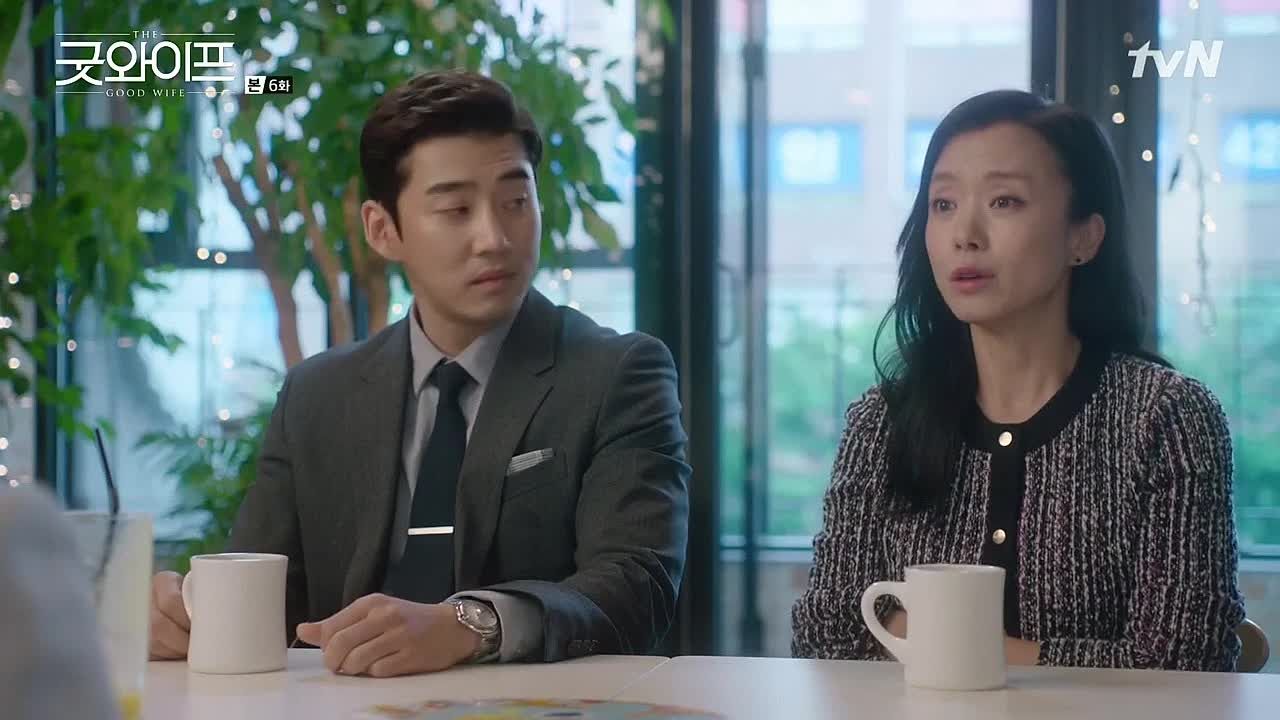 They sit down to have a drink with Soo-hyun (who admires the fact they'd look good as a couple, hee!), and she's surprised that such a shark like Joong-won was willing to take on a case defending the rights of a fetus that only has a slim chance of survival. Especially since he used to be the kind of lawyer who had no concern about dying kids when it meant winning a settlement. That seems to surprise Hye-kyung, although she doesn't say anything.
Then again, Soo-hyun knows this isn't just about the baby. It's really about money. Hyo-jin is due to come into a hefty inheritance if her sickly father dies before she does. But if she dies first, then the money will go to the other members of the family. Soo-hyun assumes that Joong-won just took the case to get his hands on some of those millions. Hye-kyung insists that neither she or Joong-won knew anything about the money, but is surprised to hear Joong-won calmly discuss the details of Hyo-jin's will.
Soo-hyun points out that if the baby is born, then it's like Joong-won and his client won the lottery. Hye-kyung is shocked by how shameless Soo-hyun is acting, but Soo-hyun suggests that they come to an agreement — keep Hyo-jin on life support for the baby, and have Joong-ki agree to give the inheritance to Hyo-jin's family. As Soo-hyun leaves to discuss the settlement with her clients, she tells Hye-kyung that it's clear she's a rookie — that's okay, though, because she'll get hardened in a few years.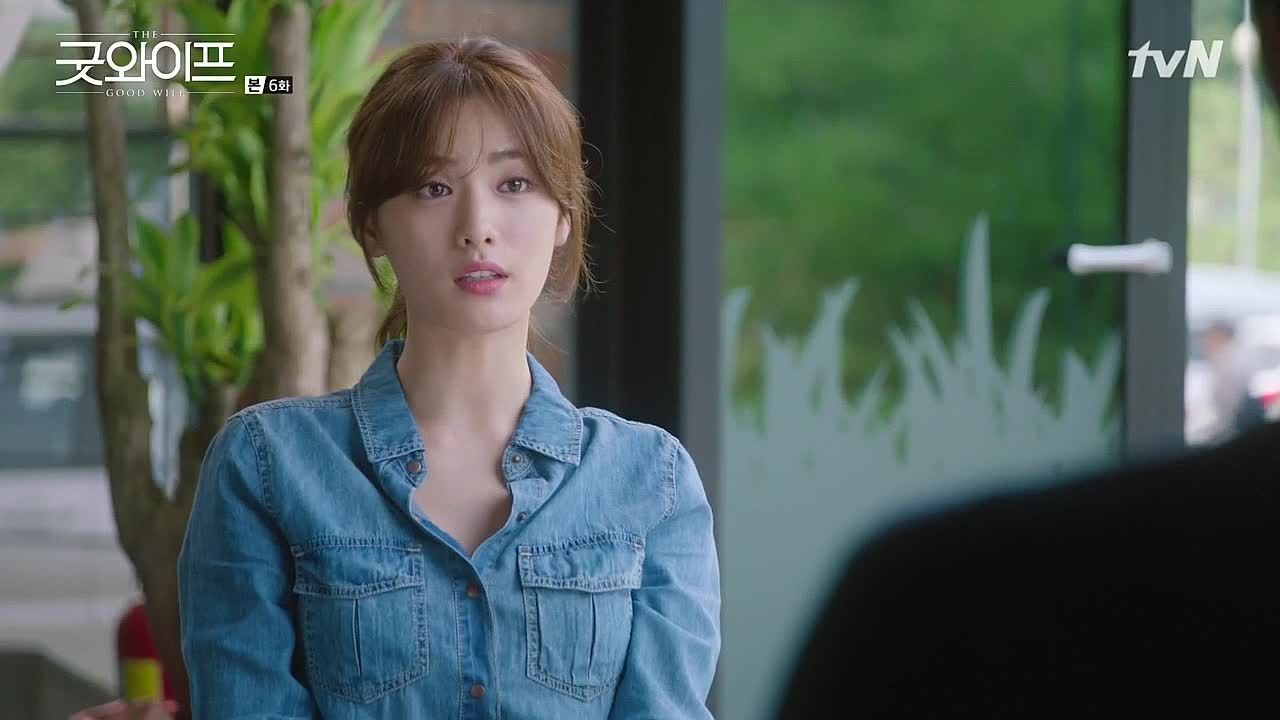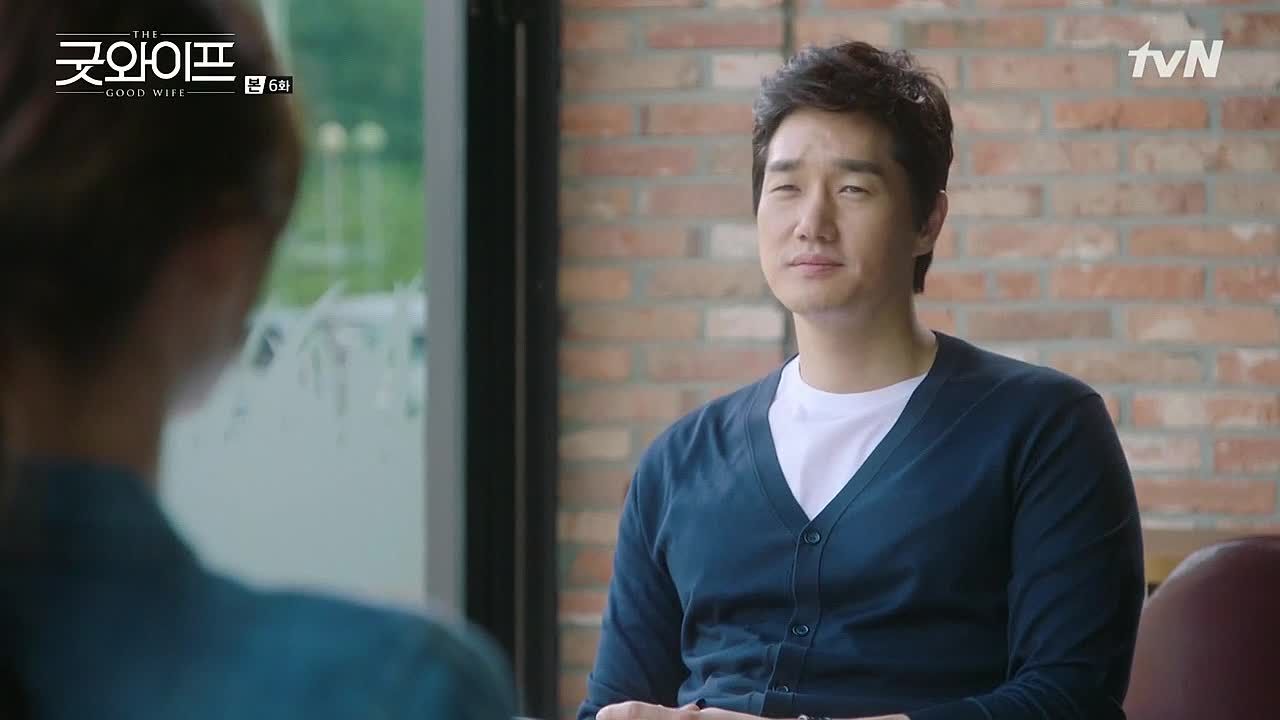 Tae-joon is at the hospital to visit his mother (one of the few places other than home he is allowed to go), and is surprised to find Dan waiting for him. She reveals that Chief Prosecutor Choi has hired to her to dig up information on Tae-joon, and Tae-joon offers to hire her on as well. She'd basically be a double-agent.
Joong-won finds Joong-ki at the ICU, unable to tear himself away from the window where he can watch Hyo-jin. He stares in wonder, marveling that it looks like she's sleeping and will wake up any moment. Joong-won brings up the money, but Joong-ki doesn't seem to care — or know — about the inheritance, promising he'll find a way to pay the lawyer's fees.
Returning to the makeshift courtroom, Joong-won is more determined than ever — there will be no settlement. Soo-hyun just shrugs — that means Joong-won's client will lose it all. She calls Joong-ki to the stand, and makes a great display of how she understands how difficult it must be for him right now, but isn't he making things more difficult by refusing Hyo-jin's right to a dignified death?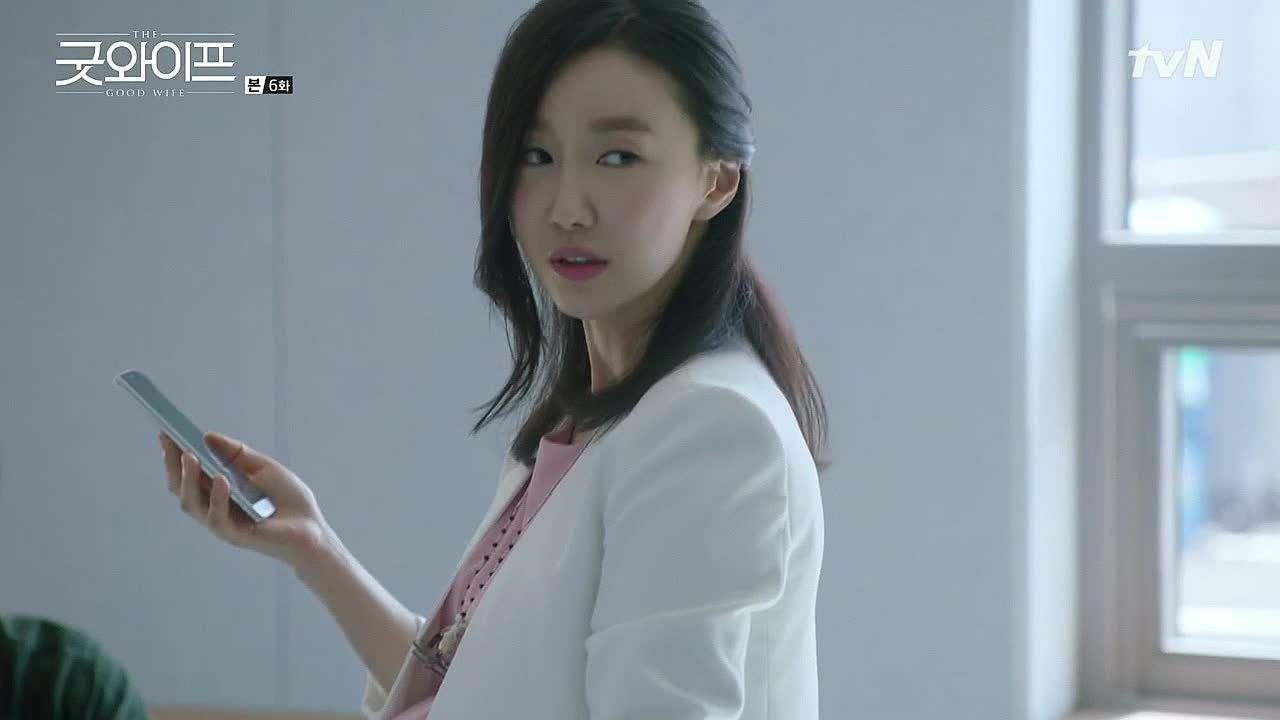 Joong-ki argues that even though he's not legally her husband, he knows Hyo-jin better than anyone else, and she would have changed her agreement for no life support once it meant saving the life of her child. He angrily reveals that her family were no better than strangers to her, yet they're the ones who get to decide whether she lives or dies, and not him, the one who loves her and was planning to marry her.
But Soo-hyun reveals that, on the day of Hyo-jin's accident, the couple had gotten into a fight. She shows the judge a text message that implies Hyo-jin was breaking up with him. Desperate, Joong-ki tries to explain it was all a misunderstanding, but it's enough for Soo-hyun to prove that Joong-ki has no legal right to speak for Hyo-jin. Joong-won points out that Joong-ki can still speak for his child, but the judge reminds him that a fetus has no legal rights.
Soo-hyun's basically won the case, and she refuses Joong-won's request to agree to the original settlement. He just needs to accept the fact he actually lost.
Hye-kyung tries to comfort Joong-ki, who's sitting dazed in the empty hospital courtroom. He begs Hye-kyung to still try and help him save Hyo-jin's life. He wanted to tell her after she woke up from her coma how sorry he was and ask her forgiveness.
But instead all he can do is sit by Hyo-jin's side and weep as the doctors officially remove the life support. Hye-kyung and Joong-won also watch, and later as Joong-won leaves the hospital, he passes by his father's room where Myung-hee has joined him for dinner. But he doesn't stop and go in to visit with them.
Hye-kyung is haunted by Joong-ki's declaration that the last memory Hyo-jin has is of their fight, and when she gets home, she and Tae-joon sit down together to speak honestly.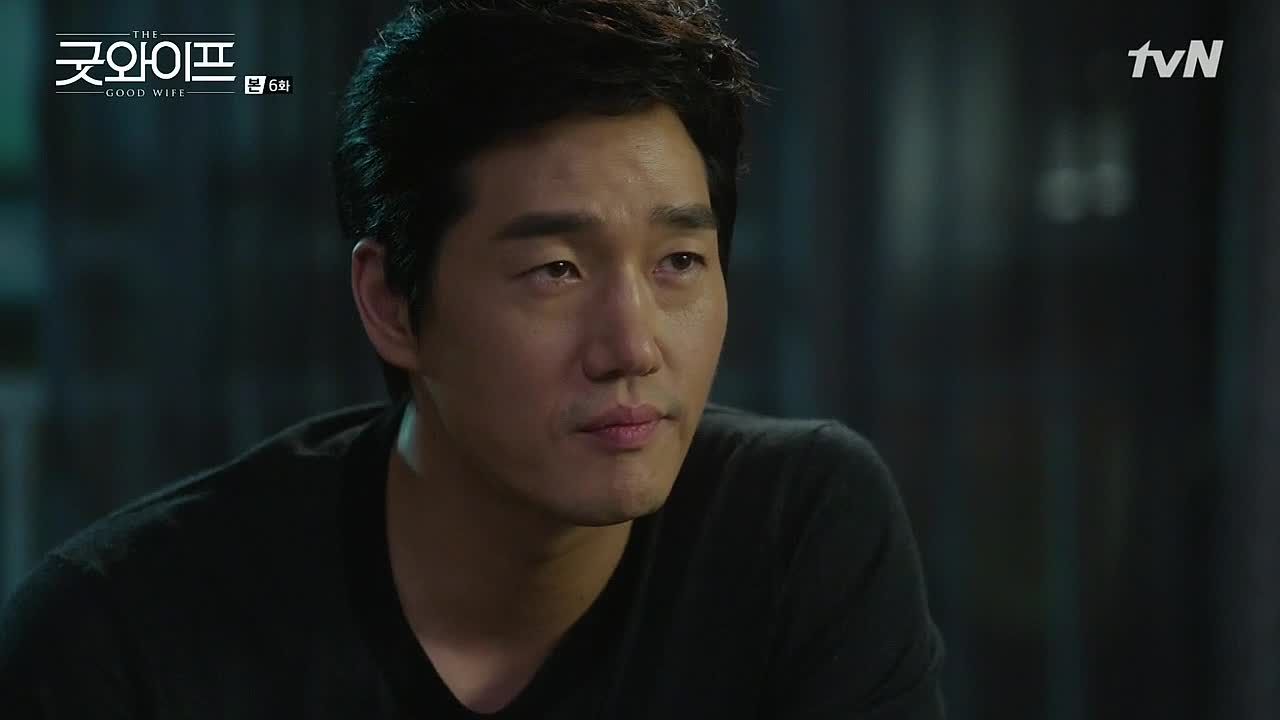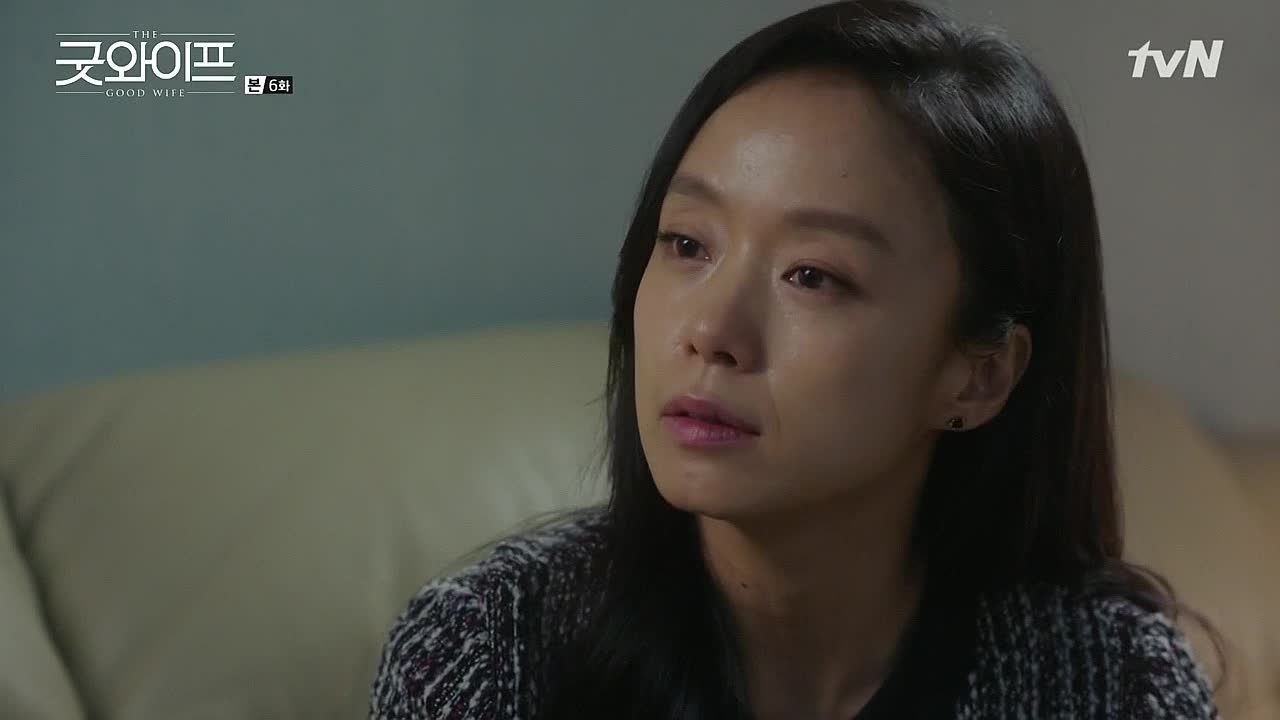 Tae-joon reveals that Guk-hyun has never directly blackmailed him about the car accident, but did use that connection to build a special relationship with the prosecutors to give him unique consideration when his business practices were revealed as corrupt. Tae-joon swears he never took bribes — just the necklace, which Guk-hyun purchased because he knew Tae-joon wanted to buy it for Hye-kyun.
As for his infidelity, it was all a set up — nothing to do with Guk-hyun. The reason Guk-hyun is so determined to meet with Tae-joon is because of the upcoming appeal, and Guk-hyun is being pressured by Chief Prosecutor Choi to falsely testify that Tae-joon received bribes.
Tae-joon is relieved to finally tell Hye-kyung the truth — he hadn't before so as not to worry her unnecessarily. He just wanted to protect her and the children. But Hye-kyung accurately pinpoints the fact that Tae-joon is more interested in protecting his greed than his family.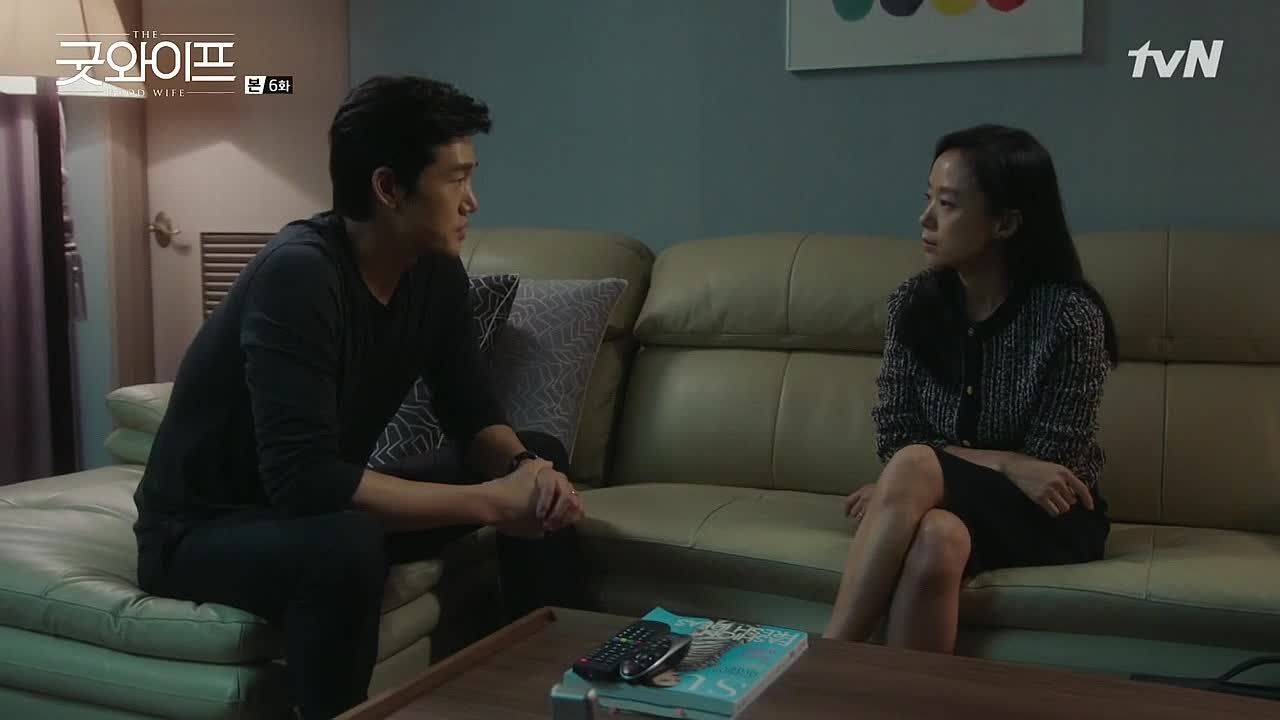 It's something she should have paid more attention to back when he covered up the car accident, but she ignored it because she loved him. She points out that if she had dealt with it then, then they may have been happier, even if they weren't as well off financially.
Dan reveals to Chief Prosecutor Choi that she's already been in contact with Tae-joon, and she'll work for him provided he gives her the recordings from when he tapped Tae-joon's phone. It's the only way she can gain Tae-joon's trust.
Joong-won is drinking away his worries, staring at an old list of his graduating class at the Training Institute. Papa Seo had circled Joong-won's name and then then added a handwritten note: "Become a greater lawyer than I."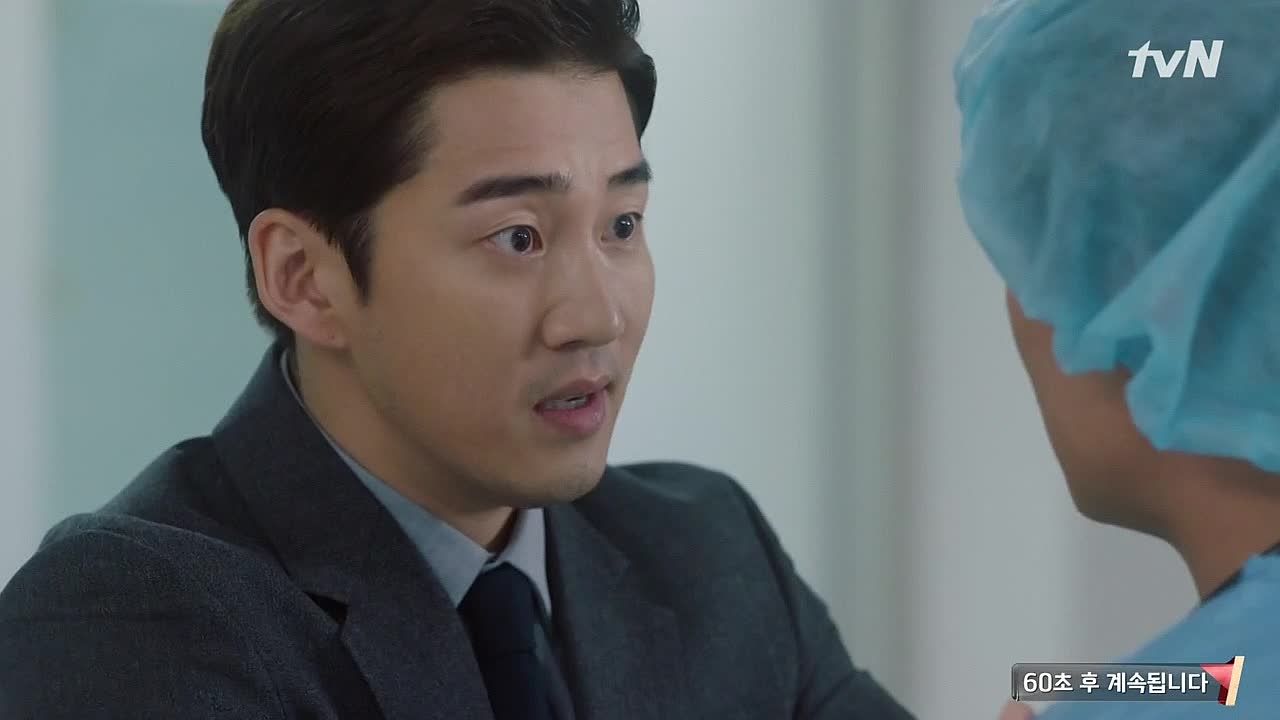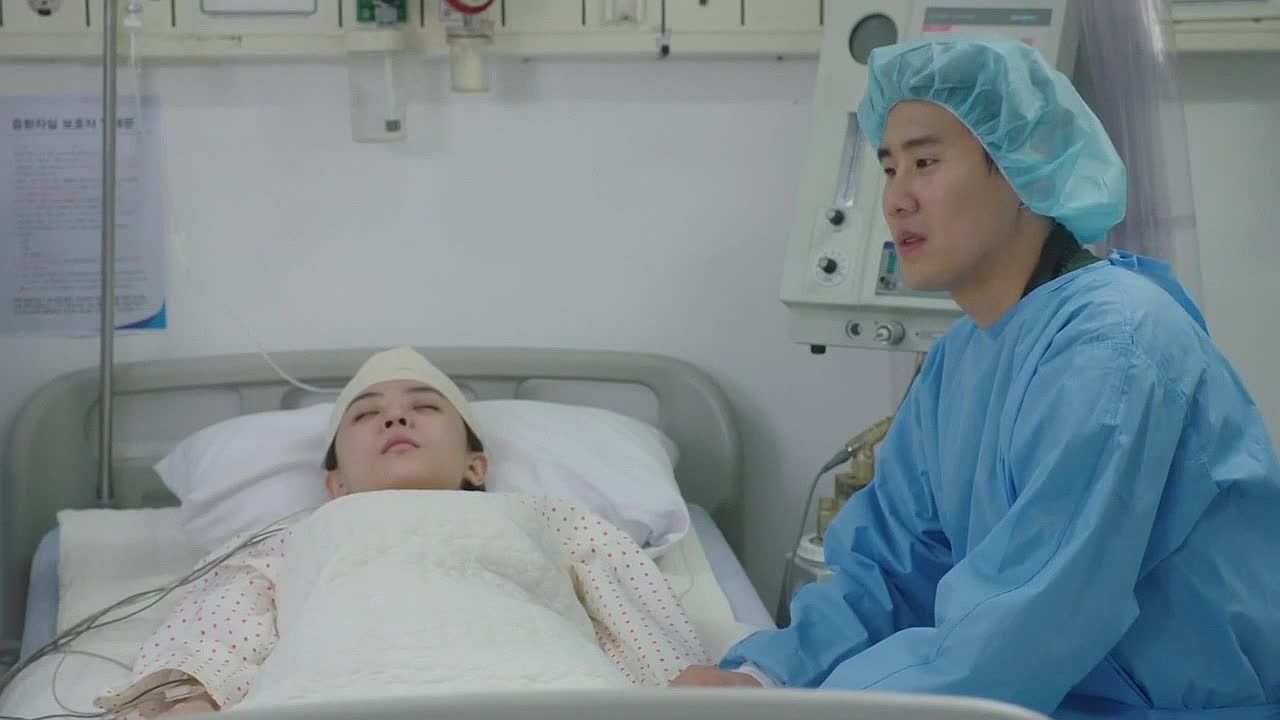 He gets a call from a panicked Joong-ki, begging for his help. He rushes to the hospital, where the doctor reveals that even though she's not responsive, Hyo-jin is still alive despite not being on life support. There's still basically no chance that she'll actually wake up, but Joong-won takes it as the miracle he needs.
The next morning, Dan appears on Tae-joon's doorstep to give him a copy of the phone recordings. She refuses his offer to come in for a cup of coffee, just asking that he deposit her fee ASAP.
Joong-won and Hye-kyung meet with Soo-hyun, who says that her clients will agree to the settlement of maintaining Hyo-jin's life support provided Joong-ki relinquishes the inheritance. But Joong-won points out they've already removed the life support, and Hye-kyung says they'll instead settle for the medical fees associated for having a baby, plus living expenses for the baby until it graduates college.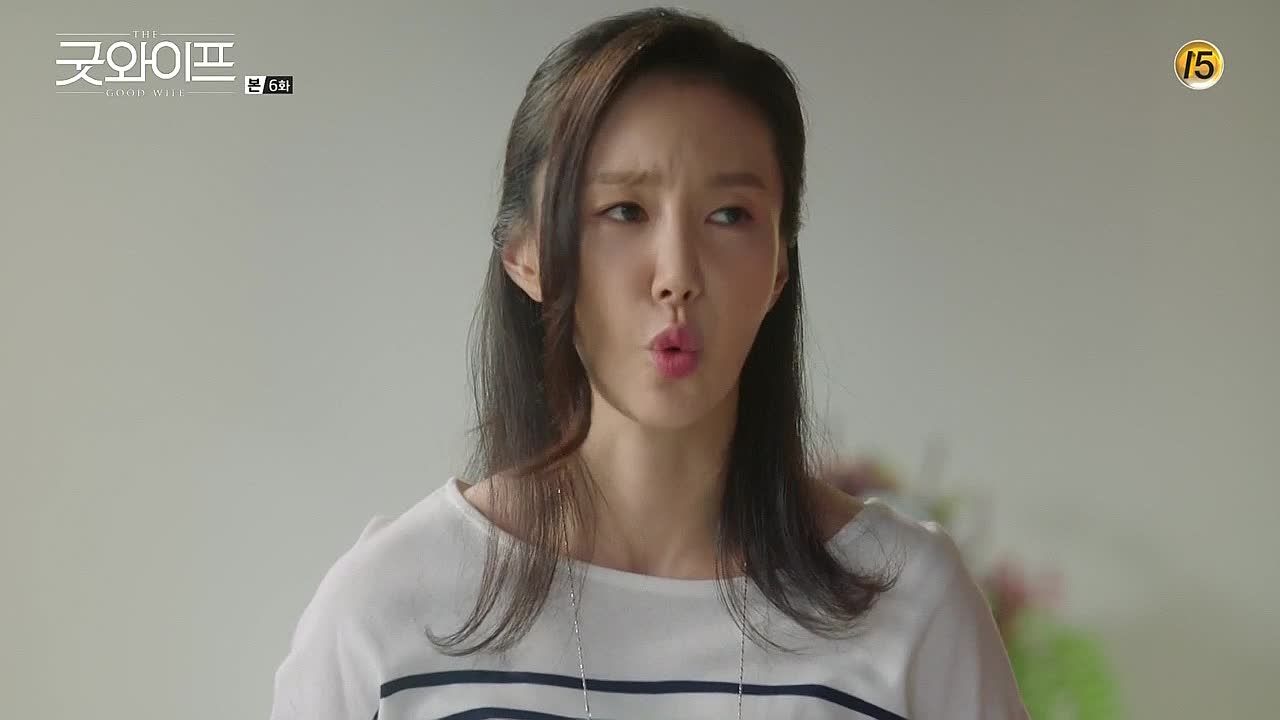 When Soo-hyun balks at the amount, Hye-kyung smirks, reminding her that she once declared that there's only a 3% chance of the child surviving. Resigned, Soo-hyun agrees to discuss the settlement offer with her clients, but Hyo-jin's brother is too busy arguing with the memorial hall staff, insisting that he was told his sister would die within thirty minutes once her life support was removed. Plus he has the outrage of the family elders, furious that he's trying to bury his sister before she's actually dead.
Without much choice, he agrees to the settlement, and Soo-hyun sighs at her loss. But she doesn't take it personally, just as she hopes Hye-kyung understands that all her actions previously were about trying to win the case. As Joong-won walks her out, Soo-hyun marvels that he seems to have changed quite a bit.
Hye-kyung calls Joong-ki, letting him know that Hyo-jin's family agreed to settle. With grateful tears, he stares at his comatose wife, happy to know that there's still a chance for her.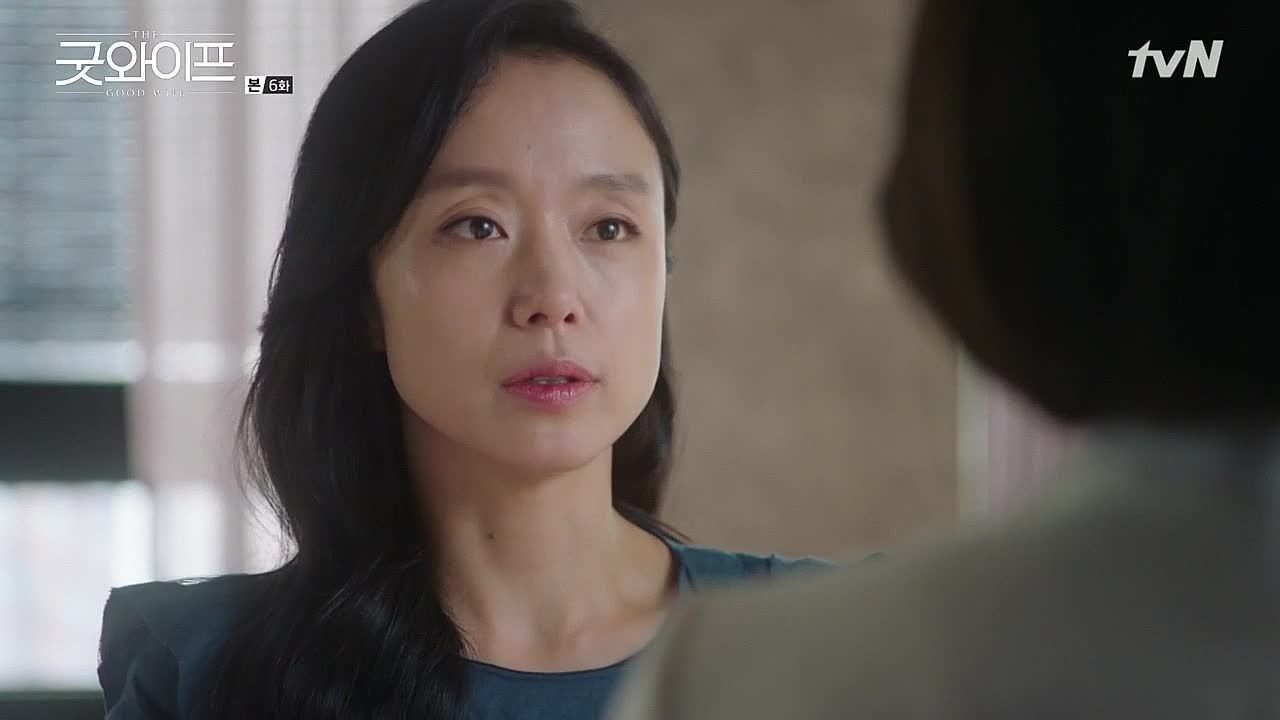 Myung-hee asks Hye-kyung if there's anything wrong with Papa Seo, and Hye-kyung cautiously says that he's not very well, but he wanted to tell his family himself. Hye-kyung has a question for Myung-hee, too — is it true that Joong-won won the lead-poisoning case by waiting for more children to die in order to get a settlement?
Myung-hee affirms that it's true, and it even damaged the firm's reputation. But Joong-won didn't really have a choice — the fee from that case helped to pay off the debts Papa Seo had accrued.
At home, Tae-joon listens to the phone recordings of him and Guk-hyun, who points out that Triton Fields is a paper company created to money laundering. But Tae-joon, on the phone recording, tells him that he just needs evidence of those who stole money.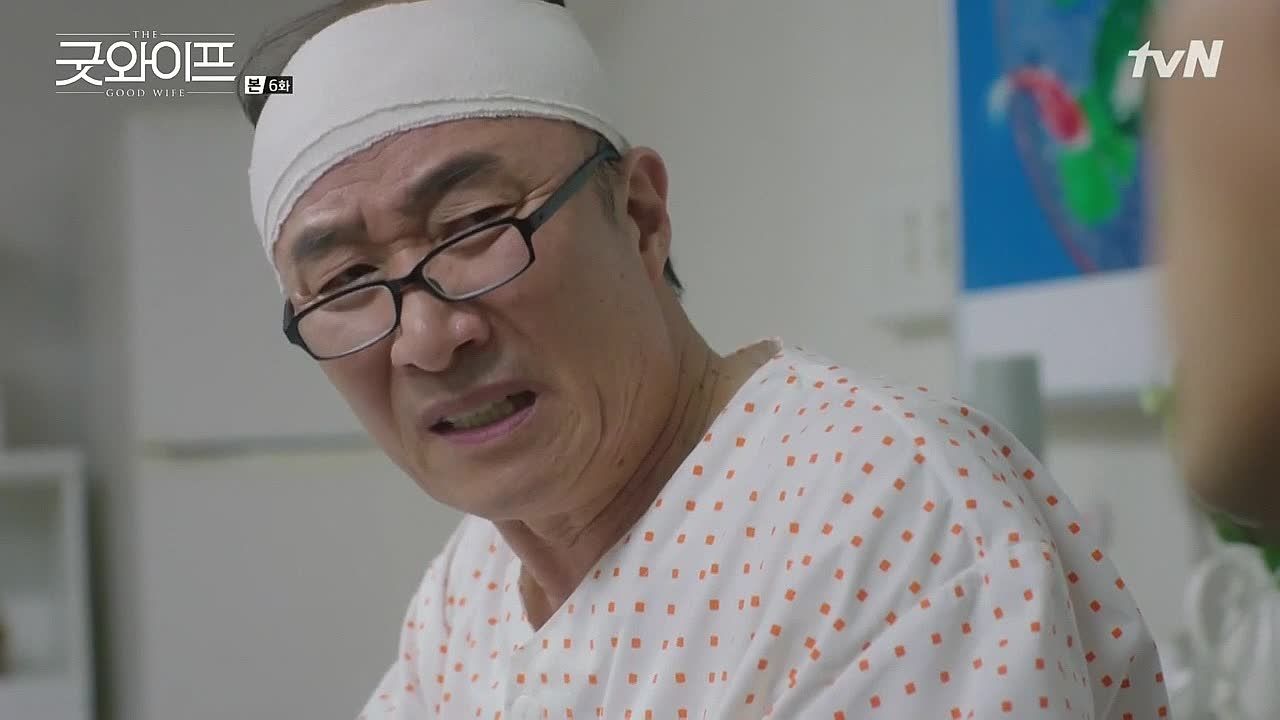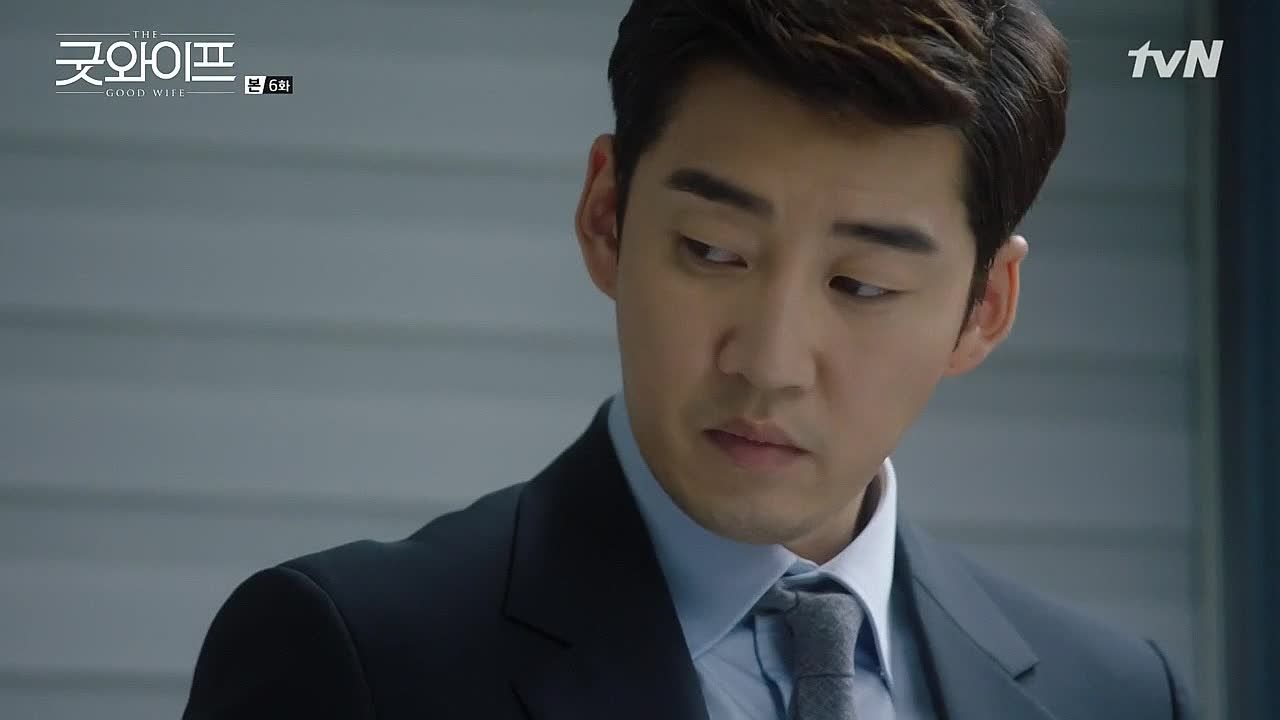 Papa Seo is busy looking through some of the firm's documents while Joong-won visits him at the hospital. He asks his son if it's true he visited the day he was admitted to the hospital, and then tells Joong-won not to take any of his half-asleep babblings to heart.
He becomes serious for a moment when he tells Joong-won that he should be good to his family and the people around him. Lately, Papa Seo has been regretting that he wasn't, and then he hands Joong-won a document to sign. Flipping through it, Joong-won discovers that it's a power of attorney for an Alzheimer's patient — Papa Seo. He avoids his son's glance and Joong-won wordlessly signs it.
Hye-kyung later finds Joong-won brooding in his office, but she's happy to let him know that Hyo-jin will be transferred to a specialist hospital. She commends him for saving the lives of their client and her unborn child. When he brings up his father's illness, she apologizes for not telling him sooner.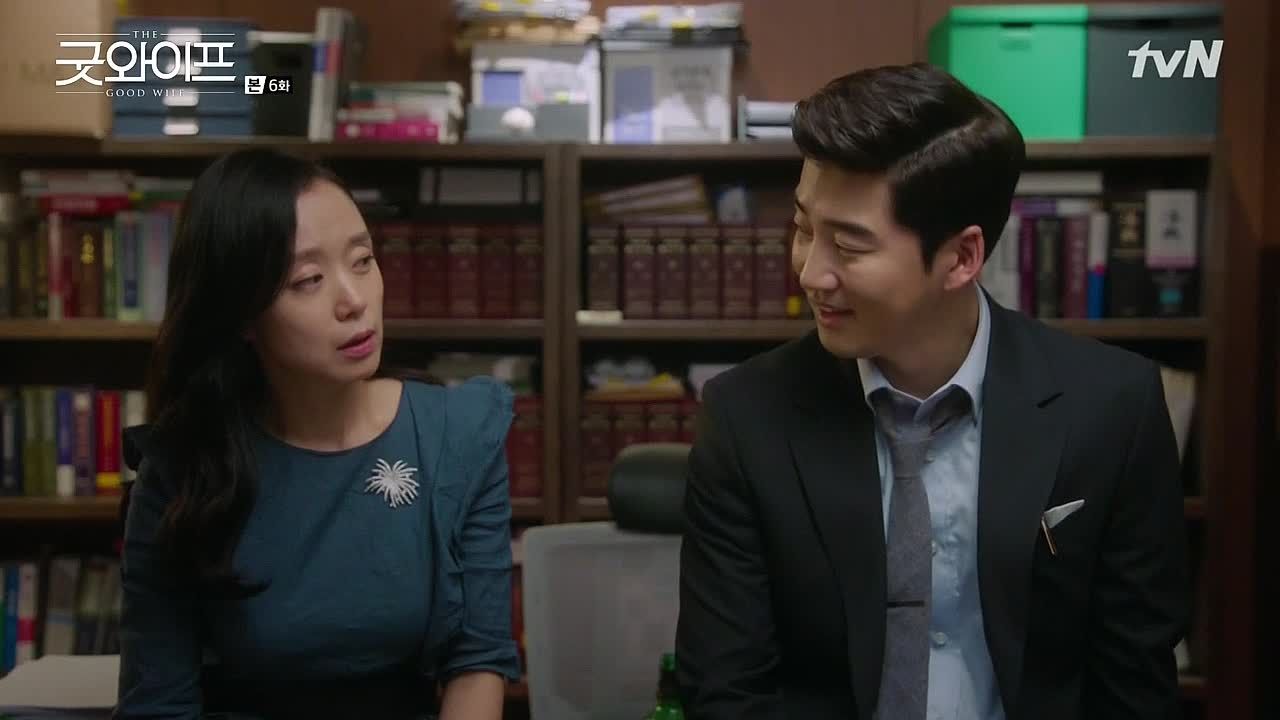 But he doesn't hold it against her — he knows his father would have counseled her not to say anything to his son who kills people for money. Hye-kyung protests that phrasing, but Joong-won admits the main reason he took Hyo-jin's case was to prove to his father that he could act like a human rights lawyer, too.
Even so, everyone assumes he took the case in order to get a slice of the inheritance. So he's exactly what his father thinks of him in the end, anyway. But Hye-kyung believes in him, telling him that he's a good person. He jokes that she's also fallen for his acting skills, but she's being sincere.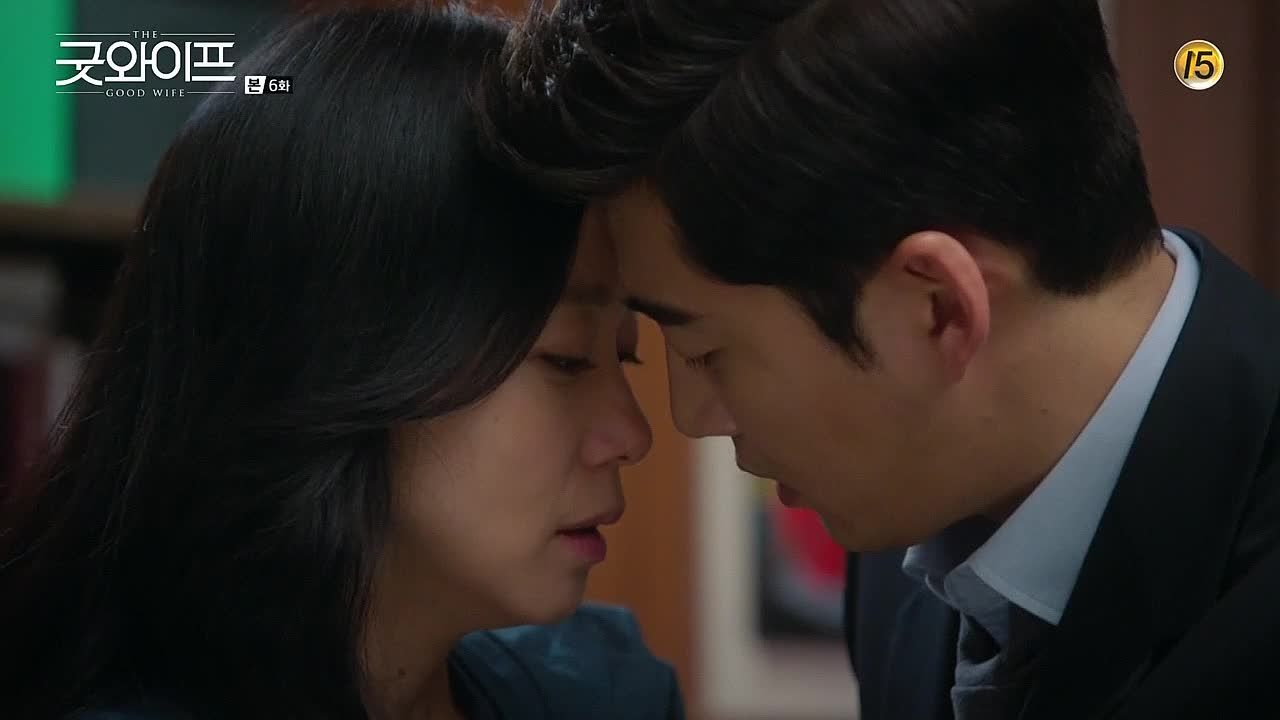 He suddenly leans over and kisses her, softly adding that she makes him want to be a good person whenever he's around her. His kiss becomes more passionate, and soon she's kissing him back. But then she gently pushes him away, leaving his office in an apologetic daze as she says that it isn't right.
When she reaches the parking garage, she stops and then immediately turns around to go back upstairs. She keeps repeating to herself that it isn't right, but there's a nervous excitement as she returns to the office. Joong-won isn't there, though, and Joon-ho pops up to ask if she needs anything. Of course he'd still be there at the office that late.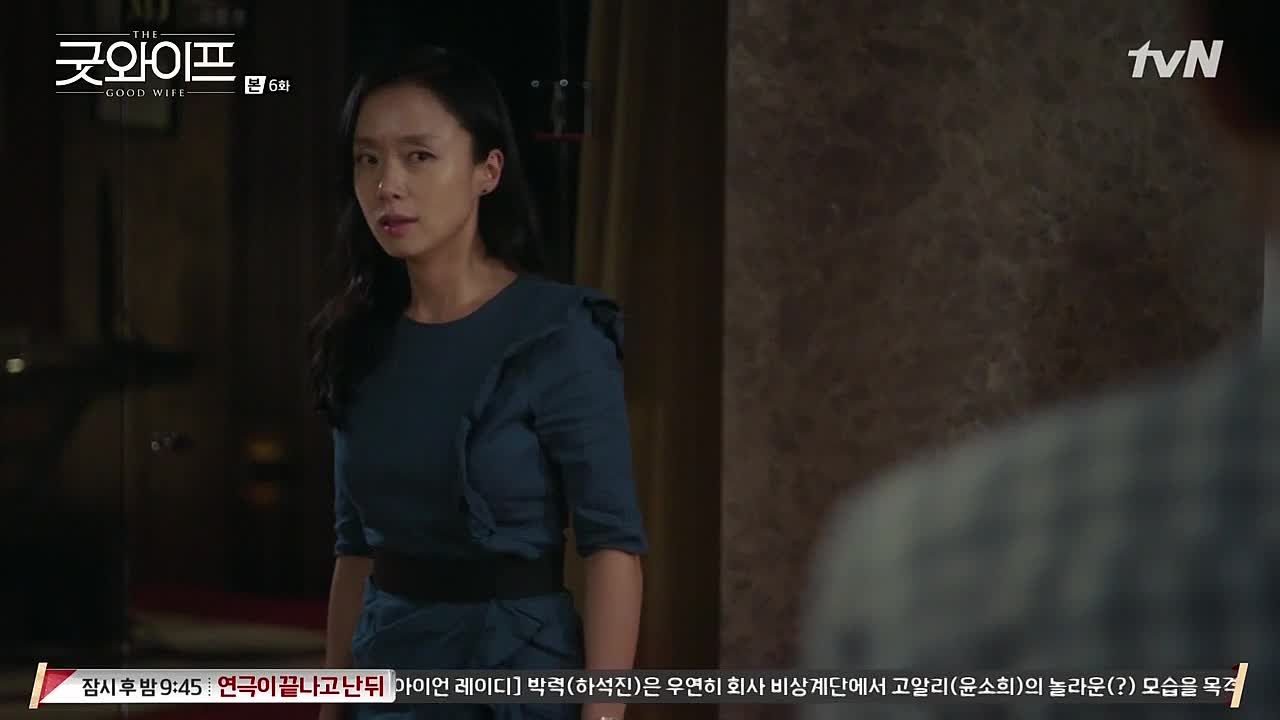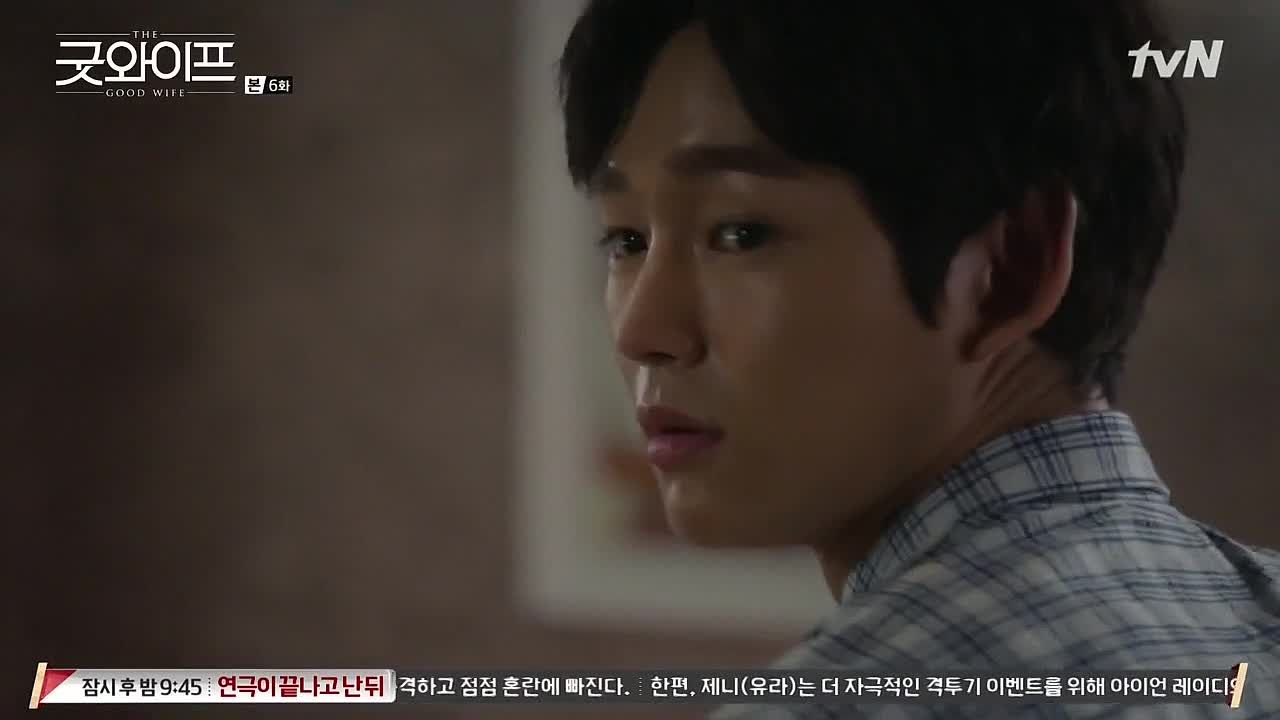 Hye-kyung quickly makes an excuse and hurries back to the elevator, just missing Joong-won emerging from the opposite elevator. Urgh. When Joon-ho reveals that Hye-kyung was looking for him, he calls her, but she doesn't answer, even though she sees his name on her caller ID.
Joon-ho finds Hye-kyung's brooch on the floor of Joong-won's office. He's no dummy as he puts two and two together, realizing something is going on between them.
When Hye-kyung arrives home, she hesitates a moment, then enters Tae-joon's office. He's still up, listening to the phone tap recordings, and without warning Hye-kyung climbs into his lap and begins kissing him. She starts to unbutton his shirt, and even though he's at first surprised by her actions, the two enjoy a sexy night together.
COMMENTS
Ablhtlaskgdhas. Wait, let me rephrase that. *deep breath* Fdjasldkfjdagh. Whoops, let's try that one more time: OMG the kiiiiiiiiiisssssss!!!!
When this episode first began, I was worried at first because I knew from the original series that this medical case was a mildly convoluted one that I never fully grasped, so I was dreading the thought of having to explain it to anyone else. (Thankfully, it made more sense to me in this version. Whether or not I was able to make it clear to everyone else, well, I tried.) However, it also meant I knew — in theory, at least — what should happen at the end of the episode. Let's just say I am so, so, so happy they stayed true to the American version because this means the whole relationship confusion will be taken up a notch or two or ten (not that it needs to be more confused than it already is, but I was ready for that passion to suddenly break through Hye-kyung's careful reserve). Things are only going to get messier, and I cannot wait.
I've touched on this before, but I really love that Hye-kyung's character is still so idealistic. Even in the earliest episodes of the American version, I don't remember Alicia having such an innate trust and hope in people, but I find it refreshing that Hye-kyung believes that somehow she will find a way to make sure the good people win. I love seeing how emotionally invested she is with each of her clients (and her coworkers!), even though I know that's a sure path to burn-out.
Perhaps that's why I'm so nervous about the fall-out from her romantic confusion. She definitely deserves better than Tae-joon (despite how smoldering Yoo Ji-tae can be) and Joong-won has yet to really prove himself worthy. But Hye-kyung is still a woman with needs and a heart that wants to love and be loved, and I somehow want a happy ending even though I also want to her find her stride as a lawyer. It's all very confusing, but it's confusing in a way that means I can understand what Hye-kyung is going through. I mean, I totally had an empathetic adrenaline-rush butterflies-in-the-stomach moment after her kiss with Joong-won. Even though I knew what was going to happen, I was shouting at the futility of the star-crossed (er, elevator-crossed?) lovers — until I had to fan myself over the sexiness of her kiss with Tae-joon. *reminds herself for the nth time that Tae-joon a terrible person, but dammit Yoo Ji-tae y'all*
Also, can we talk about the fashion? I've been loving how they've been dressing the characters (Hye-kyung and Myung-hee particularly), and I'm always curious to see what sort of statement the clothes will make each episode (apparently vertical stripes are "in"). I know it's pretty common for a drama to showcase fashion, but considering how on point all of Alicia's outfits were in the original series, I'm happy that Hye-kyung gets to rock an awesome wardrobe each week, too.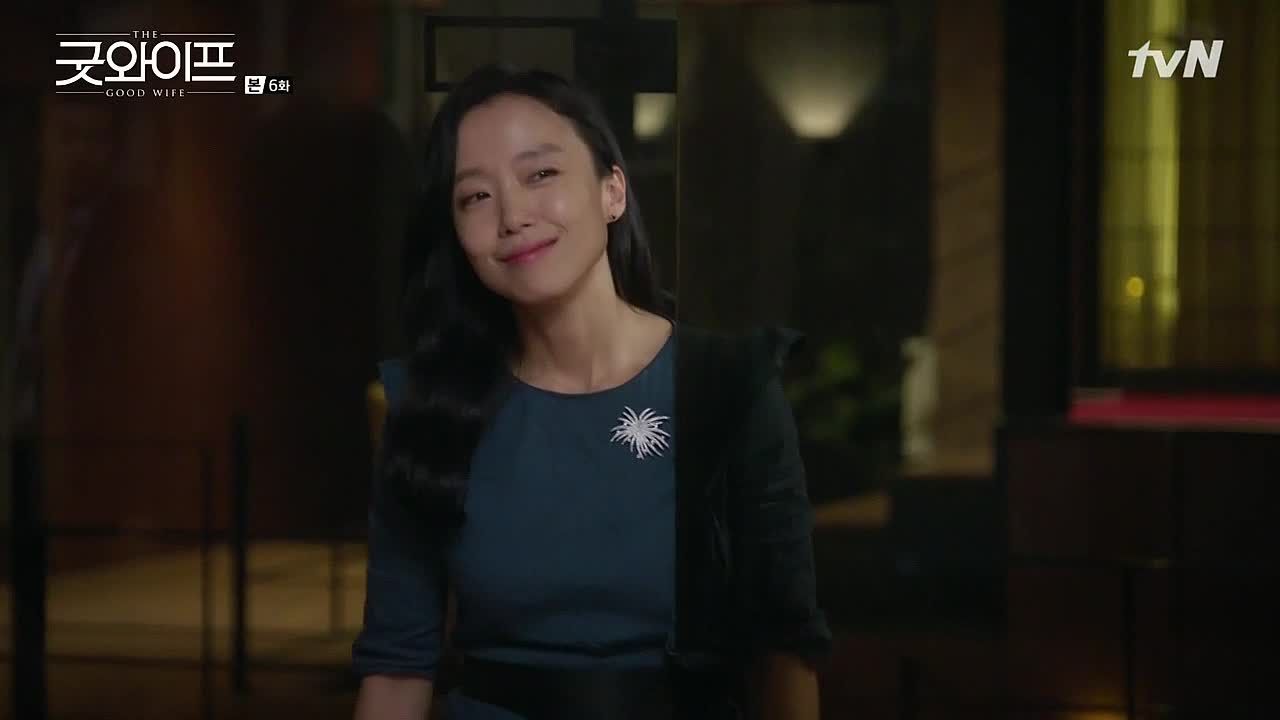 RELATED POSTS
Tags: featured, Jeon Do-yeon, The Good Wife, Yoo Ji-tae, Yoon Kye-sang