The prince shakes his stuff for Moonlight Drawn By Clouds teaser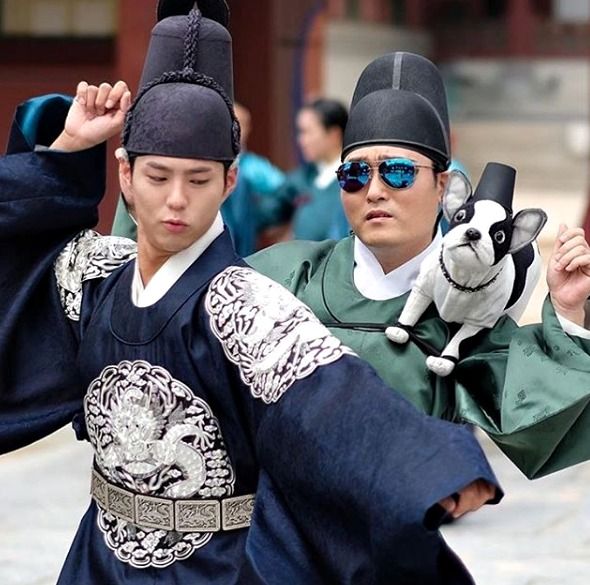 When I saw pictures of Park Bo-gum doing a dance routine in his royal robes on the set of Moonlight Drawn By Clouds, I thought it was going to be random behind-the-scenes promotional material for funsies, not the first teaser of the drama! A dance routine to "Bomba" is definitely the strangest teaser for a sageuk I've ever seen, no matter how fusion the show. But crazy strangeness aside (though really, how can you put that aside?), it's also hilarious, and just plain cute.
I do remember tvN doing a bunch of these dancing teasers for a stretch, but Moonlight has taken it into musical territory with the spontaneous dance busted out by the prince and his eunuchs in the palace courtyard. For seemingly no reason, Park Bo-gum and his head eunuch, played by funny character actor Lee Jun-hyuk (Mrs. Cop 2, Six Flying Dragons), break out into awesomely unabashed cheesetastic dancing.
I seriously can't believe Park Bo-gum isn't embarrassed, because most actors would be, but he's totally working it. My favorite part is the embarrassed court ladies and eunuchs in the background, acting like this is most unusual and wishing for it to end before they're punished for letting the prince be inappropriate. It's an added comical effect that when Lee Jun-hyuk puts on sunglasses, he kind of looks like Psy.
KBS's new youth romance drama tells the love story between a crown prince (Park Bo-gum) and the crossdressing young lady (Kim Yoo-jung) who enters the palace as a eunuch. Chae Soo-bin (Sassy Go Go) plays Park Bo-gum's wife, Jinyoung (Warm and Cozy) is a beautiful scholar, and Kwak Dong-yeon (Modern Farmer) is the prince's best friend since childhood. The dance routine mostly serves to make me like Park Bo-gum more, but it's the teensy glimpse that we get at the end of the teaser that excites me for the show to come, so hopefully we'll get more of that soon.
Moonlight Drawn By Clouds premieres August 15 on KBS.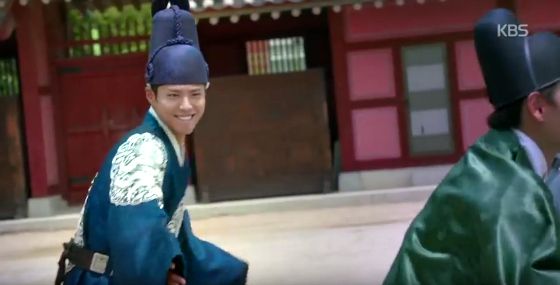 Via TV Report
RELATED POSTS
Tags: Jinyoung, Kim Yoo-jung, Moonlight Drawn By Clouds, Park Bo-gum