Uncontrollably Fond: Episode 3
Now that's more like it. I did already enjoy the first week of Uncontrollably Fond, but today reveals more backstory, and takes enough time to get into the emotions and pathos of the complications in Eul and Joon-young's past that account for their present-day tensions. It's not a full picture yet, but whereas last week's glimpses into the past left me feeling wanting more and vaguely dissatisfied, now I feel that emotional hook.

EPISODE 3 RECAP
After Eul and Joon-young finally admit they know each other, she resumes her slow trudge along the snowy road. Joon-young sees her fall to the ground in exhaustion and runs to her, cradling her in his arms.
When Eul wakes up some time later, she's in a hospital bed with an IV in her arm, and standing by her bedside is Joon-young's manager hyung Gook-young. Eul wonders why she's here, but Gook-young is equally clueless, saying merely that Joon-young called him and ordered him to run over or be fired. She asks where Joon-young is…
Cut to a swanky nightclub, where a massive arrangement of long-stemmed red roses maneuvers its way to the birthday girl, Joon-young's drama co-star Yuna (played by Lee Elijah). The roses are carried by Joon-young's head agent, President Namgoong, and Yuna tells him to send Joon-young to deliver them himself.
President Namgoong reminds her that Joon-young doesn't go clubbing—just as Joon-young walks in, stunning his agent. Joon-young plucks a rose from the arrangement and hands it to Yuna, wishing her happy birthday.
She asks for a song instead, so Joon-young takes a seat at the piano and starts to sing. (Aha! It's "Winter Child," which Suzy sang as a birthday song in Dream High.)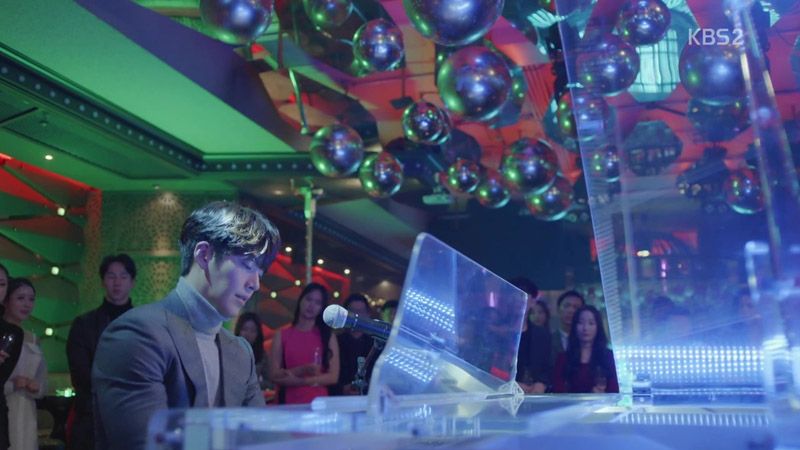 But Joon-young's mind is fixated on Eul the whole time, recalling encounters from years ago as well as recently. And when he recalls Eul collapsing on the snowy road, he suddenly slams his hands down on the piano keys, startling everyone. Without a word, he walks out of the club.
Yuna follows him out and he apologizes for the sudden departure, but when she says she'll go with him, he shakes off her arm and asks pointedly if he's ever given her cause to misunderstand. He reminds her that they're merely agency colleagues: "Not more, not less."
Yuna asks why he came to her party, then. Joon-young replies, "Because of some girl. I thought if I came here, I wouldn't think of her. But I thought wrong."
In the hospital, Eul gets up to leave, ignoring manager Gook-young's admonitions to stay longer. He's more concerned about Joon-young's image than Eul's health, checking that she won't later sue or make a fuss online.
Gook-young hands over an envelope of cash, which Eul starts counting then and there. She shrewdly notes that there's 950,000 won, guessing that Gook-young skimmed a bit off the top for himself. He stammers a denial, and she holds out her hand expectantly for the rest.
Then she insists on a ride home, and Gook-young obliges, though not without complaining the whole time about how shameless she is. Which fazes Eul not one bit, since she's used to being thought of that way.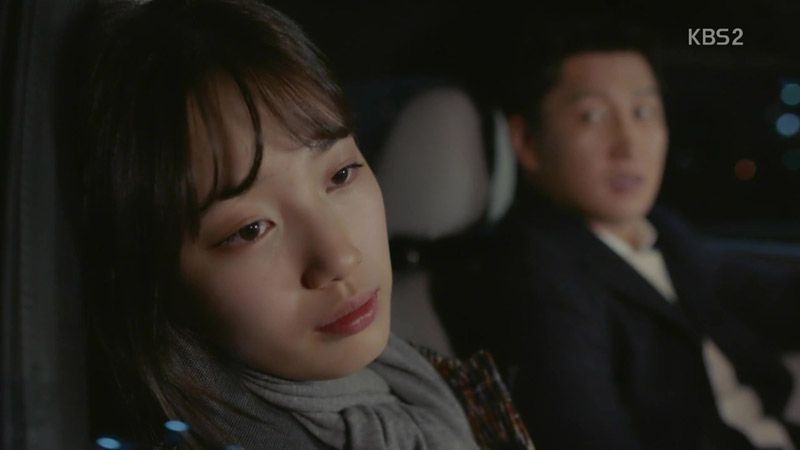 When he complains that she's drinking his soda, she points out that it's flat and going to be tossed anyway. Gook-young insists he was totally going to drink it and demands that she buy a new one or spit it out. Eul spits it out. Hee!
As soon as they pull into Eul's neighborhood, she spots a van parked in front, and the two loan sharks loading her belongings into it. She jumps in and hands them the envelope of cash Gook-young gave her, claiming the computer for her little brother Jik.
But the loan sharks inform her that they've claimed her apartment deposit, too—which means now she and Jik are homeless. Not that they care about that, saying coldly that she shouldn't borrow money she can't afford.
From a distance, Gook-young watches with concern, but when the loan sharks ask aggressively if he knows Eul, he says he just met her today and quickly excuses himself.
Joon-young's mother arrives at her building to find Joon-young sitting on the stairs in front, but continues past him without a word. Joon-young grabs her coat to stop her, asking how a mom could just ignore her kid like that, to which Mom replies that her son died five years ago. As in their last encounter, her tone is deadpan, and Joon-young's is gently wheedling, making me very curious about that five-years-ago incident.
Joon-young tries to coax his mother into hanging out with him, so Mom takes the quickest exit strategy: She calls Gook-young to take "this crazy jerk" away. That hurts.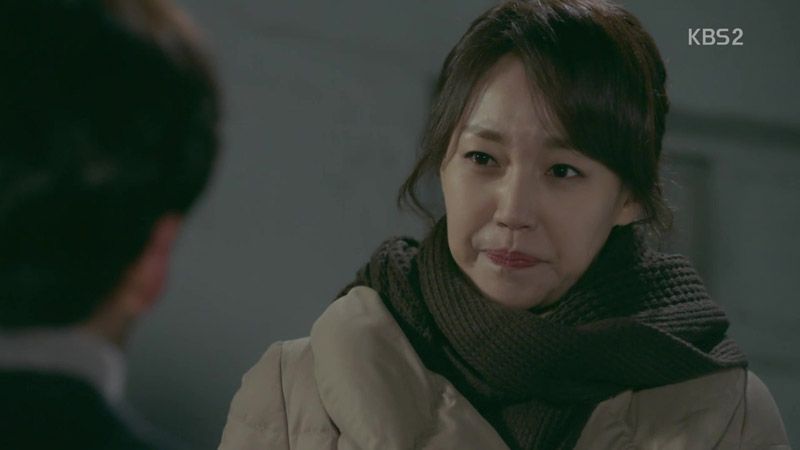 Mom's not entirely cold-hearted, though, and she looks in on Joon-young's room with a long face. Mom blinks back tears to read the note he'd written to himself in a textbook, encouraging himself to pass the law exam.
Gook-young picks up Joon-young and chides him for going to see Mom, since he should know she wouldn't welcome him. Joon-young simply replies, "I just thought if I saw Mom, I wouldn't think of something else." Since seeing Mom is guaranteed to fill his mind with complicated thoughts.
Joon-young idly takes a swig from the half-drunken cola bottle, and Gook-young tells him too late that Eul spit her mouthful back out earlier. And while they're talking about Eul, Gook-young sighs at her tough life, recounting the run-in with the loan sharks. He prods Joon-young to shoot that documentary and save a life at the same time.
Joon-young pointedly ignores the nagging, but Gook-young, bless his heart, keeps trying, mentioning how he saw her heading toward the bridge. Joon-young finally loses his temper and kicks his manager out of the car.
He calls a friend out for drinks, but can't shake Gook-young's words about the bridge. So he changes his mind and drives along one bridge, then another, and another, his eyes peeled for signs of Eul. Finally, he spots a lone woman looking out over the bridge railing and pulls over, yelling angrily at Eul… until the woman turns, recognizes him excitedly, then starts running toward him declaring herself a fan. LOL.
Joon-young mutters to himself for being so stupid as to believe Gook-young—just as he sees Eul standing at the railing. His face hardens as he drives past her.
Eul takes out her phone to call "My Number 1 Treasure," who turns out to be her little brother Jik. She clears the tears from her voice and checks that he's eaten, nagging at him for ignoring her instructions to eat properly. She switches to video for confirmation that he's really eating meat—and the face of her (previously disapproving) ajusshi-friend, Ji-tae, pops up to assure her that he is.
Jik reminds his noona that hyung hardly has money to be buying him meat, and Ji-tae insists he can afford it. Ah, I see he's hiding his wealthy family background, considering his father is the famous prosecutor-turned-assemblyman.
But Jik seems to feel the shame that his sister has long forsaken in the name of scraping together a living, not liking it when she presses Ji-tae to buy him lots of food. Jik protests that he isn't a beggar, and that they ought to preserve a minimum amount of pride and shame. "Aren't you even embarrassed?" Jik asks her, and hangs up.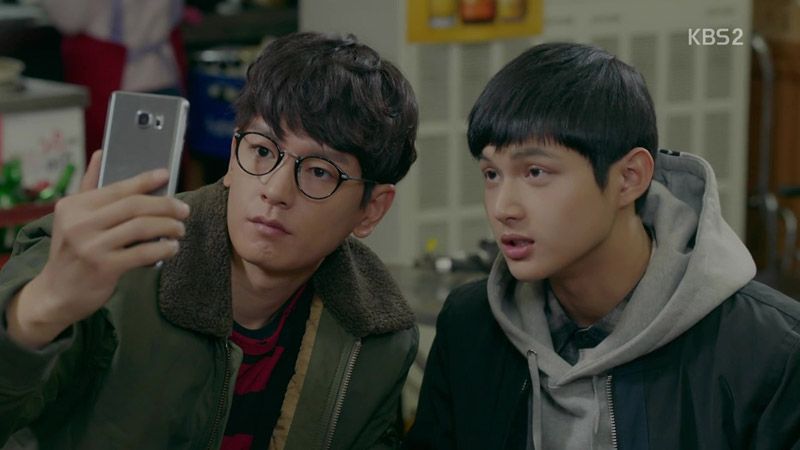 Ji-tae seems to truly not mind, but Jik tells him abashedly that his sister wasn't always like this. "She had pride," he recalls, "and was incredibly cool and impressive." He hangs his head, not thinking so now.
Ji-tae assures Jik that his sister is still cool and pretty to boot, and Jik asks if he means that "as a woman." Ji-tae admits it, and that at least puts a smile back on Jik's face—he's totally okay with mooching meat off a "brother-in-law."
With a sigh, Eul returns to the bridge railing, climbing up on the foothold, peering way over the side. A hand jerks her back, and suddenly we flash back to years before, in a similar moment, when Younger Eul had been whirled around by Younger Joon-young.
It's 2011, and Eul flinches guiltily. A look at the nearby poster explains why, as Joon-young reads the graffiti she'd scrawled on then-Prosecutor Choi's face, calling him a hypocrite and a despicable devil, vowing to reveal his true face beneath the dirty mask.
While he's busy looking at the poster, Eul quietly sneaks away, only to trip and fall. Joon-young offers a hand that goes ignored, then asks if she's eaten yet.
Over noodles at a pojangmacha, Joon-young muses that it's been four years since they've last seen each other, and explains how he went to law school and just recently passed the exam. That comes as a surprise for Eul, and he contributes his success at his studies to her not seducing him when he'd challenged her to, leaving him with nothing to do other than study.
Eul lets him do all the talking, clearly uncomfortable sitting here, and excuses herself to go to the bathroom. She slips outside the tent, but before she gets very far a shoe hits her back—it's Joon-young, pointing out that the bathroom is in the other direction.
Calling her a criminal on the run (for the vandalism), he claims her ID card, fishing it out of her wallet while she tries ineffectually to grab it back. She calls the police station, only to have him rattle off law code citing that making groundless calls is itself a violation.
Eul snaps, "Then what do you want me to do?" Joon-young replies, "I'll let your crime go, so let's date."
Annnnd minutes later she's walking to the police station anyway, ha. But she's reluctant to actually give herself up, and reconfirms that Joon-young only meant for her to act like his girlfriend for a week to get rid of the girls chasing him around.
In a café, a teary-eyed girl protests when her boyfriend breaks things off, although he claims they were never really together. The girl is GO NARI (Kim Min-young), Eul's best friend from high school, who hadn't realized he'd gone out with her just because he wanted to borrow her money. He scoffs that she's got no experience dating guys, and she protests that she does, just as Joon-young enters the café.
He sees how the scene is playing out and interjects that Nari's telling the truth, playing the part of her ex who now regrets letting her (and her curvy new figure) go.
Joon-young is there to pump her for information about Eul, and hears that she didn't go to university, that she takes any job that'll make money, and that she's got her hands full raising her brother and making a living. Nari asks if he means to pester Eul and make trouble like he did in high school, and urges him to leave her alone—Eul has a hard enough life as it is.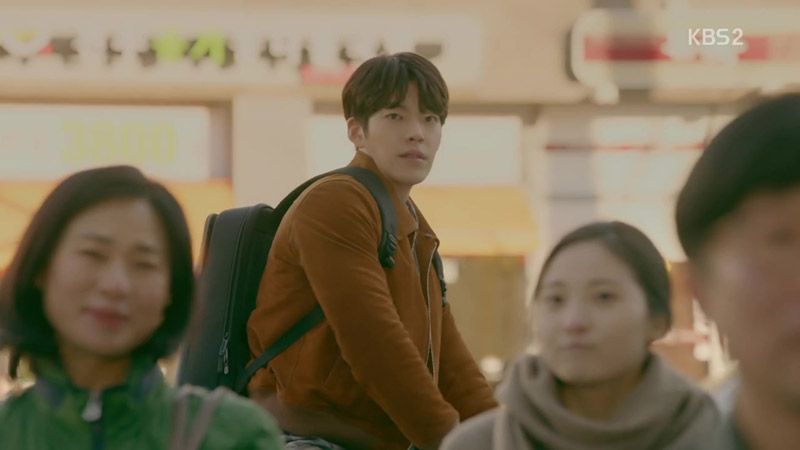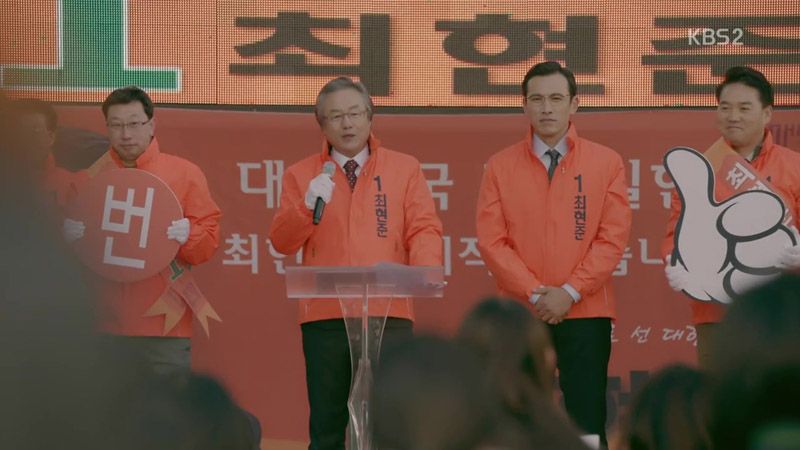 Some time later, Joon-young comes by a campaign rally being held for Prosecutor Choi. In his distraction, he and his bike collide with two bystanders and he goes down—ah, they're the prosecutor's children, Ji-tae and his little sister Haru. Ji-tae is solicitous and kind, while Haru starts to complain until she gets a full blast of the Joon-young beauty and goes starry-eyed, declaring that she wants to marry him.
Ji-tae and Haru are joined by Yoon Jung-eun (aka the hit-and-run driver); her father is the assemblyman stumping for the prosecutor. Jung-eun asks when Ji-tae will propose, since their parents have already discussed them getting engaged. It's a prospect that Ji-tae seems distinctly uncomfortable with, and his mind goes into flashback (taking us to a flashback within the flashback).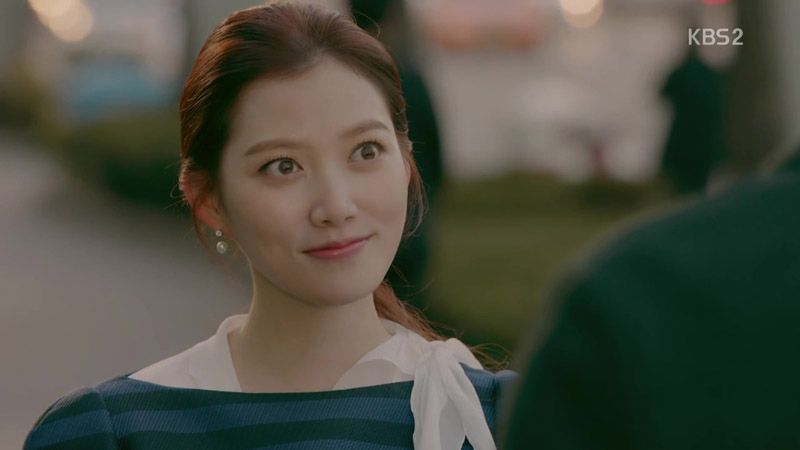 We're back to the night of the hit-and-run, when Jung-eun's father, Assemblyman Yoon, calls Prosecutor Choi over to get her out of the mess. Prosecutor Choi argues that the victim's daughter recalls the car clearly and that there were three witnesses, but Assemblyman Yoon makes a veiled threat, reminding the prosecutor that he wouldn't be where he is without him. He's calling in the favor now.
Ji-tae overhears the entire thing from outside the door, his hands shaking in shock. It prompts him to drop by the courthouse later to watch Eul carrying out a one-woman protest, insisting that Prosecutor Choi reinvestigate the case properly. He watches his father walk by without giving her a second glance, and Eul deflates, but only momentarily; she's not about to quit.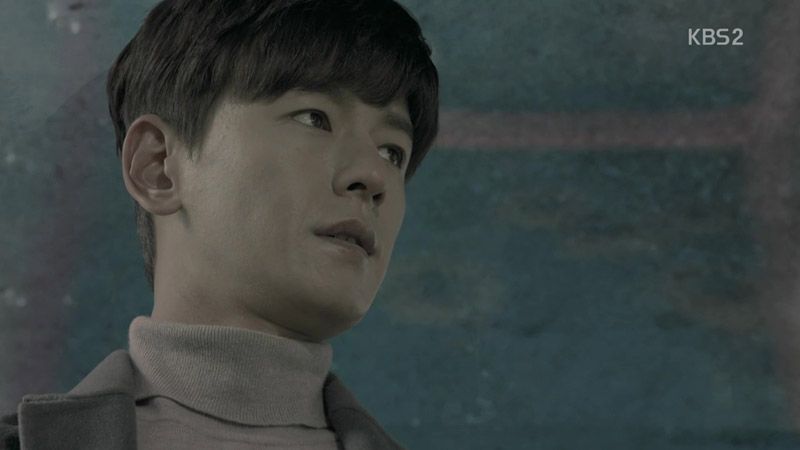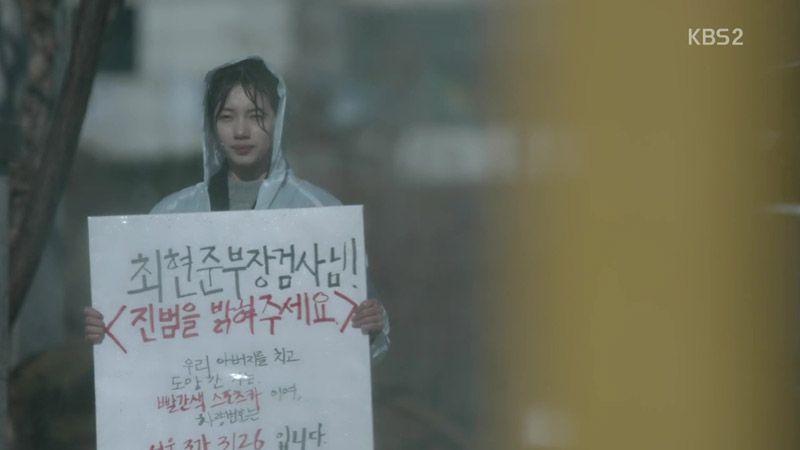 So that's why now (er, in 2011), Eul is an active volunteer in the opponent's campaign. As she volunteers outside a subway entrance, Eul spots Jung-eun on the opposite side campaigning for the opponent.
She stares so intently that Jung-eun notices, but it turns out Eul is just noticing a stray eyelash. Eul leans in to tell Jung-eun not to campaign too vigorously, since her candidate is a bad guy.
She gets called away by Joon-young, and comes sprinting onto his campus as he's eating lunch with a girl who won't take no for an answer. The girl offers to change everything about herself to get him to date her, and he warns that he has a girlfriend with a terrible personality. She refuses to believe it, and that's Eul's cue to jump in with a sickening display of aegyo, pinching Joon-young's cheeks and cooing that she missed him like crazy.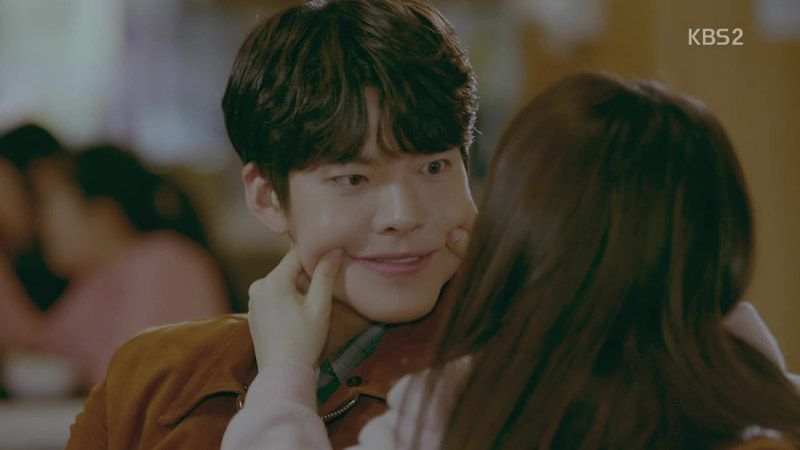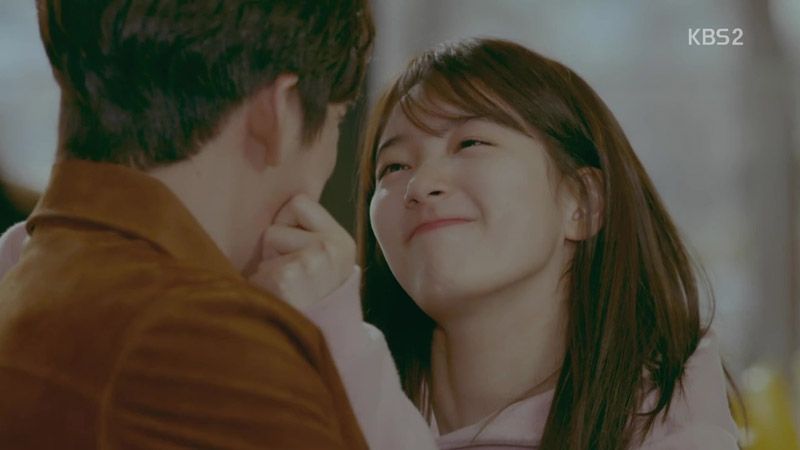 She takes particular joy in pinching extra-hard, and he gets back at her by declaring he missed her more and grabbing her in a painfully tight hug. He manhandles her face in a display of faux affection, and when she yelps angrily, it almost seems she's going to call off the bluff.
But instead, she warns the clingy girl to leave her boyfriend alone.
Eul is mortified at her behavior afterward, but Joon-young just sprawls out and plonks his head in her lap, offering to shave two fake-girlfriend appearances off her remaining balance (of eight) if she'll let him nap like this. She demands three, and he agrees readily.
Eul lets him sleep for the allotted ten minutes, then tries to wake him. When he doesn't stir, she gets a gleam in her eye and reaches for a pen, drawing whiskers and a cat nose on his face.
When he gets up, she takes one look at him and bursts into laughter, to his confusion. Her peals of laughter go on and on and on… and then suddenly turn watery as they morph into tears.
It surprises him, and he voiceovers that it makes him want to call Nari to tell her he can't keep that promise: "I'm going to keep playing jokes on Eul, and tease her, and torment her. I have to at least do that because I have to keep seeing her. I'm sorry."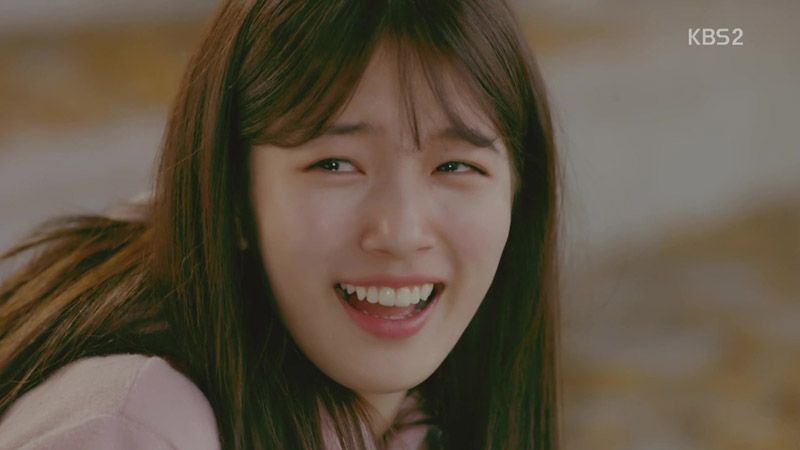 Prosecutor Choi holds a campaign staff dinner at, curiously, Joon-young's mother's restaurant. This is the work of the prosecutor's housekeeper, who suggested the place; she is Restaurant Ajusshi's twin sister and knows Mom, and seems to know the birth secret too.
Restaurant Ajusshi is upset at his sister's meddling, but she barks that she wanted to force Mom and the prosecutor to meet. Ajusshi is firmly on Mom's side, thinking only of her hurt feelings, while Housekeeper Ajumma snaps at him to finally confess his feelings for Mom like a man.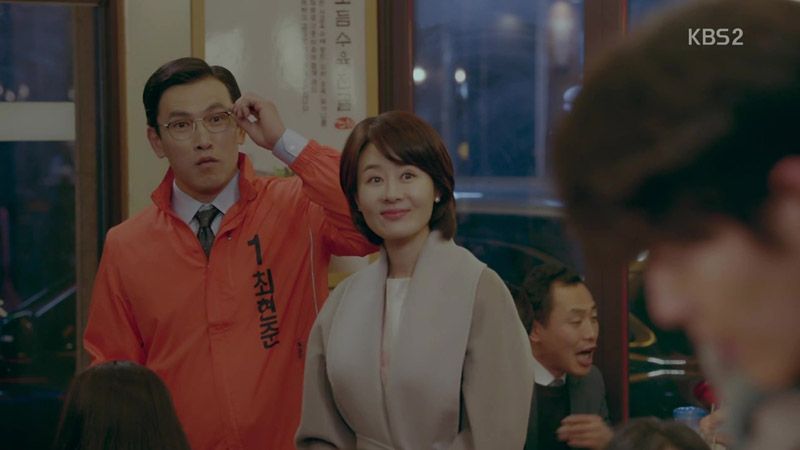 Joon-young finds his mother crouched in the kitchen, and when she says she feels unwell, he insists that she go to the hospital. He carries her out on his back, and Prosecutor Choi calls out to him, recognizing him. Mom tenses, her face averted, and Joon-young excuses himself because she's sick.
He turns down the offer of a car and piggybacks her out, and once they're a safe distance away, he tells Mom she can lift her head since the prosecutor isn't around.
He shares that he'd gone to see the prosecutor before, and told him he'd seek him out once he'd passed the law exam. He tells Mom that he'll make it so she can boast proudly, "I raised your son well without you." Mom starts to cry, realizing he'd known all this time.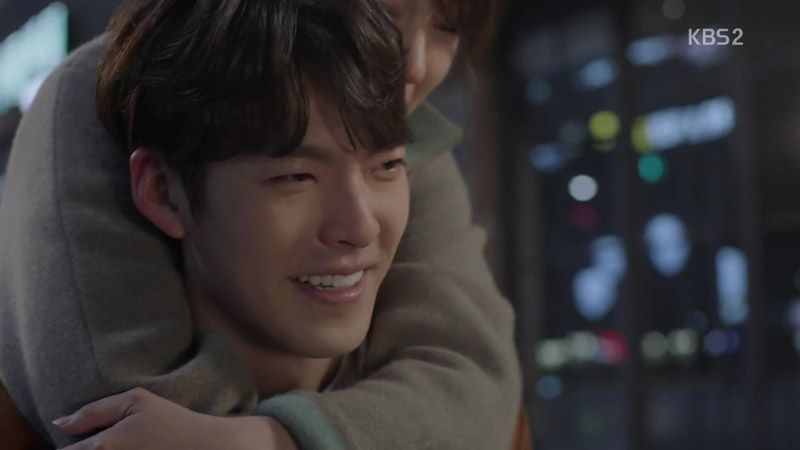 Blinking back his own tears, Joon-young tells his mother that in her next lifetime, she shouldn't run away, and that love doesn't discriminate between education levels or social strata. Mom sobs.
Eul shows best friend Nari some video footage she'd secretly shot—of multiple instances of a drunk Prosecutor Choi leaving a room salon on the arm of a bar madam. She'd seen him there by chance while on the job as a designated driver, and returned for a stakeout. Nari warns that going after him will only hurt her in the end, but Eul is determined to keep working on her dead father's behalf.
Eul ignores a call from Joon-young, and when he tries back, the phone is off. He pulls out Eul's ID that he's been keeping and heads toward the address listed on it.
Eul heads out looking determined, and calls the number on Prosecutor Choi's campaign flyer, which he answers himself. Eul introduces herself and reminds him of the hit-and-run from five years ago. He says he doesn't remember, so she rattles off dates in quick succession—nights he'd visited Madam Song at the room salon.
He stiffens, while his wife looks on curiously from the next seat. Eul calls him out on his devoted husband image and demands that he drop out of the race, saying that the country has no hope if evil people like him become assemblymen. She tells him to ask for forgiveness and acknowledge his crime, in which case she'll stop now.
Around the corner, Joon-young listens in shock as Eul continues, telling the prosecutor that she'll burn her evidence if he reveals the true culprit. Prosecutor Choi tells her to go ahead, saying simply that threats don't work on him. He shrugs it off with his wife, saying it's probably a last-ditch effort by his opponent's camp.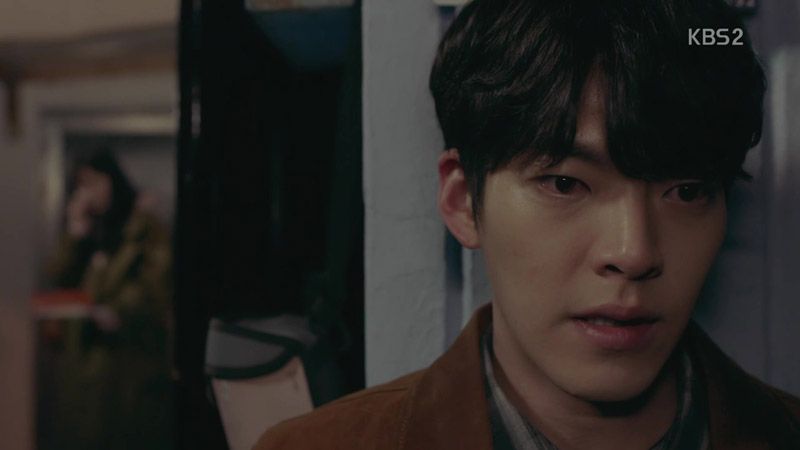 Joon-young sees Eul tuck the flash drive with the video evidence into her backpack, his face stricken when she makes a call to the broadcast station.
Eul heads out, breathing deeply for courage. Joon-young notices a deliveryman getting off his scooter nearby… and as Eul holds out an arm to hail a taxi, that scooter comes zooming by, the rider's arm snatching the backpack as he passes.
Eul sprints madly after the thief, running into the street—right into the path of a car, which slams into her. Her body flies into the air and lands with a thud on the concrete.
Joon-young screeches to a stop and looks back at Eul's body lying limp in the road, and the pool of blood growing around her head.
Eul is rushed to the hospital, where Nari tries to comfort a young Jik, who wails that his sister can't die. Joon-young sits numbly in the hospital hallway, in utter shock.
He recalls how his mother once took him to church as a child, armed with over a hundred prayers to make to God. She'd told him to pray for his wishes too, but he'd refused, skeptical of God's existence.
Now as he sits outside the operating room, Joon-young picks at his finger until it's bloody and apologizes for not believing in God before: "I will believe in your existence. So please, save Eul. If only you save Eul, I will give up all the happiness that's been allowed me."
Eul goes into cardiac arrest in the OR, and he continues, "If only you save Eul, I will willingly give up the remainder of my life. Kill me, and save Eul."
So now (in the present day), Joon-young pulls Eul away from the bridge railing, and asks hotly, "Is living that laughable? Is dying so easy?!" So he finally gives in: "Let's shoot the documentary. We can shoot it, all right, crazy?!"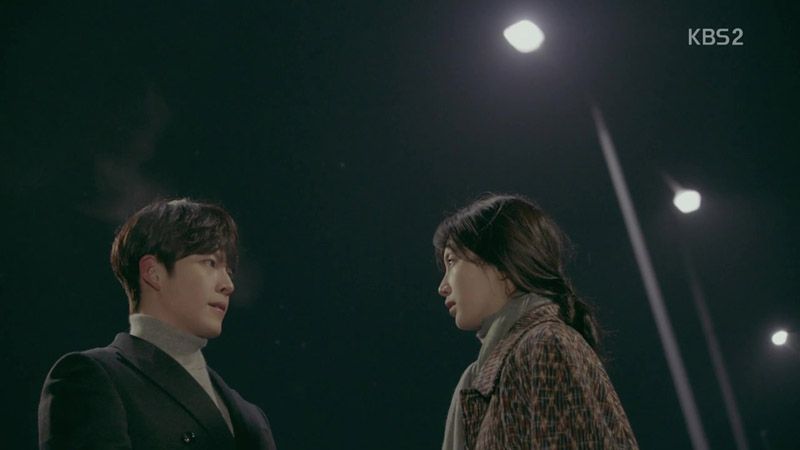 COMMENTS
Okay, now we're getting somewhere! I was satisfied with last week's premiere but felt a little disappointed at the second episode's treatment of the past, which raised questions but didn't provide much in the way of answers. Not that a drama needs to answer all its questions in Episode 2—that would be a mistake of a different sort—but it didn't quite get me enough to grab onto, to feel like I knew to trust it with my angst-averse heart.
Today, on the other hand? Totally had that "Ah, yes, I'm in" moment. It was a relief to come to the moment when Joon-young steals the bag (or even the scene prior, when he realized she was going to take his father down and his reaction gave me a sinking feeling in the pit of my stomach), because it's that critical point-of-no-return moment in the plotline, where somebody does a thing that can't be readily solved with a mere apology or a disclosing of the truth. There are some things you do that are so momentous that even a proper grovel won't solve it, and I think this might be it for Joon-young—especially since he was already on shaky ground with Eul, grasping at the flimsiest reasons to engage her time.
Of course, why he couldn't just be a nice guy and court her like a decent boyfriend is a different issue altogether. He had such an open chance to win her over and be a regular boyfriend that it's a little exasperating, but I suppose teenagers with cocky-charming streaks and a tremendous amount of pride aren't mature enough to just be honest and put themselves out there. It's what makes him both aggravating and incredibly appealing.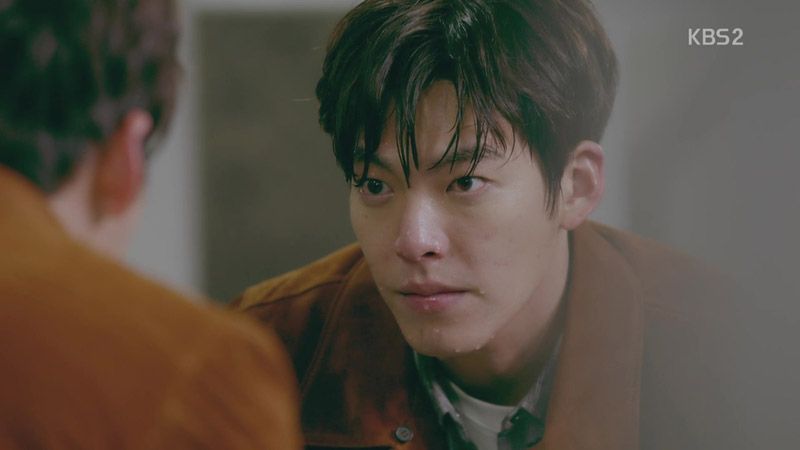 So in a perverse way, I love that Joon-young effed up rather royally, which explains everything about the present-day character and also makes his uphill climb an even steeper, more perilous trek. I have to admit that I love when drama heroes fuck up badly and then have to pay for their transgression down the line (often after the romantic feelings have strengthened)—I loved the angst in Oh Hae-young Again and fully enjoyed watching him writhe in his self-inflicted cage of doom. It's just so satisfying. I don't know if that makes me mean, or petty, or human. Probably all of the above.
The situation is similar in a couple ways for Ji-tae, who I like much better after seeing his guilt burden play out. I know it's a bit of a cliche for a dramaland character to feel overly responsible for a parent's wrongdoing when s/he had nothing to do with the crime, but Sins of the Father is an effective trope for a reason, and I believe the guilt he feels. He's both making things better by befriending Eul and taking care of her family, and making things worse by hiding his identity, because you'd better believe that's going to complicate matters later.
So now I'm invested, and actively looking forward to what comes next. I can see why this kind of show may feel disappointing for people who were expecting something different, but Uncontrollably Fond isn't a cheerful rom-com; it's a heartfelt sentimental melodrama, and if built-up romantic angst isn't your bag, it may be an exercise of patience (or frustration). Personally, I love this kind of slow build—it's often the hardcore or flashier melos that I find harder to swallow—and now, finally, I see the point of the title and find it completely fitting. At least, the Korean literal title is (I continue to hate Uncontrollably Fond and other awkward English translations), which we'd initially translated as Lightly, Ardently. It describes Joon-young to a tee, and his way of feeling things deeply and with strong yearning, but approaching them with a light (literally reckless or careless) appearance. Fond, yes, but in no way uncontrollable.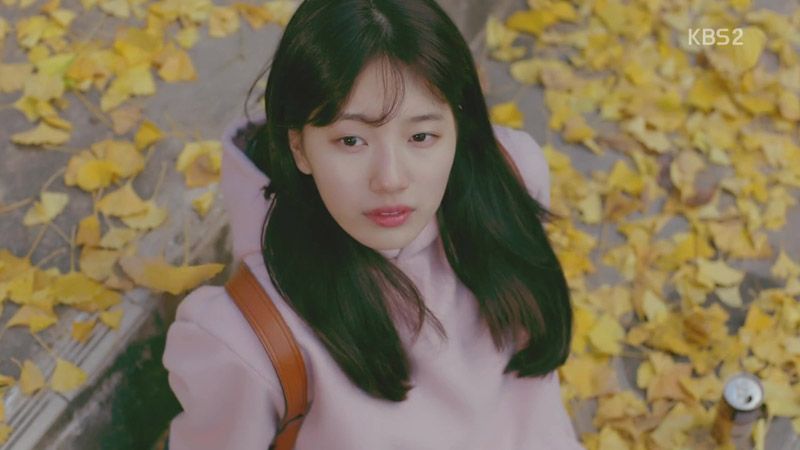 RELATED POSTS
Tags: featured, Im Joo-eun, Im Joo-hwan, Kim Woo-bin, Suzy, Uncontrollably Fond