Uncontrollably Fond: Episode 6
We finally get to see events from Eul's point of view, and with messy emotions flying everywhere, it's no wonder the poor girl is so upset and confused. Both Joon-young and Ji-tae are bundles of contradictions, and untangling the truth isn't easy when the players barely understand their own emotions.

EPISODE 6 RECAP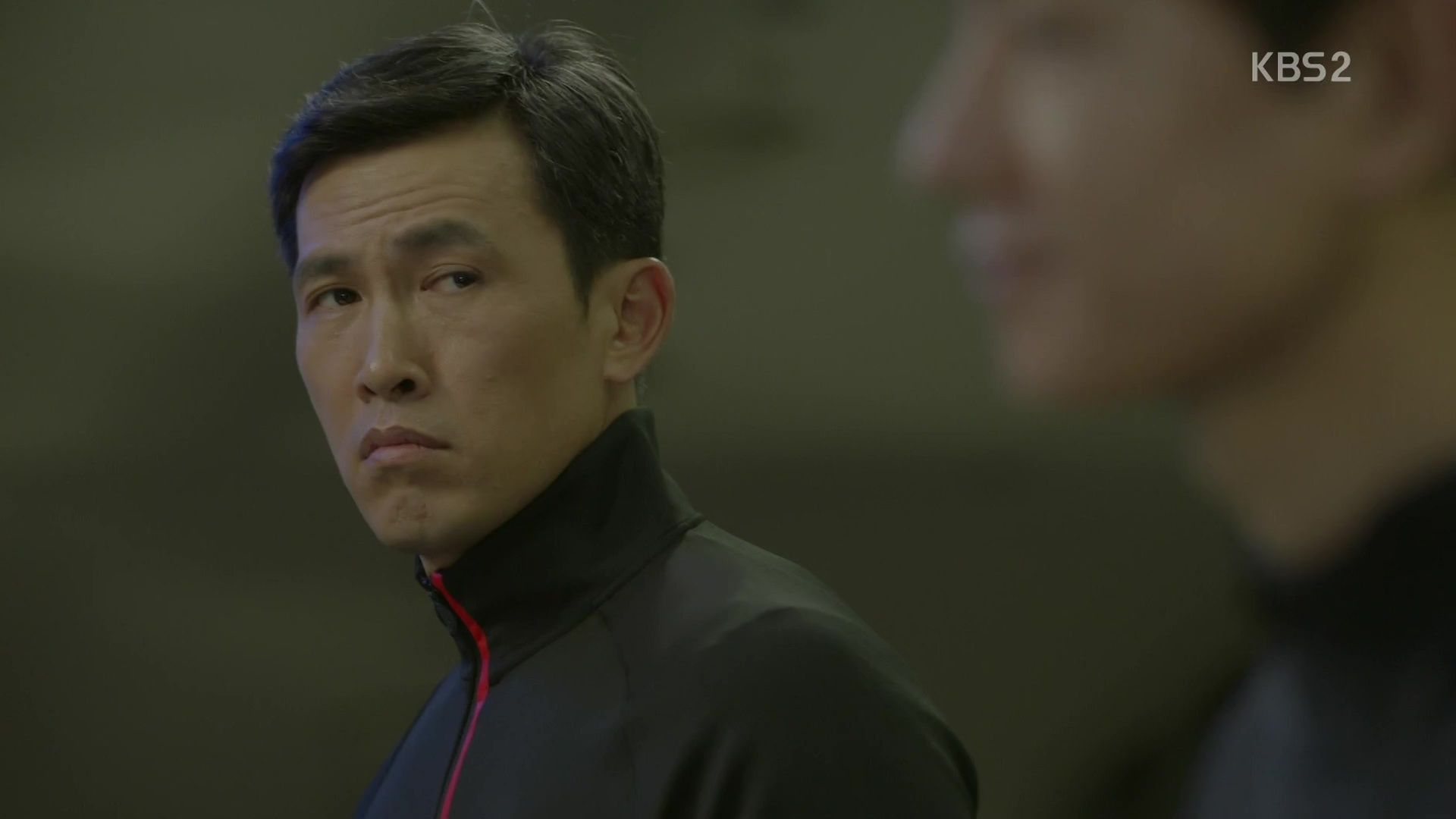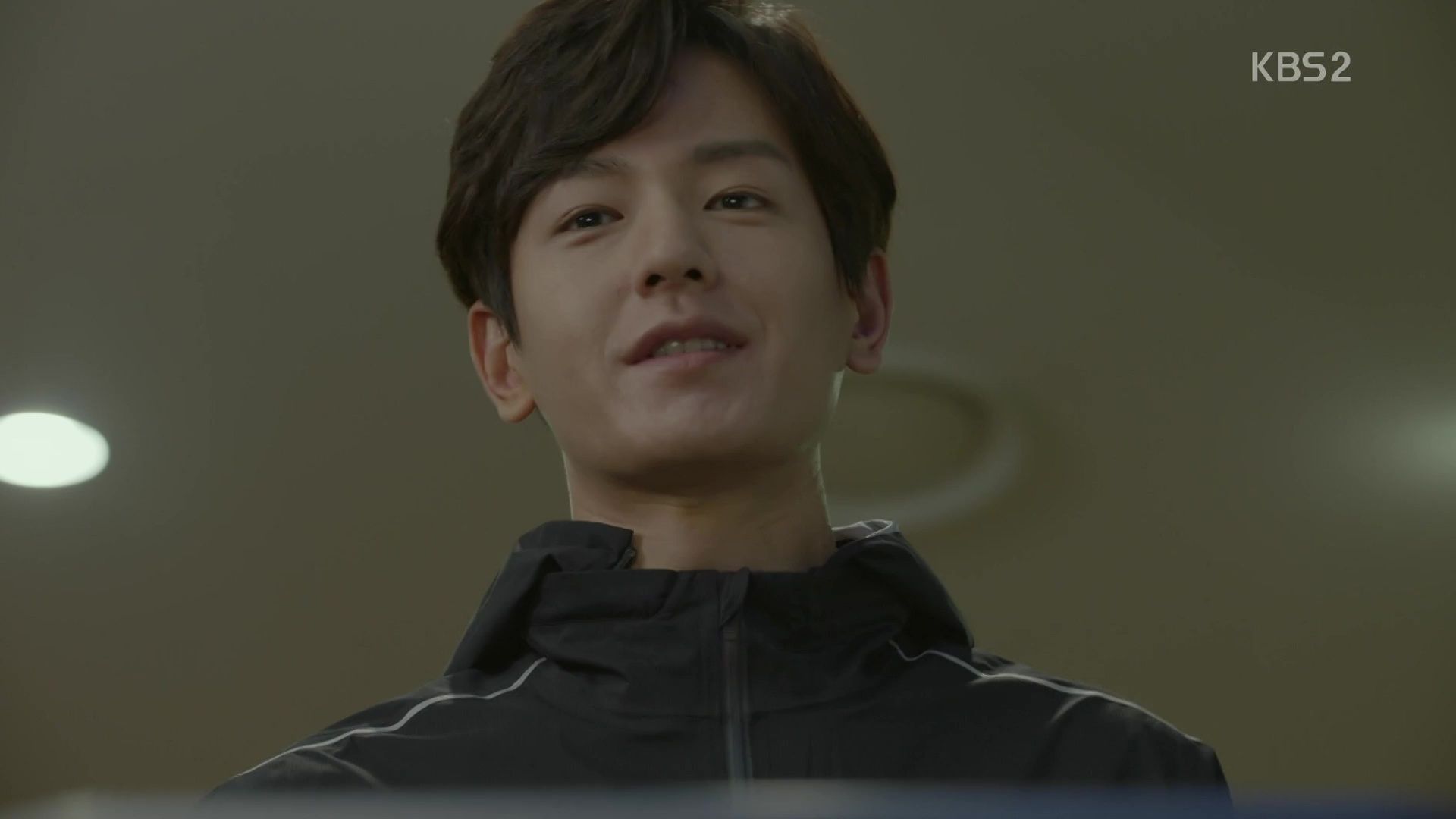 Joon-young helps Eul escape after the concert, and he drives around the city aimlessly. He doesn't know where he's going, but he warns her not to ask to be let out, because he's not stopping the car.
Ji-tae joins his father at the gym, explaining that he's been out listening to a friend whine. He says that this "friend" and that friend's younger brother both like the same girl, but the friend's father has an ill-fated relationship with the girl's family.
Sadly, he says that his friend is forced to give up on the girl. But his face hardens again when he continues that his friend's brother ran away with the girl, and he ruefully agrees when Dad says it sounds like the plot of a drama. Ji-tae proposes they skip the workout today, and asks Dad to buy him a drink instead.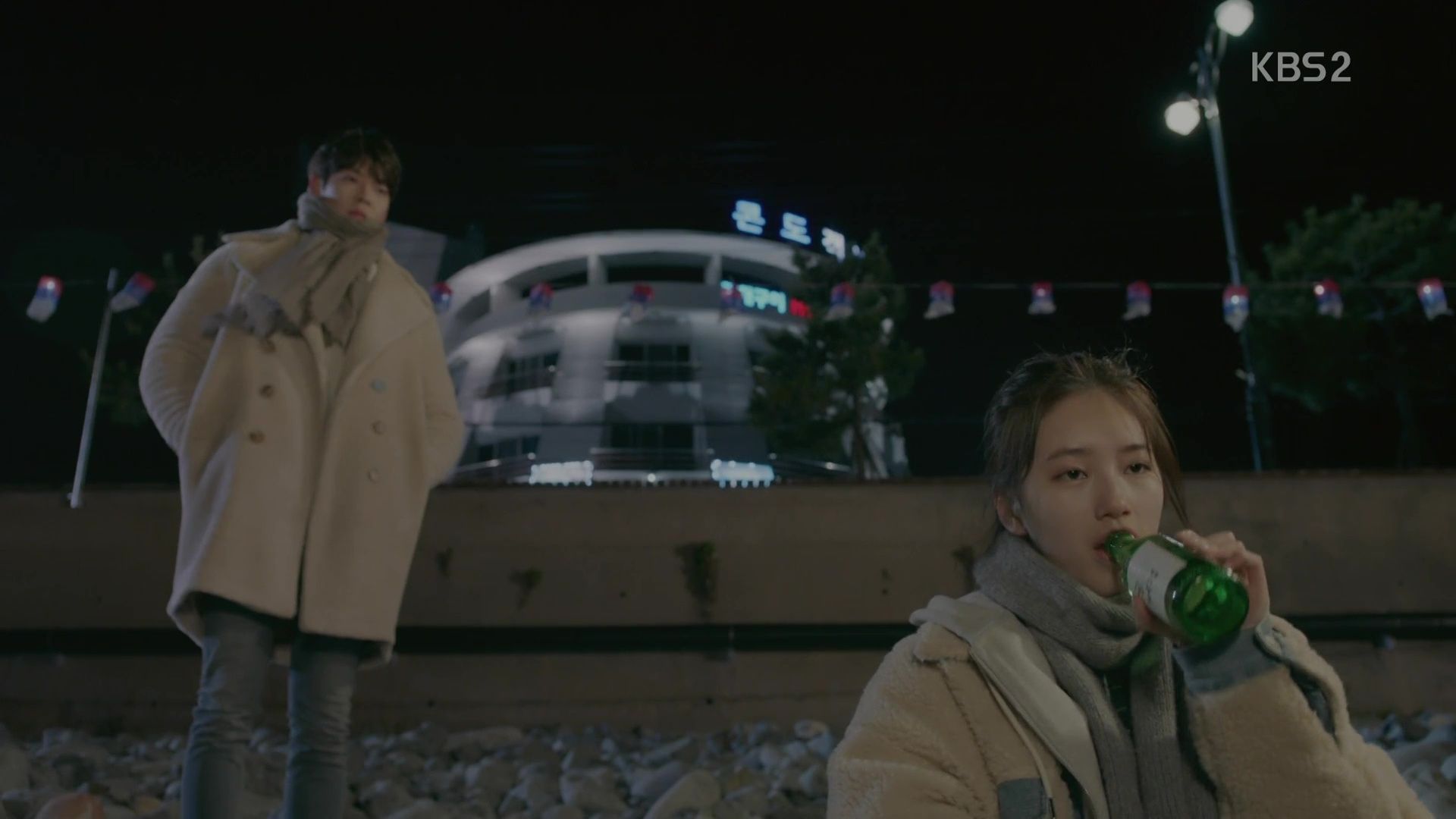 Joon-young and Eul end up on a pier, and Eul says they should drive into the ocean: "Let's drown. I don't want to live." She calls Joon-young a coward for not doing it, so he guns the motor, and she quickly turns off the car. She tells him to die alone if he wants, and gets out to walk.
Joon-young ignores a call from Gook-young and turns off his phone, and follows Eul to a little country store. She plops down on the beach and starts chugging soju, not realizing that she dropped her phone in the car and Jik and Na-ri are frantically trying to reach her.
Na-ri reads online that Joon-young's fans are threatening to kill Eul, so he calls Haru to warn her not to touch Noh Eul. He threatens to crush anyone who even posts malicious comments about Eul, including Haru herself, and when she says she'll call the police on him he just gives her his address, ha.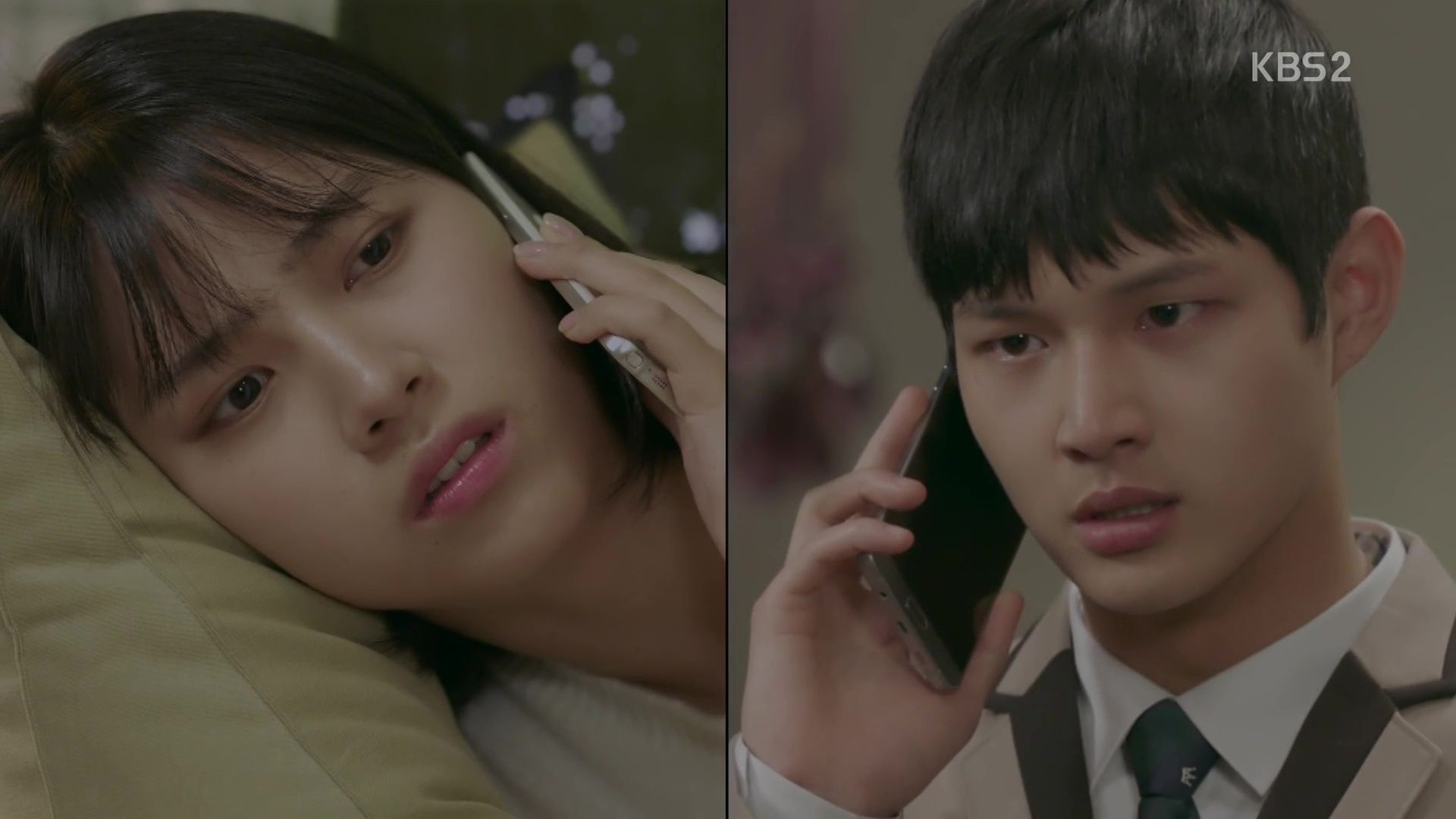 Of course Haru calls Daddy to complain about the meanie threatening her, but Ji-tae answers his phone. She hangs up, unwilling to tell her brother anything about Joon-young, and Dad is pretty drunk so the men head home.
Joon-young watches from a distance as Eul kills several bottles of soju, then belatedly realizes her phone is missing. Pfft, she looks in her shoe, then in the soju bottles, and Joon-young finally rolls his eyes and turns his own phone back on to give to her.
Ji-tae's mom fusses at him for letting Dad drink, and he answers a call from an unfamiliar number that turns out to be a drunk-dial from Eul. She slurs that it was so hard for her to pretend not to like him, and asks why he was so nice to her anyway, buying food and clothes when he didn't even have any money.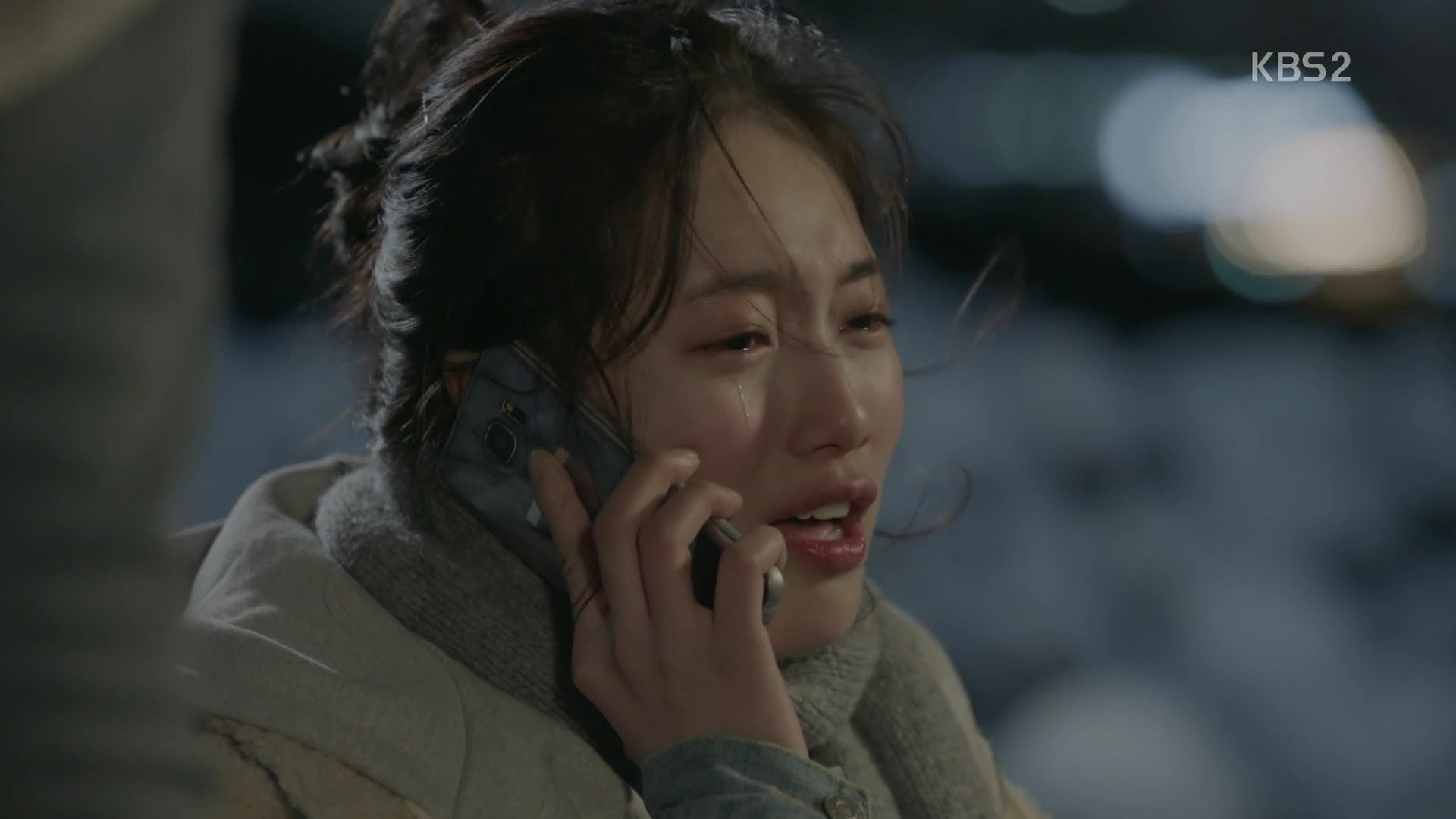 She's crying by the time she gets to his two rejections, one of them public, and poor Joon-young looks like listening to all this is just killing him. Eul wails into the phone for a minute, then flips to anger, "What makes you so special??" She starts comparing him unfavorably to Joon-young, but then she flips again and begs him to just think about it.
Ji-tae barely holds it together, listening to her beg him to date her, and Joon-young has enough and takes the phone away. Eul tries to grab the phone back, but Joon-young yells that she's made enough of a fool of herself for one day.
When she grabs for it again he throws it into the ocean, and on his end, Ji-tae is shaking so hard he looks like he'll fall apart. He looks down at his unconscious father, and grinds out, "It's your fault. Because of what you did, I can't be with Eul."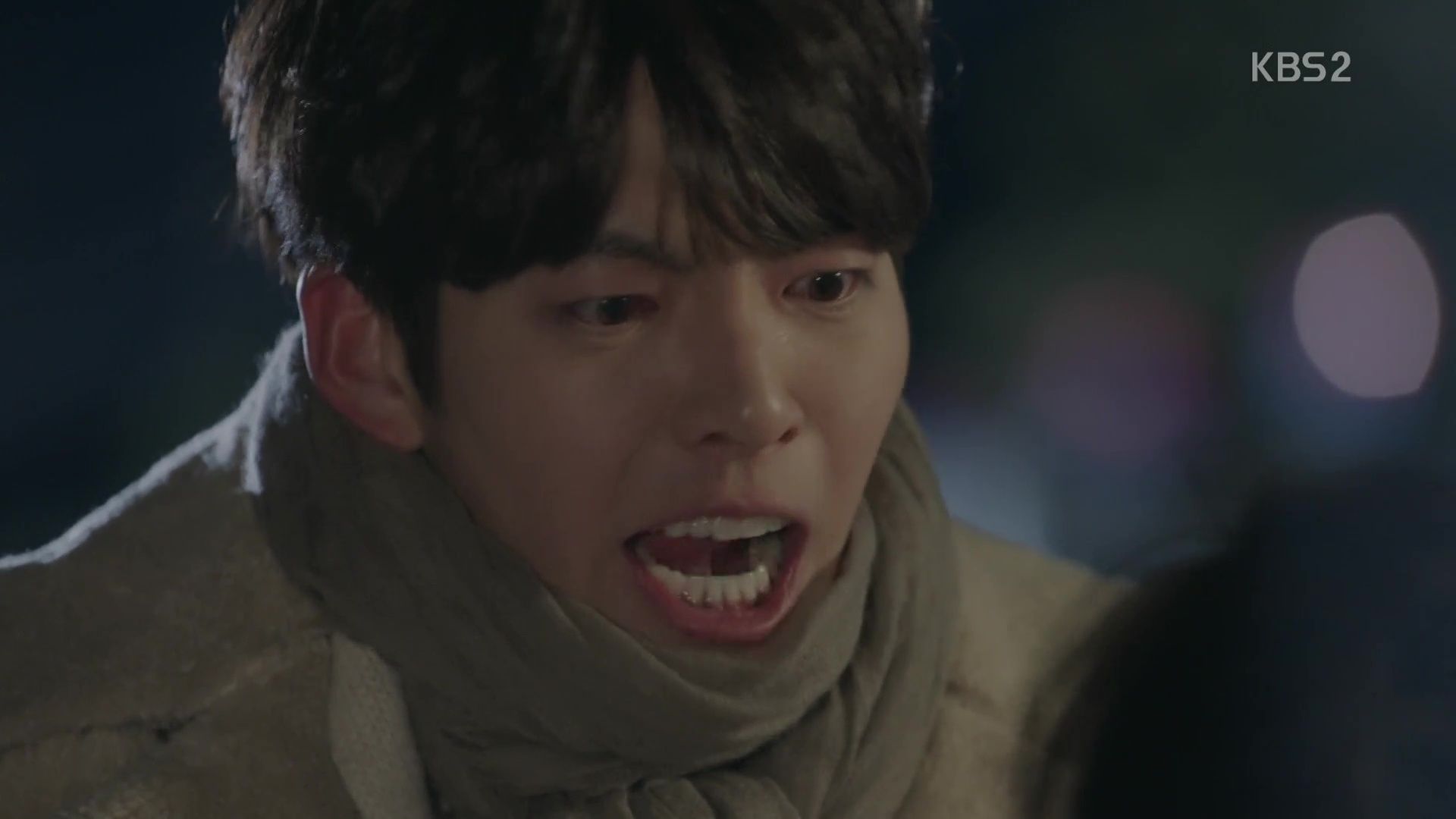 Eul orders Joon-young to go get the phone (she thinks it was hers), but Joon-young snaps to get it herself. She starts to walk into the ocean, so Joon-young tosses her over his shoulder to carry her back up the beach, both of them screaming in frustration.
Joon-young drops Eul on the beach, but picks her right back up by the coat to ask, "Don't you see me? Think of what I did for you! Don't you see me?!" But Eul just whines for Ji-tae, so Joon-young kicks her in the butt. HAHA. She kind of deserved that.
Eul wakes in the morning with a massive hangover, in an unfamiliar room and wearing what look like a country ajumma's clothes. Sure enough, she's been put up in a little inn near the beach, and the ajumma brings her some hangover soup and tsks over how much she drank last night.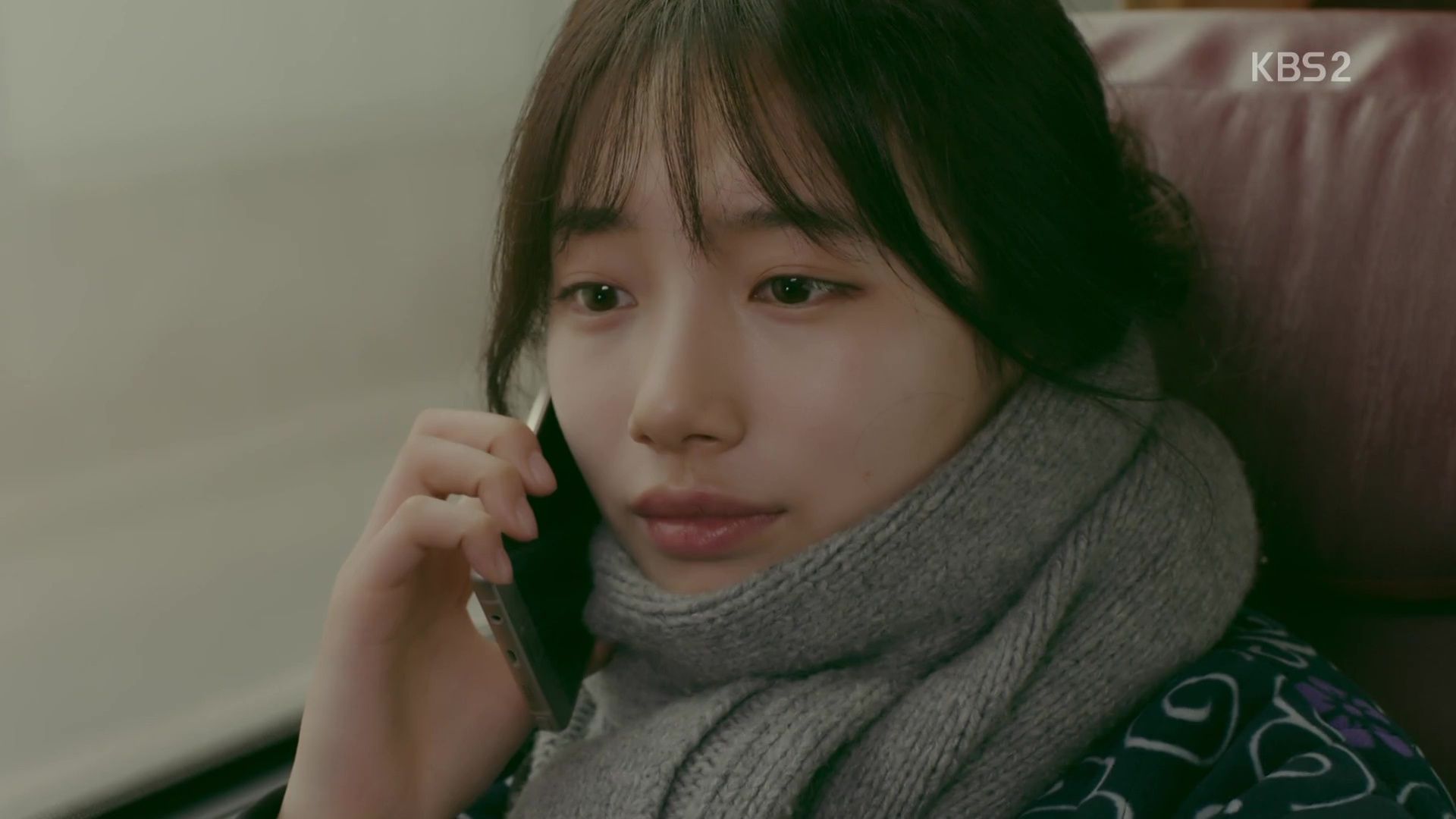 She tells Eul that she walked into the ocean then threw up on herself last night, and that her husband had a hell of a time helping her change. Husband? Eul is horrified at the idea that Joon-young undressed her, but she doesn't remember anything from the night before.
She gets her phone from the car and charges it in a store, and the news this morning says that she and Joon-young eloped after the concert. She's recognized, and she hilariously adopts the wrong dialect to claim that she grew up here.
She takes a bus home and calls Jik, who pretends he's at school and has no idea what's been happening. He's lying through his teeth, but he can't tell his sister he didn't sleep a wink all night or she'll be even more upset. But he's prepared to beat the crap out of Joon-young when he sees him.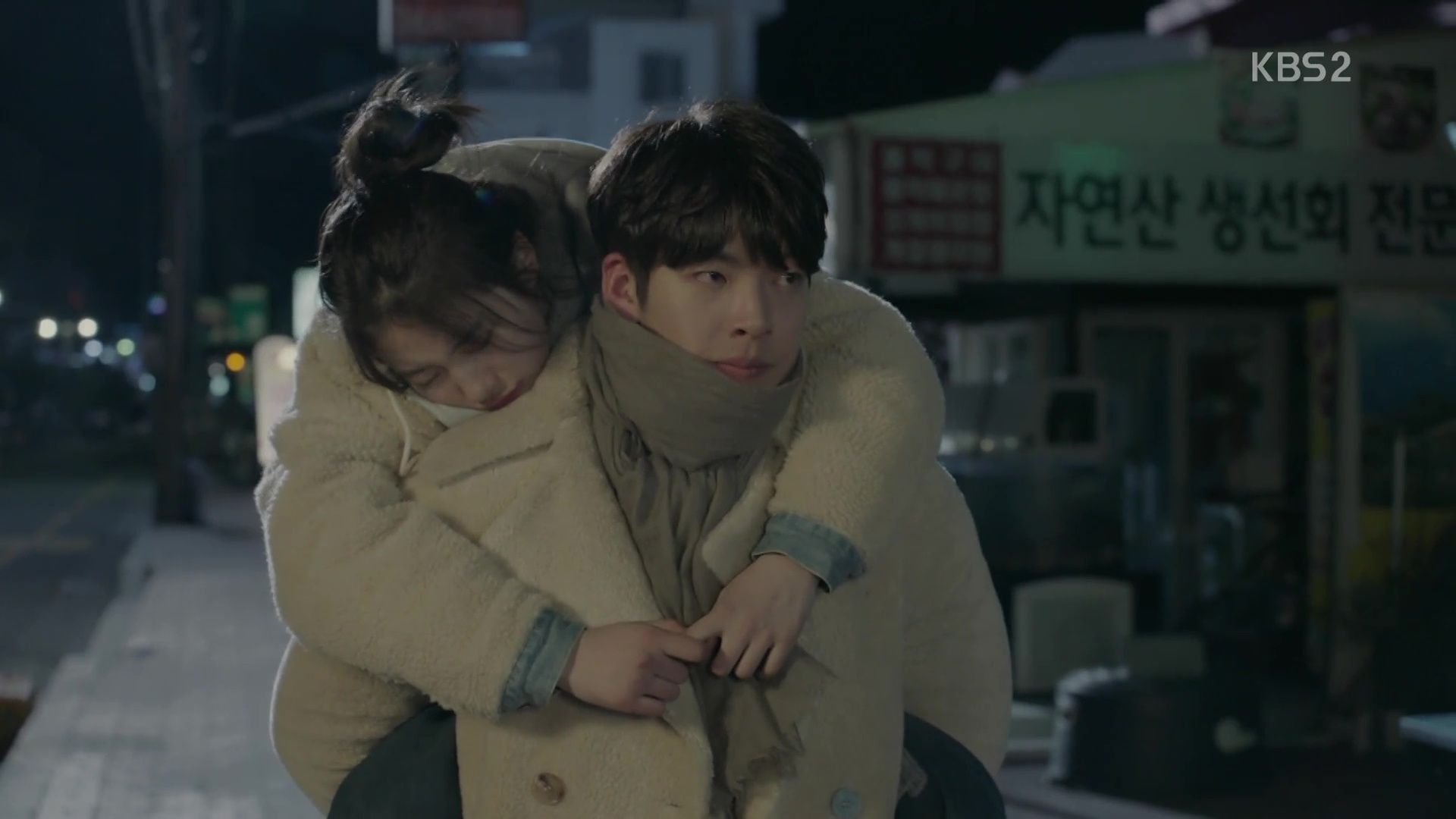 Eul wonders why Ji-tae didn't try to call her even once, but a memory surfaces of the night before — Joon-young piggybacking her while she moans over Ji-tae's rejection. Joon-young is whining too, "I'm Shin Joon-young, I deserve better than this!" And then she barfs on him.
Ji-tae is particularly grouchy during a business meeting, ignoring Eul's calls but obviously shaken by them. He accuses the man making the presentation of playing while overworking his employees, handing over the project to another executive and ignoring yet another call from Eul.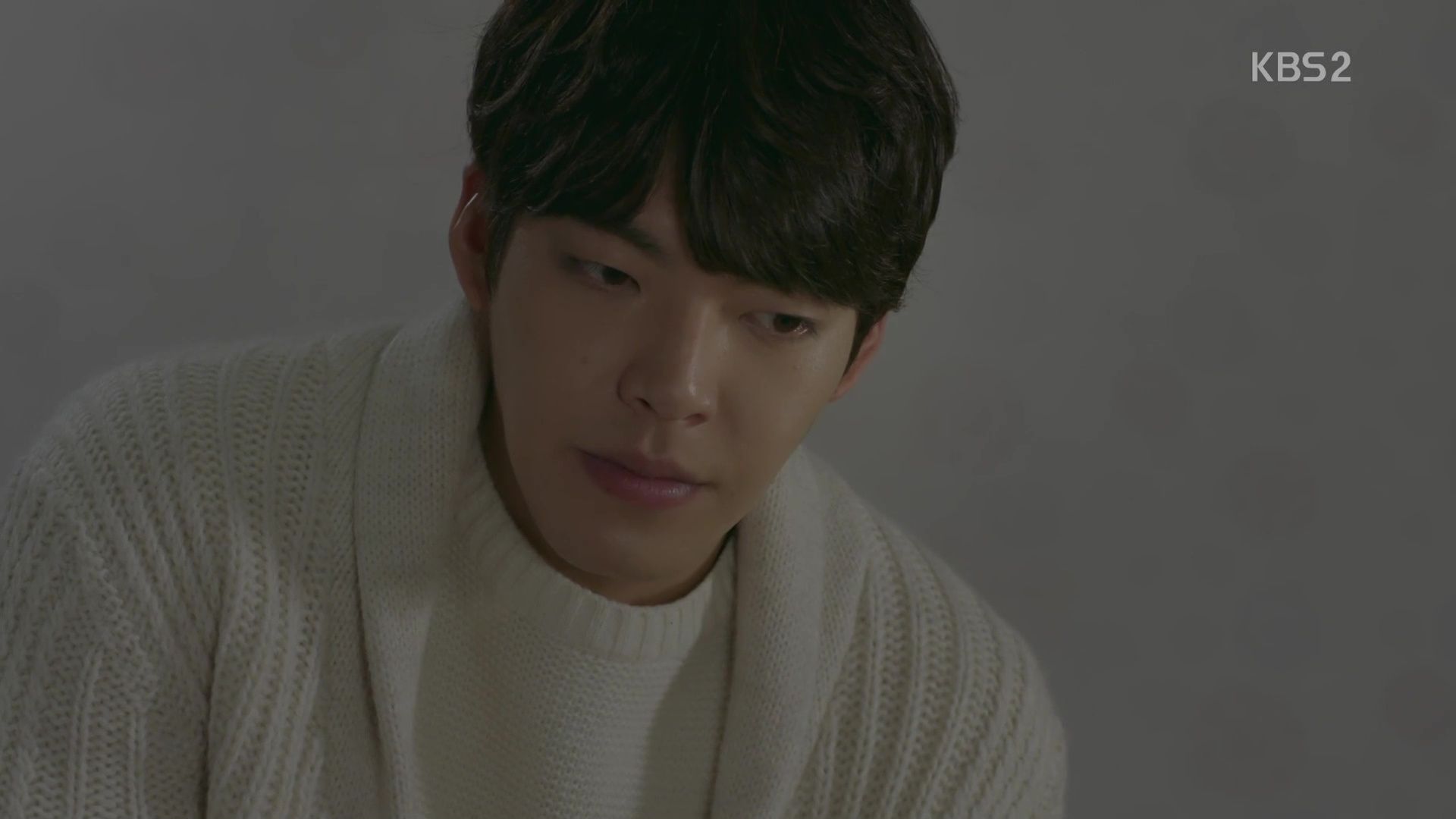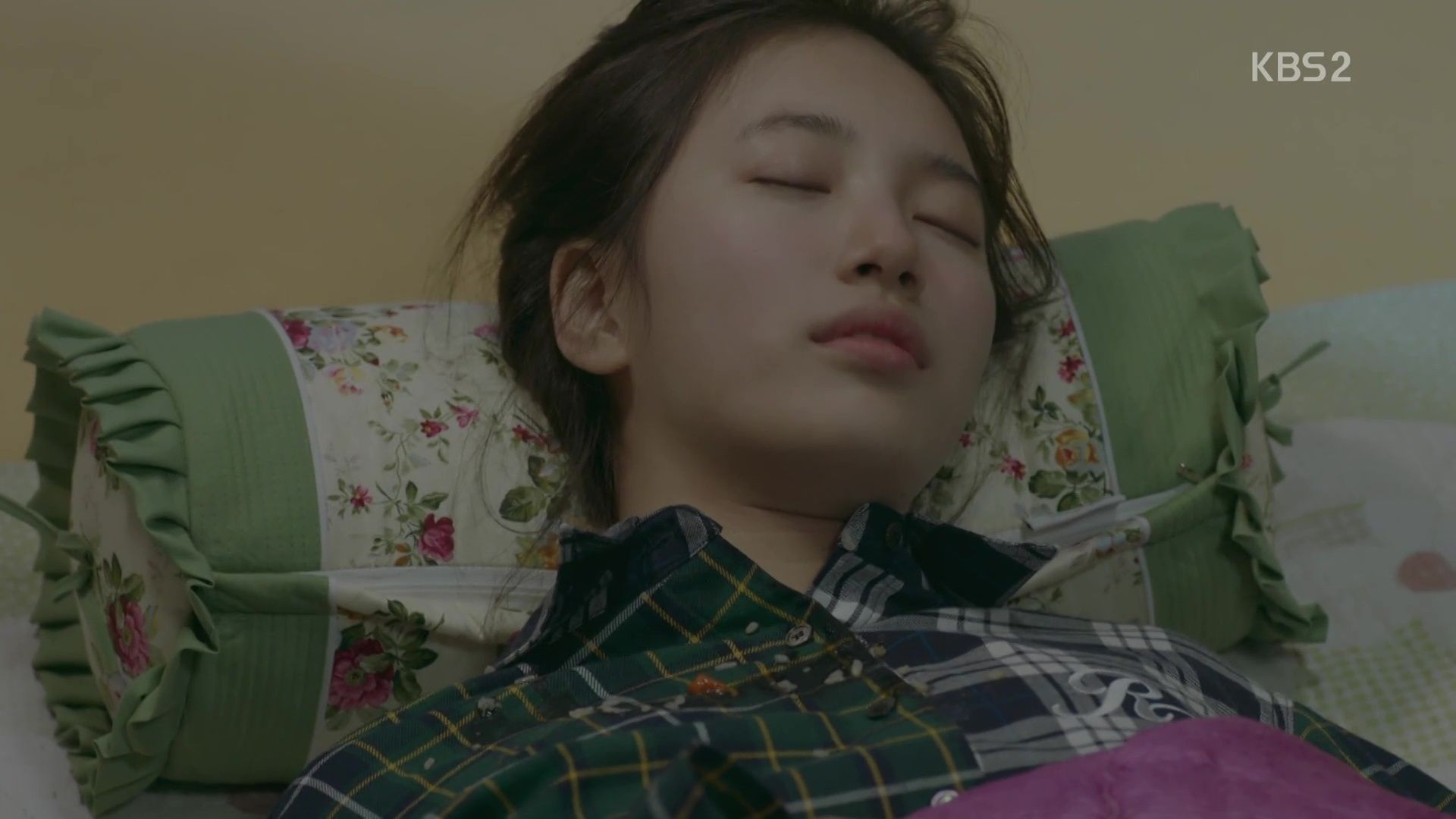 Gook-young calls Eul looking for Joon-young, since his phone is in the ocean, but she hasn't seen him today either. She claims that he's the one who dragged her away, calling him a sneaky jerk, but another memory of the night before surfaces — this time Joon-young is cleaning her face of vomit and asking the ajumma to change her clothes.
But he shot himself in the foot by claiming they were married, and the job falls to him. He looks supremely nervous, and it's worsened by the fact that Eul is still whining about Ji-tae.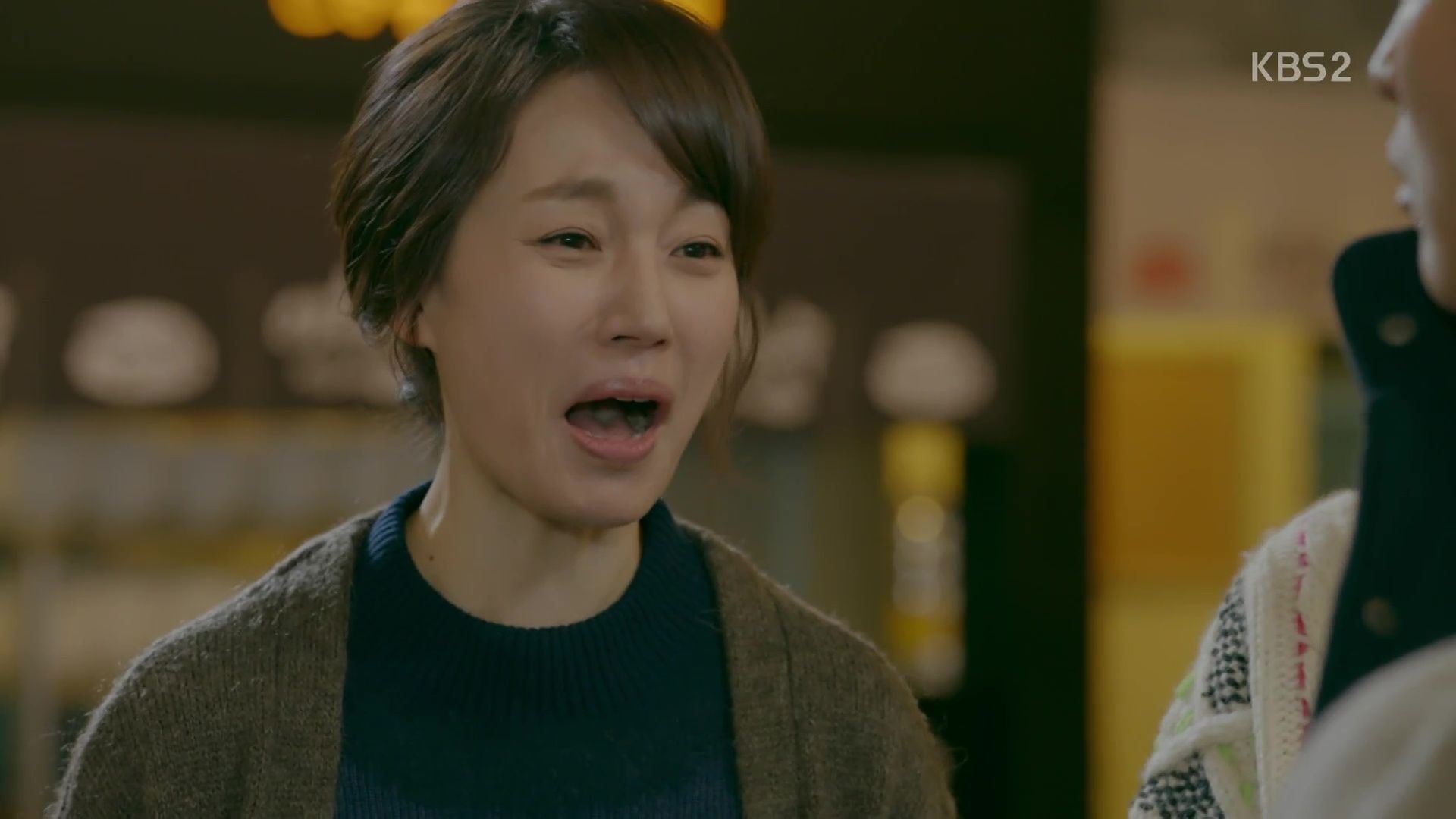 Over at Mom's restaurant, her employees are taking advantage of the scandal to post more hateful comments online. Mom herself seems distracted and uninterested, but Gook-young arrives to yell at them both and threaten to sue. Mom takes the responsibility and tells him to sue her, instead.
Joon-young's agent loses his temper and gets in a shouting match with Mom, who accuses him of being responsible for making Joon-young an actor (calling him a ddandara, which is an insulting way of saying "entertainer"). The agent argues that he's not a ddandara, he's a Hallyu star, and any other mother would be thanking him right now. He grumbles that her bad personality explains why Joon-young is the way he is.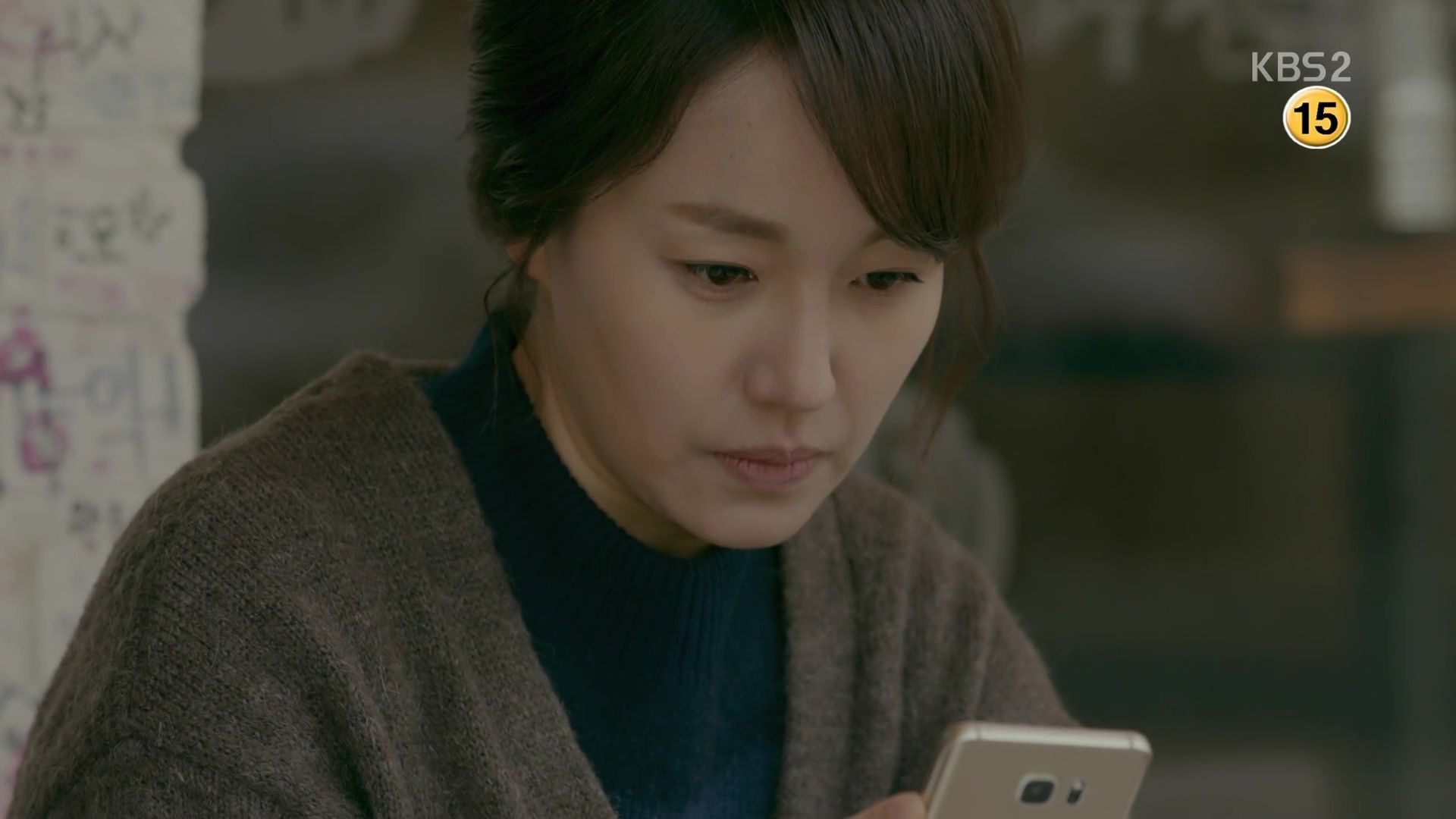 Ajusshi comes flying in to defend Mom's honor, but before anyone gets hurt Mom tells Ajusshi to let go of him. She yells at everyone to just leave Joon-young alone, but Gook-young is all We have to find him first!"
Mom goes outside for some fresh air and finally lets herself worry about Joon-young. She wonders where he is, and who the girl is that he's with. She gets a text from a friend that Assemblyman Choi Hyun-joon was at the concert, and she doesn't know that from a nearby car, Choi's wife is watching her.
In flashback we see Assemblyman Choi conducting a business meeting, which he cuts short when he sees a woman who looks like Joon-young's mother. He calls her by Mom's name, but the woman claims to be "Madam Song," and gives him her business card to come see her at her new business in Cheongdamdong.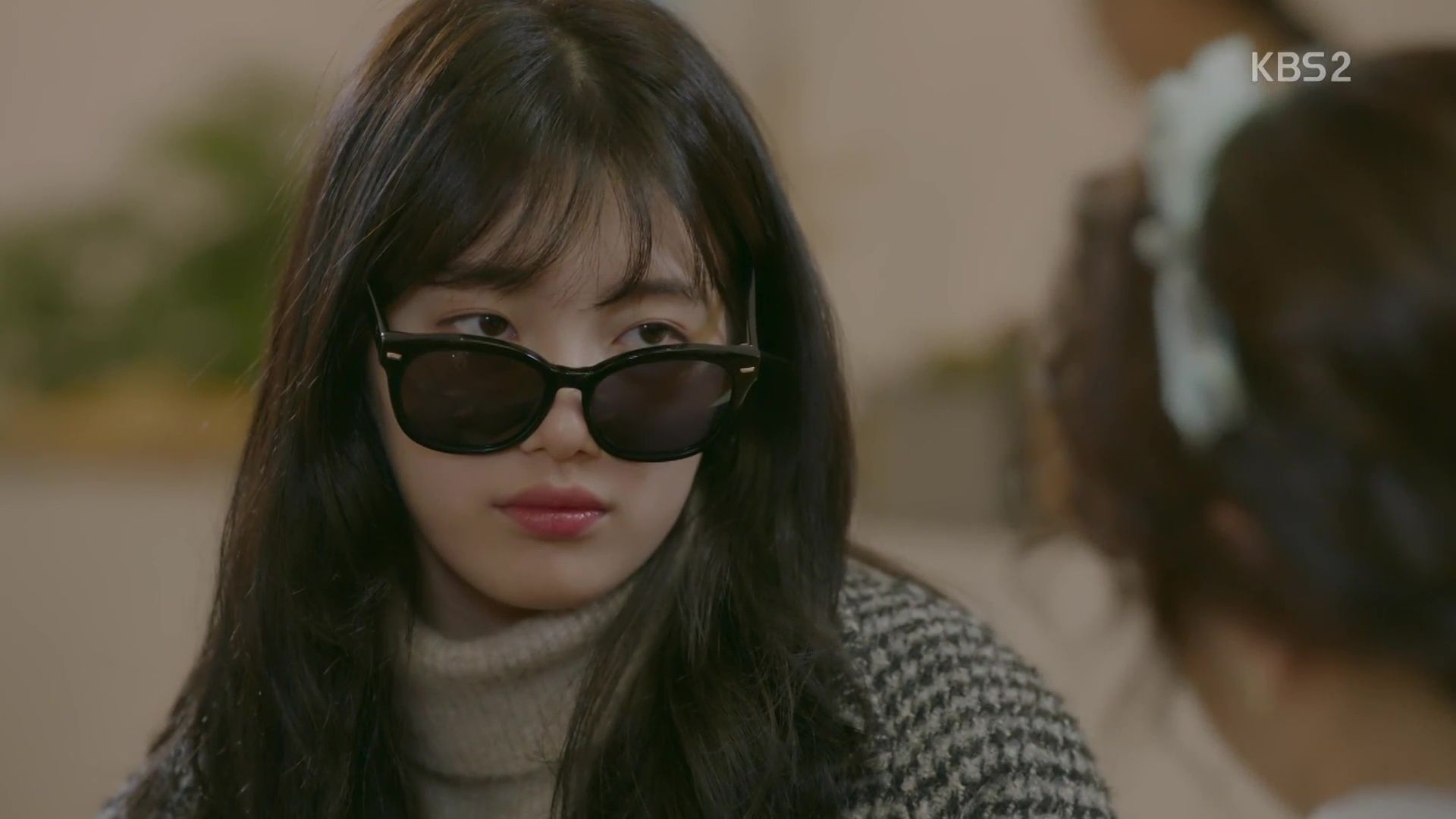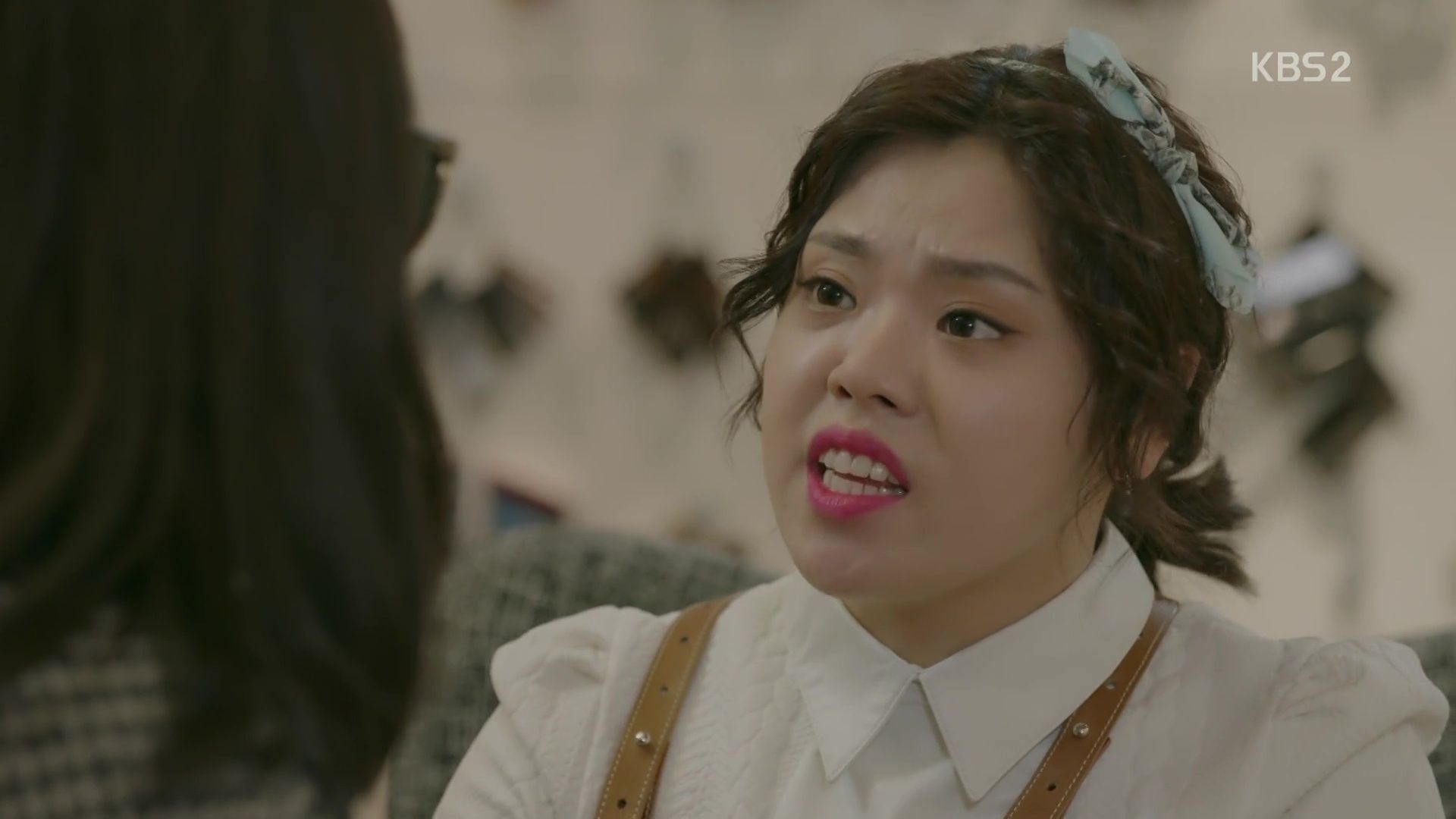 When Eul gets back to Seoul, Na-ri tells her about the rumors flying around, that Joon-young only agreed to do the documentary because she's blackmailing him. Eul thinks that's nonsense, but her face is all over the internet regardless, and Na-ri helps her work on a disguise.
Gook-young calls Eul again, now accusing her of lying about not knowing where Joon-young is. She yells (while Na-ri tries unsuccessfully to shush her) that she doesn't know, and to call the police if he's that worried.
Haru hunts down Jik to ask how he knows Eul, and why he's so determined to protect her. He skirts the question and refuses to tell Haru where Eul is, even when Haru whines that she's worried Eul did something to Joon-young. He picks up Haru and tosses her in the dumpster, telling her to leave her trashy thoughts in there, ha.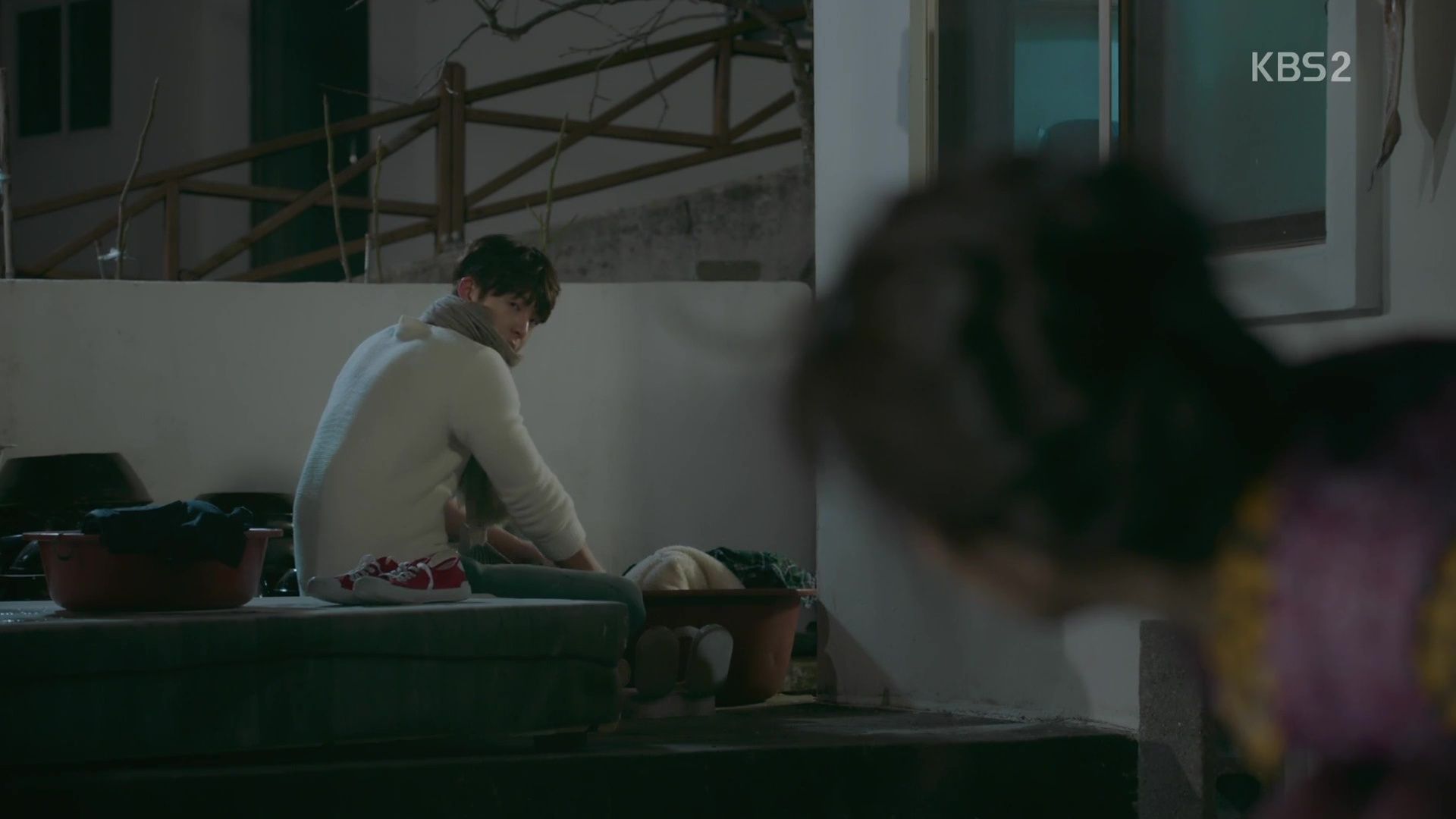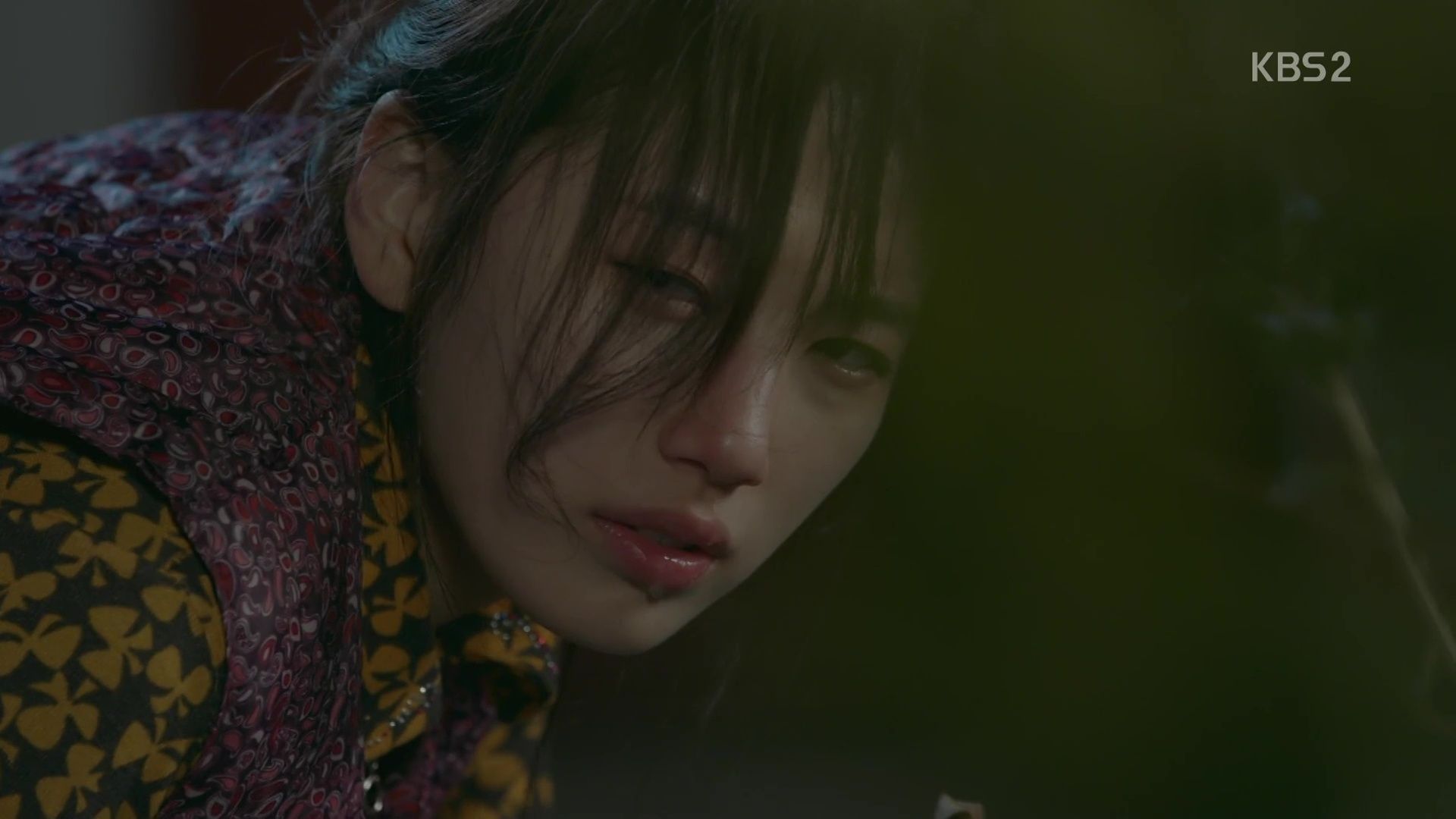 Eul's ridiculous disguise does more to draw attention than deflect it, and Gook-young is still calling her. She recalls another memory, of getting up the previous night to throw up again, and seeing Joon-young washing her filthy clothes outside in the cold. Awww.
She tells Gook-young again that really and truly, she hasn't seen Joon-young since last night, but that his car was on the pier so she figures he's driven himself home by now. She sends Gook-young the location where Joon-young left his car.
There are reporters swarming outside Na-ri's place, forcing Eul to hide behind a car. Ji-tae sneaks up on her and quietly leads her to their restaurant to feed her. He takes off her floppy hat and sunglasses and gives her his ball cap, and Eul calls him a coward for running away last night.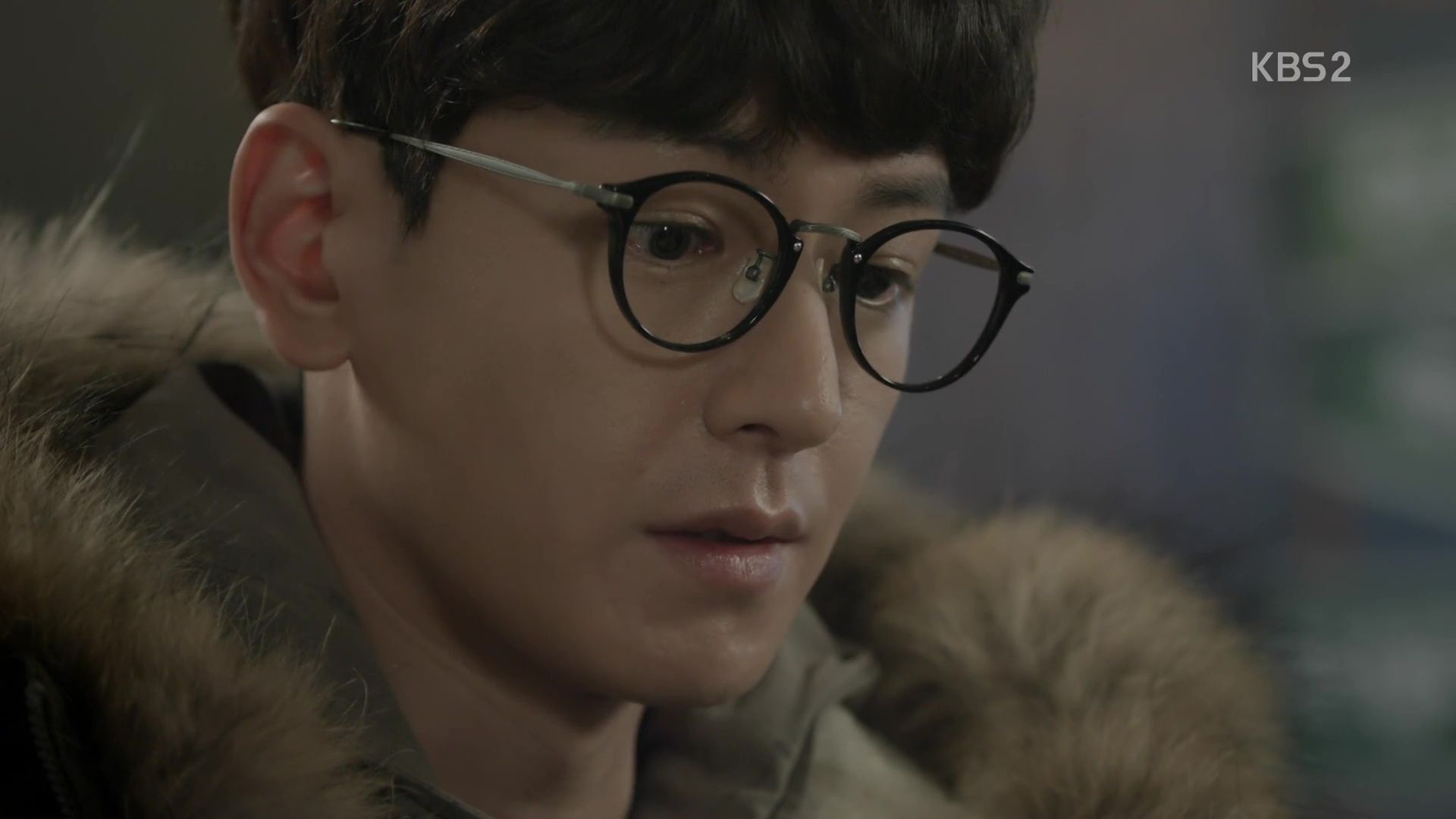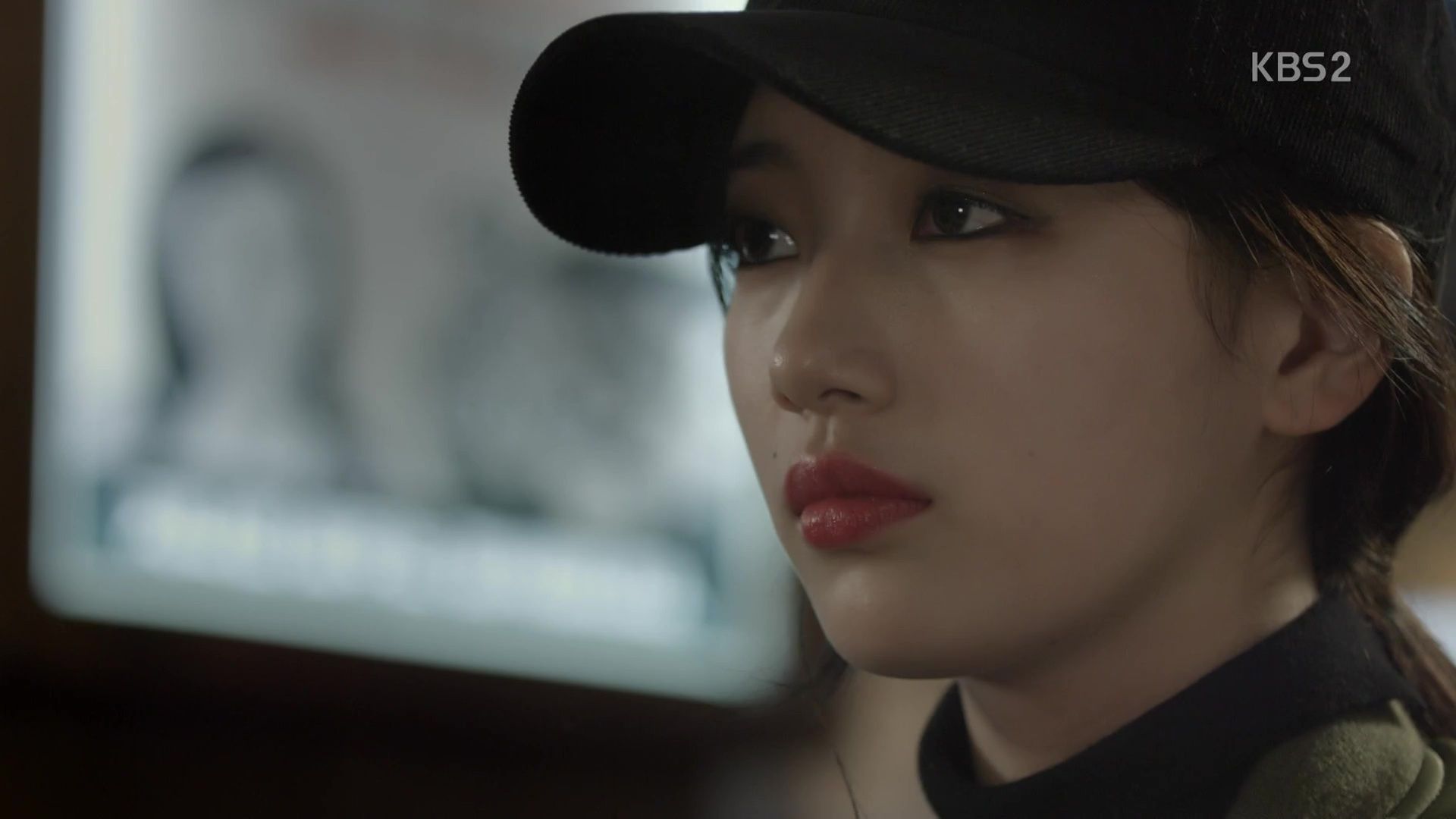 Ji-tae meekly agrees that he's a coward, and that he should be ashamed of himself. He admits that he's as confused as she is, and wonders if he should have gotten her hangover soup. Eul asks how he knew she drank last night, and he says that she drunk-dialed him from Joon-young's phone.
He asks if Joon-young was there, but Eul doesn't remember calling him at all. She asks what she said, and Ji-tae nervously says he doesn't remember, either. He steps outside to take a call from Jung-eun, and tells her he's in a meeting.
Someone told Jung-eun that they saw Ji-tae at Joon-young's concert, but he denies having the time for such things. Jung-eun says the friend must be mistaken, all the while looking at a photo that clearly shows Ji-tae holding Eul's arm outside the theater.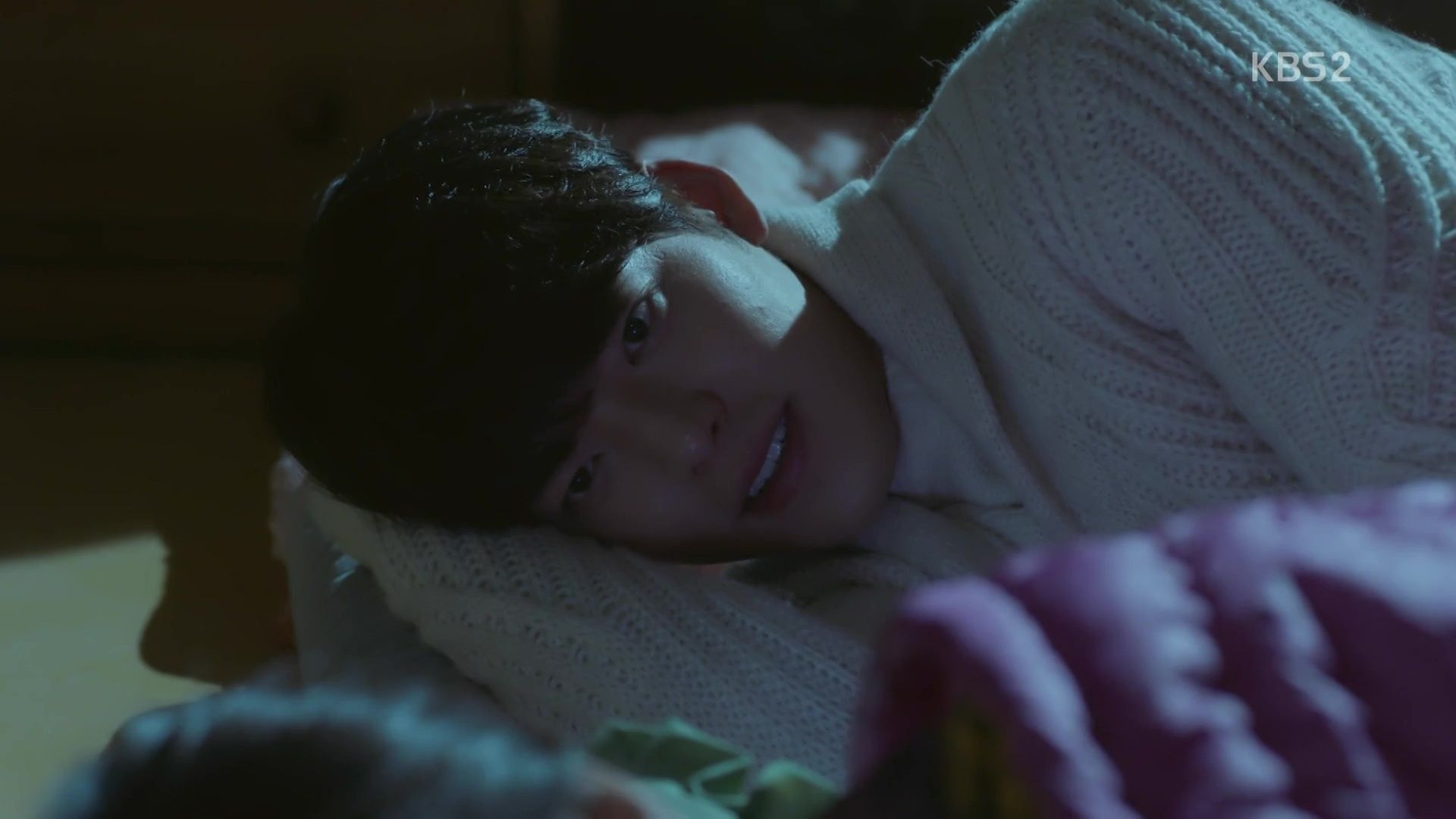 Inside, Eul is berating herself, clearly remembering her whiny pleading call to Ji-tae last night. She also remembers waking in the night to find Joon-young lying next to her, watching her sleep. She'd turned over with her back to him, and Joon-young had softly wondered, "What should I do? The weird girl who turned her back to me, won't even cast me a glance. Instead she wants the guy who abandoned her."
He'd muttered that he's Shin Joon-young, and wondered if he should comfort her, or threaten to hit her. He doesn't know she's lying awake, listening to him ask if he should take her to a doctor, questioning if he was too late. "Should I give up and send you to that guy?"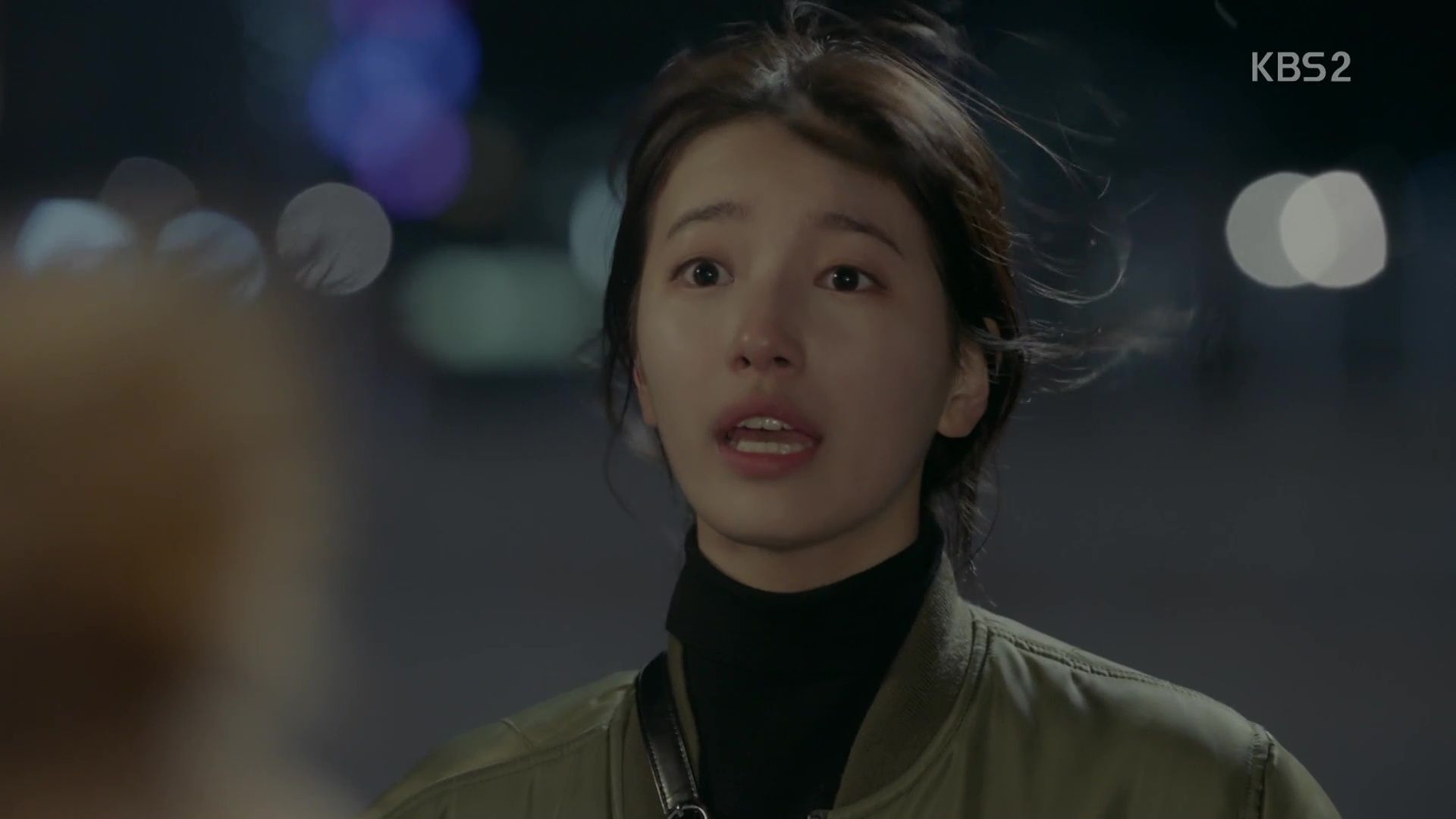 Ji-tae goes back inside to find Eul gone and his hat on the table — she grabs a taxi and goes all the way back to where she last saw Joon-young (and ouch, that cab fee). His car is still there on the pier, as is Gook-young, who says that nobody in the area has seen Joon-young.
Eul is genuinely concerned now, but Gook-young says he hasn't called the police because that would trigger a huge media storm. He turns on Eul, accusing her of killing Joon-young for his watch, heh, and she just threatens to kill Gook-young as well. He hits a little closer to home when he brings up Joon-young's public confession and Eul's equally public rejection, saying that Joon-young is nothing without his pride.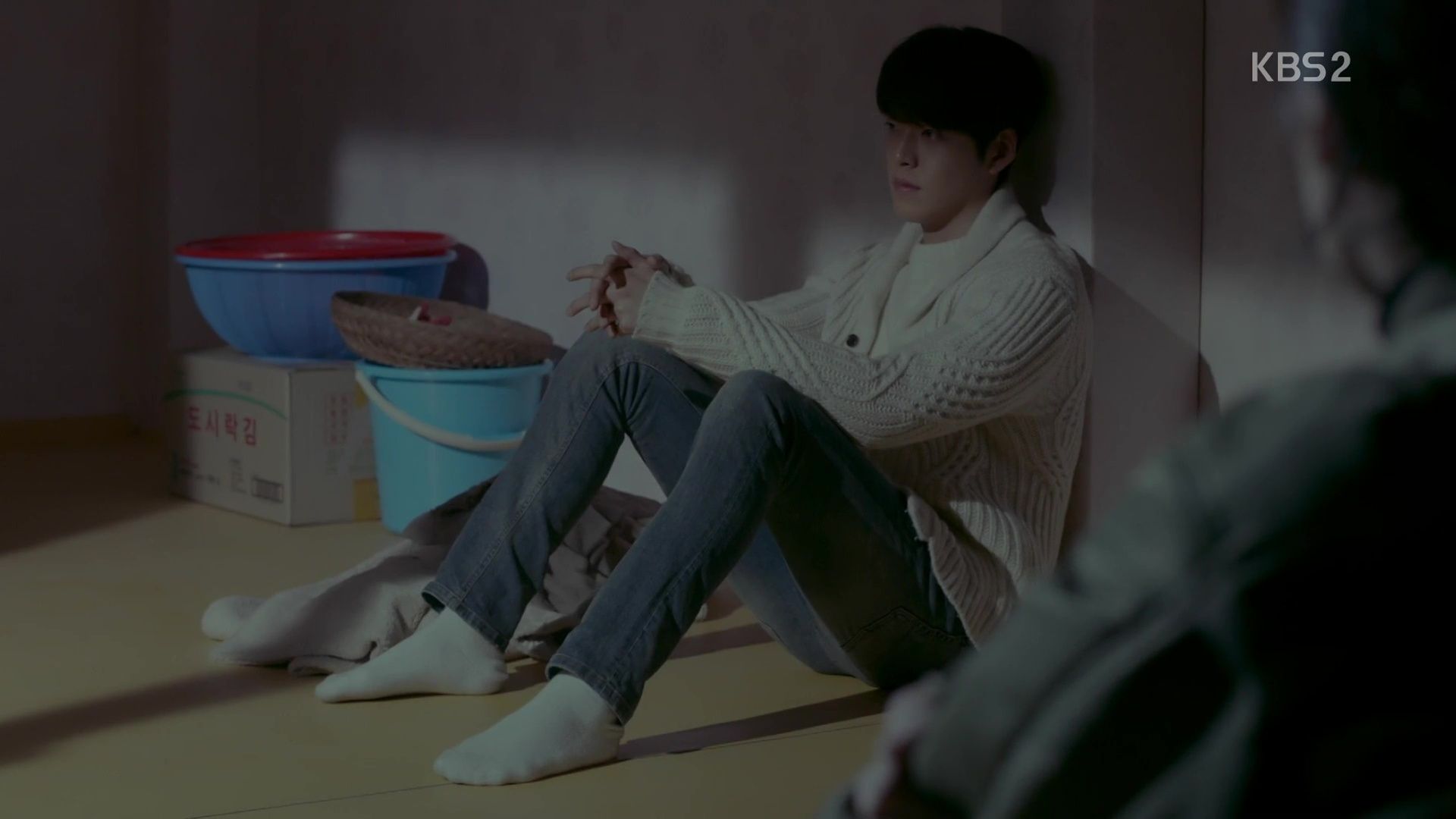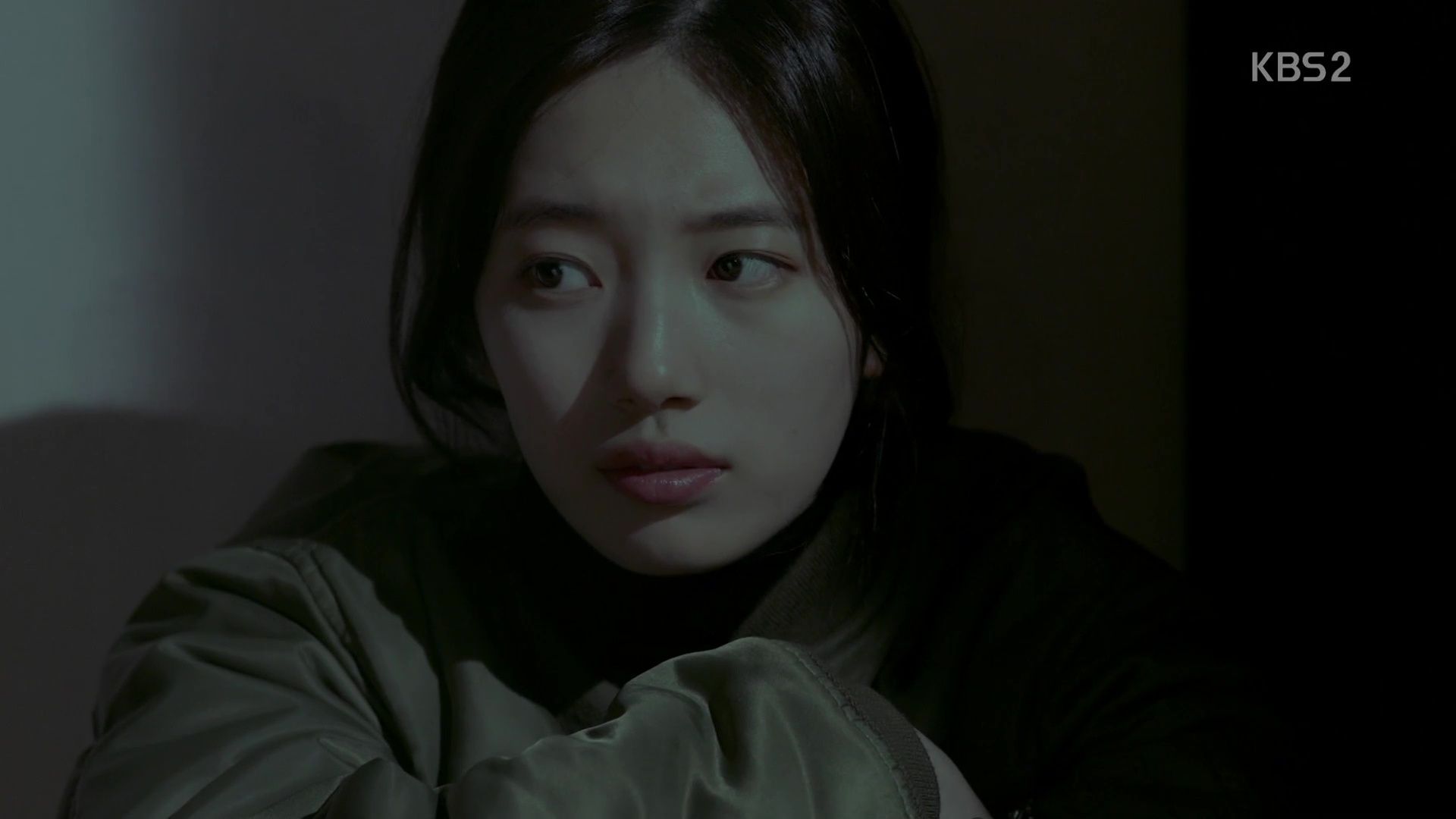 Eul heads back to the ajumma's place where she spent the night, but the ajumma hasn't seen him either. Eul goes into their room to look for any clues, and she sits in the dark, worried that she may have said something in her drunken state to cause Joon-young to do something to himself.
Another memory surfaces, of Eul waking in the early hours to see Joon-young sitting next to her. She imagines him there now, and sees what he must have been looking at — a picture of a nearby island. She asks the ajumma how to get there, and waits outside the ferry office, huddled under newspapers for warmth.
She ends up asking a local fisherman for a ride, and by morning she's running all over the island calling Joon-young's name. But he's nowhere to be found, and she calls Gook-young, who by now is crying with worry. But at that exact moment Eul spots Joon-young sitting on an overlook, fast asleep.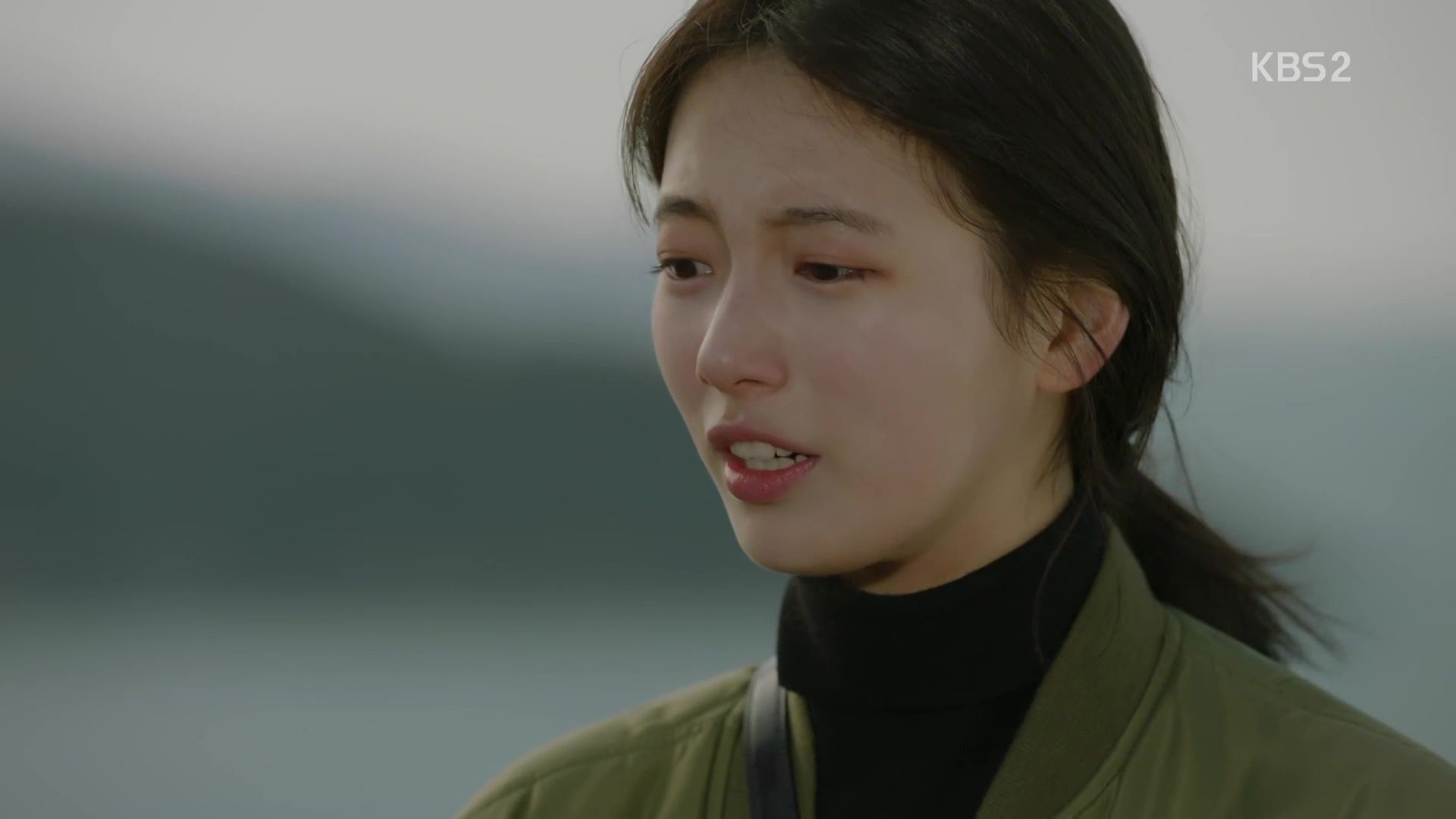 She yells at him for sleeping when everyone is worried sick about him, complaining about everything she did to find him when he was fine all along ("I got bitten by a seagull!" HA). Joon-young doesn't say a word but stands to walk away, and Eul cuts him off, asking if he thinks this is a dream.
She says that she's really here right now, but Joon-young still just stares at her. Eul reaches out to pinch him and he stops her hand, and just says one word… "Go."
He's serious, and he tells Eul again to get out of his sight. He walks past her, leaving her standing there, stunned.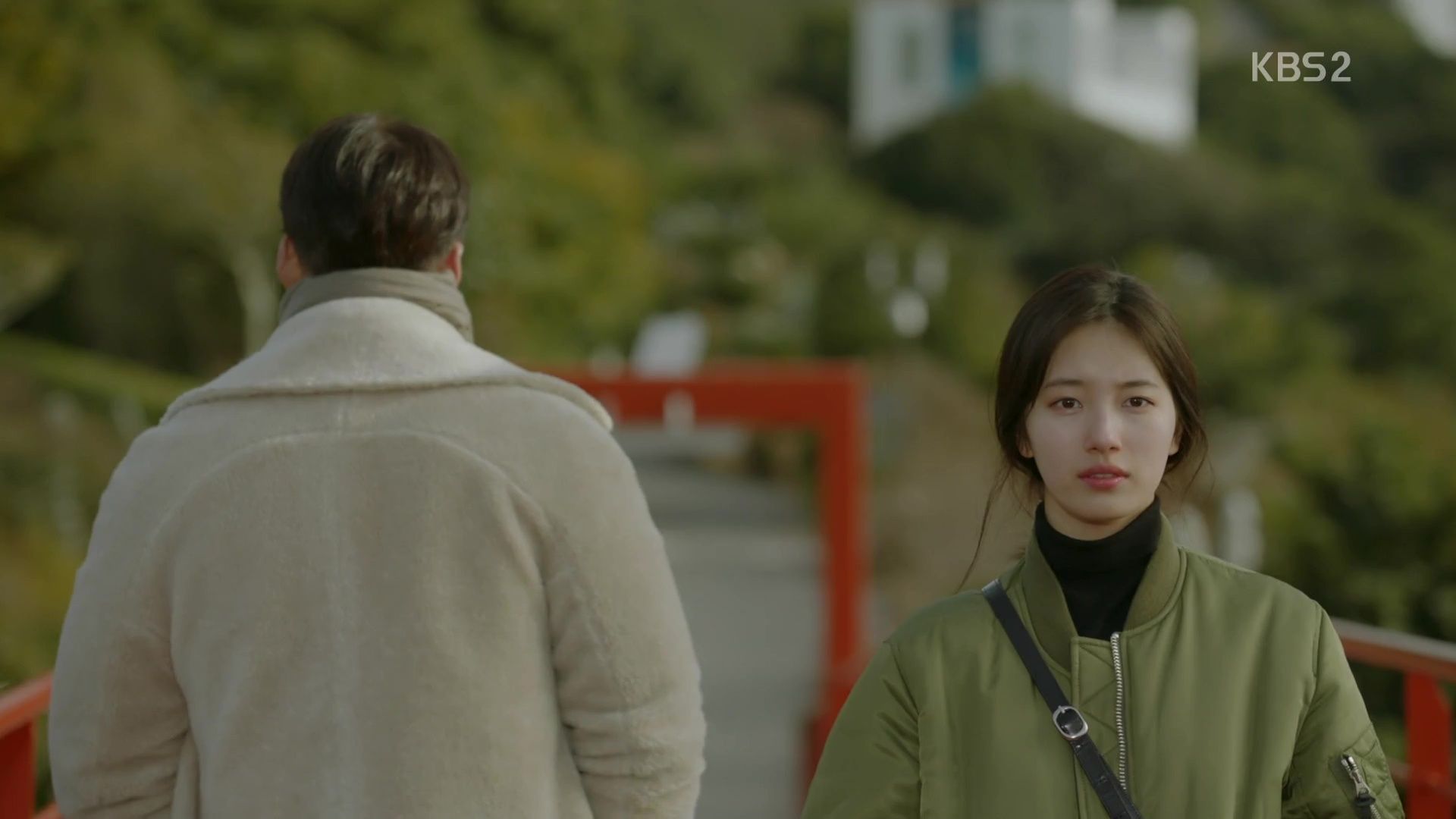 COMMENTS
This was definitely Eul's episode, and I appreciated getting to see a bit more of things from her point of view. As far as Joon-young goes, she only knows him as the arrogant bully who made her life miserable, popped up again in college to ask for a contract dating situation, then disappeared without a word of explanation. Then he became famous and seemed to forget her. So it's no wonder that his showing up again now is vastly confusing, when he's asking her to date him as if nothing ever happened and making public confessions that turn her life upside down. As drama-watchers we know they're "fated," but from Eul's perspective, Joon-young is this odd bundle of contradictions who has no problem disrupting her entire life then poofing away without notice. I don't blame the girl for being extremely wary of Joon-young's motivations.
On the other hand, Ji-tae represents everything Joon-young is not, and everything Eul lost when her father died — he's consistent, caring, and is always there for her when she needs him. Even though he presents himself as unemployed, he's still a much better prospect for someone in Eul's position, because if nothing else Ji-tae offers stability. And she really does seem to like Ji-tae, though it feels more like hero-worship and familiarity tied up in his comforting presence, than any deeply romantic feelings. I definitely think that his feelings towards her run deeper and stronger than hers towards him, it's just that she's a lot freer and more vocal about how she feels, simply because she can afford to be.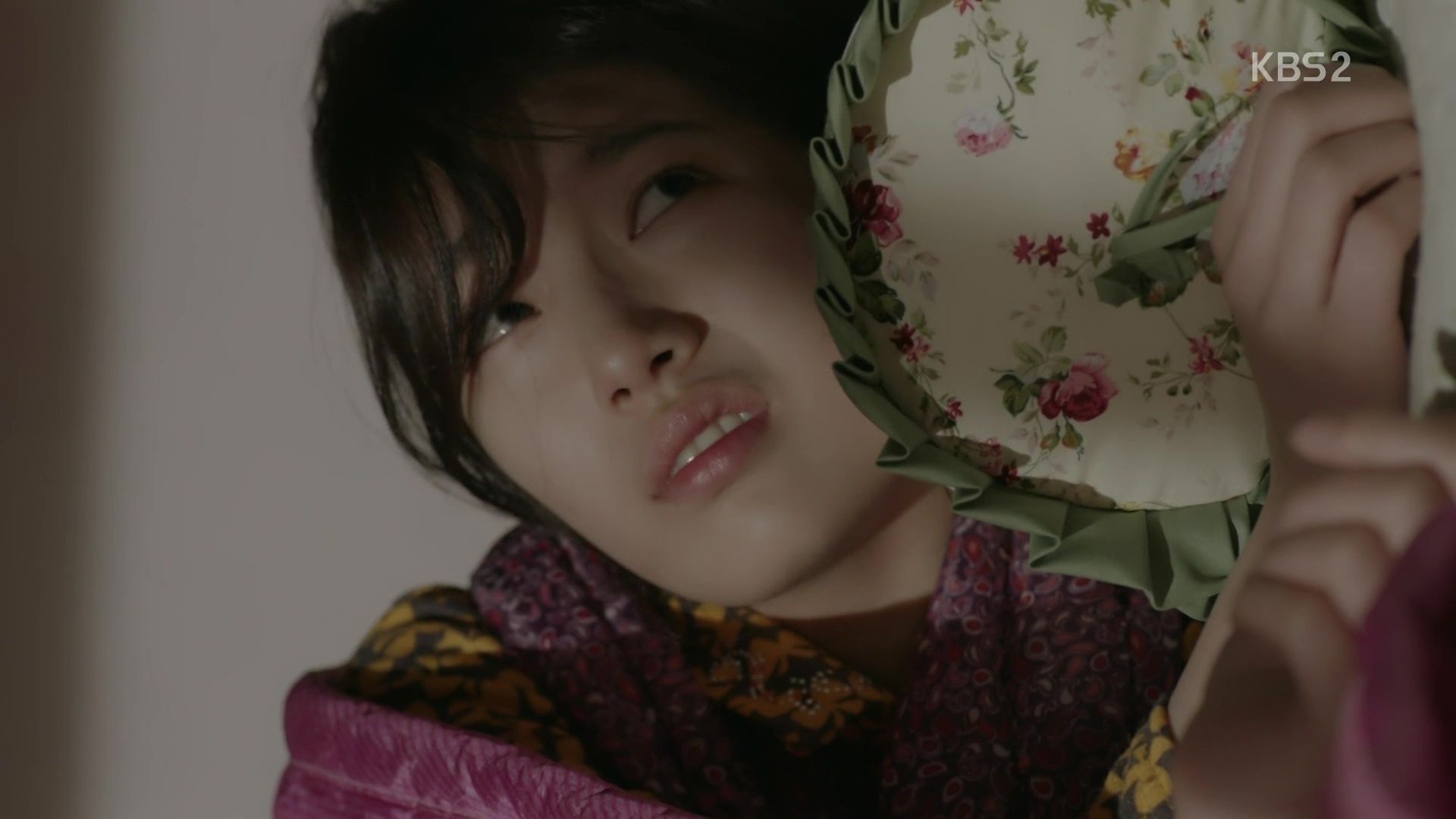 And poor Ji-tae… he's damned if he does, damned if he doesn't. He really is a good person, and it's obvious that he truly cares for Eul and her brother a lot, and would give anything to be able to marry Eul and take care of them both. But his father's tampering with their father's death has him terrified of Eul ever finding out who he truly is, and he's sure that either way, he'll lose her. Normally I don't buy into the "I don't deserve her" attitude of drama characters, but in this case, I think that Ji-tae truly believes that because of his father, he has no right to dare to be with Eul. His father feels no remorse for covering up her father's true killer, and not only that, but he's agreed to marry her (because, I'm sure, if he can't have Eul then he doesn't care who he marries), so he's taken on that guilt both for his father and for himself.
The ironic thing for Eul is that in her mind, Ji-tae is the open book while Joon-young is the one hiding his true motivations — but in truth, things couldn't be more opposite. Ji-tae is hiding so many secrets, and he's actively and continuously lying to her, while Joon-young is pretty much laying his heart right at her feet. It's just in Joon-young's nature to be evasive and secretive, but he's genuinely trying his hardest to show Eul that he's serious, that he truly has feelings for her and he really does want to be with her. That public confession said it all — while it put Eul in the spotlight, it was also his way of declaring his feelings in front of the world, so she couldn't brush them off as a joke.
And I do think that Eul has lingering feelings for Joon-young left over from their school days, it's just that they never had time to mature before they were separated again. She hasn't carried a torch like Joon-young has done for years, so she's basically starting from scratch. I'm guessing that his disappearance and rejection of her concern will probably trigger Eul to realize that she does care about him — at least, I hope so, for Joon-young's sake. He could really use a friend right now, one that doesn't have something to gain by being around him.

RELATED POSTS
Tags: featured, Im Joo-eun, Im Joo-hwan, Kim Woo-bin, Suzy, Uncontrollably Fond