W–Two Worlds: Episode 3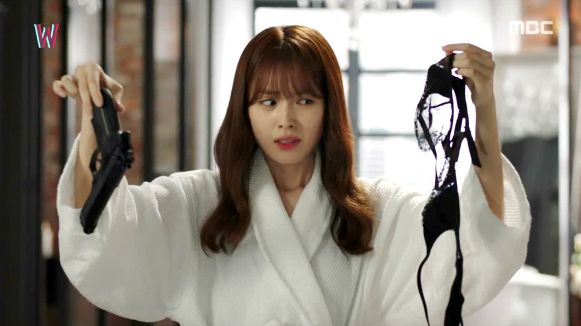 It's another fun episode of inter-dimensional hijinks, with even more embarrassment than last time. Apparently no one taught our heroine the concept of conflict escalation, because if every time you wanted to leave the manhwa world, you had to top the last exit you made… well, it leaves her with some pretty interesting (not to mention harebrained) options. And to think, it's only the third episode! Oh, the possibilities.

EPISODE 3 RECAP
After being sucked into the world of her father's manhwa a second time, Yeon-joo runs over to Dad's workshop, only to discover that he's packed up all his things and disappeared again. His assistant Su-bong tells her in this shell-shocked voice that Dad fired them all and left, so the rest of the staff has gone home.
Su-bong says that no matter how he looks at it, there's something odd going on: He told Yeon-joo that Kang Chul was dying, but then Chul was alive, and then her dad fired them all. He points to his computer screen, showing a frame of Yeon-joo in the webtoon, and says that this means she's… her, and she went in the manhwa, saved Kang Chul, and came back out.
Even as he's saying all this, Su-bong doesn't look convinced: "The thing that doesn't make sense is, it doesn't make sense that it appeared in a way that makes sense! But then the thing that doesn't make sense started to make sense…" He looks back and forth between the screen and Yeon-joo, realizing that she's wearing the exact same clothes.
Speaking slowly so as not to shatter his fragile mental state, Yeon-joo points out how much this dress costs, and asks Su-bong whether he thinks she'd spend her own money on clothes like this, and who else would blow that much money without batting an eye.
Su-bong tries his damnedest not to say Kang Chul's name, like saying it out loud would confirm that he's lost his mind. But in the end he whispers it, and Yeon-joo asks, "Now do you believe me?" He's so shocked that his legs give out and he falls to the floor, and when she runs over to help him up, he screams and crawls away from her like he's seen a ghost, ha.
Once he's recovered, Su-bong chatters away like a geeky fanboy, asking how Yeon-joo goes inside the manhwa, and whether he can go too. She doesn't know how she gets transported there, but she has learned a few things, like the fact that the manhwa world revolves around Kang Chul, and anything that doesn't involve him directly gets skipped over.
She tells him that time passes differently too, because that's also Chul-centric. Su-bong doesn't see how that's possible, but Yeon-joo reminds him that the serial manhwa has existed for seven years in their world, but in the story, it's been fifteen years of Chul's life.
Yeon-joo adds that returning to this world is also dependent on Chul, because something narratively significant has to happen to end an episode, which is why she "had to do that…" She trails off, and Su-bong gasps, "The kiss?! You really kissed Kang Chul?!"
She yells defensively that she had to come up with something to surprise him and end the episode, but Su-bong looks skeptical and says that's just an excuse: "Everyone knows you're a Kang Chul fan!" LOL. And then he follows it up with detailed questions about how the kiss felt. Maybe someday you'll get to kiss him too.
Yeon-joo lies that she didn't have time to feel anything, and insists that Kang Chul isn't just a manhwa character—he's a real person. Su-bong: "Is he cool?" She confirms it, of course, and I swear they both swoon simultaneously. He asks about Chul's assistant So-hee too, though he seems most interested in the size of her chest. He wonders why he's talking about these people as if they were real, but Yeon-joo says they ARE real.
Su-bong remembers now that Dad said he'd end the manhwa tonight, and guesses that he's going to try to kill Kang Chul off again. Alarmed, Yeon-joo starts digging around in Dad's office for clues, remembering what he'd said about killing Kang Chul on Hangang Bridge when he had the chance.
Su-bong says that storyline is from 2009, so she digs through Dad's old notebooks and finds a note scrawled in one of them: "Yeon-joo has left. I am now alone…"
She flashes back to the day she moved out of this house to go live with Mom. Inside, Dad looked broken and weary, and spent all of his days drinking alone. He thought, "I am the only one left in this house. I have no family now."
He was so depressed that he couldn't see the point of continuing his work, and decided to kill his main character and end the manhwa then and there. He got to work and drew Kang Chul standing on that bridge, about to end it all, and drew him jumping into the river below with a big splash.
But when Dad woke up the next morning and went to his desk to go turn in the final issue to his publisher, he was stunned to see that his own drawings had changed. His eyes wide with shock, he stared at the image of Kang Chul hanging onto the bridge for dear life, and he'd thought, "He's still alive! He was hanging on by one hand… all through the night…"
He wondered if he just imagined drawing Kang Chul's death the night before in a drunken stupor, but he sat down at his desk again and thought, "But it feels like a divine revelation—to be strong again." So he picked up his pen and decided to save Kang Chul.
As Yeon-joo closes the book (hur) on 2009, we see how in 2010, the manhwa took on a new life, as Kang Chul's story sped up to young adulthood and the success of his venture company. He became rich enough to buy a broadcast station, in the hopes of catching his family's killer.
With the help of Ajusshi (his father's friend, the one who visited him in prison), Chul launched a criminal investigation TV show called W, short for "Who and Why," intent on answering those questions about his family's tragedy.
At the same time, Dad's manhwa skyrocketed him to fame, and suddenly there were lines out the door to get his autograph, and he was a featured guest on the evening news. Dad was proud that he'd finally succeeded, and was sure that Mom was regretting leaving him now.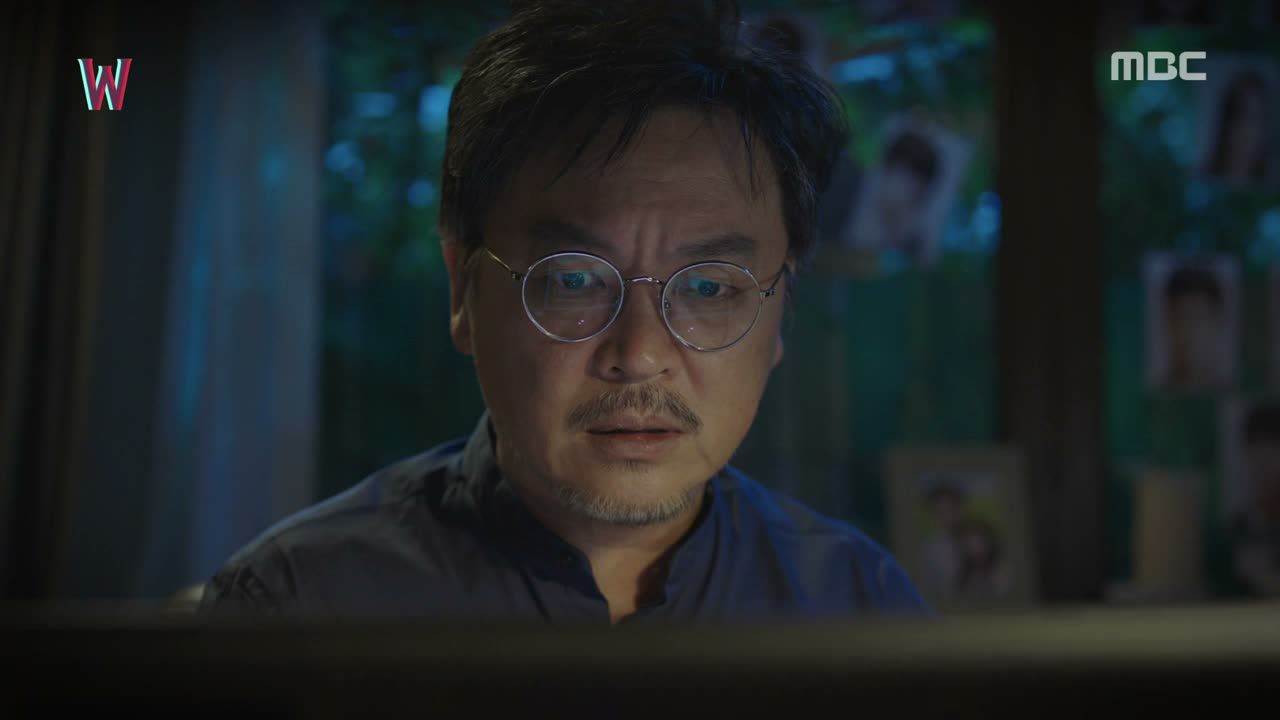 But the strange incidents continued—at times his drawings would change on him, as if Kang Chul didn't like the direction of the story. Right before his eyes, a frame of Kang Chul driving angrily shifted, so that he was suddenly facing Dad and smiling as his speech bubble got rewritten to ask, "Where am I going?" AHH! That's so freaky!
Dad wondered if it was the alcohol, or if he was going mad, and his paranoia grew day by day. Suddenly the close-up drawing of Kang Chul's eyes hanging on the wall felt like they were watching his every move, and Dad thought, "He's alive. That bastard is alive—I can feel it for certain. How? How is he alive?"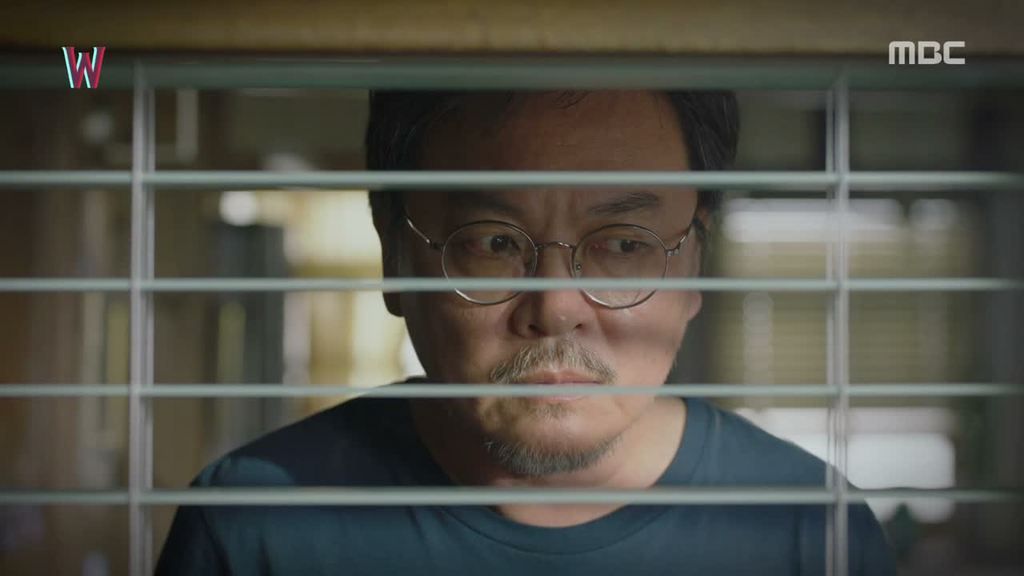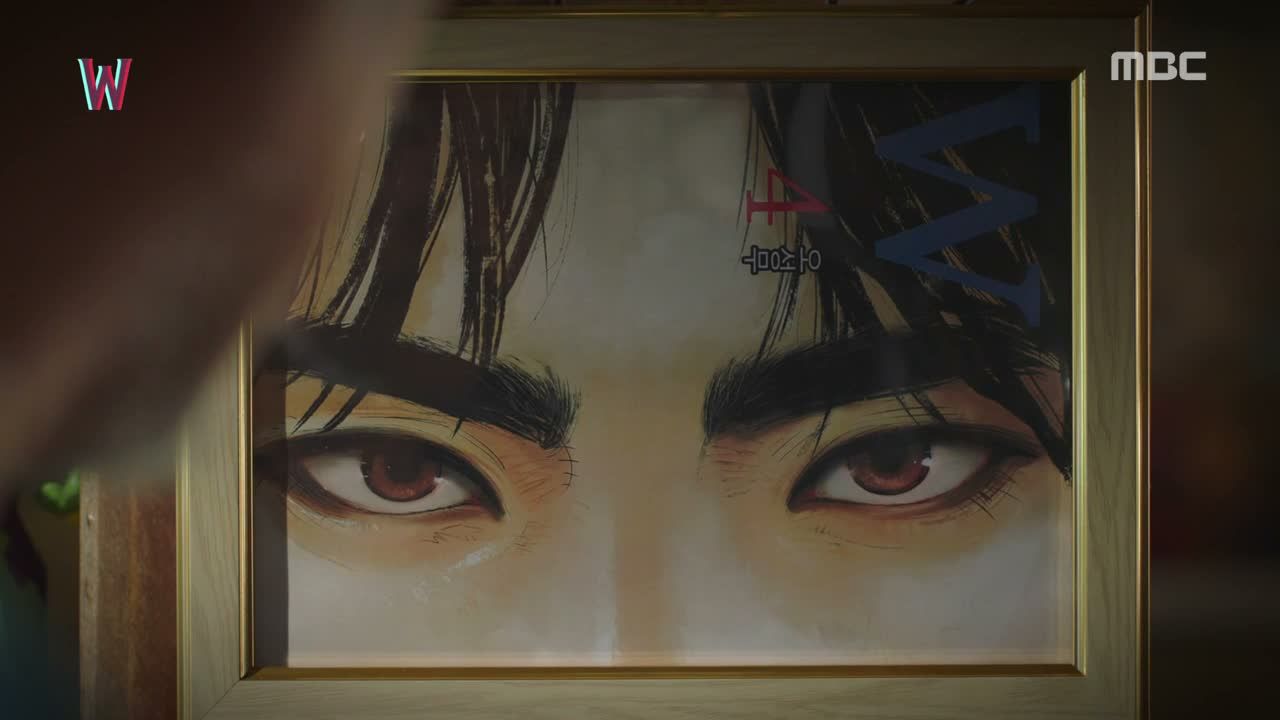 In the present, Yeon-joo reaches Dad's notes in 2016, which are filled with research into violent car wrecks and other ways to die. On the last page is one last word: "Monster" and that copy of Goya's Saturn Devouring His Son. We see that as Dad wrote the note on the back about devouring Kang Chul before he gets devoured instead, he'd traced everything back to that day that Kang Chul should've jumped off the bridge and drowned… except he didn't.
Yeon-joo returns to the hospital in the morning with a splitting headache, and avoids crossing paths with her boss Professor Crazy Dog when she sees him scowling over the latest webtoon episode on his phone. But she's plagued with the image of that kiss wherever she goes, because literally everybody in the friggin' country is reading it on their phones that morning. Yeon-joo sighs to herself that it's like a hidden camera scheme that the whole country is in on.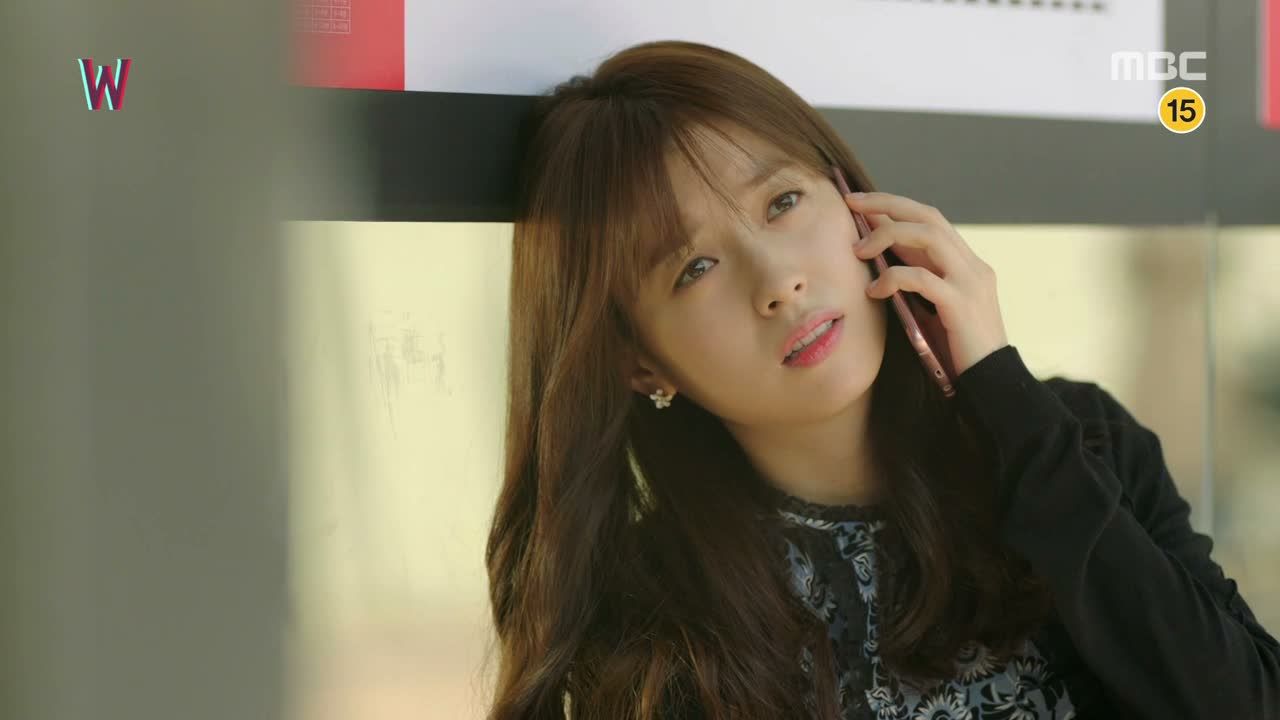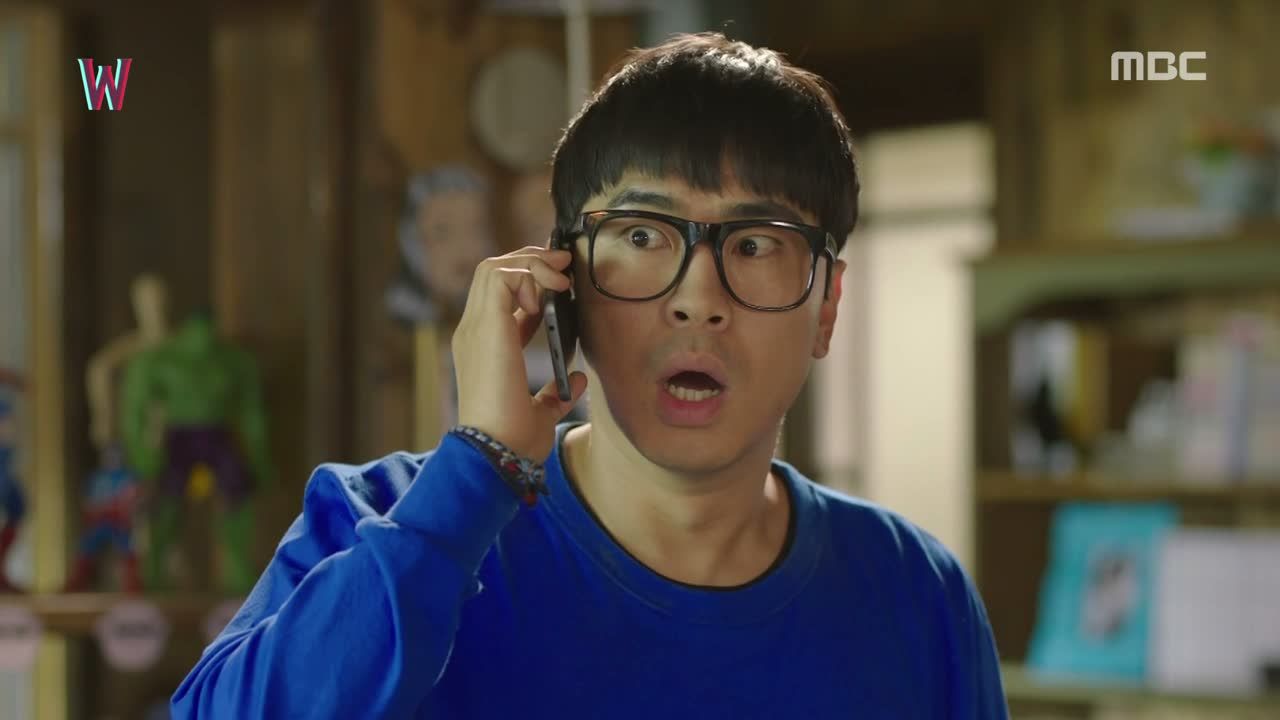 Su-bong calls to say that he still can't believe it's all true, and asks Yeon-joo how she went to Kang Chul's world the second time if he didn't pull her in like the first time. He argues that if there are rules about how she gets out of his world, there ought to be rules about how to get there. And the real mystery, he points out, is—why her?
On the other end, Yeon-joo's headache gets worse and worse, and suddenly she faints and drops her phone. Su-bong calls out to her, but when we cut back to the bus stop, Yeon-joo is gone. A woman finds her purse and phone abandoned and tells Su-bong, who gapes and runs to the bus stop to collect Yeon-joo's things.
In Kang Chul's world, his assistant So-hee goes to clean up Chul's mess at the clothing store, and finds out from the manager that Yeon-joo slapped Chul, kissed him, and then the pair went into the dressing room together for a loooong time. Ha. The manager says the thing Chul wanted to keep under wraps wasn't that stuff though—it was the fact that Yeon-joo disappeared.
So-hee doesn't understand, but neither does the store manager, since she claims that Yeon-joo went in the dressing room but never came out. So-hee wants to see the dressing room for herself, and when she opens the door, she finds Yeon-joo passed out on the floor.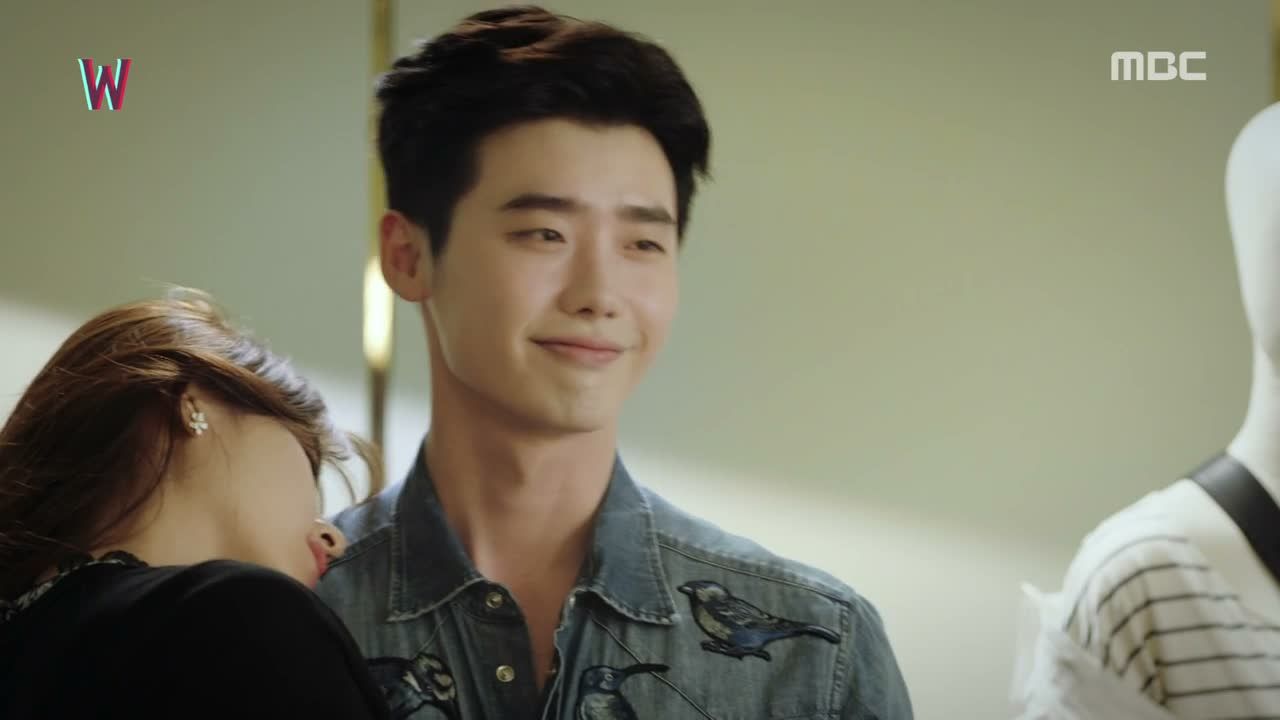 As soon as she calls Chul to tell him, he whirls his car around to go back to the store. He stops them from calling emergency and scoops Yeon-joo up in his arms, deciding that he'll take her straight to the hotel (where he lives), and doesn't want hospitals involved. He tells So-hee to call the doctor over to his place, and flashes her a smile so she'll do as he asks. Well that's just infuriatingly cute. So-hee is understandably flabbergasted.
As Chul gets Yeon-joo into his car, she opens her eyes for a brief moment and wonders why she's back here. He wonders the same thing, and she murmurs that she doesn't know.
Chul carries her inside to his penthouse suite, where a detective is waiting to talk to him about that strange suspect Oh Yeon-joo. Chul tries not to look suspicious holding Yeon-joo so that her face is hidden from the detective, and says it's not a big deal if they can't find her. The detective insists that they will, and pauses to look back at Chul as he carries the mystery woman into his room.
Bodyguard Do-yoon follows him in as Chul tucks her into bed, and then just sticks his hand up in the air. Do-yoon stares at Chul's hand for a long beat before deciding to slap it in a high-five. Pfft, that was what you wanted?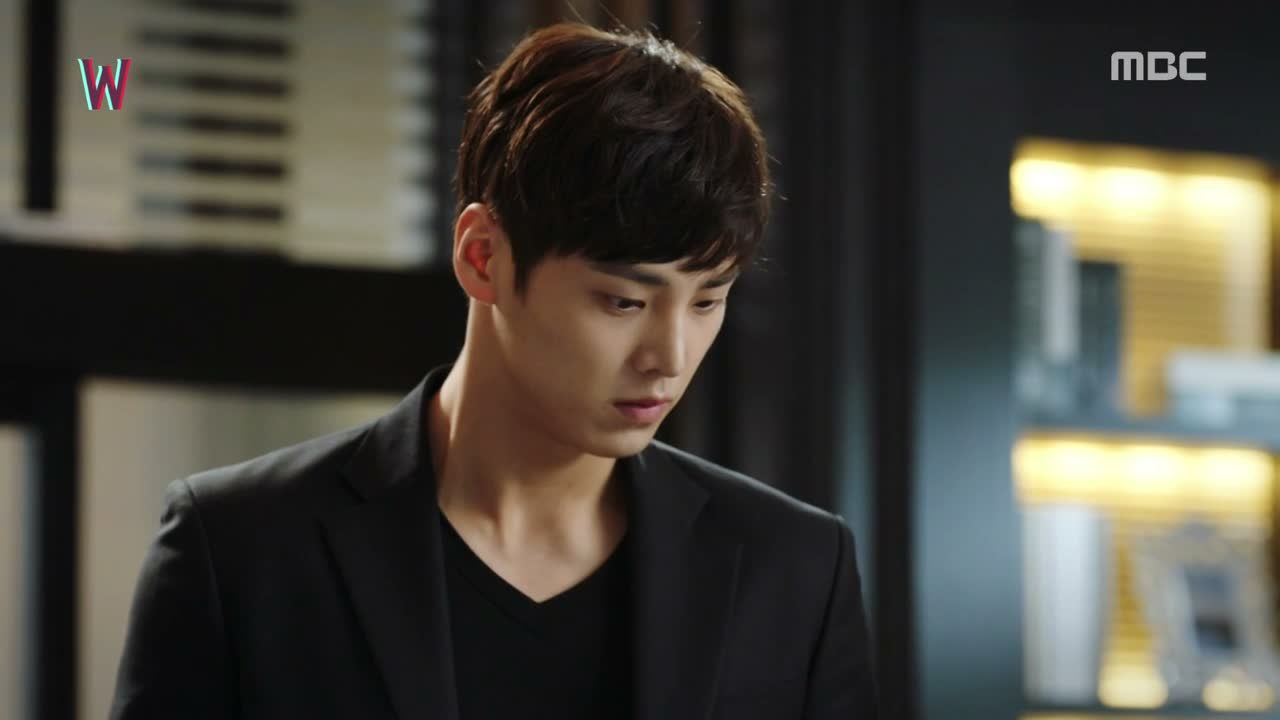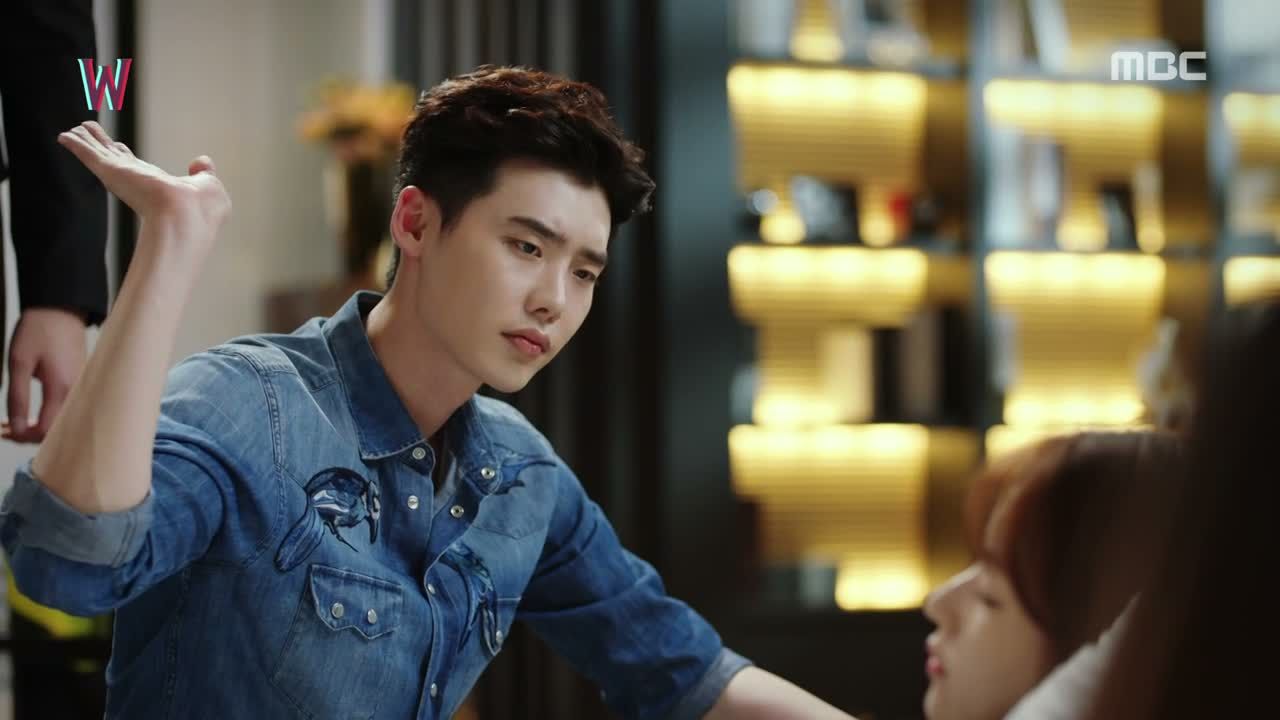 Chul says that the key to his life is finally in his hands, and then tilts his head to look at her closely. Chul: "Is this woman pretty? Is this pretty? Why does everyone say she's pretty?" Do-yoon is puzzled by his question.
It's nighttime when Yeon-joo peels her eyes open, and Chul sits down next to her and says the dizziness is from the medicine the doctor gave her. He says it's not a serious illness and checks her forehead again.
She asks drowsily where they are, and when he says it's his place, she asks if it's the penthouse on the 33rd floor. He's surprised again that she knows so much about him, and she says she knows lots, like the fact that his family died suddenly, and he goes from hotel to hotel without a home ever since.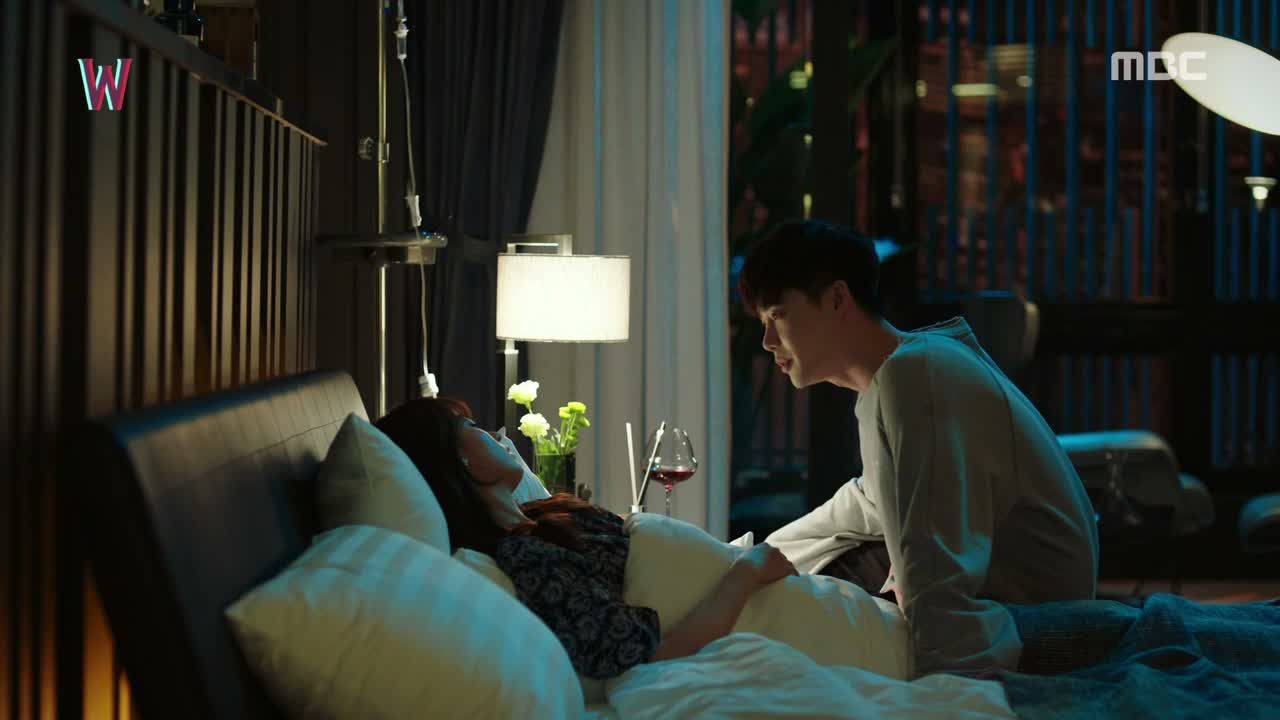 He prods her to tell him what else she knows, and she murmurs that he sleeps with a gun under his pillow every night even though it's illegal, but he can't sleep without it. That's definitely not something many people know, and Chul's expression darkens as he asks how she knows that.
Yeon-joo: "Because I saw it." Dude, what kind of drugs did you feed her? Was there truth potion involved? She says that the scene that made her saddest was the one on Hangang Bridge: "I cried with you then, thinking that Kang Chul might really kill himself." She starts to cry in her sleepy haze as she says this, and he's struck by how much she seems to really know about him.
We see Chul's body sinking in the river on the day that he was supposed to die, except this time he opens his eyes underwater. It's a dream, and Chul is startled awake with a jolt. Hm, is he starting to remember the manhwa as Dad originally drew it?
Chul is clutching his gun in his hand when he wakes up, and he looks over at Yeon-joo, who's still fast asleep. He gets up to walk around, but as soon as the bedroom doors open, he comes face to face with the black-hooded assassin, raising a gun right in Chul's face.
Everything slows down for a split-second, and Chul is able to swing his body around defensively and push the killer away from Yeon-joo. When his bedroom doors safely close, he whirls around and kicks the gun out of the killer's hand, and a fistfight ensues.
Kang Chul is fast, but the killer seems stronger and manages to get him in a chokehold. Chul tries to get a look at the killer's face, but he's hooded front AND back, like some scary faceless ninja.
For whatever reason, the killer sees an opportunity to flee and knocks Chul off his feet before dashing to the elevator. Determined not to let him get away, Chul scrambles up and runs to catch the elevator doors before they close.
He manages to get his hands squeezed in there before they shut, and he pries the doors open with a triumphant, almost evil smile… only to find the elevator empty. What the?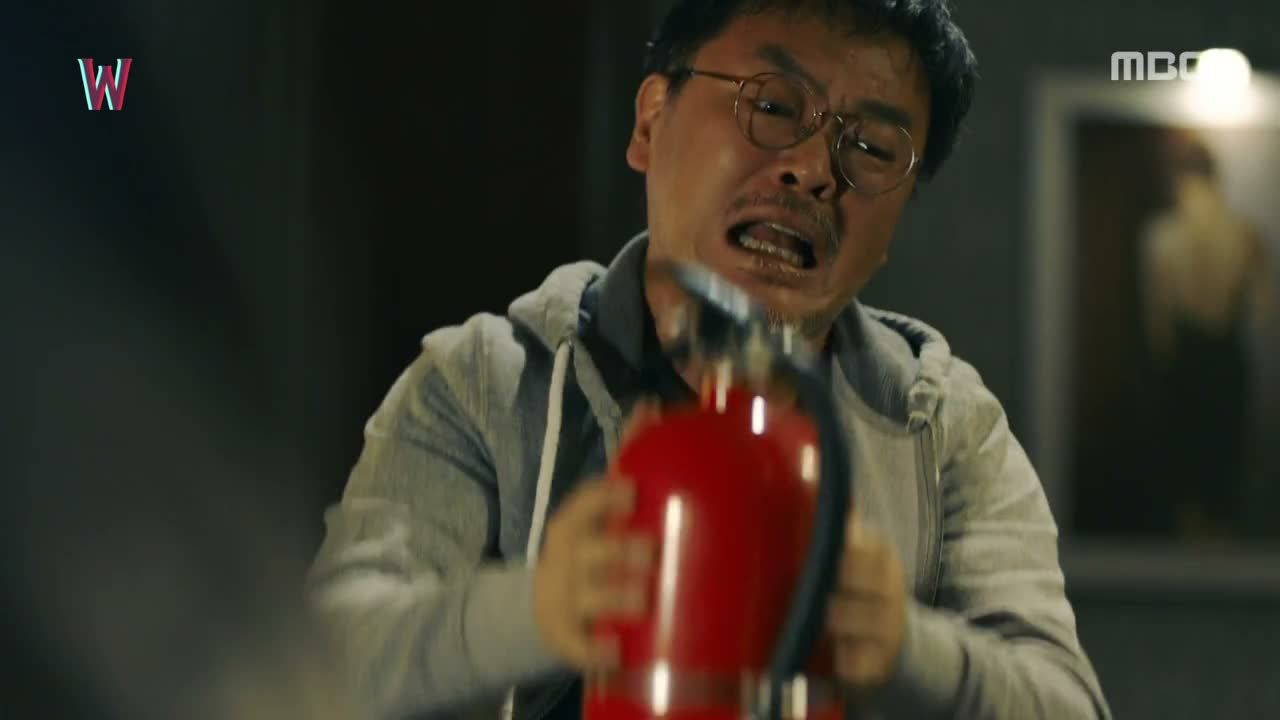 And in Dad's motel room, he finally cracks and throws his computer on the floor—the drawing on the screen is of the assassin pointing his gun at Chul—and Dad starts attacking it with anything he can get his hands on, like a madman. He thwacks the screen over and over with a fire extinguisher, until the glass shatters.
Terrified, Dad crawls away from it and just runs out of the room, leaving all his drawing equipment behind. Oh, that seems like a bad idea…
Chul's guards run back up in the aftermath of the attack and sheepishly report that they got a call from Do-yoon's number to meet him downstairs, but the call wasn't from him at all. Chul picks up the killer's gun and slumps back down in his chair next to Yeon-joo, who has slept peacefully through all of this.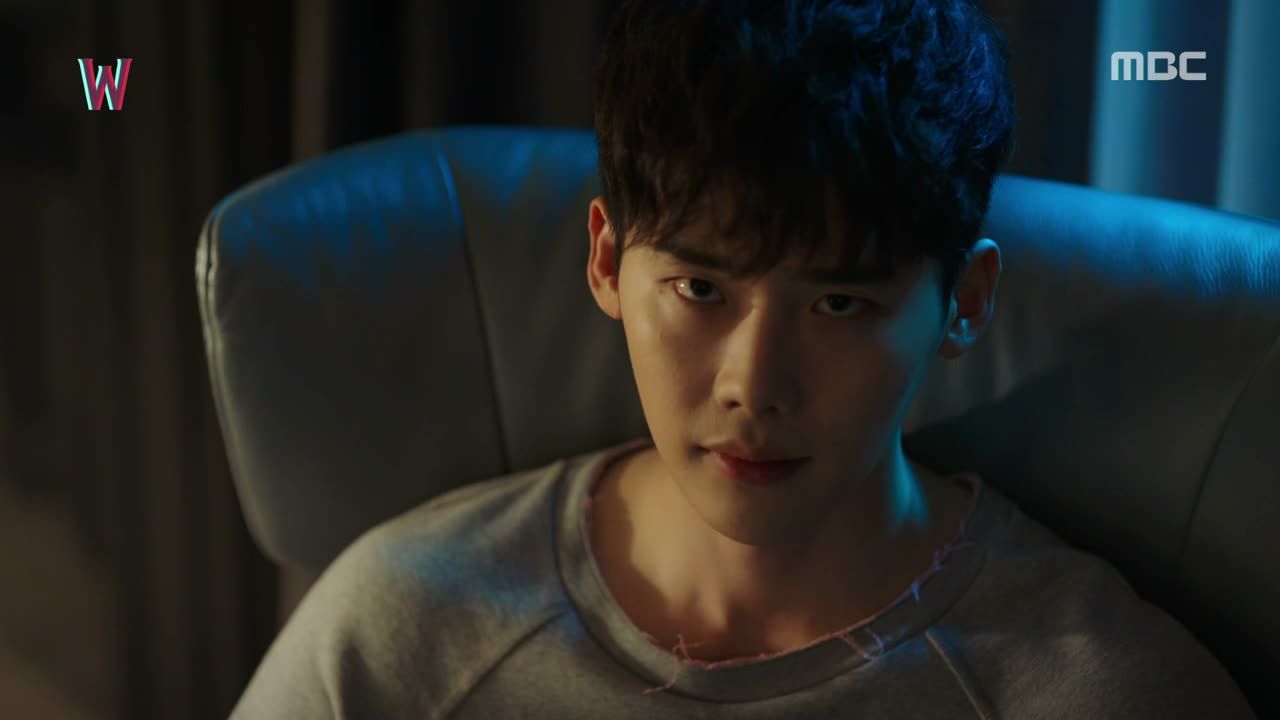 He looks up at the ceiling with a defiant glare—at whomever is up there trying to kill him—and thinks, "I will come find you soon. Wait for me."
In the morning, Yeon-joo wakes up confused about how she ended up in Kang Chul's bedroom, and jumps when Do-yoon comes in to tell her that she collapsed from overworking. She considers the two-month time-jump that she was technically awake for, and guesses that it could be the cause of exhaustion.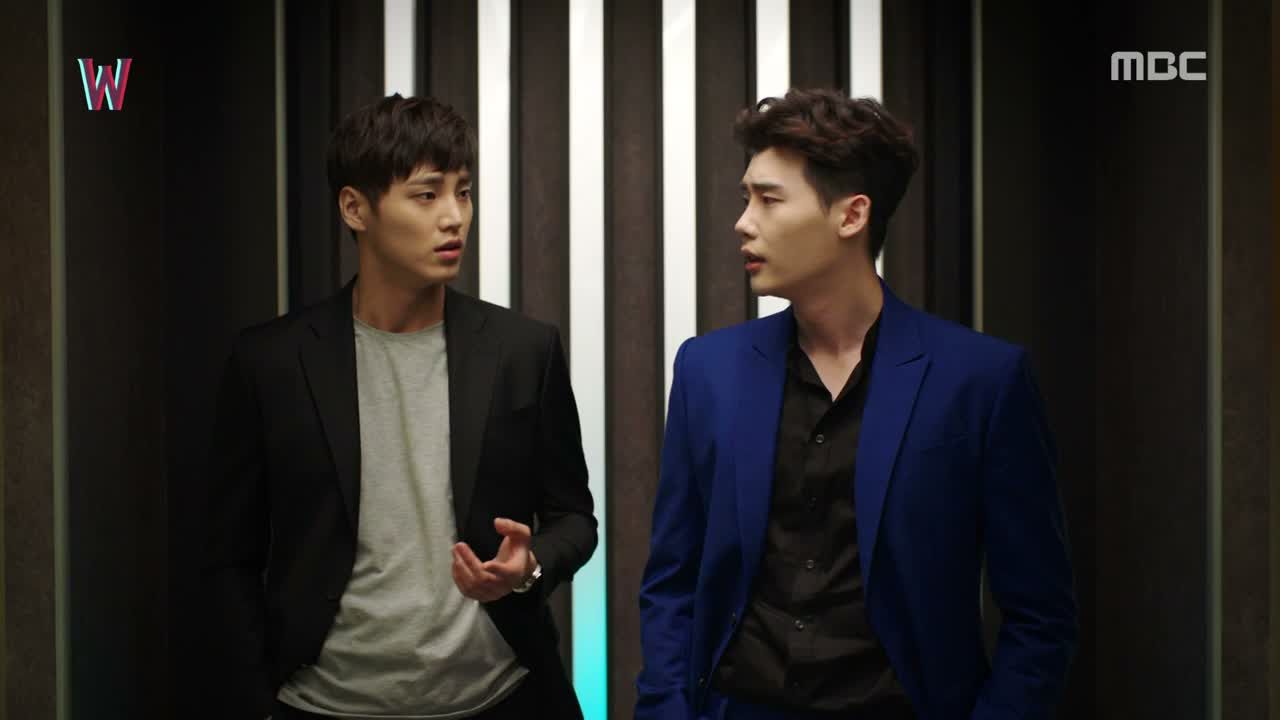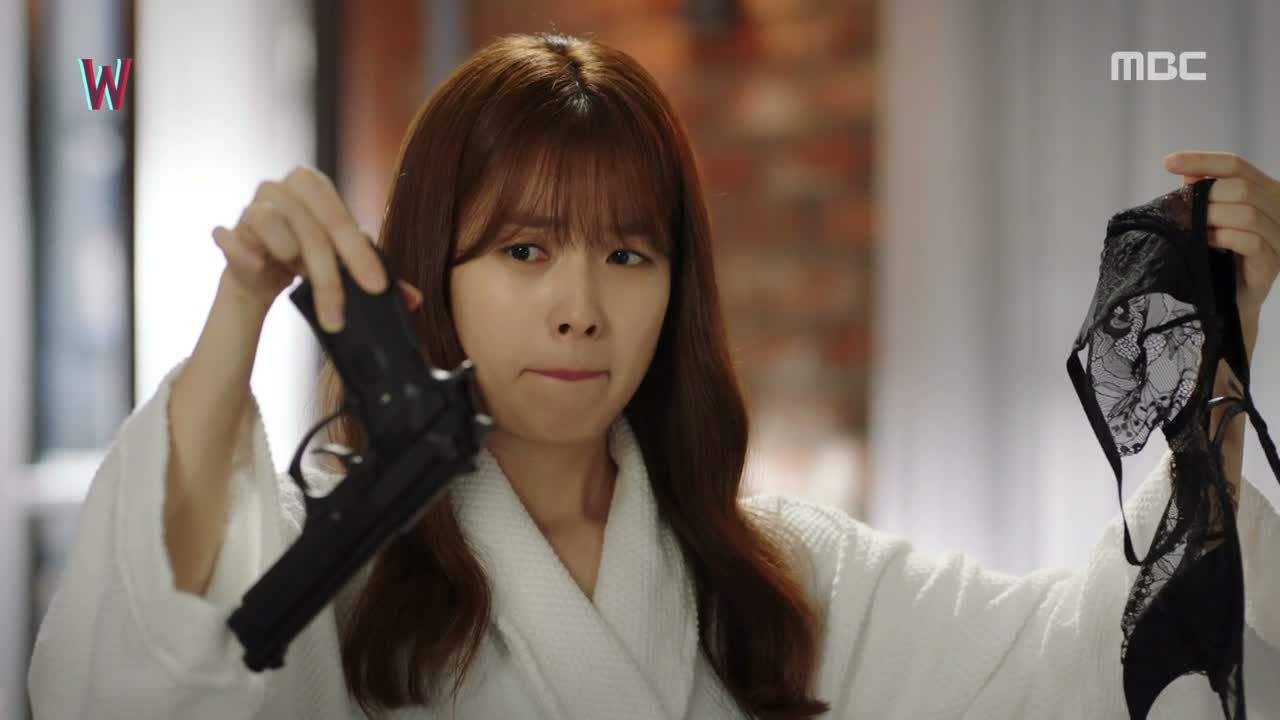 Do-yoon tells her that Chul will be back to have lunch with her, and that there's a change of clothes in the bathroom. She takes a tour of the expansive bathroom in her robe, and her eyes bug out to see two pairs of lacy, barely-there underthings laid out for her. She picks up the black bra like it might burst into flames, and then remembers Su-bong's warning about being summoned here against her will.
She runs back out to the bedroom and digs around for Chul's gun, and finds it under his pillow, just like she'd said. Chul arrives at the elevator and doesn't like that Do-yoon left Yeon-joo in there alone, though Do-yoon thinks it's unreasonable to keep tabs on her while she's showering.
Meanwhile, Yeon-joo is in the bathroom having a decision crisis: She holds a gun in one hand and the black see-through bra in the other hand, looking back and forth between them trying to figure out which is the lesser of two evils.
She wonders what on earth she's supposed to do, and then when she hears Chul and Do-yoon open the door and walk into the bathroom, she shuts her eyes, whirls around, and opens her bathrobe to flash them. HAHAHAHAHA. I guess lingerie won out.
Both boys freeze in their tracks, though Kang Chul is characteristically cool as a goddamn cucumber. Do-yoon, on the other hand, looks like his eyeballs might pop out of his head. He backs out of the room slowly, though not before looking her up and down. He whirls So-hee around when she arrives a second later, stammering that Chul and Yeon-joo need some alone-time to talk.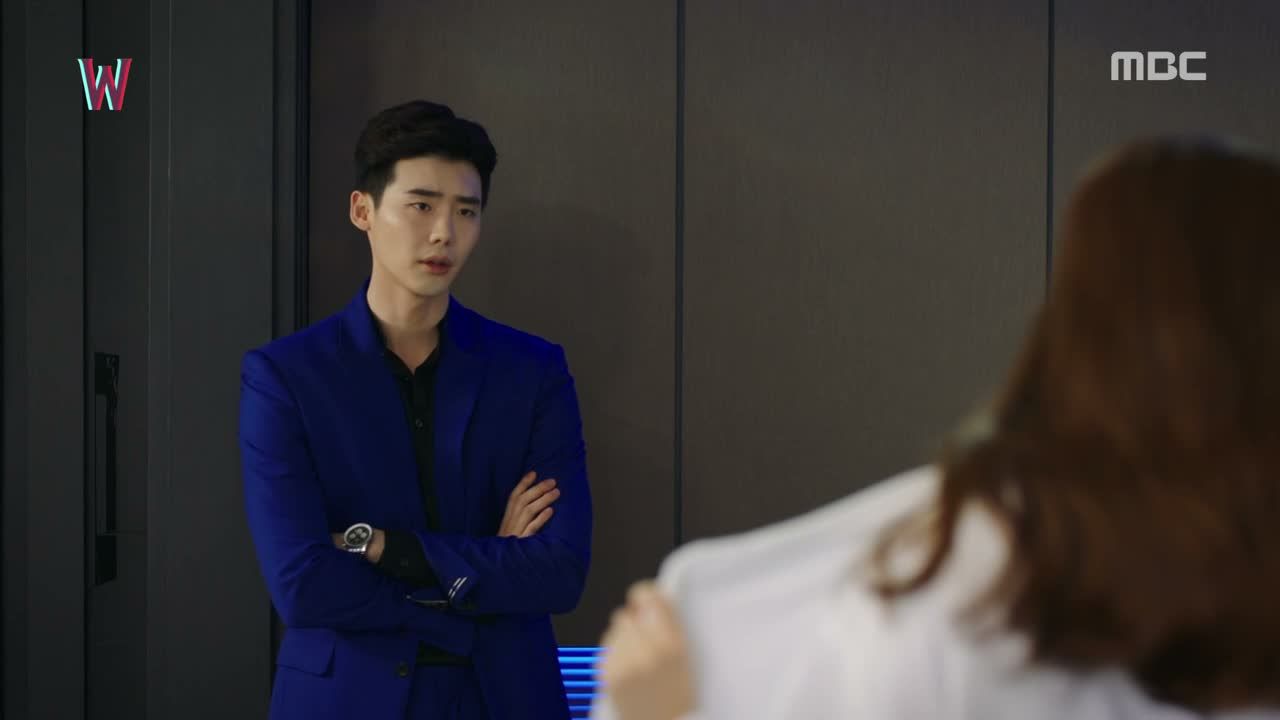 Yeon-joo finally pops one of her eyes open, and is mortified to see Chul just smiling back at her like she's amusing but crazy. He points out that she's at it again, and wonders what she wants to do with him this time. She cringes and closes her robe with a "never mind," and before he can finish asking her why, she pulls a gun on him.
Chul's hands go up immediately, but rather than fear, he displays curiosity as he tries to puzzle together the woman who appears and disappears without warning, slaps him, kisses him, flashes him, then pulls a gun on him. She says it wouldn't make sense to her either, but she has her reasons.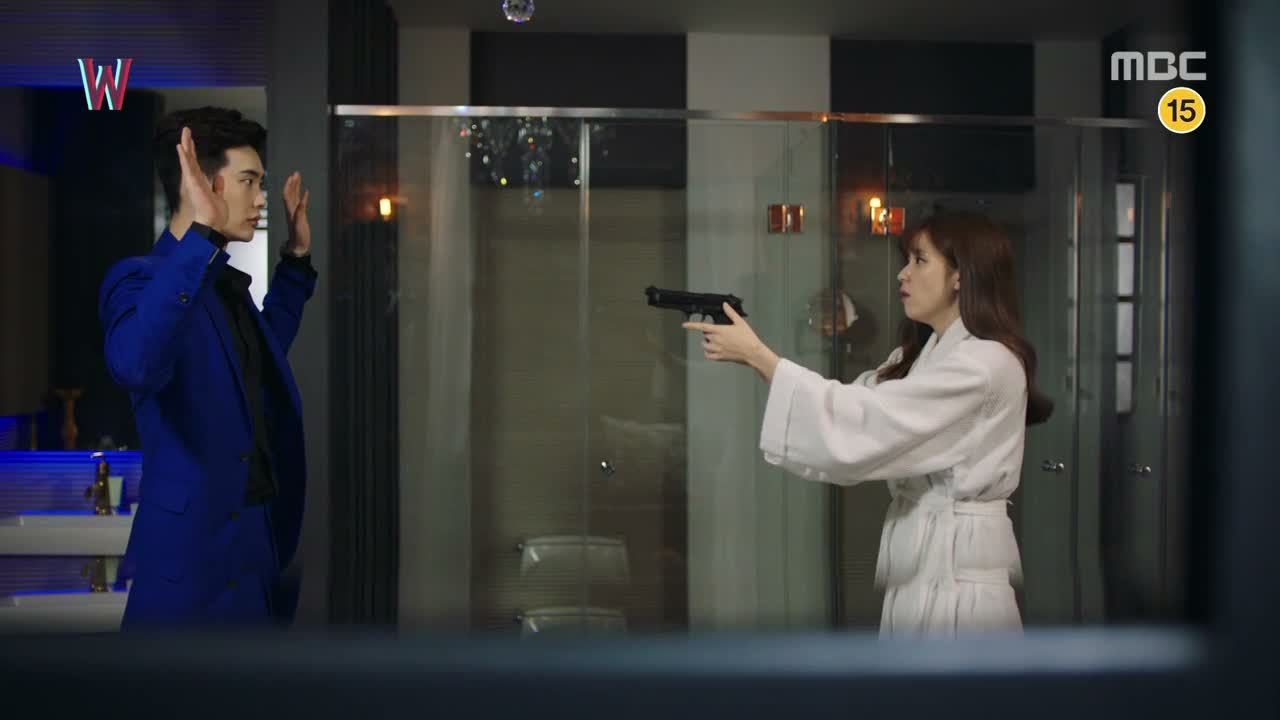 She warns him to stay back, but he just keeps walking closer, challenging her to go ahead and shoot. She ends up warning him to be careful because it's dangerous, and he's amused that she's worrying about him while holding him up. When he gets right in her face, she points the gun up to the ceiling and pulls the trigger, but it just clicks and nothing happens.
Chul smiles and takes the gun out of her hands, and says he wouldn't leave it loaded when she obviously knew he kept his gun there. He casually takes the bullets out of his pocket and loads the chamber, and then whirls around to point the loaded gun at her.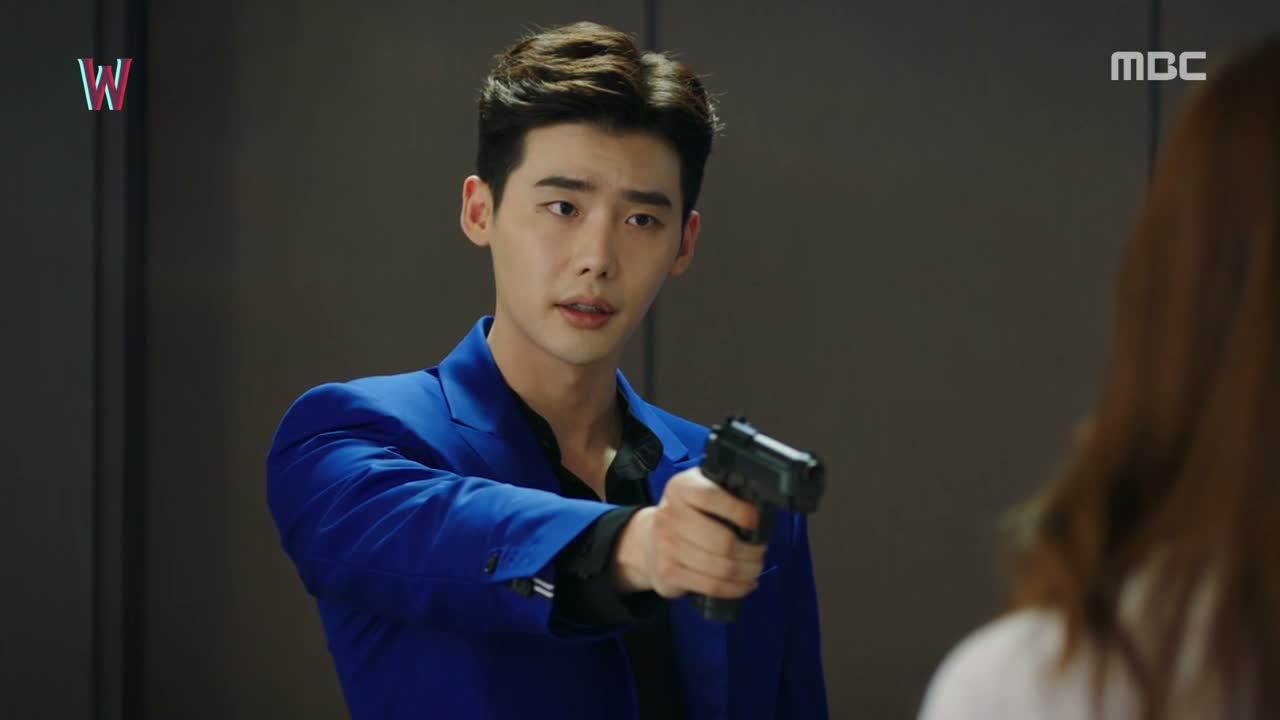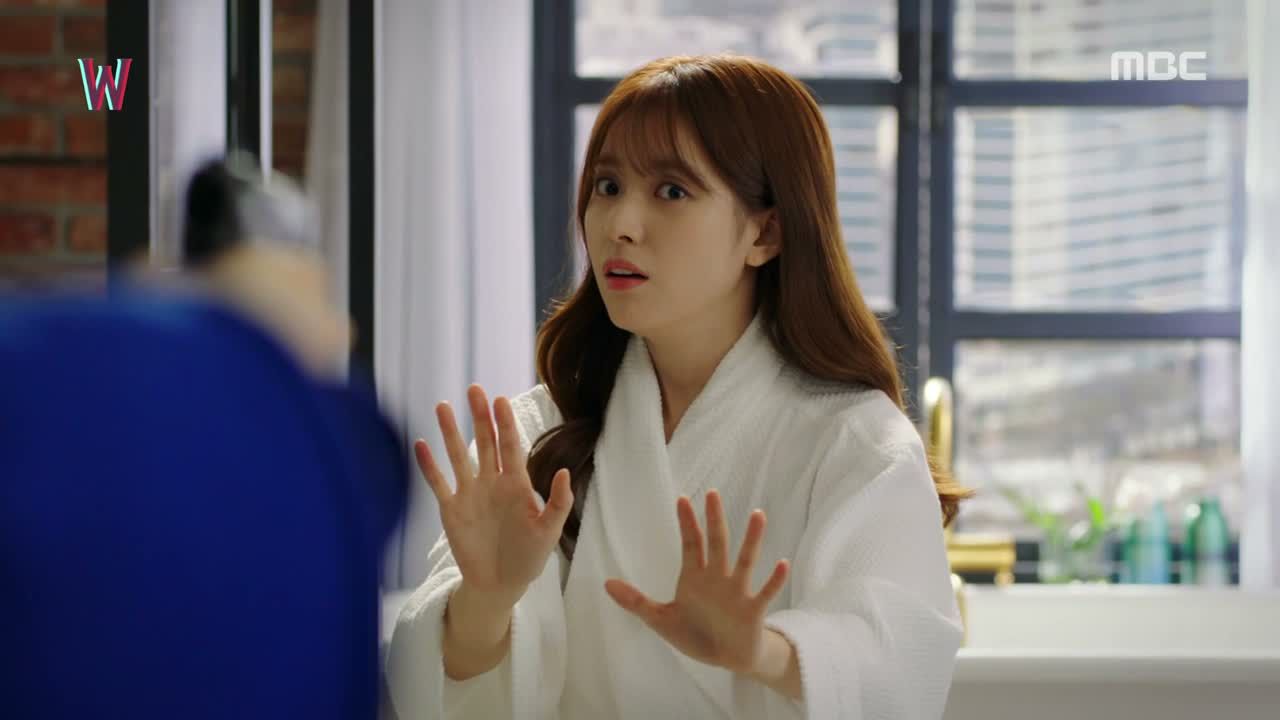 Yeon-joo asks why he's doing this, and Chul says he'd rather talk without the guns. He has a hundred questions for her, but says he'll ask just one: How did she disappear the other day? He threatens to turn her over to the cops if she doesn't answer, and she pouts that he once called her his savior. He says that's true, but she's the one who broke her word and disappeared without giving him any answers, when he waited two months for her. He asks it another way: Why did she slap him and kiss him?
Yeon-joo can see that he's not going to let this go, and finally says that she had to kiss him to disappear. That's not really the answer he was expecting, and he reconfirms that kissing him was the way she disappeared. She nods, so then he gets up and walks over to her with a determined look on his face, and plants a kiss on her. Kyaaa!
This time it's Yeon-joo's turn to look like a wide-eyed statue, and Chul pulls back slowly and looks at her with this skeptical expression and asks why nothing happened. It takes a couple of tries for Yeon-joo to find her voice, and she sputters that it's not the kissing in and of itself that made her vanish, but the change in emotion due to the kissing.
He argues that he didn't particularly enjoy their previous kiss, and she points out that it did surprise him though, and an emotional shift is the rule. He says she looks plenty surprised now and her face is all red, and she clutches her cheeks in embarrassment and shouts that HE has to feel the change, not her. He asks why, since that rule makes no sense to him, and she screams, "Because you're the lead character!" Uh-oh.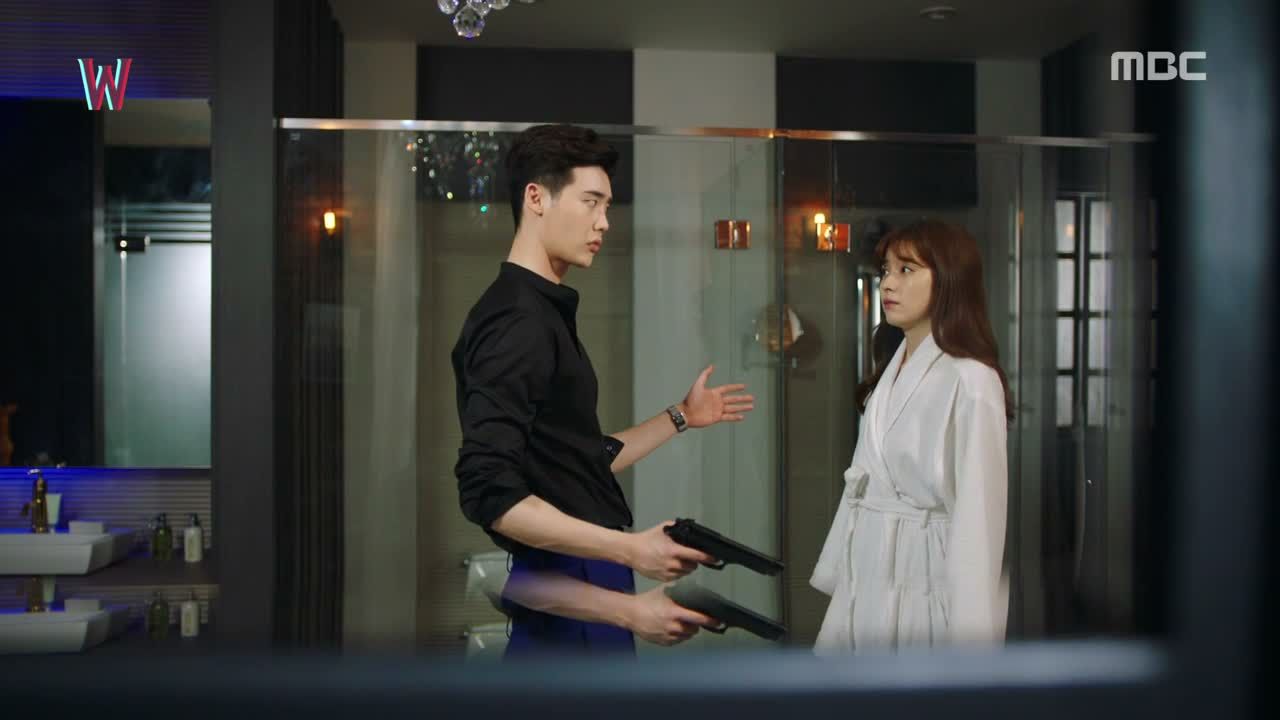 He obviously has questions about that, but she clams up, realizing her slip. Yeon-joo says she's going to report him because kissing at gunpoint has got to be sexual harassment of some sort, and he argues that she sexually harassed him first, complete with assault. He points to the cheek she slapped, for emphasis.
Besides, he argues, he did it for science (LOL. He kissed her FOR SCIENCE!) to prove a hypothesis. He realizes now the pattern among her seemingly crazy antics, like slapping him or taking off her clothes, all in an effort to shock him. He admits that he was expecting an answer like superpowers or teleporting, but not this.
She swears that she's not lying, but he says even if it's not a lie, that doesn't make it true. He says that she's telling him about the phenomenon but none of the context that explains it, and pulls the gun on her yet again. He warns her to explain the real reason that she disappears when his emotions change, and starts counting.
Yeon-joo thinks it's an empty threat, but he fires a shot at a vase to convince her that he's serious. At the noise, Do-yoon and So-hee run inside, and So-hee tells Chul to stop when she sees how scared Yeon-joo is. They see that Chul isn't going to budge though, and quietly back out of the room.
Chul says that Yeon-joo might've saved his life, but she's also a danger to him. Yeon-joo is near tears, but she refuses to answer and says that he wouldn't shoot her—she knows he's not the kind of person to do that. But he says coolly that she doesn't know everything about him, and pulls the trigger…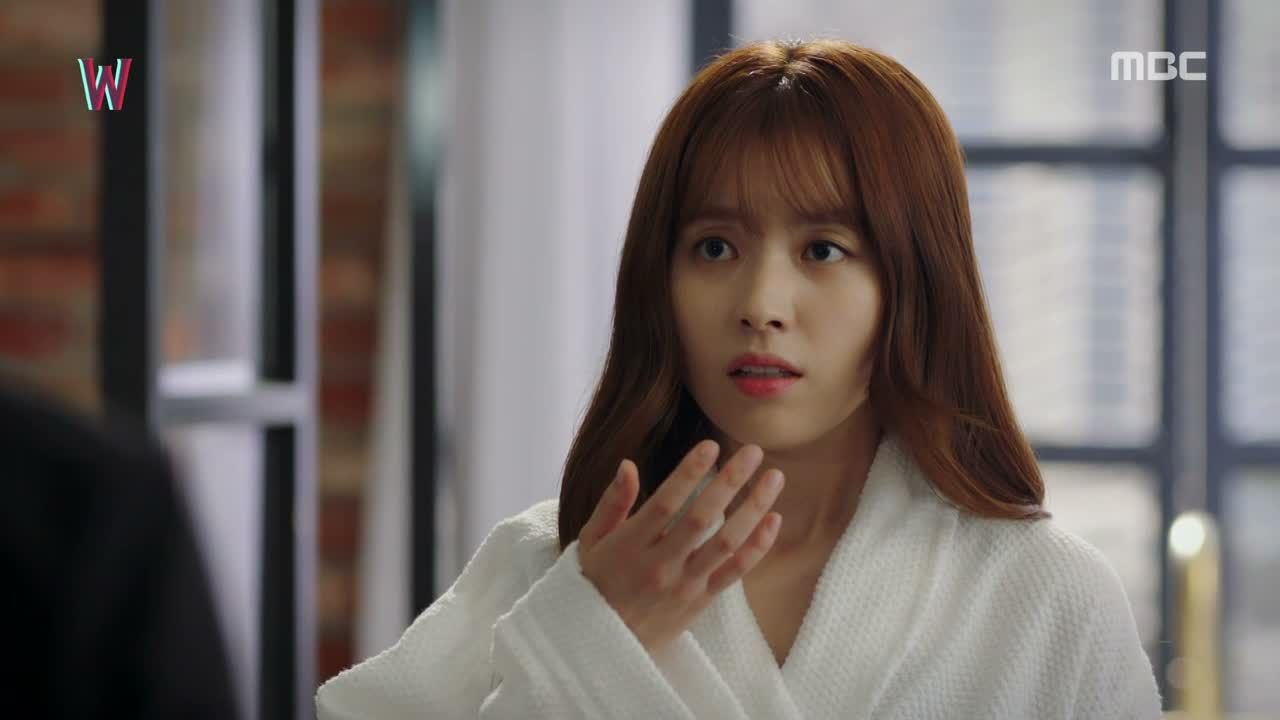 He shoots her in the shoulder, and the bullet goes clean through and lands in the mirror behind her, shattering the glass. He shot her!
She's so stunned that she can't speak, but she doesn't fall down either. Trembling, Yeon-joo reaches to touch her shoulder, and is even more shocked to see her hand clean—there's no blood. Chul watches her with keen interest, and notes that she didn't know her own powers. Her powers? And you did?
Yeon-joo faints from the shock, and Chul runs to catch her in his arms before she falls. He has Do-yoon carry her back to bed, and So-hee's jaw drops when Chul just casually says that he meant to frighten her a little and shot wrong. So-hee legitimately thinks he's gone crazy, and Chul just scratches his head with the barrel of his gun, pretty much confirming her fears. When they walk out, he goes over to confirm that the shot he fired landed in the mirror.
So-hee is convinced that something weird is going on, and Do-yoon says that Chul is definitely weird, but so is Yeon-joo. So-hee storms into Chul's room and asks if he kept Yeon-joo from the police to go all gangster on her, and says that turning her in is the right thing to do. Chul pulls the phone out of So-hee's hands and says no cops, because Yeon-joo is the key to his life, and he needs answers.
Yeon-joo wakes up and gets a clean bill of health from the nurse, when Chul comes in and pleasantly asks if she's mad. Mad?! Like you took the last Pop Tart or something? She says that "mad" isn't the right expression after you've shot a person with a gun, but he just smiles and says he knew she wouldn't die anyway: "Why don't you know that? You're invincible, aren't you?"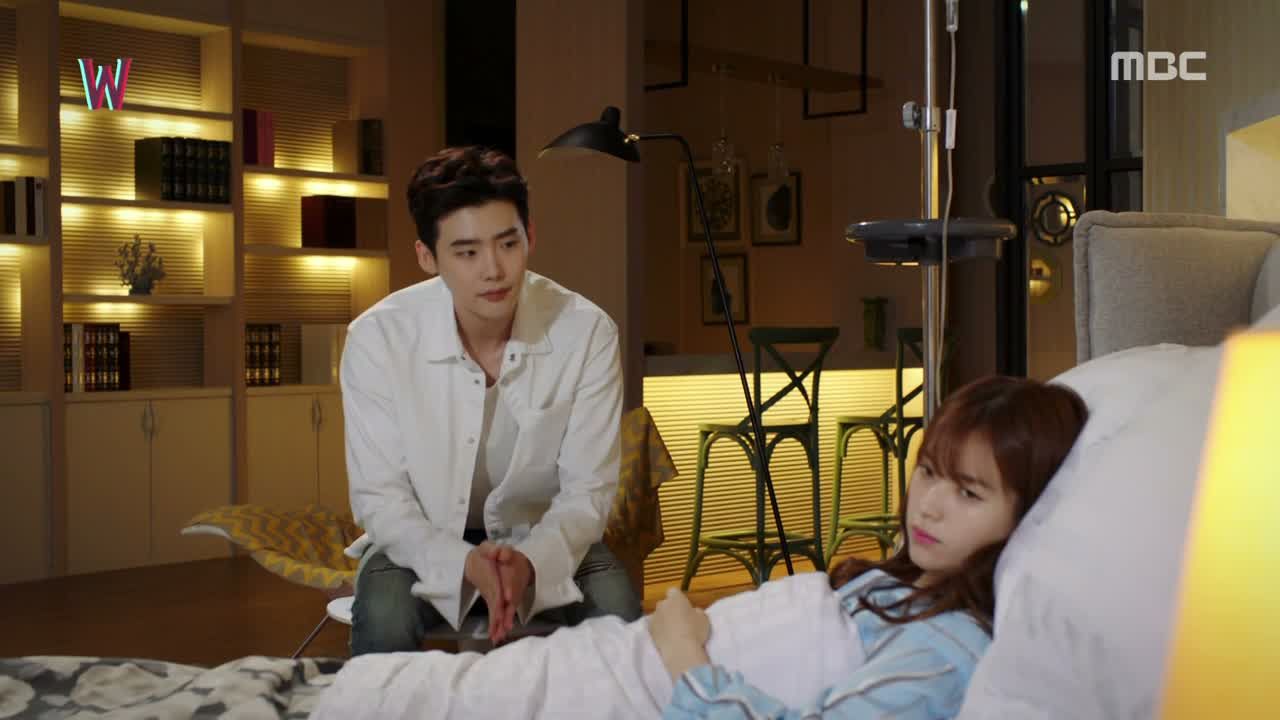 He says that she'll never die, and asks again if she really didn't know that about herself. She asks how he knows, and he wants an answer to his question first before telling her. He says that they should just openly acknowledge that Yeon-joo is not a normal human being, and he guesses that she comes from a different world. He even puts forth the idea that she lives in a different dimension, where she's a surgical resident at a hospital. He takes out her hospital ID tag as proof.
He asks the all-important question: "Where?" But she doesn't answer. Chul says that's fine, since he's got nothing but time. Now that he knows she can't leave on her own, he can keep her here as long as he wants, until she gives him some answers. He tells her to stay here with him and promises to protect her from the police and the media.
He figures that she probably has lots of answers that'll shock him, and encourages her to tell him the truth so that she can shock him and get herself back home. He asks what kind of world she lives in, and where she saw the things she knows about him, but again she can't answer.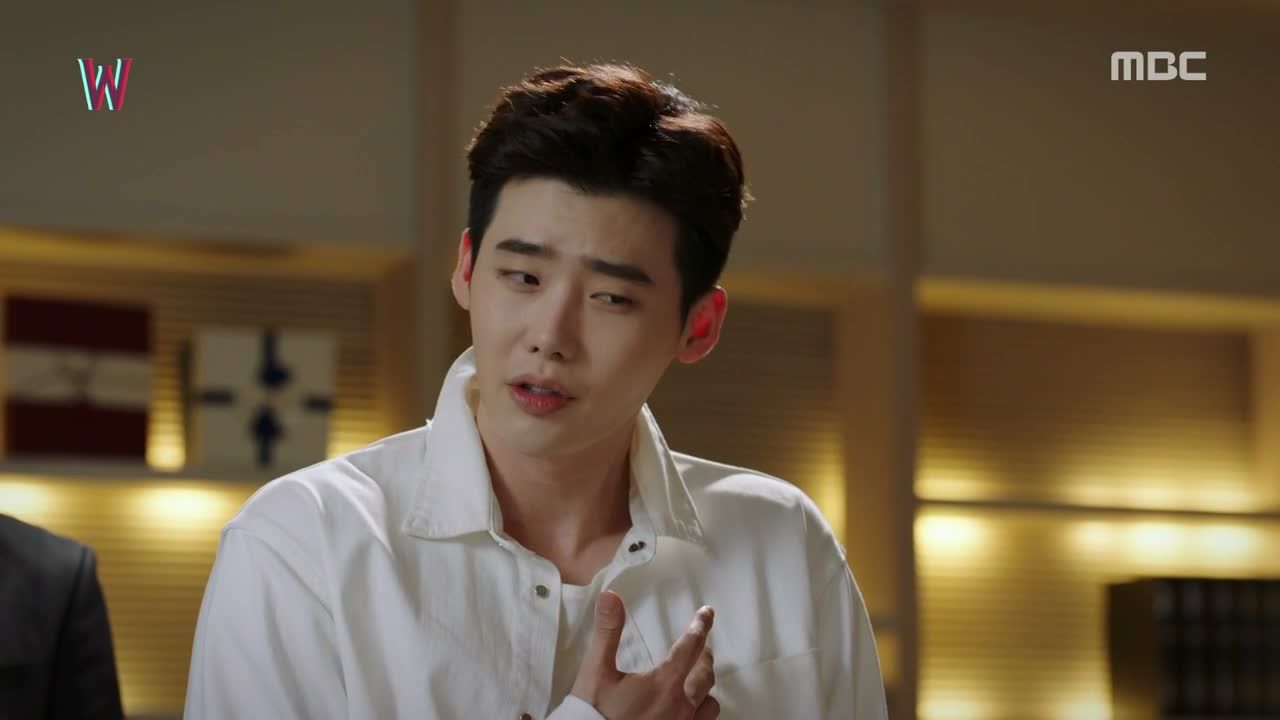 Chul says he's leaving for a business trip but will be back in a few days. Then he holds out his hand for a shake, with an apology for what he did earlier. She shakes his hand weakly with a sigh, but he holds on firmly until she looks at him and tells her, "I'm sincerely sorry."
He gets up to leave with Do-yoon, when suddenly Yeon-joo bolts up in bed and says, "I love you!" Pwahaha. This would be so easy if Do-yoon were the mark. He looks shocked, while Chul is completely unruffled. Yeon-joo waits and looks around for "To be continued" to appear… but it doesn't and she rolls back over in bed.
That just reminds Chul of her flashing him earlier, and he asks if she thought his heart would race if he saw her naked or something. Embarrassed, she says she thought it might work, and he chuckles, calling her bewildering. She readily agrees that she is, heh.
On their way out, Do-yoon points out that despite calling Yeon-joo not pretty, Chul seems to be doing everything with her that a lover would—from surprise nakedness, to kisses, to declarations of love, a lover's quarrel ending with a slap, and now living together. Chul doesn't argue, and tells Do-yoon to think of it however he wants.
They're about to head down in the elevator when Yeon-joo runs up to ask where Chul is going, and he says Busan, then New York. He asks if he's going to die on the way, and she says she doesn't know those things when she's here, and that means she can't help him.
He asks if she can know those things when she's not here, and she confirms it, which only makes him more curious about her. All she tells him is that she's someone who wants him to have a happy ending, and adds with a big smile: "I'm your fan."
He takes that to mean that if she were to answer truthfully, it would make him unhappy, and she says yes, that's probably the case. She adds that he's the first patient she saved on her own, and also the second patient, and says sincerely, "So always be careful." He has no sly comeback for that, and agrees to be cautious.
He asks how old she is and learns that they're both the same age—thirty—and then asks if she's married. She says no, and he replies, "That's good," before getting on the elevator. He winks at her as the doors close.
As Yeon-joo stands there watching him go, she reaches a hand up to her beating heart and narrates, "I found out later, the reason I was the only one who kept getting summoned here—it was because this man said I was the key to his life. At that point, the heroine of this manhwa had already changed… from Yoon So-hee… to Oh Yeon-joo."

COMMENTS
Awwww yeah. Of course you're the heroine! There are far too many hijinks per episode for you not to be the main love interest. I'm still cracking up at Gun vs. Black Lace, and can't believe Yeon-joo escalated from kissing to nekkidness so quickly. Really, where do you expect to go from here? Maybe now that he knows the rule, she has to use something other than surprise or shock, and it'll require a different type of emotional reaction, like earnestly moving his heart. I just love this conceit because there's so much potential for moments both comical and touching, to hinge on her exit strategy.
Kang Chul's reactions to Yeon-joo are so the opposite of what she wants at every turn that now it's her wah-waaaah reaction after the fact that I look forward to. Every time she has to mutter, "Never mind!" and slink away and hide her face puts me on her side just a little more. I mean, really, what kind of man is so calm and collected at see-through lingerie? She's pulling out the big guns here!
I still can't believe he shot her though. I'm not entirely convinced Kang Chul knew of Yeon-joo's invincibility either—he turned out to be right about it, but was it just a hunch that he wanted to confirm? Or does he really know for certain that she can't be killed in this world? He does seem to have a cold-blooded streak that Yeon-joo doesn't know about, and it wouldn't shock me if he shot her with fifty-fifty odds that she might live or die. It's funny that he's a fictional character who's treating her more like an object—his key—while she's the one treating a manhwa hero like he's a real person. If there's one thing that we've learned from Dad's experience with Kang Chul, it's that his will to live is so strong that it changed reality in a different dimension; I wouldn't put it past him to just pull the trigger to find out how it affects his life. The other possibility is just as intriguing—does he know secrets about her too? How would he possibly know she's invincible? This isn't the kind of manhwa world where people have superpowers, so why is he so quick to jump to that conclusion?
The flashback into Dad's past with Kang Chul was the story we'd come to expect based on the things we learned in the first two episodes, but I could see how seven years of this could slowly drive a person mad. When the images change overnight, it's a shock but not as frightening, but when Kang Chul is rewriting the image and words right in front of Dad's eyes, the effect is actually really creepy. If it's not just a recent development that Kang Chul has been rewriting his story, it makes sense that Dad has grown weary and desperate to end the series, which at this point writes itself, literally. I loved that in the scenes from Dad's point of view, I was made to feel his paranoia and fear, like Kang Chul was the scary one in this, and Dad was trapped. It poses a really fascinating dilemma between creator and creation, and now I can see why Dad feared that he'd be devoured by his own creation. Kang Chul has become more powerful than Dad, despite not knowing it. I mean, how is he having memories of events that were rewritten?? Will finding out the truth about his identity only solidify his resolve, or will it break him?
I like that amidst all the craziness, Yeon-joo and Kang Chul shared a small moment of genuine connection when she worried for his safety and he saw that she was earnest about that, at least. I'm all for Yeon-joo spending some time being roomies with Kang Chul in his world, though it does introduce an element of danger when she can't anticipate how to save him. But with Dad on the run and out of his mind (and no longer in control), she might be making the biggest difference by staying in the manhwa world by Kang Chul's side and changing his character for the better. Especially if she's indestructible here. That's pretty cool, and I'd say that it more than makes up for one incredibly embarrassing attempt to raise a guy's pulse. Damn Olympian pulse-control.

RELATED POSTS
Tags: Episode 3, featured, Han Hyo-joo, Jung Yoo-jin, Kim Eui-sung, Lee Jong-seok, Lee Shi-un, Lee Tae-hwan, W–Two Worlds