W–Two Worlds: Episode 4
This show blows my miiiiiiiiiiiind. Every new episode blows it up, puts the pieces back together, and then blows it up all over again. Just when I thought I had gotten a handle on the rules of the two universes and the way the story would go, our heroine does something to change the hero's narrative, and the domino effect on his world, her world, and our story is a game-changer.
It feels pretty great to be this excited about a show again, and to feel like I can put my trust in the writer and enjoy every twist and turn with excitement instead of fear. I'm happy that the ratings for W climbed this week too (both episodes came in at 12.9%, bringing the show into first place), just so that the producers get some recognition for this awesome world that they're building.

EPISODE 4 RECAP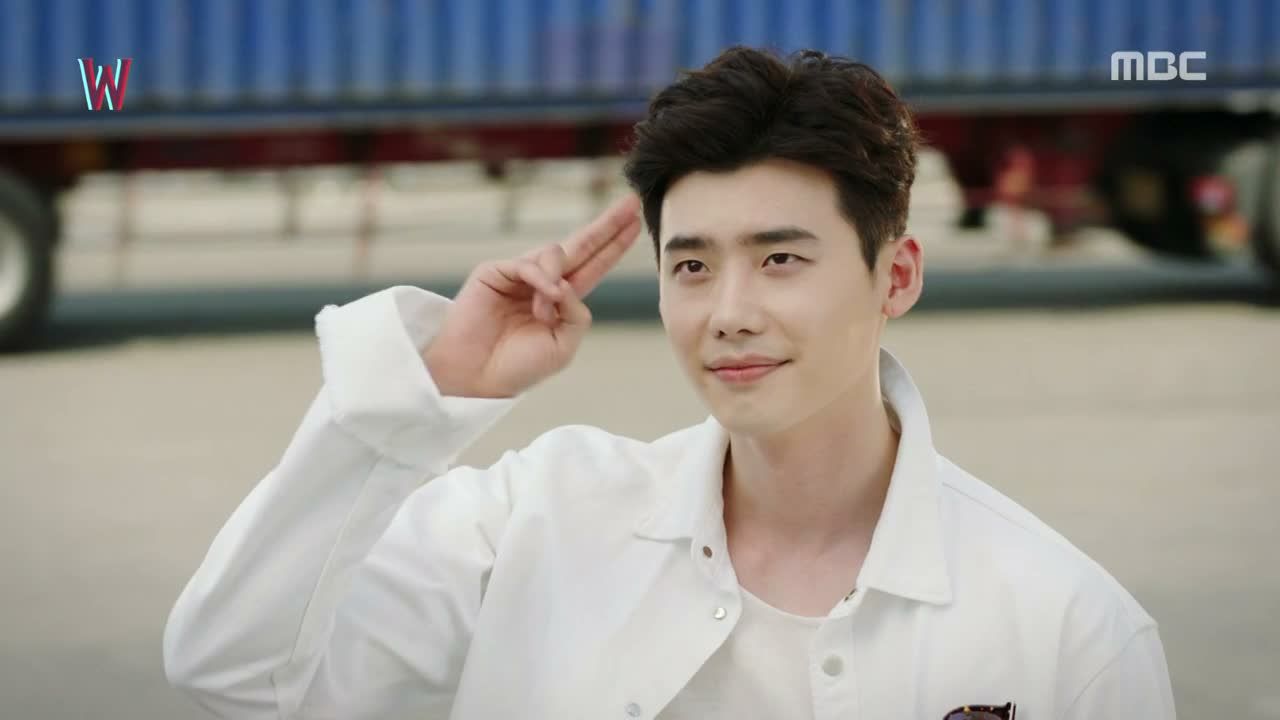 The detour before Kang Chul's business trip turns out to be a meeting with Ajusshi, who finally gets his manhwa introduction: His name is Sohn Hyun-seok, and he's Chul's dad's best friend, who now runs that crime investigation TV show that Chul bought the broadcast station for.
Ajusshi is busy surveying trucks at a container terminal in Busan, and tells Chul that no amount of searching has turned up the random truck of doom from his sudden attack in the street. More than anything, Ajusshi is concerned about Chul hiding Yeon-joo from the police, and says he saw the video of them in that clothing store.
Chul realizes that Ajusshi heard about all this from So-hee, and Ajusshi chides him for not recognizing how great So-hee is. He says that everyone's just waiting for Chul and So-hee to marry, and wonders what his relationship is to this mysterious Oh Yeon-joo. Of course Chul just smiles without explaining a thing.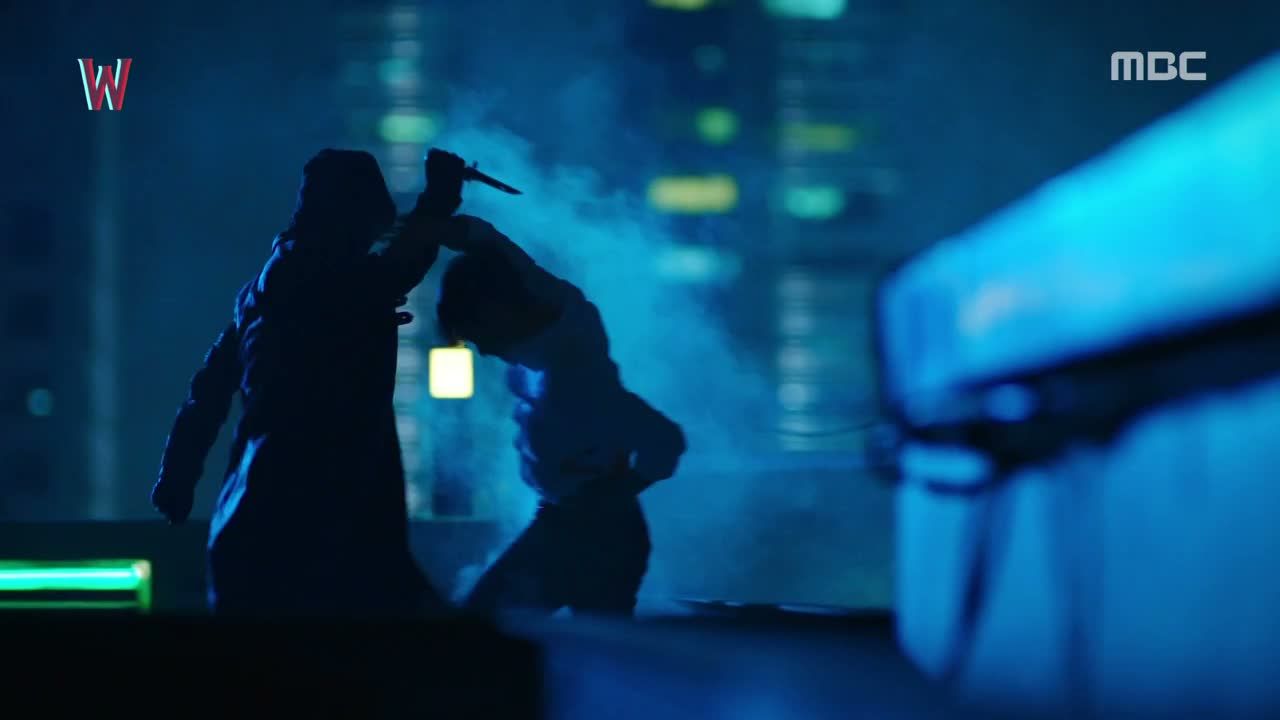 Ajusshi updates him on the nurse who tried to poison him in the hospital, and says that she had no motive and nothing adds up about her—no matter how much the detectives grill her, she can't remember why she switched the meds. Chul isn't surprised, and says that everything that's happening to him lately is out of the blue and without context.
Chul says that the recent attacks were all like that, even the night he got stabbed. We see it in flashback as he explains that he got a call from someone saying they had information about his family's killer, but he can't recall who it was or why he believed it. He also doesn't know why he left his bodyguards at home when he was going to a dangerous meeting.
He stood there on the rooftop unprotected, just waiting, when the hooded killer just walked up right up to him and stabbed him. Chul tried to fight him off, but he got stabbed over and over again, until he collapsed to the ground in a bloody heap.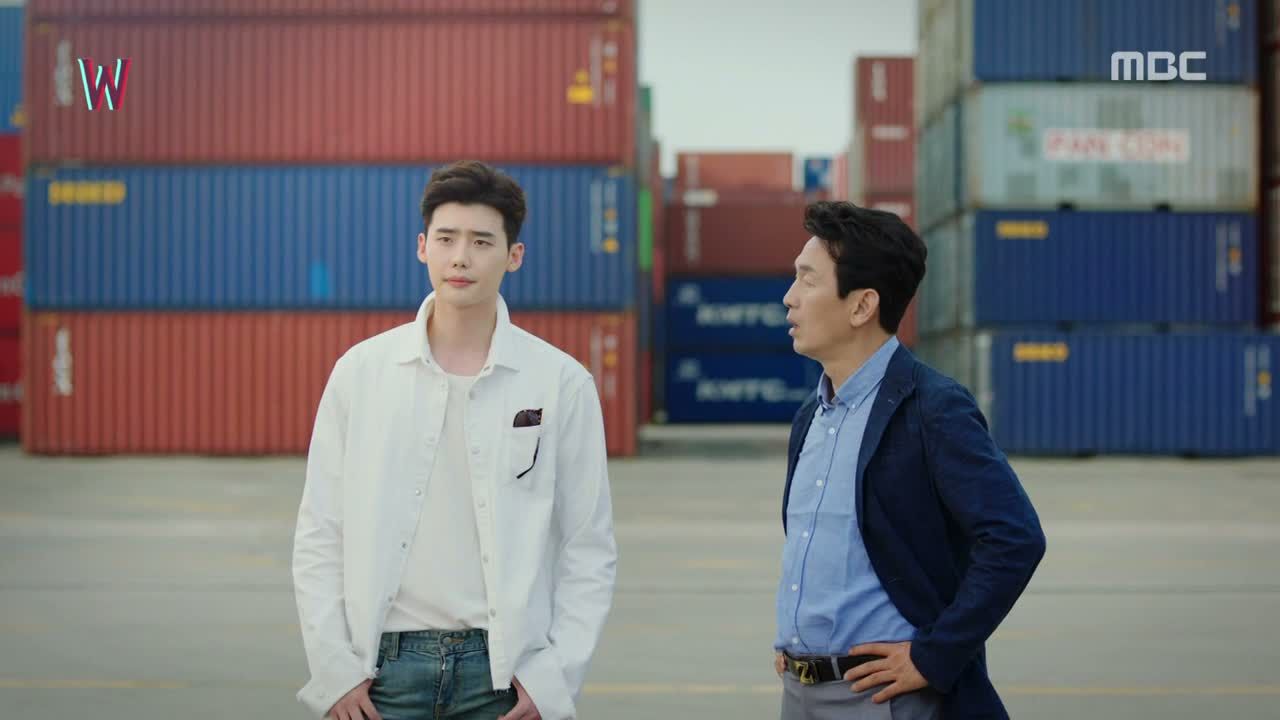 In the present, Chul says he has no memory of why he exposed himself like that, and let the attack happen to him so easily. The truck, the nurse, his own actions on the roof—they don't make sense, because murder should have motive and a culprit, but all he has is a series of inexplicable incidents. He says it's like ten years ago when his family was gunned down, for no apparent reason.
He argues that they should've found a lead by now, given that their criminal investigation TV show is really an excuse to hire the country's best and use them as a personal investigation unit. He says that they've solved every other case, unintentionally earning him national hero status as a result, but they still have no leads on his family's killer. Well that was a clunky bit of exposition (I hate it when characters exposit to the only other person who already knows this information, but whatever).
Chul doesn't know how to make it add up, and says that lately, he's even had the thought that maybe the killer lives in a different dimension. Ajusshi: "Are you saying it's an alien?" Ha, that's your go-to guess? Chul laughs and says sure, maybe, though they look like regular people—like Oh Yeon-joo.
Chul explains that Yeon-joo seems to know everything about him, including personal secrets he's never shared with anyone. It's as if she's looking down on him from the heavens, he muses, but the good news is that she has good intentions toward him and wants to save him. The thing he doesn't know is why.
It's his theory that the killer lives there too, wherever Yeon-joo is from, and when Ajusshi looks at him like he's a few marbles short, Chul says that he'd think differently if he saw a woman get shot through the heart and live. What, you DID shoot her in the heart?! Boy, you'd better have a good reason for knowing she'd be invincible.
What Chul does know for sure is that Yeon-joo is the key to his life—the only person that'll open the secret door.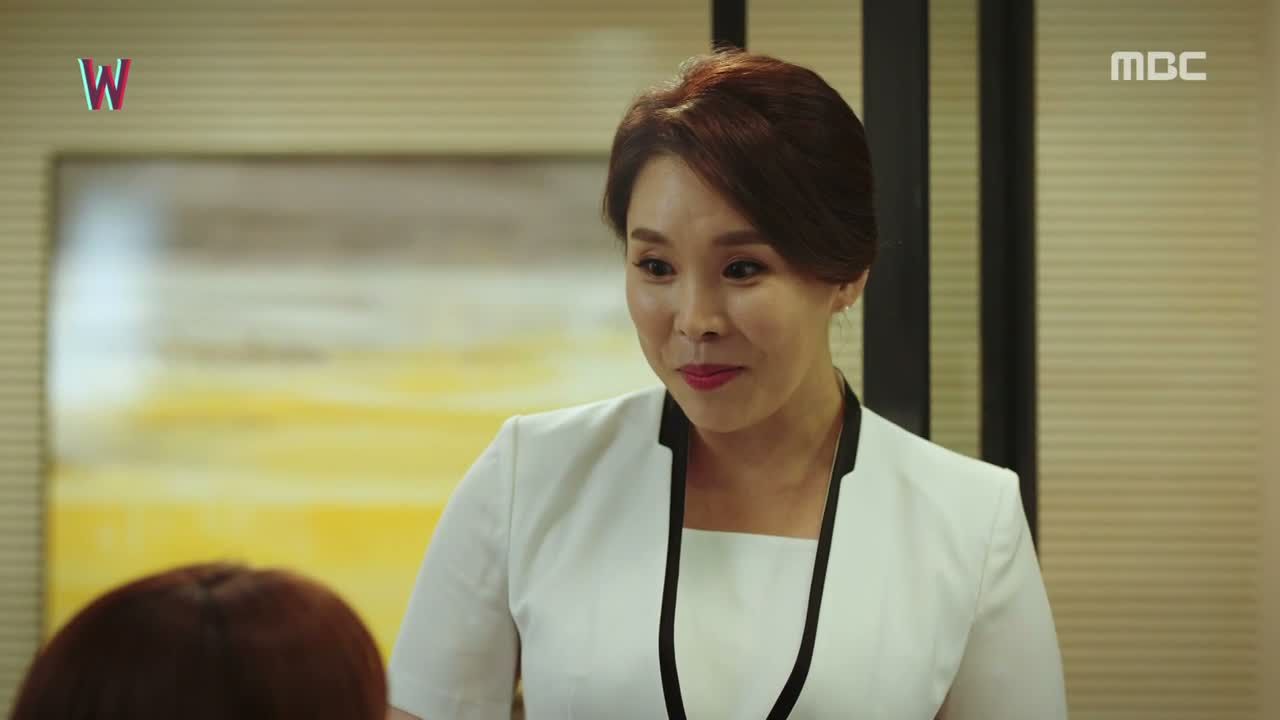 Yeon-joo gets a shock of her own when Chul's staff arrives with mountains of designer clothes, purses, shoes, and makeup for her to choose from. She gasps and wonders how much all of this stuff cost, and darts around awkwardly when an attendant tries to help her zip up a dress and put on makeup.
Yeon-joo insists that she's more comfortable doing this on her own, and the attendant just offers the helpful tip that Chul likes feminine styles. Yeon-joo gives her this hilarious face and asks, "And why do I need to set my style to his taste?" Is what I'm sayin'!
The attendant just thought she'd want to, since she's Chul's fiancée, and that word brings Yeon-joo to a grinding halt. Apparently he told his staff they were engaged, and Yeon-joo just nods awkwardly that it's true. Hee.
Yeon-joo looks at herself in the mirror and wonders why things keep flowing this way: "W is an action-hero story. Why does it keep acting like a romance drama?" She presses a hand to her cheek and sighs that it's making her heart flutter.
When Chul calls, she tries to sound extra calm and collected on the phone, but the second she hears his voice, she thinks, "Even the sound of his voice makes my heart drop!" She manages to sound breezy as she asks why she suddenly became his fiancée, and he says he needed to tell his staff something that wasn't she's my prisoner. Yeah, good call.
He apologizes and asks if it made her feel bad, and she totally tosses her hair as she says, "No…" He asks oh-so-subtly if her boyfriend might get mad if he found out, and she says she doesn't have one. He wonders why, and she says defensively that not everyone needs to have a boyfriend.
He means that she's got a lot of appeal and he's surprised that she isn't in a relationship, and she scoffs, reminding him of the dogs-and-cows-are-pretty comment he made about her. He chuckles and says she might not be pretty, but he does think she has "a crazy sort of appeal."
The silence makes him wonder if she's mad and he says he was joking, but she rolls her eyes and says she is crazy, for getting fluttery at a comment like that. She grumps that he seems too cheerful for someone keeping her captive, and he points out that she can go home whenever she feels like telling him the truth.
He says goodnight, and just before hanging up, Yeon-joo blurts, "I love you!" Pff. She waits for some kind of reaction, but Chul just smiles and reminds her that it won't work on him. But then he does this lip-bitey thing that makes me think differently…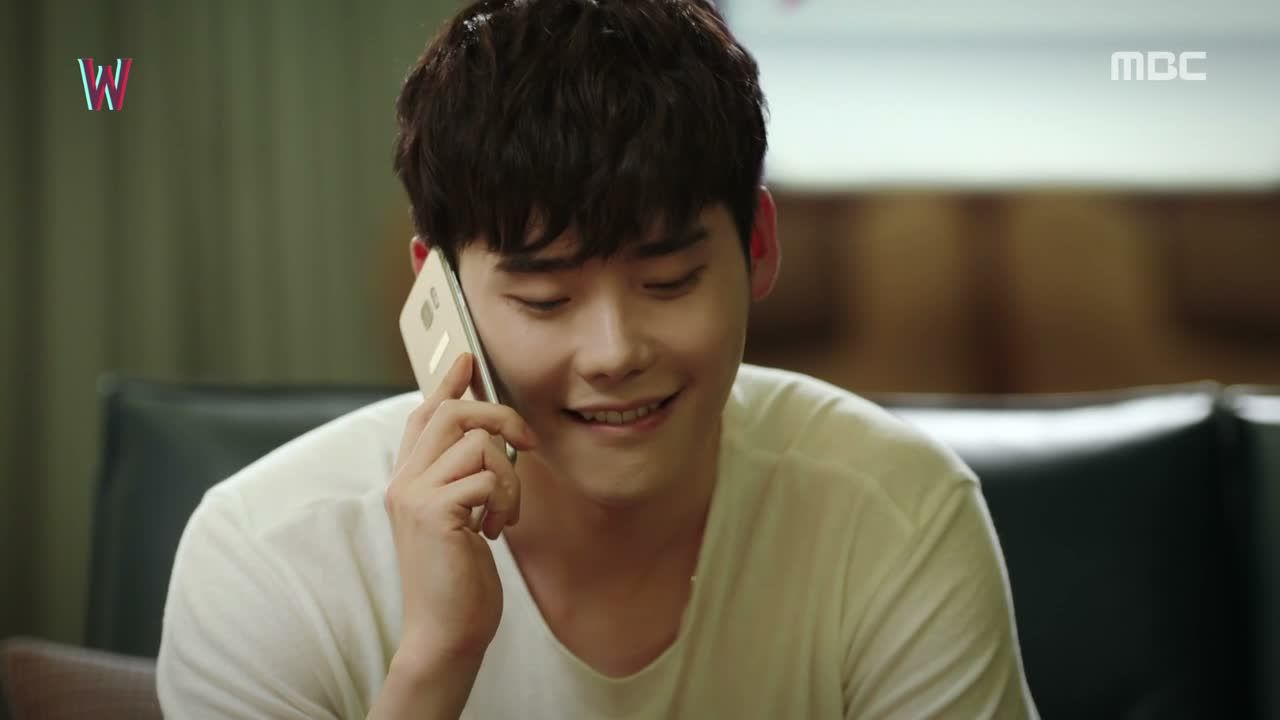 They hang up and Yeon-joo head-desks away her embarrassment, while Chul looks at his phone and says aloud, "If I hear it one more time, I might be shaken." Omo! Yeon-joo counts how many days she's been here and worries that she's already getting used to this world.
Meanwhile, So-hee contemplates something for a while before heading into the penthouse. She finds Yeon-joo wandering around looking bored and suggests they get some wine in the restaurant bar.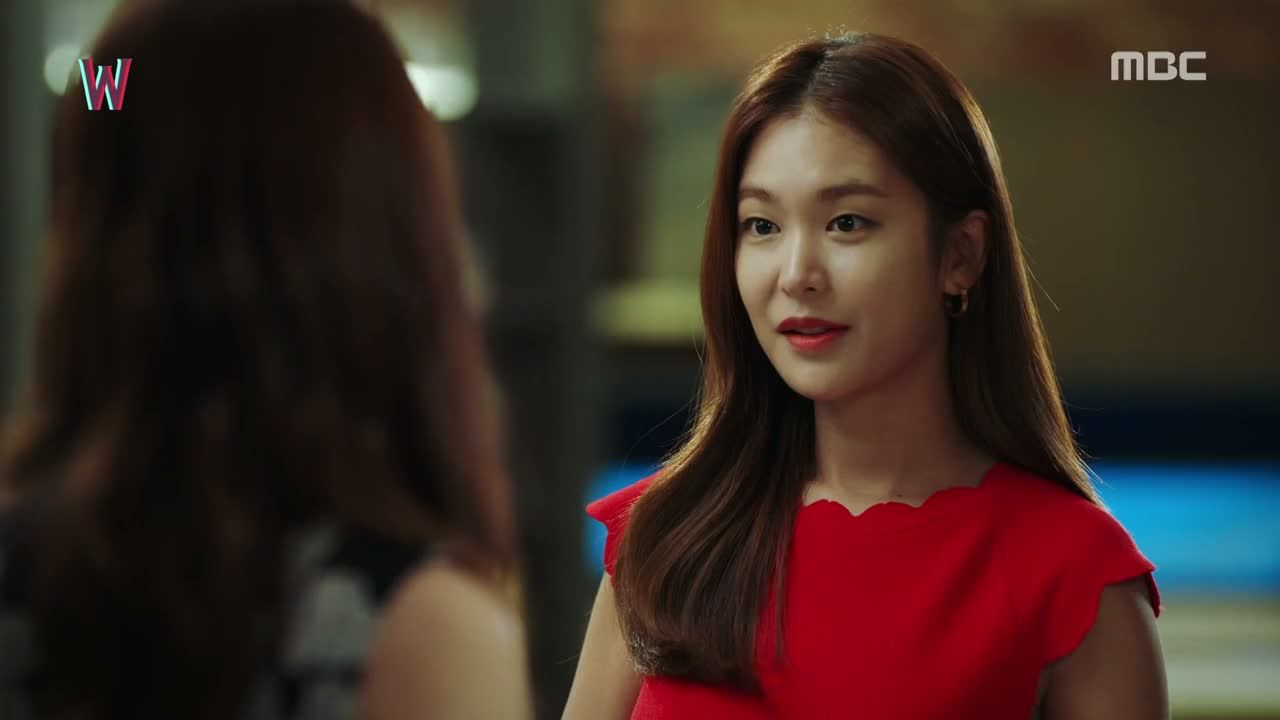 Something feels off about it though—So-hee insists to the bodyguard that it's safe, and suddenly remembers something she forgot, sending Yeon-joo to the table ahead of her. And then her bodyguard gets called away, leaving Yeon-joo there alone.
Yeon-joo sighs wistfully and enjoys the view, figuring that she won't get to come to places like this very often. The waiter comes by with menus, and ack, it happens to be that waiter who helped her save Kang Chul on the roof the first time she was here. He recognizes her instantly, and it's only then that Yeon-joo realizes this is the same hotel.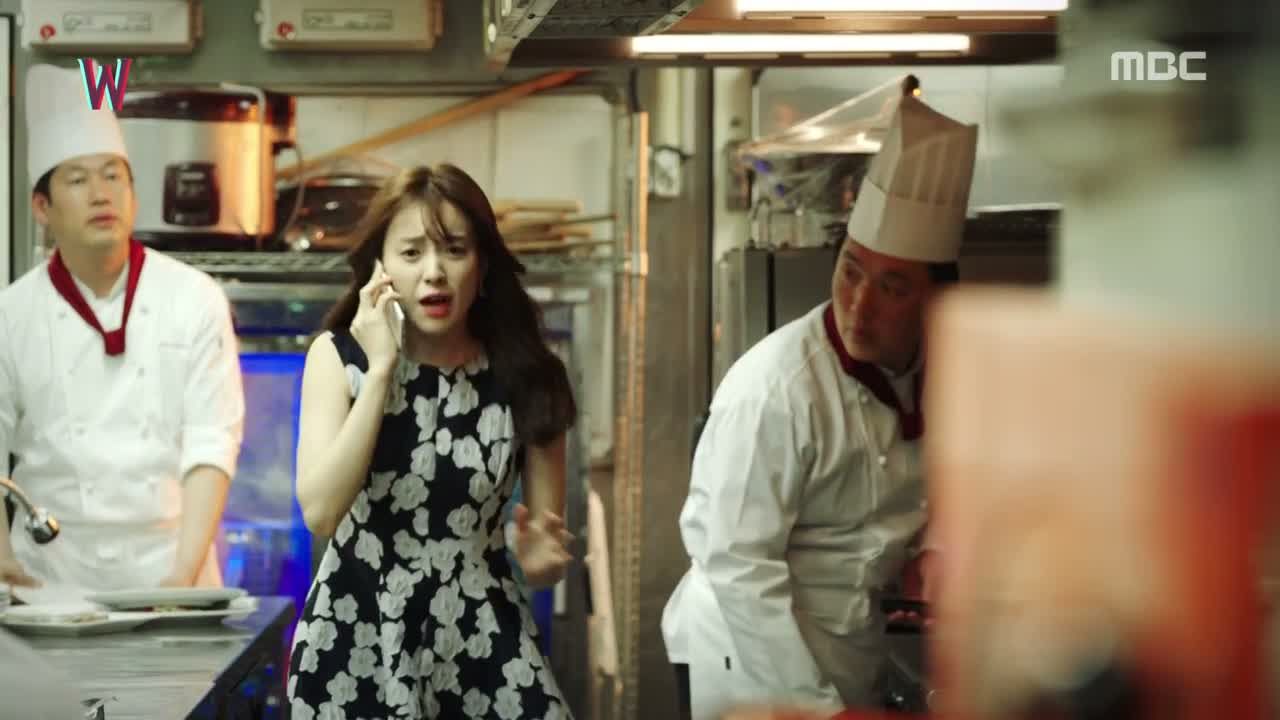 She makes some awkward excuses and the waiter runs to tell his manager about her, and when he points out the table, she's already gone. Yeon-joo runs through the kitchen and calls Chul, who answers with a smile and asks what other confession she's going to make. But she says she's about to be captured by the police, and that So-hee turned her over.
Chul hurriedly calls his bodyguard, who was under the impression that So-hee's orders were from Kang Chul. After being straightened out and ordered to help Yeon-joo, the bodyguard finds her and unlocks a random room with a master key to get her out of sight.
But he's a few seconds too late, because as she runs to the open door, she's spotted by the cops. She tries to run but knows she's about to get caught, so she does the only thing she can do to protect Kang Chul—she slides the phone he gave her into the room where the bodyguard is waiting, just seconds before she's arrested and taken away. The bodyguard tells Chul the bad news, and he deflates. His plane takes off again the moment it lands.
So-hee tells the bodyguard that she'll take responsibility for lying to him, and takes a call from the detective on Yeon-joo's case, acting surprised that the suspect was caught.
Yeon-joo's arrest is all over the evening news and the report shows her being led inside the precinct in handcuffs, looking scared. The detective interrogates her but all she can offer is her name, and she can't answer any of his other questions about her national ID number, her address, or anything else.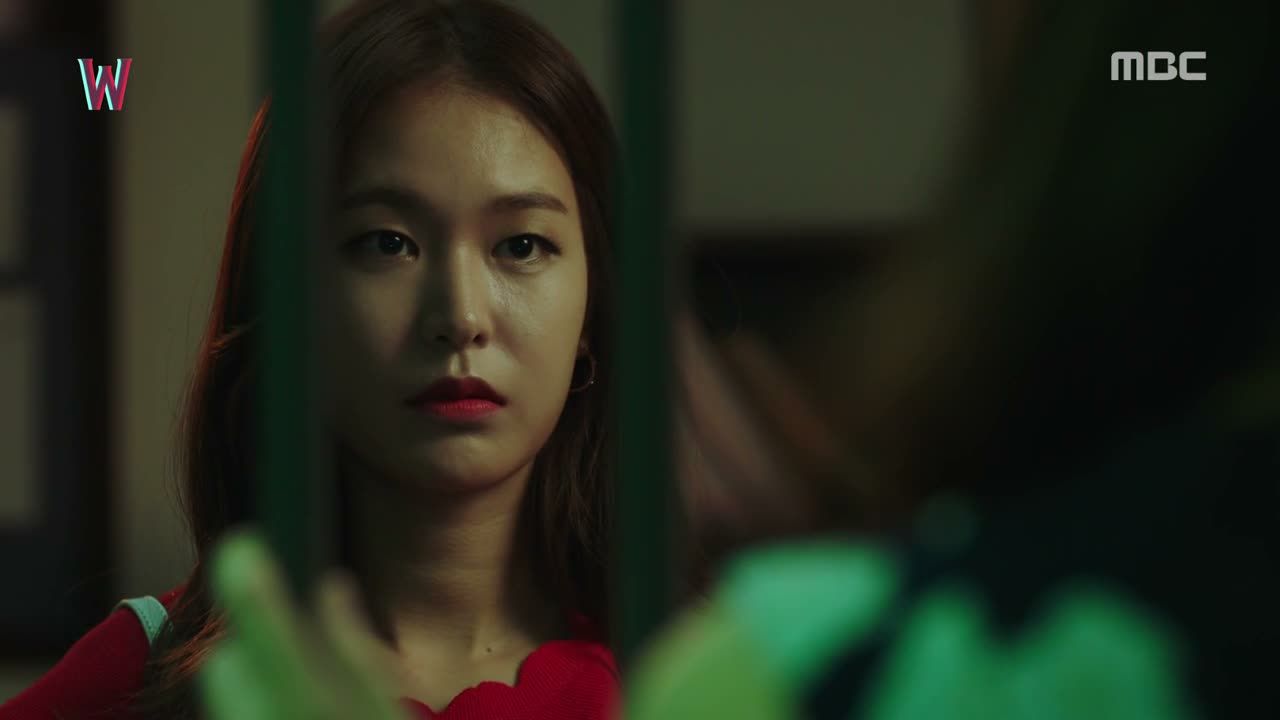 Yeon-joo sits crouched in the corner of a cell that evening, and she perks up with relief to see So-hee approach. But So-hee admits to turning her in and says that this was the best she could do in this situation, because Kang Chul can't continue to be living with a suspect in his attempted murder.
So-hee promises her all the best lawyers and anything else she can do to help Yeon-joo clear her name, if she just cooperates with the investigation and lets them confirm her identity. But all Yeon-joo can say is, "Even if I wanted to reveal it, I have no identity to reveal!" So-hee asks skeptically who doesn't have an identity in this world, but Yeon-joo swears that she doesn't.
The interrogation only worsens the longer it goes on. The detective becomes increasingly desperate and frustrated, while Yeon-joo continues her silence, growing wearier by the minute.
Eventually they give up trying to get answers out of her, and she's transported to the penitentiary. Dammit all, can't Su-bong draw her an escape tunnel or something? Come on, scenery artist! Your noona's in trouble!
Kang Chul finally returns from his trip and is met with a crowd of reporters at the airport. He smiles and says in a upbeat voice that he doesn't believe Oh Yeon-joo to be in league with the killer, and winks at the female reporter right in front of him with a friendly warning not to believe everything she hears.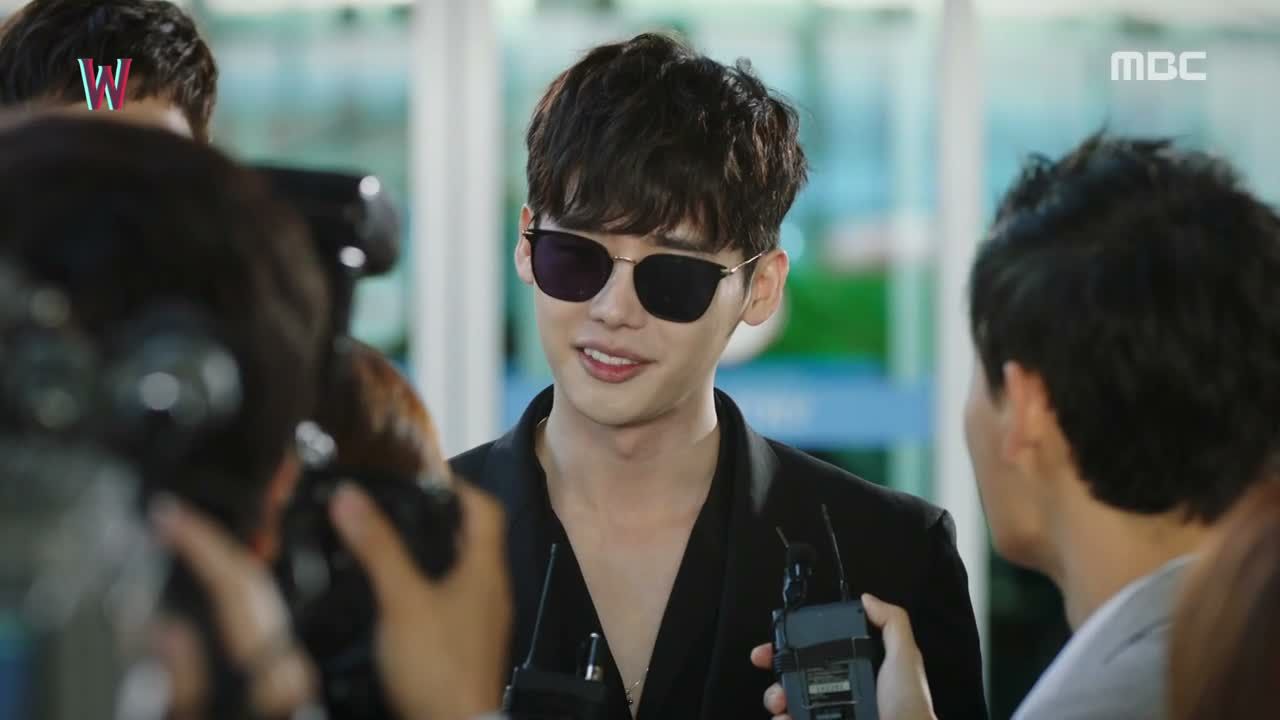 In the car Chul is less jovial, and when Do-yoon mentions that So-hee keeps calling him because Chul won't answer her calls, he decides to have it out with her. Chul says he's going straight to the prison to see Yeon-joo, and So-hee defends her decision, saying that the lawyers are trying, but Yeon-joo isn't testifying to anything.
Chul says that Yeon-joo can't testify, and that's why he was protecting her. So-hee argues that the answer is already obvious if Yeon-joo can't reveal a logical explanation for her actions—it means she's guilty.
But Chul says that's the kind of flawed reasoning that led to him almost ending his life—people just assumed that he killed his family because the facts they saw on the surface supported their idea, and he became a murderer.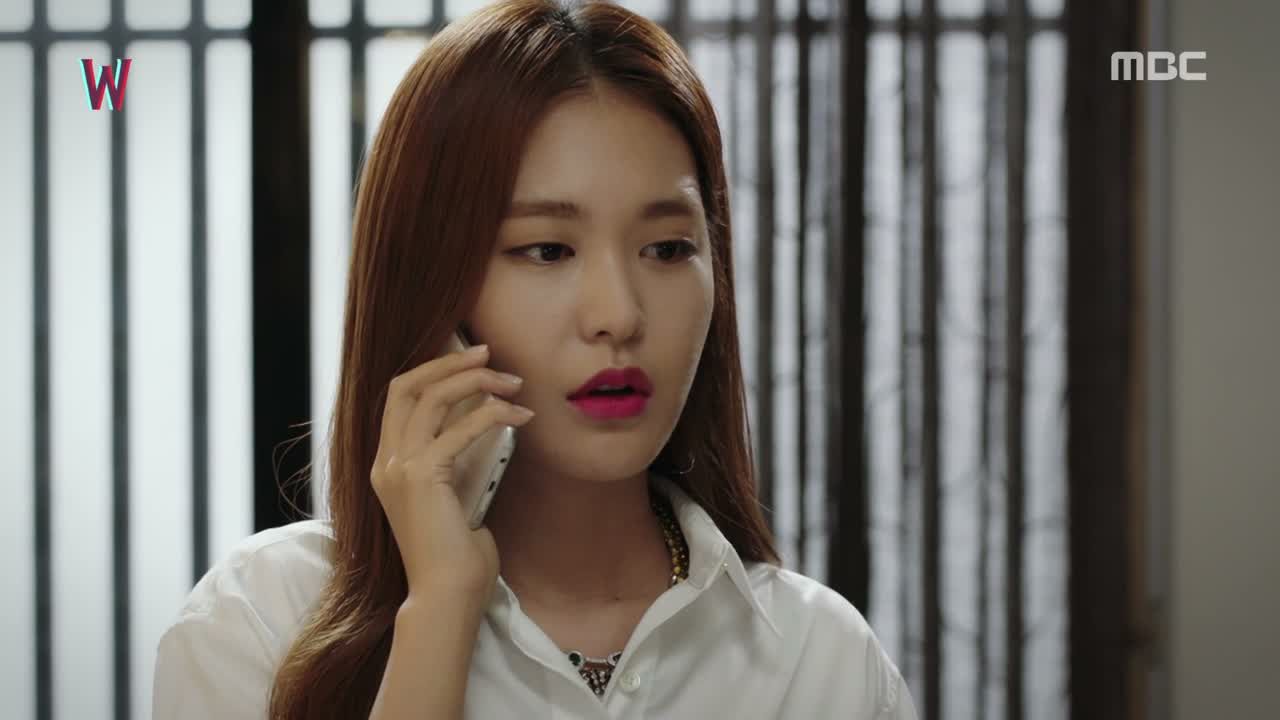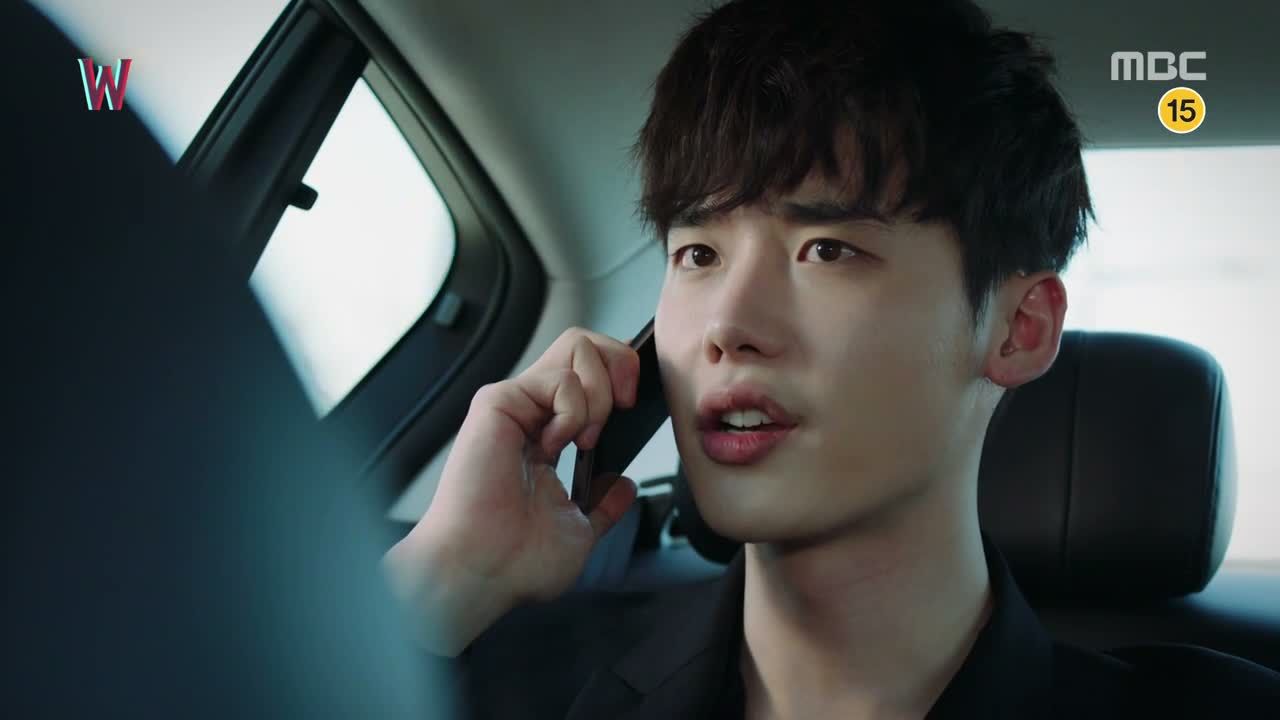 He says that people always see the phenomenon on the surface, and not the underlying context for why it's happening—and they mistake that for common sense. Chul argues that the last thing Yeon-joo did was toss the phone he gave her, in an effort to protect him. For him, it's not identity that's important, but reading a person's true motivation.
He tells So-hee: "I started this business because I wanted to help other people who were victims of common sense like me. But you created yet another victim. That means you don't have the right to be my assistant. Just remain as my friend. You're fired." Ouch. I'm on his side, but that's gotta hurt. Both So-hee and Do-yoon look shocked, but can't say a thing.
Yeon-joo gets called out of her cell, and is led to a visitor's booth where Kang Chul is waiting for her. She looks happy to see him, and he smiles at her sweetly. He apologizes for the delay—despite turning around as soon as they landed, it still took too long.
He asks how she's holding up, and she says it's hot in here. Chul remembers his time in prison and says that summer is the hardest. Yeon-joo looks like she's about to burst into tears, and at first when he asks if it's hard on her, she shakes her head no.
But then the dam bursts, and along with her tears, she admits that she's having a hard time. She's just an average person, she cries, and this is stuff that only happens in movies. He says that innocent people sometimes find themselves thrown into prison one day, with no understanding of how they got there.
He describes the torturous process that she'll undergo as they attempt to break her and weaken her resolve, interrogating her relentlessly for so long that it'll be difficult for her to ever return to an ordinary life as a normal citizen again. Chul says that he doesn't have a means to help clear her name, but he does have a solution: She can tell him truthfully where she's from, and disappear from here.
Yeon-joo points out that it'll cause a frenzy here if she vanishes, but he says he'll deal with the mess since this is his world. She says with tears in her eyes that she can't tell him because it'll make him unhappy, and he says with a rueful smile, "I don't think I'm enormously happy now. I can't sleep because I never know when I'll die. You know that."
He asks if she's really okay to be trapped here the rest of her life, and she cries no. He says they don't have much time, and asks her where she's from. Yeon-joo answers hesitantly that it's Seoul, and he understands that it's a different Seoul—she confirms that she lives "there," and he lives "here."
He asks how she knows everything about him, and Yeon-joo can't bring herself to answer that. She wipes away her tears and jokes that a nude show would be better than this. He laughs and says that won't work on him, and prods her again to answer.
Yeon-joo: "You're going to regret it." Chul: "I won't." He asks again what world she comes from. After a long pause, she finally says the words: "Inside a manhwa." EEP. She said it!
He thinks she's answering his latest question and saying that she came from inside a manhwa, but she clarifies: "No. Here. This… is inside a manhwa." Ohmygod. Are there brains exploding everywhere? I can't look!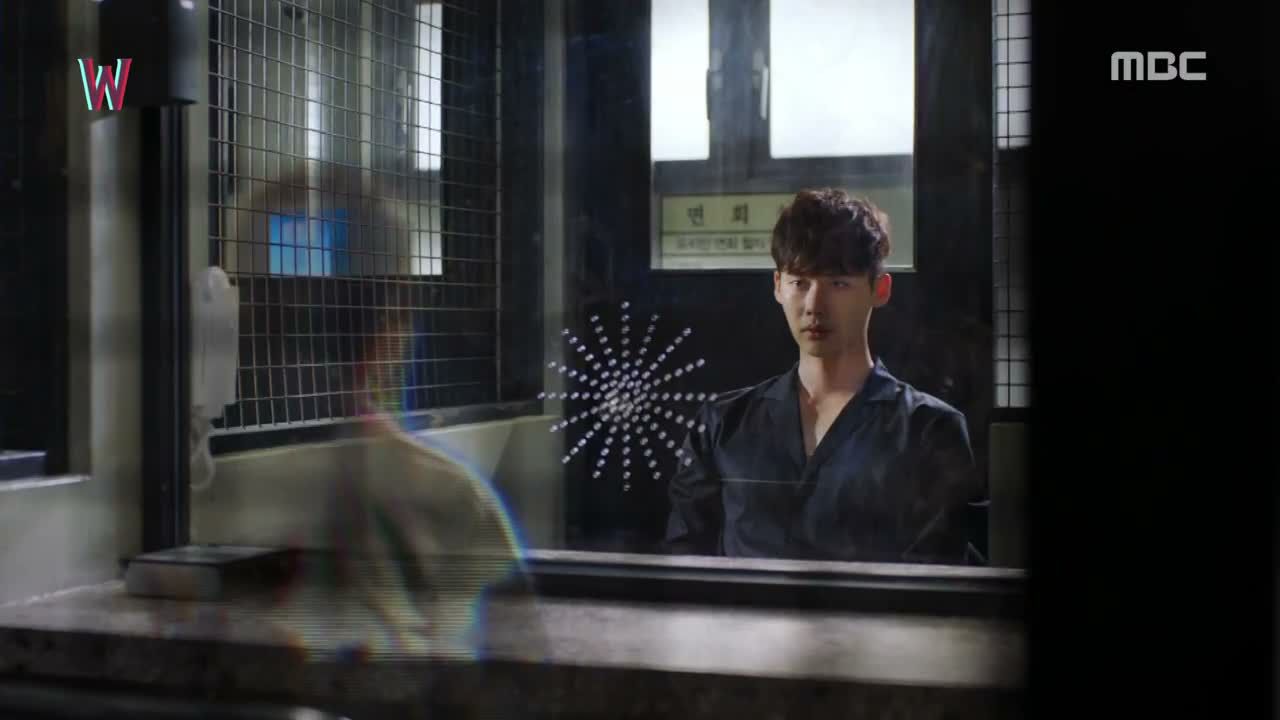 Kang Chul is frozen in shock, and Yeon-joo continues that this world is inside a manhwa that she reads: "And you're the main character of that manhwa." As her words start to sink in, Yeon-joo spots the "To be continued" chyron being written in the corner.
This time she vanishes right before his eyes, and she reappears in her own world at the bus stop where she'd fainted, dressed in her prison jumpsuit. Well that's not conspicuous or anything. Better than lingerie though?
Kang Chul doesn't move at all, and just keeps staring at that empty chair like he can't believe she really vanished. But guards come running and confirm that she's really gone. And then… Chul looks right into the camera, like he's peering at us through the screen. Aaaah, stop that! It's just like he does to Dad in the manhwa!
Back in Yeon-joo's world, Su-bong pulls up in a panic and literally trips over his feet to get to Yeon-joo. He gapes at her and asks if she really really went to prison, and while rifling through the nearest clothing store to buy her a change of clothes, he hits himself on the head and says this is crazy.
As he waits in the bathroom for her to change, he explains that not thirty minutes have passed. He drove here to pick up her purse and phone after she vanished, and parked nearby to dig through the purse and look for some sort of clue.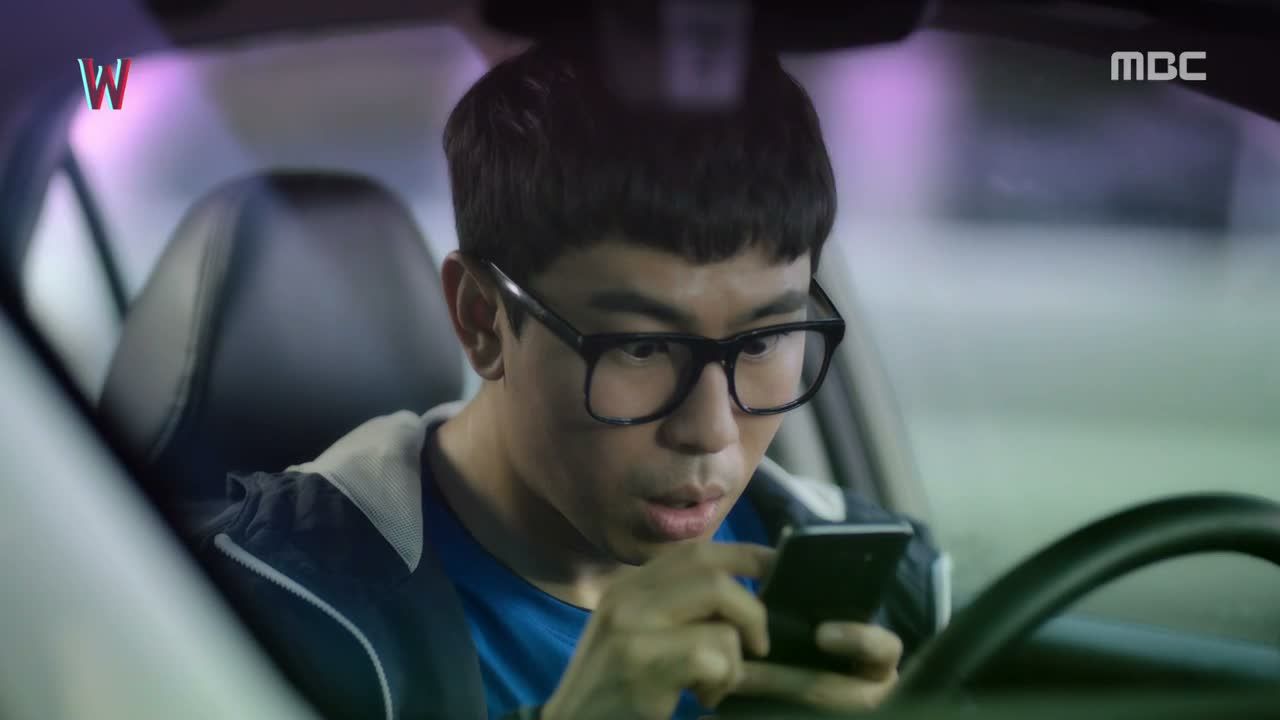 But then he got a call about her dad putting up another episode online, and he saw Yeon-joo appear in the manhwa again. He cringed at her nude show and yelped, "Isn't this noona going too far because it's just a manhwa?! Oh, oh, another kiss?!" He wondered if he was worrying for nothing, if she was perfectly happy with her wish fulfillment. But then he saw Yeon-joo going to prison in the story and freaked out, and a second later, she appeared at the bus stop in her jumpsuit.
He explains all this as he drives her back to the workshop, and asks how it's possible that she was gone for half an hour and spent seven days in the manhwa. She's overcome with exhaustion and says it certainly feels like seven days' worth of tiredness.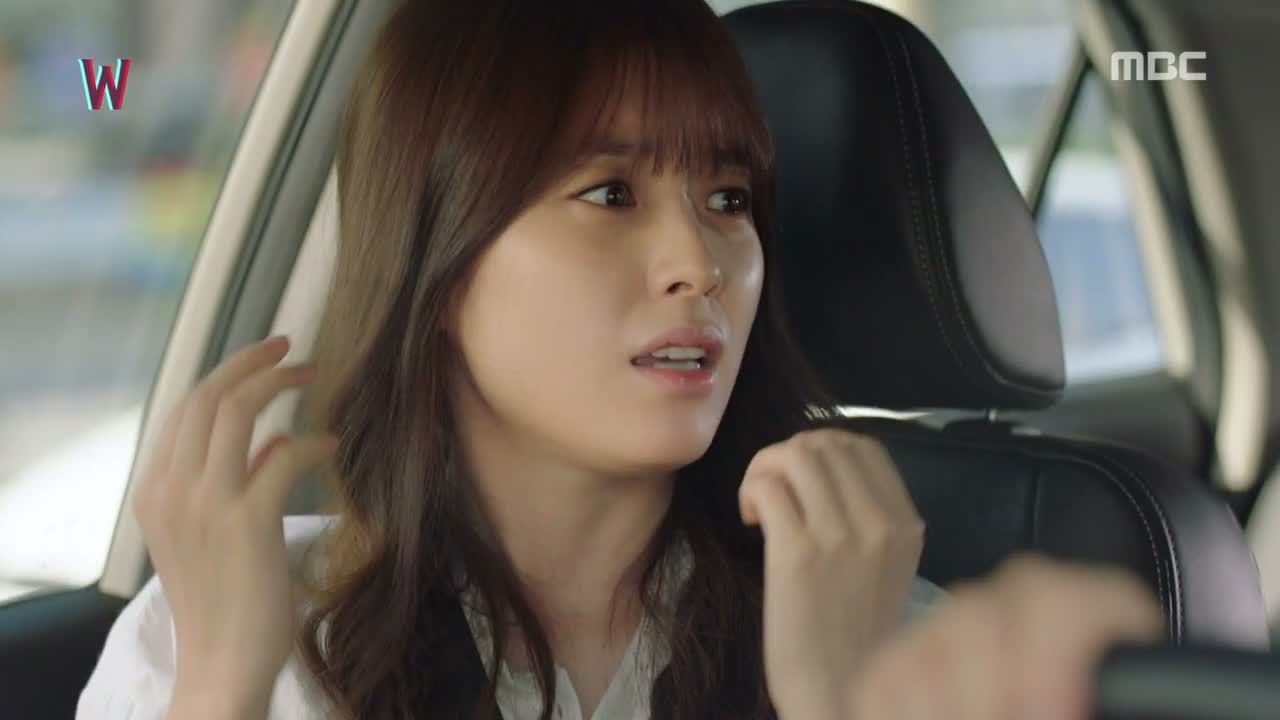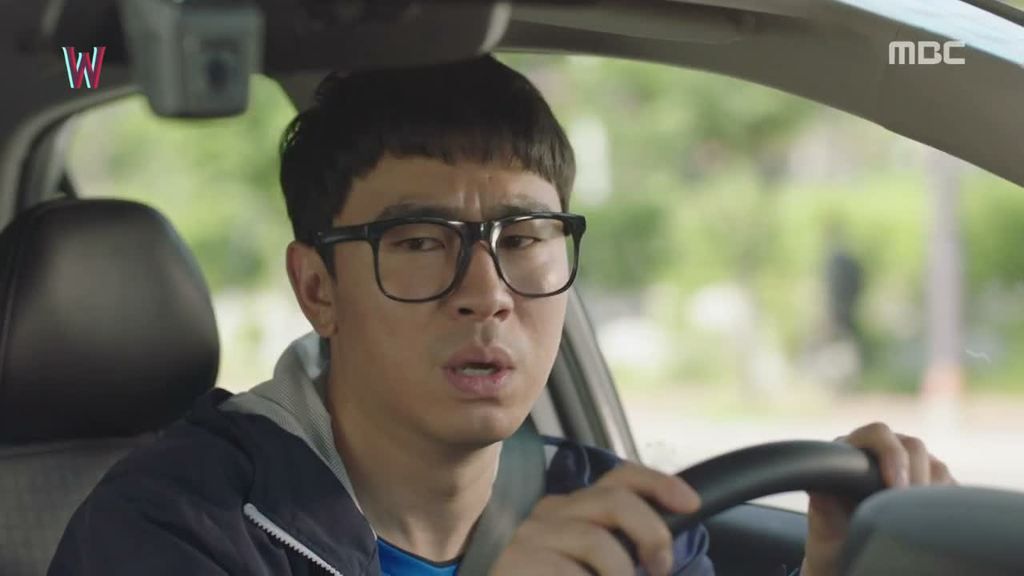 Yeon-joo says that prison is no place to be, and that she couldn't even survive one day in there. Su-bong asks if she really told Kang Chul everything, and she gasps, "What have I done?" He assures her that everything will be okay, but he doesn't sound very sure of himself.
In Kang Chul's world, the prison gets put on lockdown and Do-yoon goes looking for Chul when he overhears what's going on. Do-yoon asks how Yeon-joo escaped, but Chul says nothing, and just continues to sit there numbly.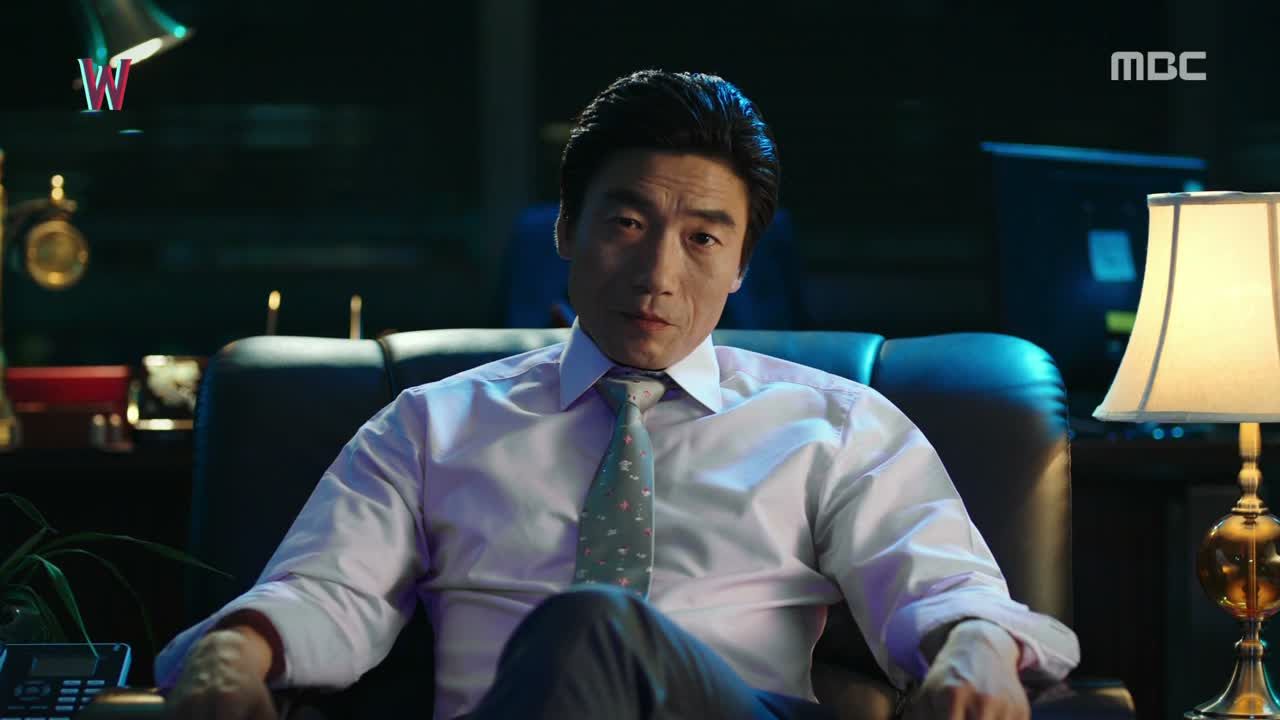 So-hee drinks away the pain of being newly unemployed, when Do-yoon calls and breaks up her pity party with news of the prison break. Ajusshi hears about it at the broadcast station too, and it's all over the news that Yeon-joo escaped.
We haven't seen this character since Kang Chul's trial in his youth, but now Prosecutor Han is Assemblyman Han. He watches the news and says with an evil glint in his eye that he's finally found a way to catch that psychopath murderer Kang Chul for good.
Yeon-joo goes running into Dad's room, but he still hasn't come home. Su-bong suggests just putting up "The end" and ending the manhwa here, because he doesn't see how Yeon-joo could survive another trip to that world when she's a known fugitive there.
But she asks what happens to Kang Chul then, clearly not wanting to end things here. Su-bong: "You're worried about Kang Chul? The living people are all about to be carted off to the mental hospital and you're worried about a manhwa character right now?!" Heh, point taken. Su-bong sits down at his computer to just end the manwha here, and deal with the fallout later.
As Chul walks out of the prison, he finally gets over the initial shock enough to think about Yeon-joo's words. He remembers her saying before that his change in emotion was the key to her coming and going because he was the main character, that she could see how he'd be in trouble when she was outside this world, and that she was rooting for his happy ending because she was his fan.
It starts to come together in a way that he can't ignore, and Chul is so lost in thought that he doesn't notice Do-yoon nudging him to take a call from Ajusshi. Chul needn't explain anything to Ajusshi, who's already guessed that if what Chul said earlier was true, Yeon-joo disappeared into another dimension.
Ajusshi is worried that Assemblyman Han has been waiting for an opportunity like this to nab Kang Chul, but Chul says that Assemblyman Han is nothing compared to this: "The reason I exist—that's the real problem."
Chul looks like he's holding back tears, and Ajusshi asks what Yeon-joo told him. Chul says it was crazy nonsense, and that he was right about her at the outset—she's just a crazy woman: "She spouted unbelievable nonsense…"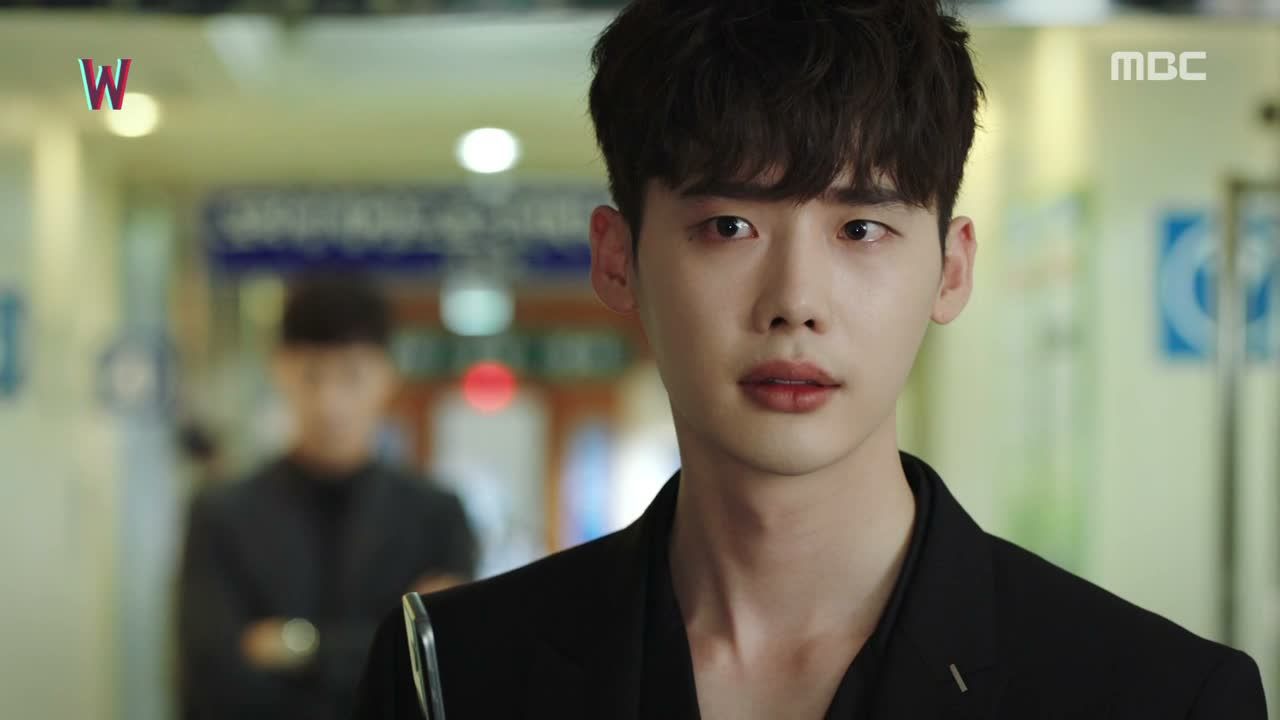 Ajusshi asks why he's concerned about it then, and Chul admits that her crazy nonsense explains everything that he previously couldn't explain about his life, and everything that had no context now makes sense.
Chul says it's an explanation that never once entered his mind, and hesitates again and again before finally saying out loud: "This world… That this world… is all fake. It's a completely fabricated world." The moment he says the words, the prison guards in front of him all suddenly freeze mid-stride.
OH. MY. GOD. Is this his Matrix moment?
Kang Chul slowly lowers the phone from his ear and stares at the frozen officers. He whirls around to look at Do-yoon, who's also standing there like a statue. Chul tries to speak to him, even shake him awake… but Do-yoon remains suspended in time.
At the same time in Yeon-joo's world, Su-bong erases the "To be continued" from the webtoon's last frame, and says he's going to put up a notice that they're ending the series due to personal reasons. He figures they'll get a gazillion anti-fans, but they have to do it.
Yeon-joo clearly doesn't want to, and can't even watch as Su-bong does the deed. But as soon as he starts typing the message, the webtoon image disappears and his screen goes white.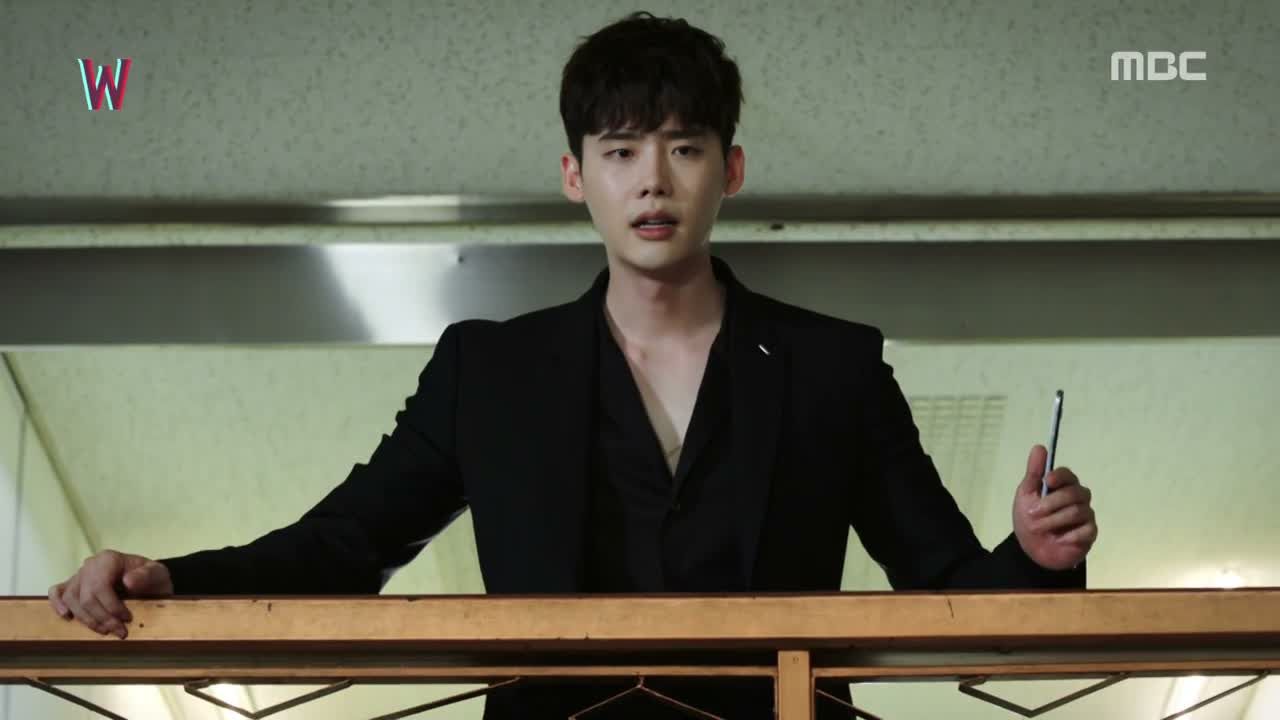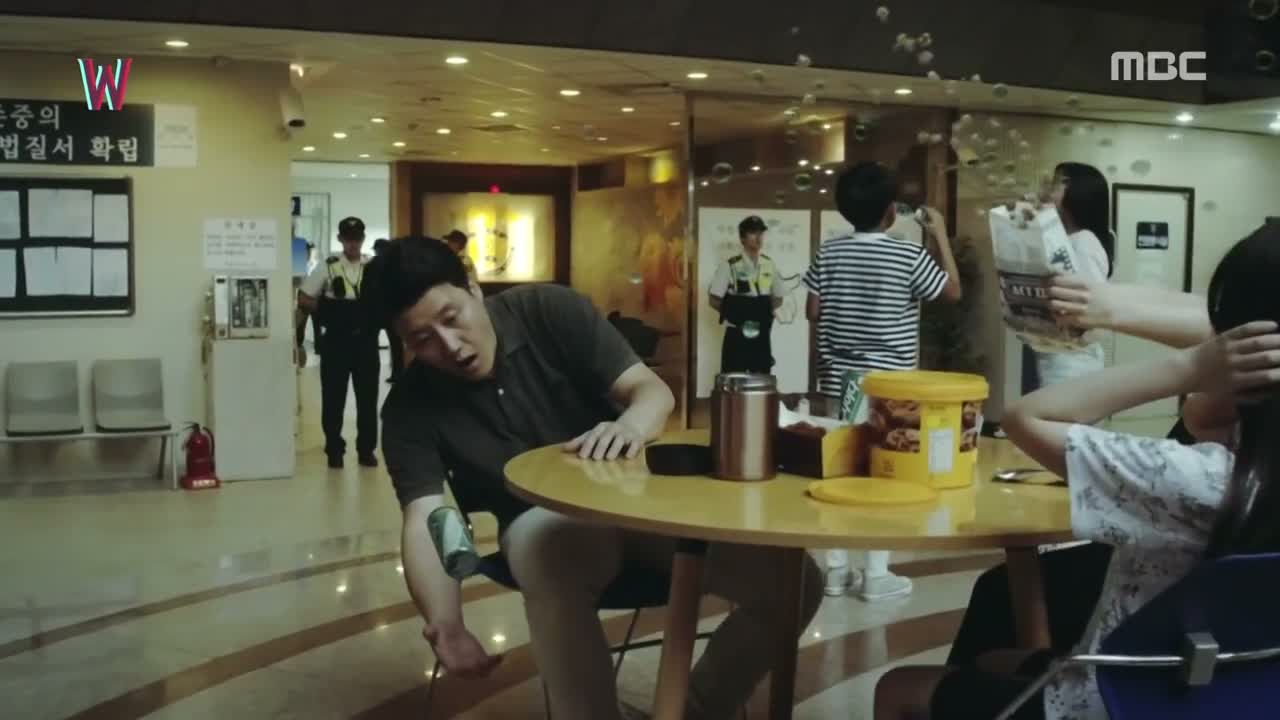 Kang Chul marches down the corridor, shaking nervously as he walks past more and more frozen officers. He reaches the common area full of visitors, and every one of them is suspended in mid-motion as well. It's like time just stopped.
Chul collapses to the floor, breathing hard. He stares at his phone, and we cut to Ajusshi at the station, also frozen. So are So-hee and the rest of his staff at the hotel. He's all alone.
As Chul starts to panic, Yeon-joo narrates: "The moment the main character recognized the fiction, the world inside the manhwa stopped. Only Kang Chul was the lone survivor in a world where time had been suspended—like a punishment brought down on the one who was self-aware."
Su-bong runs around trying all of the computers in the workshop, but it's no use. Yeon-joo stands still, tears brimming in her eyes as she cries, "Something's happened to Kang Chul! Because of me! Something bad has happened because of me! What do I do?"
She bursts into tears, and at that moment, Kang Chul notices something changing in his world. He turns to look down the hallway, and sees an outline of a frame—like the outside edge of a webtoon frame—being rendered out of thin air.
He walks over to it, and the space inside the frame fills with a glassy, liquid pool of light. As Chul stands in front of it, the camera swivels around to the other side, and we see Kang Chul's image change—outside the frame he's real, and inside the frame he's a manhwa drawing. Okay, that's cool.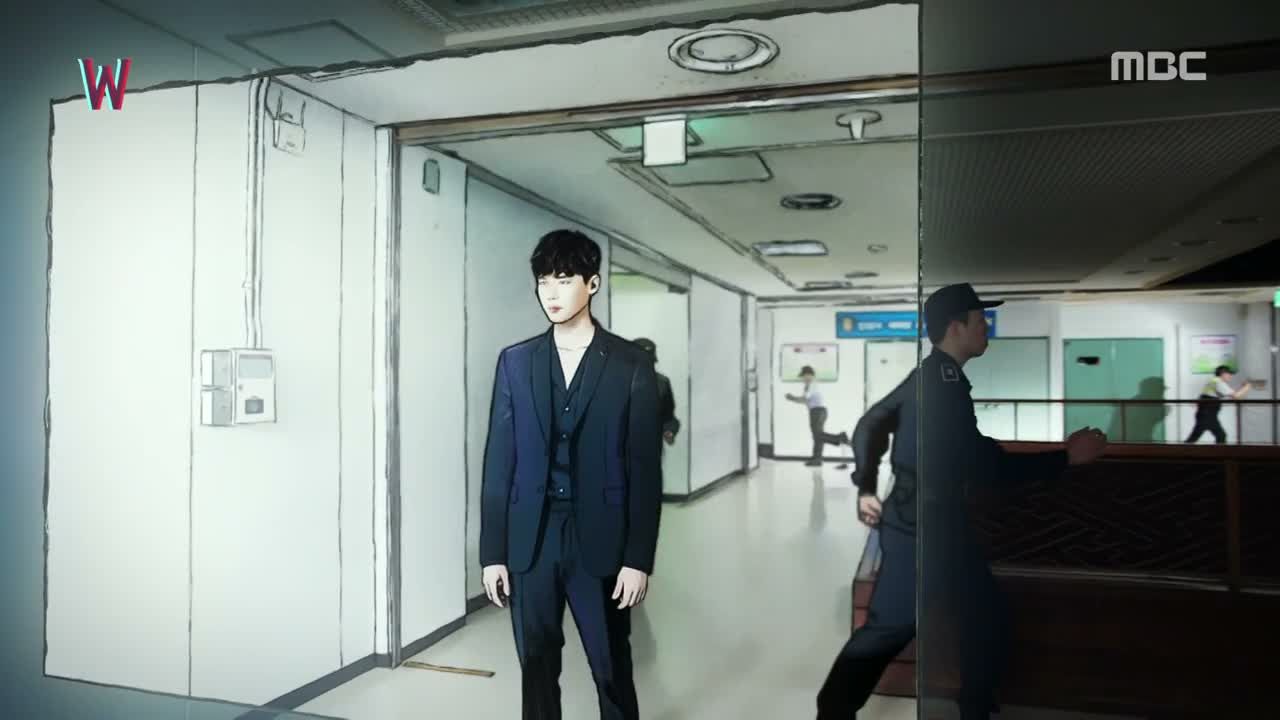 Chul slowly reaches out a hand and dips his fingers into the glassy light, and the sensation triggers a memory. He flashes back to bleeding to death on that rooftop, when a similar frame had been rendered next to him. He'd reached into it… and of course we've already seen the other side, when a hand had reached out and pulled Yeon-joo into his world.
Now sure that this is the portal into Yeon-joo's world, Kang Chul makes a decision and stops to pull a gun from an officer's holster. Determination sets into his face and he walks right into the light, without hesitation.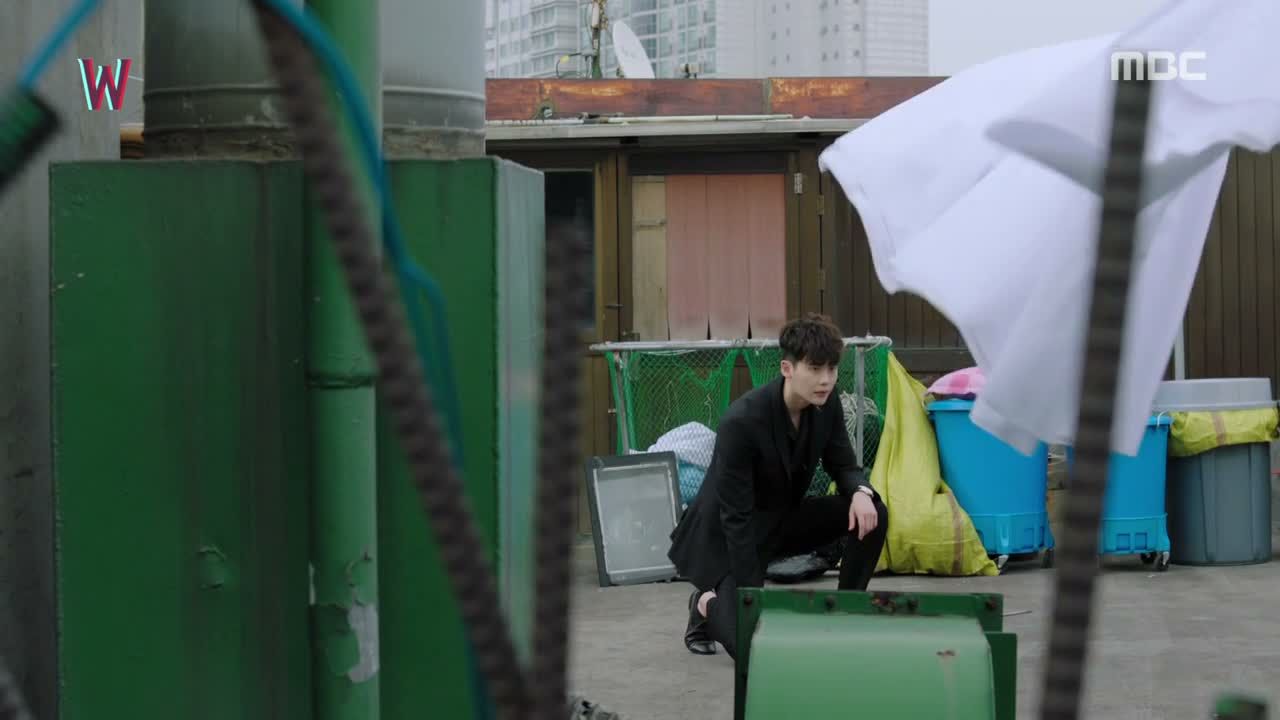 He comes out on the other side, Terminator-style (but with clothes! Get your mind out of the gutter!) and rises to his feet. He's on a modest rooftop, and the colors are noticeably less saturated and gleaming in this world.
He looks out over the city and walks away, and we see Dad's cracked monitor nearby on the roof, sitting among a collection of random junk. The screen flashes with that liquid light, and then goes black as rain starts to come down.
Down in the alley below, Kang Chul walks through the pouring rain, in an echo of the first time he overcame his creator and was reborn on that bridge.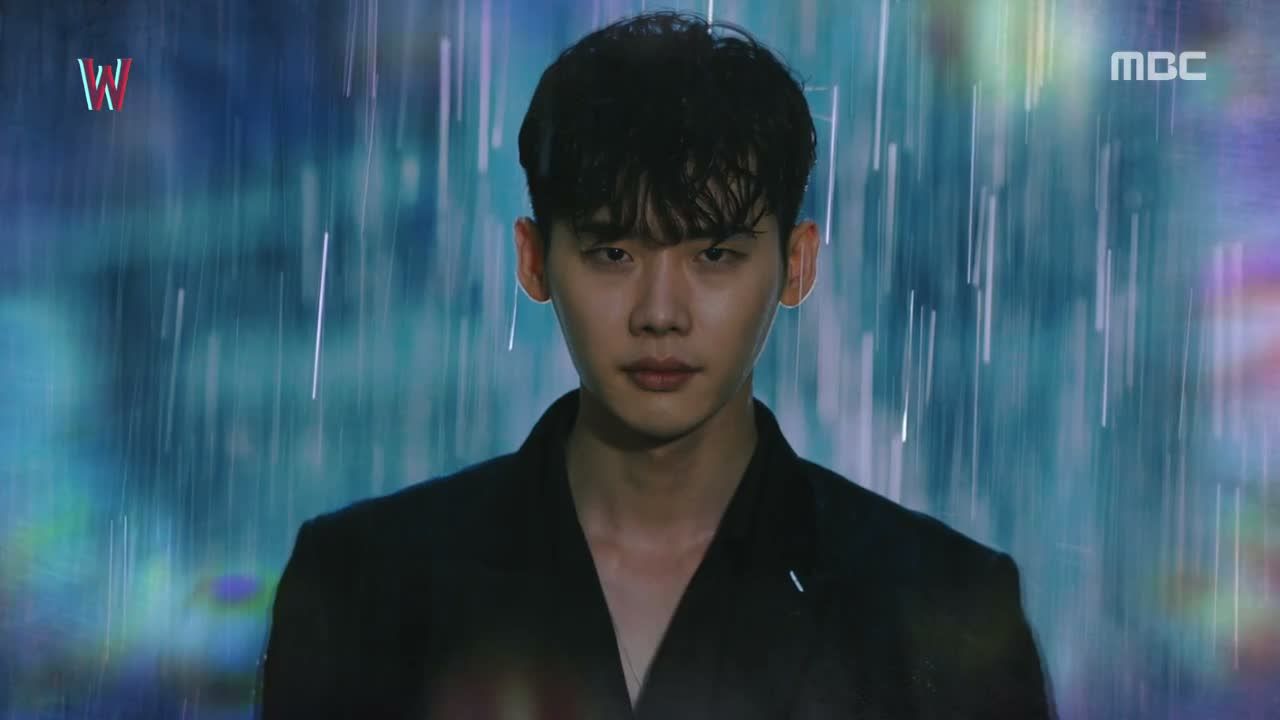 COMMENTS
Whoa. This show moves so fast I can hardly believe it, even as it's happening in front of me. It's so thrilling to get invested in a drama that's building an intricate world and unraveling it at the same time—as soon as we learn the rules, something happens to break down what we know and throw us into a whole new game where we have to start over.
It's not only that the writing is brilliant (even though that's mostly it), but there's a nice synergy between the writing and directing that brings the ideas to life in vivid ways. Each world is styled differently, with Yeon-joo's world in realistic, muted tones and Kang Chul's world in bright, saturated colors with glamour lighting following everyone around wherever they go, making them really feel like different dimensions, and not because we're told they are. And the coolest part is the in-between, where we see manhwa shift into live-action, and vice versa, as Kang Chul steps outside his world for the first time.
It's really a drama where the visuals matter greatly and could ruin a great premise, and instead it sucks us into this story with trust that every frame is intentional and meaningful. That's the kind of drama I want to be a geeky fan about, because there's a payoff for the hours (days, weeks…) that you pour into watching, re-watching, and dissecting it in loving, gory detail.
I cannot wait to see what happens now that Kang Chul has stepped into Yeon-joo's world. He operates by a totally different code, one where it's apparently okay to shoot a woman in the heart, but not testify on her behalf to get her out of prison. I'm sure it was an impossible situation, what with her complete lack of registered personhood in his world, but come on—he was totally laying it on thick in prison, trying to convince her that it would be torturous in there and all she'd need to do is answer the question he's been dying for her to answer. I don't blame him, since it's shrewd and it's not at all a lie that she would suffer all the things he said. (And I do appreciate their moment of connection when he identifies with her as a victim of that kind of witch-hunt.) We just know that his motivations are driven by his curiosity to know the truth about himself over everything else.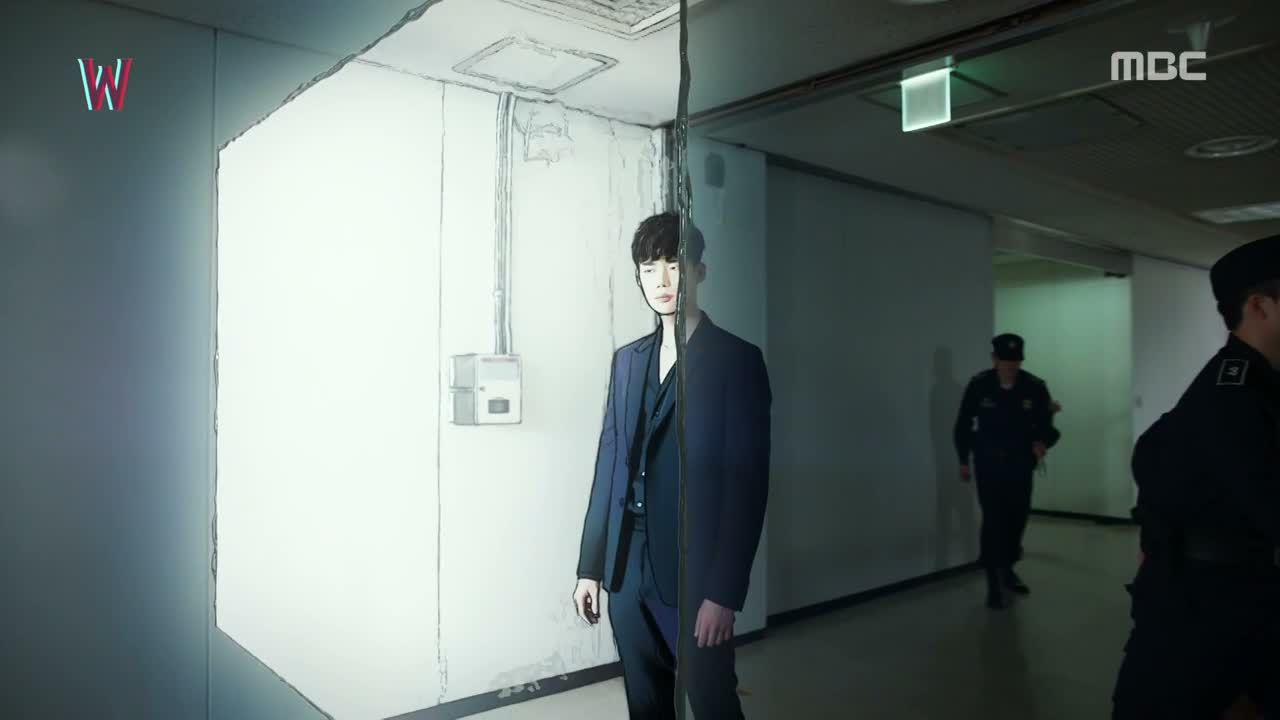 It's definitely Kang Chul's relentless curiosity that's done him in—the desire for self-awareness is his fatal flaw. It's a metaphor as old as time—the schism between god and man is always tied to self-awareness, and there's no un-knowing the separation between creator and creation once it's out there. In Chul's case it's that his entire world is a fictional construct, and that's doubly earth-shattering because his fictional world literally revolves around him. So by acknowledging the fiction, he's actually broken it entirely. There's just no such thing as taking the red pill and then staying inside the Matrix—that's the oxymoron of self-awareness that can never be undone. So by the time he was asking, Who? Why? What is the reason for my existence? he'd already begun breaking down the barrier between the two worlds.
The thing is, in this case Kang Chul has to find a way back to his world in order to complete his narrative—I feel like that's the journey being put forth, so he can't just become aware and live in the real world and be a regular guy. Maybe when he returns he'll have the same outsider's view that Yeon-joo has in his world, where the edges of the fiction are always visible to her (like "To be continued," for example).
There are still so many questions, because the portal between dimensions seems tied to Yeon-joo and her feelings for Kang Chul (if she was desperate for his survival both times that the frame appeared in front of him?), but how did he know she'd be the key, and that there even was a secret door to anywhere that she'd unlock? Will he have different abilities and feelings in this dimension? How will complete free will change his character, and his feelings for Yeon-joo? I can't wait to find out. I just hope he's not going to try shooting her again in the world where she's not invincible! Don't mix those up!

RELATED POSTS
Tags: Episode 4, featured, Han Hyo-joo, Jung Yoo-jin, Kim Eui-sung, Lee Jong-seok, Lee Shi-un, W–Two Worlds