Wanted: Episode 10
Nothing is as it appears in any of the cases that have come to light. Everyone is having to dig deeper in the investigation to try to gain the upper hand over the kidnapper, who has shown himself to be a master manipulator. But now, it's time for the tables to be turned. The teams are complicated by members who have their own agendas, forcing those most committed to saving Hyun-woo to take matters into their own hands.

EPISODE 10 RECAP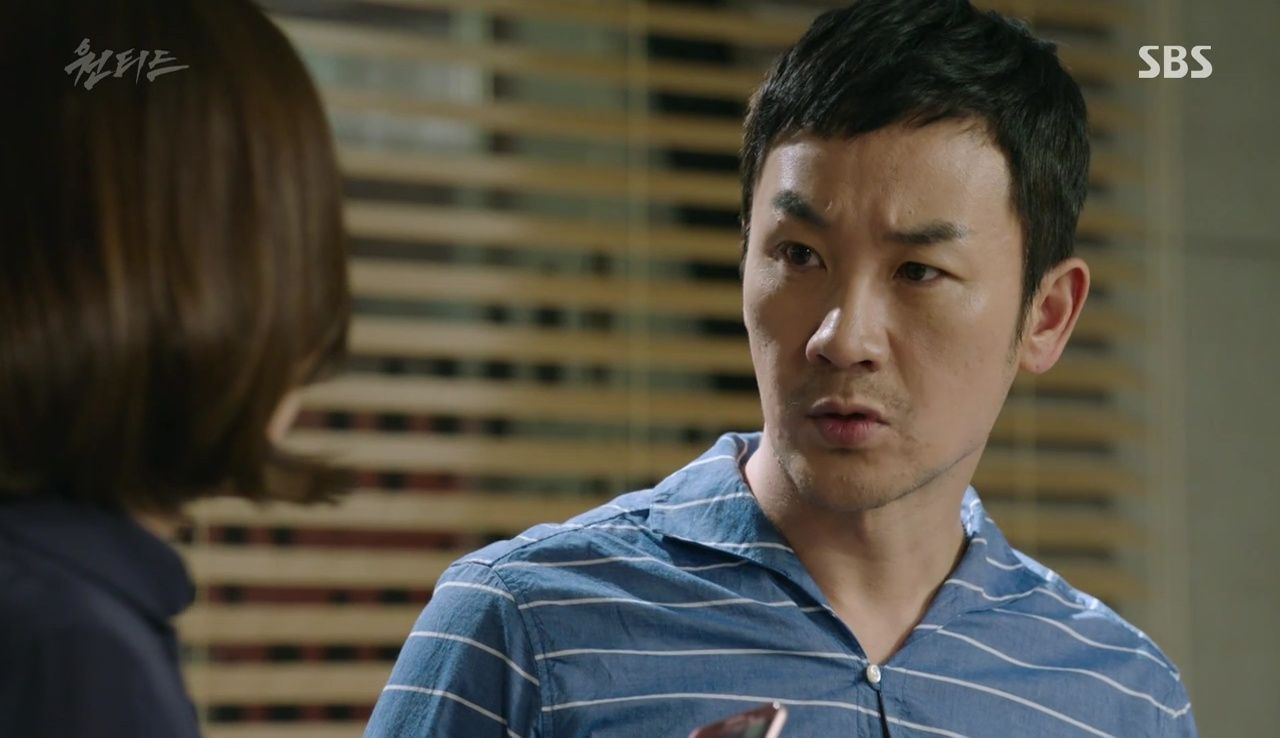 Hye-in runs into the UCN production room with news that someone just jumped off of the building's roof. Writer Yeon wants to see if the victim is connected to the show, but Hye-in stops her and tells the team she received the seventh mission.
The team reads the latest mission: Get Lee Ji-eun to appear on Wanted. Hye-in volunteers to go see Ji-eun. Dong-wook doesn't want her to go alone in light of recent events, so Joon-gu agrees to accompany her.
Seung-in and Young-gwan run up to the roof, where Detective Park and Dong-joon are already investigating. Seung-in reminds Detective Park that he is in charge of Ji-eun's case. Detective Park hands him a typed suicide note, signed by Ji-eun's mother.
Seung-in finds out that the security system hasn't been recording since the previous day. He wonders how that can happen at UCN of all places. Detective Park thinks the culprit deactivated the system, and believes it's someone from the broadcasting team.
Seung-in counters that someone on the outside could have done it, and warns Detective Park about focusing exclusively on the production team. Detective Park tells Seung-in to mind his own business, and takes over investigating the faulty security system. Seung-in gets to head the suicide case as long as he shares his information.
Hye-in and Joon-gu meet with Mi-ok and show her the seventh mission. Hye-in wonders why the text was accompanied by a photo of Ji-eun's family. Mi-ok clues her in on how sensitive Ji-eun is about her father. She makes a connection between the Na brothers, Ji-eun, and Ji-eun's father. Her theory is that Ji-eun may have gotten involved in the kidnapping because of her father.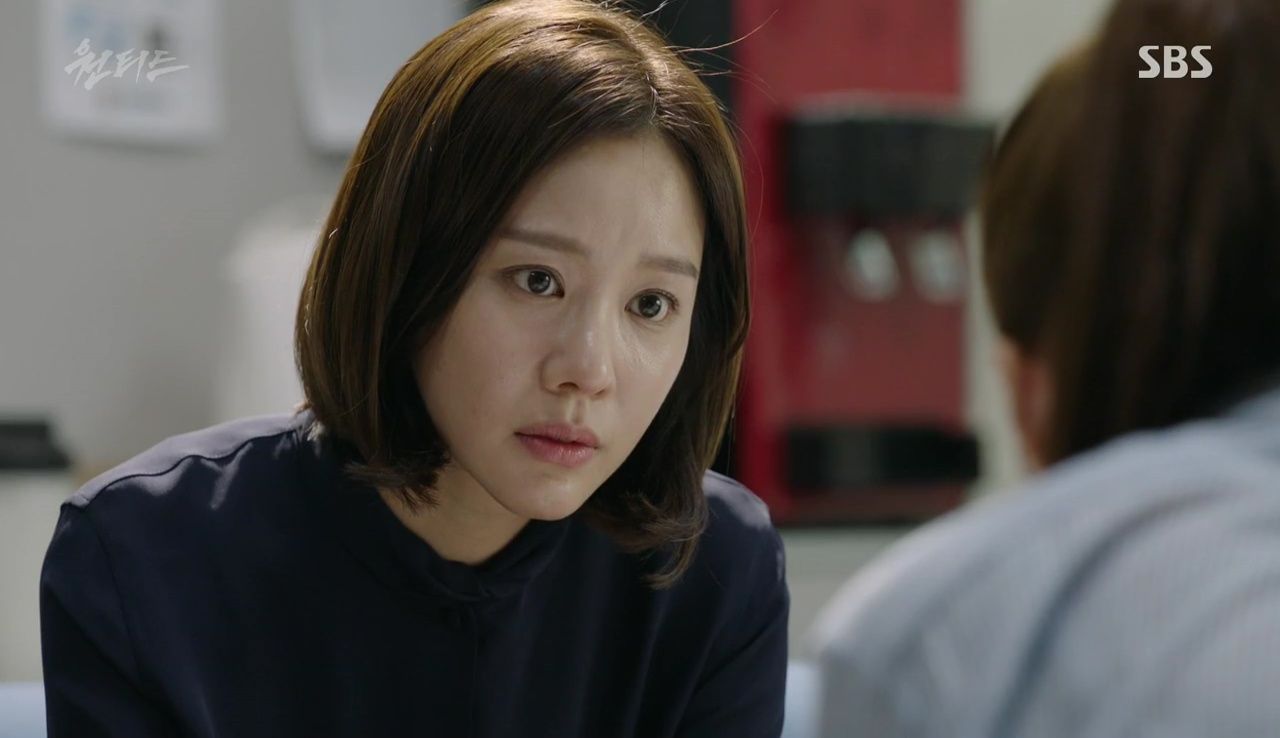 Mi-ok advises Joon-gu that the show needs to find out about Ji-eun's father, and also solve the question of why Ham Tae-young and Na Jae-hyun met. She feels that answer is the key to the case. Unfortunately, the show is in danger because of the police commissioner's suicide and Bo-yeon's kidnapping. Mi-ok believes the kidnapper is becoming impatient to reveal his larger plan.
Mi-ok feels the investigation has a chance to catch the kidnapper off guard. Getting Ji-eun on the show is enough to complete the mission, but Joon-gu asks the million dollar question: "How will we get Lee Ji-eun on the show when she's in prison?"
Hye-in's ex brother-in-law meets with Acting Police Commissioner Sung, who balks at the request to allow Ji-eun to appear on Wanted. Her ex brother-in-law emphasizes that his father has high expectations of the new police commissioner, which makes the commissioner uncomfortable.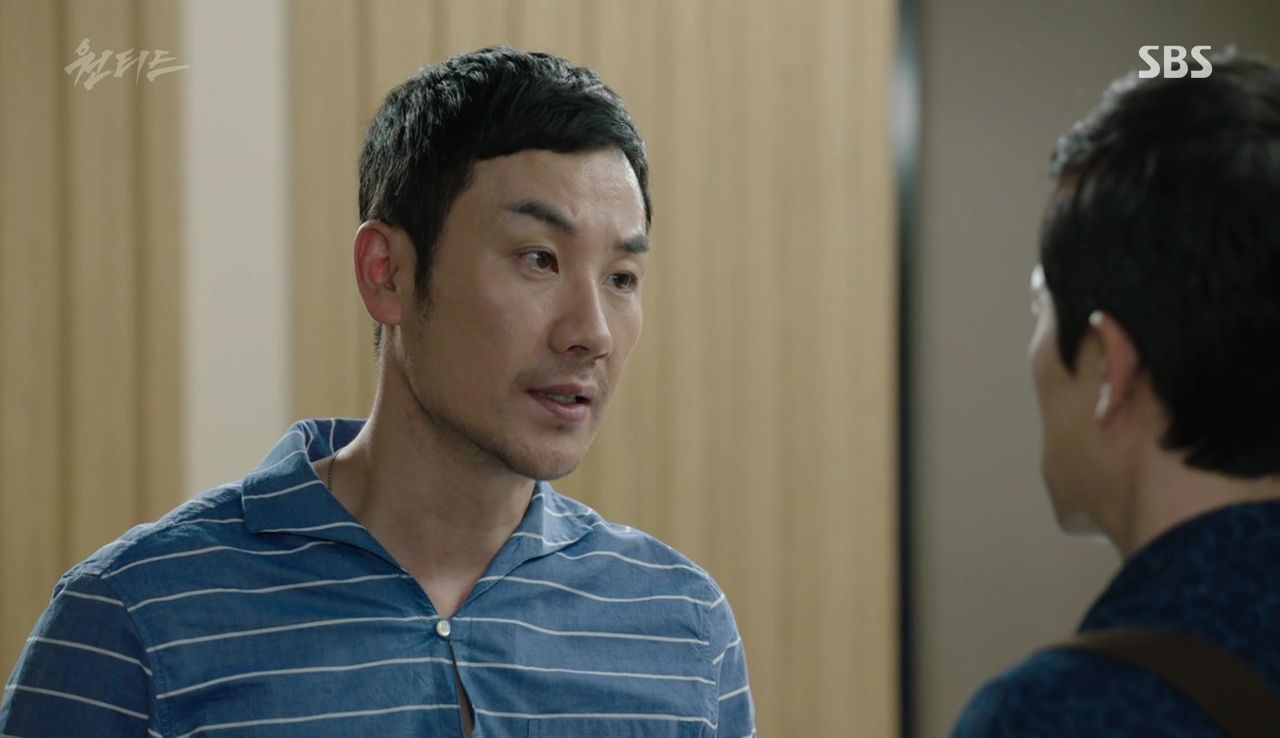 Dong-wook asks Reporter Jang to generate interest in the show by posting an online article about Ji-eun. Reporter Jang protests that doing so will undermine his future book, but all Dong-wook cares about is making sure the post goes viral before the show.
Detective Park and Dong-joon tell Writer Yeon that the suicide victim was Ji-eun's mother. She asks the detectives to keep the identity from Dong-wook as the mission's focus is Ji-eun, and Writer Yeon isn't sure if the suicide should be covered on the show.
Hye-in meets with Ji-eun in a prison office to explain the new mission. Ji-eun tells Hye-in that she can't go on the show. Hye-in entreats Ji-eun to tell her what she knows if that is the case: "Who is behind everything, and where is Hyun-woo?"
Ji-eun expresses confidence that Hyun-woo is safe, but Hye-in challenges that belief. "Did the culprit tell you you'd have to appear on the show? Did he tell you the commissioner would commit suicide? That the crew would be taken hostage and buried alive?"
Captain Jung reviews the suicide case with Seung-in and Young-gwan, wondering if they should tell Ji-eun about her mother. Seung-in worries it may backfire if Ji-eun believes suicide wasn't the cause of her mother's death. He postulates that the person who hired Jo Nam-cheol as a hitman may be behind the woman's death. Seung-in reasons that if that person could stop the Na Jae-hyun investigation and cover up the death of a son of SG Group, he would kill Ji-eun's mother if he thought she was connected to the key event from seven years earlier.
Captain Jung calls Seung-in's theory far-fetched, but Seung-in points out that something isn't right about the suicide note. He thinks the letter was written too logically for a person about to end her life. Captain Jung decides to rush the autopsy. Seung-in thinks Dr. Ha is the only person left who might know something, and heads to the prison.
On their way, Seung-in updates Mi-ok and warns that Ji-eun may be in danger. Mi-ok informs him they have permission to take Ji-eun to the television station. Joon-gu asks Mi-ok about the identity of the suicide victim, but she is careful, and tells him it is still under investigation.
Elsewhere in the prison, Dr. Ha senses someone coming just as a guard enters his isolated section. As another guard escorts Seung-in and Young-gwan to a waiting room, the scene cuts to Dr. Ha's cell, where he hangs from a noose. After finding this out, the guard with our two detectives informs them that they won't be allowed to examine the scene.
Back in the office, Ji-eun tells Hye-in that she believes in the kidnapper. When Hye-in asks why, Ji-eun answers, "Right now, the thing you and the police couldn't do seven years ago… he is doing it. Seven years ago, you lived your lives without a care. Only now, you're all starting to think about what happened." In frustration, Hye-in asks what happened seven years ago. Ji-eun changes her position and tells Hye-in she will answer that question on the show.
Thanks to some lax security, Na Soo-hyun enters Bo-yeon's room disguised as a doctor, and asks how she is doing. Clearly terrified, Bo-yeon is speechless as Na Soo-hyun tells her he won't hurt her. He apologizes, telling her that other people deserved what happened to them, but not her. Na Soo-hyun tells her that he is sorry she will have to deal with the trauma of her abduction for a long time.
Gently, he asks her for a favor as he reaches into a pocket for a note. Bo-yeon cowers in fear, forcing Na Soo-hyun to leave the note on her blanket. He asks her to deliver it to Seung-in. Once he leaves, Bo-yeon reads the note and gasps.
At UCN, Ji-eun sits in a dressing room with Hye-in. Detective Park challenges her decision to appear on the show, pointing out that it'll just end badly for everyone. Ji-eun remains unmoved, so Hye-in suggests the girl should rest.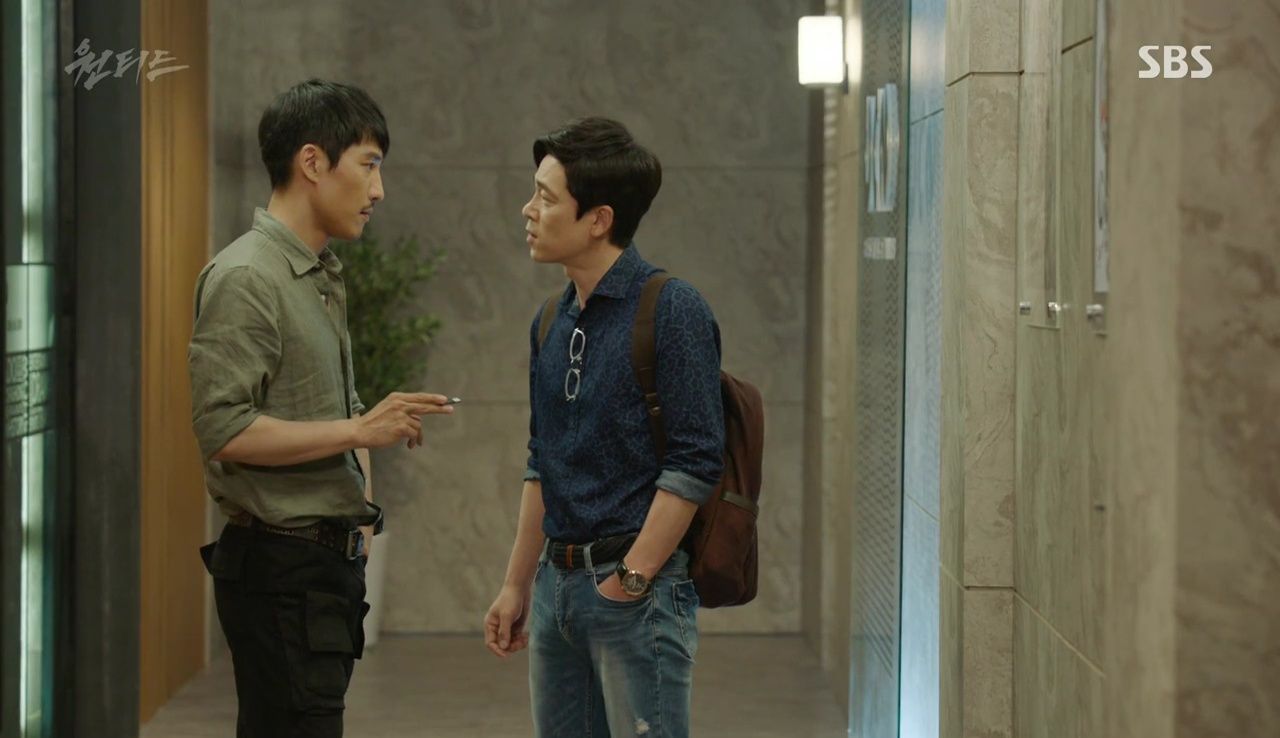 Outside the dressing room, Reporter Jang offers Detective Park a copy of the recording he made of Dong-wook and Writer Yeon's conversation. Reporter Jang calls Dong-wook suspicious, and says he is so focused that he seems cruel. He also doesn't believe Dong-wook is concerned about Hyun-woo. For his help, Reporter Jang wants behind the scenes access to the investigation.
As Dong-wook preps for the show, Writer Yeon wonders why he took the job in the first place. Could it be that Dong-wook was hoping for a comeback? Dong-wook says that's not the case—in fact, he thinks the show could end his career.
Dong-wook answers that this is a once in a lifetime chance not only for him, but for anyone. His job is to make the show interesting enough that people want to tune in, and to follow the kidnapper's instructions. Past that, he only cares about seeing how it provokes people, and how the show will evolve because of it.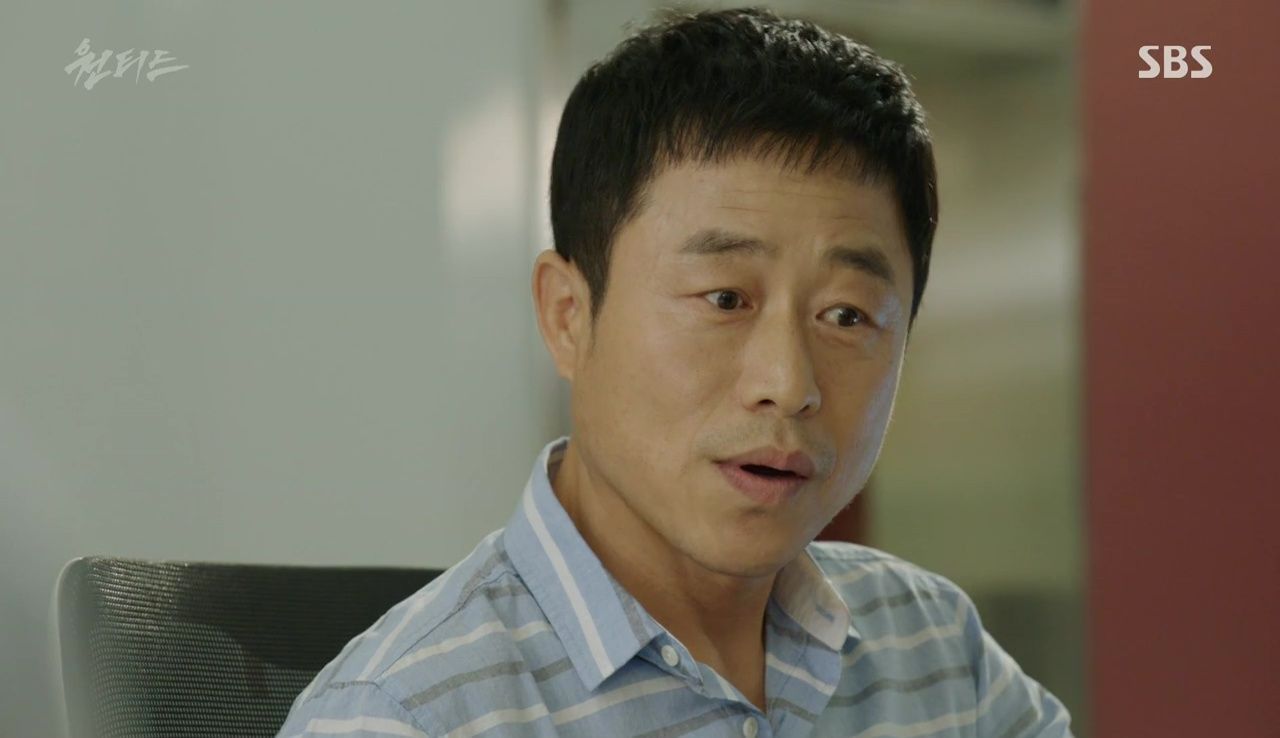 Mi-ok asks Joon-gu about the hard-hitting investigative documentaries he used to make targeting corrupt companies. Mi-ok remembers all the lawsuits brought against him, and Joon-gu recalls the harassment. With a wistful look, Joon-gu admits he was idealistic about broadcasting and wanted to change the world. Now, he's not so sure where he fits in.
Seung-in and Young-gwan meet with Han-sol's mother. She assures Seung-in that her son is recovering well and misses his favorite detective. She then produces some of her husband's files from seven years earlier that the detectives asked to see.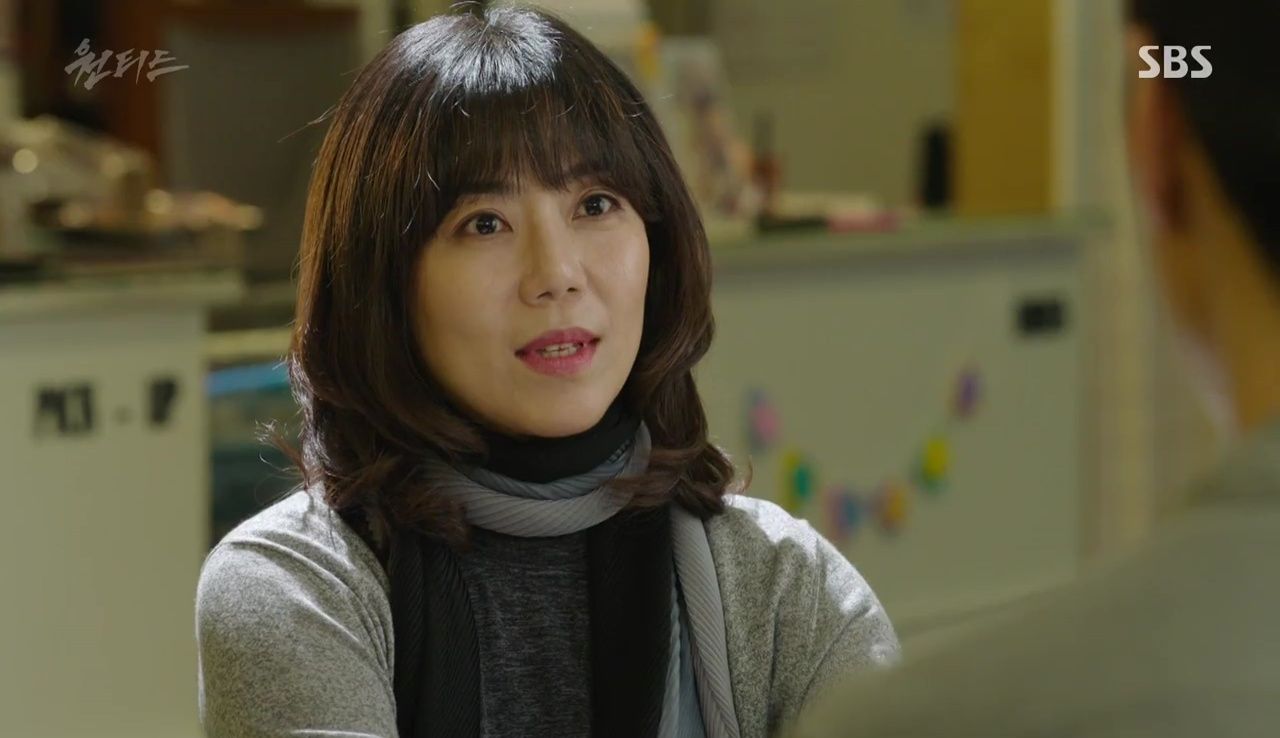 It turns out that Professor Kim was once an assistant professor of veterinary medicine. Mrs. Kim admits that she couldn't understand his work, but knew he was leading the research for a company. Young-gwan shows Seung-in the research project's account and the staggering amounts of money involved.
In the UCN dressing room, Hye-in covers a napping Ji-eun with a blanket. She wakes up and tells Hye-in not to be nice to her. Hye-in admits that she hates Ji-eun because she's refused to help them find Hyun-woo, but now she thinks of her as a victim. Ji-eun tells Hye-in not to act like she knows her, and assures her she is involved with the kidnapper by choice. Hye-in admits she can't understand Ji-eun's motives, and wonders what her life must have been like.
Hye-in shares her own story — she was a child actor at the age of seven, learning how to follow directions and surrounded by adults. She never asked herself what she wanted in life or how she wanted to live. Once her husband died, she lived to protect Hyun-woo because he was most precious to her, even more than her life. Hye-in wonders, "Did you have something you wanted to protect like that too?"
Seung-in and Young-gwan enter Ji-eun's apartment, and note that it's been empty for a few days. Noting Young-gwan's questioning look, Seung-in defends their less than legal entry, claiming that it's not always possible to get permission first. Young-gwan accepts his explanation and asks what they are looking for. Seung-in tells him to look for anything belonging to Ji-eun's father, or any evidence that her mother was attacked.
Seung-in finds four journals marked "SG Group" covering the years from 2006-2009 under Ji-eun's bed. Calling Young-gwan, he hands over the journals and instructs him to return to the police station. He wants him to review the journals and the files from Han-sol's father. Seung-in then leaves, saying he has somewhere to go.
Ji-eun tells Hye-in that she once told her father that she wished he would die. In flashback, Ji-eun walks home late one night, fearful because she senses someone following her. Breaking into a run, she is stopped by a man who calls her by name, introducing himself as her father's coworker. He explains that he was on his way to see her father and points out that she could have been in serious trouble.
The man walks Ji-eun home, and she announces to her very drunk father that a friend has come to see him. He reacts strongly to the man, who has placed his arm around Ji-eun's shoulders. "You… you punk! How dare you show up here. Why… why would you be with my daughter? You little punk!" Running towards the man, Ji-eun's father falls onto the street.
Promising to come another time, the man cautions Ji-eun to be careful, and wonders how her father can protect her in his condition. Ji-eun helps her father up, and he promptly slaps her across the face. Ji-eun defends the stranger, saying that he called himself a friend and claimed he knew her when she was younger. Looking frightened, Ji-eun's father orders her inside and tells her that if she ever does that again, he won't let her out of the house. Ji-eun has a final outburst, "How long are you going to keep this up? I wish you would just die."
Back in the present, Ji-eun tells Hye-in that was the last time she saw her father alive. The next day she came home and found him dead in the bathtub, his wrists slashed. Her mother didn't attend his funeral and left Ji-eun to live alone for two months before she returned. Ji-eun never spoke to her mother again.
Hye-in thinks Ji-eun is angry because her parents couldn't protect her. Ji-eun insists her father's reason for killing himself was to protect her. In fact, the one who failed to provide protection was Hye-in, because she let Hyun-woo go with Park Se-young the day he was kidnapped.
Clearly getting under Hye-in's skin, Ji-eun tells her, "I bet Hyun-woo was thinking that too: 'My mom couldn't protect me.'" Hye-in recalls her brief reunion with Hyun-woo, and how she was powerless to save him. Shaken, Hye-in bolts up and walks out of the dressing room, leaving behind a placid-looking Ji-eun.

Pacing in the hallway, Hye-in tries to compose herself when Mi-ok approaches, asking if she is all right. Mi-ok can tell from Hye-in's face that something happened with Ji-eun. Mi-ok explains that Ji-eun is a smart girl who only opens up as much as she needs before shutting down the conversation.
Hye-in asks for advice on how to handle Ji-eun's appearance on the show. Mi-ok thinks Ji-eun will say as little as possible, but Hye-in reminds her that she advised them to push for more information. Mi-ok tells Hye-in that the suicide from that morning was Ji-eun's mother. Hye-in wonders if it was really a suicide, and Mi-ok tells her an autopsy is underway.
Hye-in asks if Ji-eun knows about her mother, but Mi-ok says she hasn't been told. Hye-in wonders why no one told her sooner, and Mi-ok shares that not everyone on the team knows about the victim. Only Writer Yeon was told, and she asked that Dong-wook not be given the information. Mi-ok suggests Hye-in use the information on the show at the right time to shock Ji-eun.
Reporter Jang asks Dong-joon about the woman who fell from UCN's roof. The reporter offers that he heard she was a network employee from a fellow writer, purposefully baiting him. It works, since Dong-joon scoffs, and protests that nothing has been confirmed because Ji-eun was in prison.
The reporter pounces on that information and wonders what Ji-eun has to do with the victim—was it her mother? Dong-joon feebly denies the claim, but Reporter Jang declares himself a close associate of Detective Park's and lies that Dong-joon can tell him what he knows.
Reporter Jang finds Dong-wook getting ready for the broadcast, and whips out a copy of the suicide letter. He identifies the suicide victim as Ji-eun's mother and marvels at the coincidence that she died on the very day her daughter was to appear on Wanted.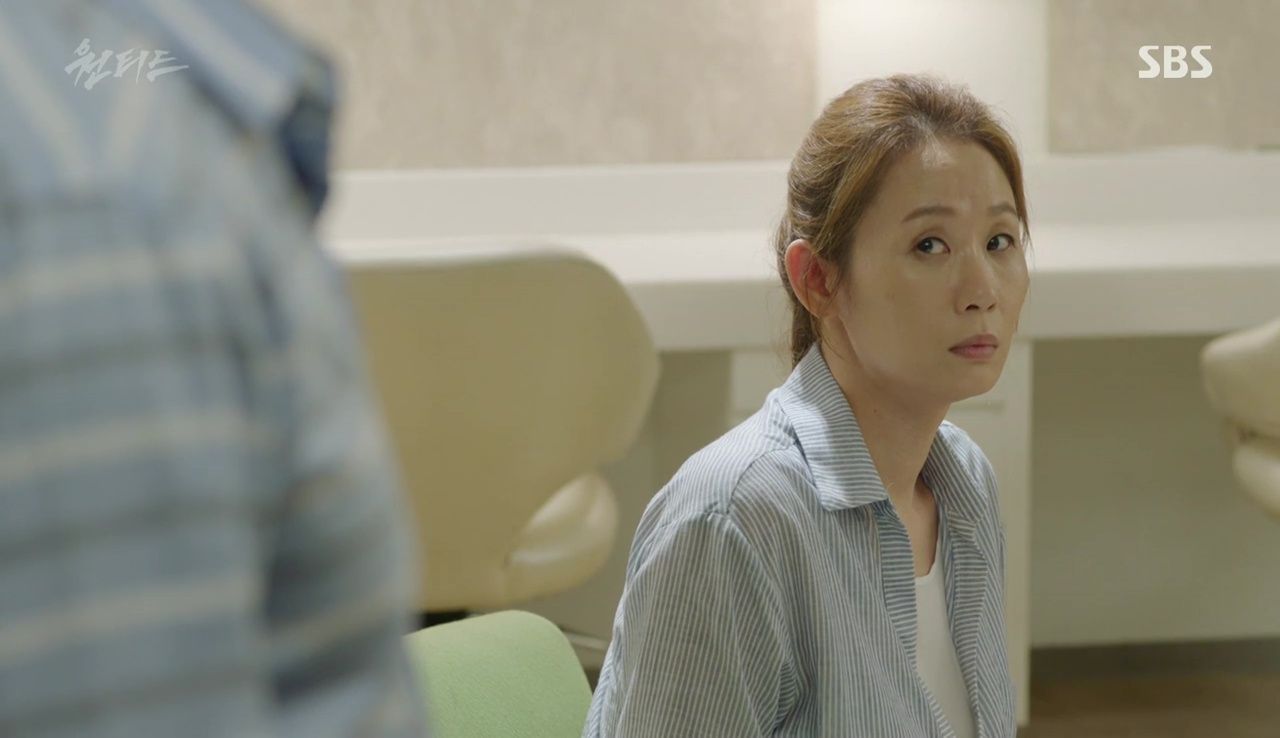 While looking for Hye-in, Joon-gu finds Mi-ok sitting with Ji-eun. Mi-ok explains that Hye-in had something to take care of. Before leaving, Joon-gu explains to Ji-eun that the show will be hectic. He advises her to tell Hye-in what she plans to say before the show begins. It's not clear who Mi-ok is watching more closely, but she's attentive as Joon-gu assures Ji-eun that she doesn't have to talk about anything she doesn't want to.
Reporter Jang chooses that moment to barge into the dressing room to snap photos. Joon-gu throws him into the hallway. Confronted, Reporter Jang claims that he thought Dong-wook cleared his presence with the team. Joon-gu asks if Reporter Jang was the one who took pictures when Bo-yeon was being rescued. He tries to deny the accusation, but Joon-gu snatches his phone and dashes it to the floor.
Downstairs in the parking garage, Hye-in sits with Seung-in in his car, the only place where they can speak privately. Whatever they talk about, we aren't able to hear it.
The show begins, and Hye-in makes her introduction as Dong-wook has a studio audience brought in. Neither Joon-gu or Writer Yeon were aware of the plan, and register their displeasure. Writer Yeon reminds Dong-wook that Bo-yeon almost died because of the show. He shoots back that what happened with Han-sol's father was worse, and they didn't stop then. Dong-wook tells Writer Yeon that they can't allow personal reasons to influence their decisions as he prompts Hye-in to read her lines.
Also caught by surprise and barely containing her distaste, Hye-in proceeds to welcome the audience into the studio. Unsurprisingly, Reporter Jang is among them. Detective Park watches the show with Mi-ok and Dong-joon, commenting that Dong-wook has gone too far.
Hye-in introduces Ji-eun as the Coconut TV broadcaster who was kidnapped three days before Hyun-woo. She reviews Ji-eun's connections to the case as the girl walks onto the set. Hye-in makes eye contact with Ji-eun, and introduces the seventh mission to the viewers.
Na Soo-hyun sits in a darkened car and watches the show on his phone. In the studio, Dong-wook has Hye-in take questions from the audience. The first question comes from a fan of Ji-eun's, and he asks if her kidnapping was a ploy for money. When she denies it, Hye-in asks if Hyun-woo was taken for money. Ji-eun again answers, "No."
A showdown takes place in the control room, and Dong-wook barks to Writer Yeon, "It's my show. If you don't like it, then leave!" Joon-gu protests that someone almost died because of his work, and walks out. Dong-wook invites Writer Yeon to join him, but she chooses to stay.
Hye-in decides to ask Ji-eun the next question—why did a photo of her family accompany the mission? When Ji-eun refuses to answer, Hye-in tries a different approach, and asks about the man from seven years earlier who claimed to be her father's friend. Before Ji-eun can answer, the audience starts to volley accusations at Hye-in.
Trying to regain control of the show, Hye-in turns to the camera as someone throws an egg at her. With the audience in danger of turning into a mob, Writer Yeon speaks into Hye-in's earpiece and tells her to stop taking questions. Dong-wook overrules her and instead coaches Hye-in to get through the questions, because they indicate what viewers really think about her. Dong-wook tasks her with trying to change the audience's hearts. Writer Yeon runs out of the control room.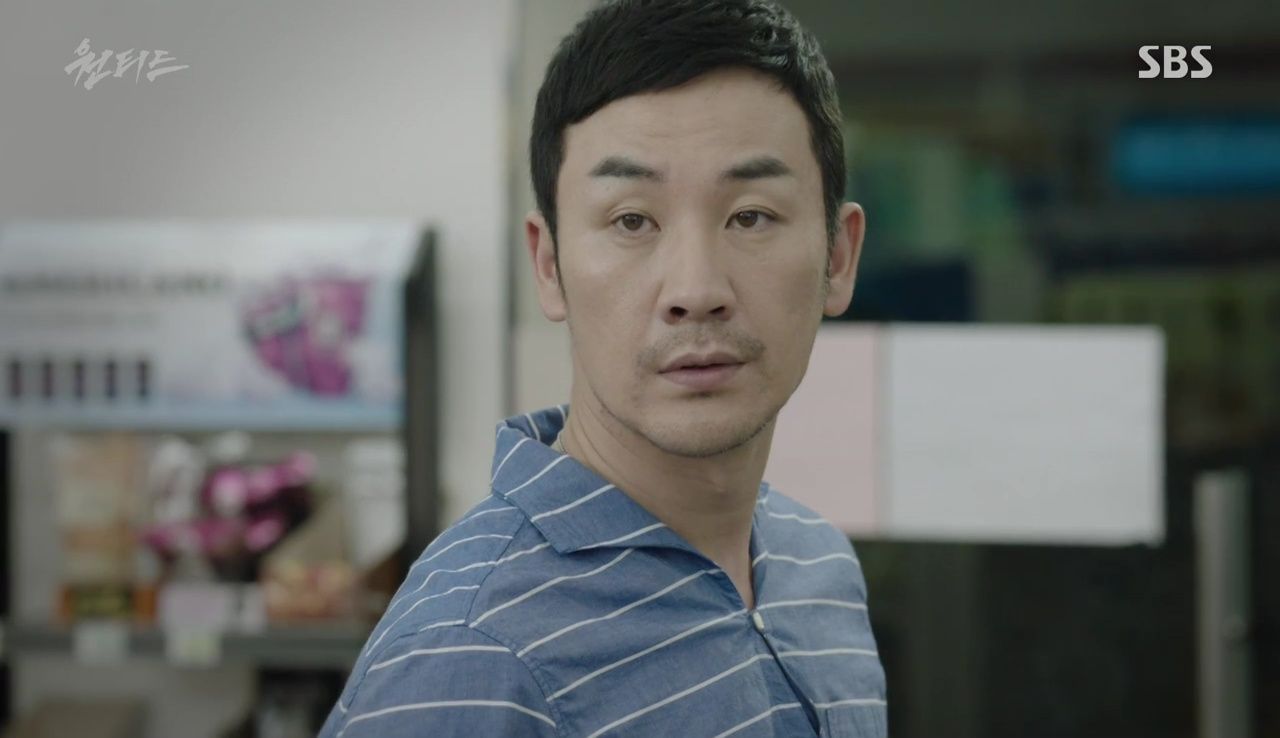 Hye-in takes a question from a man who says he lives in the area. He shares that he witnessed the suicide that morning, and Hye-in glances at an unsuspecting Ji-eun. In another flashback, we see Dong-wook in a store across from the network. As he asks if the storekeeper saw the suicide, the man who we just saw pose the question to Hye-in approaches Dong-wook and holds out his phone.
Back in the studio, the same man tells Hye-in he has a picture on his phone. Writer Yeon runs onto the set just as the man holds up his phone with a photo of the body. Hye-in stands in front of Ji-eun so she can't see the photo, but it appears on the screen behind them. Just as Ji-eun turns around, Hye-in again blocks her view. Suddenly, the studio goes dark.
The entire building loses power. Na Soo-hyun sees the broadcast has been interrupted and drives away. Hye-in's voice can be heard apologizing to the viewers for the interruption. The lights go back on, revealing that Hye-in is still standing next to Ji-eun's chair, which is now empty. Everyone looks around in confusion except for Reporter Jang.
Mi-ok, Detective Park, and Dong-joon all jump up and promptly place calls. Dong-joon and Detective Park inform their superiors that Ji-eun has disappeared.
Hye-in again apologizes to the viewers and then announces that Ji-eun disappeared during the blackout. Dong-wook gets on the microphone and encourages Hye-in to finish the show by taking questions by herself. As Hye-in slumps into her chair, Writer Yeon gives scripted questions to the audience in order to make it easier on Hye-in. Seung-in is seen driving away in his car.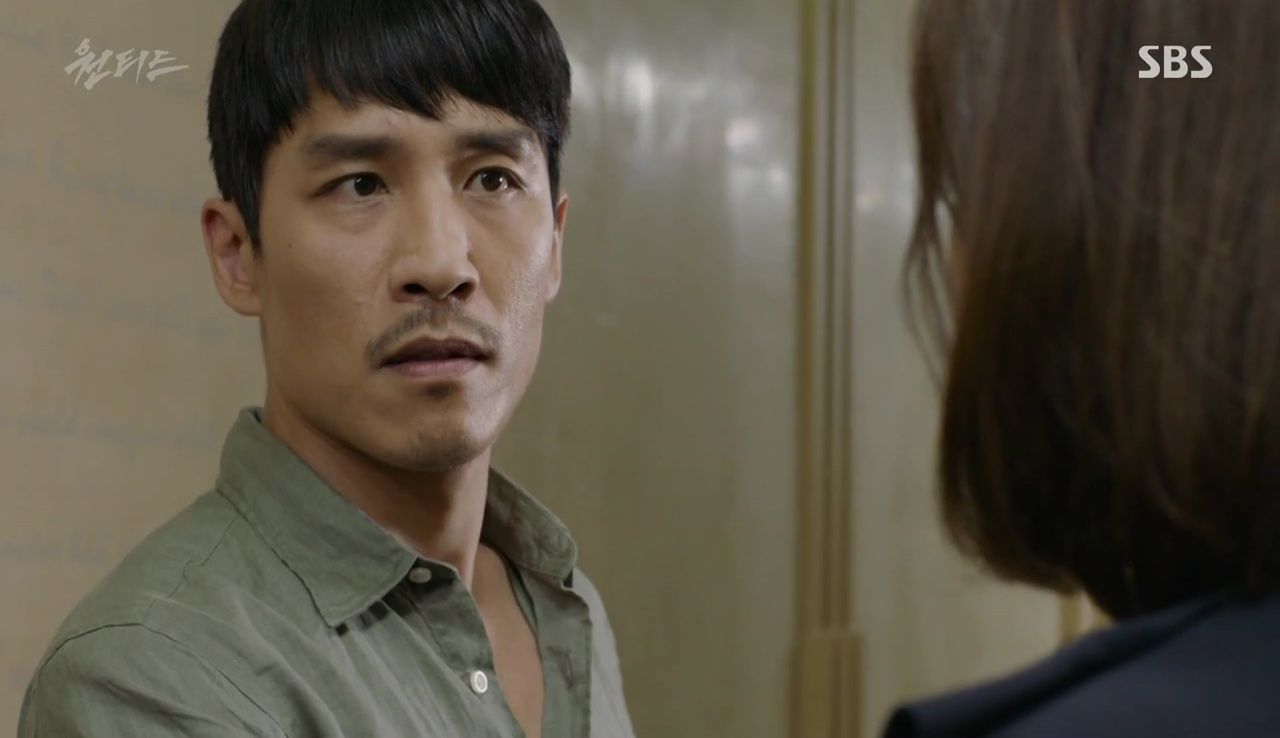 After the show, Dong-wook goes on set to tell Hye-in that she did a good job. Reporter Jang is nearby, and sees her throw her earpiece at Dong-wook. Hye-in proceeds to run out of the building, but Detective Park grabs her wrist to stop her. She yells at him to let her go, and Captain Jung intervenes, allowing her to leave.
Seung-in pours a cup of water in his apartment as the door opens behind him. In walks Hye-in, who goes to stand in front of a handcuffed Ji-eun.

COMMENTS
I found it so interesting that the episode ended with a kidnapping orchestrated by Seung-in and Hye-in. That is certainly a move that should catch the kidnapper off guard, by using his own methodology to gain the upper hand. Up until this point in the story, Hye-in has been extremely cautious about antagonizing the kidnapper out of fear for Hyun-woo. What was it that Seung-in and Young-gwan discovered in the files and journals that persuaded Hye-in to agree to such a gutsy ploy? Perhaps it was the note that Na Soo-hyun left for Seung-in.
And just who do they think is involved that they risked taking custody of Ji-eun, most likely to ensure she stays alive? As Dr. Ha's death has shown, the prison is not at all secure. Detective Park did point out to Ji-eun that appearing on the show pretty much equals death for the subjects of the missions. Not that Ji-eun seems to care. The girl is maddeningly uncaring about anyone and anything. That just makes the questions about the key event in 2009 even more puzzling. What happened that enabled the kidnapper to turn Park Se-young, Na Soo-hyun and Ji-eun into murderers and kidnappers?
It seems possible that the kidnapper has appealed to the poverty and hopelessness that has swallowed these young adults. They have found purpose in the chance to exact their revenge on those who they think have wronged them. The kidnapper could also be using them to do his dirty work and eliminate anyone who has any knowledge of the event that happened seven years ago. We already know there has been a huge cover up and the missions are bringing out other conspirators who then end up dead. It wouldn't surprise me if the kidnapper is behind the misery that has traumatized his crew, and is using that to his advantage.
It was helpful to get some backstory on Ji-eun, but her reasoning didn't make sense to me. She accused Hye-in of not protecting Hyun-woo, but her father ended up being a drunk, and that mysterious man pointed out that he couldn't protect Ji-eun in that condition. If he truly killed himself, she was left even more unprotected. How she could defend his death as necessary for her protection is confusing. Hopefully her perspective will make more sense as the story unfolds.
The other accomplice in the kidnapper's scheme, Na Soo-hyun, seems to have more of a conscience than Ji-eun, as he seemed sincerely regretful about the harm that had come to Bo-yeon. Does it seem as if he has a bit of a crush on her? Recall that in his first meeting with her, he grabbed her wrist and asked if she was all right. It was such a personal interaction for two strangers, which suggests he was aware of her while he was working in that cafe. Na Soo-hyun risked going to the hospital to give her that note for Seung-in, even though there must have been safer ways to deliver it. I'm sure it was because he wanted to see her one more time before he concludes his work for the kidnapper. Perhaps he will be the one to help the investigation, not Ji-eun.
I was intrigued with Joon-gu's backstory, especially finding out that he used to produce shows that exposed corrupt companies. Mi-ok deftly guided their conversation to reveal a disillusioned man who was once an idealistic producer. Something in him shifted along the way, and Joon-gu is definitely on Mi-ok's radar. His conversation with Ji-eun in the dressing room had Mi-ok's attention, and I couldn't decide if he was guiding the girl out of concern, or directing her not to reveal any personal information. Mi-ok provides so much context to a scene, and I find myself paying very close attention whenever she appears because I'm afraid I'll miss something important.
Another character that has the same effect is Reporter Jang. As annoying as he is, he is smart, intuitive, and he picks up on cues that others miss. He is definitely trying to implicate Dong-wook, but I can't quite figure out why. It's almost as if he wants to purposely misguide Detective Park so that he can get access to breaking information before the police catch on. He is incredibly shrewd and self-serving, and doesn't care a bit about Hyun-woo. When he described Dong-wook to Detective Park as suspicious, Reporter Jang could have just as easily been talking about himself.
As tension-filled as this show can be, it was a different kind of tension that ended this episode. I was wondering what exactly was going on when Seung-in was pouring that cup of water, and Hye-in let herself in. They had that second of eye contact, and there was definite chemistry. Was that a nod to the fans who would appreciate a future for Seung-in and Hye-in? Either way, it worked as a decoy as to what was really going on, in taking Ji-eun and making the most of their chance to get an advantage over the kidnapper.

RELATED POSTS
Tags: Episode 10, featured, Ji Hyun-woo, Kim Ah-joong, Uhm Tae-woong, Wanted