Age of Youth: Episode 11
Going through a breakup is never easy, but one of our housemates finds that ending a longtime relationship is even more difficult and frightening than she could have ever imagined. Thankfully, our trusty Belle Epoque ladies are as amazing as ever, showing up when they're most needed. It just goes to show that what a girl needs most is not a man (ahem, Ji-won), but girlfriends who are there for you in any kind of situation — good, bad, or ugly.
EPISODE 11: "If you look closely, everyone has their own special circumstances #earrings"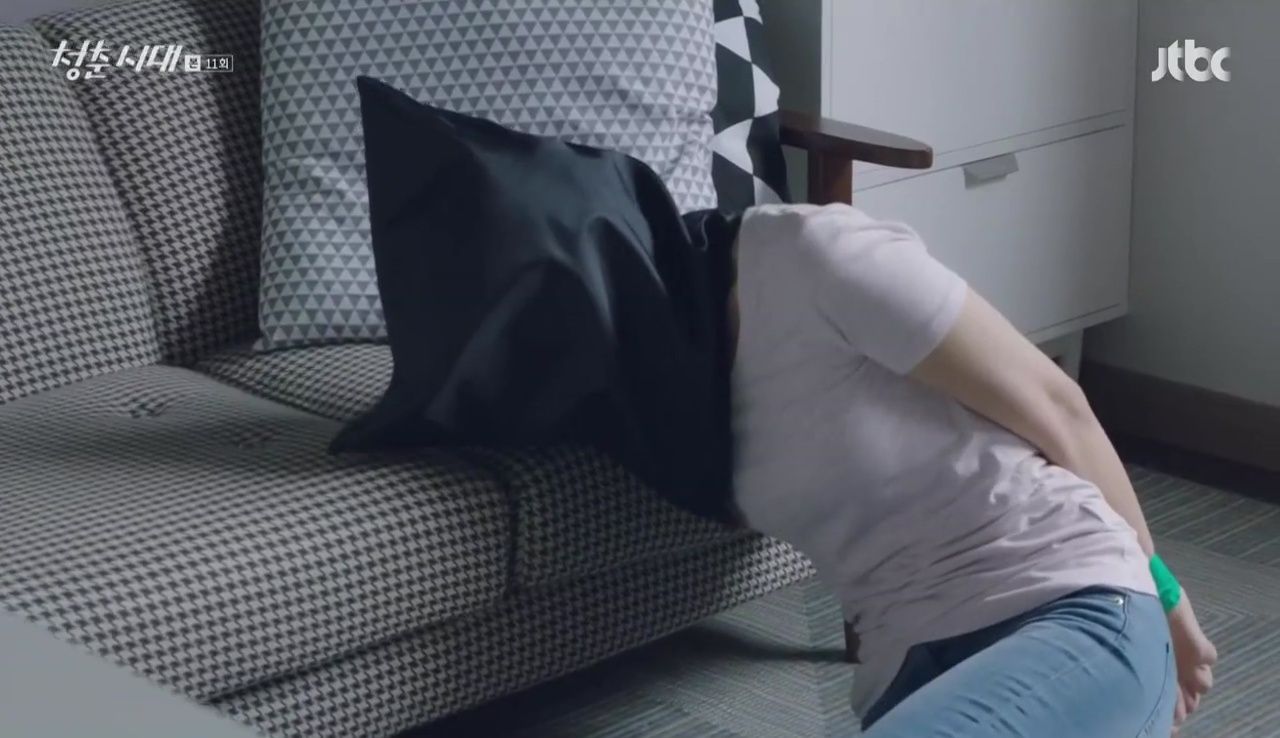 It's 7 a.m., and Ye-eun is leaning against a couch, a black bag covering her head, and her arms and legs both bound with tape. As she wriggles her body in desperation, she thinks to herself, "Where am I? What happened?"
Rewind back to 5 a.m.: Ye-eun's at church for early morning prayer; afterwards, she heads back home. She's just outside of the house when she's jumped by a masked man — he punches her to stop her screams, then drags her away in his car.
Back in the present, Ye-eun freezes when she hears the front door open. Someone walks over and takes the bag off her head, and Ye-eun's eyes widen in recognition when she sees her attacker. When he strips off the tape on her mouth, she says, "Oppa?" Doo-young just grins at her, like he didn't just kidnap his ex, and it's horrifying.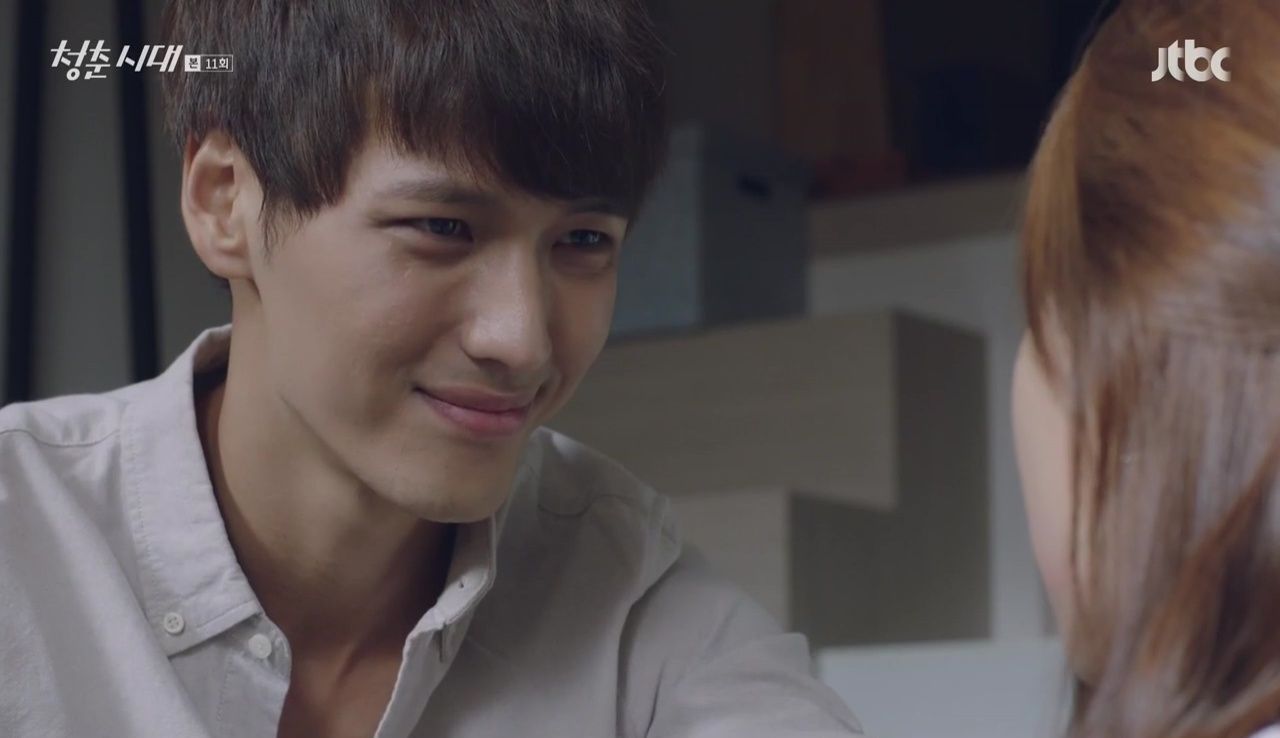 A little later, Ji-won wakes up and sees Ye-eun's bed empty. She starts to scream at how late she is and rushes out of the apartment. As Ji-won runs off, the camera lingers on the ground outside the house, focusing on a shiny earring — definitely Ye-eun's.
The earring goes unnoticed by the rest of the housemates as they leave for the day, even though all three stop just in front of it. Yi-na's busy tying her hair; Jin-myung gets a text from her pastor about an attorney; and Eun-jae's on the phone with her mom.
Ye-eun lies on the floor of Doo-young's living room, her mouth taped shut again. Doo-young returns with food and continues his "everything is normal" routine, asking if Ye-eun's hungry. When he takes the tape off her mouth, Ye-eun asks Doo-young if he's doing this because she broke up with him. She doesn't understand — it's not like he liked her that much, and he'd even tried multiple times to break up with her.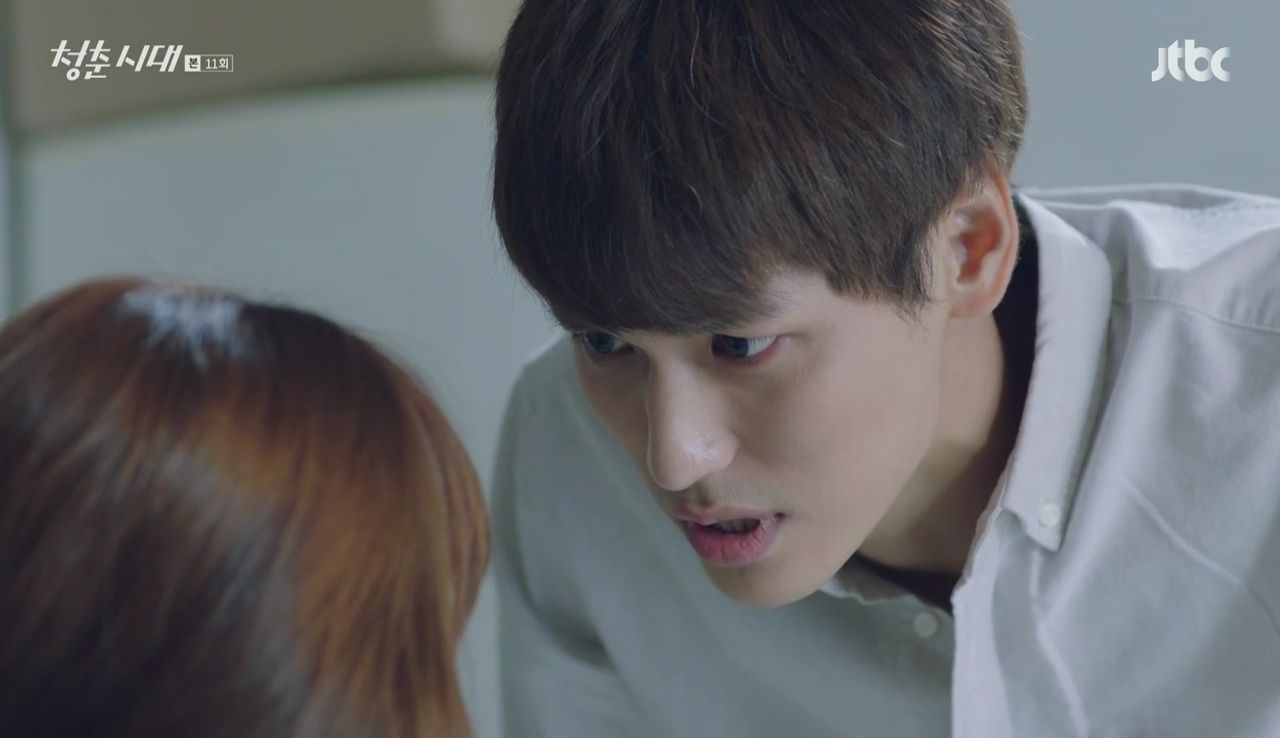 But Doo-young doesn't even look like he's listening as he sits there stuffing his face. It's only when Ye-eun starts screaming at him to untie her that he reacts, yelling at her to stop, then taping her mouth shut again.
Doo-young then smiles and asks why Ye-eun laughed at him that day when he went to see her at school. He drops his smile and accuses her of looking down on him even when they were dating. Looking menacingly into her eyes, he screams, "Who do you think you are to look down on me?"
Jin-myung visits her mother in jail to bring her food and cash, and tells her that she's looking into an attorney. Not meeting Jin-myung's eyes, Mom tells her she shouldn't do any of that, then stands up and ends the visit. Jin-myung numbly watches her mother walk away and picks at her still-bandaged finger. When she accidentally flicks the band-aid off, she looks surprised to see that her nail has grown back.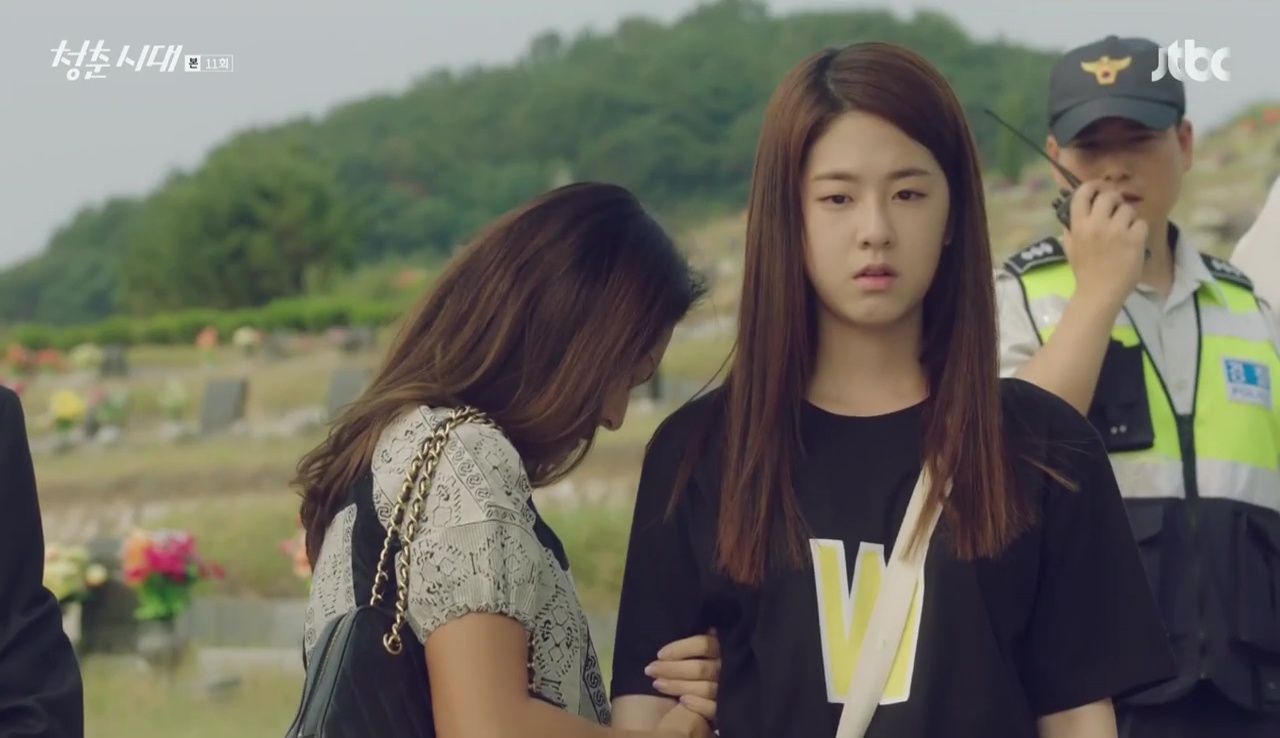 Eun-jae and her family are at the cemetery, where authorities are digging up her dad's remains. Later, Eun-jae's aunt comes to talk to her, but she completely ignores Eun-jae's mom, who's standing right next to her. Eun-jae's aunt says that the results of the investigation will be available in two weeks and tells Eun-jae to be "careful" in the meantime, while giving her mom some serious side-eye.
At school, Ji-won and Sung-min are covering a student protest for the paper. When the protesters get a little rowdy trying to chase after some university administrators, Ji-won gets caught in the middle. Sung-min manages to stay out the way, and he just watches Ji-won get bumped around with a little grin on his face.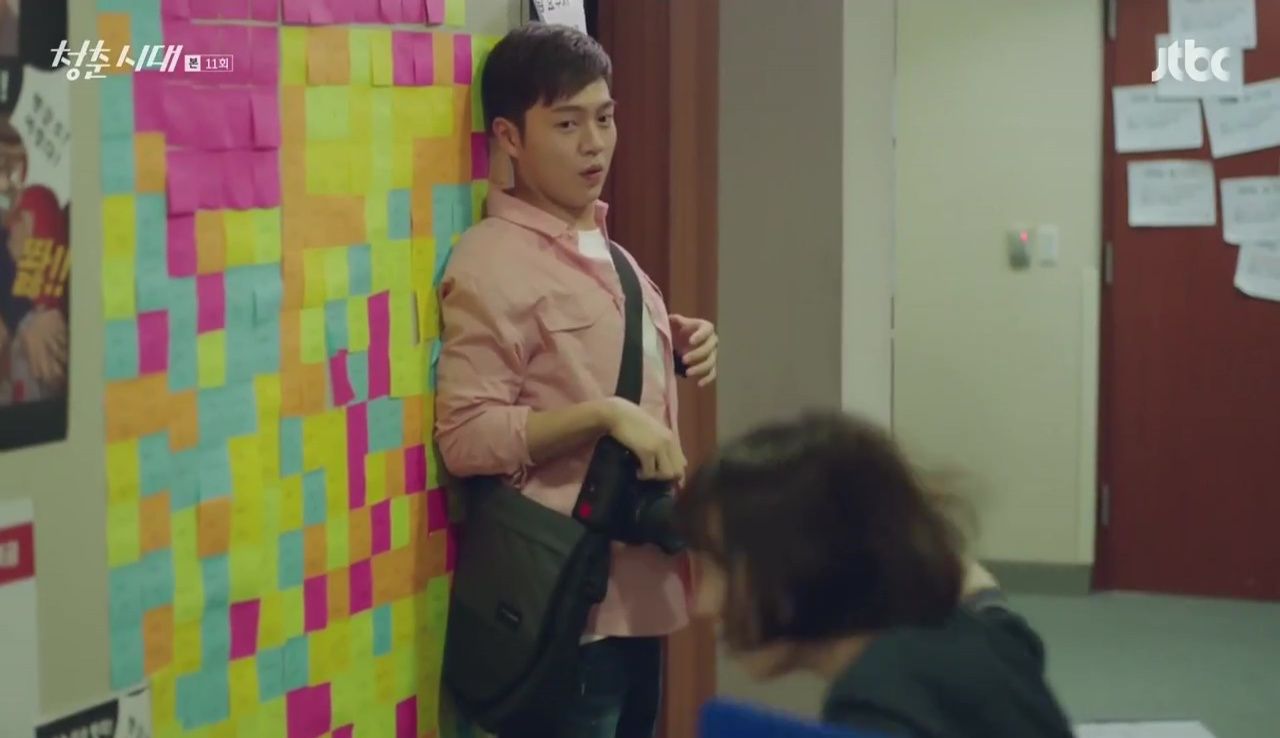 6 p.m.: Doo-young's annoyed when Ye-eun interrupts his video game because she needs to go to the bathroom, but he carries her there and back. She asks him not to tape her mouth again, promising to be quiet, and he relents.
Yi-na's in a fashion design class, but she has a terrible time staying awake. She complains about the class to Jin-myung later at home, then notes the emptiness of the house. Jin-myung explains that Eun-jae's with family and Ji-won's spending the night at the school newspaper. (Hey, you forgot someone!) Yi-na opens the refrigerator and a bottle of juice marked "Wednesday" falls out, but she puts it back without a thought.
Back at Doo-young's, Ye-eun sits quietly while Doo-young goes through can after can of beer. He tells Ye-eun that he's a terrible person, and says he's sorry. Uh, how about you let her go then?
He sits next to Ye-eun and tells her he treated her badly because he felt uneasy — he thought she'd leave him if he was good to her. In tears now, Doo-young puts his head on Ye-eun's shoulder and says everything is his mom's fault, since she died young and left him alone.
Doo-young says he can't live without her and begs her not to throw him away. When Ye-eun says she won't leave his side, he kisses her, then lands on top of her, causing her to yelp in pain. Apologizing for hurting her, Doo-young finally unties Ye-eun's hands. She then puts her arms around him, and he cries into her shoulder.
Meanwhile, a disheveled Ji-won works late into the night while Sung-min sleeps on the floor of the newspaper office. Back at the house, everyone else is in bed, but Jin-myung tosses and turns, unable to sleep. Eun-jae has another nightmare about the deaths of her dad and brother.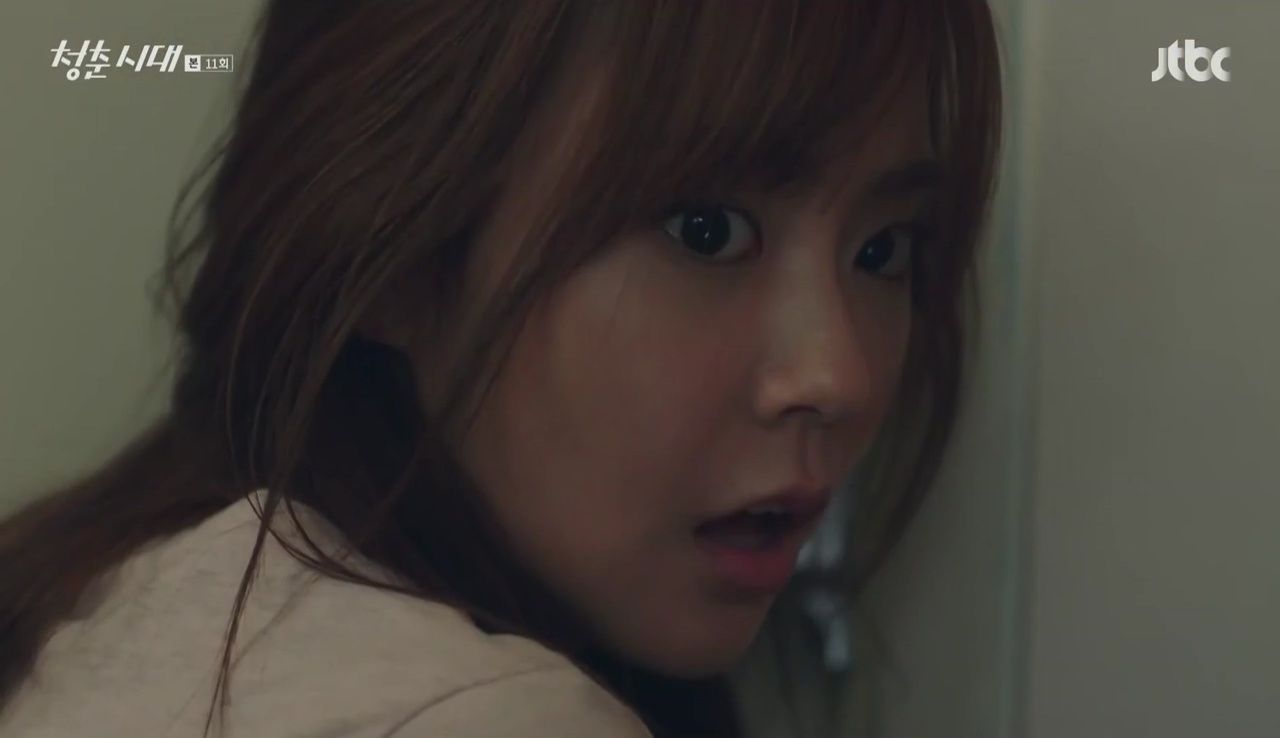 It's 2 a.m. when Ye-eun wakes up on the floor and finds Doo-young next to her, fast asleep. She carefully untangles herself from him and hops over to his desk to grab a box cutter to undo the tape on her ankles, nervously looking over at Doo-young when he moans in his sleep. She cuts herself free and slowly makes her way to the door, but as soon as she unlocks the door, Doo-young's eyes fly open.
Ye-eun makes a run for it but doesn't go far before Doo-young catches her and drags her, screaming, back to his apartment. He throws her to the floor, then grabs her by the hair as she begs for forgiveness. With a wild look in his eyes, he starts punching her, punctuating his blows with screams of his own.
The next morning, Jin-myung notices the row of juices in the refrigerator and asks Yi-na why Ye-eun's Wednesday juice is still there — it's Thursday now. Before she can think more about it though, Jin-myung gets a text from the hospital asking her to pick up her mom's personal belongings.
Jin-myung picks up the box of her mom's things and begins to go through it. She lingers over a poetry book, then pauses when she finds an unopened lipstick box, looking at it curiously before tucking it into her bag.
Ji-won wakes up at the newspaper office to see Sung-min crouched down next to her, and the two resume their usual teasing almost immediately. Later, Sung-min asks Ji-won if she's confessed to her roommates about her ghost lie, and she says she will after the paper's deadline has passed.
Day Two of Ye-eun's kidnapping. As Doo-young leaves for the day, Ye-eun lies on the couch, bound, taped, and now sporting a fresh bruise on her face.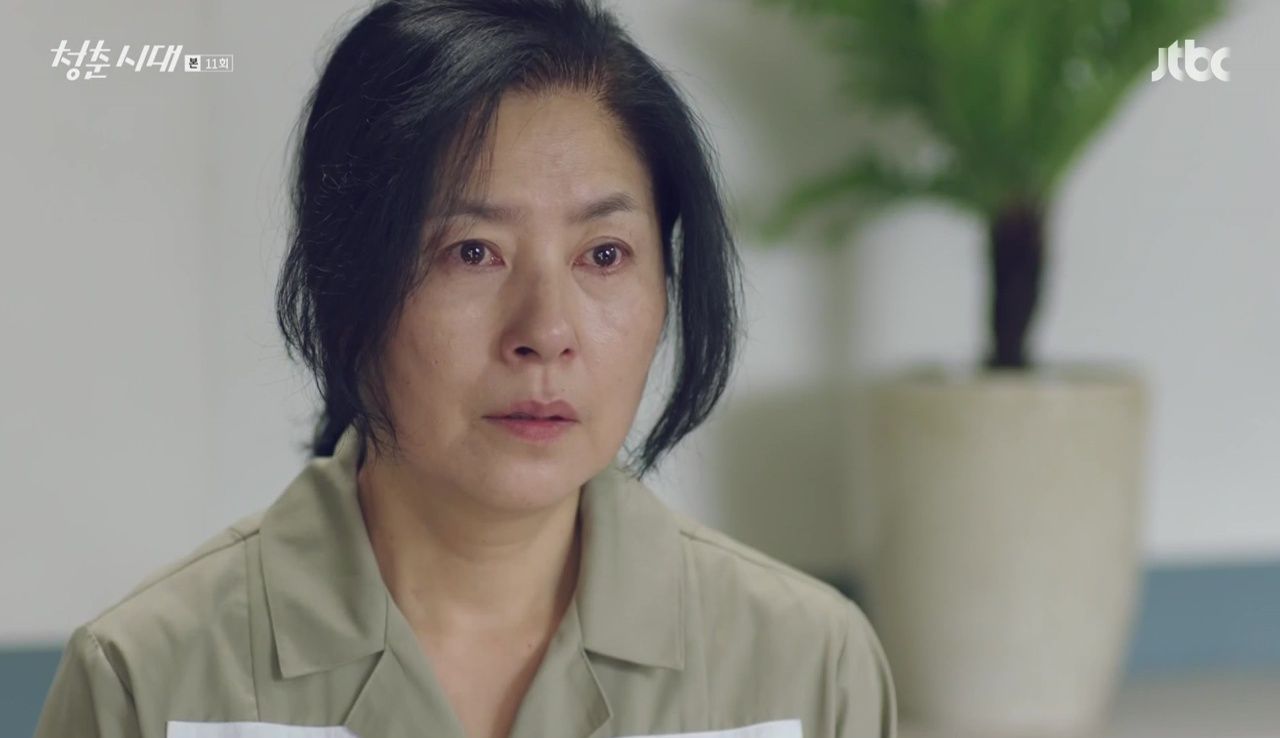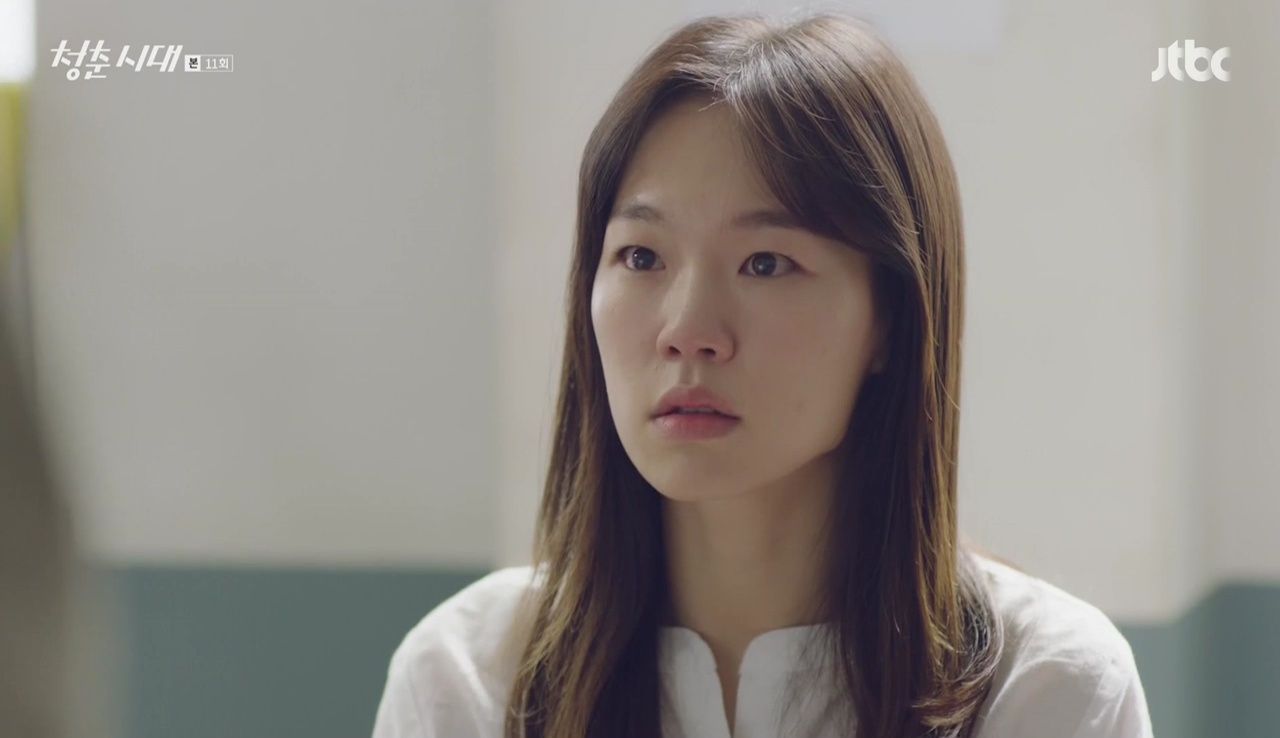 Jin-myung returns to visit her mom and tells her she's met with the attorney, who said Mom can attend her brother's funeral. She also tells Mom about picking up her things from the hospital, including the lipstick. At that, Mom looks up at Jin-myung, and tells her the lipstick is for her.
Shocked, Jin-myung raises her eyes to meet Mom's gaze, and the two just look at each other, the air thick with emotion. But the guard announces that time's up on Jin-myung's visit, and Mom has to go. Before she leaves though, Mom says she bought the lipstick as a birthday gift for Jin-myung last year. She apologizes, and Jin-myung struggles to hold back her tears.
When she gets home, she heads straight to her room and takes out the lipstick from her bag. She opens the box and looks at the lipstick, and this time, she can't stop her tears.
Yi-na's hard at work at her new retail job when a well-dressed young woman enters the store. A few beats later, the girl is joined by an older man: It's Yi-na's former Boyfriend #1. Yi-na's mortified and looks like she wants to disappear, but she does her job, helping the girl try on a hat.
Later that evening, Doo-young returns home and finds that Ye-eun's soiled herself. He makes a face and sprays air freshener around her.
Back at school, the newspaper articles are approved, and Ji-won's finally able to go home. She's exhausted and hungry when she gets there, so she opens the refrigerator — and Ye-eun's Wednesday juice falls out again. Ji-won doesn't think much of it and puts it back, then decides to text Ye-eun about getting some food.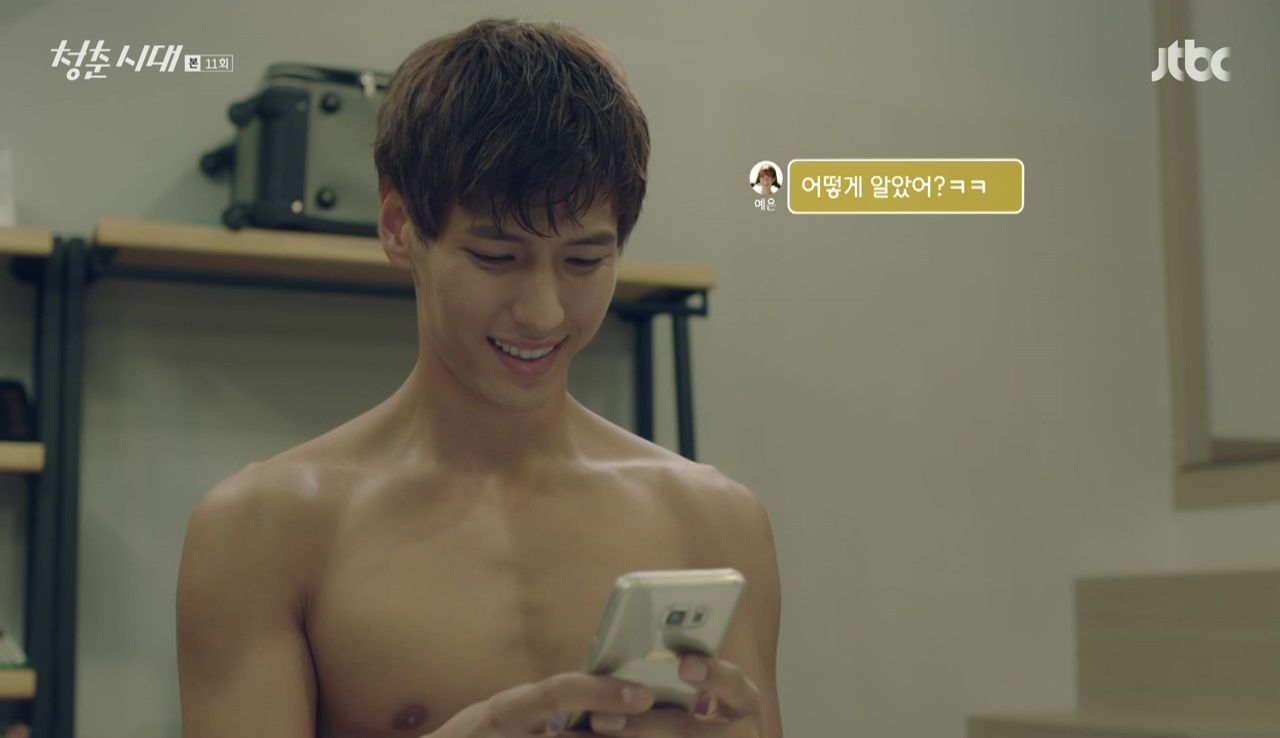 Doo-young responds to Ji-won's texts as Ye-eun, writing that she's not planning on coming home tonight. Ji-won guesses that she's with "that bastard" and Doo-young affirms it, causing Ji-won to react with dismay.
Ye-eun squeals until Doo-young takes off the tape on her mouth, then asks how much longer he's planning to keep her — her housemates are going to look for her soon enough. But Doo-young's not worried, as he's already texted Ji-won saying that the two are going away on a celebratory getting-back-together trip. Ye-eun asks what happens after that, and Doo-young says, "This will be over when you like me again, like you used to."
As Ji-won ponders over her texts with Ye-eun, Eun-jae looks over and notes that something about Ye-eun's texts are off: Ye-eun normally uses "hehehe," not "kekeke." She also tends to use a lot of emojis, but she hasn't used any in her recent texts.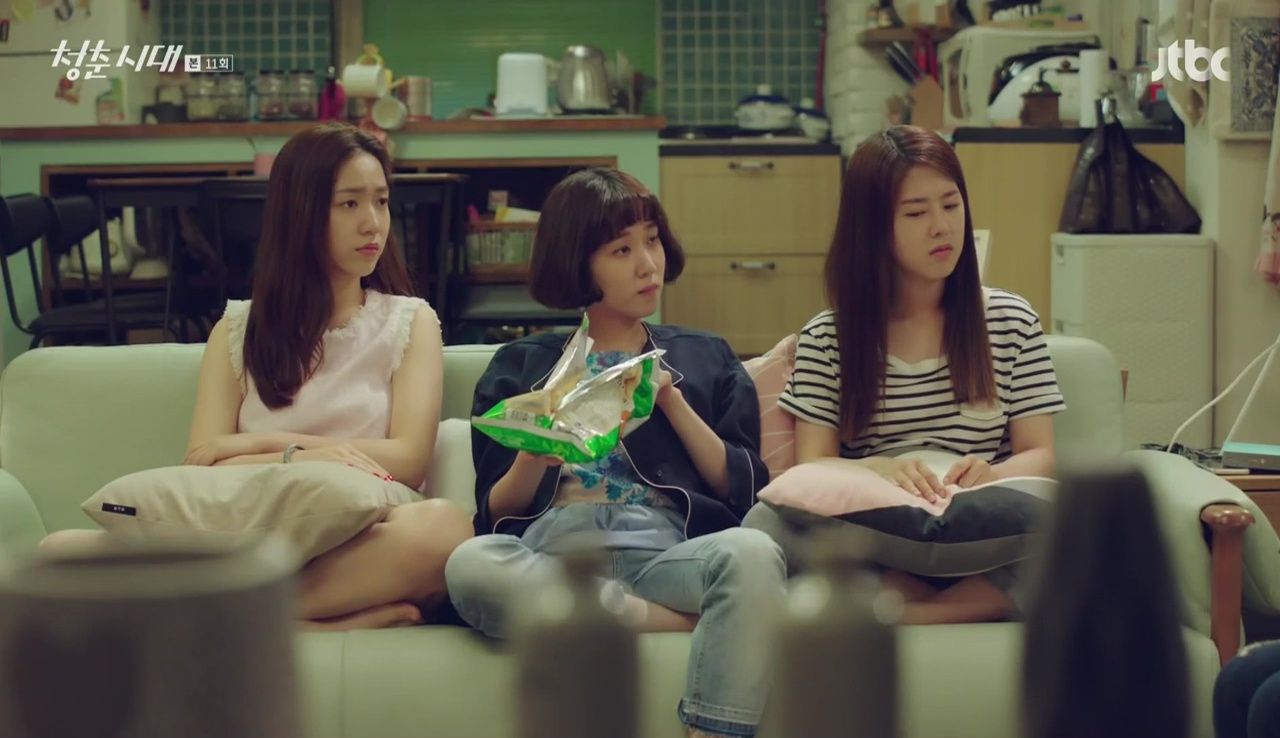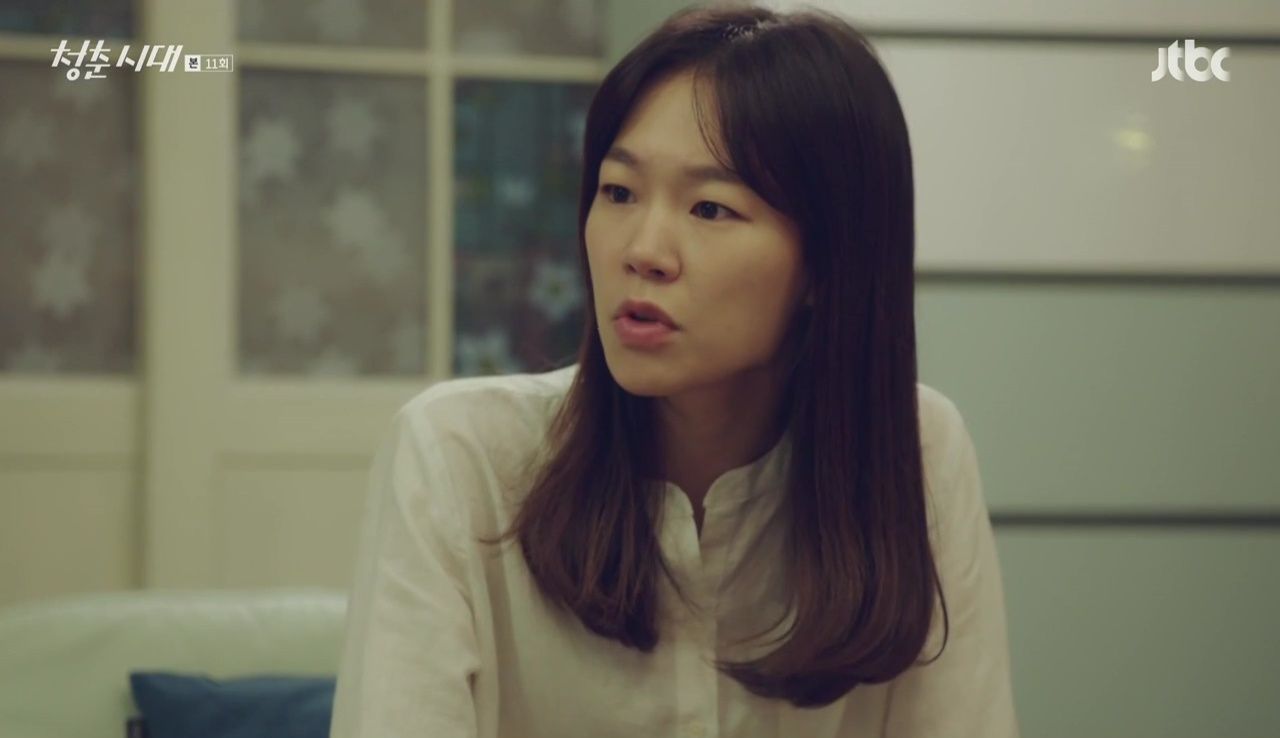 The housemates look at one another — but then they burst out laughing. Ji-won jokingly wonders if Ye-eun could have been kidnapped, and Yi-na says that anything's possible with Doo-young. But Jin-myung sits up and seriously asks the girls: When was the last time they saw Ye-eun?
None of the three remember exactly. Jin-myung mentions that Ye-eun hasn't had her daily juice since Wednesday — so that would mean she hasn't been home for two days. Ji-won checks their room for clues, but Jin-myung has another idea. Using Ji-won's phone, she texts Ye-eun that she should be jealous because they're having fried shrimp — a dish they know Ye-eun doesn't like.
The response from Ye-eun: "I'm totally jealous."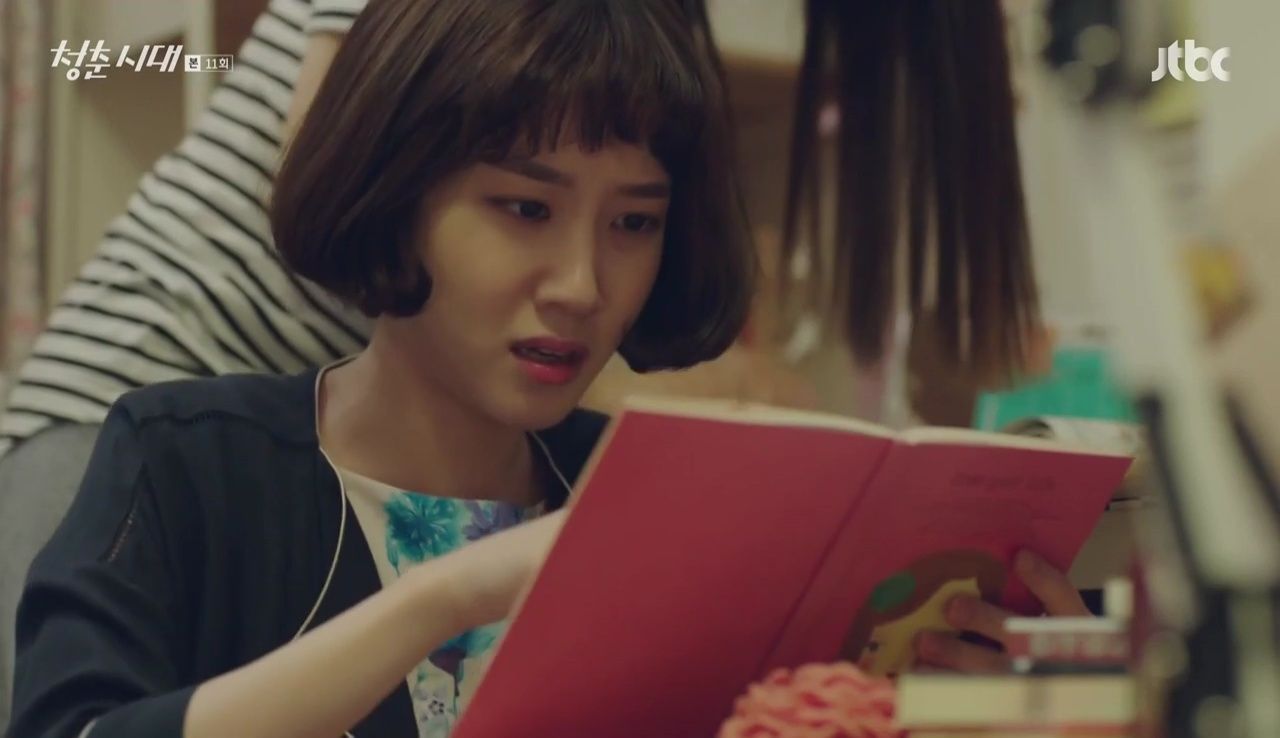 The four immediately freak out, now convinced that Ye-eun's in trouble. They start going through Ye-eun's things to look for Doo-young's address, and Ji-won breaks open a drawer to find Ye-eun's diary. Ye-eun's latest entries are super upbeat about her newly-single status, reaffirming Ji-won's suspicions that Ye-eun wasn't looking to get back together with Doo-young.
Back at Doo-young's apartment of terror, the doorbell rings. Ye-eun perks up, but it's just the jjajangmyun delivery guy. Doo-young explains away Ye-eun's muffled squealing as his dog acting up, and when he returns to Ye-eun, he threatens to punish her by pouring jjamppong over her head.
While the housemates continue searching Ye-eun's room, Yi-na spots a familiar hotel in the background of Ye-eun's laptop wallpaper and identifies the neighborhood. Ji-won snaps a photo of the wallpaper (smart girl!) before the roommates cab it to the area, where they do a little sleuthing to figure out Doo-young's building.
Strangely, Eun-jae lags a bit behind the group as they run over to the building, and she looks over her shoulder as if someone's following her.
In the building, they go through the mailboxes to find out Doo-young's apartment number. The elevator ride up to Doo-young's floor is quiet and tense, each girl lost in their own worries over Ye-eun.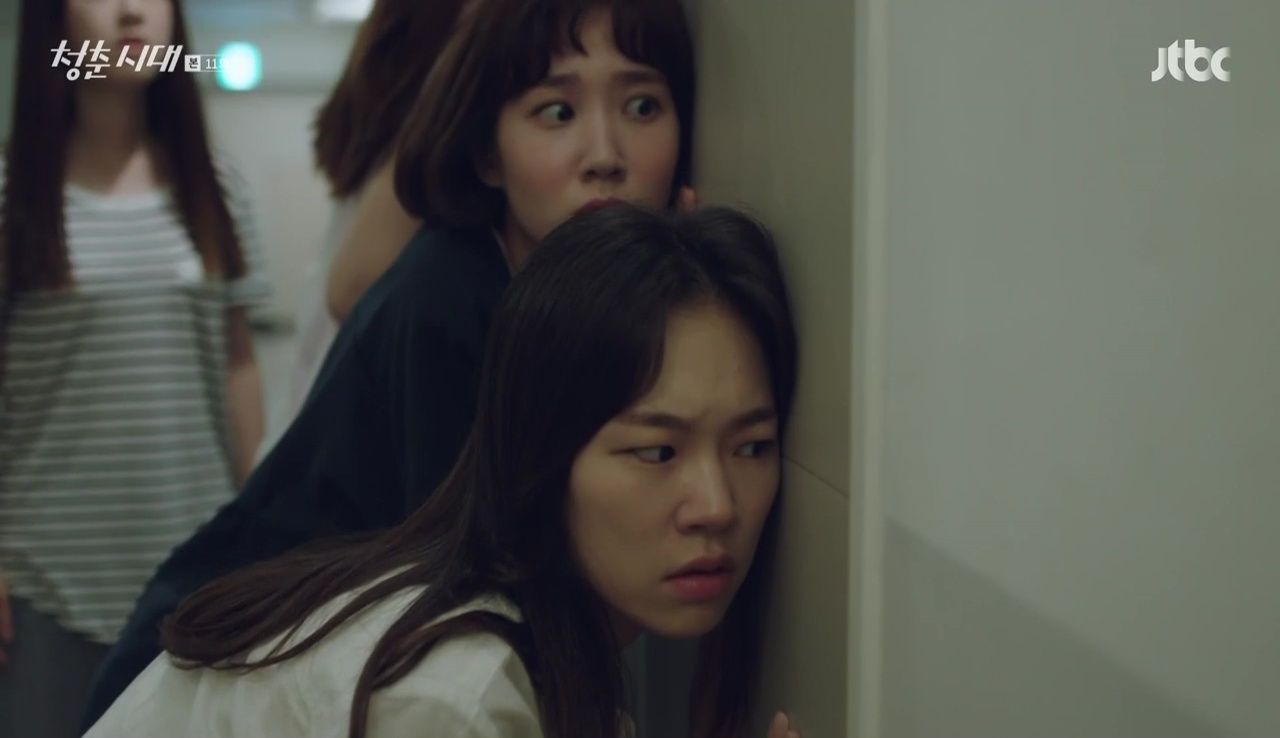 When they finally get to Doo-young's door, the four don't quite know what to do — they hear Doo-young laughing inside, and they wonder if they're making a mistake. Just then, the jjajangmyun delivery guy interrupts them — he's here to pick up the bowls outside Doo-young's door. At that, a smile spreads across Yi-na's face. Someone's got a plan!
Inside, Doo-young is annoyed to find the delivery guy at the door again, claiming that the bowls aren't outside. Glancing at Ye-eun, he opens the door a crack… only to come face-to-face with Ji-won and the rest of the girls. Doo-young claims Ye-eun's not there and tries to close the door, but Ji-won spots Ye-eun's shoes in the entryway. As the girls start screaming Ye-eun's name, Ji-won and Doo-young engage in a struggle. Yi-na delivers a two-fingered eye poke to push Doo-young back, allowing the girls to storm into the apartment.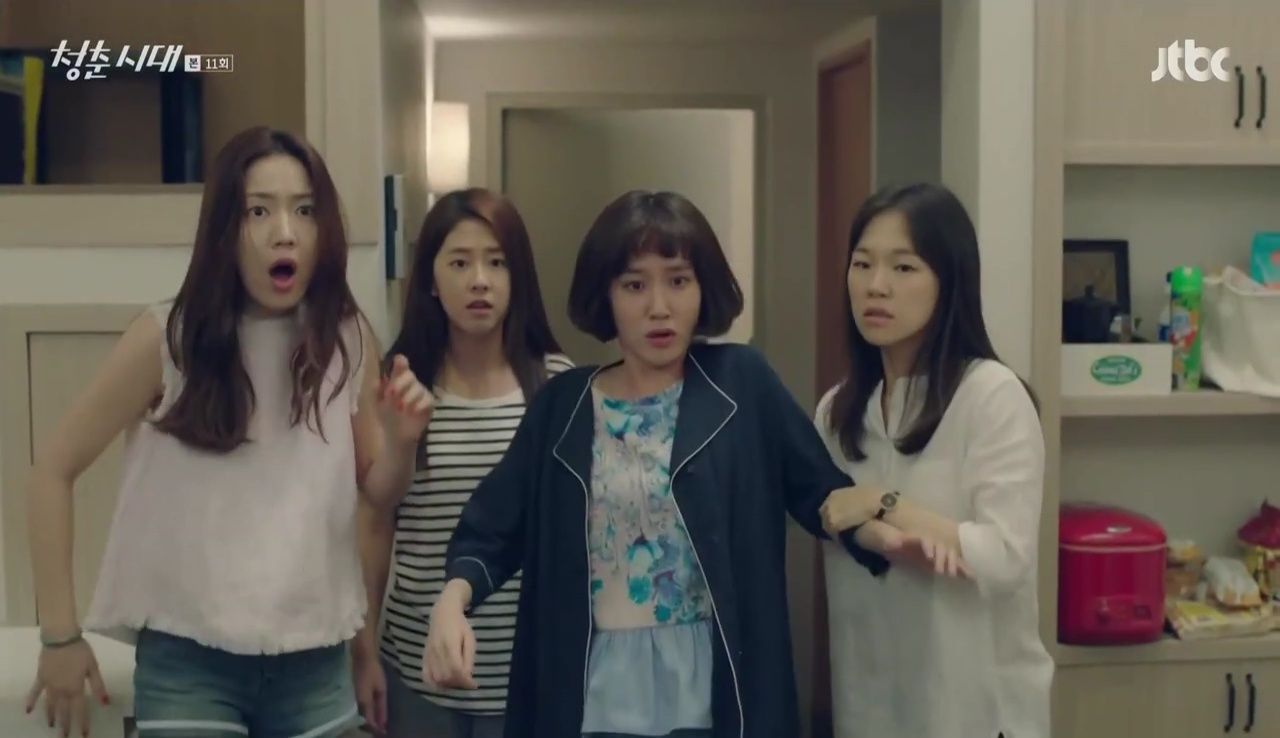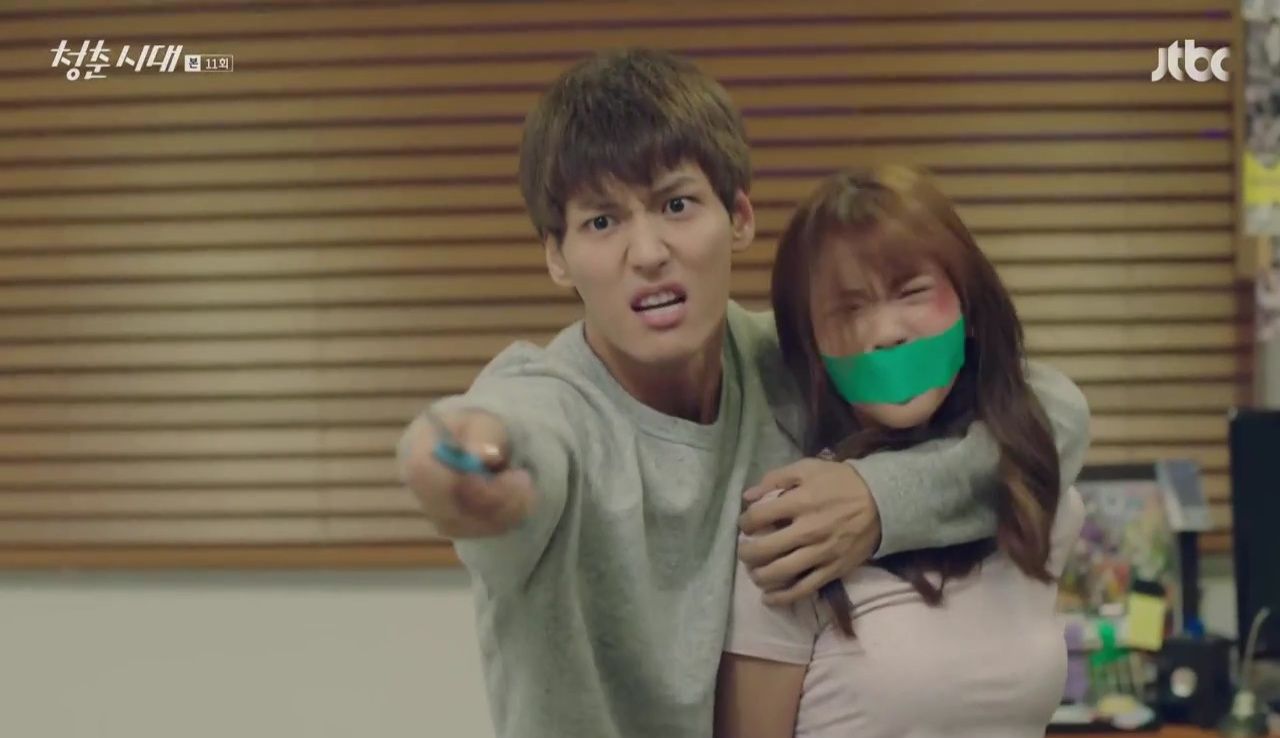 But Doo-young rushes to his desk and picks up the box cutter, warning the girls to stay back. He grabs Ye-eun as a hostage, and says he'll kill her if the girls come any closer. The girls are frozen in place, freaked out and unsure what to do, when Eun-jae steps to the front with an odd, blank look on her face.
As she inches forward, Eun-jae starts seeing and hearing things in slow motion. She turns to look back at her roommates, who try to stop her, and then thinks to herself: "This is weird. It's been weird since a while back. Why doesn't this feel real? Why does it feel like it's happening to someone else? There must be something wrong with me. Why am I not scared?"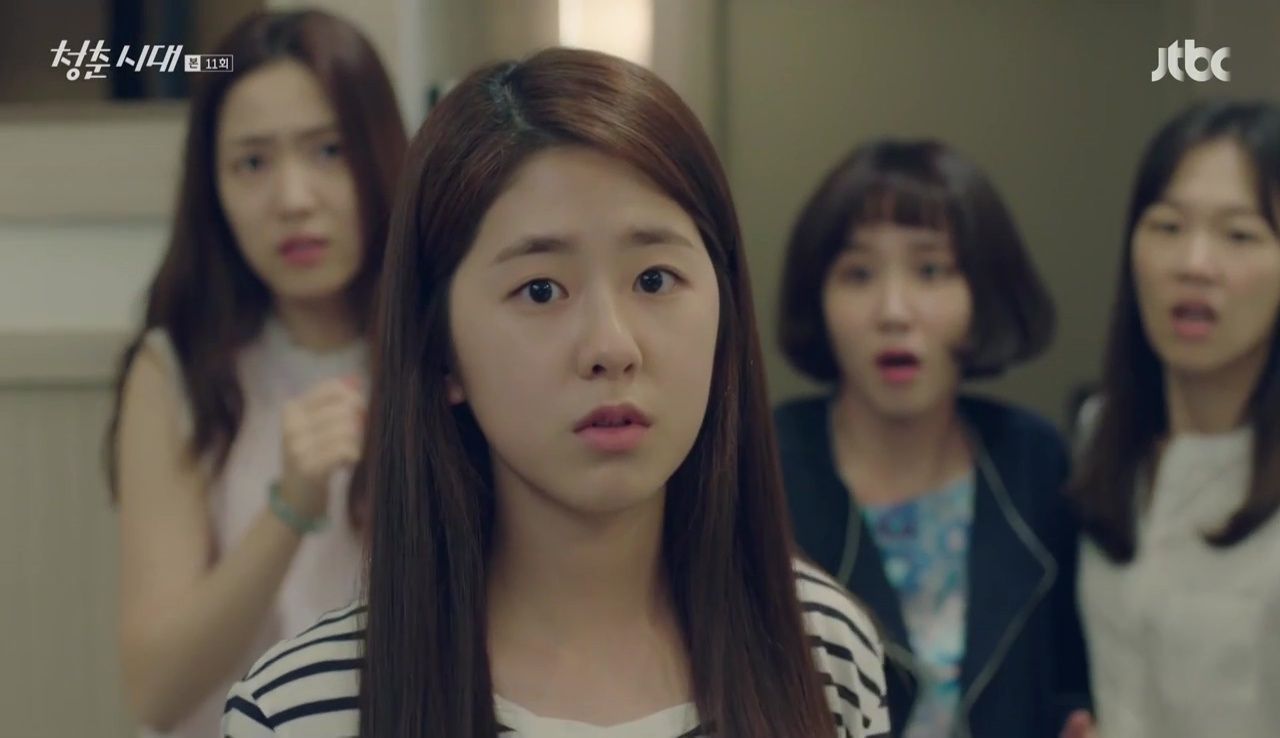 She steps closer to Doo-young and says out loud, "I won't die even if you stab me. Stab me. Kill me." She keeps getting closer, and Doo-young, shaking, swipes the box cutter at Eun-jae, making contact. Holy crap.
The rest of the housemates scream in horror, and Doo-young freezes for a moment. Ye-eun takes this opportunity to knock him backwards, and the rest of the girls spring into action, attacking him with gusto.
Eun-jae, blood splattered on her face, falls down and loses consciousness. She narrates: "Maybe… I wanted this to happen, since a long time ago."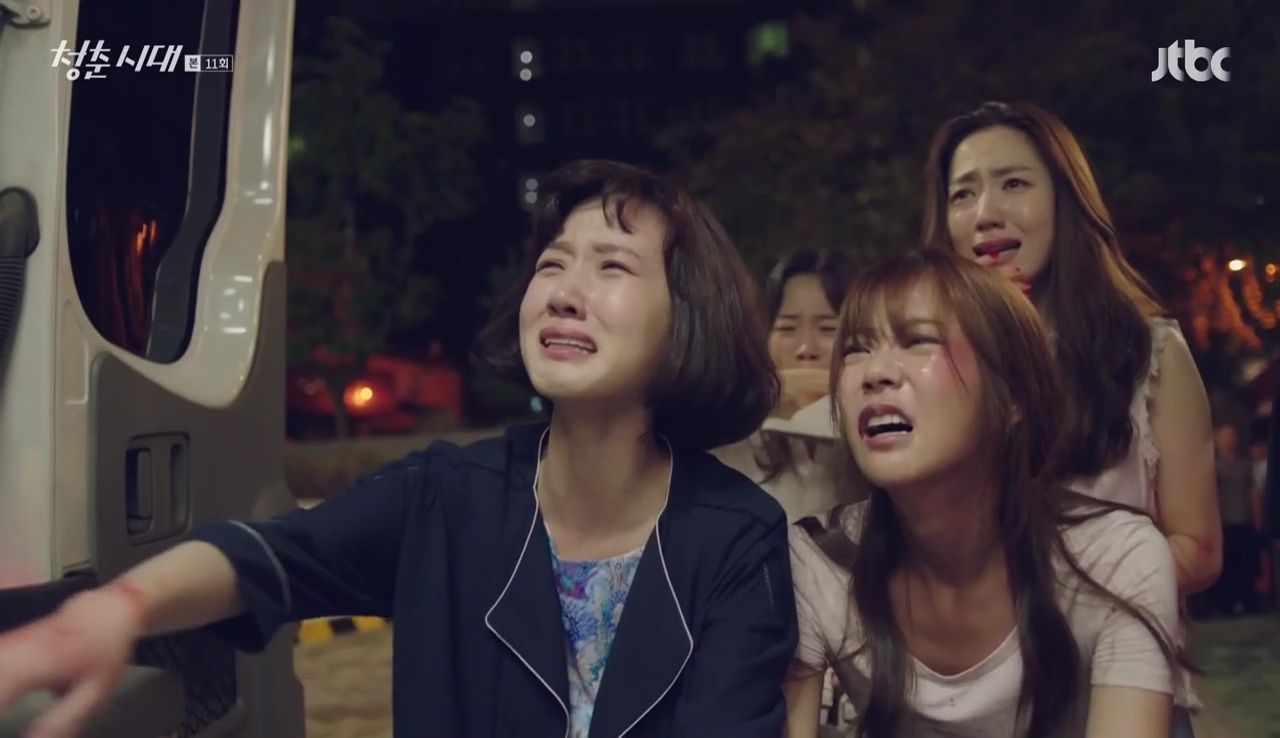 Cut to Doo-young being escorted out of the building by police, followed by Eun-jae being wheeled out in a stretcher, surrounded by her hysterical roommates. The girls try to follow Eun-jae into the ambulance, then plead with the EMT to save Eun-jae's life. The EMT, looking exasperated, tells them that she won't die — not with an injury to the palm of her hand. HA.
The girls watch the ambulance drive away, all of them still sobbing, but relieved that Eun-jae has only hurt her hand. Ye-eun's next to be taken away to be treated for her injuries.
Elsewhere, an unkempt Jong-yeol stumbles into the living room, where the TV is blaring the news about Ye-eun's kidnapping, complete with footage of Eun-jae being wheeled into the ambulance. Jong-yeol's eyes go wide when he realizes what he's seeing, and he quickly runs out of the house.
In a hospital room, Eun-jae's hand gets bandaged, but she looks fine otherwise. Her roommates wonder why Eun-jae did what she did; Yi-na marvels at her courage, while the others laugh at Ji-won for being so scared. It's nice to see the girls laugh after such an awful experience, but they're interrupted by the police, who take Ye-eun for questioning.
The girls return to their conversation — only to be interrupted again when Jong-yeol bursts through the door, panic written across his face. Eun-jae looks adorably surprised by her visitor, and her roommates tactfully leave the room so the two can talk.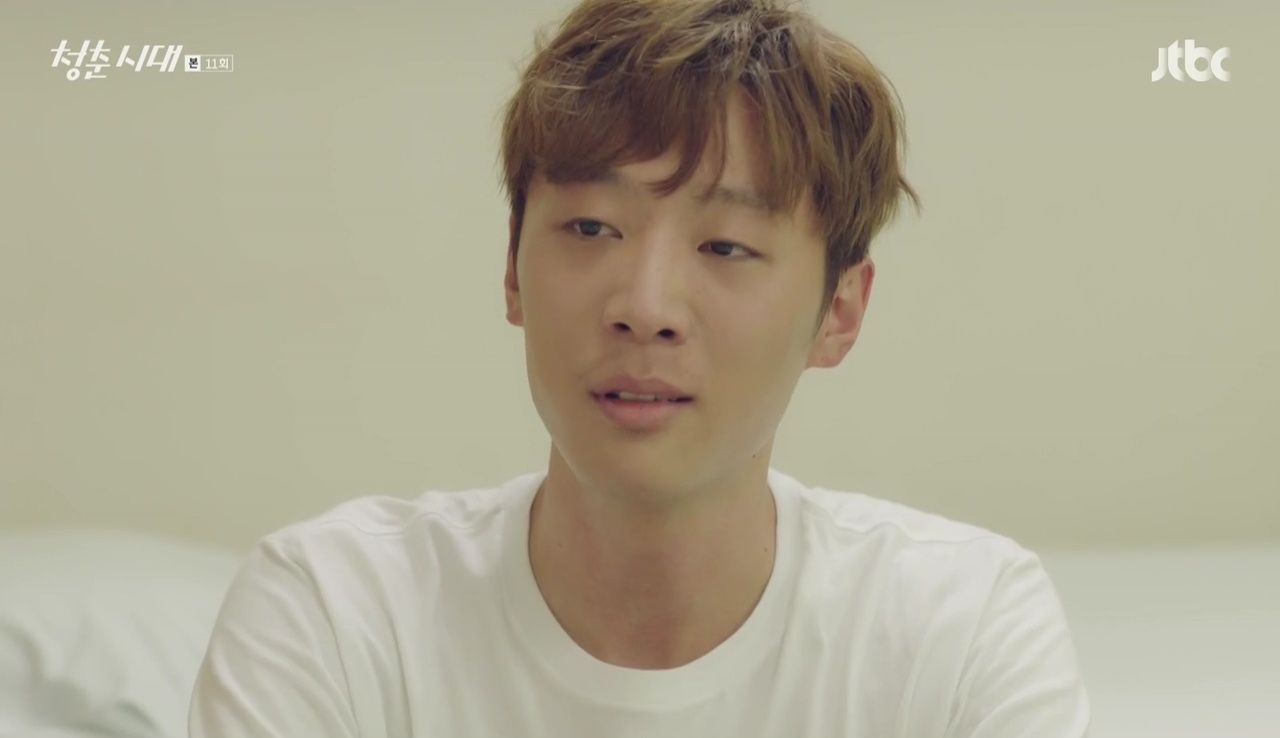 Jong-yeol sits down next to Eun-jae and asks her if she's hurt badly. With tears in her eyes, she shakes her head, then asks him why he hasn't been in school lately. He says that he's been drinking a lot because of her, and she starts crying in earnest. She pulls a blanket over her head before apologizing to him, but then pulls her head out to squeak out that she's missed him. His voice wavering, he tells her that he missed her, too.
Ji-won stands outside the room with her ear to the door, eavesdropping. But she's soon distracted by someone calling out Jin-myung's name — it's Jae-wan! He runs over to Jin-myung and checks to see if she's hurt anywhere, while Ji-won and Yi-na stare wide-eyed at the two.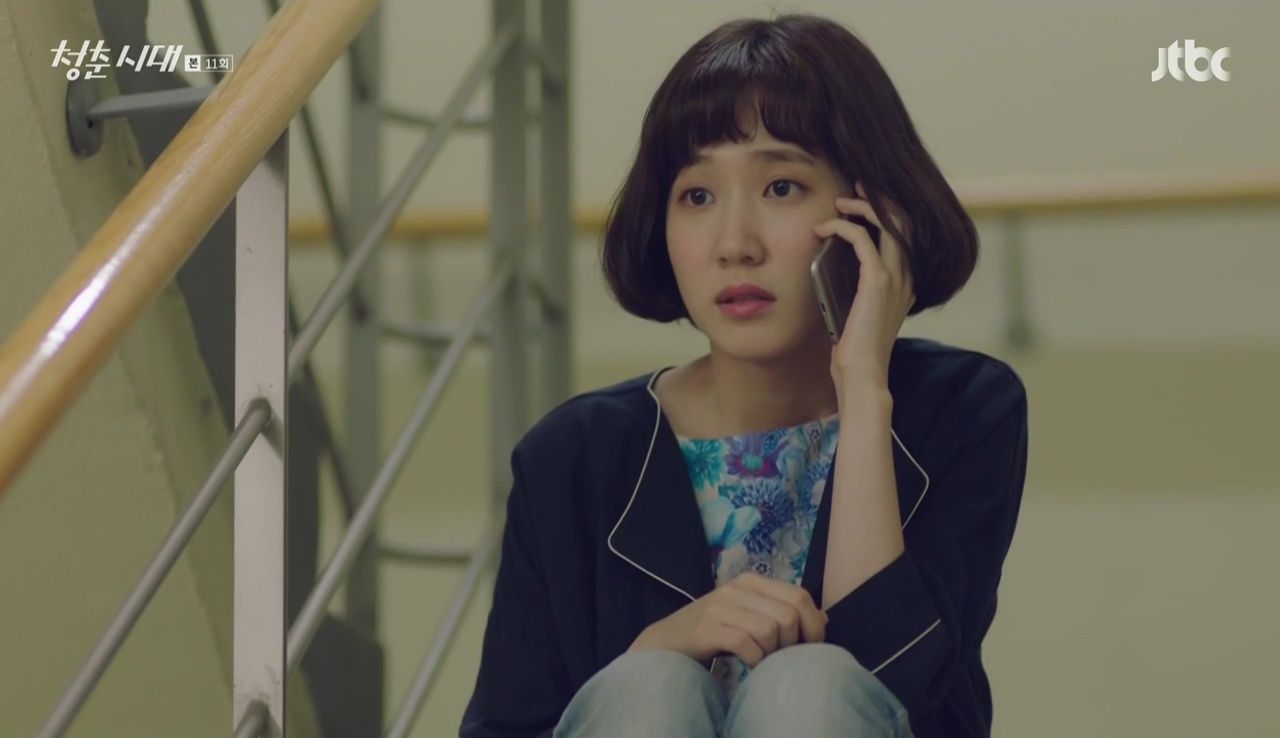 Jin-myung quickly pulls Jae-wan away for a more private conversation. Then, it's Yi-na's turn: Dong-joo calls her name and runs up to her, all out of breath. He pretty much does to Yi-na exactly what Jae-wan did to Jin-myung, and poor Ji-won just looks from one couple to the other before walking away, dejected.
She ends up calling Sung-min in the stairwell, but he's at home in bed. She asks him to come to meet her, saying she's never been so lonely in her entire life. Sung-min just sighs and hangs up on her, leaving Ji-won to flail about in frustration.
When the five roommates all return home, they take celebratory group selfies, all of the girls smiling brightly.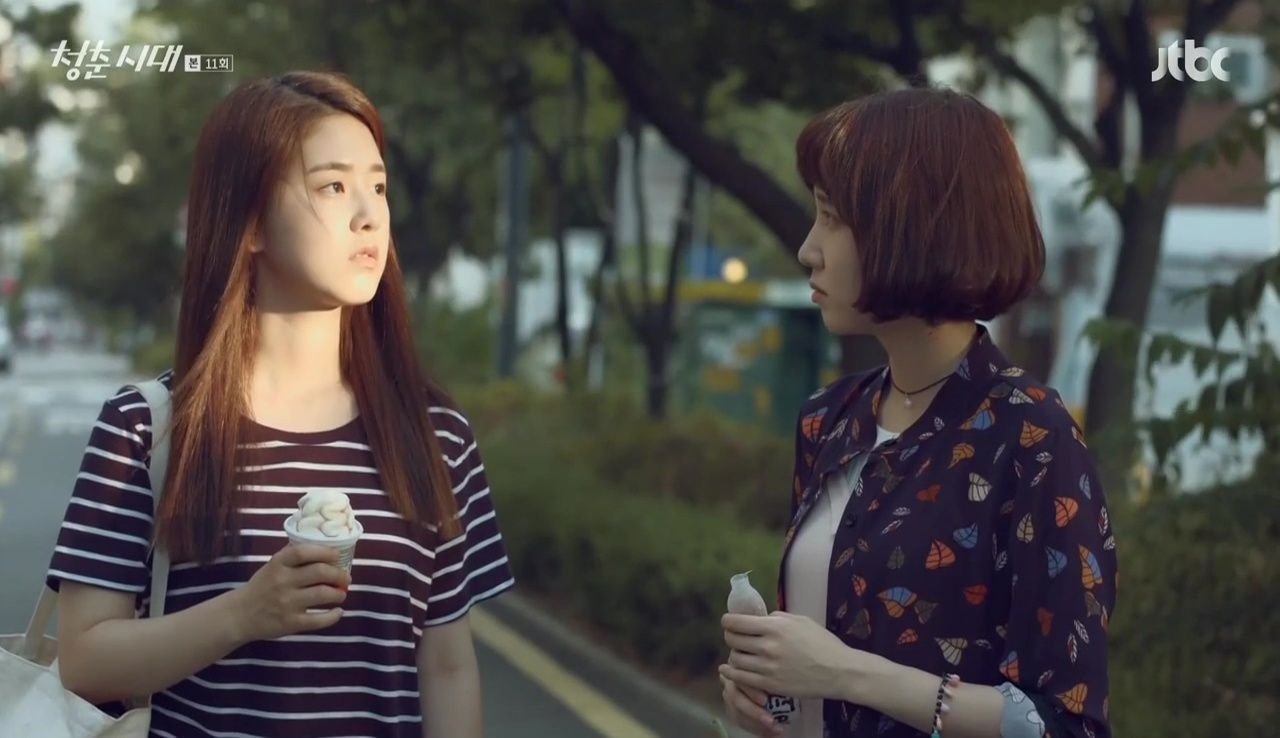 Sometime later, Eun-jae's bandages are off, and she walks with Ji-won eating ice cream. Ji-won asks Eun-jae a serious question: Why did Eun-jae do it? Ji-won says that it looked like Eun-jae purposely put her hand on the blade, instead of Doo-young cutting her. Not only that, but Eun-jae's been acting strange lately, being extra quiet and staring at things blankly.
Eun-jae doesn't answer, instead thinking to herself that there's no use in saying anything — Ji-won wouldn't understand. But she's conflicted about it, and she looks up at the sun, then at Ji-won. After a moment, Eun-jae tells Ji-won that the ghost in their house is her dad, and it was she who killed him.
In a flashback, we finally see the events leading to the death of Eun-jae's dad. Eun-jae watched from behind a cracked door while her dad filled two thermoses — one pink and one blue — and put a packet of medicine in the blue one. He left the blue one with Eun-jae's mom, but before he could leave with the pink one, Eun-jae switched out the contents of the two.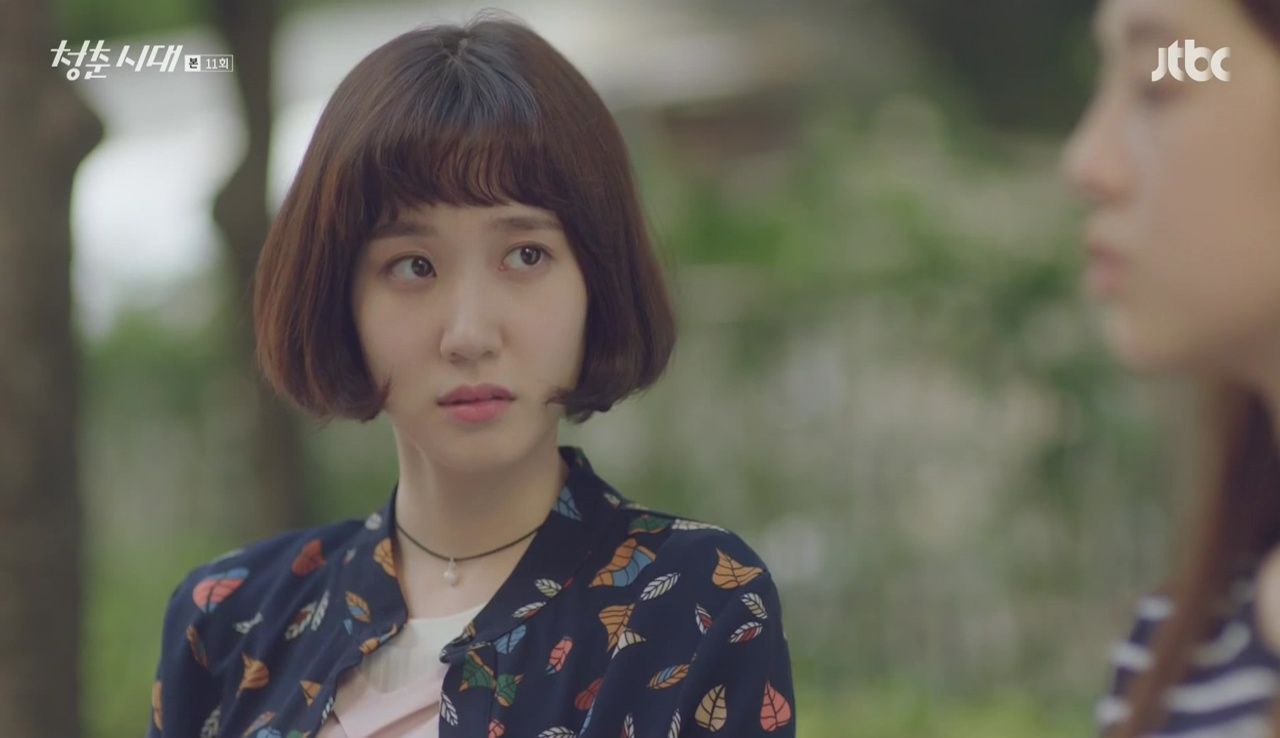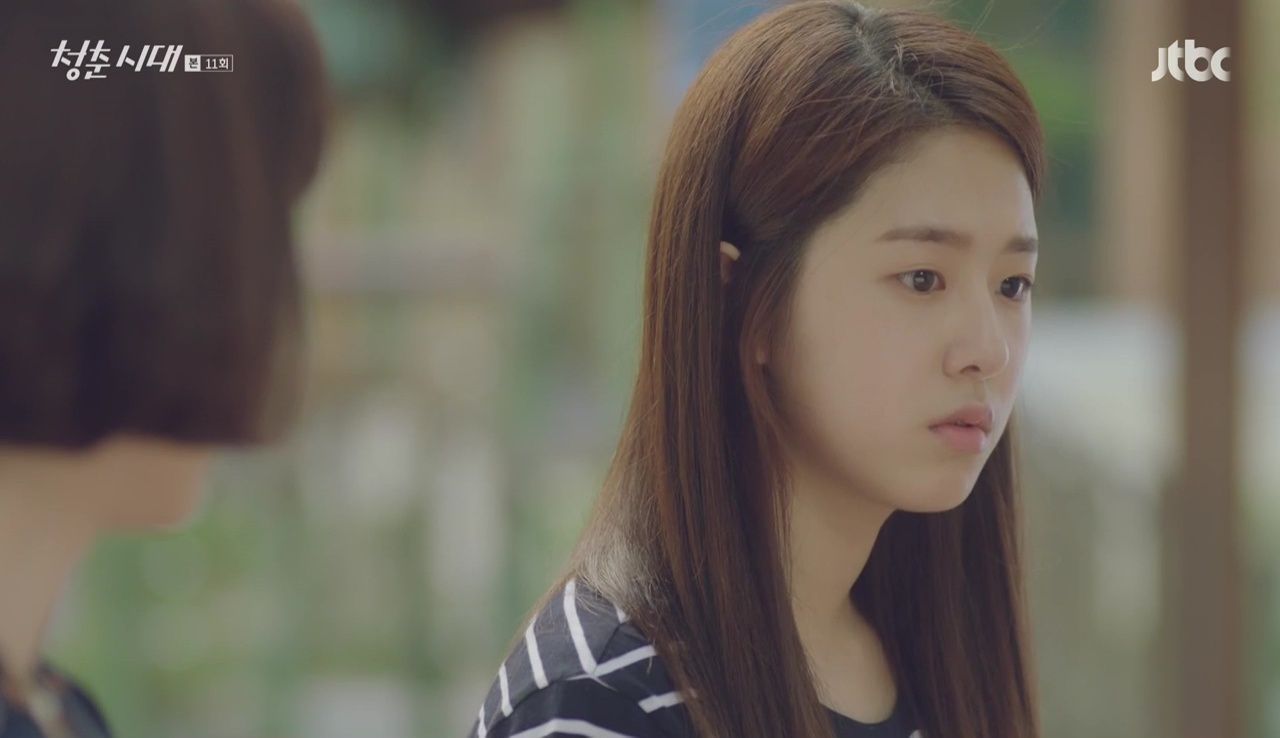 Back in the present, Eun-jae tells Ji-won she might have made a mistake; her father may have put the sleeping meds in her mom's drink simply because she was having a hard time sleeping. But Eun-jae mentions other suspicious things that had happened — the house fire, and her dad acting "like that" when her brother died — and says she's not sure of anything.
Ji-won looks supremely uncomfortable and haltingly asks Eun-jae why she's telling her all of this. Eun-jae reminds Ji-won of the words she said a while back: that everyone has their own circumstances that drive their actions. Eun-jae says that she felt Ji-won of all people would understand her situation — that what she did was a product of circumstance.
Eun-jae asks Ji-won if the color of the ghost has changed at all — or does her dad hate her? Ji-won looks back at Eun-jae, unsure of what to say, then tells her no.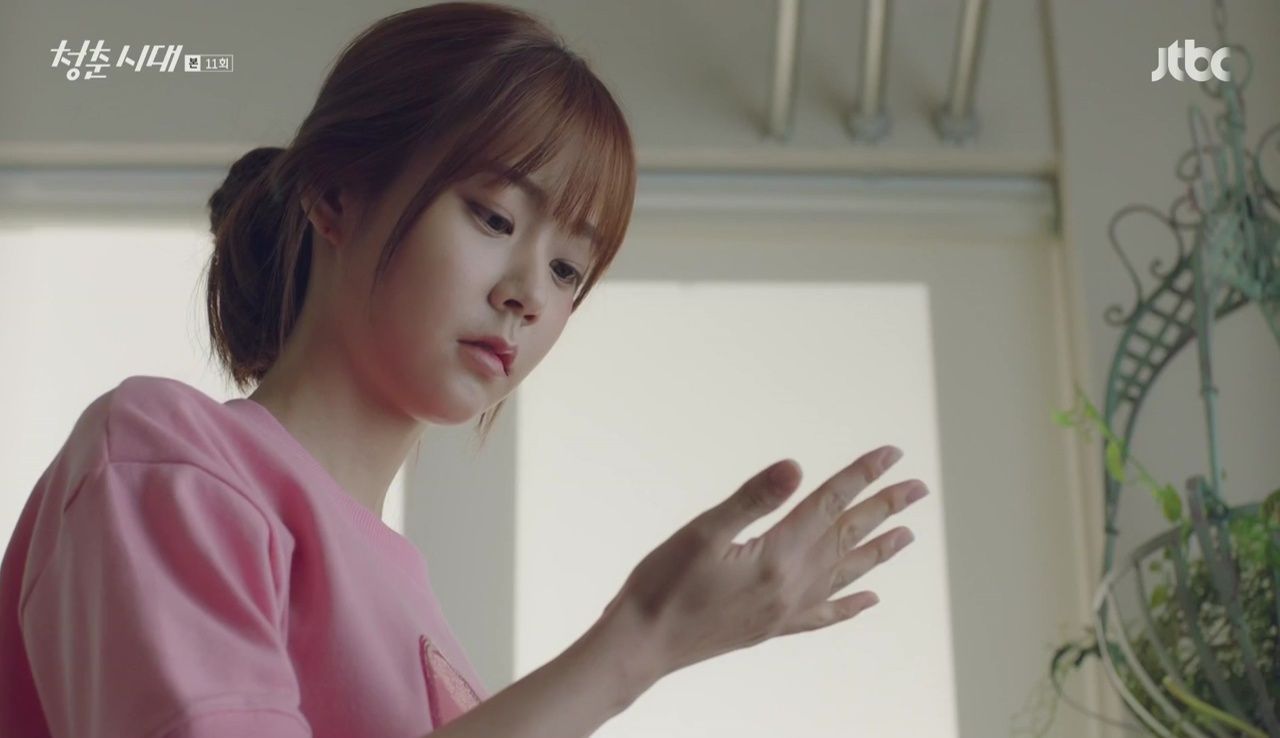 Ye-eun sits in her room with her friends, looking at the earring she was wearing when she was kidnapped by Doo-young. She ends up tossing the earring out of the window and meeting her friends out in the common area. Eun-jae and Ji-won are there too, unloading groceries.
One of Ye-eun's friends keeps looking at Ji-won, then finally says to her, "You're Liar Song, right?" She says that Ji-won was famous for lying about seeing a UFO back in middle school — she even scammed a broadcasting network. She asks Ji-won if she's still telling lies, and Ye-eun jumps in to ask if that means Ji-won's been lying about her ghost-seeing abilities all this time.
Ji-won stands frozen, unable to say anything. She turns and looks at Eun-jae, and as the two stare at each other, we hear Ji-won's words to Eun-jae from before: "Everyone has their own circumstances — something about you that others can't understand, but you can't help."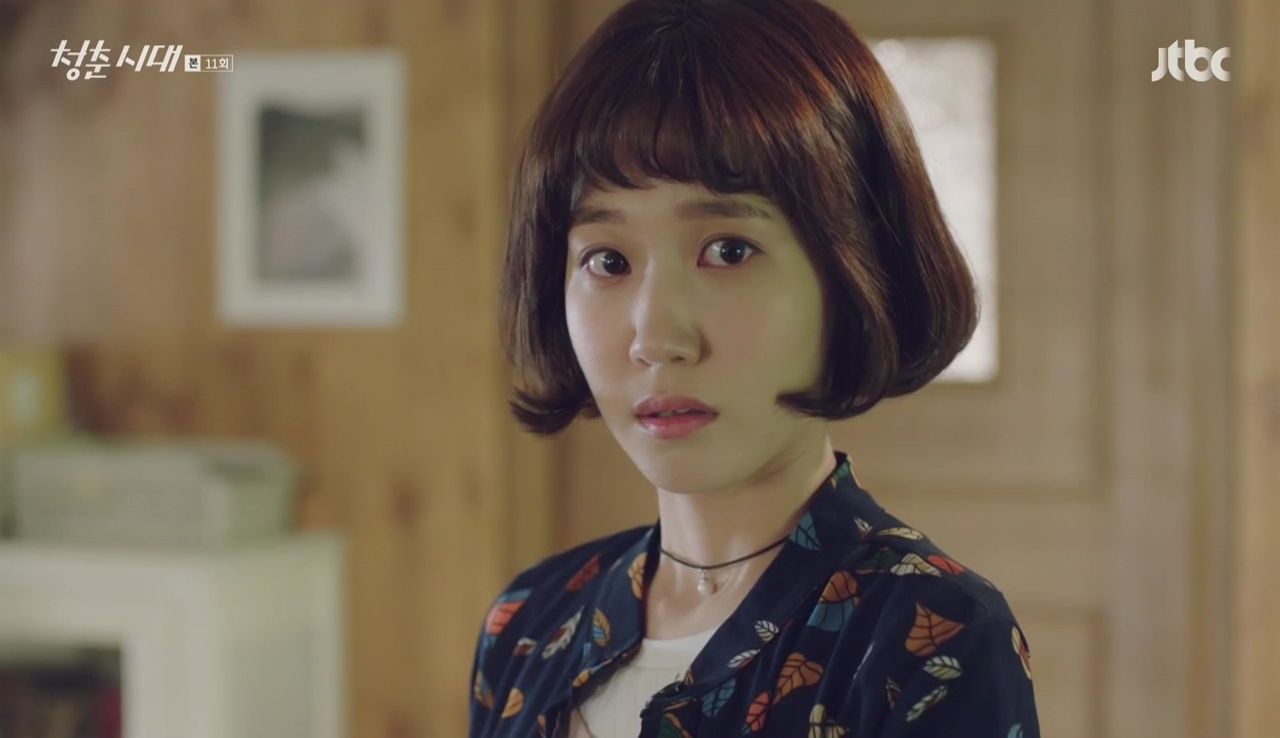 Epilogue. Doo-young is dragged out by the police for the interview. He says he kidnapped Ye-eun out of love, and admits to being unsure as to how he was going to end what he'd started. As for his future? He expects his rich dad to get him probation instead of jail time. His final words words for Ye-eun: "Don't ever date a bastard like me again."
COMMENTS
Out of all the questions I had at the end of last week about how our roommates' stories would wrap up, not one of them had to do with Ye-eun and the state of her relationship with Doo-young. I just had assumed that it was the end of their story — her finally breaking it off with him and staying away. But alas, it was not, and for better or worse, most of this episode was devoted to telling this pretty bizarre story of how Doo-young lost his mind and turned into a criminal psychopath.
I appreciate the show wanting to deal with the difficult and unfortunately common problem of dating violence, but I'm not sure if this was necessarily the best way to go about it. We've seen glimpses of Doo-young's abuse: him pushing Ye-eun out of the car, his verbal abuse throughout their relationship, and the ways he manipulated her. So if the show wanted to tackle this subject in depth, it could have gone down the path of showing us the buildup of these seemingly "small" acts of abuse, and how Ye-eun dealt with it.
But instead, we got this very serious, very intense kidnapping storyline. With all the references to dating violence peppered throughout the episode, the whole thing felt very after-school special-y to me. I'm not sure why the show sometimes feels the need to hammer home the theme with such a heavy hand, when elsewhere it does such a beautiful job of capturing subtle moments and character beats.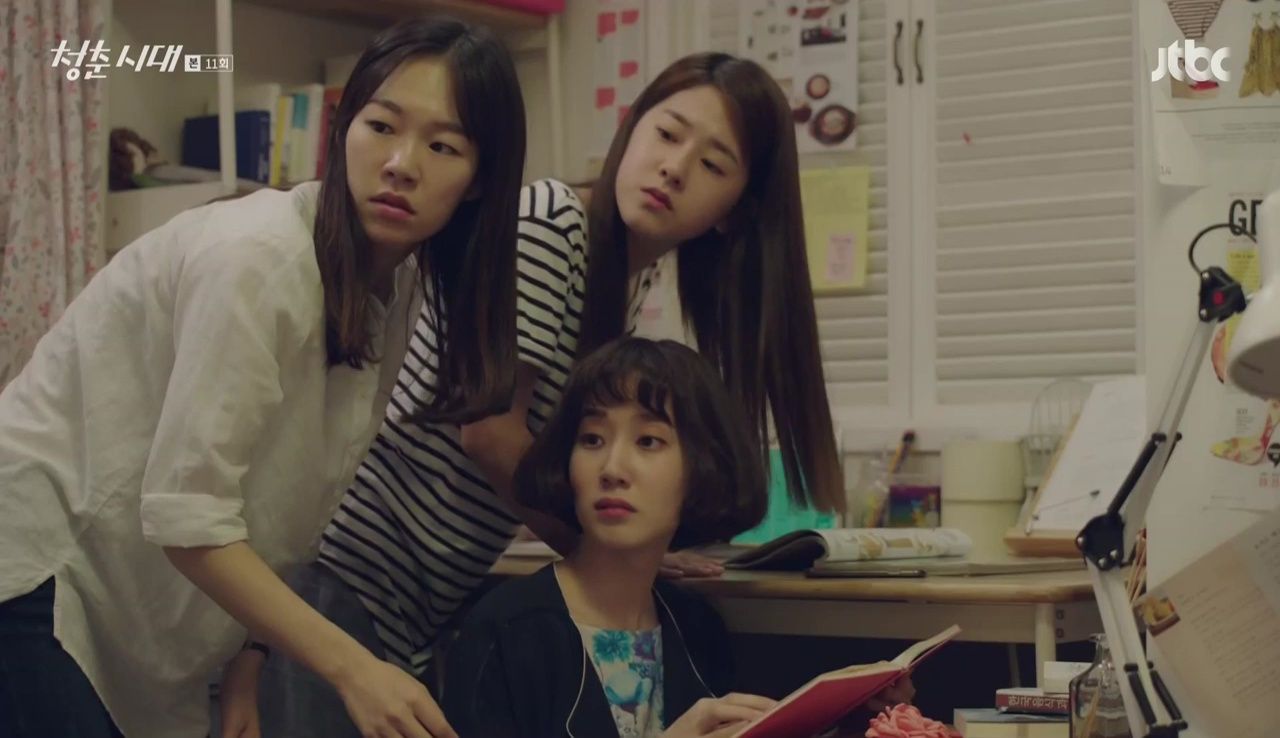 Regardless, all that Doo-young craziness may have been worth it for the housemate rescue scenes alone. Sure, it may have taken two days for them to notice Ye-eun was gone (I blame this on Ji-won's absence), but I loved everything about that whole part — from the initial moment of realization that Ye-eun might be in trouble, to the scenes of the girls sobbing hysterically in the aftermath, losing it over their concerns about Eun-jae. It was great to see the girls being smart about the whole situation, thinking through ways they could find Ye-eun as quickly as possible. But above all, the friendship that the five girls have slowly developed across the span of eleven episodes was so clearly on display throughout, and the characters continue to be consistent in who we know them as, even in the smallest moments — and that's no easy feat.
I thought the confrontation scene with Doo-young was also well done — it touched on Eun-jae's issues (while highlighting the need for that girl to get some therapy, stat!), allowed Ye-eun to take some active part in her rescue by being the one to push Doo-young away from her, and the girls dished out a bit of well-deserved ass-kicking for Doo-young. After all that, it was icing on the cake to get that sweet moment between our maknae couple at the hospital, along with the other two surprise visitors for Jin-myung and Yi-na. But ack, my heart goes out to Ji-won — not to perpetuate this myth that you need a man to be happy, but I can understand why she felt so lonely in that moment.
The kidnapping plot, as out of left field as it felt, hasn't diminished my love for the show at all. But there really were so many other things I'd rather have spent time on this episode, like getting more into the details of Ji-won and Sung-min's relationship (which, by the way, is totally heading for romance — shippers rejoice!), or going deeper into Eun-jae's story with her dad and her family, or giving us more info on what Ji-won's hiding and who this Hyo-jin is. Seriously, we have ONE more episode to go. How are we going to fit in our answers, plus the requisite awesome roommate moments, plus more cute romantic moments with our already established couples? The answer: We need more episodes, JTBC!

RELATED POSTS
Tags: Age of Youth, featured, Han Seung-yeon, Han Ye-ri, Park Eun-bin, Park Hye-soo, Ryu Hwa-young