Age of Youth: Episode 6
I agree, ladies. This episode is most definitely a 10/10 for me too. I've been enjoying our five heroines as they gradually shift from housemates to girlfriends, but it's always nice to check in with the boys and see some improvement with the romantic relationships. And the great thing about having five heroines is that we get five romances (or lack thereof, in Ji-won's case) to look forward to. And no matter how awkward or even scary each romance goes, the girls will always have each other to fall back on.

EPISODE 6: "In retrospect, it was foreshadowing #starting point"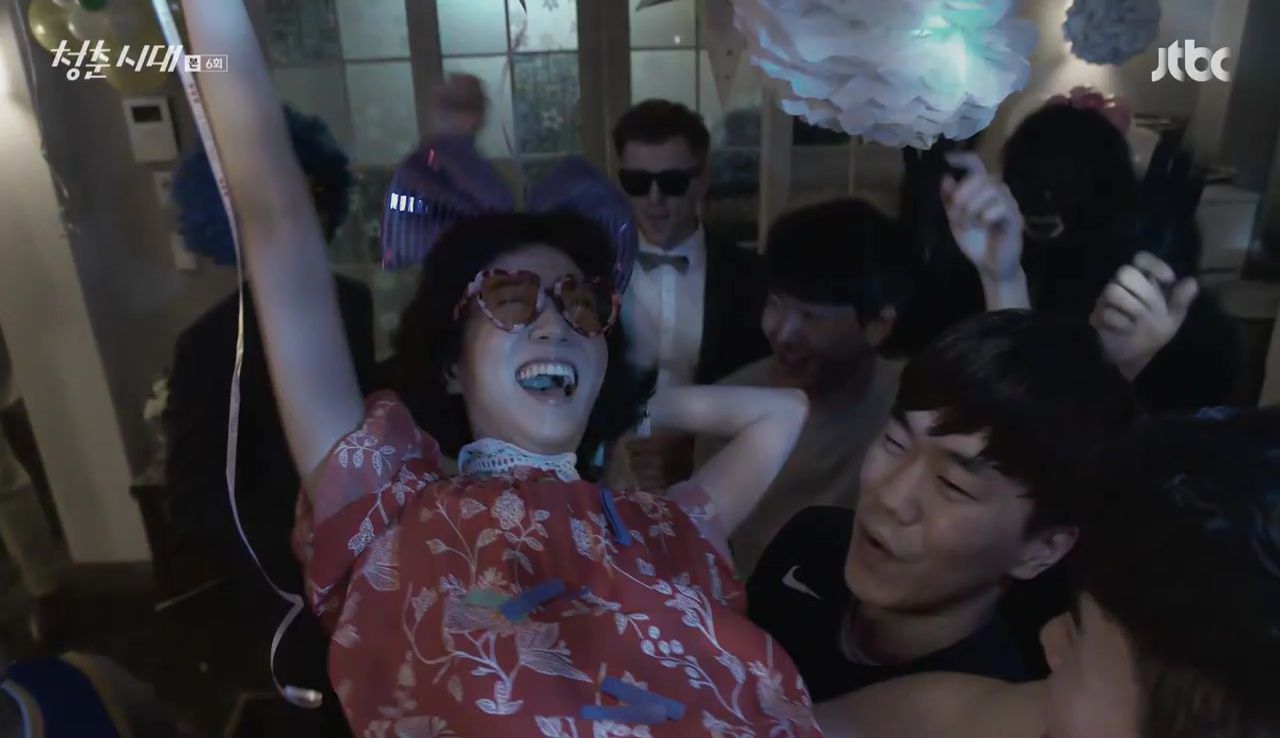 The Night of Men seems to be a complete success—the entire Belle Epoque house is filled with guys. Everyone's having a blast as Ji-won dances wildly with the basketball team, ecstatic to be in a room full of so many potential suitors. And then everyone freezes in place as Ji-won narrates that this is what should've happened.
In reality, the basketball team flaked due to a last minute scrimmage. Her foreign friend had changed his number and couldn't be reached. And classmate Sung-min couldn't even get out of bed due to a hangover. One by one, every boy disappears from Ji-won's perfect fantasy, until…
"Hey, come to your senses! You have to face reality," Yi-na's voice wakes Ji-won up from her dream.
Ji-won evaluates her surroundings: The room is almost entirely empty, save for Jong-yeol, Doo-young, and the Yi-na's stalker man. Gah, why are you here?
"Reality?" Ji-won says dejectedly. She can't have that. She'd rather go back to her fantasies. The girls hold Ji-won back as she tries to make a run for the wall. "That's not a wall," she thinks. "There must be a door to Hogwarts somewhere!"
The girls retreat to Yi-na's bedroom. Doo-young and Jong-yeol try to make some friendly conversation, happy to hear they're around the same age. "I'm a late '68-er," Yi-na's stalker, Oh Jong-gyu, cuts in. Aaand it's awkward again.
Ji-won can't believe Yi-na actually dragged someone that old here, but Yi-na counters that there was never an age limit. Then Ji-won turns the spotlight to Ye-eun and asks why she brought douchey Doo-young when they were supposed to be over. Ye-eun smiles, saying it just turned out that way.
The boys call out from the living room, so the girls file out and join in on the awkwardness, sitting across from them. Ji-won breaks the silence, unwilling to let her plan fail. She springs up, blasts some music and hands everyone drinks.
They all toast with higher spirits, and Ji-won crowns herself as the party king since she's the only one without a date. She points to Jong-gyu and asks what kind of relationship he has with Yi-na. He responds that they just meet every now and then, and he came as a favor to her.
Ji-won asks him if he likes Yi-na. Jong-gyu's eyes grow dark (eek!) at that question and he doesn't answer. Doo-young is up next for interrogation. Ji-won asks him how he and Ye-eun made amends.
In flashback, we see the rest of the couple's conversation, after Ye-eun had burst into tears. She apologized to him, saying everything was her fault.
Back in the present, Doo-young tells Ji-won that he was the one who begged for forgiveness. Ji-won warns him not to do any more stupid things that require forgiveness. Doo-young scoffs and takes a swig of his drink, taking note of Yi-na's disapproving face.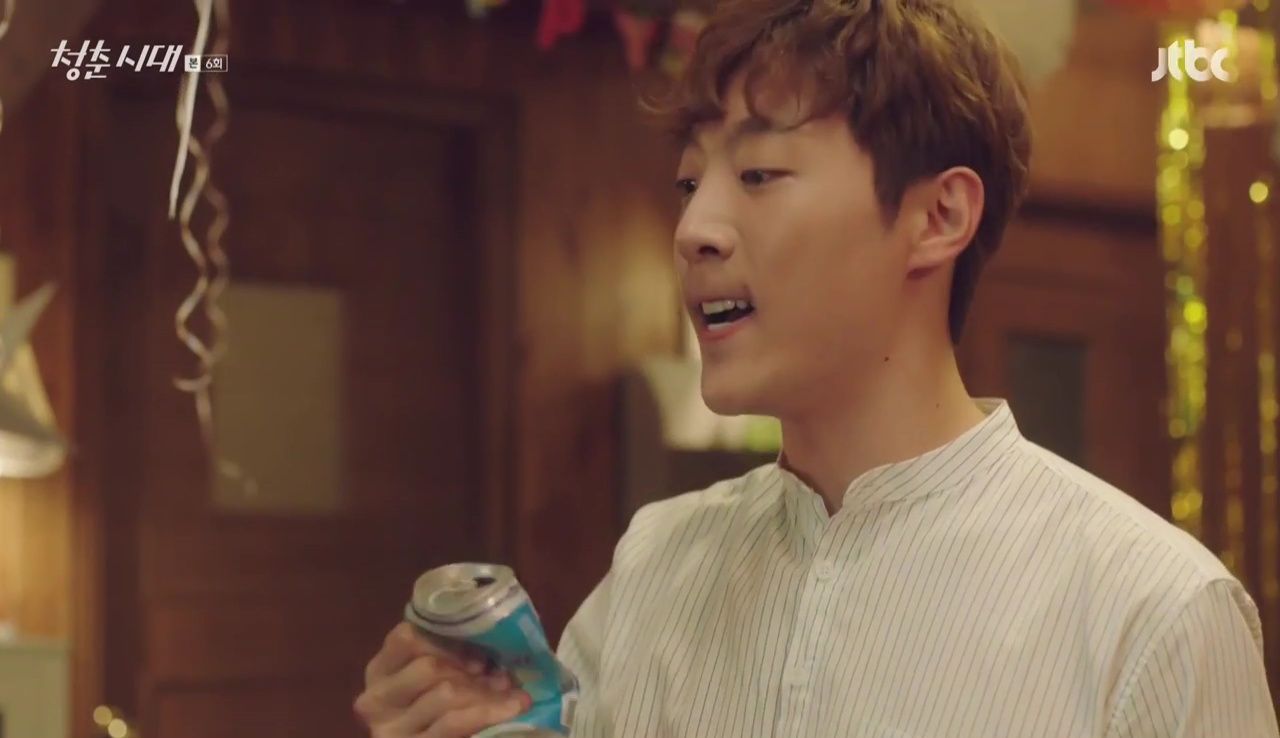 Ji-won turns to Jong-yeol and asks how far he's gotten with Eun-jae. "In your imagination," Ji-won clarifies. Jong-yeol downs his entire can and crushes it in his fist, saying his answer would be rated NC-17. Whoa there. Eun-jae's eyes are as big as saucers.
Now that Ji-won's interviewed all the men, she changes the subject to herself. She continues dancing, pointing out she has it all—the face, the body, the personality—so why can't she get herself a man? She asks the guys to admit the type of woman they don't like. Jong-yeol: "Women who talk too much!" Doo-young: "Women who are too nosy!" Jong-gyu: "Women with no tact."
In other words, Ji-won. Everyone points at her, laughing, and Ji-won just dances along, keeping the mood up.
The party seems to have found its natural flow, and everyone sits in a circle to play a "Most Likely" game. Someone asks a question and they all point to who they believe is most likely to do so. The questions start off being the typical college stuff and with every question, all fingers hilariously point at Jong-yeol.
So Jong-yeol brings up another question: "The person most likely to have a really shocking secret." Eyes get shifty.
Jong-yeol counts off: "One, two, three!" And everyone points at Jong-yeol again. Ha!
Jong-yeol curses and whines for them to stop singling him out. He then catches Eun-jae pop a peanut in her mouth and starts freaking out. Eun-jae just stares at him until she says she doesn't have a peanut allergy—she just doesn't like to eat them. Her brother's the one with the allergy, she corrects, her face falling.
Ji-won comes to the rescue and gets in Jong-yeol's face. "You like Eun-jae, don't you?" she asks with a knowing smile. Eun-jae tries to reject this again, but Jong-yeol quietly says he does like her. Ji-won tells him to say it louder, so he barks, "I said I like her!" Eun-jae is more than stunned, while everyone else goes crazy and starts congratulating him for his love.
At Jin-myung's restaurant, the manager checks in on how she's doing at the register. He talks to her as he caresses her shoulder.
From the kitchen, Jae-wan sees it all happen on the security camera. He's so distracted that he leans against the hot stove and burns his hand.
The party keeps on going with a dance competition between the boys, with the girls as their judges. Once it's Jong-yeol's turn, he does this interpretive martial arts dance that finally gets a genuine smile out of Eun-jae. Jong-gyu performs a rather beautiful shadow puppet show, which seems to touch Yi-na in particular. He gets a solid 10 from all the judges.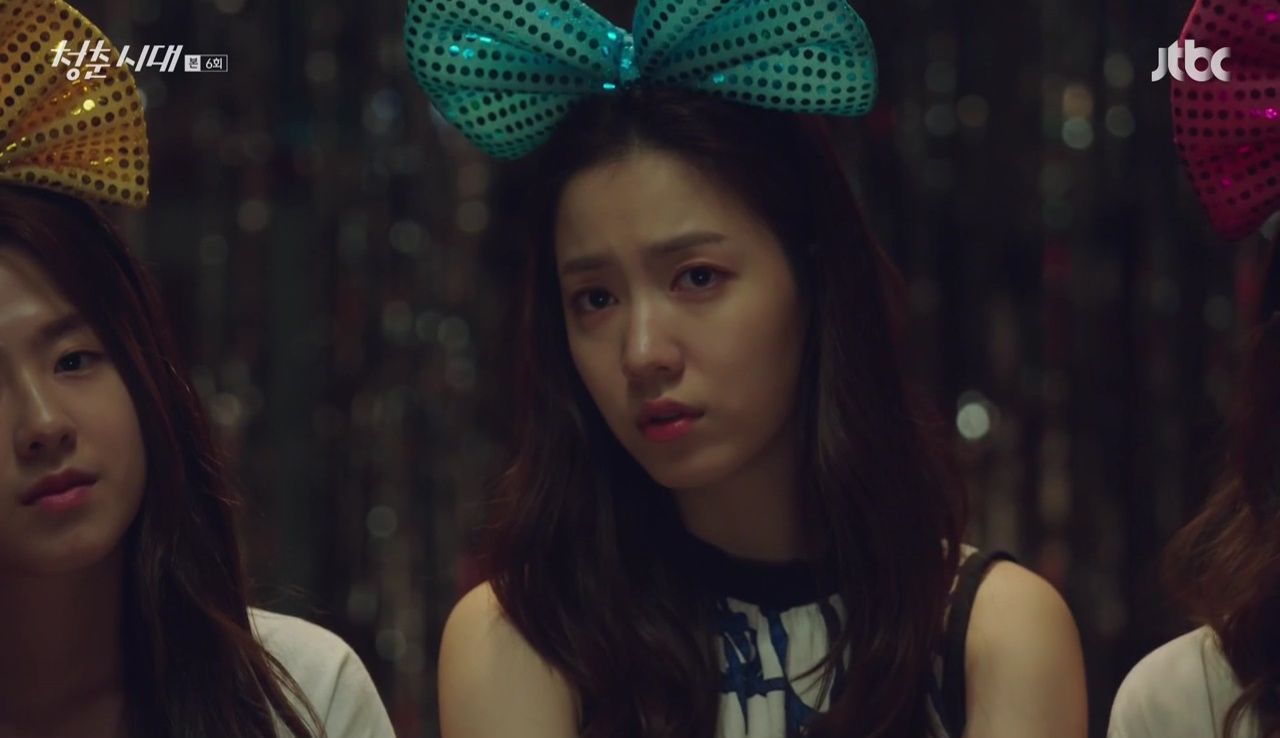 At the end of work, the manager calls Jin-myung over to the register, claiming there's money missing. Afterwards, he takes her out for drinks, and tells her even if it was only three thousand won, the amount left over has to be exact.
He starts getting angry when Jin-myung keeps checking her watch for the next train: "If you're going to be like this, just go!" But he calms down when she doesn't. Out of the corner of her eye, Jin-myung catches a man and woman ride off on a white motorcycle. Is that Jae-wan?
While everyone dances, Jong-gyu pretends to answer a call in Yi-na's room. He searches the room until he finds the florescent bracelet in her jewelry box.
Alas, the party must come to an end, and the girls send the boys off. Ye-eun gives Doo-young a big running hug, which he doesn't return wholeheartedly. Jong-yeol tries to do the same with Eun-jae, but Ji-won suddenly switches to Mother Hen mode and blocks him.
They all head back inside, where it's a complete mess. Ye-eun asks if the party was a success and if the ghost is gone. Ji-won's eyes bulge as she stares at what we can't see. Apparently, the ghost is now red… meaning rage. She runs off to her room, saying that the ghost's anger is hurting her head. So they all decide to clean tomorrow. Once everyone's gone, Eun-jae turns toward the shoe cupboard. "Dad?" she calls out quietly.
Ji-won's head hurts too much to fall asleep, and she can't help but feel uneasy about the events of the party. Why was everyone acting so weird? She remembers Jong-yeol's question about secrets and how everyone looked guilty. "Well, everyone has secrets," Ji-won thinks. But she can't shake the image out of her head of Jong-yeol asking the question, and then pointing right at her.
Jin-myung comes home to find the mess, accidentally setting off the disco ball. She's entranced by the lights and she envisions how the night might have gone had she been there. She sees herself dancing, laughing, and just having a good ol' time. With Jae-wan. She clicks off the disco ball, clicking her fantasy off in the process.
The next morning, the girls get to cleaning, and we hear Ji-won's voice narrate how the excitement of the party died down and everyone went about their boring everyday lives.
Ye-eun stops when she picks up a bag of peanuts. She turns to Eun-jae: "You said your brother had a peanut allergy?" Eun-jae says yes. Ye-eun reminds her that Eun-jae said she didn't have a brother. Eun-jae's expression darkens. "I had a brother," she corrects. He had died because of his allergy.
Ji-won's narration continues: "The impact that this celebration had on us—…" Ye-eun: "Stop it already!" LOL, Ji-won peeps over the couch, revealing that she'd been narrating out loud this whole time.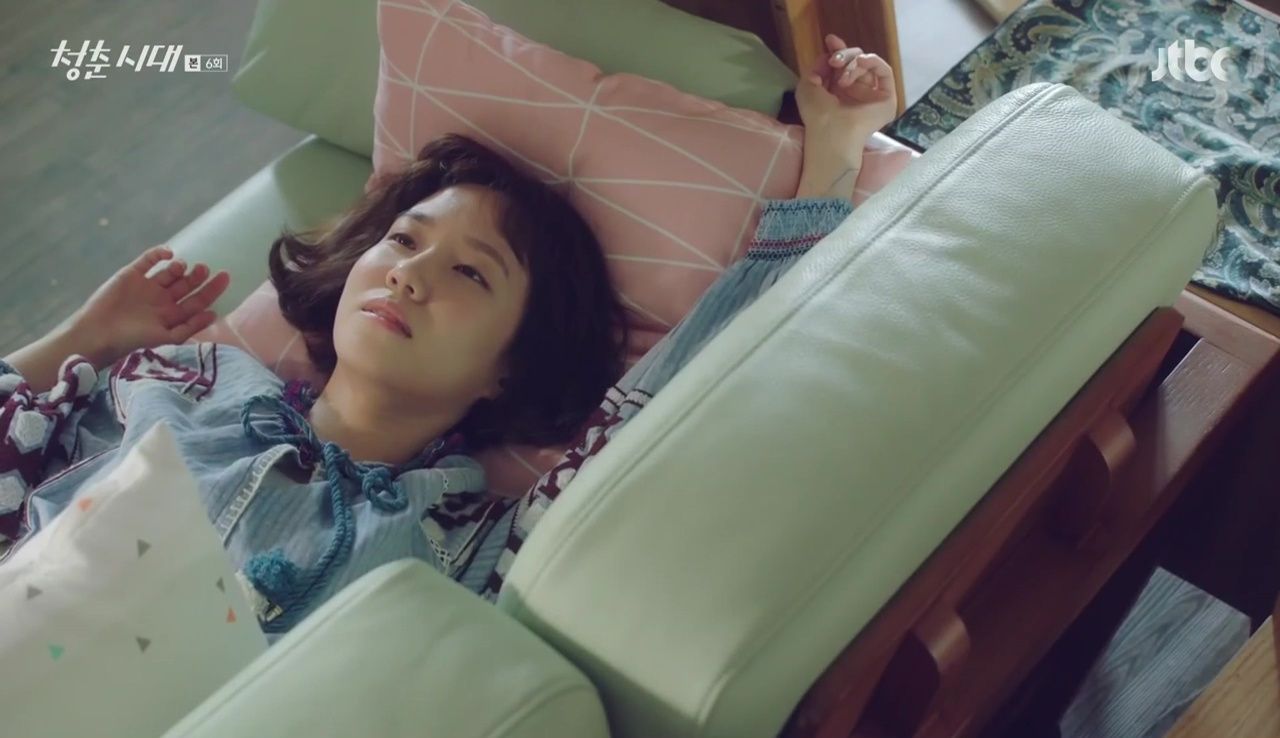 Eun-jae and Ji-won take all the empty cans and bottles out to the recycling bins. Eun-jae turns to her sunbae, wondering if guys always says things like "I like you" and "Let's date" when they drink. Ji-won nods, and Eun-jae actually looks disappointed.
Ye-eun and Doo-young return to being a happy couple, grocery shopping together and preparing food at his place. However, when Ye-eun's in the bathroom, Doo-young quickly searches through her phone until he finds Yi-na's number.
He smoothly returns Ye-eun's phone to its place and slips his own phone in his pocket seconds before Ye-eun comes out. She pulls him into a cozy back-hug which he accepts, though his face doesn't look too happy.
Over a fancy dinner, Yi-na's buddy Dong-joo asks who she brought to the party in his place. Yi-na recalls Jong-gyu's puppet show, and this time we see what Yi-na saw—the man had been crying.
Jin-myung gets visited by two loan sharks at the restaurant. They want her to pay up for her mother's debt, but Jin-myung refuses and argues that it's against the law for them to bother her for someone else's debt. It looks like the men are about to resolve to violence when Jae-wan cuts in. "Aren't you going to get ready?" he says to Jin-myung. She accepts his gateway out and leaves, Jae-wan right behind her.
At the end of the day, she goes to the break room to change. Now that she's alone, her tears threaten to spill out. She tries to stifle her cries, but they come out anyway.
She finds Jae-wan waiting for her outside. She tries to walk away, adamant that she doesn't want him being nice to her. She wants him to know saying that wasn't easy for her. Jae-wan pulls her back to face him.
"Do you think this is easy for me then?" he says, his voice growing more desperate.
He's embarrassed that she rejected him and hates that she keeps pushing him away. Jin-myung looks at him, trying so hard not to cry again, and tells him to just stop. She frees her wrist and stalks off.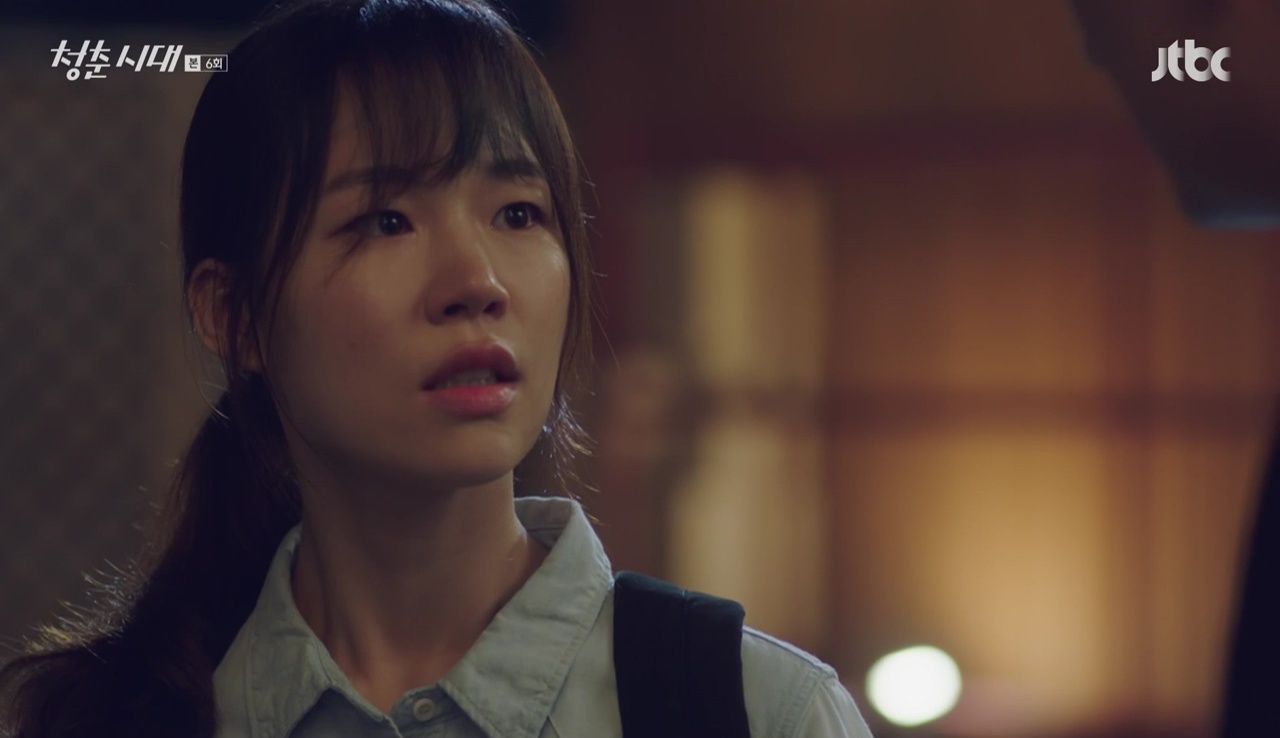 Eun-jae gets ready for class the next morning, and she just can't get Jong-yeol's confession out of her head. She looks down at her jeans and decides to go with a cute skirt instead. Oooooh, are we trying to impress someone?
Of course, she can't get past Ye-eun and Ji-won without the sudden change being noticed. Eun-jae almost turns around to change again, thinking it's too weird, but Ye-eun pulls her back. Ye-eun can tell this must be for Jong-yeol, so she drags Eun-jae into her room. Ji-won smiles as she watches them leave, but a high-pitched sound in her ear makes the smile disappear.
Ye-eun gives Eun-jae a touch of make-up and even lends her one of her precious handbags. Ye-eun offers her seal of approval, so Eun-jae heads off to class. She looks as self-conscious as ever, but she's also glowing with anticipation.
But Jong-yeol isn't there. Eun-jae slumps in her seat with disappointment, when he suddenly bursts in the room and takes a seat on the other side of the room.
She fixes her shirt and tries to meet his gaze, only to get pouty when she sees he's too busy looking at another girl's textbook. She's unable to get his attention all period, and by the time class is over, he's already gone.
Her oily ex-crush finally makes an attempt at wooing her and compliments her new look, but she could care less about him and his hair flips now. She leaves him to search for Jong-yeol, but she's unsuccessful.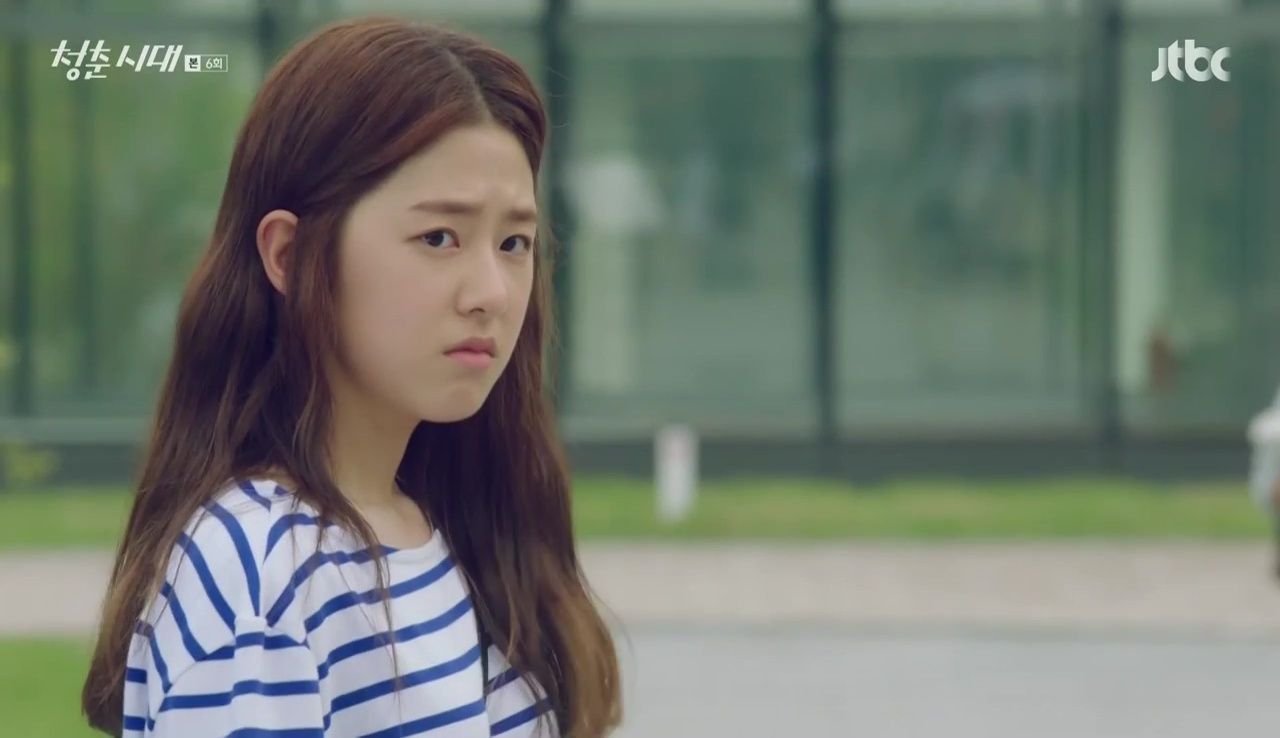 Eun-jae shuffles through campus with her head down, defeated. Her head snaps up when a voice calls out, "Did you drop something?" Jong-yeol imitates her hunched posture and tells her to square her shoulders a bit, making the two girls walking with him laugh. Eun-jae glares at him as he leaves.
Ji-won finds Sung-min to brag about the party, and she hears that same high-pitched sound from before. Hm, is this the resident ghost acting up?
Jong-gyu broods in his home, examining a newspaper article with a picture of a soaked Yi-na wrapped in a blanket, clutching the bracelet from her jewelry box. The headline reads: 'The Bracelet Brought Me Luck,' Survivor Kang Yi-na. Jong-gyu tosses the article aside to examine the very bracelet, and we see a picture of a young girl sitting on his desk.
Meanwhile, Yi-na gets a text from Doo-young asking to meet up. He wants to talk to her in person. Yi-na looks like she's about to shut him down when he adds that it's about Ye-eun. That reels her in. Yi-na meets Doo-young at a bar and tells him to get straight to the point. Doo-young: "You don't like that I'm dating Ye-eun, do you?" Yi-na: "Was it obvious?" Doo-young admits he doesn't like that he's dating Ye-eun either. He wishes she could be with a better man.
"You could just become a better man for her," Yi-na says. (*slow clap* Thank you.) Doo-young sighs that he can't do that. He can't break up with Ye-eun either. Then, out of nowhere, he confesses that his mother had committed suicide when he was young. His father had been cheating and married again afterwards, only to cheat on that woman as well.
Yi-na doesn't understand why he's telling her this. He says it's just because he felt she must have as many scars as she does. He places his hand over hers, and that's the final straw. Yi-na calls him a terrible bastard and storms out.
After getting exceptionally drunk, Doo-young returns home to find the place clean. Ye-eun comes out wearing an apron, happy to see him back early. His eyes fixed on hers, he slowly embraces her. But he's unstable from drinking and his weight sends them tumbling down.
He buries his face against her chest and mumbles, "Why do you like me? What do you see in a bastard like me?" She asks if something happened, but he just hugs her tighter and cries into her shirt. Ye-eun pats his back with a comforting hand. Ah, dammit, Show. I so didn't want to feel bad for this guy…
When Ye-eun gets home, she's surprised to see both Yi-na and Eun-jae looking pretty down too. Ye-eun asks Eun-jae what's wrong. Eun-jae blames Ye-eun and Ji-won for getting her hopes up—now she's fallen for Jong-yeol and he's not even showing any interest.
Later, Eun-jae gets a text from Jong-yeol saying they should go to the movies tomorrow. Eun-jae scoffs and shoves her phone away.
The next thing we know, she's standing in the movie theater with Jong-yeol. They fall into their usual bickering, though there's something different in the air. Jong-yeol asks, "Why aren't you wearing a skirt today? You looked really pretty wearing a skirt." Eun-jae's pace slows. She watches Jong-yeol hand over their tickets, and the most hopeful smile spreads across her face.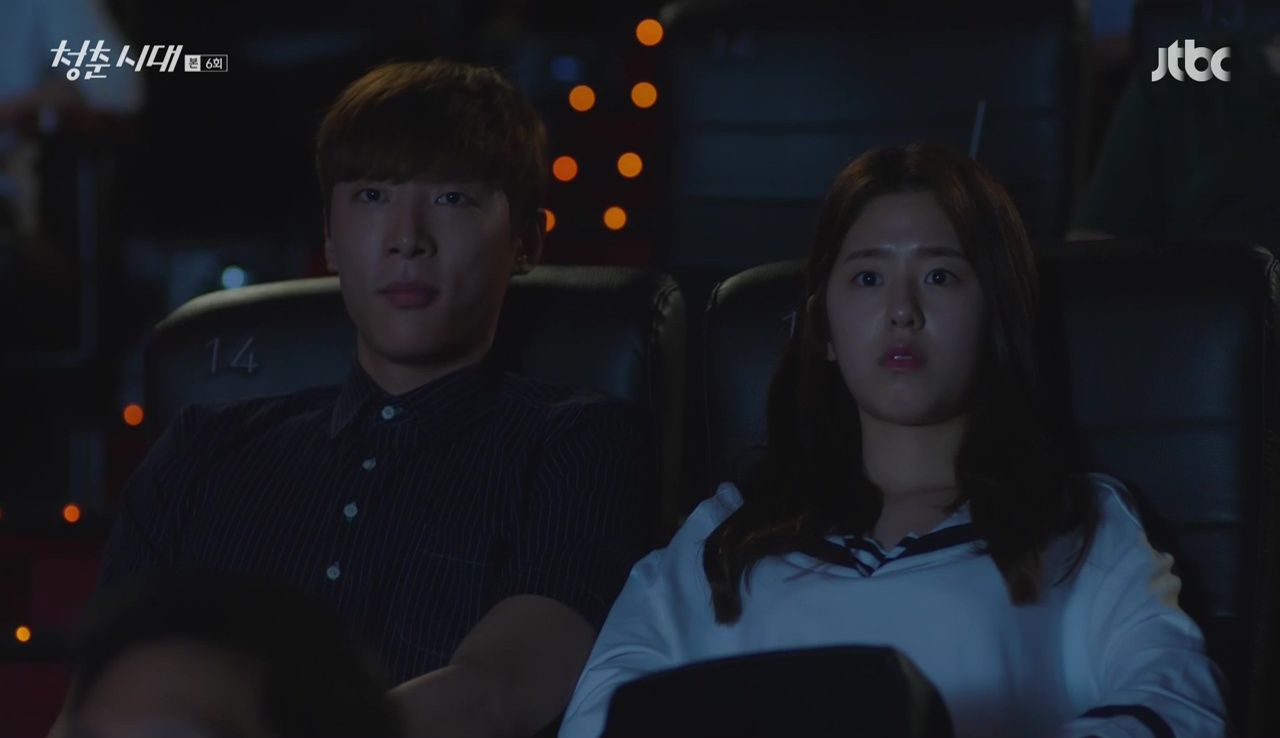 The movie is very romance-heavy and both Eun-jae and Jong-yeol gulp at the intense kissing scenes. Afterwards, Jong-yeol walks her back home. As he talks about the movie, Eun-jae freaks out in her head, scared he might try to kiss her.
Once they reach the house, they smile shyly at each other and play the "You go/No, you go" game for the longest time before finally deciding on Eun-jae going first. Jong-yeol slowly leans in, but Eun-jae flinches away and says he can't do this here.
Jong-yeol picks a leaf out of her hair with an amused smile. "I wasn't going to," he says. Eun-jae lowers her head in embarrassment while he laughs. "I wanted to go slow," he continues, "But if you're in that much of a rush…" Omo. He leans in again, this time with more intent.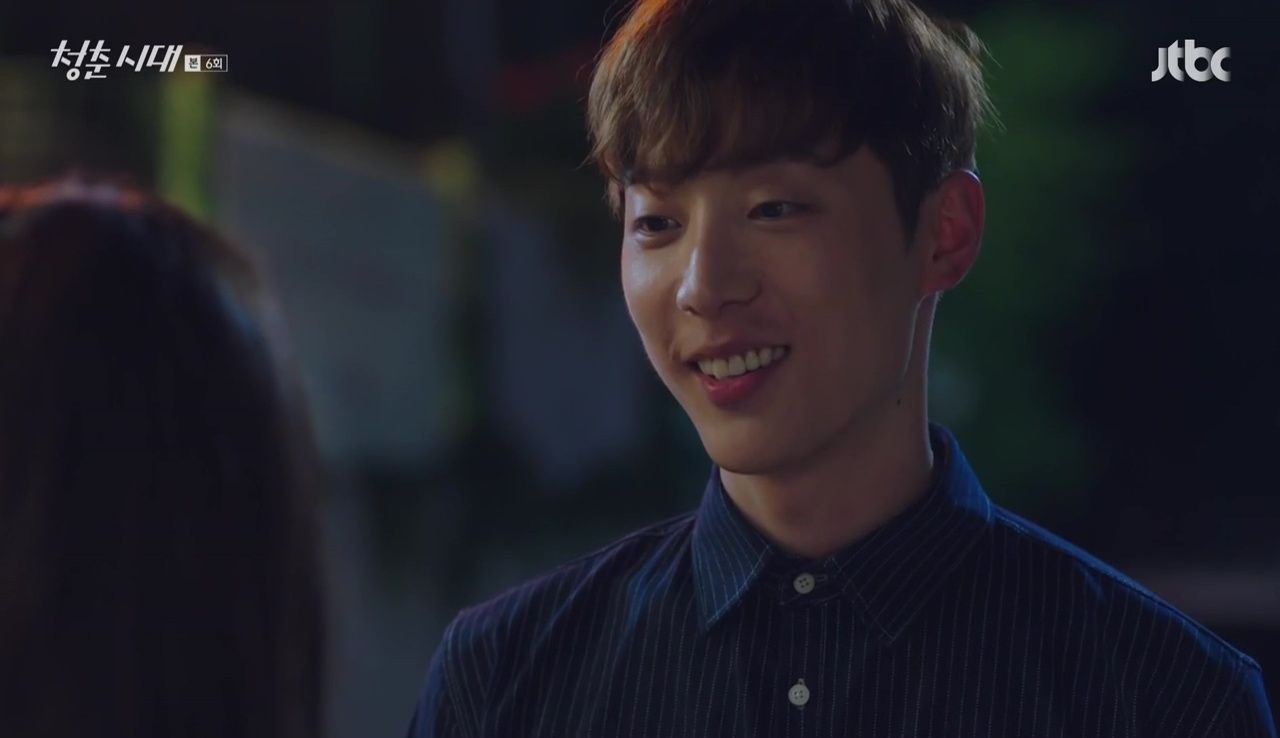 Eun-jae lowers her gaze again, causing them to bonk heads. She runs into the house and leaves Jong-yeol there clutching his forehead.
Eun-jae is a blushing mess when she gets inside, making Ye-eun and Ji-won suspicious. Judging by Eun-jae's aura, Ji-won guesses that she must've locked lips with Jong-yeol. Eun-jae claims they didn't and hurries off to her room.
Ji-won's laughter is interrupted by yet another high-pitched sound. "That's weird," she says. "What is this? I feel like I've forgotten something important." Ye-eun stops what she's doing and looks at Ji-won with a devious smile, as if she figured out what it must be.
The next day, all the girls, Jin-myung included, drag Ji-won to the park. Ha, it's time to perform her punishment for showing up to the party dateless.
The girls tell Ji-won to just get it over with and even cheer her on. "All right, all right! I'll do it!" Ji-won shouts. She finds a safe spot near a tree and takes a deep breath, gripping her coat. Then, in the most epic way possible, she spins behind the tree and comes out wearing a full-fledged Wonder Woman costume.
The girls laugh and take pictures, but Ji-won is far from embarrassed. She chases the girls around, trying to capture them, and smiles erupt all around her, from giggling high school girls to excited children. All the while, Ji-won takes pictures with many passersby and, of course, her four adorable sidekicks.
That night, the girls look over the photographs, the atmosphere the brightest it's ever been.
Ji-won hears that sound again and it seems to intensify as her eyes fall on the shoe cupboard. Her expression slowly changes from confusion to recognition, until it finally lands on horror.
"Now that I think about it, the signs were hidden everywhere," she narrates, "A small joke. A passing glance. The meaning behind a sigh that you thought meant nothing. If only I'd known what they'd meant back then."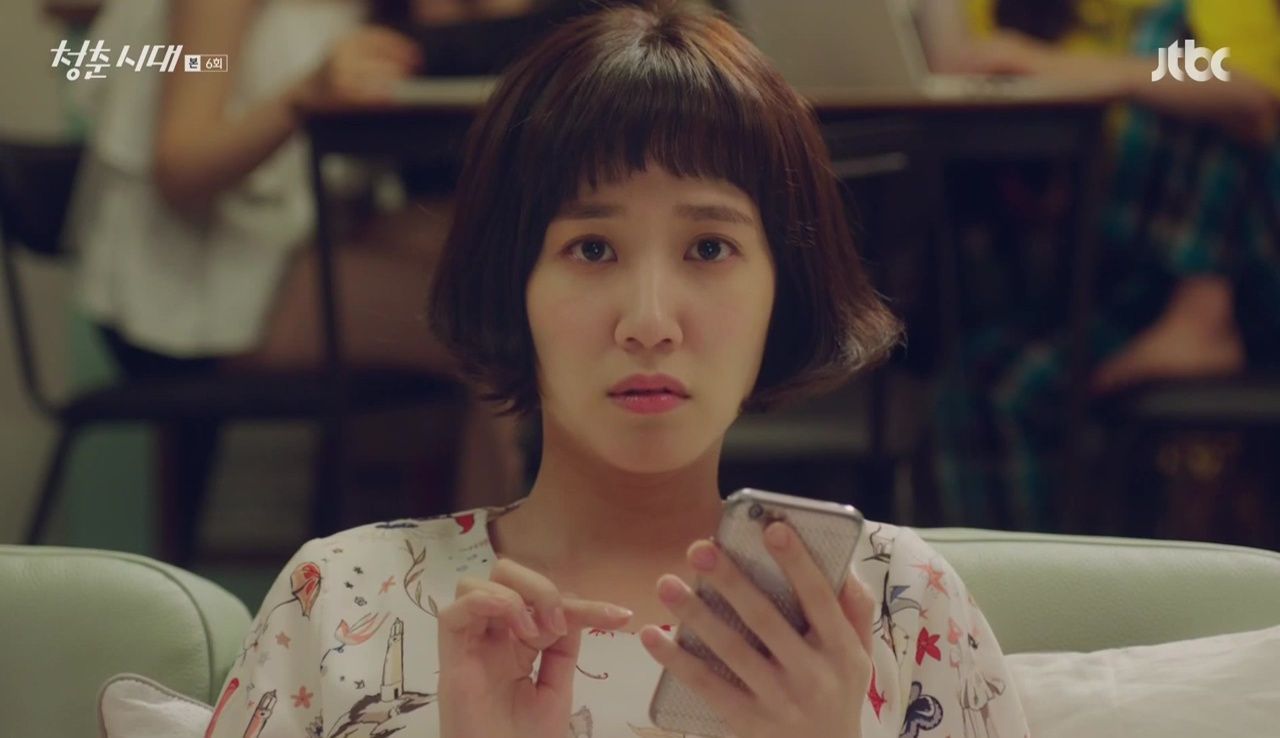 We're shown all the small signs like their first conversation over the ghost, Yi-na's special bracelet, and Eun-jae's deceased brother. Ji-won continues to narrate that just like foreshadowing is only made visible in hindsight, one realizes the weight of each passing second only after it's gone.
Ye-eun breaks Ji-won out of her trance to ask what's going on. "That thing over there," Ji-won says, "is the spirit of someone who was murdered." Everyone looks surprised, but it's Jin-myung, Yi-na, and Eun-jae in particular who look the most guilty. Ji-won narrates that though she didn't have any bad intentions, she might've been the one that set all of this up.
Epilogue. All five girls are interviewed about each other's style and are asked to rate everyone's looks. Yi-na gets the highest rank, while Ji-won and Jin-myung get the lowest.

COMMENTS
And my curiosity just keeps growing stronger. Because the show only delves into the mysterious ghost every once and a while, it makes me so much more anxious to find out who the heck it is. Some comments in earlier recaps mentioned that the melancholy edge that the show started off with seemed to be a sign that more than a person, and that the ghost could've been the representation of all the girls' pasts clinging onto them. After thinking about it myself, that theory sounded totally plausible, and even now, it still seems plausible. But then there's this feeling in the pit of my stomach that's telling me the show is trying to trick us. With this new information that the ghost is indeed someone who had been murdered, that feeling is only getting stronger. And if one of the girls really is "responsible" for the death of this spirit, which one of them could it be?
I'm also intrigued by the mystery surrounding Yi-na's stalker, Jong-gyu. Whenever his character makes an appearance, I still get scared out of my mind and I want him to go away. Yet, at the same time, I want to see more of him. And the more we see, the more fascinating his storyline gets. With the clues we were given, I assume that Yi-na got into some sort of drowning accident with another girl. Perhaps Jong-gyu's daughter? Perhaps Yi-na survived and the daughter didn't? If that were the case, I could see why Jong-gyu is so obsessed with Yi-na and might even want to harm her. But it doesn't seem that simple. Why does Yi-na believe she "killed" this girl? I like that the show is withholding so much information since it creates a good amount of tension, but gah, I'm just dying to get some flashbacks that show what happened that day.
But back to what I loved most about this episode: the boys. Now, I love watching female friendships play out onscreen—especially since we don't see too much of them in dramas—but, y'know, I like my romance. So I was practically bouncing with joy to be given an episode completely chock-full of it. We got lots of great angst between Jin-myung and Jae-wan, but the real couple of the hour was definitely Eun-jae and Jong-yeol, because how freaking adorable were they? Jong-yeol almost turned me off when he made fun of her posture (it just seemed way too preschool of him), but he managed to get me swooning again throughout their movie date. I sincerely hope it works out for those two. Because though I love seeing Eun-jae's confidence grow, her awkward shyness around Jong-yeol is the best. As for Ye-eun and douchey Doo-young… Er, get back to me next week. Not so sure how I feel about that yet. For now, I prefer Ye-eun smiling with these four goofs.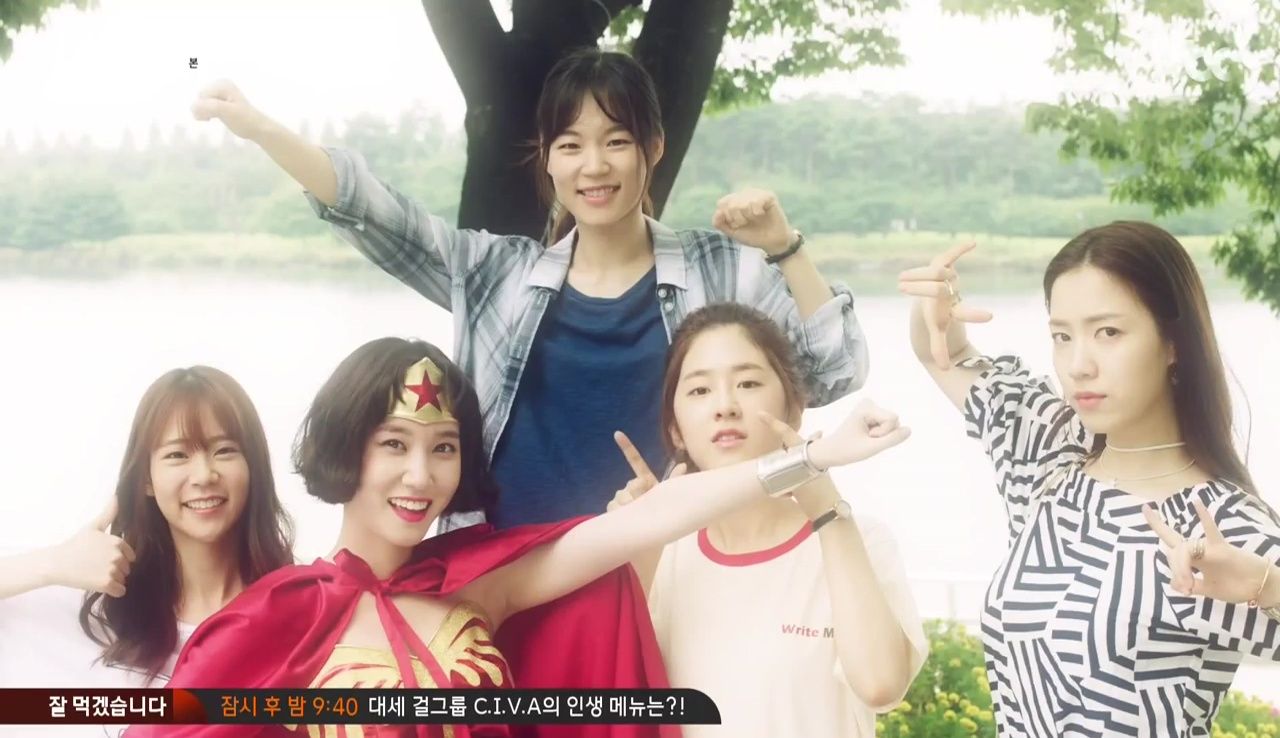 RELATED POSTS
Tags: Age of Youth, featured, Han Seung-yeon, Han Ye-ri, Park Eun-bin, Park Hye-soo, Ryu Hwa-young