Age of Youth: Episode 7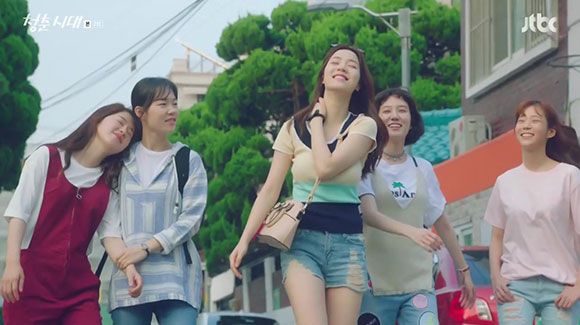 There's not a dull moment in sight for our five housemates, especially with romance blossoming, secrets being revealed, and roommate bonding happening at all hours of the night. This episode offers fewer laugh-out-loud moments compared to the last two, but there's a lot to digest as the story zips right along for most of our heroines (except for Ji-won, as usual.) My favorite moments continue to be the deepening friendships between our girls, though of course, it never hurts to add a dash of swoon-worthy boys into the mix.

EPISODE 7: "I'm someone who shouldn't be happy #sleep paralysis"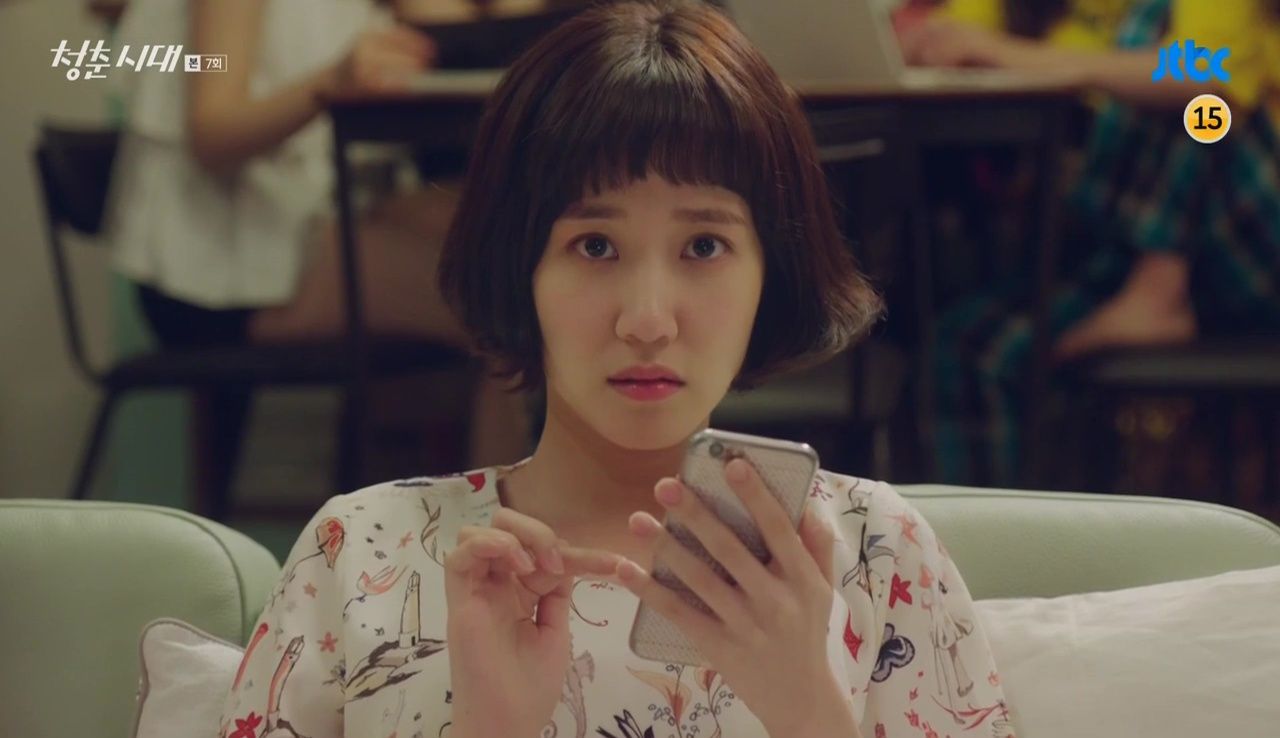 Ji-won stares at the shoe cabinet, the high-pitched ring in her ear still going strong, and tells her roommates that the ghost is the soul of someone who was murdered.
At those words, Yi-na, Eun-jae, and Jin-myung each think about who the ghost could be. For Yi-na, it's a person she was struggling with underwater. Eun-jae first thinks of her brother who died of a peanut allergy, and then of her dad. Jin-myung thinks about her brother, not quite dead, lying in the hospital bed.
The next morning, Jin-myung wakes up from a nightmare. As she's leaving the house, the two loan sharks intercept her about her mother's debt. They have an uncomfortable amount of information on Jin-myung, from her work schedule to her bank account balance. She looks at them in alarm, but walks off without a word.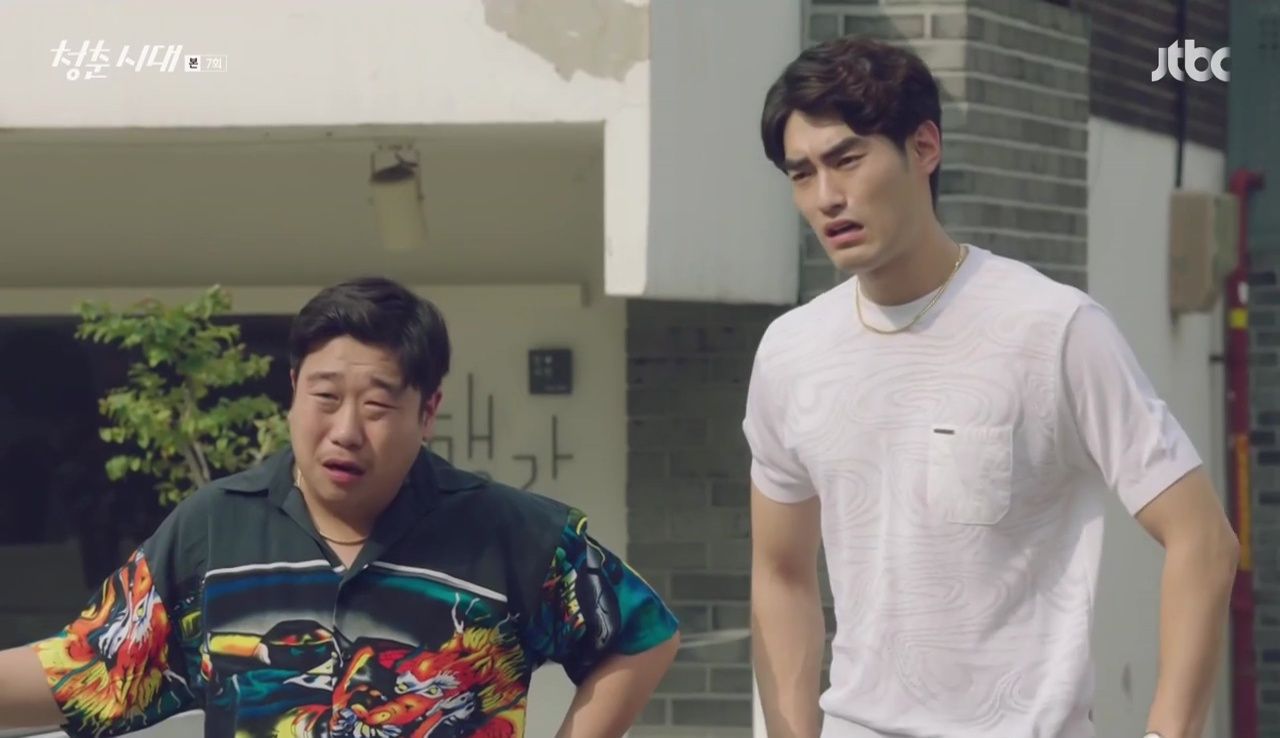 At the hospital with Ji-won's words about the murdered ghost running through her mind, Jin-myung slowly reaches for her brother's breathing tube. But she stops herself, and then is startled to see her mother behind her. Jin-myung stoically reminds her mom that she won't be paying back her debts again. Her mom just wants to know why Jin-myung doesn't ask after her brother, to which she replies, "Do I have to ask after a dead person?"
Back at the house, Eun-jae's having a very good morning, as all she can think about is Jong-yeol. She sees him everywhere, from the bathroom to the bus, and each time, he simply tells her, "I like you," causing her to giggle and smile to herself.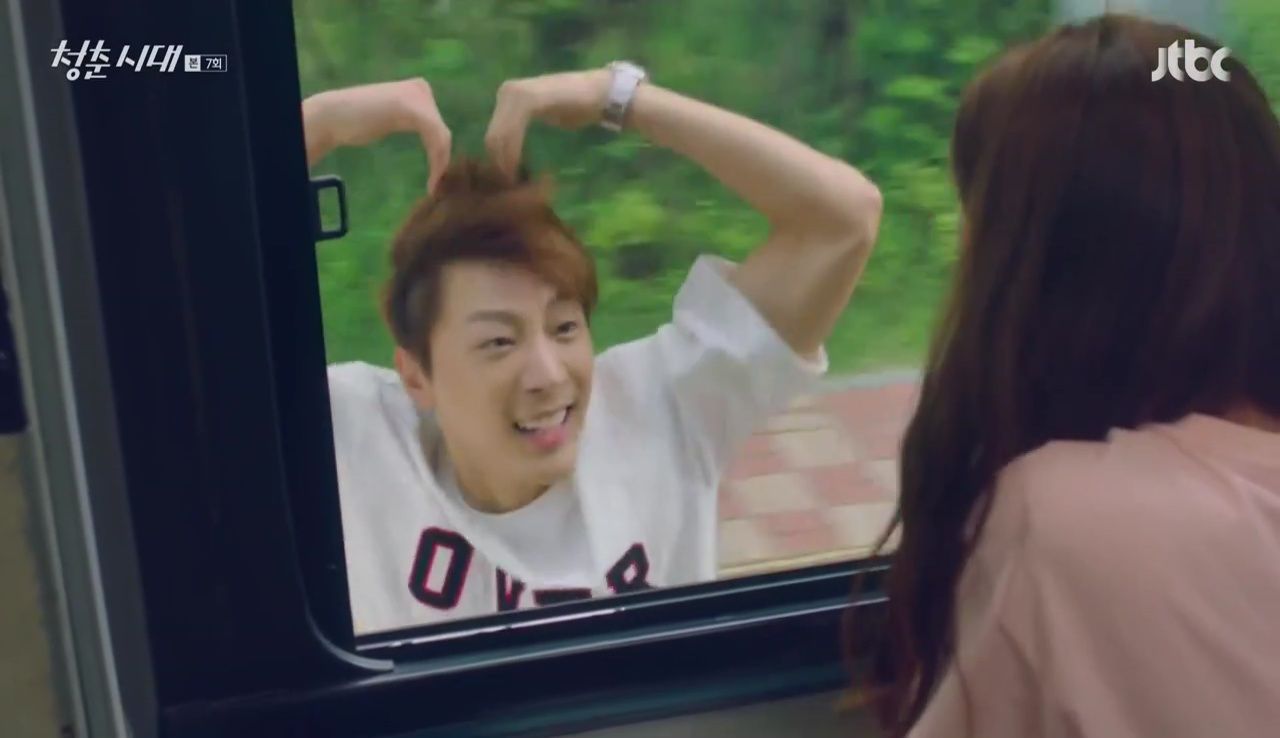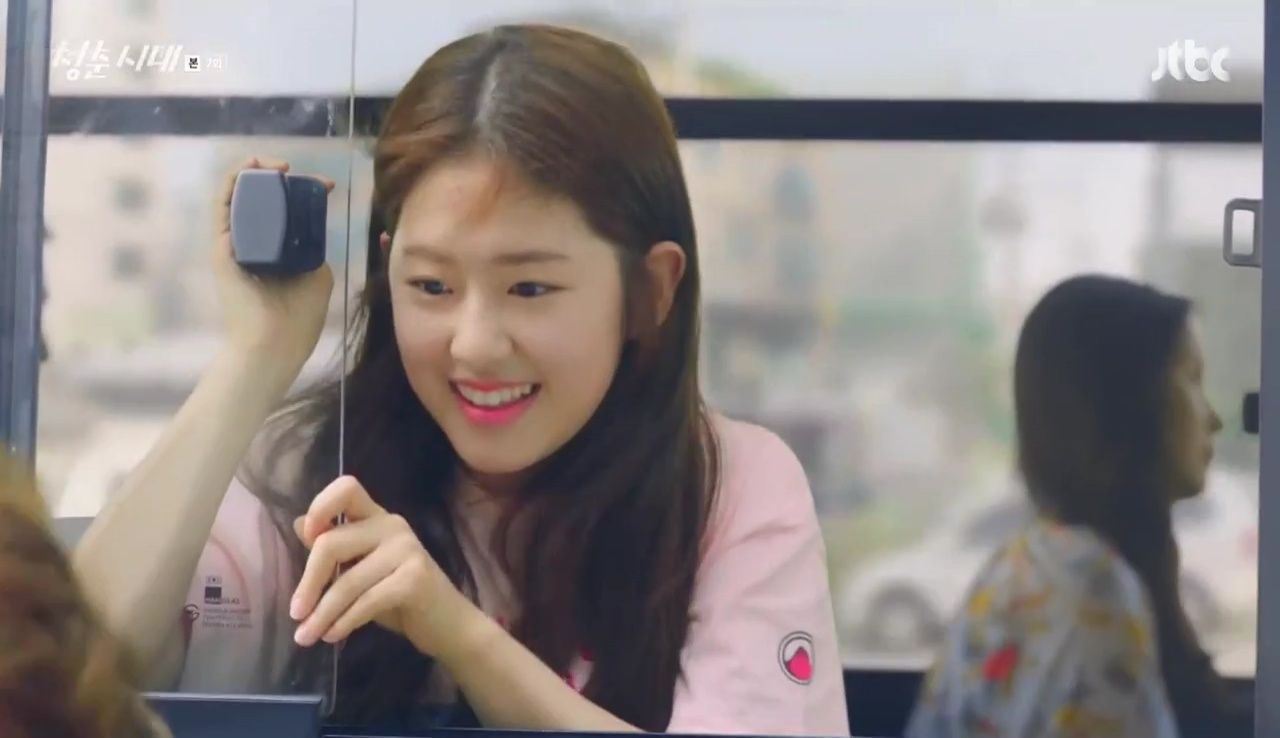 She sees Jong-yeol in class and makes a beeline for the empty seat next to him, but he says the seat is taken… by another girl, ouch. But thankfully, this is just her imagination — in reality, Eun-jae's hovering outside the doorway of the classroom, now doubting Jong-yeol's feelings for her.
She looks into the classroom again, and Jong-yeol waves. She sits next to him and they exchange smiles, but then Jong-yeol starts laughing, and his laugh gets louder. Suddenly, Eun-jae finds herself surrounded by the whole class, all laughing, and Jong-yeol announces that she's been pranked.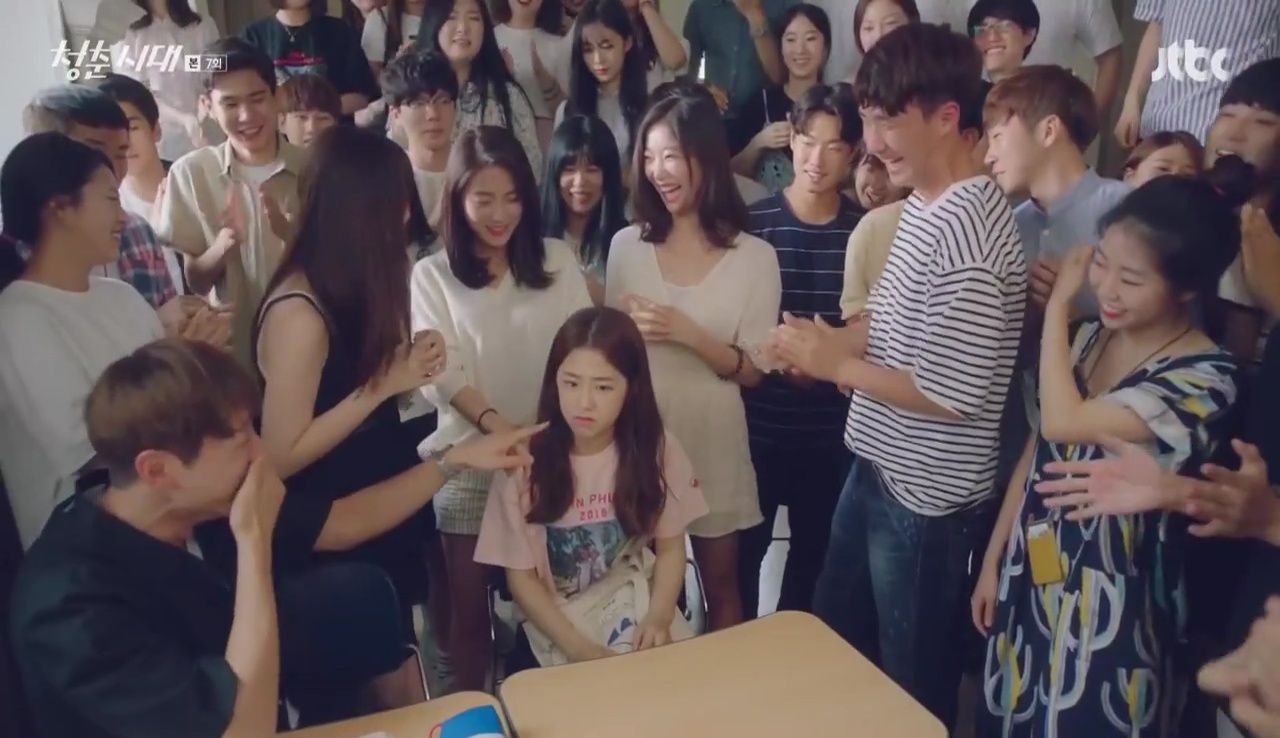 Alas, this too is part of Eun-jae's very vivid imagination — she's still outside the classroom. The real Jong-yeol isn't even in class yet, and he greets her as he walks up behind her.
They're interrupted by another female student who waves some keys at Jong-yeol, telling him not ask for a favor like this ever again. Jong-yeol eagerly grabs the keys and jokingly tells her that he loves her. But all Eun-jae hears is Jong-yeol saying "I love you," on repeat, as if he were really saying those words to the girl.
That night, Eun-jae imagines Jong-yeol all over her place again, telling her he likes her. But now, she scoffs at him, complaining that he'll say those words to anyone. Ji-won busts her for talking to herself in the kitchen, but Eun-jae just asks after Ye-eun — she has a question for her on something that Ji-won wouldn't know much about.
When Ye-eun pops out of her room, Eun-jae asks her how her relationship with Doo-young first got started. Though Eun-jae clearly wasn't looking for input from Ji-won, she jumps into the conversation anyway, and the two older girls have some fun teasing Eun-jae about her budding romance.
Their chatter is interrupted when Eun-jae's mom calls in a panic over being in a car accident. Eun-jae tells her to head to the hospital.
Eun-jae arrives at the hospital soon after and is relieved to find her mom lying in a bed, looking okay. Just then, an ajusshi in hospital clothes and a bandage on his head walks in, greeting Eun-jae warmly — this must be Eun-jae's stepfather. Eun-jae's confused to see that he's the one who got hurt instead of her mom, but Ajusshi just chuckles that her mother must have overreacted on her phone call.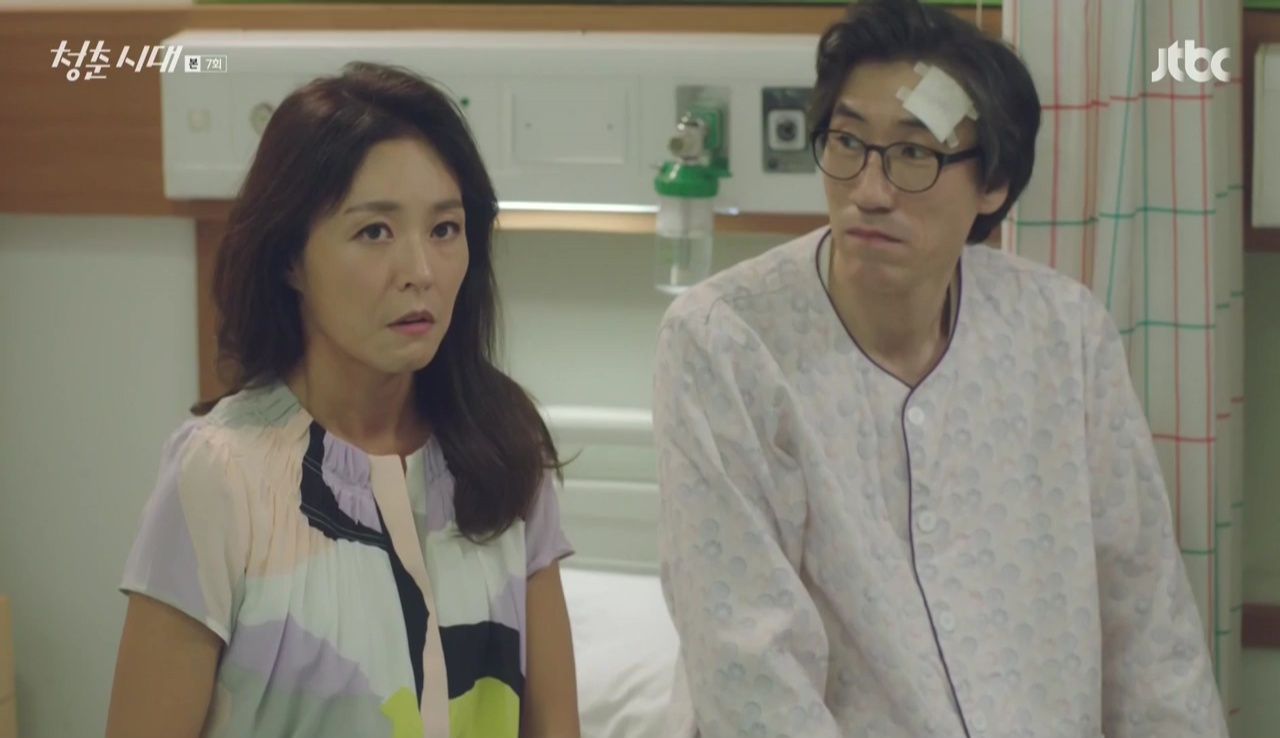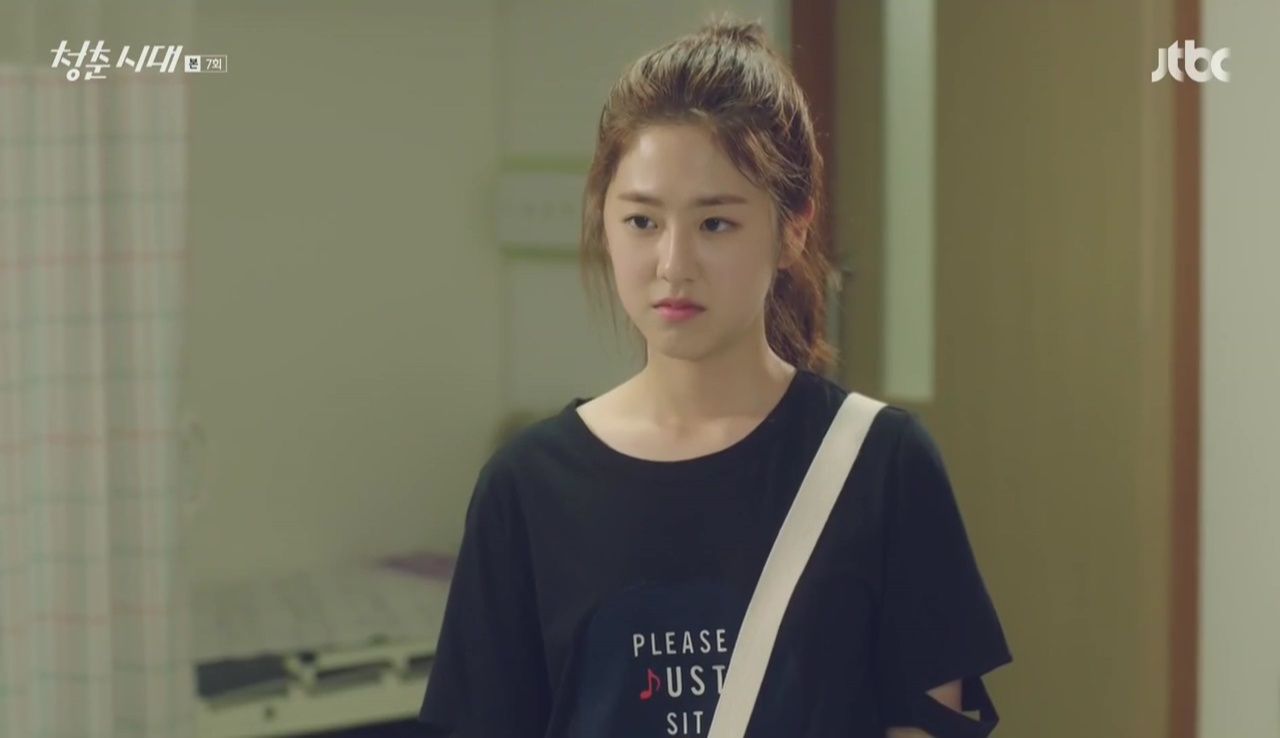 Eun-jae's mom gets up and smiles to see Eun-jae; Eun-jae, on the other hand, does not look pleased. Her mom picks up on Eun-jae's mood and starts laying it on thick about how traumatized she was from the accident, and how it really looked much worse than it turned out to be. Ajusshi appeases her mom by saying it was his fault, and hands her the ice cream cone that he picked up for her. Eun-jae just watches the two enjoy their cones.
Elsewhere, Yi-na's dentist boyfriend breaks up with her over dinner. Yi-na takes it in stride, telling him she understands.
She later meets with her confidant/stalker Jong-gyu at the bar, and suggests they take turns asking each other questions. Yi-na starts it off, asking Jong-gyu if he has a girlfriend or a wife, to which he shakes his head no. Jong-gyu is next, and asks Yi-na why she lives her life like she does — it's not that he's disapproving, but he's curious if there's a specific reason. Yi-na answers that since there are no guarantees in life, it's best to live recklessly.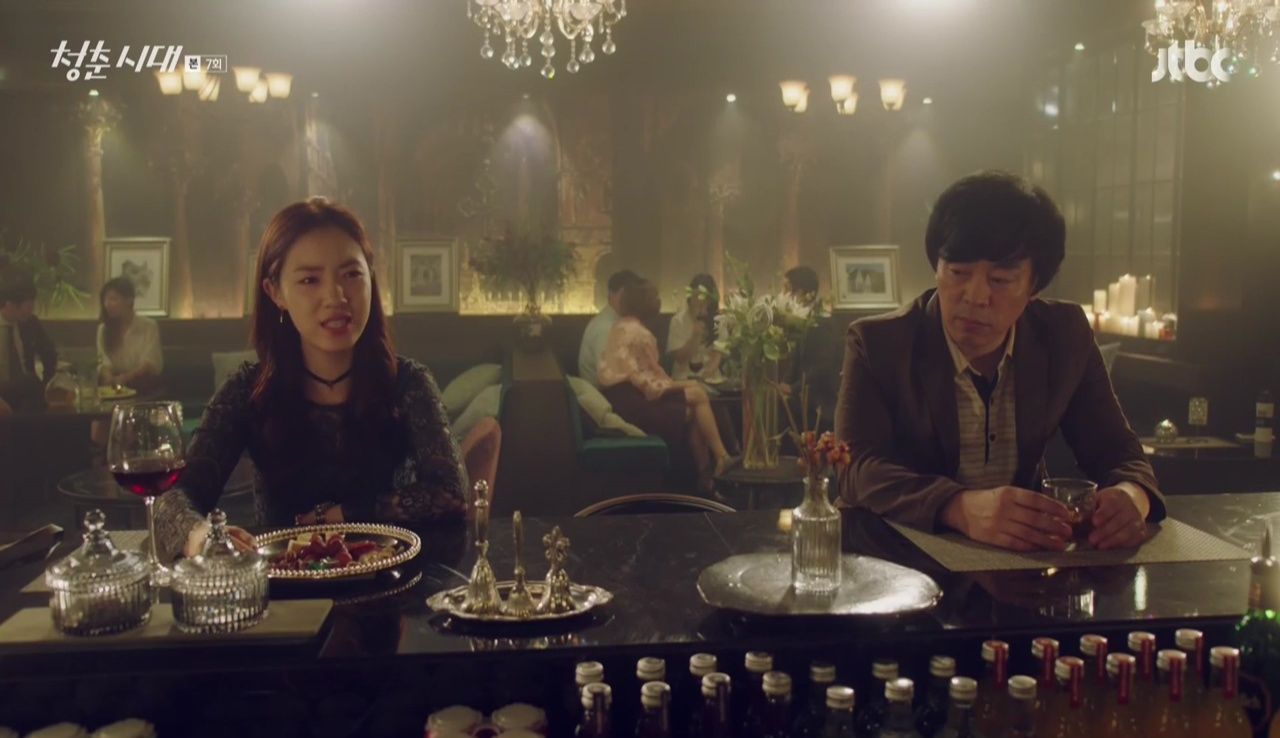 Yi-na's next question: Why did Jong-gyu cry during the shadow puppet show at her party? Embarrassed, Jong-gyu stammers that he was thinking about his daughter, who's now dead. Jong-gyu then goes back to Yi-na's last answer and asks what happened to her that she has that kind of attitude about life. She replies that she had a near-death experience on a trip in high school. As Jong-gyu gets shifty-eyed at the mention of the accident, Yi-na continues that the experience didn't make her think life was precious — it made everything in her life not seem real, including the future.
Yi-na next asks Jong-gyu what kind of women he likes. He says girls with bobbed hair were popular in his day, and then it's his turn again. He goes back to Yi-na's accident, asking her how she survived. She says it was just good luck, but as she thinks back to that moment underwater, with her and the other person struggling against each other, she hears Ji-won's words about the murdered ghost being angry. She ends the question-and-answer session there, and Jong-gyu looks relieved.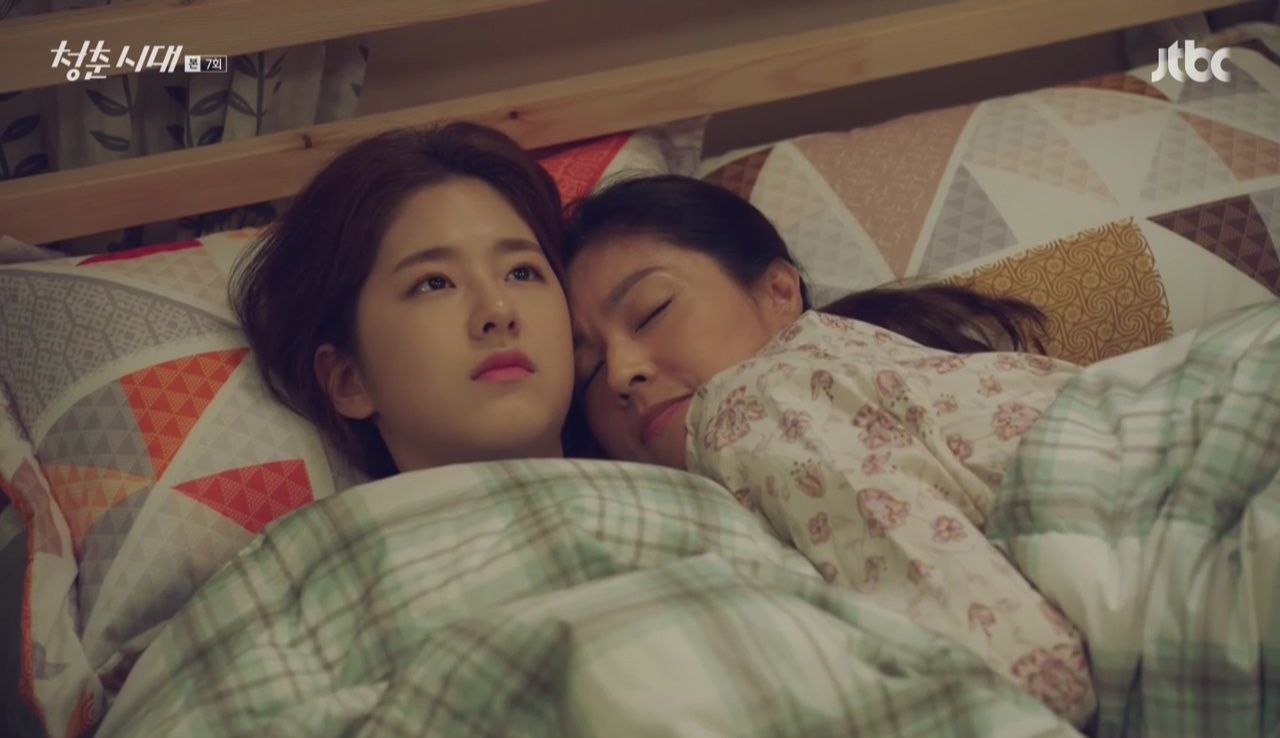 Eun-jae is in bed in her old room when her mom enters, wanting to sleep with her. Her mom snuggles close to Eun-jae, then asks her if she's heard from her aunt, who's short on cash and angling for some of the life insurance money left by Eun-jae's dad. Eun-jae firmly tells her mom it's not her money to spend, and her mom backs down.
That night, Eun-jae has a nightmare featuring an extended scene of her dad rescuing her younger self from a barking dog.
The next morning, while hanging out in the yard, Eun-jae asks her mom if she ever thinks about her dad. She says she does, especially when she sees things that remind her of him, like peaches. She tells Eun-jae that her dad's probably eating them in heaven, but the word "heaven" doesn't seem to sit well with Eun-jae. She stares after her mom as she heads back in the house and says out loud with a trace of anger in her voice: "Mom, you should be thankful to me. Really thankful."
Jin-myung answers a call on her way out of school, and ugh, it's the restaurant manager. He takes her to a nice restaurant, and Jin-myung seems more uncomfortable than usual being at a fancy restaurant as a customer.
As they eat, the manager tells Jin-myung that the owner of their restaurant is looking to expand the business, and he thinks he'll get put in charge of managing the chain restaurants. He mentions that he'll need someone with relevant work experience and education, then says: "I've watched you for a long time, and I know the kind of person you are. But I don't know if you're loyal to me or not."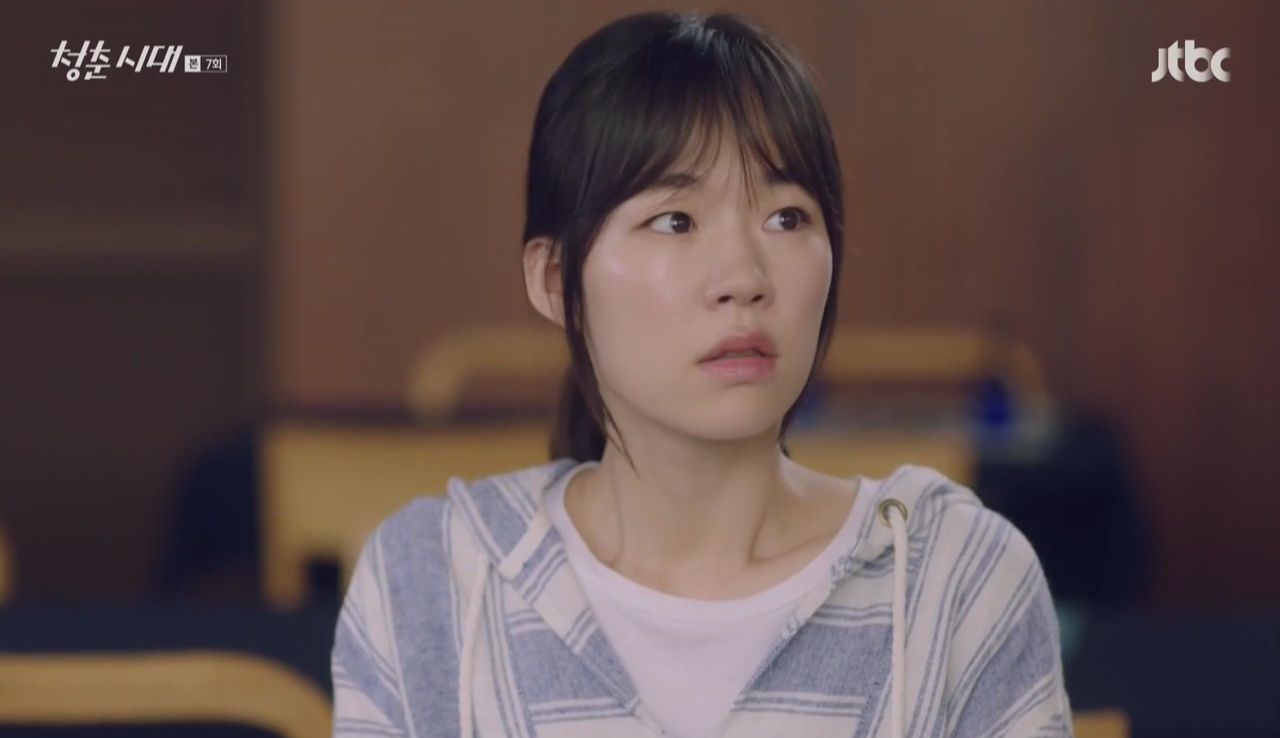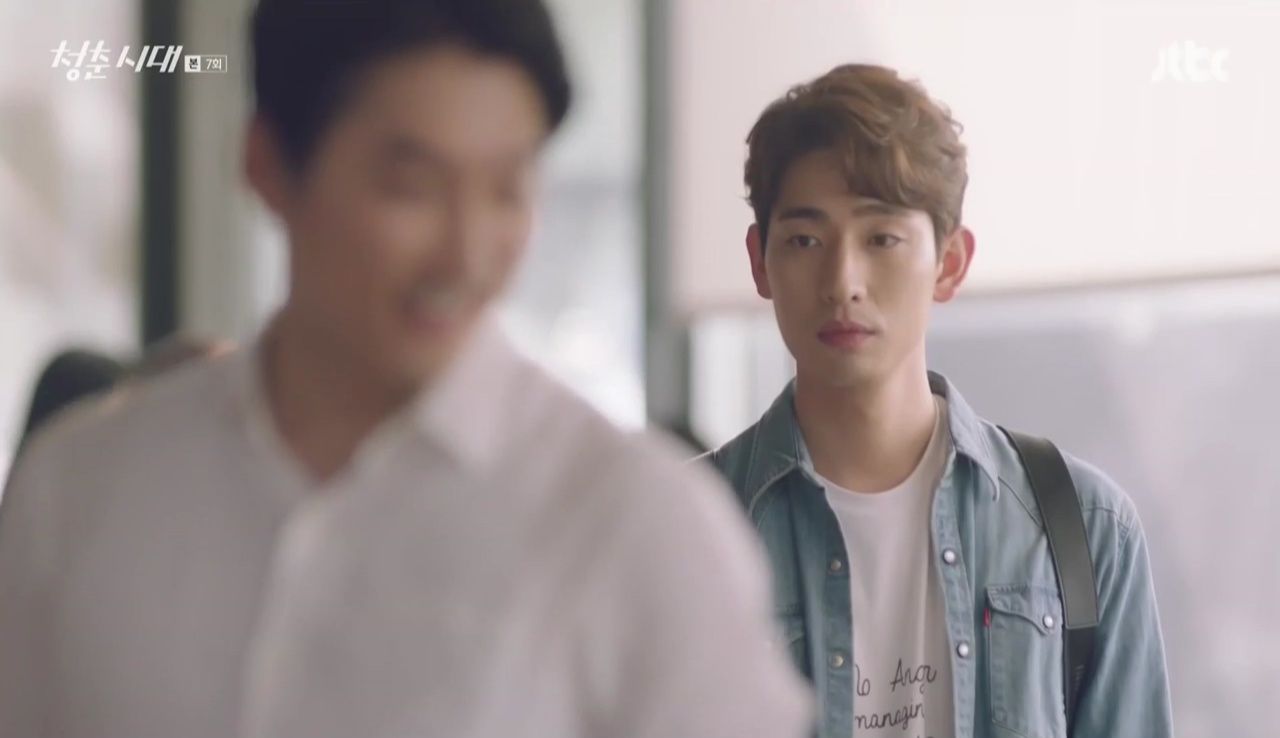 Jin-myung's about to answer when someone greets the manager — eek, it's another chef from their restaurant… and Jae-wan. Jae-wan stands back as his colleague talks with the manager, avoiding Jin-myung's eyes. He and the other chef settle into a nearby table, while Jin-myung watches. When his colleague asks how the food is, Jae-wan replies that it's crappy, and he's clearly not talking about the food.
Jin-myung washes up in the restroom, looking totally spaced out. As she's leaving, she nearly runs into Jae-wan, who just lets her pass without a word.
Back home, Yi-na cleans her room and sees that her fluorescent bracelet is missing. She searches her room, then the rest of the house, but it doesn't turn up.
Eun-jae heads out to the fields at school, this time stopping to watch Jong-yeol from the sidelines. She's not there long when all of a sudden she looks back, as if she thinks someone is behind her. Now in a hurry to leave, she trips over a rock and falls. Jong-yeol sees her on the ground, and rushes over to her in concern.
He checks out her ankle in the stands, scolding her for not being careful. Looking at him crouched down over her injured ankle, Eun-jae slowly reaches out and touches his hair for a brief moment before pulling her hand away, embarrassed. But Jong-yeol's nonchalant about it, telling her that he's hers completely, so she can touch his hair all she wants. They smile at each other, and Eun-jae asks him to buy her some ice cream.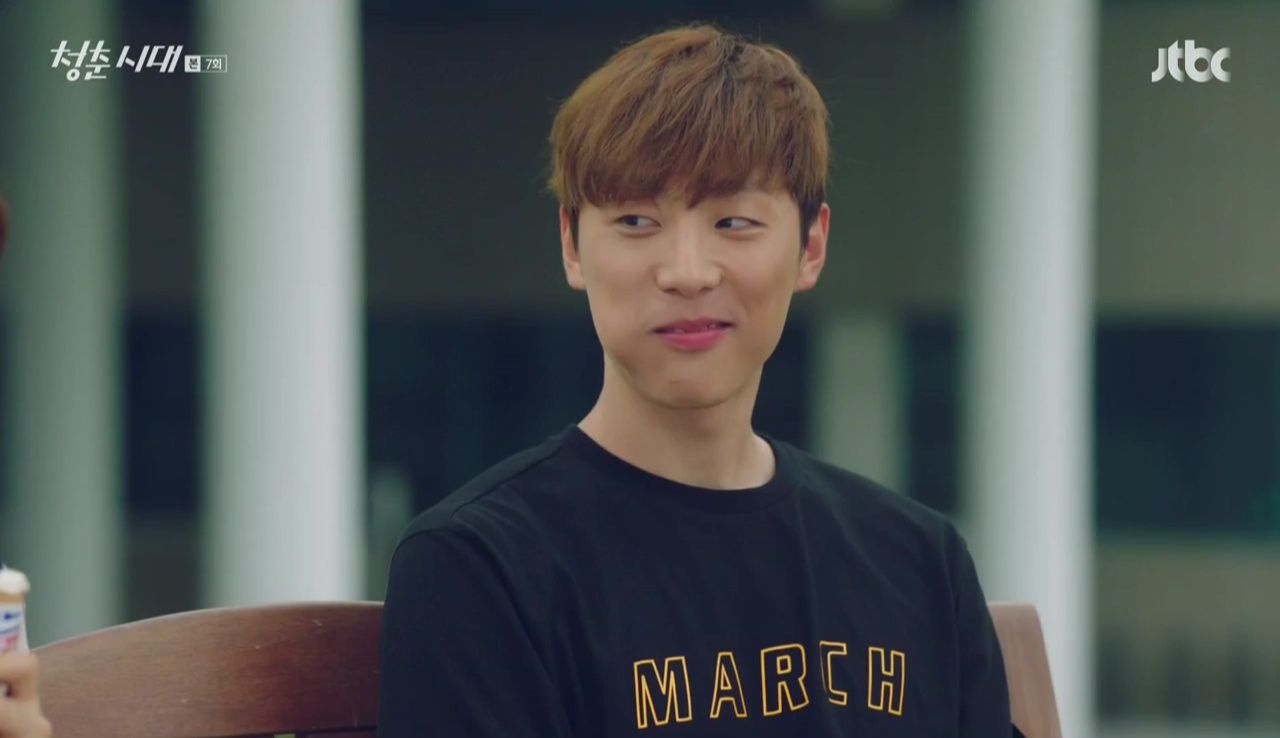 Jong-yeol buys Eun-jae an ice cream cone, and she unwraps it and stares at the top — it's dotted with peanuts. She thinks back to her mom and Ajusshi eating the very same kind of ice cream the night before, then thinks again that her mom should be thankful to her.
Her thoughts are interrupted when Jong-yeol grabs her cone and takes a bite off the top, taking off all the peanuts. Gah, could he get any cuter? She smiles in gratitude and takes a bite; Jong-yeol grins in return and puts his arm around her. But Eun-jae still looks like she's somewhere else, her smile fading as she looks down at her cone. Abruptly, she turns to look behind her again.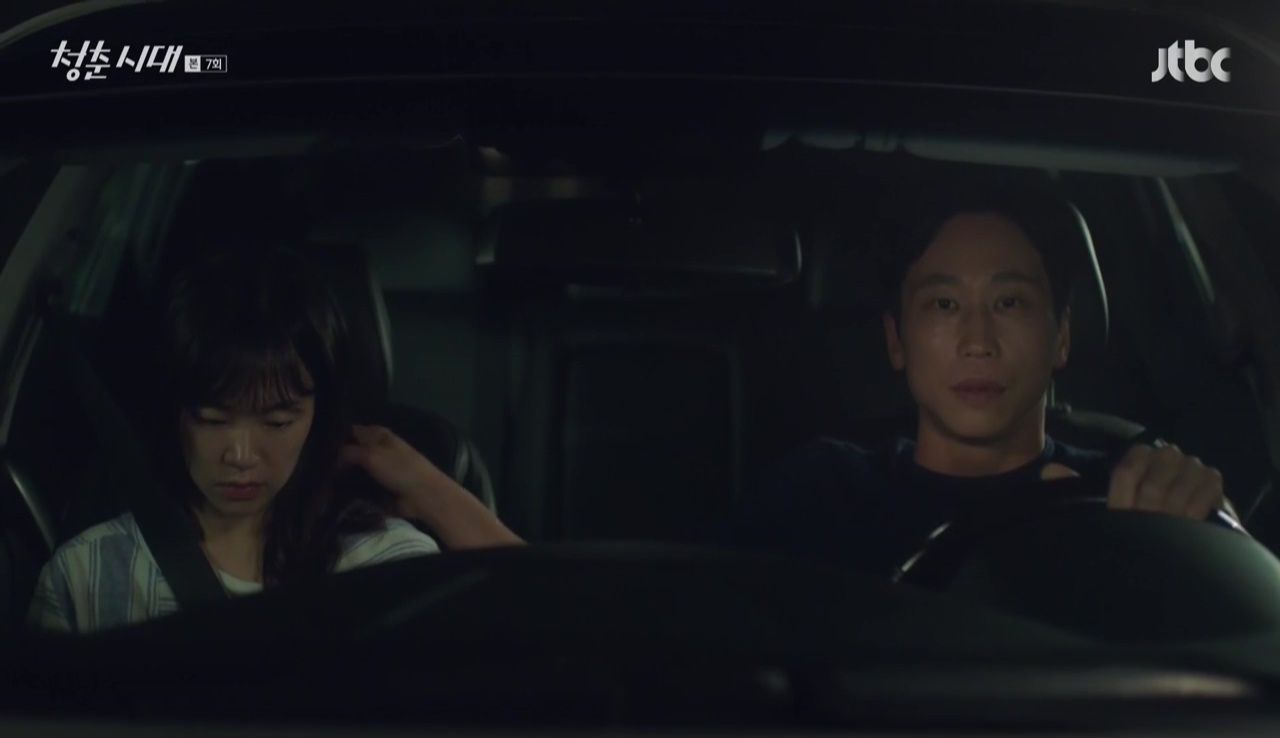 The manager gives Jin-myung a ride and tells her she won't need her part-time jobs anymore once the business plans he told her about come into play. After telling her to undo her ponytail, he reaches over and does it himself. He says she should switch up her looks more often, and that she should be more confident — that would make her more attractive.
They pull into the driveway of a house in the middle of nowhere, and Jin-myung gets out slowly. She says she thought they were going to a café, but he tells her he wants to talk to her in a quiet place. All Jin-myung can do is follow him inside.
She pauses in the entryway, where she notices some kids' slippers. She says she used to have some slippers just like those; the manager says they're common, and she agrees. She continues: "It is common. It's nothing. If you think about it, they're not that different from me. But for some reason they scared me, and made things hard for me. As if they had a lot of power over me. As if I had sleep paralysis."
The manager looks over at her, realizing that she's not talking about the slippers anymore. Jin-myung clarifies that it's the manager who makes her feel as if she has sleep paralysis, then tells him she's not coming in — if he has something to say to her, she'll listen from the entryway.
Annoyed, he reminds her that he needs to confirm whether or not she's loyal to him. But Jin-myung holds firm, saying that if loyalty means having to drink alone with him in his house, she has no intention of being loyal to him. She says she's hit rock bottom, allowing herself to come this far with him. He has nothing more to say, so she leaves.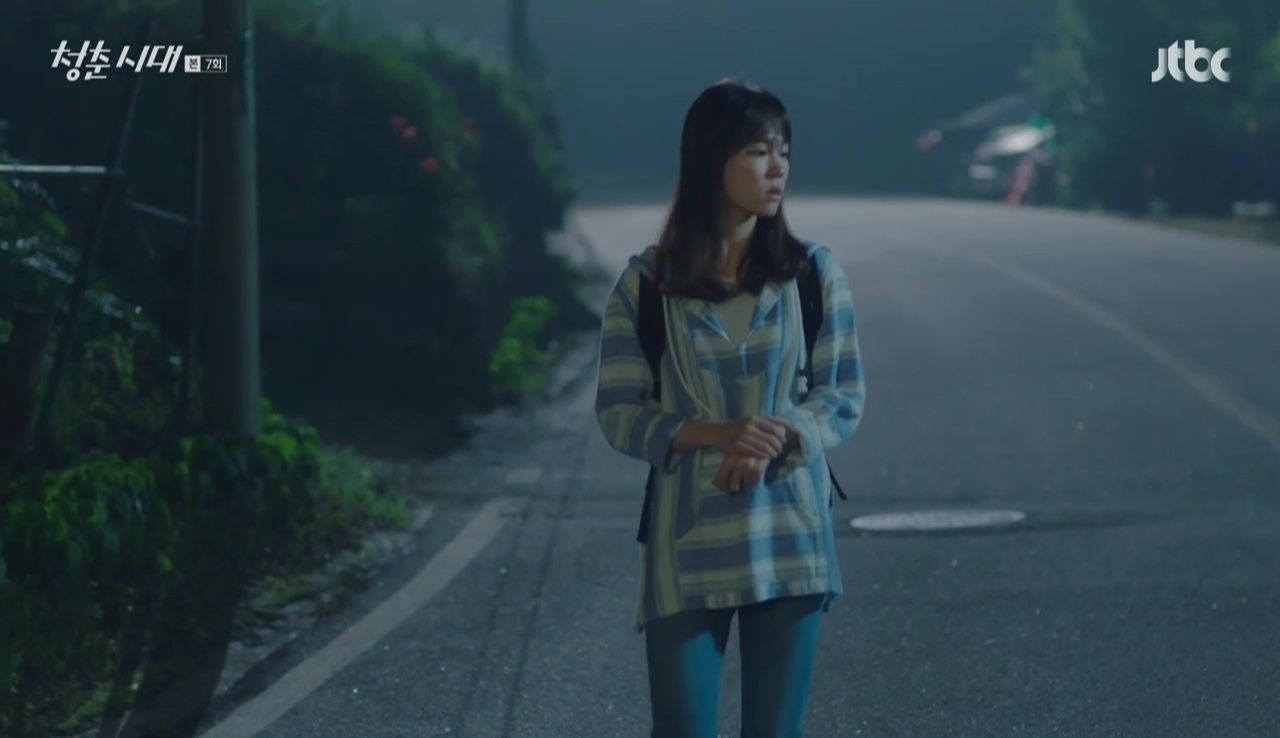 Jin-myung walks cautiously down a dark street and finally finds a bus shelter. A van stops near her; the driver tells Jin-myung there aren't any more buses for the night, and that he'll give her a ride. She declines, as she should; when the van pulls away, she sighs and starts to walk.
Back at the Belle Epoque, Eun-jae does the dishes, then burns herself by dropping a hot lid on her arm. She's okay, but Ye-eun notes that she sure has been getting hurt a lot these days.
Ji-won attacks Eun-jae playfully, saying it's because Eun-jae's been too distracted by a certain oppa lately. Yi-na joins them in the kitchen, and asks Eun-jae why she changed her mind about the other sunbae she liked first. Eun-jae says it's because Jong-yeol said he liked her at their party — that's how she came to like him, too.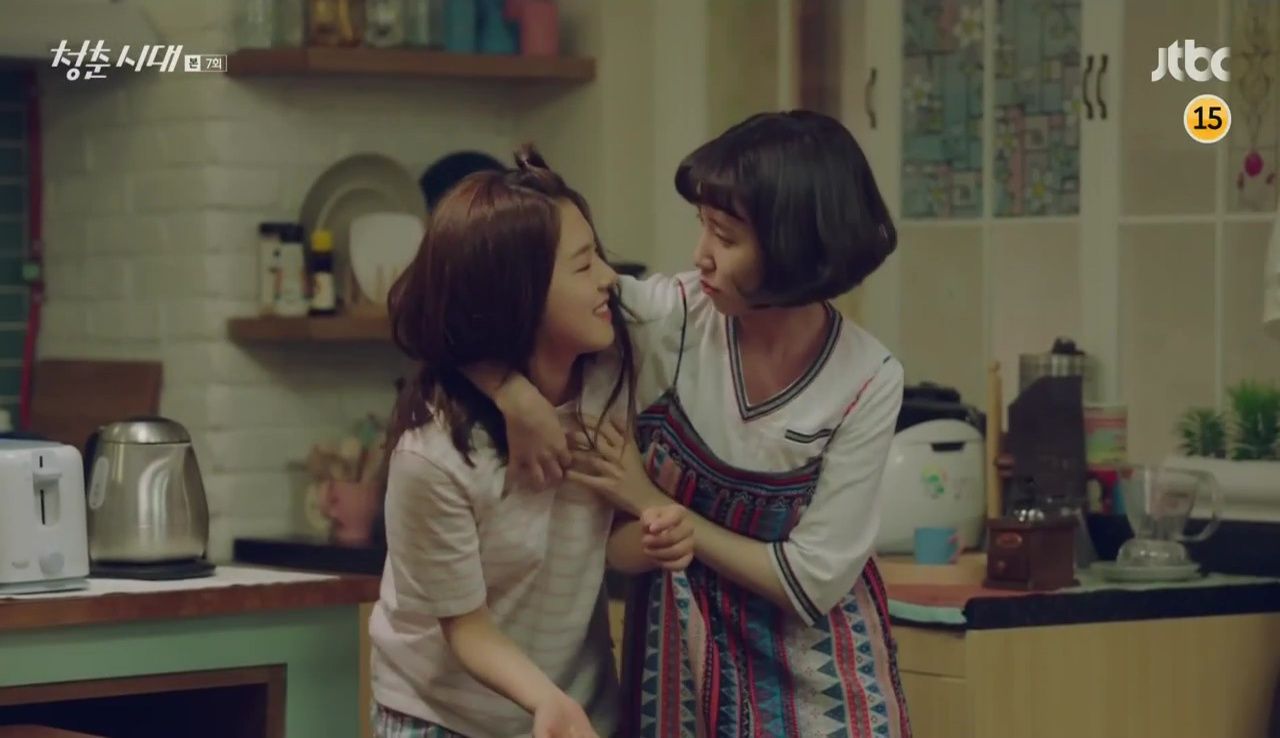 Appalled, Ji-won says it's unacceptable to like him just because he likes her, and tells Eun-jae to break it off with him immediately. Yi-na chimes in with her own dating advice: Eun-jae just needs to like Jong-yeol less than he likes her. If she comes to like him more, she has to hide it. But Ye-eun's advice is the complete opposite, as she tells Eun-jae to just like him as much as she wants — it's a blessing to like someone, and a miracle if that person likes you back.
Meanwhile, Jin-myung arrives at a bus terminal, but the last window is closing up — there are no more buses to Seoul.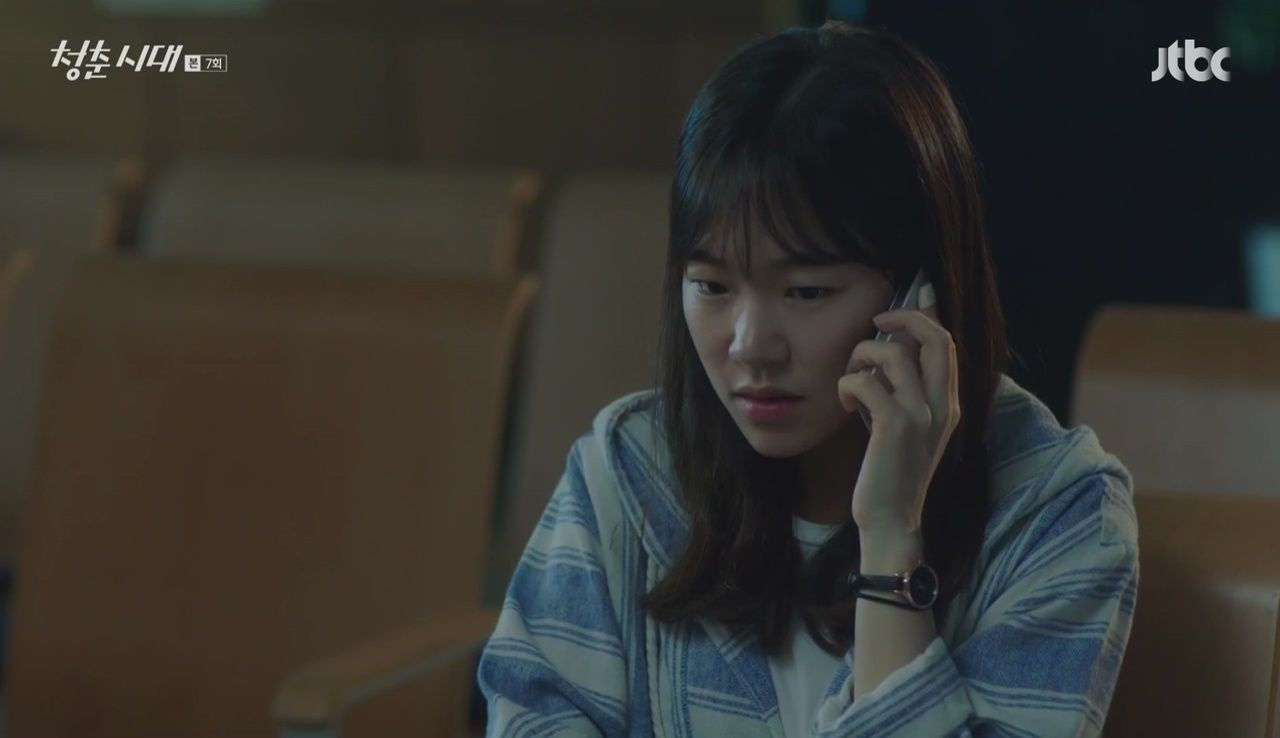 Back at the house, Yi-na and Ye-eun marvel that Eun-jae hasn't seen "that" yet. Ji-won saunters out with a laptop and tells her she has no choice but to show off her "special folder" of porn, and Ye-un and Yi-na excitedly drag Eun-jae over to the couch. Before Ji-won can show off her folder though, she gets a call from Jin-myung. Jin-myung apologizes, then asks Ji-won for a favor.
Cut to the four roommates at the convenience store, getting some quick training on how to work the register from the current part-timer on duty. Haha, they're all going to take over Jin-myung's shift?
Eun-jae takes the register, Ye-eun restocks drinks, Yi-na cleans up the tables outside, and Ji-won takes out the trash. When a group of scary-looking high school girls come in, Ye-eun, Yi-na, and Ji-won join Eun-jae behind the counter and huddle together in fear.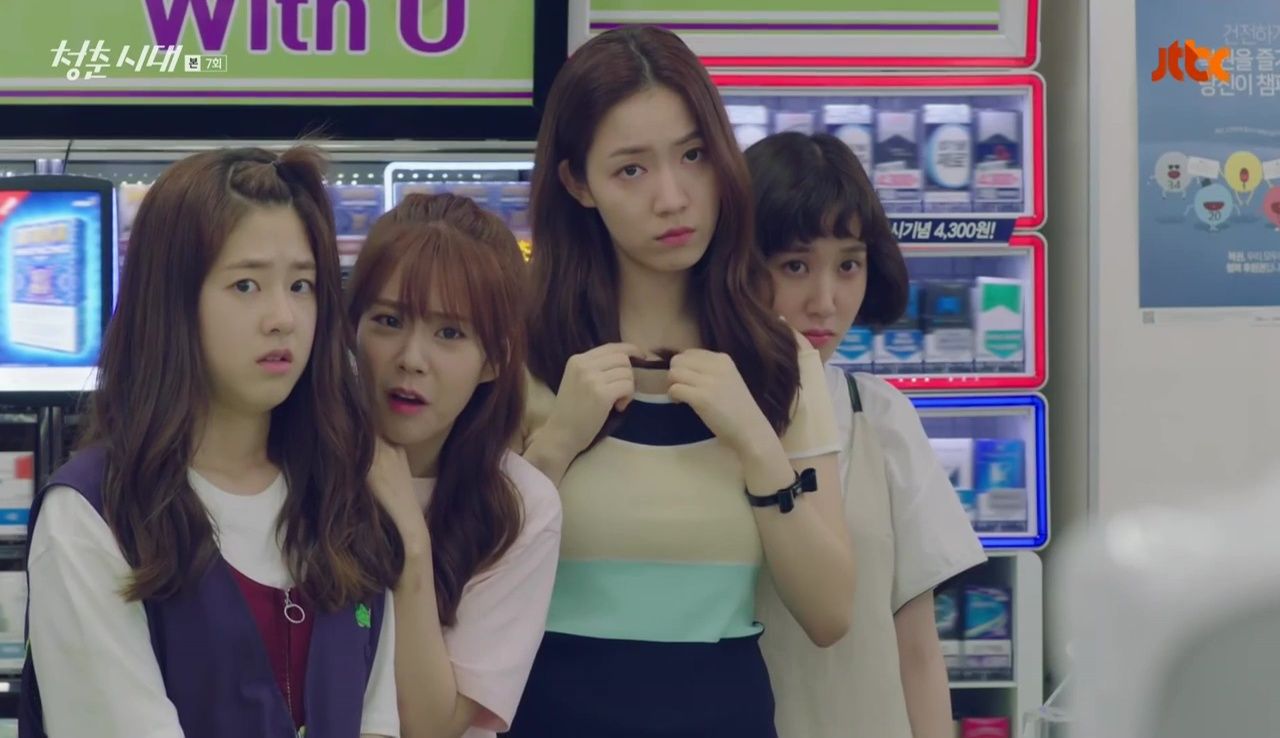 They practice cursing with hand and head gestures to match, and Ye-eun jokes that she should try it out on her boyfriend. At that, Yi-na recalls when Doo-young tried to hit on her at the bar, then shakes off the memory and changes the subject.
Outside the store, Jae-wan pulls to a stop on his motorcycle and sees the four roommates instead of Jin-myung behind the register. He pulls out his phone and contemplates contacting Jin-myung, but ends up riding away.
As for Jin-myung, she sits alone at the bus terminal, looking at Jae-wan's name on her phone. But she doesn't call him, and instead falls asleep, waking in the early morning when the buses start running again.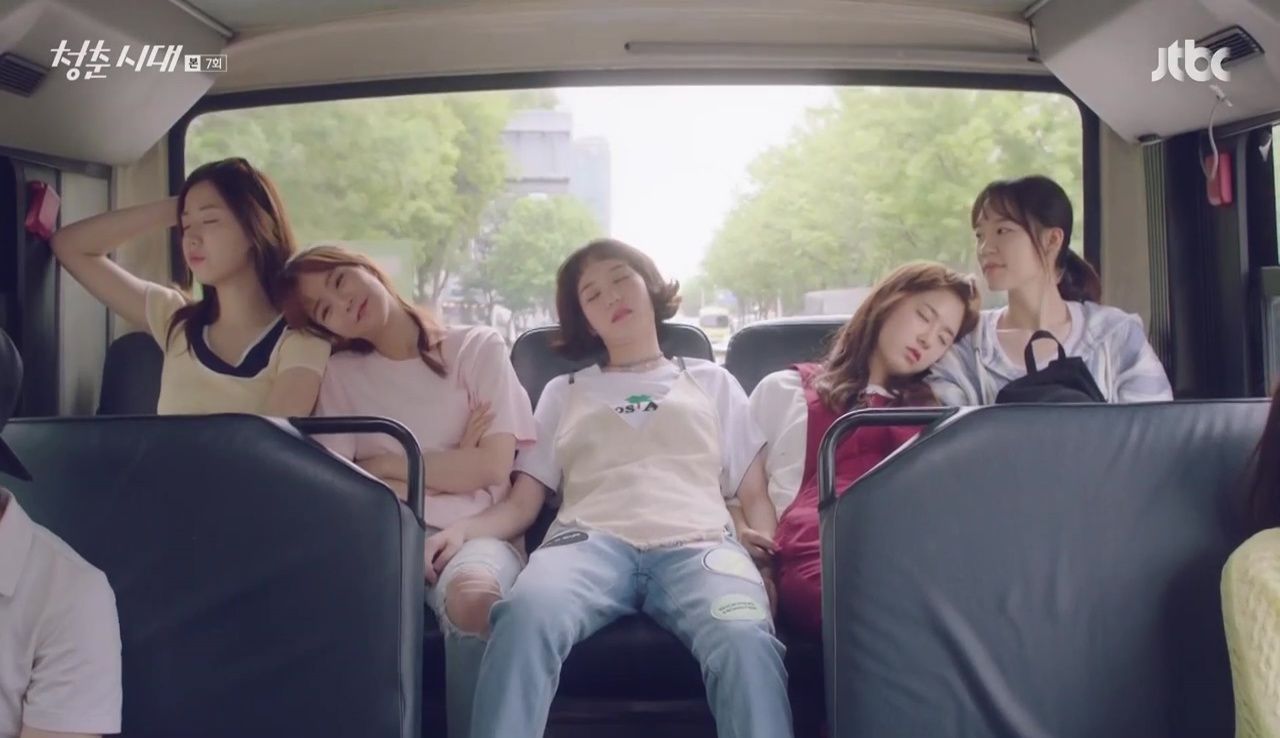 The girls finish out Jin-myung's shift at the store. When Jin-myung finally arrives, she's surprised to see Yi-na manning the register, but Yi-na says it wasn't just her working — the other three are sleeping in the back. They head home on the bus, the five of them sitting in the last row, and Jin-myung looks gratefully at her roommates. They're all exhausted from the long night, but they walk back to the house with a spring in their step, looking happy to be together.
Later, Ye-eun is out on a date with Doo-young and sneaks a peek at his phone. She sees a text chain with someone he's dubbed "Her," and clicks on an image of red fingernails before hurriedly putting the phone down when Doo-young reappears. She smiles at him brightly, despite what she's just seen.
Jin-myung and Jae-wan carefully avoid each other at the restaurant. As she heads into the locker area to change, Jin-myung pauses when she hears Jae-wan insisting to a fellow chef that he doesn't have a knife sharpener — he's lost his.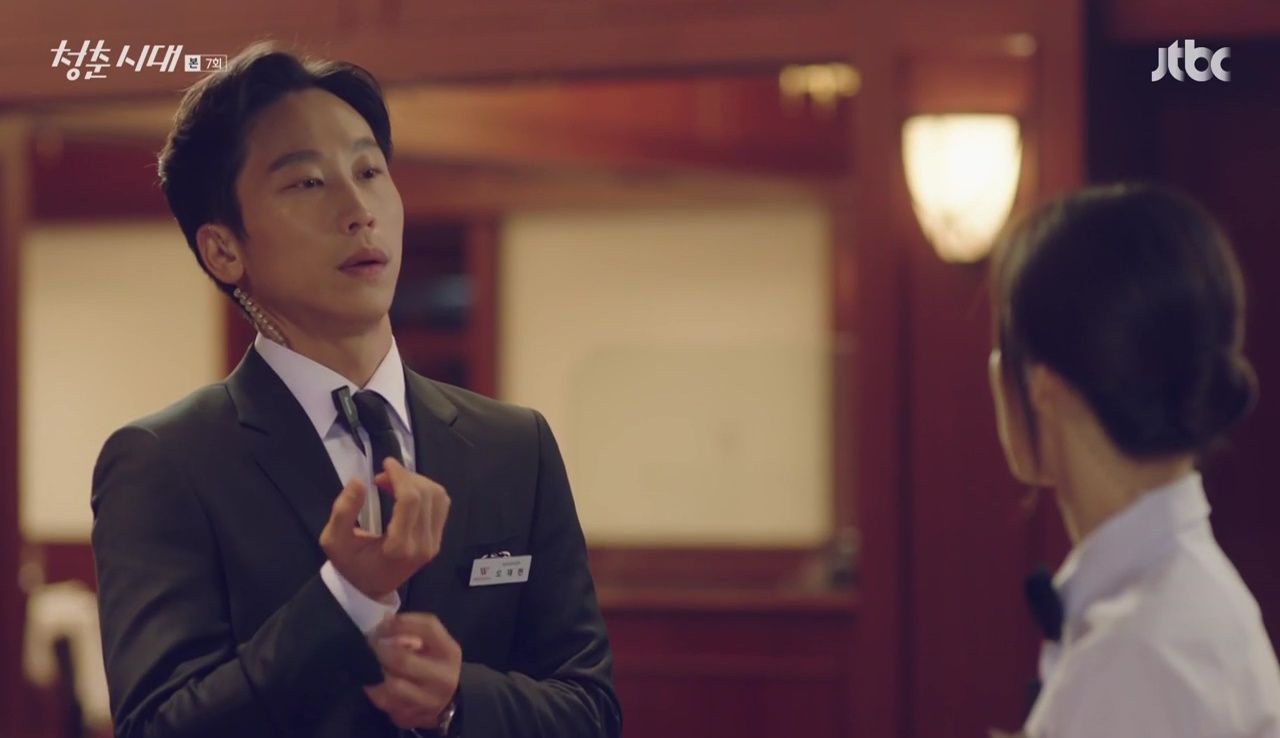 Once in her uniform, Jin-myung heads over to the register, only to find it occupied by someone else. "Your fingernail's all healed, right?" asks her scumbag manager from behind her. "Then return to your original position."
Doo-young drops Ye-eun off and she waves happily at him, only to have her smile fade as soon as he disappears from view. Meanwhile, on his way back, Doo-young thinks back to earlier at the café — he'd actually seen Ye-eun looking through his phone as he was coming out of the bathroom. He sighs in annoyance, then throws his phone on the passenger seat.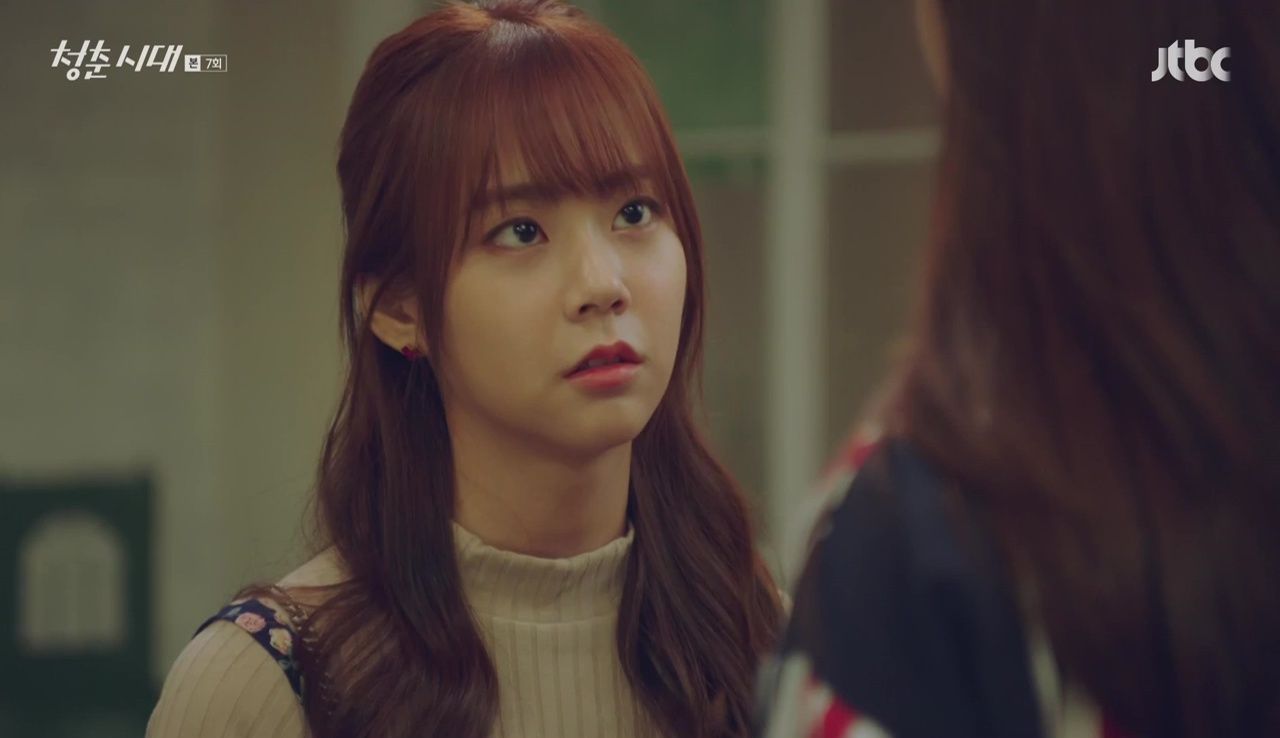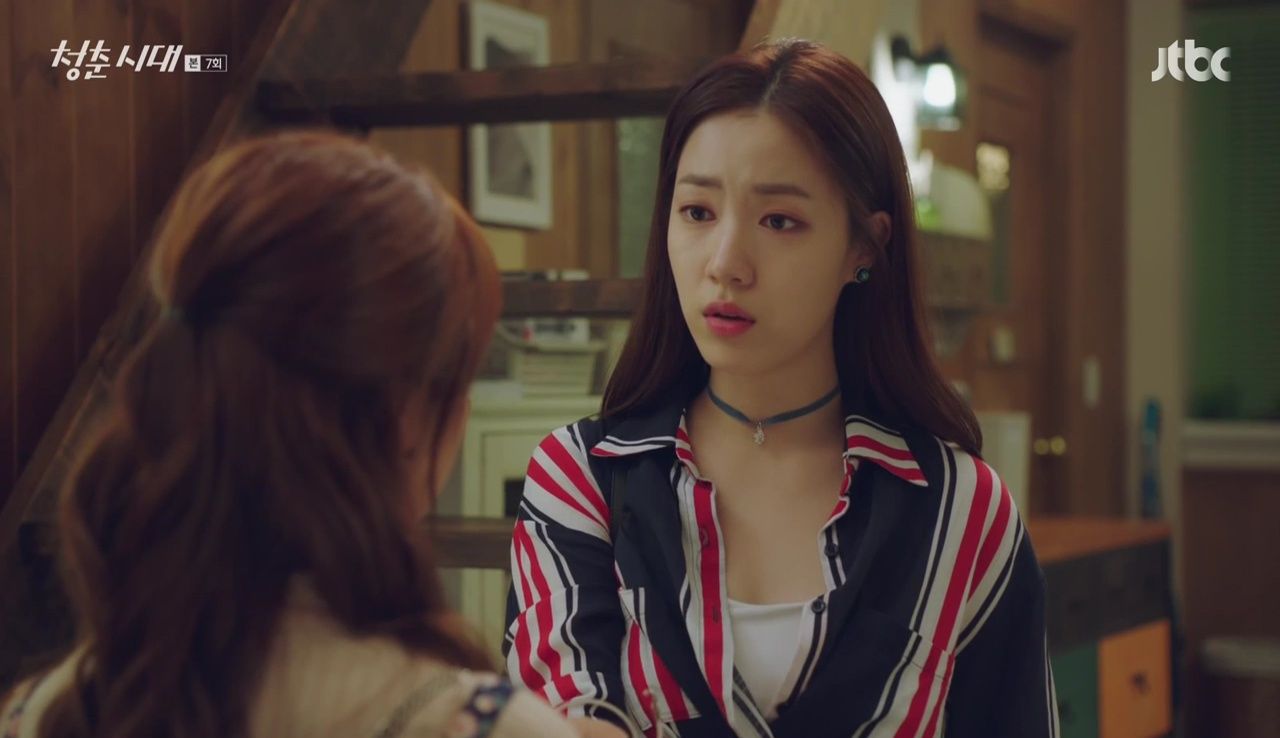 Yi-na's on her way out when Ye-eun trudges into the house. Yi-na asks Ye-eun for help with her bracelet, then asks her if she's borrowed it. Ye-eun's clearly pissed off at Yi-na; she tells her she didn't borrow the bracelet, then says, "It's you that needs to keep your hands off my things. Otherwise, I'll kill you." She stalks off, leaving Yi-na staring after her in shock. As Yi-na gets into a cab later, Ye-eun watches from upstairs.
Yi-na returns to the bar to air her complaints about Ye-eun to Jong-gyu, but he focuses on her missing bracelet, asking if it's important to her. Yi-na says it's cheap, but it's kind of a talisman to her — a "souvenir" from her near-death experience. At that, Jong-gyu balls his hand into a fist, and his eyes fill with rage. Ack.
Back home, Ye-eun sits on the couch, staring at the ghost cabinet. Her eyes hard, she tells Ji-won that the murdered ghost could be a person who's yet to be murdered.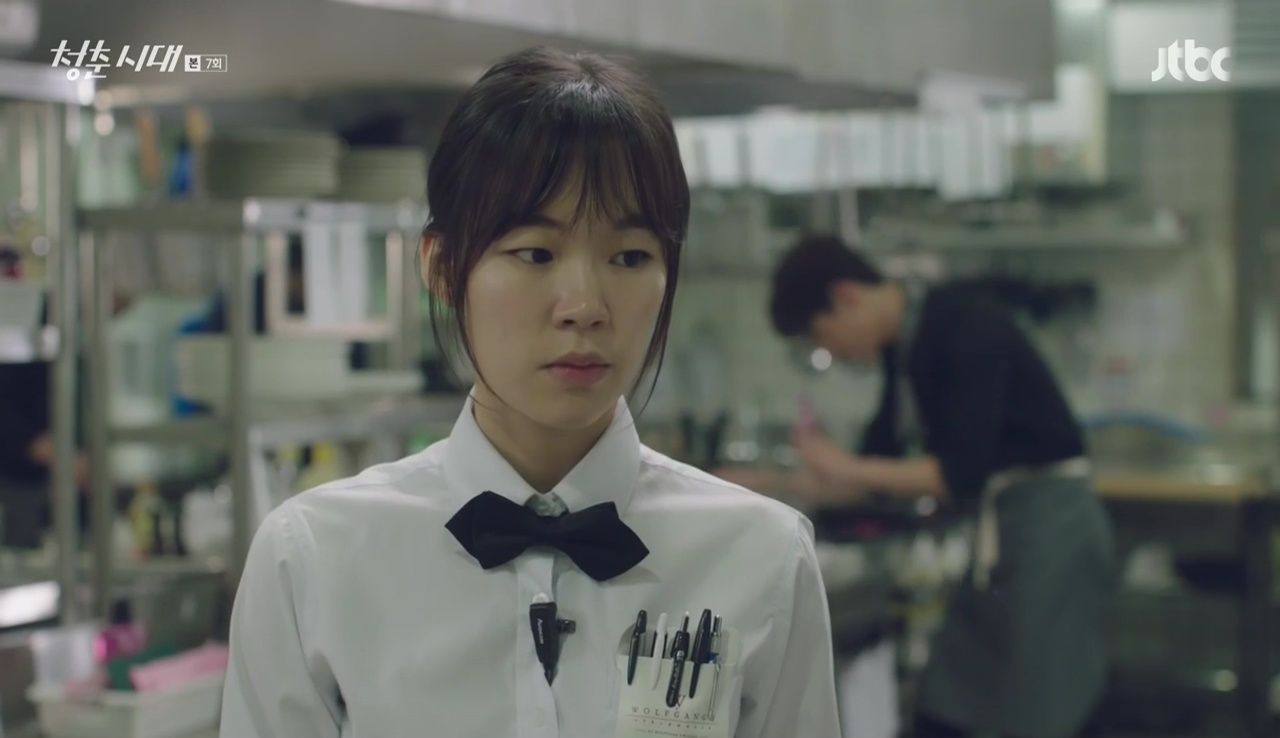 Jin-myung returns to waiting tables at the restaurant, while her co-workers exchange smirks about her fall from grace. After bussing plates back into the kitchen where Jae-wan is working, she lingers for a moment, but Jae-wan doesn't give her a second glance.
Jong-gyu examines Yi-na's bracelet in the bathroom, then returns to join her at the bar. She's glad to see him, and tells him that he's different from the others — he's the only one who doesn't look at her with lust. She reaches out to touch him, but he flinches, making her laugh.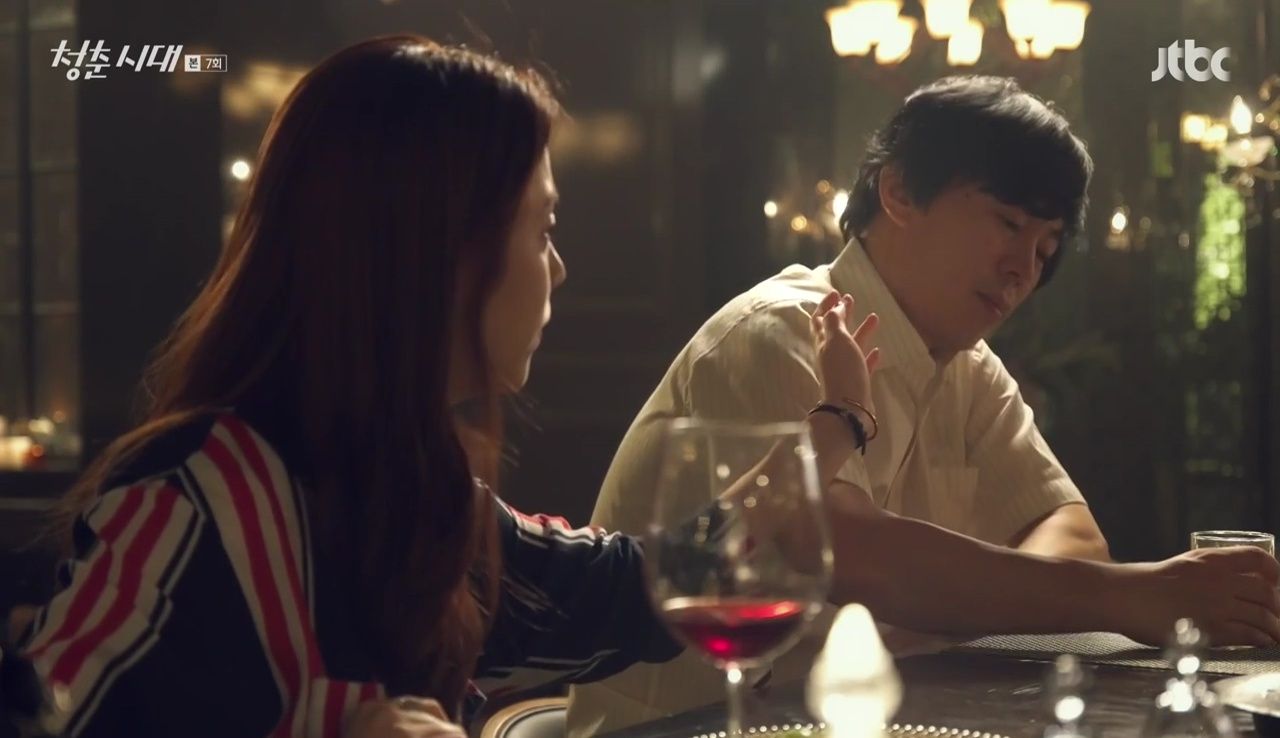 Yi-na asks Jong-gyu if he wants to date her — he doesn't even have to give her spending money. After all, he's poor and old, while she's trashy and a murderer to boot. At that, Jong-gyu shuts his eyes tightly, then asks Yi-na to go somewhere with him.
He drives her to a remote field looking over the water. Yi-na's all smiles at first, wondering where they are, but then her smile fades as she seems to recognize the place. Horrified, she turns to Jong-gyu, who pulls out her missing bracelet from his pocket. His voice urgent, he asks her, "What do you mean, this is a talisman? What do you mean that you killed someone?"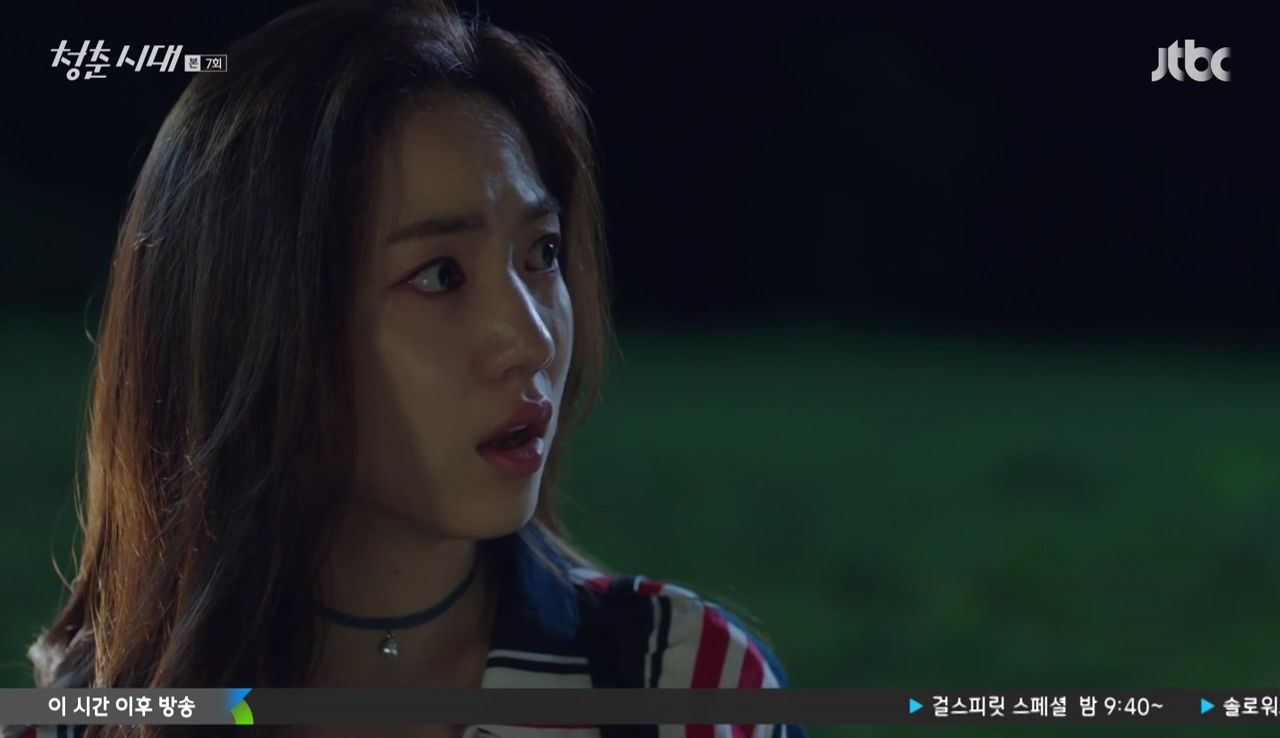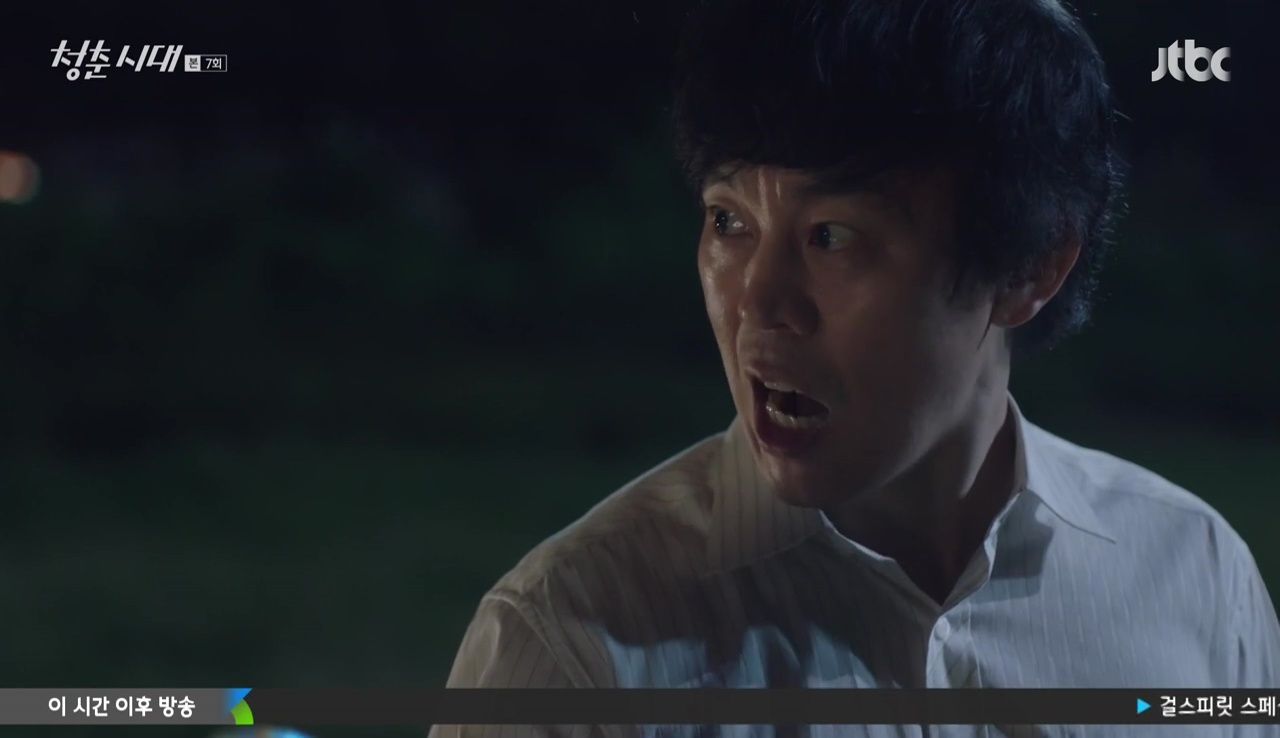 Yi-na stares back at him, then asks him who he is. Jong-gyu: "I'm the father of the girl who owned this bracelet!"
Yi-na starts to back away, then breaks out into a run as he chases after her. She doesn't get far before she trips and falls, and Jong-gyu descends on her, demanding to know why Yi-na has his daughter's bracelet. He grabs Yi-na's throat and starts to choke her, shouting and wanting to know if she killed his daughter, while Yi-na screams and struggles against him.
Just then, someone passing by calls out to them, causing Jong-gyu to lose focus. Yi-na uses the moment to push him away and run off. Jong-gyu returns to his truck and goes after Yi-na, who runs away screaming. The last flashback to her accident shows the face of a young girl underwater, eyes open as she sinks.
COMMENTS
Oh, Yi-na. I know she has experience hooking up with men she doesn't know well, or having them take her to new or unfamiliar places, but damn if I wasn't screaming at her to NOT get in that car, and then to get OUT of that car as he drove them out to the field. I've been getting creepy vibes from Jong-gyu since day one, but clearly, it's different for Yi-na — she seems to feel some kind of connection or pull towards him, so much so that she offers to date him. I wonder if the connection she feels is really something that was being reciprocated by Jong-gyu over their multiple conversations, or if it's simply the fact that he's the only man who seems to listen to her, doesn't judge her, and doesn't want to sleep with her (although to be fair, her friend Dong-joo fits that bill too.)
What's interesting to me is the parallel between her and Jin-myung, who found herself in a similar position this episode by following her manager out to his house and not really asking questions until later. Of course, the motivations between the two girls are different — Yi-na's craving human connection and she's drawn to Jong-gyu for that, while Jin-myung's driven solely by the potential of easing her burdens at work, and perhaps a future job. At the same time, I think both girls have self-esteem/self-worth issues that drive this kind of behavior, along with obvious baggage from their past, so I get why both girls are acting the way they are. But, I'm really glad that Jin-myung had her moment of clarity before she did something she'd truly regret with her manager, even if that meant she was left stranded by herself in the middle of nowhere late at night.
Though it would have made more sense if Jin-myung swallowed her pride and either (a) borrowed money from her roommates to take a cab home, or (b) called Jae-wan to come pick her up, I'm glad that she at least called Ji-won to ask for help in covering her shift at the store. Because let's face it, the four girls working at the store all night, and then the following scenes of Jin-myung realizing how her housemates stepped in for her — that was priceless. You can really see the bonds developing between them in those moments, and the happiness and love you see in the faces of our girls as they're walking home really says everything about friendship.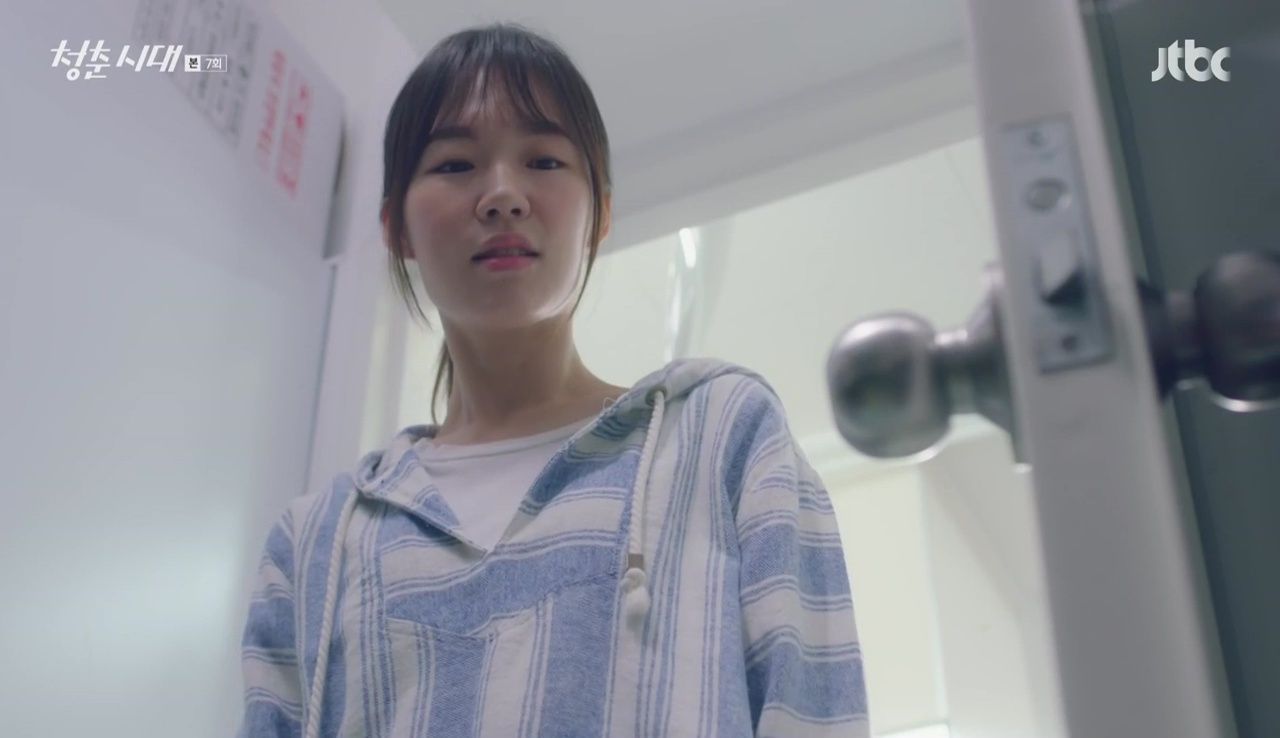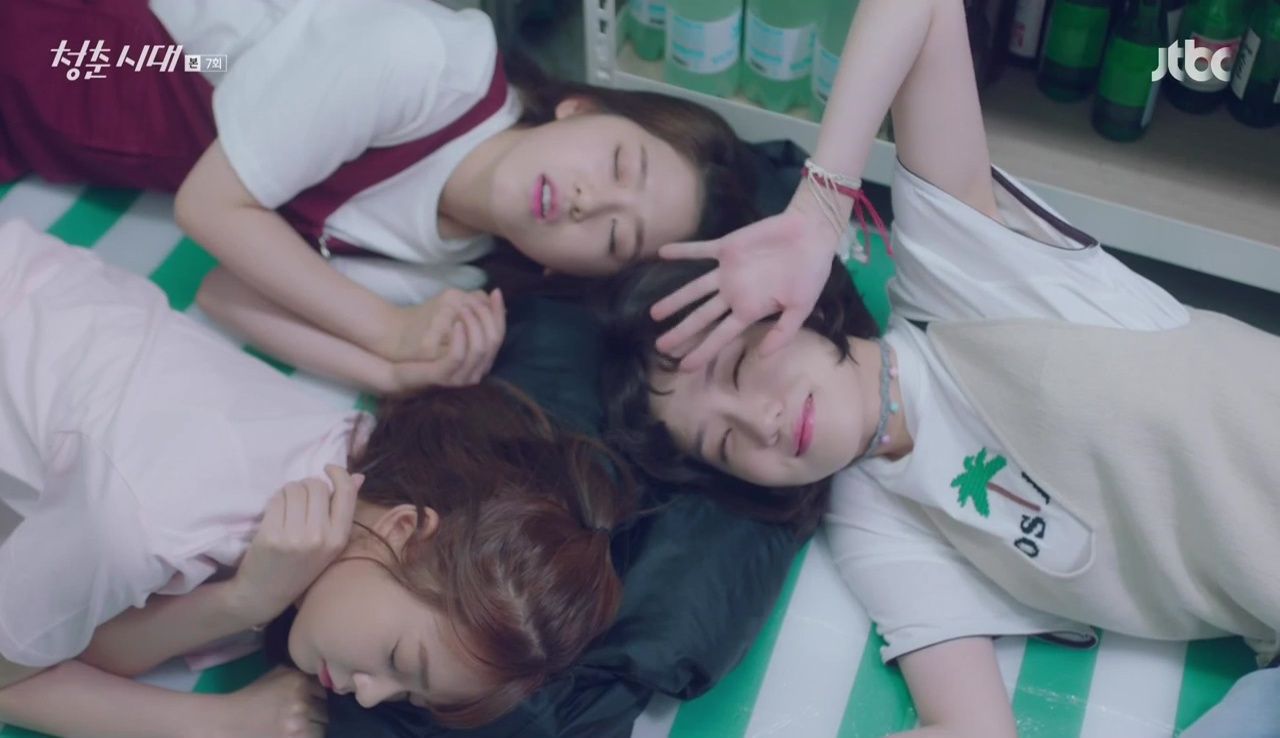 So it really annoyed me that after all that, Ye-eun still chose to unleash her doubts and anger about her dumbass boyfriend onto Yi-na, instead of confronting Doo-young outright. Maybe it's because she feels more grounded and comfortable in her friendship with Yi-na at this point, but man, what will it take for Ye-eun to just be honest with Doo-young for once, and let him really have it?
On a brighter note, we got more movement in Eun-jae and Jong-yeol's burgeoning relationship, and I'm officially a puddle of goo when it comes the two of them. I love her awkwardness and uncertainty as she tries to navigate her way through her first relationship, and Jong-yeol's just the right combination of sweet, dorky, and self-assured. We do know that there's darkness looming within Eun-jae — at this point, her ghost is the only one whose identity and story we've yet to uncover. I'm curious to find out what the deal is with her family, but I hope that as details emerge, she's able to fully be herself with her roommates and with Jong-yeol, instead of hiding or shutting down. I suppose I can say the same to all our other housemates as they're faced with ugly pasts (or present-day issues) — just let it all out.
One final thing: Park Eun-bin continues to rock my world, but I'm getting concerned at the lack of movement with her story. She's amazing at offering comic relief, but Ji-won's arc can't just be about her just pining after men, right? I demand more!

RELATED POSTS
Tags: Age of Youth, featured, Han Seung-yeon, Han Ye-ri, Park Eun-bin, Park Hye-soo, Ryu Hwa-young