Age of Youth: Episode 9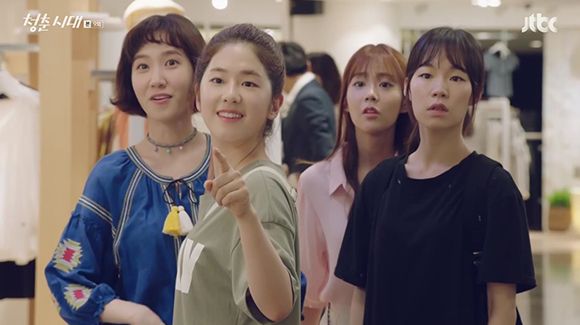 Broken hearts aren't just caused by romantic relationships gone awry — they can just as easily be caused by family tragedies, or the soul-crushing disappointment of being told "no" when you really want the answer to be "yes." I think it's human nature to want to run away from it all when things aren't going your way. But at some point, life ends up catching up with you, and when it does, it sure helps to have a friend — or four — nearby, ready and willing to support you, should you finally decide to reach out your hand.

EPISODE 9: "If you stay in one place, you won't get lost #shoes"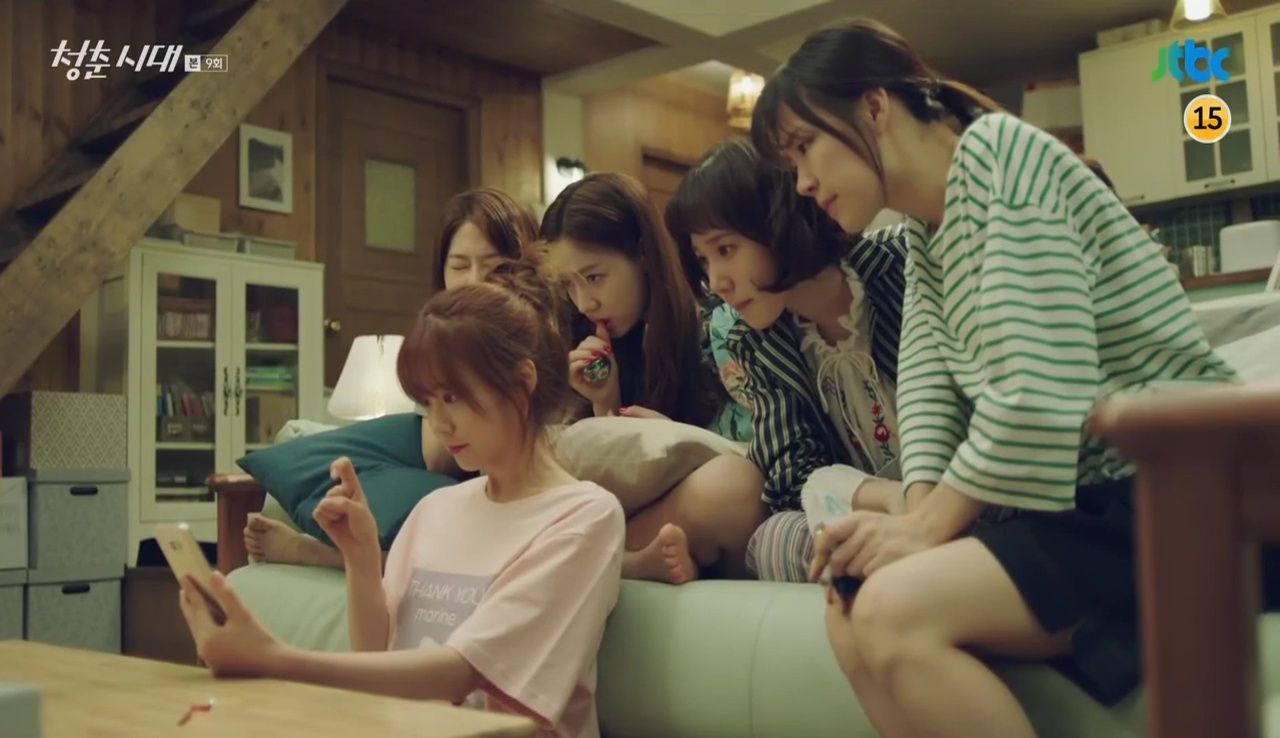 Eun-jae, Yi-na, Jin-myung, and Ji-won watch Ye-eun nervously as she performs the all-important task of deleting Doo-young's contact info from her phone. When Ye-eun finally pushes the delete button, the girls erupt into cheers, throwing streamers in celebration. Ye-eun doesn't stop there — she deletes all the photos of Doo-young on her phone, then continues the breakup party by blowing out a giant candle on a special cake. She tells the girls her relationship is really, really over, and promises to only look forward from now on.
Then it's time for some entertainment: Ji-won delights everyone with her Michael Jackson-inspired dance moves. Their fun is interrupted when the doorbell rings — it's the landlady, and the girls rush to put away their beer and food.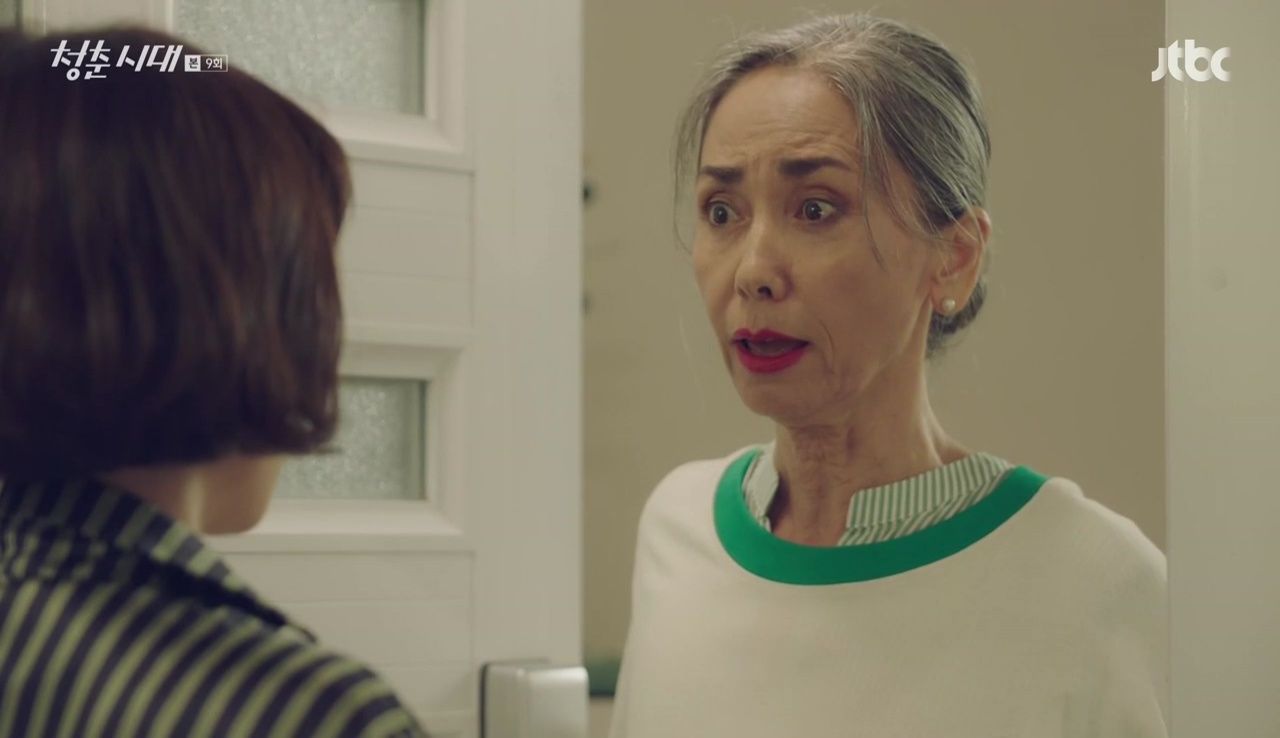 Ji-won greets the landlady, who complains about the ruckus coming from their house. But when she peeks in, it's all quiet, with no trace of the other girls, and Ji-won assures her that she's alone. Before the landlady heads out, she tells Ji-won that her roommates shouldn't be out at this time of night — there was a suspicious man hanging around outside not too long ago. Ji-won promises to lock the doors tight.
The rest of the housemates pop out from behind the kitchen counter as soon as the door closes. Ji-won reiterates the landlady's warning about the suspicious man, but each of girls say it can't be any of their guys. At that, Ji-won takes the opportunity to tease Eun-jae about Jong-yeol, and Yi-na and Ye-eun get in on the action, demonstrating to all what sexy times should look like for a couple in love.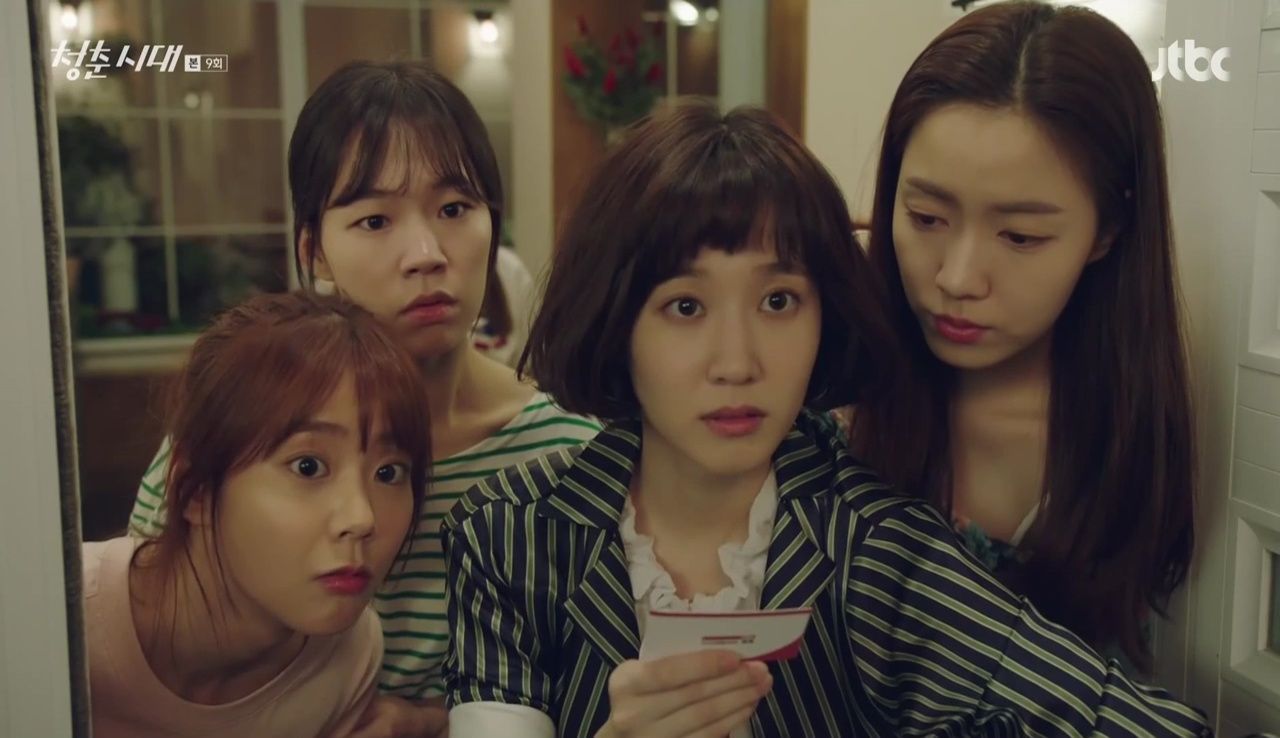 They're all laughing hysterically when they're interrupted once again by the doorbell — but this time, there's an unfamiliar young man at the door. He hands Ji-won a business card and says he's looking for Yoo Eun-jae.
While the rest of the housemates stare worriedly at the business card, which reveals the man to be an insurance claims investigator, Eun-jae meets with said investigator at a café. He nervously tells her his company is re-investigating cases in which one person received more than three insurance payouts in ten years — and Eun-jae's mother falls into that category.
The insurance investigator says Eun-jae's mom received money for the death of Eun-jae's brother and father during times of financial hardship for their family. In addition, the insurance company recently discovered that her mother received a payout seventeen years ago after the death of her mother-in-law, or Eun-jae's grandmother.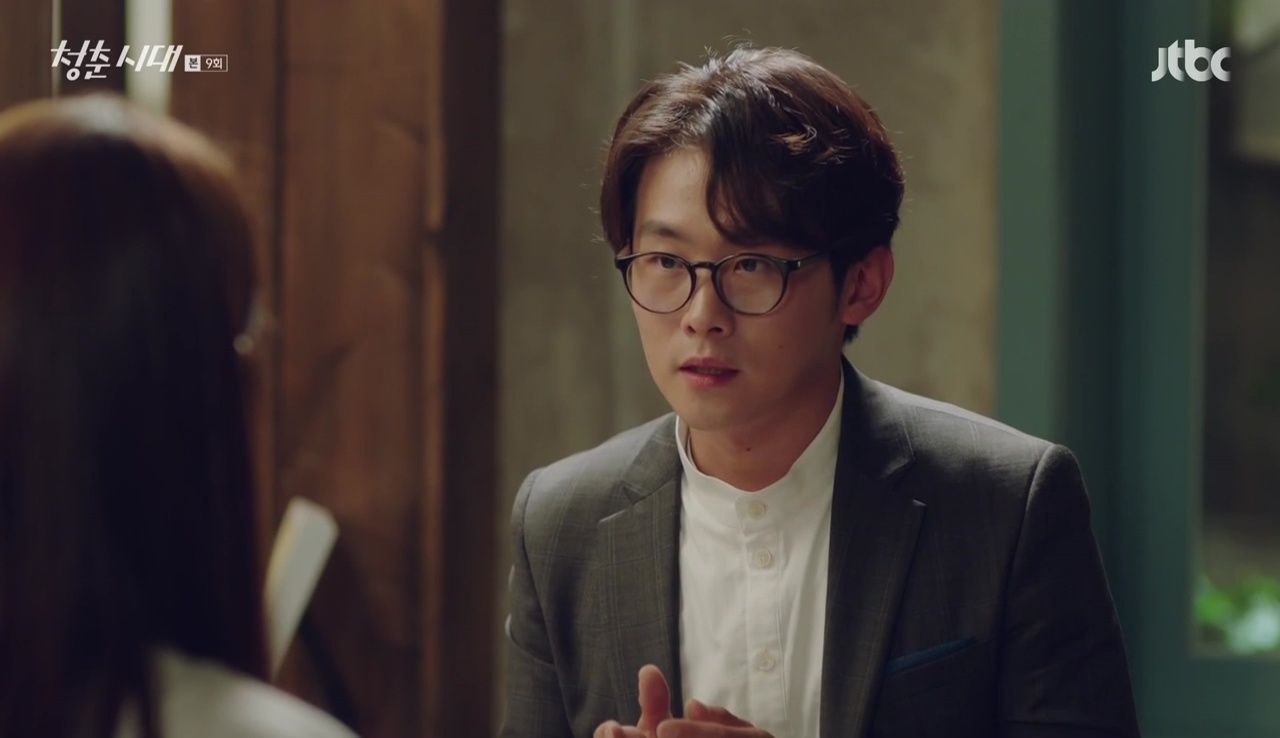 The investigator mentions the recent car accident that Eun-jae's stepfather was in, then confirms that the cause of death for her father was also a car accident — an accident that seemed suspicious. As the investigator opens a file with photos from the accident, Eun-jae has a flashback to her father in the driver's seat of the car, bloodied and lifeless, and an open pink thermos next to him.
The investigator asks Eun-jae if she's been to the site of her dad's crash, but she says she hasn't. He wonders if she feels like she's betraying her dad by believing her mom, then asks if she knew that her mother has an insurance policy in Eun-jae's name too. By the look on Eun-jae's face, it seems like she didn't.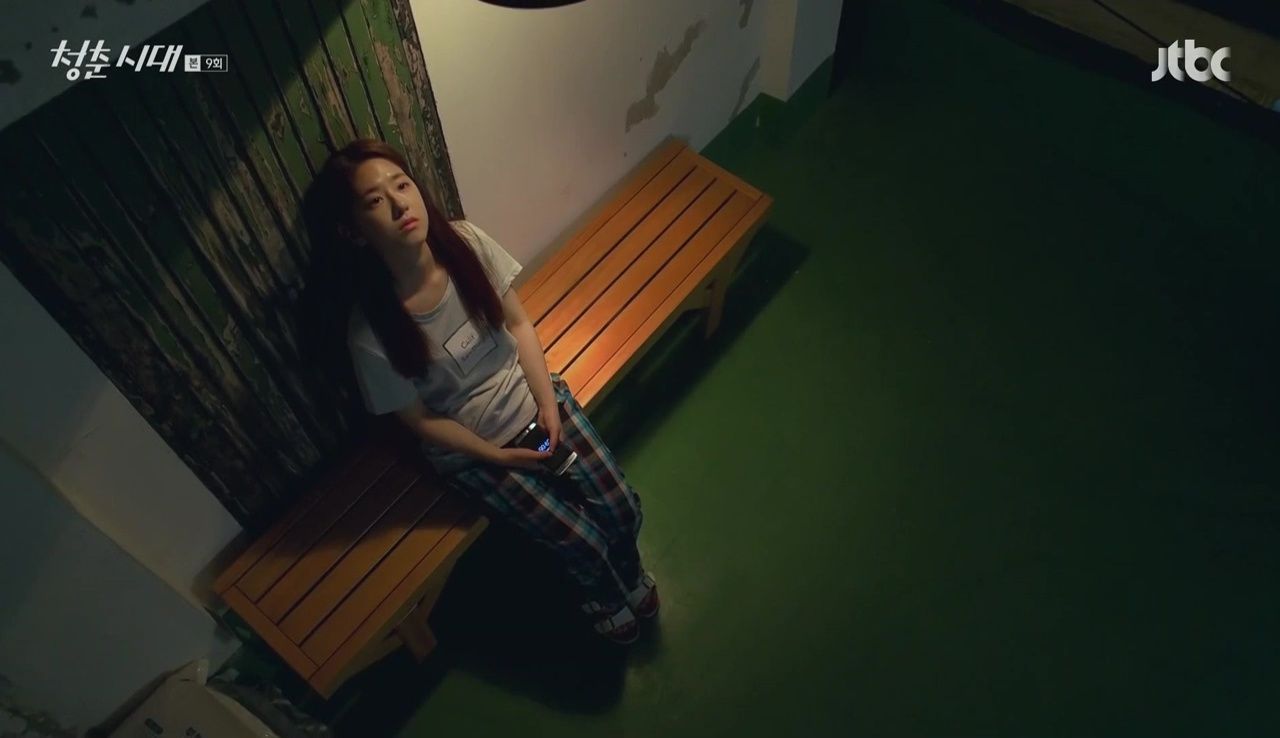 Eun-jae returns home and finds her roommates all out in the common area, trying to disguise the fact that they were waiting up for her. Eun-jae reassures them that the meeting wasn't a big deal — she says the investigator just wanted her stepfather's contact information, and he's currently away on vacation with her mom. At that, the girls all retire to bed, relieved.
That is, except for Eun-jae. As she washes up, she recalls the investigator's words about her dad: "Thankfully, your father's body was buried. If he'd been cremated, there wouldn't have been any options." On her way out of the bathroom, she pauses for a long look at the ghost cabinet, then heads up to the roof, where she texts her mom to contact her as soon as possible.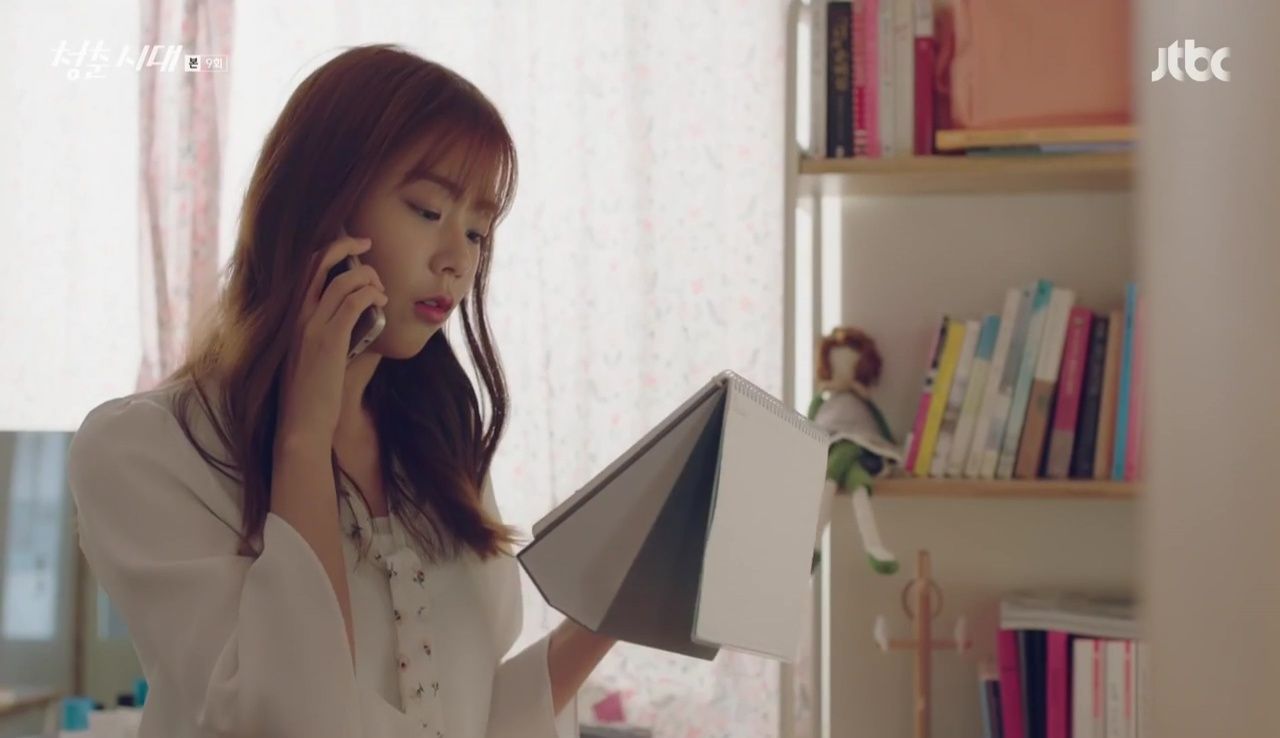 Ye-eun's alarm goes off at 4 a.m., and a glimpse of her calendar for the week shows that she has basically scheduled out her every waking moment, from early morning prayer, to classes during the day, even down to meeting up with girlfriends in the evening. As she leaves the house for another one of her activities, Yi-na and Ji-won note in concern that she's overdoing it — it's as if she can't bear to be still for even one second.
At the bar, Yi-na's having a drink with a new guy. He seems to be boring her though, as she lets out a great big yawn in the middle of their conversation. She ends up trying to catch a cab home alone, and while she waits, she notices an old woman selling vegetables on the street. Yi-na looks at her with sad eyes.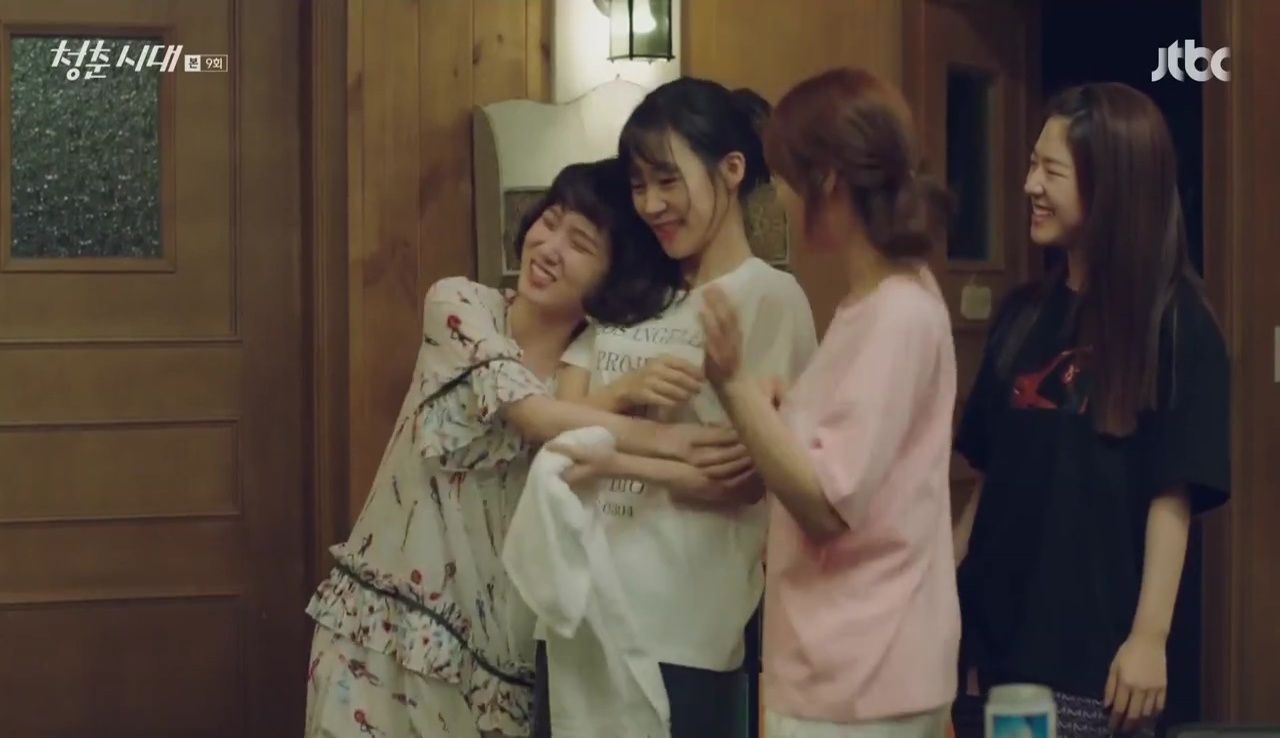 The newly single Ye-eun comes with benefits for her housemates, as she whips up some dinner for Ji-won and Eun-jae. Jin-myung joins them and asks if any of them have time to help her go clothes shopping — she's passed the written exam for a real company job and has a face-to-face interview. At that, the roommates explode with happiness for their sunbae, surrounding Jin-myung in a group hug and congratulating her.
They excitedly let Yi-na in on the news when she gets home. Though she congratulates Jin-myung, Yi-na's face drops when she gets to the bathroom. She stares at herself in the mirror, listening to the girls chatter excitedly about Jin-myung's opportunity and what the future holds.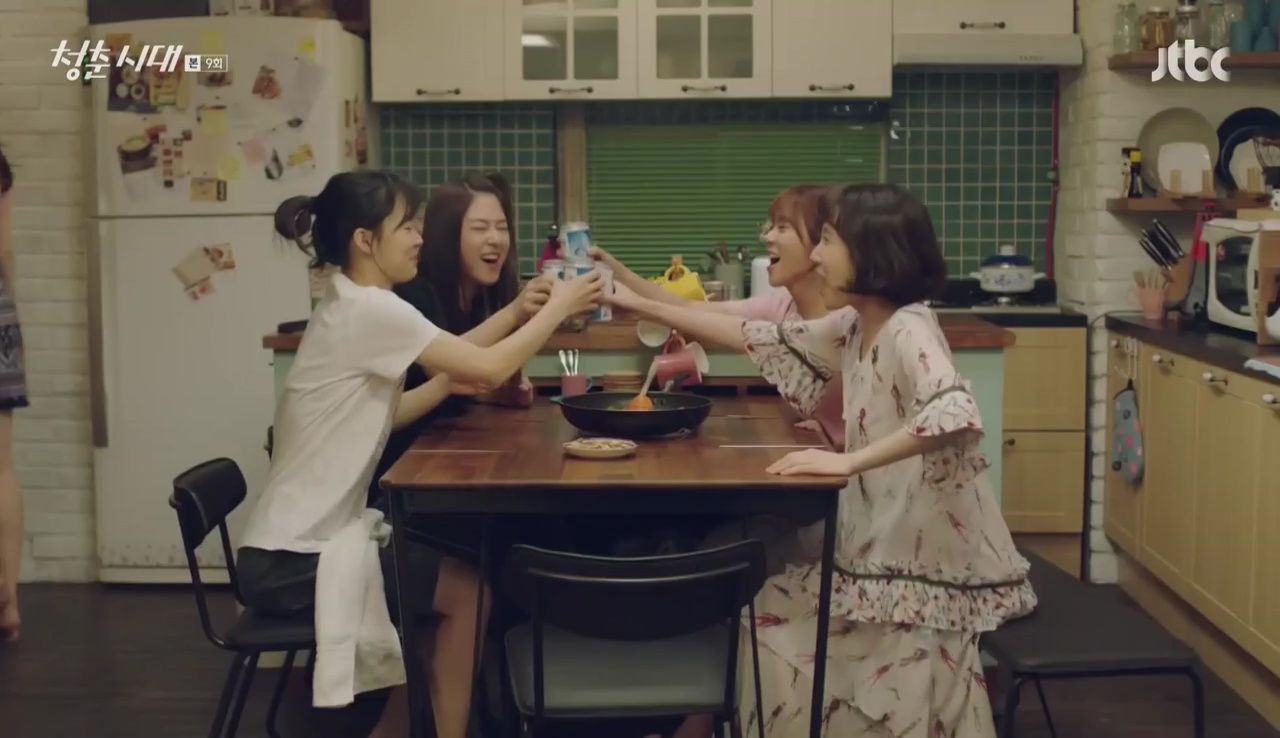 Out in the kitchen, Ye-eun proposes a reunion for the housemates in ten years. Ji-won says by then she'll be super busy as a journalist-turned-novelist, while Ye-eun says she'll be a food columnist. Eun-jae wants to be a counseling psychologist.
Just as Ye-eun wonders where Yi-na will be in ten years, Yi-na walks out of the bathroom and answers the question with one of her own: "How do I know what will happen in ten years, when I don't know what'll happen tomorrow?" She retreats to her room, leaving the others to resume their celebration for Jin-myung.
The next day, the roommates are in good spirits as they head out to help Jin-myung pick out an interview outfit. But Yi-na doesn't join them, having lied that she has plans, and instead watches from the window upstairs as the four leave.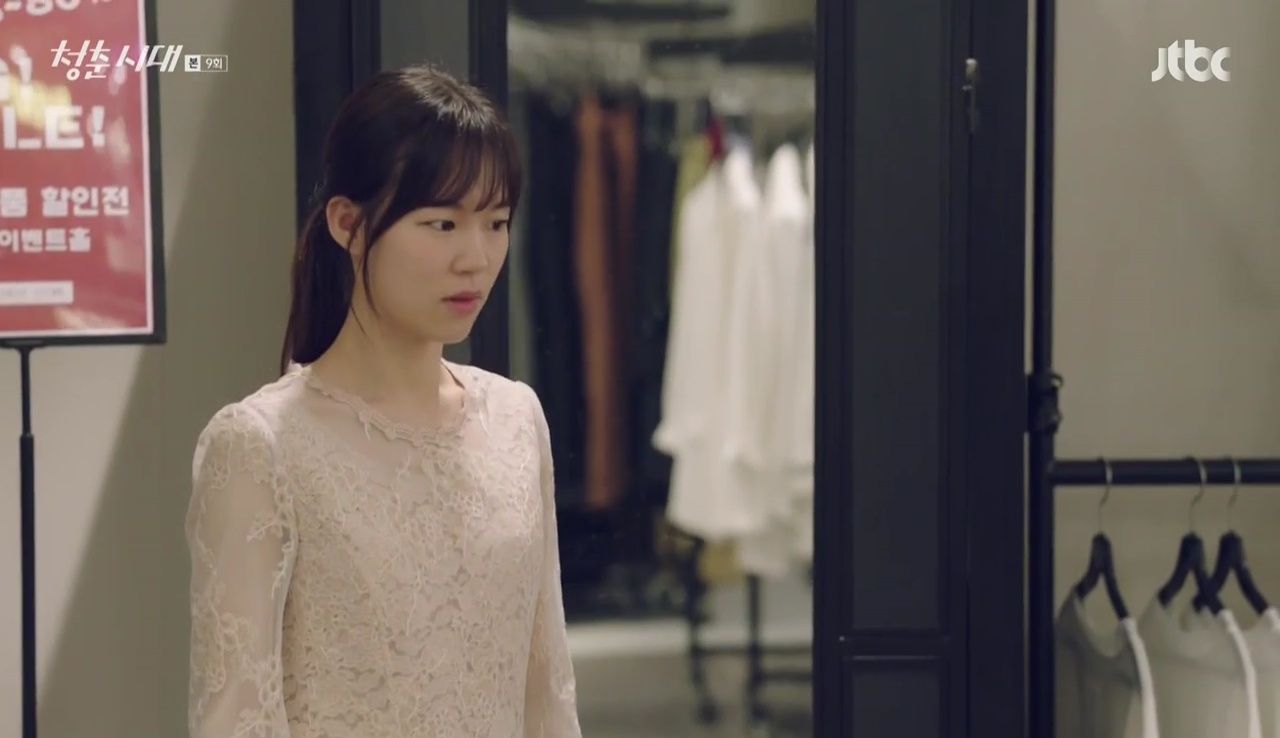 At the department store, the girls rummage through the sales rack. Each of them picks out an outfit for Jin-myung, but none of them look right — the girls essentially picked out clothes that only they themselves would wear. (Jin-myung's comment at Ji-won's pick: "The arms are weird.")
As Jin-myung tries on her last outfit — a plain black suit — she hears her roommates talk about how it's time for her luck to pick up, and that they wish she would get the job. She walks out in the suit, earning smiles of approval from her roommates — the suit it is. Jin-myung pays cash for it, then they all take the bus home, Jin-myung holding tightly onto her shopping bag.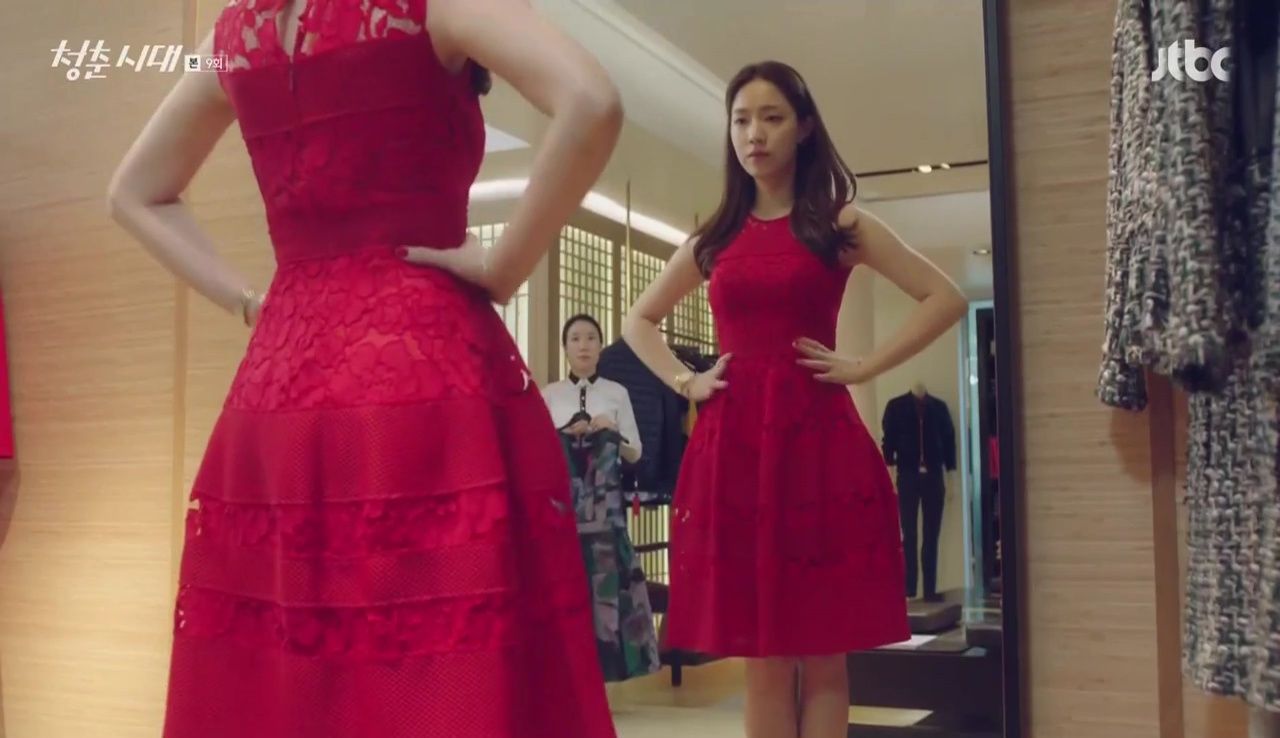 Meanwhile, Yi-na's decided to do some shopping of her own at an expensive-looking boutique. She tries on gorgeous dress after gorgeous dress and picks several before easily handing over a credit card to pay. As she walks down the street with her many shopping bags, she comes across a soccer ball on the street. A boy calls out to her for the ball, but calls her "Ajumma," instantly pissing her off. Her face dark, she kicks the ball to the other side of the street. Ha, that was so petty.
Dong-joo thinks so too, as he laughs at Yi-na's story when they meet up over coffee. But Yi-na doesn't find the thought of getting older funny at all — she thinks it's horrifying, becoming an ajumma, and then a grandmother. Yi-na looks distractedly at a delivery man carrying in some boxes when Dong-joo asks her what ended up happening with her stalker Jong-gyu.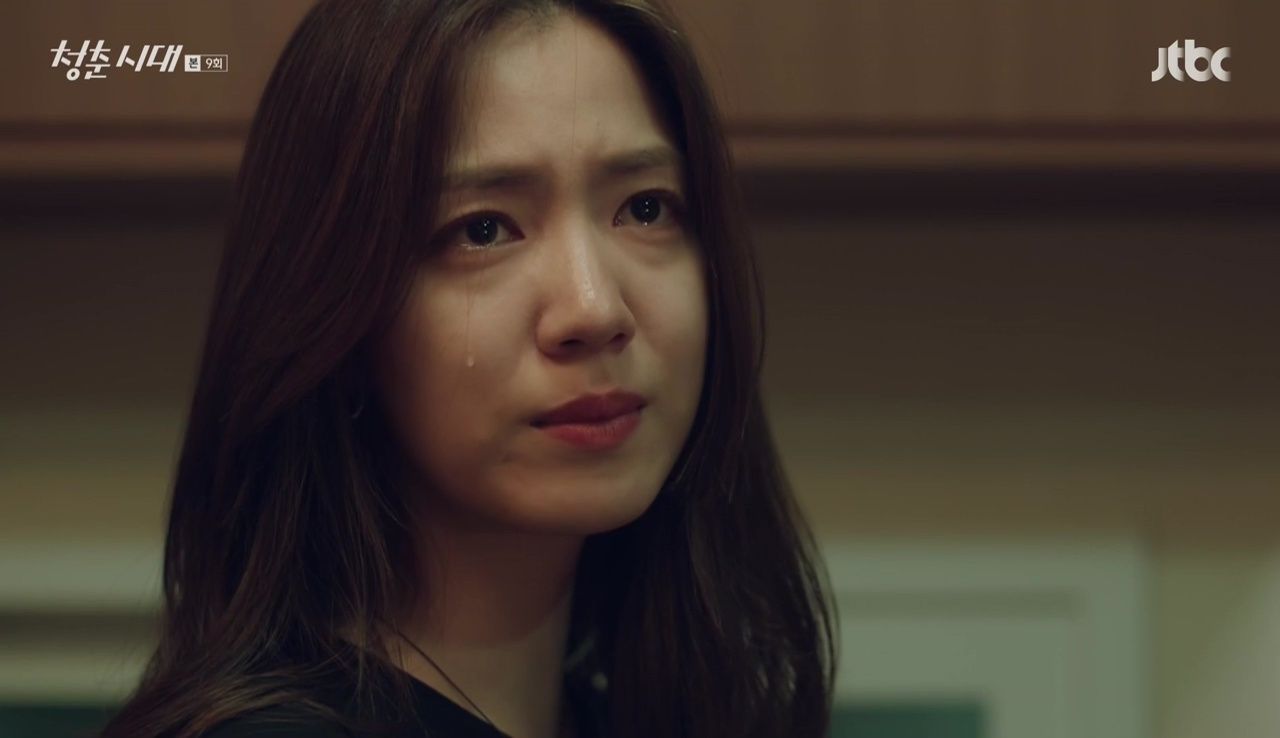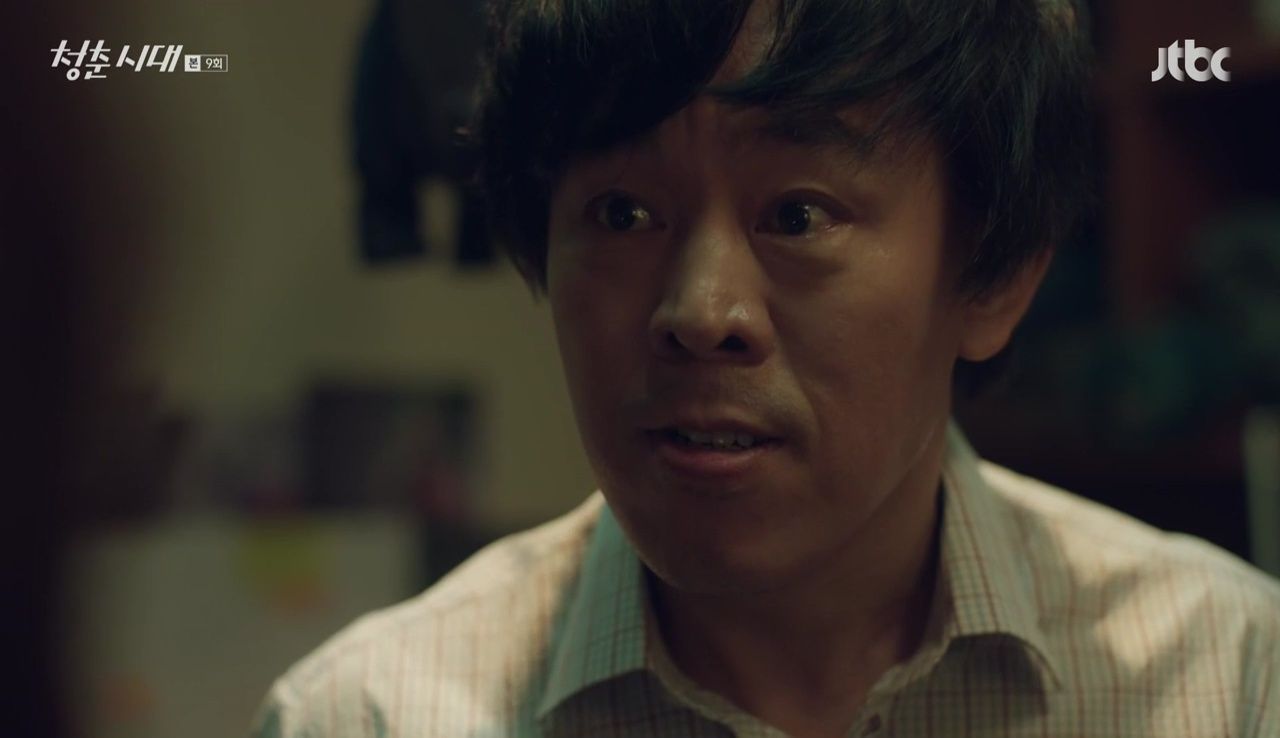 She thinks back to the confession she made to Jong-gyu in his room. She told him that she killed his daughter Sol and asked if he was going to kill her, too. Shaking with rage, he'd broken down in tears, then asked her to leave — at first quietly, and then screaming the words at her. So, with tears streaming down her face, she left.
Back in the present, Yi-na tells Dong-joo that everything worked out, and she won't see Jong-gyu again. But her face looks sad, which doesn't go unnoticed by Dong-joo.
Yi-na takes a cab home and runs into Jin-myung as she's headed inside. Yi-na asks if Jin-myung's going somewhere; Jin-myung gives a long look at Yi-na's shopping bags and replies with a curt "Yes." Yi-na's face has guilt written all over it, and she sighs as Jin-myung walks away.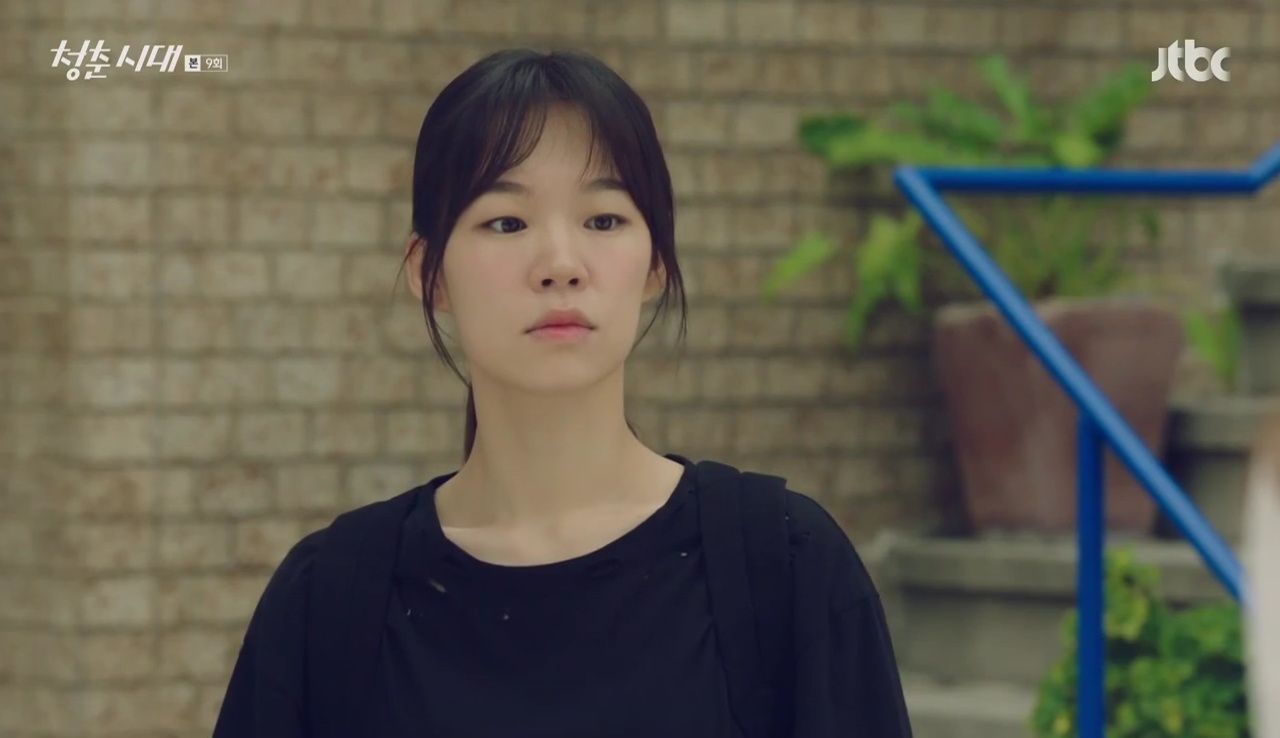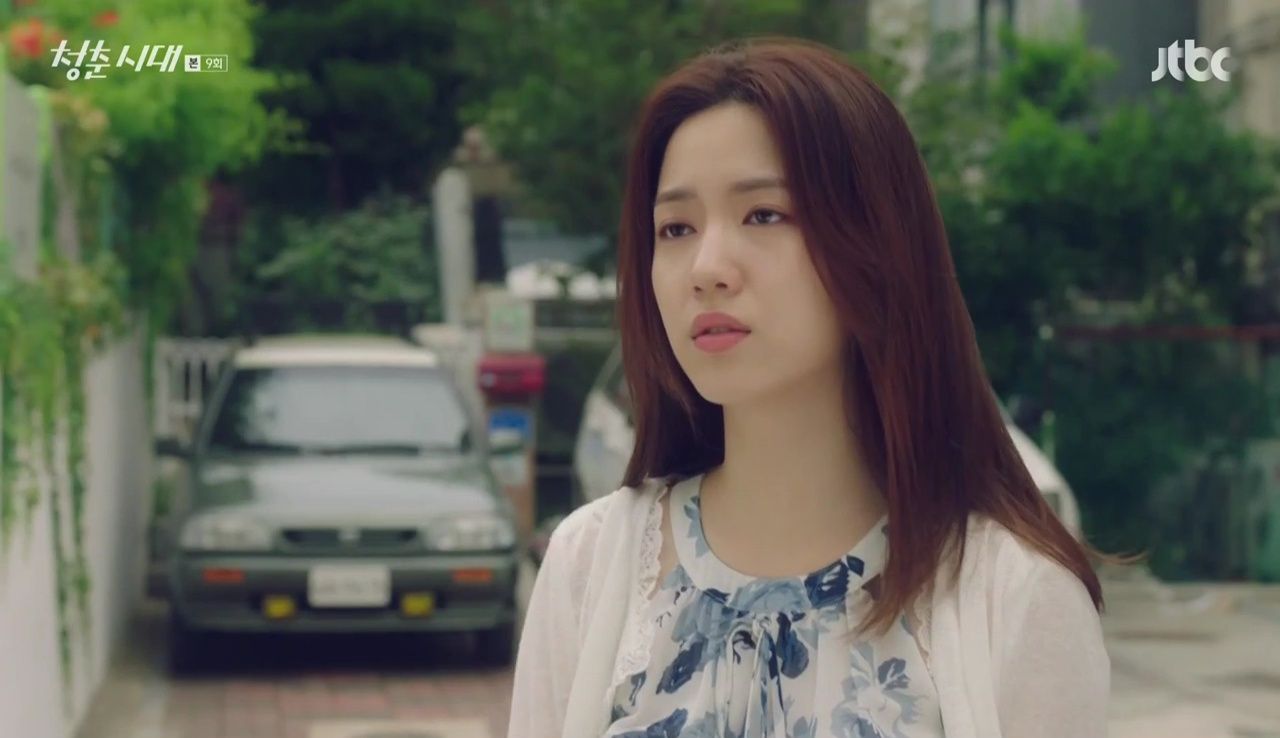 Eun-jae's mom and stepfather arrive at the airport, back from their vacation. Eun-jae's mom turns on her phone to see Eun-jae's messages, but before she can call her back, she finds herself face-to-face with the insurance investigator.
Eun-jae is at school when her mom finally calls and tells her about the conversation with the investigator. From a distance, Jong-yeol spots Eun-jae and heads over to her excitedly, only stopping when he overhears her raising her voice. Eun-jae yells at her mom for a multitude of things: for answering the investigator's questions the way she did, for going on a trip just after receiving the insurance payout, for buying so many insurance plans, and for not being able to take care of her own affairs.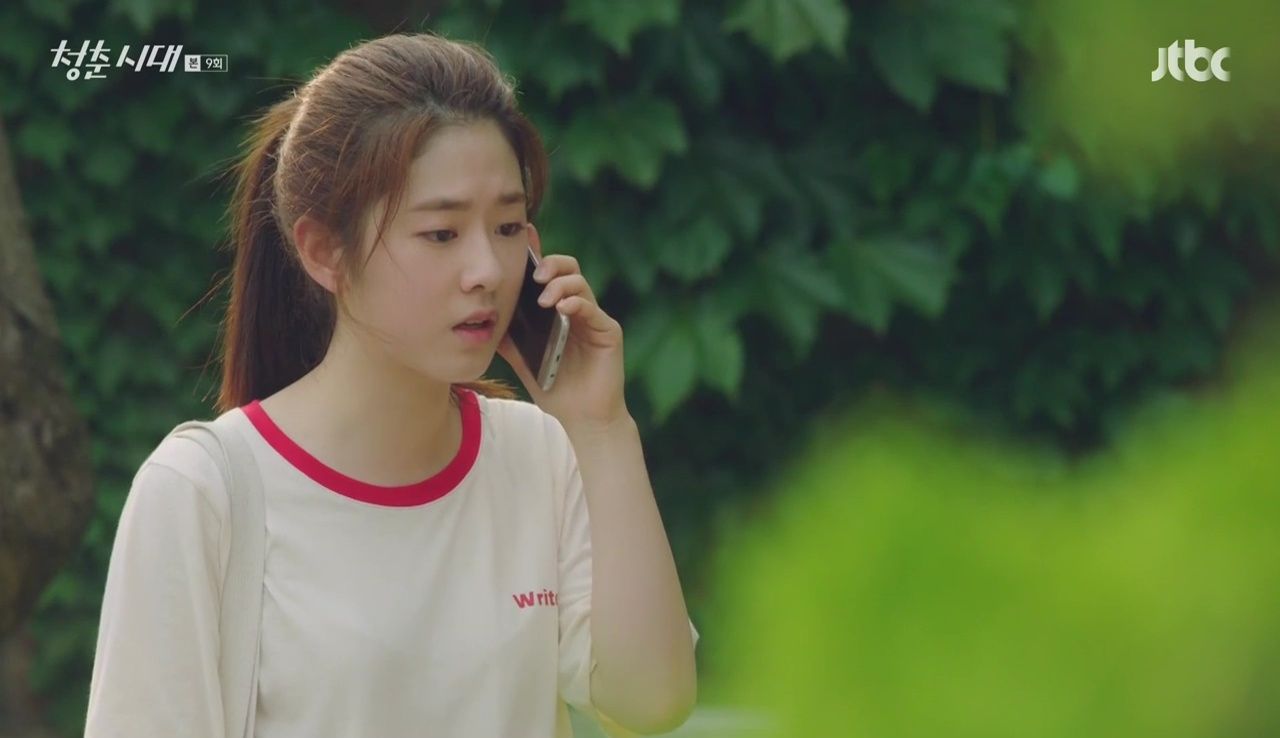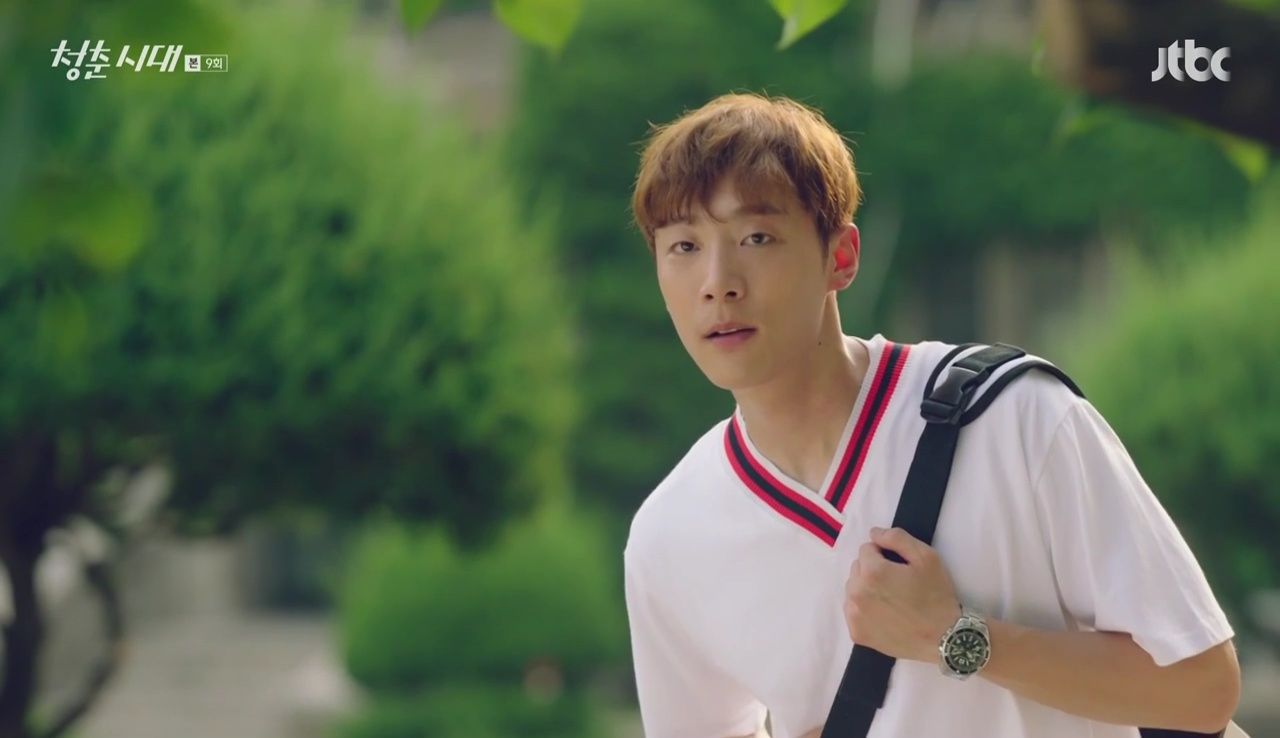 Jong-yeol stands at a distance unable to approach Eun-jae, but seemingly able to hear her end of the conversation. After a moment, Eun-jae turns and sees him, and hurries to end the call. That allows Jong-yeol to head over, but he pretends that he didn't hear anything and asks if everything's okay. Eun-jae avoids his eyes and says everything's fine, then leaves for class.
Elsewhere, Ye-eun gleefully takes pictures of her dessert to share on social media — in addition to planning out every minute of her life, she's also been documenting all her adventures online. Her friends poke fun at her social media obsession, but at least one person is keeping up with Ye-eun's updates: Doo-young scrolls through Ye-eun's feed, smiling and shaking his head.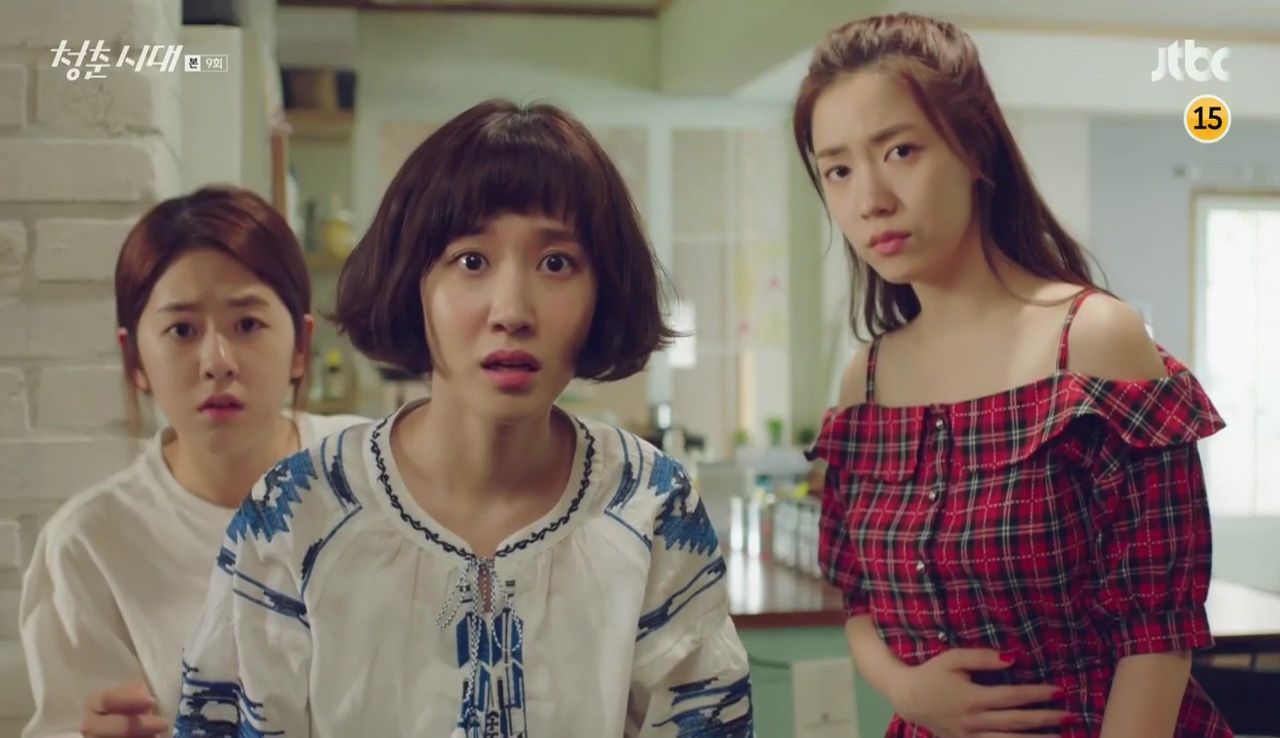 The next morning, Ye-eun hogs the bathroom to the dismay of both Eun-jae and Yi-na, who look like they might explode. When Eun-jae tells Ji-won that Ye-eun's been in there for thirty minutes, Ji-won starts pounding on the bathroom door, fearing that Ye-eun's finally had a breakdown over her breakup. Ji-won's about to bust open the door when it swings open — Ye-eun's fine, but she's clearly been crying. She bursts into tears again at the sight of her roommates, wailing about having too much armpit hair: a mark of being single.
A bit later, Eun-jae rushes out of the house, followed by Ji-won, then Ye-eun. Jin-myung's still in her room, about to put on her new suit, and she smiles to see the sweet little gifts and notes of encouragement on her shelf left by the three girls.
Yi-na's still in the house too, and she joins Jin-myung in the entryway when she sees that Jin-myung's getting ready to leave. Yi-na takes a long look at her roommate's worn out black pumps, and though she looks like she wants to say something, she simply wishes Jin-myung good luck.
Yi-na tries to go back to folding laundry, but she can't focus while thinking about Jin-myung's shoes. She ends up running out of the house, a pair of nice black pumps in hand, chasing after Jin-myung all the way to her bus stop. But alas, she's too late — Jin-myung gets on the bus, and Yi-na watches the bus drive off.
Jin-myung arrives for her interview, only to be greeted by the two loan sharks, who… gift her some rice cakes in support. That's weird.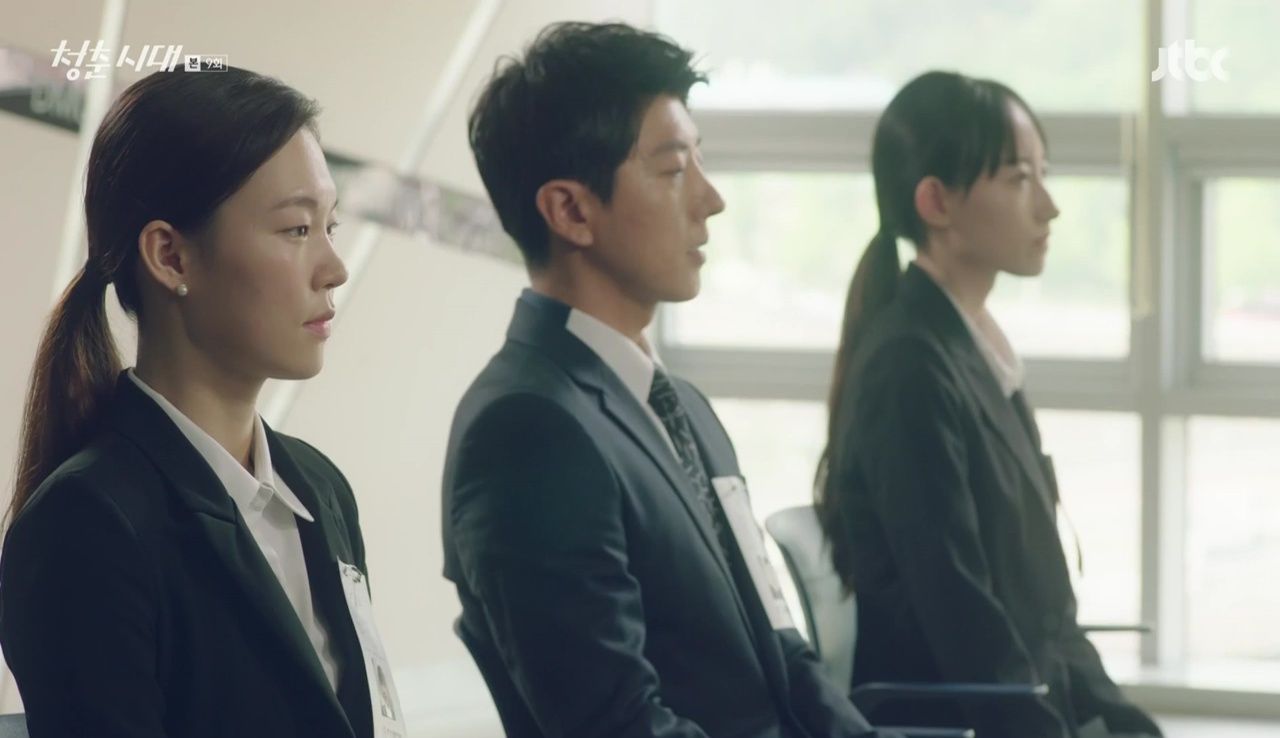 During the interview, a female interviewer asks Jin-myung a question about how long she's been in school. As Jin-myung answers, the interviewer looks disapprovingly at Jin-myung's pumps before jotting down her notes.
Yi-na greets Boyfriend #2 at a café, but is surprised to see an older woman sit down at her table along with him — it's his mother. Yi-na reassures her that the relationship she has with her son isn't serious, but his mother's more interested in discussing Yi-na's credit card spending — she spent too much of his money last week. Looking embarrassed, Yi-na meekly offers to return the things she bought.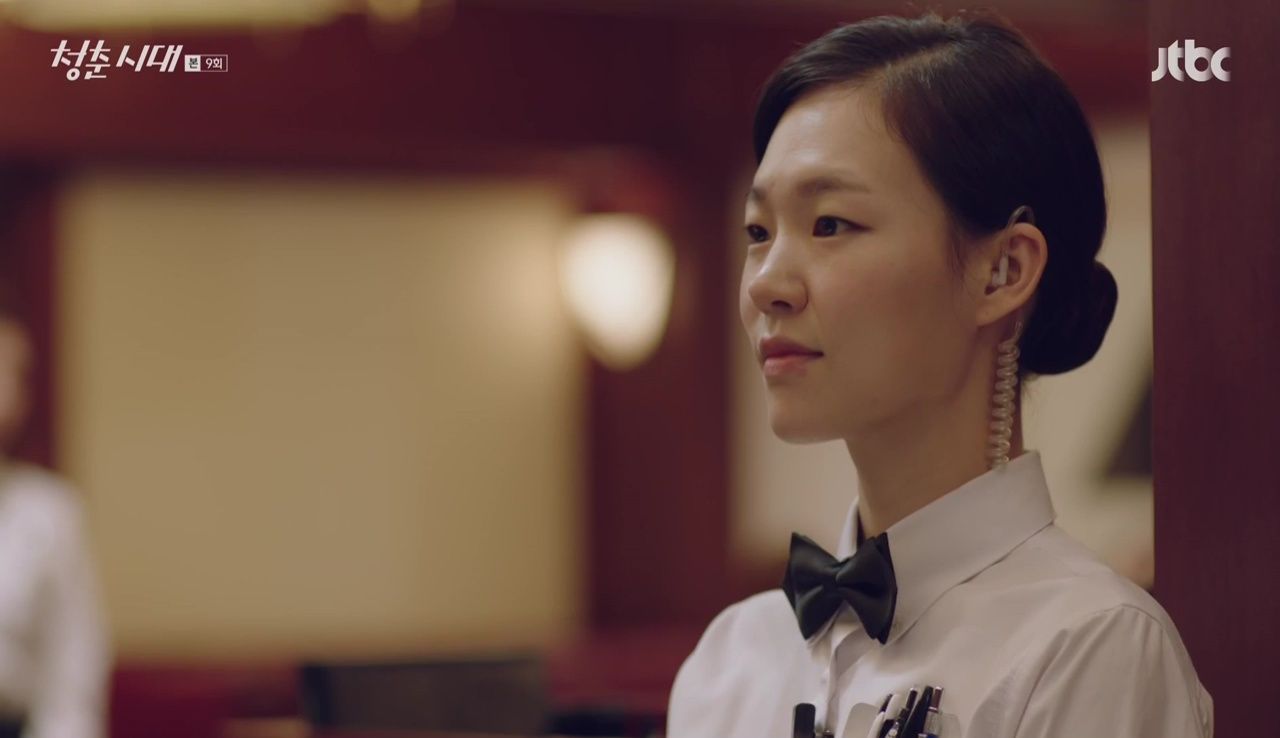 Jin-myung heads to her restaurant shift after her interview. Her co-workers notice her fancy suit, and she tells them about the interview, smiling a little as she says she thinks she did well. Her jerk manager rolls his eyes and scoffs at her, and throughout the night, he makes it a point to give her dirty looks. But Jin-myung just ignores him, wearing a slight, hopeful smile on her lips.
The ever-cheerful Ji-won greets her roommates the next morning, but she gets no love in return. Ye-eun's still depressed about her newfound singleness. Eun-jae's down with thoughts about the insurance investigator. Jin-myung can only think about her pending interview results, and Yi-na's deep in thought over her direction in life.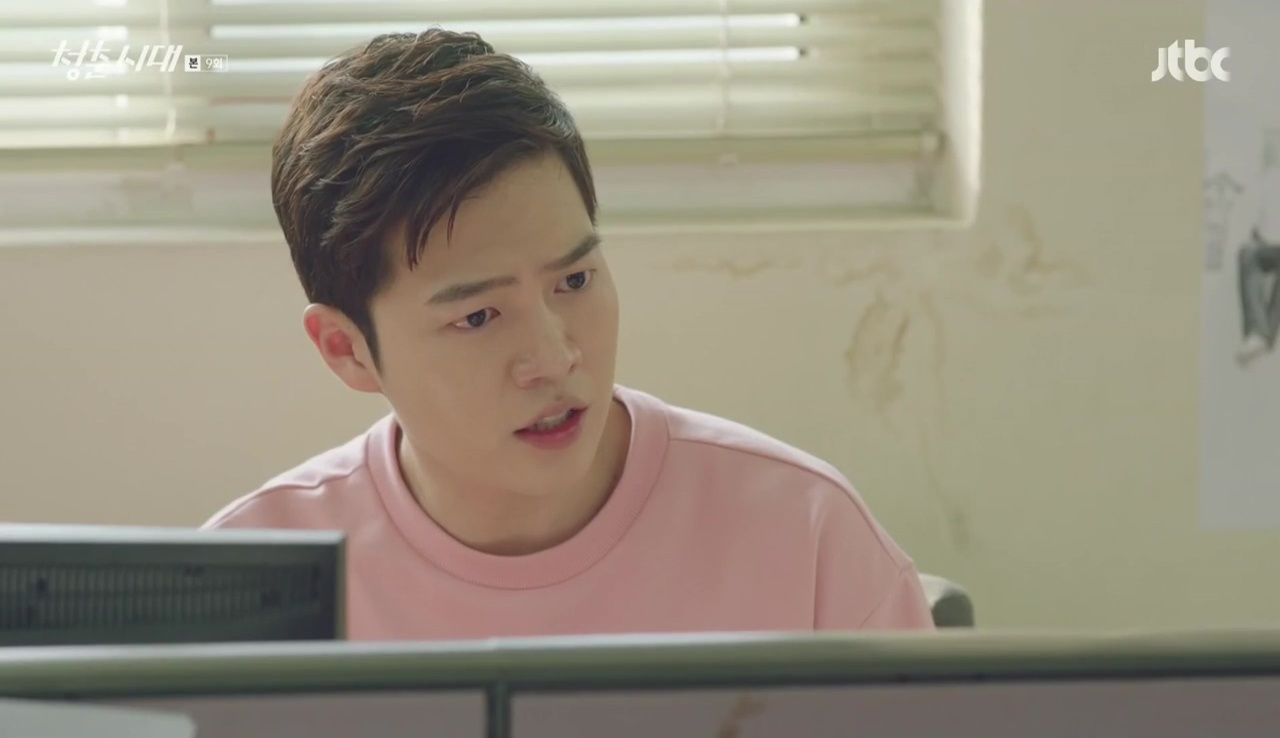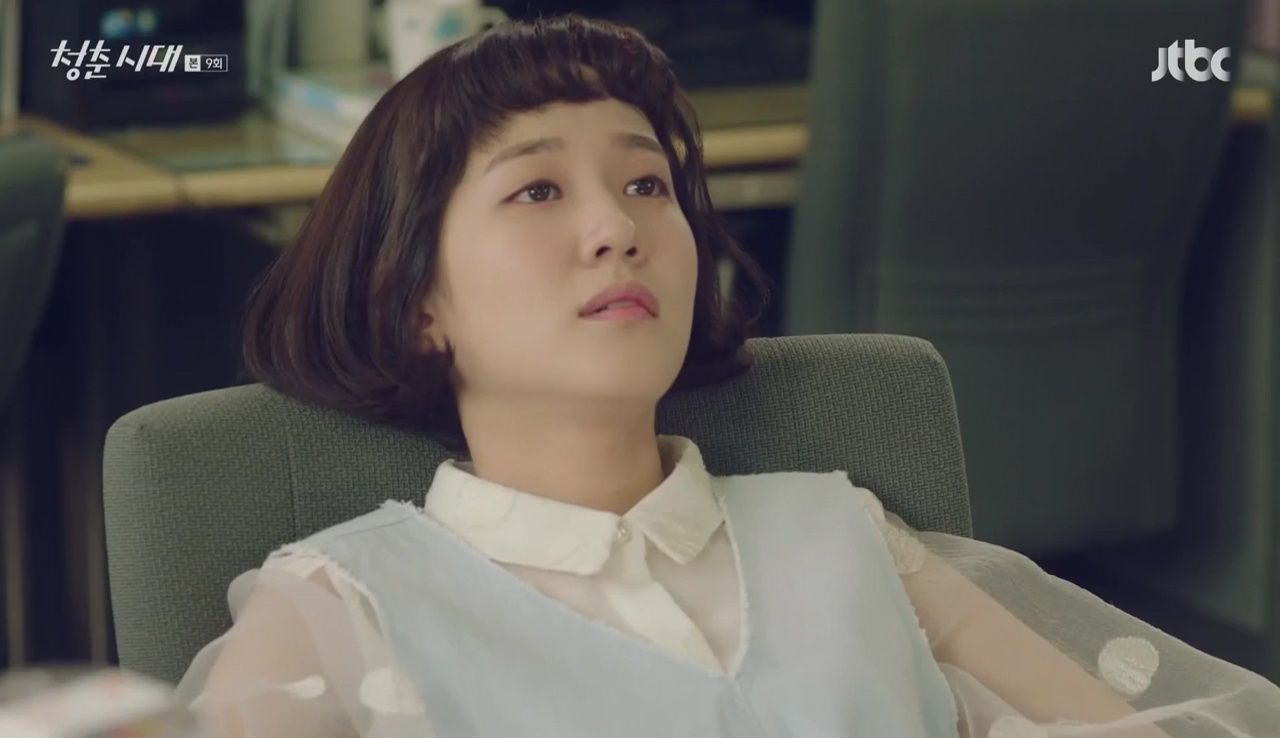 At the school newspaper office, Ji-won heaves loud sighs until her friend Sung-min can't take it anymore, and demands to know what's wrong. She complains that her life is too uneventful and predictable, then rolls her chair over to him and asks him if he wants to date her. Sung-min's not amused.
Ji-won pouts and says her life is so boring, and at that, he looks over at her in alarm. He tells her not to go off and do something weird like she did last fall, when she disappeared and left behind a will — all because she was "bored." She weakly says that was fun, but he warns her not to do anything like that again. At that, Ji-won mutters, "I think it's already too late for that."
At school, Jong-yeol sits Eun-jae down for a serious conversation. Taking her hand, he tells her that he'd love to have telepathy as a superpower so that he wouldn't have to use words to figure out what others were thinking.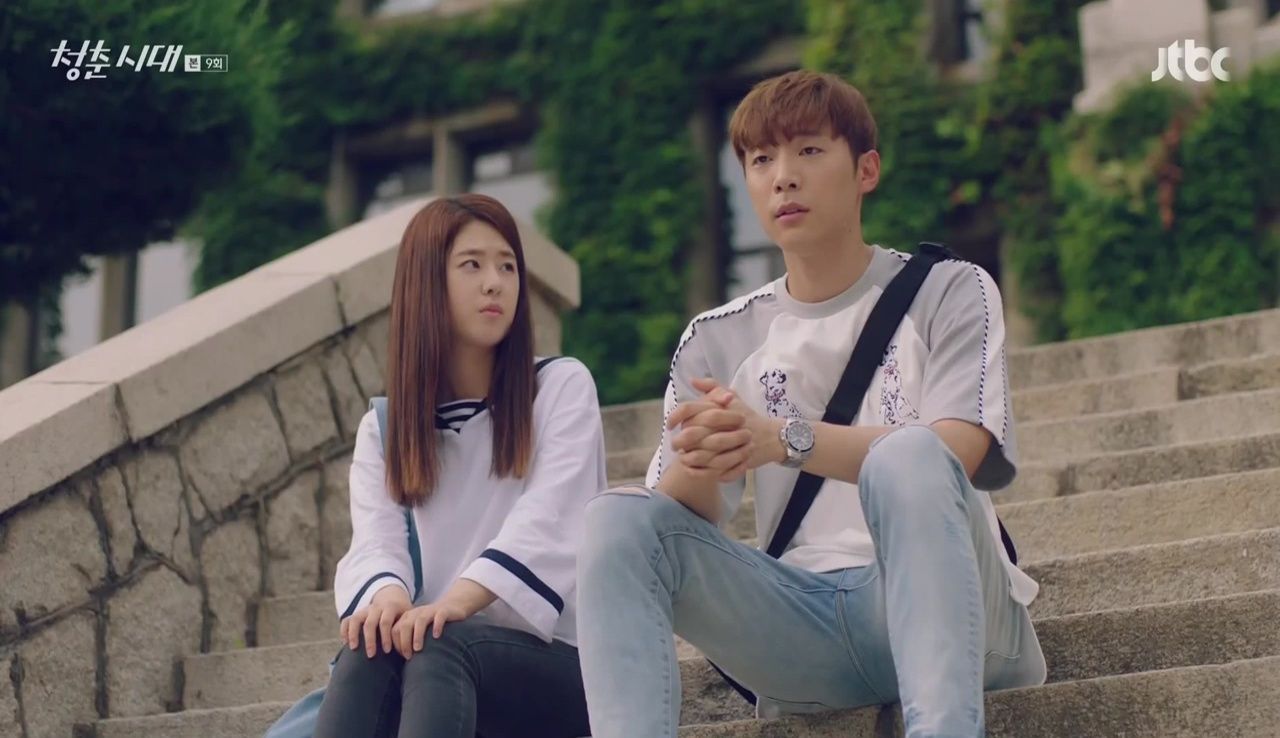 But since he doesn't have this power, he tells Eun-jae they'll have to use words, then asks if something's going on with her. He tells her he's so head over heels for her that he'll accept anything she says, but all Eun-jae can say is that there's nothing going on. She pulls her hand away from his and starts walking, leaving poor Jong-yeol to trail after her in concern.
Jin-myung finally receives a text announcing the results from the interview, but we don't get to see what it says. She works another shift at the restaurant, and her manager stares at her creepily every chance he gets.
At the park, Yi-na watches a father teaching his son how to ride a bike. She narrates that she wasn't ever sure why others tried so hard in life, or why they thought life was so precious. She didn't understand why everyone worked so hard to move forward when they didn't know what was ahead.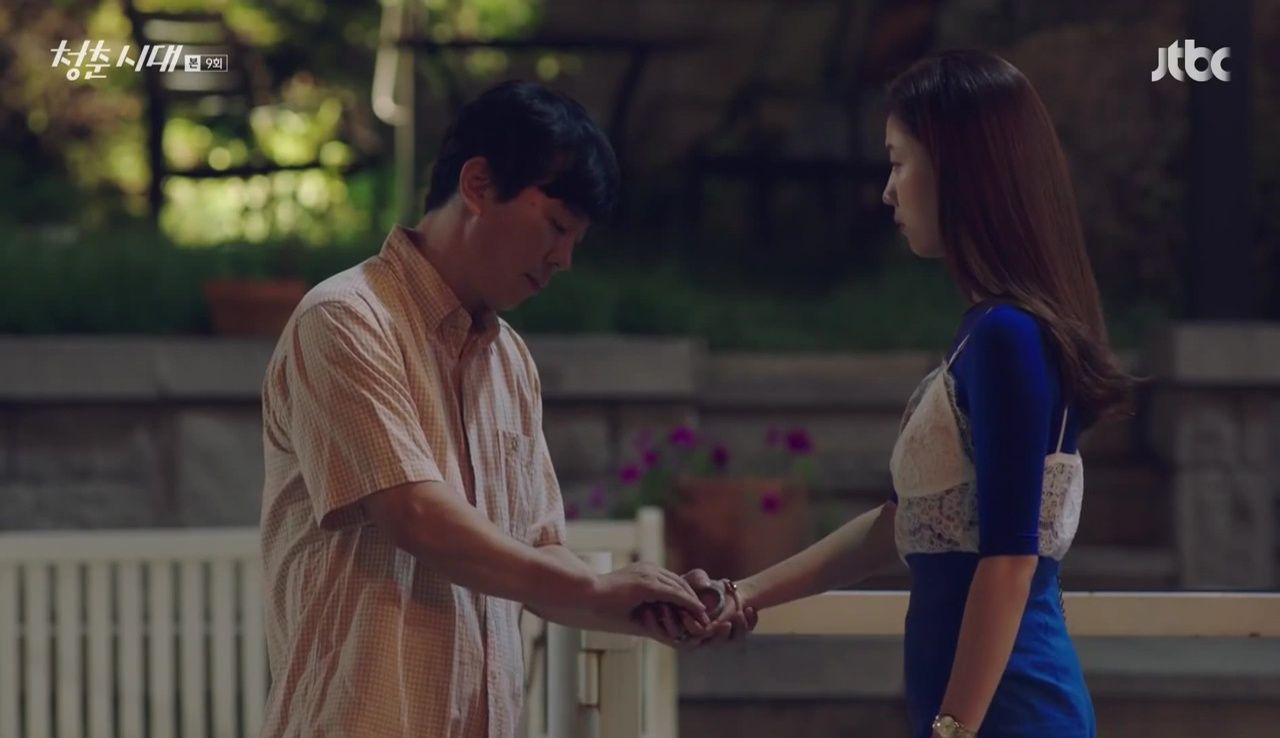 Yi-na heads home and is surprised to see Jong-gyu outside the Belle Epoque, waiting for her. He pulls out his daughter's bracelet from his pocket and places it in Yi-na's hand, telling her, "You said this was your talisman. Use it as your talisman." Yi-na doesn't understand why he'd do this — doesn't Jong-gyu hate her? But he says he doesn't, and that he understands that things just turned out the way they did.
Before he leaves, Yi-na asks him a question: What would he say to his daughter if she happened to be the one who made it out alive, instead of her? With compassion in his eyes, he tells Yi-na, "To live. To not feel guilty. Surviving is nothing to be ashamed of. So live. Live a good life."
Yi-na fiddles with the bracelet as she watches Jong-gyu walk away, then starts to cry.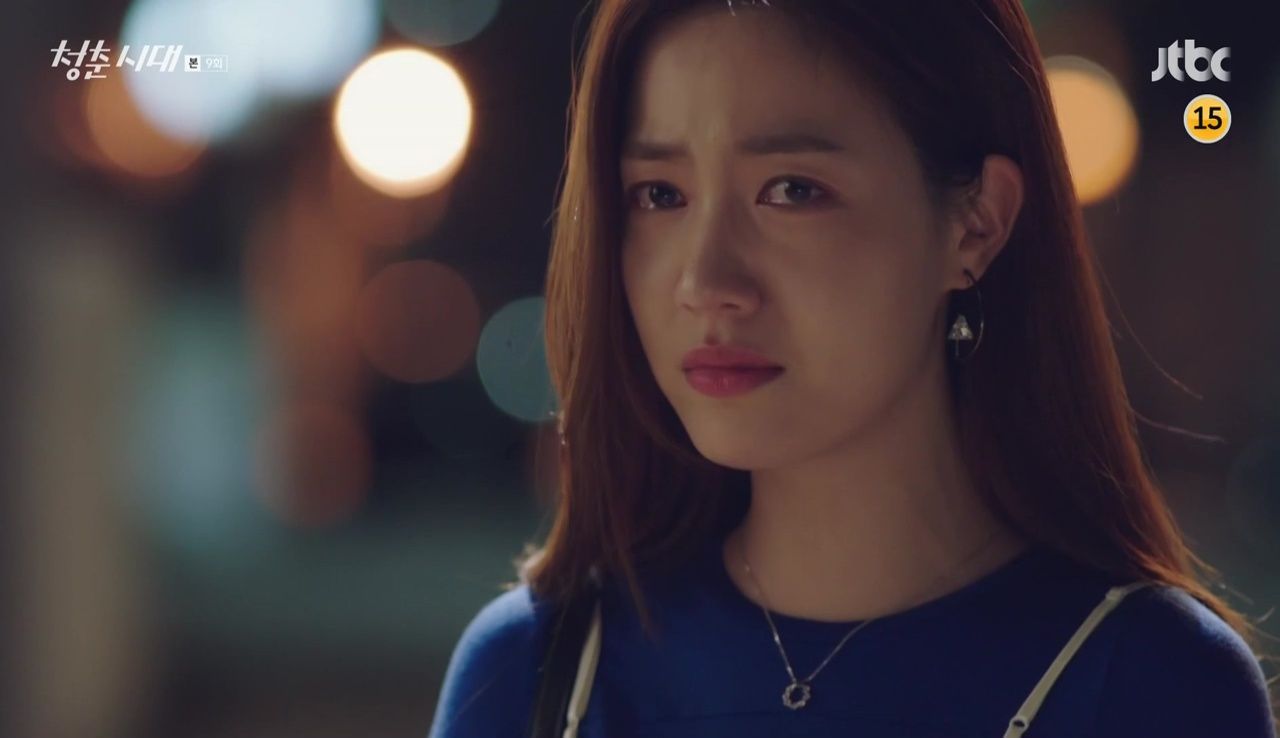 The restaurant staff are busy cleaning up at the end of the night when the manager storms in and accuses Jin-myung of stealing two bottles of wine that have gone missing from the cellar. He demands to search her bag, then drags Jin-myung to her locker, pushing her out of the way to open it up himself. When he finds her bag, he takes it back to the office to dig through it while the other staff members watch from outside.
The manager throws her stuff all over the floor; when he doesn't find the wine bottles in her bag, he asks angrily where she's hidden it. Jae-wan can't stand to watch any longer and steps in, asking the manager what he's doing.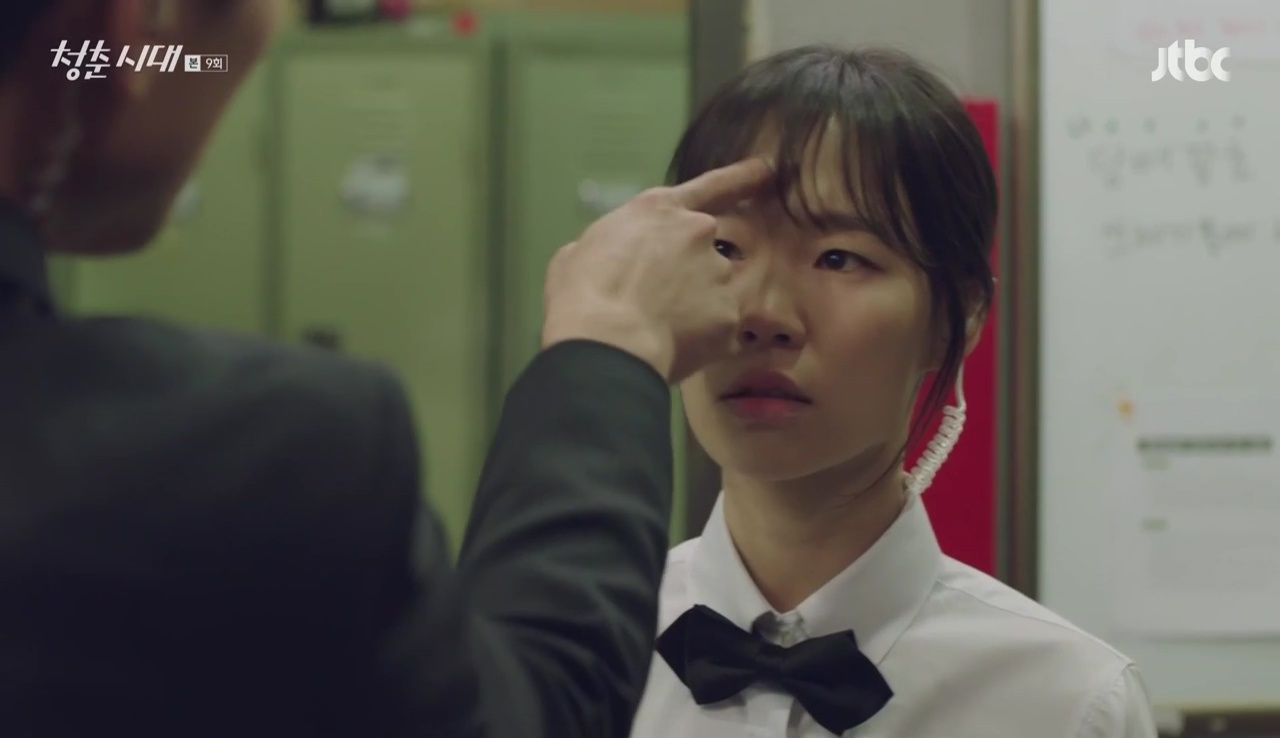 The manager responds by throwing Jin-myung's bag at her, then moves to leave the office. But before he can, Jin-myung speaks up and tells him to apologize. He turns to look at her incredulously, and she says again, "Apologize to me, and put my stuff back in the bag." The manager walks back over to her and calls her crazy, poking at her forehead with his finger.
At that, Jin-myung finally snaps, switching to banmal and screaming at him to apologize and pick her stuff up. Furious, the manager grabs her head and raises an arm to smack her, but Jae-wan and another chef intervene, pushing the manager back. Jin-myung's not done though, and she has to be held back by Jae-wan as she lunges toward the manager, continuing to scream.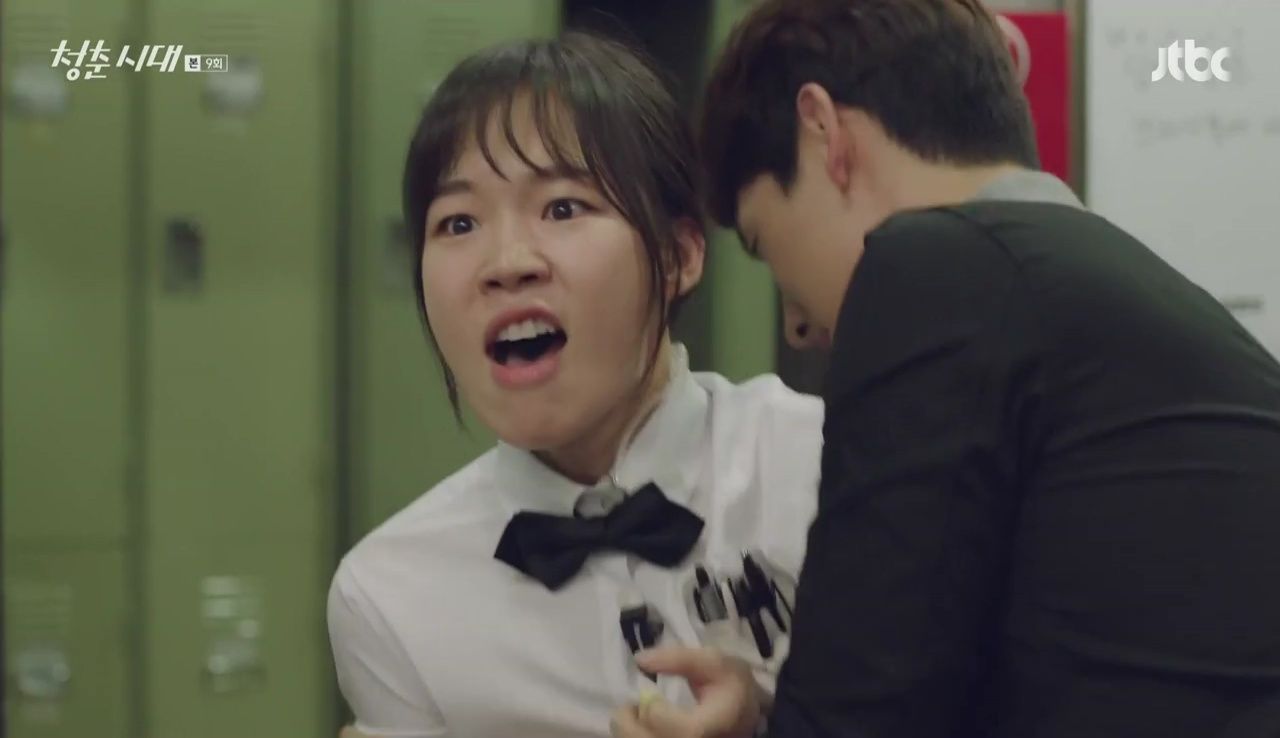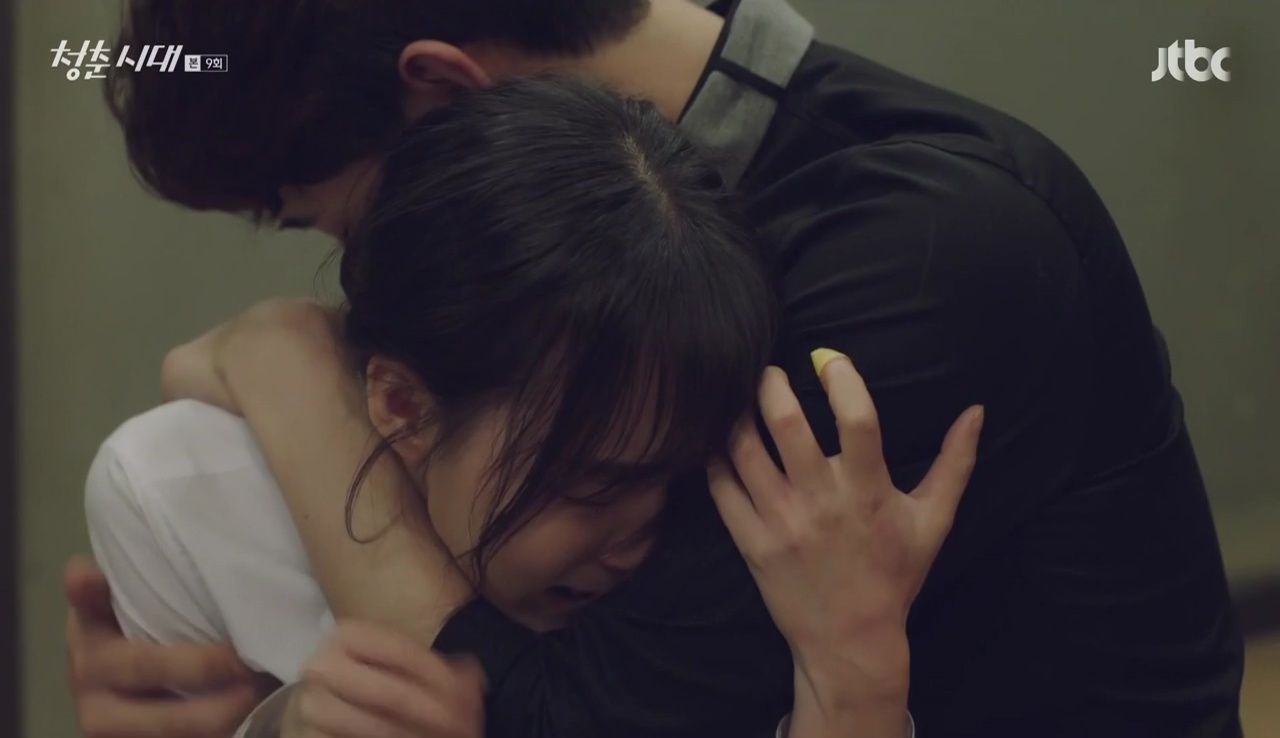 As everyone else shuffles out of the office, Jin-myung, still in Jae-wan's arms, breaks down in tears. She yells and sobs and pounds the floor in frustration, and all Jae-wan can do is hold her tight as she wails into his arms.
Later, as Jae-wan drives Jin-myung home on his motorcycle, she leans her head into his back, resting her chin on his shoulder. When they arrive home, she wordlessly returns her helmet, her expression blank, and turns to head inside. But just before she reaches the stairs, Jae-wan runs over and grabs her in a tight hug, unable to bear the look on her face.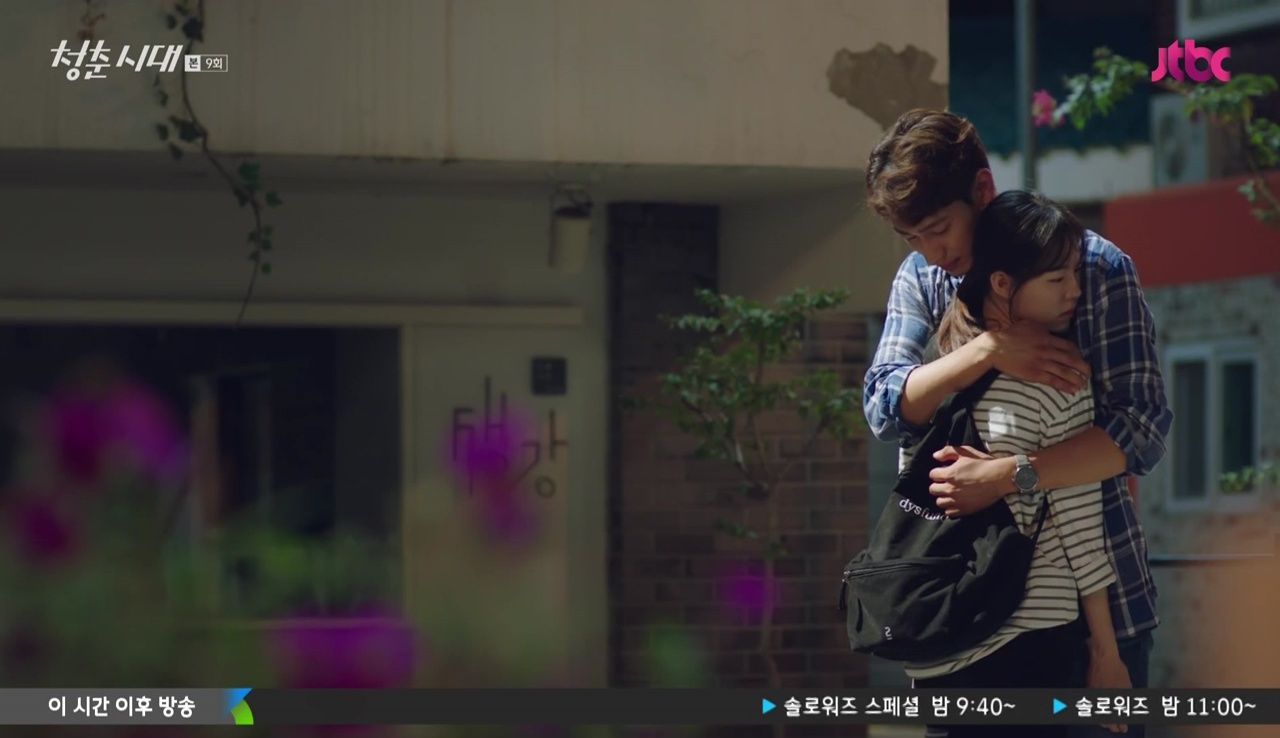 Yi-na stares at the shoe cabinet at home, thinking to herself that getting lost isn't limited to those who try to go somewhere — it turns out that staying in one place for too long can also make you lose your way.
She imagines herself underwater, and narrates: "I might have been stuck underwater all this time, sinking. Who was it that held me down?" A hand grabs Underwater Yi-na's wrist, and she opens her eyes to see a duplicate version herself, holding onto her hand. Slowly, Yi-na lets go of the hand and swims up towards the surface of the water.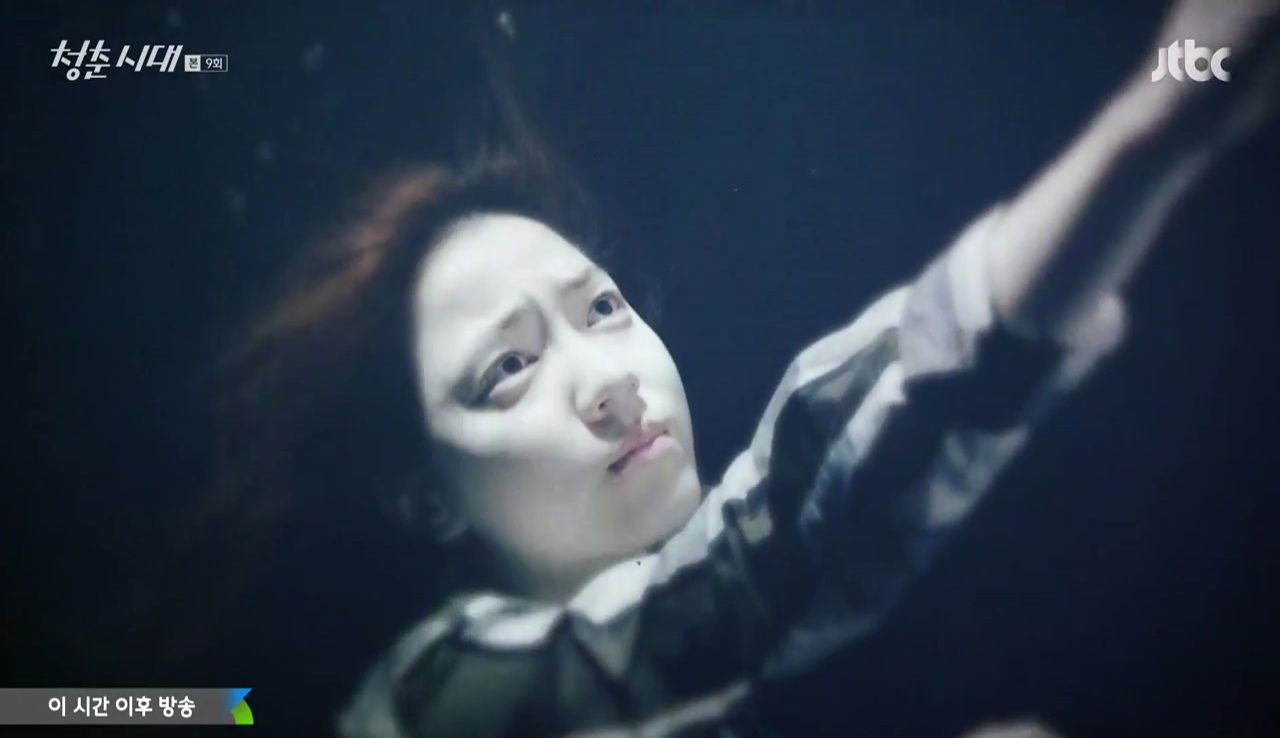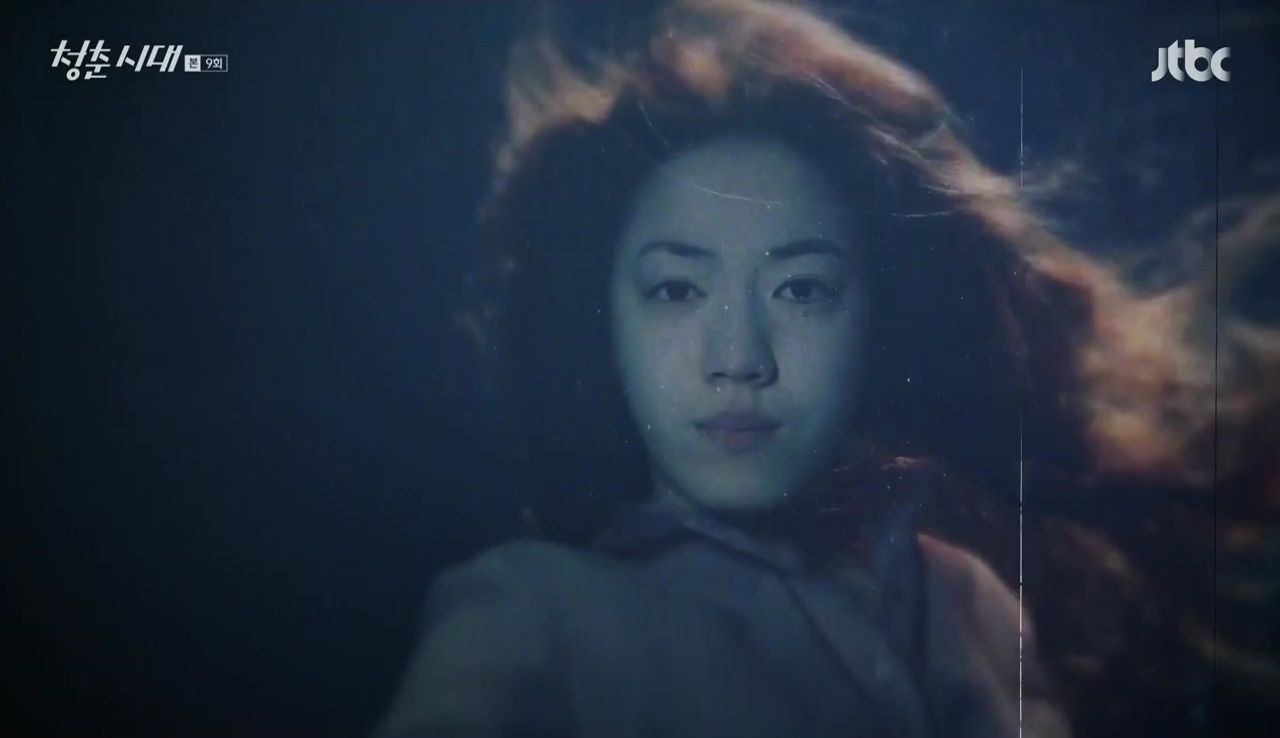 In reality, Ji-won steps out of her room to see Yi-na standing entranced in front of the cabinet. She asks Yi-na what she's doing, and Yi-na replies that she's saying goodbye. Ji-won watches Yi-na with a worried look on her face. But in her room, Yi-na looks at peace as she studies her talisman bracelet, then puts it on.
Jin-myung slowly enters the house, then crouches down in the entryway. She pulls out her phone and looks at the text message from the company, which confirms the bad news — she didn't get the job. Wearily, she leans back against the wall and just sits there, even as the entryway lights turn off, leaving her in the dark.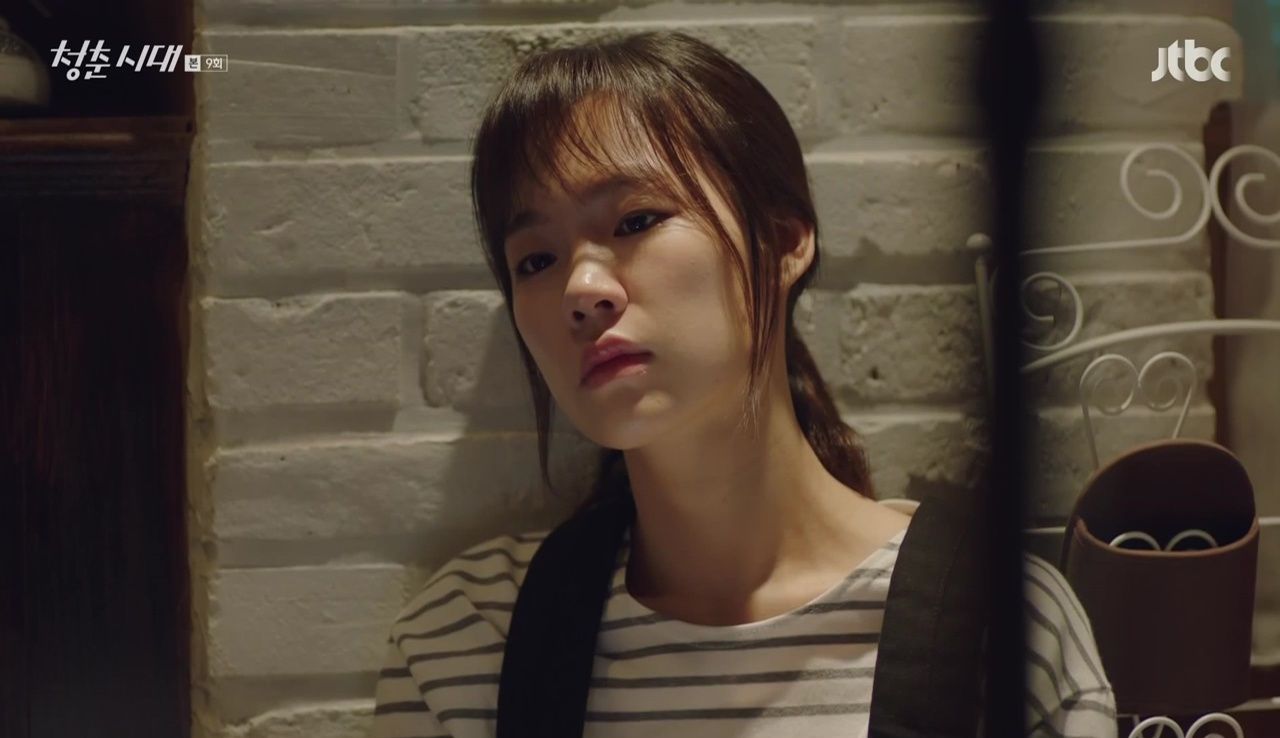 Epilogue. Jong-gyu and the manager are interviewed. Jong-gyu says he was in jail when Sol died, and he found out about Yi-na through a photo in the newspaper. When he's asked to talk about Sol, he chokes up, unable to answer. Then we have the manager, who insists that he has nothing to be sorry about when it comes to Jin-myung. When he's asked about wrongly accusing her of theft, he spits out an insincere apology.
COMMENTS
I've said before that this show's at its best when it shines a light on the friendships between our five housemates. We didn't get as much of that this hour, so this episode felt a tad slow to me as we focused on the girls' individual stories instead.
That is — it was slow, until we hit the last of Jin-myung's scenes. Ugh, cue all the tears. Han Ye-ri is such a good crier — her uncontrollable sobbing just tore my heart to shreds. Story-wise, how much more can our poor Jin-myung take at this point? It was pretty clear that she wasn't going to get that job from the look on that female interviewer's face — and if she really made that decision based on Jin-myung's shoes, I… don't even know what to say. But on top of that huge disappointment, Jin-myung has to deal with being humiliated day after day by the worst manager in the world, in front of Jae-wan, no less. It's a wonder that she didn't snap earlier.
I guess the very tiny sliver of a silver lining to all this is that the walls she's put up to keep Jae-wan out have finally come tumbling down — at least, a part of it has. It's so hard to go through life alone, and with all of the burdens she's shouldering, she deserves someone as understanding as he is to unload on, if just a little bit. Let's hope this is just the beginning of her being able to lean on him, though ultimately I would wish for her to feel comfortable enough with her roommates to go to them for support as well.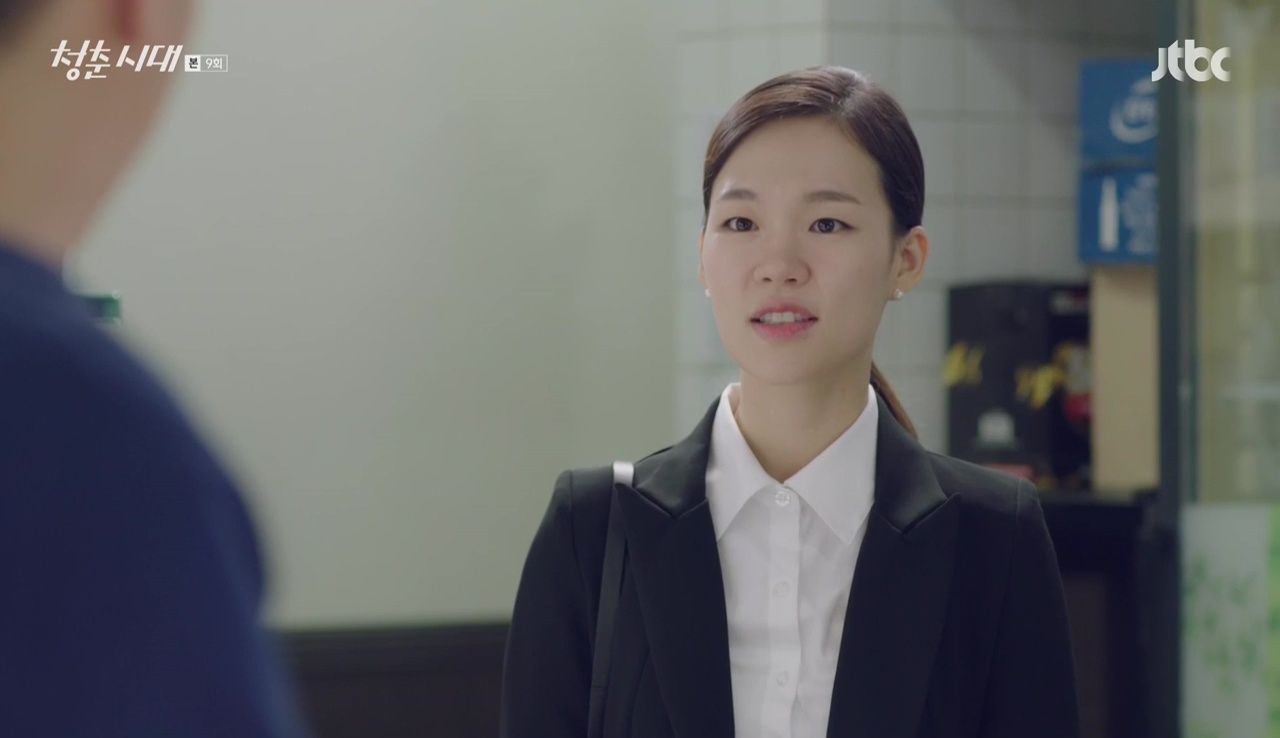 We do get some closure with one of our housemates this episode, as Yi-na's the first to have her "ghost" put to rest. I'm not sure how I feel about the sudden show of understanding from Jong-gyu though, after the anger and anguish he displayed earlier. Did he just need Yi-na to admit what happened in order to move on? In any case, it seems that his forgiveness was what Yi-na needed to forgive herself, and though she still has to figure out what she wants from life, at least she's at a point where she actually wants to look forward. It's a big step for her.
With only three episodes to go, I'm not sure how we're going to resolve the stories of the other "ghosts" that our girls are wrestling with, especially since more conflicts are being introduced. One of the biggest bummers for me this episode was seeing the beginnings of a rift between Eun-jae and Jong-yeol — they're just getting started! You can't take their romance away now! I know Eun-jae's dealing with big secrets, since it does look like she's covering for her mom in some way. But gah, can't the cute between Eun-jae and Jong-yeol just go on for a little longer? Or better yet, can't she trust him and just let him in on all that's going on in her life?
And then there's Ji-won. Oh, Ji-won. There's something going on with her that we need to watch out for, and for all the time that she spends with her roommates, it's strange to me that Sung-min's the only one who picked up on the danger of Ji-won doing something drastic to alleviate her "boredom." What is she hiding? Is she ill? And how does Sung-min know more about Ji-won than her roommates? So many questions, and sadly, so few episodes left.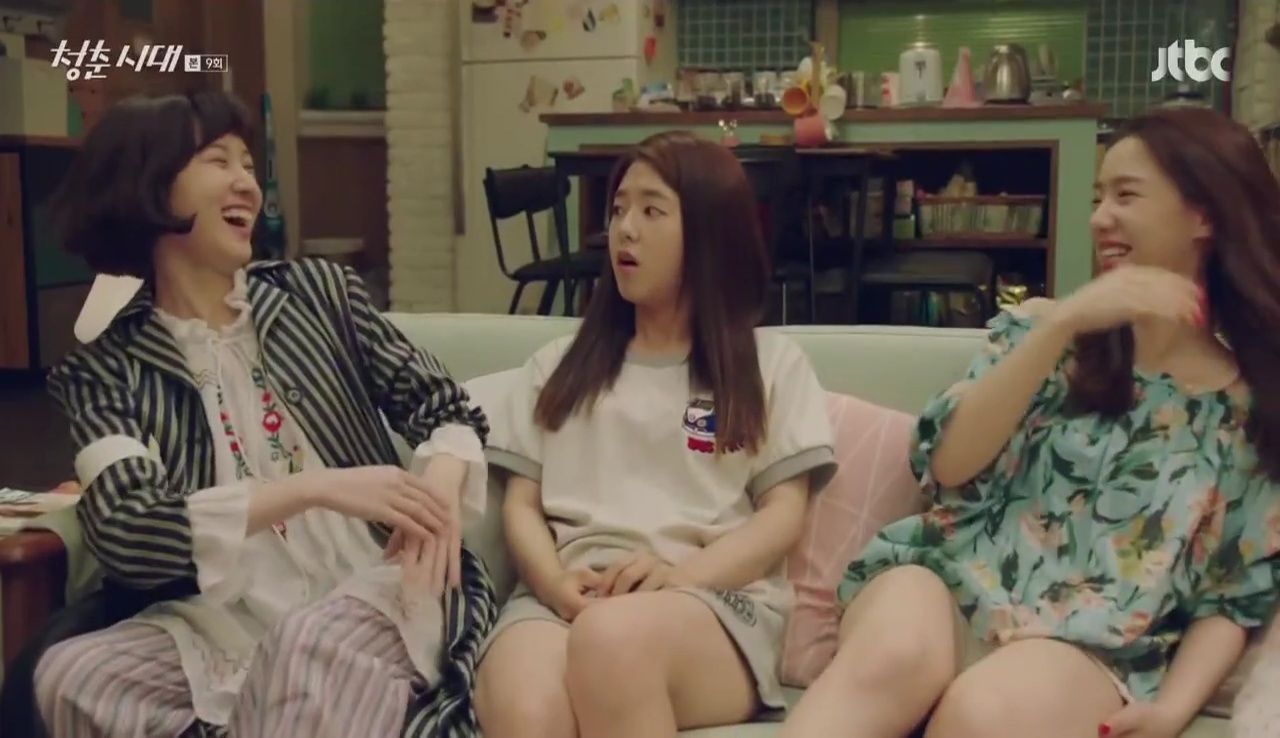 RELATED POSTS
Tags: Age of Youth, featured, Han Seung-yeon, Han Ye-ri, Park Eun-bin, Park Hye-soo, Ryu Hwa-young