Beans of Wisdom: What's our setup?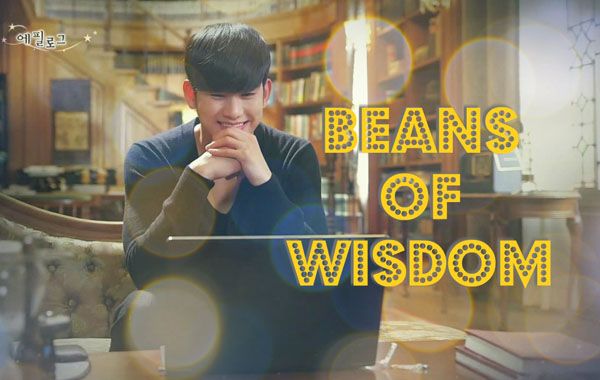 This week in Beans of Wisdom…
risa reacts to an entry in last week's "Beans of Wisdom: Cons and lies." In comment #9, she writes:
No one should travel with the lady from Faith. True, but I'm so grateful that that character exists. When I see someone in a sageuk who's obviously had a ton of plastic surgery, I no longer experience cognitive dissonance– I just tell myself that they must've been another of the time-traveling plastic surgeon's patients. (I suggest their story be called The Time Traveler's Knife.)
Lauren writes about our team in "Police Unit 38: Episode 13" comment #6.1:
I think what's great about this drama, is that whilst the trust was broken for the con they were in, in particular, the bond between the team was never truly broken. Because they are pretty much a family. You might be angry, but you never truly hate them deep down.

They were angry that Jungdo deceived them out of their money, but at the same time, he covered for them when he was arrested and took all the blame (will we find out how he got his 10 years reduced to 2years + parole…). So the money was gone, but the friendship was never gone. It's a bit reminescent of how Mijoo slapped Jungdo in the first episode. There will always be that friendship between the team, no matter what happens.

And now, for this last con, the team has the last piece in the puzzle, which was missing information the last time. Jungdo's motivation. They can trust him now, because they are now all on the same page about the reason why they are doing this. Like Jungdo since the beginning, it is no longer because of the money.
pogo adds:
It's rather poetic that in trying to avenge his family, Jung-do created (however inadvertently) another one. because that's what they are, really – unconventional, but certainly a family, and even if they're mad at Jung-do, they'll still reunite to help out one of their own (Grandpa).
In "The reign of blood begins in Scarlet Heart's first teaser," pastmidnite has a question in comment #27:
The narrator…isn't it KHN's voice?
Which YY answers with:
It's Lee Jun-ki's. I know it is because he speaks to me all the time in my dreams.
Dee asks in the same post at comment #7:
Why is Lee Jun Ki's face half hidden by either his hair or mask? 🙁
Which DarcyLove answers with:
Maybe he is also a vigilante..??? Or maybe he has a scar he has to hide?????? maybe??????????
mary:
SPOILER

When his character was a kid, the eunuch bought him a very hot meal and left. Young Jun-ki opened it immediately without waiting for it to cool. The meal was a piping hot Subway which popped out of its wrapper and seared Young Jun-ki's face.

Young Jun-ki, in his anger, took out his sword, stabbed the eunuch, and disposed of the body. But the sandwich has left a mark which proves Young Jun-ki as the killer. So he covered up his face to hide the Subway-shaped scar from prying eyes.

END SPOILER
YY adds:
For a long time after that, the young prince has a recurring dream. In it, he is awoken by the sound of splashing water in the bath area. He is startled to see the piping hot Subway which popped out of its wrapper and seared his face broodily taking a cold shower. As the prince stares in horror, the subway slowly turns and drones, "I beeee pipingggggg hotttt I beeee takinggggg a colddddddd showerrrrrr…" There the dream ends, and the prince is jolted awake, drenched in sweat…
Lisa continues:
…only to meet face to face with the young heroine, Haesoo, who had been enticed by the Subway smell as hunger drove her to track down the source centuries away But the last thing she had expected was to encounter the young 4th prince and the other princes bathing with a Subway sandwich.

"Alas!" thought the 4th prince. "Was I not dreaming?!"

Not knowing how to deal with this predicament, Haesoo gave the 4th prince a friendly wave and slight smile, covered her eyes, and retracted several steps before spinning around and breaking into a full run. She will need to make the Subway stop another time!
Meanwhile, redfox describes the twistiness of "Police Unit 38: Episode 14" in comment #1.1.2:
just when I think I´ve got the knicks of it they kick me in the guts and run away giggling evilly.

Jung Do as a thug. If a thug looked like this, I would give him all my money, my dog, my hamster and my neighbors´ car (well, I don´t have one myself). Actually, I don´t have a hamster or a dog either, but I would get them from somewhere and then give to Jung Do. …. Actually, I don´t have money either. Take me! LOL
This week's cameo in "Doctors: Episode 13" has angieya commenting in #12:
Ahn Dan-tae-ssi, you became a single father, what did you (or rather Nam Gyu-man? Eeek) do to Gong Shim? Sorry, I couldn't resist hehe but I needed to think of something lighter to relieve the pain because oh my gawd, this week's medical case(s) is seriously heartbreaking.
Andee writes a similar comment in #15:
Wow, I can't believe all the crap Dan Tae has gone through. Not only did Gong Shim leave him and their two children, he also got fired from being a lawyer! What else will the poor guy have to go through? Where is Jun Su when you need him?!

I kid, I kid. But seriously, Nam Goong Min's acting these two episodes is amazing. I'm glad he took the cameo.
Dexterinthelaboratory takes a page out of W's book in "Age of Youth: Episode 4" comment #13:
If this was a comic, I would totally go in and beat up Ye Eun's ass of a boyfriend, warn Eun Jae that sparkly boys are pure trouble and possibly vampires, dance with Ji Won until she forgets her lack of boyfriends issue and promise her that we will marry Incase we are still single when we are forty and give a bear hug to Jin Myung and Hermiome's time Turner to get through life and college.
I will be the key to their life.
deathbychocolate writes in "W–Two Worlds: Episode 5" comment #85:
Some things this show reminds us, beanies:

1. Never, ever leave a guy alone who just step out of a manhwa, who's actually there to say goodbye and just gave you a heart-attack inducing kiss.
2. Never, ever argue and do fanwars with your boss. It can greatly affect your professional life. Ship your OTP in the confines of your mind, your room or here in Dramabeans anonymously.
3. Never, ever provoke a guy with a gun. 100% sure nothing good will come out of it.
4. And last but not the least, if you're a writer planning to write a fiction. BEWARE! Always, always have an end in mind for your story, make sure to cover plot holes and establish your characters clearly. You never know, you may wake up one day in an interrogation room, having to explain your thought process. Be prepared. Bring supporting documents. Your life may depend on it. ?
While in the same post, Tai asks in #7.2.2.1:
why do i get the feeling the drama writer has had elaborate revenge fantasies about murdering lazy writers who ruined her favorite fictional stories? i mean…it was so awfully specific…
Yesindeed starts the cat-talk in "Uncontrollably Fond: Episode 9" comment #7:
The whole episode is a blur to me because of that kitten in the end. How hungry must he have been to grab and eat that potato stick. Plus even if he ruined the memorial, I don't think I could be so cruel to shoo him away when he is so young and hungry. Watching stuff like that just ruins me for me.
Tyn123 replies:
Mate if that kitten ruins my parents memorial service I'll had grab it and threw it off even though I am allergic. It's disrespectful to the dead. I thought she was too nice in that scene. Like I would have slapped the shit out of Haru for throwing money on my father's memorial service.
While Sue says:
If I grabbed and threw a kitten off while doing my parents memorial service my mother's hand would probably reach from the underworld and slap me, since my mom loved cats!
dramadreamer says in "Lee Je-hoon offered time-travel romance Tomorrow With You" comment #52:
Park Hae Young – if you are reading this now, don't give up. The past can be changed. You can reinvent your self in this romcom . Drive your thousands of fans crazy as you smoulder in your Porsche as billionare time traveler, cruising on the highway with a vulnerable, needy and heartbreakingly beautiful Shin Min Ah beside you. Make her feel like a Venus. and pay attention to all the Signals telling you how to win and woo her heart . The future is in your hands. Do Not Mess Up. I repeat – this is your last chance…. chik chik chik….. (dead tone)
JRose is concerned about someone else in "W–Two Worlds: Episode 6" comment #2.2.3:
If you think about it, does that mean that the money he paid for the manhwa books vanished from the cash register/safe? I'd be a very flustered employee of that happened to me.
angieya:
Lol that's what I was thinking as well, somebody's going to be pissed that couple hundred $ are missing. 😛
ina
Lol! That was exactly what I was thinking! Like OMG…I don't want to be that cashier for that night.
theravennest writes in comment #60:
People are a bit angry over Kang Chul's darkness (shooting Yeon Joo and her father) but in my opinion that darkness and that rage are what elevate his character out of his trope-y manhwa existence and into "real life."

I feel like people are expecting the hero his manhwa profile outlines but in actuality the very nature of the drama's story requires that he buck that hero label.

Usually hero stories involve good people struggling to do what's right while resisting the urge to do evil. For anti-hero stories, people are doing bad for good reasons or doing good for selfish reasons and sometimes they even end up on a redemption arc. Kang Chul is far closer to the anti-hero side of things. Especially the selfishness aspect. His need to distinguish himself from the page regardless of what that means for others (those locked in stasis in the manhwa, Daddy Douche's life, etc.) is at the heart of his journey to existence.

Kang Chul is in a "meta state," shall we say. He is fighting for his right to exist, for free will and autonomy, outside of the page. That means rejecting what has been preordained by his creators, Daddy Douche and Yeon Joo as it turns out. Yet, because he was originally written to be a tragic but good and perfect hero trope, breaking free of those controlling him means doing unexpectedly cold and cruel things…for now. In addition, he's also struggling to reject the label of "monster" that Daddy Douche has given him now that Kang Chul is sentient.

It's easy to see how negative the dad's creative control is but I think Yeon Joo's, while kinder, is just as detrimental on an existential level as it means Kang Chul still has not achieved real autonomy.

Ultimately, I think Kang Chul taking control of his own narrative and becoming truly real means breaking free of both Daddy Douche and Yeon Joo.

It'll be interesting to see where they take Kang Chul during his journey. Can he break free from his creators? How? Will he find a middle ground between acquiescence to the kindness his manhwa profile says he is to have and the cruelty his existential rage awakens within him?
Pebble says in "Beautiful Mind: Episode 14 (Final)" comment #6:
There are so many things normal people are taking for granted, while YO had been meticulously and conscientiously expending utmost effort into managing these under that stoic and collected composure of his. Love requires effort, no matter it is our love for our work, our parents, our friends, and needless to say, in the way we express our love for that special someone in our heart. There was a time when there was much hype surrounding the book by John Gray "Men Are from Mars, Women Are from Venus". What YO said to JS does not only apply to him as an "abnormal" person, but it applies to everyone due to the inherent difference in the thought process of men and women. Hence, the willingness to invest effort for the long haul is what it really takes to keep a healthy relationship going.
In today's "Team Dramabeans: What we're watching," Kestrel noted in comment #4:
Pretty sure Kang chul was resurrected by yeon Joo's desperation to get out of her blind date…
Tai:
HAHA. I also like the theory that KC was ready to die and float around in a watery limbo for eternity until he found out that Yeon Joo was going on blind dates XD (it helps that she thought of him right away. awww)

And in "W–Two Worlds: Episode 5" comment #113, deathbychocolate asks:
Now, might be also a good time to question my existence. Why am I here? What am I created for?
Lord Cobol answers:
As David Letterman said many years ago, in a promo/teaser for his show
"I believe everyone was put on this earth for a purpose. Perhaps yours is to watch television".
Now that's a setup that makes sense to us!
Thanks to all the beanies who keep the beanut gallery a fun, insightful place to hang out in. And for those who haven't read it yet, please take time to read the Dramabeans Commenting Policy.
RELATED POSTS
Tags: Beans of Wisdom