Beautiful Mind: Episode 14 (Final)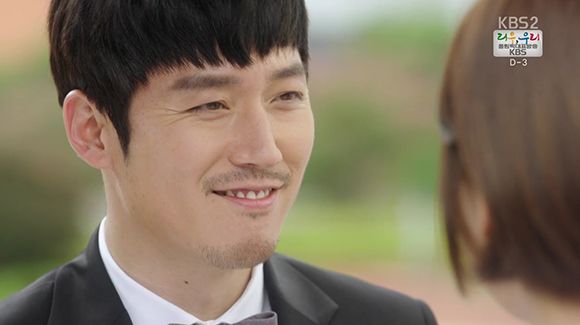 The journey to today's finale was a little shorter than expected, and at times bumpy, but filled with lots of tears, laughter, and so much hope for a brighter future. Some threads may not be tied into the neatest of bows, but I think the ending focused on what truly mattered—and even if there were some confusing patches, it all came together in a satisfying way.

FINAL EPISODE RECAP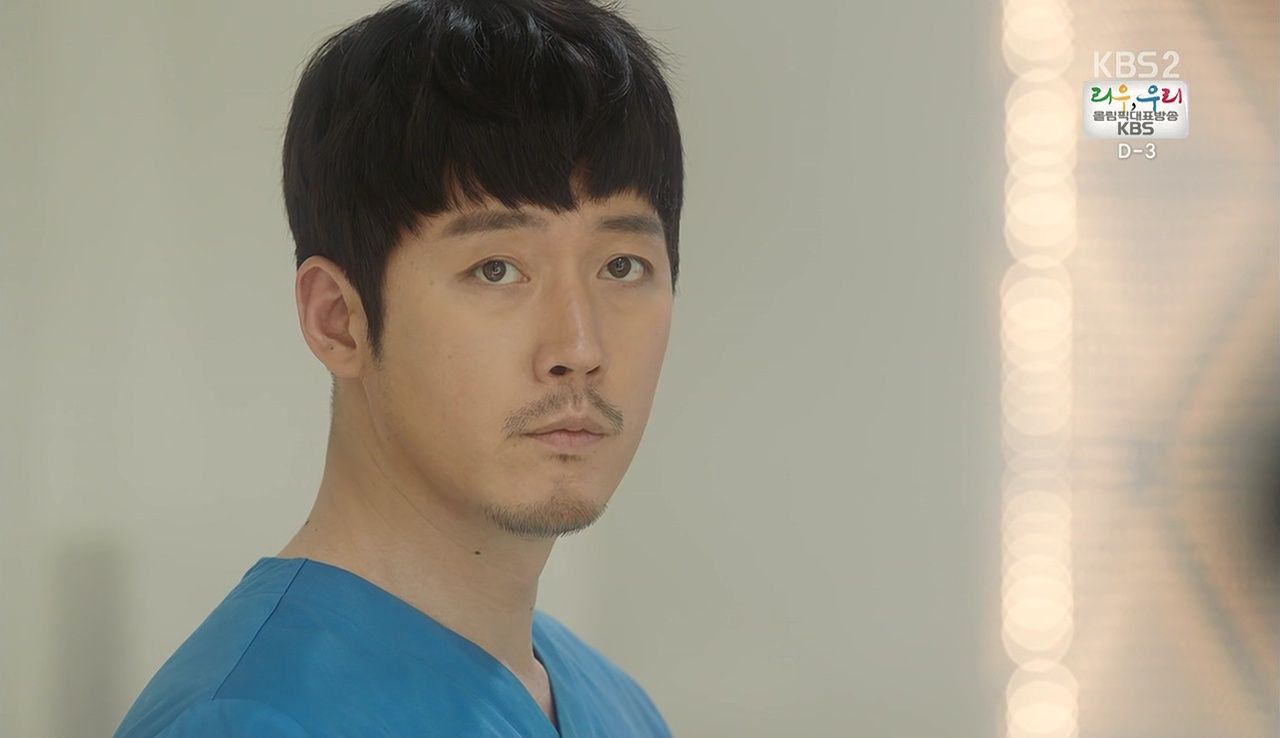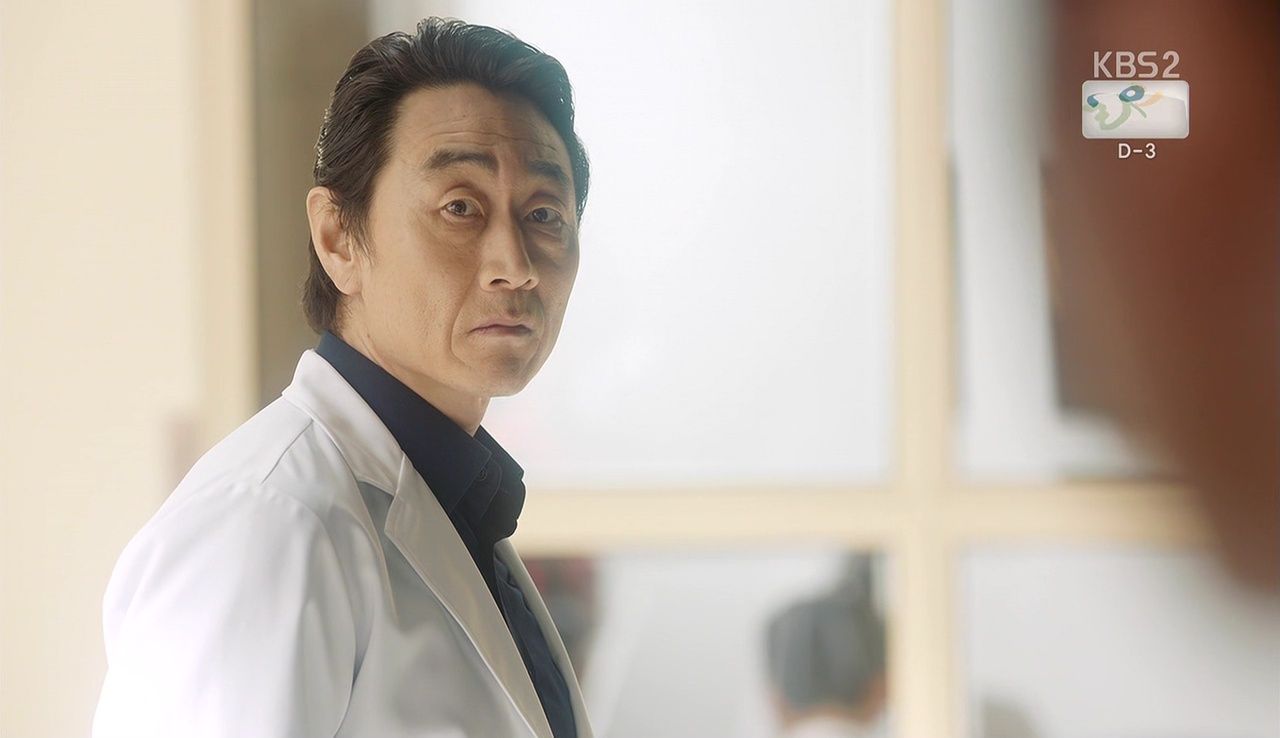 We rewind a little from where we left off in the last episode, as Young-oh prepares for his potentially fatal surgery. His father stops him in the hallway to advise against the procedure, citing all the reasons that Young-oh already knows.
Dr. Lee says that as a fellow doctor he cannot permit this operation, nor can he as his father, but he loses confidence as he says this. Young-oh shoots him a withering glance at the word "father," and Dr. Lee removes the hand he had placed on his son's shoulder. Young-oh says that he finally understands how his father felt the day he operated on Young-oh against everyone's advice. They exchange a meaningful glance, since it may very well be their last, and then Young-oh leaves to face his fate.
At the research center, Gi-ho goes to check up on Jin-sung in her hospital bed, but she isn't there. He asks Nurse Jang where his patient is, and she lies that Jin-sung is getting a CT scan, which easily fools Gi-ho. What follows is an adorable and heartwarming series of scenes where some of our regularly recurring hospital staff (including the power rangers) lead Gi-ho on a wild goose chase to occupy him for the duration of Jin-sung's operation.
Then, we return to the surgery room where Young-oh is placed beside Jin-sung, who is now unconscious.
Suk-joo asks Young-oh if he's sure about doing this, and Young-oh confirms, saying that while the operation is illegal and dangerous, it has a high survival percentage for the recipient. Which makes this his favorite kind of surgery. He adds that he bought them some time, and thanks Suk-joo for having the courage to do their surgery.
We flash back to learn what exactly Young-oh had asked of the power rangers when he called each of them by name in the previous episode; he requested that they keep Assistant Manager Chae occupied long enough to start the surgery.
Dr. Yoo plays his part in keeping Assistant Manager Chae busy, until Gi-ho bursts into the room to tell Assistant Manager Chae that Suk-joo and Jin-sung are in the OR.
In a neighboring operating room, Shi-hyun and one of the power rangers begin extracting Young-oh's lung for transplanting.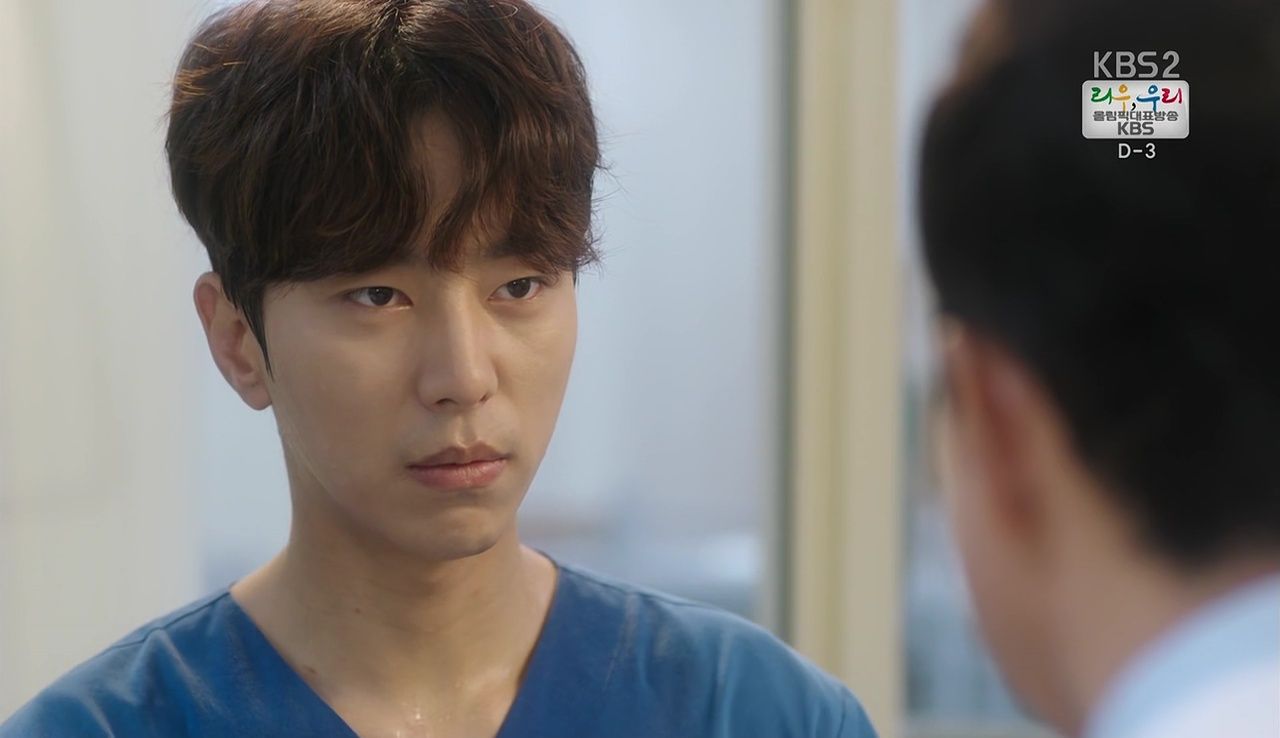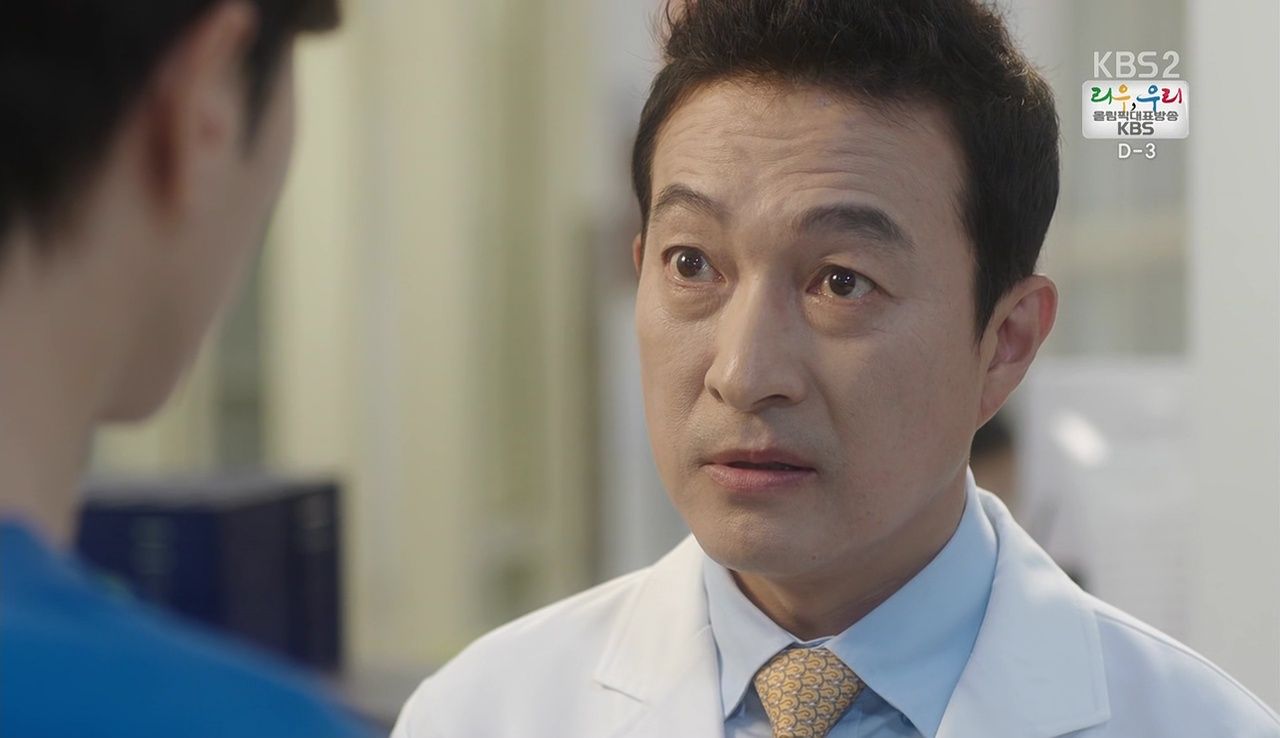 With his plans for Jin-sung thwarted, Assistant Manager Chae shouts at Gi-ho to bring Suk-joo and Jin-sung to him. Gi-ho runs around the various operating rooms looking to stop the rogue procedure. When he finds the correct room, Dr. Oh chases him out, demanding to know what he is doing running in and contaminating the surgery environment.
When Gi-ho returns alone, Assistant Manager Chae has no choice but to wait until the procedure is over to confront his former protégé. They meet outside, and Assistant Manager Chae tells Suk-joo that he will surely regret the decision he just made.
Having completed their task, the power rangers convene to promise that if anyone ever asks, they didn't know anything and are no way involved in the illegal surgery that took place. They take a moment to discuss why Young-oh would willingly donate his lung when the chance of his survival is so low. Particularly for someone who ordinarily doesn't care about other people or their feelings. They conclude that it must be for love.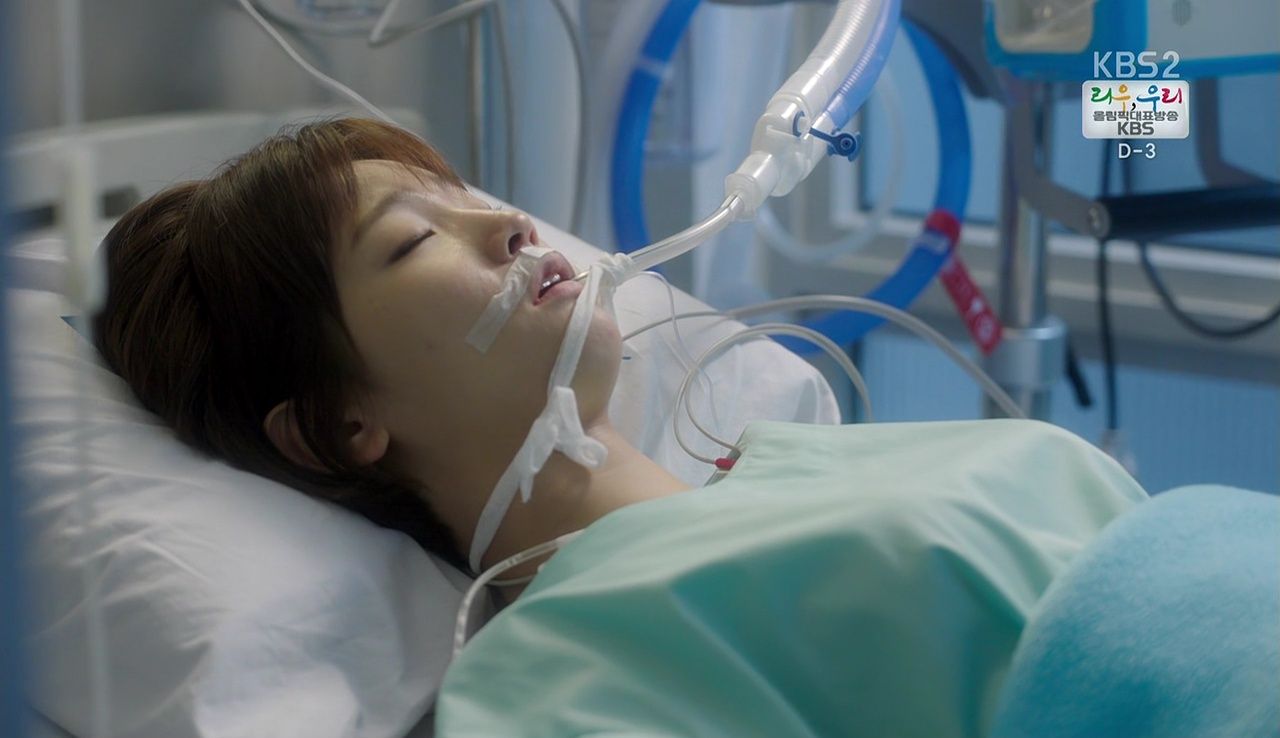 Speaking of Young-oh, he wakes from the anesthesia before Jin-sung does and watches her tenderly as they lay side by side.
In his office, Director Kang meets with Assistant Manager Chae to discuss Jin-sung's surgery. Having been "robbed" of their first lung regenerative surgery, they plot to eliminate their enemies using strictly ethical means.
Hyunsung's ethics committee and Dr. Lee discuss the situation and agree to terminate Suk-joo and Young-oh, even though, as one of them points out, both donor and recipient survived.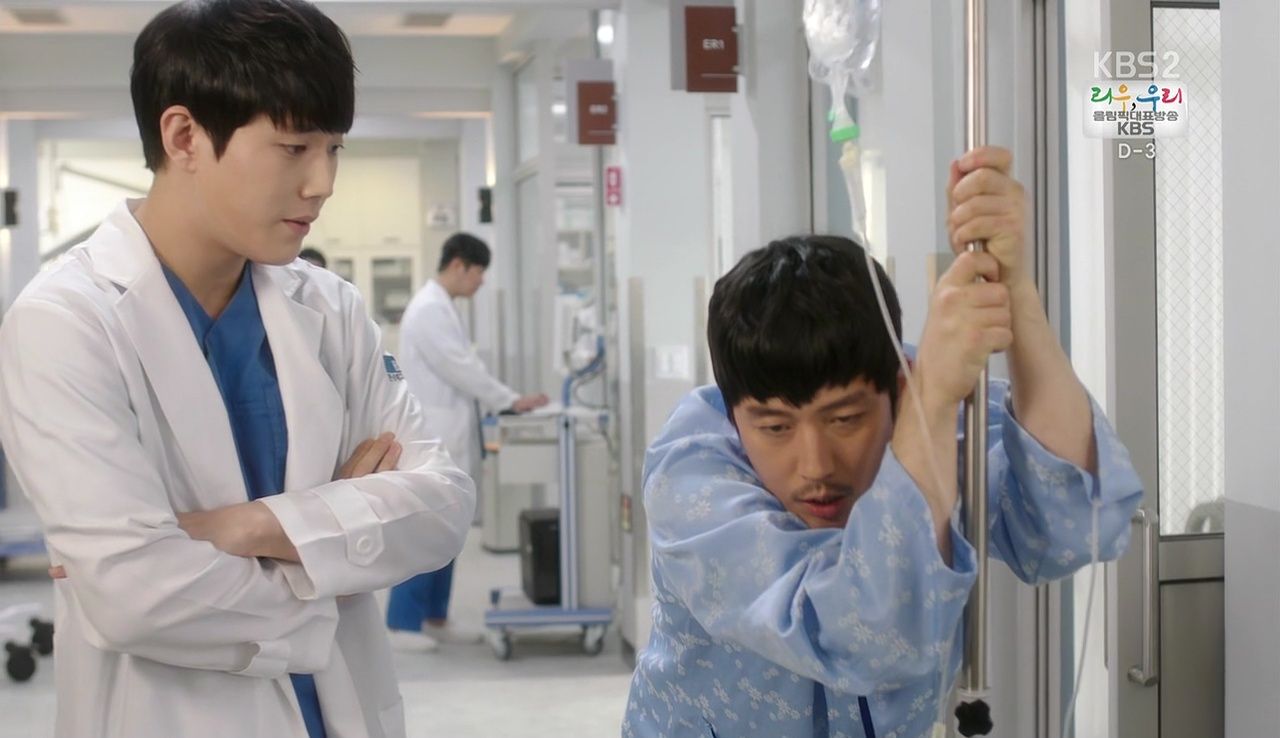 The next day, Young-oh hobbles out of his room and into the hallway, where Resident Yang stops him, and sweetly orders him back into his room for rest. Young-oh tries to out-doctor him by saying that based on some studies, light exercise a day after lung surgery is recommended to help stimulate its functionality. Thus, he must exercise.
Reading him easily, Resident Yang says that Jin-sung needs absolute rest and cannot have any visitors, so he should stop gasping and groaning his way to see her and focus on his own health. Caught red-handed, Young-oh bashfully asks how Jin-sung is doing. Suk-joo appears nearby to assure him that her condition is stable.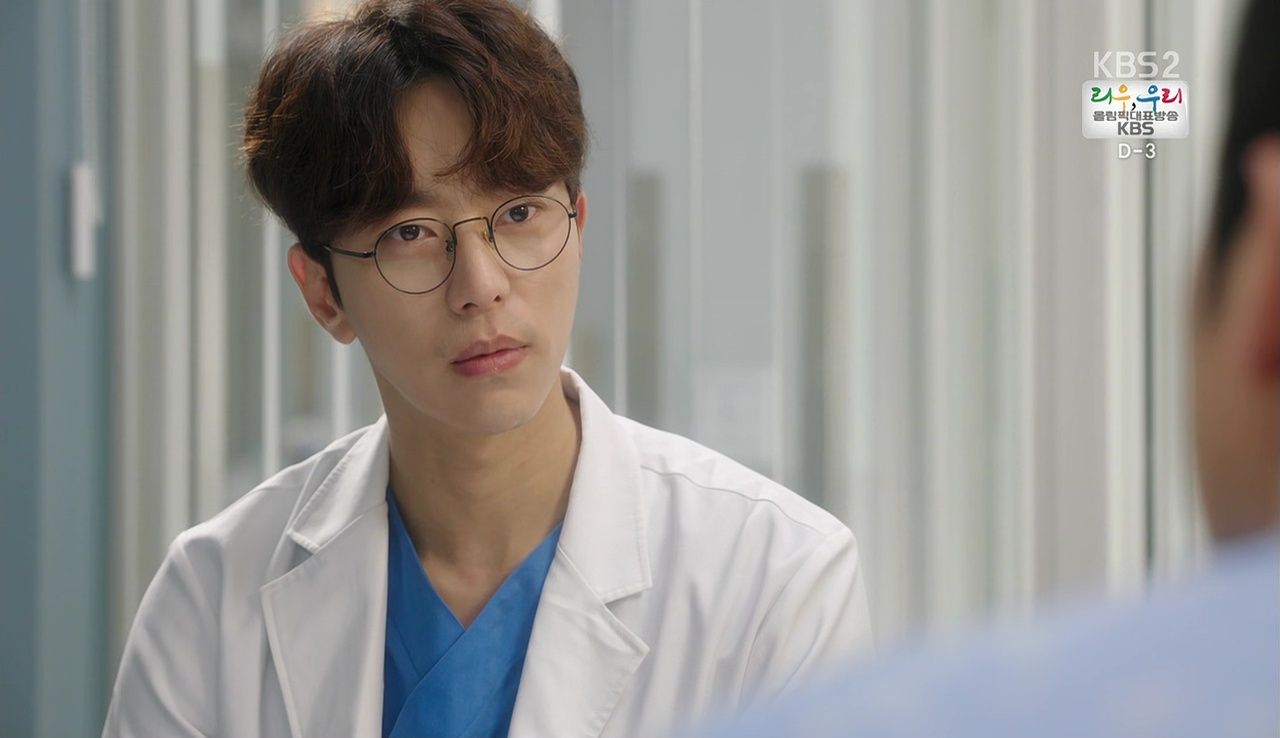 The two surgeons discuss their impending termination. Young-oh expresses his remorse that Suk-joo was dragged into his punishment, considering how important the regenerative cell research is to him. He had given up so much in pursuit of this research. But for Suk-joo, helping Young-oh doesn't mean he has given up. He believes everything they've done until now will contribute to the success of his research. Besides, he notes, in order to save people's lives risks must be taken; not unlike the risk Young-oh took for Jin-sung.
Young-oh calls up Nurse Jang to confirm that Jin-sung can now receive visitors. Immediately he musters up his strength to see her, but instead, Jin-sung's brother barges in and swoops him up in a bear hug. Young-oh crumples over in pain and tries to tell him to leave, but Jin-sung's brother doesn't seem to notice that anything's wrong, then starts rattling on about how totally awesome Young-oh is.
He marvels at what a pro Young-oh is at dating. The fact that he didn't give Jin-sung anything ordinary like a ring or a car, but gave her a part of his body. Young-oh tries again to go visit Jin-sung, but her brother gets in the way and stops him.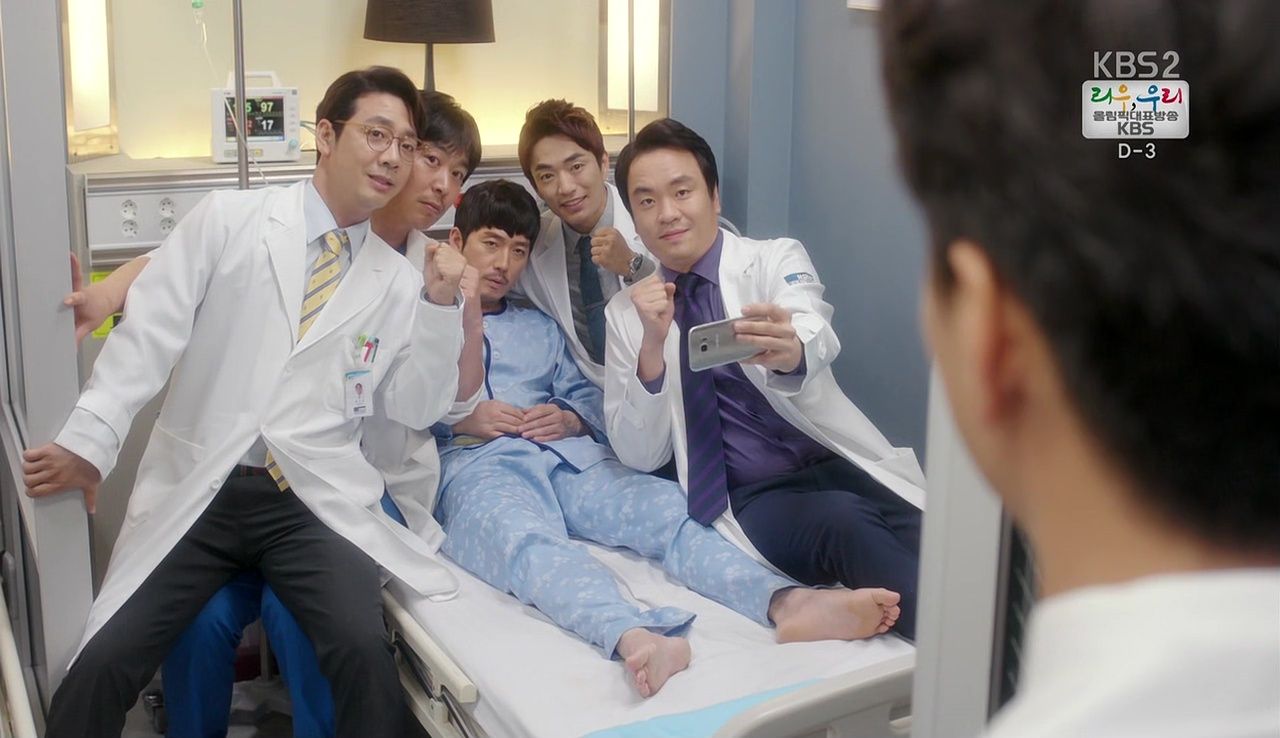 The power rangers depressingly talk about Young-oh's dismissal, and one of them proposes that they pay Young-oh a visit. When the others murmur in agreement, Dr. So rebukes them for such camaraderie. After all, Young-oh isn't their friend. Admonished, they reluctantly agree with him.
Later, Dr. So walks the halls of the hospital feeling guilty for telling his friend not to visit Young-oh, and nobly takes it upon himself to grace lonely, friendless Young-oh with his presence. He opens the door to a hilarious scene where the other power rangers are gathered around Young-oh in his bed, trying to take a selfie. Why so cute?
Drained by all the fanfare, Young-oh asks Dr. So to get a sign that prohibits any more visitors.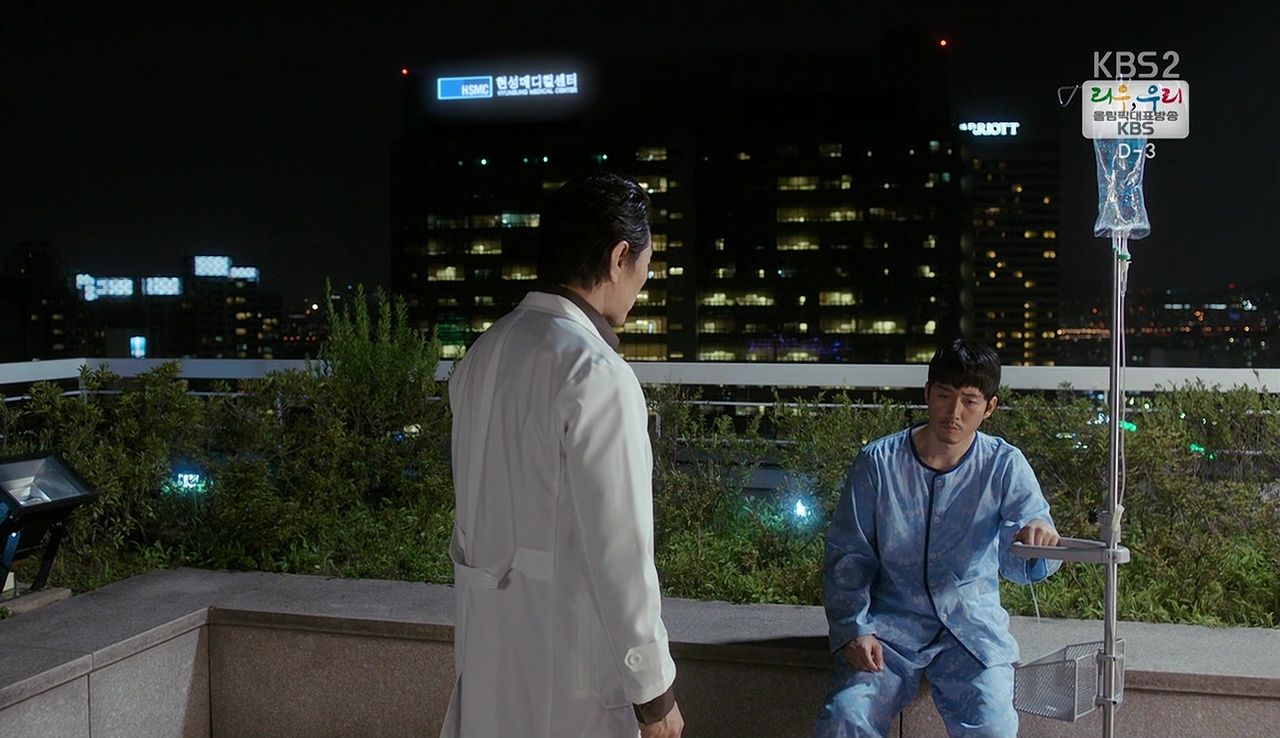 Dr. Lee reflects on recent events: his conversation with his son in their home following the reveal of his terrible misdiagnosis, and their conversation at the recent mortality conference. He also recalls their exchange in front of the surgery room right before the lung transplant, where Young-oh said that he finally understood his father's feelings.
He then goes to pay his son a visit, asking firstly how he is feeling. They move up to the rooftop to continue their conversation, where Dr. Lee tells his son that the ethics committee will be voting on his termination tomorrow. He and Suk-joo will have a chance to explain themselves to the panel, but Dr. Lee believes that this time their actions have gone too far and, as doctors, they will need to take responsibility.
Young-oh is calm and tells his father that he expected as much. Dr. Lee expresses surprise that Young-oh is accepting his dismissal so easily, to which Young-oh replies that it is because he no longer needs to prove to his father that he is not a monster, but rather a normal person.
Dr. Lee's expression is soft but weary as he asks Young-oh what he meant when he said he now understood him. Young-oh replies that the fear of losing someone dear, and understanding that there is nothing they as doctors could do—that fear and helplessness is what he now understands. He says that those feelings were probably conjured whenever Dr. Lee saw Young-oh's face. His existence was a constant reminder of Dr. Lee's biggest failure and deepest pain.
Young-oh: "I thought that I feared you, but it was you who feared me. You were the biggest abuser in our relationship, but also the biggest victim. I don't have the courage to forgive you, but I want to try and understand. So please, be free now, as I am."
As he gets up to leave, Young-oh reaches out to hold his father's hand for a second, and when he's out of sight, tears fall from Dr. Lee's eyes.
Min-jae stops by to congratulate Jin-sung on her successful surgery, and Jin-sung just stares silently, visibly uncomfortable. Despite Jin-sung's reticence, Min-jae continues on to say how curious she was to meet Jin-sung, and though she had tried with little success, Jin-sung was able to change Young-oh so easily. Jin-sung denies doing anything—all she did was stay beside him.
Min-jae is also here to deliver news on Young-oh. She thinks Jin-sung must be anxiously awaiting to hear about his condition, but this only confuses Jin-sung, who had no idea he donated his lung to her.
Min-jae breaks down all that happened while Jin-sung was unconscious, and emphasizes just how far Young-oh went to save her life. In addition, Jin-sung conveys distress that Young-oh may be fired because of her.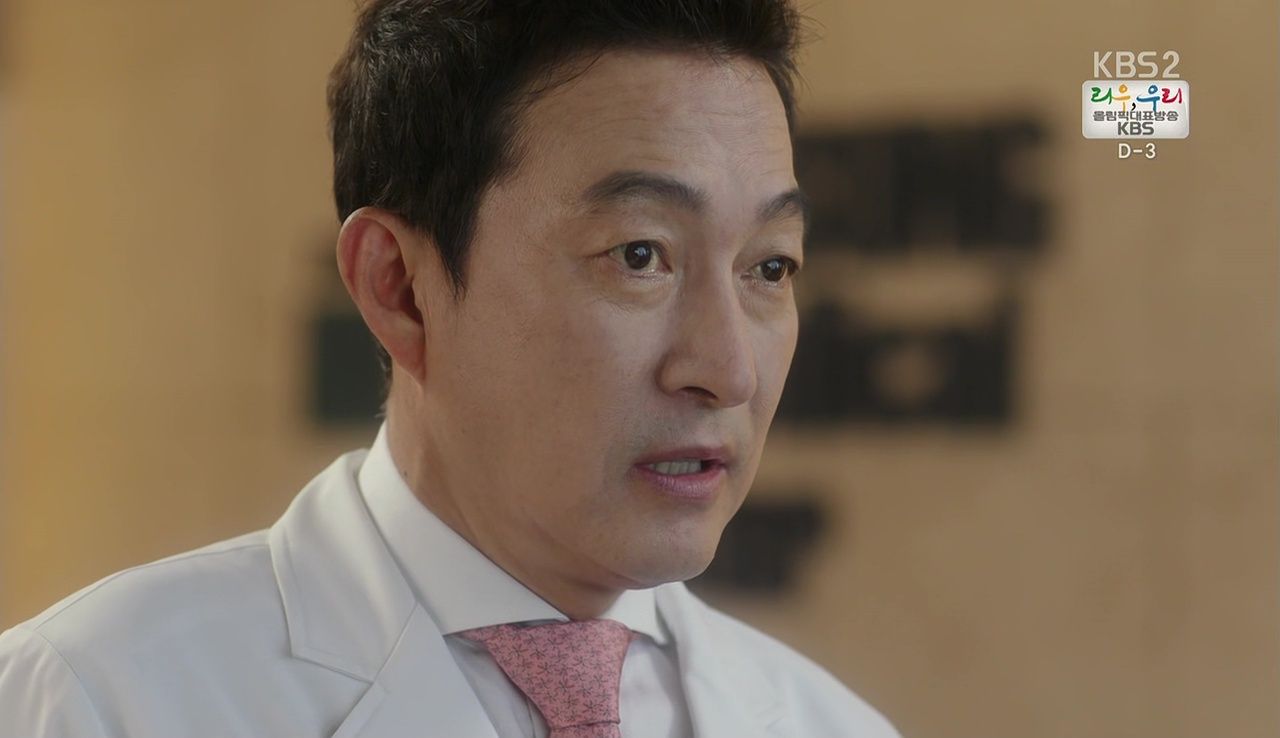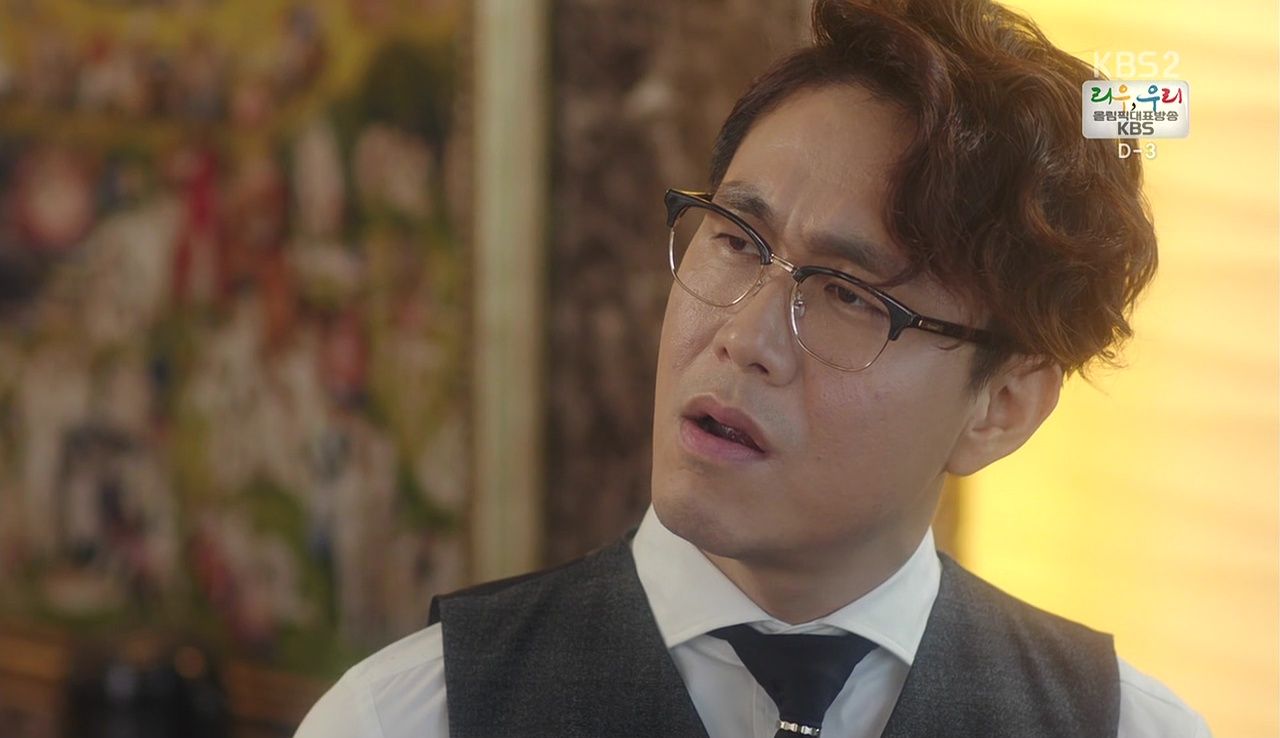 Director Kang and Assistant Manager Chae examine Young-oh's actions from the director's office. Director Kang wonders how someone who has antisocial personality disorder like Young-oh could risk his life to save someone else, since people with this condition usually act solely for their own benefit.
As Director Kang mulls things over, Assistant Manager Chae tells him not to bother since they will be rid of him shortly anyway. Director Kang turns the questioning over to Assistant Manager Chae, asking why he is showing Suk-joo so little mercy when he was one of his favorites. Assistant Manager Chae replies that Suk-joo pushed him to the edge and therefore he must push Suk-joo over the ledge. He says that once Suk-joo hits rock bottom, only then will he reach out.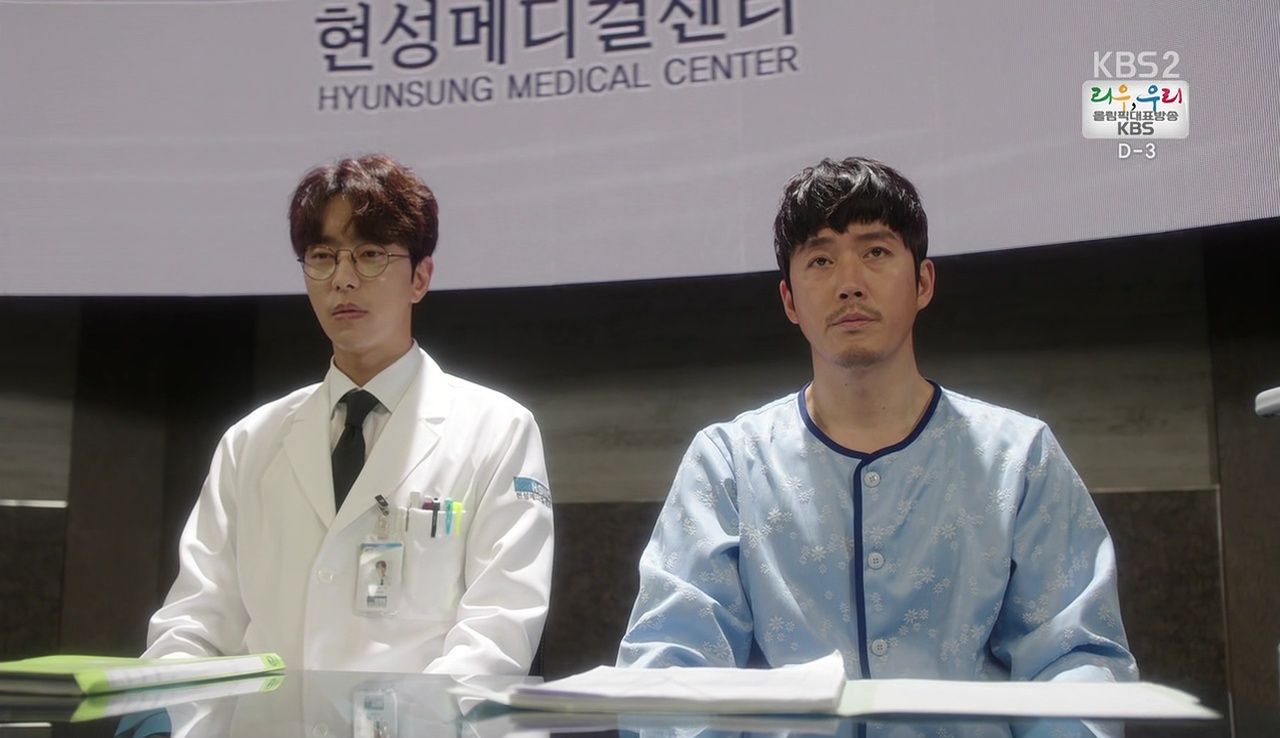 The ethics committee commences their examination of Suk-joo and Young-oh on their surgery, and when asked why they did it, Suk-joo explains that their patient's condition had begun to deteriorate rapidly. If they tried to wait for a donor, it would have been too late.
One of the committee members asks if that means that the two men accept all the charges; Young-oh speaks up to take exception to one detail.
Young-oh explains that Suk-joo was initially against the surgery. He cites Suk-joo's surgery schedule as evidence. He then shows the CCTV footage of him punching Suk-joo in the supply room to support his claim that he coerced Suk-joo into doing the lung transplant.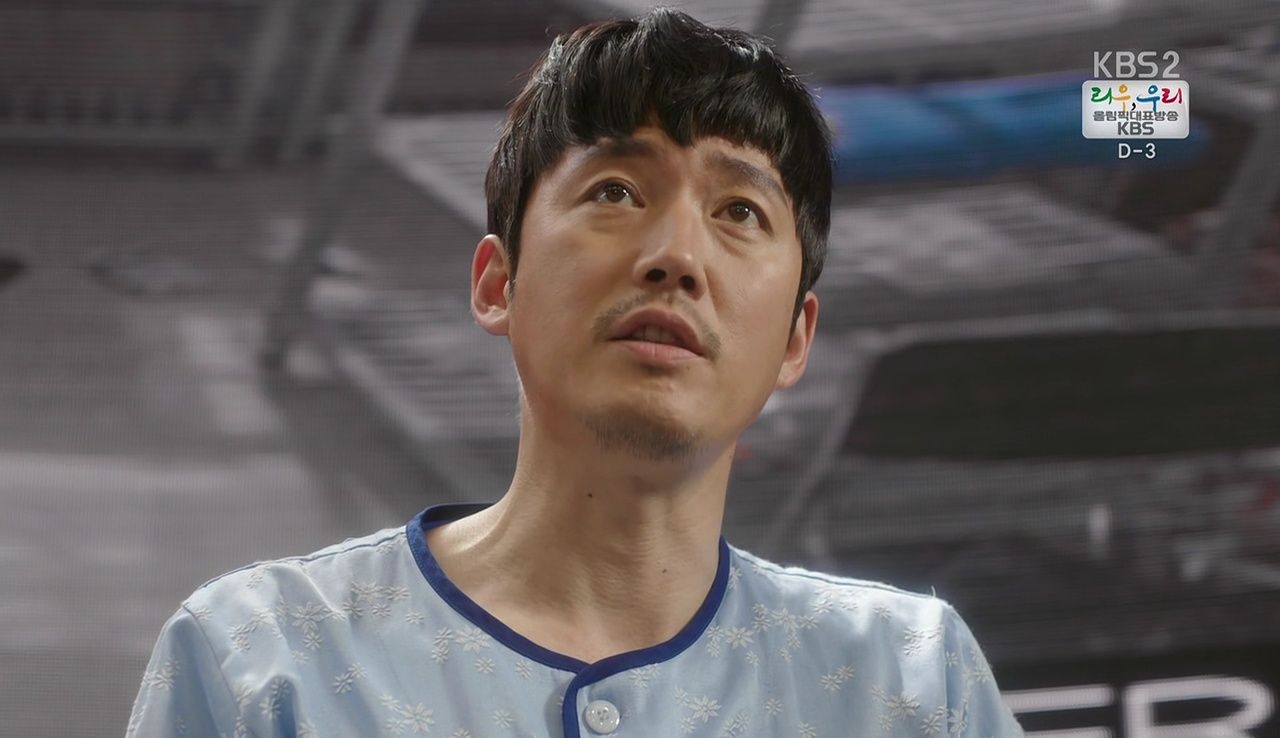 Young-oh uses his own condition and inability to empathize with others as further evidence of his claim. He goes on to say that anyone would have made the same decision as Suk-joo if they were put in his position; after all, Suk-joo is an exemplary doctor. Suk-joo stands up and tries to contradict Young-oh, but the committee is already convinced.
They ask if Young-oh is willing to take full responsibility for the surgery, and he confirms it. He adds, however, that he doesn't think he did anything wrong. In fact, there are some countries where lung transplants using a live donor are permitted. He says it is the responsibility of doctors to decide if they can save a dying person in front of them, and that is why he does not regret his actions. He proudly and willingly accepts his termination.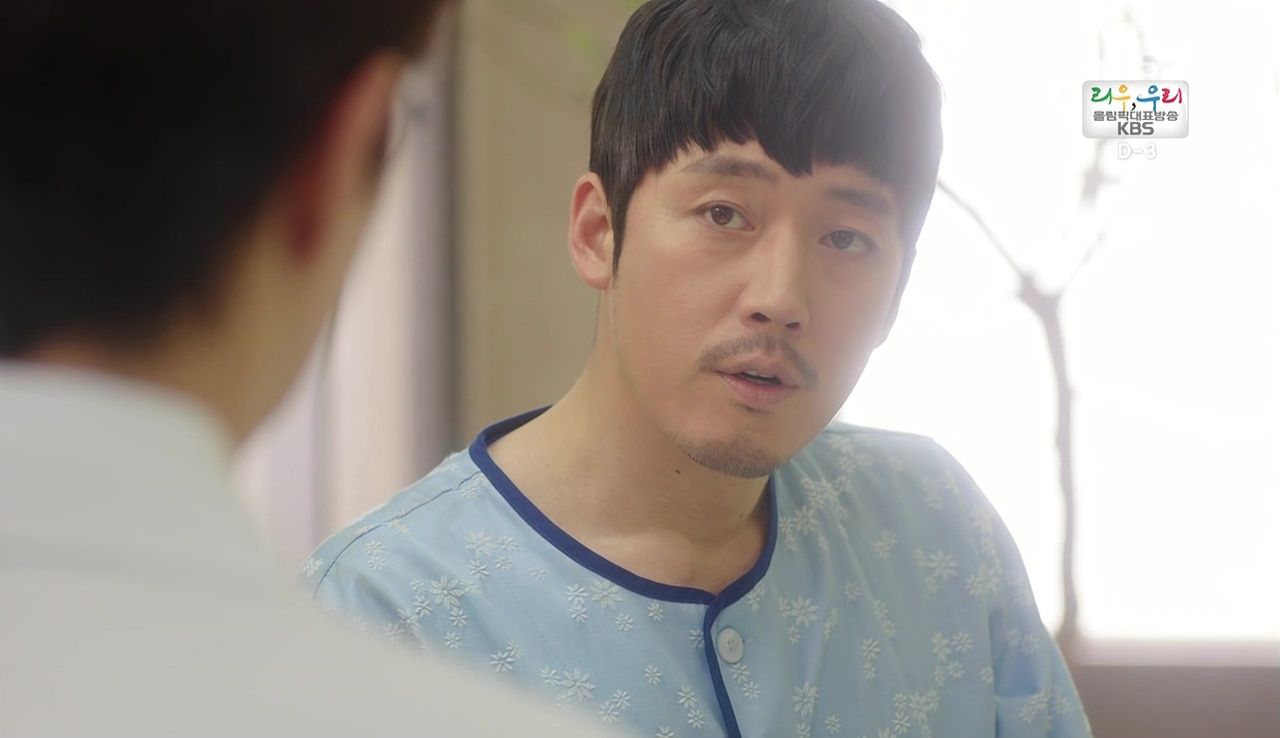 Suk-joo tries once more to stop Young-oh from taking the fall, asking for a chance to explain the situation fully. However, Dr. Lee steps up to stop him, saying that they've heard enough and will notify the two later of their final decision.
After being ignored, Suk-joo confronts Young-oh to ask why Young-oh took all the responsibility for their shared decision. Did he think Suk-joo would feel grateful? Young-oh rejects the notion and pointedly tells Suk-joo that there is something else that Suk-joo needs to take responsibility for: his research.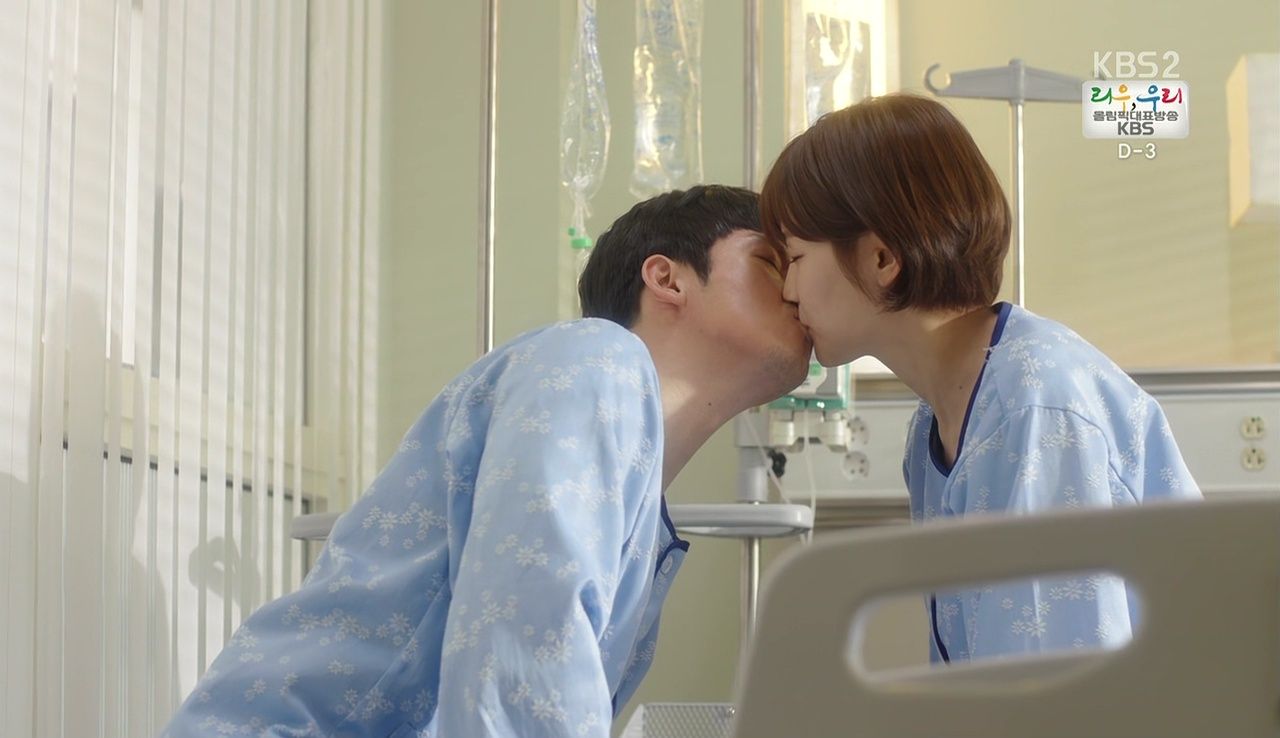 At long last, Young-oh reunites with Jin-sung, who demands to know why he did what he did without telling her. He responds simply that he had what she needed, and so he gave it to her. He elaborates and says that he selfishly decided to do it after thinking things through carefully.
Young-oh: "So you have nothing to feel sorry about. I am different from normal people. While I was seeing you, I thought I had changed a lot, but I didn't. I was mistaken. A miracle like that won't happen. I may fight with you from time to time or make you feel lonely and disheartened… because I won't change, but in those moments I won't know how to comfort you. So please, please don't forget. With every breath you take, please remember how I feel about you and what you mean to me."
She asks what exactly she means to him, and he replies with a quick kiss. Coyly, he says that she's recovering faster than expected, given her stable breathing. They share a laugh, but their eyes dart around awkwardly until Young-oh kisses her once more.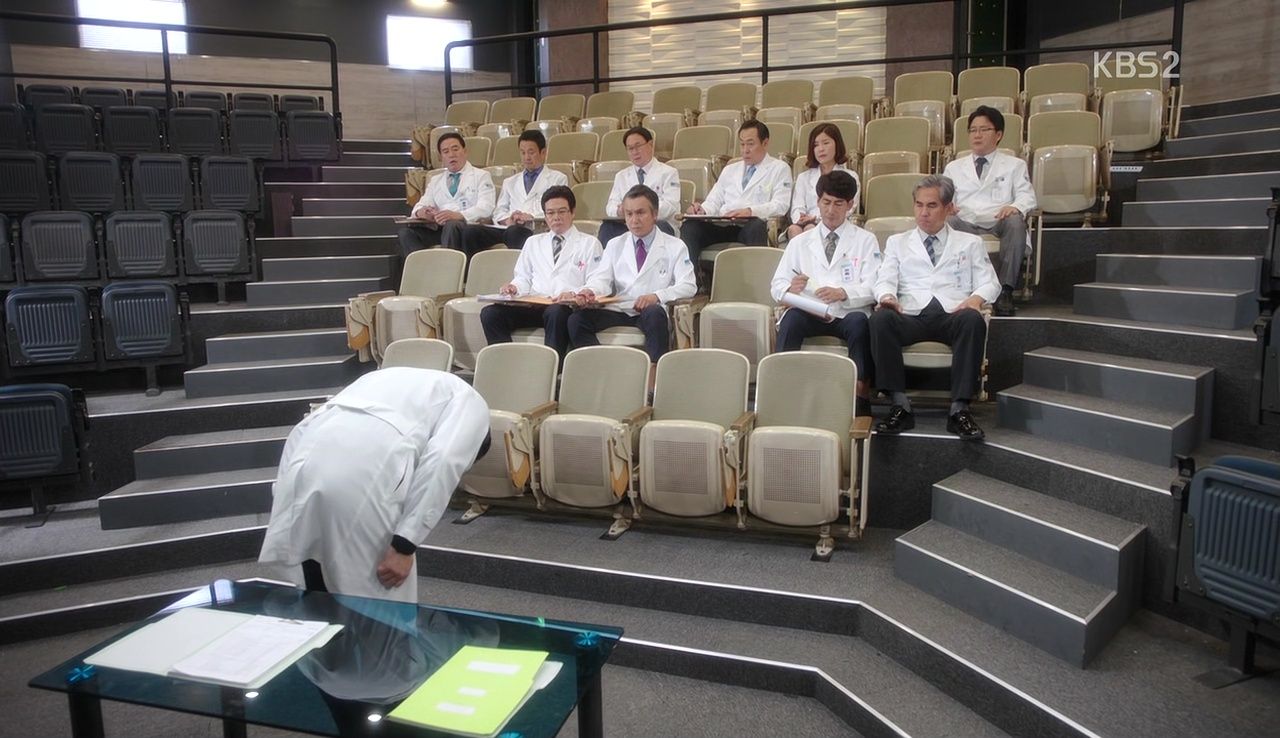 Back in the auditorium, the ethics committee ultimately decides to terminate Young-oh, but Dr. Lee pleads with them to reconsider. He argues that Young-oh did his very best to save his patient, even putting his own life on the line.
He goes on to say that if the issue is the fact that Young-oh cannot empathize with his patients because of his disorder, then he, his father, should be the one who is punished. Dr. Lee finally confesses to his sin, by stating that the disorder came about because of his years of abuse, and his desire to conceal his surgical mistake.
Dr. Lee adds that despite all of that, Young-oh has become a much better doctor than him. He offers to take responsibility for the lung transplant and its subsequent punishment, then bows before the committee.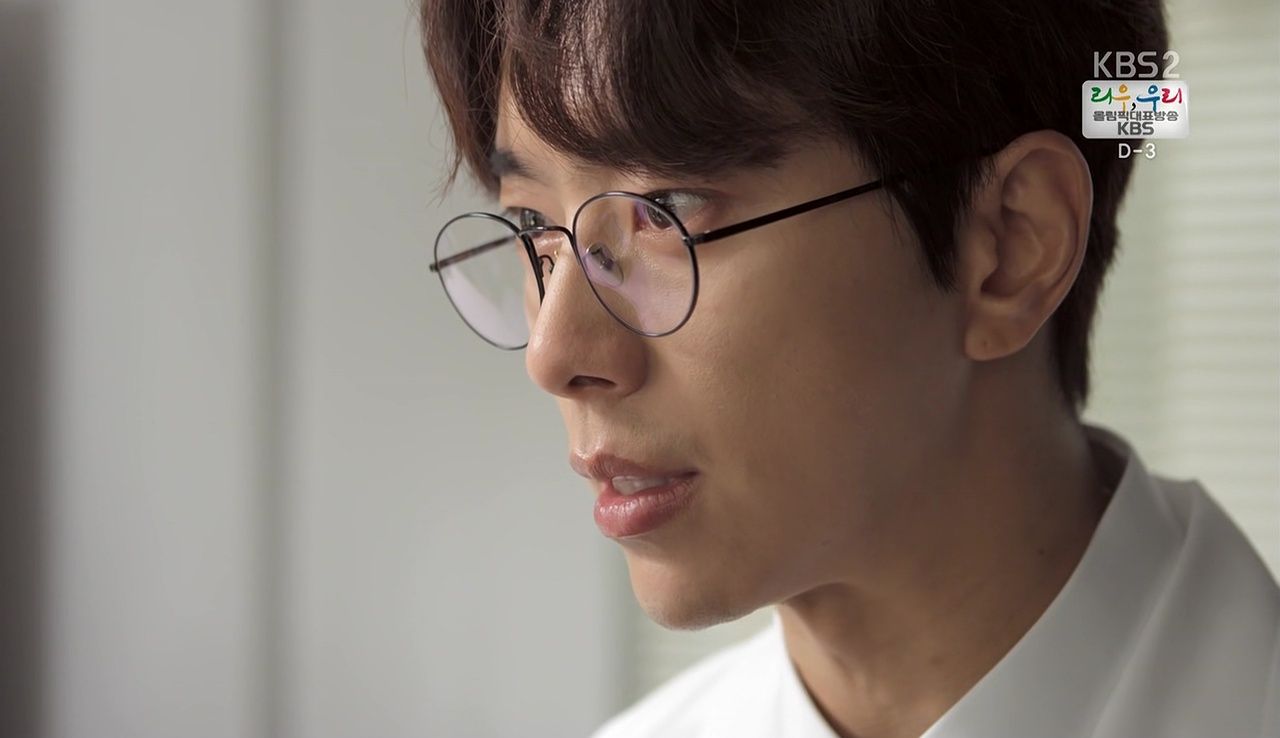 Director Kang announces the news of Dr. Lee's resignation to Assistant Manager Chae, who is alarmed by the development. Director Kang warns Assistant Manager Chae not to mess up the commercialization of their medical research in light of Young-oh and Suk-joo's little stunt yesterday. He promises Assistant Manager Chae the hospital director position if all goes well.
Assistant Manager Chae finds Suk-joo in his office, and is markedly more agreeable as he tries to discuss next steps. Assistant Manager Chae points out his change in tone, and Suk-joo replies that their research wasn't a failure. The problem was an easily solvable issue that occurred during their clinical trials, because the heart failure patients for the free trials are suffering no side effects, only the heart valve patients. That means Assistant Manager Chae murdered Chief Director Shin for a simple error. Assistant Manager Chae insists that it was to protect their research, but Suk-joo says he made their mistake into a crime, and that's something he can never forgive. He advises Assistant Manager Chae to reveal everything, and then they can start over.
Gi-ho comes in to see Suk-joo packing up their research. Suk-joo tells Gi-ho what he discovered and says that he wants to be the kind of doctor that can admit his mistakes, so he cannot continue on as if their research is without fault.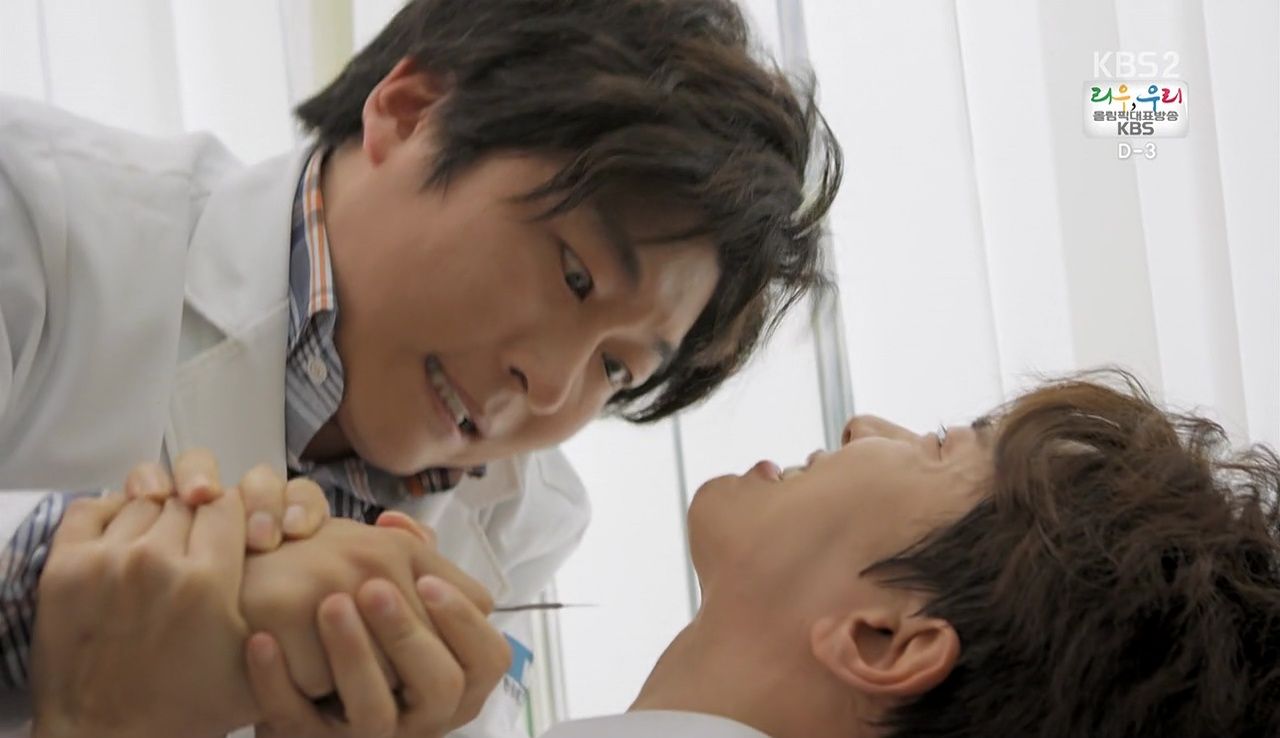 Later, Gi-ho comes in as Suk-joo continues packing in his office, looking bleary eyed. He tells Suk-joo that this research is his life, and he can't allow Suk-joo to ruin it. Then, he begins attacking Suk-joo with a scalpel, swearing to make him into a hero for the sake of their research.
Suk-joo holds him off in time for security to apprehend and drag Gi-ho away. It seems that Young-oh is responsible for saving Suk-joo. He comes into the office to tell Suk-joo that he assumed someone might try to hurt him, but had never expected it to be his close colleague. Young-oh then asks Suk-joo what he will do now. Shaken but clear-headed, Suk-joo vows to take responsibility for his actions, just as Young-oh did.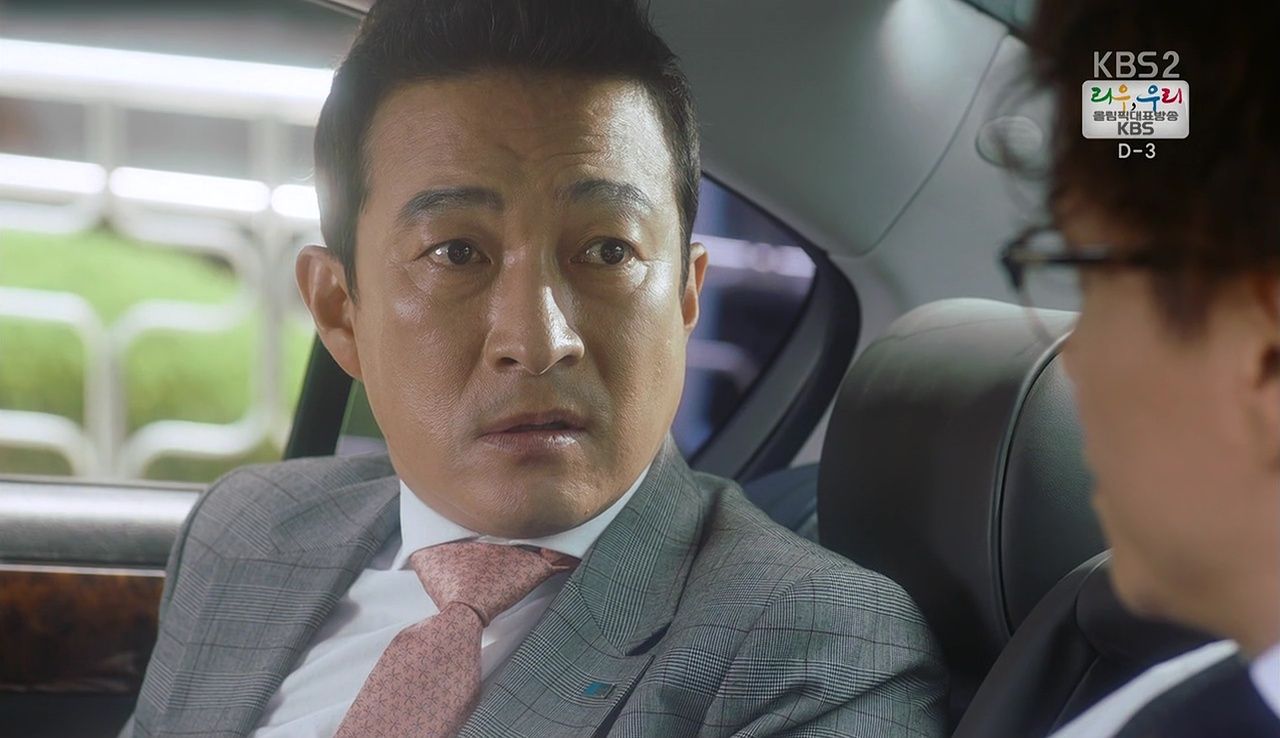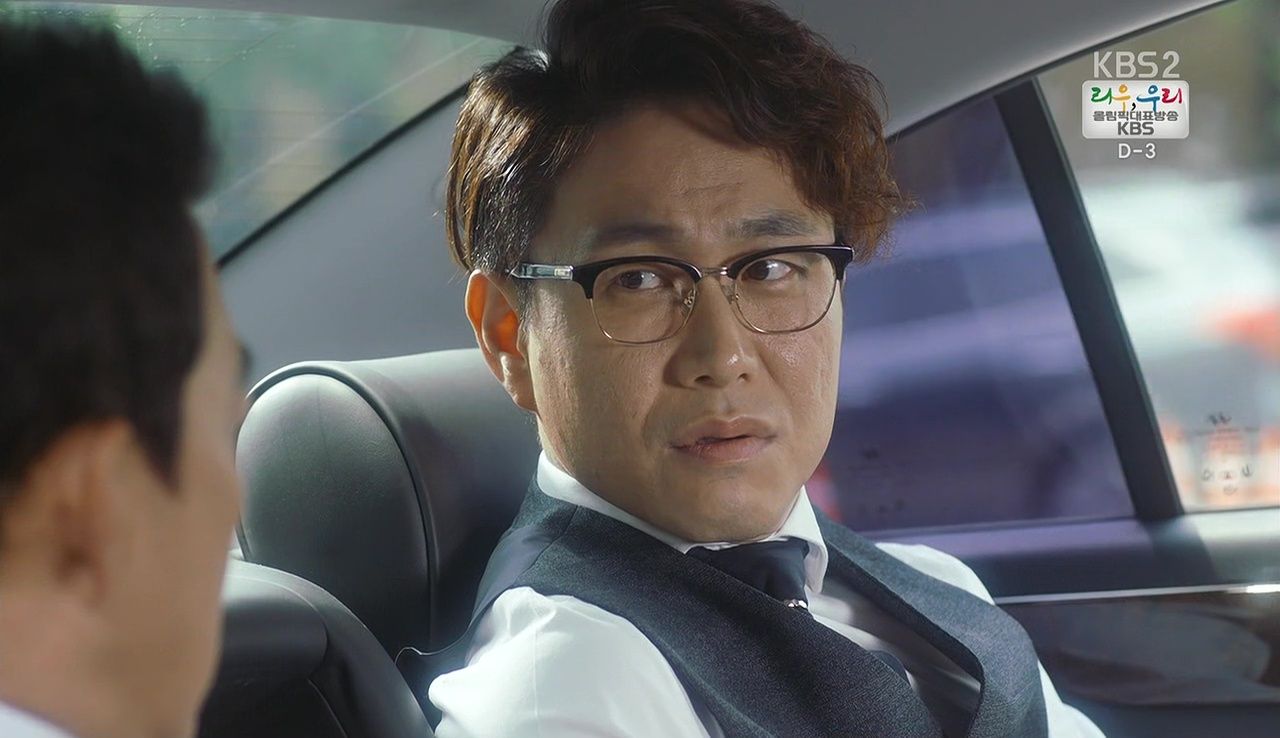 Director Kang goes to Assistant Manager Chae and tells him he has a plan, but he then drives him to the prosecutor's office and suggests he turn himself in. He offers the services of their family attorney, who will fight on Assistant Manager Chae's behalf, but explains that he went too far when he killed Chief Director Shin.
So long as Suk-joo has evidence of Assistant Manager Chae's misdeeds in his possession, they can't win the case. Assistant Manager Chae tries to threaten Director Kang, insisting that he won't go down alone, but Director Kang points out that Assistant Manager Chae can't afford to lose his support because then he will truly be alone. Director Kang then drives away, leaving Assistant Manager Chae to take responsibility for his actions.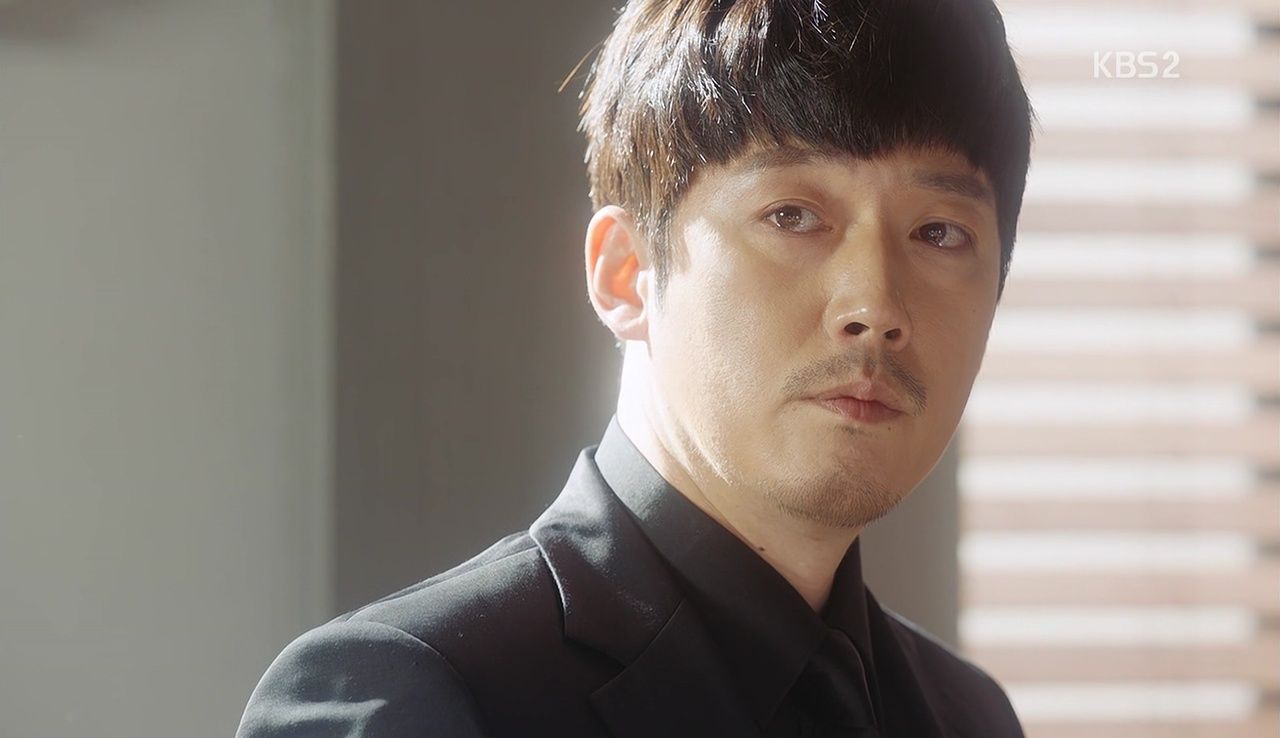 Young-oh finds his father in his office and quietly says that he's heard he isn't getting fired anymore, but also that Dr. Lee is resigning. When his father doesn't say anything, Young-oh asks if he should take the gesture as a kind of apology for his troubling childhood.
Dr. Lee rejects the notion outright, and Young-oh begins to leave. Dr. Lee then looks up from his boxes and says that Young-oh is the best doctor he knows, and he would like to leave a legacy at Hyunsung.
Touched, Young-oh's eyes water, and he asks his father what he plans to do from now on. Dr. Lee smiles and replies that he intends to relax, just like Young-oh told him to.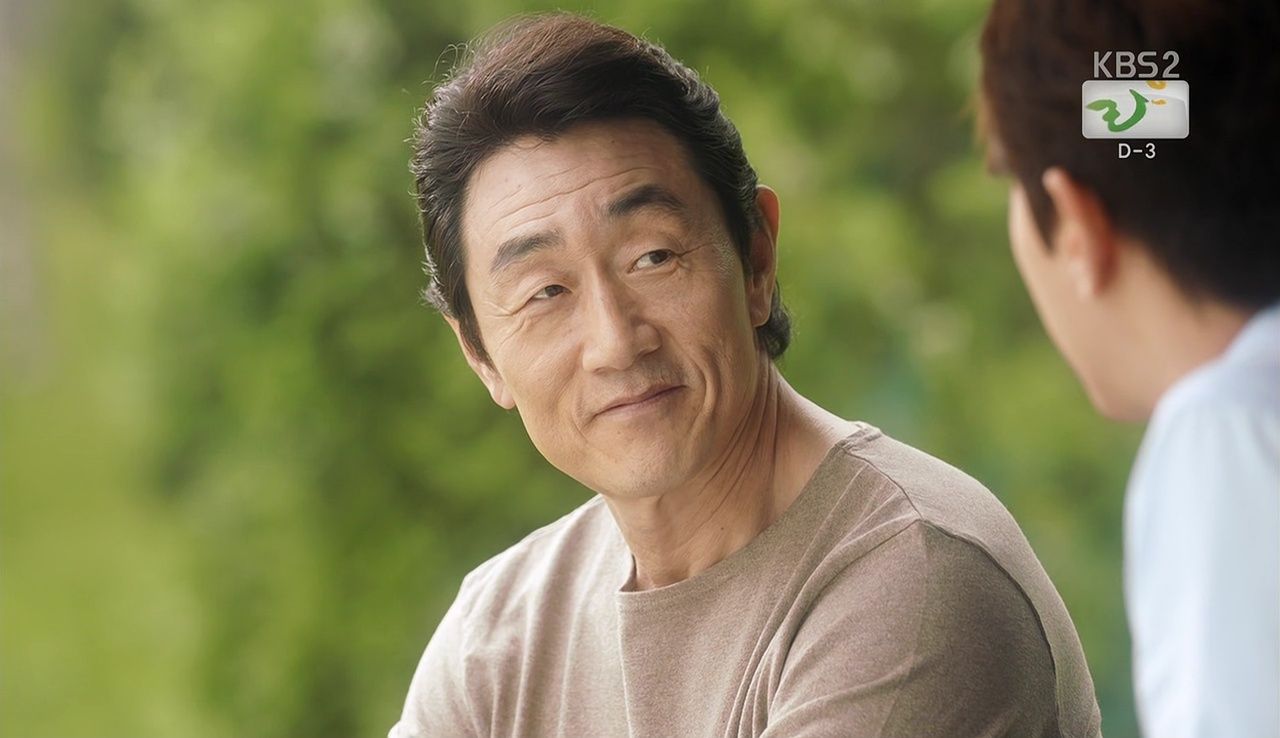 Some time in the future, Min-jae now hosts a television program that seems to be centered around the topic of love. Dr. So bemoans the unfairness of being overlooked in favor of Min-jae, and his fellow power rangers comfort him. Dr. Yoo tries to kiss up to Min-jae, and asks to work together on a research paper, now finding her worthy given her newfound fame. Min-jae promptly shuts him down, then excuses herself.
Elsewhere, Suk-joo runs into Dr. Lee at a park and joins him for a chat. Dr. Lee tells Suk-joo that he has heard they developed a way to use their research without any side effects. When Suk-joo asks how he found out, Dr. Lee smiles and says that Young-oh told him.
Dr. Lee then tells Suk-joo that he's proud of him for being so brave at such a young age. Suk-joo smiles and says that his bravery is costing him a fortune, since most of his earnings goes straight to the research. But in exchange, he's very happy.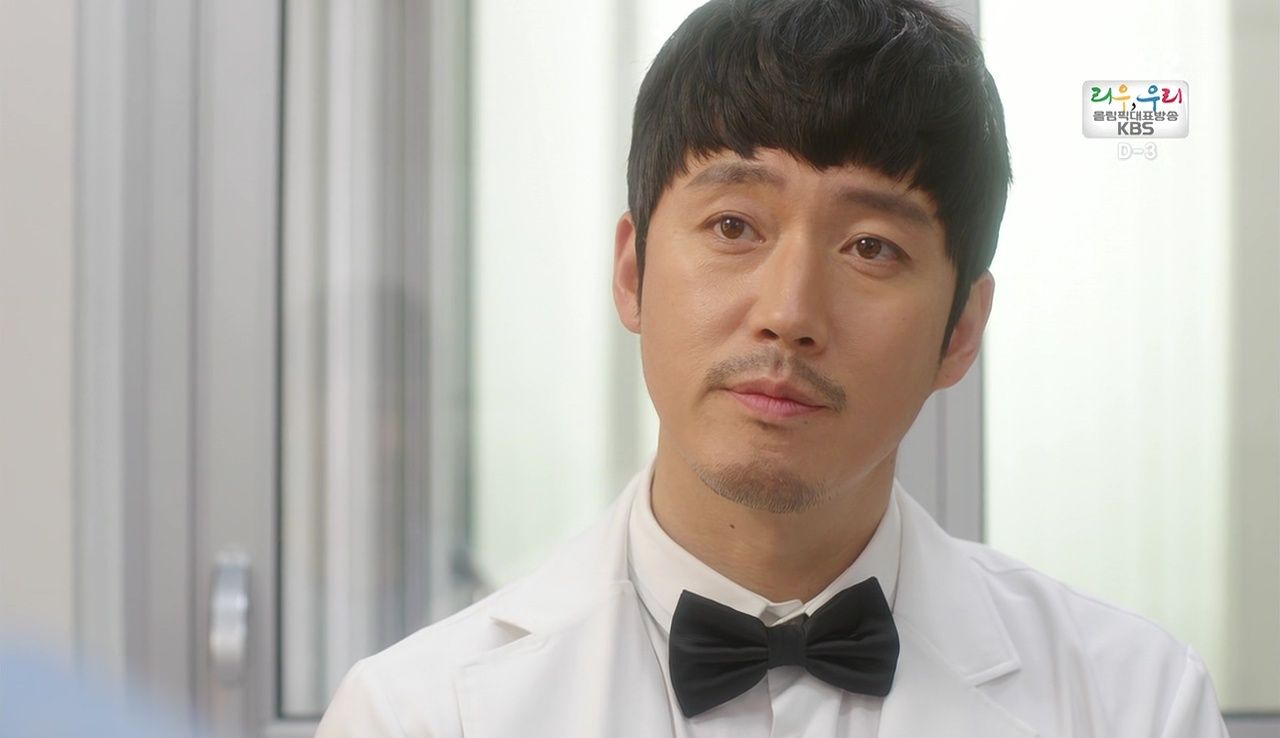 Back at the hospital, Young-oh meets with a patient and informs him that he has a tumor, which will eventually lead to loss of hearing. This is devastating news for the cellist, who then asks if there is any surgery that will heal him.
Young-oh looks up from his clipboard to tell the patient blankly that his hearing cannot be saved. The patient explodes at Young-oh, demanding to know how Young-oh can be so calm while he loses everything.
Young-oh tells him, "I can't feel your pain. I have a disability that makes me unable to empathize with others. That's why I'm planning to stand by your side. I won't turn a blind eye to your pain or feel exhausted. Whenever you need me, I will always extend my hand until the moment you leave this hospital with a healthy body."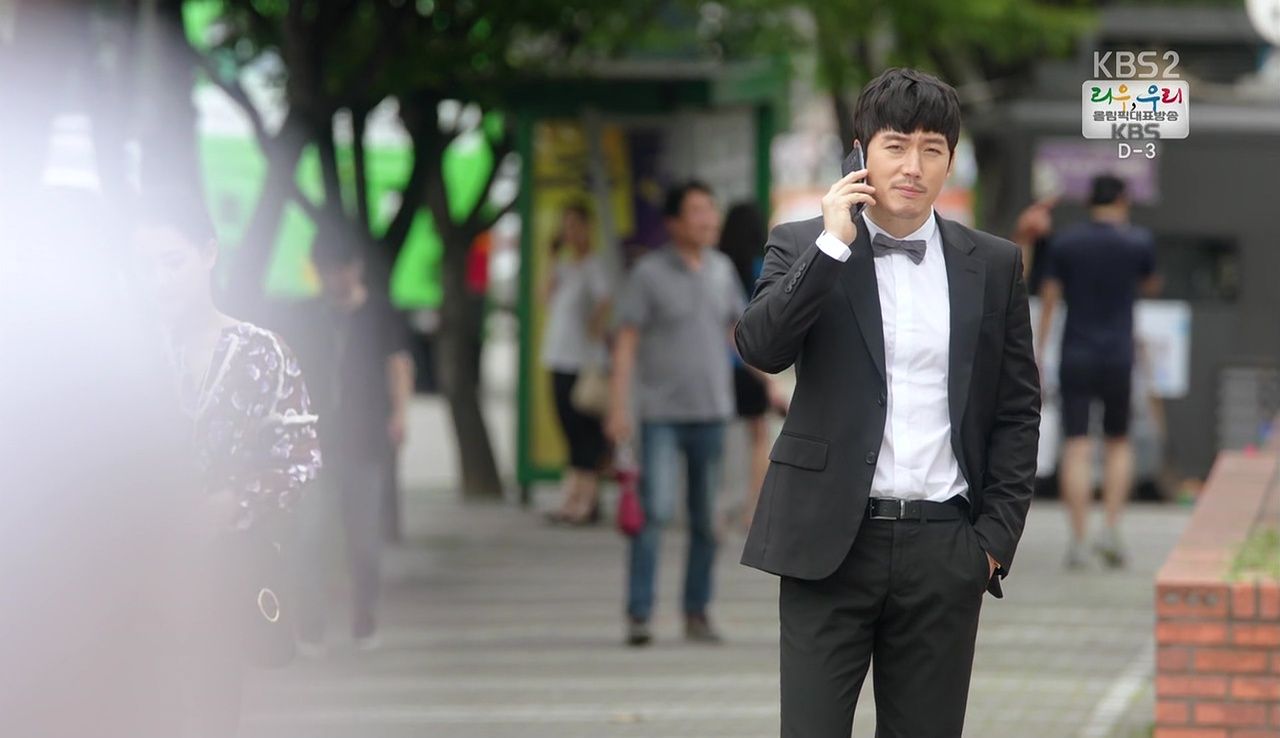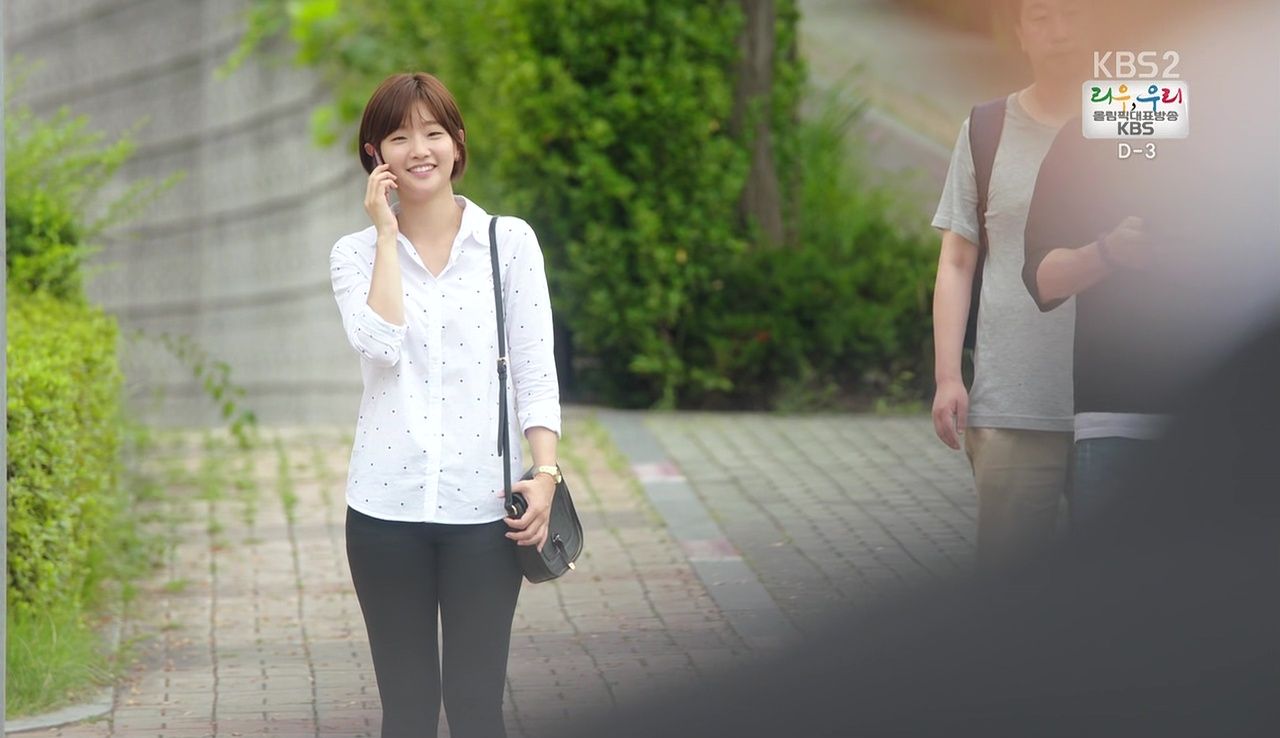 Later, Young-oh prepares to leave work, and as he puts on his jacket, he slumps over in pain and clutches his chest muttering, "Gosh, this woman." Aww, this is so morbid and sweet.
He calls up Jin-sung and guesses that she's climbing up some really steep stairs; he can tell because she has his lung. She doesn't believe him, and scolds him for trying to trick her. She asks if he can feel where she is headed to. He says that isn't a matter of intuition, but rather logic. She disagrees, and says it's called consistency. They meet at opposite ends of a street and walk toward one another in the center, as Young-oh says in voiceover:
Young-oh: "I cannot feel your heart; I cannot even empathize with you, the only choice I can make is to love you."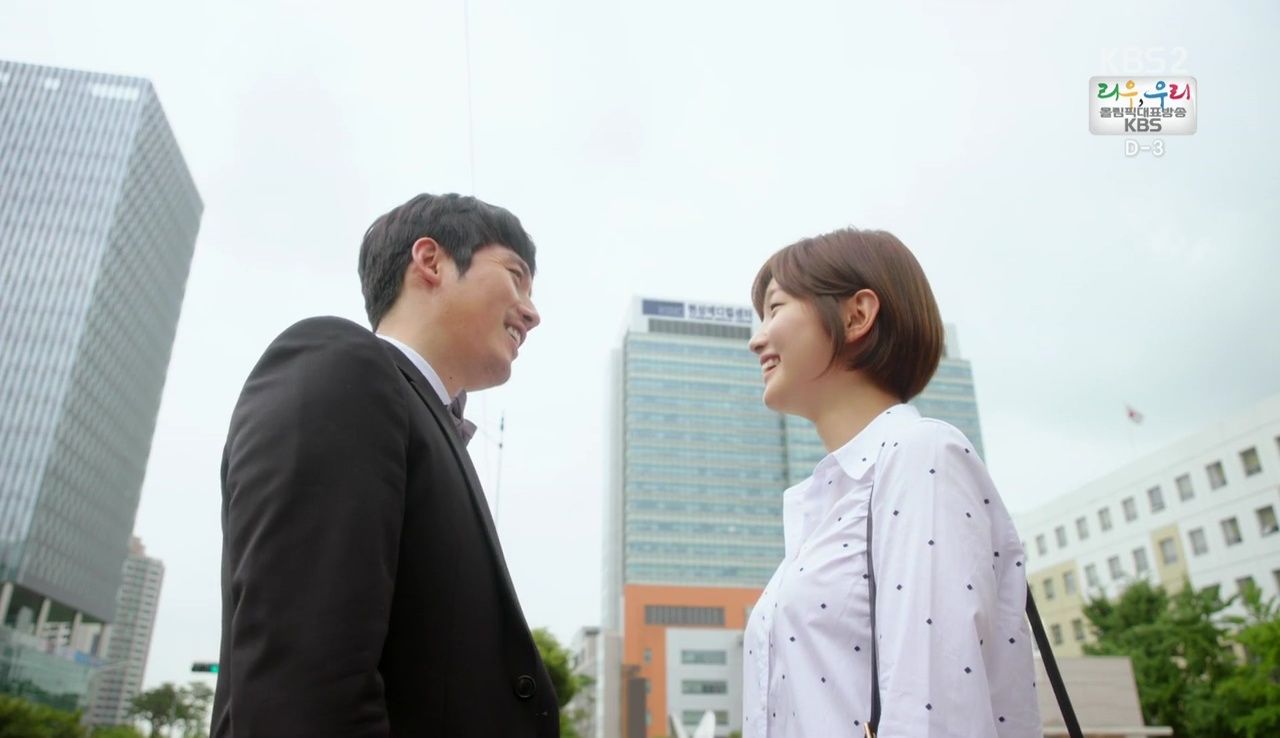 COMMENTS
Like most viewers, it's very difficult for me to distill exactly how I feel about the drama as a whole. The episode reduction left a bad taste in my mouth, and so I approached this episode with resentment for what could have been, and relief for what was.
Overall, I think the writer wrapped things up as best as they could and focused on what truly mattered, which was winding down the regenerative research stuff, Suk-joo's return to the good side, Assistant Manager Chae's punishment, and more importantly, the emotional core of our story: the relationship between father and son. That isn't to say the wind-down wasn't without its flaws—there were many—it's rather that the story respected the characters enough to keep their character growth intact by not having them do crazy things out of character. Everything was purposeful and meaningful (except Gi-ho—that was kind of a lazy way to not let him become a tragic victim.)
On the other hand, it's sad because in the last couple of episodes I could feel the writing losing its sharpness and clarity. Lines were often repeated from character to character, and the dialogue was mostly exposition except for Young-oh's very winning and beautiful little speeches. There are a number of scenes that could've made things much clearer with just one more line here and there, but instead, some of the dialogue felt like a vague, jumbled mess. One example is Jin-sung's surgery. We heard over and over, from multiple people, how illegal and dangerous the surgery was, but it would have been nice if Young-oh dropped in one line about the fact that they were lying to Jin-sung. It became obvious later on, but it would've been nice to just iron that out a little better from the get-go. Additionally, I'm not sure I like the fact that they were glossing over Jin-sung's loss of agency in the matter, and focused solely on the illegality of it. All is not necessarily well, even if it ends well.
Assistant Manager Chae really turned out to be a pretty bland villain. Maybe the episode slash cut out his backstory, his character depth really needed it, so that's disappointing. However, if it was sacrificed in favor of more Dr. Lee and Young-oh, then it was totally worth it.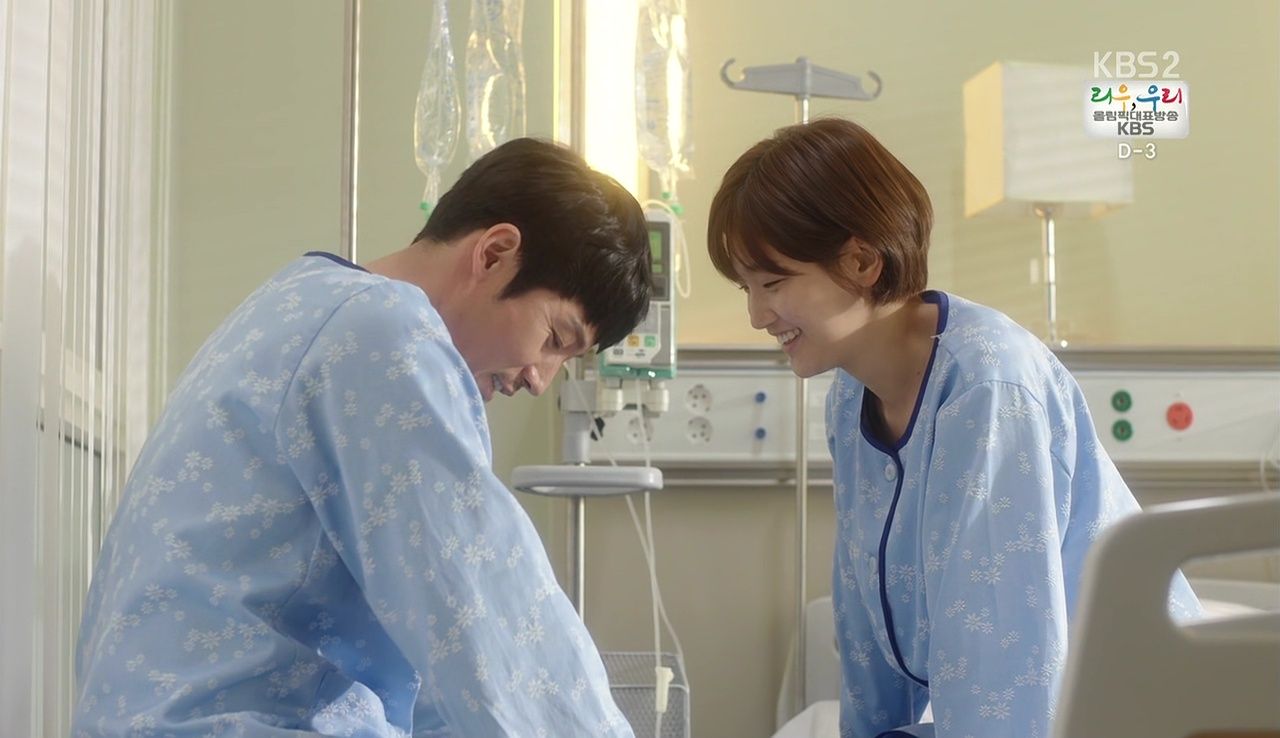 Suk-joo really was much less interesting without Chief Director Shin. That relationship brought so much life and love to the character of Suk-joo, who in general was pretty reserved. I forgot how much I missed that until this episode when they kept talking about him. I wish they would've driven how much Chief Direction Shin's death affected Suk-joo's morality home a little more. They played with it a lot, but then made Dr. Kim's daughter's death the catalyst. I totally got that, but it kind of lost steam somewhere toward the end. His connection to his mentor's death would've rounded it out nicely. Even his supposed shift to the dark side was so half-hearted—I know it was done to allow for his eventual return of the Jedi, but it just seemed a little lukewarm somehow. Seems like a shame.
The fact that they just ignored the topic of Young-oh's parentage plays nicely with the theme of the nature vs. nurture argument, in which the show was obviously taking a statement for the latter. Though I really wanted to know, I suppose it isn't exactly relevant to building this character's identity, which is pretty unusual. It ultimately strengthened the family unit of Dr. Lee and Young-oh by not muddling their relationship with that external element. I just loved Dr. Lee's smile in the epilogue when he mentioned "his child." I'm going to remember that smile for a while.
I really liked the reversal of allowing Young-oh to be the one that provided emotional comfort to his father. Some of the themes and notions discussed in this drama about parents and their children, or husbands and wives, were so poignant and painful, and rarely seen elsewhere. I loved how the show explored the ways in which we hurt, love, and heal one another.
I'm also happy that Dr. Lee and Young-oh ended on a good note, and that their relationship is clearly on the mend. Yes, Jin-sung and Young-oh are very cute (though it felt just a little jarring to see their relationship advance so much, so fast, but whatever, it's cool), but Dad and Young-oh were everything in this drama for me. Also, the fact that we were able to see their story play out fully is the most important thing, at least for me.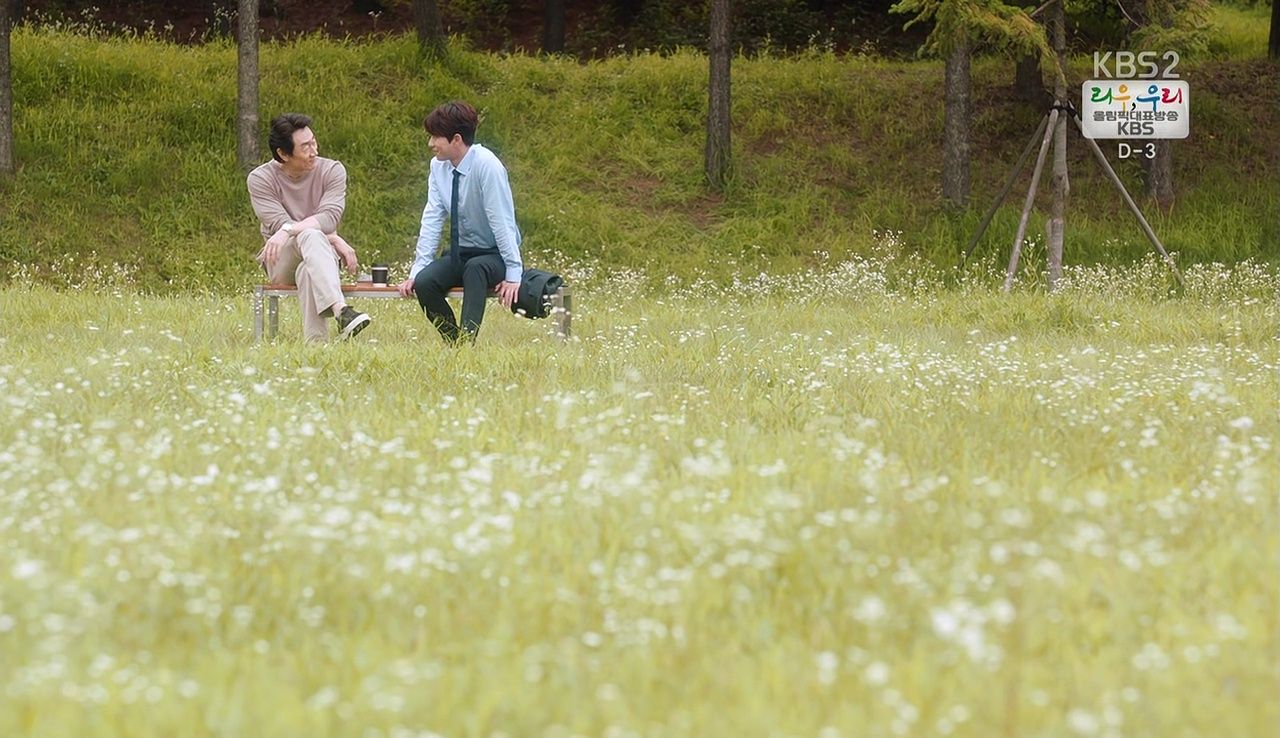 RELATED POSTS
Tags: Beautiful Mind, Episode 14, featured, Jang Hyuk, Park Se-young, Park So-dam, Yoon Hyun-min