Bring It On, Ghost: Episode 10
There are never any guarantees in life or death, as Bong-pal and Hyun-ji are beginning to learn. What's important is honesty, and as cute as they are together, there are still a lot of secrets between them. But maybe some secrets are best kept that way, especially when a long-hidden evil is creeping ever closer and there are more important, and deadlier, things to worry about.

EPISODE 10 RECAP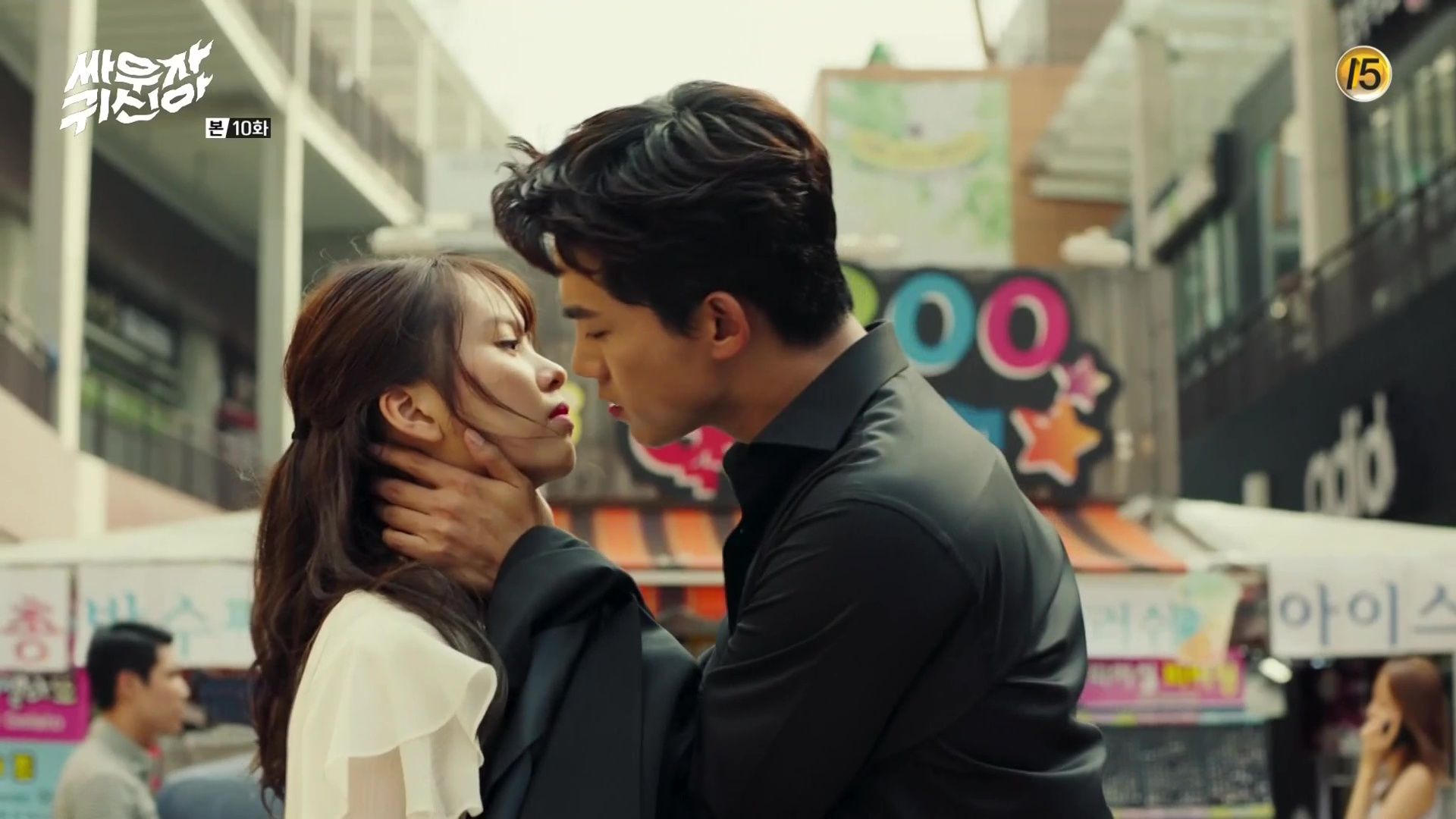 When Hyun-ji tries to walk away, scared that their relationship can never be real, Bong-pal follows her and stops her. "I like you. I don't care what others think, you're the one I like," he says. And there in front of everyone, he kisses her.
At his clinic, Hye-sung looks up to see monk Myung-chul staring at him, and the monk steps inside to ask if he knows Bong-pal. He smiles when Hye-sung confirms it, saying that he's like a father to Bong-pal, and he notes that Hye-sung looks familiar. Hye-sung admits to having seen Myung-chul at Bong-pal's apartment, but Myung-chul says it was a long time ago.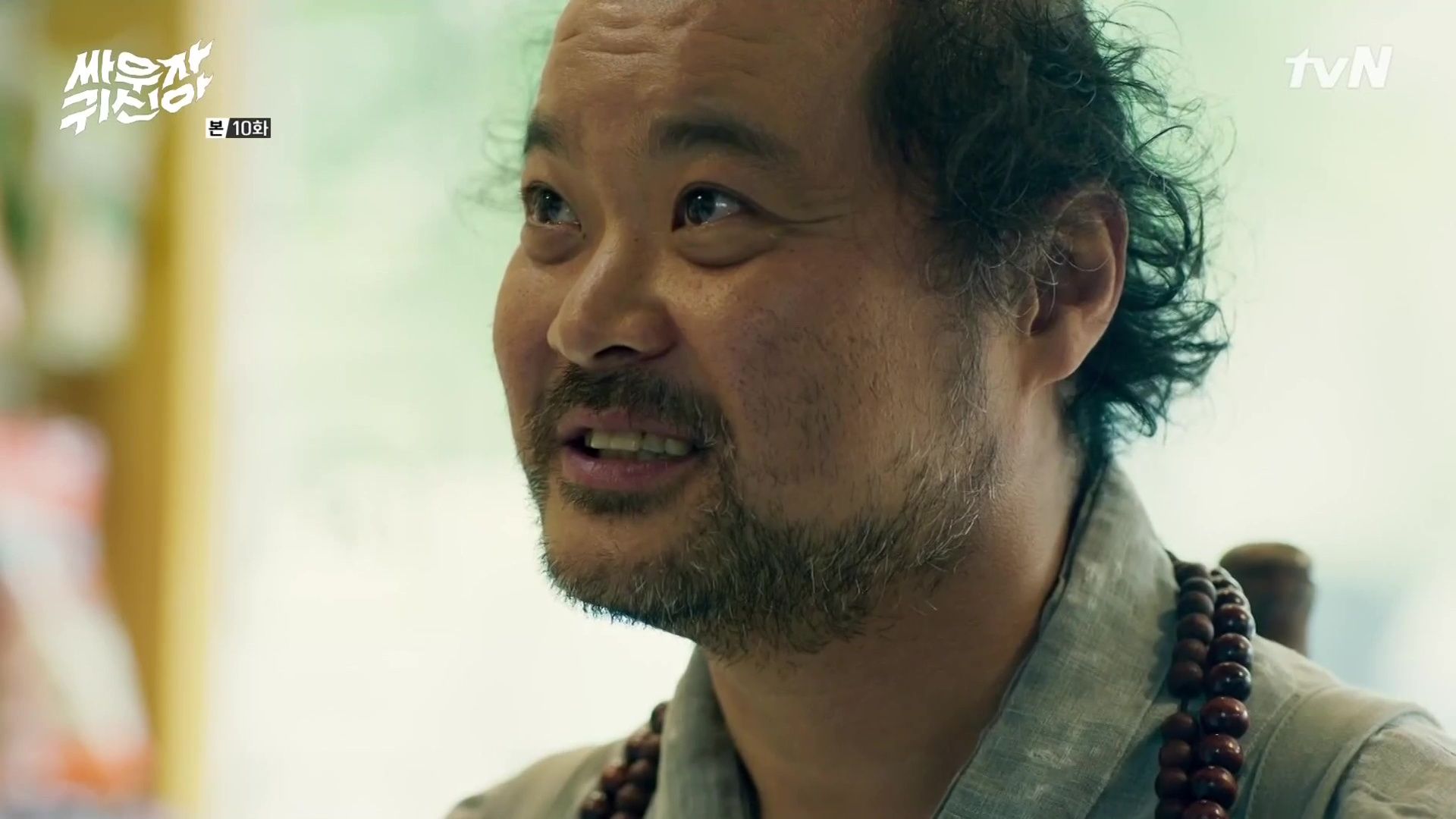 Hye-sung's expression chills a bit, but he keeps up the charade and says he doesn't know Myung-chul. Still smiling, the monk reaches a hand out to shake, and seems to sense something in Hye-sung's touch. He turns to go and Hye-sung says he'll see him again, which definitely sounds like a threat.
After their kiss, Bong-pal had told Hyun-ji not to worry about anything, and she has shyly agreed. They walk home hand-in-hand, happy, but Myung-chul isn't there. The video of Bong-pal's middle school graduation is still on the television, and Hyun-ji sees Hye-sung's face for just a moment before Bong-pal turns it off.
Hyun-ji asks if Bong-pal's father shot all the videos in his spare room, and Bong-pal says he did, though he hasn't watched all of them. She asks why he doesn't live with his father, but Bong-pal gives a vague "just because" and goes to shower.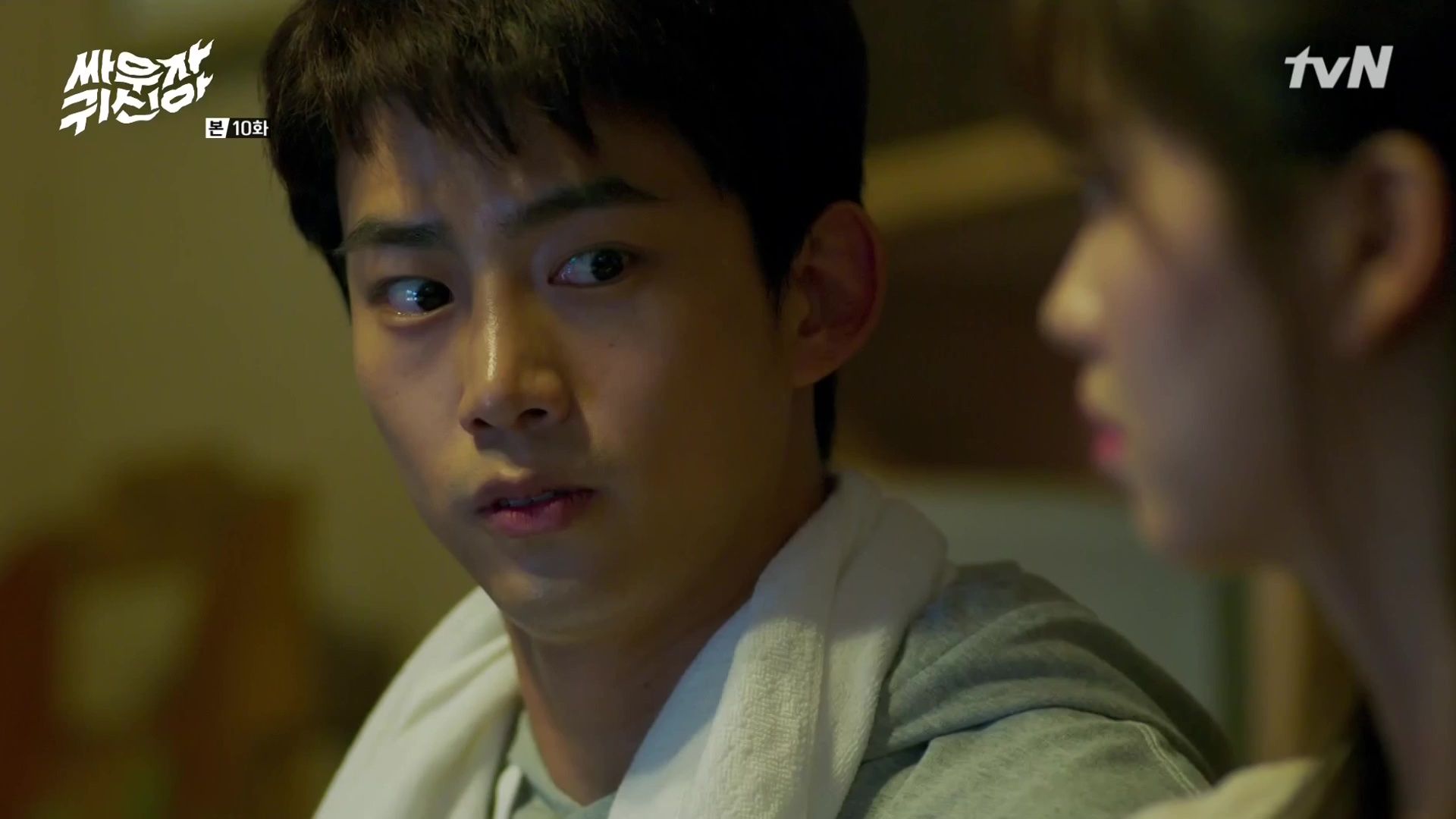 Myung-chul is drinking alone at the pojangmacha, remembering Hye-sung's handshake and his blank expression. He's sure there's something that Hye-sung is hiding.
Bong-pal joins Hyun-ji later where she's watching a drama, and the kiss scene makes them both twitchy. Bong-pal can't stop looking at Hyun-ji's lips, hee. He turns off the show and she rushes to bed, clutching her pounding heart. Cute.
On the school campus, a student walks the halls and finds some lights burnt out. Using his phone as a flashlight, he finds the box of stuff he was looking for, but he hears someone muttering behind the boxes. He jumps and runs when the mutterer turns and grins at him with a bloody mouth.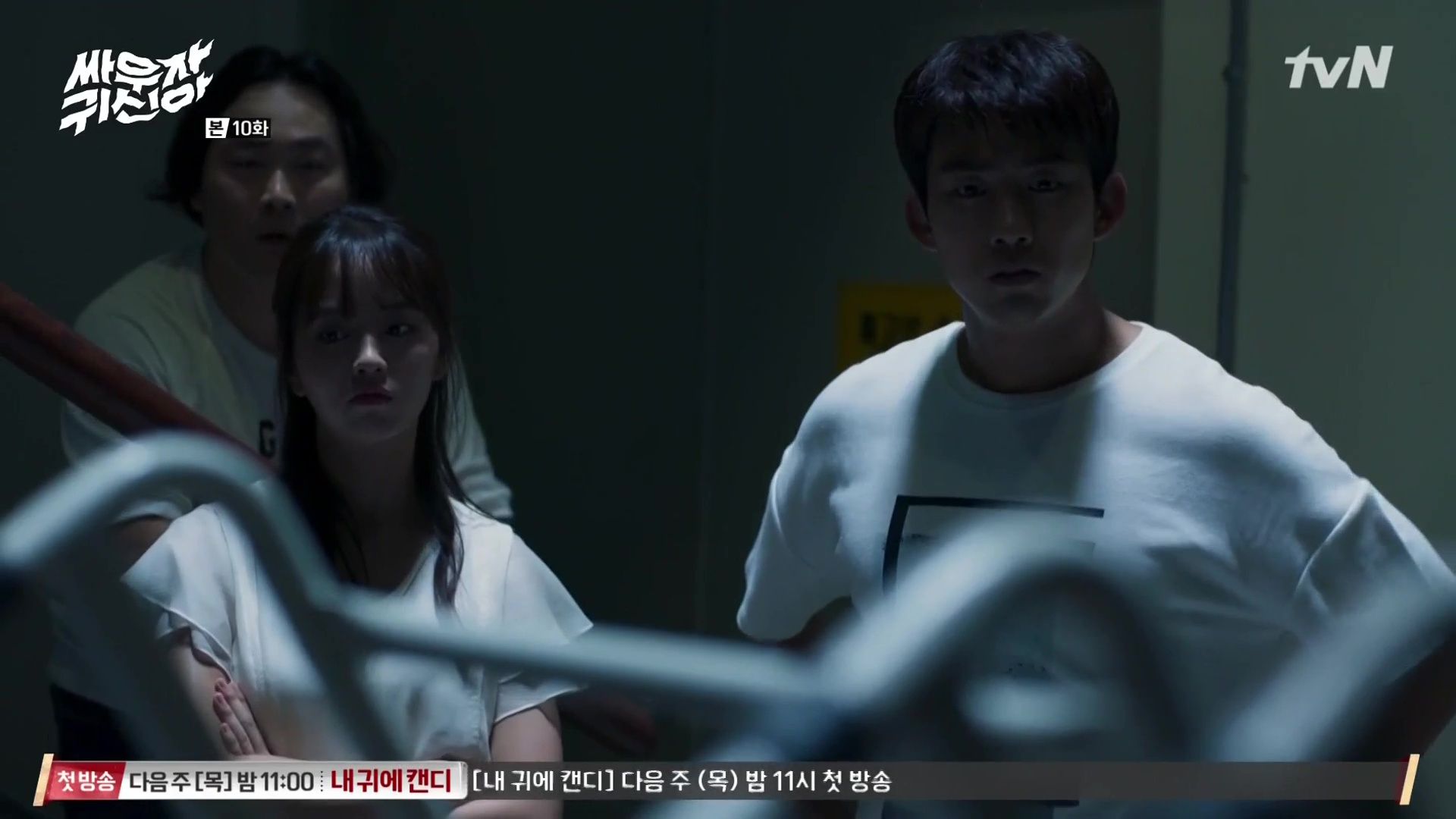 He goes straight to Chun-sang and In-rang to tell them about the ghost he saw. They offer in their hilariously overblown way to help him, so long as he can pay, of course.
They show Bong-pal and Hyun-ji where he spotted the ghost, which has apparently shown itself all over campus and is known to be particularly gruesome. Neither Bong-pal nor Hyun-ji see anything, then Bong-pal steps on something and a shrieking noise has them all running to investigate.
On another floor the ghost has shown itself to some students, but strangely, Chun-sang and In-rang see it clearly and flee the room. Bong-pal and Hyun-ji aren't scared, mostly because it turns out to be a fellow student, who Chun-sang and In-rang tackle in the hallway.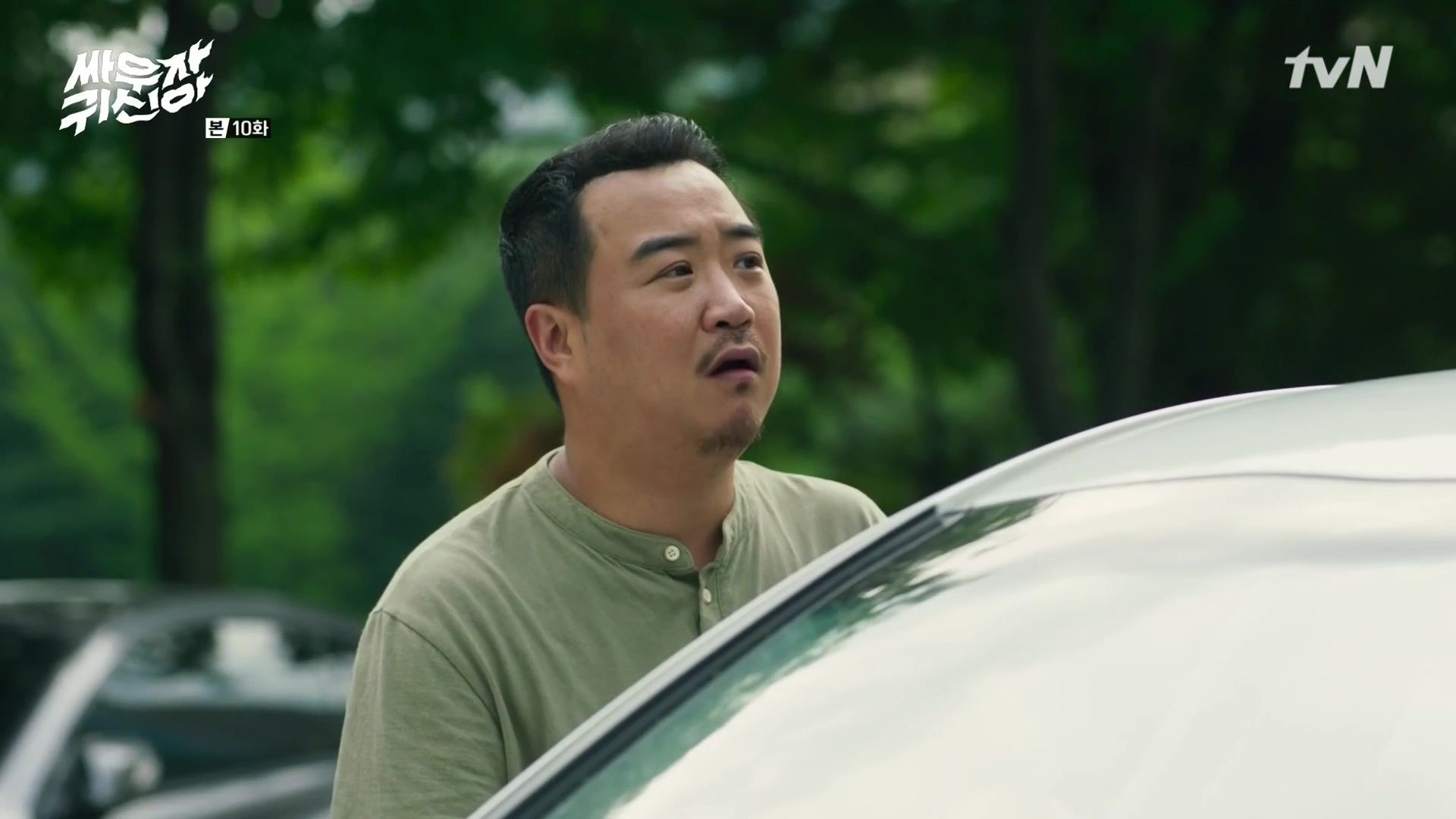 He's been living on campus for quite a while, unable to find a job. He's been reduced to selling "healing stones" for a pyramid scheme, and the whole thing has made him a bit cuckoo. HAHA, Chun-sang has fallen for it, he's accepted a stone mattress for their payment.
Detectives Yang and Kim go to inspect the body of Min-soo, the student who know Hyun-joo, that Hye-sung recently killed. Due to a fake confession, it looks as though he killed Hyun-joo, then himself, but Detective Yang thinks the whole thing seems fishy. He decides to go see Hye-sung's mother to check out his alibi for the night of Hyun-joo's murder.
The possessed man, Hyun-min, is awake and screaming again. His sister calls Bong-pal, scared because she's at home alone with him, and the noises he's making are downright tortured. She goes to his room to find it destroyed, but Hyun-min is sitting on the bed perfectly calm, with blood running down his face.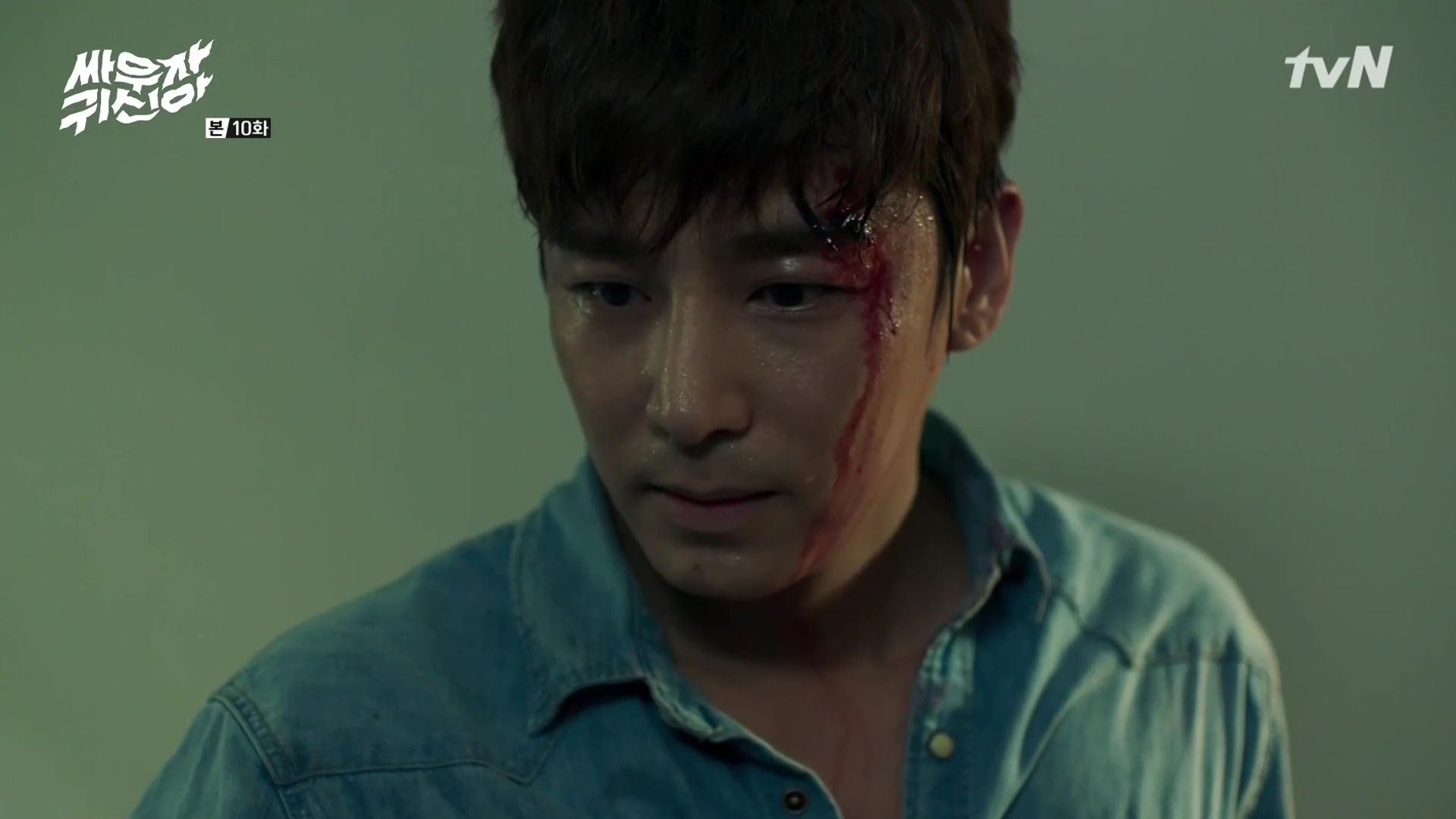 He pushes her to the floor and looms over her menacingly, but he's distracted by a noise and leaves the room. His sister hears the noise too, and looks over her shoulder to see the ghost of Hyun-min's girlfriend, looking down at her with blood streaming from her eyes.
Chun-sang catches In-rang writing a love note to Hyun-ji, and in the scuffle for possession of the note Chun-sang gets popped in the eye. He pretends to go blind and smacks In-rang a few times, until In-rang pretends to hit him again and makes him flinch. Busted.
Hye-sung cancels class, so Seo-yeon texts him to ask if he's all right. Hyun-ji sees it as an opportunity to play, but a call from Chun-sang has them headed to Hyun-min's home instead.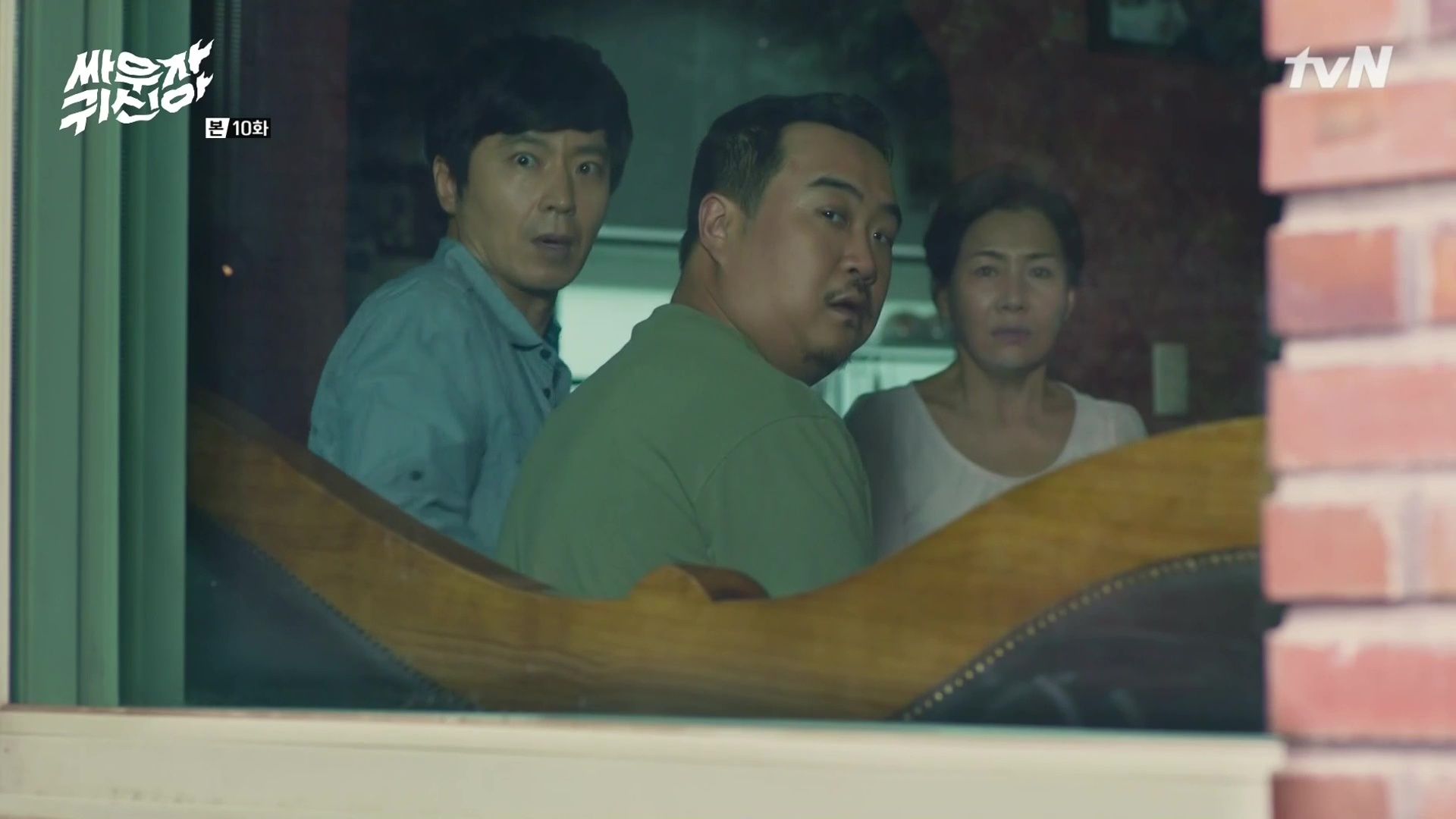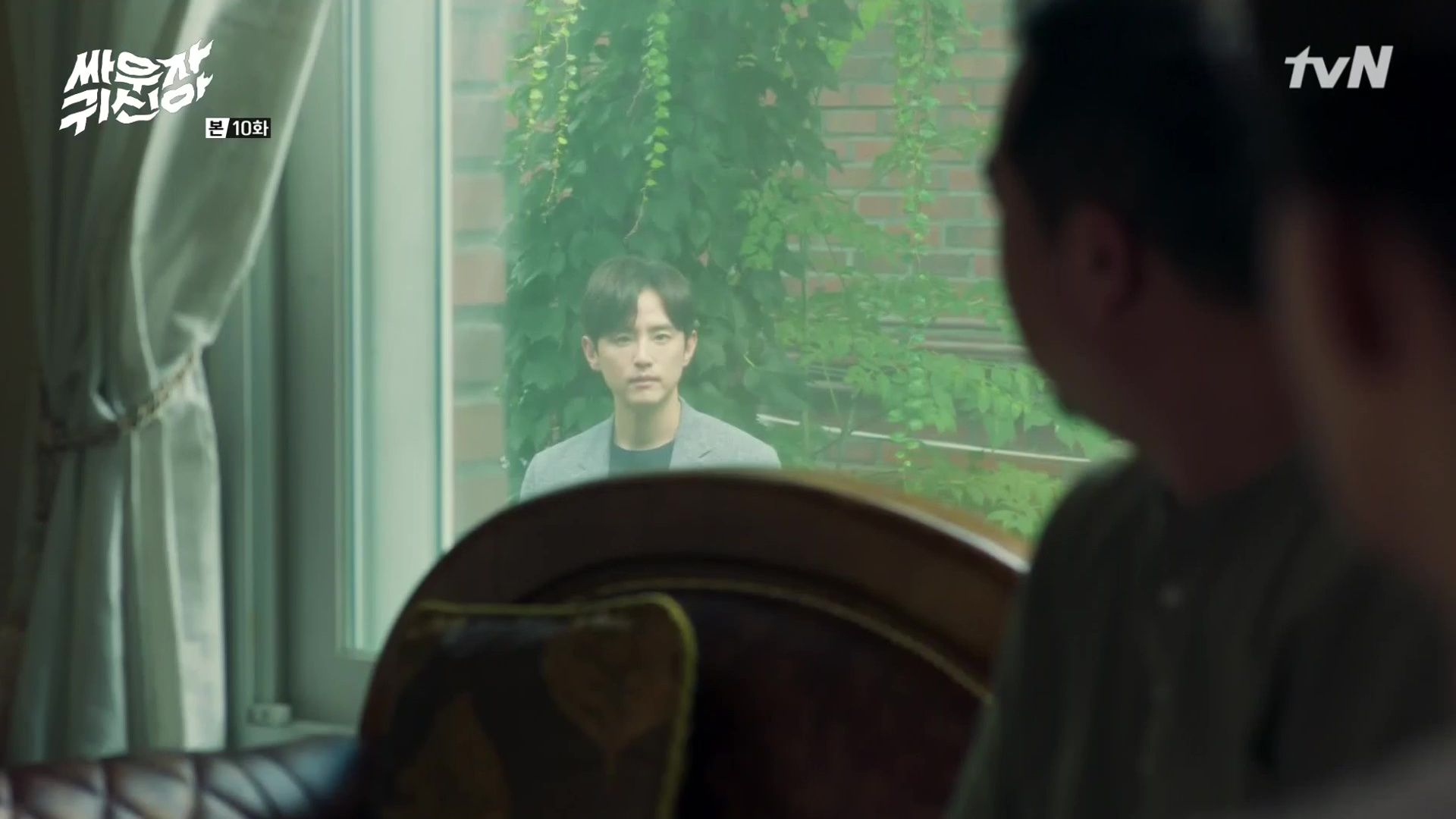 Detectives Yang and Kim find Hye-sung's mother, who seems edgy and nervous. When they ask if her son has visited lately she becomes very vague, and she freezes when she sees something out the window.
It's Hye-sung, standing right in the yard, and the cops cut their visit short, refusing to tell Hye-sung why they're here. As they leave he shoots his mother an angry look, and she seems genuinely scared of him.
By the time Bong-pal and the club arrive at Hyun-min's house, he's gone. His sister tells them that she saw his dead girlfriend, Soo-kyung, and she's afraid that she may try to hurt her brother.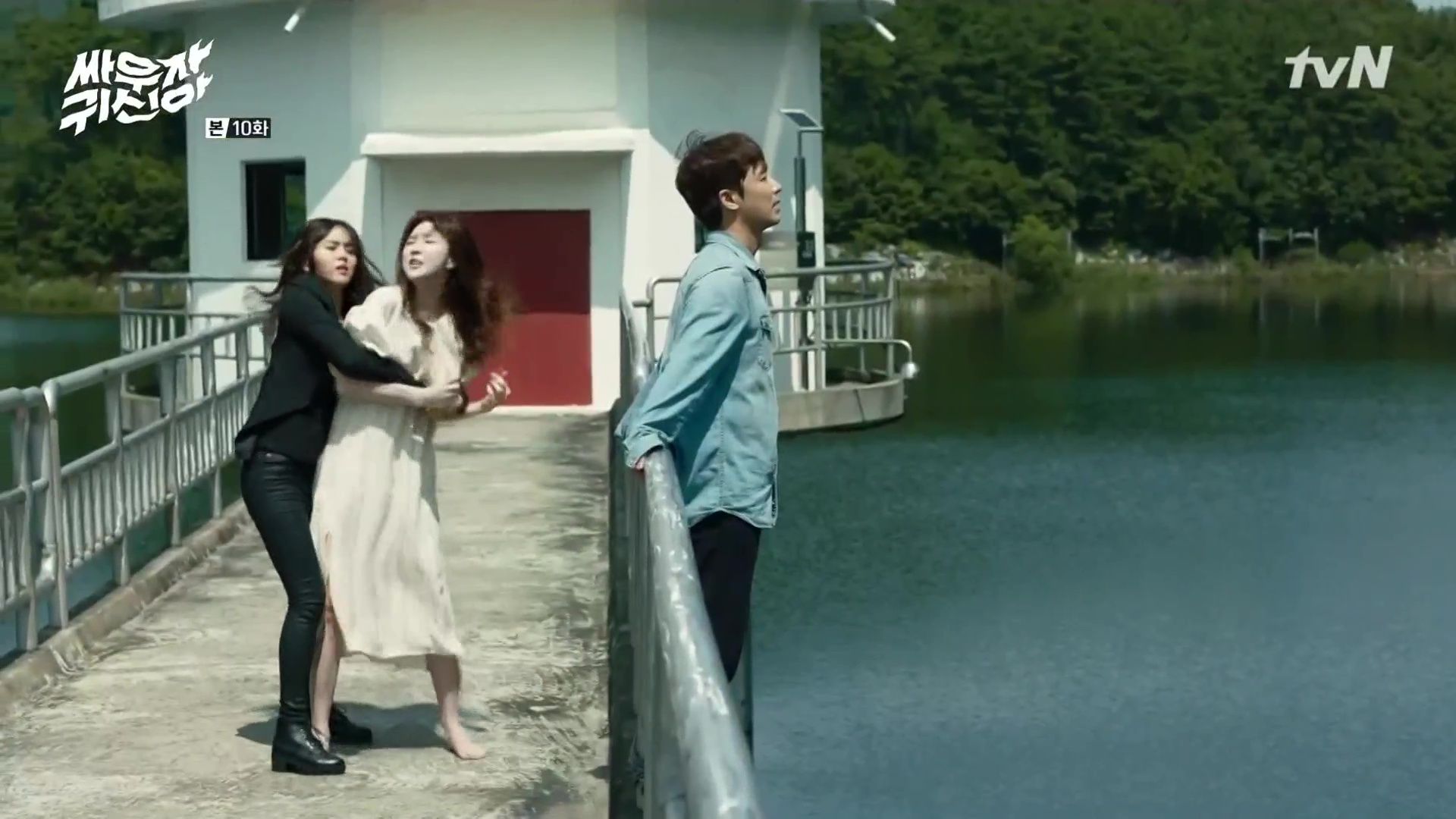 She doesn't know where her brother is, so Bong-pal asks if she knows of any places that Soo-kyung may have frequented. She shows them a picture of the two lovers by a river, and says they may have gone there. It's the same place where Hyun-min scattered Soo-kyung's ashes.
Sure enough, we see that Hyun-min is there, looking pale and dazed and still oozing blood from a head wound. He staggers out onto the bridge, and the ghost-hunting crew hurry to catch him before he does something drastic. They can see him but the van breaks down, so Bong-pal jumps out and runs the rest of the way.
Hyun-ji poofs closer and yanks Soo-kyung's ghost away from Hyun-min, who is hanging onto the outside of the railing, about to let go. Hyun-ji asks why Soo-kyung is trying to kill Hyun-min, but she says desperately that she's not trying to kill him — she's trying to save him.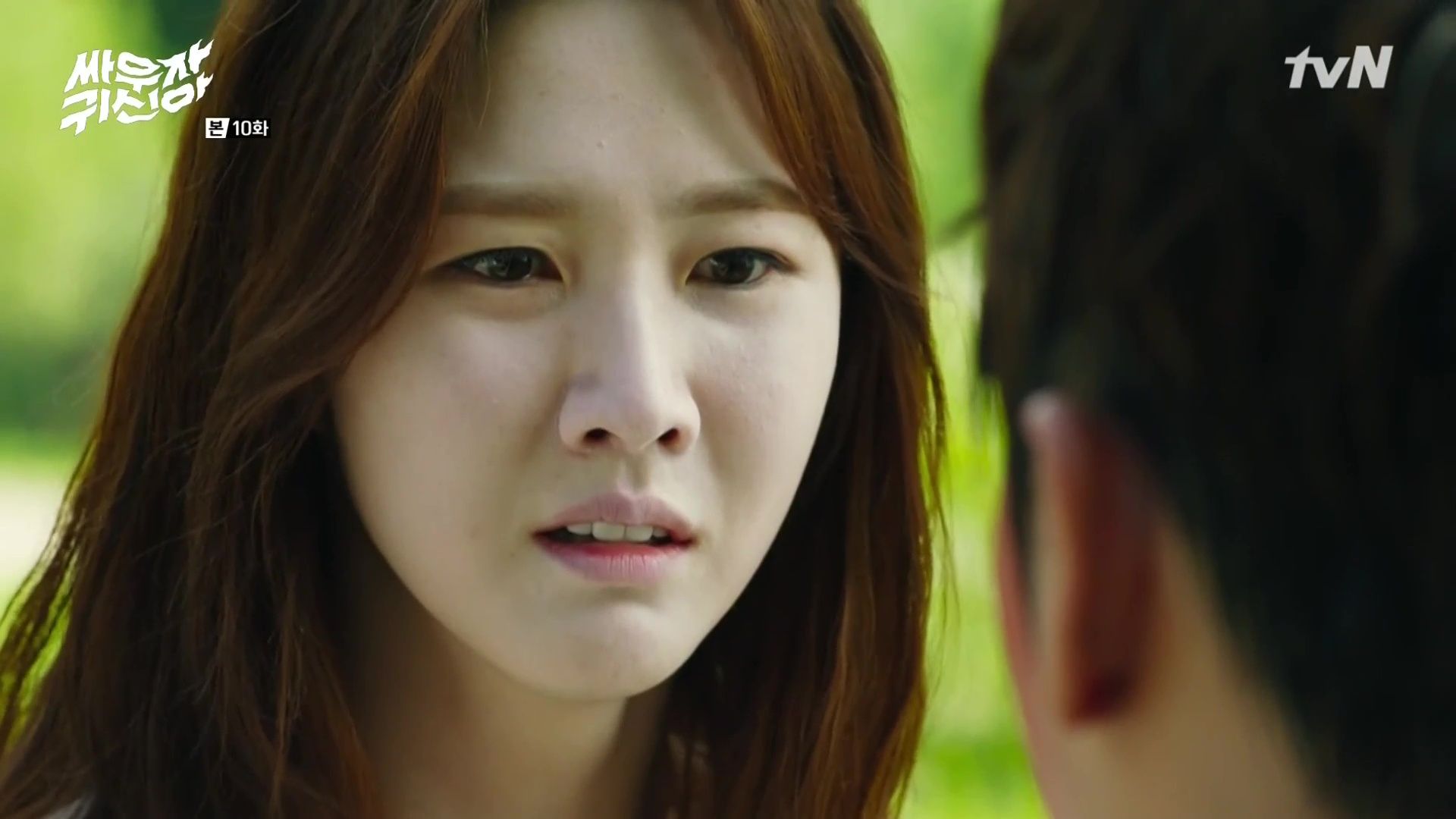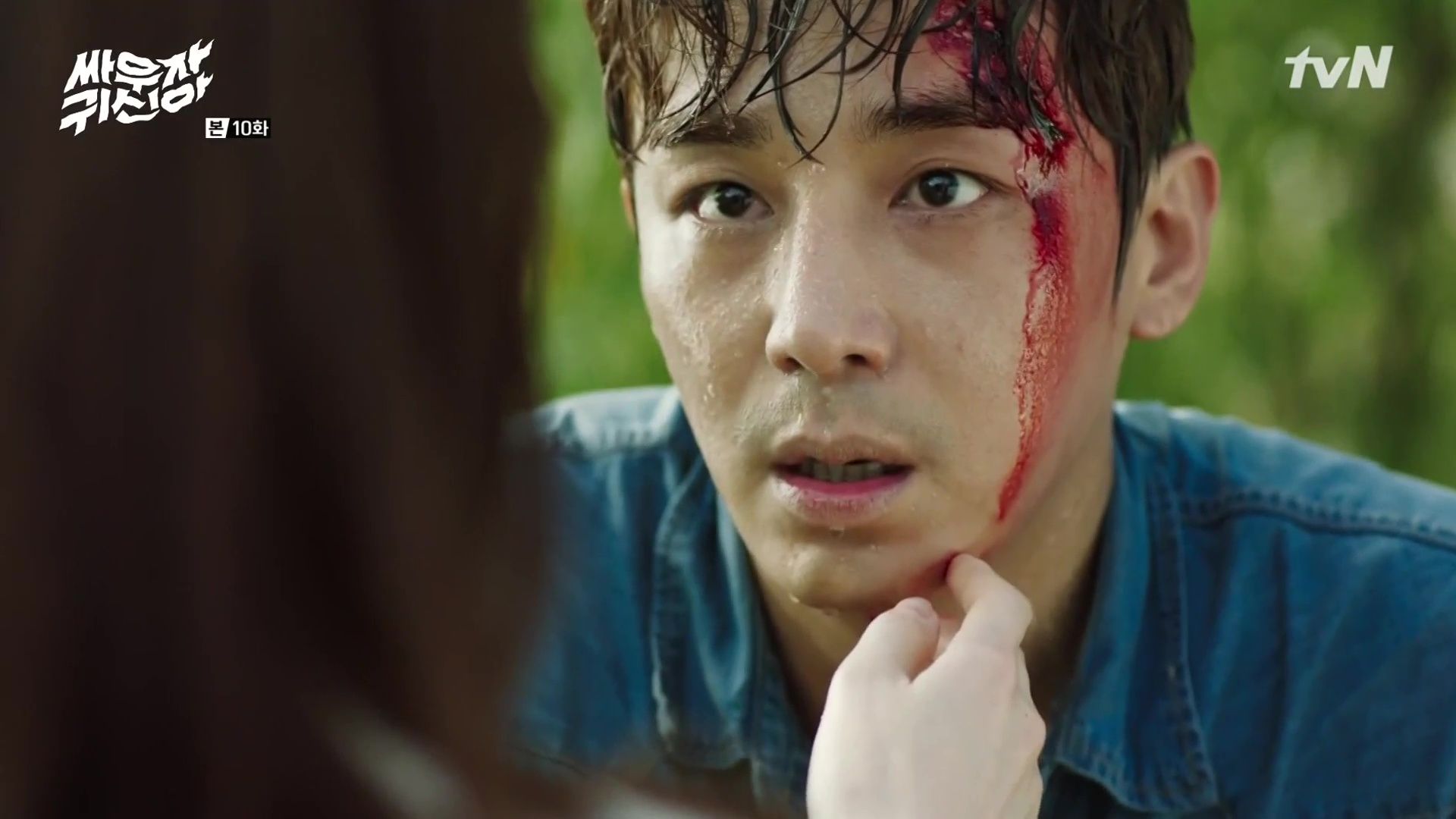 Still in a trance, Hyun-min says softly, "Soo-kyung-ah, I'll follow you," and lets go of the railing. Soo-kyung screams as he hits the water, and Bong-pal rips off his jacket and jumps in to save the man.
On the riverbank Soo-kyung appears to Hyun-min, and kneels down to talk to him. She looks almost human now, and she soothes his cut forehead and begs him, "Hyun-min-sshi, don't do this." He looks up at her, stricken.
In flashback we see that he was diagnosed with a brain tumor, and was given three months to live. He gets drunk and staggers through the streets, where Soo-kyung sees him and pushes him out of the road. She asks angrily if he'd given up on life, and he says that he has.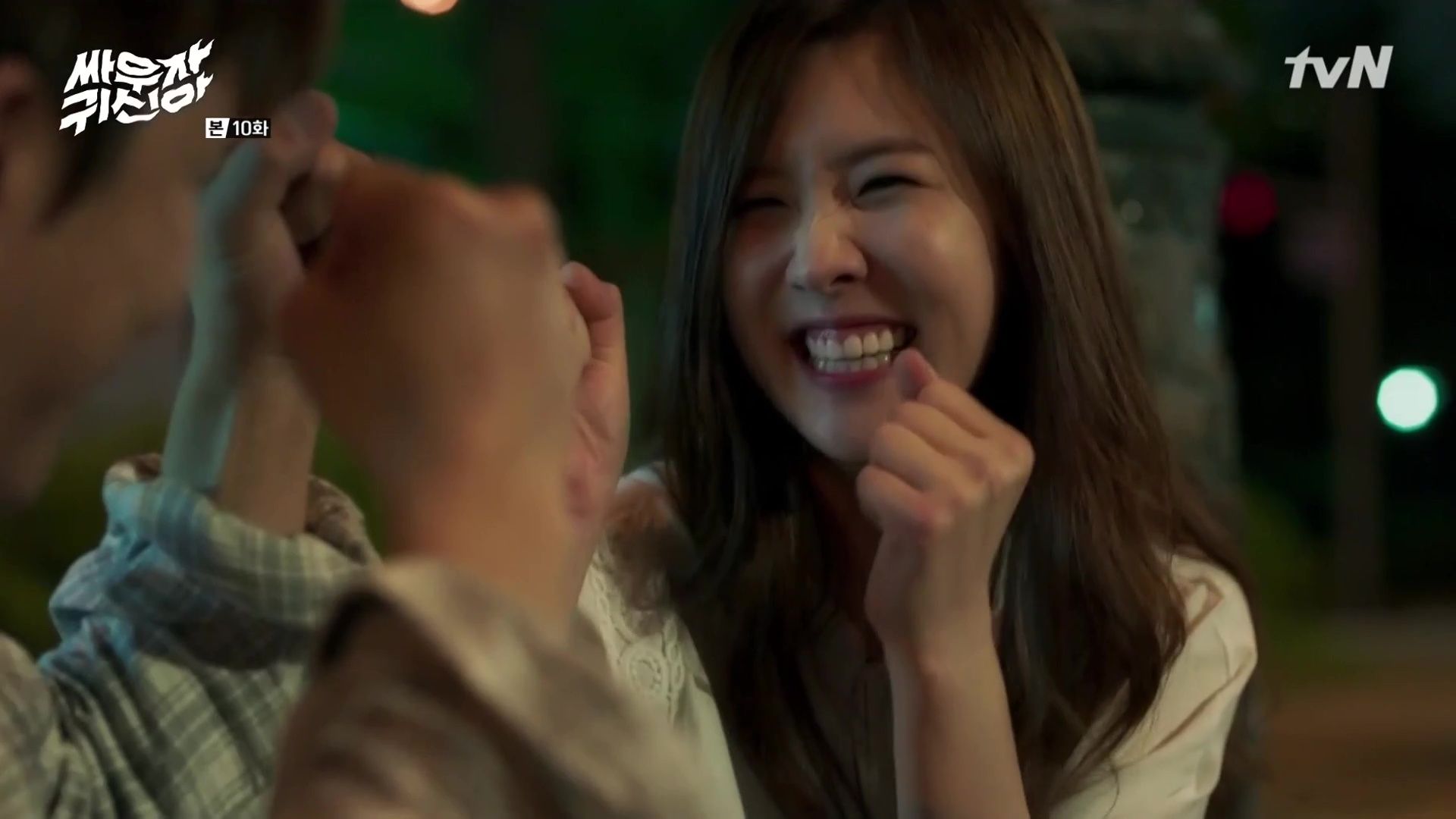 Soo-kyung doesn't allow him to wallow in his depression, fussing at him to enjoy every day he has, and Hyun-min is instantly smitten. He finds her at the convenience store where she works, and buys her a coffee when she falls asleep on the counter. The two start dating, and quickly fall in love.
Hyun-min tells Soo-kyung that he's going away for a few days, but the truth is that he's going in for surgery on his brain tumor. He begs the doctor to save his life, now that he has something to live for.
He calls Soo-kyung and leaves her a message, apologizing and explaining that he may not be able to return to her. As she listens to his message she runs out into the street, too scared to notice the car barreling down on her. While Hyun-min's life is saved by his surgery, Soo-kyung lies in the street bleeding from a head wound.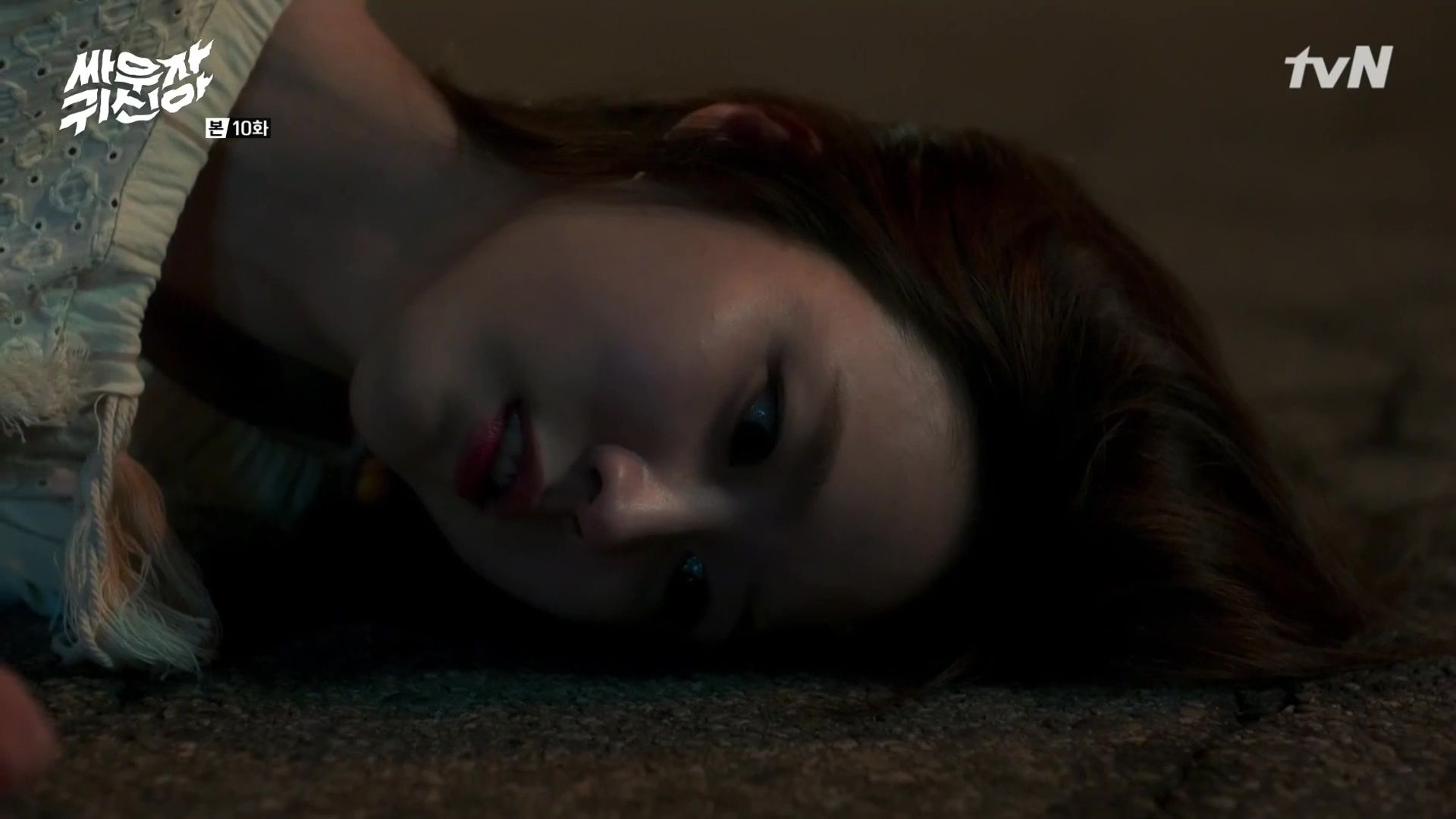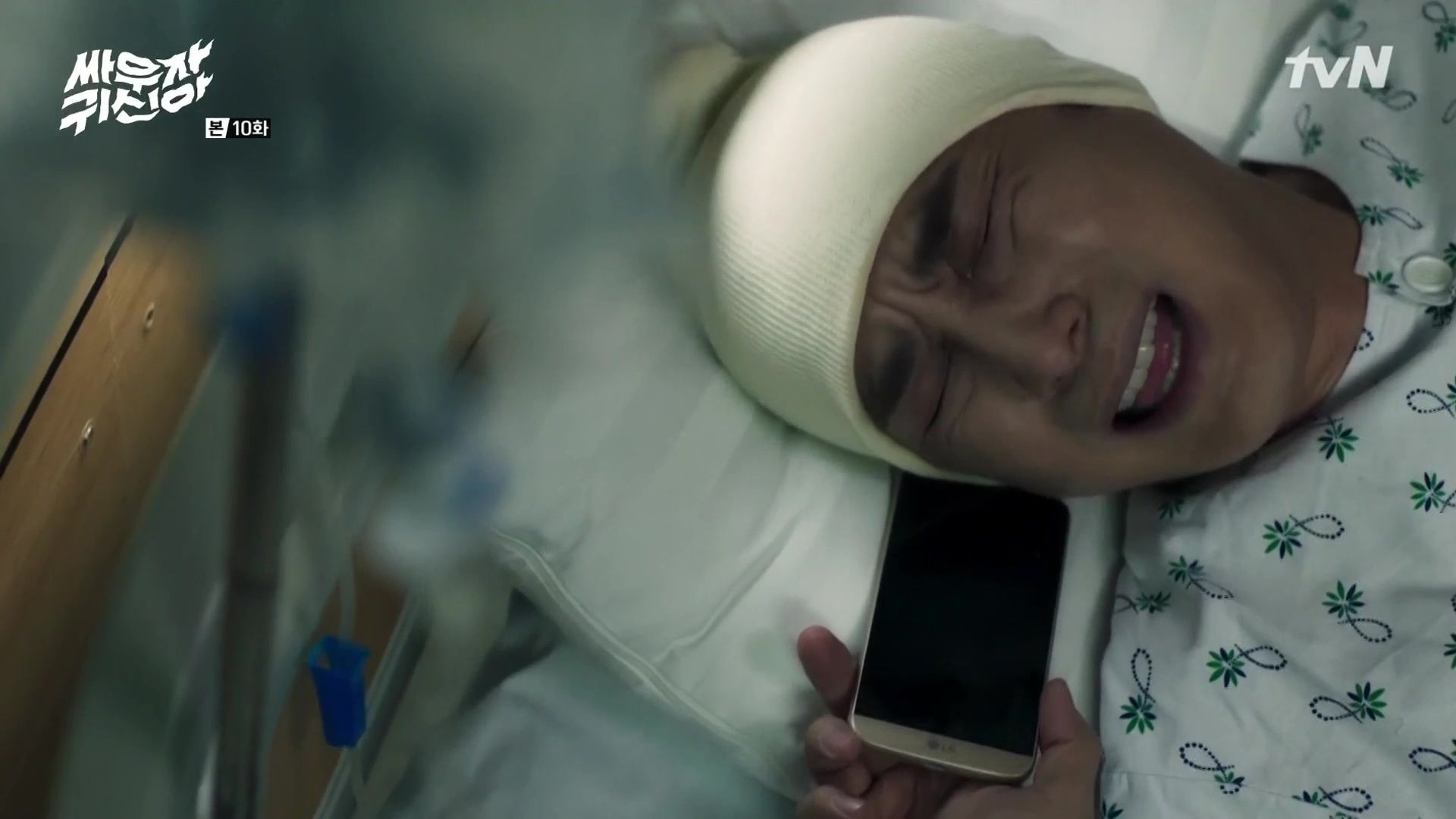 He tries to call her, and an EMT answers the phone as they're loading Soo-kyung into an ambulance. He's given the news that she died, and he screams with grief.
Now he apologizes to her spirit, feeling responsible for her death. Soo-kyung tells him it's not his fault and begs him not to kill himself, but he cries that he only had the surgery so that he could be with her. He wants to follow her, wherever she is.
But Soo-kyung says that she'll be even sadder if he dies just to be with her. She was so happy to be with him, and she wants to take those happy memories with her. She begs him to promise he'll never hurt himself, and he nods, unable to deny her last wish. Hyun-min whispers that he loves her, and Soo-kyung sobs that she loves him too, then she drifts away in a cloud of light.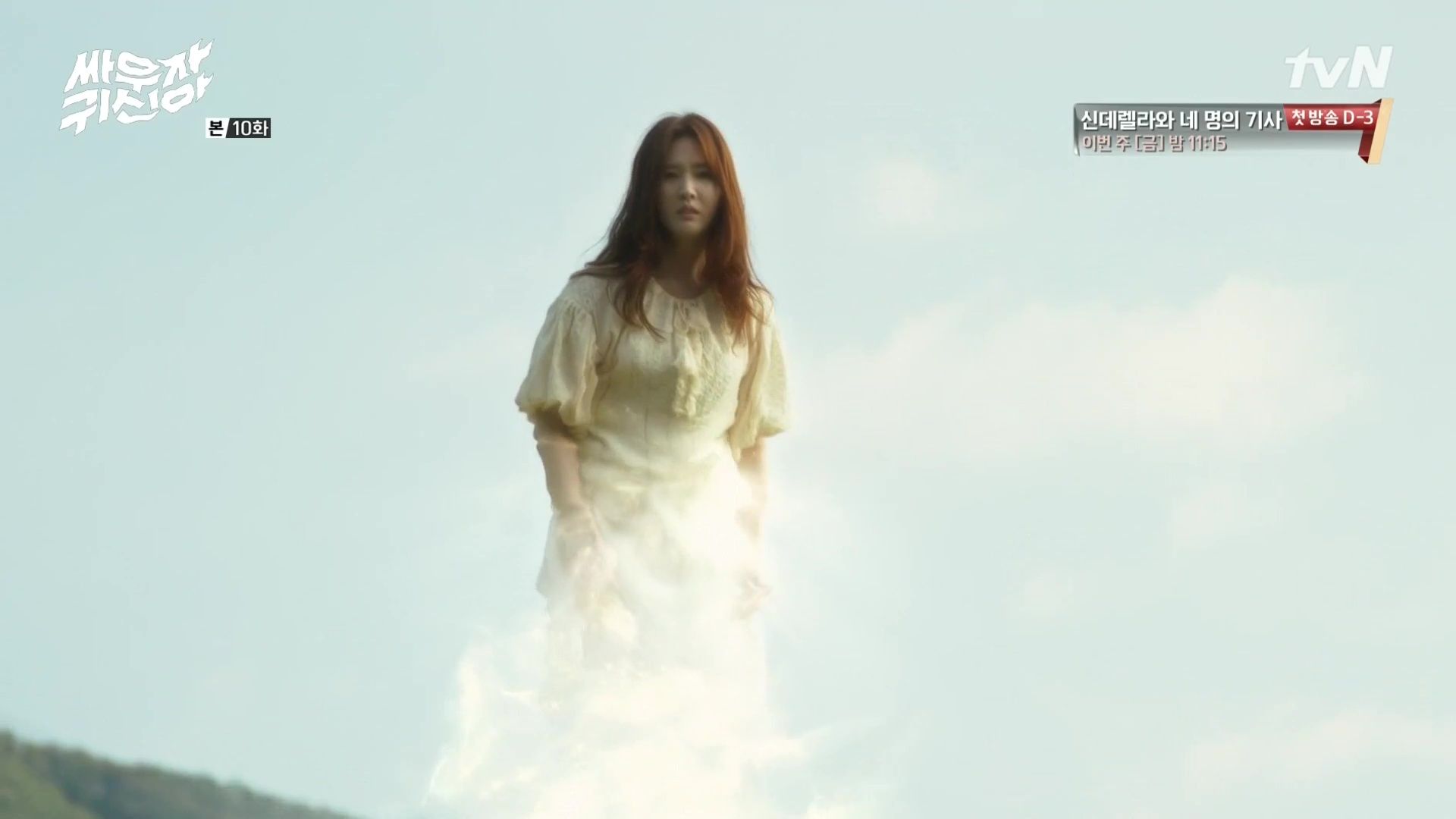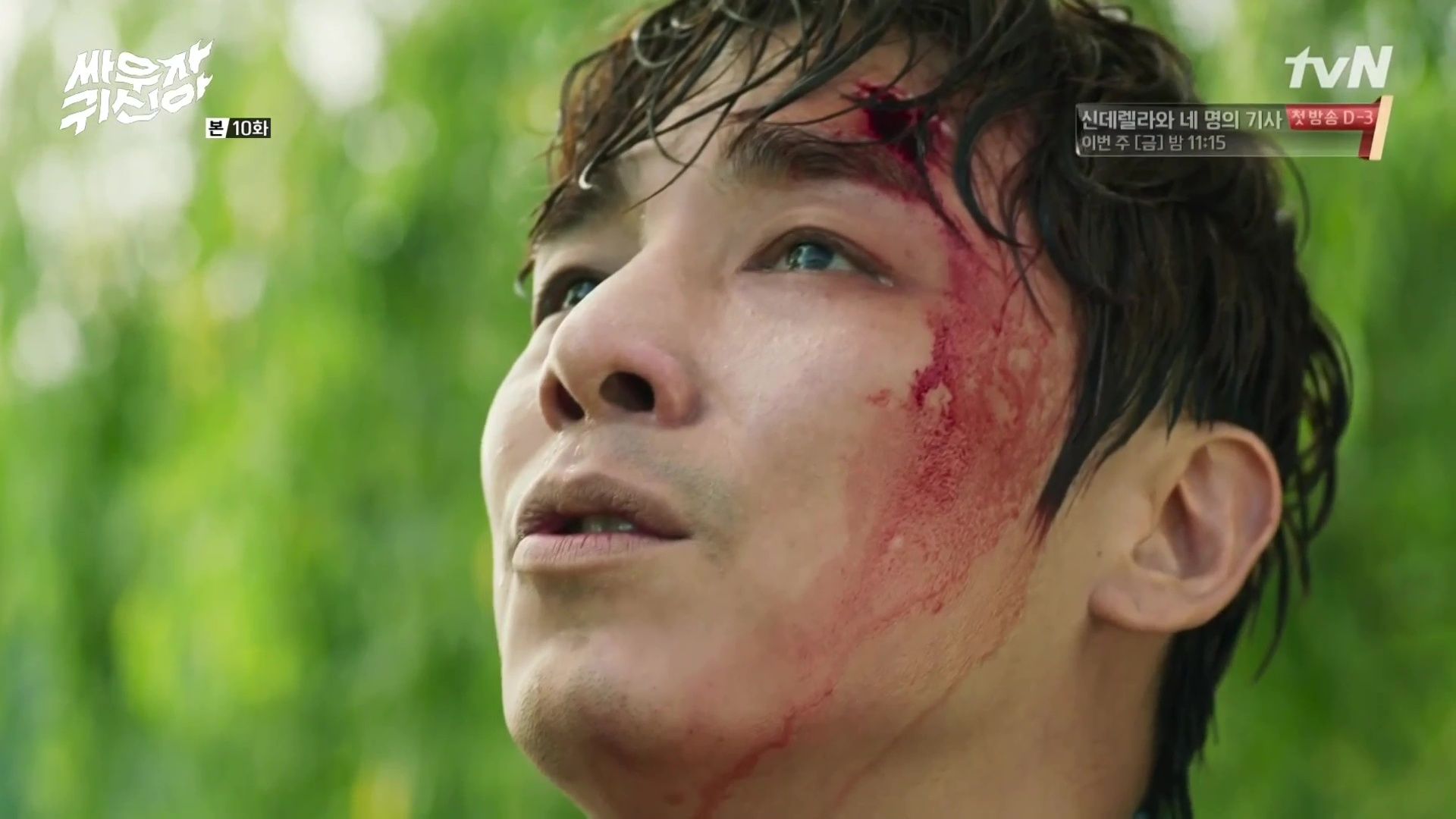 The boys drive Bong-pal and Hyun-ji home, but before he goes inside In-rang asks him to pass along his love note to Hyun-ji. Knowing that In-rang likes Hyun-ji, bong-pal haltingly tells him that Hyun-ji already likes someone. Jaws drop (even Hyun-ji's, heh), and In-rang is devastated. Awww, Chun-sang gives him big smooshy hugs.
Bong-pal is quiet up on the roof, and he asks Hyun-ji if someday, they'll end up like Soo-kyung and Hyun-min. Hyun-ji thinks they will, but it's no big deal, because they're happy now. She says they shouldn't worry about the future, reminding Bong-pal that he said that to her, and he smiles.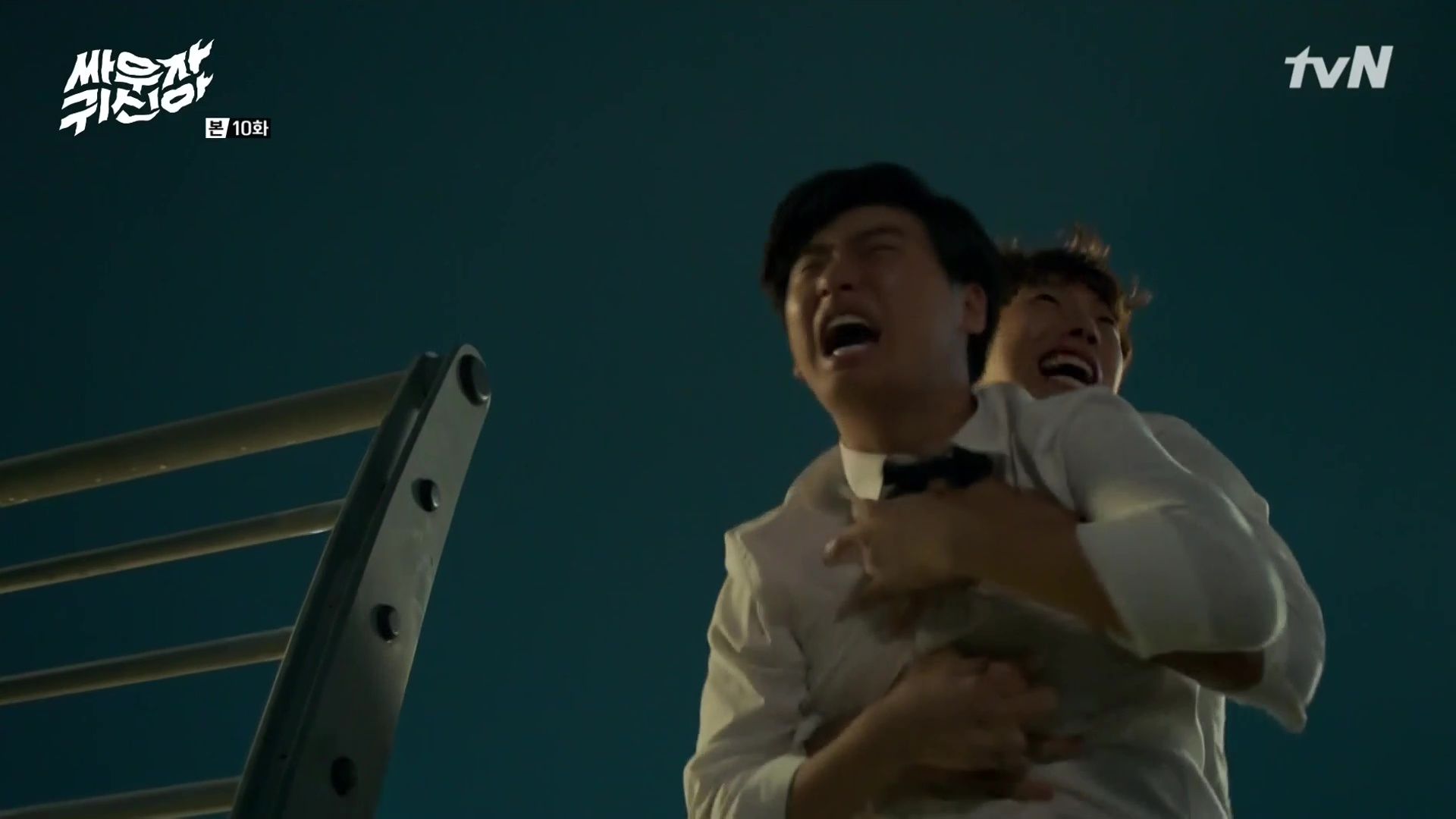 Chun-sang pours the moping In-rang some soju (by the Han River, naturally), and can't resist saying "I told you so." In-rang agrees that he should never have started liking Hyun-ji, and he cries at the letter he wrote. He tears it up and throws it into the river, dramatically screaming, "I loved you, Kim Hyun-ji!!" He even tries to jump into the river, and Chun-sang has to slap him to calm him down. Awww, poor heartbroken puppy.
Myung-chul goes to his shaman friend and tells her about Hye-sung, and how his whole body shivered when he shook his hand. She agrees he's not normal, but she refuses to help Myung-chul, not after seeing how he got damaged last time. But she does agree to help him find the ritual tool that he used when Bong-pal was young. In the meantime, he asks for a talisman for Bong-pal.
Hye-sung watches his mother in her garden, and goes out to tell her that he's heading back to Seoul. He shows genuine concern when he sees a scratch on her hand, though she flinches away and says it's nothing. Her rebuff actually seems to hurt his feelings, and he leaves looking upset.
A neighbor comes over to sigh over how handsome her son is, but Hye-sung's mother looks despondent as she says, "He's not my son." She recalls a time years ago, when her face had been bruised and bloody, and her husband had lain in the grass far below their apartment, dead from a fall. She'd seen a young Hye-sung standing by the open door, black mist swirling around him and that same flat expression in his eyes.
Bong-pal finds Hyun-ji studying for her next exam, and she even puts off food so that she can finish studying. Bong-pal spills her photos from the team vacation and Hyun-ji tries to hide them, but he says he's already seen them. He takes them and looks at them again, commenting on the enhancements Hyun-ji made. ~cringe~
He teases Hyun-ji mercilessly, and she pouts that she had to draw herself into a picture with him because she can't take a real one. Bong-pal says he doesn't like taking pictures anyway, and takes Hyun-ji's face in his hands, saying he prefers to see her in person. She would swoon, except that he calls her ugly, and they end up in a slap-fight. So cute.
Myung-chul hears Bong-pal laughing from outside his apartment, and thinks that he hasn't heard that laugh in a long time. He steps inside and witnesses the last part of Bong-pal and Hyun-ji's teasing, though to him it looks like Bong-pal is talking to himself. He guesses that Bong-pal is talking to the girl ghost he met a while back, and all the clues click into place… they've been living together.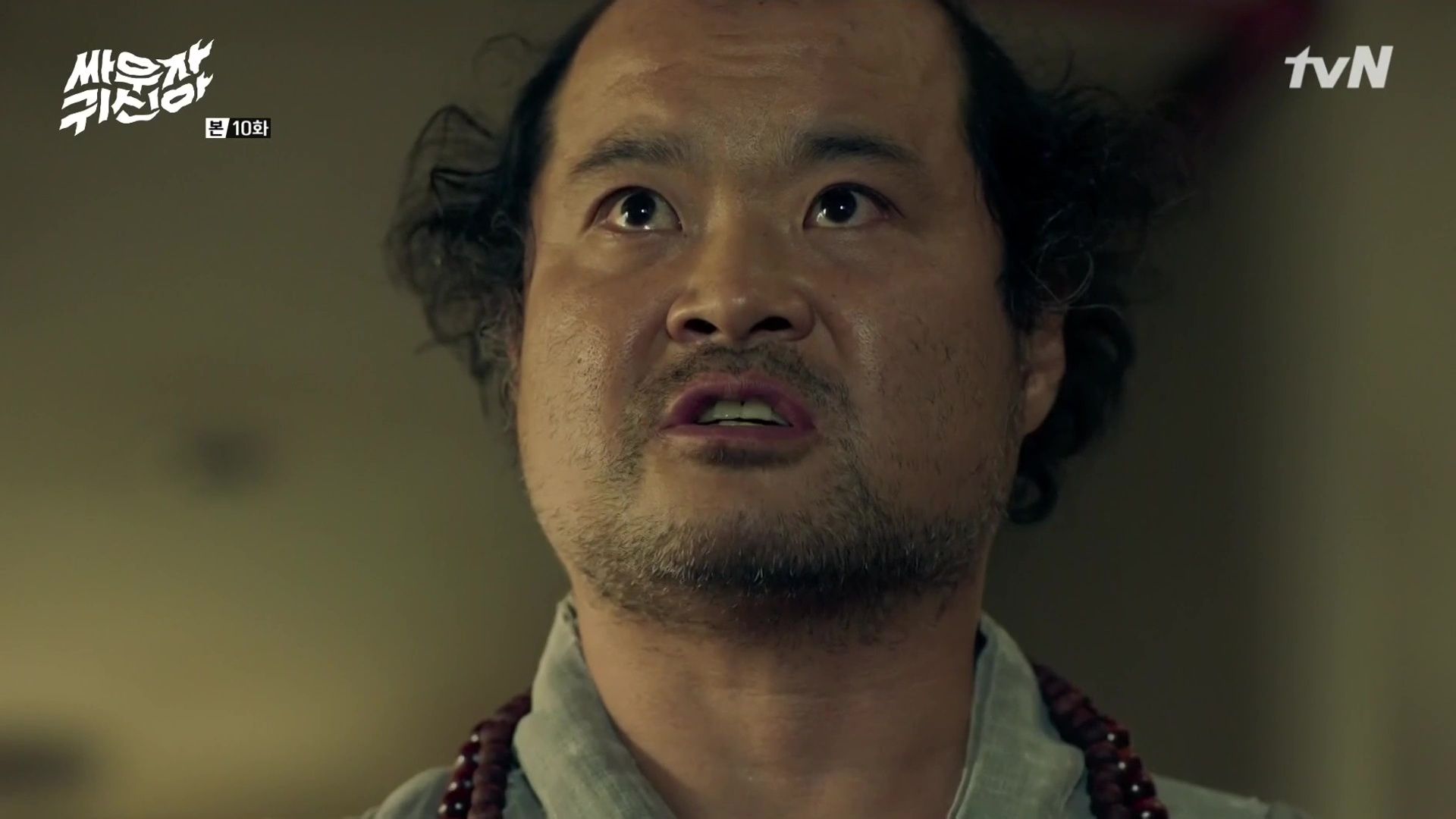 Myung-chul is furious that Bong-pal is in a relationship with a ghost, when a ghost killed his own mother. He offers to get Bong-pal's eyes fixed now, saying that he'll figure out a way so that he can quit being an exorcist. But Bong-pal says he can take care of himself, that he doesn't want his eyes treated anymore.
Myung-chul spits angrily that Bong-pal must really like this ghost, and Bong-pal looks over to where Hyun-ji is looking worried and a little scared. He takes her hand and says that he does, and tells Myung-chul to mind his own business. Myung-chul says that fine, he won't meddle in his life anymore, and he leaves.
As soon as he's gone, Hyun-ji asks if a ghost really did kill Bong-pal's mother, and if he's raising money to get rid of his ghost-seeing ability. Bong-pal tells her to ignore everything Myung-chul said, but that just confirms her fears, and she tells him to go on to school without her today.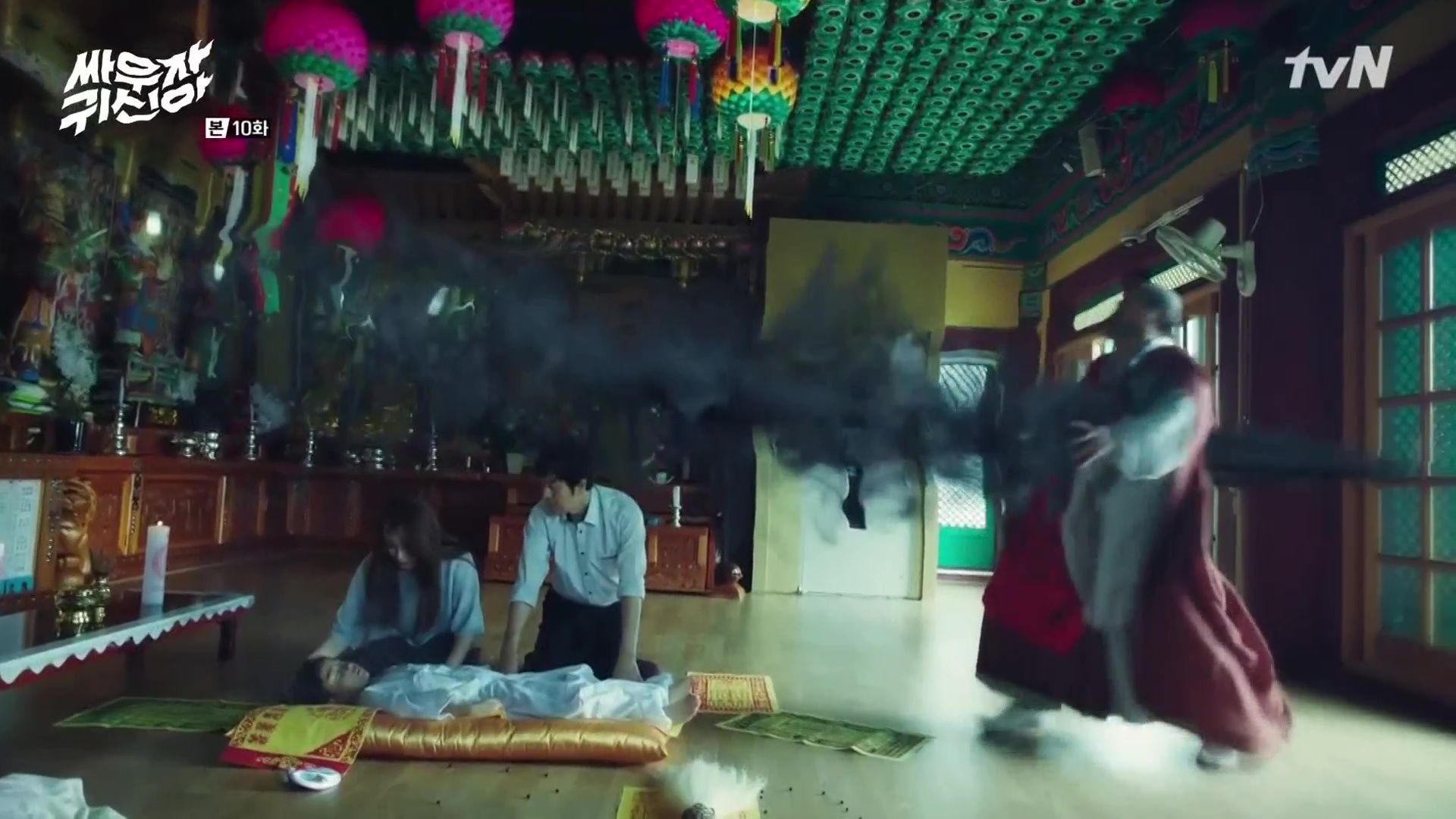 Myung-chul grumbles all the way down the street until he passes a bakery, and the cakes remind him that today is Bong-pal's birthday. He brings a cake back to Bong-pal's place, and lets himself in. He can feel Hyun-ji's presence when he gets close to her, and says that he knows she's here. He asks her to leave Bong-pal alone, for his sake.
He tells her that when Bong-pal was little, an evil spirit went into him, and it was all Myung-chul's fault that he wasn't strong enough to exorcise him. We see young Bong-pal fighting for breath in a temple with his parents hovering over him, and Myung-chul had performed ceremonies over the child to chase out the spirit.
At the culmination of the ceremony, a beaded bracelet on Bong-pal's wrist had broken, and the black mist had swirled up and through Myung-chul. He'd failed to get rid of it completely, and in its anger it had killed Bong-pal's mother.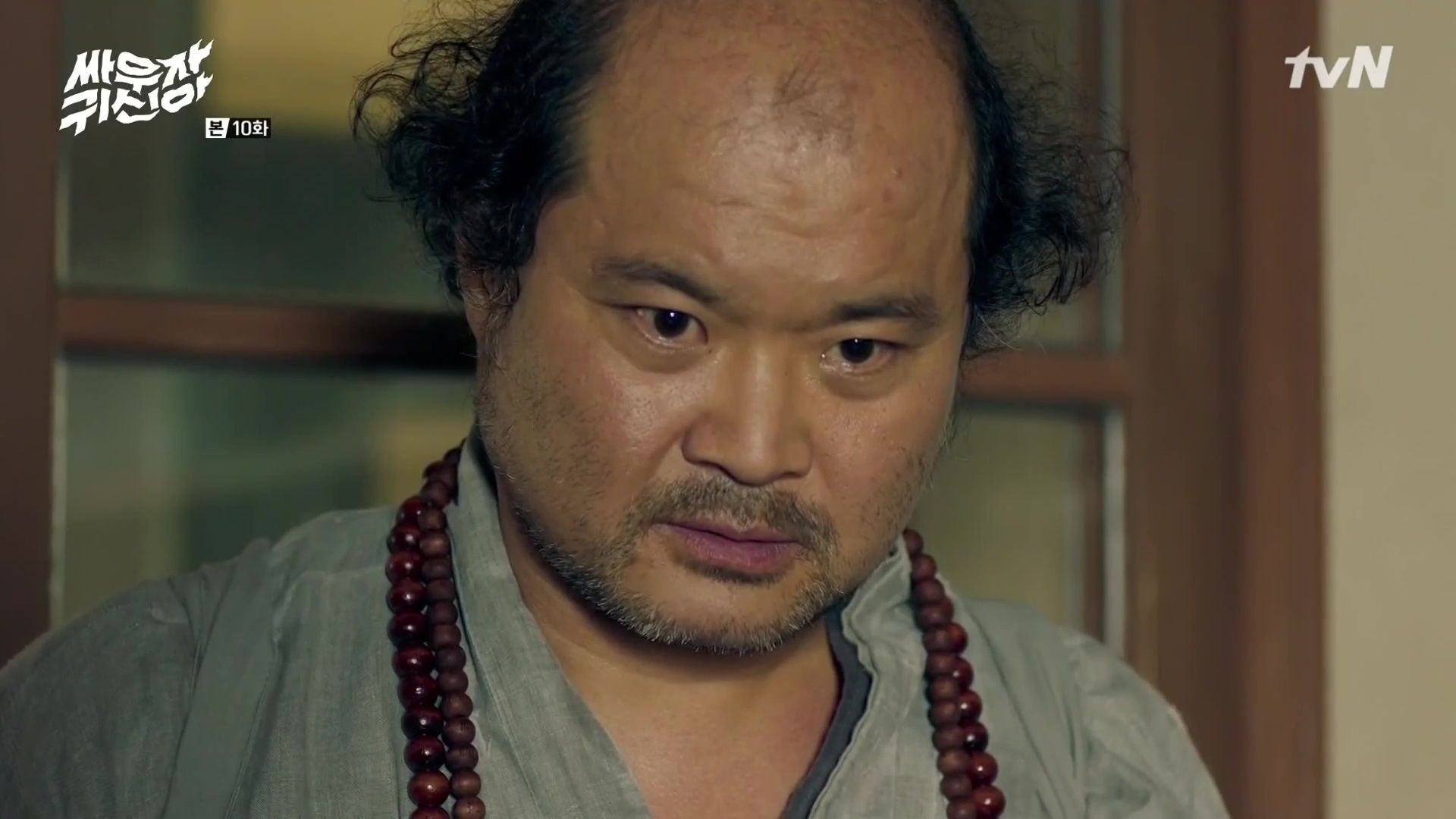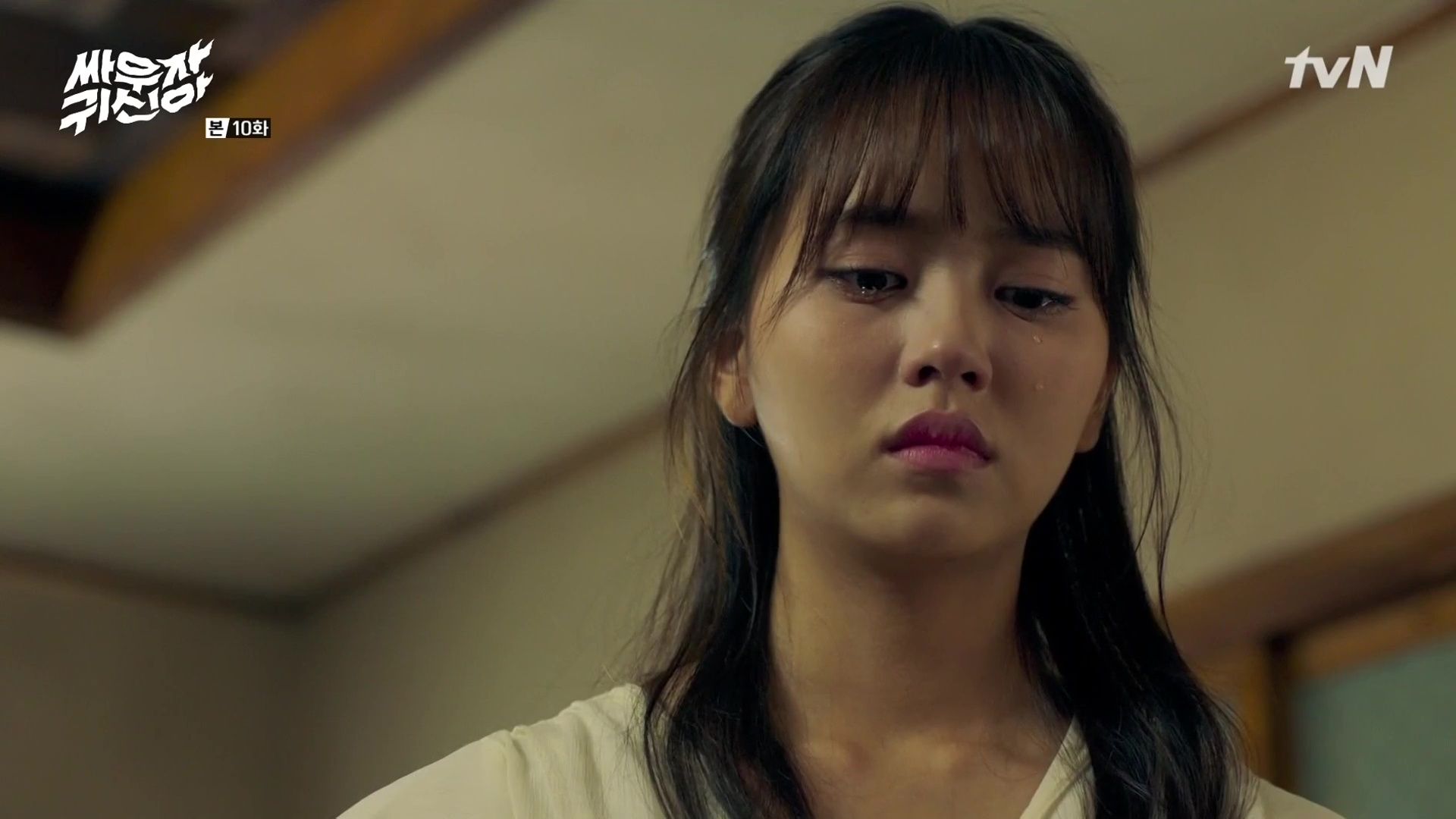 Part of the spirit had remained in Bong-pal's eyes, and left him able to see ghosts. Myung-chul asks Hyun-ji if she really thinks a human can love a ghost, and begs her again to leave him. Hyun-ji listens to every word he says, tears streaming down her face.
Meanwhile Bong-pal gets halfway to school before he turns and runs back home. He goes inside and finds Myung-chul's cake, but Hyun-ji is nowhere to be seen. He finds her on the roof crying, though she pretends that everything is fine.
Bong-pal asks if she saw Myung-chul again, and Hyun-ji chirps that she did but she avoided him. She pouts at him for not telling her it's his birthday, and he says he doesn't usually remember it, so she offers to take him somewhere to celebrate.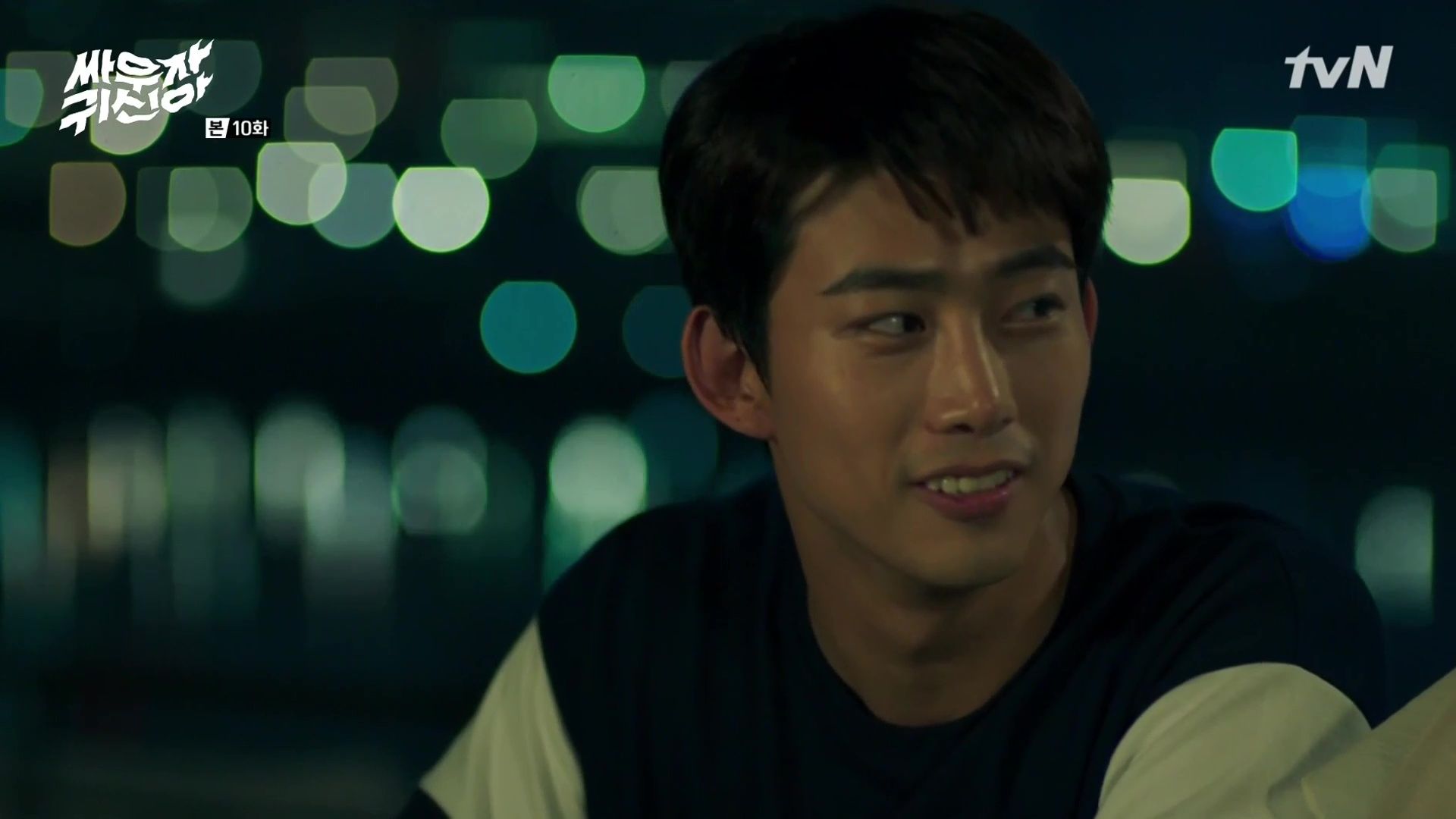 They take a riverboat ride, and Bong-pal sweetly says that it's not his first time on one, but he's glad to be here with her. They go to the upper level to watch the fireworks, and Hyun-ji grows sad as she tells Bong-pal that she wants him to be happy. He says that he's happy enough, and he's even enjoying his birthday for the first time because he can be with her.
She apologizes that she can't really do anything for him, and he says it's all right. He pulls her close and kisses her forehead, and she asks him to get her something to drink. While he's gone, she cries, and just as she sees him coming back for her, she slowly disappears.
Bong-pal goes looking all over the ship for Hyun-ji, but he can't find her anywhere. She watches him from the shore as he grows increasingly frantic, and she just says she's sorry before she changes back to her school uniform, and goes back to where she came from.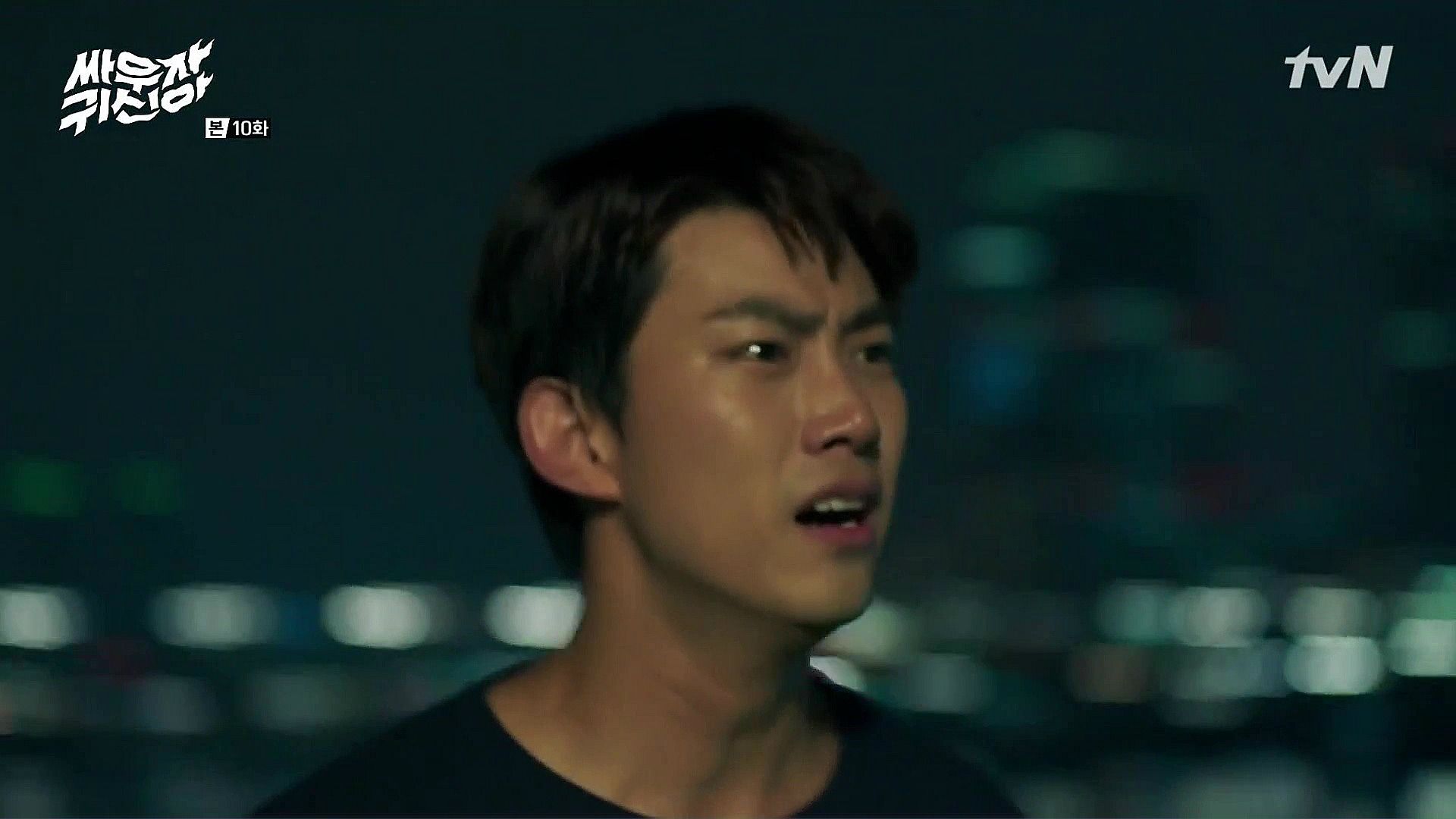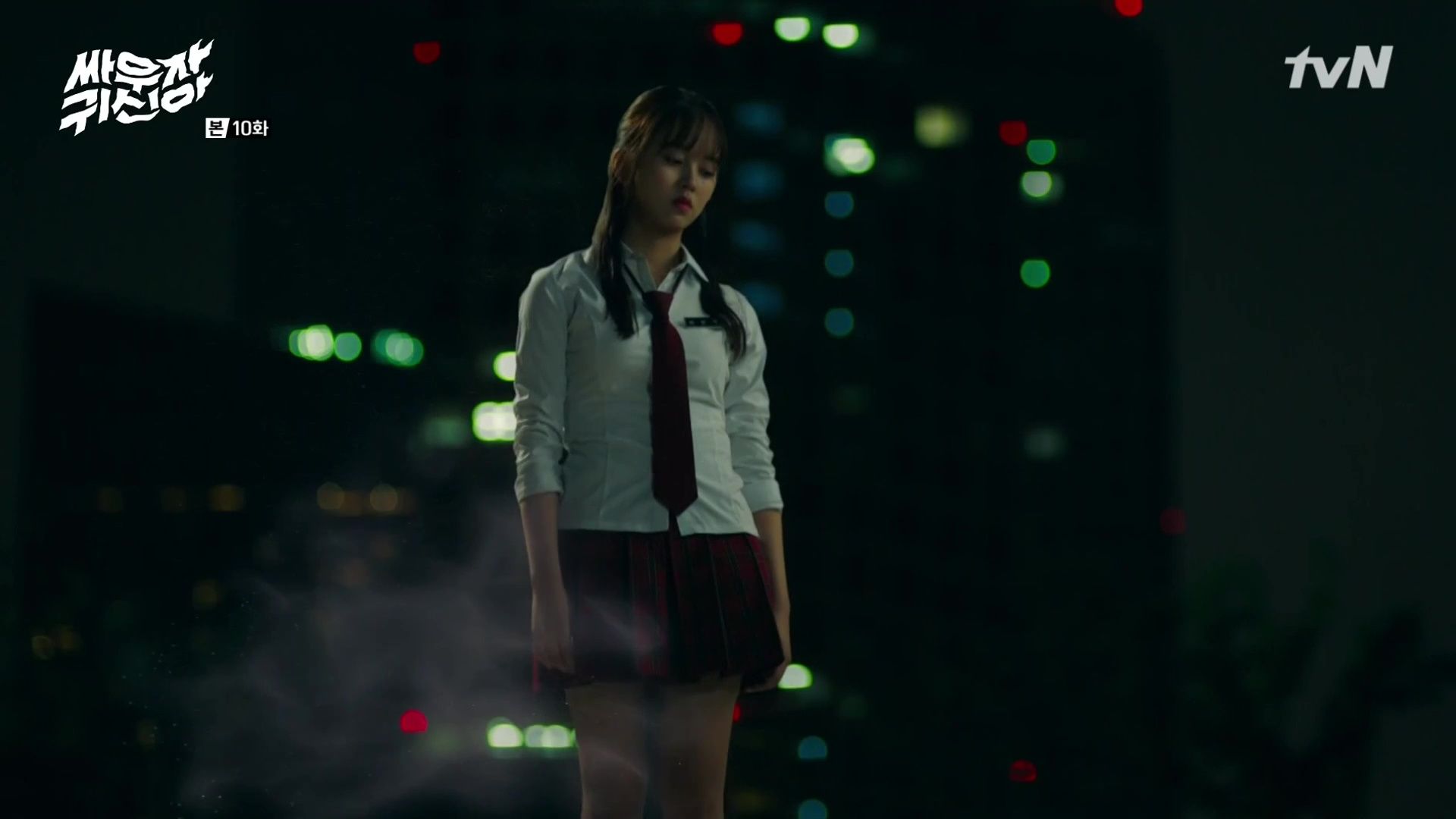 COMMENTS
Oof, I knew it was coming, and I knew it would be Hyun-ji who left Bong-pal. That didn't make it any easier to watch, especially knowing how hard it was for Bong-pal to even open up to her in the first place. For the first time in his life he let someone in, and he lost her so quickly. He's going to be bereft without her, and for the first time I'm not looking forward to the next episode. It's going to be hard to watch.
I've said it before but I'll say it again: What the HELL is going on with Hye-sung?? I swear this is one of the best mysterious characters I've ever seen in a drama billed as a rom-com, and he gives me the heebies every time he's on my screen. I love that we're getting some information on his past, but it's like every tidbit we're given just raises that many more questions. It's obvious that he's a cold-blooded killer, but his disappointment when his mother pushed him away was almost childlike in its vulnerability — whatever happened to him when he was young, he doesn't seem to have matured much past that emotionally. And thinking back on it, his actions do feel like an angry child who's lashing out, hurting whoever hurts him, whether it be human or animal. It's so great that we can't guess easily what's going on with him, though the guessing is so much fun.
I thought that Hyun-min and Soo-kyung's love story was such a lovely little vignette, and a beautiful reminder that you should appreciate and savor the love you have while you have it. There's no guarantee that it will last, and it was such a bittersweet lesson that all the while Hyun-min was scared of dying, it was Soo-kyung who only had a little bit of time left. She was the one telling him to live life to the fullest while you can, and she did, every single moment. So while her death was a tragedy, and it's understandable that Hyun-min would think that he caused her accident, it would be even worse for Hyun-min to try to follow her into death. The one thing she wanted for him was that he live and be happy, so much that even after her own life is over, she can't move on until she knows that he will be all right without her.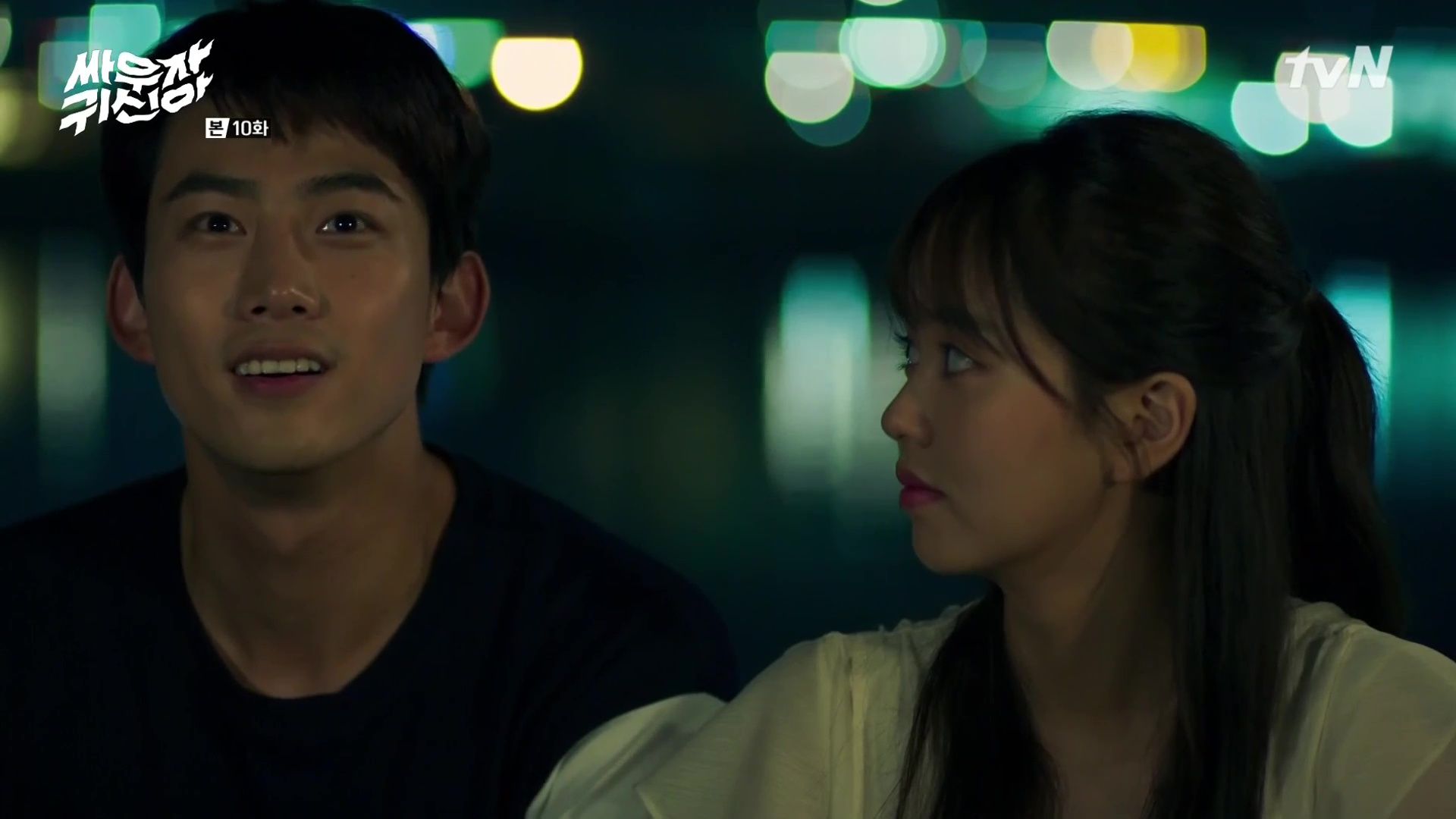 It dovetails into Bong-pal and Hyun-ji's budding romance so nicely — they may not be a conventional couple, but there's no telling how much time they have together, so if they've found love they should treasure it while they can. But it makes sense that if they want to avoid pain and heartache, now is the time to bring things to a halt, before either of them is too far gone in love that their inevitable separation causes permanent damage. Being a ghost, Hyun-ji knows more than anyone that she could be gone at any moment, and her repeated fading incidents are frightening on multiple levels. So for as she knows,they could mean that her time on this world is coming to an end, and she wouldn't want to hurt Bong-pal more than necessary when she leaves. Seeing Hyun-min torn to pieces and suicidal over the loss of his love hit hard, and Hyun-ji is a gentle and loving girl… she won't want Bong-pal to suffer through that if she has to leave.
I don't usually like the separation part of any drama (who does?) but in this case, I think it's necessary for Bong-pal and Hyun-ji. Their relationship is way left of normal, and as adorable as they are together, it' s not realistic for them to truly be together. They can never get married, have a family, or grow old together – hell, they can't even go on a date without people thinking Bong-pal's lost his marbles. They really have no future together, as much as they both may want it, and Myung-chul's reaction drove that home hard for Hyun-ji. So it makes sense for the break to come from Hyun-ji, knowing what she knows now about Bong-pal's past and why he can even see her in the first place. In her mind she's leaving him as Myung-chul said, for his own good, and for once there's no noble idiot here. Just a girl who loves a boy, who has a very good reason that they can't be together, and who loves him enough to let him go.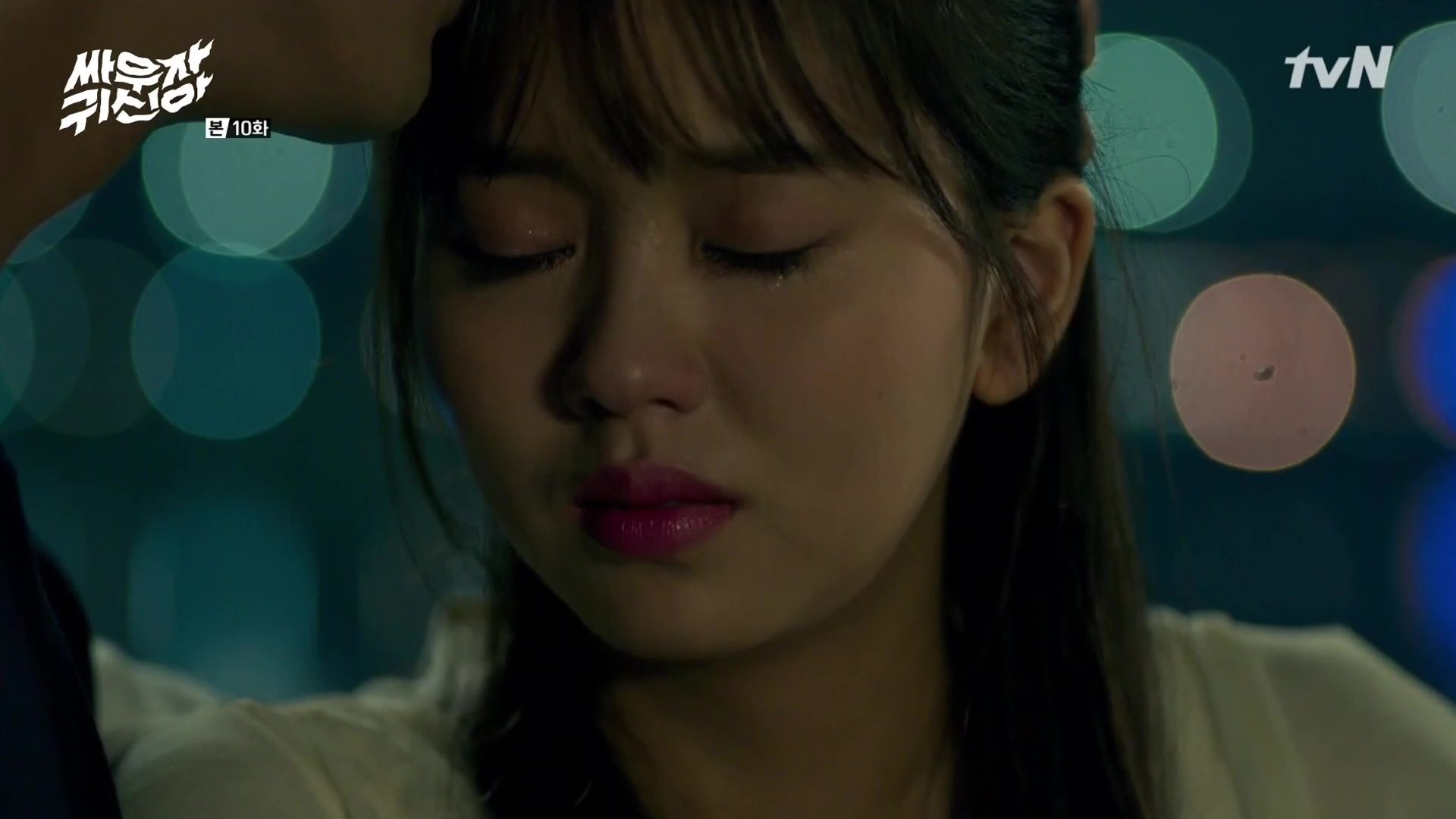 RELATED POSTS
Tags: Bring It On Ghost, featured, Kim So-hyun, Kwon Yul, Taecyeon