Bring It On, Ghost: Episode 15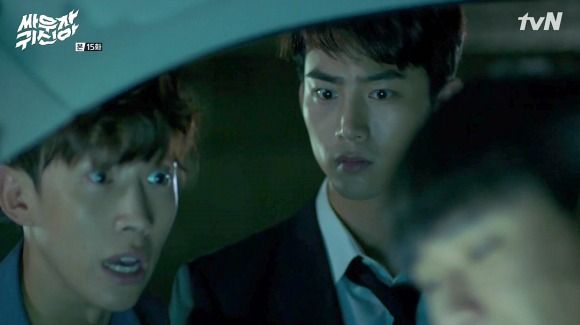 For Bong-pal to fight the Big Bad, he's going to need to know all of the secrets of his past. The race is on to save Hyun-ji's life and vanquish evil, and so much happens in this episode it nearly gave me whiplash. Learningwhat makes the demon tick and why he's been searching all these years is only the first step, and it's going to take the whole team working together to bring him down for good.
EPISODE 15 RECAP
Bong-pal hears everything from monk Myung-chul — that Hye-sung is possessed by the same evil spirit that once possessed Bong-pal, killed his mother, and now has also killed his father. At the same time, Hye-sung gives Hyun-ji tea laced with something that makes her dizzy, and she tries to stumble her way to the restroom.
When Bong-pal learns that Hyun-ji is the last person who had the ritual tool needed to banish Hye-sung's demon, he remembers that it was broken during his exorcism. But Myung-chul says that Bong-pal's mother made a new one, that she in fact had great spiritual powers.
She had refused to use those powers to accept any spirits, though, because she was pregnant with Bong-pal and wanted to raise him like a normal child. One of the spirits she refused grew angry, and so it eventually possessed Bong-pal, and now Hye-sung.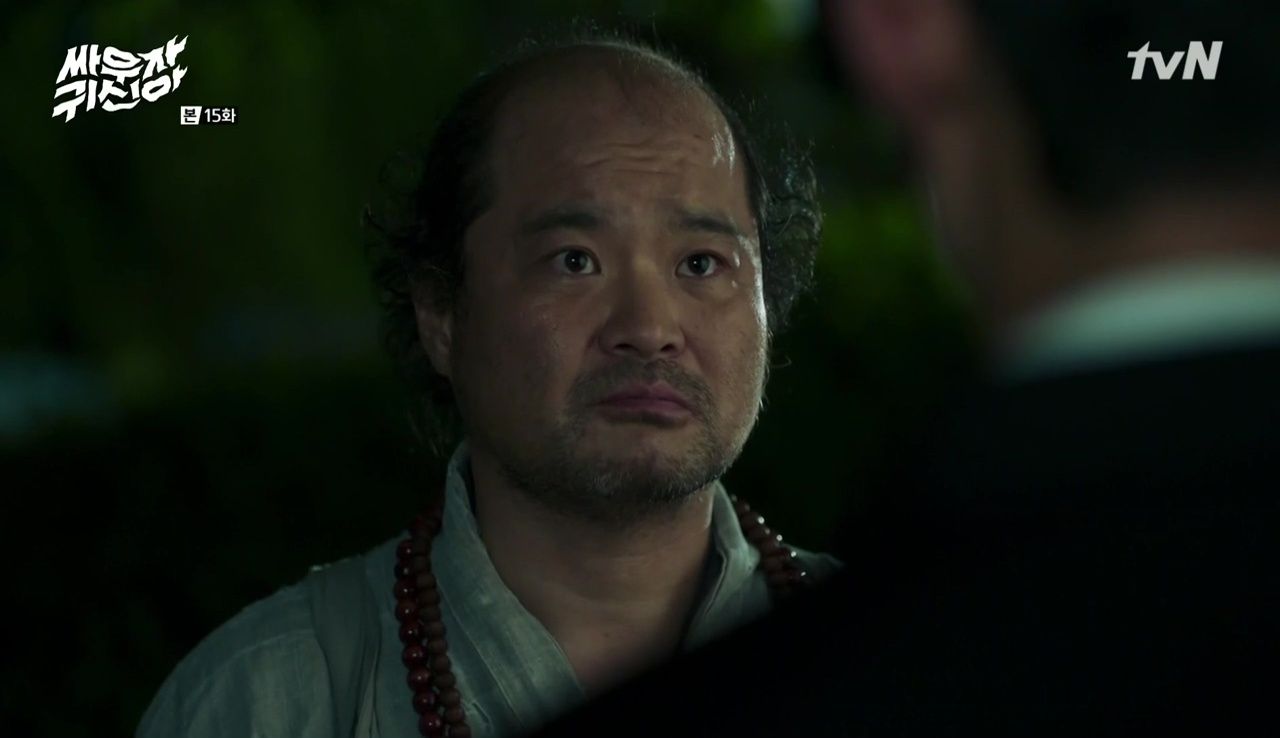 Myung-chul explains how Bong-pal's father gave Hyun-ji the ritual tool, but she was struck by the car before she could find Bong-pal and give it to him. The tool was lost, and the spirit began hunting Bong-pal's father again.
Bong-pal blames himself for all of this evil happening to his loved ones, but Myung-chul says that it's not his fault. Bong-pal just turns to go, bent on seeing Hyun-ji. On the way, he tries to call her, but Hye-sung has her phone and he turns it off. That worries Bong-pal, and he breaks into a run.
Hyun-ji succumbs to whatever Hye-sung put in her drink, and she collapses in the hallway. She claws at her throat, and accidentally loses the necklace that Bong-pal gave to her. Hye-sung hovers over her menacingly, and he reaches out to push the hair off her face.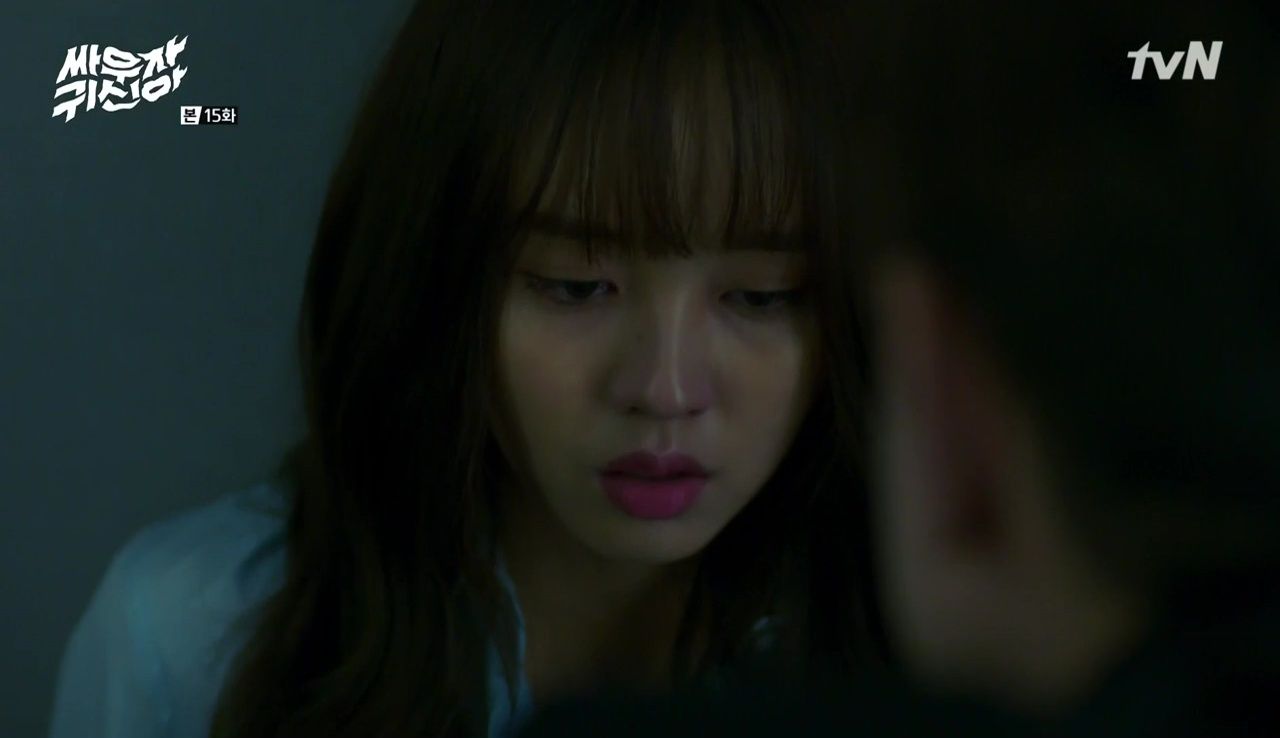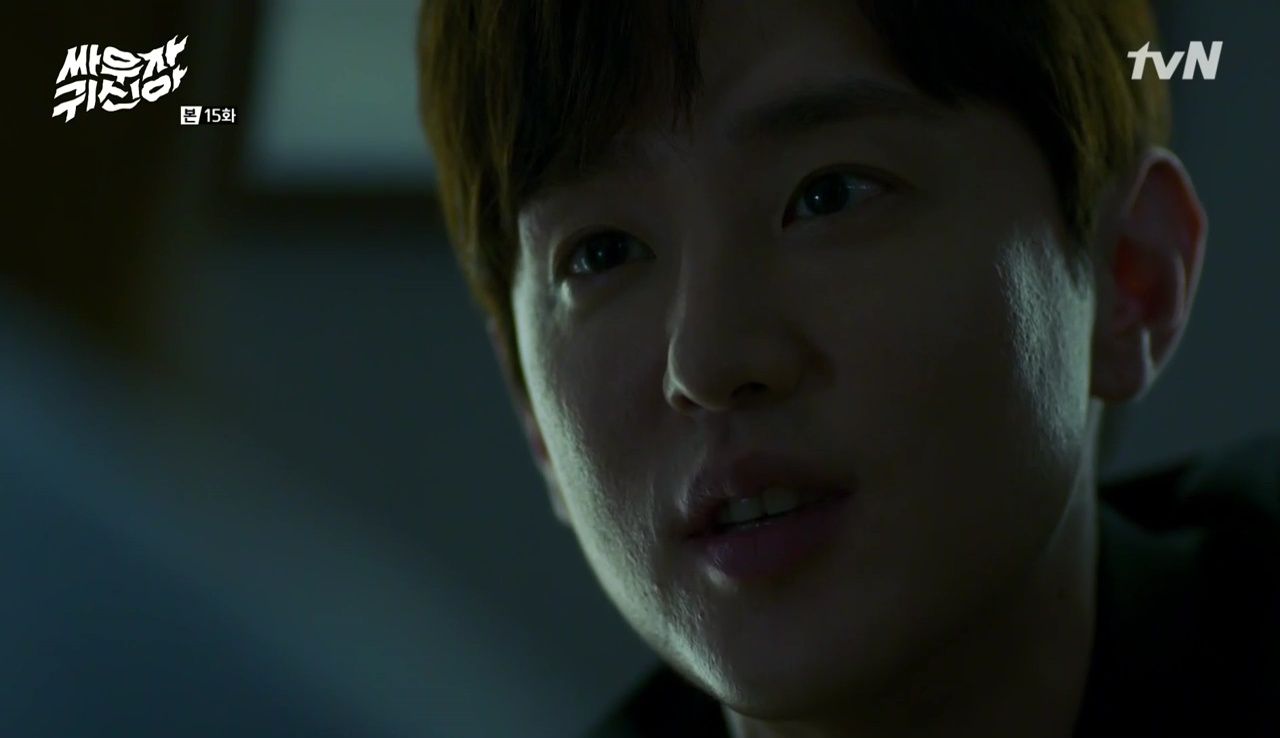 His ticking watch near her ear triggers her memory of the day of her accident, when someone had touched her the same way, wearing a loud watch. Hyun-ji recognizes Hye-sung's voice now, then suddenly recalls seeing the car just before it hit her.
Hyun-ji looks up at Hye-sung in realization, and asks him why. He knows she remembers now, and reminds her softly that he told her to forget all the bad memories. Hyun-ji's fingers find her necklace on the floor, and she breathes Bong-pal's name just before passing out.
Chun-sang and In-rang stake out the clinic, since Myung-chul asked them to keep an eye on Hye-sung. They spend most of their time bickering, but In-rang spots Hye-sung loading something into his car. The boys follow him when he drives away.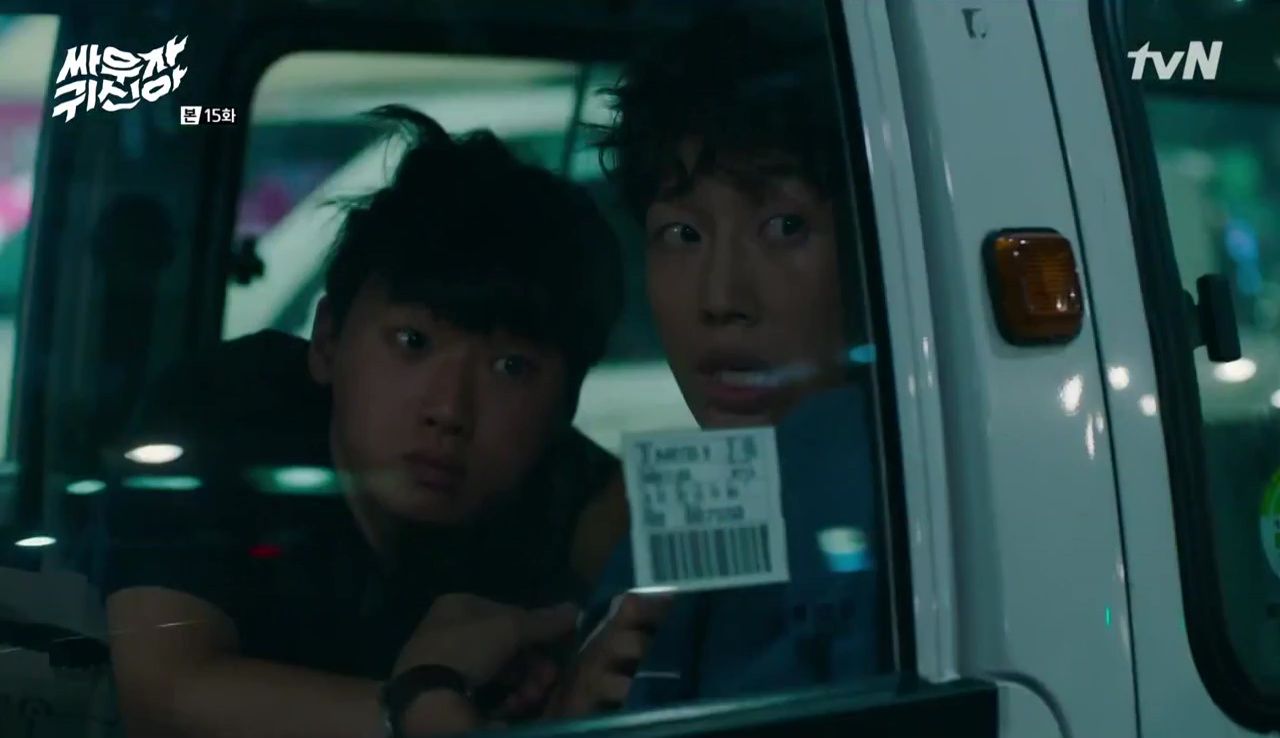 Bong-pal first goes to Hyun-ji's house, but her mother tells him that she hasn't come home. He runs to the clinic on foot, but it's locked up tight. He throws heavy rocks until one shatters the glass door, and runs downstairs looking for Hyun-ji. She's gone, but he finds her abandoned necklace on the floor and knows that she was here.
The police arrive and Bong-pal tells Detective Yang what's happened, and Yang tells Bong-pal to go home and rest while they investigate. Myung-chul arrives, and all Bong-pal can say is that the demon has Hyun-ji.
The police determine that Hye-sung definitely planned this out in advance — he gave his nurses their vacation days, and his phone is turned off. Detective Yang issues an all-points bulletin for Hye-sung's car, and orders the DNA found on Bong-pal's father to be compared to Hye-sung's DNA.
The police notify Hyun-ji's mother that her daughter is missing, and then they visit Hye-sung's mother to see if she knows anything.
Hye-sung drives a bound and gagged Hyun-ji to an empty parking garage, with Chun-sang and In-rang keeping a close tail on him. He changes cars, and now In-rang realizes that it's Hyun-ji he's transporting. Hye-sung seems to hear the boys whispering, and starts to stalk towards their hiding place.
Luckily, a security guard asks what he's doing, and Hye-sung heads back to his car. The guard complains that the car has been there for several days, then turns his light into the car and spots Hyun-ji lying there unconscious. He tries to walk away without arousing Hye-sung's suspicion (and presumably call for help), but it's too late.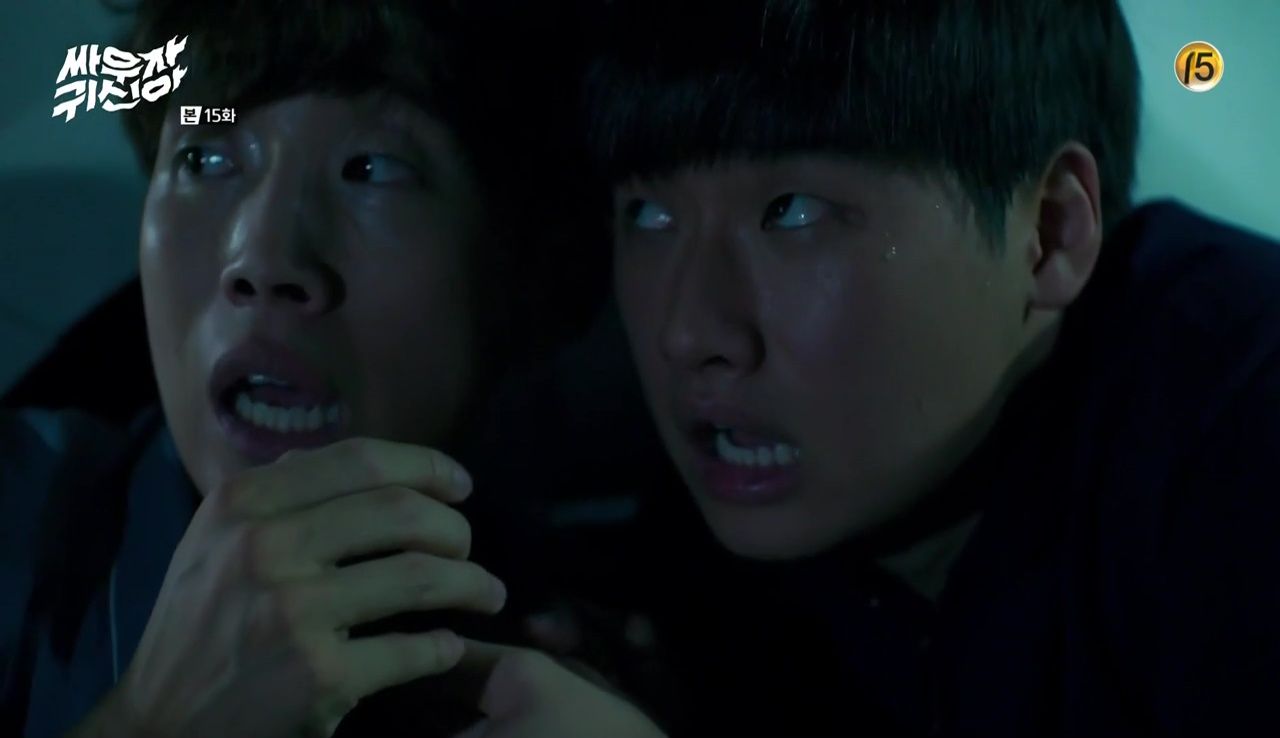 Hye-sung grabs the guard by the throat and throws him violently at the car that the boys are hiding behind. They manage to keep silent, even when Hye-sung approaches the car again. Lucky for them, he decides to get out of there without investigating further. The boys rush to their car as soon as the coast is clear, but their battered old van chooses this moment to die.
Myung-chul reassures Bong-pal that Hyun-ji is safe for now — Hye-sung won't hurt her until he finds the ritual tools. Bong-pal asks why he wants them so badly, and Myung-chul says that he has to destroy them in order to possess Bong-pal. Bong-pal inherited his mother's strong shamanistic powers, and Hye-sung wants to control his body for those powers.
In-rang calls Bong-pal, who bolts upright and tells the detectives where they saw Hye-sung and Hyun-ji. Of course the CCTV in the parking garage is broken, and the boys didn't see Hye-sung's license plate clearly. Detective Yang figures Hye-sung has this completely planned out, and orders his call records and CCTV footage at the clinic investigated.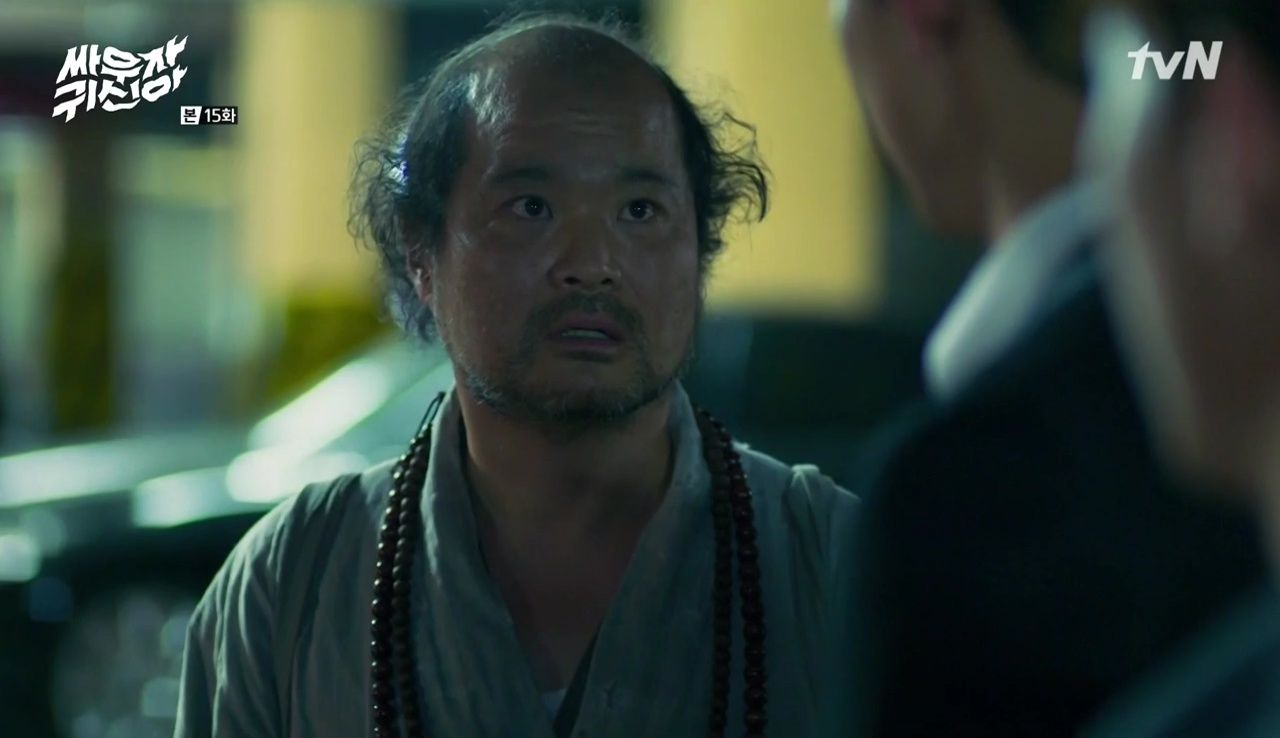 Myung-chul tries to convince Bong-pal to go home and rest, but Bong-pal isn't interested. He doesn't know how he'll find Hyun-ji, but he refuses to sit back and wait. Myung-chul points out that Bong-pal is in great danger from the evil spirit, but Bong-pal says that so is Hyun-ji, and that he should do something since this all happened to her because of him.
Chun-sang and In-rang decide to go with Bong-pal, and Myung-chul realizes that he's been outnumbered. He heads back to the police station, and sighs at the board listing all of Hye-sung's victims. Detective Kim reports that Hye-sung's car has been sighted, and is being tracked.
Hye-sung's mother is led into the station, and she nearly breaks when she sees the board with the list of her son's victims. Detective Yang asks for her help, and she answers his questions the best she can. From a nearby seat, Myung-chul listens intently.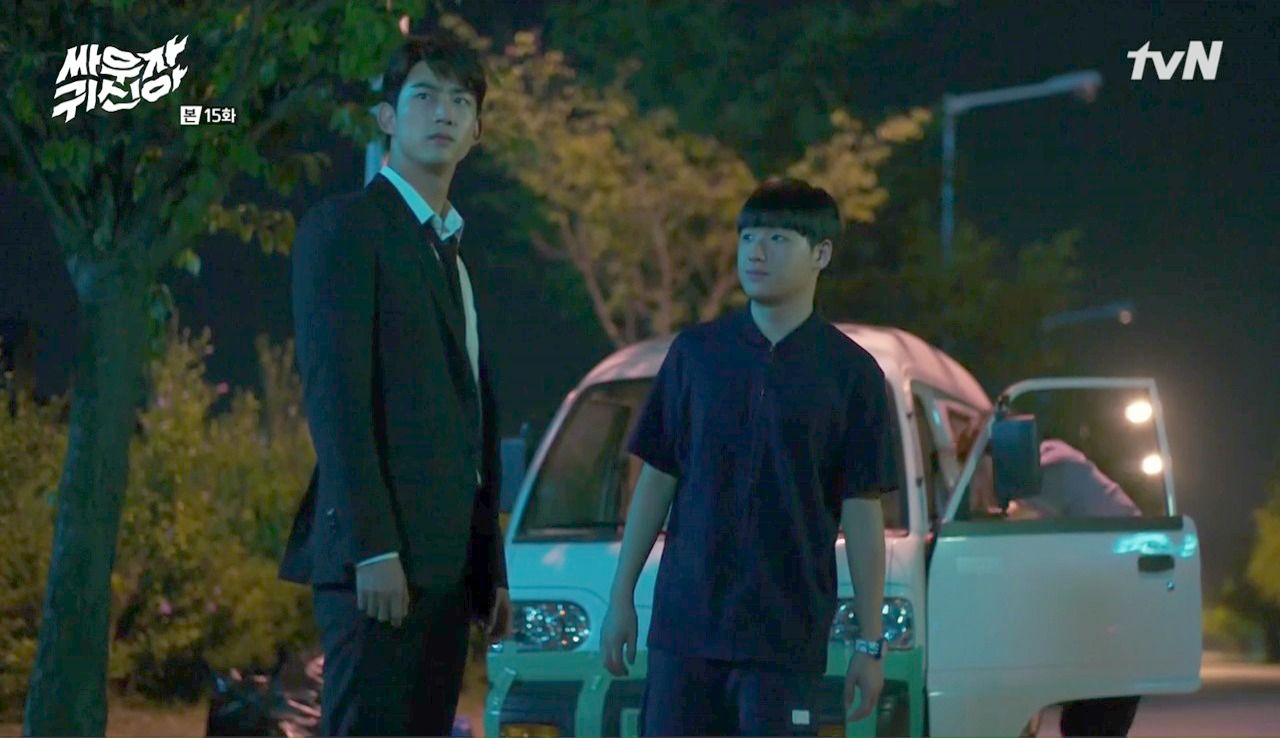 Bong-pal tells In-rang that Hye-sung is looking for something that Hyun-ji once had, and that she was bringing it to Bong-pal when she had her accident. So, he figures, that means the thing must be in Seoul. If so, then coming way out here to change cars was an attempt to distract them, and make them think he was leaving the city.
Sure enough, Hye-sung is heading back into town with Hyun-ji still unconscious in his back seat. Chun-sang gets the van running again, and In-rang has a sudden epiphany. He grabs his laptop and climbs into the van Hye-sung abandoned, and hacks into the van's GPS to find the places Hye-sung has searched recently. This kid is brilliant.
It takes In-rang less than a minute to discover where Hye-sung must be going, and he beams at Chun-sang, who asks, "Who are you, really??" HAHA. They discover that Hye-sung is headed to a closed-down shopping center, and rush to the location.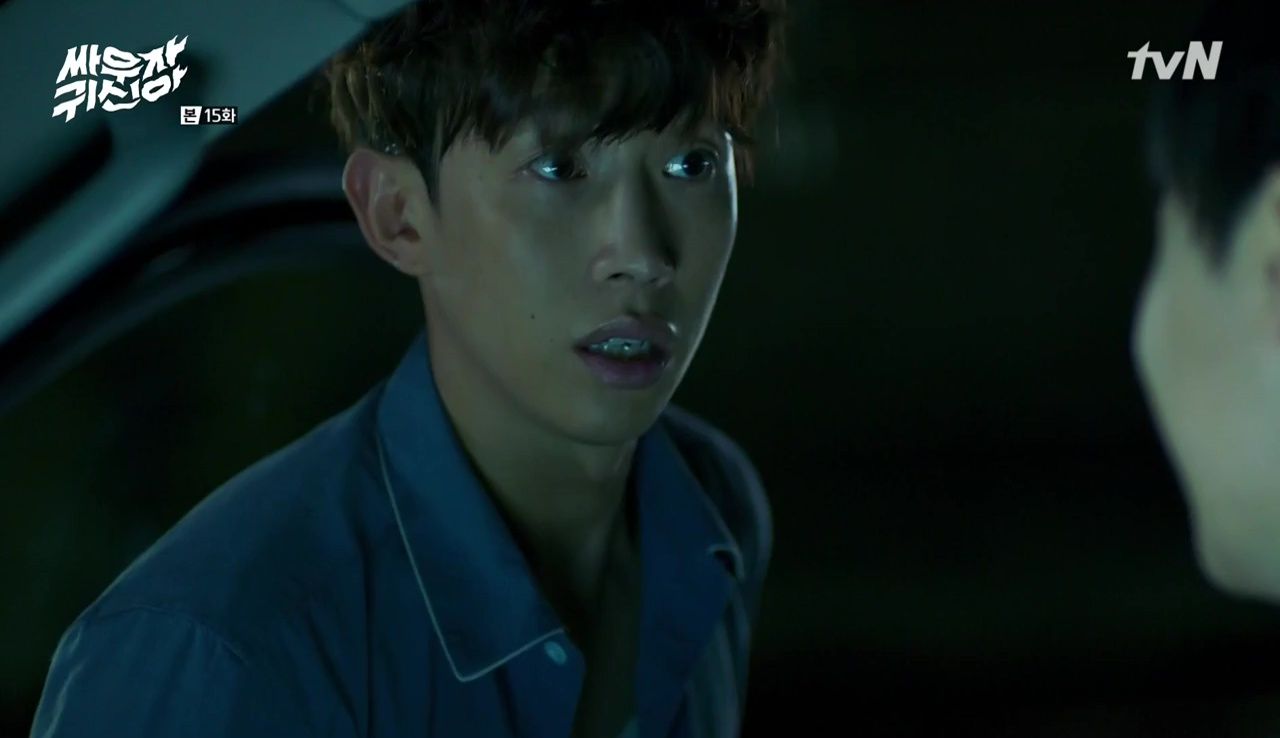 Hye-sung's mother is visibly shaken by the time they finish questioning her, but she insists on getting herself home. Myung-chul follows her out and asks if he can talk to her for a moment. They relocate to a coffee shop, where Myung-chul says that he has some questions the detectives wouldn't think to ask.
He asks gently, "When did your son change?" He tells her that he knows there's an evil spirit in Hye-sung, and asks when it started. Hye-sung's mother seems to wilt, then says that it's all her fault.
We see the day that Hye-sung's father died, but this time we enter the scene while he's still alive. He'd been beating young Hye-sung, and his mother had rushed in to grab her husband's arm and yell at Hye-sung to run. The boy had fled the apartment, and his father had turned his wrath onto his wife.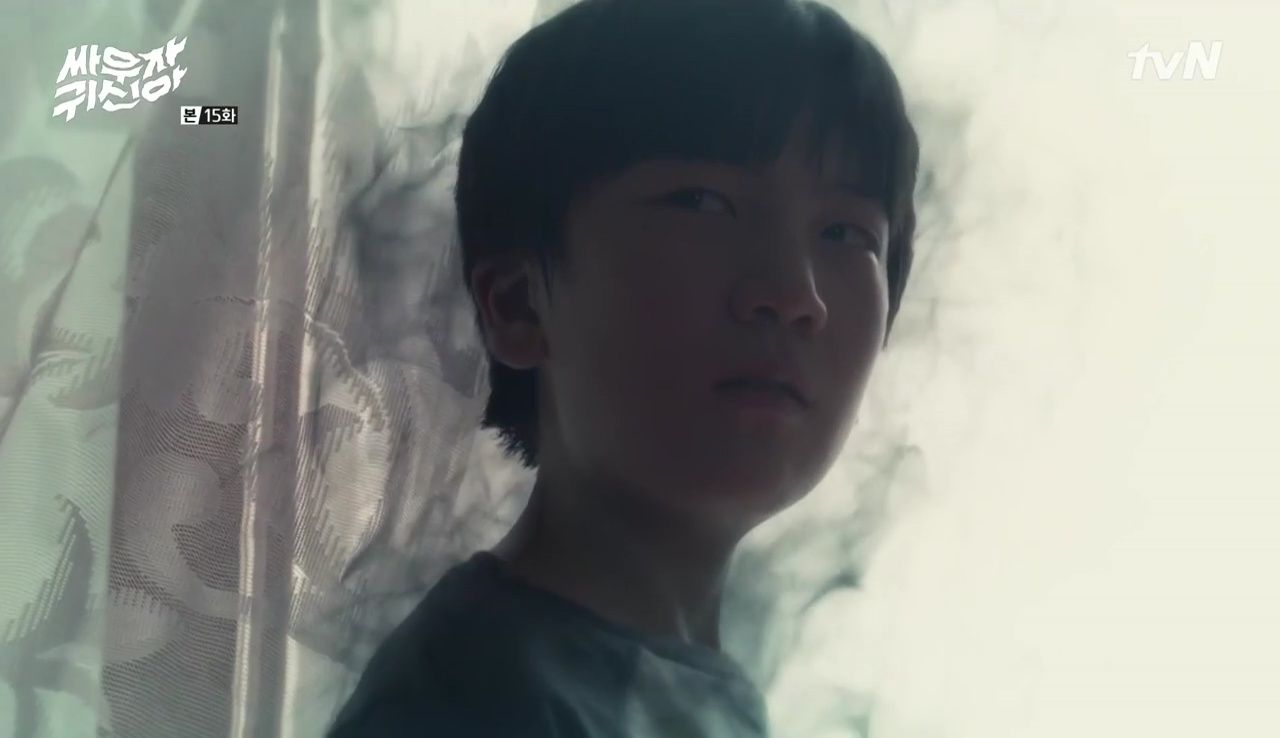 That was when the evil spirit found Hye-sung crying on the pavement, and had offered its help. Hye-sung had refused, but the spirit's sinister whisper that it could help him save his mother had gotten the boy's attention.
He'd gone back upstairs and seen his mother's new bruises, and his father smoking by the open balcony. The spirit had whispered urgently, "Kill, him, kill him, KILL HIM!" and a black mist had burst from Hye-sung as he pushed his father over the railing. His mother saw him do it, and the black mist, and knew that her son had changed.
Soon after, Hye-sung had come home to find the apartment cleaned out, and his mother gone. The police had found her, and though she clearly felt uncomfortable around her son, she'd taken him back in.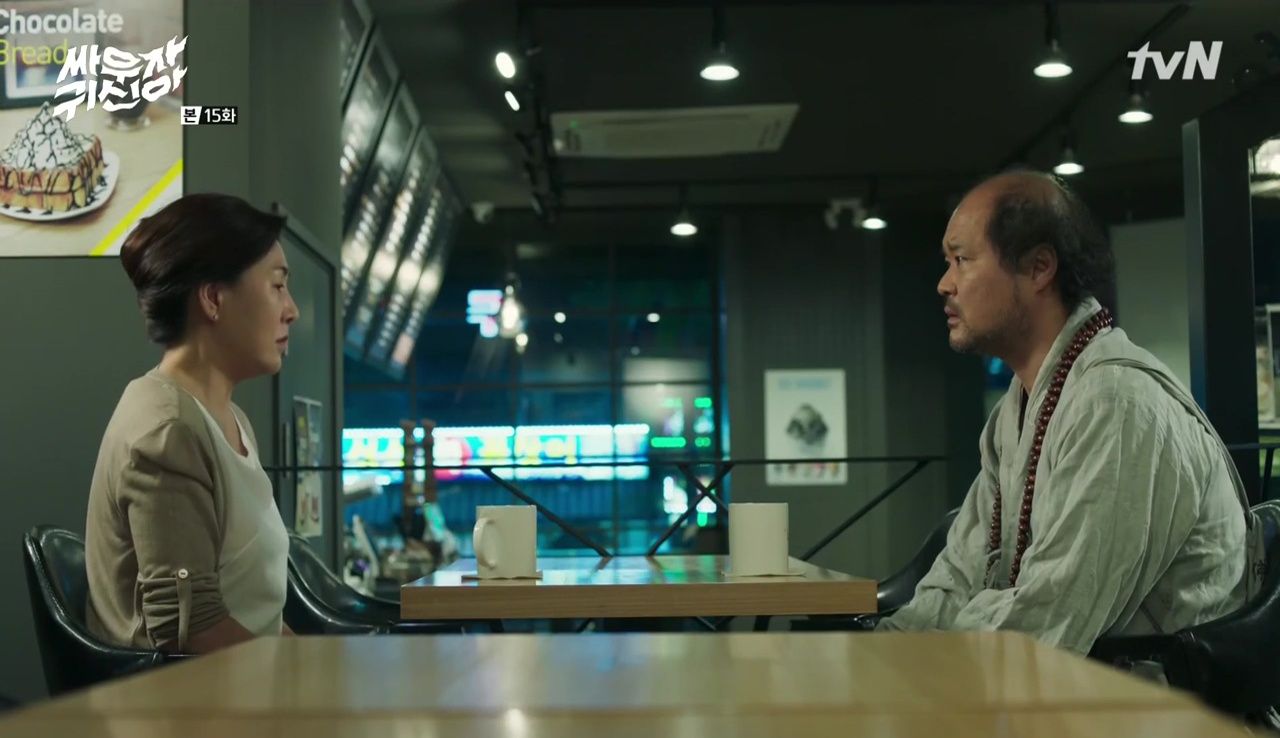 Now she tells Myung-chul that Hye-sung had changed since then. He went to boarding school soon after, and he and his mother had drifted apart. She blames herself for this happening, because she couldn't do more to protect him.
It's morning by the time the boys make it back to Seoul, and Hye-sung has Hyun-ji tied up in a room of the abandoned mall. In her drug-induced sleep, Hyun-ji remembers more of the day of her accident.
Her mother had packed too heavily for a visit to her uncle, so Hyun-ji had rented a locker in the subway station and stowed much of it away. One of the items had been the bag of ritual tools that Bong-pal's father had given to her.
She wakes to find herself tied up, and Hye-sung waiting patiently. She asks why he's doing this, seeming more angry than scared — that's my girl. Hye-sung just says that she'd know if she'd gotten all her memories back, and he tells her not to resent him. She should resent the one who gave her that item in the first place.
With a creepy smile, Hye-sung tells Hyun-ji that without those people, the two of them would never have met. He asks if she's scared of him and Hyun-ji says no, that he doesn't scare her one bit. Hye-sung says that's good, because the only thing worse than being scared, is getting caught being scared.
For just a moment he lets Hyun-ji see the demon inside of him, and good lord it's terrifying. Hyun-ji asks what he is, because he can't be human, and Hye-sung asks what she thinks — what he is, depends on her answer.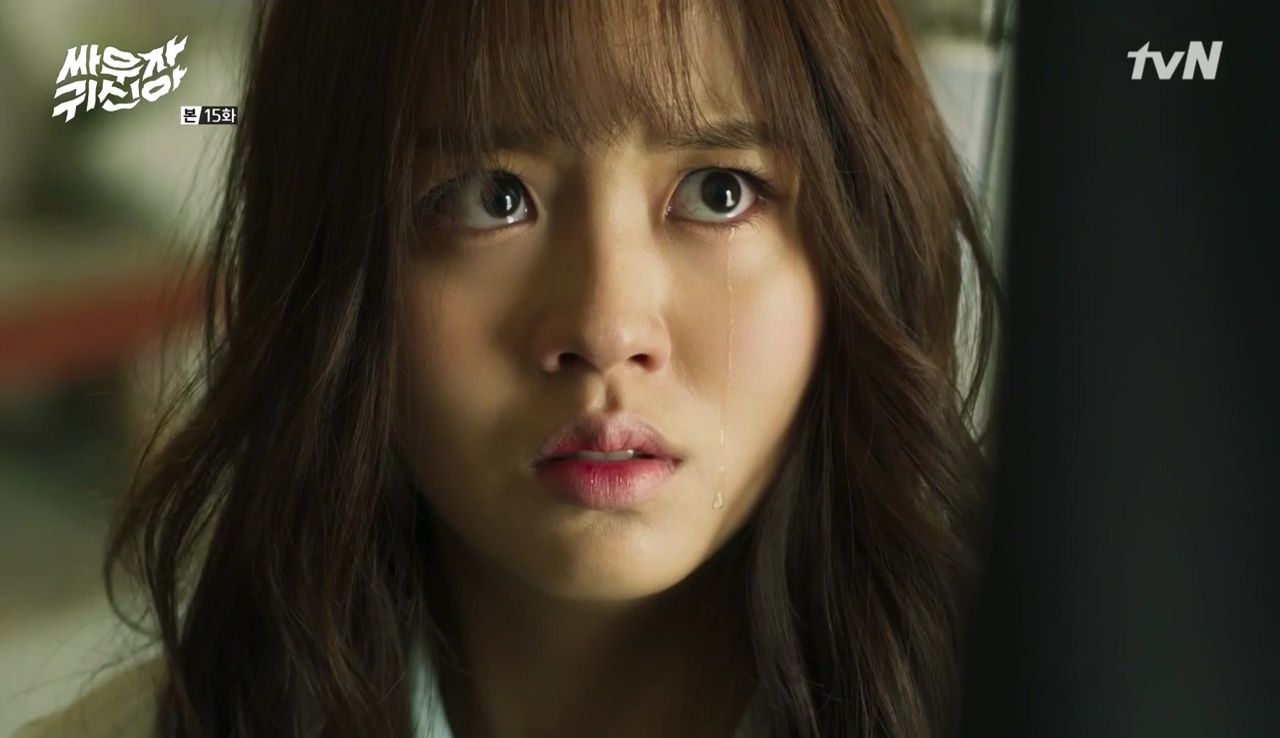 He leans in very close and asks where "it" is, but Hyun-ji remembers Myung-chul telling her that it's something very important to Bong-pal. Hye-sung assumes she doesn't remember, and offers to "help." He puts her phone to her ear, and her mother answers.
Hye-sung only gives them a couple of seconds to recognize each other's voices before he hangs up again. He asks Hyun-ji if she remembers now, and says that she'd better, or those she loves will die. Hyun-ji jumps out of her chair, but Hye-sung backhands her and she falls to the ground.
The boys arrive but the mall is huge, and they have no idea where to start looking. Hye-sung watches them through the window, and Hyun-ji takes advantage of his momentary distraction to grab her phone and type something into the text field.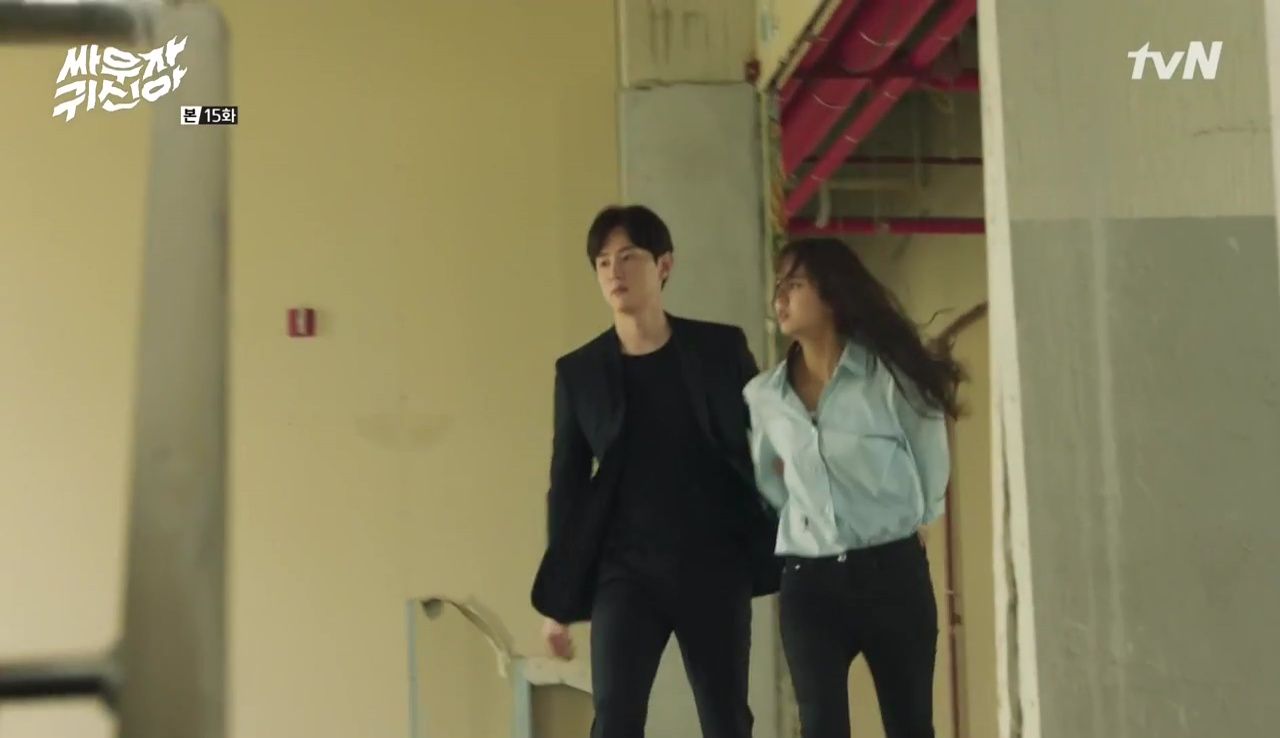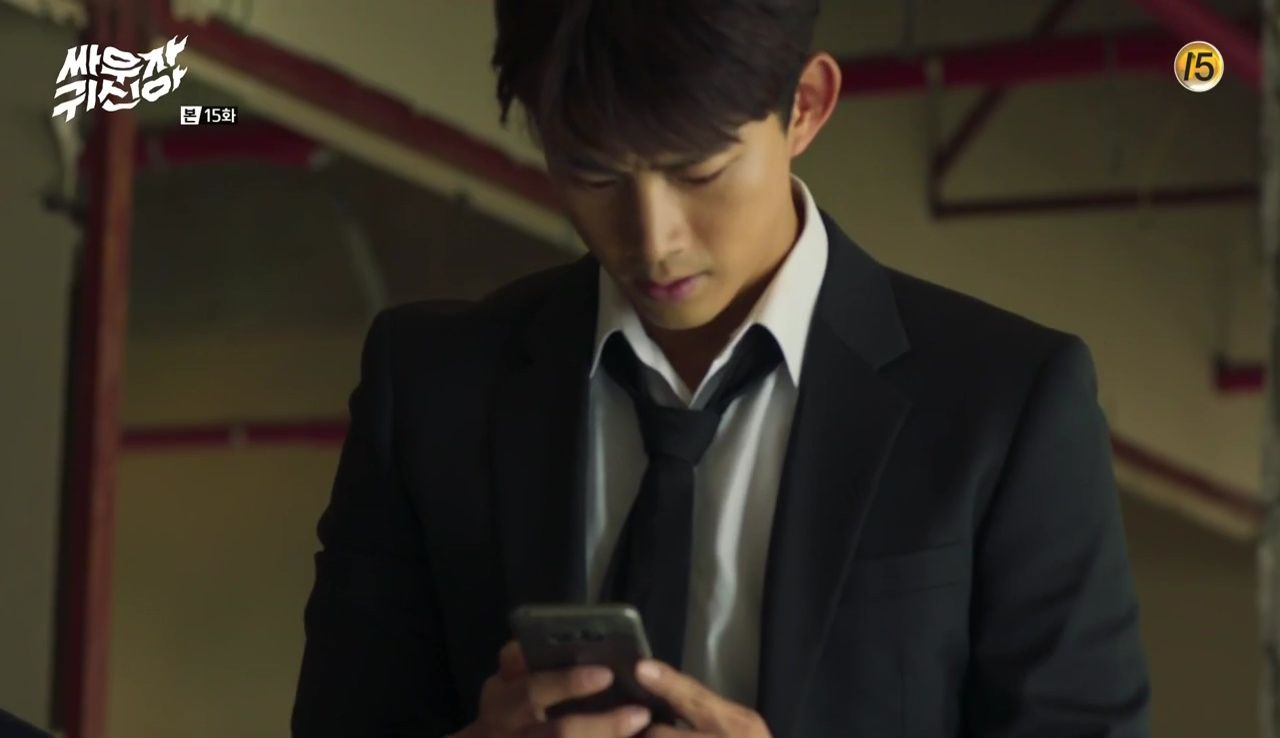 Bong-pal spots Hye-sung and the boys run upstairs, so Hye-sung grabs Hyun-ji off the floor and leaves the room. Bong-pal finds the room they were in and picks up Hyun-ji's phone, and sees that she'd typed the name of the subway station where she hid the ritual tools.
Myung-chul goes to see his shaman friend and tell her Hye-sung's whole story. His feelings towards his father allowed the evil spirit in, and by now there's almost certainly nothing left of the original Hye-sung.
Myung-chul retrieves his ritual sword from the shaman, who's etched talismans onto the entire blade. She warns Myung-chul that he may not be strong enough to control the powerful spirits contained in the sword, but he just fondly calls her a nag and says that he has to finish the job he started eighteen years ago. If he doesn't kill the spirit, Bong-pal will be in great danger.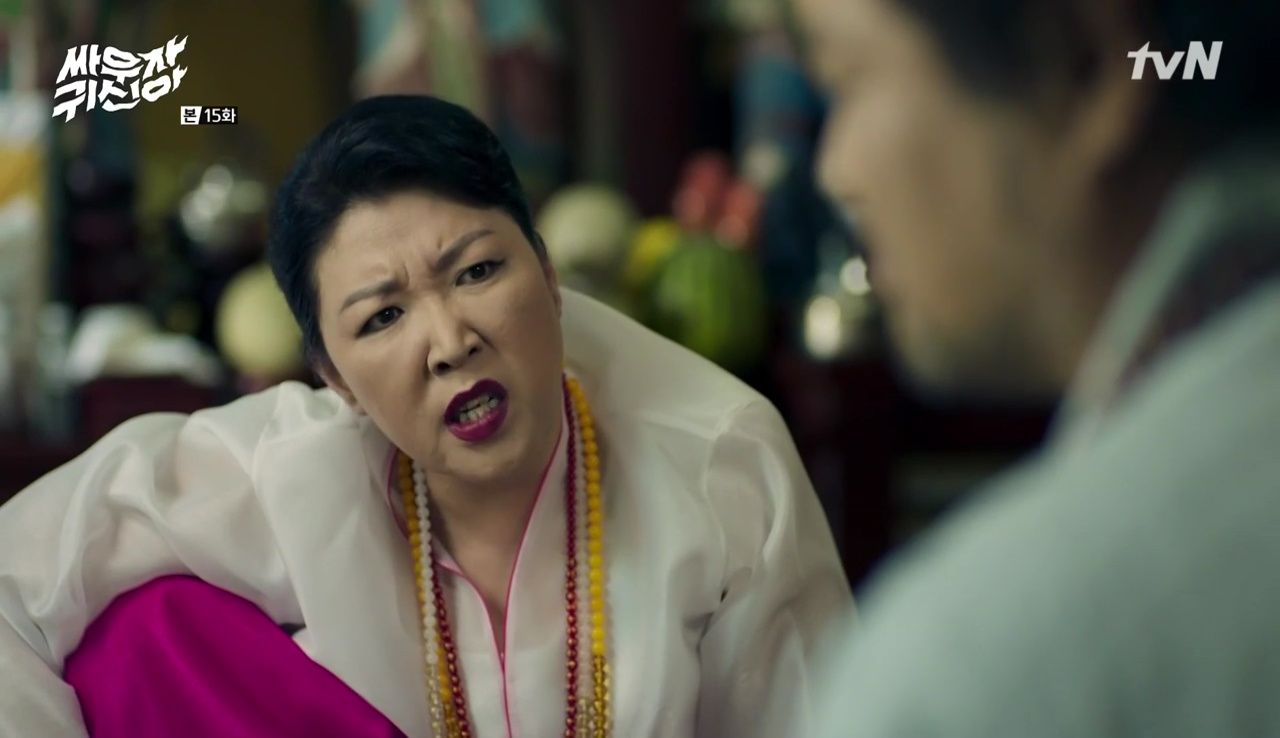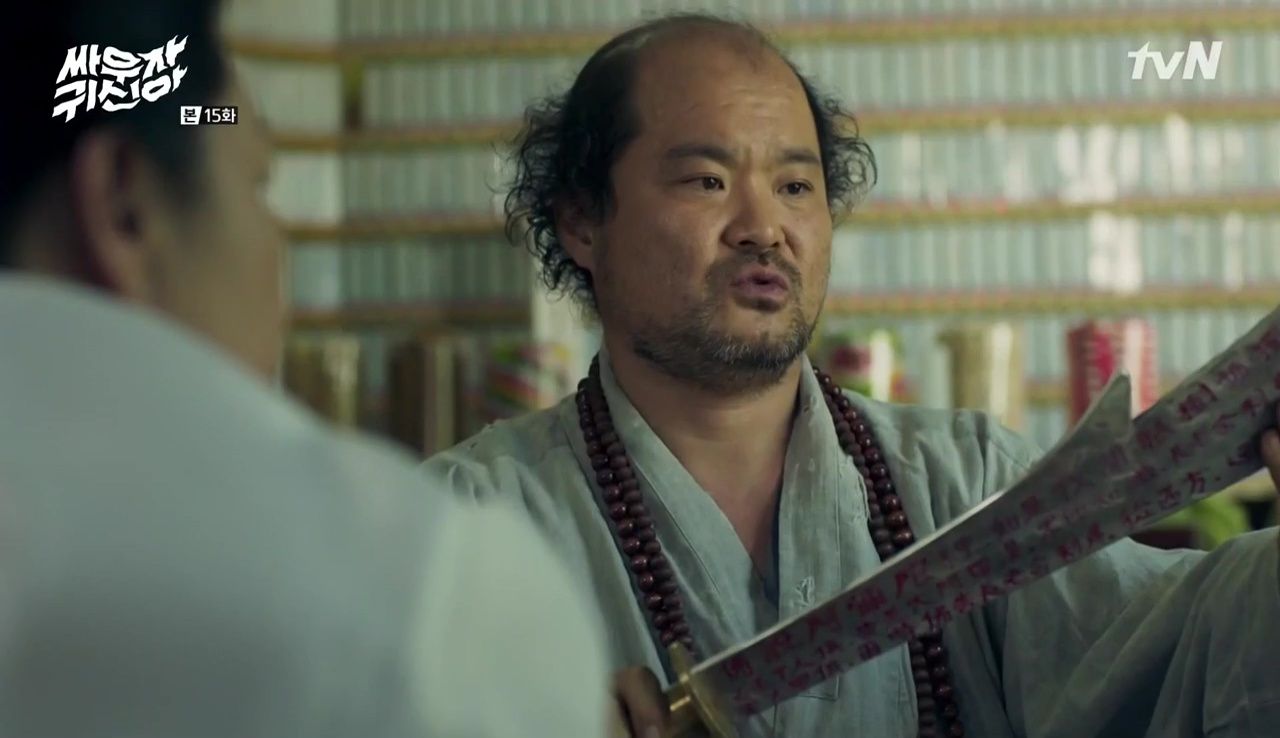 Hye-sung managed to get Hyun-ji out of the mall before the police had arrived, and he drives her to the subway station. He unties her hands and warns her not to do anything stupid, or her mother dies. They descend into the underground station, just before Bong-pal and the boys pull up.
Myung-chul meets Bong-pal and the boys here, and confirms that they called the police. He wants to go in alone, but Bong-pal is determined to do this himself and follows Hye-sung and Hyun-ji into the station, with Myung-chul and the boys right behind.
An attendant tries to stop Hye-sung since the subway is closed, but he just grabs the man by the throat and snaps his neck. Bong-pal finds the man's body, and they figure that Hye-sung can't be far ahead. Bong-pal runs deeper into the station, calling Hyun-ji's name.
He gets close enough that Hye-sung and Hyun-ji can hear him, so Hye-sung just grabs her and moves faster. Bong-pal runs into a ghost, but it just hisses at him and leaves, and he keeps following after Hye-sung.
Myung-chul and the boys catch up with Bong-pal, who admits that he can't find Hyun-ji anywhere. He shows Myung-chul the message she left on her phone, and Myung-chul wonders if she mis-remembered the location since it's been five years.
In-rang has another burst of brilliance, and recalls that if it was five years ago, it wouldn't have been here. There was a fire five years ago and the old track was shut down — but they're at the new track.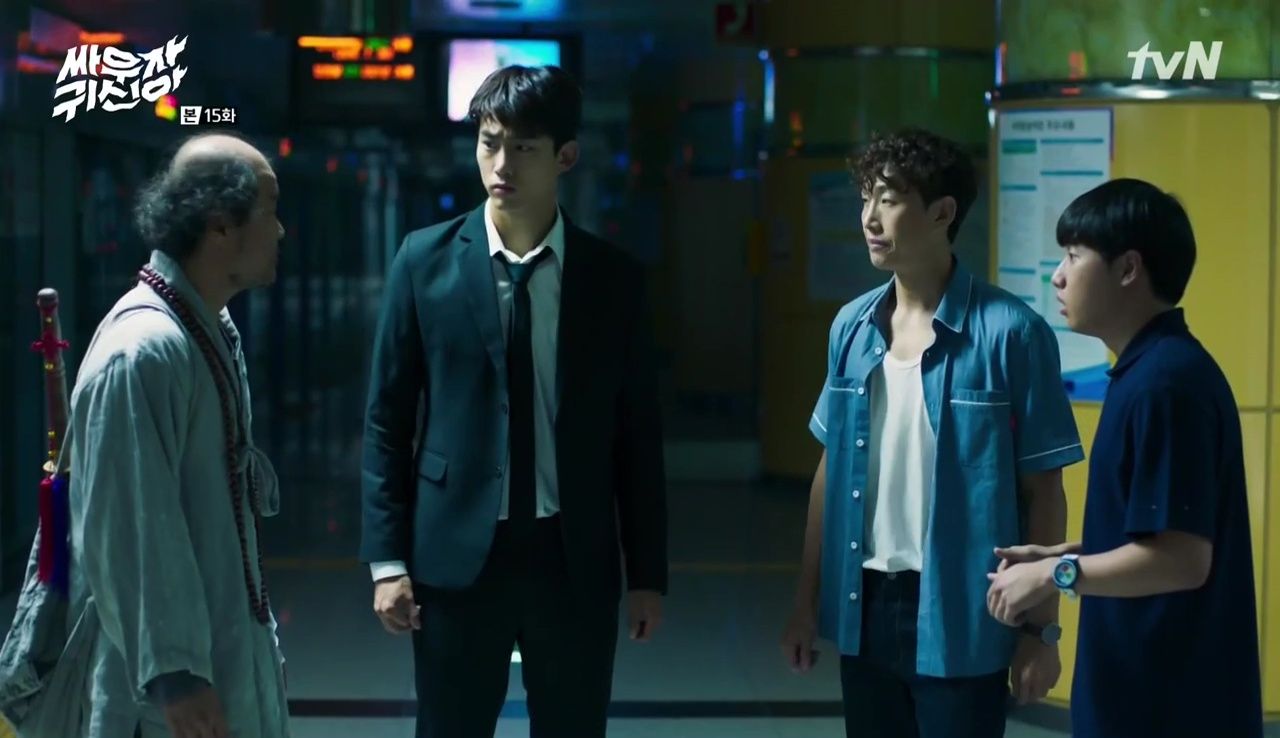 Hyun-ji leads Hye-sung to the correct lockers, and he throws her to the ground. He violently kicks the locker open and flings her belongings out, and Hyun-ji grabs a can of something (hairspray?) and hides it behind her back.
Hye-sung finds the pouch containing the ritual tools, but Hyun-ji attacks, spraying him in the face and grabbing the bag. She runs, with Hye-sung walking behind her as if there's no reason to hurry.
Bong-pal and Myung-chul find the old section of the station and rush right in, but Chun-sang and In-rang hang back, scared of such a spooky place. They decide instead to go meet the police and lead them here.
Hyun-ji keeps running deeper and deeper into the station, but she can't shake Hye-sung. He eventually gets fed up and hits her with a blast of black mist, knocking her to the ground. He steps on her hand and forces her to let go of the pouch. He picks it up and takes out the beaded bracelet, which immediately starts to burn his hand.
Now that he's got what he wants, Hye-sung has no more need for Hyun-ji. He grips her throat and lifts her into the air, saying that he'll put her to sleep now that she's served her purpose.
Bong-pal and Myung-chul split up, and Bong-pal manages to find Hye-sung and Hyun-ji before Hye-sung can snap her neck. He tackles Hye-sung to the ground, making him release Hyun-ji. The beaded bracelet falls to the ground, while Bong-pal unleashes his rage on Hye-sung.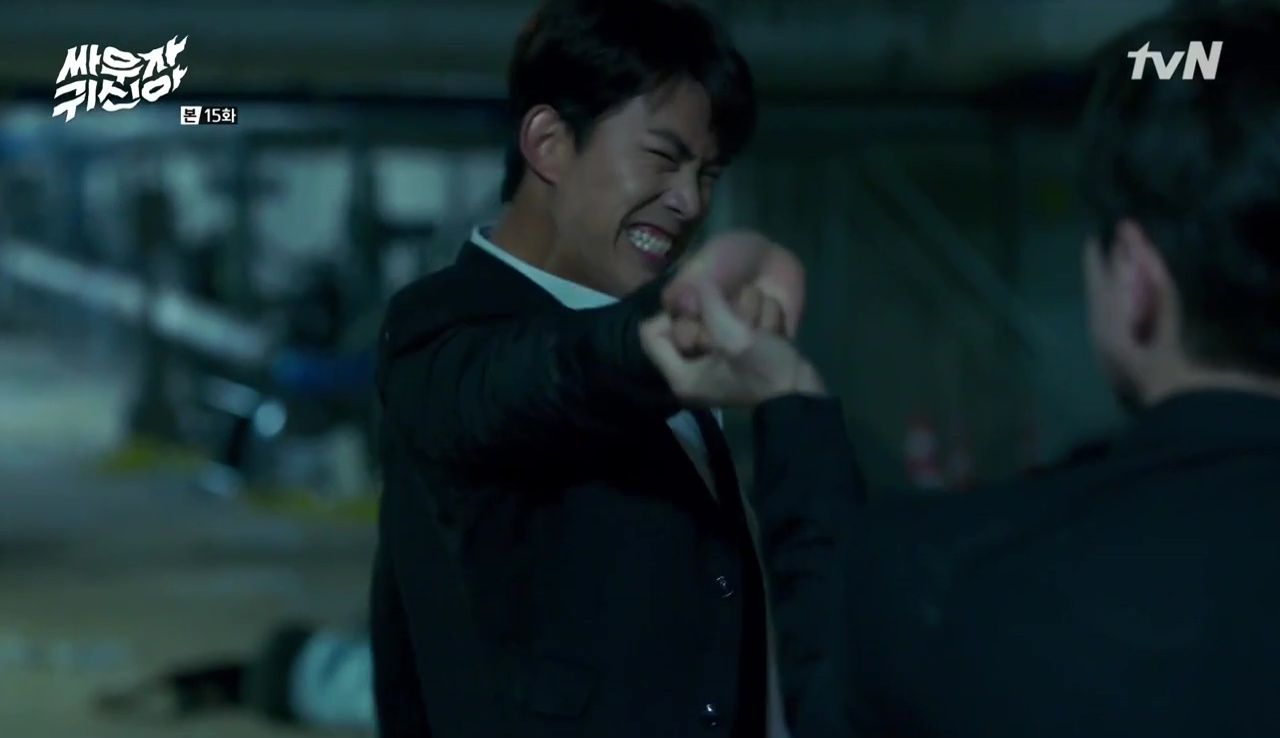 Hye-sung takes a few blows, but he finally gains his feet and grabs Bong-pal's fist. He calmly thanks Bong-pal for saving him the trouble of finding him, and grabs Bong-pal's throat to throw him into a pillar.
Bong-pal staggers up to confront Hye-sung again, but now that Hye-sung is on guard, Bong-pal is no match for his otherworldly strength. He hits Bong-pal so hard that he flips in the air, and lands unable to move.
Hye-sung smirks that he's waited so long for this moment, ever since he was kicked out of Bong-pal's body. He yanks Bong-pal up by the hair and tells him they'll be together again soon. Hyun-ji tries to intervene, but Hye-sung easily swipes her aside.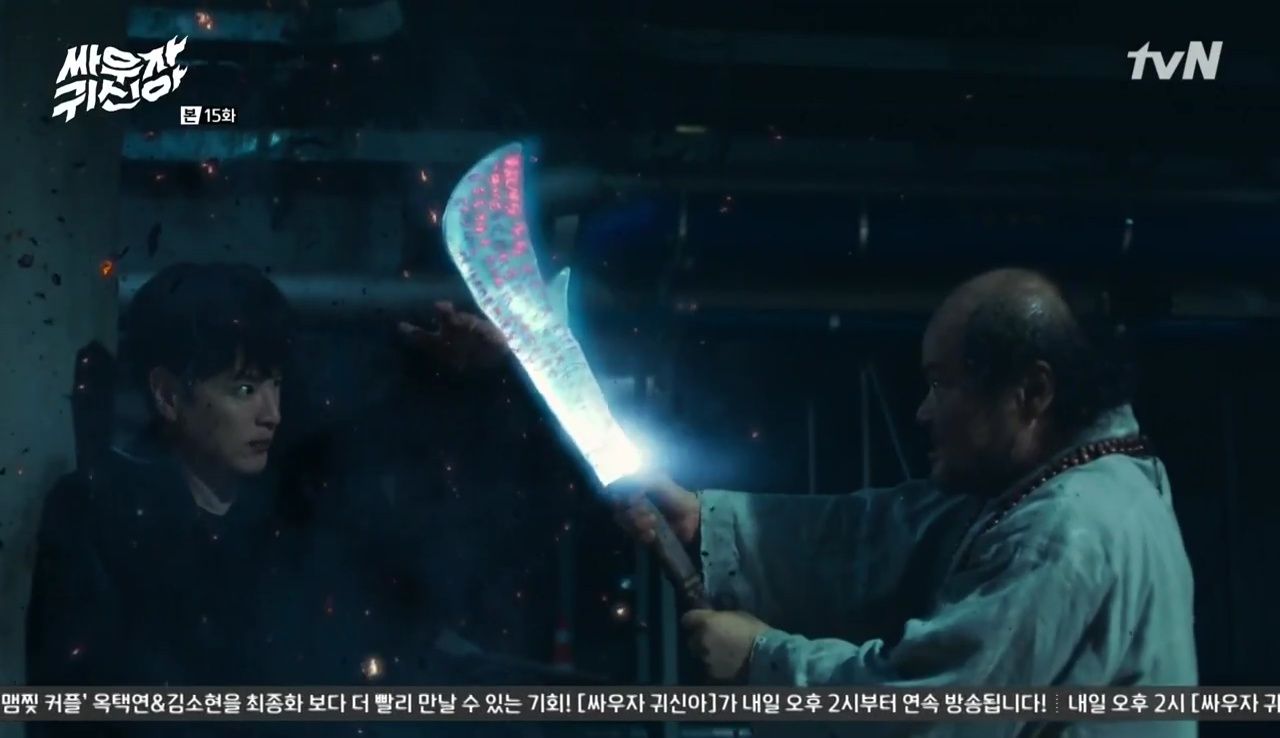 He takes Bong-pal by the throat again, but just as he's preparing to enter his body, Myung-chul comes flying in, sword swinging. One slash shoves Hye-sung away from Bong-pal, but the second blow stops short, repelled by Hye-sung's power.
Myung-chul snarls for him not to use his wicked tricks, and pulls back the now-glowing sword for another blow. This one connects, slashing into Hye-sung's face, but he's so strong that it heals almost instantly. Another swing by Myung-chul sends Hye-sung flying, and the monk turns to check on Bong-pal and Hyun-ji.
He tells Hyun-ji to get Bong-pal out of here, but Hye-sung, weakened but still not banished, calls out that that won't happen. He tells Myung-chul that if he truly plans to kill him, he'll have to kill the body he occupies. It will make him a murderer.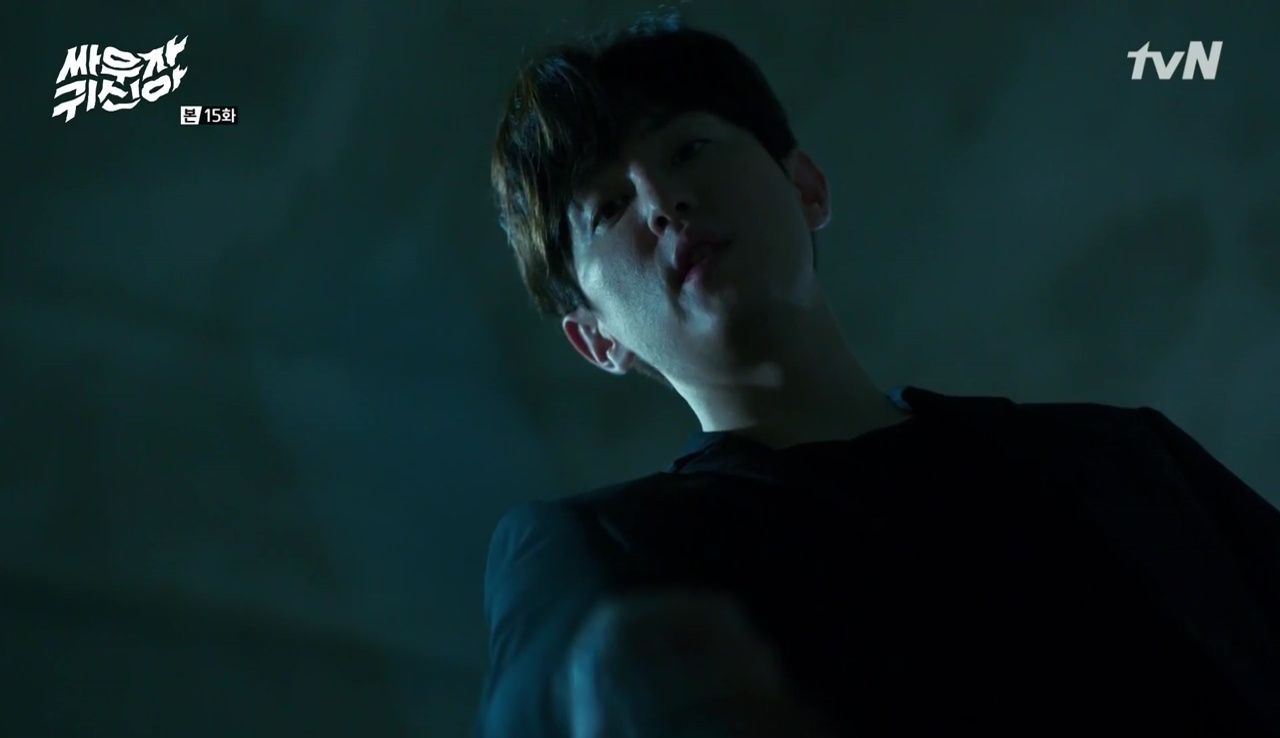 But Myung-chul is prepared to do whatever it takes, and says so. He charges Hye-sung with a mighty roar, ready to run him through with the sword, but the sword stops before penetrating. Hye-sung throws the monk then disarms him, then holds the sword to his throat.
Hye-sung raises the sword to strike, but Bong-pal finds his feet and grabs Hye-sung's arm, making him drop the sword. The two grapple, and Myung-chul finds the sword, while Hye-sung approaches Bong-pal again, preparing to possess him.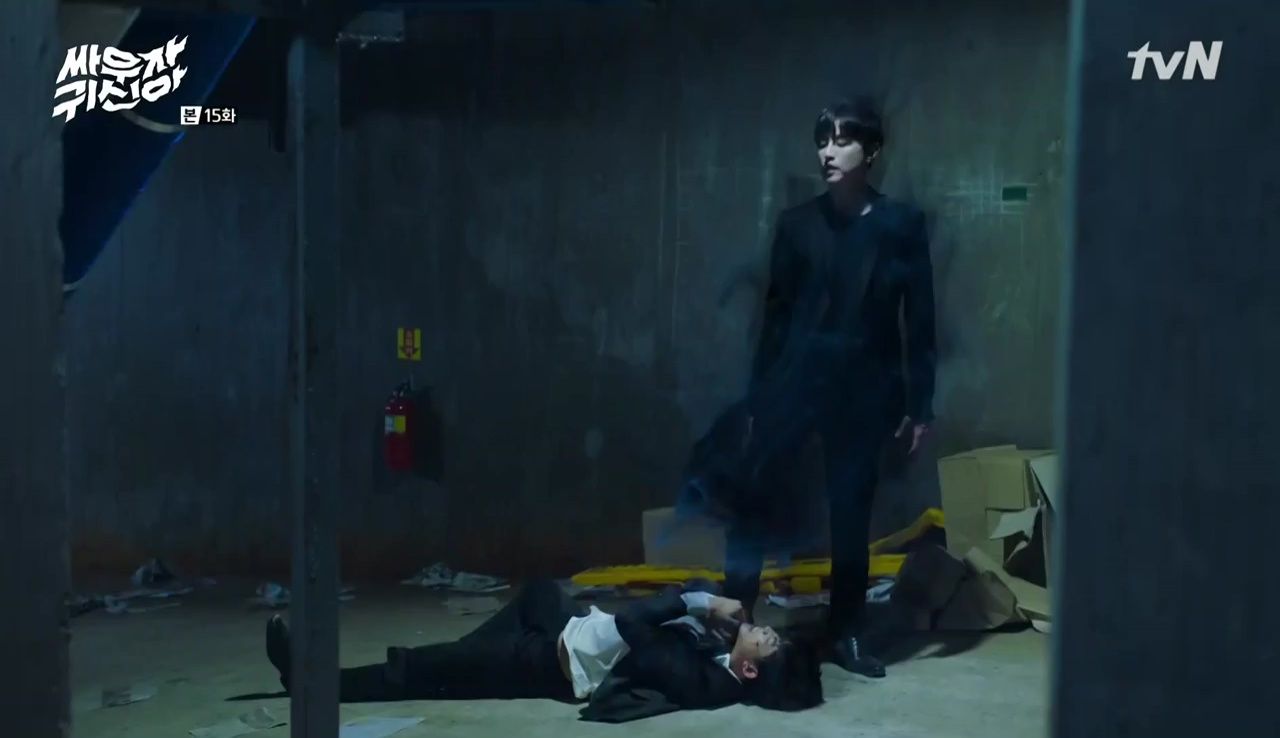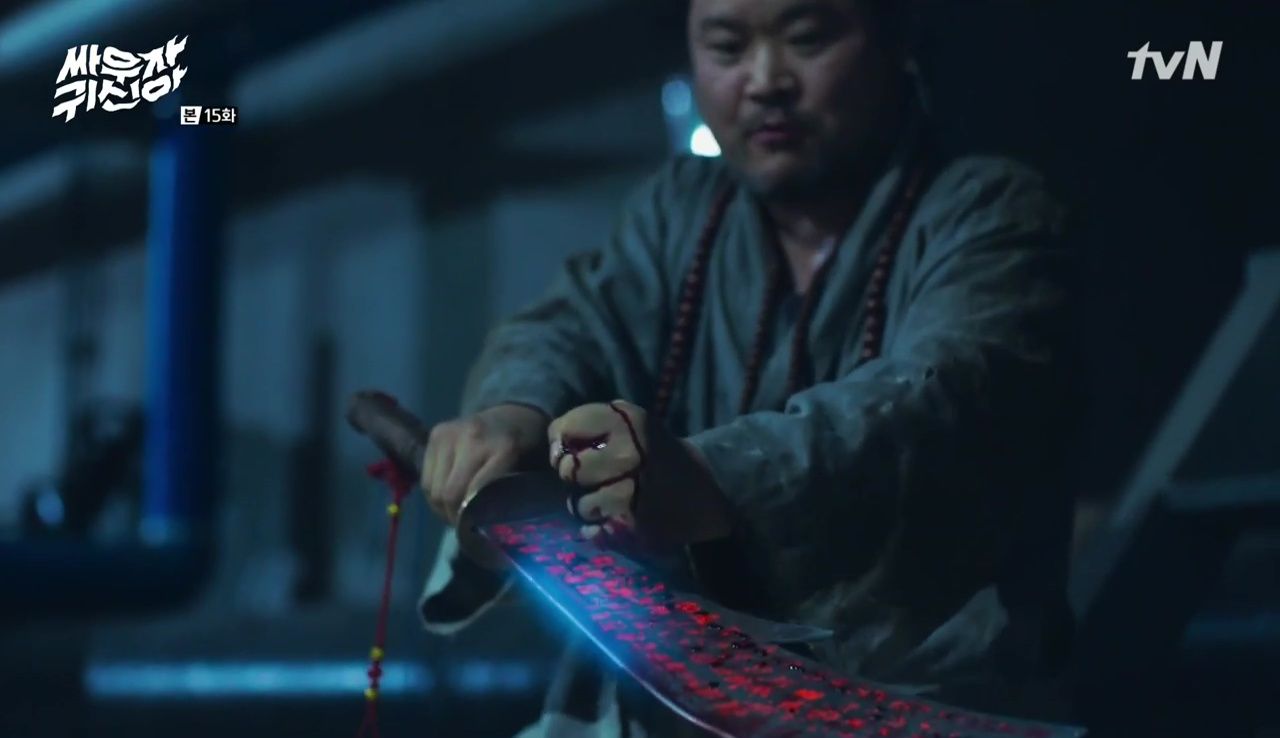 Myung-chul is weak, but he tells Hyun-ji to find the ritual bracelet. They see Hye-sung standing over Bong-pal, the black mist leaving his body and moving towards Bong-pal. The monk slices his hand with the sword and lets his blood fall on the blade, reciting prayers while the runes glow red.
With a screamed word of power, Myung-chul levels the sword at Hye-sung, and the empowered runes fly off the blade and through Hye-sung. He stands for a moment, then a guttural noise comes from deep down, and the evil spirit leaves him. Hye-sung falls to the ground, an empty shell.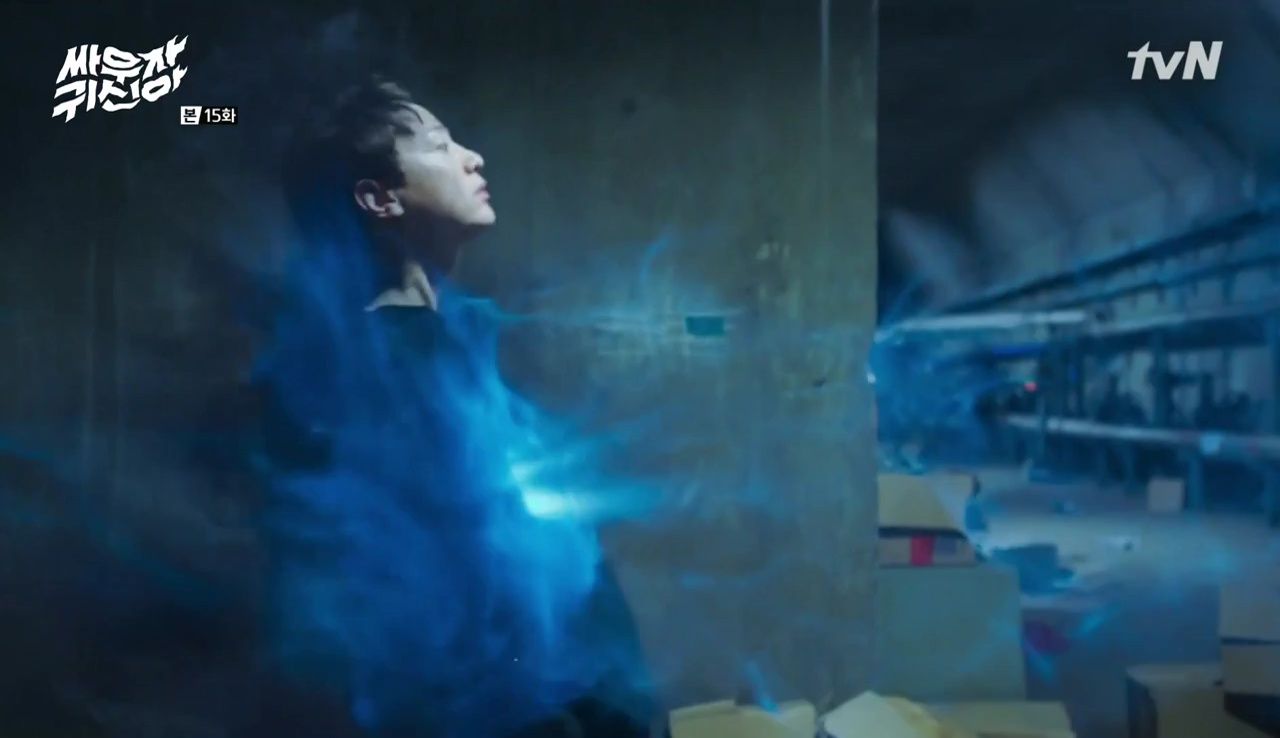 Myung-chul is bleeding from the mouth and shaking violently, but he gasps, "It's done." But it's not done – he and Hyun-ji watch while the evil spirit's black mist rises from the ground, and moves to hover over Bong-pal. Myung-chul finds his last bit of strength and puts himself between the spirit and Bong-pal, holding the evil thing off with the glowing sword.
He screams to Hyun-ji to find the ritual bracelet, as it's the only thing that can kill the spirit once and for all. She finds it, but before she makes it back to the monk, the black mist forces its way into Myung-chul's body.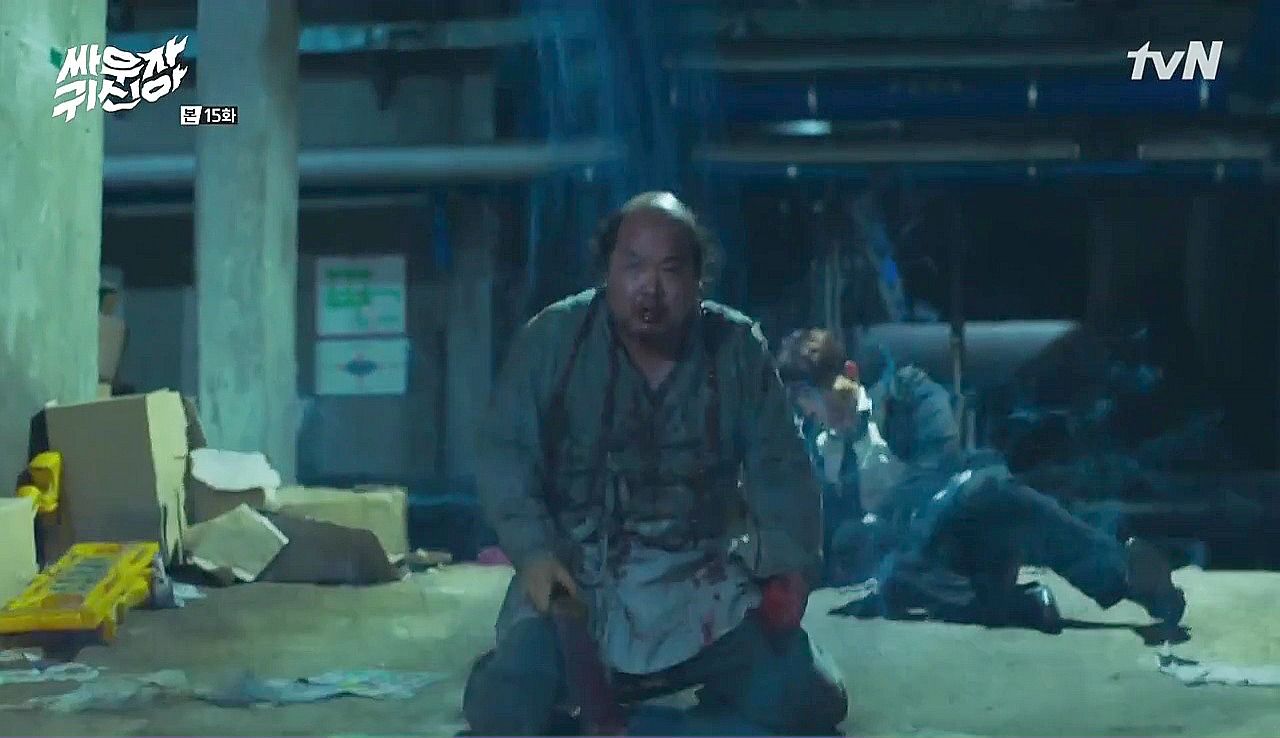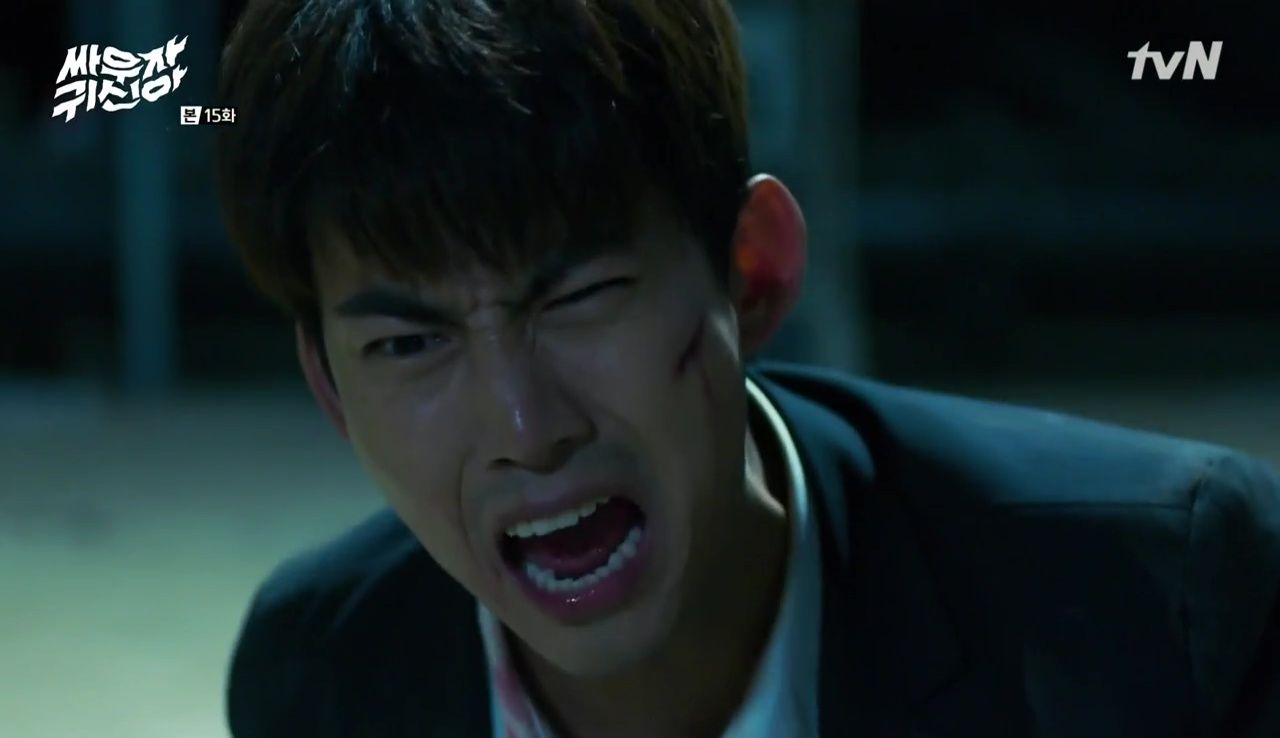 COMMENTS
WHOA, that was intense, in the very best possible way. It was a final fight worthy of a show this good, and the showdown between old enemies had me literally biting my tongue with anxiety that the good guys would fail. Monk Myung-chul put up the fight of his life, but in the end, his shaman friend was right — he no longer has the strength and power he once had, and the spirit overcame him. But if we're going to lose Myung-chul too, at least he went down swinging, and his sacrifice for Bong-pal was so much in character. He's gone from a goofy comic relief to Bong-pal's biggest supporter and savior, and I've grown to love him for what a great, selfless person he is in Bong-pal's life.
At first I was upset at the twist, but then I realized that this is really the only thing that makes narrative sense. This is really Bong-pal's story, and Bong-pal's fight, and he was really overpowered by the evil spirit this time and couldn't even put up much of a fight. Myung-chul did everything he could for Bong-pal, and he very nearly succeeded — but now it's up to Bong-pal, and he's going to have the added trauma of having to fight his only remaining father figure. But it only makes sense that Bong-pal has to be the one to finally vanquish the spirit that killed his parents and wants to possess his powers. He's got a short time to learn to harness his own abilities, and use them to get rid of this evil thing once and for all, but he's strong, and experienced, and he has the best support system ever.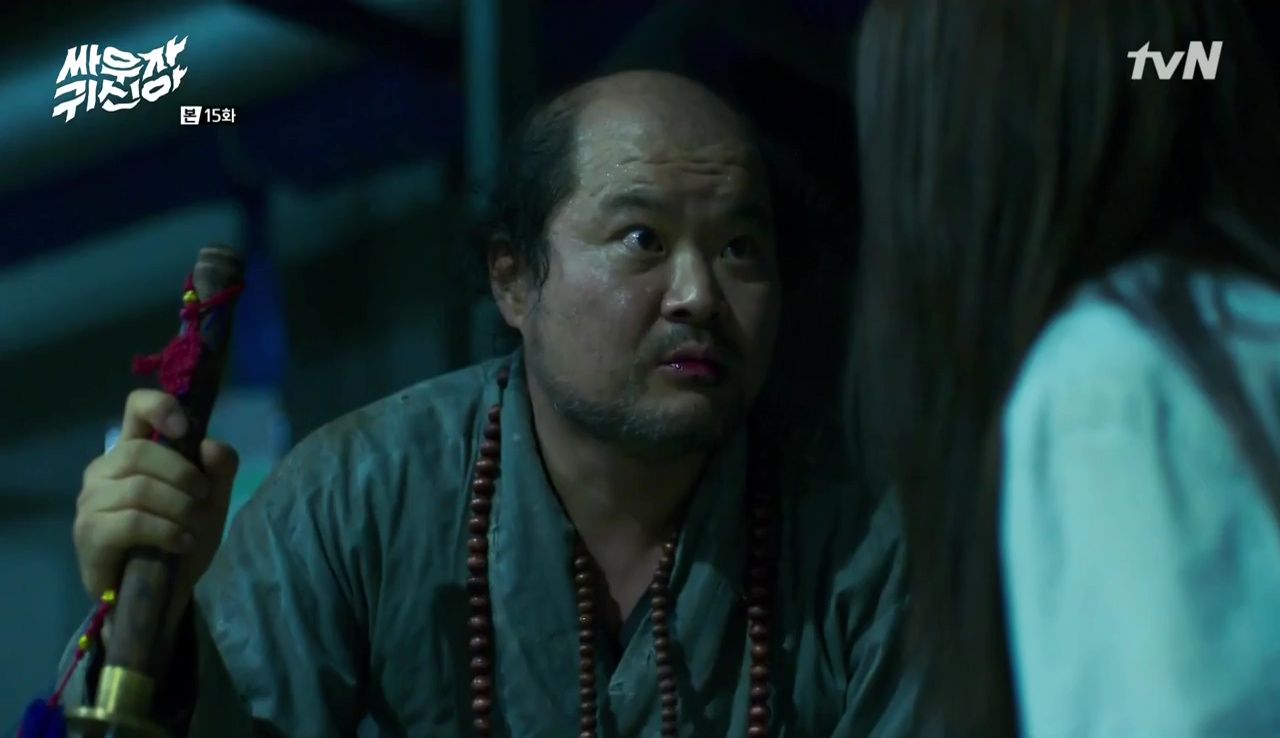 Speaking of which, I knew it! I knew that Chun-sang and I-rang were heroes, that under their bickering and bumbling and silly antics, that they had the hearts of lions. Bravery isn't about not being afraid, it's doing what needs to be done even when you're terrified. They were clearly terrified, but they'd been given a mission to watch Hye-sung and they put themselves in harm's way to do what they needed to do for a friend. It's particularly touching given that neither of them really knew Hyun-ji when she was a spirit, and barely know her now that she's awake again. Even though Hyun-ji probably couldn't pick Chun-sang and In-rang out of a lineup, they were willing to endanger themselves to do what they could to save her. They may not be the kind of knights who slay the dragon and save the day, but without them Bong-pal would never have found Hyun-ji and had the chance to save her life. If that doesn't make them stone-cold heroes, then I don't know what does.
And how refreshing is it, to have competent detectives who follow proper procedure and actually get things done. Detectives Yang and Kim haven't been large players in the story until now, but I'm so glad that they're here to put together the clues that they've been gathering on their hunch about Hye-sung. It got the search for Hyun-ji taken seriously right away, and didn't just leave saving her up to inexperienced college kids like would usually happen in a drama like this. Yes, Bong-pal and company got there first, but the cops were right behind them every step of the way. I'm just thankful once again for the smart writing that's obviously been in place since the beginning, that's kept these characters on the right track so that when they were needed, they were there to do some actual good.
It's yet another symptom of how well this drama was planned out from the beginning, and I just get a thrill every time small, seemingly insignificant things add up to make something that turns out to be pretty important. Every detail is considered, even down to the locker Hyun-ji hid her belongings in. Just when I was wondering how nobody in charge would think to open the locker when the renter didn't come back for five years, we learn that there was a fire in that part of the station, so it's no surprise the lockers sat unopened all these years. The sword that seemed to be a small plot point in the beginning, turned out to be a strong weapon for fighting the demon. Every character and plot point has been carefully planned and executed, and I just appreciate the fantastic storytelling that lets its audience sit back and relax, knowing that all will be answered and nothing will go unexplained.

RELATED POSTS
Tags: Bring It On Ghost, featured, Kim So-hyun, Kwon Yul, Taecyeon