Bring It On, Ghost: Episode 7
Our intrepid ghost-hunting team has a new challenge ahead of them, something they've never encountered before. It will take some different tactics to dispel this ghost, tactics they'll need as an unseen threat looms closer, taking out anything and anyone that gets in its way. But in the meantime, they're still working on figuring out Hyun-ji's past, and some fresh clues could offer some insight into how she lived, and how she died.

EPISODE 7 RECAP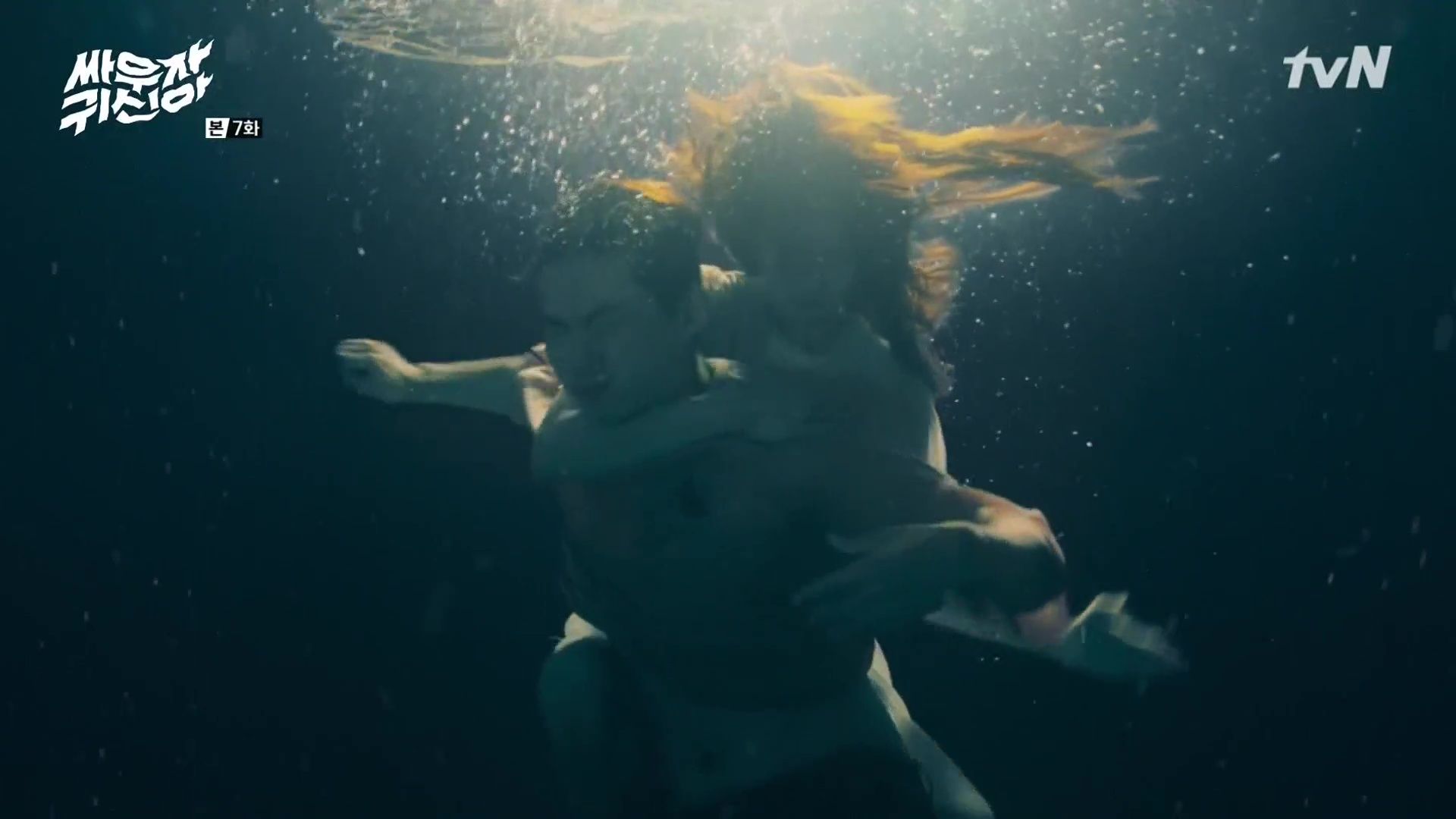 Bong-pal goes running back to the pond when he hears that there are ghosts in the water, but it's too late — Hyun-ji has been pulled under. He dives in and can see her struggling under the surface, being dragged deeper and deeper into the water by the ghost. He swims to her and kicks the ghost away from her, but the ghost only grabs his leg instead.
It wraps itself around him and he lets go of Hyun-ji, but she's unconscious now and continues sinking. Still underwater, Bong-pal smashes his head into the ghost, then kicks it with both feet, and it dissipates into a cloud of bubbles. Freed, he grabs Hyun-ji, and brings her to the surface.
In Bong-pal's arms Hyun-ji shimmers and fades for a moment, but she soon solidifies and wakes up. She starts to cry and clings to Bong-pal's neck, and he apologizes and whispers that it's okay now.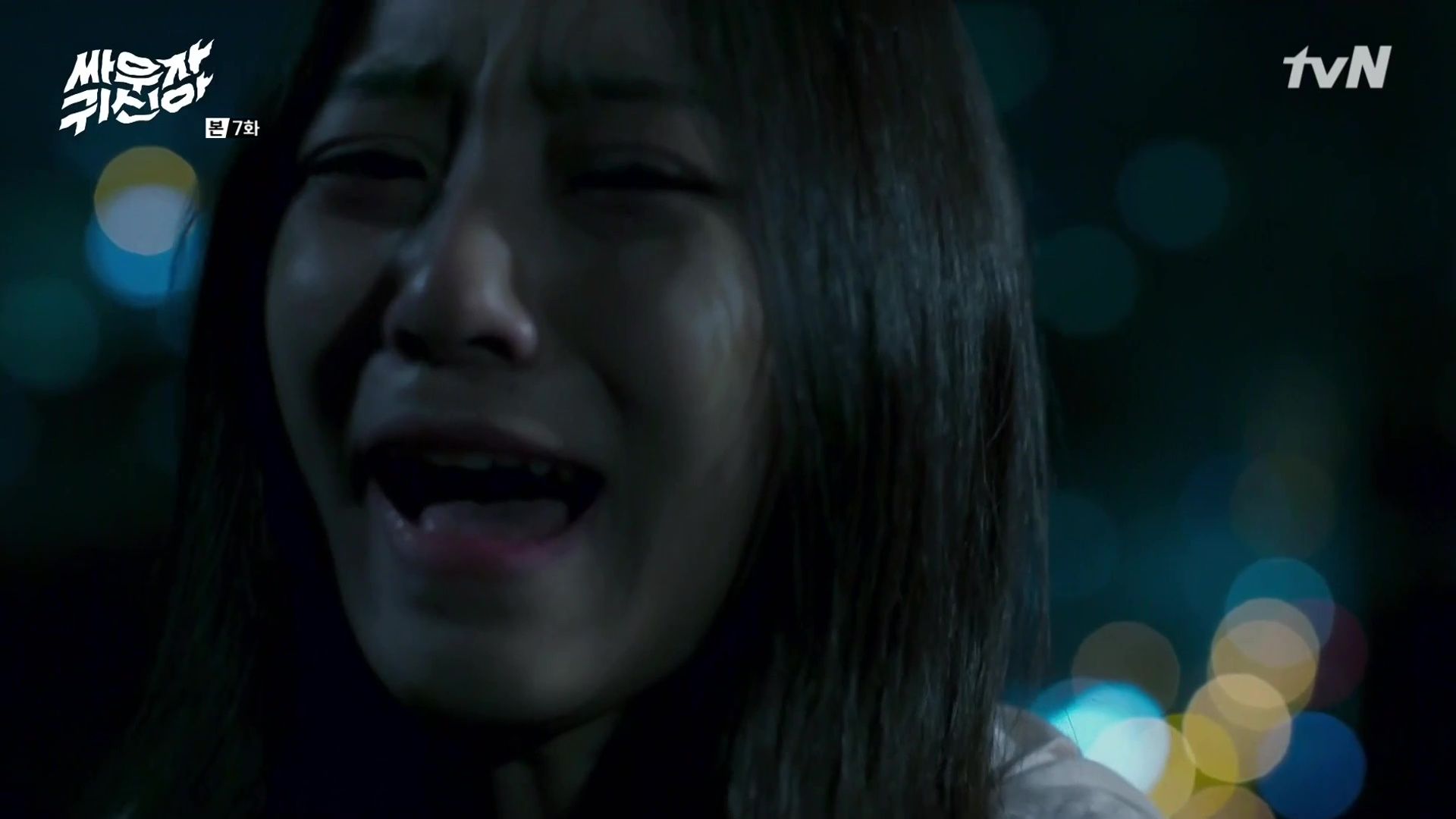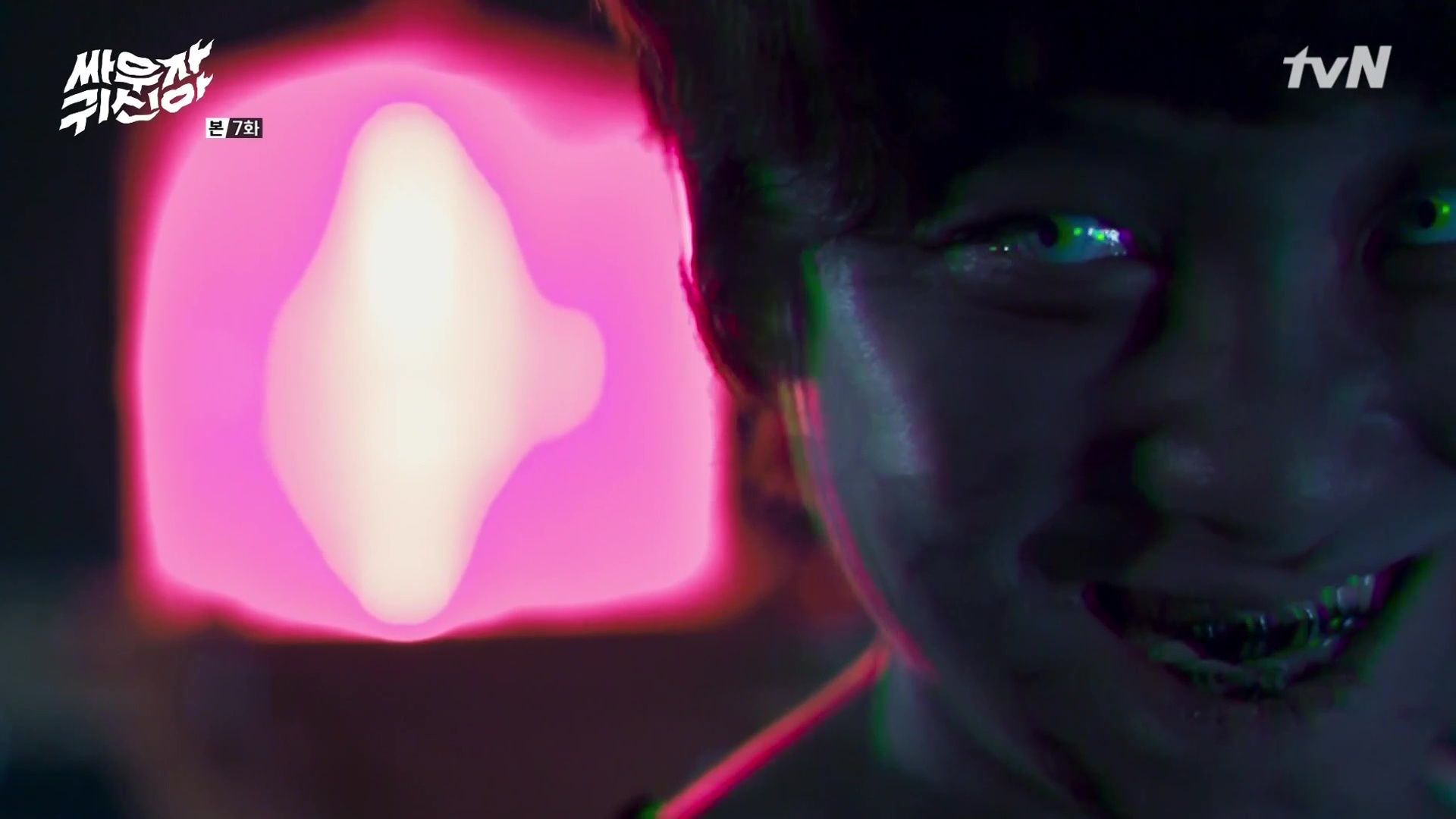 Back in the city a young girl named Eun-song cries as she looks at her report card, her mother's angry words at her dropped ranking ringing in her ears. She goes to the roof of her building and stands on the ledge, sobbing, and she hears a strange noise. She looks to see a ghost leering at her from a few feet away, and she screams.
Hyun-ji is still sleeping in the morning when Bong-pal is ready to leave for school. She's dreaming about a speeding vehicle, and of lying in the street bleeding from a head wound. Someone had stopped and touched her face, their ticking watch seeming loud in the pouring rain. Then a hospital, a crying woman, and bright lights — a surgery room?
Bong-pal is concerned when she says she doesn't feel well, even offering to let her sleep in his bed, but Hyun-ji weakly says she'll just sleep on the couch. He's supposed to met Seo-yeon to work on a project, but he tells her he can't make it today, claiming illness himself.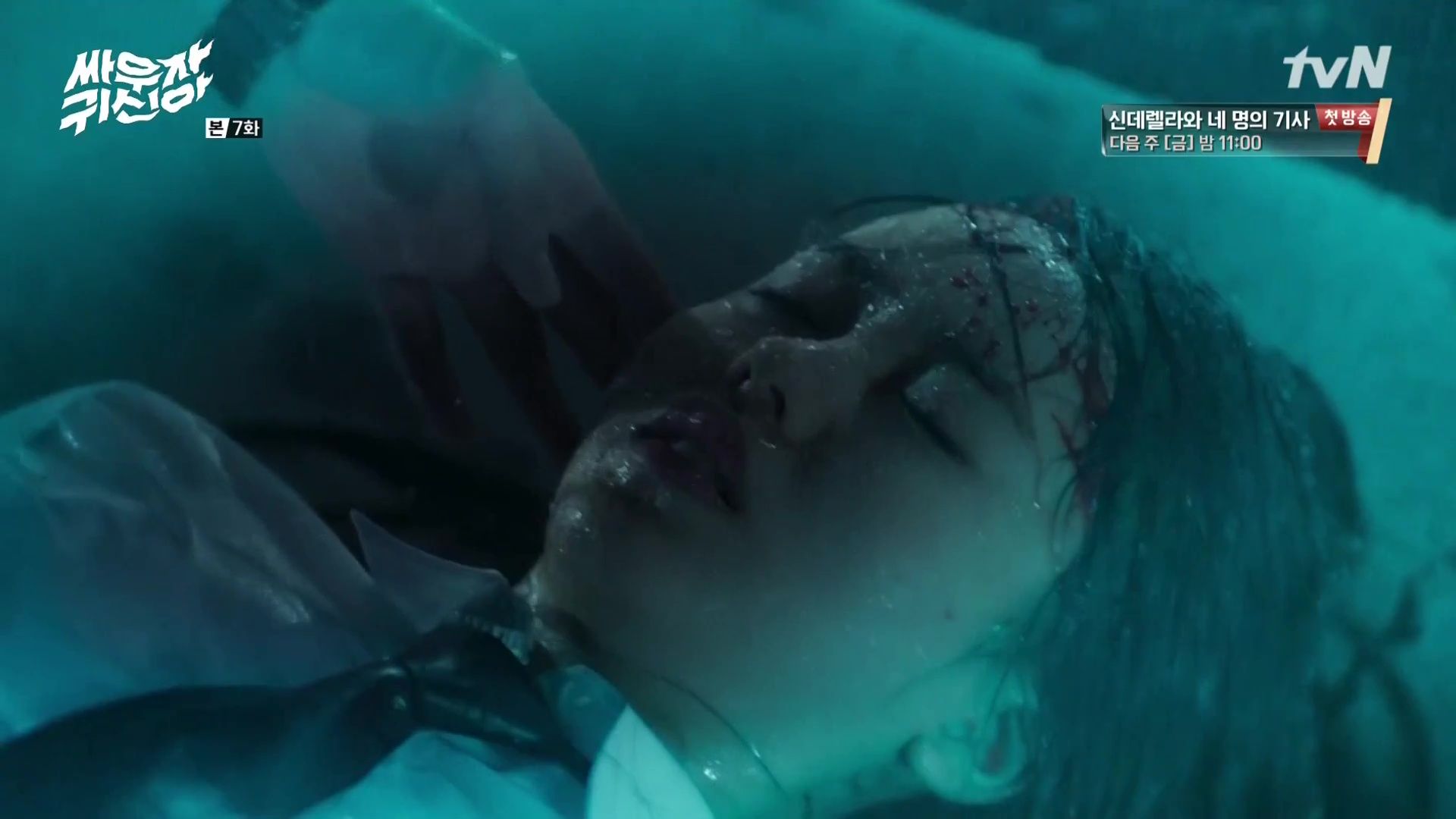 He carries Hyun-ji to sleep in his room, and wonders what you do for a sick ghost… of course, he cooks. He figures she must really be sick when she doesn't wake at the idea of food, and all he can do is sit and watch over her.
Going over his photos from their trip, In-rang finds on in which he can almost see Hyun-ji. He gets excited that he caught the "angel" on film, but he's distracted by Chun-sang with his new immersive video game. He asks where he got it, angry that he spent money on a game when they still have to pay for their trip. Hee, they are such an old married couple.
Monk Myung-chul goes looking to the place where Bong-pal's father used to live, hoping to find some clues. His brief encounter with Hye-sung shook him up, and he's feeling uneasy.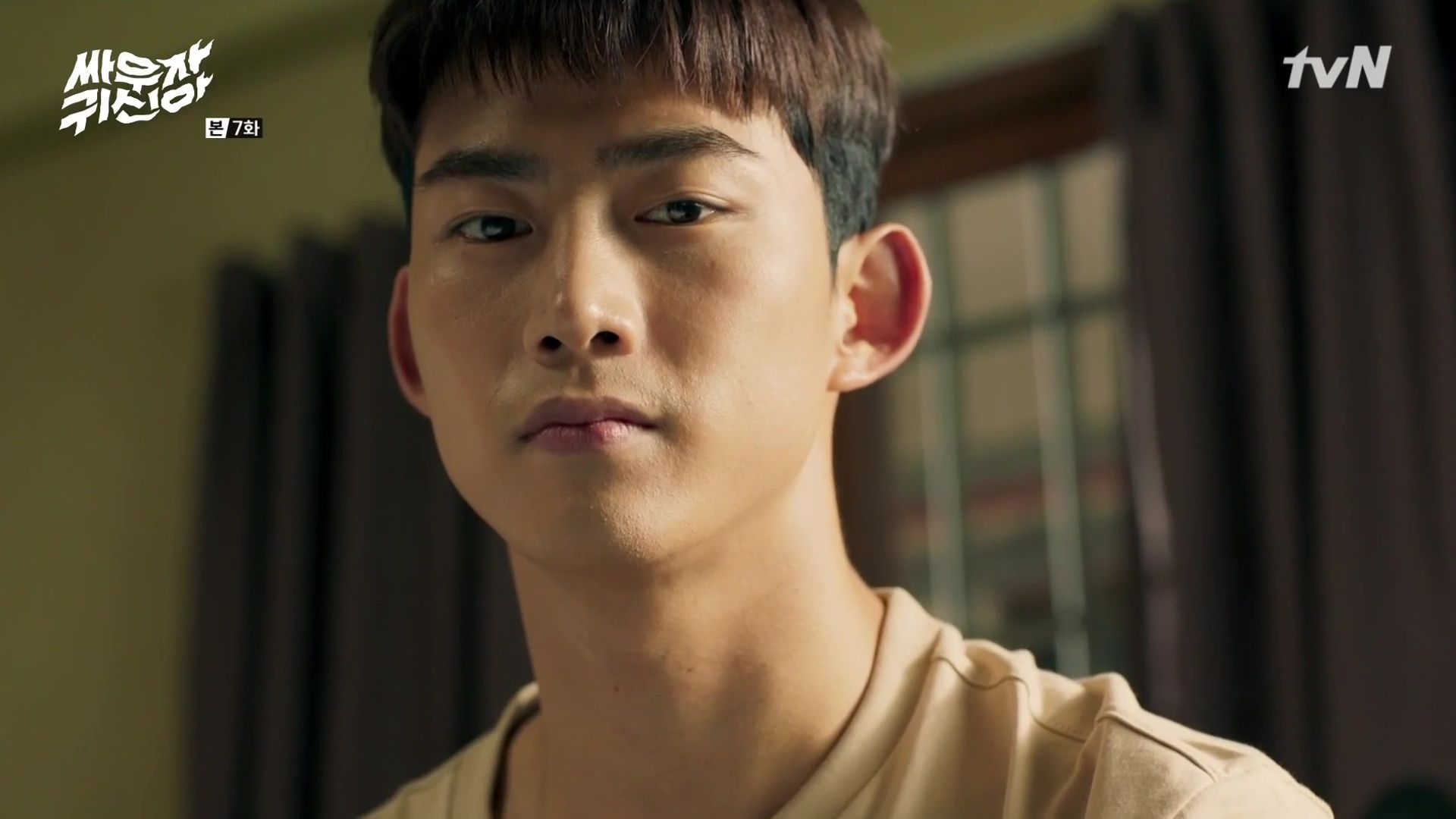 Hyun-ji finally wakes, claiming that she's feeling better now, and she smiles to see how worried Bong-pal has been for her. He gets adorably flustered when she asks why he's not at school, and asks her if ghosts can really get sick.
She says they do, and can even get butterflies… oops. She changes the subject and tells him that she recalled some new memories while she was asleep, of someone standing over her whose face she couldn't see, and a woman crying.
Bong-pal's father's place certainly looks odd — his things are still there like he never left, and his door is plastered with talismans. Myung-chul asks the landlord if a young man really visited once, and she confirms it, though her bad eyes kept her from seeing him clearly.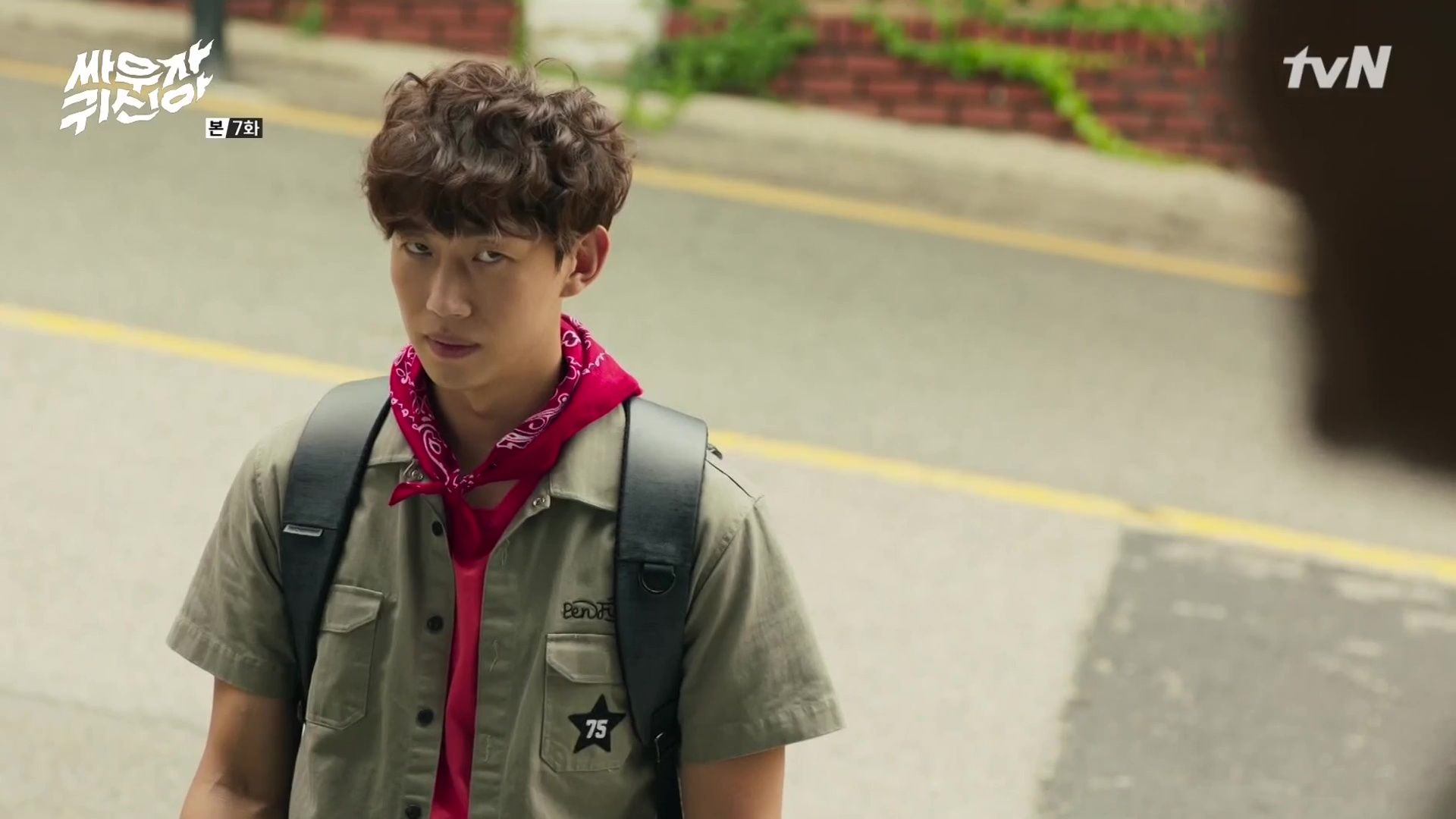 She assumed he was Bong-pal's father's son, and when she told him his son was waiting in his room, he'd seemed worried. He ran away "to the mountain," and never came back. Myung-chul heads to the nearby mountain, and finds some odd signs, including a lot of blood on a rock.
Meanwhile, Hyun-ji's ghost pal Kyung-ja finally spots Hye-sung and follows him back to his clinic.
Chun-sang decides they need investors, and their first stop is to In-rang's grandmother's house. Ha. In-rang is firmly against the idea, but then Grandma shows up and he's forced to act happy to see her. Unfortunately, she thinks Chun-sang is a pure idiot, and she's not nearly so happy to see him. He lays out his exorcism business idea for Grandma, and she immediately throws him out.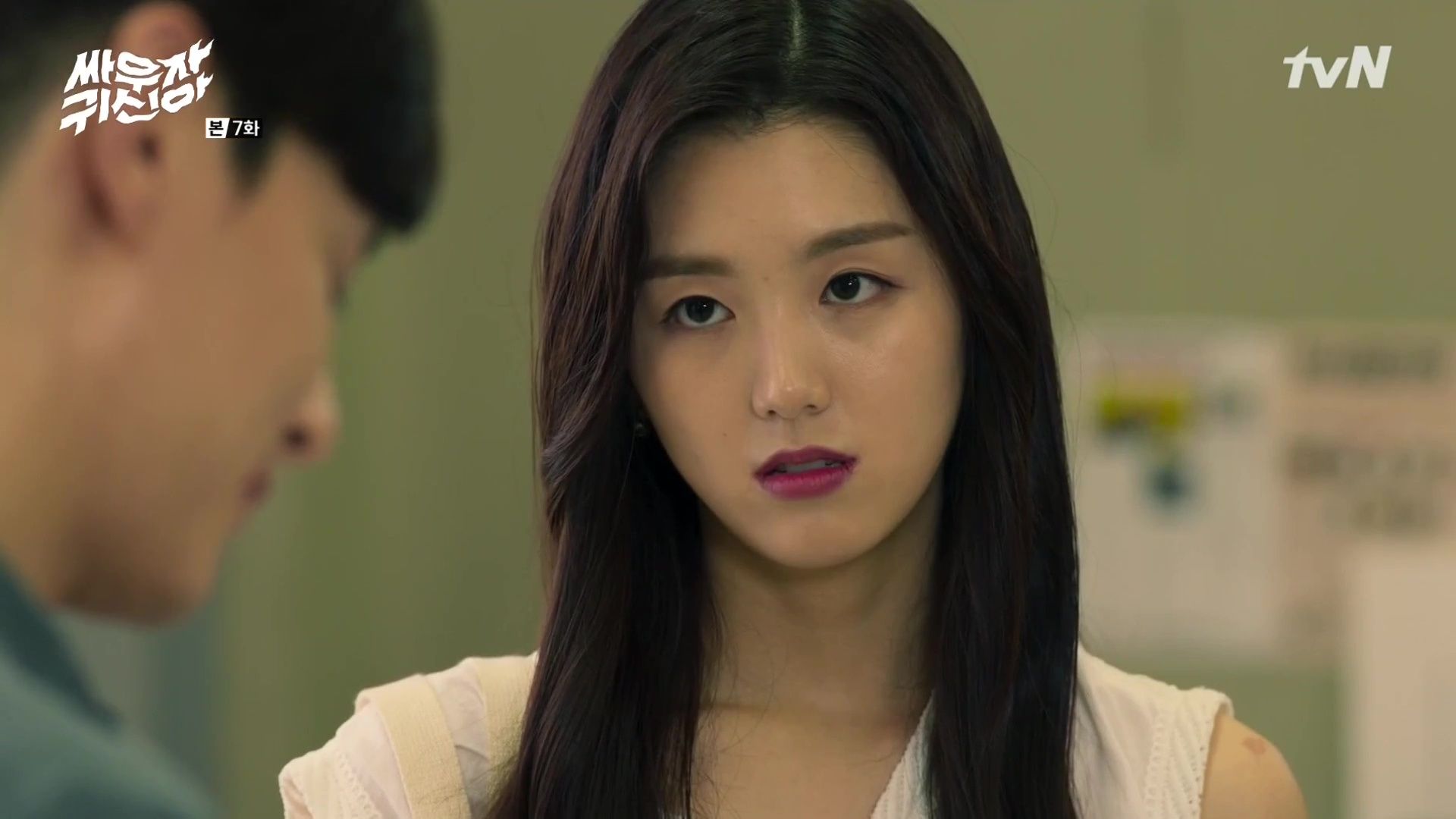 Hyun-ji pouts when Bong-pal accepts Seo-yeon's lunch invitation, but she cancels when she spots Hye-sung, and follows him instead. It's sweet how Hyun-ji turns and is now upset on Bong-pal's behalf.
Hye-sung seems suspiciously interested in asking about Bong-pal when Seo-yeon catches up to him. She wilts a little when she sees him still using his old pen instead of the one she gave him. The cops investigating Hyun-joo's death approach them, but this time they want to talk to Seo-yeon.
She tells the cops that Hyun-joo skipped a class on the last day she saw her, and that she seemed really anxious. She'd suddenly run off and dropped that pen, which Seo-yeon returned to Hye-sung. Just then, the suspicious cop notices Hye-sung listening from a nearby balcony, and the vet nods at him.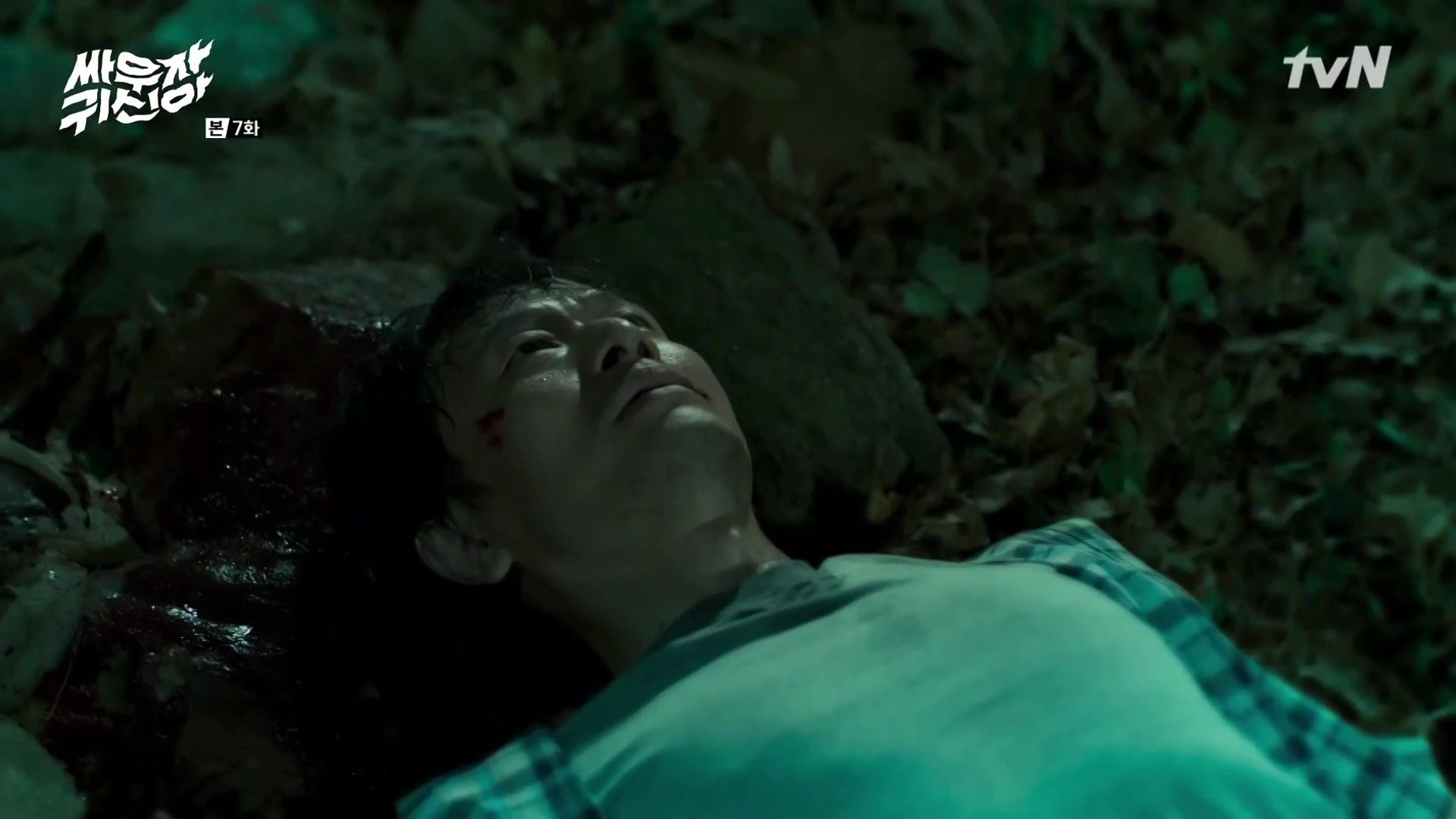 Worried, Myung-chul tries to call Bong-pal's father, but his call goes unanswered. We see the phone being taken from a dead (or just unconscious?) man's hand, and that now, Hye-sung has it. It had been him that chased Bong-pal's father into the forest, demanding he tell him what he knows, standing over him menacingly.
Bong-pal spots Chun-sang and In-rang, and stops to ask why they haven't had any clients lately. Chun-sang says they're just resting (doing a weird frog-jump to illustrate his point) and In-rang gives Bong-pal the pictures from their trip. He gos on about how Bong-pal and Seo-yeon make a cute couple, until Bong-pal leaves and Chun-sang smacks him.
Hyun-ji tries to beg off studying, but Bong-pal forces her into the library. She spends more time appreciating his face than studying (can you blame the girl?) until he catches her staring, and while he grades her quiz Hyun-ji looks at the trip photos.
She sadly mentions that she was in these pictures too, you just can't see her, but she shakes off the melancholy. Then draws kitty ears and a mustache on Seo-yeon, hee. She draws herself into one picture of Bong-pal, with little hearts all around their heads.
She didn't do any better on her quiz and Bong-pal wonders how she never improves, but I'm starting to think she's punking him. I wouldn't put it past her to pretend to be dumb to get more alone time with Bong-pal. She tells Bong-pal to stop fussing and try rewarding her for good marks instead, and frustrated, he agrees to grant her a wish if she does better on the next quiz.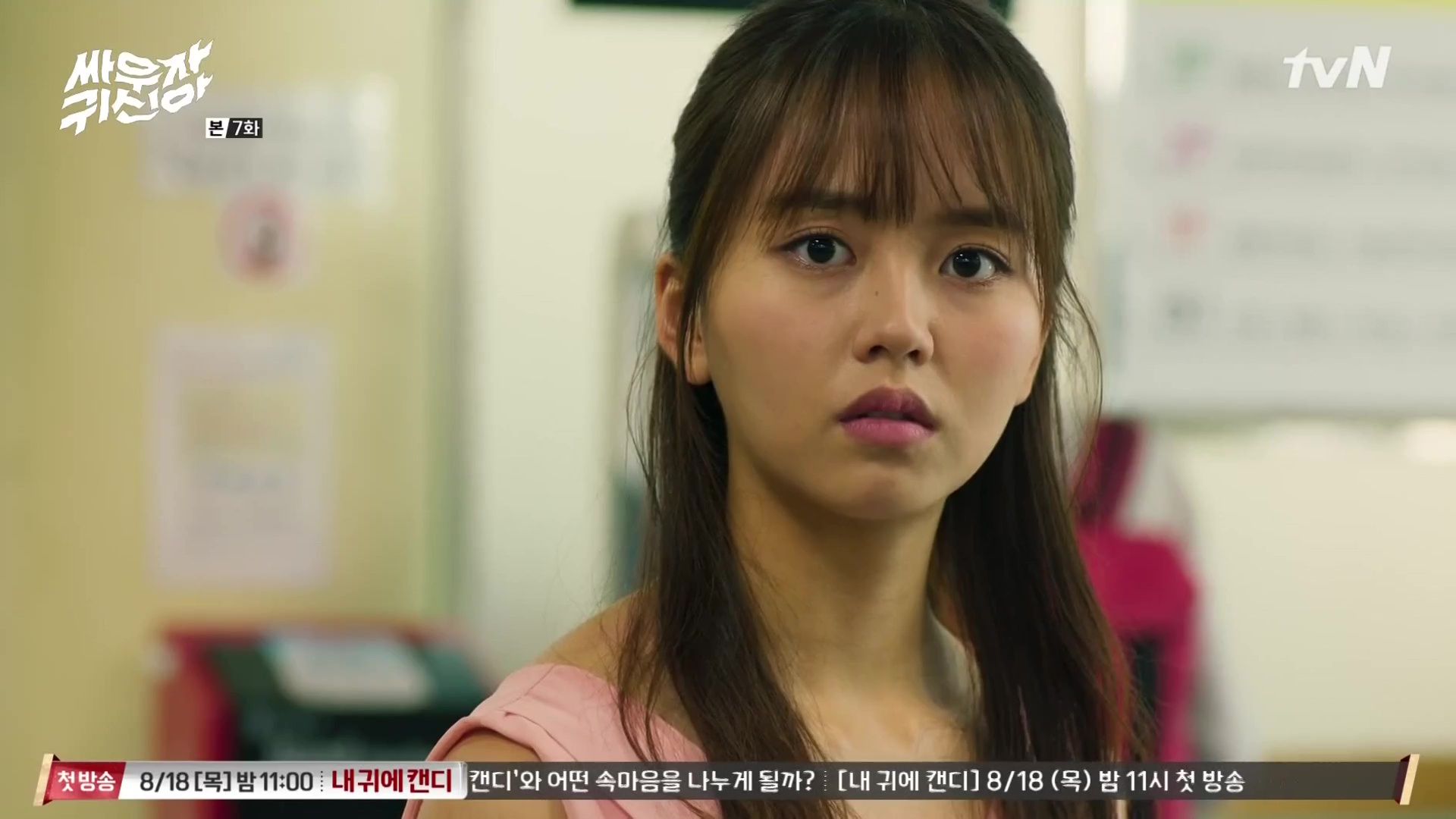 On their way out of the library Hyun-ji notices a pale girl robotically reciting equations — it's the girl from before, Eun-song, who saw the ghost on her roof. Despite her seeming stupor, her eyes cut to Hyun-ji for just a second, before they go blank again and she resumes her recitation. Hyun-ji figures she imagined it, but after they leave, the girl looks at her again. ~shiver~
Now that she has something to motivate her, Hyun-ji stays up late studying, determined to earn that wish from Bong-pal.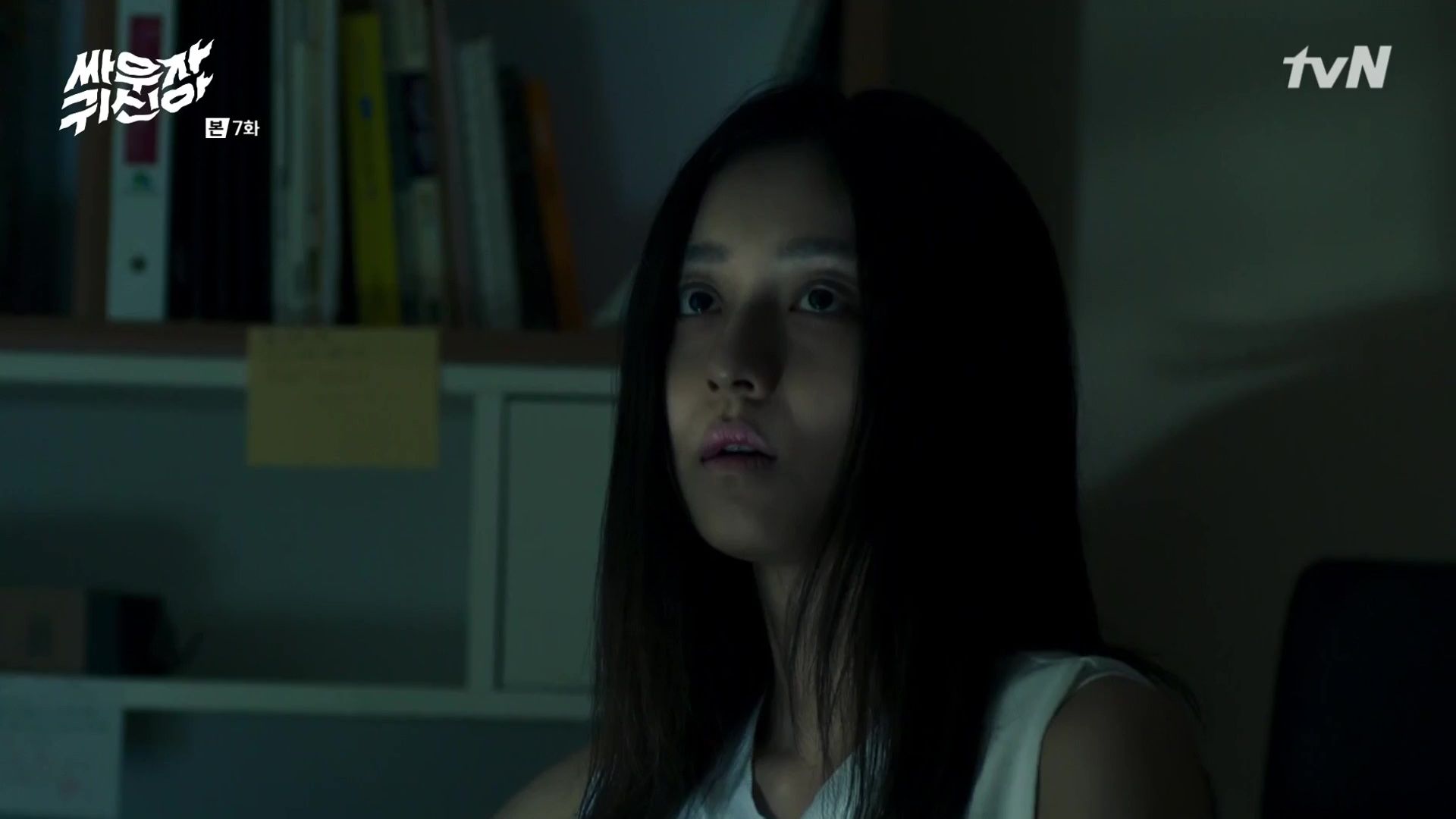 That night Eun-song's mother brings her a study snack, but she drops the tray in horror when she sees her daughter's room. Eun-song is methodically ripping her schoolbooks to shreds, still in that creepy blank haze, and she tells her mother in a dead, emotionless voice: "Get out."
Chun-sang calls Bong-pal to a suit shop to get "uniforms," thinking they'll land more jobs if they look sharper. Of course Bong-pal thinks it's a stupid idea, but a call for an exorcism job has him giving in, and the boys head out in their new snazzy duds. They actually look really nice (In-rang's socks and cute little knees are killing me) and Hyun-ji begs Bong-pal for a uniform, too.
The find themselves at Eun-song's home, where her mother has locked her in her room and she's screaming to be let out. She'd stabbed her mother in the arm the previous night, and she's been acting very out of character since. She spent the whole night doing her nails and putting on elaborate makeup, and we see that in the mirror, she sees not herself, but the ghost from her roof.
When her mother told her to take the makeup off, Eun-song — or I should say, the ghost possessing her — shoves her and says that "she" has been suffering because of her mother. She'd smirked when her mother called her Eun-song, and whispered, "Your daughter is already dead."
Mom found the girl at a club, snuggled up to some man, and slapped her. Not-Eun-Song had just laughed maniacally, which devolved into insane screaming, and she's only gotten worse since then despite trip to the hospital and even a shaman.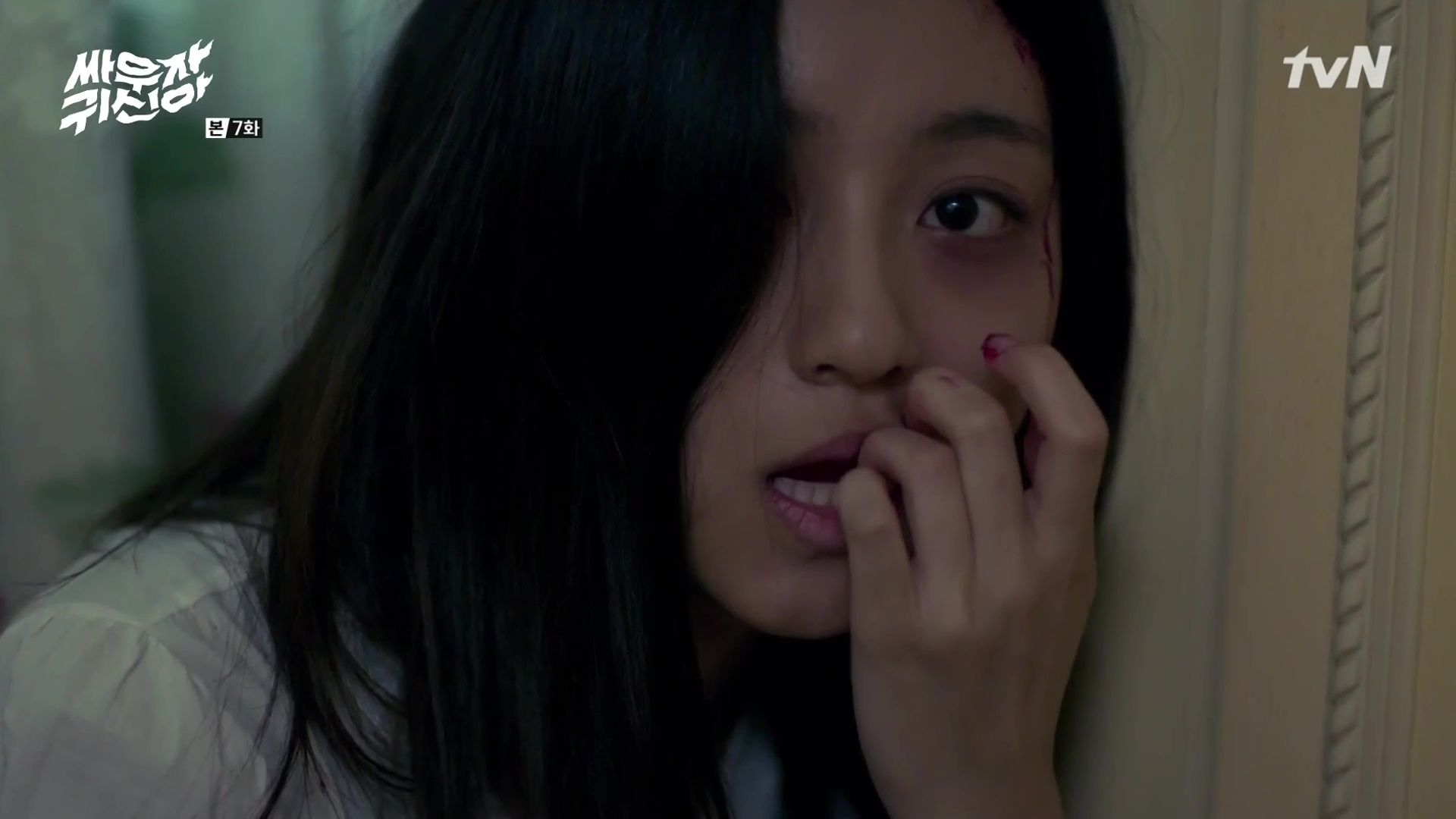 The boys cringe when that crazy laughter echoes from the bedroom, and a loud crash has them all jumping in alarm. Bong-pal goes in with Hyun-ji right behind him, to find the room destroyed and blood on the walls. The girl is in the corner biting her fingernails off, no longer anything close to sane.
She suddenly goes still and looks straight at Hyun-ji, recognizing her from the library. She says to Bong-pal, "You came with something strange," and goes back to biting her nails. Hyun-ji recognizes the girl, too, and Bong-pal instantly knows that she's possessed.
The girl rushes out to swipe Bong-pal's legs out from under him, and she easily knocks Hyun-ji's attack aside as well. She caresses Bong-pal's face and asks why he hangs out with Hyun-ji, offering herself instead, and Hyun-ji uses the distraction to kick her off of him.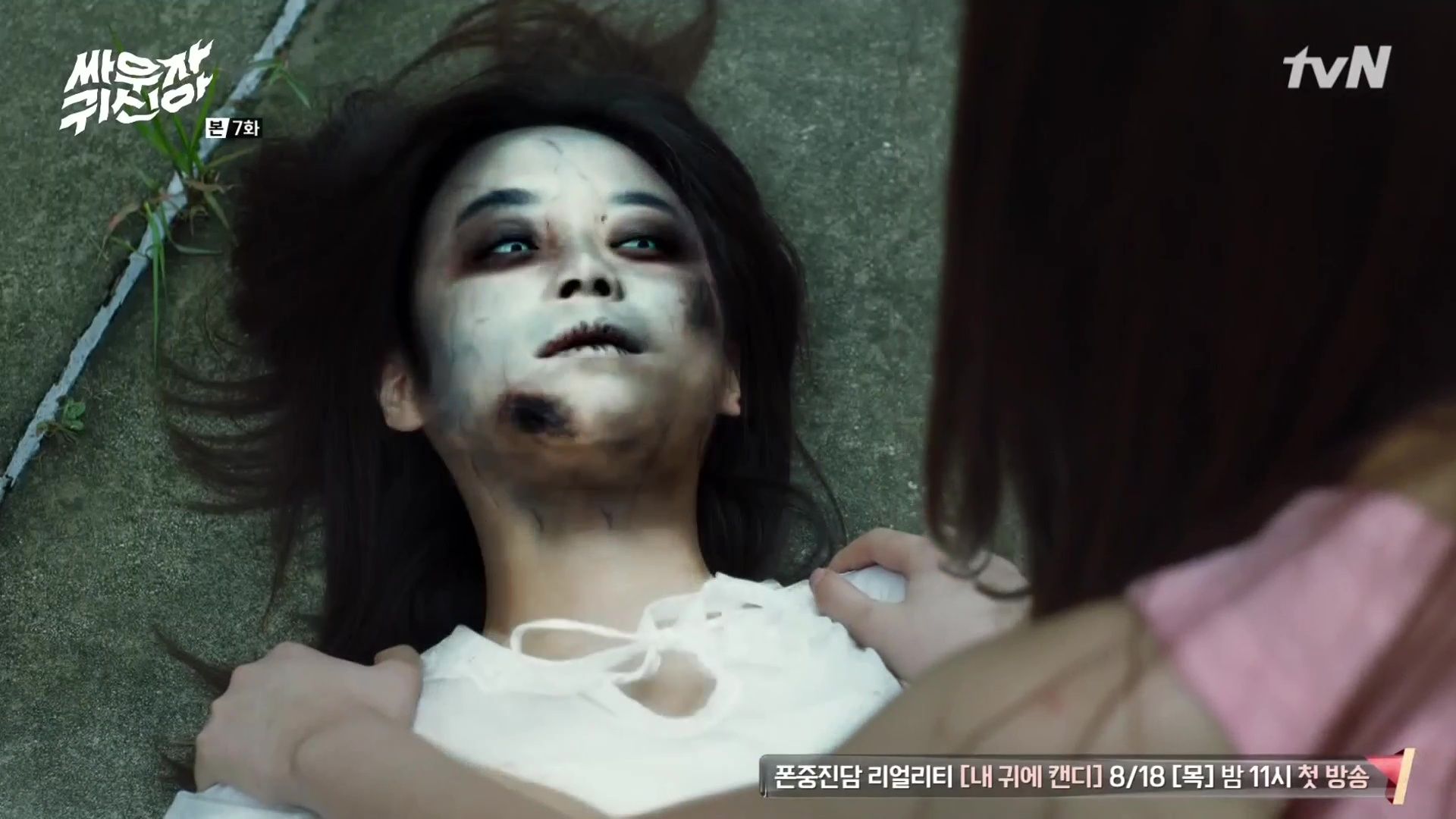 The three grapple for a minute, and the girl manages to push them both away and escapes into the living room. She stops just long enough to laugh crazily at her mother, then runs out of the apartment. She goes up to the roof and stands on the ledge, and just as she's about to take a step off, she hears Hyun-ji's voice asking what she's doing.
Hyun-ji speaks directly to the ghost possessing Eun-song, asking if she really wants to kill her host. The ghost says this is what Eun-song wants, and she's just helping since Eun-song lacks the courage. She tells Hyun-ji to mind her own business, and starts to lean forward off the ledge again.
Hyun-ji pops close enough to yank her back onto the roof, and she begs Eun-song to wake up. But it's the ghost that opens her eyes, and she repeats that Eun-song is dead. She throttles Hyun-ji, kicks her off when Bong-pal arrives, and puts up a pretty damn good fight against the both of them.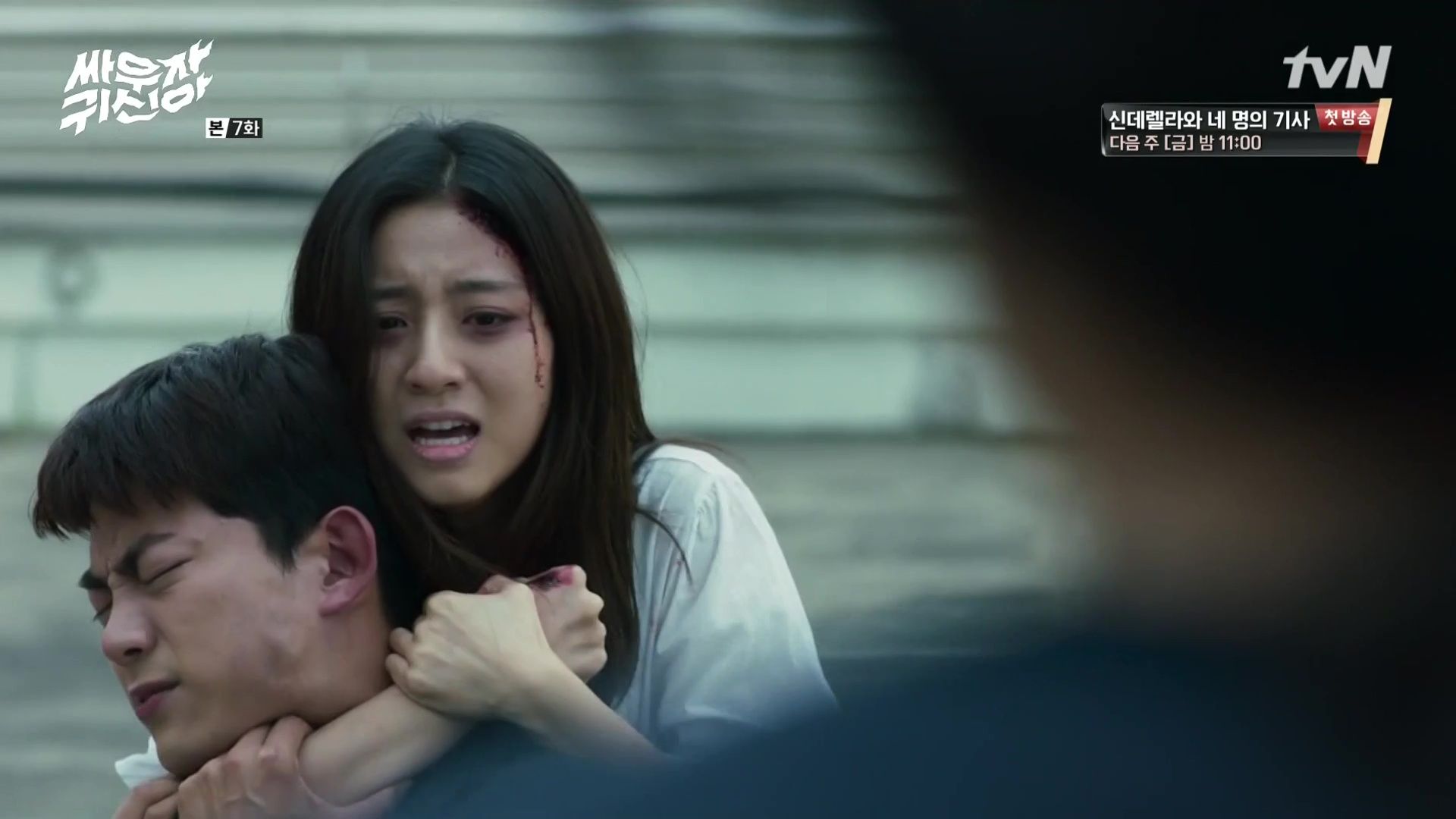 She manages to get Bong-pal in a choke hold, but Eun-song's mother shows up and screams her daughter's name. All the woman sees is her daughter, and she says apologetically that this is all her fault. She'd thought she was pushing her daughter for her own good, but now she knows she was wrong, and she begs her to stop this.
As she steps closer, the ghost screams for her not to approach. Mom takes a few more steps and the ghost starts to fall apart, as Eun-song forcibly pushes her out. Eun-song's unconscious body flies backwards, leaving the ghost still clutching Bong-pal's neck.
But now that there's no living person to harm, Bong-pal is free to fight as hard as he needs to. He punches her in the face so hard that she flips in midair, and disappears.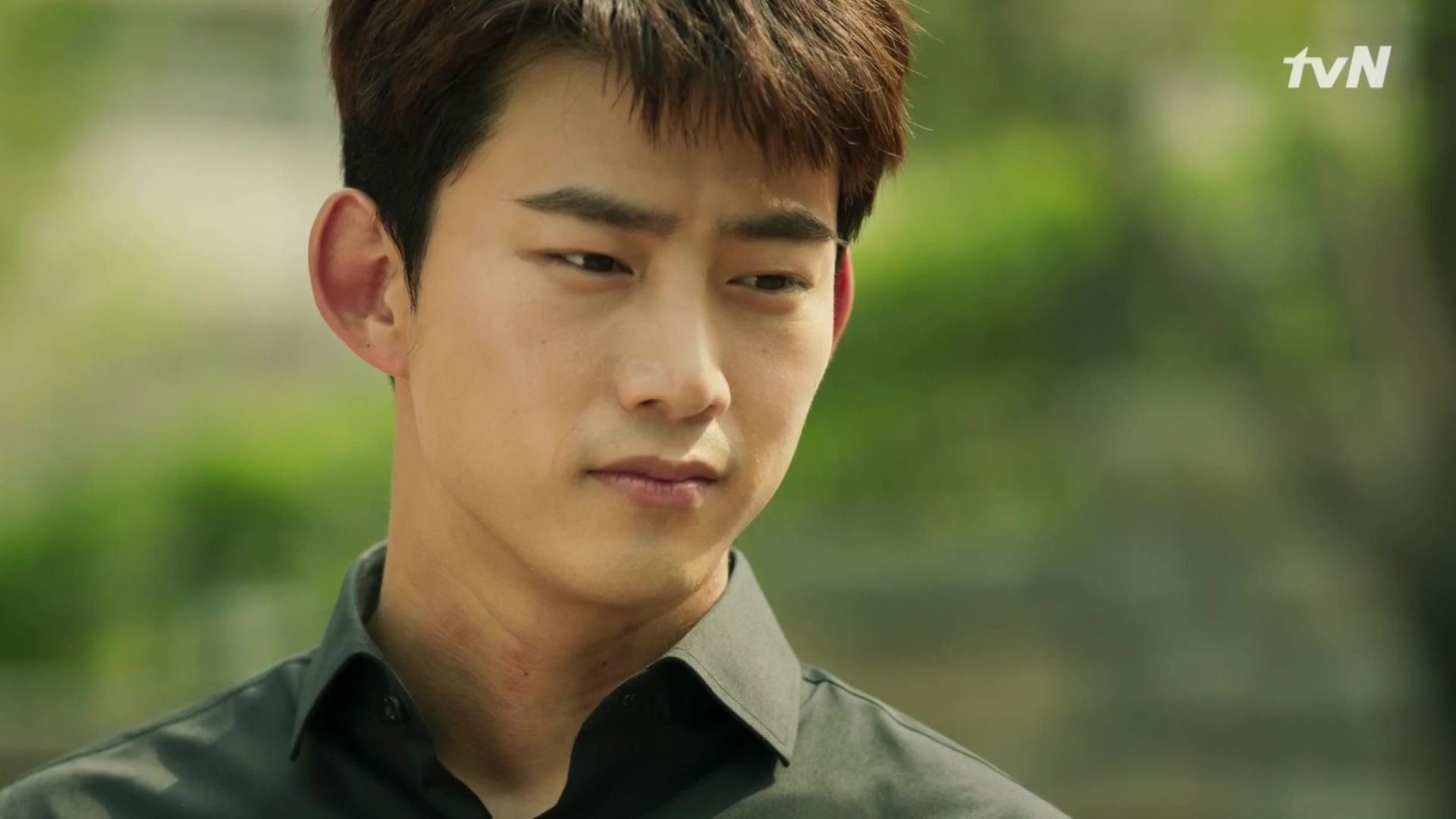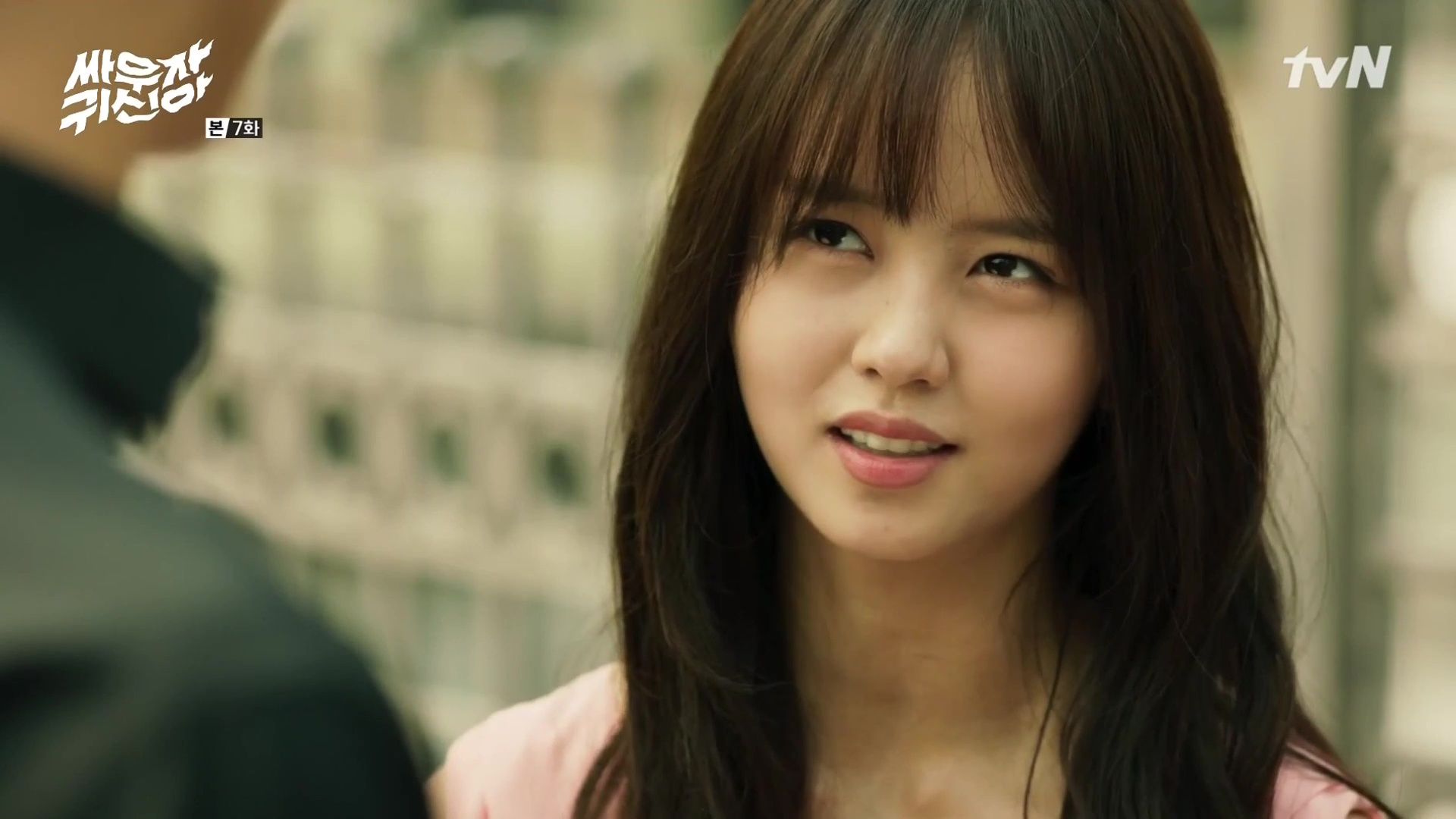 Eun-sing jerks awake in her mother's arms, and immediately bursts into tears. Her mother brushes aside her apologies for hurting her, again taking the blame onto herself, and the two women clutch each other while Hyun-ji looks on.
As they walk home, Hyun-ji tells Bong-pal that she thinks the woman she saw in her dream was her mother. She was just like Eun-song's mom, frantic and worried, and Bong-pal smiles to hear that Hyun-ji is getting her memories back. Hyun-ji is just happy to know that somewhere out there, someone misses her.
That night Hyun-ji takes another quiz, for once seeming to take it seriously. Bong-pal congratulates her on breaking eighty percent and earning her wish, and Hyun-ji says she wants to go to an amusement park. Bong-pal smirks that it's a childish wish, but he agrees to take her tomorrow after his exams.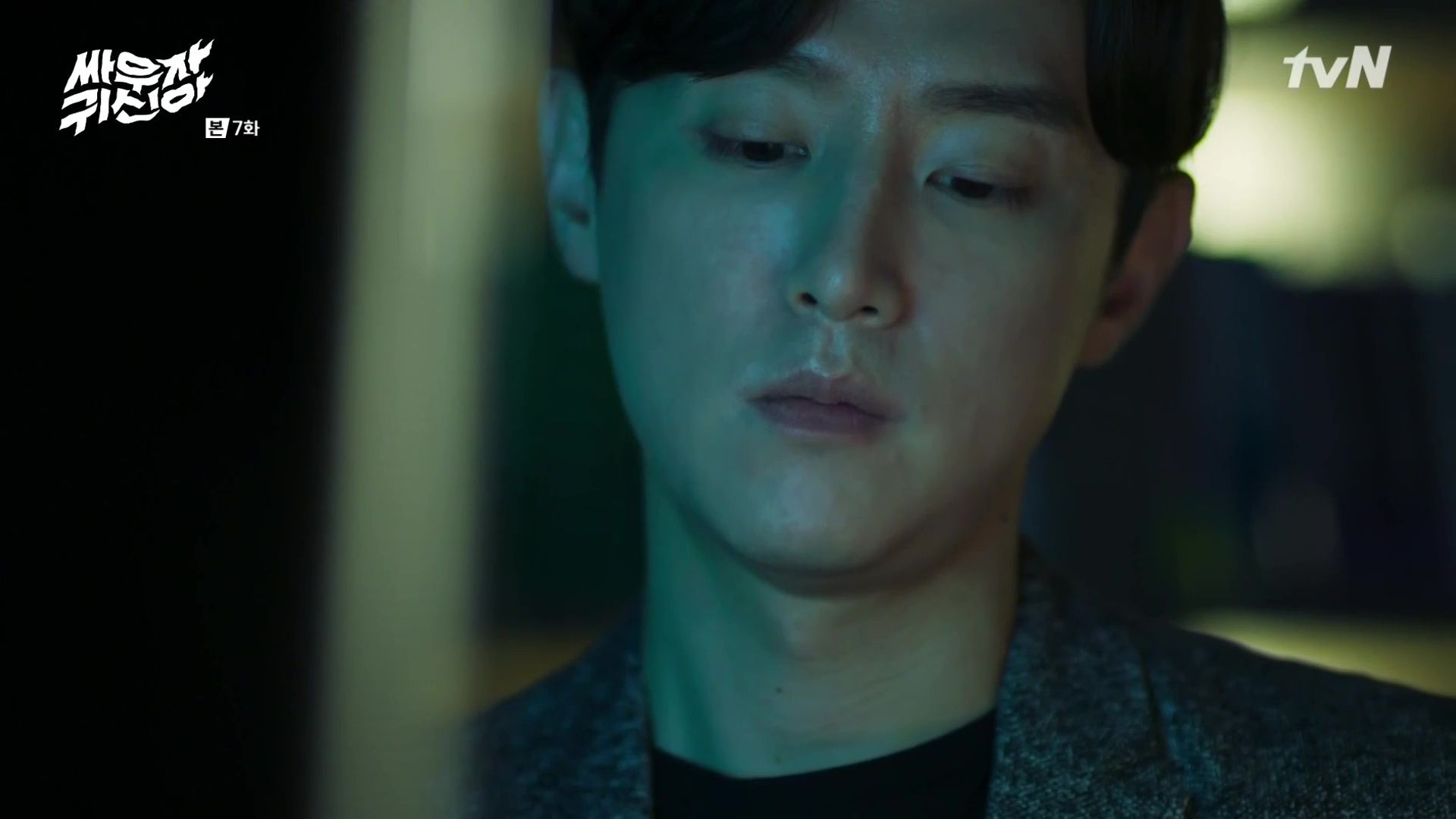 Over in his clinic, Hye-sung works late into the night, carving a butterfly out of black paper. It's quite beautiful, but still kind of eerie.
The cop on Hyun-joo's case, Detective Yang, calls for results on the autopsy. He asks if her broken neck could have happened when her body was dumped, but the coroner says it's not possible — the forensic evidence supports it being broken while she was choked.
Yang's partner brings him a CCTV video showing Hyun-joo walking home the night she died, and a figure can be seen approaching her. But the video stops there, and when it comes back on, both Hyun-joo and her attacker are gone. Yang wonders how her attacker could have stopped the video, and been strong enough to break her neck with his bare hands.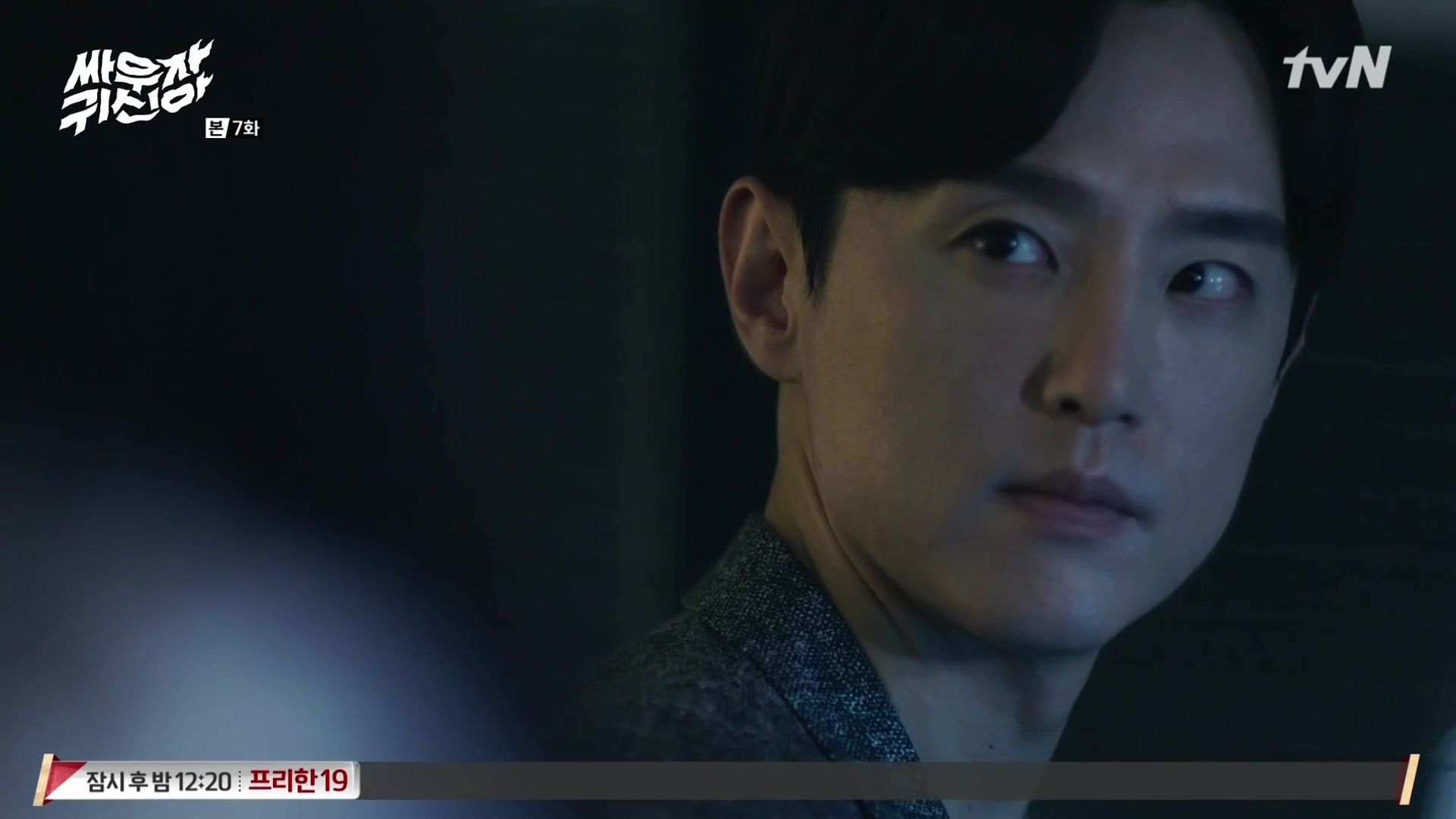 The dogs at Hye-sung's clinic all start barking at once, and he goes out to check on them. Kyung-ja pops into his office to look around, and she sees the butterfly paper carving on his desk. She hears a phone vibrating and opens a drawer, but what draws her attention is an ID card hidden in the drawer — Hyun-ji's school ID.
Hye-sung comes back into his office and sees the open drawer, and laughs to himself: "She even got in here. Too bad." Then he turns, and looks directly at Kyung-ja. Whoa.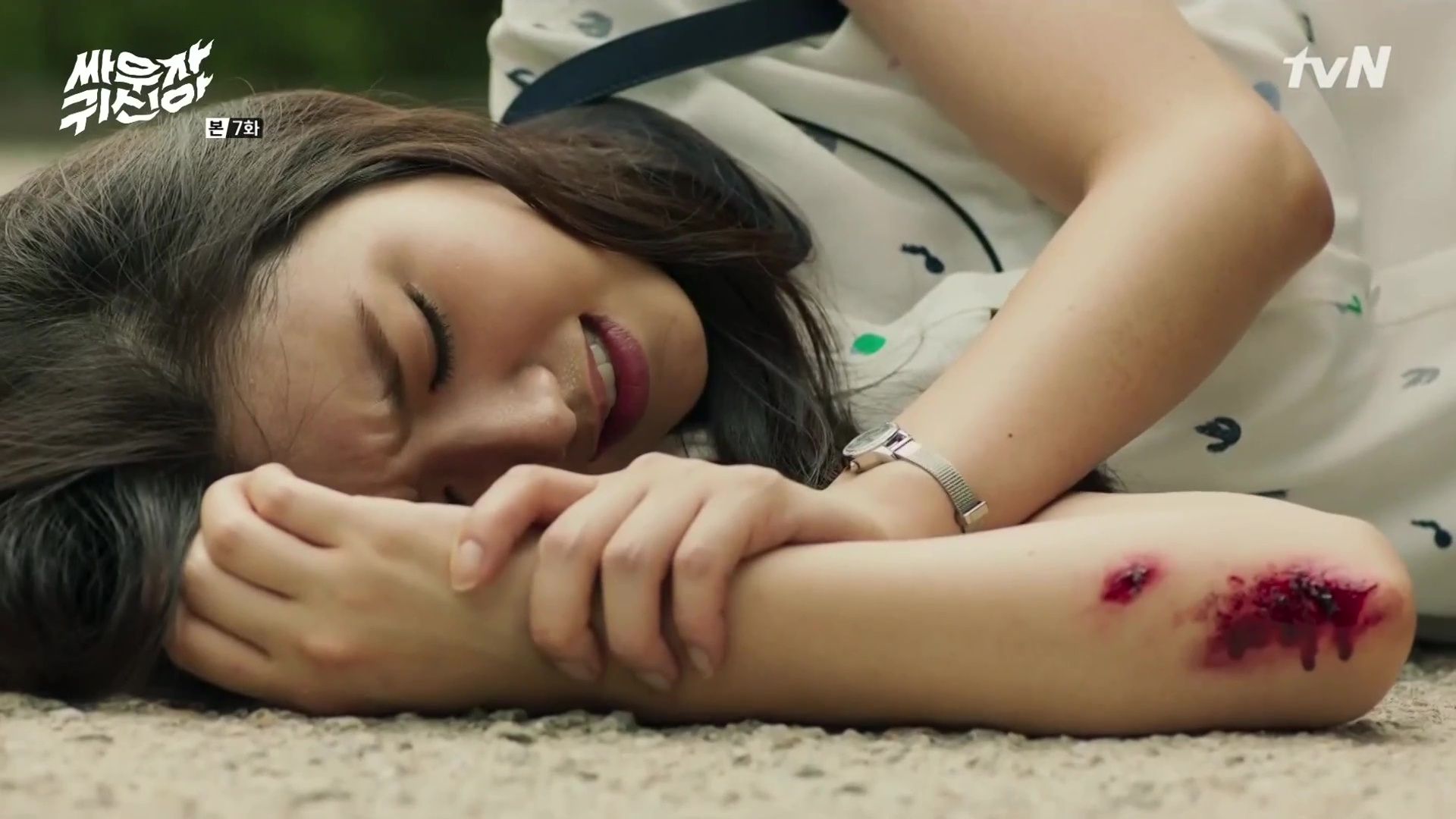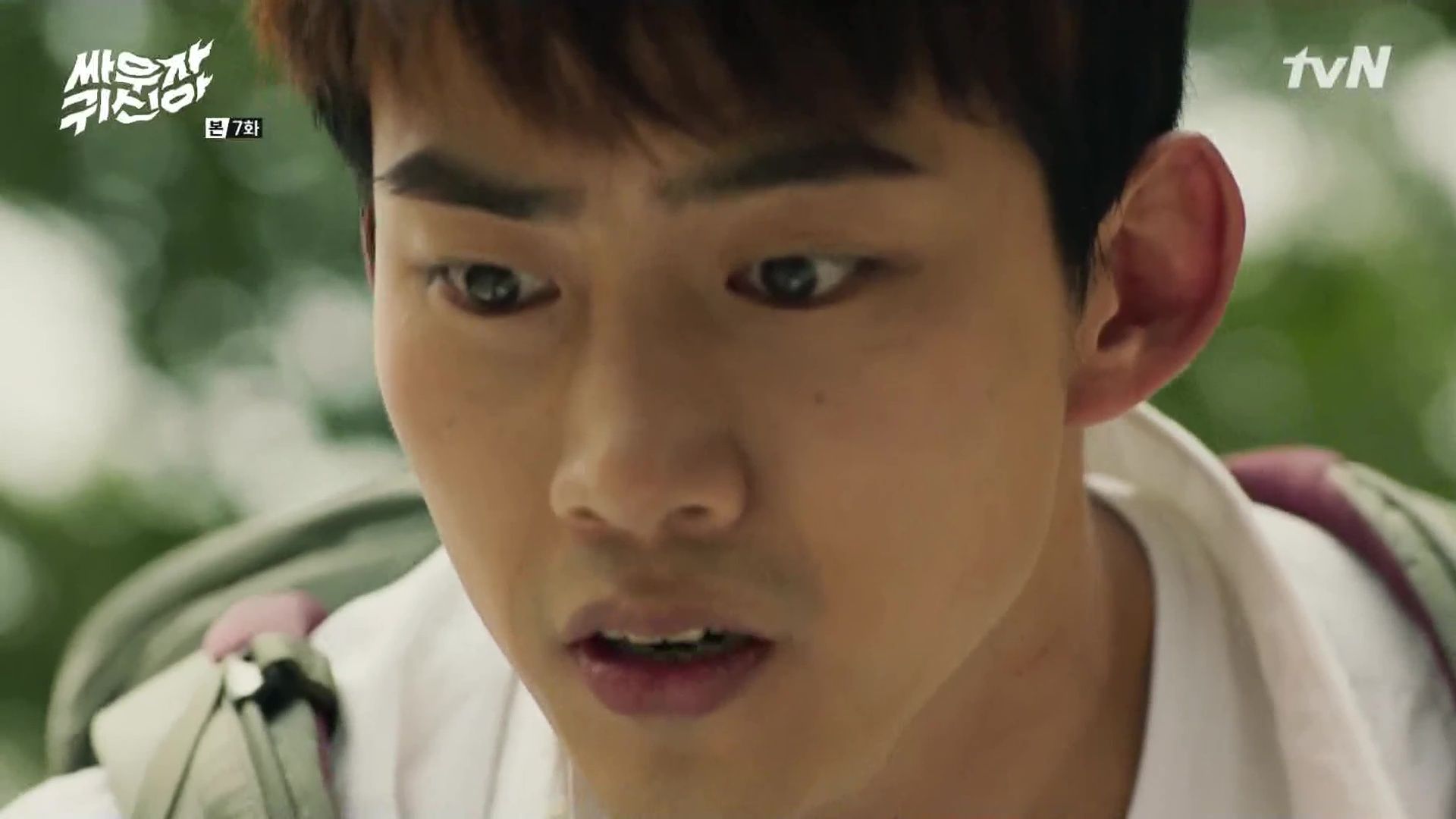 Bong-pal heads off to take his exams in the morning, promising to meet Hyun-ji when he's finished. She spends the day primping, and waits at the amusement park gates at their agreed-upon time.
Seo-yeon stops Bong-pal on his way to meet Hyun-ji, but he says he has to be somewhere. He turns to go, but a motorcycle driver takes the corner too close and crashes into Seo-yeon, and he rushes back to find that she's badly hurt. He rides with her to the hospital, while Hyun-ji waits for him until well after dark.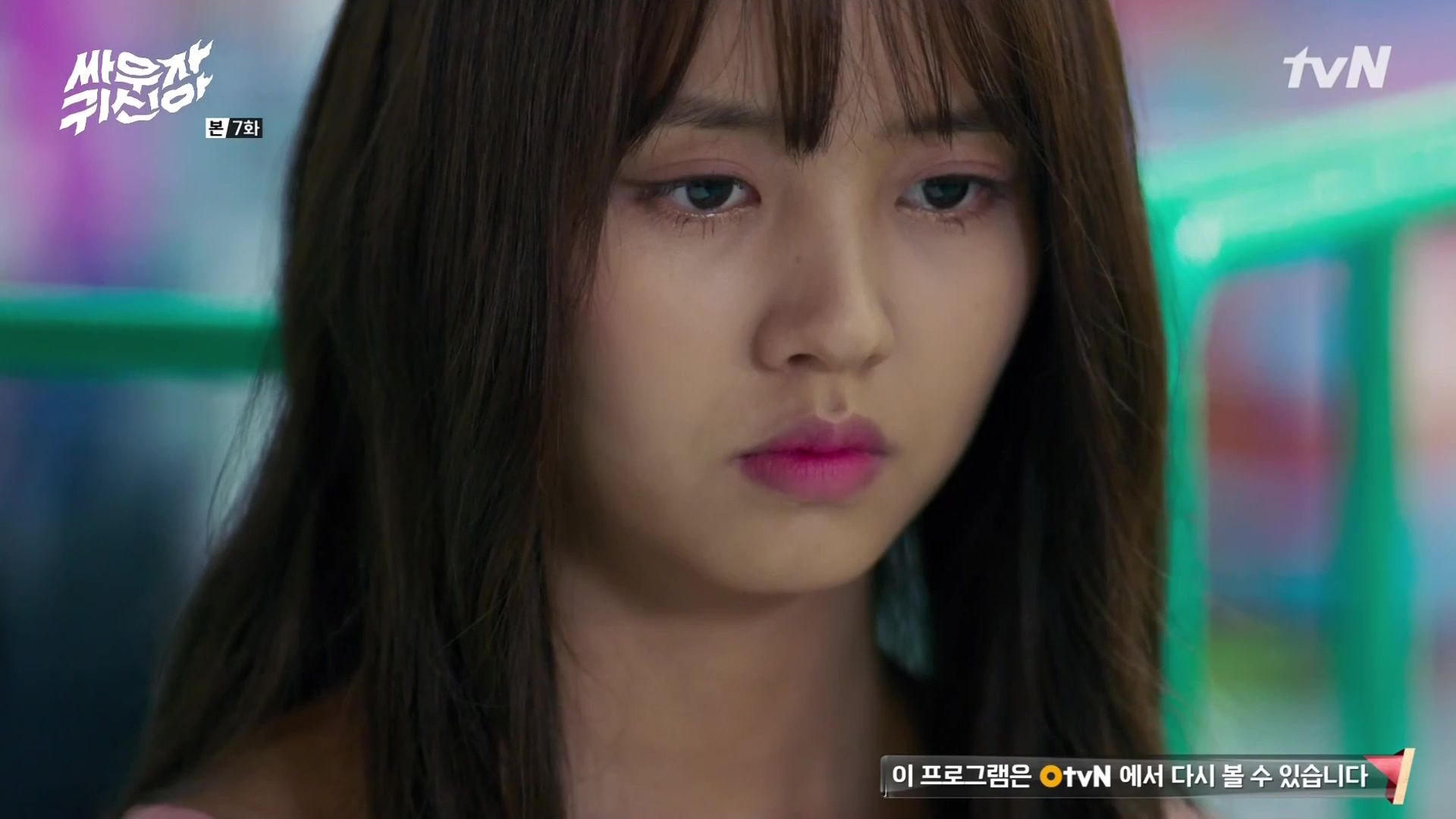 COMMENTS
I think we can safely assume that Hye-sung is the Big Bad Evil that killed Bong-pal's mother, and almost certainly his father. I do think it's strange how the show is still revealing clues about him as if we're supposed to be shocked — we were all onto him the moment we saw that nasty tattoo. It feels like the drama expects us to gasp in surprise when we were shown him menacing Bong-pal's father, when the truth is that we all figured out his connection to Bong-pal's family several weeks ago. But that's really my only complaint about the show at this point, because otherwise it's still hitting all the right notes with me.
A big part of that is due to Kwon Yul absolutely killing (hurhur) this role, and every time he's onscreen I just feel a shiver run through me. I've seen him in several dramas, and he's one of those actors I want to like more than I actually do, but I feel like the roles he accepts never really play to his strengths. Apparently that's because his strength isn't "cute but aloof second lead," but instead it's "thoroughly evil possibly-possessed murderous freak." I feel as though he could have a great career as a villain, if he chose to embrace it and run with it. I haven't felt this frightened of a baby-faced killer since Namgoong Min scared my socks off.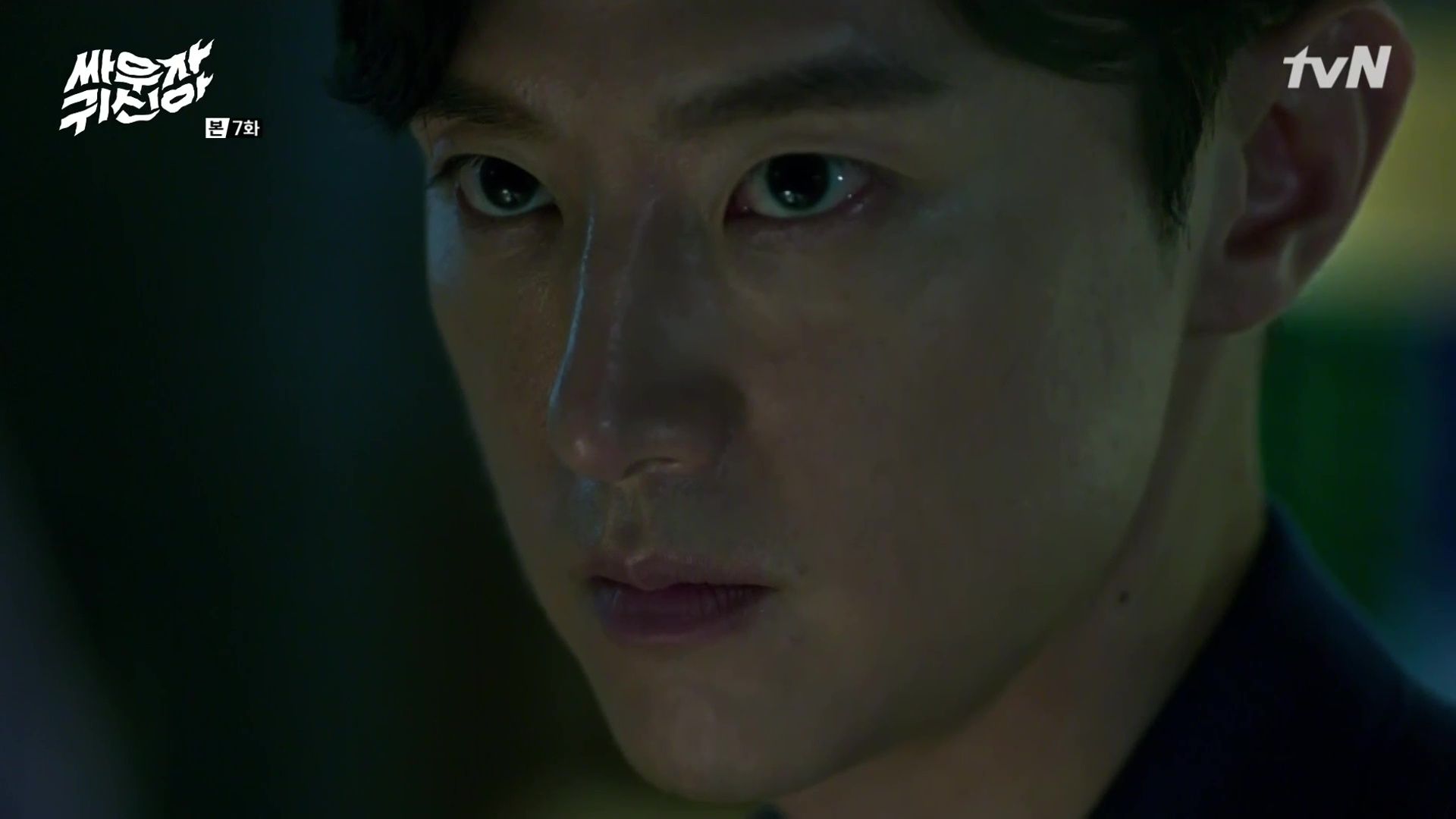 I'm still enjoying the ghost-of-the-week format, and it's clever how each ghost the team fights somehow reflects or teaches them something about what they're facing in their own lives. This is good timing to introduce a possession (Bong-pal and Hyun-ji now know that they can't fight the ghost while it's still in its host body — they have to get the spirit out before they can banish it), since I'm pretty sure Hye-sung is actually a real man who's been possessed by the demon-thing that killed Bong-pal's mother. The clues that were dropped last week seem to indicate that the real Hye-sung existed before — that he'd accepted an overseas position, then suddenly turned it down at the last minute and closed his successful practice to move to a less-affluent clinic and teaching job, which just so happened to be at Bong-pal's college. I'm assuming at this point that the demon took over his body at that point to get closer to Bong-pal, and now he's using his professorial position to learn more about Bong-pal himself. Though I'm still curious why he's so interested in Bong-pal… it was his father who appeared to be chasing him, and now he's out of the picture. Bong-pal just wants to "fix" his eyes and live a normal life, and seems to have no interest in finding and punishing the entity that killed his mother. So why is Hye-sung following him so intently?
I'm definitely starting to believe that Hyun-ji is not a ghost in the sense that she originally seemed to be. Even the possession ghost called her strange, and that adds up with all the other clues that something about Hyun-ji isn't "normal" in the ghostly sense. She's the only ghost who looks to Bong-pal like a real living person, that doesn't shimmer and revert to how they appeared when they died. She gets tired, which none of the ghosts they've fought seem to have a problem with, and she doesn't remember anything about her life. Her rising memories of still being alive when rushed to the hospital seem to support more and more the theory that she's simply in a coma, and not dead after all. And can we talk about that hand that touched her face as she lay in the street? It's not a stretch to guess that it's likely Hye-sung (or at least the thing possessing him in a different body — I don't think he's been in Hye-sung's body for five years, since everyone talks about his change as if it's fairly recent), especially since he has her student ID card.
Hyun-ji's jealousy over Seo-yeon is about to take a big leap in intensity, and I have a feeling that it's only partly about Bong-pal, and partly about the simple fact that Seo-yeon is alive. It must be hard to be so young and have to watch life move past you, seeing others do the things you never got to do, and you can't join in. It's another reason I hope that Hyun-ji isn't actually dead — I want so badly for her to be able to live again, and experience everything that life has to offer a beautiful, bright young woman. She's a good person, and she deserves that.

RELATED POSTS
Tags: Bring It On Ghost, featured, Kim So-hyun, Kwon Yul, Taecyeon