Bring It On, Ghost: Episode 9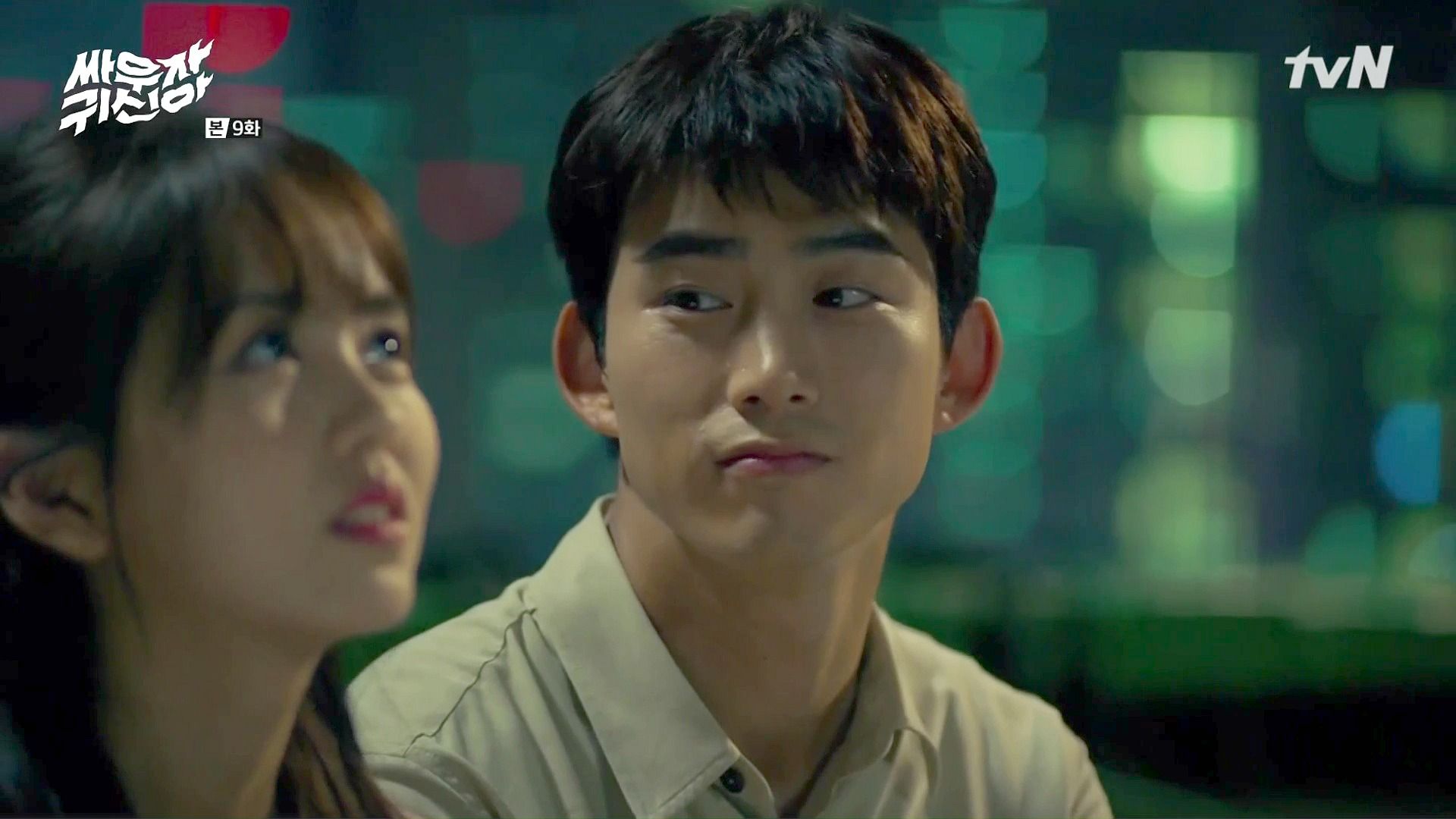 When it becomes harder to hide blossoming feelings, the question arises — can a ghost experience real love? Could a human ever have a healthy relationship with a spirit, or would the world view it as unnatural and wrong? Being in any relationship with a ghost is difficult, be it friendship or possibly more, and the time is nearing for Bong-pal and Hyun-ji to decide if their continued association is right, or healthy, for either of them.

EPISODE 9 RECAP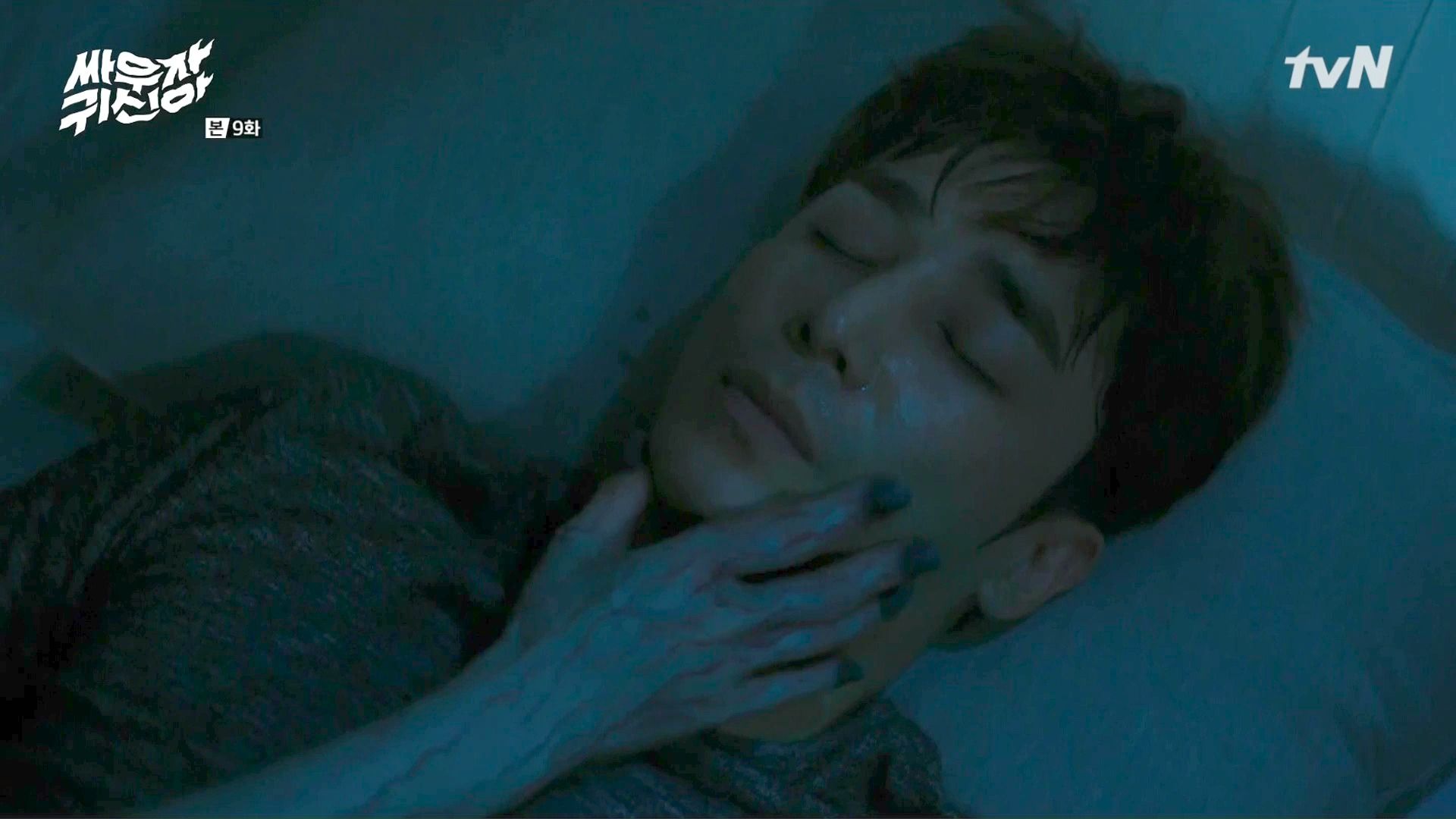 Hyun-ji wins the game of rock-paper-scissors with Bong-pal, then asks for her wish — for him to forget her confession that she likes him. Bong-pal grumbles to himself that she's confusing him, and she says she can stay with him longer if he grants this wish. But before he can say a word, Hyun-ji starts to grow dizzy and flicker, then she disappears.
Bong-pal panics and runs in circles, calling Hyun-ji's name. Just a moment later she reappears, looking shocked, and Bong-pal runs to her and grabs her in a hug. Relieved tears spring to his eyes, and he tells her fervently never to disappear again.
In a large house somewhere, a girl in a flowing white dress approaches a sleeping man. She cries bloody tears as she reaches out a hand to his throat, and he wakes and screams. (Cameos by Jin Yi-han and Lee Soo-kyung.)
Bong-pal and Hyun-ji are adorably nervous as they arrive back at his place, and Bong-pal retreats to his bedroom as quickly as possible. He comes right back out to offer to let Hyun-ji sleep in his room from now on, stating that it's too hot in there for him. Oh you, so chivalrous. Hyun-ji trots into his room and finally lets herself squee at his obvious care for her, and Bong-pal smiles as he overhears her happy giggles.
Through Detective Yang's careful inquiries, we learn a bit more about Hye-sung… his father died in an accident when he was a kid, and he grew up with only his mother. He keeps in touch with her now, but he doesn't visit her. Other than that he's pretty boring, pays his bills on time, never gets in trouble. He does a lot of volunteer work and never even loses his temper.
He does have some fascinating medical records, though. When he was young he was sick a lot, but other than that he's pretty perfect. "Right, too perfect to be human," Detective Yang muses to himself.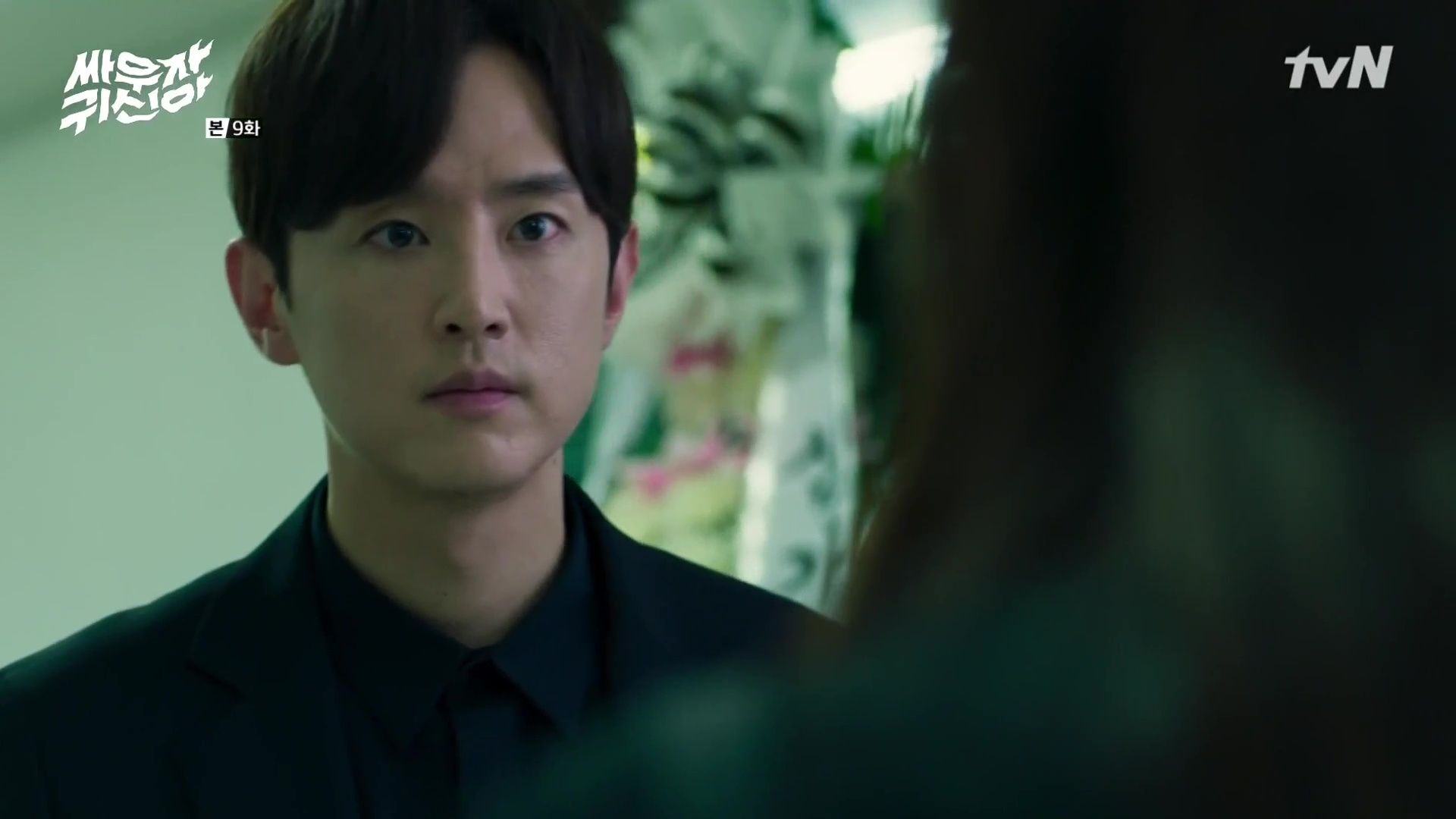 He reluctantly decides this is a dead end, and asks his assistant to look into Hyun-joo's cell phone records for any other likely suspects. But he does add for Hye-sung's phone records to be checked for the two days that Hyun-joo was missing.
Hye-sung pays his respects at Hyun-joo's funeral, and takes the opportunity to listen for any rumors about her death. Her fellow students seem to be suspicious of one mourner, a boy named Min-soo who asked Hyun-joo out last year. Hye-sung's sharp gaze lands on the kid for just a moment, then he turns to go.
He runs into Seo-yeon on his way out, but he's not his usual smiling and affable self today. He curtly tells her to go offer her condolences, and quickly leaves. He waits in his car for the now-drunk Min-soo to leave the premises, then drives away.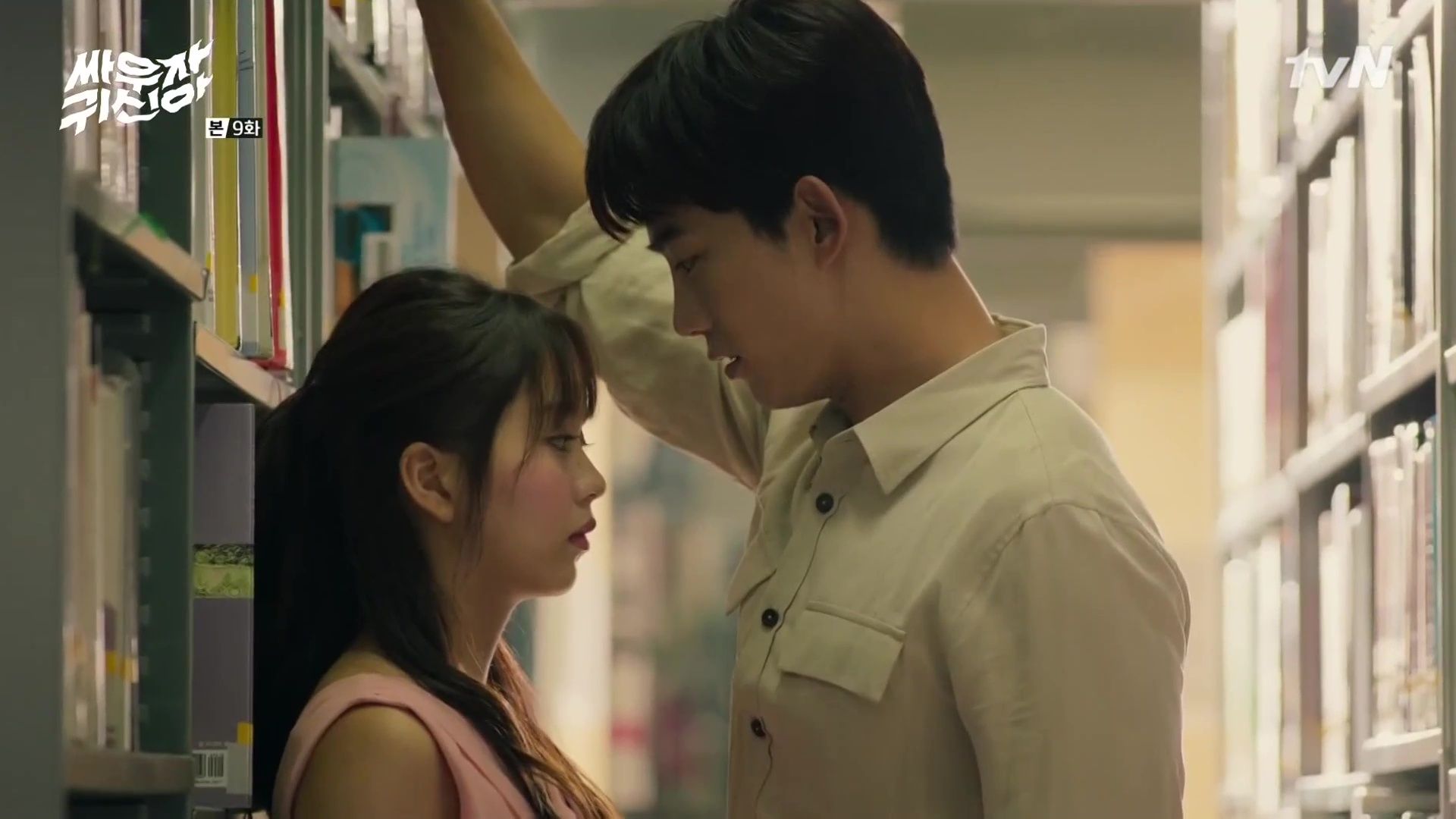 Hyun-ji wakes in the morning to the sounds of Bong-pal making breakfast, and whoa, he's really gone all out. He gives her a big grin when he sees that she's awake, and sets down a massive meal. Hyun-ji is too busy smiling at Bong-pal to eat much, and she takes these weird tiny bites like she's trying to look like a dainty dainty princess, hee. She acts like she always eats like this when Bong-pal notices, and he looks at her like she's lost her mind.
They both grow shy again when their hands bump on the way to the bus stop, then when the light turns green, Bong-pal takes Hyun-ji's hand and they run. Later they find themselves very close together at the library shelves, and a student pushing by shoves Bong-pal even closer. Hyun-ji blushes furiously and poofs away.
In-rang orders lunch boxes for the club, and Chun-sang assumes the extra-fancy fourth one is for him, heh. In-rang smacks his hand and says it's for Hyun-ji, all giggly over his crush, and if I didn't know any better, I'd think Chun-sang was wildly jealous. Actually yeah, we're just going to go with jealous.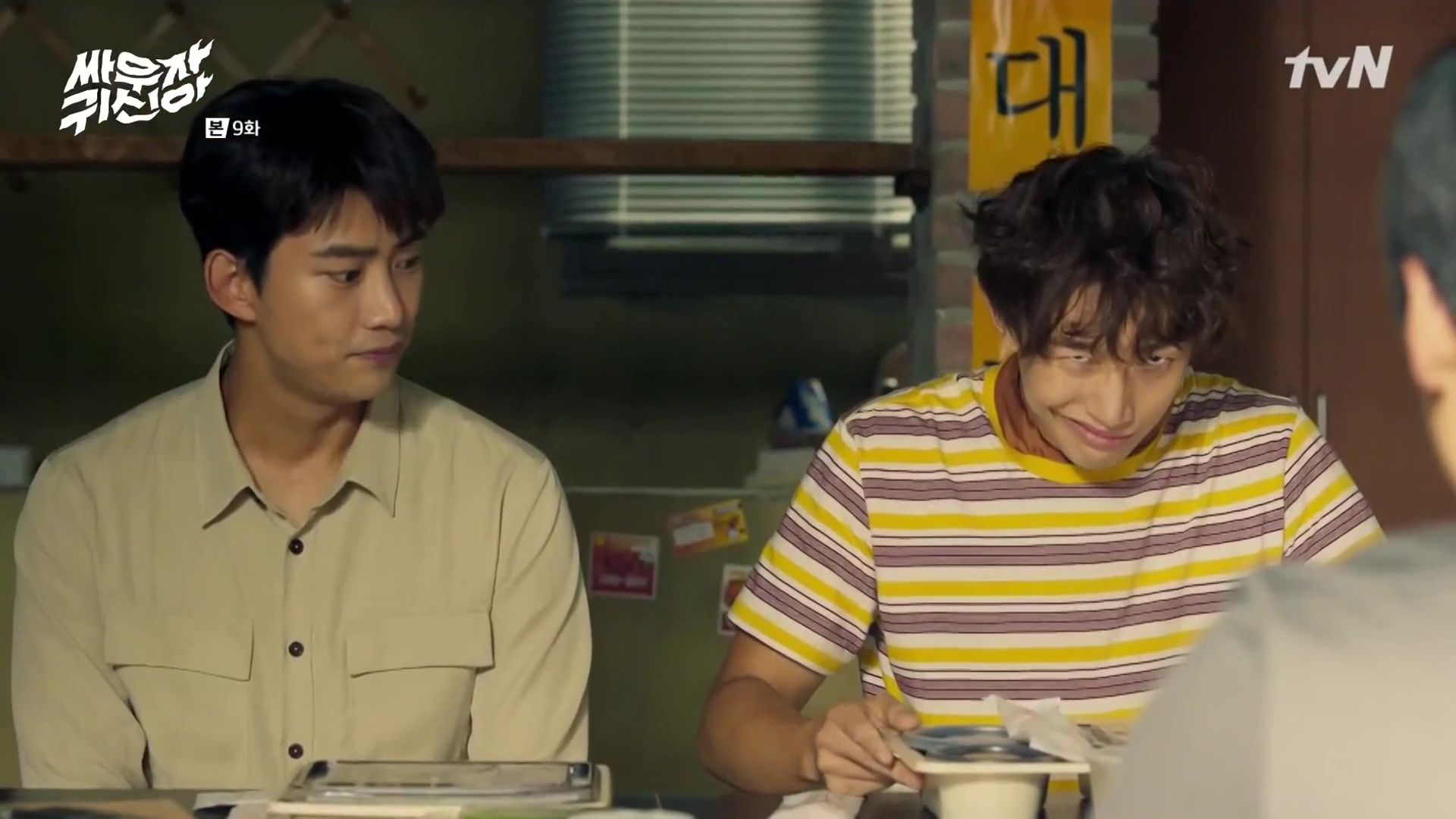 Hyun-ji finds a spot in the park to enjoy her thudding heart, and wishes Kyung-ja were here to dish about Bong-pal. She wonders where her friend's gone, since she hasn't seen her in a while.
Bong-pal arrives at the club room and wilts when Hyun-ji isn't here, and he has to break it to In-rang when he adorably waves hi to Hyun-ji. Awww, poor disappointed In-rang. Chun-sang smirks at his chance to eat her expensive lunch, but a puppy-snarl from In-rang disabuses him of that idea.
Chun-sang notices that Bong-pal seems down, and Bong-pal asks them what someone should do if he wants to do something nice for a girl, but hasn't got any ideas. Not him of course, he's asking for a friend.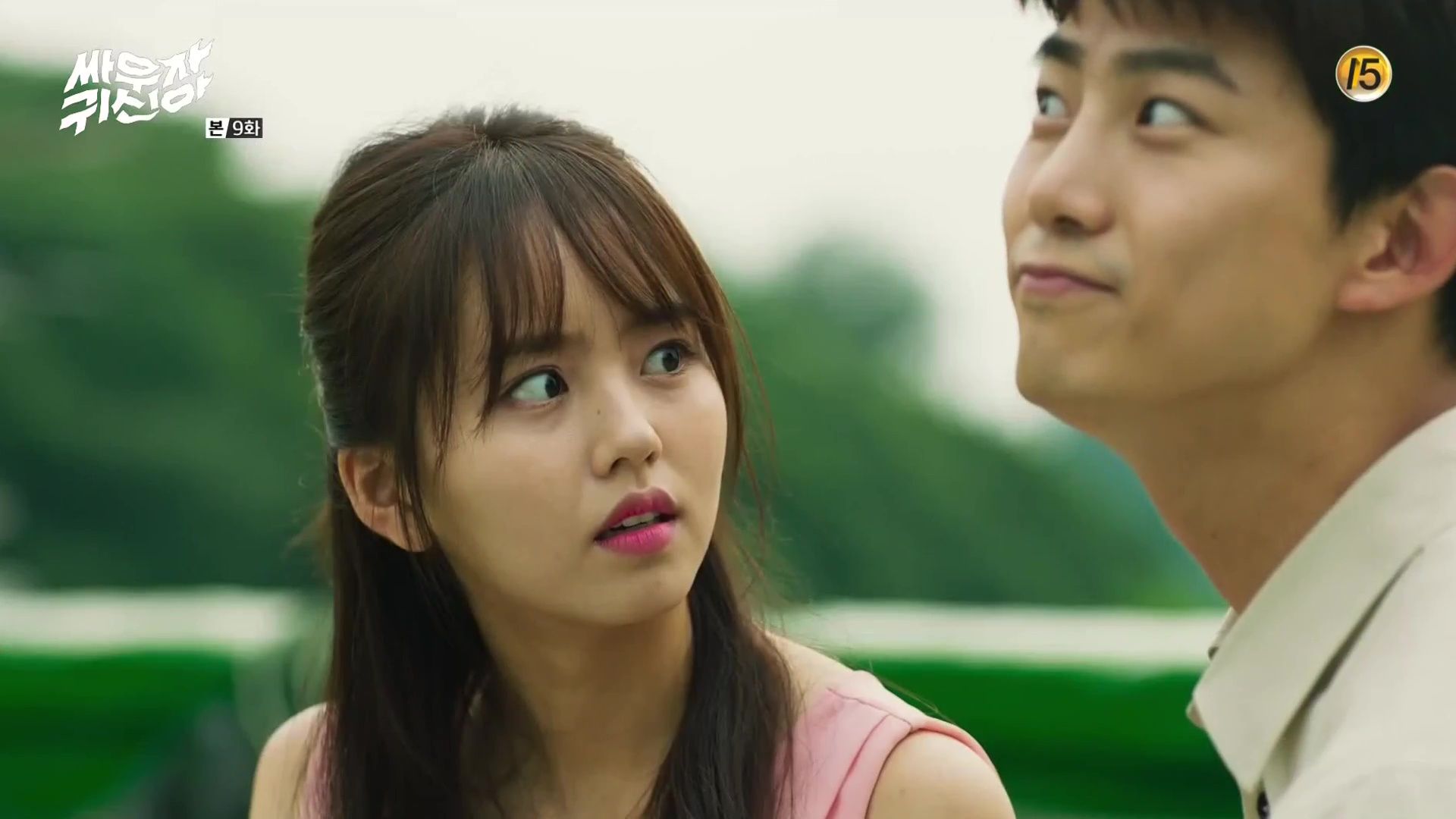 Chun-sang's advice is that first, Bong-pal should figure out what kind of men the girl in question likes. Using In-rang as an example, he points out that it's okay to be ugly (hey!), because women don't care so much about looks. He advises Bong-pal to show her his profile with that manly Adam's apple, then to gaze at her passionately to stir her heart. And lastly, he should make her laugh.
Bong-pal heads home, but the place is empty, and he finds Hyun-ji's doctored photos of himself and Seo-yeon on the retreat. He goes all goofy when he sees the one she drew herself into, and heads up to look for her on the roof.
She's there, and Bong-pal fusses at her for making him look for her when he just told her not to disappear on him. He remembers Chun-sang's advice and lifts his face to show off his profile, leaning in awkwardly to make sure she notices his Adam's apple (it's two inches from her face, I think she notices).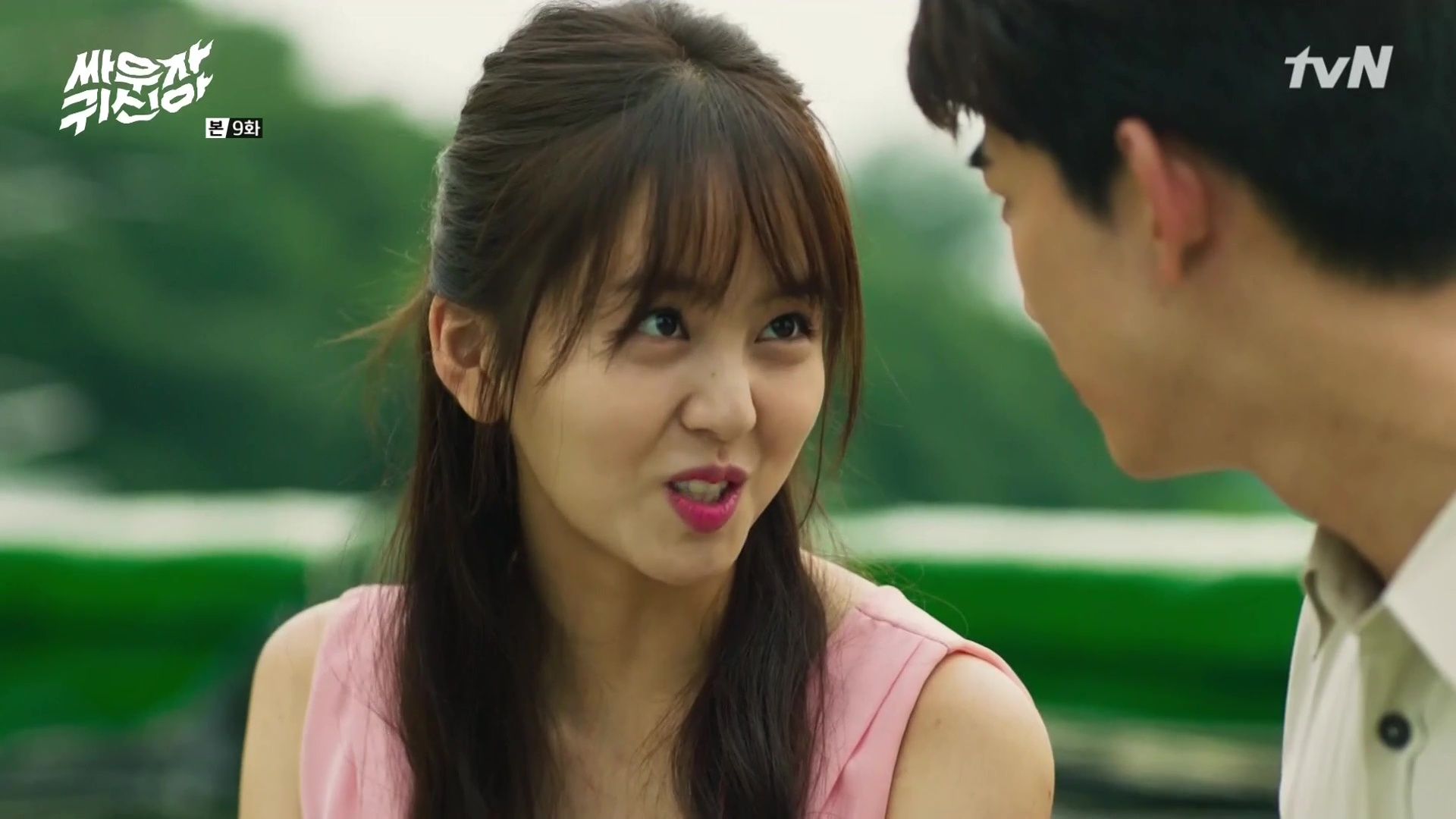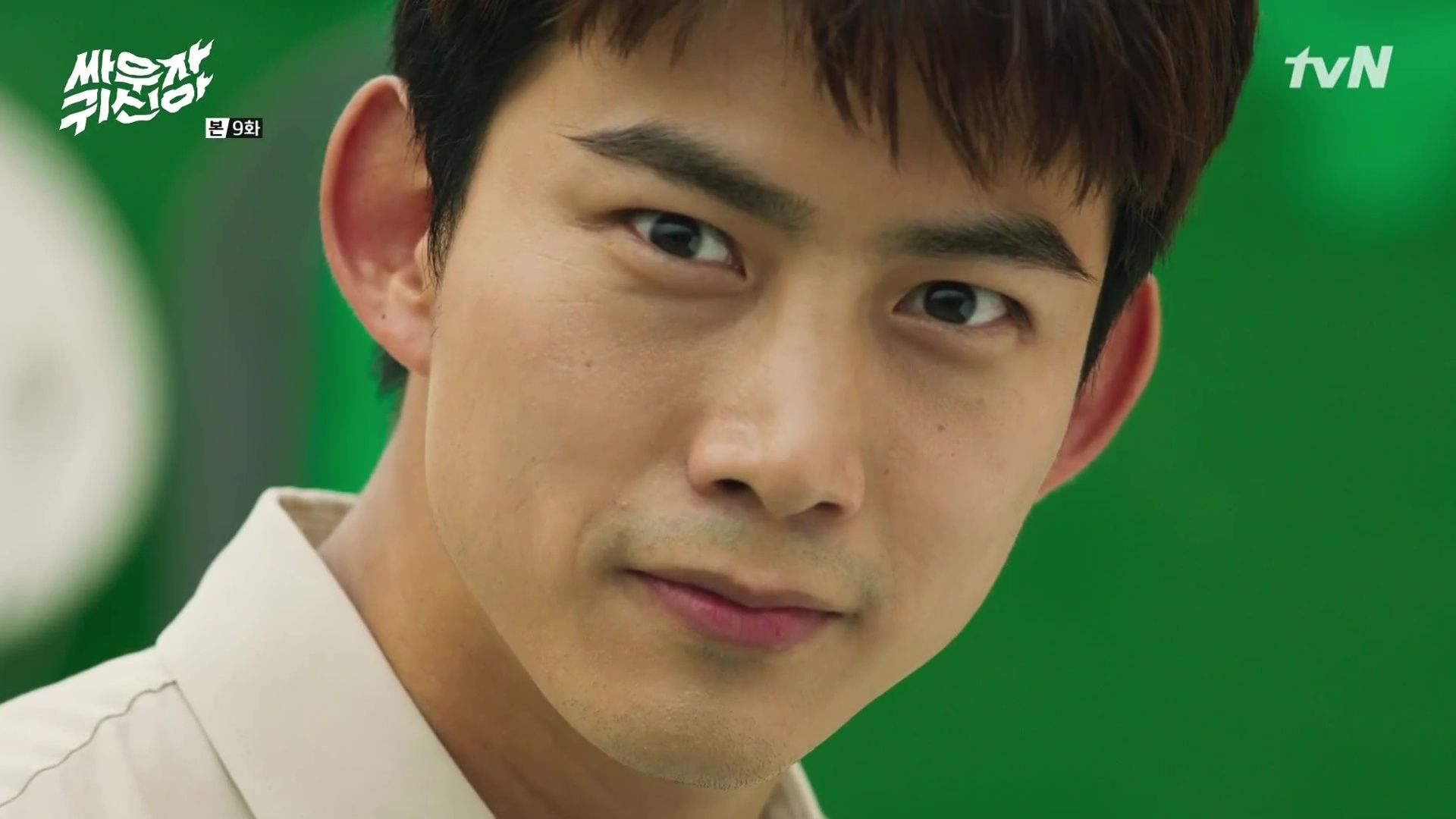 That doesn't work, so he tries step two, the Look. Oh god, I'm dying, and Bong-pal looks like he's about to crack up. Hyun-ji just thinks they're having a staring contest, so Bong-pal bails. He's left with making her laugh, and tells her stupid jokes until Hyun-ji asks if there's something wrong with him today.
Bong-pal decides to go with what he knows works — grilling meat for her. He smiles as she dances and digs in, having figured out the way to her heart. They sit and look at the stars after dinner, and Bong-pal tells Hyun-ji about Altair and Vega, and Hyun-ji says they must be sad to be so far apart. Bong-pal sees it differently, saying that they're probably grateful that they get to meet once a year, even for only one day.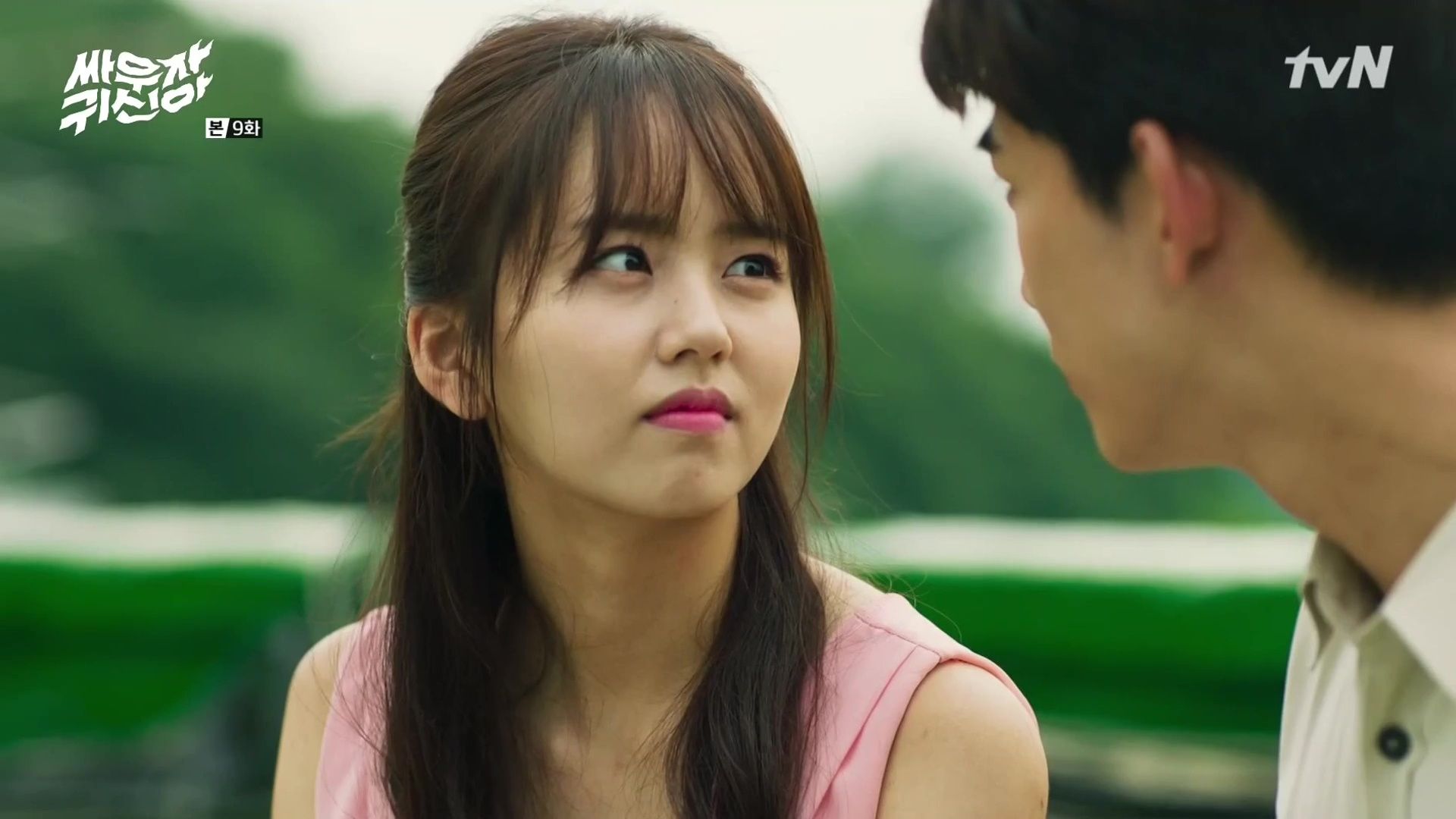 Hyun-ji likes the sound of that, and Bong-pal tells her about more stars, explaining that his father taught him about constellations. Swoon… now that's how you impress a girl, by being yourself.
Late that night, Hyun-ji wants to talk, but Bong-pal tells her to sleep since they're going out tomorrow. She asks if it's a date, and he doesn't deny it, and sends her to bed.
In the morning he asks what she wants to do, and Hyun-ji wants to keep it simple, like a real date — a meal, tea, a movie. He taps some suds on her nose, and she retaliates by smearing his whole face with bubbles, and they cutely chase each other around before going to get ready for their date.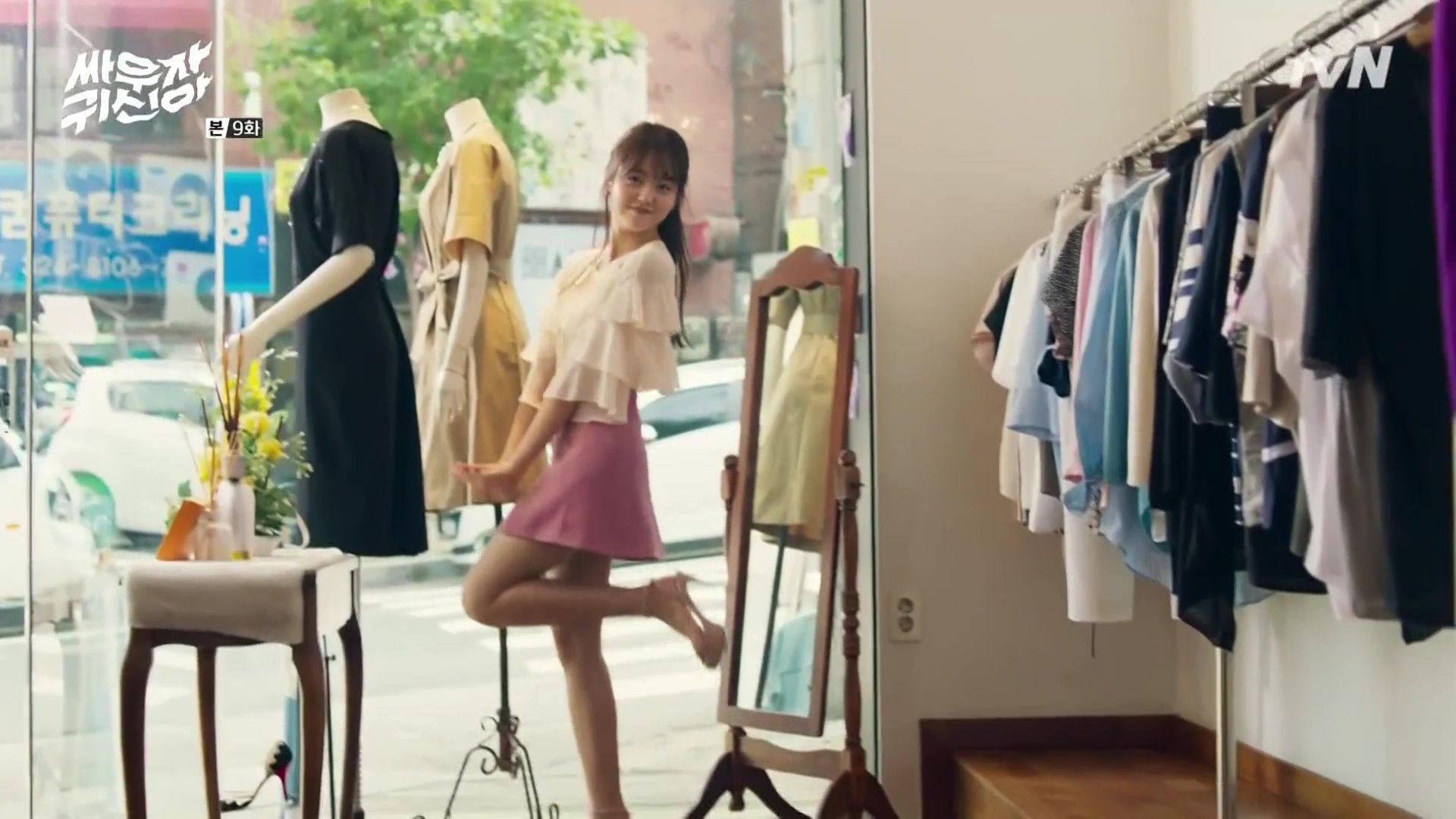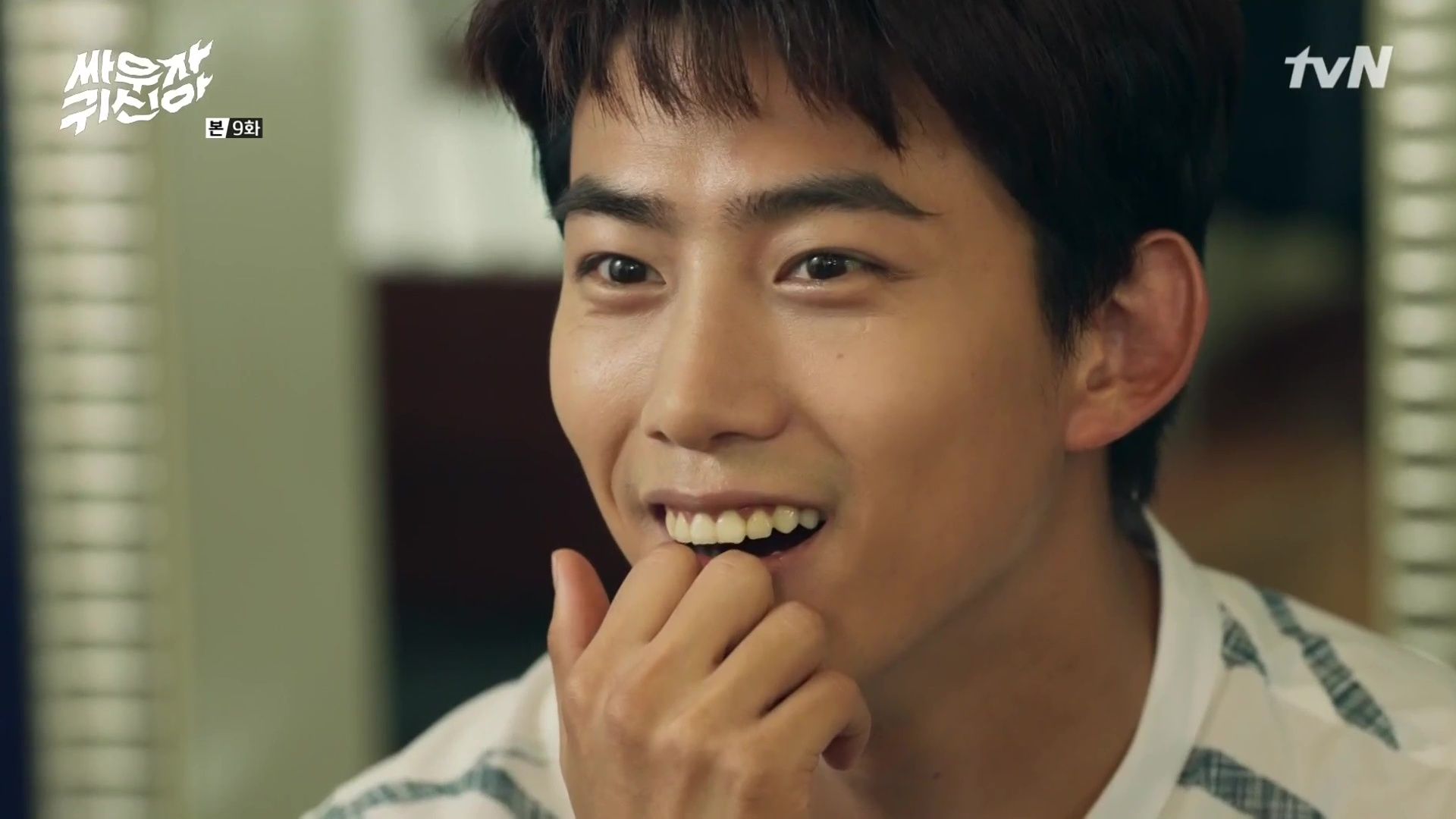 Bong-pal bounces nervously as he waits, wearing what looks like his best shirt. Hyun-ji is contemplating her limited wardrobe and trying to decide what to wear, and she tries on combinations of her outfits and huffs that nothing looks right.
She finally shows up downstairs, wearing her pink dress and black "work" shoes. Bong-pal notices but doesn't comment, and takes her straight to a clothing store. I knew he'd come through.
He doesn't even care that the shopkeeper is giving him weird looks for holding up potential outfits and talking to thin air, and they finally settle on a pretty white dress and the high heels Hyun-ji has been coveting. They go on the cutest date ever, flirting outrageously and holding hands at every opportunity.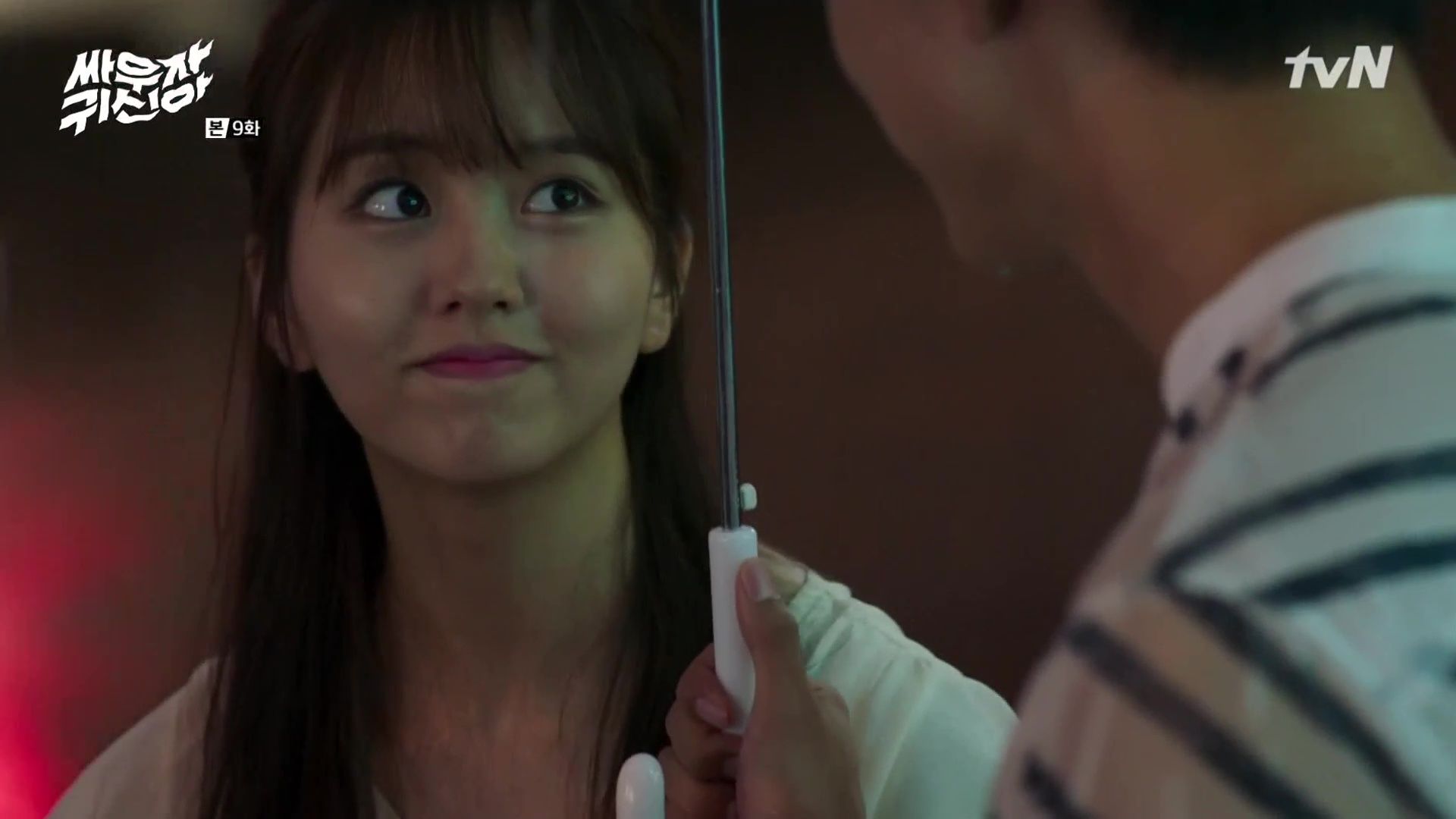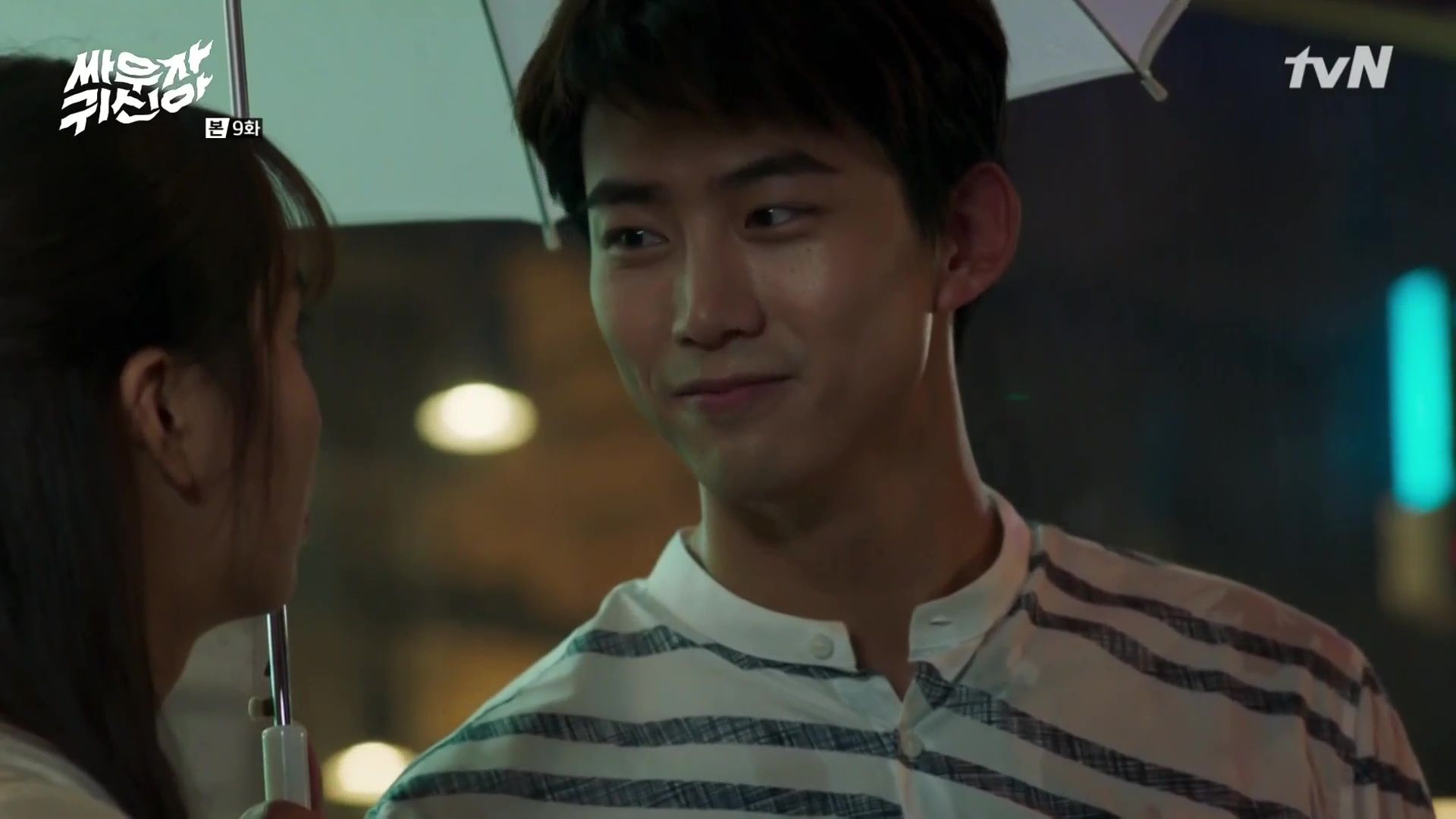 Bong-pal does get some strange looks, as he's not even trying to hide the fact that he's on a date with a ghost. He buys a couple seat at the movies, drawing stares from nearby moviegoers, but he doesn't even care. He easily agrees when Hyun-ji says they feel like a real couple, and feeds her popcorn. I can't stand it.
They go out to eat, where Bong-pal gets more weird looks when he orders for two and asks for Hyun-ji's glass to be filled. Hyun-ji basks in his attention, happy to be treated like a real live girl for an entire day.
As they walk home, Hyun-ji promises to work hard to earn back some of the money Bong-pal spent on her today. They run when it starts to rain on them, And Bong-pal buys an umbrella for them to share. It's not a big umbrella, and he lets his shoulder get wet so that Hyun-ji can stay dry, which is so cliché but I love it.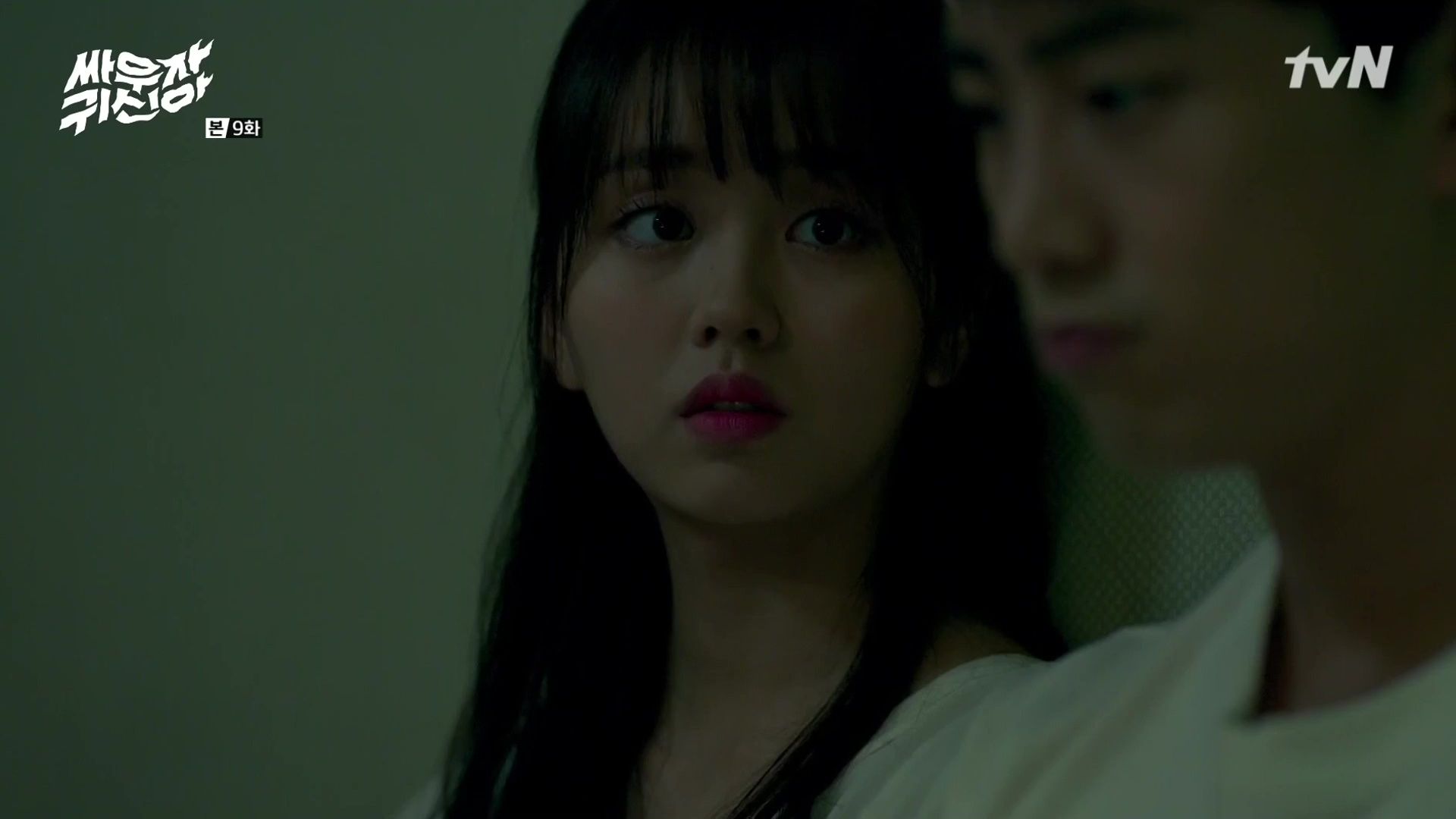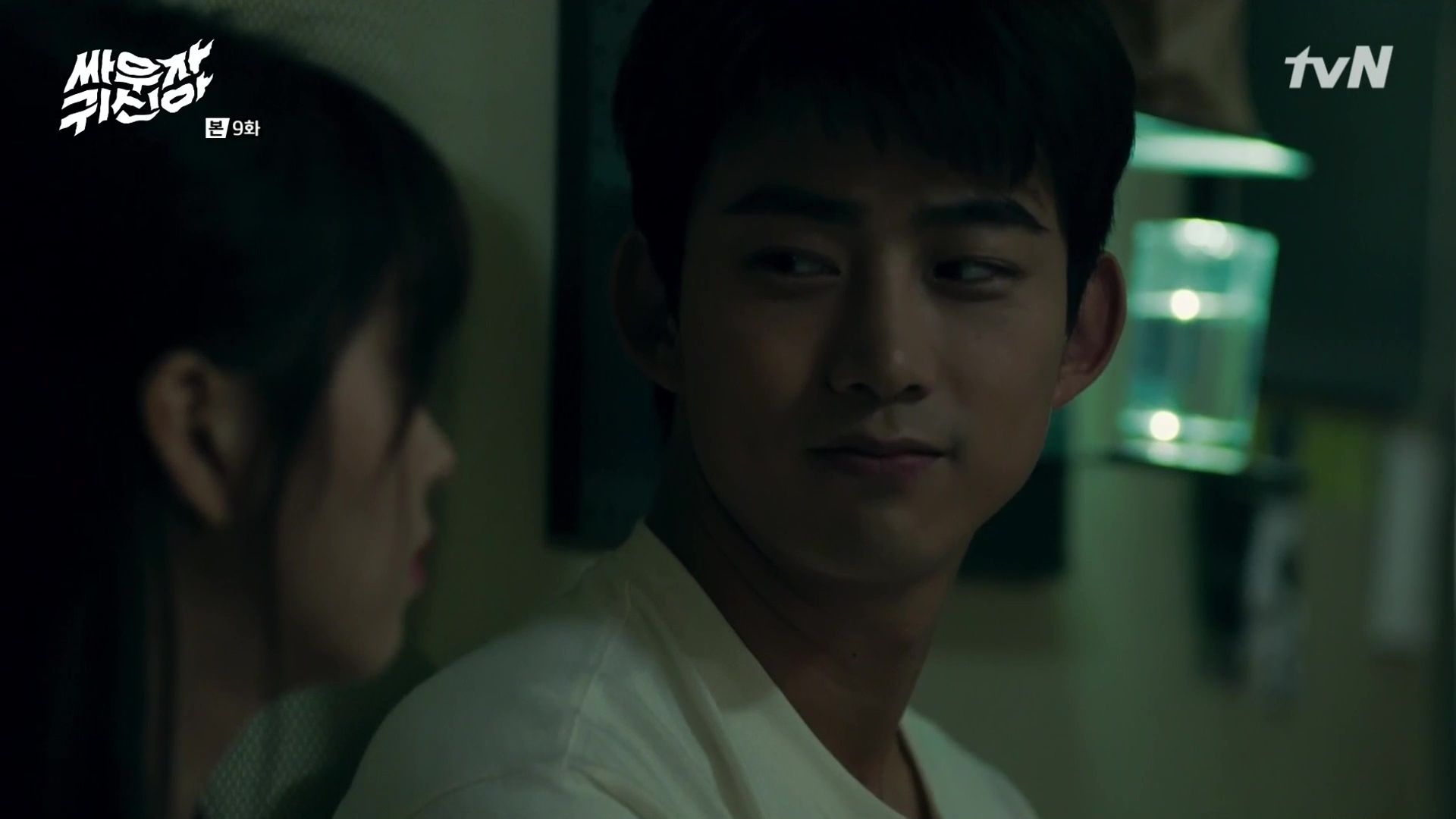 Detectives Yang and Kim get some new information — photos from a toll booth CCTV camera that clearly show Hye-sung's car. Yang orders him brought in for questioning, even if they have to arrest him to get him here.
Hye-sung is also thinking about the detectives, feeling that they're getting too close to the truth. That same night, Hyun-ji sleeps restlessly, reliving her few memories of her accident. Bong-pal hears her gasp awake just as the lights go out, and he rushes into his room to check on her.
He sits on the bed with her to calm her down, and when she's feeling better, she asks him when he started seeing ghosts. He says he was five when it started, that monk Myung-chul says he's got evil spirits inside of him. He admits that he was scared back then, and gives Hyun-ji a meaningful look… "But now it's okay."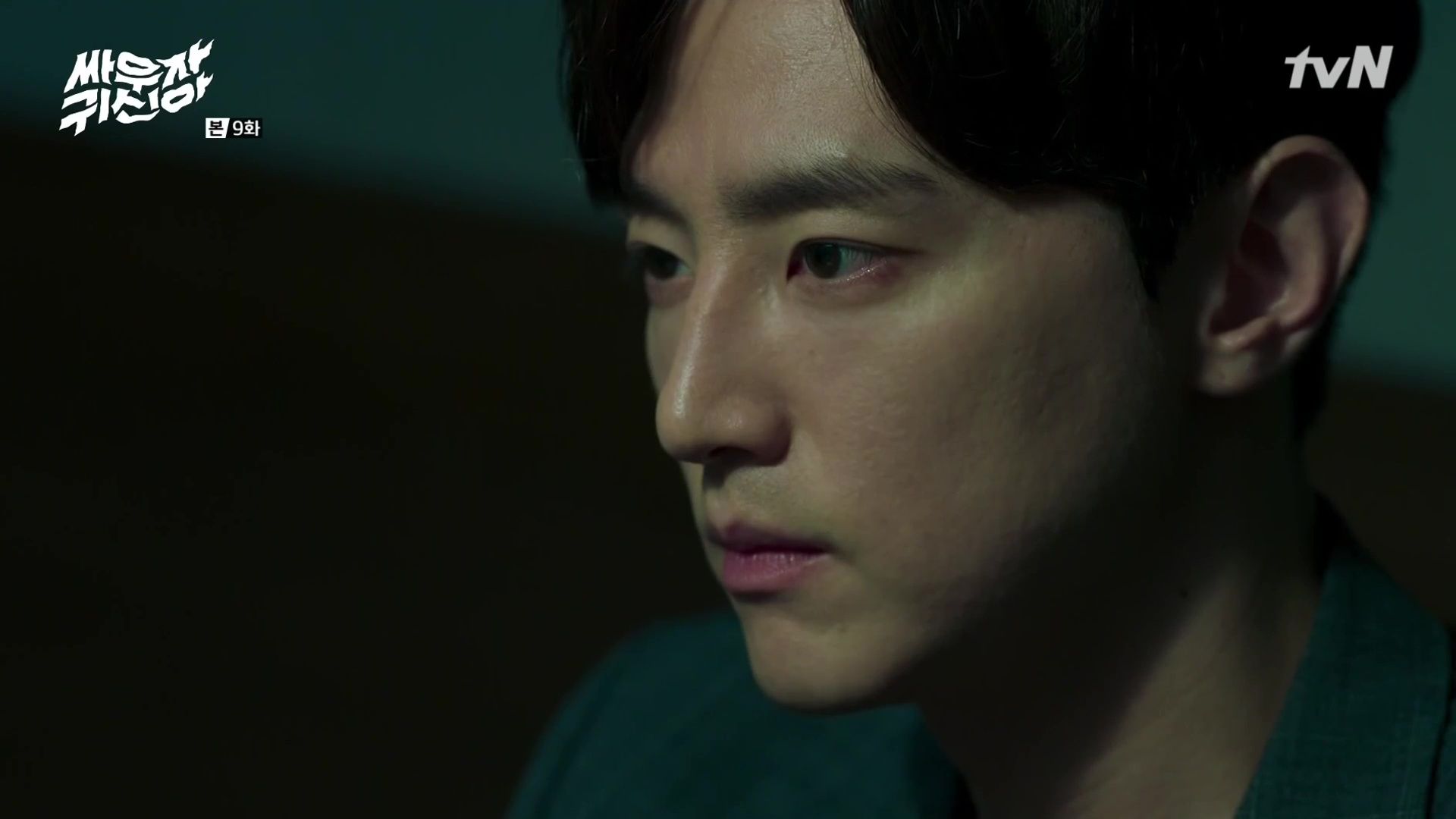 Hyun-ji thanks him for everything, and says that everything feels okay when she's with him. She used to be scared and lonely, having woken up a ghost with no memories, but no longer. Even if she never gets her memory back, she's happy now. "I'm so happy you can see me." Bong-pal returns the feeling, saying that he's happy he can see her, too.
Detective Yang questions Hye-sung (who is looking quietly furious) about the pictures of his car, which were taken of him entering then leaving the area where Hyun-joo's body was found, on the night she was murdered. Hye-sung claims that he was visiting his mother, who lives in that area.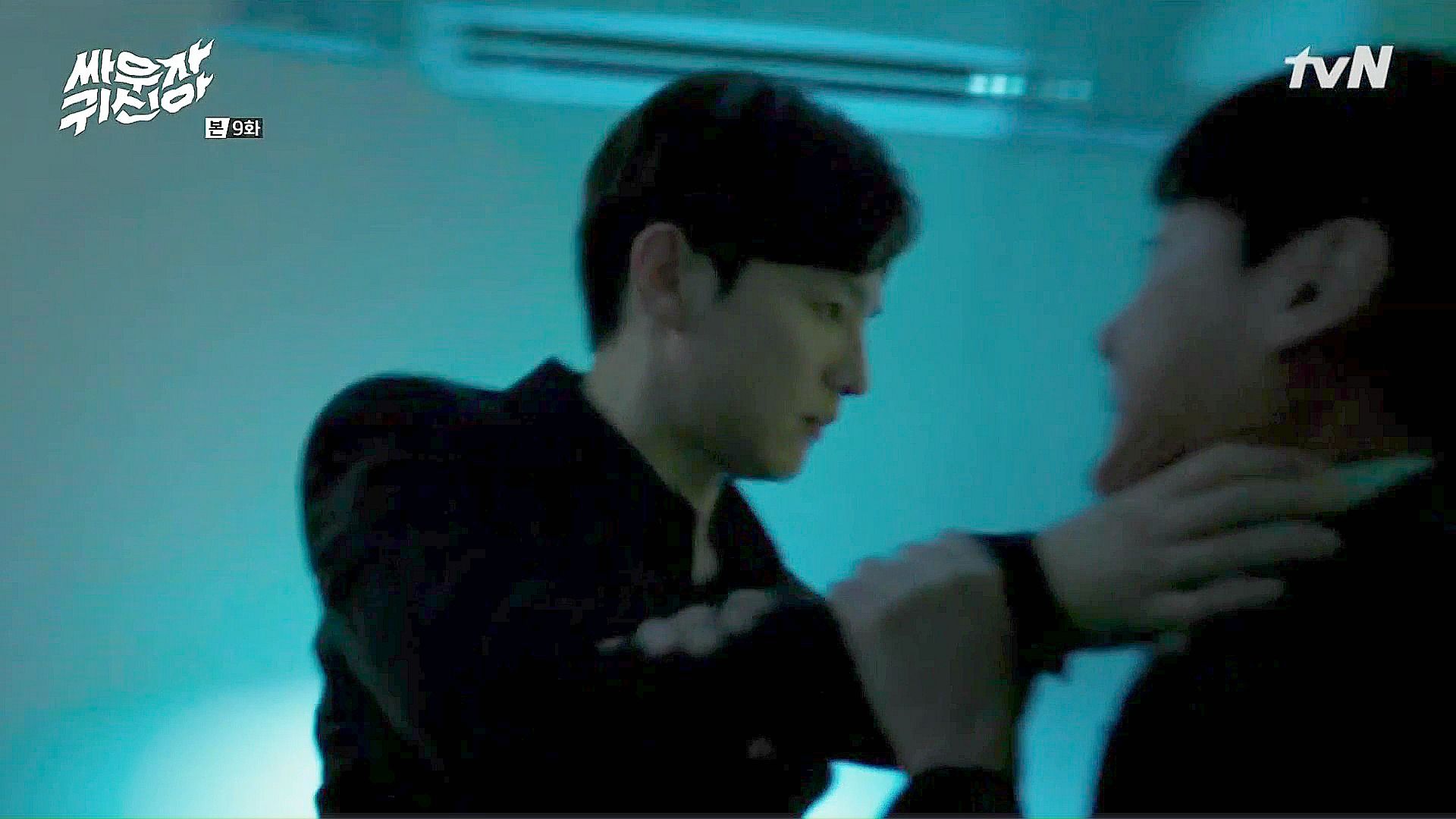 Before Yang can question him further, they're interrupted by Detective Kim — Lee Min-soo, the student who knew Hyun-joo, has been found dead. It appears that he committed suicide by jumping from his apartment building roof, and he left a suicide note confessing to Hyun-joo's murder.
However, we see the truth, that Hye-sung had followed him home after the funeral and thrown him, one-handed, out his window. He'd written a text to Min-soo's mother, confessing to Hyun-joo's murder, before leaving.
With a confession on record the detectives are forced to let Hye-sung go, but Detective Yang is uneasy. He asks that the case file be left on his desk to go over in more detail later.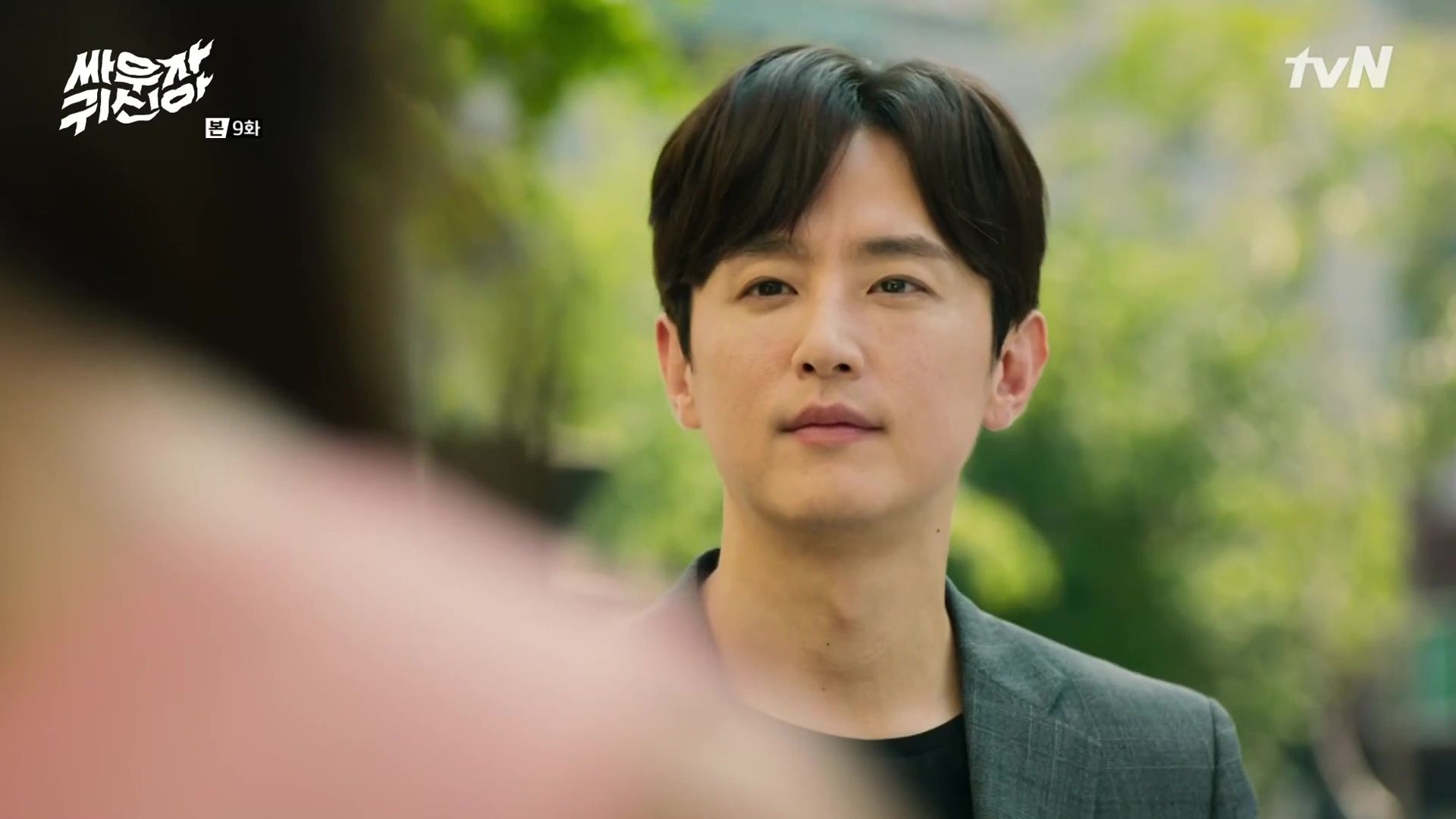 Hye-sung heads to his office, where he sees Bong-pal and Hyun-ji looking at the dog in the window (Hyun-ji: "This dog consoled me when you upset me." Bong-pal: "When did I ever upset you?" LOL). Hye-sung looks directly at Hyun-ji and asks why she's here, though Bong-pal assumes he's talking to him and answers. Hye-sung invites Bong-pal in for tea, and at Hyun-ji's enthusiasm he's forced to agree.
Hye-sung watches Bong-pal watching Hyun-ji, and says it's like he's looking at his girlfriend. Then he claims he meant the way Bong-pal was looking at the dog. Right. Hye-sung invites Bong-pal to do his summer volunteer work here at the clinic, and Bong-pal gratefully accepts.
The dog runs off to Hye-sung's office with Hyun-ji right behind, and Hye-sung drops the cordial expression. In the office, Hyun-ji notices the butterfly cutout but dismisses it, and crouches down to pet the dog. Hye-sung finds her there by his desk, and advances on her with doom in his eyes.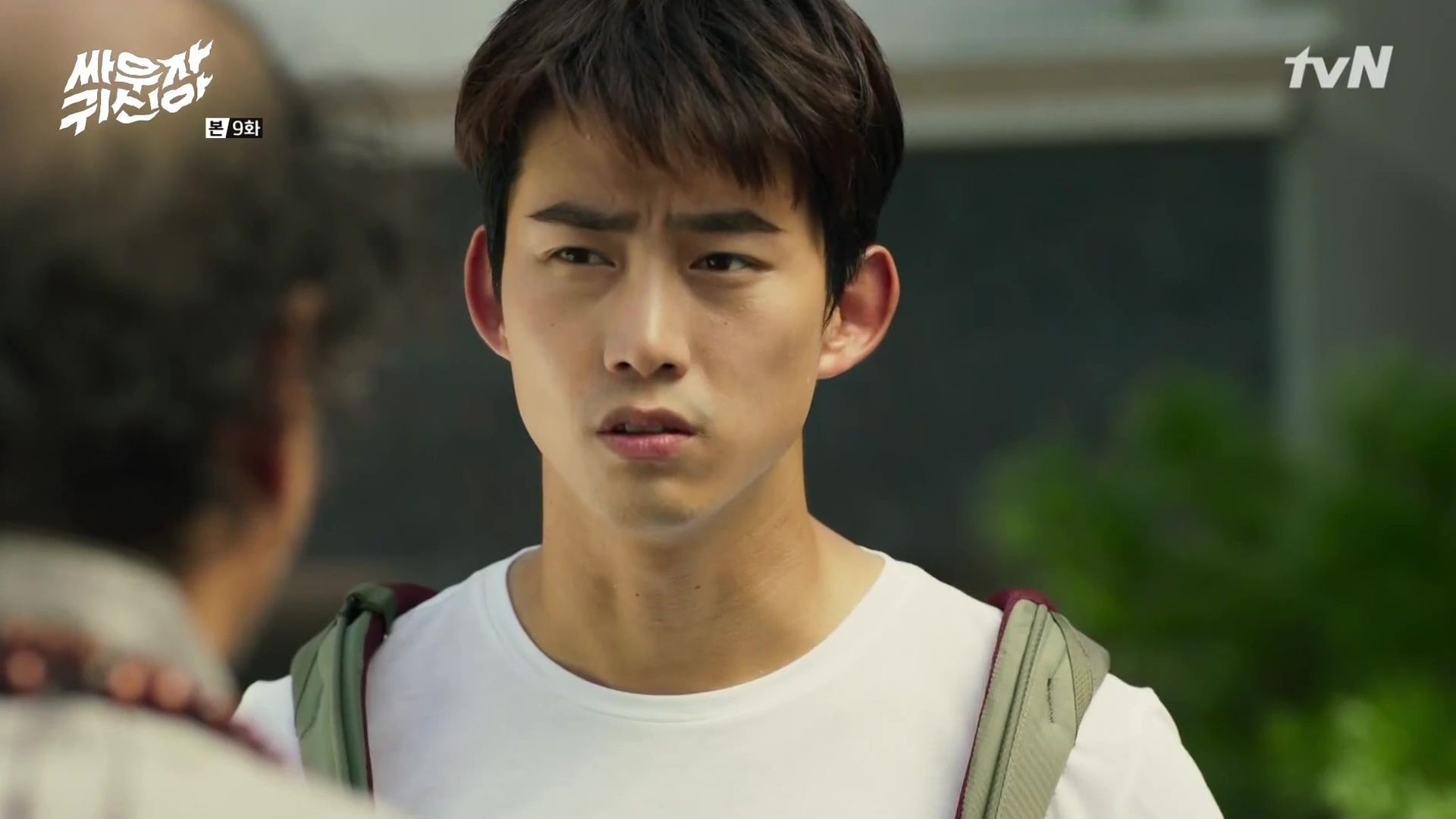 Before anything can happen, Bong-pal finds him and says that he'll be going now. Hye-sung loudly says that it was rude to come into his office, again sounding like he's talking to Bong-pal but clearly addressing Hyun-ji. He sends them both upstairs and closes the book of papers he used to make the butterfly, and on the back of the book is a name: Kim Hyun-ji. ~shudder~
Monk Myung-chul is back in town, and he sees Hye-sung sending Bong-pal off. He instantly recognizes Hye-sung as the man he saw outside Bong-pal's apartment building. He catches up to Bong-pal and hears that Hye-sung is his professor, but Bong-pal says Hye-sung doesn't live in the same building as himself.
Hyun-ji has to stay out of the way while Myung-chul is at Bong-pal's place, but the monk notices that Bong-pal keeps looking at a certain spot in the room. Bong-pal goes to talk to Hyun-ji, explaining that she can't come in because Myung-chul can sometimes hear ghosts.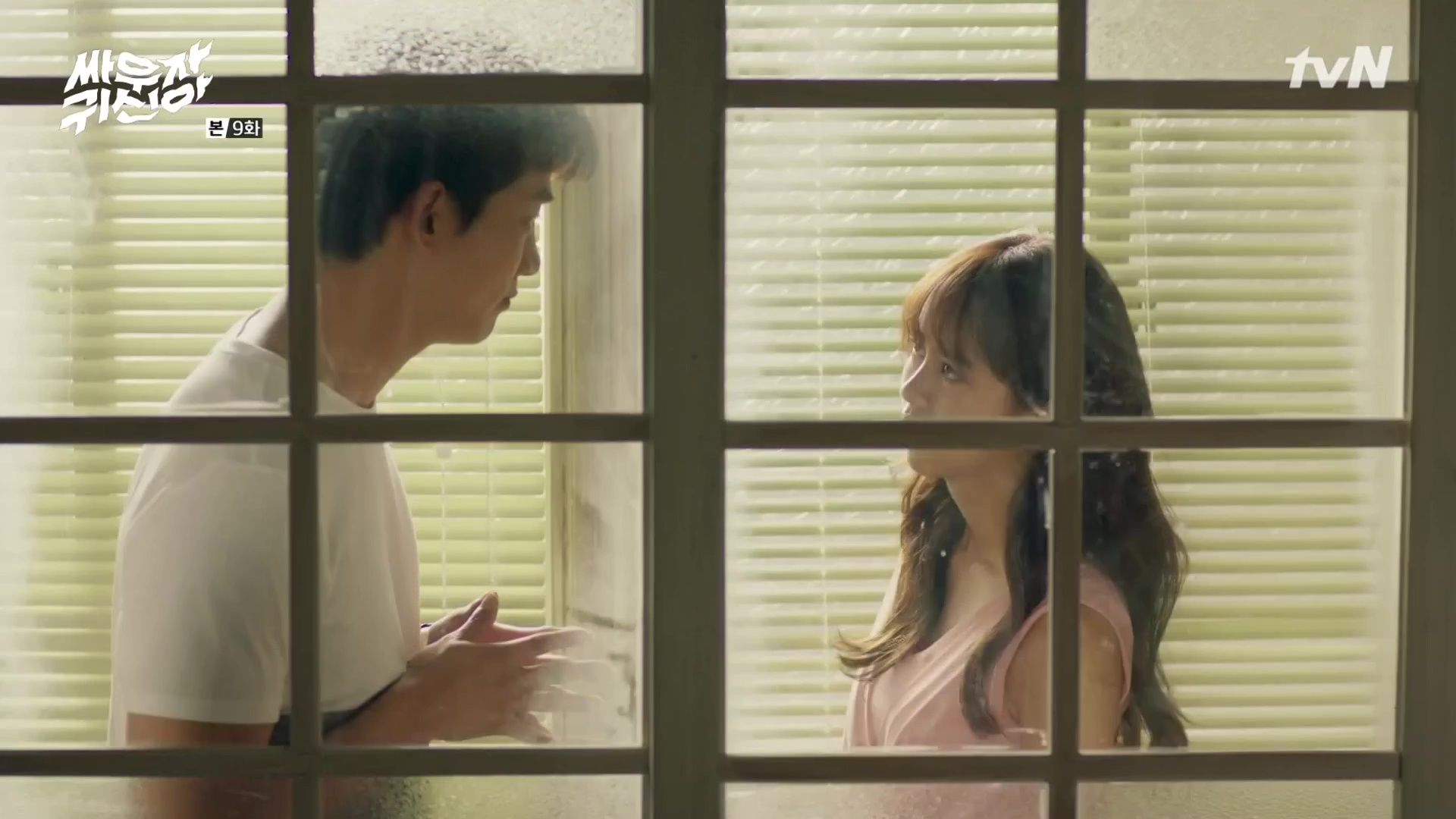 While he's gone, Myung-chul looks in his phone for his father's number, but only finds a text from Bong-pal's dad that was sent while he was still living in that guest house. The text says something about Bong-pal's middle school graduation, but seems to have been cut off. Myung-chul asks when Bong-pal's middle school graduation was, and Bong-pal just remembers it was some time in February.
Bong-pal gets a call and acts cagey, telling Myung-chul that he just has to go out for a bit. He gives Hyun-ji a meaningful look and the two head out, while Myung-chul remembers that Bong-pal's father recorded his middle school graduation ceremony, and goes looking for the video.
Bong-pal and Hyun-ji's target today is a possessed man, and In-rang tells Hyun-ji to be careful, making Hyun-ji tease Bong-pal about being jealous. Chun-sang slams on the brakes, also jealous but for a different reason, heh.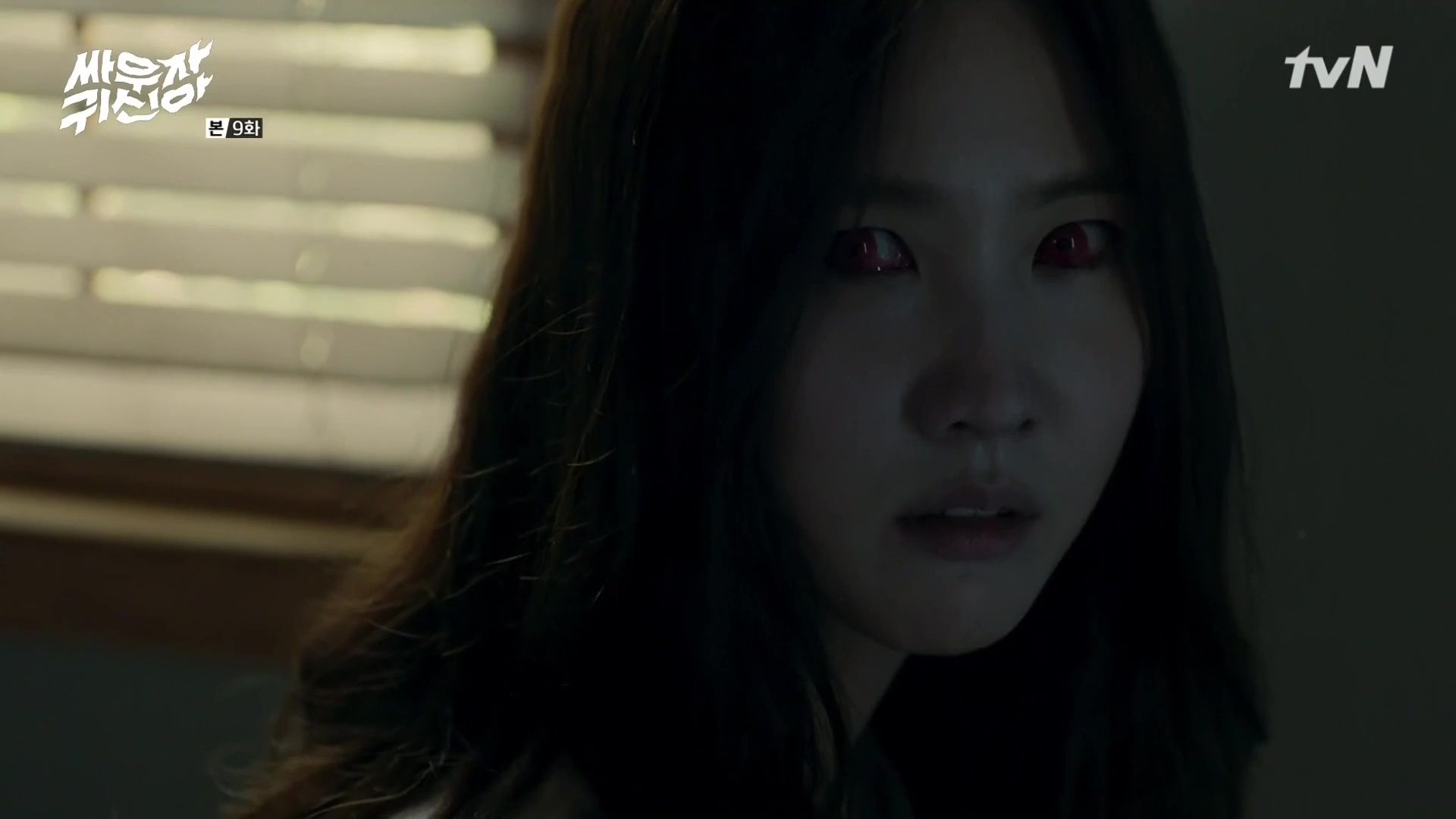 The possessed man is lying in bed, screaming over and over, while his family huddle in fear and worry. His sister explains that he used to be very sick but he recovered, and now he's having these seizures. We see the man cowering in his bed from an unseen presence, and once he even tried to kill himself to make it stop. He hasn't left his bed since, and spends his every waking moment screaming.
They enter his bedroom, and the sister pulls open his curtains, but they're immediately yanked closed by themselves. Bong-pal and Hyun-ji can see the female ghost, sitting on the man's chest and caressing his face, but she disappears when Bong-pal moves a step towards her.
It's Hyun-ji who notices the photos of the man with a woman on his desk, and she recognizes her as the now-dead woman. They show the photo to the man's mother, who smashes it and demands to know if that woman is choking her son. The sister explains that she was her brother's girlfriend, but she died.
She tells them that once her brother falls asleep, he sleeps for a few days at a time. They promise to come back a few days from now, and ask her to call them if anything happens.
Myung-chul watches Bong-pal's graduation video (ha, he had so much hair), and he sees something in the background. He rewinds and WHOA, it's Hye-sung. He was there. Why was he there?!
Outside the house, Chun-sang schools In-rang on what happens when you fall for a ghost, you end up with that guy. Hyun-ji overhears and seems to take the words to heart, which Bong-pal notices. In-rang shushes Chun-sang, but it's too late.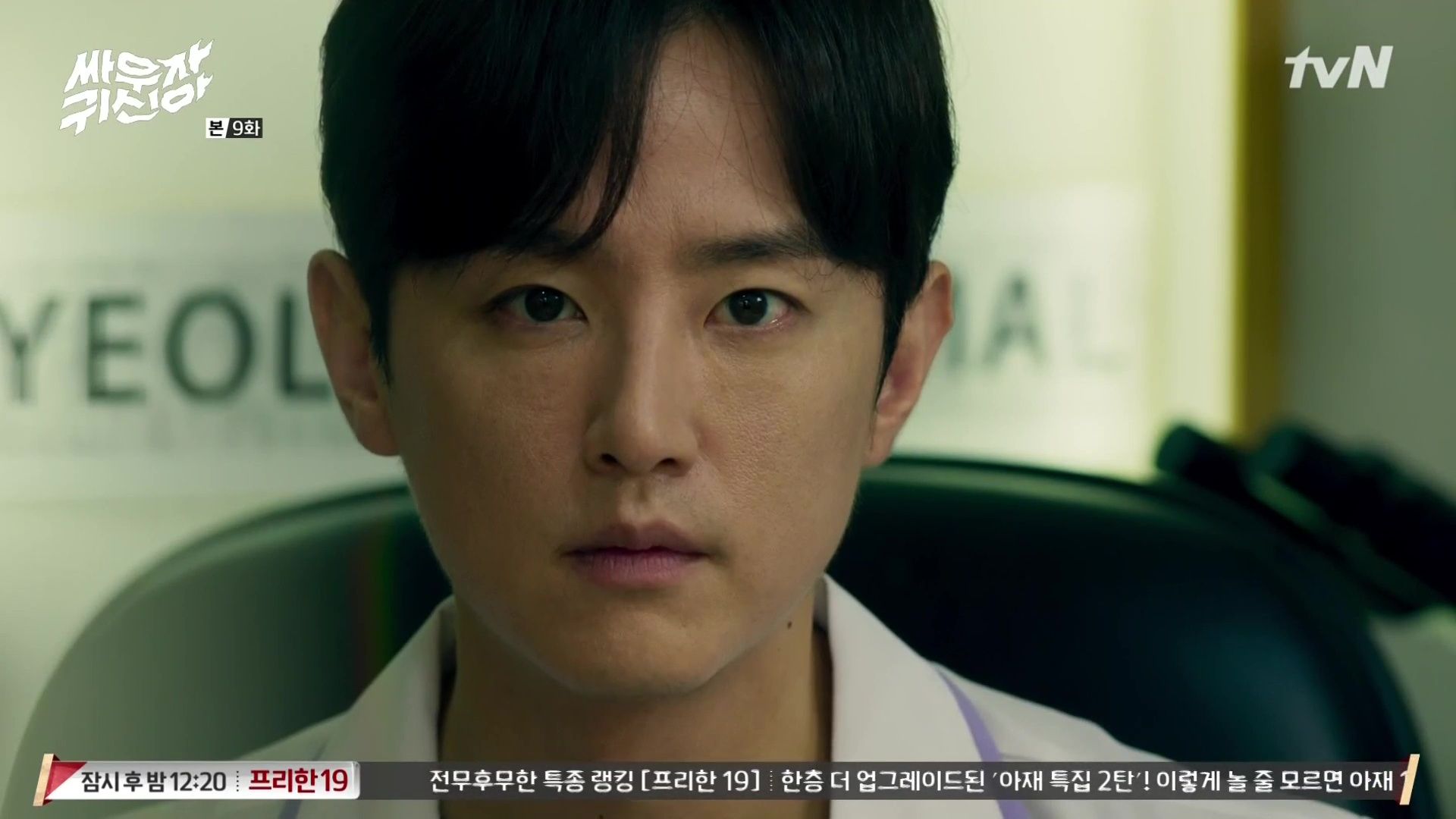 Myung-chul goes to Hye-sung's clinic, and Hye-sung spots him through the window. The two men stare at each other, a silent, mutual challenge in their eyes.
Hyun-ji now thinks back on her date with Bong-pal, and all the people who stared at him as he talked and laughed with her. Bong-pal hadn't seemed to notice, or at least he didn't care, but Hyun-ji had seen them. They stop in front of a store window, and only Bong-pal's reflection can be seen, which seems to hammer the point home — Hyun-ji is not a real person.
Bong-pal stands in front of Hyun-ji to get her attention, and he takes her hand to lead her home. In a sad voice, she asks if they'll be okay, since people will think their relationship is ridiculous. She pulls her hand from his, and walks on alone.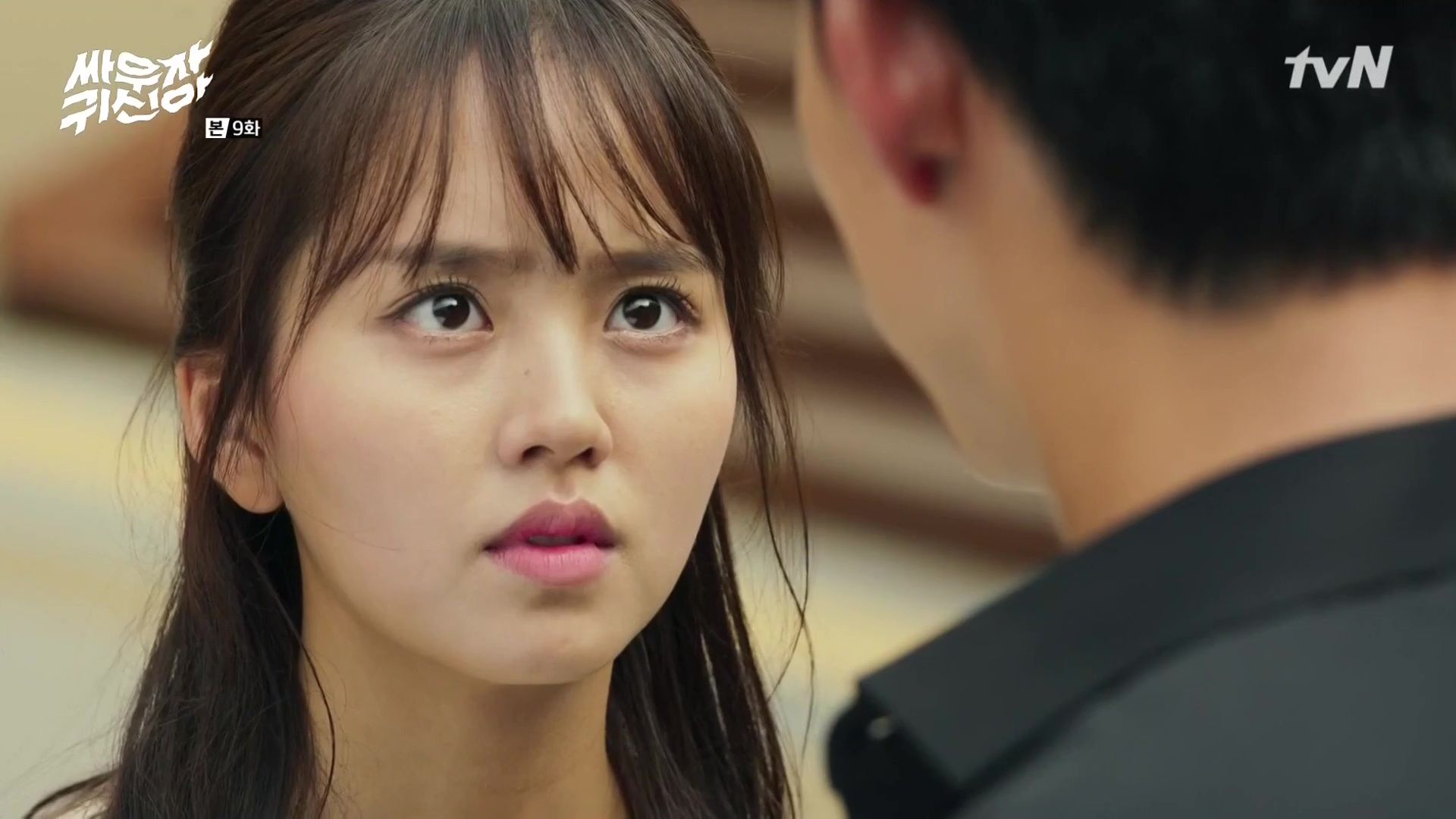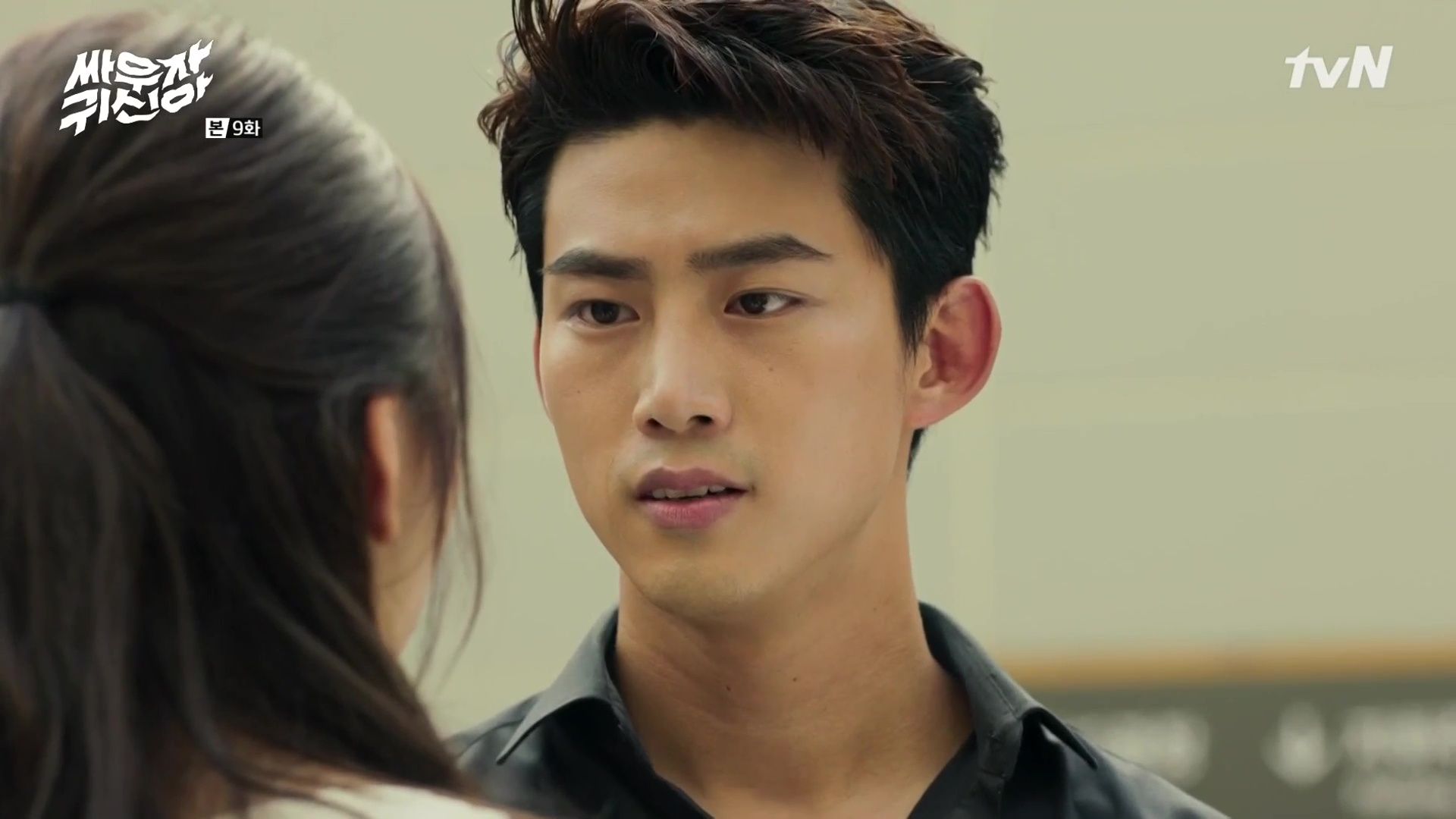 But Bong-pal reaches out and pulls her back around to face him. Confidently, he says, "I like you. I don't care what others think. You're the one I like."
And right there in the street, in front of shoppers and tourists and everyone, Bong-pal reaches out, cups Hyun-ji's face, and kisses her.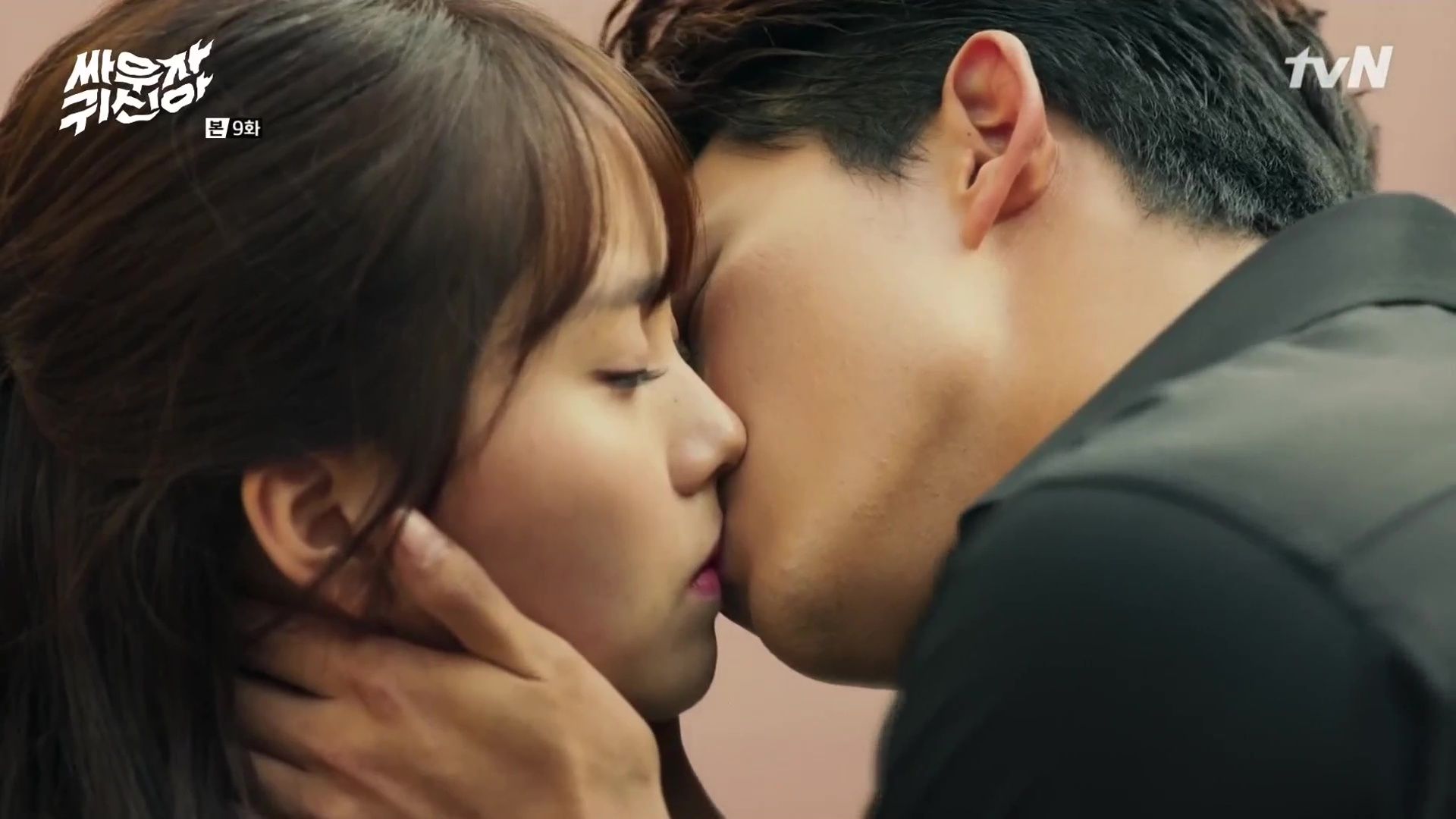 COMMENTS
See, now that's how you do it, that's how you show the girl you like her. I'm so proud of Bong-pal right now I could burst. For a guy who was so nervous and unsure of how he felt such a short time ago, he sure did find his footing quickly, and he did and said exactly what Hyun-ji needed to hear in that moment. No tricks, no games, just an honest confession and a heartfelt kiss. Good boy.
I think that what I really love most about Bong-pal and Hyun-ji's growing attraction to each other is how slowly and naturally it's developed. There was no love at first sight without even knowing the person, neither of them was pushing the other into anything, but at each stage their association made sense for both of them. At any given point they've been equals, trading housing, clothes, and food in exchange for help fighting ghosts, so at every moment they've been on equal and mutually beneficial footing. It's only natural that spending so much time together, they would become friends, especially since they've always been able to be open about their feelings, negative AND positive.
And with both of them being young and attractive, not to mention decent people, it only makes sense that they would each eventually notice that about the other and start to have romantic feelings. You can see it on how they treat each other, the way Hyun-ji is always there for Bong-pal, and how he always knows what she's thinking almost before she thinks it. I think I'm so used to seeing couples create their own problems through miscommunication (or complete lack of communication) that it makes Bong-pal and Hyun-ji's easy synergy that much more rewarding to watch. And it's all happened with perfect timing and natural progression — nothing about their business partnership, friendship, or now-budding relationship has ever felt forced or out of place.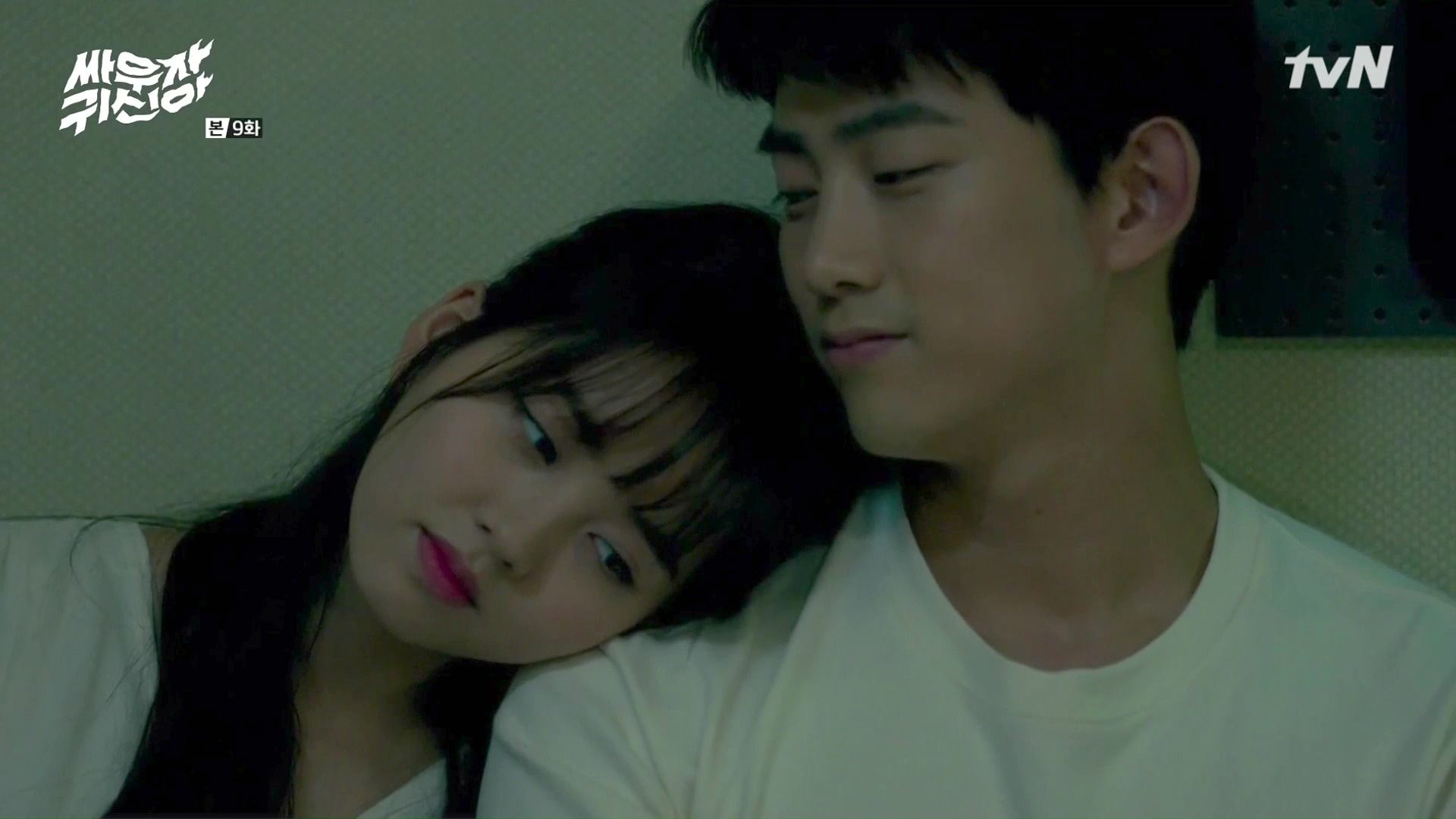 Speaking of which, how cute is awkward-in-love Bong-pal? So cute! I knew he would be, because he's never even had friends, much less a girlfriend, and the basics of romancing a pretty girl are way out of his sphere of experience. The one time he let himself like someone he got dumped before he ever even started, so the fact that he's so willing to even try with Hyun-ji is the sweetest thing. But as natural as their friendship has grown, and even though he already knows she likes him, he's still so freaking cute as he tries so hard and fails, I can't even stand it. But he absolutely perfect on their date, when he gave Hyun-ji the most romantic gift he could possibly give her — treating her like a live person. For just that one day, Hyun-ji didn't have to pretend she wasn't there or be shy about her feelings, they just acted like a real, live couple. It was so sweet, and I had happy tears in my eyes for Hyun-ji the whole time. I wish it hadn't so quickly become a source of pain for her, and I hope that Bong-pal can dispel her fears.
Hye-sung is certainly starting to show his true colors, skating a fine line between keeping his secret identity secret, and tipping his hand. More than once now he's looked right at Hyun-ji and even spoken directly to her, though he's managed to make it look and sound like he's speaking to Bong-pal. He doesn't seem the sort to let anger get the better of him, especially since he's known for being calm and even-tempered, but I can see how he's starting to feel exposed with the detectives on his case and Hyun-ji growing too close. He's still exhibiting an iron control over himself, but at some point he's either going to crack, or kill one too many persons and give himself away.
The little tidbits we got about Hye-sung's past are interesting, especially the part about his father dying in an accident, and his being ill as a child. I wonder if that's when the demon-thing possessed him, or if he became able to see ghosts at a young age like Bong-pal and was only later possessed. Or even worse, if he's not possessed at all, but that the ability to see ghosts somehow twisted him into something evil and corrupt. Bong-pal was lucky and manages to live a mostly normal life, but I could see how coming into such an ability when very young could mar a child, and cause them to grow up into something otherworldly and evil. It's very curious, how Bong-pal and Hye-sung have such similar backgrounds — a parent dying young, being estranged from the remaining parent as an adult, the claim of "evil spirits" inside, the ability to see ghosts — and now I'm more curious about Hye-sung than ever. Honestly, the speculation and constantly-shifting theories about his origins and motives are a lot of fun, but I'm dying to know what his deal is. Dying in the metaphorical sense, of course.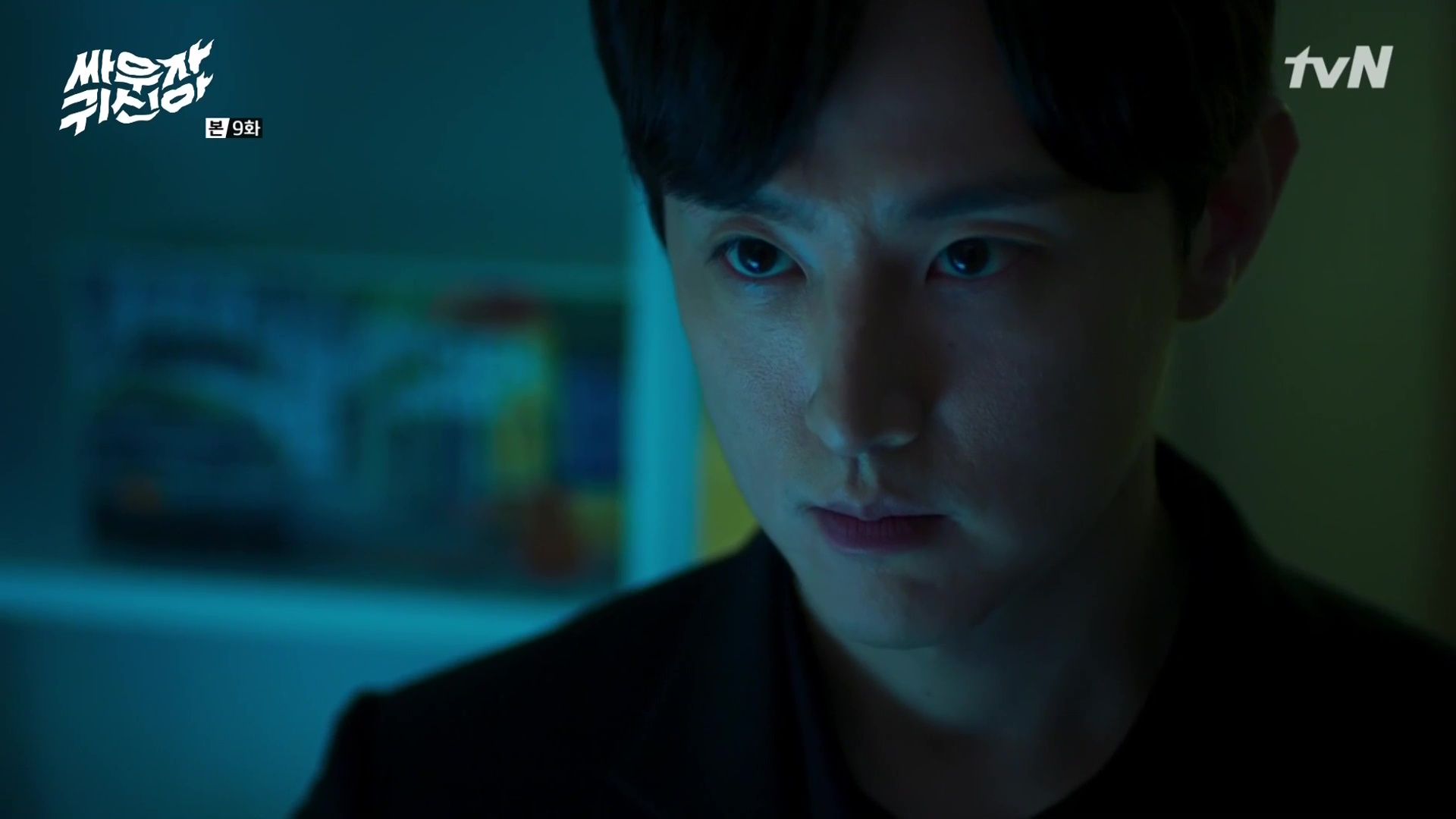 RELATED POSTS
Tags: Bring It On Ghost, featured, Kim So-hyun, Kwon Yul, Taecyeon